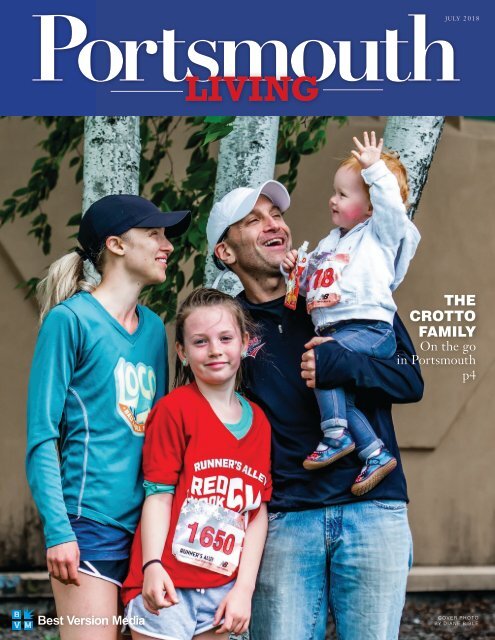 Portsmouth Living Magazine July
Portsmouth Living Magazine is your community publication. Its goal is to showcase the people and places that make Portsmouth such a great city to live in. Each month will feature a local neighbor on the front page along with an article. Other articles include Home and Garden, Fitness, Health, Food, Events and more.
Portsmouth Living Magazine is your community publication. Its goal is to showcase the people and places that make Portsmouth such a great city to live in. Each month will feature a local neighbor on the front page along with an article. Other articles include Home and Garden, Fitness, Health, Food, Events and more.
SHOW MORE
SHOW LESS
Create successful ePaper yourself
Turn your PDF publications into a flip-book with our unique Google optimized e-Paper software.
Portsmouth

JULY 2018

LIVING

THE

CROTTO

FAMILY

On the go

in Portsmouth

p4

COVER PHOTO

BY DIANE BIBLE
---
Rye, NH - $4,995,000

17 Heather Drive Rye, NH - $4,995,000

17 Heather Drive Rye, NH - $4,995,000

17 Heather Drive

Exceptional

Oceanviews Abound!

Make the Atlantic

your front yard.

Dear Residents,

To me, there is no better time of year than the month of

July—and Portsmouth is proud to celebrate its rich history

each year through events like "An American Celebration" at

Strawbery Banke or the amazing 4th of July fireworks display.

Food, arts and music events abound at places like Prescott

Park, and there is always a great show at the Music Hall or Seacoast

Repertory Theatre. There are plenty of award winning

restaurants from which to choose before or after a show.

Every first Friday of the month from 5-8pm, there is an art

walk put on by dozens of local galleries. Beaches and parks are

minutes away. What a place to live!

Hopefully, we have showcased many of the things you love

about Portsmouth, but you are always welcome to submit your

ideas and requests to us.

You can email your events or story ideas to our new Content

Coordinator, Rob Levey, at rlevey@bestversionmedia.com.

Rob has a long history writing for several local publication, and

he is a marketing and PR professional and is president of The

Chase Home Board of Directors in Portsmouth.

We hope you enjoy Portsmouth Living each month and

look forward to creating a true community publication

for Portsmouth.

931 Ocean Boulevard, Rye, NH

Offered at $1,975,00

Smell the salt air, hear the waves crashing, watch the sun rise over the Atlantic Ocean from your stunning Architectural

shingle & coastal inspired home! As you enter, you will be amazed by the natural light brimming throughout. The open

concept floor plan with French doors allows one to take in the seascape from nearly every room. Mature landscaping

& extensive hardscape with a gorgeous stonewall plus pavers on the driveway & walking path. Enjoy all that this idyllic

setting has to offer with spectacular views! Just a short walk to Wallis Sands.

PUBLICATION TEAM

PUBLISHER | Mark Kasper

DESIGNER | Gabrielle Rohmer

CONTENT COORDINATOR | Robert Levey

ADVERTISING

CONTACT | Mark Kasper

EMAIL | mkasper@bestversionmedia.com

PHONE | (603) 686-3131

MARK KASPER

Publisher

~ Mark

FEEDBACK/IDEAS/SUBMISSIONS

Barbara Dunkle | NH & ME Broker

PLATINUM GROUP MEMBER

Web: www.barbaradunkle.com

Cell: 603-498-7927

Office: 800-450-7784 ext.7078

Email: barbara.dunkle@beangroup.com

Distinctive Properties. Exceptional Service.

®

®

Have feedback, ideas or submissions? We are always happy to hear from you!

Deadlines for submissions are the 1st of each month. Go to www.bestversionmedia.comand

click "Submit Content." You may also email your thoughts, ideas,

and photos to rlevey@bestversionmedia.com.

IMPORTANT PHONE NUMBERS

Emergency.......................................................................................................... 911

Police Department........................................................................(603) 427-1500

Fire Department.............................................................. ..............(603) 427-1515

City Hall........................................................................................(603) 431-2000

Library......................................................................................... (603) 427-1540

Recreation Department......................................................... ......(603) 427-1548

School Department....................................................................(603) 431-5080

Important Websites.................................................www.cityofportsmouth.com

EXPERT CONTRIBUTORS

To learn more about becoming an expert contributor, contact BVM

at mkasper@bestversionmedia.com or (603) 686-3131.

CONTENT SUBMISSION DEADLINES

DEADLINE FOR CONTENT SUBMISSION

IS THE I ST OF EACH MONTH

Lawn Cutting

SPECIAL

EVERY

3rd Cut

Is Half Price!

New Customers Only

(603) 502-0016

Clipperlandscaping.com

©2018 Bean Group, All Rights Reserved.

2 PORTSMOUTH LIVING

Any content, resident submissions, guest columns, advertisements and advertorials are not necessarily endorsed by or

represent the views of Best Version Media (BVM) or any municipality, homeowners associations, businesses or organizations

that this publication serves. BVM is not responsible for the reliability, suitability or timeliness of any content submitted.

All content submitted is done so at the sole discretion of the submitting party. © 2018 Best Version Media. All rights reserved.

JULY 2018 3
---
Resident Feature

THE CROTTO FAMILY | ON THE GO IN PORTSMOUTH

Aalthough not native to

Portsmouth, husband and

wife Shawn and Dana

Crotto might as well be.

Originally from Limestone, Maine,

Shawn moved to Portsmouth when he

was 5, while Dana has been here since

she was just a year old.

"I have really been in this town my

whole life," she says. Residents of the

North End of town on Dennett Street,

the couple love where they live and are

the parents of "two happy and beautiful

daughters." Olivia is 10 years old and in

4th grade at New Franklin School, and

Remy is 19 months old.

As a family, the Crottos often go to

Prescott Park in the summer, particularly

for the concert series and the

plays. When not out with his wife or

children, you are apt to find Shawn

either running, at the gym or otherwise

engaging in a physical activity.

"I have been a personal trainer,

USA triathlon and running coach, and

licensed massage therapist for 15 plus

years," he says. "Sports and athletics

BY ROBERT LEVEY

PHOTOGRAPHY BY DIANE BIBLE

"After my grandfather was diagnosed

with terminal cancer, I trained

for my first marathon and raised

money under his behalf for cancer

research," he says. "This was the start

of my athletic and professional career.

After that, I went on to compete in

many races around the world, including

Ironman and marathon distances."

A hair stylist for 14 years, Dana is

equally committed to fitness, having

become a certified nutritionist in

2015.

She says she quickly found out,

however, that there is a lot of work to

be done when it comes to educating

families about their food choices.

"People are genuinely confused on

how to feed themselves because they

are constantly being marketed a new

trend or diet," she explains. "I really

enjoy teaching people how easy it can

be to prepare plant-based meals from

scratch that taste amazing and make

them feel good, whether they are an

athlete or not."

Their mutual love of fitness carries

over to their hopes for their children,

although they will never force anything

on them.

"I don't think you can set someone

else's goals for them, but we definitely

hope they will follow in our footsteps,"

says Shawn.

Their mutual love of fitness carries over to their

hopes for their children, although they will never

force anything on them. "I don't think you can set

someone else's goals for them...

We would like to thank our sponsor, Porstmouth Christian Academy for the opportunity to bring you this story.

"Sports and athletics have always been a passion of mine." This passion started

for him when he was 12 and had the chance to witness the Kona World Ironman

Championships while visiting his grandfather in Hawaii.

"It is the perfect distance to walk

downtown and walk our kids to

school," says Shawn, who went on to

cite several favorite spots in town for

date night with his wife.

"Our favorite spots are Green Elephant

and The Atlantic Grill.

For lunch, we love Ceres and The

Kitchen."

have always been a passion of mine."

This passion started for him when he

was 12 and had the chance to witness

the Kona World Ironman Championships

while visiting his grandfather

in Hawaii. Citing inspiration by the

determination of these athletes to finish

the event, he knew he wanted to be a

part of the sport.

"I love being in Wink Salon and

Spa and making people feel good,

which is the same reason I love being

a nutritionist," she says. "As an

athlete, fitness and a healthy diet are

a way of life for me, so when I got my

certification I naturally thought my

main focus would be in sports nutrition."

4 PORTSMOUTH LIVING

JULY 2018 5
---
Dana agrees and adds, "We believe

in leading by example—our

kids consistently see us training,

eating healthy and motivating

each other on a daily basis. We

take them to all of our races and

involve them in that community

of people so they understand what

positive energy feels like."

As for how the two met, it was,

of course, at the gym.

"I think from the moment we

met we just clicked," she says. "I

knew it the first time I saw him.

There was a familiarity and comfort

between us that only longtime

friends share. I think we both

found our best friends that day."

They have also found their

"home." "Portsmouth has come to

feel like a small piece of a big city,

but it still feels like home to us,"

says Shawn. "We love

taking the kids to places

that we went to in our

youth and sharing the

memories and stories

with them."

Real Estate

LOWEST INVENTORY IN THE LAST 6 YEARS

DRIVES TOP DOLLAR FOR SELLERS IN PORTSMOUTH

PORTSMOUTH CONDO MARKET DATA

YEAR LOW AVG HIGH # SOLD # SOLD > $1M TOTAL SALES

2011 $92,000 $329,485 $1,486,200 121 2 $39,867,706

2012 $83,000 $339,917 $ 1,451,200 119 3 $40,450,199

2013 $112,000 $372,100 $829,000 127 0 $47,256,743

2014 $ 98,000 $350,351 $1,500,000 171 3 $59,910,097

2015 $110,000 $371,605 $1,675,000 153 4 $56,855,654

2016 $ 90,000 $443,130 $1,765,000 152 7 $67,355,765

2017 $ 147,900 $546,774 $3,056,000 142 13 $77,642,042

2018 $ 166,000 $545,553 $3,697,500 70 6 $38,188,765

DO YOU HAVE A

NEIGHBOR WHO HAS

A STORY TO SHARE?

Contact us at:

mkasper@bestversionmedia.com

Best Version Media does not guarantee the accuracy of the statistical data on this page. Any real estate agent's ad appearing

in this magazine is separate from any statistical data provided which is in no way a part of their advertisement.

Attention:

Portsmouth

Cooks!

Send us your favorite family recipe(s)

to share with your neighbors.

Email them to mkasper@bestversionmedia.com

Subject to copyright and space availability.

6 PORTSMOUTH LIVING

NEIGHBORHOOD

Classifieds

To place your free classified, go

to www.bestversionmedia.com and

click "Submit Content." For FREE

listings, ads must be 40 words or

less, non-business related.

You will receive email confirmation.

SAMPLE:

HAVE SOMETHING

TO SELL

OR GIVE AWAY?

PET SITTING | Maya

My name is Maya. I pet sit cats,

dogs, hamsters, rabbits, and small

birds. I have been pet sitting for

3 years.

For more information

please call 000-000-0000.

YOUTH

Classifieds

Hey Kids!

Be in business for yourself and

make a little money –

all while helping your neighbors!

To place your free classified offering

services, go to

www.bestversionmedia.com

and click "Submit Content."

Please limit to 40 words.

Please be advised that all

communication regarding

Kids' Classifieds will be

directed through a parent or

guardian.

You can also email your ad

to the publisher, at

mkasper@bestversionmedia.com

The Condo Market is Booming!

Don't miss out on the fireworks.

159 State Street, #3A Portsmouth, NH

Urban lifestyle at its finest in iconic Portsmouth! Welcome home to the

1827 Sheafe House Condominiums, centrally located near Prescott Park,

Market Square, The Music Hall plus all the fine restaurants and shops.

Come see why this place checks all the boxes for downtown living!

Barbara Dunkle | NH & ME Broker

PLATINUM GROUP MEMBER

Web: www.barbaradunkle.com

Cell: 603-498-7927

Office: 800-450-7784 ext.7078

Email: barbara.dunkle@beangroup.com

JULY 2018 7
---
Non-Profit Highlight

Formed in 1988 by performing

artists who connected through

their dedication to collaboration,

education and community-building,

Portsmouth-based NH Theatre Project

(NHTP) has used the process of theatre

to create transformational experiences

for thousands.

According to NHTP Alumni Joshua

Goldberg, his experiences there shaped

his life.

"NHTP helped me grow from a

painfully shy middle schooler to a confident

college freshman," he said. "Not

only did I learn about theatre and performance,

I learned how to be a good

person and to pursue my dreams."

Genevieve Aichele, Founder and

Artistic Director of NHTP, believes

NHTP's longevity and lasting impact

result from theatre's ability to provide

NH Theatre Project

Packs 30 Years of Experience

INTO SUMMER CAMPS

BY ROBERT LEVEY

"a powerful model for the art of interpersonal

communication, so desperately

needed in our modern world."

"For individuals—professionals,

community members, and students of

all ages—it is an opportunity to explore

personal creativity in a nurturing environment,"

she said. "The ability to focus

on stage presence and specific skills are

powerful tools for all areas of life."

This summer, NHTP theatre camps

provide numerous opportunities to

experience this "joy." Held at West End

Studio Theatre in the hip West End

arts district of Portsmouth, these camps

are aimed at youth and adults, ages 7 to

98, and led by professional actors and

veteran educators.

Scholarships for youth are available. Information

and registration for all camps can be found at

www.nhtheatreproject.org/education.

Real Life Heroes: Teen Theatre Camp

JULY 9-14, 2018

For Ages 12-17 – Camp Director Crystal

Gould explained, "Teen Camp is truly an

ensemble experience. Together, we write,

rehearse, and produce an original work

based on real life experiences."

The Play's the Thing! Youth Theatre Camp

JULY 16-21, 2018

For ages 7 -11 – NHTP's most popular

camp has been a favorite of seacoast children

for 23 years and focuses on the art of

play through theatre games and improv.

Strafford Summer Arts Camp

JULY 16-AUGUST 20, 2018

For ages 8-14 – Held at Strafford School

in Strafford, NH. Emphasis in this camp

is on an appreciation for world cultures

through theatre, art and music.

Build Your Own Musical

JULY 30 - AUGUST 3, 2018

For ages 8-12 - Collaboration with Portsmouth

Music & Arts Center

Camp Director Catherine Stewart explained,

"Our focus is really on creating an

ensemble - a group of individuals with their

own creative ideas and inspirations coming

together and throwing ideas together to

create a brand new musical in just a week."

Adult Theatre Camp:

Theatre for Life, for Play, for Joy!

JULY 25-AUGUST 28, 2018

For ages 18 to 98 – Camp Director

Genevieve Aichele said, "NHTP's Adult

Summer Camp is an opportunity to 'play'

in a fun, collaborative environment. We'll

do some acting, some improv, some watching,

some script reading and writing, and

we'll also see what other theatre events are

happening out in the community."

Pearl Street

Painting Company

Artisan Painting

Interior | Exterior

603.380.8627

pearlstreetpainting.com

New Exhibit

highlights 2018

JOHN PAUL JONES

HOUSE MUSEUM

SUBMITTED BY STAFF

New this year at the John Paul Jones

House Museum, a special exhibit

features works of art of many types

by women from the Seacoast area. Titled

"Overlooked and Undervalued: Three Hundred

Years of Women's Art from the Seacoast,"

the exhibition is organized by Gerald

W.R. Ward and Lainey McCartney.

Throughout history, women's art (and contributions

by women in all fields) has often been "overlooked

and undervalued," regarded as inferior to art

created by men or relegated to the world of decorative

household crafts. Nevertheless, working within

these confines, and often coping with the demands

of child-bearing and child-rearing, women have

created important works of art, broadly conceived,

often notable for great technical skill and inventive

approaches.

This exhibition examines some of the myriad

forms of female artistic production, both professional

and amateur, in the Portsmouth area during

the last few centuries. It also serves as a companion

to "Gertrude Fiske: American Master" and

its related exhibitions in the galleries at Discover

Portsmouth. Those shows demonstrate the challenges

and achievements of women in the traditional

arena of academic painting from the early twentieth

century to the present. "Seacoast Masters Today,"

for example, reflects the current vibrancy of the art

community in the area. Some of the precursors

to that modern world are represented here, but we

have expanded the boundaries to include many other

types of art.

Thus, in addition to paintings, works on paper, and

miniatures, this show also explores quilts, needlework,

beadwork, clothing, painted china, and other

objects created by women over three centuries for

both aesthetic expression and commercial employment.

The display provides a glimpse not only into

the colorful "labors of love" fashioned by women of

all ages for domestic purposes, but includes several

works done by professional female artists competing

in the marketplace and seeking to make a living

This small show provides an opportunity to recognize some of the

changing forms and contours of women's art from the eighteenth

century to (in one instance) 2017.

through art while also teaching or engaged in other

pursuits.

The full story of women's art in Portsmouth has

yet to be written. This small show provides an opportunity

to recognize some of the changing forms

and contours of women's art from the eighteenth

century to (in one instance) 2017.

Portsmouth Historical Society is a tax-exempt

501(c)3 nonprofit that operates Discover Portsmouth,

a museum and cultural gateway, and the

John Paul Jones House Museum + Garden, in

downtown Portsmouth. Both locations are open

seasonally. Discover Portsmouth is located at

10 Middle Street and is open 9:30-5pm daily

through December.

8 PORTSMOUTH LIVING

JULY 2018 9
---
10 PORTSMOUTH LIVING

TUESDAY, JULY 3

PORTSMOUTH FIREWORKS

@South Mill Pond

The City of Portsmouth holds

their 4th of July Fireworks on July

3rd every year! Visit their website

for updated information on street

closures and parking information.

TIME 8-10pm

COST FREE, donations appreciated.

www.cityofportsmouth.com

TUESDAY, JULY 10

WPM – WRITING,

PUBLISHING

& MARKETING

@WSCA Community Radio

Three authors will each give a

10-minute presentation — one on

writing, one on publishing, one on

marketing — followed by Q&A,

and then time for hanging out and

chatting.

TIME 6pm-8pm

COST FREE

www.maatpublishing.net

JULY

2018

SUNDAY, JULY 22

PORTSMOUTH

WOMEN'S HISTORY TOUR

@Discover Portsmouth

Hear the untold stories of navigators,

preachers, artists, authors,

tavern keepers and madams who

defied stereotypes and shaped

Portsmouth.

TIME 11am-12:15pm

COST $12-15

www.portsmouthhistory.org/2018-walking-tours-of-historic-portsmouth-nh/

WEDNESDAY, JULY 25

(TOURS & SAIL JULY 26-29)

SAIL PORTSMOUTH

@Peirce Island Fish Pier

Ship Oliver Hazard Perry will be

visiting Portsmouth Harbor with a

Parade of Sail up the river followed

by ship tours - proceeds benefit

sending seacoast youth on a tall

ship for experiential training.

www.sailportsmouthnh.org

WEDNESDAY, JULY 25

PORTSMOUTH WOMEN'S

HISTORY TOUR

@Discover Portsmouth

Hear the untold stories of navigators,

preachers, artists, authors,

tavern keepers and madams who

defied stereotypes and shaped

Portsmouth.

TIME 4:30pm-5:45pm

COST $12-15

www.portsmouthhistory.org/2018-walking-tours-of-historic-portsmouth-nh/

SATURDAY, JULY 28

SWAG ON SWASEY

ANTIQUE, VINTAGE &

COLLECTIBLE MARKET

@Swasey Parkway

Like the Portsmouth Farmers

Market, but with unique items

from 25 different dealers including

Todd Farm, the Dover Indoor

Antique Market, and the Arundel

Flea Market.

TIME 8am-2pm

COST FREE

www.swagonswasey.com

SATURDAY, JULY 28

WILD VIBES FESTIVAL

@Spring Hill Farm

Enjoy an entire day in nature with

live music and art presentations,

yoga classes, workshops, paddle

boarding and more -- a portion

of proceeds benefit PURESA HU-

MANITARIAN FOUNDATION and

YOGA & CANCER SATYA

TIME 12:30pm-7pm

COST $15-$65

www.wildvibes.org

Every Week in Portsmouth

MONDAYS

PAPA WHEELIES SHOP

GROUP RIDES

@Papa Wheelies

This is our No Drop Weekly road group ride. We

encourage riders of all abilities to come ride with

us. We'll work on group riding & pace line skills

and just set a goal to have a great safe ride. We

will ride anywhere from 20-30 miles.

TIME 6pm

COST FREE

www.papa-wheelies.com

TUESDAYS

PRE-K & HOMESCHOOL

SESSIONS

@Rye Airfield Skate

Every Tuesday, one of the most fun days of the

week, we do Pre-K sessions in the morning and

a combined Pre-K/Home Schooler session in the

afternoon ends mid-June.

TIME 9:30-11:30am

and 12:30-2:30pm

COST $5 per family

www.ryeairfield.com

BOARD GAME NIGHT

@Diversions Puzzles & Games

oin us and you can find new games to learn and

play! We have a constantly updated game library

which you may pick games from to play or you

can bring your favorites from home!

TIME 5-9pm

COST FREE

www.diversionsgames.com

NHAA PLEIN AIR 2018

@New Hampshire Art Association

Coordinated by NHAA artist Lennie Mullaney,

Tuesday morning plein air events are free and

open to all artists or photographers, including

non-members of NHAA.

TIME 8:30am-12pm

COST FREE

www.nhartassociation.org

THURSDAYS

STORY TIME WITH THE

ANIMALS AT THE NHSPCA

@NHSPCA

For Ages 2 to 5: Story Time with the Animals

is held every Thursday morning at 10:30 in the

Humane Education classroom. Children listen

to a story about an animal, color a picture of an

animal and visit the animals in the classroom. No

registration is required.

TIME 10:30am

COST A donation of $5 is suggested and

appreciated.

www./nhspca.org/programs-for-kids/

THURSDAYS

RUNNERS ALLEY

WEEKLY RUNNING GROUP

@Runners Alley

Join us at one of our store locations for a casual

group run - we run year-round! All levels and all

speeds welcome! Runs are 4-6 miles Thursdays.

TIME 6pm

COST FREE

www.runnersalley.com/groups/

weekly-running-groups

FRIDAYS

FREE PIZZA FRIDAY

(2 SLICES PER JUMPER)

@Blitz Air Park

Indoor amusement center offering wall-to-wall

trampolines, theme nights, an arcade and a toddler

room.

TIME 7-9pm

COST $15 per person plus $3 for re-usable

Blitz Grip Socks (if you don't have a pair)

www./blitzairpark.com

SATURDAYS

RUNNERS ALLEY

WEEKLY RUNNING GROUP

@Runners Alley

Join us at one of our store locations for a casual

group run - we run year-round! All levels and all

speeds welcome! Runs are 4-8 miles Saturdays.

TIME 10am

COST FREE

www.runnersalley.com/groups/

weekly-running-groups

SALSA IN THE PARK

@South Playground

Salsa in the Park offers an opportunity to dance

outside in the summer months, free of charge.

TIME 3-6pm

COST FREE

www.salsasecrets-portsmouth.com/sitp

SUNDAYS

OPEN HOUSE AT PORTSMOUTH

HARBOR LIGHTHOUSE

@Portsmouth Harbor Lighthouse

Visitors get to climb to the lantern room to enjoy

the magnificent view and to see the fourth-order

Fresnel lens up close.

TIME 1-5pm

COST $2 - $4

www.portsmouthharborlighthouse.org

LOCAL

FARMERS

MARKETS

DURHAM

FARMERS MARKET

MONDAYS

2:15m-6pm

Jackson's Landing

www.www.seacoastgrowers.org

/durham-farmers-market

DOVER

FARMERS MARKET

WEDNESDAYS

2:15pm-6pm

Dover Chamber of Commerce

www.seacoastgrowers.org/

dover-farmers-market

EXETER

FARMERS MARKET

THURSDAYS

2:15pm-6pm

Swasey Parkway

www.seacoastgrowers.org/

exeter-farmers-market

PORTSMOUTH

FARMERS MARKET

SATURDAYS

8am-1pm

Portsmouth City Hall

www.seacoastgrowers.org/

portsmouth-farmers-market

HAVE AN EVENT

FOR OUR

NEXT ISSUE?

Contact us at:

rlevey@bestversionmedia.com

JULY 2018 11
---
Do you want to discover new

things about your neighbors?

We're looking for neighborhood

families or individuals with a

story to share to grace the covers of

the magazine.

Everyone has a story to share, and

we want to help you tell yours. We'll

talk with you, write the article and

give you a free, professional photo

session at your home so you can look

your best

in the magazine!

To get started, go to www.bestversionmedia.com

and click "Submit

Content." Or, simply e-mail rlevey@

bestversionmedia.com with your

contact information and ideas.

With your help, we can bring

people together, stay connected and

create an informative, family-friendly

forum through your magazine.

12 PORTSMOUTH LIVING

Wanted:

STARS FOR STORIES

YOU GOT THIS!

Do-It-Yourself Made Easy...

with the help of our expert staff at Ricci Lumber.

lumber and trim | paints | flooring | windows

roofing | siding | kitchens | baths | and more!

So, skip the box stores...

We've got you covered!

Monday-Friday 7am-5pm

Saturday 8am-4pm

105 Bartlett Street, Portsmouth

(603)436-7480

www.riccilumber.com

DOES YOUR FAMILY

NEED A DIGITAL DETOX?

BY ROBERT LEVEY

Technology is a huge part of all of our lives,

and there is nothing wrong with that.

We rely on digital technology to do our

jobs, communicate with friends and family, find

answers to our most pressing questions, and so

much more. A 2016 report published by CNN

tells us that on average that Americans spend

over 50 hours per week online. This "world at

your fingertips" has so many great assets, and yet

it can be damaging to your health if you never

take a break.

Too much screen time can disrupt normal sleep

patterns and cause insomnia, lead to increased

feelings of isolation, and decrease your attention

span over time. From a physical therapist's

standpoint, walking around looking down at your

phone or sitting hunched at your computer for

hours on end is terrible for your spine.

Dr. Carrie Jose, physical therapist and owner

of CJ Physical Therapy and Wellness in Portsmouth,

said, "The problem isn't that you can

never slouch, or that you always need to have

perfect posture. The problem is with how often

we do it."

There is no need to give up technology altogether,

though, as smartphones and other devices

are an important part of the world in which we

live. However, research shows it can be incredibly

beneficial to engage in a sort of "detox" from

your gadgets and take a break. You do not need to

lock up your phone for a week or quit social media

altogether. You can take small strides towards

freeing up those hours that you would otherwise

spend online.

SUGGESTIONS

1 You can turn your phone off in the evenings—for

instance at 5 or 6:00—so you are not

staring at a screen for several hours before bed.

"This will allow your brain to produce its natural

levels of melatonin, which your body needs to

both fall and stay asleep," adds Dr. Jose.

2 Another option would be to delete certain

apps off of your phone. Is Facebook a big time

suck for you? Try eliminating it from your

mobile devices so you can only access it from a

computer. This way, you can prevent distraction

when you are out and about this summer. You

can also delete those games that you play out of

boredom or habit, which will free up your storage

as well as your time.

3 If you are carrying your phone with you

constantly, try putting it on airplane mode. You

won't get texts or social media alerts, but you will

still have access to your camera, music, calendar,

and clock (including timers, alarms, and stopwatch).

You will also be less distracted, but still

get to enjoy the versatile functionality of your

smartphone.

4 If you spend a lot of time during the day on

the computer for your job, or have other commitments

that require screen time, consider

incorporating timed breaks into your day every

30 minutes to stretch and/or walk around. "This

is my number one piece of advice," Dr. Jose said.

"Easy everyday movement and mobility exercises

really help to invigorate the body and taking

these breaks will ease tension in your back."

FINAL THOUGHTS

If a tech-detox sounds scary to you, it is probably

all the more reason you should consider it.

Start with something small, like one or two hours

a day. Try getting the whole family involved

with competitions and goal-setting. It may seem

impossible at first, but with small steps and goals,

you will soon find that need rest of story

Scholarships for youth are available. Information

JULY 2018 13
---
Gather Provides

VITAL SERVICES FOR GROWING EPIDEMIC

13% of children are classified as food insecure

BY ROBERT LEVEY

To combat hunger on the greater Seacoast,

Portsmouth-based nonprofit Gather is

committed to bring meals and nutrition

education to those in need. Formed in 1816 as a

means to feed the families of fisherman away at

"The struggle is largely a silent one as isolation, illness, and

mobility challenges keep this hunger-related issue hidden behind

closed doors," she said. "So many of these seniors are unaware

of the community services available to them...

sea, Gather is still faithful to Seacoast communities,

serving those in need in Greenland, Hampton,

Hampton Falls, Kittery (ME), New Castle,

Newington, North Hampton, Portsmouth, Rye,

Seabrook, and Stratham.

"Our vision is being a place where people needing

assistance can gather in a community with

others who provide not only food assistance, but

other services as well," said Deb Anthony, executive

director of Gather. "This organization is a

community effort that brings together customers,

volunteers, donors, and residents."

Feeding the region's hungry, however, is a task

that keeps growing.

In New Hampshire, 13% of children are classified

as food insecure, while 10% of all people

in the state fit into that category. Hunger also

carries a wide range of adverse impacts, such as

a suicide rate five times higher among teens, a

higher rate of chronic illnesses in children, and

poor nutrition leading to someone being twoand-a-half

times more likely to be obese.

Additionally, the number of people age 60 and

older who receive services from Gather has risen

92% in the last two years. Anthony referred to

vulnerable elders as one of the region's fastestgrowing

populations.

"The struggle is largely a silent one as isolation,

illness, and mobility challenges keep this

hunger-related issue hidden behind closed doors,"

she said. "So many of these seniors are unaware

of the community services available to them and

face insurmountable barriers to access."

The growing battle is a tough one for Gather,

but it is not one the organization is fighting alone.

"Ending hunger requires collaboration with

other service providers to be effective and

impactful," Anthony said.

COLLABORATIONS

Gather currently works with a variety

of partners.

Cross Roads offers Gather the use of its

kitchen to repurpose food that otherwise would

go to waste, helping to create more than 200 prepared

meals for seniors and its Pantry Market.

Portsmouth Housing Authority and Gather

come together to deliver meals as part of the

Meals 4 Kids program, ensuring families with

children have access to food while school is not in

session. The Meal 4 Kids program has expanded

with the aid of The Chase Home, helping to

provide teens with fresh, healthy food throughout

the summer through gardening and gardening

education efforts.

The Seabrook Recreation Center allows for

a great Meals 4 Kids distribution hub, allowing

for easy access for families. The recreation center

also helps provide Cooking with Care classes to

youths.

St. John's Church and Middle Street Baptist

Church both offer their kitchens to Gather. The

St. John's facilities are used to prepare meals,

while the Middle Street Baptist Church is used to

have Gather's Cooking with Care classes in

the winter.

In addition to its Pantry Market, Meals 4 Kids

and Cooking with Care programs, Gather also operates

Farm Shares 4 Families and Meals 4 Seniors.

Out of these programs however, a method to

make food last is a favorite of Anthony's — the

repurpose program.

"When you depend on fresh produce to help

fill your pantry market, you receive a significant

amount of food that is no longer able to shelve,"

she said. "It may be bruised, an apple in the bag

might be bad, or its close to the 'sell by' date."

They take this food waste and repurpose it.

"Each week a team of volunteers create amazing

meals with our donated food," she said. "The

meals include soups, stews, chowders, complete

meals, side dishes and desserts."

She said two of the most common items donated

are bananas and avocados, which are often

repurposed into breads, muffins and puddings.

Seacoast Financial Planning

A financial advisory practice of

Ameriprise Financial Services, Inc.

603.427.8252

314 Middle Street, Portsmouth,

NH 03801

contact:

charles.m.beynon@ampf.com

gregory.m.vallee@ampf.com

nicolas.curtis@ampf.com

seacoastfinancialplanning.com

14 PORTSMOUTH LIVING

JULY 2018 15
---
Strawbery Banke Museum Presents

16th Annual American Celebration for

INDEPENDENCE DAY HOLIDAY

BY ROBERT LEVEY

16 PORTSMOUTH LIVING

JULY 1, 3 & 4, 2018

Portsmouth, New Hampshire (May 30, 2018) – "An

American Celebration," now in its 16th year, is

Strawbery Banke Museum's annual salute to American

Independence Day and the joys of summer. Multiple generations

make this weekend full of events a Fourth of July

tradition, given the opportunity to enjoy the living history

museum at a time that American history takes a special spotlight.

Offering something for everyone, from a huge assembly

of re-enactors and living history performers on July 1st

to a 1940s-style swing dance on July 3rd and patriotic family

celebrations on July 4th, each day's events add something

new to Independence Day traditions.

More information

and

tickets for paid

admission

events are available

at StrawberyBanke.org/

events. As a

Blue Star Museum,

Strawbery

Banke admits

active duty

military and

their families

FREE. Strawbery

Banke also

admits veterans

free. Sponsors include: BAE Systems, Exeter Hospital and

the Fuller Foundation, as well as annual sponsors R.M. Davis

and Proulx Oil & Gas. Marshall Rental provides in-kind

support.

SUNDAY, July 1st, 10am to 5pm

Included with regular admission.

Timeline of American History

• Strange and Farre, portraying early North American

settlers

in the year 1602

• Salem Trayned Band, showing off 17th Century pike

and shot weaponry in the year 1637

• Bloody Historical, portraying sailor merchants and

privateers in the year 1723

• 42nd Highlanders, portraying French and Indian War

soldiers in the year 1754

• Cowasuck Band of the Pennacook-Abenaki People,

teaching Native American culture and arts in the year

1750

• Strawbery Banke Train Band, demonstrating a 1775

Military training day with ladies' cooking demonstration

• His Majesty's Tenth Regiment of Foot, portraying British

occupied tavern life in the year 1775

• Piscataqua Rangers Fife and Drum Corp, is our local

Fife and Drum Corp performing songs from 1778

• Dr. Jackson, Portsmouth's famous physician teaching

18th Century Medicine in the year 1776

• The Federal Ladies, demonstrating women's life in 1798

• New England Vintage Arts Society, demonstrating Victorian

dance from the years 1830 - 1860

• Oney Judge Staines, describing colonial slavery from the

year 1845

• What Remains, civilian unit of Civil War reenactors

portraying daily life in the year 1861

• 2nd Rhode Island Signal Corps, portraying Civil war

telegraphy in the year 1861

• Sankofa Travelher, portraying Harriet Jacobs, an African

American writer from 19th century.

• Corbin's Battery , an American Civil War artillery

reenact

• Yesterday's Gentlemen, portraying late 19th Century

lighthouse keeping in the year 1885

• NE Woman Suffrage Association: Puddle Dock Chapter,

portraying Women's Suffrage in the year 1916

• Edwardian Elegance, demonstrating support efforts for

WWI

• Tammy Denease Williams as Bessie Coleman, an African

American aviator from the 1920's.

• Pine Tree Chapter Model A Club, bringing Model A

Ford Automobiles from the 1930s

TUESDAY, July 3rd, 6-9pm

Admission $20.

1940's Style Swing Dance

Jump, jive and swing to the music of the Beantown

Swing Orchestra at a 1940s-style swing dance.

Dance Lessons (free instruction with ticket to the

dance) starts at 6 pm, and the band boogies from 7

pm to 9 pm. Then watch the Portsmouth fireworks

display from the vantage point of Strawbery Banke.

Presented with assistance from the Fuller Foundation.

WEDNESDAY, July 4th, 11am

All admission FREE thanks to BAE Systems

Naturalization Ceremony

Celebrate America by welcoming new citizens at the

US Naturalization Ceremony. A Museum favorite,

come feel reinvigorated by the joy and patriotism

shared by those who make their own special day on

their new nation's birthday.

WEDNESDAY, July 4th, 10am - 5pm

Old-Fashioned Field Day

Fashioned Field Day. Visitors are invited to play a

round of croquet, test their skill at marbles, have fun

with hula hoops, and collect ribbons at 10 different

games all over the museum grounds. Patriotic parade

around the museum grounds at 2 pm. Kids are

invited to decorate their bikes, wagons, or hats from

10 am until the parade starts. Bike parade presented

with assistance from Exeter Hospital.

Want to see your pet

featured in the magazine?

Send your cutest photo of your pet(s) with a short

description to rlevey@bestversionmedia.com.

JULY 2018 17
---
JUNE 2018

COVER PHOTO BY LORI TIERNAN

MAY

2018

COVER PHOTO

BY DIANE BIBLE

JULY 2018

Reach Out To Your Local Community

Advertise Your Business

in Portsmouth Living

Call (603) 686-3131 Today!

Portsmouth

LIVING

Portsmouth

LIVING

LORI TIERNAN

& DEAGLAN

MCEACHERN

Committed to Family

and Community

p4

Portsmouth

LIVING

THE

CROTTO

FAMILY

On the go

in Portsmouth

p4

THE MARINO FAMILY

At Home in Portsmouth

p4

COVER PHOTO BY EVA MARINO

FIVE WAYS TO RULE THE LEADERBOARDS

1. Post great content

(at least once per day. Twice is best.)

2. Request citizenship with many people

(and they will often request it back).

The more citizens you have in your

Myopolis, the more exposure you

will build. Exposure, interaction,

comments etc. increase the

likelihood that you will trend

higher.

3. Interact with many posts.

Comment, share, pingworthy, agree

etc. The more interactions you have the

more you will increase interest in people

becoming your citizens. The more

citizens, the more exposure for you and

your brand.

4. Invite people to Myopolis.

The more people you invite from other social

media sites, or people who are new to social

media, the larger your base. Remember, people

don't need to leave their current social media

communities (although once they experience

Myopolis they may make that choice).

At first, it's harder to take someone away

than it is to get them to add Myopolis.

5. Build your own communities that matter.

Get four or five close friends, colleagues or

clients to use Myopolis as their primary means

of connecting. Even small groups begin to carry

heavy influence and motivate people to remain

active.

COME AND SEE

Why So Many in Portsmouth Choose Us

Quality Furniture That Lasts

18 PORTSMOUTH LIVING

DOWNLOAD TODAY!

Apple and the Apple logo are trademarks of Apple Inc. | Google Play and the Google Play logo are trademarks of Google LLC

STORE HOURS

Monday-Saturday 10:00am - 6:00pm

Sunday 11:00am - 5:00pm

603-433-2217

www.furnitureforever.com

1981 Woodbury Ave. Portsmouth, NH 03801

JULY 2018 19
---
2786

Portsmouth

LIVING

THE ALL NEW

VOLVO S90

THE ALL NEW

VOLVO S90

Announcing the VOLVO XC60 as the

Best Luxury Compact SUV of 2018

The sophisticated S90 shines with its intrinsic style, conspicuous

safety, and a limo-like back seat. It's available with two four-cylinder

The sophisticated S90 shines with it's Scandinavian style, world

engines: the 250-hp turbocharged T5 or the 316-hp turbocharged

class safety and the most interior room of any car in it's class.

and supercharged T6. Both pair with a silky eight-speed automatic.

The 2018 Volvo XC60 has been named the Best Luxury Compact SUV of 2018 by Cars.com.

The evaluation put seven luxury SUVs against each other in over thirteen categories including interior

quality, cargo storage, multimedia features, and more. The Volvo XC60 came out on top.

Industry leading features The top-rated like semi autonomous XC60's comprehensive driving and technology, practicality, and quality combined with safety

available 400hp hybrid features engineand make value thiselevated a true luxury the Volvo sedan. to the number one spot.

Come in for a test drive

Come in for a test drive

1-603-772-5975

VOLVO CARS OF EXETER

VOLVO CARS OF EXETER

140 PORTSMOUTH AVENUE EXETER, NH 03833

140 PORTSMOUTH https://www.volvocarsexeter.com

AVENUE EXETER, NH 03833

https://www.volvocarsexeter.com

USE THE CAMERA

ON YOUR PHONE

TO CHECK OUT OUR

INVENTORY OF XC60S!