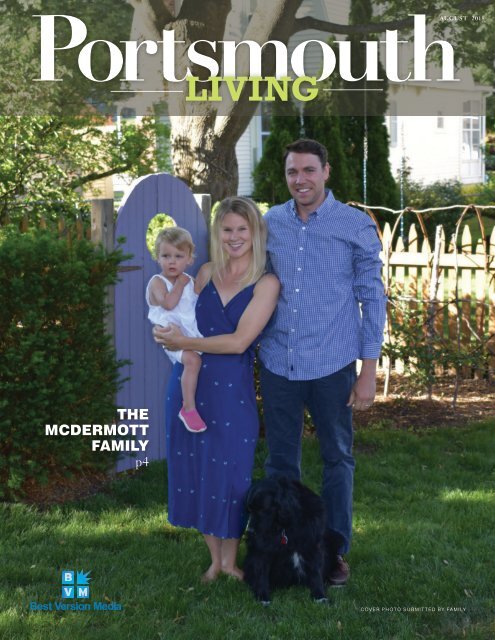 Portsmouth Living Magazine August
Portsmouth Living Magazine is your community publication. Its goal is to showcase the people and places that make Portsmouth such a great city to live in. Each month will feature a local neighbor on the front page along with an article. Other articles include Home and Garden, Fitness, Health, Food, Events and more.
Portsmouth Living Magazine is your community publication. Its goal is to showcase the people and places that make Portsmouth such a great city to live in. Each month will feature a local neighbor on the front page along with an article. Other articles include Home and Garden, Fitness, Health, Food, Events and more.
SHOW MORE
SHOW LESS
Create successful ePaper yourself
Turn your PDF publications into a flip-book with our unique Google optimized e-Paper software.
Portsmouth

AUGUST 2018

LIVING

THE

MCDERMOTT

FAMILY

p4

COVER PHOTO SUBMITTED BY FAMILY
---
Country

Club Estates!

Enjoy Fresh Ocean Breezes from this

SEACOAST GEM.

Welcome, Portsmouth Neighbors!

August is that special month that gives you

permission to do nothing by virtue of its hot hazy days—

and this month is all about that.

Whether it's a leisurely day trip to the mountains

or a picnic in the park, August is the best time to do it.

Before the kids go back to school or your schedule

becomes business as usual, take some time to enjoy

yourself. It doesn't have to be extravagant. It could be

a cookout with a cold drink in the backyard or a walk

through town in the evening.

Life is too short, so you might as well enjoy the

summer while it's here.

We hope you enjoy Portsmouth Living. This is truly

your town publication so let us know what you would

like to see in future issues.

We look forward to your comments.

~ Mark

MARK KASPER

Publisher

32 Bradley Lane, North Hampton, NH

Offered at $899,000

Located one mile from the ocean and adjacent to the Abenaqui Golf Club is the premier neighborhood, Country

Club Estates, having custom built single family residences. For the first time in 31 years, the original owners have

decided to sell. Their TMS Architects designed home is sited perfectly on the 2 acre lot allowing ample room in

the front & back yards. This seacoast gem is move-in ready! If you envision a Norman Rockwell home & setting

for yourself, this is it!

Barbara Dunkle | NH & ME Broker

PLATINUM GROUP MEMBER

Web: www.barbaradunkle.com

Cell: 603-498-7927

Office: 800-450-7784 ext.7078

Email: barbara.dunkle@beangroup.com

®

®

PUBLICATION TEAM

PUBLISHER | Mark Kasper

DESIGNER | Gabrielle Rohmer

CONTENT COORDINATOR | Robert Levey

ADVERTISING

CONTACT | Mark Kasper

EMAIL | mkasper@bestversionmedia.com

PHONE | (603) 686-3131

FEEDBACK/IDEAS/SUBMISSIONS

Have feedback, ideas or submissions? We are always happy to hear from you!

Deadlines for submissions are the 1st of each month. Go to www.bestversionmedia.comand

click "Submit Content." You may also email your thoughts, ideas,

and photos to rlevey@bestversionmedia.com.

IMPORTANT PHONE NUMBERS

Emergency.......................................................................................................... 911

Police Department........................................................................(603) 427-1500

Fire Department.............................................................. ..............(603) 427-1515

City Hall........................................................................................(603) 431-2000

Library......................................................................................... (603) 427-1540

Recreation Department......................................................... ......(603) 427-1548

School Department....................................................................(603) 431-5080

Important Websites.................................................www.cityofportsmouth.com

EXPERT CONTRIBUTORS

To learn more about becoming an expert contributor, contact BVM

at mkasper@bestversionmedia.com or (603) 686-3131.

Lawn Cutting

SPECIAL

EVERY

3rd Cut

Is Half Price!

New Customers Only

(603) 502-0016

Clipperlandscaping.com

Distinctive Properties. Exceptional Service.

©2018 Bean Group, All Rights Reserved.

2 PORTSMOUTH LIVING

CONTENT SUBMISSION DEADLINES

DEADLINE FOR CONTENT SUBMISSION

IS THE I ST OF EACH MONTH

Any content, resident submissions, guest columns, advertisements and advertorials are not necessarily endorsed by or

represent the views of Best Version Media (BVM) or any municipality, homeowners associations, businesses or organizations

that this publication serves. BVM is not responsible for the reliability, suitability or timeliness of any content submitted.

All content submitted is done so at the sole discretion of the submitting party. © 2018 Best Version Media. All rights reserved.

AUGUST 2018 3
---
Resident Feature

As for their lives before Portsmouth,

they each share a passion

for the environment and followed

it throughout their lives. It started

with college, while they both

received their degrees in environmental

studies. Jess went to Lehigh

University, while Scott went to

Pitzer College and then studied horticulture

at the New York Botanical

Garden. He is also an ISA Certified

Arborist and NOFA Accredited in

Organic Land Care.

"Scott worked for a boutique landscaping

company right out of college

and fell in love with plants," explains

Jess. "He went on to work as Head

Gardener on two private estates on

the East End of Long Island where we

lived for five years previous to moving

to Portsmouth."

While on Long Island, Jess worked

as Director of Education for a small

non-profit that supported local farmers

and other small food producers.

With their roots now firmly

planted in Portsmouth, they work

as a husband and wife team to run

McDermott Landscapes, a small

landscape design and installation

company.

"We work throughout the Seacoast

to create beautiful gardens for

our clients," says Jess. "We are so

lucky to be able to truly say we love

what we do."

This year, they launched a new

component of McDermott Landscapes

called "playscapes," which

is garden design that integrates

natural play elements that may be

enjoyed by young children and the

entire family. The idea came from

Scott, who wanted to get rid of

their backyard swing set to create

a garden.

"I felt guilty about this because

I knew Brooke would want a

HANGING WITH THE MCDERMOTTS

We would like to thank our sponsor, Porstmouth Christian Academy for the opportunity to bring you this story.

BY ROBERT LEVEY | PHOTOS SUBMITTED BY THE MCDERMOTTS

Residents of The Creek in

Portsmouth for the past

18 months, Scott and Jess

McDermott immediately

fell in love with their home, especially

the people in their neighborhood.

made a very happy discovery. "Brooke

just discovered swinging on her re-purposed

wine barrel swing, which hangs

from a big maple tree in our backyard,

and she is working on hanging ten with

her dad," Jess says.

While loving their neighborhood,

Scott and Jess both expressed a love for

Portsmouth itself.

"We made the decision to move here

because we knew it was family-oriented

and supportive of small business," Scott

"Scott worked for a boutique landscaping company right out of college and

fell in love with plants," explains Jess. "He went on to work as Head Gardener

on two private estates on the East End of Long Island where we lived for five

years previous to moving to Portsmouth."

"It was so clearly a family-friendly

neighborhood, but we never expected to

meet so many couples with children our

daughter Brooke's age," says Scott. "We

can't say enough about how quickly we

felt at home. This is in large part due to

our welcoming neighborhood."

According to Jess, Brooke has already

made some friends, and also recently

4 PORTSMOUTH LIVING

The McDermotts are joined in their

home by two adored pets, a cat named

Ella and a three-legged dog named

Shadow who came up from Arkansas.

"Brooke loves going on walks around

the neighborhood with Shadow—and

when the weather is nice Ella will follow

along," says Jess.

says. "It doesn't hurt that there are

some amazing restaurants in the area,

too."

Great Rhythm Brewing Company

is one favorite jaunt when they are not

cooking out with neighbors.

"We sometimes squeeze in a morning

walk to White Heron with our neighbors,"

adds Jess.

AUGUST 2018 5
---
space to play in," he says. "We settled on

a 'playscape' and built a prototype in our

backyard. Brooke continues to love and grow

with the space."

Jes also works at Strawbery Banke one day

a week where she coordinates a team of "wonderful

volunteers who cut and dry all of the

flowers used to decorate the houses during

the Candlelight Stroll event in December."

"We start in May with daffodils and other

early season flowers and continue all the way

into November," she says. "It is amazing how

much work goes into this event, and I love

joining the volunteers to experiment with new

drying methods and to continue to learn new

flowers."

Expressing excitement at the growth of their

business and their family (they're expecting

their second child in November), Jess expressed both of

their sentiments in thanking the neighborhood that has

welcomed them with such open arms.

"Thank you to all of our neighbors who have been so

welcoming to us despite us being the 'new guys,'" she says.

"We have already made so many great friends, and it is

wonderful to join this community."

DO YOU HAVE A

NEIGHBOR WHO HAS

A STORY TO SHARE?

Contact us at:

mkasper@bestversionmedia.com

Real Estate

LOWEST INVENTORY IN THE LAST 6 YEARS

DRIVES TOP DOLLAR FOR SELLERS IN PORTSMOUTH

Condo Sales for Downtown Portsmouth & Surrounding Area

ADDRESS SELLING PRICE BEDS BATHS TOTAL SQ FT

98 COURT STREET $500,000 2 3 1,000

79 DANIEL STREET $502,000 2 2 1,214

59 DEER STREET $509,000 2 2 1,444

889 SOUTH STREET $534,000 2 2 1,680

433 LINCOLN AVENUE $555,000 4 3 2,085

40 BRIDGE STREET $577,000 1 2 1,015

159 STATE STREET $600,000 2 2 917

117 BOW STREET $625,000 0 1 1,699

7 ISLINGTON STREET $629,000 2 2 1,175

159 STATE STREET $670,000 2 2 917

77 HANOVER STREET $670,000 2 2 1,318

159 STATE STREET $679,900 2 2 955

77 STATE STREET $725,000 2 2 1,160

12 ISLINGTON STREET $790,000 3 4 1,701

111 BRIDGE STREET $817,425 2 3 1,557

40 BRIDGE STREET $949,900 3 3 1,730

14 PORTER STREET $970,000 3 3 2,105

50 SOUTH SCHOOL STREET $1,075,000 3 3 2,482

135 BOW STREET $1,167,500 3 3 1,892

36 MARKET STREET $1,200,000 3 3 2,872

111 BRIDGE STREET $1,265,000 2 3 2,582

135 BOW STREET $1,268,000 2 3 1,625

10 STATE STREET $3,697,500 3 4 4,569

Best Version Media does not guarantee the accuracy of the statistical data on this page. Any real estate agent's ad appearing

in this magazine is separate from any statistical data provided which is in no way a part of their advertisement.

Attention:

Portsmouth

Cooks!

Send us your favorite family recipe(s)

to share with your neighbors.

Email them to mkasper@bestversionmedia.com

Subject to copyright and space availability.

6 PORTSMOUTH LIVING

NEIGHBORHOOD

Classifieds

To place your free classified, go

to www.bestversionmedia.com and

click "Submit Content." For FREE

listings, ads must be 40 words or

less, non-business related.

You will receive email confirmation.

SAMPLE:

HAVE SOMETHING

TO SELL

OR GIVE AWAY?

PET SITTING | Maya

My name is Maya. I pet sit cats,

dogs, hamsters, rabbits, and small

birds. I have been pet sitting for

3 years.

For more information

please call 000-000-0000.

YOUTH

Classifieds

Hey Kids!

Be in business for yourself and

make a little money –

all while helping your neighbors!

To place your free classified offering

services, go to

www.bestversionmedia.com

and click "Submit Content."

Please limit to 40 words.

Please be advised that all

communication regarding

Kids' Classifieds will be

directed through a parent or

guardian.

You can also email your ad

to the publisher, at

mkasper@bestversionmedia.com

Q: What's hotter than the dog days of summer?

Barbara Dunkle | NH & ME Broker

Web: www.barbaradunkle.com

Cell: 603-498-7927

Office: 800-450-7784 ext.7078

Email: barbara.dunkle@beangroup.com

A: The current condominium market. Let's talk!

AUGUST 2018 7
---
Pet Corner

GET AWAY IN VERMONT

BY ROBERT LEVEY

SUMMER HEAT DEADLY

FOR KIDS, PETS IN VEHICLES

What can possibly be better than Portsmouth, NH,

right? You have the ocean, world-class restaurants,

numerous recreational opportunities that run the

gamut from on the water to nearby meandering trails. Did we

mention the incredible shopping?

Well, everyone needs to get away for the weekend—and

if you do, you would be hard-pressed to find a more beautiful

spot anywhere in the New England, much less the entire

country, than Stowe, Vermont. Located just three hours away

from Portsmouth, Stowe is Portsmouth, but nestled within

mountains as opposed to tucked alongside the water.

If you have a free weekend, you cannot go wrong in Stowe,

which features striking natural beauty, wildlife, surprisingly

diverse culinary options and great dining and lodging options.

In fact, one of the most beautiful places you will find anywhere

in the world is the Trapp Family Lodge. Perched on top of

a mountain, the nearly 360 degree views of the surrounding

mountains are enough to stop anyone in their proverbial

tracks.

This 2,500 acre property offers four seasons of fun outdoor

activities, which include everything from an extensive mountain

biking trail system in the summer to cross country ski

trails in the winter. These are not just any old trails, however,

but pristine pathways that take you deep into forests that provide

very little indication that humanity exists anywhere. It is

magical.

Magic also exists in the new von Trapp Brewery & Bierhall

Restaurant, conveniently situated on the cross-country ski and

mountain bike trails, which most likely makes it the best trailhead

in Vermont.

"The Bierhall is a great gathering spot for friends to enjoy 'a

little of Austria, a lot of Vermont,'" says Sam von Trapp, who

noted the brewery incorporates the German Beer Purity Laws

of 'Reinheitsgebot.'

For those who want to venture off the property, however,

there is no shortage of recreational opportunities—whether it

be kayaking, canoeing, hiking, or any number of other activities.

All you really need to do is head in any direction off Route

100 and you will either end up on a mountain or in a stream,

river or lake.

For those who enjoy a little culture on their adventures, the

village of Stowe, although small and quaint, is incredibly interesting

as a shopping destination. Yes, Stowe is a skiers paradise,

but not enough is says about what this place offers in the warm

months.

Located on Mountain Rd. in Stowe, Stowe Kitchen Bath and

Linens is one must stop for everyone—even locals—with its

7,000 square foot post and beam space filled to the brim with

goods for every room and taste. In addition to free interior

decorating services, they offer an incredible array of cooking

classes in a professional kitchen.

"Our newest chef is insanely good and a true baker," says

Owner Kate Carpenter. "We are so excited."

From kitchen items to bedding, furniture and everything

in-between, this place is classic Stowe.

"This town is a wonderful mixture of rural charm with sophisticated

style that you really can't find anywhere else," adds

Carpenter, who noted she especially loves the Stowe Recreation

Path.

"It runs right behind my shop," she says. "I love to have

'walking business meetings' while on it...Stowe is just such

a beautiful place, and this path is nice and flat and gives you

great views of the surrounding valleys and mountains."

Of course, no trip to Stowe is complete without a jaunt

through downtown Stowe with Stowe Mercantile another

must stop on your weekend itinerary. Located in the heart of

Stowe, this place pretty much carries a little bit of everything.

They also offer free samples of some of their products, including

fudge that is "out of this world" good.

Speaking of things that taste good, are you hungry yet?

Head upstairs to Cafe on Main for what locals know is a great

place for a sandwich and soup while 'people-watching.' After

lunch, go to the bookstore next door and feed your mind.

Want something fancy for dinner? Go to Plate across the

street for dinner, but you will definitely need a reservation.

This restaurant definitely has a Portsmouth vibe.

Ready for a weekend adventure yet?

"Come to Stowe," says von Trapp. "There is really no place

like it—and I guarantee you will love it here."

Do what the man says!

Every year throughout the summer

months, the headlines that make

every parent cringe find their way

into newspapers and web pages: "Child

dead after being left in car."

WHAT THE NUMBERS SAY

On average, 37 children die each year

from heat-related causes after being

trapped inside vehicles. The parents in

these tragedies are from all walks of life

– the successful business man who forgot

he was on daycare drop-off duty, the

experienced nanny, the mom who drives

carpool, even daycare workers. The

average per year comes out to one child

dying in a hot car every nine days.

So far in 2018, there have been 17 child

deaths attributed to the heat of being left

in a car. With as many as 20 already this

year and the heat waves of August still

ahead, 2018 may be in line to repeat the

43 child deaths from being left in hot

cars in 2017.

WHAT HAPPENS INSIDE A CAR

IN THE HEAT

Even when the temperature outside

does not reach high levels, the interior of

a car can become deadly in a matter of

minutes.

According to research compiled by

Heatkills.org, within an hour the temperature

inside a vehicle can climb more

than 40 degrees than the temperature

BY JOSH COOK

outside. This means that on a 70-degree

day, interior temperatures of a vehicle

can easily be more than 100.

The Centers for Disease Control and

Prevention says that if the outside temperature

is between 80 and 100 degrees,

the temperature inside a car parked in

direct sunlight can quickly climb to

between 130 and 170 degrees.

A study also shows that leaving the

window cracked does little to prevent the

temperatures from reaching deadly levels

in a vehicle.

"In terms of heat-rise over time, it

makes very little difference whether a

car's windows are closed or partially

open," says a study by the American

Academy of Pediatrics. "In both cases,

a car's interior temperature can rise approximately

40 degrees within one hour,

even when the exterior temperature is

only 72 degrees."

Not only children are in danger.

People regularly leave animals unattended

in vehicles but often roll the window

down slightly for them. This will not

prevent the pet from succumbing to a

heat-related death; leaving the window

open does not keep the temperature at a

survivable level.

PREVENTION

There is a remedy is reminders. When

children are left in vehicles, it's most

often because a parent, guardian, or

caregiver forgot the they were in the car.

A common reminder system recommended

by law enforcement is to use a

teddy bear. Placing a teddy bear in the

car seat and then relocating it to the passenger

seat when a child is in the car seat

will serve as a reminder to the driver.

Another possible solution is a Band-

Aid. Writing "Kid in Car" on a Band-

Aid and place it on one's forehead before

leaving the house. In the event the

caregiver forgets they are on a drop-off

run and 'autopilots' to work, it will not

be long before a co-worker asks them

what happened to their head or even

reads the words on it. A brief embarrassment

is easier to heal than the impact of

losing a child.

However, forgetting a child in the car

is not the only children are left in cars in

the heat. Sometimes, children play in vehicles

and may become trapped in them.

A prevention for this is to keep vehicles

locked at all times.

The neighborhood may be safe enough

to leave the doors unlocked, but keeping

them locked can save the life of your own

children and those of your neighbors.

Pearl Street

Painting Company

Artisan Painting

Interior | Exterior

603.380.8627

pearlstreetpainting.com

8 PORTSMOUTH LIVING

AUGUST 2018 9
---
August | 2018

LOCAL

FARMERS

MARKETS

DURHAM

FARMERS MARKET

MONDAYS

2:15m-6pm

Jackson's Landing

www.www.seacoastgrowers.org

/durham-farmers-market

DOVER

FARMERS MARKET

WEDNESDAYS

2:15pm-6pm

Dover Chamber of Commerce

www.seacoastgrowers.org/

dover-farmers-market

EXETER

FARMERS MARKET

THURSDAYS

2:15pm-6pm

Swasey Parkway

www.seacoastgrowers.org/

exeter-farmers-market

PORTSMOUTH

FARMERS MARKET

SATURDAYS

8am-1pm

Portsmouth City Hall

www.seacoastgrowers.org/

portsmouth-farmers-market

SATURDAY, AUGUST 4

PORTSMOUTH HARBOUR

TRAIL TOUR

@Market Square Kiosk,

across from North Church

Portsmouth boasts 400 years of history, culture,

architecture, and scenic beauty, and you can see it

all along the Portsmouth Harbour Trail. Join a walking

tour and let our knowledgeable guides highlight the

historic homes, trademark tugboats and working

waterfront, vibrant Market Square, colorful

Prescott Park, and more.

TIME 1pm-2:30pm

COST $15

www.portsmouthnh.com/harbour-trail-historic-tour

SUNDAY, AUGUST 5

CARS & COFFEE

@Mall at Fox Run

Seacoast Cars & Coffee is a monthly event held the

first Sunday of the month May Thru October. Enjoy

all of the rolling beauty in this kid-friendly, open to

all atmosphere and show off the results of your own

octane addiction while you wander the lot and admire

the always changing line up of the other attendees.

TIME 8am-11am

COST FREE

www.seacoastcarsandcoffee.com

SATURDAY, AUGUST 11

9TH ANNUAL MOTORCYCLE RIDE

FOR HELP AND HOPE

@Epping American Legion

Join this police escorted ride through scenic back

roads, approximately 60 miles (with no stops). Breast

cancer survivors' ride up front as our VIP guests and

they ride for free. Registration is the morning of the

ride from 8:30am to 10:30am.

TIME Registration 8:30am-10:30am

Kickstands up at 11am

COST $30

www.ne-w4k.org

SATURDAY, AUGUST 11

LAMPREY HEALTH CARE

ANNUAL 5K FOR KIDS

@Lamprey Health Newmarket

Runners are welcome to dress up as their favorite

hero! The race will feature a kids fun run where

children will be able to "chase the villain".

TIME 7am-10am,

Race time is 8:30am

COST $30 for 5K runners.

Kids fun run is FREE.

www.active.com

SUNDAY, AUGUST 12

EVENING BY THE SEA GALA

@Wentworth by the Sea Country Club

Guests will enjoy music, delightful appetizers,

desserts, gourmet coffees, complimentary

champagne, raffles, a silent auction and more at

our Gala Fundraiser and Cocktail Garden party

overlooking the ocean. All proceeds benefit My

Breast Cancer Support a non-profit organization that

provides financial and emotional support to breast

cancer patients and their family members

throughout the Greater Seacoast NH/ME area.

TIME 5pm-8pm

COST $75

www.ebts.mybreastcancersupport.org

SATURDAY, AUGUST 25

6TH ANNUAL NEW HAMPSHIRE

MAKER & FOOD FEST

@Dover Children's Museum

The Maker & Food Fest is a venue for these "makers"

to show hobbies, experiments, projects, and for all of

us to enjoy fantastic food! The Fest takes place in and

around the Children's Museum of New Hampshire in

downtown Dover, NH

TIME 10am-4pm

COST Ages 5 and under are FREE. Early bird

tickets $8, Advance tickets $10, Day of event $12

per person

www.childrens-museum.org

SATURDAY, AUGUST 25

SWAG ON SWASEY ANTIQUE,

VINTAGE & COLLECTIBLE MARKET

@Swasey Parkway

Like the Portsmouth Farmers Market, but with unique

items from 25 different dealers including Todd Farm,

the Dover Indoor Antique Market, and the Arundel

Flea Market

TIME 8am-2pm

COST FREE

www.swagonswasey.com

Every Week in Portsmouth

MONDAYS

PAPA WHEELIES SHOP

GROUP RIDES

@Papa Wheelies

This is our No Drop Weekly road group ride.

We encourage riders of all abilities to come

ride with us. We'll work on group riding &

pace line skills and just set a goal to have a

great safe ride. We will ride anywhere

from 20-30 miles.

TIME 6pm

COST FREE

www.papa-wheelies.com

TUESDAYS

TUESDAYS ON THE TERRACE

@Strawberry Banke Museum

Enjoy the historic landscape of the 10-acre

living history museum with live music on the

terrace of the visitors center. Food and

beverages are available from Figtree Kitchen

Cafe, including beer and wine.

TIME 5pm-7pm

COST $5

www.strawberybanke.org

BOARD GAME NIGHT

@Diversions Puzzles & Games

Join us and you can find new games to learn

and play! We have a constantly updated game

library which you may pick games from to

play or you can bring your favorites from

home!

TIME 5-9pm

COST FREE

www.diversionsgames.com

NHAA PLEIN AIR 2018

@New Hampshire Art Association

Coordinated by NHAA artist Lennie Mullaney,

Tuesday morning plein air events are free

and open to all artists or photographers,

including non-members of NHAA.

TIME 8:30am-12pm

COST FREE

www.nhartassociation.org

THURSDAYS

STORY TIME WITH THE

ANIMALS AT THE NHSPCA

@NHSPCA

For Ages 2 to 5: Story Time with the Animals

is held every Thursday morning at 10:30 in

the Humane Education classroom. Children

listen to a story about an animal, color a

picture of an animal and visit the animals in

the classroom. No registration is required.

TIME 10:30am

COST A donation of $5 is suggested

and appreciated.

www./nhspca.org/programs-for-kids/

RUNNERS ALLEY

WEEKLY RUNNING GROUP

@Runners Alley

Join us at one of our store locations for a

casual group run - we run year-round!

All levels and all speeds welcome!

Runs are 4-6 miles Thursdays.

TIME 6pm

COST FREE

www.runnersalley.com/groups/

weekly-running-groups

FRIDAYS

FREE PIZZA FRIDAY

(2 SLICES PER JUMPER)

@Blitz Air Park

Indoor amusement center offering wall-towall

trampolines, theme nights, an arcade

and a toddler room.

TIME 7-9pm

COST $15 per person plus $3 for

re-usable Blitz Grip Socks (if you

don't have a pair)

www./blitzairpark.com

SATURDAYS

RUNNERS ALLEY

WEEKLY RUNNING GROUP

@Runners Alley

Join us at one of our store locations for a

casual group run - we run year-round!

All levels and all speeds welcome!

Runs are 4-8 miles Saturdays.

TIME 10am

COST FREE

www.runnersalley.com/groups/

weekly-running-groups

SALSA IN THE PARK

@South Playground

Salsa in the Park offers an opportunity to

dance outside in the summer months,

free of charge.

TIME 3-6pm

COST FREE

www.salsasecrets-portsmouth.com/sitp

SUNDAYS

OPEN HOUSE AT PORTSMOUTH

HARBOR LIGHTHOUSE

@Portsmouth Harbor Lighthouse

Visitors get to climb to the lantern room to

enjoy the magnificent view and to see the

fourth-order Fresnel lens up close.

TIME 1-5pm

COST $2 - $4

www.portsmouthharborlighthouse.org

HAVE AN EVENT

FOR OUR

NEXT ISSUE?

Contact us at:

rlevey@bestversionmedia.com

10 PORTSMOUTH LIVING

AUGUST 2018 11
---
Do you want to discover new

things about your neighbors?

We're looking for neighborhood

families or individuals with a

story to share to grace the covers of

the magazine.

Everyone has a story to share, and

we want to help you tell yours. We'll

talk with you, write the article and

give you a free, professional photo

session at your home so you can look

your best

in the magazine!

To get started, go to www.bestversionmedia.com

and click "Submit

Content." Or, simply e-mail rlevey@

bestversionmedia.com with your

contact information and ideas.

With your help, we can bring

people together, stay connected and

create an informative, family-friendly

forum through your magazine.

12 PORTSMOUTH LIVING

Wanted:

STARS FOR STORIES

Seacoast Financial Planning

A financial advisory practice of

Ameriprise Financial Services, Inc.

603.427.8252

314 Middle Street, Portsmouth,

NH 03801

contact:

charles.m.beynon@ampf.com

gregory.m.vallee@ampf.com

nicolas.curtis@ampf.com

seacoastfinancialplanning.com

PREPARING YOUR CHILD

FOR SCHOOL

BY ROBERT LEVEY

Your child is getting ready for his/her first day of

school, so are there things you can do as a parent

or caregiver to make that transition easier. The

answer is yes, according to child experts.

BE PREPARED

"Caregivers of any school aged child should plan for

these big transitions," saysJodie Lubarsky, Child, Adolescent

and Family Services Director at Seacoast Mental

Health Center, a nonprofit community mental health

center in Portsmouth. "They should make arrangements

to meet staff, understand the routine their child

will encounter at school and plan a tour."

For some kids, multiple tours could be necessary to

assist with the transition.

"Caregivers should ask to meet the staff who will

be interacting with their child and begin developing

an open dialogue with school staff immediately," she

added. "Caregivers know their children best, so they

should keep school staff informed if they notice any

challenges."

PRE-TEACH

For kids about to enter their first day of school, preteaching

is a great strategy, which means simply talking

with them about school. Discuss what their routine will

look like while at school.

"Caregivers might want to use books that highlight

the first day of school," saysLubarsky.

"We did this with our daughter and began reading

them as she prepared for her first day of kindergarten.

We now share them with families entering school for

the first time."

FOR KIDS WITH FEARS

For a child who expresses misgivings about their

first day of school, it is important to honor and validate

those feelings. As humans, says Lubarsky, we should

feel anxious about new situations.

"This natural anxiety or fear helps keep us safe," she

said. "Caregivers should avoid shaming or minimizing

those fears."

With that advice in mind, statements such as, "It will

be fine once you get there," should be avoided, as they

can feel dismissive to some children. Caregivers should

instead acknowledge such fears and offer support.

"They can ask the child what might make it easier,"

adds Lubarsky. "Caregivers should also consider sharing

how they felt on their first day of school and what

they enjoyed most about school. This allows children

to see they are not alone and it is natural to feel a little

nervous."

SIGNS OF ISSUES

If caregivers begin to notice a pattern of somatic

complaints, such as stomach aches, illness, etc., then

that might be an indication that the child is struggling

with the transition. Increased sadness and/or crying,

poor sleep, decreased appetite and becoming clingier

could all be additional indicators that a child is struggling.

"Caregivers know their children best, so any abrupt

change in behavior should be addressed," Lubarsky

says. "Caregivers can begin with both their pediatrician

and school staff to develop strategies to support the

child. If behaviors persist, caregivers should consider

seeking additional early intervention or mental health

supports."

FOR ANXIOUS PARENTS

As caregivers, it is important to be mindful of your

own fears and anxieties, too.

"We all survived our first day of school," notes

Lubarsky. "If our children sense our fear, we are sending

a potential indicator that they should be fearful,

too."

Even if it is difficult, caregivers need to be supportive

for their children and should seek their own support

from friends, family or professionals to manage their

anxiety."

"You only get one first day once, so enjoy it," Lubarsky

adds. "Take a deep breath and lots of pictures.

Caregivers should enjoy the moment and celebrate what

they have helped their child accomplish."

Suggested Reading List:

The Night Before Kindergarten by Natasha Wing

The Berenstain Bears Go to School by Stan and Jan Berenstain

Llama Llama Misses Mama by Anna Dewdney

We Don't Eat Our Classmates by Ryan T Higgins

AUGUST 2018 13
---
Nonprofit Spotlight

IMPROVING LIVES

After Brain Injury at Krempels

Center in Portsmouth

BY ROBERT LEVEY

There is a gap in the health care industry about

which no one really talks unless you or someone

you know happens to have a brain injury.

"That gap then becomes glaringly clear," says Lisa

Couture, Executive Director of Krempels Center in

Portsmouth, who described the nonprofit as "a pathway"

for helping brain injury survivors define new lives

for themselves.

"After a brain injury survivor is discharged from the

hospital and then from rehab, they are often told that

their recovery has 'plateaued,'" she said. "The skills

they need to adjust and navigate their new life,

however, are not been provided."

Living with the chronic effects of a brain injury,

according to Couture, is like coming to the end of the

sidewalk with nothing in sight ahead of you.

"Survivors and their families are left to figure it out

on their own, which she says is why the center was

founded by David Krempels, who understood the

experience firsthand. In 1992, Krempels sustained a

serious brain injury during a tragic car accident on

the Maine Turnpike.

Upon founding the center, he initially sought to

award small emergency grants to brain injury survivors.

He soon discovered, however, that there was a

greater need.

"Brain injury survivors need that sense of belonging,

a sense of community and camaraderie," says Couture.

"Those are things that can be taken for granted until

they are absent."

For many brain injury survivors, the sudden and dramatic shift

from their previous lives to one fraught with challenges related

to cognitive, communication, and/or physical skills often

leads to involuntary isolation.

For many brain injury survivors, the sudden and dramatic

shift from their previous lives to one fraught with

challenges related to cognitive, communication, and/or

physical skills often leads to involuntary isolation. Acquired

brain injury survivors (brain injury from trauma,

stroke, or other cause) can lose essential relationships

with friends and family members due to these unexpected

and invisible aspects of the injury.

"They can be too difficult for loved ones to adjust to

or difficult for the survivor to navigate," says Couture.

Like everyone else, though, brain injury survivors

want to be part of a community of people who share

common experiences.

"This is where Krempels Center shines," she says.

Located at the Community Campus in Portsmouth,

Krempels Center has created a unique environment for

its members, a 'multi-generational downtown' in a safe

setting and one shared with several other nonprofits.

"Krempels Center provides an opportunity for members

to socialize with each other and others at the Campus

while rebuilding the skills and confidence needed to

participate in their greater community," adds Couture.

Every year, nearly six dozen college interns—including

many from UNH—assist staff in working to

achieve the mission at Krempels Center, which offers

numerous evidence-based programs for its members.

Three times each week, members can choose from ten

to fifteen different classes that focus on well-being that

include cognitive skill building, health and wellness,

communication skills, creative arts and psychological

health.

According to Couture, each program is self-directed,

as members choose when they want to be there and

what they want to attend. Sessions like "Music Matters,"

"Tech Talks" and "Strength and Balance" are

all examples of programs designed to not only provide

therapeutic benefits, but improve the overall quality of

life of each survivor.

"Krempels Center is the place to sort out this next

phase in a brain injury survivors' life," says Barb Kresge,

Program Director. "We provide a supportive environment

where survivors have opportunities to build and

rebuild skills, connect with others who get what you are

going through, and focus on goals that are personally

meaningful."

Living with the chronic effects of a brain injury, according

Helping you

design for

the life you

want to lead!

Monday-Friday

7am-5pm

Saturday

8am-4pm

105 Bartlett Street,

Portsmouth

(603)436-7480

www.riccilumber.com

to Couture, is like coming to the end of the sidewalk with

nothing in sight ahead of you.

No matter a person's age or goals, Kresge says Krempels

Center has a place for him/her.

"It takes time and experience to understand and learn

from others your capabilities in these kids of circumstances,"

she says. "Krempels Center is a great place for

that important work."

To learn more about Krempels Center, visit www.krempelscenter.org.

"Looks AMAZING"

~everyone who sees your new kitchen

14 PORTSMOUTH LIVING

AUGUST 2018 15
---
GAMES WITHIN THE GAME:

Friendly Formats for Golf, Part 1

Prior to a casual game of golf, it's not uncommon for a player to

suggest some type of wager to make things "interesting." Throughout the

years, there have been many variations or formats introduced,

all of which can increase enjoyment and keep players focused.

MATCH PLAY VS. STROKE PLAY

These are the two basic forms of play in golf. In match

play, the outcome of a game is played on a hole-by-hole

basis. The individual or team that wins the most holes

during the round wins. The total score doesn't determine

the victory, only the number of holes won.

In stroke play, the lowest number of strokes played at the

end of the round determines the winner. In stroke play,

there is a gross score and a net score. The gross score is

your actual score and the net score is your score minus

your handicap. Stroke play was first called "medal play"

because the victor received a medal!

NASSAU

In this format, you may play as individuals or as twoperson

teams. There are really three mini-games within

the Nassau: for the most holes won on the front nine, the

most holes won on the back nine and the most holes won

overall. If you want to keep it friendly, you usually agree

on the wager before teeing off, and the bets are usually

settled at the nineteenth hole, in front of witnesses!

BETTER BALL

Usually referred to in Europe as Fourball, this is a match

in which a two-person team competes against another

two-person team, and each member of the team plays

their own ball. The team whose player records the lowest

score on that hole wins the hole.

ALTERNATE SHOT

For this game, called Foresomes in Europe, two golfers

play against two other golfers, and each team plays the

same ball. Team members alternate shots until the hole is

played out. They also alternate tee shots, with one team

member hitting the tee shot on odd-numbered holes and

the other hitting on even-numbered holes.

16 PORTSMOUTH LIVING

BY BRIAN MCDONALD, PGA OF CANADA

SKINS

This is probably the most popular game for three, four

or even more players (if unsupervised and the occasion

presents itself)! This is match play, and the players have

agreed to the amount per skin, or hole. The player with

the lowest score on a hole wins the skin. If two players tie

for the lowest score, then the skin is carried over to the

next hole. This is referred to as no blood or a carry-over

because you are carrying over the bet to the next hole.

The money can add up very quickly.

STABLEFORD

The Stableford is very interesting because there are point

values attached to your per-hole score. Depending on the

caliber of players, the point value may be adjusted, but

the most common values are: double-bogey=0 points,

bogey=1 point, par=2 points, birdie=3 points, eagle=4

points. The player with the most points at the end of the

round wins. This is somewhat speedy for club members

because once they have reached double-bogey on a hole,

they simply pick up. This format can be played with or

without handicaps.

CHAPMAN

This format is used when hosting couples' events, usually

a husband and wife team-up. Both players drive. Then,

each player hits the other's ball for the second shot. They

select the best second shot, and then play alternate shot

until the ball is holed. This is referred to as the Divorce

Open, and sometimes lawyers will jokingly hand out

business cards

on the 18th green!

If you have any questions about your game

or if there's a particular golf topic that interests you,

please email bmcdonald@bestversionmedia.com.

Brian McDonald has been a golf

professional and PGA member for 35

years, and continues to teach on weekends.

BENEFIITS OF

LOCAL RAW HONEY

BY CHELSEA HALL

We stir it into tea, drizzle it over warm fluffy

biscuits and even add it to bread dough. But

honey is more than just a sweetener; it is a

powerful superfood that can improve health and help

with everything from allergies to digestion.

It is important to note that raw honey is different

from processed honey, which is typically found in

supermarkets. Raw honey is unfiltered, unpasteurized

and pure, meaning it has retained all its nutritional

value and benefits. Pasteurized honey is clear, while raw

honey is opaque, since it contains pollen, propolis and

sometimes beeswax. Purchasing your raw honey locally

will boost the local economy as well as its benefits.

ALLERGIES

Bees visit flowers and plants in the immediate vicinity

of the hive, meaning that local honey contains trace

amounts of pollen from potential sources of allergies.

Consuming one to two teaspoons of raw, local honey

per day is thought to act as a vaccine of sorts, therefore

alleviating seasonal, pollen-related allergies.

DIGESTION

Raw honey contains an enzyme that is believed to aid

in digestion. It has also been known to alleviate the

discomforts of ulcers and diarrhea.

OVERALL HEALTH

Studies have shown that consuming raw local honey

once per day can help to boost the immune system. It

also contains high levels of antioxidants which help to

block disease-causing free radicals in the body. Polyphenols,

a particularly powerful antioxidant found in

honey, has been linked to reducing the risk of cancer

and heart disease.

COUGHING

Have a nagging cough or lingering cold? Try a teaspoon

of honey. A Penn State College of Medicine

study found that buckwheat honey was more effective

in treating coughs in children than a store-bought

cough syrup.

SKIN CARE

Honey is found in everything from facial creams to

shampoo. But many companies process the honey and

strip it of its valuable properties. Try this DIY raw

honey facial mask. You'll be amazed how soft your skin

feels afterward:

Moisturizing Raw Honey Mask

Combine 2 teaspoons mashed avocado with one

teaspoon raw honey and apply to face. Let sit for

a half hour before cleansing as normal. AUGUST 2018 17 15
---
AUGUST 2018

COVER PHOTO BY LORI TIERNAN

MAY

2018

COVER PHOTO

BY DIANE BIBLE

JULY 2018

Reach Out To Your Local Community

Advertise Your

Business in

Portsmouth Living

Call (603) 686-3131 Today!

Portsmouth

LIVING

Portsmouth

LIVING

LORI TIERNAN

& DEAGLAN

MCEACHERN

Committed to Family

and Community

p4

Portsmouth

LIVING

THE

CROTTO

FAMILY

On the go

in Portsmouth

p4

THE

MCDERMOTT

FAMILY

p4

COVER PHOTO SUBMITTED BY FAMILY

COME AND SEE

Why So Many in Portsmouth Choose Us

Quality Furniture That Lasts

18 PORTSMOUTH LIVING

DOWNLOAD TODAY!

Apple and the Apple logo are trademarks of Apple Inc. | Google Play and the Google Play logo are trademarks of Google LLC

STORE HOURS

Monday-Saturday 10:00am - 6:00pm

Sunday 11:00am - 5:00pm

603-433-2217

www.furnitureforever.com

1981 Woodbury Ave. Portsmouth, NH 03801

JULY 2018 19
---
2786

Portsmouth

LIVING

THE ALL NEW

VOLVO S90

THE ALL NEW

VOLVO S90

Announcing the VOLVO XC60 as the

Best Luxury Compact SUV of 2018

The sophisticated S90 shines with its intrinsic style, conspicuous

safety, and a limo-like back seat. It's available with two four-cylinder

The sophisticated S90 shines with it's Scandinavian style, world

engines: the 250-hp turbocharged T5 or the 316-hp turbocharged

class safety and the most interior room of any car in it's class.

and supercharged T6. Both pair with a silky eight-speed automatic.

The 2018 Volvo XC60 has been named the Best Luxury Compact SUV of 2018 by Cars.com.

The evaluation put seven luxury SUVs against each other in over thirteen categories including interior

quality, cargo storage, multimedia features, and more. The Volvo XC60 came out on top.

Industry leading features The top-rated like semi autonomous XC60's comprehensive driving and technology, practicality, and quality combined with safety

available 400hp hybrid features engineand make value thiselevated a true luxury the Volvo sedan. to the number one spot.

Come in for a test drive

Come in for a test drive

1-603-772-5975

VOLVO CARS OF EXETER

VOLVO CARS OF EXETER

140 PORTSMOUTH AVENUE EXETER, NH 03833

140 PORTSMOUTH https://www.volvocarsexeter.com

AVENUE EXETER, NH 03833

https://www.volvocarsexeter.com

USE THE CAMERA

ON YOUR PHONE

TO CHECK OUT OUR

INVENTORY OF XC60S!