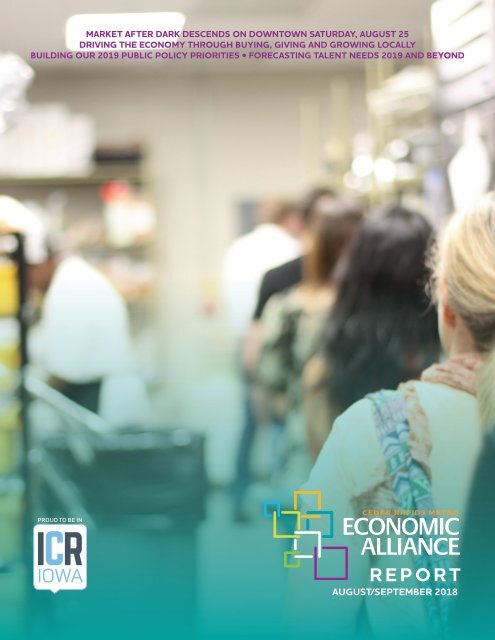 Create successful ePaper yourself
Turn your PDF publications into a flip-book with our unique Google optimized e-Paper software.
MARKET AFTER DARK DESCENDS ON DOWNTOWN SATURDAY, AUGUST 25

DRIVING THE ECONOMY THROUGH BUYING, GIVING AND GROWING LOCALLY

BUILDING OUR 2019 PUBLIC POLICY PRIORITIES • FORECASTING TALENT NEEDS 2019 AND BEYOND

REPORT

AUGUST/SEPTEMBER 2018
---
UPCOMING EVENTS CALENDAR

August

14

Hiawatha Business Summit -

Young Professionals

Aug. 14, 4:00 p.m. - 6:00 p.m.

Dave Wright Nissan

999 Boyson Road Hiawatha

Join us to celebrate 100 years of the

Cedar Rapids Area

Chamber of Commerce!

16

16

Cedar Rapids Downtown

Farmers' Market

Aug. 18, 7:30 a.m. - Noon

Downtown Cedar Rapids

24

Market After Dark

Aug. 25, 6:30 - 11:00 p.m.

Downtown Cedar Rapids

For our full Calendar of Events including

member events, visit www.cedarrapids.org.

TechBrew AM with Eddie Etsy

Aug. 14, 8:00 a.m. - 9:00 a.m.

Cedar Rapids Metro Economic Alliance

501 First St. SE

14

ParkCR Citation Forgiveness Blood Drive

Aug. 16, 3:00 p.m. - 6:00 p.m.

349 4th Ave. SE

BizMix: King's Material Inc.

Aug. 16, 4:00 p.m. - 6:00 p.m.

650 12th Ave. SW

18

LFS Alumni Golf Outing

Aug. 24, 11:00 a.m. - 5:00 p.m.

Ellis Golf Course

1401 Zika Ave. NW

25

MAR KET

AFTER

DAR K

Brought to you by the Cedar Rapids Metro Economic Alliance

2 AUGUST/SEPTEMBER 2018

29

September

Cedar Rapids Downtown

Farmers' Market

Sept. 1, 7:30 a.m. - Noon

Downtown Cedar Rapids

20-21

ImpactCR BigWig Lunch Talk: Chris Skogman

Aug. 29, 11:30 a.m. - 1:00 p.m.

Cedar Rapids Public Library

450 5th Ave. SE

1

Last market

of the season!

Iowa Ideas & Next Gen. Summit

Sept. 20-21

DoubleTree by Hilton

350 1st Ave. NE
---
93

ENTRANCE

MARKET AFTER DARK

DESCENDS

Dark Backgrounds

ON DOWNTOWN

SATURDAY, AUGUST 25

COMMUNITY DEVELOPMENT

1st St. SE

vENUE mAP

nOW aVAILABLE!

1 2 3 4

A

ID

Robot

Dancer

Cobble Hill

The Paramount

97 96 95 94 5 6 7 8 9

La Cantina

Red's Public House

2nd St. SE

101 100 99 98

106 105 104 103 102

F

Junk

Funk

ID

Penguin's

2nd Ave. SE

92 91 90 89

MARKET

AFTER

DARK

Brought to you by the Cedar Rapids Metro Economic Alliance

10 11 12 13 14 15 16 17

6

Need Pizza

Rock Bar

B

US

Bank

ID

Alley Feature

Grin N Goose

Lost Cuban

Pub 217

Hills Bank

3rd Ave. SE

E

3rd St. SE

Town Center

Plaza

Facepainting /

Glow Bar by

Blaze

ENTRANCE

ENTRANCE

Alley Feature Alley Feature

4th Ave. SE

Theatre

Cedar Rapids

ID

1

76 75 74 73 72 71 70 69 68 67

INFO

BOOTH

White Star

5

Brick's

18 19 20 21 22 23 24

Country

Underground

80 79 78 77

NXT

Bank

Hazaard County

5 SEASONS RAMP - ENTRANCE

ON FIRST AVENUE

ENTRANCE

25 26 27

2

28 29 30 31

Tycoon/

Fat Wally's

DJ

Matt Rissi

Yard Games

88 87 86 85 84 83 82 81 66 65 64 63 62 61 60 59 58 57

56 55 54 53 52 51 50

NORDSTROM

2018

WICKWIRE

CHIROPRACTIC

42 41 40 39 38

Greene Square

5th St. SE

KCRG

Cedar Rapids Museum

of Art The

Gazette

Entrance

Barricade

K ZIA

32 33 34

4

3

ID

Cedar Rapids

Public Library

Alisabeth

Von Presley

Performing

Live!

C

VANDERGINST

LAW

ID

D

35 36 37

49 48 47 46 45 44 43

STAGE

LEGEND

Beverage Tent

Restrooms

First

Presbyterian

ID Wristbands/

On Saturday, August 25, an anticipated 30,000 people will

head to Downtown Cedar Rapids for one of the community's

favorite events, Market After Dark. In its fourth year, Market

After Dark will bring together market vendors, dazzling

performances and unique nightlife ambiance for an evening

unlike any other.

ID Check

Entertainment

Before Market After Dark kicks off at 6:30 p.m., grab a parking

spot either on-street outside of the venue for free or in nearby

parking ramps for $5. Your parking spot is secure until the next

morning at 10:00 a.m. If needed, leave your car overnight and

find safe alternative transportation home.

More than 100 vendors will line the streets of Downtown Cedar

Rapids. As a nighttime market, you'll find a unique variety of

vendors than what you typically find at a morning Downtown

Farmers' Market. Find more prepared food options, fun retail

offerings and more. A full vendor list and map is available at

www.cedarrapids.org/marketafterdark.

Within the market venue, take part in the open container

environment (only applies to beer, wine and cider) with our

new Market After Dark souvenir cup! On your way in, stop by an

ID tent for a wristband, then make your way to a beverage tent

to purchase the souvenir cup for $6. Your first drink is included

with your purchase. Use it all night long, with refills for $5.

6th St. SE

Parking

Sponsors

10 of soul

performing

live!

The open container policy starts at 6:30 and ends promptly at

10:30 p.m. Participating establishments are also taking part in

the open container policy, check out a list at www.cedarrapids.

org/events/market-after-dark/downtown-partners.

It wouldn't be Market After Dark

without plenty of entertainment.

Alisabeth Von Presley will rock

the main stage from 6:30 to 8:30

p.m. Quad Cities-based 10 of Soul

take over at 9:00 to finish out the

night. And remember – no outside

chairs are allowed in the venue.

Other performers will be peppered

throughout the market. Three

alleyways will be transformed in a

PRESENTING SPONSOR

PRESENTING MEDIA SPONSOR

MAJOR SUPPORTING SPONSOR

We need

volunteers!

Shifts are available

before, during and

after the event!

Sign up at

www.cedarrapids.org/

marketafterdark

way you've never seen before in Downtown Cedar Rapids, think

Secret Garden, Starry Night and more - but you'll have to see

them for yourself.

Market After Dark is part of our efforts to grow core districts

in Cedar Rapids and support surrounding communities. We

hope to see you Downtown on August 25 for this vibrant, yet

economically impactful event. All event details are at

www.cedarrapids.org/marketafterdark.

THANK YOU TO OUR SUPPORTING SPONSORS:

Supporting – Nordstrom and Wickwire Chiropractic and

Wellness Center

ECONOMIC ALLIANCE REPORT

3
---
Building

Innovative Solutions

For 30 Years

Design-build and construction

management services with a turnkey

approach that focuses on collaboration

and streamlines the design and

building process for owners.

pointbuilders.com 319.364.5053

Corporate Office

4900 Bowling St. S.W. Ste 100, Cedar Rapids, IA 52404

Serving communities in eastern Iowa and western Illinois
---
A CENTURY

OF PROGRESS

Doug Neumann,

Executive Director

The Economic Alliance has had the distinct opportunity this year to reflect on our organization's past with the 100th

anniversary of one of our legacy organizations, the Cedar Rapids Area Chamber of Commerce. This month, we're

officially commemorating that anniversary with a celebration during the BizMix hosted by King's Material from 4-6

p.m. on Thursday, August 16.

Melissa McCarville

COMMUNICATIONS MANAGER

Ellen Bardsley

COMMUNICATIONS SPECIALIST

Clarissa Koch

GRAPHIC DESIGN SPECIALIST

Judith Cobb

CBJ ADVERTISING COORDINATOR

Corridor Business Journal

PRINTING & CIRCULATION

WWW.CEDARRAPIDS.ORG

This is a special event, not only because we're going to raise a glass, eat cake and celebrate the Chamber's 100 years

of progress, but also because this networking opportunity is being hosted at King's Material - the family business of

our current Board Chair Charlie Rohde - which has a history all its own. In fact, Charlie, too, is following in his own

family's legacy of leading as the Chamber, just as his father C.P. Rohde did in 1976 as the Chamber board chair when

he was leading Midland Forge.

Looking back 100 years, the challenges and opportunities the Chamber of Commerce

worked through are surprisingly similar but also very different from our work and goals

today.

Walter Cherry led the very first board of the Chamber of Commerce. He was an executive

at the old JG Cherry Company – which later became Cherry-Burrell and later still Evergreen

Packaging Co., which remains a member of the Economic Alliance to this day, 100 years

later.

Significant changes were taking place in Cedar Rapids in 1918. The organization had a

new look and feel from a rebranding effort, leaving the Commercial Club name behind and

reincorporating as the Chamber of Commerce. The organization also moved into a newly

constructed Roosevelt Building. The organization was poised for post-World War I growth.

Specifically, at that time, new technologies equated to opportunities for job growth in the

area and industrial growth. There was huge economic development opportunity in 1918

with the Cherry building development underway, the Higley building, the YMCA building,

a new ice cream factory. And the City of Cedar Rapids had recently purchased May's Island

and began formal development of that land bridging the east and west sides of the city.

Walter Cherry,

as published on page 7 of

The Cedar Rapids Gazette on

Dec. 23, 1941

ON THE COVER

Food and Beverage Forum

participants tour The Hotel

at Kirkwood Center's kitchen

classrooms. The new Food &

Beverage Forum is designed to

bring together producers and

purveyors, restaurant managers,

brewery and distillery owners,

chefs, bartenders, and food

industry creatives for discussion

and brainstorming on best

practices. Forums provide peer,

industry-specific insight on a

variety of topics paired with

hands-on learning from experts in

the field.

From a workforce standpoint in 1918, new jobs were about to be available with great

job base growth. Two new schools were opening. And the Chamber was the leading advocate for transportation

infrastructure. Work was being done to expand downtown to make it automobile ready as all brick paving had just

been completed for the shift from horses to the automobile.

Within the first year as a Chamber of Commerce, the Chamber had successfully lobbied for Hwy 30 – the coast-tocoast

Lincoln Highway - to come through Cedar Rapids. And because the new highway was required to go through

the county seat in each county it went through, the Chamber coupled with that highway advocacy an initiative to

move the county courthouse to Cedar Rapids.

The Chamber back then was a Cedar Rapids-only organization and didn't represent the metro area or the region the

way we do today. But interestingly, it led all aspects of economic development – business attraction and expansion,

downtown development, business support, public policy and quality of life efforts. The core functions of our work

today are not that different from what they were in 1918.

A hundred years ago, businesses came together to work in a unified way to help business succeed, to grow the

economy and to make the community a great place. A century later, almost 1,200 member businesses continue to

see the value in joining together to do much the same thing. That's something to celebrate!

Sincerely,

Doug Neumann

Executive Director

ECONOMIC ALLIANCE REPORT

5
---
100 YEARS OF PROGRESS

CELEBRATING A CENTURY OF THE

CEDAR RAPIDS AREA CHAMBER OF COMMERCE

The Cedar Rapids Metro Economic Alliance was formed in

2012 after a merging of our three legacy organizations: the

Cedar Rapids Downtown District, Priority One and the Cedar

Rapids Area Chamber of Commerce. Officially formed in 1918,

the Chamber was built to support a strong economy and

a better business community. The Chamber was created from

the Commercial Club, established in the 1880s. This year,

we celebrate a century of the Cedar Rapids Area Chamber

of Commerce. We look forward to the next dynamic and

momentous hundred years serving the Cedar Rapids area!

1918

JCPenney &

Montgomery Ward

department stores on

First Avenue

1918

Dues were $25 in 1918

(equivalent to $408

today, not far off from

what current smallest

employers pay at $425)

1920s+30s

Downtown District

established to

support Downtown

business & retail

post WWII

Arthur A. Collins,

of Collins Radio Company,

as was published on page 56 of

The Cedar Rapids Gazette on

March 14, 1954.

Chamber advocated

for more flights for

Collins Radio Company

(now Rockwell Collins)

integration
---
1970s

1950s

Cedar Rapids becomes

second largest city

in Iowa

1960s

Local artist,

Grant Wood,

designs

Chamber crest

Tourism Bureau, once a

function of the Chamber,

is established as an

independent entity

1990s

Priority 1 established

as economic development

entity

2012

Downtown District,

Priority One and

Cedar Rapids Area

Chamber of

Commerce

merge to form the

Cedar Rapids Metro

Economic Alliance

2016

ICR IOWA

created with

regional focus on workforce

and business attraction

PLEASE JOIN US

ALONG WITH THE

CEDAR RAPIDS METRO

ECONOMIC ALLIANCE

FOR A BIZMIX!

an enjoyable evening of food,

drink and networking

bring your business card for

a chance to score great door prizes

Help us celebrate the Chamber's 100 th year

of existence with a cake and champagne toast!

Thursday, August 16 th · 4:00pm–6:00pm

Thursday, August 16 th · 4:00pm–6:00pm

King's Material · 650 12 th Ave SW · Cedar Rapids

kingsmaterial.com

King's Material · 650 12 th Ave SW · Cedar Rapids, IA · kingsmaterial.com

ECONOMIC ALLIANCE REPORT

7
---
LARGE INVESTOR NEWS

COMMUNITY IMPROVEMENTS DRIVE

ECONOMIC DEVELOPMENT

2008's record-breaking flooding left widespread

devastation across Cedar Rapids. But, when it

came time to clean up the mess and rebuild,

the city saw an opportunity to create an even

better community than the one the flooding

had destroyed. "We had a unique opportunity

in Cedar Rapids to be able to incorporate all the

elements it takes to make a healthy community

as we rebuilt," says Sandi Fowler, assistant city

manager for the City of Cedar Rapids. "In the 10

years since the flood, we have seen a night and

day change."

Working with Healthy Hometown SM Powered by

Wellmark enables the city to focus on improving

residents' quality of life and making it easier to

get around within the community.

In 2017 alone, Cedar Rapids completed 26

pedestrian and bike-friendly projects, improving more than

seven miles of pavement across the city. The city's Complete

Streets policy made it the first city in the state to purposefully

design streets for all users — not just cars. Several one-way

streets downtown were converted to two-way streets, which

slows traffic speeds and increases walkability — improving

the vitality of shops, restaurants and other businesses in

the downtown core. More than 2,000 new, fully accessible

sidewalk ramps have been installed throughout the community,

with the goal of installing 4,000 over a four-year period.

In addition to the street conversions and sidewalk

improvements, Cedar Rapids has also made great strides when

it comes to cyclist safety. The addition of both shared and

protected bike lanes have made cycling much safer around

the city and significantly contributed to Cedar Rapids' goal

of increasing the number of people who bike to work. Cedar

Rapids also implemented the state's first green bike lanes,

which are installed 50 feet before and after intersections to

help encourage drivers to be alert to cyclists.

Sandi Fowler, assistant city manager, City of Cedar Rapids

"We knew that building a community that encourages healthy

living would be attractive to people — especially younger

people — looking to relocate," says Fowler. "Businesses got on

board immediately. They had wanted it to be easier to bike and

walk to get somewhere in the community for a long time."

City and community leaders also embraced the changes,

seeing the potential when it came to the city's economic

development. "The transformation that I've seen in the last 10

years is one where our citizens are able to enjoy so much more

about the community," says Fowler. "Not just where people live

and work, but everything in between."

Large Investor News submitted by Wellmark Blue Cross

and Blue Shield.

One of the main forces driving the improvements — especially

the changes to Cedar Rapids' built environment — was the

goal of creating a place where people would want to relocate.

8 AUGUST/SEPTEMBER 2018
---
NEW DOWNTOWN CEDAR RAPIDS

SOCIAL MEDIA CAMPAIGN LAUNCHES

Downtown Cedar Rapids Sucks.

That's the name of a new social media video campaign

sparking conversation and demanding attention. The first

of four videos launched in late June and aims to pique

interest in living downtown. Watch the video for yourself on

Downtown Cedar Rapids' Facebook, Instagram

(@downtowncedarrapids) and Twitter (@downtowncr)

pages. The campaign's landing page, DTCRSucks.com, is

populated with facts and figures about downtown housing

and links directly to housing options.

BUSINESS SUPPORT COMMUNITY DEVELOPMENT

Subsequent videos will center on events, quality of life

and businesses. Alongside urban housing, the video topics

support existing efforts to grow Downtown as a core central

district in Cedar Rapids.

Do we think Downtown Cedar Rapids sucks? No. Downtown

Cedar Rapids is vibrant, lively and cultured. Too often,

in Iowa and here locally, we can be humble about our

successes and how truly amazing our communities are. With

satire, the campaign aims to ignite conversations about and

draw attention to Downtown Cedar Rapids.

WHAT TO EXPECT AT NEXT GEN.

SUMMIT 2018

Bringing new ideas to life. Communication skills for

negotiations and collaborations. Building a meaningful life

beyond career success. These are just a few of the topics you'll

hear about at Next Gen. Summit 2018, happening September

20-21 in Downtown Cedar Rapids.

ImpactCR, with the Cedar Rapids Metro Economic Alliance

and EPIC, with the Iowa City Area Chamber of Commerce are

teaming up again to present Next Gen. Summit! The event will

bring together the best and brightest for a high-energy, handson

event. Next Gen. Summit was created to inspire, empower

and develop young professionals. In 2018, we're going bigger

than ever before. Next Gen. Summit will be offered as a track at

The Gazette's Iowa Ideas conference. Your ticket to Next Gen.

Summit gives you access to any sessions offered in any other

track at Iowa Ideas!

Next Gen. Summit has traditionally been a single day

conference, but this year you'll be able to keep the momentum

going for an additional half-day. Here are a few highlights to

look forward to over the two days:

Presented by

BROUGHT TO YOU BY IMPACTCR & EPIC

Thursday

• Bringing a New Idea Forward with Mandy Weber of

NewBoCo.

BROUGHT TO YOU BY IMPACTCR & EPIC

• Lessons Learned: Advice from the Pros; soak up some

knowledge from people who have been in your shoes

before.

Friday

• Keynote speaker, Zachary Mannheimer, Founder of the Des

Moines Social Club, will speak about building opportunities

related to creative placemaking in Iowa.

• Idea Building – What makes an idea great and how to turn

it into action. Take what you learned over the two days

and find ways to apply it in real life.

Purchase your ticket now at www.iowaideas.com.

ECONOMIC ALLIANCE REPORT

9
---
DRIVING ECONOMIC GROWTH

THROUGH BUYING, GIVING AND

GROWING LOCALLY

You have the power to drive economic growth by supporting

local businesses and non-profits. Buying, giving and growing

here can make a big impact with a far-reaching ripple effect

by keeping dollars here and growing GDP. Thus the motivation

behind Buy Here, Give Here, Grow Here, launching this month.

Buy Here, Give Here, Grow Here is the Economic Alliance's buy

local campaign that will bring to center stage locally owned

businesses, nonprofits and business building resources that

drive our economy. Watch for their inspiring stories of success

through the remainder of the year and learn how purchasing

from local goods and service providers benefits the greater

community.

Buy Here

You have $100 to spend. If you choose to spend it at a local

business, the total economic impact on the local economy is

$68, compared to $43 when spent with chain competitors.*

Dollars spent locally circulate in our community creating a

greater place to live and work.

"Infusing more dollars locally

strengthens our economy and

empowers local businesses to

grow here."

• BUY HERE • GIVE HERE • GROW HERE

-Charity Tyler,

Business Support Innovation Council Chair

CEDAR RAPIDS

AREA

• BUY HERE • GIVE HERE • GROW HERE

CEDAR RAPIDS

AREA

We're looking for 12 local businesses to tell their story about

what makes their business unique and how they add value

to the local economy. The campaign will offer each selected

business exposure on social media platforms, websites as well

as TV, newspaper and radio marketing opportunities. The

application to be considered opens on August 14 at

www.cedarrapids.org/business-resources/buy-here-give-here-growhere.

The application will close on September 14 at 4:00 p.m.

• BUY HERE • GIVE HERE • GROW HERE

Give Here

Local nonprofits make up an important part of the business

community. We'll highlight those that have a hand in solving

one of the most pressing issues in the region: workforce

availability. Consider supporting nonprofits that are developing

and upskilling today and tomorrow's workforce, or that serve as

CEDAR RAPIDS

a community resource to support AREA the workforce. Look for a list

of participating nonprofits soon.

BUSINESS SUPPORT

Grow Here

Area business owners and founders are driven by hard work and

creative initiative. If you want to start your businesses here,

there are countless resources at your disposal. Their stories of

success and why they chose to grow their business here soon.

Buy Here, Give Here, Grow Here is part of the Economic

Alliance's Business Support core function, that is dedicated

to creating a strong business environment supporting all

employers.

*Source: Andersonville Study of Retail Economics.

10 AUGUST/SEPTEMBER 2018
---
LEADERSHIP COMPONENT

REIMAGINED FOR ADULT

CLASS OF 2019

LFS Adult Class of 2017 learns from area leaders during Education Day.

BUSINESS SUPPORT BUSINESS SUPPORT

Each August, 35 of the best and brightest leaders in our

community embark on a ten-month journey known as the

Leadership for Five Seasons Adult program. Leadership for Five

Seasons (LFS) is a premier community leadership program that

focuses on developing top talent through a formal leadership

curriculum. LFS provides participants with community

knowledge, connections and inspiration to make a positive

impact on the community.

The LFS Adult Class of 2019 will be the first in 36 years to

experience the program's reimagined leadership development

component led by Nate Klein, Vice President for Student

Success at Mount Mercy University and a graduate of the LFS

Adult Class of 2017. Leadership development will be everpresent

at each phase of the program through the Leadership

Practice Inventory (LPI) assessment tool and True Colors, a

personality-identification system. Klein is a Certified True Colors

Facilitator.

Prior to the program's two-day retreat on August 9 and 10,

each class member will take part in an assessment tool called

the Leadership Practice Inventory (LPI). LPI will measures the

participant's leadership skills based on input from themselves,

IMPACTCR ADVISORY BOARD

APPLICATIONS OPEN SEPT. 1

If you're looking for an opportunity to build your leadership

skills outside of your 9 to 5, engage Cedar Rapids young

professionals and build your network, this is your chance. Apply

for the ImpactCR Advisory Board starting September 1. The

application will be available at www.cedarrapids.org/businessresources/programs-and-networking/impactcr

and will close on

September 30. If you're not a young professional yourself, but

you know one who would excel the position, nominate them!

In addition to your professional experience, this is what we'll

want to hear about on your application:

• Involvement on boards and committees, volunteer

work and leadership roles held.

• Why you are passionate about ImpactCR's mission to

create experiences to connect young professionals to

people and places in our community.

• One professional reference.

their supervisor and those who report to them. Based on the

results, an action plan is created for each participant focused

on growing their leadership skills.

From there, the class will continue their LFS journey on nine

education days, discovering the community through lenses like

agriculture, human needs, economic development and history.

Each education day will include programming that tackles a

different leadership development component.

Before the program's graduation in May 2019, the LPI

assessment will be administered again to measure just how

much the participant has grown as a leader and what they're

bringing back to their employer.

"I look forward to focusing on

self-awareness in leadership

development. Leaders can't

help others unless they first

understand themselves."

-Nate Klein

We seek young professionals with expertise in (or the desire

to learn about) membership recruitment, event planning, data

analytics, and insight on issues impacting young professionals.

Board positions are two year terms and begin in January. If you

have any questions, reach out to Jordan Atwater, Leadership &

Business Programs Specialist at jatwater@cedarrapids.org.

Thanks to our

Presenting Sponsor

Thanks to our

Supporting Sponsor

ECONOMIC ALLIANCE REPORT

11
---
BUILDING OUR 2019

PUBLIC POLICY PRIORITIES

Certain times of the year our public policy advocacy efforts are publicly

front and center. Other times, the work is being done behind the scenes,

as is usually the case over the summer months. Of course, in the public

policy world, there are always exceptions, as you read about our aggressive

advocacy on international trade policies that affect our local economies.

This summer's behind the scenes work includes gathering input and ideas

to build consensus for our 2019 public policy priorities and is equally

important to the advocacy work we do on behalf of our members.

Using our guiding principles, which can be found on our website at

www.cedarrapids.org/business-resources/public-policy/public-policyprinciple

and unfinished work from previous years, we begin seeking input

on what priorities our members want us to concentrate on in the coming

year. Sometimes we have an item on our agenda for multiple years, like

federal funding for flood protection. Although, you won't find that on our

agenda next year, as it was recently awarded to the City of Cedar in the

form of $117 million dollars. Other times, the item is on our agenda for

only a year before we see success.

Feedback from member meetings, direct input from our Innovation

Councils, Policy Board and other governance committees provide us with

direction on policy matters our members want us to engage in. We also

work in sync with our regional partners on the municipal and county levels,

as well as the Iowa City Area Chamber of Commerce.

That process sets in motion our plans and then political realities decide

our tactics to achieve success. It is at this point when our association with

like-minded statewide groups become the most useful. The Professional

Developers of Iowa (PDI), the Iowa Association of Business and Industry

(ABI) and Iowa Chamber Alliance (ICA) are among our most effective allies

within the advocacy world.

ICA, a non-partisan coalition of the 16 largest Chambers of Commerce

and economic development organizations throughout Iowa, provides the

Economic Alliance strength through numbers. Each year the group puts

forth an agenda to grow the state's economy through support of policies

and programs that stimulate economic growth opportunities for the entire

state and its residents.

PUBLIC POLICY

The ICA coalition focuses on pro-growth, pro-business policies and by

working together we will continue to create significant, positive changes

that will prepare Iowa for the future. For each of the 16, the first and most

important voice we need is from our members. It is your stories, needs, and

ideas that we seek to continue to work for aggressive, forward-thinking

statewide policies that make Iowa stronger.

Contact Barbra Solberg, Public Policy Strategist, at bsolberg@cedarrapids.org to

share your story, ideas or thoughts on future public policy agenda opportunities.

12 AUGUST/SEPTEMBER 2018
---
BUSINESS RETENTION AND EXPANSION

PROJECTS REPRESENT LARGE GROWTH

OPPORTUNITY

Existing businesses can represent some of the largest growth

opportunities. Statistically, 80 percent of a community's growth

comes from existing business projects. To date, the Economic

Alliance has assisted four expansion projects with Freund-Vector

Corporation, Timberline Manufacturing, World Class Industries

and Van Meter Inc. In total, these projects have represented

110 new jobs and $32 million in capital investment.

BUSINESS RETENTION & EXPANSION

We anticipate even more project news soon, with 17 projects

in the current pipeline. These represent expansion project

details we've received from businesses that could mean

building out at an existing location, creating new jobs within a

current facility or building a second location in the area.

Compared to this time last year, we have more than double

the number of projects in the pipeline. See a snapshot of the

potential impact these projects represent, indicted by jobs

created, including the average wage, and capital investment.

As a result of the Economic Alliance's renewed focus specifically

on retention and expansion of existing businesses, we are

updating one core function to reflect the work. Whether

you've noticed them before or not, each article in the monthly

Economic Alliance Reports are categorized by core function:

IN THE PIPELINE

Includes projects in the following industries; Advanced

Manufacturing, Engineering & Automation, Biotechnology

& Biopharma, Educational Tech. & Services, Food &

Ingredients, Industrial Biotech & Bioprocessing, Insurance

& Finance, Logistics & Distribution, Medical Tech. &

Services

BY THE NUMBERS

17

PROJECTS

$28.13

AVERAGE WAGE

227

JOBS

$87M+

CAPITAL INVESTMENT

Business Support, Community Development, Public Policy or

Business Retention and Expansion. That last core function may

sound unfamiliar. Work done in our previously named core

function of Economic Development will now be referred to as

Business Retention and Expansion.

As ICR IOWA leads regional efforts in workforce development

and business recruitment, we hope this change clearly and

concisely communicates the Economic Alliance's and ICR

IOWA's respective roles in regional economic development

work.

If your business envisions growth or an expansion on the

horizon, make us your first call. We can connect you to the

resources, people, and programs to potentially save you time

and money.

ECONOMIC ALLIANCE REPORT

13
---
ELECTRONICS

ENGINEERS

NURSING

ASSISTANTS

FORECASTING

PRODUCTION

WORKERS

Talent Needs

2019 & BEYOND

HEALTHCARE

SUPPORT

WORKERS

REGISTERED

NURSES

ASSEMBLERS

& FABRICATORS

What will the hiring demand and talent needs of ICR IOWA look

like in 2019 and beyond? ICR IOWA and Kirkwood Community

College recently partnered to find out with the Skills Talent

Forecast (the Forecast). After collecting data from more

than 140 employers in Iowa City – Cedar Rapids, ICR IOWA is

bringing workforce partners from across the region together

to determine how to respond to the most pressing talent

demands. The data is also being used to create workforce

attraction, retention and development strategies that support

employer needs.

ICR IOWA, and all of Iowa, really, is seeing record low

unemployment rates. It's a double-edged sword; because it

means people have jobs and are working, a good thing. For

employers, it proves challenging and can hinder growth. There

are more open jobs than there are people to fill them.

People with ties to Iowa – or at least the Midwest – are more

likely to consider an opportunity to relocate here. But how

do we find them? We are pursuing a relationship with the

Technology Association of Iowa (TAI) based on their amazing

program called the Iowan Project. The Iowan Project can

provide contact information of people in the technology

industry who may be interested in coming back to Iowa for the

right opportunity. With TAI's help, we may be able to scale this

program to our other critical industries.

Another audience with ties to Iowa, and in this case ICR IOWA,

is University of Iowa alumni. The University of Iowa's Center

for University Advancement and Alumni Association have been

fantastic partners. They are helping us connect

directly with University of Iowa alumni across

the country.

REGIONAL DEVELOPMENT

Employers that participated in the Forecast will create nearly

1,900 new jobs by the end of next year. From the Forecast

and a few other sources, we're projecting there will be a

need to hire a total of 5,584 jobs. Industries with the largest

anticipated jobs needs have been pillars in our economy for

decades. They include engineering, education and healthcare,

with technology-related positions within each industry showing

high demand as well. Data from the Forecast show almost

half of new jobs created in 2019 will come from these three

industries.

Careers within the three pillar industries include electronic

engineers, registered nurses, physicians, computer and

information systems managers, post-secondary teachers,

education administrators and more. These careers require a

degree, often an advanced degree, meaning the salaries have

the ability to entice relocation.

14 AUGUST/SEPTEMBER 2018

We're competing for talent nationwide, not

just in the Midwest. We must sell what makes

us unique to those considering relocation. We

have short commutes, major college athletics,

an arts culture, incredible health care, walkable

communities, friendly and hardworking

neighbors and top-notch local restaurants and

businesses. It's a great place to live. And now,

thanks to this data, we know the exact kind of

people we need to bring home to enjoy it.

If you have questions about the Skills Talent Forecast or would

like to see the full report, contact Tim Carty, Director of Talent

Attraction at tcarty@ICRIOWA.org.
---
MEMBERSHIP MEMBERSHIP

As the only nonprofit, independent school in Cedar Rapids,

Summit Schools is committed to preparing students to work in

the evolving, information-centered, global community of the

21st century. This year marks its 20th anniversary. Larisa Bickel,

Director of Business & Management, has been with Summit

Schools since the beginning. She shares more on the school for

this month's Member Spotlight.

Tell us about Summit Schools.

We believe children can affect positive change in the broader

world. We offer private prekindergarten, elementary and

middle school. Additionally, we have various programs that

are open to all students in the metro area, including tutoring,

summer programs and learning extension camps during inservice

days at other area schools.

What makes Summit Schools unique?

Our goal has always been to teach children where they are and

how they are. Grades are less important than where a child

is in their learning. Many families seek us out because we use

the Orton-Gillingham method, which focuses on multisensory

learning. Our instructional approach practices emphasize a

personalized approach to learning. Children are partners in

their education. Parents also sit down with teachers at the

beginning of each school year to set goals for their child.

As an independent school, we draw in students from across

the metro area, resulting in a very diverse school. Everyone

feels very connected; almost all the kids know each other,

across all grades. Kids have free movement between multi-age

classrooms as well as mentoring.

Learning occurs everywhere. On "Flex Fridays," middle school

students gain real-world knowledge and skills by venturing out

into the community to incorporate different types of learning.

Past Flex Fridays include working on class projects at the

Cedar Rapids Public Library, field trips to the Herbert Hoover

Presidential Museum & Library and to Iowa State University's

Office of Precollegiate Programs for Talented and Gifted

(OPPTAG) Investigation Series.

MEMBER

SPOTLIGHT

Summit Schools

celebrates

two decades

of brilLiant

beginnings

It's Summit Schools 20th anniversary! How

are you celebrating?

We traditionally host a back-to-school social welcoming

families to the new school year, so we're using the opportunity

to commemorate this 20-year milestone. On Friday, August

17 from 5-7 p.m. at the school (1010 Regent St. NE, Cedar

Rapids), former students, staff and families are invited back to

help us celebrate. The community is encouraged to attend and

learn more about Summit Schools. We have openings for the

2018-2019 school year! Enrollment is available through mid-

March each year.

Learn more about Summit Schools at www.summitschools.org.

ECONOMIC ALLIANCE REPORT

15
---
NEW

MEMBERS

Buckets Photography

400 First St. SE, Apt. 108, Cedar Rapids, IA | www.williampbuckets.tumblr.com

Country Financial

1215 Jordan Street, North Liberty, IA |

www.representatives.countryfinancial.com/peg.fraser

Game On

4625 Tower Terrace Rd., Cedar Rapids, IA

Hawks' Nest Sports Bar & Grill

6535 4th St. SW, Cedar Rapids, IA | hawks-nest-sports-bar-and-grill.business.site

Holly Adams Consulting

P.O. Box 11394, Cedar Rapids, IA | www.hollyadamsconsulting.com

LocalsLoveUs-Cedar Rapids

3581 Quarter Dale Ct., Iowa City, IA | vote.localsloveus.com/cedar-rapids

Mitch Valentine State Farm Insurance

1520 Midland Ct. NE Ste. 300, Cedar Rapids, IA | www.statefarm.com/agent

Perficut

6535 4th St. SW, Cedar Rapids, IA | www.perficut.com

Republic Services of Iowa

921 Ingleside Dr. SW, Cedar Rapids, IA| www.republicservices.com

Team Iowa

1300 Stoney Point Rd. SW, Cedar Rapids, IA | www.teamiowa.net

The Y. For a Better Us.

150 years of improving lives

in the Cedar Rapids community.

BECOME A

MEMBER TODAY!

Receive access to all five locations in the area plus

any YMCA in the country, a large variety of free

fitness classes daily, discounts on programs, financial

assistance, free child watch and much more!

Coming up in 2018:

June 8th-10th -

Camp Wapsie Alumni Reunion

June 9th -

Camp Wapsie Centennial Celebration

August 25th -

"Cranking for 150 More" Y Bike Ride

August 27th -

Golf Classic Fundraiser

November 3rd -

YMCA 150th and Camp Wapsie 100th

Anniversary Celebration Gala

YMCA of the Cedar Rapids Metropolitan Area | www.crmetroymca.org