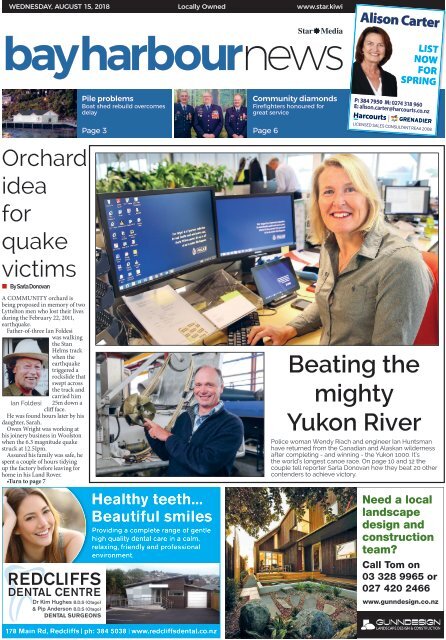 Bay Harbour: August 15, 2018
Create successful ePaper yourself
Turn your PDF publications into a flip-book with our unique Google optimized e-Paper software.
WEDNESDAY, AUGUST 15, 2018

Locally Owned

www.star.kiwi

Alison Carter

LIST

NOW

FOR

SPRING

Pile problems

Boat shed rebuild overcomes

delay

Page 3 Page 6

Community diamonds

Firefighters honoured for

great service

P: 384 7950 M: 0274 318 960

E: alison.carter@harcourts.co.nz

GRENADIER

LICENSED SALES CONSULTANT REAA 2008

Orchard

idea

for

quake

victims

• By Sarla Donovan

A COMMUNITY orchard is

being proposed in memory of two

Lyttelton men who lost their lives

during the February 22, 2011,

earthquake.

Father-of-three Ian Foldesi

was walking

the Stan

Helms track

when the

earthquake

triggered a

rockslide that

swept across

the track and

Ian Foldesi

carried him

25m down a

cliff face.

He was found hours later by his

daughter, Sarah.

Owen Wright was working at

his joinery business in Woolston

when the 6.3 magnitude quake

struck at 12.51pm.

Assured his family was safe, he

spent a couple of hours tidying

up the factory before leaving for

home in his Land Rover.

•Turn to page 7

REDCLIFFS

DENTAL CENTRE

Dr Kim Hughes B.D.S (Otago)

& Pip Anderson B.D.S (Otago)

Dental SuRgeonS

Healthy teeth...

Beautiful smiles

Providing a complete range of gentle

high quality dental care in a calm,

relaxing, friendly and professional

environment.

Beating the

mighty

Yukon River

Police woman Wendy Riach and engineer Ian Huntsman

have returned from the Canadian and Alaskan wilderness

after completing - and winning - the Yukon 1000. It's

the world's longest canoe race. On page 10 and 12 the

couple tell reporter Sarla Donovan how they beat 20 other

contenders to achieve victory.

Need a local

landscape

design and

construction

team?

Call Tom on

03 328 9965 or

027 420 2466

www.gunndesign.co.nz

178 Main Rd, Redcliffs | ph: 384 5038 | www.redcliffsdental.co.nz
---
PAGE 2 Wednesday August 15 2018

BAY HARBOUR

Latest Christchurch news at www.star.kiwi

get in touch

from the editor's desk

THAT'S A tremendous idea to have a

community garden to remember two

Lyttelton men killed in the February 2011

quake (page 1).

The land suggested was part owned by

one of the victims, Owen Wright, and his

wife Megan. The section was red-zoned and is now owned by

the Government, so there will need to be discussions there.

Let's hope they play ball. Owen had ferried people up the

Bridle Path in his Land Rover before setting off on foot for

home. He was struck and killed by boulders.

A fitting tribute today (see pages 4-5) to Baden Norris who

passed away recently.

Baden had an amazing life and was a pillar of the Lyttelton

and later Sumner communities.

- Barry Clarke

GENERAL INQUIRIES Ph 379 7100

CLASSIFIED ADVERTISING Ph 379 1100

Star Media, a division of Allied Press Ltd

PO box 1467, Christchurch

starmedia.kiwi

NEWS

Sarla Donovan

Ph: 021 919 917

sarla.donovan@starmedia.kiwi

ADVERTISING

Javier Balcazar

Ph: 982 9308

javier.balcazar@

starmedia.kiwi

Rob Davison

Ph: 021 225 8584

rob.davison@

starmedia.kiwi

news

Sandra retires after 35 years of caring

A special dinner marked Sandra Cody's final day the Edith

Cavell Lifecare rest home.

Page 8

news

Big tsunami of 1868

Historian Annette Bulovic describes how a 2.4m tsunami hit

Banks Peninsula on this very day in 1868.

Page 22

community events

Movie and soup

Enjoy a cup of soup before watching a film classic at the Mt

Pleasant Community Centre on Thursday.

Page 25

The best-read local newspaper, delivered to

10,056 homes, RDs and farms every Wednesday

Brookhaven, Heathcote, Ferrymead, Redcliffs, Mt Pleasant,

Sumner, Lyttelton, Diamond Harbour, Governors Bay, Akaroa.

THE LITTLE RIVER BAND

JON STEVENS LEO SAYER ROSS WILSON

MIDGE MARSDEN

AUTOMATIC 80s

PLUS GOLDEN KIWIS:

PETER URLICH TH'DUDES HARRY LYON HELLO SAILOR

RIKKI MORRIS CROCODILES CHERIE MATHIESON SOLA ROSA

RICK BALL HELLO SAILOR TONY WAINE THE NARCS

2019

TICKETS ON SALE NOW

ON THE DOMAIN LINCOLN 2 MARCH 2019

www.selwynsounds.co.nz
---
Wednesday August 15 2018

News

Boat shed delays overcome

• By Sarla Donovan

COMPLEXITIES with putting

piles into place have delayed

a new boat shed planned for

Moncks Bay.

Construction on Christchurch

Yacht Club's boat shed and deck

started in March with caissons

– chambers used for underwater

construction – for the seven

roadside piles placed into the

seabed.

Once in place, the caissons

were filled with concrete and a

steel pile was embedded within.

But technical issues with

ground conditions has meant

the last two were particularly

difficult and created delays, said

project manager and yacht club

member Frank Coppens.

Those difficulties had now

been overcome, he said. The next

step will be putting in the deck

and seabed access ramps. "Rest

assured, there is progress," Mr

Coppens said.

The deck design includes a

new 4m wide footpath along its

full length, which will become

part of the Christchurch Coastal

Pathway.

Prefabrication work has been

happening off-site with half

the steel for the deck frame

currently stored in the club's car

park and the other half at the

contractor's yard. Mr Coppens

said the deck would roughly

follow the outline of the 14 piles

and measure 40m by 13.5m. It

will be constructed from South

American Tonka hardwood

planks.

"We've purchased that and it's

waiting now at Mitre 10 so we've

got all that ready as well. It's just

a question of having the frame

to install it."

Weather conditions and access

Nuk Korako

National List MP based in

the Port Hills

Latest Christchurch news at www.star.kiwi

will determine when work could

start on putting the decking

frame in place, but the club

hopes it will be before the end of

next month.

But first the concrete and

landward piles need to be put in

place and then the steel support

beams could go in, said Mr

Coppens.

It's anticipated the deck and

access ramps would be finished

by the end of the year, but

REBUILD:

An illustration

of the new

boat shed

in Moncks

Bay which

will replace

the former

shed that was

demolished

in 2011. ​

additional funding would need

to be raised to place a boat shed

on the deck.

The cost to the finished

deck stage is $1.174 million,

which has come from the city

council, Coastal Pathway

Project and grants the club has

received.

The original boat shed was

demolished in June, 2011,

after suffering damage in the

February 22, 2011, earthquake.

BAY HARBOUR

Local

News

Now

In Brief

PAGE 3

Fire rages, homes at risk

LIBRARY HOURS INCREASE

Extended weekend opening

hours start at the Sumner

Centre: Matuku Takotako on

Saturday. The library will now be

open from 10am-4pm, Saturday

and Sunday. The move to

increase weekend hours follows

pressure from residents to enable

seven-day access, especially for

those who work and go to school

outside the area during the

week. The city council budgeted

an additional $44,000 per

annum in its Long Term Plan to

pay for the extra services.

FREE WI-FI PLAN

The city council is investigating

installing free wi-fi across

the Akaroa and Lyttelton

town centres after the idea

was suggested by the Banks

Peninsula Community Board.

Free wi-fi is provided at all

libraries in Christchurch, but

board member Janis Haley said

that created a lot of congestion

around the Akaroa Library

during the cruise ship season.

CORRECTION

In a recent article about Redcliffs

resident Chris Doudney,

Bay Harbour News referred to

him as a "former architect". Mr

Doudney remains principal at

Christopher Doudney Architecture.

We apologise for the error.

Don't be left out in the cold

Call today for a FREE property appraisal

Please feel free to contact my

office if there is anything I can

help you with.

A

E

P

6/950 Ferry Road, Ferrymead

nuk.korakomp@parliament.govt.nz

03 384 0008

/nukkorako.PortHills

korako.co.nz

Funded by the Parliamentary

Service and authorised by

Nuk Korako, 6/950 Ferry Road,

Ferrymead, Christchurch

We have active buyers keen to find their dream home, and yours

could be the answer.

Find out what your home could be worth to eager buyers actively

trying to find their next home with a free property appraisal. I look

forward to guiding you through your options and discussing our

latest marketing ideas available.

For professional real estate advice

call Chris today.

Chris Moores

Harcourts Grenadier Ferrymead

1020 Ferry Road

P: 03 384 7950 | M: 027 588 4440

E: chris.moores@harcourts.co.nz

GRENADIER

Licensed Sales Consultant REAA 2008

FLOORING

SHOWROOM 3/954 FeRRy ROad | CHRISTCHURCH | Tel. 03 943 2001 | WWW .gReenFlOORIng.CO .nz

®

ReadyFlor ®

by premium floors

LET US HELP

YOU SAVE $$$

ON FLOORING

• TIMBER • CORK

• LAMINATE • LEATHER

laRge SeleCTIOn

FRee MeaSURe &

QUOTe

Trading hours:

Tuesday to Thursday 8:30 to 5pm

Friday 8:30 to 4pm Saturday 10 to 1pm
---
PAGE 4 BAY HARBOUR

Latest Christchurch news at www.star.kiwi

Wednesday August 15 2018

Baden Norris

Historian, an inspiration and a

Well known Lyttelton

and Sumner resident

Baden Norris died last

Wednesday aged 92.

Matt Salmons looks

back on the life of this

iconic historian

A TIRELESS historian, avid

explorer, prospector, wharfside

worker, writer and emeritus

curator of two museums,

Lyttelton-born Baden Norris

balanced scholarly pursuits with

a down-to-earth attitude.

Close friend and Lyttleton

Museum committee member

Kerry McCarthy said Mr Norris

was a hard worker and a kind,

loyal man, who had a passion for

inspiring the joy of learning and

history in others.

"He was the classic New Zealand

gentleman of his age. He

was very modest and humble,

he always stayed very real and

grounded. He was very generous

in his knowledge and interested

in other people," Dr McCarthy

said.

Leaving school at a young age,

Mr Norris joined the merchant

navy, serving in the Pacific during

World War 2. On his return,

he worked as a painter in Rotorua

LEGACY: Historian Baden Norris passed away last Wednesday.

where he met his wife Alice. The

couple returned to Lyttelton to

marry and had a daughter, Daphne,

who lives in the United States

along with his grandchildren and

great-grandchildren.

The family later moved to Sumner.

Mr Norris' daily trip to work

at the Lyttelton Port, in which he

passed the archeological work at

Moa Bone Cave, connected him

with the Canterbury Museum

Archeological Society. He would

serve as the society's secretary

from 1958-1984, travelling on a

number of archeological expeditions.

Passionate about Antarctica,

Mr Norris visited the continent

15 times from 1964. On his first

EXPLORER: Baden Norris (left) on the ice during one of his

many trips to Antarctica.

visit, he dug out the huts used

by Antarctic explorers Robert

Scott and Ernest Shackleton,

becoming one of the first to enter

them since the expeditions and

saving a number of artefacts in

the process.

About that time Mr Norris

would lay the foundations for the

Lyttelton Museum. He wanted to

save the area's history after finding

decomposing fish and chips

sandwiched between copies of

the Lyttelton Times in the town's

archives. The museum opened in

1969, with Mr Norris as its first

curator.

"Baden was very proud that he

could bring the history and the

stories of the ordinary people of

Lyttelton into the museum," Dr

McCarthy said.

In 1984, Mr Norris became the

official curator of Antarctic history

at Canterbury Museum after

holding the position honourarily

since 1967.

Museum director Anthony

Wright said Mr Norris was an

"utterly dependable" man, saying

he was "good in the very best

sense of the word."

Our team at Bayleys Ferrymead understand what's involved in selling property. Backed by strong local knowledge and in depth marketing

experience, Bayleys Ferrymead takes a no nonsense approach through exceptional service and an easy-to-deal with manner.

Trust in the strength of Bayleys Ferrymead - altogether better

Marilyn Still

027 229 8769

Alex Fort

027 421 6016

Jane Moody

027 455 0161

03 595 2844

Unit 6a, 987 Ferry Road, Christchurch 8023

WHALAN AND PARTNERS LTD, BAYLEYS, LICENSED UNDER THE REA ACT 2008

ALTOGETHER BETTER

Residential / Commercial / Rural / Property Services
---
Wednesday August 15 2018

Latest Christchurch news at www.star.kiwi

Local

News

Now

classic gentleman of his age

BAY HARBOUR

PAGE 5

Fire rages, homes at risk

His work ethic and impeccable

manners allowed him to

feel comfortable in all levels of

society.

"He was a very down-to-earth

man, but very knowledgeable. He

really had it all at the tip of his

tongue."

Mr Wright said Mr Norris had

been instrumental in expanding

the museum's Antarctic collection

with many well known

artefacts, including Sir Robertson

Stewart's huskies, Jens and

Apolotok.

"He was very fond of the dogs

and he was very bound up in

retrieving them and having them

repaired for the collection. But I

would honestly think there are

many, many, many things in the

exhibits and the collection that

we owe Baden the thanks for."

A "most wonderful storyteller",

Mr Wright said Mr Norris had terbury Museum in 2002 and as

brought history to life, both as a curator of the Lyttelton Museum

tour guide and lecturer, telling in 2010, but continued to provide

the human stories behind items advice and volunteer service to

and events.

both museums right up until his

He said Mr Norris would death.

always remain a part of the museum

family.

a number of accolades, includ-

His work saw Mr Norris win

"He will always be a part of ing a Queen's Service Order,

our story. When our history is Antarctic Conservation Trophy,

written, he'll be a major player in Rhodes History Medal and,

that" Mr Wright said.

most recently, the New Zealand

Mr Norris resigned from Can-

FIJI

Antarctica Medal in 2013. Both

on Sale

Norris Glacier in Antarctica and

Baden Norris Reserve on Sumner

Rd, Lyttelton, bear his name.

In spite of his accolades,

Dr McCarthy said Mr Norris

remained humble; grateful for

the honours, but did what he did

because of his passion for the

fields he worked in.

Beyond his legacy at the

museums, she said he left behind

many people he had inspired and

befriended.

DEVASTATION:

Baden Norris

was an avid

supporter

of plans to

build a new

museum. after

the quakes

did irreparable

damage to the

old Lyttelton

Museum,

"There's a lot of people . . . who

are carrying knowledge, attitudes

and understanding with them

that they wouldn't have had if

Baden hadn't been around," Dr

McCarthy said.

"One thing he always said to

me was never let any opportunity

pass you by, take every

opportunity that comes your way

and that's the way to lead

a fulfilled life," Dr McCarthy

said.

Fast facts

•As a child, Baden Norris

was taken by his father to

see the carpenter from

Ernest Shackleton's Antarctic

expedition, Harry McNeish,

in a Wellington hospital.

Mr McNeish apparently

whispered in the young Mr

Norris' ear; "Shackleton killed

my cat". Kerry McCarthey

said that later in life, Mr

Norris would successfully

campaign for a small statue

of a cat be added to Mr

McNeish's headstone in

Wellington.

•The brass bust of Roald

Amundsen at Canterbury

Museum has a distinctly

shiny nose. Museum director

Anthony Wright said the only

case of Baden Norris ever

being speechless was over

Antarctic history, when asked

by a group of Japanese

tourists he was guiding why

the explorer's nose was so

big, Mr Norris said touching

the nose would bring luck.

The joking comment set off

a tradition where tourists

rub the nose, forcing the

museum to regularly apply

a wax seal to it to protect the

bust.

Kids Fly, Stay & Play

for $99 * pp

Limited to first 30 bookings

Adults from $640* pp

Exclusive to YOU Travel Ferrymead

Come & talk to the Award Winning Team at YOU

Travel Ferrymead - Melissa & her team have the

experience & expertise to make your dream

island holiday a reality! Various accommodation

options available so don't wait!

960 Ferry Road 03 384 2700

melissa@youferrymead.co.nz

Special Conditions Apply: Subject to availability or until sold out. Must be combined with accommodation. Taxes Additional. Sale Period 6 Aug-27 Aug 2018.

Travel Period 15 Aug 2018 - 30 June 2019. Blackout dates apply. Taxes on kids fares additional.
---
PAGE 6 Wednesday August 15 2018

BAY HARBOUR

Latest Christchurch news at www.star.kiwi

OUTLET

News

MASSIVE

TV & AUDIO

CLEARANCE

BELOW COST PRICING!

END OF LINE, SCRATCHED & DENTED & EX DISPLAY PRODUCTS

HONOUR: Firefighters Doug Coles (left) and Peter Hughan (right) were granted

life honorary membership of the Diamond Harbour Volunteer Fire Brigade by

chief fire officer Bob Palmer (middle).

LIMITED STOCK

DON'T MISS OUT!

COME CHECK OUT OUR SHOWROOM

99 FERRY RD, CHRISTCHURCH

St Asaph St

OUTLET

+

FRIDGE FREEZERS • WASHING MACHINES • DRYERS • COOKING

SMALL APPLIANCES • AUDIO • MANCHESTER • LOUNGE SUITES

DINING SUITES • BEDROOM SUITES • BEDS & HEAPS MORE!

ALL AT CRAZY OUTLET PRICES!

Barbadoes St

INTEREST

12MONTHS

FREE

ON ANY PURCHASE OVER $499 #

Ferry Rd

OUTLET

STORE

HURRY, ONCE IT'S GONE, IT'S GONE!

Call us on 03 3798249 or email us chchoutlet@smithscity.co.nz

#

Credit criteria applies, ask in-store for details.

Outlet Store items are over stocked, end of line, scratch & dent, ex display, ex repair items and more.

STORE

Fitzgerald Ave

Firefighters

honoured

• By Sarla Donovan officer Bob Palmer.

Said Mr Palmer:

"WE'RE A long way "This particular award

from help, and so we help recognises the quality

ourselves."

of their outstanding

That's the reason

commitment and work

firefighter Doug Coles gave performed over that

for joining the Diamond lengthy period and is only

Harbour Volunteer Fire awarded in outstanding

Brigade more than 25 years circumstances."

ago.

Mr Hughan joined

Mr Coles and acting the brigade in 1992, the

deputy chief fire officer year after he moved to

Peter Hughan both wanted Diamond Harbour.

to serve their community, "I've always lived in rural

and in a ceremony at communities, and it's one

Living Springs recently the of those things, everybody

community and the United helped out wherever they

Fire Brigades' Association could," he said.

of New Zealand said

It was humbling to

"thank you".

be acknowledged as

The two firefighters were firefighters are always part

awarded the UFBANZ of a team, Mr Hughan

Gold Star for more than said.

25 years of voluntary

"But a big part of it is

service.

our wives get recognised as

They were both also well, and they are the ones

granted life honorary that we desert when the

membership of the

siren goes." Mr Coles

Diamond Harbour

said.

brigade, which was

Anyone thinking of joining

the fire service presented by chief fire

should

THE FRONT window

of a horse float travelling

towards Teddington blew

in on Saturday morning,

causing traffic to back up

while fire fighters worked to

free the distressed animals

inside.

When the window broke

the two horses were startled

and began thrashing about,

prompting the driver

to pull over. One horse

became trapped when

its legs got tangled in the

centre bar, lying half across

it in a distressed state.

Diamond Harbour

Volunteer Fire Brigade chief

fire officer Bob Palmer said

they were called at 10.46am

and managed to free the

horses without having to

cut the bar.

The horses were then

walked to nearby Orton

talk to a firefighter's family,

Mr Coles said.

"To get an appreciation

of what you and your

family are committing to.

It's not like a club where

you have a set time every

week. If you're available,

you're obliged to go. And

everybody does. If you're

there when the alarm goes

everything gets put on hold

and you go," he said.

"It doesn't just affect you,

it affects whoever else has

made plans around whatever

is happening today

and all of a sudden you're

not there."

Mr Coles paid tribute

to the time and effort the

brigade put into making

a "fantastic weekend" for

him and Mr Hughan.

The awards were

presented by UFBANZ

president Joe Manihera

and the ceremony was

attended by family and

friends, members of Fire

and Emergency New

Zealand and dignitaries.

Blown window traps horses

Bradley Park, calmed down

and checked for injury.

Neither was hurt in the

incident, Mr Palmer said,

but there was "significant"

traffic buildup.

"The float was on the side

of the road pulled over as

far as it could but there was

a traffic issue with people

working around it and

trying to keep the horses

calm."
---
Wednesday August 15 2018

Latest Christchurch news at www.star.kiwi

BAY HARBOUR

PAGE 7

Orchard plan for

quake victims

Owen Wright

•From page 1

Unable to drive through

the tunnel, he ferried other

stuck people up the Bridle

Path in his vehicle, before

setting off on foot to get

home on the

other side of the

hill.

Mr Wright

was on the

Major Hornbrook

track,

10min from his

Norton Cl home

when boulders

loosened by an

aftershock struck

him.

Now his former neighbours

Betty and David

Purdue want to use red

zoned land at Norton Cl/

Somes Rd which is currently

maintained by Land

Information New Zealand

for a memorial orchard

dedicated to the two men.

The land was owned by

Mr Wright and his wife

Megan, and Kay and David

Commons. It has four existing

apple and pear trees.

Mrs Wright told Bay Harbour

News she was happy

with the idea.

"To be honest I haven't

been able to face going back

since our home was

demolished. However,

I think the orchard

idea is lovely

and very healing.

We could picnic

under the blossoms

rather than facing

an empty space,"

she said.

Mrs Wright and

her two children, Eric

and Sarah, now live

in Prebbleton.

Mrs Purdue said the trees

were Mr Wright's pride and

joy.

"He was very proud of

them and when the houses

were demolished we almost

stood in front of the digger;

we chatted up the driver

and said 'please, please see

if you can contour the land

around Owen's trees without

taking them out!'"

Urumau plan

gets approval

• By Sarla Donovan

AFTER TWICE declining

to adopt an updated

development plan for

Lyttelton's Urumau

Reserve, the Banks

Peninsula Community

Board on Monday gave its

approval - with conditions.

The sticking point for

the board was whether any

mountain bike tracks had

been illegally built and

needed to be closed.

Its approval is conditional

on confirmation that

no other tracks exist other

than on the plan - any

others will be closed by city

council staff.

Additionally, access from

Foster Tce will stay as a

shared walking and biking

path and the access from

there to the vehicle track

RUBBER

STAMP: The

Urumau plan

was approved

on Monday.

PHOTO:

MARK

BRIDGWATER ​

becomes a proposed shared

path.

A mountain bike track

proposed for the northwestern

corner of the park

has been removed and all

other proposed tracks are

subject to final approval by

the board before construction.

Said board chairwoman

Pam Richardson: "This

decision has been a challenge

to ensure that we

acknowledge the range of

issues brought to the table.

Urumau is a recreation

reserve, and we needed to

balance the desires of all

users, ensuring that it is a

safe environment while at

the same time respecting

the environment."

The updated plan was

first presented to the board

in April.

The land runs alongside

the Major Hornbrook track

and would be an ideal resting

point, Mrs Purdue said,

in a spot with plenty of sun.

"There isn't a memorial

in Lyttelton to the two Lyttelton

people who died. I

think it would make a really

nice pausing place."

Mr and Mrs Purdue have

written to the Banks Peninsula

Community Board

proposing the idea.

Board members "soundly

supported" the concept

in principle when it was

discussed at its meeting on

Monday.

But board member and

Deputy Mayor Andrew

turner said Mr and Mrs

Purdue may have to approach

LINZ get the process

moving.

•HAVE YOUR SAY:

What do you think of

the memorial orchard

proposal? Email your

thoughts to sarla.

donovan@starmedia.

kiwi

Tunnel

closures

ahead

LYTTELTON TUNNEL

will be closed on three

consecutive nights this

month.

The closures will be

from Sunday August 26,

Monday and Tuesday from

11pm and 4am as a new

fire protection system is

installed.

The tunnel will open to

traffic for 10min on the

hour for all three nights.

Outside those times, only

emergency vehicles will be

allowed access.

They are the first in a

series of night closures

over coming months to

enable the $29 million fire

protection system to be

installed and tested.

Commuters can also

travel to Christchurch via

Dyers Pass Rd.

Senior project manager

Chris Collins said work

on the project was in full

swing and expected to

finish early next year. He

said the work was complex.

"Single and full tunnel

traffic lane closures are

critical to the successful

completion of this project,"

he said.

Hellers Fresh NZ

Burgers 400g or

Pre-cooked Sausages

1kg Plain (excludes

Flavoured Variants)

Cadbury Novelty Bar

Single 30-60g (excludes

Luxury Flake)

ANY 2 FOR

$

12 99

99 c ea

Bluebird Original

Cut Chips 150g

$

1 99 ea

Mud House 750ml

(excludes Pinot Noir)

$

12 99 ea

Californian

Nectarines or

Black Plums Loose

Product of USA

be in

to

WIN

$50

$

6 99 kg

Lemons Loose

Product of New Zealand

$

2 49 kg

Quality Bakers

Nature's Fresh

Bread 700g

$

2 99 ea

Powerade Isotonic

Sports Drink 750ml

ANY 2 FOR

$

5 99

Speight's Gold

Medal Ale or

Summit Lager

24 Pack 330ml Bottles

$

34 99 pk

www.foursquare.co.nz

GIFT

CARD

store

Details in

facebook.com/FourSquareNZ

Specials available South Island only from Monday 13th August until Sunday 19th

August 2018 or while stocks last. Wine and beer available at stores with an off

licence. Wine and beer purchases restricted to persons aged 18 years old and over.
---
PAGE 8 Wednesday August 15 2018

BAY HARBOUR

Latest Christchurch news at www.star.kiwi

News

Local

News

Now

Work progresses on Sumner Rd

Fire rages, homes at risk

• By Sarla Donovan

WORK IS on track at Sumner Rd

which is set to reopen in March.

The completion date for the

road linking Lyttelton to Sumner

was pushed back more than a

year after contractors discovered

the project was more complex

than first thought.

However, city council manager

planning and delivery transport

Lynette Ellis said the project

remains within budget.

The joint city council and New

Zealand Transport Agency work

is being done by McConnell

Dowell as part of the $80 million

Sumner Lyttelton Corridor

programme.

The programme is made up of

four projects, the others are at

Wakefield Ave, Moa Bone Point

and Shag Rock Reserve.

The city projects have a budget

of $20 million, while the Sumner

Rd reconstruction will cost $60

million.

Stage one risk mitigation is

complete and workers are

now focused on repairing retaining

walls and drainage infrastructure

on and below Sumner

Rd in preparation for pavement

repairs, which will happen over

summer.

The road has been closed since

the February 22, 2011, earthquake,

due to damage and the

risk of rockfall.

It is a critical roading link and

heavy vehicles travelling to and

from Lyttelton Port have had to

use the Lyttelton Tunnel for the

last seven years since Sumner Rd

was closed.

FIXED: Sumner Rd is set to reopen in March after complex earthquake repairs.

More women

welcomed into

Ferrymead Lions

TWO MORE women were

inducted into the Ferrymead

Lions at its monthly meeting,

bringing the total number of

female members to six.

Ivy Lee and Jo Hutchings

joined Rosemary Lory, Ann

Newsom, Jenny Godden and

Ann Finnemore who last month

became the club's first female

members in its 41-year history.

The change was driven by

president Bill Newsom, who

is Mrs Newsom's husband. He

felt it was about time the club

welcomed the other half of the

population into its ranks.

Mr Newsom said the club had

recently sent a $500 donation to

Japan for flood relief and now

"after these dreadful fires in the

United States and Canada", the

club would be sending another

$1000 to the relief fund. "We of

Christchurch must not forget

that the US would have sent three

times as much money here as the

Lions clubs in New Zealand have

sent to the US after we had the

earthquakes in Christchurch and

Kaikoura," Mr Newsom said.

To help raise funds, the club

will be holding a pea straw sale

at the old Redcliffs School site

and opposite the Sumner Surf

Life Saving Club building on

Saturday.

There would be a second

sale on September 8 at Princess

Margaret Hospital in Cashmere.

Anyone who would like to

contribute to the relief fund

should come to the sale and

the club will send their donation

with its own, Mr Newsom

said.

Sandra retires after 35 years

at Edith Cavell Lifecare

• By Sarla Donovan

AFTER 35 years, aged care

worker Sandra Cody has hung

up her hat and retired from her

job at Edith Cavell Lifecare.

A special morning and afternoon

tea and dinner at LeXom

restaurant marked her final day

on Thursday.

There were a few tears, but for

Mrs Cody it was time to move

on. She started work back when

her children were at Sumner

School.

Now they have children of

their own, and Mrs Cody, who

turns 70 next year, is ready to

move onto a new phase in her

life. The great outdoors is calling

– with gardening, fishing, camping

and tramping beckoning for

her and partner Graham.

But she'll still find time to visit

the residents and her former

colleagues, and plans to do some

volunteering at Edith Cavell.

It's a place she's loved working

with people she holds dear, and

having her own mother live at

the home for six years has made

it even more special.

"I was pretty fortunate to be

here because I saw her five days

a week and my brother used to

come on the weekend so it was

a bit of a family gathering every

weekend."

She has always lived in the

area and attended Redcliffs

School. She now lives on Richmond

Hill. In her time at the

FRIENDS:

Edith Cavell

Lifecare

residents

Elvie Main

(left) and

Wendy

Theobald

farewell

Sandra Cody

(centre).

rest home, she's cared for parents

of friends who she grew up with,

something "which you never

thought you'd ever do when

you're at school."

Working with the elderly is

something that's given her a lot

of gratification.

"We have some good times,

and we have some sad times, too.

I get a lot of satisfaction from

caring for the elderly and a lot of

companionship from the other

staff. That really sums it up."

Visit our new website: www.min.nz

With thriving communities and

picturesque views,

the bays are truly spectacular

COASTAL REAL ESTATE SPECIALISTS

We'll help you live the dream.

Min Sarginson Real Estate Ltd. specialises in homes, sections and

rental properties in the spectacular Lyttelton Harbour bays, and

coastal suburbs of Christchurch, New Zealand.

We'll make it so easy for you. All our sales consultants live in the

area – we can give you valuable insights into life in our thriving

coastal communities.

This is an exciting time; of promise, optimism, and opportunities

never anticipated pre-quakes. Beachfront, or hillside with

grandstand views, find the property of your dreams:

Lyttelton | Diamond Harbour | Governors Bay | Cass Bay

Charteris Bay | Church Bay | Purau Bay | Port Levy | Northshore

Southshore | New Brighton | Heathcote | Sumner | Redcliffs

Scarborough | Mount Pleasant | Clifton

Call Min Sarginson Real Estate Ltd. for free, no-obligation advice. Lyttelton: 03 328 7273, lyttelton@min.nz or Church Bay: 03 329 4161, churchbay@min.nz
---
Wednesday August 15 2018

Latest Christchurch news at www.star.kiwi

BAY HARBOUR

PAGE 9

Trade

and

SAVE

TRadE in youR old

loungE oR dining suiTE and

savE up To $1,000

On A nEW LOungE OR dining SuiTE *

All traded furniture is donated to Habitat for Humanity

*Terms and conditions apply. Promotion valid from 10th - 24th August, 2018.

CITY: 100 Moorhouse Avenue | HOMEBASE: 199 Marshlands Road

Open Monday-Friday 9am-5.30pm, Saturday-Sunday 10am-5pm

FREE in-home consultation

Struggling to find that special piece or don't know where to start?

Why not take advantage of our FREE in-home consultation in

which one of our experienced consultants will come to your home

to discuss form, function and flow, all at no cost and obligation free.

To book a consult, phone 0800 749 999 or

email consult@global-living.co.nz

0800 749 999 | global-living.co.nz | Locally owned and operated
---
PAGE 10 Wednesday August 15 2018

BAY HARBOUR

Latest Christchurch news at www.star.kiwi

News

Local

News

Now

Redcliffs couple conquer Yukon

Fire rages, homes at risk

Redcliffs couple

Wendy Riach and

Ian Huntsman won

the Yukon 1000, the

world's longest canoe

race, this month. It

took them six days,

14 hours and 55min

to paddle 1609km

down Alaska's mighty

Yukon River. They tell

Sarla Donovan what it

was like

Tell me about the Yukon – is

it a fast-flowing river?

The river usually flows at

7km/h. However, this year it was

at a very low flow. According

to the locals, this was due to it

being an inordinately cold early

summer with much less snow

melt than usual. We could tell

after the first day of racing that

our times were going to be slow

in comparison to earlier years as

the river was flowing 1-2km/h

slower than in 2014 when we last

raced. Unfortunately this meant

no new race records for canoes

or kayaks this year.

Alaska has this legendary

quality, a final-frontier

mystique. How did it feel to be

out there in the wilderness?

It's big, it seems infinite, there

are very few roads, almost no

sign of human occupation, it

really does belong to the wild

animals who live there. We felt

like trespassers, we watched

our step when we were ashore

and attempted to leave no trace

behind.

Does it feel different to NZ?

Unforgiving, bigger and the

climate is different. The weather

is completely unpredictable, the

skies are very busy with active

clouds, you can never tell when

the next thunderstorm will be or

when the sun will emerge and it

will be instantly over 35 deg C.

You were out for six days and

14 hours – could you describe a

typical day?

WHITE NIGHTS: Ian Huntsman gets ready to make camp just before midnight on the fourth day.

Huntsman and Wendy Riach only slept for about four hours each night during the Yukon 1000

race in Canada.

The alarm in our tent goes off

at 4am. It's light outside but cold,

like say 7.30am in Christchurch

at the moment. It takes us an

hour to pack up our sleeping

bags and tent, cook porridge and

hot chocolate, sort out our race

food for 17-18 hours of paddling,

put our paddling gear back on

and launch the kayak. About

20min later we eat porridge

while sitting in the current of

the river. Then it's continuous

paddling with a few 5min stops

to eat heavy, fatty foods like

salami and cheese. Salami was

eaten in the morning, say about

9am at our most sleepy time

of the day. It has a sharp taste

and keeps you awake. Cheese

was eaten in the mid to late

afternoon to keep paddling

strength up until dinner time.

To be competitive, we had to

paddle each day until between

10pm and 11pm each night. We

found after the first day that we

were too exhausted to cook and

eat properly at 11pm so we made

a decision to stop every night

at around 8pm and go ashore

for 15min to cook dinner. This

was the only time we got out of

the kayak during the 18-hour

days. We boiled enough water

VIEW: Wendy Riach looks out

at the southern end of Lake

Laberge on the first day of

the race.

for our dinner and another hot

drink in the thermos. Once our

dehydrated Backcountry meals

were prepared, we resealed

the foil bags and jumped back

into the kayak. We ate dinner

sitting in the kayak with the

current of the river still taking us

forward. This cooking and eating

method limited the amount

of bear

precautions

we needed

to complete

when we

finally came

ashore at

night. When

we got

ashore, we

bear-proofed

all our

remaining

food and

rubbish,

put up the

tent, tended

to blisters,

trench foot

and chafe

with the first

aid kit, and

then went

to sleep for

between

three hours

Wendy Riach

Ian Huntsman

45min and four hours 15min per

night. It was never dark enough

at night to use a head torch. On

our last night, the sun shone into

our tent at 11.15pm and turned it

into a sauna for a few minutes.

Did you see any other people

during the race?

For the first nine hours, we

were swapping leads with a very

talented canoe called Team

Hobos.

•Turn to page 12

Frameless

Showers

1000x1000 From $700

1200x900 From $900

Custom fixed panels

from $180

T005 Toilet

$259

Christchurch Showroom

13b Parkhouse Rd, Wigram

T021 Toilet

Extra Height

$429

1200 Plywood Floor Vanity Range 25% off while stocks last

OPEN 6 DAYS Mon-Fri 9am - 5.30pm | Sat 9.30am - 4pm

0800 MILLEN | www.millen.co.nz | 03 348 8678

LiQuiD LaunDRoMatS

289 CoLoMBo St, SyDenhaM

(next to SuShi Shop)

713 FeRRy RD, WooLSton

7 DayS: 5am-11pm

WaSh & DRy aLL youR

LaunDRy in aBout 1 houR

DRy up to 3 LoaDS in

onLy 25 MinuteS! $4

Save tiMe & eLeCtRiCity

$4.00 WaSh - $4.00 DRy

Wash 2 Mink Blankets, Duvets

or Woolrests for only $8

• Fast Dryers

• Sports Gear

• Duvets

• Mink Blankets

• Bedding

• Washers

• Domestic Laundry

SeLF SeRviCe

other Locations: 47 Carmen Road, Hornby • 319 Pages Rd, Aranui • 345 Stanmore Rd, Richmond

• 261 Burwood Rd, Burwood • 17 Halswell Rd, Hoon Hay • 65 Percival St, Rangiora

www.liquidlaundromats.co.nz
---
Wednesday August 15 2018

Latest Christchurch news at www.star.kiwi

BAY HARBOUR

PAGE 11

Four Grenadier seasons Ferrymead realty & Sumner

Sumner

21 Cascade Place

As far as location goes, you could not wish for more - set in a microclimate right opposite the horse paddocks with a

rural outlook of the hillside and the sound of birdsong encapsulating the sense of tranquility, you could be forgiven for

thinking you were on holiday in this coastal suburb.

Accommodation is provided by four double bedrooms and a large attic for extra bedrooms, work from

home space or a rumpus room. The master bedroom opens onto the verandah and has a window seat

and ensuite.

Price: $939,000

View at: www.harcourts.co.nz ID#SM0051

Alison Carter Ph 027 431 8960

4 2 3 2 Linwood North

3 1 1 2

218 Woodham Road

This is a classic example of architecture's rarest gem, an architect's own home. Designed by John Huggins in the

1970s. This highly crafted 180sqm house with its sculptural form is inspired by the architecture and principles of Le

Corbusier, the 20th century's most legendary architect.

The house reflects Le Corbusier's modernist ideas on the importance of space, light and function. Inside

the use of floor to ceiling glass, sky high ceilings and cantilevers accentuate the form and create an open,

bright space with a sense of immersion in the garden.

Auction: 6th September 12pm

View at: www.harcourts.co.nz ID#FM5443

Suzanne Robin Ph 027 271 4906

AS IS,

WHERE IS

AS IS,

WHERE IS

Redcliffs 27 Beachville Road

Hillsborough 5 Stronsay Lane

Hei Hei 1/108 Buchanans Road

Redcliffs 97 Bay View Road

2 2 2 3

Section 919sqm

2 1 1 1

4 2 1 2

Price: $545,000

View at: www.harcourts.co.nz ID#SM0026

Alison Carter

Ph 027 431 8960

Price: $149,000

View at: www.harcourts.co.nz ID#SM0053

Deb Beesley

Ph 027 280 8837

Price: $389,000

View at: www.harcourts.co.nz ID#FM5444

Joy Butel Ph 021 353 280

Alistair Hazeldine Ph 027 572 1555

Auction: Thursday 23rd August 12pm

View at: www.harcourts.co.nz ID#SM0052

Alison Carter

Ph 027 431 8960

Kaiapoi 3 Kalmia Place

Sumner 1/94 Nayland Street

Mt Pleasant 1/123 Soleares Avenue

Woolston 41 Clarendon Terrace

3 1 1 1

3 1 1 1

2 1 1 4

3 1 1 1

Price: $329,000

View at: www.harcourts.co.nz ID#SM0033

Sophia Pratt-Miller Ph 027 843 7102

Deb Beasley Ph 027 280 8837

Auction: Thursday 30th August 12pm

View at: www.harcourts.co.nz ID#SM0040

Michelle Ward

Ph 027 203 7858

Price: $579,000

View at: www.harcourts.co.nz ID#SM0034

Alison Carter

Ph 027 431 8960

Price: $559,000

View at: www.harcourts.co.nz ID#SM0029

Michelle Ward Ph 027 203 7858

Shaun Davey Ph 027 953 8860

Greg Powell

Branch Manager

027 274 6157

Alison

Carter

027 431 8960

Michelle

Ward

027 203 7858

Deb

Beesley

027 280 8837

Joy

Butel

021 353 280

Chris

Moores

027 588 4440

David

Searle

021 565 950

Kirsty

McLeod

027 226 5893

Liz

Lewis

027 453 0952

Sophia

Pratt-Miller

027 843 7102

Mandi

Ussher

022 621 5758

Carol

Williams

027 282 4950

Dave

Elston

0274 593 165

Simon

Mutch

021 843 870

Claire

Savage

0210 314 342

Megan

Looyer

027 841 2335

Shaun

Davey

027 953 8860

Alistair

Hazeldine

027 572 1555

Lynton

Hubber

027 433 4141

Prue

Dacombe

021 752 348

Suzanne

Robin

027 271 4906

Sam

Ansell

021 160 6254

Ferrymead

& sumner

1020 Ferry Rd Ferrymead • Ph 384 7950 • harcourtsgrenadier.co.nz

Grenadier Real Estate Ltd MREINZ is a Licensed Agent Under the

Real Estate Agents Act 2008
---
PAGE 12 Wednesday August 15 2018

BAY HARBOUR

Latest Christchurch news at www.star.kiwi

News

Local

News

Now

1609km in six days, 14hrs 55mins

Fire rages, homes at risk

•From page 10

They were following us down a

tricky section called the '30 mile'

until they got stuck on a sandbar.

We didn't see them again until

we welcomed them over the

finish line. We had a great time

catching up at the Yukon River

Camp and later at Fairbanks

with the other crews after they

finished. For the remainder of

the race we did not see anyone,

except for a brief stop at the

Alaskan border village of Eagle.

How were the bears and bugs?

We saw one brown bear

(grizzly) just downstream of

Dawson City early on our fourth

day. The bear was very shy and

was on an island in the river;

he headed back into the forest

when he saw us paddle by. Other

animal highlights included

seeing a lynx, lots of beaver and

many moose with their calves as

well as a rare wolverine on the

last day. The bugs were largely

insignificant, we were up too

early and making camp too late

for them to bother us.

Do you get sore arms/hands –

where did it hurt?

We hadn't recovered from

racing the Yukon River Quest

three weeks before. This had the

unpleasant effect of our injuries

from the earlier race resurfacing

on days one and two, such as

blisters on our hands. Inflamed

tendon attachments, particularly

in the hamstring area, were a

real problem. We didn't take any

anti-inflammatory medications

as our previous experience

had proven these to be sleep

inducing. I think over the course

of the race, Ian and I took two

panadol tablets each for pain

relief. We used antiseptic,

antibacterial, anti-fungal creams

and barrier creams to keep

general infections and trench

foot at bay. At times we were in

agony, but we were always able to

change something, like swapping

seat cushions, back rests, or foot

rests to find a way of reducing

or eliminating the cause of the

injury.

We also carried a variety of

OVERNIGHT: Wendy Riach and Ian Huntsman make their last camp 200km from the finish in

Alaska at 11.30pm.

wrist braces which we used when

our arms became fatigued. Ian

also downsized his paddle blade

to protect his wrists.

Were there any 'OMG!'

moments?

On day five, we spent two

and a half hours paddling with

less than 10m visibility due

to wildfire smoke. There was

very little wind in the river at

that point, we had seen the fire

burning on the banks of the river

but the smoke lay thick on the

water for a lot further than we

anticipated.

It was rather frightening, as

the smoke was thick and acrid

and it seemed to go on forever.

Eventually a strong wind came

up and blew the smoke away and

we popped out the other side.

I think it was compulsory

to stop and sleep for six

hours – would you just pull

up at a likely looking spot

on the riverbank?

We always looked forward to

camping for the night, the sky

would soften to a golden colour,

the air temperature cooled down

a bit and the wind was generally

a bit calmer. It was a great time

of the day. We would choose a

spot (often on a small island)

on sand or gravel at least 10m

distant from any bush from

which a bear might appear.

We checked for animal

tracks and scat as soon as we

got ashore. We didn't find

fresh bear prints at any of our

campsites and always had a

good night sleep. We didn't

light any fires and went to sleep

as soon as possible. We had a

roomy lightweight tent that was

completely bug-proof and had

bear-spray cans in the tent with

us as well as wearing bear bells

when on land.

The two of you must get along

pretty well. What's the secret?

It takes a lot of energy to

win an expedition race such as

this one. We both had really

low points due to injuries

(luckily at different times)

which recurred and sleepiness

as a result of pain. Empathy

and consideration are key

elements coupled with absolute

determination to win. Without

that determination, it would

be too easy to give in to the

pain and discomfort. You also

need almost flawless paddling

technique to keep the paddle

strokes ticking over at maximum

efficiency without irreversibly

damaging tendons and muscles.

How did you celebrate the

win?

We hung out with the race

organisers, Jon and Harry,

at the Dalton Bridge and

welcomed the next three kayaks

and canoes across the finish

line. We all stayed together

and talked for days about our

shared experiences. All are

incredibly talented people

and we have forged strong

friendships through our shared

experiences. I can't think of a

better way to celebrate.

Can you describe your

preparation?

Planning and preparation

took about nine months. Most

of it was boring stuff such as

booking leave from work, flights,

accommodation, transfers

etc. We hired our kayak many

months in advance and fitted it

out three days before the race

with refurbished seats, footrests

and backrests, most of which we

had brought from New Zealand.

Without our custom fit-out of

the kayak, we simply would not

have been able to finish the race.

We took all our dehydrated

meals from New Zealand as we

believe Backcountry is the best.

We took much more warm gear

this time, as four years ago I

suffered badly from extreme cold

in the later stages of the race.

That didn't happen this year.

We also packed more calories in

our 18-hour race bags which we

sourced from supermarkets in

the Yukon. We ate about 4000

calories per day each.

I guess all your equipment is

vital but was there any gear you

couldn't do without?

Inflatable seat pads are the big

winner. The seat pads protect

your hamstrings and without

these we would have been out of

the race on day two.

How did you get into these

long-distance races?

A race called the Wild

Descent, which occurred in 2013

and 2104, it was four days long

and we raced the length of the

Clutha River in double kayaks

from Wanaka to the Catlins.

What's your next adventure?

We are team kayakers for a

multisport race at Queenstown

this weekend called the Peak

To Peak. Luckily the kayaking

section is only about 7km long so

we might just manage it.

NEW

LOCATION

95 Gasson St

The Automotive Lamp Specialists

New and Used Lamps for Cars, Trucks,

Vans, 4WD and Motorhomes

PH 0800 225 483 | 95 Gasson Street, CHRISTCHURCH

style

noun

elegance and sophistication.

synonyms: flair, grace, poise,

polish, suaveness, urbanity,

chic, finesse, taste, class,

comfort, luxury, affluence,

wealth, opulence, lavishness.

MAGAZINE

STYLE.KIWI

Hon Amy Adams

MP for Selwyn

I am out and around Selwyn regularly and

would love to meet you and hear the things

that are important to you.

Thursday 23 August

10:00am - Little River Cafe, Little River

2:30pm - The Brasserie Kitchen & Bar, Akaroa

Come up and make yourself known to me.

Visit amyadams.co.nz to sign up for my

newsletter.

Contact me

03 344 0418

@ selwynoffice@parliament.govt.nz

MPAmyAdams

amyadams.co.nz

Authorised by Amy Adams,

829 Main South Road,

Templeton, Christchurch.
---
Wednesday August 15 2018

Latest Christchurch news at www.star.kiwi

BAY HARBOUR

PAGE 13

House of Travel Ferrymead

because we're travellers too.

Mel Hubber

Owner Operator

EMAIL: MELLOWEN@HOT.CO.NZ

PHONE: 376 4018

Travel for me has been a way of life for more

than 24 years. I love different cultures and have

just returned from an awe inspiring trip to Kenya

and Tanzania. I would love to help you put the pieces

of a complex travel jigsaw together!

Mel Kim Hubber Beswick

Owner Operator

EMAIL: KBESWICK@HOT.CO.NZ

MELLOWEN@HOT.CO.NZ

PHONE: 376 4019 4018

Travel I am fortunate me to has have been travelled a way to of 114 life countries for more

than on all 24 continents, years. I love and different am an expert cultures in cruising, and have

just having returned worked from onboard an awe cruise inspiring ships for trip 8 years. to Kenya I

and have Tanzania. just arrived I would home from love to Alaska help and you Canada put the and pieces would love to help

of plan a complex your amazing travel holiday jigsaw & together! adventure.

Mel Katie Hubber Gillespie Melanie Hubber Bartram Caitlin Mel Hubber Thorburn

Owner Travel Specialist

Operator Owner Travel Specialist

Operator Owner Travel Specialist

Operator

EMAIL: KGILLESPIE@HOT.CO.NZ

MELLOWEN@HOT.CO.NZ

PHONE: 376 4031 4018

I have a huge passion for

travel and love exploring

new destinations. As a

new Mum I understand

the importance of

coordinating family

holidays and recently

enjoyed a great trip to Hawaii.

I look forward to helping plan your holiday.

EMAIL: MELANIEB@HOT.CO.NZ

MELLOWEN@HOT.CO.NZ

PHONE: 376 4021 4018

To me travel is addictive,

it's an awe inspiring

journey of discovery

which fuels the soul &

makes you richer. I was

fortunate to visit the

stunning islands of Tahiti

last year and look forward to

inspiring your new travel adventures.

EMAIL: CAITLINT@HOT.CO.NZ

MELLOWEN@HOT.CO.NZ

PHONE: 3764 4018 031

I have travelled globally

and just love that my

career involves planning

exciting holidays for

you! I feel privileged to

be able to help with your

planning process, each

holiday is different and that's

what makes this job so dynamic and exciting.

Melissa Hubber May

Owner Travel Specialist

Operator

EMAIL: MELISSAB@HOT.CO.NZ

MELLOWEN@HOT.CO.NZ

PHONE: 376 4022 4018

Travel I love working for me together has been to a discover way of what life for more

than the perfect 24 years. holiday I love means different for you. cultures I recently and have

just experienced returned an from amazing an awe glamping inspiring safari trip in the to Kenya

and Northern Tanzania. Territory I would of Australia love to help and Darwin you put which the pieces made me realise how

of much a complex we have travel to offer jigsaw so close together!

home!

Mel Anna Hubber O'Dell

Owner Travel Specialist

Operator

EMAIL: ANNAO@HOT.CO.NZ

MELLOWEN@HOT.CO.NZ

PHONE: 376 4036 4018

Travel Having for travelled me has extensively been a way I thoroughly of life for enjoy more

than immersing 24 years. myself I love in the different rich cultures of any and have

just destination returned I get from the opportunity an awe inspiring to visit. trip I recently to Kenya

and visited Tanzania. China and I would Russia love on the to help Trans you Mongolian put the pieces and have some great tips to

of share. a complex I love creating travel jigsaw an unforgettable together! experience that is uniquely your own!

The best holidays are created together.

987 FERRY ROAD, FERRYMEAD VILLAGE I 376 4022 I FERRYMEAD@HOT.CO.NZ
---
Page 14 Wednesday August 15 2018

BaY HaRBOUR

Latest Christchurch news at www.star.kiwi

Fuller Toolbox

410mm.

123647

2

Number 8 72L Steel Tray

Wheelbarrow

$

19 98

WEEK ONE

DATE / GAME WHERE RESULTS

THURSDAY 16 AUGUST

North Harbour v Northland

FRIDAY 17 AUGUST

Tasman v Canterbury

SATURDAY 18 AUGUST

Manawatu v Waikato

Auckland v Counties Manukau

Bay of Plenty v Taranaki

SUNDAY 19 AUGUST

Wellington v Otago

Southland v Hawke's Bay

North Harbour

Blenheim

Palmerston North

Auckland

Rotorua

Wellington

Invercargill

WEEK TWO

DATE / GAME

THURSDAY 23 AUGUST

Counties Manukau v Bay of Plenty

FRIDAY 24 AUGUST

Otago v Hawke's Bay

Taranaki v Manawatu

SATURDAY 25 AUGUST

Canterbury v Wellington

Waikato v North Harbour

SUNDAY 26 AUGUST

Tasman v Southland

Northland v Auckland

Steel Tray Wheelbarrow. 72L.

246550

$

48 65

Valspar Enamel Trim Paint

WEEK FOUR

DATE / GAME WHERE RESULTS

WEDNESDAY 5 SEPTEMBER

Waikato v Wellington

THURSDAY 6 SEPTEMBER

Canterbury v Manawatu

FRIDAY 7 SEPTEMBER

Otago v Northland

Auckland v Tasman

SATURDAY 8 SEPTEMBER

Southland v Counties Manukau

Hawke's Bay v Bay of Plenty

SUNDAY 9 SEPTEMBER

Wellington v North Harbour

Taranaki v Waikato

Hamilton

Christchurch

Dunedin

Auckland

Invercargill

Napier

Wellington

Taranaki

WEEK FIVE

DATE / GAME

WEDNESDAY 12 SEPTEMBER

North Harbour v Canterbury

THURSDAY 13 SEPTEMBER

Waikato v Hawke's Bay

FRIDAY 14 SEPTEMBER

Northland v Manawatu

Tasman v Taranaki

SATURDAY 15 SEPTEMBER

Counties Manukau v Wellington

Southland v Otago

SUNDAY 16 SEPTEMBER

North Harbour v Bay of Plenty

Canterbury v Auckland

Ideal for walls, doors,

windows, and trims. Suitable

for areas

subject to heavy

wear. Water

based. 4L.

277568

WEEK SEVEN

DATE / GAME WHERE RESULTS

WEEK EIGHT

DATE / GAME

WEDNESDAY 26 SEPTEMBER

Hawke's Bay v Northland

Napier

WEDNESDAY 3 OCTOBER

Otago v Bay of Plenty

THURSDAY 27 SEPTEMBER

Bay of Plenty v Manawatu

Rotorua

THURSDAY 4 OCTOBER

Wellington v Auckland

FRIDAY 28 SEPTEMBER

Auckland v Otago

Auckland

FRIDAY 5 OCTOBER

Hawke's Bay v Manawatu

FREE

Valspar

50MM

Brush

worth $15.49

$

105

SATURDAY 29 SEPTEMBER

Waikato v Southland

Taranaki v North Harbour

Wellington v Tasman

SUNDAY 30 SEPTEMBER

Canterbury v Hawke's Bay

Counties Manukau v Northland

Hamilton

Taranaki

Wellington

Christchurch

Pukekohe

SATURDAY 6 OCTOBER

Northland v Waikato

North Harbour v Counties Manukau

Canterbury v Taranaki

SUNDAY 7 OCTOBER

Southland v Bay of Plenty

Otago v Tasman

Purchase any of these

advertised items and receive a

FREE

Mitre10 Rugby ball

ONLY AT MITRE10 MEGA FERRYMEAD

FERRYMEAD 1005 Ferry Road • Phone: 366 6306 • Opening Hours: Monday–Friday: 7:00am–7pm. Saturday, Sunda
---
Wednesday August 15 2018

Latest Christchurch news at www.star.kiwi

BaY HaRBOUR

Page 15

018

GAME

SCHEDULE

WEEK THREE

Black+Decker Drill Driver

Drill driver with

bonus battery. 18V.

317425

WHERE

RESULTS

DATE / GAME WHERE RESULTS

Pukekohe

WEDNESDAY 29 AUGUST

Counties Manukau v Taranaki

Pukekohe

Dunedin

Taranaki

Christchurch

Hamilton

Blenhiem

Whangarei

THURSDAY 30 AUGUST

Auckland v Waikato

FRIDAY 31 AUGUST

Wellington v Southland

SATURDAY 1 SEPTEMBER

Bay of Plenty v Canterbury

Manawatu v Otago

North Harbour v Tasman

SUNDAY 2 SEPTEMBER

Hawke's Bay v Counties Manukau

Northland v Taranaki

Auckland

Wellington

Tauranga

Palmerston North

North Harbour

Napier

Whangarei

Gardena

Leaf Blower

Lightweight, removes

leaves and grass cuttings

effortlessly.

920065

$

99 98

WEEK SIX

WHERE

RESULTS

DATE / GAME WHERE RESULTS

North Harbour

WEDNESDAY 19 SEPTEMBER

Manawatu v Tasman

Palmerston North

Hamilton

THURSDAY 20 SEPTEMBER

Northland v Southland

Whangarei

Whangarei

Nelson

Pukekohe

Invercargill

FRIDAY 21 SEPTEMBER

Bay of Plenty v Waikato

SATURDAY 22 SEPTEMBER

Hawke's Bay v North Harbour

Otago v Canterbury

Taranaki v Auckland

Rotorua

Napier

Dunedin

Taranaki

$

79

North Harbour

Christchurch

SUNDAY 23 SEPTEMBER

Tasman v Counties Manukau

Manawatu v Wellington

WEEK NINE

Nelson

Palmerston North

Bahco

Socket Set

¼ & ½ inch 106 piece.

267254

WHERE

RESULTS

DATE / GAME WHERE RESULTS

Dunedin

WEDNESDAY 10 OCTOBER

Southland v Auckland

Invercargill

Wellington

THURSDAY 11 OCTOBER

Tasman v Hawke's Bay

Nelson

Napier

FRIDAY 12 OCTOBER

Taranaki v Wellington

Taranaki

Whangarei

North Harbour

Christchurch

Invercargill

Dunedin

SATURDAY 13 OCTOBER

Bay of Plenty v Northland

Waikato v Otago

Counties Manukau v Canterbury

SUNDAY 14 OCTOBER

Auckland v North Harbour

Manawatu v Southland

Tauranga

Hamilton

Pukekohe

Auckland

Palmerston North

$

229

Armorall

Detailing Car Kit

Includes

- Protectant Wipes

- Tyre Foam

- Wash & Wax

- Glass Cleaner

- Large Sponge

242948

$

24 99

y and Public Holidays: 8:00am–6:00pm. Offers available at Mitre 10 Mega Ferrymead only, until Wednesday 22nd August 2018, while stocks
---
PAGE 16 Wednesday August 15 2018

BAY HARBOUR

Latest Christchurch news at www.star.kiwi

At these

prices, you'll

be dancing

with the

cars

GamE

N

At

Check out

our great

weekly

prices

Limited Stock! NZ NEW$96.06

• Balance of New Car Warranty

• Low Km, Choice of Colours

2017 Holden

Commodores

FROM

$30,990

$162.72

2017 Holden

Cruzes

FROM

$17,990

2017 Holden Cruze Z Series

8 Airbags, Smart Key with Push Button Start, Luxurious Full Leather Trim

with Heated Front Seats, Cruise, Auto Headlights with Daytime Running

Lamps, Holden MyLink Infotainment System with Sat Nav, Reversing

Camera, CD/AUX/USB and Bluetooth connectivity.

2017 Holden Commodore VF2 SV6

8 Airbags, Auto Park, Suede/Leather Seats, Cruise Control,

Traction Control, Parking Sensors/Reversing Camera, Bluetooth.

2017 Holden

Traxs

FROM

$21,990

$116.57

2016 Ford

Mondeos

FROM

$24,990

$130.42

2016 FORD MONDEO TREND ECOBOOST 2.0

6 Airbags, Half Leather Trim with Heated 10 Way Electric Front Seats,

Dual Zone Climate Control, Adaptive Radar Cruise Control, Blind Spot

Monitoring, Lane Keep Assist, Lane Departure Warning, Apple Car Play/

Android Auto Integration, Bluetooth, Sat Nav, USB inputs.

2017 HOLDEN TRAX LTZ

Latest Facelift Model, 1.4 TURBO, 18" Alloys, Leather with Sportec Trim,

Heated Front Seats, Bluetooth/Apple Car Play/Android,

Rear View Camera with Rear Park Assist.

CANTERBURY'S

BEST CAR DEALS

#stadiumcars #thegoodsports

#itsjustnotcricket

FOR YOUR SAFETY, ALL MODELS FEATURE: 5 Star ANCAP Rating,

Reversing Camera, Parking Sensors, Bluetooth, Multi Airbags

OPEN

7 DAYS

stadiumcars.co.nz

Stadium Cars Christchurch

564 Moorhouse Ave, Christchurch

03 366 5900

sales@stadiumcars.co.nz

Stadium Cars Rangiora

609 Lineside Road, Rangiora

03 310 7940

sales.rangiora@stadiumcars.co.nz

*Conditions apply: Not available with any other offer. Finance offer subject to credit and lending criteria. Finance calculation based on 60 month term. No deposit with an annual fixed

interest rate of 11.95%, includes an establishment free of $375. See our website for full disclosure.
---
Wednesday August 15 2018

Latest Christchurch news at www.star.kiwi

BAY HARBOUR

PAGE 17

News

NEW ADVENTURES: Children from Cholmondeley got to experience the

Christchurch Adventure Park with Olympic cyclist Olivia Podmore. ​

Cholmondeley's

day with Olympian

OLYMPIC TRACK cyclist Olivia Podmore

visited the Christchurch Adventure Park

with a few special friends on Thursday.

Ms Podmore is the ambassador for

Cholmondeley Children's Home and

she and the Cholmondeley team took

advantage of a sparkling blue sky day to

take the children to the park where they

geared up and took to the trails.

Guiding the children through the twists

and turns of the Duncan's Donuts track, all

enjoyed a wonderful afternoon out at the

popular facility.

The 21-year-old professional cyclist is

passionate about supporting the cause and

helping Cholmondeley through her role as

an ambassador.

She said coming from a broken home

in her late teens and doing what she does

for a full-time job requires resilience and

strength.

"I want to help children become strong

and find their inner sparkle through their

adversity, and if I can help even one child

through Cholmondeley reach their dream

find their sparkle, I will be so happy."

winter clearance

SHIRTS

We have made huge reductions across all the remaining

brand long sleeve casual shirts, including those with the extra

length sleeve.

There are over 45 different patterns from business to subtle

checks and the 'in yer face' big madras checks (great with

denims). Because they are being cleared at super low prices,

they are oddment and broken size ranges. Cloths are all cotton in

qualities you can rely on, just ask the people who know. The sizes

available start at M right up the 4XL in the classic fit (they don't

impede your golf swing). RRP $ 89.90 to $ 109.90

SALE

$

18 $ 24 $ 28 $ 33 $ 38

PULLOVERS

We have a wide selection of . All Merino ¼ zip style

pullovers in three different knit styles. We have limited sizes in some

color/knit choices. Be in quick for your choice. Colours, Charcoal,

Eclipse blue, Fig, Grey tweed, Black. These are the comfortable

classic sizing from SM to 4XL which you know. RRP $ 159.90

$

SALE 80 Fig shade only, they sent the wrong shade.

$

SALE 118 $ 124 $ 128

MOLESKIN JEANS

Enjoy the comfort and proven fit of light weight STRETCH

moleskin jean. Colors of moss, olive, gunmetal. Sizes available

84 to 104cm. RRP up to $ 109.90

SALE $

64 or 2 for $ 80

CASUAL PANTS

Summer weight cotton casual in shades of Putty or Khaki

available in sizes 84 to 107cm. RRP $ 109.90

SALE $

30 or 2 for $ 60

JEANS

Navy STRETCH denim, summer weight, comfy with slim leg

84 to 96cm. RRP $ 99.90

SALE $

38

CORDUROY PANTS - stretch cloth

We have various oddments in both sizes and colors left over

which 'must go'. These are the Savane brand which you are

familiar with. This has now become a dis-continued line for us.

SALE $

64 each or 2 for $ 80

or 3 for $ 90 or 4 for $ 100

Yes, you can share them around family, friends & neighbors!

KNITWEAR

We have started the seasonal cull of our huge knitwear range,

pullovers, cardigans and slipons. We have separated out all the

'must go' items and marked them down drastically.

Slipons from $ 30 to $ 60

Cardigans under $ 80 to $ 125

Pullovers $ 60 to $ 90

the MENSWEAR

@ SYDENHAM

387 Colombo Street

Parking behind Butlers Auto Mart

In association with

2

in Bishopdale Village

Hours: Mon to Fri 10am to 4pm. Sat 10am to 3pm. Closed Sun.

Are the stores the same? NO, but they do share heritage.

They have similar and different merchandise.
---
PAGE 18 Wednesday August 15 2018

BAY HARBOUR

Latest Christchurch news at www.star.kiwi

Durham St

Armagh St

Cambridge Tce

MARGARET

MAHY FAMILY

PLAYGROUND

Madras St

Gloucester St

Cathedral Square

Manchester St

Montreal St

Cambridge Tce

Hereford St

Cashel St

Colombo St

Lichfield St
---
Wednesday August 15 2018

Latest Christchurch news at www.star.kiwi

BAY HARBOUR

PAGE 19
---
PAGE 20 Wednesday August 15 2018

BAY HARBOUR

Latest Christchurch news at www.star.kiwi

ON

NOW!

Promotion closes 1st October 2018.

Conditions apply.

Shop

Win

& Relax

SUPPORT YOUR LOCAL

BUSINESSES

TO WIN 1 OF 5

FAMILY GETAWAYS

TO HANMER

SPRINGS

Enter every time you shop at any

of these participating businesses

More chances to win!

Proudly supported by...

FERRYMEAD

WINTER

WARMERS

Jim Beam

Or Canadian

Club/Spiced

1L

$37.99

9 HUMPHREYS DRIVE, FERRYMEAD | PH. 03 376 4097

Prices valid Mon

13th - Fri 31st

August 2018.

No Trade sales.

Larios

Original

1L

$33.99

Stil

Vodka

1L

$35.99

FERRYMEAD

Fresh fish

straight

from the sea

each day

Phone 03 326 5726

Cnr Wakefield Ave and

Nayland Street

Sumner, Christchurch

Open 6 days from 11.30am

(closed Tuesdays)

We're not just books

WATERMAN PL

FERRY ROAD

FERRY ROAD

987 Ferry Rd, Ferrymead | Ph: 373 6550

Shop

Win

& Relax

OPEN 7 DAYS | 1005 FErrY rD | Ph 384 2063

Proudly supported by...

Personal insurance

premiums keep going up?

Let's talk!

Call Danté on 027 696 2117

financialadvisernz

Krystal Henderson

Licensee Salesperson

Ray White Barrington

256 Barrington Street, Christchurch

M 027 751 5493 T 03 332 2080

E krystal.henderson@raywhite.com

nextsteprealty.co.nz

Next Step Realty Ltd Licensed (REAA 2008)
---
Wednesday August 15 2018

Latest Christchurch news at www.star.kiwi

BAY HARBOUR

PAGE 21

ON

NOW!

Promotion closes 1st October 2018.

Conditions apply.

Shop

Win

& Relax

SUPPORT YOUR LOCAL

BUSINESSES

TO WIN 1 OF 5

FAMILY GETAWAYS

TO HANMER

SPRINGS

Enter every time you shop at any

of these participating businesses

More chances to win!

Proudly supported by...

2a Waterman Place Ferrymead Ph.376 4071

www.thegoodhomeferrymead.co.nz

• Re-thread broken necklaces

• Re-knot pearls

• Magnetic clasps fitted

• All jewellery repairs

at any level

Jewellery

& Giftware

JEWELLERY REPAIRS

HOURS: Mon-Fri 9am-5pm, Sat 9am-1pm

79 Wrights Road, Middleton.

Ph: (03) 338 0171

Email: sales@warrenagencies.co.nz

www.warrenagencies.co.nz

Boost Brain Performance

ENZO:PROFESSIONAL (ENZOGENOL)

is a potent antioxidant extract of the N.Z. pine bark and has

SUPER PRicE!

been clinically shown to improve memory, concentration &

brain performance. 60's only $45.30, save $5.00

120's only $84.90, save $15.70

MARSHALLS HEALTH & NATURAL THERAPY

CONSULTING - PRESCRIBING - DISPENSING -

MANUFACTURING - MEDICAL HERBALISTS

110 SEAVIEW RD, NEW BRIGHTON • PH 03 388 5757

Email: enquiry@marshallshealthshop.co.nz

Detailed Information Available

Bringing You the Best in

Natural Health!

- WE ARE ALWAYS HAPPY

TO HELP! -

JuST

INCREDIBLE

IT's

• Barrington Mall

• The Hub, Hornby

• New Brighton Mall

• South City Centre

KO-1 sushi

Sushi & Hot Bento Box

Buy any 8 piece

Sushi pack, say

"Bay Harbour

Shop & Win"

and get a

FREE

MisO sOup Expires

30.09.18

Shop 9, 1005 Ferry Road | Ph. 384 2422

Delivering the world's finest salon

treatments, beauty and massage therapy

in a warm and inviting atmosphere.

• 1 hour bespoke facial

• Face, neck, shoulder and decollatage massage

• Brow tint and shape

• Hand and arm, or foot and lower leg massage

All for only $99!

body care

redcliffs

89b Main Road, Redcliffs | Phone 03 384 4729

www.redcliffsbodycare.co.nz

1005 Ferry Rd, Ferrymead

Ph 366 6306

mitre10mega.co.nz

Lyttelton

17 London Street, Lyttelton.

Phone 328 7368.

Open 7am – 9pm, 7 days.

WE HAVE RELOCATED

608 Ferry Road, Woolston Village (next to bakery)

Parking out front or OSP next to bakery.

Look for the red and white sewing flag!

NEW HOURS: Mon-Fri 8.30 - 5.30pm,

Saturday 10.00am - 1.00pm

Phone 03 332 0496

Hems

from

$

18

The Automotive Lamp Specialists

OPEN SAT & SUN

1005 Ferry Rd, Ferrymead | Ph: 943 9635

OPEN 7 DAYS:

Mon to Fri 8.30am - 6pm

Sat 9am - 4pm and Sun 10am - 4pm

Make an appointment

today (03) 384 1743

4/2 Soleares Ave, Mt Pleasant

Open: Monday to Saturday

Late Night: Wed & Thurs

New and Used Lamps for Cars,

Trucks, Vans, 4WD and Motorhomes

95 Gasson St, Christchurch Ph. 0800 225 483

Brighton Salon 388 8277 Lyttelton salon 328 8827 soulstylehair.nz

Christchurch's largest

range of quality guaranteed

used bikes & parts

Come check out our 50% OFF

parts & accessories table

AROUND AGAIN CYCLES

OPEN 6 DAYS

BEST

VALUE

REPAIRS

620 Ferry Rd, Woolston. Ph 03 376-6377. Email: aroundagaincycles@gmail.com
---
PAGE 22 Wednesday August 15 2018

BAY HARBOUR

Latest Christchurch news at www.star.kiwi

News

Local

News

Now

The big tsunami of 1868

Fire rages, homes at risk

On this day

150-years-ago, a

2.4m tsunami hit

Banks Peninsula.

Historian

Annette Bulovic

describes the

event on her

Discover The

Delights of Peeling Back

History Facebook page, a

daily record of historical

events in Canterbury

IT WAS around 3.30am on the

morning of August 15, 1868,

when a few Lyttelton residents

were awoken by a strange noise.

One local, Mr Mitchell, even

sensed a small tremor, coming to

the quick conclusion there had

been a small earthquake.

Those working around the port

that morning were also alarmed

by the strange noise, sounding a

bit like thunder.

As they looked to the skies,

they saw nothing but stars and

the air was still and calm. But

then they noticed something

really odd – as the early morning

light broke out against the sky,

nearby ships seemed to be listing

on their sides.

Upon closer inspection, the

harbour was almost empty of

sea, bare earth exposed in some

places.

Alarms were soon raised.

Just half an hour later, an

immense 2.4m wave, sounding

like a rushing wind, came

bowling into Lyttelton Harbour.

It snapped anchors and chains,

tossed boats up in the air and

smashed them into each other.

Boats that were moored to

wharves were torn away and

wrecked against the shores.

The manned steamship

Novelty, which had been at

anchor, managed to gain control

quickly as it was being washed

inland.

In a small victory against

mother nature, the steamer

powered against the wave and

managed to avoid damage, apart

from the loss of its anchor.

What was later referred to

in the Lyttelton Times as an

"Earthquake Wave At Sea" it

continued on towards the heads

of the bay, flooding into the

bottom farming paddocks of

HOT SPOT: Banks Peninsula has been hit by multiple tsunamis over the years. As well as the 1868 tsunami, in 1960 water poured

into the dry dock at Lyttelton (above) during the surges caused by a quake in Chile. (Below) – In 2016, the Kaikoura earthquake

caused a tsunami in Little Pigeon Bay, damaging a property.

PHOTO: ARA ENCYCLOPEDIA

Samuel Manson.

Two seaside homes and a 91m

jetty were destroyed, as well as

many sheep being drowned.

Countless types of marine life

were later discovered stranded

on numerous beaches around the

harbour bays.

The Manson family, who had

been farming at Teddington

since 1845, would later speak of

that day to others, saying how

those paddocks affected were

useless for years after.

The water continued to fall and

rise for days afterwards, causing

whirlpools in many places.

Other areas of New Zealand

also reported damage, including

Wellington, Nelson, Kaiapoi,

Oamaru, Timaru, Dunedin and

Bluff.

New Zealand wasn't the only

place in the tsunami path –

Hawaii, Japan and Australia also

felt the brunt.

Ships weighing several tonne

were reported to have been

pushed inland 800m.

Some ships were never seen

again.

In fact, ships that arrived

in Lyttelton Harbour over the

following days fished many items

and parts belonging to those

unfortunate wrecked vessels.

Now referred to as the Arica

Earthquake, it struck an area

that was then a part of Peru

around 9.30pm on August 13

(Peru time), 1868.

It is regarded to have been

between magnitude 8.5 and 9.0

and lasted between 5-10min.

Hundreds of aftershocks

followed in the days after.

DEVASTATION:

Arica in Peru

(now part of

Chile) was

laid bare

after the 1868

earthquake and

subsequent

tsunami.

PHOTO:

WIKIPEDIA

Tsunamis on Banks

Peninsula

•There were eight reported

tsunami events on Banks

Peninsula between 1840

and 1982

•The only other area to

report more was Wellington

which had nine.

•The most extensive

earthquake to affect New

Zealand was in 1868, known

as the Arica earthquake.

It brought 2m waves to

Banks Peninsula and killed

one man on the Chatham

Islands.

•The most powerful

earthquake of the 20th

century was magnitude 9.5

which struck off the coast

of Chile on May 22, 1960.

On May 23 and 24, the first

of many tsunamis began to

arrive on the east coast. At

Lyttelton Port the tsunami

came in at 2.7m above the

tide level, damaging boats

and electrical gear.

•A hotel and several

houses were flooded, and

200 sheep drowned.

•In 2016, the magnitude

7.8 Kaikoura earthquake

generated a 1m tsunami in

Lyttelton, but at Little Pigeon

Bay a 3m wave destroyed a

house.
---
Wednesday August 15 2018

Latest Christchurch news at www.star.kiwi

BAY HARBOUR

PAGE 23

386 Moorhouse Avenue, Christchurch.

Sales, Service, Parts & Finance: 03 379 0588

TRITON 2WD GLX-R DOUBLE CAB MANUAL

The Triton Runout is on. Drop everything, and if you're quick you can pick up

• 17" Alloys • 2.4L Turbo Diesel • 7.1L per 100km efficiency (manual) • Sports

Suspension • Cruise Control • Smartphone Connectivity • Reversing Camera

• Daytime Running Lights • 5-Star Safety and a 10 Year Powertrain Warranty † .

Call Christchurch Mitsubishi 03 379 0588 to book a test drive.

$29,990+ORC *

*Price listed is for Triton 2WD GLX-R manual and excludes on road costs, which includes registration, WoF, 1,000km road user charges and a full tank of fuel. Available while stocks last. Automatic model available for $31,990 plus on road costs.

†

Visit mmnz.co.nz for full Diamond Advantage warranty conditions.

PRE-OWNED SELECTION AVAILABLE FROM CHRISTCHURCH MITSUBISHI

2017 Mitsubishi Outlander XLS,

2.4L Petrol, Auto, 7 seats, Reversing

Camera, 21,700km $33,990

2017 Nissan Qashqai ST

2.0L Petrol, NZ New, Auto, Reversing

Camera, 13,900km $27,990

2006 Mitsubishi Pajero

3.0L Petrol, 4x4, Auto, tow bar,

Bluetooth, 64,000km $19,990

2015 Kia Sportage Urban LX,

2.0L Petrol, NZ New, 6spd Auto,

28,700km $22,990

2006 Toyota RAV4,

2.4L Petrol, 4WD, Auto, Tow bar,

130,800km $13,990

2006 Lexus IS 250 Limited

2.5L Petrol, 6 spd Auto, Leather, Tow

bar, 87,000km $15,990

2015 Nissan Qashqai ST-L,

2.0L Petrol, Auto, Reversing Camera,

Bluetooth, 49,400km $25,990

2011 Ford Ranger Wildtrak, 3.0L

TD, 4x4, manual, deck liner, tow bar,

sliding lid, 157,000km $27,990

386 Moorhouse Avenue, Christchurch. Sales, Service, Parts & Finance: 03 379 0588
---
PAGE 24 Wednesday August 15 2018

BAY HARBOUR

Latest Christchurch news at www.star.kiwi

26th August 2018

10am – 3pm

Air Force Museum, Wigram

Tickets available on door

For exhibiting

enquiries contact

Mark Sinclair:

mark.sinclair@

starmedia.kiwi

BRIDALSHOW
---
Wednesday August 15 2018

Latest Christchurch news at www.star.kiwi

BAY HARBOUR

PAGE 25

Storytimes

Wednesday, 10.30-11am, Tuesday,

11-11.30am

Go along to the Lyttelton Library

where learning is encouraged

through a love of stories.

Storytimes is an interactive

programme including stories,

songs, rhymes and play. This is a

free session.

Sumner Library on Wednesday,

Lyttelton Library on Tuesday

Knit 'n' Yarn

Wednesday 10am-noon, Friday

10.30am-noon

It's winter woollies time so

why not head along to a fun

knit 'n' yarn session. Take your

knitting, crochet or other craft

project and spend some time in

company with other crafty knitters.

This is a free activity with

no bookings required .

Lyttelton Library on Wednesday,

Sumner Library on Friday

Create 'n' Connect

Thursday, 9.30am-noon

Create 'n' Connect welcomes

you to create in company. $3 per

session includes a yummy morning

tea and great company. Take

your own creative project or

come and get some inspiration.

Phone Beth for more information

022 678 1252.

St Andrews Anglican Church,

148 Main Rd, Redcliffs

3 Garlands Road, Woolston

DeluxeCinemas.co.nz

Christchurch's Premium Cinema Experience

Phone Bookings | Free Parking | Cafe/Licensed Bar

03 389 5360 Online Bookings | Cinema Club | Hot Nuts/ Cheeses

book club Dianne Keaton Jane Fonda, Candice Bergen & Mary Steenburgen

Wed: 12:20pm Thu, fri: 10:15am, 12:20pm, 2:20pm, 4:20pm, 6:20pm

saT, sun: 10:15am, 12:20pm, 2:20pm, 4:20pm, 6:20pm

mon: 10:15am, 12:20pm, 2:20pm, 4:20pm, 6:20pm

Tue: 10:15am, 12:20pm, 2:20pm, 4:20pm, 6:20pm

blackkklansman Spike Lee Comedy

Thu, fri: 4:05pm, 8:20pm saT, sun: 4:00pm, 8:20pm mon: 3:00pm, 8:20pm

Tue: 4:05pm, 8:20pm

dumbo Disney Classics Film Festival

saT, sun: 10:15am

The Wife Starring Glenn Close & Jonathan Pryce

Wed: 10:15am, 1:20pm, 2:20pm, 6:15pm, 8:15pm

Thu, fri: 10:00am, 2:10pm, 6:30pm saT, sun: 2:00pm, 6:30pm

mon: 12:45pm, 5:50pm Tue: 10:00am, 2:10pm, 6:30pm

mamma mia! here We Go aGain Starring Meryl Streep, Pierce Brosnan, Lily James

Wed: 11:00am, 5:45pm, 8:00pm Thu, fri: 12:00pm, 8:30pm

saT, sun: 11:45am, 8:30pm mon: 7:50pm Tue: 12:00pm, 8:30pm

funny coW British Drama

Wed: 4:15pm

inTerlude in PraGue From the Producers of Gosford Park

Wed: 3:40pm

Email sarla.donovan@starmedia.kiwi by

5pm each Wednesday

Book Discussion Group

Thursday, 11am-12.30pm

For those who love reading

and want to share in discussion

with other book lovers come

along to this friendly book group

which is held on the third Thursday

of the month. It subscribes

to the book discussion scheme

so there is a cost involved. Please

phone 941 7923 to enquire about

availability and cost.

Sumner Library, 37 Nayland St

Babytimes

Friday and Tuesday, 10.30-

11am

Encourage learning through

language. Babytimes is an interactive

programme including

rhymes, songs, stories and play.

This is a free session.

Lyttelton Library on Friday,

Sumner Library on Tuesday

JP Clinic at Matuku Takotako:

Sumner Centre

Saturday, 10am-noon

A justice of the peace will be

available to members of the community,

to witness signatures

and documents, certify document

copies, hear oaths, declarations,

affidavits or affirmations

as well as sign citizenship,

sponsorship or rates rebates applications.

There is no charge for

this service.

Matuku Takotako: Sumner

LED Light

Therapy

Facials

3x LED

Facials

Packages starting

from $199

(normally $450)

Expires 31st

August

The patented design offers a full facial rejuvenating experience,

for a range of skin imperfections and signs of aging.

Including Anti Wrinkle, Increases Collagen Cells, Age Spots,

Acne, Scaring, Rosacea, Eczema, Psoriasis, Redness, Uneven

Skin Tone plus many more...

Call us now and experience

the difference!

bEForE

aFTEr

Centre, 37 Nayland St

Lyttelton Museum AGM

Sunday, 2-4pm

Current members and anyone

interested in the future of the

museum is invited to attend

and there will be a presentation

on the proposed new museum

building.

Lyttelton Volunteer Fire Station,

London St

BUY NOW PAY LATER

with

over 10 weeks

Belly Dance Fundamentals

Monday, 7.30-8.30pm

Go along to a belly dance fundamentals

class with Tracey of

Tribal Diva Belly Dance Company.

Learn core belly dance moves

and technique – classes will

include an introduction to relevant

music and culture. Joining

a belly dance class is a fantastic

way to increase fitness, improve

co-ordination, meet new people,

have fun and discover a new

creative outlet. To register go

to www.tribaldiva.co.nz/classregistration-2018.html.

For more

information email tribaldiva.

bellydancers@hotmail.co.nz or

phone 027 756 4460.

TribalDiva Studios, 40A Taupata

St, Redcliffs

Ventilation Equipment Suppliers

totrade

retail

The most efficient way

to ventilate your home

HEX 390

For Healthy Indoor Air

Every first and

third Thursday

of the month at

the Mt Pleasant

Community Centre

enjoy a cup of soup

before watching

a film classic. The

cost is $5 for the

soup and a roll and

koha/donation for

the movie. Soup

is available from

11.30am and the

movie starts at

noon. No bookings

necessary, but

make sure you are

on time! The film

is High Society

starring Bing Crosby,

Frank Sinatra and

Grace Kelly.

Investor Workshop

Tuesday, 6-7pm

Find out more about investing

in the Collet's Corner development,

a unique opportunity to

invest in a local commercial

building in the heart of Lyttelton.

25 Canterbury St, Lyttelton

Markets:

The weekly markets have many

different attractions and delicious

treats on offer. From fresh

produce to freshly baked bread,

cheeses and free range eggs. Find

some healthy food options and

sip on a coffee while taking a

wander around any of the markets

happening in the area at the

weekend.

Lyttelton Farmers Market

and Lyttelton Craft Market:

Saturday, 10am-1pm, London

St

Mt Pleasant Farmers Market:

Saturday, 9.30am-12.30pm, 3

McCormacks Bay Rd

&

book club M Offensive language and sexual references blackkklansman R13 Violence, offensive

language, sexual references & content that may disturb dumbo G The Wife M Offensive language &

sexual references mamma mia! here We Go aGain PG Sexual references funny coW R16 Domestic

violence sexual material & offensive language inTerlude in PraGue M Violence & sexual violence

ENJOY A FREE TEA OR COFFEE AND A FRESHLY BAKED BISCUIT

WITH EVERY WEEKDAY MORNING SESSION

Phone 339 7374 or 021 161 2349

www.turnbacktimebeauty.co.nz

Heat is transferred to the

incoming filtered fresh air

Made in New Zealand,for New Zealand conditions

Fresh air

from outside

Exhaust air

to outside

Read us anywhere..

anytime!

Substantial energy savings

over traditional domestic

ventilation systems.

Warm, stale

air from house

Warm fresh air

to house

Read your local

newspaper

online 24/7

www.star.kiwi/digital-editions

0800 SMOOTH

(0800 766 684)

sales@smooth-air.co.nz

351c Blenheim Rd

Riccarton

Christchurch

03 343 6184

Monday - Friday

7.30am - 5pm

www.smooth-air.co.nz
---
PAGE 26 BAY HARBOUR

Latest Christchurch news at www.star.kiwi

Wednesday August 15 2018

REAL ESTATE

Family fun by the park

21 Cascade Place, Sumner

Price: $899,000

4 bedrooms | 2 bathrooms | 2 toilets | 3 living rooms | 1 dining room | 2 car-garage | 2 off-street parks | Listing #SM0051

As far as location goes, you could not

wish for more - set in a microclimate

right opposite the horse paddocks with

a rural outlook of the hillside and the

sound of birdsong encapsulating the sense

of tranquility, you could be forgiven for

thinking you were on holiday in this coastal

suburb.

Accommodation is provided by four

double bedrooms and a large attic for extra

bedrooms, work from home space or a

rumpus room. The master bedroom opens

onto the verandah and has a window seat

and ensuite.

A large kitchen is extremely well located

and functional being open plan with the

dining and living. This adjoins a second

living area that can be closed off, catering

for any occasion. Seamless indoor/outdoor

flow through French doors means you'll

make the most of the sun-drenched

verandah when entertaining family and

friends, who'll revel in the serenity of the

natural surroundings.

The private flat lawn provides a safe

haven for children to play or they can

alternatively pop over to the playground for

more roaming space. An extra large garage

on the property is an added bonus.

As serene as this location is, popular

schools and the abundance of amenities on

offer in the delightful Sumner Village are a

few minutes away, ensuring you get the best

of both worlds!

If you are looking for a change of scenery,

then act with haste to secure this very

enticing home located in a quiet lane.

Contact me now for further details.

Open Homes Sunday 19 Aug 11:00am

- 11:45am.

See you at the open homes or for a

private viewing or for more information

contact Alison Carter of Harcourts

Grenadier Ferrymead (Licensed Agent

REAA 2008) on 384 7950 or mobile

0274 318 960.

growing with you June 2018 | 100%

Plants For

winter wow

Cool Choices

For Colour

& Contrast

From swamp

to sea views

The journey

begins with sarah

the Gardener

$7.90 incl. GST

Snap it up

Enter our annual

Birdlife Photo

Competition to win

great prizes!

clear the air

Why groWing

indoor PLAnTs is

so good for you

give it a grow

from gArLic

To chinese

ArTichokes,

We hAve your

groWing TiPs

covered

the latest releases

into the rose world

+ rose care

through winter

The magazine for

gardeners who like to get

their hands dirty

SUBSCRIBE FROM

$43. 50*

*6 issues/6 months

SUBSCRIPTIONS FREEPHONE

0800 77 77 10

WWW.GARDENER.KIWI
---
Wednesday August 15 2018

Latest Christchurch news at www.star.kiwi

BAY HARBOUR

PAGE 27

Classifieds Contact us today Phone our local team 03 379 1100

Classic Cars & Motorcycles

ASHLEY'S

TOW TAXI

fOr SAfE, dAmAgE frEE

cAr TrAnSpOrTATIOn

"SpEcIAL cArE fOr

SpEcIAL cArS"

0800 TOWTAXI

0800 8698294

Computers

ALL

YOUR

COMPUTER

WORRIES SOLVED!

*$30.00 off your first

service with this coupon!*

No problem too big or

small from home PC's to

business networks. PC

slow? An end to Viruses,

Spyware, and Clogged

Systems. Safe secure

hassle-free computing.

Lost files recovered.

Microsoft Certified,

MCSE, MCP+l. 30 years

experience. Call Andrew

Buxton this week on 326-

6740 or 027 435-7596

for $30.00 off* Custom

Computers Christchurch

KATANG

Community Events

TO ALL ACTIVE RETIRED

AND SEMI RETIRED MEN

ARE yOu INTERESTED IN?

• Joining a club to hear

stimulating speakers

• Enjoying friendship and fun

with like minded people

THEN yOu ARE INVITED TO

You are most welcome to just come along

Or ring one of the contacts below.

Allan Hughey Michael Hannifin

Ph. 384 0099 Ph. 384 4771

Computer

Services

VIRUS REMOVAL AND

PC HEATH CHECK

$50.00 With free pick

and delivery within 10km

of Redcliffs. Phone Paul

on 021495577. Microsoft

Certified Pro with 25 years

experience. Visit www.

seracnz.com

Health & Beauty

Fitness

Tues 9.15am-10.15am

Ferrymead Sumner

Men's Probus Club

We meet 4th Thursday

of each month, 10am

Redcliffs Bowling Club

James St

Gardening

& Supplies

Landscape

and Garden

Services

Need help with

your garden?

We provide a quality

service for all your

Garden Maintenance

(hedges, lawns,

line trimming, weeding)

and Landscaping needs,

(fencing, paths, drives,

retaining and earthworks).

Ph 021 272 0303

Sumner Community

Centre (above library)

$5 per class.

Concession cards available.

For more info

contact Katrina

381 1704 or

027 4966 845

Holiday

Accommodation

Australia QLD

SUNSHINE

COAST

RESORT

ALEXANDRA HEADLAND

All Units Have Ocean Views.

Heated Pools, Spa & Sauna,

Free Wifi, Tennis

& Mini Golf.

CHECK OUR GREAT

WINTER SPECIALS

www.mandolin.com.au

0061 7 5443 5011

JUNE to AUG temps 20C

Holiday

Accommodation

WANAKA.

Stunning holiday

accommodation in

Wanaka at the Pines

Resort available, during

ski season.

From the 7th of September

till the 14th you can stay

at this fabulous resort.

Cardrona Ski Resort and

Treble Cone are not far

away. $1200 for the week,

only at $171.00 per night.

Would suit family sleeps

up to 5.

See http://www.

classicholidays.com.au/

resort/pines-resort/>for

full details. More details

and to book, call Jacqui on

027-201-3244

To Let

HOMESITTERS reqd

ASAP. Short term.

Lovely homes / pets. Ph

Lisa 03 359 2323 www.

townandcountryhomesit.

co.nz

To Let

RENT ME!

Ideal as an extra

bedroom or office.

no bond required

Fully insulated and double glazed for warmth.

Three convenient sizes from $70 a week:

Standard 3.6m x 2.4m

Large 4.2m x 2.4m | Xtra-large 4.8m x 2.4m

• General

gardening

• Ride on service

• Weeding and

clearing

• Hedge trimming

• Tree pruning

and removals

• Fully insured

12 years

experience

Serving Christchurch and wider

Canterbury Region with quality

workmanship and service.

Visit our website

www.justcabins.co.nz

for display cabin locations

www.justcabins.co.nz

Trades & Services

green acres

Lawn &

garden care

• Section

clearing/

maintenance

• Free quotes

• Security

checked

and

satisfaction

guaranteed

0800 803 200

www.greenacres.co.nz

Trades & Services

Native PlaNts

naTiVe planT nursery

Trees for

CanTerbury

speCialisTs in

• Groundcovers

• Ferns

• Grasses

• Small to big

sized shrubs

Ask us about Super

Gold Card discounts

• Shelterbelts

• ALL grades

• Expert advice

• Planting now

Helping our community grow

42 Charlesworth Street

Ph/Fax (03) 982-1028 | OPEN 7 DAYS

www.treesforcanterbury.org.nz

PLUMBER

24/7 caLLOUT serVice

To Let

HOMESITTERS reqd

ASAP. Short term.

Lovely homes / pets. Ph

Lisa 03 359 2323 www.

townandcountryhomesit.

co.nz

ADD SOME

COLOUR

TO YOUR ADVERT!

Trades & Services

ENVIRO

STONE LTD

• Carparks

• Driveways

• Excavation

• Hardfill

• Rock Breaking

• Rib Raft

Foundations

• Retaining Walls

• Site Works

Ph 027 333 0104

ROOF

PAINTING

Rope & harness

a speciality,

no scaffolding

required,

30 years of

breathtaking

experience.

FREE QUOTES

Exterior staining,

exterior painting,

moss and mould

treatment and

waterblasting

Phone Kevin

027 561 4629

Wow, you've made it

look like new again!

a comment brett Muir hears frequently in his 'Groutpro' business, as he takes

care of grout related problems confronting many householders.

"After years of constant use, unsealed grout will become discoloured" Brett says.

That's because grout (even new grouts) are porous and absorb dirt, grime and spills.

The deep clean results that come with professional tile and grout cleaning, prepare for the

essential next step. "Application of a colourseal coating on the grout will make a transforming

difference in appearance" Brett says. With almost 100 colour options, coloured grout sealer is

non porous and waterproof making cleaning so much easier.

replacing cracked tiles, resiliconing shower edges, removing calcium buildup on

shower tiles, regrouting cracked grout and all tile related issues are part of the

Groutpro service.

before

for an uplift of your tiled area:

Shower, bathroom, kitchen, pool

surround, deck etc. Brett will give you a

quote and honest, professional advice on

your tiles and grout.

Trades & Services

CARPET & Vinyl

lAying

Exp. Repairs, uplifting,

relaying, restretching.

Email jflattery@xtra.co.nz

ph John on 0800 003 181

or 027 2407416

COnCRETE CUTTing

PAINTER

Houses Interior/Exterior

27 years exp.

Tidy workmanship

On the spot written

quotes

Ph: 0274 360-298

Tuition

Trades & Services

PlASTERing

inTERiOR

no job too big or too

small, specialise in repair

work & new houses, free

quotes given, over 20 yrs

plastering experience, ph

Peter 027 221-4066 or

384-2574

Affordable Concrete

Cutting with Quality, and SHEEP SHEARing

removal work. Free quote. MObilE

No job to small. Phone 027 Fast friendly professional

442-2219, Fax 359-6052 service. 25 yrs exp.

a/h 359- 4605

Shearing, drenching, hoof

ElECTRiCiAn

trimming etc. Call Shaun

JMP Electrical.

021 204 1274

Experienced & registered..

Public Notices

Expert in all home

electrical repairs &

maintenance.Call James

027 4401715 SUMNER

gARDEnER

COMMUNITY POOL

Need your home or

commercial garden tidied

ANNUAL GENERAL

up or renovated or require MEETING

long term assistance. The AGM will be held on

Phone Ruth 326-6663 or

WEDNESDAY

021 272-0303

PAinTER AVAilAblE

29 TH AUGUST at 6pm

RAPID RESPONSE,

Sumner Community Pool

quality work guaranteed, All welcome to

interior/exterior, attend the AGM

roofs, spraypainting,

waterblasting, ph Graeme

for a free quote, 027 318

2614

PAinTing SERViCES

Mature, reliable,

conscientious &

experienced, reasonable

rates, no job too small!,

call Ron 027 434-1400

PIANO LESSONS

Catherine Bracegirdle

DipABRSM ATCL AIRMT

51A Colenso St, Sumner

Ph. 021 044 5102

www.pianoandtheory.co.nz

catherine.bracegirdle@gmail.com

AdverToriAl

after

Call brett at Groupro on 027 746 7632
---
PAGE 28 Wednesday August 15 2018

BAY HARBOUR

Latest Christchurch news at www.star.kiwi

13 th to 19 th August 2018

$

8 99

kg

Fresh NZ Brinks Skin On Chicken

Breast Fillets

Dole Philippine Bobby Bananas

3 for

$

2 49

bunch

$

5 00

Bluebird Original/

Thick/Thinly Cut Chips

140-150g

$

2 99

ea

$

5 69

ea

$

2 49

ea

Arnott's Tim Tam 165-200g/

Chocolate Mint Slice 200g

Molenberg/

Freya's Bread

700/750g

(Excludes Lower Carb)

Tararua Butter

500g

Fresh NZ Pork Rump Steak

(Excludes Free Range)

Loose Meyer Lemons

$

14 99

kg

$

1 99

kg

$

7 90

ea

Moccona Coffee

Refill 75-100g

$

18 99

pk

$

11 99

ea

$

3 49

ea

DB/Export Citrus/

Gold/Tui

12 x 330ml Bottles/Cans

(Excludes Hop Lager)

Wither Hills

750ml

(Excludes Pinot Noir)

RJ's Soft Licorice/

Allsorts 220-300g

svbhn1508

Owned & operated

by locals

SuperValue Lyttelton: 17 London Street, Lyttelton. Phone 328 7368. Open 7am–9pm, 7 days.

SuperValue Sumner: 3 Village Mall, Sumner. Phone 326 5688. Open 7am–9pm, 7 days.

While stocks last at SuperValue Lyttelton and Sumner only.

We reserve the right to limit quantities. Trade not supplied. For inspiration visit SuperValue.co.nz |

Please drink

responsibly
---
Wednesday August 15 2018

Latest Christchurch news at www.star.kiwi

BAY HARBOUR

PAGE 29

on trend...

on sale.

on trend.

Retro Dining.

Eames 3 Piece Dining Set

NOW ONLY $

209

Chairs also available in White.

Duvall Fabric Dining Chair

NOW ONLY $

115

Vintage Round Dining Table

NOW ONLY $

399

Colours available:
---
PAGE 30 Wednesday August 15 2018

BAY HARBOUR

Latest Christchurch news at www.star.kiwi

on

trend.

Bright bedrooms!

Atlantic

Relaxed coastal vibe.

Bedside

NOW ONLY $

259

Queen Bed

NOW ONLY $

799

Chloe Sofa with Ottoman

ONLY $

1999 Vermont 3 Seater Sofa

ONLY $

1399

Available in

Duck Egg

Grey

4 Piece Bedroom Package NOW ONLY $ 1999

Includes Queen Bed, Tallboy and 2 Bedsides

5 Piece Bedroom Package NOW ONLY $ 2199

Includes Queen Bed, Dresser Available with in Mirror Platinum and 2 Bedsides Grey

Not your average recliners.

Chia

Clean lines, sturdy build.

NEW

Prague

Contemporary Scandinavian style.

Full Chia bedroom

range on sale.

6 Drawer Lowboy

NOW ONLY $

499

4 Piece Bedroom Package NOW ONLY $ 1999

Includes Queen Bed, 5 Drawer Chest and 2 Bedsides

www.targetfurniture.co.nz
---
Wednesday August 15 2018

Latest Christchurch news at www.star.kiwi

BAY HARBOUR

PAGE 31

on

trend.

Luxe lounges!

Elyse

Affordable decadence.

Colours available:

NEW

Settings available:

3 Seater Sofa

NOW ONLY $

999

Vermont

Classic beauty.

Verano

Mid century modern.

Colours available:

Settings available:

Colours available:

Settings available:

3 Seater Sofa

NOW ONLY $

1099

3 Seater Sofa NOW ONLY $

749

INSTORE AND ONLINE
---
PAGE 32 Wednesday August 15 2018

BAY HARBOUR

Latest Christchurch news at www.star.kiwi

SHOP OUR

Floor Models

PRICED

A wide range of products

across all categories are priced

to move, come on in and

check out what we have and

snap up an amazing bargain!

Styles are ever changing and

available for a limited time only.

TO

CLEAR

We accept:

Accessories are not included in the price of furniture unless otherwise

stated. Colours in store may vary to those pictured. Stock may vary from

store to store. Target apologises in advance if any item is sold out during the

promotion. All Prices include GST. Target reserves the right to amend any

misprints or errors within this advertisement. Mailer offers expire Friday 24th

August 2018. Sale excludes Manchester and Accessories.

Shop

Online

Nationwide

Delivery

Finance

Options

Cnr Blenheim & Curletts Rds, Christchurch

0800 TARGET (0800 827438)

INSTORE AND ONLINE

targetfurniture.co.nz