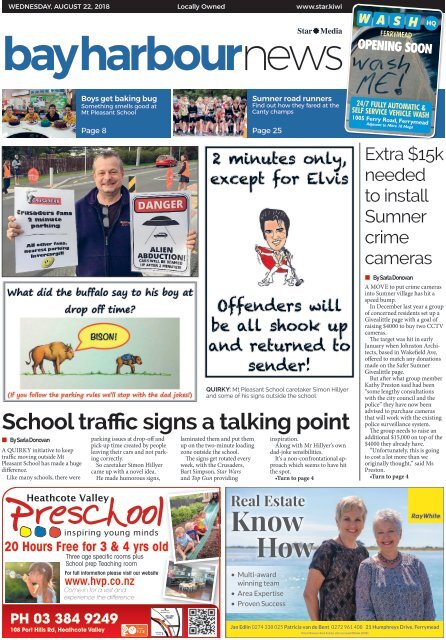 Bay Harbour: August 22, 2018
Create successful ePaper yourself
Turn your PDF publications into a flip-book with our unique Google optimized e-Paper software.
WEDNESDAY, AUGUST 22, 2018

Locally Owned

www.star.kiwi

FERRYMEAD

OPENING SOON

• By Sarla Donovan

A QUIRKY initiative to keep

traffic moving outside Mt

Pleasant School has made a huge

difference.

Like many schools, there were

Boys get baking bug

Something smells good at

Mt Pleasant School

Page 8 Page 25

parking issues at drop-off and

pick-up time created by people

leaving their cars and not parking

correctly.

So caretaker Simon Hillyer

came up with a novel idea.

He made humorous signs,

Sumner road runners

Find out how they fared at the

Canty champs

QUIRKY: Mt Pleasant School caretaker Simon Hillyer

and some of his signs outside the school. ​

School traffic signs a talking point

laminated them and put them

up on the two-minute loading

zone outside the school.

The signs get rotated every

week, with the Crusaders,

Bart Simpson, Star Wars

and Top Gun providing

inspiration.

Along with Mr Hillyer's own

dad-joke sensibilities.

It's a non-confrontational approach

which seems to have hit

the spot.

•Turn to page 4

24/7 FULLY AUTOMATIC &

SELF SERVICE VEHICLE WASH

1005 Ferry Road, Ferrymead

Adjacent to Mitre 10 Mega

Extra $15k

needed

to install

Sumner

crime

cameras

• By Sarla Donovan

A MOVE to put crime cameras

into Sumner village has hit a

speed bump.

In December last year a group

of concerned residents set up a

Givealittle page with a goal of

raising $4000 to buy two CCTV

cameras.

The target was hit in early

January when Johnston Architects,

based in Wakefield Ave,

offered to match any donations

made on the Safer Sumner

Givealittle page.

But after what group member

Kathy Preston said had been

"some lengthy consultations

with the city council and the

police" they have now been

advised to purchase cameras

that will work with the existing

police surveillance system.

The group needs to raise an

additional $15,000 on top of the

$4000 they already have.

"Unfortunately, this is going

to cost a lot more than we

originally thought," said Ms

Preston.

•Turn to page 4

20 Hours Free for 3 & 4 yrs old

Three age specific rooms plus

School prep Teaching room

For full information please visit our website

www.hvp.co.nz

Come in for a visit and

experience the difference

Ph 03 384 9249

108 Port hills Rd, heathcote Valley

Lyttelton

Tunnel

Ferrymead

Heritage Park

Port Hills Rd

Tunnel Rd

We are

here

Bridle Path Rd

Martindales Rd

Real Estate

Know

How

• Multi-award

winning team

• Area Expertise

• Proven Success

Jan Edlin 0274 338 025 Patricia van de Bent 0272 961 408 21 Humphreys Drive, Ferrymead

Prier Manson Real Estate Ltd Licensed (REAA 2008)
---
PAGE 2 Wednesday August 22 2018

BAY HARBOUR

Latest Christchurch news at www.star.kiwi

get in touch

from the editor's desk

THAT'S ONE very innovative way to solve

parking issues at drop-off and pick-up time

zones at Mt Pleasant School on today's

front page.

The innovative way? – humour drivers

with great signage.

School caretaker Simon Hillyer came up with the novel idea

and it is working a treat, apparently.

It is a great non-confrontational approach to getting people to

do what you want them to do.

Says Simon: "I've got a fairly warped sense of humour! We just

try and keep it fresh." You should be moonlighting for an ad

agency.

On another note, more delays in getting the CCTV cameras

in Sumner up and running (page 1).

They are a great idea but they have been dogged by delays.

– Barry Clarke

GENERAL INQUIRIES Ph 379 7100

CLASSIFIED ADVERTISING Ph 379 1100

Star Media, a division of Allied Press Ltd

PO box 1467, Christchurch

starmedia.kiwi

NEWS

Sarla Donovan

Ph: 021 919 917

sarla.donovan@starmedia.kiwi

ADVERTISING

Javier Balcazar

Ph: 982 9308

javier.balcazar@

starmedia.kiwi

Rob Davison

Ph: 021 225 8584

rob.davison@

starmedia.kiwi

our people

Giving kids the ride of their life

Sumner Valley Riding School owner Lisa Hadfield on teaching

the art of horse riding.

Pages 18-19

bridal show

With this Ring on Sunday

Don't miss the With This Ring Bridal Show where all the experts

will be under one roof at the Air Force Museum of NZ.

Page 28

community events

Help clean up Sumner

Join various ocean protection groups on Saturday, 11am-1pm, to

pick up litter along Sumner Beach.

Page 29

The best-read local newspaper, delivered to

10,056 homes, RDs and farms every Wednesday

Brookhaven, Heathcote, Ferrymead, Redcliffs, Mt Pleasant,

Sumner, Lyttelton, Diamond Harbour, Governors Bay, Akaroa.
---
Wednesday August 22 2018

News

Pathway trees to be replaced

• By Sarla Donovan

THE REMOVAL of 24 healthy

trees has been approved as

part of the Coastal Pathway

landscape plan.

Construction on the penultimate

stage of the pathway is due

to start by the end of October

at a cost of $8.2

million.

It runs alongside

Peacocks

Gallop from Shag

Rock, skirts the

beach frontage of

Tim Lindley

the Sumner Surf

Life Saving Club

and joins the

footpath at the start of the memorial

walk near the Marriner

St/Esplanade intersection.

A golden totara, three pohutukawa,

and three norfolk island

pines are among those to be

removed as part of the plan.

Depending on the size and

species of the trees, some may be

relocated. A further 14 trees in

poor condition will also go.

The removals will make way

for improvements to the Sumner

beach car park, which includes

better beach access and landscaping.

They will be replaced by

about 48 new trees – in some

instances like for like, such as

the norfolk pines.

The Linwood-Central-

Heathcote Community Board

approved the plan last week.

Board member Tim Lindley

said it had been "very carefully"

thought through.

"I was impressed by how selective

they are being . . . the overall

plan of the Coastal Pathway is to

increase the number of trees."

Latest Christchurch news at www.star.kiwi

GOING: This Norfolk Island Pine is one of 38 trees pegged for removal as part of the

Christchurch Coastal Pathway.

Coastal Pathway facts

•Four-metre wide shared

pathway constructed of

asphalt and boardwalk.

Total length 6.5km

•About 3.5km, between

Ferrymead bridge and

Redcliffs tram stop, has

been completed

•Seating, shelters, bike

stands and lookouts will

be installed by the Coastal

Pathway Group as funding

allows

•Funding for the Redcliffs

to Shag Rock section won't

be available until 2026/27

BAY HARBOUR

Local

News

Now

In Brief

PAGE 3

Fire rages, homes at risk

PARKING PETITION

A group of 23 Akaroa business

owners have sent a petition

to the Banks Peninsula

Community Board asking to

use a city council-owned area

behind the Akaroa Butchery

for staff car parking. They say

it would also free up more

parking spaces for visitors to the

township. The area is currently

vacant and has space for about

20 cars. The petition was referred

to city council staff.

TOY LIBRARY'S NEW HOME

The Lyttelton Plunket Toy

Library has been relocated

from a squash court in the

Lyttelton Recreation Centre to

a new home next to the centre's

basketball court. Co-ordinator

Lynda Delaney said she was

looking forward to less dust,

more space and better access for

parents and their toddlers. The

library is open once a fortnight

and will be open on Saturday

from 10am-noon.

TUNNEL CLOSURE

On Sunday, Monday and

Tuesday, the Lyttelton Tunnel

will be closed from 11pm-4am

to install and test a new fire

protection system. To keep

traffic moving, the tunnel will

open for 10min on the hour

between 11pm and 4am.

SAvE

CIC

yOUR UK £

& AUSSIE $

cic

financial

protect | grow | invest

FINANCIAL CAN ASSIST wITh:

• Pensions or Super Transfers

• New Zealand Kiwisavers

• Lifetime Retirement Income

CALL OR EMAIL US TO ENQUIRE

Phone: 0800 457 2837 or 03 379 6847

Email: admin@cicfinancial.nz

Over 50 years of giving advice

New Zealand's skin

and appearance experts

Appearance Medicine

Laser Hair Removal

Skin Treatments

Beauty Therapy

Free Consultations

Payment Plans

LUNCH BREAK SPECIAL OFFER:

Buy one Skin Conditioning Treatment

and receive a second one free when you

book in at Caci Sydenham this August

between 12-3pm Tuesday - Friday *

383 Colombo St, Sydenham

03 877 5110 | caci.co.nz

WE'RE FOR YOU

*Offer only available at Caci Sydenham until August 31 2018.

Not to be used in conjunction with any other offer.
---
PAGE 4 Wednesday August 22 2018

BAY HARBOUR

Latest Christchurch news at www.star.kiwi

News

Funds to address freedom camping issues

• By Sarla Donovan

A FUNDING boost from the

Government will help address

freedom camping issues at

summertime hot spots.

The city council is in line for

$415,000 following a recommendation

from the Responsible

Camping Working Group,

which brings together representatives

from the tourism industry,

councils and Government agencies

across New Zealand.

It comes as the city council

•From page 1

"We are now in the process

of applying for grants to raise

the remaining funds required

to set up these particular cameras.

There is no time frame at

present but we would like to see

the system up and running by

Christmas at the latest."

She said it was "too early" to

say where the group were applying

for funding.

The purchase of the original

cameras was prompted by a

spate of aggravated burglaries

in the Sumner and Mt Pleasant

area in October last year.

A 31-year-old man was jailed

for three years this month in

considers changes to the Freedom

Camping Bylaw which

would ban freedom camping in

Akaroa, except in one area.

Group member and Deputy

Mayor Andrew Turner said the

extra funding was a "welcome

relief" as summer visitor numbers

had peaked across the city

and Banks Peninsula over the

past two years.

The money will pay for education

and signage, monitoring

and compliance and for extra

toilets in the New Brighton

relation to those and other offences.

New Zealand Police Crime

Prevention Cameras in Public

area. As a condition of funding

all the measures must be in

place by the start of December.

It's part of a package to try

and address freedom camping

issues.

On top of the Government

funding, the city council would

pay for two staff to monitor

compliance Monday-Friday,

said head of regulatory compliance

Tracey Weston.

Submissions on the proposed

changes to the Freedom Camping

Bylaw close on September 3.

Extra $15k needed for cameras

SAFE:

A crime

prevention

group in

Sumner has

been advised

to purchase

CCTV

cameras that

will work with

the police

surveillance

system. ​

Places policy states cameras

must be operated in a manner

that complies with the Privacy

Act.

SAFETY: Max Hillyer (left) and

Gray Sweetman, both 9, with

their funny traffic safety signs

outside Mt Pleasant school.

•From page 1

School office manager Carolyn

Wright said people eagerly

awaited the next instalment.

"The pressure's on him now to

come up with the new stuff," she

said.

Last week the school bell

played Highway to the Danger

Zone to co-ordinate with the Top

Gun-themed signs.

Mr Hillyer said results had

exceeded expectations.

"It's all been pretty good humoured.

We still get the odd idiot

Local

News

Now

Fire rages, homes at risk

Traffic signs a talking point

who pulls a U-turn in the middle

of the crossing but generally people

are heaps better behaved than

they were before," he said.

"It seems to have got the kids

talking about it as well. They

don't quite understand what the

sign means sometimes, like the

Bison dad joke, so they start chatting

to mum or dad about it."

Where does he get his inspiration

from?

"I've got a fairly warped sense

of humour. We just try and keep

it fresh."

FREE PIZZA

FOR EVERY VISITOR!

IT'S

FREE

everyone

welcome

We're having a party and you're invited! Tennis clubs

from Oxford to Ashburton are opening their doors for

a fun, FREE event for all ages. Bring yourself or bring

your family to find out all there is to love about tennis!

Racquets supplied. BBQ. Prizes. Giveaways.

Come play

www.lovetennis.kiwi

#lovetenniscanterbury

*Times may vary by club. Please check website for details.

Saturday

8 Sept

Sunday

9 Sept

1-4pm*

NURTURE

NEW

BEGINNINGS

Imagine having the knowledge

and skills to nurture and support

pregnant women through one of

life's most meaningful events.

With a degree in midwifery from

Ara, this can be your future.

Applications close 1 September.

Apply now, start January.

ara.ac.nz/midwifery

You could WIN A TRIP FOR TWO to the

ASB CLASSIC in Auckland this January.
---
Wednesday August 22 2018

News

• By Sarla Donovan

PARTS OF State Highway 75 will

need to be widened before signs

asking slow drivers to pull over

can be installed.

The Banks Peninsula Community

Board asked the New

Zealand Transport Agency to

look into the signs in December

after a request from community

group Love Little River.

NZTA senior traffic and safety

engineer David Scarlet told the

board it had reviewed the road

and it doesn't currently meet the

criteria.

There needs to be a widened

sealed shoulder area that slower

drivers can use to move safely

out the way.

"The review showed that there

aren't any suitable places at the

moment. However, we will be

looking to see if there are some

suitable places where we could

construct a widened, sealed

shoulder and seek funding for

this in 2018/19," Mr Scarlet said.

Love Little River member Marcus

Puentener said it was a step

in the right direction.

"It is frustrating that it has

taken this long to get a response

from NZTA, as there have been

accidents caused by impatience

over the last few years. But at

least they are looking into it

now," said Mr Puentener.

"We have to trust the experts,

but surely there are a few places

like the Birdlings Flat turn off

that could be suitable without

widening the road. We believe

there are a number of straight,

long sections of the road suitable

for . . . pull over signs. These

include the 'mad mile' just

past Birdlings Flat turn off,

Motukarara straight and the

straight past Gebbies Cafe," he

said.

There were four fatal crashes

on SH75 from 2012-2016. From

Latest Christchurch news at www.star.kiwi

SH75 needs widening for pull over signs

a total of 37 crashes over the

same period, 33 were serious. In

January last year, a 26-year-old

Chinese national died after

crossing the centre line and

hitting another vehicle near Tai

Tapu.

One month later, more than

20 people were injured when a

bus collided with a car near the

Hilltop Tavern.

Akaroa police senior constable

Tim Johnson said slow drivers

impeding the flow of traffic were

one of the biggest issues faced

when policing SH75.

DAMAGE

DONE: This

bus collided

with a car

before leaving

the road near

the Hilltop

Tavern last

year, injuring

20 people.

PHOTO:

MARTIN

HUNTER ​

"There is a passing bay going

up the Little River side, which

foreign tourists don't seem to

realise means you keep left. They

quite often just keep going in the

middle lane which causes angst.

There's (another) two coming up

from the Barry's Bay side. The

more (passing bays) there are,

the better the traffic flows, but it

would be a major undertaking,

especially on the hill because

there's not a lot of verge anyway."

He said he would support more

signage "depending on what it

was, where and the type of sign."

BAY HARBOUR

Local

News

Now

PAGE 5

Fire rages, homes at risk

Exhibition

to open on

site of new

museum

• By Sarla Donovan

A TEMPORARY art gallery

on the new Lyttelton Museum

site in London St will have

community engagement at its

heart.

Ka Awatea is a project where

artists create three miniature

artworks and exhibit them in

a series of three group exhibitions

between September and

December.

A pop-up gallery the size of

a shipping container will be

installed on site this week to

house the exhibition. The works

will be based on the artists' responses

to historical materials

in the museum collection.

The intention is to "create

a dialogue between past and

present," project director Holly

Cunningham said.

Around 25 artists have been

selected with the first exhibition

of about 11 artists likely to

open at the end of September.

Work is expected to commence

on the new museum

next year.

Redcliffs

PHARMACY

YOUR

GIFT

RECEIVE YOUR

BONUS 3-PIECE

GIFT WITH

ANY REVLON

PURCHASE OF

$59 OR MORE

VALUED AT $88

20% off all

*

*While stocks lasts

For a limited time.

*

Conditions apply.

For a limited time. *Conditions apply.

Holly, Kirsty, Daryl, Catherine & Sandi

WE DELIVER

(A small

charge may

apply)

9 cent

6x4" & 5x4.3"

PRINTS

87 Main Road, Redcliffs

Phone 03 384 1037

www.redcliffspharmacy.co.nz

DIGITAL MEDIA ONLY, VALID UNTIL 7TH SEPTEMBER 2018,

PLEASE ALLOW 2-3 DAYS FOR PROCESSING

Pure sports nutrition range,

made in Christchurch
---
PAGE 6 Wednesday August 22 2018

BAY HARBOUR

Latest Christchurch news at www.star.kiwi

20 th to 26 th August 2018

$

13 99

kg

Fresh NZ Topside Steak/Roast

$

3 99

pk

USA Bi-Colour Seedless Grapes 500g

3 for

$

3 99

Schweppes Flavours

Soft Drink 1.5L

(Excludes Mixers)

$

2 69

ea

$

4 99

ea

$

2 99

ea

Nature's Fresh

Bread 700g

Tip Top Ice Cream

2L

Cadbury Dark Milk

160g/ Block 155 -205g

$

9 99

kg

Corned Silverside

$

6 99

bag

Country Fresh White Washed

Potatoes 4kg

$

4 99

ea

Nescafé Coffee

Refill 90-110g

$

23 99

pk

$

10 99

ea

$

5 00

ea

Heineken

12 x 330ml Bottles

Villa Maria Private Bin

750ml

(Excludes Pinot Noir/Syrah)

Persil Laundry

Powder 500g

svbhn2208

Owned & operated

by locals

SuperValue Lyttelton: 17 London Street, Lyttelton. Phone 328 7368. Open 7am–9pm, 7 days.

SuperValue Sumner: 3 Village Mall, Sumner. Phone 326 5688. Open 7am–9pm, 7 days.

While stocks last at SuperValue Lyttelton and Sumner only.

We reserve the right to limit quantities. Trade not supplied. For inspiration visit SuperValue.co.nz |

Please drink

responsibly
---
Wednesday August 22 2018

News

Support person requested

to understand flooding

• By Sarla Donovan

THE Linwood-Central-

Heathcote Community

Board has requested an

"outside support

person" to help

it understand

Higher Flood

Hazard

Management

Areas and

Restricted Unit

Overlays.

Christchurch

Darrell

Latham

Coastal Residents United

deputy chairman Warwick

Schaffer attended a publicexcluded

city council

seminar about the topics

last week after the city

council agreed to the

request.

The outside adviser was

to help the board "interpret

the information and ask

questions," said member

Darrell Latham.

He said there were

"incongruities" in city

council policy related

to HFHMA which had

serious implications

for residents.

"We need clarification

and answers now,"

Dr Latham said.

The Coastal-Burwood

Community Board

was also at the seminar.

CCRU is a group made

up of coastal residents and

experts who have recently

flagged concerns about how

1486 sites in a Restricted

Unit Overlay within the

Latest Christchurch news at www.star.kiwi

HFHMA are being treated

by city council planners.

It recently held a public

meeting, which attracted

more than 100 residents, to

discuss the concerns.

The CCRU believes a

restricted discretionary

activity rule, recommended

by the replacement District

Plan independent hearings

panel, was left out when the

plan was finalised last year.

Without the discretionary

rule, under the District

Plan new developments or

intensification of land use

in the HFHMA is to be

avoided.

Dr Latham said the

seminar was for information

sharing rather than

decision-making purposes.

OUTLET

STORE

A MASSIVE RANGE OF PRODUCT AT

BARGAIN PRICES

YOU WON'T BELIEVE!

HUNDREDS OF PRODUCTS

BELOW COST

BAY HARBOUR

PAGE 7

KENTUCKY

$299

KARAH

$249

TRIBUTE: Quake victims Owen Wright and Ian Foldesi may still be honoured with

a memorial orchard in Lyttelton.

Orchard memorial may still

go ahead for quake victims

• By Sarla Donovan

A MEMORIAL orchard

in memory of Lyttelton

men Owen Wright and Ian

Foldesi who lost their lives

in the February 22, 2011,

earthquake could go ahead.

Land Information New

Zealand is the temporary

caretaker of red-zoned

land at Norton Cl/Somes

Rd, which was owned by

Mr Wright and his wife

Megan, and Kay and David

Commons

Mr Wright's former

neighbours Betty and

David Purdue want to see

it become a community

orchard dedicated to

the two men. It has four

existing apple and pear

trees which were planted by

Mr Wright.

LINZ Christchurch

group manager land and

property, Jeremy Barr, said

as a temporary caretaker

of the land, it can approve

changes with a "shortterm"

impact of up to five

years.

He said a community

garden may fall into this

category.

"There are some

temporary community

gardens operating on

Crown-owned residential

red zone land in the

Ōtākaro/Avon River

Corridor."

He said if the owners

of the neighbouring

properties were interested

in developing a memorial

garden, they should get in

touch with LINZ.

Mrs Purdue said she and

her husband are now in

their 80s and are not sure if

they will pursue the matter

with LINZ directly.

But they do plan to get

in touch with Lyttelton

community groups that

could help.

"We'll see what

happens," she said.

"We are hopeful others

with more community

resources, wherewithal

and knowledge might pick

it up. If you sow a seed

somewhere, you never

know where it might end

up. We're keeping our

fingers crossed."

CHECK

SOFA BEDS!

OUT OUR

99 FERRY RD, CHRISTCHURCH

St Asaph St

Ferry Rd

OUTLET

STORE

Fitzgerald Ave

FRIDGE FREEZERS • WASHING MACHINES • DRYERS • COOKING

SMALL APPLIANCES • AUDIO • MANCHESTER • LOUNGE SUITES

DINING SUITES • BEDROOM SUITES • BEDS & HEAPS MORE!

12 ON

MONTHS INTEREST FREE

ANY PURCHASE OVER $499 #

Images indicative only. # Credit criteria applies, ask in-store for details.

Outlet Store items are over stocked, end of line, scratch & dent, ex display, ex repair items and more.
---
PAGE 8 Wednesday August 22 2018

BAY HARBOUR

Latest Christchurch news at www.star.kiwi

News

Local

News

Now

Fire rages, homes at risk

KEEN: The Mt Pleasant School Boys Baking Club face-off in the cake week challenge. From left to

right – Hamish, Jacob, George, Ollie, Isaac, Noah and Vinnie.

SYMMETRY: The cake week challenge winners were Noah,

for his rainbow chocolate cake (left) and Isaac who is hiding a

delicious lemon cake under that bright icing.

Boys bitten by the baking bug

• By Sarla Donovan

MT PLEASANT School teacher

Ange Tutt has started a new

craze for boys – baking.

She initially set up a baking

club in 2012, "to give pupils

something positive and fun to do

during the stressful earthquake

days."

It ran in the third term each

year and was originally popular

with girls.

However, after talking to a few

boys Ms Tutt decided to target

them this year.

And lo – the Boys Baking Club

was born.

After starting with one boy

(her own son), she now has seven

– all from year 5/6.

She reckons it was the rebrand

which made the difference.

"As soon as I named it Boys

Baking the boys were suddenly

very keen," said Ms Tutt.

They meet every Thursday

lunchtime to taste and share

their latest creation.

Each week Ms Tutt issues

a challenge and thus far

muffins, cakes, baking with

yeast and "200 grams of

chocolate" have been faced and

embraced.

Prizes are given out to the boys

for showing creativity and risktaking

when baking.

The cake challenge was one

where they "upped their game"

and created the most delicious

cakes, Ms Tutt said.

"It was a tough competition. In

the end the boys decided Noah

and Isaac deserved a prize for

their incredible decorating."

She said their honesty and

enthusiasm was amazing.

"I have had photos from parents,

showing me their commitment

to the challenge – pouring

over cookbooks looking for the

perfect recipe."

All leftover baking heads home

for them to share with their

family (and sometimes it goes

via their classroom teacher for a

taste test).

Yesterday the boys took part in

a master class with Ms Tutt.

"I am a teacher – but a lover of

baking. I taught them to bake

sponge roll, bacon and egg pies

and ciabatta bread. They were all

looking forward to getting out of

BRILLIANT

BAKERS:

(Left to right)

– George, 11,

Noah, 11, Isaac,

10, Hamish, 9,

Oliver, 10, and

Jacob, 10, are

putting together

a sponge roll.

class for a few hours and doing

some hands-on baking with

their mates," she said.

And the girls aren't left out –

their club is still going strong,

it's just run by another teacher

now.

•School birdlife project, p15

Visit our new website: www.min.nz

A professional realtor with

local expertise

and a personal touch

COASTAL REAL ESTATE SPECIALISTS

We'll help you live the dream.

Min Sarginson Real Estate Ltd. specialises in homes, sections and

rental properties in the spectacular Lyttelton Harbour bays, and

coastal suburbs of Christchurch, New Zealand.

We'll make it so easy for you. All our sales consultants live in the

area – we can give you valuable insights into life in our thriving

coastal communities.

This is an exciting time; of promise, optimism, and opportunities

never anticipated pre-quakes. Beachfront, or hillside with

grandstand views, find the property of your dreams:

Lyttelton | Diamond Harbour | Governors Bay | Cass Bay

Charteris Bay | Church Bay | Purau Bay | Port Levy | Northshore

Southshore | New Brighton | Heathcote | Sumner | Redcliffs

Scarborough | Mount Pleasant | Clifton

Call Min Sarginson Real Estate Ltd. for free, no-obligation advice. Lyttelton: 03 328 7273, lyttelton@min.nz or Church Bay: 03 329 4161, churchbay@min.nz
---
Wednesday August 22 2018

Latest Christchurch news at www.star.kiwi

free

PAGE

BAY HARBOUR

11mm

high

dENSiTY

LuxuRY

freeuNdERLAY

9

on seLecTed prodUcTs

NYLON

Windsor Twist

• 36 oz solution dyed

nylon

• Extra heavy duty

• Cut pile

• 12 colours

with

FREE

UNDERLAY

NYLON

Bonita

• 50 oz solution dyed

nylon

• Extra heavy duty

• Cut pile

with

FREE

UNDERLAY

$129.90LM

$139.90LM

NYLON

Riviera

• 26 oz solution dyed

nylon

• Extra heavy duty

• Cut pile

• 2 colours -

700 and 5500

with

FREE

UNDERLAY

$85LM

NYLON

Trinity 18

• Solution dyed nylon

• Extra heavy duty

• Loop pile

• 1x colour

with

FREE

UNDERLAY

$79.90LM

Vinyl Planks

Expona

• 2 colours

LandLord

speciaL

Polyester Carpet

• 10 colours

• 36oz

• Extra heavy duty

• Cut pile

LandLord

speciaL

$25sqM

$69.90LM

2m wide vinyl

LandLord

speciaL

Carpet tiles

• 2 colours

froM

$35LM

Great for

• Commercial use

• Offices

• Schools

• Foyers

$28sqM

312 Wilsons Road North, Waltham Phone 366 0070

www.carpetkingdom.co.nz | Mon to Fri 8am-5pm and Sat 10am-1pm

FREE no obligation measure & quote (conditions apply)

Q Card Finance Now Available
---
PAGE 10 Wednesday August 22 2018

BAY HARBOUR

Latest Christchurch news at www.star.kiwi

News

• By Sarla Donovan

FUNDRAISING continues at

pace for the Governors Bay Jetty

Restoration Trust, which has

set itself a goal of eight months

to raise $600,000 towards

restoring the historic structure.

That would allow construction

to begin in mid 2019.

At its recent annual general

meeting a range of ideas were

put forward to help lift the profile

of the campaign and widen

it beyond Governors Bay.

These included a possible

"Jetty to Jetty Challenge" – a

series of events between the

Governors Bay jetty and New

Brighton Pier.

They could involve mountain

biking, road biking, harriers

and walking groups in a race

from the pier to the jetty.

Vintage car, sports car and

motor-cycle rallies between the

two landmarks was also suggested.

Other ideas included a kayaking,

paddle boarding, yachting

and swimming event between

Lyttelton and the jetty.

And an old-fashioned sports

day at Allandale featuring sack

races, egg and spoon races,

three-legged races and sprints

over 300m – which is the length

of the jetty.

RESTORE:

Some creative

fundraising

ideas have

been proposed

to rebuild

Governors Bay

jetty.

Creative ideas for jetty fundraiser

The jetty was badly damaged

in the 2011 earthquakes,

prompting the formation of the

trust which bought it for $1

from the city council in 2016.

It will cost an estimated $3.2

million to restore with $535,000

already committed by the city

council.

The trust has raised $200,000

so far from community and

donations and has submitted

grant applications to the Rata

Foundation and Lotteries Commission,

trust secretary Louisa

Eades said.

Resource consent has been

lodged and they hope it will be

granted by November.

• By Matt Salmons

CONSTRUCTION of a

replacement set of beach-access

steps on Beachville Rd, Redcliffs,

is set to begin within two months

after a two-year search for

funding.

The Linwood-Heathcote-Central

Community Board

approved the new steps

at the eastern end of the

road, near the Main Rd

intersection, with discretionary

funding at their

meeting last week.

Their construction

would allow access to

a small area of beach, a

popular play area for children

and for launching kayaks.

Steps there had been damaged

in the 2010/2011 earthquakes

and then removed as part of the

Eastern Seawall works. Replacement

steps had been designed by

SCIRT in 2016, but were not included

in the final seawall plans.

The community board decision

delighted Redcliffs Residents Association

chair Pat McIntosh.

She said residents were disappointed

the steps had been

omitted and had approached both

the city council and community

board for them to be installed

Local

News

Now

Fire rages, homes at risk

Funding for seawall

stairs approved

Pat McIntosh

when it became clear they were

not in the plans. However, an

alternative funding source from

council was not found.

"We knew there was local demand

for access, it was obvious.

There's not many places you can

access the water all the way from

Celia St jetty along to the houses

in Main Rd," Dr McIntosh

said.

She said she had heard

of people hurting themselves

crossing the riprap

to access the area in the

meantime.

The resident's association

again approached

the community board

earlier this year, asking if the

steps could be included in the

council's draft Long Term Plan.

Funding from the discretionary

fund instead sped up the process.

Dr McIntosh said the residents'

association was delighted to hear

the steps would be installed soon.

"We were extremely pleased to

hear that the funding has been

found through the community

board, who have been very supportive,"

she said.

Installation of the precast steps

was estimated to begin in six to

seven weeks.

Our team at Bayleys Ferrymead understand what's involved in selling property. Backed by strong local knowledge and in depth marketing

experience, Bayleys Ferrymead takes a no nonsense approach through exceptional service and an easy-to-deal with manner.

Trust in the strength of Bayleys Ferrymead - altogether better

Marilyn Still

027 229 8769

Alex Fort

027 421 6016

Jane Moody

027 455 0161

03 595 2844

Unit 6a, 987 Ferry Road, Christchurch 8023

WHALAN AND PARTNERS LTD, BAYLEYS, LICENSED UNDER THE REA ACT 2008

ALTOGETHER BETTER

Residential / Commercial / Rural / Property Services
---
Wednesday August 22 2018

Latest Christchurch news at www.star.kiwi

BAY HARBOUR

PAGE 11

News

Waterway names wanted

• By Sarla Donovan

LABELLING more

streams on Banks

Peninsula will raise

awareness and make them

more useful as landmarks.

That's the suggestion

from Banks Peninsula

Water Management Zone

Joint Committee chairwoman

Paula Smith.

"Many

people are

not familiar

with the

names or

locations

of our

Paula Smith

streams,"

she said in

a letter to the committee,

which met late yesterday.

If more streams had identifying

signs, people would

start to use the names more

and they would become

more useful as landmarks

when describing a location,

she said.

"I also believe labelling

them will raise awareness

of the streams and cause

people to maybe consider

. . . their ecological health

and how land use activities

in their catchments may be

affecting them," Ms Smith

said.

NAMES: There may soon be more signs like this

marking streams on Banks Peninsula.

She asked the committee

to recommend the city

council prioritise funding

to label 15 streams within

the Banks Peninsula water

management zone.

Ms Smith said she had

chosen those streams

because of their proximity

to the main inner-harbour

roads which were wellused

arterial routes.

They include Pigeon Bay,

Koukourarata, Opara, Le

Bons and Okuti streams.

Though not within the

management zone, Te

Rapu Stream, near Teddington's

Wheatsheaf

Tavern is also included due

to its prominent location.

Attaching 30 standard

yellow signs – two per

stream – would cost about

$12,000.

Three further streams

– Takamatua, Pipers and

Pawsons – are on State

Highway 75 so the New

Zealand Transport Agency

could be approached for

funding.

Fresh NZ

Quality Mark

Prime Beef Mince

Fresh NZ

Quality Mark

Lamb Leg Roast

$

10 99 kg

$

12 99 kg

Hellers Fresh NZ

Burgers 400g or

Pre-Cooked

Sausages 1kg Plain

(excludes flavoured variants)

Vitor Afourer

Mandarins Loose

Product of Australia

ANY 2 FOR

$

12 99

$

4 99 kg

Coca-Cola,

Sprite, Fanta, Lift

or L&P 1.5 Litre or

Keri Premium Fruit

Drink 1 Litre

ANY 2 FOR

$

4 99

Tip Top Bakery

Supersoft Bread

700g

Arnott's Farmbake

Cookies 350g

$

2 89 ea

$

3 49 ea

Wither Hills 750ml

(excludes Pinot Noir)

$

12 99 ea Tiger Crystal Beer

12 Pack 330ml Bottles$

21 99 pk

www.foursquare.co.nz

Generously sponsored by:

facebook.com/FourSquareNZ

116 Bridle Path Road,

Heathcote www.aroflowers.co.nz

Specials available South Island only from Monday 20th August until Sunday 26th

August 2018 or while stocks last. Wine and beer available at stores with an off

licence. Wine and beer purchases restricted to persons aged 18 years old and over.
---
PAGE 12 Wednesday August 22 2018

BAY HARBOUR

Latest Christchurch news at www.star.kiwi

News

Local

News

Now

Angle parking still an option in Lyttelton

Fire rages, homes at risk

• By Sarla Donovan

PROPOSED PARKING changes

on west London St, Lyttelton

have been put on ice as other

options are explored.

A city council report recommended

five minute parking

restrictions outside the ATM

and 60min parking on the north

side of the street, from Spooky

Boogie cafe to Canterbury St.

Along with no-stopping lines

outside Albion Square for maintenance

vehicle access.

But the Banks Peninsula

Community Board rejected the

changes last week.

It said 'residents only' and

angled parking needed to be

looked at before making a decision.

That was in line with

consultation feedback – and

went against the report, which

said angle parking was "not

appropriate" because it would

conflict with fire engine,

ambulance and other heavy

vehicle movements.

But the board disagreed and

has asked city council staff to

investigate resident only and

angle parking "so that the board

can consider these as realistic

options."

Board member Tyrone Fields

said the issue will be discussed

again in November.

Wastewater pipeline

being laid in harbour

A NEW 5km wastewater pipeline

is being laid under water between

Lyttelton and Governors Bay this

week.

Sections of pipe are being

towed into the harbour by a

barge with an on-board winch.

They are then guided into a

pre-dug trench about 1m below

the harbour seabed.

The first segment of pipe was

launched from Naval Point; once

in place the second piece was

welded on to the tail of the first.

The process is then repeated

until the full 5km length of the

pipeline is in place.

The 24-hour operation started

on Monday and is expected take

several days.

The new pipeline is part of the

Lyttelton Harbour/Whakaraupo

wastewater upgrade to improve

and future-proof wastewater

services in Lyttelton, Governors

Bay and Diamond Harbour.

When construction is complete,

two submarine pipelines

will carry wastewater from

Governors Bay and Diamond

Harbour to Lyttelton, as part of

a $53 million scheme aimed at

ending the routine discharge of

treated wastewater into Lyttelton

Harbour by 2021.

City council head of three waters

and waste John Mackie said

PIPES: Sections of pipe to carry wastewater are being laid

underwater between Governors Bay and Lyttelton this week. ​

it was exciting to see the project

reach the marine stage.

"It's another step closer to

cleaner water in Lyttelton Harbour

which is an end goal we're

all committed to."

The Governors Bay pipeline

should be complete by the end of

this year with the Diamond Harbour

pipeline due for completion

in early 2019.

Currently, wastewater from

Lyttelton, Governors Bay and

Diamond Harbour is treated

at wastewater treatment plants

in each of the townships before

being discharged through outfall

pipelines into Lyttelton

Harbour.

Under the new scheme, untreated

wastewater from Governors

Bay and Diamond Harbour

will be pumped through the

submarine pipelines to a new

pump station on Simeon Quay in

Lyttelton.

It will then be piped through

the Lyttelton Tunnel to the

Woolston pump station and

onto the Bromley wastewater

treatment plant, where it will

be treated. From there it will be

discharged out to sea through the

Christchurch Ocean Outfall.

PARKING: This section of Lyttelton St west may get angled

and residents-only parking after feedback showed strong

support for both. ​

Take a photo, pass it on

INNOVATIVE: Maree Henry

at her shop Henry Traders on

London St. ​

• By Sarla Donovan

ABOUT 15 years ago Maree

Henry was at an open home

in Lyttelton when she took a

photograph out the window – a

view of Lyttelton Port.

She still has it.

And a while ago it got her

thinking about living in the port

town.

"How we all have a different

view from our windows, a different

relation to the harbour."

So last year, as an experiment,

Ms Henry put a disposable camera

into circulation in Lyttelton.

It was boxed with instructions

to take a photo from a window

in your house, record the street

and the angle of your view in a

small booklet, and then pass the

camera on.

That camera arrived back

recently and Ms Henry said it

was fascinating to see how it had

travelled from place to place.

"The handwriting was quite

lovely; just recording the direction

of the view and the street.

The first view was recorded as

'looking west from London St,

then looking east from Cressy

Tce.' Some took a picture from

the back so you were still getting

a view but it was the hills. Other

people wrote, 'the tugboat coming

in' and 'light on Quail Island

looking east.'

Now she's seen how it could

work, Ms Henry is planning a

book project based on capturing

views from the eyes and windows

of Lyttelton residents.

Though still in the planning

stages she hopes later this year,

(probably later in the spring) to

release 20 disposable cameras

into the community through

her gift shop, Henry Trading on

London St.

Take a photo, then pass it on.

With so many cameras, there's

room for some 'collateral damage'

she said, estimating around

400 photos should come back.

From these she will make a

book to sell at her shop.

"I'm interested in the idea that

it's not up to me, it's up to fate,

I don't have control. That anonymity

and the organic nature

of it – as soon as you pass them

out you just cross your fingers

and hope they come back."

We welcome

new patients

Dr Rose Chambers Dr Ben Hudson Dr Kim Pasley Dr Kim Glass Dr Sophie Hart Dr Anna Maze

• Online appointment bookings and prescription requests are available for

enrolled patients

• We are accredited by the Royal NZ College of General Practice and have achieved

their 3 yearly Cornerstone accreditation standard for the third consecutive cycle

• We strive to provide the highest quality medical care

• Patricia Stowell (Podiatrist) - appointments available the first and third Fridays

of each month. Phone 355 4526

• Bruce Telford (Mental Health Professional) - appointments available

Wednesdays. Phone 027 630 7512

• Carolyn Till (Audiologist) - appointments available on Tuesday mornings

monthly as required. Phone 385 6036

Monday 8.00am – 5.00pm

Tuesday 7.30am – 5.30pm

Wednesday 8.00am – 6.30pm

Thursday 7.30am – 6.30pm

Friday 7.30am – 5.00pm

18 Oxford Street, Lyttelton

Phone: 328 7309

www.lytteltonhealthcentre.co.nz

Lyttelton

Framing

Four good reasons to use us

to frame your artwork:

1. Know how - UK qualified

conservation framer

2. Experience - We have been

established now for eighteen years

3. Guarantee - All work guaranteed

4. Price - Very competitive prices

Contact Malcolm Ph 328-7350

32 London St, Lyttelton

Mon-Fri 9am-5pm, Sat 9am-1pm
---
Wednesday August 22 2018

Latest Christchurch news at www.star.kiwi

BAY HARBOUR

PAGE 13

TREAT YOUR DAD,

THIS FATHER'S

DAY!

Armor All

Car Detailing Kit

Trojan

Towball Cover

Great for protecting

your towball. 180897

$5 99

FERRYMEAD

Features a wide range of products to

$24

maintain and protect the appearance of 99

your car, both inside and out. 242948

Bar's Bugs

Tarpaulin Twin Pk

Supastrap

Windscreen Cleaner

Great for short term or light to

Mesh Cargo Net

medium duty applications. Such as:

Twin Pk

Suitable for 7x4 trailers. Heavy

ground sheets, wind breaks, sand

Removes road film,

duty webbing sewn on for

pit covers and temporary cargo

diesel spray and bugs.

extra re-enforcement. Rip

covers. 3.5m x 4.7m.

135563

resistant mesh fabric.

319940

243033

$6 99 $19 98

$39

Hitachi

Angle Grinder

General purpose corded 125mm angle

grinder with 730W high powered motor.

284209

$99

Fuller

Tool Bag

Heavy duty base, removable

shoulder strap, heavy duty nylon

for durability. 400mm.

Black.

123655

$36 76

Black+Decker

Drill Driver

Variable speed for

ultimate finger tip

control for all drill

and screw driving

applications. 18V.

Bonus battery

included.

317425

Jobmate

Petrol Line Trimmer 26CC

Cutting diameter 420mm.

400ml fuel tank capacity.

Bump feed system.

290156

Weber

Q Series BBQ

Series 2000 & 3100 available. For ease of

portability the Weber Q is ideal.

For those larger family meals, the Family

Q works best.

318399

Cart sold separately 239465 $249

Morrison

Lawnmower 125CC

4 Stroke

Lightweight, sturdy plastic

handle. Handy hanging hole.

290293

$92 98 FROM

$

549

EXCLUSIVE

$99 $139

$349

Trojan

Trailer Wheel Clamp

Quick and simple to fit. Has

a zinc and powder-coated

finish. Fitted with a high

quality lock.

180889

EXCLUSIVE

Jobmate

Trailer with high

sided cage

Hot dipped galvanised finish to increase durability against

rust and corrosion. Load capacity: 635kg. 2.13 x 1.28m..

203476

Jockey Wheel Sold Separately 242127 $59.99

Cage Sold Separately 203546 From $399

$1,499

GIFT IDEAS FOR FATHER'S DAY

Gift Card

STUCK FOR AN IDEA?

GIVE DAD

A MITRE 10

GIFT CARD

Price is for trailer only.

Ferrymead

1005 Ferry Road, Phone: 366 6306

Opening Hours: Monday–Friday: 7:00am–7:00pm

Saturday, Sunday and Public Holidays: 8:00am–6:00pm

Offers available at Ferrymead Mega and Trade Centre Stores only, until 29 th of August, while stocks last.

mitre10.co.nz/local/MegaFerrymead/

If you find a lower price on an identical stocked

product locally we will beat it by 15%.

find us mitre10.co.nz

If you find the same product cheaper from another Mitre 10 store or Mitre 10 website we'll match that price. Excludes trade

and special quotes, stock liquidations and commercial quantities. The in-store price may be lower than that advertised.
---
PAGE 14 Wednesday August 22 2018

BAY HARBOUR

Latest Christchurch news at www.star.kiwi

We have some great book and gift ideas for Your Dad this

FATHER'S DAY

SUNDAY 2 SEPTEMBER

FAThER'S DAY

CARDS

COLOURFUL

NOVELTY SOCKS

JIGSAW

PUZZLES

1005 Ferry rd

Ph 384 2063

while stocks last (see instore for terms and conditions)

Barry & kerry
---
Wednesday August 22 2018

NATURE:

Mt Pleasant

School

pupils

Tim (left),

Katherine,

Matthew

and Felix

learn to

plant trees

at Drayton

Reserve.

MT PLEASANT School pupils

Katherine, Matthew, Tim and

Felix all have a passion for

nature.

The year 8 pupils are part of

the Primary Years Programme

Exhibition, in which they work

together to conduct a 'superinquiry'

into real life issues or

problems.

The group is focused on

helping native birdlife thrive.

After doing some research,

they teamed up with David Bryce

who helps run planting sessions

at Drayton Reserve.

The regular sessions are run

by volunteers. They are a great

way to spend time with family

SCHOOLS

Mt Pleasant pupils

launch project to

help birdlife thrive

and help improve local flora and

fauna.

The pupils said they wanted to

take action because they believe

people are starting to take the

environment and birdlife for

granted.

They said that according to the

Department of Conservation,

more than 25 million native birds

are killed by pests every year,

causing New Zealand to have one

of the highest extinction rates in

the world.

To combat this, the group

is also supporting Predator

Free Port Hills by using pest

traps around Mt Pleasant

School.

Latest Christchurch news at www.star.kiwi

SUMNER athlete John

Hellemans reckons triathlons

can be addictive and harmful.

But he still plans to be on the

start line at the 2018 ITU World

Triathlon grand-final on the

Gold Coast next month.

The world-class triathlete and

coach has just published a new

memoir, in which he explores

some of the tough choices endurance

sports athletes have to

make.

In the book Never, Ever Give

Up? he talks about the social

and physical toll of sports like

triathlon.

Hellemans emigrated from the

Netherlands to New Zealand in

1978. He has combined a career

in general practice and sports

medicine with competing and

coaching in triathlon for nearly

40 years.

"Each year, there was something

new in triathlons relating

to training techniques, race

options, equipment or rule

changes. I loved the dynamic

development of this novel sport,

it kept me interested," he said.

As his sporting career progressed

and he juggled it with

his family and medical practice

commitments, he began to realise

the significant personal cost

that triathlons can have.

"It's a very addictive thing.

From a sports medicine perspective,

it can be too much and it

can be harmful – socially in

Late night Lyttelton Tunnel closures

BAY HARBOUR

PAGE 15

Hellemans explores 'addictive'

triathlons in latest book

PHYSICAL TOLL: John

Hellemans book Never, Ever

Give Up? looks at the social

and physical toll of sports

like triathlon.

•The book is on sale at Take

Note Ferrymead.

regards to your relationships

with friends and family, as well

as physically."

The memoir, published by

Canterbury University Press,

recounts his adventures as a

young doctor in Blenheim and

tells how he was captivated by

the relatively new sport of triathlon

while watching a television

broadcast of the 1979 Les Mills

New Zealand Ironman Championship

in Auckland.

He went on to win six national

titles and represented

New Zealand at several world

championship events and the

1990 Commonwealth Games.

As an amateur, he has won

eight age-group world championship

titles. In October 2013,

at the age of 60, Hellemans

made the decision to compete

in the Hawaiian Iron Man, long

considered the ultimate test in

triathlon where, in excruciating

heat, he found himself staggering

and miserable – but he did

not give up.

"Life used to be about surviving

and meeting basic needs. For

many of us, the modern western

life is too cushioned, so we challenge

ourselves to suffer in other

ways. Endurance sport strips

you bare and you are confronted

with yourself. That is part of the

attraction. But at a certain point

it's about realising this suffering

may not be good for me."

An exercise-induced cardiac

event in 2015 brought the message

home again.

But he's not ready to give

up just yet: The Gold Coast is

calling.

From Sunday 26 August, you'll

need to plan your travel around

late night tunnel closures.

These are essential to both install

and test a new fire protection system

inside the tunnel.

Work on this $28.7 million project

is expected to be completed early

next year.

Traffic lane closures are timed

for late night/early morning on

the lightest tunnel traffic days of

the week, ie Sunday, Monday and

Tuesday.

TUNNEL

CLOSED

11pm to 4am

Sunday 26 August

Monday 27 August

Tuesday 28 August

The tunnel will open to

traffic for 10 minutes on

the hour on these

nights.

WHAT YOU NEED TO KNOW

• Real-time traffic information for the Lyttelton Tunnel area is available

at www.tfc.govt.nz

• A three-month look ahead schedule of tunnel traffic lane closures

can be found at www.nzta.govt.nz/assets/projects/lytteltontunnel/lyttelton-tunnel-lane-closures.pdf

• Emergency access will be maintained through the tunnel at all times.

• For more information about the Lyttelton Tunnel fire protection

upgrade, go to www.nzta.govt.nz/projects/lyttelton-tunnel/

• Find up-to-date information on road conditions, delays and

closures at www.nzta.govt.nz/traffic

• Check the Transport Agency's official Twitter @nztacwc and

Facebook facebook.com/nztasouthisland pages.

• For traffic and travel information, call 0800 4 HIGHWAYS

(0800 44 44 49) to speak to one of our team.
---
Page 16 Wednesday August 22 2018

BaY HaRBOUR

Latest Christchurch news at www.star.kiwi

ON

NOW!

Promotion

closes 1st

October

2018.

Conditions

apply.

Shop

Win

& Relax

SUPPORT YOUR LO

TO WIN 1 OF 5 FAM

TO HANMER

Enter every time you shop at any o

More chanc

The Automotive Lamp Specialists

New and Used Lamps for Cars,

Trucks, Vans, 4WD and Motorhomes

95 Gasson St, Christchurch Ph. 0800 225 483

Fresh fish

straight

from the sea

each day

Phone 03 326 5726

Cnr Wakefield Ave and

Nayland Street

Sumner, Christchurch

Open 6 days from 11.30am

(closed Tuesdays)

We're not just books

OPEN 7 DAYS | 1005 FErrY rD | Ph 384 2063

WATERMAN PL

FERRY ROAD

FERRY ROAD

987 Ferry Rd, Ferrymead | Ph: 373 6550

JuST

INCREDIBLE

IT's

• Barrington Mall

• The Hub, Hornby

• New Brighton Mall

• South City Centre

1005 Ferry Rd, Ferrymead

Ph 366 6306

mitre10mega.co.nz

Sho

Wi

& Re

Jewellery

& Giftware

2a Waterman Place Ferrymead Ph.376 4071

www.thegoodhomeferrymead.co.nz

WATCH REPAIRS

• Replacement batteries

fitted from $10

• Strap replacement

HOURS: Mon-Fri 9am-5pm, Sat 9am-1pm

79 Wrights Road, Middleton.

Ph: (03) 338 0171

Email: sales@warrenagencies.co.nz

www.warrenagencies.co.nz

OPEN SAT & SUN

1005 Ferry Rd, Ferrymead | Ph: 943 9635

OPEN 7 DAYS:

Mon to Fri 8.30am - 6pm

Sat 9am - 4pm and Sun 10am - 4pm

Proudly supported by...

Personal insurance

premiums keep going up?

Let's talk!

Call Danté on 027 696 2117

financialadvisernz

Krystal Henderson

Licensee Salesperson

Ray White Barrington

256 Barrington Street, Christchurch

M 027 751 5493 T 03 332 2080

E krystal.henderson@raywhite.com

nextsteprealty.co.nz

Next Step Realty Ltd Licensed (REAA 2008)
---
Wednesday August 22 2018

Latest Christchurch news at www.star.kiwi

BaY HaRBOUR

Page 17

CAL BUSINESSES

ILY GETAWAYS

SPRINGS

f these participating businesses

es to win!

Proudly supported by...

Boost Brain Performance

ENZO:PROFESSIONAL (ENZOGENOL)

is a potent antioxidant extract of the N.Z. pine bark and has

SUPER PRicE!

been clinically shown to improve memory, concentration &

brain performance. 60's only $45.30, save $5.00

120's only $84.90, save $15.70

MARSHALLS HEALTH & NATURAL THERAPY

CONSULTING - PRESCRIBING - DISPENSING -

MANUFACTURING - MEDICAL HERBALISTS

110 SEAVIEW RD, NEW BRIGHTON • PH 03 388 5757

Email: enquiry@marshallshealthshop.co.nz

Detailed Information Available

Bringing You the Best in

Natural Health!

- WE ARE ALWAYS HAPPY

TO HELP! -

p

KO-1 sushi

Sushi & Hot Bento Box

Buy any 8 piece

Sushi pack, say

"Bay Harbour

Shop & Win"

and get a

FREE

MisO sOup Expires

30.09.18

Shop 9, 1005 Ferry Road | Ph. 384 2422

Turn your man into

something SUPER this

Father's Day with a

Voucher from us

body

body

care

care

redcliffs

redcliffs

89b Main Road, Redcliffs | Phone 03 384 4729

www.redcliffsbodycare.co.nz

nlax

Lyttelton

17 London Street, Lyttelton.

Phone 328 7368.

Open 7am – 9pm, 7 days.

WE HAVE RELOCATED

608 Ferry Road, Woolston Village (next to bakery)

Parking out front or OSP next to bakery.

Look for the red and white sewing flag!

NEW HOURS: Mon-Fri 8.30 - 5.30pm,

Saturday 10.00am - 1.00pm

Phone 03 332 0496

Hems

from

$

18

Make an appointment

today (03) 384 1743

4/2 Soleares Ave, Mt Pleasant

Open: Monday to Saturday

Late Night: Wed & Thurs

*Airsoft War

*Gel Ball Shooter

*Archery Range

*Family fun

*Birthday party

*Corporate

0800-247 7638

www.zone67.co.nz

67 Kennaway Rd, Woolston

Christchurch

Indoor Arena

Brighton Salon 388 8277 Lyttelton salon 328 8827 soulstylehair.nz

Christchurch's largest

range of quality guaranteed

used bikes & parts

Come check out our 50% OFF

parts & accessories table

AROUND AGAIN CYCLES

OPEN 6 DAYS

BEST

VALUE

REPAIRS

620 Ferry Rd, Woolston. Ph 03 376-6377. Email: aroundagaincycles@gmail.com
---
PAGE 18 Wednesday August 22 2018

BAY HARBOUR

Latest Christchurch news at www.star.kiwi

Our People

Giving kids the ride of their life in

Sumner Valley Riding School owner Lisa Hadfield

talks to Sarla Donovan about growing up in the

valley, how the school got started and the night her

donkey Tilly went on a pub crawl

HAPPY FAMILY: Lisa Hadfield

with Tilly the Wonky Donkey

and the Ziggie, a border collie

cross.

Did you grow up around

horses?

No, but I lived in Sumner

from the age of eight. We were

at the back of the valley at 21

Evans Pass. We had no land but

we looked over the valley and

it was all paddocks, all rural

then. There were very few houses

from Wakefield Ave back, and

Sumnervale Drive didn't exist.

There were heaps of horses and I

hung around the horsey girls. My

first horse was called Lisa, I got

her when I was 13. She lived till

she was 41, a white anglo-arab

mare. We got a beautiful foal out

of her called Kalina.

Where did you go to school?

I went to Sumner School.

My dad worked at Dunlop and

mum made rag dolls. They also

had some craft shops. They had

the Charlotte Jane in Lyttelton

and mum used to sit at home

and make rag dolls. I had three

brothers and one sister. We all

grew up here, we loved it, loved

the valley. I still live here and I'm

54 now.

Did you start competing

when you got Lisa?

No, none of us in the area

could because we didn't have

parents that had horse floats or

a car big enough to pull a horse

float. If we went anywhere, you

would have to ride, so those who

joined Ferrymead Pony club had

to ride there the morning of a

rally and then ride home at the

end.

But when I had my daughter

Holly, she's 30 now, I got her

a donkey and then I went out

and competed with donkeys.

The donkey people were just so

relaxed and friendly and that's

where I enjoyed showing. We'd

turn up at all the A & P shows –

Canterbury, Hawarden . . . I did

that for many years.

How are donkeys different to

horses?

Their natural reaction is to

stand still and they are smoother

for young children to sit on.

They have a smoother and slower

movement. Whereas a pony is a

flight animal, and often they're

fatter and rounder and a lot

gigglier to sit on for young riders.

Tell me how the riding school

got started?

We had the Terracotta Shop

where the Coffee Culture is,

my husband was a potter. And

one day a lady walked in, an

awesome lady. She asked if I

could take her three children for

riding lessons. So I went out and

bought two more ponies so then

I had four (with Lisa and Kalina)

and I started lessons and it just

grew from there. The chap who

had the lease on the land, (the

late) Barry Kerr from Suburban

Estates passed the lease on to

me and then he sold it to the

council and I continued leasing it

from them. I've had a wonderful

relationship with the council all

these years.

How many horses do you own

and who's your favourite?

Eight ponies and horses and

one beautiful donkey. I don't

have a favourite but my own

horse is called Gizmo. He's a

retired racehorse, a 16.3 hand

dark bay thoroughbred gelding.

He's a bit spoilt, his work ethic

is terrible, you wouldn't employ

him. I do light level-showing on

him, not the high open classes

because he's not ready. He's in

the green horse class so you don't

have to canter.

I'm training him to be a nice

riding horse and taking him out

to do dressage. My daughter has

her own horse, she does 1.5m

eventing and we're also training

four riders to compete at the

Springston Trophy. Equestrian

sport is big in New Zealand but

you don't hear a lot about it.

Sarah, Anita, Grant, Ashleigh and Kellie

Full Service Pharmacy

including...

• Passports Photos

• Revlon Cosmetics and Revlon Club

• Gifts and Gift Wrapping

• Ear Piercing

• Extensive Natural Health range

• Scarves, Hats and Sunglasses

• Focus on Natural Organic Skincare including Trilogy,

Antipodes and Sukin

OPEN SAT & SUN

Dispensary Service

• Medico Packs

• Quit Smoking Quitcards

• Emergency

Contraceptive Pill

• Delivery Service

Owned and operated by

your pharmacist, Grant Bell

CAFÉ

NOW OPEN

1005 Ferry Rd, Ferrymead. Ph:943 9635

OPEN 7 DAYS: Mon to Fri 8.30am - 6pm

Sat 9am - 4pm and Sun 10am - 4pm
---
Wednesday August 22 2018

Latest Christchurch news at www.star.kiwi

BAY HARBOUR

PAGE 19

Sumner

What did you do before you

started the riding school?

When I was really young,

I worked at St John of God

Church as a house mother for

young boys with problems. I've

worked in retail, and then in the

Terracotta Shop. We sold mainly

high-end art work – people like

Paul Fisher, Dennis Hadfield

and some others. It was a gallery

really. Then I got more and more

into the riding school and it

needed more attention so I spent

more time on that.

It must be fun having a job

working with animals?

Yes it is. Although I have

two part-time jobs and I've just

worked the last two days and

nights with 15min between my

day and night jobs. So when I get

down to the paddock I just stand

there and go, how beautiful, just

how beautiful and how lucky I

am. It's a little piece of paradise

YOUNG

RIDERS:

Members of

the Sumner

Valley Riding

School after a

day out at the

Ferrymead

Show Jumping

Day.

down there. I've now got fourth

generation riders who I taught

to ride bringing their children to

learn on the same donkey they

learnt on. I've even done a hens'

night with one of my former

riders, we put her on Tilly and

walked her round all the pubs in

Sumner.

Are your family involved

with horses as well?

I've got great-grandparents

who bred clydesdale horses

in Ireland. My whole family's

adopted, so it's my birth family

and my dad rode a bit as a teenager,

probably to show off to the

girls I think.

What advice would you give

to parents with children who

want a horse?

Definitely start with the lessons.

Go somewhere your child

will make nice friends and there

is a good standard of horsemanship.

SUPER STARS: The HSV Stars year 5 netball team – Annabelle Rippin, Grace Rooney, Stella

Sharpe, Abi Scott-Douglas, Lena Norton, Lexi Thomas, Aika Sato, Emily Boot and Poppy

Sheppard – in their new uniforms.

Heathcote Valley School

netballers unveil new look

HEATHCOTE VALLEY School

netballers celebrated a goal come

true recently.

The school was awarded brand

new netball uniforms under a

grant scheme run by ANZ.

Tamsin Page is a co-coach at

the school and applied for the

grant to get new uniforms and

bibs to replace the outdated

bibs which were too big for the

players.

Ms Page said there has been

SCHOOLS

increased interest in netball

at the school over the past few

years, which has put a strain on

its resources.

"This netball uniform grant

will help the players step onto

the court with confidence,'" she

said. ANZ head of sponsorship

Sue McGregor said the bank was

thrilled to help Heathcote Valley

School players with the new

uniforms.

"We hope the teams step onto

court with the confidence to play

at their highest level," she said.

•Applications for the

grants are open until

October. Go to anzcourtside.

co.nz to apply or for more

information.

Resene cardholder special!

Still Pedalling!

ACHIEVE YOUR

POTENTIAL IN

HEALTH

Trevor Crowe's been repairing &

improving vehicles for 70 years.

You can benefit from his

experience at...

Come in and see us today at

your local Resene ColorShop!

Addington, Ferrymead,

Hornby, Lichfield St,

Northwood, Rangiora,

Shirley, Tower Junction

0800 737 363 www.resene.co.nz/colorshops

Discounts off the normal retail price from 21 August – 10 September

2018. Valid only with cash/credit card/EFTPOS purchases. Not available in

conjunction with account sales, promotional vouchers/coupons or other

offers. Excludes trade, ECS and Crown products and PaintWise levy. Offer

for Resene ColorShop/DIY cardholders only. Sign up for a free card at your

Resene ColorShop or participating reseller. Offer applies to 10 litre Resene

premium paints, primers, stains and 60-80ml testpots only.

Subaru Specialists

Electric and

Hybrid Vehicles

We have a great range of Leaf's and

Prius's hand picked for the best

battery health. Sensible prices,

easy finance options. Backed up by

our expert technical team.

Visit online at

www.crowesport.co.nz

518 Moorhouse Ave (East End)

Phone 379 7615

If you'd like a career

in health but you don't

currently meet the entry

criteria for a diploma or

degree programme at Ara,

our Certificate in Study and

Career Preparation can give

you the foundation you need.

Starting in September, this mostly

online programme will equip you to

confidently advance to a higher-level

qualification next year.

Apply now, start September.

ara.ac.nz
---
PAGE 20 Wednesday August 22 2018

BAY HARBOUR

Latest Christchurch news at www.star.kiwi

winter clearance

SHIRTS

We have made huge reductions across all the remaining

brand long sleeve casual shirts, including those with the extra

length sleeve.

There are over 45 different patterns from business to subtle

checks and the 'in yer face' big madras checks (great with

denims). Because they are being cleared at super low prices,

they are oddment and broken size ranges. Cloths are all cotton in

qualities you can rely on, just ask the people who know. The sizes

available start at M right up the 4XL in the classic fit (they don't

impede your golf swing). RRP $ 89.90 to $ 109.90

SALE

$

18 $ 24 $

28 $ 33 $

38

PULLOVERS

We have a wide selection of . All Merino ¼ zip style

pullovers in three different knit styles. We have limited sizes in some

color/knit choices. Be in quick for your choice. Colours, Charcoal,

Eclipse blue, Fig, Grey tweed, Black. These are the comfortable

classic sizing from SM to 4XL which you know. RRP $ 159.90

SALE $ 80 Fig shade only, they sent the wrong shade.

$

SALE 118 $

124 $

128

MOLESKIN JEANS

Enjoy the comfort and proven fit of light weight STRETCH

moleskin jean. Colors of moss, olive, gunmetal. Sizes available

84 to 104cm. RRP up to $ 109.90

SALE $ 64 or 2 for $ 80

CASUAL PANTS

Summer weight cotton casual in shades of Putty or Khaki

available in sizes 84 to 107cm. RRP $ 109.90

SALE $ 30 or 2 for $ 60

KNITWEAR

We have started the seasonal cull of our huge knitwear range,

pullovers, cardigans and slipons. We have separated out all the

'must go' items and marked them down drastically.

Slipons from $ 30 to $ 60

Cardigans under $ 80 to $ 125

Pullovers $ 60 to $ 90

JEANS

Navy STRETCH denim, summer weight, comfy with slim leg

84 to 96cm. RRP $ 99.90

SALE $ 38

CORDUROY PANTS - stretch cloth

We have various oddments in both sizes and colors left over

which 'must go'. These are the Savane brand which you are

familiar with. This has now become a dis-continued line for us.

SALE $ 64 each or 2 for $ 80

or 3 for $ 90 or 4 for $ 100

Yes, you can share them around family, friends & neighbors!

HALF SALE PRICE KNITWEAR

this applies to our entire knitwear stock currently instore in Sydenham

Bring in this advertisement page as your Coupon for the

discount. Applicable to 3pm Saturday 1st September 2018.

NO ADVERT - NO DISCOUNT - NO EXCEPTIONS

the MENSWEAR

@ SYDENHAM

387 Colombo Street

Parking behind Butlers Auto Mart

Hours: Mon to Fri 10am to 4pm. Sat 10am to 3pm.

Closed Sun.

Are the stores the same? NO, but they do share heritage.

They have similar and different merchandise.

Your Local Views

STYLE: A

preliminary

drawing

of the

Main Rd

entrance

to the new

Redcliffs

School.

Mette Kristiansen

writes about the new

design of Redcliffs

School

This letter has been a

long time coming but

nonetheless, it needs to be

written. As an ex-Redcliffs

School pupil, I like the

design of the new Redcliffs

School. It will have an

amazing outlook, and

being (supposedly?) above

the flood plain will mitigate

that problem. I'm not sure

about the combination of

mixing children with an

entrance on a narrow part

of the busy Main Rd, but I

am sure the school board

has considered that issue.

What I am very

concerned about here

is the loss of the main

heritage buildings – the

old Redcliffs School's

main block. It would be

a huge loss to the area to

lose these buildings, and if

they were re-used for some

other purpose, they would

be a huge asset to the

community.

Surely there would be

enough room for sport if

all the other buildings were

pulled down and just the

main block was kept for

HEAT PUMP

SALE NOW ON!

Amazin' winter Specials!!

• We will offer you the best quality brands and

option of heat pump for your home/business

• Providing Heat Pump solutions for over 16 years to Cantabrians

• We personally guarantee all our products & installs for 5 years

(providing annual maintenance has been completed)

Phone us today for your free consultation & quote

Read us anywhere..

anytime!

41A SHAKESPEARE RD, WALTHAM

PHONE 03 366 0525

www.enviromaster.co.nz

"A local team for local people"

Read your local

newspaper

online 24/7

www.star.kiwi/digital-editions

evening classes, senior gettogethers,

or even as sports

clubrooms. Community

space is in huge demand

and it could even be rented

out for private events.

We New Zealanders love

travelling overseas and

marvelling at the heritage

of other countries, yet

don't seem to recognise

the value of keeping our

own. Redcliffs Primary

School first opened

its doors to pupils on

September 16, 1907, so

in my mind it is already

a heritage building. The

Historic Places Trust says

anything prior to 1900 is

covered by the Heritage

New Zealand Pouhere

Taonga Act 2014. So 1907

seems close enough to

warrant consideration.
---
Wednesday August 22 2018

Latest Christchurch news at www.star.kiwi

BAY HARBOUR

PAGE 21

Sumner Lifeboat

Aspiring crew put through their paces

Every month Bay

Harbour News

will publish a

column from the

Sumner Lifeboat

Institution.

Today coxswain

Blair Quane talks about

the commitment needed

to become an operational

crew member

LAST SEPTEMBER, a cohort of

new volunteers joined Sumner

Lifeboat.

They were all locals and

represented a variety of ages,

backgrounds and skills – all with

the common goal of becoming

operational crew and being able

to take part in lifeboat call-outs

and rescues.

After six months of training,

members of the group are now

passing the first hurdle – moving

from inductee to trainee, but

it will take most of the year for

them to become operational

crew.

For the crew, a call-out might

involve assisting a vessel in

distress kilometres offshore,

rescuing a surfer in trouble off

Sumner beach, or searching for

an overdue sea kayaker in the

bays of Banks Peninsula.

So how do the volunteer crew

COMMITTED: To become part of a lifeboat operational crew takes at least 12-18 months of

training. ​

members acquire the skills and

knowledge to deal with such

variety? It all comes down to

training.

Lifeboat training involves

completing a set of theory and

practical modules provided by

Coastguard New Zealand, each

of which must be assessed and

signed off by an instructor.

Basic training to become

operational crew covers personal

safety, survival in the water,

health and safety, teamwork, radio

communications, familiarisation

with the local coastline,

search and rescue techniques,

victim recovery, lifeboat handling

and seamanship.

At the core of it all is safety

– both personal and for fellow

crew members. If the lifeboat

crew gets injured or the boat

gets damaged, the mission may

be compromised – so safety

is paramount. The training

culminates in a challenging

practical assessment on board a

rescue vessel.

However, training doesn't

stop with attaining operational

status – all crew, from newlyqualified

to senior skippers,

must regularly do exercises and

re-assessments to ensure they

remain prepared for anything.

For a volunteer organisation,

the standard of the professionalism

and commitment of the

operational and senior crew at

Sumner Lifeboat is high, and is

something for trainees to aspire

to. Sumner Lifeboat crew are all

volunteers, as are the management

committee and many others

who ensure that this essential

service is one of the country's

most capable lifesaving organisations.

The costs of training and

equipping about 26 crew members

is growing yearly. Very

little funding is provided by the

Government, so Sumner Lifeboat

needs help – financial or 'in

kind' – to enable it to continue

to bring family members home

safely to their loved ones.

•Find out more about

volunteering or donating

to the Sumner Lifeboat

Institution at www.

sumnerlifeboat.org.

nz or email secretary@

sumnerlifeboat.org.nz or

write to PO Box 17, 515

Sumner 8081.

JOIN US NOW!

See website for details

YD

Save $50 when you spend $150,

Save $100 when you spend $300.

SCRIBER & MARKS

Trousers were $179, Now $39.

Shirts were $99, Now $29.

CUTLER & CO

Buy 1 Item, Get the 2nd Item Half Price

(2nd item of equal or lesser value, conditions apply).

STYLES MAY DIFFER TO IMAGE SHOWN

CANTERBURY OUTLET

50% Off Original Prices Storewide.

TAROCASH

Nothing Over $60

(excludes suits, while stocks last).

BONDS OUTLET

Jockey Men's Dressing Gowns,

RRP $99.99, Now $20

(while stocks last, sizes S-XL).

Sign up to Smart Deals & be in the monthly draw for a $100 Dress-Smart gift card!

Be one of the first to hear about the latest deals, sent straight to your inbox each week!

CHRISTCHURCH 409 Main South Road, Hornby

Open 10am-5pm, 7 Days 03 349 5750

www.dress-smart.co.nz
---
PAGE 22 Wednesday August 22 2018

BAY HARBOUR

Latest Christchurch news at www.star.kiwi

Your Local Views

Support Port Hills businesses to thrive

National List

MP for Port

Hills Nuk

Korako has

been out and

about talking

to local

businesses

THE SEASON of new

beginnings is almost here as

spring bulbs and buds bloom.

It's a great time of year to get

outdoors and enjoy local cafes

and garden centres.

Thriving local businesses in

our Port Hills area are key to a

thriving community.

Businesses both large and

small enhance local activity and

generate new jobs. They are a

valuable asset and we are really

fortunate in the Port Hills bays

and beyond with businesses

that connect so well with our

community. They are our neighbours.

When I travel through the

Port Hills, it is easy to see that

each township has its own

unique character and charm that

contributes to that community's

identity.

Local small business entrepreneurs

are involved in the community.

They sponsor local clubs

and school kids, they donate to

good causes and support local

events. They generally employ

local people, creating the opportunity

for them to live and work

locally, attend the local schools,

and be part of the community on

a daily basis.

Bus drivers, port workers,

teachers, retail assistants and so

many others all contribute to our

community daily on many different

levels of service, support

and care. They get to know us

well and how the community is

feeling.

When I am out and about, I

ask them for their view on how

SPRING: Nuk Korako is encouraging Port Hills residents to

get out and visit local businesses such as cafes and garden

centres.

people are feeling, what their

concerns are and their aspirations.

Some of the feedback is

that they want a really strong

economy as that impacts on their

jobs and their life, they want

more support for mental health,

a fair work place and the best

environment for themselves and

their families.

I agree with them on all accounts.

That is why you may

have noticed my billboards

announcing public meetings on

various topics to hear your views.

It is important for us to support

work places on our doorstep

so they can continue to thrive

and prosper.

The ingenuity and resourcefulness

of our local business

community is very much alive

and well.

Come to my public meeting

called Workplace Relations –

Employment Law Changes at

4pm, Wednesday, August 29, at

the St Augustine Church Hall, 5

Cracroft Tce, Cashmere. Please

RSVP to nuk.korakoMP@parliament.govt.nz

Nga mihi nui

Learn about gardening at a

horticultural society meeting

The Canterbury

Horticultural Society's fruit

and vegetable growing

meetings start next week.

Each event will offer an

opportunity to learn and

discuss techniques, buy

seeds and share stories

SPRING flowers blossoming

throughout the city are a clear

signal that it's time to get your

vegetable garden set up and

ready to go.

To help the Canterbury

Horticultural Society has set up

a specialist fruit and vegetable

group focusing on edible

gardening.

Organisers say the group

provides an invaluable way

for new gardeners to learn

how gardens are managed

in each season, and learn

about techniques such as crop

rotation, composting, and

fertilising.

The first session will focus

on tips and tricks for growing

plants from seeds. Experienced

Christchurch home gardener

Phil Ducker will give a

demonstration on how best to

plant seeds.

Mr Ducker's presentation

aims to provide answers on

where to plant, how close

to plant, how deep to plant,

which companion plants go

best together, which are better

separate, and which plants

could be directly sown in the

garden.

Society programme coordinator

Michele Moore said

there is a lot to learn about the

subject.

"There will be

recommendations on where

to get your seed and which

varieties do well here in

Canterbury. Each variety has

particular requirements, so

success depends on getting

these things right," she said.

It was important to share

that information down the

generations so that it is not lost,

Mrs Moore said.

Each month, Peter Saunders

will present a segment of his

running commentary, A Visual

Guide To Gardening Through

The Year, which will focus

on what he has been doing in

his garden. By following Mr

Saunders' progress, it is hoped

other attendees can gain some

insights to apply in their own

gardens.

The meetings will be held

monthly with plants, books and

tools available for purchase, as

well as raffles and refreshments.

The Canterbury Horticultural

Society will hold monthly

meetings at the Deaf Society

rooms, 80 Fitzgerald Ave

•Growing From Seed – Tips

and Tricks, presented by Phil

Ducker, followed by Peter

Saunders' Visual Guide To

Gardening Through The Year –

Part 1, August 29, 7.30pm.

•Planning A New Garden,

presented by Alan Joliffe and

followed by Peter Saunders'

Visual Guide To Gardening

Through The Year – Part 2,

September 26, 7.30pm.

•Vegetables – Improving

Plant Health, presented by

Jeff Humm, followed by Peter

Saunders' Visual Guide To

Gardening Through The Year –

Part 3, October 31, 7.30pm

•Dinner, Table Design Using

Fruit and Vege, presented by

Elaine Alexander, take food,

plates and cutlery to share.

Followed by Peter Saunders'

Visual Guide To Gardening

Through The Year – Part 4,

November 28, 6.30pm.

•Garden party at Phil and

Linda's: Decorate and wear a

garden-themed hat, January

30, 4.30pm, confirm location

with Canterbury Horticultural

Society.

•Mahinga Kai: Learn to Grow,

Gather and Use Indigenous

Edible Plants, followed by Peter

Saunders' Visual Guide To

Gardening Through The Year –

Part 5, February 27, 7.30pm.

•Pip And Stone Fruits,

presented by Richard Smith and

followed by Peter Saunders'

Visual Guide To Gardening

Through The Year – Part 6,

March 27, 7.30pm.

•New Ways With Strawberries,

presented by Jean Osborne

followed by Peter Saunders'

Visual Guide To Gardening

Through The Year – Part 7, April

24, 7.30pm.

•Annual general meeting

and dinner: Bring food to

share, as well as plates and

cutlery. Evening will include

presentation of Peter Saunders'

Visual Guide To Gardening

Through The Year – Part 8, May

29, 6.30pm.

•For more information, visit

www.chsgardens.co.nz or email

office@chsgardens.co.nz

True Luxury SUV Combining advanced safety & comfort

$23,890 $21,980 $22,980 $20,890

$22,980

2009 VOlVO XC90 2010 VOlVO XC90 2008 VOlVO XC90 2009 VOlVO XC60 2010 VOlVO XC90

20 Waterloo Road, Sockburn, Christchurch

Phone: 0800 778 807. www.nzc.kiwi On road costs may apply
---
Wednesday August 22 2018

Latest Christchurch news at www.star.kiwi

BAY HARBOUR

PAGE 23

ADVERTORIAL

Earthquake claims

still not settled?

Our newspapers are full of stories

recounting the problems many home

owners are having in settling their

earthquake claims. EQC's repairs

failing, and insurance companies not

meeting their

obligations,

are common

problems being

experienced.

Aurum Building

Brokers manager,

Chris Seque,

advises that to

be in a position

to challenge EQC and/or your insurer,

you need "best" evidence.

Homeowners need to prove their loss:

1. The property has suffered

earthquake damage

2. The property is covered by

an insurance contract for the

damage.

3. The damage needs to be

appropriately assessed.

4. A reinstatement

solution needs to

be prepared that

describes the standard

of repair required in

terms of the insuarnce

policy and the EQC

act.

5. The cost of

reinstatement needs to be

quantified.

Chris advises that Aurum Building

Brokers has been helping Christchurch

home owners for the past six years

in preparing the evidence portfolios

needed for advocates and lawyers

to negotiate their claims with insurers.

Aurum's professional network can

introduce homeowners to the people

who can provide evidence written in

a format to challenge the assessments

provided by EQC's or the insurer's

appointed experts.

If you are uncertain about your claim

talk to Chris on 021 400177.

FREE

No obligation

inspection of

your home

Aurum Building Brokers have completed evidence

portfolios for over 500 clients.

Aurum Building Brokers can obtain the professional

evidence you require, in a format that you can give to

your advocate or lawyer, to negotiate your correct claim

settlement.

To book your free inspection contact Chris,

James or Sharon on 03 365 4460.

Earthquake claim still

not settled?

Repairs not completed

correctly?

Has your house been

scoped correctly?

Step 1: To challenge your insurer or EQC,

you need an evidence portfolio consisting of

appropriate construction reports.

Step 2: You then need to seek professional advice

Aurum can save you time, money and stress

03 365 4460| chris@aurumproperty.co.nz | www.aurumproperty.co.nz
---
PAGE 24 Wednesday August 22 2018

BAY HARBOUR

Latest Christchurch news at www.star.kiwi

386 Moorhouse Avenue, Christchurch.

Sales, Service, Parts & Finance: 03 379 0588

TRITON 2WD GLX-R DOUBLE CAB MANUAL

The Triton Runout is on. Drop everything, and if you're quick you can pick up

• 17" Alloys • 2.4L Turbo Diesel • 7.1L per 100km efficiency (manual) • Sports

Suspension • Cruise Control • Smartphone Connectivity • Reversing Camera

• Daytime Running Lights • 5-Star Safety and a 10 Year Powertrain Warranty † .

Call Christchurch Mitsubishi 03 379 0588 to book a test drive.

$29,990+ORC *

*Price listed is for Triton 2WD GLX-R manual and excludes on road costs, which includes registration, WoF, 1,000km road user charges and a full tank of fuel. Available while stocks last. Automatic model available for $31,990 plus on road costs.

†

Visit mmnz.co.nz for full Diamond Advantage warranty conditions.

PRE-OWNED SELECTION AVAILABLE FROM CHRISTCHURCH MITSUBISHI

2014 Mitsubishi ASX XLS, 2.0L

Petrol, Auto, NZ New, Reversing

Camera, 76,000km $19,990

2006 Mitsubishi Pajero

3.0L Petrol, 4x4, Auto, tow bar,

Bluetooth, 64,000km $19,990

2015 Mazda 2 GLX,

1.5L Petrol, 4WD, 6 spd Auto, NZ

New, 23,000km $17,490

2014 Mitsubishi Pajero

Exceed, 3.2L Diesel, NZ New, 4WD

Auto, 7 seats, 74,000km $41,990

2011 Ford Ranger Wildtrak, 3.0L

TD, 4x4, manual, deck liner, tow bar,

sliding lid, 157,000km $27,990

2006 Lexus IS 250 Limited

2.5L Petrol, 6 spd Auto, Leather, Tow

bar, 87,000km $15,990

2015 Nissan Qashqai ST-L,

2.0L Petrol, Auto, Reversing Camera,

Bluetooth, 49,400km $25,990

2017 Nissan Qashqai ST

2.0L Petrol, NZ New, Auto, Reversing

Camera, 13,900km $27,990

386 Moorhouse Avenue, Christchurch. Sales, Service, Parts & Finance: 03 379 0588
---
Wednesday August 22 2018

Latest Christchurch news at www.star.kiwi

BAY HARBOUR

PAGE 25

Steele stepping back from his 'own club'

• By Matt Salmons

AFTER 26 years being president

of the Sumner Cricket Club, most

people think of it as Ray Steele's club.

He's pretty proud of that, but in

his mind it's time to step back and

let new blood step up to bat.

Mr Steele said he would announce

his intention and successor at the

club's next annual meeting, but

would remain on as a player and

committee member. He hoped to

also get a grounds-keeping role in

future.

"It's not going to be easy. I still

want to be involved with the club so

I'm not walking away completely."

Mr Steele said.

It was a decision he had mulled

over for more than a year. When he

told his wife Heather – the club's

treasurer – she did not believe him.

"It's been very emotional for me,

to make the step down. It's been a

big part of my life so I suppose that's

quite understandable."

His first year attending Sumner

games was the year he was born;

1958. His father had just joined the

club as a player.

Mr Steele himself had played in

both junior and senior teams and

joined the committee in 1974.

As president, Mr Steele had overseen

a change in the club's approach

to fundraising. Taking them from

just surviving season-to-season to

having a "healthy surplus" in the

bank, he said.

The club's St Leonards Square

rooms had also undergone a number

of changes in that time; the installation

of shower blocks, extensions,

additions of balconies and getting a

liquor licence.

During his tenure as president,

both Mr Steele's son and young

grandson had played with the club.

His daughter Rebecca was unable

to as there was no women's teams at

the time, but had represented both

Canterbury and New Zealand. Once

rated the world's best female orthodox

spin bowler, Mr Steele said she

gained some of her skills by practicing

with club members.

While there were "ups and downs

in every club," Mr Steele said he had

no regrets looking back and felt he

had been open and collaborative in

his decisions, not spending a cent

unless he had to.

"I always think, it's not my money,

it belongs to everyone in this club."

Mr Steele said he was looking

forward to having more time to devote

to the other aspects of the club,

including watching his grandson's

career develop.

"Once he gets to playing a bit of

afternoon cricket, I might be at a

stage where I'll be in wheelchair,

struggling to run, so I can spend a

bit more time watching him."

LIFE MEMBER:

After 440

appearances

with top

Sumner Cricket

Club teams

and 26 years as

club president,

Ray Steele can't

completely

walk away from

the club he

loves.

Runners claim number of wins at road event

SPORTS

IN UNISON: Jack Christie (left) and David

Templeton run together in the 3km junior

race.

SUMNER RUNNING club members recorded

a number of wins at the Canterbury Road

Championships at Burwood Forest on

Saturday.

Four titles were claimed at the event with 27

Sumner runners turning out. There were wins

for Abi Scott-Douglas, Lucy Wheeler, Lewis

Clarke and Blair McWhirter.

In the junior events, Scott Douglas won the

nine-grade girl's race in a time of 8min 40sec.

Wheeler won the 10-grade girl's race in 7min

54sec. Cook won the eight and under grade

boys race in 8min 36sec.

In the seniors, McWhirter continued a great

year by winning the 35 and over men's 10km

race in 32min 6sec. There was also success for

Sumner in the 40 and over men's race with

David Fitch finishing second ahead of Nathan

Jones in third.

READY: Sumner runners Lucy Wheeler (front centre), Amelia Clarke

(left) and Abi Scott-Douglas get ready for the start of the junior 7 – 10

grade girls and boys 2km start. ​
---
PAGE 26 Wednesday August 22 2018

BAY HARBOUR

Latest Christchurch news at www.star.kiwi

News

Local

News

Now

Pregnant women sought for anxiety study

Fire rages, homes at risk

PREGNANT women are being

sought for a study on anxiety and

depression.

The Canterbury University

project is studying the effects of

vitamins and minerals – such

as zinc, magnesium, B12 and

vitamin D – on psychological

symptoms.

Said professor and recent

Women of Influence finalist Julia

Rucklidge: "We're seeing whether

or not we can improve people's

mental health by using nutrients

that are in your food but at

higher levels than you typically

get out of eating your fruit and

vegetables."

The study is part of a wider

investigation into how vitamin

and mineral (micronutrient)

supplements could improve low

mood or anxiety.

"So, if this affects you or one of

your family members, you may

be able to participate in one of

our studies," said Prof Rucklidge.

For the pregnancy study,

women would receive either the

micronutrients or a matching

placebo containing iodine, which

is recommended for pregnant

BREAKTHROUGH:

Canterbury

University

researchers are

seeking pregnant

women to take

part in a study to

see if vitamins and

minerals improve

low mood or anxiety.

women. Participants won't know

whether they are on the placebo

or not. "Then we follow them for

12 weeks to see what happens

to the symptoms that they presented

with," Prof Rucklidge said.

"After the 12 weeks, everyone

gets to try the nutrients which

gives us the opportunity to also

study the effects of these nutrients

on the infants."

Prof Rucklidge said the university's

mental health and nutrition

research group has been doing

this type of research for 10 years

and has published a lot of that

research. "So far it's been very

encouraging. All of our studies

are pointing in the direction that

nutrition is incredibly relevant to

mental health."

•To register your interest in

the micronutrient study for

pregnant women, visit the

university's website, call 369

2386 or email

mentalhealthnutrition@

canterbury.ac.nz.

School teacher's clothing range in Ballantynes

Young daughters inspire designs for children

• By Ashleigh Monk

WHEN DELWYN Wright's

daughters were little, she

struggled to find nice winter

coats for them – so she designed

some herself.

Now the school teacher and

mother-of-two's designs are set to

fill the shelves of the

Ballantynes department store.

Ms Wright's 100 per cent New

Zealand wool garments were

picked out of about 80 applicants

to win the Ballantynes Bring it

to the Boardroom competition,

which gave designers from across

the country a chance to pitch

their products.

"I thought I had nothing to lose

and Bring It to the Boardroom

was a great opportunity to pitch

my product to Ballantynes. I

think [the judges] liked some of

the detail in the designs and saw

an opportunity to fill a gap in the

children's wear market."

She said her main source

of inspiration came from her

daughters.

"Warm, quality New Zealandmade

clothing is not that easy to

find and there appears to be a gap

in the market when girls reach

six-years-old."

"I got into clothing design

when my daughters were young

and I couldn't find them warm

winter coats to wear. In the end,

I made them a coat each and

things really just grew from

there. I started to sell a few coats,

and then I gradually built up a

loyal customer base that wanted

other items like skirts and

dresses."

Ms Wright's designs range

from coats and capes to dresses.

They will line the shelves of

Ballantynes' children's wear

department for a year. She will

keep all profits made from her

sales.

"Over the next year, I am

hoping to gain lots of advice and

guidance around the designing

and marketing of my product.

It would be great to grow my

brand, gain some wider exposure

and then I will just see where this

leads."

"Ultimately, I remain

committed to being NZ-made

and locally-produced."

DESIGN FLARE: Delwyn

Wright took out the

Ballantynes Bring it to the

Boardroom competition

with her children's clothing

designs.
---
Wednesday August 22 2018

Latest Christchurch news at www.star.kiwi

BAY HARBOUR

PAGE 27

STOREWIDE

BED BLITZ

Christchurch

Moorhouse Ave

Store Only

SANCTUARY

CHIROPRACTIC HD

SWISSTEK

SAVE

NOW

GREAT DEALS

ON SLEEPYHEAD

ZONED POCKET

SPRING

BEDS

GREAT BED

DEALS NOW AT

MOORHOUSE AVE'S

REFURBISHED

STORE

SERENITY

RUN OUT

BEDS AND

SELECTED FLOOR

MODELS @ GREAT

PRICES

STOREWIDE

SALE PRICES

WITH UP TO 50%

OFF CLEARANCE

FLOOR MODELS

AND STOCK

BEDS R US MOORHOUSE

166 Moorhouse Ave, (Next To Noel Leeming)

Ph: 03 379 5110
---
PAGE 28 Wednesday August 22 2018

BAY HARBOUR

Latest Christchurch news at www.star.kiwi

26th August 2018

10am – 3pm

Air Force Museum, Wigram

Tickets only $20

available on the door

ON THIS SUNDAY!

$15,000 worth of prizes to be won

celebrate

BRIDALSHOW

Weddings at The George

goodcompany.nz

The luxury boutique hotel on the park

P: 03 371 0255

E: weddings@thegeorge.com

W: https://www.thegeorge.com/weddings

" Your day,

your way."

"we will beat any competitors written quote"

651 Pound Road, Christchurch

Contact: Dee Taylor

Phone: 021 914 817

info@thevinesclub.co.nz

www.thevinesclub.co.nz

T R E N T S V I N E Y A R D

T R U S T C A N T E R B U R Y S P R E M I E R W E D D I N G V E N U E

W W W . T R E N T S V I N E Y A R D . C O . N Z

@ T R E N T S V I N E Y A R D
---
Wednesday August 22 2018

Latest Christchurch news at www.star.kiwi

BAY HARBOUR

PAGE 29

some weeding/cutting tools and

gloves.

Mt Herbert Walkway sign at 26

Marine Drive

Storytimes

Wednesday, 10.30-11am, Tuesday,

11-11.30am

Go along to the Lyttelton Library

where learning is encouraged

through a love of stories.

Storytimes is an interactive

programme including stories,

songs, rhymes and play. Free.

Sumner Library on Wednesday,

Lyttelton Library on Tuesday

Knit 'n' Yarn

Wednesday 10am-noon, Friday

10.30am-noon

It's winter woollies time so

why not head along to a fun

knit 'n' yarn session. Take your

knitting, crochet or other craft

project and spend some time

in company with other crafty

knitters. This is a free activity

with no bookings required – and

beginners are welcome.

Lyttelton Library on Wednesday,

Sumner Library on Friday

Create 'n' Connect

Thursday, 9.30am-noon

Create 'n' Connect welcomes

you to create in company. $3 per

session includes a yummy morning

tea and great company. Take

your own creative project or

come and get some inspiration.

Phone Beth for more information

022 678 1252.

St Andrews Anglican Church,

148 Main Rd, Redcliffs

3 Garlands Road, Woolston

DeluxeCinemas.co.nz

Christchurch's Premium Cinema Experience

Phone Bookings | Free Parking | Cafe/Licensed Bar

Online Bookings | Cinema Club | Hot Nuts/ Cheeses

03 389 5360

the lion king Disney Classics Film Festival

sat, sun: 10:15am

the wife Starring Glenn Close & Jonathan Pryce

wed: 10:00am, 2:10pm, 6:30pm

thu, fri: 10:00am, 12:05pm, 2:00pm, 4:15pm, 6:15pm

sat: 12:05pm, 2:25pm, 4:15pm, 6:15pm

sun: 12:05pm, 2:25pm, 4:15pm, 6:15pm

mon, tue: 10:00am, 12:05pm, 2:00pm, 4:15pm, 6:15pm

book club Dianne Keaton, Jane Fonda, Candice Bergen & Mary Steenburgen

wed: 10:15am, 12:20pm, 2:20pm, 4:20pm, 6:20pm

thu, fri: 10:00am, 12:00pm, 6:25pm sat: 10:00am, 4:25pm, 6:25pm

sun: 10:00am, 4:25pm, 6:25pm mon, tue: 10:00am, 12:00pm, 6:25pm

blackkklansman Spike Lee Comedy

wed: 4:05pm, 8:20pm thu: 4:00pm, 8:25pm fri: 4:00pm, 8:15pm

sat: 12:00pm, 8:15pm sun: 12:00pm, 8:25pm mon, tue: 4:00pm, 8:25pm

mamma mia! here we go again

Starring Meryl Streep, Pierce Brosnan, Lily James

wed: 12:00pm, 8:30pm thu: 2:00pm, 8:15pm fri: 2:00pm, 8:25pm

sat: 2:00pm, 8:25pm sun: 2:00pm, 8:15pm mon, tue: 2:00pm, 8:15pm

the lion king G the wife M Offensive language and sexual references book club M

Offensive language and sexual references blackkklansman R13 Violence, offensive

language, sexual references & content that may disturb mamma mia! here we go again

PG Sexual references

ENJOY A FREE TEA OR COFFEE AND A FRESHLY BAKED BISCUIT

WITH EVERY WEEKDAY MORNING SESSION

SURF'S UP SCOTTY RAZOR ROBERTSON PROFILE

APRIL 2018

TJ'S

CHASING

ONE

GREAT MORE

COVER

The power

LINE

of Perenara

SUPER

RUGBY'S

G.O.A.T

6 issues (1 year) $44.50

CALEB

CLARKE

Chip off the

old block

1ST XVs

12 issues (2 years) PLAY $79 LIKE PROS

A school boy rugby

18 issues (3 years) $115 investigation

WIN THIS BOOK

CORY JANE

Social Media Animal

SUBSCRIPTIONS PLUS... FREEPHONE

+

RRP $9.95

KEEPING 0800 77 Chief 77 10

WHO WILL

TABS ON Tabai's

MAKE THE

MATSON Tron tribe

AB CUT?

rugbynews.co.nz

Email sarla.donovan@starmedia.kiwi by

5pm each Wednesday

Babytimes

Friday and Tuesday, 10.30-

11am

Encourage learning through

language. Babytimes is an interactive

programme including

rhymes, songs, stories and play.

Free.

Lyttelton Library on Friday,

Sumner Library on Tuesday

Shakti Secondhand Sale

Saturday, 9.30am-12.30pm

The Shakti Ethnic Women's

Support Group is holding its

inaugural second-hand sale.

All proceeds go toward client

expenses such as driving lessons,

legal fees, costs associated with

women and children moving

into long-term and safe housing,

petrol and grocery vouchers and

electricity for the safe house.

Mt Pleasant Community

Centre

Little River Dance

Saturday, 7-9pm

Open to all who have danced

at Tim and Fae's beginners dance

classes and anyone else who likes

to ballroom dance. Informal

and social. Take a plate and BYO

drinks. Donation depending on

numbers to cover hire of hall.

Phone Tim and Fae 325 1373 or

email tfl@xtra.co.nz to confirm

numbers or for more information.

Little River Community Centre

Michelle

Rossiter

Legal Executive

mjr@younghunter.co.nz

A BRANCH OF

Michael

Toomey

Partner

mft@younghunter.co.nz

Adam

Curtin

Solicitor

akc@younghunter.co.nz

186 Main Road, Redcliffs

03 384 5350 | www.younghunter.co.nz

Go and join Sea Shepherd and local ocean protection groups

The Pod and Nurdle Soup to clean up Sumner Beach. Help

make the ocean a safer place for our marine animals. Talk to

local activists and conservationists, and help collect nurdle (a

small plastic pellet) samples for a Fair Go investigation. 11am-

1pm on Saturday.

Okuti River Project

Launch

Sunday, noon

Enjoy a complimentary

lunch before launching into

planting 1000 small trees and

shrubs. Deputy Mayor Andrew

Turner, ECan chairman Steve

Lowndes and Iaean Creswell

from Te Runanga o Waiwera

will open the project. Take

your own spade, gloves and

gumboots. A great opportunity

to celebrate spring and catch up

with friends and neighbours.

Okuti Valley Hall

Morgans Gully Planting Bee

Sunday, 10am

Join city council ranger Mandy

Black and the Diamond Harbour

Reserve Management Committee

for a community working

bee to discover and protect the

beautiful native plants of Lower

Morgan's Gully. Preferably take

Ferrymead

Pieces of Her by Karin Slaughter

What if the person you thought you knew best turned out

to be someone you never knew at all?

Andrea Oliver's mother, Laura, is the perfect small-town

mum. Laura lives a quiet but happy life in sleepy

beachside Belle Isle. She's a pillar of the community: a

speech therapist, business owner and everybody's friend.

And she's never kept a secret from anyone. Or so Andrea thinks.

When Andrea is caught in a random violent attack at a shopping mall, Laura

intervenes and acts in a way that is unrecognisable to her daughter. It's like Laura is

a completely different person - and that's because she was. Thirty years ago. Before

Andrea. Before Belle Isle.

Laura is hailed as a hero for her actions at the mall but 24 hours later she is in

hospital, shot by an intruder, who's spent decades trying to track her down.

What is Andrea's mother trying to hide? As elements of the past return and put them

both in danger, Andrea is left to piece together Laura's former identity and discover

the truth - for better or worse - about her mother. Is the gentle, loving woman who

raised her also a violent killer?

The Other Woman by Daniel Silva

She was his best-kept secret ...

ENTER TO

WIN

THIS BOOK

In an isolated village in the mountains of Andalusia, a mysterious Frenchwoman

begins work on a dangerous memoir. It is the story of a man she once loved in

the Beirut of old, and a child taken from her in treason's name. The woman is the

keeper of the Kremlin's most closely guarded secret. Long ago, the KGB inserted

a mole into the heart of the West - a mole who stands on the doorstep of ultimate

power.

Only one man can unravel the conspiracy: Gabriel Allon, the legendary art restorer

and assassin who serves as the chief of Israel's vaunted secret intelligence service.

Gabriel has battled the dark forces of the new Russia before, at great personal cost.

Now he and the Russians will engage in a final epic showdown, with the fate of the

postwar global order hanging in the balance.

Gabriel is lured into the hunt for the traitor after his most important asset inside

Russian intelligence is brutally assassinated while trying to defect in Vienna. His

quest for the truth will lead him backward in time, to the twentieth century's greatest

act of treason, and, finally, to a spellbinding climax along the banks of the Potomac

River outside Washington that will leave readers breathless.

The inspiration for The Ghost Tree lies in Barbara Erskine's own personal history

– branching back to the days of Thomas Erskine, her great grandfather, five times

removed.

Shoreline Toastmasters

Monday, 7.30-9pm

Nervous about speaking? Go

along to gain confidence by

practising speaking, listening,

learning and laughing – in a

warm, friendly non-threatening

environment.

Mt Pleasant Yacht Club

Piano Recital

Wednesday August 29, 12

noon-1.30pm

Piano recital by Gabriel Baird.

Soup and a bread roll will be

served. Entry is $5 while members

with forum subscription are

free. Bookings are essential and

can be made directly through

Anthea Penny, ph 304 8825 or

021 761 543.

Orion Powerhouse Gallery, 1

Rue Pompallier, Akaroa

Markets:

The weekly markets have

many different attractions and

delicious treats on offer. From

fresh produce to freshly baked

bread, cheeses and free range

eggs. Find some healthy food

options and sip on a coffee while

taking a wander around any of

the markets happening in the

area at the weekend.

Lyttelton Farmers Market

and Lyttelton Craft Market:

Saturday, 10am-1pm, London

St.

Mt Pleasant Farmers Market:

Saturday, 9.30am-12.30pm, 3

McCormacks Bay Rd.

book

release

We have one copy of Pieces of Her by Karen Slaughter to give away, courtesy of Take Note Ferrymead. To

be in the draw, email giveaways@starmedia.kiwi with Pieces of Her in the subject line or write to Take Note

Book Giveaway, Pieces of Her, Star Media, PO Box 1467, Christchurch 8140. To be eligible for the draw, all

entries must include your name, address and contact number. Entries close Tuesday 4th September.

Winner of You Left Early is Deborah Kennedy of Woolston.
---
PAGE 30 BAY HARBOUR

Latest Christchurch news at www.star.kiwi

Wednesday August 22 2018

REAL ESTATE

Seriously selling - now sharply priced

15 Dunkeld Lane, Redcliffs

Price: $495,000

3 bedrooms | 2 bathrooms | 3 toilets | 2 living rooms | 2 car-garage | 2 off-street parks | Listing #FM5438

It's never easy to walk away from

something you love, but that's what our

vendors have done here. After a 20-year love

affair with this property and its wonderful

surroundings, they have decided to offer

their unique and architecturally designed

Redcliffs icon for sale "As is - Where is"

Built in 1998 and positioned on a good

sized 736m2 section, this standalone

permanent material circular designed

home has 2 large living areas, three to four

bedrooms and two bathrooms. Two car

garaging plus good off-street parking is a

bonus.

Inside, large entertainment spaces

open to an expansive outdoors deck with

glorious views of the Redcliffs village, the

Estuary, Moncks Bay, Shag Rock, Pegasus

Bay and the Pacific Ocean beyond.

This is no ordinary home and one that

should attract interest from those who

have the vision and insight to see what this

former luxury home could look like again.

Open Homes: Saturday 25, Sunday 26

and Wednesday 29 August 12:00pm -

12:45pm.

See you at the Open Homes or to arrange

a private viewing of this property call Joy

Butel or Alistair Hazeldine of Harcourts

Grenadier Ferrymead (Licensed Agent

REAA 2008) on 384 7950 or Joy mob: 021

353 280 or Alistair mob: 027 572 1555

growing with you June 2018 | 100%

Plants For

winter wow

Cool Choices

For Colour

& Contrast

From swamp

to sea views

The journey

begins with sarah

the Gardener

$7.90 incl. GST

Snap it up

Enter our annual

Birdlife Photo

Competition to win

great prizes!

clear the air

Why groWing

indoor PLAnTs is

so good for you

give it a grow

from gArLic

To chinese

ArTichokes,

We hAve your

groWing TiPs

covered

the latest releases

into the rose world

+ rose care

through winter

The magazine for

gardeners who like to get

their hands dirty

SUBSCRIBE FROM

$43. 50*

*6 issues/6 months

SUBSCRIPTIONS FREEPHONE

0800 77 77 10

WWW.GARDENER.KIWI
---
Wednesday August 22 2018

Latest Christchurch news at www.star.kiwi

BAY HARBOUR

PAGE 31

Computer

Services

VIRUS REMOVAL AND

PC HEATH CHECK

$50.00 With free pick

and delivery within 10km

of Redcliffs. Phone Paul

on 021495577. Microsoft

Certified Pro with 25 years

experience. Visit www.

seracnz.com

Computers

ALL

YOUR

COMPUTER

WORRIES SOLVED!

*$30.00 off your first

service with this coupon!*

No problem too big or

small from home PC's to

business networks. PC

slow? An end to Viruses,

Spyware, and Clogged

Systems. Safe secure

hassle-free computing.

Lost files recovered.

Microsoft Certified,

MCSE, MCP+l. 30 years

experience. Call Andrew

Buxton this week on 326-

6740 or 027 435-7596

for $30.00 off* Custom

Computers Christchurch

Gardening

& Supplies

Landscape

and Garden

Services

Need help with

your garden?

We provide a quality

service for all your

Garden Maintenance

(hedges, lawns,

line trimming, weeding)

and Landscaping needs,

(fencing, paths, drives,

retaining and earthworks).

Ph 021 272 0303

Holiday

Accommodation

Australia QLD

SUNSHINE

COAST

RESORT

ALEXANDRA HEADLAND

All Units Have Ocean Views.

Heated Pools, Spa & Sauna,

Free Wifi, Tennis

& Mini Golf.

CHECK OUR GREAT

WINTER SPECIALS

www.mandolin.com.au

0061 7 5443 5011

JUNE to AUG temps 20C

accountant

Classifieds Contact us today Phone our local team 03 379 1100

Holiday

Accommodation

WANAKA.

Stunning holiday

accommodation in

Wanaka at the Pines

Resort available, during

ski season.

From the 7th of September

till the 14th you can stay

at this fabulous resort.

Cardrona Ski Resort and

Treble Cone are not far

away. $1200 for the week,

only at $171.00 per night.

Would suit family sleeps

up to 5.

See http://www.

classicholidays.com.au/

resort/pines-resort/>for

full details. More details

and to book, call Jacqui on

027-201-3244

Lost & Found

$500 reWarD

For finding & returning

JUNO

SpriNger SpaNiel

Missing from lyttelton

since Tuesday 14 august

Contact: camla@xtra.co.nz

or 027-304-0011

Select Services

LANDSCAPING

Stone Age

Landscapes

If you can visualise, we can create

We specialise in residential and commercial

landscaping and stonework. We pride ourselves on

quality workmanship at affordable prices.

• Stonework: Driveway entrances & Walls

Exterior house cladding

• Fences and Decking

• Paving and Patios

• Ponds and Water features

Mike Adams 021 149 9733

Email: mikerobadams@gmail.com

Website: www.stoneagelandscapes.co.nz

ADVERTISE YOUR

BUSINESS HERE

ADD SOME

COLOUR

TO YOUR ADVERT!

PAINTER

Houses Interior/Exterior

27 years exp.

Tidy workmanship

On the spot written

quotes

Ph: 0274 360-298

Phone for further details

(03) 379 1100

To Let

RENT ME!

Ideal as an extra

bedroom or office.

no bond required

Fully insulated and double glazed for warmth.

Three convenient sizes from $70 a week:

Standard 3.6m x 2.4m

Large 4.2m x 2.4m | Xtra-large 4.8m x 2.4m

• General

gardening

• Ride on service

• Weeding and

clearing

• Hedge trimming

• Tree pruning

and removals

• Fully insured

Visit our website

www.justcabins.co.nz

for display cabin locations

www.justcabins.co.nz

Trades & Services

green acres

Lawn &

garden care

• Section

clearing/

maintenance

• Free quotes

• Security

checked

and

satisfaction

guaranteed

0800 803 200

www.greenacres.co.nz

Native PlaNts

naTiVe planT nursery

Trees for

CanTerbury

speCialisTs in

• Groundcovers

• Ferns

• Grasses

• Small to big

sized shrubs

Ask us about Super

Gold Card discounts

• Shelterbelts

• ALL grades

• Expert advice

• Planting now

Helping our community grow

42 Charlesworth Street

Ph/Fax (03) 982-1028 | OPEN 7 DAYS

www.treesforcanterbury.org.nz

PLUMBER

12 years

experience

Serving Christchurch and wider

Canterbury Region with quality

workmanship and service.

24/7 caLLOUT serVice

Tuition

PIANO LESSONS

Catherine Bracegirdle

DipABRSM ATCL AIRMT

51A Colenso St, Sumner

Ph. 021 044 5102

www.pianoandtheory.co.nz

catherine.bracegirdle@gmail.com

PLANT PEST CONTROL

■ Nassella Tussock

■ Gorse

■ Old Mans Beard

For more details call AMY 0274 713 834

Your local professional

FOR ALL YOUR

PLUMBING,

GAS &

DRAINAGE

• Bathroom repairs

• Renovations

• Leaks

• Blocked drains

• Gas and drainage

Carol and Chris

Phone 376 5322 or email

chcheast@laserplumbing.co.nz

ROOF

PAINTING

Rope & harness

a speciality,

no scaffolding

required,

30 years of

breathtaking

experience.

FREE QUOTES

Exterior staining,

exterior painting,

moss and mould

treatment and

waterblasting

Phone Kevin

027 561 4629

Trades & Services

AJ BREWER Biosecurity Ltd

AJ BREWER Biosecurity Ltd

■ Broom

■ Wilding Pine

■ and more...

PLANT PEST CONTROL

■ Nassella Tussock ■ Broom

■ Gorse Trades ■ Wilding & Services Pine

■ Old Mans Beard ■ and more...

CARPET & Vinyl

lAying

Exp. Repairs, uplifting,

relaying, restretching.

Email jflattery@xtra.co.nz

ph John on 0800 003 181

or 027 2407416

COnCRETE CUTTing

rooF

painting

For more details call AMY 0274 713 834

Book now and

receive 20% discount

for summer.

Rope and harness a

speciality.

No scaffolding required.

30 years experience.

Free quotes, call

Craig 021 060 2392

ENVIRO

STONE LTD

• Carparks

• Driveways

• Excavation

• Hardfill

• Rock Breaking

• Rib Raft

Foundations

• Retaining Walls

• Site Works

Ph 027 333 0104

Affordable Concrete

Cutting with Quality, and

removal work. Free quote.

No job to small. Phone 027

442-2219, Fax 359-6052

a/h 359- 4605

ElECTRiCiAn

JMP Electrical.

Experienced & registered..

Expert in all home

electrical repairs &

maintenance.Call James

027 4401715

gARDEnER

Need your home or

commercial garden tidied

up or renovated or require

long term assistance.

Phone Ruth 326-6663 or

021 272-0303

PAinTER/PlASTERER

Experienced tradesman,

quality work, free quotes,

ph Simon 027 389-1351 or

03 328-7280

PlASTERing

inTERiOR

no job too big or too

small, specialise in repair

work & new houses, free

quotes given, over 20 yrs

plastering experience, ph

Peter 027 221-4066 or

384-2574

Public Notices

Trades & Services

Wanted To Buy

Family sized, repairs ok.

CARAVAN OR

MOTORHOME wantd.

Ph 351-6696

Public Notices

STATE HIGHWAY

VEGETATION CONTROL

The NZ Transport Agency wish to advise

the terms of Resource Consent No. 084848

which permits the discharge of herbicides

onto land and into water adjacent to State

Highways in the Hurunui, Kaikoura, Selwyn,

Waimakariri, and Banks Peninsula Districts,

and Christchurch City.

Spraying will commence 27th August 2018

and be completed by 28th June 2019.

The work will include spraying around

sign posts, guardrails, marker pegs, water

channels, and spraying noxious weeds.

For further information regarding this

activity please contact Grounds & Services

Ltd (Registered Chemical Applicators) on

(03) 349 0634
---
PAGE 32 Wednesday August 22 2018

BAY HARBOUR

Latest Christchurch news at www.star.kiwi

Shop

Online

Nationwide

Delivery

Finance

Options

targetfurniture.co.nz

Cnr Blenheim & Curletts Rds, Christchurch

Ph: 0800 TARGET (0800 827 438)

Offers and product prices advertised here expire 27/08/18.

Sale excludes Manchester and Accessories.