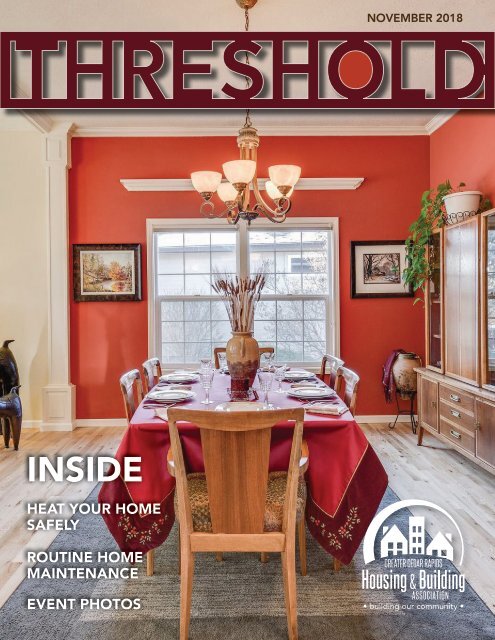 Create successful ePaper yourself
Turn your PDF publications into a flip-book with our unique Google optimized e-Paper software.
NOVEMBER 2018

INSIDE

HEAT YOUR HOME

SAFELY

ROUTINE HOME

MAINTENANCE

EVENT PHOTOS
---
THRESHOLD IS A MONTHLY MAGAZINE PRESENTED BY

THE GREATER CEDAR RAPIDS HOUSING & BUILDING ASSOCIATION

FEATURES

TABLE OF CONTENTS

6

HEAT YOUR

HOME SAFELY

10

BUILDING OUR

COMMUNITY

ACE OF EASTERN IOWA

OLYMPIAD

16

ROUTINE HOME

MAINTENANCE

A publication of the

Greater Cedar Rapids

Housing and Building

Association

INSIDE

10 NEW MEMBERS

22 THE SPIKE CLUB

27 GCRHBA BOARD

EVENT RECAP

12 MEMBERS ONLY BREAKFAST

14 FALL PARADE OF HOMES

20 SUBURBAN OKTOBERFEST

24 MORTGAGE BURNING

2 THRESHOLD NOVEMBER 2018
---
EXECUTIVE OFFICER'S MESSAGE

MELISSA

OLSON

Building Relationships

In October we finished up our Fall 2018 Parade

of Homes with 16 new and 3 remodeled

homes. I want to personally thank the

17 builders and remodelers that participated

in the Fall 2018 Parade of Homes, the

countless associate members that assisted in

building these beautiful homes, our Parade

of Homes and Marketing Committee for

assistance with the parade, our Presenting

Sponsor Hills Bank and Trust, our Supporting

Sponsor Ferguson Bath, Kitchen & Lighting

Gallery, our Parade of Homes publishing

partner The Cedar Rapids Gazette, and our

community for continually supporting our

members. We will announce the Fall 2018

Parade of Homes Award Winners at our upcoming

2018 Annual Awards Banquet on

November 8 at the Epic Event Center. We

hope to see all of you there to support the

hard work of these builders and remodelers!

Our members are continually building

relationships with other professionals in

the housing & building industry. Networking

is important in any business and membership

with the GCRHBA opens so many

doors for those interested in building relationships.

We strongly encourage our members

to please continue to support other

members and building these relationships

to make our association strong! Thank you

to Jim McGrew and Suburban Lumber for

hosting Oktoberfest on October 18. Suburban

Lumber provided an opportunity for

our members to network with live music,

pizza, and beverages.

Sincerely,

Melissa Olson, Executive Officer

Greater Cedar Rapids Housing & Building

Association

MEMBERSHIP VALUE

Invaluable Networking Opportunities. With

more than 140,000 members from all areas

of the housing industry, GCRHBA is a onestop

networking shop! From local networking

receptions and monthly membership meetings

to regional trade shows, the International

Builders' Show and special-interest councils,

GCRHBA provides hundreds of ways for you

to meet and build relationships with fellow

professionals, future customers and suppliers.

THRESHOLD NOVEMBER 2018 3
---
PRESIDENT'S MESSAGE

November 2018 Presidents Message

MIKE FARR

Thank you for your membership and participation!

Are you looking for workers? Kirkwood

has students that are looking for internships

and jobs as they graduate. Contact the HBA office

or Kirkwood about finding a student!

On Halloween, we had a burning of the

mortgage at the HBA office. In 2007 we bought

or condo and in just 11 years we were able to

pay it off! I want to thank all of the leaders before

me and the boards for making it a priority!

And want to thank all of you as members, for

your participation and support for making this

a reality!

Our annual meeting on November 8th will

not only honor the 2 honorary members, but

also our normal awards, plus 2 additional new

awards! We are also going to acknowledge our

Spike members. So Spikes, we will have a special

gift for you, if you attend this meeting! We

are also kicking off a new membership drive.

Look for the details in an upcoming email

from Melissa! I hope to see you all there!

In October, we had an afterhours meeting at

Suburban Lumber. We had 102 people at that

meeting. I want to thank Jim McGrew and his

team for hosting a very successful event!

Please get us feedback on our new Threshold

and website! If you are interested in hosting

an afterhours meeting, please contact Melissa.

Take Care,

Mike Farr, President,

Greater Cedar Rapids Housing & Building

Association

NETWORKING AFTER HOURS

MEMBER EVENTS

2018 Annual Awards

Banquet

Thursday, Nov. 8

5-8 PM

The Epic Event Center

2987 County Home Road, Marion

See page 5 for more information.

4 THRESHOLD NOVEMBER 2018
---
The Greater Cedar Rapids Housing & Building Association

cordially invites you to attend the

2018 Annual

Awards Banquet

November 8, 2018

Social Hour 5-6 p.m. Dinner 6-7 p.m. Presentation 7-8 p.m.

The Epic Event Center

2987 County Home Road, Marion

Free to one member from a member company.

Additional guests $20/person.

Please email reservations by November 6

eo@crhba.org

Pop a

balloon to

win a

prize!

All Spike

Members will

be recognized

and receive a

special prize.

on the agenda

Cedar Valley Habitat for Humanity

Home Builders Blitz 2018 Presentation by Jeff Capps

Guest Speakers:

Ralph Palmer and Al Sattler, Honorary Members

Induction of the 2019 Board of Directors

Membership Awards

Fall 2018 Parade of Homes Awards

THRESHOLD NOVEMBER 2018 5
---
HEAT

YOUR HOME

SAFELY

Natural gas is commonly

used in homes as an

energy source. And like

any energy source, it

must be used correctly

to be efficient and safe.

Article provided by National Association of Home Builders

6 THRESHOLD NOVEMBER 2018
---
Natural gas is a versatile, clean-burning

fuel. It is often used to heat your home,

cook food, heat water to bathe with, dry

clothes, and even start the fire in the fireplace.

In its natural state, it is a non-toxic,

colorless, tasteless and odorless gas. The

"smell" you recognize as natural gas odor is

added so you will know if there is a gas leak

in your home.

RESPONDING TO

GAS LEAKS

Gas may escape from faulty appliances,

loose connections, service lines inside or

outside your home, or from the gas main.

If you ever smell gas, take these precautions

immediately:

• Do not light any matches or turn any

electrical switches on or off in your home.

• Ventilate the room or home by opening doors and windows.

• If the odor is very strong or you hear a hissing noise, leave

your home immediately. Go to a neighbor's home and call

the fire department.

THRESHOLD NOVEMBER 2018 7
---
MAINTAINING YOUR

FURNACE OR BOILER

You should also regularly inspect your furnace or boiler. A properly

maintained furnace runs more efficiently and saves you money.

Follow the manufacturer's instructions to perform the inspection.

If the instructions are missing, follow this checklist for inspecting your

furnace or boiler:

• Make sure the unit is free of dust, rust or any other signs of corrosion.

Make sure the space around it is clear of paint, solvents, rags,

paper or any other combustible products.

• Check the air filter regularly, everyone to two months. Replace or

clean it if necessary. You can save 5% or more on your energy bills

by doing so regularly.

• Check the blower by thoroughly examining it and the belt (if

your furnace has one) for cracks or excessive wear. Replace it if

necessary.

• Inspect space heaters annually as well. As with any gas appliance,

trouble signs to look for are: a yellow flame; soot; a lingering pungent

smell; or overheating.

8 THRESHOLD OCTOBER 2018
---
CARING FOR GAS

APPLIANCES

Many homes have gas appliances in

the kitchen and laundry rooms. A few

simple precautions will help to keep gas

appliances running safely and efficiently,

too.

Never use the top burners

or the oven of a gas range

for home-heating purposes.

Ranges and ovens are designed

as cooking appliances

only. Used improperly, they

present a fire and burn hazard,

and a malfunctioning gas

range can produce toxic carbon

monoxide.

Gas clothes dryers also

need to be checked periodically.

Make sure the dryer

vent hose is free of lint. Lint

buildup in the hose can cause

a fire. Check the manufacturer's

instructions for information on

how to remove lint from the hose or call

a qualified appliance repair contractor.

Even if everything appears to be in

working order, it makes good safety

sense to have all your gas appliances

and furnace checked by a qualified

heating contractor on a regular basis

(annually is recommended). T

CLICK HERE TO FIND YOUR

LOCAL HVAC EXPERT

THRESHOLD NOVEMBER 2018 9
---
BUILDING OUR COMMUNITY

ACE of Eastern Iowa Olympiad

Last month nine students

competed in ACE of Eastern

Iowa's first ACE Olympiad,

teachers and industry folks

collaborated at the ACE

conference and finished the day

with an outstanding career fair at

Kirkwood Community College.

The day produced quite a bit of

interest and excitement for ACE

careers! Please check out more

information on their Facebook

page, ACE of Eastern Iowa.

NEW MEMBERS

Joseph Blood

Royale Pools

Garry Hoefle

Leisure Zone

Brent Votroubek

Skogman Realty

10 THRESHOLD NOVEMBER 2018
---
ACE OF EASTERN IOWA OLYMPIAD

THRESHOLD NOVEMBER 2018 11
---
R

The Greater Cedar Rapids Housing

& Building Association presents

MEMBERS ONLY BREAKFAST

the Fall 2018 Parade of Homes.

Tour new and remodeled homes

in the greater Cedar Rapids

area to see the

latest advances

in home

construction

and design.

new homes:

HOME 1 • Legacy GreenBuilders & Developers

334 RIDGE VIEW DR., FAIRFAX

HOME 2 • Schrage Construction, Inc.

2768 CREEKVIEW TRAIL, PALO

HOME 3 • Scallon Custom Homes, LLC

6710 COTTAGE HILL LANE NE, CEDAR RAPIDS

HOME 4 • Sattler Homes & Remodeling

314 WORTHINGTON CT., HIAWATHA

HOME 5 • Platten Construction LLC

6107 MICHAEL DR. NE, CEDAR RAPIDS

HOME 6 • JP Homes

9300 FEATHER RIDGE WAY, CEDAR RAPIDS

HOME 7 • B. Hancock Construction, Inc.

3062 DELL RIDGE LANE, HIAWATHA

VISIT THIS YEAR'S HOMES!

HOME 8 • Frey Homes LLC

3088 WINDSOR DR., ROBINS

HOME 9 • Donohoe Custom Homes

3104 BRIMLEY PASS, ROBINS

HOME 10 • Skogman Homes

8726 GRAND OAKS DR. NE, CEDAR RAPIDS

HOME 11 • Skogman Homes

1482 CRESCENT OAK LANE, MARION

HOME 12 • Premier Plus Custom Homes

1159 KETTERING RD., MARION

HOME 13 • B. Hancock Construction, Inc.

1184 FOXBOROUGH DR., MARION

HOME 14 • Garman Built

345 LINDEN ST., ALBURNETT

HOME 15 • Flynn Homes, Inc.

1622 38TH ST. SE, CEDAR RAPIDS

HOME 16 • H&H Home Builders

4396 PIONEER TRAIL SE, CEDAR RAPIDS

remodeled homes:

ONLY OPEN OCT. 6-7

HOME A • Jim Buresh Construction Co.

4771 DOE RUN DR., CEDAR RAPIDS

HOME B • Sunderman Construction

2987 COUNTY HOME RD., MARION

HOME C • Home Town Restyling

2410 HILLVIEW DR., MARION

Tickets are $10 each and are available at each parade home, Hills Bank & Trust locations and Ferguson Bath, Kitchen & Lighting Gallery.

Or you can purchase discounted tickets at any local Casey's General Store for $9. Children 12 & under are FREE!

$

1 00

*

OFF

Fall 2018 Parade Ticket

NEW HOMES

Thursday, October 4 • 5-8 p.m.

NEW & REMODELED HOMES

Saturday, October 6 • 12-5 p.m.

Sunday, October 7 • 12-5 p.m.

*Valid on one ticket. Not valid at Casey's General Store.

Sponsored by

12 THRESHOLD NOVEMBER 2018
---
THRESHOLD NOVEMBER 2018 13
---
Greater Cedar Rapids Housing & Building Association members are invited

to a breakfast and private showing of the Fall 2018 Parade of Homes!

Wednesday, October 3 rd

8:00 - 10:00 a.m. - Breakfast

Join us for a made-to-order omelet bar, coffee,

and networking at the Members Only breakfast.

Hills Bank and Trust Company

3905 Blairs Ferry Rd NE, Cedar Rapids

Lower level - please park in the River of Life parking lot

10:00 a.m. - 4:00 p.m. - Tour

Members Only Tour tickets are required to enter the homes.

Stop by Hills Bank during breakfast to pick up your tickets.

Cost: $20/member

A FREE lunch coupon at any local Subway sponsored by

The Gazette will be provided with your Members Only Tour ticket.

Email your reservation by October 2 nd to eo@crhba.org.

Members Only Breakfast Sponsored by:

14 THRESHOLD NOVEMBER 2018

Member FDIC
---
THRESHOLD NOVEMBER 2018 15
---
Routine

HOME

Maintenance

Your home may be the biggest

investment you will ever make.

Taking good care of it with regular

maintenance is necessary to preserve

its value and ensure it will provide a

comfortable, safe shelter for you and

your family for years to come.

> Maintenance Inside the Home

> Maintenance Outside the Home

> Simple Repairs

Contact your local HBA for

help with home maintenance.

Article provided by National Association of Home Builders

16 THRESHOLD NOVEMBER 2018
---
THRESHOLD NOVEMBER 2018 17
---
INSIDE MAINTENANCE

Fireplaces

When you're ready to use your fireplace, be sure

to build the fire on the andirons or grate, never

on the fireplace floor.

To prevent

soot and to

add color to

the fire, throw

in a handful

of salt.

Store your

firewood

outside, away

from the

house and not directly on the ground.

Have a CSIA-Certified chimney sweep inspect

your chimney and fireplace annually, especially if

you build a lot of fires in the winter.

Sinks

It's also a good idea to clean your faucet's aerator

– which is the spring inside the end of the faucet

– every three to four months.

To maintain your

garbage disposal,

you should

run cold water

through it during

use.

Air Filters

Many types of

heating and air

conditioning

systems contain

filters to remove dirt and dust from the air. Check

the instruction book or search online by model

number: In many cases, the home owner should

change filters at least every three months.

Walls

Masonry walls sometimes develop a white

powdery substance. This is called efflorescence,

a crystallized soluble salt that can be

removed by scrubbing with water and a

stiff brush.

Safety and Security

If you have a home security system,

regularly check the alarms and circuit

breakers to ensure they are in working

order. Inspect the sensors one by one.

The batteries in your smoke and carbon

monoxide detectors should also be

checked twice a year to ensure they are

operable. Hard-wired and battery-powered

detectors should be replaced every 10 years.

Floors

To maintain unpainted concrete floors in your

basement or garage, first apply a concrete

sealer, which makes them easier to clean.

When you're ready to clean them, use a solution

of four to

six tablespoons

of washing

soda in a gallon

of hot water.

Add scouring

powder to the

solution for

tough jobs.

The best polish

for vinyl floors in

water emulsion wax.

For hardwood, be sure the floors have a polyurethane

finish before cleaning with water.

Hardwood floors that do not have a polyurethane

finish will need to be waxed periodically.

Use liquid or paste "spirit" wax.

18 THRESHOLD NOVEMBER 2018
---
OUTSIDE MAINTENANCE

Roof, Gutters and

Downspouts

A qualified roofer

should inspect

your roof every

three years. Skylights

should also

be inspected each

time your roof is

inspected so leaks

don't develop from

cracks and interruptions around the seals, caulking

and flashings.

Make sure that gutters and downspouts do not get

clogged with leaves or other objects.

Garage

The moving parts of garage doors should be oiled

every three months.

Siding

Inspect your siding yearly to determine if your

wood-sided home needs to be repainted. Trim shrubbery

away so that it does not touch the siding.

The exterior of your house is built to withstand

exposure to the elements, but a periodic

cleaning will improve the appearance and, in

many instances, prolong the life of siding and

other exterior products.

Windows and Doors

Inspect exterior windows and doors yearly to

see if the caulking around them has split and

cracked. If so, replace the caulk and clean any mildew.

For a simple solution to wash extremely dirty exterior

windows, combine equal parts vinegar and water or

three tablespoons

of denatured

alcohol per quart of

warm water. Use a

piece of crumbled

newspaper to wash

the glass to avoid

lint left behind by

paper towels.

SIMPLE REPAIRS

Walls

Use spackling to fill nail holes and cracks in plaster

walls and gypsum wallboard.

Pipes

Noisy water pipes should be fixed promptly. The condition

that causes noisy pipes may be accompanied by

vibration that can cause fittings to loosen and leak.

Frozen pipes should be thawed slowly to prevent the

formation of steam, which could cause the pipes to burst.

Faucets, Sinks and Toilets

If you have a water leak, the washer in your faucet

usually needs to be replaced.

For clogged drains, use a plunger and/or a plumber's

snake.

To unclog a toilet, use a coil spring-steel auger, which

can be found at hardware or home-improvement

stores.

THRESHOLD NOVEMBER 2018 19
---
20 THRESHOLD NOVEMBER 2018

OKTOBERFEST
---
THRESHOLD NOVEMBER 2018 21
---
THE SPIKE CLUB

Growing our Strength

through Member Recruitment, Retention and Involvement

Recruiting new members to your local association is

an activity recognized and rewarded through the Spike

Club. Those who participate are called Spikes, and they

are among the most valued members of the association.

Member-to-member recruitment and retention efforts

are the largest source of growth for the federation.

Spikes bring grassroots growth and stability. These

efforts lend to the development of the general membership

and our leadership pipeline, keeping the face

of the federation true to that of our industry and the

scope of interests we represent.

Spikes are the membership leaders of our federation,

building the voice, power and influence on every level,

in every state.

WE'RE MORE THAN HOMES.

We build communities.

Homes are the foundation of our

communities. Visit nahb.org/join

to join our network of craftsmen

and innovators.

22 THRESHOLD NOVEMBER 2018
---
SPIKE MEMBERS

SUPER SPIKE

James Sattler 466.00

Mike Farr 346.25

ROYAL SPIKE

Michael Flynn 267.00

Mike Sattler 224.50

Wayne Winn 207.00

Randy Dostal 181.00

Rob Hajek 173.00

Tom Takes 171.00

Doug Kohoutek 167.25

Jim Buresh 157.75

RED SPIKE

Mark Wood 126.00

Drew Retz 117.25

Tari Dailey 110.75

Alvin Frey 102.75

GREEN SPIKE

Joseph Ahmann 75.00

Robert Meyer 74.50

Paul Brundell 70.50

Jim McGrew 69.00

YELLOW SPIKE

Joe Sattler 43.50

JR Blok 43.00

Steve Erusha 42.00

Ron Valenta 34.00

BLUE SPIKE

Todd Frazier 24.00

Kyle Skogman 23.00

Bryan Thumma 21.00

Chad Pelley 20.50

Benton Frey 13.50

Brian Ophoff 12.50

Ray Vasser 11.00

Chris Mottinger 9.50

Dustin Lee 7.50

K Flynn 7.75

Dustin Kern 6.00

SPIKE

CANDIDATES

Six (6) credits needed to

become a SPIKE MEMBER

Bob Rathje 6.00

Jeff Platten 5.50

Paul Scallon 5.50

Tom Kurtz 5.00

Mark Ralston 5.00

Chuck Rhode 5.00

Todd Richardson 5.00

Pat Sauter 5.00

Mark Sillman 5.00

Jeff Melcher 5.00

Al Sattler 4.50

Jerry Sunderman 4.50

Timothy Vaske 4.00

Todd Wood 4.00

Ben Dahl 3.50

Kirk Sadilek 3.50

Jamie Buresh 3.00

Chad Kelly 3.00

TJ Heefner 2.50

Terry Bjornsen 2.00

Matt Burger 2.00

Rex Hamilton 2.00

Jennifer Hughes 2.00

Brad Joens 2.00

Dave Vanous 2.00

Mark Bertelli 1.50

Marc Daubitz 1.50

Brian Hancock 1.50

Mike Delaney 1.00

Casey Johannes 1.00

Hanna Kustes 1.00

Brad Nielson 1.00

Justin Wright 1.00

Zechariah Garman .50

Come to the

2018 Annual

Awards

Banquet

and find out

who will win the

2018 JEFF TEGELER

Spike of

the Year

Award

THRESHOLD NOVEMBER 2018 23
---
MORTGAGE BURNING

LUNCHEON

24 THRESHOLD NOVEMBER 2018
---
THRESHOLD NOVEMBER 2018 25
---
SUPPORT SMALL

BUSINESSES

Small businesses are the backbone of

America. They build a strong economy and

strong communities.

Many builders, remodelers and related

businesses in the housing industry are small

businesses making vital contributions to our

economy. In fact, 15% of the U.S. economy

relies on housing.

A healthy housing industry means more

jobs and a stronger economy. Constructing

100 new single-family homes creates 297

full-time jobs, $28 million in wage and business

income and $11.1 million in federal,

state and local tax revenue.

Housing, like no other business sector, is

"Made in America." Most of

the products used in home

construction and remodeling

are manufactured here in the

United States.

That's why it's important to

support small businesses.

CLICK HERE FOR DIRECTORY

OF LOCAL HBA MEMBERS

Article provided by National Association of Home Builders

26 THRESHOLD NOVEMBER 2018
---
Connect with Us

President

Mike Farr

Cascade Manufacturing Co.

Office: 563.852.3231

mgfarr@cascade-mfg-co.com

Vice-President

Rob Hajek

Home Repair Team

Office: 319.626.4663

robh@homerepairteam.com

Board Member

Jeff Capps

Cedar Valley Habitat for

Humanity/ReStore

Office: 319.366.4485

jeffcapps@cvhabitat.org

Board Member

Randy Dostal

Thomas Dostal Developers

Office: 319.431.3881

allamericanlc@hotmail.com

Board Member

Andrea Rhoades

Corridor Business Journal

Office: 319.665.6397

Andrea@corridorbusiness.com

Board Member

Robert Riley

Windows by Pella, Inc.

Office: 319.363.5768

robert.pellawindows@gmail.com

Second Vice-President

Dustin Kern

DK Land Services, Inc.

Office: 319.654.6706

dustin@dklandservices.com

Board Member

Mike Flynn

Flynn Homes, Inc.

Office: 319.366.6826

mike@flynnhomes.com

Board Member

Hunter Skogman

Skogman Homes

Office: 319.363.8285

hskogman@skogman.com

Treasurer

Justin Zimmerman

CliftonLarsonAllen, LLP

Office: 319.363.2697

justin.zimmerman@claconnect.com

Board Member

Benton Frey

Frey Homes, LLC

Office: 319.640.2300

benton@freyhomes.com

Board Member

Dean A. Spina

Bradley & Riley PC

Office: 319.861.8725

dspina@bradleyriley.com

Secretary

Jim Sattler

Jim Sattler Custom Homes

Office: 319.395.9157

jsattler@sattlerinc.com

Board Member

Joe Greathouse

Kirkwood Community College

Office: 319.398.5411

joe.greathouse@kirkwood.edu

Board Member

Ryan Sullivan

Amerhart, Ltd.

Office: 608.825.3322

ryan.sullivan@amerhart.com

Immediate Past President

Chad Pelley

Ahmann Design

Office: 319.395.7900

cpelley@ahmanncompanies.com

Board Member

Jim McGrew

Suburban Lumber Company

Office: 319.362.3115

jmcgrew@suburbanlumber.com

Board Member

Bryan Thumma

Affordable Heating & Cooling

Office: 319.462.3638

bryan.thumma@affordable-hvac.com

Remodelers Council First

Vice-Chair

Joe Sattler

Sattler Homes & Remodeling

Office: 319.395.9475

joe@sattlerhomes.com

Board Member

Amy Miller

Hills Bank and Trust Company

Office: 319.654.8007

amy_miller@hillsbank.com

Executive Officer

Melissa Olson

Greater Cedar Rapids Housing &

Building Association

Office: 319.395.0778

eo@crhba.org

Board Member

JR Blok

Blok Construction

Office: 319.533.4394

jrblok2@mchsi.com

Board Member

Drew Retz

Jerry's Homes, Inc.

Office: 319.294.2290

drewr@jerryshomes.com

THRESHOLD NOVEMBER 2018 27
---
Need an

?

Visit crhba.org for all your

housing & building needs.

Free Referrals • Reputable Members • Peace of Mind

crhba.org • 319.395.0778

28 THRESHOLD NOVEMBER 2018