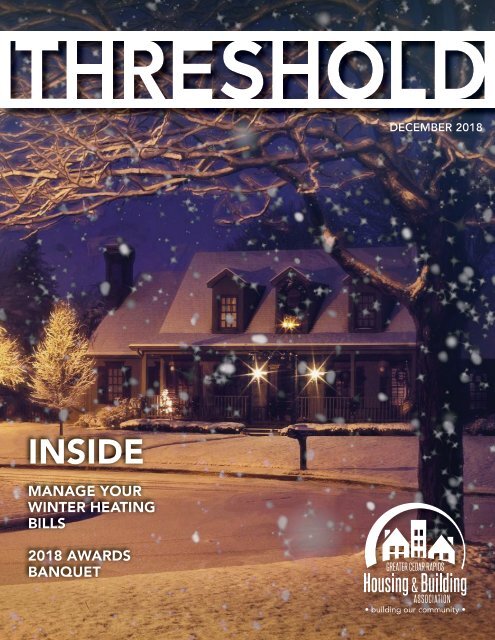 Create successful ePaper yourself
Turn your PDF publications into a flip-book with our unique Google optimized e-Paper software.
DECEMBER 2018

INSIDE

MANAGE YOUR

WINTER HEATING

BILLS

2018 AWARDS

BANQUET
---
TABLE OF CONTENTS

FEATURES

5

BUILDING OUR

7

COMMUNITY

MANAGE YOUR

WINTER HEATING BILL

INSIDE

12 THE SPIKE CLUB

15 GCRHBA BOARD

9

2018 ANNUAL

AWARDS BANQUET

THRESHOLD IS A MONTHLY MAGAZINE PRESENTED BY

THE GREATER CEDAR RAPIDS HOUSING & BUILDING ASSOCIATION

2 THRESHOLD DECEMBER 2018
---
EXECUTIVE OFFICER'S MESSAGE

Annual Awards Banquet recaps 2018

MELISSA

OLSON

In November, we celebrated 2018 at our Annual

Awards Banquet, sponsored by Ahmann

Design. The banquet was held at the new

Epic Event Center, which was remodeled and

is owned by our builder member Sunderman

Construction.

The venue was beautiful, and we had a

great turnout with around 150 attendees. We

were honored to hear from our two Honorary

Members, Ralph Palmer and Al Sattler,

and our Home Builders Blitz 2018 partner,

Jeff Capps, Executive Director, Cedar Valley

Habitat for Humanity.

Our 2018 Membership and Fall Parade

of Homes Awards were also presented. Mike

Farr, our 2018 President, shared our 2018 accomplishments

including our 14 networking

events, annual Cedar Rapids Home Show,

the Spring and Fall Parade of Homes, paying

off our building debt, creating a new website,

the THRESHOLD magazine, and selling our

TINY Project 2017.

November was Spike Appreciation Month.

To all spike members and candidates, my sincere

thanks and appreciation for your dedication

to growing our local association. Recruiting

takes devoted time and energy. Your

dedication is invaluable. You keep our association

and industry strong and ensure our

voice is heard in our community.

We are now doing Membership Breakfast's

for any nonmember that would like to

learn about the association and how it can

benefit them and their company. The breakfast

is only 30 minutes, we provide a hot

breakfast and they will receive a $10 Starbucks

gift card. If you know of a nonmember

that would be interested, please send me

their contact information.

As the holiday season approaches, I want

to wish everyone a safe and joyous Christmas

and Happy New Year!

Sincerely,

Melissa Olson, Executive Officer

Greater Cedar Rapids Housing & Building

Association

MEMBERSHIP VALUE

Nationally Recognized Educational Programs give the tools to gain an

edge in the industry. In our competitive marketplace, differentiation is the

key to success and NAHB's nationally recognized education programs offer

cutting-edge conferences and course – both in-person and online. NAHB

has the curriculum, instructors and prestige to boost your success and

increase your profit margins.

Plus, Access to Expert Advisors who can address your specific business

questions. As an HBA member, you get instant access to our distinguished

economists, tax specialists, legal research staff, financial experts and

regulatory and technical specialists.

THRESHOLD DECEMBER 2018 3
---
PRESIDENT'S MESSAGE

December 2018 Presidents Message

MIKE FARR

Thank you for your membership and participation!

Are you looking for workers? Kirkwood

has students that are looking for internships

and jobs as they graduate. Contact the HBA office

or Kirkwood about finding a student!

I want to thank you for allowing me to serve

as your president a second time. I believe that

we get some things accomplished over the

past year. We got a new and modern website.

Brought the "Threshold" back as an online

communication piece to our members. Had

more after hour meetings at member's locations

to help them show off their business. We

had a very successful Remodelers event, Trap

Shoot, Golf Outing, Fall and Spring Parade of

Homes, Home show, and Annual Meeting! We

moved 2 member to the status of Honorary

Member (Ralph Palmer and Al Sattler) they

were both able to join us at our November 8th

Annual Meeting. It is with a sad heart to mention

that we lost Ralph Palmer on November

23, 2018. We had over 150 members at our Annual

Meeting. Thank you Ralph and Al, for all

you did over the years, to help allow us to have

the type of Association we do today!

I hope that in the future that we can continue

to grow membership, but more importantly,

membership participation! I have belonged to

this HBA for over 27 years. I have gotten more

from this Association, then I have given to it.

And the reason for that is my involvement has

not only gotten me business, but friendships

that will last a lifetime! Locally and nationwide

because of my involvement! If you make a living

in this industry, you owe that industry your

money, participation and time.

If you have any suggestion, or constructive

criticism, please let myself, Melissa, or anyone

on the executive committee know so we can

follow up on those items!

I leave you in the good hands of Rob Hajek

as your new president! Rob has already lead

the state association and is more than ready to

lead this association!

Please get us feedback on our new Threshold

and website! If you are interested in hosting

an afterhours meeting, please contact Melissa.

Take Care,

Mike Farr, President,

Greater Cedar Rapids Housing & Building

Association

RALPH PALMER

It is with deep sympathy we

acknowledge the recent passing of

Ralph Palmer. Ralph, a long-time

GCRHBA member, passed away Friday,

November 23. We were honored to

have Ralph at our 2018 Annual Awards

Banquet where we honored him as an

Honorary Member. Please click here

for the obituary and information for

his service.

4 THRESHOLD DECEMBER 2018
---
BUILDING OUR COMMUNITY

Kirkwood Community College

Foundation Endowed Scholarships

The Greater Cedar Rapids Housing &

Building Association provide scholarships

through the Kirkwood Community College

Foundation. The scholarships are awarded to

local high school students that are enrolled

in Architectural Technology, Construction

Management, Industrial Maintenance

Technology & HVAC Technology, Carpentry,

HVAC Installer, Plumbing Technology or

Masonry Construction.

In our effort of "Building Our Community,"

the GCRHBA strives to make a substantial

impact on students' success in the classroom

and beyond, and ensure we are doing

our part to address the need for skilled

employees, economic stimulus and retention

of talent in the state.

2018 Kirkwood Community College Foundation Scholarship Winners,

Will McAllister, Gage Postl and Cole Ralfs were present and

introduced themselves and commented on their future plans.

For more information, please click here.

THRESHOLD DECEMBER 2018 5
---
6 THRESHOLD DECEMBER 2018

Article provided by National Association of Home Builders
---
MANAGE YOUR

WINTER HEATING BILL

Adjusting the Thermostat

You can keep your house comfortable and save energy

by strategically adjusting your thermostat. Consider

installing a programmable thermostat, which

allows you to easily to set a schedule to maximize

your savings.

According to the U.S. Department of Energy, you

can save as much as 1% on your fuel bill for each

eight hours you set the thermostat back one degree.

That means that if you set your thermostat back each

night from 70° to 65° while you sleep, you could

add a blanket to your bed and save as much as 5%

on your heating costs.

Or, if your family is out of the house at work or

school during the day, keeping the house 10° or

even as much as 15° lower when no one is home

could result in significant savings.

Reducing Air Leaks

By sealing air leaks in a home, an average household

can cut 10% of its monthly energy bill.

• Use caulk to seal any cracks or small openings

on non-moving surfaces, such as where window

frames meet the house structure.

• Check the weather stripping in exterior door

frames and replace any that is deteriorated or

cracked.

• Inspect utility cut-throughs for pipes (plumping

penetrations), gaps around chimneys and recessed

lights in insulated ceilings, and unfinished

spaces behind cupboards and closets. You can buy

material that expands to fill the gaps and keep air

from flowing through.

• Examine ductwork for splits or gaps that have

developed in the ducts. If your home is heated by

forced air, examine the ductwork and use duct sealant

or metal-backed tape on any leaks.

• Check registers and grills to make sure they are

tightly sealed to ducts.

Calling in the Experts

If you want to learn even more about how to manage

the specific energy consumption of your home, consider

hiring a professional energy auditor to evaluate

your home and identify all the inefficiencies. The

long-term energy savings of your home should more

than make up for the initial cost of the audit.

The energy expert will show you how low-cost

improvements can improve your home's efficiency.

And, the audit may suggest more expensive improvements,

such as upgrading to energy-efficient

appliances and high-performance windows to help

improve your heating bills.

For more home heating tips and information, visit

the U.S. Department of Energy at Energy.gov.

Consider hiring a professional energy

auditor to evaluate your home and identify

all the inefficiencies.

THRESHOLD DECEMBER 2018 7
---
2018

SPONSORS

Thank you to our 2018 Sponsors

10/31/18 Order

12 x 18 Solid W

Laser Engraved

Gold Paintfill

PLATINUM

$15,000 and Up

GOLD

$10,000 - $14,999

Altorfer CAT

First Iowa Insurance Agency

Kelly Concrete Co.

KBD of Cedar Rapids

Splash Pool & Spa Builders

SILVER

$1,000 - $5,000

HOST

Bobcat of Cedar Rapids

Home Town Restyling

McGrath Fleet & Commercial

Suburban Lumber

UICCU

8 THRESHOLD DECEMBER 2018
---
2018 Annual

Awards Banquet

A SPECIAL THANKS

TO THE

EVENING SPONSOR

2018 President Mike Farr, Cascade

Manufacturing, commences the banquet

welcoming our guests.

Joe Greathouse, Professor, Construction Management, Kirkwood

Community College introduced the 2018-2019 NAHB Student Team

that will be competing at IBS in February 2019.

Jeff Capps, Executive Director with

CVHFH, HBA Board Director and

Home Builders Blitz Committee

Chair, gave a presentation on the

GCRHBA partnership with Cedar

Valley Habitat for Humanity to

build 3 homes in 5 days for Home

Builders Blitz 2018.

Longtime member, Ralph Palmer,

was honored as an Honorary

Member and spoke to our guests

about his involvement with the

HBA over the years.

Longtime member, Al Sattler, was

honored as an Honorary Member

and spoke to our guests about

his involvement with the HBA

over the years.

Honorary Members, Ralph Palmer and Al Sattler, received a plaque and a

framed copy of the THRESOLD magazine with their feature stories.

THRESHOLD DECEMBER 2018 9
---
Mike Farr presented Dustin Kern,

DK Land Services, with an Award

of Recognition for becoming a

Spike Member. Dustin also won

the Tegeler Spike of the Year

Award. Congratulations!

Jim McGrew, Suburban Lumber,

received a Spike Pin for 50

credits earned. Jim also won

the Associate of the Year Award.

Congratulations!

All Spike Members in attendance were able to select

and pop a balloon for a special prize.

Jay Iverson, Executive Officer, HBAI, performed the Induction

of our 2019 Executive Officers and Remodelers Council. Shown

from left to right: Dean Spina, Greg Steffen, Dustin Kern, Mike

Farr, Rob Hajek, Joe Sattler, Jim Sattler, and Andrea Rhoades.

Not present: James Hoth, Wayne Winn, and Justin Zimmerman

Congratulations to Tom Takes,

Tom Takes Construction,

for winning the Don Novak

Remodeler of the Year Award.

Congratulations to Drew Retz,

Jerry's Homes, for winning the

Builder of the Year Award.

Congratulations to Andrea

Rhoades, Corridor Business

Journal, for winning the David

Ealy Volunteer of the Year

Award.

Congratulations to Kade Olson,

Federated Insurance, for

winning our first Rookie of the

Year Award.

Congratulations to Rob Hajek,

Home Repair Team, for being

inducted into the GCRHBA Hall

of Fame.

2018 President, Mike Farr,

passed the gavel to incoming

2019 President, Rob Hajek

who presented a Presidents

Plaque to Mike.

10 THRESHOLD DECEMBER 2018
---
Fall 2018 Parade of Homes Awards Winners

Category: $200,000-250,000

Skogman Homes

8726 Grand Oaks Dr. NE, CR

Category: $275,000-325,000

Garman Built

345 Linden Street, Alburnett

Category: $350,000-400,000

Sattler Homes & Remodeling

314 Worthington Ct, Hiawatha

Category: $425,000-450,000

Frey Homes

3088 Windsor Drive, Robins

Category: $475,000-500,000

JP Homes

9300 Feather Ridge Way, CR

Category: $525,000-574,000

Platten Construction

6107 Michael Drive NE, CR

Category: $575,000-600,000

B. Hancock Construction

3062 Dell Ridge Lane, Hiawatha

Category: $650,000-700,000

B. Hancock Construction

1184 Foxborough Drive, Marion

Category: Over $1,000,000

Scallon Custom Homes

6710 Cottage Hill Lane NE, CR

Congratulations to Mike Flynn, Flynn Homes, for winning the Membership Award.

THRESHOLD DECEMBER 2018 11
---
THE SPIKE CLUB

Growing our Strength

through Member Recruitment, Retention and Involvement

Recruiting new members to your local association is

an activity recognized and rewarded through the Spike

Club. Those who participate are called Spikes, and they

are among the most valued members of the association.

Member-to-member recruitment and retention efforts

are the largest source of growth for the federation.

Spikes bring grassroots growth and stability. These

efforts lend to the development of the general membership

and our leadership pipeline, keeping the face

of the federation true to that of our industry and the

scope of interests we represent.

Spikes are the membership leaders of our federation,

building the voice, power and influence on every level,

in every state.

12 THRESHOLD DECEMBER 2018
---
SPIKE MEMBERS

SUPER SPIKE

James Sattler 466.00

Mike Farr 347.75

ROYAL SPIKE

Michael Flynn 268.00

Mike Sattler 224.50

Wayne Winn 207.00

Randy Dostal 183.00

Rob Hajek 173.25

Tom Takes 171.00

Doug Kohoutek 167.25

Jim Buresh 157.75

RED SPIKE

Mark Wood 126.00

Drew Retz 118.00

Tari Dailey 110.75

Alvin Frey 103.25

GREEN SPIKE

Joseph Ahmann 75.50

Robert Meyer 74.50

Paul Brundell 71.00

Jim McGrew 70.50

YELLOW SPIKE

Joe Sattler 43.75

JR Blok 43.50

Steve Erusha 42.00

Ron Valenta 34.00

BLUE SPIKE

Todd Frazier 24.00

Kyle Skogman 23.50

Chad Pelley 22.50

Bryan Thumma 21.00

Benton Frey 14.00

Brian Ophoff 12.50

Ray Vasser 11.00

Chris Mottinger 9.50

Dustin Lee 7.50

Dustin Kern 6.00

Jeff Platten 6.00

SPIKE

CANDIDATES

Six (6) credits needed to

become a SPIKE MEMBER

Bob Rathje 6.00

Paul Scallon 5.50

Mark Sillman 5.50

Tom Kurtz 5.00

Mark Ralston 5.00

Chuck Rhode 5.00

Todd Richardson 5.00

Pat Sauter 5.00

Jeff Melcher 5.00

Ben Dahl 4.50

Al Sattler 4.50

Jerry Sunderman 4.50

Timothy Vaske 4.00

Todd Wood 4.00

Kirk Sadilek 3.50

Jamie Buresh 3.00

Chad Kelly 3.00

TJ Heefner 2.50

Terry Bjornsen 2.00

Matt Burger 2.00

Rex Hamilton 2.00

Jennifer Hughes 2.00

Brad Joens 2.00

Dave Vanous 2.00

Mark Bertelli 1.50

Marc Daubitz 1.50

Brian Hancock 1.50

Mike Delaney 1.00

Casey Johannes 1.00

Hanna Kustes 1.00

Brad Nielson 1.00

Justin Wright 1.00

Zechariah Garman .50

DUSTIN KERN

2018 JEFF TEGELER

Spike of the

Year Award

A new

challenge

begins!

Our congratulations go out to

Dustin Kern, the 2018 Grand

Champion Spiker.

With a new year, comes a new

challenge. Who will wear a

crown in 2019?

THRESHOLD DECEMBER 2018 13
---
SUPPORT SMALL

BUSINESSES

Small businesses are the backbone of

America. They build a strong economy and

strong communities.

Many builders, remodelers and related

businesses in the housing industry are small

businesses making vital contributions to our

economy. In fact, 15% of the U.S. economy

relies on housing.

A healthy housing industry means more

jobs and a stronger economy. Constructing

100 new single-family homes creates 297

full-time jobs, $28 million in wage and business

income and $11.1 million in federal,

state and local tax revenue.

Housing, like no other business sector, is

"Made in America." Most of

the products used in home

construction and remodeling

are manufactured here in the

United States.

That's why it's important to

support small businesses.

CLICK HERE FOR DIRECTORY

OF LOCAL HBA MEMBERS

Article provided by National Association of Home Builders

14 THRESHOLD DECEMBER 2018
---
Connect with Us

President

Mike Farr

Cascade Manufacturing Co.

Office: 563.852.3231

mgfarr@cascade-mfg-co.com

Vice-President

Rob Hajek

Home Repair Team

Office: 319.626.4663

robh@homerepairteam.com

Board Member

Jeff Capps

Cedar Valley Habitat for

Humanity/ReStore

Office: 319.366.4485

jeffcapps@cvhabitat.org

Board Member

Randy Dostal

Thomas Dostal Developers

Office: 319.431.3881

allamericanlc@hotmail.com

Board Member

Andrea Rhoades

Corridor Business Journal

Office: 319.665.6397

Andrea@corridorbusiness.com

Board Member

Robert Riley

Windows by Pella, Inc.

Office: 319.363.5768

robert.pellawindows@gmail.com

Second Vice-President

Dustin Kern

DK Land Services, Inc.

Office: 319.654.6706

dustin@dklandservices.com

Board Member

Mike Flynn

Flynn Homes, Inc.

Office: 319.366.6826

mike@flynnhomes.com

Board Member

Hunter Skogman

Skogman Homes

Office: 319.363.8285

hskogman@skogman.com

Treasurer

Justin Zimmerman

CliftonLarsonAllen, LLP

Office: 319.363.2697

justin.zimmerman@claconnect.com

Board Member

Benton Frey

Frey Homes, LLC

Office: 319.640.2300

benton@freyhomes.com

Board Member

Dean A. Spina

Bradley & Riley PC

Office: 319.861.8725

dspina@bradleyriley.com

Secretary

Jim Sattler

Jim Sattler Custom Homes

Office: 319.395.9157

jsattler@sattlerinc.com

Board Member

Joe Greathouse

Kirkwood Community College

Office: 319.398.5411

joe.greathouse@kirkwood.edu

Board Member

Ryan Sullivan

Amerhart, Ltd.

Office: 608.825.3322

ryan.sullivan@amerhart.com

Immediate Past President

Chad Pelley

Ahmann Design

Office: 319.395.7900

cpelley@ahmanncompanies.com

Board Member

Jim McGrew

Suburban Lumber Company

Office: 319.362.3115

jmcgrew@suburbanlumber.com

Board Member

Bryan Thumma

Affordable Heating & Cooling

Office: 319.462.3638

bryan.thumma@affordable-hvac.com

Remodelers Council First

Vice-Chair

Joe Sattler

Sattler Homes & Remodeling

Office: 319.395.9475

joe@sattlerhomes.com

Board Member

Amy Miller

Hills Bank and Trust Company

Office: 319.654.8007

amy_miller@hillsbank.com

Executive Officer

Melissa Olson

Greater Cedar Rapids Housing &

Building Association

Office: 319.395.0778

eo@crhba.org

Board Member

JR Blok

Blok Construction

Office: 319.533.4394

jrblok2@mchsi.com

Board Member

Drew Retz

Jerry's Homes, Inc.

Office: 319.294.2290

drewr@jerryshomes.com

THRESHOLD DECEMBER 2018 15
---
Need a

?

Visit crhba.org for all your

housing & building needs.

• Free Referrals • Reputable Members • Peace of Mind •

16 THRESHOLD DECEMBER 2018

crhba.org • 319.395.0778