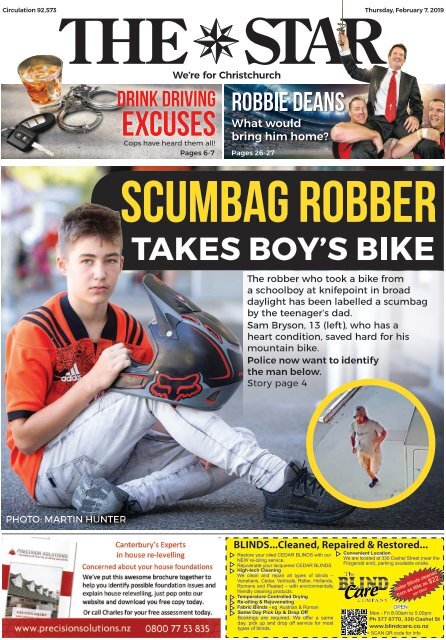 The Star: February 07, 2019
You also want an ePaper? Increase the reach of your titles
YUMPU automatically turns print PDFs into web optimized ePapers that Google loves.
Circulation 92,573 Thursday, February 7, 2019

The robber who took a bike from

a schoolboy at knifepoint in broad

daylight has been labelled a scumbag

by the teenager's dad.

Sam Bryson, 13 (left), who has a

heart condition, saved hard for his

mountain bike.

Police now want to identify

the man below.

Story page 4

BLINDS...Cleaned, Repaired & Restored...

Restore your oiled CEDAR BLINDS with our

NEW re-oiling service.

Rejuvenate your lacquered CEDAR BLINDS

High-tech Cleaning

We clean and repair all types of blinds –

Venetians, Cedar, Verticals, Roller, Hollands,

Romans and Pleated – with environmentally

friendly cleaning products.

Temperature Controlled Drying

Re-oiling & Rejuvenating

Fabric Blinds - eg Austrian & Roman

Same Day Pick Up & Drop Off

Bookings are required. We offer a same

day, pick up and drop off service for most

types of blinds.

Convenient Location

We are located at 330 Cashel Street (near the

Fitzgerald end), parking available onsite.

Roller Blinds cleaned

from as little as $22

per blind

OPEN

Mon - Fri 8.00am to 5.00pm

Ph 377 0770, 330 Cashel St

www.blindcare.co.nz

< SCAN QR code for Info
---
2 Thursday February 7 2019

Latest Christchurch news at www.star.kiwi

news

sport

Regional Manager

Steve McCaughan

364 7460

Steve@starmedia.kiwi

Editor in Chief

Barry Clarke

364 7422

Barry@starmedia.kiwi

Web:

www.starmedia.kiwi

General:

379 7100

Julia Evans

News Reporter

364 7476

021 914 742

Julia.Evans

@starmedia.kiwi

Sophie Cornish

News Reporter

364 7437

021 915 924

Sophie.Cornish

@starmedia.kiwi

Gordon Findlater

Sport Reporter

379 7100

027 408 1993

Gordon.Findlater

@starmedia.kiwi

advertising

Shane Victor

Sales Manager

364 7429

021 381 765

Shane

@starmedia.kiwi

get in touch

Classified:

379 1100

Star Media a division of

Allied Press

PO Box 1467, Christchurch

359 Lincoln Rd, Addington,

Christchurch 8024

Traumatised kitten almost

ready to start new life

Former detective not just a

quarry opponent

Inside

Surf club donation made

45 years after rescue...............3

Brother and sister train to

take on City2Surf........................8

Great things to do this

weekend.........................................10

Fish moved to continue

Heathcote flood work.........17

Send us your best photos

and be in to win........................21

Get your pencil out to solve

some puzzles..............................22

Top young touch players to

represent Canty................ 27-30

Gig guide........................................37

Age no barrier as veteran

cricketer takes nine-wicket bag

SEE PAGE 8 SEE PAGES 12-14

SEE PAGE 25

The Star

5PM SAT 30 MAR

CHRISTCHURCH STADIUM

WIN A VIP EXPERIENCE WORTH $2000

Watch the MANLY SEA EAGLES V WARRIORS game from a VIP sideline

couch at Christchurch Stadium with three of your friends, attend the

Thursday night dinner at the Christchurch Casino and enjoy the after

match celebrations!

TO ENTER SIMPLY:

■ Go to Facebook Messenger on your mobile

■ Click on your image in the top corner

■ Click on your image again in the middle

■ Click 'Scan Code' and hover over the image to the left

Terms and conditions apply, please see our Facebook page for details.

All entries must be in by Sunday 3 March. Winners to be announced in The Star and online on the 5 March.

www.walcoevents.nz

Renovating

your bathroom?

Whether you want a

simple update, bathroom

extension or complete

transformation, our

bathroom design and

installation specialists

are ready to bring your

vision to life.

Contact our team today

to discuss your ideas and

request a FREE quote.

OpeN AFteRNOON

Ngaio Marsh

House

Address: 37 Valley Road, Cashmere

When: Sunday 10 February 2019,

2.30 to 4 pm

An opportunity to step back in time and

explore the charming home and garden

of Dame Ngaio Marsh, New Zealand's

very own Queen of Crime.

2 YEAR

warranty

$1595

MASSIVE

DISCOUNTS

for TWO

ask us

DRIVEWAYS

EXCAVATION

DRAINAGE

RETAINING WALLS

FENCING

ASHPALT / CONCRETE

CARTAGE

HOUSE FOUNDATIONS

Pride in Quality Workmanship

We guarantee our workmanship as only the best is good

enough for you.Everything we do is designed to suit

your vision and budget.

Registered Master Plumbers

PLUMBING | DRAINAGE | GAS FITTING | SOLAR

0508 AQUA PRO | aquaproplumbing.nz

Special offer:

Half price entry fee, only $10 per person

www.ngaio-marsh.org.nz

phone/text: 0210 240 5979

Folds up

Aircraft Spec Alloy

• Specially designed NZ Market

• Easy step-thru frame • NZ approved

• 300 Watt • Range 45km • Weight 25kg

Contact Peter: 0274 937 025

03 389 1190

www.ezirider.nz

H917

021 870 725

info@stylescivil.com • www.stylescivil.co.nz
---
The Star Latest Christchurch news at www.star.kiwi

Thursday February 7 2019 3

News

Good news on Megan's health

• By Julia Evans

Donation presented to surf

club 45 years after rescue

• By Sophie Cornish

FORTY-FIVE YEARS ago

Leonie Dunstan was rescued by

surf life savers from a potential

deadly rip at Waimairi Beach.

Now she and husband Bruce,

who was also in the water on that

hot December 1973 day, have

paid the club back.

The Dunstans, now in their

70s, have donated $2000 to the

Waimairi Beach Surf Life Saving

Club. They gave a smaller donation

to the club in the days after

the rescue.

"We are thinking about our

wills and are in a position to

recognise some organisations we

have been part of over the years

or who have helped us in some

way. So, we were able to make a

more significant donation," said

Mr Dunstan.

The Dunstans remember the

day vividly.

Mr Dunstan managed to get

out of the rip and got to shore.

"I looked back and Leonie

was going further out with her

arm up in the air, signalling difficulty,"

he said this week.

Said Mrs Dunstan: "I felt like

I was in a tumble-dryer. Being

so short, I couldn't touch the

ground. I came up for air once,

and then I went under again.

It was like being in a washing

machine."

Mr Dunstan said he knew he

had to get help.

"I knew I wasn't the person to

PLUCKY CANCER sufferer

Megan Hore is still in remission.

The 19-year-old daughter

of well-known blind organist

Richard Hore was declared

cancer-free in October after battling

bone cancer for more than

a year.

A trip to the specialist on

Tuesday revealed she is still in

remission.

Megan has to go back to hospital

every three months for the

next five years to test for cancer

GIVING BACK: Leonie and Bruce Dunstan were caught in a rip at Waimairi Beach

in 1973 and Mrs Dunstan had to be rescued. Now, they have donated $2000 to the

Waimairi Surf Life Saving Club.

PHOTO: MARTIN HUNTER

cells. If cancer is found,

her diagnosis will become

terminal.

The Star has been following

Megan's progress and helped

her fundraising efforts to get to

Disneyland Paris, which is part

of her bucket list to go to all the

rescue her because she was a better

swimmer than me, so I ran up the

beach, calling for help . . . it was the

best beach sprint of my life!"

Two lifeguards went out and

rescued Mrs Dunstan, using a

flotation device.

Said Mrs Dunstan: "We lay on

the beach for a few hours, reflecting

on our close call. As parents

of young kids you think 'gee, that

would of been awful.' We don't

often talk about it, but I feel quite

emotional talking about it now.''

The day was a busy one for

lifeguards – about 30 people were

rescued from the rip.

Surf club president Mike Litten

Disney parks around the world.

Her mother Marilyn Hore

said the family had been very

nervous before going to the

hospital.

"But I was working on the fact

that no news was good news,"

she said.

said the donation was fantastic.

"Luckily, it was quite timely.

We needed these new radios,

which are about $1000 each.

They are on a special frequency

and are used all the time on different

areas of the beach."

The donation was "really

pleasing and humbling."

in brief

Demolition under way

on remaining stands

Work has started on removing

the last two stands at Lancaster

Park, which will take 10 to 12

months. The demolition was

expected to cost $20 million,

but is now forecast to cost $12

million with two per cent of

the rubble expected to go to

landfill.

Free buses home

from Sparks concert

People heading to the Sparks

concert in North Hagley Park

on February 16 will be able

to get a free bus ride home.

There will be 28 buses free for

the public to use on the night,

which will start departing

when the fireworks are finished.

Buses leaving from Harper

Ave (near the Bealey Ave

corner) will travel to Cashmere,

Halswell, Sheffield Cres and

Hornby. Buses leaving from

Park Tce (between Salisbury St

and Chester St West) will travel

to Belfast, Queenspark, Sumner

and New Brighton.

Weed control tool

trial for red zone

A new electrothermal weed

control tool, which sends

5000v down root systems

killing them outright, is being

brought in to be trialled in the

red zone. Unlike other weed

management methods such as

steam and flame, which in most

cases only destroys the foliage,

electrothermal targets weeds

at their root systems stopping

them from regenerating.

Equipment repair at

playground

The flying foxes and swings

at the Margaret Mahy Family

Playground are out of action for

a month. The cables for the two

flying foxes and swings have

frayed as a result of wear and

tear. It will cost the city council

about $7000 to replace and

install new cables.

The hearing aid specialists with over

25 years experience in Christchurch!

Our qualified team is ready to assist with a hearing solution tailored to your lifestyle.

We specialise in the following:

• Fully diagnostic hearing tests & 15 minute hearing health checks

• Hearing aid fittings, trials, repairs & cleaning

• ACC & Veterans' Affairs accredited

• Large selection of hearing aids to suit all your needs

Christchurch | 472 Innes Road, Mairehau

Call 03 385 4950 today

to book your appointment.
---
4

Latest Christchurch news at www.star.kiwi

Thursday February 7 2019

News

Community

service for

'drown him'

offender

• By Sophie Cornish

SEVENTY HOURS of community

service will be carried out by one

of the offenders found guilty in

the highly-publicised Rolleston

"drown him" case.

Judge Stephen O'Driscoll approved

a plan for one offender's

punishment on Tuesday, which

was formed at a family group

conference.

In December, following a twoday

Youth Court hearing, two

17-year-olds were found guilty of

assault with intent to injure.

They were 16 at the time of

the attack, in November 2016,

where the 16-year-old victim was

confronted by a group of youths in

Tennyson St, Rolleston, after the

annual fireworks event.

It was alleged the victim was

assaulted and pushed into a water

race, where he had his head held

under water while other youths

yelled "drown him."

At the sentencing on Tuesday,

the other offender was remanded

on bail and will reappear before

Judge O'Driscoll on March 5.

An agreement over punishment

was not reached at the family

group conference.

Robber takes off with bike

• By Sophie Cornish

WHEN 13-YEAR-OLD Sam

Bryson was told he could no

longer play contact sport six

months ago because his heart

condition had worsened,

he decided to save up for a

mountain bike.

His doctor

said biking

would be okay.

But about

7.30pm on

Saturday after

leaving the

Sam Bryson

Christchurch

Adventure Park

the derailleur gears broke on

Centaurus Rd, Huntsbury, by

the shopping area. He got off the

bike and started walking with it.

Moments later a man armed

with a red-handled kitchen knife

ran up behind him, grabbed the

back wheel and said: "Give me

your f**king bike, boy."

Said Sam: "I was really

shocked and frightened. I put

my hands up behind my head."

Sam ran to a nearby house

for help, and the police were

called.

The robber, described as Polynesian

in his late 20s, rode off on

the bike, but the damaged gears

ripped through the spokes of the

back wheel, Sam said.

Anyone who can identify the man in this photo or who has information about the

robbery can phone Constable Royden Van Dyk at Christchurch South Police Station on

363 7400, or Crimestoppers anonymously on 0800 555 111.

Sam's father, Stewart Bryson, ing out more than person was

told The Star the robber was a involved.

"coward" and a"scumbag". CCTV footage obtained by

"I don't really care about the The Star shows a man waving his

bike, but adults threatening kids arms as Sam walks with his bike

with a knife, that's cowardly," and moments later another man

said Mr Bryson.

running towards the 13-yearold.

"What's wrong with a person

that gets them to the level

Said Inspector Glen Nalder:

where they have to do that . . . it "At this stage the information is

raises big questions. Is it mental that there was one offender. We

illness? What's driving it, addiction

to drugs? Total scumbags," person involved, but at this stage

are not ruling out more than one

he said.

we are trying to identify the one

Police say they are following offender," he said.

lines of inquiry into identifying In September the family was

the offender, and are not rul-

told Sam's heart condition had

The Star

deteriorated. He was born with

aortic stenosis.

Said his mother Anna Bryson:

"The doctor said stop everything

right now, rugby, basketball,

karate. 'You are lucky he hasn't

had a heart attack'."

His parents loaned him $500

towards the $700 bike. Sam had

saved $200 and has just paid his

parents back the rest. He delivers

The Star and sold his Pokemon

cards, basketball shoes and Lego

sets.

"He basically sold all his

childhood possessions to pay for

the bike," said Mr Bryson.
---
The Star Latest Christchurch news at www.star.kiwi

Thursday February 7 2019 5

People's Choice targets water vote

• By Julia Evans

LABOUR-ALIGNED People's

Choice is plotting how to

dominate the local body elections

by getting the water vote.

An internal People's Choice

document obtained by The Star

shows the way to win votes is

addressing

chlorination

in the water.

It was the biggest

concern

for about 33

per cent of

respondents.

Jamie Gough

Bronwyn

Hayward

It was then

followed by

roads and

footpaths with

22 per cent,

rates rises

with 19 per

cent, public

transport

with 10 per

cent and the

environment

with 8 per

cent.

People's Choice wants to win as

many seats as it can around the

city council and Environment

Canterbury tables in October's

local body election. The survey

would help form the basis of that

ISSUES: A People's Choice survey revealed the city's

drinking water was the biggest concern voters in the

upcoming October local body election.

campaign.

Of the 16 city councillors

seven, Yani Johanson, Phil Clearwater,

Glen Livingstone, Anne

Galloway, Jimmy Chen, Pauline

Cotter and Deputy Mayor Andrew

Turner, are part of People's

Choice.

On ECan, its chairman Steve

Lowndes and councillors Cynthia

Roberts and Lan Pham run

under People's Choice.

People's Choice chairman Keir

Leslie and Cr Turner would not

discuss the survey as it was an

internal party document.

High-profile city councillor

Jamie Gough, who runs under

the centre-right, pro-business

group Independent Citizens,

said it was "good" the survey

highlighted issues Christchurch

residents cared about.

But he said the group's politics

was based on caucusing and its

decision-making came from

Wellington, not Christchurch.

"That sort of governance can be

quite damaging,"

Cr Gough is considering

challenging Lianne Dalziel for

mayoralty and wants more commercial

understanding and focus

around the council table.

"What I've always been proud

about through Independent

Citizens is they'll never tell me

how to vote," Cr Gough said.

The biggest issue with People's

Choice is its block voting, he said.

"A good example where they

block voted was to refuse to

consider revaluing our assets," Cr

Gough said.

"It's damaging to Christchurch

if not negligent to makes those

sorts of calls for ideological

reasons."

However, Mr Leslie said while

all People's Choice candidates had

the same values, they all had separate

ways of dealing with issues.

"All our councillors take an independent

approach. They don't

all sing in unison, but they have

the same values."

Political scientist Bronwyn

Hayward said it was a "fairly

standard" political survey used

during campaigns.

Dr Hayward said voters cared a

lot less about political leaning in

local government.

"Often voters don't care, if

you're doing a good job, listening

FAST FACTS

•Drinking water was the

biggest concern for 33 per

cent of voters, roads and

footpaths had 22 per cent

and rates rises were 19 per

cent.

•About 44 per cent of

people think the city is on

the right track, while 36

per cent feel it is on the

wrong track and 20 per

cent remain unsure.

•About 26 per cent of

people thought their local

area was going in the

wrong direction, while

56 per cent thought their

local area was on the right

track. Another 18 per cent

were unsure.

•Of the two major parties,

44 per cent said they

voted Labour and 34 per

cent voted National.

to them and your heart is in the

right place, they're less likely to

care about your political standing,"

she said.

People's Choice is currently

looking for expressions

for interest from potential

candidates, which are expected to

be finalised by the end of April.

•Lianne Dalziel's column, p19

Do you have doubts your

earthquake repairs have

been done properly?

Lazy Sundays

Featuring Yurt Party

FREE

Sunday 10 February, 3–4.30pm

Archery Lawn, Botanic Gardens

ccc.govt.nz/summertimes

Don't leave it until it's too late.

Sign up with us for a free foundation report.

Claims Resolution Service Ltd

Ph: 03 377 8855 | 130 Ferry Road, Christchurch

E: reception@earthquakeservices.co.nz | W: www.earthquakeservices.co.nz

NO WIN

NO FEE
---
6

Latest Christchurch news at www.star.kiwi

Thursday February 7 2019

News

The Star

Drink driving excuses and why they

A United States woman

who said she failed

a drink driving test

because she had been

nibbling on her coat

went viral last month.

So what excuses do

Canterbury motorists

use? Sophie Cornish

reports

EXCUSES, DENIAL, "I've only

had a couple" and "go do some

real policing."

After three years on the team

which targets

alcohol and

drug impaired

drivers,

Sergeant Stu

Martindale has

heard it all.

"The most

Stu

Martindale

common thing

we hear is: 'I've

only had two

drinks,' and

we always ask: 'How big were

the drinks? Were they crates or

kegs?'" he says.

It's an age-old classic veteran

Sergeant Colin Stewart has also

heard many times.

"You have to think, were they

drinking out of buckets?" he said.

Another excuse when police

smell alcohol from a driver's

breath is they have been eating

liqueur chocolates.

"I don't think they actually

have any alcohol in them, it's just

the flavouring," Sergeant Martindale

said.

When one such driver

went to court on his drink

driving charge, he changed his

tune - slightly. "He said that he'd

been eating trifle with brandy in

it."

A woman told him she had

alcohol on her breath because she

had been drinking Listerine.

"But it actually transpired this

lady was addicted to drinking

mouthwash. She was drinking it

in such volumes, it was enough to

show in our evidential test."

Another woman said she had

been eating Kurols, a mentholated

throat lozenge.

"To eat the amount you would

need to fail a breath test, you

would be physically sick before

you were able to do that," he said.

Many drivers of course say they

EXCUSES:

Canterbury

Police have

heard a

number of

excuses from

drivers over the

legal alcohol

limit, the most

common

being, "I've

only had two

drinks."

haven't been drinking, but when

they are sprung then question the

validly of the breath test.

"All our devices are calibrated

annually, by a specialist. The

modern machines always purge

themselves of any traces of alcohol

before any test," said Sergeant

Martindale.

Many people make a stupid

excuse initially, then realise how

stupid it was, then roll with it for

awhile, then towards the end they

say well actually I've had this

much . . .''

STATISTICS:

Road policing driver

offence data as published

by New Zealand Police.

The number of alcohol

related offences in the

Canterbury Metro area

(south of the Waimakariri

River to Governors Bay

and west to Hornby):

2009 – 2349

2010 – 2620

2011 – 3071

2012 – 2447

2013 – 1980

2014 – 1983

2015 – 2229

2016 – 2029

2017 – 1742

2018 (until September) – 1141

The "two drinks" excuse comes

from a "major misconception"

with our legal drink driving

limit, said Sergeant Martindale.

"When the lower limit was introduced,

it suggested a couple of

drinks, but that is one standard

drink per hour with food and the

theory is that every person is the

same, but it is not."

"Every person is different, for

some people two drinks will

have zero effect, where as for

other people the effect could be

dramatic."

JOIN US NOW!

See website for details

SCRIBER & MARKS Huge Summer Sale:

Merino Wool Suits from $249, Slim Cut Suits

from $199, Cotton Business Shirts from $29.

MONS ROYALE His & Hers Deal: Further

15% Off When You Buy "His & Hers" (minimum

2 items, 8th - 11th Feb only).

BENDON OUTLET Half Price Sale

(exclusions apply).

TAROCASH Suits $149 (NRP $399.99).

STYLES MAY DIFFER TO IMAGE SHOWN

HALLENSTEINS Polo's $10,

selected styles.

ANDREA BIANI Further $10 Off Ladies

Last Pairs Clearance Shoes Over $20.

KESS NAK Blonde Shampoo &

Conditioner 50% Off.

REMBRANDT 3 Shirts for $200.

CANTERBURY Canterbury Drill Shorts $20.

Sign up to Smart Deals & be in the monthly draw for a $100 Dress-Smart gift card!

Be one of the first to hear about the latest deals, sent straight to your inbox each week!

CHRISTCHURCH 409 Main South Road, Hornby

www.dress-smart.co.nz

Open 10am-5pm, 7 Days 03 349 5750
---
The Star Latest Christchurch news at www.star.kiwi

Thursday February 7 2019 7

don't get you off the hook

Factors which play a role in

this include age, body size, your

body's chemical imbalance at the

time, how much sleep a person

has had and how fit or unfit they

are.

"Ultimately

the biggest message

is if you

think you are

going to drink

alcohol, find a

sober driver or

Pete Stills

Colin Stewart

an alternative

way home," said

Sergeant Martindale.

The worst

excuse police

hear is people

telling them to

"go and do some

real policing

and catch some

criminals," he

said.

Sergeant Martindale believes

for every drink driver caught,

one innocent life has been saved

on the roads.

In 2011, prominent West Coast

lawyer Doug Taffs put coins in

his mouth to try and outwit a

breath alcohol test.

The method comes from an

old wives' tale that holding a

penny in your mouth can interfere

with your saliva's composition.

The zinc and copper of the

penny supposedly neutralises or

masks the actual level of alcohol

by inducing a chemical reaction

or coating the inside of the

mouth.

Senior Sergeant Pete Stills has

heard of the urban legend but has

never seen it work.

"It didn't work for the guy I

was dealing with a long time ago.

He put the coins in his mouth

right in front of me."

Senior Sergeant Stills has seen

people take deep breaths, in an

effort to control their breathing.

"I've never seen anything yet

that has successfully overcome

the machines.

People will tend to minimise

what they have drunk and often

people might stall for time,

thinking time will be their

saviour. But it's not, sometimes

stalling for time could show up a

higher reading."

Once, Senior Sergeant Stills

was offered a bribe, if he chose to

WHAT ARE THE LIMITS?

•From December 2014,

the alcohol limit for

drivers 20 years old and

older lowered from

400mcg of alcohol per

litre of breath to 250mcg.

The blood alcohol limit

lowered from 80mg of

alcohol per 100ml of

blood (0.08), to 50mg

(0.05).

•For drivers under 20, the

limit is zero.

•Guidance from the

Institute of Environmental

Science and Research

(ESR) indicates that most

adults may be able to

drink two standard drinks

over two hours and are

likely to remain under the

drink-driving limits for

adults.

•A standard drink

contains 10g of pure

alcohol. This is about

330ml of beer, 100ml of

wine or 30ml of straight

spirits.

'look the other way.'

"He then went on to say he

was friends with my boss, when

I asked him which boss, he

couldn't give me a name."

$1m plan

to heat pool

• By Julia Evans

USING WASTEWATER to heat

the new Linwood Pool could cost

ratepayers an extra $1 million.

A report will be considered by

the city council's new finance and

performance committee today,

which recommends increasing

the complex's budget from $21

million to $22 million to account

for wastewater heating costs.

Buildings in Australia, Canada,

France and Hungary use wastewater

running underground as

a heat source. However, the Linwood

Pool would be the first of

its kind in New Zealand. It is also

expected to reduce the complex's

operational costs by $41,500 a

year, paying the additional capital

back over 17-20 years. The city

council will also seek third party

funding for the system.

Initial concepts show the facility

could include a lane pool,

learn-to-swim pool, toddler pool

and family spa, plus two tennis

and two basketball courts within

the site. The city council will put

the plans out for public feedback

in April.

The complex will be built on

the corner of Linwood Ave and

Smith St, at the eastern end of

Linwood Park. It is expected to

open in late 2021.

" Check out what's

on at Bunnings

Shirley"

SATURDAY 9TH FEBRUARY

9AM – 12PM

SINEAD,

TEAM MEMBER

Don't leave it until

it's too late to get your

home's earthquake

repairs checked.

Bring the whole family along

for a special meet and greet

with Chase from Nickelodeon's

PAW Patrol.

For more information please

call 03 375 7300 or visit

bunnings.co.nz/shirley

BUNZ19347_CHCH

© 2018 Spin Master PAW Productions Inc. All Rights Reserved. PAW Patrol and all related

titles, logos and characters are trademarks of Spin Master Ltd. Nickelodeon and all related

titles and logos are trademarks.

197 MARSHLAND RD, SHIRLEY

Sign up with us for a free foundation report.

Claims Resolution Service Ltd

Ph: 03 377 8855 | 130 Ferry Road, Christchurch

E: reception@earthquakeservices.co.nz | W: www.earthquakeservices.co.nz

NO WIN

NO FEE
---
8 Thursday February 7 2019

Latest Christchurch news at www.star.kiwi

5 for

$

3 00

$

3 99

ea

Ploughmans

Bakery Bread

750g

$

3 99

ea

Just Juice 2.4L

or McCoy 2L

$

17 99

pk

Owned &

operated

by locals

Sweetcorn

Speight's Gold Medal

Ale or Summit Ultra

12 x 330ml Bottles

4 th to 10 th February 2019

$

4 99

pk

$

3 99

ea

3 for

$

5 00

Bluebird

Original, Thick or

Thinly Cut Chips

140-150g

$

11 99

ea

Villa Maria

Private Bin 750ml

(Excludes Pinot Noir & Syrah)

Hellers Genuine Pork

or London Pride

Sausages 6 Pack

Olivani Olive Oil

Spread 500g

Store Locations: Fendalton Village, Lyttelton,

Stanmore, Sumner, Wairakei

For inspiration visit SuperValue.co.nz |

Please drink

responsibly

While stocks last at SuperValue Fendalton Village, Lyttelton, Stanmore, Sumner, Wairakei only.

svcs0702

News

Who is taking part in

City2Surf will mark

its 45 th anniversary

on March 24,

Sophie Cornish

spoke to some of

the participants

who have entered

Angela Penn, 49,

Mt Pleasant and

Geoff Sutton, 42,

Rangiora

Brother and sister duo

Angela and Geoff aren't

letting the fact they are

getting older slow the

down.

The pair are running the

6km event in this year's

City2Surf together.

"I'm going to be

50-years-old soon, I might

as well keep going while I

am still standing and don't

have many injuries," said

Angela.

Back in October, the

pair ran in the Pegasus

Fun Run 6km and hope

to run the 10km in the

Christchurch Marathon in

June.

They both are driven by

the hope that one day they

might have grandchildren,

who they would like to be

• By Sophie Cornish

THE KITTEN trapped

inside a taped shoebox and

thrown from a moving

vehicle will soon be ready

to be re-homed.

Brighton was taken in

by SPCA Canterbury after

the ordeal in North New

Brighton on January 9.

SPCA southern region

general manager Barry

Helem said Brighton was

traumatised from the incident

and had a severe case

of cat flu.

He was thrown on New

Brighton Rd near the

intersection with Bower

Ave.

"He's recovered really

well. His eyes were almost

completely closed over

when he came in but it

(cat flu) is really treatable

and he responded well to

medication."

In a couple of weeks

time, Brighton will be

ready to be de-sexed and

put up for adoption, Mr

Helem said.

He is currently staying

with a foster family.

Police and SPCA have no

strong leads on Brighton's

previous owners who threw

him from the vehicle.

fit and healthy for.

"It's more about getting

out there and enjoying it.

I am really looking

forward to spending some

time with my brother, it's

good to hang out," said

Angela.

Want to start training?

•Head to city2surf.

co.nz/training for your

free SportsMed 10-

week programme

How to get involved in

the City2Surf

•Entry forms are

available online, at

Pak'n Save and New

Said an SPCA

spokeswoman: "With the

case, we have exhausted all

leads. We are still waiting

on the final results of

fingerprinting from police

and will, hopefully, get

these soon."

Witnesses described

The Star

Roger

Comber,

70,

Woolston

Back in

his youth,

Roger took

part in two half-marathons

World supermarkets,

and at The Athlete's

Foot Northlands and

Riccarton

•Standard entry can be

purchased until March

24 for $25

•Late entry on the day,

March 24, will be $30

•Children aged 10 and

under are free

Brighton ready for a new

home soon after ordeal

GETTING BETTER: SPCA Canterbury's Ingrid

Morris cuddles Brighton, the kitten who was

thrown from a moving car in New Brighton while

taped inside a shoe box. He will soon be ready

for adoption.

the car as a silver Holden

Commodore, the back left

door panel is a different

colour, possibly a brown or

maroon colour.

SPCA is now waiting to

hear from its vets on when

exactly Brighton will be

ready for adoption.
---
Montr

Du

Caledonian Rd

Colombo St

Sherborne St

Ma

CITY

with Les Mills

2SURF

The Star Latest Christchurch news at www.star.kiwi

Thursday February 7 2019 9

this year's

in Ashburton and Timaru.

Now, retired from his job as an

english teacher, Roger he has decided

to get back into running.

He enjoys running around the streets

near where he lives and often goes to

Les Mills gym also to stay in shape.

"I like the City2Surf because it is an

easy distances and it's a popular run to

take part in."

James Ferguson,

32, Harewood

James will take on

the 14km run in this

year's City2Surf.

It will be his first

time doing the event

and admits he's a

"first time runner," opting to keep fit

through rugby and other sport.

The event will help him prepare for

more running later in the year when

he takes on the Buller Gorge halfmarathon

and the Saint Clair Vineyard

half marathon in Blenheim.

He is enjoying his training –

somewhat.

"It's a fair distance the 14km, but I've

got get fit somehow."

Before and after work a couple of

times a week Mr Ferguson has been

challenging himself run distances

between 10km and 14km.

He will accompanied by a group of

2

CITY2SURF

with Les Mills

friends who will also run in the event

next month.

Pauline De Wit,

66, Woolston

Pauline isn't keen

to slow down anytime

soon.

Previously, she

has run the 6km in

the City2Surf but

next month she decided to "push the

boat out" and do the 14km run.

"I felt I could have gone further

so I am keen to try the 14km. I

have seen the wonderful sense of

achievement gained from an event

such as this and wanted to be part of

it . . . I am getting older and I want to

achieve something like this before age

takes me over."

Pauline has been training with her

friend Jill, who she has done the event

with before.

The pair enjoy after-work walks

around the Burwood Wetlands.

"The Wetlands takes approximately

40 minutes, plus walks at the weekend

along the Heathcote river. Also due to

the hot weather I have been enjoying

swimming at Corsair Bay, Magazine

Bay and at Sumner."

On Pauline's bucket-list of

achievements is the Saint Claire

Vineyard half marathon.

Fun run to benefit charity hospital

HELPING: The Canterbury Charity Hospital Trust is

the partner charity for the City2Surf.

SINCE 2007, the City2Surf's

partner charity has been

providing free healthcare to

Cantabrians in need.

The Canterbury Charity

Hospital Trust provides free

day surgery, medical treatments,

dentistry, oral surgery

and counselling services.

It has had more than

15,000 patient visits since it

first opened in 2007.

Over the years, more than

300 doctors, nurses, dentists,

health professionals and

public-spirited people have

volunteered their time and

services.

Celebrating its 45 th year,

City2Surf is being held on

March 24.

Said Charity Hospital fundraising

co-ordinator Rosie

Graham: "The City2Surf is a

great opportunity to not only

increase the profile of the

Charity Hospital as a local

Canterbury charity but also

be involved with a massive

community event which last

year attracted around 12,000

entries."

"We also like the team

aspect of the event as we are

very much a team-based

charity with over 300 volunteers

all playing a part in providing

our free services. And

we really appreciate that Star

Media chose us as the charity

for this major event."

The hospital, which is

unique in New Zealand, frequently

updates it's services,

depending on the need.

This currently includes

include colonoscopy, gynaecology

and women's health,

general surgery (abdominal,

rectal), oral surgery and

dentistry, counselling

(self-referral), orthopaedics

(upper and lower limb) and

cataracts.

The Trust does not receive

any Government funding

and relies on fundraising

events, donations, charitable

organisations and bequests

to raise the funds required to

run its free services.

Open Home

Refurbished apartments & studios

Sat 9 & Sun 10 Feb, 11am-3pm

Merivale

Fall in love with

a new home

at St Albans!

Join us at our

open home this

weekend.

Abberley

Cres

Enjoy chocolate treats and coffee with us this weekend at our Open Home.

Saturday 9th & Sunday 10th February, 11am–3pm.

It's a new year and a new look at St Albans! Our new refurbishments to our entrance lobby and café

are complete. Come and have a look for yourself this weekend, friends and family are welcome.

For more info call Sales Manager Claire O'Connell on 366 1824 or 021 905 778 or

email sales@stalbansretirement.co.nz

St Albans

Papanui Vic

41 Caledonian Road, St Albans, Christchurch.

www.stalbansretirement.co.nz

Bealey Ave

Par
---
10 Thursday February 7 2019

Latest Christchurch news at www.star.kiwi

The Star

FRIDAY, NOON

City Sounds

Head down to The Terrace to check out

this week's lunch time concert, Lloyd and

Doublet, playing blues and Americana.

The Terrace, Oxford Tce

Friday, 5-9pm

FIH Pro League

– New Zealand v

Great Britain

Great Britain will take on the Vantage

Black Sticks at Ngā Puna Wai Sports

Hub. This is the chance for fans to see

world-class hockey, experience the

atmosphere and enjoy hockey in an

exciting new environment. Adults $32,

children $11.

Ngā Puna Wai Sports Hub

FRIDAYS UNTIL FEBRUARY 17,

FROM 4PM

Night Noodle Markets

A fusion of eastern flavours and Chinese lanterns will transform North

Hagley Park into an Asian pop-up market experience. With family-friendly

entertainment, cuisine from international and local vendors, and a fully

licenced bar, the Night Noodle Market is the place to be.

North Hagley Park

Friday, 5.30-10.30pm

Leighs Construction Outdoor Cinema

The night will have two sessions, one for families at 5.30pm playing The Adventures of Tintin: The Secret of the

Unicorn and Whale Rider for a general audience at 8pm. A gold coin donation is appreciated and proceeds will

be put towards the restoration of the Arts Centre.

www.artscentre.org.nz

The Arts Centre, North Quadrangle

SATURDAY,

12.30-4.30PM

Riccarton

Horticultural Society

Summer Show

Sales tables, raffles and refreshments

will be available with dahlias, floral art

and cut flowers on display. Admission

is free.

St Peter's Church Hall, Church

Corner

Sunday,

3-4.30pm

Lazy

Sundays

Take a picnic and spend

the end of the weekend

relaxing on the lawn

with good food, music

and friends. This week

Yurt Party will be

playing.

Archery Lawn,

Botanic Gardens

Swap a can of food for

a free Resene testpot!

Bring a can of food into your local Resene owned

ColorShop and we'll give you a FREE Resene

testpot (worth up to $5.60). All cans of food will

be donated to local Salvation Army and community

foodbanks to give to Kiwi families in need.

So start gathering up those cans and bring them

into your local Resene owned ColorShop.

Limit of 7 free testpots 60-80ml per household. Maximum of 1 testpot per

Resene colour. Food can must be at least 200ml/gm of food or more. Hunger

for Colour runs from 1-28 February 2019 or while testpot stocks last. See

details in store or online.
---
The Star Latest Christchurch news at www.star.kiwi

Thursday February 7 2019 11

free UnderLAY *

FREE no obligation measure & quote

(conditions apply)

February

*

on seLected ProdUcts, conditions APPLY

Q Card Finance Now Available

Ruby Bay

• 75 oz Solution Dyed Nylon

• 3 Colours

free

UnderLAY

Vega Vinyl Planks

3 Colours in stock

$233.00 Per BLM

Grange Fell

• 50 oz

• Solution Dyed Nylon

• Extra Heavy Duty

• 5 Colours

$139.90 Per BLM

Windsor Twist

• Extra Heavy Duty

• 36oz Solution Dyed Nylon

• 11 Colours

$119.90 Per BLM

Newport

• Commercial Heavy Duty

• Solution Dyed Nylon

• Loop Pile

• 5 Colours

$109.90 Per BLM

free

UnderLAY

free

UnderLAY

free

UnderLAY

now $29.90PM 2

Vinyls

2m & 3m wide

2M wide froM $29.90LM

3M wide froM $50.00LM

Garage Carpet

6x6m, Fully installed

now $850.00

312 Wilsons Road North, Waltham Phone 366 0070

Mon to Fri 8am-5pm and Sat 10am-1pm

Check out our website! www.carpetkingdom.co.nz
---
12

Latest Christchurch news at www.star.kiwi

Thursday February 7 2019

Our People

The Star

Simon Moore

Murders, pubs, V8s and a quarry

Vocal opponent of

the Fulton Hogan

quarry near Weedons

Simon Moore has seen

the lowest society has

to offer. The 56-year-old

former police detective

talks to Anan Zaki

about the many hats

he's worn over the years

Tell me a bit about your life

outside of campaigning against

the proposed quarry near

Weedons?

I'm a company director in

an immigration company. So

I'm a licensed immigration

adviser. I've been doing that

with this company [e-Migration]

since 2005 and we're based in

Burnside.

Other things I'm involved in –

I'm the president of the Waitaha

Swim Club in Hornby and I'm

a board member of Swimming

Canterbury West Coast.

What does your job as an

immigration adviser involve?

We're licensed to give

immigration advice on New

Zealand immigration. So we

don't do outward or other

countries.

NEED FOR SPEED: Weedons Residents' Association member and former detective Simon

Moore with his V8 Ford Mustang and his dog Bart.

PHOTO: MARTIN HUNTER

Our client base goes from

people wanting to visit New

Zealand right through to

assisting companies to get visas

for their staff.

You used to be a police

officer, when did you serve

and what was your role?

I was a detective, and when I

left the police I was a detective

sergeant based in Christchurch

for most of the time. I served

between 1983 and 1999.

What made you want to

become a police officer?

It was one of those boyhood

things. I had worked on dairy

farms and I didn't mind that.

My uncle was a policeman in

Oamaru and just talking to him

and looking at career options,

I decided to join the police. I

worked full time on dairy farms

for about 18 months before I was

accepted into the police at 20.

What were some of the

notable cases that you worked

on?

Kirsty Bentley was the last one

I worked on. That's still in the

newspapers. It's a cold case now. I

was brought in after her body was

found up in the Rakaia Gorge. I

was brought into review that part

of the investigation, which meant

that I lived in Methven for about

two months.

Was it a difficult time with the

attention on the case?

It was intense, but it was also

disappointing that we couldn't

resolve that for the family. About

a year or so before that I was

involved in the [Marlborough]

Sounds homicides as well and I

lived in Blenheim for six months

and hardly got a day off. That's

still controversial and still people

ask me about that. It never leaves

you, even though you left the

police in 1999. People still want

to know about both those cases

because there was a lot of public

interest in them.

Palms Dental

Centre

All aspects of dentistry

• Cosmetic dentistry

• Wisdom teeth extraction

• IV Sedation for nervous

patients (sleep dentistry)

Ph: 385 1466

Online bookings:

palmsdentist.co.nz

25 Marshland Rd, Shirley

Open 6 days + evenings

Smirnoff

Vodka

or Gordon's

Gin 1 Litre

34 .99

each

Cody's 7%

250ml 12 Pack Cans

19 .99

pack

Oyster Bay

(excl Pinot Noir &

Sparkling) or Church

Road 750ml (excl

McDonald Series

& Reserve)

15 .99

each

Speight's Gold Medal

Ale or Summit Lager

330ml 15 Pack Bottles

23 .99

pack

Drain laying

New Builds

Renovations

Excavation

The Pooman does it all!

We are licensed master drainlayers who have the

expertise to get the job done right.

As Christchurch-based drainage contractors we

fully understand all the red tape involved with

building consent and can advise accordingly.

Chatelle Napoleon

Brandy 1 Litre

35 .99

each

Vodka Cruiser 7% 250ml

12 Pack Cans or KGB

275ml 12 Pack Bottles

20 .99

pack

Famous Grouse Bacardi White or

Whisky 1 Litre Oakheart Rum 1 Litre

36 .99

each 39 .99

each

Jim Beam Gold 7%

or Canadian Club 7%

250ml 12 Pack Cans

22 .99

pack

OXFORD

FARMERS MARKET

Every Sunday 9am – 12 noon

Support and enjoy

your local market

2120985

Enquiries to

info@oxfordfarmersmarket.co.nz

Further information

www.oxfordfarmersmarket.co.nz

Billy Maverick 7%

250ml 18 Pack Cans

28 .99

pack

www.oxfordfarmersmarket.co.nz

AN AUTHENTIC

FARMERS MARKET

WHERE THE SELLER

IS THE PRODUCER.

Wide range of local cheeses,

free range eggs, fish, honey,

baked bread, cut flowers, meats,

Maker's baking, Mark fruit

Tanqueray

and vegetables,

Gin Chivas Regal 12YO

Bourbon plants, 700ml organic vege 1 Litre seedlings, Whisky 700ml

preserves, breakfasts and coffee.

44 .99

each

OPEN EVERY 45 .99

each

SUNDAY 46 .99

each

IN OXFORD'S MAIN

STREET 9AM-NOON

EFTPOS available. Enquiries to:

info@oxfordfarmersmarket.co.nz

www.oxfordfarmersmarket.co.nz

Deep Creek Lupulin

Double IPA or

Coromandel Gold

IPA 440ml Can

7 .99

each

www.henrys.co.nz CHRISTCHURCH: AVONHEAD • BARBADOES ST • BISHOPDALE • HOMEBASE SHIRLEY • HORNBY • MOORHOUSE AVE •

PARKLANDS • ROLLESTON • TOWER JUNCTION • WOOLSTON • YALDHURST • TIMARU: HIGHFIELD MALL • NORTHTOWN MALL • RANGIORA • KAIKOURA •

GREYMOUTH • QUEENSTOWN: CENTRAL • FRANKTON • CROMWELL • ALEXANDRA • DUNEDIN • NELSON: RICHMOND

Henry's encourages safe & responsible use of alcohol. Shout prices run from Monday 4th February until Sunday 17th February 2019 or while stocks last.

Emerson's

330ml 6 Pack Bottles

20 .99

pack

SURF'S UP SCOTTY RAZOR ROBERTSON PROFILE

APRIL 2018

TJ'S

CHASING

ONE

GREAT MORE

COVER

The power

LINE

of Perenara

SUPER

RUGBY'S

G.O.A.T

CORY JANE

Social Media Animal

PLUS...

+

RRP $9.95

KEEPING Chief

WHO

TABS ON Tabai's

MATSON Tron tribe

Jameson Irish

Whiskey 1 Litre

48 .99

each

Corona 355ml

12 Pack Bottles

26 .99

pack

6 issues (1 year) $44.50

12 issues (2 years) $79

18 issues (3 years) $115

Jim Beam White

Bourbon 1.75 Litre

62 .99

each

Heineken 330ml

15 Pack Bottles

29 .99

pack

1ST XVs

PLAY LIKE PROS

Diesel 7% 330ml

6 Pack Cans or Gordon's

Gin & Tonic 7% 250ml

4 Pack Bottles

12 .99

pack

DB Export Gold,

Draught or Tui

330ml 24 Pack Bottles

34 .99

pack

Collect Fly Buys or Airpoints for every $20 spent.

CALEB

CLARKE

Chip off the

old block

A school boy rugby

investigation

SUBSCRIPTIONS FREEPHONE

0800 77 77 10

rugbynews.co.nz

WHO WILL

MAKE THE

AB CUT?
---
The Star Latest Christchurch news at www.star.kiwi

Thursday February 7 2019 13

– life isn't quiet for former cop

Do you believe justice was

served in the Sounds murders?

Yeah I do, no doubt at all.

I've heard all the theories, I've

heard everything. We lived and

breathed that [investigation] for

six months, it was a huge amount

of time and in those six months I

think I got two or three weekends

off. We were working 14-15 hours

a day. So if anyone thinks there

wasn't a lot of work put into that

they're very wrong.

Did you enjoy police work?

Of course. You've got to be

extremely dedicated and working

on an inquiry, whether it would

be Blenheim or Ashburton, it

takes you away from your home

and your family. I didn't have

children at that stage, but I was

working with guys that did. It's

hell of a hard on them and I don't

think people realise that.

Why did you leave the police?

In 16 years I saw a lot of things

and I guess that while I was

still young enough, I thought I

had done a lot in the police and

I felt it was time for a change

in scenery so I ended up being

a publican. I had the Madeira

Hotel in Akaroa for a couple of

years.

So you became a publican,

that's a bit of a change isn't it?

HIGH PROFILE: Former detective Simon Moore worked on cases such as the Marlborough

Sounds murders of Ben Smart and Olivia Hope, and the murder of Ashburton schoolgirl Kirsty

Bentley.

The thing about the police is

that it can become very negative.

A lot of the time you're dealing

with the very negative side of society

and you're seeing tragedies.

You're having to tell people that

their loved ones have been killed

and over 16 years that can take its

toll. People that have been in the

police for 30-40 years, well they

have got my admiration. They

deserve a medal. The thing about

becoming a publican is that I saw

a slightly different side to people.

Some good and some bad, but the

police career gives you a pretty

good grounding to deal with people.

You get to know a lot about

people in the police. It gives you a

really good grounding to understand

how people work and those

connections you make in the police

are lifelong connections. My

business partner [at e-Migration]

is an ex-police officer. Immigration

officers are ex-police officers,

you bump into them all the time

and they all remember you.

What were some highlights of

being a publican in Akaroa?

I knew what to expect from

people who couldn't handle their

alcohol because I've dealt with

that plenty of times. But Akaroa

itself was a fantastic place to live.

A small population of locals, but

a huge population of Cantabrians

with holiday homes. So on the

weekends the place would just

swell with people from Christchurch

and when they went away it

was just your local people. I could

still be living there, but I was

made an offer for the pub and

I couldn't refuse it. It's bloody

hard work being a publican.

Particularly in a small town that

increases five times in size in the

weekends. Trying to find staff,

trying to please everybody and

keep within the law making sure

people aren't drink driving, you

take that responsibility quite

heavily. As soon as I got there I

bought a courtesy van so that we

could get people home safely. To

be honest at the start there was a

bit of a sideways look from those

people who were perhaps a little

wayward of the law. But when

they found out I was there as a

publican and not a policeman it

was all good. •Turn to page 14

FISHER ALUMINIUM
---
$7.90 incl. GST

14

Thursday February 7 2019

Our People

Latest Christchurch news at www.star.kiwi

The Star

Moore takes on next challenge

•From page 13

Was it after that you became

an immigration adviser?

After two years of living and

breathing [being a publican]

you need a bit of time out and I

thought I'd have a few months

off. But I got to about six weeks

and I was so bored, I saw an ad in

the paper for what they used to

call an immigration consultant

with a big company. I applied for

it and the guy from Wellington

who interviewed me was an

ex-cop, so I got the job. I started

off as a consultant for them for

about six months and after the

six months we got the business

running so well that they decided

to start a branch, I ran that for

a couple of years and went back

to becoming a publican again in

Hanmer Springs of all places.

Where in New Zealand are

you originally from?

Born and bred in Christchurch.

The suburb I was brought up

was in Bishopdale, went to

Christchurch Boys' High School.

I lived two years in Timaru after

I left the police. When I came

back from Timaru, I lived in

that Bishopdale area again and

then Templeton in the early

1990s because I was working

in the Hornby police station as

detective. I threw my name in

Popular

T008 Model

$269

the hat for a detective sergeant's

role after just having moved to

Templeton and I got that role and

it was in New Brighton. I couldn't

turn the job down because I put

my name in the hat, so I had

to commute backwards and

forwards everyday.

You own a 2010 Ford

Mustang, have you always been

into performance cars?

Yeah I am, I've always been a

V8 man really. I've always liked

those classic V8s and particularly

Mustang, out of the lot of them.

I was lucky enough to be able to

buy one in 2017. I bought it in

Christchurch Showroom

13b Parkhouse Rd, Wigram

Vanity Range 20% OFF

Open 6 Days Mon-Fri 9am - 5.30pm | Sat 9.30am - 4pm

0800 MILLEN | www.millen.co.nz | 03 348 8678

Auckland when I was up there

for a meeting, went and had a

look at one, liked it so much I

bought it and drove it home.

Much to my wife's – I wouldn't

say disgust – but surprise.

Tell me a bit about your

family?

I'm still married [to Tina],

some people would say luckily

sometimes, particularly her.

Both of my daughters attend

Lincoln High School, that's the

connection of the swimming side

of things. Both of them [Sophie

and Holly] swim competitively.

I do a lot of officiating at swim

New

Whirlpool Flush

T027 Model

$499

Extra High

BTW Style

OPPOSED:

Simon Moore

has been

campaigning

against a

proposed

Fulton Hogan

quarry near

Weedons.

meets, I'm a trained official. It's a

very busy life I have to say.

How did you meet your wife,

Tina?

Oh crikey. It was way back

in the dairy farm days actually.

The farm I used to work on [in

Springston South], her father

managed the place and we sort of

worked together and we knew the

family and it just went on from

there basically.

Did you move to Weedons

recently?

We bought our place in

Weedons just before we

moved back to town from

Be mobile

independent

and safe

Buy a reliable Pegasus Pro Scooter

with guaranteed customization, backup

and superior after sales service.

• We come to you

• FREE home trial

• DASH board controls

put you in charge.

Visit us 29 Shakespeare Road, Waltham

Open Mon – Fri 8:30am – 5pm

03 366 8815

www.mobilitysystems.co.nz

Akaroa in 2001.

What spurred you onto

advocating for something like

the proposed quarry?

I've advocated for things all

my life if you look at the police

side of it. The thing that got me

annoyed and concerned is that

when I bought at Weedons, it

was surrounded by farms and

horse training stables. When we

went there we knew we would

get planes going overhead. We

accepted that. We knew Ruapuna

Park was not far away and when

the north east wind is blowing

and they've got events there we

can hear them quite clearly. We

knew that when we moved in

there.

We've got prisons around

us, halfway houses for youth

offenders, we knew all that

when we moved in and we

accepted that. But we never had

a quarry. I never in my wildest

dreams thought that they

would contemplate putting a

quarry between Templeton and

Weedons. The thing that disturbs

me the most is the more I look

into this the more I can see that

we are so far behind the rest of

the world. India and Pakistan,

for example, have 1km setback

rules. We don't have anything

like that.

Call in or make

a booking for a

free no obligation

assessment of

your needs.

All models

available

in a range

of colours.

growing with you June 2018 | 100%

Plants For

winter wow

Cool Choices

For Colour

& Contrast

Snap it up

Enter our annual

Birdlife Photo

Competition to win

great prizes!

clear the air

Why groWing

indoor PLAnTs is

so good for you

The magazine for

gardeners who like to get

their hands dirty

From swamp

to sea views

The journey

begins with sarah

the Gardener

give it a grow

from gArLic

To chinese

ArTichokes,

We hAve your

groWing TiPs

covered

the latest releases

into the rose world

+ rose care

through winter

SUBSCRIBE FROM

$43. 50*

*6 issues/6 months

SUBSCRIPTIONS FREEPHONE

0800 77 77 10

WWW.GARDENER.KIWI
---
The Star Latest Christchurch news at www.star.kiwi

Thursday February 7 2019 15
---
16 Thursday February 7 2019

Latest Christchurch news at www.star.kiwi

The Star

ALL-NEW DISTRIBUTOR OWNED

DEALERSHIP MOVING TO CURRENT

BMW DEALERSHIP FROM FEB 2019.

30 Manchester St, Christchurch

MOVING SALE

NOW ON!!!

OVER 80 NEW & USED CARS, SUV'S, UTES

AND COMMERCIAL VEHICLES AVAILABLE.

SAVE THOUSANDS!

FINANCE ON-SITE • TRADES WELCOME

Christchurch SsangYong & LDV | Phone: 03 379 4999

374 Moorhouse Avenue, Christchurch
---
The Star Latest Christchurch news at www.star.kiwi

Thursday February 7 2019 17

Vittoria's age of mischief

I HOPE everyone has enjoyed

their Waitangi Day break – our

only truly national holiday.

That is until we all realise that a

national holiday in winter – like,

say, for Matariki – would actually

be quite nice.

I've lost my mouse. My

computer mouse that is. Well, I

say 'I lost it', but really someone

small and cute found it, took it,

and put it somewhere safe. Or

under something. Or behind

something. Or in something.

I mean, she can't eat it, I

don't think. Turn your back to

Vittoria's actions and she'll get up

to some sort of mischief without

fail. Age and stage, right?

Either way, it's made writing

this slightly difficult. I use

a laptop and am the kind of

person who can accidently wipe

his computer by touching that

bloody mouse pad. Just got to

persist and deal without it for

now.

That's one way to remind me

to be on my toes as to things

around Vittoria. Considering

her mischief abilities, I'm equally

impressed by Laura's and my

persistence in keeping all her

pyjamas, bibs and socks neatly

folded and stacked on a shelf in

direct line of fire. I think we've

both re-folded and re-stacked

GUILTY: Vittoria caught in

the act of mischief.

that shelf 100 times. She'll grow

out of it eventually, either that

or we'll buy another drawer or

something.

It's hilarious when you catch

her in the act of mischief, she

usually shoots over a sly look

while slowly continuing to do

whatever it is you're telling her

'no' about.

VITTORIA

& Matt

If you catch her "borrowing"

something, she generally giggles,

tries to hide it behind herself and

then runs off. Sometimes too

fast and she falls over, making it

funnier. Or immediately sadder.

She is so adorable that it's hard

to be angry mostly. Unless it's the

10th time that day. Then it's time

for a recharging cuppa.

Beyond renewed assaults

on folded clothing, this week

also saw Vittoria and I start

at her first toddler-focussed

activity, Shimmy Shakers, at the

Phillipstown Community Hub

on Monday. She really enjoyed

herself, I could tell because even

though she abandoned me to go

play with the cupboards with a

new friend as it started, she came

back all smiles soon after and

stayed for the rest.

•Former Star Media

journalist Matt Salmons has

become a stay-at-home

dad. We follow his journey

weekly.

THOUSANDS OF fish have

been moved in the Heathcote

River as work continues to

reduce its risk of flooding.

In the three months to

January 24, 3623 fish were

moved upstream, including 531

shortfin eels, 76 longfin eels, 153

whitebait, 2717 common and

giant bullies and three black

flounders.

About 20,000 tonnes of

sediment has been removed

before more dredging begins

later in the year after the

whitebait spawning season.

The dredging work is being

carried out between Opawa

Rd and the Woolston Cut (an

engineered channel) under the

city council's land drainage

recovery programme.

Stage one of the in-river

work – from Radley St to the

Woolston Barrage – has been

completed, with the barge due to

be removed this month.

Work is also well advanced

on stage two from Opawa Rd

to Radley St. Contractors will

dredge a section of stage two

Local

News

Now

Fire rages, homes at risk

Fish moved to start

flood reduction work

in Heathcote River

upstream of Radley St from

Clarendon Tce this month using

a long-reach excavator, operating

from the bank.

City council land drainage

manager Keith Davison said the

work is already having a positive

impact on the environment.

Dredging will restart on

June 1 from both sides of the

river – between Clarendon

and Richardson Tces – and is

expected to continue until later

this year. The river will be closed

to recreational use in the work

areas because of safety issues

and sediment controls.

Single-lane traffic controls will

also be introduced to manage

truck access. A final bank

tidy-up and landscaping will be

completed along Richardson

and Clarendon Tces following

the completion of the stage two

work, with planting in May-June

2020.

Planning and design for the

third and final stage of dredging

from Beckford to Opawa Rds

is under way, with on-site work

expected to start later this year.

Canterbury

Mornings

with Chris

Lynch.

Christchurch

100.1 FM

9AM – 12PM WEEKDAYS

NEWSTALKZB.CO.NZ
---
18 Thursday February 7 2019

Latest Christchurch news at www.star.kiwi

The Star

Explore Vietnam

and Cambodia

Highlights of Vietnam

10 day - Private Tour

FROM: HO CHI MINH CITY TO: HANOI

from

$ 2,799pp

Discover Vietnam &

The Mekong Waterway

20 day - Small Group Tour

FROM: HANOI TO: SIEM REAP

from

$ 6,855pp

Save

$

385 pp

share twin. *International airfares are additional.

Travel: 02 May-30 Jun & 22 Aug-30 Sep 19

Ideal for those with less time who want to see the highlights

of the country in style, this deluxe 10-day private tour will

give you a great appreciation of Vietnam. Departing from Ho

Chi Minh City, explore the metropolis and its key attractions.

Move on to Hoi An to gain an insight into this ancient town.

Travel the Hai Van Pass to Hue, visiting the Imperial Citadel

and Khai Dinh Tomb. Fly to Hanoi for an overview of the city

before transferring to Halong Bay for an overnight cruise.

End the tour back in Hanoi.

share twin. *International airfares are additional.

Travel: 26 Jun-18 Sep 19 (on set tour departure dates)

This 20-day small group tour is designed to show

the best of Vietnam. Start in Hanoi, travelling south

covering key destinations before embarking on a

majestic 7-night luxury river cruise of the Mekong Delta

whilst cruising into Cambodia. Soak up the vibrant

atmosphere of the energetic cities before changing pace

as the rural regions are explored. On board the boutique

ship, relax and admire the scenery with excursions

along the way.

The best holidays are created together. HOT.CO.NZ

BARRINGTON 331 7182 I CHRISTCHURCH CITY 365 7687 I FERRYMEAD 376 4022 I HIGH ST LANES 339 3440

HORNBY 344 3070 I MERIVALE 355 2200 I NORTHLANDS 352 4578 I RANGIORA 313 0288 I RICCARTON 341 3900

SHIRLEY 385 0710 I UPPER RICCARTON 343 0869

CONDITIONS: Valid for new bookings only. Valid for travel as specified above and for sales to 28 Feb 19. Prices are per person in New Zealand dollars. International airfares are

additional. A non-refundable NZD250 per person deposit is required at the time of reservation with full payment required no later than 42 days prior to departure. Discover Vietnam

& The Mekong Waterways: Guaranteed departure applies as soon as 2 people are booked on this tour. Advertised price includes the savings

as stated above. Discount applies to the tour price only and not the additional single supplement rate. Prices are correct as at 22 Jan 19 but

may vary due to currency fluctuations and are subject to change without notice due to unforeseen circumstances until paid in full. Close-outs

and surcharges may apply. Cancellation and amendment fees apply. Airfares, Vietnam and Cambodia visa, travel insurance, departure taxes,

gratuities and any other personal expenses are at passenger's own expense. For full terms and conditions please visit www.activeasia.co.nz.
---
The Star Latest Christchurch news at www.star.kiwi

Thursday February 7 2019 19

Water: Our 'precious resource'

WHAT HAPPENS when a

community group challenges a

resource consent through the

courts?

I guess the first thing that

happens is that costs can mount

very quickly and there is no

guarantee that they will recover

those costs if the challenge is

successful.

City councillors have been

watching with interest the action

taken against the Environment

Canterbury decision to allow the

transfer of old consents to take

water to a new owner for a new

purpose – water bottling.

Leaving aside all of the

sustainability issues around

producing thousands of plastic

bottles every week, the water

allocation is exhausted in this

area, so new consents need to be

declined.

The question a lot of us are

asking is why it's okay for

these consents to be soaked

up by simply purchasing the

land (at inflated prices due to

the consent), even though the

uses and quantum used are

completely different?

The community group won

the initial High Court hearing

on a preliminary legal question

of whether there was any need

Mayor

Lianne Dalziel

to change the original resource

consents at all. The High Court

confirmed that either new or

varied resource consents to

take water for water bottling

had been needed. The consentholders

have now appealed that

preliminary legal question to the

Court of Appeal.

We believe the outcome of this

case is very important to the city

as a whole, and we are looking

at how we can support it. They

have crowd-sourced the amount

required to date, and will start

another campaign in a few

weeks. I support this approach.

However could we provide more

direct help? If the preliminary

decision of the High Court is

upheld, and the community

group then succeeds with its

main claim, it will help limit

water takes from the aquifers.

Our water is a precious

resource. It may not be owned by

anyone, but it belongs to us all.

•If you want to ask Ms

Dalziel a question, email

mayor@ccc.govt.nz. Put

Reader's Question in the

subject line.

Woolston village

upgrade criticised

• By Matt Slaughter

CONCERNS HAVE been raised

after a proposal to upgrade the

Woolston Village Centre was

green-lighted.

The decision was made at a

Linwood-Central-Heathcote

Community Board meeting on

Monday and the project will

now be brought to city council

for final sign-off. The project to

transform the centre, which runs

down Ferry Rd, will result in the

loss of 14 on-street car parks.

The original 2016 Woolston

Village Centre upgrade proposal,

which did not go ahead, would

have resulted in the removal of

48 on-street car parks.

In spite of the new plan reducing

this number, Woolston

Pharmacy owner Simon Payne

said business owners and shoppers

will still be worse off if these

parks are lost.

"It definitely is negative for our

customers. It will be negative for

the whole shopping area, really."

"If you don't have car parks

that are convenient, then people

are just going to drive on by."

From a pharmacy's point of view,

we get a lot of people who are

injured, immobile, or have low

mobility due to long-term health

conditions . . . it is very inconvenient

if they can't park nearby

where they want to go." ​

Mr Payne said a petition to

keep the car parks, started by the

pharmacy late last year, received

more than 1000 signatures in

one week.

The project will also involve

the planting of trees and plants

around the village, and new footpaths

and street furniture.

Linwood-Central-Heathcote

Community Board member

Brenda Lowe-Johnson said

she has concerns about the kauri

trees which would be planted.

"Kauris are a North Island

tree, they don't belong to

the South Island and they don't

grow here very well. I'm not very

happy about that either because

it's a waste of money having

something that's not going to

grow properly."

The city council is expected

to decide in the next six weeks

whether the project will go

ahead.

Have beautiful feet again

with Lunula Laser

Exclusive to Footprints Podiatry

Painless treatment for Toenail

Fungus or Onychomycosis

No side effects

93% clearance rates (may vary)

0% interest finance available

GET A

TRADE

WITH PASIFIKA

TRADES TRAINING

BEFORE

AFTER

If you're Pasifika and between 16 and 40,

you can get trades skills for FREE through

the Pasifika Trades Training programme at Ara.

A Pasifika support team will mentor and guide you

throughout your training to help you gain valuable

skills that can earn you good money and create a

great life for you and your family.

7 Milton St, Somerfield, Phone 332 9792

footprintspodiatry.co.nz Bookings EssEntial

Apply now.

ara.ac.nz/pasifika
---
20 Thursday February 7 2019

Latest Christchurch news at www.star.kiwi

The Star

NOVARA 900

WALL VANITIES

NOVARA 900

WALL VANITIES

.67 CORONET

BEECH

WILDERNESS

.73 FIORDLAND

ELM

WILDERNESS

.77 FRENCH

OAK

VELVET

.11 DEZIGNA

WHITE

GLOSS

Vanities ex stock

while stocks last.

Established 1875.

Oakleys –Creating beautiful

bathrooms for over 140 years

CHRISTCHURCH 305 Cashel St, Ph 03 379 4750 DUNEDIN 46 Timaru St, Ph 03 466 3600 NELSON 68 Gladstone Rd, Ph 03 544 9392 www.oakleysplumbing.co.nz
---
The Star 21

Local

Readers' photos

News

Now

Latest Christchurch news at www.star.kiwi

Thursday February 7 2019

Fire rages, homes at risk

WINNER: Anastasiya

Korzh, Waltham.

If you want to win a double movie pass – get

clicking. Each week The Star will give

away a double movie pass to the best

photo sent in by a reader. Send

your photos to martin.hunter@

starmedia.kiwi. Put 'photo

competition' in the subject

line and include your name,

address and phone number

HANDSTAND: Kelly Purdie, Hei Hei.

ALL IN:

Henry Tseng,

Broomfield.

Right – Katie

Ranger,

Hornby.

SUNSET BLISS: Jane Hickling, Rolleston.

BRODIE

& FITZY

SWITCH IT UP

WEEKDAYS 6 – 9AM

97.7

thehits.co.nz
---
22 Thursday February 7 2019

Latest Christchurch news at www.star.kiwi

Each number in our DECODER grid represents a different

letter - there is a number for all 26 letters of the alphabet.

Enter the given letters into all squares with matching numbers.

The challenge now is to work out which letters are represented

page by 33the other numbers. As you get the letters, enter them into

the main grid, and the reference grid. To keep track of the

letters you have found, cross them off the alphabet provided.

Puzzles

•Solutions,

4 14 12 15 11 20 13 23 3 20

5 14 16 26 13 14 7 15 6

G I N

15 6 2 18 26 14 6 21 20 5 3

180

22 5 7 17 6 14 18 22

Local

News

Now

The Star

Fire rages, homes at risk

CROSSWORD

CHRISTCHURCH

CREMATORIUM

FUNERALS

1 2 3 4 5 6 7

8 9

10 11

12 13 14 15

16

17 18 19 20 21

22 23

24 25

©THE PUZZLE COMPANY

Across

1. Embarrassed (7)

5. Hurl (5)

8. Indicator (7)

9. Banal (5)

10. Thrust (5)

11. Component (7)

12. Ebb (6)

14. Come to rest (6)

17. Fussy (7)

19. Outdated, no longer stylish (5)

22. Beer mug (5)

23. Stretch out (7)

24. Gangling (5)

25. Devalue (7)

80

Down

1. Horrify (5)

2. Foreign (5)

3. Reckless, impetuous person (7)

4. Overshadow (6)

5. Designation (5)

6. Garb (7)

7. Grapple (7)

12. Rejection (7)

13. Worry (7)

15. Detonate (7)

16. Short-sighted (6)

18. Shrewd (5)

20. Pry (5)

21. Incite (3,2)

14 5 20 23 23 26 14 12 14 23 20

SUDOKU

26 22 22 23 18

13 14 12 18 20 22 19 20 18 3 4 10

20 5 13 8 5

15 18 15 9 26 3 5 22 20 25 15

1 15 14 26 6 15 1 23

15 20 15 6 23 15 12 15 3 26 23

6 20 24 14 23 20 14 5 26

7 14 7 15 7 20 13 10 1 14

A B C D E F G H I J K L M N O P Q R S T U V W X Y Z

1 2 3 4 5 6 7 8 9 10 11 12 13

N G

14 15 16 17 18 19 20 21 22 23 24 25 26

I

SOLUTION

No.179

1 2 3 4 5 6 7 8 9 10 11 12 13

Q K R H O A P D M N Y G V

Every row, column and box

W B X should L Econtain Z the Udigits J1 to C9.

F S T I

14 15 16 17 18 19 20 21 22 23 24 25 26

WORDBUILDER

DECODER

Each number represents a

different letter of the alphabet.

Write the given letters into

all squares with matching

numbers. Now work out which

letters are represented by the

other numbers. As you get the

letters, write them into the main

grid and the reference grid.

Decoder uses all 26 letters of

the alphabet.

RMSPI

How many words of three or more letters can you

make, using each letter only once? Plurals are

allowed, but no foreign words or words beginning

with a capital. There's at least one five-letter word.

Good 8 Very Good 10 Excellent 12

Summerset at

Avonhead

Visit us at our sales office, open 7 days.

Shop 10, Avonhead Mall, Merrin Street.

New homes selling now.

0800 SUMMER (786 637)

summerset.co.nz

SUM1396_9x8
---
The Star Latest Christchurch news at www.star.kiwi

Thursday February 7 2019 23

GREAT food

BROUGHT TO YOU BY...

Your fresh food people

PEACH, APRICOT AND

BLUEBERRY COBBLER

Ingredients

Cobbler crust

1 cup all-purpose flour

1/2 cup rye flour

1/2 cup cornmeal

1 Tbsp baking powder

1 Tbsp sugar

1/2 tsp salt

3/4 stick of very cold butter, cut

into bits and rechilled for 10min

1/2 cup milk

1/4 cup mascarpone, plus more

for serving

Cobbler filling

3 peaches, pitted and sliced into

1cm wedges

2 apricots, pitted and sliced into

1cm wedges

1 cup blueberries

1 Tbsp sugar

1 Tbsp cornstarch

1 Tbsp cherry liqueur

Zest of one lemon

Pinch of freshly ground black

pepper (optional)

Directions

Preheat the oven to 190 deg C

with the baking rack positioned

in the middle. Butter and set

aside a baking dish.

In a large bowl, whisk together

the flours, cornmeal, baking

powder, sugar, and salt. Drop in

butter and using your fingertips,

toss the butter pieces with the

flour until coated. Rub the butter

into the dry ingredients until you

have small-sized pieces of butter

throughout.

In a small bowl, whisk together

the milk and the mascarpone

until well combined. Pour the

milk-mascarpone mixture over

the dry ingredients and mix with

a fork until you get a very soft

dough. At this point, you will

probably still have dry bits of

dough at the bottom of the bowl,

which you can incorporate using

your hands or a spatula.

Roll the dough out between

two pieces of parchment paper

until it's roughly the shape and

size of your baking dish. Chill

the dough until ready to use –

while you prepare the fruit.

In a large bowl toss all the

filling ingredients and stir gently

to mix. Turn the fruit into the

buttered dish and top with the

biscuit dough. Using a small,

sharp knife, cut six slits in the

dough, just as you would for a

pie crust. Using the same knife or

a cookie cutter, cut a circle out of

the center of the dough. Bake the

cobbler 50-65min, or until the

top is puffed and golden brown

and the fruit is bubbling through

the center hold. Cool the cobbler

on a cooling rack for at least

30min before serving. Serve

warm or at room temperatures

with a dollop of mascarpone.

PORTERHOUSE WITH CAPSICUM, COURGETTES

Ingredients

1/2 cup extra virgin olive oil

2 Tbsp fresh lemon juice

1 Tbsp red wine vinegar

1 Tbsp Dijon mustard

1 Tbsp chopped oregano

Salt and freshly ground pepper

2 courgettes, sliced on the

diagonal 2cm thick

1 red onion, sliced 1cm thick

1 red sweet pointed capsicum,

cored and quartered

100-120g mushrooms, stemmed

400g asparagus

1 scallion, roots trimmed

2 porterhouse steaks, about

400g each

Directions

In a small

bowl, whisk

the olive oil

with the lemon

juice, red

wine vinegar,

mustard and

oregano and

season with salt

and pepper.

Transfer half

of the dressing

to a large

bowl. Add the

courgette, onion, capsicum,

mushrooms, asparagus and

scallion. Season the vegetables

with salt and pepper and toss.

In a perforated grill pan, grill

the vegetables over high heat,

tossing, until charred in spots.

Return to the bowl, add the

remaining dressing and toss.

Season the steaks generously

with salt and pepper. Grill the

steaks over high heat, turning

occasionally. Transfer the steaks

to a carving board and let rest

for 5min. Slice the meat from

the bones and serve with the

grilled vegetables.

At

we have...

.99

kg

.99

kg

2 .00

.99

punnet

.99

kg

c

Large Yellow Peaches...................................................................................................................... 3

Central Otago Apricots ............................................................................................................... 3

Large Avocados .......................................................................................................................2 for

Blueberries ............................................................................................................................................................ 1

Courgettes ............................................................................................................................................................... 2

Red Sweet Pointed Capsicums ..........................................................................................79

Beef Porterhouse Steak ........................................................................................................ 19

Lamb Shoulder Chops ............................................................................................................... 12

Plain or Crumbed CHICKEN

Tenderloins ................................................................................................................................................... 11

Havoc Free Farm Pork Leg Steaks ......................................................................... 9

each

.99

kg

.99

kg

.99

kg

.99

KG

All our fresh meat is 100% NZ FARMED.

specials VAlid 4th FEBRuary - 10th FEBRuary 2019. ONLY AVAILABLE AT

RAEWARD FRESH HAREWOOD RD, TOWER JUNCTION.

harewood rd open 7 days a week. Shop: 8.00am–6.30pm cafe: 7am–4pm

Tower junction Mon–Fri 8.00am–7.00pm Sat–Sun 8.30am–6pm

WWW.

.CO.NZ
---
1

1

A Star Media Event

24 Thursday February 7 2019

Latest Christchurch news at www.star.kiwi

The Star

2

Star Media

CITY2SURF

WEEK 4: Upping the pace

This week we will step it up a bit more. The

beginners group will progress to the stage

that most of the walking is replaced by

slow jogging and the intermediate group

are starting to incorporate some efforts in

zone 2. Remember that zone 1 is perceived

as an easy effort which you can maintain

for very long periods of time. In zone 2

you will get slightly puffed but you can still

have a conversation. You go from jogging

in zone 1 to a proper running movement

in zone 2 with the main difference being

that zone 1 has a slower rhythm, staying

low to the ground where as zone 2 brings

extra spring in your step combined with

an increase in leg turnover (stride rate).

The intermediate group introduces zone 2

pace as 2 minute repetitions alternated by

2 minute easy jogging. Zone 2 to 3 will be

the recommended pace for the City to Surf

event for the intermediate group while the

beginners will mainly stay in zone 1 and 2.

The difference between walking and jogging

is not only decided by the rhythm of the

movement but also how and where you land

your feet. When jogging most efficiently

you land on your mid-foot under the centre

LEVEL THURS OR FRI SUN TUE WED

Beginner 14KM

jog/Run

Intermediate

14KM

6KM Jog/Run

6KM/ 14KM

Walk

20min jog

continuously

30-40min easy jog

with 3x2min Z2

alternated by 2min

Z1 in the middle

20min jog

continuously

6KM 25mins

14KM 50mins

(both light)

30min jog/2min

walk/14min jog)

40-50min

easy jog

30min (14min

jog/2min

walk/14min jog)

6KM 20mins

14KM 40mins

(both mod)

with Les Mills

Sunday

It's our

SUNDAY

45th

Anniversary Year!

Year!

24 MARCH March 18

14km, 6km Community Fun Run Event

#Areyouupforit? www.city2surf.co.nz

of gravity of the body, which, in the upright

position, is located in the pelvis just behind

the midline of the body. With a slight forward

lean of the body you can use gravity to pull

you forward while your legs keep you upright

and push you in a forward direction. Walking

is done in a more upright position and most

of us land on our heel first and roll over the

outside of our foot before pushing off with

our forefoot. It helps to keep your core

(lower abdomen, back, pelvis and hips) well

supported by pushing your pelvis slightly

forward. This will stop you from "sitting" and

over striding.

www.city2surf.co.nz

CITY 2 SURF TRAINING PROGRAMME

60min brisk

walk or 30min

slow jog

30-40 min

easy jog

45min walk or

20min jog

6KM 25mins

14KM 60mins

(both mod)

40min (9min

jog/1min walk)

x4

60min

easy jog

40min (9min

jog/1min walk)

x 4

6KM 50mins

14KM 85mins

(alternate 5mins

easy, 5mins mod)

Free Training series

night – Feb 6th Join us

6.15pm! See city2surf.

co.nz for more info

This programme and accompanying

information are written as a guide only.

If you are concerned about your health

at any stage please undergo a health

check with your GP.

TIP OF THE WEEK

There is no need to bring fluids with you during the

sessions as you are not exercising long and hard

enough to cause serious dehydration. Even on warm

(north-west) days it is sufficient to have a glass of

water or juice just before you go out. You can rehydrate

on your return home, again with water and/

or a glass of fruit juice. Taking fluids during exercise

is generally not required until you start to exceed 90

minutes on a normal day and 60 minutes on a hot

day (temperatures above 25 degrees).

On behalf of the team at Sportsmed

(www.sportsmed.co.nz)

Dr John Hellemans, Sportsmedicine

Practitioner/Coach

Les Mills Christchurch proud sponsor of

Proud to support

- Sunday 24th March -

Star Media

FREE Socks!

With any Brooks Footwear purchase.

Kids Prize

Bauer Ambush 20 Kids Bike

Spot Prizes

WiFi Range Extender, Belkin Powerbanks, Power

Shaver, Lightning Cable , Bluetooth Headphones

Valued at

RRP

$29 .95

Show your City 2 Surf registration confirmation

at the below participating stores to redeem.

Register for City2Surf and score 7 days free * at

Les Mills Christchurch, 203 Cashel Street

Available while stocks last.

School Prize

HP 11.6" 32GB

Chromebook

Corporate Prize

TCL 55" 4K UHD Smart TV

Family Prize

Fisher & Paykel SINGAPORE 12kg AIRLINES

SINGAPORE AIRLINES

ActiveIntelligence TM Washer

BRAND

BRAND

GUIDELINES

GUIDELINES

SUMMARY

SUMMARY

The Athlete's Foot Riccarton

Shop S016, Westfield Riccarton

Ph: 03 343 1629

The Athlete's Foot Northlands

Shop 35, Northlands Shopping Centre

Ph: 03 354 0328

* Terms and conditions apply, see your City2Surf trial voucher for more details

Proud Sponsors
---
The Star 25

Sport

FREE WEEKLY MAGAZINE

in stands every Friday

Latest Christchurch news at www.star.kiwi

Thursday February 7 2019

OVER 1000

VEHICLES

FOR

SALE

Nine-wicket haul for

veteran paceman

• By Gordon Findlater

AGE IS NO barrier for

47-year-old Scott Inglis

who took a career best

9-49 for Burnside West

Christchurch University's

premier side on Saturday.

Playing Riccarton

in the metro cricket

two-day premiership,

Jackson Latham took the

first wicket for BWCU.

However, the remainder of

the innings was dominated

by Inglis, who was

unplayable at times during

his 19.4 overs.

The right-arm quick

bowler puts his longevity

at premier level down to

a lack of injuries and his

work in the gym over

recent years.

"I do get quite sore,

though. I'm no good on

Tuesday, start to feel

better by training on

Thursday, and am good

to go by Saturday," said

Inglis.

Inglis clean bowled two

of his victims on Saturday,

while seven dismissals

came from catches.

He is BWCU's all-time

leading wicket-taker at

premier grade level with

well over 600 wickets.

Super Rugby time already

IT'S THE time of year

when we suddenly

remember while battling

a 30-plus deg C nor'west

day in early February that

Super Rugby starts next

week.

Finally, after years

of being subjected to

having our premier rugby

competition blasted upon

me while I'm at the peak

of enjoying a summer of

cricket, it's even beginning

to feel like the norm – as

much as I hate to accept it.

I'm not sure why it's

never felt normal – 1996

was the last time Super

Rugby started in March.

Seasonal gripe aside, the

biggest question going into

this season is will we show

up?

There's no denying the

drop off in attendances for

Super Rugby, particularly

close to home in recent

years. We can debate

all day as to why. A tent

for a stadium, too many

overseas teams no one is

interested in, cold weather,

the examples go on.

This year has every

reason why we should be

turning out in droves.

CAMPAIGNER: Scott Inglis celebrated taking his

600th wicket for Burnside West Christchurch

University two years ago. On Saturday the 47-yearold

recorded his career best bowling figures.

It was a day to remember

for BWCU, with Liam

Winn scoring a century

to give his team a 130-run

advantage going into the

second day of the match on

Saturday. However, the day

belonged to Inglis.

"The guys made a bit of

a fuss of it . . . we had a big

boozy one afterwards. I

was no good on Sunday,

especially after bowling 20

overs," he said.

Inglis, who grew up

We're going for three in

a row. Yes, the Crusaders

have more than truly

established themselves as

the dominant force they

were in the late 1990s and

2000s. However, if you

look at crowd numbers

from that era compared to

last year at Christchurch

Stadium (yes, Australasia's

most successful sporting

franchise of the past

25 years can't attract a

naming rights sponsor

for their fortress/tent this

season), it's impossible to

argue against numbers

being down.

With the Rugby World

Cup coming later in the

year, there's more on the

line. If Scott Robertson can

create history by becoming

the first coach to achieve a

Super Rugby three-peat, it

will give the NZRU every

reason to appoint him as

Steve Hansen's successor.

Outside of the sabbatical

in Motueka, previously

played representative

cricket for Nelson, where

on debut he claimed the

wicket of former New

Zealand international

batsman Roger Twose.

He is now in his 20th

season with BWCU and

plans to retire at the end

of this season. Last year

he finished as the top

wicket-taker at the national

club championships in

Auckland.

One-eyed Cantab

Gordon Findlater

gordon.findlater@starmedia.kiwi

gang, who will have orders

to sit out certain points

of the season, we will

have a competition with

fringe All Blacks looking

to push their case at every

opportunity.

But with all this in mind,

will we show up?

It's also worth noting

there's some big pros to the

rugby season starting in

February. The biggest one

is with the sun being out at

7.35pm, you are given the

illusion the competition

has opted to go for a fanfriendly,

day-time kick

off, rather than expecting

people to pay to show up

on a cold winter's night,

instead of watching at

home on Sky.

My prediction for this

year is the Crusaders will

romp to a third straight

Super Rugby title while

most of us watch history

unfold at the local or from

the couch.

Best

Motorbuys

TM

2004 Honda Stream

2.0 tiptronic, alloys, ABS, twin airbags.

$9,990

$12,650

ford falcon xr6

2013, FG2 model, bluetooth, towbar,

sports exhaust, stunning example.

SALE

no dEPoSIT

$85 PEr WEEk

CARZ & VANZ

www.carznvanz.co.nz

2009 subARu LEGAcY 2.5GT

PADDLEshIFT, sPAcIOus wAGON

2500cc, 4WD, stationwagon, auto,

paddle shift, SI drive, full NZ stereo.

SALE $11,990

$70 Pw

$6,990

2005 Honda aIrWaVe

1.5 auto, abs, twin airbags.

$7,990

$6,950

275 Colombo St, Christchurch.

Cnr Colombo & Milton Sts. Ph: 337 9629.

ToyoTa vITz Echo

2008, 5 door hatch, side airbags,

82,000kms, very economical.

NEW MAGS

2012 nISSan nV200 16X-2r

1600cc petrol, 5 door van, 95,991km, auto, rear wheel, reversing camera,

ABS, AUX option. New 16" alloyS.

no dEPoSIT

$50 PEr WEEk

2005 MAzDA Mx5 ROADsTER

LEAThER TRIM, PADDLEshIFT

The perfect car for summer, alloys,

Bose stereo.

SALE $8,990

$64Pw

$9,990

2007 SUZUKI SWIFt

1.3 auto, ABS, twin airbags.

$10,990

$7,450

no dEPoSIT

$53 PEr WEEk

honda fIT

2008, only 66,000kms, 5 door hatch,

amazing fuel economy, very tidy.

198 Yaldhurst Road,

Avonhead, Christchurch

(03) 342 3434

Long wheel base, 3.0 litre diesel, dual sliders, reversing Camera.

2007 toyota HIaCe LWB SUPer GL

$13,990 JUST $95 PeR weeK $21,990

2017 HOLDEN TRAX LTZ TURBO

1.4L, 6 spd auto, smartkey, reverse cam,

sunroof, apple carplay & andriod auto, top

spec NZ new! 3 AvAiLABLE $22,995

www.tcm4wd.co.nz

2008 SUZUKi ESCUDO HELLY HANSEN

2.4 Litre, auto, leather interior, high/low

ratio, sunroof, bluetooth, stunning

in white pearl! BE QUiCK $14,995

Below is a small

selection of our

great deals!

To advertise in Best Motorbuys, phone Star Media 03 379 7100

JUST $146 PeR weeK

247 Main South Rd, Hornby, Chch.

(03) 341 8973

christchurch@carznvanz.co.nz

2016 Sprite Freedom 6 2012 Sprite Lite 4 2011 CompaSS Venture 304

was $49,999 noW $42,999

was $32,999 noW $27,999

was $36,999 noW $31,999

2012 FORD RANGER 4x4 F/DEcK

LOw KMs, 6 sPEED MANuAL

Rare with dropside flatdeck, 3.2 diesel

turbo, 4WD, cruise, bluetooth.

SALE $29,990 $168 Pw

547 Moorhouse Avenue

PLENTY OF PARKING ON FERRY ROAD

Call 03 377 3030 or Brian 027 267 9602

Hadley 027 459 2146 or Matt 027 303 0101

$127 Pw $85 Pw $101 Pw

2007 HOLDEN CREwmAN S v6

3.6 Alloytec V6, auto, rare ignition orange,

colour coded canopy, roof racks, bluetooth,

stunning ute! NZ NEw $17,995

12/24/36 Month Protecta Warranties available.

113 Sherborne Street, Edgeware

Phone 03 377 8873
---
26 Thursday February 7 2019

Latest Christchurch news at www.star.kiwi

The Star

Sport

Coaching the All Blacks would lure

Robbie Deans is Super Rugby's most successful head coach winning five titles with

the Crusaders between 2000 and 2008. Deans returned home last week during a

break in the Japanese Top League season. Gordon Findlater caught up with him

RUGBY FAMILY: The 2008 Super Rugby final – Deans was

carried off the field by Brad Thorn and Reuben Thorne in

his last game as coach of the Crusaders.

PHOTO: MARTIN HUNTER

COACHING THE All Blacks is

the only opportunity that would

lure Robbie Deans back to New

Zealand.

The former Crusaders and

Wallabies coach – who currently

coaches the Panasonic Wild

Knights in Japan – is back home

for the next month. However, with

no interest in a return to Super

Rugby there's only one job that

would see his return home come

before retirement.

"I got no interest in living out

of a suitcase which is what Super

Rugby is essentially, it's a lot of

travel. I was lucky enough to do

that for 12 years between managing

and coaching so I've had my

fill," said Deans.

"That [All Blacks] would be the

only international job that would

be of interest if I was going to do

one again, but no it won't happen.

There's guys like Razor [Scott

Robertson] who have got the background

now."

Deans spent time last week at

Crusaders training and caught

up with Robertson over a coffee.

While Deans may have a realist

approach to his chances of taking

the head coaching role of the All

Blacks when Steve Hanson finishes

up at the end of this year's Rugby

World Cup, he would be open to

taking on an assistant or advisory

role for whoever gets the nod.

If Robertson is to take charge

there's every chance Deans could

be someone to bring into the fold

given the pair's relationship.

"Oh, look I'd be honoured if

someone like that thought I'd be

right for a role," he said.

"I stay in touch with the Crusaders

and in particular the people,

that's the nature of rugby. There's a

lot of guys who are now coaching,

Brad Thorn, Gibbo [Daryl Gibson],

Aaron [Mauger] and Todd Blackadder,

I stay in touch with all of those

guys. The people who I've been

lucky enough to be involved with

along the way is what makes rugby."

"We've got some great history

together and shared some great

experiences."

For now Deans says he is loving

life coaching in Japan which allows

him and his wife Penny the

time to visit their three children

who are spread around the world,

and regularly return home.

"What's appealing about Japan

is that it's a much better balance

in the year. Europe is 11 months,

Japan is eight with a two-month

winter break, so you're talking

about a six-month calendar year,

it's great."

While rugby will always play

second fiddle to the likes of

baseball in Japan, Deans says the

interest in the game is growing,

something he sees helping Japan's

national team become a relevant

threat to big rugby nations going

forward.

"It is evolving. Post 2015 the

interest in the game, particularly

with the World Cup coming has

boomed. We have a lot more

general public watching us train

and more of a media presence. The

media presence is probably greater

than here, it's just a pure numbers

thing," said Deans.

While in Japan, Deans has also

found time to get involved in his

other sporting passion – cricket.

He has even left a mark on the

Japanese national side after being

invited to a net session with the

team after running into their coach

at his local squash club in Sano.

4wd

repAirs &

servicing

Diesel

The diesel professionals specialising in

All work

guArAnteed

288 Lincoln Road

(opp ANZ)

Ph: 338 8884

www.dieseldoctor.co.nz
---
The Star Latest Christchurch news at www.star.kiwi

Thursday February 7 2019 27

local sport

Proudly brought to you by...

Tower JuncTion

Phone: 348 6020 Open 7 days 11am to late www.speightstowerjunction.co.nz

Robbie Deans back to NZ

"The ICC has just tipped in

US$4 million to upgrade their

national centre, so it's a pretty

good oval. I've been down there

and had a hit, and worked with

the national team," said Deans.

"They've got some useful cricketers

. . . they had a leg spinner

there who was self-taught. He

watches Shane Warne on You-

Tube and taught himself to bowl,

including a flipper."

This week Deans is representing

Canterbury at the national

over 60s provincial cricket tournament

in Lower Hutt.

Deans played in a New Zealand

secondary school team in 1977

which featured Martin Crowe

who made the team as a fourth

form student. The team played

against Australian state teams at

a tournament in Christchurch.

Deans finished as the tournament's

top run scorer and scored

150 against a Tasmania team

Robbie Deans coaching career

Age – 59

which featured David Boon.

Deans played one match for

Canterbury in Waimate in

1982 – the same year he helped

Canterbury's rugby side win the

Ranfurly Shield.

"At the end of the season I got

sent a cheque for $17.98. I never

banked it because it would have

made me a professional which

would have compromised my

rugby."

Following his rugby playing career

Deans played representative

cricket for Canterbury Country.

He scored a century against

Marlborough and was part of an

unsuccessful Hawke Cup challenge

against Northland.

At 59, Deans has been given

dispensation to compete at

the over-60s tournament. I'm

sure there won't be too many

complaints from anyone who has

the opportunity to send down a

delivery to him.

MULTI-TALENTED:

Deans batting in

Japan.

In 2017 he coached

the Barbarians to a

22-31 loss to the All

Blacks.

Coaching positions – Canterbury 1997-2000, Crusaders 2000-2008, Australia

2008-2013, Panasonic Wild Knights 2014-present.

Head coaching title: NPC 1997; Super Rugby 2000, 2002, 2005, 2006, 2008;

Tri-Nations 2011; Top League (Japan) 2014, 2015, 2016.

in brief

Keas take tournament

final for third time

The Linwood Keas completed

a Crosbie Nines three-peat on

Saturday when they defeated

the Papanui Tigers 21-11 in

the tournament final. The

Keas will now build towards

the Canterbury Rugby League

premiership where they will be

going for a fourth straight title.

Britt re-signs for

Rams' NBL season

The Canterbury Rams have resigned

guard Taylor Britt for this

year's NBL season. The former

Papanui High School student.

The 22-year-old made valuable

contributions off the bench for

the Rams last year.

Team champs

title for Glen Eagles

The Canterbury Glen Eagles won

their first teams' championships

at the Palmerston North

speedway at the weekend when

they defeated the Hawke's Bay

Hawkeyes in Sunday's final.

Since first appearing at the

champs in 1984 the Glen Eagles

have previously made just one

finals appearance and held a

record of just 16 wins from 62

races.

TOUCH CANTERBURY

Touch is once again out in force across parks,

beaches and backyards. The flexibility of this

game sees it as one of the most popular summer

sports in NZ. This season sees more than 17,000

players actively involved in our competitions, which span

across Canterbury and the West coast. Currently we have

35 affiliated modules that cover both junior and senior

competitions and cater to all ages and experience.

Touch really is a sport that caters to people of all

diverse backgrounds and provides opportunities for all.

This is one of the keys to why we are able to develop

relationships with other local sporting communities, and

build strong links within the community.

Whilst a large majority of participants are involved in

touch for the pure social aspect of it, we do have a

developed pathway for those that have higher aspirations

to representative honours.

Touch Canterbury has a long and proud record on the

national stage and this tradition continues with the

upcoming Touch New Zealand Junior and YOM (Youth,

Open and Masters) National tournaments.

2019 will see a total of 17 teams represent Canterbury

and travel to Rotorua in February and March, to compete

against the best players and teams from all over New

Zealand.

The Junior Nationals will see 6 teams compete in the

boys, girls and mixed divisions at both U16 and U18 level.

At the YOM Nationals we will have 11 teams represent

grades from Under 21's to Over 55's. The players,

coaches and management have been working extremely

hard, and we look forward to seeing all the preparation be

put into action as they challenge for a national title.

Touch Canterbury also supports the development and

growth of referees within our sport and we are very proud

to once again have the largest provincial contingent of

referees attend these national events.

As with many sports, touch is a user-pay

system which can add extra pressure to

attending these events. Touch Canterbury

and our representative players are extremely

grateful for the support of local businesses and

funders to aid our athletes in recognising and

achieving their goals.

You can keep up to date with all the activity and

results on our Facebook page, https://www.

facebook.com/touchcanterbury/

For more information regarding Touch in Canterbury, please visit:

www.touchcanterbury.co.nz
---
28 Thursday February 7 2019

Latest Christchurch news at www.star.kiwi

sammy colvin

Sponsored by

Sponsored by

canterbury Junior National Tournament

U18 Girls ToUch Team 2019 Rotorua, 8-10 February, 2019

The Star

naia toaolamai-holden

sophie hawkins jordan swift

jemma watson jason keno COACH

Sponsored by

Phone 03 337 6096 | www.waitakibio.com

TOUCH CANTERBURY

Proud to be sending six teams to the 2019

Touch New Zealand Nationals in Rotorua, February 8-10

Girls hoping for another top three finish

Sponsored by

Sponsored by

Sponsored by

After a sound build up the Canterbury Under 18 quality competition. This has allowed them essential

Girl's are hoping for another top three finish in the game time, whilst bonding and growing as a team.

Phone 03 329 8166

Touch New Zealand Junior Nationals tournament in They've also been involved in training camps at

Rotorua.

Burnham Military camp. Hopefully this translates

sarita de gouw

The team played well against a very strong Otago into success and toughness at the 2019 Junior Touch

team (current national champions) at the Southern Nationals.

jayda stewart

Sponsored by

Inter-Provincial Series Tournament in December and They are the future of Canterbury women's Touch

Sponsored by

have continued to develop steadily over the past few and I know they'll do the province proud. The team

weeks despite a number of the girls having heavy work want to sincerely thank all of those that have supported

De Gouw family commitments and social calendars.

them, particularly their families, Woodpecker Signs, the

With a combination of competitive drive,

sponsors listed here and Touch Canterbury.

understanding and commitment, coupled with the

emily dobbs

support of their manager and coaches, the girls have

the potential to upset some of the big hitting North bailey chamberlain helena morris

Island teams, including Otago.

The team will be one to watch at Nationals and

shouldn't be taken lightly. Currently they're playing

in the Prebbleton Touch module in the Open mixed

grade where they're tested weekly against some

Sponsored by

Phone 03 343 5969 | www.tiledirect.co.nz

www.touchcanterbury.co.nz

NEW BRIGHTON

Phone 021 612 556 | newbrighton@snapfitness.com

Sponsored by

Sponsored by

Phone 03 359 9145 | www.isaac.co.nz

Mark O'Loughlin - Redwood Office | Phone 021 339 078

mark.oloughlin@harcourtsgold.co.nz Licensed REAA 2008

Phone 03 359 9229 | www.mechanix.nz

Phone 0800 150 155 | www.lwpl.co.nz

Phone 027 425 2018 | www.woodpeckersigns.co.nz

eilish malloch millie thompson

charlotte bush taylor aldridge Asst. COACH

Sponsored by

Malloch family

georgia sheat gemma rowe ruby keno

denise keno mAnAger

Sponsored by

Sheat family

Sponsored by

Thompson family

Sponsored by

Keiran rowe

TransporT LTD

Phone 027 444 9880

Sponsored by

Sponsored by

Phone 03 359 9145 | www.isaac.co.nz

Sponsored by

Sponsored by

Phone 03 344 3044 or 027 310 4411 | www.countryfeasts.co.nz

C a N T e r b u r y Junior National Tournament

U18 boys ToUch Team 2019 Rotorua, 8-10 February, 2019

max hughes

Sponsored by

Hughes family

connor watherston-spencer

Sponsored by

Watherston-Spencer

Family

ihaia cox-winiata

Sponsored by

Cox-Winiata whanau

Team looking forward to Nationals

The Canterbury U18 Boys team

are looking forward to travelling

to Rotorua to compete at the TNZ

Junior National touch tournament

from 8-10th February. The team

includes 4 players from last year

and a host of new talent, many who

have progressed through the junior

grades of Canterbury Touch.

The team took out the Southern

IPS title in December, winning the

final in a hard-fought game against

Otago U18 Boys and are looking to

build on this result when they come

up against some of NZ's top sides at

the National Tournament

Players and Management

would like to thank sponsors and

supporters for their generosity in

helping the

players represent

our province and

we know they will

do you all proud.

tamati christie

tom downes

Sponsored by

Phone 027 276 9111 | www.brosforchange.com

Sponsored by

tyreice tuliau

Downes family

Sponsored by

Tuliau family

jake whalley

joel maguire

mesiah asi-ngatuere

jackson de thierry

Sponsored by

Phone 0800 364 646 | www.blockeddrainschristchurch.co.nz

Sponsored by

Maguire family

Sponsored by

Asi-Ngatuere whanau

Sponsored by

De Thierry whanau

jay hill-cattermole

josh burgess

ollie hansen

lee te momo coach

Sponsored by

Hill whanau

Sponsored by

DAVE McCREA

BUILDING LTD.

Phone 027 475 3002

Sponsored by

Hansen family

Sponsored by

jayden ruki

Sponsored by

Phone 03 354 3286

www.undergroundbrown.co.nz

Mobile DJ Service

Phone 027 252 6158

julian ella-lui

rawiri pomare

cath mulligan manager

Sponsored by Sponsored by Sponsored by

Lui family

Pomare whanau

TOUCH CANTERBURY

Proud to be sending six teams to the 2019

Touch New Zealand Nationals in Rotorua, February 8-10

www.touchcanterbury.co.nz
---
The Star Latest Christchurch news at www.star.kiwi

Thursday February 7 2019 29

PIPPA McANERGNEY

Sponsored by

LOGAN ROBERTS

RUBY PRINGLE

cANTERBURY Junior National Tournament

U18 Mixed ToUch TeaM 2019 Rotorua, 8-10 February, 2019

Mcanergney family

Sponsored by

Roberts family

Sponsored by

Pringle family

TOUCH CANTERBURY

Proud to be sending six teams to the 2019

Touch New Zealand Nationals in Rotorua, February 8-10

Tight-knit unit ready to upset teams at

the National Tournament

This year's Canterbury Under 18 Mixed

Touch Team have been a tight-knit unit in

their build up to the Touch New Zealand

Junior Nationals.

This is a fiercly competitive three day

tournament and the team is extremely

proud to be a part of this fantastic event.

Since we have come together as a group,

the team has consistently demonstrated a

positive attitude and the desire to always

improve. There is the belief that we can

upset some of the more fancied North

Island teams.

The Under 18 Mixed Team and

management would like to thank all

the sponsors, parents, caregivers and

supporters who have all contributed

throughout the campaign.

www.touchcanterbury.co.nz

JAIdEN FRASER

Sponsored by

RORY VAELUAGA

ALFIE MAY

Fraser family

Sponsored by

Sponsored by

Phone 03 375 4832 | www.beattiegroup.co.nz

www.meridianenergy.co.nz

GRAcE SUThERLANd

Sponsored by

Sutherland family

TAYLA MAcKIE

Sponsored by

Mackie family

MAPU UASI

Sponsored by

Uasi family

KYNAN STOWERS-SMITh

Stowers-Smith

family

Sponsored by

MAddISON TUAINE

KYLE AMER

MAddY ShEAT

TAMA ThOMPSON COACH

Sponsored by

Tuaine family

Sponsored by

Phone 03 365 4812 | www.garyclarkeplastics.co.nz

Sponsored by

Sheat family

Sponsored by

JOEL PARRY

ERIN WOOd

ELI cOX

RIchARd BULL MANAGER

Sponsored by

Phone 03 379 6151 | www.christchurchplumbers.co.nz

Sponsored by

Phone 03 379 6151 | www.christchurchplumbers.co.nz

Sponsored by

Cox family

Sponsored by

ethan clark

Sponsored by

hugh fergusson

haruya fuchigami

canterbury Junior National Tournament

U16 boys ToUch Team 2019 Rotorua, 8-10 February 2019

Phone 027 208 3612 | www.selectbuilding.co.nz

Sponsored by

Phone 03 327 5566 | www.kaiapoipreschool.org.nz

Sponsored by

Fuchigami family

jackson wright

james white

nic shearer

bailey graham caleb murphy jordan soli corey tauwhare coach

Sponsored by

Graham family

jack harding conor pilkington tane ward alisi tupuailei assistant coach

Sponsored by

Westfield Riccarton | Phone 03 348 0841 | www.shoeclinic.co.nz

caleb margetts tommy scott nikau waikato sonya white manager

Sponsored by

Phone 0800 700 808 | www.bodyaudit.co.nz

Team set to continue on their winning streak

2018/19 Season has been amazing as I look

back on our campaign and reflect, I remember

our first camp when Alisi Tupuailei ran a session

with boys on "housekeeping" which involved

the boys setting their own expectations and

standards. It was very important for Alisi, Sonya

White and myself that we set a good foundation

around our values "winners forever" where we

practice to teach the boys to be better humans,

sport is for a short time, being a better human is

for a long time.

The most important thing for me is to help

each and every player be the best they can be. I

want them to do things on and off the Touch field

better than they've been before, relative to their

age group. They have been smashing their team

and individual goals including winning Gold at

the South Island Championship. They have been

Sponsored by

Murphy family

Sponsored by

Pilkington family

Sponsored by

Styx Mill Road | Phone 027 434 1177

individually improving their times on fitness tests

with the entire team coming in under 5mins in the

Bronco test with the best result a 4m43s which

is quicker than Crusaders Ritchie Mo'unga and

Mitch Hunt (4m45s).

A massive thank you to our two main team

sponsors Bruce Cooper Plastering and AP

Plumbing Ltd, without their contributions none

of the training camps or activities would have

been possible. Thank you to our parents who have

sacrificed time and money and trusted in our

coaching staff this season.

The biggest thank you to all the sponsors

below in supporting the opportunities that

sport provides our young boys with, to develop

attributes that will serve them well throughout

their lives. From the effort and commitment I have

seen I know you have made a great investment.

Sponsored by

Dyer Decorating Ltd

Phone 027 229 4421 or 03 383 3170 | www.dyerdecorating.co.nz

Sponsored by

Ward whanau

Sponsored by

Waikato whanau

Sponsored by

Phone 03 352 7784 | www.chillingworthroad.co.nz

Sponsored by

ArmAgh

Automotive

Sponsored by

Sponsored by

Sponsored by

Sponsored by

Phone 03 366 0823

Shearer family

TOUCH CANTERBURY

Proud to be sending six teams to the 2019

Touch New Zealand Nationals in Rotorua, February 8-10

www.touchcanterbury.co.nz
---
30 Thursday February 7 2019

Latest Christchurch news at www.star.kiwi

emily allan

Sponsored by

ashleigh brett

Canterbury

U16 Girls ToUch Team 2019

Phone 0800 777 994 | www.crosscountryrentals.co.nz

Sponsored by

Phone 027 208 3612 | www.selectbuilding.co.nz

aleesha Cummings

Sponsored by

Phone 03 423 3143 | www.ivorybar.co.nz

TOUCH CANTERBURY

Proud to be sending six teams to the 2019

Touch New Zealand Nationals in Rotorua, February 8-10

Team looking forward to National Tournament

The U16 Girls are looking forward to the

Junior Touch Nationals from 8th February – 10th

February in Rotorua. This is a great opportunity

to play the best of the best from every province, it

will be a great challenge, one that the team is very

excited about.

Under the guidance of coach Adrian Godinet,

the team have been working hard on policies and

plays. We travelled to Oamaru where we played in

a mini tournament against Otago and Southland

and then competed at the Southern IPS

tournament here in Christchurch. We had some

challenging games but the girls perservered

and came away winning the finals at both

tournaments.

The girls are a very talented group that have

gelled well together on and off the field and

show immense heart. The girls are captained by

Junior National Tournament

Rotorua, 8-10 February, 2019

Courtney Godinet and vice captain Georgia Reed,

along with a strong leadership group there is a lot

of experience here. They have been training hard,

getting fitness up, combining well and ready to

combat what Nationals will bring.

We would like to say a massive thanks to all

our parents, supporters and team sponsors

for all their support this far. It has been really

awesome and very much appreciated by the team

management and players. THANK YOU!!

holly wratt-groeneweg

Sponsored by

woodbury

pluMbing

Phone 027 433 4464

www.touchcanterbury.co.nz

hayley mCkellow

Sponsored by

kate taylor

Sponsored by

georgia reed

The Star

Ph. 021 208 4892

Taylor family

Sponsored by

Merivale Fresh Choice | Phone 03 355 4432

Courtney godinet ineka taylor-Claude bella lister

Sponsored by

Murder Mystery

dinner theatre

Phone 03 359 9556 | www.dinnertheatre.co.nz

kate herman leilani te wheora katrina Cox-winiata

Sponsored by

sh herMan ltd

Registered Craftsman Plumbers | Phone 021 222 7479

Cara mustChin manea waaka riley thompson

Sponsored by

Phone 0800 508 009

www.harrisonbloy.co.nz

Phone 0800 003 496

www.360distribution.co.nz

Sponsored by

Sponsored by

Sponsored by

Phone 03 344 0331 | www.totalspan.co.nz

Phone 03 365 2146 | www.xcm.co.nz

Teata whanau

Sponsored by

Sponsored by

Phone 03 928 1505 | www.onyxhomes.co.nz

Cox-Winiata whanau

Sponsored by

Phone 021 716 942 | www.gcd.net.nz

adrian godinet coach

Sponsored by

jade bowen coach

Sponsored by

renee burns manager

Sponsored by

Phone 03 352 7500 | www.evolvechiro.co.nz

fletCher downing

Sponsored by

isabella tuaine

Sponsored by

levi davis-nevin

Sponsored by

Phone 03 365 5220

www.a1auto4service.co.nz

Canterbury

U16 MixED ToUch TEaM 2019

Downing family

Tuaine family

papanui

Phone 027 517 1656

www.f45training.co.nz

Underdogs ready for National Tournament

The Coaching and Management staff for the

Canterbury Under 16 Mixed team for 2019 would like

to first and foremost thank all sponsors, supporters,

parents and players for all their efforts leading into

this years Junior National Touch Tournament. The

tournament will take place on the 8th-11th February

in Rotorua and will put us against the very best

Mixed Touch teams from all over NZ. So this is a very

exciting tournament for all people involved.

The team has been training weekly for this

tournament for the last four months and have also

been competing in the local Thursday night Burnside

competition riddled with teams full of Canterbury

and NZ senior representatives. This has meant

that we have had to develop quickly as a team and

learn to compete with the best in our region. An

experience most Junior teams don't receive at such

a young age.

It has been an exciting journey building towards

kyla lynCh-brown

Sponsored by

Junior National Tournament

Rotorua, 8-10 February, 2019

the Junior National Tournament. We have some

very good talent throughout our team coupled with

great leadership in our two Co-Captains Amy-Lee

Peterson and Isaac Hutchinson. With that in mind, I

believe we have the right recipe for success and our

target is to become the first ever Canterbury team

to win the National Under16 Mixed Competition.

Having previously placed 9th last year, we will be the

underdogs in this tournament and that is a label we

will happily wear and use to catch our competition

off guard. Watch this space.

Lynch-Brown family

tyler tapa-wither

Sponsored by

joseph waiti

Phone 03 347 9561 | www.catspjs.co.nz

Sponsored by

hoani stewart

Sponsored by

Phone 027 450 3777

www.harcourts.co.nz

Waiti family

Stewart family

hema te ao marama

isaaC hutChinson

luka lamont

Sponsored by Sponsored by Sponsored by

Marama family

West Melton Pharmacy

Phone 03 355 9265 | www.bastinspharmacy.nz

Phone 03 347 0777 | www.westmeltonpharmacy.co.nz

posetone manu coach

Sponsored by

jaCk foster

ella maCdonald

isabella galvan

wiremu riChards assistant coach

Sponsored by

Sponsored by

Phone 027 656 9699

Sponsored by

Galvan whanau

Sponsored by

amy-lee peterson

hunter keno

tom ruwhiu

renee davis manager

Sponsored by

Sponsored by

Sponsored by

Sponsored by

Phone 03 327 6850 | www.easylawn.co.nz

Phone 021 123 3629

www.crossfitrolleston.com

TOUCH CANTERBURY

Proud to be sending six teams to the 2019

Touch New Zealand Nationals in Rotorua, February 8-10

www.touchcanterbury.co.nz
---
The Star Latest Christchurch news at www.star.kiwi

Thursday February 7 2019 31

VW Polo GTi has strong pedigree

VOLKSWAGEN'S Golf GTi

has had a strong following

from those who like to be

driving a hot hatchback.

The legendary sports car

has an enviable reputation for

performance and is certainly

on my list of desirables but at

almost $60k it is probably out

of reach for many – including

me.

However, Volkswagen has

another desirable hot hatch in

its books – the Polo GTi. The

Polo in this form is a vibrant,

five-door modelled on the

lines of its Golf stablemate,

albeit with a $21,000 price difference.

Of course, you don't get all

the trick stuff of Golf GTi, but

the Polo equivalent is still well

specced, powerful and light,

the combination providing the

ingredients for sporty ability.

Under the bonnet of the

Polo GTi sits a 2-litre, turbocharged

engine which

develops 147kW and 320Nm.

While they may seem average

outputs compared to many of

the high performing models

which make up this part of

the market, the Polo GTi is a

quick car.

It develops a lot of torque

low down (1500rpm-

4400rpm), these figures

meeting the low point of

maximum power at 4400rpm.

Consequently, it is swift off

the mark and will lunge to

high speeds quickly. For the

record, it will make 100km/h

from a standstill in 6.7sec, and

will scorch through a highway

overtake in 4.4sec (80km/h to

120km/h).

Motoring

Ross Kiddie

VOLKSWAGEN POLO GTI: Affordable performance

car.

The test car was fitted with

a six-speed direct shift gearbox,

effectively that means it's

an automatic. It is a quickshifting

transmission with

ratios that enhance engine

performance, they are low in

the first three or four slots,

broadening to provide relaxed

highway motoring and fuel

usage savings.

Volkswagen claim a 5.9-

litre per 100km/h (48mpg)

combined cycle fuel usage

rating, which sits well with the

7.2l/100km (39mpg) showing

during testing time.

Considering I was aggressive

with the throttle, exploring its

acceleration and performance

potential frequently, those figures

are commendable.

At 100km/h the engine

is relaxed at just 1750rpm,

returning a fabulous instantaneous

readout of 4.5l/100km

(63mpg).

However, such is the freerevving

nature of the engine,

fuel economy often gets

ignored, the Polo has decisive

response to accelerator input,

it is feisty and downright keen

to pull hard.

The excitement from under

the bonnet is matched by a

firm-riding, sport-orientated

suspension. The Polo's set-up

isn't as sophisticated as that of

the Golf GTi, and as its simplicity

shows, the ride is a little

harsh, there's not a lot of compliance,

but it is engineered

towards a positive handling

experience, and to that end it

excels.

However, the Polo GTi

points and turns into a corner

with decisive steering feel

and kart-like stability. It is

extremely nimble and agile, a

lot of that thanks to the light

weight of the car in total.

At 1355kg it isn't dragging

around any excess, which

means a high power-to-weight

ratio, and with its angry

engine sound and lovely, but

subdued, exhaust crackle

on gearshifts, the Polo GTi

lures and entices the driver to

explore its potential.

At around $39k the Polo

GTi also comes in with a good

level of kit. I particularly like

the tartan seats, they are very

much a match for Golf GTi,

alongside that, the Polo GTi

also encapsulates a lot of what

Volkswagen represents as a

performance brand.

The Polo has been used with

considerable success in the

World Rally Championship,

and the GTi branding benefits

from that exposure. With

the way the Polo GTi looks

and the inclusion of features

such as a built-in stopwatch

you could almost believe it is

meant for competition.

It's most certainly an

exciting car to be behind

the wheel of, and at its price

point it is also a realistic

opportunity for those who

like something different in a

sports car.

• Price – Volkswagen Polo GTi, $38,490

• Dimensions – Length, 4053mm;

width, 1751mm; height, 1461mm

• Configuration – Four-cylinder, frontwheel-drive,

1984cc, 147kW, 320Nm,

six-speed automatic

• Performance –

0-100km/h, 6.7sec

• Fuel usage – 5.9l/100km

STYLE: Polo GTi is a genuine hothatchback.

GARDENING ADVICE

How do I grow Rhubarb and care for it?

Q Today's winning question came from Annette. Congratulations!

A

Given the right conditions, rhubarb is a

relatively easy crop to grow that will continue

producing for a number of years.

Rhubarb prefers rich, organic, free draining

soil in a spot that gets full sun. Add plenty of

compost into the soil before planting with some Garden

Time TM Chicken and Sheep Pellets.

Rhubarb is a 'gross feeder' so feed regularly with

Garden Time TM Compost and again, apply organic

fertilisers like the chicken and sheep pellets in early

spring and autumn.

If rhubarb plants dry out, they will collapse very quickly.

They require regular deep watering during hot,

dry Canterbury summers, finished with a

good layer of mulch on top. Mulch helps

water retention during hot summer days

and stops plants from drying out.

Remove the outer

growth even if you

Regular mulching throughout the hot summer months is vital in helping you maintain a

lush, healthy garden. Apply a thick layer on top of soil around plants, trees and especially

pots, to aid water retention. Avoid watering during the hottest part of the day when plants

are heat stressed; instead water regularly and deeply in the early morning or evening.

We have a $95 Daltons Summer Garden Survival Pack to giveaway including: 2x Garden

Time Landscape Bark 40L, 2x Besgrow Coir Briquette, 2x Garden Time Compost 40L, Garden

Time Complete Fertiliser 5kg, Garden Time Fruit & Citrus Fertiliser 1.5kg, Daltons Water Storage

Crystals 250g, plus Red Back gardening gloves from Omni Products www.omniproducts.co.nz

$95

PRIZE

PACK!

are not using them, to encourage vigorous new stems

to develop. Only eat the stems; the rhubarb leaves are

highly toxic so don't feed them to animals (or humans!).

Instead, pop them in your compost bin.

In some parts of New Zealand during winter, rhubarb

plants can look rather sad, but by spreading side

dressing of the above organic fertilisers in early spring,

the plants will quickly recover and flourish in time for

summer.

You may need to replant your rhubarb every 4-5 years,

however some plants can last much longer.

For more gardening advice and tips, check

out our How to Grow Vegetables guide at

www.daltons.co.nz/how-to-guides

Send us your

gardening question

to be in to win!

Email your question and glove size to:

chchstar@daltons.co.nz

Entries must be received by 13 th Feb 2019
---
32 Thursday February 7 2019

Latest Christchurch news at www.star.kiwi

the tlc experience

We truly believe in a

customer first based

service, achievingthe

results you want with

the personal service &

respect you deserve.

You can Trust in Trish.

Trish Lawrence AREINZ

(Nat.Dip.RE)

Licensee Agent/Director

FOR SALE

MAIREHAU/St ALBANS: 240 Westminster St

Offers over $442,000.

FAMILY HOME: 4 beds, 1 bath, 2 living, 2 gge,

carport. A large 2-storey home in a great location

for schools. Ref: tlcrealty.co.nz/tlc10009

Open Sunday: 12 - 12.30pm

SYDENHAM: 14 King Street: Make an offer

CITY FRINGE: TLC required. Repair or hold/

develop L3 land. 4 beds, 1 living, 1 bath, single

garage. Motivated vendor. RV $345,000.

Ref: tlcrealty.co.nz/tlc10010

Open Sunday: 11 - 11.30am

NEW LISTING

DARFIELD: 3 Dundee Close: $595,000

SPECTACULAR VIEWS: Escape the city for a

more healthy lifestyle into Selwyn's gateway

to its playground of ski fields, hot air ballooning

and majestic weather formations. 250m2 home.

4 bdrms, study, expansive living with views for

miles. Ref: tlcrealty.co.nz/tlc10011

Open Thurs 5.30-6pm & Sun 1.45-2.15 pm

SALE PENDING

ST ALBANS/MERIVALE: 4/57 Ranfurly St.

SUPERB: Rear property by Abberley Park.

Ref: tlcrealty.co.nz/tlc10007

Your personal negotiator,

working exclusively for you!

Trish Lawrence

ph 0800 874 745

Appears every week in

For more information:

tlc realty limited

Licensed Agent REAA 2008

Mike Fulham

P 364 7406

E mike@christchurchstar.co.nz

Darfield 3 Dundee Close

NEW LISTING

SPECTaCuLar ruraL VIEWS

We have clear instructions to sell this 2006

250m2 floor 4 double bedroom & study

modern executive home. Spacious flowing

living areas. Escape the city to a healthy

lifestyle. View and buy today!

Ref: www.tlcrealty.co.nz/tlc10011

Price: $595,000

Open Home: Thur 5.30-6 pm &

Sun 1.45-2.15 pm or by appointment

Trish

Lawrence

ph 0800 874 745

More than ever, we now require our homes

to be a sanctuary - a primate haven where

the cares and pressures of the world do not

intrude. The home should be an enveloping,

warm and creative environment where family

members of all ages feel relaxed and safe.

The longer you live in your home, the more

likely you are to feel in sync with it.

As the seasons come and go you'll have got

to know which rooms are sunny and which

ones need brightening.

You'll have noted areas prone to damp.

You'll have observed where different family

members like to spend their time and why.

You might have come to the conclusion

that major changes are required to make

your home as healthy as possible, or perhaps

you've concluded that a few simple tweaks

will do the trick.

MATERIALS

The 'make-do-and-mend' culture that has

grown during the recession places emphasis

on the satisfaction that can be found in

incorporating natural materials with vintage

items. Pieces of driftwood, collections of

shells, that lovely

moss-covered garden bench or a 'cleverly'

revived piece of furniture all have their place

in the healthy home and its surroundings.

This trend steers away from plastics and

synthetic materials.

HEATING AND VENTILATION

A home needs to be cool in summer, with

plenty of natural ventilation, and warm

in winter. Traditional open fires are being

phased out and home owners are discovering

the joys of installing modern wood burners,

using gas for heating or installing a heat pump.

All these options are healthy - technology has

come a long way and most choices will see you

saving money in the long run.

Home & Property appears every Thursday, delivered FREE

throughout Christchurch

For more information and bookings, contact Mike Fulham

M: 021 300 567 E: mike@starmedia.kiwi

mairehau 240 Westminster St

rOOm fOr aLL THE famILy

Well maintained 4 double bedroom and

study home. Large 700m2 freehold section.

Fabulous outdoor living area secure for

children. Tandem garage, carport and

separate workshop.

Ref: www.tlcrealty.co.nz/tlc10009

Price: Offers over $442,000

Open Home: Sunday 12-12.30 pm

or by appointment

Licensed Agent REAA 2008

A happy healthy home

Oamaru

STORAGE

While a minimalist style might be fine for

single people or couples without kids, when

the patter of tiny feet comes along, good

storage is going to be vital at every stage of

a child's life - be they babies or teens - they

come with clutter. The more you can contain

that clutter the better in terms of both your

mental health and general safety.

There are any number of options available,

from professionally designed cupboards

and wardrobes, to the simple lidded plastic

boxes you can buy at chain stores. While

some people claim they thrive in a messy

environment. I know from experience that a

lovely, orderly home is good for the soul.

COLOUR

Choosing the

right colours

for your home

can make a big

difference. Small,

dark rooms

can be opened

up and made

brighter simply

by choosing

the right paint.

Today's homes

tend to be more

open plan, so

choose a palette

of two or three

basic colours

and use them

throughout

to achieve

cohesion and

harmony.

NEW LISTINGS

Your

Earthquake

damaged

home!

The Star

Talk to us if you are serious about

selling your "As is Where is" home.

We have sold over

150 "As is Where is"

homes and we have

a huge database of

qualified buyers.

Phil & Holly Jones

Ph 03-382-2230

Phil 027 435 7711

Holly 027 222 0220

holly.jones@raywhite.com

Licensed (REAA 2008) Results Realty Ltd

We have achieved

record breaking

prices recently!

PROPERTY MANAGEMENT

Private Rental

Owners

Do you follow the law?

• Health & Safety form

• Insulation form

• New AML form

• Deposit Bond

• Inspections

• We do full & casual

management

Call Diane 027 435 6410 AREINZ

NZQA Level 4 Property Management

Diane Astle Realty Ltd MREINZ

LICENSED (REAA 2008)

RENT ME!

Ideal as an extra

bedroom or office.

no bond required

Fully insulated and double glazed for warmth.

Three convenient sizes from $70 a week:

Standard 3.6m x 2.4m

Large 4.2m x 2.4m | Xtra-large 4.8m x 2.4m

Visit our website

www.justcabins.co.nz

for display cabin locations

www.justcabins.co.nz

Local Oamaru & Loyal

3 1 1 3 1 -

2 1 1

2 1 1

CALLING FIRST HOME BUYERS

RIVERFRONT RETREAT - 2HA - NORTH OTAGO TIMELESS DESIGN - TOP LOCATION

SAFE, SECURE AND SOUGHT AFTER

Price: SBD BEO $229,000

Price: SBD BEO $235,000

Price: SBD BEO $299,000

Price: SBD BEO $299,000

Web: KF8GF3

Web: KHCGF3

Web: KKCGF3

Web: KJFGF3

SBD BEO = 'Sale By Deadline Buyer Enquiry Over'

*

LJ Hooker Harveys Group, based on number of transactions

Call Oamaru's No. 1 Team For Listing & Selling - Ph (03) 434 9014

Robertson Real Estate Ltd MREINZ - Licensed Real Estate Agent REAA 2008

ICONIC BAR IN HISTORIC PRECINCT

Price: Price On Application

Web: KHVGF3

Check out all our listings at www.oamaru.ljhooker.co.nz | Deal with the Best: LJ Hooker Oamaru - The Most Productive Team in NZ *
---
The Star Latest Christchurch news at www.star.kiwi

Thursday February 7 2019 33

The Star Classifieds

Funeral Directors

Non-Service Cremation $2,050

Just Funerals, a family owned and

operated company with qualified,

registered and experienced staff.

Other services also

available, please

call to enquire.

Phone 0800 804 663 - 24 Hour Availability

Email: info@justfunerals.co.nz

christchurch.justfunerals.co.nz

Boating Accessories

& Equipment

WINDSCREENS

Perspex cut to size and

shape, Fab Plastics ph

366 3634

Building Supplies

SHOWER/BATH Liner,

custom made to suit, Fab

Plastics ph 366-3634

Business

Opportunity

HAVE you always wanted

a better work / life/ family

balance? Then build your

own lucrative business.

Work from home. Systems

in place. Not MLM.

No cold calling. www.

settoprosper.com/star

Caravans, Motorhomes

& Traliers

BRIFORD Trailer, fully

galvanised, removable 1m

cage, reg & wof, includes

wheel clamp, no further

use, offers, ph 388 7553

CARAVAN Wanted to

buy. Up to $5000 cash

today 027 488-5284.

Computer

Services

SeniorNet

Mac

Apple tuition & help

for any age group.

Apple computers, iPad,

iPhone and watch.

41 Essex Street

Mon, Wed and Fri

10am-12 Noon

Further details phone

365 1979

Curtains

A1 CURTAINS/

DRAPES. Roman blinds,

tie backs, cushions, nets

& voiles, plus alterations.

Free quotes. Ph Kay 980

1501 or 021 257 1823. kay.

tainui88@gmail.com

For Sale

TREADMILL - SOLE

F60 near new, cost $2500

sell $1200 ono. Ph 342-

5792

Massage

MALE Masseur, relax

massage, waxing for men,

8am-8pm ph 027 723 5756

Funeral Directors

Direct

Cremation

No frills, No Service,

No fuss, simply

straight to the crem.

Other options

available.

Ph: 379 0178

for our brochure

or email

office@undertaker.co.nz

Church Notices

Christian

sPiritUaList

ChUrCh

182 Edgeware Road

Sunday Service

7pm

Address

Angela

Clairvoyant

Angela

All Welcome

SYDENHAM CHRISTIAN

SPIRITUAL CHURCH

Sydenham Community

Centre

23/25 Hutcheson St

Address

Janet

Clairvoyance

Janet

Sunday 7pm

All Welcome

Phone 349-9749

NEW AGE CHRISTIAN

SPIRITUAL CENTRE

Grafton Street

Sunday 7pm

Address:

Gaynor

Clairvoyance:

Gaynor

Tuesday 1pm - 3pm

Healing &

Clairvoyance

All Welcome

Personals

MALE 33 yrs seeks

female for friendship /

relationship, phone / txt

022 312 3327

Finance

NEED A

QUICK CASH

LOAN NOW?

We offer a range of personal Loans

and can provide cash quickly.

Loans from $500 to $20,000

Contact Karyn or Kris

0800 695 626

or 03 379 7798

www.alternatefinance.co.nz

Garage Sales

BEXLEY 377 Breezes Rd,

Sat 8.30am. Dining suite,

bar stools, kitchenware,

general h/hold.

BROMLEY 3B Woburn

St, Sat 8am - 2pm,

household contents all

must go

HOON HAY 15 Blakiston

Street, Sat 9am - 1pm.

General h/hold goods,

furniture, china, books,

clothing etc.

Gardening

& Supplies

GARDENING Mature

female. $18 per hour,

Northcote & surrounding

areas only, ph 03 352 2590

LANDSCAPE GARDEN

PROFESSIONAL

Qualified Horticulturist,

offering expert, garden

makeovers, design and

landscaping, for free

quotes call Bryce 027 688-

8196 or 0508 242-733

PETE'S GARDENING

SERVICE Gardening,

rubbish removal, cleanups,

expert pruning, hedge

trimming, tree cutting,

good rates, no job too big

or too small, half the price

of a franchise, ph 027 551

4118

Pets & Supplies

CATS UNLOVED

can help with the cost

of desexing your cat.

Ph 3555-022 or email

catsunloved@xtra.co.nz

Finance

• Phone our local team 03 379 1100 • Email star.class@starmedia.kiwi

Handy Person

Services

Tired of that dripping

tap? Brassed off with

those sticking doors and

windows? Sick of looking

at that broken gate &

fence? Help is at hand! Ph

John on 021 149 0986 for

an obligation free quote to

ease your mind.

Motoring

SUZUKI ESCUDO

2005 231,000km, white.

Four-wheel-drive sport

utility vehicle. Body is

in excellent condition, as

is the interior. Receipts

for recent maintenance.

High mileage but priced

accordingly at $6500

Phone 021 056 5163

To Lease

LAND or Paddock

wanted to lease. Long

term to store a truck

and trailer. Must be in

Christchurch South area,

Prebbleton, Rolleston etc.

PH 0275 356 583

Tools & Machinery

TOOLS, Garden garage,

saw benches, Lathes. Cash

buyer Phone 355-2045

Tuition

COMPUTER LESSONS

avail for computer, IPad,

or Mobile. Please contact

Jobee 027 290 9246 www.

computertutor.nz

Vehicles Wanted

CAR REMOVALS

$$CASH PAID$$

CARS, VANS, UTES & 4X4 WANTED

NZ OWNED AND OPERATED FOR 24 YEARS

We use world class vehicle depollution systems

0800 8200 600

www.pickapart.co.nz

OVER 50'S SPECIAL ONLY $45

Footcare

Deluxe Package

Footpod offers a complete array of

footcare services to help you overcome

problems and maintain healthy feet.

. Athletes foot

. Fungus nails

. Ingrown toenails

Health & Beauty

. Warts, corns,

calluses & bunions

. General foot care

021 900 977

27 Forfar St, CHCH | www.footpod.co.nz

Wanted To Buy

WANTED

SLEEP

OUTS

ANYTHING

CONSIDERED

Building Removals

349 9633

CASH FOR

STAMPS

Do you have an

Old Stamp or Coin

collection tucked away

somewhere? It could

be worth a fortune!

We are currently Buying

old collections in the

Christchurch area to stock

our retail shop in Riccarton.

Free Appraisal and Cash

Offers on most items.

Call Matt Power

0800 39 24 26

The Stamp Exchange

134a Riccarton Road. Opposite

the Mall carpark.

AAA Buying goods

quality furniture, beds,

stoves, washing machines,

fridge freezers. Same day

service. Selwyn Dealers.

Phone 980 5812 or 027

313 8156

A+ Household effects,

fridges, freezers, washing

machines, ovens. Good

cash paid. Ph Paul 022

0891 671

ALL whiteware wanted.

Same day service, cash

paid for freezes, fridges,

washing machines, ovens.

Also buying furniture &

h/hold effects.Anything

considered. Ph Dave 960-

8440, 027 66 22 116

ALL Old China, Crystal,

Ornaments, Vases, Cutlery

etc. Raewyn Hill Phone

360-0951

Wanted To Buy

A RECORDS Wanted

top cash prices paid for

good records. No easy

listening. Please ph 027

624 1138

BUYING Now, Royal

Albert, Royal Doulton, all

old china, crystal, antiques,

estate lots. For best prices

and free inspection call

Academy Antiques. Phone

349-4229

MILITARIA Any

country, firearms,

uniforms, badges, medals,

memoribilia, WW2 or

earlier ph 338-9931

NEWSPAPERS wanted.

Pleaes ph 021 121 5095

TOOLS, Garden garage,

saw benches, Lathes. Cash

buyer Phone 355-2045

Situations Vacant

CLEANERS

REQUIRED

Cashmere/

Barrington Area

Monday to Friday

3pm-6pm

We are looking for

cleaners to join our

commercial

cleaning team.

You will need to pass a

Security Check and you

MUST have your own

transport.

Must be eligible to

work in New Zealand.

Please email your

Application to

csc@totalcanterbury.co.nz

or phone 338 9056

Visit our website:

totalcanterbury.co.nz

Please advise which job

when emailing your CV.

Vehicles Wanted

CASH/CASH for any

unwanted vehicles, ph

347 9354 or 027 476 2404

Situations Vacant

Vehicles Wanted

CASH/CASH for any

unwanted vehicles, ph

347 9354 or 027 476 2404

DRIVETECH LTD

"TRAINING TOMORROW'S

DRIVERS TODAY"

Heavy Traffic, Forklift

Endorsement (F & OSH)

Interest Free Time Payments

(Terms & conditions apply)

Train with a knowledgeable, experienced

assessor that will work with you through 181

Each number your in our theory DECODER and practical grid represents steps a different

letter - there is a number for all 26 letters of the alphabet.

Enter Courses the given in letters Christchurch, into all squares Invercargill, with matching Cromwell numbers.

The challenge & Mosgiel now daily. is to work Other out which areas letters by arrangement.

are represented

by the other numbers. As you get the letters, enter them into

the main grid, OTHER and the COURSES/LICENCES reference grid. To keep track & of the

letters you ENDORSEMENTS have found, cross them AVAILABLE off the alphabet provided. ARE:

Class 2, 3, 4 & 5 Vehicle Recovery, Wheels,

Tracks, Rollers & Dangerous Goods

20 12 1 20 2 12 11 4 16 21 24 23

23 21 3 11 10 2

Driving related Health & Safety training.

11 13

Passenger,

12 11

Logbook

8 20

& Load

2 14

Security

18 13

training.

12 1

FREEPHONE 0508 2 DRIVE (37483) OR 03 348 8481

14 1 16 1 20 26 13

info@drivetech.co.nz / www.drivetech.co.nz

21 14 14 21 18 16 3 7 15 6

R A Y

INDIAN COOK &

TANDOORI

REQUIRED

2 26 4 11 4 23

25 13 12 2 14 18 22 20 4 11 23 18

20 2 21 7 14 21

For busy Indian restaurant/takeaway.

Minimum 5 years experience.

Ferrymead area. Immediate start.

Please phone Sandesh 021 036 6564.

23 3 20 5 3 21 4 4 21 18

7 21 23 24 23 16 2

14 2 19 14 13 4 21 23 9 13 4 21

20 2 7 14 12 14

10 CROSSWORD 13 17 2 4 26 2 23 20 1 2 4 80

Across: 1. Abashed, 5. Throw, 8. Pointer, 9. Trite, 10.

Lunge, 11. Element, 12. Recede, 14. Settle, 17. Finicky,

A B 19. C D Passé, E F G 22. H I Stein, J K L 23. M Prolong, N O P Q 24. R S Lanky, T U V 25. W X Y Z

1

Cheapen.

2 3 4 5 6 7 8 9 10 11 12 13

Down: 1. Appal, 2. Alien, 3. Hothead, 4. Darken, 5. Title,

6. Raiment, 7. Wrestle, 12. Refusal, 13. Concern, 15.

Explode, 16. Myopic, 18. Canny, 20. Snoop, 21. Egg on.

SOLUTION

No.180

Crossword Solutions

14 15 16 17 18 19 20 21 22 23 24 25 26

R

Y A

DECODER

1 2 3 4 5 6 7 8 9 10 11 12 13

T F O P R N G W Q Y C D B

14 15 16 17 18 19 20 21 22 23 24 25 26

E I H K L J A Z M S V X U

WORDBUILDER

imp, imps, ism, prim, prims, prism,

psi, rim, rims, rip, rips, sim, simp,

sip, sir T H E P U Z Z L E

C O M P A N Y

All puzzles copyright

T H E P U Z Z L E C O M P A N Y

www.thepuzzlecompany.co.nz

SUDOKU

Advertise

YOUr

BUsiNess

Here

Phone for further details

(03) 379 1100
---
34 Thursday February 7 2019

Latest Christchurch news at www.star.kiwi

Your guide to our LOCAL & TRUSTED

Travlon

Coachlines

Trades & Professional Services

To advertise: Phone 379 1100 or email star.class@starmedia.kiwi

The Star

BUILDER

• New Builds

• Renovations, extensions

• Repairs and maintenance

• Plastering and painting

Ring Mark

027 229 7310

for a free quote

www.longsilverconstruction.com

concrete & paving

Builder

BUILDers

"A local looking after locals"

• Licenced builder with 20 years

experience in renovations,

alterations and extensions

• A creative craftsman who is

attentive to detail

• Quotes the job, does the job

• Works with all budgets

Andrew Drewitt

Ph: 021 395 324

Email: ad_designs@hotmail.com

digga hire

CHARTER & TOUR

Travlon

Coachlines

Travlon Coachlines

School Run to some

private schools

ex Selwyn/Halswell area

"Wide range of coaches

"Wide

and buses for

School range of Run coaches to some and buses

for Charter

private schools

& Tour"

ex Selwyn/Halswell area

www.travlon.co.nz | Phone: 03 325 2959

"Wide

Email:

Phone: range

info@travlon.co.nz

03 325 of coaches 2959

Email: and info@travlon.co.nz

buses for

Charter Driveways & Tour"

CONCRETE

CONCRETE

Specialising in in residential

& commercial finishes for all your

& & commercial concrete requirements finishes for including: for all all your

concrete Floor requirements slabs • Driveways including:

Floor Pads slabs • Patios Driveways

• Paths

info@consol2003.co.nz

Pads Patios Paths

www.consol2003.co.nz

info@consol2003.co.nz

www.consol2003.co.nz

Call John on

info@consol2003.co.nz www.consol2003.co.nz

Call Call John John on on

027 227 8208

027 227 8208

Canterbury Canterbury owned owned owned and and and operated operated since since since 2003 2003

2003

DRIVEWAYS

• Driveways

• Earthquake repairs

• New Home Specialists

• Patios & Paths

tel: 0508 873 7483

email: sales@affordableconcrete.co.nz

www.affordableconcrete.co.nz

Short and long term hire -

Flexible and competitive rates

1.5t - 25t Excavators & attachmEnts

0800 344 425

Cnr SH1 & Weedons Ross Rd, Rolleston

Access from Manion Rd

www.travlon.co.nz

Phone: 03 325 2959

Email: info@travlon.co.nz

(Since 2005)

Over 22 Years Experience

Quality

Workmanship

• Driveways

• Kerb &

Channel

• Garden Edging

SWAINS

KIWI KERB

Phone: 0800 081 400

Mob: 0274 325 457

Exposed Aggregate

Stamped Concrete Plain

Concrete Resurfacing

Things we offer...

Competitive/affordable pricing

Attention to detail

Professional service

free quotes/insurance scopes

Cell 0278 145 848

www.drivecrete.co.nz

Excavations

landscaping

Mailer Deliveries

PAINTING & TILING

• Driveways

• Car Parks

• Site Cleaning

• Demolition

• Farm Tracks

• Drain Cleaning

• Stump & Hedge

Removal

• Ashpalt Concrete

Wide range

oF TruckS

• Tennis Courts &

Swimming Pools

• Chip Seal Driveways

• Diggers – 2 Ton

up to 20 Ton

• Excavators

• Bobcat & Drilling

• For Posthole &

Fence hole

For a Free Quote

on your next project

Phone Steve on 021 338 247

or 325 7922

Free

QuoTe

Landscape

Construction and

Garden Maintenance

You can have your gardens, trees,

shrubs, plants and lawns maintained to look their best

all year round, for a great price.

Residential & Commercial Landscaping

• Maintenance • Pruning • Reconstruction & Rejuvenation

• Rental Property and Commercial Maintenance

• Pre-Sale Tidy-Ups

New Home Landscaping

Lawns • Gardens • Decks • Paving • Water Features

• Quality • Value for money • Experienced • Punctual

• Professional • Flexible • Knowledgeable • Reliable

Call Ross Legg - 027 222 0388

Email ross@revivelandscaping.co.nz

www.revivelandscaping.co.nz

For a local, reliable

mailer delivery

service contact

Star Media

• Newspaper inserts

• Magazine inserts

• Letterbox deliveries

• Urban & Rural deliveries

For a cost effective, targeted delivery

please call 03 379 7100 or email

michaela.malloch@starmedia.kiwi

www.star.kiwi

• PAINTING • TILING

• PLASTERING

• WALLPAPERING

Phone Kevin Steel

• Interior/Exterior

• New Homes & Repaints

• Quality workmanship assured

• Correct preparation always undertaken

• 20+ years experience

• Earthquake repairs

(Painting/Plastering/Wallpapering/Tiling)

Ph 381 7417 or 027 216 8946

www.facebook.com/kevinsteelpainters&decorators

PLUMBER

PLUMBER

plumber

ROOF REPAIRS

NEED A PLUMBER

Call us now for fast friendly service.

Get your problems sorted out

quick smart - on time!!

Phone for a

FREE

quote now.

12 years

experience

Serving Christchurch and wider

Canterbury Region with quality

workmanship and service.

24/7 caLLOUT serVice

Water Filtration

Looking for the

best price on inhome

water filtration

systems? Aquapro

has you covered for

all your plumbing

needs!

Locally owned & operated with

over 30 years experience.

• Extensions & repair • Roof coating

• Concrete & clay tiles • Butynol

• Malthoid • Asbestos Certified

• Coloursteel • Old iron • Guttering

Phone Dave 981 0278

or 021 223 4200

E: dave@beaumontroofing.co.nz

BEAUMONT ROOFING LTD

Phone 03 377 1280 | Mobile 021 898 380

0508 AQUA PRO | aquaproplumbing.nz

PLUMBING | DRAINAGE | GAS FITTING | SOLAR
---
The Star Latest Christchurch news at www.star.kiwi

Thursday February 7 2019 35

Your guide to our LOCAL & TRUSTED

Trades & Professional Services

To advertise: Phone 379 1100 or email star.class@starmedia.kiwi

CONCRETE & PAVING

pc & phone repairs

• iPhones • Smart Phones

• iPads • Tablets • Computers

• Laptop Repairs, Parts and Accessories

• Glass Screen Protectors

• Phone Cases • Cables etc

Shop 3A, 1 Stark Drive, Wigram Business Park

Phone 0800 222 691

VIDEO PRODUCTION

business video

PRoduCTion

A video will bring your business alive & into your

customers mind.

Promote your services or business with a

professionally created video with us

• Corporate and Business

video a speciality

• Competitive rates

• 25 years experience

• Start to finished product

• Professional quality

guaranteed

PHone KeRRY 021 635 083

junk

DECORATORS

WINDOW TINTING

tintawindow

advanced film solutions

99% uv block

fade protection

heat control

reduce glare

25 Years Experience

PLUMBER

PLUMBING & GASFITTING

• Hot water cylinder repair/replacement

• Leaky taps, blocked toilets

• New housing

• All plumbing alterations

• Mains pressure hot water

• Fire and wetback installation

• Digger/tipper excavation and hire

• Watermain replacement/repair

• Free quotes

• Certified craftsman plumber

10% prompt payment discount*

same day service*

*conditions apply

call/text 027 245 5100

Freephone: 0508 426 269

privacy films

frosting designs

non-darkening films

Workmanship Guaranteed

Lifetime Warranties on Most Films

UV

block

New Paint • Repaints

Wallpapering • Fences

Repairs • Feature Walls

Floor & Roof Painting

Spray Painting

Light Commercial

Restoring Timber

Selwyn based but service the whole of Canterbury

www.andertondecorators.co.nz

www.facebook.com/andertondecorators

027 724 6846 027 PAINTIN

Why go to the Dump? Junkman comes to you!

Items too big for the rubbish bin?

Or too heavy for you to move?

Junkman comes to FROM

you & takes it away $

65 *

*Prices vary depending on items and volume – minimum charge $65

0800 586 5626

www.junkman.co.nz office@junkman.co.nz

Free Quotes Canterbury and Districts

03 365 3653 0800 368 468

The Star Classifieds

Trades & Services

• Commercial Carpet Cleaning

• Residential Carpet Cleaning

• Upholstery Cleaning

• Stain & Odor Removal

• Tile & Grout Cleaning

NEED HELP

WITH YOUR

CARPET CLEAN?

Simply give us a call

on 021 035 8989

We will get the job done

in a professional way.

AAA HANDYMAN

licensed carpenter electricAl

LBP, all property and • Residential, Domestic

and Commercial

building maintenance, • New Housing

repairs, bathroom/shower • Renovations

installations, with free • Switchboard upgrades

• LED Lighting upgrades;

quotes 03 383 1927 or 027

Residential, Domestic

245 5226 ciey@xtra.co.nz and Commercial

BRICK & BLOCK • Repairs and Maintenance

• Rewiring

LAYING all restoration

• Emergency Breakdown

work and new work plus and Repairs

foundations, ph 342 9340 • Ventilation Systems

or 021 853 033

• Competitive Rates

• Free Quotes for ChCh and

BUILDER QUALIfIED surrounding areas

50 yrs exp. Bathrooms, Elusion ElEctrical ltd

Kitchens, Renovations, Call: 03 421 5661

Repairs & Extensions Email: elusionelectrical

@gmail.com

Free quotes. Discount for

pensioners. Ph Mike 03

CLEANING

980 9771 or 027 2266 930

Mature female 25 yrs exp,

BUILDER QUALIfIED

$23 per hour, ph 03 323

Decks, T & G Flooring,

5533

Villa Restoring, New

Homes, Weatherboards.

CONCRETE CUTTING

Free Quotes. Bennet &

Affordable Concrete

Sons Ltd Sam 027 496-

Cutting with Quality, and

9362 or Tony 027 224-

removal work. Free quote.

0374

No job to small. Phone 027

CARPET & VINYL

442-2219, Fax 359-6052

Laying. Exp. Repairs,

a/h 359- 4605

uplifting, relaying,

restretching. Email

jflattery@xtra.co.nz ph

ELECTRICIAN

John on 0800 003 181 or

Prompt & reliable

027 2407416

registered electrician

with 24 years experience

CARPENTER/

for all residential and

BUILDER

commercial work, new

Licensed Building

housing and switch board

Practitioner no. 100981.

replacements. Phone Chris

All carpentry & building

027 516 0669

repairs & maintenance.

Alterations & property

upgrades.Laundries / ELECTRICIAN

bathroom / kitchens Available, 30 years

replaced. Specialising in experience, immediate

replacement of all rotten start, competitive rate, ph

timber, fascia boards, Brian 027 433 9548

window, windowsills etc.

John Sandford, ph 329 ELECTRICIAN

4616, mob 027 5189 598 Registered, electrical

johnsandford2@gmail. installation and repairs,

com

Gorbie Electrical, ph 021

CARPETLAYER 026 73375 or 03 322 4209

35yrs experience. Special

rates for seniors. Prompt ELECTRICIAN

service. Ph 021 046 0231 All types of domestic

& commercial work

House & Garden undertaken, new housing,

Property services Ltd alterations, extensions,

Tree and shrub pruning

Hedge trimming

Garden maintenance

Build raised gardens

Lawnmowing

CALL us 021 405 277

EXPERIENCED

GARDENER

(Kevin Garnett)

30 Years

Christchurch Botanic

Gardens.

ALL landscape

work done.

Maintenance, pruning,

tidy up, lawn work,

landscape planning

and planting etc.

Free Quotes

Phone 348 3482

Trades & Services

ELECTRICIANS

Professional

Friendly Registered

Tradesmen available

for your Electrical

requirements today.

For immediate

quality service please

contact

services

Ph. 03 322 8454

www.skeltonelectrical.co.nz

ranges, security lights,

quick response, efficient

service, free quotes,

city -wide. No call out

fee. M/S, 8-5. Call Pat

Barrett 03 359 2087/ 027

7331384.

fENCING

25 yrs exp. Fencing, all

styles & gates. Ph Mark

0273 313 223

fENCING, DECKS

& HOME RENO'S

All types of fencing.

decking & reno's. Free

quotes. Ph Jim 022 137

1920

fENCING

Quality timber fencing -

gates & repairs, ph Ryan

027 951 8892

DIRTY

TILES &

GROUT?

Our unique restoration processes will make your

tiled areas look BRAND NEW again!

We provide cost effective makeovers for showers,

bathrooms, kitchens or any other tiled areas.

Tiled Shower Makeovers

Professional Tile & Grout Cleaning

Re-Colouring of existing Grout

Tile/Grout Sealing

Tile/Grout Repairs

Silicone Replacement

Garage Carpet Installation

For your FREE no obligation quote contact

DARRYL

Trades & Services

0800 882 772

darryl.p@groutpro.co.nz

•Re Roofing

•Roof Repairs

•Spouting

Approved Age Concern provider

Over 30 years experience

Licensed Building Practitioner

N A BARRELL

ROOFING LTD

Ph: 349 9778 or 0275 389 415

Email: nabroofing@xtra.co.nz

fIXIT fACTORY

www.thefixitfactory.

co.nz (Burwood) repairs

to antiques and family

heirlooms, any wooden

furniture. Kids toys.

Any small engines or

motorcycles, plastic

welding. Flatpacks

assembled. Free quotes

and collection. Call Phil

0274 477 868

GARDEN

CORNER SORTER

Ring Graeme 027 341`

8596 / 342 5151

GARDEN

CORNER SORTER

Ring Graeme 027 341`

8596 / 342 5151

HANDY - DAN

General Handyman for

all your maintenance

requirements. I specialise

in fences and decking, also

do spouting cleans and

repairs and everyday home

maintenance. NO JOB TO

BIG OR SMALL I can do

it all, please don't hesitate

to call me on 022 600 7738

for a no obligation free

quote.

HANDYMAN

Odd Jobs. All handyman

services . 34 yrs exp. Free

quotes / advice .Discount

for pensioners.Try me I

probably do it. Ph Shane

390 1565 or 022 5275 668

HANDYMAN/BUILDER

All repairs & maintenance.

Carpentry, tiling, painting,

windows, doors, spouting,

roofing, kitchens,

bathrooms,. Free quotes.

Ph Ian 021 684-885

HANDYMAN/

REPAIRMAN

20 yrs exp. No job too

small. Prompt service,

reasonable rates. Free

quotes. Ph Wayne 9813873

/0272853083

Paving, Lawns, Irrigation,

Landscaping on facebook.

220-7014 Edwin 027 220-

LANDSCAPING

Decking, Fencing.

Kanga & small digger

services. Check out Squire

FREE QUOTES. Ph

Arthur 347-8796, 027

7154

LAWNMOWING

You Grow I Mow. Free

quotes. Ph / text Chris 021

252 1801

OVEN CLEANING

Professional cleans

$50.00. Gift Vouchers

avail. Phone 0800 683-

6253 or 027 228-0025

PAINTING

& PLASTERING Free

quotes. Int/ext & roof

painting Family run

business, work guaranteed.

Pensioner discounts. Ph

Kerin or Paul 022 191

7877 or 379-1281. Website

www.swedekiwipainting.

co.nz

ROOF

PAINTING

Rope & harness

a speciality,

no scaffolding

required,

30 years of

breathtaking

experience.

FREE QUOTES

Exterior staining,

exterior painting,

moss and mould

treatment and

waterblasting

Phone Kevin

027 561 4629
---
36

Latest Christchurch news at www.star.kiwi

Thursday February 7 2019

The Star

The Star Classifieds

Trades & Services

Entertainment

• Phone our local team 03 379 1100 • Email star.class@starmedia.kiwi

Public Notice

PAINTER

Wanting Work

• Reasonable rates

• Call for quotes

Ph Rose or Brian

021 0835 5204

021 0231 6806

30 years + experience

Older house

restorations:

no problem!

Quotes: FREE!

Rates: Reasonable

Paint supplied at

trade price!

NO JOB TOO SMALL

Light industrial also

Roger Brott

Painter & Decorator

021-1966-311

ROOF

PAINTING

Rope & harness

a speciality,

no scaffolding

required,

30 years of

breathtaking

experience.

FREE QUOTES

Exterior staining,

exterior painting,

moss and mould

treatment and

waterblasting

Phone Kevin

027 561 4629

PAINTING

& Decorating Wingfields

Contracting, all interior

& exterior painting & all

forms of interior plastering

& jib fixing, ph Mark 021

171-1586 or 355-5994

PAINTING

Indoor / Outdoor, over 30

yrs exp, same day quotes,

ph Steve 021 255 7968

PAINTING

Int / Ext. Free quotes. No

job too small. James 0220

652 637

PAINTING

Int / Ext. Free quotes. No

job too small. James 0220

652 637

PLASTERER

Phone Finn the interior

plasterer small job

specialist, holes, cracks,

renovatons, alterations.

Canty born. Ph 022

0874351

PLUMBER

AvAilAble for:

Hot water cylinder

replacements

Gas conversions

Top quality full

house filtration to

protect all your

plumbing and your

health from chlorine.

Phone Mike

021 132 8929

Over the years, Grant Amos has helped thousands

of people overcome their fear of flying.

Enrolments for our next "Flying Without Fear"

Programme are now being taken in your area.

REMEMBER, FEAR OF FLYING IS NOT

IRRATIONAL - DOING NOTHING ABOUT IT IS

For further details, contact Sue on 09 483 5547

or 0800 737 225 www.flyok.co.nz

Trades & Services

PLASTER MASONRY

PAINTING

WALLPAPERING

Roofing & Brick Repairs,

Stucco, Fixing, Stopping,

Cracks & Holes. Small

jobs ok. 30 yrs exp . Free

quotes. Gary 3428950 /

021 529 022

REMOVALS

Small furniture removals,

have own van, can fit

various types of whiteware

appliances, some furn,

bedding, boxes etc, honest

& reliable, any area

considered, ph Chch 027

517 7001

ROOFING REPAIRS

Fully qualified, over 40

yrs experience. Ph John

027 432-3822 or 351-

9147 email johnchmill@

outlook.com

RUBBISH REMOVAL

Van & Trailer Rubbish

Removal. Free quotes. Ph

Gary 342-8950, 021 529

022

SPOUTING CLEANING

Spouting Unblocked,

Cleaned Out and Flushed

Out. Call Trevor 332 8949

or 021 043 2034

SPOUTING

Select Spouting The

PVC specialist. Repairs &

replacement. Ph 022 197

2351

TREE SERVICES

Free quotes 20+ yrs exp.

Tree, hedge or shrub

- reduction, shaped or

removed. Ph/text Paul

The Branch Manager

0274314720

TREE TRIMMING

AND REMOVAL

Hedges cut, pruning. 20

yrs exp. Ph Alister 359

3090 ABT Tree Services

WINDOW CLEANING

Brown & White Ltd.

Family owned since 2001.

Ph Paul 027 229 3534

Public Notices

HOUSE & GARAGE

Cleanout. I'll pick up for

free. Ph 021 08439932.

Recycling Man. Charity

for Chch.

HOUSE & GARAGE

Cleanout. I'll pick up for

free. Ph 021 08439932.

Recycling Man. Charity

for Chch.

RESTRICTED

FIRE SEASON

Fire and Emergency New Zealand declares

a Restricted fire season, effective from

midnight, Tuesday 29 January 2019 in the

following area(s):

• Those lands encompassed by the

Christchurch City Council (including

Banks Peninsula), Selwyn District Council;

and

• Those lands encompassed by the Hurunui

and Waimakariri District Councils

A permit is required to light a fire in open air in

these areas.

See www.checkitsalright.nz for types of fire

which have been authorised as not being fires

in open air and do not need a permit.

Any fire permits issued during a restricted fire

season are suspended if Fire and Emergency

declares a prohibited fire season, or prohibits

fire in open air, in the area(s).

Bruce Janes

Principal Rural Fire Officer

North Canterbury

David Stackhouse

Area Commander

Christchurch Metro

To check the season status in an area

please visit www.checkitsalright.nz

or call 0800 658 628.

Foster

Grandparents

Available

We are Dianne and Graeme

Sinclair.

We are of retiring age and as

our grandchildren live overseas

we have a lot of spare love to

give a family whose children

do not have grandparent

interaction and influence.

If you are interested please

email or phone

dianne.sin@hotmail.com

0211331961 / 0211132016

We can provide references and a

police report.

Public Notices

Further information about fire

seasons is available on

www.fireandemergency.nz

Everglades Country

Golf Club (Inc)

AGM

To be held at

the clubrooms,

Marshland Rd,

Saturday 16 th

February, 4pm

All members are

cordially invited to

attend.

M Ruddenklau,

secretary

PERMITTED TEMPORARY ACCOMMODATION

AND PERMITTED TEMPORARY DEPOTS

AND STORAGE FACILITIES

Under Clause 7(3)(a) and Clause 8(3)(a) of the Canterbury Earthquake (Resource Management Act Permitted

Activities) Order 2011

Despite anything to the contrary in the Christchurch City Plan, the activities listed below are permitted activities in the

specified locations if they comply with the prescribed standards:

1. ACTIVITY: Temporary use of the application site for storage of plant and equipment, and stockpiling of materials,

for the reconstruction of Petrie Street, Randall Street and Stapletons Road as part of the Canterbury

Earthquake Recovery for the area.

LOCATION: 53 Petrie Street, Richmond

APPLICANT: Michael Downs – Mike Downs Contracting Ltd

REFERENCE NO: RMA/2018/2920

STANDARDS:

1. The use of 56 Petrie Street (hereon referred to as 'the site') as a depot for stockpiling and storage related to the

road reconstruction works for Petrie and Randall Streets and Stapletons Road shall be managed in accordance

with the information submitted for temporary accommodation application, including the environmental

management plan, now labelled RMA/2018/2920 in Council records.

Hours/duration

2. The hours of operation shall be 7:00am to 6:00pm Monday – Friday and 7:30am – 1:00pm Saturdays. No work

on Sundays or public holidays except in emergencies or to mitigate potential effects, such as dust control.

3. The activity shall cease by or on 30 June 2019 including remediation of the site (refer to standard 4 below).

4. Upon vacating the site:

a. All buildings, machinery, material and stockpiles placed by Mike Downs Contracting Ltd on initial occupation

and throughout the road reconstruction works shall be removed from the site and the site shall be left in a

tidy condition.

b. Exposed soil shall be suitably finished, such as with polymer, so as to not cause a dust nuisance to adjoining

sites, to a standard acceptable to a Council Monitoring Officer. Advice that this work has been completed

shall be sent to the email envResourceMonitoring@ccc.govt.nz within one week of vacating the site.

Noise

5. The generator on site shall only operate during hours set out in standard 2 above.

6. The activity on the site shall be managed in accordance with the measures outlined in the Noise and Vibration

Management Plan, submitted with the application (monitored regularly onsite by Powell Fenwick, or EnviroCo

under the guidance of Powell Fenwick. The noise will be assessed against the limits detailed in Table 25 -

Guideline construction noise limits).

7. Activity on the site shall be undertaken in accordance with the Environmental Risk Assessment and Management

Plan, and NZS 6803:1999 Acoustics - Construction Noise.

Dust

8. Dust on the site shall be controlled using watercart, hoses and sprinklers as required. Sprinklers shall be set up

on timers when there are not people on site to operate sprinklers.

9. The surface of stockpiles shall be surface compacted or wetted to form a 'crust' or covered with sheeting during

periods of weather with high erosion potential.

10. In the event of extreme weather (high winds or heavy rain forecast) polymer & covering of stockpiles shall be

used to control dust and sediment from stockpiles.

11. The existing roading shall be regularly checked for sediment being tracked by vehicle movements from site and

swept as required.

12. The stabilised exit shall be well maintained so as to remain effective.

13. Vehicle loading and unloading operations shall occur during times of low wind velocity wherever possible.

14. If work on the site needs to occur during high wind speeds, the material shall be wetted to prevent the discharge

of dust beyond the boundary.

15. If excessive dust is generated, the workers shall apply water, dust suppression or cease work.

16. There shall be a copy of the environmental management plan made available and made clear to all workers on

the site.

17. Standard good practice for dust controls should include the following:

a. Timing of works including prevalent wind direction.

b. Covering any stockpiles.

c. Dampening any exposed soils during dry conditions.

d. Minimising drop heights from loaders

18. Stormwater sump inlet protection covers shall be installed in the existing roadside channels surrounding the site.

Hazardous substances

19. All refuelling of vehicles shall take place within a bunded area in the site compound. Drip trays shall be used to

ensure no tracking of hydrocarbons outside of designated area. A fully stocked spill kit shall be readily available

should a spill event occur.

20. All hydrocarbons shall be stored in a bunded area with a minimum 150% containment capacity and locked in a

container overnight. Only well maintained machinery is to be used at the site, with a spill kit readily available

should a spill event occur. Vehicles are to be kept in a secured location overnight.

21. All spoil and other waste materials shall be removed from site at the completion of works.

General

22. Temporary fencing shall be erected on the site along the road boundaries with Petrie and Randall Streets.

23. The activity must not create any significant adverse effects (relating, but not limited to, noise, dust, mud, light

spill, odour, traffic generation, refuse disposal, animal control and visual amenity) that will, in the opinion of a

Council Compliance Officer or Environmental Health Officer, cause nuisance for occupiers of surrounding sites.

24. The applicant shall provide their phone number to surrounding neighbours to contact if issues arise.

2. ACTIVITY: Temporary relocation of real estate offices (3-5 months duration)

LOCATION: 16 Medway Street, Richmond

APPLICANT: Mike Pero Real Estate Merivale (Real Estate Services)

REFERENCE NO: RMA/2018/3086

STANDARDS:

1. The activity must proceed in general accordance with the information submitted to the Council on 14 December 2018.

2. The hours of operation shall be 9:00am to 5:00pm Monday to Friday.

3. The temporary accommodation activity shall cease by or on 10 June 2019.

4. No more than three full time equivalent persons shall be employed on the site.

5. No signage shall be installed as part of the temporary accommodation activity.

6. Vehicles shall be parked within the application site or within the road reserve. Vehicles shall not be parked on

the shared access that crosses 14 Medway Street.

7. The activity must not create any significant adverse effects (relating, but not limited to, noise, dust, mud, light

spill, odour, traffic generation, refuse disposal, animal control and visual amenity) that will, in the opinion of a

Council Compliance Officer or Environmental Health Officer, cause nuisance for occupiers of surrounding sites.

Note: If any significant adverse effects do arise, then the Council can impose additional requirements or conditions

to avoid, remedy or mitigate those adverse effects.

John Higgins

RESOURCE CONSENTS MANAGER

www.ccc.govt.nz
---
The Star Latest Christchurch news at www.star.kiwi

Thursday February 7 2019 37

christchurch

GIG GUIDE

Thursday 07 - Wednesday 13 February 2019

To add a listing, contact

Jo Fuller 03 364 7425 or

027 458 8590

jo.fuller@starmedia.kiwi

www.star.kiwi/whatson

'Famous for their roasts!'

Start your

day with us

A ROLLING STONE, 579

Colombo St: Thursday 7.30pm -

Open Mic. Friday 8pm - The Rockin' 50s,

tickets $5. Sunday 2pm - Fundraiser for

Sherrin feat. all original music in a

Songwriters in the Round Session,

followed by multi-award winning artists

Gina & Shane Keating, K4 (the Keating

Brothers), Sharon Russell, The

Ranchsliders and Krakkerjack Band.

Funds go towards Sherrin's non-funded

ongoing medical expenses after

contracting meningitis. Ticketed.

Wednesday 7pm - Trad Session & Irish

Language Lessons.

BILL'S BAR, 1 Halswell Rd:

Thursday 6pm - Mickey Rat's Karaoke.

Friday 7pm - Flat City Brotherhood.

Sunday 6pm - Mickey Rat's Karaoke.

Friday 22 Feb - Nyree Huyser.

CASHMERE CLUB, 50 Colombo

St: Thursday 7pm - Cashmere Ukulele

Group. New players and singers welcome.

CHRISTCHURCH CASINO,

Victoria St: Friday 6pm - Absolut;

9.15pm - Marcel. Saturday 7pm - Blackie;

10.15pm - Steve & Andy. Sunday 5.30pm

- Lonesome Sue.

DEEP SOUTH LAZY SUNDAYS,

Christchurch Botanic Gardens,

Rolleston Ave: Sunday 3pm - Yurt

Party (Gypsy roots), free.

HORNBY WMC, 17 Carmen Rd:

Saturday 7pm - Jo's Karaoke.

HORNCASTLE ARENA, Jack

Hinton Drive: Tickets at Ticketek.

ISAAC THEATRE ROYAL, 145

Gloucester St: Tickets at Ticketek.

LIVE AT THE POINT, Godley

Grounds, Diamond Harbour:

Sunday 2.30pm - The In Crowd. Sunday

17 Feb - Flaming Femmes. Sunday 24

Feb - Vaguely Related. Sunday 3 Mar -

French for Rabbits. Free.

MAINSTREET SPORTS BAR, 37

High St, Rangiora: Sunday 4pm -

Danger Baby.

East-European meets

dubby-roots this Sunday

afternoon in the Botanic

Gardens with Gypsy-Balkan

beat outfit Yurt Party.

RACECOURSE HOTEL, 118

Racecourse Rd, Sockburn:

Saturday 7pm - Code Red. Sunday 6pm -

Lance Kiwi Karaoke. Friday 22 Feb -

Medium Rare.

RICHMOND WMC, 75 London

St, Richmond: Friday 7pm - Robbie

Drew. Saturday 7pm - Anthony. Sunday

3pm - Peter Cairns.

STOCKXCHANGE, 110

Marshland Rd: Friday 7pm - Misfitz.

Saturday 7pm - Atarmies.

STYX & STONE, Northwood

Supa Centre, 1 Radcliffe Rd:

Friday 6pm - Lloyd & Doublet.

TEMPS BAR, 21 Goulding St,

Hornby: Friday 8.30pm - DV8.

Saturday 8.30pm - End Game.

Wednesday - Mickey Rat Karaoke.

THE CRAIC IRISH BAR, 84

Riccarton Rd: Thursday 9.30pm -

Karaoke. Friday - The Rocky Road Irish

Duo. Saturday - Stout Duo. Wednesday

9pm- Karaoke.

THE MILLER BAR, 308 Lincoln

Rd, Addington: Thursday 7pm -

Learn to Rock n Roll. Friday 9.30pm -

Don't Tell Mama. Saturday 9.30pm - Old

Skool. Tuesday 7.30pm - Quiz with

Chris. Wednesday 8pm - Karaoke with

Lance Kiwi.

THE PAPANUI CLUB, 310

Sawyers Arms Rd: Friday 7.30pm -

Ryan Ferris. Sunday 3pm - Sunflowers

Duo.

THE WAVE BAR, Marine Pde,

New Brighton: Thursday 8.30pm -

Karaoke. Friday 8.30pm - DJ. Saturday

8.30pm - Live music.

TREVINOS , 22 Riccarton Rd:

Friday 9pm - Reckless Duo.

WOOLSTON CLUB, 43 Hargood

St: Saturday 7.30pm - Lino.

RESTAURANT & CAFÉ

Kid's SPECIAL

Two courses

Seniors SPECIAL

Two courses

$13

We are family friendly. Great Kids menu plus designated play area.

Soup/Roast or

Roast/Dessert

SERVING

Special available lunch only

Monday - Saturday 12pm - 2.30pm

HAPPY HOUR

5PM - 7PM DAILY

$22

We are open from 6.30am

Cooked

breakfasts

$19

Check out our extensive

breakfast menu from

Continental to Cooked

The

RACECOURSE HOTEL

& Motorlodge

118 Racecourse Rd, Sockburn,

Christchurch. Ph 03 342 7150

www.racecoursehotel.co.nz

OUR CABINET ITEMS

ARE HOMEMADE

CREATED FRESH ON SITE DAILY

$12

LUNCH

SPECIALS

Enjoy a feast of

prosperity & celebrate

with us this year

AVAILABLE ONE

WEEKEND ONLY

FRIDAY 8 FEBRUARY

TO

SUNDAY 10 FEBRUAY

NORMAL PRICES

DINNER SESSIONS ONLY

Lunch & Dinner

All you can eat, 7 days

Bookings Essential PH 386 0088

fb.com/GardenHotelRestaurant www.gardenhotel.co.nz

COFFEE

HAPPY

H O U R

2PM-4PM

DAILY

THE GARDEN HOTEL COMPLEX | 110 MARSHLAND RD

www.gardenhotel.co.nz | phone 385 3132

$3.50

Offer available for a limited time

and includes tea, hot chocolate

MON: ROAST MEAL

TUE: FISH & CHIPS

WED: FISH BURGER

THU: ROAST MEAL

SAT: FISH & CHIPS

AVAILABLE

FROM

11.30AM-2PM

FOR A

LIMITED TIME

LIVE MUSIC RETURNS

SATURDAY 16 FEB 2019

PHONE 385 8880 FIND US ON FACEBOOK fb.com/GBCCHCH
---
38 Thursday February 7 2019

Latest Christchurch news at www.star.kiwi

The Star

H ORNBY

WORKINGMEN'S

CLUB

BUSINESS AS USUAL DURING REDEVELOPMENT

LIVE MUSIC

SATURDAY 7PM: JO'S KARAOKE

SUNDAY 17 FEBRUARY, 2PM:

Sharon

EVENTS COMING UP

O'Neill

CLUBS NEW ZEALAND WARMLY WELCOME MEMBERS,

THEIR GUESTS AND AFFILIATE CLUB MEMBERS.

FOR MORE INFORMATION,

CONTACT A CLUB WITHIN THIS SECTION.

Jody's goal:

"to keep

releasing

music that

is real and

oozes

positivity"

HOME AGAIN II

TOUR

THE SONGS &

THEIR STORIES

SATURDAY 23 FEBRUARY, 8PM:

JODY

DIREEN

TICKETS $20 AT

CLUB OFFICE

THE Hornby Club has two big shows

coming up this month. International

singer-song writer Sharon O'Neill next

Sunday 17th February and multi award

winning country music star Jody Direen

on Saturday 23rd February.

Hailing from Wanaka, Jody Direen is

oen referred to as New Zealand's 'Queen

of Country Music'. Since releasing her self

penned debut album 'Here We Go' in 2011,

her career has taken off. She has claimed

numerous awards, toured extensively and

shared the stage alongside some of the

worlds biggest country superstars such as

Lady Antebelum, Kelsey Ballerini, Jason

Aldean, Kip Moore, and Lee Brice.

Recorded with an edgier sound, Jody's

second album 'Breaks Out' was a turning

point in her career. Laden with inescapable

hooks and powerful vocals the album

received rave reviews and was selected as a

finalist in the 2016 NZ Country Music

Award's Best Country Album of the Year.

Aer touring New Zealand for a solid

five years including trips to Nashville and

Australia for song writing and recording,

Jody signed with major record label, ABC

Music and partner label Universal Music.

She set out on her first tour of Australia

late 2016 with the Wolfe Brothers, Caitlyn

Shadbolt, Christie Lamb, Troy Kemp and

Canadian star Gord Bamford. is

supported the release of her third studio

album 'Shake Up'. is album won her the

Tui Award for Best Country Album at the

2017 NZ Country Music Awards.

"I am so grateful for my journey so far,

the people and fans who continue to

support my music. My goal now is to keep

releasing music that is real, and oozes

positivity. Music that is fun, and reflects

my own personal experiences. So that I

can connect with and help others. Help

them see happiness and hope during hard

times, help them dance when their out at

night or in their living room, help them

create amazing memories influenced by

my songs. Help them realise they are not

alone in the world. at is what I want my

contribution to the world to be."

The Hornby Club, 17 Carmen Rd,

phone 03 349 9026.

FAMILY FRIENDLY DINING

NEXT BUFFET: MARCH!

SUN 3 MAR

SUN 7 APR

SUN 5 MAY

SUN 9 JUN

5-8PM IN THE

SPORTS HALL

ADULTS $27

CHILDREN 5-12 =

$1 PER YEAR OF AGE

BOOKING ESSENTIAL

BOOK NOW!

Club

OPEN DAILY

LUNCH & DINNER

CAFE GF & V options available

The Hornby Club | ph 03 349 9026 | 17 Carmen Rd | Hornby

www.hornbywmc.co.nz Members, guests & affiliates welcome

What's On @ Woolston

SATURDAY 9 FEB 7.30PM

UPCOMING EVENTS

SATURDAY 16 MARCH 6.30PM

OZ TO NZ

Pure

Country

DINNER & SHOW

TICKETS $65 AT DASH

LIVE MUSIC

Lino

43 Hargood St, Woolston. Ph 03 389 7039

www.woolstonclub.co.nz

Follow us on Facebook

www.facebook.com/WoostonclubInc

RESTAURANT OPEN

Wednesday - Sunday from 5pm

Sunday Roast

BUFFET

INCLUDES A ROAST & DESSERT

5PM - 7PM $20 ADULTS

$12.50 KIDS

$10 Lunch Menu

TUESDAY 11am-8pm

WED - FRI 11am - 3pm
---
The Star Latest Christchurch news at www.star.kiwi

Thursday February 7 2019 39

What s On

AT THE

CLUBS NEW ZEALAND WARMLY

WELCOME MEMBERS, THEIR GUESTS

AND AFFILIATE CLUB MEMBERS.

WHAT'S ON

AT THE

RICHMOND

CLUB

richmond

Become a member

Club BISTRO

Open Wednesday to Sunday

Lunch & Dinner

club

www.rwmc.co.nz

pride of the east

since 1888

TODAY!

FOR MORE INFORMATION, CONTACT A

CLUB WITHIN THIS SECTION.

PLAYING THIS

WEEKEND

FRIDAY 7PM

ROBBIE

DREW

SATURDAY

7PM

ANTHONY

SUNDAY 3PM

PETER

CAIRNS

CLUB MEMBERS

FAMILY

PICNIC

SUNDAY

17th February

Come & have

a great day!

RICHMOND PARK

Entrance from Woodchester Ave

Gates open 10.30am

Current membership

required for entry.

• Open daily from 11am • Courtesy Van • TAB & Gaming

75 London St | Ph 389 5778 | www.rwmc.co.nz

Cashmere Club

50 Colombo Street

www.cashmereclub.co.nz

THURSDAY & FRIDAY

HAPPY HOUR

4pm-6pm

MEAT RAFFLES

from 4pm

MEMBERS CASH DRAW

$1800*

*if won on Thursday, Friday Draw

resets to $200

From 7pm

HEATHCOTE ROOM

Cashmere

Ukulele Group

NEW PLAYERS & SINGERS

WELCOME

SATURDAY

EXTENDED HAPPY HOUR

5pm-7pm

NEW MEMBERS WELCOME

JOIN TODAY

AND GET 2 MONTHS

FREE!

JUST $30 TO JOIN THE

CASHMERE CLUB UNTIL 31.3.2020

Ph 03 332 0092

Fax 03 337 3772

fb.com/TheCashmereClub

SUNDAY

KIDSEAT

*FREE

SUNDAY

*under 12 when accompanied

by an adult dining

BOOKINGS RECOMMENDED

Riverview

RESTAURANT

OPEN TUESDAY TO SUNDAY

DINNER FROM 5.30PM

LUNCH FROM 11.30AM

CLOSED SATURDAY LUNCH

*

DINE FREE

ON YOUR BIRTHDAY

*ALL FINANCIAL MEMBERS

RECEIVE ONE FREE MAIN MEAL

DURING THE MONTH OF

THEIR BIRTHDAY!

(PRESENT MEMBER CARD TO

REDEEM. T's & C's APPLY).

WEDNESDAY

QUIZ IS BACK!

COME ALONG FROM 7PM

FOR OUR QWIZARD QUIZ

IN THE SPORTS BAR.

TEAMS OF 4-6.

«QUIZ NIGHT SPECIAL«

$15 KIWI

BURGER

(WITH EGG & BEETROOT) + FRIES

+ A GLASS OF TAP BEER

(EXCLUDES CRAFT BEER),

HOUSE WINE OR SOFT DRINK.

Christchurch's only beach side club

What's On

by the beach

TUESDAYS & THURSDAYS

MEMBERS LUCKY CARD DRAW

COMING UP

LIVE MUSIC

SUNDAY 17th FEB, 3-7pm

THE ATARMIES

FUNCTION ROOMS - GAMING ROOM

TAB POD

SHUTTLE SERVICE Tues, Thurs, Fri, Sat.

Dine by the Beach

PIERVIEW CLUB

RESTAURANT BISTRO

UPSTAIRS

Open from 5.30pm Fri, Sat, Sun,

Sunday Brunch from 10.30am to 2pm.

VALENTINES DAY

DINNER

Thursday 14 Feb 19

BOOK NOW!

NB. RESTAURANT CLOSED

SATURDAY 16 FEBRUARY

FOR PRIVATE FUNCTION

MONTH END

SUNDAY NIGHT

BUFFET $25

Sunday 24th FEB

DOWNSTAIRS

Open Tues to Sat

12pm - 2pm &

from 5pm

BISTRO ROAST

SPECIAL

Tuesday - Thursday

Dine in only

$12

202 Marine Pde - Ph 388-9416 - www.newbrightonclub.co.nz - Members, guests & affiliates welcome
---
40 Thursday February 7 2019

Latest Christchurch news at www.star.kiwi

The Star

Jamie Single Bed

Mattress sold separately.

was $ 299 then $ 249

Ibiza 3 Piece Outdoor Dining Set

150cm Table + 2 x 120cm Benches

was $ 1779

then $ 1399

Torana 2 Seater Leather/PVC

Recliner

was $ 1099

then $ 949

now only

$

149

now only

$

899

now only

$

649

Chloe Corner Sofa + Ottoman

Available in Duck Egg or Grey

Caymen Outdoor Lounge Suite

3 + 1 + 1 + Coffee Table

was $ 1999

then $ 1799

was $ 3199 then $ 2499

SAVE $ 1500

now only

$

1399

now only

$

1699

0% INTEREST?

WE CAN DO THAT.

Terms and conditions apply. Ask in store for more information.

MORE SAVINGS + SUPER

DEALS IN STORE & ONLINE.

All Bedroom, Dining, Lounge

& Outdoor ON SALE.

Sale ends 11.02.19

Shop

Online

Nationwide

Delivery

Finance

Options

targetfurniture.co.nz

Cnr Blenheim & Curletts Rds, Christchurch

Ph: 0800 TARGET (0800 827438)

Offers and product prices advertised here expire 11/02/19.

Sale excludes Manchester and Accessories.