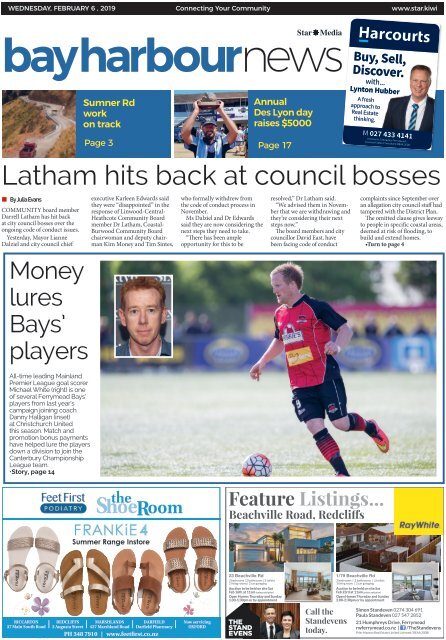 Bay Harbour: February 06, 2019
Do you know the secret to free website traffic?
Use this trick to increase the number of new potential customers.
WEDNESDAY, FEBRUARY 6 , 2019

Connecting Your Community

www.star.kiwi

Sumner Rd

work

on track

Page 3

Annual

Des Lyon day

raises $5000

Page 17

Buy, Sell,

Discover.

with...

Lynton Hubber

A fresh

approach to

Real Estate

thinking.

M 027 433 4141

Harcourts Grenadier Ferrymead -

Licensed Sales Consultant REAA 2008

Fo

Latham hits back at council bosses

• By Julia Evans

COMMUNITY board member

Darrell Latham has hit back

at city council bosses over the

ongoing code of conduct issues.

Yesterday, Mayor Lianne

Dalziel and city council chief

executive Karleen Edwards said

they were "disappointed" in the

response of Linwood-Central-

Heathcote Community Board

member Dr Latham, Coastal-

Burwood Community Board

chairwoman and deputy chairman

Kim Money and Tim Sintes,

who formally withdrew from

the code of conduct process in

November.

Ms Dalziel and Dr Edwards

said they are now considering the

next steps they need to take.

"There has been ample

opportunity for this to be

resolved," Dr Latham said.

"We advised them in November

that we are withdrawing and

they're considering their next

steps now."

The board members and city

councillor David East, have

been facing code of conduct

complaints since September over

an allegation city council staff had

tampered with the District Plan.

The omitted clause gives leeway

to people in specific coastal areas,

deemed at risk of flooding, to

build and extend homes.

•Turn to page 4

Money

lures

Bays'

players

All-time leading Mainland

Premier League goal scorer

Michael White (right) is one

of several Ferrymead Bays'

players from last year's

campaign joining coach

Danny Halligan (inset)

at Christchurch United

this season. Match and

promotion bonus payments

have helped lure the players

down a division to join the

Canterbury Championship

League team.

•Story, page 14

Feature Listings...

Beachville Road, Redcliffs

Summer Range Instore

23 Beachville Rd

3 bedrooms | 2 bathrooms | 3 toilets

2 living rooms | 2 car garaging

Auction to be held on site Sat

Feb 16th at 11am (unless sold prior)

Open Homes Thursday and Sunday

1.00-1:30pm or by appointment

1/79 Beachville Rd

3 bedrooms | 2 bathrooms | 2 toilets

1 living room | 2 car garaging

Auction to be held on site Sat

Feb 23rd at 11am (unless sold prior)

Open Homes Thursday and Sunday

2.00-2:30pm or by appointment

RiccaRton

37 Main South Road

RedcliffS

2 augusta Street

MaRShlandS

427 Marshland Road

daRfield

darfield Pharmacy

Ph 348 7910 | www.feetfirst.co.nz

now servicing

oXfoRd

Call the

Standevens

Simon Standeven 0274 304 691

Paula Standeven 027 547 2852

21 Humphreys Drive, Ferrymead

rwferrymead.co.nz | /TheStandevens

today. Prier Manson Real Estate Limited Licensed ( REAA 2008)
---
PAGE 2 Wednesday February 6 2019

BAY HARBOUR

Latest Christchurch news at www.star.kiwi

get in touch

from the editor's desk

IT LOOKS like the lawyers will continue

to gain from the ongoing code of conduct

matter involving Darrell Latham, and

other community board members from

across the estuary.

On page 1 we report city council chief

executive Karleen Edwards and Mayor Lianne Dalziel are

weighing up their response to the latest development in the saga.

That will certainly involve more legal advice, which will come

at a cost. It stands to reason the city council took legal advice

over the matter initially, which Latham and co's lawyer says was

wrong.

But there will be even more to come out of this. It appears

the legal opinion given on the matter means community

board members may in fact not be subject to code of conduct

complaints. Interesting.

– Barry Clarke

GENERAL INQUIRIES Ph 379 7100

CLASSIFIED ADVERTISING Ph 379 1100

Star Media, a division of Allied Press Ltd

PO box 1467, Christchurch

starmedia.kiwi

NEWS

Louis Day

Ph: 021 919 917

louis.day@starmedia.kiwi

ADVERTISING

Rob Davison

Ph: 021 225 8584

rob.davison@

starmedia.kiwi

news

Pedestrian crossing bid for Main Rd

The Redcliffs Residents' Association has a plan to improve

safety at the entrance to Barnett Park.

Page 5

news

Summerfest starts on Friday

Head to the Lyttelton Rose Garden grounds for local music,

entertainment and cinema from 7pm.

Page 11

community events

Become tech savvy

If you need help using technology, go to a free drop-in session

at Matuku Takotako: Sumner Centre on Monday, 2-3pm.

Page 21

The best-read local newspaper, delivered to

10,056 homes, RDs and farms every Wednesday

Brookhaven, Heathcote, Ferrymead, Redcliffs, Mt Pleasant,

Sumner, Lyttelton, Diamond Harbour, Governors Bay, Akaroa.

Lazy Sundays

Featuring Yurt Party

FREE

Sunday 10 February, 3–4.30pm

Archery Lawn, Botanic Gardens

ccc.govt.nz/summertimes
---
Wednesday February 6 2019

News

WORK ON reinstating the

critical road link between

Sumner and Lyttelton is on

track to be finished at the end of

next month.

The road has been closed to

the public since tonnes of rock

came tumbling down onto it

from the surrounding cliffs

during the February 22, 2011,

earthquake.

Said city council

spokeswoman Lynette Ellis:

"The final push is on to get the

road surface laid, the safety

barriers installed, and the line

markings done. While our

contractors are doing this work,

there will be trucks moving

through both Lyttelton and the

Redcliffs-Sumner areas.

"At the Lyttelton end of the

road, stonemasons are working

to finish the retaining walls. The

Home & Business Security • Cameras • Gates & Fencing

Access Control • Alarm Monitoring • Home Automation

Alarms Electrical Cameras Intercoms Auto Gates

Residential and Business Security

Tailor Made Security Solutions

All Your Electrical Needs

Custom Designed Automatic Gates

Innovative Intercom Systems

Pet Friendly Sensors

Security Cameras

Access Control Systems

Electric Fencing

Service and Maintenance

24/7 Fault Service

Locally owned and operated

All faults attended that same day

walls are being built from rocks

that were salvaged from Sumner

Rd as part of the rockfall riskreduction

work."

Latest Christchurch news at www.star.kiwi

Sumner Rd on track for March finish

CRITICAL: Repairs to Sumner Rd are set to be finished by the

end of March.

tree trouble?

call us 384 9630

www.fourseasonstreecare.co.nz

The work on Sumner Rd is

being jointly funded by the

city council and New Zealand

Transport Agency.

Ms Ellis said getting this

critical transport route between

the city and the Port of Lyttelton

reopened would be a major

milestone.

"It will make moving overdimension

freight to and from

the port much easier and it

will mean no more dangerous

goods convoys through the

tunnel," she said.

"It will also reconnect the

communities of Lyttelton and

Sumner and open up access to

FROM

cOMMIsIOn

Getting Sumner Rd

reopened has involved:

•Blasting 100,000 cu m

of rock and moving it to

Gollans Bay Quarry

•Building a 407m long

catch bench to intercept

falling rocks from the Crater

Rim Bluffs. The back of the

bench is 18m metres high,

and the 15m wide floor

of cushioning material is

designed to trap falling

rocks

•Building a 50m long, 7m

high rock interception bund

•Reinstating 2.6km of road

•Installing 2.6km of safety

barrier

•Replacing/resealing

16,700 sq m of road

•Repairing/rebuilding 30

retaining walls, the biggest

of which is 132m long and

7m high

•Planting 30,000 plants

the Port Hills for cyclists.

"When the road does reopen,

there will be changes in traffic

patterns as some heavy vehicles

return to moving through

Redcliffs, Sumner, and parts

of Lyttelton for the first time

since the February 22, 2011,

earthquake. We will be working

with the affected communities

to let them know about the

changes."

mirror mirror on the wall...

...we have the

fairest

fee of all

• Full Professional 5 star Service

• Free Appraisals for all

BAY HARBOUR

Local

News

Now

In Brief

PAGE 3

Fire rages, homes at risk

$2500 FROM CONCERT

Lyttelton country band The

Eastern raised $2500 for the

Seafarers' Centre at a benefit

concert over the holidays. The

centre provides seafarers with

assistance, care support and wi-fi

so they can speak to their family

back home. The centre has had

about 10,000 visits from seafarers

docking in Lyttelton since it

opened three years ago. Lyttelton

Seafarers' Centre Charitable

Trust chairman Reverend John

McLister said the money will

help ensure it could continue to

provide seafarers with assistance.

STATION WORK TO START

Remediation of the Little River

railway station is on schedule to

begin at the end of the month.

The work includes replacing

rotten timber, replicating the

damaged skylight that was

removed, painting the exterior,

and improving accessibility. Staff

are currently working through the

detailed designs for the repairs.

SKATE BOWL TENDERS

Tenders have been called for the

construction of the Governors Bay

Community Centre skate bowl

and pump track. Construction

is expected to start in autumn

and take about two months to

complete. The construction is part

of the upgrade of Frame Reserve.

FREE QUOTES

P: (03) 384 0995 24/7 E: info@actionsecurity.co.nz

www.actionsecurity.co.nz

t h e t r e e p e o p l e

f o u r s e a s o n s t r e e C a r e

Debra Hakaraia

Director | Principal

Contact Us: Telephone 0275 620 420

debra.hakaraia@smartrealestate.co.nz

www.smartrealestate.co.nz

Licenced under the Real Estate Agents Act 2008

UNDER NEW

OWNERSHIP

Heineken

12pk Bottles

Canadian Club/

Jim Beam

10pk Bottles

Jamesons

Irish

Whiskey

700ml

Gordons

Gin

1 Litre

Teachers

Whisky

1 Litre

The Ned

Excludes P/Noir & Chardonnay

$

23 99

pack

$

23 99

each

$

32 99

each

$

36 99

each

$

34 99

each

$

14 99

each

9 Humphreys Drive, Ferrymead (down Kite Lane, opposite Casual & Country) | Phone: 03 376 4079 | OPEN 7 DAYS

Prices valid Wednesday

Feb 6 – Tues Feb 19
---
PAGE 4 Wednesday February 6 2019

BAY HARBOUR

Latest Christchurch news at www.star.kiwi

News

Latham 'disappointed' it took legal advice to understand rights

•From page 1

As a result of their outspoken

comments, Greater Christchurch

Regeneration Minister Megan

Woods approved the city

council's proposal to amend

the District Plan under section

71 of the Greater

Christchurch

Regeneration Act.

Legal advice from

former Ombudsman

Leo Donnelly who

works for high-profile

law firm Chen Palmer

found community

board members are not

bound by the council's

code of conduct under

the Local Government

Act 2002, which led

to the group

withdrawing.

Dr Latham said he

was "disappointed"

it took getting legal

advice for the group

to understand their

rights.

"All community

board members within

the Christchurch City

Council should be fully

aware of their rights

. . . there hasn't been

that disclosure."

The legal advice would set a

Karleen Edwards

precedent for other community

board members around the city

and the rest of the country, he

said.

Ms Dalziel and Dr Edwards

would not comment on Cr East's

code of conduct complaint as the

process is ongoing.

The code of conduct

sets out the standards

of behaviour expected

from elected members

of the city council.

Penalties from code

of conduct complaints

range from a request

for an apology to

resignation.

"We stood up and

did the right thing

by our community.

A code of conduct

agreement is about

doing the right thing

and we did the right

thing," Dr Latham

said.

The legal advice was

sought by the New

Brighton Pier and

Foreshore Promotion

Society, which was the

group that fundraised

money for the New

Brighton Pier and

continues to lobby for the area.

Society chairman Stewart

Lianne Dalziel

POWER: A new 2.2km electricity cable will be installed

through Lyttelton Tunnel.

RISK: Community board member Darrell Latham said the city council has had plenty of time to

resolve ongoing code of conduct complaints over District Plan flooding issues.

McNeice said the group engaged

Chen Palmer because it didn't

think the city council should

$3m power cable to be put

through tunnel next month

LYTTELTON, Corsair Bay and

Cass Bay are set for a

multi-million dollar electricity

upgrade.

A 2.2km electricity cable will

be installed through the Lyttelton

Tunnel at a cost of about $3

million. The installation will start

next month.

The tunnel will remain

open and power will stay on

throughout the upgrade.

The new 11kV electricity cable

will run in tandem with the two

existing 11kV cables which run

have lodged code of conduct

complaints.

"Dave [East] and all the others

over the Port Hills. Orion general

manager of infrastructure Steve

Macdonald said the upgrade

will provide a more resilient

and reliable service to Lyttelton,

Corsair Bay and Cass Bay.

"The lines over the hill are

vulnerable to weather, vegetation

and pests. With the new cable,

we have alternatives to keep the

power on," he said.

"The Port is an essential lifeline

for Canterbury and increasing

the resilience of the power

supporting it is important for the

had been vilified for standing up

and we didn't think it was right,"

he said.

wider region."

Following some preparatory

trenching to provide a channel

from the tunnel to the Orion

substation in Dublin St, the work

will take two weeks to complete

next month.

The work will be done at night.

The cable will be pulled through

the exhaust ventilation duct

above the carriageway.

"It's the longest 11kV cable pull

in Orion's history, and gravity

will help us as we'll be pulling it

downhill from Heathcote."

Visit our new website: www.min.nz

A professional realtor with

local expertise

and a personal touch

COASTAL REAL ESTATE SPECIALISTS

We'll help you live the dream.

Min Sarginson Real Estate Ltd. specialises in homes, sections and

rental properties in the spectacular Lyttelton Harbour bays, and

coastal suburbs of Christchurch, New Zealand.

We'll make it so easy for you. All our sales consultants live in the

area – we can give you valuable insights into life in our thriving

coastal communities.

This is an exciting time; of promise, optimism, and opportunities

never anticipated pre-quakes. Beachfront, or hillside with

grandstand views, find the property of your dreams:

Lyttelton | Diamond Harbour | Governors Bay | Cass Bay

Charteris Bay | Church Bay | Purau Bay | Port Levy | Northshore

Southshore | New Brighton | Heathcote | Sumner | Redcliffs

Scarborough | Mount Pleasant | Clifton

Call Min Sarginson Real Estate Ltd. for free, no-obligation advice. Lyttelton: 03 328 7273, lyttelton@min.nz or Church Bay: 03 329 4161, churchbay@min.nz
---
Wednesday February 6 2019

Latest Christchurch news at www.star.kiwi

BAY HARBOUR

PAGE 5

FINAL WEEK!

NOT SAFE: Redcliffs residents want a pedestrian crossing outside Barnett Park

on Main Rd.

Bid to get pedestrian

crossing near

Barnett Park entrance

• By Louis Day

REDCLIFFS residents

are calling for a pedestrian

crossing near the entrance

to Barnett Park on Main

Rd.

The Redcliffs Residents'

Association has asked

the Linwood-Central-

Heathcote Community

Board to support its request

to city council for the

crossing.

There is currently no

provision for a crossing at

the entrance of the park in

the Main Rd Master Plan.

Association secretary

Pat McIntosh said the

crossing would be essential

to ensuring the safety of

pedestrians.

"Main Rd will become

GET A

TRADE

WITH PASIFIKA

TRADES TRAINING

If you're Pasifika and between 16 and 40,

you can get trades skills for FREE through

the Pasifika Trades Training programme at Ara.

A Pasifika support team will mentor and guide you

throughout your training to help you gain valuable

skills that can earn you good money and create a

great life for you and your family.

Apply now.

ara.ac.nz/pasifika

significantly busier when

the Evans Pass Rd reopens

and will also be used for

the port traffic, which is

not suitable for the tunnel."

There is only one other

pedestrian crossing in the

area, which

is 240m away

from the

entrance of the

park.

"Barnett

Park is a wellused

local

facility with

a pre-school,

playground,

sports fields,

public toilet, dog walking

and barbecue areas and

walking tracks. Many

users are likely to want

to cross the road to use

Darrell

Latham

the facilities." Linwood-

Central-Heathcote

Community Board

member Darrell Latham

said he fully supports the

pedestrian crossing.

"This is an issue that has

been raised previously

by multiple residents

and is certainly an issue

of concern."

Dr Latham said

crossing the road to

get into Barnett Park

without a crossing

posed a serious risk to

pedestrians.

"Fifty per cent of

people who use a bus

are going to be needing

to cross the road. That

area is an extremely busy

stretch of road at the best of

times."

Purchase any of this weeks participating products and

be in the draw to win a $1000 prezzy card. Details instore.

Hellers Fresh NZ Burgers 400g, Pre-Cooked Sausages 1kg Plain (excludes

flavoured variants), Everyday Sausages 6 Pack (Selected Varieties only), Tegel

Fresh NZ Chicken Tenders 6 Pack or Quick Cook Chicken 300-400g Varieties

Pams Fresh Apricots,

Nectarines, Peaches or

Plums 1kg Prepack

Product of New Zealand

$

5 99 pk

Bluebird Original

Cut Chips 150g

$

1 99 ea

Wattie's Peaches, Pears

and Fruit Salad

400-425g (Excludes Tropical)

IT'S

griffin's branded

products (excludes

Griffin's Twin Packs)

www.foursquare.co.nz

ANY

3 FOR

$

22

ANY

4 FOR

$

5 49

WEEK

ANY

2 FOR

$

5 49

facebook.com/FourSquareNZ

Specials available South Island only from Monday 4th February until Sunday 10th February 2019 or while stocks

last. Wine and beer available at stores with an off licence. Wine and beer purchases restricted to persons aged

18 years old and over. Promotion runs from 4th February until 10th February 2019. Visit foursquare.co.nz for

full terms and conditions. Four Square South Island stores only.
---
PAGE 6 BAY HARBOUR

Latest Christchurch news at www.star.kiwi

Wednesday February 6 2019

Our People

Steve Lowndes

Travelling the world paved way

Environment Canterbury

chairman Steve

Lowndes, who lives

in Birdlings Flat, is

not planning to run in

October's local body

elections. Sophie

Cornish speaks to him

about life after local

politics, Brexit, and

family

The ECan elections are

coming up this year and I

understand you may not be

running again, is that correct?

Yes, that's my position at the

moment. It is never finally settled

until the time for nominations

to close, but at the moment, that

is what I am thinking. I will be

73 at the time of the election, I

would be 77 by the end of the

next term. I feel fit and well

enough but on the other hand

I really think a person younger

than me needs to take the lead.

There is nothing wrong with

being old, you have a degree of

wisdom and all those sorts of

things that are invaluable in local

government. But, the world is

changing very quickly and there

are a lot of very tough decisions

that need to be made. I am very

much aware that young people

are getting very concerned about

their future. It is they who need

to step up and get engaged in

local government. When I say

young, we have a councillor

Lan Pham. She's terrific. She

brings an attitude and energy

which is inspiring to the

council. There are other younger

councillors too. I think it would

be better to step aside and let

somebody younger take over.

What will you do instead with

your time?

I have never been frightened of

time. I have done all

sorts of things in my life and

being frightened of time isn't

one of them. I can paint, I can

write, I can do all sorts of things.

Nothing is ever really over, the

fact that I stepped down from

ECan doesn't necessarily

mean I will completely leave the

public forum. I have no plans at

all. It is a wonderful space to be

in, where you don't have to worry

RELAXED:

ECan

chairman

Steve

Lowndes at

his Birdlings

Flat home.

about your future.

Tell me about the beginning

of your career – how did it all

begin?

I was born and educated in

England and I went to art school

in the 1960s. My first job was as

an art teacher. After a little while

of that I thought: 'Oh my god

am I going to be doing this for

the next 45 years?' That sort of

freaked me out a little bit. So I got

a cargo boat to South America. I

ended up living there for a year

and a half year, mostly in Rio de

Janeiro, Brazil. I really enjoyed the

experience. From there I travelled

over land through South America

and Central America and the

Caribbean and the United States

and eventually arrived back in

England. And I thought: 'Oh

well that was good.' My ambition

then was to carry on. So I began

working in England again, as

a publican, which meant that I

could save money. I did that with

my partner Lisa Potts and then we

set off on a huge journey which

basically took us around the

world.

Where did you travel to?

We went through Russia,

Afghanistan, Iran, around India

and ended up in Australia. On

our trip, we only took one tiny

aeroplane flight; the rest was by

truck and train. Australia was

very kind to us; we both became

Australian and lived there for a

while. Then we got a boat across

the Pacific and it called in at

Auckland. That was my first

experience of New Zealand, in

1974. Then our boat carried on

and went through the Panama

Canal and back to Europe. I

then lived in England again and

thought we would go travelling

once more. So we got a plane to

New York and brought a car then

started driving around the US.

Sarah, Anita, Grant, Ashleigh and Kellie

OPEN SAT & SUN

www.medicopak.co.nz

ask for a free

1 month trial today

Do you or a loveD one have a

lot of meDication to take?

having trouble remembering

when to take your meDication?

right medicine.

right dose.

right time.

with medico pak.

right

medicine

right

dose

right

time

CAFÉ

NOW OPEN

1005 Ferry Rd, Ferrymead. Ph:943 9635

OPEN 7 DAYS: Mon to Fri 8.30am - 6pm

Sat 9am - 4pm and Sun 10am - 4pm
---
Wednesday February 6 2019

Latest Christchurch news at www.star.kiwi

BAY HARBOUR

PAGE 7

for chairman's role at ECan

We had all sorts of adventures

in the US and Canada. We ended

up in San Francisco. At that point

Lisa became pregnant and a

friend Robyn we were travelling

with said: 'Why don't you go to

New Zealand, it's a great place

to have kids'. So we did that. In

retrospect it is hard to imagine

that we didn't head home, but no,

we came to New Zealand. We arrived

and brought a van in 1979

and started driving around. We

ended up in Akaroa and Lisa saw

the hospital there and said: "This

is where I will have the baby."

Julian is now nearly 40-years-old.

He has a sister Alicia and they

both live in Australia, one in Sydney

and one in Melbourne. Lisa

and I split up in about 1998 and

my partner now is Susan

Morrow. We live at Birdlings Flat

and have been here for 20 years.

Tell me about your life living

in Akaroa?

The peninsula for me was representative

of a community, I had

spent 13 years travelling around

the world, community was something

I didn't have, I didn't belong

somewhere. Akaroa had a population

of about 700 people, a little

more than it does currently. It was

a self-sustaining little community

based on farming and fishing,

quite different to what it is today.

It was really a holiday destination

for Cantabrians, before it was

discovered by international tourists,

that began to happen in the

mid-1980s. Now, it is somewhat

overrun by cruise ships. It's not

quite the same place it was in the

1970s, which is what attracted me

to it, a part from the fact it was

devastatingly beautiful. When you

went to live there, people were delighted

to know you had chosen to

live in that community, so you felt

FAMILY AND FRIENDS: Steve Lowndes

with his long-time partner Susan Morrow

(left) and his friend Robyn Studholme

(above) at Mt St Helens near Oregon in

1978.

part of it straight away. I started

off as a builder's labourer, building

an extension to the school. I

gradually started to do work at the

Akaroa Museum and eventually

the curator retired and I was hired

to curate the collection. I was

there for about 15 years. I ended

up being chairman of the Museums

Association of New Zealand.

What happened next?

Then I became a Banks Peninsula

district councillor, with a

gentleman named Bob Parker and

we disbanded ourselves. The district

council wasn't bankrupt, but

it was heading that way. There was

only about 7000 ratepayers which

wasn't enough when we had to pay

for all things tourism. We tried to

amalgamate with city council, but

the people of Christchurch said

no. They didn't want to take on

Banks Peninsula. So we decided

to vote to abolish ourselves and

the city council had no option

but to take over, this was in about

2005-2006. I stood for the city

council in 2006, and was defeated

by Claudia Reid. Then I started

painting, which is where I began,

by going to art school in the first

place. In 2016, someone said to be

why don't you stand for ECan in

the election. You may recall that

in 2010, the Government took

away the commission of the elected

members of ECan and replaced

them with seven commissioners.

That continued for two terms of

local government until 2016. Then

ECan was opened up to partial

democratic elections. The chairwoman

Margaret Bazley finished,

so that left six ex-commissioners.

There were seven elected members

and six were remains of the old

appointed councillors and that

situation still remains. When the

council convened for the first

time, they voted for David Bedford

into the chair, he was

one of the councillors. Unfortunately,

David wasn't very well and

he died in February of last year.

For some time he had been unable

to fulfil his role. I had been elected

deputy chair and I became the

acting chair until he resigned and

then I was elected into the chair

role.

•Turn to page 8

Happy New Year to you all.

Mueslis, granolas and

porridges, low sugar and

gluten free options.

New seasons award winning

Robinson Bay Olive Oil

has arrived.

Mumma bear's "Freeset"

aprons available.

I will make bespoke orders -

come and have a chat.

We look forward to serving you

a very healthy New Year.

2/2 Soleares Avenue

Open every Wednesday 10am - 4pm

or any time Doris the bike is outside

Inquiries to Rose at 027 329 1818

Order to Tim at tim@mummab.co.nz

Dyers Road Landscape

& Garden Supplies

• Barks • Peastraw • Composts - we supply the best available

• Aggregates - Chip, Round and Basecourse

• Pavers & Schist products • Pungas

• Decorative Stones & Landscaping Rocks

• Trailer Hire first hour free with purchase

• Bag & Bulk - pick up or delivered

David, Carol & Mike

We will deliver!

SOIL

AND

HARDFILL

DUMPING

Phone: 03 384 6540

183 Dyers Rd, Bromley • OPEN 7 DAYS

Weekdays 7.30am-5pm. Weekends 8.30am-3pm

www.dyersroadandlandscapes.co.nz
---
PAGE 8 Wednesday February 6 2019

BAY HARBOUR

Latest Christchurch news at www.star.kiwi

Our People

ECan chair not frightened by time

•From page 7

So the role for me has been one

of managing the council back

to full democracy, which will

take place in October. A thing I

have been keen to do is see that

climate change becomes front

and central of ECan's thinking.

That has come about with the

newly-elected people who arrived

on council in 2016, they have

made a huge difference.

What did you learn from your

travelling experiences?

I feel sometimes that all the

roads I have travelled have led

to this point. So I have a huge

amount of experience of the

world at large and of different

kinds of people and how to deal

with them. I find all the skills I

learnt while travelling fit me very

well for the role of managing

a great number of people who

have very different and distinct

interests. It is really about people.

A Maori proverb that helps to

describe me politically is – He

aha te mea nui o te ao He tangata,

he tangata, he tangata. What is

the most important thing in the

world? It is the people, it is the

people, it is the people. People are

the same everywhere all around

the world, it doesn't matter if

you meet an Indian on the banks

of the Amazon River or an

TALENT: Steve Lowndes has a love of art, especially painting.

American senator, we all laugh,

we all cry, we all smile. It's the

universality of people. We are all

the same species.

How does living in England

compare to living in New

Zealand?

I have been here for 40 years,

my immediate family in England

has died, I have a few cousins

left, I write to them. England

is about the same size, but the

population of New Zealand is

what the population of England

was at the time of Henry VIII.

Now you have to imagine the

same land mass, with nearly 60

million people. It is nothing like

New Zealand. Last week, Sue and

I went to Jackson's Bay, down

south. We stayed in a bach which

had no power, no connectivity.

When you walked to the beach,

there are no other houses, and

there is an absolutely stunning

empty landscape of mountains,

oceans, beaches. You would

have to go a long way in Britain

to find that, maybe in the north

of Scotland. It's a completely

different experience living

here. It is one where we relate

very much to the land. At the

moment with Brexit, the English

have got themselves into a cleft

stick. They have this incredibly

binary situation to deal with,

half of them think they should

stay in the common market and

fight and the other half thinks

they should flee. Human beings

always have that decision, when

confronted with a situation, fight

or flight. It's such a basic division

in our minds, I think that is

basically what is happening

with Brexit. So, I don't envy the

English at all. I can't even begin

to contemplate how I feel about

England anymore, because it

seems to belong to another era.

In the future when climate

change really begins to kick in,

New Zealand is wonderfully

placed to survive the worst

effects. We are surrounded by

ocean which takes away the

worst effects of heat, we can feed

ourselves, Australia can't, Europe

can't, 90 per cent of the world's

population lives in the Northern

Hemisphere.

Tell me about your

family?

Julian, my son, works for

Skope, a Christchurch company

that makes refrigerators. He

manages their operations in

Australia. He has a son, who is

6-months-old. Alicia works for

an advertising agency called The

Monkeys, living in Melbourne

but she is going to come back

to New Zealand. She managed

to buy a third of a house in

Auckland in Pt Chevalier she's

going to come back next month.

I am looking forward to her

coming back. My partner Sue's

daughter Evie also lives in Pt

Chevalier, so those two are very

close.

Still Pedalling!

A BRANCH OF

Trevor Crowe's been repairing &

improving vehicles for 70 years.

You can benefit from his

experience at...

Subaru Specialists

Electric and

Hybrid Vehicles

We have a great range of Leaf's and

Prius's hand picked for the best

battery health. Sensible prices,

easy finance options. Backed up by

our expert technical team.

Michael Toomey

mft@younghunter.co.nz

Proudly providing

legal advice to

the community

for 25 years

Michelle Rossiter

mjr@younghunter.co.nz

Visit online at

www.crowesport.co.nz

518 Moorhouse Ave (East End)

Phone 379 7615

P. 384-5350

www.younghunter.co.nz
---
Wednesday February 6 2019

Latest Christchurch news at www.star.kiwi

BAY HARBOUR

PAGE 9

HUGE

SAVINGS

ON SELECTED PRODUCTS

HURRY WHILE STOCKS LAST!

FREESTANDING ACRYLIC BATHS

Oakleys –Creating beautiful

bathrooms for over 140 years

Established 1875.

CHRISTCHURCH 305 Cashel St, Ph 03 379 4750 DUNEDIN 46 Timaru St, Ph 03 466 3600 NELSON 68 Gladstone Rd, Ph 03 544 9392 www.oakleysplumbing.co.nz
---
PAGE 10 Wednesday February 6 2019

BAY HARBOUR

Latest Christchurch news at www.star.kiwi
---
Wednesday February 6 2019

Latest Christchurch news at www.star.kiwi

BAY HARBOUR

PAGE 11

News

4 th to 10 th February 2019

5 for

$

3 00

Sweetcorn

$

4 99

pk

Hellers Genuine Pork

or London Pride

Sausages 6 Pack

FUN IN THE SUN: Local music and entertainment will be on offer at Lyttelton

Summerfest.

Music, movies at Summerfest

LYTTELTON Summerfest

is set to kick off this Friday.

Every Friday night in

February the Lyttelton

Rose Garden grounds

will host local music and

entertainment followed by

a New Zealand film from

7pm to 10.30pm.

The community garden

pizza oven next door will

be fired up, which will be

fundraising for a different

local group each week.

Pizza slices or whole pizzas

will be available.

This Friday will

feature music from Jack

Montgomery, followed by

the film Eagle vs Shark at

8.45pm.

On February 15,

Dekaworwor African

drumming and world

music will feature along

with music from Son

Tumbao, followed by the

film Poi E: The Story Of

Our Song at 8.45pm.

On February 22, The

Secret Lives of Ukelele will

play before Goodbye Pork

Pie screens at 8.45pm.

Other surprise local

entertainment acts will

appear on various nights

and the popular suitcase

market will be held.

People are invited to take

cushions and pillows to sit

on and to take picnic food

and drink. There is a door

charge of $5 per person or

$10 per family.

If the weather isn't

suitable, the event will

be cancelled and not

rescheduled.

$

3 99

ea

Ploughmans

Bakery Bread

750g

$

3 99

ea

$

3 99

ea

3 for

$

5 00

Olivani Olive Oil

Spread 500g

Al Park's music recognised

FROM STARRING as

a pimp in The Dance

Exponents's video for

Victoria in 1983 to

mentoring a young Marlon

Williams, Lyttelton

resident Al Park has been

a part of the Christchurch

music scene for 40 years.

To celebrate Park's contribution

to music in the

region, Lyttelton musician

Delaney Davidson has

produced a new album,

Better Already – The Songs

of Al Park.

The album features

covers of Park songs

by Christchurch musicians

including Marlon

Williams, Jordan Luck,

Delaney Davidson, Adam

McGrath, Barry Saunders,

Janice Grey, Anita Clark,

Adam Hattaway, Anthea

Struthers, and Helen Mulholland.

"It's a thank you, a very

loud and appreciative tip

of the cap to someone

who has had a shoulder to

ICON: Better Already - The Songs Of Al Park

features covers of songs by Marlon Williams, Jordan

Luck, Delaney Davidson and Adam McGrath.

many wheels, a hand in

many helpings, a voice of

wisdom in many thinkings

and wonderings," McGrath

said.

Park's career soared in

the 80s as the frontman of

Louie and the Hotsticks.

He set up Al's Bar in

2006 on Dundas St until

the building was damaged

in the February 22, 2011,

earthquake, as well as

founding the city's first

punk venue, Mollet St.

But more recently

Park has been nurturing

young talent including

Adam Hattaway, who he

plays with regularly in Lyttelton.

The album launches on

February 15 with a special

release show at Blue Smoke

featuring Park, Jordan

Luck, Adam McGrath,

Barry Saunders, Janice

Grey, Adam Hattaway,

Anthea Struthers, Helen

Mulholland.

Just Juice 2.4L

or McCoy 2L

$

17 99

pk

Owned &

operated

by locals

Speight's Gold Medal

Ale or Summit Ultra

12 x 330ml Bottles

Bluebird

Original, Thick or

Thinly Cut Chips

140-150g

$

11 99

ea

Villa Maria

Private Bin 750ml

(Excludes Pinot Noir & Syrah)

SuperValue Lyttelton, Sumner

For inspiration visit SuperValue.co.nz |

While stocks last at SuperValue Lyttelton and Sumner only.

Please drink

responsibly

svbhn0602
---
Page 12 BaY HaRBOUR

Latest Christchurch news at www.star.kiwi Wednesday February 6 2019

8932658AA

C

FUN School Holiday &

After School Activities

Phone 349 9260

Email: info@caspa.org.nz

Website: www.caspa.org.nz

CASPA

says

Only

go with

people you

know and

trust.

Never

go with

strangers!

D

Dental implants

are a wonderful

way to replace

missing teeth...

Wear your mouthguard

when you play sport so

you won't need them.

1st Floor Merivale Mall, Phone 355 8297

dentistry@merivale.co.nz

www.dentistryonmerivale.co.nz

Everyone needs to

take care of their skin.

Always remember to

Ewear your sunblock.

Euphoria

body & beauty clinic

Harewood Road, Bishopdale (inside the YMCA)

Phone 359 3445

www.euphoriabodybeauty.com

FFIRST

AID KIT

$37.50

Based on our own

experiences of

mishaps with the

family, this kit helps

deal with those minor

scrapes, burns and

prickles so you can

get back to enjoying

what matters most.

Find out more at redcrossshop.org.nz

Global Leaders in First Aid Training

K

Keep medicines up

high out of the

reach of children

DIESEL

- Doctor -

repairs &

servicing.

288 Lincoln Rd (opp ANZ)

Ph: 338 8884 • www.dieseldoctor.co.nz

L

Look both

ways

before

crossing

the road

PH 0800 225 483

95 Gasson Street, CHRISTCHURCH

M N

MASH provides a safe, secure and

exciting environment for your kids before

and after school as well as in the holidays

Nurtured

kids are

safe kids

Phone: 03 377 2540

www.playcentre.org.nz

S

Sunglasses

save your

sight

BARRINGTON - 256 Barrington Street

PH 332 1730 | www.suckling.co.nz

T

Take care when reversing

out of the driveway

waTCh FoR ChildRen.

Car City

EST. 1973 ChCh

Cnr Moorhouse & Ferry Road

Ph (03) 379 4254

U

YOU CAN KEEP

YOUR CHILDREN

SMOKEFREE.

PLEA$E $MOKE OUT$IDE

(We Can Help You QUIT)

RICCARTON CLINIC

www.riccartonclinic.co.nz

VVegeland says

Eat fresh fruit

and veggies to

grow healthy

bodies and

minds

vegeland

310 Marshland Road, Chch

Phone 03 385 3718
---
Wednesday February 6 2019

Latest Christchurch news at www.star.kiwi

BaY HaRBOUR Page 13

A

Avonside Early

Childhood

Centre providing

excellence for

the children of

our community

since 1943

Bis for Booster

Up to their 7th birthday,

children are legally

required to be in a child

restraint or booster.

From 7 years up, research

shows they are best

protected in a booster

until 148cm in height.

For advice on which

booster is right for your

child, contact your

local child restraint

technicians at

Christchurch North

515 Wairakei Rd, Burnside

Ph 960 9752

Christchurch Central

87a Gasson St, Sydenham

Ph 421 3243

43 Woodham Rd

(03) 389 8473

www.avonsidekids.co.nz

G

Go slow

around

children,

drive safely

on the roads

32 Moorhouse Ave,

Christchurch

Phone 366 7768

H

Have you got

your Will sorted?

Protect your

child's future today!

J

Just remember to

look both ways before

you cross the road

Just Cuts Hornby,

The Hub, Christchurch

8987425AA

"South Island's largest range of

vehicles on one site"

03 352 2293 | www.harmans.co.nz

O

Value the wellbeing

of children

Put tamariki first

P

Need someone to talk to

about your parenting issue?

Free Parenting Helpline

Friendly advice and support

Positive and practical strategies

Anonymous and non-judgmental

Q

Quick thinking

saves lives -

In emergencies

dial 111

R

Riding

your bike

always

wear a

helmet

www.orangatamariki.govt.nz

Call us today

0800 568 856

www.parenthelp.org.nz

Phone 379 7100

359 Lincoln Road, Christchurch

Cycle Trading Co

23 Elgin St, Sydenham

(opposite The Colombo)

Phone: (03) 366 3760

www.cycletrading.co.nz

W

Water Safety

Be safe around water.

Come to Wharenui Swim Club

for all your lessons.

X

OUT

FAMILY

VIOLENCE

Kids need a happy,

safe home

Y

Your children are

precious cargo - get

your vehicles tyres

checked at

ZStay safe with high viz fabric from Haralds.

Z is for zips -

we have

over 10,000

of them!

Half price zips

and zip slider

replacements when

you show this ad!

is for high

VIZ fabric

348 6488

learntoswim@wharenui.co.nz

161 Pages Rd, Wainoni, Christchurch 8061

or reception@hewakatapu.org.nz

Complete

Tyre and

Auto

Canterbury owned and operated

395 Ferry Rd, 03 389 5395

464 Ferry Rd, 03 389 5370

ctawoolston@yahoo.co.nz

New & Used Tyres • Puncture Repairs

Batteries • WOF • Balancing

Mechanical Repairs • Lube & Servicing

Wheel Alignment

"THE TRUSTED NAME IN FABRICS"

47 Birmingham Drive, Middleton

Phone 338 7700

Open Monday to Saturday 10am-4pm
---
PAGE 14 Wednesday February 6 2019

BAY HARBOUR

Latest Christchurch news at www.star.kiwi

Players lured away from Bays' squad

• By Gordon Findlater

FERRYMEAD BAYS have

been hit by a poaching raid

from second-tier Christchurch

United, which is offering match

payments and bonuses.

Several Bays' players have

snubbed the Mainland Premier

League for the Canterbury

Championship

League. Bays

coach and former

All White,

Danny Halligan,

is also a defector

to Christchurch

United.

Danny

Halligan

Halligan

would not

discuss match

payments and bonuses with Bay

Harbour News last week.

"It's not about money," he said.

"Players have a right to decide

where they want to play. I left

Bays on good terms and I'm

not aware of any animosity

anywhere.

"The carrot for the players is

the excitement of a new challenge.

They can see if Christchurch

United can get promoted

into the MPL then they've got

the facilities and organisation to

be a really strong club again,"

said Halligan.

One of the new Christchurch

United recruits told Bay Harbour

News players would receive match

payments between $120-$160 this

season, which includes a win bonus

and a further $500 if the club

SUCCESS: The 2017 Bays team which won the MPL title.

won promotion from the CCL to clude MPL record goal-scorer Michael

White, 2018 Bays player of

the MPL. He was not being paid

to play at Ferrymead Bays. the year Mark Peers, and former

Christchurch United is backed MPL golden boot and player of

by Russian businessman Slava the year-winner Shawn O'Brien.

Meyn, who has developed a leading

sports facility in Yaldhurst. who has played more than 300

Bays defender Chris Murphy,

The poaching has caused a stir games for the club and has previously

turned down multiple offers

among Mainland clubs. Some

told Bay Harbour News there was to join other clubs, says Bays will

even talk of boycotting games recover from the player losses.

involving Christchurch United "We've got a few loyal guys,

teams at a youth level.

which is good to see, but the offers

are flying thick and fast even

None would be identified but

there was a lot of frustration over for myself," said Murphy.

the way Christchurch United "They're dropping down a

was recruiting.

level. If that's what they want

The Bays players recruited in-

to do then it maybe shows their

aspirations . . . Christchurch

United are giving it a good shot

and have enticed people, which

is good for them, but we're the

ones who are affected by it."

Cashmere Technical coach

Dean Hutchinson said he understood

Christchurch United had

aspirations in wanting to return

to the MPL.

"On one hand that's a good

thing, but it's an amateur league

so if it is true that they're directly

paying players, then Mainland

[Football] have to do something

about it," said Hutchinson.

Mainland Football chief

executive Julian Bowden says

SPORTS

it's not unusual for players and

managers to move around clubs,

which can create rumours.

But as an amateur league there

are rules around player payments.

Of a Christchurch United

recruit telling Bay Harbour News

players would receive a $500

promotion bonus, Bowden said:

"That's something we would

probably want to talk to the club

about.

"Players can be reimbursed

for expenses. If any players at

any clubs were getting income

it would be to reimburse things

like gear, travel expenses or

physio appointments," said

Bowden.

"Under FIFA criteria, players

can be reimbursed up to a

certain level. There's some principles

around that in the national

league and those principals flow

down into our regional league."

Former Canterbury United

and MPL stalwart Stu Kelly

– whose Halswell United side

have seen their CCL promotion

chances drop with Christchurch

United's new additions – said

players being paid is nothing new.

"In the rules you can't [pay

players] but nobody's tracking it.

In the North Island it's been even

worse over the years, " he said.

•More sport, page 17

It's our

45th

Anniversary

year!

#areyouupforit

45th Anniversary

Retro T-shirt

available when

entries open on

1st December 2018

Sunday 24th March, 2019 www.city2surf.co.nz
---
Wednesday February 6 2019

Latest Christchurch news at www.star.kiwi

BAY HARBOUR

PAGE 15

Four Grenadier seasons Ferrymead realty & Sumner

Linwood

4 1 1 2 Mt Pleasant

4 3 2 2

101 Linwood Avenue

This charming home has been beautifully renovated over the years to keep the elegance of its era. Featuring 4 large

bedrooms, (one currently used as a hair salon), stunning kitchen with quality appliances and fixtures, log burner & heat

transfer system to all bedrooms, wrap around veranda, double garage, original features including beautiful leadlight

windows, ceiling roses and wood work, the home has also been re wired and re plumbed.

This is an amazing opportunity for a builder or investor to purchase this fantastic home. Our vendors have already

purchased so this house will be sold on or before auction day! Come and see for yourself or call now.

Auction: Thursday 7th February 2019, 12pm

View at: www.harcourts.co.nz ID#SM0140

Michelle Ward Ph 027 203 7858 Shaun Davey Ph 027 953 8860

67 St Andrews Hill Road

If you are a lover of space, sun, character, views and outdoor living then this fabulously renovated family home will

steal your heart. The home radiates a sense of warmth and welcomes you in to enjoy all it offers.

Located on the prestigious lower slopes of St Andrews Hill, this classic modernised home takes full advantage of the

intimate yet outstanding water views.

This desirable location is highly sought after by many buyers and this special property won't disappoint,

it will delight, so be quick as its unlikely you will find another like this home.

Auction: Thursday 21st February 2019, 12pm

View at: www.harcourts.co.nz ID#SM0147

Deb Beesley Ph 027 280 8837

Woolston 24 Kotuku Crescent

Sumner 35 Celia Street

Woolston 2/125A Mackenzie Avenue

Mt Pleasant 87A Cannon Hill Crescent

4 2 1 2

2 1 2 1

2 1 1 1

4 2 1 2

Price: $499,000

View at: www.harcourts.co.nz ID#SM0146

Shaun Davey Ph 027 953 8860

Michelle Ward Ph 027 203 7858

Price: $550,000

View at: www.harcourts.co.nz ID#SM0112

Michelle Ward

Ph 027 203 7858

Deadline: Tuesday 19th February, 4.00pm

View at: www.harcourts.co.nz ID#FM5487

Chris Moores

Ph 027 588 4440

Auction: Thursday 14th February 2019, 12pm

View at: www.harcourts.co.nz ID#SM0148

Deb Beesley

Ph 027 280 8837

Mt Pleasant 97B Mt Pleasant Road

Sumner 7c Paisley Street

Wainoni 2/7 Ontario Place

Lot 8 Kairuri Lane, 22 Bridle Path Road

4 2 1 2

4 2 1 2

3 1 1 1

SECTION, 1100 sqm

Auction: Thursday 14th February 2019, 12pm

View at: www.harcourts.co.nz ID#SM0149

Deb Beesley

Ph 027 280 8837

Price: $839,000

View at: www.harcourts.co.nz ID#SM0139

Alison Carter

Ph 027 431 8960

Price: $325,000

View at: www.harcourts.co.nz ID#SM0137

Deb Beesley

Ph 027 280 8837

Price: $335,000

View at: www.harcourts.co.nz ID#SM0135

Alison Carter

Ph 027 431 8960

Greg Powell

Branch Manager

027 274 6157

Alison

Carter

027 431 8960

Michelle

Ward

027 203 7858

Deb

Beesley

027 280 8837

Joy

Butel

021 353 280

Chris

Moores

027 588 4440

Kirsty

McLeod

027 226 5893

Liz

Lewis

027 453 0952

Megan

Looyer

027 841 2335

Mandi

Ussher

022 621 5758

Carol

Williams

027 282 4950

Dave

Elston

0274 593 165

Claire

Savage

0210 314 342

Steve

Liebert

021 138 8401

Shaun

Davey

027 953 8860

Alistair

Hazeldine

027 572 1555

Lynton

Hubber

027 433 4141

Prue

Dacombe

021 752 348

Suzanne

Robin

027 271 4906

Sam

Ansell

021 160 6254

Josh

Westland

021 258 4410

Ferrymead

& sumner

1020 Ferry Rd Ferrymead • Ph 384 7950 • harcourtsgrenadier.co.nz

Grenadier Real Estate Ltd MREINZ is a Licensed Agent Under the

Real Estate Agents Act 2008
---
PAGE 16 Wednesday February 6 2019

BAY HARBOUR

Latest Christchurch news at www.star.kiwi

SCOOP PURCHASE

4WD VRX

$39,990

SAVE $14,500*

7 Leather-faced Seats •

2.4L Petrol Engine • 126kW

Power • 4WD • 18" Alloy

Wheels • Reversing Camera

• Sunroof • Ultrasonic misacceleration

Mitigation

System (UMS).

Christchurch Mitsubishi have a LIMITED NUMBER of Short-term lease returned

2018 Outlander 2.4L VRX, most having travelled under 25,000kms available

for immediate delivery. Includes balance manufacturers warranty.

*Savings shown off new Outlander 2.4L VRX.

2WD GLX-R

RRP $46,120 +ORC

$29,990

+ORC

SAVE $16,130

† Price listed is for Triton 2WD GLX-R manual and includes on road costs which includes registration, WoF,

1,000km road user charges and a full tank of fuel. Available while stocks last. Automatic model available

for $31,990 plus on road costs. † Visit mmnz.co.nz for full Diamond Advantage warranty conditions.

The Triton Runout is on. Drop

everything, and if you're quick

you can pick up • 17" Alloys

• 2.4L Turbo Diesel • 7.1L per

100km efficiency (manual) •

Sports Suspension • Cruise

Control • Smartphone

Connectivity • Reversing

Camera • Daytime Running

Lights • 5-Star Safety and

a 10 Year Powertrain

Warranty †.

CHRISTCHURCH MITSUBISHI

386 Moorhouse Avenue, Christchurch.

03 379 0588 | christchurchmitsubishi.co.nz

10 year / 160,000km Powertrain Warranty (whichever comes

first) (non transferable). 5 year / 130,000km New Vehicle

Warranty (whichever comes first) (non transferable).
---
Wednesday February 6 2019

Latest Christchurch news at www.star.kiwi

BAY HARBOUR

PAGE 17

SPORTS

Sumner make strong

start to two-day

cricket competition

Sumner club

captain

Dan Vann

reports on

how their

first XI

cricket side

performed

during the first day of

their two-day clash

against Lancaster Park

SUMNER hosted Lancaster Park

on Saturday as they returned to

two-day cricket.

After two very narrow losses

to Lancaster Park in the one-day

and T20 competitions, they knew

this would be a tough encounter.

Sumner won the toss and

bowled first and, in spite of

Lancaster Park getting off to

a very fast start, three early

wickets, all taken by opening

bowler Nawid Mohammady

(3-29) meant Sumner were able

to apply some pressure to the

Lancaster Park batsmen.

Lancaster Park managed to

rebuild somewhat before the

introduction of Jonny Percasky

(5-42 off 16 overs) and Dan Vann

(2-50 off 14 overs), who managed

to tie down Lancaster Park down

and take the remaining seven

wickets to have them all out for

175. In reply, Sumner made an

excellent start, losing their first

wicket at 40 and their second at

70. At this stage, Sumner were

looking in control. But a small

stumble saw three quick wickets

fall and, at 79/4, things were back

in the balance.

Brett Taylor (68) and I

combined to put on 30 runs to

steady the ship again. When my

wicket fell for 27 with the score

at 130, Taylor decided to put the

foot down and counter-attacked

with some outstanding striking.

Sumner ended the day on 209 (34

runs ahead).

We were very pleased with how

we played today. At times we

were put under pressure but we

responded well to it.

Lancaster Park are a very

strong team and we get on well

with them off the field so it was

nice to have a good start. But we

will need to play well again next

week to take the outright win.

EYE ON THE BALL: Paddy Laidlaw gets stuck into some

catches on the inflatable.

GAME TIME: Dan Vann gives the Club Captains XI a team talk

ahead of their clash with the Presidents XI.

Des Lyon day raises $5000

• By Louis Day

SUMNER CRICKET Club

raised about $5000 during its

Des Lyon day.

Club captain Dan Vann said

they would have a more accurate

total once money from raffles

had come in.

The Presidents XI fell to the

Club Captains XI in the premier

match of the day, which included

current Canterbury Magicians

Nat Cox and Erin Bermingham.

The junior match kicked off

the day before Sumner Rugby

Club battled it out with an Invitational

XI.

The day was in

commemoration of life

member Des Lyons, a man

who contributed a considerable

amount of his time to sports

clubs across Sumner.

ALL SMILES: Aaron

Stanley-Joblin of the

Invitational XI raises the Shag

Rock trophy after beating the

Sumner Rugby Club XI.

"He was always involved in

a lot of different sports clubs

across Sumner, he was the guy

who would do the grounds,

would help with coaching, so

it made sense to have a day in

his memory when he passed

away."

Mr Vann said the money

raised would go towards ground

costs, junior equipment and

general running costs.
---
PAGE 18 Wednesday February 6 2019

BAY HARBOUR

Latest Christchurch news at www.star.kiwi

ALL-NEW DISTRIBUTOR OWNED

DEALERSHIP MOVING TO CURRENT

BMW DEALERSHIP FROM FEB 2019.

30 Manchester St, Christchurch

MOVING SALE

NOW ON!!!

OVER 80 NEW & USED CARS, SUV'S, UTES

AND COMMERCIAL VEHICLES AVAILABLE.

SAVE THOUSANDS!

FINANCE ON-SITE • TRADES WELCOME

Christchurch SsangYong & LDV | Phone: 03 379 4999

374 Moorhouse Avenue, Christchurch
---
Wednesday February 6 2019

Latest Christchurch news at www.star.kiwi

BAY HARBOUR

PAGE 19

Your Local Views

Meal times cut short

RISK: The Port Hills fire of 2017. National list MP Nuk Korako

urges people to be alert during the high risk summer period.

PHOTO: MARTIN HUNTER

Be careful with fire

Port Hills

National

list MP Nuk

Korako

reminds

people to be

wary of fire

risk during

high temperatures and

discusses the true meaning

of Waitangi Day

THE NEW year and summer's

heat is baking us all – it really is

something else.

I hope you've managed to make

the most of the summer break

however long or short it may have

been for you.

The beaches around Sumner

and Taylors Mistake have been

busy with families enjoying the

sea and surf as well as the kids

enjoying Scarborough paddling

pool.

I remember our boys loving the

paddling pool and playground

when they were little and when

they were older they moved

towards rugby on the beach and

surfing.

With the heat our Port Hills are

extremely dry and we should all

be vigilant around fire safety as

well as be alert for anything that

can happen at any time.

You'll remember the devastating

Port Hills fires so I really

encourage you to have plans in

place for you and your family for

NEW

LOCATION

95 Gasson St

any emergency situations which

may occur at any time.

Check out getthru.govt.nz.

School holidays are over and

the roads are once again busy. I

want to wish all the best to those

students and teachers who have

returned to school, and especially

the youngest new entrants just

starting out on their formal

education. May you all have a

fantastic year in the classroom.

Today is Waitangi Day – a day

for discussion, a day for remembering,

and a day for moving

forward.

Waitangi Day is a day to celebrate

where we have come from

as a country. It's a chance to renew

the shared values that make

us, not only a unique country,

but the best country to live in the

world.

While the main celebrations

are at Waitangi itself, the Treaty

has signatories from all over New

Zealand including Akaroa. The

Treaty isn't about a place, it's

about people – it's not a location,

it's an agreement.

Waitangi Day is a day of

whanau and community, a coming

together of Māori and Pākehā

to celebrate an event that defines

us as a nation.

So enjoy your day off work and

enjoy in the spirit of Waitangi.

I will be at Waitangi this year

supporting our leader and the

National Party.

The Automotive Lamp Specialists

YOU KNOW that friend you

have that's always eyeing up

what's on your plate? They don't

actually ask for anything, but

you eventually cave under their

longing stare.

Our darling little Vittoria

has begun mastering that art at

a young age and has taken it a

step or two further.

Unless she's already asleep

when we eat, she's out on patrol.

She wanders over, all cute smile

and wide eyes, to point at our

meal and say "ooook."

If you won't sacrifice a little of

what you've got, she steps it up.

A couple more "oook"s come

out before she starts fake crying.

Increasing the volume until you

give in.

Laura is her normal target,

she's a soft touch, but me and

guests are also fair game when

needs be.

Now don't think we aren't

feeding her. Her little escapades

always happen after her own

meal and she's expanding her

outlook to include all three of

the main meals of the day, as

well as snack times.

I haven't eaten a full slice of

toast in a week.

On Tuesday I took Vittoria to

Willowbank with some friends.

Because of the timing, I took

along a packed lunch for both

me and her. Hers was flash;

Bolognese, fresh avocado and

rock melon for dessert.

My lunch of two sandwiches

literally came in a bread bag.

#bubseatsbetter.

I knew when she was getting

hungry, because she started

running her "oook" scam on

her friend's mum to get some

of their banana, while we were

walking.

When we sat down to eat, she

gobbled up her meal, some her

friends rusk, some of my cheese,

a bit of my sandwich and then

demanded (and received) some

of my rock melon.

I can't refuse her, of course

and it's all healthy, so no big

trouble there.

There's no point in

complaining about her

rapacious appetite anyway, she

inherited it from her parents.

Besides, she's a growing

young lady and all that. Plus a

full day of animal excitement

meant she fell asleep before I

had my dinner.

VITTORIA

& Matt

FEEDING TIME: Matt and Vittoria feeding the eels at

Willowbank, before it was time for their own lunch.

•Former Star Media

journalist Matt

Salmons has become

a stay-at-home dad.

We follow his journey

weekly.

New and Used Lamps for Cars, Trucks,

Vans, 4WD and Motorhomes

PH 0800 225 483 | 95 Gasson Street, CHRISTCHURCH
---
PAGE 20 Wednesday February 6 2019

BAY HARBOUR

Latest Christchurch news at www.star.kiwi

Exhibitors

Book now

Don't miss your opportunity to

showcase your business in front of

10,000+ qualified attendees

Jon.Holmes@starmedia.kiwi or 021 225 8225
---
Wednesday February 6 2019

Latest Christchurch news at www.star.kiwi

BAY HARBOUR

PAGE 21

Email louis.day@starmedia.kiwi by 5pm

each Wednesday

WāKōrero/Storytimes

Today, 10.30-11am

Encouraging learning through

a love for stories. Storytimes is an

interactive programme including

stories, songs, rhymes and play.

This is a free drop-in session.

Matuku Takotako: Sumner

Centre

find your

find your

groove

ballet

hiphop

jazz

contemporary

Monday to Saturday

Preschool to Advanced

RTS RAD BBO JDNZ NZAMD

Classes near you in

Sumner/Ferrymead

Call 03 354 6228 or 0274 836 265

www.annaleeschoolofdance.co.nz

ANNA LEE SCHOOL

OF DANCE

Sit in a beautiful library on the

comfortable chairs and have a

relaxing chat while working on

your craft project. Share skills in

a wide range of crafts including

needlework, knitting, quilting,

handicrafts, making dolls, teddy

bears and spinning.

Akaroa Library

find your

JP Clinic

Mt Pleasant Bridge Club

Saturday 10am-noon

Wednesday 7.20pm and Friday

contemporary

A justice of the peace will 1pm

contemporary

be groove

available to members of

Bridge sessions

groove

for 2019 have

the community, to witness jazz started. There are two sessions

signatures and documents, each week held in the Mt Pleasant jazz

Technology Help Sessions, Monday, 2-3pm. If you need help using your computer, smartphone,

certify document copies, hear Yacht Club Rooms, Ferrymead. iPad or tablet, go along to these Monday free drop-in to Saturday sessions. You can learn to use email, search the

oaths, declarations, affidavits All visitors welcome. Players internet, use the library catalogue, Preschool eBooks to Advanced and other computer functions. Take your devices

or affirmations hiphop as well as sign need to be seated 10min prior to or use one of the libraries computers. RTS RAD BBO This JDNZ free NZAMD event requires no bookings. Matuku Takotako:

citizenship, sponsorship or rates the start of play.

Monday to Saturday

Sumner Centre.

rebates applications. There

Preschool

is no

to Advanced

Phone Kay, 384 9113.

116 Sawyers Arms Road

charge for this service.

hiphop

RTS RAD BBO JDNZ NZAMD

course is run on a non-profit Sumner Redcliffs RSA Coffee Cnr Marine Pde and The

Matuku Takotako: Sumner

116 Sawyers Arms Road Create and Connect

basis and numbers are limited. Papanui

Morning

Esplanade

Centre

Thursdays 9.30am-noon ballet There are still some vacancies in February 5, 10.30am-noon

Papanui

ballet

Go and enjoy company the course. Classes Call will 03 be 354 held 6228 at or Buy 0274 a coffee 836 265 and get a muffin Loopy Tunes Preschool Music

Social Games Club

while creating every Thursday the Sumner Community www.annaleeschoolofdance.co.nz

Centre. free. No better way to spend a Tuesdays during school term

Monday, 10-11.30am Call 03 354 6228 or 0274 836 at 265 St Andrews Church, 148 If interested please email for Tuesday morning.

time Sumner: 9.30 am in

www.annaleeschoolofdance.co.nz

This free session is for those Main Rd, Redcliffs. Take your further details. ANNA LEE SCHOOL

Village Inn, Sumner

Puoro-raki, in the Matuku

who enjoy playing ANNA board LEE SCHOOL project or they can provide

SumnerTeReo@gmail.com

Takotako: Sumner Centre.

games such as Scrabble, Chess, some inspiration. $3 to cover

OF DANCE

OF DANCE

Sumner Market

Redcliffs 10.30 am, Uniting

or Rummikub. No bookings are morning tea.

Shoreline Toastmasters

Every Sunday from November Church hall, 4 Augusta St

required.

Phone Beth for more info 022 Monday 7.30pm-9pm

until April.

Each session takes 30min

Matuku Takotako: Sumner 678 1252

Nervous about speaking? There will be a great range and is followed by playtime. All

Centre Nor Wester 9 x 6.4cm ad

Nor Wester 9 x 12.9cm

Go

ad

along to gain confidence of stalls from fresh veges to children aged up to five plus their

Te Reo Classes

by practising speaking, listening, amazing food from all over parents/caregivers welcome. Cost

Akaroa Craft Group

Wednesday 7.30pm-8.30pm learning and laughing – in a the world and amazing craft. – $2 per child.

Monday, 1.30-2.30pm

The course will cost $20 per warm, friendly non-threatening You'll find the market right next Phone Siu Williams-Lemi,

Go along and join the very session and payment at the start environment.

to the beach as you go in to the 022 632 6140 for further

friendly Akaroa Craft Group. of each term is required. The Mt Pleasant Yacht Club village.

information.

SURF'S UP SCOTTY RAZOR ROBERTSON PROFILE

find your

groove

APRIL 2018

TJ'S

CHASING

ONE

GREAT MORE

COVER

The power

LINE

of Perenara

SUPER

RUGBY'S

G.O.A.T

CORY JANE

ballet

6 issues (1 year) $44.50

12 issues (2 years) $79

18 issues (3 years) $115

Social Media Animal

PLUS...

+

RRP $9.95

KEEPING Chief

WHO

TABS ON Tabai's

MATSON Tron tribe

jazz

CALEB

hiphop CLARKE

Chip off the

old block

1ST XVs

PLAY LIKE PROS

A school boy rugby

investigation

SUBSCRIPTIONS FREEPHONE

0800 77 77 10

rugbynews.co.nz

WHO WILL

MAKE THE

AB CUT?

contemporary

Monday to Saturday

Preschool to Advanced

• We will offer you the best quality brands and

option of heat pump for your home/business

RTS RAD BBO JDNZ NZAMD

• Providing Heat Pump solutions for over 16 years to Cantabrians

Classes near you in

Sumner/Ferrymead

Call 03 354 6228 or 0274 836 265

www.annaleeschoolofdance.co.nz

ANNA LEE SCHOOL

OF DANCE

HEAT PUMP

SALE NOW ON!

Amazin' summer Specials!!

• We personally guarantee all our products & installs for 5 years

(providing annual maintenance has been completed)

Phone us today for your free consultation & quote

41A SHAKESPEARE RD, WALTHAM

PHONE 03 366 0525

www.enviromaster.co.nz

"A local team for local people"

Bay Harbour News 9 x 6.4cm ad

Bay Harbour News 9 x 12.9cm ad
---
PAGE 22 Wednesday February 6 2019

BAY HARBOUR

Latest Christchurch news at www.star.kiwi

REAL ESTATE

A sense of community in Church Bay

5 Taimana Lane, Church Bay

Price: $585,000

3 bedrooms | 2 bathrooms | 2 car-garage | Listing Number: 8481

On the easy slopes of a tranquil secluded

lane this home is nestled amongst other quality

contemporary homes in this close knit little

community.

For retirees it offers security and friendship,

for families the excellent local school is just

down the road as is the local supermarket and

soon to be vibrant commercial hub.

This home offers a host of living possibilities.

There are 3 double bedrooms, main with en

suite and cosy open-plan living. In addition a

semi self-contained studio room with en suite

and kitchenette for use as a fourth bedroom,

home office, or just extra living space to spread

out.

There is a carport and double garage plus

excellent under house basement for storage

which offers additional options for work or

play.

The grounds are immaculately landscaped

and weekend friendly.

This represents excellent value for any

discerning buyer.

Only 30 minutes scenic drive from the

bottom of Colombo Street. Local amenities

are many and varied to indulge in and in

the pipeline are a cinema, supermarket and

additional shops, as well as the development

of the Te Ana Marina at Lyttelton stage 1

complete. The local school and Kidsfirst centre

have an excellent reputation and the zoned

high school is Cashmere.

Open Home 2.30 to 3pm Sunday 10th Feb

See you at the Open Home or for a private

viewing, please contact Min of Min Sarginson

Real Estate (Licensed Agent REAA 2008),

phone 027 432 0327 or 329 4161

growing with you June 2018 | 100%

Plants For

winter wow

Cool Choices

For Colour

& Contrast

From swamp

to sea views

The journey

begins with sarah

the Gardener

$7.90 incl. GST

Snap it up

Enter our annual

Birdlife Photo

Competition to win

great prizes!

clear the air

Why groWing

indoor PLAnTs is

so good for you

give it a grow

from gArLic

To chinese

ArTichokes,

We hAve your

groWing TiPs

covered

the latest releases

into the rose world

+ rose care

through winter

The magazine for

gardeners who like to get

their hands dirty

SUBSCRIBE FROM

$43. 50*

*6 issues/6 months

SUBSCRIPTIONS FREEPHONE

0800 77 77 10

WWW.GARDENER.KIWI
---
Wednesday February 6 2019

Latest Christchurch news at www.star.kiwi

BAY HARBOUR

PAGE 23

Computer

Services

VIRUS REMOVAL AND

PC HEATH CHECK

$50.00 With free pick

and delivery within 10km

of Redcliffs. Phone Paul

on 021495577. Microsoft

Certified Pro with 25 years

experience. Visit www.

seracnz.com

ADD SOME

COLOUR

TO YOUR ADVERT!

Classifieds Contact us today Phone our local team 03 379 1100

Classic Cars & Motorcycles

Towing

For safe, damage free

car transportation

call Ashley's Tow Taxi

Special care for special cars

ASHLEY'S TOW TAXI

Breakdown & Relocation

0800 TOW TAXI • 0800 869 8294

Gardening

& Supplies

Landscape

and Garden

Services

Need help with

your garden?

We provide a quality

service for all your

Garden Maintenance

(hedges, lawns,

line trimming, weeding)

and Landscaping needs,

(fencing, paths, drives,

retaining and earthworks).

Ph 021 272 0303

KATANG

Health & Beauty

Fitness

Tues 9.15am-10.15am

Health & Beauty

EXERCISE for over

65s. Redcliff's Bowling

Club "Use it or Lose it"

classes. Mondays 11am

(men only), Wednesdays

9am (mixed), Fridays

11am (mixed). MoveEzy

gentle class: Mondays

1.30pm. Contact Kris

021 262 8886 or kris@

exerciseasmedicinenz.com

Personals

Why Stay Single & Alone…

…when at New Beginnings

Network we have many

members seeking

companionship/love!

Meet through personal phone

calls not impersonal computer

match up whilst receiving

expert dating advice with real

relationship experts with 25+

experience.

Servicing all areas: City/Rural

with members of all ages from

the young to the young at heart

(seniors welcome!).

Call 0800 315 311 for a free

compatibility match to see

who is waiting to meet you!

Taking calls 7 days til late

www.

newbeginningsnetwork

.co.nz

Sumner Community

Centre (above library)

$5 per class.

Concession cards available.

For more info

contact Katrina

381 1704 or

027 4966 845

Holiday

Accommodation

Australia QLD

SUNSHINE

COAST

RESORT

ALEXANDRA HEADLAND

All Units Have Ocean Views.

Heated Pools, Spa & Sauna,

Free Wifi, Tennis

& Mini Golf.

CHECK OUR GREAT

WINTER SPECIALS

www.mandolin.com.au

0061 7 5443 5011

JUNE to AUG temps 20C

Trades & Services

Your local professional

FOR ALL YOUR

PLUMBING,

GAS &

DRAINAGE

• Bathroom repairs

• Renovations

• Leaks

• Blocked drains

• Gas and drainage

Carol and Chris

To Let

RENT ME!

Ideal as an extra

bedroom or office.

no bond required

Fully insulated and double glazed for warmth.

Three convenient sizes from $70 a week:

Standard 3.6m x 2.4m

Large 4.2m x 2.4m | Xtra-large 4.8m x 2.4m

Visit our website

www.justcabins.co.nz

for display cabin locations

www.justcabins.co.nz

Phone 376 5322 or email

chcheast@laserplumbing.co.nz

PLUMBER

12 years

experience

Serving Christchurch and wider

Canterbury Region with quality

workmanship and service.

24/7 caLLOUT serVice

junk

Trades & Services

PLUMBER

AvAilAble for:

Hot water cylinder

replacements

Gas conversions

Top quality full

house filtration to

protect all your

plumbing and your

health from chlorine.

Phone Mike

021 132 8929

ROOF

PAINTING

Rope & harness

a speciality,

no scaffolding

required,

30 years of

breathtaking

experience.

FREE QUOTES

Exterior staining,

exterior painting,

moss and mould

treatment and

waterblasting

Phone Kevin

027 561 4629

CARPET & Vinyl

lAying

Exp. Repairs, uplifting,

relaying, restretching.

Email jflattery@xtra.co.nz

ph John on 0800 003 181

or 027 2407416

COnCRETE CUTTing

Affordable Concrete

Cutting with Quality, and

removal work. Free quote.

No job to small. Phone 027

442-2219, Fax 359-6052

a/h 359- 4605

ElECTRiCiAn

JMP Electrical.

Experienced & registered..

Expert in all home

electrical repairs &

maintenance.Call James

027 4401715

gARDEnER

Need your home or

commercial garden tidied

up or renovated or require

long term assistance.

Phone Ruth 326-6663 or

021 272-0303

lAWnMOWing

You Grow I Mow. Free

quotes. Ph / text Chris 021

252 1801

PAinTER/PlASTERER

Experienced tradesman,

quality work, free quotes,

ph Simon 027 389-1351 or

03 328-7280

Why go to the Dump? Junkman comes to you!

Items too big for the rubbish bin?

Or too heavy for you to move?

Junkman comes to FROM

you & takes it away $

65 *

*Prices vary depending on items and volume – minimum charge $65

Trades & Services

PAinTER AVAilAblE

RAPID RESPONSE,

quality work guaranteed,

interior/exterior,

roofs, spraypainting,

waterblasting, ph Graeme

for a free quote, 027 318

2614

PlASTERing

inTERiOR

no job too big or too

small, specialize in repair

work & new houses, free

quotes given, over 20 yrs

plastering experience, ph

Peter 027 221-4066 or

384-2574

SHEEP SHEARing

MObilE

Fast friendly professional

service. 25 yrs exp.

Shearing, drenching, hoof

trimming etc. Call Shaun

021 204 1274

STOnEMASOn, bRiCK

& blOCKlAyER,

Earthquake Repairs, Grind

Out & Repoint, River/

Oamaru stone, Schist,

Volcanic Rock, Paving,

all Alterations new & old,

Quality Workmanship,

visit www.featureworks.

co.nz or ph 027 601-3145

Trades & Services

ELECTRICIANS

Professional

Friendly Registered

Tradesmen available

for your Electrical

requirements today.

For immediate

quality service please

contact

services

Ph. 03 322 8454

www.skeltonelectrical.co.nz

Tours

0800 586 5626

www.junkman.co.nz office@junkman.co.nz

PIANO LESSONS

Catherine Bracegirdle

DipABRSM ATCL AIRMT

51A Colenso St, Sumner

Ph. 021 044 5102

www.pianoandtheory.co.nz

catherine.bracegirdle@gmail.com

RESTRICTED

FIRE SEASON

Fire and Emergency New Zealand declares

a Restricted fire season, effective from

midnight, Tuesday 29 January 2019 in the

following area(s):

• Those lands encompassed by the

Christchurch City Council (including

Banks Peninsula), Selwyn District Council;

and

• Those lands encompassed by the Hurunui

and Waimakariri District Councils

A permit is required to light a fire in open air in

these areas.

See www.checkitsalright.nz for types of fire

which have been authorised as not being fires

in open air and do not need a permit.

Any fire permits issued during a restricted fire

season are suspended if Fire and Emergency

declares a prohibited fire season, or prohibits

fire in open air, in the area(s).

Bruce Janes

Principal Rural Fire Officer

North Canterbury

David Stackhouse

Area Commander

Christchurch Metro

To check the season status in an area

please visit www.checkitsalright.nz

or call 0800 658 628.

ADVERTISE YOUR

BUSINESS HERE

Tuition

Public Notices

Further information about fire

seasons is available on

www.fireandemergency.nz

Phone for further details

(03) 379 1100
---
PAGE 24 Wednesday February 6 2019

BAY HARBOUR

Latest Christchurch news at www.star.kiwi

Jamie Single Bed

Mattress sold separately.

was $ 299 then $ 249

Ibiza 3 Piece Outdoor Dining Set

150cm Table + 2 x 120cm Benches

was $ 1779

then $ 1399

Torana 2 Seater Leather/PVC

Recliner

was $ 1099

then $ 949

now only

$

149

now only

$

899

now only

$

649

Chloe Corner Sofa + Ottoman

Available in Duck Egg or Grey

Caymen Outdoor Lounge Suite

3 + 1 + 1 + Coffee Table

was $ 1999

then $ 1799

was $ 3199 then $ 2499

SAVE $ 1500

now only

$

1399

now only

$

1699

0% INTEREST?

WE CAN DO THAT.

Terms and conditions apply. Ask in store for more information.

MORE SAVINGS + SUPER

DEALS IN STORE & ONLINE.

All Bedroom, Dining, Lounge

& Outdoor ON SALE.

Sale ends 11.02.19

Shop

Online

Nationwide

Delivery

Finance

Options

targetfurniture.co.nz

Cnr Blenheim & Curletts Rds, Christchurch

Ph: 0800 TARGET (0800 827438)

Offers and product prices advertised here expire 11/02/19.

Sale excludes Manchester and Accessories.