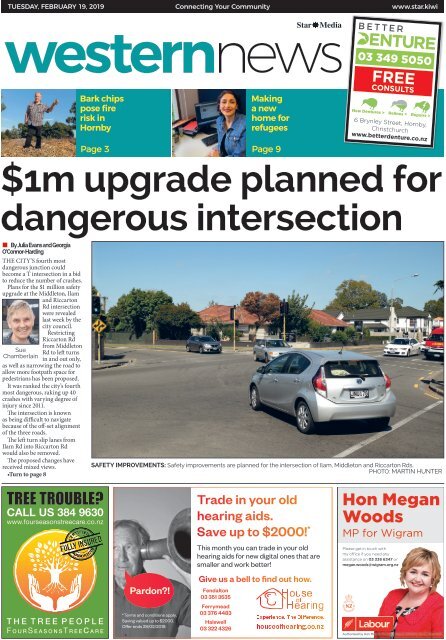 Western News: February 19, 2019
You also want an ePaper? Increase the reach of your titles
YUMPU automatically turns print PDFs into web optimized ePapers that Google loves.
TUESDAY, FEBRUARY 19, 2019

Connecting Your Community

www.star.kiwi

Bark chips

pose fire

risk in

Hornby

Making

a new

home for

refugees

03 349 5050

free

CONSULTS

New Dentures > Relines > Repairs >

6 Brynley Street, Hornby,

Christchurch

www.betterdenture.co.nz

Page 3 Page 9

$1m upgrade planned for

dangerous intersection

• By Julia Evans and Georgia

O'Connor-Harding

THE CITY'S fourth most

dangerous junction could

become a T intersection in a bid

to reduce the number of crashes.

Plans for the $1 million safety

upgrade at the Middleton, Ilam

and Riccarton

Rd intersection

were revealed

last week by the

city council.

Restricting

Riccarton Rd

Sue

Chamberlain

from Middleton

Rd to left turns

in and out only,

as well as narrowing the road to

allow more footpath space for

pedestrians has been proposed.

It was ranked the city's fourth

most dangerous, raking up 40

crashes with varying degree of

injury since 2011.

The intersection is known

as being difficult to navigate

because of the off-set alignment

of the three roads.

The left turn slip lanes from

Ilam Rd into Riccarton Rd

would also be removed.

The proposed changes have

received mixed views.

•Turn to page 8

SAFETY IMPROVEMENTS: Safety improvements are planned for the intersection of Ilam, Middleton and Riccarton Rds.

PHOTO: MARTIN HUNTER

tree trouble?

call us 384 9630

www.fourseasonstreecare.co.nz

Trade in your old

hearing aids.

Save up to $2000! *

This month you can trade in your old

hearing aids for new digital ones that are

smaller and work better!

Please get in touch with

my office if you need any

assistance on 03 338 6347 or

megan.woods@wigram.org.nz

t h e t r e e p e o p l e

f o u r s e a s o n s t r e e C a r e

Pardon?!

*Terms and conditions apply.

Saving valued up to $2000.

Offer ends 28/02/2019.

Give us a bell to find out how.

Fendalton

03 351 3535

Ferrymead

03 376 4483

Halswell

03 322 4326

Authorised by Hon Megan Woods, Shop 6, McCathy St, Christchurch
---
2 Tuesday February 19 2019

Latest Christchurch news at www.star.kiwi

get in touch

from the editor's desk

GOOD NEWS for motorists on the front

page today.

The Middleton, Ilam and Riccarton

Rd intersection – the city's fourth most

dangerous junction – could become a

T intersection. It's a proverbial of an intersection. Turning

right from Riccarton into Middleton and right from Ilam into

Riccarton can be frustrating.

So plans are afoot for a $1 million safety upgrade. It would

include restricting Riccarton Rd from Middleton Rd to left turns

in and out only, as well as narrowing the road to allow more

footpath space for pedestrians.

There are divided views on the changes as our article reveals,

but the bottom line is something has to be done, in my humble

view anyway.

– Barry Clarke

GENERAL INQUIRIES Ph 379 7100

CLASSIFIED ADVERTISING Ph 379 1100

Star Media, a division of Allied Press Ltd

PO Box 1467, Christchurch

starmedia.kiwi

news

Saving water key to being chlorine-free

Do your bit to conserve water and help the city council remove

chlorine from the water supply as soon as possible.

Page 8

sport

Pages 12

community events

WESTERN NEWS

St Thomas student gears up for final 86 round

Jaden Ransley will head to next month's Toyota 86 Championship

round with the points lead.

The Great Stash Swap

Take your unwanted old craft supplies and swap them at the

Upper Riccarton Library on Sunday, 11am-2pm.

NEWS

Georgia O'Connor-Harding

Ph: 021 910 730

georgia.oconnor@starmedia.kiwi

ADVERTISING

Alana Powell

Ph: 962 8753

alana.powell@starmedia.kiwi

Page 19

The best-read local newspaper, delivered to

18,190 homes every Tuesday

Templeton, Islington, Hei Hei, Broomfield, Halswell, Oaklands,

Westlake, Hornby, Wigram, Sockburn, Church Corner, Ilam,

Russley, Hyde Park, Avonhead, Riccarton Park, Riccarton.

THE RUSSLEY VILLAGE

HOLLY LEA VILLAGE

russleyvillage.co.nz

03 357 9392

73 Roydvale Ave,

Christchurch

For enquiries contact

Wayne Thompson

STYLISH DESIGN,

CONTEMPORARY RETIREMENT LIVING

Making your retirement move is easy when it's to one of these sought after locations.

Located on the site of the old Russley Hotel, The Russley Village is set within eight acres of award-winning

gardens and grounds. The centrepiece of The Russley Village is its purpose built resident community facility,

The Homestead where you will find Abode Café & Brasserie, a cinema, library, arts & crafts space and hair salon.

The Village scooped two prestigious awards for this state-of-the-art, multi-purpose building at the recent

New Zealand Commercial Project Awards. The Ashley Suites, our boutique care facility, is currently underway

and will provide residential care up to hospital level.

Holly Lea Village is nestled in the heart of Fendalton within beautifully tailored grounds. The village has recently

undergone a major refurbishment and has just released the first stage of new apartments with construction

planned to commence in early 2019. The Morven apartments, comprising of eight spacious two bedroom

apartments, are architecturally designed with comfort and safety in mind and offer the latest in contemporary

retirement living.

hollylea.co.nz

03 351 2679

123 Fendalton Rd,

Christchurch

For enquiries contact

Juliane Brand
---
WESTERN NEWS Latest Christchurch news at www.star.kiwi

Tuesday February 19 2019 3

News

Further fire worries at Hornby

• By Georgia O'Connor-Harding

HORNBY IS in extreme danger

of fire.

That is the view of resident

Ross Houliston who is calling

for action to be taken over the

"extremely high fire risk" existing

at Denton and Kyle Parks.

His concerns stem from the

city council dumping "excess"

bark behind Denton Oval

which has begun to stockpile

under the trees.

About 30 tonnes of tree

mulch is piled next to a railway

line which runs between Denton

Park and Kyle Park.

"If sparks got into that from a

train it could go up. It could set

the trees on fire around the oval

and could spread anywhere,"

Mr Houliston said.

But city council community

parks manager Al Hardy said

the bark will be used as mulch

for the gardens and its removal

from Denton Park will begin in

Autumn.

Mr Houliston aired his concerns

to the Halswell-Hornby-

Riccarton Community Board

last week.

He has also raised concerns

over the lack of maintenance

where the asbestos fencing is

located at Kyle Park.

Western News reported the

A love of

dance for life

CONTEMPORARY

BALLET

JAZZ | HIP HOP

< Preschool to adults

< Family discount

< Avonhead

< Very reasonable fees

< Annual recital

Jadon Dance

Jacqui Tieleman

03 324 2227

021 630 910

jacs2u@scorch.co.nz

Donna Head

03 351 2401

021 0423 621

donna.head@xtra.co.nz

city council began removing

the grass in November.

"City council staff have

recently cut down some of the

high grass and left it to dry up

on the ground surface. Should

this take light with the trees

and the highly dense scrub that

has been allowed to grow up

there we would have a major

fire," he said.​

The fire hazards will be raised

at the Greater Hornby Residents'

Association at the end of

the month.

Mr Houliston said if no action

is taken by the city council,

BOOK FAIR!!

HUGE SALE OF

PRE-LOVED

BOOKS

at St Christophers Church

Friday 22nd February

9am-7.30pm

Saturday 23rd February

9am-4pm

Books $2, 6 for $10,

Kids Books 4 for $2

Jigsaws, Sheet Music,

CDs, Collectable Books.

244 AVONHEAD ROAD

Eftpos available

HEAT PUMP

SALE NOW ON!

Amazin' summer Specials!!

it will ask Fire and Emergency

New Zealand to investigate.

Last week a total fire ban was

put across the city banning any

outdoor fires being lit in rural

and urban areas.

Fire investigator Wayne

Hamilton said he could not

comment on the issue without

seeing it for himself.

But he said in terms of the

bark, the fire hazard depends

on how it is stored.

"I think the city council are

reasonably aware of how they

need to store their products,"

Mr Hamilton said.

CONCERN:

Hornby

resident Ross

Houliston is

concerned

about piles of

bark dumped

at Denton Park

being a fire

hazard. PHOTO:

MARTIN

HUNTER

Community board chairman

Mike Mora said the issue has

been passed onto city council

staff to investigate.

City council community

parks manager Al Hardy said

after visiting Denton Park on

Thursday it was found there

is significant moisture within

the piles of mulch and it is not

deemed a fire hazard.

"The long grass around the

piles of mulch will be addressed

by parks staff next week and

monitored on a monthly basis,

alleviating any fire risk," he said.

•Overgrown grass, p7

Local

News

Now

In Brief

Fire rages, homes at risk

SCHOOL GRANT

Burnside Primary School has

received $1000 from Countdown

to implement a waste management

system at its campus. Burnside was

one of 30 schools selected from

more than 200 applicants for the

supermarket chain's Growing for

Good fund.

FENDALTON CENTRE

The Fendalton Library and

Service Centre will be closed

for improvements from March

4 until July 29. The heating and

ventilation system will be replaced

and the roof will be repaired.

Items cannot be returned over this

period, but can be returned to any

other city library . A mobile library

vehicle will be on site Mondays,

Wednesdays and Fridays.

AVONHEAD CEMETERY

The city council has opted to

go out for public consultation

on a proposed name change

for Avonhead Park Cemetery.

Avonhead Community Group and

Friends of Avonhead Cemetery

support changing the name to

Avonhead Memorial Cemetery

in honour of the quake victims

buried there. The consultation

date has not been set yet but

Fendalton-Waimairi-Harewood

Community Board chairman Sam

MacDonald said he does not want

the consultation delayed.

• We will offer you the best quality brands and

option of heat pump for your home/business

• Providing Heat Pump solutions for over 16 years to Cantabrians

• We personally guarantee all our products & installs for 5 years

(providing annual maintenance has been completed)

Phone us today for your free consultation & quote

41A SHAKESPEARE RD, WALTHAM

PHONE 03 366 0525

www.enviromaster.co.nz

"A local team for local people"
---
4 Tuesday February 19 2019

Latest Christchurch news at www.star.kiwi

WESTERN NEWS

News

McMaster & Heap

Veterinary practice

NEW CHANGES ON

THE HORIZON

What an exciting year 2019 is going to be for

the McMaster & Heap Family. A new veterinary

building, a specialist veterinarian joining the

ranks, more skilled nurses required and our

family size is fast shrinking with sons off to

pursue their dreams.

On the home front we have gone from a

family of 5 to a family of 3. Our eldest son

Connor will go into his

second year of Veterinary

training at Massey

University in Palmerston

North. Most of Connors

summer holidays have

been spent doing

practical work for his

vet degree. He spent 5

weeks on a Sheep and

Beef farm in Methven.

Connor really enjoyed all

aspects of farm life from

ploughing fields, to

vaccinating and drenching stock

to driving all the farm machinery. He gained

valuable skills in reading animal behaviours

and how to handle them and learning about

management practices. He is now spending

time at a racing stable in Templeton and

seeing some equine veterinary work. It would

be fair to say his horse handling skills are

sketchy but nothing 2 weeks in a busy racing

stables can't fix.

Dylan our tennis man

Connor Heap - 2nd year Vet

student doing Beef and sheep

farm practical work

Our 18 year old son Dylan left in January to

pursue his tennis dream in the US, gaining

a scholarship to the university of Minnesota

in Minneapolis. Within 2 days of touching

down he was back on a plane with the

team to a training camp in Florida. He will

study business and finance while over there.

At present he's trying to acclimatize to

temperatures that have reached -45 degrees!!

Luckily for us, our youngest 14 year old son

Isaac ,is still living with Ma and Pa. Not for

long though something tells me ,as this son

can't wait to travel the world, meet new

people and study overseas.

On the vet front we are very excited

to welcome Richard Lucy into the

McMaster and Heap family. Richard

went through Massey with Steve a wee

while ago now (graduated in 1992)

and fairly early on pursued Radiology

and Ultrasonography as his areas of

interest. Richard passed his Veterinary

Cardiology exams at the Royal Vet College in

London. On returning to NZL, Richard worked

in Auckland and Hamilton for several years

before retraining in human echocardiology

(ultrasound of the heart). He even did a stint

in human ultrasound working at Waikato

and Christchurch Public Hospitals. Richard

has since returned to his original vocation

and works solely performing

ultrasounds on the heart ,

musculoskeletal system and

abdomen of referral patients. He

will now see his South Island and

Christchurch referrals through

our practice, working Monday

through to Thursdays. Richard is

married to Linda and in his spare

time entertains his twin 3 year olds,

slaves away on his lifestyle block

and enjoys the rivers, mountains

and coasts that Canterbury and the

South Island has to offer. We are

thrilled to be able to offer Richards expert

skills and knowledge to our patients and

those that are referred to us.

So with the addition of Richard and our skilled

ultrasonographer Catherine, we will be able

to offer ultrasounds to patients Monday to

Friday.

We have just accepted a building tender to

get our exciting new build underway as soon

as possible. We are expanding quickly and

need more consulting rooms and a bigger

kenneling area as well as a state of the art

surgical suite. Works should start before the

end of the month and all going well, by the

end of August we will be enjoying loads

more space, a separate "cat only" waiting and

treatment space and loads more exciting

extras.

I apologize now for any disruptions and extra

building site noise but promise this that

the end result will be a great thing for our

patients.

We employed 4 fantastic new nurses last

year due to continued practice growth.

Olivia, Rachael, Danielle and Marysha have

all brought something new and special

into the team mix and its refreshing to have

enthusiastic, inspired and fun young nurses to

help us with the important work we do.

Visit our website for more

information on our staff.

Watch this space for more

developments on our

building project and our

awesome expanding team

of vets and nurses.

Dr Michele McMaster

Welcome to Richard Lucy

Resident's group

'a bunch of

petrol heads'

• By Georgia O'Connor-

Harding

THE HEADS of two

resident's associations are

at loggerheads over how

noisy Ruapuna Speedway

is.

Templeton Residents'

Association chairman

Garry Kilday and Yaldhurst

Rural Residents'

Association chairwoman

Sara Harnett-Kikstra have

disagreed over whether

there are still noise issues

at the motorsport track.

Mr Kilday said there

have not been recent problems

between the Templeton

residents and Ruapuna

– the issue lies with Ms

Harnett-Kikstra.

"We have never had

a complaint from the

Templeton community in

ages . . . other than her asking

questions there have

been no other complaints

at all," he said.

But Ms Harnett-Kikstra

has hit back, calling the

residents' association a

"bunch of petrol heads."

She said "ironically" they

are concerned about the

noise from the proposed

Fulton Hogan Quarry.

Ms Harnett-Kikstra

said she is about the

same distance to the

Fulton Hogan Quarries

Canterbury on Pound Rd

to Ruapuna.

"I can assure them it

is nothing compared to

motorsport," she said.

Mr Kilday responded

calling Ms Harnett-Kikstra

a "whinger" and said the

association is not a bunch

of petrol heads.

The revolution

in heat pumps

is here now!

The Fujitsu e3series

The brilliant

heat pumps from Fujitsu

e1 : efficiency

e2 : environment

e3 : economy

Garry Kilday

"I am the only one that

goes (to Ruapuna) so

how can it be a bunch?" he

said.

Mr Kilday said he will

not be laying a complaint

about the noise from the

proposed Fulton Hogan

Quarry.

Templeton residents

have been at war with

Ruapuna for years with

the issue flaring up in 2013

when Ms Harnett-Kikstra

broke down in tears and

told the city council her

children could not sleep.

But Ruapuna

Community Liaison

Committee chairman

Laurie McCallum believes

"peace has broken out" at

Templeton.

"We need to work as

hard at the peace as we

did at the war and that is

what we are trying to do at

Templeton," he said.

Eleven complaints were

made in 2017 – with eight

from Templeton, two from

Yaldhurst and one with no

location details.

Last year, five complaints

Sara Harnett-Kikstra

were made from Templeton.

Two noise complaints

were made on January 19

when Ruapuna Speedway

contracted out its burnout

pad to the New Zealand

Burnout Championship for

its Southern SmokeFest.

The city council found

the noise limits were not

breached.

Mr McCallum said in

a report to the board the

committee's agendas may

seem relatively light but

this is due to the high level

of compliance from the

speedway.

But Ms Harnett-Kikstra

said while noise at Ruapuna

has got better, it had

no option after the noise

issues went to the Environment

Court.

Restrictions were placed

on Ruapuna in 2016.

Mr Kilday, who

represents the township

on the committee,

said Ruapuna is "very

proactive" about making

sure no noise limits are

breached.

The revolution in heat pumps is here now!

The brilliant e3 series

heat pumps from Fujitsu

e1 : efficiency

e2 : environment

e3 : economy

Open 7 days

Cnr Hoon Hay & Coppell place

phone 338 2534, Fax 339 8624

e. mcmasterandheap@yahoo.co.nz

www.mcmasterheap.co.nz

McMaster & Heap

Website: www.pshc.co.nz

FREE consultation from your local

Accredited Heat Pump Expert

Phone today: 03 381 6950

INSERT DEALER DETAILS HERE

NEW ZEALAND'S FAVOURITE AIR

Fujitsu's Catechin Filters are

approved by the Asthma and

Respiratory Foundation NZ's

Sensitive Choice ® programme.

Email: info@pshc.co.nz
---
WESTERN NEWS Latest Christchurch news at www.star.kiwi

Tuesday February 19 2019 5

POTENTIAL: Mark Peters is considering running for the city council or

Halswell-Hornby-Riccarton Community Board in October's local body elections.

Denton Park saviour

may run for council

• By Georgia O'Connor-

Harding

A KEY player in the

successful campaign

to save Denton Park is

"seriously considering"

throwing his hat in the

ring for October's local

body elections.

Greater Hornby

Residents' Association

member Mark Peters may

put his name forward for

a seat on the city council

or the Halswell-Hornby-

Riccarton Community

Board.

"The main reason I am

seriously considering it

is because Hornby needs

to have some good strong

representation to stand

up for our community

and really get it back on

the map," the former

chairman of Save Denton

Park said.

Mr Peters has been

considering running since

the saga to save Denton

Park from the proposed

Hornby mega-facility

concluded. "Forming the

residents' association on

the back end of that has

been fantastic – why not

carry on representing the

community? Hornby has

been neglected for too

long," he said.

Last year the residents'

association, Denton Park

users and members of the

community welcomed

the decision to build the

Hornby mega-facility at

Kyle Park.

Mr Peters said a key

focus for the area is to

ensure the facility, which

will include a library, pool

and customer service

centre, is completed as

soon as possible.

He wants to try and

ensure there are no undue

delays and funding for

the centre is not "shortchanged."

"I remember when I

moved to Hornby. It would

have been about 2006,

they had just closed the

Sockburn Pool. My kids

have grown up in Hornby

without a pool . . . we have

had a whole generation go

through now that had no

pool to learn to swim in,"

Mr Peters said.

The current Hornby

representatives are

Halswell-Hornby-

Riccarton Community

Board chairman Mike

Mora, member ​Natalie

Bryden and city councillor

Jimmy Chen. Mr Peters

would not say who he

thought he might replace.

Nominations for the city

council and community

boards open on Friday, July

19, and close on August 16.

The election will be held

by postal vote with voting

papers delivered from

September 20

•HAVE YOUR SAY:

Who do you think

should put their name

forward to represent

Halswell, Hornby

and Riccarton? Email

your views to georgia.

oconnor@starmedia.

kiwi

• help us to help others

• donations appreciated

• open 6 days

We welcome you to come in for a chat!

Free

picK up

can be arranged for

your quality donations -

phone 349 4163

Dress

Smart

Goulding Ave

main south rd

shands rd

We Are

here!

Amyes rd

hornby Family store

1 Amyes Rd, Hornby

Ph. 349 4163

Corner Aymes & shAnds roAds- hornby

Present this advert along with your truck donation for a $10 credit (Conditions Apply)
---
6 Tuesday February 19 2019

Latest Christchurch news at www.star.kiwi

WESTERN NEWS

News

Longer hours

for Halswell pool

• By Georgia O'Connor-Harding

HALSWELL residents calling

for the suburb's summer pools

hours to be boosted will have

their wish granted.

The city council will trial

extending its opening hours at

the Te Hapua: Halswell Centre

Summer Pool.

It will be trialled on the basis

the Halswell-Hornby-Riccarton

Community Board will allocate

funding from its 2019-20 Discretionary

Response Fund towards

operating costs.

Last week a petition of 431

signatures was presented by city

councillor Anne Galloway calling

for the pool hours to be open

for longer.

Cr Galloway said while the

hours have not been finalised

yet, the pool could potentially be

open from 7am-7pm.

Currently, the pool hours are

11.30am-7pm.

Cr Galloway said the board

will look at funding up to 50 per

cent of the operating costs.

"The total amount city council

have talked about in terms of

opening the extra hours is about

$35,000," she said.

She said these details will be

discussed with the board and

city council staff before the next

season.

Principal swaps Middleton for Hong Kong

• By Georgia O'Connor-Harding

WHEN RICHARD Vanderpyl

was first offered the opportunity

to become the head of a school in

Hong Kong, he turned the role

down.

Having spent 17 years at

Middleton Grange School, the

chance to lead Christian Alliance

International School in Butterfly

Valley "came out of the blue."

The Middleton Grange

principal initially said the Upper

Riccarton school "had his

heart" and he had no reason or

incentive to leave.

But when he was approached

again a couple of weeks later by

the same recruitment company

asking him to reconsider, Mr

Vanderpyl decided to investigate

the role.

"I think for me as a Christian,

I felt this was the Lord's calling

on my behalf. I felt the Lord was

really calling me to take up this

position," he said.

Mr Vanderpyl, 55, will head to

Hong Kong on March 4 to start a

new life with his wife Linda.

"It was always going to be a

big change for me to do that and

I think as a Christian I just felt

really at peace," he said.

The timing was right for a

range of reasons, he said. All four

of his children have grown up

and no longer depend on him.

"I have always thought about

it over the years – I would do

some sort of work at some stage

overseas," he said.

While Mr Vanderpyl has been

to Hong Kong about five times

to market Middleton Grange, his

understanding of Cantonese is

"extremely limited."

But he said while it is

compulsory for students to learn

Mandarin, every other subject is

taught in English.

"(Christian Alliance

International School) is aimed at

the ex-pat and overseas market

. . . the teachers at the school are

predominantly from overseas,"

he said.

His role will involve overseeing

the implementation of the

newly-introduced education

programme, International

Baccalaureate, which allows

students entry to most

universities around the world.

Mr Vanderpyl has spent 33

years in the education sector

– starting out as a teacher at

Hornby High School in 1984.

He moved to Hamilton Boys'

High School in 1986 and taught

there for five years before he

became the assistant principal at

EDUCATOR:

Middleton

Grange

School

principal

Richard

Vanderpyl

speaking at

the senior

prize-giving

last year.

Cambridge High School.

Mr Vanderpyl has since been an

assistant principal at Cashmere

High, deputy principal at

Hillmorton High and arrived at

Middleton Grange as a teacher in

about 2001.

He has been the principal

for nine years and has a very

"strong connection" to

Middleton Grange which his

wife and four children all

previously attended. Middleton

Grange is New Zealand's largest

evangelical Christian school. It

hopes to have a new principal by

the start of term three.

For Everything

AUTO ELECTRIC

CARS • BOATS • TRUCKS • CARAVANS • TRAILERS

• 4WDS • ELECTRIC & HYBRID VEHICLES

• Starter Motors

• Alternators

• Central Locking

• Electric Windows

• ABS & Airbags

• Stereos/Alarms

• Batteries

• Tuneups

• Engine Management

YOU NAME IT WE FIX IT

AAE

Amazing

Auto

Electric

USUALLY

SAME DAY

SERVICE

WE ARE HERE

65 Coleridge St, Sydenham 65 Coleridge St

Coleridge St

Ph. 379 4250

www.amazingautoelectric.co.nz

Gasson St

Wordsworth St

Brisbane St

CAMERON BAILEY

Testimonial

"Heather and I would like to convey to you and your personal assistants Samantha and Lisa,

our appreciation for your input and management for the marketing of the Waltham Street units.

Truly a class act – the photography and descriptions were superb, we were kept informed,

were given the opportunity to have input where appropriate, and ended up with a fantastic

result! Thank you, sincerely, and best wishes."

Allan and Heather Burgess

NO.1 HARCOURTS CANTERBURY 2012-2018

NO.1 HARCOURTS NEW ZEALAND 2017-2018

NO.1 HARCOURTS INTERNATIONAL 2017-2018
---
WESTERN NEWS Latest Christchurch news at www.star.kiwi

Tuesday February 19 2019 7

Tiny house for residential complex

• By Georgia O'Connor-Harding

A HALSWELL residential care

and rehabilitation service is

joining the tiny house movement

in a bid to address the city's

housing shortage for people with

physical disabilities.

St John of God Halswell is

planning to build an accessible

small home to provide more

accommodation for its residents

looking to transition back into

independent living.

The service's centre manager

Virginia Spoors said one of the

issues for the trust is when its

residents are ready to move

back into the community after

recovering from a stroke or

spinal injury, there isn't suitable

housing available.

"We are over 100 per cent occupied.

It is really busy. There is

some urgency to find supportive

living," she said.

About five people are currently

waiting to find suitable housing.

The tiny house will be designed

specifically to cater for

a person in a wheelchair with a

physical disability with a ramp to

the house, a wide doorway and

an accessible bathroom with a

wet area shower.

It will also be single-storeyed

and have a digitally operated

ceiling hoist to allow a person to

move from one part of a house to

another.

Resident Josh Caldwell, 21, is

one of the potential candidates

who may take up residing in the

home.

His life changed dramatically

nearly three years ago when he

was diagnosed with transverse

myelitis, a rare auto-immune

disease which causes inflammation

in the spinal cord.

When he initially became sick,

he spent five days in a coma and

three weeks in Christchurch

Hospital's intensive care unit

before he was transferred to

Burwood Hospital for five and a

half months.

He was discharged to St John

of God on August 9, 2016 and

has been there since.

Mr Caldwell has since started

working for the New Zealand

Spinal Trust to support people

with spinal cord injury.

He said options for people in

Christchurch are Laura Fergusson

Trust, St John of God or

retirement home.

"But someone my age . . . a

retirement home is not a really

good option," he said.

Mr Caldwell said the tiny

home allows a good transition

back into independent living.

The cost to build the house is

INDEPENDENT

LIVING: St John

of God Halswell

is joining the

tiny home

movement.

estimated to be $80,000 and is

planned to be built by spring.

"We are hoping this is a model

that will be able to be expanded

or replicated," Mrs Spoors said.

The tiny home will initially be

trialled on the St John of God

Halswell site where the resident

can still receive support from

staff while living in it.

A fundraiser will be held on

Sunday featuring jazz music

from Sam White's Quartet to

raise money for the project.

•Jazz in the Garden will

be held at St John of God

Halswell at 26 Nash Rd on

Sunday from 5-7pm.

Local

News

Now

Fire rages, homes at risk

Weeds beside

railway line

being cleared

• By Georgia O'Connor-Harding

ACTION HAS been taken to

clean up the weeds next to the

train tracks adjacent to Carmen

Rd.

The city council began clearing

away the overgrown grass on

Saturday to remove any potential

fire risk in the short term.

Greater Hornby Residents' Association

member Mark Peters

said it was a positive outcome

for the site and it is long overdue.

He said hopefully KiwiRail

will keep it maintained in the

long-run.

KiwiRail previously told

Western News it has advised the

leaseholder and is working with

them to get it sorted as soon as

possible.

Halswell-Hornby-Riccarton

Community Board Mike Mora

has suggested keeping the area

beautified with agapanthus.

He said they are not a fire risk

and are easy to maintain.

Mr Mora said he is looking to

work with the residents' association,

Keep Christchurch Beautiful

and the Hornby community

upon getting permission from

KiwiRail.

Selling your

home seminar

Presented by Scott MacDonald

from Harcourts*

Thursday 28 February, 2pm

Anthony Wilding Retirement Village

At Ryman villages, we host regular seminars like selling

your home, that benefit not only residents, but also

those who live in our surrounding communities.

Learn about the current property market, smart ways to

present your home for sale, how to market and list your

property, and how a home auction works.

It's a great opportunity to obtain information, get advice,

and if you're interested in retirement living learn more

about our village lifestyle.

The presentation will be followed by

complimentary refreshments.

For more information please

phone Susie on 03 338 7696

5 Corbett Crescent, Aidanfield

*Licensed Agent REAA 2008

9121
---
8

Tuesday February 19 2019

News

Dangerous intersection

to get upgrade

Helen

Broughton

•From page 1

Ilam and Upper Riccarton

Residents' Association Sue

Chamberlain said it is "crazy"

vehicles will not be able to travel

from Middleton Rd to Ilam Rd or

turn right.

She said there should be

green arrows for vehicles

looking to turn right onto

Riccarton Rd.

"They should have a

green arrow on those

corners which will fix the

problem just nicely without

having to do anything

else".

But Elite Physiotherapy,

which is located near

the intersection, owner

Michelle North said it is an "extremely

dangerous" intersection

and while the changes will be

inconvenient for the business, it

will be better in the end.

Receptionist Rita Noetzel said

she will "cross her fingers" when

she turns right from Ilam Rd onto

Riccarton Rd.

"At first I thought: 'Oh my gosh

am I doing something illegal but

it is a right turn lane . . .' it is just a

really tricky one because there is

no kind of turning lane," she said.

Her views were backed by

Central Riccarton Residents' Association

chairwoman Joscelyne

Silcock, who said she dreads driving

out of Middleton Rd to turn

right onto Riccarton Rd.

But Halswell-Hornby-Riccarton

Community Board deputy

chairwoman Helen Broughton

said she was concerned

there might be an

"overload" of projects on

Riccarton Rd.

She said there is an

argument the project

would need to be done

in conjunction with the

NorWest Arc Major

Cycle Route.

The major Riccarton

Rd roadworks are due

to begin this month

and the city council is currently

out for public consultation on

the South Express Major Cycle

Route – which will run through

Riccarton.

The intersection upgrades will

enable it to have facilities for

the cycleway including crossing

signals.

•Public consultation will

run until March 11. For more

information on the changes

and to make a submission go

to www.ccc.govt.nz and click

on the have your say page.

Latest Christchurch news at www.star.kiwi

Help rid our water of chlorine

CONSERVE: The city council is asking people to only water

their gardens on alternate days between 9pm and 7am, when

it's cooler.

WITH FEBRUARY traditionally

the hottest month of the year,

the city council is reminding

residents to keep doing their bit

to save water so it can work to

remove chlorine from the city's

water supply as soon as possible.

The council is aiming for

the city's drinking water to be

un-chlorinated by May, which

will mark 12 months since it

rolled out chlorine treatment

in response to advice from the

Canterbury medical officer of

health.

City council water supply

improvement programme

manager Helen Beaumont said

achieving the target depends

partly on people continuing to

use less water so wells can be

taken offline and upgraded as

needed.

"We're definitely not out of the

woods yet, and we really need

people to keep watching their

water use so we can upgrade our

wells and continue to cut back

the chlorine across the city," Ms

Beaumont said.

"We're experiencing much

hotter days now, with less rain

in between, so the temptation

is to leave the garden sprinklers

on for longer or to turn them on

more often.

"We have no issue with people

watering their lawns or gardens,

but we do ask they use a handheld

hose or watering can, which

avoids any waste, and only water

on alternate days between 9pm

and 7am, when it's cooler."

Sprinklers and garden

irrigators are the biggest users of

household water, but there are

plenty of other ways people can

help save, said Ms Beaumont.

"Taking shorter showers,

doing one less laundry load

a week, and sweeping your

driveway instead of hosing it

are all ways people can help

save water. It may not seem like

much, but a lot of people doing a

WESTERN NEWS

little really adds up."

By May the city council

expects to have completed

temporary upgrades on 19

below-ground wells and to

have raised another 41 above

ground, bringing the total

number of secure wells to 98 out

of 140.

"If we can upgrade those wells

as planned, we should have

enough un-chlorinated water to

supply the city over the winter

months, when we use about 50

per cent less water than we do

over summer."

Kids 14

and Under

FREE

Kids

14 years

& Under

FREE

powered by

people

Lynne Wilson

Registered Legal Executive

Gates open at

Saturday February 23, 6PM

4.30 pm

SOUTH ISLAND SPRINTCAR

CHAMPIONSHIP

Admission Admission — Adults — $20, Adults Students $20, Students and Seniors and Seniors $15, Children $15, Children 14 and 14 Under and Under FREE: Eftpos FREE: at Eftpos the Gate

the Gate

PLUS

SUPPORTING

PROGRAMME PLUS

SUPPORTING

PROGRAMME www.ruapunaspeedway.co.nz Infoline 3497727

Your local expert in Residential

Property, Wills, Powers of

Attorney and Estate Planning

E: lynne.wilson@saunders.co.nz

DD: 03 265 0918

style

noun

elegance and sophistication.

synonyms: flair, grace, poise, polish, suaveness,

urbanity, chic, finesse, taste, class, comfort,

luxury, affluence, wealth, opulence, lavishness.

MAGAZINE

STYLE.KIWI
---
WESTERN NEWS Latest Christchurch news at www.star.kiwi

Tuesday February 19 2019 9

Making a new home for refugees

CHRISTCHURCH will

soon welcome its first former

refugees via the quota since the

earthquakes – and the New

Zealand Red Cross is getting

ready to help them settle.

Groups of about 20 former

refugees from Afghanistan and

Eritrea will arrive in the city

every eight weeks from March 1.

Christchurch's Farahnaz

Khosravi, 47, is training to

become a refugee support

volunteer with the New Zealand

Red Cross and will work in a

small team to support a new

family transition into New

Zealand life. Ms Khosravi came

to Christchurch from Iran on

a skilled migrant visa with her

husband and children almost

five years ago.

She knows what it's like to be

new to the country and felt it

was her duty to help other new

Kiwis feel at home.

"When I moved from Iran,

I had done all I could to

prepare from overseas – I

knew english, enrolled my

children in schools, rented

a house, I had even made an

appointment with the bank.

"Even with all that preparation

and information I had, it was

still challenging. I know it will

be much harder for refugees who

haven't planned to be here, don't

have knowledge of english or of

the country."

Ms Khosravi said her family

was warmly welcomed by

Cantabrians and they wanted to

ensure other new arrivals have

the same experience.

Red Cross pathways to

settlement manager Jo Fasheun

said refugee support volunteers

will help new Kiwis settle into

their homes, find their way

around, meet their neighbours,

register with a doctor and

navigate public transport.

"All of that can be really

challenging – it's about how we

can support them to make those

challenges easier and bringing

some humour into it. It's about

learning from each other along

the way," Ms Fasheun said.

Refugee support volunteers

have found the role to be a

REWARDING:

Farahnaz

Khosravi is

training to

become

a refugee

support

volunteer

with the

New Zealand

Red Cross in

Christchurch. ​

rewarding experience, she

said.

"Many of our volunteers stay

connected with families for a

very long time – you might just

become part of the family."

Ms Fasheun said it is not

too late to get involved and

encourages anyone interested in

helping to get in touch through

the New Zealand Red Cross

website – www.redcross.org.nz/.

Local

News

Now

Installing fire

protection

system forces

tunnel closure

Fire rages, homes at risk

LYTTELTON TUNNEL will

be closed on three consecutive

nights from Sunday in order to

install a multi-million dollar fire

protection system.

The closures are required in

order to install and carry out

testing of a new $29 million fire

protection system in the tunnel.

The NZ Transport Agency

has planned to close the tunnel

between 11pm and 4am on February

24, 25 and 26.

The tunnel will open to traffic

for 10min on the hour each of

these nights. Outside of these

times, only emergency vehicle

access will be available.

NZTA senior project manager

Chris Collins said work on the

project will be completed in

April.

"Installing the new fire protection

system often involves

working in confined spaces.

Single and full tunnel traffic lane

closures are critical to successfully

completing this important

project. To minimise their

impact, they are timed for late at

night and in the early hours of

the morning when tunnel traffic

is at its lightest," he said.

JOIN US NOW!

See website for details

ITALIA SPORTSWEAR

Men's & Women's Basic Fila Hoodies

& Crews, 2 for $60

(selected items only, while stocks last).

COTTON ON KIDS

Short Sleeve PJs from $10,

$15 Sprinklers (while stocks last).

PHONE EXPERT

iPhone Screen Replacements, were

from $100, Now from $69.

BENDON OUTLET

Up To 80% Off Sale.

TAROCASH

All Suits $199.99.

Sign up to Smart Deals & be in the monthly draw for a $100 Dress-Smart gift card!

Be one of the first to hear about the latest deals, sent straight to your inbox each week!

CHRISTCHURCH 409 Main South Road, Hornby

www.dress-smart.co.nz

Open 10am-5pm, 7 Days 03 349 5750
---
10

Tuesday February 19 2019

Latest Christchurch news at www.star.kiwi

WESTERN NEWS

Students finish second Coast to Coast

• By Gordon Findlater

ST THOMAS of Canterbury

College students Cormack

Terrant, Cameron Brewitt and

Joshua Grosvenor completed

the Coast to Coast for a second

consecutive year.

The trio finished the two-day

three-person team event in

15hr 14min and 34sec which

was good enough for ninth

in the men's and third in the

schools category. The three year

13 students first completed the

event together 12 months ago.

"The loved the first one

clearly and decided to have a

second bite at it, it's not an easy

thing to do," said St Thomas'

teacher and team organiser Blair

Scadden.

The trio trained for the race in

their own time, juggling commitments

with other sports and

found sponsorship to cover entry

costs.

Brewitt began proceedings

at Kumara beach on Saturday

morning when he completed

a short 2.2km run before

Grosvenor completed a 55km

bike. The first day was completed

by Terrant who took on the

gruelling 33km mountain run.

Day two consisted of a 67km

kayak for Brewitt before Grosvenor

completed the 70km to

the finish line on New Brighton

beach.

After becoming the first St

Thomas' student to enter the

team event 12 months ago, it's

now hoped three students will

fly the flag for the school again

in 2010.

"The boys stood up and made

SPORTS

ALMOST THERE: Cormack Terrant (left) Cameron Brewitt

(right) cheer teammate Joshua Grosvenor to the finish line.

PHOTOS: MARATHON-PHOTOS.COM ​

a speech in assembly. We are

trying to create a bit of a legacy.

Next year we'd like to have a

team enter again, so it's not

finding the next batch," said

Scadden.

ALL SMILES: Cormack

Terrant crosses a river on the

mountain run.

PEDALS: Joshua Grosvenor

completed three biking legs

for his team.

RAPIDS: Cameron Brewitt takes on the kayak leg.

SURF'S UP SCOTTY RAZOR ROBERTSON PROFILE

APRIL 2018

TJ'S

CHASING

ONE

GREAT MORE

COVER

The power

LINE

of Perenara

SUPER

RUGBY'S

G.O.A.T

CORY JANE

6 issues (1 year) $44.50

12 issues (2 years) $79

18 issues (3 years) $115

Social Media Animal

PLUS...

+

RRP $9.95

KEEPING Chief

WHO

TABS ON Tabai's

MATSON Tron tribe

CALEB

CLARKE

Chip off the

old block

1ST XVs

PLAY LIKE PROS

A school boy rugby

investigation

SUBSCRIPTIONS FREEPHONE

0800 77 77 10

rugbynews.co.nz

WHO WILL

MAKE THE

AB CUT?

Discover Christchurch's

best priced pet

accommodation

• Daycare -

all breeds

• Long stay/

short stay

Call now to

book in your

fur baby,

inspections

welcome

anytime!

aLameDa

kenneLs & cattery

271 Dyers Road | Ph 384 1297

www.alameda.nz

Our gorgeous range of..

sandwiches, paninis, bagels,

scones, slices, muffins,

quiches, sausage rolls & pies,

coffee and more!

CATERING AVAILABLE!

Gorgeous Food

specialist bakery

OPEN

SATURDAY

7am - 1.30pm

66-68 Springs Rd Ph: 344 6044 Email: gorgeousfood@xtra.co.nz

Open Monday-Friday 6am-3.30pm www.gorgeousfood.co.nz
---
WESTERN NEWS Latest Christchurch news at www.star.kiwi

Tuesday February 19 2019 11

Results

provide

boost to

start of

year

Kia ora koutou. Talofa. Kia Orana. Malo e lelei. Bula.

Fakaalofa atu. Namaste. Kumusta. Haere mai haere mai ki

Te Kura Huruhuru Ao o Horomaka. Warm greetings to the

Hornby High School community.

The 2019 school year has started off with a roar and a bang.

Work is proceeding almost on schedule with the construction

of our three kahui, our general learning spaces that

constitute Stage 2 of our school rebuild. We expect to be

able to begin shifting into these new spaces in the week of

August 26.

Just landed in my email inbox this week is the achievement

data for our Year 7 to 10 children in writing, reading, and

maths over the past three years. The writing results are

astounding – there really is no other word for them. You

can read more detail about these results on my blog here

https://whakataukihewakaekenoa.blogspot.com/2019/02/

true-liberation-for-our-learners.html.

We are very proud of the amazing work our staff do, and

what our incredible tamariki are achieving.

Another significant piece of work that we began in 2018 is a

strategic review of sport at Hornby High School. We see so

much talent going undeveloped, and the Board decided that

we needed to take a strategic look at what we are doing,

how we can do it better, and what resourcing is necessary

for that to happen. Survey results from students, community,

and staff, all told much the same story of the need to

feed talent, and we will.

Finally, my overriding message for everyone this year,

is that of kindness, of manaakitanga. Our wellbeing is

enhanced when we give kindness; kindness has an almost

magical property that the more we give away the more

we receive. So by giving it away we are richer, not poorer.

This enhanced wellbeing is central to establishing cultural

identity for each of us, to improved achievement, to sporting

success, to a better more fulfilling life. That is true for

everyone regardless of age.

Ngā mihi nui

Robin Sutton

Tumuaki

New Deputy

Principal arrives

Jack Goodfellow has joined

us in 2019 from Lincoln

High School, where he was

the Head of the Health and

Physical Education learning

area.

Prior to that, Jack worked

at Burnside High School as

a teacher and curriculum

leader in Health and PE, and

at Linwood College where

he was a Dean and Pastoral

Leader.

Jack is excited to join the

Hornby High School whanau

as Deputy Principal, and

looking forward to getting

to know the young people

and families of the Hornby

Community.

February 2019

Let's go surfing now...

Commitment,

Achievement,

Resilience,

Respect

Introducing our 2019 leaders

Student leaders for 2019 are, from left: Lavisha Tatu, Shardey Harris (Head Girl), Iris Taramai (Deputy Head Girl), Maia Clark,

Lachlan Hickford (Head Boy), Anna Pohatu (Deputy Head Girl), Zyromme Bayson, Rania Kaskar, Arturo Ancero, Christina Fifita.

On the first week of term, our Year 7 and Year

8 students spent the day at Sumner Beach

learning to surf and getting to know their

new teachers and classmates.
---
12 Tuesday February 19 2019

Latest Christchurch news at www.star.kiwi

TWO TE KURA Hagley Park

Tennis Club players took out

the boys singles titles at the

Canterbury senior secondary

school championship.

Will Schneideman, 17, won

the year 12-13 singles title, while

Charlie Morrison, 15, won the

year 11 title at Wilding Park last

week.

After dropping just one game

in his opening two matches,

Will accounted for his younger

brother Nick in the semi-final

6-1, 6-3. In the final, he defeated

fellow Te Kura Hagley Park

member Jamie Garbett 6-2, 6-4.

Will represented Christ's

College and also claimed the

year 12-13 doubles title with

Tom Downs.

Charlie was tested on his way

to the title, defeating Nathan

McKenzie 6-2, 2-6, 10-6 in a

third set super tie-breaker to

book a spot in the final. He then

cruised past Jordan Edwards

6-0, 6-1 to claim the silverware.

There was also success for Te

Kura Hagley Park's Alana Liu

who teamed up with Juliette Ma

to win the girls year 11 doubles

title.

SPORTS

Te Kura Hagley Park

players scope two high

school tennis titles

SILVERWARE: Will

Schneideman and Charlie

Morrison both won titles

at the Canterbury senior

secondary school tennis

championship. ​

The pair defeated Jade Feneon

and Annabelle Schneideman

4-1, 0-4, 10-8 in a tough semifinal

before claiming the title

4-1, 4-2 against Abby Mason and

Issy Story.

Points lead for Ransley as

86s head into final round

ST THOMAS of Canterbury

College student Jaden Ransley

will head into next month's

final round of the Toyota 86

Championship with the points

lead after a superb performance

at Manfeild.

Ransley, 17, had two wins and

a second place from three races

at the penultimate round of the

championship

in Feilding.

After

coming into

the round 13

points off the

championship

lead, Ransley's

win in race

one elevated

Jaden

Ransley

him to the

top.

He was

then able to extend his buffer

with a tough-fought win in race

two, holding off championship

rival Callum Hedge and Arran

Crighton.

At the race start, it was

Crighton who got the better

jump out of those in the front

row.

It looked like Ransley

might have been able to use

his inside line to take the lead

into turn one, but Crighton was

determined to lead and by the

turn-four hairpin he had the top

spot.

TITLE SHOT: Toyota 86 Championship driver Jayden Ransley

(No 53) will head to Hampton Downs with the points lead after

two wins at Manfeild. ​

A lead change looked

imminent on lap three. Ransley

had been all over Crighton's tail

after getting edged on lap one,

culminating in a big lock-up. By

turn one on the following lap,

Ransley got past.

"I had a terrible start, which

put me into second. We had a

good battle with Arran and then

managed to get past him," said

Ransley.

"Callum was really coming

along good too. Our car went

off a bit at the end there, so

WESTERN NEWS

there was a bit of a fight to keep

Callum behind me."

Ransley finished second in

the final race behind Hedge,

who is now second in the

championship.

The series will head north for

the grand finale at Hampton

Downs Motorsport Park.

Three races will take place

from March 9-10.

Ransley has the chance to

become the fourth Canterbury

driver to win the championship

in five years.

Tech graduates in

ADVERTORIAL

demand from industry

Young technology graduates are being snapped

up by employers, with the rapidly growing New

Zealand ICT (information communications and

technology) industry hungry for skilled staff.

"There are lots of IT jobs, but not enough graduates

joining the marketplace," says Gary Taylor, campus

manager of Vision College in Christchurch.

Vision College, a private training establishment with

campuses in Christchurch, Auckland, Pukekohe and

Hamilton, has seen huge demand from employers

for its graduating information technology students.

"In the future, there will be an even bigger shortfall,"

warns Taylor, who notes that IT industry occupations

are on Immigration New Zealand's long-term skill

shortage list, reflecting the growth of the industry

and the rise in job vacancies. "The IT industry is

growing rapidly. We need to get more skilled

graduates ready to ride the wave."

According to the latest annual TIN Report, the

revenue of the top 200 New Zealand technology

companies grew by 11 per cent to $11.1 billion in

2018. The New Zealand tech sector employs more

than 25,000 people locally and 50,000 globally, and

offers a significantly higher pay than the national

average.

Christchurch woman Jessica Costello, 20, recently

graduated from Vision College with a Level 5 NZ

Diploma in Web Development and Design and

a Level 6 NZ Diploma in Software Development.

The two-year programme covered a range of

subjects, including web design, coding languages,

programming skills and software engineering – as

well as an eight-week internship with local company

CORE Education – which led to a job offer.

Late last year Costello started as a junior web

designer with the company. "It's a great industry

to be working in, and I can't wait to see what the

future holds," says Costello.

She attributes Vision College as being a huge part

of her success in gaining employment in the IT

industry. The small class sizes and supportive tutors

were both nurturing and engaging. "Our tutors built

a great rapport and connection with the students,

so they knew where we were at to ensure we were

all keeping up with the programme," says Costello.

There was also a focus on practical learning and

writing code. "We were on the computers from the

first day, learning by doing, and really drilling down

into specialty areas," says Costello. "I could see my

skillset progressing and developing every day."

As well as learning technical skills, she had the

opportunity to do professional practice papers to

build up "soft skills" too – something employers are

increasingly looking for, notes Taylor.

"They're wanting peopale that are technical skilled

but who can also be innovative, creative and solve

problems and can communicate well," says Taylor.

He says that industry internships are a key part

of the course programme, giving students the

opportunity to apply their learnings to real world

situations – and these opportunities often lead to

employment.

Aaron Kitto, national IT manager at CORE

Education, and Costello's new boss, agrees that the

industry is desperate for more skilled IT graduates,

particularly in areas such as software development.

He encourages students to find out more about

IT courses, as it is a career that offers flexibility and

growth.

"For me, IT is a skill that can exist in any industry like

human resources or marketing," says Kitto. "The skills

of an IT person can be mobile between almost every

type of organisation from education to agriculture

to tourism. This means that as the world moves

towards less "job for life" roles and more "do what is

needed" roles, IT people are perfectly placed to take

advantage of this. We have contractors who set up

company servers in Taiwan while writing code for a

Canadian firm, all from a beach in Bali."

For more information on getting started in IT, see

visioncollege.ac.nz or phone 0800 834 834. The

programme allows for flexible study and University

Entrance (UE) is not required to begin studying.

Upcoming intakes are scheduled to start

March 4, 2019.
---
WESTERN NEWS Latest Christchurch news at www.star.kiwi

Tuesday February 19 2019 13

School's

not for

everyone!

free courses

FREE 19 week course!

arts & design

Earn credits towards NCEA. Learn a range of

media techniques like design, layout, drawing

and photography!

FREE 19 week course! Earn credits towards

NCEA, gain your learner driver licence, do

a range of practical taster courses like

barista training, early childhood,

driving quad bikes and tractors.

security

FREE 19 week course! Earn credits

towards NCEA and gain your COA for free. Both theory

and practical based. Learn conflict management,

door entry and exit control, security requirements,

industry knowledge, digital security and more...

ultimate

for 16-19

year olds*

early childhood education

FREE 18 week course! Offers the opportunity

to gain credits towards NCEA Level 1 and 2. This

is perfectly suited to school leavers or students

who want to complete their NCEA Level 1 and 2

and gain skills towards a career qualification.

gain ncea

& career

direction

with one

of our free

courses!

50 Hazeldean Road,

Addington

0800 872 466

www.studywithus.co.nz

*conditions apply
---
14

Tuesday February 19 2019

Latest Christchurch news at www.star.kiwi

WESTERN NEWS

FRESH POPS OF

COLOUR

BEAUTIFUL BRASS

DETAILING

Camille Dining Chair

Donata Kalmin Armchair

SLEEPWORTHY

TEXTURES

Prestige Plus Mattress

Manteau Outdoor

Corner Lounge Suite

REFRESHINGLY

CLEAN LINES

Come see what's new and on sale! Ends 04.03.19

Shop

Online

Nationwide

Delivery

Finance

Options

targetfurniture.co.nz

Cnr Blenheim & Curletts Rds, Christchurch

Ph: 0800 TARGET (0800 827438)

Offers and product prices advertised here expire 04/03/19.

Sale excludes Manchester and Accessories.
---
WESTERN NEWS Latest Christchurch news at www.star.kiwi

Tuesday February 19 2019 15

PLAY FOOTBALL 2019

Burwood

AFC

Welcome to the 2019 football season. Burwood AFC is a

progressive club with Junior and Senior teams.

We expect to have 3-4 Senior teams, with our Senior 1st team in

the Canterbury Championship League. New Senior and Junior

players are most welcome.

Burwood supports the Whole of Football framework initiated

by NZ Football and run by Mainland Football. This concept works

for our First Kicks (4-6 years) and Fun Football (7-8 year). Both

these grades are run In-house with the help of Mainland Football

and other clubs. Older Junior grades run under the Mainland

competitions. Registration is now online, for more information

see our website www.burwoodafc.co.nz.

ainland Football

Get In to football this year by joining up with your local Football Club. Your local club will provide you

with a range of opportunities to get involved with the Worlds No 1 Sport. Our First Kicks and Fun Football

programs are focused on the basic skills and are developed to ensure all players are highly involved. For the

older kids there are winter competitions that club teams play in. From playing to refereeing to coaching there

is something for the whole family. So get in touch with your local club to get registered.

If you are looking for your closest club visit www.mainlandfootball.co.nz and check out our club

directory for contact details.

Coastal Spirit

Football Club

Coastal Spirit Football Club are entering their 12th

season since the amalgamation of New Brighton

AFC and Rangers AFC. Coastal are a family club

that offers football for everyone regardless of age,

gender and ability. Gary Bennett, the Football

Development Manager is starting his second season

with the club and comes with experience of working

in four different countries including several years

at Southampton FC in England. Coastal Spirit care

about the development of the players as people and

as players and always put the player first.

Registrations are now open online for more

information see our website www.coastalspirit.

co.nz

Gary Bennett, Football Development Manager

COASTAL SPIRIT

FOOTBALL CLUB

2019 Registration

ONLINE NOW

www.coastalspirit.co.nz

Beginners, Social & Elite

Male & female players

4 to 65 years+

Email: info@coastalspirit.nz

Where it all started for All White Aaron Clapham

and Football Fern Meikayla Moore

Registration and Subscriptions

For more details with online registration

and subscriptions see our website

www.burwoodafc.co.nz

New Junior and Senior players

are welcome.

If you would like to assist or get

involved in the coaching of Junior

teams, please contact the Secretary

Mark Tolchard 385-0098

or 027 319 0192

GET INTO THE

PLAY // COACH //

REFEREE //

JOIN A CLUB

// MAINLANDFOOTBALL.co.nz

VISIT OUR WEBSITE FOR INFO ON CLUBS & REGISTRATION

#GETIN
---
16 Tuesday February 19 2019

Latest Christchurch news at www.star.kiwi

FOCUS ON HEALTH

1 in 2 people

deficient in B12

Emerging research has shown as many as 50% of older adults and

as many as 25% of younger adults are deficient in vitamin B12.

Scientists at Rush University Medical

Center found those most deficient

in vitamin B12 to have the smallest

brain mass & the lowest scores on

tests measuring short-term memory,

concentration & brain performance.

Another study showed that older people

with higher levels of B12 in their blood

have bigger, healthier brains & score higher

on cognitive tests than those with lower

levels. Yet another recent landmark study

showed that B12 supplementation slows

the accelerated rate of brain shrinkage

& declining cognitive function. B12 is

essential for energy production, cell

health, regulation of mood & sleep cycles,

nerve health & repair, & prevention of

homocysteine a serious cardiovascular

risk factor that is known to cause damage

& plaque in the blood vessels. It can also

increase the chances of a stroke. Harvard

researchers found

a 34% decrease

risk of vision

loss in a study

of participants

aged 40+ who

supplemented with

B12. Another study

linked a higher risk of hearing loss in

subjects in their 60's who were low in B12.

The reason so many people lack B12

appears to be our body's ability to absorb

it declining with age as the digestive

system becomes less efficient. Anti-reflux

medication & other drugs further reduce

B12 absorption. The good news is B12 in

the form of Methylcobalamin sublingual

tablets that are dissolved in the mouth &

thru bypassing the digestive tract have

been shown to effectively raise B12 levels in

the body.

Further detailed information is

available from the Natural Health

Advisers at Marshall's Health & Natural

Therapy, 101 Seaview Road, New

Brighton, Phone: 388-5757. We are always

happy to help!

IS YOUR BRAIN SHRINKING?

Brain fog, forgetful, feeling old, low energy, mood swings,

difficulty sleeping, pins & needles, numbness in legs

WESTERN NEWS

Grape Seeds Shown To Have

Remarkable Health Benefits!

According to researchers grape seeds may

hold the potential to treat & prevent many

devastating disorders. The seeds have been

found to contain many powerful antioxidant

such as resveratrol, catechins, epicatechins,

proanthocyanadins & anthocyanins as well as

other nutrients that have been shown to support

the natural healing process & even slow the

aging process.

Grape Seed Extract (GSE) has been shown to

reduce inflammation & pain, increase cellular

energy, protect protein structures & increase

collagen production. The powerful antioxidants

in GSE can tone & strengthen the blood vessels,

improve blood flow making it valuable for

circulatory disorders of all kinds, including

varicose veins, haemorrhoids, hardening of the

arteries & impaired blood flow to the brain. It

is excellent for most skin conditions because

of the increase of blood flow to the skin tissue

thru allowing more nutrients to the tissue cells

& better waste removal from the cells. As well as

this it supports collagen production. For these

reasons many people report the skin looks more

healthy, smoother & with better elasticity when

using GSE.

GSE offers a natural alternative for many

people with hypertension (High Blood

Pressure). Higher than normal blood pressure

puts more stress on organs & can lead to

atherosclerosis (hardening of the arteries) &

therefore increased risk of heart disease (The

heart has to work harder to supply blood

around the body & may become enlarged &

eventually fail) & strokes.

Recent analysis of 16 randomized studies on

people with elevated blood pressure found GSE

to significantly lower both systolic & diastolic

blood pressure but had no effect on people with

normal blood pressure. Animal studies have

shown GSE to improve heart function, reduce

damage caused by heart attacks & prevent the

formation of foam cells that play a role in the

formation of arterial plaque.

A growing number of studies show that GSE

has powerful anticancer properties in both the

prevention & treatment of many types of cancer.

Studies show arthritis of every type may be

greatly improved by GSE. GSE also helps protect

the body against damage caused by diabetes

while helping balance blood sugar levels.

Another area GSE is proving highly beneficial

is the brain. It has been shown to protect

brain cells while stimulating the formation of

healthy new brain cells. It may prove vital in the

treatment of brain disorders like Alzheimer's &

Parkinson's disease.

There are numerous studies on GSE that

show it can help support our good health &

prevent many degenerative diseases.

Further detailed information is available

from the Natural Health Advisers at

Marshall's Health & Natural Therapy, 101

Seaview Road, New Brighton,

Phone: 388-5757.

We are always happy

to help!

Seven friendly villages

in Canterbury

Key

• Ryman village

• Proposed village

Rangiora

• Charles Upham

Christchurch

• Anthony Wilding, Aidanfield

• Diana Isaac, Mairehau

• Essie Summers, Beckenham

• Margaret Stoddart, Riccarton

• Ngaio Marsh, Papanui

• Park Terrace, Central City

• Woodcote, Hornby

0800 588 222

8984

Up to 1 in 2 people may have a shrinking brain due to a lack of vitamin B12.

Supplementation of methylcobalamin B12 has been shown to reduce the rate of brain

shrinkage & support memory & brain function. B12 is also known to protect against

homocysteine a serious cardiovascular risk factor that can also damage the hearing,

eyesight & affect the mood. B12 is essential for energy, cell health & nerve function.

B12 SUPPORtS:

• Memory & Brain Performance

• Helps protect brain

from shrinking

• Energy & Recovery

• Nerve Function

• Vegetarian's Diet

• Helps protect blood

vessels from damage

• Sleep

• Cellular Health & Repair

• Good Health

• Cardiovascular Health

See a

difference

in as little as

48 hours!

SUPER PRICE OFFER

Superior Methylcobalamin B12

(High Absorption Sublingual Lozenges)

100 Lozenges 200 Lozenges

Only $ 32 .90 Only $ 59 .80

MAIL ORDER AVAILABLE

Bringing You the Best in Natural Health

MARSHALLS HEALTH & NATURAL THERAPY

CONSULTING - PRESCRIBING - DISPENSING - MANUFACTURING - MEDICAL HERBALISTS

101 SEAVIEW RD, NEW BRIGHTON • PH 03 388 5757 • Email: enquiry@marshallshealthshop.co.nz

- WE ARE ALWAYS HAPPY TO HELP! -

GRAPE SEED EXTRACT - SUPPORTS GOOD HEALTH

Research is showing that grape seeds may hold the potential to prevent & treat many devastating disorders. It is well known

pharmaceutical drugs have many side effects whereas natural compounds like Grape Seed Extract can supply the body with

vital nutrients that it requires to keep healthy.

GRAPE SEED EXTRACT SUPPORTS:

• Reduction in inflammation & pain

• Healthy joint function

• Healthy blood pressure & circulation

• Improved cardiovascular health

• Improved elasticity & strength of blood vessels

• Formation of collagen

• Smooth healthy skin – Excellent for varicose veins

& haemorrhoids

• Protecting the brain from neurodegenerative diseases

including Alzheimer's & Parkinson's

• Protects brain cells while supporting the formation

of new brain cells

• Cancer prevention & treatment

• Stabilised blood sugar

Bringing You the Best in Natural Health

amazing prices:

SANDERSON

Practitioner Series

HIGH POTENCY

Grape Seed MAX,

60,000 EXTRACT

90 Capsules

ONLY $22.90 Save $18.80

180 Capsules

ONLY $36.90 Save $46.50

MAIL ORDER

AVAILABLE

MARSHALLS HEALTH & NATURAL THERAPY

CONSULTING - PRESCRIBING - DISPENSING - MANUFACTURING - MEDICAL HERBALISTS

101 SEAVIEW RD, NEW BRIGHTON • PH 03 388 5757 • Email: enquiry@marshallshealthshop.co.nz

- WE ARE ALWAYS HAPPY TO HELP! -
---
WESTERN NEWS Latest Christchurch news at www.star.kiwi

Tuesday February 19 2019 17

HEALTH & AWARENESS

Joint pain: Do I have arthritis or

could it be mainly my muscles?

The team at Physical Sense in Sydenham sees clients with

a range of symptoms but many of their middle-aged and

senior clients visit complaining of pain in one of their joints.

Physiotherapist Ietje van Stolk suggests

that a major part of the pain could be due

to muscle pain rather than simply arthritis.

"Even if an x-ray shows arthritis, the reason

for the pain may be the muscles around

the joint," she explains. The images show

how a muscle knot (the crosses) in a back

muscle can give hip pain (aches and pain

are the red areas in the drawings), a knot

in a muscle on the back of the shoulder

blade can give a deep pain in the front of

the shoulder and a muscle knot all the way

near the groin can give an ache in the knee

(especially at night in bed).

Ietje recalls one case where an 89 year

old client with severe arthritis who walked

with a stick, told her, "I will end up in

a wheelchair, I cannot put any weight

through my right leg due to pain in my hip

and buttock". "Within 4 treatments, she

was walking with her stick but without the

severe pain," says Ietje. "The arthritis was

one of the factors that made her muscles

spasm but the other was that older people

move less and the flexed position the hip

is in when we sit is particularly bad for

the hip." Ietje is happy with the fact that

although the client was 89 and could have

been "given up on" or told to live with the

pain, she made a difference to her health

and wellbeing.

The same lack of movement can be the

reason for your knee pain or your shoulder

pain and the same few treatments could

make a huge difference for you.

At Physical Sense, hands-on techniques

(massage and triggerpoint deactivation

techniques) are used to release the muscles.

The client also gets a home exercise

program designed to mobilize and stretch

the joint, strengthen the important core

muscles and increase general strength and

SHOULDER

PAIN

KNEE PAIN

balance. They teach a movement sequence

that stretches the joint in all directions

whilst the client is able to lie safely on their

bed, perfect for older or less mobile clients.

In many cases having the muscles

released and being taught how to maintain

it, is enough to stay on top of the problem.

HIP PAIN

(the crosses are the areas of the muscle spasms, the red areas is where the pain is felt)

If severe arthritis is the underlying cause,

some maintenance therapy may be

necessary, but that is often more affordable

and, for older patients, better tolerated than

surgery. In very few treatments the client

will know if it is going to work for them or

not, without financial commitment.

Physical Sense Gym and Physio is located at 300 Colombo Street, Sydenham. The Blue Line Bus stops in front of the door and there is ample

parking. To enquire about specialised exercise classes or physiotherapy treatment, phone 377-2577 or visit www.triggerpoints.co.nz

It's our

45th

Anniversary

year!

#areyouupforit

45th Anniversary

Retro T-shirt

available when

entries open on

1st December 2018

Sunday 24th March, 2019 www.city2surf.co.nz
---
18 Tuesday February 19 2019

Latest Christchurch news at www.star.kiwi

WESTERN NEWS

2

A

EVENT

CITY2SURF

with Les Mills

Sunday 24 March

#Areyouupforit?

14km, 6km Community

Fun Run Event

It's our

45th

Anniversary Year!

EntEr NOW!

Entry $25 (children 10 and under free)

Available online now from city2surf.co.nz or at these outlets
---
WESTERN NEWS Latest Christchurch news at www.star.kiwi

Tuesday February 19 2019 19

JP Clinics

Tuesday, 10am-1pm

A justice of the peace will

be on-site to take declarations,

affidavits and affirmations,

witness signatures on documents

and certify document copies.

They can also witness citizenship

applications and rates rebate

applications.

Fendalton Library, 4 Jeffreys

Rd, Te Hāpua: Halswell Centre,

341 Halswell Rd, and Upper

Riccarton Library, 71 Main South

Rd

Citizens Advice Bureau

Fendalton – Tuesday, 2-5pm,

Wednesday, Thursday, Friday

and Monday, 11am-5pm. Hornby

on weekdays, 9am-5pm

The Citizens Advice Bureau

provides free and confidential

advice to everyone. Staff take the

time to listen to you and equip

you with information, options

and support.

Fendalton Library, 4 Jeffreys

Rd, Hornby Library, 8 Goulding

Ave

Scrabble Club

Wednesday, 1.30-3.30pm

Do you have a way with

words? Go along when you can

to the friendly Scrabble Club.

Some boards provided, but feel

free to bring your own.

Email georgia.oconnor@starmedia.kiwi

by 5pm each Wednesday

Te Hāpua: Halswell Centre, 341

Halswell Rd

Knit 'n' Yarn

Thursday, 10.30am-2.30pm

Enjoy a chat with others as you

knit. For anyone who loves to

knit or wants to learn.

Upper Riccarton Library, 71

Main South Rd

Go Well Group – play

Rummikub

Thursday, 1-2pm

Learn to play rummikub – an

exciting, interactive strategy

game.

Fendalton Library, 4 Jeffreys Rd

Hornby Library Book

Discussion Group

Thursday, 2-3pm

For people who love reading

and want to share in a discussion

with other friendly book lovers.

The group subscribes to the Book

Discussion Scheme so there is a

cost involved.

Hornby Library, 8 Goulding

Ave

Musical Instrument Jams

Thursday, 3.30-7pm

Book a time to go solo or

have a silent practice with up

to four bandmates. There are

electronic drums, a digital piano,

a Roland session mixer, mics

and headphones available for

budding musicians. You can

also take in your own electric

instruments – guitar or bass –

and plug into the session mixer.

Registrations are required.

Te Hāpua: Halswell Centre, 341

Halswell Rd

Free Legal Advice

Thursday, 6.15-8.15pm

Need advice with legal

questions? A lawyer is available

at the Hornby Library every

Thursday to provide expert

help. No bookings, first-in,

first-serve basis. Make sure

you take your relevant

documents. Note that the

finish time may vary from

week to week depending on

demand. If no customers are

waiting at 6.15pm, the lawyer

will wait for 15min and then

leave. The 8.15pm finish time is a

guide only.

Citizens Advice Bureau, 8

Goulding Ave

Makerspace

Saturday, 1.30pm-3pm

Join in the fun every week at

the Makerspace. There will be a

variety of activities on offer.

Te Hāpua: Halswell Centre, 341

Halswell Rd

Drop-in Chinese Art Club

Sunday, 10.30am-noon

Take your own brushes,

ink, paint and paper. Join

the club and work on calligraphy

and brush painting. For ages

10 and over. Only during term

time.

Te Hāpua: Halswell Centre, 341

Halswell Rd

Go along to The

Great Stash Swap.

Take your unwanted

fabric, haberdashery,

buttons, wool, lace,

trims, paints, brushes,

zips, needles, card,

stamps and any

other old craft

supplies. You

can then choose

what you want

to take away. No

cash involved. The

swap will be held

on Sunday, 11am-

2pm, at the Upper

Riccarton Library, 71

Main South Rd.

Chinese ESOL Club for

Intermediate

Monday, 9.30-10.30am

This club is for Mandarin

speakers who would like

to practice their english

in a relaxed, pressure-free

environment. Join the friendly

group any time. Suitable for

people who can communicate

in english and would like to

practice listening and speaking.

Free, no bookings required.

Te Hāpua: Halswell Centre, 341

Halswell Rd

Wā Kōrero/Storytimes

Monday, 10-10.30am

Encourage learning through

a love for stories. Storytimes is

an interactive programme with

stories, songs rhymes and play.

Upper Riccarton Library,

71 Main South Rd
---
20

Tuesday February 19 2019

Latest Christchurch news at www.star.kiwi

WESTERN NEWS

Exhibitors

Book now

Don't miss your opportunity to

showcase your business in front of

10,000+ qualified attendees

Jon.Holmes@starmedia.kiwi or 021 225 8225
---
WESTERN NEWS Latest Christchurch news at www.star.kiwi

Tuesday February 19 2019 21

REAL ESTATE

The best of coastal living

83 Beachville Road, Redcliffs

Auction: Thursday 28 February 2019 Unless Sold Prior

4 bedrooms | 2 bathrooms | 2 toilets | 2 living rooms | 1 office/study | 1 off-street parks | Listing Number: FM5467

Soak up the intimate water views of the

Redcliffs Riviera while you fall in love with

this modern twist on a character styled villa.

The charm of the traditional exterior tastefully

conceals the contemporary masterpiece inside,

fulfilling all the needs of family living.

Designed and built in 2015 by Mike Greer

Hills the home fully utilises the full 40mt width

of this corner section to ensure the stunning

water views can be fully appreciated from the

expansive decks, two living areas, study and

two of the four double bedrooms on offer.

The master bedroom provides an impressive

outlook with sliding door access to the deck and

has its own luxurious ensuite and walk-in-robe.

The open plan kitchen with its stone

benchtop and walk-in pantry is the central

focus of the home and embraces the dining

and family living, flowing out to the two decks.

The formal lounge provides an ideal solution

for a media room connecting perfectly to the

two verandahs for those wonderful sea views.

The clean lines and light décor throughout

the home are enhanced by the detailed

finishing and contrast perfectly with the

vibrant green shades displayed in the easy

care, established gardens.

A gentle stroll along the coastal pathway

will take you to the local shops and cafes of

the village, or you can stretch the legs further

and appreciate the ocean views as you walk

into Sumner to enjoy the beach, bars and

restaurants on offer.

This summer do not miss this unique

coastal lifestyle home as opportunities like

this are rare, with viewing essential.

Open Homes Thursday 21 Feb 5:00pm -

6:00pm and Sunday 24 Feb 2:00pm - 3:00pm.

Auction date Thursday 28 February

12:00pm (Harcourts City, 98 Moorhouse

Ave) unless sold prior .

For more information or to arrange a

private viewing contact Chris Moores of

Harcourts Grenadier Ferrymead (Licensed

Agent REAA 2008) on 384 7950 or

0275 884 440

growing with you June 2018 | 100%

Plants For

winter wow

Cool Choices

For Colour

& Contrast

From swamp

to sea views

The journey

begins with sarah

the Gardener

$7.90 incl. GST

Snap it up

Enter our annual

Birdlife Photo

Competition to win

great prizes!

clear the air

Why groWing

indoor PLAnTs is

so good for you

give it a grow

from gArLic

To chinese

ArTichokes,

We hAve your

groWing TiPs

covered

the latest releases

into the rose world

+ rose care

through winter

The magazine for

gardeners who like to get

their hands dirty

SUBSCRIBE FROM

$43. 50*

*6 issues/6 months

SUBSCRIPTIONS FREEPHONE

0800 77 77 10

WWW.GARDENER.KIWI
---
22 Tuesday February 19 2019

Latest Christchurch news at www.star.kiwi

WESTERN NEWS

If you want more information about an item or to contact a

seller, visit www.postanote.co.nz and search the ID#

1846 Leather Bound Pocket Bible

F&P Stainless Steel Fridge Freezer

Mazda RX 8 Sell Or Swap

1 Car Garage

2001 Mazda MPV

Double Bed Settee

$95

ID 27098

$320

ID 27095

$1,000

ID 22809

FREE!

ID 27078

$2,500

ID 27075

$345

ID 26900

1998 Hero Gizmo 50cc 2 Stroke Engine

Honda PCX150

Sun Umbrella

1993 Toyota Windom

BTD Bulldozer

$900

ID _6230

$200

ID 25140

$2,000

ID 27034

$50

ID 27009

$1,900

ID 26961

$8,625

ID 16536

Row Boat

2 Deck Chairs

Subaru Imprezza

Convection Oven

Friar Tuck Whiskey Decanter

Nissan Ute

$600

ID 26855

$30

ID 26499

$7,600

ID 26485

$75

ID 26799

See Seller

ID 22003

$19,000

ID 20229

8 Solar Lights

Zephyr 460 Plan A

Giant Dirt E-Pro Electric Mountain Bike

2007 Kia Rio

Floor-standing Lamp

Baby Exersaucer Mega

$10

ID 23624

$12,000

ID 24933

$2,850

ID 26967

$6,000

ID 26860

$20

ID 26949

$50

ID 26942

Diamante 3.5 V6

2 Ex-Army Jerry Cans

CorySal - Air Compressor

Toyota Rav4 L

Drift Bike

Tangent Monitor TM3 Loudspeaker

$1,500

ID 17224

$60

ID 26934

$120

ID 26933

$2,500

ID 26996

$115

ID 26930

$200

ID 26915

Chook House

Ford Falcon S/W

Wooden Poles

Honda TRX 300

Mitsubishi Grandis (Chariot)

Two-stroke Lawnmower

$650

ID 26913

$3,750

ID 22603

See Seller

ID 26899

$3,500

ID 26895

$6,995

ID 26882

$175

ID 26858

Aurora Portable Wooden Massage Table

Kawasaki Ninja

Mitsubishi Pajero

Playpen Mat

Concrete Mixer

Old Bath

$280

ID 26868

$1,750

ID 26326

$1,700

ID 26879

$20

ID 26839

See Seller

ID 26628

FREE!

ID 26501

2123895chch-h
---
Tuesday February 19 2019

WESTERN NEWS 23

Latest Christchurch news at www.star.kiwi

Classifieds Contact us today Phone our local team 03 379 1100

ADD SOME

COLOUR

TO YOUR ADVERT!

Public Notices

Further information about fire

seasons is available on

www.fireandemergency.nz

PROHIBITED

FIRE SEASON

To check the season status in an area

please visit www.checkitsalright.nz

or call 0800 658 628.

Fire and Emergency New Zealand declares

a prohibited fire season, from midnight,

Tuesday 12 February 2019 in the following

area:

• Those lands encompassed by the

Christchurch City Council (including

Banks Peninsula)

See www.checkitsalright.nz for types of fire

which have been authorised as not being

fires in open air and do not need a permit.

Any fire permits issued during a restricted

fire season in the Christchurch City Council

area are suspended from the start of the

prohibited fire season.

Dave Stackhouse

Area Commander

Christchurch Metro

Bruce Janes

Principal Rural Fire Officer

North Canterbury

Funeral Directors

Situations Vacant

Senior Reporter -

Star Media

The successful candidate will ideally

have worked in Christchurch and

have a good knowledge of its people,

movers, shakers and issues.

You will be part of a vibrant team which will dominate the news coverage

in our region.

You will need to be competitive, a team player, think outside of the square

and have an enviable contact book.

The successful applicant will also be a key part of news room planning.

The successful applicant will need to have a full New Zealand driver licence.

The position will be filled as soon as the right applicant is found.

Star Media is seeking a

senior reporter with a track

record of breaking the big

stories and producing top

line backgrounders to join its

award winning newsroom.

If you have the above and want to be part of a progressive media

company, please email your CV to:

Barry Clarke, Editor In Chief - barry@starmedia.kiwi

Page 3 Page 13

Li ter library

Problem areas for li ter

revealed

Surf club move

New Brighton surf club opts

to rebuild on new site

TUESDAY, APRIL 10, 2018 www.star.kiwi

Loca ly Owned

jo

hayes

christchurch east

Ca l to make an

a pointment

P: 384 9459

www.national.org.nz

Authorised by Jo Hayes

Unit 6/950 Fe ry Road, Christchurch

• By Sophie Cornish

WORKSAFE NEW Zealand

has b en a proached in a bid to

fina ly repair the potholes in New

Brighton's Hawke St car park.

Coastal-Burw od Ward city

counci lor David East wants

WorkSafe to pre sure the car

park's private owners into

repairing the potholes which are

a "trip and vehicle" hazard.

WorkSafe chief inspector

a se sment southern Da ren

Handforth said it may be able to

take action under the Health and

Safety at Work Act 2015, "as a

person conducting a busine s or

undertaking."

Mr Handforth said WorkSafe

is aware of the concerns raised by

Cr East abou the car park.

"WorkSafe has completed

an a se sment visi to the site

and is engaging with the owner

to advise them that it is their

responsibility to manage their

risks a propriately."

Different parts of the car park

are owned by various people

and the Coastal-Burw od

Community Board recently

wrote to them about its concerns

around health and safety.

Cr East said the bi gest i sue

in the past has b en ge ting in

touch with the landlords and

owners and ge ting them to

agr e to anything. "The board

a preciates that multi-ownership

of the parking space may present

a difficulty in co-ordinating

repair/resurfacing but felt obliged

to pa s these concerns onto you,"

said the le ter.

One reply has b en received so

far from an owner who is wi ling

to discu s the i sue. However, a l

the owners would have to agr e

to undertake work.

Cr East said there had b en

a "number of incidences" in

the car park of people injuring

themselves which had gone

unreported.

"I've always though that it

has b en quite amazing that we

haven't had any serious a cidents

or senior citizens perhaps

tri ping in those potholes and

doing themselve some damage."

He is confiden the new

a proach wi l bring results.

"I think the WorkSafe

involvement may prove to be the

lever that we are l oking for."

New bid to fix potholes

Action looms

on Hawke St

car park

HAZARD: Coastal-Burw od Ward city counci lor David East wants WorkSafe New Zealand to put pre sure on the Hawke St car

park owners to fix the dangerous potholes. PHOTO: GILBERT WEA LEANS

Ph 3 7 0 70,

30 Cashel St,

Christchurch

Restore your oiled CEDAR BLINDS with ou re-oiling service.

Rejuvenate your lacquered CEDAR BLINDS

High-tech Cleaning

We clean and repair a l types of blinds –

Venetians, Cedar, Verticals, Ro ler, Ho lands,

Romans and Pleated – with environmenta ly

friendly cleaning products.

Temperature Contro led Drying

Re-oiling & Rejuvenating

Fabric Blinds - such as Austrian and Roman

Same Day Pick Up & Drop O f

We o fer a same-day, pick up an drop o f

service for mos types of blinds. B okings

are required.

Convenient Location

Drop blinds into us by 9am, at

30 Cashel Str et (near the

Fitzgerald end), and co lect

them a th end of the day.

New Blind Sales Priced from $30

WE ARE OPEN

Mon - Fri

8. 0am to 5. 0pm

Ro ler Blinds cleaned

from as li tle as $20

per blind

www.blindcare.co.nz SCAN QR code for Info >

BLINDS .Cleaned, Repaired & Restored .

Land size

Garage

Bedr om

Carport

Bathr om

Car pad

Lounge

Boat pad

Dining

P ol

Toilet

Te nis court

Shower Study

2.5

1

2

4

850m

1 2 3 4 5 6 7 8 9 10 1 12 13 14

Land size

Garage

Bedr om

Carport

Bathr om

Car pad

Lounge

Boat pad

Dining

P ol

Toilet

Te nis court

Shower Study

2.5

1

2

4

850m

1 2 3 4 5 6 7 8 9 10 1 12 13 14

Land size

Garage

Bedr om

Carport

Bathr om

Car pad

Lounge

Boat pad

Dining

P ol

Toilet

Te nis court

Shower Study

2.5

1

2

4

850m

1 2 3 4 5 6 7 8 9 10 1 12 13 14

Land size

Garage

Bedr om

Carport

Bathr om

Car pad

Lounge

Boat pad

Dining

P ol

Toilet

Te nis court

Shower Study

2.5

1

2

4

850m

1 2 3 4 5 6 7 8 9 10 1 12 13 14

Page 3 Page 5

Cartwright steps downs

Community board chairman

stays true to his word

Pool plans for Edgeware

Designs for ind or learner's

p ol revealed

TUESDAY, APRIL 10, 2018 www.star.kiwi

Loca ly Owned

www.denturesouth.co.nz

call 332 4004 TexT 027 537 0567

230 BarringTon sTreeT

Mobile

Service

Available

• By Sophie Cornish

THE ST Andrew's Co lege big

band had extra incentive to

win a the National Youth Ja z

Competition – ba s player, Tom

Fastier, co lapsed and died the

day before the competition

began.

"Tom was a ba s player from

Cashmere High Sch ol who was

playing with our big band this

year. He had a strong chance of

wi ning best ba s player a the

festival as he was a very a complished

musician," head of music

Duncan Ferguson said.

"We were delighted to win, but

it was bi tersw et," he said.

St Andrew's won the most

outstanding big band title a the

competition in Tauranga.

The band dedicated it se to

Tom, who died while on his way

to Cashmere High on March 27.

His death was po sibly related to

a medical event.

•Turn to page 9

SW ET SOUNDS: St Andrew's Co lege year 12 students Lewis Edmond and Je na We ls performing a the 41st National Youth

Ja z Competition.

Bittersweet win for St Andrew's big band

• By Sophie Cornish and Julia Evans

THE PAPANUI-I nes

Community Board has taken the

rare step of starting a petition

to figh the city council over

funding.

Signatures are being co lected

in a bid to get funding for a community

facility in Shirley.

It comes after the city council

removed funding for the centre

pla ned for Shirley Rd, near the

intersection with Hi ls Rd. This

was the site of the former community

centre, which was badly

damaged in the February 2,

20 1, earthquake.

The removal o funding

prompted community board

chairwoman Ali Jones to threaten

to stand down, citing it as her "die

in the ditch" project.

Ms Jone said the board's role

is to represen the community,

and by gathering signatures from

residents, it was fulfi ling that

role.

"One of the roles of a community

board is to represent and act

as advocate for the interests of its

community and this is what we

are doing. The LTP and a nual

plans are a l about lo bying the

council."

•Turn to page 5

Board

launches

petition

to get new

community

facility

Ph 3 7 0 70,

30 Cashel St,

Christchurch

Restore your oiled CEDAR BLINDS with ou re-oiling service.

Rejuvenate your lacquered CEDAR BLINDS

High-tech Cleaning

We clean and repair a l types of blinds –

Venetians, Cedar, Verticals, Ro ler, Ho lands,

Romans and Pleated – with environmenta ly

friendly cleaning products.

Temperature Contro led Drying

Re-oiling & Rejuvenating

Fabric Blinds - such as Austrian and Roman

Same Day Pick Up & Drop O f

We o fer a same-day, pick up an drop o f

service for mos types of blinds. B okings

are required.

Convenient Location

Drop blinds into us by 9am, at

30 Cashel Str et (near the

Fitzgerald end), and co lect

them a th end of the day.

New Blind Sales Priced from $30

WE ARE OPEN

Mon - Fri

8. 0am to 5. 0pm

Ro ler Blinds cleaned

from as li tle as $20

per blind

www.blindcare.co.nz SCAN QR code for Info >

BLINDS .Cleaned, Repaired & Restored .

Grenadier Real Estate Ltd MREINZ is a Licensed Agent Under the Real Estate Agents Act 2 08

Alistair Hazeldine

Mobile: 027 572 1 5 | Phone: 0 384 7950

Email: alistair.hazeldine@harcourts.co.nz

w.harcourtsfe rymead.co.nz

MAgic on clifton

Mobile: 021 353 280 | Phone: 0 384 7950

Email: joy.butel@harcourts.co.nz

Joy Butel AREINZ - Dip.R.E.

Four Seasons Realty

Grenadier Fe rymead

TEAM

BUTEL

20 Tuawera Te race, Clifton Hi l - $980, 0 3 2 2 2

Phone: 03 384 6540

183 Dyers Rd, Bromley • OPEN 7 DAYS

W ekdays 7.30am-5pm. W ekends 8.30am-3pm

www.dyersroadandlandscapes.co.nz

Dyers Road Landscape

& Garden Supplies

• Barks • Peastraw • Composts - we su ply the best available

• A gregates - Chip, Round and Basecourse

• Pavers & Schist products • Pungas

• Decorative Stones & Landscaping Rocks

• Trailer Hire first hour fr e with purchase

• Bag & Bulk - pick up or delivered

David, Carol & Mike

We wi l deliver!

SOIL

AND

HARDFILL

DUMPING

Page 3 Page 5

Traffic plan at The Brae

Bid to ease traffic on busy,

na row str et

New pi za joint

Fire and Slice fina ly se to

open in Sumner

WEDNESDAY, APRIL 1 2018 www.star.kiwi

Loca ly Owned

LICENSED SALES CONSULTANT RE A 2 08

GRENADIER

Alison Carter

P: 384 7950 M: 0274 318 960

E: alison.carter@harcourts.co.nz

Your local

hi l and

seaside

specialist.

• By Gordon Findlater

DEAN CALVERT (above)

returned from the United

Kingdom last w ek after

ge ting closer than mos to

Joseph Parker in the build up

to his world heavyweigh title

unification fight with Anthony

Joshua in Cardiff.

The former New Zealand

title-holder trave led with his

father George and brother

Bryce to London ahead of the

fight where they spen time

with Parker in the build up.

Mr Calvert, 47, comes from a

boxing mad family.

•Turn to page 6

Former champ hooks

up with Parker in UK

Cave Rock

Apartments'

owners

expect EQC

sign-off

this week

• By Sarla Donovan

THE OWNERS of Sumner's Cave

Rock Apartments ar expecting the

Earthquake Commi sion to sign-off

on a se tlement agr emen this w ek.

Body corporate chairman Mike

White said the group had gone

into mediation with IAG and EQC

on February 20, and signed off

on a deal with IAG on February

2 – coincidenta ly seven years

to the day after the February 2,

20 1, earthquake. However, they

are waiting for EQC to sign the

agr ement.

"Given that EQC actua ly drafted

the agr ement, there' l be no

problem with them doing that."

The apartments suffered damage

in the February and June, 20 1,

earthquakes and were demolished in

late 2012. In 2016, IAG's offer of the

difference betw en indemnity value,

$10 mi lion, and the sum insured,

$16 mi lion, was rejected by the body

corporate.

The mediation agr ement

prevented Mr White from disclosing

the se tlement amount, but he said it

involved the two parties paying "a bit

more money than they'd wanted to

earlier."

•Turn to page 6

Page 7 Page 10

Fishin' for w eds

Children's event at risk if The

Groynes' lakes not cleaned up

Pedaling acro s NZ

Stroke survivor finishes long

journey

TUESDAY, APRIL 10, 2018 www.star.kiwi

Loca ly Owned

www.denturesouth.co.nz

ca l 32 4 04 TexT 027 537 0567

230 Ba ringTon sTr eT

Mobile

Service

Available

A NEW 60km/h sp ed limit and

double ye low lines wi l be in

place on Dyers Pa s Rd by early

May.

The sp ed limit change was

a proved by the city counci last

w ek.

A decision to paint double yellow

lines on the stretch betw en

Summit Rd and the Sign of the

Takahe was earlier made by the

Spreydon-Cashmere Community

Board.

Bu the Banks Peninsula Community

Board decided against

ye low lines on the Summit Rd-

Governors Bay section due to the

road's na rowne s and general

condition.

The changes are designed to try

and reduce the crash rate.

Insta lation of the double

ye low lines, the new sp ed limit

signs and raised centre line pavement

markers wi l begin in mid

April.

The work i scheduled to take

place betw en April 15-18, 2-26,

29 and May 2.

While the work is done, Dyers

Pa s Rd wi l be closed to traffic

from the Sign of the Takahe to

Governors Bay betw en 7pm and

6.30am.

60km/h

Dyers Pass

speed

limit from

early next

month

• By Emily O'Co ne l

A WOOLSTON butcher proved

to be a cut above the rest in an

international competition.

New World Fe ry Rd butcher

Jeremy Garth and his team, the

Pure South Sharp Blacks, recently

came second a the World

Butchers' Cha lenge in Northern

Ireland.

It was the firs time Mr Garth

had competed in the cha lenge

and he was "rea ly proud" of

how the team performed.

"We produced some top quality

products and came away

with a g od result so we're very

ha py," he said.

The preparation for this year's

World Butchers' Cha lenge was

intense as the team members

met in Auckland every two

months for lengthy w ekend

practices.

Mr Garth, who has b en a

butcher for 14 years, said the

competition brought back his

pa sion for the job.

"Doing a l thi stuff and

m eting new people, s eing new

ideas, it just brings that flair

back for you," he said.

Mr Garth hopes to own a

butcher shop of his own someday

but says for now he wi l focus

on ge ting mor experience

and on the 2020 cha lenge.

"In two years' time, we' l be

going back to try and win the

title," he said.

U per Ri carton butcher Corey

Winder was part of the Pure

South Sharp Blacks team.

GLOBAL STAGE: W olston butcher Jeremy Garth back home after his team came second in the World Butchers' Cha lenge.

PHOTO: MARTIN HUNTER

From New World Ferry Rd

to second in the

world

Ph 3 7 0 70,

30 Cashel St,

Christchurch

Restore your oiled CEDAR BLINDS with ou re-oiling service.

Rejuvenate your lacquered CEDAR BLINDS

High-tech Cleaning

We clean and repair a l types of blinds –

Venetians, Cedar, Verticals, Ro ler, Ho lands,

Romans and Pleated – with environmenta ly

friendly cleaning products.

Temperature Contro led Drying

Re-oiling & Rejuvenating

Fabric Blinds - such as Austrian and Roman

Same Day Pick Up & Drop O f

We o fer a same-day, pick up an drop o f

service for mos types of blinds. B okings

are required.

Convenient Location

Drop blinds into us by 9am, at

30 Cashel Str et (near the

Fitzgerald end), and co lect

them a th end of the day.

New Blind Sales Priced from $30

WE ARE OPEN

Mon - Fri

8. 0am to 5. 0pm

Ro ler Blinds cleaned

from as li tle as $20

per blind

www.blindcare.co.nz SCAN QR code for Info >

BLINDS .Cleaned, Repaired & Restored .

Page 3 Pages 10 & 13

Cyclist's helipad bid

Serious crash gives new

perspective on ride to hospital

River working group

Rebuilding a healthy

ecosystem in the Selwyn River

WEDNESDAY, APRIL 1, 2018 www.star.kiwi

Loca ly Owned

June 29 - July 1

EXHIBITORS BOOK NOW

vanessa.fleming@starmedia.kiwi

021 914 565

• By Georgia O'Co nor-Harding

A CRACKDOWN on mobile

traders acro s the districts could

be l oming.

However, the public has li tle

interest in having input into the

i sue.

Only eight submi sions were

received for a potential bylaw

aimed at regulating commercial

activities in public places.

The district council wi l be

holding a hearing for the Public

Places Bylaw and Policy on Commercial

Activities and Events in

Public Places.

A hearing i scheduled to be

held on Thursday.

The bylaw comes as an increasing

number of mobile traders

are s eking to operate in Selwyn,

especia ly during the summer

months.

In the past year, the district

council has received five inquiries

about se ting up a mobile busine s

on private or public land.

A report said there are two

str et operators in Darfield, a

coff e cart is parked beside the

railway in Ro leston, and a pi za

cart visits Lincoln w ekly betw en

September-May along with a Thai

f od truck.

•Turn to page 7

Mobile

traders

could

face

regulation

Pupils learn about role of war horses

GR ENDALE SCHOOL pupils

have taken a step back in time,

s eing first hand what men and

horses l oked like during war.

The New Zealand Mounted

Rifles Charitable Trust president

Mark A pleton and member

Mike Donaldson t ok their

horses to the sch ol on Monday,

in a bid to educate pupils on the

sacrifice their ancestors made in

World War 1 and World War 2.

Mr A pleton and Mr Donaldson

a rived a the sch ol dre sed

in World War 1 uniforms while

their horses Tommy and Kruze

wore 1 0-year-old sa dles donated

to the trust.

The presentation is a prelude

to the Gr endale Recreation Reserve

Management Commi t e's

upcoming Anzac Day service.

As a tribute to those who

served, members of the trust wi l

ride horseback to the service.

Mr A pleton said it was

important children were

educated on what soldiers

wen through during World

War 1 and World War 2.

But he said the presentation

didn't go into t o much detail

and was more of a "show and

te l" to make them aware of what

the soldiers l oked like.

Children were shown the type

of kits horses were required to

wear in the war.

•Turn to page 7

• By Georgia O'Co nor-Harding

HISTORY: Pupils have taken a step back in time learning about what

New Zealand soldiers and horses l oked like in World War 1. Abi P oler,

5, sits on Kruze, alongside Mounted Rifles Charitable Trust president

Mark A pleton. PHOTO: MARTIN HUNTER

New sections

selling now

There's no be ter place to se tle out wes than at Falcon's Landing. Pop in to our sales and

information office, 17 Branthwaite Drive, this Thursday, Friday or Sunday from 1pm to 3pm

to find out more. Contact us on 03 741 1340 or mail enquiries@yoursection.nz anytime.

Page 3 Page 5

Driver hazard?

Community board member

blasts Yaldhurst Rd island

Mega centre f edback

Denton Park a tracts more

submi sions than Cathedral

TUESDAY, APRIL 10, 2018 www.star.kiwi

Loca ly Owned

www.denturesouth.co.nz

ca l 32 4 04 TexT 027 537 0567

230 Ba ringTon sTr eT

Mobile

Service

Available

• By Emily O'Co ne l

AN U PER Ri carton butcher

has proven himself to be a cut

above his Au sie rivals at an

international competition.

Elite Meats owner Corey

Winder was named in the a l

star team a the World Butchers'

Cha lenge in Northern Ireland.

Mr Winder and his team, the

Pure South Sharp Blacks, which

includes W olston butcher

Jeremy Garth, finished second

in the competition.

He said the cha lenge started

as a "transtasman test match"

seven years ago.

The preparation for this

year's World Butchers' Challenge

was intense as the team

members met in Auckland

every two months for lengthy

w ekend practices. Mr Winder

said coming second against 1

other countries was a "fantastic"

result.

"To get second behind Ireland

was a huge achievement and to

be ahead of Australia is an

even bi ger thing for us," he

said.

But Mr Winder admires the

Australian team.

"Those guys over there

[Australia] are on top of their

game, they do a g od job," he

said.

"And it just showcases that

New Zealand has got some

of the best butchers in the

world," he said.

Mr Winder has b en a butcher

since the age of 19.

Elite butcher cut above the world

• By Emily O'Co ne l

THE HALSWE L-Hornby-

Ri carton Community Board

has b en given the gr en light to

o pose the pla ned qua ry near

Templeton.

Mayor Lia ne Dalziel told the

board on Thursday it had the okay

from the city council to make a

submi sion if Fulton Hogan a plies

for a resource consen to create a

qua ry.

Board chairman Mike Mora

told Western News the submi sion

would likely o pose Fulton Hogan's

plan.

"You can just about guarant e

it . . because we [the community

board] don't believe qua ries

should be so close to residential

areas," he said.

Mr Mora said he wasn't sure if

the city council would endorse the

board' submi sion.

"I'd like to think so because the

city council has had their eyes

open as we l ove recent years over

the crysta line silica risk," he said.

Mr Mora said the community

board wi l be "representing and

advocating" for the Templeton

community.

•Turn to page 5

Community

board get

permission

to oppose

Templeton

quarry

AWARD-WINNING: Corey Winder is back home after his team came second in the World Butchers' Cha lenge .

PHOTO: MARTIN HUNTER

Ph 3 7 0 70,

30 Cashel St,

Christchurch

Restore your oiled CEDAR BLINDS with ou re-oiling service.

Rejuvenate your lacquered CEDAR BLINDS

High-tech Cleaning

We clean and repair a l types of blinds –

Venetians, Cedar, Verticals, Ro ler, Ho lands,

Romans and Pleated – with environmenta ly

friendly cleaning products.

Temperature Contro led Drying

Re-oiling & Rejuvenating

Fabric Blinds - such as Austrian and Roman

Same Day Pick Up & Drop O f

We o fer a same-day, pick up an drop o f

service for mos types of blinds. B okings

are required.

Convenient Location

Drop blinds into us by 9am, at

30 Cashel Str et (near the

Fitzgerald end), and co lect

them a th end of the day.

New Blind Sales Priced from $30

WE ARE OPEN

Mon - Fri

8. 0am to 5. 0pm

Roller Blinds cleaned

from as li tle as $20

per blind

www.blindcare.co.nz SCAN QR code for Info >

BLINDS .Cleaned, Repaired & Restored .

Pip Su ton BCM (Marketing)

Residential Sales & Development

Specialist - Licens e Salesperson

Next Step Realty Limited

Licensed (RE A 2 08)

Your best choice

in the West

Mobile: 027 24 9524

DI: 03 421 8417

Email: pip.su ton@raywhite.com

$ 40

T Y R E S

LTD

New Tyres - Ba teries

Quality Secondhand Tyres

Discounts on sets of tyres

LOOK

Used tyres from

FR E PICK UP & DELIVERY (in local area)

Ph 348 0626

9 Main South Rd (cnr Wa ts Rd), Sockburn

T Y

Quality Secondhand Tyres

Discounts on sets of tyres

A l at very competitive prices

$ 70

155

x 13

AA

Discounts

8047287 A

8214716 A

LOOK

New tyres from

5

Star Media is a division of Allied Press.

Computer

Services

SeniorNet

Mac

Apple tuition & help

for any age group.

Apple computers, iPad,

iPhone and watch.

41 Essex Street

Mon, Wed and Fri

10am-12 Noon

Further details phone

365 1979

Holiday

Accommodation

SUNSHINE

COAST

RESORT

Australia QLD

All Units Have Ocean Views.

Heated Pools, Spa & Sauna,

Free Wifi, Tennis

& Mini Golf.

CHECK OUR GREAT

WINTER SPECIALS

www.mandolin.com.au

0061 7 5443 5011

JUNE to AUG temps 20C

ALEXANDRA HEADLAND

Situations Vacant

Ongoing work available,

earn $19+/hr! If you have:

• Current OSH cert.

& relevant experience

• Physically fit & able

• Can pass a drug screen

• Have your own reliable

transport

• NZ resident or citizen

• Available now!

Freephone Lynne or

Crystal today on

0800 363 676.

Forklift

Operator

Tours

Travlon

Coachlines

School Run to some

private schools

ex Selwyn/Halswell area

"Wide range of coaches

and buses for

Charter & Tour"

www.travlon.co.nz

Phone: 03 325 2959

Email: info@travlon.co.nz

CHARTER & TOUR

Travlon

Coachlines

School Run to some

private schools

ex Selwyn/Halswell area

"Wide range of coaches

and buses for

Charter & Tour"

www.travlon.co.nz

Phone: 03 325 2959

Email: info@travlon.co.nz

"Wide range of coaches and buses

for Charter & Tour"

www.travlon.co.nz | Phone: 03 325 2959

Email: info@travlon.co.nz

Travlon Coachlines

Trades & Services

WINDOW TINTING

03 365 3653 0800 368 468

Free Quotes Canterbury and Districts

99% uv block

fade protection

heat control

reduce glare

25 Years Experience

privacy films

frosting designs

non-darkening films

Workmanship Guaranteed

Lifetime Warranties on Most Films

UV

block

tintawindow

advanced film solutions

Noel 027-411-3596

kemp.painters@gmail.com

kemp painters and decorators

We offer

free quotes

Quality not

Quantity

Specializing in:

• Roof Painting

• Interior/exterior

residential

• Small commercial

painting

A husband and wife team

Canterbury Owned and Operated

Painters and Decorators Ltd

PAINTERS

Trades & Services

Book now and

receive 20% discount

for summer.

Rope and harness a

speciality.

No scaffolding required.

30 years experience.

Free quotes, call

Craig 021 060 2392

rooF

painting

ADVERTISE YOUR

BUSINESS HERE

Phone for further details

(03) 379 1100

HOUSE

CLEARING

Are you

moving house

or trying to

downsize?

Call All Clear

Canterbury. We work

with you to recycle,

sell and dispose of

unwanted items.

Ph: 03 260 0934

or 021 078 4553

raewynlcooke@gmail.com

www.allclearcanterbury.co.nz

HOUSE

CLEARING

Are you

moving house

or trying to

downsize?

Call All Clear

Canterbury. We work

with you to recycle,

sell and dispose of

unwanted items.

Ph: 03 260 0934

or 021 078 4553

raewynlcooke@gmail.com

www.allclearcanterbury.co.nz

ELECTRICIANS

Professional

Friendly Registered

Tradesmen available

for your Electrical

requirements today.

For immediate

quality service please

contact

services

Ph. 03 322 8454

www.skeltonelectrical.co.nz

Trades & Services

(Ex Leacroft St, Bishopdale)

We specialise in

re-upholstering all types of

household furniture

inc squabs.

Trusted craftsman for over

30 years. Fabric samples,

Free quotes, pick up &

delivery.

All work guaranteed.

Ph. 359 5033 or

022 106 0108

UPHOLSTERER

dyers upholstery services

(Ex Leacroft St, Bishopdale)

We specialise in

re-upholstering all types of

household furniture

inc squabs.

Trusted craftsman for over

30 years. Fabric samples,

Free quotes, pick up &

delivery.

All work guaranteed.

Ph. 359 5033 or

022 106 0108

UPHOLSTERER

dyers upholstery services

Rope & harness

a speciality,

no scaffolding

required,

30 years of

breathtaking

experience.

FREE QUOTES

ROOF

PAINTING

Phone Kevin

027 561 4629

Exterior staining,

exterior painting,

moss and mould

treatment and

waterblasting

Trades & Services

BATHROOM

Renovations,

complete

service from start to finish,

free quotes, ph Dave 027

334 4125

BRICKLAYER

George Lockyer. Over

35 years bricklaying

experience. UK trained.

Insurance work. EQC

repairs.

Heritage

brickwork and stonework

a speciality. No job too

small. Governors Bay.

Home 329-9344, Cell

027 684 4046, email

georgelockyer@xtra.co.nz

**************

CARPET & VInYL

Laying. Exp. Repairs,

uplifting,

relaying,

restretching.

Email

jflattery@xtra.co.nz

ph

0800 003 181 or 027

2407416

ELECTRICIAn

Registered,

electrical

installation and repairs,

Gorbie Electrical, ph 021

026 73375 or 03 322 4209

ELECTRICIAn

Prompt & reliable

registered

electrician

with 24 years experience

for all residential and

commercial work, new

housing and switch board

replacements. Phone Chris

027 516 0669

GARDEn

CORNER SORTER

Ring Graeme 027 341`

8596 / 342 5151

PAInTER

DECORATOR

All int /ext painting.

Comp rates. I stand by

Canterbury. Wayne 385-

4348, 027 274 3541

PAInTInG

Indoor / Outdoor, over 30

yrs exp, same day quotes,

ph Steve 021 255 7968

Trades & Services

ROOFInG

REPAIRS

Fully qualified, over 40

yrs experience. Ph John

027 432-3822 or 351-

9147 email johnchmill@

outlook.com

SPOUTInG CLEAnInG

Spouting

Unblocked,

Cleaned Out and Flushed

Out. Call Trevor 332 8949

or 021 043 2034

STOnEMASOn, BRICK

&

BLOCKLAYER,

Earthquake Repairs, Grind

Out & Repoint, River/

Oamaru stone, Schist,

Volcanic Rock, Paving,

all Alterations new & old,

Quality

Workmanship,

visit

www.featureworks.

co.nz or ph 027 601-3145

STUMP GRInDInG

Best price guarantee Tony

0275 588 895

TILER/CARPEnTER

35 years exp, no job

too small. Ph Ross 027

4311440.

TILInG

Flooring - Splashbacks -

Wall incl tile removal, reg

master tiler, ph Dave 027

334 4125

VHS VIDEO TAPES

& all camera tapes

converted to DVD, video

taping special occasions,

www.grahamsvideo.co.nz

ph 03 338-1655

Trades & Services

PIANO

Tuition.

Registered Teacher has

vacancies for beginners.

Halswell area. Raewyn

Clegg, phone 322-9377

PILATES Beginner &

Intermediate

classes,

Monday & Wednesday

nights. Fendalton Croquet

Club, Makora Street.

Phone Julie 351-2100

Tuition

TOOLS

Garden,

garage,

woodworking,

mechanical, engineering,

sawbenches, lathes, cash

buyer, ph 355-2045

Wanted To Buy
---
24 Tuesday February 19 2019

Latest Christchurch news at www.star.kiwi

WESTERN NEWS

SERENITY Carnation

Queen Size Mattress & Base

NOW $1,749

WAS $3,499

50 % OFF

Firm Feel

SERENITY Dahlia

Queen Size Mattress & Base

NOW $1,844

WAS $3,699

50 % OFF

CLASSIC Kappa

Queen Size Mattress & Base

ONLY $639

EVERYDAY

DREAM

PRICES

Medium Feel

Medium Firm Feel

SERENITY Jasmine

Queen Size Mattress & Base

NOW

WAS $3,899

$1,949

50 % OFF

CLASSIC Zulu

Queen Size Mattress & Base

ONLY $1,249

EVERYDAY

DREAM

PRICES

Plush Feel

Medium Firm Feel

Other Sizes & Models Available In-store!

BEDS R US CHRISTCHURCH

166 Moorhouse Ave, (Next To Noel Leeming)

Ph: 03 379 5110