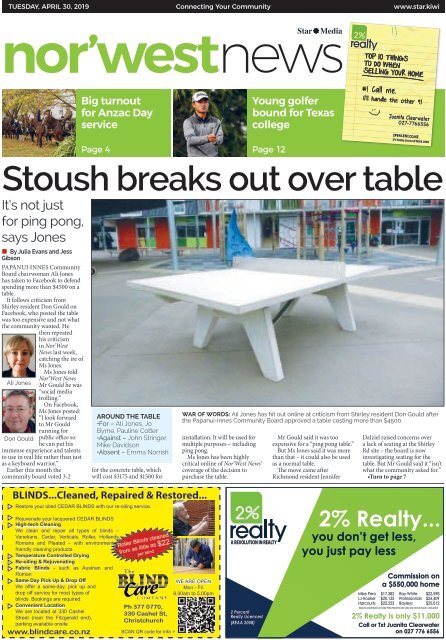 Nor'West News: April 30, 2019
Do you know the secret to free website traffic?
Use this trick to increase the number of new potential customers.
TUESDAY, APRIL 30, 2019

Connecting Your Community

www.star.kiwi

Big turnout

for Anzac Day

service

Young golfer

bound for Texas

college

Page 4 Page 12

Stoush breaks out over table

It's not just

for ping pong,

says Jones

• By Julia Evans and Jess

Gibson

PAPANUI-INNES Community

Board chairwoman Ali Jones

has taken to Facebook to defend

spending more than $4500 on a

table.

It follows criticism from

Shirley resident Don Gould on

Facebook, who posted the table

was too expensive and not what

the community wanted. He

then repeated

his criticism

in Nor'West

News last week,

catching the ire of

Ms Jones.

Ms Jones told

Ali Jones

Don Gould

Nor'West News

Mr Gould he was

"social media

trolling."

On Facebook,

Ms Jones posted:

"I look forward

to Mr Gould

running for

public office so

he can put his

immense experience and talents

to use in real life rather than just

as a keyboard warrior."

Earlier this month the

community board voted 3-2

AROUND THE TABLE

•For – Ali Jones, Jo

Byrne, Pauline Cotter

•Against – John Stringer,

Mike Davidson

•Absent – Emma Norrish

for the concrete table, which

will cost $3175 and $1500 for

WAR OF WORDS: Ali Jones has hit out online at criticism from Shirley resident Don Gould after

the Papanui-Innes Community Board approved a table costing more than $4500.

installation. It will be used for

multiple purposes – including

ping pong.

Ms Jones has been highly

critical online of Nor'West News'

coverage of the decision to

purchase the table.

Mr Gould said it was too

expensive for a "ping pong table."

But Ms Jones said it was more

than that – it could also be used

as a normal table.

The move came after

Richmond resident Jennifer

Dalziel raised concerns over

a lack of seating at the Shirley

Rd site – the board is now

investigating seating for the

table. But Mr Gould said it "isn't

what the community asked for."

•Turn to page 7

BLINDS...Cleaned, Repaired & Restored...

Restore your oiled CEDAR BLINDS with our re-oiling service.

Rejuvenate your lacquered CEDAR BLINDS

High-tech Cleaning

We clean and repair all types of blinds –

Venetians, Cedar, Verticals, Roller, Hollands,

Romans and Pleated – with environmentally

friendly cleaning products.

Temperature Controlled Drying

Re-oiling & Rejuvenating

Fabric Blinds - such as Austrian and

Roman

Same Day Pick Up & Drop Off

We offer a same-day, pick up and

drop off service for most types of

blinds. Bookings are required.

Convenient Location

We are located at 330 Cashel

Street (near the Fitzgerald end),

parking available onsite

Roller Blinds cleaned

from as little as $22

per blind

Ph 377 0770,

330 Cashel St,

Christchurch

www.blindcare.co.nz SCAN QR code for Info >

WE ARE OPEN

Mon - Fri

8.00am to 5.00pm

2 Percent

Realty Licenced

(REAA 2008)

2% Realty...

you don't get less,

you just pay less

Mike Pero $17,382

LJ Hooker $20,125

Harcourts $22,253

Commission on

a $550,000 home

Ray White $22,598

Professionals $24,409

Bayleys $25,012

Above advertised on Mike Pero Real Estate web site Christchurch calculator

2% Realty is only $11,000

Call or Txt Juanita Clearwater

on 027 776 6556
---
2 Tuesday April 30 2019

Latest Christchurch news at www.star.kiwi

get in touch

from the editor's desk

WE'VE TAKEN a few body blows and

upper cuts in the last few days from Ali

Jones (see page 1).

Online ones, I have to point out.

It's over our coverage last week of the

Papanui-Innes Community Board's

decision (vote 3-2 in favour) to buy a table for the Shirley

Community Centre.

It will cost ratepayers nearly $5000 for the concrete beast and

you can play ping-pong on it. For some, we apparently didn't

point out enough it will also have other uses.

Sorry!

A resident who apparently is not shy at having a crack at

elected officials on Facebook was quoted in our article. That

too appears to have set the blood boiling . . . but viewpoints are

viewpoints.

Would you pay nearly $5k for the table?

- Barry Clarke

GENERAL INQUIRIES Ph 379 7100

CLASSIFIED ADVERTISING Ph 379 1100

Star Media, a division of Allied Press Ltd

PO Box 1467, Christchurch

starmedia.kiwi

news

Cobham pupils sing for mosque attack victims

A song by intermediate school pupils has raised $900 for families

affected by the March 15 terror attack.

Page 8

home & living show

Exhibitors

Book now

Page 16

Don't miss your opportunity to

community showcase your business events in front of

10,000+ qualified attendees

NOR'WEST NEWS

Exhibitors book now

Don't miss your chance to showcase your business in front of more

than 10,000 people.

Learn lisa.lynch@starmedia.kiwi to play mahjong or 021 800 809

Go along to the Shirley or Papanui libraries to join others in this

fascinating game.

NEWS

Jess Gibson

Ph: 021 914 169

jess.gibson@starmedia.kiwi

ADVERTISING

Monique Maynard

Ph: 364 7474

monique.maynard@

starmedia.kiwi

Rodd Gray

Ph: 982 9308

rodd.gray@

starmedia.kiwi

Page 17

The best-read local newspaper, delivered to

16,717 homes every Tuesday

Harewood, Burnside, Bishopdale, Bryndwr, Fendalton, Merivale, St

Albans, Mairehau, Papanui, Casebrook, Redwood, Regents Park,

Styx Mill, Northwood, Belfast, Strowan.

Enjoy your

new home at

Bupa Parklands

on Papanui

Retirement

Village

Open home| Saturday 4 May, 11am - 1pm

Parklands on Papanui Retirement Village offers comfortable and stylish apartment

living in a friendly, like-minded community. We have beautiful, modern apartments

available from $334,000. Come to our open home this Saturday, or call Lynda to

find out more.

Apartments

available

from

$334,000

Call Lynda on (03) 669 4594 | 429 Papanui Road, Papanui, Christchurch | www.bupa.co.nz/parklands
---
NOR'WEST NEWS Latest Christchurch news at www.star.kiwi

Tuesday April 30 2019 3

News

Campbell to chase ECan seat

• By Jess Gibson

OUTSPOKEN politician Aaron

Campbell will not be running

for the Fendalton-Waimairi-

Harewood Community Board

in October.

Instead, he will stand for

ECan's West-Ōpuna seat in

the local body elections, which

covers the Halswell, Hornby,

Waimairi and Harewood wards.

He told The Star on Thursday

he would stand for both ECan

and the board but has now

said he will only run for ECan

because the city council does

not allow a person to stand for

both.

Mr Campbell said the

restriction has given him more

motivation to get elected to

ECan. "It will be slightly easier

to campaign for one position,"

he said.

Mr Campbell said regardless

of the result, he would remain

"deeply invested in the

community."

"If I do or don't get on I will

certainly carry on with being

involved in the community in

some way," he said.

Mr Campbell is a founding

member of Aotearoa Water

Action, the non-profit

organisation taking High Court

action against ECan and its

Home & Business Security • Cameras • Gates & Fencing

Access Control • Alarm Monitoring • Home Automation

Alarms Electrical Cameras Intercoms Auto Gates

Residential and Business Security

Tailor Made Security Solutions

All Your Electrical Needs

Custom Designed Automatic Gates

Innovative Intercom Systems

Pet Friendly Sensors

Security Cameras

Access Control Systems

Electric Fencing

Service and Maintenance

24/7 Fault Service

Locally owned and operated

All faults attended that same day

FREE QUOTES

P: (03) 384 0995 24/7 E: info@actionsecurity.co.nz

www.actionsecurity.co.nz

decisions over consents issued to

Cloud Ocean Water and Rapaki

Natural Resources to take

Christchurch water.

Mr Campbell said in February

he was contemplating running

against Aaron Keown for the

Harewood Ward city council

'CEREC' & cosmetic dentistry

Wisdom tooth removal

Painless, high quality dentistry

Sedation dentistry

Experienced, conscientious team

Experienced hygienists

OPEN SATURDAYS

355 9380

144 Cranford Street

www.stalbansdentalcentre.co.nz

seat – but he said the problems

ECan is dealing with are "much

bigger" than what the city

council is dealing with.

"[ECan] is where I can

contribute the most," he said.

He will campaign as an

independent.

ELECTION BID: Commercial

water bottling critic Aaron

Campbell will stand for

ECan in the October local

body elections.

Mr Campbell said if he is

elected he will "step back" from

the table if any conflicts of

interest arise and he would not

vote if a decision involved AWA.

"I don't see my position on

AWA inhibiting my ability to

run for ECan. In fact, I think it's

more favourable because people

know where I stand," he said.

"Politicians can be members

of a number of groups as long as

they declare that interest."

"I'm not making money or

losing money for [AWA], it's

purely from a community

perspective that I'm interested

and I'm committed on that

front."

He said he will continue to

focus on water as it is "this

election's hot-button issue."

"From water bottling

to degradation of rivers,

Cantabrians are saying enough,"

he said.

Manager's Special

Jameson

1 Litre

Bombay

Sapphire

1 Litre

Riverstone

Range

64 Warrington Street Phone 385-1111

Peter

Yealands

Excludes

Pinot

Noir

Local

News

Now

In Brief

Fire rages, homes at risk

ST ALBANS GARDEN

An edible community garden

will be planted in St Albans

at Empower Church. The

Community Focus Trust will

start building and planting next

month at the on Springfield Rd

site. The trust will also put on

a two-course lunch at 11.30am

on Thursday for residents who

want to connect and chat about

what is happening in St Albans.

For more information, visit the

http://www.empowerchurch.

co.nz/Community/projects.html

ORBITER BUS STOPS

A change in the Orbiter bus

route means bus stops are now

needed on Greers and Waimairi

Rds. The Fendalton-Waimairi-

Harewood and Halswell-

Hornby-Riccarton community

boards are due to meet today to

discuss the stops. The Orbiter

route was changed due to the

closure of Homestead Ln to

buses.

BISHOPDALE MENZ SHED

A dust extraction system has

been installed at the Bishopdale

Menz Shed site on Kendal

Ave. The Fendalton-Waimairi-

Harewood Community Board

approved $5000 to purchase and

install the system after Menz

Shed members were experiencing

breathing difficulties.

$49.99 $44.99 $9.99ea $12.99 $39.99ea $35.99

Wakachangi / Rochdale

12 Pack

$19.99

Billy Maverick

12 Pack

$19.99

Woodstock Easy

Roller 12 Pack

$19.99

Victoria Bitter

24 Pack Cans

$39.99

All specials valid until 30th of May

or while stocks last.

Only at Warrington liquor centre.

OPEN LATE TILL 11PM

Jim Beam /

Canadian

Club

1 Litre

Dewar's

1 Litre

'LIKE' us on

facebook to

keep up with our

latest deals and

facebook only

giveaways!

facebook.com

/warringtonliquor

ID required if under 25

FAILED EARTHQUAKE REPAIRS?

LET US DEAL WITH IT

Do you have concerns around your scope of works?

Is your settlement fair for the damage incurred?

We work directly for and with the homeowner to:

•Establish if your scope of works is correct, including floor levels

•Assist with the insurance part of the claim if required

•Manage the repairs from the initial stages to completion

•Have quality tradespeople and workmanship assured

Initial Consultation FREE!

Phone Stewart 027 488 6975 or George 027 334 4197 www.harwelservicesltd.com

238 Port Hills Road,

Heathcote

corner of Port Hills and Chapmans Rds

shop hours

Monday to Saturday

8am - 6pm

Sunday 9am - 4pm

Daily

Specials

& factory

2nds
---
4 Tuesday April 30 2019

Latest Christchurch news at www.star.kiwi

NOR'WEST NEWS

News

Wartime fallen remembered at

About 1000 people gathered for the Papanui Returned and

Services Association Anzac Day service at 10am on Thursday.

Among those who attended were the Canterbury Yeoman

Cavalry, the First Mounted Rifles Brigade formed in New Zealand

during World War 1.

The revolution

in heat pumps

is here now!

The revolution in heat pumps is here now!

The Fujitsu e3series

The brilliant

heat pumps from Fujitsu

e1 : efficiency

e2 : environment

e3 : economy

Website: www.pshc.co.nz

The brilliant e3 series

heat pumps from Fujitsu

e1 : efficiency

e2 : environment

e3 : economy

NEW ZEALAND'S FAVOURITE AIR

Fujitsu's Catechin Filters are

approved by the Asthma and

Respiratory Foundation NZ's

Sensitive Choice ® programme.

CLOCKWISE: About 1000 people gathered for the Papanui Returned and Services

Association service at 10am on Thursday. A row of riders and horses from Canterbury

Yeoman Cavalry observed the service at Papanui Memorial Garden. Scouts, Girl

Guides and Cubs showed their respects.

Restoring your confidence through your smile

Full service Denture Clinic

and Laboratory

Caldent Denture Cleaner

Free Consultation

No Obligation

FREE consultation from your local

Accredited Heat Pump Expert

Phone today: 03 381 6950

INSERT DEALER DETAILS HERE

FG1441

Email: info@pshc.co.nz

Ph: 385 5517 + 396 Innes Road, St Albans

admin@denturesplus.co.nz

+ denturesplus.co.nz

CAMERON BAILEY

Testimonial

" We had been advised to engage the services of Cameron and his team

for the marketing of our home. He and his team were most professional

and everything about the whole process was made as straightforward

and pleasant as possible for us. The result at our auction was

outstanding, and we are very appreciative of all the time spent towards

that and all the effort, skill and advice from Cameron and his team."

Jan and David Mann

NO.1 HARCOURTS CANTERBURY 2012-2018

NO.1 HARCOURTS NEW ZEALAND 2017-2018

NO.1 HARCOURTS INTERNATIONAL 2017-2018
---
NOR'WEST NEWS Latest Christchurch news at www.star.kiwi

Tuesday April 30 2019 5

Papanui Anzac Day service

PARADE: New Brighton resident Arthur Goode took a ride in

an old army vehicle during the march.

LEST WE FORGET: The

crowd stayed silent as

speeches took place at the

service. The main speaker

was president of New

Zealand Mounted Rifles

Charitable Trust, Mark

Appleton.

Local

News

Now

No solar panels

for Harewood

reserve toilets

• By Julia Evans

Fire rages, homes at risk

SOLAR PANELS will not

be installed at the new Lake

Roto Kohatu Reserve toilets in

Harewood.

City councillor Aaron Keown

said this is due to a number of

thefts at other public toilets. The

$10,000 panels on top of the toilets

at Bexley Reserve have been

stolen twice.

Cr Keown said it is a shame as

taking power of the national grid

is "10 times the price" of installing

panels. "It's a completely different

neighbourhood," he said.

Feedback on the proposed

$1 million toilet block will be

presented to the Fendalton-

Waimairi-Harewood Community

Board before it is approved.

The plans are for two separate

toilet blocks at the popular

recreation site on Sawyers

Arms Rd. There are currently

only portaloos at the site,

which has a high number of

annual visitors who use Lake

Roto Kohatu and Lake Rua for

watersports, swimming and

picnics.

Each new block would have two

cubicles and an outside shower.

The cost is estimated at $282,806

for each building and $440,000 to

connect them up to services.

I chose 'The Anatomy of Melancholy'

as the title for the trilogy because I

feel that it best represents my work

and the person I am.

*Melancholy: a feeling of pensive

sadness, typically with no obvious

cause.

Part I: Identity 2018

Part II: Dissectum 2019

Part III: Lost & Found 2020

Dissectum means 'deeply cut' and

in its original meaning refers to the

deep cuts in foliage. For me the

deep cuts are not just the ones we

need to make to understand the

workings of an organism but also

the potential deep cuts we need to

consider when we have to make

big decisions (as in: 'Murderous

Intent'). To be deeply cut can also

be the result of our experiences in

life. And with deep cuts comes the

need to heal, to find ways to put

what is left back together again or to

form a 'new'.

The exhibition is in two parts –

the front of the gallery is 'The

Wunderkammer*' where various

objects, boxes and other curios are

shown.

*Wunderkammer: A cabinet of

scientific curiosities, especially

during the Renaissance

In the back of the gallery I am

exhibiting a series of, mainly

charcoal drawings, all working with

or referring to 'Dissectum', plus

4 small bird paintings embellished

with embroidery.

Simon van der Sluijs is an artist

of Dutch descent and traditional

painting and drawing training.

His themes are deeply personal,

unconventional, dark, humorous and

disturbing.

The AnATomy of melAncholy

PArT II: DIssecT u m

Drawings & Objects

by

Simon van der Sluijs

4 – 29 MAY 2019

Main Rd, Little River | 03 325 1944

art@littlerivergallery.com
---
6

Latest Christchurch news at www.star.kiwi

Tuesday April 30 2019

NOR'WEST NEWS

raNGiora • Northwood • st martiNs • tower juNctioN • BishoPdaLe • raNGiora • Northwood

Northwood • st martiNs • tower juNctioN • BishoPdaLe • raNGiora • Northwood • st martiNs • tower juNctioN • BishoPdaLe •

100s OF GIFTS FOR EVERY MUM!

UP

TO

MASSIVE

Mother's Day Sale

LATEST READS

FOR MUM

30 % off

Best prices in Canterbury!

RRP $39.99

$

29 .99

The Path Made Clear

Oprah Winfrey

Health, Fitness, Gardening, Art,

Craft, Home Decor & more!

RRP $35.00

$

27 .99

Busy As F*ck

Karen Nimmo

*Applies to a selected range of product and stock may vary from store-to-store

A Life Of

Her Own

Fiona

McCallum

RRP $39.99

$

32 .99

Smart

Mothering

Dr Natalie

Flynn

RRP $34.99

$

27 .99

The Butterfly Room

Lucinda Riley

RRP $32.99

$

24 .99

The Tiger Catcher

Paullina Simons

*

New release books not available at Paper Tree Local stores.

A Dream

Of Italy

Nicky

Pellegrino

RRP $34.99

$

27 .99

RRP $34.99

$

27 .99

Silent Night

Danielle Steel

RRP $36.99

$

29 .99

Follow us on Facebook:

@papertreestores

For Daughter, Mum and Grandma!

FIFTY SHADES

SERIES

E L James

HOT

GIFT

The Mister

E L James

RRP $24.00

$

17 .99

*Applies to a selected range of product and

stock may vary from store-to-store

RRP $19.99

our price

$

16 .00

tower junction, off Clarence St, Riccarton | Bishopdale, 31 Bishopdale Court, Bishopdale | rangiora, 206 High Street, Rangiora

Northwood supa centre, Main North Road, Belfast | st martins shopping centre, Wilsons Road, St Martins

each

NEW

• st martiNs • tower juNctioN • BishoPdaLe • raNGiora • Northwood • st martiNs • tower juNctioN • BishoPdaLe • raNGiora
---
NOR'WEST NEWS Latest Christchurch news at www.star.kiwi

Tuesday April 30 2019 7

News

'Ping pong' table controversy

•From page 1

"We have broken core basic

infrastructure and it's like you

guys (community board) are

having a party spending money

on other things. It's taken out of

the rates from somewhere," Mr

Gould told Nor'West News.

He admitted he was a

keyboard warrior and it was

"appropriate and reasonable" for

him to be called out.

"My little soapbox is my

Facebook page. I am a keyboard

warrior. I type fast and I think

you can tell I also think very fast

. . . I post all the time ranting

and raving," he said. "Ali is

Meredyth Anderson

responds to the Nor'West

News article on the

Papanui-Innes Community

Board's decision to

purchase the multi-use

concrete table for the

Shirley Community Centre

I personally don't think that

there's anything wrong with the

table, but I wouldn't like to see

chairs near it.

Personally, I think that

wooden tables will be a great

idea plus seating as well, because

if we worry about all the

scaremongering of tables being

burnt in public places then all

possibly quite right, I didn't

attend the meeting so I could be

ill-informed."

Ms Jones said she had "no

problem with people posting

their disapproval" of board

decisions.

"But they need to be informed

. . . I blocked him from my

social media about a year ago

because I found his uninformed

attacks tiring."

Ms Jones said another option

for a table costing $104, which

was reported in Nor'West

News, was misleading because

it did should have also stated it

would cost another $1500 for

we will have is a concrete jungle.

Wood furniture is much

more aesthetically pleasing and

relatively cheap, so my request

is that your committee also

approves some of these tables and

chairs.

installation. "The reason I voted

for it because it's more resilient,

multi-use and relocatable and

it can be used by a number of

different groups," she said.

Board member Jo Byrne said

she did not pay attention to the

Facebook post. "He is a tricky

customer though . . . I think

in local government, you have

to be careful not to just listen

to the squeaky wheel." But she

thought the table was a "great"

use of money and would help

improve the site. Board member

John Stringer, who felt the table

was too expensive, said he did

not support Ms Jones' reaction.

Janine Heeringa

responds to an article on

the possible asphalting of

St James Park in Papanui

The article was really

heartening to read as I am a

regular user of this park and

can concur with all of what has

been said. I recently contacted

the city council about a kauri

tree that had been felled and am

pleased to see pegs set out for

replacement planting sites.

The new asphalt will be a

welcome addition to what is a

fabulous green space. Thanks to

the community board for their

initiative.

• By Jess Gibson

THE NEXT phase of the

Paddington Playground

renewal project is under way.

City council staff are

preparing a report for the

Papanui-Innes Community

Board to decide what upgrades

should be made to the

playground in Northcote.

Staff will consider the

feedback from 24 submissions

made by individuals and groups

on the proposed plan during

the public consultation phase.

The draft plan includes new

equipment, such as monkey

bars, a bridge, climbing wall,

spring rocker, swings, carousel

and see-saw.

New gardens and trees near

the playground are also planed

to enhance the play area.

Twenty-one submissions

supported the plan, two did not

support it and one submission

said "maybe."

There were common

themes in the feedback, with

two submissions in support

suggesting the additional

Local

News

Now

Fire rages, homes at risk

Report on Northcote

playground upgrade

being prepared

installation of speed bumps in

Paddington St to reduce speed

near the playground, while four

suggested more seating and two

requested shade sails.

One submission, which

opposed the plan said the cost

of the renewal was unnecessary

as the equipment was already

modern enough.

Another submission, which

did not support the renewal,

said the money would be better

spent elsewhere, such as on

free public transport or the

completion of cycleways in the

area.

Staff aim to get the report

to the community board

sometime between May and

June.

All submitters will be

notified once the report has

been confirmed on a meeting

agenda.

•To read the public

feedback, visit https://

ccc.govt.nz/the-council/

consultations-andsubmissions/haveyoursay/

show/228

HAGLEY SPORTS CENTRE - HAGLEY PARK

CRICKET PAVILLION - OPPOSITE THE HOSPITAL

THIS SAT & SUN

SAT 4 MAY 8AM - 6PM • SUN 5 MAY 8AM - 4PM

MASSIVE RANGE OF NEW SKIS SNOWBOARDS AND BOOTS

HUNDREDS OF JACKETS AND PANTS ALL WITH HUGE REDUCTIONS

PLUS HELMETS GOGGLES GLOVES

BE FITTED OUT BY SNOW INDUSTRY PROFESSIONALS

BUY WITH TOTAL CONFIDENCE - ALL PRODUCTS SOLD WITH BACKUP SERVICE
---
8 Tuesday April 30 2019

Latest Christchurch news at www.star.kiwi

News

NOR'WEST NEWS

Local

News

Now

Fire rages, homes at risk

Cobham pupils sing for

mosque attack victims

• By Jess Gibson

A SONG featuring 80 Cobham

Intermediate pupils has raised

about $900 for individuals and

families affected by the March 15

terror attack.

Release Our Love was written

by well-known performer Ali

Harper after she had a "calling"

to write a song to express her love

for the victims, survivors and

their families.

Harper said she wanted to

perform the song with a school

choir, and decided to reach

out to choral teacher Philippa

Chilvers to see if the Cobham

Intermediate School choir could

come on board.

Miss Chilvers said the

experience of recording in a

studio and being able to listen

to the song was "really special"

for the pupils. "They were really

excited. They might not realise

until later how much of a big

thing it was to be a part of it,"

said Miss Chilvers.

The proceeds from each

download of the song go to

Victim Support's Givealittle

page. Harper hopes the song will

teach young people about uniting

and making a change.

"We have to change where

we are heading in this world.

The words that I wrote really

resonated for me for the future of

our children."

"The deputy head boy Josh

Ratulomai performed a Te Reo

solo, which was so beautiful,"

said Harper.

"It has been quite wonderful

because lots of schools around

New Zealand have been

contacting me for the music so

that it can become part of their

school assembly song."

GOOD

CAUSE: Ali

Harper (left),

Cobham

Intermediate

deputy head

boy Josh

Ratulomai

and backing

vocalist

Frankie

Leota in the

recording

studio.

Harper and the pupils

performed the song at The Court

Theatre as part of its Open House

Festival and will perform again

at the Kia Kaha Concert at the

Aurora Centre in Burnside on

Saturday.

The proceeds raised at the

concert will go into community

projects.

•To book tickets, go to

https://bit.ly/2GdSdK1.

•Release Our Love can

be downloaded at www.

bandcamp.com

Burnside's India Jane, 7, showed off her dancing skills

during a YMCA school holiday programme.

PHOTO: MARTIN HUNTER

Titled Sections Available Now

03 281 7517 | sections@prof.co.nz | presonspark.co.nz
---
NOR'WEST NEWS Latest Christchurch news at www.star.kiwi

Tuesday April 30 2019 9

Exceptional

Artists Showcase

Sunday 5 May, 2pm

Diana Isaac Retirement Village

With guest

of honour

Dame

Malvina

Major

You are warmly invited to join us for a Dame Malvina Major Foundation Showcase

of exceptional young artists.

Dame Malvina looks forward to meeting you and talking about her Foundation.

Tickets are $30 and will include afternoon tea.

Featured artists

Andrew Grenon

Born and educated

in Christchurch,

tenor Andrew went

on to study at the

Wales International

Academy of Voice.

He is a Freemason's

Resident Artist with

NZ Opera based in

Auckland. Andrew

has been a soloist

with the NZSO,

the APO, the CSO

and the Orpheus

Choir with

Orchestra Wellington.

Cheena Rae

A talented

saxophonist who

at 17 years of age

became a recipient of

the DMMF Raemon

Greenwood

Scholarship.

Justin Hodges

A 14 year old

violinist, recipient of

the Christ's College

Music Scholarship,

was also awarded

'Performer with

the Most Potential'

in the 50th

National Concerto

Competition in 2016.

Lixin Zhang

A brilliant pianist

who at just 16 years

old, was the

runner-up in the

2018 National

Concerto

Competition.

Lixin has been

invited to appear

in solo concerts

in both Spain and

Switzerland, and also

appeared as a soloist

with the CSO.

Anna

Maksymova

These artists will be

accompanied by

the delightful Anna

on piano. Anna

studied in Germany,

has a Master of

Music degree and

has performed as a

soloist with the CSO.

To secure your place phone

Adrienne or Lynne on 385 3518

1 Lady Isaac Way, Mairehau
---
10

Tuesday April 30 2019

Latest Christchurch news at www.star.kiwi

GoodCars

NOR'WEST NEWS

Ph 0800 421 611 great quality, excellent value

$9,990 or $60 p/w

2011 Honda Fit Hybrid,

Petrol/Electric

1330cc, auto, 66,259km,

cam chain, climate air

con, Eco mode, cruise,

airbags, steering wheel

control buttons.

$7,990 or $49 p/w

2005 Subaru

Forester 4WD

2000cc, auto,

99,810kms,

ABS, electric

windows, air

con, NZ stereo,

airbags.

$7,990 or $49 p/w $9,990 or $60 p/w

2006 Mazda Axela

Sports 20S

1990cc, auto,

84,070kms, cam

chain, auto lights,

climate air con,

electric windows

& mirrors, spoiler.

2010 Mazda Premacy

20CS Smart Edition

2000cc, Auto, Facelift

model, 64,171km,

7 seats, cam chain,

climate air con,

airbags, fog lights,

spoiler, electric mirrors.

$98 p/w

$16,990

only

$16,990

only

$13,990

$98 p/w $82 p/w $115 p/w

only

$18,990

only

2011 Subaru Outback 2.5i Eyesight

2500cc, 4WD Auto with paddleshift,

facelift model, low 63,140km.

2008 Mitsubishi Outlander 30G

3000cc, auto, 78,304km, 4WD, 7 seats,

keyless entry and start, reversing cam.

2013 Toyota Corolla Fielder Hybrid

1500cc, auto, 8x airbags, EV mode, Eco

mode, reversing cam, facelift model.

2010 Mazda CX-7 Facelift

2300cc auto, low 23,758km, keyless

entry & start, 18" alloys, climate air con.

$53 p/w

only

$9,990

$11,990

only

$11,990

only

$71 p/w $63 p/w $63 p/w

$10,990

only

2013 Nissan Note

1200cc, 31,110km, auto, climate air

cond, keyless entry/start, reversing cam.

2010 Nissan Skyline 250GT Type P

2500cc, auto, 89,823km, alloys, climate air

cond, cam chain, keyless entry/start.

2009 Toyota Auris 180G Sport Pkg

1800cc, auto, cam chain, 61,731kms,

keyless entry and start, climate air con.

2011 Mazda Demio 13C-V

1300cc, auto, low 4,711km, cam chain,

air con, airbags, liftup tailgate.

$49 p/w

only

$7,990

$63 p/w

$10,990

only

$49 p/w

only

$7,990

$112 p/w

$20,990

only

2008 Mazda Verisa

1500cc, 55,698km, auto, air con, keyless

entry, cam chain, HID lights.

2007 Honda Odyssey Absolute

2400cc, auto, cam chain, low 64,371km,

factory body kit, climate air.

2010 Suzuki Splash Style

1200cc, 44,950km, cam chain, climate

air con, alloys, keyless entry, SRS airbags.

2014 Mazda CX-5 Skyactiv TD

2200cc, diesel, 96,615kms, bluetooth,

side/rev camera, liftup tailgate, alloys.

$77 p/w

$12,990

only

$21,990

only

$12,990

only

$126 p/w $77 p/w $66 p/w

$10,990

only

2006 Lexus IS 250

2490cc, petrol, auto, 60,576km, auto

headlights, Bluetooth, dual air con.

2012 Honda CR-V S 2WD

1990cc, auto, low 24,000km, alloys,

bluetooth, child seat anchor points.

2013 Mazda AXELA 15 SPORT FACELIFT

1500cc, auto, 5 Door Hatch, 72,530km,

Alloys, Dual Air Con, Keyless Start/Entry.

2009 Mazda AXELA Sport

1490cc auto, low 50,109kms, cam

chain, climate air con, fog lights.
---
NOR'WEST NEWS Latest Christchurch news at www.star.kiwi

Tuesday April 30 2019 11

Plus... free 12 month warrantY

www.goodcars.nz OPEN 7 DAYS Cnr Moorhouse Ave & Lancaster St

$13,990 or $82 p/w

2008 Subaru

Forester XT AWD

2000cc, auto,

Turbo Si-Drive

88,050km, keyless

entry and start,

parking sensors,

climate air con.

$10,990 or $66 p/w

2010 Subaru Legacy

2.5 I Sport 4WD

2500cc, auto, 8x

airbags, keyless entry

and start, factory

body kit, climate air

con, alloys, fog

lights, electric seats.

$10,990 or $66 p/w

2008 Subaru Outback

Facelift Cruise Control

2500cc, auto,

low 77,662kms,

keyless entry and

start, alloys, fog

lights, electric

seats, airbags.

$12,990 or $68 p/w

2007 Nissan Fuga

450GT Sports Package

4500cc, auto, 94,442kms,

keyless entry and

start, climate control,

heated and cooled

seats, Bluetooth,

reversing camera.

$66 p/w

$10,990

ONlY

$68 p/w

$12,990

ONlY

$63 p/w

$10,990

ONlY

$104 p/w

$17,990

ONlY

2009 Toyota Wish 1.8 Sport

1800cc auto, 88,688kms, facelift model,

8x airbags, climate air con, keyless entry.

2013 Toyota AQUA S (Prius C) Hybrid

1500cc, petrol, 81,748kms, black and

grey interior, A/C, liftup tailgate, alloys.

2008 Toyota Auris 150G

1500cc, auto, petrol, just 23,105kms,

A/C, keyless entry, security system.

2012 Mazda CX-5 SkyActiv 4WD

2200cc auto, 4WD, keyless entry & start,

reversing cam, climate air con, HID lights.

$12,990

ONlY

$15,990

ONlY

$10,990

$82 p/w $93 p/w $66 p/w $53 p/w

ONlY

ONlY

$9,990

2008 Subaru Forester XT

2000cc auto, 52,295km, keyless entry

and start, climate air con, reverse cam.

2008 Toyota Vanguard 7 Seater

2400cc, auto, 87,177km, 4WD, keyless

entry & start, reversing cam, leather.

2007 Toyota Blade Master

3500cc, auto, 95,955kms, 9x airbags,

keyless entry & start, alloys, dual air con.

2012 Mazda Demio 13C SkyActiv

1300cc, auto, facelift model, 55,382kms,

climate air con, keyless entry and start.

$93 p/w

$15,990

ONlY

$53 p/w

ONlY

$9,990

$73 p/w

$13,990

ONlY

$68 p/w

$12,990

ONlY

2016 Suzuki Swift XG

1200cc auto, low 11,985km, cam chain,

Bluetooth, facelift, keyless entry.

2012 Nissan Tiida 15G FACELIFT

1500cc, auto, petrol, 41,874kms, A/C,

keyless entry, electric windows

2012 Nissan JUKE 15RX TYPE V

1500cc, petrol, 81,118km, auto,

17" alloy wheels, keyless start/entry.

2012 Toyota Aqua L Hybrid (Prius C)

1500cc, auto, 51,693km, climate air

con, eco mode, keyless entry, EV mode.

ONlY

$9,990

ONlY

$7,990

$12,990

$53 p/w $49 p/w

$77 p/w $66 p/w

ONlY

ONlY

$10,990

2008 Honda Fit Jazz RS

1500cc, auto, 29,000km, 5 star fuel

rating, alloys, keyless entry, aircon.

2007 Honda Stream 7 Seater

1800cc, petrol, auto, 72,000km, parking

sensors, keyless entry, climate A/C.

2011 Suzuki Swift XL

1200cc, petrol, 22,581km, auto, alloy

wheels, cruise control, keyless entry.

2013 Nissan Latio

1200cc, auto, low 21,575kms, ABS, cam

chain, air con, keyless entry, alloys.
---
12 Tuesday April 30 2019

Latest Christchurch news at www.star.kiwi

Miya set to tee off in Texas

LOUIS SHARP has booked a

seat at the Rok Cup international

finals in Italy after winning

his class at the KartSport NZ

national sprint

championship

meeting over Easter

weekend.

The 11-year-old

St Joseph's School

pupil won the

Vortex Mini ROK

final in Hamilton,

beating runner-up

Tom Bewley, of

Havelock North,

and Invercargill's

Alex Crosbie who

finished third.

The win gained him the

SPORT

illustrious prize of a spot at the

international event in Italy.

In qualifying, Louis was eighth

fastest with a best lap time of

43.8sec.

In heat one, he made

his way from eighth

to the front before

dropping to fourth on

the final lap.

In race two, he started

in ninth on the grid and

once again made his

way through the field

to lead on the final lap

but finished second. In

the third and final heat,

Louis started eighth and

took the lead by lap four of the

10-lap race. He then held his

• By Gordon Findlater

RUSSLEY GOLFER Hiroki Miya

will take the next step on his

quest to become a professional

when he begins a scholarship at

the University of North Texas.

Miya, 18, will head to the

United States in August to

attend the division one college

at Denton, which is a one hour

drive north-west of Dallas.

The former Burnside High

School student said North

Texas coach Brad Stracke,

the world-class facilities, and

the fact his friend Cameron

Harlock, of Auckland, has also

been recruited to play golf at

the college contributed to his

decision.

Miya recently romped to

victory by five shots at the South

Island under-19 championship

at Harewood – which included

a seven under par 65 in the

second round. The win, along

with holding a 36-hole lead at

the New Zealand Stroke Play

Championship in February

before dropping to fourth,

BIG BREAK: Hiroki Miya will

move to the United States in

August after gaining a golf

scholarship at the University

of North Texas.

nerve to take the chequered flag.

The heat results meant Louis

started the pre-final in second.

He led for much of the 15-lap

race before finishing second. In

the 18-lap final, Louis started

second. However, it took him

less than two laps to pass Bewley

to take the lead which he didn't

relinquish, booking his spot in

Italy.

It was the third year in a row

a Christchurch driver has won

the Vortex Mini ROK class after

Jacob Douglas won in 2017 and

2018.

KartSport Canterbury also

announced it will host next

year's NZ national sprint

championship at Carrs Rd.

signalled a return to form for

Miya. "I had a really good early

2018 and then I kind of had a

rough patch, and then improved

later in the year, but then I

injured my wrist in December, so

I was out for a couple of months,

which was really frustrating,"

he said. "That's when a lot of

tournaments were being played –

it sucked."

Miya said there was something

in his swing which caused his left

wrist to hurt, and he has been

working hard in recent months to

resolve the issue.

"It's about not getting so steep

and taking massive diverts

because it was putting strain on

the wrist."

Another motivation for Miya

was seeing 16-year-old Rangiora

golfer Kazuma Kobori's run of

incredible form. Kobori made

headlines when he won the NZ

PGA Championship last month.

"It's pretty cool what

Kazuma has been doing and

everybody is looking up to him,"

said Miya.

I'm just trying to not lose to

him . . . I used to always beat him

and now he's playing really well,

so it makes me work hard."

Miya is putting in the hours at

Russley before heading to the US.

After spending much of his day

on the course, he is also working

part time on the club's bar during

functions in the evening.

St Margaret's,

CBHS rowers

off to Japan for

world champs

TWO STUDENTS from

Christchurch Boys' High and

St Margaret's College are set

to compete at the junior world

rowing championships in

Japan.

Scott Shackleton and

Charlotte Darry will travel

to Tokyo with Avonside

Girls' High's Sally Wylaars to

represent New Zealand from

August 7-11.

The 14-strong squad was

named at the end of the North v

South Island under-18 regatta at

Lake Karapiro.

Shackleton will race in the

men's double scull with Kobe

Miller of Blenheim. He had a

stellar Maadi Cup regatta last

month, winning the under-17

single sculls, under-17 double

sculls, under-17 coxed eight and

under-18 coxed eight, which

helped CBHS to its first ever

Maadi Cup.

Darry and Wylaars were both

named in the women's coxless

four. Darry was part of the St

Margaret's eight which won the

Jubilee Cup and the under-17

coxed four which also took out

the gold.

Meanwhile, Wylaars took

out silver at Maadi as part of

Avonside Girls' High's under-18

double sculls.

Sharp young St Joseph's driver to race in Italy

Louis Sharp

NOR'WEST NEWS

BIG WIN: Louis Sharp leading the field at the KartSport NZ

national sprint championship meeting. ​

Learn

Computer Skills

0800 834 834

vision.ac.nz

50 Hazeldean Road, Addington

Are you looking to get back into the work force, but

don't have up-to-date computer skills?

This FEES FREE* 20 week course will give you the skills to

work in a modern office, covering advanced use of Microsoft Word,

Excel, Publisher and other computer based business applications.

Hours of study are flexible and tutors are

available for one-on-one support.

For more info txt 'OFFICE' to 027 557 8839

*Conditions apply
---
WESTERN NOR'WEST NEWS Latest Christchurch news at www.star.kiwi

Tuesday [Edition April 30 datE] 2019 13 27

Wellbeing & Beauty

New centre provides

personalised weight

management solutions

In November 2018, Dr Jonie Girouard

and her husband Dr Michael Girouard,

opened The Girouard Centre in

Silverstream, Kaiapoi, dedicated to weight

management and wellness.

The couple came to New Zealand three

years ago from the United States, where

Dr Michael was one of the country's

most experienced, leading bariatricians

and Dr Jonie practised as an obesity

specialist. Already managing six other

centres internationally via the internet,

they wanted to open a dedicated weight

management centre in the Christchurch

region, where they would treat people with

weight management issues on a completely

individual basis.

Dr Jonie has a particular interest in

lipoedema, a condition that affects around

11 per cent of the female population, but

is often confused with fibromyalgia and/or

obesity due to the lack of awareness of this

condition.

As she explains, lipoedema is a painful,

progressive condition that causes swelling

in the hips, buttock and legs, and as it is not

related to excess calorie intake it can't be

treated with the usual dieting and exercise

regime.

"It is a complicated disease that often

develops in families, and if left untreated

it will progress, often leading to excess

body weight and obesity due to the lack of

exercise through decreased mobility," she

says.

Patients with lipoedema seeking help at

the Girouard Centre are initially assessed

to determine family history and lifestyle

and are provided with basic knowledge

of lipoedema to help them understand

the condition. An individual tailored

programme covering meal planning and

appropriate exercise is provided, and

the patient is often referred to Burwood

Hospital for compression and lymphatic

manual drainage therapy.

"The services we offer are unique

in New Zealand," Dr Jonie says.

The Girouard Centre offers nonsurgical

treatment for all types of

weight management problems,

with every person receiving an

individualised treatment plan

according to their needs, so they can

achieve their goals.

Personal goals may include reaching

their ideal weight, reducing their

cholesterol levels or preventing diabetes.

Avoiding the yo-yo weight gain and loss

that some people wrestle with is equally

important in weight maintenance and

optimal health, Dr Jonie says.

The centre is open for consultation

on Tuesdays and Wednesdays and

appointments can be made by calling

(03) 327 2273, or through The Girouard

Centre website or Facebook page. It Dr Michael and Dr Jonie

is located at Unit 6, 42 Silverstream Girouard, who have opened

Boulevard, Silverstream, Kaiapoi. their new centre in Silverstream

Do you Struggle

with Headache

and Migraine?

Talk to us about how we can help with:

• Migraine

• Tension Headache

• Hormonal

Headache

• Vertigo

• Post-Concussion

Syndrome

• Cluster Headache

• Abdominal Migraine

Take

control

with The

Headache

Clinic

0508 HEADACHE (0508 432 322) | www.headacheclinic.co.nz

AUCKLAND • CHRISTCHURCH • INVERCARGILL

Weight Management and

Wellness Centre

We provide comprehensive, medically

supervised, non-surgical weight management

and wellness treatment programs for adults.

We are dedicated to improving the health and wellbeing

of our patients through individualized weight management

treatment programs.

Get in touch with us today!

Shop 6, 42 Silverstream Blvd, Kaiapoi

(Just 15 minutes from Christchurch Airport

with convenient parking)

Phone 03 327 2273

www.girouardcentre.co.nz

now open

Eat Guilt

Free

• Curb your sugar cravings

• Boost your energy

• Be healthy without dieting

• Feel satisfied for longer

• Cook delicious recipes that suit all ages

• Let go of the guilt and eat the food you love

Book your consultation at:

www.theguiltfreenutritionist.com

Helping you look & feel your best

We offer the following treatments in

a tranquil friendly environment

• Waxing

• eyebrow & eyelash tinting

• Manicures & Pedicures

• Facials - Using O Cosmedics

• Makeup - Lessons & Applications

gift vouchers available

Free giFt

with booking

when you

menton this ad

Marilyn

Open tuesday - Saturday

refer to Facebook page @BeautiqueonHighsted

Ph. 260-1624

email. beautiqueonhighsted@outlook.com

Cnr Sawyers Arms road & Highsted rds, Bishopdale
---
14

Tuesday April 30 2019

HEALTH & AWARENESS

Latest Christchurch news at www.star.kiwi

NOR'WEST NEWS

Joint pain: Do I have arthritis or

could it be mainly my muscles?

The team at Physical Sense in Sydenham sees clients with

a range of symptoms but many of their middle-aged and

senior clients visit complaining of pain in one of their joints.

Physiotherapist Ietje van Stolk suggests

that a major part of the pain could be due

to muscle pain rather than simply arthritis.

"Even if an x-ray shows arthritis, the reason

for the pain may be the muscles around

the joint," she explains. The images show

how a muscle knot (the crosses) in a back

muscle can give hip pain (aches and pain

are the red areas in the drawings), a knot

in a muscle on the back of the shoulder

blade can give a deep pain in the front of

the shoulder and a muscle knot all the way

near the groin can give an ache in the knee

(especially at night in bed).

Ietje recalls one case where an 89 year

old client with severe arthritis who walked

with a stick, told her, "I will end up in

a wheelchair, I cannot put any weight

through my right leg due to pain in my hip

and buttock". "Within 4 treatments, she

was walking with her stick but without the

severe pain," says Ietje. "The arthritis was

one of the factors that made her muscles

spasm but the other was that older people

move less and the flexed position the hip

is in when we sit is particularly bad for

the hip." Ietje is happy with the fact that

although the client was 89 and could have

been "given up on" or told to live with the

pain, she made a difference to her health

and wellbeing.

The same lack of movement can be the

reason for your knee pain or your shoulder

pain and the same few treatments could

make a huge difference for you.

At Physical Sense, hands-on techniques

(massage and triggerpoint deactivation

techniques) are used to release the muscles.

The client also gets a home exercise

program designed to mobilize and stretch

the joint, strengthen the important core

muscles and increase general strength and

SHOULDER

PAIN

KNEE PAIN

(the crosses are the areas of the muscle spasms, the red areas is where the pain is felt)

balance. They teach a movement sequence

that stretches the joint in all directions

whilst the client is able to lie safely on their

bed, perfect for older or less mobile clients.

In many cases having the muscles

released and being taught how to maintain

it, is enough to stay on top of the problem.

HIP PAIN

If severe arthritis is the underlying cause,

some maintenance therapy may be

necessary, but that is often more affordable

and, for older patients, better tolerated than

surgery. In very few treatments the client

will know if it is going to work for them or

not, without financial commitment.

Physical Sense Gym and Physio is located at 300 Colombo Street, Sydenham. The Blue Line Bus stops in front of the door and there is ample

parking. To enquire about specialised exercise classes or physiotherapy treatment, phone 377-2577 or visit www.triggerpoints.co.nz

3 issues $20

6 issues $44.50

10 issues $65

SUBSCRIPTIONS FREEPHONE

0800 77 77 10

rugbynews.co.nz
---
NOR'WEST NEWS Latest Christchurch news at www.star.kiwi

Tuesday April 30 2019 15

If you want more information about an item or to contact a

seller, visit www.postanote.co.nz and search the ID#

Stoneware Drink Jars

2005 Toyota Voxy

Aluminium Boat & Warranted Trailer

AMW Heavyduty Scooter

Toyota Reflet X Starlet

Nov 2017 Roadchief Teardrop Caravan

$10

ID 28348

$6,500

ID 28343

$2,500

ID 28339

$3,250

ID 28336

$2,500

ID 21544

$18,000

ID 28309

Rockwell Leaf Blower

Liteace Van

Mamaku Boccia balls

Pool Cue

6m Motorboat, 40hp Yamaha

Toyota Corolla 1.6 Hatchback

$35

ID 24381

$5,000

ID 28328

$60

ID 28325

$15

ID 28324

$6,000

ID 28310

$2,500

ID 28308

South Westland Whitebait Stand

Push Lawnmower

1999 Ford Econovan Maxi

Pure Wool Wall Hanging

Holden Commodore Ute

2 Kids Motorcycles

$45,000

ID 16313

$40

ID 28274

$3,800

ID 28253

$950

ID 19025

$5,000

ID 28218

See Seller

ID 25782

Wooden Memory Game

1999 Subaru Legacy

Cobra Eliminator Kayak

Flymow Ride-on Mower

Wanted: 1973-1979 Honda Civic Parts

Datsun 260Z Motor

$5

ID 26120

$1,800

ID 27954

$800

ID 26166

$750

ID 28273

See Buyer

ID 27900

$1,200

ID 19063

1981 Suzuki Super Carry 2 Kids Motorcycles

Jeep Grand Cherokee

1950s Oak Table & Chairs

2 Kettle Bells (8kg)

Outdoor Seat/Coffee Table

$4,000

ID 28199

See Seller

ID 25782

$4,500

ID 25717

$600

ID 27243

$50

ID 27205

$35

ID 27199

Toyota Caldina Engine

Bench Saw

Tandem Trailer

Nissan Atlas

Samsung Fridge Freezer

Hot Stones & Slow Cooker

$600

ID 27173

$290

ID 27115

$3,300

ID 27074

$5,000

ID 27062

$750

ID 27070

$100

ID 23629

1910 Vintage Westinghouse

Cute Bear For Mother's Day Gift

Mercedes-Benz 240

25ft Crusader Caravan

Used Truck Trailer Hubs

Subaru Impreza

$60

ID _5559

$12

ID 28275

$3,000

ID 27804

$14,995

ID 28159

$50

ID 15848

$6,200

ID 26829

2149053chch
---
16

Tuesday April 30 2019

Latest Christchurch news at www.star.kiwi

NOR'WEST NEWS

Exhibitors

Book now

Don't miss your opportunity to

showcase your business in front of

10,000+ qualified attendees

lisa.lynch@starmedia.kiwi or 021 800 809
---
NOR'WEST NEWS Latest Christchurch news at www.star.kiwi

Tuesday April 30 2019 17

Email jess.gibson@starmedia.kiwi by

5pm each Wednesday

Mobile Discover Wall

Today, all day at Papanui

Library, every day except for today

at Bishopdale Library

Head down to Papanui Library

to see the Mobile Discovery

Wall – a touch-sensitive, digital

representation of Christchurch

that lets you swipe your way

through a virtual world of

photos, videos and information.

This event runs all day and is free

of charge.

Papanui Library, Bishopdale

Library

JP Clinic

Today, 10am-1pm, Wednesday,

10am-1pm, Saturday, 10am-noon

A justice of the peace is

available to witness signatures,

certify documents, take oaths,

declarations, affidavits or

affirmations, applications for

citizenship or rates rebates.

Today at Papanui and

Shirley Libraries, Wednesday at

Bishopdale Library, Saturday at

Papanui Library

Scrabble

Today, 10.30am-noon,

Wednesday, 1-3pm, 1-3.30pm

Play Scrabble with a friendly

group. Just head down when you

can – no bookings required. All

materials are supplied at this free

event.

Today at Redwood Library,

Wednesday at Bishopdale and

Shirley Libraries

Storytimes

Today, 10.30-11am, Wednesday,

10.30-11am, Thursday, 11-

11.30am, Saturday, 11-11.30am,

Monday, 10.30-11am

This free session encourages

learning through love for stories.

Storytimes is an interactive

programme including stories,

songs, rhymes and play.

Today at Shirley Library,

Wednesday at Bishopdale Library,

Thursday at Papanui Library,

Saturday at Shirley Library,

Monday at Redwood Library

GenConnect

Today, 12.15-12.45pm

If you have questions about

your iPad, smartphone or tablet,

head down to GenConnect where

Papanui High School students

will help you for free.

Papanui Library

Knit 'n' Yarn

Today, 1-3pm, Wednesday,

1-2.30pm, Thursday, 2-3.30pm,

Friday, 10am-noon

Take your knitting, crochet or

another craft project and have

fun with this social group. This is

a free, drop-in event.

Bishopdale Library, Redwood

If you are interested in playing mahjong or would like to learn to play, head down and have

a go at Shirley Library or Papanui Library. If you have your own set, feel free to take it along.

This free event runs on Saturdays from 2-4pm at Shirley Library (registrations required) and

Mondays from 2-4pm at Papanui Library (drop-in).

Library, Papanui Library

Makerspace

Today, 3.30-4.30pm

Join in on the fun activities

every week at the Makerspace

sessions. There will be creative

and/or tech activities to try and

fun to be had for kids of all ages.

No bookings required for this

free event.

Redwood Library

Reading to dogs

Today, 3.30-4.30pm, Thursday,

3.30-4.30pm

Reading to dogs is designed

to provide a relaxed, nonthreatening

atmosphere which

encourages children to practice

and develop a love of reading.

This programme​ uses dogs

which are pets of the city

council animal management

team. These furry friends have

all been trained and tested for

health, safety and temperament.

Registration is required for this

free event.

Shirley Library, Papanui

Library

Community Energy Action

Trust

Today, 4-6pm

Go along and find out all the

ways Community Energy Action

can help you save on energy

costs, get free advice, and see

samples of available products.

This event is part of the Papanui

Library sustainable living series.

Papanui Library

Activity Zone

Monday, 3.45-4.45pm

Go and have fun at

Activity Zone. There will be

technology, games, crafts and

books at this fun, free, drop-in

event. Suitable for ages six to 10.

Caregivers are asked to remain

in the library during the session.

Shirley Library

An evening of great music with the

UC Christchurch Youth Orchestra

The UC Christchurch Youth Orchestra presents

Worlds Apart

Saturday 11 May

Christchurch Boys' High School Hall,

Straven Rd, 7.30pm

Featuring music by:

Lilburn, Gershwin, Greig, Tichelli

and Prokofiev

Tickets from Eventfinda

$20 adults

$15 Seniors

$5 Students

ARTC8330

There's something very special about hearing

a full orchestra of young people perform

some of the great classics.

So come and join our young musicians,

conducted by Helen Renaud, in a concert

of wonderful music from around the world.

From the beautiful lakes and mountains

of New Zealand with Lilburn's Aotearoa

Overture to the noisy and bustling streets of

Paris in Gershwin's American in Paris this

will be a concert of wonderful melodies and

great contrasts.

Our talented strings will perform Holberg

Suite by Greig, a five-movement work based

on 18th century dances before the wind,

brass and percussion of the concert band will

entertain with a rollicking and humorous

jazz inspired Blue Shades by Tichelli. Finally

from Russia, one of Prokofiev's most wellknown

works and his first foray into film

music, the Lieutenant Kijé Suite. A concert

not to be missed.

The UC Christchurch Youth Orchestra

was founded in the 1970s and is the senior

orchestra of the Christchurch School of

Music. The orchestra is a musically and

technically advanced orchestra for the city's

musical youth to widen and develop their

musical and performing experience.

Each year the orchestra performs 3-4

concerts and can often be called on to

perform at corporate and community events.

Professional players from the Christchurch

Symphony Orchestra and the New Zealand

Symphony Orchestra regularly work with

students at sectionals to coach them in the

nuances of orchestral playing.

In 2015 the CSM signed a sponsorship

agreement with the University of Canterbury

for the youth orchestra which is an exciting

development in the orchestra's history. This

sponsorship gives naming rights to the

university and ensures the players can have

access to interesting repertoire and essential

equipment.

The musicians of the UC Christchurch

Youth Orchestra under their conductor have

worked hard to bring this concert to life so

come along and enjoy a wonderful evening

of great music.
---
18 Tuesday April 30 2019

Latest Christchurch news at www.star.kiwi

REAL ESTATE

The peace train…

17 Law Lane, Mount Pleasant

Enquiries over $649,000

3 bedrooms | 2 bathrooms | 2 living rooms | 2 car-garage | Listing Number: SMT10401

NOR'WEST NEWS

Mt Pleasant is a peaceful place to live.

Awake to the picturesque views of

the sunrise over the Bay Harbour while

enjoying the feeling of space this cool

210m 2 property offers.

This is a home for family or professionals

set on 878m 2 built in 2004 and is

complimented by fresh contemporary

décor, while three double bedrooms and

two bathrooms ensure there's plenty

of room to accommodate every family

member.

The living spaces are equally as versatile,

the separate lounge offers utterly stunning

views with large windows that blend in

with the peaceful surrounds, while the

expansive light filled open plan kitchen/

dining/living area houses a well-appointed

kitchen a real treat for the chef of the family.

A log burner, a pallet burner, a heat pump,

double glazing make the winter months

warm and inviting.

Pull back the sliding doors leading to

the outside and chill on the deck, a perfect

place for entertaining, while the children

laugh and play on the grassed areas.

A separate laundry, and double garage

complete the appeal.

The section incorporates easy drive on

access

Located close to all walking tracks, the

ocean and all shopping amenities are a

short drive. In zone for Mt Pleasant school.

Private school buses interconnect at the

bottom of the hill.

Contact Debra for viewing times.

Marketed by Debra Hakaraia

Smart Real Estate

Call 0275620420 033848600

smartrealestate.co.nz

Licensed Agent Reaa 2008

Classifieds Contact us today Phone our local team 03 379 1100

Builder

concrete & paving

DRIVEWAYS

plumbING AND GAS

Exposed Aggregate

Stamped Concrete Plain

Concrete Resurfacing

DISCOUNT FOR

SUPER GOLD CARD

HOLDERS!

FREE QUOTES

• New homes

• Extensions

• Renovations

• Light Commercial

• Repairs and

Maintenance

Brandon Taw

Phone 027 370 2572

enquiries@tawbuilders.co.nz

www.tawbuilders.co.nz

• Driveways

• Earthquake repairs

• New Home Specialists

• Patios & Paths

tel: 0508 873 7483

email: sales@affordableconcrete.co.nz

www.affordableconcrete.co.nz

Things we offer...

Competitive/affordable pricing

Attention to detail

Professional service

free quotes/insurance scopes

Cell 0278 145 848

www.drivecrete.co.nz

• Gas fitting – servicing, new, renovations

• Gas hot water installs

• Gas cookers and gas fires

• Kitchen / Bathroom renovations

• Backflow testing and installs

• Filtration – whole house, kitchen tap

• Domestic maintenance

Email: james@plumbingandgashq.co.nz

Text: 021 174 9265

0800 H20 LPG

4 2 6 5 7 4

junk

Why go to the Dump? Junkman comes to you!

Items too big for the rubbish bin?

Or too heavy for you to move?

Junkman comes to FROM

you & takes it away $

65 *

*Prices vary depending on items and volume – minimum charge $65

0800 586 5626

www.junkman.co.nz office@junkman.co.nz

plumber

UNIVERSAL PLUMBING LTD

WE'LL FIX YOUR PLUMBING

ISSUES TODAY!

• Affordable pricing

• Fast and reliable

• Licensed and insured

Need a maintenance

plumber?

Contact us today!

Call for an instant quote

03 348 8537

5/33 Nga Mahi Road, Sockburn

office@universalplumbing.co.nz

www.universalplumbing.co.nz

UNIVERSAL

PLUMBING

PLUMBER

NEED A PLUMBER

Call us now for fast friendly service.

Get your problems sorted out

quick smart - on time!!

Phone for a

FREE

quote now.

Phone 03 377 1280 | Mobile 021 898 380
---
NOR'WEST NEWS Latest Christchurch news at www.star.kiwi

Tuesday April 30 2019 19

Classifieds Contact us today Phone our local team 03 379 1100

Trades & Services

PAINTER

Michael Kelly Painters

Locally owned and

operated family

business.

25+ years Experience

• Painting • Wallpapering

• Interior • Exterior

Free Quotes

Phone

Michael 0212 649 492

michaelkellypainter@hotmail.co.nz

Quality workmanship every job by trade

qualified tradesmen.

All decorating services provided.

25+ years' local experience.

Telephone Jon Poultney for a quotation.

03 360 3076 or 0272388362

poultneypainting@xtra.co.nz

Trades & Services

CARPET

CLEANING

sPECIAL

3 Rooms & hALLwAy

fRom $59.00

over 20 years experience

027 220 2256

HOUSE

CLEARING

Are you

moving house

or trying to

downsize?

Call All Clear

Canterbury. We work

with you to recycle,

sell and dispose of

unwanted items.

Ph: 03 260 0934

or 021 078 4553

raewynlcooke@gmail.com

www.allclearcanterbury.co.nz

Letterbox Advertising

Flyers and Newspaper Inserts

DESIGN

We offer professional

design services.

PRINT

We print your gloss

mailers and letterbox

flyers.

Delivery

Canterbury wide

coverage or targeted

zone deliveries.

Trades & Services

BATHROOM

Renovations, complete

service from start to finish,

free quotes, ph Dave 027

334 4125

BUILDER

HANDYMAN. No job

too small. Install heat

transfers, repair/replace

fences, floor boards,

decks. Russ 027 884 2330.

Liability insurance.

****************

CARPET & VINyL

Laying. Exp. Repairs,

uplifting, relaying,

restretching. Email

jflattery@xtra.co.nz ph

John on 0800 003 181 or

027 2407416

CHIMNEy SWEEP

*Rotary

brush

technology*. From $70

single story. 0800 SWEEP

ME

Trades & Services

ROOF

PAINTING

Rope & harness

a speciality,

no scaffolding

required,

30 years of

breathtaking

experience.

FREE QUOTES

Exterior staining,

exterior painting,

moss and mould

treatment and

waterblasting

Phone Kevin

027 561 4629

rooF

painting

Book now and

receive 20%

discount.

Rope and harness a

speciality.

No scaffolding required.

30 years experience.

Free quotes, call

Craig 021 060 2392

GARDENER AVAILABLE

For weeding, pruning,

tidying. 30 yrs exp.

Free quotes. $25 per

hr. Pensioner rates. Ph

Richard 349 4022 or 0274

918234

PAINTING

30 years experience,

workmanship guaranteed,

pensioners discounts, free

quotes, ph Robert 021 026-

30757

PAINTER

DECORATOR

All int /ext painting.

Comp rates. I stand by

Canterbury. Wayne 385-

4348, 027 274 3541

Trades & Services

PLUMBER

ALF THORPE

PLUMBING Certifying

Plumber for all types of

plumbing, maintenance,

spouting, alterations etc.

Phone 352-7402 or 0274-

350-231

PLUMBER

A Top Plumbing job

completed at a fair price,

prompt service, all work

guaranteed, Ph Brian 960-

7673 or 021 112-3492

ROOFING REPAIRS

Fully qualified, over 40

yrs experience. Ph John

027 432-3822 or 351-

9147 email johnchmill@

outlook.com

SHOE REPAIRS

Belfast engraving. Shoe

repairs, key cutting &

engraving. (10 yrs exp)683

Main North Rd, ph 027

3113423

SPOUTING CLEANING

Spouting Unblocked,

Cleaned Out and Flushed

Out. Call Trevor 332 8949

or 021 043 2034

STONEMASON

BRICK

&

BLOCKLAYER,

Earthquake Repairs, Grind

Out & Repoint, River/

Oamaru stone, Schist,

Volcanic Rock, Paving,

all Alterations new & old,

ELECTRICIAN

Prompt & reliable

registered electrician

with 24 years experience Quality Workmanship,

for all residential and visit www.featureworks.

commercial work, new co.nz or ph 027 601-3145

housing and switch board

replacements. Phone Chris STUMP GRINDING

027 516 0669

Best price guarantee Tony

0275 588 895

ELECTRICIAN

Registered, electrical TILER/CARPENTER

installation and repairs,

Gorbie Electrical, ph 021

026 73375 or 03 322 4209

35 years exp, no job

too small. Ph Ross 027

4311440.

TILING

Flooring - Splashbacks -

Wall incl tile removal, reg

master tiler, ph Dave 027

334 4125

T.V. SERVICE CENTRE

Repairs, tvs, microwaves,

audio amps, soundbars.

.Aerial & satellite

installations, kitsets, 480D

Moorhouse Ave, ph 03 379

1400

VHS VIDEO TAPES

& all camera tapes

converted to DVD, video

taping special occasions,

www.grahamsvideo.co.nz

ph 03 338-1655

FREE QUOTES Contact: Michaela Malloch

P: (03) 379 7100 or 021 932 177

E: michaela.malloch@starmedia.kiwi

Career Training

Don't have the right

the job you want?

FREE 20 week Business Admin

and Computing course.

Get that job you really want!

CALL US NOW ON:

0800 834 834

OR TEXT: 'OFFICE'

TO 027 557 8839

Public Notices

2019 SCHOOL BOARD OF TRUSTEES ELECTIONS

Nominations are invited for the election of parent

representatives to the Board of Trustees of the following

schools.

A nomination form and information will be posted to all

eligible voters. Nomination forms can be obtained from

the school office. Nominations close at 12 noon 24th

May 2019 and should be accompanied by a candidate

statement. The voting roll is open for inspection at the

school and can be viewed during normal school hours.

There will also be a list of candidates' names for inspection

at the school. The poll closes at 12 noon 7th June 2019.

3 elected parent representatives:

Breens Intermediate

Wairakei School (Christchurch)

Wayne Jamieson, Returning Officer:

CES, 89 Nazareth Ave, PO Box 414, CHRISTCHURCH

Phone: (03) 338 4444 - Fax: (03) 338 4447

Gardening

& Supplies

A GARDEN OR

LANDSCAPING TIDY

UP? Shrub, hedge &

Wanted To Buy Community Events

AAA Buying goods

ALCOHOLICS

quality furniture,

tree pruning, Lawns, tree pruning, Lawns,

ANONYMOUS, If you

Beds, Stoves, Proof read Washing by:_______________________________ With: Gardening, _______________________________

consistently Gardening, Date:___________________

consistently

want to have a drink that's

machines, Fridge Freezers.

reliable general property reliable general property

your business. If you want

Same day service. Selwyn

upkeep, Dip. Hort. 10 upkeep, Dip. Hort. 10

to stop, we can help. Phone

Dealers. Phone 980 5812

yrs experience, One off yrs experience, One off

0800 229-6757

or 027 313 8156

tidy ups or on-going tidy ups or on-going

advertising proof

A+ Household effects,

service. 2019

Nick's Garden service. Nick's Garden

Vehicles Wanted

fridges, freezers, washing

Maintenance. Keeping Maintenance. Keeping

machines, ovens. Good

CASH/CASH for any your garden beautiful. your garden beautiful.

cash paid. Ph job: Paul C63992 022

unwanted vehicles, ph Free Quote. Ph. 942-4440 Free Quote. Ph. 942-4440

0891 671

347 9354 or 027 476 2404 & 022 264 7452

& 022 264 7452

:ezis 7x2

:tamrof

A+ Household effects,

BW

fridges, freezers, publication washing

machines, ovens. Good

run date position sort cost (exc

cash paid. Ph Paul 022 North West News Tues 30 April public notices $ 111.

0891 671

TOOLS Garden,

garage, woodworking,

mechanical, engineering,

sawbenches, lathes, cash

buyer, ph 355-2045

Myth # 1

No one reads print

anymore right?

Wrong! Over 2.7 million Kiwis read the

newspaper every week.

If you're going to believe everything

you read, make sure you're reading a

newspaper.

*Source: Nielsen CMI Q1 18 - Q4 18 (Base: AP 15+; Weekly coverage all Daily or Sunday newspapers)

Gardening

& Supplies

A GARDEN OR

LANDSCAPING TIDY

UP? Shrub, hedge &
---
20

Tuesday April 30 2019

Latest Christchurch news at www.star.kiwi

NOR'WEST NEWS

Dining Chair

NOW $

85 Club Chair

NOW $

135 Tractor Seat Barstool NOW $

69

Grey Espresso Ivory Navy Espresso Grey

Vintage.

Mix it up. Match it up.

Retro is back and better

than ever.

Round Dining Table NOW $

459 School Chair

NOW $ 120

Emerald

Grey

Z Barstool

NOW $

89 Gaslift Barstool

NOW $

99 Dining Table

NOW $ 399

Espresso

Grey

Espresso

Grey

STOREWIDE SALE NOW ON

Ends 06.05.19. Sale

excludes Manchester &

Accessories

Shop

Online

Nationwide

Delivery

Finance

Options

targetfurniture.co.nz

Cnr Blenheim & Curletts Rds, Christchurch

Ph: 0800 TARGET (0800 827438)

Offers and product prices advertised here expire 06/05/19.

Sale excludes Manchester and Accessories.