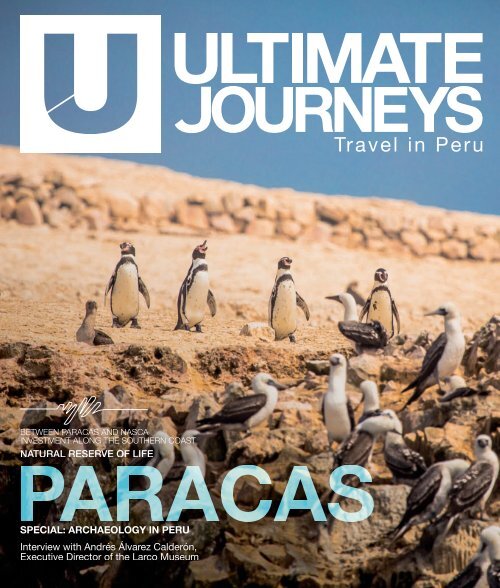 Create successful ePaper yourself
Turn your PDF publications into a flip-book with our unique Google optimized e-Paper software.
BETWEEN PARACAS AND NASCA

INVESTMENT ALONG THE SOUTHERN COAST

NATURAL RESERVE OF LIFE

PARACAS

SPECIAL: ARCHAEOLOGY IN PERU

Interview with Andrés Álvarez Calderón,

Executive Director of the Larco Museum

/1
---
CRAFTING MAGNIFICENT

EXPERIENCES IN PERU

ONE GUEST AT A TIME
---
Unique clay and rock formation on Peru's Pacific Coast, reachable only at low tide.

limatours.com.pe

ujtravelmagazine.com

/limatoursperu
---
ÍNDEX

GENERAL DIRECTOR, ULTIMATE JOURNEYS

EDUARDO PEDRAZA

DIRECTOR OF CONTENT

MARÍA EUGENIA DE ALIAGA / KM CERO

GERARDO SUGAY / LIMA TOURS

EDITOR

RODRIGO CABRERA / KM CERO

COORDINATION

CAROLINA SAN ROMÁN / KM CERO

DIEGO GUERRERO / LIMA TOURS

ART DIRECTION

KM CERO

PHOTO EDITOR

CHRISTIAN DECLERCQ / KM CERO

GRAPHIC DESIGN

MIGUEL SANTAYA

INFOGRAPHS

SANDRA FLORIÁN

WRITERS

IÑIGO MANEIRO

PAOLA MIGLIO

DIEGO OLIVER

TRANSLATION AND CORRECTION OF TEXTS

ANNE MONCREIFF DE ARRARTE

28

14

THE NATIONAL PARACAS

RESERVE

Biological diversity

38

PHOTOGRAPHERS

RODRIGO CABRERA

CHRISTIAN DECLERCQ

CHRISTOPHER KLEIHEGE

IÑIGO MANEIRO

DIEGO OLIVER

JAIME REY DE CASTRO

LUIS REPETTO

JAQUES RONSTAND

KM CERO

PROMPERÚ

FUN IN PARACAS

Info graph
---
ARCHAEOLOGY IN PERU

Special

48

44

ÍNDICE

6/ Editorial

8/ News and Current Events

12/ Tips

14/ The National Paracas Reserve

Incomparable biological diversity

28/ Between Paracas and Nasca

Investment on the Southern Coast

36/ Fun in Paracas

Info graph

38/ Interview with Gabriel Álvarez

Deputy General Manager

of Aranwa "By the end of

this year, Aranwa will have five

hotel properties and approximately

400 rooms."

44/ The Pisco Route

New products in development

48/ A Long History

A journey to churches, haciendas,

lost cities and the enigmatic

Nasca Lines

56/ I Am Peru: Native Cotton

Info graph

66

58

58/ Interview with Andrés

Álvarez Calderón,

Executive Director of the

Larco Museum

"We want to tell amusing and

interesting historical stories that

are based in diverse academic

study."

66/ A Focus of Civilisation:

For thousands of years

Peru has been home to cultures

that continue to amaze the world

72/ Ancient Pre Hispanic Kingdoms

Info graph

74

74/ Cultural Biodiversity

Peru: One of the 13 Mega

diverse nations in the World

80/ Agenda

82/ Expat

/5
---
EDITORIAL

Pre-Inca site minutes from the centre of Cusco, yet never crowded - Peru

Dear reader,

Peru has been called - deservedly so we believe - the world's largest outdoor museum, thanks to its

ancient and vast heritage manifested in the form of fabled citadels, sacred pyramids, royal tombs, farming

terraces, giant calendars, cosmic temples, imperial roads, stone aqueducts, military fortresses and trading

centres located in deserts and valleys along our Pacific coast, mountain tops and high Andean plateaus, cloud

forests and low lands of the Amazon basin.

This issue of ULTIMATE JOURNEYS - Travel in Peru, focuses on our archaeological treasures, dating back over

5,000 years. It includes an enlightening interview with Andres Alvarez Calderon, who, as Director of the recently

renovated Larco Museum in Lima - home to the country's best preserved and most complete pre-Columbian

art collection - is one of the few colleagues who understands the importance of fostering that very elusive

partnership between tourism and culture, business and academia, promotion and preservation, in order to

accomplish the sustainable growth and responsible development our industry and our nation require.

The featured destination in this edition is Paracas, a National Wildlife Reserve, where nature and history come

together to create an ideal holiday destination. Located in a privileged position on Peru's southern coast, Paracas

is also the perfect gateway to the nearby and still enigmatic Nasca Lines, as well as the Ica vineyards, where

the production of Pisco, Peru's signature brandy, has been a proud tradition of local producers for centuries.

Due to all its attributes, Paracas has enjoyed a recent investment boom in new resort hotels and apartment

buildings, airport and seaport facilities, and yachting and adventure travel services. The newest property, to be

opened at the end of 2013, is the Aranwa Hotel. Gabriel Alvarez, Deputy General Manager of Aranwa Hotels,

Resorts and Spas - the youngest and fastest growing upscale hotel chain in Peru, shares with us the vision of

this family-run hospitality and health services conglomerate.

Happy reading and learning!

Your Friends at Lima Tours

OHSAS 18001

BUREAU VERITAS

Certification
---
NEWS

NEWS

WINNERS OF THE WORLD TRAVEL AWARDS 2013

July 20 the World Travel Awards 2013 were celebrated in Lima.

World Travel Awards, in its 20th year, recognizes companies,

brands and tourist destinations for their high quality products.

This year, Peru received a number of awards including the Best

Culinary Destination in the Region; Jorge Chavez International

Airport as the Best Airport in the Region; and PromPeru for the

Best Tourism Promotion Office in the Region.

Visit www.worldtravelawards.com

PERU HOME TO 11 OF THE BEST HOTELS

IN SOUTH AMERICA

Eleven Peruvian hotels are included on the list of the 25

best hotels in South America, according to the Conde Nast

Traveler Readers Choice Awards. Las Casitas del Colca

Hotel in the Colca Canyon came in at number 2 and also

ranked 55 out of the Best 100 Hotels and Resorts in the

World. Cusco was selected by readers as the second best

of the Top 5 Cities in Central and South America. The Hotel

Tambo del Inka, in the Urubamba Valley outside Cusco,

was selected number 4 in the Top 15 Resorts in Central

and South America.

DAKAR: THE INCA CHALLENGE 2013

Amateur and professional racers arrived to Peru last October for

the 2013 Dakar Series, all vying to classify for the Dakar Rally 2014.

Guilherme Spinelli, car category, Pablo Quintanilla, motorcycles,

and Ignacio Casale, ATVs, were the champions.

Jaime Rey de Castro

III EXPO ADVENTURE, TOURISM AND BOATING FAIR

Lima hosted the 3rd Expo Adventure, Tourism and Boating Fair

from November 7 through 10 on the Costa Verde.

Visit http://www.expoaventura-peru.com
---
NEWS

NEWS

MISTURA GASTRONOMICAL FESTIVAL

Lima enjoyed the 6th Edition of the Mistura Gastronomical

Festival, the most important food event in Latin America,

September 6 -15. This year, the focus of the event was the

sea and hydro biological resources. At a new, beachfront

locale, Mistura 2012 hosted 500,000 people over 10

days, 24,000 of whom were tourists.

APEGA

I CONTINUE TO BE

The Peruvian documentary Sigo Siendo,

I Continue to Be, won the prize for Best

Documentary at the 2013 Lima Film Festival.

Directed by Peruvian Javier Corcuera, the film

looks inside Peruvian culture through its music.

LA MULA

NEW AIR ROUTES TO NORTHERN PERU

Thanks to an agreement between the regional

governments and Peru's Air Force, some of the country's

northern cities now have interconnected air service.

Chachapoyas, Trujillo, Chiclayo, Cajamarca, Tarapoto,

Yurimaguas and Iquitos have interconnecting air service

three days a week – Mondays, Wednesdays and

Saturdays. The cost of tickets between Chachapoyas,

Chiclayo and Trujillo are S/.200. Flights to Tarapoto,

Yurimaguas and Cajamarca are S/.120 and to Iquitos

they are S/. 250.

Rodrigo Cabrera
---
WINNERS OF THE FIRST ANNUAL TOURISM

CARES GRANTS

The newly formed Peruvian Chapter of Tourism Cares,

whose members include Aranwa Hotels Resorts & Spas,

Coltur, Delfin Cruise The Amazon, Inca Rail, Libertador

Hotels, Resorts & Spas, The Lima Tours Foundation,

Orient Express y Viajes Pacífico have announced the

winners of the first annual Tourism Cares grants. Grants

are awarded to projects judged best at promoting

and preserving Peru's cultural heritage. Some of the

winning projects include: Archaeology and Community

Development in San Jose de Moro, a project run by

the Catholic University of Peru; Diversification of Tour

Offerings in Andahuaylillas Through Development of

Traditional Resources, a project run by the Universidad

Antonio Ruiz de Montoya; and A Mobile Application for

Museums in Lima's Historic District, developed by Lima

City Hall. Visit http://turismocuida.blogspot.com for more

information.

Daniel Tarazona

IMPORTANT DISCOVERY IN THE CHAVIN DE HUANTAR

ARCHAEOLOGICAL COMPLEX

In recent excavations, Chavin de Huantar archaeologist

John Rick and Luis Guillermo Lumbreras have discovered

two ornamental, stone heads in excellent condition.

The pieces date back to 200 – 500 a.d. and have large

eyes; noses with wide nostrils and more than 10 snakes

surrounding each one. A hypothesis about these physical

characteristics is that they suggest eyes that are circular

and entering a trance, possibly because of drugs. The

serpents are seen as hallucinations.
---
TIPS

TIPS

TRADITIONAL PERUVIAN SWEETS FROM PALPA

Halfway between Paracas and Nasca is Palpa, an ideal spot to rest and

recharge, and for a visit to Doña María Paz Herrera, a well-known Palpa

cook who is an institution for locals and Peruvians in the know. Ask any

local for directions. Using a traditional recipes from Colonial times, Doña

Maria Paz makes an unforgettable, sweet, mango paste and, during the

season, she stuffs sour oranges and lemons with rich, caramelized milk,

creating tejas, the Peruvian coasts' best-loved confection. They are a

perfect dessert after a pot roast sandwich made by one of Doña Maria

Paz's daughters.

Christian Declercq

PERUVIAN MUSEUMS IN ART PROJECT

Art Project was created by Google to help cultural

communities around the world find space to exhibit their

collections on global scale. The effort, which includes 263

museums, includes the digitalized collections of three major

Peruvian museums: The Larco Museum, with 217 pieces,

the MALI, with 164, and Mario Testino's MATE Museum,

with 27 works available. You can prepare for a visit to Lima

with a look online.

Visit:

http://www.google.com/culturalinstitute/project/art-project

Renzo Giraldo

THE FEAST OF THE CHACCU (HERDING) IN PAMPA GALERAS

During the third week of June, the National Pampas Galeras–Barbara

D'Achille Reserve is celebrating the traditional chaccu, or herding of the

Vicuñas; an ancient Incan ritual designed to harvest the fine Vicuña wool

without harming the animals in the process. The celebration consists of

an involved plan to surround and herd the animals into a corral where

they are shaved, one by one. Typically, the result is somewhere between

120 and 150 kilos of wool.
---
RESERVE OF LIFE

GEOGRAPHICALLY

SPEAKING, THE PARACAS

NATIONAL RESERVE IS ONE

OF THE MOST SPECTACULAR

PLACES IN PERU.

LOCATED IN ICA, DESERT

COAST OF THE PACIFIC,

REGULAR WINDSTORMS

REVEAL GEOGRAPHIC,

PALAEONTHOLOGIC AND

ARCHAEOLOGICAL SECRETS

FROM THE PAST. EDGING

TOWARDS THE ANDES

IN A DRAMATIC SPREAD

OF BEIGES, PINKS AND

PURPLES, THE ARID DESERT

MEETS THE FRIGID PACIFIC

WATERS HERE, CREATING

A RICH ENVIRONMENT OF

BIOLOGICAL DIVERSITY.

Reserve

of Life

The Paracas National Reserve

By

Diego Oliver

Photos

Christian Declercq

Sunbathing: Sea Lions

(Otaria flavescens)

on the shore of San

Gallan island.
---
15
---
RESERVE OF LIFE

White Egret

(Egretta thula)

THE PARACAS NATURAL RESERVE IS AN AREA OF ABOUT 113 SQUARE MILES WHERE THE DESERT MEETS THE OCEAN IN AN

EXPLOSION OF LIFE. ALMOST ONE THIRD OF THE RESERVE IS DESERT THAT, MILLIONS OF YEAR AGO, WAS UNDER THE PACIFIC

OCEAN UNTIL THE NASCA AND SOUTH AMERICAN PLATES COLLIDED AND THE ANDES MOUNTAINS WERE BORN.

In this ancient territory characterized by beautiful geological

formations created from water and wind, one can still find

fossils of the whales and dinosaurs that once populated the

region. There also are close to 100 archaeological sites left by the

Paracas and Nasca people, both of whom developed societies

based on agriculture, fishing and shellfish collecting. Their

remains attest to societies able to adapt to their environment.

Without doubt, it is the cold, Humboldt Current, densely

inhabited by plankton, that constitutes the base for the complex

food chain that allows a variety of sea animals - from penguins

to whales – to flourish. There are 216 species of birds, between

resident and migratory, 36 mammals, 10 reptile species and

168 species of fish in the Paracas Reserve, making it the most

bio diverse coastal area in Peru. Maybe the most surprising

animal that makes an occasional appearance over the desert is

the condor. Periodically, condors fly down to the coast from the

Andes to hunt for marine life. That said, the animals most seen

are foxes, sea lions, penguins, pelicans, seagulls, Inca tern,

guanay cormorant and Andean flamingo, which have white

bodies and red wings, inspiring José de San Martín, who led

Peru`s War of Independence, to create the Peruvian flag.

points along the Peruvian coast where birds congregate and

guano is produced in large amounts. In the end of the 19th

Century, Peruvian guano exportation made economic history

for the country. Unfortunately, is also led to the environmental

destruction of many coastal areas. Today, thanks to the creation

of the Reserve, an effort is being made to find a balance between

conservation and the extraction of this important resource,

creating a sustainable business for Peruvians that also respects

the area's ecological health.

The Paracas National Reserve represents a breath of fresh air

in the face of human development and the growth of cities. The

Reserve allows visitors a chance for an up close look at the

desert, the ocean, the sky and their inhabitants; and, with each

gust of wind, it reminds us that once in the distant past all of

this was untouched.

One of the most popular tourist sites in Paracas are the

Ballestas Islands, a group of small islands where a variety of

birds live among a large sea lion colony. The Ballestas also are

a part of the National Reserve of Islands and Guano Points,

a conservation Project that includes 22 small islands and 11

50%

OVER 50% OF ALL SEA

LIONS IN PERU LIVES IN

THE PARACAS NATIONAL

RESERVE.

Above: View of San Gallan Island, one of

the Reserve's important areas known for

its biodiversity.

Left: Red-Legged Cormorant

(Phalacrocorax gaimardi) with its chick.

Right: Guanay Cormorants are the best

producers of guano, a highly valued,

agricultural fertilizer.

Opposite page: The Peruvian Pelican

reproduces on islands close to the coast

that are bathed in the cold waters of the

Humboldt Current.
---
17
---
RESERVE OF LIFE
---
A group of Andean Flamingos (Phoenicopterus chilensis) searches for food.

/19
---
RESERVE OF LIFE

AT PARACAS

NATIONAL RESERVE YOU

WILL FIND:

216

SPECIES OF BIRDS,

BETWEEN RESIDENT AND

MIGRATORY

36

SPECIES OF MAMMALS

10

REPTILE SPECIES

168

SPECIES OF FISH

IS ONE OF THE MOST

BIODIVERSE COASTAL

AREAS OF PERU

Above: Humboldt Penguins

(Spheniscus Humboldti): These birds

are increasingly rare and their numbers

continue to decline.

Left: Peruvian Lizard (Microlophus

Peruvianus): This tiny reptile is depicted

in many ancient Paracas textiles.

Right: Incan Tern (Larosterna Inca): This

bird is easy to identify because of its

intense red beak and feet.

Opposite page: The leader of the Pack:

A male Sea Lion can weigh up to 300

kilos.
---
21
---
RESERVE OF LIFE
---
Artisan fisherman of Lagunillas.

Next page: The Ballestas Islands, a refuge for marine birds and animals, are adjacent to the Paracas National Reserve.

/23
---
CHRONICLE / CRÓNICA
---
25
---
Hike, Bike & Eat

through Croatia

Hike, bike and kayak the Croatian landscape,

and taste the best local food and wine Croatia

has to offer with a tantalising gastronomy tour!

We not only understand but embrace

our destinations' vibrant cultures, diverse

landscapes, traditions & climates!

For more infomation about how our collection of specialised travel

inbound operators can expertly craft adventure travel services visit us at

PureQuest.com or email at info@PureQuest.com

ACTIVITY LEVEL

DAY 1 - ZAGREB DAY 4 - uČKAČ

- Hands-on culinary course

DAY 2 - ZAGREB / ZAGORJE

- Fish & food market guided tour

- Štrukli cooking & wine tasting

- Hike through the Zagorje hills

- Traditional Zagorje village meal

DAY 3 - GORSKI KOTAR

- Hands-on foraging tips in Gorski

Kotar

- Tree planting

- Cycling through local villages

- Cooking demonstration of local

surprise specialties

- 2 hour hike of the Učka Nature Park

- ATV tour and wine-tasting in Istria

DAY 5 - OPATIJA

- Exploring Veliki Brijun Island by bike

- Cooking class in Opatija

DAY 6 - PAKlENIcA

- Hiking, Paklenica National Park

- Visit Nin Saltworks Park

- Visit fig plantation, Zadar

DAY 7 - ZADAR

- Prosciutto sampling

- A Maraschino & fig cake feast

- Biking through the National Park Krka

DAY 8 - SPlIT

- Split gastro tour

- Pelješac wine & oyster tastings

DAY 9 - DuBROvNIK

- Sea kayaking along the Adriatic coast

- Cooking class & dinner, Konavle

ACTIVITY LEVEL

AlTITuDE:

max 3200 metres

Explore China's icons, and yet to be

discovered treasures. Learn traditional Chinese

skills and gain new photography expertise!

China Multi-Sport

from the Great Wall to the Tiger Leaping Gorge

DAY 1 - BEIJING

- Visit Chinese Imperial Palace

- Visit the Hutongs

- Visit local family to learn kite-making

DAY 5 - JIuZhAIGOu - Hike Jiuzhaigou National Park

- Small workshop on landscape

photography

- Visit Leshan Mountain

- Walk Jinli Street for a night

photography seminar

- Visit Tibetan museum

DAY 2 - GREAT wAll

- Hike the Mutianyu section

- Visit the Summer Palace

DAY 3 - XI´AN

- Visit the Terracotta Warriors

- Bike the Xi'an City Wall

- Visit Muslim Quarter

- Dumpling banquet

DAY 4 - JIuZhAIGOu

- Visit a Tibetan family for dinner

DAY 6 - SONGPAN

- Horseback ride through

Songpan countryside

DAY 7 - chENGDu

- Visit a local park to sample a

typical Chengdu weekend

- Watch a Sichuan Opera

DAY 8 - chENGDu

- Volunteer at the Panda

Breeding Centre

DAY 9 - lIJIANG

- Early morning Taichi practice

DAY 10/11

- TIGER lEAPING GORGE TREK

DAY 12 - ShAXI

- Visit Shaxi Ancient Town

- Visit Shibaoshan Grottoes

DAY 13 - DAlI

- Visit local Dali villages

- Tour the lakeside by bike
---
CHINA

Fan Na // (+86) 10 8519 8851

fanna@purequest.com

CROATIA

Mirela // (+385) 1 4920 678

croatiasales@purequest.com

INDIA

lokesh // (+91) 11 4279 5259

lokesh@purequest.com

PERU

Eduardo // (+91) 1 61 96 973

eduardo@purequest.com

/27
---
BETWEEN PARACAS

AND NASCA

PARACAS AND NASCA,

BOTH AREAS THAT

HOUSE IMPORTANT

NATURAL RESERVES

AND ARCHAEOLOGICAL

SITES, HAVE BECOME

IMPORTANT TOURISM

DESTINATIONS,

WITH 13 MILLION

DOLLARS INVESTED

IN TOURISM-RELATED

INFRASTRUCTURE OVER

THE LAST FEW YEARS.

TODAY VISITORS CAN

ENJOY ALL KINDS

OF HOSPITALITY

EXPERIENCES, FROM

GASTRONOMICALLY

THEMED TOURS TO

HIGH-END, LUXURY

PACKAGES.

By

Paola Miglio

Luxury next to the Natural

Reserve: The Hotel Double

Tree by Hilton Paracas
---
Gihan Tubbeh

Paracas

and Nasca

Investment on the Southern Coast

/29
---
BETWEEN PARACAS AND NASCA

Iñigo Maneiro

US$

13.15

MILLION

OF PRIVATE

INVESTMENT

RECENTLY

REDISCOVERED AS A

TOURIST DESTINATION,

PARACAS HAS SEEN

THE CONSTRUCTION OF

LUXURY HOTELS OVER

THE LAST FEW

YEARS.

Paracas: A perfect

destination to rest and

relax

Iñigo Maneiro

The Paracas to Nasca route is a destination

seeing steady tourism investment. This has

meant an improvement in service standards. For

Peru's Ministry of Commerce and Tourism (Mincetur),

both Nasca and Paracas have important tourist

attractions to promote, including the Nasca Lines,

The Paracas National Reserve, the Ballestas Islands

and the Bay of San Fernando among others. Mincetur

is projecting $13 million in private investment in the

development of maritime routes between Paracas, the

Ballestas Islands, San Fernando and Marcona, as well

as another $2.4 million in a new Nasca bus station

located 10 minutes from the city centre. Additionally,

over the next two years, another $45 million will be

spent expanding the Pisco airport, all of which will

vastly improve access to the area.
---
Christian Declercq

Mayu Mohanna

Christian Declercq

The enigmatic Candelabro

faces the sea.

Above: Adventures by land and

by sea: Tours in the Paracas

Reserve and to the Ballestas

Islands

Left: Hotel Paracas, a Luxury

Collection Resort from the

Libertador chain.

Gihan Tubbeh

PARACAS: LUXURY AND ADVENTURE

The Bay of Paracas is three hours away from Lima

by car and its major tourist attraction is the Paracas

National Reserve, 13,000 square miles of protected

desert, wetlands and seashore where visitors can

enjoy nature and ancient archaeological sites. In

addition to swimming, camping and off road tours

through the desert, one also can visit archaeological

sites including the Candelabro, a huge desert etching,

and Cerro Colorado and Wari Kayan, two burial

remains where some of the most beautiful Paracas

textiles were discovered.

Rediscovered by tourism developers in the last

few years, Paracas has seen a number of new,

luxury hotel projects including the Hotel Paracas, a

Luxury Collection Resort, the DoubleTree Resort By

Hilton Paracas, the Hotel Hacienda and the Aranwa

Paracas Resort & Spa, which is scheduled to open

/31
---
BETWEEN PARACAS AND NASCA

HEADING SOUTH ALONG

THE PANAMERICAN

HIGHWAY FOR

ABOUT SIX HOURS

ONE REACHES NASCA,

ONE OF THE FIVE

PROVINCES IN THE ICA

REGION, AND FAMOUS

FOR THE NASCA LINES;

HUMANS, ANIMALS AND

GEOMETRIC FIGURES

ETCHED INTO THE SAND

AND VISIBLE ONLY

FROM THE SKY.

A diversity of

activities: Overfly

the Nasca Lines at

dawn, then enjoy a

sunny day exploring

and finally, relax

over a sunset dinner

in the desert.

this November with 116 rooms. "One of the principal

attractions for us in investing in Paracas has been the

increase in demand. Since 2008, demand has gone

up 43 per cent, 23 per cent of which is international

tourist demand. This shows us that for the Peruvian

tourist, and in particular for tourists from Lima, Paracas

is a perfect place to get away from the city – but with

the same level of comfort and service," says Carla Lau,

Head of Marketing for Aranwa Paracas Resort & Spa.

NASCA: FARTHER SOUTH

Following the Panamerican Highway south six hours

from Lima, one arrives in Nasca, the second largest

of the five Ica provinces. Nasca's principal tourist

attraction is the Nasca Lines, a series of figures visible

only from the air that were etched into the desert by

the ancient Nasca people. Thanks to the dry, sunny,

desert climate, these figures, which include images of

a whale, dog, monkey and hummingbird, along with

a series of geometric figures, are still clearly visible.

Increased tourism to the region has meant a series

of service improvements, particularly with flights over

the lines.

While most international tourists get to Paracas and

Nasca by car, increasingly, visitors are flying from

Lima's Jorge Chavez International Airport to Pisco on

local airlines such as Aerodiana and LCP Peru. From

Pisco, tourists can take a flight over the Nasca Lines.

A new option for tourists continuing on to Cusco is

LCP's recently-introduced service from Lima to Pisco

with an over flight of the Nasca Lines en route to

Cusco – all in one trip.

Arriving in Nasca by sea at the San Juan de Marcona

Port is an option that is being developed as part of

a group of projects that is presently being reviewed

for approval by the Peruvian government. Once

approval has been granted, the Peruvian National Port

Authority will create a licitation for concession of the

port, expected sometime in 2014. The plan focuses

on infrastructure improvements that will include a first

phase for mineral shipments, a second phase for

agricultural shipments, and finally a third phase that

will include port space for cruise ships.

Iñigo Maneiro

Iñigo Maneiro

Hoteles Libertador
---
Not to be missed: Aquatic sports and gastronomical

experiences enjoying local products.

Talía Barreda

PARACAS

BEACH ACTIVITIES

In addition to the beauty of nature and the area's

archaeological remains, the Paracas to Nasca

Route attracts visitors because of its unspoiled

beaches and because of the variety of aquatic

activities that one can practice here, primarily

kayaking, surfing, kite surfing and sailing. If you

are looking for a more low key adventure, try the

spa services at some of the area's new, five-star

hotel and spas.

Rodrigo Cabrera

Talía Barreda

Christian Declercq

DINING DOWN SOUTH

GASTRONOMY IN THE PARACAS TO NASCA

REGION HAS IMPROVED DRAMATICALLY

RECENTLY THANKS TO SOME LOCAL

ENTREPRENEURS WHO HAVE BEGUN A

RETURN TO THE AGE-OLD PRACTICES OF

SMALL SCALE ANIMAL FARMING AND

GROWING ORGANIC, LOCAL PRODUCE.

WITH TOP INGREDIENTS, LOCAL CHEFS

ARE REINVENTING CLASSIC PERUVIAN

RECIPES, OFFERING EVERYTHING FROM

HOME COOKING TO HAUTE CUISINE.

/33
---
BETWEEN PARACAS AND NASCA
---
Where the desert and the ocean meet: A walk through the Paracas National Reserve.

PROGRAM

ICA AND PARACAS

(5D/4N)

DAY 1 LIMA-ICA

Head to Ica on a bus from Lima (4

hours). Visit Ica's Regional Museum

and the Huacachina Lagoon. Lunch

at the Hacienda

San Jose.

DAY 2 ICA-PARACAS

Visit the Queirolo vineyards

accompanied by a sommelier. From

there, continue along the Pisco Route

where you'll stop at a series of pisco

and wine vineyards.

DAY 3 PARACAS

Take a boat trip to the Ballestas

Islands, located about 45 minutes

from the Paracas boardwalk. Then flly

over the Nasca Lines. Finally, stop at

Huamani, a local artisan workshop.

DAY 4 PARACAS

Visit to Atenas Beach in the

Paracas Reserve, where you'll

collect Peruvian scallops for

a traditional Tiradito de Conchas,

or scallop cebiche. After lunch,

see the dunes riding four-by-fours.

Enjoy a luxury dinner

on the dunes.

DAY 5 PARACAS-LIMA

Drive back to Lima.

Rodrigo Cabrera

/35
---
INTERVIEW

ARANWA: A HEALTHY HOTEL OPTION

Gabriel Álvarez

General Manager of the Aranwa Hotels, Resorts and Spas

By

Diego Oliver

ARANWA HOTELS, RESORTS AND SPAS HAVE BEEN OPENING ONE HOTEL A YEAR IN PERU'S MOST EMBLEMATIC

DESTINATIONS SINCE 2008. WITH A 45 MILLION DOLLAR INVESTMENT, AND PROPERTIES IN FOUR KEY AREAS OF THE

COUNTRY, ARANWA HAVE HAD A SUCCESSFUL START. THIS YEAR THE COMPANY WILL OPEN ITS FIFTH PROPERTY, IN

PARACAS, AND PLANS ARE TO CONTINUE EXPANSION THROUGHOUT PERU.

Diego Oliver

Aranwa Hotels, Resorts and Spas are a hotel

chain that is owned by the San Pablo Group,

a family-owned business with 22 years in the

health sector. With the experience of running nine

clinics in Peru, the San Pablo Group decided six years

ago to expand into tourism hospitality. The Aranwa

Hotels, Resorts and Spas concept focuses on health

and well being as part of a high-end hotel experience.

"Aranwa means legend in Spanish," explains Gabriel

Alvarez, the young general manager of the Aranwa

chain. Alvarez represents the new face of the family

business and today he is a critical player in Aranwa's

expansion. "When we entered the hotel business,

because of San Pablo's experience in the health

sector, we decided to position ourselves in the health

and well-being sector of tourism." That vision led to

the opening of Aranwa Valle Sagrado, a five-star hotel

with 115 rooms located in the Sacred Valley of the

Incas. Built inside a former 17th Century hacienda,

and located on the shores of the Vilconota River, the

hotel is expansive at 2,500 square meters and offers

numerous spa and health-related therapies including

baths, massages, yoga and Andean mysticism.
---
US$ 45

MILLION dOLARS

wITh A 45

MILLION dOLLAR

INVESTMENT, ANd

PROPERTIES IN FOUR

kEy AREAS OF

ThE cOUNTRy,

ARANwA hAVE hAd

A SUccESSFUL START

by ThE ENd OF ThIS yEAR,

ARANwA wILL bE

5 yEARS OLd,

ANd hAVE 5 hOTELS

ANd MANAgE cLOSE TO

400

ROOMS

Aranwa

How was the Aranwa business created?

After we inaugurated the Aranwa Valle Sagrado Hotel,

we opened a small, five-star, boutique hotel in Cusco

with 43 rooms, all with oxygen pumped in. After that,

we bought an existing hotel at the Vichayito Beach

on Peru's northern coast and we expanded the

property from nine to 35 rooms, including bungalows

and tents. In March of this year, we opened a fourstar

hotel in Coporaque, a small town in the Colca

Valley. This November we are scheduled to open the

Hotel Vichayito

Bungalows & Tents in

Máncora

/39
---
INTERVIEW

An old, colonial house

is the site of the Aranwa

Cusco Boutique Hotel.

A view of the Sacred

Valley of the Incas and the

colonial hacienda where

Aranwa has its Sacred

Valley Hotel & Wellness.

Aranwa Paracas Hotel, another five-star property with

115 rooms that will be located on the Bay of Paracas.

That means that by the end of 2013, Aranwa will be

five years old, have five hotels and manage close to

400 rooms.

Why is Paracas interesting as a destination?

Paracas is attractive for a number of reasons. First, we

identify with the medical legacy of the Paracas culture,

who explored the concept of brain surgery through the

idea of cranial trepanation. Also, contact with nature

and the vast variety of biodiversity in Paracas is, in

and of itself, a factor in health and well-being. We also

see that Lima is becoming a very important corporate

tourism destination and we feel Paracas could be an

additional destination for those visitors to consider.

And finally, Paracas has always been a very attractive

destination for residents of Lima

Aranwa

What is the Aranwa Paracas Hotel going

to be like?

The Paracas property is built in a semi circle that opens

its arms to the sea. It has a boardwalk that begins from

the middle of the hotel and extends 180 metres into

the Bay, which makes it the longest, private dock in

Paracas. The hotel is divided into two wings, each

with three floors and an independent elevator. We'll

have a gourmet restaurant, two bars, including a pisco

bar, meeting rooms, a spa with salt water pool and, at

the end of the boardwalk, we'll have a sound-proofed

discotheque that will be silent from the outside and a

hot party spot inside.

Where else in Peru are you thinking of building

or buying hotels?

The Aranwa chain has grown very quickly over the last

five years and we are very proud of our ability to create
---
INTERVIEW

Right: Weavers

from the Colca

Valley at the

Aranwa Pueblito

Encantado del

Colca Hotel.

Below: Enjoying

views of the valley

from the hotel pool.

WE WILL NOT BE

OPENING ANY NEW

HOTELS IN 2014, BUT

INSTEAD WILL

CONCENTRATE ON

CONSOLIDATING OUR

EXISTING

HOTELS AND

IMPROVING THEM IN

TERMS OF SERVICES

AND

HUMAN RESOURCES

and maintain a chain of four and five-star properties.

We will not be opening any new hotels in 2014, but

instead will concentrate on consolidating our existing

hotels and improving them in terms of services and

human resources. Looking into 2015, we are studying

three projects we hope will develop. One of them is a

boutique hotel in Arequipa's beautiful Ricketts House,

a colonial mansion constructed of the local white,

sillar rock. We also are looking at a project in Lima

that would involve developing a shopping plaza, which

is something we think is synergistic with corporate

tourism. And finally, we own land in Puno and in the

medium term, we would like to develop that.

What makes a destination interesting

to Aranwa?

The most important thing for us is to be able to

develop a destination and create an increased value

for visitors. In the Sacred Valley, for example, we

restored a 17th century, colonial hacienda. In Cusco,

it took us five years to refurbish a 16th century,

colonial house. In the Colca, we found an old, rock

mill on our hotel property that we have restored to

working order. A destination is interesting for Aranwa

to the extent that it has a history that can be restored

and recaptured. That, in turn, creates a value that can

be shared with locals and international visitors.

Aranwa
---
O x y g e n E n h a n c e d T o u r i n g

"The oxygen enriched cabin is effective in preventing altitude sickness.

Passengers will feel great cruising even this high across the highplateau".

says onboard medical advisor Dr. Dante Valdivia

Cima Clinic in Cuzco

"La cabina enriquecida con oxígeno es eficaz para prevenir el mal de altura. Los pasajeros

pueden estar seguros de sentirse bien incluso en las zonas más altas del Altiplano".

comentó el médico asesor a bordo Dr. Dante Valdivia

Clínica Cima en Cuzco

Alleviates altitude sickness symptoms including shortness of breath, headaches, fatigue and nausea.

Alivia los síntomas de altitud como la dificultad en la respiración, dolores de cabeza, fatiga y náuseas.

A higher concentration of oxygen will provide a more relaxing journey.

Una mayor concentración de oxigeno ayudará al pasajero en tener un viaje más placentero

Oxygen departure valve

Válvulas de salida de oxígeno

Driver Panel

12v o 24v Solenoid Valve

Válvulas de 12v o 24v

40sch Flowmeter

Flujometro de 40sch

Oxygen Cylinders

Cilindros de Oxígeno

40psi Pressure regulator

Regulador de presión de 40psi

Low pressure Oxygen line under bus

Línea de Oxigeno de baja presión debajo del bus

The additional Oxygen in BusO2, creates a special

environment 1000m / 3280 ft lower than the actual altitude

El oxígeno adicional en el Bus, crea un ambiente

especial 1000m más abajo que la altura real.

For more information, please contact your Lima Tours

Specialist or write us to: inbound@limatours.com.pe

www.limatours.com.pe

Para más información, favor contáctese con su especialista

de Lima Tours o escribanos a: inbound@limatours.com.pe
---
THE PISCO ROUTE

The Pisco Route

By

Paola Miglio

Cristian Declercq

The Hotel Viñas Queirolo in

Ica is surrounded by over 400

hectares of wine-producing

grapes.

THE PISCO ROUTE SEEKS TO ADD VALUE TO THE PARACAS

TO NASCA CIRCUIT, ALREADY AN AREA OF PERU RICH IN

HISTORY, ARCHAEOLOGY AND CULTURE. THE PERUVIAN

GOVERNMENT PLANS TO INVEST CLOSE TO FIVE MILLION

DOLLARS TO ATTRACT 1.2 MILLION VISITORS TO THE

ICA AND CHINCHA PROVINCES, SPECIFICALLY TO THE

EL CARMEN, SALAS, SUBTANJALLA, LA TINGUIÑA, SAN

JUAN BAUTISTA Y LOS AQUIJES DISTRICTS.

WITH THE GOAL

OF ATTRACTING 1.2

MILLION VISITORS,

THE PISCO ROUTE HAS

BEEN LAUNCHED AND

PROMOTERS HOPE

TO SEE SUSTAINED

TOURISM IN ICA GO

UP 18 PER CENT. THE

PRINCIPAL LONG-

TERM OBJECTIVE

IS TO INCREASE

TOURISM IN THE

PARACAS TO NASCA

CIRCUIT THROUGH

BETTER TOURIST

SERVICES AND

INFRASTRUCTURE

UNDER THE

UMBRELLA OF PISCO-

RELATED TOURISM.
---
RUTA dEL PIScO

All of these developments are designed to extend the Paracas/Nasca

experience by offering visitors a variety of reasons to stay longer. "In our

property," says Angela Taragano, manager of the Viñas Queirolo Hotel

located at the Queirolo Hacienda vineyards. "The average stay is one night

and people come specifically to see our wine cellars; but we are sure as

the area expands the visitor experience, tourists will stay longer."

LIMA

PAchAcÁMAc

PUcUSANA

chILcA

Bodega

Santiago Queirolo

Bodega

Ugarelli

Bodega

Cuatro Bocas

Bodega

El Alambique

de Azpitia

THE TOUR INCLUDES STOPS AT

THE BODEGAS OF ALL OF THE

REGION'S MOST IMPORTANT

PISCO PRODUCERS INCLUDING

EL CARMELO, EL CATADOR,

TABERNERO, TACAMA, TRES

GENERACIONES, VISTA

ALEGRE, LOVERA PÉREZ, LA

CARAVEDO, VIÑAS DE ORO

AND OTHERS.

THE IMPLEMENTATION OF THIS

PLAN WILL INCLUDE ARTISANS

AND INDUSTRIALISTS WHO

MEET THE ESTABLISHED

PARAMETRES FOR TOURISM

DEVELOPMENT. THERE WILL

BE STATE INVESTMENT IN

INFRASTRUCTURE IN ORDER TO

IMPROVE ACCESS, ADD MODERN

REST SERVICES IN LOCAL

BODEGAS, AND MARKET THE

PISCO ROUTE BOTH NATIONALLY

AND INTERNATIONALLY.

THIS PROJECT INCLUDES

THE CREATION OF A CENTRE

FOR PISCO INFORMATION

AND EDUCATION IN A

SPACE TO BE GIVEN BY THE

CENTRO DE INNOVATION

TECNOLÓGICA VITIVINÍCOLA

(CITEVID), LOCATED IN

SALAS, ICA.

FOR SOME TIME NOW, BODEGA

SANTIAGO QUEIROLO HAS BEEN

DEVELOPING A SERVICE THEY CALL

OENOLOGICAL TOURISM. THE IDEA IS

THAT THEY OPEN THEIR BODEGA TO

VISITORS FOR AN INSIDE LOOK AT HOW

THEY DEVELOP THEIR PISCO FROM

START TO FINISH. YOU CAN COMBINE

THE VISIT WITH A MEAL OR OVERNIGHT

STAY AT THE VIÑAS QUEIROLO HOTEL.

ASIA

SAN VIcENTE dE cAÑETE

Bodega

Viñas de Oro

chINchA ALTA

Bodega

San Nicolás

Bodega

El Paraíso

PIScO

ACCORDING TO THE MINISTRY

OF COMMERCE AND TOURISM

(MINCETUR), TOURISTS TO THE

PARACAS TO NASCA CIRCUIT

HAVE INCREASED 10 PER CENT

SINCE 2003. WITH THE PISCO

ROUTE, MINCETUR HOPES TO

REACH A SUSTAINED,

18 INCREASE.

18%

Marco Garro

THE CENTRE FOR PISCO

INFORMATION AND EDUCATION

WILL BE A MUSEUM WHERE

VISITORS WILL LEARN ABOUT

THE DRINK'S HISTORY AND

PRESENT-DAY DEVELOPMENT.

A CENTRE FOR PISCO

DEVELOPMENT WILL ALSO

BE CREATED AS PART OF THE

INSTITUTION IN ORDER TO BUILT

LOCAL CAPACITY IN PISCO

PRODUCTION.

Gihan Tubbeh

AFTER COMPLETING THE

FIRST STAGE OF PROMOTION,

TOURISM TO THE PISCO ROUTE

IS GROWING AND PROMOTERS

HOPE TO ADD OTHER PISCO

PRODUCING ZONES INCLUDING

LIMA, AREQUIPA, TACNA AND

MOQUEGUA BY 2016.

Inés Menacho

Bodega Tres Esquinas

Bodega Vista Alegre

Renzo Ucelli

Bodega Tacama

IcA

Hotel

Viñas Queirolo

Bodega Ocucaje

/45
---
info@worldcome.net

www.worldcome.net

All our products can

be tailored to specific

requirements using our

companies' extensive

local knowledge.

Creating a positive impact.

We recognise that the enviroment, communities and cultures within whic we

operate are vital to the success of our business.

Environmental

Worldcome is ethically conscious

about maintaining a clean

environment, therefore many

of our destinations in Europe,

the Middle East and Africa

actively support cleaning the

surrounding beaches, rivers and

hiking trails.

Sustainability

The consumption of natural

resources within the tourism

industry is a clear concern. This

is why many of our destinations

actively support and engage in

sustainable initiatives within

their inbound services.

Human welfare

It is very apparent that so many

destinations across the world

need more support to help local

children and adults that are in

poverty or in poor health. For

this reason we have many of our

inbound companies supporting

human welfare initiatives.

Foundations

We constantly encourage a

positive impact on our local

communities through diverse

activities and continuous

support to the local NGOs. Lima

Tours in Peru and Le Passage

to India have both created that

positive impact through their

own foundations.

We are actively involved in over

30 projects

and are developing our social responsibility through

further initiatives.
---
Col Anil Alagh from Shaping Lives // Le Passage to India

Shaping Lives is a pioneering initiative in India. The aim is not only to help serve

their community but to set an example and inspire a vast growth of initiatives within

the Indian tourism industry. It was great to hear from Col (the general manager for

corporate social responsibility for Le Passage to India) on how the foundation aims to

facilitate respect, recognition and warmth into the lives of less privileged.

What was the inspiration behind

Shaping Lives?

That's a great question! Karma is

synonymous to India. Most inbound

tourists look forward to 'social giving'

and earning 'karma' while exploring

India. Le Passage to India decided to

create meaningful opportunities for

them through volunteering programmes.

The well-researched

grass root level

NGOs work in varied

fields ranging from

children to senior

citizens, from

medical initiatives to animals and all

across India. From this vision of Mr

Arjun Sharma, Managing Director of Le

Passage to India, the foundation was

initiated, with the mandate to facilitate

change for the less privileged.

Do you have differrent programme

options for the clients?

Yes. Shaping Lives involves detailed

planning and management between

the operational team, the NGO and

the traveller. Depending on the client's

wishes and the length of stay, there are

various options that can be selected

ranging from short visits to resident

volunteering. During the visit clients

are briefed and familiarised with the

NGO's work and target group. For long

group volunteer programs or resident

volunteers, Shaping Lives plans the

administrative and financial detail. The

volunteers may teach arts and crafts or

paint and support the area where NGO

is based. In all cases they would have

enough time to learn more about their

daily routines.area where NGO is based.

In all cases they would have enough

time to learn more about their daily

routines.

Are clients permitted to take

photographs and give gifts?

Yes please.

But in the few

cases where

it is not

permitted

due to law

or for confidentiality reasons,

Shaping Lives issues an

advisory to this effect well in

advance via the operational

teams. In regards to gifts,

these are always welcome!

Clients are able to give

a monetary donation

directly to the NGOs or

contribute with their

own activitites

during their

visit.

Shaping Lives strives to create

good karma opportunities as part of

our clients' Indian holiday experience.
---
A LONG HISTORY

ON THE SOUTHERN

COAST OF PERU ONE

FINDS REMAINS

OF TWO OF THE

MOST FASCINATING

CULTURES IN PERU,

THE NASCA AND

THE PARACAS.

THE CHURCHES,

HACIENDAS, LOST

CITIES AND ANCIENT

PETROGLYPHS THAT

DECORATE THE ARID

HILLSIDES FORM PART

OF THE HISTORY OF

THESE PEOPLE.

By

Iñigo Maneiro

Cahuachi:

The Ceremonial Centre

of the Nasca discovered

in the desert.
---
Christian Declercq

A Long

History

The generous desert of the Southern Coast.

/49
---
A LONG HISTORY

Iñigo Maneiro

Christian Declercq

Jacques Rostand

Estaqueria, a Nasca ceremonial

space located only four

kilometres away from Cahuachi.

Above: The aqueducts of

Ocongalla: Ancestral water

management

Right: The Astronaut, an

anthropomorphic figure carved

into the pampas of Jumana,

Nasca.

10,000

YEARS

OF HUMAN PRESENCE IN

THE NASCA AN PARACAS

DESERTS

Evidence of human presence in the Nasca and Paracas

deserts dates back 10,0000 years. Originally nomadic

people, the Nasca and Paracas people began to

settle and build complex societies, as they were able to

control water and water supplies. The southern desert

eco-system combines the arid features of the desert

with an ocean rich in birds, fish and crustaceans. These

animals were essential elements of the diet and of trade

with Andean people, thus they can be seen in much of the

iconography of the Nasca and Paracas people.

The Paracas people, who lived on the Independence

Bay, show a rich variety of designs in the beautiful, woven

fabrics they created. Made from cotton, these textiles were

well made and feature a wide variety of bright, colours

using natural dyes.

FIGURES ON THE DESERT FLOOR

The Nasca culture, discovered by Peruvian archaeologist

Julio C.Tello, saw its apex between 700 b.c and 200 b.c

Its influence was felt along the southern coast of Peru

and the society was known for both its fine ceramic work

and its sophisticated medical advances including cranial

trepanation surgery, an operation in which the skull was

perforated and the brain manipulated directly.

Both the Paracas and the Nasca people controlled the

desert and used it as a canvas upon which to create

geoglyphs of animals, people and mythological beings,

visible only from the air. Recorded first in the 16th Century

by Spanish explorer Cieza de León, the lines were powerful,

religious symbols adored and worshiped by hundreds in

ceremonies and through music.

The epicentre of the Nasca culture was the Usaca desert,

where the ceremonial centre of Cahuachi is located. Today,

excavated by an Italian mission headed by archaeologist

Guiseppe Oreficci, the Cahuachi research area is 24 square

metres and is dotted by over 30, buried, adobe pyramids.

The area is united by ramps, plazas and stairways made
---
of distinct types of adobe that mark the different periods in

which Cahuachi was built.

This ceremonial centre housed an elite people who

developed the culture's religious ideology, which led to

the creation of the geoglyphs known colloquially as the

Nasca Lines. Rites included the use of large clay and

straw pots which were destroyed as part of the ceremonial

proceedings. The Nasca developed an artistic vision that

included textiles, ceramics, silver and gold decorative

pieces, as well as wood and semi-precious stone

utensils. Many pieces are on display at the onsite, Antonini

Museum. Their cultural influence extended north to south,

from Arequipa in the Central Sierra, into the Amazon and

south to Chile, and evidence can be seen in the feathers,

animals and minerals that they shared throughout their

domain. Their collapse came in the 7th Century and was

due to a particularly strong El Nino weather phenomenon

that brought about intense rain and massive landslides.

Finally, the Nasca people could no longer control either the

desert or the water supply. But over the thousands of years

before their culture came apart, the Nasca did manage the

desert, designing aqueducts using boulders and Algarrobo

Tree trunks to take water from high in the Andes and bring

it to them. Today archaeologists have found the remain

of over 60 Nasca aqueducts including ones in Cantayoc,

Ocongalla, Aja and Bisambra. The Bisambra remains have

been moved to the Antonini Museum.

FARMERS AND CITIES OF STONE

The ability of the Nasca people to control water access

allowed agricultural development to begin. Eventually,

cultivation of cotton, corn, sweet potatoes and other

tubers, spread along the thin, fertile valleys in the Nasca

region. This allowed the locals to add to the diet of fish and

shellfish the products they harvested in the San Fernando

Bay. This time of increased food was also a period where

the creation of petroglyphs became abundant and one

finds figures of animals, humans and geometric shapes on

the hills and rocks. At Chichictara and Majuelo, petroglyphs

seem to refer to space. Offerings and religious symbols are

also present.

After the collapse of the Nasca people in the 7th Century,

the Wari, and later the Chincha cultures emerged. The Inca

conquered the region before the Spanish arrived in 1532.

The lost city of Huayuri, an urban centre built of rock and

surrounded by mountains in the high area of Palpa, is an

archaeological remain from this period. In Nasca itself, the

Paradones archaeological site, called Caxmarca by the

Incas, is the only one left by the Incas. Farther north on

Jacques Rostand

Ceramic Nasca Cup,

Antonini Museum.

Iñigo Maneiro

Iñigo Maneiro

Paracas textiles, part of the famous, funeral

wrappings discovered by Julio C. Tello.

Ancient Designs: Petroglyphs from

Chichictara, located seven kilometres from

Palpa, and a ceramic Nasca cup from the

Antonini Museum.

/51
---
A LONG HISTORY

Christian Declercq
---
Remains of San Jose, a colonial, Jesuit hacienda, and

its modern crops, located in the El Ingenio Valley.

/53
---
A LONG HISTORY

Christian Declercq

the Los Libertadores Highway, Tambo Colorado is another

important site where visitors can appreciate the influence

of coastal architecture on classic Andean design.

Spanish agricultural settlement came soon after the

Spanish arrived in Peru thanks to the rich Peruvian soil,

established water sources and temperate climate that

allowed the production of grapes for both wines and

piscos. One of the most important southern haciendas

was San Jose in Chincha. Made up of 2,500 hectares of

land, the hacienda was completed in the 17th century and

the present owners, the Cillóniz family, purchased it in the

early 1900s. Today it is a hotel.

As the southern hacienda developed, the Company

of Jesus religious order followed and many of the best

haciendas built small churches on their property where

family and workers both attended services. Many of these

churches have been abandoned over the years, but

the San Jose and San Javier churches in the El Ingenio

Valley are open for visits and provide a window into the

agricultural history of the southern desert and a look at the

communities who still live here.

The history of the Nasca and Paracas people, and of the

southern desert region, shows societies who were able

to channel water in the desert, and thereby carve out a

rich, and complex culture that created some of the best

recognised and most beautiful petroglyphs, textiles and

ceramic art in ancient Peru

2,500

HECTARES

MADE THE HACIENDA SAN JOSE IN CHINCHA,

DEDICATED TO GRAPE PRODUCTION, ONE OF

THE MOST IMPORTANT HACIENDAS OF XVII

CENTURY.

Millennial Guard: The

Huarango tree marks

the entrance to the Lost

City of Huayurí.

Below: Hidden

archaeological jewels:

The front of the Church

of San Javier and the

church tower of San

Jose.

Opposite page:

The spider, the

hummingbird,

along with lines and

trapezoidal shapes form

part of the enigmatic

figures that make up the

Nasca Lines.

Christian Declercq
---
Iñigo Maneiro

1 JULIO C. TELLO

Born in Huarochiri, Lima in 1880, Julio C. Tello

was an archaeologist, medical doctor and

Peruvian political figure who discovered the

Paracas and Chavin culture, which he believed had

originated in Peru's Amazon and was the origin

culture of all other Peruvian cultures. This theory

would eventually be proven false with the discoveries

of the earlier Cupisneque and Sechin cultures.

Because of Tello's work with the Paracas culture,

where he uncovered important tombs, the Julio

C. Tello Museum was created within the Paracas

Reserve. The museum houses archaeological and

cultural remains and features a presentation on the

biodiversity of the Reserve area.

2 THE PALPA AND NASCA LINES

In the Paracas and Nasca deserts one can see huge geoglyphs of different

figures that reflect basic religious iconography for the people who made them.

The first figures, created by the Paracas people, were built on inclined ground

and included zoomorphic, anthropomorphic and mythological figures. The

Nasca geoglyphs on the other hand, were built on flat surfaces, of which there

are fewer, and include zoomorphic figures as well as geometric designs including

well-defined lines and trapezoids. Both the Paracas and Nasca geoglyphs take

advantage of the existing earth colour and red stones to make the designs pop

out. By removing the earth and rocks and securing them with wood, locals

revealed the white, clay-rich ground beneath. Because the area is so arid, and

the difference in humidity and temperature from day to night creates a hardening

and conservation of the ground, the images remain clear up to this day.

Talía Barreda

3 MARÍA REICHE

Rodrigo Cabrera

Maria Reiche was a German scientist and explorer who

spent much of her life studying the Nasca Lines, the

famous Nasca geoglyphs. Born in 1903, Reiche studied

mathematics in Hamburg and arrived in Peru in 1932. The

Nasca Lines became her passion, and Reiche studied the lines

until 1998, deciphering their use as an astronomical calendar

for agricultural cycles. Thanks to Reich's work and influence,

the Peruvian government declared the Nasca Lines a Reserved

Zone in the early 1980s, and Unesco named the Lines World

Heritage Site in 1994. The Maria Reiche Museum is located at

Kilometre 421 South of The Panamerican Highway and houses

many important photographs, maps and personal objects

related to Reiche's research.

/55
---
57
---
INTERVIEW

THE LARCO MUSEUM WAS CREATED IN 1926 AT THE CHICLIN

HACIENDA OUTSIDE OF TRUJILLO, ON PERU'S NORTHERN

COAST. RAFAEL LARCO HOYLE, ITS FOUNDER, HAD INHERITED A

COLLECTION OF OVER 600 ANCIENT PERUVIAN ARCHAEOLOGICAL

PIECES FROM HIS FATHER, RAFAEL LARCO HERRERA. HE USED

THEM AS THE MUSEUM'S FIRST EXHIBIT. IN 1960, THE LARCO

MUSEUM MOVED TO ITS PRESENT LOCATION IN PUEBLO LIBRE,

A DISTRICT OF LIMA. IN 2010, WITH OVER 44,000 PIECES

CATALOGUED, THE LARCO MUSEUM WAS RE-LAUNCHED WITH

AN UP-TO-DATE MUSEOGRAPHY THAT HAS TURNED IT INTO ONE

OF THE BEST MUSEUMS IN LIMA. BELOW, THE LARCO MUSEUM'S

EXECUTIVE DIRECTOR ANDRÉS ÁLVAREZ CALDERÓN TALKS TO US

ABOUT THE LARCO TODAY AND ITS VISION FOR THE FUTURE.

By

Rodrigo Cabrera

What role does the Larco Museum play today

in Lima's tourism-related offerings?

It would be wrong of me to say because I work

in the Larco Museum. I prefer to tell you what the

public says. The Larco Museum has been on Trip

Advisor for five years, always ranking in the top

five tourist attractions in Lima. In 2010, the year

we renovated and re-launched the Museum, we

moved into first place in Lima, and right now we are

ranked the number two tourist attraction in South

America. We're filling a gap in Lima; some museums

are being remodelled, and others have fallen into

bureaucratic lethargy. The Larco Museum, recently

renovated, with a new, consumer friendly point of

view, has, without a doubt, positioned itself as a

not-to-be-missed, Lima attraction.

What has the evolution of the Larco Museum

been from its founding to today?

The Larco Museum has evolved in different ways; first

in its museographic vision. When the Larco Museum

was founded, its goal was to fill in the chronological

gaps between Peruvian cultures. Since the

remodelling in 2010, the Museum has moved into

a more narrative museological phase, attempting

to understand the ancient Peruvians through their

cosmovision, or vision of the world and their roles

in it. We want to tell history in an interesting and

fun way that ties together current, interdisciplinary

academic research. It is a huge evolution in how

museums relate to people and it will define this age,

though one does not see it yet. What is crystal clear

is that people today like learning about ancient Peru

by visiting the Larco Museum.

Álv
---
Rodrigo Cabrera

Andrés

arez Calderón

Executive Director of the Larco Museum

/59
---
INTERVIEW

Renovated display

rooms show pre-

Columbian Peru

beginning in 5,000

b.c., through the

Spanish Viceroyalty,

founded in 1535.

Aside from the museological evolution, there is another

important element in the change: The Larco Museum

changed from being a museum by investigators for

investigators into a museum for the public. That is a very

important evolution. Beyond what the museological

message is, the concept of a museum's function also

changes. Finally, another important element in the

Museum's evolution is that it is self-sustainable now

that we have become a model for success.

What is the business model for the

Larco Museum?

We have tried to do what Unesco dictates. Unesco

puts museums into a cultural products category

within a larger cultural industries sector. In order to

remain within the Unesco guidelines, the Museum

must have sound planning, financial management and

marketing. The Larco Museum began thinking about

these questions 15 years ago. By developing and

sticking to a strategic plan, we are beginning to see

the results we hoped for.

We want to create a model that can be reproduced;

to show that one can create a self-sustainable cultural

institution when you combine important pieces and

good business practices. Peru is a country rich in

cultural and touristic resources, but they need to be

turned into attractions and then products. We would

like to serve as a model. We would like to share all the

information we have, and our know-how so experiences

like the Larco Museum can multiply in Peru.

Aside from the Larco Museum, are any

other cultural spaces trying to become

self-sustainable?

Something that we have discovered in the Museum

is that in the cultural sector of Peru there is a belief

that cultural enterprises do not make money. That

said, we have clear examples that culturally related
---
Larco Museum

IN 1960, THE LARCO

MUSEUM MOVED TO

ITS PRESENT LOCATION

IN PUEBLO LIBRE, A

DISTRICT OF LIMA

Centre: Larco Cafe Restaurant

Museum offers the best in

Peruvian food in an inviting

spot located in an old, Lima

mansion.

Right: A dowry of gold for the

afterlife was buried with the

Lord of Chan Chan.

entities know what they are doing economically and

in their marketing.

In Peru we have some examples of good cultural

resources that became attractions and then finally

products, thanks to smart, private development

efforts. Included are the Caral Special Archaeological

Project, The Huaca of the Moon, The Huaca of the

Witch, and The Huaca Pucllana. The problem with all

of these projects is that they are individual efforts, not

national policies. The directors of these projects are

archaeologists and should be considered heroes in

the conservation of Peruvian cultural patrimony.

How does the Museum see its work in other

areas of the country, outside the north?

The new focus of the Museum is to show all of Peru

like a coherent total. The Museum is still associated

with the ancient cultures of northern Peru because of

its original pieces and, in particular, because of the

quality of the Moche pieces. But the Larco Museum

has an extensive collection that reflects not only the

northern pre-Columbian people, but also the Nasca

and the Incas, among others.

The vision of the Larco Museum is to be the doorway

into ancient Peru. That means that when a child has

to study a pre-Columbian culture, that she can find

a friendly, informative and age appropriate tool that

can help her learn about ancient Peru. We hope

that every Peruvian who really wants to learn about

ancient Peru also visits the Museum, and that visitors

to Lima also stop by the Larco Museum. That is

the vision we are working towards. We have not

gotten there yet, but it is where we are going and will

continue going.

What kind of public is the Larco Museum

trying to reach and why?

As Unesco says, all cultural products should be

/61
---
INTERVIEW

Larco Museum
---
The Ritual Room shows the importance of natural for pre Hispanic societies.

/63
---
INTERVIEW

segmented as no one product can be directed to all

consumers. You need to know whom you are talking,

especially in a museum. And the perception problem

with museums in Peru is that they are considered

boring, largely because of their tradition of antiquated

signage, and dark, because of their poor lighting

and maintenance. That is why we concentrate on

attracting two groups of people whom we consider

to be interested in museums or at least, not afraid of

them.

Part of the success of the Larco Museum has been

to segment the public and be clear about whom

we are trying to attract. We are interested in two

groups. One is the foreign tourist. That is why we

have signage in six languages. The other group

is local students who come to us through the

Museum's educational programs. The foreign tourist

who comes to Peru typically is interested in culture,

well read, and has visited museums in other parts of

the world. This kind of tourist has rated the Larco

Museum as one of the best in the world. On the

other hand, the students who come to the Museum

learn about Peruvian history through our educational

workshops. Through these workshops, we try to help

students develop a different idea of what museums

are and at the same time, learn about Peru in a fun

and interesting way. We're developing relationships

with schools that want to integrate learning with

meaningful experiences; creating learning that is

valuable and fun.

What new projects does the Larco Museum

have coming up that support its vision?

We're going to increase the size of our administrative

area, remodel our classification and storage, expand

our upstairs museum space and redesign the erotic

pottery display. Right now we are in the design stage,

but we are taking our time. We do not want to start

anything until the design is perfect.

WITH OVER 44,000

PIECES CATALOGUED,

THE LARCO MUSEUM WAS

RE-LAUNCHED IN 2010

Left: Through academic

programs, students learn

various ways to know

and understand Peruvian

history.

Right: Enjoying lunch in

the Museo Larco Café

Restaurant is a lovely

part of the experience

of visiting the Larco

Museum.

Larco Museum
---
Crowns from the Chimu culture.

ARCHAEOLOGY PROGRAM*

(5D/4N)

DAY 1 LIMA

Arrive in Lima and transfer to selected hotel. Visit the

Larco Museum, which has an excellent collection

of pre Hispanic gold and silver pieces, as well as a

superb collection of pre-Columbian, erotic pottery.

DAY 2 LIMA

Visit to the Pachacamac archaeological complex,

located 30 minutes south of Lima. Dine at the

Huaca Pucllana Restaurant. In the afternoon, visit the

National Archaeology and Anthropology Museum.

Fly to the northern city of Chiclayo.

*This program does not include Machu

Picchu as it will be the central theme of our

next edition of Ultimate Journeys.

*Program extension: Full day in the ancient

and Sacred City of Caral. For more

information contact Lima Tours.

DAY 3 CHICLAYO

Visit the Royal Tombs of Sipan Museum followed by

a stop in the local artisan neighbourhood. Then stop

at the Huaca Rajada and the Tucume archaeological

complex. Lunch at the Fiesta Chiclayo Gourmet

Restaurant. Then go to your hotel.

DAY 4 CHICLAYO-TRUJILLO

Go by bus to Trujillo in order to visit the town

of Magdalena de Cao and the Huaca El Brujo

archaeological complex.

Head back to your hotel after lunch.

DAY 5 TRUJILLO

Visit the Huacas of the Sun and of the Moon

archaeological complex. Then head to the

Huanchaco Beach for lunch. In the afternoon, visit

the ancient Chan Chan citadel. In the evening, enjoy

a tour of Trujillo by night.
---
Focus of

Civilisation

Peru: Five thousand years of Andean societies

Christopher Kleihege
---
PERU HAS BEEN

WITNESS TO THE

BIRTH OF THE FIRST

COMPLEX SOCIETIES IN

THE AMERICAS. SINCE

THE CIVILISATIONS

OF PERU'S SUPE AND

CASMA VALLEYS

FLOURISHED,

SIMULTANEOUS WITH

THE EGYPTIAN EMPIRE

IN THE MIDDLE EAST,

PERU HAS BEEN HOME

TO SOPHISTICATED

SOCIETIES THAT TODAY

ASTOUND THE WORLD

By

Diego Oliver

The Sacred City

of Caral: Sixty-six

hectares of

monumental

architecture that has

been recognized as

a World Heritage Site

by Unesco.

/67
---
FOCUS OF CIVILISATION

Caral's largest

pyramid contrasts

with the fertile Supe

Valley.

Clay statues

discovered during

recent excavations.

Christopher Kleihege

When I was 15, a game called Age of Empires

came out. This strategy game allowed the

player to become a protagonist in the birth of

the European, Asian and Middle Eastern civilisations

from the Stone Age through the Iron Age and all leading

up to the creation of the Roman Empire. You could

choose to be part of any of these civilisations and, as

you progressed from mission to mission, you would

make historic discoveries – from the domestication of

plants to the different types of metals – which would

then allow you to evolve and, over the centuries,

develop your sophistication at war. Between mission

and mission, the hours went by.

I remember thinking that Peru would be perfect for

one of the stories in the game. After all, Peru offered

1.2 million square kilometres of inhospitable desert,

jagged Andean peaks, windswept Altiplano plains and

the exotic Amazon Jungle. It was a place where, over

5,000 years, incredible civilisations had been born, and

the experiences of all of them had eventually led to the

creation the Inca Empire.

Though we know that Peru has been home to humans

since at least 20,000 b.c., the first urban settlements

that demonstrate a complex, social organization were

along the country's central coast, between the Supe

and Casma Valleys. Archaeological sites at Las Aldas,

Sechin, Caral and Aspero are examples of these

cities and all the sites share the common architectural

element of a sunken, circular central plaza. Radiocarbon

dating has put these communities between 3,000 b.c.

and 2,500 b.c., making them co-existent with other

sophisticated societies in Egypt, China and India. While

research shows that all the cities along this coastal

region were communicating regularly and under one

cultural dominion since the Chavin Empire (15,000 b.c.

to 2,000 b.c.), archaeologists continue to study how

that development happened.

The Chavin culture was centred in Chavin de Huantar,

a high Andean area in Ancash, tucked into a valley

between two 6,000-metre peaks. For decades, the

Chavin were known as the mother of Andean civilisation.

In fact, some scientists believe that the basic structures
---
Mayu Mohanna

HUMAN REMAIN HAVE

BEEN DISCOVERED

IN PERU DATING BACK

TO 20,000 YEARS B.C

20,000

YEARS B.C

Impressive stonework: Templo

Nuevo at Chavin de Huantar, a

World Heritage Site.

Oracle: This finely carved, stone

statue of the Chavin's ferocious,

dominant god is called the

Lanzón Monolítico.

of the Quechua language were developed by the Chavin

and became the basis of Quechua before it's later

influence by the Puquina and Aimara languages. New

research shows that, rather than ruling by decree, the

Chavin adapted their laws and political structures to the

needs and expectations of local peoples. The Chavin

economy was agriculturally based, though they also

had an extensive system of product exchange, which

allowed them to spread their culture valley to valley.

This stage of influence is referred to as the Early Horizon

period and is followed by the Early Intermediate period,

when cultures began growing up across Peru.

During the Early Intermediate period, the Paracas, Vicus,

Pukará, Tiahuanaco, Nasca, Moche, Recuay, Lima,

Huarpa, and other less complex or less investigated

cultures, coexisted, expanded and eventually fell into

ruin. The Paracas people (II b.c VI a.d.) were most likely

the first. The Paracas were able to develop a society

in the hostile environment of Peru's southern, coastal

desert with an economy based on fishing, collecting

shellfish and agriculture, cultivating in deep holes in

Rodrigo Cabrera

/69
---
FOCUS OF CIVILISATION

Christian Declercq

Murals like this one found at the

El Brujo archaeological complex

were a principal achievement of the

Moche people.

Left: Wari ceramics, which

have been found in various

archaeological sites across Peru,

are one of the key factors in

determining the reach and breadth

of the Wari civilization.

Right: The Vicus, along with

other neighbouring people on the

northern coast, developed unique

metallurgical forms and techniques.

Renzo Tasso

Gihan Tubbeh
---
order to reach humid ground. Soon after, other societies

with other languages and their own unique identities

began to develop, each with its own political structure

and culture.

In the north, for example, the Vicus (V b.c. VIII a.d.)

were polytheists who lived primarily from agriculture,

using copper, silver and gold tools along with advanced

systems of irrigation. Analysing the iconography in

their ceramics, archaeologists have been able to make

some assumptions about their social structures and

beliefs. The Vicus developed a social hierarchy similar to

many societies, with a class of nobles connected with

the government, a military class, a commercial class,

farmers and finally slaves.

The Moche people (I VIII a.d.), who also lived along

Peru's northern coast, spoke the now-extinct muchik

language. The Moche made enormous advances in

hydraulic engineering, architecture and metallurgy. Their

most impressive constructions were huge pyramids and

religious centres, built using vast amounts of human

labour, to adore Ai apaec, a ferocious god whose

image covers the walls of both the Huaca del Sol and

the Huaca de la Luna, Moche ruins found in the desert

outside of Trujillo.

In the flat, Andean Altiplanos, or high plains, that circle

Lake Titicaca, the Pukarás (I b.c. III a.d..) were the first

people to establish an urban development and to

dominate the hostile environment for animal husbandry

and agriculture. The Pukarás raised cattle and other

animals, and farmed using increasingly successful

techniques which eventually led to the creation of the

Tiahuanaco culture (I a.d-XIII a.d.), one of the greatest

Altiplano civilisations of its period, extending from Titicaca

to what today is northern Chile and southern Argentina.

With their enormous capital city with pyramids, plazas and

monoliths sitting on the southern shores of Lake Titicaca,

the Tiahuanaco spread the image of the mythological

god of the Báculos (thought to be the god Wiracocha in

later, Incan society) across its territories.

Like the Tiahuanaco, other civilisations also built

vast and important cities and ceremonial centres. On

Peru's southern coast, the Nasca (I b.c.-VI a.d.), who

followed the Paracas civilisation, built their political and

religious centre in Cahuachi, a huge urban-ceremonial

complex that is remarkable for the social organization

needed for its construction. In addition to Cahuachi, the

Nasca people also created the so-called Nasca Lines,

mysterious engravings in the desert sands that are visible

only from the air. German Archaeologist Maria Reiche

spent years studying the lines and concluded that they

are part of a sophisticated solar calendar. The Nascas

additionally developed a complex system of aqueducts

in order to grow in the desert sands, expanding their

influence up into the mountains of Ayacucho, where

their contemporaries, the Warpas (I b.c. V a.d.), lived.

From this union of cultures, the powerful Wari Empire (VI

a.d. XIII a.d.) was born.

The birth of the Wari ushered in the Middle Horizon

Period, characterised by a large area of Peru being ruled

from an Andean base. The Wari influence grew to cover

Arequipa's mountain and coastal region, greater Cusco

to the west, and all of Lambayeque to the north, creating

what is known as the first Andean Empire. After centuries

of social, religious and political control, the Wari empire

collapsed and new, local societies were reborn rich with

ancient knowledge and new technological advances.

The Chimú, Chachapoya, Ischmay, Chanca, Huanca,

Chincha, Quechua and Aimara people were these new

kingdoms which would eventually be incorporated into

the Inca Empire (1438-1533).

From the time when the first people of Peru discovered

agriculture and began to settle, their continuous process

of learning about and dominating their environment is

what allowed them to create powerful nations. Today we

can walk through enormous, ancient cities and imagine

what they must have been like filled with thousands

of people. Farmers and fisherman would have been

carrying their goods to the houses of the nobles, who

in turn would make offerings to the gods and distribute

those goods across the lands to feed the armies of

soldiers who protected the empire and the workers

who supported it. Some fought to help expand the

empire, while others built magnificent works of hydraulic

engineering, increasing the cultivable lands. As we look

back, it is clear that Perú is, without a doubt, the cradle

of Americas´s first, complex societies.

Rodrigo Cabrera

The doorway to Rumicolca:

This ancient aqueduct was

built by the Wari between 800

and 1,000 a.d. and later turned

into a control point by the

Incas.

AFTER ALL, PERU

OFFERED 1.2 MILLION

SQUARE KILOMETRES OF

INHOSPITABLE DESERT,

JAGGED ANDEAN

PEAKS, WINDSWEPT

ALTIPLANO PLAINS AND

THE EXOTIC AMAZON

JUNGLE. IT WAS A PLACE

WHERE, OVER 5,000

YEARS, INCREDIBLE

CIVILISATIONS HAD

BEEN BORN

/71
---
CULTURALLY BIODIVERSE

SEVENTY PER CENT

OF THE WORLD'S

BIOLOGICAL DIVERSITY

EXISTS IN JUST

THREE COUNTRIES.

LOCATED ALONG THE

EQUATOR, THESE

THREE COUNTRIES ARE

KNOWN FOR THEIR

MEGA DIVERSITY AND

FOR THE FACT THAT,

INCREDIBLY, AND

DESPITE THEIR RICH

BIOLOGY, THEY COVER

ONLY 10 PER CENT OF

THE PLANET. ONE OF

THEM IS PERU.

By

Iñigo Maneiro

Farm dwellings at

over 4,000 metres

above sea level.
---
Christian Declercq

Culturally

Biodiverse

Nature and Civilisation

/75
---
CULTURALLY BIODIVERSE

Gihan Tubbeh

The Andes divide Peru into a desert coastal region dotted with agriculturally

rich valleys that reaches from the Amazon to the Pacific. The confluence of

the Humboldt and El Nino Currents along Peru's long Pacific Coast makes the

Peruvian sea one of the world's richest in fish and crustacean production.

At the same time, the Andes give birth to many of the Amazon's most powerful

rivers. The rainforest areas of the high jungle where waters from the Andes rush

towards the Amazon are habitat to many of the world's bird, animal, insect and

plant species. The Manu and Alto Purús National Parks offer unique opportunities

to see unspoiled natural habitats.

There are over 3,000 registered varieties of

potato in Peru, many of which were domesticated

in ancient times.

Man and the sea: This millennial relationship

developed by early Peruvian fisherman, continues

today.

Jirishanca, Mountain, 6,094 metres at its peak

NATURE AND CIVILISATION

In Peru the diverse geography means that the country has all kinds of records.

For example, Peru has the most varied number of classified life zones: 84 of 117;

and of different climates: 28 out of 32. This level of bio and eco diversity goes

hand in hand with cultural diversity and Peru, like the Mediterranean, China and

Mesoamerica, was the seat of one of the great world civilisations. Peru also has

contributed to world agriculture and breeding with the domestication of potatoes,

quinua, Guinea Pigs, Llama and Alpaca.

Throughout Peruvian history, different cultures adapted and developed within the

rich biodiversity of the country. Sophisticated coastal cultures such as the Nasca,

Moche and Sicán developed complex canal systems, cities and temples that

dominated the desert landscapes. Today we have archaeological remains at Caral,

where a large and complex society once ruled; an observatory at Chanquillo; and,

at Ventarron, the oldest coloured murals in the Americas.

Christian Declercq

Luis Yupanqui
---
Heinz Plenge

Walter Silvera

In the Amazon region, where over 50, independent indigenous groups live, different

communities classify and use plants for medicinal purposes. These plants later have

been used by pharmaceutical companies to make medicines, cosmetics and foods.

Recent examples are Peruvian Achiote, Uña de Gato, Quina and Cacao. The exuberant

jungle environment, with its record number of birds, plants and butterflies, forms part

of the world vision of the people who live here. In this world, plants and animals share

a "humanity", or life energy, that is not exclusively human. The indigenous beliefs teach

that having this relationship of equals allows protection of the environment and future

sustainability.

In the Sierra, the different cultures have dominated the rough geography and difficult

climate, and many people, including Andean pastors, live at altitudes over 5,000 metres

above sea level. For thousands of years, and until the Inca were conquered by the

Spanish, Andean people built important empires including the Chachapoyas in the

north, the Wari in the Central Sierra, and finally the Inca, who constructed an enormous

empire that covered what today is much of Bolivia, Peru, Ecuador, Chile and Argentina,

and left the wonder that is Machu Picchu.

The Peruvian Amazon is a reserve of

invaluable biological treasures waiting

to be rediscovered.

Peru is habitat to 1,800 species of

birds.

/77
---
CULTURALLY BIODIVERSE

pERuviAn

woRld RECoRdS

}

José Barragán

PLANTS

Heinz Plenge

THE oCEAn RiCHEST in plAnkTon

And pHYToplAnkTon in THE woRld

84 LIFE ZONES

28 CLIMATES

4,400

182

USED FOR HUMAN CONSUMPTION

(1,200 PLANTS USED FOR FOOD;

1,500 PLANTS USED FOR MEDICINE)

NATIVE, DOMESTICATED PLANTS

máS dE:

2,000 FISH

3,500 BUTTERFLIES

4,000 VARIETIES OF POTATO

3,500 ORCHIDS

1,800 BIRDS
---
AGENDA

AGENDA

RANTIKUY FAIR

December 24th, Cusco's Plaza de Armas

springs to life as over 1,400 artisans from

Cusco, Apurimac, Huancavelica, Ayacucho

and Arequipa set up the Santurantikuy Fair.

Santurantikuy, literally "buy a saint from me" in

Quechua has, over the years, become a major

attraction for locals and tourists as artisans from

around the Andes sell their best work.

LIMA THEATRE FESTIVAL

Lima's downtown, historical district will be the site of this year's Lima

Theatre Festival, from the 9th to the 30th of November. This year, over

20 companies from around the world will perform representing, among

other nations, Argentina, Australia, Chile, Colombia, The United States, the

United Kingdom, Belgium, Bolivia and Spain. For more information visit:

www.limacultura.pe.

SOMOS LIBRES

The MATE Museum in Barranco shows Somos

libres, We Are Free, a show of modern art from

the collection of Mario Testino, the well-known,

Peruvian fashion photographer, from October 15,

2013 through April 6, 2014. The show's curator, Neville

Wakefield, has chosen a number of interesting pieces

including works by Cindy Sherman, Richard Prince and

Paul McCarthy. Tuesdays through Saturdays from 11

a.m. to 8 p.m. and Sundays from 11 a.m. until 6 p.m.

409 Avenida Pedro de Osma, Barranco.

Visit www.mate.pe

THE RURAQ MAKI FAIR OF HANDMADE GOODS

Peruvian folk art will be on sale at the popular Ruraq

Maki Fair from December 13 to the 22nd. Over 50 artist

collectives from regions around Peru will be on hand to

sell their locally made wares.
---
THE HUACONADA DANCE FROM JUNIN

La huaconada, a ritualized dance from the town of Mito in the Junin

Province, is danced annually during the first days of the new year.

Groups of men wearing masks and called huacones perform a

series represent ancient times and the advice of people from the past,

and they have maximum authority over the village while the celebration

lasts. Their whips, called thunderers, and their masks with long, beaked

noses that evoke the beaks of the condor, represent the spirit of the

sacred mountains, evidenced by the importance of their role. The

huaconada was declared an Intangible Cultural Heritage of Humanity

by Unesco in 2010.

CONCERTS

NOVEMBER

Luis Miguel (November 7)

The Psycho Real (November 7)

Japandroids (November 8)

Ringo Starr (November 11)

Prince Joyce (November 15)

Yngwie Malmsteem (November 18)

Marc Anthony, Don Omar y Ola Tañon (November 19)

Manuelcha Prado, Los Campesinos y Manuel Silva (November 21)

Philip Glass (November 23)

Orquesta Sinfónica Nacional (November 29)

Gian Marco, Fonseca, Noel y Alberto Plaza (November 30)

DECEMBER

Kreator y D.R.I (December 3)

Incubus (December 5)

Los Tres (December 6)

Bret Michaels (December 10)

You can buys tickets through:

Tu Entrada (www.tuentrada.com.pe)

Teleticket (www.teleticket.com.pe)

Punto Ticket (www.puntoticket.pe)

FESTIVAL OF EUROPEAN CINEMA

The Catholic University of Lima hosts the 25th

annual European Film Festival from October

22 through November 17. Organized by the

University's filmoteca, over 300 movies will be screened

in theatres around Lima.

For more information check:

www.centroculturalpucp.com

/filmoteca/festival-de-cine-europeo-2013.html.

/81
---
EXPAT

Giuseppe

Orefici

By

Iñigo Maneiro

ITALIAN ARCHAEOLOGIST AND ARCHITECT, GIUSEPPE OREFICI, 67, IS THE DIRECTOR OF INVESTIGATION AT THE ANTONINI

MUSEUM AND RESPONSIBLE FOR THE ON GOING RESEARCH AT THE CAHUACHI TEMPLE, BOTH LOCATED IN NASCA.

When did you first arrive in Peru?

I came to Peru in 1977 because there was a job for an archaeologist in the rural

southern jungle area. And I stayed. Since then I have worked in Madre de Dios,

Yurimanguas, Ausangate and, primarily, in Nasca where I began my research

on Cahuachi in 1984.

What differences have you found on both a personal and professional

level between other countries where you worked and Peru?

In Peru I have found high quality people, and of course, a language that,

because it is easy for me, has allowed me to work in the country. I continue

to work in other countries but I have a special relationship with Peru where we

have developed so many projects: The Antonioni Museum, The Investigation

Centre, and my work in Cahuachi…….

What is archaeological work like?

Like ants we work slowly, steadily and within a distinct time frame and perspective.

For example, cleaning a 10-metre-long wall takes three people 10 full days.

What does a visit to Cahuachi add to the Nasca experience?

A tourist visit to Nasca should most definitely include a visit to Cahuachi because

it was the largest and most important cultural centre for the Nasca people for

over 1,000 years. A visit to Cahuachi helps one understand the people, and

thus better understand the monumental significance of the geoglyphs the locals

created, and the enormous artistic effort that it took to do so.

Recently there have been new archaeological discoveries in Huarmey.

Is there a limit to what we can find in Peru and in the paradigm changes

each of these discoveries implies?

Today, there is a deep understanding of the archaeological history of Peru for

the past 2,000 years, but the key to the future, at least for me, moves into the

jungle regions and continues in the Andean zones. The jungle is where we are

going to make new discoveries and therefore more deeply understand all of our

ancient history.

What is the vision of Peru in Italy? What grabs people' s attention the

most?

Obviously, the Incas. There is very little knowledge about earlier Peruvian

civilisations. Peru is a country that seems very far away for Italians, though

it is well known for its important cultural history. Italians who visit Peru are

impressed not only with the country's rich cultural traditions, but also with her

history, folklore traditions and natural beauty. Still, from the Italian perspective,

the archaeological monuments in Peru, and in Mexico, are the most important

historical objects in Latin American and therefore attract the most interest.

Why did you decide to stay and work in Peru?

I stayed because of my relationship with the ancient Nasca people. I think their

culture dominated others, and reflects an extremely complex relationship with

their deities that shows that the search for and aspiration towards a spiritual life

was a central aspect of the Nasca vision. That fascinates me and is the core

reason I stayed in Peru to study the Nasca people.

What would you like to see happen next?

I would like to see the work at Cahuachi finished, though I do not think it will

happen in my lifetime because of the amount of work still to be done. Still,

I would like to see at least that the path to that work is well defined for the

future; that we have a site that is illuminated; that there are cultural activities

that teach visitors about the culture; and that tourists can come and learn

about the Nasca people.
---
Unique clay and rock formation on Peru's Pacific Coast, reachable only at low tide.

A JOURNEY

LIKE NO OTHER

Orient-Express is a collection of iconic hotels and

sophisticated travel adventures.

Stay in the heart of Cusco, Peru, at Palacio Nazarenas,

just one of our exceptional destinations worldwide.

DISCOVER PERU WITH ORIENT-EXPRESS

Miraflores Park Hotel, Lima l Hotel Monasterio & Palacio Nazarenas, Cusco l Machu Picchu Sanctuary Lodge , Machu Picchu l Hotel Rio Sagrado, Sacred Valley l Hiram Bingham Train

Reservations:

+51 (1) 610 8300

perures.fits@orient-express.com

orient-express.com

limatours.com.pe

ujtravelmagazine.com

/limatoursperu
---
HISTORIA DE PUNO

CRAFTING MAGNIFICENT

EXPERIENCES IN PERU

ONE GUEST AT A TIME

Kuelap, hidden Fortress of the Chachapoya People, a highlight of the Amazon - Pacific Region.

limatours.com.pe

ujtravelmagazine.com

/limatoursperu