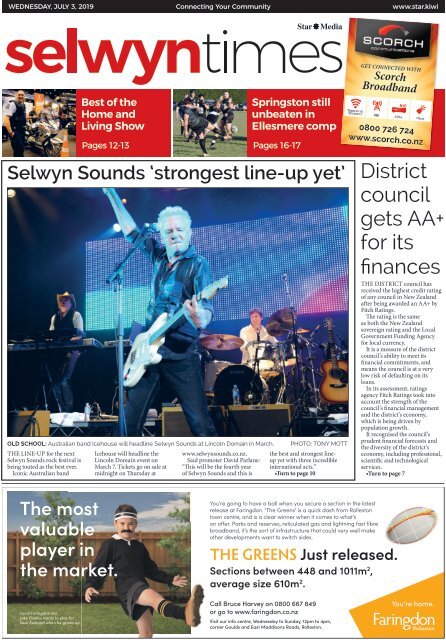 Selwyn Times: July 03, 2019
You also want an ePaper? Increase the reach of your titles
YUMPU automatically turns print PDFs into web optimized ePapers that Google loves.
WEDNESDAY, JULY 3, 2019

Connecting Your Community

www.star.kiwi

Best of the

Home and

Living Show

Pages 12-13

Springston still

unbeaten in

Ellesmere comp

Pages 16-17

GET CONNECTED WITH

Scorch

Broadband

0800 726 724

www.scorch.co.nz

Selwyn Sounds 'strongest line-up yet'

OLD SCHOOL: Australian band Icehouse will headline Selwyn Sounds at Lincoln Domain in March.

THE LINE-UP for the next

Selwyn Sounds rock festival is

being touted as the best ever.

Iconic Australian band

Icehouse will headline the

Lincoln Domain event on

March 7. Tickets go on sale at

midnight on Thursday at

www.selwynsounds.co.nz.

Said promoter David Parlane:

"This will be the fourth year

of Selwyn Sounds and this is

PHOTO: TONY MOTT

the best and strongest lineup

yet with three incredible

international acts."

•Turn to page 10

District

council

gets AA+

for its

finances

THE DISTRICT council has

received the highest credit rating

of any council in New Zealand

after being awarded an AA+ by

Fitch Ratings.

The rating is the same

as both the New Zealand

sovereign rating and the Local

Government Funding Agency

for local currency.

It is a measure of the district

council's ability to meet its

financial commitments, and

means the council is at a very

low risk of defaulting on its

loans.

In its assessment, ratings

agency Fitch Ratings took into

account the strength of the

council's financial management

and the district's economy,

which is being driven by

population growth.

It recognised the council's

prudent financial forecasts and

the diversity of the district's

economy, including professional,

scientific and technological

services.

•Turn to page 7

The most

valuable

player in

the market.

You're going to have a ball when you secure a section in the latest

release at Faringdon. 'The Greens' is a quick dash from Rolleston

town centre, and is a clear winner when it comes to what's

on offer. Parks and reserves, reticulated gas and lightning fast fibre

broadband, it's the sort of infrastructure that could very well make

other developments want to switch sides.

THE GREENS Just released.

Sections between 448 and 1011m 2 ,

average size 610m 2 .

Local Faringdon kid,

Jake Osakai wants to play for

New Zealand when he grows up.

Call Bruce Harvey on 0800 667 849

or go to www.faringdon.co.nz

Visit our info centre, Wednesday to Sunday, 12pm to 4pm,

corner Goulds and East Maddisons Roads, Rolleston.

You're home.
---
2 Wednesday July 3 2019

Latest Christchurch news at www.star.kiwi

from the editor's desk

news

SELWYN TIMES

THAT'S A pretty good looking line-up for

the next Selwyn Sounds (see page 1).

Icehouse, 10cc and Midge Ure of

Ultravox fame are the headline acts, with

plenty of top support bands to make it

another great event. March's festival will be

the fourth Selwyn Sounds, which over and above being a great

day, is very beneficial to the community and district.

A number of community groups are able to use it as a

fundraiser, courtesy of the promoters.

Lincoln High's grounds are used for car parking, bringing in

many helpful dollars to the school.

The weather gods have also smiled on Selwyn Sounds, with

climate change and the moving seasons making early March

perfect for an outdoor concert.

– Barry Clarke

get in touch

GENERAL INQUIRIES Ph 379 7100

CLASSIFIED ADVERTISING Ph 379 1100

Star Media, a division of Allied Press Ltd

PO Box 1467, Christchurch

starmedia.kiwi

NEWS

Devon Bolger

Ph: 021 914 742

devon.bolger@starmedia.kiwi

ADVERTISING

Lynette Evans

Ph: 364 7434

lynette.evans@starmedia.kiwi

Cookbook for mental health

A mental health cookbook produced by three Darfield High

students features Jacinda Ardern's signature zucchini slice.

Page 8

backyard critters

Is it a bird or bug?

Find out what family of insects the two-spotted ladybird

actually fits into.

Pages 15

tasty bites

Slow cooked light butter chicken

Need an idea for dinner? Look no further than the new weekly

recipes page in Selwyn Times.

Page 25

The best-read local newspaper, delivered to

20,015 homes, RDs and farms every Wednesday

Ladbrooks, Tai Tapu, Leeston, Lincoln, Southbridge, Prebbleton,

Halswell, Rolleston, Templeton, Burnham, West Melton, Darfield,

Kirwee, Arthur's Pass.

East West Fencing Ltd

• Residential

• Security

• Rural Fencing

• Post Driving

• Post & Rail

• Horse Arenas

•Sheep & Cattle Yards•

Agent: Magnitude Sports, 55 Faringdon Street, Rolleston

Phone: Paul 027 588 6009 or

Brad 027 376 0237

Email: eastwestfencing@xtra.co.nz

All Your Fencing Needs

www.ewfltd.co.nz

BOWRANDA

ROOFS

For a free Measure & Quote PH 0800 26 26 20

● Immediately increase the value of your home

● Manufactured to custom specifications

● A permanent, sheltered outdoor space

● Strong and durable frame constructed of powdercoated

aluminium and stainless steel

● Square profile complements NZ residential architecture

● Option to enclose with outdoor blinds

● Eliminate 99% of harmful UV light

● Achieve your outdoor vision

A Lifestyle Choice

www.bowranda.co.nz
---
SELWYN TIMES Latest Christchurch news at www.star.kiwi

Wednesday July 3 2019 3

News

• By Georgia O'Connor-Harding

Simon

Moore

AN OUTSPOKEN opponent

has been left "surprised" at

the number of submissions in

support of a controversial quarry

plan for Templeton.

Out of the 430 submissions

Environment Canterbury

received on

Fulton Hogan's

proposed Roydon

Quarry,

101 were for

the plan going

ahead while 329

were against.

Quarry opponent

Simon

Moore said a

good number of

submissions were received but he

was surprised at the number in

support.

"This is an important thing

for the quarrying and transport

industry so I suspect there has

been a lot of lobbying going on

within their circles to support it

so they can encroach into urban

areas with quarries all over the

country," he said.

Mr Moore wrote a submission

opposing the application and is

one of the 170 who wishes to be

2019

LAUGH

AT

THE

INTERNATIONAL

Dai Henwood Donna Brookbanks JarRed Fell Alan M c Elroy

28 th septAT lincoln

TICKETS ON SALE

NOW!

Opponent surprised at

COMEDY NIGHT

number of submissions in support of quarry

R18

GET YOUR

TICKETS FROM

www. liveinlincoln .nz

FIGHT:

Environment

Canterbury

has

received 101

submissions

in support

of Fulton

Hogan's

proposed

quarry in

Templeton.

PHOTO:

MARTIN

HUNTER

heard at the hearing. A date is

still yet to be confirmed.

The submissions have come

from a wide scope of residents

and businesses.

Major companies and associations

in support of the proposal

include Allied Concrete Ltd,

The Aggregate and Quarry Association,

Institute of Quarrying,

Isaac Construction and Lyttelton

Port Company.

Allied Concrete Ltd national

services manager Bob Officer

said the quarry will be a replacement

for the Pound Rd Quarry

which is approaching the end of

its operating life.

He said it will provide the

continuation of supply for high

quality aggregates that are

essential for the concrete production

required to meet growth

production for Christchurch and

its surrounds.

"Christchurch has an ongoing

requirement to improve and

develop its infrastructure. Both

concrete and quality aggregates

are needed to meet this requirement,"

Mr Officer said.

Other companies in support

have shared the same views.

Lyttelton Port Company environment

and planning manager

Kim Kelleher said the continuation

of high-quality aggregate

supply is essential to meet future

regional growth predictions.

Against the proposal were

Christchurch International

Airport Ltd, Greater Hornby

Residents' Association, Southern

Woods Nursery Ltd and Templeton

Residents' Association.

Christchurch Airport raised

concerns over the risk of increasing

bird strike and how dust and

lighting from the quarry, which

would align with the airport's

main runway, has the potential

to interfere with pilots' sight and

visibility.

The Templeton Residents' Association

discussed visual effects

and the impact vibration, noise,

dust and light will have on the

area.

The discharge of contaminants

to the air, whether there were

enough water resources for the

quarry, mental and physical

health on residents and loss of

amenity were also raised in the

submission.

Due to a large number of

handwritten submissions, ECan

was required to transcribe, some

of the names of submitters had

been deciphered online incorrectly.

ECan also chose not to publish

some of the submissions online

due to personal information

(including personal health

effects) disclosed.

•All submissions can be

read online at https://bit.

ly/2ISNcci

WE HAVE

MOVED

Visit our exciting new premises at

40 Rolleston Square, 9 Masefield Drive.

Servicing all makes

and models of

hearing aids

Price match

GUARANTEE!

Talk to Brenna

about the latest

rechargeable

hearing aids,

with long lasting

Lithium-ion

batteries!

Why go elsewhere when you can:

• See the same experienced audiologist for each visit

• Get flexibility with appointments including after hours

• Get a mobile service for those who can't come to us

• ACC appointments – Free consultation to determine eligibility

for ACC funding

Enrol now!

New and existing hearing

aid clients welcome.

Easy to switch

Just give us a call! 03 390 2332

NEW LOCATION: 40 Rolleston Square,

9 Masefield Drive, Rolleston

Call 03 390 2332 | www.sincockhearing.nz

Clinics in Lincoln | Leeston | Darfield
---
4 Wednesday July 3 2019

Latest Christchurch news at www.star.kiwi

SELWYN TIMES

Thank you for

helping your

Fall Zones

community

To all of you who have had your

trees trimmed before they became

a problem, thank you for keeping all

the families in your community warm,

happy, healthy and connected.

You can be proud of the fact that you have allowed your

neighbours to stay warm, cook dinner and even charge

their mobile phones. You may not have realised that what

you've done has had much impact, but from all of us here

at Orion, we just want to say thank you.

Notice and Growth limit zones

B

A

Power line voltage A. Growth limit zone B. Notice zone

66,000 volts 4.0m 5.0m

33,000 volts 2.5m 3.5m

11,000 volts 1.6m 2.6m

400/230 volts 0.5m 1.5m

We're not exaggerating.

On our network, 10-20% of all unplanned power outages are

caused by trees — including vegetation — coming into contact

with power lines. Other than this, fire damage to property from

branches sparking in dry conditions and serious injury from

electrocution from contact with trees touching power lines are

also possible consequences of not maintaining your trees.

How close is too close?

While most damage is caused by trees falling on power lines,

significant risk exists from trees merely touching them. This risk

increases the higher the voltage of the power line.

The minimum distances that must be maintained between trees

and power lines, as defined in the Electricity (Hazards from

Trees) Regulations 2003, are outlined in the diagrams above.

All vegetation should be kept out of the growth limit zone and

preferably the notice zone.

Sometimes it may not be practical to have a tree trimmed at the

rate at which it grows and unfortunately, this means it may need

to be removed. Other situations may require trees to be removed,

most commonly when they are at a high risk of falling due to

disease or adverse weather events.

Where do I start?

Before you begin, remember to keep yourself, and those around

you, safe. We recognise that not everyone is experienced in tree

trimming and are happy to advise you on what to do. We can arrange

for trees near power lines to be trimmed at your expense, however

we recommend you hire professionals to safely carry out the work.

If you or someone working for you intends to work within four

metres of power lines, a close approach consent is required from

Orion before you start. As a tree owner, you may be liable for any

damage caused by carrying out trimming or felling of trees.

Will I be fined if I don't comply?

If a cut or trim notice is given to you and you fail to have the tree

trimmed and/or advise us of the time and location of the trim

without a reasonable excuse, this is an offence. This will make you

liable for a fine not exceeding $10,000. If the offence continues,

you will be liable for a further fine of not more than $500 for every

day or part day during which the offence continues.

More info can be found on our website and if

you have any questions or notice any trees

touching power lines in your area, please call

us on 03 363 9898 or 0800 363 9898.

oriongroup.co.nz

Orion New Zealand owns and operates the electricity distribution

network in central Canterbury between the Waimakariri and Rakaia

rivers and from Canterbury coast to Arthur's Pass.
---
SELWYN TIMES Latest Christchurch news at www.star.kiwi

Wednesday July 3 2019 5

News

Devon joins Selwyn Times team

THE Selwyn Times has a new

reporter – Devon Bolger.

Devon is a product of

Lincoln High School, studied

journalism at the New Zealand

Broadcasting School and has

just finished an internship at

Newstalk ZB in Wellington.

"I'm really excited about

joining the Selwyn Times. I

know the paper having grown

up in the district and it will be

good to connect with all of the

community groups and great

people that live here," she said

yesterday.

So if you have a news story,

or your club or community

group wants coverage of great

things you are doing, phone

Devon on 021 914 742 or email

devon.bolger@starmedia.kiwi

Collect

all three!

Young family

lucky to escape

serious injury

after hit-and-run

• By Devon Bolger

AN ALLEGED hit-andrun

driver has handed

himself into police after

colliding with a young

couple's car which had

their seven-week-old baby

on-board.

Sarah Reiher, 22, said she

was travelling through a

roundabout in Rolleston's

Izone area with her partner

Jacob Barber, their son

Kian and a family friend

when they were hit by a

'drifting' Nissan Skyline

on Thursday night.

"We yelled out to the

other driver that there was

a baby in the car, thinking

he would help us, but he

didn't even get out of the

car, he just laughed and

drove off."

Ms Reiher took to

Facebook after the

incident, posting on the

Rolleston community page

for help to track down the

person responsible.

By the next morning the

DAMAGE: The young couple's car was completely

written off after an alleged hit-and-run. ​

driver had handed himself

into police.

"There was a lot of

anger afterwards, the fact

that he's since come forward

has reduced

that anger," Ms Reiher

said.

She said she's been told

the man will be charged

and will appear in court.

The young couple's car

was completely written off

in the collision but nobody

was seriously hurt.

"Kian has been a bit

more cuddly and we were

all quite sore the next day

but other than that we

were lucky."

collectable tea towel

1924-2019

Spend $25 and get 1 of 3 designs.

NEW

PRODUCT

SPEND EXCLUDES TOBACCO, GIFT CARD & LOTTO.

Pascall Confectionery $

1 99 ea

150-180g

Stoneleigh

750ml (excludes

Latitude, Wild Valley

& Rapaura Series)

$

11 99

ea

Fresh'n Fruity

Yoghurt 1kg

(excludes Greek)

Navel Oranges Loose

Product of New Zealand

$

3 99 ea

$

3 99 kg

Fall in love

with your

favourite furniture

all over again!

• Recover your chairs and couches

and save money!

• Excellent range of fabrics

• Quality workmanship guaranteed

• Free quotes available

• Over 30 years experience

before

after

Buy a Pams Large Hot Cooked Chicken

+ Coca-Cola 1.5 Litre for only

13 99

available at

selected stores.

www.foursquare.co.nz

Somerfield Upholstery Ltd

FURNITURE RECOVERY SPECIALIST

6/47 Sonter Road, Wigram | Ph 021 251 6200 | 349 0456

facebook.com/FourSquareNZ

Specials available South Island only from Monday 1st July until Sunday 7th July 2019

or while stocks last. Wine and beer available at stores with an off licence. Wine and

beer purchases restricted to persons aged 18 years old and over.
---
6 Wednesday July 3 2019

Latest Christchurch news at www.star.kiwi

SELWYN TIMES

9
---
SELWYN TIMES Latest Christchurch news at www.star.kiwi

Wednesday July 3 2019 7

News

AT INTERNATIONAL

THE

COMEDY NIGHT

Boy racers cause carnage

across the region during tribute drive

• By Jess Gibson

A CONVOY of more than

200 boy racers caused damage

across Banks Peninsula in a

drive which paid tribute to a

man who recently died.

Vehicles

gathered in

the car park of

Mitre 10 MEGA

Ferrymead

and travelled

to Akaroa,

stopping at

Graham

Barrell

Tyrone

Fields

points along

the way to do

burnouts.

Residents

took to

Facebook to

share photos of

the damage in

Governors Bay.

At Allandale

Reserve the

grass had

been ripped

up by spinning tyres, a drinking

fountain was leaking, a rubbish

bin was dented and posts

had been pulled out of the

ground.

Other damage across

Banks Peninsula included

litter, burnouts and road

CONVOY: A video posted on an event page showed a large

number of vehicles outside Mitre 10 MEGA Ferrymead ready

to convoy over to Akaroa.

signs knocked over outside

the Gebbies Garden Cafe on

Christchurch Akaroa Rd.

2019

Allandale Reserve

Management Committee acting

chairman Graham Barrell

LAUGH

R18

Dai Henwood Donna Brookbanks JarRed Fell Alan M c Elroy

28 th septAT lincoln

TICKETS ON SALE

NOW!

GET YOUR

TICKETS FROM

was "disappointed with the

vandalism."

"I drove past and saw that

the post which held the chain

to keep vehicles out had been

smashed over and the ground

was covered in tyre tracks," Mr

Barrell said.

He said apart from a graffiti

attack a month earlier, the

reserve was not a regular target

for intentional damage.

Banks Peninsula Community

Board deputy chairman Tyrone

Fields was told about a "huge

amount of litter" at Teddington

the following morning.

Mr Fields said boy racing is

an "acknowledged problem"

across Banks Peninsula and

damage caused by vehicles,

such as burnouts, are "not

uncommon."

"The route is like a circuit,

it's perfectly set up for that kind

of stuff. I know residents all

the way up to Teddington and

beyond are really frustrated," Mr

Fields said.

On an event page for those

taking part in the convoy,

a comment about damaged

road signs called it "disgusting

behaviour" and said the night

was not meant to be about

acting stupidly.

www. liveinlincoln .nz

Top credit

rating given

to council

•From page 1

Chief executive David Ward

said the rating shows the district's

financial strength and the council's

work to set Selwyn up for the

future.

"This is a reflection of the growth

in the Selwyn district, but also of

the good work done by the council

in responding to that growth and

planning its

economic future

well. A lot of

hard work has

been put in by

staff to ensure

we're handling

our finances in

David Ward

the best way for

Selwyn now and

into the future

and we're delighted that is reflected

in the rating."

It is the first time the council has

sought a credit rating. The rating

will support the significant capital

investment it is making to match

the booming growth of the district.

It will also help efforts to do this in

a prudent financial manner which

sets up the district for the future.

HEAT PUMP

SALE NOW ON!

Amazin' WINTER Specials!!

Pere the Penguin is lost in the Arctic

Solve the clues to get Pere home

You could win a prize!

6.00 to 8.00 pm

9, 11, 16 & 18 July

Free event; donations appreciated

www.canterburymuseum.com

• We will offer you the best quality brands and

option of heat pump for your home/business

• Providing Heat Pump solutions for over 17 years to Cantabrians

• We personally guarantee all our products & installs for 5 years

(providing annual maintenance has been completed)

Phone us today for your free consultation & quote

41A SHAKESPEARE RD, WALTHAM

PHONE 03 366 0525

www.enviromaster.co.nz

"A local team for local people"

Your enrolment update

pack is coming.

Check it to make sure you're

enrolled and ready to vote.

Want to know more?

0800 36 76 56

vote.nz

ELE00281C
---
8 Wednesday July 3 2019

Latest Christchurch news at www.star.kiwi

News

SELWYN TIMES

Kirk Rd stop

upgrade gets

green light

• By Georgia O'Connor-

Harding

AN EXISTING bus stop

outside the Templeton

Medical Centre on Kirk Rd

will be upgraded to provide

easier access for people getting

on and off the Yellow Line.

The Halswell-Hornby-

Riccarton Community Board

approved the changes last

week.

The city council will paint

the stop, install bridge blocks

to improve access to the front

and rear doors of the bus, and

put in a new seat.

The improvements are

needed due to the deep-dish

drain channel next to the stop,

which has been causing bus

drivers to stop at the nearest

driveway to provide a safe

environment for passengers

moving between the platform

and the bus.

They often have to park

over the recently developed

medical centre's driveway.

Currently, the stop is

unmarked, but has a bus stop

sign attached to a utility pole

beside the medical centre

driveway.

Cookbook for a good cause

• By Jess Gibson

A MENTAL health cookbook

produced by three Darfield High

School students features Jacinda

Ardern's signature zucchini slice.

The newly-established business

behind the cookbook, NZ Happy,

aims to raise awareness around

mental health and make it more

comfortable to talk about.

Year 13 student Georgia

Mitchell is the chief executive

and she works alongside five

other business partners from her

school.

"We've created a cookbook

which is a combination of New

Zealand recipes, stories, tips and

quotes. Even Jacinda Ardern has

given us a recipe which is pretty

exciting," Georgia said.

Each cookbook will sell for

$15, with 20 per cent of profits

going towards the Mental Health

Foundation.

The cookbook was one of the

products on show at the Young

Enterprise Scheme market,

hosted by Ara Institute of Canterbury

on Monday.

Other ideas included artistic

road cones and biodegradable

gelatine-based alternatives to

plastic laminating pouches and

food wrap.

YES sees senior secondary

BRIGHT IDEA: Georgia Mitchell, Alicia Duncan and Cleo Searle

from Darfield High School showcased their business NZ Happy

at the Young Enterprise Scheme Market at Ara Institute of

Canterbury. ​

school-aged entrepreneurs set up

and run real businesses over the

course of a year.

In Canterbury, there were

been 540 registrations from

senior secondary school students

involved in 130 businesses, 35

of which attended the market to

officially launch their businesses

to the public.

There were common themes

among many of the projects like

tackling issues of sustainability,

mental health or exploring social

enterprise.

It was the second year of

the partnership between Ara

and YES, and Canterbury's

programme co-ordinator Idoia

Alday Gonzalez was pleased the

region was leading in participant

numbers.

"One of Ara's goals since the

start of the partnership has been

to increase the awareness of the

impact YES has on our young

people in the region and the

skills they learn through this

wonderful scheme."

Now that the students have

attended the market day, they

will work on their marketing

campaigns, sales and producing

an annual review over three

months.

The top six teams to emerge

from the Canterbury competition

will go on to compete at the

regional finals in October, facing

a panel of judges and a large

audience.

YES funds the competition

with a national prize pool of

more than $25,000, as well as

regional awards, cash prizes and

tertiary scholarships.

Indulge in...

Our gorgeous range of..

sandwiches, paninis, bagels,

scones, slices, muffins,

quiches, sausage rolls & pies,

coffee and more!

CATERING AVAILABLE!

Gorgeous Food

specialist bakery

OPEN SATURDAY

7am - 1.30pm

66-68 Springs Rd Ph: 344 6044 Email: gorgeousfood@xtra.co.nz

Open Monday-Friday 6am-3.30pm www.gorgeousfood.co.nz

ROLLESTON OFFICE

78A Rolleston Drive, Rolleston

Richard Gray

rcg@meareswilliams.co.nz

Kate Warren

kcw@meareswilliams.co.nz

Anita Molloy-Roberts

am@meareswilliams.co.nz

T: (03) 374 2547

Offices also located at:

Lincoln – 43 Gerald Street

Christchurch – 225 Papanui Road

Darfield – 28 South Terrace

Winter

driving

be prepared...

Icy roads

Sun strike

Use your lights
---
SELWYN TIMES Latest Christchurch news at www.star.kiwi

Wednesday July 3 2019 9

Partnership to foster learning

THE DISTRICT council is

partnering with the awardwinning

Children's University

to help foster a life-long love of

learning.

Children's University is

a learning programme that

encourages seven to 18-yearolds

to engage in exciting and

innovative learning activities

and experiences outside of the

classroom.

The first children's university

programme in New Zealand

was started last October with

Lincoln and Canterbury Universitys

forming the Children's

University Canterbury Partnership

to oversee the programme.

The district council has joined

the programme, identifying and

offering opportunities to explore

and participate throughout the

district. These include exploring

and participating in district

council-organised programmes

and events. Some of these opportunities

and activities will be

identified on the Children's University

website and in district

council guides.

District council community

relations manager, Denise Kidd,

says supporting Children's University

was a great opportunity

for the council to play a part in

investing in Selwyn's children

and future.

"It's important to encourage

our children to learn in the

world, as well as the classroom,

and the council knows that

Selwyn has a lot to offer and is a

world worth exploring."

Children at participating

schools choose, visit and participate

or explore at approved

learning destinations. These can

range from visiting a museum,

participating in an outdoor activity,

or taking a craft or art class,

to spending time visiting and

exploring a farm — anything

that connects with the Children's

University learning "curriculum"

and has realistic links to a university

programme.

When children visit a learning

destination they gain hours in

ENGAGEMENT:

The Children's

University is

an opportunity

for pupils and

students to

develop their

learning skills.

a learning passport. Once the

children have completed at least

30 hours of learning they take

part in a graduation ceremony

to mark their achievements.

As a world first, Te Taumutu

Rūnanga has taken the opportunity

to be a part of Children's

University. Ngāi Te Ruahikihiki

ki Taumutu tamariki and

mokopuna now have the ability

to receive formal recognition

of learning that enhances their

cultural identity, Te Taumutu

Rūnanga chairperson Julie Robilliard

says.

"The most exciting aspects of

Children's University being piloted

in the Canterbury region is

that we have a unique opportunity

to set the standard for how

mātauraka Māori can be valued

within this programme and how

partnership with mana whenua

can enhance the experience for

all students in Aotearoa."

Prebbleton and Ladbrooks

Schools are among those taking

part in the programme.

Ladbrooks School Children's

University co-ordinator Keryn

Wilson says the programme has

been a great opportunity for her

pupils.

"The initiative has allowed

our students to see learning

opportunities outside school

time and they are excited by

the activities that have been

counted.''

Home for 2000

March 15

hearts needed

• By Georgia O'Connor-Harding

THE SEARCH is on to find a

home for thousands of crafted

hearts sent in following the

March 15 mosque attacks.

More than 5000 hearts, along

with messages of support,

flooded in from around the

world after Halswell's Barkers

Wool And Haberdashery

manager Jacquie Jewell

established the initiative

Muslim Hearts of Christchurch.

The goal was to collect

as many crafted hearts as

possible, made from knitted,

croquet, origami, mosaic and

vintage materials, to gift to

those affected by the attacks.

Mrs Jewell has now delivered

3000 hearts, along with copies

of messages, to the Al Noor

Mosque, Linwood Islamic

Centre, police and St John.

But she has about 2000 left

which she is hoping to publicly

display.

Mrs Jewell is now looking

to place them on an artificial

tree in the Christchurch City

Council chambers, at the Arts

Centre or Tūranga library.

City council staff are

working to come up with

options for the long-term

display of the hearts.

ENTRY ONLY

$12

Montessori & Early

Childhood Preschool

• We offer a friendly, fun and

supportive environment – only 5

minutes from Rolleston.

• We believe that Tamariki thrive in

a peaceful, structured and caring

environment, full of fun

and challenges.

• We offer focused, balanced curriculums

that prepare Tamariki for the next step

in their learning journey.

• We value diversity within our Tamariki

and their whānau and this is reflected in

our whānau focused philosophy.

• We have 3 well resourced classrooms,

caring for Tamariki from 6 weeks to

6 years of age. We are proud of our

large, natural playgrounds that offer

challenges for all ages.

Call in to visit us today, meet the teachers and have a look around our school

New enrolments in the months of July and

August will receive one month FREE*

Friday: 9am - 5pm • Saturday: 9am - 5pm

Sunday: 9am - 4pm

LimitEd

spACEs

AvAiLAbLE

iN ouR

NuRsERy!

*Fees on confirmation of enrolment (with terms & conditions).

Offer limited to 2-3 year old enrolments only.

HORNCASTLE ARENA • CHRISTCHURCH

For enrolments please contact Jasmine or Kylie on 347-6161

visit us at 643 burnham school Road

Download forms from www.burnham-montessori.co.nz
---
10 Wednesday July 3 2019

Latest Christchurch news at www.star.kiwi

SELWYN TIMES

Selwyn Sounds

LINE-UP:

Iain, Graham,

Keith, Rick

and Paul

from 10cc

will perform

at Selwyn

Sounds.

(Right) – The

voice of

British new

wave band

Ultravox,

Midge Ure,

will also play

at the Lincoln

festival.

Icehouse, 10cc and Midge Ure

CLASSIC: The Mockers will return for Selwyn Sounds 2020.

•From page 1

"Icehouse hasn't played in

Christchurch since 1991, so very

proud to bring them to Lincoln to

play at Selwyn Sounds."

The line-up will also feature

international acts 10cc, Midge

Ure, who is the voice of Ultravox,

and Kiwi bands Zed, The

Mockers, Automatic 80s and Jed

Parsons.

Icehouse was formed by Iva

Davies, the band's frontman and

musical creative force, who led

the band to 28 platinum albums,

eight top 10 albums and more

than 30 top 40 singles, including

Great Southern Land, Hey Little

Girl, Crazy, Electric Blue, and We

Can Get Together.

"The band has been playing

together for more than 40 years,

selling out shows around the

world, including their last New

Zealand tour, selling out three

shows in record times to 45,000

people and rave reviews," said Mr

Parlane.

"Midge Ure continues to tour

and play all around the world.

Many will remember Ultravox

from their exhilarating show at

Sweetwaters in the 80s. Their

hit album Vienna was in the NZ

top 40 for over 47 weeks. 10cc

has sold out many concerts in

New Zealand in the past, with

such hits as Dreadlock Holiday,

The Things We Do For Love, I'm

Not In Love, Art For Art's Sake,

Rubber Bullets, I'm Mandy Fly Me

and Donna.

Getting the band Zed, which

will reunite after 15 years,

was a coup, he said. "They are

a real rock and roll story of

Christchurch school mates," said

Mr Parlane.

The school mates formed a

band and went on to have four

top 10 hits.

Explore a variety of KidsFest events at Selwyn

facilities and parks in the July school holidays.

A World of Bricks

Discomania

Eye Spy Activity Hunt

Game On!

High Ropes Challenge

MakerStations Map IT! Moviemania: Ferdinand (PG)

Navigational Rampage

Selwyn Kids' Market Sport Suzie's Circus Show Inflatables and Paddleboats

For more events and information visit:

selwyn.govt.nz/kidsfest
---
SELWYN TIMES Latest Christchurch news at www.star.kiwi

Wednesday July 3 2019 11

LEGENDS:

Kiwi rockers

Zed will join

Automatic

80s (right) and

Christchurch

singer Jed

Parsons

(below)

at Sewlyn

Sounds on

March 7.

set to rock Lincoln Domain

Zed's hits include Renegade Fighter

and Glorafilia. The group recorded two

albums, toured the world, and then

broke up.

Zed is back together to celebrate the

20-year anniversary of its debut album

Silencer.

Selwyn Sounds will again benefit the

local community, said Mr Parlane.

"We have great support from the

Lincoln community. Lincoln High will

once again be providing parking and

all money raised will go back to the

school. Our volunteer base comes from

numerous community groups in the

Selwyn region and its great to support

them through Selwyn Sounds."

3 CG EVENTS presents

SERVICING NOW

Full servicing on ALL BRANDS of Chainsaws

and Outdoor Power Equipment

We have a super quick turnaround time &

we have on offer a FREE loan trailer that can

be used to transport those bigger products.

1Occ

ZED

MIDGE URE

7 MARCH

LINCOLN

Tickets On Sale Now

www.selwynsounds.co.nz

The voice of

ULTRAVOX

THE MOCKERS JED PARSONS

AUTOMATIC 80s

And don't forget we sell, as well as service the full range

of STIHL Outdoor Power Equipment!

31.8cc 3.9kg 1.4kW

16" bar and chain

MS180 Chainsaw

Save $30

$395 Incl

GST

STIHL SHOP Northwood

554 Main North Road, Belfast, Christchurch - Ph: 03-974-2469

STIHL SHOP Rangiora

Corner Lineside and Station Road, Rangiora - Ph: 03-313-3398

STIHL SHOP Fosters

559 Blenheim Road, Sockburn, Christchurch - Ph: 03-343-6339

www.stihlshopchristchurch.co.nz

C7 Chipper

Honda GX200 Engine

6.5HP

72kg

Self feeding action for up

to 70mm branches

Made in NZ

+ get a FREE set

of spare blades!

$3095 Incl

GST

All pricing includes GST. Images may vary from in store product. Offers valid until 31st July, 2019 or while stocks last.

Store opening hours: All stores open 7 Days: Mon-Fri 8am - 5.30pm, Sat 9.30am - 3pm, Sun 10am - 3pm

LOVE YOUR LAND
---
12 Wednesday July 3 2019

Latest Christchurch news at www.star.kiwi

SELWYN TIMES

Home & Living Show

Thousands attended the Star Media Home & Living Show at Horncastle Arena

during the weekend. Here are a selection of images from the event

We have two beautiful early learning centres in

Faringdon. BestStart Faringdon and

BestStart Faringdon East are spacious, open

plan centres full of the very best resources

designed to engage and inspire your child.

Contact us today to discover what we can

offer your family.

BestStart Faringdon

53 Chandler Way, Rolleston

03 550 2076 | faringdon@best-start.org

BestStart Faringdon East

526 East Maddisons Road, Rolleston

03 926 3562 | faringdoneast@best-start.org

www.best-start.org
---
SELWYN TIMES Latest Christchurch news at www.star.kiwi

13

Wednesday July 3 2019

Local

News

Now

Fire rages, homes at risk

ROLLESTON

Storage

Under New Management

• Assorted Unit Sizes, Individually Alarmed

• No Bond Required

• 24/7 Security Card Access

• 1 ST MONTH FREE with Every 6 Month Lease

BEST VALUE

LOCAL STORAGE

RESIDENTIAL

or COMMERCIAL

CALL FREE

0800 765 978

108 Izone Drive,

Rolleston

For more information visit www.rollestonstorage.co.nz

100%

CAPITAL gAIN

TO THE RESIDENT

$1,000 fULLY

REfUNDAbLE

DEPOSIT

E S T A T E

Phone. 03 421 7796 | Email. sales@woodcroftestate.co.nz

WOODCROFT WAY, 32 KENDON DRIVE, ROLLESTON, CANTERBURY

ILLINOIS DR

RAILWAY ROAD

WARDS ROAD

IZONE DRIVE

IZONE DRIVE

TWO CHAIN ROAD

WESTLAND PL

DETROIT DRIVE

ROLLESTON

Storage

IZONE DRIVE

IZONE DRIVE

LINK DRIVE

JONES ROAD

MAIN SOUTH ROAD

INVESTMENT IN YOUR RETIREMENT AND

REAP THE REWARDS IN ROLLESTON

Now

offering free

standing villas:

$560,000

3 Beds, 2 Baths,

double garage,

173m2.

ROLLESTON'S NEW REgISTERED RETIREMENT VILLAgE

• Initial weekly fee of $75 includes rates, insurance, grounds maintenance and

window washing

• Gated community and emergency call button in each villa

• Two & three bedroom villas with single/double garage from $415,000

• There will be an on site manager and a pavilion and bowling green

• Show Home now open Monday to Friday 10am to 2pm

• After hours viewing by appointment call Corinne 021 292 1141

HOSKYNS ROAD

HOSKYNS ROAD

www.manorgroup.co.nz
---
14 Wednesday July 3 2019

Latest Christchurch news at www.star.kiwi

SELWYN TIMES

Big crowd at

Rotary club

school quiz

THE SCHOOL quiz is an

important event on the Rotary

Club of Lincoln's calender.

It involved pupils from several

primary schools competing in

pairs for prizes. The recent event

attracted the largest crowd ever

– 19 schools and 38 participants

– reflecting the district's

population growth.

Parents and teachers joined

in to support the young

competitors, meaning the

club catered for more than

100 attendees. The questions

were selected from a large pool

provided by the teachers. There

were four sections and the live

scores were projected onto a

large screen.

Club members had an opportunity

to chat with parents and

teachers and develop a stronger

bond with the community.

The senior school winners

from Springston, Prebbleton and

Broadfield, and junior pupils

from Leeston, Southbridge and

Dunsandel, received gift cards

and book vouchers.

The club meets every Tuesday

at Lincoln University. Visitors

and new members welcome.

Phone Farhad Dastgheib on 027

454 9317 or email farhad@inet.

net.nz for more information.

Code brown, repeat, code brown

RELAXED: Vittoria and I had an afternoon in the park to

move on from the trauma of a nightmare code brown.

Have you thought about

fostering a child?

We are looking for people in the Christchurch area who are willing to

open up their home to *Matt. He needs a home that can provide him

with support, care and unconditional love and guidance in a clear, fair

and consistent way. Matt is looking for caregivers who enjoy outdoor

activities and have a spacious yard.

Matt is an enthusiastic, funny and

curious 16-year-old boy who is

looking for a long-term home. He

has overcome many challenges in

his life and has grown immensely

from these experiences. He has a

strong need for belonging which he

has rarely had. He is kind, helpful,

and eager to get on well with other

people. He also loves outdoors,

biking, Minecraft and animals.

Matt has an amazing sense of humour, although requires support to

express his feelings and needs. Matt is currently working on building

positive relationships and will require ongoing support.

We welcome carers who have the time, energy and the ability to

provide a loving home. These are the most important things we look

for in our foster carers. We will provide ongoing and intensive clinical

and financial assistance as well as training to all our carers to ensure

they always feel supported and enabled to do their best.

Fostering a child in need is challenging but truly rewarding. As a carer,

you'll provide consistent and responsive support and attention to help

them make sense of their world.

If you are interested in

discussing possibilities for

Matt, please call Nicky on

03 365 0291 or 027 207 8212.

VITTORIA

& Matt

HAPPY MATARIKI everyone.

I hope you're all using this

wintery time of year as a perfectly

appropriate Kiwi cultural excuse to

eat heaps with the family.

Obviously hangi or a generous

roast are the best bets. Vittoria had

her first full hangi meal on Saturday.

Now that I've got you thinking

of delicious food and eating, let's

take this lowbrow and talk about

bodily functions. Just what you

wanted right? I've always counted

myself lucky to have avoided the real

nastiness of parenting babies and

toddlers so far. While my mates have

had all sorts of dramas, I've missed

(or dodged) the worst of it.

I still count myself as lucky in that

regard (thankfully), but I got my

first taste of an 'oh-hell-no' toiletry

nightmare this week.

After coming home from an

activity last week a whiff of bad

cabbage cologne told me it was

change time. Luckily, it was all

contained and wasn't so bad in the

big scheme of things.

I congratulated myself on another

job well done.

She'd wet her pants a little

The revolution

in heat pumps

is here now!

through the nappy and the house

was warm so I left her just in her

top and nappy for a bit while I had

some lunch in the kitchen (out of

the wee seagull's view).

The true horror began soon after.

Leaving the kitchen, I looked into

the hall and immediately asked the

question: "Is that a wee jobbie?"

It was. Right there on the floor.

But not just there.

Suffice to say, if it gets on a

shoe that's about 30cm off the floor

on a rack, you've got problems

mate. Lord have mercy. Round

two was too much for her nappy to

handle.

So I rolled up my sleeves (way up)

and got stuck in, battling through a

tantrum, an awful smell and kicking

legs to clean up the offending

nightmare and get Vittoria through

a quick shower.

After that we both deserved a fun

afternoon in the park – as far away

from thoughts of a digested meal as

possible.

•Former Star Media journalist

Matt Salmons has become a

stay-at-home dad. We follow

his journey weekly.

The revolution in heat pumps is here now!

The Fujitsu e3series

The brilliant

heat pumps from Fujitsu

e1 : efficiency

e2 : environment

e3 : economy

Website: www.pshc.co.nz

Finance available

FREE consultation from your local

Accredited Heat Pump Expert

Phone today: 03 381 6950

INSERT DEALER DETAILS HERE

Winter Propet Range

instore now

FG1441

The brilliant e3 series

heat pumps from Fujitsu

e1 : efficiency

e2 : environment

e3 : economy

Email: info@pshc.co.nz

Shoes are only available at

37 Main South Road clinic

Fujitsu's Catechin Filters are

approved by the Asthma and

Respiratory Foundation NZ's

Sensitive Choice ® programme.

*name and image changed for privacy.

RiccaRton

37 Main South Road

RedcliffS

2 augusta Street

MaRShlandS

427 Marshland Road

daRfield

darfield Pharmacy

Ph 348 7910 | www.feetfirst.co.nz

now servicing

oXfoRd
---
SELWYN TIMES Latest Christchurch news at www.star.kiwi

Wednesday July 3 2019 15

Backyard Critters

Is it a ladybird, bug or

actually a beetle?

THE TWO-spotted lady

bug or ladybird is neither

a bug nor a bird, yet that is

what it is usually called.

That is why scientific

names are the best way

to communicate which

species you are referring to.

In this case we are talking

about Adalia bipunctata,

the two-spotted lady beetle

– and yes, it is a beetle.

I can confirm that it

usually has two spots, but

this is not always the case.

Like most common lady

beetles, the two-spotted

species is usually red with

black dots, but Adalia

bipunctata is extremely

variable, even to the point

of being black with orange

dots.

What is constant is its

4-5mm length and dome

shape.

This flighted species was

Mike Bowie is an ecologist who specialises in entomology

(insects and other invertebrates). Each week he introduces

a new species found in his backyard at Lincoln. His

column aims to raise public awareness of biodiversity, the

variety of living things around us. Check out the full list of

invertebrates found at http://naturewatch.org.nz/projects/

backyard-biodiversity-bugs-in-lincoln

FLY AWAY HOME: The 4-5mm long two-spotted lady

bug or lady bird is actually a beetle.

first seen in the country in

Christchurch during 1936

and has spread throughout

most of New Zealand

since. Both adults and

larvae of this species are

carnivorous.

The species has been

introduced to many

countries as a biocontrol

agent of aphids, but is

also known to feed on

meally bugs, psyllids and

scale insects. Larvae have

a completely different

appearance to adults – they

are elongated, grey, softbodied

and wingless.

The species is thought

to pass through three

generations per year and

over-winter as adults.

favourite fashion store

FASHION QUARTERLY JULY 2019

Wow hard to believe it has been 1 year

since we purchased this amazing shop,

this calls for a celebration 20% off store

wide excluding sale items & candles

until July 21.

Our new arrivals of the Red Shed

candles have been popular and the

smell is so delicious.

New arrivals from Minx Footwear are the

Watermelon Willott Boots and the Isla

sneaker both fun and of course comfy.

Charlo winter is in store with some

favourites still available pictured is

the Jasmine reversible cardi and the

Reese dress.

Do take a look at our sale page as

we have some good buys including

handbags and clutches.

A new drop of Alaska Tees have arrived

in store including sweaters, we will be

keeping the tee's topped up with the

winter release, pictured is Josie Tee

Vintage girl and the Cruz Tee Gold

Zebra. These are proving very popular

with our customers.

Libertine & Tantrum have some quirky

styles this winter loving the Inside Out

Jacket from Tantrum 2 jackets for the

price of one, this is fully reversible. The

stunning Broadway Dress colour and

velvet just beautiful, match it with tights

and ankle boots.

5 Warning Signs of Spinal Stress!

André Grob,

Dr of Chiropractic,

has had over

15 years

experience of

specialty spinal

care in Australia

and New Zealand.

A healthy spine is vital to

your wellbeing.

Specialist spinal therapy

at Southern Chiropractic

consists of:

• Manual manipulative therapy

• Soft tissue Massage

• Low level Laser therapy

• Exercise and postural

education

HEADACHES

NECK PAIN

AND TENSION

MID BACK PAIN

AND TENSION

LOW BACK PAIN

We stock a

good selection

of jewellery

including

earrings from

The Jewellery

Bar which

is locally

made in Kaiapoi and Mrs

Pretty from Augustine.

Whitechalk is back with

the Homestead Jacket,

navy stripe $199 due in store

10 July sizes S, M & L, Also

the Hazel Jumper in Navy

sizes 8 – 14 $145

Still a good selection of winter woollies,

coats and jackets in store so no need to

go cold this winter.

We thank all our customers

who shop with us and

we hope you love your

purchases.

Don't forget you can shop online

vivalamoda.co.nz and we accept

PartPay, buy now and pay over

6 weeks.

Free Shipping NZ wide

SCIATIC PAIN

www.vivalamoda.co.nz

Like us on

Facebook

FOR BETTER SPINAL HEALTH

ACT NOW… RING 322-1432

Southern Chiropractic Ltd

NEW PREMISES

Unit 4, 3 Kennedys Bush Road, Halswell

(Down the drive beside Pringle Homes offices)

Telephone 322 1432

www.southernchiropractic.co.nz

Email dre.nik@xtra.co.nz

Halswell Jct Road

Halswell

Road

Kennedys

Bush Road

3 Kennedys

Bush Road

Sparks Road

Shop 12, Rolleston Square, Rolleston. Phone 347 1151
---
16 Wednesday July 3 2019

Latest Christchurch news at www.star.kiwi

SELWYN TIMES

Harry Burgess scored a try on full-time complete

Springston's 26-18 win over Waihora.

Waihora's Stephen Swain wasn't letting Caleb Early and Jock

Mugford stop him from crossing the line.

Springston's Sean Powell (left) and

Waihora's Sean Lemon both battle

for the ball in the line-out.

Springston successfully defend shield

• By Gordon Findlater

SPRINGSTON continued

their unbeaten run in the

Ellesmere premier competition

by successfully completing their

first ever defence of the Murray

Cooper Shield against Waihora.

The 26-18 win at Springston

Domain saw the home side

put the shield up for grabs for

the first time since they won

Ellesmere's equivalent of the

Ranfurly Shield for the first

time in the club's history a week

earlier.

"It was a messy game to be fair

. . . it was good to win when we

played so badly," said Sutherland.

"To come away with a win

against Waihora at any time is

good, but it would have been nice

to play a bit better."

The match also had extra

meaning for Springston's Cameron

Powell and Jack Hardacre

who are both former Waihora

players.

Tries to Powell, Thomas

Cockburn and Sam Cottam gave

Springston a 19-18 advantage

with just a minute to play. Following

a Waihora 22m drop

out they wrapped up the match

when prop Harry Burgess

plucked the ball out of the air

and run over the line to score.

The result means Waihora

now face a tough ask to make the

playoffs with two games against

Stephen Swain fends off Conner Hamlin.

Southbridge and Prebbleton

remaining.

"It's finals time for us now,"

said Waihora coach Joff Mooar.

"It will be a challenge, but

we'll have a few guys back from

injury."

Meanwhile, Springston will

now look to go through the

round-robin unbeaten with an

away trip to Lincoln before they

host Hornby in their final match.

If they can defeat Hornby they

Bailey Clark is lifted high to catch the ball at

a line-out.

will also lock up the Murray

Cooper Shield for the summer.

They race for the play-offs will

heat up this weekend.

Southbridge can cement their

spot in the top with a win over

Waihora.

West Melton and Darfield will

meet in what will likely be a do

or die scenario for both side's

playoff hopes, while Prebbleton

will be looking for a bonus point

win over Hornby to keep their

Waihora prop Jarrod Dalton runs with

the ball.

slim hopes alive.

Lincoln can book their spot in

the top four against Springston,

while a loss would see Springston

confirm a home semi-final.

Results:

Southbridge 27, Darfield

12; West Melton 34, BDI 21;

Springston 26, Waihora 18; Lincoln

76, Hornby 20; Prebbleton

40, Rolleston 17.

Standings:

Springston 34pts, 1; Southbridge

30pts, 2; Lincoln 24pts,

3; Waihora 22pts, 4; Darfield

20pts, 5; West Melton 20pts, 6;

Prebbleton 17pts, 7; BDI 11pts,

8; Hornby 4pts, 9; Rolleston 1pts

10.

Draw:

Southbridge v Waihora,

Lincoln v Springston, Rolleston v

BDI, Hornby v Prebbleton, West

Melton v Darfield.

•Photos: Karen Casey

WIN

$1000 *

TOWARDS YOUR

wardrobe

TRANSFORMATION

Request a free measure

and quote from HomePlus

and go into the draw to

win $1000 towards your

wardrobe transformation.

*

Promotion closes 19th July 2019.

Choose from the

many stylish high

quality systems -

all custom made to

fit your home and

lifestyle.

Measured, made

and installed by our

team of experts.

5 year warranty.

AWNINGS & BLINDS BALUSTRADES FENCING & GATES INSECT SCREENS LOUVRE ROOFS SECURITY SCREENS SHOWERS WARDROBES & DOORS

88 Gasson St, Sydenham | 03 379 3740 | www.homeplus.co.nz
---
SELWYN TIMES Latest Christchurch news at www.star.kiwi

Wednesday July 3 2019 17

Schedule could dash Springston's hopes

• By Gordon Findlater

SPRINGSTON'S potential

fairy tale story from playing in

Ellesmere's second division two

years ago, to making a run at

the Coleman Shield could take a

serious blow due to the Mitre 10

Cup starting early.

If the leaders of the Ellesmere

premier competition make the

final on July 27 they are likely

to be majorly effected by a Canterbury

pre-season game which

will be played against Tasman

in Hanmer Springs on the same

day.

Springston hooker Sam Powell

and first-five Cameron Cottam

are both in the Canterbury

wider training group and are

now unlikely to be available

for Springston if they make the

Ellesmere club final. The club

would also likely be without

Crusaders and Canterbury

player Mitchell Dunshea who

has played a handful of games

for Springston this year.

"They're [Cottam and Powell]

both saying if we're in the final

then they want to play finals

footy. That's why they're here,

because they want to help

the club win the title," said

Springston coach Anton Sutherland.

If Springston can go onto

make the club final they are

likely to apply for dispensation

from Canterbury to allow their

rep players to be available.

The double up has been caused

due to the Mitre 10 Cup season

• By Gordon Findlater

A VALIANT second half

performance wasn't enough to

stop Lincoln Combined being

put to the sword by unbeaten St

Andrew's College 19-47 in the UC

Championship on Saturday.

Lincoln Combined found themselves

in trouble early as the home

side jumped out to a 0-33 lead.

"We started nervous and made

some errors and they're a really

good side. They punished us in particular

with the pick and go, anytime

they got into our 22 they came

away with points," said Hooper.

However, a strong second half

from Lincoln Combined saw them

DOUBLE UP: Cameron Powell and Sam Cottam could be forced to miss the Ellesmere club

final for Springston due to a Canterbury pre-season match which is will be played on the same

day as the Coleman Shield final. ​

beginning earlier than in recent

years due to no June international

window being played this

year.

"Ahead of the first round of

the 2019 club season and the

completion of competition

draws, the CRFU and its subunions

were advised of changes

to dates for the Mitre 10 Cup

competition this year, which

would see the provincial competition

start date brought forward

by one week. As a result, New

Zealand Rugby's recommendation

was that club finals across

outplay St Andrew's 19-14 thanks

to an improved display and tries

from loose forward Blake Evans,

second-five Wil Gualter and replacement

prop Jordan Lill.

"The boys showed real character

in the second half. It would have

been really easy for the boys

to fold, but they didn't do that.

We played some good footy, in

particular there were some really

good performances from our

bench," said Hooper.

This Saturday, Lincoln Combined

travel south to take on

Timaru Boys' High School – who

are just two points behind them.

Hooper says they are expecting a

tough match from a Timaru BHS

New Zealand be played one

week in advance, on the weekend

of July 20-21, in order to ensure

there was minimal disruption

to the club competition and

player availability," said CRFU

chief executive Tony Smail.

"It is ultimately the decision

of our sub-unions as to the dates

they wish to play their club

finals and we have had good

conversations with each of them

throughout this process. We'll

continue to work with them

around player availability to

ensure the best outcome for both

side who have proven to be hard

to knock over on their own turf.

Results: St Andrew's 47, Lincoln Combined

19; Nelson College 45, Shirley BHS 14;

Christchurch BHS 50, Marlborough BC 24;

Timaru BHS 67, Mid Canterbury Combined

12; St Bede's 28, Aoraki Combined 0; St

Thomas' 36, Rangiora HS 31; Nelson College

26, Christ's College 12.

Standings: Nelson College 45pts, 1;

St Andrew's 44pts, 2; St Bede's 38pts, 3;

Christchurch BHS 31pts, 4; Christ's College

28pts, 5; Rangiora HS 28pts, 6; St Thomas'

24pts, 7; Lincoln Combined 19pts, 8;

Timaru BHS 17pts, 9; Shirley BHS 15pts, 10;

Marlborough BC 13pts, 11; Waimea Combined

9pts, 12; Aoraki Combined 8pts, 13;

Mid Canterbury Combined 2pts, 14.

Draw: Timaru BHS v Lincoln Combined,

Marlborough BC v Waimea Combined,

Shirley BHS v Mid Canterbury Combined, St

Thomas' v Aoraki Combined, Christchurch

BHS v St Bede's, Rangiora HS v St Andrew's.

•More sport, pages 20, 21 & 23

the provincial competition and

our community game."

The move could also affect

Waihora due to halfback Harry

Kirk being part of the wider

training group. Waihora coach

Joff Mooar says they have

known about the double up and

will be in contact Canterbury

coach Joe Maddock to see if he

will be available if they make the

final.

Outside play-off chance

Prebbleton also have Tim

Murgatroyd and Tom Boyd in

the wider training group.

SPORT

Close results

in netball

competition

TWO NAIL-BITERS highlighted

the second round of the Selwyn

premier netball competition at the

weekend.

In what could prove to be a

pivotal match for survival against

relegation Greenpark B overcame

recently promoted West Melton

A 54-52.

Meanwhile, round one champions

Broadfield A edged Lincoln

A 55-53 to keep their hopes of

winning round two well and truly

alive.

The weekend's other results saw

Greenpark A do a demolition job

on Southbridge A 69-27.

This Saturday Southbridge will

look to bounce back against West

Melton in a match likely to decide

which team will face relegation.

Results:

Greenpark B 54, West Melton A

52; Greenpark A 69, Southbridge

A 27; Broadfield A 55, Lincoln A

53.

Standings:

Greenpark A 8pts, 1; Broadfield

A 8pts, 2; Lincoln A 5pts, 3;

Greenpark B 4pts, 4; West Melton

A 1pts, 5; Southbridge A 0pts, 6.

Draw:

Greenpark A v Lincoln A; West

Melton A v Southbridge A; Broadfield

A v Greenpark B.

Lincoln Combined put to sword by St Andrew's

Specialists @ Individuality

• Focus on sustainability

• Award winning family owned business

• Proven reputation of quality

• Full architectural design package

NATIONAL "HOY" WINNER plus GOLD RESERVE 2016

DETERMINED: Brandyn Boyle bounces off a St Andrew's

tackler during his side's 19-47 loss.

PHOTO: ANGELA JONES PHOTOGRAPHY ​

View our display home

Phone Jesse 021 701 265

or visit www.jdhomes.co.nz

Canterbury
---
18

Wednesday July 3 2019

Latest Christchurch news at www.star.kiwi

Selwyn Times

Selwyn joins

Children's University

Selwyn District Council has partnered with New Zealand's first Children's University programme to

support lifelong learning in the district.

Children's University is an award-winning international learning programme that encourages 7 to

18 year olds to engage in learning activities and experiences outside school.

Children on the programme earn stamps in a 'learning passport' for each hour they spend at

approved learning destinations. When they have completed 30 hours they can graduate in a

graduation ceremony.

Learning destinations can be anything that connects with the Children's University curriculum and

a university programme—from visiting a museum, participating in an outdoor activity, art classes,

or exploring a farm.

Lincoln University and the University of Canterbury partnered to bring Children's University to

Canterbury in October and the Council has joined the partnership by offering learning destinations

throughout the district.

Destinations are marked in the Term Three Selwyn Activity Programmes sent to every house

this month.

Community Services group manager Denise Kidd says supporting Children's University was a

great opportunity for the Council to invest in Selwyn's children and future.

"It's important to encourage our children to learn in the world, as well as the classroom, and we

know that Selwyn has a lot to offer and is a world worth exploring."

Te Taumutu Rūnanga has also joined the partnership and in a world first it hopes will impact

other Children's University programmes the Canterbury programme includes formal recognition

of learning that enhances the cultural identity of Ngāi Te Ruahikihiki ki Taumutu tamariki and

mokopuna.

Prebbleton and Ladbrooks Schools in Selwyn are among those taking part in the programme.

Ladbrooks School Children's University coordinator Keryn Wilson says her students have been

excited by the programme and the activities that are counted.

"Students have been embracing their passions and looking for ways to reflect on these through a

lens of what has been learned. They are keen to talk about what they have been involved in and

families are showing their support by using local learning destinations."

KidsFest back this weekend

KidsFest is here from Saturday with a packed programme of fun for

children throughout the school holidays.

Starting on Saturday, Eye Spy Selwyn will be under way for

young people to get out and explore the district any time. The

creative MakerStations and Game On! board games events will

be available any time at the Selwyn Libraries. From Monday, the

Selwyn Aquatic Centre will also have its giant inflatables and

paddleboats out on weekdays.

Other events during the week should ensure something for everyone

from the popular kids market on Thursday 11 July to the Moviemania

showing of Ferdinand the Bull on Tuesday 16 July, Council's Sport,

Recreation and Wellbeing manager Dave Tippett says.

"We've got the Navigational Rampage on at Foster Park and Sports

Suzie's Silly Circus Show that are looking like being a great time.

We've got a lot of stall holders signed up for the kids' market

again, so that should have a great range of stuff for sale and we're

encouraging people to make time to come in and grab a bargain

and support the kids."

Events are happening all over the district, including Map IT!

sessions in West Melton, Glentunnel, Tai Tapu and Southbridge,

offering an opportunity to create a whole new world and enjoy

the art and science of creating maps. For more information see

selwyn.govt.nz/kidsfest.

Young people go speed dating

for work

It was all about connections as 29 school leavers tried to woo

potential employers from 12 businesses at a speed dating style

event in West Melton.

The Council-run event last week was organised to help Year 12 and

13 school leavers meet employers and hopefully get a job.

The students had five minutes to meet with each business, with each

side marking if they were interested afterwards and Council staff

matching up where both student and business were keen to talk more.

The aim was to support young people and keep them in the district,

Council Community and Economic Development senior advisor

Clare Quirke says.

"We know with young people leaving school, if they don't get into

employment or training that can be a time when problems begin.

Meeting potential employers is a stressful thing, especially if you're

doing it for the first time, so the speed dating idea gives it a bit of

fun in a neutral setting."

Sonia Rawson from trucking company Canterbury Bulk Freight says

they were keen on the chance to support young people and the day

went well.

"We've been quite surprised by the amount of them that are

interested. It's an opportunity for them to sit down with an employer

they might not normally approach, and whether they go with this

industry or just build some confidence because they have spoken to

an adult about a job that's good."

Darfield High School careers advisor Jo Ager says the five students

she brought had appreciated the chance and had their eyes opened

to jobs they didn't know about before.

"These guys were super nervous, but the employers have been

impressed with the students that sat in front of them."

The event was run with advice from the Ministry of Education and

Otago District Council, which have successfully held similar events.

Upgrades begin in Prebbleton

The first project to upgrade the Eastern Selwyn sewerage scheme is

under way in Prebbleton.

Construction on the new $2million Prebbleton pump station

began last week and is expected to be completed in December,

weather permitting.

The pump station is needed to keep up with growth in Prebbleton.

It is the first of a series of upgrades to the Eastern Selwyn Sewerage

Scheme signaled in the Annual Plan 2019/20 to cater for continuing

population growth. The station on Springs Road will work together

with the current station to collect Prebbleton wastewater and

transfer it though the Council network to the Pines Wastewater

Treatment Facility.

It has been designed with a purpose built odour control unit to

eliminate any smell from the site and an acoustic engineer also

helped with the designs to ensure minimum noise.

Trees will be planted around the site to reduce the visual impact.

The pump station was proposed in the Annual Plan 2016/17 and an

independent adviser was engaged to select the best site.

Discussions were held with the neighbouring landowners and the

station was designed to take their feedback into account.

Council Call

Selwyn District Council

Norman Kirk Drive, Rolleston

Ph 347 2800 or 318 8338

Rolleston Library

Rolleston Drive, Rolleston

Ph 347 2880

Darfield Library & Service Centre

1 South Terrace, Darfield

Ph 318 8338 or 347 2780

CC030719
---
Selwyn Times Latest Christchurch news at www.star.kiwi

Wednesday July 3 2019

19

Notices

CANDIDATES INFORMATION

EVENING

People thinking of standing for

elections are encouraged to

attend a candidates information

evening on Thursday 4 July,

7pm at Council offices on

Norman Kirk Drive, Rolleston.

Standing for local government

is a great way for you to have a

meaningful say on issues that

affect your community, and to

develop leadership skills.

Nominations for candidates

open on 19 July and close on

16 August.

Information about the elections,

and candidate requirements, is

also available in the Candidate

Handbook, which can be

downloaded from the Council

website at selwyn.govt.nz/

elections.

Voting papers will be delivered

in late September and voting

closes on Saturday 12 October.

SUBMISSIONS ON

TEMPORARY ROAD

CLOSURE

Submissions are invited on

a proposal to close Malvern

Hills Road from Bulls Road to

Waianiwaniwa Road on Sunday

28 July 2019.

The purpose of the proposed

closure is for conducting a

motorsport event. During the

road closure, traffic will be

requested to detour along the

nearest alternative route.

Anyone opposing the proposed

road closure may submit a

written objection to the Council

stating why they oppose it. The

Meetings

Public Forums: Council,

Community Board and local

committee meetings are open

to the public. Time is available at

the start of meetings for people

to speak on matters of concern.

Please notify Bernadette Ryan

or your local committee at least

three days before the meeting.

Township, Hall and Reserve

Committees: To list or make

changes to meeting details, email

meeting.changes@selwyn.govt.

nz or phone 347 2800 or 318

8338 by 9am Wednesday the

week before publication.

COUNCIL & COMMUNITY

BOARD

Selwyn Waihora Zone Committee

Tue 2 Jul 2pm

Lincoln Event Centre

Property Committee

Wed 3 July 10am

West Melton Community and

Recreation Centre

Audit & Risk Subcommittee

ON THE

ROADS

closing date for submissions

is 4pm on 8 July 2019.

Submissions can be made by

emailing transportation@selwyn.

govt.nz or posting to Selwyn

District Council, PO Box 90,

Rolleston 7643

FOSTER DOG PARK CLOSED

Foster Dog Park will be closed

for off-lead dog exercise on

13–14 July from about 7.30am

to 4pm for a Selwyn Dog

Training Club dog obedience

competition. The club is happy

for people to come and watch

the competition, but spectators

with dogs are asked to keep

them on a lead and well away

from the competition area.

EXPERIENCED SPORTS

PEOPLE WANTED

Council's Sport NZ Rural Travel

Fund Committee is seeking

applicants from residents in the

Springs, Ellesmere and Selwyn

Central Wards to become a

member.

The committee meets

twice each year to consider

applications for funding from

clubs seeking assistance with

travel costs to local competition

matches. The position lasts

three years and travel expenses

will be reimbursed.

The ideal candidate will have

been actively involved in sport

and/or sports administration,

have an overview of sport/

recreation in Selwyn and will

be keen to encourage and

promote sport in Selwyn district.

Applicants need to be resident

in the ward they are applying for.

Wed 3 Jul 1pm

West Melton Community and

Recreation Centre

Council meeting

Wed 10 Jul 1pm

West Melton Community and

Recreation Centre

DISTRICT COMMITTEE

MEETINGS

Darfield Township Committee

Thur 18 Jul 7.30pm

Darfield Library

Doyleston Community

Committee

Wed 3 Jul 7.30pm

Doyleston Hall, Osborne Park

Glenroy Community

Hall Committee

Tue 16 Jul 7.30pm

Glenroy Community Hall

Glentunnel Community

Centre Committee

Tue 16 Jul 7.30pm

Glentunnel Community Centre

Kirwee Recreation Reserve

On the roads this week

Applications from those

interested must be in writing,

including details of sporting/

sporting administration

involvement, and be received by

5pm Friday 5 July 2019.

Applications may be emailed to

stuart.westoby@selwyn.govt.nz

or posted to:

SPORT NZ Rural Travel Fund

Committee Position

Selwyn District Council, PO Box

90, Rolleston 7643

Attn: Stuart Westoby

Further information regarding

the position may be obtained

from Stuart Westoby ph (03) 347

2708.

MICROCHIPPING

If your dog was first registered

after 30 June 2006 and is not a

working dog, the law requires

him or her to be microchipped.

A clinic will be held on Friday 5

July at the following places:

Lincoln: 9–9.30am

Leeston: 10.15–10.45am

Darfield: 11.30am–12pm

Rolleston: 12.45–1.15pm

Microchipping will not take place

if wet. If you have any questions

regarding microchipping, please

contact Tracey Wheeler on 347

2800.

Management Committee

Mon 8 Jul 7.30pm

Kirwee Reserve Sports Pavilion

Kirwee Township Committee

Mon 15 Jul 7.30pm

Kirwee Community Hall

Lincoln Community Committee

Mon 8 Jul 7pm, Fitzgerald Room,

Lincoln Event Centre

Southbridge Advisory Committee

Mon 8 Jul 7pm

Southbridge Hall

Springston Community

Committee & Springston

Recreation Reserve Committee

Wed 17 Jul 7.30pm

Errol Tweedy Pavilion,

Springston Reserve

Tawera Memorial Hall Committee

Wed 3 Jul 7pm

Tawera Memorial Hall

Waihora Park Reserve

Committee

Tue 2 Jul 7.30pm

Waihora Bowling Club,

Motukarara

Surfacing work will be carried out on Kerrs Road and Clintons Road until Friday 5

July. Traffic management will be in place at this time. Footpath construction will be

taking place on Forbes Road from Michaels Road to School Road, Michaels Road

from Old Tai Tapu Road to Forbes Road, Birchwood Close, Prebblewood Drive

from Trents Road to Dewar Lane, Crown Close, and Woodlaw Crescent and Marshs

Road from SH1 to Meadowlands Road, until Friday 5 July.

There will be partial road closures on McLaughlins Road and Greendale Road, Darfield from Monday

8 July to Friday 19 July. Roads will be fully open in the evenings and at the weekends. Traffic

Management will be in place.

Halswell Junction Road temporary road, between Springs Road and John Paterson Drive will be closed

from 8pm–5am for two weeks for work on the Christchurch Southern Motorway extension.

Selwyn Events

UNTIL

4JULY

SATURDAY

6JULY

UNTIL

7JULY

SUNDAY

7JULY

SUNDAY

7JULY

Matariki photography

exhibition

West Melton Community and

Recreation Centre

See some amazing photographs of

the night sky from members of the

Canterbury Astronomical Society. See

selwyn.govt.nz/matariki for times.

Maintaining stone fruit trees

Lincoln Envirotown Community

Gardens, 10.30–11.30am

Warwick Mottram will demonstrate

pruning techniques and discuss how

to deal with pests and diseases,

seasonal tasks. Gold coin donation.

For more information contact Ruth on

021 074 3905.

Ewe Beauty II

Down by the Liffey Gallery

An exhibition from Southern Felters, a

Canterbury-based creative

fibre group, who will be exhibiting

an array of their felt objects - from

wall art and sculptures to jackets

and other wearable art. Open Wed–

Thur 11.30am–2.30pm and Fri–Sun

10am–4pm.

Mahoe Reserve

Planting Day

Mahoe Reserve, 2pm

Join the community for an afternoon

of planting and restoring the native

environment. For more information see

Eventbrite or contact Sue on 021 100

1009 or mahoereserve@gmail.com

Repair it - Sewing Sunday

Lincoln Library, 10.30am–12.30pm

Do you have a growing mending pile

and would like to make your own

alterations? Come see our common

alteration and repair demonstrations

and receive expert advice on how to

repair your garments.

Events starting

this Saturday!

For events and information visit:

selwyn.govt.nz/kidsfest

For information on listing a community event visit

www.selwyn.govt.nz/councilcall

Leeston Library & Service Centre

19 Messines Street, Leeston

Ph 347 2871

Lincoln Library & Service Centre

Gerald Street, Lincoln

Ph 347 2876

(03) 347 2800

Darfield call free 318 8338

www.selwyn.govt.nz

SelwynDistrictCouncil
---
20 Wednesday July 3 2019

Latest Christchurch news at www.star.kiwi

SELWYN TIMES

From Auckland bad

• By Gordon Findlater

EXCITING: Ron Cribb wasn't afraid to show off his footwork

while gracing the Crusaders No 8 jersey.

RON CRIBB is a prime example

of how the Crusaders can turn

an Auckland bad boy into All

Blacks material.

The 42-year-old father-of-two

is now a well-established figure

in the business world. However,

he is best remembered in this

part of New Zealand for scoring

the Crusaders only try in their

20-19 win over the Brumbies in

the 2000 Super Rugby final.

The No 8 scored in his

signature style by putting

through a grubber kick to

himself before crossing the line.

The try was one of seven in a

season which also saw him cross

the line in the semi-final against

the Highlanders.

Cribb's performances in red

and black throughout the 2000

season set him up to make

15 appearances for the All

Blacks over the next two years.

However, it could have easily

turned out very differently – he

grew up with a reputation for bad

behaviour in West Auckland.

Cribb played rugby league

until he was 17. He was a student

at Auckland's Rutherford

College at the same time as

Kiwis representatives Robbie and

Henry Paul. However, his days

there were cut short when he was

expelled for fighting. He then

moved to Massey High School,

where he joined his childhood

•Great players have come and gone from the

Crusaders over the years. Selwyn Times continues

to catch up with some of them.

friend Troy Flavell. "I was getting

into a bit of trouble there (Massey

High) and they encouraged us to

leave school," said Cribb.

"I look back and I'm pretty

embarrassed of my behaviour. I

was quite aggressive, causing a

bit of trouble and bullying."

Through a technicality, Cribb's

father found a way to keep his

son at school. However, one of

the conditions of his attendance

was that he play for Massey's first

XV.

"My first year I wasn't in

the rugby system at all and

then Russell Jones selected

me for North Harbour," said

Cribb.

"We ended up finishing third

in the school competition and

when I got home there was

a letter saying you've been

selected to play for the New

Zealand Schools and you're off to

England, Scotland and Wales for

eight weeks.

"All of a sudden I was the first

New Zealand schoolboy from

Massey and it was a big deal. The

school was all over the awards

and in the paper, so all of a

sudden, I went from zero to hero

. . . I took advantage of that being

the little s**t I was and wore

whatever I wanted to school. I

had a lot of growing up to do

that's for sure."

Following school, Cribb went

through what he describes as a

rough patch.

He made the New Zealand

under-19 squad while living out

of a car due to problems at home.

Cribb says his former under-19

coach still tells the story about

him sleeping in a car to motivate

players when they don't turn up

to training.

"At night I had a dog which

kept me company. I did 10km

runs in the evening and I would

eat at friends or have a shower at

friends where I could."

Your trusted guide

Consumer's Guide to Hearing Aids 2019

Smooth-Air

Ventilation Equipment Suppliers

totrade

retail

The most efficient way

to ventilate your home

&

HEX 390

For Healthy Indoor Air

Heat is transferred to the

incoming filtered fresh air

Made in New Zealand,for New Zealand conditions

Fresh air

from outside

Exhaust air

to outside

Warm, stale

air from house

Warm fresh air

to house

Get your FREE copy now.

New Zealand's only independent hearing aid guide,

featuring all the latest models and their prices.

Substantial energy savings

over traditional domestic

ventilation systems.

EXCLUSIVE TO

tritonhearing.co.nz

CALL TODAY

0800 45 45 49

0800 SMOOTH

(0800 766 684)

sales@smooth-air.co.nz

264 Annex Rd

Riccarton

Christchurch

03 343 6184

Monday - Friday

7.30am - 5pm

www.smooth-air.co.nz
---
SELWYN TIMES Latest Christchurch news at www.star.kiwi

Wednesday July 3 2019 21

boy to match-winning Crusader

"I used my sport as an avenue

to get me back on track because

I went off the rails for a bit, but

I stayed focused as much as I

could," said Cribb.

"I went through a lot of

injuries because I didn't

understand the importance of

nutrition. I over trained and

was undernourished, so I was

constantly getting sick."

In 1998, Cribb made 13

appearances and scored six tries

for North Harbour in the NPC.

He looked sure to have a career

at the Blues in 1999 before being

dropped.

"They dropped me for

something that wasn't even

correct. In fact I was actually

trying to help a teammate, so I

was pretty devastated," he said.

Cribb went back to club rugby

in Auckland before getting a

phone call from Wayne Smith

midway through the season

after regular Crusaders No 8

Steve Surridge suffered a serious

injury. He initially thought he

was being pranked by Flavell,

but Cribb was asked by Smith

to move south and join the

Crusaders.

"I went down and they did a

3km run and I came last, even

though I did it 12min, but Con

Barrell beat me in the last 100m.

I was pretty gutted to come last

because I'm quite competitive,"

he said.

Cribb says he asked the

LIFE LESSONS: Ron Cribb is now

the national relationship manager

at Metro Performance Glass after

making a career for himself in the

business world.

coaching team to give him a

chance and agreed to put in

extra training to bring his fitness

up to speed.

The Crusaders coaching staff

were also the first to encourage

Cribb's flamboyant

style of play after

previous coaches had

told him forwards

don't kick the ball.

"They were the first

coaches I had which

encouraged that. They

said we didn't bring

you down here to hit

rucks, we brought you

down here to get the

ball in your hands and

do the stuff we know

that you can do, which

was quite refreshing,"

said Cribb.

"Canterbury

changed my whole

mindset, I started

seeing things

differently. Guys like

Shag [Steve Hansen]

had a huge influence

in that; he kept me

grounded every week."

Following his

breakout 2000 titlewinning

campaign

with the Crusaders,

Cribb returned to the

Blues in 2001.

However, a series

of injuries and a knee

reconstruction limited

his play at the highest

level. In late 2003, he joined the

Kobelco Steelers in Japan. After

five seasons there, he played

one season with Ravigo in Italy

before returning to New Zealand

to be closer to his son and

daughter.

In 2010, he hoped to sign

off with one last showing for

North Harbour, but a prolapsed

disc in his neck which caused a

trip to the hospital also revealed

a broken collarbone he'd had for

six weeks.

"I was wondering why I was

struggling to lift in the lineout,

I thought I was just getting old,"

said Cribb.

Following his rugby playing

career, Cribb had a brief stint

in real estate before being told

about a role as an account

manager at Fletcher Steel.

"I had no qualifications or

anything so I was starting from

scratch, which is really hard, but

I won them over with one answer

really," said Cribb.

"They said to me, so you're

role is you're going to have

customers that will potentially

be let down and it will be outside

of your control, how are you

going to deal with that? I said,

can I answer that as a question

. . . have you ever let down four

and a half million people? I

think I can handle one or two let

downs."

After putting the HR

department into stitches, he got

the job and worked there for two

years.

He then took on a national

key account manager roles at

Tasman Insulation and Mitre

10. Cribb is now the national

relationship manager at Metro

Performance Glass.

Cribb says his ability to

move into the corporate world

following rugby is one of the

accomplishments he is most

proud of in his life.

"I was given a contract with

North Harbour during my last

year of high school and I really

didn't have anything else . . .

a lot of the skills I've learnt

through rugby I've transitioned

into the corporate arena. It's little

things like the way you think

when you make a decision," said

Cribb.

"There's a lot of people in the

corporate arena that will make

decisions that best suit them or

make them look good.

"I'm more what's good for

the business and the team?

I understand individuals,

different characters and different

values all coming under the

one umbrella . . . it's things like

Gilbert Enoka taught us when

we were playing, which is your

mindset, and so that's what I did

and I learnt on the way."

Outside of work, Cribb is

actively involved with his

children's sporting activities.

His 15-year-old son Nico is a

promising outside back and

100m sprinter.

Meanwhile, his 17-year-old

daughter, Helena, is playing

representative netball.

WINTER BLOWOUT - ON NOW!

ALL STORES OPEN 7 DAYS

EU22 Inverter

Generator

MS362 Chainsaw

SH56 Blower Vac

C7 Chipper

Engine: GXR120

Max AC Output: 2200VA

Size: LxWxH (mm)

511x290x425

Operating Hrs (on eco

throttle) 15 hrs

Weight: 21kg

Recoil Start

70.7cc

6.3kg

4kW

20" bar & chain

27.2cc 5.3kg

Airflow 710m3/h

Easy start model

Honda GX200 Engine

6.5HP

72kg

Self feeding action for up

to 70mm branches

Made in NZ

+ receive a FREE set

of spare blades!

Save $400

$2299 Incl

GST

Save $400

$1595 Incl

GST

Save $150

$395 Incl

GST

$3095 Incl

GST

HS46 Hedgetrimmer

21.4cc 4.3kg 0.65kW

550mm long blade

Easy to start

Save $100

$845 Incl

GST

Save $580

Ride on

Mower

Engine: 20HP V-Twin

Briggs & Stratton OHV

Drive System: Foot pedal

hydrostatic

Cut Height: 2.5 -10cm

Turning radius: 46cm/18"

Deck: 105cm/41"

LN200H

$5219 Incl

GST

95.5cc

11.7kg

5kW

TS700 Cut Off Saw

Save $119

+ receive

a FREE

14"

Diamond

blade

worth

$530!

$2271 Incl

GST

All pricing includes GST. Images may vary from in store product. Offers valid until 21st July, 2019 or while stocks last.

Store opening hours: All stores open 7 Days: Mon-Fri 8am - 5.30pm, Sat 9.30am - 3pm, Sun 10am - 3pm. 12 month interest free is available - see in store for details.

RE119 Waterblaster

Save

$300

230V

2.1kW

6.7lt/min

1812 working psi

Hose length: 8m

+ receive a FREE RA101

Patio Cleaner worth $197!

Incl

$495 GST

STIHL SHOP Northwood - 554 Main North Road, Belfast, Christchurch - Ph: 03-974-2469

STIHL SHOP Rangiora - Corner Lineside and Station Road, Rangiora - Ph: 03-313-3398

STIHL SHOP Fosters - 559 Blenheim Road, Sockburn, Christchurch - Ph: 03-343-6339

www.stihlshopchristchurch.co.nz

LOVE YOUR LAND
---
22

Latest Christchurch news at www.star.kiwi

Wednesday July 3 2019

SELWYN TIMES

raNGiora • Northwood • st martiNs • tower juNctioN • BishoPdaLe • raNGiora • Northwood

Northwood • st martiNs • tower juNctioN • BishoPdaLe • raNGiora • Northwood • st martiNs • tower juNctioN • BishoPdaLe •

SCHOOL HOLIDAY

PICTURE

& ACTIVITY

BOOKS

MIX & MATCH

2 BOOKS FOR

$

10

*Discount applies to products with a yellow sticker.

25 %

off

KIDS'

GAMES

**Stock may vary from store-to-store.

NEW

RELEASE!

THE WORLD'S

WORST TEACHERS

David Walliams

Follow us on Facebook:

@papertreestores

KIDS'

READS

2 BOOKS FOR

$

13

*Discount applies to products with a yellow sticker.

20 %

off

KIDS'

BOOKS

*Discount applies to products with a yellow sticker.

RRP $26.99

our price

$

19 .99

+

Promotion does not include Paper Tree Local stores.

tower junction, off Clarence St, Riccarton | Bishopdale, 31 Bishopdale Court, Bishopdale | rangiora, 206 High Street, Rangiora

Northwood supa centre, Main North Road, Belfast | st martins shopping centre, Wilsons Road, St Martins

• st martiNs • tower juNctioN • BishoPdaLe • raNGiora • Northwood • st martiNs • tower juNctioN • BishoPdaLe • raNGiora
---
SELWYN TIMES Latest Christchurch news at www.star.kiwi

Wednesday July 3 2019 23

Fightback not enough to secure Lincoln Uni a win

Jim Doyle reports on

Lincoln University's game

against Christchurch

LINCOLN UNIVERSITY lost

their third game in the top six

of metro premier rugby, going

down 28-38 to Christchurch at

home on Saturday.

When you're 20-0 down after

20min, the finish line looks a

long way away. But the Rams

won a lot of hearts for fighting

back to 28-33 with a minute or

so to go.

By that stage they'd posted

four converted tries to three by

Christchurch. It was time for a

final fling.

The breakout by the Rams

from deep in their own territory

looked promising to start with.

Then a pass went astray and

Christchurch first-five Tom

Hanham-Carter swooped to nail

the game for the visitors.

You can't blame the Rams

too much for that. It was death

or glory. But it meant they had

only one bonus point instead of

two.

They were guilty of such

sloppy play earlier and

SPORT

Christchurch were happy to

pounce on it. Still the Rams head

the top-six points table although

they're looking thin in key areas

and will need to dig deep in the

weeks to come.

Christchurch had too much

of the ball and the game in the

first half, Dan Dorgan (playing at

fullback) steering the side with

big punting and the rest of the

team mixing ruggedness with

canny play.

With huge props in Hamish

"Keg" Kilpatrick and Sam

Cottam, Christchurch had an

edge in the scrums, for the first

quarter at least.

Sam Gilbert set the ground

alight for the home side with

time almost up when he carved

the Christchurch defence apart

to score the last try for his side.

He landed the conversion for

another 100 per cent goalkicking

return.

Nic Souchon gave it

everything to lift his team. He

battled through an ankle injury

then was kicked in the head

while lying on the ground some

distance from the play. He tried

to soldier on, but he was limping

and there was blood coming

from his left ear so he had to be

replaced.

Scorecard:

Christchurch 38 (Burns Mills,

Hugh Renton, Matt Kottier,

Thomas Hanham-Carter tries;

Dan Dorgan 3 conv, 4 pen) beat

Lincoln University 28 (Brian

Matoramusha, Troy Hallett, John

McKeefrey, Sam Gilbert tries;

Gilbert 4 conv). HT: 23-7.

SELWYN NETBALL U19 TEAM

NATIONAL TOURNAMENT, Invercargill 8 - 11 July 2019

The Selwyn Netball Centre are proud to be sending its u19

representative team to the Netball New Zealand u19 National

Tournament being held in Invercargill next week. The national

tournament will provide an opportunity for these players to

develop their own play as well as take on competition at the

highest available for their age group. This will allow them to

develop their netball skills and learn how to adapt to a variety

of playing styles that they will experience from different

teams from throughout New Zealand.

The girls are very fortunate to be in the capable hands of

coach Kana Shedlock. Kana is an experienced coach who

brings a wealth of knowledge to the team and is able to

Caitlin Woolman-Smith

Sponsored by:

Erect

Scaffolding

Ph 027 733 6623

www.erectscaffolding.co.nz

encourage players and set high expectations so they are

playing at their best. Anna O'Dell is our assistant coach and

defence specialist. Another experienced coach and player,

from one of our own clubs Green Park.

Megan Skilling is the team manager. Megan's main goal is

to ensure the wellbeing of the players while they're away

including assisting them to manage any niggles and injuries.

Her role also includes overseeing meals and ensuring the

players also access medical treatment if necessary. Megan

also oversees all the tournament paperwork and keeps

everything on track for the team.

Emma Van der Wilt

Sponsored by:

437 Bangor Rd, Darfield

www.bangorfarm.co.nz

Preparation for the tournament has been intense with

practises and lead up tournaments. The players are

developing into a strong unit, creating more cohesive

combinations and making the most of the skills each player

brings to the team. We would like to take this opportunity to

thank our volunteer coaching and management team. And a

big thank you to the below sponsors for their support or our

team.

If you would like to follow the team's progress, be sure to like

the Selwyn Netball Centre Facebook page where we are hoping

to post regular updates.

Sam Adams

Sponsored by:

33 South Terrace, Darfield

Ph 03 318 8421

www.challengedarfield.co.nz

Claire Gordon

Sponsored by:

Sophie Hill

Sponsored by:

Sam Crossley

Sponsored by:

6 Maurice St, Lincoln

Ph 03 974 1620

Ph 03 344 3044

www.countryfeasts.co.nz

Ph 03 324 2631

www.harkerssbuses.co.nz

Camryn Dyson

Sponsored by:

Dyson

family

Brylee Riddle

Sponsored by:

Ph 022 357 8573

www.pulseentertainment.co.nz

Emily Skilling

Sponsored by:

Ph 03 324 2631

www.harkerssbuses.co.nz

Liv Clark

Sponsored by:

Jasmine Curtis

Sponsored by:

Chrissy Taylor-Claude

Sponsored by:

Farm Right

Limited

738 Main South Road, Templeton

Phone: 344 0331. www.totalspan.co.nz
---
24 Wednesday July 3 2019

Latest Christchurch news at www.star.kiwi

SELWYN TIMES

Email anan.zaki@starmedia.kiwi by 5pm

each Wednesday

Babytimes

Lincoln, Wednesday, 9.30-10am,

and Rolleston, Thursday, 9.30-

10am

Share rhymes, stories and songs

which support your baby's early

language development, communication

and social skills. Bring

a blanket. Aimed at those aged

up to one, but older siblings are

welcome. Free, weekly sessions,

term-time only.

Lincoln and Rolleston libraries

Rhymetimes

Rolleston, Wednesday, 9.30-

10am, Lincoln, Tuesday and Friday,

9.30-10am, Leeston, Tuesday,

10-10.30am, Darfield, Tuesday,

10.30-11am, West Melton, Tuesday,

10-10.30am

Stories, songs, rhymes and

bubbles make up this Rhymetimes

session, which is designed

to assist with early language

development. Aimed at children

aged one to three. Free, weekly

sessions, term-time only.

Rolleston, Lincoln, Leeston

and Darfield libraries, and West

Melton Community and Recreation

Centre

Storytimes

Leeston, Thursday, 10-10.30am,

Darfield, Friday, 10-10.30am,

Lincoln, Thursday and Sunday,

10.30-11am, West Melton, Friday,

10-10.30am, Rolleston, Sunday

10.30-11am, and Tuesday, 9.30-

10am

Enjoy the magic of stories, activities

and songs at a pre-school

Storytimes session. Share the joy

of reading and make new friends.

Aimed at three to five-year-olds.

Free, weekly sessions, term-time

only.

Leeston, Darfield, Lincoln and

Rolleston libraries, and West

Melton Community and Recreation

Centre

JP Clinics

Rolleston, Monday, noon-1pm,

Lincoln, Tuesday, 10am-1pm,

Darfield, Wednesday, 11.30am-

12.30pm

A justice of the peace will be

available to members of the community

to witness signatures and

documents, certify document

copies, hear oaths, declarations,

affidavits or affirmations, as well

as sign citizenship, sponsorship or

rates rebates applications.

Darfield, Lincoln and Rolleston

libraries

Markets

Darfield Market: Saturday,

9am-1pm, opposite Challenge

Darfield, South Tce.

Market@254: Saturday,

9.30am-1pm, rain or shine, 254

Lawford Rd, West Melton.

Head along to sewing Sunday at Lincoln Library for professional alteration and repair

demonstrations, and expert advice on how to repair your garments. No booking required.

10.30am-12.30pm first Sunday of every month.

Lincoln Farmers and Craft

Market: Saturday, 10am-1pm,

Gerald St.

Running groups

Rolleston Road Runners: Monday

registration from 6.15pm for

a 6.30pm start. 2.5km and 5km

options in Foster Park, next to the

gravel car park.

Lincoln Road Runners: Tuesday

registration from 5.40pm for

a 6pm start. 3km or 6km options.

Starts outside Coffee Culture on

Gerald St.

Malvern Road Runners:

Tuesday registration from 5.45pm

for a 6pm start. 1.8km, 3km and

6km options. Meet at McHughs

Plantation.

Ellesmere Road Runners:

Wednesday registration from

5.45pm, starts at 6pm. 3km or

6km walk or run. Starts from

Leeston Physiotherapy.

Foster Park Run:

Saturday from 7.50am. Free

weekly timed 5km run, jog or

walk. Register at www.parkrun.

co.nz/foster and don't forget your

barcode. Starts at Foster Park in

Rolleston.

Entertain the kids

these holidays

Thurs & Fri, 11 Th - 12 Th July & 18 Th - 19 Th July 10.30 am – 12.30 pm & 1 pm – 3 pm

silly billy

ENTErTaiNEr

silly milly

ballOON arTisT

sTacE ThE FacE acE

FacE paiNTiNG arTisT

WiN $1,000

shOppiNG

sprEE

shOp, scaN &

bE iNTO WiN

dETails iN sTOrE

Bigger Better Bush Inn

Corner of Riccarton Road and Waimairi Road | www.bushinncentre.co.nz

Monday - Friday 9:00am - 5:30pm | Saturday 9:00am - 5:00pm Sunday & Public Holidays 10:00am - 5:00pm

Food Outlets 11:30am - until late | Paper Plus open to 6:00pm Monday - Friday & 7:00pm Saturday
---
SELWYN TIMES Latest Christchurch news at www.star.kiwi

Wednesday July 3 2019 25

Tasty Bites

Local

News

Now

Fire rages, homes at risk

Slow cooked, healthy butter chicken

Making healthy meals

packed with flavour is

easy in a slow cooker,

says chef and food writer

Ross Dobson

In his latest recipe book, The

Healthy Slow Cooker, Dobson

shows it doesn't take too much

effort to make food in a slow

cooker that is not only healthy

but can also be gluten-free,

vegan or vegetarian. He uses

inspiration from Asia, India and

the Middle East, with flavours,

ingredients and spices that work

well in a slow cooker.

Light butter chicken

(serves four, gluten-free)

Prep time 20min

Cooking time 4.5 hours

Ingredients

750g chicken thigh fillets

1 brown onion, chopped

3cm piece ginger, chopped

2 cloves garlic, chopped

1 large green chilli, seeded and

chopped

1 Tbsp olive oil

1 Tbsp butter

½ tsp chilli powder

1 Tbsp ground cumin

1 Tbsp ground coriander

1 Tbsp garam masala

1 Tbsp sweet paprika

5 green cardamom pods, lightly

crushed

2 Tbsp tomato paste

(concentrated pure)

2 tsp chicken stock

powder

400g can crushed tomatoes

1 Tbsp cornflour

1 cup (260g) natural yoghurt

To serve

Brown basmati rice

Handful roughly chopped

coriander (cilantro)

Lemon wedges

Directions

Heat your slow cooker to high.

Trim the fat from the chicken

thighs and discard. Cut each

thigh in half, or into thirds

if large, bearing in mind that

they will shrink as they cook.

Refrigerate until needed.

Put the onion, ginger, garlic

and chilli into a food processor

and process until you have a

chunky paste.

Heat the oil in a large frying

pan over medium heat. Add the

paste and cook for 8-10min,

until the liquid from the onion

has evaporated and the paste

looks dry. Stir through the butter

and cook for a minute until the

butter has melted.

Stir in the chilli powder,

cumin, coriander, garam masala,

paprika and cardamom pods.

Add two tablespoons cold water

and stir to incorporate any stuckon

bits.

Stir in the tomato paste and

stock powder, then scrape the

contents of the frying pan into

the bowl of the slow cooker.

Add the crushed tomatoes,

cornflour, yoghurt and chicken.

Give everything a good stir,

nudging the chicken into the

sauce, then cover and cook for

two hours.

Give it a stir, then quickly

cover again to avoid losing too

much heat. Cook for a further

two hours, until the chicken

is very tender and the sauce is

thick. Serve the butter chicken

on brown basmati rice, garnished

with chopped coriander and

lemon wedges on the side.

'Famous for their roasts!'

School

Holidays

THIS WEEK AT THE HORNBY CLUB

RESTAURANT & CAFÉ

Cooked Breakfasts

Check out our extensive breakfast

menu from Continental to Cooked

We are open from 6.30am

Seniors SPECIAL

Two courses $22

Soup/Roast or

Roast/Dessert

NEW

LOCATION

95 Gasson St

Special available lunch only

Monday - Saturday 12pm - 2.30pm

$19

TREAT THE

FAMILY!

Kid's 2 course

special

The

RACECOURSE HOTEL

& Motorlodge

118 Racecourse Rd, Sockburn,

Christchurch. Ph 03 342 7150

www.racecoursehotel.co.nz

The Automotive Lamp Specialists

We are family

friendly.

Great Kids menu

plus designated

play area.

$13

CLUB CAFÉ

MID WEEK

LUNCH SPECIAL

ROAST OF THE DAY

WITH VEGES

-OR-

FISH OF THE DAY

WITH CHIPS & SALAD

ADD A DESSERT

FOR JUST $5

TUE | WED | THUR

MIDDAY TO 2PM

ONLY

$12

FRIDAY 5 JULY

7.30PM. TICKETS $20

FRIDAY 5 JULY

LIVE MUSIC - 7PM

Jo's Karaoke

New and Used Lamps for Cars, Trucks,

Vans, 4WD and Motorhomes

PH 0800 225 483 | 95 Gasson Street, CHRISTCHURCH

TUESDAY 2 JULY

H ORNBY

WORKINGMEN'S

CLUB

ph 03 349 9026 | 17 Carmen Rd, Hornby

www.hornbywmc.co.nz

Members, guests & affiliates welcome
---
26 Wednesday July 3 2019

Latest Christchurch news at www.star.kiwi

SELWYN TIMES

Wine

Sizing up Central Otago's 2017 pinot noirs

• By Mark Henderson

I'VE RECENTLY had the

opportunity to taste my way

through a swathe of 2017 pinot

noirs from Otago.

The 2017s are the dominant

vintage in the market at the moment,

though probably

won't be around for too long as

many wineries had significantly

lower yields in 2017, while

2018's, from that hot "solar''

vintage, are already trickling on

to the shelves, offering a

fascinating comparison with the

cooler 2017 vintage.

2017 Quartz Reef

Bendigo Single Vineyard

Pinot Noir

Price: $49

Rating: Excellent

Bright and fresh nose,subtlety,

a sweet accent to the perfume,

underlying savoury, raspberry

and spice notes, adding thyme

and rosemary with time. Sweeter

fruit initially in the red fruit/

raspberry spectrum with a fine

tannic backbone, this swells in the

glass, developing a fleshiness and

delightful flow through the palate.

Nice balance here and excellent

potential.

www.quartzreef.co.nz

2017 Rockburn

Central Otago

Pinot Noir

Price: $45

Rating: Excellent to outstanding

Tilled earth, dark fruits,

savoury elements and rhubarb.

Powerful fruit leads the palate

with lead pencil and stoney/

schisty notes in support, backed

by a fine tannic backbone and

a little fruit pithy chewiness.

The complexity, fruit intensity

and structure bodes well for the

future, yet this is also delightful

now.

www.rockburn.co.nz

2017 Mount Edward

Central Otago

Pinot Noir

Price: $49

Rating: Very good to

excellent

Powerful, fresh nose, savoury,

brambly wild herb notes with

fresh lift; some oak spice with

time. Dark fruits, licorice, spice,

a youthfully sappy quality. The

palate shows a vibrantly brash,

youthful character at first, adding

red fruits into the mix. Aeration

sees this fatten up nicely, suggesting

that a little time will be a good

friend here.

www.aronuiwines.co.nz

2017 Mondillo

Central Otago

Pinot Noir

Price: $45 (not yet released)

Rating: Excellent

Intense, sweetly-fruited nose

with liqueur fruits, berry compote

and spice. Dark cherry and dark

fruits are a foil for the charry oak,

while aeration increases the complexity

with savoury, earth and

wild herb notes adding interest. .

www.mondillo.com

2017 Coal Pit Tiwha

Central Otago

Pinot Noir

Price: $57

Rating: Very good

A wild and funky element leads

with red fruits, herbal notes and

leather sweeping in. Noticeably

sweetly fruited, providing some

confectionery notes, yet the palate

has a cooler, juicy crunchy feel,

playing a little in the sweet and

sour spectrum. The palate follows

the nose, adding earthy touches

before flowing to a bright, lifted,

red-fruited finish. Up front appeal.

www.coalpitwine.com

2017 Maude

East Meets West Reserve

Pinot Noir

Price: $45

Rating: Excellent

The nose keeps shifting; at

times blueberry, raspberry, florality,

savoury notes, char and bramble.

At first, youthfully chewy and

powerfully tannic with whole

bunch sappy, stalky notes that

challenge you. This wine marches

to the beat of its own drum, with

time unfurling suppleness and

glimpses of the complexity and

texture that lie waiting. It should

be a fascinating journey.

www.maudewines.com

KOOL DAYS, COLD WINTER NIGHTS HOT JULY DEALS...

Jim Beam Gold & CC premium 4pk

Jim Beam Gold/CC premium 7% Gordon's G & T 7% 12pk

Double Jack 330ml Cody's 18pk 7%

Gordon's Pink Gin

355ml cans/Jim Beam & CC 4.8%

250ml 12pk/DC 8pk all cans

Long white 10pk bottle range 10pk cans

cans

Woodstock 5% Bottles/7% 250ml

4pk bottles $

4pk 330ml bottles

22 .99 ea $ $

$ 22

12 .99 .99 ea

$

24 .99 ea 27 .99

$

28 .99 cans all 18pk

$

11 .99 ea $ .99 ea

31

Mud House range Wither Hills range Church Road Range Taylors estate Esk Valley range Blackheart 1L Smirnoff 1L

Wolf Blass yellow

(ex syrah)

(ex Pinot Noir) (ex Pinot Noir)

range (ex PN & Syrah) $ $

label range

$

$

$

9 .99 ea 11 .99 ea 14 .99 ea $

14 .99 ea $

34 .99 35 .99

16 .99 ea

$

13 .99 ea Cruiser 7% 12pk cans

$

23 .99 Jim Beam double oak 700ml/ Baileys 1L

Coruba 1L (incl Jim Beam 1.125L/Jim Beam

Canadian Club (incl spiced) 1L/

Gold) Black 1L/Devils cut 1L

Jagermeister/Mt Gay

$

39 .99

Famous Grouse 1L/Russian Std 1L

$

39 .99 ea $

43 .99 ea Eclipse 1L

$

$ 46

38 .99 ea .99 ea

Jameson 1L/Chivas

Regal 700ml

$ .99 ea

49

Scrumpy Cider

Old Mout Cider 1.25L Tuatara 6pk range

Panhead 6pk range

Sailor Jerry/Fireball

Somersby 10pk cans

Tui/DB Draught 15pk bottles

Glenlivet 12yr 700ml 1.25L

$ .99 ea $ (ex rat rod)

Cinnamon whisky 700ml $

8 $

$

59

49 .99 $ 22

$ .99 ea 8 .99 ea 19 .99 ea .99 ea Kronenbourg 12pk 330ml Bottles

18 .99 ea $

19 .99

$

22 .99

Monteiths 12pk beer range

$ .99 ea

23

Carlsberg 15pk bottles Heineken 12pk bottles Export gold & 33 15pk bottles

$

25 .99 $

25 .99

Lion Red/Speights/Waikato/Summit & low

Steinlager pure/Stella 24pk bottles

Haagen 24pk bottles

carb 24 pk bottles

$ .99 ea

$

25 .99 ea $ .99 ea

44

29 .99

$

36

www.thirstyliquor.co.nz

398 High Street, Rangiora

03 313 7207

1275 Main North Road, Bridgend

03 323 8833

585 Springs Rd, Prebbleton

03 349 6031

45 South Terrace, Darfield

03 317 9499

OVER 160 STORES NATIONWIDE!

Available from 1st – 31st July. Specials while stocks last. Available at participating stores.

1147 West Coast Rd, West Melton

03 347 8460

670 Main South Rd, Islington

03 349 7337

Main Rd, Lake Tekapo

03 680 6242

42 Waimate Highway, St Andrews

RD24 03 612 6740

www.facebook.com/ThirstyLiquorandBlackBullLiquor

69 Main St, Fairlie

03 685 8061

21 Aldwins Road, Linwood

03 982 1753

9 Parnwell St, Burwood

03 383 2564

495 Papanui Rd, Christchurch

03 260 2380

65 Victoria St, Christchurch CBD

03 260 1155
---
SELWYN TIMES Latest Christchurch news at www.star.kiwi

27

Books

Hodgkins' sesquicentenary marked in fine style

Two new books on the life of

Frances Hodgkins celebrate

the 150th anniversary of the

Dunedin artist's birth

FRANCES HODGKINS:

EUROPEAN JOURNEYS

Edited by Catherine Hammond

and Mary Kisler

Auckland University Press

FINDING FRANCES

HODGKINS

Mary Kisler

Massey University Press

Reviewed by Geoff Adams

Polar and mountaineering book collection for Templeton

AS MUCH as it pains

Oamaru's Adventure Books

owner Bill Nye to say it,

the town's literary loss is

Christchurch's gain.

Last year he was bequeathed

more than 6000 books – plus

memorabilia and ephemera

– donated by the late Jack

Newton, an American collector

of mainly polar exploration

and mountaineering literature

based in Boston.

Before Mr Newton died, he

expressed his desire for his

collection to be exhibited as a

permanent, accessible reference

and research library.

Mr Nye hoped to display

the treasure trove of books

and documents, in addition to

another 1500-plus books in his

Oamaru premises on a mezzanine

floor that he planned to

build.

However, the proposal was

turned down by his landlord,

the Oamaru Whitestone Civic

Trust.

Instead, the collection will

now be housed at Antarcticthemed

tourism attraction

Husky Base Camp at Templeton.

Mr Nye said it was unfortunate

the collection was unable

to be displayed in Oamaru, but

was pleased a suitable location

had been found further north.

"When I spoke to a guy

about Jack's collection he

said America's loss is New

Zealand's gain. The same

thing occurred to me when

the civic trust rejected the

proposal for a mezzanine in

here. It's Oamaru's loss and

Christchurch's gain.''

THESE TWO remarkably fine

books about the Dunedin-born

artist enrich our knowledge

about Frances Hodgkins, who

is regarded as one of the leading

lights of the British Modernism

movement and probably New

Zealand's most influential of

expatriate artists.

The books are linked with a

major touring landmark exhibition

of Hodgkins' works opening

in Auckland.

They are published in tandem

and work beautifully to celebrate

the 150th anniversary of the artist's

birth; a daughter of William

Mathew Hodgkins, the person

responsible for setting up the

Otago Art Society in 1876.

European Journeys is a large and

weighty book that explores Frances

as a traveller across cultures

and landscapes, teaching and

discovering the cubists in Paris,

the landscape and light of Ibiza

and Morocco, and exhibiting with

the progressive Seven and Five

Society in London. It enchants

with its rich visual chronology

of the artist abroad, and delights

with more than 100 illustrations:

some of Frances' key paintings

and drawings.

The two editors (both senior

members of the Auckland Art

Gallery staff) have done a marvellous

job with their own written

contributions and employing the

talents of a number of distinguished

national and international

art historians, curators and

critics who also contribute.

This is a book that entices the

reader to turn the pages for its

wonderful selection of Hodgkins'

imaginative art works, many that

may perhaps be unfamiliar to the

viewer.

The second book is Mary

Kisler's magnum opus, a smaller

book certainly but no less appealing

as she narrates her discoveries

and adventures in Finding

Frances Hodgkins. The book

immediately draws attention with

another large selection (more

than 70) of Hodgkins art works.

It is more personal in character

as Kisler tells her tales of several

visits to countries in Europe and

elsewhere where Hodgkins had

visited, drawn and painted.

The author had successes in

Wednesday July 3 2019

Local

News

Now

Fire rages, homes at risk

identifying many places chosen

by the artist to feature (or be

adapted) in paintings. Detectivelike

she tells how she followed

tracks and clues to understand

her target. Admitting that no-one

can really "find'' Frances Hodgkins

(a complex figure and rover),

Kisler does piece together some

of the puzzles surrounding where,

when and why the artist painted

some of her best known pieces.

Kisler's own travel adventures also

make enjoyable reading.

It is a remarkable event in New

Zealand art history to have these

two splendid books published at

the same time. They fit together

to give a grand salute to the artist.

As John Piper wrote of her in The

Spectator in 1940: "Probably no

living painter has such powers of

arranging colours in original and

telling ways.''

Hodgkins deserves this similar

and admirable recognition in

her home country. We await the

exhibition later in the year with

great interest.

EXHIBIT:

Bill Nye

will open a

new store at

Antarcticthemed

tourism

attraction

Husky Base

Camp in

Templeton

later this

year.

Create your own

AvonheadShoppingCentre

www.avonhead.co.nz

Cnr Withells Rd and Merrin St

Avonhead

15 TH TO 19 TH JULY

10AM, 11AM, 12PM, 1PM

TODDLER SESSION 10AM

Get creative these holidays by making your very

own moving art robot! Create and then decorate

your robot with some crazy hair, arms and eyes

and then watch it draw for you!

Bookings essential at www.makeevents.co.nz
---
28 [Edition Wednesday datE] July 3 2019

Latest Christchurch news at www.star.kiwi

2

SELWYN RURAL LIFE

SELWYN TIMES

Proposed law good

for rural communities

Federated Farmers and Dairy NZ both

support the Government's decision to

proceed with a Farm Debt Mediation Bill.

The proposed legislation will require

creditors to offer farmers who default

on payments mediation before they take

enforcement action and will allow farmers

to initiate mediation.

The legislation will apply to loans that are

secured against farmland, farm machinery,

livestock and harvested crops and wool.

"Farmers are especially vulnerable to

business down-turns as a result of conditions

that are often outside their control, such as

the weather, market price volatility, pests and

diseases like Mycoplasma bovis. Farmers are

also facing a raft of policy changes, including

around freshwater management and climate

change, and these could apply even further

pressure," says Feds Vice-President and

commerce spokesperson Andrew Hoggard.

DairyNZ chief

executive Dr

Tim Mackle

According to Federated Farmers, the

agricultural sector has nearly $63 billion

of debt and their six-monthly banking

surveys show that while most farmers are

satisfied with their banks, satisfaction has

been slipping and the number feeling under

pressure has been rising.

"There is no substitute for good

communication and we urge farmers and

their banks to keep in close touch and build

positive relationships in good times and

bad, with or without farm debt mediation,"

Hoggard says.

DairyNZ chief executive Dr Tim Mackle

also welcomes the Farm Debt Mediation Bill

as an example of an initiative that will mean

a lot to farmers who may be feeling financial

pressure.

"For many, the farm is more than just a

business. It's a home, a lifestyle or an asset to

be passed down to the next generation. That

brings with it its own unique pressures," said

Dr Mackle.

"This Bill acknowledges that and will

provide support for farmers in financial

distress in their dealings with secured

creditors, allowing for the fair, equitable and

timely resolution of farm debt issues.

"Sometimes a farmer's business can also

be thrown off-kilter by an event entirely out

of their control whether that be a drought,

a flood, volatile international markets or a

biosecurity incursion. This legislation will

really help support farmers managing such

volatility," said Dr Mackle.

"While we would hope that farmers don't

find themselves in this unfortunate situation,

this is the reality of any business sector."

The Farm Debt Mediation Bill was

proposed by the Coalition Government.

It's an idea that was first cooked up by New

Zealand First MP Mark Patterson.

As the party's primary industry

spokesperson, Patterson said when a farmer

is in financial distress, a system of mediation

could help find solutions and avoid property

foreclosure.

"It offers a fairer system and is in the best

interest of all parties."

Patterson withdrew his Farm Debt

Mediation private members' Bill late last

year, and it's been reported he only did that

when the Coalition Government indicated

it would introduce its own collective one.

BIG BRAND

BUY 1 GET 1

HALF PRICE *

BUY 1 GET 1

HALF PRICE *

Bridgestone Tyre Centre - Rolleston

847 Jones Road | 03 347 4702

BUY 3 GET

1 FREE *

* Valid until 31 July 2019. On selected Bridgestone and Firestone tyres.

Conditions apply. For details visit us in-store or see www.bridgestonetyres.co.nz.

BUY 3 GET

1 FREE *

Selwyn Auto

ALL YOUR MOTORING NEEDS

› WOF's › Diagnostics › Repairs

› Servicing › Batteries › Tyres

› Motorbike WOF's & Repairs

› Courtesy Cars Available

Phone 329 5841 | 132 Leeston Road, Springston

www.selwynauto.com | office@selwynauto.com

3 TRUCKS

3 CARS

3 LUBES

3 SERVICING

3 FLEET WORK

3 BOATS

3 DIESEL INJECTOR

3 & PUMP SERVICING

3 ENGINE TUNING

Mon-Fri 7am-5pm

Sat 8am-12pm (WOFs only)

3 BRAKES

3 MAXXIS TYRES

3 WHEEL ALIGNMENTS

3 BATTERIES

3 WOFs

3 CAMBELTS

AND MUCH

MORE!

839 Jones Road, Rolleston P.O. Box 16 Rolleston

Phone Simon on 347 7110 or Mobile 027 272 9213

Canterbury

Timber & Hardware

WIRE SPECIAL

2.5mm Hi Performance Wire 25kg 650m coil $85.00

3.15mm Hi Performance Wire 25kg 408m coil $91.47

4.00mm Hi Performance Wire 25kg 253m coil $98.67

All prices are Including GST

Call in today for your free quote!

NEW ENTRANCE: 167 Manion Road, Rolleston

Jason Pester P 03 347 7465 F 03 347 7032 E jason@cthl.co.nz

Mon-Fri: 7am-5pm Saturday: 8am-12pm

Canterbury

C T H Timber & Hardware

We are here
---
[Edition datE]

SELWYN TIMES Latest Christchurch news at www.star.kiwi

Wednesday July 3 2019 293

SELWYN RURAL LIFE

Mudfish protection project

highlights collaboration

A ground-breaking Canterbury mudfish

(kōwaro) protection project in Haldon

Pastures features a Southern Hemisphere

first – a solar-powered electric fish barrier,

designed to prevent predation by trout.

Since its inception, this pilot project has

brought together many different groups and

individuals, particularly the close working

relationship with the Department of

Conservation and funding from fu Fonterra's

sustainable catchments programme.

Installation of the barrier will allow the

mudfish to expand into the lower reaches

of the site and stop predation by trout –

increasing spring-fed stream habitat for

the mudfish from 880m2 to 8,000m in the

Selwyn Waihora catchment. It also allows

for the study of predator exclusion and

population monitoring, harnessing this

innovative technology to find new solutions.

With the project on private land, it was

essential to have the support and backing of

landowners – one of whom is John Grigg,

who said "It's such an amazing environment,

and we wanted to do something useful to

leave the land in a better state and protect

this unique species."

Minister of Conservation Eugenie

Sage said: "This project is audacious and

provides an opportunity to increase our

understanding of how we can better protect

our native freshwater fish from predators. In

combination with other initiatives, it allows

restoration of important sites for these

Photo: Courtesy of www.doc.govt.nz

The mudfish protection project is a

first for the Southern Hemisphere.

species and the ecosystems which support

them, across Canterbury and New Zealand.

"The management of Canterbury mudfish

and their habitat is complex, and requires

close collaboration between Environment

Canterbury and DOC. As their habitat is

predominantly on private land, it is also

highly dependent on the commitment of

those landowners," said Minister Sage.

Trish Kirkland-Smith, Fonterra's General

East West Fencing Ltd

• Residential

• Security

• Rural Fencing

Phone: Paul 027 588 6009 or

Brad 027 376 0237

Email: eastwestfencing@xtra.co.nz

All Your Fencing Needs

www.ewfltd.co.nz

Site of the installed electric fish barrier.

• Post Driving

• Post & Rail

• Horse Arenas

•Sheep & Cattle Yards•

Manager - Group Environment, said: "This

project is a fantastic example of thinking

and acting at a catchment scale, with one

intervention on a specific farm supporting

a broader catchment and community goal.

Fonterra is delighted to have helped make

it happen, as we continue our work with

communities in catchments up and down

the country to help rebuild the health of

New Zealand's waterways."

Canterbury Ltd

• Quotations for water system designs and water testing

• Pipes, valves, fittings sales

• Filtration supply and installation

• Pump service, repairs and maintenance

• Bore flush and development

• Bore pump sales, servicing and maintenance

• We also sell, service and repair most

pump brands including sewage pumps

NEW LOCATION

551 Halswell Junction Road

0800 GRUNDFOS / 0800 478 633

Environment Canterbury's Selwyn

Waihora Zone Delivery Lead Johannes

Welsch, who has been instrumental in

ensuring the success of the project at every

stage, commented: "Working collaboratively

in this way is a perfect example of how, by

joining forces, we can make biodiversity and

species protection not just a priority, but a

practical reality."

The project is a Southern Hemisphere first,

using electromagnetic barrier technology

designed by US company Smith-Root. The

company said: "Throughout the design,

equipment supply, and commissioning

stages of the project, we collaborated with

and relied upon the expertise of PDP and

Frizzells. The information provided by these

experts, and the reliable communication

and leadership by Johannes, made our job

much easier, especially being 19 time zones

away."

Councillor Pham emphasised the

importance of projects such as this: "Sadly,

time isn't on our side when it comes to our

remaining mudfish populations, so I am

really pleased to see us here today, celebrating

this innovative predatory fish barrier. These

special critters really do need all the help

they can get, and that means having as many

tools in the toolbox as possible."

For sales and service or

after hours service call

Jason 021 649 944

or Mike 021 560 044

www.pumps-filters.co.nz
---
30 Wednesday July 3 2019

Latest Christchurch news at www.star.kiwi

SELWYN TIMES

Alpine passes no hurdle to Equinox

IT WAS supposed to be a

Canterbury/West Coast road trip

in a Holden Equinox to coincide

with the March equinox, the

twice a year event when the sun

crosses the plane of the equator

making days and nights of equal

length.

However, as a mark of respect

to the Christchurch terror attack

victims, the event for a group of

motoring writers was postponed;

instead it became a journey to

mark the winter solstice of June

22 – the shortest day – a chance

to watch the sun rise over Sumner

beach and see it disappear into

the horizon at Punakaiki on the

West Coast.

In-between stood some of

the most scenic roads in New

Zealand – the alpine passes and

Buller River regions – and roads

which allowed the Equinox to

show its credentials.

The Equinox is not new in New

Zealand, the Mexican-sourced

sport utility vehicle landed here

in 2017, and has established itself

markedly in the crowded midsize

SUV sector.

It comes in a wide variety of

models, there is a complete range

Motoring

Ross Kiddie

starting from $29,990 and ending

at $60,490, all with four-cylinder

engines, and all turbocharged.

Base models land with a 1.5-litre

petrol unit, there is a 2-litre petrol

and a 1.6-litre diesel.

I'm yet to drive the diesel, but

I can report that even in basemodel

form the power plant is

far from disgraced; it is a real

honey and would probably be

my choice if I was an Equinox

buyer. The cars we drove through

the alps, and return, were 2-litre

LTZ-V petrol models, which list

at $57,490.

At that price the Equinox is

fully loaded with specification. It

gets all the traditional SUV kit,

but there are also many niceties

that would please the South

Island buyer – heated steering

wheel and heated seats for the

cold winters, dual sunroof, and

cooling seats.

Other major items include

satellite navigation, cruise control,

Bose premium audio, wireless

mobile phone charging, handsfree

tailgate, and hill descent

control.

The latter works on four-wheeldrive,

obviously, and while not

HOLDEN EQUINOX LTZ-V: Four-wheel-drive for gnarly off-road

tracks.

all models have drive to all four

wheels, the LTZ-V does, and it

is usual SUV fare, not so much a

device to tackle gnarly off-road

stuff, but easily a mechanism so

that cross-country tracks and

trails can be conquered.

The Equinox is capable and

honest, it does well under

testing conditions and does so

without compromise. Occupant

comfort is high, and the driveline

mechanicals are well suited to

tough conditions.

Holden rates the 2-litre model

with 188kW and 353Nm; for

interest's sake, the 1.5 gets 127kW

and 275Nm, reinforcing my

comment earlier that it doesn't

miss out on much.

Quite obviously, the 2-litre

doesn't work quite as hard, and

it has more than enough power,

it competes in the mid-size SUV

market admirably. Against the

stopwatch it will easily make a

standstill to 100km/h sprint in

8.8sec.

More importantly, it is an engine

that is gentle with fuel use. Holden

claims an 8.4-litre per 100km

(34mpg) combined cycle average.

That sits well with the 9.8l/100km

(29mpg) figure showing on the

fuel usage readout on the journey

across the great divide.

Drive is channelled through a

nine-speed automatic gearbox,

the benefit of so many gears is the

smooth and fluid way in which

transmission is delivered.

In the tight stuff the Equinox

• Price – Holden Equinox

LTZ-V, $57,490

• Dimensions – Length,

4652mm; width,

1843mm; height,

1697mm

• Configuration – Fourcylinder,

four-wheeldrive,

1998cc, 188kW,

353Nm, nine-speed,

automatic.

• Performance –

0-100km/h, 8.8sec

• Fuel usage – 8.4l/100km

also has tidy handling manners,

the suspension has just the right

compliance between cornering

and comfort, steering feedback to

the driver is constant.

Holden has gone big with its

sport utility vehicle range. Not

only is there a comprehensive

array of models to choose from,

they go from small to large – Trax

to the new Acadia.

The company on both sides

of Tasman is on a fairly solid

direction in terms of marketing

and promotion.

The product which is arriving

in our market is markedly

different to what we have

traditionally come to expect.

However, that's a good thing,

the Holdens that are gracing our

showrooms are aimed to satisfy

families and fleet buyers.
---
SELWYN TIMES Latest Christchurch news at www.star.kiwi

Wednesday July 3 2019 31

Gardening

Prepare vege patch for spring planting

GOING INTO winter, air and

soil temperatures are low, the

soil is often very wet, with frosts

in many parts of southern New

Zealand.

July is the main month for

planting new deciduous trees,

shrubs, fruit trees and roses, and

garden centres are now fully

stocked with these plants. Always

select high quality specimens

and plant correctly with plenty of

compost into the existing soil.

In the vege patch, continue

planting and harvesting broccoli,

brussels sprouts, cabbages,

cauliflower, silverbeet and

spinach. Where soil conditions

allow, you can start preparing the

vege garden for spring planting.

In late July, chop up and dig in

green manure crops like lupins or

mustard.

If you have roses, complete

your annual pruning, especially

on bush or standards that

produce flowers late into early

winter such as icebergs.

Remove all dead and weak

growth, clean out the centre of

plants and prune to outward

facing buds. Add fresh compost

to the soil around the rose plant,

but do not fertilise until spring

arrives.

In warmer, sheltered areas,

citrus production should be

in full swing, with clementine

MAINTENANCE: If your hydrangeas are looking sad now is the time to prune them back. It's also time to plant deciduous trees.

mandarins, lemons, limes and

navel oranges all now maturing.

Check your trees while picking

fruit for any overcrowding or

weak branches that should be

removed. Check for any root

stock growth and prune where

required. For colder climates, use

frost cloths to protect frost tender

citrus.

Give fruit trees a second winter

clean up. Spray with a copper

compound or lime sulphur to

kill any overwintering fungal

diseases.

Now's the time to prune your

blackberries, boysenberries,

loganberries, or raspberries.

Cut out all old canes and any

weak spindly growth.

New season strong canes

should then be tied up on wires

or fences to help support this

summer's fruit crop.

Complete your strawberry

plantings this month. Purchase

new plants or obtain young plants

(runners) from the previous

season strawberry plants. For the

home garden, plant at least 20

strawberry plants to ensure plenty

of fresh strawberries for the

whole family.

Your hydrangeas may be

starting to look a little sad.

They can grow very large and

require heavy pruning

and thinning. Remove old wood

completely as there will be ample

new growth in spring. Make sure

you cut just above a node as it is

from here that spring growth will

appear.

Flowering winter shrubs

like azaleas, camellias and

rhododendrons will provide

lovely colour in your garden.

Take note of what varieties or

species are performing best in

your garden or in neighbouring

gardens for next year's new

planting.

Winter flowering annuals

will be at their very best in

July. Primulas, violas, pansies,

calendulas and cinerarias should

all be in full bloom.

Continue to dead head from

these plants to encourage

continual flowering.

$45

Screened soil

MAINSCAPE

Garden Supplies

Making your great outdoors greater

SCREENED TOPSOIL

Rollout Lawn

per m³

+ gst

Preparation

Free Delivery

for 5m³ loads

Spray-on

Mainscape Garden Supplies

is the home of Supa Soil

50/50 Screened soil &

Compost mix

Check out the rest of our landscape supplies online

www.mainscapegardensupplies.co.nz

Call us now

021 241 7908

1543 Springs Rd Lincoln

oN sAle Now!

Now only

$35.80

Plus $5 P&H per copy

AvAilAble from stAr mediA:

Level One, 359 Lincoln Road

Addington, Christchurch

Phone 379 7100

Use your outdoor living areas

all year round

• Warm & dry in winter

• UV protection for summer

• Stylish & permanent

• 5 year warranty

"AS SEEN ON TV"

Chris Thorndycroft

Phone 0274 211 079 | www.archgola.co.nz

15 months

INTEREST FREE

Normal lending criteria apply

Needing Landscaping?

• Landscape Design

• Decks/Pergolas/Paving

• Irrigation Systems

• Plant Supply & Planting

• Ready/Hydro/Artificial Lawn

• Digger & Truck Hire

The Landscape Specialists

Prompt and professional service by experienced staff

Phone: 03 349 4363

Email: greenscapes@xtra.co.nz

www.greenscapes.co.nz
---
32 Wednesday July 3 2019

Latest Christchurch news at www.star.kiwi

SELWYN TIMES

CANtAbRIANS

ouR

NEWSPAPERS

Canterbury

readership up

14 %

INCREASE

Reach 164,000* readers

with just one ad in our

Star Max Circ Package.

For advertising enquiries

please contact Shane Victor

Phone: 021 381 765

Email: shane@starmedia.kiwi

*Source: Nielsen CMI Q2 18 – Q1 19.
---
SELWYN TIMES Latest Christchurch news at www.star.kiwi

Wednesday July 3 2019 33

Business

Opportunity

Business

Opportunity

For Serious Driven

Individuals.

Take control of your work hours,

your income and your life by

starting your own business.

Full, ongoing training and

support available.

• No Cold Calling or pitching to

friends & family

• NOT MLM

• No stocking or warehousing

products

• Professional & positive

manner essential.

Apply at:

www.trishmckay.com

Complete the form and I will

contact you personally within

24-48 hours via phone for an

interview.

Caravans, Motorhomes

& Traliers

CARAVAN Wanted to

buy. Up to $5000 cash

today 027 488-5284.

1988 Zephyr 4 berth

caravan , full size awning.

Self contaied with lots of

extras. Ph 027 262 4428

Farm Equipment

WANTED Fordson Major

or Super Major Hydralic

Pump. Ph 03 325 4273,

please leave message.

Firewood

DRY OM PINE.

6 cub metres $595.OM

Bluegum/OM Pine 50/50

mix $695. Ph 027 2977563

Heating

Classifieds Contact us today Phone our local team 03 379 1100

Select Services

Full Site and

Lawn Preparation

Landscaping

Roll Out Lawn

Irrigation

Free QuoteS

Contact Scott

0800 4 GRASS or

03 347 5555

sprayongrass.co.nz

Need a hand?

✤ Lawns & Edges

✤ Landscaping

✤ Gardening

✤ Hedge Trimming

✤ Handyman Jobs

✤ Casual or One Off

Phone Mike Lineton

022 341 8848

Your local

Selwyn District

GARDENER/

HANDYMAN

ADD SOME

COLOUR

TO YOUR ADVERT!

Select Services

AUTUMN SPECIAL

5.3Kw Console

Heat Pump

$2680

Price includes;

Wifi

Standard Installation*,

6 Years Parts and Labour

Warranty, Compliance and

Safety Certificate.

* Obligation free site visit maybe required

for correct sizing and placement.

Installation • Sales • Maintenance

Heat Pump Specialist (Registered Electrician)

Stu Masters: 027 472 7955 airconmasters@xtra.co.nz

MUDROCK

Cartage Ltd

We're in your area now!

MORE THAN JUST CARTAGE....

We Offer:

• Grading of shingle driveways

• Chip seal, Asphalt and Concrete driveways

• Excavations – Foundation dig outs, trenching,

site scrapes and general earth works

• Farm works – laneways, construction and

maintenance

• Retaining walls • Soak holes

• Horse Arenas • And much more……

Please phone for a free,

non-obligation quote

Phill Baikie 027 390 7778

Trev Murdoch 027 431 7504

Trades & Services

No job to big or small.

Supply carpet, underlay and garage carpet.

Experienced in installing second hand carpet.

Carpet samples.

Free measure and quote!

Call David 0272319931

www.davidfarmercarpetlayer.co.nz

BUILDING REPAIRS

GIB STOPPING | FENCING

YARD CLEARING / CLEAN UP

SMALL DIGGER WORK

DRIVEWAYS & CONCRETE REPAIRS

RC MAINTENANCE

no job too small

LTD

ROSS CHESTNUT

ROSS Owner CHESTNUT

/ Operator

Owner / Operator

021 969 654

021 969 654

ross@rcmaintenance.co.nz

ross@rcmaintenance.co.nz

PO Box 92010

PO Box 92010

Farringdon, Rolleston

Rolleston 7650

concrete & paving

BUILDING REPAIRS | GIBB STOPPING | YARD CLEARING / CLEAN UP

SMALL DIGGER WORK | FENCING | DRIVEWAYS & CONCRETE REPAIRS

• Driveways

• Earthquake repairs

• New Home Specialists

• Patios & Paths

tel: 0508 873 7483

email: sales@affordableconcrete.co.nz

www.affordableconcrete.co.nz

Trades & Services

plumbING AND GAS

• Gas fitting – servicing, new, renovations

• Gas hot water installs

• Gas cookers and gas fires

• Kitchen / Bathroom renovations

• Backflow testing and installs

• Filtration – whole house, kitchen tap

• Domestic maintenance

Email: james@plumbingandgashq.co.nz

Text: 021 174 9265

4 2 6 5 7 4

DISCOUNT FOR

SUPER GOLD CARD

HOLDERS!

FREE QUOTES

0800 H20 LPG

Non-Service Cremation $1,745

Commital service with cremation $3,950

Chapel service with cremation $6,500

Family burial service from $3,400

Just Funerals, a family owned and

operated company with qualified,

registered and experienced staff.

Phone 0800 804 663 - 24 Hour Availability

Email: info@justfunerals.co.nz

christchurch.justfunerals.co.nz

Select Services

Trades & Services

Trades & Services

Wanted To Buy

Log Fires

Pellet Fires

Heat Pumps

Sales

Service

Installations

Free Quotes

03 343 1651

472 Blenheim Rd

www.heatstore.co.nz

AUTO ELECTRICIAN

Ellesmere

Auto

Electrical

• Air Conditioning • Alternators

• Starter Motors • Wiring Repairs

• Diagnostics • Lighting • Batteries

Mobile Auto Electrician

022 644 9664

Farmlands Card Accepted

DRIVEWAYS

HARRIS

BULLDOZING LIMITED

• Driveways

• Car Parks

• Lifestyle Blocks

• Site Clearing

& General

Earthmoving

Mark 021 345 571

or Paul 021 705 996

Email harrisbull@xtra.co.nz

www.harrisbulldozing.co.nz

All Work Guaranteed

Please phone for a free quote

SHELTERBELT TRIMMING

Boundary

Trimming

Call Tony Dempsey

Phone 03 325 3256

Mobile 0274 323 943

DECORATORS

Driveways

SWAINS

KIWI KERB

(Since 2005)

Over 22 Years Experience

Quality

Workmanship

• Driveways

• Kerb &

Channel

• Garden Edging

New Paint • Repaints

Wallpapering • Fences

Repairs • Feature Walls

Floor & Roof Painting

Spray Painting

Light Commercial

Restoring Timber

Selwyn based but service the whole of Canterbury

www.andertondecorators.co.nz

www.facebook.com/andertondecorators

027 724 6846 027 PAINTIN

Freephone: 0800 081 400

swainskiwikerb@gmail.com

Excavations

• Driveways

• Car Parks

• Site Cleaning

• Demolition

• Farm Tracks

• Drain Cleaning

• Stump & Hedge

Removal

• Ashpalt Concrete

Wide range

oF TruckS

• Tennis Courts &

Swimming Pools

• Chip Seal Driveways

• Diggers – 2 Ton

up to 20 Ton

• Excavators

• Bobcat & Drilling

• For Posthole &

Fence hole

For a Free Quote

on your next project

Phone Steve on 021 338 247

or 325 7922

Free

QuoTe

GARAGE DOORS

The Genuine

Custom Made Garage

Door Professionals

0800 661 366

info@custommade.co.nz

Auckland, Christchurch, Wanaka

www.custommade.co.nz

BUYING Now, Royal

Albert, Royal Doulton, all

old china, crystal, antiques,

estate lots. For best prices

and free inspection call

Academy Antiques. Phone

349-4229

TOOLS Garden,

garage, woodworking,

mechanical, engineering,

sawbenches, lathes, cash

buyer, ph 355-2045

Trades & Services

LifestyLe

BLock

fencing

new fencing, post driving,

repairs, maintenence.

Quality workmanship

& advice.

Phone Allan 021 049 6151

allan@agrifencenz.com

Facebook: agrifencenz
---
Wednesday July 3 2019

SELWYN TIMES

34 Latest Christchurch news at www.star.kiwi

Classifieds Contact us today Phone our local team 03 379 1100

Trades & Services

Phone Mike: 027 272 8058 OR 03 324 4323 A/H

g.m.contracting@xtra.co.nz

www.gmcontracting.co.nz

• Irrigation • Drainage • Driveways

• Auger Hole Drilling

• Land Clearing & Development

• Culvert Installation • Construction Site Works

• Tree & Hedge Removal • Concrete Breaker

TAI TAPU TYRES

53 Main Rd Tai Tapu

Ph. 03 329 6767

Will better any

other quoted price

Stockists of Kumho, Goodride and

Petlas Tyres, for all cars, 4WD, bikes,

tractors and trucks.

To Let

Three convenient sizes from $70 a week:

Standard 3.6m x 2.4m

Large 4.2m x 2.4m | Xtra-large 4.8m x 2.4m

RENT ME!

www.justcabins.co.nz

Fully insulated and double glazed for warmth.

Ideal as an extra

bedroom or office.

no bond required

Visit our website

www.justcabins.co.nz

for display cabin locations

Vehicles Wanted

www.pickapart.co.nz

0800 8200 600

We use world class vehicle

depollution systems

CAR REMOVALS

$$CASH PAID$$

CARS, VANS, UTES

& 4X4 WANTED

NZ OWNED

AND

OPERATED

FOR

24 YEARS Online Editor

If you want to be part of a progressive media company,

please email your CV to:

Barry Clarke, Editor In Chief - barry@starmedia.kiwi

Star Media is a division of Allied Press.

The appointment will coincide with a

refreshed and new-look online news site

being launched to market.

You will be the champion for our site

and responsible for sourcing and loading

content to engage our target audience

each week.

The successful applicant will need to have an excellent knowledge of

Canterbury, its issues and people.

You will need to work as part of our team, making quick decisions under

pressure each day

Key duties will include:

• Assisting in the relaunch of the new website

• Co-ordinating and sourcing content and local news

• Ensuring content is up to the minute, fresh and factual for our target audience

• Co-ordinating within our business divisions promotional and paid content

• The continuous development and improvement of our digital platforms

The successful applicant will ideally have experience in growing audience to an

online news platform and must have a full New Zealand driver licence.

The position will be filled as soon as the right applicant is found.

Page 3 Page 13

Li ter library

Problem areas for li ter

revealed

Surf club move

New Brighton surf club opts

to rebuild on new site

TUESDAY, APRIL 10, 2018 www.star.kiwi

Loca ly Owned

jo

hayes

christchurch east

Ca l to make an

a pointment

P: 384 9459

www.national.org.nz

Authorised by Jo Hayes

Unit 6/950 Fe ry Road, Christchurch

• By Sophie Cornish

WORKSAFE NEW Zealand

has b en a proached in a bid to

fina ly repair the potholes in New

Brighton's Hawke St car park.

Coastal-Burw od Ward city

counci lor David East wants

WorkSafe to pre sure the car

park's private owners into

repairing the potholes which are

a "trip and vehicle" hazard.

WorkSafe chief inspector

a se sment southern Da ren

Handforth said it may be able to

take action under the Health and

Safety at Work Act 2015, "as a

person conducting a busine s or

undertaking."

Mr Handforth said WorkSafe

is aware of the concerns raised by

Cr East abou the car park.

"WorkSafe has completed

an a se sment visi to the site

and is engaging with the owner

to advise them that it is their

responsibility to manage their

risks a propriately."

Different parts of the car park

are owned by various people

and the Coastal-Burw od

Community Board recently

wrote to them about its concerns

around health and safety.

Cr East said the bi gest i sue

in the past has b en ge ting in

touch with the landlords and

owners and ge ting them to

agr e to anything. "The board

a preciates that multi-ownership

of the parking space may present

a difficulty in co-ordinating

repair/resurfacing but felt obliged

to pa s these concerns onto you,"

said the le ter.

One reply has b en received so

far from an owner who is wi ling

to discu s the i sue. However, a l

the owners would have to agr e

to undertake work.

Cr East said there had b en

a "number of incidences" in

the car park of people injuring

themselves which had gone

unreported.

"I've always though that it

has b en quite amazing that we

haven't had any serious a cidents

or senior citizens perhaps

tri ping in those potholes and

doing themselve some damage."

He is confiden the new

a proach wi l bring results.

"I think the WorkSafe

involvement may prove to be the

lever that we are l oking for."

New bid to fix potholes

Action looms

on Hawke St

car park

HAZARD: Coastal-Burw od Ward city counci lor David East wants WorkSafe New Zealand to put pre sure on the Hawke St car

park owners to fix the dangerous potholes. PHOTO: GILBERT WEA LEANS

Ph 3 7 0 70,

30 Cashel St,

Christchurch

Restore your oiled CEDAR BLINDS with ou re-oiling service.

Rejuvenate your lacquered CEDAR BLINDS

High-tech Cleaning

We clean and repair a l types of blinds –

Venetians, Cedar, Verticals, Ro ler, Ho lands,

Romans and Pleated – with environmenta ly

friendly cleaning products.

Temperature Contro led Drying

Re-oiling & Rejuvenating

Fabric Blinds - such as Austrian and Roman

Same Day Pick Up & Drop O f

We o fer a same-day, pick up an drop o f

service for mos types of blinds. B okings

are required.

Convenient Location

Drop blinds into us by 9am, at

30 Cashel Str et (near the

Fitzgerald end), and co lect

them a th end of the day.

New Blind Sales Priced from $30

WE ARE OPEN

Mon - Fri

8. 0am to 5. 0pm

Ro ler Blinds cleaned

from as li tle as $20

per blind

www.blindcare.co.nz SCAN QR code for Info >

BLINDS .Cleaned, Repaired & Restored .

Land size

Garage

Bedr om

Carport

Bathr om

Car pad

Lounge

Boat pad

Dining

P ol

Toilet

Te nis court

Shower Study

2.5

1

2

4

850m

1 2 3 4 5 6 7 8 9 10 1 12 13 14

Land size

Garage

Bedr om

Carport

Bathr om

Car pad

Lounge

Boat pad

Dining

P ol

Toilet

Te nis court

Shower Study

2.5

1

2

4

850m

1 2 3 4 5 6 7 8 9 10 1 12 13 14

Land size

Garage

Bedr om

Carport

Bathr om

Car pad

Lounge

Boat pad

Dining

P ol

Toilet

Te nis court

Shower Study

2.5

1

2

4

850m

1 2 3 4 5 6 7 8 9 10 1 12 13 14

Land size

Garage

Bedr om

Carport

Bathr om

Car pad

Lounge

Boat pad

Dining

P ol

Toilet

Te nis court

Shower Study

2.5

1

2

4

850m

1 2 3 4 5 6 7 8 9 10 1 12 13 14

Page 3 Page 5

Cartwright steps downs

Community board chairman

stays true to his word

Pool plans for Edgeware

Designs for ind or learner's

p ol revealed

TUESDAY, APRIL 10, 2018 www.star.kiwi

Loca ly Owned

www.denturesouth.co.nz

call 332 4004 TexT 027 537 0567

230 BarringTon sTreeT

Mobile

Service

Available

• By Sophie Cornish

THE ST Andrew's Co lege big

band had extra incentive to

win a the National Youth Ja z

Competition – ba s player, Tom

Fastier, co lapsed and died the

day before the competition

began.

"Tom was a ba s player from

Cashmere High Sch ol who was

playing with our big band this

year. He had a strong chance of

wi ning best ba s player a the

festival as he was a very a complished

musician," head of music

Duncan Ferguson said.

"We were delighted to win, but

it was bi tersw et," he said.

St Andrew's won the most

outstanding big band title a the

competition in Tauranga.

The band dedicated it se to

Tom, who died while on his way

to Cashmere High on March 27.

His death was po sibly related to

a medical event.

•Turn to page 9

SW ET SOUNDS: St Andrew's Co lege year 12 students Lewis Edmond and Je na We ls performing a the 41st National Youth

Ja z Competition.

Bittersweet win for St Andrew's big band

• By Sophie Cornish and Julia Evans

THE PAPANUI-I nes

Community Board has taken the

rare step of starting a petition

to figh the city council over

funding.

Signatures are being co lected

in a bid to get funding for a community

facility in Shirley.

It comes after the city council

removed funding for the centre

pla ned for Shirley Rd, near the

intersection with Hi ls Rd. This

was the site of the former community

centre, which was badly

damaged in the February 2,

20 1, earthquake.

The removal o funding

prompted community board

chairwoman Ali Jones to threaten

to stand down, citing it as her "die

in the ditch" project.

Ms Jone said the board's role

is to represen the community,

and by gathering signatures from

residents, it was fulfi ling that

role.

"One of the roles of a community

board is to represent and act

as advocate for the interests of its

community and this is what we

are doing. The LTP and a nual

plans are a l about lo bying the

council."

•Turn to page 5

Board

launches

petition

to get new

community

facility

Ph 3 7 0 70,

30 Cashel St,

Christchurch

Restore your oiled CEDAR BLINDS with ou re-oiling service.

Rejuvenate your lacquered CEDAR BLINDS

High-tech Cleaning

We clean and repair a l types of blinds –

Venetians, Cedar, Verticals, Ro ler, Ho lands,

Romans and Pleated – with environmenta ly

friendly cleaning products.

Temperature Contro led Drying

Re-oiling & Rejuvenating

Fabric Blinds - such as Austrian and Roman

Same Day Pick Up & Drop O f

We o fer a same-day, pick up an drop o f

service for mos types of blinds. B okings

are required.

Convenient Location

Drop blinds into us by 9am, at

30 Cashel Str et (near the

Fitzgerald end), and co lect

them a th end of the day.

New Blind Sales Priced from $30

WE ARE OPEN

Mon - Fri

8. 0am to 5. 0pm

Ro ler Blinds cleaned

from as li tle as $20

per blind

www.blindcare.co.nz SCAN QR code for Info >

BLINDS .Cleaned, Repaired & Restored .

Grenadier Real Estate Ltd MREINZ is a Licensed Agent Under the Real Estate Agents Act 2 08

Alistair Hazeldine

Mobile: 027 572 1 5 | Phone: 0 384 7950

Email: alistair.hazeldine@harcourts.co.nz

w.harcourtsfe rymead.co.nz

MAgic on clifton

Mobile: 021 353 280 | Phone: 0 384 7950

Email: joy.butel@harcourts.co.nz

Joy Butel AREINZ - Dip.R.E.

Four Seasons Realty

Grenadier Fe rymead

TEAM

BUTEL

20 Tuawera Te race, Clifton Hi l - $980, 0 3 2 2 2

Phone: 03 384 6540

183 Dyers Rd, Bromley • OPEN 7 DAYS

W ekdays 7.30am-5pm. W ekends 8.30am-3pm

www.dyersroadandlandscapes.co.nz

Dyers Road Landscape

& Garden Supplies

• Barks • Peastraw • Composts - we su ply the best available

• A gregates - Chip, Round and Basecourse

• Pavers & Schist products • Pungas

• Decorative Stones & Landscaping Rocks

• Trailer Hire first hour fr e with purchase

• Bag & Bulk - pick up or delivered

David, Carol & Mike

We wi l deliver!

SOIL

AND

HARDFILL

DUMPING

Page 3 Page 5

Traffic plan at The Brae

Bid to ease traffic on busy,

na row str et

New pi za joint

Fire and Slice fina ly se to

open in Sumner

WEDNESDAY, APRIL 1 2018 www.star.kiwi

Loca ly Owned

LICENSED SALES CONSULTANT RE A 2 08

GRENADIER

Alison Carter

P: 384 7950 M: 0274 318 960

E: alison.carter@harcourts.co.nz

Your local

hi l and

seaside

specialist.

• By Gordon Findlater

DEAN CALVERT (above)

returned from the United

Kingdom last w ek after

ge ting closer than mos to

Joseph Parker in the build up

to his world heavyweigh title

unification fight with Anthony

Joshua in Cardiff.

The former New Zealand

title-holder trave led with his

father George and brother

Bryce to London ahead of the

fight where they spen time

with Parker in the build up.

Mr Calvert, 47, comes from a

boxing mad family.

•Turn to page 6

Former champ hooks

up with Parker in UK

Cave Rock

Apartments'

owners

expect EQC

sign-off

this week

• By Sarla Donovan

THE OWNERS of Sumner's Cave

Rock Apartments ar expecting the

Earthquake Commi sion to sign-off

on a se tlement agr emen this w ek.

Body corporate chairman Mike

White said the group had gone

into mediation with IAG and EQC

on February 20, and signed off

on a deal with IAG on February

2 – coincidenta ly seven years

to the day after the February 2,

20 1, earthquake. However, they

are waiting for EQC to sign the

agr ement.

"Given that EQC actua ly drafted

the agr ement, there' l be no

problem with them doing that."

The apartment suffered damage

in the February and June, 20 1,

earthquakes and were demolished in

late 2012. In 2016, IAG's offer of the

difference betw en indemnity value,

$10 mi lion, and the sum insured,

$16 mi lion, was rejected by the body

corporate.

The mediation agr ement

prevented Mr White from disclosing

the se tlement amount, but he said it

involved the two parties paying "a bit

more money than they'd wanted to

earlier."

•Turn to page 6

Page 7 Page 10

Fishin' for w eds

Children's event at risk if The

Groynes' lakes not cleaned up

Pedaling acro s NZ

Stroke survivor finishes long

journey

TUESDAY, APRIL 10, 2018 www.star.kiwi

Loca ly Owned

www.denturesouth.co.nz

ca l 32 4 04 TexT 027 537 0567

230 Ba ringTon sTr eT

Mobile

Service

Available

A NEW 60km/h sp ed limit and

double ye low lines wi l be in

place on Dyers Pa s Rd by early

May.

The sp ed limit change was

a proved by the city counci last

w ek.

A decision to paint double yellow

lines on the stretch betw en

Summit Rd and the Sign of the

Takahe was earlier made by the

Spreydon-Cashmere Community

Board.

Bu the Banks Peninsula Community

Board decided against

ye low lines on the Summit Rd-

Governors Bay section due to the

road's na rowne s and general

condition.

The changes are designed to try

and reduce the crash rate.

Insta lation of the double

ye low lines, the new sp ed limit

signs and raised centre line pavement

markers wi l begin in mid

April.

The work i scheduled to take

place betw en April 15-18, 2-26,

29 and May 2.

While the work is done, Dyers

Pa s Rd wi l be closed to traffic

from the Sign of the Takahe to

Governors Bay betw en 7pm and

6.30am.

60km/h

Dyers Pass

speed

limit from

early next

month

• By Emily O'Co ne l

A WOOLSTON butcher proved

to be a cut above the rest in an

international competition.

New World Fe ry Rd butcher

Jeremy Garth and his team, the

Pure South Sharp Blacks, recently

came second a the World

Butchers' Cha lenge in Northern

Ireland.

It was the firs time Mr Garth

had competed in the challenge

and he was "rea ly proud" of

how the team performed.

"We produced some top quality

products and came away

with a g od result so we're very

ha py," he said.

The preparation for this year's

World Butchers' Cha lenge was

intense as the team members

met in Auckland every two

months for lengthy w ekend

practices.

Mr Garth, who has b en a

butcher for 14 years, said the

competition brought back his

pa sion for the job.

"Doing a l thi stuff and

m eting new people, s eing new

ideas, it just brings that flair

back for you," he said.

Mr Garth hopes to own a

butcher shop of his own someday

but says for now he wi l focus

on ge ting mor experience

and on the 2020 cha lenge.

"In two years' time, we' l be

going back to try and win the

title," he said.

U per Ri carton butcher Corey

Winder was part of the Pure

South Sharp Blacks team.

GLOBAL STAGE: W olston butcher Jeremy Garth back home after his team came second in the World Butchers' Cha lenge.

PHOTO: MARTIN HUNTER

From New World Ferry Rd

to second in the

world

Ph 3 7 0 70,

30 Cashel St,

Christchurch

Restore your oiled CEDAR BLINDS with ou re-oiling service.

Rejuvenate your lacquered CEDAR BLINDS

High-tech Cleaning

We clean and repair a l types of blinds –

Venetians, Cedar, Verticals, Ro ler, Ho lands,

Romans and Pleated – with environmenta ly

friendly cleaning products.

Temperature Contro led Drying

Re-oiling & Rejuvenating

Fabric Blinds - such as Austrian and Roman

Same Day Pick Up & Drop O f

We o fer a same-day, pick up an drop o f

service for mos types of blinds. B okings

are required.

Convenient Location

Drop blinds into us by 9am, at

30 Cashel Str et (near the

Fitzgerald end), and co lect

them a th end of the day.

New Blind Sales Priced from $30

WE ARE OPEN

Mon - Fri

8. 0am to 5. 0pm

Ro ler Blinds cleaned

from as li tle as $20

per blind

www.blindcare.co.nz SCAN QR code for Info >

BLINDS .Cleaned, Repaired & Restored .

Page 3 Pages 10 & 13

Cyclist's helipad bid

Serious crash gives new

perspective on ride to hospital

River working group

Rebuilding a healthy

ecosystem in the Selwyn River

WEDNESDAY, APRIL 1, 2018 www.star.kiwi

Loca ly Owned

June 29 - July 1

EXHIBITORS BOOK NOW

vanessa.fleming@starmedia.kiwi

021 914 565

• By Georgia O'Co nor-Harding

A CRACKDOWN on mobile

traders acro s the districts could

be l oming.

However, the public has li tle

interest in having input into the

i sue.

Only eight submi sions were

received for a potential bylaw

aimed at regulating commercial

activities in public places.

The district council wi l be

holding a hearing for the Public

Places Bylaw and Policy on Commercial

Activities and Events in

Public Places.

A hearing i scheduled to be

held on Thursday.

The bylaw comes as an increasing

number of mobile traders

are s eking to operate in Selwyn,

especia ly during the summer

months.

In the past year, the district

council has received five inquiries

about se ting up a mobile busine s

on private or public land.

A report said there are two

str et operators in Darfield, a

coff e cart is parked beside the

railway in Ro leston, and a pi za

cart visits Lincoln w ekly betw en

September-May along with a Thai

f od truck.

•Turn to page 7

Mobile

traders

could

face

regulation

Pupils learn about role of war horses

GR ENDALE SCHOOL pupils

have taken a step back in time,

s eing first hand what men and

horses l oked like during war.

The New Zealand Mounted

Rifles Charitable Trust president

Mark A pleton and member

Mike Donaldson t ok their

horses to the sch ol on Monday,

in a bid to educate pupils on the

sacrifice their ancestors made in

World War 1 and World War 2.

Mr A pleton and Mr Donaldson

a rived a the sch ol dre sed

in World War 1 uniforms while

their horses Tommy and Kruze

wore 1 0-year-old sa dles donated

to the trust.

The presentation is a prelude

to the Gr endale Recreation Reserve

Management Commi t e's

upcoming Anzac Day service.

As a tribute to those who

served, members of the trust wi l

ride horseback to the service.

Mr A pleton said it was

important children were

educated on what soldiers

wen through during World

War 1 and World War 2.

But he said the presentation

didn't go into t o much detail

and was more of a "show and

te l" to make them aware of what

the soldiers l oked like.

Children were shown the type

of kits horses were required to

wear in the war.

•Turn to page 7

• By Georgia O'Co nor-Harding

HISTORY: Pupils have taken a step back in time learning about what

New Zealand soldiers and horses l oked like in World War 1. Abi P oler,

5, sits on Kruze, alongside Mounted Rifles Charitable Trust president

Mark A pleton. PHOTO: MARTIN HUNTER

New sections

selling now

There's no be ter place to se tle out wes than at Falcon's Landing. Pop in to our sales and

information office, 17 Branthwaite Drive, this Thursday, Friday or Sunday from 1pm to 3pm

to find out more. Contact us on 03 741 1340 or mail enquiries@yoursection.nz anytime.

Page 3 Page 5

Driver hazard?

Community board member

blasts Yaldhurst Rd island

Mega centre f edback

Denton Park a tracts more

submi sions than Cathedral

TUESDAY, APRIL 10, 2018 www.star.kiwi

Loca ly Owned

www.denturesouth.co.nz

ca l 32 4 04 TexT 027 537 0567

230 Ba ringTon sTr eT

Mobile

Service

Available

• By Emily O'Co ne l

AN U PER Ri carton butcher

has proven himself to be a cut

above his Au sie rivals at an

international competition.

Elite Meats owner Corey

Winder was named in the a l

star team a the World Butchers'

Cha lenge in Northern Ireland.

Mr Winder and his team, the

Pure South Sharp Blacks, which

includes W olston butcher

Jeremy Garth, finished second

in the competition.

He said the cha lenge started

as a "transtasman test match"

seven years ago.

The preparation for this

year's World Butchers' Challenge

was intense as the team

members met in Auckland

every two months for lengthy

w ekend practices. Mr Winder

said coming second against 1

other countries was a "fantastic"

result.

"To get second behind Ireland

was a huge achievement and to

be ahead of Australia is an

even bi ger thing for us," he

said.

But Mr Winder admires the

Australian team.

"Those guys over there

[Australia] are on top of their

game, they do a g od job," he

said.

"And it just showcases that

New Zealand has got some

of the best butchers in the

world," he said.

Mr Winder has b en a butcher

since the age of 19.

Elite butcher cut above the world

• By Emily O'Co ne l

THE HALSWE L-Hornby-

Ri carton Community Board

has b en given the gr en ligh to

o pose the pla ned quarry near

Templeton.

Mayor Lia ne Dalziel told the

board on Thursday it had the okay

from the city council to make a

submi sion if Fulton Hogan a plies

for a resource consen to create a

qua ry.

Board chairman Mike Mora

told Western News the submi sion

would likely o pose Fulton Hogan's

plan.

"You can just about guarant e

it . because we [the community

board] don't believe qua ries

should be so close to residential

areas," he said.

Mr Mora said he wasn't sure if

the city council would endorse the

board' submi sion.

"I'd like to think so because the

city council has had their eyes

open as we l ove recent years over

the crysta line silica risk," he said.

Mr Mora said the community

board wi l be "representing and

advocating" for the Templeton

community.

•Turn to page 5

Community

board get

permission

to oppose

Templeton

quarry

AWARD-WINNING: Corey Winder is back home after his team came second in the World Butchers' Cha lenge .

PHOTO: MARTIN HUNTER

Ph 3 7 0 70,

30 Cashel St,

Christchurch

Restore your oiled CEDAR BLINDS with ou re-oiling service.

Rejuvenate your lacquered CEDAR BLINDS

High-tech Cleaning

We clean and repair a l types of blinds –

Venetians, Cedar, Verticals, Ro ler, Ho lands,

Romans and Pleated – with environmenta ly

friendly cleaning products.

Temperature Contro led Drying

Re-oiling & Rejuvenating

Fabric Blinds - such as Austrian and Roman

Same Day Pick Up & Drop O f

We o fer a same-day, pick up an drop o f

service for mos types of blinds. B okings

are required.

Convenient Location

Drop blinds into us by 9am, at

30 Cashel Str et (near the

Fitzgerald end), and co lect

them a th end of the day.

New Blind Sales Priced from $30

WE ARE OPEN

Mon - Fri

8. 0am to 5. 0pm

Ro ler Blinds cleaned

from as li tle as $20

per blind

www.blindcare.co.nz SCAN QR code for Info >

BLINDS .Cleaned, Repaired & Restored .

Pip Su ton BCM (Marketing)

Residential Sales & Development

Specialist - Licens e Salesperson

Next Step Realty Limited

Licensed (RE A 2 08)

Your best choice

in the West

Mobile: 027 24 9524

DI: 03 421 8417

Email: pip.su ton@raywhite.com

$ 40

T Y R E S

LTD

New Tyres - Ba teries

Quality Secondhand Tyres

Discounts on sets of tyres

LOOK

Used tyres from

FR E PICK UP & DELIVERY (in local area)

Ph 348 0626

9 Main South Rd (cnr Wa ts Rd), Sockburn

T Y

Quality Secondhand Tyres

Discounts on sets of tyres

A l at very competitive prices

$ 70

155

x 13

AA

Discounts

8047287 A

8214716 A

LOOK

New tyres from

5

Star Media is seeking

an online editor

to join its award

winning newsroom.

Situations Vacant

DRIVETECH LTD

Interest Free Time Payments

(Terms and conditions apply)

OTHER COURSES/LICENCES &

ENDORSEMENTS AVAILABLE ARE:

Class 2, 3, 4 & 5 Vehicle Recovery, Wheels, Tracks,

Rollers & Dangerous Goods.

FREEPHONE 0508 2 DRIVE (37483) or 03 348 8481

info@drivetech.co.nz / www.drivetech.co.nz

CAR DRIVINg LESSONS

Train with a knowledgeable, experienced assessor that will

work with you through your theory and practical steps.

"TRAINING TOMORROWS DRIVERS TODAY"

HEAVY TRAFFIC, Forklift

Endorsement (F & OSH)

Courses in Christchurch, Invercargill, Cromwell

& Mosgiel daily. Other areas by arangement.

Driving related Health & Safety training.

Passenger, Logbook & Load Security training.

Situations Vacant

Abbeyfield Ellesmere

- Leeston

We are urgently seeking Relief Housekeepers

to join our weekend roster in Leeston.

This position is available

immediately. For further

information please contact:

Murray Stephens

waipuna.bc@scorch.co.nz

3291 898

Gwynn Thomson

gwynnt@gmail.com

027 2288 058

Abbeyfield Ellesmere is a modern, purpose built facility

for eligible persons , providing secure, affordable and

comfortable living, with a significant level of independence

in the company of other residents.

Applicants should ideally have:

• An interest in the support and welfare of our residents.

• Be a good cook and able to produce varied and nutritious

meals in conjunction with the main Housekeeper's meal

plan.

• Be able to work on rostered weekends and occasional

weekdays to cover holidays.

• Some cleaning and care of communal areas.

• Preferably have some experience in meal preparation,

time management and seniors care.

• Relief Housekeepers are not required to stay overnight.

NEVELE R STUD LIMITED

852 Springs Road, Prebbleton, CHRISTCHURCH

Nevele R Stud is a leading horse stud situated on the outskirts of

Christchurch. We require a person with farming handyman experience

to move K line irrigation, maintain fences, water lines and general farm

maintenance at the Stud as required.

Hours of work are seasonal, mainly between October and March and can

be tailored to suit the individual.

For more details please contact our General Manager, Ged Mooar, or

Studmaster, Mike Noble, on 03 349 8627.

FARM MAINTENANCE

IRRIGATION SUPERVISOR

Tours

Trades & Services

LifestyLe

BLock

fencing

new fencing, post driving,

repairs, maintenence.

Quality workmanship

& advice.

Phone Allan 021 049 6151

allan@agrifencenz.com

Facebook: agrifencenz

Lawn mowing

Hedge trimming

Gardening

Weed eating

Spraying

and much more

Call Todd

0212059543

toddmc.greenacres@gmail.com

Trades & Services

EST.

1979

ARTHUR'S

Roof & Property

03-347-2635

arthursroofandproperty.co.nz

40% off

Moss Kill & Proof

Silicone Sealing

Roof Repairs

ELECTRICIAN

Royce 027 432 0891

Brendan 022 342 8806

lifestyleguys@yahoo.com

YOUR

LOCAL REGISTERED

ELECTRICIAN

Lifestyle

Guys

DiscounteD

Flooring

027 343 3260

yourfloors.nz@gmail.com

Phone

Ben Wilson

Flooring

For a Free

measure & quote

carpet + Vinyl

Mobile service

Trades & Services

For all painting and

decorating services.

Fully Qualified

• Interior &

Exterior Painting

• Wallpapering

• Plastering

• Roof Painting

All work guaranteed

FREE QUOTES

UDI PAINTING &

DECORATING

Contact Udi Aale

Ph. 021 074 2075

All Plumbing

Gasfitting

Drainlaying

Blocked Drains

Log Fires,

Wetbacks

Gas Hotwater

Phone

021 454 864

ACE HIGH

PLUMBING

BUILDER QUALIFIED

Decks, T & G Flooring,

Villa Restoring, New

Homes,

Weatherboards.

Free Quotes. Bennet &

Sons Ltd Sam 027 496-

9362 or Tony 027 224-

0374

BUILDER

Local builder with 35

years exp in all types of

building - from concrete

work to finishing. Also

some gib stopping and

painting. Selwyn based.

High quality work with

careful attention to detail.

Happy to quote. Phone/

Txt Bruce 027 274

2792. Licensed Building

Practitioner (LBP).

CARPENTER

HANDYMAN

Small Job Specialists,

Carpentry,

Repairs,

Decking & Maintenance,

40 years experience, no

job too small, Ph Warren

03 322-1103 or 027 697-

8541

CARPET & VINYL

LAYINg

Exp. Repairs, uplifting,

relaying,

restretching.

Email jflattery@xtra.co.nz

ph 0800 003 181 or 027

2407416

CARRS

CHIMNEY

CLEANINg

18 yrs exp. $60 a chimney.

Ph Rodney on 03 324 2999

and leave a message

CONCRETE CUTTINg

Affordable

Concrete

Cutting with Quality, and

removal work. Free quote.

No job to small. Phone 027

442-2219, Fax 359-6052

a/h 359- 4605

FENCINg

Quality timber fencing -

gates & repairs, ph Ryan

027 951 8892

Trades & Services

Bellamy's

Furniture

Furniture made to

order and restoration

by tradesman with

35yrs experience.

PH Stephen

021 073 2624

LANDSCAPINg

Paving, Lawns, Irrigation,

Decking,

Fencing.

Kanga & small digger

services. Check out Squire

Landscaping on facebook.

FREE QUOTES. Ph

Arthur 347-8796, 027

220-7014 Edwin 027 220-

7154

RJB PLUMBINg

Renovations, New Houses,

Hot Water Cylinders,

Kitchens

Bathroom

Upgrades,

Laundries,

General Maintenance ,

Water Filters. Phone Mark

0278690026

SHEEP SHEARINg

MOBILE

Fast friendly professional

service. 25 yrs exp.

Shearing, drenching, hoof

trimming etc. Call Shaun

021 204 1274

STUMP gRINDINg

Best price guarantee Tony

0275 588 895

TILINg

Flooring - Splashbacks

-Wall incl tile removal, reg

master tiler, ph Dave 027

334 4125

WINDOW CLEANINg

Brown & White Ltd.

Family owned since 2001.

Ph Paul 027 229 3534

•Re Roofing

•Roof Repairs

•Spouting

Approved Age Concern provider

Over 30 years experience

Licensed Building Practitioner

N A BARRELL

ROOFING LTD

Ph: 349 9778 or 0275 389 415

Email: nabroofing@xtra.co.nz

Trades & Services
---
SELWYN TIMES Latest Christchurch news at www.star.kiwi

Wednesday July 3 2019 35

Classifieds Contact us today Phone our local team 03 379 1100

Public Notices

West Melton School

Board of Trustees Election 2019

For 5 Parent Representatives

DECLARATION OF PARENT

REPRESENTATIVE ELECTION RESULTS

Parent Representatives

Votes

WILLATS, John 112

PARIS, Sara 111

BIRSE, Lissa 107

ENDICOTT-DAVIES, Lyndon John 92

SCHURR, Tim 87

LEADBETTER, Amelia 81

BYERS, Craig Campbell 80

INVALID VOTES 0

I therefore declare the following duly elected:

Lissa Birse, Lyndon John Endicott-Davies,

Sara Paris, Tim Schurr and John Willats.

Wayne Jamieson

Returning Officer

West Melton School

Public Notices

Ellesmere College

Board of Trustees Election 2019

For 5 Parent Representatives

DECLARATION OF PARENT REPRESENTATIVE

ELECTION RESULTS

Parent Representatives

Votes

TEMPLETON, Blair 119

ROBERTSON, Vanessa 113

MICHAEL, Gary 106

MADDREN, Mark Samuel 104

FORWARD, Anna 77

NICHOLLS, Susan 75

INVALID VOTES 0

I therefore declare the following duly elected:

Anna Forward, Mark Samuel Maddren, Gary Michael,

Vanessa Robertson and Blair Templeton.

Wayne Jamieson

Returning Officer

Ellesmere College

Public Notice

Ellesmere College

Board of Trustees Election 2019

For 5 Parent Representatives

DECLARATION OF PARENT REPRESENTATIVE

ELECTION RESULTS

Parent Representatives

Votes

TEMPLETON, Blair 119

ROBERTSON, Vanessa 113

MICHAEL, Gary 106

MADDREN, Mark Samuel 104

FORWARD, Anna 77

NICHOLLS, Susan 75

INVALID VOTES 0

I therefore declare the following duly elected:

Anna Forward, Mark Samuel Maddren, Gary Michael,

Vanessa Robertson and Blair Templeton.

Wayne Jamieson

Returning Officer

Ellesmere College

Public Notices

2019

ADVERTISE YOUR

BUSINESS HERE

Proof read by:_______________________________

Minor Amendment To Enrolment Zone

Clearview Primary School and

URL Closing date

: _______________________________ Date:_______________________________

Lemonwood Grove School

tested: checked:

In accordance with section 11MA of the Education

Act, 1989, The Board of Trustees of Lemonwood

Grove School and Clearview Primary hereby wish

to notify the public of the minor amendment to the

Phone for further details

PLEASE NOTE:

that we have prepared this

your contact:

(03) 379 1100

revisions:

1 2 3 4 5

define the enrolment zone between Springston- publication

run date position sort cost (excl gst)

tamrof

Rolleston Road and Lincoln-Rolleston Road, effective

advertisement proof based on our

from Monday 5th August 2019.

Press

understanding of the instructions

Wed 26 June Public notices $267.84

date position sort cost

received. In approving the

Please note the important information below:

(excl gst)

Ellesmere advertisement, Echo it is client's responsibility Thu 11 July Public notices $140.00

· The boundary roads that determine each school's

4 July public notices $126.88

to check the accuracy of both the

zone include both sides of the road for both

Selwyn Times Tues 2 July Public notices $126.88 Cancellation of adverts booked with

advertisement, the media and the

Lemonwood Grove and Clearview Primary. The

media will incur a media cancellation

position nominated.

weddingshow

'Roads map' and written description will show the

fee of $50.

distinction between both school zones.

Cancellation of adverts booked with

media will incur a media cancellation

fee of $50.

your contact:

Amy

W

enrolment zone between the two schools.

In order to avoid the likelihood of future

overcrowding in both schools, the boards of

Lemonwood Grove and Clearview Primary wish to

Please refer to these maps and road descriptions on

each school website for more information:

www.lemonwoodgrove.school.nz and

www.clearview.school.nz

The enrolment zone amendment, which includes a

precise description of the home zone, may also be

viewed at each of the school offices.

This is a combined notice from the Clearview Primary

and Lemonwood Grove School Board of Trustees.

revisions:

advertising proof 1 2 3 4 5

job:

CCH010244

$0 $0 $25 $50 $75

8 x 2 BW

:ezis

Amy

With: _______________________________ Date:_______________________________

2019

:tamrof

URL

tested:

Closing date

checked:

Calling for exhibitors

$0 $0 $25 $50 $75

PLEASE NOTE:

that we have prepared this

advertisement proof based on our

understanding of the instructions

received. In approving the

advertisement, it is client's responsibility

to check the accuracy of both the

advertisement, the media and the

position nominated.

Sunday 25th August, 2019 Air Force Museum, Christchurch

To exhibit at this fantastic show, please email mark.sinclair@starmedia.kiwi for more info.

3 issues $20 • 6 issues $44.50 • 10 issues $65

rugbynews.co.nz 0800 77 77 10
---
36 Wednesday July 3 2019

Latest Christchurch news at www.star.kiwi

SELWYN TIMES

BIRTHDAY

NOW ON!

Sale ends

15.07.19.

Aria Corner Sofa

WAS $3599

Vika Sofa Bed

WAS $999

NOW

$599

Great for the

spareroom!

Messina 3 Seater

WAS $2399

NOW

$1699

Real Leather!

NOW

$2499

2 Seater NOW $ 1299

Monaco Black

Bedside was $ 299

NOW

$

199

NOW

$

499

Tallboy was $ 749

Queen Bed was $ 849

NOW

$

499

Valid for any purchase from 25/06/19 to 15/07/19. Terms &

Conditions apply. See in store for details.

Shop

Online

Nationwide

Delivery

Finance

Options

targetfurniture.co.nz

Don't miss out on great Birthday STOREWIDE SAVINGS! In store and online.

Cnr Blenheim & Curletts Rds, Christchurch

Ph: 0800 TARGET (0800 827438)

Offers and product prices advertised here expire 15/07/19.

Sale excludes Manchester and Accessories.
---
SELWYN TIMES Latest Christchurch news at www.star.kiwi

Wednesday July 3 2019 37

YOUR

LOCAL

LUXURY

FOR HIM

FOR HER

FOR THEM

Treat

youselfr

thiswinter

9Round | ANZ | ASB ATM | BNZ | Brenna Sincock Hearing | Caci Clinic | Coffee Culture

Corianders | Couplands | Countdown | Fascino Shoes | Hachi Hachi | Harcourts | Hell Pizza

helloworld | Highgate Hair | Industria | Lazeez Mediterranean | The Nail Bar | Noel Leeming

Pita Pit | Postie | Ray White | Robert Harris | Rolleston Bakery | Rolleston Central Health

Rolleston Drycleaners | Rolleston Eye Optometrist | Rolleston Florist and Gifts | Rolleston Haircuts

Snap Fitness | St Pierre's Sushi | Subway | Unichem | Viva La Moda | The Warehouse | Westpac
---
38 Wednesday July 3 2019

Latest Christchurch news at www.star.kiwi

SELWYN TIMES

Hear, Every

Time,,

BRENNA SINCOCK HEARING

Brenna Sincock Hearing is Rolleston's only

full-time, independent, and full-service

Audiology clinic.

Rolleston's Brenna Sincock Hearing has grown

immensely in the past three years, taking 2nd

runner up in the small business category in the

Selwyn Business Awards last year.

Clients can enjoy a high level of personalised

service at our local clinic, with competitive prices

on hearing aids & hearing accessories.

Brenna is a member of the New Zealand

Audiological Society, and is fully qualified to

offer a range of hearing services, including ACC

hearing tests and hearing aid fittings.

We are accepting new enrolments now – for

individuals wanting their first set of hearing aids,

to those who already have hearing aids and want

to switch to a local provider.

Our brand new Rolleston Square location since

June 24th has been custom designed. We

welcome clients to pop in and say hello!
---
SELWYN TIMES Latest Christchurch news at www.star.kiwi

Wednesday July 3 2019 39

1 INDUSTRIA 2 COUPLAND'S 3 HELLO WORLD

DESIGN + GIFT STORE

Unique Rolleston-made collection

of contemporary art, furniture & gifts.

THE HOME OF GOOD BAKING

Treats to warm the heart! Fill the freezer with

bread, pies and savouries.

TRAVEL PROFESSIONALS

Whatever you imagine with the word

"Travel", helloworld can make it a reality.

4 SUBWAY 5 UNICHEM 6

WIN AT LUNCH

Come and try our newest addition to the

menu - Hot Grilled Paninis.

VIVA LA MODA

HEALTH CARE + ADVICE LONG LIVE FASHION!

Not sure what's right for your symptoms?

Fashionable winter warmth! Jackets,

We're here to help.

Blazers, Bombers, Vests & more.

THE RETAIL HEART OF ROLLESTON

7 9 ROUND 8 CACI 9

HACHI HACHI

KICKBOXING WORKOUT

SKIN CONFIDENCE

JAPANESE CUISINE

No fixed class times - 30 minute workouts

with our in club trainers.

Caci turns 25! Get a $300 gift set

when you sign up before July 31st.

Enjoy out winter warmer Ramens -

Spicy, Tonkotsu, Shoyu, & Miso.
---
40 Wednesday July 3 2019

Latest Christchurch news at www.star.kiwi

SELWYN TIMES

PHARMACY

FITNESS

GIFTS &

HOMEWARE

HEALTH &

BEAUTY

EXCITING NEW

FOOD SERVICES FASHION

RETAILERS

OPENING SOON

YourLocal LUXURY

70-76 Rolleston Drive, Rolleston

9 Masefield Drive

Find Us On

Find out more:

rollestonsquare.co.nz

03 347 9192

PROUDLY MANAGED BY COLLIERS REAL ESTATE MANAGEMENT LIMITED
---
THe BeST PRoPeRTieS AcRoSS

THe SeLWYn DiSTRicT

INSIDE

PUBLiSHeD eVeRY WeDneSDAY

Week commencing WeDneSDAY, 3RD JULY , 2019

A Gem on Greenstone!

Situated on a generous section in Stonebrook, this light,

bright and spacious family home offers everything you

need for a growing family.

Positioned beautifully for afternoon sun, the open plan

kitchen connects seamlessly to the fabulous paved patio

area and securely fenced garden. Parents and pet owners

will love the peace of mind knowing there is a safe place for

young children and pets to play.

At the heart of this home is the large modern kitchen,

well equipped and configured in the superbly functional

galley style. Creating a welcoming space for casual dining,

homework or a catch up over a drink there's a large kitchen

island with breakfast bar.

The open plan living spaces are complemented by a

separate lounge offering flexibility for use as a media room,

or the extra space could be used as a retreat for teenagers.

With four spacious bedrooms on offer, there is room for

everyone, and each of the bedrooms is equipped with

ample built-in storage. In addition to the stylish familystyle

bathroom, the generous master enjoys the luxury of

an ensuite.

Vehicle storage and a place for all the trappings of family

life is provided by the double internal access garage with

auto door. Extra vehicles can be safely parked on property

due to the plentiful off-street parking.

In this location, shopping, amenities and a variety of eateries

and cafes are within easy reach in Rolleston township.

Excellent links to the city make commuting a convenient option

also. With zoning for West Rolleston School and Rolleston

College your educational needs are taken care of.

Don't miss this opportunity to enjoy easy living in this fabulous

home in family-friendly Rolleston. Contact Mike to book your

time to view and make this your new home!

Offers over $539,000

REAL ESTATE SPECIALISTS

Real Estate Specialists Ltd Licenced REAA (2008)

Mike Goatley

Contact:

Mobile: 027 249 5561

Email: mikegoatley@oneagencyres.co.nz

4 Greenstone Street, Rolleston

www.oneagencyres.co.nz

4 TH

RELEASE

SELLING NOW

Brand new, 4th Release Rolleston sections available now. Find out more, visit us at the corner

of Lincoln-Rolleston Road and Falcon Road, open 12-4pm, Wednesdays-Sundays.

Email enquiries@yoursection.nz or call 03 741 1340.
---
2

M-A

MATSON & ALLAN

REAL ESTATE LIMITED

'The

Selwyn

Experts'

Residential

Lifestyle

Rural Property

Licensed REAA2008

LEESTON - 64 Clausen Avenue

AS NEW AND READY FOR YOU!

• 2 year old 'Today Home' family home

• Perfectly positioned for all day sun

• 4 Bedrooms, generous size with built in wardrobes

• Entertainers Kitchen

• Dining/ Living area

• Separate Lounge

• Logburner, Heatpump and Heat transfer

• NW facing patio for entertaining

• Easy care 830m 2 section

• Purpose built Garden shed

OPEN HOME

Viewing: Sun 12.30pm – 1.00pm

Price: Neg over $515,000

View: www.marealestate.co.nz/MA0579

NEW LISTINg

LEESTON - 44 Selwyn Street

SPACIOUS FAMILY HOME ON 1133M2

• Private 1133m 2 beautifully established section

• Three large bedrooms

• Ample living, kitchen & separate laundry

• Heated with a log burner & heat pump

• Insulated in roof & exterior walls of bedrooms

• Built in an era noted for its craftsmanship

• Fully fenced section

• Various sheds & gardens

• Plenty of off street parking

• Early viewing is recommended

OPEN HOME

Viewing: Sun 1.15 – 1.45pm

Price: Neg Over $419,000

View: www.marealestate.co.nz/MA0573

Cameron McRae Mb 027 769 6696

cameron@marealestate.co.nz

Cameron McRae Mb 027 769 6696

cameron@marealestate.co.nz

LEESTON - 13B Vitruvius Way

DELIGHTFULLY DIFFERENT

• Built with Vendors own design & specifications

• 252m 2 four double bedroom home

• Two stylish bathrooms including ensuite

• Two living areas

• Stunning kitchen/dining/living area that opens

onto two sheltered Kwila decks

• Butler's pantry & spacious office

• Tiled separate laundry with lots of storage

• Large attached garage

• Two heat pumps, central vacuum system & total

surround sound wiring in living

• Log fire, mood lighting & extra storage

• Large private landscaped 779m2 section

OPEN HOME

Viewing: Sun 2.30pm – 3.00pm

Price: $589,000

View: www.marealestate.co.nz/MA0533

Cameron McRae Mb 027 769 6696

cameron@marealestate.co.nz

ROLLESTON - 23C Jozecom Place

BUILDERS OWN HOME WITH TRIPLE

CAR GARAGING

• As new 2016 Executive style plaster & cedar home

• Four extra roomy bedrooms

• Large entertainers kitchen with island stone bench

• Large walk in pantry

• Extremely spacious living & dining areas

• Large sheltered outdoor kwila deck overlooking

the stream

• Two high spec bathrooms, large walk in robe off

the master, two toilets

• Very large laundry

• Large 1329m 2 fully fenced section

• Oversized triple car garaging

• A real emphasis on space, style & privacy

OPEN HOME

NEW LISTINg

OPEN HOME

Viewing: Sun 3.30 – 4.00pm

Price: $699,000

View: www.marealestate.co.nz/MA0516

Cameron McRae Mb 027 769 6696

cameron@marealestate.co.nz

ROLLESTON

4/652 Springston

Rolleston Road

LIFESTYLE OR LANDBANK

• 1Ha of prime living Z zoned land

• Possible development potential or

easy care lifestyle block

• 3 Bedroom, 2 Bathroom home

built in 2015

• Log burner and heat pump

• 3 main and 2 smaller paddocks

• Various sheds and outbuildings

TO BE SOLD BY DEADLINE SALE

All offers to be offered on or before

4pm, Tuesday 16th July 2019

Viewing: Sun 10.30am – 11.15am

View: www.marealestate.co.nz/MA0581

Cameron McRae Mb 027 769 6696

cameron@marealestate.co.nz

ROLLESTON PH: 03 347 9949 LEESTON PH: 03 324 3704 DARFIELD PH: 03 318 8204 www.marealestate.co.nz

Chris Flanagan

027 433 4657

Andrew Taylor

027 435 5930

Jackie Derrick

027 636 3576

Jo Barrett

021 859 006

Stephan Knowler

027 229 9522

Cameron McRae

027 769 6696

Paul Robinson

021 277 2690

Juliet Flanagan

027 490 8019

Connie van der Klei

021 449 174
---
3

RURAL | LIFESTYLE | RESIDENTIAL

NEW LISTING

LEESTON 9 Johnston Street

Character Home

Entranceway with rimu panelling, four large bedrooms, openplan

kitchen/dining flowing through to a very large family

room which opens to the outside. Garage with sleep-out or

hobbies room. Handy Leeston location.

4 1 1

$410,000 GST Inclusive

VIEW Sunday 1.00-1.30pm

Min Cookson

M 027 249 5417

E min.cookson@pggwrightson.co.nz

pggwre.co.nz/DAR30225

WEST MELTON Thompsons Road

ECAN Perpetual Lease for Sale

$250,000 Plus GST (if any)

VIEW By Appointment Only

HORORATA 828 Downs Road

Sheep, Cropping and Cattle Potential

• 167.7398 hectares of flat to rolling hill in three titles

• Fenced into 36 paddocks of permanent pasture

• 13 units of water off the Hororata Acheron scheme

• Renovated three-bedroom cottage

• Sheep and cattle yards, sundry sheds

PRICE BY NEGOTIATION

Plus GST (if any)

VIEW By Appointment Only

Min Cookson | M 027 249 5417

Sam Davidson | M 027 488 8269

For sale is the vendor's interest in the perpetual lease

of approximately 115 hectares.

The property is fenced into five paddocks and is

currently used as a sheep grazing property run in

conjunction with the vendor's home farm for a

number of years.

The long term lease (21 years with right of renewal)

gives security to incoming purchasers.

This is a fantastic opportunity to secure an affordable

grazing property close to Christchurch.

Sam Davidson

M 027 488 8269

E sdavidson@pggwrightson.co.nz

pggwre.co.nz/DAR29945

pggwre.co.nz/CHR30661

PGG Wrightson Real Estate Limited, licensed under REAA 2008

Helping grow the country

REAL ESTATE SPECIALISTS

7 Rempstone Drive, Halswell

ONE MORE LISTED!

51 Charlbury Drive, Rolleston

Under Contract – We Need More!

Under contract after just 1 open home!

This 3 bedroom modern home in Faringdon

was in hot demand and we have several buyers

who missed out but are still looking for a similar

property.

If you are contemplating a property change,

and would like to know how we could help you

achieve the results you deserve, give us a call

today.

ONE MORE UNDER CONTRACT

OffERS OvER $615,000

Do You Need Space?

In a sought after location this 300 sqm executive residence offers all the space you could need for a growing

family. With appealing décor this beautifully presented home offers sun-filled open plan living areas along

with four double bedrooms, including the master with semi ensuite. A further room with separate external

access could be utilised as a fifth bedroom or would also make an excellent home office.

Providing ample space for vehicles, & complemented by additional off-street parking, the oversized double

internal access garage with auto door offers the necessary storage area for the trappings of family life.

The sizeable landscaped grounds are fully fenced and offer plenty of privacy. In this superb location, you will

be both close to the city and the convenience of Halswell Village & Wigram, as well as an array of parks,

domains & playgrounds within a short distance of home. Contact Mike today for your chance to view and

make this your new family home!

Set Sale : All offers to be presented 5pm, 17th July (unless sold prior).

543 Drain Road, Doyleston

ENqUIRIES OvER $640,000

The Living is Easy!

With room for the kids to roam, swim and play tennis,

this spacious, comfortable 4 bedroom, 2 bathroom

family home on 12654sqm offers all the freedom

of a country lifestyle within 40 minutes of the city.

Neutral with beautiful timber accents throughout,

this home caters for hours spent in the sun enjoying

the company of friends with a superb north-facing

outdoor living area with a raised deck area, outdoor

fireplace, attractive landscaping and a fabulous

decked swimming pool, plus a grass tennis court for

family tournaments. A standalone double garage plus

additional sheds provide ample storage space for

vehicles, tools and gardening equipment. Situated

within a few minutes' drive of Leeston village, the

good life awaits! Contact Mike now to arrange your

viewing.

68 Rolleston Drive, Rolleston

0800 645 346

www.oneagencyres.co.nz

Mike Goatley

027 249 5561

Stephen ferguson

021 224 2000

Elyse Campbell

021 187 6217

Deepak Gangar

021 227 9563

Nicola Curtis

Administrator

Julz Sibbe

Administrator

Real Estate Specialists Ltd Licenced REAA (2008)
---
4
---
5
---
6
---
7
---
8
---
9
---
10

Hastings McLeod Limited Licensed under the Real Estate Agents Act 2008 6 Tennyson Street ROLLESTON rolleston@pb.co.nz 03 929 0306

A Glimpse of Glentunnel

First home buyers rejoice

DEADLINE SALE

WEB ID ROU68900

HEI HEI

16 Ariki Place

Warm, inviting and move in ready this one is sure to

delight! Recently renovated throughout, this three

bedroom home with open plan kitchen, dining and

living areas featuring a log fire on wet back, heat pump

and ventilation system is one you must have on your list

to view. Situated in a quiet street in the Hei Hei area,

close to all amenities and the Hornby Highschools and

Primary Schools. If you are looking to take your first step

on to the property ladder then this is sure worth

viewing.

VIEW 7 & 14 Jul 1.00 - 1.30pm

DEADLINE SALE closes Wednesday 17th

July, 2019 at 4.00pm, (unless sold prior)

3

NEW LISTING

WEB ID DFU68866

COALGATE

18 Railway Terrace

VIEW Sunday 7 Jul 1.00 - 1.30pm

• 2 Bedroom plus study

• Large living with gas fire

• Tandem garage and carport

• New carpet and Vinyl throughout

• Well established, fully fenced 1011sqm section

Built in the late 1970s, this character home features the

traditional high stud of yesteryear, sash windows,

wooden internal doors, and newly painted Kauri

weather boards.

The exterior is newly painted as well as new carpet and

Jannetta Thomas

vinyl throughout.

Mobile 021 256 6295

jannetta@pb.co.nz

Modern + 4 car garage!

$349,000

$555,000

WEB ID LEU67505

LEESTON

27 Spring Place

Located at the end of a quiet cul de sac sits this well

maintained modern 4 bedroom plus study home on a

good 818m2 section. Thoughtfully designed the home

offers a great kitchen which is large and roomy with

great natural light, quality appliances, walk in pantry and

lots of bench space. The kitchen being the focal point of

the house, opens out onto a sizeable open plan living/

dining area with Tarras logburner, heat pump and offers

the bonus of sliding windows from the kitchen to access

out to the undercover veranda area for summer

entertaining.

VIEW Saturday 6 Jul 1.00 - 1.30pm

2

1

2

NEW LISTING

Brand New!

NEW LISTING

6 Car Garaging!

April Nicholls

Mobile 027 737 6474

april@pb.co.nz

$615,000

WEB ID DFU68762

KIRWEE

Lot 7 School Lane

Hard to ignore this brand-new home positioned on a

generous 1132m2 section located in the thriving rural

township of Kirwee. With construction well advanced on

this executive 4 bedroom, 2 bathroom home, designed

to capture the sun and provide a spacious and private

outdoor living environment. Featuring a galley style

kitchen with walk in scullery. North facing dining/living

flowing seamlessly through double sliders to outdoor

patio. Separate formal lounge with external access.

Added bonus of triple car garaging, separate laundry

and great storage options. Completion due end of July

2019.

VIEW By Appointment

Gareth Cox

Mobile 021 250 9714

gareth@pb.co.nz

BUYERS $699,000+

WEB ID ROU68863

ROLLESTON

9 Lloyds Close

You will think you have hit the jackpot here with this

awesome modern 4-bedroom home with a separate 4

car garage with its own entrance!

Situated down a private and wide right of way, you are

going to love the fact that there is room for the extra

toys, race cars or treasures in the stand alone approx.

60m2 garage with high doors and roof plus a handy

drive through! This is in addition the double internal

access garage off the main home.

VIEW Sunday 7 Jul 2.00 - 2.30pm

1

1

4

2

3

4

4

NEW LISTING

Angela Hunt

Mobile 021 548 777

angela.hunt@pb.co.nz

2

4

NEW LISTING

Angela Hunt

Mobile 021 548 777

angela.hunt@pb.co.nz

2

6

Family friendly

$469,000

WEB ID DFU68911

KIRWEE

8 De Renzie Place

Beautifully groomed and finely attuned to the demands

of modern living comes a spacious and stylish Lockwood

offering relaxed contemporary

living.

• Socially inclusive quality kitchen

• Open plan dining and lounging areas

• Discreet study alcove behind internal sliders

• Freshly repainted to most of the interior

• Log-burner, heat pump & heat transfer system

• Sunny patio, double garage & extra parking

Urgent attention from the serious buyer looking to

acquire a quality home in a welcoming village

environment.

VIEW By Appointment

Rural Lifestyle

FROM $165,000

WEB ID DFU61229

KIRWEE

Kirwee Plains

Open day Sunday 7th July 2019. Agent on site from 1-

2pm at the Hoskyns Road entrance. Come along have a

look and discover the great range of sections available or

have a chat about house and land packages.

Kirwee Plains are excited to announce the release of

stage one and two within their new development,

offering a wide range of generous lifestyle sections

within the vibrant country village of Kirwee.

VIEW Sunday 7 Jul 1.00 - 2.00pm

3

2

NEW LISTING

Amy Jones

Mobile 021 077 9945

amy.jones@pb.co.nz

2

OPEN HOME

Gareth Cox

Mobile 021 250 9714

gareth@pb.co.nz

pb.co.nz
---
11

Four Grenadier Seasons Realty

Secluded Residence

Rolleston 155 Lowes Road

4 2 2 2

Calling all families, investors & developers

After 22 years of family enjoyment, this enviable property is

presented to the market for genuine sale.

Seldom do these larger parcels of land come on the market

in this location any more that feature established shelter,

providing a delightful & private park like environment.

Built in 1997, this is a comfortable 4 bedroom family home

with four car garaging supported by a workshop outbuilding

on spacious landscaped grounds, that includes veggie

gardens & fruit trees.

With its elegant entrance & established botanical gardens

it's easy to see the benefits this property offers families.

In recent years, this area has seen significant

redevelopment, providing possible subdivision

considerations.

Don't miss this opportunity!

Auction (unless sold prior) 12pm, Thurs

25 July 2019 98 Moorhouse Ave, ChCh

View By Appointment

John McPhail

P 0275 880 295

E John.mcphail@harcourts.co.nz

Grenadier Real Estate Ltd MREINZ. Licensed Agent REAA 2008

9938m 2

Boundary lines are indicative only

Boundary lines are indicative only

Boundary lines are indicative only

Tai Tapu Lot 2 Gerkins Road

Spectacular!

A wonderful opportunity to secure this significant land holding offering the most amazing views across the

Canterbury Plains to the Southern Alps. The 28.7410 hectare property is nestled in the hills above Tai Tapu offering a

wonderful peaceful environment yet is only 25 minutes to Christchurch City. The 30-year-old (approximate) pine

forest gives the new owners plenty of options. With a consented building site, this land offers a fantastic location to

build your new home and create a unique playground with easy city convenience.

Think to the future with this property and its possibilities!

bayleys.co.nz/5510220

Deadline Sale (unless sold prior)

1pm, Wed 17 Jul 2019

View by appointment

Chris Jones 027 220 5043

chris.jones@bayleys.co.nz

Sam Sidey 027 346 3500

sam.sidey@bayleys.co.nz

WHALAN AND PARTNERS LTD, BAYLEYS, LICENSED UNDER THE REA ACT 2008
---
12

Four Seasons Realty 2017 Ltd | Licensed Agent REAA 2008

Contributor to realestate.co.nz

Your home for local property

harcourts.co.nz
---
13

Four Seasons Realty 2017 Ltd | Licensed Agent REAA 2008

Contributor to realestate.co.nz

harcourts.co.nz

Your home for local property
---
14

Four Seasons Realty 2017 Ltd | Licensed Agent REAA 2008

Contributor to realestate.co.nz

Your home for local property

harcourts.co.nz
---
15

Four Seasons Realty 2017 Ltd | Licensed Agent REAA 2008

Contributor to realestate.co.nz

Your home for local property

harcourts.co.nz
---
16

2

2

verdecopark.co.nz

"

There's

nothing else

like it."

- Mike and Kathie G, Passionate Locals

Set in one of Canterbury's most desirable locations, Verdeco

Park is located only steps from the charming township of

Lincoln. A premium land parcel uniquely and purposefully

designed to magnify the connection between nature,

happiness and healthy living, empowering residents to

achieve, fuller, richer, healthier lives. In celebration of its

natural parkland surrounds, the green spaces have been

thoughtfully designed to be a great place to meet the

locals, catch up with friends and feel part of an eco-friendly

community.

Visit Verdeco Park and discover where to build your dream

home.

Native Plantings

Electric Car Station

Community Orchard

A Healthier Eco Future

Build A Better Lifestyle

Stage 1 & 2 Selling Fast

144

145

143

5339m2

$440,000

142

4635m2

$430,000

146

5272m2

$455,000

141

4739m2

$435,000

200

3766m2

$375,000

140

5200m2

147

201

199

4264m2

$405,000

202

4125m2

$410,000

148

$439,000

139

3237m2

$365,000 138

3155m2

$370,000

198

4044m2

$395,000

204

5771m2

$455,000

203

4089m2

$405,000

137

3301m2

$375,000

149

181

3418m2

$349,000

184

4293m2

$410,000

STAGE TWO

151

150 6020m2

5002m2

$450,000

180

3375m2

$349,000

182

5350m2

$455,000

183

205

185

4015m2

$395,000

$470,000

179

3806m2

$4365,000

4070m2

$410,000

STAGE ONE

153

152

4466m 2

$425,000

154

155

LINCOLN UNIVERSITY

156

158

157

173

2

3046m

$349,000

178

174

3158m 2 177 176 175

$349,000

3115m 2 3220m 2

$349,000

$349,000

159

172 171

3050m 2

$349,000

160 161

170

163 164

162

3874m 2

$400,000

165 166

169

4000m 2 4158m 2

$399,000

$395,000

Sold

168

Under Contract

Stage One

115 114

116

5000m 2

$450,000

117

5000m 2

$450,000

Remaining sections from Stage One

are still available with titles due mid

2019. Sections range from 640m² –

6000m² priced from $205,000.

All remaining sections are zoned TC1.

32

61

60

59

107

58

108

57

109

688m 2

$213,000

56

110

55

112

113

750m

687m 2 2

$209,000

687m 2 $213,000

$213,000

111

54

Stage Two

53

52 51

85

50

86

49

87 88

7 6

943m 943m 2 89

$239,000 $239,000

With earthworks underway, Stage Two

is now available.

Stage Two sections range from 3000m²

– 6000m² priced from $349,000.

28 of these 32 sections are zoned TC1.

90

5

803m 2

$210,000

1000m

$240,000

SPRINGS ROAD

Site office open Saturdays & Sundays 12.00 - 2.00pm

1472 Springs Road, South of Lincoln University

Natalie McLean 027 943 6413

natalie.mclean@harcourts.co.nz

Four Seasons Realty 2017 Ltd | Licensed Agent REAA 2008

Ross Mitchell 027 222 9495

ross.mitchell@harcourts.co.nz

Four Seasons Realty

Four Seasons Realty 2017 Ltd | Licensed Agent REAA 2008

Your home for local property
---
17

MOTIVATED VENDOR

Boundary lines are indicative only

Boundary lines are indicative only

Artist's impression

Broadfield 2/265 Selwyn Road

Glentunnel 15 Railway Terrace

Committed to moving

Good living starts here! Our owners have their next

venture well in their sights. 3.85 hectares ideal for

families seeking their rural dream or farmers wanting

to downsize yet have plenty of space inside and out.

Large double glazed home. Heated saltwater

swimming pool. Entirely surrounded by mature

shelterbelts. A standalone three-bay shed has one

lockable bay with a concrete floor. Close to popular

Broadfield School, handy to amenities and the city.

Our vendors are very much on the move!

bayleys.co.nz/559240

4 2 2 3

Auction (unless sold prior) 12pm, Fri 19 Jul 2019

3 Deans Ave, Chch

View Sun 1.30-2pm

Chris Jones 027 220 5043

chris.jones@bayleys.co.nz

Sam Sidey 027 346 3500

sam.sidey@bayleys.co.nz

WHALAN AND PARTNERS LTD, BAYLEYS, LICENSED REAA 2008

Plans already done - start

building now

Here's your chance to work with our client builder who

has designed this three-bedroom architectural home

which incorporates exceptional style and function, set

on a landscaped 1,011sqm section. The open-plan

living and dining space, with bi-fold doors, opens to

the 20sqm hardwood wrap-around deck. Don't miss

this unique chance to secure a property in a stunning

rural setting with peace and quiet to either work from

home or commute into town.

bayleys.co.nz/559349

3 1 2 2

Asking Price $485,000

View by appointment

Fee Ensor 021 705 014

fee.ensor@bayleys.co.nz

WHALAN AND PARTNERS LTD, BAYLEYS, LICENSED REAA 2008

Lincoln 20 Carnaveron Drive

Staveley 13 Burgess Road

Spectacular!

Presenting a distinctive and enduring panache factor

this home offers the best of city elegance and country

ambience. Positioned on a compact 635sqm (approx)

sized section this brand new 352sqm (approx) house

offers stunning vistas from all areas. On offer here is an

ingenious layout, complete with features rarely found

including his and hers walk-in robes, opulent

bathrooms and a raft of integrated appliances.

Complete with lush landscaping and window

furnishings, it is ready for you to move into and enjoy.

Are you going to become the owner of this

spectacular home?

bayleys.co.nz/559840

4 2 2 3

Price by Negotiation

View Sun 2-2.30pm or by appointment

Urszula Bedggood 027 338 7889

urszula.bedggood@bayleys.co.nz

WHALAN AND PARTNERS LTD, BAYLEYS, LICENSED REAA 2008

Vendors instructions - must

sell!

Don't miss this opportunity - this stunning property is

reduced to a price that shouldn't be passed up. Topp

Lodge is now a bargain. This 7.2346ha lifestyle

property features a stunning, double storey, American

Dutch style barn home built approximately 25 years

ago. Beautifully renovated, the home features a rustic

entertainer's kitchen, large open-plan living area with

an open double fireplace, six bedrooms and five

bathrooms. Delightful gardens and sweeping lawns

with a majestic creek running through.

bayleys.co.nz/559363

6 1 5 2

For Sale offers invited over $999,000

View by appointment

Fee Ensor 021 705 014

fee.ensor@bayleys.co.nz

WHALAN AND PARTNERS LTD, BAYLEYS, LICENSED REAA 2008

bayleys.co.nz
---
A large, quality home sited in a private and established

5021m 2 park-like se ting in the sought after Claremont

Estate on the boundary of Christchurch City.

The home features four bedr oms (master with

en suite and walk-in robe), open-plan kitchen, dining

and living along with formal dining, lounge and

conservatory. Great ind or outd or flow to a large

sheltered deck set in sprawling lawns and easy care

gardens with automated watering. Triple car garaging,

security gates, ducted heating, solar energy and

security system are just a few of the many extras on

offer with this property. There is a separate standalone

spacious office/studio that gives options for

those who require a dedicated work from home space

or alternatively, r om for a dependant relative.

Set amongst other quality homes on larger sections,

this property maintains a semi-rural f el whilst being

a short, easy commute into the city or ou to Ro leston.

Selwyn Times

Auction (unless sold prior)

Thursday 19 October, 2pm

411 Blenheim Road

www.pggwre.co.nz/DAR26164

Karen Hennessy

Contact:

Phone: 03 341 4301

Mobile: 027 967 0186

karen.he ne sy@p gwrightson.co.nz

W ek commencing Tuesday, 3Rd ocToBeR 2017

Brand new 'show stopper' with 4 car garaging

As always, this builder has finished his latest new build to

perfection, incorporating a l the 'must haves' and more for

the discerning buyer. Situated on a 12 0m 2 section, with

an established backdrop, the substantial 315m 2 fl or plan

provides the ultimate in family living options. The su ny &

spacious open plan living r om boasts a designer kitchen

with 90cms oven, stone bench tops & a walk in pantry,

together with define dining, living & study spaces that

The formal lounge als opens to the landscaped garden

& has a boxed high stud ceiling with sound speakers. A l 4

bedr oms are fabulously proportioned qu en sized r oms,

with the master suite providing the perfect parents' retreat

featuring an amazing dre sing r om with fu l wardrobe

system, a ditional storage & a beautiful tiled ensuite with

double tiled shower, fr estanding bath & twin vanities. The

family bathr om is equa ly elegant with a tiled shower &

twin vanities. Cosy up in front of the log burner, k ep your

toes warm with the under tile heating in the bathr oms &

k ep c ol or warm, as required, a the push of a bu ton with

2 heat pumps.

The home's practical layout also includes a walk-in linen

r om, a substantial separate laundry, a tic storage with

la der a ce s and last, but certainly not least, hugely sought

after 4 car garaging. From the moment you a proach this

premium property, you wi l a preciate what a privilege it

would be to be able to ca l it 'home'.

www.flemington.co.nz

DeaDline Sale:

Closing 4pm on Monday

11th June 2018

(unless sold prior)

rwro leston.co.nz/RLL23148

Town & Lifestyle Real Estate Ltd

Licensed (REAA 2 08) - West Melton

Sarah Booth

Contact:

Mobile: 027 527 8258

Brendan 'Big Red' Shefford

Contact:

Mobile: 027 224 4733

Lincoln - 03 325 7299

Ro leston - 03 347 9988

West Melton - 03 347 9933

THe BeST PRoPeRTieS AcRo S

W ek commencing WeDneSDAY, 23RD mAY 2018

Town & Lifestyle Real Estate Ltd

Licensed (REAA 2 08)

2

18 [Edition datE]

Your guide to all things Real Estate

in the Selwyn District

Buying and selling in winter

Spring is generally considered the

best time to sell a home. Many houses

look their best in the warmer weather

when the sun is streaming through the

windows and the garden has fresh new

growth and spring flowers abloom.

With this in mind, it might seem

pointless selling in winter yet there are

still buyers out looking, and with fewer

properties on the market winter can be

an ideal time to list your home. Less

competition could translate to more

buyers considering your home.

If people are out looking at homes on

cold grey days it means they are serious

about buying so may be more likely to

make an offer.

In winter, buyers can assess the

warmth of a home and see the garden

with less foliage and growth. Visiting

after heavy rain allows buyers to observe

the home's condition as issues like

drainage problems or outdoor areas

where water pools might be evident.

If currently looking for land to build

on or choosing a house design for a

section, visit the section at various times

of the day to assess where the sun will

come into the home. Remember, the sun

is lower in the sky in winter so penetrate

further inside than it will in summer.

This exercise will help you appreciate

which house designs will best suit your

piece of land as well as where windows,

exterior doors, indoor/outdoor flow and

outside living areas will be best placed

for maximum sun on cooler days. Bear

in mind other seasonal factors such as

the potential for strong northwest winds

in spring and hot dry summer days.

If selling a property, you will want it

to look good. Clean up the garden, clip

back dead wood on trees and shrubs

and weed garden beds. Mulching will

make the garden tidier too. Add colour

with flowers which bloom in winter

like calendula, hellebores, lobelia,

pansies and polyanthus. Fill gaps in

your herbaceous borders with trees and

shrubs which offer variation of colour

like bronze and variegated foliage or

flowering species such as camellia. Keep

it simple as a fussy looking garden will

give the impression it requires a lot

of work to keep it tidy. Many people

however, want easy care.

Real estate agents always recommend

de-cluttering inside and outside. Too

many ornaments, wall hangings and

furniture take the eye away from the

features of the home and will make

the rooms look smaller. An unclean

or untidy home will also make it less

appealing. Create a warm inviting

atmosphere with fresh flowers, scented

candles and essential oils (though not

too strong), and the odd ornament.

Heat all rooms before an open home

(especially on dreary days) so viewers

are not walking into cold rooms.

The more appeal the home has the

more chance a potential buyer will make

a good offer.

If people are out

looking at homes on

cold grey days it means

they are serious about

buying so may be more

likely to make an offer.

PUBLiSHeD eVeRY WeDneSDAY

THe SeLWYn DiSTRicT

INSIDE

Quality Home, Private Setting, Sought After Location

extend through sliding d ors to a large deck & covered 'al

fresco' entertaining area.

63 Rossington Drive, West Melton Open Home: Sunday 2.00pm - 2.30pm

EVERY WEDNESDAY inside Selwyn Times

Address: 19 Devine Drive, Templeton Open Home: Sunday 8 & 15 October, 1pm - 1.45pm

Get the power

of three offices

working for you

Your section hunt

starts here

New Falcon's Landing sales office open, 17 Branthwaite Drive, Ro leston,

Ray White Rolleston,

Lincoln & West Melton

Sales - Property Management - Loan Market

Residential - Lifestyle - Commercial

Thursdays, Fridays and Sundays from 1-3pm. Come, visit and share in our vision

for Ro leston. Or ca l us anytime 03 741 1340. Email enquiries@yoursection.nz

Get your messages into homes throughout

the Selwyn District.

Delivered to every home & rural letterbox

(also available at selected pick up points).

For full information on placing your

advertising call:

Lynette Evans

Ph 021 222 7831 | email: lynette.evans@starmedia.kiwi

Printed on

high impact

Gloss!

Selwyn Times dedicated to getting you outstanding results & making our district a better place to live.
---
This Week's

19

11.30am – 12.00pm

12.00pm – 12.30pm

1.00pm – 1.30pm

1.15pm – 1.45pm

11.00am – 11.30am

11.30am – 12.00pm

11.30am – 12.00pm

11.45am – 12.15pm

12.00pm – 12.30pm

12.30pm – 1.00pm

1.00pm – 1.30pm

1.00pm – 1.30pm

1.00pm – 1.30pm

1.00pm – 1.45pm

1.00pm – 2.00pm

1.15pm – 1.45pm

1.30pm – 2.00pm

1.45pm – 2.15pm

2.00pm – 2.30pm

2.00pm – 2.45pm

2.15pm – 2.45pm

2.15pm – 2.45pm

2.30pm – 3.00pm

3.00pm – 3.30pm

3.00pm – 3.30pm

3.00pm – 3.30pm

3.15pm – 3.45pm

3.30pm – 4.00pm

10.00am – 10.30am

10.30am – 11.15am

10.45am – 11.15am

11.00am – 11.30am

11.00am – 11.30am

11.00am – 11.30am

11.00am – 11.30am

11.00am – 11.30am

11.00am – 11.30am

11.00am – 11.30am

11.15am – 11.45am

11.30am – 12.00pm

Thursday 4Th july

7 Lemonwood Drive, Rolleston

Harcourts Rolleston

5 Chandler Way, Rolleston

Harcourts Rolleston

800 Old West Coast Road, West Melton

Harcourts Rolleston

4A Bellevue Drive, Prebbleton

Harcourts Rolleston

saTurday 6Th july

5 Albert Street, Glentunnel

Bayleys Canterbury

22 Navy Loop, Rolleston

Ray White Rolleston

7 Lemonwood Drive, Rolleston

Harcourts Rolleston

3072 Coaltrack Road, Coalgate

Bayleys Canterbury

17 Mountain View Place, Leeston

Property Brokers

53 Maxwell Street, Riccarton

Ray White Rolleston

22 Full Moon Lane, Rolleston

Ray White Rolleston

14 Blunden Road, Lincoln

Harcourts Lincoln

27 Spring Place, Leeston

Property Brokers

23 Leeston Road, Springston

Harcourts Lincoln

2/108 Holmes Road, Tai Tapu

Harcourts Hornby

4A Bellevue Drive, Prebbleton

Harcourts Rolleston

17 Roydon Avenue, Templeton

Ray White Rolleston

1/380 Wairakei Road, Burnside

Ray White West Melton

16 Leeston Lake Road, Leeston

Property Brokers

17 Stationmasters Way, Prebbleton

Harcourts Hornby

13 Aua Street, Lincoln

Ray White Lincoln

3 Torlesse Crescent, Darfield

Bayleys Canterbury

1/69 Denise Crescent, Hornby

Ray White Rolleston

13 Aua Street, Lincoln

Ray White Lincoln

274A Horndon Street, Darfield

Bayleys Canterbury

670 Springston Rolleston Rd, Rolleston

Harcourts Lincoln

12 Payne Court, Lincoln

Ray White Lincoln

3 James Hight Drive, Halswell

Ray White Rolleston

sunday 7Th july

29 Hartford Street, Burnside

Ray White Rolleston

4/652 Springston Rolleston Rd, Rolleston

Matson & Allan Rolleston

963 Rakaia Selwyn Road, Southbridge

Ray White Rolleston

6 Charles Major Road, Rolleston

Harcourts Hornby

16 Leeston Lake Road, Leeston

Property Brokers

479 Southbridge Dunsandel Rd, Leeston

Ray White Lincoln

6 Claw Place, Rolleston

Ray White Rolleston

43 Windsor Drive, Kirwee

Ray White West Melton

4/31 Grantley Street, New Brighton

Ray White Rolleston

11 Torlesse Crescent, Darfield

Bayleys Canterbury

16 St James Street, Southbridge

Matson & Allan Leeston

138 Levi Road, Rolleston

Ray White Rolleston

11.30am – 12.00pm

11.30am – 12.00pm

11.30am – 12.00pm

11.45am – 12.15pm

11.45am – 12.15pm

12.00pm – 12.30pm

12.00pm – 12.30pm

12.00pm – 12.30pm

12.00pm – 12.30pm

12.00pm – 12.30pm

12.00pm – 12.30pm

12.00pm – 12.30pm

12.00pm – 12.30pm

12.00pm – 12.30pm

12.00pm – 12.30pm

12.15pm – 12.45pm

12.15pm – 12.45pm

12.15pm – 12.45pm

12.30pm – 1.00pm

12.30am – 1.00pm

12.30pm – 1.00pm

12.30pm – 1.00pm

12.30pm – 1.00pm

12.30pm – 1.00pm

12.30pm – 1.30pm

12.45pm – 1.15pm

12.45pm – 1.15pm

12.45pm – 1.15pm

1.00pm – 1.30pm

1.00pm – 1.30pm

1.00pm – 1.30pm

1.00pm – 1.30pm

1.00pm – 1.30pm

1.00pm – 1.30pm

1.00pm – 1.30pm

1.00pm – 1.30pm

1.00pm – 1.30pm

1.00pm – 1.45pm

1.00pm – 2.00pm

1.00pm – 2.00pm

1.00pm – 2.00pm

1.00pm – 2.00pm

1.15pm – 1.45pm

1.15pm – 1.45pm

1.15pm – 1.45pm

1.15pm – 1.45pm

11 Ennerdale Row, Rolleston

Property Brokers

7 Lemonwood Drive, Rolleston

Harcourts Rolleston

5 Chandler Way, Rolleston

Harcourts Rolleston

4 Oakden Drive, Darfield

Bayleys Canterbury

55 Market Street, Leeston

Matson & Allan Leeston

28 Tauhinu Avenue, Lincoln

Ray White Rolleston

17 Brittan Drive, Rolleston

Ray White Rolleston

22 Full Moon Lane, Rolleston

Ray White Rolleston

58 Shadbolt Lane, Rolleston

Harcourts Hornby

3 Wardell Street, Wigram

Ray White West Melton

23 Lloyds Close, Rolleston

Ray White West Melton

1095 Goulds Road, Rolleston

Matson & Allan Rolleston

1315a Courtenay Road, Kirwee

Property Brokers

27 High Street, Leeston

Matson & Allan Darfield

4 Thomas Street, Kirwee

Matson & Allan Darfield

6 Kemble Drive, Rolleston

Ray White Rolleston

54 Preston Avenue, West Melton

Ray White West Melton

5 Melville Crescent, Rolleston

Harcourts Rolleston

10 Bonecrusher Street, Lincoln

Ray White Lincoln

12 Oak Tree Lane, Rolleston

Ray White Rolleston

18 Beak Street, Rolleston

Ray White Rolleston

27 Falcon Road, Rolleston

Ray White Rolleston

719 McLaughlins Road, Darfield

Bayleys Canterbury

64 Clausen Ave, Leeston

Matson & Allan Leeston

52 Bells Road, West Melton

Harcourts Rolleston

1121 Leeston Road, Irwell

Matson & Allan Leeston

20 Full Moon Lane, Rolleston

Ray White Rolleston

90 Lowes Road, Rolleston

Matson & Allan Rolleston

18 Railway Terrace, Coalgate

Property Brokers

17 Quartz Drive, Rolleston

Ray White Rolleston

14 Beaumont Drive, Rolleston

Ray White Rolleston

2 Corriedale Lane, West Melton

Ray White West Melton

788 Weedons Ross Road, West Melton

Ray White West Melton

14 Blunden Road, Lincoln

Harcourts Lincoln

51 Clydesdale Way (off Carnaveron Drive), Lincoln

Harcourts Hornby

38 Bradbury Avenue, Rolleston

Property Brokers

16 Ariki Place, Hei Hei

Property Brokers

23 Leeston Road, Springston

Harcourts Lincoln

Kirwee Plains, Kirwee

Property Brokers

250 Waikimihia Road, Dunsandel

Bayleys Canterbury

105 Bullocks Road, Southbridge

Bayleys Canterbury

2/108 Holmes Road, Tai Tapu

Harcourts Hornby

10 Seymour Drive, Rolleston

Ray White Rolleston

9 Mulholland Drive, Darfield

Bayleys Canterbury

44 Selwyn Street, Leeston

Matson & Allan Leeston

4A Bellevue Drive, Prebbleton

Harcourts Rolleston

1.30pm – 2.00pm

1.30pm – 2.00pm

1.30pm – 2.00pm

1.30pm – 2.00pm

1.30pm – 2.00pm

1.30pm – 2.00pm

1.30pm – 2.15pm

1.45pm – 2.15pm

1.45pm – 2.15pm

1.45pm – 2.15pm

1.45pm – 2.15pm

1.45pm – 2.15pm

2.00pm – 2.30pm

2.00pm – 2.30pm

2.00pm – 2.30pm

2.00pm – 2.30pm

2.00pm – 2.30pm

2.00pm – 2.30pm

2.00pm – 2.30pm

2.00pm – 2.45pm

2.15pm – 2.45pm

2.15pm – 2.45pm

2.15pm – 2.45pm

2.15pm – 2.45pm

2.15pm – 2.45pm

2.15pm – 2.45pm

2.15pm – 2.45pm

2.15pm – 2.45pm

2.30pm – 3.00pm

2.30pm – 3.00pm

2.30pm – 3.00pm

2.30pm – 3.00pm

2.45pm – 3.15pm

2.45pm – 3.15pm

3.00pm – 3.30pm

3.00pm – 3.30pm

3.00pm – 3.30pm

3.15pm – 3.45pm

3.15pm – 3.45pm

3.00pm – 3.30pm

3.00pm – 3.30pm

3.30pm – 4.00pm

3.30pm – 4.00pm

3.30pm – 4.00pm

3.45pm – 4.15pm

3.45pm – 4.15pm

1 Hungerford Drive, Rolleston

Ray White Rolleston

551 Springston Rolleston Road, Rolleston

Matson & Allan Rolleston

2/265 Selwyn Road, Broadfield

Bayleys Canterbury

39 Stanford Way, Rolleston

Property Brokers

70 Othello Drive, Rolleston

Ray White Rolleston

21 Brook Street, Southbridge

Farmlands Real Estate

226 Corbetts Road, Springston

Farmlands Real Estate

4 Fountain Place, Rolleston

Ray White Rolleston

95 Lowes Road, Rolleston

Ray White Rolleston

5 Barnsley Crescent, West Melton

Ray White West Melton

51 Jacks Drive, West Melton

Ray White West Melton

6 Lambie Street, Leeston

Matson & Allan Leeston

800 Old West Coast Road, West Melton

Harcourts Rolleston

742 East Maddisons Road, Rolleston

Ray White Rolleston

46 Vernon Drive, Lincoln

Harcourts Hornby

9 Lloyds Close, Rolleston

Property Brokers

20 Carnaveron Drive, Lincoln

Bayleys Canterbury

59 Manse Road, Leeston

Matson & Allan Leeston

784 East Maddisons Road, Rolleston

Matson & Allan Rolleston

17 Stationmasters Way, Prebbleton

Harcourts Hornby

11 Thames Drive, Rolleston

Ray White Rolleston

14 Hungerford Drive, Rolleston

Ray White Rolleston

4/545 Maddisons Road, Weedons

Harcourts Rolleston

42 Chapman Street, Leeston

Bayleys Canterbury

1141 Greendale Road, Darfield

Bayleys Canterbury

13 Othello Drive, Rolleston

Ray White Rolleston

9 Kinglear Drive, Rolleston

Ray White Rolleston

2 Boulez Mews, Rolleston

Matson & Allan Rolleston

13A Runnymede Drive, Templeton

Matson & Allan Rolleston

13B Vitruvius Way, Leeston

Matson & Allan Leeston

13a Runnymede Drive, Templeton

Matson & Allan Rolleston

35 Thames Drive, Rolleston

Property Brokers

734 East Maddisons Road, Rolleston

Ray White Rolleston

238 Brookside, Road, Rolleston

Ray White Rolleston

47 Hungerford Drive, Rolleston

Ray White Rolleston

670 Springston Rolleston Road, Rolleston

Harcourts Lincoln

18 Lynley Drive, West Melton

Ray White West Melton

222 Rolleston Drive, Rolleston

Ray White Lincoln

4 Botticello Mews, Rolleston

Ray White Rolleston

7 Bradbury Avenue, Rolleston

Matson & Allan Rolleston

5 Perthshire Crescent, Lincoln

Property Brokers

155 Memorial Avenue, Burnside

Ray White Rolleston

50 Burnham School Road, Rolleston

Ray White Rolleston

23C Jozecom Place, Rolleston

Matson & Allan Leeston

9 Charlbury Drive, Rolleston

Ray White Rolleston

28 Goodland Place, Rolleston

Ray White Rolleston

FOR FULL

DETAILS OF ALL

OPEN HOMES,

PLEASE CONTACT

THE REAL ESTATE

COMPANIES

RAY WHITE

ROLLESTON 03 347 9988

www.rwrolleston.co.nz

WEST MELTON 03 347 9933

www.rwwestmelton.co.nz

LINCOLN 03 325 7299

www.rwlincoln.co.nz

FARMLANDS www.farmlands.co.nz

FARMLANDS LINCOLN 03 325 2889

FARMLANDS LEESTON 03 324 3189

FARMLANDS DARFIELD 03 317 9070

PROPERTY BROKERS ROLLESTON

www.propertybrokers.co.nz

ROLLESTON 03 929 0306

HARCOURTS

www.fourseasons.harcourts.co.nz

HARCOURTS HORNBY 03 349 9919

HARCOURTS ROLLESTON 03 347 4711

HARCOURTS LINCOLN 03 662 9933

PGG WRIGHTSON CANTERBURY

03 318 7850, www.pggwre.co.nz

MATSON & ALLAN

www.marealestate.co.nz

ROLLESTON 03 347 9949

DARFIELD 03 318 8204

LEESTON 03 324 3704

MIKE PERO ROLLESTON

03 347 1111, www.mikepero.com

BAYLEYS

CANTERBURY 03 375 4700

www.bayleys.co.nz

GLASS MILES

CHRISTCHURCH 03 343 5178

www.glassmiles.co.nz
---
20