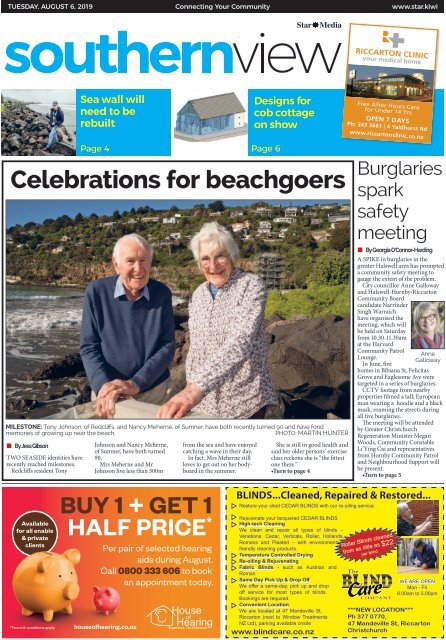 Southern View: August 06, 2019
You also want an ePaper? Increase the reach of your titles
YUMPU automatically turns print PDFs into web optimized ePapers that Google loves.
TUESDAY, AUGUST 6, 2019

Connecting Your Community

www.star.kiwi

Sea wall will

need to be

rebuilt

Designs for

cob cottage

on show

Free After Hours Care

for Under 14 Yrs

OPEN 7 DAYS

Ph: 343 3661 | 4 Yaldhurst Rd

www.riccartonclinic.co.nz

• By Jess Gibson

TWO SEASIDE identities have

recently reached milestones.

Redcliffs resident Tony

Page 4

Johnson and Nancy Meherne,

of Sumner, have both turned

90.

Mrs Meherne and Mr

Johnson live less than 500m

from the sea and have enjoyed

catching a wave in their day.

In fact, Mrs Meherne still

loves to get out on her bodyboard

in the summer.

Page 6

Celebrations for beachgoers

MILESTONE: Tony Johnson, of Redcliffs, and Nancy Meherne, of Sumner, have both recently turned 90 and have fond

memories of growing up near the beach.

PHOTO: MARTIN HUNTER

She is still in good health and

said her older persons' exercise

class reckons she is "the fittest

one there."

•Turn to page 4

Burglaries

spark

safety

meeting

• By Georgia O'Connor-Harding

A SPIKE in burglaries in the

greater Halswell area has prompted

a community safety meeting to

gauge the extent of the problem.

City councillor Anne Galloway

and Halswell-Hornby-Riccarton

Community Board

candidate Narrinder

Singh Warraich

have organised the

meeting, which will

be held on Saturday

from 10.30-11.30am

at the Harvard

Community Patrol

Lounge.

In June, five

homes in Bibiana St, Felicitas

Anne

Galloway

Grove and Eaglesome Ave were

targeted in a series of burglaries.

CCTV footage from nearby

properties filmed a tall, European

man wearing a hoodie and a black

mask, roaming the streets during

all five burglaries.

The meeting will be attended

by Greater Christchurch

Regeneration Minister Megan

Woods, Community Constable

Li'Ying Cai and representatives

from Hornby Community Patrol

and Neighbourhood Support will

be present.

•Turn to page 5

Available

for all enable

& private

clients

*Terms & conditions apply.

BUY 1 + GET 1

HALF PRICE *

Per pair of selected hearing

aids during August.

Call 0800 333 606 to book

an appointment today.

houseofhearing.co.nz

BLINDS...Cleaned, Repaired & Restored...

Restore your oiled CEDAR BLINDS with our re-oiling service.

Rejuvenate your lacquered CEDAR BLINDS

High-tech Cleaning

We clean and repair all types of blinds –

Venetians, Cedar, Verticals, Roller, Hollands,

Romans and Pleated – with environmentally

friendly cleaning products.

Temperature Controlled Drying

Re-oiling & Rejuvenating

Fabric Blinds - such as Austrian and

Roman

Same Day Pick Up & Drop Off

We offer a same-day, pick up and drop

off service for most types of blinds.

Bookings are required.

Convenient Location

We are located at 47 Mandeville St,

Riccarton (next to Window Treatments

NZ Ltd), parking available onsite

www.blindcare.co.nz

Roller Blinds cleaned

from as little as $22

per blind

WE ARE OPEN

Mon - Fri

8.00am to 5.00pm

***NEW LOCATION***

Ph 377 0770,

47 Mandeville St, Riccarton

Christchurch
---
2

Tuesday August 6 2019

get in touch

GENERAL ENQUIRIES Ph 379 7100

CLASSIFIED ADVERTISING Ph 379 1100

Star Media,

a division of Allied Press Ltd

PO box 1467, Christchurch

starmedia.kiwi

NEWS

Georgia O'Connor-Harding

Ph: 021 910 730

georgia.oconnor@starmedia.kiwi

ADVERTISING

Mark Sinclair

Ph: 364 7461

mark.sinclair@starmedia.kiwi

Latest Christchurch news at www.star.kiwi

community events

Stories about the Cook Islands

Go along to the Linwood Library on Thursday from 11-11.30am

and celebrate Cook Islands language week.

Page 9

game schedule

Follow the cup week by week

Pin this poster-sized Mitre 10 Cup schedule to the wall in your

garage, room or anywhere you want.

Page 10

tasty bites

Moreish treats

Chock full of fruits, seeds and oats, this muesli bar recipe is a

healthy alternative.

Page 12

SOUTHERN VIEW

The best-read local newspaper,

delivered to 15,600 homes

every Tuesday

Spreydon, Hoon Hay, Hillmorton, Cracroft, Cashmere,

St Martins, Somerfield, Sydenham, Addington, Waltham,

Opawa, Beckenham, Huntsbury, Woolston.

• The Star

• North Canterbury News

• Selwyn Times

• Ashburton Courier

also publishing:

• Bay Harbour News

• Western News

• Pegasus Post

• Western News

SALE

MASSIVE REDUCTIONS

Meet Ruth

at the Te Hapua ¯ Halswell Centre Café

2-3pm Friday 9 August

Second Friday of each month

Phone 03 376 4512

porthills.mp@parliament.govt.nz

oN sAle Now!

Easy Parking

Laybuy Welcome

17 Lillian Street, Halswell

03 322 4548

Open Mon-Fri

9.30am - 5.00pm

Saturday

10.00am - 1.00pm

Now only

$35.80

Plus $5 P&H per copy

AvAilAble from stAr mediA:

Level One, 359 Lincoln Road

Addington, Christchurch

Phone 379 7100
---
SOUTHERN VIEW Latest Christchurch news at www.star.kiwi

Tuesday August 6 2019 3

ews

Litter lovers recognised with award

• By Georgia O'Connor-Harding

IT'S A dirty job, but someone

has to do it.

That is Hornby's Trevor

and Alison Murray's reason behind

why they will pick up any

litter, broken glass and

dog faeces they see while

walking throughout the suburb.

"Somebody has got to do it,"

Mrs Murray said.

Every day while walking their

two dogs Abby and Macey, the

couple will clean up the suburb's

parks and streets, along with reporting

anything on city council

property needing repairs.

They will now be presented

with a Keep Christchurch Beautiful

Award in recognition of

their hard work at the Tūranga

Library tonight.

Mrs Murray, who is also a

member of the Greater Hornby

Residents' Association, said

she was "thrilled" to have been

acknowledged.

The couple will often walk to

areas including Oakhampton

Reserve, Trevor Reserve and

the old Branston Intermediate

School site.

"One day we came home with

three cartons of alcohol cans

and bottles left at the old school.

It is things like that, that really

disgusts me," Mrs Murray said.

Her message to other residents

is to "clean up after yourself."

"I am not saying I am perfect,

because I am not, but it never

hurts people to pick up rubbish,"

Mrs Murray said.

Her message also goes to dog

owners not picking up their

dog's faeces in public spaces.

"You are not allowed to leave

it on the ground but some dog

owners don't care . . . it is a legal

requirement but it is also a moral

obligation," Mrs Murray said.

She said she gets annoyed with

takeaway restaurants due to the

amount of rubbish she finds.

Her other concerns are children

injuring themselves as a

result of broken glass left on the

streets.

"The city council can't

TIDY KIWIS:

Hornby residents

Trevor and

Alison Murray

clean up rubbish

every day while

walking their two

dogs Macey and

Abby.

PHOTO: MARTIN

HUNTER

afford to have the parks

cleaned up . . . it comes back to

us unless they want to put up

their rates."

Last year the association

obtained a litter picker,

gloves and bags from the

Keep Christchurch Beautiful

organisation to allow Mr and

Mrs Murray to continue their

efforts.

In Brief

HALSWELL POOL HOURS

Last week the Western News reported

the hours for extending

the Te Hāpua: Halswell Summer

Pool had been confirmed.

The city council will trial having

the pool hours open from

6.30am-9pm on Friday and

10am-7pm on Saturdays and

Sundays. The Western News

failed to mention the hours will

also be extended from 6.30am-

7pm Monday to Thursday.

The pool usually opens from

mid-November until March

and the hours are usually

11.30am-7pm.

EMISSIONS TARGET

The Halswell-Hornby-

Riccarton Community Board

will meet on Wednesday to

make a submission on the

city council's district's climate

change strategy. It is currently

consulting on what emission

targets it should be adopting.

Consultation closes on August

14. The meeting on the board's

submission will be held on

Wednesday at the Fendalton

Library, cnr Jeffreys and

Clyde Rds. To make a

submission and to find out

more information go to the

city council's "have your say"

page.

kids TRAMPiNG

BOOTs

SIZES

1-7

FROM

$79.95

47c Garlands Road, Woolston

Phone 389 3431

www.thefootwearfactory.co.nz

Nicky Wagner

National List MP

A

E

P

W

Buy pre-loved &

spread the love

Clothing | furniture | household goods

Corner Gasson & Carlyle Streets,

Sydenham | ph (03) 332 3378277

2843

Open Monday–Friday 9am–4:30pm

& Saturday 9:30am–1:30pm.

Free pick up of donated goods.

familystore.org.nz

922 Colombo Street

Central Christchurch

PO Box 21359

Christchurch 8143

chch.office@parliament.govt.nz

03 365 8297

nickywagner.co.nz

Funded by the Parliamentary Service and authorised by

Nicky Wagner, 922 Colombo Street, Christchurch.

More than just a store.

Elite Haircuts would like to introduce...

The Glow Room

BEAUTY THERAPY

With over 12 years experience, Melissa (Former Top To Toe Beauty)

offers a range of beauty services. Check out these special offers...

MONTHLY

SPECIAL

$29 (norm $55)

1hr Deluxe Pedicure -

Footspa, scrub, mask,

cut and file, cuticle work,

massage, polish

The revolution

in heat pumps

is here now!

*

$5 discount for gold card members

Book your appointment today!

238 Barrington Street, Christchurch

Phone 03 967 6056 or 022 620 1330

glowroombeauty@gmail.com

The revolution in heat pumps is here now!

The Fujitsu e3series

The brilliant

heat pumps from Fujitsu

e1 : efficiency

e2 : environment

e3 : economy

Website: www.pshc.co.nz

Finance available

FREE consultation from your local

Accredited Heat Pump Expert

Phone today: 03 381 6950

INSERT DEALER DETAILS HERE

Gold Card

and Student

Discounts

Gift vouchers

available

• Massage

• Facials

• Waxing

• Spray Tanning

• Tinting

• Natural Nails

• Skincare

ELITE

HAIRCUTS

Men's $20

Women's $27

Children under 12 $15

Gold Card - Men $15

& Women $20

The brilliant e3 series

heat pumps from Fujitsu

e1 : efficiency

e2 : environment

e3 : economy

Fujitsu's Catechin Filters are

approved by the Asthma and

Respiratory Foundation NZ's

Sensitive Choice ® programme.

Email: info@pshc.co.nz
---
4 Tuesday August 6 2019

Latest Christchurch news at www.star.kiwi

News

Identities reach

milestones

•From page 1

Mrs Meherne first moved to

Sumner in 1956 with her husband,

Doug, on their wedding day and

taught at Sumner School for most of

her life.

She remembers when she used to

take her classes to the beach to pick up

driftwood and they would come back

and light a fire to cook their lunch.

"I tried to make their school life

interesting because mine wasn't,"

she said.

She still teaches music, and

has written several operettas

over the years for children

based on the true stories and memoirs

of orphans in New Zealand.

Mr Johnson has been involved

with the Sumner Surf Lifesaving

Club for almost 70 years.

He moved to Sumner from the

central city during the end of World

War 2 to a house "down by the

Esplanade near where the old surf

club was."

The ex-cabinet maker would put

his carpentry skills to good use back

in the day, by making popular surf

craft like skis and boards.

"I made a lot of those for friends

and club members. It was really

more of a hobby, myself and an old

friend would work on them after

school and after work," he said.

Now the patron of the club, Mr

Johnson saw about 70 people attend

his birthday bash at the new surf

lifesaving clubrooms on July 20.

Repairs required on sea wall

• By Louis Day

THE SUMNER Esplanade

rock retaining wall will need to

be rebuilt, says a University of

Otago professor.

Associate geography Professor

Mike Hilton said if the 1.2km

sea wall is not rebuilt within

10 years or so, there will be an

increased risk of exposure to

waves coming

over the wall.

This comes

after a report on

the wall from

engineering

consultant Jacobs

found there

Mike Hilton

are 19 points

along the wall

where repairs are

required.

However, Prof Hilton said

there is no immediate danger.

"In the next few years, the

storm surge on that coast is not

particularly large. However,

when you look beyond the

short-term to the medium-term,

those storms are going to get

significantly larger and will

have a greater impact because

the sea level will be higher," he

said.

City council manager of

regional parks Kay Holder said

there are no plans to rebuild the

wall.

Dyers Road Landscape

& Garden Supplies

• Barks • Peastraw • Composts - we supply the best available

• Aggregates - Chip, Round and Basecourse

• Pavers & Schist products • Pungas

• Decorative Stones & Landscaping Rocks

• Trailer Hire first hour free with purchase

• Bag & Bulk - pick up or delivered

David, Carol & Mike

We will deliver!

SOIL

AND

HARDFILL

DUMPING

Phone: 03 384 6540

183 Dyers Rd, Bromley • OPEN 7 DAYS

Weekdays 7.30am-5pm. Weekends 8.30am-3pm

www.dyersroadandlandscapes.co.nz

CRUMBLING: Darrell Latham says there is a strong case to rebuild the Sumner sea wall.

"We know that in large

storms, seawater can overtop

the revetment, however, the

water is then contained by the

setback wall, which separates

the promenade from the

esplanade," she said.

"The whole structure provides

two lines of defence, which

effectively manages existing

sea-level conditions. We'll be

using the findings of this report

to help prepare a multi-year

repairs and strategy work

programme."

Linwood-Central-Heathcote

community board member

Darrell Latham felt there was a

289 colombo street, sydenham

17 halswell road, hoon hay

713 ferry road, woolston

All sites open 7 DAYs, 5Am-11pm

WaSH 2 Mink

BLanketS or

DuvetS

For onLY $8

Hot Water &

extra LarGe

WaSHerS

avaiLaBLe

liquiD

SeLF Service

LaunDroMatS

Dry up to 14kg from

$4 in only 25 minutes!

Save time &

electricity

WaSH & DrY

aLL Your

LaunDrY in

unDer 1 Hour

SOUTHERN VIEW

strong case for rebuilding the

wall.

"The community needs

the reassurance that the

sea wall is not only well

maintained but designed to

optimum and ideal standards

and is fully fit for purpose," he

said.

• Fast Dryers

• Sports Gear

• Duvets

• Mink Blankets

• Bedding

• Washers

• Domestic Laundry

from

$

4.00 WASH $ 4.00 DRY

over 75 locations

nationwide

www.liquidlaundromats.co.nz

Other Locations: Richmond • Hornby • Burwood

Aranui • Rangiora • Redwood • Ilam • Kaiapoi

Choosing the wrong agent to sell your home can

cost you money and cause unnecessary stress!

" I had been placed into what I thought was a very negative and stuck

situation due to experiences with another Real Estate Agent so I reached

out to Cameron Bailey with details of my situation and he did not hesitate

to offer his assistance, advice and reassurance. I appreciated his ability to

connect and relate to my situation with empathy whilst upholding extreme

professionalism and as a consequence enabled the selling of my home to be

a very peaceful and quick process. Adding to that I was offered the services

of someone to assist me purchase my next home - for me an added bonus!"

Coralea
---
SOUTHERN VIEW Latest Christchurch news at www.star.kiwi

Tuesday August 6 2019 5

News

Lonsdale to have another shot at council

Paul Lonsdale

• By Louis Day

FORMER CITY councillor

and mayoral candidate Paul

Lonsdale is making another bid

for local government.

Mr Lonsdale was the only

councillor who stood for reelection

in 2016 but did not

retain a seat. He stood for the

newly-formed Heathcote Ward

and lost

out to Sara Templeton by 1585

votes.

Mr Lonsdale will now run

in the Halswell Ward as an

independent against current

city councillor and The People's

Choice candidate Anne

Galloway

and independent Sam

Yau.

He said he wanted

to restore a bit of fiscal

responsibility around

the council table.

"With current rates

increases, I have a

concern that home

ownership is going to

become unaffordable

for a wide range of people," he

said.

He said he was considering

running for mayoralty again

in spite of losing out to current

Sam Yau

mayor Lianne Dalziel

in 2013, he received

22,855 votes while Ms

Dalziel got 72,600.

"There is a

mood out there for

a change and I just

want to test that and

see if that is real,

sometimes you get

told things that don't

have a lot of depth

to them, I just want

to make sure that whatever

decisions I make in this election

period are good solid ones that

have good solid outcomes for

Christchurch."

Bid to reduce crime in Halswell, Wigram Skies

•From page 1

Cr Galloway said the concerns

are primarily coming from

multi-ethnic communities.

She said residents had also

noticed a spike in burglaries in

Wigram Skies.

Mr Singh Warraich also said

one street in Wigram Skies had

five burglaries between June and

July.

"That is pretty scary . . . I

hear from a lot of people from

Wigram Skies it is a big issue,"

he said.

Mr Singh Warraich said the

goal of the meeting is to hear

residents' stories and work with

police and the community patrol

to find a solution.

Said Cr Galloway: "I think

the reason why we are hoping

to get a response from the

multi-cultural community is

that they are perhaps not aware

of what is out there in terms of

support."

She is also hoping for

reassurance police and

community patrols are

monitoring the area and for

neighbours to start looking out

for each other.

The meeting will be held at

31 Corsair Drive, Wigram.

For more information, email

nswarraich@yahoo.co.in.

•HAVE YOUR SAY: Have you

noticed a spike in burglaries

in the Halswell/Wigram

Skies area in the last couple

of months? Email your

views to georgia.oconnor@

starmedia.kiwi

Tram lines

unearthed

A SECTION of the original Sumner

tram line has been uncovered

during Sumner Village Master Plan

enhancement works.

Well-preserved tram tracks were

discovered last when undertaking

works in the middle of the carriageway

on Marriner St, near the

intersection with Burgess St.

A tram line connecting Christchurch

and Sumner was first proposed

in 1855, but it was not until the

1880s that the idea became reality,

with the Sumner tram line extension

opened in 1888.

City council's planning, delivery

and transport manager Lynette Ellis

said the on-site archaeologist was

able to record and photograph the

sleepers and take a sample for later

testing.

However, the construction of the

road means that the site is not able

to be preserved.

Contractors are currently in stage

eight of the village upgrades, which

includes

paving footpaths and road surfaces

at the intersection of Marriner St

and Wakefield Ave, digging up the

old road surface along Wakefield

Ave and building a new one,

installing, testing and chlorinating

the new water mains, installing and

testing the water sub-mains and

continuing to install the stormwater

pipes along Wakefield Ave.

School's not

for everyone!

www.

STUDY

WITH

US.CO.NZ

IS SCHOOL NOT WORKING

FOR YOUR TEEN?

WE OFFER:

ULTIMATE CAREER DECIDER /

SECURITY & FORCES PREP /

BUSINESS ADMINISTRATION

& TECHNOLOGY / DIGITAL

MEDIA / EARLY CHILDHOOD

EDUCATION / SOFTWARE

DESIGN / WEB DEVELOPMENT

TEXT

'STUDY' TO:

027 557 8839

50 Hazeldean Road, Addington

0800 834 834 | www.vision.ac.nz
---
6

Tuesday August 6 2019

News

• By Jess Gibson

THICK, see-through walls will

allow the public to peer into the

history of Ferrymead's 149-yearold

cob cottage.

New designs show what the

building in Scott Park will look

like after it undergoes $530,000

repairs as part of the city council's

plan to restored heritage

buildings across the city.

The building, which is known

as Penfold Cottage, was severely

damaged in the Canterbury

earthquakes – with two of its

walls mostly collapsed.

Standing walls at the front of

the building will be strengthened

with an interior steel frame,

while the two partial walls will

be encased in clear materials. The

roof will also be fixed.

Inside it will be historic items

of interest.

Heritage programme manager

Richie Moyle said the building

will be "vandal-proof" from graffiti

or scratch-marks.

He said staff have ensured

the building will have adequate

ventilation, and that drainage

systems have been redone to

prevent the glass from fogging up

on the inside.

Mr Moyle said staff hope to get

contractors on the job in October

so that work can be completed by

February 2020.

City councillor Sara Templeton

said the cottage will be an asset

to the community as it will be

a destination along the coastal

pathway.

"I think it's great that the building

is finally getting its repairs.

There was a really good consultation

with the community and

what came out of it was that people

wanted to be able to value the heritage

and be able to see it, but didn't

necessarily want to go inside."

Latest Christchurch news at www.star.kiwi

Clear materials for cottage

DESIGNS: Ferrymead's cob cottage in Scott Park will be

strengthened with an interior steel frame, while the two partial

walls will be encased in clear, strong materials. ​

The cottage was built by sea

captain James Penfold.

However, it was lived in by

migrants in the late 19th-century

before being largely rebuilt

in the 1940s using cob style

construction – a mixture of clay

and tussock or rushes.

•HAVE YOUR SAY: What do

you think of the new designs

for Penfold Cottage? Email

your views to jess.gibson@

starmedia.kiwi

Board members

cleared; East

inquiry continues

• By Louis Day

THREE OUT of the four

individuals embroiled in code

of conduct complaints

over allegations city

council staff tampered

with the District Plan

have been absolved.

The city council

has chosen not to

proceed with code of

conduct complaints

over Linwood Central

Heathcote Community

Board member Darrell

Latham, Coastal-

Burwood Community

Board chairwoman and

deputy chairman Kim

Money and Tim Sintes.

A city council

spokeswoman said they

were close to concluding

the remaining code

of conduct complaint

involving city councillor

David East.

Said Cr East: "I can continue

with discussions with the council

or I can indicate that I'm at

a stalemate and I'm going to

withdraw from further negotiations

in which case a code of

conduct hearing may or may not

proceed."

The board members

and city councillor

David East, had

been facing code of

conduct complaints

since September over

their allegation city

council staff had tampered

with the District

Plan which led to

Greater Christchurch

Regeneration Minister

Megan Woods approving

the city council's

proposal to amend it.

They alleged city

council staff had omitted

a clause which

gives leeway to people

in specific coastal areas,

deemed at risk of

flooding, to build and

extend homes.

However, an audit,

which the city council

commissioned, by Environment

Canterbury councillor and

former Environment Court

judge Peter Skelton found there

never was a missing clause.

David East

Darrell Latham

SOUTHERN VIEW

Seven retirement villages

in Canterbury

• Halswell • • Rangiora •

• Mairehau •

• Beckenham • • Riccarton • • Papanui • • Hornby •

www.rymanhealthcare.co.nz • 0800 000 290
---
SOUTHERN VIEW Latest Christchurch news at www.star.kiwi

Tuesday August 6 2019 7

raNGiora • Northwood • st martiNs • tower juNctioN • BishoPdaLe • raNGiora • Northwood

Northwood • st martiNs • tower juNctioN • BishoPdaLe • raNGiora • Northwood • st martiNs • tower juNctioN • BishoPdaLe •

2 FOR

$

14

ADULT

READS

*Stock may vary from store-to-store and

discount applies to yellow sticker prices

6 LOCATIONS:

25 %

KIDS'

off

GAMES *

*Stock may vary from store-to-store and

discount applies to green sticker prices.

100S OF

TITLES FROM

BESTSELLING

AUTHORS

Follow us on Facebook:

@papertreestores

65 %

ART

off

CANVAS *

EVERy SIzE IMAGINABLE!

"BEST RANGE IN Nz!"

*Does not apply to canvas panels and professional canvas.

Excludes Paper Tree Local stores.

APPLIES TO DAS EXHIBITION, BLACK & STUDIO

30 % off

HEALTH &

COOKBOOKS *

*Stock may vary from store-to-store and discount

applies to yellow sticker prices.

20 % off

CALENDARS *

*Stock may vary from store-to-store and discount

applies to yellow sticker prices.

Tower Junction | Bishopdale | Halswell | Northwood | Rangiora | St Martins

• st martiNs • tower juNctioN • BishoPdaLe • raNGiora • Northwood • st martiNs • tower juNctioN • BishoPdaLe • raNGiora
---
8

Kilmeny Keyes

writes about

the Sumner

Art Society,

which is

popular for

its weekly

painting

groups and annual art

exhibitions

Tuesday August 6 2019

IT IS 70 years since artists in the

Sumner area first met at Sumner

Artist Reg Holcroft's home to

paint, critique and support each

other by forming the Sumner

Art Society and they are still

going strongly.

Early members of the group

like 93-year-old Ralph Woodward

are still actively creating

and learning new methods, and

many others – Beth Cook, Ruth

Palmer and Helen Egglestone –

to name a few, regularly attend

the weekly painting group

and pass on their extensive

knowledge of the mysteries of

watercolour.

Though the earthquakes have

resulted in many residents moving

away and therefore a muchreduced

membership, new residents

are joining the Wednesday

painting group so it continues to

grow and flourish as will be seen

in their much anticipated annual

exhibition to be held at the Redcliffs

Mt Pleasant Bowling Club

from August 9 to 11. Please mark

your calendars.

Our member of Parliament

Ruth Dyson will open the exhibition

at 5pm on Friday so come

along and thank her for her

sterling work on our behalf as

she steps down from the political

arena and take the opportunity

to view and purchase items on

Friday night.

The exhibition runs also

between 10 am and 4pm on

Saturday and Sunday.

The Sumner Art Society maintains,

throughout the year, a

regularly changing exhibition of

Latest Christchurch news at www.star.kiwi

Your Local Views

Buy artwork at exhibition

CREATIVE:

The Sumner

Art Society

runs a

popular

Wednesday

painting

group at

Christchurch

South

Library.

work in the Redcliffs Mt Pleasant

Bowling Club function rooms.

The Wednesday painting

group exhibited successfully at

the Christchurch South Library

again this year as this library has

a policy of promoting community

initiatives. The opportunity

to hang larger works in such an

open space is always exciting.

Luckily these artists have

many more new paintings to

show along with works from the

other members of the Sumner

Art Society presenting large as

well as small pictures in a wide

range of mediums to enliven

your homes.

Come along, meet the artists,

chat to your neighbours and

maybe join the society as they

are always happy to welcome

new members.

•Check out the website

at www.facebook.com/

sumnerartsociety.

Youth MPs raise issues

Port Hills MP

Ruth Dyson

writes about

her youth

representative,

Cha'nel Kaa-

Luke, and her

experience

during a twoday

Youth Parliament event

in Wellington last month

Once in every three-year term

of Parliament, each MP and the

press gallery journalists have

an opportunity to send a young

person from their electorate to

represent them in our Youth

Parliament.

My representative this year is

Cha'nel Kaa-Luke, a student at

Van Asch Deaf Education Centre

who is studying at Hillmorton

High School. She did a fantastic

job and was elected to chair the

Maori Affairs Select Committee

– a real privilege.

For many people, Parliament is

an alien environment and it is so

good to see it being taken over by

young people who are all bursting

with fresh ideas about how to

make our country better. Cha'nel

raised the profile of deaf students

and issues impacting on them

in a way that no hearing person

is able to do. And her fluency in

three languages is impressive and

unusual in New Zealand born

people.

The Youth MPs got to not

SOUTHERN VIEW

DEDICATED: Cha'nel Kaa-

Luke (left) and Mia Wright.

only work in the select committee

environment but also to

debate in Parliament itself. They

raised issues which need to be

debated and considered more,

particularly around access to

mental health support, climate

change and respect for the voices

of young people. They certainly

earned that respect.

Our electorate was honoured

to actually have another "local"

represented as Mia Wright from

Sumner was also a Youth MP for

my colleague Nicky Wagner. She

described it as "amazing and a

cool experience."

It is an experience which I

certainly hope breaks down

some of the barriers between our

young people and understanding

how Parliament works. Our

Youth MPs are the leaders of the

future (in fact several current

Members of Parliament were

Youth MPs) and I know that both

Cha'nel and Mia represented

us well and I am proud of them

both.

Be in to

WIN your

dream

honeymoon

Pre-purchase your

tickets from

withthisring.kiwi

for only $10pp

or get a ticket on

the day for $20pp

BOOK

ONLINE

NOW AND

SAVE!

Want to be

elected?

• Local Council

• Community Board

• Ecan

• CDHB

Star Media can help you.

Talk to us today about your campaign.

WEDDINGSHOW

Sunday 25th August, 2019, 10am–3pm, Air Force Museum, Christchurch

Fashion | Venues | Entertainment | Stationary | Jewellery | Catering | Floristry Make-up | Hair

Celebrants | Cakes | Beauty | Photography | Transport | Wedding Planners | Honeymoon & Destinations

Contact: Mark Sinclair

03 364 7461

021 913 566

mark.sinclair@starmedia.kiwi
---
SOUTHERN VIEW Latest Christchurch news at www.star.kiwi

Tuesday August 6 2019 9

Email georgia.oconnor@starmedia.kiwi

by 5pm each Wednesday

JP Clinic

Today, 10am-1pm

A justice of the peace will be

available to witness signatures,

certify documents, take oaths,

declarations, affidavits or affirmations,

applications for citizenship

or rates rebates.

South, Linwood and Te Hapua:

Halswell Centre libraries

Technology Help Drop-in

Sessions

Today, 10.30-11.30am at Spreydon,

2-3pm at Halswell, and tomorrow,

11am-noon at Spreydon

These free drop-in sessions are

available to help you with specific

issues, such as using email,

searching the internet, using the

library catalogue, using electronic

resources and any other

general computer-related queries.

Go along with your laptop, tablet,

smartphone or use one of the library's

desktop computers if you

need help with anything digital.

Te Hapua: Halswell Centre and

Spreydon Library

Citizens Advice Bureau

Today, 11am-2pm

The Citizens Advice Bureau

provides free and confidential

advice to everyone. It takes the

time to listen to you and equip

you with information, options

and support.

Linwood Library

SENIOR LIVING

Makerspace

Today at South, 3.30-4.30pm

and Monday, 3.30-4pm at Spreydon

Drop-in for fun activities every

week at the Makerspace. There

will be a variety of activities for

all. Free.

South and Spreydon libraries

Mainly Music

Wednesday, 10-11.30am

Go along for fun and learning

with music for mums with

children aged up to five. The first

visit is free and $4 per family

after this. Held each Wednesday,

10-11.30am, in school terms.

Morning tea provided.

St Johns Anglican Church,

Woolston, corner of St Johns St

and Ferry Rd

Knit 'n' Yarn

Wednesday, 10.30am-1pm at

Linwood, Thursday, 1pm-3pm

atHalswell, and 1.30-3.30pm

at South, Saturday, 1pm-3pm

atHalswell

Head along for a craft corner

session. Take your knitting, crochet

or other craft projects. Free

and beginners are welcome.

Linwood, Halswell and South

libraries

Cook Islands Storytimes will be held at Linwood Library on Thursday from 11-11.30am. Celebrate

Cook Islands Language Week with special, interactive storytimes including stories, songs,

rhymes and play. This is a free session.

Creative Writing on Sundays

Sunday, 1pm-3pm

Group leaders work with members

to craft, create and develop

their own work. Take along pens,

paper and ideas. Bring with

you to the group some pens or

pencils, (even a laptop), paper,

and any of your wonderful ideas,

story-telling, or art.

Linwood Library

Scrabble Club

Wednesday, 1.30-3.30pm at

Halswell, and Friday, 10.30am-

12.30pm at Linwood

No obligation to go, just head

along to join in on the friendly

games.

Te Hapua: Halswell

Centre and Linwood

Library

Rummikub Club

Thursday, 10am-noon

Go and join in a game of

Rummikub, a tile-based

game for two to four players,

which combines elements of

the card game rummy and

Mahjong.

Linwood Library

Game Zone

Thursday, 3.30-4.30pm

Go along and play Minecraft,

charades, Connect Four, Pictionary

and more. Take your friends

or meet some new ones. All children

aged eight to 13 welcome,

no bookings or payment needed.

Linwood Library

Advertising Feature

Nazareth Community of Care

When people think about moving into a

retirement village or rest home, they

sometimes worry about a loss of freedom.

Ensuring our residents have choice

and variety are key priorities at Nazareth

Community of Care.

Offering continuum of care, we have

65 architecturally designed two and three

bedroom, two bathroom villas, and

Nazareth House, our spacious 80 bed rest

home and hospital.

We respect all faiths. Residents are

welcome to spend some quiet time in our

on-site chapel or join our daily services.

Whether you're in a villa or living at

Nazareth House, we will work hard to

meet your individual needs – in a secure

and friendly environment.

Your family and friends are always

welcome. The rest home has four large

lounges, each with Sky TV, and eight

smaller lounges, four of these with a

fridge and tea and coffee making facilities.

A community within a community,

Nazareth incorporates a market style

square, featuring amenities such as a

café, hairdresser, medical consulting

suite, gift shop, large function space,

chapel and comfortable cinema. It's all

here at Nazareth.

Life is as varied outside the village as it

is in, with Sydenham Bowling Club next

door, The Colombo shopping centre

nearby and it's only a short drive to the

city. Villa residents can do their own garden

or have help from our team if they'd prefer.

Raised communal garden beds mean you

can grow your own vegetables and herbs.

In everything we do at Nazareth

Community of Care, we are guided by

our values of love, respect, patience,

justice, hospitality and compassion.
---
2

10

Tuesday August 6 2019

Latest Christchurch news at www.star.kiwi

SOUTHERN VIEW

FREE Courtesy Cars

All insurance & private

work welcome

WEEK ONE

DATE / GAME WHERE RESULT

WEEK TWO

DATE / GAME WHERE RESULT

THURSDAY 8 AUGUST

Southland v Northland

Invercargill

THURSDAY 15 AUGUST

Northland v Auckland

Whangarei

302 Travis Road, North New Brighton

Phone: 03 388 5187

E: qe2collisionrepairs@outlook.com

NUMBER ONE SUPPLIER

TO THE NZ JET BOATING

COMMUNITY FOR OVER

50 YEARS

FRIDAY 9 AUGUST

Auckland v North Harbour

SATURDAY 10 AUGUST

Tasman v Wellington

Counties Manukau v Taranaki

Waikato v Canterbury

SUNDAY 11 AUGUST

Bay of Plenty v Otago

Manawatu v Hawke's Bay

WEEK FIvE

Auckland

TBC

Pukekohe

Hamilton

Tauranga

Palmerston North

FRIDAY 16 AUGUST

North Harbour v Counties Manukau

Hawke's Bay v Wellington

SATURDAY 17 AUGUST

Manawatu v Taranaki

Otago v Southland

SUNDAY 18 AUGUST

Canterbury v Tasman

Bay of Plenty v Waikato

WEEK SIx

North Harbour

Napier

Palmerston North

Dunedin

Christchurch

Rotorua

DATE / GAME WHERE RESULT

DATE / GAME WHERE RESULT

• Part Boats & Hulls

• Turn Key Packages

• New Jet Units

• Custom Fabrication

• Expert Advice

SERVICING

John Connelly

03 962 0505

john.connelly@hamjet.co.nz

• Spare Parts Retailer

• Jet Unit Refurbishment

• Engine Tune-Ups

• Insurance Repairs

• Impellor Reconditioning

BURWOOD PRODUCE

HORSE & POny SUPPliES

HORSE fEED,

aCCESSORiES, BiRD SEED

PET SUPPliES

• Peastraw

• Float & Trailer Hire

• Horse & Feed Supplies

• Iams Dog Food

• Coprice Dog Food

• Chook Food

BURWOOD PRODUCE

172 Mairehau Road, Christchurch

Phone 03 383 1115

Opening Hours: 9am-5pm Tuesday to Saturday

Closed Sunday and Monday

CITY SOUTH VAN SPARES

SERVICE CENTRE & TYRES

159 MACES ROAD | PH 384 8744

• Provide Full Workshop Facilities • Full Servicing & WOF Repairs

• Towing Available • Good Hourly Rate • Same Day Clutch Replacement

• 2 Day Engine Replacement • Mechanical & Exhaust Repairs

100%

owned & operated

• Rabbit & Guinea

Pig Food

• Bird Seed

• Treats/Toys/

Cages/Hutches

• Straw/Hay

PLUS

CITY SOUTH VANS

We buy, sell and dismantle

vans & cars

• We pick up out of Chch

• Backpacker vehicles available

WITH Guaranteed Buy Back

166 MACES ROAD, BROMLEY

P. 384 8744 or A/H 027 222 3241

THURSDAY 5 SEpTEMbER

Manawatu v Northland

FRIDAY 6 SEpTEMbER

Hawke's Bay v Southland

Counties Manukau v Tasman

SATURDAY 7 SEpTEMbER

North Harbour v Waikato

Bay of Plenty v Wellington

SUNDAY 8 SEpTEMbER

Auckland v Canterbury

Otago v Taranaki

WEEK NINE

OPEN SATURDAY

9.00AM - 1.00PM

Palmerston North

Napier

Pukekohe

North Harbour

Rotorua

Auckland

Dunedin

DATE / GAME WHERE RESULT

THURSDAY 3 OCTObER

Counties Manukau v Hawke's Bay

FRIDAY 4 OCTObER

North Harbour v Wellington

SATURDAY 5 OCTObER

Bay of Plenty v Manawatu

Auckland v Southland

Otago v Canterbury

SUNDAY 6 OCTObER

Tasman v Northland

Waikato v Taranaki

Pukekohe

North Harbour

Tauranga

Auckland

Dunedin

TBC

Hamilton

For all your

car audio &

security needs

WEEK TEN

72 Lismore St Waltham

PH 0800 2 INSTALL

THURSDAY 12 SEpTEMbER

Waikato v Hawke's Bay

FRIDAY 13 SEpTEMbER

Northland v Canterbury

SATURDAY 14 SEpTEMbER

Taranaki v Bay of Plenty

Southland v Manawatu

Counties Manukau v Auckland

SUNDAY 15 SEpTEMbER

Wellington v Otago

Tasman v North Harbour

DATE / GAME WHERE RESULT

THURSDAY 10 OCTObER

Southland v Bay of Plenty

FRIDAY 11 OCTObER

Taranaki v Auckland

SATURDAY 12 OCTObER

Hawke's Bay v Tasman

Manawatu v Counties Manukau

Wellington v Waikato

SUNDAY 13 OCTObER

Northland v Otago

Canterbury v North Harbour

Hamilton

Whangarei

New Plymouth

Invercargill

Pukekohe

Wellington

TBC

Invercargill

New Plymouth

Napier

Palmerston North

Wellington

Whangarei

Christchurch

NeW LoCATIoN 95 Gasson St

The Automotive

Lamp Specialists

New and Used Lamps for Cars, Trucks,

Vans, 4WD and Motorhomes

95 Gasson Street, CHRISTCHURCH

PH 0800 225 483
---
SOUTHERN VIEW Tuesday August 6 2019

Latest Christchurch news at www.star.kiwi

11

019

GAME

SCHEDULE

WEEK THREE

WEEK FOUR

SpecialiSt in

• Brakes, clutches

& cV's

• cambelts

• Servicing &

tuneups

• Batteries & tyres

• WOF's

• 4WD Vehicles

• power steering

repairs

• Wheel alignment

- new machine

• Shock absorbers

DATE / GAME WHERE RESULT

THURSDAY 22 AUGUST

Hawke's Bay v Otago

FRIDAY 23 AUGUST

Wellington v Canterbury

SATURDAY 24 AUGUST

Auckland v Bay of Plenty

Tasman v Manawatu

Counties Manukau v Waikato

SUNDAY 25 AUGUST

Taranaki v Northland

Southland v North Harbour

Napier

Wellington

Auckland

TBC

Pukekohe

New Plymouth

Invercargill

DATE / GAME WHERE RESULT

THURSDAY 29 AUGUST

Wellington v Counties Manukau

FRIDAY 30 AUGUST

Otago v Manawatu

SATURDAY 31 AUGUST

Canterbury v Southland

Northland v Hawke's Bay

Waikato v Auckland

SUNDAY 1 SEpTEMbER

North Harbour v Bay of Plenty

Taranaki v Tasman

Wellington

Dunedin

Christchurch

Whangarei

Hamilton

North Harbour

New Plymouth

Qualified technicians "We service all cars"

SuBaRu SpecialiSt On Site

pH (03) 366 1305

cnR BaRBaDOeS

& licHFielD StReet

WEEK SEvEN

DATE / GAME WHERE RESULT

THURSDAY 19 SEpTEMbER

Canterbury v Manawatu

FRIDAY 20 SEpTEMbER

Hawke's Bay v Taranaki

SATURDAY 21 SEpTEMbER

Waikato v Tasman

Southland v Counties Manukau

North Harbour v Otago

SUNDAY 22 SEpTEMbER

Auckland v Wellington

Northland v Bay of Plenty

Christchurch

Napier

Hamilton

Invercargill

North Harbour

Auckland

Whangarei

WEEK EIGHT

DATE / GAME WHERE RESULT

THURSDAY 26 SEpTEMbER

Taranaki v Southland

FRIDAY 27 SEpTEMbER

Tasman v Auckland

SATURDAY 28 SEpTEMbER

Bay of Plenty v Hawke's Bay

Wellington v Northland

Canterbury v Counties Manukau

SUNDAY 29 SEpTEMbER

Otago v Waikato

Manawatu v North Harbour

New Plymouth

TBC

Tauranga

Wellington

Christchurch

Dunedin

Palmerston North

• Driveways

• Earthquake repairs

• New Home Specialists

• Patios & Paths

tel: 0508 873 7483

email: sales@affordableconcrete.co.nz

www.affordableconcrete.co.nz

WEEK ELEvEN SEMI FINALS

DATE / GAME WHERE RESULT

FRIDAY 18 OCTObER

Mitre 10 Cup Semi Final 1

DATE / GAME WHERE RESULT

SATURDAY 19 OCTObER

Mitre 10 Cup Semi Final 2

Mitre 10 Cup Semi Final 3

Mitre 10 Cup Semi Final 4

WEEK TWELvE FINALS

DATE / GAME WHERE RESULT

FRIDAY 25 OCTObER

Mitre 10 Cup Championship Final

DATE / GAME WHERE RESULT

SATURDAY 26 OCTObER

Mitre 10 Cup Premiership Final

PrEmIum

TyrEs &

AUtO

10% discount with this ad

tWO LOCAtiONS!

222 LINWOOD AVE (Beside Burger King)

Ph: (03) 380 5020

245 DyErs rOAD (Cnr Wickham St)

Ph: (03) 384 2080

• Vehicle servicing from $85

• Punctures only $25 for most vehicles

• Brake pads from only $130 fitted

• New & secondhand tyres on sale now

• WOFs • Oil Changes • Alignments

HOURS:

MON - FRi

8am - 5pm

SAtURdAy

9am - 2pm

(Linwood)

CALL NOW!

2019-2020

race dates at

www.woodfordglen.co.nz

the place to be

this summer!

Season passes available at the Woodford Glen Shop,

129 North Avon Road, ChCh | Ph (03) 385-1515

• Expert mechanics with years

of combined experience

• Only high quality parts used

• New diagnostic equipment

• Rolling Road for WOFs

• Fully equipped tyre bay

• New model wheel

alignment machine

workshoP

wof • servicing • repairs

free supreme valet service with all servicing and repairs

call reg & book in now for a free

no obligation look over your vehicle

74 beresford street, new brighton - Phone: 388 9703
---
12 Tuesday August 6 2019

Latest Christchurch news at www.star.kiwi

Tasty Bites

SOUTHERN VIEW

Moreish treats using oats and rice flour

Chock full of fruits, seeds,

and oats, this muesli bar

recipe by Joan Bishop is

a healthy treat. The fat

content and added sugar

is low and the tastes and

textures of the fruits and

spices blend with and

enhance the slightly

nutty flavour of wholegrain

oats. Then top it off with

a decadent yet delicate

black rice steam cake

Pineapple muesli slice

Makes 40-44 slices

Ingredients

50g butter, chopped

3 Tbsp honey

425g can crushed pineapple in

juice, well drained

3 Tbsp lime juice

140g crystallised ginger, chopped

120g dried apricots, chopped

120g dried pineapple pieces,

chopped

1 large egg, size 7, lightly beaten

100g pumpkin seeds

100g sunflower seeds

100g desiccated coconut

140g whole grain oats

100g standard flour

1 tsp ground cinnamon

½ tsp ground nutmeg

Directions

SENIOR LIVING

Place the butter, honey,

crushed pineapple and lime juice

in a large saucepan over low heat

and stir until melted and mixed.

Add the ginger, apricots and

dried pineapple. Slowly bring to

the boil.

Cover with lid and very gently

simmer for 5min. Remove from

the heat and cool well before

stirring in the beaten egg.

Preheat the oven to 180 deg C

on bake. Line a slice tin (about

20cm x 33cm) with non-stick

baking paper.

Combine the pumpkin seeds,

sunflower seeds, coconut,

wholegrain oats, flour, cinnamon

and nutmeg in a medium-sized

bowl and mix well.

Tip the dry ingredients into

the saucepan containing the

fruits and stir to mix. This is

quite a stiff mixture. Tip into the

lined slice tin. Spread out evenly

over base of the tin with the back

of a spoon or wet hands (mixture

does not stick to wet hands). It is

important the mixture is pressed

down firmly into the tin.

Bake in the preheated oven for

30-35min until set and lightly

golden. Do not overcook.

Remove from the oven and

allow to cool completely in

the tin. Leave overnight before

slicing, if time permits.

Using the baking paper edges,

lift the slice from the tin and

place on a chopping board.

Cut into squares or oblongs as

desired.

Black rice steam cake

Serves 8

Ingredients

200g butter

250g black glutinous rice flour

6 large eggs

250g (generous cup) caster sugar

½ tsp salt

1 tsp baking powder

2 Tbsp sweetened condensed

milk

½ tsp vanilla extract

Directions

You'll need a cake tin and a

steaming pan or basket large

enough to hold it. Melt the butter

and use a little to grease the

inside of the cake tin well. Dust

with just a little black flour to

help stop the cake sticking. Start

the water boiling underneath

the steamer so it is ready for the

cake.

In a large bowl, whisk together

the eggs, sugar and salt to get a

frothy mixture with the sugar

dissolved. Stir in the black

glutinous rice flour and baking

powder.

Stirring as you go, gradually

add the condensed milk, the

vanilla extract and finally the

melted butter. Keep stirring

until the mixture is smooth and

velvety.

Pour into the cake tin and sit

in the steaming basket.

Wrap the lid with a clean

tea towel – this will stop water

dripping on to the cake and

create a tight seal.

Steam over a medium-low

heat (making sure there is always

water in the pan). How long it

takes depends on the size and

shape of your pan – between

25-40min.

Check every 5min or so

towards the end of the cooking

time. The top should be gently

springy with not too much

wobble below; then poke in a

skewer to check the middle has

a delicate crumb rather than raw

batter.

Remove from the steamer and

leave to cool for 10min in the tin

before turning out on to a rack to

cool. Serve with strawberries.

Secure your

future lifestyle

in Geraldine

Just a handful of villas are now

available, so don't you be the one to miss

out.

From humble beginnings the 4.8ha

of farmland has grown to an impressive

modern architecturally-designed

development, offering independent living

for the over 55 across 115 villas. You can

secure your future lifestyle here. Priced

from $335,000.

2019 welcomes assisted care units close

to all the amenities of the village. Care

packages can be tailored to suit. If you

currently receive in-home assistance you

are welcome to continue those services,

to continue living independently.

Main meals are supplied to each unit

daily. Target completion is planned for

September. Feel free to inquire about

securing a single or double unit today.

If you seek a lifestyle within a small

caring community with a big heart,

Geraldine offers that and more. The town

has a long proud diverse history and

being along the gateway to the southern

lakes and Mt Cook/Aoraki, your friends

and family will be visiting regularly!

To see if McKenzie Lifestyle Village is

right for you phone today on

0800 845524 or visit mlv.org.nz

If you seek an Independent Carefree & Easy Lifestyle, McKenzie Lifestyle Village in Geraldine

could be the place for you.

They say, we might be small but make up for it with a community with a big heart offering

comfortable modern living, 2 & 3 bedroom Villas – 113 in total. Resort Style Facilities – Indoor

Heated Swimming Pool, Spa, Library, Therapy Room, Hair Salon, Bowls, Petanque. All this is

available to those over 55yrs seeking a lifestyle where we do the everyday so you can get on with

enjoying your day.

Assisted Care Living (Single and Double) for those needing a little discreet help along the way.

Lovely comforts of home.

Call on 0800 845524 to make an appointment or www.mlv.org.nz.

View what could be your dream come true.

OFFICE HOURS: Mon-Fri 9am-3pm (Closed Public Holidays) Sat/Sun 11am-3pm

VILLAS AVAILABLE NOW!

Belfield Villa – 108m2

2 Bedrooms, BRAND NEW, Spacious Living,

Modern Kitchen, Single Car Garage, North

facing private terrace to soak up the sun.

Woodbury Villa – 130m2

2 Bedrooms, Plus Office, BRAND NEW,

Generous Open Plan Living/Dining, Single Garage,

Quiet Location

33 CONNOLLY STREET, GERALDINE 7930

FREEPHONE. 0800 845 524 LANDLINE. 03 693 8340

WEBSITE mlv.org.nz

ACCREDITED VILLAGE OF THE RVA
---
SOUTHERN VIEW Latest Christchurch news at www.star.kiwi

Tuesday August 6 2019 13

SENIOR LIVING

Kidney, bladder and

urinary support

A healthy urinary system is needed to

filter and remove waste and excess fluid

from the body. Each part of the urinary

system (kidneys, bladder, ureters and

urethra) works in harmony to drain urine

from the kidneys and escort it out of the

body. If the kidneys' ability to filter the

blood is seriously damaged by disease,

wastes and excess fluid may build up in the

body. The critical regulation of the body's

sodium, potassium and acid content is

performed by the kidneys. The kidneys

also produce hormones that affect the

function of other organs. For example,

a hormone produced by the kidneys

stimulates red blood cell production.

Other hormones produced by the kidneys

help regulate blood pressure and control

calcium metabolism. Urinary tract

infections occur when germs enter the

urinary tract and cause symptoms such

as pain and/or burning during urination

and more frequent need to urinate. These

infections most often affect the bladder,

but they sometimes spread to the kidneys,

and they may cause fever and pain in your

back. Not all kidney disease produces

symptoms although some signs there may

be a kidney problem are: puffiness around

eyes, swelling of hands and feet, more

frequent urination - particularly at night,

difficult or painful urination, high blood

pressure and blood in the urine.

Nature's Sunshine JP-X is a powerful

all natural herbal formula that has been

formulated to support the bladder, kidneys

and provide relief from urinary infections.

The herbs naturally support: improved

digestion, liver function, increase

circulation to promote healing, stimulate

urine flow to flush out toxins, shrink

swollen tissues and reduce inflammation,

neutralise acidity, relieve pain and support

sexual function. JP-X is recommended to

help arthritis, cystitis, diabetes, diarrhea,

dyspepsia, dysuria, edema, gallstones,

gastritis, gout, incontinence, kidney

infection/inflammation, kidney stones,

liver problems, nephritis, prostatitis,

rheumatism, urinary dysfunction, and

urinary tract infection/inflammation and

high blood pressure.

If you would like further more detailed

information please contact the Medical

Herbalists and Natural Health Specialists

at Marshall's Health & Natural Therapy,

101 Seaview Road, New Brighton, Phone:

388-5757. We are always happy to help!

Collagen

the body's youth protein

Collagen is the primary protein in the

body. It is a major component of skin,

hair, nails, muscles, tendons, ligaments,

joint cartilage, bones, gums, teeth, eyes,

and blood vessels.

In fact collagen is the primary

structural component for all tissue

in the body, providing the strength

and resilience associated with youth,

beauty and wellness. The body's natural

collagen production decreases with

age resulting in many signs of aging,

such as flaccid skin, wrinkles, ligament

and tendon injuries and aching joints.

Collagen supplementation is one of

the most fundamental things a person

can do to prevent premature aging and

promote youthful vitality.

NEOCELL are the industry leaders

in research on collagen supplementation.

Through advanced research they have

perfected a way to hydrolyse collagen and

effectively reduce its molecular weight this

improving the absorption of collagen into

the blood stream by over 90%.

A clinical study on NEOCELL

COLLAGEN has shown skin hydration to

increase an average of 21% and up to 50%,

with 92% of test subjects experiencing

firmer, softer skin. Most people taking

NEOCELL COLLAGEN reported seeing

visible improvements within two weeks.

Collagen supplementation provides

the nutrients necessary to support the

body's collagen supply. It can help reduce

fine lines and wrinkles and improve skin

elasticity, support building of strong bones

and teeth, strengthen the nails and hair,

and is vital for muscle growth, It also

assists weight loss by helping burn fat

for energy, promotes wound healing by

supporting the regeneration of healthy

tissue as well as help support overall

health.

NEOCELL COLLAGEN and further

information is available from the

Natural Health Advisers at Marshall's

Health & Natural Therapy, 101Seaview

Road, New Brighton, Phone: 388-5757.

We are always happy to help!

you can stop him

snoring with a

SNOREX

Why put up with a broken

night's sleep?

Ph 377-4318 or 027 682 1752

DENISE LIM

FOR A FREE INFO PACK

Website: www.snorex.co.nz

Would you

like to profile

and grow your

Business?

For feature advertising

please phone

Jenny Wright

03 364 7446 or 021 220 3484

jenny@starmedia.kiwi

A Leader in Healthcare

Excellence for the

Older Person

Lady Wigram

Retirement Village

210 Kittyhawk Ave,

Wigram

Phone 03 341 0543

Golden Age

Retirement Village

96 Harewood Road,

Papanui

Phone 03 375 0720

Somerfield

Rest Home

137 Barrington Street,

Somerfield

Phone 03 332 5897

Hoon Hay House

Dementia

16 Anvers Place,

Hoon Hay

Phone 03 335 0297

www.goldenhealthcare.co.nz

Brookhaven

Retirement Village

29 Alport Place,

Woolston

Phone 03 384 5046

Camellia Court

Rest Home

84 Harewood Road,

Papanui

Phone 03 375 0722

Albarosa

Rest Home

80 Harewood Road,

Papanui

Phone 03 375 0727

Hoon Hay

Rest Home

16 Anvers Place,

Hoon Hay

Phone 03 379 7825

KIDNEY – BLADDER – URINARY SUPPORT TONIC

A healthy kidneys, bladder and urinary system is vital for good health. Toxins and excess fluids are

removed from the body's blood serum by the kidneys and urinary system in the form of urine.

Nature's Sunshine JP-X formula is designed to nourish,

cleanse & support these systems!

JP-X may help arthritis, cystitis, diabetes, diarrhea, dyspepsia, edema,

gallstones, gastritis, gout, incontinence, kidney or urinary tract infection/

inflammation, kidney stones, liver problems, nephritis, prostatitis,

rheumatism, urinary dysfunction, high blood pressure and more.

JP-X SUPPORTS:

•Improved digestion and assimilation of nutrients

•Healthy liver and kidney function

•Stimulates urine flow to flush out toxins

•Neutralise acidity

•Reducing inflammation

•Relieving infections and pain

•Reduces tissue swelling

•Normal blood pressure

SUPER

SPECIALS

100 capsules only

$29.90 Save

$6.20

200 capsules only

$54.90 Save

$17.30

BEST PRICE GUARANTEE – We are

constantly working on keeping our

prices as low as possible. If you find

a lower price in a local store we are

always happy to match it.

Bringing You the Best

in Natural Health!

MARSHALLS HEALTH & NATURAL THERAPY

CONSULTING - PRESCRIBING - DISPENSING - MANUFACTURING - MEDICAL HERBALISTS

101 SEAVIEW RD, NEW BRIGHTON • PH 03 388 5757 • Email: enquiry@marshallshealthshop.co.nz

- WE ARE ALWAYS HAPPY TO HELP -

Collagen is the primary structural component for all tissue in the body,

providing the strength & resilience associated with youth, beauty &

wellness. The body's natural collagen production decreases with age

resulting in many signs of aging, such as flaccid skin, wrinkles, ligament &

tendon injuries & aching joints. Collagen supplementation is one of the most

fundamental things a person can do to prevent premature aging & promote

youthful vitality. NEOCELL collagen has undergone advanced enzymatic

hydrolyzation for superior results.

NEOCELL COLLAGEN SUPPORTS:

• Reduction in lines & wrinkles - improved skin elasticity

• Strong hair & nails, may help reduce hair loss

• Supports bone, ligaments, tendons & joint health

• Lean muscle & weight loss

• Youthful vitality & slowing of the aging process

NEOCELL PREMIUM COLLAGEN IS CLINICALLY

RESEARCHED FOR SUPERIOR RESULTS

Bringing You the Best in Natural Health!

MAIL ORDER AVAILABLE

COLLAGEN - ThE BOdy's yOuTh PrOTEiN

hAir - sKiN - NAiLs - JOiNTs - BONEs

Super

Prices

120 tablets only

$36.90 Save

$5.75

250 tablets only

$56.90 Save

$9.75

500 tablets only

$99.90 Save

$33.40

198 gram powder

$36.90 Save

$5.75

MARSHALLS HEALTH & NATURAL THERAPY

CONSULTING - PRESCRIBING - DISPENSING - MANUFACTURING - MEDICAL HERBALISTS

101 SEAVIEW RD, NEW BRIGHTON • PH 03 388 5757 • Email: enquiry@marshallshealthshop.co.nz

- WE ARE ALWAYS HAPPY TO HELP! -

MAIL ORDER AVAILABLE
---
14 Tuesday August 6 2019

Latest Christchurch news at www.star.kiwi

HOME & HEATING

SOUTHERN VIEW

The importance

of air quality

The quality of the air we breathe affects our

health and ability to perform. We breathe

in and out approximately 20,000 litres of

air every day. It is therefore very important

to ensure good air quality indoors through

adequate ventilation. Ventilation is the

process of air exchange to provide the

necessary air quality that meets the needs

of the occupants for clean, fresh air. Low

oxygen with high carbon dioxide causes

stuffiness in the room and occupants can feel

drowsy. Invisible harmful substances like

a high content of dust and tobacco smoke

are harmful and can cause various diseases.

Even bad smells can cause discomfort or

irritate the nervous system. In summer, it's

easy to open windows for cross ventilation,

however as winter approaches, we start to

shut up out houses to trap in the heat and

as a result, air quality can decline.

Ventilation includes both the exchange

of air to the outside as well as circulation

of air within the building. It is one of the

most important factors for maintaining

acceptable indoor air quality in buildings.

Filtered air supply for summer and filtered

and warmed air in winter creates a healthy

environment in which to live and work. In

case of poor or insufficient air intake from

outside, the oxygen content decreases,

humidity and dustiness levels increase. If

exhaust ventilation is not provided or it is

not effective, polluted air, smells, humidity

and harmful substances are not removed.

To ensure the quality of your air, contact

the experts. Smooth-Air Products can

calculate the required air exchange for your

building requirement. Smooth-Air offers

a wide range of ventilation equipment,

from air vents to ducting for fans, for both

the commercial and domestic markets.

They have an extensive range of fans and

ventilation components in-store but they

can also provide innovative solutions

tailored to differing requirements.

You can contact Smooth-Air on 0800

SMOOTH (0800 766684).

Choosing the

right heat pump

for your home

Are you struggling with the heat of

Summer or wanting to get organised for

Winter? With the ever changing weather

patterns, heat pumps have the flexibility

of being able to heat and cool which is an

advantage no other appliance can offer. This

represents great value for your investment

as you can use it all year round. The team

at Enviro Master Ltd can help keep you

cool this Summer either at home or work.

Enviro Master supplies, installs and services

all the leading brands including Panasonic,

Fujitsu, Mitsubishi and Daikin. This means

our team can show you which system and

brand will best suit your needs.

With new regulations coming in for

Landlords to provide heating in rentals,

now is a great time to beat the 1st of

July deadline. Inadequate heating and

ventilation can lead to mould growth and

dampness in your property, leading to

costlier maintenance and an unhealthy

living environment. Providing a fixed

heater with a higher heat output and lower

running costs, like a heat pump, will enable

your tenants to heat the area effectively.

It will also discourage them from using

unflued gas heaters which can make a

house damp and mouldy.

It is important to remember, when

selecting an installer, the manufacturer's

warranty does not cover the installation

and consumers could be responsible for

any repair or damage caused to the system

due to poor installation. Enviro Master's

five-star installation guarantee ensures

correct installation, and a demonstration

so customers have an understanding on

how it will best meet their needs.

For a free in home consultation, call

Enviro Master on 366 0525 or visit our

showroom at 41A Shakespeare Rd,

Waltham, Christchurch.

Smooth-Air

Ventilation Equipment Suppliers

totrade

retail

Domestic

Commercial

Industrial

&

HEAT PUMP

SALE NOW ON!

Amazin' WINTER Specials!!

• We will offer you the best quality brands and

option of heat pump for your home/business

• Providing Heat Pump solutions for over 17 years to Cantabrians

• We personally guarantee all our products & installs for 5 years

(providing annual maintenance has been completed)

Phone us today for your free consultation & quote

41A SHAKESPEARE RD, WALTHAM

PHONE 03 366 0525

www.enviromaster.co.nz

"A local team for local people"

Centrifugal

inline fans

Axial fans Axial fans Bathroom fans

Window fans

Axial inline fans

the

right

product

for the

job

0800 SMOOTH

(0800 766 684)

sales@smooth-air.co.nz

264 Annex Rd

Riccarton

Christchurch

03 343 6184

Monday - Friday

7.30am - 5pm

www.smooth-air.co.nz

T. 03 376 4608

E. info@foamconcrete.nz

W. www.foamconcrete.nz
---
SOUTHERN VIEW Latest Christchurch news at www.star.kiwi

Tuesday August 6 2019 15

SCHOOL OPTIONS - early & middle years 2020

Enrol now

for 2020

We are proud of our reputation for being devoted

to student success in a caring, challenging,

stimulating, supportive and innovative

atmosphere with a strong values programme.

Breens is an extremely well-resourced

school with modern facilities set in an

environment deliberately designed to cater

for middle school aged students.

Our school is committed to a Rich &

Responsive Curriculum that makes learning

happen through supportive challenge,

active engagement in an authentic learning

environment. We strive for every Breens

student to be, Brave, Bold, Beautiful and

Brilliant lifelong learners who Belong and

apply the BEST learning Philosophy.

Breens is fortunate to have purpose built,

specialist learning areas. Our current of

approximately 300 means students have

much greater access to these areas and

opportunities. The school is very much

'family based' with strong values which

underpin our learning, attitude and

behaviour.

I welcome the opportunity to personally

walk you around our school. Bookings

for a tour can be made on our website:

www.breens.school.nz

Welcome to

Casebrook

Intermediate

School

Year 7 & 8 students are a unique age

group that we specialise in educating.

Our staff and school resources are all geared

for this stage of personal development and

focus on providing as a diverse range of

learning opportunities to create a rounded

and engaged individual.

Our learning environment is supported

by a strong focus on our school values

of Respect (Whakaute), Excellence

(Panekiretanga) and Perseverance

(Hiringa). Through these 'REP' values

we develop within each student a sense of

self worth to realise their importance as a

member of our Casebrook community.

Our school environment is one where

students are safe and have the confidence to

take risks with their learning. In this way

the students at Casebrook are supported

and encouraged to become self-motived,

independent learners.

We value the partnership between home

and school. Together we can create an

environment where we foster feelings of

pride and belonging. We are sure you will

enjoy being a part of our community and

would welcome the opportunity to meet

with you to discuss your child's future at

Casebrook.

Papanui

Primary School

The Papanui Pathway

Kimihia te ara tōtika – seek the right path

Papanui Primary School caters for new entrants to

Year 6 children in the Redwood and Papanui areas.

The school has an enrolment scheme and zone but

will have places available for out of zone children

starting school in 2020.

We view education as an active partnership

between home and school with parents / caregivers

and teachers working together for the benefit of

children's learning.

We have an enthusiastic and dedicated team who

provide a supportive learning environment where

the children are engaged, challenged and supported.

If you wish to find out more about the school or

make an appointment to visit, please phone (03)

352 8271 or email: principal@pps.school.nz

A School of Opportunity

for Year 7 & 8 Students

Strong and well embedded school values linked

to learning.

Professionals who are focused on the specific needs

of early adolescents.

A challenging and responsive curriculum.

Specialist teaching in Digitech, Design,

Art, Science, Foods.

Diverse opportunities for all students to excel in

Academia, Leadership, Sport, the Arts and Culture.

Phone: 359-8108

Email: office@breens.school.nz

Website: www.breens.school.nz

Enrol now for the 2020 Academic Year.

Contact the school office for an enrolment pack or to

make an appointment to meet our Principal and discuss

your child's learning needs.

Our Breens Values are: Bold, Brave, Beautiful and Belonging.

Enrol now

for 2020

Call to arrange

a school visit

NO SCHOOL ZONE

Principal: Sharon Keen | Veitches Road, Christchurch

Phone: Principal: 03 359 Sharon 7428 | Keen Email: office@casebrook.school.nz

www.casebrook.school.nz

Veitches Road, Christchurch

casebrookint

- Ph. 03 359 7428
---
16 Tuesday August 6 2019

Latest Christchurch news at www.star.kiwi

SCHOOL OPTIONS - early & middle years 2020

Heartfelt learning

at St Michael's

For 168 years, St Michael's has been at the steps that support their shared holistic

heart of our city, educating and nurturing goals. Small class sizes enable teachers

the visionaries and dreamers who continue to effectively monitor and manage these

to shape our city and the world beyond. interactions.'

We have the joy of inspiring every child, In preparation for secondary school,

encouraging them to flourish, in mind, our specialised Y7&8 Programme offers

body and spirit.

education outside the box, from financial

At the heart of St Michael's are the literacy to leadership challenges, new

essential values of Christian faith and good technologies to a wide range of sports and

citizenship: respect, integrity, faith, hope outdoor education.

and love. Building on this foundation, Located on the banks of the Avon, our

our rigorous curriculums in English, extended campus is spectacular: today, the

Mathematics, Science, History, Geography, Art Gallery; tomorrow, Tūranga; anyone

Spanish, Music and Art teach good for tennis in Hagley Park?

citizenship in a global context.

Like the heart of our city, our school

As ERO reported in June, our pupils 'are family is flourishing. We'd love you to join

engaged in their learning, show respect for us. Walk-up on Wednesday 21 August, or

staff and each other, and take responsibility you can arrange a personal tour to suit:

for aspects for their own progress and contact our registrar, Bec Hitchcock,

development… Teachers give students registrar@saintmichaels.co.nz or phone

useful, personalised feedback with next 379-979

Developing citizens that have the skills

and attitudes to succeed in a cultural diverse

and global environment is a key focus for

year 7-8 at St Joseph's School Papanui. In

2018 the school joined the Global Youth

Ambassador Programme which provides

students the opportunity to travel to China

and learn along side Chinese students. This

opportunity was reciprocated this year with

Full and satisfying lives

Shirley Intermediate School Mission Statement

Educating locally for lifelong connection

Do you remember the days of knowing your

neighbours? In this digital age, building

local connections creates lifelong anchors

for our children. Whether it's bringing the

community into the classroom, or making

classroom learning relevant for the real

world, Shirley Intermediate has - since

1934 - been a core part of the wider Shirley,

Richmond and Dallington communities.

With a major building programme

coming, and the move (to next door) of

Banks Avenue School , the local educational

pathways are increasingly compelling.

Know local, go local - Put a stake in

the ground and put your hand up for the

wellbeing and connectedness of your

children within your community. • Social

cohesion and individual growth • Learning

through inquiry and direct teaching

• Learning in the classroom and in the

community • Academia and creativity

Rachel and Azif share with assembly

their learning about dry ice

Growing global citizens at St Joseph's

youth ambassadors from China visiting the

school. Principal Aaron Richards explains

that the strength of the programme lies

in immersing students in a culture that

is different than their own. This enables

students to develop an understanding

that cultural diversity is not limited to just

doing things differently, it is more about

thinking differently. Learning this concept

SOUTHERN VIEW

early enhances attitudes such as tolerance,

open-mindedness and inclusion. It also

strengthens students abilities to engage

with and communicate with people from

different cultural backgrounds. It is my

hope that this experience will be a catalyst

for the students who in the future could

be leaders in New Zealand's international

trade Industry.

St Michael's

Accepting enrollments

for 2020

✓ Co-educational, Years 1-8

✓ Small classes

✓ Specialist teachers

✓ Traditional classrooms;

academic rigour

✓ Musical excellence

✓ Christian values

✓ Before & after school care:

7.30am - 5.30pm

✓ Cental city location,

easy access

Your school at the heart

of the city since 1851

ST JOSEPH'S SCHOOL

PAPANUI

Te Kura o Hato Hohepa

Catholic Primary School

for girls and boys,

Primary and Intermediate.

Phone: 352 8779

www.stjopapa.school.nz

2020 enrolments close on

Friday 27th of September 2019

37 Cunningham Place, Halswell 8025

Phone: 03 322 8735

Email: admin@oaklands.school.nz

www.oaklands.school.nz

Community • Active thinking • Respect • Excellence

NEW SCHOOL COMING!

Things are happening.

Be part of the future.

ENROL

NOW!

Walk-up Wednesday, 21 August

www.saintmichaels.school.nz 249 Durham Street 379 9790

For More Information Please Contact:

Geoff Siave - Principal • Phone 385 2229

60 Shirley Road | office@sis.school.nz | www.sis.school.nz

Serving Our Community Since 1934
---
SOUTHERN VIEW Latest Christchurch news at www.star.kiwi

Tuesday August 6 2019 17

SCHOOL OPTIONS - early & middle years 2020

A world-class education and

supportive learning environment

Every parent wants to ensure their child

is receiving the best foundation for their

academic future. Selwyn House School

offers this through small class sizes, deep

core learning, talented teaching staff all set

within a nurturing environment and an

extensive range of opportunities.

Selwyn House offers the International

Baccalaureate (IB) Primary Years

Programme (PYP) and is proud to be a

leading STEAM focused school. We not only

encourage our girls to work in advanced

STEAM fields, we want our girls to lead

them. Our STEAM Hub provides every

student from Year 1 to 8 access to stateof-the-art

equipment. In Mechatronics,

girls learn the foundations of mechanical

and electrical knowledge. Robotics is

introduced as an interdisciplinary, inquiry

based learning programme drawing mostly

on mathematics, science and technology.

Learning is also enhanced by additional

opportunities including Future Problem

Solving and the 2020 Space Camp trip

where 24 girls will travel to the United States

to attend a week long Space Camp.

A supportive all-girl learning environment

encourages girls to take risks without fear

of failure. As the girls progress they are

confident in their abilities, understanding

that perseverance helps them grow. A

school-wide buddy programme provides

each girl with support and mentoring.

Learning is personalised

and each teacher has the

time to foster authentic and

meaningful relationships.

Strong relationships

between the class teacher

and family ensure each girl's

learning journey is nurtured

by a partnership of support.

Teachers construct learning

activities to help each girl

identify their personal

strengths.

Selwyn House believes

these strengths can be

applied to academic tasks

and become more powerful

with the acquisition of skills

and knowledge, aiding

intellectual development

and academic achievement.

For this reason core

learning in reading, writing

and mathematics is a

priority. Specialist teachers

in Spanish, Mechatronics,

Art, Science, Physical

Education, Swimming, Performing Arts and

Music work with classroom teachers to help

identify the strengths of every girl.

The environment at Selwyn House

empowers each girl to embrace their future

and develop a love of learning. A Selwyn

House girl will learn to define herself,

accept responsibility, form opinions,

and have compassion for the world.

This combination of achievement,

confidence, and character makes

a Selwyn House education a powerful

and transformative experience.

For more information about Selwyn

House or to schedule a personal tour

please contact c.johnson@selhouse.

school.nz or 03 355 7299.
---
18

Tuesday August 6 2019

Latest Christchurch news at www.star.kiwi

REAL ESTATE

Sun filled family friendly

137 Kotuku Crescent, Woolston

Price: Enquiries over $399,000

3 bedrooms | 1 bathroom | 1 lounge | 2 car-garage | 2 off-street carparks | Listing Number SMT10430

SOUTHERN VIEW

Family focus incorporating a

layout conducive to entertaining and

capitalizing on its location and the allday

sunshine.

This wonderful home set on 472m2

with a 133m2 floor plan offers family

friendly living areas, three double

bedrooms, master with semi ensuite, and

separate wc a must for every home.

The chef of the family will enjoy

cooking in the well designed kitchen.

The north west facing outdoor patio

area flows wonderfully from the living

area for your ease of entertaining. The

spacious living area captures the last of

the afternoon sunshine a perfect space to

relax in after a hard days work. Offering

an attached double garage and off street

parking

Very tidy throughout and ideally

positioned away from the easterly winds.

Situated in the desirable location of

Brookhaven.

All shopping amenities are close

by, Ferrymead is 10 minutes walk.

Restaurants, entertainment, boutique

shopping emporium The Tannery are

a short drive. Bus stop a short walk.

Handy to outdoor recreation the

Estuary, beaches and Port Hills. Zoned

for Mt Pleasant School. Suitable first

home buyers, families, professionals or

investors.

Our owners minds are set, this property

will be SOLD.

Please phone for viewing times.

Please call Debra Hakaraia

Smart Real Estate

Call 0275620420 or 033848600

Smartrealestate.co.nz

Licensed Agent Reaa 2008

growing with you June 2018 | 100%

Plants For

winter wow

Cool Choices

For Colour

& Contrast

From swamp

to sea views

The journey

begins with sarah

the Gardener

$7.90 incl. GST

Snap it up

Enter our annual

Birdlife Photo

Competition to win

great prizes!

clear the air

Why groWing

indoor PLAnTs is

so good for you

give it a grow

from gArLic

To chinese

ArTichokes,

We hAve your

groWing TiPs

covered

the latest releases

into the rose world

+ rose care

through winter

The magazine for

gardeners who like to get

their hands dirty

SUBSCRIBE FROM

$43. 50*

*6 issues/6 months

SUBSCRIPTIONS FREEPHONE

0800 77 77 10

WWW.GARDENER.KIWI
---
SOUTHERN VIEW Latest Christchurch news at www.star.kiwi

Tuesday August 6 2019 19

Car Parts

TYRES Secondhand,

most szs from $30 - $70

fitted, Also batteries, 217

Waltham Road, 027 476

2404

For Sale

BRASS Plumbing

fittings, assorted fittings,

1/2 inch + 1 Inch,

crox, starkie and other

assorted fittings, $225

great buying , Ph 027 549

0048 & 021 363 666

ELECTRIC Cable, 35

m, 2.5 mm 2 core neutral

screen cable $60, and

Electric Cable 17.5 mtr ,

25mm 4 core $40, ph 027

549 0048 or 021 363 666

EXTENSION Cord extra

heavy duty 35 metres

$40, oh 027 549 0048 &

021 363 666

JERRYCANS x2 20 ltre,

ex army well made & in

good cond, $50 ea, ph 027

549 0048 or 021 363 666

NEFA Preasure

Reducing Valve, new in

box $90, , Ph 027 549

0048 & 021 363 666

RIMU Roll Top Writing

desk, 1170 wide x 1150

high x 600 $499, Ph 027

549 0048 & 021 363 666

Gardening

& Supplies

A GARDEN OR

LANDSCAPING TIDY

UP? Shrub, hedge &

tree pruning, Lawns,

Gardening, consistently

reliable general property

upkeep, Dip. Hort. 10

yrs experience, One off

tidy ups or on-going

service. Nick's Garden

Maintenance. Keeping

your garden beautiful.

Free Quote. Ph. 942-4440

& 022 264 7452

GARDENER

AVAILABLE.For

weeding, pruning,

tidying.30 yrs exp,

qual..$25 per hr. Ph

Richard 349 4022 or 0274

918234

ADD SOME

COLOUR

TO YOUR ADVERT!

Classifieds Contact us today Phone our local team 03 379 1100

Holiday

Accommodation

Australia QLD

SUNSHINE

COAST

RESORT

ALEXANDRA HEADLAND

All Units Have Ocean Views.

Heated Pools, Spa & Sauna,

Free Wifi, Tennis

& Mini Golf.

CHECK OUR GREAT

WINTER SPECIALS

www.mandolin.com.au

0061 7 5443 5011

JUNE to AUG temps 20C

Trades & Services

FOR ALL YOUR

★Garden Clean-ups

★Pruning

★Lawn Mowing

★Garden Maintenance

Call us today for a FREE quote

PH 0800 4 546 546

(0800 4 JIMJIM)

• New homes

• Extensions

• Renovations

Trades & Services

Builder

• Light Commercial

• Repairs and

Maintenance

Brandon Taw

Phone 027 370 2572

enquiries@tawbuilders.co.nz

www.tawbuilders.co.nz

Trades & Services

rooF

painting

Book now for Summer

and receive 20%

discount.

Rope and harness a speciality.

No scaffolding required.

30 years experience.

Also waterblasting paths,

driveways and moss removal.

Free quotes, call

Craig 021 060 2392

Trades & Services

AAA HANDYMAN

licensed carpenter

LBP, all property and

building maintenance,

repairs, bathroom/shower

installations, with free

quotes 03 383 1927 or 027

245 5226 ciey@xtra.co.nz

BRICKLAYER

George Lockyer. Over

40 years bricklaying

experience.Uk trained.

Insurance work, EQC

repairs. Heritage

brickwork & stonework

a speciality. No job too

small. Governers Bay.

Home 329 9344. Cell

027 684 4046. E mail

georgelockyer@xtra.co.nz

CARPET LAYING

Exp. Repairs, uplifting,

relaying, restretching.

Phone John on 0800

003181, 027 240 7416

jflattery@xtra.co.nz

Trades & Services

DRIVEWAYS

Exposed Aggregate

Stamped Concrete Plain

Concrete Resurfacing

Things we offer...

Competitive/affordable pricing

Attention to detail

Professional service

free quotes/insurance scopes

Cell 0278 145 848

www.drivecrete.co.nz

MECHANIC

Experienced

Mechanic Wanted

Who has worked on all types of diesel

and petrol vehicles. Please contact

the new owners for an interview.

DIESEL DOCTOR & PETROL

Christchurch Ltd

288 Lincoln Rd,

Addington

P: 338 8884

E: service@dieseldrpetrol.co.nz

Trades & Services

PAINTING & TILING

• PAINTING • TILING

• PLASTERING

• WALLPAPERING

Phone Kevin Steel

• Interior/Exterior

• New Homes & Repaints

• Quality workmanship assured

• Correct preparation always undertaken

• 20+ years experience

• Earthquake repairs

(Painting/Plastering/Wallpapering/Tiling)

Ph 381 7417 or 027 216 8946

www.facebook.com/kevinsteelpainters&decorators

Trades & Services

plumbING AND GAS

• Gas fitting – servicing, new, renovations

• Gas hot water installs

• Gas cookers and gas fires

• Kitchen / Bathroom renovations

• Backflow testing and installs

• Filtration – whole house, kitchen tap

• Domestic maintenance

Email: james@plumbingandgashq.co.nz

Text: 021 174 9265

0800 H20 LPG

Trades & Services

CARPETLAYER

35yrs experience. Special

rates for seniors. Prompt

service. Ph 021 046 0231

PAINTING

Indoor / Outdoor, over 30

yrs exp, same day quotes,

ph Steve 021 255 7968

PAINTING

Indoor / Outdoor, over 30

yrs exp, same day quotes,

ph Steve 021 255 7968

PAINTING

DECoRATING

Wingfields Contracting, all

interior & exterior painting

& all forms of interior

plastering & jib fixing, ph

Mark 021 171-1586

PAINTERS

DECoRAToRS

Qualified and experienced

painters and plasterers

available to undertake

any size job. Member

of Master Painters NZ.

Ph Chris 0800 438 152.

New Image Painters &

Decorators

PLUMBER

A Top Plumbing job

completed at a fair price,

prompt service, all work

guaranteed, Ph Brian 960-

7673 or 021 112-3492

SPoUTING

CLEANING

Spouting Unblocked,

Cleaned Out and Flushed

Out. Call Trevor 332 8949

or 021 043 2034

STUMP GRINDING

Best price guarantee Tony

0275 588 895

TILER/CARPENTER

35 years exp, no job

too small. Ph Ross 027

4311440.

4 2 6 5 7 4

DISCOUNT FOR

SUPER GOLD CARD

HOLDERS!

FREE QUOTES

Trades & Services

T.V. SERVICE CENTRE

Repairs, tvs, microwaves,

audio amps, soundbars.

.Aerial & satellite

installations, kitsets, 480D

Moorhouse Ave, ph 03 379

1400

VHS VIDEo TAPES

& all camera tapes

converted to DVD, video

taping special occasions,

www.grahamsvideo.co.nz

ph 03 338-1655

ADVERTISE YOUR

BUSINESS HERE

Phone for further details

Wanted To Buy

CASH FOR

STAMPS,

COINS &

GOLD

Free Appraisals

Call Matt at

The Stamp and

Coin Exchange

134a Riccarton Rd

0800 39 24 26

We can come to you.

Call today.

Wanted To Buy

AAA Buying goods

quality furniture,

Beds, Stoves, Washing

machines, Fridge Freezers.

Same day service. Selwyn

Dealers. Phone 980 5812

or 027 313 8156

CASH/CASH for any

unwanted vehicles, ph

347 9354 or 027 476 2404

TOOLS Garden,

garage, woodworking,

mechanical, engineering,

sawbenches, lathes, cash

buyer, ph 355-2045

(03) 379 1100

3 issues $20 • 6 issues $44.50 • 10 issues $65

rugbynews.co.nz 0800 77 77 10
---
Advert: fcsv0608

Newspaper: Southern View

20 Tuesday August 6 2019

Latest Christchurch news at www.star.kiwi

SOUTHERN VIEW

Pickup

Delivery

Get

Free Delivery

for the month

of August!

When you spend $100 or more.

Use coupon code ' AUGUST '* .

$

25 90

kg

Fresh NZ Beef Ribeye or Scotch Fillet Steak

$

1 80

ea

Large Pre-Ripened

Hass Avocados

Keri Fruit

Drink

or Juice

2.4-3L

$

3 70

EA

Robert Harris

Roast or Ground

Coffee 200g or

Capsules 10 Pack

$

4 90

EA

DB Export Gold, Citrus, Extra Low Carb,

Sol, Rochdale Cider or Tiger

(Excludes Crystal)

12 x 330ml Bottles

$

20 00

PK

Fresh Cut Broccoli

$

1 40

ea

$

2 00

EA

Pascall

Confectionery

140-180g

$

12 90

kg

Fresh NZ Pork Loin Chops

(Excludes Free Range)

Shop online now at

FreshChoiceYourWay.co.nz

Barrington

Open 7am – 11pm, 7 days a week.

City Market

Open 7am – 9pm, 7 days a week.

Prices apply from Monday 5th August to Sunday 11th August 2019, or while stocks last at FreshChoice City Market & Barrington only. Limits may apply.

Free delivery promotion available at FreshChoice Barrington & City Market-Christchurch (Excludes business customers).

*Offer available until 31st August 2019. $100 spend excludes Delivery Fee before discount & Tobacco products.

FreshChoiceNZ

OWNED &

OPERATED BY

LOCALS

fcsv0608