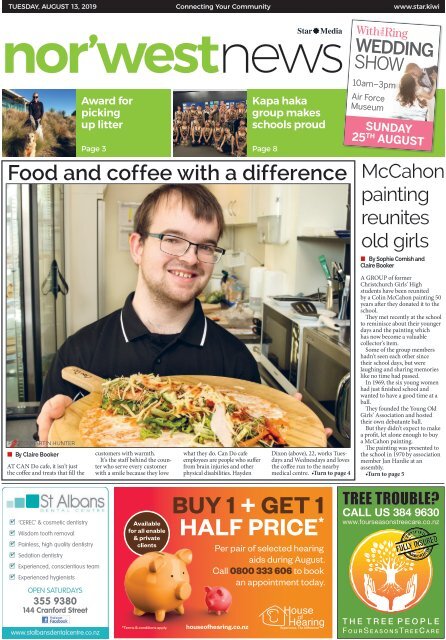 Nor'West News: August 13, 2019
You also want an ePaper? Increase the reach of your titles
YUMPU automatically turns print PDFs into web optimized ePapers that Google loves.
TUESDAY, AUGUST 13, 2019

Connecting Your Community

www.star.kiwi

wedding

show

Award for

picking

up litter

Page 3 Page 8

Kapa haka

group makes

schools proud

Food and coffee with a difference

10am–3pm

Air Force

Museum

sundAy

25 th August

McCahon

painting

reunites

old girls

• By Sophie Cornish and

Claire Booker

PHOTO: MARTIN HUNTER

• By Claire Booker

AT CAN Do cafe, it isn't just

the coffee and treats that fill the

customers with warmth.

It's the staff behind the counter

who serve every customer

with a smile because they love

what they do. Can Do cafe

employees are people who suffer

from brain injuries and other

physical disabilities. Hayden

Dixon (above), 22, works Tuesdays

and Wednesdays and loves

the coffee run to the nearby

medical centre. •Turn to page 4

A GROUP of former

Christchurch Girls' High

students have been reunited

by a Colin McCahon painting 50

years after they donated it to the

school.

They met recently at the school

to reminisce about their younger

days and the painting which

has now become a valuable

collector's item.

Some of the group members

hadn't seen each other since

their school days, but were

laughing and sharing memories

like no time had passed.

In 1969, the six young women

had just finished school and

wanted to have a good time at a

ball.

They founded the Young Old

Girls' Association and hosted

their own debutante ball.

But they didn't expect to make

a profit, let alone enough to buy

a McCahon painting.

The painting was presented to

the school in 1970 by association

member Jan Hardie at an

assembly.

•Turn to page 5

'CEREC' & cosmetic dentistry

Wisdom tooth removal

Painless, high quality dentistry

Sedation dentistry

Experienced, conscientious team

Experienced hygienists

OPEN SATURDAYS

355 9380

144 Cranford Street

www.stalbansdentalcentre.co.nz

Available

for all enable

& private

clients

*Terms & conditions apply.

BUY 1 + GET 1

HALF PRICE *

Per pair of selected hearing

aids during August.

Call 0800 333 606 to book

an appointment today.

houseofhearing.co.nz

tree trouble?

call us 384 9630

www.fourseasonstreecare.co.nz

t h e t r e e p e o p l e

f o u r s e a s o n s t r e e C a r e
---
2

Tuesday August 13 2019

get in touch

GENERAL INQUIRIES Ph 379 7100

CLASSIFIED ADVERTISING Ph 379 1100

Star Media,

a division of Allied Press Ltd

PO box 1467, Christchurch

starmedia.kiwi

Latest Christchurch news at www.star.kiwi

news

Rocking up to the finals

Christchurch students Natalie Hutton and Minnie Robberds

will head to the Smokefreerockquest finals this week. ​

Page 8

community events

NOR'WEST NEWS

Fun for kids

The Papanui Library will host after school activities on Friday

from 3.30-4.30pm.

NEWS

Claire Booker

Ph: 021 911 576

claire.booker@starmedia.kiwi

ADVERTISING

Monique Maynard

Ph: 364 7474

monique.maynard@

starmedia.kiwi

Rodd Gray

Ph: 982 9308

rodd.gray@

starmedia.kiwi

Page 15

tasty bites

Fresh and healthy

Filled with fresh ingredients, these samosa and simple

chicken curry recipes are a great way to eat well.

Page 16

The best-read local newspaper,

delivered to 15,960 homes

every Tuesday

Harewood, Burnside, Bishopdale, Bryndwr, Fendalton,

Merivale, St Albans, Mairehau, Papanui, Casebrook, Redwood,

Regents Park, Styx Mill, Northwood, Belfast, Strowan.

• The Star

• North Canterbury News

• Selwyn Times

• Ashburton Courier

also publishing:

• Bay Harbour News

• Southern View

• Pegasus Post

• Western News

New Frankie 4 Stock

Last month's gas explosion

in Northwood shocked our

community. The community

response, however, in supporting

affected residents was

heartwarming. After cancelling

my appointments, I met with the

Chair of the Northwood Residents'

Association, local councillors and

emergency staff at the temporary

welfare centre set up at the Styx

Mill Country Club, and checked

in with residents who had come

down to the centre for assistance.

Well done to the local community,

police, insurance representatives,

council representatives, the

Northwood Residents' Association

and local businesses for coming

together for those residents who

were evacuated. With two people

still in hospital, our thoughts, as

a community, are with them and

their families.

sod turning for this project

during an exciting time in which

we celebrated National's major

roading projects, including the

Western Belfast Bypass and

Southern Christchurch motorway,

also due for completion next

year. These projects support

the continued growth and

economic development of greater

Christchurch, and are gamechangers

for commuters.

Northern Christchurch

businesspeople enjoyed a

business breakfast with Todd

Muller, who, as National's

Spokesperson for Climate

Change, worked as part of the

cross-party group on our climate

change legislation. Feedback

was very positive as Christchurch

businesses appreciated the

opportunity to ask questions on

this important issue.

RiccaRtoN

37 Main South Road

RedcliFFS

2 augusta Street

A new active flat range with Slip Resistant Soles. Prefect

for nurses, teachers, hospitality, retail and or anyone on

their feet for long periods of time.

Introducing the Frankie 4 Tambo, Winnie, Billie and Addie.

Shoes are only available at 37 Main South Road clinic

MaRSHlaNdS

427 Marshland Road

PH 348 7910 | www.feetfirst.co.nz

Want to be

elected?

• Local Council

• Community Board

daRField

darfield Pharmacy

• Ecan

• CDHB

Now servicing

oXFoRd

Star Media can help you.

Talk to us today about your campaign.

I'm visiting the Christchurch

Northern Corridor project site

this month for an update and

briefing ahead of the opening

next year. I participated in the

A reminder that I'm meeting

constituents at the Papanui RSA,

so if there's an issue you need

help with, please make contact for

an appointment.

Contact: Monique Maynard

03 364 7474

021 372 481

monique.maynard@starmedia.kiwi
---
NOR'WEST NEWS Latest Christchurch news at www.star.kiwi

Tuesday August 13 2019 3

News

Paid back for picking up litter

In Brief

• By Claire Booker

MARIA LAMB used to worry

about being known as the "crazy

lady picking up rubbish" – but

winning a Keep Christchurch

Beautiful award has shown her

she is not alone.

The awards were held last

week at the Turanga library.

Mrs Lamb didn't even realise

she had been nominated for

an individual award until she

was sifting through her 'junk'

email folder looking for a school

notice, and stumbled across the

nomination.

"[It's nice to know] you're not

the only one doing this, there

are other people doing their very

best in their community, but I

guess we don't really know about

each other," she said.

Mrs Lamb received the award

for the work she does in the

St Albans community. She

organises exercise groups for

women in the area and spends

her time collecting rubbish.

The exercise group provides a

safe way for women in St Albans

to get out and make friends.

"It took a few months for

people to get involved, and then

others started to advertise what

they were doing, and where

they were exercising – it sort of

just kicked off in that way," Mrs

Lamb said.

LiquiD

SeLF Service

LaunDroMatS

NOW OPEN - rEdWOOd

288 Main nortH roaD

oPen 24 HourS

WaSH 2 Mink

BLanketS or

DuvetS

For onLY $8

Hot Water &

extra LarGe

WaSHerS

avaiLaBLe

from

$

4.00 WASH $ 4.00 DRY

over 75 locations

nationwide

Dry up to 14kg from

$4 in only 25 minutes!

Save time &

electricity

WaSH & DrY

aLL Your

LaunDrY in

unDer 1 Hour

She often goes 'plogging',

which means to walk or jog

while picking up litter.

Mrs Lamb has passed on her

love for the environment to her

children, who pick up rubbish

with her when they're out and

are eager to talk to people they

catch littering in the streets.

"If they [children] see rubbish,

they'll pick it up. If they see

• Fast Dryers

• Sports Gear

• Duvets

• Mink Blankets

• Bedding

• Washers

• Domestic Laundry

Other Locations: Sydenham • Hornby • Hoon Hay • Woolston

Aranui • Richmond • Burwood • Rangiora • Kaiapoi • Ilam

www.liquidlaundromats.co.nz

someone littering they'll say,

mum should we go and say

something or should we just

pick it up ourselves."

The family is focused on

sustainable living and their

household is nearly entirely

chemical-free, with the

exception of Dettol.

The family uses eco-friendly

cleaning products, plant-based

TIDY KIWI: Maria Lamb and

her trusty helper Lulu collect

rubbish at English Park in St

Albans.

PHOTO: CLAIRE BOOKER

Other award winners from the

Nor'West News area

•Edgeware Mowers: For its

support in helping to keep the

red zone tidy.

•Harewood School: For its

participation in the Keep

Christchurch Beautiful school

environment.

•Tony Hack: For his caretaker

work at Harewood School.

•Don Sherriff: For his work

with the Keep Christchurch

Beautiful education

programmes.

shampoo and conditioner,

and they will only consume

sustainably-sourced produce

and meat.

Mrs Lamb said one of the

most rewarding things about

collecting litter is when people

she doesn't know approach her

to ask what she's doing.

"People that you don't even

know will give you compliments

and say, hey, it's really cool to see

you doing that," she said

"Then other people will say,

oh gosh, you've inspired me, if I

see rubbish in the park, I'll pick

it up . . . and I just think that is

so cool."

The revolution

in heat pumps

is here now!

The Fujitsu e3series

The brilliant

heat pumps from Fujitsu

e1 : efficiency

e2 : environment

e3 : economy

Website: www.pshc.co.nz

Finance available

FREE consultation from your local

Accredited Heat Pump Expert

Phone today: 03 381 6950

INSERT DEALER DETAILS HERE

SAWYERS ARMS DAMAGE

The damage reported by residents

along Sawyers Arms Rd after work

was done by Orion is set to be

assessed. Residents are concerned

about the potholes and uneven

surface. They say it is causing

earthquake-like shaking when

trucks travel along the road. Orion

now plans to arrange a meeting

with the city council roading

manager at the site to inspect the

road, determine if there are issues

with its work and what may need

to be done to repair it.

CIVIC AWARDS

Nominations have opened for

the Christchurch Civic Awards.

Members of the community

can nominate an individual or

organisation which has had a

major impact on the community.

Nominations close on August 23 at

5pm and can be made at to https://

www.ccc.govt.nz/culture-andcommunity/community-awards/

civicawards.

QE II DRIVE BRIDGE

Steel piling work is set to begin this

week on the QE II Drive Bridge

foundation. About 445 steel piles

will be installed, 220 on each

side of the bridge, where the new

Christchurch Northern Corridor

will go over QE II Drive.

The work is expected to be finished

in late October.

The revolution in heat pumps is here now!

The brilliant e3 series

heat pumps from Fujitsu

e1 : efficiency

e2 : environment

e3 : economy

Fujitsu's Catechin Filters are

approved by the Asthma and

Respiratory Foundation NZ's

Sensitive Choice ® programme.

Email: info@pshc.co.nz

Get a move on.

Enrol by 16 August to make voting

in the local elections easy.

Want to know more?

0800 36 76 56

vote.nz

FG1441

ELE0029/3/A
---
4 Tuesday August 13 2019

Latest Christchurch news at www.star.kiwi

News

NOR'WEST NEWS

Staff who have a

McMaster & Heap

Veterinary practice

Dr Steve works his magic again…

"CoCo" is a three year old speyed bunny

- a very loved and adored pet who

recently underwent Bilateral Cataract

Surgery. This surgery was a first for

Steve who did his research prior to the

operation. He has operated many times

on dogs, cats and even a hawk but not

a rabbit.

Coco was having real difficulty finding

her food bowls and manoeuvring

around outside. She had always

loved charging around outside with

the other rabbits. Her cataracts had

developed fast in approximately

two months, the right eye more

mature than the left eye. Cataracts in

rabbits can be congenital, traumatic,

metabolic as in diabetes, inflammatory

secondary to uveitis or infectious, as in

the case of E Cuniculi. Coco was being

treated for E Cuniculi, which is a parasite

ingested and eliminated in the urine.

This parasite causes inflammation in the

lens and a capsular cataract can develop,

leading to uveitis and sometimes

glaucoma. It is painful and the rabbits

will often scratch at the eye.

Coco was referred to Steve and her

primary vet and nurse came over to

monitor Coco's anaesthetic. Rabbits

on the whole are difficult patients to

monitor under anaesthetic due to

their size and eye surgeries are difficult

anyway because monitoring the

Open 7 days

Cnr Hoon Hay & Coppell place

phone 338 2534, Fax 339 8624

e. mcmasterandheap@yahoo.co.nz

www.mcmasterheap.co.nz

head end of the patient is impossible.

Expertise and experience with rabbit

anaesthetics is essential when your

surgery may last one to two hours. Often

they require you to ventilate for them,

they must be kept warm, hydrated and

constant recordings of blood pressure

need to be recorded.

Straight away Coco was placed on

intravenous fluids, had blood taken

(no kidney or liver compromise was

seen) and was allowed to snack

on veggies and hay before her GA.

Prior to her anaesthetic she was

supplemented with oxygen to

increase oxygen concentration in

the blood. Once anaesthetised she was

hooked up to a blood pressure monitor

and pulsoximeter (measuring her oxygen

saturation in the blood) and positioned

for cataract surgery.

The surgery went really well with Steve

removing the crystalline lenses in both

eyes. A Cataract is a lens opacity and is

due to the loss of architecture of the lens

or capsule fibres. To us the lens appears

cloudy (the lens is in the middle of the

eye). The cataract is then sucked out with

a phacoemulsification machine. This

machine vibrates, cuts and vacuums the

cataract out. If all goes well, the visual

axis is clear and vision is restored.

So far so good. Steve has frequently

checked her eyes and Coco can

visually see well out both her eyes, her

intraocular pressures are good, she is

comfortable and happier now her ocular

world has opened up again.

I think its brilliant Coco's owner gave her

a chance at restored sight. The other

option would have been removing the

eyes, as the uveitis and glaucoma could

have been too painful for her to live with.

For any questions on cataract

surgeries please contact Steve

directly at McMaster & Heap Vet

Practice. He has just invested in a

new phacoemulsification machine so

hopefully will get to test drive it soon.

Dr Michele McMaster

McMaster & Heap

Can Do attitude

•From page 1

Said Mr Dixon: "I

like doing the coffee

run because it gets me

outdoors."

The cafe provides its

staff with ordinary life

opportunities through

meaningful paid

employment,

which allows

them to set and

achieve personal

goals.

The cafe

opened at

Art Metro in

Papanui in

March, and

she said.

The cafe opened after

the huge success of Can

Do Catering, which was

started in 2015 by staff at

the Laura Fergusson Trust

Canterbury.

The trust was set up to

cater for young

people with brain

injuries and it will

celebrate its 40th

anniversary this

year.

The staff have

formal contracts

and are interviewed

for their jobs at

the cafe, and they

independence and a sense

of purpose.

"We've got one woman

and we call her our bliss

ball queen – she now goes

into the kitchen and makes

it [bliss balls]. She's got the

recipe and she makes it

all," Ms Harris said.

She said her job is

incredibly rewarding, and

she is passionate about

what she does.

"Seeing how being

involved in a team with

people that haven't worked

before, and seeing the true

pleasure and joy they get

out of doing ordinary life

operations

manager Vicky

Vicky Harris learn about food

hygiene, and health

tasks . . . that's the most

rewarding thing for me,"

Harris said it is getting

busier every day, but is still

quiet.

"We're positive. We get

really good feedback on

the food and what we do,"

and safety during the

induction process.

The opportunities

the cafe and catering

businesses provide for

the staff gives them

she said.

The cafe is open Monday,

Tuesday, Thursday, and

Friday from 8.30am-3

pm, and Wednesday from

8.30am-noon.

Whiz kids gather for quiz

• By Claire Booker

MORE THAN 200 current

events whizzes put pen to

paper at the Otago Daily

Times Extra! Canterbury

quiz at Cobham

Intermediate.

Pupils from across the

region formed teams of

three on Tuesday and were

tested with questions

including who am I, what

am I, New Zealand places,

around the world mapping

and famous faces.

Tai Tapu School won the

year 5 and 6 section with

82 points out of a possible

100.

Closely following in

second was Fendalton

Open-Air School, which

was only two points

behind the champions

with 80.

LiquiD

SeLF Service

LaunDroMatS

Prebbleton School

secured third with a score

of 79.

Tai Tapu champions

Ethan Garrett-Burke,

9, Edward Bull,10, and

Caleb O'Leary, 10, were

pleasantly pleased with

their win.

Edward said he "didn't

like the faces" questions,

but the team enjoyed

the challenges. North

Loburn School won the

year 7 and 8 quiz with 89

points. William Hassall,

12, Charley Ward, 13,

and Harry Witt, 12, said

they were happy to win

the quiz, but "it wasn't

planned."

"The newspaper was the

hardest part," Charley said.

The teams had to find

answers to questions from

NOW OPEN - ILAM - 407A Ilam Road

oPen 24 HourS - card only site.

WaSH 2 Mink

BLanketS or

DuvetS

For onLY $8

Hot Water &

extra LarGe

WaSHerS

avaiLaBLe

Dry up to 14kg from

$4 in only 25 minutes!

Save time &

electricity

WaSH & DrY

aLL Your

LaunDrY in

unDer 1 Hour

• Fast Dryers

• Sports Gear

• Duvets

• Mink Blankets

• Bedding

• Washers

• Domestic Laundry

an Otago Daily Times

newspaper, which caught

them off guard.

Two Hillview Christian

School teams took second

and third with 88 and 87

points. Extra! editor Tricia

Rowe was pleased the event

went smoothly.

"The year 7 and 8 group

were really lively, which

made the quiz go fast," she

said. "The lead up to the

event has been stressful,

with balancing writing

papers and writing the

quizzes, but I've got a really

good team."

The quiz was run by the

Otago Daily Times through

Extra! – its monthly

Newspapers in Education

publication for primary,

intermediate and junior

secondary school pupils.

from

$

4.00 WASH $ 4.00 DRY

over 75 locations Other Locations: Sydenham • Hornby • Hoon Hay • Woolston

nationwide

Aranui • Richmond • Burwood • Rangiora • Redwood • Kaiapoi

www.liquidlaundromats.co.nz
---
NOR'WEST NEWS Latest Christchurch news at www.star.kiwi

Tuesday August 13 2019 5

Painting now a collector's item

•From page 1

Annette Hamblett was a member

of the association and remembers the

day the painting was donated.

"When they went along to the

assembly, the girls actually laughed,

because they probably didn't regard it

as a proper painting in those days . . .

we wanted to present something that

was a bit of a challenge," she said.

Throughout the 1950s and early

60s, many school-leavers went to their

formal old girls' association debutante

ball, but the Young Old Girls'

Association had no interest in making

a 'debut'.

And they didn't want to go to a ball

with no alcohol and 'stuffy' old girls,

so they took matters into their own

hands.

The group organised a venue,

popular dance band The Chapta, food,

drink and then advertised the event

everywhere.

"When I think about it now, we

were quite bold, we booked one of

the biggest venues, the horticultural

hall, which used to be on the corner

of Oxford Tce and Gloucester St," Ms

Hamblett said.

Against all odds, they made a profit

and one of the members, Susan Battye,

suggested they hold another event and

use the other half of the profits to gift

a painting to the school.

Ms Battye wrote to McCahon, one

of New Zealand's most well-known

painters

To their surprise, they received a

very encouraging reply, saying he

would tell his dealer to give them a

good deal.

"And he did. By October 1970,

we had acquired our McCahon:

North Otago landscape, number 19,

painted with synthetic polymer on

hardboard," Ms Hamblett said.

The group members said they were

pleased to see each other again after 50

years, and enjoyed seeing the painting

in all its glory.

"It will always be a point of

discussion. It's not just a placid thing

on the wall. It's going to provoke

discussion about what is art, and how

can it represent the environment that

we live in New Zealand," Ms Battye

said.

The CGHS art department now

teaches students about McCahon and

his paintings.

PHOTO: MARTIN HUNTER

ART: CGHS principal Christine O'Neill and deputy head girl Helen O'Connor with the Colin

McCahon painting. (Below) – Young Old Girls' Association members Susan Battye, Robyn

Scott, Jan Hardie, Annette Hamblett, Judi McCallum and Cheryl Roblilliard with the McCahon

painting they donated to CGHS 50 years ago.

School zone

changes

not set to

impact on

north-west

• By Claire Booker

CITY-WIDE SCHOOL zone

changes won't make much

difference to pupils and

students in the north-west.

Papanui, Mairehau and

Burnside high schools agree the

zone changes which take effect

from January 1.

Burnside High principal Phil

Holstein said

the changes

are mostly to

fill the gaps

which were

missed out in

the "puzzle" of

state secondary

school zones.

He was

pleased schools Phil Holstein

across the city

had worked in

a co-operative

way to achieve

the zone

changes, which

have been in

the works for

seven years.

Said Papanui

Jeff Smith

High principal

Jeff Smith: "Our community

has reinforced that they are

very happy with our current

zone and it essentially will

not change apart from a small

increase on the north east

boundary, which is currently

predominantly green space."

Mairehau High School never

had a zone before the city-wide

zone amendment began, but

principal Harry Romana said

the change is positive.

"We are confident that the

new Mairehau High School

zone will provide long-term,

sustainable and equitable

learning opportunities for

the young citizens of our

community."

Restoring your confidence through your smile

• Individual indoor/outdoor units

• Family units available

• Deluxe suites

• Underfloor heating

• Country environment

• Inspections most welcomed

• More than 15 years experience & ownership

Phone Alison 03 342 1424

202 Old West Coast Road, Yaldhurst

alison@cattery.co.nz www.cattery.co.nz

Full service Denture Clinic

and Laboratory

Caldent Denture Cleaner

Free Consultation

No Obligation

Ph: 385 5517 + 396 Innes Road, St Albans

admin@denturesplus.co.nz

+ denturesplus.co.nz
---
6 Tuesday August 13 2019

Latest Christchurch news at www.star.kiwi

REAL ESTATE

Contemporary Class on Park Fringe!

4 Ryeland Avenue, Ilam

5 bedroom | 3 bathroom | 3 lounge | 3 toilet | 2 garage | 2 off street | www.harcourts.co.nz | Listing #PI58949

Spacious, sun-soaked and superbly located

overlooking the Ryeland Reserve, this

immaculate contemporary executive home

(256m2) with Hebel construction offers versatile

family living, exceptional entertaining areas and

an ambience that will blow you away. Roll up

for real estate royalty on Ryeland.

Built on a private, low maintenance 424m2

section with direct access to the reserve, this

exquisite double-glazed property is fit for family

life. With every room ushering in great natural

light and excellent flow throughout, five double

bedrooms (master with ensuite and walk-in

robe) and three modern bathrooms generously

accommodate, while three living areas provide

even more room to breathe. The open plan

kitchen/dining/living area with its beautifully

appointed designer kitchen flows into an

adjoining separate lounge; both areas enjoy

doors onto the courtyard, while the bonus (and

a teenage hangout or income generator) is the

large separate upstairs living area complete with

its own kitchenette. A study further enhances

the appeal, while two heatpumps, a gas fire and

underfloor heating on the lower level make this

a wonderfully warm home.

Outside, the north-facing grounds are incredibly

private, positively sunny, and an entertainer's

dream! The large north-west facing patio/BBQ

area is the perfect place for gatherings and

the elegant, easy-care landscaping creates a

heavenly setting for relaxing in the spa pool.

For storage, there are two garden sheds, while a

double off-street garage and off-street parking

complete this outstanding offering.

Perfectly located for family convenience, you're

zoned for excellent nearby schools Westburn

Primary, Cobham Intermediate & Burnside High

and you've got your pick of shops at Fendalton or

Riccarton, which adds to the future security of your

investment.

Exceeding all expectations, this divine property is

sure to elevate your family (and social) lifestyle with

its large living, park-side position and entertainer's

outdoor oasis. But be quick: properties like this

rarely stay on the market for long.

Auction: Thursday 22 August 2019, from

10.00am (unless sold prior).

Gold Auction Rooms, 471 Papanui Road

Viewing: Thursday, Saturday, Sunday

12.00 pm - 12:45 pm

Contact: Mary Turnbull (Licensed agent REAA

2008) on 352 6166 or 027 525 2959

Email: mary.turnbull@harcourts.co.nz

Gold Real Estate Group Ltd.

NOR'WEST NEWS

Communication methods have changed

considerably since I first started in the real

estate industry, and for me these changes

have driven several observations.

People don't communicate as much as they

once did, and when they do it's often in

different mediums. Texting (of course), emailing

(an essential), Facebooking, Instagramming,

Snapchatting and Messengering(!), the list is a

long one and getting longer.

The first time I ever saw two people sitting

in a restaurant, supposedly dining together

but actually spending their entire evening

interacting with their phones and not each

other, I remember that I couldn't actually

believe it. I discussed it with my (noisy) family,

sitting as we were at the adjacent table,

and they were equally bemused – it felt so

incredibly unusual. Ten years later, it seems the

norm. Who hasn't seen a whole table of people

and, yes, I've been a party to this, interacting

with their phones more than the company

they are with? And I'm well aware that this

is happening at family dinner tables too. It's

got to be one of the most significant trends

affecting all of us.

Instant availability and connectivity are 21st

Century norms and although it's possible to

connect with people anywhere in the world,

instantaneously, this sometimes comes at

the expense of interacting with the person

sitting right next to you.

Mine is a deeply connective industry, requiring

strong communication skills which can

be acquired or learned, though the most

successful consultants possess these innately.

Talking the Talk

You have got to be able to communicate at every

level, make articulate conversation and possess

strong intentional listening skills, as well as the

ability to read non-verbal reactions. If you don't

want to talk and you can't listen, then this is not

the occupation for you and yet … I find myself

meeting people wanting a real estate career

who would prefer to engage at arm's length. All

exchanges via email and not in person – their

primary interactions and engagements are with

their computer, not their clients. Yes, some clients

are perfectly happy with this and you can call me

old-fashioned, but the odds are already stacked

against you if you only work in this manner.

Sales require engagement. I do think there's

an art to providing a service that takes you from

being a stranger or acquaintance to a client and

friend. The development of this relationship in

real estate occurs due to the success of the job

that's been done, but much of that comes back

to communication. The most frequent complaint

I hear is, 'I never heard from my agent', or not

enough. There's a warning in this; my personal

preference would be for verbal and additional

communication methods. It's a deeply primal act

to talk to each other, it's what makes us human

and I'd like to raise the flag and say, keep doing it.

Talk to someone today, you never know the

journey it will take you on.

Lynette McFadden

Harcourts Gold Business Owner

Harcourts NZ Inspirational Women Ambassador

Ph. 0274 320 447

lynette.mcfadden@harcourtsgold.co.nz

The cherry

on top.

At gold we are

an award winning

franchise

&

No.1

National Franchise for

Revenue per Sales Consultant

National Office for Revenue

Large Group - Papanui

National Office for Revenue

per Sales Consultant - Papanui

National Residential Office

Papanui

National Office for Total Number

of Auctions Listed - Papanui

International Office

(Out of 900 offices)

FOLLOW US ON...
---
NOR'WEST NEWS Latest Christchurch news at www.star.kiwi

Tuesday August 13 2019 7

News

• By Claire Booker

LATER THIS year 18 keen

leaders from Papanui High

School will head to Cambodia on

a service trip.

The students have been planning

the trip for two years, after

setting goals on a leadership

course run by the Student Volunteer

Army.

The students approached

organisations that run these

types of service trips, and were

impressed by Pacific Discoverythe

only one owned and operated

in New Zealand.

The trip will have the students

doing a range of activities,

including conversing in English

with a local high school, building

a simple home for a family in

need, running dance classes for

the physically disabled, music

classes for children and learning

about Cambodian social enterprises.

Ella Stewart is excited about the

trip.

"I feel like this trip will definitely

have an impact on how I

look at the world and what I

have. I'm very excited to help the

people that are affected by the

LEADERS: The

18 students

from Papanui

High School

can't wait for

their service trip

to Cambodia

later this year. ​

'Opportunity of a lifetime' for

Papanui High School students

changes we are looking to make,"

she said.

Year 12 dean Paul Anderson

said he thinks the trip will

provide the students with an opportunity

of a lifetime they will

never forget.

"It will allow them to extend

their leadership skills and develop

new ones. Further to this,

being in a foreign country will

allow the students to work on

communication skills and it will

benefit both the students and

the communities they will be

involved in," he said.

Million Metres planting

day at Jellie Park

• By Claire Booker

SCORES OF volunteers braved

the cold last weekend to lend a

hand to a community project at

Jellie Park.

Volunteers spent their morning

planting native plants along Wairarapa

stream behind the Jellie

park pools complex.

They were responding to the

call by 'Million Metres' for a

planting day, and the plants came

from the city council's nurseries.

Project lead at Million Metres,

Georgina Hart is an ex-Cobham

Intermediate and Burnside High

School student and was at the

planting day to help out, and

explain the importance of the

stream restoration project.

Million Metres is a dedicated

programme for connecting local

waterway restoration projects

with large-scale funding and

resources.

Its goal is to raise funds to plant

one million metres of waterways

with native plants and trees.

Wairarapa stream has undergone

significant degradation over

many years, so the million metres

project aims to progressively

restore the stream to its former

condition.

This will mean water quality

will be improved, and the birdlife

which is dependent on the stream

will reap the benefits of this work.

It is hoped that this planting

day is the beginning of a new of

life for the stream so it can support

a rich diversity of life, have

an abundant food source, and be

a place of rest and recreation for

the community.

Fendalton-Waimairi-Harewood

Community Board members

attended the planting day, and

board member Shirish Paranjape

said it was 'wonderful' to see

people of all ages go along to give

a helping hand.

"The most pleasing sight was to

see very young children helping

with full enthusiasm and energy,"

he said.

Local schools including Cobham

Intermediate, Burnside Primary

School, St Patrick's School and

CCEL English Language school

attended the project alongside

other community organisations.

Live life

your way

at Bupa

Parklands

on Papanui

Open home | Sunday 18 August, 11am - 1pm

Parklands on Papanui Retirement Village offers comfortable and stylish apartment living

in a friendly, like-minded community. We currently have one bedroom apartments from

$335,000, a two bedroom apartment for $415,000 and a three bedroom apartment for

$480,000. Come to our open home this Sunday, or call Lynda to find out more.

Apartments

available

from

$335,000

Call (03) 669 4594 or 027 702 9619 | 429 Papanui Road, Papanui, Christchurch | www.bupa.co.nz/parklands
---
8

Tuesday August 13 2019

News

Latest Christchurch news at www.star.kiwi

NOR'WEST NEWS

Rocking all the way to nationals

• By Claire Booker

NATALIE Hutton and Minnie

Robberds have been selected

for the Smokefreerockquest

nationals, and they can't wait to

be on stage.

The 18-year-olds will compete

against two other line-ups in

the solo/duo category with their

group There's A Tuesday Between

A Monday And Between

A Wednesday.

The event will be held on September

14 in Auckland.

Natalie is the St Margaret's

College co-head of arts and has

been singing and songwriting

since she was in primary school.

Her love for music was

sparked by a birthday present

when she was young.

"It was a terrible blue coloured

and nylon string guitar which

is still the best present ever received

to this day," she said.

Minnie is a student at

Christchurch Girls' High School

and her love for music came

from listening to her parent's

music growing up.

"Artists like Patti Smith and

Neil Young," she said.

The duo entered the Smokefreerockquest

last year as a

• By Claire Booker

FIRST-TIME KAPA haka entry

Ngā Whatumoana may not

have qualified for the national

secondary schools competition

in 2020, but the students made

their schools proud.

Ngā Whatumoana was a

composite group of Papanui and

Mairehau high school students.

The group finished seventh at

the Waitaha Secondary Schools

Kapahaka Whakataetae at

Burnside High School recently.

Ngā Whatumoana was one

of 12 groups entered in the

competition.

The high schools combined

because it suited the students and

teachers to perform as one group,

ROCKERS: Natalie Hutton from St Margaret's College and Minnie Robberds from Christchurch

Girls' High School will head to the Smokefreerockquest finals this week. ​

band, but their drummer started

a full-time job as a butcher,

and their bass player moved

to Wanaka, so they decided to

enter as a duo this year.

rather than two small ones.

There is an ideal size for

kapa haka performances,

and combining the two schools

made the performance more

polished.

Mairehau High staff member

Santriana Reihana said everyone

watching the performance was

proud of the group.

"They were focused and

determined to do their very

best on the day. All the intense

months of training paid off as

they performed their set with

mana and kaha," she said.

Mairehau High's Phoenix

Neilson was the male leader

of the group and said he drew

inspiration from Te Puea's

famous whakatauki (proverb),

The girls performed recently

as part of the Christchurch Arts

Festival in a pre-concert function

at the Town Hall for Julia

Deans, Flip Grater and Bella

which translates to 'do the work,

for the benefit of the iwi'.

It was Mairehau High student

Matalasi Tulia's first time

performing, and she was proud

of the group.

"It felt like all the mana

and hard work that the tutors

installed in us during the

preparation allowed us to

represent our kura [school] with

the utmost distinction," she said.

Said Mairehau High School

student Zion Wirihana: "It was

an awesome experience and gives

me hope that one day in the near

future, Mairehau can reach the

pinnacle of success in culture

and performance, and stand

with confidence and pride at a

national level."

Kalolo.

They said they always hoped

they would get to the rockquest

final, but they doubted their

ability.

"We doubted ourselves

more and more every time we

watched another submission

that popped up on YouTube,"

said Natalie.

"New Zealand is full of so

much talent and we are absolutely

honoured to have been

selected," she said.

The girls enjoy writing songs

and love performing together.

"Performing is one of the best

feelings, although when you're

on stage alongside someone

else it becomes even more fun,"

Natalie said.

Minnie and Natalie hope to

win the Smokefreerockquest final

but said they will be pleased

with however the results turn

out.

"Obviously we would be over

the moon if we were to win! But

just being selected to attend the

final itself, we are so grateful

for," said Natalie.

Natalie said the indie duo

can't wait to get the results from

the final, and have no plans of

going solo anytime soon.

"We're all for dancing by

yourself, but sometimes it's fun

to dance with a mate," she said.

Schools proud of Papanui and Mairehau kapa haka group

MANA: The Ngā Whatumoana kapa haka group performed at

the recent secondary schools' regional competition.

345 sTANMORE ROAD, RICHMOND

261 BuRwOOD ROAD, BuRwOOD

288 MAIN NORTH ROAD, REDwOOD

All sites open 7 DAYs, 5Am-11pm

WaSH 2 Mink

BLanketS or

DuvetS

For onLY $8

Hot Water &

extra LarGe

WaSHerS

avaiLaBLe

liquiD

SeLF Service

LaunDroMatS

Dry up to 14kg from

$4 in only 25 minutes!

Save time &

electricity

WaSH & DrY

aLL Your

LaunDrY in

unDer 1 Hour

from

$

4.00 WASH $ 4.00 DRY

• Fast Dryers

• Sports Gear

• Duvets

• Mink Blankets

• Bedding

• Washers

• Domestic Laundry

over 75 locations nationwide

Other Locations: Sydenham • Hornby • Hoon Hay • Woolston • Aranui

• Rangiora • Ilam • Kaiapoi

www.liquidlaundromats.co.nz

style

noun

elegance and sophistication.

synonyms: flair, grace, poise,

polish, suaveness, urbanity,

chic, finesse, taste, class,

comfort, luxury, affluence,

wealth, opulence, lavishness.

MAGAZINE

STYLE.KIWI

FIRST

CLASS

FREE

Dance & Fitness

Condition, heal and

express yourself through

movement and sensation

Classes in Christchurch & Rangiora

For class schedule & locations visit

www.plensorymovement.com

Phone: 027 416 8283

steph@plensorymovement.com
---
NOR'WEST NEWS Latest Christchurch news at www.star.kiwi

Tuesday August 13 2019 9

HARCOURTS GOLD

FOR REVENUE PER SALES CONSULTANT

2013-2019

MEET OUR...

TOP PERFORMERS

HARCOURTS GOLD TOP CONSULTANTS FOR JULY 2019

1 2 3 4 5

CAMERON BAILEY

PAPANUI

MARY TURNBULL

PAPANUI

DEBBIE SOPER

PAPANUI

BELINDA DUNSTER

PAPANUI

MARK O'LOUGHLIN

REDWOOD

10

6 7 8 9 10

ASH SUTHERLAND TODD

PAPANUI

CALEB GRIFFIOEN

PARKLANDS

SANDRA O'BRIEN

PAPANUI

MICHELLE FU

PAPANUI

DEBBIE GORDON

REDWOOD

When your brand includes the top Harcourts office out

of 900 around the world, it's clear that you've got an

extraordinary team.

So for these consultants to earn the position of one of the top

ten real estate sales consultants at Harcourts gold is truly a

remarkable achievement.

They are phenomenally good at what they do; highly skilled,

highly trained and dedicated to delivering exceptional results for

property owners. I am extremely proud to work with these real

estate professionals.

JOHN MCFADDEN

BUSINESS OWNER HARCOURTS GOLD

John McFadden

Business Owner,

HARCOURTS GOLD AREINZ

Lynette McFadden

Business Owner,

HARCOURTS GOLD AREINZ

Chris Kennedy

General Manager,

HARCOURTS GOLD AREINZ

Left to Right: Kyle Sutherland Executive Manager, HARCOURTS GOLD PAPANUI

Yvonne Duff Sales Manager, HARCOURTS GOLD PAPANUI

Margaret Danzer Sales Manager, HARCOURTS GOLD REDWOOD

Nikila Creagh Sales Manager, HARCOURTS GOLD EASTSIDE

Doug Soper Liaison Manager, HARCOURTS GOLD AREINZ

'AS IS'

SOLD

AS A COMPANY, HARCOURTS GOLD HAS SUCCESSFULLY SOLD

OVER 600 'AS IS, UNINSURED' PROPERTIES ACROSS THE CITY.

A PROPERTY SPECULATOR'S

INTENTION IS TO MAKE A

PROFIT BY PAYING YOU THE

LEAST THEY CAN.

We have forged a reputation for being the

'As Is' go-to experts. Our aim is to get you

the best price, via tried and true marketing,

and an impressive buyer database.

Contact any of our team immediately

to obtain our Uninsured Analysis, and

information that will unlock the true

value of your 'As Is' property.

PAPANUI 352 6166 International Division (+64) 3 662 9811

REDWOOD 352 0352 PARKLANDS 383 0406 NEW BRIGHTON 382 0043

FOLLOW US ON
---
10 Tuesday August 13 2019

Latest Christchurch news at www.star.kiwi

Libraries mark

160 years with

exhibition

WHEN Christchurch residents

borrowed their first books from

a library, it was from a single

room on High St in 1859.

Now the 160th birthday of

Christchurch City Libraries

is being celebrated with the exhibition

Illuminate: Unearthing

Treasures from our Collection,

which opened on Saturday in the

Southbase Gallery at Tūranga. It

will run until October 27.

The exhibition features rare

books, including An Account

of a Voyage Around the World,

by James Cook, published in

1773; original New Zealand

artworks; historic maps; vintage

posters from the 1970s and

1980s, including some printed

by record label Flying Nun; and

a typescript of The Catalogue of

the Universe by Margaret Mahy.

Library branches around

the city will also mark the

anniversary with displays

of historic photographs and

memorabilia.

City council head of libraries

Carolyn Robertson said the

importance of libraries has

grown hugely over the past 160

years.

"It's amazing to think that

libraries have been serving local

people for so long. In those early

days books were all people could

borrow, but today's libraries are

a source of so much information

across many different platforms."

SCHOOLS

GREEN THUMBS: Christ's College teacher David Newton and

Rangi Ruru student Emma Ffowcs Williams with the plants

used in the EcoAction programme.

Students get their

hands dirty at

Travis Wetland

IT WAS a great day to plant

trees at the Travis Wetland

recently, as Christ's College,

Rangi Ruru and Shirley Boys'

High students got their hands

dirty as part of the EcoAction

programme.

About 80 students took part

in the third lot of plantings

this year at the wetland in

Burwood.

And they made light work of

the task, planting 420 trees in

about an hour.

The programme is run by the

Eco-Action Nursery trust, and

the students were involved in

the whole process.

The schools were sent kits by

the EcoAction Trust and the

students grow the seedlings

over about a year until they are

ready to be planted.

Rangi Ruru student Emma

Ffowcs Williams is the year 11

EcoAction co-ordinator said

there are a lot of exciting parts

to the project.

"We know that by returning

seedlings we have nurtured

to where the main plant once

grew, we are giving the new

plants the very best chance of

survival," she said.

"By growing them ourselves

NOR'WEST NEWS

we are minimising our

environmental footprint in the

process, that's really important

to us."

Rangi Ruru year 13 student

and head of sustainability

Rosetta Brown said the

students were pleased to be able

to practice what they preach.

"So many of us are trying

our hardest to reduce the effect

on our environment and to be

actually doing that, knowing

we are doing something

that will be a positive for

generations to come, is very

satisfying," she said.

Christ's College teacher

David Newton led the

initiative.

"We want to plant 10,000

trees in the next 10 years," he

said.

"Doing that using the

schools as nurseries to grow

the seedlings is an important

part of the learning and

involvement for the students."

Rangi Ruru director of

sustainability Kate Rivers was

impressed with the energy and

enthusiasm of students.

"It's great to see so many

young people full of passion for

this hands-on initiative."

JOIN US NOW!

See website for details

ICEBREAKER

50% - 70% off RRP storewide.

Hurry, valid 15 Aug to 19 Aug only.

NEW BALANCE

New Balance 624's now $79,

normally $100.

BENDON

Biggest bra sale. Sets from $20, Bras

2 for $35, Sleepwear from $20 and

selected styles at 60% off. Selected

styles. While stocks last.

CUTLER & CO

Take a further 30% off the lowest

marked price on footwear & knitwear.

Conditions apply.

STYLES MAY DIFFER

TO IMAGE SHOWN

UNDER ARMOUR

Take an additional 40% off Footwear.

Offer ends 18 Aug.

Sign up to Smart Deals & be in the monthly draw for a $100 Dress-Smart gift card!

CHRISTCHURCH 409 Main South Road, Hornby

www.dress-smart.co.nz

Open 10am-5pm, 7 Days 03 349 5750
---
NOR'WEST NEWS Latest Christchurch news at www.star.kiwi

Tuesday August 13 2019 11

DIANA ISAAC RETIREMENT VILLAGE

Townhouse Showhome

Open

Afternoons

Tues 20 - Thurs 22 August, 1 - 3pm

Come along to view our townhouse showhomes

and find out what sets a Ryman village apart from

the rest.

The village is set amongst beautifully landscaped

gardens, and is conveniently situated close to

The Palms Shopping Centre.

Our vibrant community offers security,

companionship and a full range of living and care

options including; independent and assisted living,

resthome, hospital and dementia care.

Two-bedroom

townhouses

available now!

These spacious townhouses are

north-facing with floor to ceiling

windows. Step out onto your own

patio and enjoy lovely landscaped and

professionally maintained gardens.

Priced from $495,000

To find out more phone

Adrienne or Lynne on 385 3518

1 Lady Isaac Way, Mairehau
---
12 Tuesday August 13 2019

Latest Christchurch news at www.star.kiwi

NOR'WEST NEWS

Your money, your

home, your choice

Merivale.

These days, it's all too easy to feel as

though we are just a number when we

work with the banks. Kim at Mylend

understands, and wants to make sure

that her clients are treated as individuals

with tailored finance packages that suit

them, their situation and their future.

Having previously worked with one of

the major banks, and real estate firms,

Kim's background enables her to have full

knowledge of all transactions to do with

home lending.

Mylend's founder Kim Laurenson has

longstanding relationships with all the

banks across Canterbury and she can

negotiate on your behalf to get the very best

deal for you – better still, the banks pay

for this service, it's free for the customer.

She does her best to demystify the jargon

and make the process as simple and

straightforward as possible. She appreciates

that as a customer of the banks, you

have choices, and she believes in finding

solutions that best match your needs. "It's

not a one-size-fits all," she says. Whether

it is your first home or you are refinancing,

Kim knows that "it's your money, your

home, and your needs that should be

considered." She will help you find out if

what the bank is offering is right for you, or

whether something else would work better.

With over seven years' experience

working in this industry, and ably

supported by Operations Manager

Georgina Bell, Kim has a thorough

knowledge of our local banks' processes

and options. Buying your first home,

moving house or simply refinancing to

take advantage of the current interest

rates can be complicated. Kim is there to

ensure arranging finance is as stress-free as

possible.

Kim is completely impartial and

independent and she will talk you through

your options, and help you make a sensible

and informed decision. Kim explains that

with interest rates as low as 3.85%, this is a

wonderful time to refix your lending and

use the rates to your advantage. She will

sit with you and help you to maximise the

repayments to the bank, so your lending is

paid off faster.

With so much experience, the Mylend

team find most of their clients are

returning customers or are referred to

them by word-of-mouth. They trust Kim's

advice and know that she and Georgina

are there to help them navigate lending

for long-term financial success. Visit

Mylend.co.nz or call Kim directly on

027 222 1044 to see how she can help you

today.

Be in to

WIN your

dream

honeymoon

BOOK

ONLINE

NOW AND

SAVE!

Home lending advice you

can understand. Kim will help

you control your mortgage and

save you money as well!

Email or call Kim today!

www.mylend.co.nz email: kim@mylend.co.nz cell: 027-222-1044

Pre-purchase your

tickets from

withthisring.kiwi

for only $10pp

or get a ticket on

the day for $20pp

weddingshow

sunday 25th August, 2019, 10am–3pm, Air Force Museum, Christchurch

Fashion | Venues | Entertainment | Stationery | Jewellery | Catering | Floristry | Make-up | Beauty

Celebrants | Cakes | Hair | Photography | Transport | Wedding Planners | Honeymoon Destinations

178 Papanui Road, Merivale

(3 doors down from St Albans Street)

Ph: 03 355 5942

In business 58 years - same location!

Now is a great time to get your

coats, jumpers, jerseys, trousers cleaned!
---
NOR'WEST NEWS Latest Christchurch news at www.star.kiwi

Tuesday August 13 2019 13

Super

Chiropractic HD

Bed

Queen Size Mattress & Base

NOW FROM $2,399

Serenity S Series

Savings

Queen Size Mattress & Base

NOW FROM $1,799

Chiropractic

Other Sizes & Models

Available In-store!

Queen Size Mattress & Base

NOW FROM $1,699

BEDS R US CHRISTCHURCH

166 Moorhouse Ave, (Next To Noel Leeming)

Ph: 03 379 5110
---
14 Tuesday August 13 2019

Latest Christchurch news at www.star.kiwi

NOR'WEST NEWS

ENERGY

EFFICIENT

HONEYCOMB BLINDS

As tested by

the latest report on

consumer.org.nz

"

Honeycomb blinds

easily topped our

testing for all window

coverings...

"

Honeycomb Blinds are energy efficient window

shades helping you keep the heat of the sun

away in the summer and maintaining the heat

inside your home in the winter time.

Honeycomb Blinds are the ideal choice for

your home as they are light, efficient and they

give your room a great look. With Blockout and

Translucent fabrics available made from 100%

polyester it makes them very easy to clean.

With a number of control options available,

giving you the ability to control light to the top

or bottom of any window with standard pull

cords or child safe without cords. Custom

made, to fit any window shape in your home.

FEATURES

- High insulation properties

- Unique air pockets control heat loss and

heat gain

- Range of control options

- Blockout and translucent fabrics available

in a wide range of styles and colours

- Over 30 fabric colours to choose from

35 %

OFF

limited time only

ENERGY EFFICIENCY - HONEYCOMB BLINDS

Honeycomb Blinds have earned the highest

energy efficiency ratings in the industry due to

their air-trapping construction.

They have an R-value of between 3.5 and 4.3

depending on the material chosen.

To compare a single pane glass window has

an R-Value of 1.75.

Blinds

Curtains

Shutters

Awnings

Screens

Mobile

ShowrooM

Service

we make it easy and

come to you. choose

from 1000s of colours

in your own home.

97E (Unit 3) Sawyers Arms Road

03 365 4666 | Mobile Showroom Service
---
NOR'WEST NEWS Latest Christchurch news at www.star.kiwi

Tuesday August 13 2019 15

Reading to Dogs

Today, 3.30-4.30pm

Reading to Dogs encourages

children to practise their writing

skills and develop a love for

reading. All the dogs have been

trained and tested for health,

safety and temperament. Bookings

required.

Shirley library

Knit 'n' Yarn

Today, 1-3pm, at Bishopdale,

Friday, 10am-noon, at Papanui

Take your knitting, crochet or

another craft project and have

fun with a social group. This is a

free, drop-in event.

Bishopdale and Papanui

libraries

GenConnect

Today, 12.15-12.45pm

If you have questions

about your iPad, smartphone

or tablet, head down to GenConnect

where Papanui High School

students will help you for free.

Email claire.booker@starmedia.kiwi by

5pm each Wednesday

Papanui Library

Free seminar for parents of

teens

Thursday, 7-8.30pm

This seminar will help parents

assist their teens to consider

future career/study options. It

covers career pathways, supporting

decision-making and communicating

effectively.

Book a free space at www.

canterbury.ac.nz/events

John Britten Building, Canterbury

University, 69 Creyke Road.

Games at Papanui

Thursday, 2.30-4.30pm

If you love games, head

along and choose from a wide

selection, including the classics,

at this fun and social event. Free

for all ages to enjoy. No bookings

required.

Papanui Library

Scrabble

Wednesday, 1-3pm, at Bishopdale,

and 1.30-3.30pm at Shirley

Play Scrabble with a friendly

group. Just head down when you

can – no bookings required. All

materials are supplied at this free

event.

Bishopdale and Shirley libraries

Culture Exchange

Friday, 3.45-4.45pm

Go along and make new friends,

practise your English and learn

about Christchurch.

Shirley Library

JP Clinic

Today, 10am-1pm, at Papanui

and Shirley, Wednesday, 10am-

1pm, at Bishopdale

A justice of the peace will be

PAPANUI LIBRARY will host After School Activities this Friday

from 3.30-4.30pm. Suitable for ages 8-13. Go along for an

interactive session which includes technology, games, crafts,

and books. Take your friends with you, or make some new

ones.

available to the community to

witness signatures and documents,

certify document copies,

hear oaths, declarations, affidavits

or affirmations, as well as

sign citizenship or rates rebates

applications.

Papanui, Shirley and Bishopdale

libraries

Tabletop Games

Monday, 11.00am-5.15pm

Play tabletop board games

and enjoy some downtime. Free

event, no bookings required

Shirley Library

Rummikub

Monday, 1-3pm

Go along and play

Rummikub – an exciting,

interactive strategy game. Free,

drop-in event.

Bishopdale Library

Super Saturday Storytimes

Saturday, 11-11.45am

Go along and encourage learning

through stories. This is an

interactive programme involving

stories, songs, rhymes, craft and

play. Free.

Shirley Library

Rotary New Horizons Club

Wednesday, 6–7.30pm

Go along to the rotary club's

weekly meetings to learn about

how you can make a difference

in your community. Projects are

often based in St. Albans. For

more information visit: rotarynewhorizons.org.nz

BreakFree Hotel, 165 Cashel St

Activity Zone

Monday, 3.45-4.45pm

The after school club has technology,

games, crafts and books.

This is suitable for children aged

six to 10 and caregivers are asked

to remain in the library during

the session. Free – no bookings

required.

Shirley Library

Mahjong

Saturday, 2-4pm, at Shirley,

Monday, 2-4pm, at Papanui

Go along if you are interested

in playing or learning about

mahjong. Free. Registrations

required at the Shirley Library.

Shirley and Papanui libraries

Cards Club

Friday, 1.30-3.30pm

This weekly card club is on every

Friday, go along and join the fun.

Free, no bookings required.

Shirley Library

Lions Club

Today, 5.30pm

The Lions Club of Christchurch

will meet at the Papanui RSA. Join

the worldwide Lions family of 1.4

million people. Phone 386 1581 for

more information.

Papanui RSA

RoboFun for Adults

Saturday, 10-11am

Go along to Shirley Library for

an introductory course looking

at the world of robotics in a fun

and engaging way. You don't

need to take anything with you

– just a curious mind. No bookings

required, just drop in.

Shirley Library

School's not

for everyone!

www.

STUDY

WITH

US.CO.NZ

IS SCHOOL NOT WORKING

FOR YOUR TEEN?

WE OFFER:

ULTIMATE CAREER DECIDER /

SECURITY & FORCES PREP /

BUSINESS ADMINISTRATION

& TECHNOLOGY / DIGITAL

MEDIA / EARLY CHILDHOOD

EDUCATION / SOFTWARE

DESIGN / WEB DEVELOPMENT

TEXT

'STUDY' TO:

027 557 8839

50 Hazeldean Road, Addington

0800 834 834 | www.vision.ac.nz
---
16 Tuesday August 13 2019

Latest Christchurch news at www.star.kiwi

NOR'WEST NEWS

Tasty Bites

Simple ways to cut back on the calories

Making a simple swap from

pastry to a tortilla wrap

instantly brings down the

calories. Filled with fresh

ingredients, these samosas

and simple chicken curry

recipes are a great way to

eat well and lose weight

Samosas

Makes 6

Prep time 10min

Cooking time 15min

Ingredients

2 medium potatoes, peeled and

diced into 1cm pieces

75g frozen peas

Low-calorie cooking spray

½ onion, diced

1 garlic clove, crushed

1 tsp grated root ginger

Generous pinch of chilli powder

½ tsp ground coriander

¼ tsp ground cumin

¼ tsp ground turmeric

½ tsp garam masala

30g spinach

Juice of ½ lemon

Sea salt

3 low-calorie tortilla wraps, cut

in half

1 egg, beaten

Fresh coriander, to serve

Directions

Cook the diced potatoes in a

pan of boiling salted water for

5min, then drain. Cook the peas

in boiling salted water and drain.

Heat the oven to 200 deg C

(fan 180 deg C) and line a baking

tray with some greaseproof

paper or baking paper.

Spray a pan with some lowcalorie

cooking spray and place

over a medium heat. Add the

onion, garlic and ginger and

cook for 3-4min until softened

but not browned, then add the

spices and cook for another

minute. Stir in the cooked potato

and mash it slightly with a fork

or the back of a spoon before

adding the uncooked spinach,

lemon juice and peas. Add a

pinch of salt and stir.

Brush the edges of the halved

wraps with the beaten egg. Fold

each half into a cone shape and

seal the edge, leaving the top

open to add the filling.

Divide the filling equally

between the wraps, being careful

not to overfill them (if you do,

you will not be able to seal them

properly).

Brush the open end of the

wraps with some more beaten

egg, leave for 30-40sec, until it

becomes tacky, then press the

edges together firmly. ]

You can use a fork to do this,

but be careful not to rip the

wrap. Arrange the samosas on

the tray.

Brush each samosa with plenty

of beaten egg, make sure the

edges are sealed, then place in

the oven for 10min, or until they

are golden brown.

Remove from the oven and

serve warm. You can also

allow to cool, wrap in baking

parchment and freeze for

another day.

Super simple chicken curry

Serves 4

Prep time 5min

Cooking time 30min

Ingredients

Low-calorie cooking spray

1 large onion, sliced

450g chicken breast (skin and

visible fat removed), diced

3 garlic cloves, crushed

400ml water

3 Tbsp curry powder

1 Tbsp ground turmeric

1 Tbsp tomato puree

Sea salt and freshly ground black

pepper

To serve (optional)

Samosas (see previous recipe)

Cooked rice

Ingredients

Spray a large frying pan with

low-calorie cooking spray and

place over a medium heat.

Add the onion and cook for

2min until softened slightly,

then add the diced chicken to

the pan and cook for 5min until

browned.

Add the garlic to the pan and

cook for 1min, then add all the

other ingredients. The water

should just about cover the

chicken – you may need a little

more or less depending on the

size of your pan.

Leave to simmer gently for

20min.

Turn the heat up and boil the

curry for another 5min, stirring

frequently to ensure it doesn't

catch on the bottom of the pan,

this will reduce and thicken the

sauce slightly.

Serve the curry with your

choice of accompaniment.

Tip: This curry recipe works

well with lean diced lamb (all

visible fat removed) too.
---
NOR'WEST NEWS Latest Christchurch news at www.star.kiwi

Tuesday August 13 2019 17

AUTOMOTIVE PROFESSIONALS

Specialists advise a vehicle

check before winter sets in

Winter weather can present a range of tricky driving conditions

for motorists – from wet, slippery roads and heavy frosts to fog

and driving rain. That's why it is important to make sure your

vehicle is in tip-top shape and ready to deal with these hazards

before winter really sets in.

The team at Roses Auto Electrical in Cranford Street recommends

checking that your lights and windscreen wipers are in working

order, and to ensure your vehicle will start on cold mornings they

offer free battery and alternator and starter tests, and free battery

fitting.

Their well-equipped workshop includes specialised diagnostic

equipment designed to find any faults with vehicles' electronics, air

bags or ABS braking system, which the qualified and experienced

auto electrical specialists will repair quickly and efficiently.

Roses Auto Electrical provides full electrical services for all

makes and models of European, Japanese and light commercial

vehicles. Any time a warning light flashes up on the dashboard,

they advise calling into their workshop to have it checked out.

Roses Auto Electrical has been in business for more than 20 years,

and the workshop team are constantly updating their knowledge

with industry training, as well as having the latest state-of-the-art

equipment in the workshop.

The customer comes first for the friendly, professional team at

Roses Auto Electrical, and motorists having their vehicle serviced

there can have confidence in its performance and safety, especially

with the cold weather approaching when driving is often more

hazardous.

Roses Auto Electrical is located at 518 Cranford Street,

Papanui. Phone 352 5090 to book in for service or repairs,

or visit their website www.roseselectrical.co.nz for more

information.

A vonhead

utomotive

free

NEW

LOCATION

95 Gasson St

6 months roadside assist

with any vehicle servicing

• automatic transmission

flushing service

• Wof • tune-ups • suspension

• batteries • neW tyres • oil &

lube service • courtesy cars

• full mechanical repairs

oPen 6 days (sat until 1pm)

126 racecourse road

Ph 342 7123 or 027 495 6600

Your LoCAL

TYrE SPECIALIST

New & Quality Used

Second-hand Tyres

Alloy Wheels

Replacement Rims

Puncture

Repairs

8c Birmingham Drive, Middleton

Next to Addington Raceway

343 0099 or 027 22 63 805

www.jcmdirect.co.nz

The Automotive Lamp Specialists

Roses Auto Electrical in Cranford St

offer free battery, alternator, starter

tests, and free battery fitting.

NEED AUTO

ELECTRICAL REPAIRS?

NEW! European specific diagnostic equipment

– Fine tune & identify any faults.

Diagnostic Testing Starters Alternators

Wiring Alarms: Insurance Approved

Fuel Injection Repairs ABS Airbags

Batteries Free Check & Assessment

ROSES

AUTO ELECTRICAL

s

m

a

r

t

mall

edium

• Panel beating

• Spray painting

Fast

turnaround

utomotive

epair

echniques

New and Used Lamps for Cars, Trucks,

Vans, 4WD and Motorhomes

PH 0800 225 483 | 95 Gasson Street, CHRISTCHURCH

®

Smart repairS (NZ) Limited

automotive refinishers

272 Lichfield St (Fitzgerald Ave end)

Ph 377-0409
---
18

Tuesday August 13 2019

REAL ESTATE

Your own private hideaway in Charteris Bay

490 Marine Drive, Charteris Bay

Price: $399,000

2 bedrooms | 1 bathroom | 3 car parking deck | Listing Number 9736

Latest Christchurch news at www.star.kiwi

NOR'WEST NEWS

Delightful 1950s cottage tucked away

and enjoying lovely upper Harbour

views, very very private and sheltered

with good off-street parking.

Two double bedrooms, open plan

living, modern bathroom and a large

wood-burner to keep you warm for

those colder months. French doors off

the lounge onto a good sized North West

facing deck to take advantage of the

afternoon sun and a nice peaceful place

to while away a few hours.

Well established 969m 2 section with a

mixture of natives, fruit trees and olive

trees.

There is also a room under the house

suitable for storage or possible bunkroom

or third bedroom (external access).

Please Note: Access property at 6 Ngaio

Lane.

To view this property please contact

Tim Dunningham of Min Sarginson

Real Estate (Licensed Agent REAA

2008), phone 027 651 5474 or 329 4161

growing with you June 2018 | 100%

Plants For

winter wow

Cool Choices

For Colour

& Contrast

From swamp

to sea views

The journey

begins with sarah

the Gardener

$7.90 incl. GST

Snap it up

Enter our annual

Birdlife Photo

Competition to win

great prizes!

clear the air

Why groWing

indoor PLAnTs is

so good for you

give it a grow

from gArLic

To chinese

ArTichokes,

We hAve your

groWing TiPs

covered

the latest releases

into the rose world

+ rose care

through winter

The magazine for

gardeners who like to get

their hands dirty

SUBSCRIBE FROM

$43. 50*

*6 issues/6 months

SUBSCRIPTIONS FREEPHONE

0800 77 77 10

WWW.GARDENER.KIWI
---
NOR'WEST NEWS Latest Christchurch news at www.star.kiwi

Tuesday August 13 2019 19

Car Parts

LANDROVER

DISCOVERY POWER

STEERING box $250

Ph 0275490048 or 021

363666

LANDROVER

DISCOOVERY REAR

STEP. $45 Ph 0275

490048 or 021 3363 666

Community Events

ALCOHOLICS

ANONYMOUS, If you

want to have a drink that's

your business. If you want

to stop, we can help. Phone

0800 229-6757

Curtains

www.curtainfabric-outlet.com

Fashion Designs & Colours

Discontinued Designs

End of Lines Bargain Prices

Call at Our Shop

CURTAIN FABRIC OUTLET

71 Hawdon St Sydenham

Ph 366-5026

For Sale

BRASS Plumbing

fittings, assorted fittings,

1/2 inch + 1 Inch,

crox, starkie and other

assorted fittings, $225

great buying , Ph 027 549

0048 & 021 363 666

ELECTRIC Cable, 35

m, 2.5 mm 2 core neutral

screen cable $60, and

Electric Cable 17.5 mtr ,

25mm 4 core $40, ph 027

549 0048 or 021 363 666

EXTENSION Cord extra

heavy duty 35 metres

$40, oh 027 549 0048 &

021 363 666

JERRYCANS x2 20 ltre,

ex army well made & in

good cond, $50 ea, ph 027

549 0048 or 021 363 666

NEFA Preasure

Reducing Valve, new in

box $90, , Ph 027 549

0048 & 021 363 666

ADD SOME

COLOUR

TO YOUR ADVERT!

DIRTY

TILES &

GROUT?

Classifieds Contact us today Phone our local team 03 379 1100

Gardening

& Supplies

A GARDEN OR

LANDSCAPING TIDY

UP? Shrub, hedge &

tree pruning, Lawns,

Gardening, consistently

reliable general property

upkeep, Dip. Hort. 10

yrs experience, One off

tidy ups or on-going

service. Nick's Garden

Maintenance. Keeping

your garden beautiful.

Free Quote. Ph. 942-4440

& 022 264 7452

Holiday

Accommodation

Australia QLD

SUNSHINE

COAST

RESORT

ALEXANDRA HEADLAND

All Units Have Ocean Views.

Heated Pools, Spa & Sauna,

Free Wifi, Tennis

& Mini Golf.

CHECK OUR GREAT

WINTER SPECIALS

www.mandolin.com.au

0061 7 5443 5011

JUNE to AUG temps 20C

Our unique restoration processes will make your

tiled areas look BRAND NEW again!

We provide cost effective makeovers for showers,

bathrooms, kitchens or any other tiled areas.

Tiled Shower Makeovers

Professional Tile & Grout Cleaning

Re-Colouring of existing Grout

Tile/Grout Sealing

Tile/Grout Repairs

Silicone Replacement

Garage Carpet Installation

For your FREE no obligation quote contact

DARRYL

Trades & Services

0800 882 772

darryl.p@groutpro.co.nz

Tours

Trades & Services

HALSWELL

GLASS & GLAZING 2017 LTD

THE PET DOOR SPECIALIST

• PET DOORS

• NEW GLAZING

• FRAMELESS SHOWERS

• MIRRORS

• INSURANCE CLAIMS

• RETRO GLAZING

• BALUSTRADING

ALL SUBURBS COVERED FOR

ALL YOUR GLAZING NEEDS

PHONE GAIL OR SARAH ON

322 7999 OR 021 CAT DOOR

(228 3667)

Painters and Decorators Ltd

Canterbury Owned and Operated

A husband and wife team

Specializing in:

• Roof Painting

• Interior/exterior

residential

• Small commercial

painting

Trades & Services

concrete & paving

• Driveways

• Earthquake repairs

• New Home Specialists

• Patios & Paths

tel: 0508 873 7483

email: sales@affordableconcrete.co.nz

www.affordableconcrete.co.nz

PAINTERS

Noel 027-411-3596

kemp.painters@gmail.com

kemp painters and decorators

Trades & Services

plumber

We offer

free quotes

Quality not

Quantity

Leaking Pipes and

Cylinder?

CALL YOUR LOCAL PLUMBER

Best Service.

Right Price.

No Deposit

12 Months

Interest Free

Finance with

36 Months

to Pay

0508 AQUA PRO | aquaproplumbing.nz

0508 278 2776 or 027 419 8843

PLUMBING | DRAINAGE | GAS FITTING | SOLAR

Trades & Services

YOU COULD

BE HERE

Let us help take

your business to

new heights

Advertise your business in our

Trades and Services column.

For assistance contact Vicky

Phone 03 364 7419 or email

vicky.sayers@starmedia.kiwi

Trades & Services

PLUMBER

NEED A PLUMBER

Call us now for fast friendly service.

Get your problems sorted out

quick smart - on time!!

Phone for a

FREE

quote now.

Phone 03 377 1280 | Mobile 021 898 380

Trades & Services CHIMNEY SWEEP

*Rotary

brush

technology*. From $70

single story. 0800 SWEEP

rooF ME or 021 0277 1927

ELECTRICIAN

Registered, electrical

painting

installation and repairs,

Book now for Summer Gorbie Electrical, ph 021

026 73375 or 03 322 4209

and receive 20%

PAINTING

discount. DECoRATING

Rope and harness a speciality. Wingfields Contracting, all

No scaffolding required.

interior & exterior painting

& all forms of interior

30 years experience. plastering & jib fixing, ph

Mark 021 171-1586

Also waterblasting paths,

PLUMBER

driveways and moss removal.

A Top Plumbing job

Free quotes, call completed at a fair price,

prompt service, all work

Craig 021 060 2392 guaranteed, Ph Brian 960-

7673 or 021 112-3492

RoSE PRUNING

Sorting climbers, vines,

ROOF lemons & fruit trees. Ph

Graeme 027 341 8596,

PAINTING

342-5151

Rope & harness SHoE REPAIRS

a speciality, Belfast engraving. Shoe

no scaffolding repairs, key cutting &

required, engraving. (10 yrs exp)683

30 years of Main North Rd, ph 027

breathtaking

3113423

SPoUTING

experience.

CLEANING

FREE QUOTES

Spouting Unblocked,

Exterior staining, Cleaned Out and Flushed

exterior painting, Out. Call Trevor 332 8949

moss and mould or 021 043 2034

treatment and STUMP GRINDING

waterblasting Best price guarantee Tony

0275 588 895

Phone Kevin TILER/CARPENTER

027 561 4629 35 years exp, no job

too small. Ph Ross 027

Trades & Services 4311440.

TILING

BATHRooM

Flooring - Splashbacks -

RENoVATIoNS Wall incl tile removal, reg

complete service from master tiler, ph Dave 027

start to finish, free quotes, 334 4125

ph Dave 027 334 4125 T.V. SERVICE CENTRE

BEST BATHRooMS Repairs, tvs, microwaves,

full renovations audio amps, soundbars.

specialists, LBP builder, .Aerial & satellite

free quote, all building installations, kitsets, 480D

property maintenace ph 03 Moorhouse Ave, ph 03 379

383 1927or 027 245 5226 1400

ciey@xtra.co.nz

VHS VIDEo TAPES

BRICKLAYER

& all camera tapes

George Lockyer. Over converted to DVD, video

40 years bricklaying taping special occasions,

experience.Uk trained. www.grahamsvideo.co.nz

Insurance work, EQC ph 03 338-1655

Wanted To Buy

repairs. Heritage

brickwork & stonework AAA Buying goods

a speciality. No job too quality furniture,

small. Governers Bay. Beds, Stoves, Washing

Home 329 9344. Cell

027 684 4046. E mail

georgelockyer@xtra.co.nz

CARPET LAYING

machines, Fridge Freezers.

Same day service. Selwyn

Dealers. Phone 980 5812

or 027 313 8156

Exp. Repairs, uplifting, TOOLS Garden,

relaying, restretching. garage, woodworking,

Phone John on 0800 mechanical, engineering,

003181, 027 240 7416

jflattery@xtra.co.nz

sawbenches, lathes, cash

buyer, ph 355-2045

Public Notices

PAPANUI

HIGH SCHOOL

Enrolment Scheme – Update

As a result of a recent review to look at managing the

likelihood of overcrowding, the board of Papanui High

School has adopted an amendment to its current

enrolment scheme that has been approved by the

Secretary for Education.

Under this scheme, students will be enrolled if they

live within the home zone which predominately

remains the same, with a minor expansion of the

zone in the Northern end.

The enrolment of out-of-zone students is governed

by the provisions of the Education Act 1989.

The enrolment scheme, which includes a precise

description of the home zone, may be viewed at

the school office, and on the school's website.

The enrolment scheme for the Special Programme

– Kimi ora Unit can also be viewed at the school

office and on the school's website.

Phone: 03 352 6119

30 Langdons Road, Christchurch

www.papanui.school.nz

Situations Vacant

FACTORY

PRODUCTION

MANAGER

FOR AUCKLAND REINFORCING

SERVICES LTD

FULL TIME JOB IN CHRISTCHURCH

Past Proven Experience in Management

Experience in the Construction

Industry a plus.

Email CV to Anup Walia at

anup@aucklandreinforcing.co.nz

Vehicles Wanted

CASH/CASH for any

unwanted vehicles, ph

347 9354 or 027 476 2404

Vehicles Wanted

CASH/CASH for any

unwanted vehicles, ph

347 9354 or 027 476 2404

CAR REMOVALS

$$CASH PAID$$

CARS, VANS, UTES

& 4X4 WANTED

NZ OWNED

AND

OPERATED

FOR

24 YEARS

We use world class vehicle

depollution systems

0800 8200 600

www.pickapart.co.nz
---
20

Tuesday August 13 2019

Latest Christchurch news at www.star.kiwi

NOR'WEST NEWS

Hunker down for our

STOREWIDE WINTER CLEARANCE

Napa Velvet

3 Seater

NOW ONLY $1299

NEW

ALL LOUNGE ON SALE | ALL BEDROOM ON SALE | ALL DINING ON SALE | ALL OFFICE ON SALE

Monaco Black

BEDROOM RANGE

ON SALE

6 Drawer Dresser

NOW ONLY $869

4 Drawer Tallboy

NOW ONLY $599

Eames

DINING RANGE

ON SALE

Loft

OFFICE/LIVING RANGE

ON SALE

Large Bookcase

NOW ONLY $699

3 Door Bookcase

NOW ONLY $699

NEW

Clear Dining Chair

NOW ONLY $120

Black Dining Chair

NOW ONLY $45

Round Dining Table

NOW ONLY $119

Shop

Online

Nationwide

Delivery

Finance

Options

targetfurniture.co.nz

STOREWIDE SALE ON NOW. Exclusions apply. Sale ends 19.08.19.

Cnr Blenheim & Curletts Rds, Christchurch

Ph: 0800 TARGET (0800 827438)

Offers and product prices advertised here expire 19/08/19.

Sale excludes Manchester and Accessories.
---
NOR'WEST NEWS Latest Christchurch news at www.star.kiwi

Tuesday August 13 2019 21
---
22 Tuesday August 13 2019

Latest Christchurch news at www.star.kiwi

NOR'WEST NEWS
---
NOR'WEST NEWS Latest Christchurch news at www.star.kiwi

Tuesday August 13 2019 23
---
24 Tuesday August 13 2019

Latest Christchurch news at www.star.kiwi

NOR'WEST NEWS