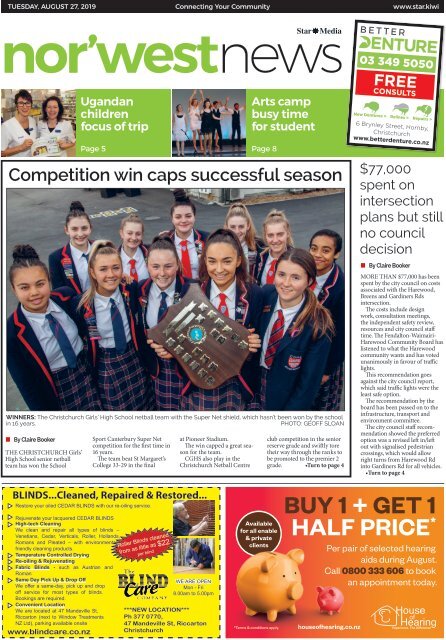 Nor'West News: August 27, 2019
You also want an ePaper? Increase the reach of your titles
YUMPU automatically turns print PDFs into web optimized ePapers that Google loves.
TUESDAY, AUGUST 27, 2019

Connecting Your Community

www.star.kiwi

Ugandan

children

focus of trip

Page 5 Page 8

Arts camp

busy time

for student

Competition win caps successful season

WINNERS: The Christchurch Girls' High School netball team with the Super Net shield, which hasn't been won by the school

in 16 years.

PHOTO: GEOFF SLOAN

• By Claire Booker

THE CHRISTCHURCH Girls'

High School senior netball

team has won the School

Sport Canterbury Super Net

competition for the first time in

16 years.

The team beat St Margaret's

College 33-29 in the final

at Pioneer Stadium.

The win capped a great season

for the team.

CGHS also play in the

Christchurch Netball Centre

club competition in the senior

reserve grade and swiftly tore

their way through the ranks to

be promoted to the premier 2

grade. •Turn to page 4

03 349 5050

free

CONSULTS

New Dentures > Relines > Repairs >

6 Brynley Street, Hornby,

Christchurch

www.betterdenture.co.nz

$77,000

spent on

intersection

plans but still

no council

decision

• By Claire Booker

MORE THAN $77,000 has been

spent by the city council on costs

associated with the Harewood,

Breens and Gardiners Rds

intersection.

The costs include design

work, consultation meetings,

the independent safety review,

resources and city council staff

time. The Fendalton-Waimairi-

Harewood Community Board has

listened to what the Harewood

community wants and has voted

unanimously in favour of traffic

lights.

This recommendation goes

against the city council report,

which said traffic lights were the

least safe option.

The recommendation by the

board has been passed on to the

infrastructure, transport and

environment committee.

The city council staff recommendation

showed the preferred

option was a revised left in/left

out with signalised pedestrian

crossings, which would allow

right turns from Harewood Rd

into Gardiners Rd for all vehicles.

•Turn to page 4

BLINDS...Cleaned, Repaired & Restored...

Restore your oiled CEDAR BLINDS with our re-oiling service.

Rejuvenate your lacquered CEDAR BLINDS

High-tech Cleaning

We clean and repair all types of blinds –

Venetians, Cedar, Verticals, Roller, Hollands,

Romans and Pleated – with environmentally

friendly cleaning products.

Temperature Controlled Drying

Re-oiling & Rejuvenating

Fabric Blinds - such as Austrian and

Roman

Same Day Pick Up & Drop Off

We offer a same-day, pick up and drop

off service for most types of blinds.

Bookings are required.

Convenient Location

We are located at 47 Mandeville St,

Riccarton (next to Window Treatments

NZ Ltd), parking available onsite

www.blindcare.co.nz

Roller Blinds cleaned

from as little as $22

per blind

WE ARE OPEN

Mon - Fri

8.00am to 5.00pm

***NEW LOCATION***

Ph 377 0770,

47 Mandeville St, Riccarton

Christchurch

Available

for all enable

& private

clients

*Terms & conditions apply.

BUY 1 + GET 1

HALF PRICE *

Per pair of selected hearing

aids during August.

Call 0800 333 606 to book

an appointment today.

houseofhearing.co.nz
---
2

Tuesday August 27 2019

get in touch

GENERAL INQUIRIES Ph 379 7100

CLASSIFIED ADVERTISING Ph 379 1100

Star Media,

a division of Allied Press Ltd

PO box 1467, Christchurch

starmedia.kiwi

Latest Christchurch news at www.star.kiwi

schools

'The Cube' lands in Bishopdale

It's all fun and games on the new playground at Bishopdale

Community Preschool.

Page 8

tasty bites

NOR'WEST NEWS

Healthy chicken a hit

Scotch eggs using chicken mince and cooked in an air

fryer is a tasty breakfast dish.

NEWS

Claire Booker

Ph: 021 911 576

claire.booker@starmedia.kiwi

ADVERTISING

Monique Maynard

Ph: 364 7474

monique.maynard@

starmedia.kiwi

Rodd Gray

Ph: 982 9308

rodd.gray@

starmedia.kiwi

Page 13

community events

Fun and skill

Go along to the Shirley Library on Monday from 11am to

5.15pm to play tabletop board games

Page 15

The best-read local newspaper,

delivered to 15,960 homes

every Tuesday

Harewood, Burnside, Bishopdale, Bryndwr, Fendalton,

Merivale, St Albans, Mairehau, Papanui, Casebrook, Redwood,

Regents Park, Styx Mill, Northwood, Belfast, Strowan.

• The Star

• North Canterbury News

• Selwyn Times

• Ashburton Courier

also publishing:

• Bay Harbour News

• Southern View

• Pegasus Post

• Western News

Want to be

elected?

• Local Council

• Community Board

• Ecan

• CDHB

Star Media can help you.

Talk to us today about your campaign.

Contact: Monique Maynard

03 364 7474

021 372 481

monique.maynard@starmedia.kiwi

LiquiD

SeLF Service

LaunDroMatS

NOW OPEN - ILAM - 407A Ilam Road

oPen 24 HourS - card only site.

WaSH 2 Mink

BLanketS or

DuvetS

For onLY $8

Hot Water &

extra LarGe

WaSHerS

avaiLaBLe

Dry up to 14kg from

$4 in only 25 minutes!

Save time &

electricity

WaSH & DrY

aLL Your

LaunDrY in

unDer 1 Hour

• Fast Dryers

• Sports Gear

• Duvets

• Mink Blankets

• Bedding

• Washers

• Domestic Laundry

from

$

4.00 WASH $ 4.00 DRY

over 75 locations Other Locations: Sydenham • Hornby • Hoon Hay • Woolston

nationwide

Aranui • Richmond • Burwood • Rangiora • Redwood • Kaiapoi

www.liquidlaundromats.co.nz

Reach 168,000 readers

with just one ad placement

Call Shane Victor on 021 381 765 to find out how!
---
NOR'WEST NEWS Latest Christchurch news at www.star.kiwi

Tuesday August 27 2019 3

News

Fun event for Northwood residents

• By Claire Booker

AN EVENING which involved

kicking a ball around with

Canterbury rugby players and

grabbing a bite to eat was held

last week in Northwood.

The event was organised by

AMI insurance, which has been

closely involved with the community

since the Marble Court

explosion last month.

About 50 people attended the

event where free rugby tickets

were provided by AMI, as well

as the chance to meet some

rugby stars.

Canterbury rugby halfback

Mitch Drummond said it was

nice to be able to connect with

the team's fans.

"It was great to be out among the

community in Northwood and

putting some smiles on the faces

of locals who have been through a

tough time recently," he said.

AMI spokeswoman Valerie

von Geldern said it was nice to

come together and support the

community.

WRECKED:

A barbecue

was held in

Northwood to

support the

community

following the

gas explosion in

Marble Court last

month. PHOTO:

MARTIN HUNTER

"We know it's been a tough

time for them since the

explosion. We also wanted to

take the opportunity to thank

the volunteers and emergency

service workers who gave their

time over that weekend to

support the community," she

said.

The event was held at the Styx

Mill Country Club, and Ms

von Geldern said it was a good

chance for the community to

take some time out, meet some

rugby players and grab a bite to

eat.

FUN: Some

keen rugby

followers got

the chance

to play

touch with

Canterbury

players at a

community

barbecue last

week.

AMI business development

manager Gary Rennie said

the event wasn't to do with business.

"This event wasn't about

insurance, it was just something

nice that we wanted to do for

the Northwood community so

we did. We had a really great

turnout and the parents loved

seeing their kids have so much

fun playing a game of touch

rugby with the Canterbury

players. Just seeing the smiles

on everyone's faces made it all

worthwhile," he said.

In Brief

SPEED ZONE CHANGE

The Papanui-Innes Community

Board has unanimously voted

to recommend the city council

drop the speed limit along Sisson

Drive, Langdons Rd, Restell St

and Winston Ave to 30km/h. The

recommendation was made after

consultation showed 70 per cent

of the submissions made were in

favour of the change.

BUS AND BIKE LANES

The dedicated bus and bike lane

project on Main North Rd has now

been put on hold. The city council

was expected to start work in

July, but since then, New Zealand

Transport Agency constraints

have created uncertainty around

funding for the project. The city

council is working with NZTA

to confirm if and when funding

will be available for the project.

NZTA hopes to have an update

on funding in mid-September, but

work on the project will not start

before 2020.

ST ALBANS ROAD WORKS

Work is due to start next week

on renewing the wastewater

pipes from Edgeware Rd to 133

Caledonian Rd. The work is due to

begin on Monday and is expected

to be finished by October 12. Work

has also started on upgrading two

well-heads on Mays Rd, and is

expected to be finished by the end

of next month.

'CEREC' & cosmetic dentistry

Wisdom tooth removal

Painless, high quality dentistry

Sedation dentistry

Experienced, conscientious team

Experienced hygienists

OPEN SATURDAYS

355 9380

The revolution

in heat pumps

is here now!

144 Cranford Street

www.stalbansdentalcentre.co.nz

The revolution in heat pumps is here now!

The Fujitsu e3series

The brilliant

heat pumps from Fujitsu

e1 : efficiency

e2 : environment

e3 : economy

Website: www.pshc.co.nz

Finance available

FREE consultation from your local

Accredited Heat Pump Expert

Phone today: 03 381 6950

INSERT DEALER DETAILS HERE

Discover Christchurch's

best pet

accommodation

• Daycare - all breeds

• Long stay/short stay

Call now to

book in your

fur baby,

inspections

welcome

anytime!

ALAMEDA

KENNELS & CATTERY

271 Dyers Road | Ph 384 1297

www.alameda.nz

The brilliant e3 series

heat pumps from Fujitsu

e1 : efficiency

e2 : environment

e3 : economy

Fujitsu's Catechin Filters are

approved by the Asthma and

Respiratory Foundation NZ's

Sensitive Choice ® programme.

Email: info@pshc.co.nz

28 September – 13 October 2019

Grab a programme at any Christchurch City Library

and Serivce Centre or view it online

ccc.govt.nz/walkingfestival

Free

50+ walks
---
4 Tuesday August 27 2019

Latest Christchurch news at www.star.kiwi

NOR'WEST NEWS

News

FINALS: The Christchurch Girls' High School team will play

Technical B in the premier 2 final tonight.

Playing for promotion

•From page 1

CGHS head of sport Robin

Brown said the season has been

"very good."

"The team have taken the

movement from senior 1 and

playing outside, to premier 2 in

their stride," she said.

Last week, the team faced

off against St Nicholas in the

semi-final of the premier 2 competition,

and scraped by with a

one-goal win, beating St Nicholas

41-40.

The girls will take on Technical

B in the final tonight at Pioneer

Stadium at 6.30pm, and it is set

to be a tough battle.

Technical B will go into the

final as firm favourites, after

playing the final round of the

competition unbeaten, with a

dominant 25-goal win against

the school team the last time

they faced off.

The winner of the final will

be promoted to premier 1 next

season, and CGHS has not had a

team play in the top grade since

about 2003.

The team has six year 13 players,

and Mrs Brown said losing

their experience will impact the

team next season, but there are

promising young players in the

junior teams.

The team is set to put on a

strong showing at the South

Island Secondary Schools netball

competition next month, sitting

at third place from last year's

tournament.

"The success the team have had

will definitely put them in good

stead for South Islands. Having two

consecutive nights of strong netball

competition – club and Super Net,

also helps for tournament play. The

team have great confidence and

belief," Mrs Brown said.

Signals highest cost option

•From page 1

This recommendation was

the most cost-effective option

at $500,000, but consultation

showed this was the preferred

option by only 18 per cent of

submitters.

The city council report said

traffic signals was the highest cost

option for the intersection at $1.2

million, but 77 per cent of submitters

voted in favour of the lights.

The report said traffic signals

are four times more likely to

result in fatal or serious injury

than the preferred left in/ left out

option.

The report also said the traffic

signals option is unlikely to be

eligible for New Zealand Transport

Agency subsidy as the left in/

left out options resolves the safety

issues at a significantly lower cost.

This means the city council may

have to fund 100 per cent of the

project cost, which could see a

0.01 per cent increase in rates.

Fendalton-Waimairi-Harewood

Community Board chairman Sam

MacDonald said he will be disappointed

if a decision is not made

by the city council before the local

body elections.

"This has been three years in

the making. If it was deferred

because it was seen as 'too contentious

prior to an election' I think

it would speak volumes as to the

LIGHTS: The Fendalton-Waimairi-Harewood Community Board

has recommended traffic signals should be installed at the

intersection of Harewood Breens and Gardiners Rds.

PHOTO: GEOFF SLOAN

current council's willingness to

listen to ratepayers," he said.

Mr MacDonald said the community

board's role is to listen to

the residents and make a decision

from there, which is why they

went against the city council staff

recommendation.

"The council is owned by

ratepayers, you can have the most

technical advice in the world – but

in the end, if local residents don't

want the road blocked off and they

want a set of traffic lights, who are

we not to follow their wishes?" Mr

MacDonald said.

Harewood Ward city councillor

Aaron Keown has been a strong

voice in the campaign for change

at the intersection, and he said he

is feeling "over the moon" about

the community board's decision.

Cr Keown looks forward to seeing

the outcome of the proposal

after the city council make a decision,

but there is no confirmed

date of this yet.

The city council said the report

will come before council before

the elections.

Cr Keown hopes the outcome

of the meeting will reflect the

community board recommendation

and what the public wants,

he said it would be "arrogant

and dangerous" for an elected

member to vote against what the

public wants, especially so close

to elections.

"It would be pretty rude for

any elected member to go against

democracy," he said.

FREE PUBLIC TALK

THE PROCESS OF

DOWNSIZING AND

MOVING HOME

Come along to a free information session with

Senior Move Managers where you will learn some

of the best tips and tricks for when it comes to

downsizing and moving home.

Topics covered:

Planning

Sorting/ organising

Decluttering

Packing

Moving home

WHEN: Thursday 29th

August at 10am

WHERE: Fendalton Library

Morning tea with light

refreshments provided

Moving home can be a difficult process to navigate, but the

experts at Senior Move Managers can help you right from the

planning stages through to the set up of your new residence.

Whether you're moving into a retirement village or simply

downsizing, this information session will be

packed with info and tips and

tricks on how to make

the process more

manageable and

stress-free.

0800 667 558

info@seniormovemanagers.co.nz
---
NOR'WEST NEWS Latest Christchurch news at www.star.kiwi

Tuesday August 27 2019 5

News

Ugandan children focus of trip

• By Claire Booker

SORTING PILLS and potions

aren't the only roles of two

Bishopdale pharmacists.

Next month, co-owners of

the Bishopdale Unichem Pharmacy,

Maria Morley-Bunker

and Amanda Nuttall will go to

Uganda on a volunteer trip.

The trip is organised by the

Entrepreneurial Business School

and the two women will be part

of a 22-person cohort based in

Kyampisi, Uganda.

Ms Morley-Bunker and Ms

Nuttall will be working closely

with the Kyampisi Childcare

Ministries, a not-for-profit organisation.

KCM's vision is to end child

trafficking in Uganda.

Over the course of the nineday

trip, Ms Morley-Bunker and

Ms Nuttall will help to build a

new rehabilitation centre and

offer support to the children and

families in the community.

Ms Nuttall said the two women

think the trip is important because,

without the volunteers,

KCM would have to find a lot of

money to pay for the work the volunteers

will do over the nine days.

"In the scheme of things, it

may not be a lot, but with the

number of us going, it will

equate to approximately two

MISSION: Bishopdale Unichem Pharmacy co-owners Amanda

Nuttall and Maria Morley-Bunker will head to Uganda on a

volunteer mission next month. PHOTO: GEOFF SLOAN ​

months of work that would

otherwise have to be funded

from somewhere – or for parts

of it, just may not get done," Ms

Nuttall said.

The women don't view the trip

as something to further their

careers, but they hope it will

help them grow their ability to

connect, relate to and care for

others.

It will be the first time either of

the women has been involved in

a trip like this, and they said they

know their team at the pharmacy

will keep the business running

well while they are away.

The team at the pharmacy

as a group will sponsor a child

through KCM, which Ms

Morley-Bunker and Ms Nuttall

said will help keep the business'

connection with Uganda in the

future.

The women said dealing with

the trauma the children have

been exposed to will be a big test

as to how they can best care for

and support the children and

their families while balancing

their own emotions.

Ms Morely-Bunker said the

two women have been told the

children in Uganda love learning

about the volunteers' families.

"We plan to take some short

video clips with us to share, so

the Ugandan children can see

NZ kids, and hear (and hopefully

learn) some New Zealand

songs, in the languages of New

Zealand; New Zealand Sign

Language, Te Reo and English.

We will also be taking over

some netballs, this is a common

link between New Zealand and

Uganda, we both have netball

teams in the top seven in the

world," she said.

Ms Morley-Bunker and Ms

Nuttall will leave for Uganda in

mid-September, and the trip will

take 30 hours from Christchurch

to Uganda.

Part of the trip will include eye

care – if you have glasses you no

longer need (for people of any

age) you can drop them into the

Bishopdale Unichem Pharmacy

by September 13 and the women

will take them to Uganda for

people in need.

Library to

remain

closed

REDWOOD LIBRARY will

remain closed in order to carry

out more repairs.

It was originally due to reopen

on August 26. However, further

investigations show the building

requires more work than planned.

City council acting head of

libraries and information Erica

Rankin said the first stage of work

on the building has revealed the

need for more extensive repairs.

"When carpet was removed

during the refurbishment, it

revealed cracks in the concrete

slab around the structural steel

columns. Our engineers need to

assess the damage and determine

the best way to carry out repairs,"

Ms Rankin said.

The Redwood Library has never

undergone earthquake repairs, as

previous engineering assessments

considered it suitable for continued

occupation.

"We want to ensure that the

library is in the best shape to

service the local community for

many more years."

A mobile service will continue

to visit the library twice a week on

Wednesdays from 10am to 11am

and on Fridays from 3pm to 4pm.

Piece Of Paradise

49 Vernon Terrace, Hillsborough | $689,000

4 bedrooms | 1 bathroom | 1 living room | 1 dining room | 2 car-garage | 1 off-street park | Listing Number: BE193340

WaSH 2 Mink

BLanketS or

DuvetS

For onLY $8

Hot Water &

extra LarGe

WaSHerS

avaiLaBLe

Nestled in the Ports Hills, sheltered against the nor'easterlies

our vendors have made their decision and are ready to sell.

Totally renovated from top to toe you will be impressed by

the finishing. Large designer kitchen and new bathroom. This

property is fully insulated and double glazed.

A true micro-climate, citrus fruit clearly grow in abundance.

The Port Hills are your playground and there are many walking

and mountain bike tracks on offer. The very popular Rapaki

Track is just a step away or you have the choice to enjoy a stroll

around the river to the local Farmer's Market or local café.

Zoned for St Martins' Primary and Cashmere High School. All

amenities are close by.

Purchase this almost brand new property for a very affordable

price, and all you need to do is move in and enjoy the fruits of

their labour.

Come and view this piece of paradise that could be yours!

Your agent, Your home, Your future

LICENSED SALES CONSULTANT REAA 2008

LiquiD

SeLF Service

LaunDroMatS

NOW OPEN - rEdWOOd

288 Main nortH roaD

oPen 24 HourS

Dry up to 14kg from

$4 in only 25 minutes!

Save time &

electricity

WaSH & DrY

aLL Your

LaunDrY in

unDer 1 Hour

from

$

4.00 WASH $ 4.00 DRY

over 75 locations

nationwide

P 027 777 0411

• Fast Dryers

• Sports Gear

• Duvets

• Mink Blankets

• Bedding

• Washers

• Domestic Laundry

Other Locations: Sydenham • Hornby • Hoon Hay • Woolston

Aranui • Richmond • Burwood • Rangiora • Kaiapoi • Ilam

www.liquidlaundromats.co.nz

Come play

Find a club near you!

www.lovetennis.kiwi

*Times may vary by club. Please check website for details.

First club visitors

receive a

All welcome

it's free

Sat 7 & Sun 8 Sept 1-4pm

RACQUETS SUPPLIED. BBQ.

PRIZES. GIVEAWAYS.

Tennis clubs from Oxford to Ashburton are

opening their doors for a fun, FREE event for

all ages.

YOU COULD

WIN A TRIP FOR TWO

TO THE ASB CLASSIC

IN AUCKLAND THIS JANUARY

200

FREE snack pizza
---
6 Tuesday August 27 2019

Latest Christchurch news at www.star.kiwi

NOR'WEST NEWS

Fresh ready-made meals

for all members of the family

$7.99 each

or three

meals for

$21.

Developing new products for all members of the community is

something the owners at New World Northwood are passionate about.

The latest offering is Mealeze an easy way to

make sure family members get wholesome food

at an affordable price.

The meals include a delicious variety of

classic family meals each week – a casserole,

a pie, a roast and a vegetarian option and are

ideal for those who are busy or the elderly who

may no longer be able to cook for themselves.

Each meal is freshly made by instore chef

Daniel, and is able to be eaten straight away,

stored in the fridge for a couple of days or

frozen.

"We've just developed this as a really

wholesome option that would suit a range of

people," New World Northwood owner Kathy

Frampton says.

"This is really convenient for people whose

parents live in Christchurch but they may live

in Wellington. The children can go online and

order the meals for the parents who can pick up

meals for the whole week.

"It's quite a nice way if you can't always be

2 Mounter Ave, Northwood,

Christchurch

Phone 03 375 9004 | nwfoodtogo.co.nz

there that you know your family members are

getting a beautiful, fresh, home-made meal

each day."

Not only is the food outstanding, the price is

as well. The reasonable-sized portions are $7.99

each or three meals for $21.

If anyone wants to add on a sweet treat for

afters, there is also a range of desserts like

banoffee pie, trifle, apple crumble – just to

name a few. These are priced at $3.99 per serve.

The variety of meals and desserts will change

frequently so there will be plenty of variety for

those enjoying these meals.

Meals need to be ordered instore, by phone

or online by midday Tuesday for pick-up on

Wednesday (after 1pm) or midday Thursday for

pick-up on Friday (after 1pm). Allowance can

be made for low gluten options – just need to

stipulate when ordering.

Order

instore, online

nwfoodtogo.co.nz

or by phone

03 375 9004

Delicious

Wholesome

Meals

Freshly made by our chef

for your convenience

Order your meal today
---
NOR'WEST NEWS Latest Christchurch news at www.star.kiwi

Tuesday August 27 2019 7

News

October elections draw

more candidates than 2016

• By Claire Booker

THE NUMBER of local body

election candidates across the

five wards covered by Nor'West

News has increased compared to

the 2016 elections.

Five more candidates have put

their hands up to represent the

wards on the city council than in

the previous election.

And out of all 16 city council

candidates, only half have put

their name forward for the

community board too.

The Papanui-Innes and

Fendalton-Waimairi-Harewood

community boards each have

13 candidates running. This is

an increase of six candidates

for the Papanui-Innes board

and an increase of three for the

Fendalton-Waimairi-Harewood

board, compared to 2016.

In 2016, there were only two

candidates in the running for

the Innes Ward of the Papanui-

Innes board, but this year it is the

most contested ward, equalling

City council candidates

•Papanui ward

Mike Davidson

(Independent)

Nathan McCluskey (The

People's Choice – Labour)

Peter McDougall

(Independent Citizens)

John Stringer (Independent)

•Innes Ward

Lindon Boyce (Boycey)

(Independent Stop the Rot)

Pauline Cotter (The People's

Choice)

Nigel Hau (Independent)

Cam Parsonson

(Independent)

Mark Wilson (Independent

Voice for Innes)

•Fendalton Ward

David Benson (Conservative

Independent)

James Gough (Independent

Citizens)

Peter Wakeman (STOP

Trashing Our Planet)

•Waimairi Ward

Zahra Hussaini (The

People's Choice – Labour)

YOUR VOTE: The Redwood Hotel will host a meet the

candidates night next month.

the Central Ward with eight

candidates.

Voting papers will be delivered

from September 20, and all

voters should receive them by

September 25.

They can be returned via post

in the return envelope provided,

but should be sent before 5pm on

October 8.

Voting papers can also be

Sam MacDonald

(Independent Citizens)

•Harewood Ward

Scott Franicevic (The

People's Choice – Labour)

Aaron Keown (Independent)

Community board

candidates

•Fendalton Ward

David Benson (Conservative

Independent)

John Burn (Independent)

David Cartwright

(Independent Citizens)

Peter Hampton

Bridget Williams

(Independent Citizens)

•Harewood Ward

Linda Chen (Independent

Citizens)

Scott Franicevic (The

People's Choice – Labour)

Aaron Keown (Independent)

Jason Middlemiss

(Independent Citizens)

•Waimairi Ward

Zahra Hussaini (The

People's Choice – Labour)

hand-delivered to the city

council civic offices or any city

council library or service centre

before noon on October 12.

•A meet the candidates

event will be held at 7pm

on September 17 at the

Christchurch Function Centre,

Redwood Hotel, 340 Main

North Rd.

Shirish Paranjape

(Independent Citizens)

Pereen Singh (Independent

Citizens)

Mike Wall (Independent)

•Innes Ward

Lindon Boyce (Boycey)

(Independent Stop the Rot)

Jo Byrne (Independent)

Holly Chappell-Eason

Ali Jones (Independent

Parminder Kaur (Th

People's Choice - Labour)

Jane L McKenzie

(Independent)

Cam Parsonson

(Independent)

Emma Twaddell (The

Independent People's Voice)

•Papanui Ward

Merav Benaia (The People's

Choice – Labour)

Simon Britten (Think

Papanui)

Nathan McCluskey (The

People's Choice – Labour)

Peter McDougall

(Independent Citizens)

Emma Norrish

(Independent)

CHRISTCHURCH CASINO

BUFFET IS BACK!

$

26 PP LUNCH | $ 39.50 PP DINNER

Festival of Adult Learning

comes to Richmond

• By Claire Booker

THE FESTIVAL of Adult

Learning will start at Richmond

next month.

Classes will be held

throughout the first week of

the month at Avebury House

and the Richmond Community

Garden.

Events will include

yoga and pilates

demonstrations,

cooking and art classes,

gardening classes and

cultural activities.

There will also be

feature talks, including

a session on foraging for

food in New Zealand

with Natalie Absalom.

Avebury House

Community Trust

house manager Tanya Didham

said it is exciting to bring such

a diverse range of free events to

the community.

"Together with Richmond

Community Garden, our aim

is always to engage people,

increase social connection and

provide opportunities for people

to learn and be active," she said.

The week has been organised

THE Christchurch Foundation

is calling for applications for the

Women's Fund Awards.

This year marks the first time

the foundation will be issuing

grants to aid the women and

girls making a difference in the

city.

The Women's Fund was

established last year, on the

125th anniversary of women

winning the right to vote.

Said Christchurch Foundation

chief executive Amy Carter:

"Our city has a proud tradition

of women facilitating groundbreaking

societal change. In

order to recognise this, and to

ensure that this proud legacy

Tanya Didham

by Adult and Community

Education Aotearoa and is a

United Nations educational,

scientific and cultural

organisation initiative.

The event was established in

1988 with the goal of raising the

profile of adult learning.

It is a good way for members

of the community

to meet other people

in their area and get

involved with adult

learning.

The event will

suit people from all

backgrounds, including

those who are learning

to adjust to life in New

Zealand, re-training

to find employment,

adjusting to life after

prison, acquiring

parenting skills, or just getting

out and doing an activity to

make life better and meet

people.

The event incorporates

International Literacy Day on

September 8.

•A full list of events

is available at www.

aceaotearoa.org.nz/events/

festival-adult-learning

$200o grants to help women

Be part of NZ's

biggest event of 2020

Now hiring Electorate Managers

This is a role for someone who can lead a team, has great event

management skills and a keen interest in their community.

WED

to SUN

continues, we formed a fund to

support women and girls in our

city who are change-makers."

Mrs Carter said women

and girls in Christchurch are

a powerful force. "Currently,

women fill a high percentage

of key leadership roles within

Christchurch."

Three awards of $2000 will be

granted.

•Information on how to

apply and who is eligible can

be found at the Christchurch

Foundation's website and

social media platforms.

Applications close on

September 13.

As an Electorate Manager you'll lead a team

to deliver a successful general election in your

area. Events don't come much bigger, more

challenging, or more exciting than this. It's a

30 week (minimum) role starting in March 2020.

Āwhinatia te hanga rōpū kaimahi e whakaata

ana i tō tātou hapori. Tono ināianei mō te

tūranga Kaiwhakahaere Pōtitanga.

Apply today at elections.nz
---
8 Tuesday August 27 2019

Latest Christchurch news at www.star.kiwi

From St Margaret's College

to arts camp in Michigan

IT WAS A busy three weeks at

theatre camp in Michigan for St

Margaret's College student Lara

Chiswell.

Lara applied to the camp

with a recorded audition, and

was offered a place on the

Musical Theatre Golden Age

Revue Summer programme

in the United States town of

Interlochen.

The Interlochen Arts Camp

is held annually, and each

year thousands of artists and

arts patrons travel to the US

for world-class education and

cultural opportunities.

Students can study music,

theatre, visual arts, film, creative

writing and dance at the camp.

Over the three-week course,

the students were required to

learn 20 pieces of golden age

musical theatre.

Golden age musical theatre is

considered to be from the 1940s

to the 1950s.

It is a long way from Lara's

home in Strowan to the camp in

Michigan, and she described the

time away as "busy."

"Our days were very busy

starting class at 8am then

carrying on to 11.45am," she said.

The students would then have

a lunch break until 1pm and then

have a practice period, where

they had their own time to go

over dances or harmonies in

songs. The classes would resume

at 2pm and finish at 5pm for a

dinner break. From 6.30-9pm

there would be night practices

and then it was bedtime at

9.30pm.

At the end of the three

weeks, the students put on a

performance and Lara was one

SCHOOLS

SOLO: Lara Chiswell (centre) was one of two girls at the

Interlochen Arts Camp in Michigan to sing a solo in the final

show.

of just two girls to perform a

singing solo.

"During my time here (theatre

camp) I learned so much and

made some amazing friends. It

was incredible to be around such

like-minded people. My time at

Interlochen has been the best

three weeks of my life."

FUN: Beau Williams-Partington, 4, enjoys the new climbing

equipment at Bishopdale Community Preschool.

PHOTO: GEOFF SLOAN ​

'The cube' lands at

Bishopdale pre-school

• By Claire Booker

IT'S ALL fun and games on the

new playground at Bishopdale

Community Preschool.

Last week the pre-school

installed "the cube" – a new

climbing frame.

Centre manager Sarah Straver

said the pre-school has been

through "a bit of a journey since

the earthquakes."

It moved from a city councilowned

building at Bishopdale

Mall in 2012 to a temporary

premises set up at Breens

Intermediate School.

The pre-school fundraised

for four years and in 2016 a

NOR'WEST NEWS

permanent premises was opened

at Breens Intermediate.

Since then, the pre-school

has been slowly developing its

playground.

Ms Straver said fundraising

was a big challenge for getting

the Cube.

"We began with grant

applications to several potential

funders, and the city council

was the first and only funder

willing to help out our learning

community," she said.

The city council funded $3000,

which left the pre-school needing

to find $8000. In June, the preschool

decided to use its reserve

funds to complete the project.

PERSONALISED

CARE OPTIONS

Rest Home & Hospital Level Care

• Fully serviced care suites offering hospital & rest home level care

• Subsidised hospital beds available

• Full care managed by our Registered Nurses

• All rooms have 24 hour emergency call buttons

• One bedroom apartments with Rest Home level care available

• Our facility is renowned for quality clinical care with fully trained

and dedicated staff to care for your loved one.

Apartments

From

$350,000

Call Merivale Retirement Village today to

book a viewing and see for yourself

why we really are the best.

03 375 4117 or 021 971 487

27 Somme Street, Merivale

www.merivaleretirement.co.nz
---
NOR'WEST NEWS Latest Christchurch news at www.star.kiwi

Tuesday August 27 2019 9

Working for Firestone

Janet Tillman concludes

her memories of working

in the Firestone factory

office in Langdons Rd in

the 1970s

LUNCH TIME was spent in

the cafeteria; there were two

of these, one for the rubber

workers and the other for the

office staff.

THe segregation was

simply because the factory

workers were covered in soot

(lampblack) and this was

transferred to the furniture

so having separate facilities

enabled the office staff to keep

their clothes clean.

The cafeteria provided excellent

fresh food at reasonable

prices. I can still recall the

sandwiches, savouries and bread

rolls as well as slices and cream

cakes.

We had little contact with

management or the factory

workers (I can only recall entering

the factory about three times

during the years I worked at

Firestone).

However, at Christmas,

we all socialised together at a

party held at a Redwood restaurant.

During my period at Firestone,

I was able to widen my

work experience in another

role when I was asked to relieve

for the telephone switchboard

operators at lunch times.

Firestone had a PABX system

which required the operators

to answer the phone and then

switch the call to the person

requested. I enjoyed the experience

of taking international calls

in an era when this service was

forbiddingly expensive for New

Zealand consumers.

In 1981 I resigned to have

my first child but three months

later I was invited back to a temporary

position to resume my

former job in the pricing team.

By then, Firestone had invested

in a computer, a piece of

hardware that was so large that

it took up a whole room. Given

that the general manager was

named Clyde, it was inevitable

DIRTY

WORK:

A worker

lifting a tyre

out of a

mould at the

Firestone

factory. ​

that the computer was referred

to as Bonnie in reference to a

popular movie of the day.

For a couple of months, we

carried out a check on the accuracy

of the computer by also

running our old manual system

when preparing the monthly

pricing schedule for Firestone

products.

When the computer system

was judged to be operating satisfactorily

my association with

Firestone ended.

On reflection, I thoroughly

enjoyed my five years at Firestone.

Working conditions were

excellent and I was paid above

the national award rate although

we were forbidden to discuss

individual pay rates with our

colleagues.

Painting of namesake

acquired for village

A PORTRAIT of Dame Ngaio

Marsh has been gifted to Ngaio

Marsh Retirement Village's

residents to celebrate the 20th

anniversary of their home in

Papanui.

The retirement village was

named in honour of Dame

Ngaio, the Christchurch detective

fiction author regarded

as one of the queens of crime

alongside Agatha Christie in the

1930s.

Dame Ngaio published 32

detective novels between 1934

and 1982 and also built a career

as a theatre director.

In 1956, Leonard Mitchell, a

distinguished young portrait

painter, painted Dame Ngaio in

the sitting room of her Cashmere

home.

The portrait was a finalist in

Australia's Archibald Prize in

1956 and remained in the hands

of the Mitchell family for the

next 60 years.

Leonard Mitchell's art has undergone

a revival in recent years,

and when the opportunity came

up to buy the painting from

the family, Ryman Healthcare

couldn't say no.

Ryman Healthcare chief

executive Gordon MacLeod said

it was a great opportunity to

celebrate Ngaio Marsh and keep

PORTRAIT: Ryman

Healthcare chief executive

Gordon MacLeod and Ngaio

Marsh Retirement Village

manager Anna Thomson at

the unveiling of the portrait of

the village's namesake. ​

the portrait in Christchurch.

"It's a significant piece of

New Zealand art and we were

delighted to be able to secure it

for the future at Ngaio Marsh

village,'' Mr MacLeod said.

"It will take pride of place in

our foyer and we think it will

give huge enjoyment to everyone

who sees it.''

The painting was presented at

a party to celebrate the village's

anniversary with residents and

members of the Ngaio Marsh

House and Heritage Trust.

School's not

for everyone!

www.

STUDY

WITH

US.CO.NZ

IS SCHOOL NOT WORKING

FOR YOUR TEEN?

WE OFFER:

ULTIMATE CAREER DECIDER /

SECURITY & FORCES PREP /

BUSINESS ADMINISTRATION

& TECHNOLOGY / DIGITAL

MEDIA / EARLY CHILDHOOD

EDUCATION / SOFTWARE

DESIGN / WEB DEVELOPMENT

TEXT

'STUDY' TO:

027 557 8839

50 Hazeldean Road, Addington

0800 834 834 | www.vision.ac.nz
---
10 Tuesday August 27 2019

Latest Christchurch news at www.star.kiwi

NUMBER ONE SUPPLIER

TO THE NZ JET BOATING

COMMUNITY FOR OVER

50 YEARS

NOR'WEST NEWS

SPORT

SERVICING

• Part Boats & Hulls

• Turn Key Packages

• New Jet Units

• Custom Fabrication

• Expert Advice

• Spare Parts Retailer

• Jet Unit Refurbishment

• Engine Tune-Ups

• Insurance Repairs

• Impellor Reconditioning

John Connelly

03 962 0505

john.connelly@hamjet.co.nz

Reach

168,000

readers

with just one

ad placement

Call Shane Victor on 021 381 765

to find out how!

CBHS rider brings home world titles

LAURENCE Pithie has

returned home with two

junior world titles after

bursting onto the international

cycling scene.

The Christchurch Boys'

High School student won

rainbow jerseys in the

madison and omnium at

the UCI junior track world

championships in Germany.

It marked an outstanding

campaign for Laurence, who

only recently turned 17 and

will qualify for the junior

worlds again next year.

He started well in his quest

to win the omnium, finishing

fourth in the opening 7.5km

scratch race, before taking on

the tempo race, comprising of

a sprint in each of the 26 laps

after a four-lap start.

"It is my weak link in the

omnium and one I don't

usually do very well in," he

said.

But he broke clear to win

10 sprints in a row to claim

the honours and followed up

with a win in the elimination

race, where the last rider is

eliminated every second lap.

"I had a great start in the

WORLD-BEATER: Laurence Pithie celebrates

his first junior world title after finishing the

points race in the omnium. (Above) – Laurence

(middle) was welcomed home by CBHS's senior

cyclists and a haka was performed in his honour.

points race and collected

points in each of the first

five sprints, and from that

point on it was a case of

just covering wheels. I was

absolutely knackered."

Laurence claimed first equal

in the points race to finish

with 129 overall.

On the final day of the

championships he paired up

with Taupo's Kiaan Watts to

dominate the madison, which

attracted 350 riders from 40

nations.

The pair finished with 49

points, ahead of Germany on

35 and France on 27, in the

30km race where no team was

able to put a lap on the field.

The New Zealand pair won

the final three sprints to seal

the win.

"Laurence missed the

change with one and a half

laps to go and just put his head

down and went for it," said

coach Myron Simpson.

"They were in command

throughout. Kiaan rode a

brilliant tactical race and

Laurence was so committed.

They rode perfectly together

and shared the load."

Volunteers show visitors

our city's attractions

WALKING GUIDES

WANTED

Showing visitors to many of Christchurch's

beauty spots, natural attractions, places

of historical interest, and the changing

cityscape as the city rebuilds, is the

task undertaken by the team of 20

knowledgeable and friendly guides at

Walk Christchurch.

All the volunteers thoroughly enjoy

revealing our city's unique features, many

of which visitors may not discover on their

own, and answering questions on the city

and its people.

Walk Christchurch was established in

1982 as the Christchurch Personal Guiding

Service, and has undergone a number of

changes over the years to meet the needs

of increasing numbers of visitors to the city.

The primary walk is the Classic

Christchurch Walk, a five-kilometre walk

around the central city, which takes

about two and a half to three hours. From

October, a shorter Highlights Christchurch

Walk is also being introduced. This will be

2.5 kilometres, lasting about 90 minutes.

More walks are also planned to meet

different requirements.

The walks are ranked in the top 10 activities

for tourists in Christchurch by Trip Advisor,

and positive reviews are regularly posted

on the Trip Advisor website.

Here is one example:

"Highly recommend booking this walking

tour. My guide was incredibly informed

and passionate about Christchurch, and

it was a pleasure to listen to him speak

about the city he loves. The walk never felt

tiresome, and I got to see all the sights of

Christchurch. Highly recommended!"

The volunteer guides themselves get many

benefits from their guiding activities.

For example, Josie has, over the years

of guiding, developed an interest in our

city – its past, present and future as well

as improving her knowledge of the city

architecture and landscape.

Josie considers herself not just a walking

guide, but an ambassador for the city. She

is often one of the few people that visitors

can meet and talk with over the duration

of the walk.

Craig appreciates being part of an

active, sociable group of walking guides.

He has increased his appreciation of

Christchurch and the guided walks have

taken him to places he had never visited

or known about. Stories about those

places have strengthened his connection

to Christchurch and his knowledge about

what is happening in Christchurch.

Volunteers needed

To meet the growing demand for the

walks, Walk Christchurch is seeking more

volunteers to join the team. Details of

requirements can be seen to the right of

this page.

For more information visit the Walk

Christchurch website below.

WALK CHRISTCHURCH provides

guided walks in central Christchurch.

Last year we guided 1800 walkers.

TripAdvisor ranks our walks in

the top 10 out of more than 110

activities in Christchurch

Visit our website walkchristchurch.nz

for more information about us.

WALK CHRISTCHURCH is recruiting

cheerful, enthusiastic volunteer

walking guides to meet the increased

demand for our walks. We provide an

induction and training programme.

Our guides are expected to -

• Lead up to four walks each month

in the visitor season.

• Be knowledgeable about the city

and committed to giving walkers a

great experience

• Be fit and active

Contact us about becoming a

volunteer walking guide.

• Go to walkchristchurch@gmail.com

- to express your interest or

• Phone Wendy 324 3171 or Milton

357 9330 for a chat.

www.walkchristchurch.nz
---
NOR'WEST NEWS Latest Christchurch news at www.star.kiwi

Tuesday August 27 2019 11

ADVERTISEMENT

Ryman's sales advisor of the year

Marie Kyle-Stevenson is

often seen out and about

in Christchurch as she

makes connections with those

that may want to nd out

about life at Ngaio Marsh

Retirement Village.

At Ryman Healthcare's 2019

Annual Awards, Marie was

announced as Sales Advisor of

the Year.

She has been at the Papanui

village for 13 years and says

her job all comes down to the

relationships she develops

with people – she calls it

the magic of networking,

adding that building trust

is important.

But Marie is not only about

putting out feelers into the

community. She has a real

passion for nding the right

home for those who are

contemplating village life and

all the benets, including the

security and extra amenities.

Ngaio Marsh has an allweather

bowling green, indoor

heated swimming pool, spa,

atrium, library, gym, hair

salon, bar, shop, a putting

green and a croquet lawn.

"It's wonderful to see

residents move in and enjoy

what we have on offer," she says.

The village is in a quiet

but convenient location.

Marie likes to inform potential

residents about the many

benets of village life including

the continuum of care available.

Ngaio Marsh Village Manager Anna Thomson and Sales Advisor Marie Kyle-Stevenson

Some opt for independent

living in townhouses or assisted

living in serviced apartments.

There is also the very best

of resthome and hospital

care. She takes her time to

ensure the initial conversation

with potential residents, really

explores their needs.

"I honestly think that

my success is through

building relationships." Ryman

villages are built on strong

relationships and ensuring

that residents always feel their

village is home.

She celebrated the win with

other members of the Ryman

team at the company's recent

annual conference. Marie says

it was a great occasion with

plenty of support from other

team members.

When she talks about Ngaio

Marsh village she reects on

the feel-good factor a village

can provide. A lot of people are

looking for the green space and

walkways our village provides;

the closeness to the local shops

and malls and the sunny aspect

the village homes have.

She hosts community groups

for afternoon tea in the village,

and alternatively can go out to

speak to the members of clubs

at their own facilities.

If someone becomes a 'friend

of the village' and regularly

attends events they can get a

real feel for the village before

they move in, she adds.

Marie now feels part of the

fabric of Ryman. She loves

her role building relationships

with residents, potential

residents, and making strong

connections in the community.

Marie enjoys hosting events

at the village and says

being involved in so many

people's decisions to move

into a retirement village is

very rewarding.

Village Manager Anna

Thomson says it was a great

honour that Marie had been

recognised for the Ryman sales

advisor of 2019, reecting that

she has a close association with

the community.

"That's shown by all

the wonderful events we've

held here."

Two-bedroom

townhouse

available now!

To find out more phone

Marie on 354 6608

95 Grants Road, Papanui
---
12

Tuesday August 27 2019

Latest Christchurch news at www.star.kiwi

NOR'WEST NEWS

WHY CHoose

for Your next VeHICLe?

It's in our name

- Value!

A vehicle from

Value Cars will have

the best presentation,

best mileage and best

price combination.

We have been

trusted in Canterbury

for over 25 years and a

majority of our customers

are referral or repeat

customers. We stand by

every vehicle and we are

proud of our service.

One location for

every type of vehicle

and under cover makes

for a pleasant buying

experience. Our colour

and low mileage selection

is something we work

hard to provide.

CANTERBURY OWNED

& OPERATED

ESTABLIShED 1993

VALUE

REPUTATION

SELECTION

TRUSTED

PLUS

REGISTRATION

2012 suzuki swift

$14,999

An evolution of all Swift elements to arrive at a cutting

edge sports experience, with performance and character

to rival the best European hot hatches, 1.6 litre engine,

paddleshift option, sharp in silver with body kit, driving

lights, 17" alloys, sporty interior, cruise control, smart

keyless ignition, rear wiper, ABS, T/C, airbags.

PLUS

REGISTRATION

2007 toyota auris

$8,999

Very popular, reliable and stylish 5 door hatch,

features an economical 1.5 litre engine with

automatic trans, looks smart in dark blue with

stylish black interior, low kms, push button start,

rear wiper, reverse camera, ABS and airbags,

hurry - won't last long!

PLUS

REGISTRATION

2012 mazda axela

$11,999

The Axela has quickly become a very popular mid-sized

hatch and preferred in its class by many, economical 2.0

litre Skyactiv engine, tiptronic trans and i-stop returning

5 star fuel efficiency, finished in silver with bodykit,

driving lights, 16" alloys, black interior, push button

start, reverse camera, ABS, T/C, airbags, view now!

PLUS

REGISTRATION

2014 renault lutecia

$12,999

Stylish European 5 door hatch, features a turbo charged

1.2L engine with tiptronic trans, looks awesome in red

metallic with black body kit styling, driving lights and

17" alloys with red highlights, stylish black interior with

red insets, good kms, cruise control, push button start,

parking sensors, ABS, T/C and multiple airbags.

2019 7x4 trailer

atv, 8x4 & 10x5 also available

from $1,699 + $135 (orc)

Hot dipped, galvanised, fully welded 7x4 caged tipping

trailer, heavy duty design with solid 40mm axle, 5 leaf

springs, jockey wheel and LED lights, checker plate

floor and sides, perfect for the home handyman.

PLUS

REGISTRATION

2017 nissan bluebird sylphy

$15,999

A popular choice for those wanting an economical,

reliable and comfortable family sedan, 1.8 litre

engine, automatic trans, finished in white with

chrome detail, low kms, reverse camera, keyless

entry, ABS, T/C and airbags, perfect family sedan,

encompasses family motoring with a touch of luxury!

PLUS

REGISTRATION

2013 suzuki sx4

$9,999

The SX4 is a sought after spacious 4 door sedan,

features a 1.5 litre engine with automatic trans,

travelled very low kms, looks sharp in silver

metallic with driving lights and 15" alloys, smart

keyless entry, ABS and multiple airbags, great

vehicle and great buying!

PLUS

REGISTRATION

2008 mazda atenza

$12,999

The Atenza is a sleek, sporty looking and very desirable

vehicle, features a 2.5 litre engine with tiptronic trans and

paddleshift option, looks really good in copper red with

factory body kit, driving lights, rear spoiler and 17" alloys,

stylish black interior, low kms, push button start, rear

wiper, ABS, T/C and airbags, inspection won't disappoint!

PLUS

REGISTRATION

2012 toyota camry

$18,999

Popular mid-sized sedan combining practicality with

a bit of luxury, features a 2.5 litre engine and hybrid

synergy drive, automatic trans with 5.5 star fuel

rating, finished in grey metallic with chrome detailing,

driving lights and 16" alloys, cruise control, push

button start, ABS, T/C and 9 airbags, very impressive!

PLUS

REGISTRATION

2012 toyota 86

$24,999

Look no further for your new sports car! RWD Toyota

86 travelled very low kms, features a 2.0 litre boxer

engine, tiptronic trans returning a 4 star fuel rating,

looks awesome in red on 16" alloys, keyless entry,

safety of ABS, T/C and 8 airbags, awesome handling,

surprising fuel efficiency and striking looks!

PLUS

REGISTRATION

PLUS

REGISTRATION

PLUS

REGISTRATION

PLUS

REGISTRATION

2012 toyota spade

$12,999

A versatile new generation hatch, the best feature

is the huge powered sliding door combined with the

tallness of this vehicle it would be ideal for someone

needing ease of access, features a 1.5 litre engine

with 5 star fuel rating, travelled very low kms,

reverse camera, ABS and airbags, will sell quickly!

PLUS

REGISTRATION

2008 honda stream

$8,999

Very popular 7 seater wagon, features a 1.8 litre

engine with automatic trans, low kms, looks sharp

in white with driving lights and 17" alloys, reverse

camera, keyless entry, rear wiper, ABS and airbags,

upgrade your family wagon today!

2010 mitsubishi rvr

$13,999

Very nice example of this increasingly popular SUV,

features an economical 1.8L engine with tiptronic trans

and paddleshift option, looks stylish finished in dark

blue with subtle factory body kit, driving lights and 17"

alloys, black interior, cruise control, push button start,

low kms, ABS and airbags, hurry — won't last long!

2010 jeep patriot

$14,999

NZ new, 4WD SUV, 2.4 litre engine with tiptronic trans

and respectable 4 star fuel efficiency, looks good in

wine with subtle side skirts, signature chunky Jeep

styling, driving lights and 17" alloys, black leather

interior, cruise control, heated seats, keyless entry, roof

rails, ABS, T/C, multiple airbags, very nice example!

2006 bmw x3

$15,999

A luxury European 5 door SUV, 2.5 litre engine with

tiptronic trans, looks great in white, factory body kit,

driving lights, factory 18" M-Sport alloys, black leather

interior, 4 star Euro NCAP, cruise control, descent

control, reverse camera, heated seats, safety of ABS,

T/C and 8 airbags, inspection won't disappoint!

Registration for 6 months is $301

Value Cars Warehouse

4.72

32 Moorhouse Ave, P: (03) 366 7768 IMVDA

www.valuecarswarehouse.co.nz
---
NOR'WEST NEWS Latest Christchurch news at www.star.kiwi

Tuesday August 27 2019 13

Tasty Bites

Healthy chicken dish an instant hit

Scotch eggs are done with

a flavoursome chicken

mince wrapped around

a boiled egg and then

cooked in the air fryer.

It's tasty, portable and a

wonderful breakfast dish

Chicken scotch eggs

Gluten, dairy and sugarfree/no

added fat

Ingredients

1 tsp baking soda

7 eggs

490g raw chicken breast, roughly

chopped

1 green apple, peeled, cored and

diced, optional

2 tsp chopped ginger

2 tsp chopped garlic

Small handful coriander leaves

Small handful parsley leaves

1 Tbsp and seven tsp sticky sauce

(see next recipe)

Himalayan salt and freshly

Ground black pepper

Equipment

Air fryer

Directions

Bring a medium-sized pot of

water to the boil along with the

baking soda and, using a large

spoon, carefully lower the eggs

into the boiling water. For soft

boiled eggs, boil for 4.5min. For

semi-hard, boil for 5.5min and

for hard-boiled, boil for 6.5min.

Remove the pot immediately

from the heat and run the pot

under cold water to stop the eggs

from cooking.

As soon as you can pick the

egg up, carefully roll the egg

on the bench to crack the shell

which will help the egg to cool

down more quickly.

Set the eggs aside to cool while

you prepare the chicken mixture.

Place the chicken breast, apple

(if you are using), ginger, garlic,

fresh herbs, and a tablespoon of

sticky sauce into the bowl of a

blender or food processor.

Season with a little salt and

pepper and blend on high until

very well-combined.

Using a set of scales, evenly

portion the chicken mince into

seven piles.

Very carefully continue to peel

the eggs, making sure not to split

the eggs as you do so. Take your

time.

Take a pile of the mince and

flatten it as much as possible

in the palm of your very clean

hand. Sit the egg on top of the

mince and bring the mince up

to cover the egg as evenly as

possible. This may take a little

practice to get right, so take your

time.

Once all the eggs are covered,

pre-heat your airfryer for two

minutes on 180 deg C. Add the

rest of the sticky sauce to a bowl

and roll the scotch eggs in the

sauce to fully cover the outside of

the eggs.

Place the eggs inside the air

fryer basket and cook for seven

to eight minutes until well

covered and the mince is fully

cooked. Cool the eggs before

storing in the fridge.

You can make these scotch

eggs in advance. They will last

four days in the fridge or you can

vacuum seal them and increase

their fridge shelf life up to two

weeks.

Sticky sauce

Ingredients

1 medium-sized green apple,

peeled, cored and diced

240ml low sodium tamari

120ml apple cider vinegar

120ml water

3 slices ginger

1 lime, zested and juiced

Directions

Place the apple in a small

pot and add enough water so

that it comes halfway up the

apple.

Bring to the boil and cook

for 10min or until the apple

is soft and the water has

evaporated. Blend the apple in

a small food processor until

smooth and place in a mediumsized

pot.

Add the tamari, apple cider

vinegar, water, ginger, lime zest

and lime juice to the apple and

whisk well to combine.

Bring the sauce to the boil and

then reduce to a rapid simmer

and cook for 10-15min or until

the sauce has reduced down

by half and has become a little

thicker and syrupy.

Cool the sauce and store in a

jar in the refrigerator for up to

two months.

Is your

kitchen

dated?

Before

Transformed

in 2 days

Kitchen remained

functional

throughout

We can give your kitchen a new

lease of life, using the existing

cabinets, for a brand-new look!

Fantastic new kitchens designed & installed

After

Book Your Free Appointment

Phone: 0800 202 171

www.AspiringKitchens.co.nz

New

Showroom

coming to

Halswell Road

August 2019
---
14 Tuesday August 27 2019

Latest Christchurch news at www.star.kiwi

NOR'WEST NEWS

Answering your questions

on massage therapy

What is massage therapy and what are

the different types?

Why can it be beneficial for you?

Who should be your therapist?

Massage therapy is used to help manage a health

condition or enhance wellness.

It involves manipulating the soft tissues of the

body. Massage has been practised in most cultures,

throughout human history and was one of the earliest

tools that people used to try to relieve pain.

Swedish/Relaxation – This is a gentle form of

massage with long, flowing strokes, kneading, tapping

and vibration that will help calm your nervous system.

Deep Tissue – This is for the clients that are having

issues with body mechanics, back/neck, postural, hip/

knee issues. This kind of massage consists of deep

muscle work that requires a qualified therapist with

the knowledge and skills to ascertain what is going

on throughout the deep muscular system. It can be

painful but has great benefits and results.

Sports Massage – This is a great massage for

pre- or post-events to help get the muscles in the best

condition to help prevent injury and aid in recovery

after exercise.

Hot Rock – This is literally massaging with hot

Aches and Pains?

Poor Posture? Tired,

Stressed Body?

rocks heated up to 57 degrees – with this massage you

can go either way, nice and relaxing or into the deeper

muscles.

Finding a massage therapist

It can be a bit overwhelming trying to find a good

massage therapist, especially one that is qualified.

At Bodysense there are level six qualified Remedial

therapists, who are active members of the Massage

Association of New Zealand. It is recommended,

especially if getting a deep tissue massage, to ask if the

person who is treating you is qualified. This is for your

own peace of mind and safe practice. Having deep

tissue by someone not qualified is not good practice

and they are not going to be able to deliver the results

that you require or understand the body in the way

that they need to.

Unfortunately, in New Zealand this industry is not

as regulated as it should be yet, so always look out for

a therapist that is part of The New Zealand Massage

Association or holds a diploma level 6 or above.

Brush aside thoughts that massage is only a feel good

way to indulge or pamper yourself. On the contrary,

massage is a very powerful tool in helping people

correct many common body ailments. At Bodysense,

they have clients that live a more comfortable, painfree

life, in comparison to previously, due to the

therapists' expertise.

Dance & Fitness

• Deep Tissue Massage

• Hot Rocks

• Pregnancy + Relaxation

• Trigger Point Therapy

• Hip, Shoulder, Neck Injuries

• Postural Issues

Nadia Clutterbuck

Diploma HSC

Therapeutic Massage

BodySenSe MASSAge

Ph 027 782 2344 for appointment

Harris Cres, Papanui

www.bodysensemassage.co.nz

Condition, heal and

express yourself through

movement and sensation

Classes in Christchurch & Rangiora

For class schedule & locations visit

www.plensorymovement.com

FIRST

CLASS

FREE

P: 027 416 8283

E: steph@plensorymovement.com

NO MORE hidiNg

Using fluorescent light energy to treat your acne

Acne Treatment exclusive to

Laser Clinics NZ

• Non-invasive

• Long lasting effects

Do you Struggle

with Headache

and Migraine?

Talk to us about how we can help with:

• Migraine

• Tension Headache

• Hormonal

Headache

• Vertigo

• Post-Concussion

Syndrome

• Cluster Headache

• Abdominal Migraine

Take

control

with The

Headache

Clinic

Shop 38, Northlands Mall

Phone: 669 4954

0508 HEADACHE (0508 432 322) | www.headacheclinic.co.nz

AUCKLAND • CHRISTCHURCH • INVERCARGILL
---
NOR'WEST NEWS Latest Christchurch news at www.star.kiwi

Tuesday August 27 2019 15

Wellbeing & Beauty

Email claire.booker@starmedia.kiwi by

5pm each Wednesday

1 in 2 people

deficient in B12

Emerging research has shown as many

as 50% of older adults and as many as

25% of younger adults are deficient in

vitamin B12. Scientists at Rush University

Medical Center found those most

deficient in vitamin B12 to have the

smallest brain mass and the lowest scores

on tests measuring short-term memory,

concentration and brain performance.

Another study showed that older people

with higher levels of B12 in their blood

have bigger, healthier brains and score

higher on cognitive tests than those with

lower levels. Yet another recent landmark

study showed that B12 supplementation

slows the accelerated rate of brain

shrinkage and declining cognitive function.

B12 is essential for energy production, cell

health, regulation of mood and sleep cycles,

nerve health and repair, and prevention of

homocysteine a serious cardiovascular risk

factor that is known to cause damage

and plaque in the blood vessels. It

can also increase the chances of a

stroke. Harvard researchers found

a 34% decrease risk of vision loss

in a study of participants aged 40+

who supplemented with B12. Another

study linked a higher risk of hearing loss in

subjects in their 60's who were low in B12.

The reason so many people lack B12

appears to be our body's ability to absorb

it declining with age as the digestive

system becomes less efficient. Anti-reflux

medication and other drugs further reduce

B12 absorption. The good news is B12 in

the form of Methylcobalamin sublingual

tablets that are dissolved in the mouth and

thru bypassing the digestive tract have

been shown to effectively raise B12 levels in

the body.

Further detailed information is

available from the Natural Health

Advisers at Marshall's Health and

Natural Therapy, 101 Seaview Road, New

Brighton, Phone: 388-5757. We are always

happy to help!

IS YOUR BRAIN SHRINKING?

Brain fog, forgetful, feeling old, low energy, mood swings,

difficulty sleeping, pins & needles, numbness in legs

Up to 1 in 2 people may have a shrinking brain due to a lack of vitamin B12.

Supplementation of methylcobalamin B12 has been shown to reduce the rate of brain

shrinkage & support memory & brain function. B12 is also known to protect against

homocysteine a serious cardiovascular risk factor that can also damage the hearing,

eyesight & affect the mood. B12 is essential for energy, cell health & nerve function.

B12 SUPPORtS:

• Memory & Brain Performance

• Helps protect brain

from shrinking

• Energy & Recovery

• Nerve Function

• Vegetarian's Diet

• Helps protect blood

vessels from damage

• Sleep

• Cellular Health & Repair

• Good Health

• Cardiovascular Health

Injury? Niggling Pain?

We are here to help

• We specialise in the diagnosis, treatment and full

rehabilitation of muscle, joint and spinal injuries

• Advanced training in Trigger Point Dry Needling

• Experienced Physiotherapists

• ACC Endorsed Providers

See a

difference

in as little as

48 hours!

SUPER PRICE OFFER

Superior Methylcobalamin B12

(High Absorption Sublingual Lozenges)

100 Lozenges 200 Lozenges

Only $ 32 .90 Only $ 59 .80

MAIL ORDER AVAILABLE

Bringing You the Best in Natural Health

MARSHALLS HEALTH & NATURAL THERAPY

CONSULTING - PRESCRIBING - DISPENSING - MANUFACTURING - MEDICAL HERBALISTS

101 SEAVIEW RD, NEW BRIGHTON • PH 03 388 5757 • Email: enquiry@marshallshealthshop.co.nz

- WE ARE ALWAYS HAPPY TO HELP! -

All patients welcome. No referral necessary.

115 Sherborne Street

(Inside the ProMed Doctors & Pharmacy)

Ph 385 1966

www.prophysio.nz

Reading to Dogs

Today, 3.30-4.30pm at

Shirley, Thursday 3.30-

4.30pm at Papanui

Reading to dogs

encourages children to

practice their writing skills

and develop a love for

reading. All the dogs have

been trained and tested

for health, safety and

temperament. Bookings

required.

Shirley and Papanui

Libraries

After School

Activities

Friday, 3.30-4.30pm,

Suitable for ages eight to

13, this interactive session

will include technology,

games, crafts, and books.

Take your friends with

you, or make some new

ones.

Papanui Library

Knit 'n' Yarn

Today, 1-3pm, at

Bishopdale, Friday, 10amnoon,

at Papanui

Take your knitting,

crochet or another craft

project and have fun with

a social group. This is a

free, drop-in event.

Bishopdale and Papanui

libraries

GenConnect

Today, 12.15-12.45pm

If you have questions

about your Ipad,

smartphone or

tablet, head down to

GenConnect where

Papanui High School

students will

help you for free.

Papanui Library

Lions Club of

Christchurch Host

Today, 5.30pm

The Lions Club of

Christchurch Host meets

at the Papanui RSA on

the second and fourth

Tuesdays of each month.

Join the worldwide Lions

family of 1.4 million.

Phone 386 1581 for more

information.

Papanui RSA

Culture Exchange

Friday, 3.45-4.45pm

Go along and make

new friends, practise your

English and learn about

Christchurch.

Shirley Library

Games at Papanui

Thursday, 2.30-4.30pm

If you love games, head

along and choose from a

wide selection, including

the classics, at this fun and

social event. Free for all

ages to enjoy. No bookings

required.

Papanui Library

Go along to the Shirley Library on Monday from

11am to 5.15pm to play tabletop board games and

enjoy some downtime. This is a free event, no

bookings required..

Scrabble

Wednesday, 1-3pm, at

Bishopdale, and 1.30-

3.30pm at Shirley

Play Scrabble with a

friendly group. Just head

down when you can – no

bookings required. All

materials are supplied at

this free event.

Bishopdale and Shirley

libraries

JP Clinic

Today, 10am-1pm,

at Papanui and Shirley,

Wednesday, 10am-1pm, at

Bishopdale

A justice of the peace

will be available to the

community to witness

signatures and documents,

certify document copies,

hear oaths, declarations,

affidavits or affirmations,

as well as sign citizenship

or rates rebates

applications.

Papanui, Shirley and

Bishopdale libraries

Rummikub

Monday, 1-3pm

Go along and play

Rummikub – an exciting,

interactive strategy game.

Free, drop-in event.

Bishopdale Library

Christchurch North

Lions Club

Wednesday, 6pm

The Christchurch North

Lions Club meets on

the second and fourth

Wednesdays of each

month at the Papanui

RSA. Go along for social

activities, followed by a

meal and a meeting about

future activities to help

local communities. For

more information visit

https://www.e-clubhouse.

org/sites/christchurch_

north/ or Ph 352 6942

Papanui RSA

Super Saturday

Storytimes

Saturday, 11-11.45am

Go along and encourage

learning through stories.

This is an interactive

programme involving

stories, songs, rhymes,

craft and play. Free.

Shirley Library

Rotary New Horizons

Club

Wednesday, 6–7.30pm

Go along to the rotary

club's weekly meetings

to learn about how you

can make a difference

in your community.

Projects are often

based in St. Albans. For

more information visit

rotarynewhorizons.org.nz

BreakFree Hotel, 165

Cashel St

Activity Zone

Monday, 3.45-4.45pm

The after school club has

technology, games, crafts

and books. This is suitable

for children aged six to 10

and caregivers are asked

to remain in the library

during the session. Free –

no bookings required.

Shirley Library

Mahjong

Saturday, 2-4pm, at

Shirley, Monday, 2-4pm, at

Papanui

Go along if you are

interested in playing or

learning about mahjong.

Free. Registrations

required at Shirley

Library.

Shirley and Papanui

libraries

Cards Club

Friday, 1.30-3.30pm

This weekly card club is

on every Friday, go along

and join the fun. Free, no

bookings required.

Shirley Library

RoboFun for Adults

Saturday, 10-11am

Go along to Shirley

Library for an

introductory course

looking at the world of

robotics in a fun and

engaging way. You don't

need to take anything with

you – just a curious mind.

No bookings required, just

drop in.

Shirley Library
---
16

Tuesday August 27 2019

Latest Christchurch news at www.star.kiwi

NOR'WEST NEWS

PICK IT UP AND DRIVE AWAY

Available from hundreds of pick up points around

Christchurch, Canterbury and the West Coast

each Friday including:

Selected Fresh Choice, New World stores and

hundreds of takeaway shops

Bringing buyers and sellers

together every week

For advertising enquiries

please call Anna on 021 902 729
---
NOR'WEST NEWS Latest Christchurch news at www.star.kiwi

Tuesday August 27 2019 17

REAL ESTATE

Saying goodbye....

6 Cracroft Terrace, Cashmere

Auction: Thursday, 12 September 2019, Unless Sold Prior

3 bedrooms 2 bathrooms 1 living room 1 dining room 1 office/study 3 car-garage 1 off-street park | Listing Number BE193360

After 42 years of happy living in this

lovely home was not easy but the decision

has been made, the new home purchased,

and this home has to be sold!

Situated on the highly desirable lower

slopes of Cashmere, with views across

the city to the Southern Alps this home is

truly a treasure. Retaining all its character

whilst being renovated for 21st Century

living you will enjoy living in this gracious

home.

Step into the warm and welcoming

entranceway and on through to a large

living room, just perfect for family and

friends to congregate. The bonus of a log

burner with wetback will keep you warm

and save on those electricity bills for hot

water. A separate open plan family and

dining room opens off the lounge. The

modern kitchen will appeal to the cooks in

the family - ample bench space and quality

fixtures are a delight.

Three large double bedrooms, smart

family bathroom and an ensuite are

provided here. There is a study too - this

could be a single bedroom if needed.

For the handyperson there is great

basement space under the house for your

workshop and storage.

The addition of having 3 car garaging and

a park for the caravan or boat completes

this picture, with easy drive on access.

A rare find indeed.

Open Homes Wednesday 5:30pm -

6:00pm Saturday and Sunday 1:00pm -

1:30pm.

See you at the open home or to arrange

a private viewing of this property call

Debbie Pettigrew on 027 777 0411

from Harcourts Grenadier Beckenham

(Licensed Agent REAA 2008) or phone

the office 337 1316.

growing with you June 2018 | 100%

Plants For

winter wow

Cool Choices

For Colour

& Contrast

From swamp

to sea views

The journey

begins with sarah

the Gardener

$7.90 incl. GST

Snap it up

Enter our annual

Birdlife Photo

Competition to win

great prizes!

clear the air

Why groWing

indoor PLAnTs is

so good for you

give it a grow

from gArLic

To chinese

ArTichokes,

We hAve your

groWing TiPs

covered

the latest releases

into the rose world

+ rose care

through winter

The magazine for

gardeners who like to get

their hands dirty

SUBSCRIBE FROM

$43. 50*

*6 issues/6 months

SUBSCRIPTIONS FREEPHONE

0800 77 77 10

WWW.GARDENER.KIWI
---
18

Tuesday August 27 2019

Latest Christchurch news at www.star.kiwi

NOR'WEST NEWS

If you want more information about an item or to contact a

seller, visit www.postanote.co.nz and search the ID#

Nissan Navara

Suzuki DRZ400E

Suzuki Carry

Extendable Large Glass Table

Tasman 20 Trailer Sailer

Mitsubishi Pajero

$4,250

ID 30707

$3,500

ID 30588

$2,700

ID 30240

$200

ID 30613

$4,500

ID 27076

$6,000 ONO

ID 30286

Mitsubishi Grandis

Mitsubishi Airtrek

Honda Odyssey Camper Van

Honda TRX 300

Outdoor Dining Set

Ford 4600 4x4

$6,995

ID 26882

$2,300

ID 30234

$1,500

ID 30220

$3,500

ID 26895

$125

ID 30547

$12,000

ID 30695

1999 Mitsubishi Galant

Pine Cones

Whitebait Net

2006 Holden Astra CD H/back

Audi A4 1.8 Turbo

Outdoor Cast Iron Bench

$1,995

ID 30434

$8 per bag

ID 30601

$950

ID 29773

$6,200

ID 30687

$7,000

ID 30254

$220

ID 30352

4WD SUV BMW Tiptronic

Cyclone Pup Trailer

SSV Commodore

2 Reclining Chairs

4-stroke Petrol Lawn Mower

Wooden Glory Box c 1950s

$4,000

ID 30591

$400

ID 30661

$25,000

ID 30653

$200

ID 30590

$75

ID 30640

$60

ID 30652

1993 Toyota Windom Radio Control Model Aircraft

Horse Cover

Toyota corolla 1.8 NZ New

FREE: Upright Piano

Garmin DriveSmart 50LMT GPS

$1,900

ID 26961

$295

ID 30638

$60

ID 30650

$6,700

ID 30618

FREE!

ID 30651

$60

ID 30630

Fiat 1000 Super

Antique French Mirror Door

Audi Sedan

Tannoy Fusion1 Loudspeaker

Extendable Dining Table

Subaru Legacy B4 RSK

$9,500

ID 30600

$300

ID 30610

$2,750

ID 30637

$199

ID 26918

$200

ID 30586

$5,000

ID 30232

Vintage Petanque Set

Commuter/Shopping Bike

2000 Ford Modeo GLX 2.5 V6

Seagull Outboard Motor

2010 Holden Commodore SV6

2003 Honda Accord

$60

ID 30326

$225

ID 30574

$2,200

ID 30439

$400

ID 30576

$13,000

ID 30486

$2,600

ID 30189

0819h06chch
---
NOR'WEST NEWS Latest Christchurch news at www.star.kiwi

Tuesday August 27 2019 19

Community Events

ALCOHOLICS

ANONYMOUS, If you

want to have a drink that's

your business. If you want

to stop, we can help. Phone

0800 229-6757

Curtains

www.curtainfabric-outlet.com

Fashion Designs & Colours

Discontinued Designs

End of Lines Bargain Prices

Call at Our Shop

CURTAIN FABRIC OUTLET

71 Hawdon St Sydenham

Ph 366-5026

Gardening

& Supplies

A GARDEN OR

LANDSCAPING TIDY

UP? Shrub, hedge &

tree pruning, Lawns,

Gardening, consistently

reliable general property

upkeep, Dip. Hort. 10

yrs experience, One off

tidy ups or on-going

service. Nick's Garden

Maintenance. Keeping

your garden beautiful.

Free Quote. Ph. 942-4440

& 022 264 7452

Holiday

Accommodation

Australia QLD

SUNSHINE

COAST

RESORT

ALEXANDRA HEADLAND

All Units Have Ocean Views.

Heated Pools, Spa & Sauna,

Free Wifi, Tennis

& Mini Golf.

CHECK OUR GREAT

WINTER SPECIALS

www.mandolin.com.au

0061 7 5443 5011

JUNE to AUG temps 20C

Personals

CHARMING MATURE

PROF MAN.

(Ret), single,NS, living

in NW of city, seeks a

slim perky zesty & happy

single lady for company,

outings etc.

Ph 027 6594425

Classifieds Contact us today Phone our local team 03 379 1100

Trades & Services

DIRTY

TILES &

GROUT?

Our unique restoration processes will make your

tiled areas look BRAND NEW again!

We provide cost effective makeovers for showers,

bathrooms, kitchens or any other tiled areas.

Tiled Shower Makeovers

YOU COULD

BE HERE

Let us help take

your business to

new heights

Advertise your business in our

Trades and Services column.

For assistance contact Vicky

Phone 03 364 7419 or email

vicky.sayers@starmedia.kiwi

Professional Tile & Grout Cleaning

Re-Colouring of existing Grout

Tile/Grout Sealing

Tile/Grout Repairs

Silicone Replacement

Garage Carpet Installation

For your FREE no obligation quote contact

DARRYL

Trades & Services

0800 882 772

darryl.p@groutpro.co.nz

concrete & paving

• Driveways

• Earthquake repairs

• New Home Specialists

• Patios & Paths

tel: 0508 873 7483

email: sales@affordableconcrete.co.nz

www.affordableconcrete.co.nz

plumber

Call your local plumber

Whether you're

looking for advice,

maintenance, urgent

repairs or a FREE

quote contact

Aquapro now.

No Deposit 12 Months Interest Free Finance

with 36 Months to Pay

0508 AQUA PRO | aquaproplumbing.nz

0508 278 2776 or 027 419 8843

PLUMBING | DRAINAGE | GAS FITTING | SOLAR

Trades & Services

UPHOLSTERER

dyers upholstery services

(Ex Leacroft St, Bishopdale)

We specialise in

re-upholstering all types of

household furniture

inc squabs.

Trusted craftsman for over

30 years. Fabric samples,

Free quotes, pick up &

delivery.

All work guaranteed.

Ph. 359 5033 or

022 106 0108

Trades & Services

kitchen renovation

Kitchen looking tired?

Revitalize with new colour at a

fraction of replacement cost

• Alterations & Hardware available

• Laminated Kitchens no problem

• 'On Site' finishing available

• Over 20 years experience

• Free Quotes with no obligation

• All Joinery & Furniture repair & Spraycoatings

PABLO'S PAINTWORKS

27 Birmingham Drive, Middleton

03 338 6280 | 021 541 323

pablospaints@xtra.co.nz

www.pablospaintworks.co.nz

PLUMBER

NEED A PLUMBER

Call us now for fast friendly service.

Get your problems sorted out

quick smart - on time!!

Phone for a

FREE

quote now.

Phone 03 377 1280 | Mobile 021 898 380

Trades & Services

rooF

painting

Book now for Summer

and receive 20%

discount.

Rope and harness a speciality.

No scaffolding required.

30 years experience.

Also waterblasting paths,

driveways and moss removal.

Free quotes, call

Craig 021 060 2392

ROOF

PAINTING

Rope & harness

a speciality,

no scaffolding

required,

30 years of

breathtaking

experience.

FREE QUOTES

Exterior staining,

exterior painting,

moss and mould

treatment and

waterblasting

Phone Kevin

027 561 4629

Trades & Services

BATHROOM

RENOVATIONS

complete service from

start to finish, free quotes,

ph Dave 027 334 4125

Trades & Services

BEST BATHROOMS

full renovations

specialists, LBP builder,

free quote, all building

property maintenace ph 03

383 1927or 027 245 5226

ciey@xtra.co.nz

BRICKLAYER

George Lockyer. Over

40 years bricklaying

experience.Uk trained.

Insurance work, EQC

repairs. Heritage

brickwork & stonework

a speciality. No job too

small. Governers Bay.

Home 329 9344. Cell

027 684 4046. E mail

georgelockyer@xtra.co.nz

CARPET LAYING

Exp. Repairs, uplifting,

relaying, restretching.

Phone John on 0800

003181, 027 240 7416

jflattery@xtra.co.nz

ELECTRICIAN

Registered, electrical

installation and repairs,

Gorbie Electrical, ph 021

026 73375 or 03 322 4209

PLUMBER

A Top Plumbing job

completed at a fair price,

prompt service, all work

guaranteed, Ph Brian 960-

7673 or 021 112-3492

SHOE REPAIRS

Belfast engraving. Shoe

repairs, key cutting &

engraving. (10 yrs exp)683

Main North Rd, ph 027

3113423

SPOUTING

CLEANING

Spouting Unblocked,

Cleaned Out and Flushed

Out. Call Trevor 332 8949

or 021 043 2034

STUMP GRINDING

Best price guarantee Tony

0275 588 895

Trades & Services

TILER/CARPENTER

35 years exp, no job

too small. Ph Ross 027

4311440.

TILING

Flooring - Splashbacks -

Wall incl tile removal, reg

master tiler, ph Dave 027

334 4125

T.V. SERVICE

CENTRE

Repairs, tvs, microwaves,

audio amps, soundbars.

.Aerial & satellite

installations, kitsets, 480D

Moorhouse Ave, ph 03 379

1400

VHS VIDEO TAPES

& all camera tapes

converted to DVD, video

taping special occasions,

www.grahamsvideo.co.nz

ph 03 338-1655

Vehicles Wanted

CASH/CASH for any

unwanted vehicles, ph

347 9354 or 027 476 2404

Wanted To Buy

AAA Buying goods

quality furniture,

Beds, Stoves, Washing

machines, Fridge Freezers.

Same day service. Selwyn

Dealers. Phone 980 5812

or 027 313 8156

TOOLS Garden,

garage, woodworking,

mechanical, engineering,

sawbenches, lathes, cash

buyer, ph 355-2045

ADD SOME

COLOUR

TO YOUR ADVERT!

ADVERTISE YOUR BUSINESS HERE

Phone for further details

3 issues $20

6 issues $44.50

10 issues $65

(03) 379 1100

SUBSCRIPTIONS FREEPHONE

0800 77 77 10

rugbynews.co.nz
---
20 Tuesday August 27 2019

Latest Christchurch news at www.star.kiwi

NOR'WEST NEWS

Free

Porters

Season Passes

W ITH EVER Y NEW SUBA R U SUV PU R C H A S E *

PORTERS

C H R I S T C H U R C H . N E W Z E A L A N D

FREE FAMILY

SEASON PASS

Plus, 0% interest across

the new Subaru SUV range * .

Pay 1/3 now, 1/3 in 12 months & 1/3 in 24 months.

SUV RANGE SHOWN FROM

$

34,990

Subarus enable you to do extra. A low slung Boxer engine and All

Wheel Drive as standard on every Subaru provides extra handling and

capability, 2.0 perfect for hitting the slopes with a free family season-pass to

LITRE

Porters ski area with every purchase: for 2 adults + 2 children up to age

17. Plus, get 0% interest p.a.* across the SUV range until 31st August 2019.

Exclusive to Armstrong Subaru

161 St Asaph St, Christchurch | Call 0800 004 063

*This advertisement is for a credit agreement with Bank Of New Zealand. BNZ lending criteria, terms and conditions and fees apply. Application fee of $330 applies to consumer loans. Fees differ for business purpose loans. Fixed interest rate of 0% p.a. Offer applies across

the Subaru SUV Range only for quotes on other models please contact Armstrong Subaru. Stated RRP refers to Subaru XV Sport of $34,990 plus "ORC" on-road-costs of $1,490 with a 1/3 deposit required of $12,270.33 (including application fee and on-road-costs). Then

simply pay 1/3 in month 12 of $12,270, and 1/3 in month 24 of $12,270. Total amount payable over the term of the loan is $24,540 (excludes 1/3 deposit). All advertised prices include GST and exclude on-road costs. Other model variants with higher RRP's will increase

repayment amounts. For business purpose loans, the GST component must be repaid within the first three months of the loan term. Loan to be secured by the asset or other current business assets if additional security is required. For further details contact BNZ on 0800 236

777. Offer not in conjunction with any other promotion/discount. Offer excludes lease, government and rental purchases & accessories. Subaru SUV range shown. † A Porters family season pass consists of up to 2 adult plus 2 youth (11-17 years) Classic season passes. Passes

are available for immediate family members only (spouse + dependent children) and are valid for the remainder of the 2019 winter season for all new Subaru SUVs sold at Armstrong Subaru Christchurch between 1st August 2019 and 30th September 2019. Season passes

are not redeemable for cash or discount but are available in conjunction with all other current Subaru offers. Armstrong's reserves the right to vary, withdraw or extend this offer. Offer ends 31st August 2019.
---
NOR'WEST NEWS Latest Christchurch news at www.star.kiwi

Tuesday August 27 2019 21

Eat. Drink.

Be happy.

Fun, fresh food that combines

the best of Asian flavours.

Fresh

Healthy

Thai.

Thai Garden

Ferrymead

9 Humphries Drive, Ferrymead

Phone 03 982 9250

Mon to Fri 12-2.30pm and 5-9.30pm

and Sat to Sun 5-9.30pm

www.thaigarden.co.nz

Thai Garden

PaPanui

484 Cranford Street, Christchurch

Phone 03 354 9203

Mon 5-9.30pm and

Tues to Sun 12-2.30pm and 5-9.30pm
---
22 Tuesday August 27 2019

Latest Christchurch news at www.star.kiwi

NOR'WEST NEWS

entrées

chicken

E1. Spring Rolls (4) | GF

Sauteed vegetables, vermicelli

noodles, served with garlic coriander

dipping sauce. $7.5

E2. Guri Puffs (4)

Sweet potato, pumpkin, corn,

wrapped in fluffy pastry, served with

house sweet chilli sauce. $7.5

E3. Satay Chicken Sticks (3) | GF

Spiced chicken skewers and our

signature peanut sauce topping. $8

E4. Thai Garden Fresh Rolls | GF

Vermicelli rice noodles, minced pork,

lettuce, carrot, cucumber, fresh mint,

house sweet chilli sauce. $8.5

E5. Sharing Platter

Selection platter designed for two.

Combination of rolls, guri puffs and

satay chicken sticks. $19.9

E6. Marinated Spare Ribs | GF

Steamed pork ribs, barbeque sauce,

spring onions and sesame. $8

E7. Dumplings with Red

Curry Sauce (4)

Steamed pork and coriander

dumplings, thick red curry sauce. $8

E8. Salt & Pepper Squid

Lightly battered squid, pepper,

salt and chilli, served with sriracha

mayo sauce. $8

E9. Prawns in Young

Green Rice | GF

Tiger prawn cutlets coated in young

green rice, served with house sweet

chilli sauce. $9

E10. Crispy Pork Belly | GF

Caramelised honey, soy, garlic and

sesame sauce. $9

E11. Hawker Snacks

Designed for two. Combination of

pork ribs, dumplings, squid, prawns

and pork belly. $25

E12. Tom Yum with Prawn | GF

Tom Yum paste, kaffir lime leaf,

lemongrass, galangal, lime, tomatoes,

mushrooms, spring onion and fresh

coriander. $14

E13. Roti & Peanut Sauce

Toasted roti bread and our signature

peanut sauce. $7.5

C1. Bangkok Salad | GF

Sliced chicken, roasted rice powder,

shallots, spring onions, mint,

coriander, fish sauce, chilli and lime.

Very popular in Thailand. $19.9

C2. Lemongrass Chicken | GF

Marinated chicken thigh, garlic,

onions, turmeric powder and toasted

lemongrass. $20.5

C3. Pad Thai Authentic Style | GF | V

Rice noodle, our special pad thai

sauce, bean sprouts, eggs, spring

onion and crushed peanuts.

Served with fresh lemon and sprouts.

As traditional as the Thai Smile! $20.5

C4. Green Curry | GF | V

Green chilli paste, creamy coconut,

spices, bamboo, pumpkin, peas and

fresh basil. $20.5

C5. Chef's Chicken Curry | GF

Mild curry paste, creamy butter,

potatoes, herbs and spices. $20.5

C6. Traditional Island

Chicken Curry | GF

Creamy coconut curry, pineapple and

mango puree. $20.5

C7. Cashews & Tempura Chicken

Home-made Thai sauce, cashews,

onions and red peppers. $20.9

C8. Chicken & Cashewnut

Stir Fry | V | *

Authentic Thai recipe - very popular

in Bangkok. $20.9

C9. Honey Lemon Chicken

Crispy chicken, honey and lemon

sauce, served with fries and fresh

salad. $20.9

C10. Fried Rice | V | *

Jasmine rice, dark soy sauce, egg,

peas, carrots, cucumber and spring

onions. $19.9

beef

GF Gluten free

* Can be made gluten free

V Can be made vegan

NO MSG ADDED

Most meals can be made with chicken,

beef, pork, prawn, fish or vegetarian tofu.

The price may vary. Standard vegetarian

meals may contain fish sauce, oyster

sauce or egg.

B1. Spicy Thai Beef Salad | GF

Sliced beef, roasted rice powder,

shallots, spring onions, mint, fresh

coriander, fish sauce, chilli, lime. $19.9

B2. Pineapple Rice with Beef | V | *

Jasmine rice, egg, peas, fresh ginger,

pineapple, dark sweet sauce and

roasted cashews. $21.5

B3. Spicy Fried Noodle

with Basil | V | *

Sliced beef, rice noodles, egg,

spicy paste, cabbage, onions, fresh

coriander and basil. $19.9

B4. Slow Cooked Beef

Rendang | GF

Tender chunky beef, coconut cream,

cumin, coriander, spices and toasted

coconut - inspired by Thailand's

Southern neighbour. $21.5

B5. Peanut Sauce Stir Fry | GF | V

Spices, onions and roasted peanut

sauce with beef and vegetables. $21

B6. Gingered Beef | V | *

Fresh zingy ginger root, celery, baby

corn mushrooms. $20.5

B7. Black Peppered Beef

Sliced beef, potatoes, peppercorn,

celery, onions, bell pepper and black

pepper sauce. $20.5

B8. Lamb Shank in

Massaman Curry | GF

Traditional Thai Massaman curry, New

Zealand Lamb, potatoes, onions and

peanuts.

Single $20.5 | Double $29.9
---
NOR'WEST NEWS Latest Christchurch news at www.star.kiwi

Tuesday August 27 2019 23

pork

P1. Spicy Fried Rice | GF | V

Pork spicy fried rice, jasmine rice,

spicy paste, peas, carrot, onion, fresh

coriander. $19.9

P2. Stir Fried Egg Noodles

Sliced pork, onions, celery, cabbage,

oyster sauce, garlic, coriander. $19.9

P3. Panang Curry | GF

Slow cooked dry curry, thick coconut

cream sauce, kaffir lime leaves with

pork. $20.5

seafood, prawn or fish

P4. Sweet & Sour Stir Fry | GF | V

Pork belly, red pepper, onions,

pineapple, sweet tomato and sour

sauce. $20.5

P5. Chilli & Fresh Basil

Stir Fry | V | *

Pork belly, chilli, garlic, coriander and

basil leaves. $20.5

Eat. Drink.

Be happy.

S1. Thai Garden Salad

with Prawn | GF

Mint, lime juice, fish sauce, fresh

coriander, cucumber, red onion and

cherry tomato. $22.9

S2. King Prawn Laksa | *

Egg noodles, coconut cream, laksa

paste, egg, onions, fresh coriander

and fried shallot. $22.9

S3. Garlic Prawn | V | *

King prawns, fresh garlic, coriander

sauce, onions, celery and garlic

stems - a must for garlic lovers! $22.9

vegetarian

S4. Sweetfire Tempura Fish

Battered fish, red bell pepper, onion,

pineapple in a bright sweet and sour

sauce. $22.9

S5. Tempura Fish Steak

Red pepper, tomato, onion,

mushroom, garlic and black pepper

sauce. $24.5

Simple, yet adventurous.

Thai Garden is about fun, fresh food that

combines the best of Asian flavours.

We think we've hit the trifecta of good Thai: fast service,

friendly staff and fresh ingredients.

Our menu mixes traditional Thai food with modern

interpretations and dishes from throughout Southeast Asia.

Whatever you spice tolerance, there's something to keep your

tastebuds happy.

Herbs and vegetables are grown locally in the Asian Garden

and exotic spices are sourced straight from Thailand, making

for healthy, authentic and tasty food.

V1. Red Curry | V

Vegetaruan tofu, red curry paste,

creamy coconut, spice, pea, cherry

tomato, lychee and basil. $20.9

V2. Peanut Sauce Stir Fry | GF | V

Tofu, our signature peanut sauce,

fresh vegetables and coriander. $20.5

Standard vegetarian meals may contain fish sauce, oyster sauce or egg.

more greens

Seasonal vegetables stir-fried with

garlic and oyster sauce. $12

extras

Chicken, Beef, Pork, Tofu,

Cashew Nuts, Vegetables. $4ea

Bowl of chips, Peanut Sauce. $4.5ea

Prawn, Fish. $5ea

Steamed Rice, Roti. $4ea

Book online at thaigarden.co.nz

Private function/group bookings welcome, please phone or email the restaurant.

ThAi GArDEN

PAPANui

484 Cranford Street,

Christchurch

Phone 03 354 9203

Mon 5-9.30pm

and Tues to Sun

12-2.30pm and 5-9.30pm

ThAi GArDEN

FErryMEAD

9 Humphries Drive,

Ferrymead

Phone 03 982 9250

Mon to Fri 12-2.30pm

and 5-9.30pm and

Sat to Sun 5-9.30pm

www.thaigarden.co.nz
---
24 Tuesday August 27 2019

Latest Christchurch news at www.star.kiwi

NOR'WEST NEWS

Whether you fancy Thai, Vietnamese or a popular dish

from South East Asia, we have you covered.

Come on down to Le Xom and try our delicious fresh food

or for a more formal evening come along to Buddha Stix.

restaurant • bar

In the streets and secluded alleyways of

Ho chi Minh City and Hanoi lives a food

culture like none other.

If you're hankering for a taste of Indochina – Vietnamese street

cuisine, then you need to make your way to Le Xom in Sumner.

Here you will find the delectable flavourings of Asia served up in an

environment that creates an enticing atmosphere.

You can choose from an amazing range of street fare that is created

with care and attention.

buddha stix is a vibrant fusion of the energy

of asian culinary culture with the modern

romance of fine dining.

Vivid with colour and saturated

with flavour, Buddha Stix indulges

all of your senses to create an

intimate and memorable dining

experience.

Relax and soak up the atmosphere

while you sip on one of our classic

cocktails and enjoy the best

pan-Asian cuisine on offer.

Come and experience the delight that is Vietnamese

street food culture with us at Le Xom!

6 Wakefield Ave, Sumner

Phone 03 326 4352

Open 7 days 5pm-9.30pm

www.lexom.co.nz

restaurant • bar

74 Riccarton Road, Riccarton | 03 961 1704

Open Monday to Friday 12-2.30pm and 5-9.30pm

and Saturday to Sunday 5-9.30pm

www.buddhastix.co.nz

We also have branches in Wellington and Dunedin.