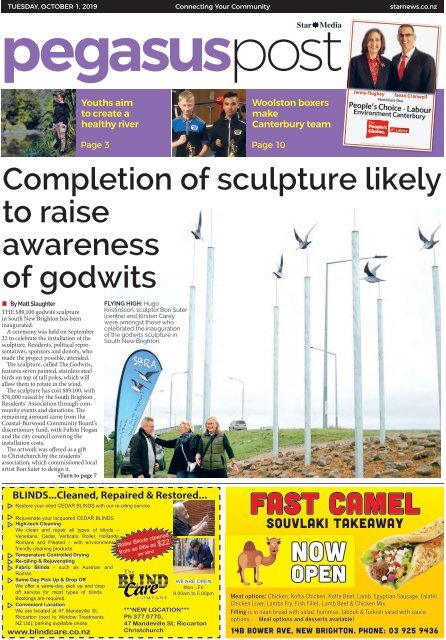 Pegasus Post: October 01, 2019
Create successful ePaper yourself
Turn your PDF publications into a flip-book with our unique Google optimized e-Paper software.
TUESDAY, OCTOBER 1, 2019

Connecting Your Community

starnews.co.nz

Youths aim

to create a

healthy river

Woolston boxers

make

Canterbury team

Jenny Hughey Iaean Cranwell

North East-Ōrei

People's Choice - Labour

Environment Canterbury

Page 3 Page 10

Authorised by J McLellan, 6 Braddon Street, Addington

Completion of sculpture likely

to raise

awareness

of godwits

• By Matt Slaughter

THE $89,100 godwits sculpture

in South New Brighton has been

inaugurated.

A ceremony was held on September

22 to celebrate the installation of the

sculpture. Residents, political representatives,

sponsors and donors, who

made the project possible, attended.

The sculpture, called The Godwits,

features seven painted, stainless steel

birds on top of tall poles, which will

allow them to rotate in the wind.

The sculpture has cost $89,100, with

$76,000 raised by the South Brighton

Residents' Association through community

events and donations. The

remaining amount came from the

Coastal-Burwood Community Board's

discretionary fund, with Fulton Hogan

and the city council covering the

installation costs.

The artwork was offered as a gift

to Christchurch by the residents'

association, which commissioned local

artist Bon Suter to design it.

•Turn to page 7

FLYING HIGH: Hugo

Kristinsson, sculptor Bon Suter

(centre) and Kirsten Carey

were amongst those who

celebrated the inauguration

of the godwits sculpture in

South New Brighton.

BLINDS...Cleaned, Repaired & Restored...

Restore your oiled CEDAR BLINDS with our re-oiling service.

Rejuvenate your lacquered CEDAR BLINDS

High-tech Cleaning

We clean and repair all types of blinds –

Venetians, Cedar, Verticals, Roller, Hollands,

Romans and Pleated – with environmentally

friendly cleaning products.

Temperature Controlled Drying

Re-oiling & Rejuvenating

Fabric Blinds - such as Austrian and

Roman

Same Day Pick Up & Drop Off

We offer a same-day, pick up and drop

off service for most types of blinds.

Bookings are required.

Convenient Location

We are located at 47 Mandeville St,

Riccarton (next to Window Treatments

NZ Ltd), parking available onsite

www.blindcare.co.nz

Roller Blinds cleaned

from as little as $22

per blind

WE ARE OPEN

Mon - Fri

8.00am to 5.00pm

***NEW LOCATION***

Ph 377 0770,

47 Mandeville St, Riccarton

Christchurch

FAST CAMEL

SOUVLAKI TAKEAWAY

now

open

Meat options: Chicken, Kofta Chicken, Kofta Beef, Lamb, Egyptian Sausage, Falafel,

Chicken Liver, Lambs Fry, Fish Fillet, Lamb Beef & Chicken Mix.

Filling is in naan bread with salad, hummus, tabouli & Turkish salad with sauce

options. Meal options and desserts available!

14b Bower Ave, New Brighton. Phone: 03 925 9436
---
2 Tuesday October 1 2019

Latest Canterbury news at starnews.co.nz

get in touch

GENERAL INQUIRIES Ph 379 7100

news

Trains on the brain

Anna Thomas is a keen rail modeller, who is getting

ready for The Big Model Train Show.

PEGASUS POST

CLASSIFIED ADVERTISING Ph 379 1100

Star Media,

a division of Allied Press Ltd

PO box 1467, Christchurch

starmedia.kiwi

Page 8

community events

Make a puppet bee

Be as creative as you want at the Parklands Library on Friday from

10.30am until noon.

NEWS

Matt Slaughter

Ph: 021 910 788

matt.slaughter@starmedia.kiwi

ADVERTISING

Elaine Moon

Ph: 364 7436

elaine.moon@starmedia.kiwi

Page 18

tasty bites

Vegan friendly-food from Asia

Try these classic Asian dishes with a vegan slant, which are sure

to satisfy your taste buds.

Page 21

The best-read local newspaper,

delivered to 15,657 homes

every Tuesday

Linwood, Avonside, Richmond, Shirley, Burwood, Dallington,

Wainoni, Bromley, Aranui, Avondale, Bexley, New Brighton,

Northshore, Queenspark, Parklands, South Brighton.

• The Star

• North Canterbury News

• Selwyn Times

• Ashburton Courier

also publishing:

• Bay Harbour News

• Southern View

• NorWest News

• Western News
---
PEGASUS POST Latest Canterbury news at starnews.co.nz

Tuesday October 1 2019 3

News

Youths aim to create a healthy river

YOUNG PEOPLE from schools

and early learning centres are

being asked to take action to

create a healthy Heathcote

River.

The pilot project is a collaborative

community approach to

conservation education which

aims to connect students along

the river.

City

council parks

programmes

and

partnerships

manager Kate

Russell said

Kate Russell

the project

aims to

establish a blueprint for student

action to power environmental

change within the river.

"We are looking to these

young people as the protectors

of their local river environment

and hope to expand this

approach further afield," Ms

Russell said.

Supported by city council

education co-ordinator Sally

Airey, the project encourages

young people to take

"guardianship" of the river.

"The river suffers from urban

stream syndrome and has poor

water quality," Ms Airey said.

"We are inviting young

people to lead community

ENVIRONMENT: City council education co-ordinator Sally

Airey is part of a new student-focused project to protect the

Heathcote River. ​

action to help create a healthy

awa [river]."

Ms Airey, whose role is being

funded by the Department of

Conservation, said the initial

project title – Healthy Ōpāwaho

– expresses the "connection

between a healthy river and a

healthy community."

However, she expects a new

student leadership team to come

up with a new name, vision and

measurable goals for the project.

"Initially, I will be directly

'The river suffers

from urban stream

syndrome and has

poor water quality'

– Sally Airey

working with interested

students and teachers from a

handful of the 100 schools and

early learning centres that are

within 1km of the awa," she

said.

"As the group develops and

connections are made between

schools, we hope even more

schools and early learning

centres will be involved."

The project aims to inspire

hundreds of young people to

take action for a healthy river,

building on individual projects

already under way in the area.

"Young people are our future

leaders and need to be given the

opportunity to make decisions

that can lead to positive change

in our communities and our

environment," Ms Airey said.

The project is supported

by the city council, DOC,

Community and Public

Health, the Canterbury District

Health Board, the Ōpāwaho/

Heathcote River Network,

Environment Canterbury,

Junior Neighbourhood Support

and Ngāi Tahu.

In Brief

SCHOOL LOCKDOWN

Bamford School in Woolston

was put in lockdown after a

life-threatening incident at

a neighbouring property on

Wednesday. Gould Cres was

cordoned off and the school was

put in lockdown about 3pm.

Parents picking up their children

were made to wait outside the

cordon. A police spokeswoman

said there was a large police

presence at the address, including

the armed offenders squad. The

lockdown was lifted at about 5pm.

TREES REMOVED

The removal of 40 trees on Marine

Pde between Hawke and Beresford

Sts has been approved by the

Coastal-Burwood Community

Board. The board decided the

work is necessary to allow the

Marine Pde streetscape upgrades

to progress.

COMMUNITY BOARD GRANTS

In the briefs section of last week's

Pegasus Post, it was reported the

Coastal-Burwood Community

Board granted Avon-Heathcote

Estuary Ihutai Trust $4000,

Eastern Sport & Recreation $8000

and Early Birds $6000. However,

the amounts approved were

actually $3000 for Avon-Heathcote

Estuary Ihutai Trust, $6000 for

Eastern Sport & Recreation and

$5000 for the Early Birds. Pegasus

Post apologises for the error.

VOTE

SOOziE Bragg

Discover Christchurch's

best pet

accommodation

• Daycare - all breeds

• Long stay/short stay

Council, Community Board &

Environment Canterbury for

Coastal-Burwood.

The People's Choice - Labour

Authorised by J McLellan, 6 Braddon Street, Addington

f

Coastal Community Board

Independent Candidate

facebook.com/Soozie-Bragg-For-Coastal-Community-Board

Authorised by - Susan Bragg, 256 Pine Ave South Brighton

Call now to

book in your

fur baby,

inspections

welcome

anytime!

ALAMEDA

KENNELS & CATTERY

271 Dyers Road | Ph 384 1297

www.alameda.nz

Kelly

Barber

Council - Coastal

Iaean

Cranwell

ECan- Ōrei/

North East

Jenny

Hughey

ECan- Ōrei/

North East

Bebe

Frayle

Community Board

- Burwood

Greg

Sugrue

Community Board

- Burwood

Glenn

Livingstone

Council- Burwood

Want a friendly internet

Are you over the way the

provider with a local

big telcos treat you?

call centre?

Check out Compass. Because we're a smaller company, we work harder at doing all the things the 'big boys'

seem to over-look, such as: having a local call centre, great pricing, flexible payment plans and being locally owned.

Call Ash 0800 964 558

www.compass.net.nz

CMP001
---
4

Tuesday October 1 2019

News

ART: Shirley Primary pupils,

staff and parents unveil a

mural.

McFarlane

Park gets new

'peace' mural

• By Claire Booker

MACFARLANE Park in

Mairehau has been given a

new lease of life thanks to an

initiative to bring murals to the

park.

Last week, four murals made

by schools in the area were

unveiled, with one focused on

love and support after the March

15 attack.

The mural features a quote

from the memorial service and

the word "peace" in more than

20 languages students at the

school speak, as well as flowers

made from recycled plastic.

The quote on the mural, from

mosque attack survivor Farid

Ahmed says: "I may be from

one culture, you may come from

another culture, I may have one

faith, you may have one faith,

but together we are a beautiful

garden."

Supporting community initiatives

Coastal-Burwood

Community Board deputy

chairman Tim Sintes,

who will step down after

the local body elections,

reflects on the board's

achievements over the last

three years

Dyers Road Landscape

& Garden Supplies

• Barks • Peastraw • Composts - we supply the best available

• Aggregates - Chip, Round and Basecourse

• Pavers & Schist products • Pungas

• Decorative Stones & Landscaping Rocks

• Trailer Hire first hour free with purchase

• Bag & Bulk - pick up or delivered

David, Carol & Mike

We will deliver!

SOIL

AND

HARDFILL

DUMPING

Phone: 03 384 6540

183 Dyers Rd, Bromley • OPEN 7 DAYS

Weekdays 7.30am-5pm. Weekends 8.30am-3pm

www.dyersroadandlandscapes.co.nz

Latest Canterbury news at starnews.co.nz

JOB DONE:

Tim Sintes says

the Coastal-

Burwood

Community

Board has

made a lot

of positive

progress in

a number of

areas over the

last three years.

THE COASTAL-Burwood

Community Board supported a

variety of local events across the

wards.

They included I Love New

Brighton, AFFIRM, Parklands

@ Play, Ray White Duke Festival

of Surfing, Parklands Christmas

in the Park, Duck Down to the

River, Meet in the Middle and

the community service awards.

The board also supported

a number of initiatives that

responded to community needs,

including the community fridge

in New Brighton, a Family

Health Trust social worker, activation

of Common Ground as a

community hub, development of

the Burwood Avondale Dallington

hub and the activation of the

Old School Te Kura Tawhito.

Eighty-two community

organisations received funding

from the board's strengthening

communities and discretionary

response funds.

There were six residents association

forums held across

the term. There were 40 public

forum presentations shared with

the community board and 52

deputations were heard by the

board on a range of topics.

The board received 16 briefings

from city council staff and

other organisations.

Board members have acted as

liaisons for 30 organisations.

Members have attended 33 site

visits since October 31 2016.

Seventy-nine young people

have been supported to participate

in various events and activities

through the board's youth

development and discretionary

response funds and 34 organisations

with a youth focus received

funding.

The QE II Master Plan included

a youth audit with the goal of

ensuring the environment and

buildings worked well for youth.

The board advocated for the

Southshore and South New

Brighton estuary edge earthquake

repairs.

It advocated for the New

Brighton Hot Pools, He Puna

Taimoana, which are now being

built.

Bus passenger shelter installations

within the board's area

were approved. The board also

successfully advocated for and

approved plans for the South

PEGASUS POST

New Brighton boardwalk repairs.

It funded environmental

projects, such as the building of

penguin nesting boxes and pest

traps in Northshore.

Board members advocated for

water management and drainage

improvements in their wards.

Donnell Sports, Thomson and

Wainoni parks have and will

continue to be improved.

The Burwood Park fitness trail

was supported.

The board approved a lease to

Eastern Community Sport and

Recreation on Rawhiti Domain

and developed spaces for sport

and recreation.It called for the

retention of the Rawhiti Golf

Course and South Brighton Holiday

Park. Funding was provided

for safety-focussed initiatives

such as the radio upgrade for the

Burwood-Pegasus Community

Watch and the purchase of a

defibrillator for the Southshore/

South New Brighton area.

The board supported community

connections among residents

to increase neighbourhood

safety and support. It funded 70

Neighbourhood Week events.

It also supported artworks

including the godwits sculpture.

Road repairs and upgrades

were also advocated for.

HEAT PUMP

SALE NOW ON!

Amazin' Spring Specials!!

• We will offer you the best quality brands and

option of heat pump for your home/business

• Providing Heat Pump solutions for over 17 years to Cantabrians

• We personally guarantee all our products & installs for 5 years

(providing annual maintenance has been completed)

Phone us today for your free consultation & quote

41A SHAKESPEARE RD, WALTHAM

PHONE 03 366 0525

www.enviromaster.co.nz

"A local team for local people"

Making yesterday's

best performance into today's

new baseline is how legends

roll. Never settle. Never stop.

No one in New Zealand is

selling more houses than us!

#teamcameronbailey

Residential Sales Person

of the Year for Volume 2019
---
PEGASUS POST Latest Canterbury news at starnews.co.nz

Tuesday October 1 2019 5

News

Dig out your historic photos for competition

GIVEN TIME, even the most

ordinary photo can be an

extraordinary window into a

different world.

This photo, picturing the

intersection of High, Hereford

and Colombo Sts, was a

highly commended entry in

Christchurch City Libraries' 2008

photo hunt. It was submitted

by Tony Bowie and shows his

mother and grandmother on

their way to shop in High St in

the late 1950s.

During the 1950s, the central

city was the prime destination

for shopping in Christchurch,

and women would don hats and

gloves for their trip into town.

The central city enjoyed this

shopping heyday in the first half

of the 20th-century, coinciding

with the peak of reliance on

public transport – first trams,

then buses. Cathedral Square

was the central hub of the

city's transport network, which

connected the suburbs to the city

centre.

It was customary for people

to go into town to shop, and to

"take tea" in the tea rooms of the

major department stores located

on both sides of Cathedral

Square.

Beca Christchurch Heritage

Festival 2019 starts on October

7 and this year, as part of the

festival, Christchurch City

Libraries is celebrating 10 years

of the Christchurch photo hunt.

Over the past decade, the

photo hunt has collected

hundreds of great photos like

this one, and Christchurch City

Libraries hopes people will dust

off their collections and unearth

some more treasures.

This year's competition runs

until October 31. Your photos

are carefully scanned and

preserved as part of Christchurch

City Libraries' collection, and

loaded onto the Discovery Wall

at Tūranga (Central Library) so

everyone can enjoy them.

•Submit your photos at

any of our Christchurch

City Libraries or at my.

christchurchcitylibraries.

com/photo-hunt/

OCCASION: This 1950s photo was submitted in the 2008 Christchurch City Libraries' photo hunt.

The competition is on again.

•There are many events happening in the central city during the Heritage Festival

2019. Check out what's happening at the Arts Centre, at Tūranga (Central Library) and

look out for events showcasing the project to reinstate Christ Church Cathedral.

Encounter

our stories

Christchurch

Heritage

Festival

7–28 October

Over 80 special events! Discover heritage tours,

walks, talks, workshops, music, food and more

with the Christchurch Heritage Festival…

• Spirited Cemetery Tours in your area, 7, 8, 10 and 27 October

• Devonshire Tea at Avebury, 12 October

• Experience an Edwardian Family's Week, 16 October

ccc.govt.nz/heritagefestival
---
6 Tuesday October 1 2019

Latest Canterbury news at starnews.co.nz

PEGASUS POST
---
PEGASUS POST Latest Canterbury news at starnews.co.nz

Tuesday October 1 2019 7

News

Top young landscaper awarded

GEORGE TROWER has been

named young landscaper of the

year at the Registered Master

Landscaper Landscapes of

Distinction awards in Auckland.

Mr Trower, who works at

Fendalton's Goom Landscapes

and lives in Bishopdale, was

recognised for his innovation,

communication, leadership,

career development and

construction abilities.

"It was such an honour to

pick the award up and receive

recognition from across the

industry, especially considering

the calibre of the other finalists,"

the Lincoln University graduate

said.

"I was so humbled that the

team at Goom seemed to be

as excited about my individual

award as they were the numerous

awards they received on the

night."

Mr Trower will now progresses

to the young horticulturist of

the year awards next month,

in which finalists across six

industries battle it out for top

honours.

Goom Landscapes is a highly

regarded landscape design and

construction firm established

more than 35 years ago.

The nationally recognised

awards acknowledged the best in

landscape design, construction,

horticulture and maintenance.

Said Goom Landscapes

director Tim Goom: "We take

enormous pride as a team in

completing every project to

the highest standard, so to gain

national recognition, not to

mention armloads of awards, is

deeply gratifying'.

The company entered four

projects in both the design

and construction categories. It

received four gold medals for

construction and three gold and

a silver medal for design.

In addition to these medals,

BIG FUTURE:

George

Trower

was named

landscaper of

the year at the

Registered

Master

Landscaper

Landscapes

of Distinction

awards.

Goom Landscapes also won

the premier award for best

construction project of the year

for its high-country project at

the Terrace Downs Resort at

Windwhistle.

The judges said the project

was a very worthy winner of this

top award as it demonstrated

"outstanding workmanship using

various materials and finishes,

bringing to life the vision and

design." They also said the water

feature was considered to be

elegant design.

Godwits return to feeding grounds

•From page 1

Ms Suter is a professional

sculptor and tutor who created

the South New Brighton Sculpture

Park. She has represented

the city council at the Festival of

Arts in Adelaide and her work is

held in public and private collections

around the world.

Said South Brighton Residents'

Association secretary Seamus

O'Cromtha: "Commuters

driving to and from the area

can admire and identify with a

marvellous work of art."

"The sculpture should also

act as a magnet for visitors and

tourists. With its prominent

positioning on the main access

road to the Brighton peninsula,

it will offer permanent publicity

for the wetlands and estuary as a

place where visitors can observe

a wide range of bird species,

enjoy the coastal walkways and

take in the magnificent scenery."

The sculpture will also raise

public awareness of the kuaka

[godwits] and the importance of

the estuary as a feeding ground

for both it and many other bird

species."

The sculpture's inauguration

came just after the arrival of

bar-tailed godwits at Southshore

Spit.

The first of the migratory birds

were spotted on September 20

by city council ornithologist

Andrew Crossland.

The godwits have returned to

their Canterbury feeding spots

after spending the northern

hemisphere summer in breeding

grounds 11,000km away in

Alaska.

The early arrivals are expected

to be joined by more than 1000

others over the next three to four

weeks.

SPECTACULAR:

The godwits

sculpture cost

$89,000 and

was funded by

organisations

including the

South Brighton

Residents'

Association and

the city council.

Kids

Come and watch a FREE movie at Eastgate's

Pop Up mini theatre these holidays.

Get comfy and lounge around on cushions or our inflatable chairs

Restoring your confidence through your smile

Full service Denture Clinic

and Laboratory

Caldent Denture Cleaner

Free Consultation

No Obligation

Date 10am Screening 2pm Screening 6pm Screening

Wednesday The Nut Job 2 The Secret Life of Pets

2 October G 91minutes G 91minutes

Thursday Hotel Transylvania Big Hero 6 Jumanji

3 October PG 91minutes PG 108minutes PG 84minutes

Friday Storks How to Train Your Dragon

4 October G 87minutes PG 102minutes

Saturday Secret Life of Pets Hotel Transylvania

5 October G 91minutes PG 91minutes

Sunday The Nut Job 2 Storks

6 October G 91minutes G 87minutes

Monday Big Hero 6 How to Train Your Dragon

7 October PG 108minutes PG 102minutes

Free small drink and snack.

Parents grab a coffee and join the kids for some relaxing holiday fun!

Children under 10 must be accompanied by an adult or older sibling.

Seats limited to 30 per session.

Ph: 385 5517 + 396 Innes Road, St Albans

admin@denturesplus.co.nz

+ denturesplus.co.nz

www.eastgate.co.nz

Snacks kindly sponsored

by Countdown
---
8 Tuesday October 1 2019

Latest Canterbury news at starnews.co.nz

News

PEGASUS POST

Smiths City donates

$15k to city mission

• By Claire Booker

A $15,000 donation to the

Christchurch City Mission

will change the lives of 12

Cantabrians.

Last week, Smiths City's

Colombo St store manager,

Kevin Owers presented the

cheque to mission chief

executive Matthew Mark.

Mr Mark said the mission has

to raise $5.5 million each year to

cover the cost of the services it

offers to people in need.

"This $15,000 cheque will

support 12 people through an

alcohol and drug detox. It is an

incredibly generous donation,"

he said.

Each year, the mission

supports about 42 thousand

HELPING:

Kevin Owers

(left) presents

Matthew Mark

with a cheque

to support

people in need. ​

Christchurch residents in need.

It celebrated its 90th

anniversary in July.

"Almost 10 per cent of

Christchurch's population has

been supported by the city

mission," Mr Mark said.

Store manager Kevin Owers

said he was "very proud" to

make the presentation.

"I couldn't think of anyone

better to give it to. It gives you

tingles," he said.

Smiths City chief executive

Roy Campbell said the company

has been a supporter of the

mission for many years.

"It doesn't matter where we

are in New Zealand, we want to

be those locals who help locals.

It makes us immensely proud,"

he said.

CHOO CHOO:

Anna Thomas

will be displaying

one of her model

train carriages

at the Big Model

Train Show at

the Pioneer

Recreation &

Sport Centre. ​

Model trains to go on show

ANNA THOMAS is a

keen rail modeller, skilfully

creating New Zealand

prototypes.

Ms Thomas said her mother

recalls her throwing a tantrum

in Kmart when she was four

because she couldn't have a train

set.

"I did get one later. It was an

American Santa-Fe set with a

figure-eight track and a tunnel.

I soon lost interest, probably

because it wasn't very realistic.''

The 26-year-old who

works for an online distributor is

keen on all things mechanical.

For two years, she has been

building a Di class diesel-electric

locomotive to haul a train of

ballast wagons.

It will include a 9m wooden

guard's van carriage with a

ballast spreader underneath.

"I have talked to people

who knew the Di class locos.

That's been pretty cool really,' she

said.

The guard's van will feature

at the Big Model Train Show

at Pioneer Recreation & Sport

Centre on Saturday and Sunday,

9.30am until 5pm.

Ms Thomas' train modelling

is realistic. She is working with

white metal kits.

She is excited to be involved

this year's show.

The show will feature model

train clubs and individuals from

throughout the South Island.

Those presenting New Zealand

prototypes are always popular.

Last year a winning layout

represented the Kaikoura

Coast.

The train show is an event for

anyone thinking about getting

involved with the hobby.

•Entry to the Big Model

Train Show is $5 for children,

$10 for adults and $15 for an

adult weekend pass.

DAYLIGHT SAVINGS IS HERE - SO TOO ARE THESE SCORCHING DEALS

Gordon's Pink Gin Jim Beam Gold/Canadian Club Cody's 12pk cans Jim Beam & Cola/Canadian Club (incl zero)

Woodstock 5% bottles/ Woodstock

Jack Daniel's & Cola 330ml cans/Part

4pk bottles premium 7% 330ml 6pk cans $

$

19 .99 4.8% 10pk cans/Jim Beam gold 7% 8pk cans 250ml 7% cans (incl zero) all 12pks

Time Rangers 6% cans all 10pks

$

12 .99 $

14 .99 ea $

20 .99 ea .99 ea

Billy Maverick 18pk cans

$

22 21

.99 ea $

24 .99 ea $ 29

.99

Taylors promised

Lake Chalice/Waipara

Squealing Pig

Villa Maria Private Bin

land range

Hills ranges 19 Crimes Range The Ned Range range (ex PN)

Stoneleigh Marlborough/ Seagers 1L

Esk Valley range

Larios/Teacher's 1L/ Finlandia/Southern

$

Range (ex PN & Syrah) $ $

10 .99 ea $

13 .99 ea $

13 .99 ea (ex PN & chardonnay) $

15 .99 ea (ex PN and Syrah)

32 .99 Coruba 1L (incl Gold)

Lighter ranges

Midori 700ml Comfort 1L $

12 .99 ea $ $

14 .99 ea $

16 .99 ea 34 .99 ea $

36 .99 ea .99 ea

2 for $

25 .00

39

$

23 .99 ea $

24 .99 ea $

24 .99 ea $

29 .99

Stoneleigh Marlborough/

14

$

43

Somersby 12pk bottles

Lion Red/Speights/Waikato/

range

Stella/Steinlager Pure 12pk Summit 15pk bottles

Peroni/Asahi 12pk bottles Heineken 15pk bottles

Monteith's Classics & cider

Johnnie Walker Red/

Jim Beam/Canadian Club (incl Absolut/Beefeater/

Jameson 1L/Chivas

spiced)/Larios Rose/Chatelle 1L Ballantine's 1L

Bombay Sapphire 1L Jagermeister/Mt

Glenfiddich 12yr Tiger 12pk

12pk range

Bacardi Range 1L Jim Beam Devil's cut 1L/Jim Beam Black 1L/

12yr 700ml

$

$

39 .99 ea $

39 .99 ea 47 .99 ea Gay Eclipse 1L

700ml $

$

20 .99 $ .99 ea

Larios 12 1L/Maker's Mark 700ml

21

$

48 .99 ea 49 .99 ea $

.99 ea

62 .99

www.thirstyliquor.co.nz

398 High Street, Rangiora

03 313 7207

1275 Main North Road, Bridgend

03 323 8833

585 Springs Rd, Prebbleton

03 349 6031

45 South Terrace, Darfield

03 317 9499

$

39 .99 ea Cruiser cans/KGB bottles all 12pks

$

25 .99 ea 24pk bottles

$

33 .99 ea $

39 .99

Tui/Export Gold/Extra/DB Draught Export 33 - 24pk bottles

Corona 18pk

$

41 .99

OVER 170 STORES NATIONWIDE!

www.facebook.com/ThirstyLiquorandBlackBullLiquor

Available from 1st – 31st October. Specials while stocks last. Available at participating stores.

1147 West Coast Rd, West Melton

03 347 8460

670 Main South Rd, Islington

03 349 7337

Main Rd, Lake Tekapo

03 680 6242

42 Waimate Highway, St Andrews

RD24 03 612 6740

69 Main St, Fairlie

03 685 8061

21 Aldwins Road, Linwood

03 982 1753

9 Parnwell St, Burwood

03 383 2564

495 Papanui Rd, Christchurch

03 260 2380

65 Victoria St, Christchurch CBD

03 260 1155
---
PEGASUS POST Latest Canterbury news at starnews.co.nz

Tuesday October 1 2019 9

Little honoured for dedication to rowing

SPORT

WAINONI RESIDENT Jim

Little's six decade involvement

with rowing has been rewarded

with life membership of the

Canterbury Rowing Association.

Little commenced rowing in

the 1950s with Shirley Boys'

High School as a 16-year-old.

He has been a member of the

Union Rowing Club ever since

where he is a life member and

club patron.

Little commenced rowing in

the 1950s with Shirley Boys'

High School as a 16-year-old.

He has been a member of the

Union Rowing Club ever since

where he is a life member and

club patron.

He has trained as a member

of the 1964 NZ Tokyo Olympic

crew.

Unfortunately, he was one of

two reserves on race day with the

eight finishing in 11th.

He competed for Canterbury

in the inter-provincial eights.

He had been rowing double

and singles and was third in

the premier (then senior class)

singles at the 1963 national

championships.

Little rowed in a coxless pair

for three years with Ron Satherley

and after several attempts in

both the coxless pair and later

a coxed pair, the combination

finished second each time in the

premier event to Wybo Veldman

and the late Warren Cole.

In his last season, marred by

an appendix operation, he and

Tim Armstrong finished third

in the premier double sculls with

no real training behind them.

After a 10-year break Little

turned to coaching focusing and

developing a youth eight within

the URC Club.

He took another brief break

after this stint then returned

in October 1985 looking after

Shirley Boys' High rowing and

again with URC.

Little was involved with several

age-group New Zealand crews.

He has given generously of his

time over the years to holding

sculling schools for all Canterbury

Rowing Association club

members.

He has coached at Christchurch

Boys' High School in recent

years, this being acknowledged

at the school's recent prize-giving

for the Maadi Cup victories

with Little having developed

many of the crew in their formative

rowing years.

PRIDE: (From

left to right)

– Canterbury

Rowing

Association and

Union Rowing

Club life member

James Sheehan,

CRA patron and

URC life member

Des Borgfeldt

and new CRA life

member and URC

patron Jim Little. ​

Little has coached URC athletes

to NZ representative level

and has been heavily involved in

the coaching of a large masters

contingent affiliated to URC.

Little was part of the inaugural

safety team at Lake Ruataniwha

for many years while his wife,

Merryl was a permanent fixture

in the coxswains weigh-in shed.

•More sport, page 10

Take a sneak

peek at the new

Christchurch

Hospital Hagley

Public Open Day

6 October

When it opens next year,

Christchurch Hospital Hagley

will be the new home of acute

services. This is your chance

to have a look behind the

scenes at the new Emergency

Department, Intensive

Care, Children's High Care,

Radiology and wards before

they're fully kitted out.

Opening early 2020

Sunday 6 October 2019

The 30 minute tour will

cover three floors

10am – 3pm

Closed-toe, soft-soled shoes are

essential – sneakers are perfect

Pedestrian entry only

Entry to the new Hagley building is

to the left of Christchurch Women's

Hospital off Riccarton Avenue.

Entry is free

Gold coin donations to the Māia

Health Foundation appreciated.

There will be a drop off zone on Riccarton Avenue, and there's a bus

stop right outside – bus travel is free for SuperGold Card holders.

Like Canterbury DHB on Facebook for updates. Details and

conditions of entry are on our website - cdhb.health.nz/hagley
---
10 Tuesday October 1 2019

Latest Canterbury news at starnews.co.nz

PEGASUS POST

Falck named top SBHS sportsman

• By Jacob Pag'e

REECE FALCK was named

Shirley Boys' High School's

sportsman of the year last week.

It was a big night for the

17-year-old tennis player who

is also part of the senior team

which won team of the year.

Falck is the current

Canterbury men's open

champion.

He played in the Canterbury

under-16 team which finished

second at the national teams

event in Auckland earlier this

year.

He also won the under-16

and under-18 national titles and

Woolston boxers to get in the ring for Canty

• By Jacob Page

SIX WOOLSTON boxers will

be part of the Canterbury team

to compete at the national

championships which start

tomorrow at Hastings

A 20-strong team will test

themselves against the best

amateur boxers in New Zealand

over the five-day tournament.

Ryley Sutherland, Hamuera

Tainui, Blake Henderson, Trevor

Swainson, Byron Antal and Tegan

Clark will all represent Woolston

in the team.

Canterbury coach Mark Fuller

said the team have a good mix

of youth and experience across

junior, cadet and senior grades.

He has high hopes for the

Woolston contingent.

"I like the look of Trevor

Swainson," he said.

"He's been around a long time

and deserves a national title.

"He's capable and durable."

Tainui won a national title last

represented New Zealand at the

Junior Davis Cup last year.

The SBHS senior tennis team

of Falck, Jordan Edwards and

Luca Landells went undefeated

to win the first ever National

Tennis Team Cup at Nga Puna

Wai.

Tahlor Cahill took out

the school's best all-round

sportsman award for his

achievements in sevens, water

polo and volleyball. The

16-year-old plays in the first XV

as a goal-kicking lock and his

efforts earned him selection in

the Canterbury under-16 team.

Cahill is the leading scorer for

the SBHS senior academy water

year in the 63kg cadet class and

will be looking for another win

this year.

Both he and Sutherland won

New Zealand Golden Gloves titles

last month in Rotorua.

"Tegan Clark has a hard class

but if she's positive enough she's

definitely one who could win a

national title," Fuller said.

"In the cadets, Sutherland and

Kwahli Beauchamp – they've

had 25 to 30 fights now – and the

juniors Daniel Meehan, James

Charlton and Blake Gibson all

have 30 fights plus.

"We always aim to medal, but

there are a few kids there that will

need three bouts to earn a silver

or gold, but realistically we should

come back with a good haul.

"This is the pinnacle

tournament of the year so they''ll

all be giving it everything.

"Byron Antal is a good lad, it'll

be a big step up and he's keen to

learn."

Weigh-ins are due to take

polo team and was in the top

10 scorers at the South Island

tournament.

Cahill is also involved in

coaching and training younger

players.

place today. "It's a good team and

we always have expectations to

perform well and to represent

Canterbury well," Fuller said.

Canterbury team Kwahli

Beauchamp (Smiling

Tigers), Ryley Sutherland

(Woolston), Leon Gibson

(Waikuku), Daniel Meehan

(Smiling Tigers), Hamuera

Tainui (woolston), James

Charlton (Rangiora), Tom

Westall (Papanui), Ryan

Entese (Papanui), Rendz

Remaneses, Sam Burdett

Clark (Smiling Tigers), Blake

Henderson (Woolston),

Trevor Swainson (Woolston),

Wheels Mau'u (Burnham),

Savanah Haehae (Rangiora),

Tegan Clark (Woolston), Bree

Cumming (Round 12), Mel

McGlynn (Burnham), Elenoa

Lilo (Burnham), Edward

Richards (Rangiora), Byron

Antal (Woolston), and Rendz

Remaneses (Redwood).

TALENT:

Reece Falck

was named

Shirley Boys'

High School

sportsman of

the year last

week. PHOTO:

CANTERBURY

TENNIS

He attended the Condor

Sevens and was part of the junior

volleyball team which finished

second in the South Island.

The under-15 eight rowing

crew was named junior team of

SPORT

the year after finishing seventh at

the Maadi Cup regatta.

The team of Kuhurangi

Wetini, Zakai Hedges, Joel

Arona, Alex Fletcher, Zander

Wiltshire, Ryan Facoory, Jayden

Sincock, Lachie Osikai-Wilson

and Tane Norton took part in

the octuple sculls and finished

second in Canterbury and the

South Island. Weight-lifter Jake

Beaumont was named junior

individual sportsman of the year.

CONTENDERS: Ryley Sutherland (left) and Hamuera Tainui

are aiming to add to their trophy cabinet at the nationals in

Hastings this week. PHOTO: WOOLSTON BOXING CLUB

sweet

School Holidays are

Decorate

Cupcake

your own

7 TH TO 11 TH OCTOBER

10AM, 11AM, 12PM, 1PM

30 MINUTE SESSIONS. AGE 5+

AvonheadShoppingCentre

www.avonhead.co.nz

Cnr Withells Rd and Merrin St

Avonhead

at Avonhead

Shopping Centre!

Get creative these holidays by

decorating your very own cupcake!

Bookings essential at

www.themakecompany.co.nz
---
PEGASUS POST Latest Canterbury news at starnews.co.nz

Tuesday October 1 2019 11

2-for-1

tickets on

ON THIS

WEEKEND!

Sat 5 & Sun 6 Oct, 10am–5pm

Horncastle Arena, Christchurch

Door Sales $10 | Kids Under 12 Free

Everything from gourmet food, tea and artisan products

to fashion, beauty, travel and more:

• 200 Exhibitors • Goodie Bags

• Artisan Craft Zone • Taste Zone

• Little Biddy School of Gin Lounge

• Vivo Hair & Beauty Lounge

• Southern Reflexology Relaxation Lounge

You deserve a girls day out.

Dilmah is celebrating the amazing women of

New Zealand with the gift of tea. Stop by our stand

to nominate the unsung heroes in your life!

womenslifestyleexpo.co.nz
---
12 2 Tuesday [Edition datE] October 1 2019

Latest Canterbury news at starnews.co.nz

Discover

New Brighton

PEGASUS POST

New Brighton's favourite

Super Liquor Seaside

Summer is around the corner and lazy

days with friends and family. As you

think about your party agenda's and your

menus, remember Super Liquor Seaside

located at 55 Hawke Street. They are your

friendly community spirits store and a

one stop shop for all your spirit beverage

needs.

"We love our community and our

patrons. They are the best and we want to

thank them," says store manager Gurpreet

Singh.

He has more than seven years of

industry experience and joined Super

Liquor in New Brighton at the beginning

of the year. "I really appreciate this

location and the involvement we have in

the community", he said.

The store offers local favourites and

some standalone brands for variety. They

offer beers on tap and samples so you can

have a taste test before you buy, to make

sure you are selecting the best beer for

your event.

When you are planning to entertain,

stop by Super Liquor Seaside in New

Brighton for your beer, cider, spirits or

seaside

smirnoff ice

double black

blackcurrant

12pk cans

250ml

$19.99

victoria

bitter 6pk

cans or

bottles

$11.99

the ned

wine

range

750ml

$15.99

shingle

peak

wine

range

750ml

$9.99

speights

summit

lager 15pk

bottles

330ml

$25.99

Super Liquor Seaside 55 Hawke street, New Brighton

Ph (03) 388 2025 Offers valid until 31st October 2019 or while stocks last.

wine. They pride themselves in their

craftology skills and RTD's.

Stop by on Friday around 5pm when

they offer tastings of their spirits and

beers. This way you can sample the

variety and determine which suits best

for your activity.

Their wine range starts at $6.99

and their 12 pack beers and Vodka or

Bourbon cola mix drinks (RTD's) start at

$19.99.

Do you have a question, or would you

like a recommendation for a preferred

holiday spirit, call Gurpreet or his team

at 388 2025. Always remember safety

first. Don't drink and drive, call an uber,

a taxi or have a designated driver.

Enjoy yourself this holiday and

summer season and stop by Super

Liquor in New Brighton. Your spirit

experts and community friends.

Store Hours – Sunday and Monday

10am-8pm Tuesday, Wednesday and

Thursday 10am-9pm Friday and

Saturday 10am-10pm.

FB – Super Liquor Seaside

https://www.superliquor.co.nz

dewar's

white

label

whiskey

1 litre

$37.99

Jose cuervo

especial

tequila gold

or silver

700ml

$36.99

regional winner

2019 Best Chip shop award

2 x Cheese or 2 x pineapple Burgers

& a scoop of Chips

For $10.00 only

GOURMET SEAFOODS QEII

Ph: 388 2531, QEII Shopping Centre, 251 Travis Rd

Mon - Wed 11.30am - 8.30pm (Tues from 4.30pm), Thurs - Sat 11.30am - 9.00pm

Sun 12noon - 8.30pm, Daily break 3.15 - 4.30pm

SAVE

$3.80 *

* with this coupon. Expires 31 October 2019.

Cnr Keyes & Bowhill Rd

North New Brighton

Ph: 382 0867

Email: info@framencopy.co.nz

www.framencopy.co.nz

Design & Print

Business Cards

Flyers

Photocopying

Typing

Binding

Scanning

Laminating

up to A0 Plan Printing

T-Shirt Printing

Signage

Picture Framing

and so much more…….

FOR ALL YOUR PRINTING REQUIREMENTS

YOUR LOCAL GARAGE

• All vehicle repairs

• Oil changes and services

• Brakes • Loan car available

• Tyres, punctures & batteries

• W.O.F • Tune up

Your LocaL GaraGe

VERY FRIENDLY SERVICE AND ADVICE

NEW BRIGHTON AUTOMOTIVE

Phone: 03 388 3630

40 Hawke St (behind Z Petrol Station)
---
PEGASUS POST Latest Canterbury news at starnews.co.nz

Tuesday October [Edition 1 datE] 2019 133

Discover

New Brighton

Technology learning made

simple at SeniorNet

SeniorNet New Brighton has offered a

friendly, safe learning environment for

years. Located at the New Brighton Club,

SeniorNet's purpose is to educate people

who are 50 and up to better understand

technology in a simple, easy learning

environment.

The tutors are top notch and their smaller

class sizes or one on one tutorials create a

safe and inviting learning environment.

Sign up today to become a member and

browse through their myriad of services to

see what they can help you with. Whether

you would like to better understand your

computer or your laptop, maybe your

tablet, your mobile phone or another piece

of technology, SeniorNet can help.

The SeniorNet motto - It is never too late,

anyone can learn.

What do their members say?

"The tutors are so helpful and it is such a

friendly and inviting atmosphere, they feel

like old friends. After a lesson I have the

choice if I want to stay and chat and have a

cuppa or not, which I usually do," says one

long time member.

Their tutors assist with mastering

Where

dreams

come

alive

Windows 10, and using laptops, ipads,

tablets or smart phones as well as desktop

computers. They can show you how to use

Facebook and TradeMe.

They hold classes in enhancing or

manipulating photos, sorting and storing

in your documents, how to work with your

file folders and keeping your documents

in order. They can also teach you how to

use excel spreadsheets. Want to learn how

do use publisher? They can help you learn

how to create posters, newsletters or other

graphics.

SeniorNet started in 2000 in a house on

Bower Avenue with about 40 people which

increased to nearly 200 in a few years.

They moved to Seaview Mall and now have

moved to the New Brighton Club which

offers easy level access and parking off of

198 Marine Parade. They are manned by a

team of experienced volunteers and tutors.

SeniorNet is thriving and open to new

members 50 years and up. SeniorNet

New Brighton helping you to make your

technology life more understandable.

Call SeniorNet today at 382 6048.

Assistance is only a call away.

huge selection

of second hand

books

Barnabas Books

121 New Brighton Mall (next to Happy Feet)

Tues-Fri 10am-4pm Sat 10am-3pm

Get confident with technology

Getting to know your device • Emailing

Working on line • Files & Folders • Publisher

Enhancing photographs • Spreadsheets

Greeting cards • Powerpoint • Photocopying

On bus route • Morning tea

Comfortable, airy, warm room

Small classes • Bring own device

Also Apple assistance • Afternoons by arrangement

SeniorNet New Brighton

202 Marine Parade, New Brighton

Email. seniornetnb@xtra.co.nz

Ph. 03 382 6048

www.seniornet.co.nz

BALLET

from 3 years

jAzz & TumBLE

from 6 years

Studio One Performing Arts

Email: info@studioone.co.nz

Phone: 03 372 9191
---
14

Tuesday October 1 2019

Latest Canterbury news at starnews.co.nz

PEGASUS POST

The

Mairehau

Challenge

Achievement

Way

Responsibility

Empathy

Re Wiki O Te Reo Maori

What a week we had celebrating Maori Language Week.

The entire school, students and staff, were involved in activities

promoting the use of te reo Maori. Each day, different year levels learnt

the school Haka. On the final day, it was Hangi day!!

Year 11 students Neo and Maska dug the Hangi pit and at 5.30am

students and staff arrived at school to start the fire. At 3pm the food was

being served to hungry mouths and thoroughly enjoyed by everyone.

Encouraging

excellence

in our

community

Outward Bound 2019

Year 12 students Falcon Neilson and Maddy Bouma, received

sponsorship to go on a course at Outward Bound at Anakiwa

in the Marlborough Sounds.

Maddy wrote an article for a local newspaper about the

experience and the following is part of that article.

Outward Bound is an experience that will be embedded in my

memory forever.

It is truly astonishing what you are capable of doing when you

set your mind to it.

During my time at Outward Bound, a group of strangers

became a family within a matter of days. I kayaked raging river

rapids, captained a sailboat through a storm and through the

night, tramped mountains without a marked track.

I also went on a beautiful island

where I solo camped for three

days, and had many other

adventures.

Outward Bound allowed me to

push myself further than I ever

thought possible. It helped me

to better understand what I am

capable of, what my limits are

and taught me skills that can

help me conquer any challenge

I face.

Outward Bound truly is a mind

blowing experience and has had

a tremendous impact on not just

my own life but that of so many

others.

Something that has stuck with

me are the words of Outward

Bound founder Kurt Hahn, who

said "There is more in you".

Maddy Bouma

Falcon Neilson

Mairehau High School, Hills Road, Christchurch P. 385 3145 F. 385 3143 admin@mairehau.school.nz www.mairehau.school.nz
---
PEGASUS POST

Latest Canterbury news at starnews.co.nz

Tuesday October 1 2019 15

This is who we are... students and staff

focusing on our C.A.R.E values

Maths News

Term 3 Music News

Our annual music tour comprising of 60 students and staff, took us to Mairehau

Primary School, North Loburn School, Waiau Primary School and our final

concert was to a combined audience of a preschool, Waiau and Rotherham

School students at Waiau.

Darryn Ward, Principal of North Loburn School had this to say –

"What a treat and what an amazing afternoon we have just had. The Mairehau

High School orchestra and other music groups came and entertained us for an

hour. There was something for everyone. It was a pleasure to have them and

was also a walk down memory lane as I am an old boy from Mairehau High.

Thank you Margaret Robertson and your team for the entertainment".

Special Olympics

Soccer 2019

Our Supported Learning students participated

in a one-day soccer tournament run by Special

Olympics. After playing four games and losing

only one, Mairehau High School came away

with 2nd place overall. Congratulations to Myles

for the Player of the Day award for his excellent

attack and defence game. The team was an

excellent role model for our school.

Education Perfect Mathematics

Championship

At the beginning of August, the annual Education

Perfect Mathematics Championship was held. We

are thrilled to announce that four of our students

received awards.

Shushant Joshi gained

an Elite Award. This is

an outstanding award.

Shushant was placed 159th

in the world answering an

amazing 10,037 questions

in the 7 days.

Jashan Singh gained an

Emerald Award with 5,091

points, Sneha Joshi gained

a Bronze Award with 1,000

points and Chesrille Battiw

gained a Credit Award with

748 points.

Australian

Mathematics

Competition

Another outstanding

mathematics result for

Year 9 student Mark

Watkins, earning a

Distinction Award. This

puts Mark in the top 20th

percentile of all the Year 9

competitors.

Year 10 student,

Shushant Joshi

Year 9 student,

Mark Watkins

Credit Awards go to:

Year 10 Dakota Potter

Year 11 Rykin Eade

Year 12 Georgina Free and Ella Peoples

Year 9 Flexible

Learning Time

Over the last few weeks, Year 9 students have been

working though a rotation of lifeskills.

They have done CPR and First Aid, self defence,

taxed their brain on a breakout box along with

critical thinking and problem solving, mechanics

and driver licensing, cooked a mystery food box,

sewed on a button, learned to tie a tie, learned

budgeting and flat hunting skills and finally, design.

We are really grateful to the various guest presenters

who helped equip students with

very valuable skills.

Mairehau High School, Hills Road, Christchurch P. 385 3145 F. 385 3143 admin@mairehau.school.nz www.mairehau.school.nz
---
16

Latest Canterbury news at starnews.co.nz

Tuesday October 1 2019

PEGASUS POST

2019 LoCAL ELECtions - meet your candidates

Phil Mauger Independent - Standing for Burwood

Paid Advertising Feature

My message is simple. Look after Burwood.

Stop ridiculous rate rises. Fix our roads and

buildings, and look after our people. The

housing conditions of many need immediate

attention. We've been let down badly since the

earthquake. It's time for a change.

People living in the east want to be heard.

My commitment to the east is strong. I grew up

here. My kids went to school here. My family

has lived in Christchurch's eastern suburbs

since 1945.

For more than 70 years my family business

has built subdivisions, roads and many homes

for people living in and around Burwood. I

know this area well.

We have to ensure that the remaining

rebuild is not beyond the affordability of

our ratepayer base. We need people with

commercial nous around the Council table.

I was very humbled to hear that two term

City Councillor Raf Manji said I would be his

number one pick for Council. He said "…

there's a guy who is going to have his eyes

over every contract that comes through to

Council." You bet I will.

Key focus areas for me:

• To get rate increases under control by

trimming unnecessary Council spending.

• To be a true independent voice for Burwood.

There is no room for party politics in local

government - block voting can hamstring

progress.

• To make sure the Council fronts up and

repairs the apartments at Concord Place.

These apartments could be easily fixed. One

of the units has been empty for four years.

This is not good enough.

Authorised by Phillip Mauger, 87 Jessons Road, Christchurch.

James Daniels Independent - Standing for Coastal

I grew up here, still live here and will grow

old here. I love it here. I'm upset about the

way we, as a coastal community, have been

neglected and disrespected over the last nine

years in particular.

The Council needs people with proven, good

governance skills because we have some

strategic, yet complex, difficult decisions to

make. I'll bring energy, experience, expertise

and a fresh perspective to the process.

I will remain visible, be transparent and

communicate with my community while

listening carefully to the issues that affect us.

Many people only know me because of my

broadcasting career. Not many know I have

more than 30 years of governance experience

covering commercial, charitable, community

and not-for-profit organisations. I am also wellconnected

locally and nationally, so combining

my communication skills with my experience

and expertise, I will make a difference for our

Coastal community.

The proposed rate increases over the next

ten years are distressing. I will openly oppose

any increases until convinced it's necessary.

I'm not wasting energy on what happened

(or didn't happen) over the last nine years.

If elected, in the first 90 days I will do a

deep-dive stocktake on the current situation

regarding the Coastal Ward (the Regeneration

Plan is a positive!). In the New Year I will come

back to the community and call a series of

meetings to tell you face-to-face 'where we're

at', then we will decide 'where we want to go'.

The only promise I make is that I will work

very hard.

Authorised by James Daniels, 6 Betula Place, Parklands, Coastal.

Holly Chappell-Eason Standing for Community Board - Innes Ward

As a proud 5th generation Cantabrian I'm

driven to make a difference in our city. The

opportunity to help make our community vibrant,

active and safe is an exciting prospect.

A strong community board should embrace

diversity, sports, family, culture, public spaces

and community groups. We need chlorine-free

water and safe streets; a balance of pedestrians

and cars, and functioning public spaces. We are

a diverse and thriving community. We should be

celebrating all of the different passions we have

- what's important to us. Let's make Papanui-

Innes ward a place we are proud to call home.

My background in the arts, leadership and

education means my greatest skill is listening.

I will listen to what our community needs, I will

always find a solution- creative problem solving

is key. I love to work with groups and activate

young people in particular to take ownership

of the future of our city. My passion, drive and

compassion will be an asset to the governance

of our area.

After living and working all over New Zealand

it felt exciting and necessary to move home to

Saint Albans, to start my family here, to be an

active part of the rebuild. Now I want to take

the next step; to have a hand in guiding our

community and eventually our city. To be the

voice of our community would be an absolute

honour for me.

Make sure your vote counts - a vote for Holly

Chappell-Eason is a vote for you and your

family's future.

FB: Holly Chappell-Eason: Papanui Innes

Community Board.

Email: holly.r.chappell@gmail.com

Authorised by Holly Chappell-Eason, 51 Mayfield Avenue, Mairehau, Christchurch.

Lianne Dalziel Christchurch Mayor - Standing for re-election

Re-elect Lianne Dalziel Mayor

"I love Christchurch and am confident about our

future. With my experience and inclusive style

of leadership, we can tackle any challenges that

lie ahead, while seizing every opportunity that

comes our way."

It is vital we keep the momentum going.

My immediate priorities are:

Water: Investment in our infrastructure will

deliver pure water safely to your home. I

will fight Government-imposed mandatory

chlorination.

Rates: I will bring rates rises down while

ensuring continued infrastructure investment,

and balancing council debt and inflation.

Central City: A vibrant city centre is essential.

Having secured $300m for Christchurch, the

stadium will be a multi-use facility. I will continue

to back the developers leading the way.

Sustainability: I am committed to reducing our

city's carbon footprint, and helping communities

prepare for the impacts of climate change.

Eastern Alliance: An alliance of contractors will

deliver a fully integrated programme of works

across the east, fixing the roads, footpaths and

pipes and building stopbanks.

Do it once, do it right.

www.lianne.co.nz

Authorised by A Campbell lvl1/394 Riccarton Road, Christchurch.

Ali Jones Standing for Community Board re-election - Papanui-Innes Ward

In the last six years and especially the last

three, it is clear there is still plenty of work to

do in the Innes Ward. With the experience,

relationships and knowledge I have from the

working on the Papanui Innes Community

Board for the last six years, I can hit the

ground running.

For example, the Northern Corridor opens

next year and there are significant roading

projects that go with that; the roading renewal

plans for Innes, traffic flow and congestion,

safety around shops and schools - I have been

living and breathing this as a community board

member (board chair from 2016-2019) and city

councillor (2013-2016) so I am up to speed.

If you re-elect me, you'll be getting a real

advocate for communities and people, honesty,

transparency and a very hard worker. I don't

play games and am a straight shooter.

As the Innes area has had much invested

from an infrastructure perspective (the Dudley

diversion, Christchurch Northern Corridor and

cycleways for example), the money spent

in our ward has been significant but it has

generally not been on community facilities and

improving amenity – we must continue to fight

for equity in our ward so that we can have the

same facilities other parts of the city enjoy.

Understanding how the Long Term Plan

(City Council 10 year budgets) work is

essential to putting our case – I totally get

that and will do exactly that, if re-elected to

the Papanui Innes Community Board, as your

Innes representative.

I am standing as an independent candidate

as I will not make decisions based on anyone

else's philosophy or party line. Party politics

should stay in Wellington and do not have a

place in local government. We have a unique

environment in Christchurch and I don't believe

our future should be held hostage for political

gain.

Authorised by Ali Jones, C/- 225 High Street, Christchurch.
---
PEGASUS POST Latest Canterbury news at starnews.co.nz

Tuesday October 1 2019 17

2019 LoCaL ELECtionS - meet your candidates

Peter Ballantyne Standing for Canterbury District Health Board

Paid Advertising Feature

Peter has considerable experience in the

health sector having served as Deputy Chair of

the Canterbury District Health Board and Chair

of the West Coast District Health Board.

Peter believes the health board has worked

tirelessly to meet the needs of Cantabrians,

but has been constrained by lack of funding

.Peter considers that he is well placed to

advocate strongly for equitable funding for our

health needs in Canterbury. This, combined

with efficiencies in service, will enable more

funds to be available to meet the increased

demands of health issues such as mental

health, cancer and elective surgery in order to

ensure that our communities get well, stay well

and live well closer to home. Addressing the

increasing needs of our ageing population is

a continuing demand on our health services.

There is also need to remove the capital

charge, and progress the rate of our facility

rebuilds to ensure our people receive timely

and appropriate treatment in modern hospital

facilities. He is very conscious of the safety and

wellbeing of our health workforce which has

been operating under tremendous pressure

since the earthquakes while continuing to

maintain high standards of service.

Peter was previously a partner in the

international consulting firm Deloitte. He

currently serves on the CDHB Quality, Finance,

Audit, and Risk Committee and on the

University of Canterbury Council.

A life long Cantabrian, Peter is a greatgrandson

of John Ballantyne, founder of

Ballantynes Department Store. Peter's wife

Claire worked as a registered nurse with

the CDHB and his daughter is a Consultant

Geriatrician. With two sons, an engineer and a

film director, Peter's leisure time is spent with

family, grandchildren and sailing.

If you wish to contact Peter you can email him

at prballantyne@yahoo.com

Authorised by Peter Ballantyne, 37 Waiwetu Street, Christchurch.

John Minto Standing for Christchurch Mayor

I am standing as a KOA (Keep our Assets

Canterbury) candidate for mayor because we

want a future for Christchurch which makes

sense.

The city faces three big challenges: a

climate emergency, a water supply threatened

by contaminants and many people struggling

on poverty incomes without dignity or selfrespect.

Our policies are to reduce greenhouse

gas emissions with free and frequent public

transport; provide a local zone for Canterbury

businesses and co-operatives in the city

centre; rebuild the 400 council rental homes

destroyed in the earthquakes; future-proof

our water supply and develop a plan for

swimmable rivers; rate increases kept to the

rate of inflation and a minimum of the living

wage for all council work.

As well as significantly reducing our

greenhouse gas emissions, fare-free public

transport will create a more cohesive, less

divided city as people mix and mingle on

modern, low-emission buses with free wifi.

It will also save families approximately four

weeks pay per year in transport costs which

will be spent in the local economy giving a

boost to local businesses and co-operatives.

This policy will not increase rates because

it will be paid for from existing government

budgets by rebalancing transport funding away

from new roads in favour of public transport.

These policies will improve our lives while

saving the council money. More details are at

www.MintoforMayor.nz

Authorised by John Minto, 21 York Street, Waltham, Christchurch.

Linda Stewart Standing for Burwood Community Board - a strong voice for Burwood Ward

Community dynamics changed drastically

post-earthquakes. I am seeking a fifth term

determined Burwood Ward's needs are

addressed.

New, vibrant communities (north of the ward)

in Mairehau-Prestons areas will wait decades

for a council-initiated facility. I'm seeing the

need for a community centre now to serve

the Travis Country, Tumara Park, Waitikiri to

Prestons communities. A MULTI-PURPOSE

COMMUNITY FACILITY would provide a

Community Hub where your community can be

a true community to enjoy classes for all ages.

Residential Red Zone fringe suburbs

forgotten nine years without any recovery

investment - I am concerned about home

ownership imbalance, safety and wellbeing

issues. My concept - an AREA-WIDE

COMMUNITY FACILITY grew quickly to

become the Dallington-Avondale-Burwood

community-led proposal and successfully

advocated to council - now waits for a future

build date to provide a place for people to

recover and rebuild broken communities.

My other initiatives - The Coastal Burwood

Wards first council-funded Outdoor Gym

installed 2018 at Burwood Park.

Initiating Outdoor Movies for Burwood

Avondale and Dallington to support community's

re-connection;

Leading the successful community

submission process to retain the Ministry of

Education's land sale proceeds to fund the

QE11's Master Planning project - A victory for

community-led advocacy.

Other concerns:

Tairoa-QE11 needs more dedicated disability

facilities and an effective therapy spa for

wellbeing use.

The future governance of the green zone -

we need to protect our community values

balanced with future eco and tourism ventures.

Our communities safety in challenging times

SAY YES WITH A TICK FOR EXPERIENCED

ISSUES-BASED ADVOCACY.

Authorised by L Stewart.

Glenn Livingstone People's Choice - Standing for Councillor - Burwood Ward

Four months to the day from being sworn in

as a new City Councillor in 2010, the February

22nd 2011 earthquake hit. The main issues

I heard from you then were EQC, Private

Insurers and the loss of QE2. I acted on those

issues and as a result, following promotion of

an Insurance Tribunal through the Council, the

Residential Advisory Service was put in place.

This service helped thousands of Christchurch

east residents resolve their insurance claims.

Recently, the new Government brought the

Insurance Tribunal into law.

The final infra-structure bill for the Burwood

ward of $400m is the highest of all the

wards. Fixing the roads is more a marathon

than a sprint and though frustrating I remain

determined to get them fixed.

In relation to the rates, I believe in keeping

our Council assets and the dividends they

yield, or your rates would climb even higher.

I've led in the rebuild of QE2, Donnell,

Wainoni parks, Horseshoe Lake amenities.

I've chaired the QE2 Park master plan process

and stood up to the MOE over school zone

changes, gaining a stay of 13 years for the

current zones.

I bring a commercial lens as a director

on Transwaste, in which the Council has a

majority share of the Councils. I donate those

Directors fees to the Mayors Welfare Fund.

I seek your support to continue rebuilding

our ward, including the red zone. A Coast to

Coast competitor, I have the determination to

carry on offering service and experience.

Authorised by J McLellan, 6 Braddon Street, Addington.

Cam Parsonson Standing for Councillor and Community Board - Innes Ward

I ran for council because people keep telling

me that civic resources just aren't getting

returned to the Innes ward.

I make projects happen, developing projects

in aquaculture, hospitality, retail, construction

and others. I am an entrepreneur, with a

masters in science from Canterbury University.

I also hold an LBP as a licenced builder. I have

also been employed as a mechanic , autoelectrician

and as a food technologist.

I have academic skills that are of value

in delivering good governance in our local

community. As a facilitator, mediator and

project leader I understand how to activate

and rise up community to complete projects

and get results. Over the past two years I've

developed an aquaculture business and gained

a 'transitional facility operator' license from MPI

which involved navigating complex biosecurity

legislation.

Right now the Innes ward needs leadership

and governance that is focused on returning

more civic assets to our area to enhance the

amenity of our area and protect property values

now and into the future.

People consider me a 'problem solver' as I

am often called upon to resolve complex issues

and applying new technology to existing "dumb"

infrastructure is a focus. I am skilled in finding

new uses for old resources.

A vote for me is a vote for practical common

sense on council with a proven can do attitude

and considerable general and scientific

knowledge.

Authorised by C.Parsonson, 123 Joy Street, Christchurch.
---
18 Tuesday October 1 2019

Latest Canterbury news at starnews.co.nz

PEGASUS POST

Email matt.slaughter@starmedia.kiwi by

5pm each Wednesday

Senior Net New Brighton

Tuesday, Wednesday and

Thursday, 10am-noon (by

appointment)

This group offers assistance

to mature people with modern

technology, including computers,

tablets, smartphones, email,

Facebook, Skype, Word,

cellphones and the internet.

Phone 382 6048 for more

information.

202 Marine Pde (next to the

New Brighton Club)

JP Clinic at Shirley Library

Tuesday, 10am-1pm

A justice of the peace will

be available to members of

the community to witness

signatures and documents,

certify document copies, hear

oaths, declarations, affidavits

or affirmations as well as sign

citizenship, sponsorship or rates

rebates applications. No charge.

Shirley Library

SAYGo Steady As You Go

Falls Prevention Exercise Class

Tuesday, 10am

This is a specially-designed

class to help you avoid a fall.

There is a $2 koha entry but no

booking fee. Those interested are

invited to turn up on the day and

see what it can do for them.

Parklands Community Centre

Sit and Be Fit

Thursday, 9.30am

Complete a class of exercises

without even leaving your

chair. The cost of the class is

$5.50 and you'll get a cup of tea

or coffee.

Taiora: QEII Recreation and

Sport Centre

Rocket Club

Wednesday, 3.30-4.30pm

Go along and take part in

different activities based on

local and current events in

a learning environment.

Homework help

is available during this time. Free

and no bookings required.

Aranui Library

Scrabble Club

Tuesday and Wednesday, 1.30-

3.30pm and 1-2.45pm

Go along to the Scrabble

Club. No obligation, just go

along when you can and join the

friendly group. All materials are

supplied. No fee.

Shirley and Parklands

libraries

CV help

Thursday, 10-11.30am

A librarian will be on hand to

A spring craft making event will be held at Parklands Library on Friday from

10.30am until noon. Create a mini bee or ladybird finger puppet using a variety

of material or design a beautiful butterfly.

assist customers who need help

with their CV or resume.

New Brighton Library

Technology Help Drop-in

Sessions

Thursday, 3.30-4.30pm

Go along to a drop-in

session for help with

email, searching the internet,

using the library catalogue,

eBooks, and general computer

queries.

Shirley Library

Cards Club

Friday, 1.30-3.30pm

This weekly club will be held

every Friday, just go along and

join the fun. Free, no bookings

required.

Shirley Library

mBots

Friday, 10.30-11.30am

Do you like solving puzzles?

Then go and have fun with

friendly little mBots and have a

go at some challenges.

New Brighton Library

Makerspace

Friday, 3.30-4.30pm

Go along to a weekly

Makerspace session and get

hands-on with activities for all

ages. Something new every

week.

Aranui Library

Culture Exchange

Friday, 3.45-4.45pm

Make new friends, practice

English and learn about New

Zealand and Christchurch.

Shirley Library

New Brighton Seaside

Market

Saturday, 10am-2pm

Enjoy a warm and

fun atmosphere beside

the seaside. With live

entertainment, food and free

face-painting.

New Brighton Pedestrian

Mall

Golden Oldies Movie – The

Glass Bottom Boat (G)

Monday, 1.30pm

Doris Day and Rod Taylor

star in this 1966 drama. After a

series of misunderstandings, the

head of an aerospace research

laboratory begins to suspect his

new girlfriend is a Russian spy.

Cost is $2, go early for a cuppa

and a chat.

New Brighton Museum, 8

Hardy St

Marshland Table Tennis Club

Monday, 7.30-9.30pm

Go along every Monday night

until October 14. Casual players

are welcome – $5 for adults per

night, $3 for juniors under-18.

Marshland Hall, 430

Marshland Rd

2019 LocaL ELEctions - meet your candidates

Darryll Park Standing for Christchurch Mayor

Paid Advertising Feature

Hello there, I am Darryll Park, a proud

Cantabrian, and extremely passionate about this,

our city of Christchurch.

I have lived and worked in and around

Christchurch all of my life.

In the past I was the CEO of Christchurch

& Canterbury Marketing Ltd, and I helped

to reposition Tourism under the government

Tourism 2010 Strategy, as well as past board

member of Civil Aviation Authority & Aviation

Security Services, two government agencies and

was employed as Air NZ South Island Manager

until 1998.

Nowadays I am the co-owner of Oxford

Management Services, a property development

and management company supporting

hospitality, Chair of Mondo Travel Group, and a

Director of the Canterbury Rugby Union and the

Crusaders.

What I'm standing for

I am standing as a Mayoralty candidate for

Christchurch in the upcoming elections. I am

campaigning to 'Move Christchurch Forward',

with a focus on common sense, a back to basics

approach and better ways to move us forward.

Why am I doing this?

Quite simply, I want to restore public trust in

Christchurch's local leadership and with your

help, do what's needed to be done to make

Christchurch, New Zealand's most liveable city.

This will mean being accountable and

transparent to you, the voter, ratepayer, resident

and business community. Our key areas of

focus are rates, water, infrastructure, tourism,

sustainability, institutions and events, crime and

communities. I will be revealing our policies over

the coming weeks.

There is much to be done, and if elected, I will

stand aside from my current business interests

and governance roles to ensure my focus on this

city is absolute.

Thank you for your interest, and if you want to

help move Christchurch forward, I look forward

to your vote.

Authorised by Darryll Park, Christchurch Mayoral candidate, 400 Pound Road, Yaldhurst, Christchurch 7676.

3 issues $20 • 6 issues $44.50 • 10 issues $65

rugbynews.co.nz 0800 77 77 10
---
PEGASUS POST Latest Canterbury news at starnews.co.nz

Tuesday October 1 2019 19

Shop

Win

& Relax

WIN

1 OF 5 FAMILY

GETAWAYS

TO HANMER

SPRINGS

more

chances

to win!

Enter every time you shop at any of these participating businesses

Spring is here, get ready for

the HAYFEVER season!

Unichem Parklands Pharmacy

60 Queenspark Drive, Christchurch

Phone: (03) 383 1330

60 Queenspark Drive, Christchurch Phone: (03) 383 1330

Store Hours: Mon – Fri 8.30am – 6pm, Sat 9.30am – 2pm

For all your health & wellbeing needs

• Prescription Services

• Vaccinations

• Diagnostic Health Checks

• Medicine Management

• Travel Services

ham on

• Weight Management

the bone:

pre-order

for

christmas Store Hours

Monday – Friday 8.30am – 6pm

372 Selwyn St

Saturday

9.30am – 2pm

Ph 366 4947

www.everybodysbutchery.co.nz

The Body's Youth Protein

NEOCELL COLLAGEN SUPPORTS:

- Reduction in lines & wrinkles - improved skin elasticity

- Strong hair & nails, may help reduce hair loss

- Supports bone, ligaments, tendons & joint health

MARSHALLS HEALTH & NATURAL THERAPY

CONSULTING - PRESCRIBING - DISPENSING -

MANUFACTURING - MEDICAL HERBALISTS

101 SEAVIEW RD, NEW BRIGHTON • PH 03 388 5757

Email: enquiry@marshallshealthshop.co.nz

FREE Courtesy Cars

All insurance & private

work welcome

302 Travis Road, North New Brighton

Phone: 03 388 5187

E: qe2collisionrepairs@outlook.com

NEOCELL PREMIUM COLLAGEN IS

CLINICALLY RESEARCHED

FOR SUPERIOR RESULTS

SUPER LOW PRicE!

120's only $36.90, save $5.75

250's only $56.90, save $9.75

Mail Order Available

Bringing You the Best in

Natural Health!

- WE ARE ALWAYS HAPPY

TO HELP! -

Burwood

269 Burwood Rd, Burwood Ph: 383 2114

HOURS Mon-Fri 8:30am-5:30pm, Sat 9am-4pm

Spring into

fitneSS

Home of the

$40 service

LayBy FOR

XMaS nOw

72 Brighton Mall,

New Brighton

Phone: 03 388 1809

Monday to Saturday 9:00-5:30

Sunday 10:00-4:00

www.paperplus.co.nz

PARA PARA PARA PARA PARA PARA PARA PARA PARA PARA PARA PARA PARA PARA PARA PARA

PARA PARA PARA PARA PARA PARA

MATTRESSES

FOR ALL OCCASIONS

127 Blenheim Road PHONE 343 9820

No rainchecks. Cash sales only.

PARA PARA PARA PARA PARA PARA PARA PARA PARA PARA PARA PARA PARA PARA PARA PARA

BLENHEIM

CLARENCE

MATIPO

PARA PARA PARA PARA PARA PARA

Bring in this coupon for

GIFT CARDS

BUY ONE

ONE FREE

GET

• Barrington Mall

• The Hub, Hornby

• New Brighton Mall

• South City Centre

Conditions apply, free gift card same price or less, one deal per coupon. Offer expires 20th October, 2019.

PRINTER

CARTRIDGES

New compatible toner cartridges

New compatible ink cartridges

Brand ink cartridges

Gold card discounts

HUGE SAVINGS

ON VALUE PACKS

www.cartridgerefills.co.nz

Go Karting at

Christchurch's

Premier

Indoor Track

FUN

FOR ALL

AGES

35 Woodgrove Ave, North Beach, Chch

Ph. 03 382 5858 | info@cartridgerefills.co.nz

91 Buchan Street, Sydenham

Phone 03 374 9425
---
20 Tuesday October 1 2019

Latest Canterbury news at starnews.co.nz

PEGASUS POST

WHY CHoose

for Your next VeHICLe?

It's in our name

- Value!

A vehicle from

Value Cars will have

the best presentation,

best mileage and best

price combination.

We have been

trusted in Canterbury

for over 25 years and a

majority of our customers

are referral or repeat

customers. We stand by

every vehicle and we are

proud of our service.

One location for

every type of vehicle

and under cover makes

for a pleasant buying

experience. Our colour

and low mileage selection

is something we work

hard to provide.

CANTERBURY OWNED

& OPERATED

ESTABLIShED 1993

VALUE

REPUTATION

SELECTION

TRUSTED

PLUS

REGISTRATION

2014 toyota yaris

$11,999

The Yaris is a very economical and spacious family

5 door hatch, features a 1.3L engine with automatic

trans, NZ New, cruise control, Bluetooth, reverse

camera, keyless entry, rear wiper, low kms, safety of

ABS, T/C and 9 airbags, stands out finished in red,

won't last long!

PLUS

REGISTRATION

2014 toyota prius

$17,999

Very well sought after fuel efficient vehicle, features

a 1.8L engine with Hybrid Synergy Drive and

automatic trans returning 5.5 star fuel efficiency,

looks sharp in classic silver on 15" black alloys with

factory wheel covers, travelled very low kms, push

button start, safety of ABS, T/C and 8 airbags.

PLUS

REGISTRATION

2013 Renault lutecia

$13,999

'Supermini' European hatch, features a 1.2 litre turbo

charged engine with tiptronic trans, looks really good

in white with factory body kit and stylish black interior,

cruise control, push button start, rear wiper, low kms,

ABS and 4 airbags, very stylish vehicle, inspection won't

disappoint!

PLUS

REGISTRATION

2012 nissan note

$10,999

The Note is an economical, spacious, practical everyday

commuter, features a 1.2L engine with automatic trans

and 5.5 Sytar fuel efficiency, stands out finished in blue

with stylish black interior, smart keyless ignition, rear

wiper, low kms, ABS and airbags, view now!

PLUS

REGISTRATION

2009 MaZDa DeMio

$11,999

The Demio is a very popular and surprisingly spacious 5

door hatch, "sport" model, features the slightly peppier

but still economical 1.5 litre engine with automatic

trans and 5 star fuel efficiency, looks good in silver with

body kit, driving lights and 16" alloys, travelled very low

kms, smart keyless ignition, come and view now!

PLUS

REGISTRATION

2001 bMw cabriolet

$8,999

The 330i Cabriolet is a desirable RWD European

4 seater soft-top sports tourer, NZ New, features

a 3.0L engine with tiptronic trans, looks great in

gold metallic wtih black soft-top, driving lights

and factory 17" alloys, cruise control, rear parking

sensors, keyless entry, good kms, ABS, T/C.

PLUS

REGISTRATION

PLUS

REGISTRATION

2008 Mitsubishi galant

$8,999

Good looking sporty 4 door sedan, features a 2.0L

engine with tiptronic trans and 4 star fuel efficiency,

looks great in light gold metallic with spoilers and

17" alloys, dark part leather interior, towbar, low kms,

cruise control, reverse camera, keyless entry, ABS,

T/C and airbags, great vehicle and great buying.

PLUS

REGISTRATION

PLUS

REGISTRATION

2006 honDa inspire

$7,999

A luxury inspired family sedan, features a powerful

3.0 litre V6 engine with tiptronic trans, looks sharp

in silver with driving lights, 16" alloys, plush black

interior with woodgrain accents, cruise control,

keyless entry, reverse camera, smart keyless ignition,

ABS, T/C and airbags, test drive won't disappoint!

2017 nissan bluebirD sylphy

$15,999

The Bluebird has long been a popular choice

for those wanting an economical, reliable and

comfortable family sedan, features a 1.8 litre engine

with automatic trans, looks sharp finished in white

with chrome detail, travelled very low kms, reverse

camera, keyless entry, ABS, T/C and airbags.

2009 subaRu legacy

$13,999

The Legacy is a very desired sports sedan and this

example doesn't disappoint, features a powerful

2.5 litre engine with tiptronic trans and paddleshift

option, stands out finished in wine red with factory

body kit, driving lights and 16" alloys, desirable

black interior, push button start, worth a look!

PLUS

REGISTRATION

PLUS

REGISTRATION

PLUS

REGISTRATION

2010 nissan lafesta

$7,999

Facelift model, 7 seater, features a 2.0 litre

engine with automatic trans, looks sharp in white

with driving lights and 15" alloys, smart keyless

ignition, black interior, rear wiper, ABS and

airbags, worth a look if you're in the market for an

economical, spacious and versatile family wagon!

PLUS

REGISTRATION

2008 subaRu forester

$12,999

Practical, well built and enjoyable to drive, the

Forester offers excellent balance, features a 2.0 litre

turbo charged engine with tiptronic trans, AWD,

cruise control, heated/powered front seats, reverse

camera, driving lights, 17" alloys, keyless entry, rear

wiper, ABS, T/C and airbags.

PLUS

REGISTRATION

2010 toyota wish

$11,999

Very popular and well sought after wagons,

features a 1.8 litre engine with tiptronic trans,

room to seat 7, finished in grey with stylish black

interior, keyless entry, rear wiper, push button

start, ABS and 8 airbags, fast sellers so don't

delay!

2006 auDi a4

$8,999

Stylish European 5 door wagon, features a 2.0L

engine with tiptronic trans, looks sleek finished

in silver with driving lights, brushed alloy roof

rails and 16" alloys, parking sensors, keyless

entry, rear wiper, safety of ABS, T/C and 8

airbags, upgrade your family wagon today!

2012 MaZDa cX-5

$22,999

Modern tech-savvy SUV, features a 2.0 litre SkyActiv

engine with i-stop and tiptronic trans giving class leading

4.5 star fuel efficiency, wine red with contrasting black

factory body kit, driving lights and 17" alloys, stylish

black interior, rear vehicle monitoring, push button start,

ABS, T/C and multiple airbags, be quick – fast sellers!

Registration for 6 months is $301

Value Cars Warehouse

4.72

32 Moorhouse Ave, P: (03) 366 7768 IMVDA

www.valuecarswarehouse.co.nz
---
PEGASUS POST Latest Canterbury news at starnews.co.nz

Tuesday October 1 2019 21

Tasty Bites

Sweet vegan classics from Asia

Try a vegan take on

some Asian classics

Indonesian crumpets

Makes 20

Ingredients

250ml (1 cup) soy or coconut

milk

7g sachet dried active yeast

1 tsp coconut sugar

300g (2 cups) plain flour

2 tsp bicarbonate of soda

1 tsp sea salt

1 tsp vanilla powder

Olive oil or vegan butter, for

greasing

Suggested toppings:

Coconut yoghurt, vegan butter,

pure maple syrup, fresh berries,

shredded basil leaves, dried

edible flowers, hemp seeds, icing

sugar.

Directions

Gently warm the soy or

coconut milk and 250ml (one

cup) of water in a saucepan

over low heat until just warmed

through (don't warm the liquid

too much or you will kill your

yeast). Pour the liquid into a

bowl and add the dried yeast

and sugar. Set aside in a warm

place for 15min or until the

surface starts to foam. Sift the

flour, bicarbonate of soda, salt

and vanilla into a large bowl.

Add the yeast mixture and stir to

combine. Place a clean damp tea

towel over the mixing bowl and

set aside for 35-40min or until

the mixture is risen and bubbly.

Heat the oven to 100 deg C

fan-forced. Lightly grease a large

frying pan and set over mediumhigh

heat, then lightly grease a

few egg rings and place them in

the pan.

Stir the mixture again – it

should look like thick, bubbly

pancake batter. Add 60-125ml

(¼ cup-½ cup) more water to

reach the desired consistency if

necessary.

Spoon two to three

tablespoons of the mixture into

each egg ring. Cook for 2min

or until the tops are completely

covered in bubbles and the

batter is dry. Remove the egg

rings, transfer the crumpets

to a heatproof plate and keep

warm in the oven. Repeat with

the remaining mixture to make

about 20 crumpets.

Serve the warm crumpets with

your favourite toppings.

Any leftover crumpets will

keep in an airtight container in

the fridge for two to three days

or in the freezer for up to two

weeks.

Chana masala

Serves 2

Ingredients

2 Tbsp avocado oil

1 onion, diced

400g can whole tomatoes

400g can chickpeas, drained and

rinsed (see tip)

2 tsp coconut sugar

2 Tbsp freshly squeezed lemon

juice, plus lemon wedges to serve

Sea salt

Chopped coriander leaves, to

serve

Steamed basmati rice or garlic

Naan to serve

Masala curry paste

2-3 long red chillies, roughly

chopped

3 garlic cloves, roughly chopped

2 tsp ground cumin

2-3cm piece of ginger, roughly

chopped

1 tsp ground turmeric

1/2 tsp sea salt

1 tsp black peppercorns

1 tsp garam masala

1 tsp ground coriander

1 tsp brown mustard seeds

Directions

Using a large mortar and

pestle, pound the masala curry

paste ingredients for about

10min or until you have a

smooth paste (alternatively,

you can use a small food

processor.)

Heat a saucepan over medium

heat, add the oil and curry paste

and saute for 30sec.

Add the onion and saute for

2min, then stir through the

tomatoes and chickpeas.

Reduce the heat to low and

simmer for 30min or until

reduced to a thick curry.

Remove the pan from the heat,

stir through the sugar and lemon

juice, then taste and add a little

salt, if necessary.

Sprinkle the chana masala

with coriander and serve with

steamed basmati rice or garlic

naan on the side and lemon

wedges for squeezing over.

Tip: Keep your chickpea liquid

(aquafaba) to make sriracha

mayo or caesar dressing.

www.bigbrothersbigsisters.org.nz
---
22 Tuesday October 1 2019

Latest Canterbury news at starnews.co.nz

SENIOR LIVING

PEGASUS POST

Hydrate to elevate

We all know drinking water is important, but the

majority of us simply don't drink enough even though

we know it makes us feel great when we do. We look

at the benefits and motivate you to drink more with a

few tips on how to make it just a little more palatable.

With over a quarter of Kiwis

consuming less than two glasses of

water a day and only 5% drinking

more than the recommended eight, the

message obviously hasn't hit home on

the importance of hydrating our body.

A recent survey conducted by

SodaStream found that Cantabrians

are particularly guilty when it comes to

their water intake.

With 82% drinking less than six

glasses of water a day, but with over 85%

admitting they feel healthier when they

drink more water, something needs to

be done to bridge the gap in terms of

what we know to be true and what we're

actually doing about it.

This same survey revealed that

although 41% of us limit how many soft

drinks we consume due to our concerns

over sugar content, the same number

of people said tea or coffee is this their

number one drink of choice.

Some people even believe that the

water consumed in their cup of Joe

constitutes part of their water intake.

This is a fallacy.

As caffeine actually dehydrates us, as

does alcohol too, it means we need to

drink even more water to compensate.

Not so surprisingly the reason we

don't drink nearly enough water is that

we simply forget. Now with apps you

can download direct to your smart

phone, there are no more excuses.

Further studies proved that people

who had a SodaStream machine in their

homes were more likely to drink more

water.

In fact, the study showed that people

drank 30% more water.

For those of us who aren't used to

drinking water like it's going

out of fashion, there are plenty of ways

to increase the fun factor while still

being healthy.

After

Before

By simply turning tap water into sparkling water with a

SodaStream machine and adding a splash of fresh lemon juice

or naturally squeezed fruit juice, is bound to have a positive

impact on our health and wellbeing.

INSPIRING

INDEPENDENT

living

Spring is in the air and with our

range of helpful products, we look to

help people achieve their objectives by

reducing barriers of daily living.

• Shop and hire helpful products to reduce barriers of daily living.

• Mobile Services – Fun presentations coupled with demonstrations of

how to use some of the products we stock. We come to you in your

community. For more information contact Kylie Taylor on 022 676 5851

or 03 366 6189.

• Disability Information: Unbiased information, we are here to listen

and help.

• Total Mobility Scheme – call for a chat about this service. 50% off Taxi's

for those eligible. Terms apply.

Contact us for a chat.

314 Worcester Street,

Linwood, Christchurch

Ph: 03 366 6189

Freephone: 0800 347 242

Ph: (Total Mobility) 03 366 9093

Aspire Canterbury is a not-for-profit organisation providing services to the community since 1981

E: manager@aspirecanterbury.org.nz | W: www.aspirecanterbury.org.nz

A Leader in

Healthcare

Excellence for

the Older Person

Brookhaven

Retirement Village

29 Alport Place

Woolston

Phone 03 384 5046

Albarosa

Dementia

80 Harewood Road

Papanui

Phone 03 375 0727

Somerfield

Dementia

137 Barrington Street

Somerfield

Phone 03 332 5897

www.goldenhealthcare.co.nz

Golden Age

Retirement Village

96 Harewood Road

Papanui

Phone 03 375 0720

Camellia Court

Dementia

84 Harewood Road

Papanui

Phone 03 375 0722

Hoon Hay

Dementia

16 Anvers Place

Hoon Hay

Phone 03 379 7825

Lady Wigram

Retirement Village

Sarah Jacobson

Village Manager

210 Kittyhawk Ave,

Wigram

Phone 027 3411 464

you can stop him

snoring with a

SNOREX

Why put up with a broken

night's sleep?

Ph 377-4318 or 027 682 1752

DENISE LIM

FOR A FREE INFO PACK

Website: www.snorex.co.nz

Would you

like to profile

and grow your

Business?

For feature advertising

please phone

Jenny Wright

03 364 7446 or 021 220 3484

jenny@starmedia.kiwi
---
PEGASUS POST Latest Canterbury news at starnews.co.nz

Tuesday October 1 2019 23

SENIOR LIVING

Cleansed and cured?

Many common health problems can

all be easily solved with one simple

approach according to a leading New

Zealand Medical Herbalist Brett Elliott.

He found in his clinical practice that

most of his clients have similar common

health complaints and that it all could be

traced back to digestive disorders. Did

you know up to 50% of the population

suffer from common health conditions

like; chronic constipation, acid reflux,

bloating, gas, ulcers, irritable bowel

syndrome, crohn's disease, coeliac

disease, haemorrhoids, gallstones,

cancer, diabetes, high blood pressure,

abdominal weight gain, skin complaints

and many more and can all come back to

a poor digestive system.

He wanted to find a simple solution

everyone could use to support their

bodies natural healing without the side

effects of pharmaceutical medications

that often only ease or cover the

symptoms without healing as well as

often having many side effects. Brett

knew everything in the body depends on

the digestive system working properly

and so went about developing "The

Ultimate Herbal Detox Body Cleanse

Program" a simple to use two week

program. It not only supports the whole

digestive system but also helps cleanse

the entire body of toxins and parasites.

The program contains four different

all herb formulas all in capsule form

that need to be taken twice daily. These

capsules can be blended into a smoothie

if you prefer. Colon-aid is designed to

support a healthy bowel movement,

increases the secretion of gastric

juices and bile and promote appetite

and digestion. Digez-aid soothes and

stimulates healthy

digestion and

absorption of

vital nutrients.

Sym-lax is a

bulking fibre to

cleanse and heal

the intestines

and bowels. It

also makes you

feel less hungry.

Liva-food is the

final nutrient

rich formula to

support a healthy

liver function.

It supports

detoxing the

body of toxins

and heavy

metals.

The program supports the bodies'

organs to do their job. The formulas are

New Zealand made and contain a total

of 24 high potency herbs making it quite

possibly the most comprehensive "do

it yourself " herbal detox body cleanse

program in the world. Brett has refined

the formula over 20 years and has now

sold over 100, 000 kits world-wide. He

regularly receives incredible feedback

from users with many re-doing the

program once or twice yearly.

With toxic overload and many

diseases sky-rockerting now is the

time to make a positive change by

cleansing, nourishing and helping build

your body to a better health.

The Ultimate Herbal Detox and

further information is available

from the Natural Health Advisers

and Medical Herbalists at Marshall's

Health & Natural Therapy, 101 Seaview

Road, New Brighton, Phone: 388-5757.

We are always happy to help!

CLEANSED AND CURED?

Did you know around 50% of

the population suffer from

common health problems

that may be easily

eliminated by restoring

healthy body function?

Knowing this N.Z.

leading medical herbalist

"Brett Elliott" wanted to find

a simple solution everyone

could use. He developed "The

Ultimate Herbal Detox Body Cleanse

Program" to support cleansing the

body of stored waste matter, toxins, parasites & heavy

metals etc. Brett also knew he needed to support the vital

organ function so health could be restored & so included

natural herbs in the program to achieve this. Brett has

refined the program over 20 years & has now sold over

100.000 kits world-wide. He regularly receives incredible feedback from users.

SUPER

SPECiAL

ULTIMATE HERBAL

DETOX KITS

ONLY

$148.90

SAVE $51

DO YOU SUFFER FROM:

• Constipation • Ulcers

• Acid reflux • High blood sugar

• Bloating & gas • Eczema,

• High blood psoriasis & other

pressure

skin complaints

• Abdominal • Cancer

weight gain • Poor health

SEMINAR:

Brett Elliott will be running

a seminar "Understanding

the causes & solutions

for most common health

problems" & will be able to

answer all your questions.

Further details from us.

NOW IS THE TIME TO MAKE A POSITIVE CHANGE BY CLEANSING,

NOURISHING & HELPING BUILD YOUR BODY TO BETTER HEALTH!

Bringing You the Best in Natural Health! MAIL ORDER AVAILABLE

mARShALLS hEALth & NAtURAL thERAPY

CONSULTING - PRESCRIBING - DISPENSING - MANUFACTURING - MEDICAL HERBALISTS

101 SEAViEw RD, NEw BRightoN • Ph 03 388 5757 • Email: enquiry@marshallshealthshop.co.nz

- kNowLEDgE mAkES thE DiffERENCE -

Modern Lifestyle Living

33 Connolly Street, Geraldine

P 0800 845 524 or 03 693 8340 E sales@mlv.org.nz

www.mlv.org.nz

ACCREDITED VILLAGE OF THE RVA
---
24 Tuesday October 1 2019

Latest Canterbury news at starnews.co.nz

PEGASUS POST

We're for

local

voices

From Kaikoura,

to Christchurch,

to Ashburton,

we have it covered
---
PEGASUS POST Latest Canterbury news at starnews.co.nz

Tuesday October 1 2019 25

REAL ESTATE

Resplendent

resort-style living

26 Kaikainui Lane, Clearwater, Harewood

Auction: Thursday 10 October 2019, Unless Sold Prior

4 bedrooms | 4 bathrooms | 2 living rooms | 1 dining room | 1 swimming pool

2 car-garage | 8 off-street parks | Listing Number: PI59583

A design masterpiece and recipient of six

national and regional awards, this executive

home was crafted by O'Neil Architecture

and built by multi award winning Metzger

Builders Ltd (MBL). Sublime style and

unparalleled luxury sets the tone for this

grand residence showcasing world class

architectural excellence and state-of-theart

technology. Spectacularly positioned

on 3,427sqm, this luxurious home offers

an escape from the everyday in a breathtaking

location, boarding the Kaikainui

Stream. This exquisite residence is designed

for lavish entertaining inside and out.

Impressive dimensions and an abundance of

accommodation with resort style amenities

provide the ultimate lifestyle. No expense

has been spared to create a magical - yet

eminently functional - executive home.

Sleek and sophisticated, the stylish interior has

been cleverly composed to reveal delightful

spaces at every turn. Interior living spaces

wrap around a stunning outdoor room with

full-height glazed panels and sliding doors

and an opening louvre roof for year-round

al fresco living. Inside, open-plan living and

dining flows to a high-spec kitchen boasting

stone counters, butler's pantry, and drawers

and cupboards with electric servo operation.

Sliding doors push back to outdoor living

on two sides and stacking windows in the

kitchen open to the main terrace and pool for

effortless entertaining. A separate media room

offers a mirror TV, drop-down projector and

home theatre, a gas fire and garden views.

Upstairs, the master bedroom is a palatial

retreat, with wrap-around glazing and a

balcony for absorbing the tranquil outlook,

and is served by a sumptuous tiled en-suite

with twin vanities and bath. Three more

bedrooms all feature en-suite bathrooms,

and the extensive extras include built-in

wine storage for 250+ bottles, smart wiring

and ducted air-conditioning. All of this is set

in picturesque grounds, fully appointed for

entertaining with an infinity pool, in-ground

spa, gazebo with fire pit and multiple outdoor

sitting areas totalling 250 sqm.

This remarkable home offers the ultimate

in opulence and comfort for contemporary

resort-style living in a tranquil, semi-rural

location. Homes of this calibre are all too rare.

To arrange a private viewing phone

Cameron Bailey on 352 6166 or mobile

0275 557 079 of Harcourts Gold Papanui

(Licensed Agent REAA 2008)

growing with you June 2018 | 100%

Plants For

winter wow

Cool Choices

For Colour

& Contrast

From swamp

to sea views

The journey

begins with sarah

the Gardener

$7.90 incl. GST

Snap it up

Enter our annual

Birdlife Photo

Competition to win

great prizes!

clear the air

Why groWing

indoor PLAnTs is

so good for you

give it a grow

from gArLic

To chinese

ArTichokes,

We hAve your

groWing TiPs

covered

the latest releases

into the rose world

+ rose care

through winter

The magazine for

gardeners who like to get

their hands dirty

SUBSCRIBE FROM

$43. 50*

*6 issues/6 months

SUBSCRIPTIONS FREEPHONE

0800 77 77 10

WWW.GARDENER.KIWI
---
26

Tuesday October 1 2019

Latest Canterbury news at starnews.co.nz

PEGASUS POST

PICK IT UP AND DRIVE AWAY

Showcasing thousands of cars for sale and

the best value from Canterbury's most trusted

motor vehicle dealers every week!

Out every Friday and available free from our pick up locations

across Christchurch, Canterbury and the West Coast.

Don't miss it – in your local Supermarket, Shopping mall,

Fuel station, local food outlet or one of our other

hundred pick up locations.

Bringing buyers and sellers

together every week

For advertising enquiries

please phone 379 7100
---
PEGASUS POST Latest Canterbury news at starnews.co.nz

Tuesday October 1 2019 27

Classifieds Contact us today Phone our local team 03 379 1100

Collision Repairs

Trades & Services

Trades & Services

Trades & Services

Trades & Services

Trades & Services

QEII Collision Repairs.

Free Courtesy Cars

(conditions apply). All

Insurance work, rust

repairs & private work.

Spray-painting.

Free pickup & delivery.

Ph. 03 388 5187

Community Events

ALCOHOLICS

ANONYMOUS, If you

want to have a drink that's

your business. If you want

to stop, we can help. Phone

0800 229-6757

Curtains

www.curtainfabric-outlet.com

Fashion Designs & Colours

Discontinued Designs

End of Lines Bargain Prices

Call at Our Shop

CURTAIN FABRIC OUTLET

71 Hawdon St Sydenham

Ph 366-5026

Holiday

Accommodation

Australia QLD

SUNSHINE

COAST

RESORT

ALEXANDRA HEADLAND

All Units Have Ocean Views.

Heated Pools, Spa & Sauna,

Free Wifi, Tennis

& Mini Golf.

CHECK OUR GREAT

WINTER SPECIALS

www.mandolin.com.au

0061 7 5443 5011

JUNE to AUG temps 20C

To Let

SOUTH BRIGHTON

Flexible short term

modern home available

mid October. 3 dble bdrms,

2 bthrms, dble glazed, dble

gge int acc, heatpump/gas

fire. Ideal for EQC repairs

or if you are building.

$450 p/w. Contact Pamela

021 918803

ROOF REPAIRS

Locally owned & operated with

over 30 years experience.

• Extensions & repair • Roof coating

• Concrete & clay tiles • Butynol

• Malthoid • Asbestos Certified

• Coloursteel • Old iron • Guttering

Phone Dave 981 0278

or 021 223 4200

E: dave@beaumontroofing.co.nz

BEAUMONT ROOFING LTD

Towing

For safe, damage free

car transportation

call Ashley's Tow Taxi

Special care for special cars

ASHLEY'S TOW TAXI

Breakdown & Relocation

0800 TOW TAXI • 0800 869 8294

YOU COULD

BE HERE

Let us help take

your business to

new heights

Advertise your business in our

Trades and Services column.

For assistance contact Vicky

Phone 03 364 7419 or email

vicky.sayers@starmedia.kiwi

HALSWELL

GLASS & GLAZING 2017 LTD

THE PET DOOR SPECIALIST

• PET DOORS

• NEW GLAZING

• FRAMELESS SHOWERS

• MIRRORS

• INSURANCE CLAIMS

• RETRO GLAZING

• BALUSTRADING

ALL SUBURBS COVERED FOR

ALL YOUR GLAZING NEEDS

PHONE GAIL OR SARAH ON

322 7999 OR 021 CAT DOOR

(228 3667)

HOUSE

CLEARING

Are you

moving house

or trying to

downsize?

Call All Clear

Canterbury. We work

with you to recycle,

sell and dispose of

unwanted items.

Ph: 03 260 0934

or 021 078 4553

raewynlcooke@gmail.com

www.allclearcanterbury.co.nz

rooF

painting

Book now for

Summer and

receive 20%

discount.

Rope and harness

a speciality.

No scaffolding

required.

30 years

experience.

Free quotes,

call Craig

021 060 2392

Trades & Services

AAA HANDYMAN

licensed carpenter

LBP, all property and

building maintenance,

repairs, bathroom/shower

installations, with free

quotes 03 383 1927 or 027

245 5226 ciey@xtra.co.nz

BRICKLAYER

George Lockyer. Over

40 years bricklaying

experience.Uk trained.

Insurance work, EQC

repairs. Heritage

brickwork & stonework

a speciality. No job too

small. Governers Bay.

Home 329 9344. Cell

027 684 4046. E mail

georgelockyer@xtra.co.nz

BUILDER

Qual builder, over 40 yrs

exp. Avail for all sorts

of building construction

work incl decks, fences,

carports, bthrm, kitchens &

general maintenance jobs.

For a free quote contact 03

925 0876 or 027 641 3681.

Email donaldlord626@

gmail.com

BUILDER QUALIFIED

Decks, T & G Flooring,

Villa Restoring, New

Homes, Weatherboards.

Free Quotes. Bennet &

Sons Ltd Sam 027 496-

9362 or Tony 027 224-

0374

CARPET LAYING

Exp. Repairs, uplifting,

relaying, restretching.

Phone John on 0800

003181, 027 240 7416

jflattery@xtra.co.nz

FENCING / TRELLIS

25 yrs exp. Fencing &

trellis, all styles & gates.

Ph Mark 0273 313 223

LAWNMOWING

Gardening, All Lawn and

garden services. Prompt

efficient local operator.

Great rates. Ph Paul 022

620 6412 .

LAWNMOWING

Push mow & Ride On.

Fully insured. Ph John or

Jo on 021 027 99392

PAINTER

Specialising in roof &

fence painting. Very

competitive. Phone Brent

027 241 7471

PAINTER INT/EXT

Comp rates. Ph 385-4348,

027 274 3541

SPOUTING

CLEANING

Spouting Unblocked,

Cleaned Out and Flushed

Out. Call Trevor 332 8949

or 021 043 2034

STUMP GRINDING

Best price guarantee Tony

0275 588 895

T.V. SERVICE

CENTRE

Repairs, tvs, microwaves,

audio amps, soundbars.

.Aerial & satellite

installations, kitsets, 480D

Moorhouse Ave, ph 03 379

1400

VHS VIDEO TAPES

& all camera tapes

converted to DVD, video

taping special occasions,

www.grahamsvideo.co.nz

ph 03 338-1655

RUbbiSH

REMoVAL

Get a Bin Co trailer

skip bin for your

green/garden waste

and general rubbish.

We load your

rubbish, we do

the work for you

EASY!

or you load it,

we dump it.

Give us a try

bin co

Ph: 383-0646

027 2131 733

Wanted To Buy

AAA Buying goods

quality furniture, beds,

stoves, washing machines,

fridge freezers. Same day

service. Selwyn Dealers.

Phone 980 5812 or 027

313 8156

TOOLS Garden,

garage, woodworking,

mechanical, engineering,

sawbenches, lathes, cash

buyer, ph 355-2045

Public Notices

AFFORDABLE

DOG TRAINING

Basic obedience

& dog behaviour

Very experienced

trainer

Venue: Old School -

Hawke Street,

New Brighton

Contact:

021 1350 741

Limited space -

Come give it a try!!

WINDOW TINTING

tintawindow

advanced film solutions

99% uv block

fade protection

heat control

reduce glare

25 Years Experience

privacy films

frosting designs

non-darkening films

Workmanship Guaranteed

Lifetime Warranties on Most Films

UV

block

Free Quotes Canterbury and Districts

03 365 3653 0800 368 468

ADVERTISE YOUR BUSINESS HERE

Phone for further details

(03) 379 1100

3 issues $20 • 6 issues $44.50 • 10 issues $65

rugbynews.co.nz 0800 77 77 10
---
28 Tuesday October 1 2019

Latest Canterbury news at starnews.co.nz

PEGASUS POST

RicHMOND DiScOuNT

Discount Furniture and Bedding - The Best Little Furniture Shop in Town

BEDS TALLBOyS MIRRORS CABINETS cHESTS STORAgE SHElvES

BOOKCASES buffET uNiTS DINING TABLES HAll TAblES SIDE CABINETS & MORE!

Legacy Bedroom Range

Victor

Bedroom

Suite

Includes

duchess with

mirror, tallboy

and two

bedside

cabinets.

Duchess

with

Mirror

1090x410x820

NZ made.

Chest

$399

Bedside Cabinet

$129

Scotch Chest

$599

Queen Frame & Mattress

$699

$1599

ONLY

$549

Midi 7 Drawer

Scotch Chest

975x760x410. With metal runners.

Also available in Black.

Bedside Cabinet

540x460. With metal runners.

Also available in Black.

7 Drawer

Scotch Chest

1140x800x410.

Also available in black.

Ther-a-pedic Mattress & Base

Reversible pillowtop innersprung.

Single

$499

Solid

Timber

Free

Standing

Mirror

ONLY

$269

ONLY

$130

ONLY

$299

King Single/Double/3/4

$599

Queen

$699

WAS $169

ONLY

$129

Jumbo 4

Drawer Chest

1140x800x400. NZ made.

Metal runners. Also available in black.

Tallboy 4 Drawer

600x400x900.

Towerboy 6 Drawer

1260x460x410.

With metal

runners.

Also available

in Black.

Lowboy 6 Drawer

1130x410x820.

7 Drawer TV/

DVD Chest

760x1140x410. (Gap 150)

Foundry Display

Cabinet

900x1800

x420.

Timber Bookcase

600x320

x1200.

ONLY

$269

ONLY

$199

ONLY

$220

ONLY

$449

eACH

ONLY

$299

ONLY

$599

ONLY

$199

Coffee Table

Solid Timber.

Coffee Table

Solid Timber.

Coffee Table

1200x400x600.

Side Cabinet

600x600x450.

Display Cabinet

1800h

x900w

x400d.

Solid

Timber

Buffet

Units

Buffet Unit

700x

320x

1070.

ONLY

$169

1200x600

ONLY

$329

ONLY

$399

ONLY

$199

ONLY

$599

ONLY

$299

ONLY

$329

Nest of Tables

Hall Table

2 Drawers.

Hall Table

3 Drawers.

2 Drawer Hall Table

1200x810x420.

Bookcases

NZ Pine.

Corner TV Unit

1000x750x550

ONLY

$149

ONLY

$279

ONLY

$349

ONLY

$379

900x1200

$279 900x1500

$299 900x1800

$349

ONLY

$329

2 Draw

entertainment Unit

1200x600x450.

entertainment

Unit

1100x400x480.

entertainment

Unit

980x600x460. Solid Timber.

entertainment

Unit

1530x520x660. Solid Timber.

Buffet Unit

1500x800x420.

Buffet Unit

1175x430x840.

ONLY

$399

ONLY

$299

ONLY

$299

ONLY

$499

ONLY

$549

ONLY

$399

233 STANMORE ROAD • PHONE 03 389 0536

WE ACCEPT EFTPOS, VISA AND MASTERCARD... PARKING AT REAR

OPEN MON-fRi 10AM–4.30PM SAT 10–1PM