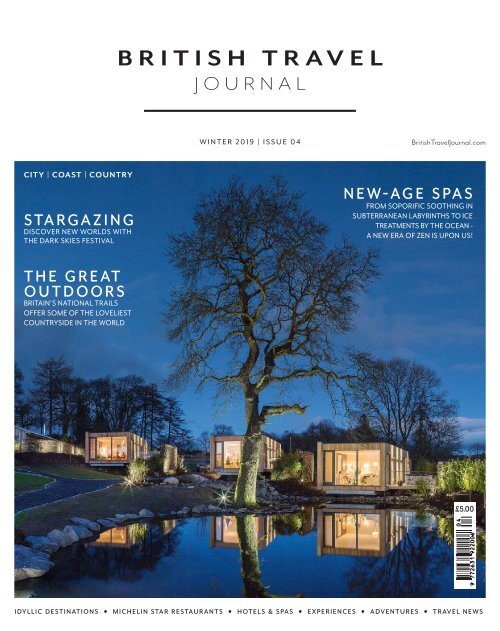 British Travel Journal | Winter 2019
We're dreaming big this season, kicking off with a wondrous winter wish-list of ice-skating and hamper-making to dog-sledding, hoping you will do the same. Tis the season for stargazing, and embracing the The Great Outdoors, discover some of the loveliest countryside in the world. There's fairytale celebrations happening at Leeds Castle, creative wreath-making masterclasses at Ellenborough Park, or a country retreat like no other at Thyme Manor. We are shown how to travel the British coastline - one lighthouse at a time, how to fine-dine as a vegan, and where to invigorate the mind with our new-age luxury spa guide. As always I hope this issue of British Travel Journal continues to enhance your upcoming travel plans – and that you have an uplifting and magical winter!
We're dreaming big this season, kicking off with a wondrous winter wish-list of ice-skating and hamper-making to dog-sledding, hoping you will do the same. Tis the season for stargazing, and embracing the The Great Outdoors, discover some of the loveliest countryside in the world. There's fairytale celebrations happening at Leeds Castle, creative wreath-making masterclasses at Ellenborough Park, or a country retreat like no other at Thyme Manor. We are shown how to travel the British coastline - one lighthouse at a time, how to fine-dine as a vegan, and where to invigorate the mind with our new-age luxury spa guide. As always I hope this issue of British Travel Journal continues to enhance your upcoming travel plans – and that you have an uplifting and magical winter!
SHOW MORE
SHOW LESS
You also want an ePaper? Increase the reach of your titles
YUMPU automatically turns print PDFs into web optimized ePapers that Google loves.
BRITISH TRAVEL

JOURNAL

WINTER 2019 | ISSUE 04

BritishTravelJournal.com

CITY | COAST | COUNTRY

stargazing

DISCOVER NEW WORLDS WITH

THE DARK SKIES FESTIVAL

the great

outdoors

BRITAIN'S NATIONAL TRAILS

OFFER SOME OF THE LOVELIEST

COUNTRYSIDE IN THE WORLD

new-age spas

FROM SOPORIFIC SOOTHING IN

SUBTERRANEAN LABYRINTHS TO ICE

TREATMENTS BY THE OCEAN -

A NEW ERA OF ZEN IS UPON US!

£5.00

idyllic destinations • michelin star restaurants • hotels & SPAS • experiences • adventures • travel news
---
WHICH IS THE MOST ICONIC

HOTEL IN THE UK?

#Siblingrivalry

CHEWTON GLEN, HAMPSHIRE

CLIVEDEN HOUSE, BERKSHIRE

THE LYGON ARMS, COTSWOLDS

11 CADOGAN GARDENS, LONDON

ICONICLUXURYHOTELS.COM
---
THE NEW TR ADITI O N

RESEIGH FOOKS BRAND AND PACKAGING DESIGN CLIENT: NOBLE ISLE STAGE 3 29th June 2011

C O N T R I B U T I O N S

BRITISH TRAVEL

JOURNAL

BritishTravelJournal.com

WELCOME

editors

Editor-in-chief Jessica Way

FEATURES EDITOR Samantha Rutherford

CHIEF SUB-EDITOR Angela Harding

expert contributors

FOOD & DRINK Chantal Borciani

ARTS & CULTURE Melanie Abrams

HISTORY & HERITAGE Robin Glover

SHOPPING & LIFESTYLE Emma Johnson

SPECIAL EVENTS Emma O'Reilly

UK OUTDOORS Adrian Mourby

TRAVEL & ADVENTURE Max Wooldridge

LONDON INSIDER Helen Holmes

AUTHOR CONTRIBUTION Sarah Kerr

FRONT COVER IMAGE

Gilpin Lake House, Lake District

editor's IMAGE

Tower of London Ice Rink

Published by

CONTISTA MEDIA

Mitchell House, Brook Avenue, Warsash,

Southampton, SO31 9HP

MAIN SWITCHBOARD 01489 660680

contistamedia.co.uk

KEEP IN TOUCH

BritishTravelJournal

BTravelJournal

THIS ISSUE MARKS one year since

the launch of British Travel Journal.

One year - and what a great year

it's been! Though never (never,

never) quite so soon, did we ever expect, to win

an award, let alone one of this prestige.

We are thrilled, over the moon, delighted,

ecstatic, virtually speechless to be esteemed

winners of 'Best Consumer Holiday Magazine'

Silver accolade in this years' British Travel

Awards. The perfect end to a wonderful year -

and it's you, our readers, we have to thank.

Without your votes we wouldn't have won - we wouldn't have

experienced how great it felt to stand together on that stage, or assurance

that our hard work, late nights and dedication might actually be starting to

pay off - so thank you. Thank you all so, so much for voting for us!

As we continue to evolve British Travel Journal into the award-winning

UK travel magazine quarterly we aspire to be, we've our first-ever whimsical

festive issue all wrapped up for you here - and what a joy it has been!

We're dreaming big this season, kicking off with a wondrous winter wishlist

of ice-skating and hamper-making to dog-sledding, hoping you will do

the same, p18.

Tis the season for stargazing, so look up, p40, and in The Great

Outdoors, p22, discover some of the loveliest countryside in the world.

There's fairytale celebrations happening at Leeds Castle, p56, creative

wreath-making masterclasses at Ellenborough Park, p52, or a country retreat

like no other at Thyme Manor, p58.

We are shown how to travel the British coastline - one lighthouse at a time,

p62, how to fine-dine as a vegan, p36, and where to invigorate the mind with

our new-age luxury spa guide, p78.

As always I hope this issue of British Travel Journal continues to enhance

your upcoming travel plans – and that you have an uplifting and magical

winter! u

PROUD TO BE IN PARTNERSHIP WITH

stage 3 - B&W detailed logo

Jessica x

Contista Media Ltd cannot accept responsibility for

unsolicited submissions, manuscripts and photographs.

While every care is taken prices and details are subject to

change and Contista Media Ltd take no responsibility for

omissions or errors. We reserve the right to publish

and edit any letters. All rights reserved.

Jessica Way, Editor-In-Chief

Jessica@britishtraveljournal.com

BritishTravelJournal.com 3
---
CITY | COAST | COUNTRY

THE DARK SKIES FESTIVAL

BRITAIN'S NATIONAL TRAILS

OFFER SOME OF THE LOVELIEST

COUNTRYSIDE IN THE WORLD

WINTER 2019 | ISSUE 04

£5.00

SUBTERRANEAN LABYRINTHS TO ICE

TREATMENTS BY THE OCEAN -

CITY | COAST | COUNTRY

EDINBURGH TO THE

CALEDONIAN FOREST

BritishTravelJournal.com

A NEW ERA OF ZEN IS UPON US! AUTUMN 2019 | ISSUE 03

£5.00

BritishTravelJournal.com

AUTUMN FORAGING

HOLIDAYS

CELEBRATES TWO BIG

MILESTONES THIS YEAR

idyllic destinations • michelin star restaurants • hotels & sPas • exPeriences • adventures • travel news

EVENTS ■ IDYLLIC DESTINATIONS ■ MICHELIN STAR RESTAURANTS ■ LUXURY HOTELS ■ NEW EXPERIENCES

18

CONTENTS

WINTER 2019 | ISSUE 04

22

40

S U B S C R I B E

48 SUBSCRIBE

TODAY

Receive the ultimate

luxury getaway essential

from Noble Isle worth £20

and four issues of British

Travel Journal for just £19!

stargazing

DISCOVER NEW WORLDS WITH

the great

outdoors

BRITISH TRAVEL

JOURNAL

BRITISH TRAVEL

new-age sPas JOURNAL

FROM SOPORIFIC SOOTHING IN

take a

journey

taste a

destination

Interview

raymond blanc

WIN

a luxury

short break

for two in

Exeter!

JOTTINGS

09

11

TRAVEL NEWS

A look at what's new and travel

noteworthy in the British Isles

CULTURAL AGENDA

Dates for your diary of things you

don't want to miss out on this winter

10 OF THE BEST FESTIVE

18 EXPERIENCES

From ice-skating in central London and dogsledding

in the Scottish Highlands, to making

the perfect canapés, mince pies and Christmas

wreaths - We have Christmas all wrapped up

35 HEALTH

Keep your body and mind feeling well

with our unmissable winter selection of musthaves

promoting wellbeing and mindfulness

FEATURES

22

THE GREAT OUTDOORS

Discover National Trails through

some of the loveliest countryside in the world

INTERVIEW WITH PAUL O'NEILL,

30 CLIVEDEN HOUSE

A country estate that has stood the test of time

like no other, uncover the secrets of Cliveden

House and meet new executive head chef

VEGAN DINING

36 We've scoured the British Isles to

find the best restaurants serving gourmet,

plant-based food, in beautiful environments

40 STARGAZING

Many of us hunker down in winter

evenings, forgetting about the world outside, but

look out, look up - the Dark Skies Festival is here à

BritishTravelJournal.com 5
---
E D I T O R

L O V E S

Secret Escapes gift cards, ranging

from £50 to £5,000, make a perfect

Christmas gift for globetrotters or

weekend-breakers. For more gifts

inspiration see our Style Edits, p85

secretescapes.com

LIFESTYLE

44

THE HOUSE KATE BUILT

Fashion superstar Kate Moss has

taken this luxury Cotswolds design-meetscountry-living

concept to a whole new level

MEET THE MAKER

49 Meet master potter John Leach from

the ancient village of Muchelney in Somerset

ELLENBOROUGH PARK

52 This 15th-century manor house is the

perfect setting for those looking for an idyllic way

to holiday and feel at home this Christmas

LEEDS CASTLE

56 Leeds Castle, a fairytale estate in Kent,

brings its 900th birthday celebrations to a

grand finale with some magical plans for the

festive season

THYME MANOR

58Nestled amidst the green of the

Cotswold landscape, in one of the area's

beautiful villages, the Thyme Manor estate is

a country retreat like no other

78

ITINERARIES

62

LIGHTHOUSE TRAIL

Sarah Kerr, author of The British

Lighthouse Trail, shows us how to travel the British

coastline – one lighthouse at a time

48 HOURS IN BATH

68 A walk around the city of Bath is to

follow in Jane Austen's footsteps knowing that

Roman centurions trod these streets many

centuries before her

THE ROYAL CRESCENT

72 HOTEL AND SPA

There are many hotels in the centre of Bath, but

it could be claimed, none quite as grand and

spectacular as The Royal Crescent

FINDING WELLNESS AT

74 SIMPLY HEALING

A luxury detox retreat offering beautiful

woodland walks, nature and fresh air alongside

treatments, therapies and juice plans

SPA GUIDE - NEW-AGE LUXURY

78 Escape to the countryside, discover

soporific soothing in subterranean labyrinths or

invigorate the mind with fire and ice treatments

by the ocean… a new era of Zen is upon us

KING'S CROSS

90 London's hippest new area is buzzing

with shops and restaurants – it's the perfect

urban base for a city break with attitude

SHOPPING

85

STYLE EDITS

Travel souvenirs and gifts lovingly

made for the discerning traveller

FOR YOUR JOURNEY

98 Latest books, travel gadgets and our

British travel inspired crossword

62

6 BritishTravelJournal.com
---
The Coach House at The Lammas, Gloucestershire

Find your special place

From quintessential cottages and country houses

to quirky windmills and lighthouses.

A portfolio of over

550 luxury, self-catering

holiday properties

in the UK and Ireland.

View the properties

ruralretreats.co.uk

Call for our 2020 brochure

01386 897 959
---
Spring comes earlier on Tresco. As the year begins, dazzling blooms fill

the Abbey Garden, the beaches and are quiet, there's a sense of wellness

in the clear sea air, and the sun sets just that little bit later...

As the island awakens, discover time to be on Tresco this spring.

Book now at

TRESCO.CO.UK/

SPRING or call

01720 422849

SPA & WELLBEING | ACCOMMODATION | ABBEY GARDEN | GALLERY | DINING
---
TRAVEL NEWS

W H A T ' S N E W

Destinations | Renovations | Launches | Celebrations

NATION'S FAVOURITE

COUNTRY HOUSE GARDEN

Yorkshire's Newby Hall has been crowned

2019 Historic Houses Garden of the Year!

newbyhall.com / historichouses.org

BRITISH

TRAVEL

JOURNAL

L O V E S

2 0 1 9

BRAND-NEW 300-SEAT BOAT TO BE LAUNCHED INTO WINDERMERE LAKE

This multi-million pound investment by Windermere Lake Cruises will help visitors experience

'The Lakes' without having to rely on their cars to discover the full 10.5-miles, its surrounding

countryside and attractions. The new vessel known as 'Swift' is the largest craft to be 'launched'

onto Windermere for more than 80 years. There will be more stop-off points along the lake, and

'Swift' has even been designed to easily access piers such as private jetties at hotels including

Low Wood Bay Resort & Spa, which until now have been unable to accommodate large vessels.

windermere-lakecruises.co.uk

THE WORLD'S FIRST

DISTILLERY AT SEA

Award-winning gin distiller, Salcombe Gin,

and P&O Cruises, are launching the first

distillery at sea with exclusive gins reflecting the

adventurous spirit of innovative new ship, Iona

pocruises.com

NEW L A U N C H

AUCKLAND CASTLE

The 900 year-old castle and former home of the

Prince Bishops of Durham has re-opened this

November as an exciting new visitor destination

following a three year conservation project.

aucklandproject.org

THE YAN AT BROADRAYNE

We love this cosy new 'bolthole' in The Lakes, a

17th century former farm, with seven beautiful

bedrooms, rustic bistro and lounge - perfect for a

little winter getaway. Priced from £100 a night.

theyan.co.uk

DON'T BOTTLE IT

CanO Water is a new

recyclable

alternative to plastic

bottles in the form of

an aluminium can.

Priced £1 each.

canowater.com

BritishTravelJournal.com 9
---
LHM_British Travel Journal Winter issue_ FINAL.pdf 1 31/10/2019 17:00:58

C

M

Y

CM

MY

CY

CMY

Visit a Victorian 'House Beautiful', the home of

illustrator Linley Sambourne and his family, featuring

an eclectic display of decorative objects and the

artist's collection of drawings and photographs.

K

Open Wednesdays, Saturdays and Sundays

11am Conventional and Costumed Guided tours

2 - 5:30pm Public Open Access

Evening and Private tours also available

Under 18s go FREE!

18 Stafford Terrace London W8 7BH | www.rbkc.gov.uk/museums

18 STAFFORD TERRACE

THE SAMBOURNE FAMILY HOME

STEP BACK IN TIME TO 1899

Come and buy the very finest

art and antiques

at this annual event of distinction

THE MAYFAIR

ANTIQUES & FINE ART FAIR

THE LONDON MARRIOTT HOTEL

GROSVENOR SQUARE, LONDON W1K 6JP

9 - 12 JANUARY 2020

Thursday 12.00 - 21.00

Friday 11.00 - 18.00

Saturday 11.00 - 18.00

Sunday 11.00 - 17.00

FOR AN INVITATION FOR THREE

PLEASE EMAIL BTJ@ADFL.CO.UK

+44(0)1797 252030

www.mayfairfair.com

THE

ANTIQUES

DEALERS

FAIR

LIMITED
---
CULTURAL AGENDA

H O T T H I S S E A S O N

Exhibitions | Museums | Galleries | Shows

CHRISTMAS TWILIGHT

EVENINGS 5–20 DECEMBER

2019 AT CHATSWORTH

ENJOY LIVE CHRISTMAS MUSIC

WITH A STRING TRIO AFTER THE

HOUSE CLOSES TO THE PUBLIC

AS YOU EXPLORE THE HOUSE

DRESSED FOR CHRISTMAS

WARMED BY A DELICIOUS MINCE

PIE AND A GLASS OF WINE.

CHATSWORTH.ORG

Words | Melanie Abrams

à

BritishTravelJournal.com 11
---
TYRANNOSAURUS

24 JANUARY–04 MAY 2020

EDINBURGH'S NATIONAL MUSEUMS

SCOTLAND TURNS INTO A

JURASSIC PARK IN JANUARY AS THE

TYRANNOSAURUS FAMILY STRIDES

IN. ALONGSIDE A 13 METRE LONG

SKELETON OF A T-REX IS THE EVEN

OLDER DASPLETOSAURUS WITH

ITS SHARPLY CLAWED THREE-TOED

FEET. SKULLS, TEETH, HIP BONES AND

MORE BRING PREHISTORY ALIVE.

NMS.AC.UK

W E ' R E S E E I N G

EXHIBITIONS & FAIRS

Steve McQueen

13 FEBRUARY–11 MAY 2020

After movie success directing 12 Years

A Slave and last year's Widows, Steve

McQueen returns to his art roots at

Tate Modern from February with his

first major exhibition for 20 years.

(He won the 1999 Turner Prize).

His equally visceral installations

include a claustrophic deep dive

down a South African gold mine.

tate.org.uk

Cornwall as Crucible:

Modernity and Internationalism

in Mid-Century Britain

19 FEBRUARY–17 MAY 2020

Discover new sides of St Ives as

the Cornish harbour town is the

inspiration behind a group show

at Birmingham's Barber Institute of

Fine Arts. Some artists depict typical

boats or buoys, whereas others have

a more abstract take.

barber.org.uk

12 BritishTravelJournal.com
---
Kimono: Kiyoto to Catwalk

29 FEBRUARY–21 JUNE 2020

Kimonos have been having a cultural

moment - ever since Kim Kardashian

West chose the name for her new

shapewear (renamed Skims, after

a backlash). Now this Japanese

garment, tied around the body

with an obi (or sash), is the

subject of a Victoria & Albert

Museum exhibition. Historic

pieces, film costumes, catwalk

adaptations and more show

the kimono's significance

since the 1660s.

vam.ac.uk

London Art Fair

22-26 JANUARY 2020

Discover the best galleries from seasoned and aspiring

collectors around the world showcasing exceptional modern

and contemporary art. londonartfair.co.uk

BritishTravelJournal.com 13
---
W E ' R E D I S C O V E R I N G

© MARC ATKINS / ART FUND 2019

ART FUND MUSEUM OF

THE YEAR

St Fagans National Museum of History

Step back to the Iron Age at the St Fagans

National Museum of History, winner of this

year's Art Fund Museum of the Year. Set in

the grounds of the Elizabethan St Fagans

Castle, near Cardiff, discover original buildings

relocated from across Wales including an 18th

century tollhouse, a pigsty and reconstructed

Iron Age homes.

museum.wales/stfagans

FESTIVALS & SHOWS

Words Weekend

06-08 DECEMBER 2019

Gateshead's Sage hosts this first spoken word

weekend. Girl with a Pearl Earring's Tracy

Chevalier and chick lit queen, Marion Keyes are

among the writers in conversation, whilst Ben

Okri reads his poetic work. Artists, culinary

experts, television stars also line up for talks,

panel discussions and more.

wordsweekend.com

Edinburgh's Hogmanay

30 DECEMBER 2019-01 JANUARY 2020

Edinburgh is the place to be at New Year's

Eve. Celebrations last three days, starting

with a torchlit procession from the Royal Mile

to Holyrood Park. Mark Ronson's pulsating

beats kick off 2020 in Princes Street Gardens.

Whilst Scottish bands keep the party going in

Parliament Square.

edinburghshogmanay.com

L O V E S

2 0 1 9

Mayfair Antiques and Fine Art Fair

09-12 JANUARY 2020

Rummage through a treasure trove

at this year's Mayfair Antiques and

Art Fair at the London Marriott Hotel

in Grosvenor Square. Among the

plethora of paintings, hunt for an

iconic piece of art deco furniture, say,

or a stylish piece of art nouveau glass.

mayfairfair.com

Verve Poetry Festival

20-23 FEBRUARY 2020

The two year old poetry festival has

grown up, moving to the Birmingham

Hippodrome. The packed schedule

includes poetry readings and

performances. Whilst for budding

talent, grab an open mic slot or a

workshop place where poets advise on

how to get published and more.

vervepoetryfestival.com

14 BritishTravelJournal.com
---
LEICESTER COMEDY

FESTIVAL

05-23 FEBRUARY 2020

The Leicester Comedy Festival

is a juggernaut. Jo Brand, Griff

Rhys Jones and even The Chase's

Paul Sinha are among the 1600

plus comedians taking to over

90 stages across Leicester and

Leicestershire. Watch out for

emerging stand-up talent like

Kwame Asante, nominated for

BBC comedy and other awards.

comedy-festival.co.uk

W E ' R E L I S T E N I N G T O

NEW ALBUM

Blue Eyed Soul by Simply Red

and Cats

We're holding back the years to the 1980s,

toe tapping to Simply Red's catchy new

album, Blue Eyed Soul - as we did for the

band's debut album, Picture Book.

Whilst Cats the movie, released 20

December, is evoking another musical

memory as we replay the original soundtrack.

Or download new song, Beautiful Ghosts,

with words written by Taylor Swift.

simplyred.com

© DEAN CHALKLEY

W E ' R E R E A D I N G

Londonist Drinks: A Spirited Guide

to London Libation

This is a go-to guide to London's drinking scene and the city's

rich drinking history – both alcoholic and non-alcoholic.

We love that there's pub crawls soaked in history, the best

alcohol-free restaurants

serving delicious teas and

soft drinks, where to seek

out London's best mocktail

menu, to the best late-night

venues that don't revolve

around drinking in pubs

and bars. Priced £16.99

from AA Publishing

BritishTravelJournal.com 15
---
W E ' R E W A T C H I N G

W E ' R E B O O K I N G

MOVIE RELEASE

LITTLE WOMEN

26 DECEMBER 2019

DIRECTED BY GRETA GERWIG,

WHO BAGGED AN OSCAR

NOMINATION FOR HER DEBUT

MOVIE, LADY BIRD, THIS

LATEST MOVIE ADAPTATION

OF CLASSIC NOVEL, LITTLE

WOMEN IS TIPPED FOR

ANOTHER NOMINATION TOO.

AWARD-WINNING AND RISING

STARS PLAY THE AMBITIOUS

MARCH SISTERS – SAOIRSE

RONAN (JO), EMMA WATSON

(MEG), FLORENCE PUGH

(AMY) AND AUSTRALIA'S

ELIZA SCANLEN (BETH).

WHILST OSCAR MAGNET,

MERYL STREEP PLAYS THEIR

FEARSOME AUNT.

FACEBOOK.COM/

LITTLEWOMENOFFICIAL

THEATRE

English National Ballet 70th

Anniversary Gala

17–18 JANUARY 2020

The English National Ballet celebrates

its 70th birthday this year, kicking off

with a three performance gala. It's a

chance to see old and new favourites

from George Balanchine's classic,

Apollo, to Akram Khan's Dust, a

haunting take on a First World War

munitions factory.

ballet.org.uk/70thanniversary-gala

Endgame

05 FEBRUARY–28 MARCH 2020.

PREVIEWS FROM 27 JANUARY

The Old Vic has a tantalising head

to head as veteran actor, Alan

Cummings joins Harry Potter star,

Daniel Radcliffe, in Samuel Beckett's

bleak comedy, Endgame. Set after

a supposed apocalyptic disaster,

Cummings plays blind Hamm, who

is unable to stand whilst Radcliffe is

his unable to sit servant, Clov.

oldvictheatre.com

16 BritishTravelJournal.com
---
AUCTIONS

Fellows Fine Jewellery Sale

30 JANUARY 2020

This jewellery auction contains

luxury pieces from renowned

designers, names such as Cartier,

Graff, and Van Cleef & Arpels - as

well as pieces of historical interest,

ranging from antiquity to modern

day.

fellows.co.uk

MESSAGE IN A BOTTLE

18 FEBRUARY–21 MARCH 2020.

PREVIEWS FROM 06 FEBRUARY

EVERY LITTLE THING THE POLICE DID WAS MAGIC IN

THEIR POST PUNK HEYDAY. NOW STING'S POLICE AND

SOLO HITS FORM A NEW MUSICAL, MESSAGE IN A

BOTTLE. OPENING AT LONDON'S PEACOCK THEATRE

IN FEBRUARY, THE DANCE SPECTACLE OF THREE

ADVENTUROUS SIBLINGS HEADS NORTH IN APRIL.

SADLERSWELLS.COM; THELOWRY.COM;

BIRMINGHAMHIPPODROME.COM

© RICHARD YOUNG

Bonhams Jewellery Sale

04 DECEMBER 2019

PREVIEWS FROM 01

DECEMBER

Barbara Taylor Bradford has long

been a Woman of Substance –

with 32 novels selling over 90 million

copies worldwide. Now ten of her

statement jewels are going under

Bonhams' hammer in its winter

jewellery sale along New Bond

Street. Gems include an

iconic Jean Schlumberger

Bird on

a Rock

brooch for

Tiffany & Co.

bonhams.com

© JOHAN PERSSON

BritishTravelJournal.com 17
---
10of the best

FESTIVE

EXPERIENCES

Words | Max Wooldridge

1

18 BritishTravelJournal.com
---
MEET A REINDEER

MAKE A FURRY

FRIEND OR TWO

GLIDE INTO A WINTER OASIS

ENJOY THE MAGIC OF SKATING AT ONE OF

LONDON'S MOST BEAUTIFUL ICE RINKS

The Cairngorm Reindeer Herd

Visit the UK's only wild reindeer herd in the Glenmore

Forest Park with an experienced herder and pet and

befriend the cute and cuddly reindeer- this unique

experience will get you feeling festive in no time.

cairngormreindeer.co.uk

Tower of London Ice Rink

Head to the Tower of London Ice Rink,

where you can glide to the lights, set

against the fortress wall, adding to the

dramatic jaw dropping views of the

fortress beside the River Thames. (16

November to 11 January)

toweroflondonicerink.co.uk

Skate at Somerset House

Enjoy Fortnum & Mason shopping

followed by ice-skating at London's

Somerset House (13 November to

5 January) as the historic venue's

elegant West Wing gets transformed

into a Christmas Arcade.

somersethouse.org.uk

BARK THE HERALD ANGELS SING

LEARN HOW TO HARNESS DOGS

TO YOUR SLEIGH

Dog Sledding at Eagle Brae

Imagine whizzing through the beautiful Scottish Highlands on a crisp winter's day

pulled along by eight dogs, experiencing the thrill of dog-sledding at exhilarating

speeds over a three mile long championship course! Available to log cabin guests.

eaglebrae.co.uk

MOVIE NIGHTS

HOME ALONE FOR

THE HOLIDAYS

The Luna Winter Cinema

The Luna Winter Cinema returns this Christmas with

a selection of classic Christmas films on the big screen

at two special historic venues, Kensington Palace in

London and Liverpool's St George's Hall.

Settle back in comfy seats and enjoy festive favourites

such as Home Alone, Love Actually, Elf and It's A

Wonderful Life. Premium tickets at Kensington Palace

events offer film fans a luxury sofa for two and butler

service throughout (15 to 23 December).

thelunacinema.com

BritishTravelJournal.com 19
---
HUSKY CHRISTMAS TO YOU

CREATE TRULY UNFORGETTABLE MEMORIES

WITH THE CHILDREN

The Husky Cave at Drusillas Park

Visit real husky dogs in an ice cave at Drusillas Park zoo in East Sussex. Children will

love meeting – and being photographed with - these cuddly canines (weekends from

17 Nov, daily from 13 December).

drusillas.co.uk

WALK OUT TO WINTER

A FESTIVE WELCOME

AWAITS IN EDINBURGH

Winter Windows Exhibition

Head to Edinburgh for Winter Windows, a collection

of colourful stained-glass window designs on show

across the city. This year's displays, the work of

Edinburgh school pupils, focus on 'A Festive Welcome'

theme (16 November to 26 December).

edinburghschristmas.com/whats-on

STAY FOR CHRISTMAS AT HADDON HALL

CANDLELIGHT TOURS, FESTIVE FOOD,

DRINK AND MUSIC

A Christmas Candlelight Tour

Discover Haddon Hall in Derbyshire by candlelight. Throughout December, the stately

home hosts candlelight tours of its atmospheric halls and chambers under a myriad of

candles. The early evening tours begin with mulled wine and warm mince pies.

haddonhall.co.uk

20 BritishTravelJournal.com

HISTORIC HOUSES

JOY TO THE WORLD

IN KENT

A National Trust Favourite

Welcome in the festive season with Christmas carols

in the outdoor medieval courtyard of National Trust

property, Ightham Mote. Enjoy mulled wine and

mince pies, and a sing-a-long with the choir (13 & 20

December, 7pm).

nationaltrust.org.uk/ightham-mote

©NATIONAL TRUST IMAGES/JOHN MILLER
---
BRITISH

TRAVEL

JOURNAL

L O V E S

2 0 1 9

TAKE A MASTERCLASS

PERFECT CHRISTMAS

IN NORFOLK

Become a Master at Festive Entertaining

Learn how to temper chocolate and make chocolate

praline rum truffles, and perfect festive canapés like

smoked salmon lemon blinis, palmiers and mince pies

with almond toppings (29 November to 1 December

2019) at the Hales Hall & The Great Barn Hotel.

haleshall.com

ROMANTIC DINING

SPEND CHRISTMAS

ON THE WATER

Dine in the Glass Room restaurant

Step onboard this beautiful restaurant and sail away for

Christmas. With chic nautical interiors and an all-glass

exterior offering magnificent views of the city. On

Christmas Day there's a five-course set menu, wine,

bubbles, a festive band and Christmas present from

Bateaux London themselves. But no matter which day you

choose to cruise you will be treated to the exceptional

views of iconic London landmarks including London

Eye, Houses of Parliament and Tower of London. Sip on

delicious drinks whilst being serenaded by peaceful live

music, watching London unfold around you. Indulge in

beautifully created traditional dishes, packed with flavour

as busy city life drifts away. With set menus centred

around 'in-season' ingredients - it's British cooking at its

finest. Sail from Embankment Pier for lunch or dinner

(29 November-30 December). Prices from £49 per person.

bateauxlondon.com

BritishTravelJournal.com 21
---
OUTDO

THE

GREAT

22 BritishTravelJournal.com
---
One of the simplest ways to stay fit

is to get out and walk. Fortunately in

Britain there are 2,500 miles of

National Trails through some of the

loveliest countryside in the world

Words | Adrian Mourby

ORS

The hill fort of British Camp in the Malvern Hills,

an Iron Age fort and extensive earthworks

BritishTravelJournal.com 23
---
IMAGES Left-right: The White Horse at Uffington;

The Greyhound Inn, Letcombe Regis; ncoming tide at

Brancaster Staithe on the North Norfolk coast; The hill fort

of British Camp in the Malvern Hills, an Iron Age fort and

extensive earthworks; The Cottage in the Wood, Malvern.

WALKING IS GOOD FOR US. When Bill

Bryson made his epic journey along the

Appalachian Trail, he was delighted by not

only how much wisdom he gained, but by

how much weight he lost. William Wordsworth used to tramp

around the Lake District all day composing poems in his head

before writing them down at home. Rousseau and Dickens

both covered great distances on foot specifically in order to

think. Our minds and bodies benefit from getting out into

the countryside, sniffing the air and taking in the scenery.

It's only when the British try hiking in other countries that

we realise how very blessed this nation is with its National

Trails and rights of access for walkers. There are fifteen of

these major routes established by the National Trust and they

are sacrosanct. No one can build their new house across a

trail or take pot shots at you for trespassing on their land. All

these routes are clearly marked with their own signage or the

National Trust acorn symbol so you won't get lost. Best of all,

following these paths means you get to visit some beautiful

village pubs and stay at some lovely hotels too.

Criss-crossing Britain's National Trails there are smaller

local routes. Take an Ordnance Survey map out into the

British countryside and you'll be amazed how often routes

split off and subdivide, offering a seemingly infinite number

of ways to get from A to B and back again.

Seeing Britain on foot is the best way to appreciate the

extraordinary geographical variety in this country. From

broad river-valleys to dense, deciduous woodland, from

hilltop forts to wild heathland to flatlands that run all the

way to the sea, each British county looks so different from its

neighbours. And by the end of the day you'll be feeling a lot

fitter too. à

THE RIDGEWAY

SOUTHERN ENGLAND

The Ridgeway is a splendid 87-mile track from the standing

stones of Avebury, Wiltshire to Ivinghoe Beacon in

Buckinghamshire. In ancient times this track was a trading route

that crossed England diagonally from the English Channel

to the North Sea. Today it has the advantage for walkers of

keeping mostly to high ground. This means that unlike many

National Walks, you are up on the crests of hills much of the

time, looking down on the patchwork wonder of England's

farmland. At one point you even pass Chequers, the country

home of the British prime minister, where you can wave at the

security cameras as they follow your progress. Other parts of

the route take in the White Horse at Uffington, carved into the

hillside during the Bronze Age, and a crossing of the Thames at

Streatley.

Where to stay

The Greyhound Inn, Letcombe Regis

The Greyhound at Letcombe Regis is a pleasant, welcoming

brick-built Victorian pub very close to the Ridgeway. Walkers

turn off at Segsbury Camp, one of a number of Iron Age

earthwork forts that stand alongside the Ridgeway, and

drop quickly down into the village. The Greyhound has eight

comfortable bedrooms for travellers and serves excellent food.

IMAGES © HISTORIC ENGLAND / VISITBRITAIN/ROD EDWARDS / ©VISIT BRITAIN/ANDREW PICKETT

24 BritishTravelJournal.com
---
THE NORFOLK

COAST PATH

EASTERN ENGLAND

The Norfolk Coast Path is an unusual National Trail because

it consists of two very different sections, one of which is not

coastal at all. The route starts inland at Knettishall Heath just

outside Thetford and then follows a Roman road (now known

as "Peddars Way") to the coast at Hunstanton before running

east along the Norfolk coast to Cromer. The whole route is

93 miles - and mostly flat. At one point it passes through The

Brecks, remote heathland which is said to be one of the driest

places in England. It's a gorse-covered landscape with just the

occasional Scots pine and unusual fauna like the rare - and very

shy - golden pheasant. The second half of the route enjoys views

of the North Sea which are not to be missed even if the weather

is bracing.

Where to stay

The Chequers Inn, Thornham,

Stay at Chequers in Thornham, an inn that dates back to the

sixteenth century. It has a traditional low-ceilinged bar, large

open fireplace and eleven dog-friendly bedrooms under the

eaves upstairs. Thornham is perfectly situated for exploring the

beaches of Brancaster and Holkham, as well as bird reserves at

Titchwell and Holme, and the royal estate at Sandringham.

MALVERNS HILLS

MIDDLE ENGLAND

The landscape that inspired Sir Edward Elgar runs for seven miles,

north to south along the ridge of the Malvern Hills. The composer

could see this volcanic hill-range from his family home in Worcester.

He is buried just below the hills at St Wulstan's Church.

Unlike many of the great national trails, the Malvern Hills can be

walked north to south in a day if you start early enough. There are

a number of steep ascents but great views to be had overlooking

the broad Severn Valley to the east and the rolling hills of

Gloucestershire to the west. Half way along walkers pass the home

of Sir Barry Jackson, founder of the Birmingham Repertory Theatre

where Bernard Shaw was a frequent visitor. The country home of the

Cadbury family of chocolate fame also lies nearby.

Just below Iron Age British Camp, the Malvern Hills Hotel

provides great lunchtime sustenance for walkers.

Where to stay

The Cottage in the Wood, Malvern

The Cottage in the Wood was built as a dower house for the

chatelaine of Blackmore Park. This 3,226-acre estate stood on the

plain below the Malvern Hills but in 1921 the main house burned

down. By 1919 the cottage up in the woods had already been

turned into a restaurant. Today it offers 26 bedrooms - and has just

been promoted from a Michelin Plate to a Michelin One Star. à

BritishTravelJournal.com 25
---
IMAGES Left-right: The South Sands Beach; The

South Sands Hotel; Boats moored in the marina in

the harbour at Torquay in South Devon

RAISE MONEY

JOIN A MIGHTY HIKE

Experience some of the UK's most

breathtaking scenery while also raising

much-needed funds for Macmillan

Cancer Support by joining in with

Mighty Hikes - a series of one-day hiking

marathons in various locations across the

UK. The South Coast Mighty Hike takes

place on Saturday 6 June 2020

THE SOUTH WEST COAST

PAT H

SOUTH WEST ENGLAND

The South West Coast Path is the longest of Britain's National Trails, a

total of 630 miles of gorgeous sea views. It starts at South Haven in Dorset

and runs west to Chesil Beach through Lyme Regis, of French Lieutenant's

Woman and Persuasion fame, and round Torquay, the fictional location of

Fawlty Towers.

The origins of the pathway lie in the coastguard's need to access every

mile of the southwest coast while patrolling for smugglers but since 1978

its purpose has been wholly recreational. Half-way along the southern

stretch of the route, near Salcombe, lies the abandoned RAF airfield of Bolt

Head. Today this is just grassland but during World War II Bolt Head helped

protect shipping in the English Channel. In the middle of the former airfield

there's a memorial to 17 RAF service personnel killed here.

The pathway then continues on towards Cornwall, past Plymouth and

through Polperro and Penzance, turning the corner at Land's End and

ending in Minehead.

Where to stay

The South Sands Hotel, South Devon

Near Salcombe sits South Sands on its own beach. This is a bright, white

New England clapboard-style hotel with the delicious smell of wood-smoke

rising from the fireplace in its bar.

At night you can hear the sea surging below the bedrooms as the tide

comes in, and in the morning you wake up to stunning sea views. à

IMAGES ©VISITBRITAIN/ANDREW PICKETT/ADAM BURTON

26 BritishTravelJournal.com
---
WALKING &

ACTIVITY HOLIDAYS

GREAT REASONS TO BOOK WITH HF HOLIDAYS

Over 100 years experience providing guided walking and special interest breaks

18 UK country houses in iconic walking locations

Experienced and friendly leaders

Full Board accommodation on all UK country house breaks

Perfect for Solos or Groups

TO REQUEST A BROCHURE OR BOOK VISIT HFHOLIDAYS.CO.UK | CALL 020 3974 8878
---
GUIDED TRAILS

WALK THIS WAY

Try a guided trail or walk with HF

Holidays, walking & activity specialist.

Their 800 volunteer experienced

leaders bring location to life with

local knowledge and the best walking

routes. UK prices start from £284 pp

for 3 nights full board stay for more visit

hfholidays.co.uk

THE COTSWOLD WAY

SOUTH WEST ENGLAND

Starting in the Cotswold town of Chipping Camden, this 102-mile route

passes through some glorious countryside with quite a few climbs. As well

as skirting Cheltenham, Stroud and Old Sodbury, the walk takes in beauty

spots like Hailes Abbey, Sudeley Castle and the site of the Civil War Battle of

Lansdowne above Bath. Allow a week if you're attempting the whole route.

That said, in 2014 the entire 102 miles was run in 19 hours, 31 minutes by a

member of the Swindon Harriers.

One of the best sections of the route is actually at its start in Chipping

Camden. From here the walk climbs up to Broadway Tower, a tall stone

folly built in 1799 so that Lady Coventry would have something imposing

to see on the horizon from her home, 22 miles away in Worcester. To get

there, walkers pass through tranquil, sheep-cropped fields where in 1612 the

British made the first attempt in modern times to revive the Olympic Games.

To this day shin-kicking - a little known "Olympick" sport - is still played

annually in the fields between Chipping Camden and Broadway.

Where to stay

Kings Hotel, Chipping Camden

Stay at Kings Hotel, Chipping Camden, an amalgam of sixteenth and

eighteenth-century townhouses overlooking the town's main square and its

mediaeval market hall. Kings has a reputation for fine-dining - and a haunted

kitchen. Bedrooms are over the dining room or in an old cottage complex in

the grounds. There is also a cocktail bar that mixes a mean martini.

IMAGES ©VISITBRITAIN/ADAM BURTON/DIANA JARVIS / THOMAS HEATON / THAMES NATIONAL PATH TRAIL

28 BritishTravelJournal.com
---
IMAGES Left-right: Kings Hotel, Chipping Camden; Broadway Tower;

Traditional Cotswold stone cottages and stone footbridge in the

Cotswolds village of Lower Slaughter; UNESCO World Heritage Site

of Hadrianís Wall; The Compleat Angler Hotel; The Thames Path.

HADRIAN'S WALL

NORTHERN ENGLAND

One of the most rugged and rewarding walks in Britain is along

Hadrian's Wall, the 74-mile stone barrier that the Romans

built to keep the Picts and Scots out of England. Created in

2003, the Hadrian's Wall Path runs ten miles longer, stretching

literally from coast to coast, starting at Barrow in Furness on

the Cumbrian coast and ending at the aptly named Wallsend

near Newcastle. Except when passing through a few towns and

villages, visitors follow not just the route of the second-century

AD wall, but the vallum itself which is the longest Roman

remain in Europe. Some keen walkers aim to complete it over a

long weekend, but there is a lot of up and down. The Romans,

believing in straight lines, when they came to a cliff or hill just

went straight up and over it. Better to aim for a five-day trek and

enjoy some of the agreeable hotels and inns along the way.

Where to stay

The String of Horses, Great Corby

The String of Horses is a traditional coaching inn six miles south

of the wall near Carlisle. It dates from 1659 and is built around

a large courtyard where tired steeds could be changed for fresh

ones (hence the name "String of Horses"). Inside there is plenty

of oak panelling and roaring fires in the evening. It's everything

you'd expect of a British coaching inn.

THAMES PATH

EASTERN ENGLAND

The Thames Path is unique among Britain's National Trails

because it follows the royal river for almost all of its 184 miles,

from the Cotswold hills where it rises, down through London to the

Thames Barrier in Greenwich.

One of the loveliest sections of the path is from Oxford all

the way down to Marlow. Do take the time to explore this lovely

Buckinghamshire market town where the poets Percy Bysshe

Shelley and T. S. Eliot lived (albeit 100 years apart). Both men

were residents of Marlow's West Street. Other writers to enjoy the

Thames Path here include Shelley's wife Mary, who completed her

novel Frankenstein while living in Marlow in 1817. Jerome K. Jerome

is said to have written parts of his comic novel, Three Men in a

Boat at the Two Brewers, a pub on the banks of the Thames here.

Where to stay

The Compleat Angler Hotel, Marlow

Famed for its Indian cuisine, The Compleat Angler Hotel takes

its name from Isaak Walton's seventeenth-century classic about

fishing.

It stands next to a chain bridge constructed in 1832 that

resembles the famous Széchenyi Chain Bridge across the Danube

in Budapest. The Bristol engineer, William Tierney Clark designed

them both. u

BritishTravelJournal.com 29
---
I N T E R V I E W W I T H

PAUL

O'NEILL

Cliveden House

A country estate that has stood the test of time like no other.

Chantal Borciani uncovers the secrets of Cliveden House

and meets new executive head chef, Paul O'Neill

SET IN 376 ACRES OF National Trust

woodland, Cliveden House has one

of the most colourful legacies of any

British country house. The magnificent

estate sets the stage for over 350 years of

aristocratic dalliance, regal parties, political

scandal and iconic moments in British history.

Cliveden was built in 1666 by the 2nd

Duke of Buckingham, as a gift to his mistress,

and since then has been home to three

countesses, a Prince of Wales, two dukes, and

the Viscounts Astor. Its roll-call of guests is

just as illustrious; Queen Victoria is noted as

a frequent guest during her reign, writer and

playwright George Bernard Shaw visited, as

did Winston Churchill, Henry Ford, Teddy

Roosevelt, Mahatma Gandhi, and the Beatles

– who filmed part of their movie Help! at

Cliveden.

Today, the elegant hotel is still favoured

among the elite – the Duchess of Sussex

famously spent the night before her wedding at

the five-star luxury hotel – as did many of the

star-studded guests of the Royal Wedding.

At the turn of the year, Paul O'Neill took on

the role of executive chef at Cliveden – a big

task considering the calibre of guests rolling

up the immaculate drive, but the revered chef

is no stranger to the pinnacles of power. Paul

started his career at Claridges, worked at

Ashdown Park, won the Roux scholarship in

2003, and worked under Andre Garrett at

Cliveden before taking over the helm.

He says it's impossible not to be inspired by

the setting where he works. "When guests walk

up that driveway it's an experience in itself and

the food should reflect that sense of occasion.

This place has such an amazing history."

The building itself most certainly reflects

some fine British pedigree. The Grade 1 listed

Italianate mansion that stands today was built

in 1851 by the architect Charles Barry following

two catastrophic fires that destroyed the

original mansion and its replacement in 1795

and 1849. Charles Barry designed The Palace

of Westminster and the Houses of Parliament

and Cliveden is still considered to be one of his

architectural masterpieces.

Amid such grandeur, it would be easy to

rest on your laurels but Paul's attention to

detail and culinary prowess has long-since

been celebrated by the industry.

"I like to strip things back to great

ingredients, we work seasonally and let the

produce sing."

The hotel welcomes guests for afternoon

30 BritishTravelJournal.com
---
tea, à la carte and seven-course tasting

menus at the Cliveden Dining Room,

relaxed dining at The Astor Grill and private

dining in several opulent banquet rooms –

should you wish to follow in the footsteps of

Chaplin, Churchill, Lennon and Lawrence.

"I want everyone who walks through the

door to be wowed by whatever they eat,

whether they're coming for afternoon tea, a

sandwich or a seven-course tasting menu,"

explains Paul.

Seasonality is key, he continues. "Spring

is fantastic because it's the start of all the

great produce such as the new season

asparagus and wild garlic but also I like

autumn with the fabulous root vegetables

and British ingredients."

Life has come full circle for the chef,

who visited Cliveden during his Roux

Scholarship with legendary gourmand

Albert Roux.

"A week before the final of the Roux

Scholarship we came here with Albert

because this was his one of his first

jobs when he came to England. Funnily

enough, he used to polish silver in what

is now my office."

Set up by brothers Michel and

Albert Roux, and now run by their

sons Alain Roux and Michel Roux Jr,

the Roux Scholarship is the premier

competition for up and coming chefs

in the UK.

"I wouldn't be here today without

it," says Paul. "It was a once in a

lifetime experience. Only last week

Alain just phoned me up to see how

things are going, it's really nice to have

that family mentality and for them to

be there to help you through anything

you need."

Alongside Cliveden's exquisite

dining, guests staying overnight will à

BritishTravelJournal.com 31
---
"Spring is fantastic because it's the start of all the great

produce such as the new season asparagus and wild garlic

but also I like autumn with the fabulous root vegetables

and British ingredients."

experience the full stately home hospitality.

There are 48 flawless bedrooms and suites,

including the famous Spring Cottage, which

played a part in the Profumo affair that

rocked British politics in the 1960s. In July

1961, Christine Keeler was staying at Spring

Cottage and met John Profumo, Secretary

of State for War, at a party by Cliveden's

outdoor swimming pool. This meeting and

their subsequent affair brought down the

Conservative Government in 1963.

We stayed in the Mansion House, in the

sensational newly refurbished Deluxe Suites,

furnished in a beautifully traditional, classic

style. Luxurious and generously proportioned,

the suites feature high ceilings and are

decorated with antiques and original works

of art with a very spacious lounge area, with

open fireplace. Sunlight flooded in through

the double set of sash windows, offering

spectacular open views of the estate.

Complete with complimentary access

to the Butler's Pantry (honesty bar), you

can enjoy a drink out on the large private

terrace (with a table and chairs for six) and

simply relax and unwind in what feels like the

grandest of settings. Each of the guestrooms

and suites (all named after characters in its

history) have been refurbished to the highest

standard, some with private hot tubs, separate

dressing rooms, and there are even some suites

designed to accommodate small dogs.

The glorious gardens and woodlands,

including the grand 'Fountain of Love'

and romantic 'Water Garden', are today

maintained and owned by the National Trust,

open for hotel guests to enjoy at leisure, and

for day visitors to explore for a small entry

charge. For those who wish to follow the

footsteps of dukes, earls and royalty inside the

Mansion House, there are also guided tours

of the hotel, held on Monday, Tuesday and

Thursday afternoons, March-October.

Hidden behind the brick walls of the garden

and enveloped in tumbling scented roses

and lavender, you will discover a tranquil

oasis, offering a real sense of well-being and

relaxation - in Cliveden's magnificent spa.

There are seven treatment rooms, offering

quintessentially British treatments, such as the

Signature Oskia Glow 75 minute Facial, an

exercise studio, state-of-the-art gym, sublime

indoor pool with Jacuzzi and in the centre of

it all, the infamous 'Profumo' pool - which is

incredibly the last remaining listed outdoor pool

in England. Time spent here is certainly not time

wasted, and if it had not been for our dinner

reservation, I'm not sure we would have left the

outdoor hot tubs before the evening drew in.

The impressive Great Hall, complete

with antique suits of armour and a vast, and

ornately-carved, 16th-century fireplace, is the

'reception' room for incoming guests – and

also the perfect setting for an afternoon tea.

The bar has found its home in the Library,

facing south and overlooking the immaculately

maintained 4-acre parterre. As you would

expect, next to the bar is the Dining Room,

exquisitely appointed and sharing the view

across the 17th century terrace and down to

the Thames valley, quite breathtaking on its

own but absolutely brilliant when, as happens

on most evenings, the resident red kites swoop

and wheel, majestically, over the parterre.

From every corner of the stately home,

there are mesmeric views of the countryside,

woodland, wildflowers or riverbeds and

along each hallway room monikers give a

hint of bygone days and historic moments;

Gladstone, Kipling, Garibaldi, Asquith and

so on.

Yet there is only one place executive chef

Paul wants to be, and that's at the heart of

Cliveden, in the kitchen with his brigade of 26

staff. "It's my domain and it's what I love," he

concludes. u

BritishTravelJournal.com 33
---
Home to some of the most spectacular landscapes

the country has to offer, the Cotswolds will take

your breath away with its idyllic villages and beautiful

lakes as well as the endless number of activities

and things to do all year round. With self-catering

lakeside accommodation in the heart of the Cotswolds,

you'll enjoy everything this part of England has to

offer. Many of our holiday properties are dog-friendly

whilst the Cotswold Water Park has activities for

the entire family to enjoy including fishing, water

sports, cycling, swimming or just relaxing in your

private hot tub or at one of the onsite spas.

Book your holiday online at orionholidays.com or give us a call on 01285 861 839

RELAX WITH A WINTER

SPA BREAK AT SAUNTON

What better way to start the week than an

escape to the North Devon coast with a

two-night midweek spa break?

Enjoy a two-night midweek stay from £245 * pp

JOIN US BY THE SEA, LET THE ATLANTIC AIR FILL YOUR

LUNGS, THEN EXHALE A NEWLY REVIVED YOU

• A 60-minute Source treatment

(Limited edition winter seasonal treatments available)

• Full continental or English breakfast

• Dinner on one evening

• Full use of our hotel facilities

• Daily fitness classes

• 1.5 hours use of our Thermal Suite each day

01271 890212

reservations@sauntonsands.com

sauntonsands.co.uk |

*Price based on a Cosy Room, upgrades available

2020
---
HEALTH

W H A T ' S N E W

Wellbeing | Health | Fitness | Mindfulness

FEEL GOOD, DO GOOD

We love these natural, vegan and ethical

products promoting wellbeing and mindfulness

through calming and empowering formulations

inspired by the wild woodlands and their

energy, and with all profits going to charity

findubiety.com

sort existed, Sarah created a private all-female Facebook group to not only for support, but to create

a community that could come together and share each other's stories and successes.

Despite its humble beginnings steeped in a simple desire to bring together a group of females, equally

passionate about the world of scuba and free diving, the Girls That Scuba Facebook page gained 100

members overnight, and five months later became the largest community of female divers. An active

and aspirational community, Girls That Scuba is dedicated to encouraging, educating and introducing

THE SPREAD EAGLE LAUNCH A FOREST BATHING EXPERIENCE

You can now enjoy a morning of forest bathing, using the forest as a source of natural well being

with Swedish teacher Helena Skoog followed by a delicious lunch at The Spread Eagle hotel, Sussex.

'Forest bathing' simply means the practice of slowing down and totally immersing yourself in the forest

atmosphere. Inspired by the Japanese art of Shinrin-yoku it draws on the therapeutic powers of nature

to reduce stress and imparts to you with a profound sense of peace. hshotels.co.uk/spread-eagle

more and more women to scuba diving – while empowering those already addicted to find new ways

to stay within the community.

Girls That Scuba Community

Three years on and the 600,000-strong, global group welcomes and celebrates everyone from female

instructors, underwater photographers, tech divers, activists, marine conservationists and those who

catalogue and explore shipwrecks; through to the courageous, the curious and those who have never

even put on a scuba mask – not only contributing to the sport, but making up 38% of the whole

industry; able now to come together as an ever-expanding international community thanks to Sarah's

brainchild.

Like so many before her, after booking her first Discovery Dive in 2009 Sarah was hooked, steadily

moving up the scuba ranks and increasing her qualifications as she travelled the globe. Realising her

passion could not only be turned into a way of life, but a rewarding career, Sarah went on to complete

her Divemaster qualification in 2014 and secured a job in the 'wreck capital of the world,' Micronesia,

where the need for an all-female community was immediately apparent.

MORNING BOOST

Wake up in colour and fight off the morning

blues, with this newly launched Bodyclock

Luxe 750DAB Lumie. Not only does it

help you enjoy a better night's sleep, it has

bluetooth speakers, a usb to charge your

phone, and over 20 wake and sleep tracks

from birdsong, woodlark to ping pong!

lumie.com

W E L O V E

A WASTE FREE WORLD

Girls That Scuba isn't about ostracizing, nor being unable to share the industry with men, who

currently account for 62% of the industry. The group is founded in the understanding that women

have different needs and concerns when diving recreationally or professionally, some of which are

Going plastic-free has been made easier thanks

more appropriately resolved by a fellow female. Girls That Scuba supports that need, empowers

to ocean enthusiast and British Divemaster, Sarah

Richard, whose one-stop sustainable online shop

offers alternative products to help save our planet.

girlsthatscuba.com awastefreeworld.com

WANDA WATER

Made from 100% bamboo charcoal, this

London-based start-up offers Wanda Bamboo

charcoal water filters to filter your tap water and

provide great tasting water for a month!

livewanda.com

BritishTravelJournal.com 35
---
Britain's Finest

VEGAN

DINING

As vegan food becomes not

just popular, but mainstream,

we've scoured the British Isles to

find the best restaurants serving

gourmet, plant-based food, in

beautiful environments

Words | Helen Holmes

"Eat food. Not too much. Mostly plants." Three

short sentences, coined in 2008 by food writer,

Michael Pollan, neatly sum up the movement

over the last decade towards eating more plantbased

and natural food. We know it's better for

us, and we know it's better for the planet – and

as a consequence, eating food that has been

messed around with as little as possible has

become almost a given amongst people who

really care about cooking and eating.

From the championing of vegetables by chefs

and writers like Yotam Ottolenghi and Anna

Jones, to the creation of vegan menus at the

fanciest of Michelin-starred restaurants, plantbased

food is taking pride of place at our tables,

whether we're dining in or out.

If you're going vegan for your health,

or cutting down on meat and dairy for

environmental reasons, you won't struggle to find

amazing places to eat. Up and down the country,

chefs are rethinking what good food looks like –

and we're not talking processed vegan junk food

here, rather vegetables, as you have never seen

them before.

36 BritishTravelJournal.com
---
FARMACY

74 Westbourne Grove, London,

W2 5SH

From plant-based high tea,

through to candlelit dinner,

accompanied by organic wines and

sugar-free cocktails, Farmacy is

the Notting Hill home of all things

vegan. It's a light and welcoming

space, and their commitment to

all things natural is reflected in the

aesthetic, with lots of greenery and

wooden surfaces.

Founder Camilla Fayed says,

"At Farmacy, we know that eating

can heal both us and our world; we

see food as medicine and are hyper

conscious of the impact our eating

habits are having on the planet."

The restaurant has its own farm

in Kent, and all ingredients are

either grown there or sourced from

local suppliers. "I strongly believe

that chefs and restaurants of the

future have a duty to coexist with

nature and constantly challenge

food conventions," says Camilla.

"The speed the plant-based

movement is taking in London is

very exciting – people's appetite to

learn has increased, and we want

to understand where the food

on our plate has come from and

the wider impact this has on the

environment."

à

BritishTravelJournal.com 37
---
VANILLA BLACK

17-18 Took's Court, London, EC4A 1LB

Originally opened in York 2004, and relocated

to London in 2008, Vanilla Black is possibly the

country's most upmarket vegetarian restaurant.

Serving a gourmet vegetarian and vegan

menu, in an unassuming side street near

Chancery Lane, owner Andrew Dargue is

proud to be confounding people's expectations

of plant-based food. "When we first opened,

vegetarian offerings consisted of pasta bake

and vegetable curry, and vegetarian restaurants

looked more like cafés. We wanted to flip that

around." Their high-end food and elegant decor

attract an eclectic clientele, "At any one time our

diners could include a politician, a rock star, and a

couple of students."

Half of the menu at Vanilla Black is vegan,

and Andrew says that the movement towards

vegan food has prompted them to explore new

ingredients and processes. "A lot of people think

the whole world is going to become vegan. I

personally don't. What I do believe is that plantbased

eating will enter the mainstream more

heavily, and not be seen as a sub-standard choice."

38 BritishTravelJournal.com
---
ANNA-LOKA

114 Albany Road, Cardiff, CF24 3RU

Since opening in 2015, Anna-Loka

has twice been voted best vegan

or vegetarian restaurant in Wales,

and was shortlisted for the best

restaurant in all categories at the

Welsh Restaurant Awards 2019.

Owner Adam El Tagoury says, "We

try to deliver exceptional vegan food

without compromising on taste. Our

mission here is showcase vegan food to

everyone."

HENDERSONS

Various locations, Edinburgh

With four locations across Edinburgh,

including a fully vegan restaurant

on Thistle Street, Hendersons claims

to have the UK's longest-running

vegetarian restaurant. Their first

outlet opened in 1962, and today

the restaurants serve cutting-edge

vegetarian and vegan cuisine

made with fresh, local and organic

ingredients.

ACORN

2 North Parade Passage, Bath, BA1 1NX

The first fully vegan restaurant in the

UK to be included in the Michelin

Guide, Acorn is based in one of the

oldest buildings in town – quite a feat in

historic Bath. The menu is inventive and

sophisticated, "We make refined food

from plants," says owner and head chef

Richard Buckley. "Top quality ingredients

and providence are a primary concern

for us. Once you have such wonderful

vegetables, it makes sense to treat them

as well as you can."

Acorn moved from being a vegetarian

restaurant to a vegan one in 2016. "It

became a moral responsibility to do as

much as we could for the future of the

planet," says Richard. "The menu was

already 95% vegan so it wasn't very

difficult to make the final push."

WULF & LAMB

243 Pavilion Road, London, SW1X 0BP

From a light and airy building in a Chelsea

mews, just off Sloane Square, Wulf &

Lamb serves up 'fiercely kind food'. Head

Chef Franco Casolin has created a 100%

plant-based menu of familiar favourites

with a vegan difference. Owner Rosanna

von Zweigbergk is confident about the

future of vegan food, "We think we'll see

more innovation within the plant-based

food industry – it's very exciting!" For when

the weather warms up, the restaurant

also has a palm tree-lined courtyard for

outdoor dining – an oasis away from the

hustle and bustle of city life.

THE ALLOTMENT

18/22 Lloyd Street, Manchester,

M2 5WA

This award-winning vegan restaurant

in the heart of Manchester offers a ten

course taster menu, as well as à la carte

choices – all regularly updated to make the

most of locally-sourced, seasonal produce.

TERRE À TERRE

71 East Street, Brighton, BN1 1HQ

Now a Brighton institution, Terre à Terre

was founded by globetrotting chefs

Amanda Powley and Philip Taylor in 1993.

Located in the historic lanes area of the

city, the restaurant serves up playful and

exotic vegan and vegetarian food.

BUBALA

65 Commercial Street, London, E1 6BD

A relative newcomer, but already highly

thought of, Bubala offers middle eastern

vegetarian food – with plenty of vegan

options – in a chic Shoreditch restaurant. u

BritishTravelJournal.com 39
---
STARGAZING

Dark is the night

As winter descends, and we instinctively hunker down in our

homes, it's easy to forget about the world outside. But one winter

festival is determined to ensure we don't forget to look out - and

up. Emma Johnson explores the world of the Dark Skies…

Words | Emma Johnson

40 BritishTravelJournal.com
---
THE DARKER THE SKY, the more you can see; the

blacker the night, the brighter the moon." So starts the

poem by Yorkshire poet Ian McMillan, commissioned

in 2017 to write a poem that captured the essence of

the Dark Skies Festival. His beautiful verse – entitled 'Of Darker

Skies and Lighter Thinking' - speaks to a culture of busy people,

too caught up in their own lives to see the beauty around them.

McMillan likens the darkening skies to a map of the heavens,

the wonders of time and space stretching out for us to see, and

reminds us all to take a moment to remember how special the

natural world can be.

Now entering its sixth year, the Dark Skies Festival encourages

people to look up, showing visitors that you don't have to travel

far to find a spot where you can look up at a pristine sky and

stand in awe of the amazing array of stars shining above you.

Organised in conjunction with the Yorkshire Dales and

North York Moors National Park, with Northumberland and

South Downs joining in later years, the festival started in 2015

as way to encourage people, and children, to spend more time

outdoors during the February half-term. The festival has grown

exponentially each year since, with over 100 events and more

than 7000 people attending everything from after-dark runs,

talks and crafting sessions to the 50-mile off-road cycling race,

True Grit, through the North York Moors, as well as starlight

safaris and fine-dining events.

Recent years have seen several other National Parks added

to the Dark Skies programme, while an army of volunteers and

businesses are now involved with staging events throughout

autumn and winter.

As areas of designated low light pollution, National Parks are

some of the best places for spotting constellations, shooting stars

and other cosmic happenings. In an urban area you will be lucky

to see 20 stars on a clear night whereas in an area of low light

pollution you could see as many as 2,000.

This time of year is also the best for stargazing. Longer

nights and clear skies, coupled with weaker light from the

moon during autumn, and winter, means the inky black skies

reflect even the smallest stars. In February 2020, the festival

will also coincide with a new moon meaning the possibility for

extraordinary lunar views. à

BritishTravelJournal.com 41
---
THE WINTER SKY

There are some 88 constellations of the Northern and

Southern Hemispheres, as well as planets, to be spotted

during this time. Richard Darn, an astronomer and

Dark Skies Hunter with the festival explains that this

time of year is dominated by the winter constellation of

Orion, which is unmistakable with its hourglass shape.

"In Greek mythology this is Orion the hunter," explains

Darn. "The top lefthand star called Betelgeuse looks

orange to the naked eye and is a giant star near the end

of its life. The three central belt stars are particularly

distinctive and may - or may not! - have been the

template for the line-up of the pyramids at Giza." Darn

also reminds us to look out for the wonderful sphinxlike

profile of Leo toward the end of the winter season.

While there are numerous great places for

stargazing across each of the four protected

landscapes involved in the festival, some spots deserve

particular mention, including those which have been

designated as Dark Sky Discovery Sites where it's

possible to see the Milky Way under the naked eye (see

our side bar for more info) and are well-worth a special

visit on a clear night.

SHINING BRIGHT

One of the best ways to enjoy the Dark Skies is with a

stargazing safari in the company of an astronomer, in

places as diverse as Malham Cove or outside Tan Hill

Inn, the highest pub in Britain. In the North York Moors,

popular astronomy sessions are held deep in Dalby

Forest, on a coastal cliff top or in the grounds of Castle

"You can

now do

anything

from night

zip-wiring

at Go Ape in

Dalby Forest

to visiting

the pop-up

planetarium

on Hidden

Horizons

tours

throughout

the dark sky

season. "

Howard, with the stately home acting as a backdrop.

In addition, you could also go canoeing on Scar House

Reservoir in Nidderdale under a canopy of stars or try

a yoga and mindfulness session from Adventures for

the Soul at Great Fryup Dale in the North York Moors

with a dark skies walk afterwards in the company of an

astronomer.

In the South Downs, open evenings at various

observatories allow you to see the stars, planets and

moon through some of the country's largest, and

most powerful telescopes, while you can also take

guided tours of the celestial wonders which are on view

during the winter months, including Taurus and the

Pleiades. Other events include a hike under the stars

up to Beacon Hill and stargazing evenings in Lewes,

Petersfield, Arundel and Midhurst, while on 19 February

you can enjoy a 'star party' on Brighton Seafront, or

join the wildlife in Petworth Deer Park for an evening of

moongazing with the astronomer John Mason from the

South Downs planetarium.

As the festival has grown, many businesses have

been inspired to get involved too, meaning you can

now do anything from night zip-wiring at Go Ape in

Dalby Forest to visiting the pop-up planetarium on

Hidden Horizons tours throughout the dark sky season.

There are also several popular night photography

courses; Gaze and Graze evenings at local eateries and

destinations, which match astronomy with fine-dining

and a backdrop of stars, as well as nocturnal wildlife

sessions and opportunities to see how artists interpret

the dark skies.

IMAGES © PAUL HOWELL / VISITBRITAIN/KRIS WILLIAMS

42 BritishTravelJournal.com
---
TINY STARGAZERS

Family astronomy is a big focus for

the entire event, and there are several

theatrical and scientific displays that

children will love. Star Seekers in the

South Downs is a unique theatre

experience for children, while the Little

Star show is a starlit display designed

to delight babies aged 6 – 18 months.

In Yorkshire, early evening events

include several sessions with experts

who can point out some of the most

well-known constellations, while

children can also join a ghost walk

through the atmospheric fishing village

of Robin Hood's Bay, accompany

rangers and guides out into the

countryside to watch nocturnal wildlife

or head to the National Centre for Birds

of Prey near Helmsley to watch owls in

flight.

There is a wealth of natural

wonders to explore this winter, with

many events entirely free and many

others that will expand your mind

and open your eyes a world above our

heads, showing how easy it is to enjoy

the cosmos without leaving planet

Earth. As Ian McMillan reminds us:

"The inky sea is waiting; the night

boat sets sail."u

SOAK UP THE ATMOSPHERE

STAY WITH A LOCAL

NIGHT SKY

ENTHUSIAST

Embrace the beauty of the skies

> Cawthorne House, Pickering

This lovely B&B will take guests into Dalby Forest

for a stargazing session armed with a powerful

telescope, flask of hot chocolate, blankets and deck

chairs. £180 for a two night stay per couple.

> Carr House Farm, Ampleforth

Stargazing fans, Anna and Jack will gladly provide

guests with chairs, stargazing guides, red light

torches, blankets and bacon sandwiches if they

want to spend an evening outside. £100 per room

per night based on two people sharing.

GOOD TO KNOW

DARK SKY

DISCOVERY SITES

Where to see the Milky Way

> National Park Centres: Danby and

Sutton Bank; or Hawes and Malham

> Scarborough and Ryedale

Astronomical Society Observatories in

Dalby Forest

> Buckden National Park Car Park

> Tan Hill Inn, Yorkshire Dales

> Nidderdale: Toft Gate Lime Kiln; Scar

House; Fewston; or Thruscross Reservoir

> Hampshire: Winchester Science Centre

& Planetarium; Old Winchester Hill

Nature Reserve; Butser Hill; Queen

Elizabeth Country Park

> Sussex: Iping Common; Devil's Dyke;

Ditchling Beacon; Birling Gap

UPCOMING DARK SKIES FESTIVALS

> SOUTH DOWNS

7-23 FEBRUARY 2020

> NORTH YORK MOORS AND

YORKSHIRE DALES

14 FEBRUARY TO 1 MARCH 2020

DARKSKIESNATIONALPARKS.ORG.UK

BritishTravelJournal.com 43
---
THE HOUSE

Kate built

Fashion superstar Kate Moss has taken this luxury Cotswolds

design-meets-country-living concept to a whole new level,

Chairman John Hitchcox shows Emma Johnson around

JOHN HITCHCOX is everything you'd expect from

someone who counts Simon le Bon, Kate Moss and Jade

Jagger amongst his friends – charismatic, mischievous,

very cool – but also down-to-earth and refreshingly

pragmatic. He came up with the concept for The Lakes,

he tells me, after finding himself trudging around Regent's

Park, two young children in tow, thinking, 'There has to be

something better than this'.

"I wrestled with where I wanted to raise my children. I

was a total urbanite, but I wanted the kids to be brought up

in the country – somewhere they could play outside, explore

woodland, go sailing. For years I had a real jostle about

where we should live."

The answer, it seems, was The Lakes – a place where

parents could come with their children, at weekends and

during school holidays, and pick up as much country living

as they could, while enjoying the benefits of a life in London

too. "The idea was to create somewhere you could come and

get all the luxuries you were used to in a hotel or an urban

environment, but in the country."

Hitchcox found the site in 1999, and in 2008, after

numerous years of planning machinations, work began.

It was no small venture. Over the past decade the team

have taken what was previously a barren 850-acre gravel

pit expanse to a beautiful secluded setting, complete with

a wealth of natural wildlife and stunning scenery. There

are today 160 luxury, contemporary, designer 4, 5 and 6

bedroom lakeside and woodland homes, and managed

3 bedroom luxury apartments, (their newest investment

opportunities) nestled amongst over 500,000 indigenous

trees.

There's also the Orchard Spa with a glorious 17-metre

heated pool, Elsa's - a relaxed and informal restaurant - not

to mention numerous on-site activites including paddle

boarding, zip wiring, yoga, fishing, canoeing, kayaking and

bike hire.

A little bit reminiscent of parts of north America, or even the

Scandinavian forests, The Lakes feels very unique. Plots are

available to purchase both on the lakes and woodland areas

- and houses are designed from a range of layouts and à

44 BritishTravelJournal.com
---
BritishTravelJournal.com 45
---
styles, making each house bespoke. "Our only restriction is to make sure

each house blends in with the scenery, so it feels harmonious," Hitchcox

explains. "And we insist on using entirely local materials – larch from

local farms, Cotswold stone, for instance."

Even though the development feels like it has naturally evolved into its

landscape, it is clear that the level of planning and precision is secondto-none.

And, what is perhaps most unique about The Lakes is the way

that a community has sprung up amongst residents here. Saturday

evenings during the summer sees a communal barbeque in the woods,

where everyone pitches in, while the well-attended spa provides a

space for parents and children to relax or keep fit and woodland

activities educate and entertain children during the holidays.

"Everyone feels like they're part of things here. We wanted to

build a community and have residents be part of those things they

care about. And that's what we've got here – a group of likeminded

people, most are from London, but with an international flair. Now our

residents all know each other, and they appreciate that – they know

what it's like to be in a new country and start again with the social life."

And it's not only their social life that is taken care of. Because of

the nature of the development, maintenance issues are dealt with

centrally and the Lakes' concierge service means you can organise a

wealth of activities and services from your own home, including having

your fridge pre-stocked before you arrive and your fire lit. "I suppose

it's almost the opposite of the country pile," says Hitchcox. "You don't

have maintenance and management issues, your house is looked after

when you're away and when you arrive the place is ready for you." This

concept of a country mansion without the maintenance headache is

more pertinent than ever. With water on all sides, and hundreds of

trees surrounding each acre plot, these woodland houses offer a real

sense of secluded luxury and boast an enviable amount of space to

46 BritishTravelJournal.com
---
EDITOR'S HIGHLIGHTS

STAYING AT THE

LAKES BY YOO

boot. "With the lake houses, we built

them on the water, so your garden is

the lake. Here we've got an acre of

land to play with in each plot. I'm even

thinking about building treehouses…"

smiles Hitchcox.

As we talk, sitting in the impressive

double-height sitting room, looking

out to the garden and the lake beyond,

the autumn rain is lashing against the

floor-to-ceiling windows. How has

Hitchcox and his team rationalised

this indoor/outdoor living that their

designs seem to encapsulate, with the

inevitable British drizzle? "There are

little details in the house throughout

that lend themselves to that," he

says, jumping up and taking me into

a smaller, second sitting room with

glass walls on two sides. "These open

completely, so the whole room changes

and you've got that real sense of being

outside, even if the weather means

you're inside. Suddenly the entire house

becomes completely open – and you

start to live outside more."

It is clear that every detail has been

considered here. Even if it was Kate

Moss's first foray into interior design,

it's a confident one, with real splashes

of inspiration: a painted peacock darts

across a skirting board, a vintage

record player encourages you to stop

and sit, and a striking image of Moss

herself, dressed in a figure-squeezing

gold lamé suit dominates the main

landing. It could feel affected, out-ofplace

in this quiet Cotswolds enclave,

and yet, it fits somehow, despite its

starry aspirations.

"Well, Kate lives down here," says

Hitchcox. "And she seems to know

what works. When we first started

talking about this, I walked around her

house and said, 'This place is really

cool, you should design something for

us'. We talked about several different

projects, and then she came down here

one day, and saw The Barnhouse and

loved it – she said it reminded her of

Johnny Cash's woodland house. It just

seemed like a great place to start. It

wasn't too big, a nice intro into what

Kate could do."

And, by all accounts, this new

direction into interiors has been a

successful one for the model, and the

team at The Lakes.

As a local girl, it's clear Kate Moss

has an eye for the Cotswold style. "She's

a perfect fit really – local influence with

an international outlook. And she's

done a brilliant job. It offers something

completely different from the lake

houses, and I'm thrilled with it… I want

to move in," finishes Hitchcox. u

Barnhouse sleeps 10 with 5-bedrooms,

7-bathrooms and dining space for 12

guests. Minimum 3 night stay priced from

£1,000.00 per night, thelakesbyyoo.com

DON'T MISS

Breakfast and pizza from Elsa's

Enjoy smashed avocado and poached

egg for breakfast and wood fired pizzas

(takeaway options also available) Fri/Sat

evenings in this cosy, cute tipi restaurant.

Kayaking, canoeing, or stand-up

paddle boarding on the lake

Take to the water and you'll see the wildlife

and unique Cotswold reed beds up close.

A leisurely paddle will take you past swans,

tufted ducks, water voles, heron and more.

Zipwiring over the lake

There's little to rival the excitement

of launching yourself into the abyss

suspended on a single steel wire!

Take time out at Orchard Spa

With treatments by Daylesford and Oskia,

a 17-metre indoor pool, gym, steam room

and sauna, it rivals any in the Capital.

BritishTravelJournal.com 47
---
SUBSCRIBE

TODAY

Four issues of British Travel Journal, with free postage, plus a

free luxury gift set from Noble Isle worth £20 for just £17!*

CLICK

HERE

ENTER THE CODE

LOVEWINTER

*Offer for overseas subscriptions is a £7 discount. See website for further details.

britishtraveljournal.com/subscribe
---
MEET the M AKER

T H E P O T T E R ' S W H E E L

à

BritishTravelJournal.com 49
---
Emma Johnson visits the ancient village of

Muchelney in Somerset, to meet master potter

John Leach, who has made his home and his

life in this beautiful place for over 50 years…

NESTLED AMONGST the water-flanked lanes

and thatched-roofs of the Somerset Levels,

is the village of Muchelney, home to the

John Leach Pottery. This tranquil place, with

its ancient abbey and 15th century church, has a rich

heritage and a wealth of beautiful houses and quaint

cottages, surrounded on all sides by the expansive green

fields and watery stretches of the Levels - but it is the

peace of the village which master potter John Leach loves

most. "It's a silence you can almost hear," he says.

Muchelney has been home to John Leach Pottery since

1965, when John and his wife Lizzie decided to turn John's

family background in pottery into a business.

Both John's father and grandfather (renowned potter

Bernard Leach) were potters, and John was raised on the

tradition of high-quality hand-thrown ceramics, made

with love and care in a small family pottery.

The pottery produces a series of kitchen pots and

serving dishes, as well as cups, jugs, plates and storage

jars. Made using local clays, the honey-coloured pieces

are wood-fired in a three-chambered kiln to 1320°C,

giving them a distinctive 'toasted' finish. "The flames in

the kiln impinge on the pot's surface marking it uniquely

and unpredictably," explains John.

"My pieces

are all about

understanding

line and form

– a tactile feast

for the eyes

as well as the

hand"

Leach's aesthetic is for tactile, robust pieces, with

an earthy, simplistic feel and a rawness to them that

connects to both the landscape around and the

heritage which inspired them. The creation of the pots

is based on using natural substances, and knowing

how they can be worked to create items of beauty and

functionality. "My pieces are all about understanding

line and form – a tactile feast for the eyes as well as the

hand," explains John.

Leach pots are not decorated or painted during the

process of making them, as John and his team feel that

the natural marks from firing create a unique design

that speaks directly to the process of their creation.

"Our pots are mainly 'decorated' or scorched by the

long snaking flames in the kiln, each pot is always

unique with its own special qualities," says John.

The present three-chambered kiln was designed by

John Leach following a traditional Japanese climbing

kiln and was built by the pottery team in 1998. It takes

about 37 hours to fire the kiln at Muchelney, while

three extra helpers take shifts to stoke the kiln with offcut

wood and monitor the temperature. The pottery

does around six firings a year and occasionally has

public kiln openings.

Working with John are two potters, both of whom

have been with John for decades. Nick Rees began

potting in 1972 at the pottery in Muchelney and has

been with John Leach ever since. Now his daughter

Rachel also works there, alongside John's son,

Benedict. Mark Melbourne completes the team, having

also trained at John Leach pottery before working in

West Africa as a VSO volunteer, building kilns, training

and making pots. It's clear that building this team has

50 BritishTravelJournal.com
---
een as important for John as building the pottery or the

kiln itself. "Our pots are made by happy people who care,

fashioned by hand on the potter's wheel," he says.

John's range of stoneware pots has now been in

constant production for over 50 years, but, he says, his

great joy is in creating one-off designs. Some are fired in

sawdust-filled saggars, producing exciting black pots with

unpredictable white markings – his 'Black Mood' pots -

while others explore his fascination with antique leather

bottles, African and early English and American country

pottery.

These collectable, signed pots are available in the John

Leach Gallery, adjacent to the pottery, which opened in

2003. The beautiful gallery is a light airy space, run by

John's wife, and its exhibitions feature the work of local

and internationally-renowned potters.

Inspiration for John's signature pieces comes from a

variety of sources – travel to Africa, local museum pieces

"Working with

John are two

potters, both

of whom have

been with John

for decades.

Nick began

potting in 1972

at the pottery

in Muchelney

and has been

with John Leach

ever since"

and the traditional skills of fellow potters from all over

the world. But, mostly, explains John, he is inspired by

what's around him, including John's Pond - a County

Wildlife Site (CWS) which John dug in 1988, and is

home to a wealth of local wildlife, including hundreds of

dragonflies. Stretching over nine acres and flanked by

4,000 broad-leafed trees native to the area, the pond

is an essential part of the fabric of the village, and a

beautiful secluded place to find inspiration and solitude.

And John continues to work on restoring and

developing the pottery too. In 2008, following a

major restoration of two Grade II Listed buildings - the

pottery cottage and the old pottery - the John Leach

Pottery re-opened, and today, the pottery produces all

its pieces on site, which are then sold in the adjacent

gallery and shop. Bringing everything together has

been very important to John, reinforcing the important

identity of this very British, very local business.

At the centre of this, of course, are the pots –

beautifully simple, woodfired stoneware, individually

handcrafted in classic and friendly, unpretentious

forms. For John they are as much a part of his family

business as his wife, children and fellow potters, and

to hear him talk lovingly about his stoneware is both

endearing and inspiring.

In a world where our consumption of 'things' has

reached an all-time high, craftsmen like John remind

us how special it is to invest in something that you can

keep for decades and which will become part of the

fabric of family life. "These pots are reaching out to

be used," he says. "And each one has a personality all

of its own. Warm and toasted by the flame, we like to

think that the pots become friends for life." u

BritishTravelJournal.com 51
---
ELLENBOROUGH

PARK

This 15th-century manor house is the perfect setting for those looking

for an idyllic way to holiday and feel at home this Christmas

Words | Jessica Way

52 BritishTravelJournal.com
---
S

ITUATED IN THE MIDST of 90 private acres

of idyllic Cotswold countryside, this indulgent

15th-century retreat, with lavish bedrooms,

a serene spa, fine dining, and so much more,

makes celebrating Christmas in the Cotswolds a

wonderful and unforgettable holiday treat.

There's so much to do both in and around the hotel,

you can bring all the family with you, and you don't

need to worry about your four-legged friends either - as

there are dog-friendly rooms throughout the hotel, and

dogs are encouraged to join in festive family fun and

enjoy their own five-star experience!

Wake up to views over nearby Cheltenham

Racecourse in one of their 61 individually designed

bedrooms and suites, each named after successful

"Once home

to the Earl of

Ellenborough,

steeped in history,

The Great Hall,

built in 1485 is

spectacular with

its oak beams,

stone fireplaces

and intricate

stained glass"

racehorses. Enjoy a Christmas morning swim in the

hotel's outdoor heated pool, or grab a pair of Dubarry

boots or Hunter wellies and venture out to explore the

beautiful rolling hills of the Cotswold countryside.

On returning, cosy up by the roaring fire in the Great

Hall to open gifts or battle it out over a board game or

celebrate with a glass of champagne in the hotel's own

country pub, The Horse Box.

Once home to the Earl of Ellenborough, steeped

in history, The Great Hall, built in 1485 is spectacular

with its oak beams, stone fireplaces and intricate

stained glass. Don't miss the cosy snugs and spiral

staircases leading up to private balconies above The

Great Hall, perfect for nestling down and relaxing

after a festive feast. à

BritishTravelJournal.com 53
---
Afternoon tea is an essential part of the Christmas experience at

Ellenborough Park; with a festive twist of warm mulled and spiced

seasonal sweet treats - and you don't get better than the truly unique

and spectacular ambience of The Great Hall for crunching into your

cream cheese and cucumber sandwich. For a more laid back, casual

dining experience The Horse Box offers a great option - especially for

families with younger children.

Back to exploring. For the more adventurous, guests can ride

through some of the 90 acres on a sled led by a pack of Siberian

huskies, before warming themselves up by toasting marshmallows

over a campfire - and if really lucky by cuddling husky pups. Take your

Christmas decorations to another level this year by creating a bespoke

wreath. Ellenborough Park is running wreath-making masterclasses

in late November and early December with local florist Donna Beaver,

helping you create a wonderful wreath to display proudly at home.

Grab a tipple from their stunning blue bar that boasts an impressive

cocktail menu and reflect on the day with a mulled wine or glass of

Ellenborough Park gin and tonic, carefully curated by the nearby

Cotswold Distillery. For those looking for more traditional winter

experiences, various regal pursuits including archery, clay pigeon

shooting, Land Rover off-roading or duck herding are also available on

request. If you can bring yourself to leave the estate, Ellenborough Park

is just a short hop from the centre of Cheltenham where you can enjoy a

glass of warming Glühwein while the children ogle the goodies on the

stalls at the Christmas Market on the Promenade.

Christmas just wouldn't be Christmas without a trip to the panto,

so you could make it even more special with tickets to the Everyman

Theatre to watch Jack & the Beanstalk or A Christmas Carol.

No cooking, no housework, at Ellenborough Park you can spend all

of your time as the Lord or Lady of the manor, revelling in 500 years of

history admiring the historic architecture and magnificent backdrop.

Now that's something worth adding to your Christmas wish-list u

Luxurious 3-day packages from £659 per room per night or for exclusive,

unlimited access prices starting from £12,000, ellenboroughpark.com

54 BritishTravelJournal.com
---
EXPERIENCE MORE...

...COUNTRY ESCAPES

We've selected and approved 50 of the best

independently owned luxury hotels and spas

around Britain for you to enjoy.

Call FREEPHONE 0808 250 3121 to request your

free directory or visit prideofbritainhotels.com

THE ART OF GREA T HOSPIT ALITY
---
LEEDS CASTLE

Leeds Castle, a fairytale estate in Kent, brings its 900th birthday

celebrations to a grand finale with some magical plans for the festive season

Words | Emma O'Reilly

THEY LIKE THEIR CHRISTMASES quirky

at Leeds Castle, which claims six medieval

queens and King Henry VIII amongst its

former owners. Not for them the usual tired

Santa's Grotto and blingy fairy lights. The aim is for

something unusual, enchanting and ethereal…which

they are pulling off with aplomb in this, their 900th

birthday year.

The theme is 'Magical Birds and Festive Feathers',

playing on the castle's long connection with all things

ornithological. The Leeds Castle crest features two

sleek black swans and, even before arriving at the

castle itself, beautifully sited on two islands in a lake,

guests wind through glorious gardens where peacocks

strut past waters teeming with ducks, egrets, geese…

and some of the aforementioned black swans.

Kirsty Harris , designer of this year's Christmas

decorations, picked up on the theme early on when

she visited. She has let her imagination run wild

"It's all rather

enchanting –

and adds to

the already

bewitching

atmosphere

over the festive

season, when

lights twinkle

and fires are

lit all over the

castle."

to create a winter wonderland which begins in the

Queen's Bedroom – where visitors enter a forest full

of owls, escaped from their cages to fly free in the

trees. There's a cheeky robin on a spade in a glittering

snow-covered garden in the Queen's Bathroom and

four and twenty blackbirds bursting out of a pie on

the banqueting table in the Queen's Gallery. Kirsty's

favourite design is a magpies' nest in Lady Baillie's

Bathroom, filled with snatched gems and trinkets,

befitting the former royal location.

'I want to involve the public as much as possible,

too', says Kirsty, 'so I have made some of the pieces

interactive. One of the installations has winged doves

fluttering from a Christmas present. Further paper doves

are provided, on which visitors can write their Christmas

wishes and hang them on any one of the four Christmas

trees in the Seminar Room. There are hats and feather

boas to try on in Lady Baillie's Bathroom, too.

Some of the decorations are more subtle and

sculptural, such as the intertwined black and white

56 BritishTravelJournal.com
---
swans atop the giant tree beside the Grand Staircase or abstract, like

the cluster of Christmas cards that swoop from a mantelpiece into

the shape of a Christmas tree in the Catherine of Aragon room. It's all

rather enchanting – and adds to the already bewitching atmosphere

over the festive season, when lights twinkle and fires are lit all over the

castle.

Magical Birds and Festive Feathers is on from 23 November until 1

January, and is the culmination of events that have been taking place

all year long for this special birthday.

Leeds Castle has had many transformations during its long history,

beginning life as a Norman Stronghold before becoming a royal castle,

then a magnificent Tudor Palace, greatly embellished by King Henry

VIII for his Queen, Catherine of Aragon.

The castle then moved into private ownership (gifted by the

king) and has lived through Jacobean and Georgian incarnations.

The timelines are displayed for visitors but the public rooms mainly

concentrate on the Medieval and Tudor periods – the Henry VIII

Banqueting Hall is particularly impressive - as well as the time of

heiress and socialite Lady Olive Baillie, who lived here from the 1920s.

She was famed for her extravagant house parties when royalty,

politicians, film stars and authors would regularly descend, Charlie

Chaplin and Noel Coward amongst them. She certainly knew how to

live in style and luxury, judging by her bathroom with its underfloor

heating and walls lined with Russian onyx. Apparently she also had

England's first wave machine in the garden! What is special about

Leeds Castle is that it feels like a living house, rather than a cold

'showpiece' castle. Indeed, visitors still stay for occasional house

parties, weddings and the like. We can't imagine a more wonderful

place to celebrate! u

Rooms start from £90 per night, leeds-castle.com

BritishTravelJournal.com 57
---
THYME MANOR

Nestled amidst the green of the Cotswold landscape, in one of the area's

beautiful villages, the Thyme Manor estate is a country retreat like no other

Words | Emma Johnson

58 BritishTravelJournal.com
---
WAKING UP AT THYME is like waking

up in another time altogether. The

simple quiet of birdsong, the sound

of the gardener walking past on the

crunching gravel, the smell of blooming roses through

the bedroom window - if it sounds like a bucolic idyll,

that's because it is.

Opened in 2002 as a cookery school, housed in a

beautiful tithe barn next door to owner Caryn Hibbert's

home, Southrop Manor, Thyme is now described as 'a

village within a village' – a collection of houses, barns,

lodges, gardens, a pub and a restaurant, that has

slowly, and sensitively, evolved over the years.

Following the opening of the cookery school,

Hibbert bought the village pub, The Swan, before

"The simple

quiet of

birdsong... the

smell of blooming

roses through

the bedroom

window - if it

sounds like a

bucolic idyll,

that's because

it is."

adding several cottages, an old farmhouse and the

old village rectory to Thyme's portfolio – creating up to

31 bedrooms and several self-contained cottages for

accommodation. Next door to the original tithe barn,

which still houses the cookery school and also functions

as an event space for intimate weddings or parties,

another farm outbuilding has been loving restored,

creating The Ox Barn, a new restaurant for Thyme

which opened earlier this year. Elsewhere there is the

imaginatively titled The Baa – serving classic cocktails

with views across the courtyard and olive garden

beyond.

All this is set within a 150-acre working farm,

housing hens, quail, geese and rare-breed sheep and

pigs, and extensive gardens managed by celebrity à

BritishTravelJournal.com 59
---
gardener Bunny Guiness, which all provide produce and provisions for

the kitchens, pub restaurant and cookery school, as well as flowers and

cuttings for Thyme's beautiful interior spaces, created with Hibbert by

interior designer Roger Hall.

Hibbert and Hall's expert eye is everywhere at Thyme. Décor is

country chic, but bold and creative too – colour, prints, antiques,

decorative mirrors and elaborate chandeliers meet wellington boots,

reclaimed wooden tables, vintage vases and potted herbs. We stayed

in the old rectory, renamed The Lodge, a beautiful, warm stone

house with eight gorgeous bedrooms, shaded by the striking Cedar

of Lebanon tree on the lawn in front, from which one of the most

beautiful bedrooms here takes its name. The large Cedar of Lebanon

room features a stunning French bateau bath, from which you can

indulgently soak away an afternoon, gazing out at the countryside and

perfect lawns beyond.

Further down the garden is the Meadow Spa – which opened last

year – and is truly reflective of its natural, countryside surrounds.

Encompassing an old greenhouse and a couple of smaller stone

cottages, and painted in a soothing grass green, the spa features the

most beautiful outdoor pool filled with natural spring water, a hot

house, a yoga studio and treatments by probiotic British skincare

brand Aurelia.

Staying here, it is easy to completely relax. The quiet surrounds of

the village and the field beyond seem to cloak Thyme in a permanent

state of calm – time ceases to matter, the world weariness seeps

away, aches and pains are soothed and rested, your mind is still and

contented. It is a rare thing to find a place that can do all these things

– but Thyme does it by being entirely a product of its surroundings.

Created and designed with nature in mind, it brings the best of the

countryside into every part of its day to day life, from food to flora - a

unique haven in a magical place u

Rooms start from £250 per night, thyme.co.uk

60 BritishTravelJournal.com
---
Author Contribution

LIGHTHOUSE

TRAIL

Have you ever dreamed of

travelling the British coastline

but not known where to begin?

Sarah Kerr, author of The British

Lighthouse Trail, shows us how to

do so – one lighthouse at a time

The British

Lighthouse Trail,

a regional guide

by Sarah Kerr.

Priced £18.99

whittles

publishing.com

WALES

South Stack, Anglesey

Surely one of Anglesey's most popular day trips

has to be South Stack lighthouse. Housing a

Visitor Centre with guided tours of the tower, the

lighthouse is located on a small island linked by

a bridge. The views from the top of the 28-metre

1809 tower are panoramic to say the least.

Reaching the lighthouse is no mean feat though

as there are 400 steps weaving down the cliff,

which make for a rather strenuous return journey.

The only book of its

kind to provide a

comprehensive listing

of all lighthouses in

Scotland, England,

Wales, Northern

Ireland, the Isle of Man

and Channel Islands

The Smalls, Pembrokeshire

Almost 35 kilometres out to sea off St David's

Head is the 41-metre lighthouse known as The

Smalls. Introduced in 1861 and designed by Trinity

House architect James Walker, this remote wavewashed

tower is not the easiest to visit. Getting a

closer look is possible though using boat operators

in the area who do run occasional, and very

weather-dependent, trips. It is well worth the effort

and just one of a number of offshore lighthouses

dotted around our coastline.

62 BritishTravelJournal.com
---
ISLE OF MAN

Point of Ayre

The Isle of Man attracts many visitors at

certain times of the year, but few recognise

its value as a location for spotting

some fantastic lighthouses. While Point

of Ayre at the northern tip lacks the

dramatic scenery of many of the bigger

lighthouses on the island, it has two, very

different towers to take in. The 30-metre

tower with its distinctive red bands was

the creation of Robert Stevenson - the

first of the famous "Lighthouse Stevensons"

dynasty - and was first lit in 1819.

Closer to the shore, on the shingle beach,

can be found a lighthouse known as The

Winkie. This tower, which is considerably

smaller than its older counterpart, was

introduced 70 years later and shone until

2010 when the light was discontinued.

à

BritishTravelJournal.com 63
---
SCOTLAND

Muckle Flugga, Shetland

The island of Muckle Flugga off the

northern tip of Unst in Shetland, is

home to the most northerly lighthouse

in Britain. In fact, the island itself is

only beaten by its neighbour Out Stack

as the most northerly piece of land in

the British Isles. Visible only from Saxa

Vord or from the Hermaness headland,

Muckle Flugga is not an island you

would want to attempt to build on, and

yet that is exactly what the Northern

Lighthouse Board did in 1854. The

20-metre tower that stands today,

designed by David and Thomas

Stevenson, was built in 1857, to

replace the original tower.

Ornsay, Skye

Another David and Thomas

Stevenson design is the 19-metre

Ornsay lighthouse, which sits on the

small island of Eilean Sionnach off

the east coast of Skye. Accessible

on foot only at low tide via Ornsay

island, the views from this tower

are outstanding at any time of

year. With the stunning mountains

on the Knoydart peninsula as the

backdrop, there is a lot to love

about this place. It is also possible

to stay in the old lighthouse keeper's

cottage here if superb views and

being cut off from civilisation when

the tide comes in appeal to you.

NORTHERN

IRELAND

Rathlin West, Rathlin Island

Perched high on the cliffs at

Bull Point, the most westerly

tip of Rathlin Island, off

the Northern Irish coast, is

Rathlin West lighthouse. This

incredible feat of engineering

stands out not only for the

awe-inspiring views that

surround it, but also for

being the only "upside down"

lighthouse in the British Isles.

Open to the public during the

summer months as an RSPB

Seabird Centre, this 18-metre

tower designed by Charles

William Scott is entered from

the top of the tower. One must

then descend the 98 steps

down to see the lantern with

its red tinted light at the very

bottom. A real treat to visit

and filled with lighthouserelated

displays too. à

64 BritishTravelJournal.com
---
Cosy Up Offer

COSY UP WITH A STAY AT BOVEY CASTLE

Our winter offer includes a Veuve Clicquot Kir Royale Champagne cocktail,

a two course dinner in Smith's Brasserie, sumptuous overnight accommodation

and a full English breakfast the following morning.

From £239.00 per room per night (based on two people sharing a classic room)

Offer valid until 31/03/20

Subject to availability. T&C's apply. Minimum stay 2 nights.

Get Muddy this Winter

AS GOOD IN THE WINTER AS IN THE SUMMER!

Visit Bovey Castle on Dartmoor National Park over the winter and 'Get Muddy'

with our onsite activities! What's more we have some special offers on selected

activities, ideal for families, friends and couples.

TO BOOK CALL RESERVATIONS ON 01647 445007

BOVEY CASTLE, NORTH BOVEY, DARTMOOR NATIONAL PARK, DEVON, TQ13 8RE

WWW.BOVEYCASTLE.COM

22_11_19 -BC.indd 1 22/11/2019 15:32
---
Winter is Coming...

Snuggle-up with us at The Fermain Valley Hotel
---
ENGLAND

Lundy, North Devon

The island of Lundy offers far more in

lighthouse terms than you would expect.

The island tells the common story of an old

lighthouse – in this case the old 29-metre

1820 tower – built in a prominent position

only for it to be discovered that it was so

often shrouded in fog. In Lundy's case this

resulted in two more towers being built at

the most northerly and southerly points

in 1897. The island has a lot to offer both

day-trippers and those on a short break,

with passenger ferries operating from

Ilfracombe and Bideford.

CHANNEL ISLANDS

La Corbière, Jersey

There is something special about lighthouses that are only accessible

at low tide and Corbiere lighthouse off the west coast of Jersey is

certainly that. Designed by Sir John Coode and first lit in 1874,

Corbiere lighthouse itself stands at 19 metres tall, but its prominence

on top of the highest section of rock gives it a much more elevated

position. It's a popular spot to visit so be warned that you will be

lucky to capture any people-free photographs from your visit.

Flamborough Head, Yorkshire

The 27-metre tall lighthouse at

Flamborough Head stands majestically

over some astounding coastal geology.

With its chalk coves, arch and stack,

it's the perfect place to while away a

few hours. The lighthouse, designed by

Trinity House architect Samuel Wyatt,

was first lit in 1806 and now houses a

Visitor Centre with the opportunity to

join a guided tour up the tower, giving

you an elevated view of the glorious

landscape below. Be sure to look out

for the old chalk lighthouse on the

approach road. Built in 1669, this tower is

one of the oldest lighthouses in Britain. u

BritishTravelJournal.com 67
---
48

hours in

BATH

A walk around the city of Bath is to follow in Jane Austen's footsteps knowing

that Roman centurions trod these streets many centuries before her

Words | Adrian Mourby

68 BritishTravelJournal.com
---
▶

▶

BATH IS UNIQUE AMONG British cities, having been

recognised by UNESCO both for its Roman remains and

as the most complete Georgian city in the world.

Built entirely out of honey-coloured local stone, Bath

is also recognised as a sacred site having been a place of worship

since pagan times, long before the Romans arrived in the first

century AD. These three elements come together in the busy

piazza known today as Abbey Churchyard.

Here, surrounded by buskers and street artists, the

eighteenth-century Pump Room is built alongside the most

complete Roman bathing complex in Britain, which was in turn

built over the sacred shrine to the pagan goddess, Sulis.

Three hot springs bubble to the surface in this low-lying part

of Bath. The water – over a million litres of it a day - emerges

at a temperature of 46C, after having been underground for

centuries. Still no one knows exactly how deep into the Earth this

water originally plunged before emerging in the centre of Bath.

The well-attested healing properties of Bath's springs made

it a place of religious, medical and finally social pilgrimage

for thousands of years. This city owes its very existence to hot,

healing waters.

Starting outside the Pump Room walk through the

neoclassical arcade that leads to Bath Street. Ahead of you

appears the Cross Bath, a small, open air eighteenth-century

bathing pool that was restored and reopened in the 1990s.

Opposite it looms the Thermae Spa, a huge modern

complex on five levels. Whereas the Cross Bath can only

accommodate a dozen bathers, up to a thousand visitors a day

queue up for the Thermae Spa. Its rooftop pool, known as the

New Royal Bath has one of the best views across the city.

These days this area is known as the Spa Quarter. It

contains a number of picturesque old hospitals and small

churches, and Bath's Little Theatre. Passing between the

theatre and the St John the Baptist Alms House, turn right into

Westgate and head up hill towards the Theatre Royal.

On the corner ahead of you sits a Thai restaurant in a

delightful semi-circular building with a lead-roofed balcony.

Behind it a series of wine bars are tucked inside a low Georgian

colonnade. Bath is full of eighteenth-century buildings

repurposed for the twenty-first century.

The theatre itself was founded in 1805 and saw performances

by great actors of the English stage like Edmund Kean and Mrs

Jordan, the mistress of King William IV.

The main entrance and lobby we see today is a Victorian

addition. Walking round the corner into Beaufort Square

reveals the theatre's entrance as Jane Austen knew it when she

lived in nearby Trim Street. It's a much more impressive facade

with just two doors opening into the large, quiet square.

Continuing up Barton Street we come to Gay Street, which

faces onto Queen Square. Enter the park in the centre of the

square and walk to the obelisk, which was erected by Beau à

BritishTravelJournal.com 69
---
▶

▶

EDITOR'S HIGHLIGHT

DON'T MISS

Nash, the Master of Ceremonies in

Georgian Bath, in honour of Frederick,

Prince of Wales. This square was the

first new development of Bath by John

Wood the Elder, who designed most

of the city's best buildings including

the Circus and Royal Crescent. Wood's

ambition to make his hometown the

most beautiful city in Britain were

continually thwarted by local aldermen

so he ended up building his neoclassical

streets and squares in fields outside the

old city walls on land owned by one

Robert Gay.

Leave the park via Gay Street itself

and climb the hill to the Jane Austen

Museum at No 40. The Austens lived

in Bath from 1801 to 1806 and Jane set

scenes from two of her novels in the city.

Gay Street is very steep indeed – you

are climbing a hill - and each house

sits on its own step, like a staircase. At

the top however the ground levels out

for the Circus, which was one of John

Wood's boldest creations. Houses here

are arranged in a circle surrounding

a huge tree. Wood didn't design the

houses themselves, just this harmonious

façade. Individual entrepreneurs in

effect bought the doors, windows and

roofline created by Wood, and built

houses of their choice behind.

From the Circus, Brock Street leads

west to the most famous of John Wood's

developments, the Royal Crescent

which, like the Circus, was actually

completed by his son John Wood the

Younger after the old man's death in

1754. In a massive graceful arc 30 town

houses look out over the city. No1 Royal

Crescent is now a museum showing how

life was lived in Georgian Bath while No

16, once owned by a son of King George

III, is now the Royal Crescent Hotel.

Nothing in the design of the sweeping

neoclassical façade was allowed to

impinge on its visual impact, so much

so that all the downpipes that drain the

long roof are hidden inside the walls

rather than visible to passersby.

The Royal Crescent once looked out

on countryside, now it looks over the

modern city of Bath but it is a perfect

place from which to gain an overview of

this unique and beautiful city. u

Grayson Perry: The Pre-Therapy

Years at The Holburne Museum

24 January to 25 May 2020

Built as a club house for residents of Great

Pulteney Street, The Holburne is now home to

a collection of Old Masters and silverware,

and runs an exciting programme of events

throughout the year. One of the most

eagerly anticipated shows is that of English

contemporary artist, Grayson Perry: The

Pre-Therapy Years - known for his ceramic

vases, tapestries and cross-dressing. The

show includes Perry's early works, pieces

from the artist's own collection and many

works not even seen publicly before.

Great Pulteney Street, 01225 388569

holburne.org

MUST VISIT

The Roman Baths

This superb underground museum of life

in Roman Bath is actually housed in the

precincts of the original bath complex.

Stall Street, 01225 477785

romanbaths.co.uk

No 1 Royal Crescent

Learn how life was lived at the top of Bath

society in this detailed recreation of one of

its grandest eighteenth century townhouses.

1 Royal Crescent, 01225 428126

no1royalcrescent.org.uk

Thermae Bath Spa

Bringing Bath's story up to date, this modern

thermal bathing experience has a wonderful

open air rooftop pool, novelty saunas and

busy treatment rooms.

Hot Bath Street, 01225 331234

thermaebathspa.com

70 BritishTravelJournal.com
---
WHERE TO EAT

The Pump Room

Built in the eighteenth century as a meeting

place for visitors to Bath, the Pump Room is

still the place to drink the waters as well as

eat breakfast, lunch and tea. The afternoon

tea here is a Bath tradition as is the three

person orchestra, the longest established

ensemble of its kind in Europe.

13 Abbey Churchyard 01225 444477

thepumproombath.co.uk

The Circus

Tucked round the corner from the famous

Circus, this small family-run café doubles as

a sophisticated, candlelit dining room in the

evenings. Local sourcing and modern takes on

traditional British cuisine have made Alison

Goldman's dining room a must for foodies.

34 Brock Street, 01225 466020

thecircusrestaurant.co.uk

Ponte Vecchio

This small, modern Italian restaurant

has a few, much coveted outdoor tables

overlooking Bath's famous Pulteney Bridge.

The bridge itself links fashionable Great

Pulteney Street to the city and the food is as

good as the view.

Spring Gardens Road, 01225 424800

pontevecchiobath.com

Savouring Bath

Sample the city's best independent culinary

artisans as part of a scheduled walking tour, or

as a private experience. Each culinary adventure

lasts around three hours and includes a meal's

worth of food samples, introducing you to the

best of the city's food scene.

Bath city centre, 01225 425843

savouringbath.com

WHERE TO STAY

See article

on next

page

The Royal Crescent Hotel

Fashioned out of two houses at the centre

of John Wood's grandest achievement, The

Royal Crescent opens up at its rear into a

huge garden with spa and restaurant. From

here it is easy to see how the uniformity of

the façade stands in complete contrast to the

highly individual houses built behind it.

16 Royal Crescent, 01225 823333

royalcrescent.co.uk

The Gainsborough Bath Spa

This recent conversion of a Victorian

hospital, built for taking the waters, is now

a 99-room hotel close to the Pump Room

and Roman Baths. The hotel spa has its own

source of thermal spring water and its bar is

one of the best in the city for cocktails.

Beau Street, 01225 358888

thegainsboroughbathspa.co.uk

No. 15 Great Pulteney

A trendy, dramatically decorated hotel in

what became late eighteenth-century Bath's

splendid new development across the river

Avon. In Jane Austen's day this broad street

leading east across Pulteney Bridge was

where the wealthiest visitors stayed.

15 Great Pulteney Street, 01225 807015

no15greatpulteney.co.uk

BritishTravelJournal.com 71
---
Hotel Review

THE ROYAL

CRESCENT

There are many hotels in the centre of Bath, a popular world heritage spa

city, attracting almost five million visitors every year, but it could be claimed,

none quite as grand and spectacular as The Royal Crescent Hotel and Spa

Words | Jessica Way

THIS MAGNIFICENT 5-STAR HOTEL occupies two central

townhouses of Bath's architectural masterpiece - the

Georgian crescent. This Bath stone curve houses thirty

dwellings, all with a uniform Palladian design to the principal

facade. Located in a quiet residential area with no passing traffic, it is far

enough from the hustle and bustle of town that it feels almost rural.

There's an immaculate semi-circular lawn to the front of the building,

leading to the north entrance of Royal Victoria Park, and an acre of

gardens exclusively for guests use at the rear.

The quiet, peaceful location is however just a 10-15 minute stroll from

the heart of the city where you will find the world-famous attractions

including The Roman Baths, Bath Abbey and Thermae Bath Spa. You

are also minutes from the most fashionable shopping street of Bath,

Milsom Street, lined with charming shops and restaurants.

If you are planning a stay around Christmas time, this location

couldn't be more perfect, as for the first time in its 18-year history, the

Bath Christmas Market now lines Milsom Street with twinkling chalets

of designers showcasing their artisan gifts. Having launched last year,

it was deemed to be a 'roaring success', and confirmed they will be

repeating the fun in 2019. I was lucky enough to be there last year for the

first day of the markets. Arriving in Bath early with the intention to do

some of my Christmas shopping, I took a short taxi ride from the train

station to the hotel, left my luggage with the extremely friendly concierge

team, and then wandered freely into town; it was fabulous. Be sure not

to miss Milsom Place, a pretty courtyard with one-off designer shops and

great cafés and restaurants. And just across the road from Milsom Place

is Jolly's, a House of Fraser store open since 1831 and one of the world's

oldest department stores.

On my way back to the hotel I stopped in at No.1 Royal Crescent,

the first house in the curve to be built. Today it's a museum decorated

and furnished as it would have been during the period 1776-1796. For a

reasonable entry price, (£10.60) you are free to explore the bedrooms,

reception rooms, kitchen and outdoor terrace in your own time,

imagining what life was like for Bath's fashionable residents.

The visit certainly got me into the spirit of the occasion, with such a

magnificent hotel awaiting my arrival, and, numerous stylish shopping

bags over my arms, I checked in imagining myself as Elizabeth Bennet

from Jane Austen's Pride and Prejudice. With a prestigious history that

spans more than 250 years, the hotel feels similar to the experience of

a museum, only much larger and more glamorous than the one I had

just visited. Quite incredibly The Royal Crescent Hotel is one of the few

landmark buildings in the world you can sleep in, so quite special then -

and certainly no ordinary hotel.

My name is handwritten on the bedroom door, one of their Master

Suites, (The Duke of York) and it is absolutely breathtaking, I am lost

for words by the beauty (and size) of this room. The chandelier hanging

from the ornate high ceiling is utterly exquisite, there are three floor-toceiling

sash windows, light flooding in, with views across the elegant

Royal Crescent Lawn and beyond. Cream and green colour tones warm

the room, there's an opulent four-poster bed, silk cushions, oil paintings,

and sitting/lounge area, combining contemporary style with the

18th-century charm. The beige-marble double-everything bathroom is

equally as extravagant and lavish.

The porter must be used to seeing this type of reaction from delighted

guests. He tells me that every one of their 45 bedrooms has a completely

unique design and décor. "This room though is my personal favourite,"

he says. Usually, I think this is something hotel staff say to all their guests,

to make them feel special - but on this occasion, I believe him.

72 BritishTravelJournal.com
---
©COLIN HAWKINS

"Quite incredibly The Royal Crescent Hotel is one of the few landmark buildings in

the world you can sleep in, so pretty special then - certainly no ordinary hotel."

With four further Georgian buildings including a spa garden yet to

explore in the back of the garden I was quick to put down my shopping

bags. Ready for a blissful afternoon, I sauntered back down the

curvaceous staircase in fluffy white robe and slippers. For such a grand

hotel it is completely unstuffy, you are made to feel more than welcome.

I would compare the experience to be more like staying with family than

being a hotel guest. Perhaps this is the reason they have so much loyalty

from repeat visitors, who come here to stay from across the globe.

The spacious Mediterranean-styled walled gardens are such an

unexpected delight for a city-centre location like this - a perfect romantic

setting for an indulgent afternoon tea - and understandably popular

for weddings too (there's a separate Wedding Garden). High stone

walls are covered in honeysuckle and roses, secluded seating areas

are surrounded by mature trees, with delightful floral aromas floating

through the air.

Then there's the 12-metre heated relaxation pool, vitality pool

with massage jets, sauna and steam rooms, six treatment rooms and

complimentary herbal teas to see you well and truly pampered. You are

welcome to complete the experience with a glass of Champagne in the

holistic haven of the Taittinger Spa Garden, open throughout the seasons.

The contemporary-style Montagu Bar & Champagne Lounge is

a great option when you're peckish for lunch or light-bites, serving

British classics including a Fish and Chip Basket or Royal Crescent Club

Sandwich. Diners also enjoy this space as a place to enjoy pre-dinner

drinks and cocktails before heading into the main restaurant, Dower

House, and when it's warm outside seating options include al-fresco

dining in the beautiful gardens.

David Campbell, Executive Head Chef has been at the hotel for seven

years, overseeing a sustainable and seasonal award-winning menu with

elaborately presented dishes. I ordered from the A La Carte menu opting

for Slow Cooked Duck Egg with Morteau Sausage and Roasted Sea

Bass with Hay Baked Potato - the attentive service, gourmet ingredients

and the gracious atmosphere was the perfect ending to my whimsical day.

The attention-to-detail, from complimentary valet parking to

bedrooms being turned down so beautifully in the evening - or the

unrivalled knowledge of Bath from the concierge team in planning your

day, to providing you with a picnic for the journey stand this hotel apart.

This is a true destination hotel - and what a destination Bath is. u

Rooms start from £350 per night, royalcrescent.co.uk

To book a stay at any of Pride of Britain Hotels' collection of 50 luxury

properties, contact Pride of Britain Hotels (0800 089 3929).

prideofbritainhotels.com

BritishTravelJournal.com 73
---
FINDING

Located in a beautiful 18th century Sussex country house set in 15 acres of lush

countryside, Simply Healing is a luxury detox retreat offering beautiful woodland

walks, nature and fresh air alongside treatments, therapies and juice plans

74 BritishTravelJournal.com

Words | Jessica Way
---
A

HEALTHY GUT EQUALS

a healthy mind. They're

connected - it's simple, look

after your gut - and it will look

after you", explains Kate. It's day one and

I'm having my introductory consultation

with one of the integral members of the

small, but fullhearted, team.

We're sitting in the consultation room

of a large and characterful country

home (come wellness business), located

in rural Sussex, named Alliblasters - an

old French term for crossbowman,

believed to stem back to the Normans

and named after William Le Alblaster

(1279). This impressive property is

owned and family-run by Vivien Kay and

daughter Caroline, who together with

the help from Kate and Carolyn, (and

occasionally dog Poppy) have spent a

decade mastering their secret winning

formula that results in guests dancing

their way out of the door by the end of

their detox plan.

I've not been here long, just enough

time to check-in and to see my room (a

deluxe double), suitably equipped and

tastefully furnished, and I'm surprised

by just how homely it feels - the house is

elegantly decorated, full of colour and

character, with high ceilings and a grand

staircase. Photos, books, DVDs and

elegant travel ornaments and souvenirs,

line the book shelves and table tops in

every room and corridor, giving guests

an insight into Vivien's intrepid worldtravels.

She is one of a family-generation

of healers and herbalists, and has worked

with shaman in countries including Peru,

Canada, Mexico and Egypt.

Kate takes my blood, weighs me, and

chats to me generally about my physical

and mental wellbeing. People come here

for many different reasons; it's a celebrity

favourite for keeping the weight off,

others come for a general cleanse, some

more for the emotional or shamanic

healing therapies. I am here just in search

of a kick-start to a healthier lifestyle.

It's simple, or at least that's what I

thought - a few spa treatments, some

juice, cut out my caffeine and sugar

intake, what could be so hard about

that? Other than owning a Nutri-bullet I

know very little about the detox journey

I am about to take. I head back to my

room with my treatment itinerary in

hand, keen to research more into Colonic

Hydrotherapy and Manual Lymphatic

Drainage.

I make my way down to the lounge

before my first treatment; Outer Glow

Body Scrub. It is easy to relax here.

However, I am still struggling to allow

myself to. As I am sure most of you will

relate to, I'm so used to being on-thego,

juggling both family and work life,

deadlines, meetings, emails (mostly

coffee-fuelled), that I am feeling guilty,

and slightly uneasy, at doing so little.

I look out of the window and it helps,

the uninterrupted views of the South

Downs and beautifully kept English

gardens are a world away from my usual

daily routines. Guests are asked to refrain

from using their phones, laptops and

other devices in guest areas, (although

there's wifi in the bedrooms) and this

'out of sight out of mind' digital-detox

approach doesn't take long to have a

positive effect.

Therapist Kate works wonders on

me - feeling much more relaxed I head to

the dining room wrapped up in my fluffy

dressing gown and slippers ready to meet

the other guests and enjoy a fresh juice.

I am in great company. There's a

scientist, musician, doctor, actor and

owner of a top London talent agency.

We hit it off, there's lots of laughter and

many share their stories having been

here several times before. à

BritishTravelJournal.com 75
---
There is around a 70% visitor return rate here, so they must be doing

something right.

Vivien joins in the conversations and takes the opportunity to tell

us about her latest venture - restoring antique chairs into reimagined

vintage masterpieces. I had already spotted a few finished gems

dotted around the house, each design unique with exquisite

colourful fabrics. Vivien was enjoying naming them appropriately,

Daisy, Purple Star and Sunshine, and tagged, we could see, many

were already sold. (see vintagechairsreimagined.com)

Clearly Vivien is a lady of multi-talents, passionate and positive,

with a warm caring aura that permeates her home.

In the evening we gather in the lounge for a group-meditation

session, the open fire roaring, throws, blankets and soft cushions

all-around, we settle, listening to the crackling sound of the wood,

as Kate's voice sends us into a sleepy trance.

The day is finished off with a delicious detox soup and one of the

best night's sleep of my life. It takes less than 24 hours to really start

embracing the detox experience as I begin relaxing. I am no longer

fretting about emails, or checking my phone with every alert, and I

am acutely aware of a mental shift to a calmer mind, and an ability

now to properly unwind.

The following four days adhere to a similar schedule, filled with

various combinations of fresh juices (apple, pear and ginger being

my personal favourite) and treatments throughout the day to fill

our time. The juices are prepared to keep our blood sugar levels

stable, sometimes served along with Psyllium Husk, Bentonite Clay

and Cleansing Herbs which take me a little more getting used to.

We are given five juices a day, soup in the evening and treated

to a delicious fresh fruit breakfast and salad lunch on the day of

departure. Everyone agrees how surprising it is that this is enough

to stop you feeling at all hungry - if anything I actually felt pretty

full most of the time - but thirsty. It is important to also drink plenty

of water while detoxing, Vivien suggests at least eight glasses a

day. Other than a slight headache I felt mostly fine throughout

the detox, although I was sick several times on day three. This can

happen but apparently it is not all that common - perhaps because

I was a first-timer, and I maybe should have better prepared my

body in the weeks approaching my stay. I carried on though and

managed to brave it through my colonics, which weren't anywhere

near as terrifying as I had feared.

The house has a lovely conservatory with a running machine,

and you are advised to make use of the chi machine and toning

plates which I really got into using (said to be good for shifting the

toxins out of your body). Each morning we went on an invigorating

woodland walk too, making the most of our surroundings and

connecting with nature while we talked - great for bonding time.

My last treatment was the 'totally quenched and drenched

facial', a Temple Spa special, booked as an extra on one of the

other house guests recommendation - and I am so pleased I did.

Carolyn my therapist was fantastic. In fact, all the therapists at the

retreat were brilliant, but if you can ask for Beatrice for your Detox

Massage, her hands work magic, and Carolyn for your colonics,

she will make you feel immediately comfortable and is extremely

knowledgeable about the detox process, with 20 years' experience.

I must admit I came into the process a little naïve and I had to

work much harder for the reward than I imagined I would. But,

while it wasn't all plain sailing, it was entirely worth it. You feel

positive, energised, focussed and I have never felt so emotionally

well-balanced and ready to face the winter. I am a firm believer

that you can't buy happiness, but at Simply Healing you can buy

the helping hand you need to make you feel happier - and what

more could you want than that? Simply priceless u

Simply Healing detox programmes start at £1475 for a 5 Day Juice

Cleanse Detox Plan. simplyhealingcentre.com

76 BritishTravelJournal.com
---
SPA GUIDE

N E W - A G E L U X U R Y

Escape to the countryside, discover soporific soothing in subterranean labyrinths or

invigorate the mind with fire and ice treatments by the ocean… a new era of Zen is upon us

SOUTH LODGE

HOTEL & SPA

The newest of our top 10 list of new-age luxury

spas, South Lodge Hotel, West Sussex, launched

its impressive spa in March this year with high

anticipation and much ambition - and they've firmly

delivered, both on expectation and promise. It's a

seriously sleek, modern, immaculately polished spa - a

luxury 'destination', whether staying as a guest at the hotel

or frequenting as a day-visitor.

The contemporary facilities, utilising the beautifully

designed indoor and outdoor spaces, have been crafted with

BRITISH

TRAVEL

JOURNAL

L O V E S

2 0 1 9

▶

perfect precision, together with the state-of-the-art appliances,

including top-of-the-range Dyson hairdryers, and their very own

collection of bespoke products, 'The Spa', created exclusively

for The Spa at South Lodge and sister-property, The Spa at

Pennyhill Park, (both are part of Exclusive Hotels) it seems

there's been no expense (of the £15 million invested) spared.

Arguably the most impressive, and certainly the most

unique, is their completely natural, 18m long heated wild

swimming pool. Already very popular in Austria and Germany,

this is a concept that is fast becoming fashionable here in this

country, although the one at South Lodge is said to be the UK's

first 'heated' natural swim pond. The reduced nutrients prevent

algae from growing and keep the water clear. Experience a dip

78 BritishTravelJournal.com
---
EDITOR'S HIGHLIGHTS

STAYING OVERNIGHT

AT SOUTH LODGE

at its best after a session in the sauna - it's glacial at first, but soon gets you feeling

wonderfully refreshed and energised.

The indoor infinity pool is especially remarkable for how it has been designed to

bring the outside in – you are inside but still feel surrounded by the natural contours

of the landscape. It's invigorating and does absolute wonders for the mind - even

before swimming any lengths. Such an incredible space - and if I didn't live quite so

far away I would be enquiring about membership based on this pool alone.

Then there's the 14 nature-themed treatment rooms, nail bar and pedicure

suite, thermal suite with infused sauna, marble-lined salt steam, jasmine herbal

steam rooms - and a multi-level terraced sun deck and fabulous hydrotherapy pool

outdoors.

When hunger kicks in, the Botanica restaurant is open to serve brunch, lunch

or dinner - with scenic views and extensive alfresco dining. Head Chef Jonathan

Spiers draws on the South Downs as a larder for fresh and seasonal ingredients

- try their buttermilk pancake with berry compote and maple syrup, or BBQ

courgette with pumpkin butter and lemon yoghurt.

And if you can't quite pull yourself away from the poolside, there's The

Watershed, providing a refreshing range of drinks, alongside some tasty treats

and light bites, including gelato and fresh juices - delicious. u

The Earle of Athlone Suite

This is just one of South Lodge's indivdually

designed 89 bedrooms - with a luxurious

free standing bath and spectacular views

out to their 93 acres of gardens, lakes and

parkland and across to the South Downs.

Outdoor Activities

Borrow one of their mountain bikes or play

a round of croquet on the lawn - that's if

you can pull yourself away from the spa!

The Cellar

One for the adults... previously hidden

from view, the original subterranean

Victorian cellar has been fabulously

restored, featuring a large tasting table.

Each day there's a selection of 16 wines

available 'on demand'.

The Camellia

The two AA Rosette winning Camellia

restaurant offers mouth-watering dishes

made with skill and flair by the brigade

of chefs. Using fresh vegetables from the

hotel's walled kitchen garden and the finest

local Sussex ingredients.

To book a stay at any of Pride of Britain Hotels' collection

of 50 luxury properties, contact Pride of Britain Hotels

(0800 089 3929). prideofbritainhotels.com

BritishTravelJournal.com 79
---
▶

From state-of-the-art FIVE-STAR SPAS to

treatments that harness the wonders of the natural

world, THESE SOUL-SOOTHING, INDULGENT

GETAWAYS ARE just what the doctor ordered…

Words | Chantal Borciani

GILPIN HOTEL & LAKE HOUSE

Nestled amid the Lake District's ice-dappled lakes and snowy

mountains, Gilpin feels like a magical Scandinavian wonderland

sprinkled with steamy lakeside cedar hot tubs and hideaway log

cabins. All 25 hotel bedrooms boast Lakeland views, six with their own

cedarwood tubs, and five intimate Spa Lodges feature their own ensuite

spa (rainmaker showers and steam rooms inside, hydrotherapy hot tubs

and saunas outside). One mile away, hunkered down in the endlessly

romantic landscape lies Gilpin Lake House, a sanctuary where just 12

guests enjoy 100 acres of private grounds, complete with a lake, boat

house, hot tubs, saunas, and swimming pool. At the hotel's Jetty Spa,

the Swedish style spa treatment room is raised three metres into the tree

canopy for a connection to nature like no other and one of the most

captivating forest and lake views in the land.

thegilpin.co.uk

Pictured

on our front

cover!

ROCKLIFFE HALL

For mindful rejuvenation and sensory indulgence, Rockliffe

Hall's 50,000 sq ft spa, complete with mesmeric infinity pool,

tepidarium beds, indoor hydrotherapy pool, Roman sauna,

cleansing tropicarium and igloo, should do the trick. For the

ultimate de-stress, the spa, situated on the County Durham

and North Yorkshire border, has recently opened its new

Mind Therapy Room, which features a Spa. Wave bed that

uses computer-controlled acoustics, gentle sound waves and

vibrational massage therapy to soothe the brain. Benefits can

include deep relaxation, easing of muscle tension, reduction in

stress levels and improved sleep quality.

prideofbritainhotels.com

80 BritishTravelJournal.com
---
GALGORM RESORT

AND SPA

On the banks of River Maine in Northern Ireland

lies forest bathing and natural thermal healing

at its best. Cocooned in 163 acres of lush

parkland, Galgorm's woodland 'thermal village'

offers saunas, therapy pools, private wood-fired

riverside tubs, a sanarium and Celtic sauna. For

the brave hearted, Galgorm's Snow Cabin will

invigorate mind and body with powder snow and

crystals and is said to boost circulation and have

a positive effect on the lungs and respiratory

system.

galgorm.com

COTTONMILL AT

SOPWELL HOUSE

Connection to the elements runs deep in Sopwell House's

new three-storey Hertfordshire spa, where an indoor/

outdoor hydrotherapy pool leads out to a restful spa

garden created by award-winning designer, Ann-Marie

Powell. Inside, a labyrinth of ice and fire experiences with

an organic sauna, panoramic sauna, salt steam room

and botanical steam room, while a Whisper Room and

Rose Relaxation Room provide blissful cocoons of calm.

The spa's true calling card is the UK's first ever amber

and quartz crystal bed, which provides soothing thermal

therapy by immersing the body in hot sand to ease tension

and deliver muscle-melting relaxation.

sopwellhouse.co.uk

BritishTravelJournal.com 81
---
RUDDING PARK

Hibernate in the garden sauna cabin, sun deck and spa bath

of this rolling woodland garden near Harrogate, Yorkshire.

The luxury hotel also boasts a rooftop spa with hydrotherapy

pools and thermal experiences designed to reflect the beauty

of its natural surroundings. A few slippered footsteps from

the rooftop pool, Rudding Park's new Sunlight Therapy Room

features heated, sculpted loungers and 'sunlight simulators'

to boost energy and wellbeing even in the darkest days of

winter. Replicating natural sunlight, a 20-minute session can

help reduce the effects of Seasonal Affective Disorder (SAD),

encourage sounder sleep, ease aches and pains and see an

increase in energy and vitamin D production.

ruddingpark.co.uk

SOURCE SPA AND WELLNESS

Perched atop the cliffs on North Devon's stunning coastline and

providing world-class treatments in an uber luxe setting, Source

Spa and Wellness at Saunton Sands Hotel is the place to find

yourself in nature. Inspired by its natural playground, the Spa

utilises the breathtaking backdrop of the Atlantic Ocean's gentle

waves and the golden sands to create a tranquil environment.

Spanning three levels to rejuvenate, relax and recharge including a

lavish marine view thermal suite, a state-of-the-art gym, swimming

pools and seven treatment rooms. Begin the Source wellness

journey bathing in the mineral-rich marine vitality pool before

soothing in the Finnish aroma sauna, salt steam room and ice

fountain. Relax in one of the treatment rooms where therapies,

rituals and treatments restore, invigorate and beautify. Gently

awaken the senses on the top floor rooftop sun deck and restore

your equilibrium with awe-inspiring views of huge skies, rugged

dunes and rolling waters. Take the experience one step further and

plump for an overnight stay in one of the sumptuous bedrooms and

delight in two AA Rosette dining for ultimate luxury.

sourcespa.co.uk

82 BritishTravelJournal.com
---
LUCKNAM PARK

Recharge and restore at this 18th century pile set in 500 acres

of divine parkland, just six miles from the historic city of Bath,

Somerset. The ESPA spa is the place for decadent relaxation,

with a 20m indoor pool, outdoor and indoor hydrotherapy

pool, outdoor salt water plunge, an ice bar and thermal

cabins featuring Japanese salt, an amethyst room, aromatic

steam and sauna. In addition to holistic practices including

personalised Ayurvedic dosha and reiki, guests can opt for

the innovative Dry Flotation treatment, where the body is

cocooned and submerged on a thin warming membrane

allowing you to peacefully float without touching the water

for ultimate relaxation and weightless rest.

lucknampark.co.uk

CHEWTON GLEN

A five-star, quintessentially English luxury Country House Hotel & Spa

located on the fringe of the New Forest, Hampshire - this is a perfect

venue to replenish the mind and body. Swim in the 17-metre swimming

pool, before enjoying the hydrotherapy spa pool, outdoor whirlpool,

aromatherapy saunas, and crystal steam rooms. With twelve individual

treatment rooms offering no fewer than 50 different treatments and

holistic therapies you're spoiled for choice. Or for something more

active, there's a state-of-the-art gymnasium, dance studio with daily

programme of classes, 9 hole par-3 golf course, indoor and outdoor

tennis centre and acres of woodland jogging and walking trails.

chewtonglen.com

STOKE PARK

Stoke Park Spa is set within the sweeping natural beauty of a

thousand year old estate in Buckinghamshire. Since its visionary

creation as the first country club in Britain in 1908, Stoke Park

has become a unique and accessible fusion of heritage-rich

elegance and contemporary luxury, where some of the finest

sporting and leisure facilities in the world can be enjoyed.

The Spa is situated in The Pavilion, which also houses 28

contemporary luxury bedrooms. The Pavilion offers a haven

of luxury, indulgence and serenity, with facilities that include

an indoor heated swimming pool, changing rooms with

Italian marble steam rooms, deep relaxation room, a private

atrium with stunning five metre tropical aquarium, outdoor

Scandinavian Sauna and hot tub, nail bar and boutique.

stokepark.com

BritishTravelJournal.com 83
---
Discov er a new

er a new

kindred spirit

Luxury English gin made in Surrey with

24 botanicals. Full bodied with delicate

florals, fresh citrus and velvety local honey.

Smooth, refined, refreshingly individual.

#forthespirited @silentpoolgin
---
STYLE

EDITS

Travel souvenirs and gifts lovingly made

for the discerning traveller

YUYU BOTTLE

Luxurious body-length hot water bottles

available at Harrods and Selfridges, from £25

yuyubottle.com

BRITISH

TRAVEL

JOURNAL

L O V E S

2 0 1 9

MADE I N D E V O N

STAYING WARM

Winter essentials to beat the cold

DRYROBE

This huge cape with waterproof material on the outside, towel lining and cosy hood, was

launched by North Devon surfer, Gideon Bright - who owes credit to his mum for creating

the first ever 'dryrobe' when he was a teenager, utilising her accomplished sewing skills,

made to keep him warm after a day of surf. The dryrobe is now a celebrity favourite to keep

you dry and warm, whatever the weather - the trajectory of dryrobe has been quite incredible.

Long Sleeve dryrobe (as pictured aboved) priced from £130. dryrobe.com

PROTEST FASHION

Stand out both on and off the slopes in

this tomic colour block ski jacket, £149.99

protest.eu

CHRISTMAS M U S T

luxury, handsewn

slipper socks for

children, priced

from £20, and for

adults, from £40

moccis.co.uk

BritishTravelJournal.com 85
---
GIFT SHOP

Keep a memento from your visit

STONEHENGE TRILITHONS

Celebrate and commemorate the magic of

Stonehenge with Trilithon Drop Earrings, £22

english-heritageshop.org.uk

SIMPLY BRITISH TASTE

Enjoy tea and confectionery from different

parts of Britain each month with a taste box

subscription, £19. Also available with a monthly

fiction book, set in the British Isles, £34.99

thetravellingreader.com

MADE I N H A M P S H I R E

WHITCHURCH SILK MILL

After exploring the Mill itself, a gem of industrial heritage, with stunning views of the

River Test, and wonderful gardens, head over to The Mill Shop and Riverside Café.

Here you can buy unique gifts made from the silk woven at the Mill like these blue and

pink herringbone spun silk scarves, with one wsm spun silk pashmina, priced £85 each

whitchurchsilkmill.org.uk

V&A CALENDARS FOR 2020

Enjoy lavish designs from the V&A's collections

with these mini wall calendars, priced £5 each

vam.ac.uk/shop

86 BritishTravelJournal.com
---
TRAVEL TECH

Smart gizmos for when you are on-the-go

CONTACTLESS PAYMENT RING

Simply tap your hand on the contactless

card reader to pay, whether you're buying

a coffee or taking the Tube! £99.99

fifthandblue.com

I N

STYLE

OSTRICHPILLOW GO

Create your own snugly space in the

world and feel-good anywhere with

the ultimate cocoon pillow. £47

eu.ostrichpillow.com

KODAK'S NEW SMILE

The latest style in the collection, the new

Classic instant retro camera offers a nostalgic

look and feel with modern features. £149.99

amazon.co.uk

COMPACT ELECTRONIC SCALE

Save money, time and hassle weighing your

bags before you get to the airport. £70

uk.tumi.com

CONNECT SMART PACK

Link your phone to your bag with this portable

power and wearable technology. £299.99

kathmandu.co.uk

AIR-SAFE MANICURE SET

Create hands worth holding with this stylish set

from Jermyn Street's Czech & Speake, £225

fortnumandmason.com

BritishTravelJournal.com 87
---
HIGH FLYERS

For those who have everything already

SOLID GOLD PAYMENT CARD

A first of a kind by The Royal Mint - personalised

for each Raris accountholder, with their name

and signature directly engraved into the

precious metal! Priced £18,750 (card only)

raris.com

LOVE OF THE SLOPES

Limited-edition original posters featuring

glamorous winter sports and summer resorts

around the world evoking memories of holidays

and special occasions. Priced £395.

pullmaneditions.com

FLOATING IN LUXURY

Give the gift of Fingal this Christmas with a

voucher for a stay on board Scotland's first

luxury floating hotel in Edinburgh.

fingal.co.uk

BOMBAY SAPPHIRE GIFT CARD

For all experiences, the Mill Bar and

Gin Shop both online and at the distillery

distillery.bombaysapphire.com/experiences

RHUBARB GIN & GOBLET SET

Serve your Yorkshire Rhubarb gin in style with

these branded Slingsby goblets, set priced £59.99

spiritofharrogate.co.uk

INSTAX MINI 90 INSTANT CAMERA

Have fun with the creative new shooting

modes including double exposure, £134.99

instax.com

88 BritishTravelJournal.com
---
ORIGINAL, LIMITED-EDITION ART DECO POSTERS

Limited to editions of 280, our newly-commissioned

Art Deco posters feature glamorous holiday

destinations around the world, ski resorts in the

Austrian, French and Swiss Alps, and the world's

greatest historic automobiles. Over 100 designs

to choose from, all printed on 100% cotton fine art

paper, measuring 97 x 65 cm.

Priced at £395 each.

Private commissions are also welcome.

Pullman Editions Ltd

94 Pimlico Road

Chelsea

London SW1W 8PL

www.pullmaneditions.com

Tel: +44 (0)20 7730 0547

info@pullmaneditions.com

Our central London gallery

All images and text copyright © Pullman Editions Ltd. 2019

View and buy online at www.pullmaneditions.com
---
90 BritishTravelJournal.com
---
In the Capital

KING'S

CROSS

London's hippest new

area is buzzing with shops

and restaurants – it's the

perfect urban base for a

city break with attitude

If you're already in

London it's almost

impossible not to

pass through King's

Cross at some point,

as the tube network

converges here.

Trains from all over

Britain also arrive

at King's Cross and

St Pancras stations,

as well as nearby

Euston. St Pancras

is the home of the

Eurostar terminal,

with trains direct

from Paris,

Brussels, Amsterdam

and beyond. Tube

or rail links will also

bring you direct

to the area from

most of the capital's

airports.

Words | Helen Holmes

Pictured

left page:

Coal Drops

Yard -

London's

newest

shopping

and dining

district

THE LOCATION OF KING'S

CROSS – in the heart

of London, and easily

accessible from almost

anywhere, makes it surprising that

it was ever an unloved patch of the

capital. But just a few years ago

it was nothing more than a grimy

transport hub, with a few derelict

warehouses thrown in for good

measure. However, the neglect that

the area suffered has turned out to be

its saving grace.

From the neo-gothic exuberance

of St Pancras, to the urban majesty

of the repurposed gas holders that

line Regent's Canal, via the sleek

brutalism of the former Town Hall

extension, now The Standard hotel,

you could come to King's Cross just

for the architecture – but it offers so

much more.

If the area had been developed

hotchpotch over the years, many of its

architectural gems might have been

lost when they were out of fashion

– as St Pancras, famously saved by

John Betjeman in the 1960s, nearly

was. As it is, the buildings have been

largely preserved – and over the past

decade King's Cross has undergone a

transformation that has been social as

well as architectural. World class hotels

nestle side by side with quirky gems,

like a floating bookshop in a 1920s

Dutch barge, and a peripatetic café

cooking up food grown on site. à

BritishTravelJournal.com 91
---
IMAGES © JOHN STURROCK

SHOPPING

Next door to Granary Square, Coal Drops Yard is

a great place to sample the best of London shopping

– with stores from iconic British designers like Paul

Smith and Margaret Howell, as well as relative

newcomers such as Blackhorse Lane Ateliers, selling

London-made denim clothing, and independent

British spectacles brand, Cubitts.

coaldropsyard.com

St Pancras Station is more than just a railway

terminus, it's also home to numerous stores – Cath

Kidston, Hamleys, Fortnum and Mason, and Aspinal

– to name a few. For a more off-beat shopping

experience, visit Word on the Water – a floating

bookshop on the canal by Granary Square. à

Pictured above

and Immediately

right:

'Semaphores'

a series of three

sculptures

by British-

Argentinian

artist Amalia

Pica. Other

images left-right:

Granary Square;

and Lower Stable

Street, Coal

Drops Yard.

92 BritishTravelJournal.com
---
BritishTravelJournal.com 93
---
Pictured above-right: Everyman

Cinema and Anthracite martini

lounge

WE LOVE

IFO (Identified Flying

Object) in Battle Bridge

Place (at the crossroads of

King's Cross and St Pancras

International stations)

challenging our perception

of the everyday. This

spectacular installation

was part of the Lumiere

London programme - now a

permanent public artwork, it

stands at 9m (29ft) in height

and, magnificently lit in neon,

it invites us to walk through

its bars and enjoy the swing

that's in its centre.

94 BritishTravelJournal.com
---
KING'S CROSS

ATTRACTIONS

Although it's easy to reach any of London's multiple attractions from

King's Cross, there's plenty to do without leaving the area.

Take a walk along Regent's Canal, and you can enjoy a tranquil

view of this slice of London – the gas holders at dusk are a particular

joy. The canal will also take you to Granary Square, home of Central

St Martin's art college, spectacular fountains, and regular events and

outdoor art installations.

Also in Granary Square is the House of Illustration. Founded

by Quentin Blake, this is the only public gallery in Britain dedicated

solely to illustration and graphic art. houseofillustration.org.uk

King's Cross station itself is worth a visit – both for the original

building designed by Lewis Cubitt, and the spectacular 2012

extension. Not to mention the Harry Potter connection – while

you're there, don't forget to have yourself photographed flying into

platform 9¾.

Swap your soft drink for a nice glass of red wine and a slice of

freshly made pizza served to your seat while you watch the latest

movie or one of the classics at Everyman Cinema in Handyside Street.

everymancinema.com

Just the other side of St Pancras is the British Library. You'll need

a reader pass to visit the famous reading rooms, but there are also

numerous exhibitions inspired by the library's collections, all open to

the general public, and many of them free. bl.uk

A short stroll down Euston Road will take you to the Wellcome

Collection, a free museum and library which hosts inventive

exhibitions exploring the connections between science, medicine, life

and art. wellcomecollection.org

And if you do manage to exhaust everything King's Cross has

to offer, a pleasant amble through Bloomsbury will take you to the

British Museum – or after a few minutes on the canal towpath you

can find yourself in Camden Town or Islington.

FOOD AND DRINK

With the regeneration of the area, numerous great

restaurants have sprung up, and King's Cross is

positively bristling with places to eat good food, and

watch the world go by.

The German Gymnasium creates delicious Germaninspired

food, in a truly stunning period building.

germangymnasium.com

At Caravan, an eclectic global menu is cooked up in

an old grain store, very much in keeping with the whole

area's industrial chic. caravanrestaurants.co.uk.

Indian with a difference – Dishoom offers a

scrumptious Iranian-Indian menu in a restaurant with

décor inspired by 1920s Bombay. dishoom.com

For an ultra-glamorous and sophisticated martini

lounge head to Anthracite in the Great Northern Hotel.

anthracitelounge.com

For low-key Italian, try Albertini on Chalton Street.

Tasty, unpretentious food and friendly staff make this a

tried and tested local institution. albertini.co.uk

The Skip Garden Kitchen serves vegetarian food

from around the world, using local, seasonal and

organic ingredients – some of them grown on site. It

moves around King's Cross as different spaces become

available, so check out its latest location online.

globalgeneration.org.uk à

BritishTravelJournal.com 95
---
KING'S CROSS

WHERE TO STAY

The Standard

The only European outpost of this ultra hip US hotel chain

is housed in a mid century brutalist monument, once home

to the local council. The building, which opened as hotel

in July 2019, has been lovingly refurbished, with pleasing,

playful touches. Furniture is upholstered in customwoven

Harris tweed and the reception area has a ceramic

installation by London-based artist Lubna Chowdhary.

Carpets echo London Underground moquette, and the

hotel lounge houses an eccentrically-curated library – a

nod to the fact that the ground floor of the building was

once home to the local municipal library (this has now

been moved to the council's new offices just across the

road). If you're looking for idiosyncratic luxury, with a

mid-century James Bond vibe, The Standard is your place.

standardhotels.com/london

St Pancras Renaissance

Facing The Standard across Euston Road, the Renaissance

is a different experience altogether. A fairytale in red brick,

designed by gothic revivalist George Gilbert Scott, it's

stage-set Victorian London (and, in fact, several films have

been shot here, including Harry Potter and the Deathly

Hallows). Ceilings are vertiginously high, and rooms are

packed with period features. Perfect for train spotters and

Potter fans alike – some of the rooms actually overlook the

interior of St Pancras Station. stpancraslondon.com u

Pictured

right-left:

The

Standard;

and St

Pancras

Renaissance

96 BritishTravelJournal.com
---
BritishTravelJournal.com 97
---
BRITISH TRAVEL JOURNAL CROSSWORD 04

ACROSS

9 Bearing in mind (7)

10 How air usually flows through an

electric fan (7)

11 The St. ---, classic Doncaster horse

race (5)

12 Suffolk town hosting a music and

arts festival every June (9)

13 Cheshire village, home to the Duke

of Westminster's estate (9)

14 Last movement of a sonata (5)

15 Captain who first recognised Cheltenham's

spa potential (11)

20 Video game plumber (5)

22 Norwegian midnight sun spot

(5,4)

25 Shredded desiccant causes

mishaps (9)

26 Pop the cork (5)

27 Unsettled scores (7)

28 Not found on tank tops (7)

DOWN

1 RHS Great Spring Show venue (7)

2 British Iron Age tribal type (6)

3 Victorian Prime Minister and author

(8)

4 Shocked (6)

5 Bitterly derisive (8)

6 One who likes a drop or two (6)

7 Prince Charles's official House (8)

8 RAF multi-role combat aircraft (7)

15 Began to play (6,2)

16 Southern extremity of the

Isle of Man (8)

17 Moves to a different home (8)

18 Trade restriction (7)

19 Tester support (7)

21 Stage of life Shakespeare said was

"sans everything" (3,3)

Answers will be printed in the

Spring Issue out 26 February

The first correct crossword received will be rewarded with a free gift from

The Travelling Reader. Simply send your completed crossword (or the answers)

with your choice of The Original, The London, or Simply British Tastes box,

(thetravellingreader.com) and your postal address, by post to British Travel

Journal, Mitchell House, Brook Avenue, Warsash, Southampton, Hampshire,

SO31 9HP, or email the answers to crossword@britishtraveljournal.com

ANSWERS TO CROSSWORD 03 | AUTUMN 2019

ACROSS: 8 Pacino 9 Ullapool 10 Land a job 11 Noises 12 Lauder 13 Rewrites

14 Listed companies 18 Quit-rent 21 Calico 23 Armlet 24 Aysgarth 25 Wargrave

26 Unions. DOWN: 1 Kalahari, 2 Winded, 3 Conjured, 4 Sunbury-on-

Thames 5 All-new 6 Optician 7 Cohere 15 Tutelage 16 Picks out 17 Exciting

19 Unreal 20 Extras 22 Lead-in

FOR YOUR JOURNEY

Books, apps, travel gadgets and crossword

VISITORS' GUIDE TO SCOTLAND

796 pages filled with activities, architecture,

castles, tours, events, gardens, geology, history,

islands, lochs, nature, food, steam trains,

whisky distilleries and so much more! £50

visitorsguidetoscotland.com

98 BritishTravelJournal.com

NECKLACE EARPHONES

Connected via Bluetooth this gorgeous

Swarovski Elements pendant allows you to

listen to music, answer phone calls, connect to

Siri and accessorise your outfit handsfree. £189

fifthandblue.com

POCKET TRANSLATOR

Converse quickly and easily with people in

a multitude of languages with this two-way

voice translator that instantly translates 74

languages making overseas travel easy! £219

amazon.co.uk