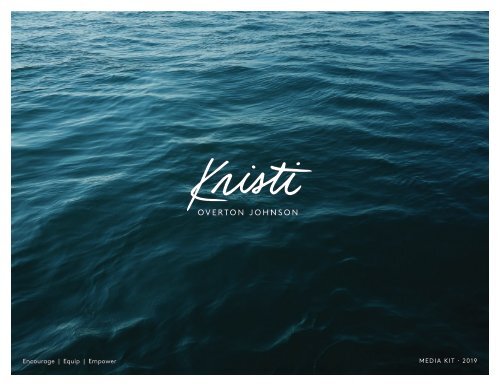 Create successful ePaper yourself
Turn your PDF publications into a flip-book with our unique Google optimized e-Paper software.
Encourage | Equip | Empower

MEDIA KIT · 2019
---
MEDIA KIT 2019

About Kristi

In her thirty-five-year water-ski career,

Kristi Overton Johnson fell daily. Yet in

the midst of her falls, she became one of

the most decorated women water skiers

of all time, holding the world record in

women's slalom from 1992–2010 and

accumulating over 80 professional titles.

Her life experiences as a wife, mother,

and athlete, along with her relationship

with Jesus Christ, have taught Kristi that

falls don't prevent victory—on the water

or in life. Through her speaking engagements

and the ministries she's founded,

Kristi shares a message of hope that empowers

people to rise out of the waters

of defeat and move on to victory.

Accolades

• World Record Holder (1992–2010)

• World Champion

• 4x U.S. Open Champion

• 8x U.S. Masters Champion

• Pan Am Games Champion

• Member of NC Sports Hall of Fame,

World Water Ski Hall of Fame,

USA Water Ski Hall of Fame

Education

• BA, University of Central Florida

• JD, University of Florida College

of Law

Featured

• CBN's The 700 Club

• TBN's More than Conquerors

• ESPN

• ABC's Wide World of Sports

• Sports Illustrated

• USA Today

• The Washington Post Times

Personal

Kristi married her best friend, Tim

Johnson, in 1994. Together they

have 3 children, 2 of whom were

adopted from Russia.

LET'S CONNECT!

Speaking Topics

• The power of "HIT IT!"

• Persevering to victory

• Overcoming perfectionism and

people pleasing

• Overcoming failure and fear

• Living a life of impact and influence

Social

fb.com/kristiovertonjohnson

@kristiovertonjohnson

vlmag.org/podcasts

Demographics

Gender

Female 57%

Male 43%

Age Range

18-44 35%

45-65+ 65%

For more information or

to invite Kristi to speak,

please contact

Pat@kojministries.org

352-478-2098

Motivator | World Champion Athlete | Author | Ministry Leader CONTACT: Pat Avery, 352-478-2098 WWW.KOJMINISTRIES.ORG
---
SPEAKING

Kristi is a sought after faith-based motivational

speaker. From church pulpits to prison yards,

corporations to schools, Kristi has a remarkable

ability to connect with her audience. Her captivating

gift of storytelling and authentic message will take

your audience from laughter to tears as she reveals

her struggles and triumphs as a professional athlete,

wife, mother, and ministry leader.

AUDIENCES

Faith-Based Organizations

After years of remaining settled on a spiritual dock, Kristi finally stepped out

of her comfort zone and joined God on an adventure that has changed her

life and the lives of others. Kristi's life story will encourage your congregation

to step out on the water with God and make eternal waves for Him.

Corporations

As the winner of over 80 professional titles and the world record holder in

women's water skiing for 18 years, Kristi knows how to have victory in the

roughest conditions and against the toughest competitors. Let Kristi's

insight encourage and equip your team for victory.

Schools

"You are a champion!" That's the message Kristi brings to today's youth. As

a child athlete and student, Kristi remembers well the pressures of fitting

in, performing under pressure, and pleasing those around her. Through her

experiences, Kristi encourages and equips youth to live authentic lives.

Prisons and Rehabilitation Institutions

As an athlete, Kristi learned the valuable truth that it's not falls that

prevent victory. Instead, it's how one responds to the fall that determines

the outcome. Kristi takes her life lessons and combines them with her faith

to bring a powerful message of God's gift of another chance.

SPEAKING TOPICS

• Getting off the dock with God

• Persevering to victory

• Navigating life's obstacles

• Gaining victory over your mind

• Turning failures into success

• Performing under pressure

• Preventing burnout

• Overcoming obstacles

• Understanding worth and identity

• Discovering passions and talents

• Setting goals

• Moving past failures to victory

• Moving past failure and defeat

• Discovering worth and identity

• Living a life of influence and impact

• Building and restoring relationships

Speaking Endorsements

"Kristi has proven herself in

the sport of water skiing, but

more importantly, she has

demonstrated the heart of a

champion as a Christ-follower.

She lives her message of

hope and redemption. I see it

every weekend as her family

worships together. I read it in

her magazine as she shares

stories of hope. I hear it in

her voice when she speaks

of the love of Jesus. I highly

recommend Kristi for your

event. Her testimony of world

championships will attract an

audience, but her message of

Jesus will change them through

the anointing of the Holy Spirit

on her words."

– David Uth, Senior Pastor,

First Baptist Orlando

Motivator | World Champion Athlete | Author | Ministry Leader CONTACT: Pat Avery, 352-478-2098 WWW.KOJMINISTRIES.ORG
---
INTERVIEW TALKING POINTS

What Others Say

• How, when, and where did you

learn to water-ski?

• Tell us about Lake Kristi, the

private training facility your

parents built for you in North

Carolina.

• How did you get back on the

water after 16 surgeries? How

did each surgery change you?

• What was it like to stand on

the top of the podium as a

World Champion? What life

lessons have you learned

from your falls?

"God isn't looking for

perfect people. God is

looking for persevering,

passionate people. People

who are humble enough

to admit their mistakes,

listen to God, learn from

Him, and move forward

despite their weaknesses.

I'm grateful God chooses

to use me, even with

my faults."

• Tell us about your family and

the international adoption of 2

of your children.

• Tell us about the words "Hit it!"

• How did Victorious Living

magazine begin and why?

• How did a world champion

water skier and her boat end up

in prison, and why does she go?

One visit with an incarcerated

friend in 2013 opened Kristi's

eyes to the hopelessness of

life behind bars. It also birthed in

her a desire to minister to the souls

of incarcerated men and women.

With a surrendered heart, Kristi

told God she would go to prison.

He responded to her commitment

by opening doors for her Victorious

Living magazine to be distributed

in the prison system, and then He

brought Kristi onto prison yards to

share His message of hope. Kristi

can often be found behind prison

walls sharing the hope of Jesus

Christ and encouraging men and

women to say "hit it!" to the only

Power Source that will never fail.

—1 million lives impacted—

When Kristi shares her story of

triumph and perseverance at our

residential homes, both our residents

and staff feel challenged to draw

closer to God and encouraged

to keep moving forward through

life's difficulties. Her message will

encourage and inspire any audience.

– Nancy Alcorn,

Founder & President, Mercy Multiplied

Kristi Overton Johnson has a

powerful story that touches the

hearts of people of all ages. She is a

world-class athlete and a champion

communicator. Kristi's sense of

humor, her authenticity, and her

ability to clearly present the gospel

make her presentation one you will

not want to miss.

– Ken Davis,

Speaker, Author & Communication Trainer

Kristi does what very few people,

much less public champions would

be willing to do—she lets us in! She

gets real; she opens the doorway

of her soul and invites the world

to learn from her past failures and

triumphs. Her transparency helps

people draw closer to God and

discover the place of peace that took

Kristi years to find!

– Dr. Bobby Joiner,

Tour pastor NewSong, Winter Jam

Motivator | World Champion Athlete | Author | Ministry Leader CONTACT: Pat Avery, 352-478-2098 WWW.KOJMINISTRIES.ORG
---
MINISTRIES FOUNDED

Publications

With a passion to help people live victorious lives, Kristi Overton Johnson has

combined her faith, love for people, and the keys to victory she learned as a

world champion water skier in the nonprofit ministries she has founded.

In His Wakes uses water sports to connect with the hearts of at-risk

youth to introduce them to the life changing power of Jesus Christ. Over

25,000 at-risk youth have been impacted since its inception.

To learn more, please visit inhiswakes.com

VL Magazine

Real People. Real Stories.

Real Hope. Victorious

Living is written proof of

God's faithfulness in the

lives of people today.

ENDORSEMENTS:

Jack Murphy, "Murf the Surf," International

Prison Minister

Nancy Alcorn, Founder Mercy Multiplied

Hit It!

Kristi Overton Johnson Ministries encourages hearts, equips

minds, and empowers lives through tangible acts of God's love and the

truth of His Word through the following avenues:

• Prison Outreach—KOJM nationally reaches inmates with God's

love through Victorious Living magazine and on-site prison events.

Partnerships with writing teams & transitional/recovery programs

provide our VL family ongoing support.

• Teaching Ministry—Through speaking, social media, VL Podcast, and

published works, Kristi helps others experience a deeper relationship

with God by using daily authentic illustrations from her life.

• Orphan Support—KOJM provides ongoing support for the daily needs

of orphans in India through a partnership with Favour the Helpless.

To learn more, please visit kojministries.org

Victorious Living Magazine, a publication of KOJM, shares God's

faithfulness in the lives of everyday people through testimonials. In 2013,

VL entered the prison system and has introduced over 1 million inmates to

the God of another chance.

To learn more, please visit vlmag.org

Kristi shares the

obstacles and lessons she

learned through her life

experiences as a mother,

wife, professional athlete,

and ministry leader.

ENDORSEMENTS:

Bubba Cathy, Executive VP of Chick-fil-A

Dave Ramsey, New York Times best-selling

author and radio show host

Running the Course

Kristi shares insights

gained from her life as

a Christian, focusing on

the rigorous demands

of her life as an athlete

and the rewards of living the Christian

lifestyle in a challenging world.

ENDORSEMENTS:

Franklin Graham, President of Samaritan's

Purse, Billy Graham Evangelistic Association

Joe Gibbs, 3-time Super Bowl Champion &

3-time NASCAR Sprint Cup Series Champion

Motivator | World Champion Athlete | Author | Ministry Leader CONTACT: Pat Avery, 352-478-2098 WWW.KOJMINISTRIES.ORG