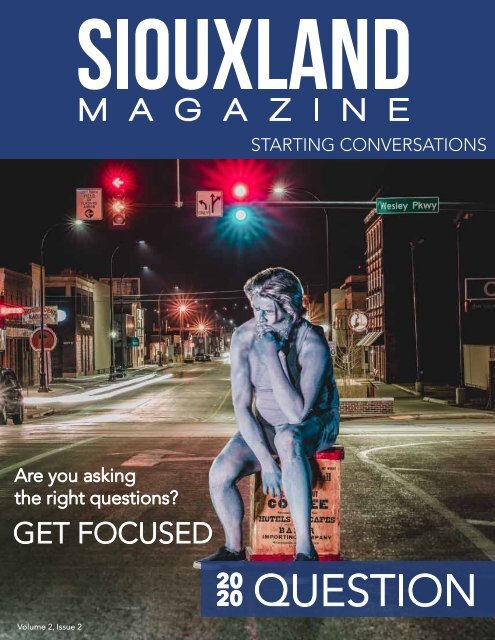 Siouxland Magazine - Volume 2 Issue 2
You also want an ePaper? Increase the reach of your titles
YUMPU automatically turns print PDFs into web optimized ePapers that Google loves.
STARTING CONVERSATIONS

Are you asking

the right questions?

get focused

20

20

Question

Volume 2, Issue 2
---
Morgan Leather Sofa

Thomas Cole Designs delivers style and quality that is found in the finest name brand products but at

values you will only find at HOM Furniture. Our team of professional buyers have partnered with some of

the worlds finest furniture makers to create this outstanding assortment of indoor and outdoor furniture

and even mattresses. No matter what room you are looking to furnish Thomas Cole Designs will have a

solution for you. You will find yet another reason why "There's no place like HOM!"

French Quarters Storage Bedroom Suite

Natalie Dining Table wtih 4 Chairs & Bench

415 4th Street | Sioux City | homfurniture.com
---
Welcome to Siouxland Magazine

Stacie Anderson, Owner

It's in these pages that we hope to educate

and inspire, even more importantly,

to create a community that thrives on

connecting with one another. At our

core, we all want to connect. When we

seek to understand, by listening more

intently, we find that our relationships

deepen and our community strengthens

as a result. With our appreciation for

the power of connection through

meaningful conversations, it only made

sense to name our business Empowering

Conversations.

Siouxland Magazine | Question / 3

It all starts with a conversation; with a desire to learn; to see things from another perspective; to

seek truth. The truth is, we have more in common than we have differences. Well, maybe it would

be more accurate to say, what brings us together is stronger than anything that divides us.

We would never want to marginalize our differences. We love the words of Audre Lorde,

"It is not our differences that divide us. It is our inability to recognize, accept, and celebrate

those differences." We are unique in vast and complicated ways. It's our hope that we can

come together with our unique strengths, perspectives and ideas to build a community with a

powerful narrative of "us."

Through this humble publication, we will start having conversations. This is an ambitious and

beautifully optimistic attempt to shine light on all the things that make our community strong,

but also discuss, in a productive and compassionate manner, the challenges we face.

We are doing our small part in building a cohesive community by creating conversations

that refocus our attention on our similarities. We are bringing people together; replacing

judgment with understanding. Perspective is powerful.

We want to hear from you. At Siouxland Magazine, we feel it is imperative to understand what

the community wants and needs. Share your vision and dreams for Siouxland.

We want you to lean into the conversation and participate in the discussion.

connect@empowering-conversations.com

E m p o w e r i n g

Conversations, LLC

siouxlandmagazine.com
---
Question

Converse

22

Are You Asking the Right Questions? Get Focused.............8

Do We Ask Enough?...........................................................................................................10

What Is Wrong With 'Kids' These Days?..........................................11

Conflict Getting The Best Of You? Managing Your

Reactions....................................................................................................................................................12

Periods, Not Just for the Privileged.............................................................15

Coming Home..................................................................................................................................16

Questioning Your End of Life Care – When, How

and Why..............................................................................................................................19

Questions of a Conversationalist...................................................................21

Balance

explore

Ask the Therapist.........................................................................................................................38

Revision..........................................................................................................................................................4 1

Discover Your Core, Unlock More..................................................................4 2

The Polyvagal Theory: What happens in Vagus stays

in Vagus.........................................................................................................................................................44

Loess Countries: New US-China Collaboration on the

Loess Hills....................................................................................................................................................46

My Hands Smell Like Onions..................................................................................48

The Monarch of the City...............................................................................................50

Digging Deeper to Answer Nature's Questions.................51

"Life is as simple as these three questions:

What do I want? Why do I want it? And, how will I achieve it?"

- Shannon L. Alder
---
"So just ask the question. After all, what's the worst that could happen?

"No" isn't really so bad, and "Yes" might take you places you'd never expect."

- Katie Couric, The Best Advice I Ever Got: Lessons from Extraordinary

Inspire

Grow

Real Questions of Life.............................................................................................................22

Goodwill Is Changing Lives..........................................................................................24

Beating the Odds..........................................................................................................................26

Conservatory of Music's Fashion Ball Sound & Style.........28

Women's Power Lunch............................................................................................................29

Hello, Honeywave......................................................................................................................30

Question Everything?...........................................................................................................33

5 Questions Answered (about Downtown Partners).....34

What Are You Worth?.........................................................................................................35

Chamber Champions Local Businesses................................................36

Let's Talk........................................................................................................................................................37

What Can SCGO Do For You..........................................................................37

enjoy

M's on 4th Making its Own Mark..............................................................52

Eight Spring Trends to Try...............................................................................................54

Visit Le Mars, IA..............................................................................................................................56

At our core, we all want to connect. When we seek

to understand by listening more intently, we find that our

relationships deepen and our community strengthens as

a result. That's what our Siouxland Magazine is all about!

We can't wait to talk to you and truly connect with you and

your audience. If you're interested in learning more about

how to advertise with us, download the media kit on our

website at siouxlandmagazine.com. Always feel free to

reach out to us via phone or email.

We promise to not disappoint. We're creating a magazine

you won't want to put down.

Want to be included in our March issue?

Contact us soon!

Deadline to reserve space is

March 30th!

Media Kit at siouxlandmagazine.com

JOIN US! You won't want to miss...

Siouxland Magazine's first live forum

being held March 18th at 10am at the

Sioux City Public Museum.

ON THE COVER

Photography by Britton Hacke Photography. Local actor

Casey Kappes and make up artist Dani Rose.
---
Yesterday.

Today.

Tomorrow.

A Station for You.

A Station for Everyone.

Join the Conversation.
---
Editors Note

Asking the question is not always about finding the answer. I've been seeking answers

to some of life's most challenging questions since my early childhood, after losing my

mother in an auto-pedestrian car accident. Questions like, "Why do bad things happen

to good people?"

Life often prompts us to ask the tough questions, but it's not always as forthcoming

with the answers. I've come to accept that, but that doesn't mean I don't continue to

contemplate over the questions. What I do know is there's still a lot of value in asking

questions.

Often, it's been life lessons, not answers, that have surfaced. I still don't know why my

mother died so young, but I learned early that life is short and precious. What I've

pulled from that is to live with extraordinary passion and love deeply.

Siouxland Magazine | Question / 7

I know we are all in this human experience together and seek answers to similar profound questions. Through

conversation, we can connect, and when we are struggling with unanswerable questions, we find comfort in

knowing we are in this together. There is tremendous beauty in this journey.

Although some of our biggest questions may never have definitive answers, there as so may more that when

asked, lead us to our best life. For me, asking questions such as, "How can I contribute to my community?" and

"How can I encourage people to start meaningful conversations?" prompted me to purchase this magazine. It has

been and continues to be a passionate endeavor for me. The key is to never stop asking questions because the

answers may change as we evolve.

Becca has been on a discovery journey. Her answers are leading her on a new path, but I'll let her share her

story. It's in these moments, at the fork in the road, we realize the significance in asking questions, and the right

questions, in helping us make good decisions. My hope is that you too will chose to live an inquisitive life that leads

you to your true North.

It's ironic that our theme for this issue is Question, as I have been doing that very

exercise for the past few months. I have had to question how I spend my time, and

to allow myself the right to let some things go to find a better balance. It's no secret

I have two businesses, both demanding my attention, plus my family deserves some

quality time. I was getting overwhelmed and not giving my best to any of them. I had

to take a step back, slow down, and do some soul searching.

During that time, I asked myself this question: What is it that I really want? Once I

answered that question, I had to have some hard conversations to move me closer

to a major decision. I'm stepping down as a partner in the magazine. Stacie has been

a driving force since the beginning, and she'll continue giving you her heart. I'm so

grateful to Siouxland for being so supportive of this local publication, and allowing

me an amazing ride.

Siouxland Magazine is owned and published by Empowering Conversations, LLC. All materials contained in this magazine (including text, content, and

photographs) are protected by United States copyright law and may not be reproduced, distributed, transmitted, displayed, published, broadcast or

modified in any way without the prior written consent of Empowering Conversations, LLC or in the case of third party materials, the owner of that content.

You may not alter or remove any trademark, copyright or other notice from copies of this content.
---
Question

curiosity

inquire

examine

Are You Asking the Right Questions? Get Focused.

By Stacie Anderson

Ever wonder where our childhood curiosity

wandered off to? Did we find all the answers we

were seeking? Do we have nothing left to ask or did

it abondon us as we started clinging tighter to our

answers?

You only have to observe children to know that our

innate curiosity should be guiding our lives. That

insatiable curiosity pulls them forward catapulting

their growth. When prompted with a question, the

answer only provokes another "why?". It seems as

though they will never be satisfied with the answer

put forth. What is it they are seeking? In a trail of whys

comes another level of understanding. Each answer

gives way to greater clarity.

When did we cross the threshold? When

did we become the keeper of the answers

instead of the seeker of truth? Maybe the

more important question is, how does

clinging to our beliefs serve us?

Could we once again embrace that curiosity, and in

the process not only grow as individuals, but also see

our relationships become stronger? Could questions

once again become a driving force in our lives?

The key is remaining curious, allowing questions

to guide us so that we can evolve to our highest

potential. Questions open us up and expand our

world. They improve our understanding of others,

but maybe more importantly, living an examined life

gives way to better knowing thy self.

Are you asking the right questions?

What exactly are the "right" questions?

When we don't have an attachment to the answer, the

questions come easier. We allow the process to unfold

and the questions to build off of one another. Remind

you of anything? Maybe our childhood? Questions

not only lead to answers, but often more questions.

What's the quote by Ralph Waldo Emerson? "Life is

a journey, not a destination." Enjoy the process of

asking questions.

Maybe there aren't any "right" questions, but a right

mindset. Maybe it's a matter of focusing on learning

and understanding, and that will unlock all that we

need to know.

"The question is the answer."

- Thomas Vato

Stacie Anderson is the owner of Siouxland Magazine and

a Certified John Maxwell Speaker, Trainer and Coach.

Photo credit Sarah Ann Photography (left page) and

Britton Hacke Photography (right page).
---
answers

understanding

challenge

seek

Zachary Bowman

Where is Your Lock, Sculpt Siouxland

Photo credit Britton Hacke Photography
---
Siouxland Magazine | Question / 10

Do We Ask Enough?

By Cyndi Hanson

Do you have a little voice

that prompts you to think

deeper? What does it say? Am

I the only one who has a voice

full of questions? Where do the

questions come from? Do we

all have them? Have we trained

ourselves to tune them out?

Why don't we ask the questions

of our youth? Why? How? What

does that mean? Why Not?

When did we stop asking those questions? WHY did we

stop asking them?

What will it take to renew our sense of questioning? Is it

as simple as committing to one question every day? Is

one question enough? What if we developed the habit of

questioning every hour?

Would our interactions with others change if we asked

more questions? Would it create tension? Or would it

create authentic conversation? Would we understand

each other more? Would we be less polarized in our

worldviews? Would we tolerate more? Would we tolerate

less? Can we be "Midwest Nice'' and still ask questions? Is

a question a disagreement? Why?

How would our interactions with others change if THEY

asked more questions? Would we be caught off guard?

Would we be offended? Would we feel threatened? Why?

What if we saw questions as opportunities rather than

offenses? As exploration rather than indictment? What if

we embraced questions with honest curiosity?

Is the value of a question in the answer or in the asking?

Seek knowledge, seek understanding – ask more questions.

Dr. Cyndi Hanson is an avid learner who asks questions - of

herself and of others. Her work as the Executive Director for

Northeast Community College's Extended Campus in South

Sioux City provides her opportunity to learn much, explore needs

and collaborate with many to answer questions and ask more.

Starting Conversations

in our Community

Align your business with Siouxland Magazine.

Advertise your business in a publication

commited to improving our community.

Visit SiouxlandMagazine.com

And by the way…

…we want to hear from you.

Send us your stories. Visit our website

and click on article submission.
---
What Is Wrong With 'Kids' These Days?

By Cyndi Hanson

I'll bet you've heard that statement in the

workplace – an environment where we have the

potential of four to five generations working

side-by-side.Questions such as: how do you manage

millennials? Why are baby boomers such control-freaks?

Who are the Gen-Xers? Why do they email everything

instead of getting up and talking to me? And my favorite

– why can't these people just get along?

When it comes to generational issues in the workplace,

I posit that it really isn't a generational issue – it's a

communication and understanding issue. I was first

introduced to this idea more than a decade ago when

the notion of generational differences was just starting to

emerge as a relevant workplace topic. The concept that

was introduced is called "Generational Repetition".

Generational Repetition is the notion that each generation

believes four characteristics regarding the next

generation. Are you ready for them? As you read them,

ask yourself if you ever heard someone a generation

older say this about you? And ask yourself if you've said

this about someone in a younger generation (yet)?

Did you chuckle? I did, because there is so much truth and

so much fallacy in the notion. The truth of the matter is, we

probably do think that of the following generation(s). The

fallacy is that the assumptions aren't accurate. I would take

this step further and suggest these assumptions aren't just

true of generations, they are often true of people period.

Many of us tend to see through our own lens, assume

others see things, believe things and want things the same

way we do. That projection of our ideas and ideals onto

others is not new. What is newer is that our society is less

homogeneous. We encounter people with different ideas

of success and 'hard work' more often than we used to –

and some of those are people from another generation.

If you struggle with "generational issues" at

work, I think one of the best ways to improve

the situation is to ask questions.

The first question I recommend is to be asked of yourself

– What assumptions do I have that may be impacting the

situation?

Ironically, the most vivid example of a 'generational

issue' that I encountered was when I was the "kid" in

the workplace. I had a knack then (as I still do today) for

asking questions – such as why do we do it that way? Have

we ever thought of doing it this way?

I found that I was having a lot of conflict with a supervisor

centered around my questions. Prompted by the

questions of a friend and mentor, I took a step back from

the situation and tried to see how my questions might be

interpreted. COLOR BLOCK: Suddenly I realized, while I

was asking for explanation to learn and understand what

had been done before; what the supervisor heard was

someone questioning her intelligence, criticizing a process

or system she created. I "assumed" she knew my question

was curiosity not critique.

With this newfound knowledge, I started approaching

my supervisor in this way. "I don't have the history, can

you explain to me why we do it this way?" The reaction to

my question was distinctly different. Our relationship and

communication improved dramatically and before long

I didn't need to preface the question with a statement of

intent, we both got over our assumptions.

If you don't know what assumptions you have or

how they may impact a situation, ask someone

to help you. It's hard to see our own blind spots.

Look back at those generational repetition

concepts and ask yourself if any of those are

assumptions? Or you could be really brave and

take the courageous step to ask the person you

are interacting with.

"It seems like we have a conflict and I don't understand the

root cause. Can we talk about it so I can see what I've been

missing?"

Said with a sincere sense of curiosity, a question like this

can open a tremendous dialogue and opportunity for

both parties to better understand each other. It doesn't

mean that you'll walk away sharing the same belief about

the situation, but you may walk away with information and

perspective you didn't have before.

How much better generations (or people in general) may

get along if we all asked more questions and made fewer

assumptions?

Dr. Cyndi Hanson and her daughter enjoy exploring the

world and asking a lot of questions together. Cyndi is also the

Executive Director of Northeast Community College's South

Sioux City Extended Campus. This position allows her to use her

experiences with questions to guide interactions with students.

Siouxland Magazine | Question / 11
---
Siouxland Magazine | Question / 12

Conflict Getting The Best Of You? Manage Your Reactions

By Colleen Freeman

After my first two years

of college, I met a man

about five years older

than me. The worries of my

day just grew exponentially

because this person is arguing

with me about something I feel

justified in commenting. Just

as I am getting to the point of

throwing my computer out the

window, another person enters

the comment and shares their

two cents. Maybe this new person agrees with me or

maybe they don't…either way I am ready to battle over

my beliefs in the Thunderdome that is social media!

Needless to say, I am thoroughly entrenched in the

argument and just want people to agree with me.

Does this scenario feel familiar to you? Do you find

yourself in conflict online or in person when it comes

to politics, religion, racism, sexism, ageism, or any of

the other topics that confront us daily? We currently

live in a culture where if you are not 100% in support of

something you must be 100% against it. For those of us

who live in the middle or have a logical argument for or

against something, we can find our day totally controlled

by conflict and anger. Everything today feels tense and a

wrong word can send us suddenly into a heated debate.

Misunderstanding and judgment rule the day and we are

just trying to navigate this world of bias and "fake news."

As a counselor, I used to lead Anger Management

classes for people who were recovering from addictions

and other issues that led to conflicts in their lives. There

are many things we can glean from the information I

used to share with them about anger and what it does

to us. 1. Anger and happiness cannot reside in the same

space. They are incompatible and anger impedes our

happiness. 2. Anger leads to increased stress which can

cause everything from health issues to poor relationships

with the people closest to us. 3. Anger leads to more

mistakes because we struggle to process information

correctly.

Let's be honest, sometimes anger is completely justified,

and it is okay to let anger motivate us towards action

and change. Before you immediately justify all of your

anger and all of your responses to other people, let's ask

ourselves some questions and talk about tips that can

help us control our responses:

• Will the object of my anger matter ten years from now?

This question gives us some perspective on whether

we really need to respond to this issue now or not.

• What are the consequences of my anger? If you are in

an online debate you may feel like this doesn't affect

your life much but remember that anger puts stress on

your body which can take its toll. If you are having

conflict with a friend or family member, you must

consider if it is worth damaging the relationship.

• If you are mad at a person for doing something that you

think was "foolish," stop and consider the fact that you

have done foolish things too. Road rage is perhaps one

of the best examples of individuals doing something

that make you angry that may have been a mistake.

Admit that you may have done something similar behind

the wheel too.

• Ask yourself if the person you disagree with has done

something to hurt you on purpose? Typically, people just

do something careless or in a rush not intending to harm

anyone.

• Take a breath and relax. The old adage of count to ten

is a bit ridiculous, in my opinion, because I often catch

myself getting angrier. I found that if I step away from

what is upsetting me and reconfigure my thinking it is not

worth the fight in the long run.

• If something is worth your anger, then find a way to

calmly express your anger. When you are thinking clearly

you can express what is upsetting you in a clear and

direct way. This is the concept of thinking before

you speak.

• If you are going to bring up problems to people

you should have solutions ready too. You may end up

compromising on your ideas with the other person but

having solutions means you are ready to work through

the issues. Bringing problems with no solution is often

just complaining or whining.

• Do NOT hold a grudge. Forgiveness is one of the most

powerful tools to ridding yourself of negative feelings

and creating positive feelings. Unforgiveness is like

drinking poison and hoping the other person dies.

• Adjust your expectations. 100% of the people cannot

please you 100% of the time and vice versa. Realize that

people are fallible and liable to be upsetting. You cannot

control them, but you can control your responses to

them.

• Recognize your stress. External and internal stressors

can be impacting your ability to deal effectively with the

world around you. Once you recognize your stress find

healthy ways to cope with your stress…use humor,

practice relaxation techniques, go exercise, go take a
---
nap, or any other thing that helps you release your

stress.

How we respond to conflict is important. Many people

react to the world around them which means that

they are driven by their emotions. Reacting to conflict

means that anger and yelling may be the "go to" in

every situation. I challenge you to begin responding to

conflict. When we respond to conflict we understand

the unique and wonderful things that the other person

brings to the world—even when we are frustrated with

them. We take some time and space to think through

what the frustration is and then with compassion and

empathy come back to the conversation. Choose a tone

that respects the other person. Finally, follow the advice

of Elsa in Frozen and "Let it go." Remember it may not

matter in 10 years, so why let it ruin today.

I am a person who can often be guilty of plowing myself

into a fight or getting angry with people over things

that really are not that big of a deal. I can blame my

Irish/German heritage, my red hair, my intense sense

of justice, or my tendency to be a know-it-all but in the

end, I have made the choice to respond in certain ways.

When I am wrong, I try very hard to apologize and make

it right with the people that I have reacted rather than

responded to. Apologizing when things get heated might be

the gift we give ourselves during conflict—it helps the other

person too! Humility and empathy keep us grounded in

resolving conflict.

Colleen Freeman is the Psychology Instructor at Northeast

Community College in South Sioux City. She has her Master

of Arts in Clinical Mental Health Counseling and is a PhD

candidate in Organizational Psychology.

"Questions open a space in

your mind that allow better

answers to breathe."

– Richie Norton

Siouxland Magazine | Question / 13

More wow MoMents

kchev.com
---
converse

curious

truth seekers

Cultivating Meaningful

Powerful narrative of "us"

CONVERSE is the heart of our magazine. It's here,

we are starting conversations focused on issues that

matter to our readers and that impact our community.

We invite everyone to take a seat at the table and share

their unique perspective. We are diving into difficult

conversations, approaching seemingly unanswerable

questions, with a commitment to embrace possibilities.

We will not shy away just because the answers aren't

clear or because it may be uncomfortable. We are

allowing things to unfold by trusting in the process,

leaning into the conversation with an insatiable

curiosity.

It's not our intention to persuade anyone, nor is it our

intention to arrive at a solution. It is our desire to get

the conversation rolling, to hold space for ideas to

manifest, to encourage full participation, and facilitate

in this process that moves us forward.

Certainly, we want to see positive impact in our

community from these discussions. It is our hope that

our readers will continue the conversations, create

momentum, and implement strategies that make

sense for their neighborhoods, organizations or any

other facet of their lives. Our stories are meant to educate

and inspire our readers, and to get them engaged and

hopefully empowered to take positive action.

In the last couple of issues, we've shared stories focused

on homelessness. Now it's time to take it to another level.

We will have our first live forum on March 18 to build on

the conversations we've started. We want to get people

in the room, literally.

We hope you will join us as we meet this topic with

compassion and strive to bridge understanding. We will

hear stories that will open our hearts, connect and learn

from change makers to multiply their efforts, and have

powerful conversations provoked through Q&A time. We

recognize that there are many people and organizations

working tirelessly to help those in need. We applaud their

dedication and encourage our readers to support their

efforts by attending this event.

Stacie Anderson is the owner of Siouxland Magazine and a

Certified John Maxwell Speaker, Trainer and Coach.

Save the Date

Siouxland Magazine's first live forum.

Creating a platform for our community to have dynamic conversations

about the challenges we face with our homeless population.

Meeting with compassion and bridging understanding.

Public Welcome

March 18th at 10am

Sioux City Public Museum

Get all the details

on Facebook.
---
strengthening our community

Conversations exploring perspectives

coming together

Periods, Not Just for the Privileged

Contributed by 7UPforHope

open minded

focused on common good

It is a safe bet that when asked to picture a

homeless person living in our community, most

people will not be imagining the face of a woman.

The truth is that women account for roughly 30% of the

homeless population across the nation today according to

the National Alliance to End Homelessness's 2019 report,

with women and families being among the fastest growing

segments of the homeless population.

Living as a woman without sustainable housing poses

many challenges, specifically finding access to free or

affordable menstrual hygiene products. Many of these

women are faced with the financial burden of choosing

between purchasing necessary health care items or their

next meal. Tough choices like these force many homeless

women to adapt, often using toilet paper or ripped pieces

of cloth instead of sanitary napkins causing a great risk

of infection, not to mention creating negative self-body

imaging.

Iowa, like 32 other states, imposes a tax on feminine

hygiene products and because they have been deemed as

unnecessary luxury items women in need are denied the

ability to purchase these items with any form of government

assistance. Access is often further complicated due lack of

funding to local shelters as well as societal stigmas, leaving

women too ashamed or afraid to ask for help.

Why are feminine products considered

an unnecessary luxury item?

7UPforHope, a Leadership Siouxland group, has partnered

with The Warming Shelter for what they hope will be

one of the biggest and most eye opening campaigns in

Sioux City's history. After speaking with Lindsay Landrum,

Director of The Warming Shelter, it was determined that

some of the most needed and least donated item to the

shelter are feminine hygiene products like tampons, maxi

pads, and panty liners; which each female guest staying at

The Warming Shelter has an urgent need for every month.

The group developed the Siouxland Dignity Drive in an

effort to alleviate the burden of this constant need.

Siouxland Dignity Drive will be placing donation boxes

at local business beginning in March and collecting

items through April. In addition to the much needed

tampons, maxi pads, and panty liners; the boxes will also

serve as collection spots for both men's and women's

socks and underwear. The group asks that any donations

made are in new, unopened condition. When the drive

is complete, all donations will be taken to The Warming

Shelter to be distributed to their guests as needed. This is

just the beginning. The ultimate goal of the drive is to raise

awareness and educate the public. The group hopes that

this is the first of many Siouxland Dignity Drives and that it

becomes an annual event.

If you are a local business interested in hosting a donation

box, interested in learning more about the drive, or for a

full list of donation drop box locations; visit Facebook at

Siouxland Dignity Drive.

One of the Siouxland Dignity Drive donation boxes full

of items to be distributed to homeless women in need at

The Warming Shelter in Sioux City.

Look for Siouxland Dignity Drive Drop Boxes at:

• Chesterman Company

• Sergeant Bluff Eye Care

• Casey's General Store, Sloan, IA

• Wells Enterprises, LeMars, IA

• Shear Beauty Salon

• KW Siouxland

7UPforHope is a group of local professionals consisting of Abby

Weibel, Dirk Richou, Jose Flores Jr, Karri Wilde, Kolleen Queener,

Mollie Pry, and Tammy Hartnett. The group has been meeting

once a month with Leadership Siouxland since September 2019

with a planned graduation date of May 7th, 2020.

Photo by 7UPforHope, a Leadership Siouxland Group.
---
Siouxland Magazine | Converse / 16

Samantha Dailey tells her story live on stage for Beacon Story Lab on Nov. 1, 2019.

Coming Home

By Samantha Dailey

I was unrecognizable from the person I had always been.

It was a struggle to get up in the morning. To live.

I needed something to dull the pain.

I wished to never wake from sleep again.

Restrictive eating: one Diet Coke a day. Binge eating:

stuffing those feelings away.

Drinking alone in my room, smoking weed and cigarettes,

Slicing small cuts into the side of my wrists.

Hating myself, shaming myself,

Asking, praying, begging God to take the pain away.

Aching all over. Sickness in my stomach. Sharp pain in my

chest. Heart ached. Barely breathing.

Eyes red and puffy from all of the crying. Cheeks soaked.

Sore throat. Wailing.

Living in a world of darkness. Depression. Suicidal ideation.

Trauma overwhelmed my system.

Sexual assault. Rape.

Then enter in my "protector,"

My knight in shining armor,

Master manipulator.

After my first two years of college, I met a man

about five years older than me. Early on, I opened up

to him about being raped by an ex-boyfriend. He vowed to

protect me. Instead, he used my vulnerability as a means to

manipulate and control me. I tried to leave the relationship

by moving to Omaha.

One day, he showed up on my doorstep saying he was

moving to South Carolina and wanted me to go with him.

He said he was doing this for me. He knew I always wanted

to live on the coast. So away we went.

Away from my family. Away from my greatest

support. That was the only way he could

keep me.

About three months into the move, I was standing in the

kitchen asking, begging, for him to listen to me. To hear

what I was saying. He kept apologizing to me for the way

that I was feeling. I asked him to take some responsibility.

He said he had never done anything to hurt me He had

never done or said anything wrong. That I was imagining

things. He told me I needed to go get some psychological

help because there was something wrong with me.

Rage filled my entire being and before I knew it, I was

slapping his back, screaming, "You are not listening to

me!" He looked shocked. I grabbed my purse and my

keys. I walked to the door and yelled, "When you feel like

apologizing for yourself, let me know. Until then, f-ck you!"

I slammed the door behind me.

I had never hit anyone in my entire life. And I felt guilty for

it. So guilty. My outburst confirmed what he had said all
---
along: I wasn't a good person. He was a good person, a

"good dude." He told me that all the time. But this was also

the first time I had stood up for myself.

That night I went home and apologized.

Many of my days on the East Coast were spent lying on

the couch. Lifeless. Staring at the TV, either not eating, or

binging on chips and ice cream. There was nothing left in

me. No feeling.

One day, when I needed some kind of attention, a hint of

validation, maybe a little nourishment, I did my hair and

makeup and put on a black lace bra and underwear.

I stood in our bedroom doorway, looking at him in the

kitchen. I asked, "What do you think?" He analyzed my body,

looking me up and down, then said, "We can improve." He

made sure to remind me of his offer to buy me fake boobs.

I walked back into the bedroom and shut the door. Shame

filled my being. How could I be so stupid? I balled up and

cried on the floor.

Within a week, I was sitting at my dining room table, staring

at the computer screen, desperately searching for answers. I

knew I couldn't stay here any longer, but where would I go?

I googled "wilderness therapy," and seriously pondered

a move to Utah or Idaho. I even applied to a homestead

program in Vermont. I didn't know what to do. Tears

trickled down my face. That's when I heard a loud voice

that seemed to come from outside of myself, saying, "Go

home."

I packed my bags and left South Carolina. I took a small

detour down to Florida to see my grandparents for

Valentine's Day and then headed home—back to my

parents' house, where I was loved, supported and safe.

I left my old stories behind when I left that East Coast

As I write this story, the grief of things that

happened to me tries to hold on, and then I

breathe. Breathe through the grief and the

pain, touch into it, but don't lose myself in it.

town. The stories that said I wasn't good enough. Wasn't

interesting enough. Wasn't pretty enough. Wasn't skinny

or toned enough. Wasn't strong enough. That I was a

depressed person. A sick person. Someone who needed

serious help.

I was someone who had experienced trauma. The moment

I moved home was the moment I decided to move through

that trauma and live the life I was meant to live. Happy. At

home in my body.

I followed my intuition and pursued my passions, things

that helped me to feel like myself again. To feel alive again.

I started working as a stagehand at Hard Rock and as a

resident monitor at a halfway house. I worked harder than

I had ever worked in my

life, sometimes clocking 18-

hour days. I was tired, but

I was so proud of myself.

Being a stagehand required

a lot of physical strength

and endurance. Moving

my body was essential to

healing.

I started running through

the woods. I'd leave my hair

down so I could feel the

wind blow through it. I took

deep breaths at the top of

the hill, as I reconnected

with Mother Earth.

Graduation Day

Sometimes I would lie down in the grass, looking up at the

blue sky and admiring the sunlit leaves as they waved hello

to me. Mother Earth held me.

I got a dog, Eloise. She taught me what it means to love

unconditionally. I started playing music again. I bought a

drum set and joined a band. Happiness and excitement

overwhelmed my being. I started doing yoga and

reconnecting with my body.

I started taking care of me. Learning what it

meant to listen to my body, what it wanted,

what it needed. Tuning in instead of out.

I enrolled in graduate school, something I had wanted to

do since 2013, the year I had graduated from Morningside

College and visited Naropa University's campus, in Boulder,

Colorado, with him. While we were there, he said that the

school was too weird, too many hippies. He told me this

school wasn't for me and that I needed to find a different

place to go. But I felt at home the second I stepped foot on

Naropa's campus. I finally found a place I belonged.

Last May, I graduated from Naropa with a master's in

clinical mental health counseling with a concentration in

mindfulness-based transpersonal counseling. I met the

most incredible people of my life and learned so much

from them. I call them my family.

Founded by award-winning journalist Ally Karsyn, Beacon

Story Lab creates more courageous, compassionate

and connected communities through the healing art of

storytelling.

The next live storytelling event is 7 p.m. Friday,

May 1 at The Marquee, 1225 Fourth St. The theme

is Bloom. More details at www.beaconstorylab.

com or by finding Beacon Story Lab on Facebook.

Find updates on the Facebook page for Beacon Story Lab

or at beaconstorylab.com.

Siouxland Magazine | Converse / 17
---
Siouxland Magazine | Converse / 18

We inspire and empower you to create the life

you want, on your terms.

Contact me to join our family! We're ready to help

you on your path to financial confidence.

(712) 274-6622

4625 Singing Hills Blvd, Sioux City, IA

Gregory G. Giles, J.D.

505 5th Street, Suite #100

(located inside of Heritage Bank)

Sioux City, IA 51101

E-mail: gregory@legacyrdawealth.com

Website: www.legacyfinancialllc.com

Telephone: 712-587-8070

Cellphone: 323-363-0374

Fax: 712-258-6633

Advisory services offered through RDA Financial Network, a registered investment advisor. RDA Financial Network, d/b/a Legacy Financial, LLC. RDA

Financial, Heritage Bank, & Legacy Financial are not affiliated. Investments are not FDIC insured, not a deposit, not bank guaranteed, & may lose value.

www.VernEideHondaSiouxCity.com
---
Siouxland Magazine | Converse / 19

Questioning Your End of Life Care – When, How and Why

By Adam Cory

There comes a time in everyone's life when

difficult decisions need to be made. Life comes

at us fast, and quite often these decisions need to be

made very quickly. What if I told you some of life's most

difficult decisions can be made well in advance of a crisis

situation? Would you take the time to address these

decisions, or wait until they were staring you in the face?

One of the most difficult questions to address is - what

type of care do I want at the end of my life? Unfortunately,

some are faced with this question earlier and more

abruptly than others. Dying or planning for your death

are rarely comfortable subjects to discuss with your

loved ones. However, planning for the care you desire

when time is short is not only critical, but it can prevent

an incredible burden from falling upon your spouse or

children.

As a topic that is not often discussed, it may be surprising

how many important decisions need to be made at the

end of life. How much treatment do you want at the

end of your life? In a crisis situation, do you want life

support measures administered on you such as CPR, a

feeding tube and breathing machines? Who will make

my healthcare decisions for me if I am no longer able to?

These are only a few examples of why planning for your

end of life care is so important.

Once you have considered a few of these questions,

imagine your loved ones having to make these decisions

for you. Not only are they emotional with the change

in your health, but now the remainder of your life is

essentially in their hands. If they have no idea what your

wishes are, how will they ever feel comfortable knowing

they made the right decision? One of your greatest gifts

to your loved ones at the end of your life may be to relieve

the burden of making these decisions for you.

At Hospice of Siouxland, we are experts in end of life

care and services. We started serving the Siouxland

community in 1981 and have continued to pursue our

mission of providing high quality, compassionate care

at the end of life ever since. We see this problem all

too often in our line of work. A family member falls ill, is

diagnosed with a life limiting disease and their time is

limited. They have never discussed their wishes with their

family and suddenly these life-altering decisions fall into

their hands. You can help prevent this by planning your

end of life care.

If you are having a difficult time knowing what to plan or

how to do it, Hospice of Siouxland is here to help you.

We provide education, free of charge, to the community

regarding end of life wishes. We can meet with you

individually, with your family or in a larger group setting.

Whatever atmosphere proves most comfortable for you

to be able to digest these decisions will work for us.

If you are interested in learning more about end of life

planning, please call Hospice of Siouxland at 712-233-

4144 and ask for Adam Cory.

Adam Cory serves as the Marketing and Fund Development

Manager at Hospice of Siouxland. He is a graduate of Sioux

City West High School and the University of Northern Iowa.

Adam lives in Dakota Dunes, SD, with his wife Kelsey and

their daughter Kinley.
---
Siouxland Magazine | Converse / 20

Quality discount fuel

and tobacco, plus

grab n' go drinks,

snacks and hot food!

Join our Rewards Program

and save 5 cents off

every gallon of gas and

diesel! Fleet cards accepted!

Make your day better with Sweetwater Café's specialty

coffees, savory soups, delicious sandwiches, fresh salads,

and sweet baked goods!

Open M-F

7:30am-4:00pm

Sioux City:

Ho-Chunk Centre

Skywalk level

600 4th Street

712-224-4226

Winnebago:

Ho-Chunk Village

601 Buffalo Trail

402-983-9457

Sweetwatercafe.net

Emerson • Rosalie • Sloan • South Sioux City • Walthill • Winnebago

Ponyexpressstores.com

+ Google Search Ads

+ Facebook Ads

MARKETING BUILT

FOR YOUR BUSINESS!

> DIGITAL MARKETING SERVICES

+ Custom Websites

+ Digital Display Ads

+ YouTube Ads

+ Video Marketing

888.828.7934 | arvigmedia.com
---
Questions of a Conversationalist

By Tony Micheals

When listing off my top qualities, I would like to

think of myself as a really good conversationalist.

I guess when you work at a radio station, this skillset is

something you want to possess. I would be absolutely

dreadful at performing surgery, giving relationship

advice or fixing an alternator. You know, that one car

part next to the flux capacitor. (You know that movie

reference, right?)

Siouxland Magazine | Converse / 21

When I am really invested in a conversation with

someone, I LOVE asking probing questions. It's when

I go silent that I start tapping out of the dialogue. My

co-host Candice Nash can't stand when I do this; she

wants me to just LISTEN. Oddly enough, my wife has

the same request. The zest for added details is not met

with enthusiasm from my real wife or my work wife. But

my favorite movies always have quick back-and-forth

dialogue, like in that café scene from "When Harry Met

Sally." Man, I need more current references. Oh, like

"Marriage Story." (What a great movie—lots of questions

to ponder in that one.)

Here's a listing of my favorite questions that have been

asked to me. Remember, I enjoy hearing questions. (Fire

away at @ksuxtonym on Twitter.)

"Do you really cry after Husker football losses?" I did…

in my youth. Now, I just mope around. Sadly, I'm getting

better with pigskin disappointment.

"What time do you go to bed?" About 2 hours later than

I should. I drink way too much coffee.

"How did you convince your lovely wife to marry you?"

I have no idea. I used up all of my luck on that question.

Coincidentally, the state of Nebraska football went down

the drain after we wed.

My son, at the age of five, asked me why my hair fell out.

I told him, "Right after I said, 'I do.' Your mother screamed

the other follicles right out of my scalp, see?" I'm sure

it's my wit that allured my wife to say yes to my marriage

proposal. On second thought, maybe that's a question

best left unasked.

"How has raising a son with autism changed you?" I am

a much more compassionate and patient man now than

I was 15 years ago, when my only exposure to autism

was Dustin Hoffman's portrayal in "Rain Man." For me,

seeing the world through the prism of autism made me

reallocate what was important in life.

"Is country music your favorite type of music?" Absolutely!

No other genre sings about trucks, beer, dogs and

Tony Michaels & wife Shana

finding love in a honky-tonk bar. Speaking of canines, my

golden retriever asks me with her eyes and wagging tail

every hour to play and take her for a long walk. Don't you

wish the loved ones in your inner circle had that same lust

for life and non-stop joy?

"Do you ever run out of things to talk about on the radio?"

No way. There are about 500 great thought starters in this

issue of Siouxland Magazine alone. Life is a better journey

when you have someone in the front seat with you on

the road trip of your life asking questions – both silly and

serious. Hey, that sounds like a country song.

Tony Michaels

Lover of questions

Tony Michaels has been with KSUX since

1997. He serves as morning show host with

Candice Nash and is one grateful dude.

Paid advertisement.
---
Inspire

Lessons learned from stories in our community.

Real Questions of Life

By Cyndi Hanson

What do you want to be when you grow up? A

question we've all been asked and probably asked

numerous young people ourselves. A question that seems

harmless when asked, yet can feel overwhelmingly heavy

when you don't know the answer. This is the story of my

unconventional – yet not uncommon – pursuit of what

becoming I have the heart to be.

I grew up in the '70s and '80s in what I would describe

as a very normal family. I've come to appreciate the

extraordinary nature of my youth. I knew and spent time with

all four of my grandparents and my great-grandmother. My

four siblings and ten cousins were close in age and most

lived fewer than 5 miles away. Family time and church on

Sundays were priorities. All this was normal to me. So why

didn't I have a clear answer to that question of "What do

you want to be when you grow up?"

2013 Hanson Family photo in honor of parents

50th Wedding Anniversary

I distinctly remember as a high school senior really wrestling

with that question. In my heart, I knew what I wanted to be – a

wife and a mother. Those dreams weren't exactly in line with

the socially expressed aspirations women were supposed to

have in the late '80s. To complicate matters, I hadn't had a

serious boyfriend and prospects were certainly not knocking

down my door. I was a very good student and involved

leader in 4-H, FFA and Church groups, so it seemed natural –

I should go to college and become 'successful.'

How do you choose a college when you don't

know your career calling? How do you navigate

becoming an adult when you aren't really sure

who you are?

These are questions I have the pleasure of helping students

with now in my career – but at the time I just pretended

I knew what I was doing. I chose a college based upon

which one sent me the most recruiting material! Luckily

for me, that came with a hefty academic scholarship as well

and I found myself attending Buena Vista College in Storm

Lake, Iowa.

Like many college students, I embarked on a journey to

discover who I was and what I wanted to do in life. What I

quickly learned is I had no idea! And two years in, I made

a decision that broke my father's heart and is one of the few

I have regrets about – I quit school. For me the question

that had prompted me to make the decision was – Why

spend the money on college if you don't know what you

want to do?

To prove myself an adult I bought a house (why pay rent

when you can pay a mortgage and own something in the

end?), became assistant manager at a pizza place and

entered into a serious relationship. This was good for a

year or so until I was wrestling with the next question –

what now? I moved nearer to Sioux City and I returned to

college at night and on the weekends while working fulltime

and sometimes part-time too. Being busy was good

– it left little time and energy for the questions to haunt me.

What are you doing? Where are you headed? Is this what

you are made to do?

In 1994, I did what you do next in life – I got married. For the

next 10 years we wrestled with all the questions we didn't

talk about before making this major decision. What were

our, collective, goals in life? What careers did we want?

How many children? It was that last question that would

create the most angst. My upbringing led me to want a

larger family. His upbringing led him to want no children.

This was a big question we should have talked through

before getting married, but we didn't. Instead, two years

into the marriage, at 22 years of age, I signed a consent

for my husband to have a vasectomy; effectively putting an

end to my dream of becoming a mother. Why?
---
non-profit

community

family

small business

people

So many questions are a part of a major life decision – and

this was a major life decision. What is the impact to me if I

say yes or no? What is the impact on my marriage? How

is this disagreement about family already impacting my

marriage? My mental well-being? What will fill the void?

What new dream will take the place of motherhood?

Would making a final decision make it easier to go to

family events and face all the questions there? The wellmeaning,

innocently asked but deeply painful questions

of – when are you having kids? Should we send the

maternity clothes to your house next? Could I reveal the

secret marital struggle to my family?

My decision to support my husband and agree to no

family together, meant eight more years of marriage.

Eight years that were not unhappy. Eight years that led

to a focus on more education and a career – something I

probably wouldn't have done otherwise. Eight years of

being more attuned to the impact of innocent questions

that can have painful consequences for people struggling

with fertility or marital strife or any other sort of personal

issue that is not public. Ultimately though, my void was

not filled, he wrestled with guilt and we escaped into

individual interests rather than drawing closer together.

Another series of self-reflective questions led me to

decide I was done living a lonely life with someone. Do

you know that it can be far lonelier to be with someone

who is absent than to be alone?

What was the process for artificial insemination? What did it

cost? How do you select a donor? What will people think?

How will I react to those who judge the decision?

I can tell you these aren't easy questions and there isn't one

'right' answer for everyone. The decision I made was not

a flip decision. It wasn't made on a whim. It was the result

of months – more than a year – of wrestling with questions

myself, talking them out with friends, family and a counselor,

getting a lot of different opinions and perspectives as well as

hours of prayer for guidance.

Whatever that major life decision is that you are wrestling

with – changing careers, changing marital status, choosing

a college, starting a family, adopting/fostering – whatever

decision it is, ask a lot of questions over and over and

over again. And then take a leap. You'll never have all the

answers, there will always be more questions. Trust yourself

and make a decision knowing that you've analyzed and

come to the best decision you can at that point. Then don't

look back. Don't question the decisions made – just look

ahead to the next chapter of your life.

What next?

Rediscovering who you are is a journey of

questions. What makes me happy? How do

I define myself? What fills my soul? What

impact do I want to make in the world?

My journey involved professional career exploration

as well. On one return trip from Minneapolis, where I

had interviewed for a new position, I found an answer. I

didn't want a new job. I didn't want to move. I wanted

what I had always wanted – to be a mom.

This seemed preposterous. And then a friend said – why

not do it yourself? You can become a mom without a

husband. You can have artificial insemination. You are

financially stable, secure in your career and have a great

support system. You can do it.

And a new series of questions emerged. Could I really do

it? Was it selfish? What was it like to be a single parent?

Cyndi holding her newborn daughter.

In all the questioning of my life, I have never questioned the

decision I made in August 2007 that ultimately led to the

arrival of my daughter on July 27, 2008.

Dr. Cyndi Hanson and her daughter enjoy exploring the

world and asking a lot of questions together. Cyndi is also the

Executive Director of Northeast Community College's South

Sioux City Extended Campus. This position allows her to use her

experiences with questions to guide interactions with students.

Photos contributed by Cyndi Hanson.
---
Siouxland Magazine | Inspire /24

Jon and his mentor, Chasity

Goodwill Is Changing Lives

By Carissa Chatfield

"With nowhere to go it was such a relief coming

home every night to my own place." Many individuals

who arrive at Goodwill need someone to believe in them.

Two special individuals overcame significant obstacles in their

life and worked hard to become independent because of

their amazing mentors and support systems who encouraged

and guided them every step of the way.

At Morningside College, you can find Nicole busily working

in the dish room with a smile on her face. As soon as you

meet Nicole you know she loves her job and is proud of the

work she accomplishes. "I work hard, and do my best, Nicole

proudly states. Part of Nicole's strong support system is her

tight-knit family because they are proud of her and support

everything she does and her mentor, Christine who always

believed in her potential.

A few years ago, Nicole completed the Pre-Vocational Training

Program. (A program providing job training for individuals

with disabilities or mental illness. Pre-Vocational Services are

available for up to two years to support additional soft skill

development as the participant becomes work-ready). Nicole

struggled during her community supported employment

training. In particular, she didn't like wiping down tables in the

cafeteria. It wasn't fast-paced, and she found herself bored

with the job quickly. Nicole didn't know how to communicate

this struggle with her manager appropriately.

Nicole and her mentor, Christine

Christine McCullough, Nicole's Skills Trainer, recognized

Nicole needed help with communication. Christine worked

with Nicole to find job duties she would like and identified

tools to help her better communicate. The encouragement

and support Christine gave Nicole inspired her to become

more confident in herself. Nicole communicates her

concerns directly with her supervisor and adapts to change

in her routine thanks to Christine's encouragement.

Christine believes Nicole's life dramatically changed

because of Goodwill training programs. "Being in the

community helped her become independent. Nicole

genuinely wants to succeed, and Goodwill has helped her
---
Today, Jon works for 1st Class Security as a Gatekeeper

at Menards. He has found an apartment and is gaining

independence. Jon credits Chasity and his Goodwill family

for the support and encouragement they have given him to

be the best version of himself.

A job opportunity can make a dramatic difference in

someone's life. It only takes one job to help individuals

gain independence and a sense of pride. Goodwill's job

training programs have helped many individuals receive

job opportunities right here in the Siouxland region helping

the community thrive and grow.

Siouxland Magazine | Inspire /25

Nicole working in the dish room at Morningside College.

become an inspiration to everyone she meets," Christine

shared with pride.

Before Jon came to Goodwill, he had been misunderstood

most of his life. His family led him to believe he wouldn't

amount to much of anything and would never become

independent. Because this mindset was instilled in him

throughout his life, Jon struggled to find his place.

Several dead-end jobs later, Jon was referred to Goodwill's

Employment Skills Training program that teaches

individuals the hard and soft skills needed to be successful

in the workplace. Jon's life changed forever when he

found a mentor and friend in Chasity Colton, Employment

Specialist for Goodwill.

Chasity saw Jon's potential because he came to work with a

positive attitude and took pride in his job. After completing

the Employment Skills Training Program, Chasity helped

Jon find a job at Shopko as a Hardlines Team Associate. Jon

loved his job at ShopKo and appreciated the opportunity

he was given.

Jon working hard as a Gatekeeper for 1st Class Security.

On his last day of work at Shopko, Jon was presented with

the Star Service Champion Award by Cynthia, Assistant

Manager at Shopko. Jon was presented with this award

because he went above and beyond the expectations that

had been set and went the extra mile for the customers.

Jon was in tears. This was a defining moment for Jon when

he learned, "People in the community see me for who I am."

Individuals with barriers come from many different

backgrounds, experiences, and circumstances but have

one thing in common. They want to succeed and have a

sense of accomplishment at the end of the day. Nicole and

Jon are incredible individuals that needed support through

Goodwill Job Training Programs, mentors, and support

systems who believed in their potential.

Shawn Fick, Director of Mission Services, explains

"Partnering with Goodwill is a long-term investment for

businesses. The benefits of employing individuals with

barriers are tremendous. You have loyal, hardworking

individuals who are appreciative of the opportunities you

gave to them. The only thing a business needs to give these

individuals is a chance. A chance to prove themselves and

what they can do."

Goodwill Job Training Programs give individuals the tools

necessary to sharpen their skills, meet new challenges,

and create more rewarding and independent lives. When

individuals come to Goodwill, the challenges they face are

assessed and opportunities for improvement are identified.

They are placed in the appropriate training program and

are mentored by a Skills Trainer or Job Coach. Together,

realistic goals are set along with a plan to meet the goals.

According to Cindy Wilde, Mission Coordinator, "It might

take years for individuals to reach these goals, but we

continue to support these individuals. We do not give up

on them."

Goodwill changes people's lives every day and continues to

inspire individuals to become better today than they were

yesterday. Goodwill's mission is to serve as an advocate

for economic self-sufficiency through employment and

education. For more information on Goodwill Training

Programs visit our website at goodwillgreatplains.org or

our Facebook page at Goodwill Great Plains. For more

stories on individuals who overcame significant barriers,

visit our blog at goodwillgreatplains.org/blog.

Carissa Chatfield, Public Relations Specialist at Goodwill of

the Great Plains, is dedicated to sharing stories of individuals

whose lives have been significantly impacted by Goodwill's

mission.

Photos contributed by Carissa Chatfield.
---
Siouxland Magazine | Inspire /26

Inside the shop at McArthur's Sheet Metal

Beating the Odds

By Cyndi Hanson

In our world, it seems we often seek wisdom

from people as they reach particular

milestones in life. When a person turns 100 years

old or when a couple celebrates 50 or 60 years of

marriage, we gather round them and ask questions

such as "how have you managed to live so long?"

or "how did you beat the odds and stay together so

long?" We long for an answer that reveals a secret

we can all adopt; we often receive an answer that

reveals the simplicity of purpose.

As I sat down to talk with Dave McArthur, fourth

generation owner of McArthur Sheet Metal, I was

seeking a similar secret. How did this familyowned

business reach its 85th year of operation and

employment of the 5th generation of McArthurs?

Statistics tell us only 12% of family-owned businesses

will reach their third generation and few have any

succession plan – McArthur Sheet Metal is one

of the few who have it figured out. It's a story of

perseverance, communication and passion.

Dave proudly shows me a fragile document detailing

the partnership agreement between Lloyd McArthur

and EM Dyke entered into on March 1, 1930, for a

specified duration of 5 years, which formed the

company, Sioux City Sheet Metal. In 1935, with the

country still in the midst of the Great Depression, Lloyd

and his nephew, Harold McArthur, bought the business

for $1,000. Located on the 2nd floor of 418 Court Street,

above a laundromat, the business was strong and viable.

In 1952 a fire in the laundromat resulted in the building

being deemed unsafe, and McArthur Sheet Metal moved

to 401 Dakota Avenue. Located just at the foot of the

Combination Bridge spanning the Missouri River, the

building and business survived the great flood of 1952.

Less than a quarter century later, the business would once

again be forced to move when the land they occupied

McArthur's in its early beginnings
---
was purchased for the construction of the Veterans

Memorial Bridge in 1978. Their move to 501 W 9th in

South Sioux City continues to be the current location.

By this time, Harold's son, Terry McArthur, had become

an employee of the business – beginning the first

generational transition. When Harold died in 1983

the business was 51% owned by Terry. Terry would

eventually buy out his brothers. Terry has two sons,

Dave and Bill, who grew up around the business. Dave

remembers he and his brother playing on the dirt piles

and writing their names in the concrete as the business

was moved and buildings went up. "We played hide

and seek in the shop a lot as kids." Dave recalls, "This

is where I grew up. " By 1986, Dave had begun working

part-time in the shop on weekends and in the summer,

learning first-hand what the business entailed by

working alongside his father and others.

Custom creation by McArthur's

Siouxland Magazine | Inspire /27

In 1987, he made his way to Arizona to study mechanical

drafting, was drawn home after graduation, and

returned to full-time employment at the family business

in 1992. He entered into a 4-year apprenticeship

learning every aspect of the business and around

1997 became the shop foreman; then vice-president.

In 2015, he purchased 100% of the business from his

father, becoming one of those "beating the odds" and

transitioning a family-owned business past its third

generation.

Looking to the future, in 2016 Dave took the leap of

expanding the business and evolving into current

technology to keep the custom sheet metal business at

the cutting edge. In the four years since, that investment

has resulted in a rapidly growing business. As demand

for his products rose, he has nearly tripled the number

of employees to 14 today.

The family-owned business engages in all kinds of sheet

metal fabrication, catering to food processing and

construction industries, while also proudly producing

custom fabricated parts for individual consumers. The

main-stays of the business are on-time delivery of highquality

products that focus on the customer needs.

"One of the things I love about the business is being

around people who have sound mechanical minds,"

Dave says, "It is easier for me to communicate what

people want because I started in this business so young.

I've learned I just have to keep them talking about their

vision until I get enough detail to sketch out what I think

they want. It is so rewarding to see eyes light up and

hear, 'That's exactly what I was thinking!'"

The shift to the leadership role of the company means

he doesn't get to engage in the hands-on design

and production work as much as he used to; instead

he spends time planning out workflow, interacting

with customers and keeping an eye out for potential

employees who have fabrication background,

experience with Solid Works software and the desire to

work hard in a family-owned business.

Dave describes growing up in the business as never

having had a "real boss". He said he was never yelled

at and was always treated like the other employees. He

strives to be the same strong communicator his father

was. In speaking with Will and Tonya, two of the 14

employees of the business, he seems to be doing a fine

job. "There's nothing like working for a family-owned

business," Tonya says, "we become part of the family,

there's a sense of understanding that you wouldn't get

at other places." Will agrees adding, "You get to have

some input into the company."

And as Dave begins to look towards retiring in the

next decade, he plans to turn the business over to

the 5th generation of McArthur's. His son, Drake, will

be graduating from University of South Dakota in the

spring. Drake, like his dad, has been working part-time

at the business during the summers and on breaks from

school. It seems the passion for the business is in his

blood as well.

McArthur Sheet Metal marches into its 85th year of

operations as a strong, growing business serving

the sheet metal fabrication needs of Siouxland and

beyond. In answer to that question – how has your

business managed to transition through generations?

The answer is simple "it's just in my blood," says Dave

McArthur, "I can't imagine doing anything else."

Dr. Cyndi Hanson and her daughter enjoy exploring the

world and asking a lot of questions together. Cyndi is also

the Executive Director of Northeast Community College's

South Sioux City Extended Campus. This position allows her

to use her experiences with questions to guide interactions

with students.

Photos contributed by McArthur's Sheet Metal.
---
Siouxland Magazine | Inspire /28

Conservatory of Music's Fashion Ball Sound & Style

Grace Emory at just 14 years old is possibly the youngest

fashion designer in Sioux City! We were curious as to what

inspires her. Besides music and art, she loves to look at the

stars and fashion divas in the industry who she admires. Gia

Emory, her mother, was a stylist in Los Angeles who had

clients like Britney Spears. "I see such potential in Grace.

"My purpose as a parent is to pay as much attention to her

interests and then nurture them."

Please join us in the excitement.

Grace Emory

Conservatory of Music's Fashion Ball Sound & Style

April 4, 2020 in the Bellevue Ballroom at 6:00 pm

Tickets on sale now

$25 Individual ticket

$90 Table

Tickets can be purchased on Facebook (Sound & Style) or stopping by

Blue Café at the wine and cheese bar

Grace Emory original design

If you

are reading this,

so are your customers.

The New Chrysler Wing is a trademark of Chrysler Group LLC.

1000 Chrysler Drive Auburn Hills, Mchigan 48326

Filed for registration with the US Patent and Trademark Office, July 2009.

First use in commerce, November 2010.

Check out our

media kit at

Siouxlandmagazine.com

Rendered February 2011 by John Conti

www.Jensendealerships.com
---
Women's Power Lunch

By Aaron Beutler

For 20 years, women in Siouxland have gathered

together in early spring in support of a special

mission to lend a helping hand. Each year, women

leave United Way of Siouxland's Women's Power Lunch

inspired and ready to face the challenges of the world.

From humble beginnings with an attendance of 340,

the event has grown to be revered and enjoyed by over

1,200 people each year.

Siouxland Magazine | Inspire /29

"Not only is this event a chance for women to be

nurtured through education and strengthened through

empowerment, it provides an opportunity for women to

take the lead in focusing on issues that impact their lives,"

said Angie Van Otterloo with Central Bank and Chair of

2020 United Way of Siouxland's Women's Power Lunch

Committee.

The event was established in 2001 with the intention of

focusing on educating women about strategic problems

and needs affecting Siouxland. Today, it has grown into

a chance for women to create a positive impact through

a unified effort.

On April 22, 2020, Erin Gruwell

will take the stage and share

her impactful story about how

she transformed her student's

lives. By valuing and promoting

diversity, Gruwell encouraged

them to re-think rigid beliefs

about themselves and others.

She and her students captured

their collective journey in The

Freedom Writers Diary, which Erin Gruwell

was the basis for the 2007

movie, Freedom Writers, starring Hilary Swank.

Gruwell founded the Freedom Writers Foundation where

she teaches educators around the world how to implement

her innovative lesson plans into their own classrooms. She

created the Freedom Writers Methodology, a progressive

teaching philosophy and curricula designed to achieve

excellence from all students.

"Erin's message aligns perfectly with United Way of

Siouxland's mission and credo," says Heather Hennings,

President of United Way of Siouxland. "We are so honored

to bring her to Siouxland to share her memorable,

impactful story. It's going to be an inspiring event."

In years past, speakers at this event have included Delilah,

Leigh Ann Touhy, Doris Roberts, Linda Armstrong Kelly,

Della Reese, Elizabeth Smart and many others.

United Way of Siouxland's Women's Power Lunch will be

Attendees at Women's Power Lunch 2019

held on Wednesday April 22, 2020 at the Marriott Center.

The luncheon will be preceded by a VIP Reception at

10:00 a.m. where guests will be able to meet Gruwell and

have a photo taken with her. The luncheon will begin

promptly at 11:30 a.m. and the program will conclude at

1:00 p.m.

Proceeds from the event will provide scholarships and

certification grants for single parents in Siouxland to

attend local colleges and universities. To date, $468,000

has been awarded to help single parents further

their education and increase their earning potential.

Applications for the Single Parent Scholarship are now

available and can be found at unitedwaysiouxland.com.

The Power of the Purse Raffle will be held at the conclusion

of the luncheon with at least 100 purses and several grand

prizes up for grabs. Purse donations are currently being

accepted.

Table sponsorships, individual tickets and raffle tickets

are available at: https://wpl2020.eventbrite.com

"We cannot wait to celebrate 20 years of this wonderful

event," said Van Otterloo. "Grab a friend, get your tickets

and join us on April 22nd at the Marriott Center."

Submitted by United Way of Siouxland.

Women's Power Lunch tickets available at

wpl2020.eventbrite.com

For more information about

Women's Power Lunch contact

United Way of Siouxland: 712-255-3551
---
grow

Don't fear failure. Embrace it. It's where the learning happens.

Taylor in the Honeywave Studio with his partner Devin Phaly in the background. The Honeywave Studio is housed in the

same building as the new Stone Bru Roast Lab.

Hello, Honeywave

By Taylor Grote

Short description of your business:

Honeywave Media is a creative content production house

that creates video and photo content optimized for

performance on social media and other digital platforms.

We help businesses and public figures use social media

content to more effectively tell their story. On top of our

content for businesses, we create original content to help

promote all of the amazing things happening in Sioux City.

Currently, we have three original content series: The Sioux

City Show, which is a podcast I host to give an inside look at

everything from the local music scene to entrepreneurship.

The Hustle and Joe Podcast, hosted by Devin Phaly, focuses

on interviews with go-getters and creatives to provide tools

for self-development. Straight Work // No Cut is a music

video series that utilizes single-take videos (one continuous

camera recording from start to finish) allowing local

musicians to showcase their talent for an affordable price.

What motivated you to start your business? What

drives you each day?

I was motivated to start the business after looking at the

way the advertising industry was moving increasingly

toward social media. I would watch content on Facebook

and basically feel like it could all be done better, so I started

Honeywave Media to create the content I wanted to see

online. The big picture that drives me is helping people see

Sioux City from my perspective. I love this city. I've traveled

all over the world between my time in the military and work,

but there is nowhere I love more than Sioux City. I think all

of the subcultures present here deserve a spotlight, so I help

provide that as much as possible.

What's unique about your business?

It's unique that we only create for digital platforms. We don't

aim to make TV commercials and that helps keep things

focused on the audiences looking for engaging content on

social media.

What's the biggest challenge you've had to overcome

as you've grown your business?

The biggest challenge that I've overcome is just understanding

the day-to-day backend of running a business. I have a film

degree, not a business degree, so the details of running

a business were pretty foreign to me at first. A little over a

year ago, I brought local businessman Brad Lepper in as a

business partner and his wealth of knowledge has helped me

immensely.

What has been your greatest reward?

The greatest reward is anytime our work helps a client get

recognition for the work they are doing.

We created a music video for "Hard Times" by 35th & Taylor

that was submitted for a national contest to open a show for

Bon Jovi. The video was selected and they opened for Bon

Jovi at a sold-out show in Chicago.
---
personal growth

leadership

determination

business development

influence

IAWESTCOAST.COM I 866.537.6052

Entrepreneurs and small business owners now have

access to an information specialist who can assist you

in finding solutions to your most pressing questions by

facilitating connections to the right people, data, and

resources.

Taylor in the process of shooting a music video at the

Honeywave Studio for local musician, Tae Groove.

How have you benefited from the startup community in

Sioux City and the region? What resources did you use?

The Swimming with the Sharks competition was a boost for

Honeywave Media in the sense that we had positive feedback from

local business leaders and some money to help fund our early stages.

Why is it important for the community to support startups and

small businesses? What more can be done to help them?

It's important for the community to help support small businesses

because they tend to offer great service and awesome jobs for

the community. Spending money at a small business rather than

corporate chains also helps to keep money in our local economy.

What is one thing you know now that you wish you knew

when starting your business?

I wish I was quicker to ask for help when I was started the business.

So many questions that I spent hours or days researching could have

been easily answered by other people with more experience.

What advice would you give to someone looking to start a

business?

Do it. Bet on yourself. Find your unique skill and figure out a way to

monetize it.

How can the community continue to help your business?

The community can help me out by reaching out to taylor@

honeywavemedia.com if they are looking for any creative services.

They can also listen to our podcasts, "The Sioux City Show" and

"Hustle and Joe," on YouTube or Apple Podcasts.

What are some future goals for your company?

The future goals are to continue building upon our progress and

continue finding exciting clients looking to tell engaging stories online.

Taylor Grote is the founder of Honeywave Media.

Photo credit (left page) Ryan Martinez and (right page) Devin Phaly.

IASOURCELINK.COM I 866.537.6052

IASourceLink is the premiere business resource in Iowa

for entrepreneurs and small business owners. Free

business webinars, expert advice, and a searchable

directory of organizations that assist Iowa businesses

can all be found on IASourceLink.

IOWASBDC.ORG I 712.274.6454

Do you need free, confidential and customized business

counseling? Contact SBDC for advice on developing a

successful business plan.

SIOUXLANDEDC.COM I 712.279.6430

Siouxland Economic Development Corporation offers

financial assistance programs and services to assist

small and medium sized businesses in getting started or

expanding.

MAKERSPACESIOUXCITY.ORG I 712.251.6050

MakerSpace Sioux City offers shared space for hobbyists,

inventors, artists and innovative people to come together

to create and teach through hands-on learning.

SPRINGBOARDCOWORKING.COM I 515.809.0052

Springboard Coworking offers shared office space in

downtown Sioux City for entrepreneurs that combines

the best elements of cafe culture with a productive,

functional, and affordable work environment.

ISUSTARTUPFACTORY.ORG I 515.294.7444

ISU Startup Factory is designed to help businesses bring

new products to the market and work with companies to

make them attractive to outside capital investors.

VENTURENETIOWA.COM I 515.471.1300

VentureNet Iowa connects ideas to resources,

management, and investors, to create jobs and build

businesses in Iowa. If you have a business idea in the

areas of Biosciences, Advanced Manufacturing, Value-

Added Ag, or Information Technology, you may qualify

for assistance through VentureNet Iowa.

Did you use one of these great resources? We want to

share your story! Visit our website at siouxlandmagazine.

com, fill out the form and connect with us today!
---
Congrats Mary & Team!

Mary Sterk Named to Forbes List Best-In-State

Wealth Advisors for 3 Years Running!

We are truly honored to announce that Sterk Financial Services founder,

Mary Sterk, has been named to the 2020 Forbes Best-In-State Wealth Advisors List.

Mary said, "While my name might be on the list, this recognition is really about the

Sterk Financial Team and their 16+ years of unparalleled dedication and efforts to create

an exceptional client experience and team culture."

Congrats Mary & Team!

350 Oak Tree Lane, Suite 150, Dakota Dunes, SD 57049

Phone 605.217.3555 Toll Free 866.800.2186 Fax 605.217.3535 Web sterkfinancialservices.com

Securities and Investment Advisory Services are offered by Mary Sterk through Woodbury Financial Services,

Inc., Member FINRA/SIPC.

Insurance offered by Mary Sterk through Sterk Financial Services which is not affiliated with Woodbury Financial.

Forbes Best in State Wealth Advisors list includes 10 recipients per state. The award is based on qualitative

and quantitative data, rating thousands of wealth advisors with a minimum of seven years of experience and

weighing factors like revenue trends, assets under management, compliance records, industry experience and

best practices. The award is not based on portfolio performance or client reviews. There is no fee in exchange

for rankings. Third-party rankings and recognitions are no guarantee of future investment success and do not

ensure that a client or prospective client will experience a higher level of performance or results. These ratings

should not be construed as an endorsement of the advisor by any client nor are they representative of any one

client's evaluation.

celebrating

5YEARS
---
Siouxland Magazine | Grow /33

Question Everything?

By Todd Rausch

We have all heard it, but what does it really mean?

I am a business consultant and also an owner. I get asked

a lot of questions, which is awesome. I also ask myself a

lot of questions, which forces me to seek answers. The

most important questions we will ever get asked are the

ones that require us to gain knowledge, to grow, and to

improve our lives and the lives of others. Being asked

questions is a good thing.

As business owners, our goal is to make sales and keep our

customers happy. I, personally, hope that the customers

ask questions; that way, I can give them knowledge that

will allow them to make good buying decisions. I don't

want anyone to walk away regretting a purchase, ever!

I want everyone to feel that they received a good deal

when buying from me or when getting advice from

me. That is something we can improve on every day by

listening and gaining more knowledge ourselves.

I have been asked questions by customers that I really

didn't want to answer. We like the questions we are

comfortable with, but the others, not so much. So, how

do we get comfortable with questions that put us on

the spot? We have all heard the tired, but not wornout,

saying: "Transparency! Honesty is the best policy!"

It all means the same thing: be open and honest with

ourselves, our families, our friends, and our customers.

Being open to non-hostile questions is good. It makes

us have to think, and that is a good thing. Anytime we

can be driven to become better at what we do is really

wonderful for us.

Now, if the questions are hostile, don't bother trying to

win the person over. They have already made up their

mind; leave that alone. I have done presentations and

sales pitches where the people are openly hostile and I

wonder why they would waste their time if they don't like

the product or the price. They are free to go to someplace

else. I think some people are just having bad days and it

is easier to take it out on a stranger than someone they

know. Cut these people some slack, be nice, and end the

conversation as quickly as possible. Then, forget about it.

Don't take it personally and move on.

My hope for you is that you wake up each day asking

yourself, "How can I improve as a person, an owner, a family

member, or a friend? How can I get better? What will it take

to reach my goals?" Those kinds of questions move you

forward and lead to an attitude of continual improvement.

Every success story I have ever read or heard has

begun with questions and really never ends, as

the questions never end.

That is good. It is fine to constantly question. The point

is that questions should lead us to answers, and if we

take positive action on those answers, we will eventually

achieve our goals and dreams. Never give up on your

dreams. Never let anyone steal your dreams. And, finally,

never quit asking questions.

Todd Raush is the Regional Director of America's SBDC Iowa

at Western Iowa Tech Community College.
---
Siouxland Magazine | Grow /34

5 Questions Answered (about Downtown Partners)

By Downtown Partners

We are fortunate to be part of a creative community

that consistently comes up with fresh, inspiring

ideas. At Downtown Partners we strive to take ideas and

either incorporate them into existing projects or shape

them into something entirely new. We want downtown to

be the place where questions become ideas, and ideas

get transformed into something tangible. So, please,

keep them coming!!

What is one way you help a business in downtown?

One of our primary goals as an organization is to facilitate

business success through beautification projects.

Therefore, we set aside a budget to help match some of

the funds our business owners invest into their storefronts.

It has been a great way to help our businesses and we will

continue that program this year. If you have a business

in downtown, please reach out on how we can help you.

What are some of the things people can look

forward to soon?

As most of you can see driving through downtown, there

are quite a few projects under development. YES! We

love to see progress and investment in our community.

To help complement these projects, we have a few of our

own that will be taking shape this spring. We received

a great response to the lights at 4th and Court Street,

but that was only one aspect of our ongoing effort to

connect areas of downtown and create a safe, walkable,

attractive environment for pedestrians. In the next few

years, you will see lighting play a big role in parks and

connections to entertainment, art, and the new riverfront

development. Another project you will see installed this

spring is pedestrian wayfinding, which will help both

locals and visitors navigate through Downtown with ease.

What can you do to help?

First, you can keep visiting downtown (bring your

friends) and continue providing us with feedback. We are

constantly trying to ask our stakeholders better questions

on what they would like to see in downtown, in what ways

we can support them, or what it is we are doing right. If

you own a business in Downtown Sioux City, we

need you to go to our website, make sure your

information is correct and fill out a short survey to

confirm anything we are missing.. We've designed

a series of short surveys that will help us better serve you

and to promote your business in our marketing efforts.

We could also stop by and talk through it all instead.

What are some things we can start to look at as a

business that could help downtown?

There are a few things that people could be thinking

about as business owners. Some of these are pretty easy

fixes and others can be incorporated over time and/or

with help.

Your curb appeal: Are you attracting people to your

business through window display, plantings (even fake

ones), hanging signs that are easy to see from the street,

pleasant smells, seating, etc. Consider leaving your lights

on at night.

Consistent hours: Simple, yet powerful. Make sure your

social media, website, even your front door, has your

correct hours and that you are open during those hours.

Staying open later or being open earlier may serve you well

depending on your customer. Keep the hours, just adjust to

opening later, for example 10am – 7pm instead of the hours

when your customers may be working, 8am – 5pm.

Outdoor activity: True, we are a multi-climate community,

however, people are looking for things to do in every

season. A few heaters could activate your outdoor seating

or opening your front door in the summer makes your store

more inviting. Is there an event or theme that you could

host outside with your neighbors? We are always looking

for fun 'block party' ideas and we can help!

Downtown Partners is a non-profit organization that

works with stakeholders to create a vibrant, expanding

downtown. To learn more about Downtown Partners and

to stay up to date with downtown projects and events, visit

www.downtownpartners.com.

Pedestrian Wayfinding Design Draft.

Photo courtesy of JDG.
---
What Are You Worth?

By Alex Watters

I recently was appointed to The

Complete Count Committee

as a representative from the

City Council. This group was

established as a partnership

among the city, government

agencies, and private industry with

a goal of increasing the turnout for

the upcoming census.

One of the interesting

questions that was posed early on was, "what is a

person worth?" Not in the philosophical sense about a

person's intrinsic worth, but more of a financial question.

What does each person represent in terms of federal dollars

in our community?

It is estimated that in Iowa and Nebraska each individual

represents at a minimum $4,400 per year. That means,

if 100 people in Sioux City go uncounted, and since the

census data is for a period of 10 years, Sioux City would

not receive over $4.4 million of federal funding. This is your

tax dollars that should be coming back to our community,

but won't if we don't encourage our friends, families, and

neighbors to "count" themselves. This is money that can go

toward schools, roads, hospitals, emergency services, etc.

Therefore, it doesn't matter whether you are white, black,

or brown, we need to make sure our numbers are accurate

and reflect the amount of people that call Siouxland home.

Some other questions you may have about the census:

What is the timeline?

March 12–24, 2020-- postcards are mailed out.

April 1 is "Census Day" where you reside on April 1 is where

you should register.

How do I complete the census?

You can use the online portal that opens on March 12.

The online version is offered in 59 languages. You can

complete it by phone where 12 languages are available

via interpreters or fill out the paperwork that will be mailed

to you and send it in.

It is nine questions and should only take you 5–10 minutes

to fill out, depending on how many people are in your

household.

What can I do to help?

Talk to everyone you know about filling out the census.

Ask your employer if they would be willing to send out a

companywide reminder explaining the importance of this

information.

Volunteer with organizations that are assisting with this

effort.

Work part-time to interview residents and have them

complete their census information or to simply drive

around and update/verify addresses and electronically

lists. These jobs have flexible hours and pay more than

$18 per hour.

When will we know the results?

The results will come out in April 2021.

Have questions yourself?

Visit sioux-city.org/2020census or 2020census.gov

The City Council is fighting to fix our roads, build more

parks, and improve our public safety while keeping our

taxes low. However, this is an example of where we need

your help. Census data is used to distribute $1.5 trillion

of federal funding annually to states and communities.

We need that money to support all these projects and

continue building a community we are all proud to call

home. So, if you are looking to make a difference in your

community in 10 minutes, fill out your census!

Siouxland Magazine | Grow/35

Alex Watters, City Council of Sioux City

awatters@sioux-city.org

Image contributed by the US Census Bureau.
---
Siouxland Magazine | Grow /36

Chamber Champions Local Businesses

By Katy Karrer

In today's world, small businesses are anything

but small. There are 30.2 million small businesses in the

US accounting for 99.7% of all businesses in our country

and employing 47.5% of the entire country's workforce

according to the Census Bureau. They are found in brick

and mortar establishments, home offices, online and popup

storefronts and while these stats alone are impressive,

where the real value comes in is the impact they have on

our communities.

Sioux City Riverfront, will host the 2020 Small Business

EXPO on April 16th from 4:30 – 6:30 PM. The EXPO will

showcase 50 vendors from Siouxland's dynamic small

business community. Attendees will visit face-to-face with

vendors from a diverse mix of industries and learn about

their unique products and services. There will be numerous

cash and product giveaways, games, complimentary food

samples from our Savor the Siouxland Chamber vendors

and a cash bar making the atmosphere lively and fun.

Approximately 67% of every dollar spent at a small

business stays in the local community. Small businesses

employ local residents and serve the area's larger

companies as customers and vendors, stimulating local

economic growth. Equally important, our small businesses

become integrated in to the communities they are located,

ultimately helping shape the character of the community.

While concerned with the success of their company, small

business owners know that a vibrant community helps

build their business so they invest locally and support

quality of life projects in their neighborhoods.

In appreciation of Siouxland's small businesses the

Siouxland Chamber of Commerce and Marriott South

The EXPO is free and open to the public with something

for everyone. The Siouxland Chamber encourages all

to attend this event being held at the newly renovated

Marriott South Sioux City Riverfront ballroom located at 385

East 4th Street in South Sioux City. Watch for more details

on the Chamber's website, siouxlandchamber.com, or the

Siouxland Chamber's Facebook page. To inquire about

vendor opportunities, contact the Siouxland Chamber at

712-255-7903.

Katy Karrer is the Siouxland Chamber of Commerce,

Director of Events.
---
Let's Talk

By Peggy Smith

In this world of technology, it is easy to lose

the personal touch. It's hard to have a meaningful

conversation through text. Our conversations have become

much shallower, and we take people's responses for

granted – at face value. We ask an acquaintance to join us

at an event, and he or she decline. We think, "oh well" and

move on instead of asking "why". We make assumptions

instead of really asking, and then listening, to understand

the answers we are given.

We've probably all used the "Five Why's" to learn the root

cause of a problem. Asking why the project failed, and then

asking why that circumstance happened, and so on until

we really come to the true cause. But do we use the "Five

Whys" in personal conversations to understand another's

viewpoint and why she feels that way?

Learning more about each other breaks down barriers and

allows us to connect on a personal level, despite differing

viewpoints. Going around the room and answering the

same question can provide enormous insight into the

personalities and values of the group. Just asking, "What

is one thing you do virtually every single day?" will open

conversations and take them from shallow to deeper and

is more personal and more enlightening. A person may

comment, "I drink 2 cups of coffee." But as you go around

the room, people start to answer on another level – "I tell

my children I love them every morning" or "I take time to

What Can SCGO Do For You?

By Emily Vondrak

journal". Once one person responds more intimately, it

gives the next person permission to also provide a more

intimate and personal answer. And once we get beyond the

mundane, we start to "know" each other.

Another way to open honest conversations is to

ask someone why they do what they do.

Their answers may contain a story – about an experience from

their childhood or youth that impacted them so strongly, it

influenced their career decision. Once we learn the "whys"

we can better understand differing viewpoints, differing

values and differing priorities. We can see similarities

between us, and we no longer feel so "different". We can

respect why our paths are so divergent, and why we respond

to situations and challenges the way we do.

Curiosity and inquisitiveness are traits we should never lose.

They signal interest – if you ask me questions, I can tell you

want to know more – you are interested in me and my story.

To connect with each other, we need to be purposeful in our

conversations. We need to take the time to look beyond

the quick answer and figure out where the answer came

from. We need to practice the "5 Whys", not just in problem

solving, but in connecting with others on a personal level.

Personal connections make for true understanding!

Peggy Smith is the Executive Director of Leadership Siouxland.

Siouxland Magazine | | Grow/37 / 39

Throughout history, there have been questions that

make us pause and think. Shakespeare asked, "To be

or not to be?". According to Martin Luther King, Jr., "Life's

most urgent Question is 'what are you doing for others?".

Each question that has stood the test of time relates to us in

different ways, and each allows us to broaden our horizons.

The question that best encompasses the Sioux City Growth

Organization is one from President John F. Kennedy, "Ask

not what your country can do for you – ask what you can do

for your country".

Here at SCGO, we continually ask ourselves, each other, and

the community what can we be doing to make Siouxland

even better? How can we change the status quo? What can

we do that will make an impactful difference? How do we

attract, develop, and retain young professionals?

Like all big questions, there is not just one answer, and

solutions come from more than one place. We bring

together young professionals, each with their own

background, experiences, and ideas, to work together to

tackle these questions.

Since 2002, our mission of improving our community has

been encompassed by three pillars: Network, Volunteer, Get

Involved. We work to create a network within our region that

leads to business connections and long-lasting friendships.

We work to help new entrepreneurs get the resources they

need to succeed through the Innovation Market. We hold

events open to the public that bring new things to the

community, like our 3rd Thursdays or Music Bingo. We love

volunteering with local organizations and express the value

of staying in Siouxland after college.

I also ask the same question of everyone reading this

fantastic local publication - What do you want to see SCGO

do to help the community? Do you know of an organization

that needs volunteers? A fun event you'd love to see us

host? Or, even better, maybe you're interested in joining our

group? We're open to all and we'd love to have you!

Emily Vondrak is the Sioux City Growth Organization

Marketing Chair.
---
alance

Inside and out.

Send

Ask the Therapist

By Jackie Paulson

Question: "I'd like some advice on the first steps

towards repairing communication between my

husband and I. I used to be more vocal about my needs

and wants, mostly in regards to sharing household

duties, but he's become defensive over time. I have

drastically reduced my requests and comments to

him in order to avoid conflict. I am highly mindful

of not "nagging" and so I stay silent but what this is

doing is building resentment. How do I say what I

need without criticizing? How do I communicate with

him in a way that helps him understand what I need

or want so I don't have to keep stuffing my thoughts

and feelings?"

First, Thank you, reader, for sharing your experience with all of

us. I believe many couples can relate to this experience, not

only in their home with their partners, but with other people

in their lives as well! Communication, both what is being said

and not said in relationships, can be powerful both to the

demise, as well as the success of those relationships.

your

questions to the

therapist.

As I contemplate this question, there are numerous ways

to begin exploring this common dynamic in, especially,

intimate partnerships. Including; conflict management,

communication styles, boundary work and codependency,

the list goes on! When I further meditated on it, see it I only

have a small article to work with and not an entire book (trust

me, I could write that much on this one question alone!), I

was able to connect with what each of these topics have in

common. TRUST + INTIMACY.

I find that most of my work these days, no matter what

the scenario, swirls these two pivotal dimensions of life. It

seems we all are longing to loved and to belong. I truly, do

believe that this is oftentimes the motivation driving all of

our behaviors whether healthy or unhealthy they may be.

First, let's define what it actually means to trust and to be

intimate. According to the Merriam Webster Dictionary:

Trust is an assured reliance on the character, ability, strength,

or truth of someone or something; one in which confidence

is placed; dependence on something in the future; it is

HOPE.
---
eathe

clarity

nutrition

flexibility

Intimacy as an adjective is described as a warm friendship

developing through long association, of a very personal or

private nature, marked by very close association, contact,

or familiarity, INTRINSIC, ESSENTIAL, belonging to or

characterizing one's deepest nature. As a verb, it is defined

as to communicate delicately and indirectly and to make

known especially publicly or formally.

What I find interesting about these definitions, specifically

as it relates to the above question are the indications that

to have trust means we must be able to rely on something

or someone and to have hope in the future; and in being

intimate, that we are communicating from our deepest

nature. Trust is an essential aspect of intimacy. The work

I practice most with clients involves getting to know

ourselves so honestly, meaning being willing to see all that

we are, especially where our own wounding and defense

mechanisms have developed; so that we may move into

an intimate relationship with ourselves. To be able to relate

to ourselves in the deepest way possible. Only in this ability

to relate to ourselves with great understanding allows us to

trust ourselves to operate from a place of consciousness

in our relationships with others and the world around us.

Put simply, when we are awake to our own baggage, we

can unpack it consciously with ourselves and our partners

in real time in a way that is productive and life giving in the

relationship as opposed to ineffective ways that only keep

us trapped in cycles of resentment, disgust and separation

from the ones who we probably love most - our partners

and our selves.

Likely, as it sounds, you as well as many of us in our

relationships come to this awareness because we find

ourselves stuck in this place of extreme resistance in our

partnerships at home. Often times, one partner realizes

that the partnership has entered into an insane cycle of

expectation and disappointment leading to a dangerous

spiral of contempt and stonewalling, leaving each partner

feeling dissatisfied and unloved. This definitely does not

describe a safe environment that involves trust and allows

for intimacy. Yet, these two things are the foundation on

which you must rebuild this home within the relationship

between the two of you.

What this requires may make you cringe, at first. But if

you truly would like to explore the possibilities in the

relationship, I invite you to SURRENDER and to move

towards your partner first. This does not mean you do not

have needs or boundaries. It means that you are willing to

assert those feelings through the expression of conscious,

healthy love.

One person, often the one who awakens to the insanity and

is suffering enough to be motivated to change it, will need to

allow their heart to open when they have closed it because

of many missed expectations and sore disappointments

from their partner. My question to you is, are you willing to

risk being disappointed again? If so, I invite you to begin

practicing moving through love in your relationship. This

requires the ability to forgive and to accept your partner for

who he or she is or is not. This includes, grieving that the

relationship isn't all that you expected it to be. This then will

require you to explore the relationship you have with your

own heart. To become intimate with where your wounds are

at the helm versus you deepest self - Allowing fear to drive

over love. In order to soften, we need to create a SAFE place

emotionally in our relationship. Through vulnerability, we can

begin to re-establish a secure emotional attachment with our

partner and healthy communication and boundary setting

can begin.

I believe one of the most challenging aspects of relationships

is when we have been hurt over and over again, when

promises have been broken or trust has been betrayed. But

two people can learn to trust each other again. Consider

that your partner is not the only one responsible for creating

an atmosphere of safety and security in the relationship.

Here are some questions you can ask yourself to begin the

process of overcoming mistrust:

What is the story I am telling myself?
---
Siouxland Magazine | Balance /40

Does my fear of loss, abandonment, betrayal cloud my

perspective and cause me to overact?

Is my mistrust coming from something that is actually

happening in the present, or is it related to my past?

Do I feel comfortable asking for what I need and allowing

myself to be vulnerable?

Do I bring my best self to my interactions with my partner?

Do I possess self-love and allow myself to be loved and

respected?

We can often tell when our past wounds are taking over

when we become reactive. When the above question says

"our best self", it is that part of us that is calm, centered

and connected in the moment. I call this the Self with the

capital "S". Whenever we have moved into reactivity - pain

is present, the Self often gets overridden by protectors

within us that wants to prevent us from feeling that pain

(i.e. defense mechanisms). It is in this moment, that we

must first turn inward and be curious about what inside of

us is really needing to be heard - by ourselves first - in that

moment and then through the Self respond to our partner

in the way of love, trusting that they have our best interest

at heart, as we do them.

In summary, I invite you to lean into to your own heart and

be curious about what is needing to be heard and held

within you right now. Practice mindfulness (being present

in the moment) in order to soften the edges within your

own body and mind so that you can then go toward your

partner instead of away from them. If you have the desire

or curiosity to see what might happen, allow yourself to

open to him or her in a way that builds the foundation of

trust. In my work with couples, I have found that conflict can

be an incredible resource for developing deeper intimacy.

It begins with creating a safe environment to connect. We

learn so much about ourselves and our partners amidst

conflict, that it can deepen the connection that you have

with all of life. Since you have no control over another

person, begin with yourself. Ask yourself; How can I do my

part in mending and creating a safe environment for my

partner and I to work with one another and weave love

back into the equation. Stop gripping and open yourself

to the process. One of my favorite quote by the author

David Deida sums this up.

"Practice surrendering not to your own fears, nor to the

demands of an there, but directly to love. Do you best

to feel through your own resistance...Behind all resistive

emotion is the motive of love. The desire to give and

receive love underlies every emotional actions and

reaction, including hurt and anger....Whatever the emotion

- anger, fear, closure - feel through it, breathe through it,

relax through it, into the love that lies behind it. And then,

actively, surrender to that love. Open AS that love. Magnify

love by loving."

Photo credit Sarah Ann Photography.

Jackie Paulson is a Licensed

Mental Health Counselor

and Registered 500 Hour

Yoga Instructor. She has

over a decade of experience

in the helping field and

offers holistic therapies that

combine an east meets west

approach to therapy.

Jackie specializes in working with adults who

may be experiencing a wide array of concerns;

including, relationship difficulties, sexuality and

intimacy, depression and anxiety, trauma, grief

and loss, addiction, and other life transitions and

adjustments. Her training in mindfulness based

stress reduction, somatic work, existential theory

and depth psychology all enhance the investment

of your time in session with her.

Ultimately Jackie offers a humanistic approach and

Her overall hope is to empower individuals to

seek and connect into their own deep and sacred

wisdom that resides within them. Jackie believes

that each person has an innate ability to heal

themselves and journey through any experience

with the right support. You can sit with Jackie in

her therapy office located on Historic 4th street

in downtown Sioux City. She accepts BC/BS and

other private pay options.

You can submit your "Question to the Therapist"

by visiting jackiepaulson.com and send your

question through the contact page. Please put

"Question to the Therapist" in the subject line.

Did you put our live event

date in your calendar?

March 18 at 10am

Homelessness in Siouxland

Sioux City Public Museum

Get all the details

on Facebook.
---
Revision

By Hali Benson

How are you doing with the intentions you set for

this new year? Without judgement, begin to ponder

that as we break down how we can continue to make wise,

healthy decisions.

There will be days when you feel unmotivated, lazy, angry,

sad, etc. But, if you are consistent with yourself choosing

to follow through on the things you say you will you'll 80%

of the time feel better that you accomplished something

versus not. If your goal this year was to eat more

vegetables, for instance, have you prepared your meals

to include more vegetables? How about finding time to

prep your meals, include the family while coming up with

a menu for your week!

Get yourself inspired to begin this next

month with a few more tips to keep the goals

moving in the right direction.

Reflect and redirect: Reflect on what it is you are

desiring for 2020, how is it going so far? Are there new

steps you can take to open the path and give your mind

and body the preparation needed to get going? Think

about your goal and begin to work backwards from there

in order to really achieve those goals.

Action: This requires your full commitment, because

when we commit to something it tells our bodies there is no

other way, we simply must do. So configuring those steps

and putting one foot in front of the other. Community with

action will really get the ball rolling - find an accountability

partner, let them know your plans and tell them to keep

you accountable for what you say you will do.

Revise: Every week or every other week return to your

steps, make adjustments based on what works and what

doesn't. If your plan is to eat more meals together as a

family take note of when everyone is home and when you

are in a pinch have meals ready for the nights that are

hectic.

Don't miss the opportunity to become your best self this

year, look at your life and see how you can make small

improvements for you and this world. It can be little things

like reducing your waste, buying more fresh foods, eating

more meals at home, trying one new food every week.

Have fun with it and try making this delicious recipe ASAP!

Hali Benson is a Certified Holistic Nutrition and Wellness

Practitioner working with Evolve Yoga and Wellness Center

helping clients heal through nutrition, yoga and spirituality.

You can find her under the name Blossom Services

at https://blossom-services.webflow.io/

Vegetable Stir Fry

Ingredients:

1c quinoa

1/1 cup veggie broth/water

1 onion

3 garlic cloves

2 medium carrots (I used colorful carrots)

1/4 head of broccoli, chopped

1 cup frozen peas

Directions:

In one pot bring 2 cups of veggie broth/

water to boil. Add quinoa. Cook 10 min

covered on medium heat. Remove from

heat and keep covered for another 10-15

minutes.

On low-medium heat add 4 tbsp veggie

broth to the pan and add roughly chopped

onion, garlic, carrots, broccoli and sauté for

5 minutes. Then, add green peas and stir

for another 2-3 minutes.

For sesame sauce:

1/3c coconut aminos

2tsp ACV

2tbsp EVOO

.5tbsp Sesame Oil

4 small dates (or 3 large)

Place water in a mug, microwave for 2

minutes so water is hot, add dates. Soak

dates in very hot water for 5 minutes.

Remove dates and combine with all

remaining ingredients in a blender or food

processor. Process until dates are finely

ground and dressing is a creamy texture.

Siouxland Magazine | Grow /41

Photo credit Hali Benson.
---
Siouxland Magazine | Balance /42

Discover Your Core, Unlock More

By Meghan Nelson

As I think about the questions that we face in our

day, from the profound to the mundane, there

are opportunities everywhere that challenge

who we are and what we believe. Whether

questioner or questioned, we want to feel confident

and strong in our core identity and in-line with our

gut instincts. Our core is the central, so we want this

foundation to keep us stable in knowing where we

stand against these questions we face. This core center

is the fire within driving us towards accomplishing our

dreams, keeping us aligned with that Divine light and

energy that protects and guides us.

There are several muscles that make up the core

muscles of the trunk. The function of these muscles

is to stabilize the trunk in a neutral position while

maintaining the natural curvatures of the spine.

Let's focus on four major core muscles, the Core

Box. When we think about our Core Box we have to

remember to include all sides, the bottom, and the

top. Because if you think about a cardboard box, how

sturdy is that box without a base or a lid?

This diagram highlights the four muscles which make up

the foundation of the Core Box.

The base of the Core Box are the pelvic floor muscles. This

thin sling of muscles helps to hold up and support our

reproductive and other internal organs. These muscles can

be put through a lot of strain, stretching and even possibly

tearing for women during pregnancy and childbirth, which

is why females are so commonly instructed in engaging

Kegel exercises for proper toning and healing of these

muscles. However, Kegel exercises do not only benefit

pregnant and childbearing mommas, all females and even

males can benefit from awareness and proper toning of

these muscles to secure a strong core engagement.

A common cue for Kegel exercises is to imagine trying to

stop the flow of urine during mid-stream, this tightening is

engagement or contraction of your pelvic floor muscles.

However, this often only engages the front portion of our

pelvic floor muscles. So, not to be crude here, but you also

must remember to engage the back portion of our pelvic

floor muscles as if you were trying to hold in a fart. There,

I said it.

The top to our core box is the diaphragm. This domeshaped

muscle separates our thoracic and abdominal

cavity. When we inhale deep into the belly the diaphragm
---
contracts and flattens in a downward motion creating

pressure inside the thoracic cavity for the lungs to fill

with oxygen when we take a breath in. As we exhale,

the diaphragm relaxes and draws back up into its dome

shape into the chest while pushing air out of the lungs.

Then we have the sides of our Core Box, maybe the most

critical of all core muscles, the transversus abdominis

(TA). These muscle fibers wrap around our waist from

the low back to the navel. When we draw the navel in to

the spine, we contract this muscle, providing our trunk

an all-natural back brace. So, the breath exercise to help

engage these core muscles may be simple to do, but a bit

more difficult to say—the transversus abdominis-assisted

thoraco-diaphragmatic breath, aka TATD breath.

4-point Bird-Dog: Position self on hands and knees

on the floor or modify with a chair.

Inhale, lift right arm and left leg. Exhale and lower. Inhale,

lift left arm and right leg. Exhale and lower.

In conclusion, find your core. Face the challenges you

encounter with confidence and grace. Discover stability,

unlock the key to the Self. The practice begins. TATD.

Namaste.

Siouxland Magazine | Balance /43

TATD Breath: Inhale through the nose. Exhale and

draw the navel in towards the spine as you contract the

TA until you feel an upward lift of navel and pelvic floor

muscles. Be sure not to over engage the core muscles

and flatten the curvature in the low back; the goal is to

maintain a neutral spine. As you inhale, feel the ribcage

expand but sustain engagement throughout the TA to

maintain that neutral spine.

The final group of core muscles found along the

backside of the core box are known as multifidus

muscles and these fibers span across 2-5 vertebrae in

our spine. These muscles work to create the fine stability

at each segment of the spine. Weakness in these

specific muscles have been found to strongly correlate

with individuals with chronic low back pain. Alternate

arm and leg lifts are great exercises for strengthening

multifidus.

Prone Swimmers: Lie face down. Inhale, lift right arm

and left leg. Exhale and lower.

Inhale, lift left arm and right leg. Exhale and lower.

Similar to 4-point Bird-Dog photos but on belly.

Dr. Meghan Nelson is a licensed physical therapist and

professional yoga therapist with a passion for using yoga as

medicine for optimal health, injury prevention, and overall

health and wellness. Meghan is co-owner of Lumin Therapy,

which provides integrative healing of the mind, body, and spirit

through the practice of physical therapy, yoga and mindfulness.

Like us on

Facebook

and

Instagram
---
Siouxland Magazine | Balance /44

The Polyvagal Theory: What happens in Vagus stays in Vagus

By Nesrin Abu Ata

Have you ever found yourself at a social event

and feeling uncertain about being there, or

even in danger, but unsure as to why? You may

look around and nobody else seems to be bothered.

You may not realize this, but when you are walking

around the world, your body is taking in many

social cues about your environment. When you are

interacting with others, your body is picking up facial

expressions, tones of voice and bodily movements.

All these cues continuously interact with your nervous

system, informing your body if the environment is a

safe place where you can connect with others, or a

dangerous place where you either have to run, fight or

freeze. The interaction with the environment and the

body's way of relating to it is known as the Polyvagal

Theory, a term coined by Dr. Stephen Porges. The

term that describes how our nervous system assesses

whether people or places are safe, dangerous or life

threatening is known as Neuroception.

What is the Polyvagal Theory?

The Polyvagal Theory explains how our nervous

system responds to stress or danger. It has a three-part

hierarchical system, all of which involve a cranial nerve

called the vagus nerve. The vagus nerve (Vagus: Latin

for wandering) connects (or wanders) from the brain

through all major systems in the body: the stomach

and gut, heart, lungs, throat, and facial muscles!

The three-part hierarchical system means that

only one part can work at any given time, while the

other two parts take the back seat.

• The ventral vagal system, also known as the safety

system, green zone or social engagement system

When this system is engaged, the person feels safe,

loved, and able to share feelings with others and be

social while maintaining eye contact. The person is

attuned to other people's facial expressions and tone

of voice. Heart rate is regulated and one is able to take

in a full breath and breathe slowly. The person has

a healthy blood pressure, good digestion, a healthy

immune system and good sleep. He or she is able to

reach out to others and ask for help or support.

• The activation system, also known as the sympathetic

nervous system, yellow zone or fight or flight response

When this system is in charge, the person doesn't

feel at ease, doesn't feel that others can be trusted,

is constantly scanning the room for danger, and is

listening to sounds of danger instead of friendly voices.

The person's breath is shallow and his or her heart is

racing. In such a state, the person may have elevated

blood pressure, poor digestion, poor immune system

and poor sleep. He or she may report more headache

and back tension.

• The dorsal vagal system, also known as immobilization,

freeze system or the red zone.

When this system is engaged, as a last resort if the person

is not able to fight or run away, the body shuts down or

collapses. Heart rate slows down, and breathing slows

and becomes shallow to the point where the person may

feel like fainting. The person may feel like they dissociate,

report a foggy memory and lack energy. The person may

report weight gain, low blood pressure and stomach

problems. Sometimes, when a person is in this state, he

or she has reported feeling ashamed, trapped or "too

small to be seen or heard." Quite often, patients with

post-traumatic stress disorder talk about how they "froze"

when the trauma happened and feeling shame: both of

which can be explained by the third system kicking in as a

response to danger.

How Understanding Polyvagal Theory Can Help

You Regulate Stress?

The better you understand which one of the three states

you are in, the more you are able to engage yourself in

self-regulation and returning to the green state: the social

engagement system.

Here are a few things you can do to re-engage in the

social system:

• Change your breathing so that exhalations are longer

than inhalations. This is often taught in yoga practices.

Doing this re-engages the ventral part of the vagus

nerve, which, in turn, slows down the heart rate.
---
• Seek environments that are soothing and where

you feel safe, loved and connected. For some

people, it is walking in nature, for others, it is

spending time with their pets or loved ones.

• Listen to soothing music.

For some people, seeking therapy also helps,

especially when there have been traumatic events

that make personal attempts to engage the green

state unsuccessful.

Siouxland Magazine | Balance /45

References:

Yoga Therapy and Polyvagal Theory: The Convergence of Traditional Wisdom

and Contemporary Neuroscience for Self-Regulation and Resilience. https://www.

frontiersin.org/articles/10.3389/fnhum.2018.00067

https://www.therapistuncensored.com/tu18-polyvagal-theory/.

Therapist

Uncensored.

The Polyvagal Theory: Neurophysiological Foundations of Emotions, Attachment,

Communication, and Self-regulation. Stephen Porges, PhD.

Nesrin Abu Ata, MD, is a family medicine physician,

a psychiatrist. She has a private practice and can be

reached on drnesrinabuata@gmail.com. Photo credit

Nesrin Abu Ata.

Artwork: Attachment and Bonding: A New Synthesis.

Stephen Porges, PhD. Psychophysiology: Systems,

Processes, and Applications. Stephen Porges, PhD.

712-276-STEM

joint relief

WitHoUt

SUrGerY

SIOUXCITYSteMCellS.COM

learn more at one of our upcoming seminars. Call or visit our website today for all the details.
---
explore

Get dirty.

UCELL team

Loess Countries: New US-China collaboration on the Loess Hills

By Graham McGaffin

While U.S.-China relations have been tense

recently when it comes to international trade, one

area that has witnessed a new era of collaboration

and cooperation between the two countries is with

the study of the loess hills and soils. In June, a small

gathering of U.S. and Chinese experts on loess soils and

restoration met in Yangling, Shaanxi Province, China to

share information on the Iowa Loess Hills and the China

Loess Plateau, their condition, value, restoration and

protection, as well as the latest research on loess soils.

Loess (pronounced as "luss," "Lois," or "less") refers to the

yellowish deposit of wind-blown rock dust found in many

parts of the world, including Germany, Argentina, New

Zealand, the U.S., and China. However, loess deposits of

significant depth (60-350m) and area occur only in two

places: in the Yellow River region in and around Shaanxi

province, China, and in the mini-mountains (bluffs)

of western Iowa. Our Loess Hills parallel the Missouri

River 220 miles from Mound City, Missouri to Westfield,

Iowa. The beautiful sharp-cliffed hills can be seen along

Interstate 29 through the western sides of Fremont,

Mills, Pottawattamie, Harrison, Monona, Woodbury, and

Plymouth Counties. They were formed from glacierground

rock powder brought down the Missouri River

and blown into dunes by westerly winds.

The Chinese Loess Plateau, which covers an area only

slightly less than the entire state of Texas, is located

several hundred miles southwest of Beijing. The loess

there eroded from various mountain areas over millions

View over city of Ansai from Loess Hills

of years, was collected in the Gobi and other deserts, and

from there was blown into the plateau region. Over the

centuries, the Loess Plateau lost much of its vegetation from

overgrazing and deforestation, with the resulting erosion

filling the Yellow River with deposits of so much loess that

devastating flooding of croplands became common—the

name Yellow River originated from the color the water

because of the sedimentation with loess soil.

A huge restoration project funded by the World Bank and

others set out to partially restore the plateau over an area

roughly the size of New Jersey. While the age and size of

the two landforms differ significantly, the natural resource

issues that have challenged China's loess plateau are not

unlike those facing Iowa's Loess Hills and Missouri River

system today. Similarly, many of the solutions are also

applicable to both places.
---
fresh air

get outside

protect

active

play

The June U.S.-China Exchange on Loess Landforms

(U-CELL) came about as a result of a lecture series on the

Loess Plateau done in Western Iowa and Omaha in 2017

by John Liu, a Chinese-American documentary film-maker

from Beijing, who has recorded the dramatic conditions of

the Plateau before and after restoration. Acclaimed soil

scientist Professor Robert Horton of Iowa State University

worked with his long-time friend, senior Professor Baoyuan

Liu (no relation to John) and Professor Fan Jun, both soil

scientists at China's Northwest University of Agriculture and

Forestry (NWUAF), to have NWUAF host the Exchange.

Homes built in loess soil

The Sioux City-based Gilchrist Foundation, which cosponsored

John Liu's 2017 lecture tour, funded the

participation of two young professionals in the U.S.-China

exchange, Graham McGaffin of The Nature Conservancy

in Iowa and Assistant Professor Bradley Miller of Iowa State

University. Also participating from the U.S. were Professor

Michael Thompson of Iowa State, and Bill Blackburn of the

Green Hollow Center in Fremont County. Presentations from

the U.S. were also given online by Professor Tom Bragg,

plant specialist from the University of Nebraska-Omaha,

and John Thomas, loess erosion expert from the Hungry

Canyons erosion control program at Golden Hills Resource

Conservation & Development (RC&D) in Oakland.

Besides the one-day conference in Yangling, the U.S.-China

delegation visited NWUAF soils research stations in the

Loess Plateau near Chang Wu and Ansai to review their

latest research projects. The tour was capped off with a

visit to the famous terra cotta warriors of the Qin Dynasty

Emperor that were buried near Xian in the Plateau around

200 BC---warriors we were surprised to learn were made of

loess soil glued together with rice water. The agenda and

presentations offered at the Exchange and pictures from the

tour of the Plateau can be seen on the Golden Hills RC&D

website (www.goldenhillsrcd.org/ucell.html). A follow-up

meeting in Western Iowa is now being considered.

As one of the "young" professionals that had the good

fortune to participate in the Exchange, I was impressed not

Loess "canyons"

only by the scale of the landform in China, but also by the

hospitality of our hosts. The list of shared interests between

Iowa and China extends far beyond trying to wrap our

heads around how to preserve our loess landforms, which

is perhaps best captured by our former Governor's current

appointment as U.S. Ambassador to China. The experience

of traveling to north-central China filled me with a renewed

sense of optimism in our countries' commitment to the

natural resource challenges we face, as well as the amazing

intellect and passion of those who dedicate themselves

to the science and preservation of such unique areas.

In western Iowa, the Nature Conservancy and our many

partners in the public and private sectors are committed

to preserving the native vegetation that contributes to

holding this unique soil in place, in addition to providing

essential habitat for our region's birds, pollinators, and big

game species.

To get a look for yourself at the landform and learn

about what's being done to preserve this amazing

geologic treasure, I'd encourage readers to visit Dorothy

Pecaut Nature Center, Stone State Park, and The Nature

Conservancy's Broken Kettle Grasslands Preserve. At our

Preserve, which is located about ten miles from Sioux City

up State Highway 12, we've reintroduced American Bison to

help us manage woody vegetation which, if not managed,

can overshadow the prairie and lead to excessive erosion

of the soil, which is the source of many of our Chinese

friends' challenges. A portion of the Preserve is open to

public hiking, maps and more information can be found at

our Visitor Center, located at the Preserve headquarters at

24764 Highway 12, Westfield, Iowa.

Graham McGaffin is an Associate Director of Conservation &

Director of the Loess Hills Program for The Nature Conservancy

in Iowa. In this capacity Graham works with landowners &

partners in Iowa's Loess Hills to achieve durable land protection

of the landform & restoration of the native habitat.

Photo Credit (left page) Bill Blackburn and (right page)

Graham McGaffin.
---
Siouxland Magazine | Explore / 48

My Hands Smell Like Onions

By Lisa Cox and Jenny Jorgensen

The Onion is a satirical news source that has had

many Americans laughing since 1988. Its ability

to peel back the surface layer and poke fun at current

events and issues reminds us of egos, fallacies, and

inequalities. While writing this article we came across

one titled, "I Am So Starving vs. I Am So Starving." This

point/counterpoint essay is worth the read. However,

it also does not necessarily give us a full picture of true

hunger in Siouxland.

When our statistics state 1 in 6 Siouxlanders are

in food insecure households, we almost expect

adults and children with bloated bellies to start

appearing in Walmart or schools.

Nevertheless, this is not the case. Oftentimes we see

very overweight or obese people who are without food

security and wonder to ourselves, "How can this be?" By

digging our trowel into the cause of food insecurity and

its resulting hunger, we can see the effect it has not only

on those who are facing a food deficit, but also those

who are not. Ideally, through this deliberate furrowing,

we can answer the question, "What can I do?" as hunger

is no laughing matter.

To borrow from Shrek, "Onions have layers," food

insecurity has layers. You get it? They both have layers!

The first layer is lack of funds. It is not always poverty that

causes a household's food supply to be jeopardized. As

stated in the American Academy of Pediatrician's report

on "Promoting Food Security for All Children," "For many

families, seemingly small changes in income, expenses, or

access to federal or state assistance programs may instantly

reduce the ability to purchase healthy food and result in

increased vulnerability to food insecurity." In other words,

changes in bills, medical expenses, or even enrolling

children in extracurricular activities can wreak havoc on

the family budget. As a result, we see individuals and

families cut back on things such as dental visits, physicals,

medications, fresh fruits and vegetables, exercise, and

other healthy "luxury" expenses.

When this happens, the divisions of the tunicated bulb are

further exposed. Much documentation can be found on

obesity, poor growth, poor oral health, asthma, learning

disabilities, lower physical functioning, frequent colds

and stomach aches, behavioral and social problems, and

mental health concerns in children. Adults also suffer

from similar issues compounded by years of nutritional

deficiency which leads to conditions like diabetes,

stroke, heart disease, cancer, kidney disease, suicidal

ideation, pregnancy complications, hyperlipidemia, and

hypertension. Subsequently, these lifestyle conditions

expand and continue into the geriatric population.

As a result, our kids, as classmates and we as co-workers,

church friends, and members of our Siouxland community,

are also exposed to colds and other communicable

diseases. Daily we unknowingly interact with the food

insecure in our neighborhoods. Afterall, it is not necessarily

one of the questions we generally ask people. "Hi, how

are you?" "Do you have enough to eat?" "Are you getting
---
enough vitamins and minerals?" That is a Mom or Dad

question, not necessarily a neighborly one. If we truly

fixed our brains on this, we could contemplate the

times we might run into someone vulnerable to food

shortages.

Screening tools for food insecurity do exist for medical,

community, or clerical professionals. Whereas, there

really isn't one for the average Sue or Joe.

Awareness, assistance, and alignment are our

power tools. Every day, our cumulative efforts

are making a difference in Sioux City and the

surrounding areas. Positive conversations are

happening that expose the layers of food insecurity.

They unearth falsehoods and shine a light on

stereotypes, generalizations, and judgments.

Siouxland Magazine | Explore / 49

Likewise, the word is spreading about our Siouxland

donation sites and food pantry locations. Up From the

Earth now has 28 collection sites to assist you and your

bumper crop, so that you might assist others. Lastly,

people are taking the time to cultivate a culture of

compassion. Our mission to educate others about food

insecurity is going beyond hoeing a row. We are Planting

seeds of change, we are Growing food to nourish, and

we are Sharing compassion with our neighbors.

Have you had the conversation in your home?

Among your friends? At your church? At your

work? While we have many outstanding

resources for those who are hungry to help feed

them, ask yourself and others:

What is food insecurity in Siouxland?

What does hunger look like in Siouxland?

What are the resources we already have?

What might I/we do to help?

What impacts of hunger or food insecurity

have I seen?

Find our collection sites listed on our website

or our Facebook page. The Facebook page

has more frequent updates: https://www.

facebook.com/upfromtheearth/ and https://

upfromtheearth.wixsite.com/siouxland

Want to donate cash directly to a food pantry?

Every dollar donated will buy 13 pounds of food.

Lisa Cox is a Master Gardener and community volunteer.

Jenny Jorgensen is a Master Gardener and community

volunteer.

Graphic courtesy of Up From the Earth.
---
Siouxland Magazine | Explore / 50

The Monarch of the City

By Jim Jung

Searching for information on a building can be a

highly rewarding process. Of course, there are the usual

facts such as date of construction, architectural style and so

on. However, the exciting find is the "aha" moment when

long-forgotten facts come to light.

This scenario occurred while researching the Badgerow

Building located in downtown Sioux City. It was discovered

that the building was originally named the Monarch of

the City. Even more interesting is that the original cost to

construct the building was $750,000. To do so today would

be $11,000,000.

However, how coincidental that the City of Sioux City is

considering purchasing it for $750,000?

This site was chosen because, at the time, it was located

near a large wholesale district, railroad terminals and a

trucking depot. It is also close to the riverfront and was in

the midst of a thriving 4th Street.

The Badgerow Building was dedicated in 1933 to honor

Gordon R. Badgerow. He immigrated from Canada in 1866,

and in 1876, arrived in Sioux City. While in the city, he was

admitted into the practice of law in the courts in Iowa. He

continued on to be Deputy Internal Revenue Collector

and then Postmaster. He was best known for his large

investments in real estate as an agent. He eventually moved

out of Sioux City and died in 1916 while residing in Tacoma,

Washington.

The site of the Badgerow Building is the location

of one of the worst disasters in the city. On

December 23, 1904, the Pelletier Department

Store caught fire, which resulted in two downtown

blocks being destroyed.

At the time of the Badgerow Building's construction,

America was experiencing the Modern architectural

movement. The style of the building is best described

as the melding of Sullivanesque, Modern and Art Deco

architecture. The architect stated that it was an interpretation

of Art Deco, erected in memory of a pioneer, and would

add to the skyline and be typical of city spirit and the desire

for higher and greater things.

The products used in the construction of the building were

of the highest variety and quality. A facing of 360 tons of

terra cotta, 4 railroad cars full of mahogany woodwork,

12 railroad cars full of Belgian marble, several tons of

Tennessee pink marble and terrazzo floors contributed to

the structure. No expense was spared, and the dream of

a building with a personality of its own had been realized.

Local architect Knute Enoch Westerlind designed the

Badgerow Building. Born in Sweden in 1889, he received

his architectural training there. As a young man, he came

to Chicago to join his brother who was also an architect

and specialized in the use of terracotta. Westerlind was

the architect for the City Auditorium on Gordon Drive; he

also designed a Modern house on E. Solway and several

other buildings in Sioux City. He is buried in Memorial

Park Cemetery where the Singing Tower that he designed

dominates the landscape.

This research revealed the history of a uniquely-styled

building that adds to the fabric of downtown. Almost a

century has passed since its construction and, with care,

it can endure another century. Therefore, it is a great idea

for the city to purchase it and guide its preservation and

ownership so that the Monarch of the City can continue on.

Jim Jung is a freelance historic preservation specialist.

As a past member and chair of the Sioux City Historic

Preservation Commission, his experience and knowledge

on the subject are invaluable.

Photo credit Tom Stock
---
Digging Deeper to Answer Nature's Questions

By Olivia Parks

Exploring nature for young children includes many

questions: What is this? Why is this here? How does

this move? How do I fit in with this place?

Having a safe place to be engulfed in nature is very important

for a child's development. This encourages independence,

exploration, curiosity, and eagerness to learn. Time for

exploration without structure allows children to become

whatever their imaginations can build: from a zookeeper

with a collection of wild bugs, to a chemist measuring water

quality from your backyard kiddie pool, to an archeologist

digging up old artifacts like the watch you lost years ago.

Siouxland Magazine | Explore / 51

negative reaction by making their first encounters with

insects positive and informational, and that starts with

ensuring the safety of the child and the safety of the insect

being studied. Children should approach all insects with

curiosity and the understanding that they are a fragile part

of the environment. After recognizing this in the smallest

creatures in the environment, children will apply it to

larger wildlife they will eventually learn about and study.

Not only is it important for children to have the

opportunity to be able to explore and question

what is around them, but it is also important to

find those answers independently. Many times,

while exploring the outdoors, questions will

have a domino effect. One question will lead to

many more, sparking curiosity in children and

motivating them to always seek the answers to

their questions.

One thing that children find fascinating, but as adults we

tend to overlook, is what you can see while looking at the

ground. An example is insects! Children who see insects

have a positive or negative reaction to them based on

those who are around them and their reaction to bugs.

Many children become scared of bugs since some adults

react suddenly, scaring the child and teaching him or her to

react negatively to insects. We can help children avoid that

Children exploring nature will stumble upon many

questions. As people they look up to, we must do our

best to help them find the answers, and we must also be

sure to act as role models in helping nature and not being

afraid to explore. We must take it into our own hands to

show them it is alright to want to learn about reptiles, even

if we have learned to fear snakes. We can teach children

it is alright to not know all the answers, and then help

them find the resources to discover them. Not all animals

can live inside as pets, but we must help save the homes

animals do have. This will help them learn how to help

nature and have a positive impact on it, rather than taking

advantage of what we have.

Olivia Parks, AmeriCorps 4-H Environmental Education

Naturalist, Dorothy Pecaut Nature Center.

Photos courtesy of Dorothy Pecaut Nature Center.
---
enjoy

You only live once.

M's on 4th Making its Own Mark

By Kolby DeWitt

M's on 4th has solidly found its own footing and

has surpassed the shadows of its renowned

predecessors. Beginning its 4th year in business, owner

Vernon Meyer is rightfully proud of the establishment

he's created: "We don't compromise. We'll never be

like a chain, or anyone else. We emphasize quality, and

provide excellent food at a reasonable price."

Although M's on 4th has a sophisticated menu and

ambiance (complete with dark woods, high ceilings,

boutique fixtures, and impressive array of wines that

one would expect to find in a city at least quadruple the

size of Sioux City), Meyer has surprising roots: "I'm just a

small town kid from Lytton, Iowa. I attended Morningside

College, graduating with a business degree." Meyer

spent several years with HyVee, in roles including

Department Manager and Beverage Director. He also

had experience in the nonprofit sector. "At that time, I

met a client for lunch, and we talked about our passions,"

which led to starting M's on 4th with a partner he's since

bought out.

Meyer was never intimidated at taking on the former

Luciano's and Victorian Opera Company site: "It is about

having the right vision and having the right people on the

team. Once we had our game plan and we were unified,

it all came down to execution," Meyer said. They kept the

Italian theme of the prior restaurants, but also wanted

to be known for steaks and entrees. "Most everything

is handmade, not from frozen. Our sauces are made

on-the-spot." Meyer added that they've kept the everpopular

martinis the same, but added flavors. His drive is

unmistakable: throughout our meeting, he never stopped

working, with his laptop at hand; but he never made me

feel like I wasn't his sole focus.

First up was the Wedge Salad, which was a healthy offering

of lettuce that it could qualify as a meal for most: "This dish

is baby iceberg lettuce, chopped up, with blue cheese

crumbles, an in-house dressing, and red onions," said

Jenny Van Beek, a confident and capable chef who started

with M's on 4th as an intern and trained under Head Chef

Melis Spencer at Western Iowa Tech's culinary program.
---
have fun

entertainment

culture

gather

relax

Next was the Chicken Tortellini Carbonara, which contains

bacon, grilled chicken, broccolini, bruschetta mix, and threecheese

tortellini, all in a creamy white wine sauce. This dish

was also a filling fare, but still fresh and light. Also sampled

was the Seared Ahi Tuna: "This is sesame crusted, rare ahi tuna

with citrus, blood-orange vinaigrette and wasabi sauce," said a

satisfied Van Beek, who knows her creations (and craft) frontto-back.

Lastly, we sampled my favorite: Bolognese with Penne. This

traditional, tomato sauce dish absolutely hit the spot for

someone craving a traditional Italian dish, which tasted like

a spaghetti and meatball dish. The peppery notes and the

delicious noodles are the perfect cold-weather dish.

"I love making the Pasta Rosa," said Van Beek, highlighting

another traditional Italian dish. "We glaze it with vodka, and

the pan 'wooshes' with fire when preparing!" Her zeal for her

trade is evident: Van Beek has assisted Chef Spencer in many

aspects of the business, including with the menu and some

recipes. Van Beek also handles the deserts.

"We love to do the farm-to-table ingredients," said Meyer,

who added: "we strive to get as local as possible. All of our

beef is grass-fed." Meyer also noted many great partnerships

in Siouxland, including with Holiday Inn Express (Dakota

Dunes), Country Celebrations, Tucker Hills Vineyard, Oscar Carl

Vineyard, the Le Mars Convention Center, and Willow Creek

Golf Course.

M's on 4th has also expanded to include robust catering

services and offers venues: "We have three venues on-site,

which offer everything from our wine room, to a room for 30-50

people, and even our main dining room," said Meyer, noting

that one loyal customer is booked to have an entire wedding

and reception at M's on 4th this year. "People are still learning

about this service. We acquired Timmy's Catering from Le Mars

in 2017, almost by accident." Since, they've maintained its

customer base, and have seen a decent expansion. However,

Meyer is eagerly looking for more: "This isn't just a job, for me

or for staff. We offer a true experience of great food, great wine,

and great service."

M's on 4th is open from 4pm to 9pm Tuesday through Thursday,

and open from 4pm to 10pm on Friday and Saturday. They also

offer catering. For more information, visit www.mson4th.com.

Kolby Dewitt has enjoyed writing (primarily about food) for

Siouxland Magazine since 2010.

Photo credit Becca Feauto.
---
Siouxland Magazine |

Siouxland Magazine | Enjoy Design / 54 Issue / 20

New spring merchandise arrives at Bohme Southern Hills Mall, Sioux City.

Eight Spring Trends to Try

By Erika Hanson

Register to

Appear in

Upcoming

Issue.

Q: I'm so tired of winter! I

want to start incorporating

some spring looks into my

style choices, but I'm not

sure where to start. Help!

-Angela K.

As a self-proclaimed winter

superfan, my favorite six months

of the year are September

to February. My DNA is just

Erika Hanson

programmed for the colder months, and it's when I feel

most alive.

But – there is nothing like that first scent of spring.

Everything smells damp, like the deepest reaches of the

earth are thawing out. If a season could smell like a color,

spring most certainly smells like green.

In the Midwest, when temps reach 40 degrees, it's time to

reach for shorts and flip-flops. OK, maybe not really, but

you'd never know it by the insanity that overtakes people

who are ready to kiss snow goodbye, and welcome

sunshine with open arms.

And the world of haute couture is no different. Designers

flooded the Spring 2020 runways with the typical

energetic, happy colors of warmer weather – but with a

kick of wild pattern, a cool dose of slouch, and more polka

dots than are reasonable.

With torrents of complaints about the Siouxland retail scene

overtaking local fashion discussion – it's time to prove the

haters wrong.

Lots of great spring fashion choices exist here, you just have to

know where to look. And lucky you, dear Siouxland Magazine

Reader – I've done all the legwork for you. Here are a few hot

local spots to check out for winning on-trend looks.

If you're looking for slouchy wide-leg pants, never fear. Several

retailers offered the look, including the very current cargo

slouchy pant, which designers paired with everything from

dressy tops to bras-as-outerwear (more on those later). Check

out American Eagle, Bohme, and Francesca's, all at Southern

Hills Mall, for the best selection of sizes, colors, and styles.

Spring leather was a hit on runways from New York to Paris,

and while it's usually thought of as a cold-weather staple,

lighter weights and colors make it an ideal material to bridge

the cooler early months of spring. Stop at Versona, located

at Lakeport Commons, for faux leather leggings (no animal

cruelty!) that will update basic camisoles or T-shirts.

Polka dots were front and center at Fashion Weeks all over the

world. This is a trend that's highly-wearable and easy to find.

Stop in almost any store and you can find something covered
---
in the whimsical pattern. Look for oversized polka dots –

it's the freshest spin on a tried and true classic. The most

current looks can be found locally at Southern Hills Mall

favorites Bohme and Francesca's. Black and white is an

easy entry-point to the trend, but check out the adorable

red and white polka dot dress at Francesca's.

Designers seemed ready to forego dainty chains this

season, as a gravitational pull toward collar necklaces

took over Planet Accessories. Versona won the award for

most oversized collar necklaces, with a variety of materials

and styles to choose from. And Gordmans had a fabulous

collar necklace adorned with feathers, another designer

trend for spring. Check out both locations at Lakeport

Commons.

Siouxland Magazine | Enjoy /55

Bra tops as outerwear. Admittedly, not a trend for everyone.

But don't be afraid to pair yours with a tissue-weight

t-shirt underneath. It gives the wearer more coverage,

while still highlighting a fashion-forward style update.

Not surprisingly, stores that cater to a younger audience

had the widest selection. Check out American Eagle and

Aeropostale, both at Southern Hills Mall, for cool options.

Bonus points for choosing one in crochet – another hot

look for spring.

with jeans (I'm still thinking about it. Which means I need

to go back and buy it.)

Yes, "60s Wallpaper" is a thing. And there is one local

boutique where you can find blouses and skirts, in all

price points, to satisfy your psychedelic cravings. Threads,

inside the Sioux City Conservatory of Music's Gimme

Shelter Anti-Mall on Pierce Street, is a veritable treasure

trove of vintage and second-hand options that are

authentic nods to one of the most iconic counterculture

decades in history. While you're there, you can also

marvel at a very on-point vintage loafer that would be

incredible with a sheer sock. Throw down a little prayer

that you're the right size for it. And come back often, as

the selection is constantly changing.

And there you have it! A list of some of the most popular

trends spotted on spring runways, and where to find

look-alikes right here in Siouxland. It's tough out there for

brick-and-mortar retailers everywhere, but nothing beats

the immediate gratification of finding the perfect look

and taking it home with you instantly. And supporting

local stores, where real local people work, feels great!

That's a bonus you can't get online.

Tiered skirts are fun, but OK – maybe not always that

practical. Unless you're Sarah Jessica Parker, wearing a

tiered ball gown skirt to the office might seem a little…

over-dramatic? But rejoice! There's an easy way to get the

same basic look with a little less overt glam. Bohme had

a fantastic selection of dresses with just the right amount

of ruffle – perfect for work, brunch, or ladies-who-lunch.

Highlighter hues are a trend that can be incorporated

into any wardrobe right now, and the best part? They

always make the wearer look tan. Even when it's still pastyskinned

March. Target was the clear winner for the neon

looks of spring. Choose from t-shirts, dresses, belts, even

oversized sweaters to get you through those final chilly

months. And Buckle, at Southern Hills Mall, had a great

fluorescent tie-front sweater that would look fantastic

Know someone who deserves an all-out style

makeover? Nominate a friend, a relative, even

yourself, by sending a short description of the

nominee to KingsFromAsh@gmail.com. Photos

are also welcome. This year, Siouxland Magazine

will choose one winner, and treat that person to

a style excursion to boost body, mind, and spirit.

Everyone and anyone is welcome to participate!

Erika Hansen is a lifelong Siouxland resident. Curious about

exploring the connection between outward appearances and

inner power, Erika is passionate about making fashion fun,

and fostering a spirit of inclusion with no limits. You can find

more of Erika's love of style on Instagram kingsfromash.

Photo credit Britton Hacke Photography.
---
Siouxland Magazine | Enjoy /56

LE MARS

Ice Cream Capital of the World

IOWA

Life is sweet in Le Mars! We received some exciting news at

the end of January --- the Des Moines Register biking event,

RAGBRAI, is going to start in Le Mars on Sunday, July 19.

Plans are underway and committees are being formed. Le

Mars will rise to the occasion and showcase our community.

What a great place to start RAGBRAI – the Ice Cream Capital

of the World.

(712) 546-6416

10 Central Avenue NE

Le Mars, IA 51031

www.claussensonline.com

urban-eclectic home décor

vintage nds nds • unique gifts

cards • • custom framing

jennifer scholten

manager

manager

15 central ave sw

15

le

central

mars, ia

ave

51031

sw

le mars, ia 51031

712.548.4447

jobasgifts@frontier.com

712.548.4447

jobasgifts@frontier.com

urban-eclectic home décor

vintage nds • unique gifts

cards • custom framing

urban-eclectic home décor

vintage nds • unique gifts

jennifer scholten

manager

jennifer scholten

15 central manager ave sw

le 15 mars, central ia ave 51031 sw

le mars, ia 51031

712.548.4447

jobasgifts@frontier.com

712.548.4447

jobasgifts@frontier.com

jobasdecor.com

cards • custom framing

100 Plymouth St West

Le Mars, IA 51031

712.541.6606

Make it a point to get out of the house this winter and bring

the family to the newly remodeled Wells Visitors Center and

Ice Cream Parlor. You can spend hours there enjoying ice

cream, but also watching a movie about the Wells family

and business, experiencing interactive displays and even

finding out, by taking a computer quiz, what ice cream

novelty your personality is most like.

Mark your calendars for the 2020 Ice Cream Days Festival

June 17 thru June 21. We're adding some new events this

year…virtual ice cream run/walk, a pickleball tournament,

Le Mars Arts Center Tees in the Breeze, Golf Fun, ice cream

flavor contest, ice cream eating contest, a cricket tournament

and the BIG BASH (a Saturday evening concert). Watch for

upcoming announcements.

While you're in town head to the Le Mars Arts Center to do a

hands-on project like painting, ceramics, alcohol ink, clay or

an acrylic pour. Classes are offered for adults and children.

Just call 712-546-7476 and the staff will have everything

ready for you. During Ice Cream Days the Art Center will

be displaying the very prestigious American Watercolor

Society 153rd Annual Traveling Exhibition. Forty selected

paintings, submitted by artists from the United States and

around the world. You don't want to miss this opportunity

to see original works by these accomplished artists.

Our five-floor museum can definitely keep you busy for many

hours. An elevator serves access to all areas of the museum.

The museum features: Turn of the century domestic rooms,

agricultural rooms, a music room, heritage rooms, Loess

Hills exhibit and more. Make sure to stop in Miller's Lunch

to have an old-fashioned root beer float before you leave.

Le Mars has a wide array of restaurants from coffeehouses

to steak houses. Be sure to have a steak at Archie's – the
---
Siouxland Magazine | Enjoy / 57

restaurant has received the prestigious James Beard

award. 4 Brothers offers a wide selection of food options

and drinks in a relaxed atmosphere. Bob's Drive Inn, written

up in Gourmet Magazine, features the famous Bob Dog.

Habitue' Coffeehouse, on Central Avenue across from

the Ice Cream Parlor, has delicious pastries and gourmet

coffee drinks. Plus with 25 other restaurants across town

you'll be sure to find a cuisine that fits your taste.

Take a drive around town and view the 55 fiberglass ice

cream cones. Standing five feet tall, the cones all depict a

different artistic look. The cones were painted by Siouxland

artists. Stop in to City Hall, the Chamber of Commerce or

the Convention and Visitor Bureau to pick up a map.

What are you

hungry for?

Order Online.

www.pspizzahouse.hungerrush.com

Do you drive the alleys much? I bet you haven't been asked

that question before. Well, in Le Mars you want to hit the

alleys. Nine alleys in Le Mars are filled with murals and

paintings. The Public Art Project started in 2013 has over

a hundred art pieces painted by numerous artists. Get an

ice cream cone from the parlor and enjoy it while you drive

the Le Mars alleys. You'll be glad you did.

For more things to do while in Le Mars pick up a copy of

the Le Mars Visitors Guide available at most businesses and

restaurants as well as City Hall, the Le Mars Chamber of

Commerce and the Le Mars Convention & Visitors Bureau

to view the many things you can do in Le Mars. If you have

a party of 10 or more people the CVB will help you plan

your day in Le Mars. Give Jessica a call at 712-548-4971.

Come see us … Le Mars where Life is Sweet!

ProLink

Julie Hurt ABR, CRS

REALTOR

Century 21 ProLink

41 Central Avenue NW

LeMars, IA. 51031

Cell: 712.540.7757

Office: 712.546.6833

Web: www.juliehurtc21.com

Licensed in Iowa
---
Are you sure the

Symphony's not your "thing"?

Ask the SOLD OUT crowd from our last

concert what they think.

7:30 pm

Come Feel What You've Been Missing!

siouxcitysymphony.org | 712.277.2111
---
SURGERY

when you need it.

Alternatives

when you don't.

Trust our experts to explain your treatment

options – and deliver them – close to home.

Together, we'll find your best path forward.

CNOS.NET | 605-217-2667