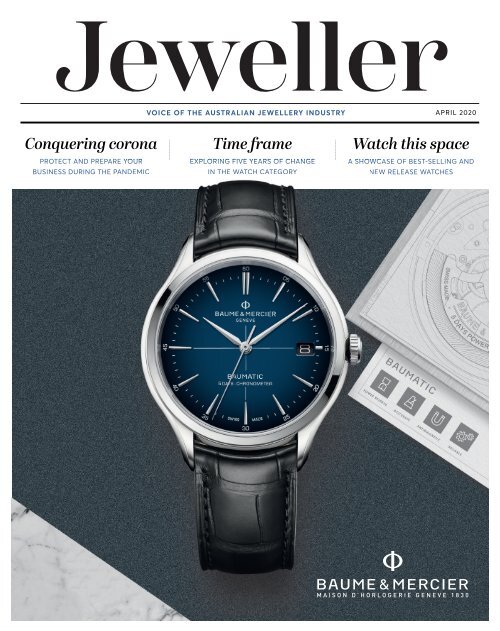 Jeweller - April 2020
• Conquering Coronavirus: protect and prepare your business during the pandemic • Time frame: exploring five years of change in the watch category • Watch this space: a showcase of best-selling and new release watches
• Conquering Coronavirus: protect and prepare your business during the pandemic
• Time frame: exploring five years of change in the watch category
• Watch this space: a showcase of best-selling and new release watches
SHOW MORE
SHOW LESS
Create successful ePaper yourself
Turn your PDF publications into a flip-book with our unique Google optimized e-Paper software.
VOICE OF THE AUSTRALIAN JEWELLERY INDUSTRY APRIL 2020

Conquering corona

PROTECT AND PREPARE YOUR

BUSINESS DURING THE PANDEMIC

Time frame

EXPLORING FIVE YEARS OF CHANGE

IN THE WATCH CATEGORY

Watch this space

A SHOWCASE OF BEST-SELLING AND

NEW RELEASE WATCHES
---
September 12

OPEN UPDATE FROM GARY FITZ-ROY AS AT MARCH 21, 2020

We'll get through this together

First and foremost, our thoughts are with those who have been affected

by COVID-19 in these unprecedented and challenging times, and those

still recovering from the tragic fires earlier in the year.

As a family business whose whole business has in effect been forced

closed, we fully understand the pressures of daily business.

We're monitoring the situation

OPEN UPDATE FROM GARY FITZ-ROY AS AT MARCH 21, 2020

We'll get through this together

We understand the concern you may have around the potential impact of COVID-19, and we

believe that it is important that YOUR industry event – the International Jewellery & Watch Fair –

continues to support the industry. We do take the matter of COVID-19 and the protection of our

communities seriously.

The health and wellbeing of all those in the industry is always our top priority and we will continue

to monitor the public health situation closely and adhere to all advice provided by the government

and health authorities.

TOGETHER STRONGER United We Stand

J E W ELLERY & WATCH FAIR

September 12 – 14, 2020

This is a time to support one another and I know many manufacturers and distributors here in Australia

have stock and want to support the local market.

I urge you to buy local, support local and I know many are providing terms to assist retailers. Based on

this, we will get through this and we will be stronger for it.

At the time of writing, the Fair is proceeding, and we are mobilising some great initiatives and plans.

I am pleased to advise that the four buying groups will have a strong focus at this year's Fair. This

will ensure all the buying is on the show floor, making it as easy and well-connected as possible.

Stay strong, the Australian spirit and fight will shine through.

INTERNATIONAL

AN INDUSTRY UPDATE FROM GARY FITZ-ROY AS AT 21 MARCH 2020

We'll get through this together

OPEN UPDATE FROM GARY FITZ-ROY AS AT MARCH 21, 2020

First and foremost, our thoughts are with those who have been affected

by COVID-19 in these unprecedented and challenging times, and those

still recovering from the tragic fires earlier in the year.

We'll get through this together

As a family business whose whole business has in effect been forced

closed, we fully understand the pressures of daily business.

We're monitoring the situation

We understand the concern you may have around the potential impact of COVID-19, and we

believe that it is important that YOUR industry event – the International Jewellery & Watch Fair –

continues to support the industry. We do take the matter of COVID-19 and the protection of our

communities seriously.

The health and wellbeing of all those in the industry is always our top priority and we will continue

to monitor the public health situation closely and adhere to all advice provided by the government

and health authorities.

TOGETHER STRONGER United We Stand

INTERNATIONAL

J E W ELLERY & WATCH FAIR

First and foremost, our thoughts are with those who have been affected by COVID-19

in these unprecedented and challenging times, and those still recovering from the

tragic bushfires earlier in the year.

September 12 – 14, 2020

As a family business which has, in effect, been forced to close due to the international

health and financial crises, we fully understand the pressures of daily business.

WE'RE MONITORING THE SITUATION

We understand the concern you may have around the potential impact of COVID-19, and

we believe that it's important that your industry event – the International Jewellery & Watch

Fair – continues to support the local industry. We take the matter of COVID-19 and the

protection of our communities seriously.

First and foremost, our thoughts are with those who have been affected

by COVID-19 in these unprecedented and challenging times, and those

still recovering from the tragic fires earlier in the year.

As a family business whose whole business has in effect been forced

closed, we fully understand the pressures of daily business.

The health and wellbeing of all those in the industry is always our top priority and we will

continue to monitor the public health situation closely and adhere to all government and

health authority advice.

We're monitoring the situation

We understand the concern you may have around the potential impact of COVID-19, and we

believe that it is important that YOUR industry event – the International Jewellery & Watch Fair –

continues to support the industry. We do take the matter of COVID-19 and the protection of our

communities seriously.

TOGETHER STRONGER - UNITED WE STAND

This is a time to support one another and I know many manufacturers and distributors here

in Australia have stock and want to support the local market.

The health and wellbeing of all those in the industry is always our top priority and we will continue

to monitor the public health situation closely and adhere to all advice provided by the government

and health authorities.

I urge you to buy local, support local and I know many are providing trading terms to assist

retailers. Based on supporting each other, I know we will get through this and the industry

will be stronger for it.

This is a time to support one another and I know many manufacturers and distributors here in Australia

have stock and want to support the local market.

TOGETHER STRONGER United We Stand

At the time of writing (21 March), the Sydney Fair scheduled for mid-September will proceed,

and we are mobilising some great initiatives and plans.

This is a time to support one another and I know many manufacturers and distributors here in Australia

have stock and want to support the local market.

I urge you to buy local, support local and I know many are providing terms to assist retailers. Based on

this, we will get through this and we will be stronger for it.

I am pleased to advise that the four buying groups will have a strong focus at this year's

Fair which ensures all the retail buying will take place on the fair floor, making it as easy

and well-connected as possible.

I urge you to buy local, support local and I know many are providing terms to assist retailers. Based on

this, we will get through this and we will be stronger for it.

At the time of writing, the Fair is proceeding, and we are mobilising some great initiatives and plans.

I am pleased to advise that the four buying groups will have a strong focus at this year's Fair. This

will ensure all the buying is on the show floor, making it as easy and well-connected as possible.

This year's Fair will play a pivotal role of UNITING and connecting the industry, and I look forward

to seeing you on the floor,

At the time of writing, the Fair is proceeding, and we are mobilising some great initiatives and plans.

I am pleased to advise that the four buying groups will have a strong focus at this year's Fair. This

will ensure all the buying is on the show floor, making it as easy and well-connected as possible.

The current crisis affects all levels of the industry from suppliers and service providers right

through to retail stores. No one has been spared. However, if we stay strong, the Australian

spirit and fight will shine through.

Stay strong, the Australian spirit and fight will shine through.

Stay strong, the Australian spirit and fight will shine through.

This year's Fair will play a pivotal role of UNITING and connecting the industry, and I look forward

to seeing you on the floor,

This year's Fair will play a pivotal role of UNITING and connecting the industry, and I look forward

to seeing you on the floor,

This year's Fair will play a pivotal role in connecting and uniting the industry, and I look

forward to seeing you in September.

Gary Fitz-Roy,

Expertise Events

Gary Fitz-Roy,

Expertise Events

Gary Fitz-Roy,

Expertise Events

Gary FItz-Roy

Expertise Events

ICC Sydney Exhibition Centre, Darling Harbour

ICC Sydney ICC Sydney Exhibition Exhibition Centre, Centre, Darling Darling Harbour

WWW.JEWELLERYFAIR.COM.AU

WWW.JEWELLERYFAIR.COM.AU

Organised by

Organised by

Est.1990
---
Manage every interaction with your

leads, customers, and teams,

all from one platform.

"So he googled us,

liked our reviews,

messaged us, came in,

bought, and left us a review—

the cycle is complete!"

Max Defrancesco, Ancona Jewelers

Do you do custom rings?

Yes we do! Pretty much

everything is customizable,

from setting to stone to cut.

What are you looking for?

We're wanting to create a

unique engagement ring.

Wonderful, congratulations!

Come on in and we can go

through all the options.

61.478.189.947
---
APRIL 2020

Contents

This Month

Industry Facets

7 Editor's Desk

8 Upfront

10 News

14

15

17

10 YEARS AGO

Time Machine: April 2010

MY STORE

The Diamond Shop

LEARN ABOUT GEMS

Synthetic Moissanite

18 STRATEGY FEATURE

Pandemic panic

Jeweller details the business strategies

and support available to retail jewellers

affected by the disruption of COVID-19.

Features

18

48

50

MY BENCH

Steve Pallas

SOAPBOX

Emil Ozer

STRATEGY FEATURE

Coping with Coronavirus: Business Survival Guide

28 INTERNATIONAL TRADE SHOW REPORT

Mumbai to Jaipur

28

30

INTERNATIONAL TRADE SHOW REPORT

Indian Ingenuity

WATCH INDUSTRY REPORT

Trends in Time

Before the disruption

of the coronavirus,

COLEBY NICHOLSON

observed the bold

future of the Indian

jewellery industry

taking shape.

36

PRODUCT PROFILE

Watch Showcase: New Releases & Bestsellers

Better Your Business

42

RETAIL STRATEGY

BRI WILLIAMS explores why your customers resist your sales techniques.

30 WATCH INDUSTRY REPORT

Turn back

the clock

ARABELLA RODEN

examines the evolution

of the watch industry

over the past

five years.

44

45

46

47

SELLING

Focus on your returning customers, advises RICHARD SHAPIRO.

MANAGEMENT

BRIAN JEFFREY sets out a plan for managing staff during a recession.

MARKETING & PR

Word-of-mouth is the most powerful marketing tool, writes THOMAS YOUNG.

LOGGED ON

DAVID BROWN details how to make your website more effective for sales.

36 SHOWCASE

Timed

release

Discover new and best-

selling watch models on

the market with Jeweller's

showcase.

FRONT COVER

The Baume & Mercier Clifton Baumatic

combines style and sophistication with

the Swiss brand's in-house Baumatic

movement. It embodies the excellence

of the Swiss watch tradition. Distributed

by Duraflex Group Australia.

dgau.com.au

April 2020 | 5
---
In house self-winding movement, 40mm steel case

Proudly distribued by Duraflex Group Australia

Contact: (02) 94717 0177

baume-et-mercier.com
---
Editor's Desk

Retail reality: recalibrating to a new normal

The search for solutions amid the pandemic panic starts with understanding consumers, writes ANGELA HAN.

The COVID-19 pandemic sent a shockwave

around the globe, leading to businesses

closing almost overnight. This has left

retailers wrestling with how they can keep

their doors open and staff employed, amid

empty tills and sleeplessness.

These problems are very real.

Meanwhile, economists and analysts tell

us that this pandemic is an opportunity for

governments and businesses to refine their

disaster planning processes. That's good for

everyone in the long run, and headlines herald

that innovation flourishes in times of crisis. But

what does innovation look like for jewellers?

History has proven that societies are altered

by extreme adversity, and the lessons learned

are carried through generations.

Trade has developed a pattern over thousands

of years: firstly, identifying gaps or needs

in people's lives, secondly, conceptualising

how we can fill that gap or need, and finally,

fulfilling that gap or need.

Following this template, we can find solutions

to problems of the present and adapt to the

inevitable changes that will occur in the future.

Agility is the new normal

Business owners are constantly told to remain

"agile", but what does that actually mean for

jewellery retailers, and how can they quickly

respond to the inevitable post-coronavirus

shift in consumer behaviour?

The nature of evolution is not only survival,

but also how necessary the organism is based

on its usefulness to its surrounding network.

To evolve, you must understand your position

in the market and how best to serve your

customers.

We must acknowledge that the way we engage

with our surroundings has fundamentally

changed. With all the meticulous handwashing,

there's bound to be an increase in

shoppers feeling uncomfortable trying on

items in stores. This may lead to increasing

consumer reliance on e-commerce.

Many of the behaviours that consumers have

adopted during the pandemic might remain

permanent, which will in turn decisively

affect our economy. For example, shopping

centres will have to rethink the way they rent

retail space with more businesses adopting

sophisticated omni-channel strategies.

SOTI, a technology company, recently

published A State of Mobility in Retail

which included the survey results of 4,000

people about their omni-channel shopping

experiences. The findings indicate that

consumers want a secure, personalised instore

experience via mobile.

It also revealed that 67 per cent of consumers

felt that mobile was the best way to deliver a

seamless shopping experience, and 76 per

cent wanted store staff to use mobile devices

to provide a better in-store experience.

If a safe, seamless and speedy delivery is

uppermost in the minds of customers, then the

next few months are a good time for retailers

to spend fine-tuning their digital presence,

focusing particularly on mobile development,

and connecting with customers. Is this a gap

in your business? If not, then fill it.

Strengthened local manufacturing

With the global supply chain heavily impacted

for the foreseeable future, consumers will be

driven by default to support local businesses

and we will only become more reliant on one

another until markets resume some form of

normality.

Manufacturing jewellers have seen a slow

return to custom design and personalised

manufacturing in the past few years, with

coloured gemstones enjoying a moment

in the spotlight.

This trend, in part, is driven by a generation

of Millennials who ascribe strongly to

philosophies of self-expression and

personalisation, and those aspects of the

business may experience further growth

once the market is ready for some form

of normal trade.

If you're still in business today or when the

crisis has passed, it's because customers

have trusted you over the years.

Strengthen your position now by keeping your

communication lines open, engaging them in

creative ways.

Remember: love doesn't stop in a pandemic!

It's a good time to let your customers know that

your ability to serve them in their moments of

celebration remains unwavering during this

time.

If you're still in

business today,

it's because

customers have

trusted you

over the years.

Strengthen your

position now by

keeping your

communication

lines open,

engaging them

in creative

ways.

Smarter shoppers

The internet has made consumers smarter

– and more selective – than ever before. They

are looking for attentive businesses that will

help fulfil their needs and wants. With the

emergence of CAD/CAM and 3D printing, a

gradually growing segment of customers are

producing their own designs saved on a USB

stick, for their local jeweller.

While some retailers have turned these

jobs away, smarter operators with the right

skillsets have helped customers refine

their design on-screen behind their bench,

leading to an opportunity for a sale while

extending education and earning the trust

of a committed new customer.

The joy of a better-informed customer is in

the engagement and depth of discussion. It

is a jeweller's job to stay abreast of a wide

range of topics such as ethical sourcing, 3D

modelling and printing, the pros and cons

of natural and lab-created diamonds, or

alternative gemstones for engagement rings.

Don't be intimidated – be prepared.

Be as helpful as you can in fulfilling your

customer's specific needs and help them

deliver their beautiful jewellery by any

means. Smart shoppers love being educated,

and if they can learn new things from you,

they will keep coming back.

After all, luxury today is said to be driven by

authentic, personal interactions. Creating a

tailored experience for your customer works

because people gravitate towards businesses

that can give them what they need in an

unforgettable way.

At the heart of survival is being attentive

and able to meet others at their point of need.

Now is a forgiving time to take some risks,

as everyone across the world is navigating

uncharted waters. Try communicating with

customers differently, explore new methods

of selling inventory, and refine your business

goals while making the changes you've been

wanting to make. There won't be a better

time to recalibrate your business.

Your customers are changing, they're talking,

and if you listen, you'll know exactly what

they want and how you can deliver.

Angela Han

Publisher

April 2020 | 7
---
Upfront

#Instagram hashtags to follow

Alpha Order

#benchjeweller

16,800+ POSTS

#birthstone

517,700+ POSTS

#jewelryaddict

4.5 MILLION POSTS

#jewelryoftheday

1.8 MILLION POSTS

Stranger Things

Weird, wacky and wonderful

jewellery news from around the world

#fancycolordiamonds

27,100+ POSTS

#handmadejewellery

2.4 MILLION POSTS

#isaidyes

2.4 MILLION POSTS

APRIL BIRTHSTONE

Diamond

Natural colour diamonds:

Kunming Diamonds

The hardest natural substance on Earth, diamonds

have long been associated with strength, purity and love.

The first written record of a diamond dates to 500 BCE.

Until the 18th Century, the only known diamond mines

in the world were located in India, and the first South

African diamond wasn't found until 1867.

Digital Brainwave

#jewelrylovers

1 MILLION + POSTS

#jewellerymaker

530,000+ POSTS

#oneofakindjewelry

660,000+ POSTS

Trendspotting

Gold chains abounded on the

catwalks of New York, London, Milan

and Paris for the autumn/winter 2020

fashion shows, from fine links and

simple chokers to chunky necklaces

and pearl-embellished chain pendants.

Alberta Ferretti AW20, Shutterstock

Pig out!

The UK's Royal Mint has

unveiled the 'world's most

expensive piggybank'.

The 18-carat gold item,

named Minty, was created by

Bristol jewellers Phillip and

James Kydd and is valued at

£100,000. Each additional

Minty purchased will be

handmade to order. A sterling

silver piggybank is also

available, priced at £6,000.

On a roll

A Las Vegas jewellery store

has made headlines

for its response to the

coronavirus. The business

advertised a single roll of

toilet paper for $US3,999.

The promotional toilet

roll comes with a 'free' 1-carat

diamond ring! Like Australian

consumers, shoppers in

the US have been proactively

stocking up on toilet paper

in anticipation of isolation

requirements.

While 42 per cent

of consumers

clicked items

priced at $1,000

or less, a third

clicked on items

priced $1,000–

$2,500.

The US market research company

GemFind Digital Solutions has released

the 2019 edition of its annual Jewelry

Consumer Trends Report.

Based on data collected from 400 US retail

jewellery websites, it found that diamonds

were popular all year round, with spikes

in February, March, July, and October.

More than half of all searches were for

rings, followed by necklaces at 10 per cent

and earrings and watches at 9 per cent

each. The most searched-for metals were

14-carat and 18-carat white gold.

Top Product

This beautiful basket necklace

from Ikecho Australia is crafted in

9-carat yellow gold with a two-tone

finish. It features an 11.5-12mm South

Sea pearl with 0.066-carat diamond,

and is available in adjustable lengths

of 50, 60 and 70cm.

Distributed by Ikecho Australia

Smarten up

Russian company Caviar has

revealed a range of bejewelled

smartphone cases for the

Samsung Galaxy S20 model.

Themed around the game

of blackjack, shoppers can

purchase ace or joker-engraved

panels made of gold and onyx.

The most expensive case in the

collection – priced $US40,210 –

features a gold joker relief with

three rubies and sapphires.

VOICE OF THE AUSTRALIAN JEWELLERY INDUSTRY

Published by Befindan Media Pty Ltd

Locked Bag 26, South Melbourne, VIC 3205 AUSTRALIA | ABN 66 638 077 648 | Phone: +61 3 9696 7200 | info@jewellermagazine.com

Publisher & Managing Editor Angela Han angela.han@jewellermagazine.com • Assistant Editor Arabella Roden arabella.roden@jewellermagazine.com

Advertising Toli Podolak toli.podolak@jewellermagazine.com • Accounts Paul Blewitt finance@befindanmedia.com • Subscriptions info@jewellermagazine.com

Copyright All material appearing in Jeweller is subject to copyright. Reproduction in whole or in part is strictly forbidden without prior written consent of the publisher. Befindan Media Pty Ltd

strives to report accurately and fairly and it is our policy to correct significant errors of fact and misleading statements in the next available issue. All statements made, although based on information

believed to be reliable and accurate at the time, cannot be guaranteed and no fault or liability can be accepted for error or omission. Any comment relating to subjective opinions should be addressed

to the editor. Advertising The publisher reserves the right to omit or alter any advertisement to comply with Australian law and the advertiser agrees to indemnify the publisher for all damages or

liabilities arising from the published material.
---
News

JCK trade shows postponed

due to coronavirus

pandemic

Michael Hill International closes stores

Michael Hill International's New Zealand

and Canadian stores have also been closed

indefinitely as the pandemic escalates

worldwide. Its online stores will continue

to operate; e-commerce accounts for 3 per

cent of total revenue.

MORE BREAKING NEWS

JEWELLERMAGAZINE.COM

JCK Las Vegas is the US' largest jewellery trade show.

Jewellery trade shows JCK Las Vegas and

JCK Luxury have been postponed to later in

2020, following health and safety advice from

US authorities.

JCK Luxury was due to begin on 31 May, while

JCK Las Vegas – the US' largest jewellery trade

show – was scheduled for 2–5 June.

Organisers Reed Exhibitions and the Reed Jewelry

Group said the decision was made "after careful

consideration and comprehensive discussions".

"After consulting with national experts, our

customer, and closely monitoring developments

and reviewing guidance and advice from

renowned national public health officials, the

United States Centers for Disease Control

and Prevention (CDC) and the World Health

Organization (WHO), we have decided it is in

the best interest of all our JCK community to

postpone the show," a statement read.

While Reed confirmed the show would be

rescheduled, no new dates had been announced

at the time of publication.

The decision to postpone the event was announced

on 18 March, following an increase in the number

of US coronavirus cases to more than 9,000.

By 29 March, the case figure had risen to more

than 124,000, with the US surpassing Italy as

the country with the highest number of active

coronavirus patients.

At the time of publication, there had been

188,000 cases with at least 3,600 fatalities.

In response to the crisis, the US Department of

State has introduced a temporary ban on travel

to the US from China, Iran, the European Union,

Switzerland and the UK, and closed its border

with Canada for non-essential travel.

The US Congress also passed a $US2 trillion

package to support businesses and taxpayers.

On 24 March, the Australian government

announced a ban on all international travel.

Michael Hill has closed stores in Canada, New

Zealand and Australia and stood down staff.

Following the Australian Government's

guideline for all non-essential stores to cease

trading in order to curb the spread of the

coronavirus, Michael Hill International closed

all 165 Australian stores for an indefinite

period from 23 March.

Australia is the company's largest market,

accounting for 55 per cent of revenue.

In a statement, the company said it would

"re-open as soon as we are given approval

by government health authorities".

The company noted a significant "drop off in

trade" in Australia prior to the store closures,

which reflected "a customer base that is, of

course, focused on more immediate issues".

Nationwide buying group cancels

Noumea conference

The annual Nationwide buying group

members' conference, which was scheduled

for June, will no longer take place.

The four-day event was to be held at the Le

Meridien Resort & Spa in Noumea, New

Caledonia, and some airfares for members

and suppliers had already been booked.

However, Nationwide Jewellers management

decided to reschedule the event following

travel warnings issued by the Australian and

New Zealand governments, in light of the

ongoing coronavirus pandemic.

Colin Pocklington, managing director

Nationwide Jewellers, said, "In the interests

of the health and safety of members,

suppliers and staff, we have decided to defer

the Noumea conference until May-June 2021.

We will advise a precise date in a few weeks

after discussions with the hotel."

The event had seen a high volume of member

bookings, exceeding the number that had

signed up for last year's conference at the

same point.

Crystal Vilkaitis, a US retail marketing

Emma Hill, chair Michael Hill International

board of directors, said, "The board and

management team have acted swiftly today

following the extraordinary circumstances

that are impacting the Australian and New

Zealand retail markets."

The company confirmed that staff would be

'stood down' with full leave entitlements and

its head office in Brisbane would also be

reviewed "with a view to reducing costs".

It has approximately 2,500 permanent

employees across retail, administration

and manufacturing.

Daniel Bracken, CEO Michael Hill

International, said the company would take

"all necessary actions to reduce our costs...

so that they better match the very subdued

consumer demand in all our markets".

Michael Hill International's share price fell

more than 20 per cent on Monday 23 March.

It has deferred payment of dividends.

specialist, was due to give the keynote

presentation and advanced workshops

for members.

Pocklington confirmed that Nationwide

staff were working on transferring prebooked

airfares for members and

suppliers to next year.

At the time of publication, Air Calin flights

had been successfully rebooked at no extra

cost, while changes to Qantas and Air New

Zealand bookings had not been finalised.

Members will be advised as soon as details

are confirmed.

However, Pocklington remained optimistic

for the 2021 conference, which will mark

Nationwide Jewellers' 30th anniversary.

"Hopefully the world will be back to normal

by mid-2021, and we can look forward to

what should be one of our best conferences

ever in terms of attendance and location.

"This will be a great event to look forward to."

Nationwide has 399 members across

Australia, New Zealand and Fiji, operating

461 stores.

10 | April 2020
---
Coronavirus forces drastic measures

in watch and jewellery industry

Wuhan, China was once the epicentre of the virus; its streets remain empty.

The coronavirus pandemic has led

to the temporary closure of major

international diamond bourses,

watch and jewellery retailers, and

watch manufacturers.

All four diamond bourses in Antwerp,

Belgium have been closed until

further notice.

Meanwhile, the Israel Diamond

Exchange (IDE) in Ramat Gan has

also closed, with IDE president

Yoram Dvash writing, "We are

working with all the authorities to

ensure we receive a support package

that will enable us to get through this

period successfully."

The Bharat Diamond Bourse closed

on Friday 20 March and the London

Diamond Bourse on Wednesday

25 March.

De Beers has cancelled its third

sight of 2020 due to travel restrictions

and is enabling sightholders to defer

100 per cent of their allocations to

later in the year.

Meanwhile, Rolex temporarily closed

its three manufacturing plants in

the Swiss cities of Geneva, Bienne

and Cressier in order to contain the

spread of the coronavirus.

Hublot also closed its production

facility, located in the city of Nyon,

"until further notice", while TAG

Heuer has suspended production

at its Swiss factory.

The Swiss government has declared

an "extraordinary situation" and

banned all private and public

events and closed 'non-essential'

businesses until at least 19 April.

More than 16,000 people have

tested positive for coronavirus

in Switzerland, with at least 400

fatalities.

Across the border in France, luxury

conglomerate Louis-Vuitton Moët

Hennessy SE (LVMH) converted its

perfume and cosmetics factories

to produce hand sanitiser.

France has experienced a shortage

of hand sanitiser amid the worsening

virus crisis, with more than 52,000

confirmed cases.

Meanwhile, Chinese jewellery

company Chow Tai Fook will begin

manufacturing face masks for the

public, at a rate of 200,000 per day,

in April.

In the US, LVMH-owned jeweller

Tiffany & Co. has closed several

stores – including its flagship location

on Fifth Avenue in New York City.

The US has surpassed Italy to

become the country with the

highest number of confirmed

coronavirus cases.

Tiffany & Co. is not alone in

closing doors for safety reasons;

all Signet Jewelers-owned stores,

including Zales, Jared, and Kay

Jewelers, have temporarily closed,

as have US locations of Keringowned

Pomellato.

Pandora Jewelry temporarily closed

all its US, UK, Ireland, Italy, Spain,

France and Germany stores, while

Lovisa has shuttered its store

network across Australia, New

Zealand, South Africa, the US, UK,

Spain, France and Malaysia, leaving

only its Singapore stores operating.

Proudly distributed by

02 9417 0177 | www.dgau.com.au
---
News

In Brief

Alrosa holds digital

diamond tender

Russian mining conglomerate

Alrosa held its first digital large-size

diamond tender from 26 March to

3 April. The tender was held online

following the cancellation of its

scheduled international auctions.

The company used advanced

scanning technology to generate

full 3D digital models of each stone.

Mercury-free gold mining

one step closer

A trial of a new mercury-free

gold processing machine has

yielded promising results, according

to non-profit Mercury Free Mining

(MFM). A group of small-scale

miners in Ghana used Goldrop, a

separation processor developed by

a US company, over 10 days. MFM

estimates that 15 million artisanal

miners use mercury to separate

gold from other particles.

Everledger begins

mineral blockchain

Technology company Everledger,

founded by Australian entrepreneur

Leanne Kemp, has expanded

its blockchain-based tracking

platform into rare-earth minerals.

The platform was initially developed

to ensure a fully traceable and

conflict-free diamond supply chain,

and now reportedly tracks 40 per

cent of the diamonds in circulation.

Uncertain future for

Gemfields auctions

Ruby and emerald mining

company Gemfields is unable to

confirm whether its upcoming

gemstone auctions will take place,

due to travel restrictions associated

with the COVID-19 pandemic. Its

most recent emerald auction, held

in Zambia from 18-21 February,

saw 64 per cent of carats sold,

generating $US11.5 million.

I strongly

believe [Paul

Zahra] is more

than capable

of taking the

ARA to the

next level

Russell Zimmerman

Preliminary

drilling at

[the] Hemi

site indicated

it may be the

largest-ever

gold deposit

in the Pilbara

region

New CEO for growing Australian

Retailers Association

Paul Zahra will step into the leadership role in May.

Paul Zahra, former CEO of David Jones, will

take over as CEO of the Australian Retailers

Association (ARA) when executive director

Russell Zimmerman retires in May.

The news of his appointment to the ARA

was announced as 12 major retail chains –

including Woolworths, Bunnings, Chemist

Warehouse, JB Hi-Fi, Super Retail Group,

Costco, Harvey Norman, Priceline and

Australia Post – joined the body.

The ARA has 7,500 members, largely

comprised of small and medium enterprises.

Zimmerman, who had led the ARA for

10 years, indicated his intention to retire

in October 2019.

He expressed support for Zahra's

appointment, saying, "I strongly believe he is

more than capable of taking the ARA to the

next level as it forges ahead, consolidating

around its mission to provide one voice for

the retail sector in Australia."

Zahra has worked in the retail industry for

35 years and held senior roles at Officeworks

and Target. He was managing director and

CEO of David Jones from 2010 to 2014,

leading it to its strongest sales in seven years

and growing its digital presence.

Of his appointment to lead the ARA, he said,

"I am optimistic about what lies ahead and

look forward to supporting and advocating for

our members as we overcome challenges,

embrace transformation and evolve with the

customers we serve."

The Australian retail industry generates $320

billion annually and is the nation's second

largest employer. Retailers are represented

by two industry bodies – the National

Retailers Association (NRA) and the ARA.

Under Zahra's leadership, the ARA will

continue its mission to unite the Australian

retail sector and represent its interests to

the government.

Australian mining company strikes gold

in the Pilbara

The Pilbara looks promising for gold exploration.

A West Australian mining company has

discovered a potentially record-breaking deposit

of gold at the Mallina Gold Project, 80km south

of Port Hedland.

De Grey Mining announced that its preliminary

drilling at its Hemi site indicated it may be the

largest-ever gold deposit in the Pilbara region,

in the north-west of Western Australia.

Andy Beckwith, operations manager De Grey

Mining, said drilling at two parallel sites

indicated very promising results.

"With the new reverse circulation drilling, there

is potentially a 200m-wide zone – that's almost

unheard of," he said, adding that the site "has

exceptionally wide intersections, we've got

mineralisation that is very consistent, and we

are just busily trying to extend them and see

what we have."

The Mallina results led De Grey Mining's largest

shareholder, DGO Gold, to invest a further $4.75

million in the company.

De Grey chairman Simon Lill said the move

was "a clear validation from DGO of their belief

in De Grey's Mallina Gold Project and, more

specifically, the recent Hemi discovery, where

drilling is continuing, and we are seeking to

further grow its size and scale."

The Pilbara is best known for its iron-rich

deposits and is not considered a premier source

of gold in Australia; each year, it produces less

than half of the gold mined from the Kalgoorlie

Super Pit.

At the time of publication, gold prices were at

$AU2,652.52 per ounce, an increase of 38 per

cent over last year.

12 | April 2020
---
Furore as diamond prices fall; Rapaport

Price List suspended

SAMS GROUP

AUSTRALIA

The Rapaport Price List has been suspended for the first time in its history following a member vote.

A revision in the Rapaport Price List,

published on 20 March, prompted

hundreds of sellers to remove their

products from the RapNet trading platform

and vote to suspend the List for the first

time in its history.

RapNet listed prices dropped 5–9 per cent

across most diamond categories.

Rapaport founder and chairman Martin

Rapaport explained that the prices

reflected significant changes in the market

amid the ongoing coronavirus pandemic.

"It is vital that the Rapaport Price List

reflects the realities of the market even

when such realities are not pleasant or

welcome," he explained.

"We cannot protect the market from price

changes and must maintain the credibility

of our price information."

He added, "Buyers require and expect

Rapaport to reflect the lower price realities

of the market. We cannot misrepresent

prices for the benefit of sellers, and we

must not mislead buyers."

The price changes significantly devalued

the inventory of RapNet's more than

7,000 members, with one describing it as

"thoughtless" and "miscalculated".

Shortly after the new prices were

published, protesting members created an

Instagram account, @stock_off_rapnet, to

encourage companies to withdraw their

goods from the platform.

At the time of publication, the Instagram

account had more than 2,100 followers and

had published the logos of 700 companies

that had removed their stock from RapNet.

Some announced their defection to rival

trading platforms, such as IDEX, which

publishes real-time pricing information

updated hourly. Its Diamond Index

indicated polished diamond prices fell on

average 2–4 per cent from 1 to 23 March.

Meanwhile, other RapNet members have

requested that the 20 March Rapaport

Price List be recalled and for further Price

Lists to be suspended until 1 May.

Martin Rapaport confirmed the List would

be suspended following a member vote,

in which 72 per cent were in favour. He

called the suspension "an extraordinary

step we are taking as an act of solidarity

with the trade".

Meanwhile, the World Federation of

Diamond Bourses (WFDB) has announced

it will develop its own online diamond

trading platform for all bourse members.

The platform will be "created with the

needs of WFDB members in mind and

backed by the peace of mind that comes

with knowing that every transaction

will be protected by the WFDB's

unparalleled and unique arbitration

system," according to a statement from

the WFDB executive committee.

Ernie Blom, president WFDB, said,

"If there is any silver lining and benefit

to COVID-19, it has taught us that all

diamond bourses should come together,

promote and facilitate the diamond trade

in order for members of every bourse to

trade freely with one another and to feel

safe while doing so."

While the WFDB platform is being

developed, the Israel Diamond Institute

has opened its Get Diamonds international

trading service to WFDB-affiliated

bourse members.

We cannot

misrepresent

prices for

of sellers,

and we must

not mislead

buyers

Martin Rapaport

Diamond

bourses

should come

together,

promote and

facilitate the

trade in order

for members

... to trade

freely with

one another

Ernie Blom

E pink@samsgroup.com.au

W samsgroup.com.au

P 02 9290 2199
---
10 Years Ago

Time Machine: April 2010

A snapshot of the industry events making headlines this time 10 years ago in Jeweller.

Historic Headlines

Marketing assault for Bulova

GIA launches virtual gem museum

Grand Seiko goes international

New labels for 'synthetic' diamonds

Unrest at NCJV

ACCC acts against retailer

STILL RELEVANT 10 YEARS ON

Bright Future: Coloured gemstones

often provide a price-friendly

alternative for shoppers... [There's]

a need to better educate consumers

and retailers on the diversity of

stones available and their

various qualities

READ ALL HEADLINES IN FULL ON

JEWELLERMAGAZINE.COM

Following an Australian Competition and

Consumer Commission (ACCC) ruling against a

Sydney jeweller, news emerged that the same

jeweller received numerous warnings about

potential breaches of the Trade Practices Act from

the Jewellers Association of Australia (JAA).

The ACCC ordered Sydney jewellery retailer

Australian Opal Cutters to remove misleading

advertising after the company repeatedly referred

to 'normal retail price' in its promotions from

December 2005 to March 2009.

"The ACCC believes the market research did not

provide a sufficient basis upon which a 'normal

retail price' could be accurately determined or

quoted," ACCC acting chairman Peter Kell said.

Ian Hadassin, JAA CEO, said, "The JAA

encourages and supports discounting so long

as the discounts offered are honest and real."

Insurance industry challenged

The Jewellers Association of Australia (JAA)

intends to raise issues relevant to jewellery with

the Insurance Council of Australia as part of a

raft of consultations it has begun with individual

insurance companies across the country.

Issues under investigation include how to educate

jewellery retailers to best deal with insurance

claims from a customer, as well as the possibility

of breaches to the Trade Practices Act (TPA) by

insurers, such as exclusive dealing.

The JAA is also working on helping retailers

to understand how price limits in insurance

policies work.

April 2010

ON THE COVER Skagen Denmark

Editors' Desk

1800-SALES-REP: "Boy, I wish I had a

dollar for every time I've been asked,

'Do you know a good sales rep looking

for a job?' I'd be a very rich man sitting

on a beach somewhere...

I learnt a long time ago that the

person you want to employ is not the

one looking for a job. 'Good sales reps

are rare,' I often say, 'and when they

are good, everyone wants them.'"

Soapbox

The Magnificent Black:

"If opals lose their place in the

market, it won't just mean a loss

of sales, and therefore profits, for

Australian jewellers; it will mean

the loss of millions of dollars for the

Australian economy…

The miners, wholesalers and

retailers of opal must come together

and amass knowledge and money

to start advertising and growing the

market. Either that, or we can simply

sit back and pray for it to happen."

– J-Peter Hooshmand, director

Cosmopolitan Jewellers

Nationwide braces for

record payout

Nationwide Jewellers has announced that it

is expecting to make a record reward payment

to members as part of the buying group's 2020

annual conference at Port Douglas in June.

Based on the expected record attendance,

the group will be rebating in excess of $200,000

to members, according to managing director

Colin Pocklington.

The buying group has also announced plans

to introduce a financial assistance scheme

for apprentices employed by members of

the group.

Baselworld opens on a

positive note

In a marked contrast to last year, Baselworld

was abuzz with confidence. Although cautious,

organisers said there were positive signs as

1,915 exhibitors from 45 countries attended.

The numbers were good news for Baselworld

managing director, Sylvie Ritter. There was a

net loss of around 30 exhibitors.

"Baselworld is fully booked. We have the

same number of exhibitors as we had in

2009 and this has remained unchanged for

several years," announced Ritter at the media

conference. She called the 2009 economy

"challenging" but predicted 2010 would

"reveal a revitalised industry."

14 | April 2020
---
INSIDE

My Store

The Diamond Shop

AUCKLAND, NEW ZEALAND with Jemma Smith, marketing manager • SPACE COMPLETED May 2018

Who is the target market?

The Diamond Shop's target market varies greatly,

from young women approaching milestones

such as birthdays or graduation, to older couples

looking for meaningful anniversary gifts for their

significant other.

The store interior is modern and minimal, which

was influenced by our younger customers.

However, it is also comfortable and welcoming;

like stepping into someone's home, you can

happily stay for an extended visit and share a

coffee or tea with us in our lounge area. This

aspect greatly appeals to our customers who

belong to older generations.

Which features encourage sales?

The minimal colour palette complements our

products yet is subtle enough to truly let the

jewellery and diamonds shine.

The amount of space and lack of clutter allows

the customer to really focus on the jewellery.

The home-like feel also allows visitors to feel

welcome and special.

Meanwhile, the lounge area is a place where we

can comfortably have in-depth conversations and

gain our customers' trust, which often progresses

into a friendship.

What is the store design's 'wow factor'?

The striking light designs throughout the

showroom capture many visitors' attention.

Their modern and minimal design represents

The Diamond Shop conceptually, and they

are the perfect cherry on the cake of our

stunning space.

Photography: Ross Honeysett

April 2020 | 15
---
Behind every gemstone,

there is a fascinating story

waiting to delight clients

around the world. Studying

with GAA brings the

expertise, networking and

confidence to build a solid

career in a multimilliondollar

industry. Joining

one of the most supportive

and passionate professional

communities of gemmologists

in Australia was one of the

best decision I ever made.

Gina Barreto FGAA DipDT

Gemmologist and Diamond Technologist

Diamond

Courses

Practical Diamond Grading

Advanced Practical Diamond Grading

Diploma in Diamond Technology

Enrolments now open

For more information

1300 436 338

learn@gem.org.au

www.gem.org.au

Be

Confident

Gem-Ed Australia

ADELAIDE BRISBANE HOBART MELBOURNE PERTH SYDNEY

Passionately educating the industry, gem enthusiasts

and consumers about gemstones
---
LEARN ABOUT

Gems

Synthetic Moissanite

L to R: Raw synthetic moissanite material before being grown. Source: Alibaba | Cut and set moissanite Source: Diamond Boutique

Synthetic moissanite is marketed by

the jewellery industry as an affordable

diamond alternative. Named after Nobel

Prize winner and French chemist Henri

Moissan, moissanite in its natural form

is a rare mineral, silicon carbide.

In 1893, while inspecting minerals from an

Arizona meteor crash site, Moissan initially

thought he was looking at fragments of

diamonds. It wasn't until 1904 that he

correctly identified the samples as being

silicon carbide.

It was an understandable mistake, given

the testing instruments of the time.

Too rare in nature to meet the demand

from various industries, moissanite was

synthesised in the early 20th Century for

applications similar to those of diamond: as

an industrial abrasive and cutting material.

With hardness of 9.25 on Mohs' scale

and the capacity to withstand extreme

pressure – both essential properties for

use in industry – synthetic moissanite was

a cheaper resource than diamond and one

that could be readily created in quantity.

The properties that made moissanite

of value in electronic circuitry and highpressure

testing, eventually captured

the interest of the jewellery industry.

Hardness and durability, plus moissanite's

high dispersion – 0.104 compared to

diamond's 0.044 – when faceted, made the

synthetic material an ideal alternative

to natural diamond.

Synthetic (laboratory-grown) moissanite

was introduced to the jewellery world by

American firm Charles & Colvard in 1998

under several brands, namely Forever

One, Forever Brilliant and Forever Classic.

There are now other manufacturers and

a range of trademarked names.

Without access to specialised gemmological

instruments, distinguishing synthetic

moissanite from diamond requires a

trained eye.

Colourless laboratory-grown moissanite

ranges from D to K on the GIA Diamond

Colour Scale.

Gems within I to J and below on the colour

scale, although still technically 'colourless',

may display a faint yellow, grey or greenish

tinge.

Laboratory-grown moissanite can display

a rainbow-like 'flash' in natural light due

to its high dispersion.

Some laboratory-grown moissanite will

have a whitish appearance compared

with a diamond.

With bright vitreous lustre and an eyeclean

appearance, the task of separating

laboratory-grown moissanite from

diamond might be considered difficult.

Moissanite

Pronounced moy-sanite,

from the name

of French chemist

Henri Moissan.

Often marketed as

affordable diamond

alternative.

Colour: Colourless

but usually tinged

with a greenish hue

compared to diamonds

Found in: US, Turkey,

Russia – though

usually synthesised

Mohs Hardness: 9.25

Class: Silicon carbide

Lustre: Adamantine

to metallic

Formula: SiC 2

However, with the aid of a 10X loupe,

this is a relatively easy task.

Laboratory-grown moissanite often shows

fine whiteish needle–like inclusions. Look

for these through the table. Laboratory

grown moissanite will also show double

refraction; this feature is an obvious

indication you are not looking at a diamond,

which is a singly refractive gem.

To observe double refraction, using the

loupe, look through the table towards the

culet and you will see doubling of the facet

junctions. Still looking through the table,

focus on the girdle; doubling will be obvious.

Unlike a diamond's sharp facet edges,

those of laboratory grown moissanite

will be rounded and less sharp.

For customers seeking an affordable

diamond alternative, laboratory-grown

moissanite is a good choice.

It has more fire, is harder and is more

durable than other alternatives, such

as cubic zirconia and natural gems like

colourless zircon or sapphire.

Susan Hartwig FGAA combines her love

for writing with a passion for gems and

jewellery through her gemmology blog,

ellysiagems.com. For more information

on gemmology courses and gemstones,

visit gem.org.au

April 2020 | 17
---
STRATEGY FEATURE

Surviving Coronavirus

COPING with CORONAVIRUS:

BUSINESS SURVIVAL GUIDE

As COVID-19 continues to spread across Australia, it is imperative for business owners to prepare for the months

ahead. ARABELLA RODEN looks to retail experts around the world for strategies on trading in these unexpected

In less than two months, the coronavirus

pandemic has caused widespread

upheaval across every sector of the

Australian economy.

At the time of publication, the number

of cases stood at more than 4,700, with

20 deaths. According to modelling by

PricewaterhouseCoopers (PWC), the virus

could reduce Australia's Gross Domestic

Product (GDP) by $34.2 billion over the

next 12 months.

The disruption to the retail sector, in

particular, cannot be overstated, with

PWC estimating household consumption

could fall by $37.9 billion.

Indeed, the Australian Retailers

Association (ARA) noted that footfall

had begun to decrease in February.

By mid-March, major shopping precincts

including Brisbane's Queen Street Mall

and Bourke Street Mall in Melbourne

were all but empty.

According to ShopperTrak, foot traffic in

shopping centres fell 46 per cent in the

third week of March when compared with

the same period in 2019.

Consumers appeared to have heeded

the advice of state and federal

governments to stay home unless

shopping for necessities, such as

groceries and medicine.

Meanwhile, store owners struggled with

new regulations on social distancing

within their premises. The changes

lead a number of major retailers to

pre-emptively close their store networks

indefinitely.

Among them were department store

Myer, fashion retailers Country Road

and Cotton On, and jewellery retailers

Michael Hill Australia and Lovisa.

Notably, Solomon Lew's Premier

Investments – which owns brands

Smiggle, Dotti, Just Jeans, and Peter

QUICK

NUMBERS

6

Months

predicted

of business

hibernation

$319b

Government and

Reserve Bank

stimulus spending

11-18

Months predicted

until the start

of economic

recovery

Alexander, among others – closed

more than 900 stores for four weeks,

refusing to pay rent for the duration of

the shutdown. Lew has also closed his

family-owned retail chains NineWest,

French Connection, and Seed.

Indeed, rising occupancy costs have

been a significant challenge for retailers,

particularly following the sluggish

trading figures of 2019.

In order to support retailers, the National

Cabinet has declared a six-month

moritorium on rental evictions.

The Prime Minister has also advised

businesses, lenders and landlords to

negotiate in order to reduce mortgage

and lease payments until conditions

return to normal. "We're asking

businesses to adapt to what is not

a usual set of circumstances," he said.

"They must be sustainable because

they will run for, we believe, at

18 | April 2020
---
GET PRODUCTIVE

Retail Action

List

least six months and we want to be able to get

everybody through."

Banks are expected to defer mortgage repayments

for home-owners, investment property landlords, and

businesses, for six months.

In addition, Parliament has passed a raft of measures

to assist businesses and individuals who have been

impacted by the crisis. At the time of publication, the

total spending, combined with Reserve Bank measures,

stood at $319 billion.

Crucially, the Morrison Government included increases

to Centrelink-based income support payments, as well

as a $1,500 fortnightly payment, known as JobKeeper,

for employers who retain workers throughout the sixmonth

'hibernation' period.

The measures are particularly pertinent to the retail

industry, in which thousands of sales and support staff

have been 'stood down' without pay or made redundant.

In addition, other sectors such as travel have been

forced to suspend services due to restrictions and safety

concerns. As a result, once-secure companies such

as Qantas have put in place large-scale redundancies,

leaving thousands of full-time workers suddenly jobless.

Westpac chief economist Bill Evans estimates the

number of unemployed people in Australia will rise by

814,000 within months, leading the unemployment rate

to more than double, from 5.1 per cent to 11.1 per cent.

Where do we go from here?

According to experts, patience is the most critical factor

in developing a survival strategy for the pandemic.

"For all the drama of collapsing output, demand, and

jobs in Australia and many economies around the

globe, we should expect that output in most countries

will begin to recover once new coronavirus infections

peak and head down," writes John Edwards, adjunct

professor at the John Curtin Institue of Public Policy,

Curtin University in a recent article published by the

Lowy Institute. "It will not be soon, but it will happen,"

he adds.

For retail business owners, the priorities are health and

safety, cashflow, financing and debt management, and

communication. There are three key steps business

owners should take:

1. Remain up to date with the latest information

and health advice from the Australian Government

Department of Health, as well as state and territory

authorities.

2. Mitigate transmission of the virus by altering

everyday business processes, following stringent

hygiene practices, and limiting non-essential contact.

3. Keep employees informed of changes to processes

within the business and link them to relevant

information, such as official health and safety advice,

workplace entitlements, and travel restrictions.

Take time to gather your

thoughts. Turn panic into

productivity

Schedule your tasklist,

negotiate leases, focus on

minimising costs and update

your web presence

It's time for that big store

clean! Get your gloves on

and get disinfecting

Implement strict new

hygiene policies for staff

and customers

Keep countertops, benches,

mirrors, registers and all

surfaces sterilised

Disinfect floor stock and

clean jewellery while

completing a full stocktake

CREATING A VIRUS-FREE ENVIRONMENT

HYGIENE & STORE

MAINTENANCE

How is coronavirus spread?

• Surfaces – the most frequent means of transmission:

The virus is known to primarily spread via droplets from an

infected person landing on surrounding surfaces. Other people

catch COVID-19 by touching contaminated surfaces, then

touching their eyes, nose or mouth, allowing the virus to enter

their respiratory system.

• Airborne – can be minimised with social distancing:

When you sneeze or cough, you generate more droplets.

Standing too close to a sneezing infected person means you

could then directly breathe in the droplets they have coughed

or sneezed into the air.

• Virus lifespan: Recent published research found that the

virus can survive for hours – and in some cases days – outside

a host, depending on the type of surface it has landed on.

Viable virus particles – those which are still able to cause

disease – were detected for up to 72 hours on stainless steel

and plastic surfaces, but no longer than 24 hours on cardboard,

and four hours on copper.

How do I stop my store from contamination?

The virus is commonly transferred by hand-to-face touching,

after contact with contaminated surfaces. Therefore, one of

the most effective ways to minimise the spread is to prevent

surface contamination.

The rule is, 'First clean, then disinfect.'

STEP 1: Cleaning refers to the removal of germs, dirt, and

impurities from surfaces. It doesn't kill germs but can

reduce their numbers and prepare surface for disinfection.

STEP 2: Disinfecting refers to using chemicals to kill germs

on surfaces. This process does not necessarily clean dirty

surfaces or remove the dead germs.

Essential processes:

Wipe down items delivered or brought into the store

Clean all jewellery that has been shown to a customer

Regularly wash your hands thoroughly with soap for

20 seconds

Frequently clean and disinfect high-touch surfaces such

as doorknobs, light switches, handles and benches,

counters, windows, transaction equipment, and phones

Which cleaning products work best?

Detergents first break down the layers of dirt and dust to allow

disinfectants to work. Experts advise that both a detergent,

such as soap, and disinfectant, such as bleach, are required.

Ensure disinfection products are left on long enough to work.

For simple cleaning, hot, soapy water is ideal. Always wear

gloves throughout cleaning process

Effective disinfectants include diluted bleach, those with an

alcohol content above 71 per cent, and hydrogen peroxide

Delicate surfaces, such as soft furnishings, should be

wiped down with soapy water and then steam-cleaned

If you have windows, try to flush clean air through

your workspace

April 2020 | | 19
---
STRATEGY FEATURE | Coronavirus Survival Guide

TURNING PANIC INTO PRODUCTIVITY

SHARPEN YOUR TOOLS:

EDUCATION & IMPROVEMENT

The six-month period of 'hibernation' presents an opportunity

for store owners to reassess their business and improve their

skills in a number of areas.

Perhaps the most important skill within the current business

climate is e-commerce and digital communication. Retail

jewellers can contact their buying group or refer to the

Australian Retailers Association (ARA) website.

Improve Business Management Skills

E-commerce: While e-commerce currently accounts for just

10 per cent of Australian consumer spending, the figure has

risen significantly year-on-year and will be the primary channel

of purchase for most consumers over the next six months.

Buying groups and all-in-one services such as Squarespace

and Wix can provide efficient and low-cost education and set up

of e-commerce stores, or integration with an existing site.

Marketing: Marketing is not simply advertising or public

relations; instead, it uses analytical methods to determine the

best ways to maximise sales and ensure consumers desire,

seek, find, and purchase products. Now is an excellent time

for businesses to reassess and recalibrate their marketing

strategy for the next six months – and beyond.

Sales: Though businesses are likely to be in hibernation for

the next six months, sales techniques can still be learnt and

applied. Connecting with customers and closing sales through

digital channels such as social media or through web chat

requires a different skill-set than in-person sales. Software

solutions like Podium can help you to manage communication

with your customers, as well as business reviews on Google.

Management: Managing staff remotely through services

such as Zoom or Skype can be difficult. At the same time, a

crisis is a critical period for leadership. Managers should use

this time to research ways to boost morale and support their

team, as well as lead by example in customer service.

Improve Trade Skills

CAD / CAM: Once touted as disruptive technology, CAD/CAM

and 3D-printing have now become mainstream with some

customers even bringing their own printed waxes to jewellers.

Businesses need to stay ahead of their customers, so now is

the time to brush up on those Rhino skills!

Gemmological Classes: Always been great with

jewellery design but wanted to fill your skill gap with

gemstone knowledge? Online courses are available with the

Gemmological Association of Australia (GAA) and Gemological

Institute of America (GIA).

Trade Media: Brush up on business know-how, industry

news and jewellery trends by accessing your trade media

website. Jewellermagazine.com has more than 7,350 articles

compiled over 12 years, including valuable sales and business

management advice.

Read comprehensive business articles on these topics in

the Tips On Selling, Logged On, and Management sections

of jewellermagazine.com.

FEDERAL

GOVERNMENT

Financial

Support

$20,000 – $100,000

Cash payment

from 28 April 2020

Under the enhanced

Boosting Cash Flow for

Employers measure,

eligible businesses will

receive the payment as

a credit from the ATO

upon lodging upcoming

activity statements

(monthly or quarterly).

A bonus payment equal

to the first payment

will be made to eligible

businesses following the

lodgment of June, July,

August and September

activity statements,

provided they continue

to operate.

$10,000 – $50,000

Cash payment

from 28 April 2020

Under the enhanced

Boosting Cash Flow for

Employers measure,

eligible businesses that

withold tax to the ATO

on employee salaries

and wages will receive

a payment equal to

100 per cent of the

amount witheld, to a

maximum of $50,000.

Eligible employers that

pay salary and wages

will receive a minimum

payment of $10,000,

even if they are not

required to withhold tax.

$1,500 fortnightly

JobKeeper payment

April 2020

Businesses that have

seen a 30 per cent

decline in turnover

due to COVID-19 may

be eligible for a $1,500

fortnightly subsidy

to retain employees

(full-time, part-time,

or casual). Employers

must register for the

JobKeeper scheme

with the ATO.

Under Australian law, business owners are required to

ensure the health and safety of employees and others

in the workplace 'so far as is reasonably practicable'.

According to Safe Work Australia, this means business

owners must identify and eliminate, or minimise, hazards

and risks (see breakout 'Hygiene & Store Maintenance').

Financial support

At the same time, retail business owners should seek

financial assistance, as social distancing and hibernation

measures are unlikely to be relaxed for at least six

months. The Treasury has set up a dedicated page and

support service for businesses, which can be found at

treasury.gov.au/coronavirus/businesses.

As part of its stimulus spending package, the federal

government announced that owners of small and medium

businesses – those with annual turnover under $50 million

– with employees may be eligible for the Australian

Government's Boosting Cash Flow for Employers measure.

It will provide a payment of $20,000–$100,000. Another

payment will be made between July and October.

Employers may also be eligible for a payment equal to 100

per cent of their salary and wages withheld, up to $50,000.

Further financial support measures, including an increase

to the instant asset write-off and Commonwealthguaranteed

loans, have been introduced.

In addition, small businesses employing fewer than 20

full-time employees can apply for a 50 per cent wage

subsidy for current apprentices and trainees. Details

are available from the Treasury's dedicated page.

Meanwhile, Treasurer Josh Frydenberg announced the

JobKeeper wage subsidy system for full-time employees,

telling Sky News, "[It's] about what we will do to support

employers and employees and this is all about ensuring

that people can continue to remain in jobs."

He clarified that JobKeeper does not mimic the UK's

'80 per cent wage guarantee'.

Instead, a $1,500 fortnightly payment will be made to

employers who opt into the scheme through the

Australian Taxation Office (ATO).

They will then pay the sum to employees, allowing them

to retain those staff throughout hibernation.

Earlier this month, Frydenberg said, "The economy

is actually in a position of strength to respond [to the

coronavirus pandemic]... We will get over this and when

we're over this we want to be stronger and we want to

be more productive as a nation."

State governments have also taken action to support

businesses. In Victoria, Premier Daniel Andrews

announced a $1.7 billion assistance package.

It includes payroll tax refunds, waivers and deferments,

immediate payment of government invoices, and providing

a 'rent holiday' for tenants of government-owned buildings.

20 20 | | April 2020
---
FREE

SUPPORT SERVICES FOR

INDEPENDENT JEWELLERS

No joining fee • No agency fee • no security deposits

no fees ever!

• Marketing • Sales Training • Business Planning

• Industry experts at your fingertips

Up to $200,000 interest free finance for stock

- STAY 100% INDEPENDENT -

the largest network with over 450 jewellery stores

P: +61 2 9418 0000

E: info@jgbs.com

www.jgbs.com

April 2020 | 21
---
STRATEGY FEATURE | Coronavirus Survival Guide

INVENTORY REVIEW

7 STOCK MANAGEMENT TIPS

When developing a strategy to sustain a retail jewellery

business throughout the coronavirus pandemic, stock

management is a critical component.

1

2

3

4

5

6

7

As a first step in these uncertain times, it is essential

that customers are immediately contacted once

repairs and custom makes are completed; these

items can then be collected from the store or

delivered to the customer's home.

Store owners can then contact suppliers to discuss

flexible terms, deals or discounts that may be offered

to assist them.

Buying groups are also an essential source of

information and practical support, including stock

assessments and assistance in transitioning to an

e-commerce business.

A complete stocktake should be conducted with items

prepared for listing online.

Employees may be directed to take clear, high-quality

photographs and write engaging descriptions with

accurate keywords to help boost SEO.

In addition, old stock including gold jewellery and

excess findings may be sent for smelting to a

trusted refiner.

As part of the stocktake, retailers should identify

bestsellers and analyse margins to create a list

of items that should be kept in stock.

Meanwhile, the Australian Retailers Association (ARA)

advises that operators of multi-store, omnichannel

businesses can "fulfil online orders from stores that

are struggling to shift their stock, meeting increased

demand online at the same time".

The ARA also advises stores to accept backorders

online for out of stock items, offering customers a date

for fulfilment.

While retailers may be tempted to hold a sale, "Now is

not the time to go deep into heavy discounting, unless it

was old inventory that has had a long shelf life," cautions

Jackie LeBental, founder Barri Luxury Consulting.

Customers may be focused on other priorities, such

as stocking up for emergencies, making a sale less

effective and eroding brand value in the long-term.

"[Retailers] have a brand image they should be trying

to preserve," LeBental explains.

There are many advantages to carrying stock as an

e-commerce retailer. One is customer service – retailers

can process orders as soon as they are placed, and give

extremely accurate information on shipping times as well

as negotiate shipping rates. Additionally, product returns

and repairs are more efficient.

Marketing is also simpler, as carrying stock allows

retailers to run sales and promotional activity – for

example, holding competitions – at any time. However,

it is important not to overstock and some retailers may

prefer a partial drop-shipping model to keep costs low.

EXPERT ADVICE

Retail Priorities

Jackie LeBental

Barri Luxury Consulting

Founder

"Now is not the time

to go deep into heavy

discounting, unless it was

old inventory that has had

a long shelf life.

Retailers, just like

jewellery designers,

have a brand image

they should be trying

preserve."

Nathan Bush

12High

Founder

"Rather than stress

our teams or push them

harder to meet slipping

sales targets, we need

to prioritise looking

after them. They are

our number-one

priority."

John Kennedy

Jewelers Security Alliance

President

"A lot of people don't

put all their things away

every night, they feel

it's too much work, or

sometimes they will leave

low-priced items out. But

you can't leave things

out in a showcase for a

month. Lock them in a

safe or vault. If you don't

put everything away,

you become a magnet

for crime."

Russell Zimmerman, executive director Australian

Retailers Association (ARA), said, "The ARA welcomes

the Victorian initiative, and I'd like to thank the Premier

on behalf of retailers.

"The COVID-19 outbreak will impose unprecedented

and perhaps existential challenges on small and medium

retail businesses; the measures the Premier has

announced this morning bring major and welcome

relief to our sector."

In putting together a financial strategy, retailers must also

take into account that their business insurance policy is

unlikely to assist them.

That is because most insurers and re-insurers exclude

business disruption arising from diseases notifiable under

the Quarantine Act 1908 or the Biosecurity Act 2015 – of

which COVID-19 is one – from policies.

Additionally, if a retailer decides to temporarily close their

store, they are required by the Duty of Disclosure section

of the Insurance Contracts Act (1984) to notify the insurer.

Unoccupied property can be at higher risk of vandalism,

break-ins, or water damage, meaning insurance claims

could be invalidated if the insurer is not kept informed of

an unoccupancy period. Most insurers extend full coverage

for several months of unoccupancy.

For jewellery stores, the risk of break-in and theft during

periods of closure is more elevated.

It's strongly suggested that jewellers look

into installing remote surveillance systems

where they can monitor live store security

camera footage from home.

If the business is closing for an extended period of time,

store owners are also advised to secure product in a safe

or vault, rather than a showcase.

John Kennedy, president of the Jewelers Security

Alliance in the US, says, "A lot of people don't put all their

things away every night, they feel it's too much work, or

sometimes they will leave low-priced items out. But you

can't leave things out in a showcase for a month. Lock

them in a safe or vault. If you don't put everything away,

you become a magnet for crime."

One advantage of strict social distancing restrictions is

that crime tends to be reduced, as police can more easily

patrol areas and identify suspicious activity.

Experts caution against bringing jewellery items home

for safekeeping, as this can make jewellers a target for

residential burglaries.

If operating an e-commerce business from home, retailers

are advised to perform an audit of all computers and

improve their cybersecurity as necessary. A recent report

published by cybersecurity firm Proofpoint also found a

significant increase in phishing, malware, and spam email

campaigns using coronavirus as a theme, for example

emails with the subject line, 'COVID-19 Infected Our Staff'.

22 | April 2020
---
STRATEGY FEATURE | Coronavirus Survival Guide

MARKETING STRATEGIES

COMMUNICATING

WITH CUSTOMERS

Even a hibernating business needs to keep the channels of

communication open with customers via text messaging,

social media and email.

Shane O'Neill, vice-president Fruchtman Marketing, says

the current social distancing policies are an opportunity to

build a "personal relationship" with customers. "It's not

about selling, it's not about showing jewellery, it's about

community and unity," he explains.

Emili Vesilind, senior editor of JCK Online agrees that

the 'human touch' is essential. "Your company is made

up of people, including you, who are struggling with and

acclimating to the current environment in the same ways

so many of us are. Make them main characters in your

communications," she advises.

While many people are delaying jewellery purchases until the

future is more certain, O'Neill says businesses can continue

to build "brand equity" by continuing to invest in marketing.

"A lot of retailers are backing off their marketing and some

are stopping their marketing completely, dead in the water,

waiting for things to clear up. People who continue marketing

and change their message are better positioned when this

ends," he says.

However, Vesilind advises jewellers to think carefully about

the tone of their social media posts, cautioning against a

'business as usual' approach.

"Eye-candy posts provide a much-needed escape – which we

all need right now – and promote your [brands]. But resist

pairing those product shots with easy-breezy captions," she

says, adding, "Copy that's not warm, empathetic, and free of

hyperbole and 'sales speak' feels painfully tone-deaf now."

O'Neill agrees that retailers should not focus on sales in their

posts, and should invest more money into paid social media

advertising to ensure their posts are widely seen.

"How can you engage with the community around you, with

paid posts, that aren't sales-y? That's not an easy thing to do,

but you can be creative," he says.

Looking further ahead, retailers should consider how

consumer behaviour will change over the next six months

and when customers will be ready to shop again.

Michael Tutek, CEO of online sales platform Preezie and

Inside Retail contributor, advises retailers to think about their

customers "on a deeper level than ever before".

"How do they shop? Why do they buy your product? How

does your product integrate with their lives?" he asks.

"How can you improve and tailor your user experience

to suit the current market?"

Vesilind also sees an opportunity to emphasise charitable

partnerships and donations that are relevant to the crisis,

which incentivises customers to shop with you.

CUSTOMER SERVICE

8 Tips to Keep

Shoppers Safe

1. Switch to an

appointment-only

or e-commerce

model. Permitting

insurance, staff could

be reassigned to a

fulfilment role rather

than in-person sales.

2. Implement cashless

payment and switch to

'tap-and-go' cards only.

3. Taking appointments?

Confirm that customers

are not experiencing

flu-like symptoms.

During the appointment,

maintain proper

hygiene and distancing

protocols.

4. Communicate your

cleaning practices

with customers in

person and through

your enewsletter and

catalogues.

5. Limit physical

contact from staff and

ensure hand sanitiser is

available if customers

wish to try on products,

and immediately

disinfect afterwards.

6. Advise staff to

maintain at least 1.5m

distance between

customers.

7. Your existing security

practices like buzzing

in customers one or

two at a time can limit

the spread of the illness

from one customer

to another.

8. Keep your customers

notified of delays on

their special orders,

and changes to store

opening hours. Use

social media, text

messaging, phone

calls and email to

keep communication

channels open, and

direct customers to

your online store.

It's also strongly suggested that jewellers look into

installing remote surveillance systems where they can

monitor live store security camera footage from home.

Managing staff

The NSW and Victorian governments directed nonessential

businesses, including most retailers, to

close from Tuesday 24 March.

However, at the time of publication, retail stores

including those within shopping centres were allowed

to remain open if they were able to provide space of

4 square-metres per person.

Business owners should communicate clearly and

frequently with employees, keeping them up to date

with any developments or changes to operating hours

and procedures, and supply them with the appropriate

protection equipment.

"Rather than stress our teams or push them harder to

meet slipping sales targets, we need to prioritise looking

after them. They are our number-one priority," advises

retail consultant Nathan Bush.

There is no specific legal guidance on when an employer

should direct an employee to stay away from their place of

work, and retail sales staff are not able to work from home.

However, staggered shifts can be implemented to prevent

close contact between staff members.

Employees have a duty to take care of their own health

and safety and not to endanger others.

If any employees become unwell, they should notify

management immediately, contact their health provider

and not attend work. The symptoms indicating possible

COVID-19 infection are fever, coughing, sore throat, fatigue,

and shortness of breath.

Full and part-time employees who cannot come to work

due to a coronavirus diagnosis can take paid sick leave;

casual employees are not entitled to paid sick leave or annual

leave, but can claim the Centrelink Sickness Allowance with

no waiting period under new government rules.

Full and part-time employees caring for a family member

with COVID–19 or another unexpected emergency, are

entitled to paid carer's leave. Casual employees are

entitled to 2 days of unpaid carer's leave per occasion.

Managers can request evidence of illness, such as a

medical certificate or statutory declaration.

Employers cannot compel employees to take sick leave

or carer's leave, but they can direct sick employees to

receive medical clearance before returning to work. The

Fair Work Act protects employees from being dismissed

due to a temporary absence for illness.

Some employees may be at higher risk of contracting

the virus, including those who are immunocompromised or

with underlying health conditions. These employees should

seek advice from their healthcare provider over the specific

precautions necessary.

24 | April 2020
---
Coronavirus Survival Guide | STRATEGY FEATURE

If a store is likely to close, employees should be notified

promptly.

Staff may be eligible for additional entitlements under

an enterprise agreement, award, contract of employment,

or workplace policy.

Instead of meetings or buying trips, businesses can

switch to digital channels of communication – for example,

teleconferencing and videoconferencing.

At the time of publication, the West Australian, South

Australian, Northern Territory, Tasmanian and Queensland

governments had introduced strict border controls for

interstate travellers, including mandatory self-isolation for 14

days. International travel has been banned by the Australian

government; anyone arriving in Australia from overseas

is required to quarantine themselves at home for 14 days.

For more specific information regarding workplace

entitlements and obligations, call Fair Work Australia on

13 13 94 and select the coronavirus hotline prompt, or

visit the Fair Work website.

Trading through a pandemic

A pandemic is a crisis for which few businesses are

prepared – after all, insurance estimations put the risk

of pandemic at less than 1 per cent annually. As a result,

many business owners are unequipped for the economic

changes that take place during a global outbreak of illness

However, the challenges retailers will face as the virus

continues to spread are not unprecedented; there are

strategies that retailers can employ to mitigate damage.

"The trouble for jewellery retailers in a time of

crisis, like the COVID-19 pandemic, is that sales

of jewellery are motivated by celebration and

love; they don't sell on negative sentiment but

positive sentiment"– Peter Ryan, Red Communication

The Australian Retailers Association (ARA), has advised

members, "The coronavirus, like any other virus, has a

lifecycle. This is not a permanent state of affairs. It's a

serious, but temporary crisis.

"Proactive retailers will need flexible systems that are easy

to change and can automate optimal order routing. Success

will depend on the agility and scalability of your systems."

For jewellery retailers, the solution starts with marketing.

"The trouble for jewellery retailers in a time of crisis,

like the COVID-19 pandemic, is that sales of jewellery

are motivated by celebration and love; they don't sell on

negative sentiment but positive sentiment," explains

Peter Ryan, director Red Communication.

"To sell anything at all at this time, retailers can't think

functionally. They have to think about emotional motivation

and the only emotion I can think of at times like this is to

make sure the ones you love know it. Keep them close and

never be afraid to show them your love.

"Jewellery is a great way to do that and throughout history,

in times of crisis, that has been the case."

HOW TO RESPOND

Feeling Sick?

If you feel sick, stay at

home and seek medical

care as soon as you can.

Call your GP to organise

testing for COVID-19 and

ask your doctor further

instructions.

Practice self-isolation and

keep your distance. If you are

tested positive for COVID-19,

notify those you've recently

come into contact with.

When coughing or sneezing,

cover your nose and mouth

with tissue or elbow.

Wash hands thoroughly

for 20 seconds. Clean and

disinfect contact surfaces.

If you must leave your home

for medical assistance, wear

a mask so your coughs and

sneezes are less likely to

contaminate others.

Sales

TRACK YOUR PRODUCTIVITY

BUSINESS SURVIVAL

CHECKLIST

Call customers to collect completed repairs and makes

Contact customers to have valuations updated.

Refresh your product photos and try selling on Etsy, eBay,

and Facebook.

Offer free shipping or promote a delivery service for

repairs and custom design.

Increase repair business through text messaging – ask

customers to text you pictures of jobs that need to be

done or prongs that need to be retipped.

Refer to your customer database to identify upcoming

celebrations such as birthdays and anniversaries and

contact customers who will be planning to buy gifts.

Inventory

If continuing to trade, revamp your visual merchandising

Perform a full stocktake, identifying bestsellers and

bread-and-butter products.

Create a list of required stock and make a budget.

Research brands you would like to carry and review

diamond prices – this will refocus you towards your

business' future.

Review the gold price and identify old jewellery or

excess stock for refining.

Clean, polish and remount remaining old stock.

Operations & Housekeeping

Thoroughly sanitise store in accordance with COVID-19

prevention procedures and implement inhouse hygiene

and sanitation policies with staff.

Assess staffing needs and government support, then utilise

stand downs, paid leave, or redundancies as necessary.

Seek a rent reduction from your landlord and negotiate

with banks, referring to government guidelines.

Review store security – if closing, enact procedures to

deter thieves such as setting lights to turn on intermittently.

Marketing & Web Presence

Website: Update all relevant information on your website,

check for dead links and ensure you are equipped for

e-commerce and online customer service.

Photography: Standardise product images and take new

ones to ensure your online showroom looks enticing.

SEO: Update product descriptions and enter as much detail

as you can for each item to optimise it for Google searches.

Content: Research topics you want to communicate with

your customers and potential new shoppers, and build a

content strategy focused on your strongest areas.

Social Media: Update your accounts and take advantage of

each platform to enhance your digital presence at no cost.

Marketing: Formulate a monthly marketing budget based

on your trading goals in the new coronavirus environment.

Even if it's modest, ensure you are still reaching your regular

shoppers and new potential customers.

April 2020 | 25
---
STRATEGY FEATURE | Coronavirus Survival Guide

Illustrating this phenomenon is the

trend for engagements to increase

during recessions and in wartime.

While jewellery retailers may wish to focus

their marketing efforts on this theme of

love and family, even more important is

keeping the channels of communication

with customers open in any way possible.

Some may be tempted to cut

advertising and communication

costs, yet retail experts advise

that a more useful strategy is

remaining 'front of mind'.

Some may be tempted to cut advertising

and communication costs, yet retail

experts advise that a more useful strategy

is remaining 'front of mind'.

Ellen Fruchtman, director of Fruchtman

Marketing, advises retailers to "think

ahead", telling US jewellery industry

publication The Centurion, "I can tell

you from experience that the retailers

that remained front and centre in [the

US recession of] 2008 got stronger.

"Sales volumes increased, without a

doubt… I'm not saying that because

I'm in advertising, I'm saying it because

we've seen it."

While she acknowledged that recent

weakness in the stock market – the

ASX200 recently fell to its lowest level

since 2013, while the Australian Dollar

dipped below $US0.60 – has left many

consumers "not in the mood to buy

jewellery", the effects are likely to

be temporary.

"The bigger picture is that we don't know

when the stock market will rebound,"

Fruchtman explains. "It always does,

but the question is when, which no-one

knows. Will that have an impact on the

psyche of the consumer? That's what all

retailers need to be thinking about now."

In the meantime, others advise retailers

to embrace the e-commerce side of

their business, both in terms of digital

marketing and online shopping.

"You must have a strong online presence

during this period," says Jeff Gordon,

director of The Gordon Company,

a jewellery sales, strategy and

promotion business based in Florida.

"Let customers know you have options

[beyond] in-store shopping."

Jewellery retail and training expert Jimmy

De Groot advises retailers to "stay in the

game": "Stay in contact, keep the faith,

and always be doing something to stay in

touch with customers."

He cites texting, phone calls, social media

videos, FaceTime, and video-conferencing

with a printed 3D design as some of

the ways retail jewellers can interact

with customers who aren't able to visit

the store.

Indeed, with many consumers working

from home or limiting their outdoor

activities, researchers are predicting a

boost to the consumption of digital media.

MARKETING

FOR LEAD

GENERATION

Organic posts

on Facebook

and Instagram

are ideal for

communicating

with existing

customers

Social media

advertising –

paid and

promoted posts

– reaches a

wider audience

of potential new

customers

YouTube

advertising can

be very costeffective

and

is both targeted

and far-reaching

Email marketing

and newsletters

keep a brand

front of mind

for regular

customers

SMS and

WhatsApp

messages have

a far higher

open rate than

emails and feel

more personal

In its recent report The Biggest Business

Impacts of the Coronavirus, international

digital marketing research firm eMarketer

predicted "digital media consumption to

increase across social media, over-the-top

video and online gaming – similar to what

we've already seen in China.

"Social networks could be a major beneficiary,

as people turn to these platforms to connect

with friends and family who may be at a

distance or to access news content."

It also stated that video streaming apps

like YouTube would likely see an increase

in usage. These trends present an

opportunity for retailers to advertise

at low cost on these platforms.

"Stay in the game, stay in contact,

keep the faith, and always be

doing something to stay in touch

with customers"

– Jimmy De Groot, jewelrystoretraining.com

The eMarketer report also noted that

"changes in online shopping habits may

be particularly prevalent among older

customers – the group most susceptible to

the coronavirus and most likely to avoid stores

because of it, but least likely to shop online."

This shift could not only provide shortterm

sales, but permanently shift their

purchasing pattern to online shopping.

Meanwhile, the ARA has advised members

to invest in delivery services: "The retailers

that have an advantage will be those who

are set up to dispatch from local stores and

E XPERIENCED

PERSPECTIVE

Dealing

With Crisis

JIMMY DE GROOT

The morning of 9/11 [Sep 11,

2001], my team and I were

about to step on a plane to

go to a Hearts On Fire event

in Las Vegas. We were soon

told there would be no flights to

Vegas – or any flights at all.

In the ensuing weeks we had

meetings and discussions

about what we should do

about our Christmas plans,

our promotions, our inventory

coming in, our flyers, and

our business in general.

We decided to stay all in –

in fact, increase our efforts.

The result was the best

holiday season to date.

We didn't know what was

going to happen in our

country or the world, but we

chose not to let fear govern

our lives and our business.

I completely understand your

trepidation and the trepidation

in many people's minds about

the future, but I do know one

thing for sure.

If we start letting fear rule our

lives and our businesses, and

if we start pulling back on

all of our efforts, from

marketing to planning to

customer service, and just

the day-to-wonderful things

that happen in our stores, then

our actions will become selffulfilling

prophecies.

When we went through one of

the most uncertain periods in

our country's history, we knew

we owed it to our customers

to continue doing what we do

best, and that's being a crucial

part of our customers' most

important moments.

12 | April 2020
---
Coronavirus Survival Guide | STRATEGY FEATURE

are not as reliant on those who operate from

a central warehouse."

Retail consultant Nathan Bush adds, "Physical

footfall will drop and visits to public spaces

will be more purposeful. With consumers in

a task-oriented mindset, think about how you

make those tasks easy to achieve.

"Home delivery options are essential. Click

and collect, reserve in store and accurate

views of store inventory give customers

certainty. Subscriptions can guarantee

access to product."

Long-term thinking

While putting resources towards e-commerce

and marketing can help retailers survive

the temporary financial shock of the virus,

Ryan warns that the changes in consumer

behaviour may last for many months.

"By all means, move to online – but functional

options will not overpower the fear and panic

that is enveloping people right now," he says.

Restrictions on travel, social distancing,

school closures, and reduced trading

hours, as well as employee absences

and shipping delays are just some of

the factors that combine to hamper

service-based businesses.

However, in addition to federal and state

government support, all four major banks

have announced relief packages for

businesses in financial stress due to the

COVID-19 pandemic.

These initiatives range from waiving fees

on merchant terminals to deferring

TAKE A

LOOK IN THE

MIRROR

Examine your

brand message

if necessary

Review your

competitors

and learn from

their successes

Assess and

marketing

strategy

Audit your

website

and assess

analytics

Undertake

online courses

in sales and

business

repayments on vehicle and equipment

finance loans, providing restructuring and

extension options, and providing business

counselling services.

"Use this time to reinvent

how you do what you do, bring

consumers new alternatives,

new value, and in the process

even reinvent your own brand"

– Doug Stephens, retail futurist

Guil Lima, chief executive business

division, Westpac, said, "This is an

extremely difficult period for some

Australian businesses. We want our

customers in any affected sectors to

know there's a range of ways we are

ready to support them."

From a long-term perspective, Canadian

retail futurist Doug Stephens believes there

may be a 'consumption spike' once the

pandemic is brought under control.

He likened this 'brush with mortality'

effect to the one that occurred after the

September 11, 2001 terrorist attacks.

In an interview with Business of Fashion,

he advised businesses to adopt a futurefocused

perspective: "Use this time to

reinvent how you do what you do, bring

consumers new alternatives, new value,

and in the process even reinvent your own

brand. Don't let innovation stop, because

this could be the window of opportunity."

Meanwhile, retail and consumer product

consultant Robin Lewis and global

fashion supply chain expert Margaret

Bishop believe the aftermath of the

coronavirus could "level the playing

field" when it comes to discounting.

Writing on the Robin Report blog, they note,

"Supply disruptions that reduce inventory

offer the legitimate excuse brands and

retailers need to reverse the overproduction

and deep discounting they have come to

depend on and now regret."

They advise retailers to "make less, sell

at full price, meet profit goals on lower

volume and higher margin – and reduce

pervasive waste".

Most importantly experts say businesses

and individuals should avoid panic.

Professor Ilan Noy, chair in the

Economics of Disasters at Victoria

University in New Zealand, told the ABC

that the economic impacts are "largely

because of the changes in behaviour

and not directly because people are sick".

"There is no necessary panic. There are

necessary changes in behaviour, but

panic is unadvisable in any case," he

said, adding that governments and

media should work to keep people calm.

Ultimately, the full impact of COVID-19

cannot be predicted with total certainty;

but the lessons of the past and the

experience of the present can help

prepare business owners as much

as possible for what lies ahead.

HELP & HOTLINES

Australian Government Department

of Health COVID-19 Hotline

24/7 Hotline 1800 020 080

Healthdirect Hotline with a registered nurse

24/7 Hotline 1800 022 222 | healthdirect.gov.au

Head to Health mental health support

Call 1300 368 041 | Text 0477 131 114

headtohealth.gov.au/covid-19-support/covid-19

Australian Treasury

1800 020 008 | treasury.gov.au/coronavirus

Safe Work Australia

safeworkaustralia.gov.au

Australian Government Business Services

13 28 46 | business.gov.au

Australian Retailers Association (ARA)

1300 368 041 | retail.org.au

Business NSW

02 9228 4567 | business.nsw.gov.au

Business Victoria

13 22 15 | business.vic.gov.au

Business Queensland

13 74 68 | business.qld.gov.au

ADDITIONAL RESOURCES

Australian COVID-19 Case Numbers & Alerts

www.health.gov.au/news/health-alerts/novelcoronavirus-2019-ncov-health-alert

Johns Hopkins University COVID-19 Tracker

coronavirus.jhu.edu/map.html

World Health Organisation (WHO)

www.who.int/emergencies/diseases/novelcoronavirus-2019

April 2020 | 13
---
INTERNATIONAL

Trade Show Report

WRITING THE FUTURE: INDIAN INGENUITY

Jaipur, Rajasthan, India - Amber fort in Jaipur

The recent IIJS Signature show in Mumbai proceeded ahead of the coronavirus – however, the outbreak has now

impacted India's newest trade event, set to take place in the Pink City of Jaipur, writes COLEBY NICHOLSON.

The recent India International Jewellery

Show Signature (IIJS) trade show and

India Gem & Jewellery Machinery Expo

in Mumbai fell directly in the middle of

two worldwide issues: the US-China trade

war and the outbreak of the coronavirus,

known as COVID-19.

Unlike other jewellery trade shows which

had already been postponed, such as

Hong Kong's International Jewellery Show,

Signature – the smaller of Mumbai's two

annual jewellery events went ahead in late

February, mainly because its focus is largely

on the local market.

Its bigger 'brother', IIJS Premiere, has

a much larger international visitation

and takes place in August. At the time of

publication, it was still scheduled to proceed

as planned.

However, India's Gem & Jewellery Export

Promotion Council (GJEPC) – the organiser

of both IIJS events – has been forced to

postpone another important trade gathering:

the new International Gem & Jewellery Show

in Jaipur, which was slated for 1–3 April.

When the GJEPC decided to proceed with

Signature, COVID-19 was largely seen as a

'China issue'. However, the impacts of the

outbreak were already beginning to be felt in

India; local diamond suppliers experienced

problems dealing with mainland Chinese

manufacturers as well as Hong Kong

companies, both of which had effectively

closed their offices.

As a result, the diamond trade with China

had effectively stalled well before the

enormous impact of the virus outside of

China became apparent.

The outbreak affected Indian sales as

well as producing numerous administrative

issues – staff were simply not present

in Chinese offices to pay invoices for

earlier deliveries.

While Chinese business began to falter,

some Indian jewllery manufacturers saw

an increase in exports to the US as a result

of the US-China trade war.

"We have great exports to America. Even

Chinese people are coming to India to set

up factories to export to the US, because of

the 6 per cent difference in duty due to the

trade wars. So, Americans have very keen on

buying from India," Abihishek Sand,

director Savio Jewellery, told Jeweller at

the Signature show.

QUICK

NUMBERS

15k

Visitors

attended,

from 325 cities

700

Exhibitors

were present

at the show

4k

Jewellery

businesses will

be based at new

Jaipur Bourse

Savio Jewellery is a based in Jaipur and

Sand believes there are a number of

reasons for US buyers' greater focus on

Indian suppliers: saving on import duty,

less disruptions due to coronavirus when

compared with China, and improvements

in manufacturing quality.

"The earlier manufacturing quality and

craftsmanship in India was said to be weak

but now Indian machinery is fantastic.

You can't find a difference between Indian

jewellery and Hong Kong-made jewellery.

These machines have been imported and

we are now focusing on quality finishing,"

Sand said.

He added: "Every Indian manufacturer is

using CAD and less so hand-made. The

accuracy level was missing [with handmade]

and everyone wants quality finishing.

Buyers are not concerned about the price –

they are more concerned about the finished

craftsmanship, so in order to export they

are now focusing more on quality with CAD,

better machinery and technology."

More than 15,000 visitors from 325 cities

attended the four-day event to see what

the 700 exhibitors had on display across

the 45,000 square-metre event space.

28 | April 2020
---
Addressing the inaugural session, GJEPC

chairman Pramod Kumar Agrawal said,

"IIJS Signature is now seen as an integral

part of Indian jewellers' business cycle.

"Participants at each stage of the supply

chain – from raw material suppliers to

manufacturers, designers, wholesalers and

retailers – are growing and consolidating

their business."

GJEPC is an organisation established in

1966 by the Indian Ministry of Commerce

and Industry with the aim to promote the

gem and jewellery industry and its products.

It regularly lobbies the government for

improvements in trade and exports

represents almost 7,000 exporters.

"We have been pursuing our government

constantly with a few concerns which

require immediate attention, like reduction

in import duty from 12.5 per cent to 4 per

cent on precious metals such as gold,

silver and platinum; reduction of import

duty on cut and polished diamonds and

gemstones from 7.5 per cent to 2.5 per

cent; and the amendment in taxation

laws enabling sale of rough diamonds

in Mumbai," Agrawal said.

He believes these issues are critical

in creating a "level playing field" for

Indian businesses in the international

jewellery trade.

Evolving India's trade shows

Agrawal announced the April Jaipur gem

show at IIJS Signature, however the GJPEC

recently advised the industry it will now take

place in July due to coronavirus concerns.

Elaborating on the reasons for the change,

the GJEPC said, "There are serious

concerns globally pertaining to the outbreak

of respiratory illness caused by coronavirus

adversely affecting everyone's travel plans."

It added that "considering the concerns and

sensitivities of the countries impacted, the

health and safety of exhibitors and visitors,

after much deliberation with buyers and

other stake holders" there was "no option

but to reschedule the IGJS show to the new

dates of 18–20 July 2020".

In a message sent to all participants, GJEPC

noted that the exclusive export-oriented

show was targeted towards international

visitors and it had received a "fabulous

response from both exhibitors as well as

buyers" with 600 buyer companies from

56 countries having pre-registered.

Jaipur is the historic 'Pink City' and

capital of Rajasthan.

While Thailand and Sri Lanka are known

for ruby and sapphire cutting, treatment,

and trading – and Surat, India, is the centre

for diamond cutting and diamond jewellery

manufacturing – Jaipur has a reputation as

a centre for cutting, trading, and creating

jewellery with a wide variety of coloured

gemstones, particularly emeralds.

Its gemstone cutting and manufacturing

businesses employ thousands of artisans

with modern production facilities and

techniques.

The importance of this market is best

illustrated by the announcement late last

year of the plan to establish a Gem Bourse

in Jaipur. Said to be the first of its kind in

the world, and set up exclusively for

gemstones, it will house all trading activities

in one secure environment, catering to the

needs of local and international buyers.

The Bourse is envisioned to include 2,000

offices of gemstone manufacturers and

traders, brokers' chambers, a trading hall,

customs clearance centre, exhibition hall

and display shops.

Other industry services such as banks,

insurance company offices, clearing

and forwarding agent offices, testing

laboratories and an export facilitation

centre are expected to locate within the

Bourse area.

While the postponement of the Jaipur show

could be viewed as a blow, it may work to

the GJPEC's advantage, allowing more time

to promote it to international exhibitors.

In addition, the success of the recent

Signature show has added momentum

to the Indian industry.

After the event Agrawal, said, "Despite

business and environment headwinds,

India's gem and jewellery exhibitors

participated wholeheartedly with energy

and enthusiasm.

"We witnessed an influx of international

buyers who are looking for alternatives

considering the emerging international

trade equations and China's current

situation [relating to COVID-19]."

The gem-and-jewellery industry is a vital

sector of India's economy, accounting for

7 per cent of gross domestic product.

Exports of gems and jewellery exceed

2019 Guinness

Record Breaker

'Lotus Temple in Delhi'

7,777 set diamonds

Lakshikaa Jewels

2015 Guinness

Record Breaker

'Peacock Ring'

3,827 set diamonds

Savio Jewellery

IIJS Signature

is now seen

as an integral

part of Indian

jewellers'

business cycle.

Participants

at each stage

of the supply

chain are

growing and

consolidating

their business

Pramod Agrawal

GJEPC

$US40 billion a year, with an official target

to achieve a lofty $US75 billion by 2025.

The Signature show also hosted a number

of concurrent events and seminars

including the Business Knowledge Forum

in association with EconomicTimes.com.

Speakers covered the importance of

modern-day information technology

and tools such as robotics, artificial

intelligence and digital marketing.

The Craft Pavilion promoted three

traditional Indian jewellery crafts:

temple, bidri and filigree.

The aim is to preserve the knowledge

of these crafts, as the skills are largely

passed down through the generations

by word of mouth or through practice.

Meanwhile, the Jewellery Start-Up Zone

allowed exhibitors to interact with B2B

buyers from across India.

A brighter future

The GJEPC is an extremely active

organisation and while its latest initiatives

– the new Jaipur Show and Gem Bourse –

are a demonstration of India's recognition

of the importance of the gem and jewellery

industry, it has another large project

underway.

Last year it announced a new India Jewellery

Park, a 21-acre integrated industrial park

in Mumbai comprising manufacturing

units, commercial areas, and residences for

industrial workers and commercial support

services. It will be substantially different to

the Bharat Diamond Bourse (BDB) or any

other export processing zones.

It is expected that, when complete, more

than 4,000 jewellery businesses and

services companies will be located there.

The Indian jewellery sector is an engine for

employment and continues to develop both

in terms of technology and ambition. Despite

the challenges that 2020 has brought to

the international trade, the Signature show

– and the GJEPC's upcoming initiatives –

reveal the true potential waiting to be tapped

in the coming years.

Coleby Nicholson attended IIJS Signature

courtesy of GJEPC. Upcoming events

include International Gem & Jewellery

Show in Jaipur from 18–20 July and IIJS

Premiere from 6–10 August 2020.

April 2020 | 29
---
FEATURE

Watch Industry Report

WATCH

&

LEARN:

TRENDS

IN TIME

upheaval. ARABELLA RODEN explores how

brands have adapted to the changes.
---
The world of watches is almost

unrecognisable from what it was ten,

or even five years ago. From design to

functionality and marketing, the category has

evolved significantly due to a combination of

technological change, industry politics, economic

uncertainty and shifts in communication.

The decline of Baselworld – once the world's premier

watch and jewellery fair – became clear between 2017 and

2018, when the exhibitor number nearly halved from 1,300

to around 650.

Shortly after the 2018 show, Swatch Group pulled out of

exhibiting its 18 brands at future editions of Baselworld,

followed by Raymond Weil, Corum and Maurice Lacroix.

This year's event has been cancelled in the wake of the

coronavirus pandemic, which some industry commentators

welcomed as a reprieve from what would have been a notably

anaemic show, even when compared with previous years.

Indeed, it has been heralded by some as a chance to

reinvigorate and renew the show – and the watch industry.

Perhaps the most notable trend within watches over the

past five years is polarisation – the movement of consumer

spending to the extremes of the category.

Luxury watches have maintained consistent

revenue – the Federation of Swiss Watch

Industry (FH) reported that exports were valued

at CHF21.7 billion ($AU37 billion) in 2019, topping

a record set in 2015 – albeit based on smaller

sales volumes.

This trend indicates consumers are embracing

more expensive models, as well as turning to

the secondary watch market for choice.

Meanwhile, mid-range watch brands – generally

defined as those between $600 and $2,000

– have seen their market share reduced by competition from

smartwatches, while fashion watches have been influenced

by changing consumer habits and online competitors.

However, brands have adapted to counter these threats.

Ultimately, the challenge for retailers is to navigate the

shifting sands of the watch industry hourglass, taking note of

competitor trends while ensuring the product mix is relevant

to consumers and marketed through the correct channels.

Time to split: the exhibitor exodus

The past five years have not only brought functional and

material changes to the watch category, but fundamental

differences in the way brands communicate with both retailers

and consumers.

The interconnectedness and immediacy of global

communication has changed how watches, from luxury

Swiss timepieces to affordable fashion watches, are marketed

and distributed.

For decades, debuting new models amid the hustle and bustle

of Baselworld's Hall 1 was aspirational; a statement of luxury

and success, lending prestige to a brand and its products.

It was also practical, ensuring marketing budgets could be

focused on one major event, nearly all international retailers

could be briefed on new products at the same time, and media

representatives could report on a wide number of different

brands without extensive travel.

INDUSTRY STATS

Annual Growth

2020–2025

Traditional Watch

Increase

9.92 per cent

Smartwatch

Increase

14.5 per cent

Hybrid Watch

Increase

14.5 per cent

Data: Mordor Intelligence

Images (from top): Rolex,

Apple, Garmin

But as the cost of exhibiting increased and global

communications were simplified to more directly target

consumers, Baselworld's relevance receded.

Suddenly, the crowds, noise and expense seemed less

appealing, particularly when brands could host luxury retreatstyle

product showcases for their retailers and distributors.

Some of these events even took place in Switzerland around

the same time as Baselworld, including Swatch Group's

Zürich-based Time To Move conference and Movado Group's

Movado Summit in Davos.

At a time of unprecedented prosperity – 10 years after the

Global Financial Crisis – the world's most prestigious watch

exhibition began to falter. Brands were no longer willing to

pay Baselworld's considerable exhibitor fees, reflecting the

diminishing returns of the exhibition model itself.

It was not helped by the intransigent attitude of show

organiser MCH Group. Michel Loris-Melikoff, managing

director Baselworld, told Jeweller last year, "MCH organised

Baselworld and if you wanted to be part of the show, you had

to accept everything – take it or leave it."

Yet the problems were not solely attributable to MCH.

The Geneva-based Salon International de la Haute Horlogerie

(SIHH) was not immune, losing Audemars Piguet and Richard

Mille following the 2019 edition.

Loss of exhibitors was among the factors prompting the

rebranding of the show to Watches & Wonders Geneva late

last year. In 2020, it was set to include consumer-focused

activities such as walking tours and a dedicated day of

access to the show floor.

The two shows were also scheduled to run consecutively this

year, shifting into a late April-early May timetable. However,

the change in dates was the final nail in the coffin for many

long-time exhibitors, including Seiko and Casio. Both brands

withdrew from Baselworld in late 2019, given the dates would

coincide with a week-long Japanese public holiday.

In January this year, LVMH – a long-term supporter of

Baselworld – hosted its first 'LVMH Watch Week' at the

company's own Bulgari Hotel in Dubai. Bulgari consequently

pulled out of the Swiss show, though TAG Heuer and Zenith

were still scheduled to exhibit before Baselworld was

cancelled in February.

However, some industry commentators have noted the

'individual showcase' strategy benefits brands at the

expense of their retailers, distribution partners, and

ultimately consumers.

Rob Corder, editor in chief of UK industry publication

WatchPro, wrote earlier this year, "Rolex/Tudor, LVMH,

Swatch Group, Richemont, Movado, Fossil, Breitling,

Audemars Piguet, Grand Seiko, Kering and many others

are refusing to come together into one, or even two, major

trade shows, leaving retailers, consumers and press

trawling the world for the first five months of the year.

"Every one of the groups and brands will tell you they will be

putting on a fantastic show, but none appear to be listening

to the needs of their key retail partners."

He also dismissed the idea of Swiss exhibitions as consumer

shows, stating, "Customer events should be in the countries

of the customers and run by local teams, ideally in

conjunction with retail partners so that people can actually

buy the watches they see."

Indeed, the coronavirus pandemic may make that a necessity

through its devastating impacts on the travel sector.

April 2020 | 31
---
TRENDS IN TIME | Watch Industry Report

The pandemic has led

to the cancellation or

postponement of trade

shows and events.

How are you adapting

your communication

with retailers?

In its heyday: Baselworld was still drawing large crowds in 2016.

The virus may also have another

unintended result – reuniting the

international watch industry.

It has forced not only the cancellation

of both Baselworld and Watches

& Wonders Geneva, but also a

reassessment of priorities.

"Suddenly, the PR and politicking

problems in the international watch

market became insignificant as the 'real

people' of the world went out to their

supermarkets to fight over rice, pasta,

hand sanitiser and toilet paper," explains

Martin Foster, watch industry journalist

and Jeweller contributor.

He believes the Swiss industry should

undertake a "health-check" and

recognise that old rivalries should be

forgotten in favour of more efficient,

unified solutions.

"Baselworld has empty exhibition halls

going begging with dedicated space

available, if only the show formerly

known as SIHH can grasp the enormous

economic and political value of this

opportunity," he adds.

Looking ahead to 2021, Corder agrees

that a "reboot" is necessary, focusing

on a "luxurious and enjoyable to attend"

show with retailers and members of the

media hosted by the brands.

Crucially, exhibiting at the show should

cost "a fraction of what Baselworld used

to require".

Time will tell if Loris-Melikoff can

succeed in righting the ship and restoring

the venerable show – and the watch

industry, to its former glory.

Taking a bite of the Apple

It is difficult to overstate the impact of

technology on the design and function

of watches, most notably the introduction

of the Apple Watch in 2015.

It marked something of a tipping point

in the smartwatch category, prompting

a monumental increase in consumer

demand.

In 2014, US-based research firm

International Data Corp (IDC) estimated

global smartwatch sales at 4.2 million,

which increased by more than 400 per

cent the following year, to 19.4 million.

Apple Watches accounted for 11.6

million of those sales, according to IDC's

analysis. Today, Apple claims to have

overtaken Rolex as the world's 'most

valuable' watch brand in revenue terms.

"Baselworld has empty

exhibition halls going

begging with dedicated space

available, if only the show

formerly known as SIHH

can grasp the enormous

economic and political value

of this opportunity"

–

Despite a mixed-to-dismissive response

from many in the traditional watch

industry, the Apple Watch proved

enduringly popular, with the number of

units shipped increasing each year since

its debut, according to reports by market

research firm Strategy Analytics.

Apple does not publicly declare separate

shipment or revenue data for the Apple

Watch.

The devices retail for $US199–$US499

for a standard model, and up to

$US2,159 for special editions made in

ceramic or titanium – placing them in

direct competition with fashion and

mid-range luxury watches.

"Certainly, the introduction of

smartwatches has had the most

significant impact on the watch industry

in the past five years," says Phil Edwards,

managing director Duraflex Group

Australia, which distributes Swiss watch

brands Baume & Mercier, Luminox and

Mondaine, among others.

Alongside smartwatch models from

the likes of Samsung, Garmin and

Huawei, the Apple Watch has prompted

extensive changes in the fashion

watch category in particular, through

increased competition.

Simon Garber

Heart & Grace

"We are ensuring that

our stockists know we

are open for business

and here to help. In tough

times it is easy to forget

there are still occasions

for which people will

be buying gifts, such as

Mother's Day. We also

want to make sure that

people know the key

items needed to make

sales and that we have

those items in stock."

Phil Edwards

Duraflex Group Australia

"The pandemic forces us

to amend our approach.

We will need to be

strategic but also fluid,

and support retailers

and our brands as best

we can."

John Rose

West End Collection

"We are supporting

retailers with online tools

that allow them to be as

successful online as they

are in their physical store.

We are seeing consumers

become more inclined to

purchase from the website

of a brick-and-mortar

store that they know and

love, rather than a faceless

marketplace. Consumers

now trust the internet and

in many cases prefer to

purchase online, rather

than in-store due

to the convenience of doing

so – not because

it is cheaper."

Fossil Group – which includes fashion watch

brands Fossil, Relic, and Skagen Denmark,

and produes licensed watches under the

Puma, Emporio Armani, and Michael Kors

brands, among others – saw its net profits

drop a precipitous 79 per cent between 2014

and 2016.

Reflecting on the results, Fossil CEO Kosta

Kartsotis said, "Prior to that, we were clearly

positioned as the competitively advantaged

leader in a growing category. However, with

the introduction of technology into wrist

devices, traditional watches came under

pressure and we were disadvantaged.

"We didn't have the technology capabilities

to compete with smartwatches, leading to

a decline in our market."

Meanwhile, Swatch Group CEO Nicolas

Hayek Jr initially called the Apple Watch

"an interesting toy, but not a revolution".

Swatch Group's annual revenue fell 21 per

cent and then 47 per cent consecutively

in 2015 and 2016.

The company has since announced various

forays into the smartwatch category – even

developing the Swiss OS operating system –

though none have materialised to date.

The extent of the threat from smartwatches

was easy to underestimate. Notably,

Microsoft's smartwatch project, Smart

Personal Object Technology, failed in

2005, leading to a lawsuit from Swatch

Group after it was left with 100,000

unusable smartwatches.

Eight years later, Pebble – a pioneer in

the smartwatch space – collapsed and was

purchased by fitness tracker manufacturer

FitBit. It seemed to confirm industry

suspicions that smartwatches were

struggling to differentiate from health

and medicine-oriented 'wearables'.

By 2017, the market was valued at $US9.2

billion ($AU14.9 billion); by 2025, analysts

at Allied Market Research predict that

figure will increase to $US50.3 billion.

As a result, fashion watch brands have

adapted to both differentiate themselves

from smartwatches, and – through hybrid

technology – mimic them.

John Rose, managing director West End

Collection, which distributes Paul Hewitt,

32 | April 2020
---
www.citizenwatches.com.au

It starts with a simple,

yet revolutionary concept;

A watch that never needs

a battery.

Model: BN4049-11E

Find out more
---
Colour Diamonds Feature | FLIGHT OF FANCY

TRENDS IN TIME | Watch Industry Report

INDUSTRY PERSPECTIVE

Apple Watch and the Swiss: a genuine rivalry?

There is more nuance to the

impact of Apple on the watch

industry than increased

competition – and indeed,

debate persists over whether

smartwatches even belong in

the same category as traditional

watches.

Martin Foster, watch industry

journalist and Jeweller

contributor, asks, "Is the Apple

Watch's ability to tell the time

simply a side-benefit so it can

be called a 'watch'? Is it a watch

or just 'wearable technology' that

coincidentally looks like a watch

and tells the time like a watch?"

The answer is complex.

The comparisons between

a smartwatch and a Swiss

mechanical could be likened

to the debate of natural mined

stones versus lab-created

diamonds.

While both types of devices are

manufactured, one has a storied

heritage and traditional prestige

with a luxury price-tag and

Christian Paul, Bering and ICE-Watch among others, tells Jeweller that

the challenge is in attracting Millennials and Gen Z.

"As we see new generations come through, many of our younger target

market are not growing up wearing a watch as we did. As a result, the

watch industry has to be more creative, because people don't 'need' to

wear a watch to tell the time," he explains.

Younger consumers see watches as a fashion item and an expression

of their personality. "This means that watches have to make a fashion

statement, perform a function or a make statement of status, for

example," Rose says.

Watch: Kediri

"As we see new generations come through, many of our

younger target market are not growing up wearing a

watch as we did. As a result, the watch industry has to

be more creative, because people don't 'need' to wear

a watch to tell the time"– John Rose, West End Collection

In order to target these younger consumers, some brands have focused

on increasing brand value through marketing techniques, such as

influencer and celebrity endorsements, or adjusted prices to be more

competitive.

Simon Garber is managing director at Heart & Grace, which distributes

Cluse and Pierre Lannier. He tells Jeweller, "There has been a shift in

the market as consumers have more options than ever before, however,

we find that people love that Cluse has a RRP entry price point of $149."

Additionally, Cluse – founded in Amsterdam in 2013 – has found success

through digital marketing with European influencers, with designs that

appeal to trend-conscious younger consumers.

Meanwhile, Luminox, distributed by DGA, recently announced a new

collection designed with international adventurer Bear Grylls. In Australia,

a limited-edition model designed with Bondi Beach lifesavers was

released earlier this year.

The purpose of this marketing strategy is to communicate that Luminox is

a technical, practical and hard-wearing timepiece, clearly differentiating it

from the slick, urban image of many smartwatch brands.

Proudly distributed by

In the mid-range luxury category, other brands, such as Australia's

Bausele, have extended their product line to include hybrids – that is,

watches that combine the appearance of a traditional mechanical watch

with the digital functions of a smartwatch.

Citizen is also expanding further into hybrids with its Connected and

Eco-Drive models. Meanwhile, Fossil acquired smartwatch manufacturer

Misfit in December 2015 and developed its own operating system, Wear

34 | April 2020

02 9417 0177 | www.dgau.com.au
---
Apple Watches, 2015-2020

lasting value, while the other is

a technical marvel with cutting

edge and modern appeal, and a

significantly lower price.

In 2014, Jean-Claude Biver, CEO

of TAG Heuer and president of

Moët-Hennessy Louis Vuitton

SE (LVMH) Watchmaking Division,

said, "An Apple Watch – as

great it can be – will always be

the result of technological and

industrial production processes.

As such, in my opinion, it is

condemned to become obsolete.

Therefore, after a few years, or

less, its value will drop close

to zero… For the time being,

however, there is no comparison

with the designs of Swiss

watchmakers.

There is no interest in the Swiss

high-end and prestige-brand

companies to create, produce,

and sell watches whose values

will likely vastly decrease over a

short period of time, and which

one day will not be repairable."

His comments proved prescient;

Apple quietly withdrew its

luxury 18-carat gold Apple

Watch – which reportedly cost

$US10,000 – $17,000 – in 2016,

after barely a year in the market.

The remaining Apple Watch

models have reportedly outsold

all Swiss watch brands combined

for the past four years. Yet, on

the basis of Strategy Analytics'

estimates, Apple's revenue from

its smartwatches would total

$US6.1–15.3 billion ($AU9–23

billion) – significantly less than

the Swiss watch industry at

$AU37 billion.

Watch repair products -

whether working from

your shop or home.

Seiko & Energizer watch batteries, caseback

openers, screwdrivers, tweezers and many

more on our new website.

Free delivery to shop or home.

OS. By 2018, it had released more than

350 different 'wearable' models – both

smartwatches and hybrids – across its

eight brands.

The hybrid strategy may well pay dividends;

Juniper Research has predicted hybrid

watch shipments will increase by 460 per

cent between 2018 and 2022.

However, while smartwatches have

evidently sparked change in the fashion

and mid-range categories, it appears the

evolution goes both ways.

Increasingly, smartwatches are designed

to imitate traditional dive watches and

other tactical models.

An example is Garmin's Marq Collection,

which bears some resemblance to

Citizen's Land, Sea and Air ranges; its

Captain, Aviator and Adventurer models

include features such as 'regatta timers'

and rotating bezels.

Meanwhile, some industry commentators

have identified the trend of 'functionality

fatigue' in consumers, who prefer simpler

products that are more 'watch' than 'smart'.

Jay McGregor, senior consumer

technology contributor Forbes, wrote

in February, "Years of testing overly

functional wearables has taught me

two things: they don't perform tasks as

well as your phone and they are, more

often than not, just a distraction.

"If a company slaps a $300 price tag on

device, it [had] better do a lot of things.

But how about, instead, it doesn't?"

Besides price, traditional fashion watches

also have an aesthetic advantage over

smartwatches. The appearance of a

smartwatch largely depends on its

hardware; more functions require a

heftier case or a larger display.

Meanwhile, watch movements have

THE BASEL

ROLLERCOASTER

1991

Cartier, Baume &

Mercier, Gérald

Genta, Daniel

Roth and Piaget

leave Basel to

form their own

Geneva show

2007

Baselworld

welcomes

100,000

attendees for

2011

More than

2,000 exhibitors

are present at

Baselworld

2013

Hall 1 is opened,

space for

exhibitors

2018

Exhibitor

numbers fall to

less than 700;

Swatch Group

discontinues

involvement

2020

Show moved

to April, then

cancelled due to

pandemic

2021

Show moved to

January – will

it succeed?

enjoyed centuries of development into

ever-slimmer cases. The functionality of a

smartwatch is also dependent on software,

which can frustrate consumers and limit

choice; for example, an Apple Watch cannot

be paired with an Android phone.

Additionally, extra charges may be required

to use mobile functions, such as text

messages and social media notifications.

Perhaps most significantly, smartwatches

quickly become obsolete. In Fossil's most

recent quarterly report, CEO Kartsotis said,

"We are disappointed to close the year with

a challenging fourth quarter, which primarily

reflects lower than expected performance in

our older generation connected products."

Meanwhile, traditional watches can be

repaired and serviced, lasting for decades

and maintaining their timeless features.

However, even when customers choose a

smartwatch over a hybrid or fashion model,

retailers can benefit.

In 2014, Jean-Claude Biver, CEO of TAG

Heuer and president of Moët-Hennessy

Louis Vuitton SE (LVMH) Watchmaking

Division, said, "The Apple Watch is certainly

a promotion tool... Apple is preparing this

generation to make it easier, one day, to

wear a real watch."

Additionally, jewellers have begun to create

custom metal smartwatch straps that mimic

jewellery, while Swarovski manufactures a

crystal-embellished Apple Watch case.

Whether they are classified as a real watch,

fancy toy, or disposable and expensive

distraction, smartwatches are yet to

conquer the traditional category entirely.

And it is the responsibility of retailers to

ensure consumers are aware of the benefits

of different products, and walk out of the

store – or check out of the e-shop – with

a timepiece that they love.

Headlights are back in stock! The handy swivel

is ideal for watch repair, walking, reading, or just

trying to find the kids or remote control at home!

Need help to ensure all your devices stay

working? Energizer A23, E90, AA, AAA, C, D,

camera, hearing aid, lithium, battery chargers

and rechargeable batteries.

Reminder to change your 9-volt smoke alarm

battery; FREE with every order when you

mention this ad.

NEW

WEBSITE

Mention this advert for

FREE HOME/SHOP DELIVERY &

FREE SMOKE ALARM BATTERY

It's easy to place your order!

orders@thebatteryman.com.au

Free Fax: 1800 028 887

Free Call: 1800 244 354

Text or Ph: 0414 682 423

thebatteryman.com.au
---
Product Showcase

NEW RELEASE

Adina

Oceaneer Automatic

Adina Watches

This new automatic

model within the

Oceaneer collection

is a performance-bred

watch with a classic

look. Equally at home

on the beach or in the

boardroom, versatility

and functionality are

key. Like every Adina

watch, the Oceaneer

Automatic has been

meticulously handassembled

by a

qualified watchmaker

in Brisbane, Australia.

A

NEW RELEASE

Baume & Mercier

Clifton Baumatic

Duraflex Group Australia

The Clifton Baumatic combines

understated elegance and

technical reliability, thanks

to the latest generation of

the Baumatic calibre – the

BM13 – which is certified by

the Contrôle Officiel Suisse

des Chronomètres (COSC) and

resistant to the magnetic fields

encountered in daily life.

The Clifton Baumatic is the

essential companion for the

aesthetically-inclined, who

are in perpetual pursuit of

performance and nnovation.

B

NEW RELEASE

Citizen

Automatic Diver

Ciitizen Australia

Stand out from the

crowd with this striking

Automatic Diver

timepiece. With its

beautiful green bezel

and a sleek black dial,

this ISO-compliant

watch is a divers' new

favourite. Its titanium

case is five times

harder than stainless

steel yet 40 per cent

lighter, making it

perfect for everyday

wear. Its mineral glass

case has a day/date

display, and the watch

has a power reserve

of 40 hours once

completely wound.

C

New & Classic

WATCH

Showcase

Jeweller has compiled a snapshot of products from leading watch

brands, from the latest timepieces on the market to classic best-sellers.

NEW RELEASE

Cluse

Triomphe Silver/

Salmon Pink Mother

of Pearl

Heart & Grace

Featuring a salmon

pink mother-of-pearl

dial and silver-toned

case & bracelet, this

Triomphe watch is the

perfect companion on

ambitious days and

nights. With its stainless

steel 33mm case and

link-style bracelet, it's

on trend and built to

last. The bracelet can

be interchanged with

any 16mm Cluse

watch strap.

BESTSELLER

Cluse

Féroce Gold White/

Gold Link

Heart & Grace

The Cluse Féroce is a

classic, and an ode to

minimalism and joie

de vivre. Its 36mm

case is refined yet

eye-catching, while

the matte white dial

blends perfectly with

its gold-toned case

and link bracelet. The

strap of this Féroce

model can also be

easily interchanged

with any 18mm Cluse

watch strap.

NEW RELEASE

Cluse

Vigoureux Silver Petrol

Blue/ Silver Link

Heart & Grace

The Vigoureux is Cluse's

take on a luxury sports

watch – minimalist

and ultra-thin, but also

masculine and bold. It

is a conversation starter

par excellence with

its striking petrol blue

sunray dial, integrated

stainless-steel bracelet

with invisible butterfly

clasp, and perfectly

brushed and polished

case. The Vigoureux

is a new look for the

Cluse man.

36 | April 2020
---
NEW RELEASE

Bausele

Vintage 2.0 GT

Bausele

The Vintage 2.0 is

unlike any other

smartwatch. Activity

tracking, sleep

monitoring and

smart notifications

are built into

this classic-style

timepiece, which

connects to your

phone via a tailored

app. Manage how you

want to be notified and

what you can switch

off with the Vintage

2.0, Australia's first

smartwatch.

NEW RELEASE

Bausele

OceanMoon The Drift

Bausele

The much-loved

Oceanmoon timepiece

has had a significant

upgrade. The new

Drift model draws

inspiration from

Australia's rugged

coastline. Limited

to just 600 pieces,

the Oceanmoon

range features

Nanoceram glass,

believed to be a

world-first innovation.

Each model comes

with a free bonus

strap, including a fully

recycled plastic option.

NEW RELEASE

Bulova

Marine Star

Citizen Australia

The Bulova Marine Star

is water-resistant

to 100m and features a

six-hand chronograph

function with calendar,

grey ion-plated

stainless-steel case

with rotating ring

to measure elapsed

time, and a bold red

dial with luminous

hands and markers.

This 43mm model

comes with an ionplated

stainless-steel

bracelet with fold-over

buckle closure, safety

bar and extender.

BESTSELLER

Classique

Ladies GP

SAMS Group Australia

This 26mm Swiss

quartz watch features

a gold-plated stainlesssteel

case pave-set

with 51 diamonds,

with a scratchresistant

sapphire

crystal face. The

gold-plated stainlesssteel

link bracelet

has a push-button

deployment buckle,

while Roman numeral

hour markers and a

date display add to

the timelessly elegant

feel. A matching gents

model is available.

BESTSELLER

Classique

Aviator Skeleton

SAMS Group Australia

The Classique Aviator

Skeleton features a

17-gem Swiss-made

mechanical skeleton

movement within its

stainless-steel case.

For men who enjoy

a bold and technical

watch, this model

has a blue and rosegold

toned elements.

Measuring 48mm,

it is fitted with an

anti-shock balance

wheel and is water

resistant to 50m.

BESTSELLER

Classique

Mechanical Skeleton

Pocket Watch

SAMS Group Australia

This gold-plated

mechanical wind-up

pocket watch features

a striking 'skeleton'

design with a Swiss

movement. Measuring

approximately 49mm,

the case has a

push-open lid, front

and back. The ideal

timepiece or gift for

men who appreciate

the watchmaking

tradition.

BESTSELLER

Coinwatch

Summit

Mason Fair

The Summit series has defined

Coinwatch since its inception. The

watch is customisable by year date, allowing

customers to create a truly unique timepiece

that commemorates a special or significant

year. The watch houses a Swiss movement

and comes with a three-year warranty with

free express delivery Australia-wide.

NEW RELEASE

Coinwatch

Jilly

Mason Fair

The Jilly features a beautiful two-tone kangaroo

half-penny dial with Swarovski crystals around

the bezel. It celebrates not only iconic Australian

coins, but a year special to the wearer as custom

date coins can be ordered. The watch comes

with a three-year warranty and Mason Fair's

leading after-sales service.

April 2020 | 37
---
Watch Showcase

E

BESTSELLER

EPOS Switzerland

Sportive

Stella Timepieces

This sporty stainless-steel watch from

Swiss manufacturer EPOS features a

striking green sunray dial protected by

scratch-resistant sapphire crystal. The case

measures 42mm while the stainless-steel link

strap creates a classically masculine feel.

BESTSELLER

EPOS Switzerland

Ladies 4401

Stella Timepieces

The elegant 4401 features a 29mm stainless

steel case in an on-trend rose gold tone. The

black mother-of-pearl dial has matching rose

gold-toned hour markers, while the black

leather strap adds to the sophisticated look.

Bear Grylls Survival

3740 Master series

More on luminox.com.au

Proudly distributed by

BESTSELLER

Grovana

GMT Moontimer

Stella Timepieces

The GMT Moontimer

from Swiss brand

Grovana displays

two time-zones

with additional

moon-phase and

date functions. The

rose gold-plated,

stainless-steel case

measures 41mm

and incorporates

three Swiss-made

Ronda quartz

movements. The

chocolate crocodileprint

leather strap is

comfortable to wear

and features a rose

gold-toned buckle.

BESTSELLER

Grovana

Ladies 3194.1132

Stella Timepieces

Grovana combines

high-quality

materials with

contemporary

Swiss design and

craftsmanship,

together with

excellent

value for

money.

This ladies'

watch features

an understated

circular stainlesssteel

case, with

chic white dial and

blue detailing. The

stainless steel link

bracelet adds a

sporty feel.

02 9417 0177 | www.dgau.com.au
---
BESTSELLER

EasyRead Time Teacher Standard

EasyRead Time Teacher

EasyRead's best-selling standard

watches feature a Seiko movement,

fabric strap and a special teaching dial

that children find very easy to understand

and remember. Mums and dads will love

this watch as it makes teaching this

skill simple and fun.

BESTSELLER

EasyRead Time Teacher Waterproof

EasyRead Time Teacher

This high-quality waterproof watch

from EasyRead Time Teacher is perfect

for the active child. Milled from a

stainless-steel billet, with a stainless

screw-in back plate and four O-rings

at the crown, it has a toughened glass

lens recessed 0.5mm for protection, and

houses a Seiko movement.

BESTSELLER

Frédérique Constant

Slimline Power

Reserve Manufacture

Citizen Australia

Frédérique Constant

is proud to add its

28th in-house calibre

within its Manufacture

collection. The inhouse

movement also

boasts an extraordinary

50-hour power reserve.

The watch features

hours, minutes and

a date display. The

40mm case in rose

gold-plated stainless

steel has sophisticated

Roman numerals and a

sunray effect with black

hands. The finishing

touch is an elegant

alligator strap with a

deployant clasp.

F

G

NEW RELEASE

Gregio

Ladies Rose Gold

Lilac Lily

Time is precious,

like jewellery.

Follow every

minute with a

Gregio watch,

exclusively

designed and

produced in

Greece. This

ladies' watch

houses a Gregio

movement within

its stunning round

case, finished in

a rose gold tone

with matching

mesh stainless

steel bracelet.

BESTSELLER

Grunt

GBKS

Mason Fair

Water resistant to

200m, the Grunt

GBKS features a

hardened, scratchresistant

and shatterproof

mineral crystal

face recessed in a

fixed, diamond-like

carbon (DLC) coated

bezel. The hands and

numerals glow in the

dark due to the longlasting

and luminous

Super-Luminova

pigment. Comes

with a five-year

limited warranty.

NEW RELEASE

ICE-Watch

Ice Solar | West End Collection

The new Ice Solar collection

is an environmentally friendly

watch manufactured from

recycled plastics. Plus,

the battery never has to be

replaced due to the solar rim

under the bezel of the watch.

If a watch is an expression

of who you are, then

the Ice Solar will

certainly let everyone

know that you care.

I

• 100m Water Resistant

• Screw In Crown

• Screw Down Back

• Stainless Steel

• Day / Date Indicator

• Anti Smash Glass Protection bezel

@RingersWestern

@ringerswestern

E orders@samsgroup.com.au

W samsgroup.com.au P 02 9290 2199
---
Watch Showcase

NEW RELEASE

Luminox

Bear Grylls Survival Series

Duraflex Group Australia

Luminox watches perform

in extreme situations, and

the Bear Grylls Survival

Series is designed to

help you make it through.

Whether it's the countdown

dive zone on the Sea watch,

the walking speed scale or

paracord strap on the Land,

or SOS in Morse Code on

the 300m-water resistant

Master series, these

timepieces will be your

trusty companions and help

you conquer any conditions.

L

NEW RELEASE

Maserati

Traguardo Sports Chronograph

West End Collection

Maserati conjures up

images of elegant lines,

graceful speed and high

class. The Maserati

Traguardo Sports

Chronograph embodies

all of these elements

M

within its rose gold-toned

stainless steel case with

a luxury leather strap.

One of the world's most

prestigious sports car

manufacturers, Maserati

is now a luxury lifestyle

timepiece too.

BESTSELLER

Mondaine

Evo 2

Duraflex Group Australia

The Evo 2 collection has

been revamped with modern

style and sophistication. The

40mm case features a sophisticated

yet easy-to-read dial designed

with Mondaine's distinctive hour

and minute hands and iconic red

seconds hand, as well as a calendar

display. Comfortable to wear

and immaculately balanced, the

Evo 2 is ideal for casual day-to-day

wear or as a business watch.

NEW RELEASE

Pierre Lannier

Mens Automatic

Skeleton Gold

Blue/Brown

Heart & Grace

Gold-toned stainless

steel harmonises with

matching hands and Roman

numeral hour markers in

the stylish Skeleton model

from Pierre Lannier. The dial

shows the mechanism while

the elegant blue hue on the

periphery creates a classic,

masculine and on trend look.

P

NEW RELEASE

Pierre Lannier

Ladies Automatic

Skeleton Rose Gold

Silver/Silver Mesh

Heart & Grace

Made in France, like all

Pierre Lannier watches, the

Ladies Automatic Skeleton

is simply irresistible. The

automatic movement

guarantees precision, while

the rose gold and silver

colour combination gives it

an elegantly French finish.

A sophisticated mesh strap

is the perfect final touch.

BESTSELLER

NEW RELEASE

Swiss Alpine Military

Ladies Leader

Stella Timepieces

Swiss Alpine Military

combines precision with

reliability and durability.

The watch stands out

thanks to an athletic

look and highquality

materials. Swiss

Alpine Military watches

offer the additional bonus

of very clear watch dials.

This Ladies Leader model

features a stainless steel

case and bracelet with a

white dial, perfect for

professional women who

require a comfortable,

functional timepiece

without sacrificing style.

S

Thomas Sabo

Code TS

Duraflex Group Australia

Timeless, versatile and unisex,

the Code TS watch is an iconic

companion for everyday life

and special occasions. The flat

case features a three-hand

movement and date display,

paired with a slender, lengthadjustable

Milanese bracelet.

The model is characterised by

the distinctive Thomas Sabo

aesthetic, blending modern

features with inspiration from

the classic men's watches

of the 1950s. The contrast

between the polished bezel

and the brushed stainless steel

case adds an elegant look. The

bracelet of the Code TS watch

is easy to change and provides

maximum styling flexibility.

T

40 | April 2020
---
NEW RELEASE

Maurice Lacroix

Aikon Automatic

West End Collection

The new release from Swiss

manufacturing powerhouse

Maurice Lacroix unites the

brand's tradition of unique

innovation with a contemporary,

urban aesthetic. Aikon is a sporty,

elegant collection that embodies

the complex nature of time. The

watch measures 42mm, is 200m

water resistant and finished with

a stylish Clous de Paris dial.

NEW RELEASE

Police | Kediri

Duraflex Group Australia

Kediri stands out within the new Police

collection, with the 46mm octagonal

case expressing rebellion, individuality

and an unconventional streak. The case

shape and contrasting top ring make

for a striking design blend.

NEW RELEASE

Police | Luang

Duraflex Group Australia

Luang, meaning 'royal' in Thai, is from

Police's new collection. Its design exudes

confidence and style with a 48mm jumbo

casing, luminous hands and distinctive

date displays. There are a variety of sleek

colourways and straps available.

NEW RELEASE

TW Steel

ACE Diver

Duraflex Group Australia

Coming in five adventurous

designs, the new ACE Diver is

a powerhouse of confidence

wrapped up in a sleek

design. The key elements

are all present: bold design,

luxurious materials, and

cutting-edge technology.

Powered by Ronda 5030.D

Swiss Made movements, and

with a battery life of 4.5 years,

the ACE Diver has a 44mm

case, waterproof to 300m,

with scratch-resistant, antireflective

sapphire crystal,

and Swiss Super-Luminova

pigment. All timepieces

feature a soft rubber strap

and come in a luxury gift box.

Proudly distributed by

02 9417 0177 | www.dgau.com.au
---
BUSINESS

Retail Strategy

REAL REASONS YOU CAN'T CLOSE THE SALE

– AND HOW TO OVERCOME THEM

To increase the effectiveness of your sales techniques, it is critical to understand your

customer's behaviour and thinking, writes BRI WILLIAMS.

There was once a judge who, at the start

of every trial, would step out from behind

the bench, approach the defendant, and

shake their hand. "I have just shaken the

hand of an innocent person," he would

proclaim. Why did he bother?

To customers, you are guilty until proven

innocent – they are predisposed not to buy

your product or service.

The upshot is you can often be at crosspurposes

with your customer during the

sales process.

The first step is to prove you understand

their objective. Don't start your sales

process by talking about 'yourself'.

Many salespeople open by discussing their

value proposition, using statements like,

"We do x, and we do y".

As we know, the Western justice system is

predicated on the concept that a defendant

is presumed innocent until proven guilty.

However, jury members are prone to judge

the defendant before the facts are even

introduced, and throughout the trial, will

seek confirmatory evidence for their view.

For many, the defendant is 'guilty until

proven innocent'.

By proclaiming the defendant innocent,

the judge used his authority to correct the

decision-making frame for jurors: start

from a point of innocence, not guilt.

So, how does this relate, and what does

this mean for, you as a retailer?

In business, you are the defendant and

your customers are like jurors, who arrive

at decision of purchasing decisions based

on expectations.

You think they will make a decision based

on factors that you consider important

– for example, how much time you have

put into designing or manufacturing your

product, or your credibility, experience and

expertise.

However, they are using their own frame

of reference, such as how the price of your

product compares to other options, the

opportunity cost of their time and money if

they spend it with you, and their deepseated

motivations for wanting to buy.

Once this is understood, you can use

behavioural science techniques in order to

change the customer's frame of reference.

In essence, you become the judge that

shakes the defendant's hand.

Changing behaviour

There are several simple ways to re-frame

your customer's thinking.

Re-frame the

context for

a decision;

that means

moving the

customer away

from points of

comparison or

assumptions

about your

product

Instead, communicate that you understand

your customer's needs or wants, and

describe how your product or service can

solve it.

Next, re-frame the context for a decision;

that means moving the customer away

from points of comparison or assumptions

about your product.

A famous example of re-framing is Red

Bull. The company did not market the

beverage within the hyper-competitive

soft-drink sector.

Instead, the marketing team re-framed its

category to 'functional' drinks. In doing so,

they added to the product's perceived value

and were able to charge substantially more

per unit.

To change your customer's behaviour,

you may also need to signify why you are

worthy of their trust.

42 | April 2020
---
Retail Strategy

You don't have a judge to proclaim your

innocence, so you must instead use

credibility cues – for example, testimonials

and online product reviews from previous

customers – to build your reputation.

Finally, you can change the context of your

customer's decision-making.

There is a popular anecdote describing a

meeting between a chief financial officer

(CFO) and a chief executive officer (CEO) as

they decide how much to spend on training

their employees.

The CFO says, "What if we train people and

they leave?" The CEO responds, "What if

we don't, and they stay?"

In other words, changing the context of

the decision-making can be helpful in

encouraging your customer to re-think the

position not to buy.

What if they purchase your product as a

gift, and the recipient doesn't like it?

On the other hand, what if they don't buy

it and the recipient is disappointed they

received nothing at all?

All about the angles

One of my hobbies is stone carving: taking

a hammer and chisel to a block of hard

rock to see what emerges.

A mistake in stone carving is to assume

that all stone is the same. In fact, each

piece has its own weaknesses and

strengths.

At first, I must make a few tentative strikes

to allow the stone to reveal something to

me. Once the desired outcome forms in my

mind, I can work towards it.

This is how retailers can approach

behaviour change.

Rather than jumping in with fixed

assumptions, we first need to spend

some time 'noodling around' to

understand the person or people we are

trying to influence.

For this task, I use an empathy map

broken into categories, including what

they think and feel, say and do, see and

hear, and their goals.

This tool assists in clarifying the mindset

of the target market or individual

customer, and focuses on the specific

context in which their behaviour is

occurring.

A slab of stone is inert, immovable.

Your customer may seem that way too

– whatever you try, they are not going to

budge.

If you attempt to tackle a slab of stone by

pummelling the centre, it will do one of

two things: resist until you are defeated, or

resist until a fissure forms that destroys it.

In either case, a blunt, frontal assault is

ineffective.

Instead you must use angles, chipping

away at the edges, towards your objective.

The same principle applies to behaviour

change. If you are too blunt or forceful,

your attempts will be resisted.

This is known as reactance, and has

been found to reduce the effectiveness of

advertisements such as Nike's famous

'Just Do It' campaign.

Telling someone they have to do

something, that it will be 'good for'

them, or even providing a litany of facts

and figures to justify it, is unlikely to be

persuasive.

Instead, the behavioural science-based

approach is to anticipate reasons for

their resistance and devise angles for

addressing each barrier.

There are three reasons people resist:

• Apathy or laziness – they can't be

bothered to go through the process of

purchasing

• Decision paralysis – they might be

interested but are confused as to what they

need do

• Anxiety and fear – they might be

interested but are worried about

proceeding

Reasons for

resistance

Apathy or

laziness

Process of

purchasing

is too slow or

convoluted

Decision

paralysis

Too many

choices; hard

to compare

options directly

Anxiety

and fear

Overthinking

the decision;

afraid of

making the

'wrong' choice

While it takes a certain amount of force

to chip into rock, it's more about being

precise and consistent, working with the

stone rather than attempting to have it

yield to your will.

With behaviour change, it's not about how

much money you spend or how loudly you

communicate your message – it's about

small, well-considered 'nudges'.

A clear call-to-action button on a website

can impact conversion rates more than a

TV ad – just as opting out being the default

on a form can change an entire country's

rate of organ donation.

Moving fruit to within arms' reach in an

office block cafe can change how the entire

workforce eats.

American writer, philosopher and artist

Elbert Hubbard once said, "The sculptor

produces the beautiful statue by chipping

away such parts of the marble block as are

not needed – it is a process of elimination."

Influencing another person's behaviour

can seem very complicated, and a natural

tendency is to try to add more information

or interactions.

But as with stone carving, behaviour

change can be more effective through

elimination: eliminating superfluous

information, eliminating unnecessary

choices, and eliminating 'noise' that

distracts from the objective.

By focusing your efforts on the three

science-based reasons for resistance

– apathy, paralysis and anxiety – you

can eliminate indecision efficiently

and effectively.

And by reframing your product and your

sales approach, you can change your

customer-jurors' minds.

BRI WILLIAMS is founder of People

Patterns, a specialist consultancy that

applies behavioural economics to customer

purchasing patterns. briwilliams.com.au

April 2020 | 43
---
BUSINESS

Selling

Why repeat sales are so important

– and how you can increase them

One of the most cost-effective ways to improve your business is to focus on repeat sales.

RICHARD SHAPIRO explains how to keep customers coming back to your store.

With summer over and the first quarter

of trading behind us, we are moving into

the autumn season – which is a perfect

time to set our sights on some ideas to

generate repeat business.

While much emphasis is placed on

acquiring new customers, repeat sales

are the lifeblood of any retail business.

That is because you do not have to spend

money attracting a customer who already

shops with you.

The best opportunity for retailers to

generate repeat business is for sales staff

to create and build relationships with

customers.

We all stop at our local coffee shop in the

morning to see Mary the barista who gives

us a big smile.

She knows what we did over Christmas, if

our children had a great summer holiday,

and what our plans are for when they go

back to school.

Once you find your 'Mary', you don't seek

out another, more convenient or cheaper

café; your loyalty is towards Mary.

Here are my six repeat business ideas to

help you become every customer's 'Mary':

Teach sales staff to greet people as they

would a new neighbour into their home.

Communicate how important it is to

smile and connect with customers as

people first.

It's more important to find out about the

customer and their needs, goals, and

personality, than it is to know exactly

what's in your inventory.

Ask customers if they have ever been

in your store before and whether they

purchased something or not. If someone

is new, tell them more about your

business, for example the best places to

park in the future, your hours, and the type

of stock you carry.

You can also let them know how long

you have been in business, your other

locations, the details of your return

Treat your customers as friends and you will retain them for years to come.

policies, and your personal customer

experience philosophy.

It will not only be useful to your customer,

but more importantly, create a dialogue

and relationship.

Always tell the customer you can help

them. People like to feel they are speaking

to a person who can help.

Providing help might require asking

another staff member for advice,

requesting more information from the

customer, or even referring them to

another store.

It's not important how you help them –

instead, it's about showing the customer

you care about answering their question or

resolving their problem.

Listen to your customer's emotions. Pay

attention to what customers are feeling,

not just what they are saying.

In almost every instance, you will be able to

easily tell if someone is happy, frustrated,

excited or disappointed.

It's not

important how

you help them

– instead, it's

about showing

the customer

you care about

answering their

question or

resolving their

problem

By expressing a reaction to their emotional

state – for example, by saying, "You sound

disappointed we don't have your size

in stock. Let me double-check and get

back to you" – you foster a new and

beneficial relationship.

Have business cards printed for all

sales staff. Doing so will make your

employees feel more important and

valued, and it's an excellent way to invite

the customer to return.

The employee could say, "I really enjoyed

helping you today. Here is my card with my

contact information.

Now that I know your tastes, I can let you

know if we get something in stock you

might like. Would you prefer me to email,

call or text? Just let me know."

Keep in touch. Many retailers fail to show

the customer they matter after the sale.

That's a big mistake. Sending daily emails

can also have a negative effect.

Brainstorm with your team about the best

ways to show customers they are relevant

after they leave your store.

I grew up in a retail environment. My dad

owned a menswear store and I worked

there in my early teens. I learnt two

important lessons.

Firstly, it is more important to listen and

learn the customer's state of mind than to

find out their method of payment.

Secondly, when new customers entered

the store, they were strangers. My father

hoped by the time they left they had

become new friends.

If more retailers understood why they visit

the same coffee shop to see their 'Mary'

and taught their staff the concept that

shoppers are people first, and customers

second, the percentage of repeat

customers would undoubtedly rise.

Richard Shapiro is founder of

The Center For Client Retention,

offering research, training and

consultingservices. tcfcr.com

44 | April 2020
---
BUSINESS

Management

The critical factors when managing your

staff during a recession

Tough trading conditions can bring out the worst in a manager – but they are also an

opportunity to show your best leadership qualities, explains BRIAN JEFFREY.

This article isn't actually about how to

manage a recession – recessions seem

to manage themselves quite well without

our involvement!

I want to look at what changes we

need to make in our approach to sales

management during recessionary or

otherwise difficult economic times.

And we are certainly experiencing that at

the moment!

First an irreconcilable truth: there will

always be recessions. They'll come and

go, but you can bet even money that you'll

see and manage your way through several

before you retire.

Depending on your age, you've probably

gone through one or two already. Business

slows down, customers get evasive

or elusive, salespeople get whiny, and

management migraines increase.

Many managers deal with the issue

by cutting advertising, slashing sales

meetings, eliminating sales (and other)

training, and adopting a 'hunker-down'

attitude in the hopes that the bad times

will turn good again without their being too

involved.

Others become galvanised into total

inactivity, evoking what I call a 'divine

marketing plan' – praying for sales – and

making themselves unavailable to help

their salespeople through the crisis.

Of course, I know you aren't one of those

managers. You have the same problem,

but you're probably actively seeking some

universal truths and techniques that you

can put into place whenever things get

tough or a recession comes along.

So what can you do? Here are some proven

ideas that work:

Sales and staff meetings

Don't cancel your sales meetings, hold

them more often. Recessions are when

people need to be together for mutual

support, not left to their own devices.

Increase the frequency but lower the cost

of your meetings.

Make yourself available to your employees and show you value them.

Selling can be extremely lonely and your

salespeople may be feeling neglected

by their customers, and possibly by the

business itself. Help keep their spirits up

with short, frequent meetings.

Short, weekly meetings are ideal. Biweekly

meetings also work well. And

if you are not holding at least one mini

meeting a month, you're neglecting your

people. So don't be surprised if they start

wandering off to a company that shows

more appreciation.

Mini meetings should be just that:

mini. You'll be surprised what you can

accomplish in 15–30 minutes.

Don't let it become an inquisition from

you or a whining session for the staff; use

the meeting to emphasise positives and

reinforce that both the business and the

staff have weathered this type of storm

before and can do so again, particularly if

they continue to work together.

Team meetings

Ensure that your meetings are

participatory. By that I mean attendees

have an opportunity to talk with one

another and not just to the person at the

front of the room.

I'm not suggesting that your team

meetings become social free-for-alls, but

they should be a vehicle for the free flow of

information and ideas in all directions, not

just from the top down.

Some managers

and storeowners

seem to

disappear when

trading becomes

you be like that!

Be there to help,

not chide and

reinforce your

employee's

value

It's the manager's job to be a moderator,

not a dictator.

This conversational free flow will also

uncover complaints and concerns. As long

as the meeting doesn't degenerate into a

bitching session, let your people vent.

Unvented aggravations, like pent-up

steam, can cause a lot of damage when

they finally explode. The meeting is your

safety valve.

If people do vent, don't become defensive.

In most cases, you don't have to respond

to the situation, you just need to listen and

acknowledge it.

One-on-one meetings

Also take the time to meet with each staff

member as an individual. Help them to

stay focused; after all, it's easy to lose

sight of potential opportunities during a

recession.

Selling is still a game of numbers and you

can help your people make their numbers

by helping them 'find' their numbers. That

is, assist them in setting realistic goals and

show them which customers to target.

This is the time for you to put on your

mentoring cap and lead the way.

Some managers and storeowners seem to

disappear when trading becomes difficult.

Don't you be like that!

Be there to help, not chide and reinforce

your employee's value to the business.

Be accessible, be supportive and most

importantly, be a leader.

The bottom line is that you may not be able

to control the economic climate but if you

manage your people, you'll manage through

the tough times.

Brian Jeffrey has more than 40 years'

experience in sales management,

training, and business consulting.

quintarra.com

April 2020 | 45
---
BUSINESS

Marketing & PR

Simple and effective ways to boost your

word-of-mouth referrals

Building buzz around your business can be challenging, writes THOMAS YOUNG, but one of the

simplest – and best – ways to market yourself is through your customers.

The most powerful form of marketing

is word-of-mouth referrals. This is true

regardless of the size of your business

or marketing budget. When generating

referrals, your customers become your

sales force!

After all, who better to promote your

products than loyal customers? So, here

are 12 ways you can develop word-of-mouth

referrals for your jewellery store.

Ask for referrals

The easiest way to generate referrals is also

the most important. People want to help

others, especially when you are good at what

you do. Let your customers know that you

are looking for referrals by asking them!

They will be happy to oblige, and some will

go out of their way to help.

Be specific

Provide your referral sources with a few

details about your target market. If you

are not specific in your request, referral

sources will generally not be able to think

of a particular person to whom they could

recommend your store. Make your request

specific: describe your ideal customer.

Align with your customer's vision

Get inside the head of your customers

and align with their vision – that is, what

they want to accomplish. Be a resource;

understand the needs of your customers.

Referrals will come when they realise that

you really do understand them and that your

goal is to help, not just make a sale.

Develop word-of-mouth promotions

Develop a marketing promotion plan that

encourages referral benefits for your

existing customers. Make the promotion

worth your customer's time by offering

valuable incentives for new referrals. A good

example is a friends-and-family promotion.

Promote feedback

Ask your customers to evaluate your

products and services and provide feedback

on how you measure up. Share this

information with current customers and new

Turn your customers into your sales force by encouraging referrals.

prospects. Obviously, correct the areas in

which you are deficient and remove barriers

to customer service.

Continue self-development

Commit to constant learning as a business

owner. You must expand 'out of the box'

and constantly increase and develop your

knowledge and abilities, or you will be left

behind by the competition. Knowledge is

powerful and shoppers will come to you for

expertise before they buy from you.

Build a customer community

Find ways to bring customers together with

other customers. This might be achieved

through your store's Facebook page or

group, a 'chat' section of your website, or

through in-store customer events. This

brings a community of customers together

and stimulates word-of-mouth.

Communicate your competitive advantage

Understand why you are different from the

competition and what sets you apart in the

eyes of the customer. Communicate this

message in your promotional activities.

Be clear in delivering this message; it's the

most important component of your direct

marketing efforts and the reason people

become loyal customers.

Listen to your customers

In jewellery retail, as in all sales processes,

it pays to become known as an excellent

listener. This communicates that you care

about others and builds an enormous

Look for other

like-minded

businesses

that currently

service your

target market

help each other

amount of trust. The fact that you are the best

listener will be passed on to others and result

in valuable referrals.

Build alliances

Determine how you can reach your target

market by developing alliances with other

businesses. This is very common on the

internet as websites, Twitter accounts and

Instagram pages link to and interact with

each other with great results.

Look for other like-minded businesses that

currently service your target market and find

ways to help each other.

Learn how to network properly

Take time to learn how to effectively network.

Establish a networking strategy and plan on

helping others, which is the key to successful

networking. Read and learn more about how

to network effectively and seek the advice of

other networking professionals to ask what

makes them successful. They will often share

their secrets.

Develop a website that people talk about

Establish a website that catches peoples'

attention. When people are browsing online

and come across a great website, they

typically tell others about it.

It is very common and easy to share links

with friends, particularly when browsing on

a mobile device. Find a way to make your site

unique by adding value to your target market,

which will make them far more likely to share

your link.

These are a few ways to build word-of-mouth

referrals for your business. Remember, there

is no quick fix in sales and marketing, and no

substitute for excellent customer service or

valuable products and services.

Take the time to strengthen your marketing

efforts, focusing on these areas, and watch

the referrals come pouring in.

THOMAS YOUNG is CEO of Intuitive

Websites. He has 25 years' marketing and

sales experience. intuitivewebsites.com

46 | April 2020
---
BUSINESS

Logged On

The six keys to creating a website that

improves your sales

There are several simple strategies you can employ to improve your website and

thereby improve online sales, writes DAVID BROWN.

There are many jewellers who feel the

internet is the single biggest threat to

retail growth these days.

Although I believe 'experiences' being

preferred over 'material items' is also

creating an impact, there's no doubt

the internet is strong competition that

will continue to increase for the

foreseeable future.

The trend of many online retailers opening

bricks-and-mortar stores shows that a

two-pronged approach to shopping is not

only very effective – it's essential.

Therefore, it's important that physical

retail outlets also beef-up their online

presence in order to create the widest

possible retail footprint.

Having a strong, effective website is

a starting point for ensuring you get

the maximum benefit from your online

presence. A good website needs to

incorporate the following factors if its to

become an extra salesperson – and not just

a pretty piece of online wallpaper.

One purpose per page

I'll let you in on a little secret: most people

are lazy and don't like to think. Between

making a choice and doing nothing, we tend

to take the do-nothing option.

That's why a web page that asks a customer

to do multiple things, such as 'like' a

Facebook page, sign up to a newsletter,

make a purchase, and enter a competition,

is likely to finish with the customer choosing

none of the above and closing the window.

Each website – with perhaps the exception

of your home page – should ask the

customer to do one thing and that page

should be all about getting the customer to

do whatever that one thing is. Simple!

Oh, and about that home page…

Don't over-focus on your home page

You might think your home page is the

front door to your site, but chances are

most website visitors are coming in through

the tradesmen's entrance, so to speak.

Assess your website to ensure it encourages visitors to shop with you.

Google does not give preference to

home pages.

The search engine treats all pages the same

based on their relevance, which means it's

most likely that a customer who found you

by searching Google for 'diamonds' will be

directed to your website's diamond-specific

page, not the home page.

Only those people specifically searching

for your business will be directed to the

home page and that's not going to be

most web searchers.

Keep it clean

Less is more, at least when it comes to

your website. An overabundance of images

and words is not conducive to an effective

website. It is there to do a task, not win an

award for artistic achievement.

Many small businesses that utilise web

designers sadly find their site being all

about 'the look'.

The design is important, of course, but

it should not override user-friendliness

and purpose.

Responsive design

Responsive design refers to your content

being readable on any device. Be it tablet,

laptop or smartphone, your readers

need your website to look tidy regardless

of the format.

Many small

businesses

that utilise web

designers sadly

being all about

'the look'

It should automatically adjust – 'respond' –

to the screen size upon which it is

being viewed. Most website-building

services, such as Squarespace, include

this feature automatically.

With more than 70 per cent of readers

now using a mobile device to view the

internet, its time your site caught up. Have

you recently viewed your website on your

smartphone? Now is the time.

The power of video

If a picture is worth a thousand words,

then a video is worth a million!

Maybe not quite, but video content is the

preferred means of absorbing content

for an increasing number of web visitors,

especially those in the under-35 market.

Hello, engagement rings!

Furthermore, a high percentage of

websites still don't offer good video

content, meaning those that do are getting

a jump on their competitors.

It also gives you a chance to stake a

presence on YouTube, which is the world's

second-largest search engine after

Google. Lights, camera, action, people!

Check your load speed

Most visitors will only give a website

a handful of seconds to load – some

surveys have estimated this to be less

than three seconds.

Yet a large number of businesses are

losing traffic (potential customers)

because they did not spent time and

money to ensure their page load speed

was reduced to within this window.

This issue can be very easily rectified.

There are many ways a website's

performance can be improved, but start

with these six factors and you'll be on

the right track to making yours a more

effective business tool.

DAVID BROWN is co-founder and

business mentor of Retail Edge

Consultants.. retailedgeconsultants.com

April 2020 | 47
---
My Bench

Steve Pallas

Steve Pallas Bespoke Jewellery (formerly GN Designer Jewellers), Melbourne VIC

Age 36 • Years in Trade 19 • Training No formal training, I learnt from my father and previous business partner • First job Diamond Affaire

Other Father and husband

SIGNATURE PIECE

LA LINEAS RING

FINALIST – MEN'S ACCESSORIES & JEWELLERY,

JEWELLERY DESIGN AWARDS 2017

This 18-carat white gold men's ring features white pave-set

diamonds with black pave-set diamonds elevated on four

pieces. It represents the complex aesthetics of architecture.

FAVOURITE GEMSTONE Diamonds, as I love the

way different colours reflect from them in

the sunlight!

FAVOURITE METAL I am really enjoying working

with platinum – I love the challenge to get the

high-polished finish.

FAVOURITE TOOL Laser machine, as it

broadens your ability to make pieces that were

otherwise almost impossible.

BEST NEW TOOL DISCOVERY Laser engraver.

BEST PART OF THE JOB The excitement of

clients when they pick up their special piece.

WORST PART OF THE JOB The industry not

working together to keep a reasonable profit

margin.

BEST TIP FROM A JEWELLER Take your time

and get it right.

BEST TIP TO A JEWELLER Set yourself up with

a good foundation and build your knowledge.

BIGGEST HEALTH CONCERN ON THE BENCH

Sitting for long periods of time – I've suffered with

back issues as a result. To make up for all the

sitting, I need to exercise more often.

LOVE JEWELLERY BECAUSE Each unique piece

has a story behind it.

48 | April 2020
---
OPINION

Soapbox

Where is the accountability and integrity

in the jewellery industry?

With our industry association refusing to lead or enforce quality standards, how can

The number one thing that frustrates

me about our industry is the Jewellery

Association of Australia (JAA), because I

want them to create some accountability

in the jewellery industry, as there is in

other sectors.

Anyone can come to Australia and sell

jewellery pieces to retailers, but nobody

asks the jewellers who buy that product to

take responsibility for what they ultimately

sell on to the consumer.

I don't want to criticise anyone, but it's

about being solutions-focused and doing

what's best for our industry.

It's up to the JAA to maintain standards

of quality and accountability. There are

several ways they could do this. Firstly,

make membership mandatory for

manufacturing jewellers and retailers

with simple, low cost fees – say, $100

for basic membership and platinum

membership for $500.

Then, create and enforce a true Code of

Conduct with membership numbers that

must be stamped on every product sold –

specifically imported products.

That way, when low-quality or faulty

products are sold to consumers, we know

who imported it, or who made it, and they

can be held accountable, whether through

a fine or a ban from trading.

It's about integrity. That should be the

number-one priority for our industry.

What is even more surprising is that other

countries have far better protection for

jewellery consumers. The 'membership

number' hallmarking is not a new idea –

it is used in Singapore, Turkey and even

Afghanistan.

In the UK, gold and silver jewellery have

three compulsory marks: the sponsor's

mark (the manufacturer, importer,

wholesaler, retailer or an individual

who must be registered with a UK assay

office), the guaranteed standard of

fineness, and the assay office where

the piece was tested and marked.

It would be great if Australia had the

same standards, and that is something

the JAA should be trying to make law.

The Gold & Silversmith Guild of Australia

also use a hallmarking system, but

consumers aren't aware of this and

the standards of the Guild should be

universal in our industry.

If consumers are spending $10,000 or

$20,000 on jewellery, they deserve to

have protection. Right now, there's more

accountability when you buy a toy from

Kmart. It's not fair to consumers and it's

not fair to our industry.

Yes, our customers can go to Consumer

Affairs and complain about a faulty or

low-quality item – but we, as jewellers,

should be the ones taking responsibility.

I'd love my industry association to step in.

They would be able to independently judge

whether an item should be referred to a

higher authority.

I'd happily pay my membership fee if the

association were able to address these

problems. At the moment, I'm not a

member because the $500 I was paying

each year didn't go towards making

our industry more accountable and

responsible.

Non-members can't be held responsible

by the JAA. The association would say

that consumers make the choice to buy

from a non-member, but ultimately

membership doesn't mean anything

without enforcement of standards.

It's frustrating.

When consumers come to me with

complaints about jewellery they've bought

elsewhere, all I can do is write letters to

Consumer Affairs stating what's wrong.

They might then get help or get their

If consumers

are spending

$10,000 or

$20,000 on

jewellery, they

deserve to have

protection.

Right now,

there's more

accountability

when you buy a

toy from Kmart

money back – but that shouldn't be my

job to do. The JAA should do that. They

should appoint a member jeweller in

every area to support the consumers.

There is clearly a problem of trust

between jewellers and our customers. I

have heard of people spending upwards

of $25,000 on jewellery while travelling

overseas, with jewellers they have never

bought from before.

Why aren't those customers spending

their money with a jeweller in Australia?

Some might assume that the price paid

overseas was cheaper – but that is often

not the case.

In fact, the consumer could have

purchased a similar item from a local

jeweller for a lower price. That is part

of the problem.

Persistent discounting doesn't work,

particularly if you want to attract high-end

customers. Discounting simply erodes

trust and value. That's another issue that

our industry needs to address collectively,

perhaps through our association.

Alternatively, another type of customer

might see a jeweller's designs online and

then take them to be made elsewhere.

Intellectual property is not well-protected

when it comes to jewellery, and that is

another area our industry association

could help to fix; if membership was

mandatory, the association could

discipline those who devalue our industry

by copying and undercutting.

This is our industry. If we don't help each

other, who is going to help us?

Name: : Emil Ozer

Company: Gabriel Jewellers

Position: Owner

Location: Castle Hill, Sydney NSW

Years in Industry: 45

50 | April 2020
---
When 2 shows

are better than 1

INTERNATIONAL

J E W ELLERY & WATCH

FAIR

September 12 – 14, 2020

September 12 – 15, 2020

Announcing your opportunity to benefit from two shows in one

premium location. For the very first time, the Sydney September Gift Fair,

now called Spring Gift & Lifestyle, will run next door to the

International Jewellery & Watch Fair in 2020. This development will

ensure greater time efficiencies for retailers as it will allow them to

maximise their time away from the store and is sure to open your

business to some new possibilities!

ICC Sydney Exhibition Centre, Darling Harbour

WWW.JEWELLERYFAIR.COM.AU

Organised by
---
An exclusive collection of mechanical pocket

watches with a variety of styles and choices.

This attractive Classique Diamond-Set watch is cr

to perfection in an elegant Stainless Steel body wi

two tone plating (other executions illustrated).

Diamond set on case and dial under a scratch resi

sapphire crystal these beautiful slimline watches a

available in matching ladies and gents.

Built to last, it's water resistant to 30 metres, is fitt

with a quality Swiss Made Movement with Jewels a

carries a peace-of-mind 2 Year International Warr

SAMS GROUP

AUSTRALIA

E orders@samsgroup.com.au W samsgroup.com.au P 02 9290 2199

www. Classiquewatches.com