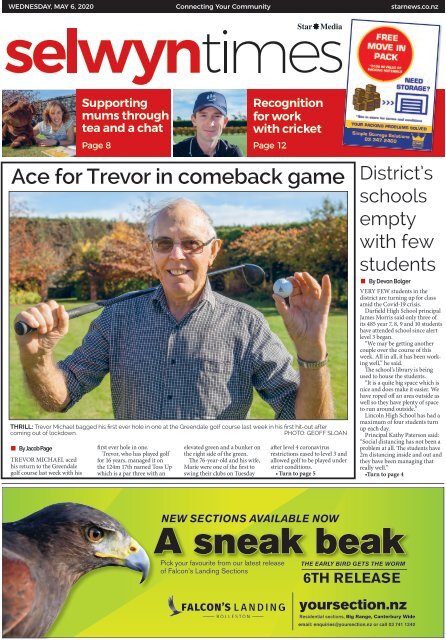 Selwyn Times: May 06, 2020
You also want an ePaper? Increase the reach of your titles
YUMPU automatically turns print PDFs into web optimized ePapers that Google loves.
WEDNESDAY, MAY 6, 2020

Connecting Your Community

starnews.co.nz

Supporting

mums through

tea and a chat

Page 8

Recognition

for work

with cricket

Page 12

Ace for Trevor in comeback game

THRILL: Trevor Michael bagged his first ever hole in one at the Greendale golf course last week in his first hit-out after

coming out of lockdown.

PHOTO: GEOFF SLOAN ​

• By Jacob Page

TREVOR MICHAEL aced

his return to the Greendale

golf course last week with his

first ever hole in one.

Trevor, who has played golf

for 16 years, managed it on

the 124m 17th named Toss Up

which is a par three with an

elevated green and a bunker on

the right side of the green.

The 76-year-old and his wife,

Marie were one of the first to

swing their clubs on Tuesday

after level 4 coronavirus

restrictions eased to level 3 and

allowed golf to be played under

strict conditions.

• Turn to page 5

District's

schools

empty

with few

students

• By Devon Bolger

VERY FEW students in the

district are turning up for class

amid the Covid-19 crisis.

Darfield High School principal

James Morris said only three of

its 485 year 7, 8, 9 and 10 students

have attended school since alert

level 3 began.

"We may be getting another

couple over the course of this

week. All in all, it has been working

well," he said.

The school's library is being

used to house the students.

"It is a quite big space which is

nice and does make it easier. We

have roped off an area outside as

well so they have plenty of space

to run around outside."

Lincoln High School has had a

maximum of four students turn

up each day.

Principal Kathy Paterson said:

"Social distancing has not been a

problem at all. The students have

2m distancing inside and out and

they have been managing that

really well."

•Turn to page 4

NEW SECTIONS AVAILABLE NOW

A sneak beak

Pick your favourite from our latest release

of Falcon's Landing Sections

THE EARLY BIRD GETS THE WORM

6TH RELEASE

yoursection.nz

Residential sections, Big Range, Canterbury Wide

email: enquiries@yoursection.nz or call 03 741 1340
---
TUESDAY, MARCH 24, 2020

Connecting Your Community

Circulation 93,000 starnews.co.nz

– page 4

TUESDAY, MARCH 24, 2020starnews.co.nz

The local news

destination

for Cantabrians

Thursday, March 19, 2020

– pages 6 & 7

ACTION: Six city counci lors including

Catherine Chu, Sam MacDonald (top right),

James Daniels (above left) and Aaron

Keown have ca led on Mayor Lianne Dalziel

to lead a conversation on how to achieve a

zero per cent rates increase this year.

• By Louis Day

CALLS HAVE b en made to

stop rates increases in response

to the Covid-19 crisis.

City counci lors James Gough,

Sam MacDonald, Catherine

Chu, Phil Mauger, Aaron Keown

and James Daniels have sent a

le ter to Mayor Lianne Dalziel

asking her to lead a conversation

as to how a zero per cent rates

increase could be achieved this

year.

The city council is proposing

an average rates increase of 4.65

per cent acro s a l ratepayers in

this year's Draft Annual Plan

which is cu rently under public

consultation until April 5 and

wi l be finalised before July 1.

The 2018-2028 Long Term

Plan also predicts a 50 per cent

rates increase over 10 years.

Said Cr MacDonald: "In

the cu rent environment it's

clear business as usual is not

appropriate and the council

needs to l ok at how we enable

this 12-month rates increase

fr eze to o cur, it's crucial for

the economic confidence of our

city."

Ms Dalziel said the las thing the council's budget, which is urchNZ, the Canterbury Employers'

Chamber of Commerce

the city council n eded was for not entirely funded by rates, and

someone to hi the panic bu ton. the consequences that wi l flow and other key players so we are

"Calm heads must and wi l from decisions we make. best prepared for the economic

prevail," she said.

"The Annual Plan is not cha lenges that lie ahead."

"Our residents and busine ses signed off for thr e months so City council chief executive

wi l be depending on us to we have time to ge this advice. Dawn Baxendale did not rule a

make adjustments, and we wi l, A the same time, the council zero rates rise out.

however, we wi l n ed advice is m eting with our economic "We're considering a series of

on the impacts on a l aspects of development agency, Christch-

options in light of the extraordinary

circumstances related to the economy in response to the

Covid-19. We wi l discu s these Covid-19 pandemic.

options with elected members The bi gest b ost is $5.1

as we develop the Annual Plan," billion towards wage subsidies

she said.

for affected businesses in all

The push from city counci lors sectors and regions.

for a freeze on rates rises comes •Tips for weathering virus, p3

shortly after Minister of Finance

•Mayor's column, p9

Grant Robertson announced

a $12.1 bi lion package to aid •From the editor's desk, p10

No review

A message

Councillor takes

Davids heads

Views on

Lively group

over

of love, unity

matters into

community board cricket nets

celebrate

multi-storey

and prayers

his own hands

advocating body sought

St Patrick's Day

house

for peace

Page 3 Page 6

Page 3 Page 5

Page 3 Page 7

Eastern

Motorway

Bid to

suburbs

opening

secure

repairs

delay

funding to

could take

brings

demolish

a while

relief

service

RESIDENTS MOST affected by

• By Louis Day

centre

the new Northern Motorway are

WEDNESDAY, MARCH 25, 2020

Connecting Your Community

IT COULD

WEDNESDAY,

be a while until

MARCH 25, starnews.co.nz

2020

Connecting Your Community relieved to hear the Christchurch TUESDAY, starnews.co.nz

MARCH 24, 2020

Connecting Your Community

starnews.co.nz

• By Georgia O'Connor-Harding

the eastern suburbs start to

Northern Corridor opening has

see Lianne Dalziel's campaign

been delayed by six months.

THE earthquake-damaged

aspirations for the area come to

The CNC was due to open in

former Sockburn Service Centre

fruition.

the middle of this year, but last

could finally be demolished in

During October's local body

week the New

July – if the funding needed is

elections, Ms Dalziel identified

Zealand Transport

Agency

It comes as the

obtained.

repairs to the eastern part of the

city's footpaths, pipes and roads

announced more

Halswell-Hornby-Riccarton

as one of her main priorities for

time was needed

this term.

to complete the

Community

"We need a fully integrated

$290m motorwayten

in its draft

Board has writ-

programme of works for the

east, I have loosely called this

The original

submission to

Readers respond

Chance to the eastern alliance, which

scope of the

the city council's

would essentially be an alliance Helpless to

Victorious

Delay in

Market day

project has been Mark Wilson

Annual Plan

Mike Mora

to supermarket

farewell Holden

of contractors who can take

extended include

stoked

making mall

goes green at 2019-2020,

stop property

captain the whole area bit by bit and

a third southbound lane on

requesting the city council addresses

the budget gap so the

rebranding

in style

systematically get the work

the Waimakariri River bridge and

flooding

with cup done," she said during the

a clip-on win

exit safer

Cashmere HS

cycleway.

buildings can be removed as soon

campaign.

St Albans resident Mark Wilson

as possible.

Page 8

GIRL Page BOSS: Julia 17 Holmes But chief wants executive to be a Dawn geneticist after Page high school, 3 and feels the GirlBoss Advantage programme will Page help 10 said GIRL the BOSS: community Julia Holmes are "somewhat

her achieve thankful" her for dreams. the delay.

Page 3

PHOTO: GEOFF SLOAN Page 11 said the final submission is yet to

wants to be a geneticist after high school, and feels the GirlBoss Advantage programme will help Board chairman Mike Mora

her achieve her dreams. Baxendale said any request to

PHOTO: GEOFF SLOAN

• By Bea Gooding

pursue a specific for biology, project in and the from a young Julia is one of 25 young were often male-dominated, •"The By community Bea Gooding will be somewhat

thankful for a reprieve of the

for biology, and from a young Julia is one of 25 young were often male-dominated, be completed but it was likely the

east would have age to has be always agreed been interested women chosen around the with particular focus on science,

technology, engineering

age has always been interested women chosen around the with particular focus on science,

technology, engineering requested.

demolition of the site would be

FIFTEEN-YEAR-OLD upon Julia by council.

effects of this motorway for six

South New Brighton School pupil Jacob McMillan enjoying the foam pit at Christchurch School of

City councillors are yet to pass

Gymnastics, which opened its doors to pupils while the school was closed due to fire damage.

Holmes is on a mission on to

in how things worked, often country to participate in the

FIFTEEN-YEAR-OLD Julia

Consent

in how things worked, often country to participate in the

months, but it's still there. Until

taking things apart just to put GirlBoss Advantage programme

next month, designed She was shocked to hear the

and maths.

Holmes is on a mission to Rates

taking things apart just to put GirlBoss Advantage programme

next month, designed She was shocked to hear the Main South Rd, has been a source

and maths.

The former service centre, on

make a difference in the world. any guidance them to back staff together. around

decisions are made to put our

make a difference in the world. them back together.

•Story, more photos, page 5

PHOTO: GEOFF The SLOAN year 11 St Margaret's this, she said.

community first, then there is no

That passion has landed her to mentor the female leaders news from her mother.

The year 11 St Margaret's That passion has landed her to mentor the female leaders news from her mother.

of tension for years with residents

College student has a passion •Turn to page the 5

relief," he said.

opportunity granted

of her dreams. of tomorrow in industries that • Turn to page 6

College student has a passion decision

the opportunity of her dreams. of tomorrow in industries that • Turn to page 7

unhappy with the state of the site.

•Turn to page 6

•Turn to 5

BLINDS...Cleaned, Repaired & Restored... for Collett's BLINDS...Cleaned, Repaired & Restored... to come

BLINDS...Cleaned, Repaired & Restored...

Restore your oiled CEDAR BLINDS with our Limited re-oiling service. stock

Restore your oiled CEDAR BLINDS with our re-oiling service. R V STORAGE CENTRE

Restore your oiled CEDAR BLINDS with our re-oiling service.

• By Matt Slaughter

Rejuvenate your lacquered CEDAR BLINDS

Corner plan

from Govt

Rejuvenate your lacquered CEDAR BLINDS

SPREYDON residents are

Rejuvenate your lacquered CEDAR BLINDS

High-tech Cleaning Fujitsu 6kw heat pumps

High-tech Cleaning

preparing High-tech Cleaning

We clean and repair all types of blinds –

• By Jess Gibson

We clean and repair all types of blinds – Boats, Caravans, • By Devon to help Bolger members of

We clean and repair all types of blinds –

their community if they are

What's in store for

Venetians, Cedar, Verticals, Roller, Hollands,

Venetians, Cedar, Verticals, Roller, Hollands,

Venetians, Cedar, Verticals, Roller, Hollands,

Romans and Pleated – with environmentally SAVE

RESOURCE consent has been

forced

ANY

to

DECISION

self-isolate

on

because

helping

of

people

Romans and Pleated – with environmentally

the property market

Motorhomes

Romans and Pleated – with environmentally

friendly cleaning products. $ granted for a major commercial

Covid-19.

who may struggle to pay their rates

friendly cleaning products.

in 2020?

Temperature Controlled Drying 350

and residential development in

Temperature Controlled Drying

Expressions of interest sought Spreydon

will come

to Neighbourhood

from the Government,

Re-oiling & Rejuvenating

Lyttelton.

Re-oiling & Rejuvenating

rent covered and open space

Network

the district

in

Facebook

council

group

says.

admin

Read the full article at

Fabric Blinds - such as Austrian and Buy Now.

Collett's Corner, a three-storey

Sonya Hodder got behind

Said district

the

the above proposed centre based

teamgriff.co.nz

Roman

complex, is now a step closer to

idea after one of its

council

members

chief

in I Zone Park Rolleston.

Keep warm WE ARE OPEN being built on Oxford St after

posted asking if residents

executive

are

David

WE ARE OPEN

WE ARE OPEN

Mon - Fri

Mon - Fri

+ Healthy

Christchurch City Council

willing to support people

Ward:

who

"(We) will

On site facilities will include Mon - Fri

8.00am to 5.00pm approved the consent application

8.00am to 5.00pm are self-isolating

the following:

by

be

dropping

guided by

off

8.00am to 5.00pm

from Ohu Development - the

D Security Fence, Swipe food card, and Gate other supplies.

government

D Dump Station On Site

group behind the project.

Entrance

Said Mrs Hodder:

policy

D Trickle "One

and

of Feed the Power

***NEW LOCATION***

***NEW LOCATION***

The project is being funded by

D CCTV Camera ladies who is in Dthe guidelines

Office group works

in

And Toilet Complex

***NEW LOCATION***

Ph 377 0770,

Ph 377 0770,

Ph 377 0770,

Caleb Griffioen 0276 370 231

47 Mandeville St, Riccarton Ph 377 the first crowdfunding 0034 campaign

D Wash Down Facility for the Red Cross Dand relation

Affordable she's like

to fifnancial

David Ward

Rental Charges

under taken in New Zealand for a

47 Mandeville St, Riccarton an emergency person, you

assistance

know,

47 Mandeville St, Riccarton

www.blindcare.co.nz

Christchurch www.dimocksenergy.co.nz sales@dimocks.net.nz

commercial development. www.blindcare.co.nz

Christchurch

she goes out with the

for

four-wheeldrive

ratepayers.

Christchurch

Reply to: rvstoragecentre@gmail.com

www.blindcare.co.nz

However, before work starts on

It is

and

likely

that, and

be a

she

national

came up

the complex, Ohu Development

with

decision."

the idea and so I agreed that

will need to raise between

we should

Mr Ward

use our

said

Facebook

it is still too

page

early

$800,000 and $1.4 million in its

as an

to tell

avenue

exactly

if anybody

what assistance

does

the

second round of crowdfunding,

need

community

help.

will need.

which is planned to start on

"I'm

"It's

not

very

sure

early

how

days

needed

and

that

I

PHOTO: GEOFF SLOAN April 2.

it will

think

be

that

because

we are

most

just

of

looking

the supermarkets

The public will decide whether

at how we

are

respond

providing

to the

online

virus.

DEDICATED: Dave Bryce is passionate about gardening as it is sustainable and promotes healthy eating. GIRL BOSS: Julia Holmes wants to be a geneticist after high school, and feels the GirlBoss Advantage programme will help

or not the second crowdfunding

delivery

For us,

and

it's

things

about responsiveness

like that but

her achieve her dreams.

PHOTO: GEOFF SLOAN

bid will go ahead on that date.

it's

to

just

the

hard

central

to know

government

how it's going

• By Jess Gibson

the chairman of Redcliffs/Te Features and was one of seven At the moment, edible

• By Bea GoodingIn a survey by Ohu from a young age has always Julia is one of 25 young industries that were oten maledominated,

with particular "I

guidelines,

to pan out.

the safety of staff

WITH MORE than 100 edible

Rae Kura Eco Village Group, recognised in the Residential items in Mr Bryce's garden

Development, people been can interested in how things women chosen around the

and

just

the

think

safety

they

of

[people]

our communities."

just

species in his garden, Dave

was successful at the Linwood- House Category.

include pumpkins, courgettes, WEST MELTON'S choose Julia whether they worked, think oten the taking things country to participate in focus on science, technology, need to let us know what they

Bryce would give any vegetable

Central-Heathcote Edible

The awards were presented to beans, lettuce, rhubarb, Holmes celery,

It follows calls from

is on a mission crowdfunding to campaign apart just should to put them back the GirlBoss Advantage engineering and maths.

need and we'll do our best to

shop a run for its money. Garden Awards.

Mr Bryce at a ceremony held at tomatoes, berries, nuts make and

Christchurch city councillors to

a difference continue, the world.

should together. be paused

programme next month,

She was shocked to hear the help," she said.

the worst happens.

Network] are about, that's why tricky if the supermarkets stop aged not to actually go there if

Which is why the Mt

He received a special

the Matuku Takotako: Sumner herbs among others.

stop rates increases in response

The fifteen-year-old until has the Covid-19 outbreak That passion is has landed her designed to mentor the

news from her mother.

Mrs Hodder said there is no "I just think anything to help we exist.

working and things like that, and they're sick, but to phone in and

to the Covid-19 crisis.

Pleasant resident, who is also award for Best Sustainability Centre earlier this month.

• Turn to page 6 a passion for biology, brought and under control. the opportunity of her dreams. female leaders of tomorrow in • Turn to page 5

need to panic but it is important our community, that's what we "We've got to look after each the doctors, it's hard for them as things like that," she said.

those who can help do

• Turn

their

to

bit

page

if

3

[the Spreydon Neighbourhood other. I guess it's going to get well. People need to be encour-

•Turn to page 6

At The Laboratory

Buy your tickets online

Looking for a mortgage broker?

17 West Belt

or from the bar BLINDS...Cleaned, Repaired & Restored...

Lincoln

apollo.thelaboratory.co.nz

Restore your oiled CEDAR BLINDS with our re-oiling service.

lending for buying, building or renovating your new home

Rejuvenate your lacquered CEDAR BLINDS

Refinancing home loans to get best possible interest rates

High-tech Cleaning

available and a structure to suit your goal

We clean and repair all types of blinds –

Venetians, Cedar, Verticals, Roller, Hollands,

Lending for purchase of rental and investment properties

Romans and Pleated – with environmentally

Business lending

Do you have trouble

• Open 5 days a week •

A service that is totally mobile and at NO COST to you

hearing and need a

hearing test? Your • Late night appointments (these fill fast!) •

local hearing expert, • FREE adjustments for ACC funded clients •

Another Chance UK Feel Good Classic Cinema Jane Austin Comedy Historical Drama Family Fun

Brenna Sincock, is

• Fully funded ACC options •

Tuesday, 24 March

Thursday, 26 March

Saturday, 28 March

WE ARE OPEN

11:00 AM The Gentlemen

R16 11:00 AM Little Women G

here to help you get

10:30 AM The Big Trip PG

Mon - Fri

• Hearing aids in all price brackets •

1:10 PM Parasite

R13 1:35 PM Jojo Rabbit M 12:10 PM Parasite R13

8.00am to 5.00pm

3:40 PM The Invisible Man R16

your best hearing.

3:40 PM Parasite R13 2:40 PM Emma

PG

I Spy Food

6:05 PM Emma

PG 6:10 PM Radioactive M 5:10 PM The Gentlemen R16

8:30 PM All at Sea

M 8:20 PM All at Sea M 7:30 PM All at Sea M

Wednesday, 25 March

Friday, 27 March

Sunday, 29 March

***NEW LOCATION***

78 Barrington Street,

www.stephaniemurray.mortgage

Michelle lindsay

Call (03) 390 2332

10:30 AM Mums and Bubs, All at Sea M 11:00 AM Emma PG 10:30 AM Emma

PG

Ph 377 0770,

Somerfield

12:40 PM Emma

PG 1:25 PM Radioactive M 1:00 PM The Big Trip PG

Mortgage advisor

Shop 40 Rolleston Square, 9 Masefield Dr, Rolleston 7614

3:10 PM The Gentlemen

R16 3:45 PM The Big Trip PG 2:45 PM All at Sea M

47 Mandeville St, Riccarton 03 337 0422

MichelleLindsayMortgageAdvisor

Phone 021 346 265

Rolleston | Darfield | Leeston | Lincoln

Local Selwyn Audiology

5:30 PM 1917

R13 5:30 PM All at Sea M 4:30 PM Little Women G

Christchurch

7:40 PM The Invisible Man R16 7:20 PM Emma PG 7:10 PM Radioactive M www.blindcare.co.nz

Small batch made from scratch, Coffee to go!

Ro ler Blinds cleaned

from as li tle as $ 2

per blind

The local news

destination

for Cantabrians

Connecting Your Community

Take in an

ice cream or

drink

TUESDAY, MARCH starnews.co.nz 24, 2020

Ge ry Brownl e

MP for Ilam

283 Gr ers Road Bryndwr,

Christchurch

ilam@parliament.govt.nz

0 359 0582

Funded by the Parliamentary Service.

Authorised by Ge ry Brownl e MP,

Parliament Buildings, We lington.

Ro ler Blinds cleaned

from as li tle as $ 2

per blind

GET CO NECTED WITH

Scorch

Broadband

08 0 726 724

www.scorch.co.nz

Cheap Tuesdays $10 Any Film, Any Time

Dine a the

La before

or after

Connecting Your Community

Ro ler Blinds cleaned

from as li tle as $ 2

per blind

Ge ry Brownl e

MP for Ilam

283 Gr ers Road Bryndwr,

Christchurch

ilam@parliament.govt.nz

0 359 0582

Funded by the Parliamentary Service.

Authorised by Ge ry Brownl e MP,

Parliament Buildings, We lington.

Ro ler Blinds cleaned

from as li tle as $ 2

per blind

starnews.co.nz

The local news

destination

for Cantabrians

Place your orders now

2

Wednesday May 6 2020

get in touch

from the editor's desk

NO SURPRISES over the number of

students not going to school since alert

level 3 came into force.

We reveal today the tiny numbers attending

high schools and primary schools in the

district.

I guess the Government had its reasons for re-opening schools

but was it worth it?

At Rolleston College only 17 students have turned up, three at

Darfield High and just four at Lincoln High.

Ellesmere College didn't respond to our questions – maybe all

students stayed home.

So you seriously have to question the value of schools reopening

under level 3 conditions.

On another note, good to see the golf courses back in action.

Trevor Michael (page 1) agrees. He bagged his first hole in one

on the day courses re-opened.

- Barry Clarke

GENERAL INQUIRIES Ph 379 7100

CLASSIFIED ADVERTISING Ph 379 1100

Star Media, a division of Allied Press Ltd

PO Box 1467, Christchurch

starmedia.kiwi

NEWS

Devon Bolger

Ph: 021 914 742

devon.bolger@starmedia.kiwi

ADVERTISING

Lynette Evans

Ph: 364 7434

lynette.evans@starmedia.kiwi

Latest Canterbury news at starnews.co.nz

sport

Lights powered-up

A $233,000 upgrade has finished on the No 1 rugby field at

Lincoln Domain.

Page 13

tasty bites

Belly-warming comfort food

If you like a baked potato but don't want the loaded carbs try our

healthy alternative. ​

Page 18

gardening

Tasks for autumn

Enjoy the cool temperatures and do essential maintenance in

the backyard.

Page 25

SELWYN TIMES

The best-read local newspaper, delivered to

20,622 homes, RDs and farms every Wednesday

Ladbrooks, Tai Tapu, Leeston, Lincoln, Southbridge, Prebbleton,

Halswell, Rolleston, Templeton, Burnham, West Melton, Darfield,

Kirwee, Arthur's Pass.

Montessori & Early

Childhood Preschool

• We offer a friendly, fun and

supportive environment – only 5

minutes from Rolleston.

• We believe that Tamariki thrive in

a peaceful, structured and caring

environment, full of fun

and challenges.

• We offer focused, balanced curriculums

that prepare Tamariki for the next step in

their learning journey.

• We value diversity within our Tamariki

and their whānau and this is reflected in

our whānau focused philosophy.

• We have 3 well resourced classrooms,

caring for Tamariki from 6 weeks to

6 years of age. We are proud of our

large, natural playgrounds that offer

challenges for all ages.

Give us a call today to find out about enrolling your child!

2020

NEW

SEASON

WOMEN'S

APPAREL

AUTUMN/WINTER

FASHION CATALOGUE

Phone orders welcome: see back page for details

WOF

Only $50

• Courtesy cars • oil changes • tyres & batteries

• Brake & clutch repairs • transmission flush service

• Full mechanical repairs • Petrol & diesel servicing

FitzgeRald MotoRs

PHONE 03 349 7813

Unit 8,193 Waterloo Road, Hornby

(6 doors down from our old site)

Taking new enrolments now!

CLASSICALLY INSPIRED, FASHIONABLY STYLED

Ring and Request

ouR fRee phone

oRdeR catalogue

Keep

connected

Digital

editions

available on

your screen

24/7

Vaping rules

in CDHB

spotlight

Parent's

frightening

journey

Covid-19 prompts call for

zero per cent rates increase

LimiTed

spaces

avaiLabLe

in our

nursery!

Located at 643 burnham school road

For enrolments please contact Jasmine or Kylie on 347-6161

download forms from www.burnham-montessori.co.nz

03 322 4548 | Easy Parking

17 Lillian Street, Halswell

Open Mon-Fri 9.30am - 5.00pm

Saturday 10.00am - 1.00pm

LAYBUY WELCOME

Foam fun follows fire Julia's on

a mission

to make a

difference

Award for green-fingered Bryce Julia's on

a mission

to make a

difference

Same Day Pick Up & Drop Off

We offer a same-day, pick up and drop

off service for most types of blinds.

Bookings are required.

Convenient Location

We are located at 47 Mandeville St,

Riccarton (next to Window Treatments

NZ Ltd), parking available onsite

Hear Better,

Live Better

www.starmedia.kiwi/digital-editions

Fabric Blinds - such as Austrian and

Roman

Same Day Pick Up & Drop Off

We offer a same-day, pick up and drop

off service for most types of blinds.

Bookings are required.

Convenient Location

We are located at 47 Mandeville St,

Riccarton (next to Window Treatments

NZ Ltd), parking available onsite

Julia's on

a mission

to make a

difference

Preparation starts to support

those who are self-isolating

friendly cleaning products.

Temperature Controlled Drying

Re-oiling & Rejuvenating

Fabric Blinds - such as Austrian and

Roman

Same Day Pick Up & Drop Off

We offer a same-day, pick up and drop

off service for most types of blinds.

Bookings are required.

Convenient Location

We are located at 47 Mandeville St,

Riccarton (next to Window Treatments

NZ Ltd), parking available onsite

friendly cleaning products.

Temperature Controlled Drying

Re-oiling & Rejuvenating

Fabric Blinds - such as Austrian and

Roman

Same Day Pick Up & Drop Off

We offer a same-day, pick up and drop

off service for most types of blinds.

Bookings are required.

Convenient Location

We are located at 47 Mandeville St,

Riccarton (next to Window Treatments

NZ Ltd), parking available onsite

SUPPORT: Sonya

Hodder says

the Spreydon

Neighbourhood

Network will help

residents if they

have to selfisolate

because

of Covid-19.

PHOTO: GEOFF

SLOAN

• HAVE YOUR

SAY: Tell us

what you're

doing to help

your community

prepare for

Covid-19? Email

matt.slaughter@

starmedia.kiwi.
---
SELWYN TIMES Latest Canterbury news at starnews.co.nz

Wednesday May 6 2020 3

News

Max's marathon effort to emulate Capt Tom

• By Devon Bolger

MAX TAYLOR was inspired

to raise money for charity after

world-wide sensation Captain

Tom Moore raised more than

$66 million by walking laps

around his garden.

The eight-year-old Springfield

resident ran 6.02km every day

over seven days.

As of Monday, $1174 had been

donated to his givealittle page.

The money will be going to Age

Concern Canterbury.

Max's mother, Kathryn Taylor,

said he came up with the idea all

on his own.

"It came about after seeing the

news about Captain Tom Moore,

the Englishman who was doing

laps of his garden. He thought

that was pretty amazing and

wanted to do something similar

here," she said.

Captain Moore is a former

British Army officer who served

in World War 2.

He gained attention worldwide

when he began to walk laps of his

garden with the goal of raising

$2068 (£1000) for the National

Health Service by his 100th

birthday 24 days later.

On the morning of his 100th

birthday the total raised had

passed $62 million (£30 million),

PUFFED: Max Taylor of Springfield ran the length of a marathon

in his backyard over a week to raise money for Age Concern

Canterbury. ​

and by the time the campaign

closed at the end of the day it

had increased to $66.1 million

(£32.79 million).

The Queen sent Captain

Moore a personalised birthday

card congratulating him on his

efforts.

Mrs Taylor said: "Max had

been really worried about elderly

people being more vulnerable.

We talked about how they had

SENSATION: Englishman Captain Tom

Moore raised millions of dollars by walking

laps of his garden. PHOTO: GETTY

to isolate for a long time and he

thought that sounded horrible

and they'd be lonely so he

wanted to help," she said.

Each morning Max wrote a

list of the laps that he needed to

do and left it by the

starting line to cross

off as he went past.

"He would do a

few in the morning

on his own before

school work and then

throughout the day

we would just do a

few with him, he is

the only one who did

all of them.

"I have been really

proud of him. We

would wake up in

the morning and he

would be out there

already, we'd see him

running past the

window."

Max is absolutely

stoked with the

amount he has raised

so far, she said.

"We didn't talk

about a figure but

we were saying if

we could raise a

couple of hundred

he'd be happy, so to

have over a thousand

is awesome."

• You can still donate until

the end of the month at:

https://givealittle.co.nz/

fundraiser/maxs-marathonfor-vulnerable-elders

You don't even need to leave your bubble

to give Mum a gift this Mother's day!

Vouchers can be purchased online with instructions

on how to use them.

You will find the Gift Card under our accessories page.

We have a great range of accessories for Mum

including handbags, jewellery, hats, scarves etc.

Or you can purchase online and select to pick

up or courier options and we are happy to

deliver if you are in the area.

We have missed all our wonderful customers and we wish all the Mums a fantastic Mother's Day!

Shop 12, Rolleston Square, Rolleston. Ph 347 1151

www.vivalamoda.co.nz

Or Like us on Facebook!

Takeaway Pizza & Beer

17 West Belt Lincoln

IS this Just what you've ALL been missing??

NOw AVAILABLe FOR TAKEAWAY 4pm-8pm Tues-SUN

Order by TEXT

Contactless Pick-up and Pay

17 West Belt Lincoln

www.thelaboratory.co.nz

See our website or Facebook for full menu and details

5

Hear Well,

Stay Well,

Selwyn

Broken hearing aid?

We can help!

Your hearing is important. We are available

for urgent appointments, hearing aid repairs,

and hearing aid supplies during Alert Level 3.

Our clinic will be open as normal in the future

during Alert Levels 2 and 1 and appointments

are being scheduled now. Please contact our

clinic with any questions or to learn more

about our availability.

Text 021 184 3138

Call 03 390 2332

brenna@sincockhearing.nz

sincockhearing.nz

Local Selwyn Audiology
---
4 Wednesday May 6 2020

Latest Canterbury news at starnews.co.nz

SELWYN TIMES

News

Rules being

followed by

dog owners

• By Devon Bolger

DOG OWNERS seem to be

keeping their pets in their bubbles

during the Covid-19 pandemic.

The district council received

just four complaints regarding

dogs being off

their leash from

March 26 to April

27.

The Ministry for

Primary Industries

has asked dog

Steve

Clarke

owners to keep

their canines on

a leash under all

alert levels to minimise any need

to break a "bubble" to retrieve

their pet, as well as the risk of

accidents.

Said district council senior animal

control officer Steve Clarke:

"We have seen little change in

the number of reports we receive

about dog attacks and dogs being

off-leash during the lockdown

period.

During the lockdown period

the district council received

eleven reports of dog attacks,

which is similar to the numbers of

previous years.

Only one dog was housed at the

district council pound and it was

able to be returned to its owner.

'We have no indication of whether

•From page 1

Rolleston College had a

maximum of 17 students attend

out of 533.

Principal Rachel Skelton said

it has been going well as students

are already used to online

learning.

Ellesmere College did not

respond to questions by the

Selwyn Times.

Prebbleton School has had

about five or six pupils each day

out of a total of 480.

Said principal Kim Alexander

said: "It was what we were expecting

but it is going well so far.

We have had no indication

of whether numbers will increase.

"The small numbers of pupils

mean they can all be in the

same large teaching space,"

she said.

Lincoln Primary School has

had about 18 to 20 students show

up each day compared to the

usual 621.

Said principal Vivienne

Butcher: "It has been going

very well so far. We have the

pupils split into a junior bubble

and a senior bubble. Family

members are kept to the same

bubbles."

Four teachers are on-site at the

school each day.

BUBBLE: Lemonwood Grove School pupils Veronika Delgado and Avah Prisloo keep their

distance while playing under alert level 3.

Said Weedons School

principal Kathy Bell: "Things

have been very good. We are

happy and the children are

happy. We have had the same

amount of children each day

which is a small portion of our

usual number."

The school's roll is typically

about 160 pupils.

"We have been in contact with

families and are not expecting

the numbers to increase this

week," she said.

STUDY:

Social

distancing

at Lincoln

Primary

School.

Family

members are

kept within

the same

bubble.

CHECK–

CHECK AGAIN

Every intersection,

every time.
---
SELWYN TIMES Latest Canterbury news at starnews.co.nz

Wednesday May 6 2020 5

News

numbers will increase'

DISTANCING: Darfield High School students studying in the library that has been set up for

them to work in. ​

Mrs Bell said social distancing

at the school is going well and

having a small number of pupils

makes it easier.

Meanwhile, 30 pupils out of

about 200 have attended Lemonwood

Grove School in Rolleston

each day.

Principal Jen Hodgkinson

said: "Some pupils are coming

for full weeks and others are

only attending on the days both

parents work.

"We are expecting a couple

more pupils next week as

more parents return to work.

However, we were aware of these

and they have already been

factored into the bubbles," she

said.

Ms Hodgkinson said everyone

at the school is adapting well

and following changes implemented

to mitigate the risk of

Covid-19.

These include having different

pick-up and drop-off times,

timetabling to ensure no bubbles

are crossed and work stations

being distanced.

Punched during road rage

• By Devon Bolger

A 30-YEAR-OLD man suffered

minor injuries after being

punched in the head during a

road rage incident near Rolleston

on Sunday.

Said Senior Sergeant Dean

Harker: "The victim wasn't feeling

well and pulled over to the

side of the road. He has sort of

cut a car off while doing that.

"The driver has got out and

punched him a couple of times

in the head. He also yelled abuse

about the man's driving."

The incident took place on

Lincoln Rolleston Rd at about

12.10pm.

Bar closed for shout

• From page 1

The couple are both members

at Greendale and their property

backs onto the course.

Trevor said modestly, the shot,

with a seven wood, "was an absolute

fluke."

"I didn't see it go in," he said.

"I used a seven wood and with

no pin in there and the cups are

upside down so it's flush with the

level of the green and when we

got up the slight hill and Marie

turned to me and said: 'My goodness,

it's in there.'

"It could have so easily rolled

The victim lives in Christchurch

and was working in the

district at the time of the assault.

The perpetrator is a caucasian

male aged 30-40 and about

185cm tall.

He was driving a white Toyota

Hilux with roof racks.

Senior Sergeant Harker said the

victim was unable to get the registration

of the vehicle and they

are currently following leads to

track down the man responsible.

"If any members of the public

did see something in the area at

that time please contact Constable

James Bourne at the Rolleston

Police."

past so it was such an amazing

fluke for it to be sitting there."

Trevor took up the game at

60 as something to do during

semi-retirement after a life on

the farm and plays off an 18

handicap.

Trevor said if the bar was open,

drinks would have been on him.

"I would have shouted because

I was so rapt because I'm running

out of time to do it."

Trevor said he hoped to

continue playing socially twice

a week once things got back to

normal.

3 TRUCKS

3 CARS

3 LUBES

3 SERVICING

3 FLEET WORK

3 BOATS

3 DIESEL INJECTOR &

PUMP SERVICING

3 ENGINE TUNING

Mon-Fri 7am-5pm

Sat 8am-12pm (WOFs only)

3 BRAKES

3 MAXXIS TYRES

3 WHEEL

ALIGNMENTS

3 BATTERIES

3 WOFs

3 CAMBELTS

AND MUCH MORE!

839 Jones Road, Rolleston P.O. Box 16 Rolleston

Phone Simon on 347 7110 or Mobile 027 272 9213

MEARES WILLIAMS

LAWYERS

10 Years in Selwyn

Richard Gray

Kate Warren

Anita Molloy-Roberts

Belinda Ferguson

Emma-Jane Moore

W: www.meareswilliams.co.nz

T: (03) 374 2547

E: reception

@meareswilliams.co.nz

View our range of gorgeous gifts &

contemporary homeware online

Simply visit our website www.anyexcuse.co.nz or find us

on Instagram or Facebook to view the fabulous home

and giftware we have available for purchase.

Place your orders early for Mother's Day

Pay by direct credit to our bank account or via Afterpay. We

will deliver to your home (Selwyn & Chch area) within 48 hours.

Or Click at Collect at: clickandgocollect.nz/go/any-excuse/

Gift

Vouchers

Available

For all enquiries please text or call 021 022 06287

Email: denise@anyexcuse.co.nz

ROLLESTON OFFICE

78 Rolleston Drive, Rolleston

Offices also located at:

43 Gerald Street, Lincoln

225 Papanui Road, Christchurch

3/4 Eastfield Drive, Lincoln | www.anyexcuse.co.nz
---
6 Wednesday May 6 2020

Latest Canterbury news at starnews.co.nz

SELWYN TIMES

Recycling Reset!

Recycling has restarted, but we are struggling with contamination levels.

Help make it a success by taking the time to get your recycling right.

Flattened

cardboard

Aerosols

Glass bottles

and jars

Paper

Produce, bread and

courier bags, ANY bags!

Yoghurt

pottles

6

Sushi or

cracker trays

3 6

Takeaway

coffee cups

Aluminium

and tin cans

IMPORTANT UPDATE:

Plastic bottles

1 2 5

and containers

Keep items loose, make

sure they're rinsed and pop

the lids in the rubbish bin.

Snack food

packets

Pet food bags

Unsure about an item? Email solid.waste@selwyn.govt.nz

Visit our website for more information:

selwyn.govt.nz/recycling
---
SELWYN TIMES Latest Canterbury news at starnews.co.nz

Wednesday May 6 2020 7

News

BE INTO

EXTENDED: The submission period for the Countdown Lincoln supermarket

development will stay open until two weeks after alert level 2 begins. ​

Residents in a losing

battle against

Flemington supermarket

• By Devon Bolger

THE BATTLE to stop a

Countdown supermarket

going in at the Flemington

subdivision in Lincoln

appears to be failing.

The district council has

received 43 public submissions,

26 of which support

and 15 oppose the development.

Flemington

developer Shane

Kennedy said: "This

is something the

community has

been talking about

for quite some time.

There was always,

from an economic

point of view, the

need for a supermarket in

this area.

"We have been fielding a

lot of clarification calls versus

people who are directly

opposed to it. To be honest,

nobody has contacted me

directly that is completely

opposed. It has been more

around seeking traffic information

and things like

"Exclusive"

Shane

Kennedy

that," he said.

A Flemington resident

who previously spoke

against the development to

Selwyn Times did not wish

to comment after receiving

backlash.

In March, Selwyn Times

reported a group of Flemington

residents opposed

the proposed location for

the supermarket.

The submission

period on the development

has been

extended until two

weeks after Alert

Level 2 begins.

Said district council

planning manager

Jesse Burgess: "The

extension is on the basis

that under alert level 2,

members of the public are

likely to have greater access

to libraries and support for

the use of technology to

enable everyone fair and

natural access to submit on

the application," he said.

Mr Burgess said based

on current information,

alert level 2 could begin on

• HAVE YOUR SAY:

Do you support the

proposed Countdown

supermarket for

Lincoln? Email your

views to devon.bolger@

starmedia.kiwi

May 12 and, therefore, the

notification period would

end on May 16.

Said Springs Ward

councillor Malcolm Lyall:

"I wouldn't like to draw

any conclusions on the

submissions received

as people have had a lot

going on. It is great the

submission period has

been extended," he said.

The district council

received a resource consent

application from Lincoln

Developments Ltd last

year.

They have applied

to build and operate a

3063m 2 supermarket in the

Flemington subdivision

on Birchs Rd between 7am

and 10pm seven days a

week.

Ravelli ULEB Wood Pellet Fires

1 OF 2 TO BE WON IN EACH PARTICIPATING STORE.

SEE INSTORE FOR DETAILS

Nestle Scorched

Almonds 240g

Puhoi Valley

Yoghurt 450g

$

5 99 ea

$

4 99 ea

GRAB A

GIFT FOR

MOTHER

DAY

SEEDLESS

& EASY

PEEL

Whittakers

Destination

or Artisan

100g Range

$

3 79 ea

The Peoples Wine

750ml

$

12 99 ea

Fresh NZ Skinless

Chicken Breast

Fillets

$

12 99 kg

Satsuma

Mandarins Loose,

Product of New Zealand

$

5 49 kg

www.foursquare.co.nz

facebook.com/FourSquareNZ

Pellet and Wood Fire Specialists

472 Blenheim Road

Sockburn

Phone: 03 343 1651

Open 8:30am - 5pm

Sat 10am - 1pm

www.heatstore.co.nz

STAFFORD STREET

Specials available South Island only from Monday 4th May until Sunday 17th

May 2020 or while stocks last. Wine and beer available at stores with an off

licence. Wine and beer purchases restricted to persons aged 18 years old and over.
---
8 Wednesday May 6 2020

Latest Canterbury news at starnews.co.nz

Our People

Supporting the district's mums for 11 years

Lauree Welford has

been helping to support

mothers in the district for

11 years. The Rolleston

resident speaks to Devon

Bolger about her work

with the Time4Mums

group and love for the

district

How did you get started with

the Time4Mums group?

I have been involved for about

11 years now. I had just moved

down from Auckland a few

months earlier and I started

getting involved with a few bits

and pieces, mainly baking to

start with.

The group itself has been

around for quite a while under

different banners. It came out

of a group affiliated with MOP

international, which stood for

Mothers of Preschoolers.

Over-time it was converted

to a New Zealand version and

that eventually shut down. We

decided it was something that

was quite important so we made

Time4Mums and kept a similar

structure to what we were doing.

I would say the group has been

in Rolleston for at least 15 years.

Could you tell me about what

the group does?

It is about encouraging

and connecting mums in the

community. You arrive, have

some morning tea, we have an

amazing baker at the moment,

and just chat for a bit.

We usually get in speakers on

all sorts of things from antenatal

depression, to processing grief,

to cup cake decorating. There

is also a bit of a craft activity

afterwards for whoever would

like to do that.

During this time we have also

got a place for the little ones.

There are a lot of volunteers

around to help babies and play

with them so the mums can

sit down and actually enjoy

a cup of coffee without being

interrupted. When they get a bit

older, crawling or walking, they

come through to where I am at

SUPPORT: Lauree Welford of Rolleston cares for children every second Wednesday while their

mothers have a well-deserved cup of tea and a chat.

PHOTO: GEOFF SLOAN ​

the moment looking after the

kids in the next room. It is just

like a daycare really where we

look after the little ones while

the mums are having their chats.

It gives them a chance to build

friendships and grow as a mum.

It is great having some of the

grandmothers come along and

offer wisdom, support and a

listening ear.

A lot of the children are

younger or having started

childcare so when we are looking

after them it is sometimes the

first time mum and baby have

actually been apart at all. So it

is quite a big step for them and

the kids but because we are right

next door if they get sad you

can take them back. It's not like

taking them to daycare, it's a nice

gradual transition.

How many people typically

attend the meetings?

It can vary anywhere between

10 to 20 mums. We meet on the

first and third Wednesday of the

month during school time.

I recently looked back at last

year's roll and we had about

60 different mums attend

throughout the year at different

times.

It gets a bit difficult to keep

track because a child might

start school or things change for

people.

Why do you think it is

important to have a support

group for mothers in the

district?

I think it is important

anywhere with young mums

but I think Rolleston more so

than most because it is such a

new area. New people are always

shifting here and they don't have

any kind of family connections.

There are also a lot of people

shifting from overseas so

they don't have parents or

grandparents or anything to get

a chance to have a break and get

that care and support they need.

Does the group get any

help from any community

organisations?

The Hope Presbyterian Church

started supporting the group

about 10 years ago. We need

an organisation to help with

funds for things like hiring the

Rolleston Community Centre

and the morning tea. We also ask

for a donation to come along to

the meetings.

It is all run by volunteers, the

church helps us through funding

and background support.

We usually have a team of

people helping. There is someone

who is a bit more of a leader, which

I did for a few years, where you

organise speakers to come in and

make sure there are enough team

members and things like that.

For Mother's Day, I've gone

around to a few businesses and

they've donated things to make

the day just a bit more special so

SELWYN TIMES

Lauree Welford

that kind of thing is great too.

We have had an amazing team

of people over the years and it

is pretty cool how sometimes

it might feel like numbers are

dwindling on the volunteer front

and then others come along.

How long have you lived in

Selwyn?

We have been here for 11 years

now, we moved down from

Auckland. We have always lived

in Rolleston.

What do you like about living

here?

I really love the sense of

community. We were in

Auckland for quite a few years.

We came here and it was great

because my kids could bike

to school and walk to friends'

houses.

We had to drive everywhere

in Auckland but here everything

is close by and there are friends

around the corner. That

community feel is definitely my

favourite part.

Do you have any hobbies

or skills outside of your

community work?

I work locally over in Izone.

They are very flexible which is

great because I still can help

with the group on Wednesday

mornings.

I spend a lot of time watching

my kids play sport, especially

cricket. I'm really involved with

that.

I also like to go for walks and

the odd bit of a birthday cake

decorating for family.

Could you tell me a bit about

your family?

My husband Martin has an

electronics business and works

from home.

We have three children. Our

daughter started university this

year but is back home at the

moment with the lockdown.

Our middle son is in year 11 at

Lincoln High and my youngest

son is in year 7 at Rolleston

Primary School.

• To find out more about the

group visit the Time4Mums

Rolleston Facebook page

or email: time4mums@

hopechurch.net.nz.

ONLINE

SHOPPING

Now available through our

Facebook page 'Masons Drapery'

For more detail go to our Facebook

page and contact us through the

page for anything you would like.

We can arrange posting or collection.

Remember to like our page!

2 McMillan St, Darfield • Ph 03 318 8734

Open Mon-Fri 9am-5pm Sat 9.30am-12.30pm

Fall in love

with your favourite

furniture all over again!

• Recover your chairs and couches

and save money!

• Excellent range of fabrics

• Quality workmanship guaranteed

• Free quotes available

• Over 30 years experience

To all our clients - stay safe and take

care of each other during this time…

before

after

Somerfield Upholstery welcome

you to email for a quote online:

somerfielduph@gmail.com

Somerfield Upholstery Ltd

FURNITURE RECOVERY SPECIALIST

6/47 Sonter Road, Wigram | Ph 021 251 6200 | 349 0456
---
SELWYN TIMES Latest Canterbury news at starnews.co.nz

Wednesday May 6 2020 9

Our Digital Library

is always open!

Need something to keep you entertained?

View our great selection of digital resources available online, 24/7.

eBooks and

Audiobooks

Over 20,000 eBook and Audiobook titles

including fiction and non-fiction for adults,

young adults and children. Search the

catalogue for your favourite titles.

Online Streaming

Check out Kanopy and Beamafilm

for award-winning documentaries,

independent features and film

festival favourites.

Storytelling

Storybox has over 200 videos of iconic

children's stories being read aloud by

Australian and New Zealand storytellers.

Heathy Food Guide

Check out the Healthy Food magazine

online for your complete guide to healthy

eating and getting the best nutrition.

eMagazines

RB Digital has over 70 of your favourite

magazine titles from entertainment,

technology, art, style, travel to music

and more.

Mango Languages

Mango has courses for over 60

languages including English tutorials for

ESL students.

TumbleBook Library

An interactive kids' mecca! Featuring

puzzles, concentration and spelling

games, read-along books, educational

videos and more.

Learn a new skill!

Lynda.com has a library of over 5,800

courses and 260,000 tutorials on

software, technology, creative and

business skills taught by recognised

industry experts.

Ancestry.com

Ancestry.com is a very extensive family

history website providing database

access to census archives, birth

registers and immigration records.

Not a member of Selwyn libraries? Join online, it's free.

Stay connected on our Facebook page with all the latest updates.

Storytimes Zoom Sessions

Weekdays, 10.30am. Book via our website.

selwynlibraries.co.nz

SelwynLibraries
---
10 Wednesday May 6 2020

Latest Canterbury news at starnews.co.nz

SELWYN TIMES

Staying safe at Alert Level 3

Keeping your bubble small and making space around you are two important

ways to keep yourself and the people in your household protected. They help

keep other people safe too. Because the more contact you have with others,

the more opportunity the virus has to spread.

Make the space An important way to keep yourself and others safe is to 'make

the space' by keeping a 2-metre distance from people who aren't in your bubble, at all times.

Do I need to make space around me when

picking-up takeaways?

Making space around you applies wherever you are, and particularly

in places where people tend to gather, like the queue for picking up

takeaways. While waiting, make sure you keep at least 2 metres apart

from others at all times.

Can I enter the premises to pay or pick

something up?

When you are collecting goods, including food, make sure this

happens in a contactless way, from a separate area. You should not

be entering the premises for any reason. This applies to businesses

of any sort – such as clothing and electronics retailers – not just

takeaways. The main exceptions to this are supermarkets, petrol

stations and dairies (dairies must follow the 'one-in, one-out' rule).

How do I pay?

The best way to pay is to do so online or over the phone, and then have

items delivered to your front door. If you have to pick-up goods, keep a

2-metre distance and do so in a contactless way. If you have to pay for

goods at the store, use payWave where possible. Only use cash if you

have no other option. Wash your hands after touching cash.

What do I do if I have symptoms?

Don't leave the house if you're sick or have symptoms. Contact

your local GP or Healthline on 0800 358 5453 and they will advise

you and arrange a safe way for you to be tested for COVID-19.

How to enjoy recreation safely

You can visit parks and outdoor spaces, but be careful to not touch

any surfaces with your hands, such as handrails or benches, etc.

Be sure to always make at least 2 metres of space around you.

Wash your hands thoroughly when you get home.

Activities that require experience

You can do more activities at Alert Level 3, but only if you're

experienced and can do them safely. These activities include:

Fishing – if you want to go fishing you can do so from a wharf

or the shore, but don't cast off the rocks. Boating is not allowed,

including fishing from a boat.

Hunting – you can hunt on private land, but not on public

conservation land. You need to stay within your region and stick

to your bubble. Overnight trips are not allowed. You may only hunt

on foot. That means using quad bikes, off-road bikes, helicopters

and other motorised vehicles is not allowed.

Keep your bubble small Keeping it small means restricting your bubble to your immediate

household, and maybe extending it a small amount if you need to – perhaps by one or two people maximum.

This could mean reconnecting with close family, bringing in a caregiver, or supporting isolated an isolated person.

Can I visit my family if they are spread out across

more than one other bubble?

You can't join multiple family bubbles together. The way to stay

safe is to limit your exposure to other people as much as possible,

including family members. As mentioned, you can visit someone

who is isolated or needs help. However, you should make sure

you're the only one joining their bubble.

Are neighbours allowed to merge bubbles?

Not for social reasons. Unfortunately, we all need to say 'no' to a beer

with the neighbour until COVID-19 is under control. You can, however,

support someone who is isolated and needs help.

Can I pop in and visit another bubble?

We know you've missed your friends and whānau, but now is not the

time to pop in for a chat or to say 'hi'. Stick to checking-in via a phone

or video chat instead.

Can our flat extend our bubble to another flat?

At Alert Level 3 this is not allowed. It would open up the potential

for the virus to spread. Remember, the more people in your bubble,

the greater the risk.

Thank you New Zealanders

Alert Level 3 is a big moment in our fight against COVID-19. Thanks to each and every

one of you for putting your community first, and following the rules that keep us all safe.

Got questions?

Find the answers faster at Covid19.govt.nz
---
SELWYN TIMES Latest Canterbury news at starnews.co.nz

Wednesday May 6 2020 11

Tradies – look after your valuables

Area response manager

Senior Sergeant Dean

Harker talks about police

activity in the district

WITH THE reduction from a

level 4 to level 3 lockdown a large

number of building sites are

again becoming operational and

tradesmen are busy making up

for lost time to try and get houses

and industrial builds completed

before winter.

Selwyn police have noticed

an increase in calls for service

regarding thefts and suspicious

behaviour being reported around

building sites and also sites

where road maintenance is being

carried out.

With Selwyn police working

24hr from the Rolleston station I

would encourage members of the

public to report any suspicious

behaviour by calling at the time

it happens and to try and record

as many details to help identify

the suspects.

There have been houses that

are near completion which have

been entered and whiteware

stolen, some of these offences are

occurring in the evenings or early

hours of the morning, some of the

suspects have been described as

wearing hi-vis clothing and appear

to be dressing as tradesmen

and also using tradesmen-like

vehicles such as utes.

For tradesmen, do not leave

your tools or valuables in your

vehicles overnight, instead keep

them secure and out of sight.

SECURE: Have your tools

engraved with your driver

licence number.

Only buy tools from reputable

businesses – if the price sounds

too good to be true, it probably is.

ENGRAVE – Engrave your

tools with your driver licence

number – that way, if found they

are easier to return to you.

RECORD – Record the serial

numbers of your tools and keep

the list in a safe location.

SECURE – Always secure your

tools using good strong, locks.

REPORT – Report any suspicious

activity to police.

Local police are looking at

holding events where we will

engrave tradesmen's tools once

Dean Harker

Selwyn Police

the lockdown has lifted.

Last week local police have

been busy holding offenders to

account and have had some very

good results and apprehensions

thanks to help and information

being supplied by the public.

Last week a male was charged

with cannabis cultivation and

selling cannabis offences after a

search warrant was executed in

the district. We also dealt with

a fatal accident, and attended

an incident at an address where

a firearm was discharged, the

suspect for this has been apprehended.

At another incident, a person

has been apprehended and is facing

charges in relation to being

found in possession of prohibited

firearms.

We have a few new police staff

starting work in the district over

recent weeks.

On a personal note, like a

number of other locals, I am

waiting for the Covid-19 restrictions

to be lifted so I can travel to

the West Coast and go hunting

and, hopefully, bag myself a deer

to fill my freezer before winter.

Take care and be safe.

BACKYARD CRITTERS

Mike Bowie is an ecologist who

specialises in entomology (insects and

other invertebrates). Each week he

introduces a new species found in his

backyard at Lincoln. His column aims to

raise public awareness of biodiversity,

the variety of living things around us.

Check out the full list of invertebrates

found at www.inaturalist.org/projects/

backyard-biodiversity-bugs-in-my-lincoln-section

A furry favourite

AT THIS time of the year with

temperatures dropping, insect

pollinator diversity is reduced

mainly to the larger, introduced

bees and bumblebees.

Four bumblebee species

were introduced from England

between 1885 and 1906 to aid

pollination of crops. Bumblebee's

hairy bodies, long tongues, and

ability to buzz-pollinate make

them better pollinators than

honeybees for some species like

red clover, broad beans, kiwifruit,

zucchini, aubergines, peppers,

blueberries and tomatoes.

They can also fly in colder

temperatures than honeybees

and can be used in glasshouses

particularly for pollinating

tomatoes which honeybees

dislike.

Bombus terrestris, or the

buff-tailed bumblebee, is the

most common species you will

encounter.

As its name suggests, the tip

of this species is buff-white in

colour. They have been recorded

visiting 47 native species and

500 exotic flowering plants. The

queens are 20-22mm long, while

workers are considerably shorter

at 11-17mm long.

During winter, fertilised

queens seek somewhere to

hibernate and excavate a 100mm

deep hole. In spring they emerge

to feed for several weeks before

establishing a nest in a dry cavity.

Like honeybees, they do sting,

but bumblebees differ in that

after stinging,

they survive

for another

day.

Steven Moe

stevenmoe@parryfield.com

Rolleston Lawyers

We are proud to be open in Rolleston

servicing all of Selwyn.

We handle a full range of legal issues from conveyancing to

company matters, employment issues, family matters and disputes.

We are located at 68 Rolleston Drive (near Countdown).

Please contact us to arrange a time to meet.

PauL owenS

paulowens@parryfield.com

CoRa GRanGeR

coragranger@parryfield.com

68 Rolleston Drive Phone 03 348 8480 www.parryfield.com

95 Gasson Street, Sydenham, Christchurch 8140, NZ | www.carlights.co.nz

WIN

$1000 *

TOWARDS YOUR

BATHROOM

TRANSFORMATION

YES WE ARE OPEN AT LEVEL 3

Go into the draw to win this great

prize by requesting a no obligation

measure and quote for a HomePlus

shower today.

*Promotion closes end of May 2020

HomePlus custom

made showers

maximise use of

available space,

creating a look of

stunning luxury.

Measured, made

and installed by our

team of experts.

5 year warranty.

88 Gasson St, Sydenham | 03 379 3740 | www.homeplus.co.nz
---
12 Wednesday May 6 2020

Latest Canterbury news at starnews.co.nz

Last week was big for cricket in Canterbury Country with both Toby Doyle and Rhys Mariu recognised at the New Zealand

Cricket Awards. Mariu then continued the trend when he and good friend Jesse Frew received the Fulton Scholarship for

emerging Canterbury Country players.

SELWYN TIMES

Work at grassroots recognised

• By Jacob Page

CANTERBURY Country

Cricket manager Toby Doyle

believes his national award is just

the cherry on top of the work he

does at a grassroots level.

The 29-year-old, who lives in

Darfield and plays for Leeston-

Southbridge was named development

officer of the year at the

New Zealand Cricket Awards,

which were announced online

last week.

"It was certainly unexpected

and a weird feeling at this time,"

he said.

"To get awards like this is really

nice but it's not the reason I

do my role.

"I get more of a buzz out of

seeing more kids join local clubs

and players coming through our

pathway and fulfilling potential.

"Those are the things I sit back

and get satisfaction from."

Oxford-Rangiora and former

St Andrew's College batsman

Rhys Mariu was crowned co-

Gillette Cup player of the year

during the event for his efforts at

the national secondary schools

tournament in December.

Mariu scored 254 runs at an

average of 50 at the tournament

RECOGNISED: ​Canterbury Country cricket manager Toby Doyle

was honoured at the New Zealand Cricket Awards, which were

announced online last week.

PHOTO: GEOFF SLOAN ​

with a best of 104.

He shared the honour with

Otago Boys' High School's Jacob

Cumming, the son of former

Black Cap Craig Cumming.

Doyle has been working at the

Canterbury Country Cricket Association

for the past six years after

studying at Waikato University.

He said he enjoyed the different

facets of the role and its connection

to the community.

"I think there are a thousand

different hats I wear each week

and I've learnt how to prioritise

my time," he said.

"It's about prioritising where

we, as an organisation, can get

the biggest bang for our buck.

"When I help coach 10 junior

coaches, they go back and help

80 to 190 junior cricketers who

will benefit from it.

"You can't be afraid to go the

extra mile especially during the

season to get a good outcome."

He said it was important both

he and Canterbury Country development

officer Tim Gruijters

have good working relationships

with schools to introduce the

game to children and then the

clubs take over.

He said with several townships

in Selwyn seeing decent population

growth and with the popularity

following the 2015 and

2019 Cricket World Cups, it's

been important to capitalise on

increased interest and demand.

"The clubs do a fantastic job

getting kids into junior cricket

and over the last five years we've

seen a lot of growth in team

numbers.

"It's a juggling act but Tim and

I work well together and we are

seeing some rewards there.

"Our player base has doubled

SPORT

over my time here and a lot of

that has to do with increased

population and the World Cup

success.

"The number of junior teams

in 2014/15 was at 65 and this past

season we had 127 teams so it

makes a big difference when kids

have role models to look up too."

Doyle said the definition of

success in his role had changed

from when he first started.

"It used to be how many

schools could you go into and

how many kids could you deliver

sessions too," he said.

"You never knew what the

quality or sustainability was

behind those numbers.

"Now we've transitioned to

where everything we do we do

for a reason and a sustainable

reason.

"There's been a lot of administration

that's come about over

the years but it allows us to see

the work we are doing."

Doyle said he hasn't received

the physical award yet but was

happy to be recognised for a job

well done.

Mates Mariu and Frew share scholarship

• By Jacob Page

GOOD MATES Jesse Frew and

Rhys Mariu have added another

chapter to their cricket story by

being named joint recipients of

the Fulton Scholarship for 2020.

"We've been playing together

since we were eight or nineyears-old

and we're best mates

so it's pretty pleasing to have

someone like Rhys alongside me

for this," Frew said.

Frew, an all rounder and

Mariu an opening batsmen

are both 18-years-old and have

represented Canterbury Country

through the junior age-groups

and we're teammates in the St

Andrew's College first XI that

won the Gillette Cup national

schoolboys title in December.

The Fulton Cricket

Scholarship is named after

former Canterbury Country,

Canterbury captain and Black

Caps batsman Peter Fulton who

created the scholarship in 2015

in an effort to help emerging

Canterbury Country players

progress.

Each recipient receives $2500

and will receive one-on-one

coaching and mentoring from

Fulton as well as other personal

development assistance.

Frew, who plays for Darfield,

said it was a great opportunity.

"It's a great stepping stone.

I've worked with Fults (Fulton)

TALENTED DUO: Jesse Frew,

left, and Rhys Mariu are the

co-recipients of the Fulton

Scholarship for 2020.

PHOTO: CANTERBURY CRICKET

before and it will be great to do

it again."

The pair were in the New

Zealand under-19 squad together

with Mariu making the World

Cup team earlier this year and

Frew missing out, in part because

of a stress fracture he has dealt

with for the past three years which

prevented him bowling.

"We're having good results

with the physio and (New

Zealand under-19 coach Paul

Wiseman) said he would help me

with my return."

Mariu, who plays for Oxford-

Rangiora said it was an honour

to be recognised by Fulton.

He said he was thrilled with

his season and felt opening

the batting really suited his

mentality on the field.

"I want to be in the game and

The revolution

in heat pumps

is here now!

The Fujitsu e3series

The brilliant

heat pumps from Fujitsu

I want to score the bulk of the

runs," he said.

"I don't want to leave it to

anyone else.

"I'm not a fan of sitting and

watching cricket so opening

works for me."

He said he was keen to

improve his technique against

spin bowling in the short term.

"I think it's where New

Zealand batsmen often struggle

so I want to ensure I get better at

playing it."

Both players said they

wanted to progress through the

Canterbury ranks and push for

higher honours.

The Fulton Scholarship was a

step in that direction.

The revolution in heat pumps is here now!

Say hello to Fujitsu's latest lifestyle range

HEAT PUMPS FROM $1999 inc GST INSTALLED!

Conditions apply

e1 : efficiency

e2 : environment

e3 : economy

Website: www.pshc.co.nz

Finance available

NEW ZEALAND'S FAVOURITE AIR ®

Fujitsu's Catechin Filters are

approved by the Asthma and

Respiratory Foundation NZ's

Sensitive Choice ® programme.

FREE consultation from your local

Accredited Heat Pump Expert

Phone today: 03 381 6950

INSERT DEALER DETAILS HERE

Email: info@pshc.co.nz
---
SELWYN TIMES Latest Canterbury news at starnews.co.nz

Wednesday May 6 2020 13

FULL POWER: The

upgraded lights at

Lincoln Domain's No

1 ground were turned

on for the first time on

Sunday.

Domain lights power-up

after $233,000 upgrade

NEW LIGHTS at Lincoln

Domain were turned on for the

first time on Sunday night.

The district council upgraded

the lights on the No 1 rugby field

for the purposes of training and

matches.

Lincoln Rugby Football Club

president Corran Pywell said he

was sure they would be a great

community asset for many

years.

"The old ones had been up for

decades and all the fuses and

bulbs kept blowing on them.

"It was becoming a bit of a

hazard so the council had to

upgrade them for the benefit of

the domain.

Pywell said it would continue

to give his club the option of

night rugby during duck shooting

season and give the division

three rugby teams a venue for

their Friday night rugby.

Council property project manager

Sandrine Carrara said it was

a two-phase implementation.

"Last year, the council covered

the upgrading of the lighting

SPORT

for fields three and four of the

Lincoln Domain – this first stage

was project-managed by the

rugby club.

"For stage two of the project,

this week we have installed lighting

towers to bring field one up

to a standard for holding night

matches and we added some

lighting to bring field two up to

training level."

The stage two work cost

$233,000.

Ransley out of

sorts at Barcelona

PREBBLETON'S Jaden Ransley

is hoping a familiar Phillip

Island track will help him

bounce back during round six

of the eSports Cup virtual car

racing event tonight.

"That's a track I am familiar

with as I've raced there so, hopefully,

we can make it count," he

said at the prospect.

A sluggish 12th place in qualifying

at Barcelona last week on a

technical track was compounded

by two early crashes in the respective

races.

In spite of finishing 10th and

27th overall, Ransley was able to

maintain a top five spot in the

STRUGGLES:

Jaden Ransley will

hope Phillip Island

next week goes

better than round

five at Barcelona.

PHOTO: RANSLEY

FAMILY​

overall competition with three

rounds remaining.

"We qualified down the pack

but had a decent start in race one

but then I tried to avoid a car

next to me and got taken out by

a car behind me," he said.

"We battled back to 10th but it

was tough.

"Then race two was pretty

much over after the first corner.

"I tried to give my teammate

room but ended up hitting a

pothole/judder bar thing and so

we just got round in 27th."

Ransley said he did not do

enough testing in the week leading

up to the event and it showed.

Smooth-Air

Ventilation Equipment Suppliers

totrade

retail

The most efficient way

to ventilate your home

HEX 390

For Healthy Indoor Air

Heat is transferred to the

incoming filtered fresh air

Made in New Zealand,for New Zealand conditions

Fresh air

from outside

&

Exhaust air

to outside

Calling Selwyn

Landowners

Applications for 2021 planting

assistance are open!

Successful applicants

can receive:

• A restoration plan

• Volunteer planting

assistance

• Some funding towards

plants

Warm, stale

air from house

Warm fresh air

to house

Applications close June 1st 2020

Substantial energy savings

over traditional domestic

ventilation systems.

0800 SMOOTH

(0800 766 684)

sales@smooth-air.co.nz

264 Annex Rd

Riccarton

Christchurch

03 343 6184

Monday - Friday

7.30am - 5pm

www.smooth-air.co.nz

www.kakariki.org.nz
---
14

Wednesday May 6 2020

Latest Canterbury news at starnews.co.nz

Selwyn Times

Selwyn businesses

open local to you

OPEN

OPEN

#selwynopen

A growing number of Selwyn businesses are now operating safely under Alert Level 3 conditions

and we're encouraging people to take advantage of the great service local to you.

The 'Selwyn Open' campaign launched by the Council aims to help Selwyn residents find the

large number of businesses that are open and local to you.

A list of businesses that are open and ready to provide everything from groceries, to takeaways

and flowers is now available on the Council website at selwyn.govt.nz/selwynopen.

As we limit travel to help stop the spread of COVID-19 it is a good time to learn about the great

businesses that are there to support us through this pandemic and into the future.

The list shows some of the wide range of businesses across Selwyn that provide quality goods,

excellent service and competitive prices right on our doorstep. These businesses are often times

at the heart of our community sponsoring sports teams and supporting local events and charities.

Selwyn open aims to support these businesses as they restart and help our communities restart.

Manu Rangimoekau from Suburban Eatery says the business has seen a surge in takeaways

being ordered from their Leeston based restaurant and café.

He is glad the Council is doing something to drive residents to buy local, because this is critical

for the survival of the many diverse Selwyn industries.

"If we can't get the support from the locals, then we can't buy from our local suppliers and it's a

complete domino effect. It doesn't just affect our front doors, it affects the guys around the corner

growing the lettuce."

Phillippa Boa from The Lincoln Pantry said the support businesses have received from locals and

the Council since opening for contact deliveries on Thursday has been great.

"We're a small community of small business owners and we need that support to flow all around

and keep the economy going"

Major projects back under way across Selwyn

Major infrastructure and building works are swinging back into action in Selwyn following the move to

Alert Level 3.

Roading upgrades, cycleways and water upgrades are among the projects restarting across the district,

alongside $60 million of large building projects.

Work has restarted, or is due to start soon on the Selwyn Aquatic Centre extension, the Selwyn Health

Hub, Foster Park Indoor Courts, Rolleston Rugby Football Club, car parking and landscaping at the

Dynes Road end of Foster Park, Te Ara Ātea and the Rolleston Town Centre infrastructure upgrade on

Tennyson Street.

This means Tennyson Street is closed to traffic the length of Rolleston Park and the Markham Way

temporary extension is reopened.

Council roading projects across the district including rural intersection upgrades and the Leeston to

Doyleston cycleway will be restarting, along with the Reconnect Project making major upgrades at the

Pines Resource Recovery Park.

The upgrade of the intersection of Tennyson Street and Lowes Road will also restart, meaning Lowes

Road will be closed to traffic travelling towards the intersection.

The New Zealand Transport Agency has also advised that work is back

under way on the for the CSM2 Southern Motorway work. This means

for up to four weeks, Jones Road will be closed at the intersection with

Weedons Ross Road to all traffic. This work is taking place while traffic

volumes in the area are lower due to the Level 3 COVID-19 restrictions

and is needed to be completed before winter sets in.

The northbound and southbound off-ramps at the Weedons

Interchange remain open along with the east west bridge. Hoskyns

Road remains left in/left out.

Work will also restart on the $23 million of upgrades to the district's

water services of 59 projects to build and upgrade pump stations,

increase capacity and improve water quality.

OPEN

OPEN

Pines Resource Recovery Park

re-opens with booking system

The Pines Resource Recovery Park in Rolleston has reopened under

Level 3 using a booking system and with some changes in place to

operate safely.

The new online booking system allows Pines to be open to

the public, while still complying with Government Alert Level 3

requirements, Council Solid Waste Manager Andrew Boyd says.

"We recognise that during the lockdown, residents have been

busy in their gardens and garages and are itching to get rid of

their rubbish, recycling and garden waste. We think customers will

be glad to see some familiar services restart – albeit in a slightly

different form."

To ensure safe distancing spaces will be available for five vehicles

in each 30-minute time slot and only Paywave contactless payment

will be available, or those with accounts already set up.

The online booking system is available through the Council website

selwyn.govt.nz/bookpines, and Mr Boyd says people without

internet access can call 0800 SELWYN (0800 735 996) and Council

customer services staff will be able to arrange a booking.

Customers will receive a specific booking reference number that

must be presented at the gate to allow entry. Site staff will be strictly

managing access at the gate to ensure we can safely operate the

site in compliance with Alert Level 3 requirements and people

without a reference booking number will not be allowed entry.

Apply for the

rates extension

Selwyn ratepayers who may be facing financial difficulties

as a result of the COVID-19 pandemic can apply for a

payment extension.

You can extend payment out to 30 June 2021, provided you

agree to a payment plan with the Council. This extension

is available for the final instalment of rates for the 2019/20

financial year and rates for the 2020/21 financial year.

Payments can be made by direct debit weekly, fortnightly or

monthly and will need to be a minimum of $10 per week.

To apply for the rates extension visit

selwyn.govt.nz/rates and fill out the form under the

rates payment extension section.

To complete your request you will need your Valuation

Number, which can be found on your rates invoice, or by

contacting us on 0800 SELWYN (735 996)

An easy way to pay your rates is by direct debit.

You can set up a direct debit by filling out the Direct

Debit Authority form at selwyn.govt.nz/rates.

If you are considering cancelling or stopping an

existing direct debit arrangement that you have with

the Council, please contact us first.

If you cancel the direct debit authority directly with

your bank there is a nine-month security stand down

period before it can be reinstated. This is because

the Council is authorised to set up the direct debit

arrangement directly, rather than you having to set it

up with your bank.

Council Call

Selwyn District Council

Norman Kirk Drive, Rolleston

Ph 0800 SELWYN (735 996)

Rolleston Library

Rolleston Drive, Rolleston

Ph 347 2880

Darfield Library & Service Centre

1 South Terrace, Darfield

Ph 318 8338 or 347 2780

CC060520
---
Selwyn Times Wednesday May 6 2020

Latest Canterbury news at starnews.co.nz

15

Stories from our households to yours

Continuing our series on how Selwyn residents are spending their days in isolation. We hope it will

inspire you with some ideas. This week, Weedons Primary School teacher April Fitzjohn shares about

her lockdown diary, inspiring pupils and spending lots of time in her garden.

When lockdown was first mooted, I thought, "Great, I'll spend more time in the garden." The first day

was sunny and all went according to plan; then we had four wet days on the trot…

I remember because on the second day of lockdown I decided to keep a daily diary. The diary logs

my gardening, books read, new recipes tried, other news and all the 'funnies' circulating the internet.

Undoubtedly, we'll look back one day and wonder if this really happened.

My day starts about 7.30am feeding my chickens and kunekune pig, watering plants and walking

Murphy, our dog. Over breakfast, I catch up on news and emails.

As my school's enviro teacher, I try to post outdoor challenges and ideas every few days.

One project has been harvesting vegetables and wondering what to do with nasturtium leaves. After

several tests and trials I found a recipe for nasturtium pesto and I now have oodles of it in my freezer.

Another has been working on a seven foot high 'hugelkultur' [a type of raised garden bed] — an

excellent place to plant potatoes or pumpkins.

I should do some weeding but there's always something more appealing to do, chat to the fantails,

cuddle the lamb and give the pig a good belly scratch!

Every few days we take Murphy to a local track for a walk and enjoy the view of the Southern Alps —

we are lucky living in New Zealand.

Zoom has become a way to socialise — Saturday nights are games with friends and no one knows if

you have your pyjama bottoms on! And on weekday nights, thank heavens for Netflix!

Kids enjoy environment lockdown challenge

Inspired by Mrs Fitzjohn's weekly ideas 19 of her pupils have been getting their hands dirty completing

a range of outdoor challenges over lockdown.

Some have been helping their parents with watering, weeding, moving plants and trimming bushes and

hedges. Others have been making beeswax wraps to use instead of plastic wrap and eco bricks made

from stuffing bottles with used soft plastic waste.

Planting is also popular for families like the Smolenski family, Lachie, Jonty and Ruby.

"We replanted strawberries, planted parsley and daffodils, did weeding, trimmed trees, put lots of pea

straw down and even did renovations on our tree hut," Lachie said.

The Tresize brothers have also been busy, establishing a bird and bee friendly garden, mowing the lawn

and becoming self-sufficient sourcing food from their garden.

"Mum let us choose our own fruit tree each to care for from a plant nursery. I chose a red apple and

Cooper chose a green apple tree. We also grow our own veggies from seeds," Nic Tresize said.

By doing these activities, Mrs Fitzjohn says students have earned 'ticks' towards an 'Enviro badge'

normally gained during enviro club meetings.

"It's been fantastic seeing so many Weedons students and their siblings doing a multitude of outdoors

and environmental activities during the lovely lockdown weather!"

Children taking part in Mrs Fitzjohn's environmental lockdown challenge. from left

Lachie, Jonty and Ruby Smolenski weeding. Kase, Connor and Hunter Barnes planting carrots and Nic Tresize digging.

Change in fire seasons for Selwyn

Fire and Emergency New Zealand has moved Selwyn to open

fire season.

Principal Rural Fire Officer Bruce Janes says while the fire seasons

are changing, Fire and Emergency NZ is asking people to think

twice before lighting an open-air fire.

"While we know essential industries like farmers will still need to

light fires as part of their land management, we would appreciate if

people would hold off lighting non-essential fires for a couple more

weeks while we remain under COVID-19 Alert Level 3.

"Now is the time to be more vigilant than ever to avoid an upturn in

the spread of the virus."

Bruce Janes says even if a fire is permitted and under control,

the smoke often generates a 111 call from the public, meaning

firefighters need to leave their bubble to deal with an avoidable fire.

"We know that weather conditions have been good and that burning

is an easy way to dispose of waste, but we would prefer Cantabrians

hold off a few more weeks or take it to the Council refuse station."

Finding yourself an

essential worker

Selwyn Youth Council member, Ben Dodson, 22, shares his

lockdown experience in Selwyn as a graduate and essential worker.

Friday 24 April was supposed to be graduation day for my Bachelor

of Agribusiness and Food Marketing degree, however with the

pandemic this was cancelled.

I felt this degree would open many options, particularly in New

Zealand's large agri-food industry. But when Covid hit, returning to

my high school job at the supermarket seemed like a logical choice.

I've been working in the produce department, helping keep the

store stocked. With the huge upswing in demand a regular day's

order has almost doubled to around 500 crates — that's 5000kg

of produce. As an experienced 'essential worker' it feels as though

there is an increased responsibility to keep things going, resulting in

some exhausted evenings. Initially, there was uncertainty about how

the store would run in lockdown, but the management team has

effectively implemented PPE and other strategies to keep everyone

safe. The 'essential worker' tag feels a bit hollow, however I am glad

to have been working rather than sitting at home.

Working in a familiar environment with friends has helped me

through this lockdown period, along with a cheeky bit of Football

Manager and Fifa20 to disappear into for a couple of hours.

My advice to other graduates feeling anxious is to keep applying,

keep positive — eventually an opportunity will arise. This generation

from Selwyn has been through a lot in their youth, between

earthquakes, a shooting and now a pandemic, we're tough and will

adapt to whatever the post-Covid world will look like.

Notices

MALVERN WATER RACE DISRUPTIONS

Council contractors will be doing repairs to the Waimakariri Water

Race Intake Tunnel from Tuesday 12 May 2020. This work will

require shutting flows from this intake and the work is expected to

be completed on Wednesday 3 June.

While the other scheme intakes will still be operational, it is

expected that there will be widespread disruptions to the Malvern

water race scheme for the month of April.

This work is necessary to ensure the intake is safe and to keep the

water race scheme operating.

Please be prepared that there may be no supply of stock water via

the water race to your property for this works period.

CREATIVE COMMUNITIES FUNDING AVAILABLE

Applications are open for Creative Communities funding.

Funding is available to groups or individuals with communitybased

creative projects that promote arts or culture in Selwyn.

The aim of the scheme is to increase participation in the arts at a

local level, and increase the range and diversity of arts available to

communities.

Applications for this funding round close at 5pm, Friday 15 May.

Visit selwyn.govt.nz/artsfunding for more information and to apply.

Meetings

Council meeting

Wednesday 13 May 2pm

Council meetings will be streamed live on facebook.com/

SelwynDistrictCouncil

Leeston Library & Service Centre

19 Messines Street, Leeston

Ph 347 2871

Lincoln Library & Service Centre

Gerald Street, Lincoln

Ph 347 2876

0800 SELWYN

www.selwyn.govt.nz

SelwynDistrictCouncil
---
16 Wednesday May 6 2020

Latest Canterbury news at starnews.co.nz

SELWYN TIMES

Here's the plan

...have your say

Here's the plan

...have your say

Annual Plan 2020/21

Consultation Document

Kia ora koutou

Selwyn

Thanks for checking out this summary of our Annual Plan

2020/21 Consultation Document, which includes six key issues

that we are seeking your feedback on, plus information on the

range of projects and developments planned for the coming 12

months. It also outlines the proposed impact on rates.

This plan was developed before the impact of COVID-19 and

its disruptive effect on the Selwyn community and economy. As

a result, the time is right for us to take another look at our plans

and proposals. Our focus will change and some of the projects

we previously saw as priorities may now be less important.

A key item in this consultation is our proposal to review

the rate increases proposed for 2020/21. We are seeking

feedback on options to reduce the increase we had originally

planned – we want to hear your views on what level of rates

increase is acceptable.

The consultation process gives you the opportunity to tell us

what you like in our Draft Plan, as well as things we might do

differently or how our priorities might change.

We look forward to your feedback and submissions on the plan

– check the links on this page for more detailed information,

copies of supporting documents and details on how you can

provide feedback.

Sam Broughton

Mayor

Six key issues

We're seeking your feedback on six key issues for the 2020/21 year:

1 Review options to reduce the level of rates increase

The draft plan originally proposed an average 3.5% rate increase, in line with the 2018-2028 Long Term

Plan. In light of the changing circumstances caused by the COVID-19 pandemic, we're seeking feedback

on options to reduce this. Options are:

· Maintain the proposed 3.5% average increase. This would provide full funding for the Council's plans,

without the need to adjust budgets and spending plans. See the information below for more details on

how this affects rates.

· A rates freeze – with rates held at the same level as the current year. You would pay the same in

2020/21 as you have in 2019/20. The Council's income would fall by about $2.8 million and it's likely

higher rates increases would be needed in future years to make up the shortfall.

· An increase somewhere between 0% and 3.5%, depending on savings that can be identified. This

would result in a lower rates increase than initially planned and would not require catch-up rates

increases in the future. However some increase would still be required as it will be difficult to find

savings without having an impact on services and programmes.

2 Deferring the Prebbleton Community Centre project. We're proposing to pause this project to allow

for more detailed consideration. There's uncertainty around the best location and type of facility. Taking

more time to work with the community on planning would help us find the best long-term outcome.

3 Reviewing wider community needs for community facilities in Leeston. In 2019, an assessment

of the Leeston Library building showed it was earthquake-prone. We now want to review the original

community centre proposals to take account of local needs for library, medical and other facilities.

4 Increasing water supply charges to provide for quality improvements and demand

management. We need to review charges, so that we are making adequate provision for future growth

and security in our water supply infrastructure network, to encourage water conservation, and to provide

for any impact from the Government's Three Waters review.

5 Planning and building a new wastewater system for central Darfield and new developments. We're

keen to find out more about community views on the proposal to develop a reticulated wastewater scheme for

central Darfield, and in particular the preferred method to pay for the scheme, for those who connect.

6 Changes to our Development Contributions Policy. We're proposing to make three technical

changes to our Development Contributions Policy. Development contributions help fund the cost of

providing additional community facilities due to growth.

Your Say

Check our online consultation document for more details, costs and options – and

send us your feedback on these proposals: www.selwyn.govt.nz/annualplan20

Rates changes 2020/21

The average proposed total rates increase across the

district in 2020/21 is 3.5% – but this is an average,

and for individual ratepayers actual movements may

be different, depending on their location and the

services provided.

This table shows examples of rating changes for

typical properties in different locations.

What would this mean for your rates?

For a typical residential property in Rolleston (CV:

$665,000) or Lincoln (CV: $675,000) the increase

would be around $2.20 a week

For a typical residential property (CV $390,000) in

Southbridge the increase would be around $2 a week

For a typical residential property (CV $615,000) in

Kirwee the increase would be around $2.20 a week

For a typical rural property (CV $3.6m) in Springs ward

the increase would be around $5 a week

For a typical residential property in Glentunnel (CV:

$660,000) the increase would be around $2.20 a week

For a typical commercial property in Rolleston (CV

$2.8m) the increase would be around $4.20 a week

Total rates

Major Townships

Actual

Annual

Plan

Annual

Plan

Capital

Value

2019/20 2020/21 2020/21

$ $ $ % change

Darfield 490,000 2,730 2,836 3.9%

Leeston 430,000 3,104 3,207 3.3%

Lincoln 675,000 3,341 3,455 3.4%

Prebbleton 660,000 3,299 3,416 3.5%

Rolleston 665,000 3,357 3,475 3.5%

Rural

Actual

Annual

Plan

Annual

Plan

Capital

Value

2019/20 2020/21 2020/21

$ $ $ % change

Darfield 9,900,000 13,772 14,654 6.4%

Ellesmere 2,060,000 4,452 4,700 5.6%

Malvern 3,900,000 12,737 13,672 7.3%

Springs 3,595,000 4,731 4,985 5.4%

Selwyn Central 6,610,000 11,587 12,262 5.8%

Commercial

Actual

Annual

Plan

Annual

Plan

Capital

Value

2019/20 2020/21 2020/21

$ $ $ % change

Rolleston 2,790,000 3,882 4,100 5.6%

Locations

Actual

Annual

Plan

Annual

Plan

Capital

Value

2019/20 2020/21 2020/21

$ $ $ % change

Armack Drive 550,000 2,623 2,723 3.8%

Arthur's Pass 320,000 1,831 1,912 4.4%

Castle Hill 590,000 2,593 2,670 3.0%

Coalgate 415,000 1,933 2,028 4.9%

Doyleston 470,000 2,713 2,826 4.1%

Dunsandel 305,000 2,456 2,551 3.9%

Edendale 715,000 2,848 2,968 4.2%

Glentunnel 660,000 2,235 2,349 5.1%

Hororata 450,000 2,057 2,158 4.9%

Johnsons Road 710,000 2,706 2,821 4.2%

Jowers Road 795,000 2,769 2,870 3.6%

Kirwee 615,000 2,763 2,877 4.1%

Lake Coleridge 270,000 2,321 2,379 2.5%

Rakaia Huts 295,000 1,886 1,978 4.9%

Rolleston (Lifestyle

Property)

650,000 1,667 1,741 4.4%

Sheffield 370,000 2,461 2,556 3.9%

Springston 475,000 3,142 3,248 3.4%

Southbridge 390,000 3,070 3,171 3.3%

Tai Tapu 680,000 3,316 3,434 3.6%

West Melton 720,000 3,350 3,471 3.6%

Whitecliffs 330,000 1,955 2,049 4.8%

Note: Rates assistance

The Council has put in place new arrangements to help ratepayers facing difficulty paying rates – including reduced penalties and allowing longer to pay. See the Council website for

more information or call us on 0800 SELWYN (735 996).
---
SELWYN TIMES Latest Canterbury news at starnews.co.nz

Wednesday May 6 2020 17

Around the district: local projects

Here are some of the new, updated and significant projects in each ward, planned

for 2020/21.

Southbridge Hall

Darfield Library

Brookside Park

Broadfield Reserve

Find out more and have your say

Find out more at our YourSay Selwyn site www.selwyn.govt.nz/annualplan20

· Details on our consultation proposals

· Information on planned projects – district wide

and local

· Information on costs and rates impacts

· Online copy of the consultation document

· Online submission form

· Online survey

· Supporting documentation

You can also talk to your local councillor if you have any questions, or to discuss our proposals.

Contact details are on our website.

Send us your feedback

Ellesmere ward

Development of new neighbourhood reserve in Southbridge ($88,655)

Wastewater pipeline renewals ($1 million)

Southbridge – Southbridge pool painting and sealing ($5,000)

Southbridge Hall – replacement of windows ($200,000)

Southbridge Hall – entrance pavement safety improvements

($35,000 brought forward from 2022/23)

Leeston Park – installation of new cricket nets ($37,000)

Lakeside Hall – car park lighting ($8,200)

Malvern ward

Hororata Reserve – upgrade public toilets ($183,690 brought forward

from 2023/24 and part funded from the Government's Tourism

Infrastructure Fund)

Hororata, Blackberry Patch House – roof replacement ($50,000

brought forward from 2027/28)

Darfield Library – roof replacement ($46,600 brought forward

from 2025/26)

Springfield Pit Reserve – continued development ($20,000) to

continue momentum on this community-led project

Lake Coleridge – playground equipment renewal ($61,000 brought

forward from 2022–26)

Castle Hill – additional budget for extension to Castle Hill Community

centre ($100,000)

Rewi Alley Car Park resurfacing ($5,000 brought forward from 2022/23)

Darfield Community Centre – entrance upgrade ($52,839)

Castle Hill Wastewater Pond upgrade

Selwyn Central ward

West Melton – Retford Common reserve development ($100,000

to undertake development of this reserve – funded from reserve

development contributions)

Brookside Park – installation of new cricket nets ($40,000)

Foster Park – internal roadways for emergency access to indoor

courts ($433,280 brought forward 2021/22 and 2022/23)

Rolleston – development of new neighbourhood reserves ($155,064)

Rolleston and Lincoln water capacity upgrades ($920,000)

Springs ward

Prebbleton – first stage of development at new ($2.68 Million)

Shands Road Cemetery roadway extension ($104,448)

Lincoln – upgrade Liffey Domain public toilet ($317,034)

Broadfield Reserve – renew lighting at tennis courts ($29,326)

Springston Cemetery – renewal of gazebo ($8,000 brought forward

from 2022/23)

Water renewals ($370,000)

Wastewater upgrades and renewals ($646,000)

District projects

Progress on our Long-Term

Plan projects

We're making good progress on key projects from our Long-

Term Plan 2018–2028, although the COVID-19 pandemic is

likely to have an effect on completion times. Major projects

currently under way include:

· Rolleston town centre and Te Ara Ātea – the new library and

community facility in Rolleston

· Selwyn indoor courts complex at Foster Park

· Selwyn Aquatic Centre extension

· Selwyn Health Hub

Township maintenance contracts

We've made provision for an additional $263,000 in township

maintenance budgets for the 2020/21 year, bringing the total

budget to $751,000.

Transportation – maintenance

and renewals

Increased funding provided by the NZ Transport Agency

through the National Land Transport Plan (NLTP) will help

to meet the increasing maintenance requirements on the

transportation network driven by sustained growth in

population and traffic volumes.

Pines Resource Recovery Park

Work has started on the project to improve facilities at the

resource recovery park. Work planned this year includes initial

work on the development of a reuse shop, salvage material

yard and education centre.

Water supply

Water supply reticulation and scheme capacity upgrades and

renewals are planned for Darfield, Hororata-Acheron, Kirwee,

Leeston, Lincoln, Prebbleton and Rolleston. Water treatment

upgrades also continue this year.

Stormwater

In Leeston work will start this autumn on the Stage 3 Volkman

Road Drain upgrade, while Stage 4 is expected to proceed

from next spring. In Hororata, works to improve stormwater

management in the township will continue.

Wastewater

Expansion of the Pines Wastewater Treatment Plant continues,

including two additional solar drying hall lanes, plus other

upgrades to cater for continuing population growth.

Key dates

22 April: Consultation opens

22 May: Consultation closes, 5pm

2–3 June: Public hearings

(if possible under COVID-19 restrictions)

11–12 June: Council deliberations

Online: Complete an Online Submission Form or Survey at www.selwyn.govt.nz/annualplan20

24 June: Council formally adopts Annual Plan

By email: Send your submission form or comments to annualplan20@selwyn.govt.nz

By post: Download and complete a submission form, and post to Freepost 104 653, Annual

Plan Submissions, PO Box 90, Rolleston 7643.
---
18 Wednesday May 6 2020

Latest Canterbury news at starnews.co.nz

SELWYN TIMES

Tasty Bites

Belly-warming comfort food for cooler nights

For those who love a

good loaded baked

potato but don't want the

loaded carbs that come

with it – try this healthy

lower carb alternative

Loaded golden kumara

Serves 2

Ingredients

2 medium golden kumara

5 Tbsp extra-virgin olive oil,

divided

Salt

½ cup black lentils (or any kind

of lentils)

¼ cup unsalted peanuts,

coarsely chopped

½ tsp chilli flakes (optional)

1 Tbsp fresh lemon juice

1½ cups sliced citrus fruit (like

peeled grapefruit, oranges,

and/or clementines)

¼ cup crumbled feta

Coriander leaves with tender

stems (for serving; optional)

Directions

Preheat oven to 200 dec C.

Roast kumara on a small rimmed

baking sheet until skins are

browned and they are tender all

the way through, about 45min.

Remove from oven and, using

a heavy spatula or small pot lid,

smash the kumara, then drizzle

with 1 Tbsp oil. Season with salt.

Continue to roast until flesh is

lightly browned, 12-15min.

Meanwhile, cook lentils in a

small pot of boiling salted water

until tender, 20-25min. Drain

and transfer to a small bowl. Let

cool until just warm. Add 1 Tbsp

oil, season with salt, and toss to

combine.

Heat peanuts and 3 Tbsp oil in

a small saucepan over medium

heat. Cook until peanuts are

toasted and golden brown, about

2min from the time they start

bubbling. Transfer to another

small bowl. Add chilli flakes and

a pinch of salt; let cool. Stir lemon

juice into peanut dressing just

before using.

Top kumara with lentils, citrus,

and feta. Drizzle with dressing.

Loaded golden kumara

Do Ahead: If you want to roast

the kumara ahead of time as part

of your meal prep, let cool, wrap

in foil, and chill up to 4 days

while they're still intact, then

smash and reheat in olive oil in a

nonstick pan over medium heat

until crispy on both sides.

Roasted Aloo Gobi

(potatoes and cauliflower)

Serves 4

Ingredients

2 medium potatoes, cut into

5cm long sticks

1 medium head of cauliflower,

cut into small florets

5 Tbsp extra-virgin olive oil,

divided

1 tsp cumin seeds

½ tsp ground turmeric

1 small onion, finely chopped

1 Tbsp thinly sliced ginger

Pinch of red chilli powder

1 tsp (or more) salt

1 Tbsp (or more) fresh lime juice

½ cup chopped coriander leaves

Directions

Preheat oven to 200 deg C. Line

a rimmed baking sheet with foil.

Toss potatoes and cauliflower

with 3 Tbsp oil on prepared

sheet. Spread in an even layer

and roast, tossing once halfway

through, until cauliflower

and potatoes are browned and

slightly crisped, about 30min.

Let cool.

Meanwhile, heat remaining

2 Tbsp oil in a large skillet over

medium-high until it begins to

shimmer. Add cumin seeds and

cook, stirring frequently, until

they turn a medium shade of

brown, about 1min. Reduce heat

to medium and swirl in turmeric.

Add onion and cook, stirring

frequently, until translucent,

4-6min. Add ginger and chilli

powder and cook, stirring,

until heated through and well

combined, about 1min longer.

Stir in roasted potatoes and

cauliflower, including any charred

bits from the foil, and gently mix

(don't overmix, or the cauliflower

will fall apart). Add salt and

cook, tossing occasionally, until

potatoes and cauliflower are

tender (but not soggy), 5-6min.

Roasted

Aloo Gobi

Remove from heat and add lime

juice. Taste and add more lime

juice or salt, if needed.

Transfer to a platter. Top with

coriander.

Need funding for your

Creative Communities

Selwyn can help!

Funding is available to groups or individuals with

community-based creative projects that promote

arts or culture in Selwyn.

Applications for this funding round close at 5pm,

Friday 15 May.

Visit www.selwyn.govt.nz/artsfunding for more

information and to apply.

project?
---
SELWYN TIMES Latest Canterbury news at starnews.co.nz

Wednesday May 6 2020 19

Your Favourite

Restaurants, Cafés

PHARMACY

FITNESS

Pubs & Liquor Outlets

GIFTS &

HOMEWARE

HEALTH &

BEAUTY

direct to your door or takeaway

Your guide to Selwyn's delicious food options and hospitality supplies

SUPPORT LOCAL!

FOOD SERVICES FASHION

welcome to the famous grouse hotel

open 7 days • ORDERS FROM 4PM • DELIVERIES 5PM - 8.30PM • Menu at famousgrousehotel.co.nz

DELIVERY

EXCITING NEW

All orders must be made via calling the pub

directly unless you are ordering a share box.

To order RETAILERS

a share box, email us before 1pm

at thefamousgrousehotel@gmail.com or

call OPENING 325-2408 from midday SOON 7 days a week.

Payment over the phone to be made before

pick up or delivery.

Contactless pick up from our back car park

Delivery is free of charge within Lincoln

township only with a minimum order of $20

2 Gerald Street, Lincoln • P: 03 325 2408

5

Takeaway Pizza & Beer

17 West Belt Lincoln

5

Be Safe &

Keep Others Safe

OPEN

FOR

TAKEAWAYS

The team @ Veenuz are happy to re-open the kitchen, adhering to all the new safety and

social distancing practices for delivering food safely.

Orders can be made by phone, walk in (with enough distancing in place) and through Facebook messenger.

Online ordering through the website www.veenuzindian.co.nz will commence Tuesday.

Customers will be given a specific time for pickup. Delivery of orders are mainly handled by UBER and we can also deliver

(local) in certain cases if we have sufficient staffing. The delivery facility will not be guaranteed for every order and will be

the sole discretion of the management.

Phone 03 344 5554. Shop 3, 575 Springs Road, Prebbleton

WEST MELTON TAVERN (Westy)

IS NOW ABLE TO OFFER YOU FISH & CHIPS/

PIZZA TAKEAWAYS AND TAKEAWAY MEALS

Check our Facebook page for menu options - WEST MELTON TAVERN

Please phone your order through to 03 347 8460

We will ring you when your order is ready to pick up at the door of the restaurant.

Paywave will be available for payment.

OPEN FROM 3PM TIL 8PM EACH NIgHT

We can also do takeaway phone orders for alcohol from the bottle store!

Phone us on 03 347 8460.

1147 West Coast Road, West Melton

Takeaway Pizza & Beer

IS this Just what you've ALL been missing??

17 West Belt Lincoln

IS this Just what you've ALL been missing??

NOw AVAILABLe FOR TAKEAWAY 4pm-8pm Tues-SUN

Order by TEXT

Contactless Pick-up and Pay

NOw AVAILABLe FOR TAKEAWAY 4pm-8pm Tues-SUN

Order by TEXT

Contactless Pick-up and Pay

17 West Belt Lincoln

www.thelaboratory.co.nz

17 West Belt Lincoln

See our website or Facebook for full menu and details

www.thelaboratory.co.nz

See our website or Facebook for full menu and details

We're

∞ Coffee Culture

∞ Corianders

∞ Hachi Hachi

∞ Hell Pizza

∞ Lazeez Mediterranean

∞ Robert Harris

∞ St Pierre's Sushi

∞ Subway

Back

Individual store trading hours and click 'n' collect services

may vary – contact the store or check their website or

Facebook page for details.

rollestonsquare.co.nz
---
20 Wednesday May 6 2020

Latest Canterbury news at starnews.co.nz

SELWYN RURAL LIFE

SELWYN TIMES

Young Farmer of the Year

cancelled

Due to the COVID-19 outbreak, NZ

Young Farmers (NZYF) has cancelled the

remaining FMG Young Farmer of the Year

2020 Contest including the grand final,

planned to be held in Christchurch in July.

Before the severity of this outbreak

became clear, NZYF had looked at the

possibility of postponing three FMG

Young Farmer of the Year South Island

Regional Finals to hold at a later date, but

it has become clear that was no longer an

option.

Four North Island Regional Finals were

held before the COVID-19 outbreak,

however Aorangi, Tasman and Otago

Southland Regional Finals have had to be

postponed indefinitely.

NZYF CEO Lynda Coppersmith says

it's the first time in the contest's 52-year

history that the grand final and remaining

contest season has been cancelled.

"I appreciate this decision will be

disappointing for everyone involved

with the FMG Young Farmer of the Year

Contest, but for the safety of competitors,

volunteers, spectators and sponsors it's the

right thing to do," Coppersmith says.

"I'd like to acknowledge all of our

competitors this year and in particular

highlight the efforts of our four Grand

Finalists for 2020 who support the

decision and appreciate the unique

situation we're all in. We also want to

thank our South Island Regional Finalists

for their patience as we worked through

the postponement of their regional finals."

"In the interests of being as fair as

we possibly can to the contest and all

competitors, the NZYF Board has agreed

to take a clean slate approach with regards

to next year's contest."

"That means the 2020 Grand Finalists,

along with all those who have qualified

for the cancelled Regional Finals will need

to re-qualify at district level for Regional

Finals and Grand Final 2021. This year's

Grand Finalists will keep their titles as

FMG Young Farmer of the Year for their

Region."

"Given this is an unprecedented

situation, the Board has agreed to show

flexibility with a one year age extension

and also revoke the number of Grand

Final and Regional Final qualifications for

the 28 competitors affected."

"This flexibility will apply to 2020 Grand

Finalists, and those who have qualified for

the cancelled Regional Finals."

"These are trying times for so many of

us right now, and we could not run the

FMG Young Farmer of the Year Contest,

nor begin planning to rearrange it,

without the support of our sponsors–and

I'd like to thank them for that support."

As the principal sponsor of the

Contest, FMG fully backs NZYF's

decision. FMG will work with NZYF, its

Board and the FMG Young Farmer of

the Year Contest organising committee,

along with other sponsors, to prepare for

the 2021 season.

The AgriKids and FMG Junior Young

Farmer of the Year Grand Finals will be

run online and, at this stage, the 2021

FMG Young Farmer of the Year Grand

Final will be held in Christchurch.

Source: Young Farmers

Firewood & Coal

Coal

20 kg bags or

500kg bulk bags

Firewood

Pick up or deliver

(delivery charges apply)

Free delivery to Darfield township when

3 cubic metres or more is ordered.

Landscape Products

Now Available!

• Forest Mulch

• Bark Mulch

• Bark Nuggets (10/20mm)

• Premium Organic Compost

• Screened Soil

• Landscape Rocks

• Paparoa Red Rock available in 3 grades

• Railway Sleepers (2.1 Lengths)

• Kindling Wood

• Unscreened Bark

Delivery fees apply.

417 Creyke Road,

Darfield

Phone 03 975 4502

Eftpos now available

Open Monday to Friday 6am-6pm, Saturday 8am-1pm or after hours by appointment

Canterbury Ltd

• Quotations for water system designs and water testing

• Pipes, valves, fittings sales

• Filtration supply and installation

• Pump service, repairs and maintenance

• Bore flush and development

• Bore pump sales, servicing and maintenance

• We also sell, service and repair most pump

brands including sewage pumps

551 Halswell Junction Road

0800 GRUNDFOS / 0800 478 633

For sales and service or

after hours service call

Jason 021 649 944

or Mike 021 560 044

www.pumps-filters.co.nz

TANDEM AXLED

GALVANISED TRAILER

Fully galvanised, tandem axled transporter trailer, fitted with electric brakes, hand winch, side lights,

spare wheel and rear side stands for smooth loading.

SPECIFICATIONS

Deck dimensions (L x W) (mm): 4000 x 1900

Drawbar (mm): 1500

Deck height (mm): 460

Wheel rim: 13 inch

Tyre: 175/80D13

Net weight (kg): 580

Max. carrying capacity (kg): 1600

PRICE: $5,500.00 GST inclusive

Winch capacity (kg): 900

Tuatara Machinery Ltd • 291 Weedons Ross Road

Tel. 03 347 4956 • Mob. 0274 770 070

www.tuataramachinery.co.nz
---
THe BeST PRoPeRTieS

AcRoSS THe

SeLWYn DiSTRicT

PUBLiSHeD eVeRY WeDneSDAY

Week commencing WeDneSDAY, 6TH mAY, 2020

ROOM fOR tHe exteNded faMily OR

iNdepeNdeNt faMily MeMbeR

This is a beautifully presented property situated in the favoured

location of West Melton only 10 minutes from all the amenities and

schooling this booming township has to offer.

Situated on 4 Hectares (two road frontages) with each dwelling

having its own separate entrance. The 270m 2 main home consists

of four double bedrooms, master bedroom with ensuite & WIR,

generous sized living areas, modern kitchen and large separate

laundry.

Mature garden setting of trees and sweeping lawns. The second

dwelling is a modern two bedroom home with separate double

garage with it's own entrance. This home has great indoor/outdoor

flow onto two decked areas all north facing with nice views. The

property is very well fenced and subdivided with mature trimmed

pine hedges offering privacy and shelter.

This Rural Farmlet is as good as you will get, everything since

development days has been done properly, the layout, shelter

belts, positioning of the outbuildings and dwellings make

everything run smoothly. This property has instant appeal and

would be a great place to bring up a young family and perhaps have

the grandparents on board as well.

478 Hoskyns Road, West Melton

Neg Over $1,100,000

www.marealestate.co.nz/MA0702

Chris flanagan

Contact:

M 0274 334 657

W 03 347 9949

E chris@marealestate.co.nz

MATSON & ALLAN

REAL ESTATE LIMITED

'The

Selwyn

Experts'

Licensed under the REAA Act 2008

Chris Flanagan

027 433 4657

Stephan Knowler

027 229 9522

Andrew Taylor

027 435 5930

Cameron McRae

027 769 6696

Jackie Derrick

027 636 3576

Paul Robinson

021 277 2690

Jo Barrett

021 859 006

Bronwyn van der Pol

022 073 7757

We are here to help you with all your real estate needs through these unprecedented times.

ROLLESTON PH: 03 347 9949 LEESTON PH: 03 324 3704 DARFIELD PH: 03 318 8204 www.marealestate.co.nz
---
22 Wednesday May 6 2020

Latest Canterbury news at starnews.co.nz

SELWYN TIMES
---
SELWYN TIMES Latest Canterbury news at starnews.co.nz

Wednesday May 6 2020 23
---
New Zealanders

Zealanders • • by

Voted

Voted

2018-2020 •

★

2018-2020

2018-2020

24 Wednesday May 6 2020

Latest Canterbury news at starnews.co.nz

SELWYN TIMES

★

Real Estate Sales

Contributor to realestate.co.nz

harcourts.co.nz

COMMITTED

TOYOU

NEW ZEALANDERS HAVE TRUSTED

HARCOURTS WITH THEIR HOMES,

SINCE 1888.

Most Trusted Real Estate Brand, 2013-2020.*

Thanks, New Zealand.

Harcourts Four Seasons Realty Ltd

0800 789 1011

harcourtsfourseasons.co.nz

Four Seasons Realty 2017 Licensed Agent REAA 2008

*Reader's Digest Most Trusted Brand Real Estate Agencies 2013-2020

Four Seasons Realty 2017 Ltd | Licensed Agent REAA 2008

Your home for local property
---
SELWYN TIMES Latest Canterbury news at starnews.co.nz

Wednesday May 6 2020 25

Gardening

Backyard tasks for autumn temperatures

THERE IS always plenty to do

in the autumn garden and it's a

much more pleasant time to be

working outdoors than during

the heat.

Here are some timely

tasks for autumn:

Lawn care

Grasses will stay a better green

if they are fed with a good quality

lawn fertiliser.

Many weeds establish themselves

in the lawn when it's

weakened by cold. Examples are

Onehunga weed, cotula, clover,

hydrocotyle and creeping oxalis.

Moss in lawns can be spot

sprayed. Winter's the ideal time

to lime the lawn to keep the soil

sweet and the grasses happy.

Pest and disease control

Treat caterpillars on winter

veges with low toxic sprays.

Check for borers in trees.

Clear away debris and spray

exposed holes.

Spray deciduous plants with

lime sulphur after their leaves

fall. This helps clean up fungal

spores and some insect pests.

Do the same (lime sulphur) to

roses immediately after pruning.

Watch for aphids on new growth

in late winter.

Pruning tips

Cut out old canes from

multiple-stemmed plants such as

abelia and buddleia.

Prune deciduous plants (such

as crepe myrtles). Don't, however,

prune spring bloomers or you'll

prevent them from flowering in

spring.

When winter arrives cut back

gardenias and hibiscus.

Prune most of your roses midwinter.

Prune hydrangeas but only cut

the stems that have flowered.

Camelia season

Camellia should be coming

into season soon and the

camellia that is best-loved by

traditionalists is the japonica

camellia.

There are more than 200

named varieties of japonica

camellias with blooms in shades

of pink, white and red.

How to grow japonica

camellias

Japonicas need light shade to

flower and grow well. In full sunlight

their leaves will burn and

the flowers will be very shortlived.

Try to choose a spot that

receives dappled light but is protected

from the early morning

sun.

Sun striking the buds in the

morning can contribute to a

MAINTENANCE: Now is the time to cut old

canes from multiple-stemmed plants. Plant

your camellias in acidic soil.

problem called balling which

means that the flowers fail to

open.

Soil for camellias

Camellias prefer an acidic soil

that contains plenty of organic

matter.

A mixture of old leaves

and milled cow manure can

be dug into the soil before

planting and don't overwater,

rain should suffice.

PATIOS - OUTDOOR AREAS - CAR PORTS

Shadecraft is a locally owned company who specialise in shade and weather

protection products to enhance your homes design and use of outdoor areas.

SHADE SAILS – UMBRELLAS – ALL WEATHER CANOPIES

ShadeCraft (SI) Ltd

0800 742332 • Cell 0274 981239 • www.shadecraft.co.nz

Are you ready to grow?

Kiwi Gardener is your

practical guide to gardening

in New Zealand.

We are back in

action at LEVEL 3!

Things are working a little different around here

Prepaid Orders | Contactless Collection | Contactless Delivery

• Our physical retail store will remain closed

please do not try to enter our shop.

• We will be able to take orders over the

phone, by email and through our website.

• Web orders can be done for bulk and bagged

click and collect, or bagged delivery.

• Sorry, but you cannot order a bulk product

delivery at this stage – stay tuned!

• Give us a call or an email and we will sort it

out for you. If you are unsure what you are

after we are more than happy to talk you

through it.

• We have developed a safety plan for

our operations and we are committed

to following all procedures and protocol

to keep our staff, customers and

suppliers safe.

Our Winter hours have kicked in:

Monday – Saturday 8am – 5pm

Sunday/Public Holidays 9am – 4pm

Call us: 03 3479012

Email: info@igro.co.nz

or gemma@igro.co.nz

SUBSCRIPTIONS FREEPHONE

0800 77 77 10

SUBSCRIBE FROM

$

20

WWW.GARDENER.KIWI

261 Manion Road, Weedons

Phone 03 347 9012

Access to Intelligro from Manion Road is now available from both

the Weedons Ross Road end, and Curraghs Road entrances.

Online shopping is available at www.igro.co.nz
---
26 Wednesday May 6 2020

Latest Canterbury news at starnews.co.nz

Ford Focus wagon

an SUV alternative

I WAS talking to a new car

buyer the other day, he is

in the market for a sport

utility vehicle at the lower

end of the price bracket.

He is keen on diesel so

we were discussing options

that fell within his budget,

but I also threw in a couple

of curved balls to consider,

one being the Ford Focus

diesel wagon.

My acquaintance may

well have been tempted

but for a painful hip, the

lure of easy access in an out

of an SUV is too great to

ignore.

That aside, he was once

a long-term station wagon

owner and was well aware

of the merits the traditional

wagon offers.

I'm in the same

situation, I've had a wagon

for personal use and

simple fell in love with

it, the practicality and

functionality of it overcame

many load carrying

difficulties during the time

it was in my care.

The Focus wagon has

been a solid seller here

in New Zealand, it's

something Ford has always

offered in Focus and

the entire range has just

entered a new generation,

there's an entirely new body

style.

The wagon is an integral

part of that make-up, and

the designers have done

a fine job of blending the

wagon section, so that it

looks well integrated into

the sleek shape of the new

series.

Whereas the Focus

wagon was once available

in petrol and diesel, it

now it gets diesel power

only, and instead of the

hardworking 1.5-litre threecylinder

engine that powers

the hatchback range, the

diesel is a four-cylinder

2-litre unit which is pretty

much a carryover.

It develops 110kW and

370Nm, even though the

latter only peaks for a short

span of the torque curve –

2000 to 2500rpm – there

is enough specific energy

to offer solid mid-range

boost, and that's the secret

with modern turbocharged

diesels, they have energy

through the rev band which

is honest and decisive.

The engine works

through an eight-speed

FORD FOCUS TREND WAGON: Powerful, economical

diesel engine.

automatic. A few years

ago you would never have

believed a mainstream car

would have so many ratios,

but that's the reality of

today's transmissions, they

are technically efficient, and

in the context of everyday

motoring the constant

supply of ratios optimises

fuel use.

• Price – Ford Focus

Trend wagon,

$37,990

• Dimensions –

Length, 4669mm;

width, 1852mm;

height, 1481mm

• Configuration

– Four-cylinder,

front-wheel-drive,

1997cc, 110kW,

370Nm, eight-speed

automatic

• Performance –

0-100km/h, 9.9sec

• Fuel usage –

4.4l/100km

Ford claims an

outstanding 4.4-litre per

100km (65mpg) combined

cycle for the 1997cc

engine. I'd say that would

be easily achievable, the

trip computer readouts

hovered around 5.2l/100km

(54mpg) during my testing

time, with a 4l/100km

(70mpg) figure available at

a steady 100km/h (engine

speed 1400rpm).

PRACTICAL: Opening the Focus' tailgate exposes a

healthy cargo load space.

If you are buying a new or used car, or for all the

motoring information you need, grab a copy of

Drivesouth, formerly Best Motorbuys. Drivesouth

will be available again from May 15 at handy

pick-up locations

If you add in its 47-litre

fuel tank, distances of

around 800km can easily

be travelled between fillups.

It's that economy that

makes diesel power so

attractive.

One of the Focus'

greatest attributes hasn't

been compromised by the

inclusion of the wagon

section. It has long had a

reputation for handling

quality, and nothing has

changed.

The Trend wagon

is divine in a corner,

especially at the rear where

constant communication

from the fully independent

suspension is transmitted

in-cabin. The jolts that

often make up travel

in Canterbury are well

absorbed, comfort is high,

and a lot of that has to do

with the tall tyre profile, at

205/60 x 16in the sidewalls

have a lot of cushioning.

The Trend wagon

lists at $37,990. For that

money you get a whole

host of items which

characterise Ford product.

Features of note include

satellite navigation, voice

recognition infotainment

and communication,

automatic stop-start,

paddle-shifters, and cruise

control with speed limiter.

The Focus wagon is

tailor-made for the fleet

market and will score many

sales there given there

isn't a lot of competition –

especially diesel powered.

Yet it is also a sensible

choice for the private buyer,

I would have no hesitation

owning one – one single

family-sized grocery trip

to the supermarket was

enough to remind me how

practical the traditional

station wagon is.

Animals Livestock/

Supplies

WANTED Meadow Hay.

Med Sq. Phone 0274 861

707

Funeral Directors

Non-Service Cremation $1,745

Commital service with cremation $3,950

Chapel service with cremation $6,500

Family burial service from $3,400

Just Funerals, a family owned and

operated company with qualified,

registered and experienced staff.

Phone 0800 804 663 - 24 Hour Availability

Email: info@justfunerals.co.nz

christchurch.justfunerals.co.nz

Heating

Log Fires

Pellet Fires

Heat Pumps

Sales

Service

Installations

Free Quotes

03 343 1651

472 Blenheim Rd

www.heatstore.co.nz

Personals

ADVERTISE YOUR

BUSINESS HERE

Phone for further details

(03) 379 1100

SHELTERBELT TRIMMING

Boundary

Trimming

Call Tony Dempsey

Phone 03 325 3256

Mobile 0274 323 943

Classifieds

Animals Livestock/

Supplies

WANTED Meadow Hay.

Med Sq. Phone 0274 861

707

Hire

FOR

HIRE

HORSE FLOATS

LOG SPLITTER

Quality equipment

reasonable rates.

PHONE / TEXT

027 499 2908

Real Estate

PROPERTY

WANTED

Wanted to purchase

a property with

ambience and 4 car

garaging between

Christchurch and

Darfield.

Ph 0272 911 239

ADD SOME

COLOUR

TO YOUR ADVERT!

Select Services

SELWYN TIMES

Hydroseeding and Lawn Specialists

Hydroseeding | Lawn Preparation | Landscaping

• Site clearing

• Erosion and dust control

• Irrigation

We offer free quotes for the Canterbury

region, so feel free to call us today!

Phone: 347 4000 Mobile: 027 456 7777

Email: zac@canterburylawns.co.nz

Website: www.canterburylawns.co.nz

STOP BIRDS

hail, leaves, snow & vermin from

blocking & damaging your spouting

Quality materials: BHP Colorbond steel mesh with

unique patented louvre will even keep out pine needles.

Will not rust or sag with age or load. 10 year warranty,

range of colours.

Proven in Australia & New Zealand over the last 15 years.

FOR SAFE, PURE DRINKING

WATER FROM YOUR ROOF.

NOW AVAILABLE: STAINLESS STEEL

MICO MESH

Call Rohan anytime Mon-Sat for a

no-obligation assessment & quote

03 982 8850 0800 486532

Select Services

Water Blasting

Steam Cleaning

Industrial

Commercial

Residential

Silos Barns Farm

Machinery etc

Hi level Dust removal

Free Quotes

20 years experience

Contact Gerry

021 740 428

LoCaLLy oWned

& oPerated

• Posthole boring

• Commercial & residential

• No job too small

www.gumleaf.co.nz

Select Services

Specialising in:

Driveways

Outdoor Areas

Patios, Pathways,

Residential

& Commercial Floors

Professional Advice

Free Quotes

Frank McWatt

03 423 9344

027 274 0342

allwaysconcrete@gmail.com

www.allwaysconcrete.nz

Select Services

WORN Out sole, tired

and scuffed school shoes?

Drop them into Cobbler

Glenn's Agent Magnitude

Sports Unit 6, 92 Rolleston

Drive, Rolleston

To Let

SHEFFIELD The owners

of a 270 hectares hill

property invite offers for

the lease of their farm.

Carrying capacity approx

2000 stock units, no house

available. Ph 021 117 1156

SHEFFIELD The owners

of a 270 hectares hill

property invite offers for

the lease of their farm.

Carrying capacity approx

2000 stock units, no house

available. Ph 021 117 1156
---
SELWYN TIMES Latest Canterbury news at starnews.co.nz

Wednesday May 6 2020 27

Classifieds Contact us today Phone our local team 03 379 1100

To Let

RENT ME!

Ideal as an extra

bedroom or office.

no bond required

Fully insulated and double glazed for warmth.

Three convenient sizes from $70 a week:

Standard 3.6m x 2.4m

Large 4.2m x 2.4m | Xtra-large 4.8m x 2.4m

Visit our website

www.justcabins.co.nz

for display cabin locations

www.justcabins.co.nz

Trades & Services

• Driveways

• Trenching

• Section Clearing

• Demolition

• Tree/Stump Removal

• Truck/Digger Hire

• Post Driving

• Section/Lifestyle Block Development

C O N T R A C T I N G

Phone: 329 7165 or 027 616 1761

Driveways

SWAINS

KIWI KERB

(Since 2005)

Over 22 Years Experience

Quality

Workmanship

• Driveways

• Kerb &

Channel

• Garden Edging

Freephone: 0800 081 400

swainskiwikerb@gmail.com

No job to big or small.

Supply carpet, underlay and garage carpet.

Experienced in installing second hand carpet.

Carpet samples.

Free measure and quote!

Call David 0272319931

www.davidfarmercarpetlayer.co.nz

Excavations

• Driveways

• Car Parks

• Site Cleaning

• Demolition

• Farm Tracks

• Drain Cleaning

• Stump & Hedge

Removal

• Ashpalt Concrete

Wide range

oF TruckS

• Tennis Courts &

Swimming Pools

• Chip Seal Driveways

• Diggers – 2 Ton

up to 20 Ton

• Excavators

• Bobcat & Drilling

• For Posthole &

Fence hole

For a Free Quote

on your next project

Phone Steve on 021 338 247

or 325 7922

Free

QuoTe

Trades & Services

GLAZING

TWISTY GLASS &

GLAZING LTD

• Mirrors • Pet Door Specialists

• Splashbacks • All Broken Windows

THE CAT DOOR MAN

Phone Cushla or Darren Twist

027 352 6225

• Irrigation • Drainage • Driveways

• Auger Hole Drilling

• Land Clearing & Development

• Culvert Installation • Construction Site Works

• Tree & Hedge Removal • Concrete Breaker

Phone Mike: 027 272 8058 OR 03 324 4323 A/H

g.m.contracting@xtra.co.nz

www.gmcontracting.co.nz

GARAGE DOORS

The Genuine

Custom Made Garage

Door Professionals

0800 661 366

info@custommade.co.nz

Auckland, Christchurch, Wanaka

www.custommade.co.nz

landscaping

Landscape

Construction and

Garden Maintenance

You can have your gardens, trees,

shrubs, plants and lawns maintained to look their best

all year round, for a great price.

Residential & Commercial Landscaping

• Maintenance • Pruning • Reconstruction & Rejuvenation

• Rental Property and Commercial Maintenance

• Pre-Sale Tidy-Ups

New Home Landscaping

Lawns • Gardens • Decks • Paving • Water Features

• Quality • Value for money • Experienced • Punctual

• Professional • Flexible • Knowledgeable • Reliable

Call Ross Legg - 027 222 0388

Email ross@revivelandscaping.co.nz

www.revivelandscaping.co.nz

LANDSCAPING

Call Aaron &

the team today!

For the Outdoor

Space of your

Dreams...

Paving, Irrigation,

Lawns, Planting,

Fences, Pergolas,

Water-features,

Outdoor fires,

Raised Vege beds,

Decks, Artificial

grass & more...

Phone: 03 347 4422

or 021 542 402

Email: Aaron@theoutdoorspace.co.nz

www.theoutdoorspace.co.nz

Trades & Services

LifestyLe

BLock

fencing

new fencing, post driving,

repairs, maintenence.

Quality workmanship

& advice.

Phone Allan 021 049 6151

allan@agrifencenz.com

Facebook: agrifencenz

Lawn mowing

Hedge trimming

Gardening

Weed eating

Spraying

and much more

Call Todd

0212059543

toddmc.greenacres@gmail.com

FOR ALL YOUR

★Garden Clean-ups

★Pruning

★Lawn Mowing

★Garden Maintenance

Call us today for a FREE quote

PH 0800 4 546 546

(0800 4 JIMJIM)

HARBOURSIDE

FIRES

CHIMNEY

SWEEPING

Logburners –

Pellet – ULEB

Installations

Maintenance

Bird Protection

Phone Duane

027 428 9026

328 9990

Keeping the home

fires burning

BATHROOM TILER

wet area waterproofing,

underfloor heating, soap

boxes, old to new, for best

results, call Devon on 021

375-888 or 03 329 5511

BUILDER QUALIFIED

Decks, T & G Flooring,

Villa Restoring, New

Homes, Weatherboards.

Free Quotes. Bennet &

Sons Ltd Sam 027 496-

9362 or Tony 027 224-

0374

Trades & Services

CARPENTER

HANDYMAN

Small Job Specialists,

Carpentry, Repairs,

Decking & Maintenance,

40 years experience, no

job too small, Ph Warren

03 322-1103 or 027 697-

8541

CONCRETE CUTTING

Affordable Concrete

Cutting with Quality, and

removal work. Free quote.

No job to small. Phone 027

442-2219, Fax 359-6052

a/h 359- 4605

Bellamy's

Furniture

Furniture made to

order and restoration

by tradesman with

35yrs experience.

PH Stephen

021 073 2624

LANDSCAPING

Paving, Lawns, Irrigation,

Decking, Fencing.

Kanga & small digger

services. Check out Squire

Landscaping on facebook.

FREE QUOTES. Ph

Arthur 347-8796, 027

220-7014 Edwin 027 220-

7154

POWER CABLE

Our Cable or yours,

phone-fibre-water installs,

COC supplies, trenching

and cable locatingservice,

owner operator

FREE quote ph

Gerard 0272379742

RJB PLUMBING

Renovations, New Houses,

Hot Water Cylinders,

Kitchens Bathroom

Upgrades, Laundries,

General Maintenance ,

Water Filters. Phone Mark

0278690026

STUMP GRINDING

Best price guarantee Tony

0275 588 895

TILING

Flooring - Splashbacks -

Wall incl tile removal, reg

master tiler, ph Dave 027

334 4125

RESTRICTED FIRE

SEASON REVOKED TO AN

OPEN FIRE SEASON

Fire and Emergency New Zealand revokes the

restricted and prohibited fire seasons in the

following areas, which are now in an open fire

season:

• Those lands encompassed by the

Christchurch City Council (including

Banks Peninsula), Selwyn District

Council; and

• Those lands encompassed by the

Hurunui and Waimakariri District

Councils

The revocation of the restricted fire season

and the change to an open fire season is

effective from midnight Saturday 2 May

2020.

An open fire season allows fires to be lit in

the open air, without a fire permit.

Bruce Janes

Principal Rural Fire Officer

North Canterbury

David Stackhouse

Area Commander

Christchurch Metro

David Berry

Area Commander

Canterbury

To check the season status for your location

please visit www.checkitsalright.nz

or call 0800 658 628

Further information about fire seasons is

available on www.fireandemergency.nz

Vehicles Situations Wanted Vacant

Public Notices

FIREANDEMERGENCY.NZ

CAR REMOVALS

$$CASH PAID$$

CARS, VANS, UTES

& 4X4 WANTED

NZ OWNED

AND

OPERATED

FOR

24 YEARS

We use world class vehicle

depollution systems

0800 8200 600

www.pickapart.co.nz
---
28 Wednesday May 6 2020

Latest Canterbury news at starnews.co.nz

SELWYN TIMES

PHARMACY

PHARMACY

FITNESS

GIFTS &

HOMEWARE

FOOD

HEALTH &

BEAUTY

FOOD SERVICES FASHION

SERVICES

GIFTS & FASHION

EXCITING NEW

RETAILERS

OPENING SOON

We're Back

These retailers are back and ready to serve the Community

Brenna Sincock Hearing | Coffee Culture | Corianders | Countdown | Fascino Shoes | Hachi Hachi

Harcourt's | Hell Pizza | Industria | Lazeez Mediterranean | Noel Leeming | Ray White Rolleston

Robert Harris | Rolleston Central Health | Rolleston Drycleaners | Rolleston Eye Optometrist

Rolleston Florist and Gifts | St Pierre's Sushi | Subway | The Warehouse | Unichem | Viva La Moda

For updates, visit:

Individual store trading hours

and click 'n' collect services

may vary – contact the store

or check their website or

Facebook page for details.