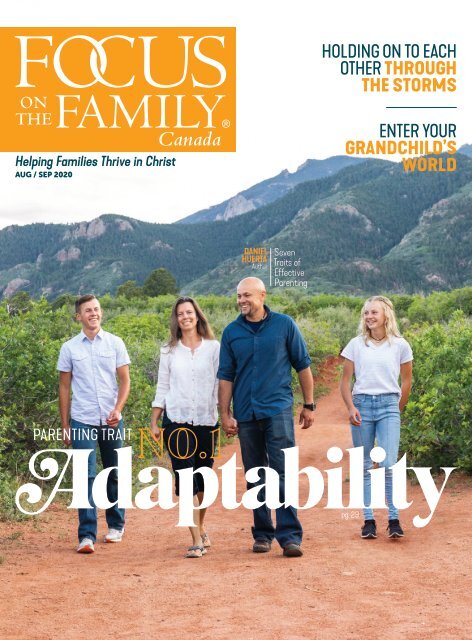 Focus on the Family Magazine - August/September 2020
It can be a struggle to raise a family while balancing your work life, social life and relationships. Focus on the Family magazine is here to help! Each complimentary issue delivers fresh, practical Biblical guidance on family and life topics. Every issue comes packed with relevant advice to build up your kids, strengthen your marriage, navigate entertainment and culture, and handle common challenges you may face in your marriage and parenting journeys. Plus you'll find seasonal advice ranging from back-to-school activities to date night tips for you and your spouse.
It can be a struggle to raise a family while balancing your work life, social life and relationships. Focus on the Family magazine is here to help! Each complimentary issue delivers fresh, practical Biblical guidance on family and life topics.

Every issue comes packed with relevant advice to build up your kids, strengthen your marriage, navigate entertainment and culture, and handle common challenges you may face in your marriage and parenting journeys. Plus you'll find seasonal advice ranging from back-to-school activities to date night tips for you and your spouse.
SHOW MORE
SHOW LESS
Create successful ePaper yourself
Turn your PDF publications into a flip-book with our unique Google optimized e-Paper software.
HOLDING ON TO EACH

OTHER THROUGH

THE STORMS

Helping Families Thrive in Christ

AUG / SEP 2020

Canada

ENTER YOUR

GRANDCHILD'S

WORLD

DANIEL

HUERTA

Author

Seven

Traits of

Effective

Parenting

pg. 29
---
Raising a family today

can be difficult

The new reality parents are facing of working

from home while trying to teach their children

can be overwhelming. Trying to care for aging

parents while protecting them from an unseen

virus can be daunting. Building the faith of

your family while church and Sunday school

are virtual can be difficult.

That's why ong>Focusong> on the Family Canada is

here to help families with articles, broadcasts,

downloadable activities, media streaming and

more. We want to equip families to not just

make it through these times but to thrive in

the midst of them.

Will you donate today so families can continue to have

access to the support they need these days?

DONATE TODAY!

visit focusonthefamily.ca/give

call 1.800.661.9800

mail 19946 80a ave, langley, bc v2y 0j8
---
August / September

19

Couples

11 DATE NIGHT CHALLENGE:

DIY HOLIDAY

Try this fun idea for connecting

with your spouse

by Jared Hottenstein

12 HOLDING ON TO EACH OTHER

THROUGH THE STORMS

Your decisions now can help you

prepare for future crises

by Carol Kent

17 FINDING MY INNER HANDYMAN

How many years does it take a

husband to replace a light fixture

for his wife?

by Jay Payleitner

Faith & Inspiration

19 FAITH IN A CHANGING WORLD

Helping kids stand with God in a

shifting culture

by David Benham with Jason Benham

22 SPACE FOR SEEKING GOD

Your little ones need you . . .

and you need time with Him

by Melissa Spoelstra

25 BRIO FOR A NEW GENERATION

Empowering teen girls to live out

their faith and embrace their identity

as children of God

by Scott Johnson

Kids & Teens

29 ADAPTABILITY: AN ESSENTIAL

PARENTING TRAIT

A flexible mindset can make a big

difference in how we respond to

challenges

by Daniel P. Huerta

33 LITTLE BIG DREAMERS

Nurturing our kids in their

God-given talents

by Shelia Erwin

37 ENTER YOUR

GRANDCHILD'S WORLD

How to stay connected with your

grandkids as they grow

by Marie Isom

37

In Every Issue

4 LETTER FROM THE PRESIDENT 5 HACKS & FACTS 10 MEDIA 42 MY THRIVING FAMILY

August / September 2020 FOCUS ON THE FAMILY 3
---
A LETTER FROM THE PRESIDENT

Terence Rolston is

president of ong>Focusong> on the

Family Canada

turning to God

in times of crisis

THE SUMMER IS NEARLY OVER

and I hope and pray your family has been

able to enjoy it – even if it has looked different

than other years.

One positive outcome I have noticed in

this ever-changing world we're living in is

families spending more meaningful time

together. Without the distraction of busyness,

many of us are taking this unique

opportunity to slow down and invest in the

relationships we often take for granted.

As the new school year starts, I hope you can continue to

do that, but I also hope you can look for ways to invest in

that other relationship we can also overlook – our

relationship with our Heavenly Father.

In times of crisis, chaos and uncertainty, God desires us

to turn to him, take refuge in him and find rest in his presence.

These are precious gifts our Father delights to give his

children, but many of us struggle with accepting them as

enough. We think we need to process our stress and anxiety

on our own, either by trying to push it aside or by distracting

ourselves with things that never really bring us peace.

In this digital magazine, you'll find articles to help you

face crises with Christ's strength, not your own. Whether

it's navigating storms as a couple, helping your kids stand

firm in a shifting culture or carving out time in your day to

spend time with God, you'll find biblical advice to guide you

through the external and internal struggles so many of us

are facing right now.

From all of us at ong>Focusong> on the Family Canada, our continued

prayers are for the safety of you and your family, and

that you would all take the time to cherish the gifts of peace

and rest our Heavenly Father is glad to give us.

president Jim Daly

chief operating officer Ken Windebank

publisher Steve Johnson

focus canada president Terence Rolston

editorial director Sheila Seifert

managing editor Andrea Gutierrez

copy chief Scott DeNicola

contributing editors Ginger Kolbaba,

Michael Ridgeway, Vance Fry, Marianne

Hering, Thomas Jeffries, Jennifer Lonas

and Jeff Masching

art director Brian Mellema

designer Anneka Jack

cover Sarah Kenney

media publishing director Kevin Shirin

editorial assistant Kat Bittner

circulation Sandy Grivy

Thank you!

ong>Focusong> on the Family provides this magazine and

other resources through the generosity of friends

like you. ong>Focusong>OnTheFamily.ca/donate

For a subscription, go to ong>Focusong>OnTheFamily.ca/

magazine.

ong>Focusong> on the Family magazine April/May 2020, Vol. 5,

No. 2 ISSN 2471-5921, © 2020 ong>Focusong> on the Family.

All rights reserved. Published by ong>Focusong> on the Family,

a nonprofit organization recognized for tax-deductible

giving by the federal government. ong>Focusong> on the Family is

a federally registered trademark of ong>Focusong> on the Family.

This magazine is a ministry publication. If you are not

on our mailing list, please contact us about receiving

this publication.

To notify us of an address change or to contact ong>Focusong>

on the Family: 19946 80A Ave, Langley, BC, V2Y 0J8;

800‐661‐9800; info@fotf.ca.

Scripture quotations, unless otherwise indicated, are

from the Holy Bible, English Standard Version ® (ESV ® ).

Copyright © 2001 by Crossway, a publishing ministry

of Good News Publishers. All rights reserved. ESV Text

Edition: 2016.

IMPORTANT NOTICE! By submitting letters and other

materials, you agree 1) they become the property of

ong>Focusong> on the Family and will not be returned; 2) ong>Focusong>

on the Family, its assigns and licensees, have been

granted the nonexclusive right to use and/or

reproduce the materials in any manner for any

purpose. Our agreement is made in Colorado and

controlled by Colorado law.

Send author submissions to

ong>Focusong>MagSubmissions@family.org.

REPRINT PERMISSION:

ong>Focusong>OnTheFamily.com/permissions

Terence Rolston

FOTF / CARY BATES

4

FOCUS ON THE FAMILY

August / September 2020
---
Hacks & Facts

CLEVER IDEAS FOR SMARTER PARENTING

Family-Friendly

Picture Books

Take a look at this list of family-friendly

picture books that you can read with

your children. Then check out the

reviews for these 10 books at

ong>Focusong>OnTheFamily.ca/PictureBooks.

FOTF / ANNEKA JACK; (TEXTURE) PALADIN1212 / STOCK.ADOBE.COM

August / September 2020 FOCUS ON THE FAMILY 5
---
HACKS & FACTS / BACK TO SCHOOL

Helping Kids Start the

School Day Right

Here's what I do to get my 5- and 6-year-old out

the door for school on time:

• We pick out their clothes the night before,

including socks, shoes and jackets.

• We pack their backpacks and set them by the

door. This includes gathering permission slips

and homework the night before.

• We establish a set bedtime routine. A good

night's sleep is essential for my kids.

• I often put on lively Christian music to help

them get into a more energetic beat, especially

on dark or dreary mornings.

• I avoid nagging my kids out the door. If we run

late, we adjust the schedule for the next day to

give us more time.

—Rose Thoman

Our Family's Weekly

Activity Calendar

On Sunday evenings before the busy week

begins, I sit down and enter my son's activities

into a calendar template I created on my

computer. I include important school and

transportation reminders, appointments and

after-school activities. Since I use the same

template each week, there is a minimal amount

of new information I need to add on a weekly

basis, and I can update the original file if we

have longer-term schedule changes.

After creating the new calendar, I take a few

minutes to discuss it with my husband and my

son, and then I post it on the door to our garage.

This way everyone can see the calendar and

anticipate our schedule for the upcoming week.

—Kimberly Wells

DEMACHY / STOCK.ADOBE.COM

6

FOCUS ON THE FAMILY

August / September 2020
---
BACK TO SCHOOL / HACKS & FACTS

Learning From One Another

We talk with our young daughter about how kids may learn things

at different stages of their lives. While classmates may be her same

age, they may have already learned things that she hasn't learned

yet, and vice versa. This understanding has helped her interactions

with other kids. Instead of getting frustrated with a classmate, she

seeks to support that student's learning. If a friend is struggling to

share, we encourage her to spend time problem-solving with that

classmate. ("Why don't I take a turn after you're done with that?")

When it comes to social interactions, this "maybe he hasn't

learned that yet" perspective helps our daughter not to get so

upset if someone is rude. She understands that maybe that child

hasn't been taught proper manners yet. And when our daughter

gets frustrated with herself, we encourage her to look to a friend

who might be able to guide her.

—Emily Yang

'Give Me Five'

Sometimes our kids' emotions get the

best of them, and they have trouble

calming down. Maybe they aren't sure

why they are feeling the way they do,

so they express themselves in negative

ways. Try asking your child to "Give

me five" by counting backward from

five. This allows your child to take a

short mental break from the intensity

of the moment. We've discovered

that when you give a child a little time

to calm down, you also give him or her

a moment to express what is going on

inside.

—Elizabeth Sullivan

Setting Expectations

for a New Routine

When I was a first-grade teacher, I discovered a technique that

noticeably improved my students' behavior: training sessions. So I

used them to raise my own sons.

As my boys faced the back-to-school changes, I set aside a

period of time to intentionally train them in how I expected them

to behave for a specific activity, such as doing homework or cleaning

up after an afternoon snack.

During these training sessions, I would instruct my kids on

what they should and should not do during each activity. I was

very specific. I also clearly stated consequences for avoiding their

responsibilities or not following rules. Then we would practice the

right behavior over and over. (Kids love this part! They get to act

out the good behavior.)

For two weeks I would diligently supervise to make sure they

were behaving as trained. Finally, our schedule was set and ran

smoothly.

—Katie Ely

A Colorful

Classroom

Before the start of the school year, I

gave each of my children a blank piece

of paper and three blue crayons, along

with instructions to create a beautiful

picture. They soon requested different

crayons, since just one color made

the pictures "too boring." So we talked

about how a variety of colors could

make a picture beautiful. This simple

lesson helped them see the potential

beauty and benefit in the cultural

diversity of their new classmates.

—Marybeth Mitcham

August / September 2020 FOCUS ON THE FAMILY 7
---
HACKS & FACTS / GETTING DRESSED

Hand-Me-Down Fashion Show

I've always enjoyed the change of seasons, with one exception: the task

of sorting clothes from the totes taken out of storage and emptied onto

the sofa. I would ask my daughters to try on the hand-me-down clothes,

but they disliked this time-consuming chore.

Then I had an idea: "How would you like to have a fashion show?"

I turned on music, and they put on outfits for the coming season to

model them for the rest of us. I announced: "Ladies and gentlemen,

today we have Emily, looking absolutely fabulous in a stylish sundress

from our spring collection." Emily twirled as I applauded.

Then another daughter came out from a back room. "Here comes

Madison, all ready for a fun day at the beach in this multicolored onepiece

swimsuit." She giggled, spun around and put a hand on her hip.

My idea worked beautifully.

—Sheri Zeck

ISTOCK.COM / MARILYN NIEVES

8

FOCUS ON THE FAMILY

August / September 2020
---
GETTING DRESSED / HACKS & FACTS

Outfit Organizer

To streamline our morning routine, I bought a hanging

clothes organizer for my 7-year-old son. It's

the kind with one pocket for each day of the week.

Whenever I fold our laundry, I have my son choose an

outfit to put in each pocket of the organizer, including

socks and underwear. This allows him to choose

his own outfits without adding any extra time to our

busy mornings.

—Diane Stark

Beat-the-Clock Challenge

Getting my kids moving and out the door can be a

real struggle. Either they get distracted by something

more interesting or simply move at a snail's pace. So

we turn everything into a game of Beat the Clock.

When it's time for the kids to put on their socks, I

announce that they have 20 seconds to get them on.

When they need their coats, I announce they have 15

seconds to put them on. This gives them a challenge,

which they love, and it helps them focus on the task

at hand: getting ready and out the door. They are so

excited to try to beat the clock that they don't get distracted.

Not to mention, they have a whole lot of fun

while they're getting ready!

—Alicia Gorski

Dressed for the Weather

Toddlers love to make choices for themselves, so my

husband and I made little signs out of construction

paper with weather pictures on them (a sun, raindrops,

wind and snowflakes) and hung them inside

our children's closet. We organized their clothing in

groups under each sign. It was fun for our children to

"match" the weather outside to the correct picture so

they could select weather-friendly items from a variety

of appropriate choices.

—Courtney Roberts

Clothing-Choice Checklist

I was thrilled once my children were able to dress

themselves. However, they often dressed in clothing

that didn't match or wasn't in good enough shape to

wear outside the house. So I decided to train them

how to dress appropriately.

I made a simple checklist and taped it on the back

of their bedroom door. On the list, I gave them three

guidelines for getting dressed:

• What is the weather today?

• What are we doing today?

• Do the colors and patterns match?

These three simple questions not only allowed

them to select their clothes on their own but also

guided their decisions. If their choices were still inappropriate,

I was able to help them see why by using

the checklist.

—Jenny Nanninga

Becky, the Weather Doll

I played "school" with my daughter and her dolls,

teaching my girls about weather and which types

of clothes were suitable. I made it funny, having one

of the dolls, "Becky," get all the answers wrong in a

silly way. Then I suggested that my daughter could

be Becky's weather buddy, "teaching" her to dress

appropriately for the weather each day.

We started each morning by bringing Becky to the

window, as well as looking at the thermometer. I'd

ask, "Which kinds of clothes do you and Becky need

to wear today? Remember, you're the teacher."

My daughter took her role as teacher very seriously.

From then on, she—and Becky—dressed appropriately

for the weather.

—Lisa Grey

Wardrobe Workarounds

For the umpteenth time that week, my 6-year-old

daughter and I clashed over what she was wearing.

I wanted her to wear the outfit I'd picked out, a cute

one from her nana. She wanted to wear head-to-toe

pink, in different shades.

Going forward, I let her choose among items I'd

handpicked for her. This routine has helped alleviate

the clothing arguments and has helped us both learn

to compromise.

—Christie Kern

August / September 2020 FOCUS ON THE FAMILY 9
---
MEDIA / PLUGGED IN

UPCOMING REVIEWS

Check out PluggedIn.ca to get

the latest reviews on movies,

books, video games, TV shows

and more!

"THE FALCON

AND THE WINTER

SOLDIER"

Parents may want to know if

the new Disney+ series is a

good choice for young viewers.

Scheduled release: August

My kids and their friends keep talking about TikTok.

What is it, and what do I need to know as a parent?

TikTok is a popular app that allows users to post short

smartphone videos online. Overall, TikTok feels like

YouTube with a very short attention span. The videos can

feature almost anything—anything that will grab users' attention,

that is. In other words, it's an expressive digital medium that tweens

and teens (and plenty of adults, too) use to broadcast silly antics.

But it's not all silly, and there are some real issues parents need to

know about. Usage guidelines prohibit graphic, violent, risky, sexually

explicit or hateful content. But those rules are pretty loose.

Profanity? No ban on that. And many users post videos that are suggestive

while avoiding explicit images.

The app theoretically prohibits users under 13, but that's a guideline

many underage users ignore. Young users could potentially find

themselves in conversations with adults they don't know via the

app's comment feature. TikTok has also become a go-to destination

for risky video challenges.

On a more philosophical level, TikTok is all about grabbing attention.

Videos practically scream, "Look at me!" This is true of social

media in general, but TikTok feels custom-made to encourage narcissism.

It's easy to burn a lot of time watching inane videos, and

TikTok offers many ways for kids to drift into trouble if parents aren't

engaged with what they're watching and posting.

—Adam Holz, director of Plugged In

WONDER WOMAN 1984

What can families expect as Diana and

Steve rekindle their relationship?

Scheduled release: Aug. 14

CYBERPUNK 2077

Will this first-person shooter's "nonlethal"

option make it a worthy addition to your

teen's video game collection?

Scheduled release: Sept. 17

CLOCKWISE CREDIT TK FROM TOP: MARVEL STUDIOS, WARNER BROS. ENTERTAINMENT INC., CD PROJEKT S.A.

10

FOCUS ON THE FAMILY

August / September 2020
---
Couples

DIY holiday

try this fun idea for

connecting with your

spouse

HOLIDAYS OFFER the perfect

excuse for a date night, so expanding

my list of holidays gives me an abundance

of opportunities to spend

unique moments with my wife.

A quick internet search yields

a lengthy list of fun holidays that

provides an excuse for frequent celebrations.

For example, on Aug. 6,

International Root Beer Float Day,

we enjoyed a quick date on the front

porch, talking over a root beer float.

There was nothing romantic about

our conversation, but we did use two

straws in a single mug, just like they

do in the movies.

Here are more themes for upcoming

potential dates: National

S'mores Day, Aug. 10; Eat Outside

Day, Aug. 31; National Cheeseburger

Day, Sept. 18; Miniature Golf Day,

Sept. 21. And don't forget Sept. 19,

International Talk Like a Pirate Day.

Aaaarrrggghhh!

If date nights are only something

you do on holidays, why not add

some new ones to your calendar?

—Jared Hottenstein

Take the challenge

Check the internet for a list of national

holidays and plan a date around a

theme that looks fun (or tasty) to you

and your spouse. Ask each other these

questions while on the date or shortly

thereafter:

• What was your favorite holiday that

we've celebrated as a couple? What

made it memorable?

• How can we add more celebrations to

our marriage and family life?

• If our anniversary were a holiday,

what would our theme be? •

PAMELA_D_MCADAMS, PIXEL-SHOT / STOCK.ADOBE.COM

August / september 2020 FOCUS ON THE FAMILY 11
---
COUPLES / COMMUNICATION

12

FOCUS ON THE FAMILY

August / september 2020
---
COMMUNICATION / COUPLES

HOLDING ON

TO EACH OTHER

THROUGH THE

STORMS

Your decisions now can help

you prepare for future crises

BY CAROL KENT

ILLUSTRATIONS BY ALI ZHANG

THE HEADLINE IN THE NEWSPAPER

WAS UNTHINKABLE! The front page of the

Orlando Sentinel showcased a familiar face—our son,

Jason's. But in our wildest imagination, we could never

have conceived of this headline: "Blemish for Navy

Officer—Murder Charge in Orlando Shooting."

My husband, Gene, and I had been awakened in the

middle of the night with the news that Jason, a U.S.

Naval Academy graduate with an impeccable record,

had shot and killed his wife's first husband.

For several months after Jason's arrest for this heinous

crime, I had trouble going about simple daily

tasks, and Gene and I had strained communication.

We were a Christian couple who had raised an only

child. He had been a good kid with a heart to serve

God and his country. How could this horrific crime

have happened?

Our marriage faced new challenges. Our distress

over Jason left us short-tempered, and we sometimes

allowed little disagreements to escalate into full-blown

arguments. And the issue of money suddenly became

an ever-present source of tension: Where would the

funds for a good attorney come from? How would we

make a living and still be tirelessly available to Jason?

Should we continue to minister in light of our son's

actions? (We were in full-time Christian ministry;

speaking and writing provided our only income.)

An awkwardness over physical intimacy also overshadowed

our time together. I couldn't think about

pleasure when my son was in jail facing the death

penalty. Gene, on the other hand, believed if we ever

needed that physical closeness, it was now.

Following such devastating news and with a strain

on our relationship, we didn't know how we could

make good decisions when we could barely breathe or

think, let alone talk to each other.

But we made it through the ordeal. What helped us

was that we'd put in place good marriage practices

before the crisis hit. Dealing with the unexpected was

easier because we made "pre-decisions" as a couple.

These kinds of choices helped us and can help other

couples navigate the hard places in their relationship

and build a stronger marriage in preparation for the

times when life turns upside down.

Here's how Gene and I use pre-decision-making to

help us do "the next right thing" in our marriage. >>>

August / september 2020 FOCUS ON THE FAMILY 13
---
COUPLES / COMMUNICATION

Important pre-decisions

Unexpected marriage trials might

include dealing with sudden financial

pressures, figuring out how to

restructure your lives to meet the

needs of a child with special needs,

facing a health crisis, understanding

the gender confusion of your teenager,

caring for the needs of an aging

parent, figuring out next steps with a

drug-addicted child, coping with the

long-term effects of a bad accident

and much more.

Gene and I made a list of five principles

we're committed to live by no

matter how intense our personal

challenges become. After our son was

arrested, we didn't want to overthink

simple decisions, and we certainly

didn't want to start overreacting to

the multiple unwanted interruptions

our son's incarceration brought into

our lives. The following pre-decisions

made our marriage healthier, bolstered

our intimacy and reaffirmed

the teamwork our journey required.

I will seek, honor and respect the

advice of my spouse.

That meant listening to each other

more than talking loudly and giving

strongly worded instruction to each

other. We committed to not turning

away from each other (emotionally

or physically) just because our

personal challenge was hard. We

developed a team mentality and

vowed to value all input from each

other before making final decisions.

We put Romans 12:10 to work in

our relationship: "Love one another

with brotherly affection. Outdo one

another in showing honor."

Prior to Jason's arrest, I had made

a point of being as open and transparent

with people as possible. But

now a choice had to be made. Gene

suggested that I listen and ask questions

of others about their lives,

rather than immediately sharing our

turmoil. At first it felt like I was being

dishonest by withholding information

on the horrible situation we

were going through. But after I listened

to Gene's advice and put it

into practice, I realized it was the

wisest choice.

Instead of our friends feeling awkward

while sharing their stories,

which to them might have seemed

like minor issues compared to our

story, people were able to speak

openly about their hard journeys,

and we could pray with them for

their needs without overwhelming

them with our own crisis.

I will serve my spouse sacrificially.

Galatians 5:13 says, "Through love

serve one another." When our son

was first arrested, it took time to

explain to relatives and friends what

had happened. Amid multiple allegations

of past abuse involving Jason's

young stepdaughters and his wife's

ex-husband, he had made a horrible

decision. My friends were grieving

with us, but the communications

were emotionally and physically

exhausting. Gene knew I was unable

to handle all the people who cared

about us—so he took care of those

calls day after day and week after

week. And every morning he made

coffee and delivered it to my bedside,

often without words, placing a

14

FOCUS ON THE FAMILY

August / september 2020
---
COMMUNICATION / COUPLES

hand on my arm, or rubbing my feet

with tender compassion. He served

me long before I figured out how I

needed to serve him.

I will practice automatic forgiveness.

Gene and I acknowledged that one

of us is no more perfect than the

other, and we would automatically

forgive our spouse's unwise words,

weaknesses, emotional flare-ups

and errors in judgment, whether

or not we were under stress. We

reviewed Ephesians 4:32, "Be kind

to one another, tenderhearted, forgiving

one another, as God in Christ

forgave you."

I married a man who likes to

live in a clutter-free environment.

Throughout our marriage we've both

worked at keeping our home organized.

However, I didn't keep my side

of our bedroom closet neat. It was

overcrowded and messy.

One month after our son's arrest,

we were both in the walk-in closet

when Gene blurted out in a loud

voice, "I don't understand why you

can't give clothing away that you

haven't worn in the past year!" I blew

up with an unkind response, and a

verbal battle ensued. Moments later,

Gene said, "I'm sorry; will you forgive

me? I'm not really mad about the

closet, and I'm certainly not angry

with you." That day we eventually fell

into each other's arms and wept, recognizing

that our feelings about Jason

were contributing to conflicts.

Together we agreed that the bond

of love we shared was stronger than

our momentary bursts of temper—

and we would choose forgiveness

immediately and repeatedly. Author

and radio co-host Elisa Morgan

writes: "Forgiveness usually isn't a

one-time experience. It's an ongoing

process. You have to work at it." She's

right! It isn't easy—but it's worth it!

I will control my tongue.

One of my most vivid memories

from my growing-up years involved

my family having dinner in the

home of friends from church. One

day I was in the kitchen helping

several adults with final meal preparations.

Mrs. Johnson,* the hostess,

was wearing a short-sleeved dress

and was dripping with perspiration

at the stove. As she reached for

a spatula, Mr. Johnson grasped the

loose flesh under her arm and jiggled

it back and forth. "I think it's

time for us to work on the battle of

the bulge," he said.

Mrs. Johnson's face turned red.

She was obviously deeply hurt by

his insensitive comment. My parents

looked embarrassed, said they

needed to check on their kids and

left the kitchen. From that point on,

I knew that one of the most important

issues for me when I married would

be my husband's loyalty—I wanted a

spouse who would not put me down

with unkind words, either in public

or in private.

Before our words could get us into

all kinds of trouble, Gene and I made

these choices:

• To use positive, uplifting, kind and

encouraging words.

• To be first to admit when you're

wrong and be first to apologize. >>>

LISTEN NOW!

Hear Carol Kent discuss her

emotional struggles and the

spiritual lessons she learned during

a horrific crisis in her family life.

ong>Focusong>OnTheFamily.ca/Radio

August / september 2020 FOCUS ON THE FAMILY 15
---
The

Hope

Restored

marriage counselling

retreat

A biblically based program

to restore and rebuild

your marriage

• To think first, rather than lashing

out in anger.

Just before Gene and I got married,

my father reminded us of an

important Scripture, Ephesians

4:29: "Let no corrupting talk come

out of your mouths, but only such

as is good for building up, as fits the

occasion, that it may give grace to

those who hear."

I will seek God's will and make

decisions quickly following

reasonable consideration.

I found decision-making difficult

when it came to our crisis with an

incarcerated son. The questions surrounding

our finances, our ministry

efforts and our housing situation

were overwhelming.

We discovered that when we regularly

spent time with the Lord—alone

and together—Scripture passages we

were reading helped to confirm our

decisions. We discussed the options,

shared what we believed God was

nudging us to do, and then made the

next important choice, without looking

back. This mode of operating

amid challenging times was freeing

and empowering. We sought God's

leading—through His Word, through

prayer, through rational discussions

with each other—and we committed

to doing the next right thing as

quickly as possible.

Empowering choices

On the day of Jason's conviction

and sentencing, the news media

descended on us. Cameras and

microphones were thrust in our

faces—and we left the courthouse as

quickly as we could walk out to the

privacy of our car. That night, all we

could do was hug each other and cry.

No words could express the pain in

our hearts.

As week followed week, we found

solace in holding each other. One

day Gene looked at me tenderly

and said, "I couldn't do this without

you. The journey is too hard." We

were learning step by step and day

by day that we could survive, and

maybe even learn how to thrive if

we stayed committed to being "in

this together." We determined that

we would learn how to laugh again

and that we would be intentional

about thanking God for opportunities

to encourage other couples even

though our own situation wasn't

ideal. As a couple, we verbalized

our commitment to build a stronger

marriage—and now we make daily

choices to reaffirm that decision. •

Carol Kent is a conference speaker and the

author or co-author of more than 20 books,

including Staying Power: Building a stronger

marriage when life sends its worst.

*some names have been changed.

Call us today

to find out more

1.833.999.HOPE (4673)

HopeRestoredCanada.ca

ARE YOU PRE-

DECISION READY?

Read these statements

aloud. Discuss with your

spouse how well you put

these statements into

action as a couple.

• We value and respect advice from each other.

• We serve each other sacrificially.

• We forgive quickly when offended.

• We think before we speak.

• We ask God for guidance in our

decision-making.
---
FOR HIM / COUPLES

finding

my inner

handyman

How many years does it

take a husband to replace

a light fixture for his wife?

BY JAY PAYLEITNER

ISTOCK.COM / FLAMINGO_PHOTOGRAPHY

OUR HOUSE WAS 20

YEARS OLD when we moved in,

but in good shape overall. Yet some

things weren't our style. The wallpaper.

The kitchen cabinets. And the blue

toilet in the kids' bathroom. But it

flushed and didn't leak. We could live

with it.

There was one project my wife,

Rita, wanted me to tackle immediately:

the massive fluorescent

light fixture over the kitchen island.

Personally, I liked how it illuminated

the entire room. Rita called that fixture

the "surgery lights" and rarely

allowed it to be turned on.

I heard her complaints. I validated

her desires. And yet I said, "OK,

when one of the bulbs burns out,

we'll replace the whole thing."

Well, apparently some fluorescent

bulbs last forever. Especially when

electricity never flows through them.

To her credit, Rita didn't nag. But

she did . . . remind. And I . . . delayed.

I know I'm not a handyman. I dread

any kind of leak or loose hinge. And

I know something else: As soon as I

complete one project, Rita might have

another one lined up. It's not like I can

finish these tasks and find rest.

But I needed to do something

about that huge light fixture. So for

our wedding anniversary, I grabbed

some brochures from the lighting

supply store and folded them

inside a nice card. She opened the

card, saw the materials and thanked

me profusely. Within days we had

picked out light fixtures, and I found

a wonderful electrician who helped

us with installation. He hauled away

the old fluorescent monstrosity and

patched everything up. All for less

than I'd paid for more traditional

anniversary presents in the past.

There will always be things that

need fixing—projects we need to get

to sooner rather than later. A family

does not tolerate an inoperable toilet

for long.

Even if you're not a natural, it's

good to embrace your inner handyman,

at least for the easy stuff. So

clean the gutters. Plunge the toilet.

Replace the thermostat. Wedge the

sliding door back on track.

And there are also things in your

home that are not broken, but your

wife wants changed. Don't argue. Don't

debate. Don't put them off too long.

If it's on the honey-do list, be a

honey and do it. •

Jay payleitner is a freelance Christian radio

producer, speaker at men's events and author

of 52 Things Wives Need From a Husband.

August / september 2020 FOCUS ON THE FAMILY 17
---
Powerful parenting help

from focus on the family

Discover your strengths as a parent and

get help where you need it! Drawing from

exhaustive research, ong>Focusong> on the Family's

parenting expert Danny Huerta helps you excel

in seven powerful parenting traits that lead to

the best outcomes for kids. Boost your ability

to cope well with stress, communicate well,

resolve conflict and more, and watch your kids

thrive as they learn these skills from you too!

Order online at Shop.ong>Focusong>OnTheFamily.ca or call 1.800.661.9800
---
Faith & Inspiration

Helping kids stand with

God in a shifting culture

BY DAVID BENHAM WITH JASON BENHAM

ILLUSTRATIONS BY MATT CHINWORTH

August / september 2020 FOCUS ON THE FAMILY 19
---
FAITH & INSPIRATION / STANDING FIRM

THE WORLD WE'RE RAIS-

ING OUR KIDS IN SURE IS

DIFFERENT from the one we

grew up in. When my brother, Jason,

and I were kids, my dad marched us

out of the theater halfway through

a movie. It was so embarrassing.

But he'd had enough of the movie's

problematic content. He even said

something to the theater manager,

who apologized and refunded our

money. Can you imagine that happening

today?

Fast forward to the world we live

in, where our families now avoid the

local library during "Drag Queen Story

Hour," an event where cross-dressing

men read stories to children. When

we mentioned our concerns to the

library manager, he ignored us. Word

soon got out, and our family was

publicly mocked by the local newspaper

as bigoted and intolerant of the

library's "display of diversity."

If you had told my brother and me

all those years ago that we would be

branded as bigots for saying drag

queens shouldn't be kids' entertainment,

we would have thought you

were nuts. But times have changed.

"The cost of biblical convictions

in contemporary culture is growing

steeper every day," writes David Platt

in Counter Culture. "We are not far

removed from sharing more soberly

in the sufferings of Christ."

As the roots of those costs continue

to become more apparent,

how can we help our kids grow

to stand strong in the face of the

world's intolerance?

Be lovers of God's Word

Why is it that doing devotions as a

family is often so difficult? The kids

are too tired, have too much homework,

or would rather do something

else. Why is it such a battle?

As parents, we need to better recognize

how powerfully God's Word

works in the hearts and minds of our

kids. To give our kids' faith a fighting

chance, we must prioritize family

study of the truths God has given us.

In our home, we have devotion

time in the evenings, reading passages

and talking about how they

address or are similar to challenges

we face at school or in our relationships.

We also include worship

music, closing our eyes and reflecting

on what we've heard in Scripture.

We aim to eliminate distractions

and let God's truth permeate our

hearts and our home. Most of all, we

want a home life where whatever

our kids have witnessed in culture,

chances are good we'll cover it by

recognizing God's perspective. We

hope that these moments we spend

together talking about His Word will

embolden our kids and strengthen

them in the difficult times.

Embrace the struggle

I remember sitting with our 10-yearold

son at the kitchen table, listening

to him moan as he faced his math

worksheet. Literally moaning and

crying. The agony worried me a bit,

although I supposed that he was

just trying to get out of his homework.

But I began to have doubts. Is

this too difficult for him? I wondered.

Did our rough morning take a toll on

him? Could he be hungry or tired?

Well, I was hungry and tired of

hearing all his complaining over

math, but we got through it. Then

we packed up and headed outside to

play. I really just wanted him to be

happy, because it made me happy

that he was happy!

Yes, I recognize that our kids'

happiness isn't the goal—raising

resilient and courageous children is.

And training them to walk through

suffering is the key. We've learned

this the hard way, as our kids often

seemed ill-equipped to face hard

times. But we thank God for His

grace—because the Lord has done

amazing things in our kids' lives.

Today we have a vision for our

kids to embrace the struggle and

not avoid it. When our children go

through hard times, and we guide

them in love, they experience healing

and growth that draw them

nearer to God and mature them

in their faith. My wife, Lori, commented

on this: "If our kids are going

to stand strong in this dark world,

they must embrace the struggle. We

cannot shrug away from suffering.

Suffering is a tool that the Lord can

use to strengthen us. It produces

endurance, character and hope."

Hard times bring us to our knees

and often bring us closer to God. Of

course, we don't like to see our kids

struggle. We don't like to struggle. Yet,

it's in the struggle that we flesh out

our faith. Our kids desperately need

these encounters, not more things

that make them happy.

The challenges are unavoidable.

Will your kids be ready? Will they

stand when no one is standing? Will

they know how to face adversity well?

We must prepare our kids. When

they are small, their problems are

small, but as we guide them through

these trials, we equip them with the

skills and traits they need to face bigger

struggles. It's a beautiful cycle.

Walking successfully through challenges

gives kids the character they

need to overcome future battles—

and that character produces hope

and confidence.

Keep an eternal

perspective

I recently asked my sister-in-law,

Tori, how she and Jason were training

their kids to stand strong amid

challenges throughout the school

year. She responded that it was so

helpful in their family to keep their

20

FOCUS ON THE FAMILY

August / september 2020
---
focus on God's kingdom, to keep an

eternal perspective amid the trials of

this earthly journey.

"Life is short, but eternity is forever,"

she said. "So in your heart and

mind, have eternity always in view.

I've seen how valuable this perspective

is, not only for me personally

but also as a mother. Our kids have

so much stuff tugging at them—the

Instagram likes, popularity at school,

athletic achievements, pressure

to conform. But this world, and all

these things that seem so important

in their hearts, it's all going to pass

away."

With three teenagers and a 9-yearold,

my brother and I are in the thick

of parenting. And we're determined

to help our kids live with an eternal

perspective. Life is short, but eternity

is forever. We must help our kids

keep the perspective that best helps

them stand strong against a culture

that is hostile to their faith.

So create a family culture of

dependence on God's Word, discipleship

and prayer. Commit to service,

to helping and serving others. Guide

your kids toward humility and excellence

in their talents and abilities,

with the understanding that these

character traits have eternal benefits.

Nothing this world offers compares

to the glory of eternity. •

David benham, along with his brother,

Jason benham, are the authors of Bold

and Broken: Becoming the bridge between

heaven and earth.

LISTEN NOW!

Join twins David and Jason

Benham as they share more about

family, faith and their time as

professional baseball players.

ong>Focusong>OnTheFamily.ca/Radio

August / september 2020 FOCUS ON THE FAMILY 21
---
FAITH & INSPIRATION / FOR HER

space for

seeking God

Your little ones need you . . .

and you need time with Him

BY MELISSA SPOELSTRA

MY DAY BEGAN DETERIORATING INTO CHAOS the moment I stepped out of bed. I had gotten up before

the kids to try to connect with God, but the baby woke early, drawing me immediately into mother mode. After lunch, my little

ones kept asking me for juice. My 4-year-old twins were taking turns messing with their older brother's LEGO creation. He

loudly protested. An argument ensued, with the volume escalating as the twins vehemently defended the principle of sharing.

And I was halfheartedly trying to keep the noise level down because the baby was asleep . . . for now.

©KELLY KNOX / STOCKSY UNITED

22

FOCUS ON THE FAMILY

August / september 2020
---
FOR HER / FAITH & INSPIRATION

As the afternoon wore on, I fled

to my bedroom and closed the

door, trying to get a few minutes of

peace. I moved toward a rug next

to my bed and slipped onto my

knees. Emotionally and spiritually,

I was running on empty. I needed

a moment to gather my thoughts,

reflect and ask for God's help with

my role as a mother before I started

preparing dinner.

I had a solid five minutes to worship

and recount some reasons to

be thankful, when the sound of the

doorknob turning distracted me.

One of the twins had discovered my

hideout. "Are you praying, Mommy?"

my little one asked.

My child, full of giggles, began

crawling on my back. Before I knew

it, a full-on wrestling, playing, cuddling

session had begun.

My attempt to get a break might

seem like an epic fail; however, those

few minutes helped me shift from

frustration to appreciating the gift

of mothering young ones. Yet I've

noticed that taking time to renew

myself can sometimes leave me

feeling guilty.

What's peculiar about those

feelings is that Jesus taught and

modeled spiritual rhythms for His

followers. Why wouldn't I need them,

too? Jesus got away to be alone

with His Father (Luke 5:16), and He

taught His disciples how to pray

(Matthew 6:5-15). Jesus also showed

that God's Word addresses our daily

concerns, often asking His followers,

"Have you not read . . . ," referring to

the Scriptures (Matthew 12:3,5; 19:4;

and 22:31).

Being like Jesus means caring for

my soul through prayer and Bible

reading. During those busy years of

mothering my young children, I desperately

needed spiritual rhythms,

but during that stage of my life, they

seemed almost impossible to capture.

Finding quiet time alone with

God often eludes me during seasons

when I am overwhelmed with

responsibilities, but I've found it's

worth fighting for. Here are some

ideas that helped me develop spiritual

rhythms when my children were

young.

Give yourself permission

to pursue God

Quiet, rest and reflection are God's

idea. Stop feeling bad for needing

what the Lord says you need. When

you change your mindset to elevate

the value of soul care, you prioritize

quiet times as a necessity rather

than a luxury you don't deserve.

Just as our vehicles need regular

refueling, we moms need our spiritual

gas tanks filled so we can face

tantrums, meal prep, fights and booboos

with patience and grace.

Never stop starting

Over the years, I have started many

different programs and schedules for

reading the Bible, praying and reflecting

on God. I only followed through a

fraction of the time, and I seldom finished

the programs or books.

"Failing" can be so discouraging

that I'm tempted to avoid setting

goals. The thinking goes like this: If

I don't make a plan to intentionally

spend time with the Lord, then I can't

fail if I don't do it.

As the saying goes, when you aim

for nothing, you hit it every time.

But I realized that I persevere in

other areas, even if I don't do it perfectly.

For example, many times I

have started exercise or healthy eating

plans and failed. But did I stop

pursuing health for my physical

body? Of course not. So I've learned

to persist. When one scenario isn't

working out, I try something else

until I find the rhythm that works

with my schedule and lifestyle. >>>

"Being

like Jesus

means

caring for

my soul

through

prayer

and Bible

reading."

August / september 2020 FOCUS ON THE FAMILY 23
---
Use quiet moments wisely

Complication is the enemy of consistency. The

more elaborate I made my plans to connect with

the Lord, the more prone they were to fail.

If I managed to wake up before the kids, to get

them all down for an afternoon rest or to stay up a

little later to connect with God, I sometimes found

myself reverting to scrolling on social media,

devouring a Netflix episode, paying bills or—my

personal favorite—feasting on chocolate.

There is a time and a place for those activities.

But after you have fought for that quiet time, don't

fritter it away. Spend it on things that will truly

nourish your soul. Ask yourself this question,

What activity will leave me feeling most connected

with God when it's over?

For me the answer is usually reading Scripture,

writing my prayers (because my mind wanders so

easily), sitting quietly and counting my blessings

or singing along to a worship song.

Make a list of the ways you best connect with

God and identify your favorites to help you get the

most out of your time spent on soul care.

Celebrate progress, not perfection

No matter how simple I keep my spiritual rhythm

plans, days will come when I will miss them.

Illness, business trips and even holidays can throw

off my spiritual rhythms.

When this happens to you, give yourself grace.

Remember that if you planned to spend 10 minutes

each day with God and you did it for only four out

of seven days in the week, that is four more times

than if you weren't pursuing a quiet time at all.

My oldest son and the twins are now in college,

and my "baby" is finishing high school. Nobody

is fighting over LEGOs or asking me for juice anymore,

but I still need my spiritual tank filled on a

regular basis. Recently, my daughter recalled those

times when she found me in my bedroom on my

knees. It made an impact on her. She is now figuring

out how to connect with God during her busy

college routine. Pursuing quiet doesn't have to be

complicated or hyperspiritual, but it does require

intentionally prioritizing spiritual rhythms. •

melissa spoelstra is the author of Dare to Hope: Living

intentionally in an unstable world.
---
BRIO / FAITH & INSPIRATION

for a new

generation

empowering teen

girls to live out their

faith and embrace

their identity as

children of god

BY SCOTT JOHNSON

THE BEAUTIFUL MESS

"MOM, I'M GOING TO CHECK THE

MAILBOX!"

That's Sarah, a girl in her early teens who's probably

a lot like someone in your own life. She might

remind you of your daughter or granddaughter.

Maybe she wears her hair the same way your favorite

niece does or laughs just like the girl who helps out

at the church nursery.

And like most girls her age, Sarah finds that life is . . .

complicated. Sure, she has loving parents, a supportive

church community and a solid biblical foundation.

But even with those positive influences, Sarah

struggles with feelings of confusion, of being misunderstood

and unnoticed.

The pings sounding from Sarah's phone are constant

reminders of new selfies her friends have posted.

Some of the pics make Sarah feel uncomfortable, but if

she doesn't respond with "likes," her friends may start

unfollowing her.

The drama doesn't stop there. Fresh into the new

school year, Sarah already thinks she's an outsider

for not watching that edgy new show everyone else is

raving about. And when she says that, for now, she'd

like to hold off on dating? The girls respond as though

Sarah's plans are just plain laughable.

But on this day, standing at the mailbox, Sarah is

hoping to see something special inside. Something

that always helps her feel connected and appreciated.

There, mixed among the bills and junk mail,

Sarah spots it. A magazine with a cover photo of a girl

who looks . . . normal. Sarah rushes back to the house,

clutching the newest edition of Brio magazine.

Finally—something to read from friends who

understand. >>>

August / september 2020 FOCUS ON THE FAMILY 25
---
FAITH & INSPIRATION / BRIO

"My teen daughter just loves your magazine

and has grown in her Christian

walk by reading Brio. As a parent, I

really appreciate the fact that you

don't shy away from the hard topics.

. . . They are so relevant for today's

teens—especially for what they deal

with in public schools."

—Jenni

The Christian life—with zest

ong>Focusong> on the Family originally launched Brio magazine

for teen girls in March 1990. Brio is an Italian word

meaning "vigor" and "vivacity." The intent of the magazine

has always been to inspire girls to daily live out

their Christian faith with passion and determination.

Brio was highly popular with readers and won many

industry awards throughout the 1990s and early 2000s.

Unfortunately, following the economic downturn of

2008, ong>Focusong> suspended publication in February 2009.

Still, over the years it became clear that there was a

strong interest in—and need for—the encouraging biblical

message that Brio communicates to young women.

The magazine relaunched in May 2017 and was

redesigned in 2019 to better address the needs of

today's young teen. The current format is a 76-page,

bimonthly publication, and each issue is an adventure.

Readers come away with cultural insights, health and

beauty tips, and a better understanding of how other

Christians are inspiring their generation.

Brio wants to be a faith-based voice in a teen girl's

world that inspires hope and joy. Whether an article

discusses body image, boys or social media, the team

addresses these relevant topics through a filter of their

shared faith in Jesus.

"Teens tell us they love getting their magazine in the

mail and appreciate having a copy in hand to read

and share," says Pam Woody, Brio's editorial director.

"They enjoy the expanded version with room for notes,

prayers, doodling and journaling."

THE BEAUTIFUL MESS

"As a father of three daughters, I can't

tell you how much I appreciate your

magazine. I took my teen daughter

out to lunch last week, and she

spent the whole time talking about

every subject your magazine covered.

Most of it is stuff I don't know

how to approach. It is a real source

of encouragement for us."

—Greg

Go to BrioMagazine.ca to find out

more and subscribe.

26

FOCUS ON THE FAMILY

August / september 2020
---
BRIO / FAITH & INSPIRATION

A new generation

Some of the current Brio subscribers are secondgeneration

readers: Their moms received the magazine

when they were teenagers and have embraced the

relaunched version for their daughters. But times

have changed.

"Teens now carry the world in their pockets through

smartphones, and they're constantly connected to the

world through social media," Pam says. "Technology

has already exposed these girls to big issues and big

questions, so we want to come alongside them with

honest and insightful responses to the things they face

every day."

From the feedback Brio receives, the team knows

that teen girls find themselves living in an age that is

defined by pop culture, influencers and social-media

messaging. "I'm encouraged by the honesty and faith of

our readers," Pam says. "They have a willingness

to discuss the big issues of life. They have a hunger

for truth. They want us to be real with them—and in

return I have hope they will be real with themselves

and with God. I see them growing to be strong and

"I love absolutely everything about Brio!

Each month, my daughter and I get so

excited to receive our copy. We plan a

special time to read it together. So many

great ideas, stories and conversations

that always come out of the pages!"

—Christy

passionate women who live countercultural to the

messages currently bombarding them."

The Brio team wants each reader to know that she

isn't defined by social media and the cultural fads of

the day. "She's seen. Her questions are valid, her stresses

understandable," Pam says. "We want to encourage her

to go easy on herself—body, soul and spirit. Perfection

is unattainable, and grace is so much more freeing than

guilt. We want her to know that God created her with

purpose and with a voice, and the Brio team is cheering

for her as she finds that purpose and uses that voice." •

scott Johnson is a senior writer in the ministry Values division at

ong>Focusong> on the Family.

worthy.

beautiful.

enough.

The Brio team recognizes that growing into womanhood

is a great adventure. It's also a journey filled with challenges

and detrimental messages from the culture

around us. That's why each issue of Brio magazine

includes this welcome statement for teen readers:

CREDIT TK

You are beautifully designed for a unique purpose

and desperately loved by a faithful Savior. Here at

Brio you belong to a community that will encourage

you to own your faith, be confident in your

body and discover who you are as a child of God.

As you navigate these teen years, know that you

are not alone. We're here to listen, to speak truth, to

offer hope. So, let's talk about the issues that matter

to you. Remember, you are God's good work created

with a purpose and loved beyond measure.

You are worthy. You are beautiful. You are enough.

August / september 2020 FOCUS ON THE FAMILY 27
---
understands

a teen girl's world!

EACH ISSUE OF BRIO FEATURES:

76 pages of faith-building content

for teen girls on culture, body image,

social media, relationships and more

Truth-filled answers for tough

issues teens face

A fun design that teens will love

Journal pages to capture thoughts,

prayers and ideas!

6

issues

a year

Inspire teen girls to grow in their faith!

order or renew online at briomagazine.ca

or call 1.800.661.9800
---
Kids & Teens

ADAPTABILITY

AN ESSENTIAL PARENTING TRAIT

A fl exible mindset can make a big

difference in how we respond to challenges

BY DANIEL P. HUERTA / ILLUSTRATIONS BY BRIAN MELLEMA

"I JUST CAN'T DO THIS ANYMORE,"

a woman told me over the phone. She was crying.

I was on a counseling call with her, and she had

locked herself in the bathroom because she was afraid

she might hurt her children. Through the phone I

could hear her kids calling for her and knocking on

the door.

As we talked, the mom revealed that she was

exhausted and overwhelmed.

My immediate goal was to help her calm down and

regain perspective. But I knew that what this mom

really needed were the skills to adapt to the many

trying situations we face as parents.

The ability to adapt is crucial for parents. It's simply

not possible to anticipate every stressful event and

change that life can bring.

After all, plans and people change. Relationships

and expectations change. And that's not even considering

earthshaking events that temporarily close

schools, churches and businesses, wreaking havoc on

the daily workings of family life.

Yet we're not helpless. We can grow in the art of adaptability.

Let's consider four qualities we can embrace that

will help us develop as adaptable parents. >>>

August / september 2020 FOCUS ON THE FAMILY 29
---
KIDS & TEENS / ADAPTABILITY

Practicing flexible thinking

We have a couple of mottos in the Huerta house.

When we face difficulties, we say, "There is always

a solution." And we frequently ask ourselves, "Is

there another way to look at this?" Having a flexible

mindset makes a big difference in how we

respond to challenging circumstances.

Imagine you've caught your child in a lie, and

perhaps your child seems to be acting defiant, too.

The easy thing to do—the inflexible thing—would

be to focus on the dishonesty and disrespect, and

dispense some kind of consequence. But flexible

thinking may lead you to a different approach.

You might ask some questions about the circumstances

that led to the dishonesty. What might

your child have seen, heard or interpreted, whether

from you or from someone else, that could possibly

have motivated this lie? Is your son struggling with

a particular emotion—fear, anxiety, frustration or

anger—that might have played a role in shaping his

behavior? Is your daughter afraid of telling the truth

because she thinks it will get her into trouble?

Flexibility is the ability to see things from multiple

perspectives. It requires an open mind and a

willingness to dig deeper. It's about leaving room

for imperfection in the midst of the pressures

and disappointments of everyday life. It's a skill

that we all need to cultivate if we want to survive

and thrive as parents in a world of adversity and

unpredictability.

Pausing to see

the bigger picture

Busy parents often get caught in a vicious cycle

of stress and shortsightedness. Shortsightedness

creates stress because as we focus too intently on

short-term problems, we can lose touch with the

rest of the world and heighten our sense of helplessness.

Stress, in turn, can cause shortsightedness

by magnifying our difficulties and making them

look bigger than they really are. Under the influence

of stress, problems swell to the point where we

can no longer see beyond them.

To break free from this cycle, we must strive to

shift our thoughts toward the larger goals of family

life. That starts by pausing to consider how we're

interpreting what is happening, and then trying to

see things from multiple perspectives.

When we watch movies, we sometimes have to

hit the pause button to think about what we've just

seen, to process a confusing bit of dialogue or plot

point. This is true in family life as well. Sometimes

we need to hit the pause button long enough to get

our bearings and think through our plan of action.

When my kids were small, I often had to pause

and recognize some basics about misbehavior. I

had to remember that very little of what children

do to misbehave is deliberately done to hurt

their parents. They're just responding to their

experiences in life as they learn how to manage

themselves.

30

FOCUS ON THE FAMILY

August / september 2020
---
ADAPTABILITY / KIDS & TEENS

I once counseled a mom who told me she was

overwhelmed by daily life and was ready to be done

being a mom. As we continued meeting, she agreed

that putting her reaction on pause for a few minutes

would be helpful in figuring out what to do

and where to go mentally and emotionally.

She began consistently taking time to pray, go

for a walk and enjoy a good laugh. She even drew

"pause buttons" on sticky notes that she posted

around her house and in her car as reminders, and

she used these moments of quiet to observe and

gain perspective.

As a result, she was able to listen more attentively

to her children and respond with more patience.

Pausing to see the big picture—and taking time

to process what was otherwise obscuring that picture—helped

this mom fill her emotional reserves

and become a more effective parent.

Choosing a

growth mindset

A few years ago, Carol Dweck, in her book Mindset:

The New Psychology of Success, described two

important approaches to life challenges: the

growth mindset and the fixed mindset. Dweck

describes the compelling scientific evidence for

the importance of having and instilling a growth

mindset in ourselves and our children.

I'll admit that I sometimes fall into a more fixed

mindset in times of stress. I think, It is what it is. In

other words, I succumb to the belief that I either

have the skills to deal with the issue at hand or I

don't; my abilities can't really change. This fixed perspective

keeps me from seeing creative solutions or

allowing myself space to experiment, change and

grow. It stunts growth.

In contrast, a growth mindset sees life as an

ongoing opportunity for change and personal

development. A growth mindset encourages letting

go of the pursuit of perfection and giving ourselves

(and our children) room for experimentation, failures,

do-overs and restarts. In a growth mindset,

grace toward ourselves and others helps us adapt

to human imperfections. The grace inherent in a

growth mindset also helps us maintain the perspective

that raising kids is a journey of ups and downs.

Letting go of the ideal and moving toward

growth as a child of God is freeing. And God gives

us so many opportunities to grow. He never said

parents were going to start out with all of the necessary

skills. He consistently says to trust in Him

and connect with Him along the journey. Indeed,

an open, growth-oriented mindset, founded on

trust in God, helps us adjust to the amazing life

God has planned for us.

Adjusting on the fly

Do you ever wish each child came with his or

her own instruction manual? That's not the case,

unfortunately. Indeed, your unique challenge is

August / september 2020 FOCUS ON THE FAMILY 31
---
KIDS & TEENS / ADAPTABILITY

that nobody on earth has ever raised your child

before. No book or expert speaks directly to your

child's specific design.

And that brings us to the final essential element

of adaptability: a willingness to learn on the job.

In parenting, you are shaping another human

being while also being significantly shaped along

the way. There are moments of growth for both

you and your children. This growth includes

learning about your own personality, each child's

personality, and specific triggers that tend to bring

out good and bad parenting.

There's only one way to meet these challenges

effectively: You have to stay in the game, even

when things aren't going right. Stick close to your

children as you discover what makes them tick

and what gets them moving in the direction of

learning and growth. Study them to see patterns

emerging. Some days, you may feel like throwing

in the towel, but remember that the twists and

turns of life keep you on your toes.

In the meantime, accept your own imperfections,

seeing them as inevitable opportunities for

growth. Lean on the Lord for strength and understanding.

Take notes as you progress and learn

from your mistakes.

Finally, adjust your parenting strategies by using

the knowledge you've acquired along the way and

the wisdom you've gained from what God is doing

in the lives of you and your children.

If you do this, you will not only succeed at your

task, but you'll also be better able to set the kind of

example that will encourage your children to grow

spiritually. All you have to do is bring your imperfect

self to the job and give everything you can give

out of your imperfect best.

You are, after all, the very best candidate for

the job. •

Daniel p. Huerta is the vice president of parenting and Youth

at ong>Focusong> on the Family. this article has been adapted from his

book, Seven Traits of Effective Parenting.

32

FOCUS ON THE FAMILY

August / september 2020
---
GIFTS & TALENTS / KIDS & TEENS

LITTLE BIG

DREAMERS

Nurturing our kids in

their god-given talents

BY SHELIA ERWIN

ISTOCK.COM / MAX-KEGFIRE, EVGENYATAMANENKO

ONE MORNING IN 2014, my husband, Hank,

and I were standing together and looking out our hotel

window at the Grauman's Chinese Theatre. It was one of

the big "worth it" moments for us as parents. That night

we would walk the red carpet for the world premiere of

our two sons' newest movie.

I'm often asked how I responded when Andy and Jon

said they believed God wanted them to make movies.

Well, I believed my boys, and I believed in them. I also

believed that God wanted me to be part of that process.

As parents, we can easily become stressed and discouraged

as we juggle the many tasks of raising kids,

especially highly creative children. Yet I believe that God

equips those He has called. When we help cultivate our

children's God-given gifts, He in turn equips them for the

work He has in mind.

Parent the children God gives you

Early on, I saw some issues in my sons' temperaments

that, if left unbridled, could someday rise up to destroy

them. They could show such ferocity at times, and in

such different ways. I had believed that it was my job as

a parent to tame these wild stallions.

But I began to recognize that these traits were part

of my sons' unique personalities, and if they could be

brought under the control of God's wisdom and direction,

they would be the making of creative, passionate

thoroughbreds. That doesn't mean Hank and I avoided

teaching discipline and responsibility, or helping our

boys recognize sin and try to steer clear of it. But it did

require a worldview adjustment, an understanding that

some of our boys' qualities didn't need to be diminished

but given direction. >>>

August / September 2020 FOCUS ON THE FAMILY 33
---
KIDS & TEENS / GIFTS & TALENTS

We asked God for wisdom, trusting

Him that it would be given (James

1:5). And God showed up, helping us

direct our boys' inner fire, guiding

our parenting decisions to nurture

curiosity, creativity and compassion

without extinguishing their passion.

I was recently talking with Jon,

now a parent himself. I mentioned

that the character traits that I had to

discipline him and his brother for—

the ones that drove me crazy!—are

the very traits that God is using in

their lives in accomplishing His will.

The Creator of all things can take

our weaknesses and turn them into

strengths.

Instead of asking why God made a

child the way He did, ask Him, "What

guidance and direction do You have

for this child?" Be thankful for how

He has made your children, always

seeking wisdom in how you can best

equip them.

Grace through mistakes

I was a creative child myself, which

generally drove my mother up the

wall. When I was about 12 years

old, I spent many hours painting a

portrait of my mom while she was

in the hospital. When she arrived

home, I met her at the door with

my gift, but she could only see the

oil paint all over her kitchen table.

As a mom, I can understand her

response. How often do we look

past those surges of childhood creativity

and see only the mess, the

broken camera, the tools left out in

the rain? In those moments with my

sons, I remembered the pain I felt

over my mother's lack of acknowledging

my creative efforts. And I

wanted to be better with my boys.

Yet I also recognized that my

mom taught me how to live a more

disciplined, responsible life, to

not let my creativity control and

consume me. And so there is a balance

here, between nurturing a

child's creative spirit and helping

him or her understand that we must

still operate within certain practicalities

and responsibilities.

As I encountered the mess and

complications of raising two creative

boys, I stuck to a principle

of first seeing things through my

sons' eyes, not just my grown-up

eyes. I wanted my boys to know

that I treasured their unique, fiery

spirits and creativity. One of the

most important things we all need

to see is that we are unique creations

of God who have been

"fearfully and wonderfully made"

(Psalm 139:14).

Let your children know that God

has a special plan for that uniqueness.

Ask God to give them a clear

understanding of the work He

designed them to accomplish.

ISTOCK.COM / ROBERT DALY, PEOPLEIMAGES

34

FOCUS ON THE FAMILY

August / September 2020
---
GIFTS & TALENTS / KIDS & TEENS

ISTOCK.COM / PINSTOCK, PROSTOCK-STUDIO, MAX-KEGFIRE

Teach what you know;

trust God for the rest

Hank encouraged the boys to dream

big, often teaching them a key principle

that would make the difference in

everything they tried to do. He called

it "The Wow Factor." If someone sees

your work and says, "That's nice,"

you're not done. Go back and work

some more until they say, "Wow!"

Our sons' journey into filmmaking

began with Hank's love for radio and

television. Hank worked at a Dallas

TV station to help pay for seminary.

After a year, the news director asked

him to join their news team. Our

sons grew up thinking all fathers

were on TV, and in their teen years,

they were allowed to work on their

dad's set. They caught the same bug

their father had, working as cameramen

for high school football

games, editing video clips and learning

to operate the machines in the

production booth. They branched

out into making short films for Word

of Life summer camps, using their

maturing storytelling skills to integrate

the Gospel message into every

video that the campers took home.

As these projects and others began

to accumulate, they learned that

God could take limited resources

and do mighty work.

Step by step, God began to teach

the boys how to make a movie. He

did this by opening doors for projects

that were just a little bit out of

their existing skill set. As they were

willing to learn new skills, other

assignments would come. Just as

God was faithful to enable our sons

to do what He had called them to

do, He will do the same for your children,

even if it doesn't look anything

like what you've expected or imagined

as parents.

At some point, the active role of

parents starts to fade from this picture.

But as God equips children

to grow their skills, parents have

a chance for a new role: to come

alongside them and be their fans. We

always waited to be asked into our

sons' world of filmmaking, and when

they outgrew our ability to help, we

stepped aside. Now we stand on the

sidelines and cheer them on.

Prepare them for

disappointment

Following God's plan doesn't mean

we get to pursue our dreams without

failure and disappointment. When

our boys were young, we taught

them that God has His plan, and

even if it is different from our plan,

we will submit to it. Yes, there might

be pain and disappointment and

long periods of waiting, but we can

thank Him for His wisdom and presence

in the midst of the journey. >>>

August / September 2020 FOCUS ON THE FAMILY 35
---
LISTEN NOW!

Follow Shelia Erwin's story of

raising two dreamers who became

film producers.

ong>Focusong>OnTheFamily.ca/Radio

Get the ong>Focusong> on the Family

Broadcast app today at

FOCUSONTHEFAMILY.CA/MOBILE

He directs and instructs us by both

giving and withholding.

My sons encountered a major

obstacle and disappointment with

their first big film. Everything was

going great. The movie was finished.

Then came the low point. They were

told that because of the subject matter,

no one wanted to distribute

the movie in theaters. Even though

promises had been made, they were

told to just put it out on DVD and try

to make their money back.

With this heartbreaking news,

Andy and Jon sought God's direction

in prayer. They decided that the Lord

really did want this movie to be seen

by a broader audience than a DVD

format could offer. While Andy was

editing the movie, Jon set out to raise

the $2 million needed to market and

distribute the film.

So we all prayed. Eventually, the

money began to arrive. But God first

had to take them to the end of their

human resources before He began

to provide. And in October of 2012,

October Baby opened nationwide,

breaking into the top 10 movies that

first weekend, though it was only on

a limited number of screens.

Parents, we need to start early in

teaching our kids how to face disappointments,

because they are bound

to encounter obstacles on the way

to their dreams. There will be times

of heartache, times when they don't

get in the band or their artwork isn't

selected for an exhibition. Show

them how to keep trying, to keep

improving, to continue turning to

God and trusting His guidance. So

often God uses failure, and none of

us ever know what He is planning.

Only part of the

masterpiece

"Instead of being soloists, can we

become a symphony?" Those

were the words of my son Jon as

he and his brother announced the

co-founding of their new movie studio,

Kingdom Story Company. It was

a reminder that I am only part of

this masterpiece. Over the years, as

I did what I could to contribute to

my sons' journey, I had only been

one brush in the hand of a powerful

God. I certainly hadn't been the only

brush. He had used many brushes.

God had given my sons His creative

ambition. He had prepared

them for His dream for such a day

as this, and that kingdom story has

only just begun. •

shelia erwin is the author of Raising Up

Dreamers: Find and grow your child's God-given

talents, from which this article has been adapted.
---
GRANDPARENTING / KIDS & TEENS

How to stay

connected with

your grandkids

as they grow

BY MARIE ISOM

PHOTOS BY ERIN DRAGO

August / September 2020 FOCUS ON THE FAMILY 37
---
KIDS & TEENS / GRANDPARENTING

MY GRANDDAUGHTER

OPHELIA rummaged through

the toy bin and held up two tattered

superhero capes.

"You wear the pink one," she

instructed me and tried to place the

cape over my T-shirt. I scooped the

tiny 2-year-old into my arms, knowing

what came next.

She asked, "Should we dance or

fly-a-sky, Grandma?"

I was already scrolling through

the playlist on my phone in search

of the Mary Poppins song "Let's Go

Fly a Kite."

Within seconds, Ophie was

squealing as we twirled around the

room. Dancing—a generous term

for my awkward movements—is

one way I have connected with my

youngest grandchild.

Research by Oxford professor

Ann Buchanan indicates that a

high level of grandparent involvement,

whatever the activity, greatly

increases the overall well-being of

grandchildren. In a study of more

than 1,500 children, Buchanan

found that kids who have more

involved grandparents have fewer

emotional and behavioral problems

than kids who don't have a regular

connection.

So how can grandparents ensure a

meaningful connection when they're

with their grandchildren? There's no

special grandparent glue, but we can

choose to study our grandchildren,

ask questions and be intentional

about spending time with them.

Studying grandkids

Each child is uniquely created

in God's image. Therefore, it's

important to watch for his emerging

interests, talents and personality

traits. You also can observe whether

your grandchild is an extrovert or

an introvert, a leader or a supporter.

Finally, you can take note of his

temperament.

Look, also, for signs of how your

grandchild expresses love to you

and other family members. Does

she enjoy spending time with you?

Does she always want to bring you

a gift? Does she like helping out in

the kitchen or snuggling on the sofa

with a book? These observations

from Dr. Gary Chapman's research

on love languages can give you ideas

about how your grandchild is more

likely to experience your love when

you are together.

The goal of studying your grandchild

is to find a way to connect that

38

FOCUS ON THE FAMILY

August / September 2020
---
GRANDPARENTING / KIDS & TEENS

is meaningful to the child. The better

we understand our grand-blessings,

the stronger the connection.

Ask questions

When we interact with our grandkids,

we should strive to ask questions

that reveal their heart. Nurture

open-ended conversation instead

of yes-or-no questions. Showing an

interest in our grandkids as individuals

helps create a safe place for them

to ask questions in return. These

meaningful conversations are where

genuine mentoring often takes place.

GRANDPARENTS are far

more likely to overcome adversity

and become successful in school

and life, says school psychologist

Karyn Singley Blair, who has spent

20 years working with children and

adolescents. Blair identifies five

stages of development for children.

Understanding these stages will help

grandparents better relate to their

grandchildren.

KIDS WITH SUPPORTIVE

Spend time

Opportunity for connection with our

grandkids increases when we have Infants and toddlers:

one-on-one time with them, rather birth through 18 months

than engaging with multiple children

at once. But if you have more life, connection with a child is built

During the first year and a half of

grand-blessings than days in the mainly through physical contact

week, and it isn't possible to spend and meeting their primary needs

time with each child individually, go so they develop trust in you, Blair

ahead and do activities in a group. says. Holding, feeding, reading

But find moments to engage with to and playing with kids this age

each grandchild so he knows you see builds familiarity and trust. Even at

him as an individual. •

this early stage, grandparents can

study temperaments and emerging

personalities. Most children up

to 18 months have a very limited

vocabulary but will still voice their

preferences when asked questions

such as "Do you want Grandpa to

read Green Eggs and Ham or Good

Good Father ?" or "Would you rather

color a picture or kick the soccer

ball?" Their answers will begin to

reveal their unique personalities.

Early childhood:

18 months to 3 years

At these ages, grandchildren will

desire to do things themselves but

will still need a lot of assistance.

Establish a bond through helping

them develop new skills. We learn a

great deal about our grandchildren

by patiently allowing them to work

alongside us in simple tasks such as

cooking, cleaning, doing yardwork

and drying dishes. >>>

LONG-DISTANCE

CONNECTIONS

Although bonding is easier when a grandparent is physically

present, meaningful connection with a grandchild can still

happen over long distances. Tina Knowles and her husband,

Jim, are new grandparents. "I think distance grandparenting

will be the story of our lives," Tina admits.

She already uses FaceTime to read books to her grandson so

her voice becomes familiar to him. They use an app called

Tinybeans, which allows their daughters to share photos of

the growing grandkids every day.

Grandparent club

Notice what your grandchildren are interested in and

form a long-distance club related to that area of interest.

For Nancy Casterline, it has been a book club. She sends

books to her grandchildren, and after she and the kids read

each book, they discuss what they've read. This can also

be done with kids' magazines.

Other grandparent clubs might focus on puzzles, kidfriendly

recipes, exercise, Scripture memorization or

drawing. You could also try a "word of the month" club,

where participants can do anything creative with the

month's word, such as drawing, writing or painting.

Other ideas for connection

The point is to create common experiences. Here are other

ideas that grandparents have used to connect with longdistance

grandkids:

• Call individual grandchildren regularly.

• Offer to have the grandchildren visit you.

• Play online games together.

• Create videos to send to each other.

August / September 2020 FOCUS ON THE FAMILY 39
---
KIDS & TEENS / GRANDPARENTING

And keep noticing what makes

your grandchildren unique! Are they

detail-oriented or big-picture? Do

they lose interest easily, or can they

follow directions for a while?

When Lisa Hebbert noticed that

her 2-year-old granddaughter loved

to make messes, she began creating

mud pies with her. They later

moved into the kitchen, where they

exchanged mud for pudding and

began creating real desserts together.

Today, her granddaughter is a confident

cook, and the two of them

enjoy watching cooking shows

together.

Preschool: ages 3 to 5

Preschoolers love to play, and they

also start to imitate their caregivers.

Since laughter connects the generations,

be silly together. Allow plenty

of playtime, but also pay attention to

what a child struggles with and what

he is eager to learn. Ask how he feels

when he's learning things.

When my granddaughter Caeris

was 3, she became frustrated

because she couldn't catch a Frisbee,

and she told me this made her sad.

I purchased some Frisbee rings and

we practiced, celebrating each catch

with a silly victory dance. Now, at

5, she loves to play Frisbee, and it

has become one of our connections

as we talk about not giving up just

because something is hard.

School age: ages 6 to 12

School-age children are ready to

learn how to be good citizens and

become part of a bigger community.

Connection at this stage happens as

a child starts to discover the world

outside of his or her family.

Hebbert and her granddaughter

found common ground in looking

for ways to bless others—whether

creating May Day baskets to hang

on neighbors' doorknobs or earning

money for a charity. Hebbert built

this connection as she recognized

her granddaughter's generous heart

and has helped her serve the community

around her.

This connection comes from

LISTEN NOW!

You can be a "rock star"

grandparent! Listen to popular

author Chrys Howard explain how.

ong>Focusong>OnTheFamily.ca/Radio

understanding the child, and it may

not always be a hobby or interest of

your own. My 6-year-old grandson

is developing a real love for drawing.

He constantly asks my husband and

me to show him how to draw things.

On my list of favorite things to do, I

place drawing right above cleaning

the bathroom. But to enter his world

and create a bond through something

he enjoys, I've begun viewing

drawing tutorials with him.

Whether I'm sitting with him and

helping with the tutorial or drawing

alongside him, we are building a

connection. That connection gives

me the opportunity to talk about

being OK with making mistakes

and encourage him to turn his mistakes

into something even better.

Mentoring is easier when we can use

an area of our grandchild's interest

to nurture life lessons.

Adolescent: ages 12 to 18

As a grandparent, you know that a

teen is looking to find his or her own

identity and independence. Your

grandchild may begin to pull away

from family. Friends may become

more important.

To build and maintain connection

during this stage, be present but not

pushy. Get to know your grandchild's

friends and teammates. Ask your

grandchild about his dreams, values

and beliefs. Building connection

means entering your grandchild's

world rather than forcing him into

yours. •

40

FOCUS ON THE FAMILY

August / September 2020
---
KIDS & TEENS / MY THRIVING FAMILY

tea

party

Lillian, 4, Melody, 2, and Drew,

4 months

tea for three!

—Meghan from Ontario

(Kids L to R): Tanner, 5, McKinsey, 9,

Colin, 7, and Teagan Joy, 3

Daddy loves playing tea party with his four

children!

—Allison from Pennsylvania

Kolby, 6 months

A first tea party that was great, down to

the last plate.

—Jayme from Colorado

Your kids could be in ong>Focusong> on the Family magazine!

email photos* of your child going swimming or enjoying a family

vacation. (put "swimming" or "vacation fun" in the subject line.)

Send to: info@fotf.ca

* Largest photo possible—professional photos not accepted

42

FOCUS ON THE FAMILY

August / September 2020
---
New Adventures

for Kids

4 CDs • F01796D

No mystery is too big or too scary for

Emily Jones and Matthew Parker. Let

your kids solve 12 perplexing puzzles

right alongside them with this audio

collection of previously released

episodes. Ages 8+

Paperback • F01797B

Equip kids to share the gospel

through comic-strip adventures

that are out of this world! They'll

join Kelvin on his mission to an alien

planet to tell the inhabitants about

Christ. Ages 8+

2 CDs • F01791D

Connie's helping Jillian search for a

career: a process of trial and error with

some hilarious results! Meanwhile,

Penny and Wooton's plan to surprise

Penny's parents goes wildly awry.

Ages 8+

Order online at Shop.ong>Focusong>OnTheFamily.ca or call 1.800.661.9800
---
Shop with confidence

at ong>Focusong> on the Family Canada

Today there are many ways to shop for

faith‐building resources for your family. And

yet, when you consider purchasing an item,

the same questions resurface:

Is the author offering a biblically based perspective?

Would a counsellor consider it sound advice?

Will the content engage your kids?

When you shop at ong>Focusong> on the Family

Canada, you can be sure about the resources

we're offering.

We stand behind every item we sell, because

each one has been reviewed and approved

by our staff for excellent content that's in

line with God's Word.

Shop online at Shop.ong>Focusong>OnTheFamily.ca or shop by phone at 1.800.661.9800