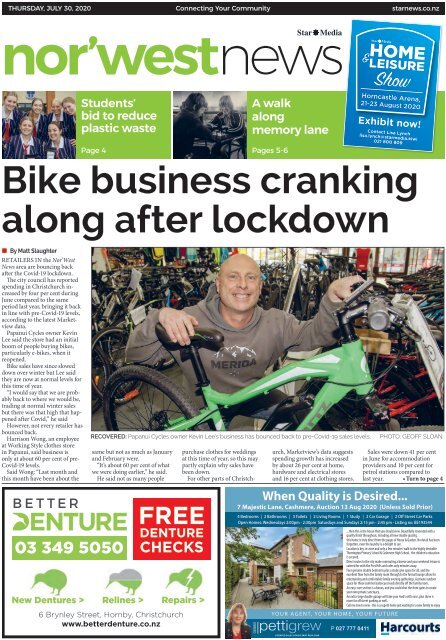 Nor'West News: July 30, 2020
Create successful ePaper yourself
Turn your PDF publications into a flip-book with our unique Google optimized e-Paper software.
THURSDAY, JULY 30, 2020

Connecting Your Community

starnews.co.nz

HOME

LEISURE

Students'

bid to reduce

plastic waste

Page 4 Pages 5-6

A walk

along

memory lane

Horncastle Arena,

21-23 August 2020

Exhibit now!

Contact Lisa Lynch

lisa.lynch@starmedia.kiwi

021 800 809

Bike business cranking

along after lockdown

• By Matt Slaughter

RETAILERS IN the Nor'West

News area are bouncing back

after the Covid-19 lockdown.

The city council has reported

spending in Christchurch increased

by four per cent during

June compared to the same

period last year, bringing it back

in line with pre-Covid-19 levels,

according to the latest Marketview

data.

Papanui Cycles owner Kevin

Lee said the store had an initial

boom of people buying bikes,

particularly e-bikes, when it

reopened.

Bike sales have since slowed

down over winter but Lee said

they are now at normal levels for

this time of year.

"I would say that we are probably

back to where we would be,

trading at normal winter sales

but there was that high that happened

after Covid," he said

However, not every retailer has

bounced back.

Harrison Wong, an employee

at Working Style clothes store

in Papanui, said business is

only at about 60 per cent of pre-

Covid-19 levels.

Said Wong: "Last month and

this month have been about the

03 349 5050

RECOVERED: Papanui Cycles owner Kevin Lee's business has bounced back to pre-Covid-19 sales levels.

same but not as much as January

and February were.

"It's about 60 per cent of what

we were doing earlier," he said.

He said not as many people

free

denture

checks

New Dentures > Relines > Repairs >

6 Brynley Street, Hornby, Christchurch

www.betterdenture.co.nz

purchase clothes for weddings

at this time of year, so this may

partly explain why sales have

been down.

For other parts of Christchurch,

Marketview's data suggests

spending growth has increased

by about 26 per cent at home,

hardware and electrical stores

and 16 per cent at clothing stores.

Your agent, Your home, Your future

LICENSED SALES CONSULTANT REAA 2008

P 027 777 0411

PHOTO: GEOFF SLOAN

Sales were down 41 per cent

in June for accommodation

providers and 10 per cent for

petrol stations compared to

last year. • Turn to page 4

When Quality is Desired...

7 Majestic Lane, Cashmere, Auction 13 Aug 2020 (Unless Sold Prior)

4 Bedrooms | 2 Bathrooms | 3 Toilets | 2 Living Rooms | 1 Study | 2 Car Garage | 2 Off Street Car Parks

Open Homes: Wednesdays 2:00pm - 2:30pm Saturdays and Sundays 2:15 pm - 2:45 pm - Listing no. BE193544

...then this is the house that you should view. Beautifully renovated with a

quality finish throughout, including all new double glazing,

this home is truly direct from the pages of House & Garden. No detail has been

forgotten, even the laundry is a delight to see.

Location is key, in-zone and only a few minutes' walk to the highly desirable

Thorrington Primary School & Cashmere High School, the children's education

is secured.

Direct routes to the city make commuting a breeze and your weekend leisure is

catered for with the Port Hills and cafes only minutes away.

Four genuine double bedrooms plus a study give space for all, and the

excellent flow from the family room through to the formal lounge allow for

entertaining and comfortable family evening gatherings. A private outdoor

space for those summer barbecues leads directly off the family room.

An easy-care section is a bonus, and you could shut the front gates to create

your own private sanctuary.

An extra-large double garage will take your 4wd's with ease, plus there is

room for off street parking as well.

Call me now to view - this is a superb home just waiting for a new family to enjoy
---
2 Thursday July 30 2020

Latest Canterbury news at starnews.co.nz

GENERAL INQUIRIES Ph 379 7100

CLASSIFIED ADVERTISING Ph 379 1100

Star Media, a division of Allied Press Ltd

PO Box 1467, Christchurch

starmedia.kiwi

what's on

this week

Wā Pēpi: Babytimes

Thursday, 10.30-11am

Shirley and Fendalton libraries

Encourage learning through

language. Babytimes is an interactive

programme including music,

movement, rhymes and a story.

Recommended for under two-yearolds.

No bookings required.

NOR'WEST NEWS

NEWS

Bea Gooding

Ph: 021 911 576

bea.gooding@starmedia.kiwi

ADVERTISING

Monique Maynard

Ph: 021 372 481

monique.maynard@starmedia.kiwi

Your local community news

delivered to 28,748 homes

within The Star each week.

Harewood • Burnside • Bishopdale • Bryndwr

Fendalton • Merivale • St Albans • Mairehau

Papanui • Casebrook • Redwood • Styx Mill

Regents Park • Northwood • Belfast • Strowan

Citizens Advice Bureau

Thursday, 11am-5pm, Friday, 11am-

5pm, Tuesday, 2-5pm, Wednesday,

11am-5pm

Fendalton Library

Citizens Advice Bureau provides

free and confidential advice. They

take the time to listen and equip you

with the information, options and

support that fit your needs. Phone 941

7923 for more information.

Knit 'n' Yarn

Thursday, 2-3.30pm, at Fendalton,

Wednesday, 1-2.30pm, at Redwood

Fendalton and Redwood libraries

Take your knitting, crochet or other

craft projects and have fun with a social

group. This is a free, drop-in event.

The Zone @ Shirley

Thursday, 4-5pm

Shirley Library

Go along and get to know other

like-minded teenagers. Go headto-head

on the PlayStation, mix

music with GarageBand, get creative

with green screen or play classic

board games. Suitable for ages 12

to 19-years-old. Free, no booking

required.

Fresh Fruit Year-round from a Small Backyard, Tuesday, 2-3pm,

Fendalton Library. Author and mentor Bill Brent will be speaking about

how to pick fresh fruit from your garden every month, from a small space.

Learn about soil, feeding, watering and growing in containers. Suited for

beginners. Free, no bookings required. ​

Rummikub

Monday, 1-3pm

Bishopdale Library

Join in on the fun and discover

how to play Rummikub, an exciting

strategy game for all ages. Free, no

bookings required.

Makerspace

Friday, 3.30-4.30pm

Bishopdale Library

Go along for a creative or

technology-based activity to try. For

kids of all ages, Free, no bookings

required.

Mahjong Group

Saturday, 1-3.30pm, at Shirley,

Monday, 1-4pm, at Papanui

Shirley and Papanui libraries

Go along to the free event if you

are interested in playing or learning

about Mahjong.

JP Clinic

Saturday, 10am-noon, at

Fendalton, Tuesday, 10am-1pm, at

Shirley and Papanui, Wednesday,

10am-1pm, at Bishopdale

Bishopdale, Fendalton and Shirley

libraries

A justice of the peace will be

available to witness signatures

and documents, certify document

copies, hear oaths, declarations,

affidavits or affirmations, as well

as sign citizenship or rates rebates

applications.

Reading to Dogs

Tuesday, 3.30-4.30pm

Shirley Library

A relaxed, non-threatening event

designed to encourage children to

practise reading skills and develop a

love for reading. Bookings required,

phone 941 7923 to register.

I was born in the deep south, Tuatapere, gateway to Fiordland.

I grew up among some stunning scenery but it wasn't really until I

travelled the world that I saw just how special it was.

I am a Christchurch based, self-taught artist painting semi-abstract

landscapes that are earthy and textural. My paintings are inspired

by New Zealand landscape, particularly Central Otago, Mackenzie

Country and Canterbury.

My works are descriptive of landforms shaped by both natural

forces and man. Weathering, erosion and human activity lead to an

ever-changing terrain.

There is often a touch of both flora and water in my paintings that

allude to the idea of the land sustaining life.

The paintings have layers of colour and texture through

which I chisel, scrape, eliminate, add back and interact

with the painting to reveal the essence of a landscape.

I hope painting our NZ landscape may encourage the

viewer to recognise the beauty of the land and to feel

responsibility for looking after it.

Flowing Through

Capturing The Essence

Put your Best

Foot Forward

with the BEST!

We assess, diagnose and treat

foot, ankle, knee and leg conditions

Papanui Foot Clinic offers a broad range of services and

solutions by some of Christchurch's leading podiatry experts

CALL TODAY FOR AN APPOINTMENT

352 6400

• Ian Graham • Anna Brown • Tim Sander, QSM

Christine Maynard | Revealing Landscape

1 - 26 August 2020

littlerivergallery.com

Main Rd, Little River | 03 325 1944

art@littlerivergallery.com

Ph: 352 6400 | 448 Papanui Road (opp BP Petrol station)

E: reception@papanuifootclinic.co.nz
---
NOR'WEST NEWS Latest Canterbury news at starnews.co.nz

Thursday July 30 2020 3

News

Real estate market buoyant

• By Matt Slaughter

NORTH-WEST Christchurch

is proving to be a hot spot for

houses selling at auction.

General manager of Harcourts

Gold Chris Kennedy said, in

recent weeks, 55 per cent of

houses it has auctioned have

sold "under the hammer" and

80 per cent of houses have sold a

short time after auctions.

"We've

noticed great

activity in

our auction

rooms postlockdown."

Kennedy

said there

Chris Kennedy

are a number

of reasons

why houses in the north-west

are proving so popular at the

moment.

"I think it's the type of house,

I think it's the demographic

of house, I also think it's the

pricing of the homes themselves.

A lot of the activity is happening

in that $400,000 to $700,000

bracket which seems to be

incredibly popular at the

moment and there's a bit a of a

frenzy out there for that type of

property.

"If you look at cities, they

Weekend Special!

Baking fresh eachday since 1986

Bumbleberry

Family Pie Special

$

9 .90 each

OPEN 7 DAYS - 34 on site car parks!

Corner of Innes Rd & Cranford St, St Albans

Phone 03 355 6921 | /kiddscakes

Order online at www.kiddscakes.co.nz

move north-west. Cities move

north-west because they chase

that north-west sun, they

tend to develop to the

north-west," he said.

Kennedy said a house

in Glen Oaks Drive,

Northwood, went to

auction and sold for $1.2

million.

He said bidding on

a house in Memorial

Ave, Fendalton, started at

$700,000 and it sold for

$870,500.

Vanessa

Golightly

'CEREC' & cosmetic dentistry

Wisdom tooth removal

Painless, high quality dentistry

Sedation dentistry

Experienced, conscientious team

Experienced hygienists

OPEN SATURDAYS

355 9380

144 Cranford Street

www.stalbansdentalcentre.co.nz

A house in Repton St,

Merivale, started at $500,000

and sold for $915,000.

Said Ray White

Papanui real estate

agent Vanessa

Golightly: "This part

of town, it always has

been popular, from

Papanui, Bishopdale,

Redwood, St Albans,

Avonhead. Anything

we can list here at the

moment is attracting

multiple interests.

HOT PROPERTY:

Houses are selling

at auction in large

numbers in northwest

Christchurch.

"They're just good size

with reasonable land and they're

just nice neighbourhoods in

general too.

"It's got reasonably good

schooling, we've got good

access to all different parts

of Christchurch. So, it's not

far into town, it's not far out

to the airport, it's got good

links through [to] North

Canterbury.

"This side of town, it holds

its values quite well," she

said.

Bishopdale Pharmacy

Your local

pharmacy:

Always caring,

knowledgeable

and impeccable

service.

Guild St social

housing

units arriving

THE FIRST two social housing

units on Guild St have been

lowered onto their foundations

last week as nearby residents

watched from afar.

The Christchurch Methodist

Mission is relocating 15 units

and a community house from

Linwood Park. All will be in place

within the next few weeks.

Mission executive director

Jill Hawkey said wet weather

hampered preparatory work but

the contractor worked hard to

ensure the project was on track

to welcome its first families by

Christmas.

"It is a really exciting project for

us; we will be able to help 15 families

with significant housing need,

at the verge of homelessness."

• The Nor'West News this month

reported pre-consent concerns as

to the project's compliance with

special character area rules, and

earthworks rules. This gave the

inaccurate impression the project

did not meet requirements.

The project complies with both.

Further environmental enhancements

to improve the appearance

of the units, and provide further

screening, were added during the

resource consent process.

Landscaping will begin when

the units are in place.

37 Bishopdale Court, Bishopdale Village Mall

Phone 03 359 8302 | www.bishopdalepharmacy.co.nz

Mon - Friday 8.30am - 5.30pm Sat 9.30am- 4pm

"Hiring Cameron to sell our home was by far the best decision we could've made

for selling our home. He's not just a face on a bus. His communication throughout

our campaign was excellent, as was his honest and professional advice. We were in

safe hands from the moment we signed him as our agent, right through to handing

over the keys. We were singing his praises prior to auction day and then, wow!

Auction day was fantastic and it was great to see him and the auction team work.

We'll be using Cameron and his Harcourts gold team again in the future. 10/10!"

- Mike & Diana -

148 HACKTHORNE ROAD, CASHMERE

CAMERON BAILEY

Phone or text 027 555 7079

No.1 Harcourts Canterbury 2012-2020

cameron.bailey@harcourts.co.nz

No.1 Harcourts New Zealand 2017-2020

Licensed Sales Consultant REAA 2008 www.cameronbailey.harcourts.co.nz

No.1 Harcourts International 2017-2020

Licensed Agent REAA 2008
---
4 Thursday July 30 2020

Latest Canterbury news at starnews.co.nz

NOR'WEST NEWS

News

Retail

spending

on the rise

• From page 1

ChristchurchNZ general

manager of strategy, insight

and policy Anna Elphick

said increased spending was

encouraging but there is still some

way to go.

"There's been strong growth in

many suburbs including Papanui

and New Brighton. Pent up

demand and eased restrictions on

movement have provided some

buoyancy to the levels of retail

spending, but we are yet to see

how long the sugar rush will last.

We know there are still challenging

times ahead and any return to

normal will take a long time.

"The impact of border closures

is also being felt with a 58 per cent

reduction in international visitor

spend in Christchurch during

June, compared to the same time

last year.

"It was positive to see

spending by residents in the

central city increase by 13 per

cent on June 2019, going some

way to compensate for the loss

of international visitor spend

which makes up a relatively large

proportion of central city spend,"

said Elphick.

Students' bid to reduce plastic waste

• By Bea Gooding

AS MILLIONS of plastic bottles

make their way into landfills

and natural environments, six

young entrepreneurs have come

up with a bubbly way to tackle

the issue.

The year 13 young enterprise

students at Villa Maria College

will soon release Eliminate – an

effervescent disinfectant tablet

for water bottles in a bid to encourage

families to reduce their

single-use plastic waste.

Charlotte Restieaux said the

project, with Hannah Shallcrass,

Kaitlin Willetts, Ella McHerron

and Ella Dolan, of Harewood,

was aimed at "busy people" who

often reached for single-use bottles

instead of cleaning the one

they already had.

"We realised a lot of us are

busy and we don't often have

enough time to properly clean

our drink bottles," she said.

"We recognised the issue of

single-use bottles and how convenient

it was to chuck it out and

get another one."

She said the process was

simple – by placing the tablet in

a bottle with water, which will

"fizz" and disinfect the inside,

followed by rinsing.

The homemade tablets

comprised of common bacteriakilling

cleaning agents including

hydrogen peroxide and baking

soda which will also be suitable

for reusable bottles.

Charlotte and her team

believed it will provide a convenient

way to clean on-the-go,

reducing the chances of purchasing

a new bottle.

Even though plastic bottles

could be recycled, at most,

only 30 per cent of which was

eventually recycled in New

Zealand.

With a portion of waste

winding up in waterways and

beaches, the group were committed

to donating 10 per cent of

profits to the Sustainable Coastlines

charity.

Said Charlotte: "A lot of

single-use plastics end up on our

coastlines and the charity helps

clean up the beaches, so we felt

that our mission aligns with

theirs."

The project was part of the

PROJECT:

(Rear, from

left) – Kaitlin

Willetts,

Caroline

Holder,

Charlotte

Restieaux

and Ella

McHerron.

(Front) – Ella

Dolan and

Hannah

Shallcrass.

PHOTO:

GEOFF

SLOAN ​

nationwide Lion Foundation

Young Enterprise Scheme, which

the group took part in through

the school's business studies

class.

"We want to make people

aware of the amount of plastics

going into our world and about

the major problems climate

change," said Charlotte.

Eliminate was now in

production, she said, which was

due to be released this week.

Discover Christchurch's

best pet accommodation

• Daycare - all breeds

• Long stay/short stay

Call now to book in your fur baby,

inspections welcome anytime!

Brighten up your winter

with Frankie4 Active Flats

Fashionable

functional

footwear

271 Dyers Road | Phone 384 1297 | www.alameda.nz

Fashionable • Functional • Footwear

Unit 3, 355 Riccarton Rd, Upper Riccarton

P. (03) 929 0927 E. info@theshoeroom.co.nz

www.theshoeroom.co.nz
---
NOR'WEST NEWS Latest Canterbury news at starnews.co.nz

Thursday July 30 2020 5

A walk along memory lane

See more from the The Star archive at https://canterburystories.nz/collections/archives/star

The Papanui Petrol Dome service station in 1979.

Burnside High School students being taught to ride Benelli 60cc motor-cycles in 1975.

Papanui High School student, Jennie Hobbs, holds up a

pumpkin during pumpkin picking at G. F. Case and Sons farm

on Cranford St in 1990.

THE 2020 GENERAL ELECTION

AND REFERENDUMS

Carlton Cellars and Canterbury Fried Chicken on Papanui Rd,

Merivale in 1976. • More photos page 6

This year you can vote

in two referendums.

Enrol. Vote. Be heard.

vote.nz

referendums.govt.nz

0800 36 76 56
---
6 Thursday July 30 2020

Latest Canterbury news at starnews.co.nz

NOR'WEST NEWS

Marching girls on Main North Rd

in 1980.

Christchurch stonemason, John Hill, carries a sack

of coal along Cranford St during an attempt to

break the world long distance coal carrying record

in 1977.

NAC's first Viscount ZK-BRD (City of Wellington) at Air New Zealand's Engineering Base in

Christchurch during the 1960s.

Alan Tamplin and Dave Reid take a break from their part in

a trampoline marathon at Burnside High School in 1975 by

playing chess. Keeping the marathon going is Neil Tozer on the

trampoline behind them.
---
NOR'WEST NEWS Latest Canterbury news at starnews.co.nz

Thursday [Edition July 30 datE] 2020 71

SCHOOL OPTIONS - early & middle years 2021

Emmanuel

Christian

School

2020 at Emmanuel

Christian School

has been one

where we have

continued to see

significant growth.

We have welcomed 50

new students to the school

seeing the roll increase from

208 to the 239 it is today.

To cater for this we have

just completed several new

classroom spaces, students

and staff have been excited

to move into these rooms

which give us the space we

need for now and into the

future. The support we have

had from present and past

parents and families of the

school to make this possible

has been a real blessing.

Welcome to Casebrook

Intermediate School

Year 7 & 8 students are a unique age

group that we specialise in educating.

Our staff and school resources are

all geared for this stage of personal

development and focus on providing as a

diverse range of learning opportunities to

create a rounded and engaged individual.

Our learning environment is supported

by a strong focus on our school values

of Respect (Whakaute), Excellence

(Panekiretanga) and Perseverance

(Hiringa). Through these 'REP' values

we develop within each student a sense

of self worth to realise their importance

as a member of our Casebrook

community.

Our school environment is one where

students are safe and have the confidence

to take risks with their learning. In

this way the students at Casebrook are

supported and encouraged to become

self-motived, independent learners.

We value the partnership between

home and school. Together we can

create an environment where we foster

feelings of pride and belonging. We are

sure you will enjoy being a part of our

community and would welcome the

opportunity to meet with you to discuss

your child's future at Casebrook.

2021 Enrolments are currently

open

for all year levels closing on

August 24 2020

We specialise in great

schooling for years 1 to 10

·

·

·

years 1 to 6 establishing strong

foundations

years 7 to 10 great preparation

for the senior years

well prepared for life beyond

the gate

Growing in Wisdom & Stature

Application closing date

for 2021 enrolments

at all year levels is:

Friday August 21, 2020

Limited places in Year 7 to 10

applications are invited

Working together with

families in the south west of

Christchurch. Our students

benefit from our specialist

teaching with emphasis on

pastoral care and our special

focus on personal character

development and learning.

For more information, contact us on: (03) 338 8153 or enrol@aidanfield.school.nz

or go to our website www.aidanfield.school.nz
---
82

Thursday [Edition datE] July 30 2020

Latest Canterbury news at starnews.co.nz

SCHOOL OPTIONS - early & middle years 2021

Heartfelt learning

at St Michael's

An independent school education is a programmes further develop your child's

precious gift and it doesn't have to break foundation. Specialist Art, Music and

the bank.

PE classes are enjoyed weekly. Many

St Michael's is your school at the heart pupils play musical instruments, and

of the city, where we've been nurturing the sing in one of our choirs. Stage Band and

children of Christchurch for 169 years. At Orchestra offer key first steps in ensemble

the heart of the St Michael's School family performance.

are the essential life values of Christian Our senior programme Parare advances

faith and good citizenship.

your child's Year 7&8 education outside the

Our small classes offer your child box, from financial literacy to outdoor ed,

outstanding specialist and individual leadership challenges to new sports, art and

attention. With twenty pupils per yeargroup,

your child has a sense of identity Our extended campus is spectacular: the

technologies.

and place at St Michael's.

Art Gallery and Museum, Central Library

Traditional foundations in English and and Town Hall, Hagley Park and Botanic

Maths are assured. This academic rigour Gardens are frequent haunts.

then underpins our wider curriculums in You and your child are warmly welcome

Science, History, Geography and languages. to discover our purposeful, wholehearted

IT literacy is taught, not assumed, and and inclusive prep school. Do drop in

computer use is measured. We like teaching on Open Day: Wednesday 5 August, or

and talking to our pupils!

contact registrar, Bec Hitchcock, to book

St Michael's cultural and sports'

your personal tour: 03 379-9790.

New Brighton Catholic School:

"A Hidden Gem"

New Brighton Catholic School is a full

(Year 0 - 8), faith-based primary school

set in the heart of New Brighton. The

school encourages children to reach

their potential spiritually, culturally,

personally and intellectually, in a caring

and positive environment. The Catholic

Special Character is woven in through

our Religious Education and Virtues

programme and strengthened by the

positive relationship with our Parish. A

dedicated and passionate staff bring to life

the Manaiakalani Cluster's vision of Learn,

Create, Share with an effective mix of online

and real time learning to meet the needs of

all our students. Our new learning block,

opening in 2021, will house brand new

classrooms with several break out spaces

for individualised learning. You're welcome

to visit or come join us, on our journey as

"One Community, Learning Together"

NOR'WEST NEWS

Courageous learners who

positivity influence the world

In 2019 Knights Stream School opened

it's doors to 89 children from year's 1 - 8

and now have over 200 students. Together

we have built a strong school community

atmosphere by creating a positive,

understanding and inclusive school

culture.

We are guided by our school values that

underpin everything we do at Knights

Stream School. Our core values are:

Caring, Courage, Creativity, Curiosity, and

Connectedness.

New Brighton Catholic School

(Mary Immaculate)

A state-integrated Catholic School

for Years 0 to 8

• A positive virtues-based culture

• Strong community involvement

• Diverse opportunities

• Supportive learning for all

• After School Care programmes available

Deb Daines, Principal,

welcomes all enquiries

(03) 388-7982 or office@nbc.school.nz

100 Lonsdale Street, New Brighton

One Community – Learning Together

Are you in the KSS School zone or thinking

of moving into our zone?

We'd like to invite you visit us so you can see

how Knights Steam School could meet your

child's needs.

Wednesday 19 August 9am - 11am

Wednesday 28 October 9am - 11am

1 Killarney Avenue, Halswell

Phone: 928 1050

RSVP: office@knightsstream.school.nz

www.knightsstream.school.nz

Accepting enrollments

for 2021

ST JOSEPH'S SCHOOL

PAPANUI

Te Kura o Hato Hohepa

Catholic Primary School

for girls and boys,

Primary and Intermediate.

Phone: 352 8779

www.stjopapa.school.nz

2021 enrolments close on

Friday 25th of September 2020

37 Cunningham Place, Halswell 8025

Phone: 03 322 8735

Email: admin@oaklands.school.nz

www.oaklands.school.nz

Community • Active thinking • Respect • Excellence
---
NOR'WEST NEWS Latest Canterbury news at starnews.co.nz

Thursday [Edition July 30 datE] 2020 93

SCHOOL OPTIONS - early & middle years 2021

Selwyn House - Where Girls Thrive

Selwyn House is an all girls' school for

Years 1 to 8, with a focus on developing

inquiring and empathetic minds and

building strong knowledge foundations so

that our students will face the future with

the skills and confidence to be empowered

global citizens.

We prepare our students for the

challenges and opportunities they will

encounter using the latest technological

tools within a creative and nurturing

environment. With access to the best

modern facilities and outstanding teachers,

our students learn to think creatively, work

collaboratively and to approach each new

challenge with a can-do attitude. They are

problem-solvers and powerful thinkers -

attributes that are needed and valued in the

future workforce.

A key ingredient of the education at

Selwyn House School is the International

Baccalaureate Primary Years Programme

(PYP), which is recognised globally as

a future-focused curriculum based on

intercultural understanding and respect.

The PYP focus is on the total growth

of the developing child, encompassing

intellectual, social, physical, emotional,

spiritual and cultural needs. We use

structured, purposeful inquiry as the

vehicle for learning, and our goal is to

develop an understanding in our students

that they can make a difference to their

world.

Selwyn House School has a culture of

academic achievement and consequently

our students perform significantly higher

than the international student cohort.

Learning in the core subjects of English,

Maths and Science is complemented by the

range of specialist subjects we

offer, including Mechatronics,

Robotics, Artificial Intelligence,

Performing Arts, Music, Physical

Education, Visual Art

and Spanish - each

taught by dedicated

specialist teachers

who are able to impart

their knowledge

and passion to our

students.

Small class sizes

ensure learning is

personalised and

teachers are able to build strong

connections with each child and

provide clear learning strategies

so that students are enabled to take control

of their learning, self-regulate, and develop

self-efficacy.

Choose Selwyn House to give your

daughter the education which will allow

her leadership and personal strengths to

blossom, and allow us to help her become a

confident and informed individual, eager to

take her part in the world.

Be Our Guest

At Selwyn House we are passionate

about sharing what makes this school

stand out from the crowd. Discover our

future-focused learning environment

for girls in Years 1–8, our nurturing

Boarding House and co-educational Preschool

at our next Open Day: 9am - 12pm

on Monday 19 October. Or contact us at

enrolments@selhouse.school.nz, phone:

(03) 355 7299 to arrange a personal tour

at any time. For more information, visit

selwynhouse.school.nz

phone (03) 355 7299 email office@selhouse.school.nz

WWW.SELWYNHOUSE.SCHOOL.NZ

OPEN DAY: MONDAY 19 OCTOBER

9AM TO NOON, 122 MERIVALE LANE, CHRISTCHURCH

An International

122 Merivale Lane, Merivale, Christchurch

Baccalaureate School
---
10 Thursday July 30 2020

Latest Canterbury news at starnews.co.nz

News

FOCUS ON HEALTH

1 in 2 people

deficient in B12

Emerging research has shown as many as 50% of older adults and

as many as 25% of younger adults are deficient in vitamin B12.

NOR'WEST NEWS

Scientists at Rush University Medical

Center found those most deficient

in vitamin B12 to have the smallest

brain mass and the lowest scores on

tests measuring short-term memory,

concentration and brain performance.

Another study showed that older people

with higher levels of B12 in their blood

have bigger, healthier brains and score

higher on cognitive tests than those with

lower levels. Yet another recent landmark

study showed that B12 supplementation

slows the accelerated rate of brain

shrinkage and declining cognitive

function. B12 is essential for energy

production, cell health, regulation of

mood and sleep cycles, nerve health and

repair, and prevention of homocysteine

a serious cardiovascular risk factor

that is known to cause damage and

plaque in the blood vessels. It can also

increase the chances of a stroke. Harvard

researchers found

a 34% decrease

risk of vision

loss in a study

of participants

aged 40+ who

supplemented with

B12. Another study

linked a higher risk of hearing loss in

subjects in their 60's who were low in B12.

The reason so many people lack B12

appears to be our body's ability to absorb

it declining with age as the digestive

system becomes less efficient. Anti-reflux

medication and other drugs further

reduce B12 absorption. The good news

is B12 in the form of Methylcobalamin

sublingual tablets that are dissolved in the

mouth and thru bypassing the digestive

tract have been shown to effectively raise

B12 levels in the body.

Further detailed information is

available from the Natural Health

Advisers at Marshall's Health & Natural

Therapy, 101 Seaview Road, New

Brighton, Phone: 388-5757 We are

always happy to help!

IS YOUR BRAIN SHRINKING?

Brain fog, forgetful, feeling old, low energy,

mood swings, difficulty sleeping, pins & needles,

numbness in legs

Up to 1 in 2 people may have a shrinking

brain due to a lack of vitamin B12.

Supplementation of methylcobalamin B12

has been shown to reduce the rate of

brain shrinkage & support memory & brain

function. B12 is also known to protect against

homocysteine a serious cardiovascular risk

factor that can also damage the hearing,

eyesight & affect the mood. B12 is essential

for energy, cell health & nerve function.

B12 SUPPORtS:

• Memory & Brain Performance

• Helps protect brain from

shrinking

• Energy & Recovery

• Nerve Function

• Vegetarian/Vegan's Diet

• Helps protect blood vessels

from damage

• Sleep

• Cellular Health & Repair

• Good Health

• Cardiovascular Health

See a

difference

in as little

as 48

hours!

SUPER PRICE OFFER

Superior Methylcobalamin B12

(High Absorption Sublingual Lozenges)

200 Lozenges

100 Lozenges

Only $ 32 .90

Only $ 59 .80

MAIL ORDER AVAILABLE

Bringing You the Best in Natural Health

MARSHALLS HEALTH & NATURAL THERAPY

CONSULTING - PRESCRIBING - DISPENSING - MANUFACTURING - MEDICAL HERBALISTS

101 SEAVIEW RD, NEW BRIGHTON • PH 03 388 5757 • Email: enquiry@marshallshealthshop.co.nz

- WE ARE ALWAYS HAPPY TO HELP! -

TALENTED: Hagley Community College student Elvis Arthur.

PHOTO: SMOKEFREEROCKQUEST ​

Elvis follows big Kiwi

names with top award

The revolution

in heat pumps

is here now!

The Fujitsu e3series

The brilliant

heat pumps from Fujitsu

e1 : efficiency

e2 : environment

e3 : economy

Website: www.pshc.co.nz

Finance available

FREE consultation from your local

Accredited Heat Pump Expert

Phone today: 03 381 6950

INSERT DEALER DETAILS HERE

THE WINNERS

of the Canterbury

Smokefreerockquest solo/

duo category have been

announced.

Elvis Arthur, of Hagley

Community College,

took out the category, and

KEI (Keira Jonkers), of

Burnside High School, was

runner-up.

They both won a prize

package from the Rockshop

and are now in the

national selection pool for

the Smokefreerockquest

live national final.

Arthur, 17, (full name

Elvis Arthur Nicolls) took

out the regional solo/duo

top spot with his song

Orange Peel and Rubble,

which was written about

being ready to move to

a different place in the

world.

"It's such a huge honour

to have been chosen for the

next level in [the Smokefreerockquest],

it has been

the benchmark in my

musical journey," Arthur

said.

The competing bands

in the region are currently

submitting their video entries

for consideration. Entries

for the band category

closed last week, with the

winners announced on

August 7.

Along with the top

three bands, there will be

the Musicianship Award,

Rockshop Electronic

Assisted Performance,

Best Vocal, APRA Lyrics

Award, and the ZM Best

Song.

Smokefree Tangata Beats

is running alongside the

Smokefreerockquest, with

a focus on the unique cultural

identity of Aotearoa

New Zealand and the

South Pacific. Entries

for this programme also

closed on July 24 with

the winners announced

tomorrow.

Smokefreerockquest

founder and director Pete

Rainey said, at the regional

level, some entrants are

already standing out.

"It's fascinating for us to

look back at success stories

like Kimbra, Marlon Williams

and Broods, where

we could see the star factor

right back at the regional

level.

"Each event gives a

new cohort of bands the

opportunity to take their

obsession with music and

develop the organisational

and stagecraft skills that

will help them become another

Kiwi music success."

The top regional bands

and solo/duos submit

new footage for selection

as finalists to play off at

the Smokefreerockquest

national final in Auckland

on September 12, with the

Smokefree Tangata Beats

national final held the

night before.

The Smokefreerockquest

national winners' prize

packages include $22,000

in Rockshop vouchers,

$16,000 NZ On Air recording,

video and promo

package, and a photo shoot

and branding package

from Imaginary Friends.

There is also the

Musicianship Award,

the APRA (Australasian

Performing Right

Association) Lyric Award,

Rockshop Electronic

Performance Award,

Best Song Award, and

Smokefree Vocals Award.

The revolution in heat pumps is here now!

Say hello to Fujitsu's latest lifestyle range

HEAT PUMPS FROM $1999 inc GST INSTALLED!

2020

Heat Pumps

NEW ZEALAND'S FAVOURITE AIR ®

Conditions apply

Fujitsu's Catechin Filters are

approved by the Asthma and

Respiratory Foundation NZ's

Sensitive Choice ® programme.

Email: info@pshc.co.nz
---
NOR'WEST NEWS Latest Canterbury news at starnews.co.nz

Thursday July 30 2020 11

Classifieds Contact us today Phone our local team 03 379 1100

Community Events

Trades & Services

Trades & Services

Trades & Services

Trades & Services

Public Notices

ALCOHOLICS

ANONYMOUS, If you

want to have a drink that's

your business. If you want

to stop, we can help. Phone

0800 229-6757

Situations Vacant

HOUSEWORK Cleaner

required, 1 1/2 hrs wkly.

Papanui/Casebrook area.

Ph 352 8354

Wanted To Buy

AAA Buying goods

quality furniture, beds,

stoves, washing machines,

fridge freezers. Same day

service. Selwyn Dealers.

Phone 980 5812 or 027

313 8156

TOOLS Garden,

garage, woodworking,

mechanical, engineering,

sawbenches, lathes,

cash buyer, ph 355-2045

TOOLS Garden,

garage, woodworking,

mechanical, engineering,

sawbenches, lathes, cash

buyer, ph 355-2045

ADD SOME

COLOUR

TO YOUR ADVERT!

concrete & paving

• Driveways

• Earthquake repairs

• New Home Specialists

• Patios & Paths

tel: 0508 873 7483

email: sales@affordableconcrete.co.nz

www.affordableconcrete.co.nz

PLUMBER

NEED A PLUMBER

Call us now for fast friendly service.

Get your problems sorted out

quick smart - on time!!

Phone for a

FREE

quote now.

Phone 03 377 1280 | Mobile 021 898 380

WINDOW TINTING

tintawindow

advanced film solutions

99% uv block

fade protection

heat control

reduce glare

25 Years Experience

privacy films

frosting designs

non-darkening films

Workmanship Guaranteed

Lifetime Warranties on Most Films

UV

block

Free Quotes Canterbury and Districts

03 365 3653 0800 368 468

AWSOM ROOFS

24/7

MOSS

TREATMENT

ROOFS $300

• Oamaru StOne

• Driveway

• PathS

• hOuSe

• General exterior

wash Down

• tidy up

Ph: 027 561 4629

Kevin

Trades & Services

BATHROOM

RenOvATiOns

complete service from

start to finish, free quotes,

ph Dave 027 334 4125

BRiCKLAYeR

George Lockyer. Over

40 years bricklaying

experience.Uk trained.

Insurance work, EQC

repairs. Heritage

brickwork & stonework

a speciality. No job too

small. Governers Bay.

Home 329 9344. Cell

027 684 4046. E mail

georgelockyer@xtra.co.nz

CARPeT LAYinG

Exp. Repairs, uplifting,

relaying, restretching.

Phone John on 0800

003181, 027 240 7416

jflattery@xtra.co.nz

eLeCTRiCiAn

Hickey Electrical.

Reasonable rates, no

call out charge. www.

electricnz.com

Ph Jason 021 260 3426

PAinTeR QuALified

local professional, int/

Ext,roofs,wallpaller, call

or text Corban 027 846

5035

ROOfinG RePAiRs

Fully qualified, over 40

yrs experience. Ph John

027 432-3822 or 351-

9147 email johnchmill@

outlook.com

sHOe RePAiRs

Belfast engraving. Shoe

repairs, key cutting &

engraving. (10 yrs exp)683

Main North Rd, ph 027

3113423

sTOneMAsOn, BRiCK

BLOCKLAYeR,

Earthquake Repairs, Grind

Out & Repoint, River/

Oamaru stone, Schist,

Volcanic Rock, Paving,

all Alterations new & old,

Quality Workmanship,

visit www.featureworks.

co.nz or ph 027 601-3145

sTuMP GRindinG

Best price guarantee Tony

0275 588 895

TiLeR/CARPenTeR

35 years exp, no job

too small. Ph Ross 027

4311440

TiLeR/CARPenTeR

35 years exp, no job

too small. Ph Ross 027

4311440..

TiLinG

Flooring - Splashbacks -

Wall incl tile removal, reg

master tiler, ph Dave 027

334 4125

T.v. seRviCe

CenTRe

Repairs, tvs, microwaves,

audio amps, soundbars.

.Aerial & satellite

installations, kitsets, 480D

Moorhouse Ave, ph 03 379

1400

vHs videO TAPes

& all camera tapes

converted to DVD or

USB. Video taping

special occasions, www.

grahamsvideo.co.nz ph 03

338-1655

ADVERTISE YOUR BUSINESS HERE

Phone for further details

(03) 379 1100
---
12 Thursday July 30 2020

Latest Canterbury news at starnews.co.nz

NOR'WEST NEWS

Another real

estate ad.

For straight talking real estate, get in touch.

Ray White Bishopdale & Strowan

0800 YELLOW (0800 935 569)

rwbishopdale.co.nz | rwstrowan.co.nz

Inline Realty Limited (Licensed REAA 2008)

Proudly owned by

Karen Ellis

021 519 275

Barry Ellis

021 519 274