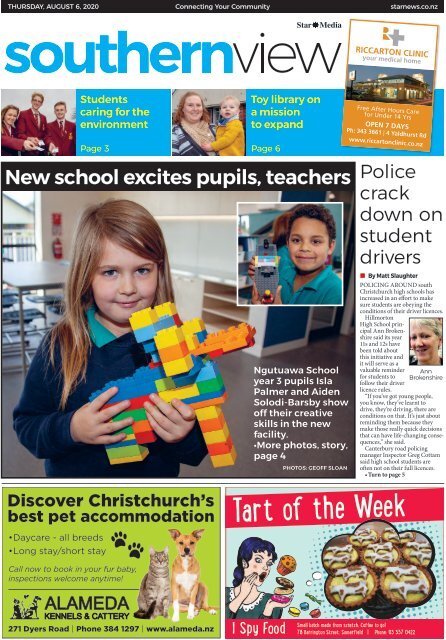 Southern View: August 06, 2020
Create successful ePaper yourself
Turn your PDF publications into a flip-book with our unique Google optimized e-Paper software.
THURSDAY, AUGUST 6, 2020

Connecting Your Community

starnews.co.nz

Students

caring for the

environment

Toy library on

a mission

to expand

Free After Hours Care

for Under 14 Yrs

OPEN 7 DAYS

Ph: 343 3661 | 4 Yaldhurst Rd

Page 3

Page 6

New school excites pupils, teachers

Discover Christchurch's

best pet accommodation

• Daycare - all breeds

• Long stay/short stay

Call now to book in your fur baby,

inspections welcome anytime!

Ngutuawa School

year 3 pupils Isla

Palmer and Aiden

Solodi-Barsby show

off their creative

skills in the new

facility.

•More photos, story,

page 4

PHOTOS: GEOFF SLOAN

www.riccartonclinic.co.nz

Police

crack

down on

student

drivers

• By Matt Slaughter

POLICING AROUND south

Christchurch high schools has

increased in an effort to make

sure students are obeying the

conditions of their driver licences.

Hillmorton

High School principal

Ann Brokenshire

said its year

11s and 12s have

been told about

this initiative and

it will serve as a

valuable reminder

for students to

follow their driver

licence rules.

Ann

Brokenshire

"If you've got young people,

you know, they've learnt to

drive, they're driving, there are

conditions on that. It's just about

reminding them because they

make those really quick decisions

that can have life-changing consequences,"

she said.

Canterbury road policing

manager Inspector Greg Cottam

said high school students are

often not on their full licences.

• Turn to page 5

Tart of the Week

271 Dyers Road | Phone 384 1297 | www.alameda.nz

Small batch made from scratch, Coffee to go!

I Spy Food 78 Barrington Street, Somerfield | Phone: 03 337 0422
---
2

Thursday August 6 2020

GENERAL INQUIRIES Ph 379 7100

CLASSIFIED ADVERTISING Ph 379 1100

Star Media, a division of Allied Press Ltd

PO Box 1467, Christchurch

starmedia.kiwi

NEWS

Bea Gooding

Ph: 021 911 576

bea.gooding@starmedia.kiwi

ADVERTISING

Mark Sinclair

Ph: 364 7461

mark.sinclair@starmedia.kiwi

Your local community news

delivered to 21,586 homes

within The Star each week.

Spreydon • Hoon Hay • Hillmorton • Cracroft

Cashmere • St Martins • Somerfield

Sydenham • Addington • Waltham • Opawa

Beckenham • Huntsbury • Woolston

Latest Canterbury news at starnews.co.nz

what's on

this week

JP Clinics

Thursday, 10.30am-1.30pm, at

Spreydon, Tuesday, 10am-1pm, at

Halswell, South and Linwood

Halswell, Linwood, South and

Spreydon libraries

A justice of the peace will

be available to members of the

community to witness signatures and

documents, certify document copies,

hear oaths, declarations, affidavits or

affirmations as well as sign citizenship,

sponsorship or rates rebates

applications. This service is free.

Mahjong

Thursday, 1-3.30pm

Vincent Pl, Opawa

If you are interested in playing

mahjong, go along whether you are

a beginner or an advanced player.

Phone Noel at 322 8636 for more

information.

Knit 'n' Yarn

Thursday, 1-3pm, at Halswell, 1.30-

3.30pm, at South, and Wednesday,

10.30am-noon, at Linwood

Halswell, South and Linwood libraries

Take your knitting, crochet,

stitching or any other handcraft and

enjoy the company of others. Share

skills and be inspired.

Scrabble Club

Friday, 10am-noon, at Linwood,

Wednesday, 1.30-3.30pm, at

Halswell

Linwood Library, Te Hāpua: Halswell

Centre

If you have a way with words, go

Untitled Series - Theresa Waugh, Wednesday, 9am-6pm, Linwood

Library. Go along for an exploration of visual sensations and a playful

approach to the elements that make up a painting, with artist Theresa

Waugh. Free, no bookings required. ​

along and play Scrabble with one of the

groups. Some boards will be provided

but feel free to bring your own.

Creative writing on Sundays

Sunday, 1-3pm

Linwood Library

Writing group leader Jennifer will

work with group members to craft,

create and develop their own stories.

Take some pens or pencils, paper, or a

laptop. This class is free.

Not Just Cards – Social Games

Club

Monday, 2-4pm

South Library

Go along to play Scrabble, Upwords,

Chess and Cards. Free and no

bookings required.

Citizens Advice Bureau

Tuesday, 11am-2pm

Linwood Library

Citizens Advice Bureau provides

free and confidential advice. They

SOUTHERN VIEW

take the time to listen and equip you

with the information, options and

support that fit your needs. Phone 941

7923 for more information.

Technology Help Drop-In

Sessions

Tuesday, 2-3pm

Te Hāpua: Halswell Centre

Need help using your computer,

smartphone, or tablet? Take your device

to the drop-in sessions for

help with general computer and internet

queries. Free, no bookings required.

Open Creative Time

Wednesday, 10-11.30am

Te Hāpua: Halswell Centre

Go along and get creative with

design. Make your own cards,

T-shirts and stickers, or learn about

designing for 3D printers to make

stencils, cookie cutters, name tags

and more. Free. Drop-in sessions for

teenagers and adults. Basic computer

skills required.

Authentic

Thai Cuisine

From

$10

Lunch Special Tuesday - Saturday

Lunch Tuesday – Saturday, 11am to 2pm

Dinner Monday - Sunday, 4.30pm to 9pm

HOON HAY THAI RESTAURANT

Open 7 Days • Lunch & Dinner • 9 Coppell Place • Phone 339 0320

SALE

STARTS NOW

03 322 4548 | Easy Parking

17 Lillian Street, Halswell

Open Mon-Fri 9.30am - 5.00pm

Saturday 10.00am - 1.00pm

LAYBUY WELCOME

UNDER NEW MANAGEMENT

WOOLSTON

Bumper to Bumper repairs

þ ALL MECHANICAL REPAIRS

Servicing. lubes, cambelts, tyres, exhausts,

suspension, batteries, water pumps, etc.

þ VTNZ WOF ON SITE

þ VTNZ CERTIFIED REPAIRER

þ COURTESY CAR AVAILABLE

BE IN TO

WIN

YOUR

SERVICE

Book in your vehicle for

a service and go into our

monthly draw to *WIN back

the cost of your service.

*Conditions apply

WOOLSTON AUTO SURGERY

693 FERRY RD | PH 03 384 9092

TAX RETURNS

Debra Jowsey

Karla Kilner

Tax & Accounting

Consultants

since 1984

Overwhelmed? Confused?

With the recent IRD changes to tax returns,

GST returns, rental returns and pay day filing

A-Plus Accounting is here to help.

Give us a call. Friendly, knowledgable staff.

A-Plus Accounting

☎ 03 382 3470
---
SOUTHERN VIEW Latest Canterbury news at starnews.co.nz

Thursday August 6 2020 3

News

Students caring for environment

• By Bea Gooding

PAPER BUSINESS cards may

be a thing of the past thanks to

an innovative group of young

enterprise students.

Businesses can now share

their contact details electronically

by tapping their "STAP

Card" onto the recipient's

phone, which also produced

links to a website or social

media.

Cashmere High School year

12 students Jayden Rosanowski,

Felix Strahl and Emilia

Dybka recognised the need

for a sustainable option after

learning that six million trees

were cut down each year to

produce business cards.

"We were looking to be

innovative in some way, then

we thought about how [paper]

business cards are a waste of

time and take up too much

space," said Felix, of St Martins.

"Instead of carrying around

thousands of business cards,

they can now just have one for

each for their employees."

Compatible with all phones,

each card contained an electronic

chip or QR code that

the students programmed

themselves and worked in a

similar fashion to payWave.

Catherine

Chu

For now, the cards were

made of plastic, but the team

aimed to produce a biodegradable

plastic alternative in the

future.

Felix said the innovation,

which was a first in NZ, would

impact the future of business

and how people operated as it

cut costs, was less time consuming

and had fewer adverse

effects on the environment.

"Eighty-eight per cent of

all business cards are thrown

away within a week," said

Jayden, of Halswell.

The young entrepreneurs

have received more than 30

orders since their online shop

was launched.

It also caught the interest of

VOTE FOR YOUR FUTURE !

for Banks Peninsula

E: catherine.chu@national.org.nz

FB: @CatherineChuNZ

P: 021 176 0985

Authorised by Catherine Chu, Level 2, 363 Colombo Street, Christchurch.

other local business card companies

who have considered

purchasing the cards in bulk.

Said Felix: "People love it,

we've received messages from

people who are really happy

with their purchase. We've

been told it's made things a

whole lot easier for them."

INNOVATIVE:

Emilia Dybka,

Felix Strahl,

Jayden

Rosanowski

and business

studies

teacher Matt

Benassi with

their STAP

cards. PHOTO:

GEOFF SLOAN ​

In response to the negative

environmental impact of paper

business cards, they teamed up

with non-profit organisation

One Tree Planted.

For every card sold, $2 was

donated to the organisation

which will go towards the

planting of a new tree at locations

across the globe.

The venture was part of the

Young Enterprise Scheme

which has been rolled out

into schools' business studies

programmes.

They were hoping to continue

the project next year.

"All of us have a passion

for business, it's been a great

kick-start towards our careers

in the business world."

SALE SALE SALE

WINTER

CLEARANCE

CLEARANCE

25% OFF

All Winter

Nightwear & Robes

Bras

Selected styles & colours

from $15

Sunday 9 th

August

Meet Megan Woods,

MP for Wigram

on a corner in your

neighbourhood

LONGHURST

1pm

1.20pm

1.40pm

2pm

2.20pm

2.40pm

3pm

3.20pm

3.40pm

4pm

4.20pm

Hamill Rd &

Caulfield Ave

Greenaway St &

Whitnall St

John Annan St &

Bargrove Cl

Hamill Rd &

Graycliffe St

Caulfield Ave &

Gosling Cres

Ishwar Ganda Blvd

& Noodlum Way

Ishwar Ganda Blvd

& Whincops Rd

Richmond Ave &

Greenwich St

Kruger Rd & Elba

Cres

Richmond Ave &

Denali St

Richmond Ave &

Koarere Ave

If you would like to get in touch with

Megan please call 03 338 6347 or

email megan.woods@wigram.org.nz

Your LoCAL

TYrE SPECIALIST

New & Quality Used Second-hand Tyres

Alloy Wheels

Replacement Rims

Puncture Repairs

Clearance of selected

Knickers

only $5

Summer oddment of

Nites, Robes & PJs

only $30

8c Birmingham Drive,

Middleton

www.jcmdirect.co.nz

343 0099 or 027 22 63 805

Proud to support Hornby Hockey Club

Shop 48 Barrington, Barrington St

Phone 03 337 6609

www.lingerieonbarrington.co.nz

Authorised by Dianna Lacy, 160 Willis Street, Wellington.
---
4 Thursday August 6 2020

Latest Canterbury news at starnews.co.nz

SOUTHERN VIEW

News

EDUCATION: Pupils make good use of the play and learning spaces at Ngutuawa School, formerly Bamford School.

History reflected in new Ngutuawa School

• By Bea Gooding

IT'S THE beginning of a new

chapter at Bamford Primary

School.

Nearly a decade after the

September 4, 2010, and February

22, 2011, earthquakes caused

irreparable damage to the site's

foundations, the school has

found a new home – a $6 million

facility now known as Ngutuawa

School.

The school's new name

represented the history and

culture of the area in which

it was established and was a

reflection of the "exciting"

changes.

Principal Shona Hewlett said

staff and students had now

settled into a modern learning

environment; one that was no

longer "damp" and "cold."

"The students were very

excited about the new space,

they thought it was beautiful,"

she said.

"Everyone feels really blessed

to be able to come to this new

environment and start fresh."

Damage to the previous

facility was mostly underground,

such as drainage pipes which

were too costly to fix.

Hewlett said they were lucky

to have been able to rebuild on

the same site unlike many other

'EXCITED': Ngutuawa School principal Shona Hewlett with

Tamyra Cribb, year 6.

schools across the city.

Funded by the Ministry of

Education, construction began

last year which took three years

to plan and design.

The classrooms were now open

plan, with the ability to close

off areas as needed, had better

temperature controls, and a

"fabulous new hall" the school

did not previously have.

The interior was splashed

with soft colours of blue, grey

and teal to promote a "peaceful"

environment, said Hewlett.

Renaming the school to

Ngutuawa – Maori for river

mouth – was an important

aspect of the changes to better

reflect its values and the

significance of the area.

"The school sits right at the

mouth of the Heathcote River

which was a significant food

gathering area for Ngai Tahu, to

source whitebait and eels," she

said.

"It's nice to have a name that

is reflective of the environment

that we're sitting in."

PHOTOS: GEOFF SLOAN

BRAND NEW: The new Ngutuawa School building.

ONLINE: Pupils collaborate using their Chromebook laptops.

Purchase a

shower and

receive FREE

Enduroshield

coating
---
SOUTHERN VIEW Latest Canterbury news at starnews.co.nz

Thursday August 6 2020 5

We serve the public

COMMUNITY boards

are the most local of

elected bodies, and closest

to the communities they

represent.

They have delegated authority

from the city council

to deal with many local

issues that may seem trivial

but loom large in the daily

lives of our neighbours.

All the boards have

been gifted by Ngai Tahu

with a te reo name that we

hope will last longer than

the pakeha names we also

have, that often change

when our board boundaries

change.

We used to be called

Spreydon-Heathcote.

Waihoro means water

running off the hills. This

is very important given

the value the board places

on water whether it's from

the taps or in the river,

Opawaaho Heathcote, or

for good or ill, beneath the

land we walk on.

Our board has six

members. That is three for

Cashmere including longserving

councillor Tim

Scandrett, deputy chair

Lee Sampson, in his second

term, and Keir Leslie

in his first.

In Spreydon, Melanie

Coker is a new councillor

after several years as a

community board member,

with Calum Stewart-

Ward an equally new community

board member and

me, a community board

member for 13 years.

• From page 1

He said, for about the

next month, police will be

checking students are not

breaking rules including

carrying passengers if

they're on their restricted

licences or travelling

without a fully licenced

driver of two or more years

in the front seat if on their

learners.

If students are found to

be breaching their driver

licence conditions for the

first time, police will give

From the board

Karolin Potter, chair

Waihoro-Spreydon-Cashmere Community Board

Our role extends from

Cracroft to Hillsborough,

Cashmere and Beckenham,

Huntsbury and St

Martins, Spreydon, two

thirds of Addington, Hillmorton,

Hoon Hay, Lower

Cashmere, Cracroft and

Somerfield.

We are your neighbours

and you are ours. The issues

we talk to you about

can be global but they are

most often local.

The most abusive letter

I ever received was about

parking and the subject

most often discussed

would be traffic, with trees

a close second.

Local issues matter to

people. The footpaths we

walk on, the traffic lights

we wait at, the water in

our gutters as we walk to

school and the sports

fields and parks we take

our dogs too are there

every day and matter in

our daily lives.

In our last term our

them the option of attending

a seminar encouraging

them to complete the next

stage of driver licence

training.

Said Inspector Cottam:

"We're working with those

kids and giving out some

education, running some

seminars with partners

such as ACC and fire and

encouraging them [students]

to go forward and

get the next stage of their

licences.''

If they have breached

ISSUES:

Traffic

problems

matter to

people.

community board met

with the boards of trustees

of most of the schools

in our area. The discussion

was most often about traffic

safety.

This term we are having

board meetings in different

places in our wards; in

other words we are bringing

the board to you. The

next meeting will be in

Addington, at Addington

School.

The first important item

on the board's agenda at

our meetings (and the

council's at their meetings)

is a public forum. This is

for members of the public

to come to a board meeting

and for five minutes speak

on any subject.

Public forum is the best

part of the meeting. We

take it very seriously.

And give us a call. We

are public servants, it is

an honourable calling. We

serve the public. And the

public is you and me.

'We're working with those kids'

SALE

the rules more than once

or choose not to attend the

seminar police will issue

the appropriate punishment

on a "case by case

basis," Cottam said.

Breaching restricted

driver licence conditions

can result in receiving 35

demerit points and a $100

fine.

If any other conditions of

driver licences are breached

the punishment can be 25

demerit points and a fine

of $400.

Do you snore?

Always tired?

You may be at risk of sleep apnoea.

Wilsons Barrington Pharmacy

are making a difference to

their community by offering a

game changing sleep apnoea

service to reach the 80% of

undiagnosed obstructive sleep

apnoea (OSA) sufferers in

New Zealand.

There are a number of symptoms

that could be a sign of OSA,

including choking or gasping

for air at night, loud persistent

snoring, frequent visits to the

bathroom & waking up tired.

Left untreated these can lead

to long term health

consequences such as Type 2

diabetes, high blood pressure,

obesity and depression.

"

Wilsons Barrington Pharmacy

256 Barrington Street,

Spreydon, Christchurch

$ 50

Home Sleep

Test Voucher

Fortunately it is now easy to get

diagnosed for OSA with Wilsons'

Pharmacy Sleep Services program.

People can now simply walk into

their pharmacy and get tested for

OSA straight away.

The overnight home sleep test

allows a person to sleep in the

comfort of their own bed. No doctor

referral is required. The results of

the home sleep test are assessed

by a sleep physician and provided

7-10 days later. If a person's results

show they have OSA they can begin

a 4 week trial of CPAP therapy.

If you think you're at risk of sleep

apnoea contact Wilsons Barrington

Pharmacy today to book a home

sleep test.

This is a great opportunity to see if CPAP is for you and to

feel the benefits in terms of less fatigue, snoring and more

refreshing sleep. We can monitor your progress remotely

and our pharmacy will offer ongoing support and advice. I'm

really excited to provide this service and we really hope to

improve access to affordable sleep services in Christchurch.

Ken Sheat, Wilsons Barrington Pharmacist

"

Phone

03-3223156

Fashionable

functional footwear

Available online, visit

pharmacysleepservices.com.au

Fashionable • Functional • Footwear

Unit 3, 355 Riccarton Rd, Upper Riccarton

P. (03) 929 0927 E. info@theshoeroom.co.nz

www.theshoeroom.co.nz
---
6

Thursday August 6 2020

News

• By Bea Gooding

A SOMERFIELD toy library

has been experiencing a spike in

membership in spite of a global

pandemic.

The Christchurch South Toy

Library is on a mission to expand

their toy hire service across

the city, providing more families

with a chance to reduce their toy

wastage.

With many children growing

out of their toys at a rapid rate,

new toys lay unused after as

quickly as six months, resulting

in physical and financial waste.

Said librarian Ashleigh Cattermole:

"It's a good way to reduce

unnecessary spending, parents

don't have to buy something

that their kids only use for six

months."

A wide range of children's

toys, including slides and bikes,

were available for hire over two

weeks and was suitable for newborns

to eight-year-olds.

It was also a simple process

of identifying which toys were

age-appropriate during crucial

stages of development, promoting

physical activity, creativity,

problem-solving and many more

skills.

"Development through play

is important and it expands on

what they're already learning,"

said Cattermole.

In an age of online shopping

and where people were

conscious about hygiene due to

Covid-19, the library's membership

rates had soared, with many

families unaware the service had

existed.

"We've got the highest membership

that we've had," said

Cattermole.

"Since the lockdown, we've

had a lot of members joining up

after spending lots of time with

their children and realising how

important it is to have things to

be entertained [with]."

Toy library membership

meant parents were spending

less money in comparison to

purchasing brand-new, which

Latest Canterbury news at starnews.co.nz

Toy library popular

REDUCING

WASTE:

Ashleigh

Cattermole

with her

son Felix,

13 months.

PHOTO:

GEOFF

SLOAN ​

also presented a more sustainable

option for families.

The library itself is funded by

the community through fundraising

events and donations

as well as grants from the city

council.

Toys available for hire were

donated to the library from

other families, making sure they

limited their own waste in the

process.

"I can only imagine

the amount of waste [in

Canterbury]," said Cattermole.

"We don't throw anything out

unless they're broken beyond

repair. We sell them on if the

toys have seen better days or we

have a grandparent who can also

do repairs."

BIRDS OF THE ESTUARY

Tanya Jenkins is the manager of the

Avon-Heathcote Estuary Ihutai Trust, a

non-profit organisation formed in 2002

to protect one of New Zealand's most

important coastal wetlands. Each week

she introduces a new bird found in the

estuary. Her column aims to raise the

understanding of the values and uniqueness of the area.

Long lives for hungry

oystercatchers

OYSTERCATCHERS are easy to

spot with their black and white

feathers and a bright orange bill

and legs. You may have seen them

busily harvesting the mudflats

– mainly for cockles but also for

crabs and fish.

It has been recorded that this

ever-hungry bird can consume

up to 1kg of cockles per day. Now

that's a lot of cockles. At high

tide when they cannot feed on

the mudflats they move to nearby

paddocks to feed on worms and

grubs as well.

Once they find a mate, it's

for life, and records show pairs

which have been together for 20

years. They prefer to nest inland

and move in early spring to

riverbeds and farmland in the

east of the Southern Alps to raise

their chicks. They then return in

large numbers to our estuary in

autumn and winter.

They are long-lived as well, with

banded birds recorded here to be

as old as 27 years.

There are about 112,000 of these

DENIS O'ROURKE

Candidate, Banks Peninsula

Resident of Port Hills for 50 years

Ex-Christchurch City Councillor (15 years) and New

Zealand First MP (6years). Long career in law, business,

and serving on boards of Crown agencies.

SOUTHERN VIEW

CONSUMER: Oystercatchers

are long-lived, with banded

birds recorded in the

estuary as old as 27 years.

PHOTO: PAUL CORLISS

birds in New Zealand but numbers

are declining. So how can we help

these birds thrive? Keep dogs on

the lead when walking near the estuary

as to not disturb them while

feeding or resting.

Do not gather shellfish from the

mudflats, as we need to ensure

large numbers of cockles are

present for the birds.

Gathering also disturbs the

birds from feeding.

My vision for New Zealand:

•Clean, healthy and supportive environment.

•Disciplined, fair, and caring community.

•Prosperous, inclusive and resilient economy.

My Priorities:

•GST off all staple food to help low income families.

•Environmental sustainability, especially water, waste and

recycling – current chairperson of the Central Plains Water Trust

and former chairman of the Recovered Materials Foundation.

•Practical consensus based climate change policies.

•Housing assistance for first home buyers and second-chancers

into home ownership.

•Government investment in new employment rich sustainable

industries, the arts film and entertainment, and especially in new

technology industries.

•Strong border security with all returnees paying their fair share.

•Stronger regional economies through the Provincial Growth

Fund.

•Targeted government assistance for the development of small

and medium businesses.

•An immigration policy strictly targeted to genuine labour and

skills shortages.

•Always looking after the elderly and all vulnerable groups.

Proudly supported by Star Media

Authorised by E Witehira

251E Rawhiti Road, Hikurangi, Auckland.
---
SOUTHERN VIEW Latest Canterbury news at starnews.co.nz

Thursday August 6 2020 7

NEIGHBOURLY-NESS BUILT IN.

It might just be having a coffee or simply going for a walk - most of us find comfort in doing things

with others. Our serviced apartment lifestyle makes it easy, with endless opportunities to join in

when you feel like it. It's pioneering, and another one of the reasons New Zealanders voted us one

of Reader's Digest Most Trusted brands for a 6th year.

Located close to Beckenham's wonderful

community facilities including a supermarket

and library, Essie Summers is named in

honour of a pioneering New Zealander who

set the standard for others to follow.

Studio serviced apartment available now

Located in the heart of the village

Priced at $310,000

Our base weekly fee is fixed for life*

and our deferred management fee

is capped at 20%

*Some conditions apply

Call Lynne for more details.

ESSIE SUMMERS VILLAGE

222 Colombo St, Beckenham, 03 337 6500

rymanhealthcare.co.nz

xxxx
---
8

Thursday August 6 2020

Latest Canterbury news at starnews.co.nz

SOUTHERN VIEW

Be inspired with thousands of ideas under one roof!

HOME

LEISURE

Horncastle Arena,

21-23 August 2020

BE IN TO

WIN

THIS

ELECTRIC CAR

worth $26,000

• Innovative Outdoor Living Area

• Free, Informative Seminars

• Show-only Specials

• New Leisure Zone

• Taste Zone

• Eco Zone

+More!

FREE ENTRY

Friday | Saturday | Sunday

10.00am - 5.00pm

Valid for two people with this coupon only
---
SOUTHERN VIEW Latest Canterbury news at starnews.co.nz

Thursday August 6 2020 9

HOME & HEATING

Ground moisture barrier

under low sub-floor

Now with the colder and wetter weather on

its way, home owners are focusing on ways

to make their homes comfortable, warm

and healthy for their families throughout

winter. Rising damp is an issue that affects

many of our older properties which suffer

from poor, or no, ground moisture barrier.

In Canterbury especially, post-quake, many

people have relocated to homes that suffer

from rising damp which can be associated

with health problems. Independent tests have

shown that up to 40 litres of water can rise

from the ground and enter a house every day,

leading to mildew, mould, condensation and

musty smells. Moulds can produce various

allergic reactions and the frail, elderly and

very young are especially vulnerable.

Canterbury Foam Concrete Ltd is a

locally owned and operated firm. The team

understands the problems caused by rising

damp and are there to help. They will come

to your damp home and pump a lightweight,

flowable foam concrete under your timber

floored home.

While insulation is important, it has been

recognised that it is dampness that is the real

villain in the house. The new Healthy Homes

Standards introduced by the government

effective from the 1st July 2019 now has

a requirement to install ground moisture

barriers, a key element in the armory to fight

moisture in the home.

Dr Larry Bellamy BE (hons) PhD in a

report dated 1988: Foam Concrete Under

Timber Floors: An Energy Analysis assessed

the effects of placing Foam Concrete over

damp soil and had this to say: Condensation

on the underside of a timber floor can occur

where the floor is suspended over damp

ground and the inside air temperature falls

close to the crawl space air temperature.

Much energy is required to vaporize moisture

that penetrates the structure. By avoiding

underfloor condensation, foam concrete can

reduce floor heat losses by up to 90%.

• Canterbury Foam Concrete Ltd can in most

cases, install a Ground Moisture Barrier

under the suspended wooden floor of your

home, even when there is no crawl space.

• BRANZ Appraised; Appraisal Number 961

• Members of the Insulation Association of

New Zealand.

• We offer a free measure and quote in the

Canterbury region with no obligations.

• Assessments can be made in all other

regions by arrangement.

Contact Canterbury Foam Concrete

Ltd now for your free, no obligation quote

and complimentary appraisal of your

underfloor ground moisture barrier needs.

Phone 03 376 4608, 0508FOAMCO or www.

foamconcrete.nz for more information.

Zone Control for your

ducted heat pump

Ducted heat pumps are a highly efficient

way to heat (or cool) your home. The

air from the heat pump is ducted to

several rooms or zones in your house.

Using a zone control system makes your

ducted heat pump even more efficient, by

specifying the amount of heat required

in each area, so not wasting energy to

overheat or overcool any room.

The AirTouch4 zone control system

from Smooth-Air takes ducted heat pump

air zoning to a whole new level of comfort

and energy efficiency.

AirTouch4 - The Ultimate Zone

Control

Have total control of your comfort zone:

AirTouch4 lets everyone enjoy a different

level of conditioned air in the room they

are in.

Save money on the power

bill, without compromising on

comfort, by only running the

heating or cooling where you

need it with Smart Zoning.

Plus with runtime tracking,

energy and airflow management

technology, you can enjoy greater

efficiency and savings from your

family's ducted heat pump.

60

The AirTouch4 can

%

also

connect to Google Home and

Amazon Alexa.

Not every home is designed

equal. Not every room is either.

Temperatures can often fluctuate from

one room to the next because of sunlight,

room activity or other factors.

With AirTouch4's Individual

Temperature Control Technology (ITC),

the AirTouch monitors temperatures

and smartly adjusts airflow as needed

around your home with the aid of multiple

wireless temperature sensors instead of a

single sensor in one location. When some

rooms get too hot or cold, the AirTouch

will adjust airflow to maintain your desired

temperature, without wasting conditioned

air on rooms already comfortable.

Contact Smooth-Air on 0800

SMOOTH or sales@smooth-air.co.nz

for more information on the AirTouch4

zone control.

ATTACK RISING DAMP

Smooth-Air

Ventilation Equipment Suppliers

totrade

retail

Ducted Heatpump zone control

Adapt your home to

YOUR IDEA

OF COMFORT

&

www.airtouch.co.nz

T. 03 376 4608 E info@foamconcrete.nz

W. www.foamconcrete.nz

HEAT PUMP

SALE NOW ON!

Amazin' winter Specials!!

90%

SubSidy

Warmer KiWi HomeS

Programme

*Eligibility criteria apply

• We will offer you the best quality brands and

option of heat pump for your home/business

• Providing Heat Pump solutions for over 18 years to Cantabrians

• We personally guarantee all our products & installs for 5 years

(providing annual maintenance has been completed)

Phone us today for your free consultation & quote

41A SHAKESPEARE RD, WALTHAM

PHONE 03 366 0525

www.enviromaster.co.nz

"A local team for local people"

Adapt your home to

YOUR IDEA

OF COMFORT

OFF

60 23º

% OFF

75 %

80 % 50 %

100 21º

%

60 % OFF

100 %

18º 80 % 50 22º

%

OFF

75 20º

%

Adjust the airflow around your home in 5% increments so everyone enjoys their own comfort zone.

Adjust the airflow around your home in 5% increments so everyone enjoys their own comfort zone.

0800 SMOOTH

(0800 766 684)

sales@smooth-air.co.nz

264 Annex Rd

Riccarton

Christchurch

03 343 6184

SMART

INTEGRATIONS

INTELLIGEN

WITHOUT W

INTELLIG

WASTAGE

WITHOUT

INTELLIGENT

& WITHOUT

Save money on

your power bill

Monday - Friday

7.30am - 5pm

www.smooth-air.co.nz
---
10 Thursday August 6 2020

Latest Canterbury news at starnews.co.nz

SENIOR LIVING

SOUTHERN VIEW

Amazing health miracles

from the silkworm

Serrapeptase an enzyme produced in

silkworms may become one of the most

widely used natural health solutions

for its ability to replace the majority of

anti-inflammatory drugs and bypass

operations. It is nature's answer to pain,

chronic inflammation and clogged

arteries. Enzymes are essential for

life. Constantly working to build and

regenerate the body, they help digest

food, break down toxins and cleanse

the blood, in addition to thousands of

other functions. A lack of enzymes in the

body leads to food intolerances, allergies,

digestive issues, disease and poor health.

Studies show an average 70-year old has

only 20 percent of the enzymes found in

the body of a 20-year old.

Serrapeptase is a natural antiinflammatory,

which can clean, clear and

reduce inflammation while dissolving

non-living tissue including blood clots,

cysts, arterial plaque and mucus. One of

its major benefits is its ability to reduce

pain.

The serrapeptase enzyme was first found

in the intestine of the silkworm in the late

1960's. The silkworm uses it to dissolve the

hard cocoon, allowing the moth to escape

as well as to digest the tough mulberry

leaves it feeds on. Serrapeptase can now be

produced commercially by a fermentation

process of the microorganism Serriata

E15. It is prescribed by doctors across

Europe and Asia.

Clinical studies over the last 40 years

have shown serrapeptase to have

remarkable benefits in a vast range of

health conditions including; blocked

arteries, cardiovascular, arthritis,

asthma, lung conditions, pain, tumors,

autoimmune disease and many more.

In Germany, Dr. Hans Nieper clinically

researched serrapeptase and found it

could clear blocked arteries and prevent

the need for bypass operations. U.K.

pharmacist Dennis Gore talked on BBC

radio about the dramatic results he has

had with serrapeptase. One case was a

man in his 60's who had been a heavy

smoker, was wheeled into his pharmacy.

He was breathless due to emphysema

and COPD and could hardly talk. He

was on antibiotics, oxygen and getting

bad infections. Dennis prescribed him

serrapeptase and three weeks later the

man walked into his pharmacy, with no

wheelchair and no breathlessness and said

to Dennis he was no longer on antibiotics,

nor oxygen cylinders and was feeling

great.

Serrapeptase has been shown to be

very safe supplement and according

to researchers can be used with most

medications. However let your doctor

know as medications may need reducing

or stopping as the need for them reduces.

Serrapeptase and more information

is available from the natural health

advisers at Marshall's Health & Natural

Therapy, 101 Seaview Road, New

Brighton, Phone: (03) 388-5757.

amaZing health

Benefits from

the silkworm

Serrapeptase, an enzyme first discovered in the silkworm, could

become one of the most widely used natural health remedies due

to its ability to potentially replace the majority of anti-inflammatory

drugs & bypass operations.

Serrapeptase is a natural anti-inflammatory enzyme that according

to research can clean, clear & reduce inflammation while safely

dissolving non-living tissue such as blood clots, cysts, arterial

plaque & mucus. One of its major benefits is its ability to reduce

pain & clear clogged arteries.

SERRAPEPTASE SUPPORTS

• Inflammation relief, works on clearing the cause

• Pain relief

• Safely clearing the arteries of arterial plaque

that could lead to a heart attack or stroke

• Improving blood circulation

• Reducing high blood pressure

• Supporting cardiovascular health

doctor's Best serraPePtase

120,000 SPU HIGH-POTENCY

AMAZING

prIces

• Dissolving non-living tissue such as blood clots,

scarring & cysts

• Clearing mucus & catarrh from airways & lungs

• Varicose veins

• Chronic cough, Asthma, Lung health

• Natural healing & relief from many health

conditions

Bringing You the Best in Natural Health!

- knowledge makes the difference -

MAIL ORDER

AVAILABLE

90 Veggie Caps ONLY $67.90 Save $12.00

180 Veggie Caps ONLY $129.90 Save $29.90

(Doctor's Best Serrapeptase is formulated with Serrateric, a superior alternative to enteric

coating that protects the individual enzyme until it reaches the intestine for optimal absorption.)

marshalls health & natUral theraPY

CONSULTING - PRESCRIBING - DISPENSING - MANUFACTURING - MEDICAL HERBALISTS

101 SEAVIEW RD, NEW BRIGHTON • PH 03 388 5757 • Email: enquiry@marshallshealthshop.co.nz

you can stop him

snoring with a

SNOREX

Why put up with a broken

night's sleep?

Ph 377-4318 or 027 682 1752

DENISE LIM

FOR A FREE INFO PACK

Website: www.snorex.co.nz

A Leader in Healthcare Excellence for the Older Person

Brookhaven

Retirement Village

Woolston

Phone 03 384 5046

Albarosa Rest Home

Papanui

Phone 03 375 0727

For more information visit

www.goldenhealthcare.co.nz

Golden Age

Retirement Village

Papanui

Phone 03 375 0720

Hoon Hay Rest Home

Hoon Hay

Phone 03 379 7825

Would you

like to profile

and grow your

Business?

For feature advertising

please phone

Jenny Wright

03 364 7446 or 021 220 3484

jenny@starmedia.kiwi

Camellia Court

Rest Home

Papanui

Phone 03 375 0722

Somerfield

Rest Home

Somerfield

Phone 03 332 5897

Hoon Hay House Dementia

Hoon Hay

Phone 03 335 0297
---
SOUTHERN VIEW Latest Canterbury news at starnews.co.nz

Thursday August 6 2020 11

Classifieds Contact us today Phone our local team 03 379 1100

Trades & Services

Trades & Services

Trades & Services

Trades & Services

Towing

For safe, damage free

car transportation

call Ashley's Tow Taxi

Special care for special cars

ASHLEY'S TOW TAXI

Breakdown & Relocation

0800 TOW TAXI • 0800 869 8294

SCRAP METAL

Dominion Trading Co Ltd

• Scrap metal buyers

• Canterbury owned & operated

• Top prices paid $$$

• Open Saturday morning

Open Mon-Fri 8am – 4.30pm Sat. 8.30am-12.30pm

www.happyscrappy.co.nz

03 343 9993 333 Blenheim Rd

WINDOW TINTING

tintawindow

advanced film solutions

99% uv block

fade protection

heat control

reduce glare

25 Years Experience

Free Quotes Canterbury and Districts

03 365 3653 0800 368 468

Wanted To Buy

ADD SOME

COLOUR

TO YOUR ADVERT!

privacy films

frosting designs

non-darkening films

Workmanship Guaranteed

Lifetime Warranties on Most Films

UV

block

AAA Buying goods

quality furniture, beds,

stoves, washing machines,

fridge freezers. Same day

service. Selwyn Dealers.

Phone 980 5812 or 027

313 8156

TOOLS Garden,

garage, woodworking,

mechanical, engineering,

sawbenches, lathes, cash

buyer, ph 355-2045

Trades & Services

AWSOM ROOFS

24/7

MOSS

TREATMENT

ROOFS $300

• Oamaru StOne

• Driveway

• PathS

• hOuSe

• General exterior

wash Down

• tidy up

Ph: 027 561 4629

Kevin

BRICKLAYER

George Lockyer. Over

40 years bricklaying

experience.Uk trained.

Insurance work, EQC

repairs. Heritage

brickwork & stonework

a speciality. No job too

small. Governers Bay.

Home 329 9344. Cell

027 684 4046. E mail

georgelockyer@xtra.co.nz

CARPET LAYING

Exp. Repairs, uplifting,

relaying, restretching.

Phone John on 0800

003181, 027 240 7416

jflattery@xtra.co.nz

ELECTRICIAN

Prompt & reliable

registered electrician

with 24 years experience

for all residential and

commercial work, new

housing and switch board

replacements. Phone Chris

027 516 0669

PAINTING

Indoor / Outdoor, over 30

yrs exp, same day quotes,

ph Steve 021 255 7968

PAINTER

New, older homes,

interior, exterior. We stand

by Canterbury. Ph Wayne

0272 743 541, 385-4348

ROOFING REPAIRS

Fully qualified, over 40

yrs experience. Ph John

027 432-3822 or 351-

9147 email johnchmill@

outlook.com

STONEMASON

Featurework, walls,

paving, drystone walls, &

repairs. Reasonable rates.

Keeping the locals happy

for over 20 years.Ph Tim

Williams 027 714 5402

STUMP GRINDING

Best price guarantee Tony

0275 588 895

TILER/CARPENTER

35 years exp, no job

too small. Ph Ross 027

4311440.

T.V. SERVICE CENTRE

Repairs, tvs, microwaves,

audio amps, soundbars.

.Aerial & satellite

installations, kitsets, 480D

Moorhouse Ave, ph 03 379

1400

VHS VIDEO TAPES

& all camera tapes

converted to DVD or

USB. Video taping

special occasions, www.

grahamsvideo.co.nz ph 03

338-1655

EXPERIENCED

GARDENER

(Kevin Garnett)

30 Years

Christchurch Botanic

Gardens.

ALL landscape

work done.

Maintenance, pruning,

tidy up, lawn work,

landscape planning

and planting etc.

Free Quotes

Phone 348 3482

HOT WATER

CYLINDERS

supplied & fitted,

lowest price

guaranteed.

021 112 3492

ADVERTISE YOUR BUSINESS HERE

Phone for further details

(03) 379 1100
---
Advert: FCSV0408 Newspaper: Southern View

12 Thursday August 6 2020

Latest Canterbury news at starnews.co.nz

SOUTHERN VIEW

Shop online at

FreshChoiceYourWay.co.nz

or download the

FreshChoice app

Fresh NZ Beef

Corned Silverside

$

8 90

kg

Fresh NZ Pork Leg

Bone-In

(Excludes Free Range)

$

6 90

kg

Frozen NZ Whole

Beef Fillet

$

25 00

kg

Barrington

Open 7am – 10pm, 7 days a week.

barrington.store.freshchoice.co.nz

City Market

Open 7am – 9pm, 7 days a week.

citymarket.store.freshchoice.co.nz

Prices apply from Monday 3rd August to Sunday 9th August 2020, or while stocks last at FreshChoice City Market & Barrington only. Limits may apply.

FreshChoiceNZ

OWNED &

OPERATED BY

LOCALS

FCSV0408