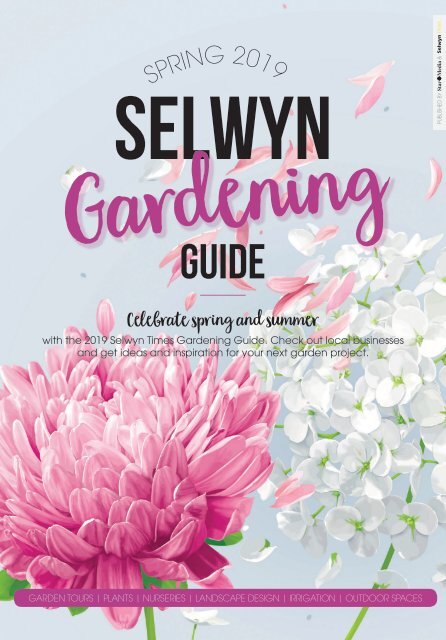 Selwyn Times: October 10, 2019
Create successful ePaper yourself
Turn your PDF publications into a flip-book with our unique Google optimized e-Paper software.
SPRING 2019

Selwyn

Gardening

guide

PUBLISHED BY & Selwyn Times

Celebrate spring and summer

with the 2019 Selwyn Times Gardening Guide. Check out local businesses

and get ideas and inspiration for your next garden project.

GARDEN TOURS | PLANTS | NURSERIES | LANDSCAPE DESIGN | IRRIGATION | OUTDOOR SPACES
---
2 |

SELWYN GARDENING GUIDE SPRING 2019

Homebush Stables &

Garden Open Day

20 October, 10am to 4pm

Selwyn boasts a number of beautiful

gardens you can visit to get ideas and

inspiration for your own garden. For a full list

of Selwyn gardens to visit, check out www.

sensationalselwyn.co.nz/garden-tours.

Ohoka Garden Tour & Fête.

Upcoming Garden Open Days

Terrace Station Garden Open Day, 6 Nov, 11am to 3pm

Come along and view granny bonnets, roses and

summer flowers in a delightful one hectare landscaped

garden with a hint of its original Victorian style. The historic

homestead was one of the first pieces of domestic

architecture in Canterbury to have a category 1

registration from the New Zealand Historic Places Trust

(now Heritage New Zealand).

Bring your picnic lunch; adults - $5.00, children no charge.

No dogs. Woodland plants for sale; please note eftpos is

not available. www.terracestation.org.nz

Deans Bush Stables & Garden Open Day, 20 October,

10am to 4pm

Come and enjoy historic Homebush. Wander around the

garden of trees and rhododendons (plantings began

in 1851). View the Homebush Stables historic buildings

including the water driven turbine and enjoy coffee and

lunch in the café. Entry $5 per person - children under 14

free. Also a participant in the Beca Christchurch Heritage

Festival 2019. www.homebushstables.co.nz

Garden Tours

Little River Flower Power Garden Trail, 27 & 28 Oct,

10am to 4pm

A fantastic chance to wander in 14 private gardens, from

beach-side gems in Birdlings Flat to lush valley producers

of proteas, herbs, hazelnuts and berries. Visit an herbal

learning garden and properties that grow owers and food

commercially. See ad on page 3.

Hurunui Garden Festival, Nov 1 to Nov 3

Visit gorgeous private gardens from Amberley to Gore Bay,

Hawarden to Hanmer Springs, many within just one hour's

drive of Christchurch and the airport.

www.hurunuigardenfestival.com

Ohoka Garden Tour & Fête, 24 Nov, 10am to 4pm

A biennual fundraiser for Ohoka School featuring a selfguided

tour of several stunning local gardens and country

fete. www.ohokagardentour.co.nz

PUBLISHER

Star Media

A division of Allied Press Ltd

PO Box 1467 Christchurch 8140

ADVERTISING

Lynette Evans - Ph 03 364 7434

email: lynette.evans@starmedia.kiwi

EDITORIAL

Fiona Maddison

Rosemary Graham

DESIGN

Denise Crawford

PESt coNtRol

• Spider proofing & insect control

• all other pest problems

• Industrial & domestic pest control

Rob & Scott WaRloW

Established Since 1987

Qualified & Experienced Professional

office: 03 337 9553

Rob: 027 436 1169

Scott: 021 168 6118

Member of Pest Management Assoc. of NZ

Nat's Nursery's services:

• Plant nursery - trees, natives, and

hedging plants

• Sourcing of speciality plants and trees

(dependent on availability)

• Flexible hours with arrangement

• Landscaping consultation and support

• Gardening - Green waste

removed

• Milking shed, Lane way, and

cottage planting

• Large order discounts

• Lifestyle blocks and small

gardens.

• One on one support

• Excellent pricing

Phone Natalie

021 258 7241

PatIoS - outdoor areaS - Car PortS

SHade SaILS - uMBreLLaS - aLL WeatHer CaNoPIeS

Shadecraft is a

locally owned company

who specialise in

shade and weather

protection products to

enhance your homes

design and use of

outdoor areas.

ShadeCraft (SI) Ltd • 0800 742 332 • Cell 0274 981 239 • www.shadecraft.co.nz
---
SELWYN GARDENING GUIDE SPRING 2019 | 3

New event

for gardeners

Banks Peninsula gardens

open their gates

An exciting new event for gardeners is

coming to Selwyn. The Selwyn Garden

Expo, hosted by the West Melton

Garden Club, will be held in the West

Melton Community Centre on Sunday

1 December, 2019, from 12.30-5pm.

The aim of the expo is to showcase

the many and varied garden or food

related activities and businesses

available in Selwyn and nearby areas,

to encourage an interest in gardening,

to learn from experts, and to give

people the opportunity to hear our

guest speaker, Lynda Hallinan - former

editor of NZ Gardener, broadcaster,

and author. Lynda, who will speak at

3pm, is an inspiring, and fun speaker,

enjoyed by all who hear her – the

afternoon is also a great opportunity

to do some Christmas shopping.

Throughout the day there will be music

plus food and drinks available along

with a wide range of stalls such as

nut producers, saffron, truffles, Italian

cheeses, wine tasting, limestone

carvings, sculptures, recycled

metal art, a garden tour organiser,

landscapers, garden suppliers, tools,

bonsai display and plants galore

to name a few. There will be four

demonstrations on offer - Kokodama

balls, floral display, care of tools, and

bonsai.

Tickets cost $15 per person, and must

be pre-purchased by emailing Brenda

on selwyngardenexpo@gmail.com.

Early purchasing is recommended

as ticket numbers are limited, and

people are encouraged to arrive early

and make the most of the afternoon.

Gardeners of Little River and Birdlings

Flat are opening their gates this

Labour weekend for the Little River

Flower Power Garden Trail.

A rare treat this year is the chance to

see the park-like garden of Kinloch

Estate with extensive lawns, mature

trees, borders and lake vistas.

In total 14 gardens will be open

featuring diverse planting styles from

rhododendron shrubberies to banana

palm fringed ponds. Several operate

commercially growing flowers, berries

and nuts such as Janet and Peter Wills'

Okuti Valley property Country Nutters

and Glynis and Tom Dobson's Protea

Cottage.

For a herb garden on a large scale,

head to Phytofarm's herbal learning

garden and for a cottage-style town

garden be sure to check out Lily

Cottage. Geoff Spearpoint surprises

with what can be achieved on a small

coastal section and for a different

view of Birdlings Flat head out over the

beach to the homestead of Poranui.

Revival Op shop, housed in historic St

Andrews Church, will open featuring

a local wedding dress display. There

will also be opportunities to buy plants,

drinks and baking so bringing cash is

recommended.

Gardens will be open on Sunday 27

October and Monday 28 October

from 10am-4pm. Tickets cost $15 per

adult (children are free) and are

available from the Little River Craft

Station (open seven days including

Labour weekend) and eventfinda.

co.nz. Proceeds will go to community

groups.

West Melton Garden Club presents

SELWYN GARDEN EXPO

Sunday 1st December 2019

12:30pm–5pm

West Melton Community Centre

1163 West Coast Road, West Melton

• Plant Sales

• Local Garden Related Stalls

• Local Specialty Foods

• Demonstrations

• Speakers

• Expert advice

Guest Speaker

at 3pm

LYNDA HALLINAN

Former NZ Gardener

Editor, Author,

Broadcaster and

Passionate Gardener

Tickets $15 - Pre sold only Follow us facebook.com/events/2814209168605870

Contact Brenda 027 347 6460 or selwyngardenexpo@gmail.com
---
4 |

SELWYN GARDENING GUIDE SPRING 2019

ADVERTORiAL

Hororata Parish Spring Fair challenge

blokes on their No.8 wire skills

The Hororata Parish Spring Fair has been part

of the Hororata landscape for many years. The

Spring Fair is more than just raising money, it is

about raising community spirits and providing a

fun family day out for our community.

There is local pride at stake to get your name

of the very unique handmade Trophy. The

competition is open to any local bloke who wants

a chance to show his creative side. All they need

to do is bring their creation on the day to the

Hororata Parish Spring Fair by 10.00am.

The Hororata Parish Spring Fair is also part of the

Heritage Festival again this year, giving people

the opportunity to share stories of the past that

link us to this place. Visitors to the Fair will be

able to learn about the early settlers of the area

with a video by the Hororata Historic Society, visit

the St John's Church graveyard, transported in a

vintage car to discover the stories of the people

gone before us in the district.

www.hororataparish.co.nz

The Country Auction has been a highlight of the

Fair for over 10 years but for the 2nd time only,

the challenge has been laid down to the men,

blokes and Trev's living within the Hororata Parish

to showcase their No.8 wire skills and build their

entry for the Agri Garden Art competition.

"Eight entries raised over $1350, such was the

craftsmanship and imagination of these clever

locals. Last year's entries used; saw blades,

horse shoes, truck springs, hay rake tines,

#8 wire like never seen before, discs, chains,

bolts, sumps, scissors, gears, fence posts, rail

sleepers and more. The addition of the No.8

wire challenge to the auction last year was really

fun and we encourage more people to enter

this year," said committee member Yvonne

Cookson.

"This year the challenge is about recycling posts,

wood, timber - you know, that stuff lying in and

around the sheds. Entries are voted on by the

public during the fair and then visitors are given

the chance to own a one-off piece of kiwiana at

the auction 11.30am."

As well as the Auction and Heritage aspect

there is all the traditional Fair fun to be had

with many attractions, like stalls offering

delicious homemade jams and speciality foods,

handmade crafts, a wide range of plants and

a large selection of second-hand books. Kids

can enter the Creative Kids competition and win

some great prizes.

The Hororata Parish Spring Fair is on Labour

Day, 28th October at the Hororata Domain, entry

and parking is FREE. Held wet or fine, visit

www.hororataparish.co.nz or visit their Facebook

page for more information.

NEW

Use your outdoor living areas

all year round

JUST SIT BACK AND RELAX,

LAWNCARE MADE EASY WITH STIHL.

• Warm & dry in winter

• UV protection for summer

• Stylish & permanent

• 5 year warranty

"AS SEEN ON TV"

CONVENIENT, AUTOMATED, QUIET & EFFICIENT MOWING

STIHL iMOW ROBOTIC MOWER

RMI 422

Maximum Lawn Area (up to Approx.) 1,500m2

Average Mowing Time (Per Battery Charge) 60min .

Max. Degree of Slope 22˚

Cutting Height 20-60mm

Cutting Width 20cm

Weight 9kg

$2,800 *

Chris Thorndycroft

Phone 0274 211 079 | www.archgola.co.nz

15 months

INTEREST FREE

Normal lending criteria apply

HydRoSEEdINg, INStaNt

LawNS aNd LaNdSCaPINg

Free in home consultation

Call now to enquire!

* Plus * Installation. Price includes Available Tool, Battery only at & selected Docking STIHL Station. SHOP Available Fosters, only Northwood at selected and STIHL Rangiora, Specialist your iMow Specialist Dealer. iMow Dealers.

STIHL SHOP Fosters

559 Blenheim Road, Sockburn, Christchurch

Ph: 03-343-6339 Store Details here

STIHL SHOP Store Details Northwood

here

554 Main North Road, Belfast, Christchurch

Ph: 03-974-2469 Store Details here

STIHL SHOP Store Details Rangiora here

Corner Lineside and Station Road, Rangiora

Ph: 03-313-3398

www.stihlshopchristchurch.co.nz

Fast and manoeuvrable for small to medium lawns.

LOVE YOUR LAND

• Locally owned &

operated

• Residential &

commercial lawns

• Hydroseeding

• Instant roll out lawn

• Full lawn preparations

• Site clearing

• Erosion and dust

control

• Irrigation

• Posthole boring

• Landscaping

• No job too small

Call us today to discuss all your lawn

and landscaping requirements

Phone 347 4000 or 027 456 7777

Email zac@canterburylawns.co.nz

www.canterburylawns.co.nz
---
SELWYN GARDENING GUIDE SPRING 2019 | 5

Tree care locally

Organic bins

Spring is the perfect time to get back

into the garden and start filling up your

organics bin again.

The Selwyn District Council's green

organics bins can be utilised for

garden prunings, weeds, leaves and

grass clippings.

Food items such as bread, dairy

products, fruit, vegetables fish, meat,

bones, coffee grinds, tea bags as well

as food-soiled cardboard containers

and paper towels can also be placed

in the green bin.

Here are some useful tips to ensure

your bin is fully emptied every week:

• Keep the bin weight under 60kg. If

you find it difficult to move the bin,

then you may find it exceeds the truck

lifting limits.

• Keep the bin contents loose. Don't

compact your material by standing on

it (it may not come out when tipped

by the truck).

• Place weeds, branches or

newspaper at the bottom of the bin

before filling with grass clippings. This

reduces the likelihood of the grass

clippings getting stuck.

• Organics only! No plastic bags

(including those labelled as

compostable, degradable or

biodegradable), metals, timber,

sawdust, glass, rocks, stones or bricks

as these cause considerable damage

to the organics shredder.

• Flax and cabbage leaves need to

go in your red rubbish bin (as these

get caught up in the shredder).

• Make sure your bin is not overflowing

– the lid needs to close.

For townships with organic collection;

why not swap your 240 litre red bin for

a 240 litre green bin and an 80 litre

red bin? You'll save money and the

environment.

Unsure about an item? Check out

selwyn.govt.nz/organics

Your organics bin is only

for the following items...

Whether your tree needs a prune,

thinning or something more extensive,

locally owned HB Tree Services can

help.

Owners Matt Harley and Ben Biggs

have over 10 years' experience in

arboriculture, gardening, landscaping

and operating heavy machinery.

"We are both extremely passionate

about trees and love to discuss and

share our knowledge with our clients

for the on-going benefit of the tree,"

says Matt, who is based in Rolleston

while Ben is in Lincoln.

"As well as making sure the work we

do is aesthetically pleasing to our

clients we strive to leave the trees we

prune healthy and safe to be around."

Pruning trees can benefit the whole

tree and removing dead, damaged

and diseased branches helps prevent

insect and decay organisms from

entering the tree. Thinning a dense

canopy on a tree increases air and

sunlight, resulting in fewer disease

problems.

Matt and Ben established HB Tree

Services to give people the best

possible service for an affordable

rate including an entire garden

maintenance offer.

"We truly believe in fair pricing and

not 'over quoting'."

HB

They both also give back to the local

community donating fire wood to

families in need.

Contact Matt at HB Tree Services by

phoning 022 4700137 or email him

at matt@hbtreeservices.com. Their

website is www.hbtreeseevices.com

SERVICES

& GARDEN MAINTENANCE

Garden prunings,

clippings and leaves

Meat, bones

and fish

Fruit and vegetables

Bread, pastries

and dairy products

Tips to ensure your bin is fully emptied:

· Keep items loose.

· Keep the bin weight reasonable.

· Place weeds, branches or newspaper

at the bottom of the bin before filling

with grass clippings (to avoid contents

getting stuck).

selwyn.govt.nz/organics

Coffee grinds

and tea bags

Food soiled cardboard

containers and paper towels

· No plastic bags (including compostable

or biodegradable), metals, glass, rocks,

stones, bricks or rubbish.

· Flax and cabbage tree leaves should go

in the red bin.

· Make sure the lid closes.

Professional Arborist &

Garden Maintenance Services

Contact us for a free quote today - available during

weekdays or weekends to find a time convenient to you

- Tree work

- Tre Removals

- Pruning

- Garden Maintenance

- Hedge Trimming

- Planting

- Lawns

- Weeding

www.hbtreeservices.com

find us on facebook.com/hbtreeservice
---
6 |

selwyn gardening guide spring 2019

Garden

In the

wiTh inTELLiGrO

Spring is a time for new growth, a buzz of activity

around the garden and warmer weather. with

plenty of tasks to get done, intelligro is here to help

you every step of the way.

Intelligro has a great range of barks, mulches, stones, chips and

growing mixes as well as a variety of tools and other supplies you'll

need to get those gardening tasks done. Brands we sell include:

• Gardena

• Kiwicare

• Atlas Trade

• Atlas Home

• McGregors

• Promark

• Topflite

• Morton-Smith Dawe

SEpTEmbEr TO may OpEninG hOurS

Monday to Saturday 7.30am - 5.30pm

Sunday 8.30am - 4.30pm

junE TO auGuST OpEninG hOurS

Monday to Saturday 8am - 5pm

Sunday 9am - 4pm

GardEninG

quESTiOnS?

Post your gardening questions to our

Facebook page and we will happily answer

them. @igro.co.nz

SharE yOur SnapS!

We love seeing your gardening projects, please feel free to share

them with us on our Facebook page so we can see the end results!

LET'S GET

N

GardEninG

SaFEr aCCESS TO inTELLiGrO

Dawsons

Road

INTELLIGRO

OFFERS:

Expert gardening advice

High quality products

South-Hort growing mixes

VIP rewards

Buy in-store and online

Handy delivery service

Curraghs Road

Weedons Ross Road

261

Alston Road

Railway Line

Manion Road

Jones Road

Justine Drive

Robinsons Road

DON'T FORGET OUR ENTRANCE HAS CHANGED:

261 Manion Road, Weedons

Heading north on Main South Road you will use the Weedons Ross Road off

ramp. Manion Road is just before the railway lines on the left-hand side.

Berketts Road

Main South Road (SH1)

Proposed Christchurch Southern Motorway Stage 2 (CSM2) alignment

New local road

Larcombs Road

For more information,

check out our website:

www.igro.co.nz

or visit our facebook page:

www.facebook.com/igro.co.nz

For more information www.igro.co.nz | Phone 03 347 9012
---
SELWYN GARDENING GUIDE SPRING 2019 | 7

Perfect solution

for sheds, garages or

commercial buildings

Quality furniture

made locally

If you are looking for a shed, garage

or commercial building Totalspan

Canterbury can help.

As part of New Zealand's largest

building supplier Totalspan buildings

are strong, long lasting, lightweight,

resilient and come with a 25 year

structural guarantee, so are the

perfect solution for commercial,

industrial and lifestyle properties.

Totalspan buildings are manufactured

in their own factory here in

Christchurch so they have complete

control over the quality and

affordability of their product.

"We pride ourselves in providing

quality, best value buildings that add

value to our customers properties. Our

experienced consultants offer free

no-obligation on-site consultations to

ensure that you get a building solution

that meets your needs," says Jeff from

Totalspan.

Totalspan makes the building process

easy by handling the building consent

process and the construction of the

building, or alternatively customers

can complete the build themselves.

Call Totalspan on 344 0331, email

them at christchurch@totalspan.co.nz

or visit their display site at 728 Main

South Road to see their wide range of

buildings on display. Alternatively visit

www.totalspan.co.nz.

For locally made and custom

designed outdoor furniture look

no further than Rolleston's Panda

Outdoor Furniture.

Mike uses macrocarpa to make his

quality furniture because the wood

is both durable and has a natural

resistance to fungus and rot so does

not need any chemical protection.

Macrocarpa can be left to "season

off" to become a lovely silver/grey or

can be painted, oiled or stained in a

range of colours.

Design options include a triangular

table with three bench seats along

with the more conventional square

and rectangular tables. Mike's bar

leaners and stools are always popular

along with his picnic tables with

connected seats and he is a dab

hand at raised garden beds and

swing seats.

For a different and personalised gift

for Christmas, add a personalised

message such as a special wedding

or anniversary date or the birth date

of your children on to the back of a

park bench to create a Luv Seat.

Panda Outdoor Furniture is located at

16 Stoneleigh Drive and Mike also sells

his furniture at the Riccarton Market on

Sundays. His usual hours at Stoneleigh

Drive are 8am until 4.30pm Monday to

Friday and 9am – 12pm on Saturday

but telephone him first on 022 025 1784

in case he is out making delivery.

Time for a new

outdoor setting

for your deck, patio or yard?

We can make to size, choose from

rectangular, square or triangle. With

seating made to match. Bench seats,

Park Bench, Luv seat, bar stools.

Need more room in your garden? We

can make a range of planter boxes.

• Dressed timber or rough sawn.

• Can custom make to suit the size that

you are wanting, or choose from our

standard sizes.

• Your choice of seats:

• Bench seat (no back)

• Park bench seat (with back)

• or perhaps a Luv seat for the

garden, (with back and arms).

• Choice of oils or stain with several

colours to chose from.

738 Main South Road, Templeton, Christchurch | Ph: 03 344 0331

Visit Email: us at: christchurch@totalspan.co.nz Your nearest local Totalspan | www.totalspan.co.nz

franchise

PANDA

OUTDOOR FURNITURE

Manufacturers of Quality Macrocarpa Outdoor Furniture

16 Stoneleigh Drive (Izone), Rolleston

P: 022 025 1784 E: mike@pandaof.co.nz

Mon – Fri 8am–5pm Sat 9am–12pm Sun Closed

www.pandaoutdoorfurniture.co.nz
---
8 |

SELWYN GARDENING GUIDE SPRING 2019

Mindful

Tree People

THE CONVENIENCE OF

ELECTRIC WITHOUT THE

HASSLE OF A CORD

UNLEASH THE POWER OF THE NEW STIHL COMPACT CORDLESS RANGE

STIHL COMPACT

CORDLESS BLOWER

BGA 56

$445

KIT PRICE

STIHL COMPACT

CORDLESS CHAINSAW

MSA 120 C-BQ

$575

KIT PRICE

Store Details here

STIHL SHOP Northwood

554 Main StoreNorth Details Road, hereBelfast, Christchurch

Ph: 03-974-2469 Store Details here

STIHL Store SHOP Details Rangiora here

Corner Lineside and Station Road, Rangiora

Ph: 03-313-3398

STIHL SHOP Fosters

559 Blenheim Road, Sockburn, Christchurch

Ph: 03-343-6339

www.stihlshopchristchurch.co.nz

STH0551_SS

Including AK 20 Battery and AL 101 Charger.

STIHL COMPACT

CORDLESS HEDGETRIMMER

HSA 56

$445

KIT PRICE

Including AK 10 Battery and AL 101 Charger.

Including AK 20 Battery and AL 101 Charger.

STIHL COMPACT

CORDLESS LINETRIMMER

FSA 56

$445

KIT PRICE

Including AK 10 Battery and AL 101 Charger.

Visit us in store for these and more great Prices offers. include Offers GST valid and from valid 01 April until to 31st 30 December June 2017. 2019. Only Only while while stocks stocks last. Terms last. and conditions apply.

Store opening hours - All stores open 7 days: Mon-Fri 8am - 5.30pm, Sat 9.30am - 3pm, Sun 10am - 3pm. 12 month interest free is available - see in store for details.

LOVE YOUR LAND

LOVE YOUR LAND

Trees are the protectors of the land.

They reduce erosion, help regulate

ground temperatures, and shield from

damaging winds plus clean the air!

When we help them thrive, they return

the favour and envelope us in their

shelter.

The world of arboricultural services is

full of power tools- blowers, chainsaws,

brush cutters, chippers, and stump

grinders. A lot of these tools are loud,

polluting, and create a cumulative

effect that is harmful to trees and their

environment. They waste resources

and create damaging fallout.

Four Seasons Tree Care Otautahi

Ltd, simply known as The Tree

People, work hard to mitigate the

environmental impacts that their

industry produce. The Tree People use

electric chainsaws as much as they

can, biodegradable lubrication, and

silt traps to prevent runoff into sensitive

waterways. Their chipper's are

insulated to reduce noise pollution,

and they use biodiesel in every single

piece of machinery they operate,

which reduces fumes and resource

use.

"We constantly look for creative ways

to improve our sustainability practices

in our business. Not just because

it's good business, or good for the

environment, but because we

believe in a fully sustainable future,

and we always want to work towards

it."

Call The Tree People today on 0800

4 SEASONS or 03 384 9630 for a free

quote on expert, safe, sustainable

tree care. They can remove large

dangerous trees safely, look after

the trees you care about, transplant

established trees with care and offer

expert advice on all things trees.
---
SELWYN GARDENING GUIDE SPRING 2019 | 9

A garden haven

It's spring! The perfect time to look

at how you could enhance your

garden's appeal and spend more

time outside relaxing after an

enjoyable day spent working in the

garden.

Outdoor lighting can be used to set

the right mood for you and your guests

to enjoy al fresco dining on the deck,

patio or in outdoor garden rooms.

Lighting can also be used to add

structure to your garden, and

enhance trees, sculptures, spa, pool

and seating areas. Whether you love

the look of hanging lanterns or more

traditional lighting, there is something

to suit everyone's style and budget.

The Juice Electrical team recommend

to look for styles where you can

use long-life and energy efficient

LEDs. Low voltage LEDs can be

safely installed under bark, mulch or

weed mat with no digging or trench

needed.

Spring is also a great time to install that

spa pool you have always wanted.

While size and style is important

to consider it is also critical to get

some information on the power

requirements. Some spa pools cost

more to install, while others have a

sting in the tail when the power bill

arrives as they cost more to run. The

Juice team can offer pre-purchase

advice as well as install.

Juice Electrical love their community,

and offer great service without any

added mileage or admin fees for our

Rolleston customers who pay only for

the time we spend on the job.

Give life to your garden ideas, and

bring Juice in on your plans. We can

help to enhance your garden for the

warmer weather ahead.

Do you want to save time

money and water?

347 4083

info@freemanirrigation.co.nz

www.freemanirrigation.co.nz

Need A Spa Pool Installation

Or Some Outdoor Lighting?

Then you need to call us.

We are the experts when it comes

to lighting up and cooling down

your outdoor area this spring.

Call us today to discuss getting

your outdoor area sorted today.

No service fee for our Rolleston clients -

because we're locals.

0800 277 275
---
10 |

SELWYN GARDENING GUIDE SPRING 2019

Gifts for the

Gardener

PANDA OUTDOOR

FURNITURE, Rolleston

100% owned and

operated in Christchurch

by a qualified

cabinetmaker with over

30 years' experience in

all aspects of the industry.

Panda Outdoor Furniture is

functional, attractive, hard

wearing and affordable.

www.pandaoutdoorfurniture.co.nz

ANY EXCUSE DÉCOR &

GIFTS, Lincoln

Any Excuse is a

contemporary homewares

store packed with all the

finishing touches you need

to beautify your home and

gorgeous gifts for the ones

you love. You don't need

'any excuse' to come into

browse our carefully selected

collection of quality home

and giftware!

www.anyexcuse.co.nz

INTELLIGRO, Weedons

Check out Intelligro for

landscape gardening

products in Christchurch,

Rolleston, Selwyn,

Darfield, Hornby and

Lincoln, including organic

compost, bulk potting

mix, garden fertiliser, peat,

lawn construction mix,

bark mulch, bark chips

and woodchips.

www.intelligro.co.nz

SOUTHERN WOODS,

Templeton

Established in 1987, Southern

Woods has been growing

millions of quality plants for

over a generation. Hundreds

of plants and trees to choose

from and with decades of

experience and horticultural

training, our team of experts

can help with all your plant

needs.

www.southernwoods.co.nz

ROLLESTON GIFTS &

FLOWERS, Rolleston

Rolleston Florist and Gifts

is a member of Interflora

making it easy to send

a floral tribute overseas,

while locals benefit

from free delivery within

Rolleston. The range of

classy, small gifts and

homewares will delight

givers and receivers alike.

facebook.com/rollestonflorist

CANTERBURY TIMBER & HARDWARE, Weedons

Canterbury Timber & Hardware supply

contractors, farmers, and the home DIYer for all

your landscaping and rural timber products and

associated hardware along with kitset tables,

planters and wall/fence panels.

www.cthl.co.nz

Bring your dreams to reality

Now is the perfect time to bring your

dreams of having an outdoor swimming

pool to life, according to Julie Hastings

who owns Lagoon Pools with husband

Warren.

Lagoon Pools installs pools in sizes to suit

sections of all sizes, ranging from five metres

to 12 metres in length with a variety

of widths, colours and shapes. There really

is a pool for every site.

Lagoon Pools is the Leisure Pools dealer

for most of the South Island. Leisure Pools

feature 100% composite fibreglass and,

with patented innovations, every swimming

pool is supported by their lifetime

structural warranty and a lifetime osmosis

warranty. This makes them the strongest

pool available on the market.

Additional features including pool lighting,

fountains and spa jets. Pool automation

is becoming more popular with

equipment monitoring and settings right

at your fingertips from any location.

It takes around five days to install a pool

and the finishing touches can take from

four weeks depending upon the design.

Not only does Lagoon Pools install the

pool, they can offer the complete package

including paving, decking, landscaping

and fencing.

Contact Lagoon Pools by phoning Julie or

Warren 0800 927 282 or 03 349 2160. You

can also visit their website www.lagoonpools.co.nz

to find out more about their

range of pools and other services they

offer.

www.lagoonpools.co.nz

03 349 2160 or 0800 92 72 82
---
SELWYN GARDENING GUIDE SPRING 2019 | 11

NZ's leading mail-order plant Catalogue

Purchase plants

online, anywhere,

anytime

Parva Plants is a family-owned,

specialist, mail order/online nursery

that has been supplying interesting

and unusual plants to enthusiastic

New Zealand gardeners for 51 years.

Parva Plants is a market leader

producing New Zealand's most

comprehensive, full colour, 64-page

catalogue each spring and autumn

in which we offer over 500 different

items.

Our greatest emphasis is on perennials

but we also offer a range of other

plants including bulbs, shrubs, climbers,

natives, gardening accessories and

our popular pet products. Many of

our plants are not readily available

elsewhere and we are constantly

working to source new and interesting

material from breeders and growers

both in New Zealand and around the

world. The plants are well acclimatised

to Canterbury conditions.

Our secure website displays our full

catalogue where plants can be

purchased 24 hours a day, 7 days

a week. It is very easy to use and

provides good sized images of each

item making choosing a little bit

easier.

We courier plants nationwide and

have developed a unique packaging

system that ensures that plants

are sent upright and arrive at their

destination undamaged and ready to

go straight in the garden. Our plants

are all dispatched in premium sized 1L

pots.

Greg and Jenny Tod took over Parva

Plants in 2007, shifting the nursery from

Tauranga to Prebbleton. With the

help of our dedicated helpers, a wide

range of special plants find their way

into New Zealand gardens every year.

To view our wide range of plants visit:

www. parvaplants.co.nz or phone: 03

349 4918

New Spring/Summer Catalogue 2019

PARVA plants

Online NOW

Perennials

Bulbs

Shrubs

Garden Accessories

Pet Products

The World's Plants to Your Door

PARVA PLANTS

www.parvaplants.co.nz

Ph: 03 349 4918

aDVERtoRiaL

Get ahead of spring growth

Entertain all summer

To ensure maximum growth and

healthy vegetation – seasonal garden

maintenance is key.

Ross from Revive Landscaping says, "Giving your

garden a thorough tidy-up now will help minimise

ongoing work before spring growth takes off."

Improving your Selwyn soil

Building up your soil is beneficial no matter where

you live. But with Selwyn's often stony soil, regular

composting becomes even more important.

Topping your garden up with a generous layer

of compost in spring will help suppress weeds,

retain water, and support healthy growth.

Creating outdoor living spaces

Spring and summer evenings are all about

relaxing with family and friends. With some

careful garden construction, you could define

different areas for entertaining, growing herbs, or

simply enjoying the view.

Claim back your weekends

if all this sounds too much like hard work, Revive

Landscaping is here to help. Ross and his team

are skilled in all aspects of gardening; pruning,

planting, paving and landscape construction.

Whether it's an easy-care back yard, your dream

beer garden, or beautiful native plantings – they

want to see you happy and enjoying your own

outdoor space.

For a free garden

consultation and

quote, call Ross on

027 222 0388 or you

can check out their

website at:

revivelandscaping.co.nz

LandsCape

ConstruCtion

& Garden MaintenanCe

You can have your

gardens, trees, shrubs,

plants and lawns

maintained to look their

best all year round, for

a great price.

Residential &

Commercial

Landscaping

• Maintenance • Pruning

• Reconstruction & Rejuvenation

• Rental Property and Commercial

Maintenance

• Pre-Sale Tidy-Ups

New Home

Landscaping

• Lawns • Gardens • Decks

• Paving • Water Features

• Quality • Value for money

• Experienced • Punctual

• Professional • Flexible

• Knowledgeable • Reliable

Landscape Construction and Garden Maintenance

P: Ross Legg - 027 222 0388 E: ross@revivelandscaping.co.nz

www.revivelandscaping.co.nz
---
12 | SELWYN GARDENING GUIDE SPRING 2019

ADVERTORIAL

Trees and shrubs

for Canterbury conditions

Supplying high-quality evergreen and

deciduous trees and shrubs suitable for

Canterbury conditions is what Kiwiflora

Nursery does best.

New owner Nalin Gooneratne says, "Our

customers range from new subdivision

establishment, farms, lifestyle blocks,

plus town and city gardens." Nalin and

his team of eight staff have 25 years of

horticulture industry knowledge and

experience in the Canterbury region.

"We can offer our customers the right

advice on the right trees to plant for

successful tree establishment."

The locally owned and operated nursery

offers a wide range of trees and shrubs

in a number of sizes from the smaller

(0.5 - 1.0 litre) grasses and small-grade

(2.5 litre) grasses, flaxes, groundcovers,

shrubs and trees, through to the

medium-grade (6 - 20 litre) shrubs and

trees, and the large-grade (35 - 60 litre)

trees.

Established in 1995, Kiwiflora Nursery is

nestled in a quiet peaceful environment

in Templeton with plenty of space

for trucks and trailers. The company

supplies to retail and wholesale and also

freights nationwide.

Kiwiflora Nursery is situated at 851

Waterholes Road, Templeton with easy

access off SH1 or Shands Road and is

open Monday to Friday 8am to 4.30pm

and Saturday 9am-12pm. Phone

03 349 4582 or visit www.kiwiflora.co.nz

TREES | HEDGING | PLANTS | FLOWERS

GRASSES | SHRUBS | FLAXES

Kiwiflora Nurseries propagate and grow quality shrubs

and trees for retail and wholesale customers.

Plants are grown and hardened on site to tolerate the

harsh Canterbury growing conditions.

851 Waterholes Road, Templeton

Open Monday to Friday 8am-4.30pm and

Saturday 9am-12pm | Phone 03 349 4582

www.kiwiflora.co.nz

savIng green -

ConservIng blue

• FREE IRRIGATION DESIGN • WATER TREATMENT • WATER FILTRATION

the irrigation warehouse specialises in the design, sales,

installation and service of irrigation equipment for the

residential, lifestyle, commercial and industrial sectors.

we can help make sure your water systems are perfectly

designed and suited to your site and requirements.

PRICE

PROMISE

if you find a lower price

on an identical stocked

product locally we will

beat it by 10%.

Excludes trade and special

quotes, stock liquidations and

commercial quantities.

Residential irrigation

commercial irrigation

Lifestyle irrigation

industrial irrigation

Maintenance

The IrrIgaTIon Warehouse - ChrIsTChurCh

40 Carmen Road, Hornby | Phone 03 349 9488

Open Monday to Friday 7am-5.30pm, Saturday 9am-12pm

The IrrIgaTIon Warehouse - rangIora

308 Flaxton Road, Rangiora | Phone 03 313 0408

Open Monday to Friday 8am-5pm, Saturday 9am-12pm

visit www.tiw.co.nz for more information
---
Get outdoors

this summer

As spring morphs into summer, getting

your garden and outdoor living area

ready for the season should be high

on your list of things to do…

Build a potting bench

Save your back and build or buy a

workstation so you can pot those

plants in comfort and style. You can

build a potting bench from scratch or

convert an old table or dresser – just

make sure you place it in a sheltered

position. A potting bench is also a

great place to store smaller gardening

tools, spare pots and containers of

seed packets

Sit outside

Brighten up your outdoor dining and

living areas with modern, trendy look

with European inspired seating that

looks like it should be indoors. Versatile

and sleek, these funky powder-coated

metal chairs are hot for summer

and will add a pop of colour to your

outdoor setting or blend in seamlessly.

Team them up with natural timber,

glass or metal. Choose a design to suit

your style from replica bent wire, old

metal, contemporary wire mesh, or

hairpin legs.

Have a pizza party

Buy or build your own pizza oven and

invite guests over for pizza parties.

Tuck it into the corner of your outdoor

living area or include it in your patio

kitchen plan. It will not only be a focal

point for your guests but will also provide

a unique and fun dining option.

You supply the pizza dough, ask your

guests to bring various toppings – they

help put the pizzas together and even

cook them. Voila! The perfect evening's

entertainment!

Give your patio floor a lift

For something a little different try: a

mix of gravel and stepping stones or

pavers; stencil painted patterns onto

concrete; turn recycled concrete

pieces into crazy paving; give your

concrete a timber-look texture; or use

colourful, geometrically patterned

tiles. Try your artist's hand and incorporate

mosaics as a feature in your

design – use pebbles, bricks, or irregular

shaped stepping stones or broken

china to create your masterpiece.

And for a quick and easy option,

recycle timber pallets into a decking

– place them at right angles to each

other for an interesting pattern.

2 FOR 1 SPECIAL

OCTOBER

Hire for 2 days

and pay for 1 day!

(weekends only in October)

73 Hire rolleston

873 Jones Road, Rolleston

Phone 03 347 0450

73 Hire - Rolleston

www.73hire.co.nz

SELWYN GARDENING GUIDE SPRING 2019 | 13

73 Hire darfield

26 Horndon Street

Phone 03 318 8228

73 Hire

www.73hire.co.nz

XCV84U

Garden Supplies

• Soil • Bark • Sand • Compost • Chip & more

0274 313 389

www.xcv84u.co.nz

LEESTON

HIRE

2006 Ltd

• Excavators • Dingo • Trailers • General Equip • Chainsaws

• Log Splitters • Concrete Gear • Rotary Hoes • Lawnmowers

and much more!

info@leestonhire.co.nz | www.leestonhire.co.nz

(03) 324 3669

1552 Leeston Road

(1km North of Leeston)

Open 6 days. Closed Sunday & public holidays.

plant and

equipment Hire

open Monday to Saturday, 7.30aM-5pM

UP TO

50%

OFF PLANTS*

SPRING

*While stocks last!

WEEKDAYS 8:30 – 5PM

11 TH OCT – 18 TH OCT

1 WEEK ONLY!

WWW.GREENLINC.CO.NZ
---
14 | selwyn gardening guide spring 2019

Pines Resource

Recovery Park

183 Burnham School Road, Rolleston

Monday to Sunday, 9am–4.30pm*

(03) 347 2026

Eftpos and cash only (no credit cards)

Recycling

We accept household volumes of the following recycling free-of-charge:

Cardboard

(flattened)

Steel/tin

cans (rinsed)

Plastic bottles and containers

1–7 (lids off and rinsed)

Burnham Road

Main South Road SH1

Burnham School Road

Pines Resource

Recovery Park

Rolleston

Brookside Road

Du

Electronic waste

Glass bottles and jars

(lids off and rinsed)

Cleanfill

Charges apply

Bricks

Soil

Aluminum

cans

Concrete

Whiteware and

scrap metal

Clothing

Polystyrene

Hazardous Waste

Accepted free-of-charge (household volumes):

LPG

cylinders

Oil

Pesticides

Paper

Herbicides

Recycling

Charges apply

Tyres

Child car seats

Paint

Cleaning agents

Organics

Charges apply

TVs

Weeds

and leaves

Plasterboard

Florescent

tubes

Refuse

Charges apply

Batteries

General

waste

Tree prunings/

branches

Grass clippings

selwyn.govt.nz/pines

*Opening hours vary on public holidays
---
SELWYN GARDENING GUIDE SPRING 2019 | 15

Coming up

roses

It won't be long until the roses are

owering again. Pick a few highly

fragrant petals and create your own

rose petal sugar. Use in the shortbread

recipe below and give as gifts to your

gardener friends.

Rose Petal & Vanilla

Shortbread

1 Cup Unsalted Butter at room

temperature

1/2 Cup Rose Petal Sugar

(see recipe below)

1/2 Tsp Salt

1 Vanilla Bean, Scraped

2 Cups All-purpose Flour

Powdered Sugar (Optional)

1 Tbs Rose Petals

• Place the butter and sugar in a

bowl, and cream together with an

electric hand mixer.

• Add the salt, rose petals, and vanilla

bean, and mix until blended.

• Add the our and combine at low

speed until just mixed.

• Shape into a ball, wrap in plastic

wrap and refrigerate for at least two

hours or overnight.

• Preheat oven to 325 degrees F. and

line two baking sheets with

parchment paper.

• On a lightly oured surface, roll the

dough to a thickness of 1/2 inch

and cut with cookie cutter.

• Place the cookies onto the baking

sheets at least an inch apart, and

bake for about 12 to 13 minutes, or

until the cookies just begin to brown.

Cool completely before storing.

• OPTIONAL – dip shortbread corners

in melted white chocolate

ROSE PETAL SUGAR

• Remove petals from the rose,

ensuring they are free from ants and

any other visiting insects.

• Give them a quick bath in cold

water and allow to dry thoroughly

on a paper towel. You may wish to

snip the white ends of the petal.

• Prepare a dry, clean, dust free, air

tight container with a secure lid.

• Layer white sugar in the base of the

jar, then a single layer of rose petals.

• Repeat several times. Screw the lid

on tight.

• Leave in a dark room or pantry for

two weeks. Every few days shake

the jar to distribute the rose essence

and sugar within the jar.

• After two weeks the rose petals will

turn brown. Remove the petals and

seal the jar until you are ready to use

the sugar.

Get ready for summer

Kitset Children's

Play Table

Call in today for your free quote!

Kitset 1.8m

BBQ Table

NEW ENTRANCE: 167 Manion Road, Rolleston

Jason Pester P 03 347 7465 F 03 347 7032 E jason@cthl.co.nz

Mon-Fri: 7am-5pm Saturday: 8am-12pm

Canterbury

C T H Timber & Hardware

Kitset

Planter Boxes

We are here

MAINSCAPE

Garden Supplies

Making your great outdoors greater

SPRING SPECIAL

VEGE MIX

Buy 5 scoops get the 6th FREE or buy 6

scoops and get a FREE delivery

Come and see our range of garden supplies FREE loan trailers available.

ALL NEW 1.7ton

Kabota Digger

with tilt motor,

quick hitch and

3 buckets plus a

2.5 ton electric tip

trailer if needed

50mm

Premium

Bark

Nuggets

15 & 20mm

Waipapa

Lime Chip

Free loan trailer available!

Mainscape Garden Supplies

1543 Springs Road, Lincoln | Phone 021 241 7908 | Like us on

We are open 6 days: Monday to Friday 8am-5pm and Saturday 8am-3pm

www.mainscapegardensupplies.co.nz
---
16 | selwyn gardening guide spring 2019

Spring is here!

Have you visited Southern Woods Nursery lately?

Get your spring planting sorted

at Southern Woods

Our team have been busy developing our ever-expanding

nursery site and plant centre, in the middle of the

Southern Motorway project south of Christchurch.

Established in 1987, Southern Woods has been growing

millions of quality plants for over a generation. We're also

proud members and supporters of the Selwyn community.

Come and see our knowledgeable team about planning

and planting your spring project. With decades of

experience and horticultural training, our team of experts

can help with all your plant needs.

Selwyn's largest range of plants

We supply to residential, rural and commercial customers

across New Zealand, with Canterbury's widest plant

range. See us in store or online for:

• New Zealand natives

• Specimen trees

• Fruit and nut trees

• Landscape shrubs

• Ferns and shade loving plants

• Forestry and shelter species

• And plenty more!

/ southernwoodsnursery

Visit our

Great Plant Centre

Child and Dog friendly

Open 7 days

Spring Planting Tips

Spring is the one of the best planting seasons, this time of

year we have our largest range of plants.

Preparation is everything

Remember to prepare your soil before planting. Apply

compost and gypsum now for best results.

A great time to fertilise

Apply fertilisers to get the best colour out of your garden. We

recommend Grotabs and Yates Thrive Seaweed.

But if you can't Next make to it the in, new visit SH1 our overbridge awesome webstore! between Templeton & Rolleston

SH1 to Christchurch

southernwoods.co.nz

You can't miss us

Protect from pests and diseases

Pests and diseases thrive as your garden grows. Use Neem

granules and oil to help ward off any nasties.

It's the perfect time to mulch

Keeps the moisture in and the weeds out.

Need help?

See our expert team for free quotes, plant sourcing

landscape design, consultations and much more.

Easy left turn in from the north

1002 Robinsons Road

No right turn from Rolleston. Use Larcombs Road off SH1 or come off Selwyn Rd onto Robinsons Rd.

Open 7 Days - 1002 Robinsons Road, Between Templeton & Rolleston - Phone 0800 800 352 - Order Online New Zealand Wide southernwoods.co.nz