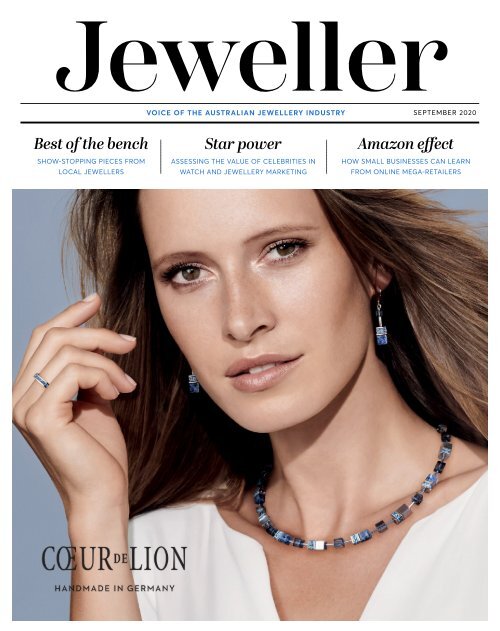 Jeweller - September 2020
Best of the bench: Show-stopping pieces from local jewellers Star power: Assessing the value of celebrities and ambassadors in brand marketing Amazon effect: How small businesses can learn from online mega-retailers
Best of the bench: Show-stopping pieces from local jewellers
Star power: Assessing the value of celebrities and ambassadors in brand marketing
Amazon effect: How small businesses can learn from online mega-retailers
SHOW MORE
SHOW LESS
You also want an ePaper? Increase the reach of your titles
YUMPU automatically turns print PDFs into web optimized ePapers that Google loves.
VOICE OF THE AUSTRALIAN JEWELLERY INDUSTRY SEPTEMBER 2020

Best of the bench

SHOW-STOPPING PIECES FROM

LOCAL JEWELLERS

Star power

ASSESSING THE VALUE OF CELEBRITIES IN

WATCH AND JEWELLERY MARKETING

Amazon effect

HOW SMALL BUSINESSES CAN LEARN

FROM ONLINE MEGA-RETAILERS
---
It all comes together at Palloys

A world first in jewellery production management

Your singular destination for all things jewellery

Combining AGS Metals|PJW, A&E Metals, Regentco and Palloys all in the one place, Palloys

1300 886 108 | AUSTRALIA WIDE

palloys.com
---
From our inventory, to yours...

BECOME AN OFFICIAL

STOCKIST

Due to an increase in enquiries from retail customers,

we are upgrading the online presence of our stockist

function on our website. It's another way O'Neils Affiliated

are trying to keep the Australian Jewellery industry

vibrant and busy in the face of overseas and online sales.

Please visit www.oagems.com

or call our friendly team on 03 9654 5200

for more information.
---
Only $6,495 USD

yehuda.com +1.212.221.5985
---
THE SHErlOck HOlmES 2.0

lab-Grown Diamond Detector

by

12 Synthetic Diamond Detectors that can check multiple stones and

jewellery were tested by the ASSUrE Program.

ONlY 2 were found to detect All of the Synthetic Diamonds tested.

Thus, giving you 100% PrOTEcTION!

For your convenience, please check out the table below for the synthetic detection rate of

all 12 detectors that can test multiple stones and jewellery at once.

Manufacturer

Detector

Synthetic Diamond

Accuracy (%)

Price in

$USD

Yehuda

The Sherlock

Holmes 2.0

100% $6,495

De Beers Group SYNTHdetect 100% $18,500

NGTC GV5000 99.00% $43,200

DRC Techno J-Smart 89.40% $22,499

Arotek/GII QChKAdC 88.90% $7,700

DRC Techno D-Secure+ 85.90% $11,999

DRC Techno J Detect 9000 85.40% $9,999

Gemometrics GemPen 84.90% $2,300

DRC Techno J.Mini 84.40% $6,499

Massive Tech Lab G-certain 82.40% $9,999

Massive Tech Lab J-Certain 80.40% $13,999

Taidiam Technology

DiamondDect 5

(HPHT only)

77.40% $5,730

Scan the QR Code below to read the full report of the Assure Program

performed by UL Laboratories, and see for yourself.

yehuda.com
---
S A MS GR O UP

A U STRA L I A

WE'LL RISE ABOVE THE STORM

These are unsettling times, with COVID-19 impacting our

professional lives and those close to us. We understand it

is challenging to operate under current restrictions, however

we're getting through this together one day at a time and

there is a light at the end of this tunnel.

Despite the circumstances, take care and make time to

do the things you love with the people you love; it's

never been more important to support one another, remain

positive and keep smiling.

Wishing you a safe passage through this difficult period.

We'll rise above the storm.

Steve Der Bedrossian

CHIEF EXECUTIVE OFFICER

ARGYLE PINK

DIAMONDS

Semi Precious Jewellery

T: 02 9290 2199 F: 02 9262 1630 E: Pink@samsgroup.com.au W: Samsgroup.com.au
---
SEPTEMBER 2020

Contents

This Issue

8 Upfront

10

FACTS & FIGURES

COVID-19 Update

12 News

25

LEARN ABOUT GEMS: BACK IN TIME

Peaches and pinks: a peek at Padparadscha

26 Jewellers Showcase

30 MARKETING FEATURE

Celebrity sellers

4What is the value of a famous face?

Jeweller examines the power of celebrity

endorsements in the watch and jewellery

sector and reviews iconic campaigns.

Feature

30

MARKETING FEATURE

Brand ambassadors: More than face value

Better Your Business

47

BUSINESS STRATEGY

CHRIS PETERSEN reveals how small businesses can survive online competition.

25

LEARN ABOUT GEMS

4Peek at the

peaches and pinks

of the Padparadscha

sapphire

50

52

54

56

SELLING

Hone your sales skills in everyday situations, advises SUE BARRETT.

MANAGEMENT

Bigger isn't always better when it comes to business, writes KARYN GREENSTREET.

MARKETING & PR

DALE FURTWENGLER explores the conflict between marketing and sales strategies.

LOGGED ON

You don't need to spend big to attract online customers, says HARSH AJMERA.

26 JEWELLERS SHOWCASE

Across the bench

4A dazzling showcase of

outstanding pieces by talented

jewellery designers from around

Australia and New Zealand.

FRONT COVER

Timelessly beautiful,

Coeur de Lion marries

clear, minimalist design with

unusual colour combinations

to create jewellery that is both

beautiful and unconventional.

September 2020 | 7
---
Upfront

#Instagram hashtags to follow

Alpha Order

#cuffbracelet

170,177+ POSTS

#futureheirlooms

183,427+ POSTS

#paraibatourmaline

66,780+ POSTS

#preciousstones

339,768+ POSTS

Stranger Things

Weird, wacky and wonderful

jewellery news from around the world

Obama-rama

#jewelleryideas

22,931+ POSTS

#jewelsofinstagram

302,442+ POSTS

#marquisediamond

42,981+ POSTS

HISTORIC GEMSTONE

Andamooka

Opal

Ahead of the Royal Tour of Australia in

1954, the South Australian government

commissioned Melbourne opal company

Altmann & Cherny to source a specimen

of exceptional quality to be presented to

Queen Elizabeth II (right).

#rubyring

104,044+ POSTS

#sculpturaljewelry

40,844+ POSTS

#wriststyle

42,629+ POSTS

The result was the Andamooka Opal, a 203-carat crystal opal

of incredible size and intensity from the Andamooka opal fields.

Adelaide jeweller Wendts set the gemstone in a palladium-anddiamond

necklace, with matching earrings and cufflinks. The set

remains part of Her Majesty's personal jewellery collection and was

displayed at Buckingham Palace in 2009.

Trendspotting

4Playful jewellery is one of the most

popular trends of 2020 – and with

warm spring weather on the horizon,

consumers are turning to fun, almost

child-like accessories to express

themselves. From friendship bracelets

to brightly-coloured beads and novelty

themes, playful jewellery is fair game.

4A gold necklace bearing the

slogan 'vote', worn by former

US First Lady Michelle Obama at

the recent Democratic National

Convention broadcast, has brought

huge exposure to small jewellery

brand By Chari. Founder Chari

Cuthbert said she had experienced

a "massive influx in orders and

press inquiries" and "non-stop text

messages, emails and phone calls"

since Obama wore the piece.

Secrets of the grave

4A Polish cemetery has yielded

a treasure trove of ancient

jewellery. Analysis of more than

3,500 pieces – which were crafted

by the Goth and Gepid tribes –

showed they were famliar with

granulation, fire gilding, and

filigree techniques. Intriguingly,

the gold and silver used was of

unexpectedly high purity; it is

still unknown how the tribes

refined the metals, as no refining

equipment has been found.

Almost 40

Australian banks,

including Suncorp,

have enabled

their cards to be

processed by Eftpos

for card-on-file

digital payments.

Digital Brainwave

Eftpos has introduced a new digital payment

option for Australian businesses who accept

card-on-file payments from customers – that

is, a card that has been securely stored in

order to make regular payments.

Stephen Benton, CEO Eftpos, explained, "It

is early days but the service will increasingly

enable more small and medium businesses

to have Australia's most popular cards –

multi-network debit cards – processed by

Eftpos, and potentially deliver significant

cost savings. These potential savings are

particularly important for small businesses

during COVID-19 and recovery."

Top Product

Ahead of Father's Day, all eyes are on

masculine accessories. The Hardware

By Cudworth Dog Tag Pendant is

crafted from ion-plated black stainless

steel in a tyre pattern, with a 55cm

chain. Matching cuff, cufflinks and rings

available. Distributed by Cudworth.

Robbery rouse

4An Indian jeweller has fallen

afoul of authorities after "scripting

his own armed robbery".

According to local reports, the

jeweller claimed a burqa-clad

woman entered his workshop and

robbed him of more than 2.5kg

of gold jewellery and bullion at

gunpoint. However, CCTV footage

found the interaction between

the two was "very civilised" and

"somewhat friendly". He later

confessed to staging the robbery in

order to collect insurance money.

VOICE OF THE AUSTRALIAN JEWELLERY INDUSTRY

Published by Befindan Media Pty Ltd

Locked Bag 26, South Melbourne, VIC 3205 AUSTRALIA | ABN 66 638 077 648 | Phone: +61 3 9696 7200 | info@jewellermagazine.com

Publisher & Managing Editor Angela Han angela.han@jewellermagazine.com • Assistant Editor Arabella Roden arabella.roden@jewellermagazine.com

Advertising Toli Podolak toli.podolak@jewellermagazine.com • Accounts Paul Blewitt finance@befindanmedia.com • Subscriptions info@jewellermagazine.com

Copyright All material appearing in Jeweller is subject to copyright. Reproduction in whole or in part is strictly forbidden without prior written consent of the publisher. Befindan Media Pty Ltd

strives to report accurately and fairly and it is our policy to correct significant errors of fact and misleading statements in the next available issue. All statements made, although based on information

believed to be reliable and accurate at the time, cannot be guaranteed and no fault or liability can be accepted for error or omission. Any comment relating to subjective opinions should be addressed

to the editor. Advertising The publisher reserves the right to omit or alter any advertisement to comply with Australian law and the advertiser agrees to indemnify the publisher for all damages or

liabilities arising from the published material.
---
BROUGHT TO YOU BY

BON BON GUY PROMOTIONS

Make this your best Christmas ever!

Increase your December sales by 38% *

* 38% is the first time participant average increase on usual Christmas sales

The concept is simple. For any customer who spends $150 or more instore, they get to

pick a bon-bon off the Christmas tree. Each bon-bon contains a beautiful quality piece

of jewellery, with one containing a stunning grand prize of a $3,000 diamond ring.

The real success of the promotion however, is in the details which we've developed and

refined to a science over 18 years – and now the complete formula is available to you!

Cost includes:

• Bon Bons (with hat, joke and novelty gift)

• High quality jewellery prize (packed in Bon Bon ready to go)

• Complete POS Kit (Posters, banners show cards etc)

• Social Media Kit + Comprehensive 'How-to' manual

• Phone support

All you have to do is nothing - it's all done for you!

Average Bon Bon Investment is approx. $5,990 inc GST

(Based on $200k December turnover - higher if more and lower if less)

"Best

promotion we

have ever done!"

"Everything

is done for you it

couldn't be any

easier!"

REAL TESTIMONIALS FROM OUR RETAILERS

"Had

to do my rerders

at night

because we were

just way too busy

during the day"

"My

staff loved it

and everyday was

like a Christmas

Party"

"My marketing

spend was the same as

previous years but we

made an extra $85,000

with the BonBon Guy!"

"We

increased

Christmas

trade by 70%"

"All

I had to do

was supply my

logo"

"Our part-time

and casual staff

went full-time... we

were so busy!"

"Best

Christmas trade

in 30 years!"

"Biggest

December trade

since we started...

Amazing!"

"It's a

no-brainer"

"We

were up

58% first

year"

"Just do it, you

won't regret it"

"We

were crazy

busy"

"Awesome

atmosphere in the

store, everyone had

fun"

Of all opportunities this Christmas, don't let this one slip by!

Call Adam on 0408 435 801 and secure your area now!
---
COVID-19 Update

12%

retail turnover increase

for July 2020, when

compared with July 2019

* Australian Bureau of Statistics

24 October

removal of capacity restrictions

on West Australian businesses

with introduction of 'phase five'

$600,000

package to support

advocacy groups such as

Tenants Victoria to support

vulnerable businesses and

assist in rent mediation

The ANZ-Roy Morgan Consumer

Confidence Rating for the week

of 22 August rose to 92.7, the

highest it has been since 27

June and up 42 per cent since

March's record low of 65.3

* ANZ-Roy Morgan Survey of 1,547 Australians

SALLY CAPP

LORD MAYOR OF MELBOURNE

"There is cautious optimism...

Because we can start to see

that finish line, we can start

to feel hopeful that our businesses

can open their doors again but

only if we continue to see this

good progress. The need across

our small businesses particularly

is enormous and we need to

keep responding."

BILL EVANS

CHIEF ECONOMIST, WESTPAC

"I have never seen a more uncertain

economic outlook than we currently

face both domestically and globally.

With the stage four restrictions

now likely to stay in place for most

of September, Victoria's recovery

will be delayed until the December

quarter when we expect the 9 per

cent loss in the September quarter

to be partially reversed."

NOLA WATSON

CEO, BUSINESS NSW

"Early indications are that while

[the extension of JobKeeper

payments until March 2021 has]

reduced the number of apprentice

cancellations and suspensions,

more is needed to support

new apprentices and create

employment opportunities for

young people."

5%

increase in credit and

debit card spending

for the week ending 21

August, compared with

the same week in 2019

* Commonwealth Bank of Australia credit and

debit card data analysis

50,000

estimated shortfall

of apprentices in 2021

without additional

government support

and funding

* Business NSW report, 'Skilling Australia

for a better future'

26,000

number of rent relief

agreements registered with

Consumer Affairs Victoria over

the four months to August 2020

* State Of The States September 2020 Economic

Performance Report, CommSec

John Carter from the

US, India's Anantha

Padamanaba,

Steven Tranquilli

from Italy, and Hong

Kong-based Alan

Chan will share

insights.

CIBJO

4The second season of

CIBJO's webinar series

Jewellery Industry Voices begins

on 3 September with 'Gearing

Up for the Holiday Seasons

During a Pandemic'.

The internationally-focused

webinar features senior

members of the jewellery

industry discussing retail

strategies, including

e-commerce, safety protocols,

the likely mood of holiday

shoppers, inventory and pricing.

The digital Fair

will include

sections for

jewellery,

loose gems

and diamonds,

services, displays

and equipment.

Jewellery & Gem

Digital World

4Informa Markets, the

organiser of international

jewellery trade shows

including the Hong Kong

Jewellery & Gem Fair, has

announced a new 'bespoke

digital event', Jewellery &

Gem Digital World.

Th event will take place from

27-29 October 2020 and will

include product and servicebased

exhibitions as well

as webinars.

Jennifer Shaheen

will cover how

retailers can best

leverage customer

information

from the likes

of Facebook and

Google Ads.

National Jeweler

4US jewellery industry

publication National Jeweler

will begin the next series of

its My Next Question webinar

series in September.

On 15 September, associate

editor Lenore Fedow and

Jennifer Shaheen, president

The Technology Therapy

Group, will discuss using

data to increase customer

knowledge and sales in

'How to make the most of

your data'.

10 | September 2020
---
NEW: Bronzallure, Diamonds by DGA, JAG, and

discover the new Charming collection by THOMAS SABO

Duraflex Group is here to support you during this recovery period,

and to help you succeed in 2020 and beyond. We are open to discussing

anything you need such as extended payment terms to assist your

business during this challenging time.

Phil Edwards

MANAGING DIRECTOR, DGA

For more details please call (02) 9417 0177 and talk to your Sales Executive to discuss.
---
News

Gold dealers linked to 2017 Melbourne robberies sentenced over stolen goods

The three men were initially charged with

more than 450 offences each, but a deal with

prosecutors saw them plead guilty to single

charges earlier this year.

On 25 August, Judge Johns sentenced Alejandro

Mendieta Blanco, 34, to four months in jail and

a two-year community corrections order for

purchasing stolen property valued at $29,000.

He noted that Mendieta Blanco had immigrated

to Australia alone as a teenager, and had built

a successful business as well as supporting

charitable causes.

Alejandro Mendieta Blanco (above) and his brother Julio have been sentenced for their roles in purchasing jewellery

and watches stolen from Melbourne stores in 2017.

However, he called it "a great shame" that

his good reputation had been "sullied" by

"succumbing to the temptation of easy money

by dishonest means".

Colombian-born brothers Alejandro and Julio

Mendieta Blanco, who previously operated the

Gold Buyers Melbourne business, have been

sentenced after pleading guilty to receiving stolen

goods linked to the 2017 Melbourne jewellery

store robberies.

The pair were arrested in October 2017 following

police surveillance and an undercover operation,

which found the brothers and a long-term

employee, Chey Tenenboim, were purchasing

gold jewellery and watches without asking for

identification, as is legally required.

On 25 August, Judge Johns sentenced Alejandro

Mendieta Blanco, 34, to four months in jail and

a two-year community corrections order for

purchasing stolen property valued at $29,000"

In a previous hearing, Judge Scott Johns, of the

County Court of Victoria, described their actions

as "acting as a customer for the thief" and "very

dishonest".

The Age and The Sydney Morning Herald report

that Gold Buyers Melbourne recorded turnover

of $66 million in the 2015-16 financial year.

Mendieta Blanco previously flaunted a luxurious

lifestyle on social media; in June 2017, four

months before his arrest, pop star Delta

Goodrem had serenaded him at his 30th birthday.

Julio Mendieta Blanco, 37, was sentenced to

a two-and-a-half-year community corrections

order after pleading guilty to receiving stolen

goods valued at $45,000, but was spared jail.

The Age reports that he had read a letter in court

expressing remorse and apologising to those who

had been robbed; he also claimed to have been

CONTINUED ON PAGE 22

New Australia-first diamond resource now available for jewellery retailers

involved with the selection of the diamond for their

custom-made piece of jewellery.

It will also allow the retailer to communicate their

diamond expertise to the client during the search

process." Meanwhile, the Wholesale Price Portal

allows for quick price comparisons, allowing retailers

to find the best value diamond that meets their

specifications.

Global Diamond Vault is designed to assist retailers in sourcing the best value stones, both at wholesale and

alongside customers.

Following a three-year development process,

the Nationwide Jewellers buying group has now

launched Global Diamond Vault, a diamond-sourcing

program that lists more than 20,000 stones from

suppliers in Australia, New Zealand, Antwerp,

Mumbai, Hong Kong and New York.

The program allows Nationwide members to easily

compare diamonds from the group's preferred

suppliers using a range of different search filters, and

includes both a Wholesale Price Portal and Retail

Price Portal – the latter of which has been designed

for retailers to use in conjunction with customers.

While there are several international digital diamond

sourcing platforms currently operating – including

the World Federation of Diamond Bourses' Get

Diamonds and Rapaport's RapNet – it is believed

the Global Diamond Vault is the first one available to

jewellers in Australia and New Zealand that includes

an integrated customer-focused facility.

Colin Pocklington, managing director Nationwide,

said, "We expect the Retail Portal to be very popular

with customers, as it allows them to be highly

"We expect the Retail Portal to be

very popular with customers, as it

allows them to be highly involved with

the selection of the diamond for their

custom-made piece of jewellery"

– Colin Pocklington, Nationwide Jewellers

Pocklington said the Global Diamond Vault

represented another addition to Nationwide's

existing diamond marketing programmes, including

the annual Antwerp diamond-sourcing trip which

will be held as a virtual event in September.

12 | September 2020
---
NEW

NEW SPRING SUMMER 2020 COLLECTIONS

Timesupply

jewellery + watches

p +61 (0)8 8221 5580

sales@timesupply.com.au | timesupply.com.au

exclusive distributor AU & NZ
---
Rare colour diamonds found at Ellendale site

The simplest time teaching

system for children

Be Smart | Be Cool

12 months warranty

The fancy yellow diamonds – unearthed by India Bore Diamond Holdings – display a rare purple fluorescence.

Bright Colours • Interchangeable Straps

Cool Designs • Perfect Gift Idea

Their parents are

your existing customers.

EasyRead fashion watches feature a

unique time teacher dial that children

understand, with a step by step system

they can easily remember.

AWARD WINNING DESIGN

Speak to Roger on 0418 970 214

Australian mining company India Bore Diamond

Holdings (IBDH) has unearthed yellow diamonds

with a rare purple fluorescence at the Ellendale

diamond field in Western Australia.

The natural fancy colour diamonds belong to a

"large alluvial diamond deposit" and display the

"highly attractive" fluorescence under ultraviolet

light. Patrick Stringer, director IBDH, said, "The

purple colour came as a complete surprise and

may indicate that a new primary source of

diamonds is nearby.

"So far, we know that these special diamonds

are contained within a specific area known as the

L-Channel. We have a very detailed understanding

of the L-Channel deposit, but we never expected to

discover that brilliant fancy yellow diamonds would

fluoresce purple."

Fluorescence is caused by variations in the atomic

structure. According to the Gemological Institute

of America (GIA), approximately 25–35 per cent

of diamonds show fluorescence, with the most

common colour being blue. Diamonds can also

display yellow, orange, red, white, and green

fluorescence – however, this is considered rare.

While fluorescence is not a grading factor, unlike

colour, clarity, cut, and carat, it is included in GIA

grading reports.

Some consider fluorescence undesirable, believing

it creates a "milky", "hazy" or "oily" appearance

in white diamonds. However, Russian mining

conglomerate Alrosa – the world's largest diamond

producer by volume – recently began marketing

naturally fluorescent stones under its Luminous

Diamonds brand.

IBDH has tasked Delta Diamond Laboratory in

Perth with further investigating the nature of the

Ellendale diamonds' unusual fluorescence.

John Chapman, a scientist with Delta Diamond

Laboratory, said, "Violet or purple fluorescence

is normally associated with blue diamonds, so

the fluorescence of these Ellendale fancy yellow

diamonds is quite rare."

"The purple colour came as a complete

surprise and may indicate that a new

primary source of diamonds is nearby. So

far, we know that these special diamonds

are contained within a specific area"

– Patrick Stringer, India Bore Diamond Holdings

The Ellendale diamond field is estimated to contain

at least 1.3 million carats of gem-quality diamonds,

including fancy yellow diamonds. IBDH is one of two

companies currently exploring diamond deposits in

the region, which is located approximately 135km

east of Derby in the West Kimberley.

ASX-listed Gibb River Diamonds – formerly known

as POZ Minerals – was granted exclusive mining

and exploration leases for another section of the

site in January 2020; the main Ellendale Mine had

lain dormant for five years following the liquidation

of its previous operator, Kimberley Diamond

Company.

Ellendale – which has been producing diamonds

since 1976 – was once the world's premier source

for yellow diamonds. With the closure of the Rio

Tinto-operated Argyle Mine at the end of 2020, it

remains the most promising option for Australian

commercial diamond production.

info@easyreadtimeteacher.com

www.easyreadtimeteacher.com
---
While the Coronavirus has had a devastating impact

on the industry, we have been able to focus on

strengthening our internal infrastructure to provide you

with better service and a greater business advantage.

B 2 B B U S I N E S S P O R TA L

You can check new arrivals, availability of

stock, delivery status and place orders in

one easy place.

O N L I N E I NTE G R AT I O N

Upload hundreds of products to your

website with one click. No more manually

entered items.

D R O P S HIP P I N G

Double your stock holding without any of

the costs of carrying the stock. We pick, we

pack and we deliver for you.

V I R T U A L M E E T I N G S

Virtual meetings allow us to meet you safely

wih more samples on hand. Plus, our sales

staff don't take up space in your store.

B R A N D U P A T E S

MASER ATI

G EORG INI

OUI & M E

M ORELL ATO

MAU RICE L ACROIX

This January we

launched the Maserati

watch range. This

premium Italian Lifestyle

Collection is the epitome

of quality and style.

Since taking over

Georgini in April last

year, Georgini has

grown by an incredible

67% in the quarter

leading up to Christmas.

We are set to launch

popular French brand

'Oui & Me', a well-priced,

feminine watche brand

with floral and pastel

motifs. Available August.

Next month, we are

relaunching Morellato

Watch Straps, including

the ever popular 'Easy

Click' and 'Green'

Collections.

We re-launched the premium

Swiss brand Maurice Lacroix

into Australia and New

Zealand in late 2019. Since

this time, the new Aikon

Sports Automatics have

proven to be best sellers.

WWW.W E S T E N D C O LLE C T I O N . C O M . A U
---
News

In Brief

Buying group launches 2020

Apprentice of the Year Competition

De Beers reduces

diamond prices

4 Following a 54 per cent drop in revenue

for the first half of 2020, De Beers will cut

the price of rough 1-carat diamonds by

9 per cent, according to multiple media

reports. The decision was reportedly

motivated by sluggish demand and

increased competition from smaller

mining companies. The price of smaller

stones will remain unchanged. De Beers

previously announced a reduced production

target of 25–27 million carats for 2020.

Tiffany Diamond makes

film debut

4The Tiffany Diamond will make its

first film appearance in the upcoming

Agatha Christie mystery Death On The

Nile. The 128-carat canary yellow stone,

which is set in a diamond necklce, will

be worn by actress Gal Gadot. Just three

other women have donned the diamond

since it was unearthed in 1877: socialite

E. Sheldon Whitehouse, actress Audrey

Hepburn, and entertainer Lady Gaga.

Rare Rolex sets auction

house record

4A 1978 Rolex Military Submariner has

broken the watch sale record of auction

house Fellows, being sold to a telephone

bidder for £165,200 ($AU299, 390). The

watch is one of just 1,200 models which

were manufactured for British Special

Forces and never available for public

purchase. Fellows set a price guide of

£55,000–70,000, which was exceeded

during a five-minute bidding war.

442-carat diamond

found in Lesotho

4Mining company Gem Diamonds has

reported the discovery of a 442-carat

Type II white diamond at its Letšeng

mine in Lesotho, in southern Africa. The

stone is the largest gem-quality diamond

to be unearthed at the mine this year

and the second-largest from Africa,

surpassed only by the 549-carat stone

mined by Lucara at the Karowe Mine in

Botswana. The Letšeng stone's value is

estimated at $US18 million.

Judy Cameron – who will join the judging panel this year – presents the Nathan Cameron Perpetual Trophy

to the 2019 Nationwide Jewellers Apprentice of the Year, Jessica Garbo of Penrith Jewellery Workshop.

The Nationwide Jewellers buying group

has kicked off its annual jewellery design

and manufacturing competition for

apprentices in Australia and New Zealand,

marking the ninth year of the contest.

Entry forms have been sent to Nationwide

members across the two countries, and

apprentices working in all member stores

are invited to compete.

For the first time, the Apprentice

of The Year Competition will be

structured around a detailed

customer brief with thoughts,

ideas, and budget included.

The new format is designed to reflect the

market demand for custom-made jewellery,

with the complexity of the brief varying for

each of the four apprentice years.

Entrants will be judged on their ability

to interpret the brief in a professional

manner, as well as project a quote for the

design at wholesale and retail.

The brief has been set by Niven

McArthur, merchandise and marketing

director Nationwide, who is a qualified

manufacturing jeweller.

"We see continued strong growth in

custom design, and the need for young

jewellers to develop their skills in working

with customers, and project costing,

to ensure a successful and profitable

outcome," McArthur said.

Entrants have until 2 November 2020

to submit their finished entry, with the

winner announced in mid-November.

They will be awarded the Nathan Cameron

Perpetual Trophy and a prize valued at $1,000.

Judy Cameron, of Camerons Fine Jewellers

in Swan Hill, Victoria, will be part of the

judging panel, alongside McArthur and

Nationwide's diamond and gemstone expert,

Cindy Eidukevicius-Jones.

"We see continued strong growth

in custom design, and the need

for young jewellers to develop

their skills in working with

customers, and project costing,

to ensure a successful and

profitable outcome"

– Niven McArthur, Nationwide Jewellers

The contest has been slightly delayed

this year by the COVID-19 pandemic; it

was initially scheduled to begin in June,

with the winners announced at the

International Jewellery & Watch Fair.

Previous winners include Jessica Garbo

of Penrith Jewellery Workshop in western

Sydney, who won in 2019, Mikaela Donovan

of Georgies Fine Jewellery in Narooma

in 2018, and Ryan Kitchen of Diamond

Boutique in Canberra in 2017.

16 | September 2020
---
US court overturns judgment in $29 million Tiffany &

Co. counterfeit case against Costco supermarket

The seven-year counterfeit dispute between Tiffany & Co. and discount supermarket chain Costco will be retried after a judgment

against Costco was overturned on appeal. Image: Two rings sold by Costco with the 'Tiffany' descriptor, The Fashion Law

The US Court of Appeals for the Second Circuit has

overturned a judgment against discount supermarket

chain Costco over its use of the Tiffany & Co.

trademark, which would have seen it liable to pay

$US21 million ($AU29 milion) in damages.

The dispute – which has proceeded through US courts

for more than seven years – centres on a collection

of six-prong diamond engagement rings sold by

Costco with the descriptor "Tiffany" on the tags and

in-store signage. It is estimated that 3,349 customers

purchased the rings from Costco, netting it $US3.7

million in profits; it sold a 1-carat platinum solitaire

ring with VS clarity for $US6,399.99, while a similar

ring on the Tiffany & Co. website retails for $US13,400.

Costco twice appealed a summary judgment in Tiffany

& Co.'s favour, handed down by Judge Laura Taylor

Swain of the US District Court for the Southern District

of New York, resulting in the case being referred to the

Second Circuit.

In its appeal filing, Costco argued that the rings

did not meet the standard for counterfeiting as

they bore "non-Tiffany trademarks", were not

sold in Tiffany-branded packaging, and were not

accompanied by Tiffany & Co. paperwork.

In a 3-0 decision handed down on 17 August 2020,

the Second Circuit upheld Costco's appeal, ruling

that the lower court had erred in making a summary

judgment in Tiffany's favour and that the case must

be retried by a jury.

The judgment stated, "A jury could reasonably

conclude that consumers of diamond engagement

rings would know or learn that 'Tiffany' describes a

style of setting not unique to rings manufactured by

Tiffany, and [could] recognize [sic] that Costco used the

term only in that descriptive sense."

The court also held that reasonable consumers would

determine that the rings were not manufactured by

Tiffany & Co. based on factors such as price, place of

purchase, and packaging.

Leigh Harlan, senior vice-president, secretary

and general counsel Tiffany & Co., said, "We are

disappointed in the Court's ruling, which finds that a

jury, rather than the judge, should have decided the

question of liability in the first trial.

"We continue to believe that the District Court was

correct in its findings, and that the jury's finding on

damages, which resulted in a $21 million award

for Tiffany & Co., is a clear indicator of the strength

of the Tiffany brand, and of the jury's outrage over

Costco's actions.

She added that company had "no qualms about trying

this case again" and said Tiffany & Co. "remained

confident" a jury would find in its favour. At the time

of publication, representatives for Costco had not

commented publicly on the Court's decision.

In its initial filing against Costco in 2013, Tiffany & Co.

argued that the Costco rings constituted trademark

infringement and counterfeiting, as it was possible

customers were misled to believe that the rings

were indeed manufactured by Tiffany & Co. It also

contended that Costco had instructed its jewellery

suppliers to copy Tiffany & Co. ring designs.

Costco countered that the descriptor "Tiffany" simply

referred to the six-prong setting of the rings and that

"Tiffany setting" could be considered a generic term in

the jewellery industry.

Judge Swain ruled in Tiffany's favour in 2015,

stating, "Based on the record evidence, and despite

[its] arguments to the contrary, no rational finder of

fact could conclude that Costco acted in good faith

in adopting the Tiffany mark."

A jury later awarded Tiffany & Co. $US13.75 million,

representing lost profits and punitive damages.

Judge Swain later dismissed a Costco appeal in

2017, increasing the amount owed to Tiffany & Co.

to $US21 million.
---
News

Hong Kong trade show

cancelled, replaced with

digital event

GIA updates lab-grown diamond grading reports

The Hong Kong Trade Development Council (HKTDC)

has announced that the Hong Kong Watch & Clock

Fair, which was scheduled to take place on 1–5

September, has been cancelled.

The decision was announced on 14 August, following

the tightening of COVID-19 restrictions by the Hong

Kong government.

In a statement posted online, HKTDC management

said, "The Hong Kong Special Administrative

Region Government has tightened various disease

prevention and control measures and extended

entry restrictions for incoming visitors, while many

countries and regions have also issued travel alerts

and implemented quarantine measures.

"These mean that overseas exhibitors and buyers

will have great difficulty joining the HKTDC Hong

Kong Watch & Clock Fair."

"We believe Autumn Sourcing Week

Online will carry on the momentum

to assist global exhibitors and buyers

overcome some of the challenges during

these trying times"

– Hong Kong Trade Development Council statement

Following discussions with industry representatives,

the HKTDC will shift the fair to a digital format as

part of the HKTDC Autumn Sourcing Week Online

(ASWO) event, to be held from 16–27 November.

A similar digital event, HKTDC Summer Sourcing

Weeks Go Online, was successfully conducted

earlier this year.

"We believe Autumn Sourcing Week Online will

carry on the momentum to assist global exhibitors

and buyers overcome some of the challenges

during these trying times," the HKTDC statement

said. "The business matching and virtual meeting

features offered by ASWO will help boost business

connections."

Further details of the November event will be

announced in due course. The next Hong Kong

Watch & Clock Fair will take place from 7–11

September 2021.

Several other Hong Kong-based shows have

been postponed or cancelled amid the COVID-19

pandemic.

These include Jewellery & Gem Asia, organised

by Informa Markets, and the HKTDC's Hong Kong

International Jewellery Show and Diamond, Gem

& Pearl Show, which was postponed twice in 2020

before being cancelled.

Starting later on in 2020, GIA reports will include the same colour and clarity grades for both synthetic and

natural diamonds.

The Gemological Institute of America (GIA)

has confirmed it will use the same clarity and

colour grades on its reports for lab-grown

diamonds as it does for natural stones,

starting in the fourth quarter of 2020.

The change was announced at the recent

JCK Virtual event, with Susan Jacques, CEO

GIA, saying that the decision was made to

reflect "consumer demand".

"We want to make sure that consumers are

educated, that we can protect their trust in

the gem and jewellery industry as well as the

products they are buying.

"As consumers adopt this new category,

it's important that we evolve with the new

consumer," Jacques explained.

Previously, GIA reports for lab-grown diamonds

– which it has offered since 2006 – used general

descriptions in the colour and clarity sections,

rather than the specific grades that are standard

for natural diamonds.

GIA began producing synthetic diamonds

in 2016 in order to better understand their

unique properties.

Belgian organisation HRD Antwerp

harmonised its natural and lab-grown colour

and clarity grades in March 2019, while

International Gemological Institute (IGI) has

offered full standardised reports for labgrown

diamonds since 2005.

In a statement, IGI management said, "We

are proud to have been the first institute

to enter this arena, instilling confidence in

lab-grown diamond grading for the entire

industry – from manufacturers and retailers

to consumers – since 2005.

"We are proud to see other organisations

adopt our long-held philosophy regarding the

dual-channel legitimacy of natural and labgrown

diamonds, and believe professionals

and consumers alike will benefit from the

increased transparency in our industry."

Roland Lorie, CEO IGI, told Jeweller, "While

other labs decided to focus only on a grading

system for natural diamonds, IGI took the

risk of certifying lab-grown stones, even

when volume was minimal, because we not

only thought it was the right thing to do, but

had an inclination that the industry would

one day embrace these diamonds.

"We want to make sure that

consumers are educated, that we

can protect their trust in the gem

and jewellery industry as well as

the products they are buying"

– Susan Jacques, Gemology Institute of America

"We wanted to ensure consumers knew

exactly what they were buying, so they could

be confident in their purchases."

He added, "In the last year, lab-grown

inventory and prominence have drastically

increased, resulting in an interesting

financial opportunity for our industry. "Today,

major gemological labs want to get their

share of the growing business."

The GIA announcement came two weeks after

another US organisation, American Gem Society

Laboratories (AGS), resumed grading lab-grown

diamonds seven years after it abandoned the

practice due to lack of demand.

The AGS reports use standard grading

terminology but add the denomination 'LG' to

indicate the diamond's synthetic origin, note

the method of manufacturing – such as

CONTINUED ON PAGE 22

18 | February 2020
---
Peter W Beck is looking to the future by

focusing on what we do best – delivering

high quality Australian made precious metal

products and services that you can rely on.

We want to assure you that Peter W Beck is

by your side through this transition period

as we emerge into a new normal for retail.

OUR TEAM IS HERE TO SUPPORT YOU:

Toll Free 1800 888 585 | Email customerservice@pwbeck.com.au

14 Duncan Court, Ottoway Park, SA, 5013 Australia

Toll Free 1800 888 585 | Email customerservice@pwbeck.com.au | Web www.pwbeck.com.au
---
Largest-ever Russian colour diamond

unearthed in remote Yakuta region

The 236-carat "natural and intense yellow-brown" stone was mined at Ebelyakh in the remote

region of Yakutia, and is currently being assessed by Alrosa specialists.

A subsidiary of Alrosa has discovered the largest natural fancy colour

diamond ever found in Russia, weighing 236 carats.

The stone is described as having an "natural and intense yellow-brown

colour" and was mined at the Ebelyakh deposit in the remote region of

Yakutia. It is estimated at between 120 and 230 million years old.

Pavel Vinikhin, director of diamond cutting and polishing, Alrosa, said, "Such

a large natural colour rough diamond is a unique discovery. Now, the stone

is at Alrosa's United Selling Organization being studied and evaluated by our

specialists. After that, we will decide whether to give it to our manufacturers

for cutting, or sell it as a rough.

"Of course, cutters in any country will be interested in such a diamond, as it

has the potential to give several high quality polished diamonds."

Ebelyakh has produced several other fancy colour diamonds; in 2017, three

notable stones – an intense yellow, pink, and purple-pink – were unearthed

at the site within one month. All were cut in-house by Alrosa before being

offered for sale.

"Such a large natural colour rough diamond is a unique

discovery. Now, the stone is at Alrosa's United Selling

Organization being studied and evaluated by our specialists"

– Pavel Vinikhin, Alrosa

Verkhne-Munskoye, another Yakutia deposit, produced a 17.4-carat yellow

diamond in February this year.

While fancy colour diamonds currently account for less than 0.1 per cent of

Alrosa's total output, it has previously indicated that it intends to become the

world's premier source of fancy colour stones.

Earlier this year, Vinikhin told Russian news service TASS: "[Following] the

closure of the Argyle Mine in Australia, we will become the world's largest

producer of coloured diamonds and can therefore go after leadership in the

coloured diamond market."

An analysis by the Fancy Color Research Foundation recently determined

that prices for pink diamonds had increased by 116 per cent over the past

10 years; yellow diamond prices rose by 21 per cent and blue diamond

prices 81 per cent.
---
Gold dealers linked to 2017 Melbourne robberies sentenced over stolen goods

CONTINUED FROM PAGE 12

a doctor in Colombia and expressed a desire to help the community by

working in the public health sector in Australia.

Tenenboim, 39, was sentenced earlier in August for receiving stolen

goods valued at $144,638.

At the sentencing hearing for Tenenboim, The Age quotes Judge Johns as

saying, "You thought you could do it without getting caught, so you did.

"You were clearly aware [that] detection of your crime would be

extremely difficult given the fact the stolen property was unable to be

identified once it was melted down."

According to The Age report, Judge Johns also noted that Tenenboim

had worked at his father's jewellery store as a teenager and that an

armed robbery had devastated the business and his family.

"That experience has left a marked impression on you. It is a shame

that those experiences didn't serve as a motivator for you to distance

yourself from those that would seek to buy stolen goods," Judge Johns

is reported to have said.

In addition to the prison sentence, Tenenboim must also complete 200

hours of community service under a community corrections order.

GIA updates lab-grown diamond grading reports

CONTINUED FROM PAGE 18

chemical-vapour deposition or high-pressure, high-temperature – and

include the disclaimer: "It is important to note that the color and clarity

grades do not reflect the rarity of the laboratory-grown diamond, but rather

the quality and consistency of the manufacturing process."

"While other labs decided to focus only on a grading

system for natural diamonds, IGI took the risk of

certifying lab-grown stones, even when volume was

minimal, because we not only thought it was the right

thing to do, but had an inclination that the industry

would one day embrace these diamonds"

– Roland Lorie, International Gemological Institute

Jason Quick, executive director AGS, said, "We just saw there was

a need for a different type of report, where we clearly articulate

what a laboratory-grown diamond is. We wanted to provide full

transparency."

US-based Gemological Science International (GSI) began offering

a similarly comprehensive report for lab-grown diamonds in March

this year, which includes information about detected post-growth

treatments.

WWW.CUDWORTHENTERPRISES.COM
---
Remarkably beautiful and naturally captivating,

Dreamtime Australian Diamonds originate from the world

renowned Argyle Diamond Mine, located in a remote corner

of Northwest Australia. Every Dreamtime Diamond is unique and

resonates with the Australian landscape, its stories and legends.

Every Diamond is tracked so you can be assured your Dreamtime

jewellery contains Australian Diamonds that are natural and

untreated. To learn more and view the collection visit

www.dreamtimediamonds.com

DIAMOND COLLECTION

Dreamtime Australian Diamonds is exclusive to and owned by the Showcase Jewellers Group.

For more information on how to become a member so you can offer this fantastic brand to your clients

and to learn about other exclusive benefıts of being a Showcase Jewellers Member contact us via

Email: enquiries@jimaco.com | Phone: (02) 8566 1800 | Visit: www.showcasejewellers.com.au
---
Ready

Get

Polish your gemstone

knowledge online

From lapis lazuli and coloured diamonds to

synthetic moissanite and zebra rock, brush up

on your gemstone knowledge in the downtime.

The GAA has over 14 years of gemmology

articles freely available to read online

on Jewellermagazine.com.

Learn About Gemstones with

the GAA on Jewellermagazine.com

ADELAIDE BRISBANE HOBART MELBOURNE PERTH SYDNEY

Passionately educating the industry, gem enthusiasts

and consumers about gemstones

learn@gem.org.au | 1300 436 338 | www.gem.org.au
---
REVIEW

Gems

The exotics: Padparadscha sapphire

L to R: Chanel necklace; Tiffany & Co. ring; multi-colour faceted Padparadscha stone

Padparadscha sapphire is a rare member of

the corundum family, coveted for its fusion

of orange and pink. Its exotic, expensive and

elusive nature has led to countless imitations

propagated by those keen to cash in on the

famous Padparadscha name.

The pretty Padparadscha gemstone was

first discovered in Sri Lanka and named

after the Sinhalese word "Padmaraga",

meaning lotus blossom – a species of

flower that was originally a soft pastel

orangey-pink.

Later sources of Padparadscha sapphire

include Madagascar and Tanzania; however,

purists believe the "true" material to be of

Sri Lankan origin.

Coloured by the trace elements chromium

and iron, Padparadscha sapphire possesses

various attractive attributes besides its

obvious beauty.

It has a high hardness – nine on Mohs'

scale – and excellent durability, making

it a popular choice for everyday wear and

more recently as an engagement ring

gemstone. Additionally, it can withstand

the heat generated by standard jewellery

repair processes.

In 2007, the Laboratory Manual

Harmonisation Committee (LMHC), of

whom the Gemmological Association of

Australia (GAA) is an affiliate, standardised

the nomenclature used to describe

Padparadscha sapphire.

This was later updated in 2011 as:

"Padparadscha sapphire is a variety of

corundum from any geographical origin

whose colour is a subtle mixture of pinkish

orange to orangey-pink with pastel tones

and low to medium saturations when

viewed in standard daylight."

The description excludes modifiers other

than pink or orange. In addition, the overall

colour must be free of major, uneven colour

distribution when viewed with the unaided

eye and the table up to +/- 30 degrees,

and should not have any yellow or orange

epigenetic material affecting the overall

colour of the stone.

While most dealers and collectors agree

this gemstone should display a blend of

pink and orange, it's interesting to note

that the exact ratio, tone and saturation

are open to interpretation, as are the

presence of secondary tones such as

brown, yellow and red.

The LMHC Padparadscha definition

excludes any treatment, except for

traditional heat, which is used to dissolve

'silk' and improve clarity.

According to CIBJO, the World Jewellery

Padparadscha

From the Sinhalese

word Padmaraga,

meaning 'lotus

blossom'

Colour: Orangey-pink

Found in: Sri Lanka,

Madagascar and

Tanzania

Mohs Hardness: 9

Class: Corundum

Lustre: Vitreous

Formula: Al 2

O 3

Confederation, only untreated and heattreated

Padparadscha sapphire qualify for

the prestigious title of Padparadscha.

In the early 2000s, bulk beryllium diffusiontreated

sapphire flooded the market.

This treatment involved coating sapphires

with beryllium oxide and other compounds

and subjecting them to very high

temperatures for several days, causing

the diffusion of colour through most or all

of the stone and creating a Padparadschalike

appearance.

Fortunately this treatment can now be

detected through a combination of standard

and advanced gemmological techniques.

Other treatments used to create a

Padparadscha-like appearance include

coating, dying, irradiation and glass-filling.

Gemstones such as topaz, spinel and garnet

may be sold as Padparadscha imitations,

and copycats like synthetic orange-pink

sapphires are plentiful.

Finding a true Padparadscha sapphire can

be challenging due to its limited availability.

The key is to establish a good relationship

with a competent gemmologist, valuer or

jeweller and ask for a coloured gemstone

report from a reputable laboratory.

September 2020 | 25
---
CELEBRATING

Local Talent

ABRECHT BIRD

JEWELLERS

Cieri Earrings

Metals: 18-carat white and

yellow gold

Gemstones: Black and white

diamonds, yellow sapphires

Yuki Mathwin

Melbourne, VIC

CLAIRE TOWNSEND

JEWLLERY

The Bay Ring

Metals: Fine and sterling

silver

Gemstones: Vitreous enamel,

Cygnet Bay pearl

Claire Townsend

Perth, WA

JASON REE

Flame Tree Ring

Metals: Mokume gane

yellow gold and platinum

Gemstones: Sapphires

Jason Ree

Sydney, NSW

Australia & New Zealand

Jewellers

Showcase

Australia and New Zealand are not only home to some of the

rarest gemstones in the world, but also the most talented jewellers.

Jeweller showcases a tapestry of local masterpieces that have been

meticulously crafted with great artisanship, right here on home soil.

VICTORIA BUCKLEY

Amethyst Rosary

Stacking Ring & Belle

Époque Ruby Rings

Metals: 9-carat and

18-carat

yellow gold

Gemstones: Rose-cut

amethyst, rubies

Victoria Buckley

Sydney, NSW

MN JEWELLERY

DESIGN

Hiddenite Dress Ring

Metals: 18-carat yellow

gold, platinum

Gemstones: 8.3-carat

yellow cushion-cut

hiddenite

Matthew Neale

Brisbane, QLD

26 | September 2020
---
ROHAN JEWELLERS

Diamond Chandelier Pendant

Metals: 18-carat white

and rose gold

Gemstones: South Sea pearl, round

brilliant-cut white diamonds

Rohan Milne

Perth, WA

VU JEWELLERS

Get Knotted

Mismatched Earrings

Metals: 9-carat yellow

gold, sterling silver

Gemstone: None

Claire Antill

Queenstown, NZ

BENJAMIN RYAN

JEWELLERY

Blue Wave Ring

Metals: 18-carat

yellow gold,

sterling silver

Gemstones:

South Sea pearl,

pavé-set blue

topaz

Benjamin Ryan

Sydney, NSW

ORION JOEL CUSTOM

JEWELLERY

Re-Growth Ring

Metals: Recycled

18-carat white gold

Gemstones: White

diamonds

Orion Joel Chibnall

Melbourne, VIC

MJS JEWELLERY

Flame Earrings

Metals: 18 carat rose gold,

black rhodium

Gemstones: Round brilliant

white diamonds

Matthew Staff

Brisbane, QLD

LAYLA KAISI

COLLECTION

Ascendance Ring

Metals: 14-carat

white gold

Gemstones:

1.22-carat elongated

hexagonal-cut

Australian sapphire,

white diamonds

Layla Kaisi

Auckland, NZ

28 | September 2020
---
椀 猀 猀 琀 椀 氀 氀 愀 琀 礀 漀 甀 爀 猀 攀 爀 瘀 椀 挀 攀 ⸀⸀⸀

䴀 䄀 夀 匀 漀 漀 攀 爀 猀 琀 栀 攀 渀 攀 猀 琀 猀 攀 氀 攀 挀 琀 椀 漀 渀 漀 昀 焀 甀 愀 氀 椀 琀 礀

挀 甀 琀 䈀 甀 爀 洀 攀 猀 攀 䜀 攀 洀 猀 琀 漀 渀 攀 猀 ⸀ 伀 甀 爀 攀 砀 挀 攀 瀀 琀 椀 漀 渀 愀 氀

爀 愀 渀 最 攀 椀 猀 攀 琀 栀 椀 挀 愀 氀 氀 礀 猀 漀 甀 爀 挀 攀 搀 昀 爀 漀 洀 氀 漀 挀 愀 氀 洀 椀 渀 攀 猀 Ⰰ

漀 漀 攀 爀 椀 渀 最 漀 甀 爀 挀 甀 猀 琀 漀 洀 攀 爀 猀 攀 砀 挀 氀 甀 猀 椀 瘀 攀 愀 挀 挀 攀 猀 猀 琀 漀

猀 甀 瀀 攀 爀 戀 猀 琀 漀 渀 攀 猀 愀 琀 爀 攀 愀 猀 漀 渀 愀 戀 氀 攀 瀀 爀 椀 挀 攀 猀 ⸀

Your Burma in Australia.

Your Burma in Australia.

At your service.

At your service.

MAYS offers the finest selection

of quality cut Burmese gemstones.

Our exceptional range is ethically

sourced from local mines, offering

our customers exclusive access to

superb stones at reasonable prices.

眀 眀 眀 ⸀ 洀 愀 礀 猀 ⸀ 挀 漀 洀 ⸀ 愀 甀

アパート 㤀 㐀 アパート 㔀 㠀

www.mays.com.au

03 9043 5181

www.mays.com.au

03 9043 5181
---
Marketing Review

Bulgari's Mai Troppo campaign 2020, featuring spokeswomen Lily Aldridge, Naomi Scott, and Zendaya

Brand Ambassadors:

MORE THAN FACE VALUE

Celebrity endorsements have been part of the marketing playbook for decades – but in the context of current

consumer behaviour, is it a case of diminishing returns? IAN COOK and ARABELLA RODEN investigate.
---
BY THE NUMBERS

Endorsement

Insights

R

ecruiting a high-profile celebrity to

provide public testimony for the worth

of a consumer product is a longstanding

marketing strategy.

From Michael Jordan and Nike to Charlize Theron and Keira

Knightley in any number of perfume ads, the recipe appears

to be simple: take one consumer brand, add a famous face to

offer their endorsement, publicise the union on TV and in print,

and voilà! You have achieved better brand recognition, a higher

level of perceived credibility, and – hopefully – increased sales

of your product.

In 2011, Dr Marc Brennan, then a lecturer at Sydney

University's Department of Media and Communications, told

Jeweller: "Brand ambassadors are there in the hope that

consumers have a respect for that celebrity, and that respect

will become associated with the products.

"It's about the meaning that's attached to the celebrity

suddenly becoming attached to the product." Brennan's

emphasis on meaning cannot be underestimated and

in previous decades, the celebrity strategy seemed

straightforward – yet by the 2010s, it was no longer such

a simple formula.

A study by Los Angeles-based advertising analytics agency Ace

Metrix found that – as far as TV advertising is concerned, at least

– using celebrities could hurt a brand more than helping it.

On average, ads without celebrities earned higher scores

than those with celebrities in the categories of likeability,

desire for the product, watchability and the ad's power to hold

a viewer's attention.

Reasons for the failures of the ads featuring celebrities

included confusion about the product being endorsed, a dislike

of the celebrity – many stars are polarising – or simply that

viewers found the ads to be boring.

"No amount of celebrity endorsement can replace a wellcrafted

message and execution," Ace Metrix chief executive

Peter Daboll said. "It's the message and how it resonates with

consumers that matters."

Granted, not every watch and jewellery brand is necessarily

investing in the high-cost, high-impact TV campaigns that

proliferate in industries like fashion and perfume, but one

important fact holds true across the board: consumers are

changing, and the mere presence of a celebrity will no longer

necessarily yield positive results.

These insights were later affirmed by an analysis of celebrity

20-25%

proportion of

advertisements that

include a celebrity

endorsement

University of Vienna

analysis, 2017

4%

estimated sales

increase from

appropriate celebrity

endorsement

American Journal of

Advertising

$9.7b

estimated value

of social-media

influencer marketing

industry, 2020

State of Influencer Marketing

2020 Benchmark Report,

Influencer Marketing Hub

600

daily advertising

messages to which

consumers are

exposed

Microsoft analysis

$22.5m

value of publicity

earned by Nike from

Tiger Woods' 2019

Masters win

Apex Marketing Group

endorsement effectiveness by researchers at the University

of Vienna – albeit with some caveats.

They found that celebrity endorsement could positively

impact attitudes toward the endorsed product if there was a

clear 'match' between the celebrity and the product. Actors

performed best as endorsers, followed by athletes, TV hosts,

models and musicians.

Notably, male celebrities evoked "substantially stronger

effects" when compared with female celebrities, which was

attributed to their greater perceived prestige, expertise, and

credibility. Even more significant was the fact that consumers

appeared to respond better to implicit endorsements, rather

than explicit ones.

"Often, celebrities are used simply for perceived

endorsement," Andy Wright, then-general manager of

consultancy firm Interbrand Australia, explained to Jeweller

in 2011. "The desired consumer outtake is, 'If a celebrity is

willing to put their name on a product and it's good enough

for them, then it's good enough for me.'

"Brands need to try harder; simply taking pictures of the

ambassador with the brand or product is no longer enough."

'Trying harder' involves thinking about the relevance of the

ambassador to the brand, and even more vitally – as Daboll

said – making sure they stick to the message of what the

brand is about. If these two factors are missing, consumers

will not respond kindly to the marketing of the brand

regardless of how famous the celebrity may be.

They're only human

The other major hazard that advertising executives and brand

managers need to negotiate is, of course, the fallibility of

celebrities. Tying a brand to the public image of a celebrity

is a high-risk endeavour.

"The biggest potential pitfall comes from the fact that

celebrities are people," said Brennan. "Even though they can

be very tightly managed, they can – and do – fall from grace.

Lindsay Lohan is an example of someone for whom brand

value changed dramatically in just a few years."

This point was reaffirmed by Wright: "Celebrities are so

powerful because of their influence and omnipresence –

but they're just as destructive for those same reasons."

Indeed, US celebrity endorsement data firm Spotted recently

developed a specific index to help brands take out 'disgrace

insurance' – a policy that financially protects them if a

contracted celebrity displays "scandalous behaviour".

September 2020 | 31
---
MARKETING REVIEW | Brand Ambassadors

L to R: Gisele Bündchen, Kate Moss, and Kate Upton for David Yurman

Spotted's algorithm can apparently

predict the likelihood of a celebrity

engaging in activity which could damage

the reputation of their associated brands.

Perhaps the most spectacular example

of public image free-fall is Tiger

Woods. Regarded by many as the finest

golfer in history, he demonstrated

professionalism, single-mindedness

and a will to win that was second to

none. Combining that with his image as

a wholesome family man, Woods was

the advertising world's equivalent of

Leonardo Da Vinci's Vitruvian Man.

He was paid product endorsement fees

that made him the highest-earning

sports star on the planet. But following

revelations of misdemeanours in his

private life, one by one, Woods' sponsors

– including Gillette, Accenture, AT&T and

Gatorade – dropped him like a stone.

Despite initially standing by him, watch

brand TAG Heuer, widely regarded as

one of the best 'matched' brands for

Woods, severed its relationship with him

in 2011. Yet he was quickly able to secure

a new association with an even more

prestigious watch brand: Rolex.

At the time, Rolex said in a statement:

"Tiger Woods still has a long career ahead

of him, and… has all the qualities required

to continue to mark the history of golf." The

prediction proved prescient. In the years

since, Woods has managed an incredible

comeback story.

Following four back surgeries and a 11-

year major title drought which saw him

drop out of the top 1,000 golfers, Woods

won the 2019 Masters at age 43; on his

wrist was a Rolex Deepsea.

Sponsorship analytics firm Apex

Marketing Group estimated that Woods'

other long-term sponsor, Nike, profited

from the fairy-tale narrative to the tune

of $US22.5 million – nearly double the

estimated value of Patrick Reed, who won

the Masters in 2018.

Another example of the fraught

relationship between watchmakers and

celebrities is that of Raymond Weil.

In 2005, the brand struck a multimillion

dollar deal with actress

Charlize Theron to make her the

international ambassador for the

company, and the star of an expensive

advertising campaign.

Despite her contract stipulating

exclusivity, Theron later caused a stir

when she appeared in the catalogue of

a leading US watch retailer sporting a

diamond-encrusted timepiece by Dior –

for whom she is a perfume ambassador.

Celebrity endorsement could

positively impact attitudes

toward the endorsed product

if there was a clear 'match'

between the celebrity and the

product. Actors performed best

as endorsers, followed

by athletes, TV hosts, models

and musicians.

Intriguingly, Theron is now one of three

actors contracted to promote Breitling

watches, alongside Brad Pitt and

Adam Driver.

Meanwhile, billionaire Virgin founder Sir

Richard Branson became the face of the

Bulova Accutron range in 2011. Bulova

president Dennis Perry explained at the

time: "As an entrepreneur, humanitarian

and pioneer, Sir Richard reflects the spirit

of innovation that is at the heart of the

Bulova Accutron brand."

"We feel Sir Richard Branson could be

an individual that would be central to our

message of innovation," Perry added,

referring to the Accutron's place in history

as the world's first fully electronic watch.

Phil Edwards

Duraflex Group Australia

"Celebrity ambassadors play

a pivotal role in building brand

awareness and promoting

new collections. It's critical to

ensure the profile and values

of the celebrity are well

aligned to the brand in order

for the partnership to be

authentic and successful."

Janet Comenos

Spotted

"Luxury brands tend

to be more dismissive

of data than mass-market

brands. The creative

directors of these highend

labels tend to use

celebrities as creative

'muses', even if every

indication shows that the

celebrity is a poor choice."

William Comcowich

Glean.Info by CyberAlert

"Celebrity endorsements

and sponsored influencer

content have similarities

and may overlap at times,

but the two strategies entail

different advantages and

disadvantages. It's crucial to

understand those differences

to develop effective PR or

social media marketing

campaigns."

However, just three years later, Branson told

the Wall Street Journal he wore a Pilot Watch

from Swiss brand Torgoen that he'd chosen

based on its appearance. More recently, he

has been seen wearing Garmin and Vivofit

smartwatches.

Indeed, convincing an increasingly disbelieving

public that there is credibility in celebrity

ambassadorships is only likely to become more

of a difficult task.

When selecting a celebrity ambassador, Janet

Comenos, CEO Spotted, has said, "Marketers

need to use real data and isnights to drive

these crucial decisions, not just their gut and

personal judgment."

She added, "Luxury brands tend to be more

dismissive of data than mass-market brands.

The creative directors of these high-end labels

tend to use celebrities as creative 'muses',

even if every indication shows that the celebrity

is a poor choice."

In search of authenticity

The way many brands are looking to win the

battle is by going beyond the realms of a

conventional endorsement and instead touting

the celebrity as having played a hand in the

creation of the very products they advocate.

One example from the watch category is

that of international adventurer Bear Grylls

and Luminox. Grylls helped to create the

new Survivalist Series for the brand, adding

practical features such as Morse code, a

paracord strap, and a dive zone countdown

to the designs.

As a hard-wearing watch, Luminox had

also previously released watches designed

with Icelandic Sea and Air Rescue, and

counterterrorism operative/deep-sea diver

Scott Cassell.

Phil Edwards, managing director Duraflex Group

Australia (DGA), which distributes Luminox,

explains, "Celebrity ambassadors play a pivotal

role in building brand awareness and promoting

new collections. It's critical to ensure the profile

and values of the celebrity are well aligned to the

brand in order for the partnership to be authentic

32 | September 2020
---
MARKETING REVIEW | Brand Ambassadors

L to R: Chloë Grace Moretz, Indya Moore, and Sophie Turner for Louis Vuitton

and successful. Bear Grylls is the world's

most recognised face of survival and

outdoor adventure, having spent his

career in the wild, navigating some of

the most extreme landscapes on earth

and coming out of the most dangerous

situations alive and unharmed.

"Luminox watches are known for their

ability to perform in extreme situations,

making this the perfect partnership."He

adds, "There is no better watch to be

on Bear Grylls' wrist than a Luminox,

especially a Luminox which Grylls

helped design and develop."

Meanwhile, in the jewellery category, we

have seen stars such as Angelina Jolie

(Robert Procop), and supermodel sisters

Bella Hadid (Chrome Hearts) and Gigi

Hadid (Messika) work with established

brands as 'guest designers.' All three

collaborations had a distinct air of

authenticity. Jolie – a noted philanthropist

– and her daughter Zahara created a

charity collection with Procop, who is a

long-term friend and designed Jolie's

engagement ring.

Bella Hadid is a close friend of the Stark

family, who own the Chrome Hearts

brand, while Gigi Hadid was introduced to

Messika founder Valérie Messika at Paris

Fashion Week and found their design

philosophies and approach to wearing

jewellery were very similar.

Perhaps the most prominent example

is Spanish A-lister Penélope Cruz and

Atelier Swarovski. Both Cruz and Atelier

Swarovski founder Nadja Swarovski

expressed a passion for environmental

protection, as well as fine jewellery.

The result was Cruz designing a

14-piece made-to-order collection

from responsibly sourced metals and

gemstones, as well as some synthetic

gemstones and lab-grown diamonds.

The range was later expanded and

manufactured in commercial quantities.

"Penélope asked us [to collaborate on

the range] and that is such an honour,

as usually we have to look for partners,

but to be working with someone who

believes in the cause is amazing,"

Swarovski said in 2018.

"Celebrity ambassadors have

provided Linneys with a

recognisable figure to showcase

our latest designs. Showing

how the pieces can be worn and

enjoyed is the key. Having the

celebrity endorsement gives an

added level of credibility to

the brand as well as assisting

with achieving PR [goals]

around the campaign."

– Justin Linney, Linneys

She added, "It is much better to start with

the film crowd as they are environmentally

tuned-in, so it was a natural evolution

when Penélope came along. [And] these

are designed by someone who has been

on the red carpet."

An interesting local example of authentic

celebrity endorsement is that of WAbased

Linneys. The family-owned retailer

has chosen a number of West Australian

celebrities to promote and model its

collections over the years. These have

included Ernie Dingo, Melissa George,

and Tahnee Atkinson.

Justin Linney, creative director Linneys,

tells Jeweller, "Celebrity ambassadors

have provided Linneys with a recognisable

figure to showcase our latest designs.

Showing how the pieces can be worn and

enjoyed is the key. Having the celebrity

endorsement gives an added level of

QUICK RE V IE W

Key Points

• Improve brand

awareness and

brand value

High-profile actors,

athletes, presenters

and musicians can

increase brand

awareness and

value with potential

customers

• Conversion and

sales growth

Celebrity

endorsements can

improve sales, but

this is moderated by

many other factors

• Value fit

and loyalty

Brands must

weigh the risks

that a star could

embarrass them

through private

actions or breaching

their endorsement

contract

• Data-driven

strategy

An endorser should

be chosen based

on research and

insights, rather

than gut feeling or

personal appeal

credibility to the brand as well as assisting with

achieving PR [goals] around the campaign.

"We focus on working with Australian

ambassadors because that fits well with our

brand and key messaging that we utilise in

our marketing."

The retailer has recently shifted to productbased

campaigns in order to keep the focus on

its jewellery designs, however its most recent

celebrity ambassador was model-turned-

Survivor Australia contestant David Genat.

Another Australian retailer utilising a celebrity

strategy is Larsen Jewellery. It has been the

'official ring partner' of Channel 10's The Bachelor

franchise for several years. The Sydney-based

brand created an unusual grey spinel ring for

Matt Agnew in 2019, a garnet-and-rose-gold

commitment ring for Nick 'Honey Badger'

Cummins in 2018, and a diamond-and-platinum

design for Matthew 'Matty J' Johnson in 2017.

Larsen Jewellery also created the engagement

ring for Johnson and the show's winner, Laura

Byrne, in 2019. The ring was promoted on both

Johnson and Byrne's Instagram accounts;

together, the couple boast a combined following

of more than 500,000.

Indeed, social media has played an increasingly

critical role in the nature of celebrity

endorsement over the past decade.

A new sphere of influence

The celebrity ambassador approach to marketing

consumer products has enjoyed a long and

illustrious term without serious revision. But in

response to the questions being asked about

consumers' fatigue with celebrity endorsements,

the other phenomenon to have emerged in

recent years is that of celebrities espousing

product endorsements via social media.

In 2011, US-based marketing platform

firm Ad.ly – which called itself the 'social

matchmaker' – had found a niche working with

brands to connect them with the right celebrity

ambassadors through digital media.

September 2020 | 35
---
MARKETING REVIEW | Brand Ambassadors

L to R: Elle Fanning, Lady Gaga, and Lupita Nyong'o for Tiffany & Co.

At the time, Ad.ly CEO Arnie Gullov-Singh

said, "[We are] tapping the $50 billion

spend on endorsements worldwide as

well as the $35 billion spent in digital

advertising. If people are the new

publishers, then people are also the

future of advertising, and celebrities are

the new 'prime time'."

Ad.ly's 'Consumer Influence Index'

sought to determine which celebrities

drove the most consumer traffic to

advertisers' websites in the US; in 2011,

the top 10 featured Kim, Khloé and

Kourtney Kardashian, TV personality

Lauren Conrad, and rapper and

presenter Snoop Dogg.

Since then, the social media landscape

has rapidly evolved – and many watch

and jewellery brands have adapted their

marketing tactics to take advantage of its

influence over consumer purchasing.

While employing a number of wellknown

celebrities in its traditional

marketing, including Elle Fanning, Lupita

Nyong'o and Kendall Jenner, Tiffany &

Co. has also created online-only social

media campaigns with younger and more

digitally-oriented stars, such as dancer

Maddie Ziegler and actress Yara Shahidi.

Notably, the brand also created a

campaign with male luxury travel

influencer Jack Morris, who posts under

the Instagram handle @doyoutravel

and has 2.7 million followers. Morris

promoted the more affordable Tiffany

& Co. items, usually around $US250.

David Yurman – a US jewellery brand

which once garnered headlines for its

use of A-list celebrity models such as

Kate Moss and Gisele Bündchen – began

pursuing an influencer strategy several

years ago. One of its most successful

campaigns was with Blair Eadie, founder

of fashion blog Atlantic Pacific and

Instagram account @blaireadiebee, which

has 1.6 million followers.

Over several years, Eadie incorporated

David Yurman pieces into her popular

outfit posts and showed consumers how

to style them, as well as interacting and

answering product questions. Yurman

was able to repurpose Eadie's content for

its social media channels.

However, William Comcowich, founder

and CEO of Glean.info By Cyberalert and

a Jeweller contributor, explains, "It may

be tempting to bundle celebrities like

Kim Kardashian, Justin Bieber and Taylor

Swift in the same category as lesserknown

social media influencers. But

the two groups are different, even if both

have plenty of followers.

"Celebrity endorsements and sponsored

influencer content have similarities

and may overlap at times, but the two

strategies entail different advantages and

disadvantages. It's crucial to understand

those differences to develop effective PR

or social media marketing campaigns."

Comcowich says that while celebrities can

deliver "substantial reach and boost brand

awareness" as well as increasing 'earned

media' – that is, generating unpaid media

coverage – influencers offer more niche

appeal, credibility, expertise, and higher

engagement with consumers. Combined,

these can generate higher click-through

rates and increased sales.

"Celebrity endorsements on social media

are more akin to traditional television

advertising than influencer marketing…

Seeing the #ad or #sponsored hashtag,

followers generally understand that they're

viewing a sponsored endorsement. They

consider the celebrity as a conduit for the

brand's message," he explains.

"On the other hand, top-notch

influencers who specialise in a niche

answer questions from followers and

communicate with them in a back-andforth

exchange."

Additionally, influencers are often able

CONSIDER THIS

Celebrities

vs

Influencers

REACH & BRAND

AWARENESS

Celebrities have greater

cross-media exposure

and also generate more

earned media coverage,

increasing the reach

of a campaign beyond

the digital realm

CREDIBILITY &

EXPERTISE

Influencers are seen as

more trustworthy than

celebrities, particularly

if they are known

for their knowledge

of a specific product

category such as

make-up, fashion, or

technology

ENGAGEMENT &

CONVERSION

While many influencers

have fewer overall

followers than

celebrities on social

media, they may boast

a higher engagement

rate as they interact

with followers and

encourage them to

purchase

COST & VALUE

It can be far less

expensive to engage

an influencer than a

celebrity to endorse a

brand, however their

effectiveness depends

on the consumer

segment being targeted

and the marketing goals

to create original content which brands can

then re-share, and are often less expensive to

hire than celebrities. An example of a hybrid

approach to celebrity endorsement is Thomas

Sabo's signing of British pop star Rita Ora as

its global 'face' in 2019. Ora – who is also a

presenter, actress, and model – boasts 16.1

million followers on Instagram alone.

Not only does Ora appear on in-store signage

and other materials across international

markets, but also promotes the brand online

using a designated hashtag.

Thomas Sabo is also distributed by DGA,

with Edwards explaining, "Rita Ora's selfconfident

appearance, her authenticity and

passion for realising her own dreams make

her a trendsetter in a global community –

characteristics that perfectly underline the

vision of Thomas Sabo jewellery.

"By working with Rita Ora, Thomas Sabo

wanted to address target groups of all ages

and underline the international orientation

of the brand. The campaign with Rita Ora

focuses on jewellery as a powerful companion

and expression of one's own personality."

Thomas Sabo also uses other social media

influencers, who create local content for

different markets.

Perhaps that is the biggest lesson brands

can take from the evolution of the brand

ambassador model. Simply luring the

highest-profile star you can find to provide an

endorsement for your product is no longer

enough to strengthen your brand.

There is a clear indication that well thought out

celebrity-brand matchmaking requires both

local and global power, and the ability of the

star to create trust and connection with their

audience – particularly through social media.

Without a natural association between

ambassador and product, consumers are

more likely to be left confused and cynical

rather than star-struck and invigorated with

positive purchase intent. Simply put: if the face

doesn't fit, consumers won't wear it.

36 | September 2020
---
With the recent announcements of

government restrictions starting to be

rolled back, jewellers now have the

opportunity to get customers back

into the store.

Effectively communicate the

changes that have taken

place without spending

all their time on the phone.

Do you do custom rings?

Yes we do! Pretty much

everything is customisable,

from setting to stone to cut.

What are you looking for?

Get the free

Texting Guide

CLAIM YOUR COPY

We're wanting to create a

unique engagement ring.

Wonderful, congratulations!

Come on in and we can go

through all the options.

61.478.189.947
---
MARKETING REVIEW | Brand Ambassadors

CELEBRITIES AS MODELS

Shining Endorsement

JEWELLERY CAMPAIGN AMBASSADORS

Serena Williams

Audemars Piguet campaign, 2020

Hugo Marchand

Louis Vuitton campaign, 2020

Carla Bruni

Bulgari campaign, 2013

Rachel Weisz

Bulgari campaign, 2012

Mila Kunis

Gemfields campaign, 2013

Shu Qi

Bulgari campaign, 2017

Naomi Scott, Zendaya, and Lily Aldridge

Bulgari campaign, 2020

Annabelle Wallis

Cartier x Vogue Russia, 2020

Rita Ora

Thomas Sabo campaign, 2020

38 | September 2020
---
Kristen Stewart

Chanel campaign, 2020

Kai (Exo)

Gucci x Elle, 2020

Keira Knightley

Chanel campaign, 2016

Emilia Clarke

Dior campaign, 2015

Zendaya

Bulgari campaign, 2020

Harry Styles

Gucci campaign, 2019

Zoë Kravtiz

Tiffany & Co. campaign, 2017

Zhong Chu Xi

Louis Vuitton x Vogue China, 2019

September 2020 | 39
---
MARKETING REVIEW | Brand Ambassadors

JEWELLERY CAMPAIGN AMBASSADORS CONTINUED

Cara Delevingne

Dior campaign, 2020

Bella Hadid

Chrome Hearts campaign, 2018

Halima Aden

Pandora campaign, 2020

Florence Welch

Gucci campaign, 2019

Miranda Kerr

Swarovski campaign, 2016

Zhang Ziyi

Chopard campaign, 2019

40 | September 2020

Julianne Moore

Bulgari campaign, 2015

Jessica Alba

Piaget campaign, 2011
---
Gigi Hadid

Messika campaign, 2018

Li Bing Bing

Gucci campaign, 2012

Penélope Cruz

Swarovski Atelier campaign, 2019

Lily Aldridge

Bulgari campaign, 2020

Georgia May Jagger

Pandora campaign, 2019

Rihanna

Chopard campaign, 2017

Song Hye Kyo

Chaumet campaign, 2020

Alicia Vikander

Louis Vuitton campaign, 2019

September 2020 | 41
---
MARKETING REVIEW | Brand Ambassadors

WATCH CAMPAIGN AMBASSADORS

Aishwarya Rai Bachchan

Longines campaign, 2020

Nicholas Holt

Jaeger LeCoultre campaign, 2019

Brad Pitt, Adam Driver, and Charlize Theron

Breitling campaign, 2018

Gwyneth Paltrow

Fréderique Constant campaign, 2018

Bear Grylls

Luminox campaign, 2020

Ryan Reynolds

Piaget campaign, 2018

42 | September 2020

Hugh Jackman

Montblanc campaign, 2019

Kaia Gerber & Cindy Crawford

Omega campaign, 2018
---
Rod Laver

Rolex Ambassador

Amanda Seyfried

Jaeger LeCoultre campaign, 2019

Kate Winslet & Simon Baker

Longines campaign, 2019

Jake Gyllenhaal

Cartier campaign, 2018

Sonam Kapoor Ahuja

IWC Schaffhausen Ambassador

Lady Gaga

Tudor campaign, 2017

David Beckham

Tudor campaign, 2018

Michelle Yeoh

Richard Mille Ambassador

September 2020 | 43
---
MARKETING REVIEW | Brand Ambassadors

WATCH CAMPAIGN AMBASSADORS

Bradley Cooper

IWC Schaffhausen campaign, 2018

Margot Robbie

Richard Mille campaign, 2018

Chris Hemsworth

TAG Heuer, 2019

Michael Bublé

Rolex Ambassador

Cara Delevingne

Tag Heuer campaign, 2019

Jessica Chastain

Piaget campaign, 2017

Tiger Woods

Rolex Ambassador

George Clooney

Omega campaign, 2017

44 | September 2020
---
Eddie Redmayne

Omega campaign, 2017

Hailey Bieber

Tommy Hilfiger campaign, 2018

Nicole Kidman

Omega campaign, 2015

Daniel Craig

Omega campaign, 2012

Jennifer Lopez

Guess campaign, 2018

Pierce Brosnan

Speake-Marin campaign, 2015

Tom Brady

IWC Schaffhausen campaign, 2019

Jay Chou

Tudor campaign, 2018

September 2020 | 45
---
Together

We're in this together. Worth and Douglas are

here to help, providing the quality, speed, and

service you've come to expect from us for over

60 years.

Your account manager will be reaching out to

discuss ways we can support you during these

unusual times.

WORTH & DOUGLAS LTD

(03) 9338 0091 / 1800 006 388

sales@worthdouglas.com.au

worthdouglas.com
---
BEST OF BUSINESS

Retail Feature

How to survive the "Battle of the bots"

Online mega-retailers have integrated technology that attacks and blocks competitors. Every independent

retailer should understand these tactics and how they affect the bottom line, says CHRIS PETERSEN.

It's hard to escape the news about digital

transformation and how it impacts on

traditional retail. In the US, there are daily

reports of store closures and half-empty

shopping malls grasping for tenants.

Amazon remains the undisputed market

leader among e-commerce retailers hellbent

on using price to seize market share

from traditional retailers.

However, what is less apparent to

consumers are the technologies that

online retailers like Amazon employ

that make it nearly impossible for other

retailers to complete.

The emergence of artificial intelligence (AI)

technologies has turned what was once a

battle of price into a 'battle of the bots', and

small retailers are trying to compete in this

technology war with the digital equivalent

of a pocketknife.

All of this begs the question, "Is Amazon

invincible?"

Greater than the sum

Amazon is an incredible innovator. The

shopping giant has the best e-commerce

platform the world has ever seen and it

has built this by focusing on infrastructure

and the long-term.

This culture of innovation is increasing

revenue at such a pace that the company

is now in $2 trillion-dollar territory and

has been referred to as "the world's most

valuable brand".

What is it that gives Amazon such an

incredible advantage?

Amazon's whole is greater than the sum

of its parts.

Consumers know the brand for its values

of convenience, same-day or overnight

delivery through Amazon Prime, and

gold-standard service – but they don't see

what's going on behind the scenes.

Amazon's individual components are

well-known and widely discussed,

particularly the use of robotics in the

company's distribution centres. As a result,

these components can be replicated by

competitors.

But copying Amazon's entire ecosystem,

including all physical and digital strategies,

is a task so large that that it creates

a huge barrier of entry for retailers

Amazon's

mastery of

the complex,

behindthe-scenes

technologies

that power

modern

e-commerce

is vitally

important to

its success

without Amazon's spending power and

logistical depth.

Below are some examples that collectively

represent formidable barriers for

traditional retailers, especially those

with a bricks-and-mortar heritage.

Bringing in the bots

As the name implies, 'bots' involves the

use of technology to perform automated

functions at incredible speed and accuracy.

This is robotics, but it's not always physical

or mechanical. A web-crawler is a type

of bot that scans the prices of individual

items online.

Web-crawlers can process thousands of

SKUs to help a retailer like Amazon ensure

its pricing remains best-in-show. Online

pricing is extremely competitive and the

difference of 50 cents over a million units

can make or break profitability.

According to an article in Fortune titled,

"How Bots Are Fighting E-Commerce

Wars," Walmart was using bots to check

Amazon prices several million times a day

until Amazon found a way to block the

September 2020 | 47
---
Best of Business | RETAIL FEATURE

technology, shutting Walmart out for

months.

Like something out of a sci-fi movie, this is

a battle fought between retail Goliaths in

cyberspace and the importance cannot be

overstated for traditional retailers.

Amazon's mastery of the complex, behindthe-scenes

technologies that power

modern e-commerce is vitally important

to its success.

exterity with bots allows Amazon to not

only see what rivals are doing but also

keep those rivals in the dark when Amazon

undercuts them on price or quietly goes on

to charge more.

Pricing bots are just one example of the

integrated ecosystem of technology and

systems that Amazon and Walmart have in

their omnichannel arsenal.

Smaller retailers simply do not have

the resources to recreate this strategic

infrastructure.

Applying AI effectively

If a retailer does not know the acronym

IFTTT then they are falling behind in digital

retailing. IFTTT stands for "If this then that"

and it is AI applied at the simplest level to

automate choices and actions.

IFTTTs can create algorithms that enable

consumers to make a purchase based

on a predefined set of criteria, like price

point, quantity left in stock, or even the

weather conditions.

Amazon deploys a host of IFTTTs online

and engages customers through its

dashboard buttons.

Of course, Amazon is not the only retailer

deploying IFTTTs in retail and supply-chain

automation. Supermarkets such as the

UK's Tesco began adopting the technology

as far back as 2013.

Tom Furphy, CEO Consumer Equity

Partners, explained the technology to retail

news site Morning News Beat at the time:,

saying, "Their applets can automatically

order products if they meet a certain price,

they can add burgers to a shopping basket

based on the weather or they can set a

reminder to add certain items to a basket

at a certain time.

"They are also using IFTTT to

allow customers to use Google

Home to add items to their

basket," he added.

Traditional retailers might scoff

and say that their consumers

don't need or want IFTTTs, but

consumers expect all retailers

to match the convenience and

services levels provided by

Amazon or a Tesco in today's

omnichannel world.

IFTTTs create convenience and

place even more pressure on

competitive pricing driven by real-time

criteria, which is controlled by empowered

customers.

E-tailer fulfilment

Amazon's genius is using its own Amazon

Marketplace to recruit retailers and brands

to sell products through its ecosystem.

As part of Amazon's 'turn key' solution,

the Marketplace products are "Fulfilled by

Amazon" (FBA).

Amazon's own fulfilment costs for its

membership program Prime run into the

billions. By incorporating its Marketplace

sellers into FBA, Amazon gains logistical

volume, efficiencies and resources to

continue to build state-of-the-art systems.

Amazon is taking FBA to new levels by

picking up products at manufacturing

locations and delivering them directly to the

consumer's home.

This process cuts out the role of

distributors and most of the traditional

supply chain.

World domination or bust

There are many more components

of Amazon's ecosystem but the ones

mentioned here already create a huge

strategic advantage that leaves even US

retail behemoth Walmart struggling

to compete.

There are only a handful of retailers

with deep-enough pockets to be able to invest

billions in this kind of infrastructure, again

giving Amazon a huge competitive advantage.

At the same time, there is little profit to

be made in e-commerce today without

efficiencies and massive scale.

OVERCOME

AMAZON

Don't

compete

on price

Online megaretailers

have

the advantage

of always

offering lower

prices

Apply AI like

an e-tailer

Integrate 'if

this, then that'

algorithms into

your online

store to help

customers shop

more efficiently

Build

customer

loyalty

Rather than

focusing on

widening

your base,

create deeper

and more

meaningful

customer

relationships

and invest in

great service

Anticipate

change

Think about

how consumer

behaviour and

technology will

evolve over

time and begin

adapting your

business now

Amazon didn't turn a profit for years and the

cost of replicating the many components of

its ecosystem is virtually insurmountable for

retailers.

In addressing the question of whether

Amazon can become the world's most

dominant retailer, many are betting on

when, rather than if.

What now?

Forget trying to be Amazon. The first thing

smaller traditional retailers need to do

is shed the historical baggage of selling

products at a price.

The future lies in creating engagement and

relationships with customers. To do that,

retailers must leverage the

one thing Amazon does not have yet, outside

the US: stores with talented

front-line sales staff.

Even within the US, Amazon's bricksand-mortar

stores are not widespread or

particularly well-known, and have been

criticised for their initial smartphone-only

payment system.

Traditional retailers already have close

relationships with customers and beautiful

local stores with helpful and welcoming

staff; they just need strategies to leverage

those elements for maximum profit.The

mantra of Amazon CEO Jeff Bezos is,

"Tomorrow is day one," but he is always

focused several years ahead.

Driverless cars and delivery are likely to be a

reality by around 2024, so think about what

this will mean for consumers. Will they still

go to stores?

Chances are most retailers haven't even

thought about what driverless means to

store design and parking, for example,

but one can bet with certainty that Amazon

is already planning a holistic ecosystem to

leverage it.

It is the job of retailers to think ahead, keep

informed and do what they can to keep up.

CHRIS PETERSEN is founder and CEO

of retail consultancy Integrated Marketing

Solutions (IMS). Visit: imsresultscount.com

48 | September 2020
---
# 1

in Australia

#3

in the World

Jeweller has always been recognised as the #1 trade

magazine in Australia.

Alexa.com, the global ranking system for analysing

website readership, ranks jewellermagazine.com well

above its industry competitors.

Better still, Feedspot, the independent content reading

service, ranks Jeweller #3 in the world. Of all B2B

jewellery publications, we rank just behind the US's

National Jeweler and the UK's Professional Jeweller in

Feedspot's "Top 10 Jewelry Magazines & Publications

To Follow in 2020".

It's Jeweller's commitment to excellence in reporting,

high-quality presentation and readership that sets us

apart. For these reasons during the economic crisis and

global pandemic Jeweller has decided to go fortnightly –

rather than monthly in these challenging times.

We aren't hibernating we're 'hypernating' to help

retailers and suppliers not only survive but thrive!

VOICE OF THE AUSTRALIAN JEWELLERY INDUSTRY
---
BEST OF BUSINESS

Selling

Sales tips you can apply to everyday life

The key skills and insights of the salesperson aren't just limited to the shop floor; they can also help

you navigate tricky social situations and uncertain interactions outside of work, writes SUE BARRETT.

Humans are social animals who need

to engage with others in some way in

order to be able to live effectively and

have a meaningful existence.

Whether you're a salesperson or

not, there are times in your daily life

when knowing how to sell can turn an

awkward situation into a positive one.

The fear of rejection

Consider the new school year as an

example. There are often many new

faces and new people to meet across

the year. Whether you want to or not,

you will find yourself in new situations.

These could include setting up play

dates for your children, welcoming

new neighbours into your community,

forming a parent group, meeting your

child's teachers and so on.

For some, social scenarios like these

are second nature but not everyone finds

these types of tasks easy to do.

Some parents might even consider it

daunting. What if you try to arrange a

play date between two children and the

other parent says no?

People don't like to be rejected, which is

why it can be intimidating to break into

a new tribe.

But as it turns out, igniting new social

relationships is just like setting up new

client relationships at work.

Both raise various questions and fear in

our minds, such as:

• How do I get accepted?

• How do I make a good impression?

• How do I get along with these people?

People don't

like to be

rejected, which

is why it can be

intimidating to

break into a

new tribe

• How do I build a trusting relationship

with them, going forward?

All of these questions require us to

know how to plan, prospect, enquire,

understand others and find ways to

engage in meaningful exchanges for the

purpose of making a strong connection.

That is also what is required in the

business world and more specifically

in retail sales.

Strangers to friends

Let me share a specific example to

illustrate my point.

Recently I was harvesting our annual crop

of plums. It has been a good season and

we harvested around 30kg.

What we normally like to do is make a

pflaumenmus, which is plum butter, and

50 | September 2020
---
we also preserve the plums; however,

given previous harvests, we had more

than enough already.

We didn't need to cook anything this year

but we also didn't want to have these

delicious plums go to waste.

I devised a plan – I would take some

excess plums door-to-door and offer

them to my neighbours for free, some

of whom I know well and others whom

I do not know.

Have you ever tried to go door-to-door

selling something?

It's not easy, even if the product you have

won't cost the other person anything!

People can be wary because they are

caught off guard; they're wondering who

you are and what you want.

To address this and before I left for my

plum distribution drive, I developed

my VBR – valid business reason – for

calling on them.

It went something like this: to people

I didn't know, I said, "Hi, I'm your

neighbour from up the street. We have an

abundance of fresh plums we cannot use

and I was wondering if you would like to

have some?"

Immediately everyone knew why I was

there and what I was offering.

When they said yes to the offer, I

instructed them to get a large bowl so

I could give them plenty of plums.

To people I did know, I said the same thing

but with one crucial difference: I used

their names.

"Hi [person's name], we have an

abundance of fresh plums we cannot use

and I was wondering if you would like to

have some?"

I managed to visit 12 houses, which

took me three hours because, besides

distributing my plums, I got to have

some wonderful conversations with

my neighbours.

Clear

planning

Consider how

others will

perceive you

and define

how you will

address that

Positive

intentions

Focus on what

you can provide

and making

a meaningful

connection

Open and

friendly

Be confident

and allow

others the

space to say

yes or no

I even got some home-grown corn and

chillies in return and it was a lovely way to

spend a Saturday afternoon.

There were real skills involved here

– knowing how to introduce yourself;

helping people to quickly understand why

you are there; giving neighbours a choice

to say yes or no; being open, friendly and

welcoming.

All of these were integral to the success

of the venture – as they are when it comes

to dealing with customers.

However, having a clear plan and the right

intentions made the biggest difference to

my success in this situation, helping me

to build new and better relationships in

my community.

SUE BARRETT is founder and CEO of

innovative and forward-thinking sales

advisory and education firm Barrett

and online sales education platform

salesessentials.com. Visit: barrett.com.au
---
BUSINESS

Management

Thinking big? Your small business doesn't need to

Everyone thinks the premise of retail is the need to generate growth – but what if growth isn't so important

after all? KARYN GREENSTREET explains why thinking big is no guarantee of success.

It's written in nearly every business book

and spoken from the lips of nearly every

business guru: achieving growth is the

pathway to retail happiness.

More products, more services, more

stores, and more revenue.

Bigger is better – right? In fact, the

endless push to grow businesses to the

next level – whatever that means – may

not be the right thing for many of us.

There's no shame in declaring that you

want to keep your business small.

This article isn't about people who

remain small because they're scared

to take risks or because they don't

have the skills or the financing to

grow larger.

This article is about people who choose

to keep their businesses small because

it's what they really want.

Debunking business myths

There's an unspoken taboo in declaring

an intention to keep a business small. In

his book, The E-Myth Revisited, Michael

Gerber says that those who elect to stay

small and work in their businesses have

a job, not a business.

This logic seems incorrect. There

doesn't appear to be anything wrong

with wanting to stay small and do the

everyday work yourself.

Gerber's principle is that a business

should be created to get more out of

life, and most self-employed people

start their own businesses because they

love what they do.

Certainly the work business owners do

should allow them to have the lifestyle

they want – but people don't always

start businesses to make incredible

amounts of money.

If that were the case, why not get a

corporate executive job? It would be far

less risky!

People start

businesses

to provide

the services

and products

they love and

to work in a

way that gives

them personal

fulfilment

as well as

a creative

challenge

No, people start businesses to provide

the services and products they love

and to work in a way that gives them

personal fulfilment as well as a

creative challenge.

Of course, there's also the freedom that

self-employment provides.

The joy of small

There is a new way of looking at small

business that challenges the notion that

all growth is desirable.

In his book, Small Giants: Companies

That Choose to be Great Instead of

Big, Bo Burlingham discusses small

business owners who had a choice to

increase their business to majestic

proportions – yet chose instead to

perfect what they had, rather than

sell out to the 'growth' ideal.

Those who elect to stay small and

create a great business are generally

more interested in the qualitative

52 | September 2020
---
SMALL

BENEFITS

Freedom

and flexibility

in decisionmaking

Retaining

a hands-on

approach

to everyday

operations

Focus on

perfecting the

offering, rather

than meeting

growth targets

Remaining

closely

connected to

customers and

employees

aspects of their work than in sales. They want to be

great at what they do and offer the best service and

products possible.

In my opinion, the only way to do this is to remain

small. The boutique-business model allows owners

to connect intimately with their customers, to listen

to their needs and create solutions quickly.

This model gives owners a level of independence

and joy that they might never find in larger

businesses.

American author and entrepreneur Seth Godin

believes small businesses provide untold flexibility.

"Small is the new big because small gives you the

flexibility to change the business model," he says.

"Small means you can tell the truth on your blog.

Small means that you will outsource the boring,

low-impact stuff like manufacturing and shipping

and billing and packing to others while

you keep the power because you invent the

remarkable."

Learning to love business

A business starts as a means to an end. Perhaps

the aim is to achieve a certain lifestyle or pay the

school fees, but there's no reason a business can't

also be enjoyable.

Those who love gardening aren't trying to find ways

to delegate their gardening work to others. They're

focused on getting their fingers in the dirt and

doing it themselves because the very

act of working in the garden is enjoyable to them.

Sometimes this means they need a smaller garden

that they can more easily manage. They have fewer

plants so they can give each one the attention it

needs to truly flourish.

In business too, many self-employed people don't

want to be 'absentee owners'. They don't want

to lose touch with customers or the reasons

they work. They don't want to be corporate-style

managers and would rather work with partners

who love what they do too.

Those who want to be the owner of a large number

of jewellery stores with an army of employees

should go for it. There's nothing stopping them.

But those who want to get their hands dirty every

day should stay focused and build a business that's

small and great.

KARYN GREENSTREET is president of Passion

for Business, specialists in small business

consulting. Visit: passionforbusiness.com
---
BEST OF BUSINESS

Marketing & PR

Waging war: marketing vs sales

Should marketing be less of a focus than sales or are they equally important to retail businesses?

DALE FURTWENGLER discusses the relationship between the two and if a peace treaty can be made.

Over the years I've heard much

commentary about the roles of marketing

and sales within business. Popular sales

writer Geoffrey James has written that

marketing should be subordinate to sales

instead of a separate function.

Obviously, marketing experts disagree.

War is expensive; let's see if we can put

an end to this one.

The role of marketing

In many businesses, marketing's role

is to get the word out about the store,

attracting new customers by creating

front-of-mind awareness and a buzz for

new offerings.

A firm strategy is required to ensure

businesses see returns on their

marketing expenditure.

However, often, businesses contribute

their largest marketing investments –

both in dollars and production capacity –

towards their least profitable lines.

This raises some important questions

when assessing the marketing strategy:

• Are the right customers being targeted?

• Are businesses touting the right

offerings?

• If they are doing both the above, how is

it that retailers end up with so many lowmargin

customers and offerings?

Market research is another role that falls

under the purview of marketing. Product

innovations and improvements are often

supported by, if not initiated through,

research conducted by the marketing

department or officer.

The question is: should this be

marketing's province exclusively?

The role of sales

The role of sales staff is, simplistically, to

generate sales. Unfortunately, too many

retailers operate from this very view,

and, when asked, salespeople can rarely

identify their 'ideal' customers, what

those customers value and what that

value is worth in monetary terms.

To make matters worse, the current

models for sales commission encourage

staff to relentlessly pursue customers and

to do anything they can to make the sale.

When marketing

and sales are

both targeting

the same highly

profitable people

and categories,

a business will

generate higher

revenues more

quickly and at

premium prices

This occurs whether the business' marketing

is targeting the right segments or not.

How can retailers stop this madness? Here

are some thoughts.

The importance of cross-pollination

In small businesses, like jewellery stores,

staff often handle both marketing and

sales – but it's rare that someone analyses

profitability by both customer and product

line/service categories.

A caveat here – storeowners often calculate

profit in ways that make it easy for them

to report financial results under external

reporting requirements.

Marketing and sales people should make

sure they are comfortable that profit

numbers reflect the economics of the

various markets they serve.

There are a few fundamentals to consider:

• Why are some customers willing to pay

more for an offering?

• What do they see that other customers

do not?

54 | September 2020
---
A UNIFIED

APPROACH

Both

marketing and

sales teams

should focus on

targeting highvalue

customers

Marketing

staff must

'crunch the

numbers' and

use insights

from sales to

identify bestperforming

offerings and

opportunities

Data collected

by sales staff

can be used

to inform and

improve the

marketing

message

• Are the marketing messages designed to

attract more of these customers?

• How can this information help salespeople

focus their efforts toward this market?

• How can staff make marketing messages and

sales scripts more congruent to increase the

likelihood of sales?

• What opportunities are staff seeing in

the market for innovation and/or product

improvement?

• Are these opportunities something for which

buyers are willing to pay extra?

• Which offerings are languishing? Should they

be invigorated or abandoned?

Leverage relationships

Customers will always have stronger rapport

with sales staff than with marketing staff, and

sales staff have access to the shop floor to see

first-hand how customers react to products.

They also get the opportunity to have more

candid exchanges with customers than backoffice

staff. Therefore, their observations can be

extremely valuable for improving the sales and

marketing approach.

Customers are more likely to offer feedback

to salespeople they like and to let them know

when a competitor is about to release a product

of value.

At the same time, salespeople are able to

share trends that they see in their customers'

shopping preferences.

Salespeople should also be encouraged to

share any language they're using that helps close

a sale or establish a relationship. Likewise, they

should also be encouraged to share complaints

they've received from customers.

All of this information can help shape a retailer's

marketing messages so that they resonate with

their most profitable customers.

When marketing and sales are both targeting the

same highly profitable people and categories,

a business will generate higher revenues more

quickly and at premium prices. Now, how's that

for a peace treaty?

DALE FURTWENGLER is the founder of

Furtwengler & Associates. Hs is a speaker,

author and business consultant. Visit:

pricingforprofitbook.com
---
BEST OF BUSINESS

Logged On

"looks like kate middleton

has recently worn a pair

of medium gold hoops.

tomorrow i'll upload an

'inspired by kate' blog

post and link images to

my best selling hoops. I

should also send that out

as an eNewsletter to my

customers who frequently

buy gold jewellery."

Low-cost ways to attract online customers

Online marketing can be an effective way to attract new customers to your business – and it doesn't need to be an

expensive pursuit. HARSH AJMERA discusses cost-efficient ways to make the most of social media platforms.

Are you looking for ways to acquire new

online customers without burning a hole

in your pocket? No matter how great your

product is, it just becomes pointless if

there is no customer base.

Yet businesses today don't want users

to visit their page only to buy something;

similar to the in-store retail experience,

they want to connect with customers in

order to build a relationship that yields

benefits in the future.

Here are seven ways in which you can

attract customers and promote your

business without spending a fortune.

1. Hijack trending topics

For this process, you need to be quick

as you can to inject your brand in real-time

to get the coverage you want. You need to

choose a trending topic related to

your industry.

Done correctly, you will be exposed to new

audiences who will start following your page

on social media – if they like what they see.

In turn, they could become customers.

For example, during the Cricket World

Cup, country hashtags like #IndvsAus will

trend on Twitter. In the past, popular soup

and noodle brand Maggi tapped into the

World Cup's exposure with an image that

suggested there are two things that India

needs the most: the World Cup and Maggi.

The brand then pushed the idea of

consuming Maggi products while watching

the game.

2. To make a friend, be a friend

Partnering with other brands will

boost exposure to many eyeballs from

neighbouring networks.

You can collaborate by doing a guest

blog, sharing boards on Pinterest, crosspromotions

on social channels, or running

a joint contest or campaign.

It is important to choose the correct brand

for the collaborative campaign. Ensure the

other brand is relevant to your audience

– that is, your current and potential

customers – but is not a competitor.

Their audience and customers should

overlap with yours, and they should have

a positive reputation and similar values.

A great way to

boost purchases

is to create

'spot sales' on

social media

and specify

that prices will

return to normal

in a few hours

3. Provide exlcusive discounts

Who doesn't love a good deal? We all do, so

make sure you provide such exclusive offers

to your potential customers that it becomes

tough for them to deny.

Whenever you put a time frame on

something, it makes customers act faster

as they don't want to miss an opportunity

to save money or snap up their favourite

products.

A great way to boost purchases is to create

'spot sales' on social media and specify that

prices will return to normal in a few hours.

4. Leverage the power of users

User-generated content is content created

by users to show interaction with your

brand. This makes potential customers

crave for the same experience, leading them

straight to your store.

The social media pages of adventure

camera business GoPro are filled

with pictures and videos submitted by

customers. This not only showcases the

potential of the product but attaches values

of fun and adventure to the brand itself.

56 | September 2020
---
DIGITAL

DIRECTIVES

1. Quality over

quantity is key

when it comes

to content – but

ensure you are

posting regularly

and at the

optimum time

2. Convert

browsers into

buyers by creating

urgency through

spot sales

3. Foster brand

loyalty by

featuring usergenerated

content

– this will also

save you time and

money on creating

your own content

4. Go beyond

your existing

base using

trending topics

and hashtags, or

partnering with

other brands on a

campaign

5. The old rules

still apply –

customers expect

the same great

service online as

they do offline

5. Provide stellar customer service

In both online and offline retail, the element

that will truly give brownie points to your

brand is the customer service you provide.

Your duty doesn't end once your product is

sold; in fact, it starts when customers begin

using the product.

Customer service plays a massive role when

it comes to shaping purchase decisions, so

make use of various low- or no-cost digital

tools that can help you monitor and respond

quickly to requests.

6. Highlight the perks

Customers love it when they can gain

additional perks along with products/

services. Highlight any perks you provide on

all social-media pages and websites, such

as free shipping, your loyalty program, or

a gift with purchase.

This will boost awareness and possibly

stimulate user-generated content online.

7. Be original and creative

There's no sugarcoating for this one:

retaining new customers is even harder

than gaining them. For that, you need to

keep producing original and creative content

that keeps followers engaged and updated.

To help keep the flow of content going,

create a weekly content calendar and jot

down any post ideas in there first.

You don't need to post 10 times a day; it's

better to post less frequently but be sure

that each post is perfectly designed to create

an impact.

As you can see, you don't have to spend

thousands on marketing your business and

attracting new customers. All you need to

engage customers is the correct strategy

that will work for your business.

Incorporate these seven elements into

your plan and soon your content will be

flowing in the right direction. Once you feel

like you have made a footing, you can keep

experimenting, measuring and tweaking

your strategy.

F V J E W E L L E R Y

A v i b r a n t c o l l i s i o n o f

p r e c i o u s s t o n e s , p e a r l s ,

& s t e r l i n g s i l v e r .

Maariaa

W W W . F A B U L E U X V O U S . C O M

HARSH AJMERA is the founder of Digital

Insights, a website exploring social media

platforms, tools and strategies.

Visit: blog.digitalinsights.in
---
SAMS GROUP

SAMS GROUP

SAMS GROUP

AUSTRALIA

AUSTRALIA

AUSTRALIA

Access one one of of the the largest inventories of of Argyle Argyle Pink Pink Diamonds Diamonds in Australia in Australia

All

All

SGA

SGA

Argyle

Argyle

pink

pink

diamonds

diamonds

are

are

cut

cut

&

&

polished

polished

by

by

Argyle

Argyle

with

with

Argyle

Argyle

Certificares

Certificares

& Lot

&

Numbers.

Lot Numbers.

Whether you are after a tender stone for investment, a few melee to complete

Whether you are after a tender stone for investment, a few melee to complete

a custom design or just a single pink diamond, we can make it happen.

a custom design or just a single pink diamond, we can make it happen.

Access one of the largest inventories of Argyle Pink Diamonds in Australia

All SGA Argyle pink diamonds are cut & polished by Argyle with Argyle Certificares & Lot Numbers.

Whether you are after a tender stone for investment, a few melee to complete

a custom design or just a single pink diamond, we can make it happen.

TENDER STONES SINGLE STONES MATCHED PAIRS CALIBRATED MELEE LINES

TENDER STONES SINGLE STONES MATCHED PAIRS CALIBRATED MELEE LINES

T: 02 9290 2199 F: 02 9262 1630 E: Pink@samsgroup.com.au W: Samsgroup.com.au

T: 02 9290 2199 F: 02 9262 1630 E: Pink@samsgroup.com.au W: Samsgroup.com.au
---
Access one of the largest inventories of Argyle Pink Diam

All SGA Argyle pink diamonds are cut & polished by Argyle with Argyl

Whether you are after a tender stone for investment, a few

a custom design or just a single pink diamond, we can m

TENDER STONES SINGLE STONES MATCHED PAIR

Access one of the

largest inventories of

T: 02 9290 2199 F: 02 9262 1630 E: Pink@samsgroup.com.au

Argyle Pink Diamonds

in Australia

All SGA Argyle Pink Diamonds are cut and polished by

Argyle with Argyle Certificares and Lot Numbers.

Whether you are after a tender stone for investment, a

few melee to complete a custom design or just a single

pink diamond, we can make it happen.