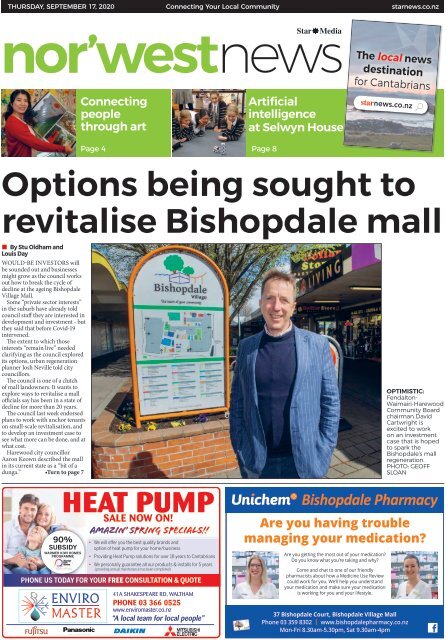 Nor'West News: September 17, 2020
Create successful ePaper yourself
Turn your PDF publications into a flip-book with our unique Google optimized e-Paper software.
THURSDAY, SEPTEMBER 17, 2020

Connecting Your Local Community

starnews.co.nz

Connecting

people

through art

Artificial

intelligence

at Selwyn House

The local news

destination

for Cantabrians

Page 4 Page 8

Options being sought to

revitalise Bishopdale mall

• By Stu Oldham and

Louis Day

WOULD-BE INVESTORS will

be sounded out and businesses

might grow as the council works

out how to break the cycle of

decline at the ageing Bishopdale

Village Mall.

Some "private sector interests"

in the suburb have already told

council staff they are interested in

development and investment - but

they said that before Covid-19

intervened.

The extent to which those

interests "remain live" needed

clarifying as the council explored

its options, urban regeneration

planner Josh Neville told city

councillors.

The council is one of a clutch

of mall landowners. It wants to

explore ways to revitalise a mall

officials say has been in a state of

decline for more than 20 years.

The council last week endorsed

plans to work with anchor tenants

on small-scale revitalisation, and

to develop an investment case to

see what more can be done, and at

what cost.

Harewood city councillor

Aaron Keown described the mall

in its current state as a "bit of a

dunga." •Turn to page 7

HEAT PUMP

SALE NOW ON!

Amazin' Spring Specials!!

90%

SubSidy

Warmer KiWi HomeS

Programme

*Eligibility criteria apply

• We will offer you the best quality brands and

option of heat pump for your home/business

• Providing Heat Pump solutions for over 18 years to Cantabrians

• We personally guarantee all our products & installs for 5 years

(providing annual maintenance has been completed)

Phone us today for your free consultation & quote

41A SHAKESPEARE RD, WALTHAM

PHONE 03 366 0525

www.enviromaster.co.nz

"A local team for local people"

OPTIMISTIC:

Fendalton-

Waimairi-Harewood

Community Board

chairman David

Cartwright is

excited to work

on an investment

case that is hoped

to spark the

Bishopdale's mall

regeneration.

PHOTO: GEOFF

SLOAN ​

Bishopdale Pharmacy

Are you having trouble

managing your medication?

Are you getting the most out of your medication?

Do you know what you're taking and why?

Come and chat to one of our friendly

pharmacists about how a Medicine Use Review

could work for you. We'll help you understand

your medication and make sure your medication

is working for you and your lifestyle.

37 Bishopdale Court, Bishopdale Village Mall

Phone 03 359 8302 | www.bishopdalepharmacy.co.nz

Mon-Fri 8.30am-5.30pm, Sat 9.30am-4pm
---
2 Thursday September 17 2020

Latest Canterbury news at starnews.co.nz

what's on

this week

NOR'WEST NEWS

GENERAL INQUIRIES Ph 379 7100

CLASSIFIED ADVERTISING Ph 379 1100

Star Media, a division of Allied Press Ltd

PO Box 1467, Christchurch

starmedia.kiwi

NEWS

Bea Gooding

Ph: 021 911 576

bea.gooding@starmedia.kiwi

ADVERTISING

Monique Maynard

Ph: 021 372 481

monique.maynard@starmedia.kiwi

Your local community news

delivered to 28,748 homes

within The Star each week.

Harewood • Burnside • Bishopdale • Bryndwr

Fendalton • Merivale • St Albans • Mairehau

Papanui • Casebrook • Redwood • Styx Mill

Regents Park • Northwood • Belfast • Strowan

Citizens Advice Bureau

Thursday, 11am-5pm, Friday,

11am-5pm, Monday, 11am-5pm,

Tuesday, 2-5pm, Wednesday,

11am-5pm

Fendalton Library

Citizens Advice Bureau provides

free and confidential advice. They

take the time to listen and equip you

with the information, options and

support that fit your needs. Phone 351

7804 for more information.

Knit 'n' Yarn

Thursday, 2-3.30pm, at Fendalton,

Wednesday, 1-2.30pm, at Redwood

Fendalton and Redwood libraries

Take your knitting, crochet or

other craft projects and have fun with

a social group. This is a free, drop-in

event.

The Zone @ Shirley

Thursday, 4-5pm

Shirley Library

Go along and get to know other

like-minded teenagers. Go headto-head

on the PlayStation, mix

music with GarageBand, get creative

with green screen or play classic

board games. Suitable for ages 12

to 19-years-old. Free, no booking

required.

Mahjong Group

Saturday, 1-3.30pm, at Shirley,

Monday, 1-4pm, at Papanui

Shirley and Papanui libraries

Go along to the free event if you

are interested in playing or learning

about Mahjong.

Wā Kōrero: Storytimes – Bilingual English and Mandarin,

Tuesday, 10.30-11am, Shirley Library. An interactive programme featuring

stories, rhymes and songs in both English and Mandarin. Suitable for young

children and caregivers. No bookings required. ​

JP Clinic

Saturday, 10am-noon, at

Fendalton, Tuesday, 10am-1pm, at

Shirley and Papanui, Wednesday,

10am-1pm, at Bishopdale

Bishopdale, Fendalton and Shirley

libraries

A justice of the peace will be

available to witness signatures and

documents, certify document copies,

hear oaths, declarations, affidavits or

affirmations, as well as sign citizenship

or rates rebates applications.

GenConnect

Tuesday, 12.15-12.45pm

Papanui Library

If you have questions about your

smartphone or tablet, ask an expert

for advice. Free, no bookings required.

Reading to Dogs

Tuesday, 3.30-4.30pm

Shirley Library

A relaxed, non-threatening event

designed to encourage children to

practise reading skills and develop

a love for reading. Registration

required. Phone 941 7923 to register.

Upskilling Course

Wednesday, 9.30-11.30am

Shirley Library

Go along if you need to work

towards your learner driver's license

test and improve your reading, writing,

maths, and computer skills. Free

for NZ residents and citizens. Registration

required. Phone 379 1916 to

enrol.

Scrabble Club

Wednesday, 1.30-3.30pm

Shirley Library

Play Scrabble with a friendly group.

All materials supplied. Head along

when you can. Free, no bookings

required.

Not-for-profit organisations can

send their What's On listings to

norwest@starmedia.kiwi
---
NOR'WEST NEWS Latest Canterbury news at starnews.co.nz

Thursday September 17 2020 3

News

Drink driving: How the numbers

stack up in the Papanui area

• By Matt Slaughter

POLICE CHARGED 915 people

with drink driving offences in

Papanui between 2017 and

2019.

An Official Information Act

request by Nor'West News has

revealed out of eight areas in

Christchurch and Banks Peninsula,

Papanui sits second on

the list of areas where the most

people have been charged for

being over the legal breath and

blood alcohol limits in this time

period.

Christchurch central is first

on this list, with officers there

charging 1993 drivers with such

offences, south Christchurch sits

third with 675 and New Brighton

Police Station was fourth with

658.

The legal breath alcohol limit

in New Zealand is 250mcg/l.

The highest breath alcohol

readings recorded between

2017 and 2019 in the Papanui

area were 1519mcg/l in

2017, 1442mcg/l in 2018 and

1669mcg/l in 2019.

There were 4812 excess breath

and blood alcohol offences in

Christchurch between 2017 and

2019.

The number of drink driving

offences decreased over this

three year period. There were

1742 offences in 2017, 1539 offences

in 2018 and 1531 in 2019.

Canterbury Road Policing

Manager Greg Cottam said these

statistics are promising but any

drink driving at all is too much.

"Over time we've seen a drop,

which is great, but it comes back

to the fact that any drink driving

is one too many and the potential

for serious harm for other road

users is unacceptable. We have a

no-tolerance policy for alcohol

and one is one too many."

Meanwhile, in July a police

CHECKPOINT:

Statistics

have revealed

which areas of

Christchurch

the most

drink drivers

were caught

between 2017

and 2019.

clamp-down on drink driving

saw them stop and breath test

14042 Canterbury motorists.

Of these, 68 were over the legal

breath alcohol limit.

They trialled microcheckpoints

as part of this,

which require as few as one

police car and officer to set up

and carry out.

Breath and blood alcohol

offences by police station

between 2017 and 2019

Christchurch Central Police

Station

2017 – 713

2018 – 634

2019 – 646

Papanui Police Station

2017 – 358

2018 – 289

2019 – 268

Christchurch South Police

Station

2017 – 250

2018 – 214

2019 – 211

New Brighton Police

Station

2017 – 200

2018 – 220

2019 – 238

Hornby Police Station

2017 – 185

2018 – 154

2019 – 130

Sumner Police Station

2017 – 21

2018 – 19

2019 – 19

Lyttelton Police Station

2017 – 10

2018 – 6

2019 – 13

Christchurch Airport Police

Station

2017 – 5

2018 – 3

2019 – 6

'CEREC' & cosmetic dentistry

Wisdom tooth removal

Painless, high quality dentistry

Sedation dentistry

Experienced, conscientious team

Experienced hygienists

OPEN SATURDAYS

355 9380

The revolution

in heat pumps

is here now!

144 Cranford Street

www.stalbansdentalcentre.co.nz

The Fujitsu e3series

The brilliant

heat pumps from Fujitsu

NUMBER ONE SUPPLIER

TO THE NZ JET BOATING

COMMUNITY FOR OVER

50 YEARS

• Part Boats & Hulls

• Turn Key Packages

• New Jet Units

• Custom Fabrication

• Expert Advice

SERVICING

Peter Tonkin

03 962 0505

peter.tonkin@hamjet.co.nz

• Spare Parts Retailer

• Jet Unit Refurbishment

• Engine Tune-Ups

• Insurance Repairs

• Impellor Reconditioning

The revolution in heat pumps is here now!

Say hello to Fujitsu's latest lifestyle range

HEAT PUMPS FROM $1999 inc GST INSTALLED!

Conditions apply

e1 : efficiency

e2 : environment

e3 : economy

2020

Website: www.pshc.co.nz

Finance available

Heat Pumps

NEW ZEALAND'S FAVOURITE AIR ®

Fujitsu's Catechin Filters are

approved by the Asthma and

Respiratory Foundation NZ's

Sensitive Choice ® programme.

FREE consultation from your local

Accredited Heat Pump Expert

Phone today: 03 381 6950

INSERT DEALER DETAILS HERE

Email: info@pshc.co.nz
---
4 Thursday September 17 2020

Latest Canterbury news at starnews.co.nz

News

NOR'WEST NEWS

Connecting people across globe through art

• By Bea Gooding

A JAPANESE artist's dream of

connecting people through art

from across the globe has come

to life.

Nearly 400 pieces of art are on

display in a wave-like form at

South Library in Cashmere, with

its bright colours and symbols of

life representing world peace of

the future.

St Albans artist Haruko

Furukawa is behind the art

extravaganza and said the theme

of her exhibition, Big Bang 11,

was something she held close to

her heart.

"My intention is to save the

world with art, and to connect

people's hearts and lives through

artwork," she said.

"This exhibition makes people

feel closer to one another."

Artists of different generations

far and wide from chipped into

the project, from New Zealand,

Japan and Singapore, to the

United States, Europe.

By combining the artworks

from across the world, it represented

a multitude of cultures

and how they would interpret

a future world where peace was

celebrated.

"Imagination can be a medium

for happiness," said Furukawa.

"I believe the power of art can

turn a negative experience into a

positive one."

Furukawa's father died of

a heart attack when she was

4-years-old.

Dealing with the raw emotion

following on from his death at

such a young age was the catalyst

behind her love and passion for

painting.

"When I was four, my father

passed away. I woke up one

morning and he'd had a heart attack.

He was a writer," she said.

PRIDE: Traditional Japanese

painter Haruko Furukawa's

new exhibition, Big Bang

11, contains more than 400

pieces from artists around

the globe.

PHOTO: GEOFF SLOAN

"I was so young and couldn't

understand the meaning of

death and I didn't know how

to deal with the empty feeling I

had.

"Then I discovered that art and

painting gives me so much happiness,

and I knew in the future

from then that I wanted to make

other people happy through my

art too."

Born in Osaka, the avid

painter moved to Christchurch

18 years ago and teaches art to

many groups in her community.

She also created murals across

the city and took part in a number

of events which showcase

the world of art, such as live

paintings.

The Big Bang 11 exhibition will

run each day until September 30

at South Library.

JOIN US NOW!

See website for details

I'm looking forward to attending the

council's public forum with

who've

National's

for Taūpo

New Zealand'

I've

It's the time of year

I've been attending a wide range of

organisations' AGMs, from Citizen's

It's a good way to stay connected to

Sign up to Smart Deals & be in the monthly draw for a $100 Dress-Smart gift card!

Open 10am-5pm, 7 Days 03 349 5750

CHRISTCHURCH 409 Main South Road, Hornby

www.dress-smart.co.nz
---
NOR'WEST NEWS Latest Canterbury news at starnews.co.nz

Thursday September 17 2020 5

OPEN DAYS

Saturday 19 &

Sunday 20 September

10am-3pm

Presentation at 2pm each day

OUR VILLAGE WITHIN YOUR VILLAGE

At Ryman we've been creating vibrant retirement communities for over 35 years, so you can enjoy our

villages within your local village. It's a great way to stay connected and active with like-minded people.

We hope to see you at our village open days at Diana Isaac and Ngaio Marsh villages on Saturday 19

and Sunday 20 September. Be assured we will be adhering to the appropriate safety protocols based

on the Covid-19 level in place.

A real estate agent from Ray White will also be

there to discuss the current property market.

They will be at Diana Isaac on Saturday at

1.30pm and Ngaio Marsh on Sunday at 1.30pm.

DIANA ISAAC VILLAGE

1 Lady Isaac Way, Mairehau, 385 3518

Indicative

NGAIO MARSH VILLAGE

95 Grants Road, Papanui, 354 6608

Ryman villages are named in honour of pioneering

New Zealanders, and just like them, we're leading

the way. From the design of our apartments and

townhouses, and our Peace of Mind Guarantees,

to our full range of aged care options - experience

for yourself, why our villages are ahead of the rest.

rymanhealthcare.co.nz

1333
---
6 Thursday September 17 2020

Latest Canterbury news at starnews.co.nz

NOR'WEST NEWS

PROPERTY NEWS

Well-located family home

offers space and flow

A tree-lined street, so characteristic

of our Garden City, is the location of

this spacious, four-bedroom home in

Harewood, which has just come on to the

market.

Warm and sunny, the property offers

a wealth of features that will appeal to

those looking for an attractive, wellmaintained

family home to settle down

in and make their own.

Probably first to attract attention will

be the light-filled, open-plan kitchen/

living space, with doors leading to a

large deck creating that all-important

indoor-outdoor flow and providing the

opportunity for family barbecues, alfresco

dining, or just a spot to relax in the

sun.

Adjacent to the living area is a separate

dining area, while the modern, wellappointed

kitchen features crisp white

joinery and plenty of bench space.

The home has four double bedrooms,

the master with en suite bathroom, and

a family bathroom. A log burner keeps

the whole place warm and cosy on the

coldest winter days and nights, plus

there is a heat pump for the in-between

times, and the south-facing bedrooms are

double-glazed.

The pleasing neutral décor and quality

Rhino carpet means there is nothing to

spend on re-decorating – just add your

furniture and personal touch.

Another notable feature of this

property is the large double garage with

shelving providing extra storage space,

plus there is secure off-street parking.

Ideal for busy families, the garden is

low maintenance with mature shrubs and

trees, although there is plenty of scope for

further creativity, while a tree hut with a

fireman's pole could be the clincher for

the kids.

Located at 8 Crofton Road, Harewood,

the home is close to two high-decile

primary schools – Costwold School and

Harewood School. The Bishopdale Mall is

just a few minutes away, with Northlands

Mall also within short driving distance,

there are cafes close by, and the airport is

literally five minutes' drive away.

The property is being marketed by

Penny Wilson of Ray White Bishopdale

and will be auctioned at the Ray White

Strowan office on September 23 at

4.30pm.

For an appointment to view the

property, contact Penny on

027 361 5414.

Open homes are Saturday and

Sunday 3pm to 4pm and Thursdays

12.30pm to 1.30pm.

What's your

property

worth?

Get a market valuation in 60 minutes,

call 0800 YELLOW

Ray White Bishopdale & Strowan

0800 YELLOW (0800 935 569)

rwbishopdale.co.nz | rwstrowan.co.nz

Inline Realty Limited (Licensed REAA 2008)

Proudly owned by

Karen Ellis

021 519 275

Barry Ellis

021 519 274
---
NOR'WEST NEWS Latest Canterbury news at starnews.co.nz

Thursday September 17 2020 7

News

Digital needs increasing

• By Bea Gooding

A SCHEME to provide

computers to community

organisations in need across the

city has proven popular, with

digital needs increasing due to

Covid-19.

The city council's Computers

to the Community Scheme offers

computers for free to not-forprofit

groups to help them deliver

services more efficiently.

Excluding the lockdown,

between July 2019 and June this

year, 220 laptops and desktops

were distributed to organisations,

such as St Christopher's Anglican

Church, Delta Community

Support Trust and the

Multicultural Youth Association.

Charity Kilmarnock

Enterprises employs people

with intellectual disabilities to

provide outsourcing solutions for

businesses, such as packaging or

refurbishing needs and received

four desktops and laptops.

Said chief executive Michael

Toothill: "We haven't had the

budget to purchase new ones

ourselves, and we needed to find

an alternative way to save costs.

"We started to sell eco-friendly

cleaning products and needed

equipment to run the dispatch

side of things. We had a gap

to fill in business because we

refurbished headsets for Air New

HELP: Chief executive Michael Toothill (left) with Mark

Russell and Robert Spence, of Kilmarnock Enterprises, with

a new laptop they received from the city council to help

operations run smoothly.

PHOTO: GEOFF SLOAN

Zealand's international flights,

but that's gone on hold.

"Directly for us, it ensures

we can retain jobs and has

been

a huge benefit to our employees."

In the past few months, the

city council noted an increase in

requests from groups working

with multi-cultural communities

and have allocated about 50

computers to organisations

with a variety of cultural

backgrounds.

City council head of

community support, governance

and partnerships John Filsell

said the cost associated with

purchasing the technology was

often a barrier.

Said Filsell: "Covid-19

highlighted the need and use of

technology to feel connected, to

keep in touch with friends and

family both overseas and within

New Zealand to get information,

continuing education and

support the ability to continue to

work.

"Some groups have made the

computers available to those who

do not have them.''

Meeting demand was not a

major issue but at times the city

council experienced a higher

demand which meant some

groups had to wait longer to

receive their computers.

'It is an absolute

embarrassment'

• From page 1

"There is great opportunity

here but like we have said, this

was developed in the 60s and

things have changed a little.

He said he could envisage the

mall becoming more boutique

and similar to the Tannery.

"That type of boutique mall on

this side of town would work really

well, there is a big catchment

for it."

However, city councillor Sara

Templeton said she could not

support the plan as she did not

see it as a priority for council

resources.

"We have got clear evidence

. . . that shows that the inner-city

east and New Brighton areas

should be the priority for revitalisation,"

she said.

City councillor James Gough

labelled this as "disgusting."

"We have massive influence

here, it is one of the few areas

where the council is actually the

main landowner in a major retail

area," he said.

"We are essentially the mall

owner here, we have large

tenants that are crying out to

partner with us, you have a

community that is desperate

to see the council re-invest in

something that it has a duty to,

you look at the private sector

that will re-invest in malls every

five to seven years in a major

re-vamp, nothing has happened

from the council.

"It is an absolute

embarrassment and we have the

ability to do something about

this in existing budgets and I

have got councillors wanting

to vote against it, absolutely

disgusting."

In spite of Templeton's protests,

the plan passed.

The Fendalton-Waimairi-

Harewood Community board

will now play a leading role in

the development of the investment

case. The progression of the

case to the council table for sign

off will hinge on the approval of

the community board.

Board chairman David

Cartwright said while he was

"excited" by the progress, there

was still a lot of work to do.

"It is one thing to get the

fish on the hook but to get it in

the boat is another thing," he

said.

Cartwright said he was

looking forward to working

alongside key stakeholders in the

development of the case.
---
8 Thursday September 17 2020

Latest Canterbury news at starnews.co.nz

News

FOCUS ON HEALTH

NOR'WEST NEWS

Natural support

for healthy joints

Joint issues will affect most of us at some

time. They can show up in any joint such

as in your neck, back, shoulders, elbows,

wrists, hands, hips, knees, ankles and feet.

Cartilage is the protective surfaces

between moving bones that allows them

to move freely. It is constantly worn away

and needs to be rebuilt on a constant

basis. This repair process slows down for

most of us as we age. The result is not

enough cartilage in some joints causing

the joint function to be less smooth. This

is the most common form of arthritis,

called osteoarthritis, and it leads to

inflammation, pain, stiffness and reduced

mobility of the joint.

Joint pain can also be a factor in falls.

Generally joints with the most use or stress

show problems first.

Many people seek pain relief from

their doctor. The usual prescription is

non-steroidal anti-inflammatory drugs,

or NSAIDs, which offer pain relief but

do nothing to stop the progression of the

arthritis.

According to the British Journal

of General Practice, NSAIDs are not

recommended for long term use and are

responsible for 30% of hospital admissions,

mainly due to internal bleeding, heart

attack, stroke and renal damage. Research

shows all NSAIDs double the risk of

hospitalization due to heart failure.

Supporting the body with the right

supplementary nutrients has been found

to be highly beneficial in supporting joint

health for many people.

A local Christchurch company, Kiwi

Natural Health or KNH, has produced an

advanced, high-potency formula called

"Joint Care Plus" to support healthy joint

function.

Inflammation of joints can cause

pain and slows the healing process.

Joint Care Plus contains turmeric,

ginger and black pepper to help reduce

inflammation and pain, and enhance

digestion and absorption of its nutrients.

The formula also contains nutrients that

have been researched to support joint

health, including boron, selenium, zinc,

manganese, proline and MSM, as well

as the highly researched glucosamine

sulfate potassium chloride complex, and

chondroitin sulfate.

This comprehensive formula is in

an easy to swallow capsule. Due to the

amount of nutrients in the formula it

is recommended to take two or three

capsules once daily to achieve a necessary

amount of each nutrient. In severe cases a

loading dose of three capsules twice daily

may be used.

KNH JOINT CARE PLUS and further

information is available from the natural

health advisers, medical herbalists

and naturopath at Marshall's Health &

Natural Therapy.

ADVANCED NATURAL

NUTRITION

FOR HEALTHY

JOINTS

Are your joints painful, stiff, noisy, swollen or

inflamed? This is often caused by a lack of

cartilage, the soft spongy material in all joints

between the moving bones. Sufficient cartilage

allows the joints to move freely. KNH JOINT

CARE PLUS contains a comprehensive formula

of nutrients known to support the body maintain

& replace cartilage & connective tissue as well

as reduce inflammation & pain. The high potency

formula is in easy to swallow capsules with

advanced absorption technology for faster results.

KNH JOINT CARE PLUS SUPPORTS:

- Cartilage, ligaments & connective tissue regeneration

- Inflammation & swelling relief

- Pain relief

- Joint flexibility

- Healthy joint function

MAIL ORDER

AVAILABLE

Bringing You the Best in Natural Health

MARSHALLS HEALTH & NATURAL THERAPY

CONSULTING - PRESCRIBING - DISPENSING - MANUFACTURING - MEDICAL HERBALISTS

101 SEAVIEW RD, NEW BRIGHTON • PH 03 388 5757 • Email: enquiry@marshallshealthshop.co.nz

- WE ARE ALWAYS HAPPY TO HELP! -

Super price

60 Capsules

only $16.90

120 Capsules

only $29.90

240 Capsules

only $47.90

A FIRST: Selwyn House School year 8 pupils Alice (left), Freya, Rain, Honor

and Coco apply their new artificial intelligence learnings to "Cosmo the

Robot." ​

Artificial intelligence

curriculum at

Selwyn House School

THE RAPID growth

of artificial intelligence

in today's world has

prompted a Merivale

school to establish

the country's first AI

curriculum for pupils.

The programme will be

available for year 8 pupils

at Selwyn House School

and will cover subjects

such as AI perception,

machine learning, human

AI interaction and societal

impact.

Principal Dr Lyn Bird

said the course has so far

been well received by the

pupils, who have been taking

part over the last eight

weeks.

"With a technology that

is developing as rapidly as

this, I think it is crucial

that we give our

future workforce an

understanding of the opportunities

and risks that

this technology

brings," she said.

"As far as we are aware,

there is no other AI curriculum

in the country

catering to this age group,

and only one or two

around the world."

With the help of science

and mechatronics teacher

Simon Christie, they

started developing their

own curriculum last year,

which was introduced to

pupils for the first time this

term.

The school's mechatronics

curriculum had covered

AI in the past, but there

was no dedicated course

for it.

"Having a course

dedicated to this particular

technology has been

fantastic and the understanding

that these pupils

are going to walk away

with is so important," said

Christie.

Selwyn House student

Honor Forbes said learning

about AI was important

in helping others.

"People should not take

it too lightly because, while

it can be really useful by

helping to eliminate human

errors, such as with

self-drive cars, if we are

not aware of algorithmic

bias then we completely

defeat that purpose," she

said.

"The more people that

are aware of those risks,

the more chance there is

that we will avoid those

mistakes, so I think that

this is a really important

thing to learn about at

school."

Following its successful

introduction, the AI

curriculum will become a

regular part of year

8 learning at Selwyn

House School.

Said Christie: "Our year

8 pupils now have not only

increased knowledge about

the current and potential

uses of AI, but also a welldeveloped

awareness of the

ethical issues surrounding

it such as algorithmic

bias – an understanding

that most adults would not

have."

GROWTH: Selwyn

House School

principal Dr Lyn Bird

and year 8 students

learn more about

artificial intelligence

technology – the

country's first

dedicated course

catering for this age

group at school.
---
NOR'WEST NEWS Latest Canterbury news at starnews.co.nz

Thursday September 17 2020 9

Can't vote in person?

You can get help.

If you have poor health or

mobility and can't vote in

person, call 0800 36 76 56

to find out how you can vote.

vote.nz
---
10 Thursday September 17 2020

Latest Canterbury news at starnews.co.nz

NOR'WEST NEWS

News

Churches join forces

to form foodbank

• By Bea Gooding

THREE CHURCHES

in Avonhead have joined

forces to form a foodbank

in response to an increased

demand for social support

services in the city's

northwest.

The foodbank will be

located at St Christopher's

Anglican Church and is in

partnership with St Mark's

Presbyterian Church and

Avonhead Baptist Church.

St Christopher's vicar

reverend Michael Brantley

said the churches decided

to work together because

it was a task better served

where resources could be

shared to provide the new

service for the community.

"There's been a great increase

in need. The reality

is many of the people living

in this area have never

been in that place before.

They'll probably go hungry

before they ask for help,"

he said.

"These people are pilots,

own businesses directly

related to tourism and own

homes that have become

food vulnerable for the first

time due to unemployment.

But they still have

bills to pay."

Brantley said they were

partly relying on people in

the churches to distribute

food parcels to people they

knew in a bid to connect

with those who do not

reach out themselves.

"We know some people

won't come out and queue

up. They won't be asking

but we know they're vulnerable."

Operating the foodbank

in recent weeks proved its

importance in the community

due to high demand.

Brantley anticipated that

this will continue to be a

growing need in the coming

months as the country

begins to see the full economic

downfall caused by

Covid-19.

"We anticipated that this

will be a growing need,"

he said.

"We know by next June

WORKING

TOGETHER: St

Christopher's

Anglican

Church youth

pastor Josiah

Langan (left)

and Jocelyn

Murray, of

Avonhead

Baptist Church,

help distribute

parcels at a

new foodbank

set up by three

churches in the

area.

that we'll see the bottom of

this economic trough, that

means another whole year

of recovery."

The "sophisticated" food

parcels were pre-packaged

and can be picked up at the

church and can be tailored

for individual dietary

needs.

To help the churches

run the foodbank, the city

council provided a laptop

and desktop computers as

part of its Computers to

the Community Scheme.

Making the process

more efficient meant they

had to spend more than

$2000 to set up the service

to make it usable, such as

refurbishing the space.

Brantley was grateful

for the support of the city

council, the effort of the

three church teams and of

the public's contributions.

"I feel like we're making

a real difference in our

community. Having the

rug ripped from under you

can really knock the wind

out of you," he said.

Your LoCAL

TYrE SPECIALIST

New & Quality Used Second-hand Tyres

Alloy Wheels

Replacement Rims

Puncture Repairs

8c Birmingham Drive,

Middleton

www.jcmdirect.co.nz

343 0099 or 027 22 63 805

Proud to support Hornby Hockey Club
---
NOR'WEST NEWS Latest Canterbury news at starnews.co.nz

Thursday September 17 2020 11

Classifieds Contact us today Phone our local team 03 379 1100

Church Notices

SMALL NON

DENOMINATIONAL

GROUP. Meet to

read bible on Monday

afternoons. All welcome.

For more info phone

Veronica 960 7655 or 021

022 92613

Community Events

ALCOHOLICS

ANONYMOUS, If you

want to have a drink that's

your business. If you want

to stop, we can help. Phone

0800 229-6757

Tuition

SINGER. GUITAR

TUITION available.

Enquiries to Vocalworks

Studio. Ph/txt 027

6966290. All ages

welcome

Wanted To Buy

AAA Buying goods

quality furniture, beds,

stoves, washing machines,

fridge freezers. Same day

service. Selwyn Dealers.

Phone 980 5812 or 027

313 8156

TOOLS Garden,

garage, woodworking,

mechanical, engineering,

sawbenches, lathes, cash

buyer, ph 355-2045

Trades & Services

BATHROOM

Renovations, complete

service from start to finish,

free quotes, ph Dave 027

334 4125

Trades & Services

ROOF

PAINTING 24/7

Rope & harness

a speciality,

no scaffolding

required,

30 years of

breathtaking

experience.

FREE QUOTES

20% OFF other

roof quotes

Exterior staining,

exterior painting,

water blasting.

Moss and mould

treatment $300.

Phone Kevin

027 561 4629

BRICKLAYER

George Lockyer. Over

40 years bricklaying

experience. UK trained.

Insurance work, EQC

repairs. Heritage

brickwork & stonework

a speciality. No job too

small. Governers Bay.

Home 329 9344. Cell

027 684 4046. E mail

georgelockyer@xtra.co.nz

CARPET LAYING

Exp. Repairs, uplifting,

relaying, restretching.

Phone John on 0800

003181, 027 240 7416

jflattery@xtra.co.nz

ELECTRICIAN

Hickey Electrical.

Reasonable rates, no

call out charge. www.

electricnz.com Ph Jason

021 260 3426

Trades & Services

concrete & PAVINg

• Driveways

• Earthquake repairs

• New Home Specialists

• Patios & Paths

tel: 0508 873 7483

email: sales@affordableconcrete.co.nz

www.affordableconcrete.co.nz

ELECTRICIAN

Hickey Electrical.

Reasonable rates, no call out

charge. www.electricnz.com

Ph Jason 021 260 3426

PAINTER QuALIfIEd

local professional, int/

Ext,roofs,wallpaller, call or

text Corban 027 846 5035

ROOfING REPAIRS

Fully qualified, over 40 yrs

experience. Ph John 027

432-3822 or 351-9147 email

johnchmill@outlook.com

STONEMASON

BRICK & BLOCKLAYER,

Earthquake Repairs, Grind

Out & Repoint, River/

Oamaru stone, Schist,

Volcanic Rock, Paving,

all Alterations new & old,

Quality Workmanship, visit

www.featureworks.co.nz or

ph 027 601-3145

STuMP GRINdING

Best price guarantee Tony

0275 588 895

TILING

Flooring - Splashbacks -

Wall incl tile removal, reg

master tiler, ph Dave 027

334 4125

VHS VIdEO TAPES

& all camera tapes

converted to DVD or

USB. Video taping

special occasions, www.

grahamsvideo.co.nz ph 03

338-1655

VHS VIdEO TAPES

& all camera tapes

converted to DVD or

USB. Video taping

special occasions, www.

grahamsvideo.co.nz ph 03

338-1655

Trades & Services

DRIVEWAYS

Exposed Aggregate

Stamped Concrete Plain

Concrete Resurfacing

Things we offer...

Competitive/affordable pricing

Attention to detail

Professional service

free quotes/insurance scopes

Cell 0278 145 848

www.drivecrete.co.nz

Painters and Decorators Ltd

Canterbury Owned and Operated

A husband and wife team

Specializing in:

• Roof Painting

• Interior/exterior

residential

• Small commercial

painting

PAINTERS

Noel 027-411-3596

kemp.painters@gmail.com

kemp painters and decorators

We offer

free quotes

Quality not

Quantity

Trades & Services

house and garden

home

cleaning

PLUMBER

NEED A PLUMBER

Call us now for fast friendly service.

Get your problems sorted out

quick smart - on time!!

Phone for a

FREE

quote now.

gardening

services available

throughout

christchurch

your one stop shop for home services

www.anextrapairofhands.co.nz

info@anextrapairofhands.co.nz

0800 535 355

Phone 03 377 1280 | Mobile 021 898 380
---
12 Thursday September 17 2020

Latest Canterbury news at starnews.co.nz

NOR'WEST NEWS

RAY WHITE PAPANUI NEWS

Congratulations To Our National Award Winning Support Team

On Thursday 3 September, the annual

Ray White New Zealand awards took

place, virtual style! We were absolutely

thrilled for Olivia Hendry from our

team to win the Ray White National

Award of PA of the Year and for our

administration to win Administration

Team of the Year.

To say our support team are hard

workers would be an understatement,

these are certainly very well deserved

awards. Passionate about delivering

nothing but a ten/ten service to

everyone of our clients day in day out.

We couldn't do what we do without

them and we are grateful for their

contributions.

Vanessa Golightly

Licensee Agent &

Business Owner

027 664 9292

Claire Morris

Licensee Agent &

Business Owner

027 662 4822

Vanessa Golightly,

Business Owner

and Licensee Agent

Ray White Papanui

027 664 9292

"The strength of the team is each individual member.

The strength of each member is the team." – Phil Jackson

Stuart Morris

Licensee Agent

& Auctioneer

027 422 6395

Katrina Green

Operations Manager

Property Management

027 606 0030

Landlords What is A Healthy Homes Statement?

There is now less than three months until all NZ landlords

are required by law to provide a Healthy Homes Statement

as part of all new tenancy agreements, as well as for any

tenancy renewals.

You may be well aware of this looming deadline but we are

highlighting this again. It is very important that you have

your Statements ready to go, even if your property already

has a tenant. As always preparation is the key . What if

your tenants decide to give notice and you then have to

scramble to get a report done?

Reflecting back on the legislation that came into effect for

meeting insulation requirements, at the time it became

Feature Properties

almost impossible to get inspectors in to get the reports

done, and undoubtedly there will once again be landlords

out there leaving it right up until the last minute. Don't let

that be you as this will almost certainly cause a delay in you

re-tenanting the property.

Katrina Green,

Operations Manager

Property Management

027 606 0030

Tracy Thomson

Licensee Salesperson

027 440 3035

Ashleigh Pattullo

Licensee Salesperson

027 865 9672

Tania Ikin

Licensee Salesperson

022 509 2755

Olivia Hendry

Executive Assistant

Bronwyn Corps

Administrator

Estelle Schuurman

Property Manager

84 Glenturret Drive, Casebrook

Tracy Thomson

Just Sold

38 Toorak Avenue, Avonhead

Tracy Thomson & Tania Ikin

61C Veitches Road, Casebrook

Vanessa Golightly

Allie McConnell

Property Management

Assistant

Joy Coughlan

Mortgage Broker

027 223 3572

38 Rose Street, Somerfield

Vanessa Golightly

20 Forth Street, Richmond

Vanessa Golightly

17 Ranger Street, Mairehau

Tracy Thomson

Level 1, 7 Winston Avenue, Papanui

Phone (03) 352 0567 | rwpapanui.co.nz | /RayWhitePapanui Morris & Co Limited | Licenced REAA 2008
---
NOR'WEST NEWS Latest Canterbury news at starnews.co.nz

Thursday September 17 2020 13

Think 70 is the new 50.

Just because your hair might be grey, doesn't mean your life needs to be.

Today's 70 year olds are the healthiest, strongest, and most mentally agile history has ever

known. So Summerset Retirement Villages are designed for the active lifestyles of the

youngest "oldies" there's ever been. Think this sounds like you or someone you love?

To find out more about our three Christchurch

villages, visit summerset.co.nz

For up-to-date information on visiting our villages, go to summerset.co.nz/covid-19

SUM2427_FCW_F1
---
14 Thursday September 17 2020

Latest Canterbury news at starnews.co.nz

NOR'WEST NEWS

Summerset at Avonhead

120 Hawthornden Road, Avonhead

Nestled in the beautiful suburb of Avonhead, our newest Christchurch

village has a range of brand new homes available now from just $510,000!*

Our homes are warm, modern and designed with everything you could

need for the perfect retirement lifestyle. Want to find out more about

Summerset at Avonhead? Give Anne or Grace a call today on 03 357 3202.

Brand new homes available from just $510,000!*

Summerset on Cavendish

147 Cavendish Road, Casebrook

As well as our stunning new 2 and 3 bedroom villas, our full continuum

of care is available, including some of the largest serviced apartments on

market available now from just $315,000!* Our serviced apartments offer

the best of both worlds, independent living with support on hand. It's

all about living the life you choose, without the worry of everyday home

upkeep. Also available are our memory care apartments for secure rest home

dementia care. Think this sounds like you or someone you love? Get in touch

with Deborah or Jude today on 03 741 3340.

Serviced apartments available from just $315,000!*

Summerset at Wigram

135 Awatea Road, Wigram

Summerset at Wigram's homes are warm, modern and designed for a low

maintenance lifestyle. And our vibrant village offers a range of social events

and facilities for you to enjoy. So, you can continue to live the life you choose

in a warm and friendly community where you'll feel completely at home.

Get in touch with Daniel today on 03 741 0870 to find out more about the

homes we have available. You'll need to be quick to secure yours, they're

selling fast!*

Only a few homes left in this popular village!

To find out about our three Christchurch villages, visit summerset.co.nz

*Licence to occupy.
---
NOR'WEST NEWS Latest Canterbury news at starnews.co.nz

Thursday September 17 2020 15

Love the Summerset life

Love the Choice

At Summerset, you'll find a wide range of homes specifically designed

for the over 70s. Choose from one of our stylish, modern, purposebuilt

homes, then make it your own. All our homes are designed with

accessibility as a priority.

Love the Community

At Summerset, you can continue to live the life you choose with the

added peace of mind of living in a warm and friendly community where

you'll feel completely at home.

As a Summerset resident, you'll enjoy all the benefits of being part of

a thriving community including easy access to village facilities, events,

activities and community spaces. And there's support on hand should

you need it in the future.

Love the Confidence

At a Summerset village you can live fully independently or, should

you need it, you can receive support and care in your own home or

apartment, or in our fully certified care centre. So, if your needs change,

you can be confident you'll get the support you need without having to

leave the village.

As a Summerset resident, you'll have access to a range

of community facilities, including;

Divine Café

Exercise room

Communal vegetable

gardens

Residents' bar

All-weather bowling green

Residents' workshop

Hair and beauty salon

Swimming pool and/or

spa pool

Regular visits from

health practitioners

For your free information pack visit summerset.co.nz

SUM2427_FCW_DPS
---
16 Thursday September 17 2020

Latest Canterbury news at starnews.co.nz

NOR'WEST NEWS

Love the Summerset Life

Ready to relax in a worry free home?

Summerset homes are warm, modern and designed with everything you

could need for the perfect retirement lifestyle.

There's no need to worry about maintenance and upkeep. You have the

freedom to choose if you want to make your garden your own, or if you'd

prefer us to take care of it.

Like to holiday? Lock up and leave your home, knowing everything is safe

while you enjoy your next adventure.

It's all about living the life you choose.

Think Summerset sounds like you? Get in touch with our friendly and

professional teams today, there's three stunning Christchurch villages to

choose from, each offering their own unique outlooks and lifestyle.

We're sure we've got a home that's right for you.

Summerset

at Avonhead

120 Hawthornden Road, Avonhead

03 357 3202

Summerset

on Cavendish

147 Cavendish Road, Casebrook

03 741 3340

Summerset

at Wigram

135 Awatea Road, Wigram

03 741 0870

To find out more about Summerset,

visit summerset.co.nz

SUM2427_FCW_F4