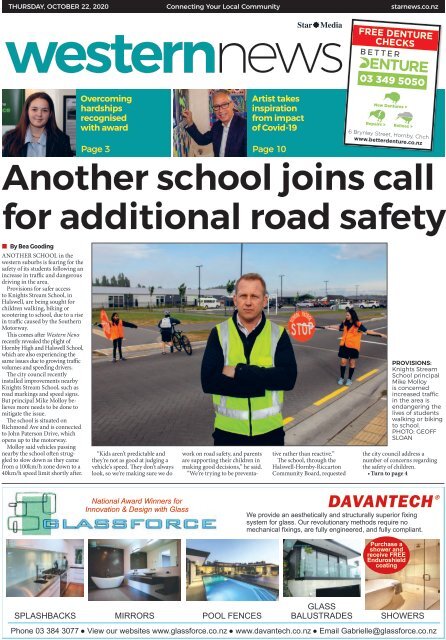 Western News: October 22, 2020
Create successful ePaper yourself
Turn your PDF publications into a flip-book with our unique Google optimized e-Paper software.
THURSDAY, OCTOBER 22, 2020

Connecting Your Local Community

starnews.co.nz

FREE DENTURE

CHECKS

03 349 5050

Overcoming

hardships

recognised

with award

Artist takes

inspiration

from impact

of Covid-19

Page 3 Page 10

New Dentures >

Repairs >

Relines >

6 Brynley Street, Hornby, Chch

www.betterdenture.co.nz

Another school joins call

for additional road safety

• By Bea Gooding

ANOTHER SCHOOL in the

western suburbs is fearing for the

safety of its students following an

increase in traffic and dangerous

driving in the area.

Provisions for safer access

to Knights Stream School, in

Halswell, are being sought for

children walking, biking or

scootering to school, due to a rise

in traffic caused by the Southern

Motorway.

This comes after Western News

recently revealed the plight of

Hornby High and Halswell School,

which are also experiencing the

same issues due to growing traffic

volumes and speeding drivers.

The city council recently

installed improvements nearby

Knights Stream School, such as

road markings and speed signs.

But principal Mike Molloy believes

more needs to be done to

mitigate the issue.

The school is situated on

Richmond Ave and is connected

to John Paterson Drive, which

opens up to the motorway.

Molloy said vehicles passing

nearby the school often struggled

to slow down as they came

from a 100km/h zone down to a

40km/h speed limit shortly after.

"Kids aren't predictable and

they're not as good at judging a

vehicle's speed. They don't always

look, so we're making sure we do

work on road safety, and parents

are supporting their children in

making good decisions," he said.

"We're trying to be preventative

rather than reactive."

The school, through the

Halswell-Hornby-Riccarton

Community Board, requested

PROVISIONS:

Knights Stream

School principal

Mike Molloy

is concerned

increased traffic

in the area is

endangering the

lives of students

walking or biking

to school.

PHOTO: GEOFF

SLOAN

the city council address a

number of concerns regarding

the safety of children.

• Turn to page 4

Purchase a

shower and

receive FREE

Enduroshield

coating
---
2

Thursday October 22 2020

GENERAL INQUIRIES Ph 379 7100

CLASSIFIED ADVERTISING Ph 379 1100

Star Media, a division of Allied Press Ltd

PO Box 1467, Christchurch

starmedia.kiwi

NEWS

Bea Gooding

Ph: 021 911 576

bea.gooding@starmedia.kiwi

ADVERTISING

Alana Powell

Ph: 962 8753

alana.powell@starmedia.kiwi

Your local community news

delivered to 24,894 homes

within The Star each week.

Templeton • Islington • Hei Hei • Broomfield

Halswell • Oaklands • Westlake • Hornby • Ilam

Wigram • Sockburn • Church Corner • Avonhead

Hyde Park • Russley • Riccarton Park • Riccarton

Latest Canterbury news at starnews.co.nz

what's on

this week

JP Clinic

Thursday, 9.30am-12.30pm, at

Hornby, Saturday, 10am-noon, at

Fendalton, Tuesday, 10am-1pm, at

Upper Riccarton and Halswell

Fendalton, Halswell, Hornby and

Upper Riccarton libraries

A Justice of the Peace will be available

to members of the community to

witness signatures and documents,

certify document copies, hear oaths,

declarations, affidavits or affirmations

as well as sign citizenship,

sponsorship or rates rebates

applications. This service is free.

Citizen's Advice Bureau

Thursday, 9am-5pm, Friday, 9am-

5pm, Monday, 9am-5pm, Tuesday,

9am-5pm, Wednesday, 9am-5pm

Hornby Library

Citizen's Advice Bureau provides

free, confidential advice to everyone.

They take the time to listen and

equip you with information, options

and support that fit your needs.

Free, phone 349 5236 for more

information.

English Conversation Club

Thursday, 11am-noon

Upper Riccarton Library

The Conversation Club is a drop-in

group where anyone is welcome to go

and practice conversations in English.

This is not a class, but an opportunity

to talk with others and meet new

people.

Fantastic Fun Friday, Friday, 3.30-4.30, Bishopdale Library.

Go along to the fun sessions using technology, craft and more. Runs every

second Friday. Free, no bookings required. ​

Rummikub

Thursday, 1-3pm

Fendalton Library

Join in on the fun and discover how

to play Rummikub, an exciting

strategy game for all ages. Free, no

bookings required.

Free Legal Advice

Thursday, 6.15-8.15pm

Hornby Library

A lawyer will be available to answer

your legal questions. Take relevant

documents. Free. No bookings

required.

Technology Help Drop-In

Sessions

Tuesday, 11am-noon at Hornby,

2-3pm, at Halswell

Hornby Library and Te Hāpua: Halswell

Centre

These free drop-in sessions are

available to help you with specific

issues including using email,

searching the internet, using the

library catalogue, using electronic

resources and any other general

computer-related queries. Go along

with your laptop, tablet, smartphone

or use one of the desktop computers

if you need help with anything

digital.

WESTERN NEWS

Family History

Wednesday, 11am-1pm

Upper Riccarton Library

A volunteer from the Riccarton

branch of the New Zealand Society of

Genealogists will be available to help

you with finding your family history

online. Meet at the Family History

computer.

Mah-jong Group

Wednesday, 1-3 pm

Upper Riccarton Library

If you are interested in playing

Mah-jong, go along whether you

are a beginner or an advanced

player.

Scrabble Club

Wednesday, 1.30-3.30pm

Te Hāpua: Halswell Centre

If you have a way with words, go

along and play Scrabble with one

of the groups. Some boards will be

provided but feel free to take your

own.

Not-for-profit organisations

can send their What's On

listings to western@starmedia.

kiwi

Proposed Amendment

to Enrolment Scheme

Merrin School has been directed, under section 11H(1) of the Education

Act 1989, to implement an amendment to their current enrolment

scheme in order to prevent overcrowding.

The proposed amendment can be found via our website:

www.merrin.school.nz

The Merrin Board of Trustees seeks community feedback on this

proposal and invites your response on or before the 20 November 2020.

christmas

hamper

Baking fresh eachday since 1986

only $55

Order now!

OPEN 7 DAYS - 34 on site car parks!

Corner of Innes Rd & Cranford St, St Albans

Phone 03 355 6921 | /kiddscakes

Order online at www.kiddscakes.co.nz

$

37

million

in total written sales for September

Our results & our care have allowed us

to deliver extraordinary sales for our

clients.

It is a MUST to contact us!

Brendan

Hart

Cameron

Bailey

Catherine

Aitken

Harrison

Hopman

LICENSED SALES CONSULTANTS REAA 2008

P 027 555 7079 or 03 352 6166

E cameron.bailey@harcourtsgold.co.nz

cameronbailey.harcourts.co.nz

No.1 Harcourts Consultant Christchurch 2012-2020

No.1 Harcourts Consultant New Zealand 2017-2020

No.1 Harcourts Consultant Internationally 2017-2020
---
WESTERN NEWS Latest Canterbury news at starnews.co.nz

Thursday October 22 2020 3

Reward for turning life around

A YEAR ago life was spiralling

out of control for Jaleel

Aratuara-Collins, who had little

to no respect for others around

her.

But the Hornby High School

student's life has now been

turned around thanks to the

Graeme Dingle Foundation.

The year 11 student's journey

towards self-confidence and

resilience has been recognised at

the foundation's 2020 excellence

awards, winning the Project K

excellence award for her commitment

to the programme and

overcoming hardships.

Jaleel recalled how Project K

turned her life around, which

equipped young people with the

tools they needed to overcome

difficult obstacles.

"Last year I was an idiot, doing

things that I shouldn't be doing.

I had little or no respect for

anyone, making stupid decisions,

physically hurting myself

because I was trying to deal

with things that I was struggling

with," she said.

"I lost two very special people

to me to suicide and because I

hadn't dealt with it, I was

basically lost and just scraping

by daily.

"Through my Project K

journey, I learnt how to make

Discover Christchurch's

best pet

accommodation

• Daycare - all breeds

• Long stay/short stay

Call now to

book in your

fur baby,

inspections

welcome

anytime!

ALAMEDA

KENNELS & CATTERY

271 Dyers Road | Ph 384 1297

www.alameda.nz

For everything

AUTO ELECTRIC

CARS • BOATS • TRUCKS

CARAVANS • TRAILERS • 4WDS

ELECTRIC & HYBRID VEHICLES

friends with people outside my

circle, to give people a chance, to

grow as an individual and how

to hone in on my team-building

skills. I learnt to become

mentally stronger and I can now

comfortably ask for help if I need

it."

Project K is a 14-month

programme designed for year

10 students, which focuses on

building confidence, teaching

life skills, promoting good

health and encourages positive

relationships and attitudes.

It involves three parts – wilderness,

community challenge

and an individual mentoring

partnership with a trained mentor.

Sir Graeme Dingle said this

year's awards, at a time when

Covid-19 changed lives, showcased

what the foundation was

all about.

"The ethos of our foundation

is focused on helping young New

Zealanders overcome obstacles.

We want them to have a life

full of possibilities so they can

RECOGNITION:

Hornby High

School student

Jaleel Aratuara-

Collins won

the Project K

excellence award

at the Graeme

Dingle Foundation

2020 Excellence

Awards. ​

achieve their dreams

and make the most of their

unique talents," he said.

"We want to help them make a

contribution to society."

•Kiwi Can co-ordinator Karla

Guerin, of Redwood, was also

an award winner, receiving the

outstanding programme coordinator

award for making the

most significant contribution

to a school or community

programme at the Graeme

Dingle Foundation 2020

Excellence Awards.

The revolution

in heat pumps

is here now!

Open day to

learn how to

recycle correctly

THE CITY'S recycling facility is

opening its doors on October 31

for a behind-the-scenes look at

how it operates.

Visitors to the Parkhouse Rd

facility in Sockburn, which is

normally off-limits to the public,

will get up close to a recycling

truck and learn about how the

contents of their yellow bins are

managed.

"EcoSort processes 25-tonnes

of yellow bin contents an hour,"

city council resource recovery

manager Ross Trotter said.

"But a lot of our trucks are being

contaminated and have to go

to landfill because we can only recycle

if we have the correct items

in the yellow bin.

"So now is the perfect opportunity

for people to learn more

about why putting the right things

in your wheelie bin matters so

much, as well as understanding

how the recycling process works

from start to finish."

Trotter said by taking the time

to put only the right items in your

yellow bin, "you're helping us

collect high-quality material" that

can be recycled in both local and

international markets.

EcoSort will be open from 9am

to 1pm.

The revolution in heat pumps is here now!

Say hello to Fujitsu's latest lifestyle range

HEAT PUMPS FROM $1999 inc GST INSTALLED!

The Fujitsu e3series

The brilliant

heat pumps from Fujitsu

e1 : efficiency

e2 : environment

e3 : economy

Website: www.pshc.co.nz

Finance available

FREE consultation from your local

Accredited Heat Pump Expert

Phone today: 03 381 6950

INSERT DEALER DETAILS HERE

FG1441

2020

Heat Pumps

NEW ZEALAND'S FAVOURITE AIR ®

Conditions apply

Fujitsu's Catechin Filters are

approved by the Asthma and

Respiratory Foundation NZ's

Sensitive Choice ® programme.

Email: info@pshc.co.nz

ATTACK RISING DAMP

• Starter Motors

• Alternators

• Central

Locking

• electric

Windows

• ABS & Airbags

• Stereos/

Alarms

• Batteries

• tuneups

• engine

Management

Amazing

Auto USUALLy

AAE Electric SAMe DAy

ServiCe

65 Coleridge St, Sydenham

Phone 03 379 4250

www.amazingautoelectric.co.nz

03 322 4548 | Easy Parking

17 Lillian Street, Halswell

Open Mon-Fri 9.30am - 5.00pm

Saturday 10.00am - 1.00pm

LAYBY WELCOME

T. 03 376 4608 E info@foamconcrete.nz

W. www.foamconcrete.nz
---
4

Thursday October 22 2020

Latest Canterbury news at starnews.co.nz

WESTERN NEWS

Buses also cause

visibility issues

• From page 1

Molloy said the volume of

traffic has already increased and

expects this to rise.

The school wants a 30km/h

speed limit and a raised platform

outside of the school, installing

cameras to catch vehicles,

a pedestrian crossing, and

more signage to remind driver

behaviour.

Buses parked outside of the

school also caused visibility

issues when vehicles were

turning right from Killarney

Ave and the school wants the bus

stop to be moved across the road

to the Knights Stream Park car

park.

A lack of street lighting at

night was also a concern for children

passing through the area,

and Molloy hoped lights would

be installed.

"We're a community school, so

when we're not here people are

still safe when they're coming

to use the facilities after school

and during the weekend, not just

when the school's operating," he

said.

Molloy noticed improvements

when extra signage was installed

recently by the city council,

but was concerned a new speed

bump at the intersection of Richmond

Ave and John Paterson

Drive was not raised enough.

"It's not sufficient as it

stands to mitigate the issue as

it's only a slight bump. You could

probably hit 80km/h over it fine,"

he said.

City council transport operations

manager Steffan Thomas

said additional 40km/h signage,

road markings and a kea crossing

already outside the school

were considered to be sufficient

provision.

Relocating the bus stop was

not desirable, and the new speed

bump in question was recently

modified to better slow vehicles

down.

"Relocating the bus stop into

the car park would result in

more pedestrians and typically

more children needing to cross

the road. However, staff will

investigate the visibility concerns

raised," Thomas said.

"The developer has recently

modified the platform by

shortening the ramps to slow

vehicles on approach. It had been

designed to accommodate buses

which require the ramp to be

slightly gentler than a platform

on a non-bus route."

Squash club seeks further funds

• By Avneesh Vincent

BURNSIDE Squash Club needs

another $60,000 to upgrade its

changing room.

THe club has received a

$60,000 grant from New Zealand

Community Trust for the work.

But it's only half of what the

club needs, said president Deb

Salisbury.

THe club had applied for

$120,000.

Salisbury said the changing

room was as old as the building

which was built 50 years ago.

"When you look up the

ceiling of the room, you can

see the exposed pipes. So not

particularly attractive," she said.

THe club would now be seeking

to raise the $60,000 it needs for

the upgrade which could include

fundraising, and a loan that

members would pay off through

subscriptions.

FUNDRAISING: Deb Salisbury hopes upgrading rooms will

attract new members to the Burnside Squash Club.

At present, the club has one

toilet each for men and women

with shower facilities.

THe additional funding would

help with total expenses like

covering the overhead pipes

while other upgrades would

include an extra women's toilet,

a men's urinal, improving the

shower, and replacing the hot

water cylinder.

Aside from health and safety

concerns. She said the complete

makeover of the changing room

to suit "modern requirements"

would help increase membership,

as the room looked quite

outdated.

Salisbury said that the upgrade

was not possible until they

received the full amount.

Plans for the upgrade start

early January next year and

would take two months to

complete.

HEAT PUMP

SALE NOW ON!

Amazin' Spring Specials!!

90%

SubSidy

Warmer KiWi HomeS

Programme

*Eligibility criteria apply

• We will offer you the best quality brands and

option of heat pump for your home/business

• Providing Heat Pump solutions for over 18 years to Cantabrians

• We personally guarantee all our products & installs for 5 years

(providing annual maintenance has been completed)

Phone us today for your free consultation & quote

41A SHAKESPEARE RD, WALTHAM

PHONE 03 366 0525

www.enviromaster.co.nz

"A local team for local people"

www.bigbrothersbigsisters.org.nz
---
WESTERN NEWS Latest Canterbury news at starnews.co.nz

Thursday October 22 2020 5

A new way of living

SELLING

NOW

In Halswell

LIFESTYLE COMES WITH A VIEW IN HALSWELL

Superbly located in Halswell, Anthony Wilding

Retirement Village is named in honour of a

pioneering sporting champion who set the

standard for others to follow.

Studio serviced apartments

are currently available

Featuring kitchenettes and private ensuites

Priced from $335,000

Our base weekly fee is fixed for the entire

time you occupy your apartment* and our

deferred management fee is capped at 20%

- one of the lowest in the retirement sector

*Some conditions apply

Call Susie for more details.

ANTHONY WILDING VILLAGE

5 Corbett Crescent, Halswell, 338 7696

rymanhealthcare.co.nz

1663
---
6 Thursday October 22 2020

Latest Canterbury news at starnews.co.nz

WESTERN NEWS

Shop

Win

& Relax

WIN

1 OF 5 FAMILY

GETAWAYS

TO HANMER

SPRINGS

SHOP AT THESE

BUSINESSES TO GO

THE DRAW

Hornby & Ilam

thank you for supporting local

SHOP LOCAL WITH SUPER LIQUOR

HORNBY - 8 Tower St ILAM - 213 Waimari Rd

While stocks last – valid to 1st Nov. T&C's apply.

2 for

$

69

or $36.99

each

open 7 days

ADVANCED JOINT CARE

ARE YOUR JOINTS PAINFUL, STIFF,

NOISY, SWOLLEN OR INFLAMED?

Natural high potency comprehensive

formula to support joint health:

• Cartilage, ligaments & connective

tissue regeneration

• Joint flexibility & pain relief

• Inflammation & swelling relief

• Healthy joint function

SUPER LOW PRicE!

60 Capsules

only $16.90

120 Capsules

only $29.90

240 Capsules

only $47.80

Mail Order Available

MARSHALLS HEALTH & NATURAL THERAPY

CONSULTING - PRESCRIBING - DISPENSING -

MANUFACTURING - MEDICAL HERBALISTS

101 SEAVIEW RD, NEW BRIGHTON • PH 03 388 5757

Email: enquiry@marshallshealthshop.co.nz

Bringing You the Best in Natural Health!

HealtHy Mexican Fusion Food

THAT'S ON A MISSION TO

BEAT WORLD HUNGER

The hub hornby

Open daily 10am to 8pm, with late night Thursday to 9pm

Shop 40/418 Main South Road P: 03 925 9195

www.zambrero.co.nz/locations/the-hub

Tyrepower

• Wheel alignments • Tyres • Batteries

• Servicing • WOF • Mechanical repairs

• Suspension • Brakes and more….

240 Main South Rd, Hornby | Ph (03) 341-5497

www.tyrepower.co.nz

250 Moorhouse Ave, Level 2 Harvey Norman Centre

RICCARTON STORE

NOW OPEN

136 Riccarton Road | PH 421 8962 | WWW.SHOSHA.CO.NZ

385 Main South Road, Hornby

Open: Tues-Fri 9am-5pm,

Sat 9am-3pm

Late night

Thursday until 6pm

or after by appointment only

Phone: 03 261 9233

Book online:

www.renegadehair.co.nz

enjoy your journey

with caltex hornby

atM | coFFee | lpg swappa bottle

Mini superMarKet | Firewood | trailer hire

Forecourt serVice | touch Free carwash

locally owned & operated

427 Main south rd

ph 349 2407

www.caltexhornby.co.nz

gas up with

us today!

dog wash

OIL & FILTER

SERVICE

FROM$84.95 *

HORNBY Ph 349 2567

375 Main South Rd

PAPANUI Ph 354 4421

Cnr Main North & Northcote Rds

RICCARTON Ph 341 3020

64 Riccarton Rd

www.oilchangers.co.nz

*Ts & Cs apply
---
WESTERN NEWS Latest Canterbury news at starnews.co.nz

Thursday October 22 2020 7

CONTENT MARKETING

Secure a Kairua industrial site in prime Hornby location

KAIRUA, Ngāi Tahu Property's

new Ahumahi-Industrial development

in the heart of the Hornby

industrial area is selling now.

Wilmers Rd, Hornby, is a prime

location for small to mediumsized

businesses in Ōtautahi-

Christchurch.

Lot sizes are from 803 sq m

to more than 4000 sq m and are

priced from $368,000 + GST.

Ngāi Tahu Property development

manager Dean Christie

says buyers have the flexibility to

design and build their own new

facilities.

"Kairua is in a prime location in

an established and highly-sought

after industrial and commercial

zone. We are offering a rare opportunity

for small to medium-sized

firms to own premises on freehold

land."

Wilmers Rd offers excellent

transit link access to the state

highway network, port of Lyttleton,

Christchurch International

Airport, and the Southern Motorway.

"Kairua is in a great location

for numerous industries including

construction, warehousing,

manufacturing, logistics support,

storage, and vehicle services."

Construction is complete and

titles will be available from October

2020.

The second stage of Ngāi Tahu

Property's large format Tawhiri

Ahumahi-Industrial development

in Rolleston is also well under way.

Work on stage two was accelerated

following intense interest in the

site, and much of stage one already

sold or under contract.

"Ngāi Tahu Property was founded

on delivering high-quality

industrial solutions for businesses

in Canterbury and beyond. Kairua

and Tawhiri show we remain committed

to the region's industrial

sector."

Kairua – Prime Industrial Lots, Hornby

TITLES

AVAILABLE

DECEMBER

Lots sized from 803m²

to more than 4,000m²

Prices start from $368,000 +GST

Situated in a prime location in an

established and highly-sought after

industrial park zone in Hornby

A rare opportunity for small

to medium-sized firms to own

premises on freehold land

Construction is complete and

titles available in December

ahumahi.nz

Register your interest today:

dean.christie@ngaitahu.iwi.nz
---
8 Thursday October 22 2020

Latest Canterbury news at starnews.co.nz

WESTERN NEWS

Every Day is Open Day

Once again, the New Zealand educational curriculum is

in the firing line – and it is perhaps hard to argue that it

shouldn't be.* On the all-important international stage, the

latest data from PISA, the Programme for International

Student Assessment, indicates our Kiwi kids are on the

slide. The downward trend in results over the last decade

shows a lost equivalent of three to six terms of schooling in

the key subjects of Reading, Maths and Science.

This is despite a 32% increase in per-child spending since

2001 and, in Christchurch at least, the construction of

purpose-built modern learning environments deliberately

designed to foster the national curriculum's child-centred

orthodoxy.

Of course, every child should be at the heart of their own

learning. How could they now be! But let's not throw the

baby out with the bathwater. A child's education should be

a balance of subject knowledge; essential skills; teaching

programmes developed to suit their demonstrated

knowledge, understanding and progress; and assessment

that offers you, your child and their teachers, honesty and

evidence of this progress.

All parents, teachers and coaches know that children learn

best when they are interested in what they are learning.

Making subject knowledge and skills

interesting is the ongoing and exciting

challenge for all of us who educate and

motivate our children.

Located in the heart of our city, St

Michael's has been educating and

nurturing the children of Christchurch

for 169 years. For our young pupils

have limitless potential to lead exciting

and generous lives, and we have the

responsibility to educate and inspire

them, to encourage every child to flourish

in mind, body and spirit.

St Michael's is a prep school for girls and

boys in Years 1-8. 'Prep' as in preparation

for secondary school, a foundation for a

fine life. For at the heart of St Michael's

are the essential values of Christian faith

and good citizenship: respect, integrity, community, faith,

hope and love.

An independent school education at the primary level is

a great gift. Our classes are small, with year-groups of 20

pupils, ensuring your child is an individual, well known by

staff and fellow pupils alike.

Traditional foundations in English and Maths are

assured. This academic rigour then underpins our wider

curriculums in History, Geography, Science and Spanish.

IT literacy is taught, not assumed, and computer use is

measured. We like teaching and talking to our pupils!

A prep education offers balance. St Michael's cultural

and sports' programmes further develop your child's

foundation, as creativity and problem-solving come in

many forms. Specialist art and music classes are enjoyed

weekly. We have three choirs, and most pupils participate

in instrumental or speech & drama lessons with our ten

itinerant staff.

Nestled on the banks of the Avon, opposite the Riverside

Farmers' Market, our extended campus is spectacular: the

Art Gallery, Museum, Tūranga – the

central library, and Hagley Park are

just minutes away.

Many of our parents now work in

the thriving city centre or Lincoln

and Riccarton Road hubs, but they

live city-wide. They comment on the

comfort of knowing their children are

in school nearby and the benefits of

popping over for an hour to catch a

performance or watch a race. With the

central exchange only a block away,

senior children arrive by bus from all

corners of the city.

You and your child are warmly

welcome to discover our purposeful,

wholehearted and inclusive prep

school. Our next Open Day is

coming up, on Tuesday 3 November. Pop in during

the day between 8.30am – 4.00pm for a tour, and to

book an appointment on the day with the principal,

please contact registrar, Bec Hitchcock: registrar@

saintmichaels.co.nz or 03 379-9790.

St Michael's School

Your school at the heart of the city

✓ Co-educational, Years 1-8

✓ Small classes

✓ Specialist teachers

✓ Musical excellence

✓ Christian values

✓ Traditional classrooms; academic rigour

✓ Before & after school care: 7.30am - 5.30pm

✓ Central city location; easy access

Taking enrolments for 2022.

Some places available for 2021.

Open Day: Tuesday 3 November

www.saintmichaels.school.nz 249 Durham Street Phone (03) 379 9790 to book your tour.
---
WESTERN NEWS Latest Canterbury news at starnews.co.nz

Thursday October 22 2020 9

Shopping is easy at...

NEW UK LABEL LUELLA

IN STORE NOW

Relief Fx is an all natural, New

Zealand made cream providing

powerful, fast-acting relief without

any pills, powders or dangerous

chemicals.

The formulation contains 16 pure

ingredients for fast, effective relief.

All powerful oils in their own right but

11x as effective when combined.

A simple combination of pure, allnatural

oils, carefully blended for

fast results.

Now available at...

Avonhead Shopping Centre Ph.358 8598 Mon-Sat 9am - 5pm Sun 10am-4pm facebook.com/missbondclothing Avonhead Mall, Withells Rd/Merrin St, Christchurch, Phone (03) 358-5449

wonderful new books now instore

A Life on Our Planet

by David Attenborough

My Witness Statement

and A Vision for the

Future

Tomorrow Will

Be A Good Day

by Captain Tom Moore

My Autobiography -

The Sunday Times

No 1 Bestseller

Shop 1, Avonhead Mall

Corner of Merrin Street & Withells Road, Avonhead

Ph: 358 4835 | www.piccadillybooks.co.nz

Craft Bakery/Cafe

We Bake Fresh Daily

Bread, Rolls, Sourdough,

Pies, Donuts, Coffee

and much much more...

Vegan and Egg & Dairy

Free options Available

We look forward to seeing you

at Shop 8, Avonhead Mall
---
10

Thursday October 22 2020

Latest Canterbury news at starnews.co.nz

WESTERN NEWS

Artist takes inspiration from impact of Covid-19

• By Bea Gooding

DARRYN GEORGE believes

the world needs a little bit more

innocence.

The Christ's College head of

art's painting, Mara #26, represents

the beauty and joy of the

world and has been recognised at

this year's Wallace Art Awards.

The competition celebrates the

country's best visual artists and

is one of the largest and most

distinguished of its kind in New

Zealand.

Placed second out of more

than 650 entries, he was awarded

$22,000 in lieu of a residential

placement at the British School

at Rome next year.

George's plans to study at the

prestigious art school may have

been dashed due to Covid-19,

but that has not stopped the art

teacher from revelling in his

achievement.

"I was very humbled and I

wasn't expecting to win [the

award]. To be amongst the finalists

was an amazing honour,"

said the Bryndwr resident.

"This year felt like my work

was heading in a really good

direction, so it was the right time

to enter and test the waters."

George was inspired to bring

joy to people through art following

the negative impact the

Covid-19 pandemic has had on

the world.

The bright colours of the oil

pastel and acrylic on canvas

painting were used to represent

the innocence of the Garden of

Eden.

The "crowd" of people in

the foreground of the painting

looked on to the scene of innocence,

"yearning" to see what

was on the other side.

"It grew out of watching the

news seeing so many bad stories

and the brokenness of the

world," he said.

"The idea of it is to go back to

the Garden of Eden and its innocence

before the fall. I started

to think about the beauty and

purity of what that used to be,

and what it would look like from

a child's perspective.

"I used, colour, crayons and

pastels as a child would to get

across the idea of beauty and

joy."

George has always been drawn

to painting preferring it over

other art such as as photography

and sculpture, which were often

more time consuming due to the

PRIDE: Christ's

College head

of art Darryn

George's

painting (right)

was one of

the finalists at

the Wallace

Art Awards.

PHOTOS: GEOFF

SLOAN

use of materials and equipment.

Said George: "I like the fact

that I can sit in my studio and

immediately start painting,

rather than doing sculpture or

photography that can require

materials or a bigger studio."

The British School at Rome is

home to researchers of the art,

history and culture of the western

Mediterranean from across

the globe.

As part of his award, he was

due to further his own art

history research at the school,

delving deeper into the artistic

influences of Italy.

He planned to use the prizemoney

instead to explore more

corners of the world for research

once international travel became

available again.

"Travelling to places like New

York and seeing art in the flesh at

galleries challenges me on what

to do next and validates what I'm

doing in my own studio, which

helps put my work in context."

In the meantime, he was content

with doing what he loved the

most – teaching his students the

importance of art.

"I love teaching the boys, they

take risks and try out things that

I wouldn't have the courage to

do myself; it always inspires me,"

he said.

"The key thing I teach is to

think laterally. Not all of the

boys will become artists, but the

skills are transferrable."

WISEMAN E-TYPE | RALPH WATSON'S BSA SPECIAL | LEON WITTE | FLEETWOOD MUSTANG | SCHLUMPF COLLECTION

JUL-AUG 2020

ISSUE 90

RALPH WATSON: A SPECIAL ENGINEER & HIS BSA SPECIAL

MACAU GP TRIUMPH SPITFIRE | MAX RUTHERFORD | BARRY KEEN & BEGG | GRANT WALKER | FORD CAPRI | MISS VICTORIOUS: JACK NAZER'S VAUXHALL VICTOR | A FALCON FROM GISBORNE

$9.95

JULY-AUGUST 2020

WINGED WARRIOR

THE SCOTT WISEMAN E-TYPE JAGUAR

Stunning Kiwi-built Tribute Car

KIWI RACERS: THE JOHNSTON FORMULA FORDS | LEON WITTE:

A CLASSIC MOTORING LIFE | THE FLEETWOOD MUSTANG

GRANT WALKER: RACE MECHANIC & CHAMPION RACING DRIVER

A VISIT TO THE SCHLUMPF COLLECTION $9.95

SEP-OCT 2020

ISSUE 91

MAX RUTHERFORD: FROM PADDOCK TO PODIUM

MACAU GRAND PRIX SPITFIRE

MISS VICTORIOUS: JACK NAZER'S VAUXHALL VICTOR | DON ELVY'S CHEV-POWERED CAPRI

BARRY KEEN: GEORGE BEGG'S ORIGINAL DRIVER

PRE-1960 RACING | NEW COLUMN: FROM THE COMMENTARY BOX

SEPTEMBER-OCTOBER 2020

NEVER

MISS AN

ISSUE

SUBSCRIBE

FROM $49

Subscribe:

classicdriver.co.nz

0800 624 295
---
WESTERN NEWS Latest Canterbury news at starnews.co.nz

Thursday October 22 2020 11

Classifieds Contact us today Phone our local team 03 379 1100

Situations Vacant

Situations Vacant

Trades & Services

Trades & Services

Reporter - Christchurch

• Great media opportunity

• Be part of an award winning team

• A media company which is growing its reach

Who we are

Allied Press Limited employs over 450 people on a permanent basis

across our 15 sites in the South Island. We operate across multiple

media platforms (print, on-line, digital) delivering news, information and

entertainment through our various regional and city publications, including

Christchurch-based Star Media.

The role

Reporting to the editor, the main purpose of the position is to file

compelling news articles and backgrounders for both print publications

and online platforms.

Your skills and experience

We are looking for a journalist with two to three years experience,

preferably in a metropolitan environment, but someone who has less

experience but who has already displayed the qualities and drive to

become a topline journalist will be considered.

In addition to your interest in equity and diversity you will demonstrate:

• A great work ethic

• A competitive nature

• An eye for detail

• Accuracy

Further details

This is a full time, permanent position.

We can offer you a great team environment, professional development

opportunities and an opportunity to grow.

If you think this role is for you, please apply by way of CV and a

covering letter. Informal inquiries about the role are welcome and

should be directed to Editor in Chief Barry Clarke 021 359-426 or

barry@starmedia.kiwi.

All applications will be treated in the strictest confidence.

Please note you must have the right to work in New Zealand to

apply for this role.

Disclaimer: Allied Press does not accept unsolicited agency resumes.

Allied Press is not responsible for any fees related to unsolicited resumes.

LABOURERS

WANTED

Unskilled labouring jobs,

immediate start, $19+/ph

• Physically fit

• Able to do heavy work

• Able to pass a drug screen

• Own reliable transport

• Entitled to work in NZ

• Flexibility with hours

• Available now

Call Steve on 03 550 0503 or

visit our website to register

www.ryan.co.nz

Wanted To Buy

AAA Buying goods

quality furniture, beds,

stoves, washing machines,

fridge freezers. Same day

service. Selwyn Dealers.

Phone 980 5812 or 027

313 8156

TOOLS Garden,

garage, woodworking,

mechanical, engineering,

sawbenches, lathes, cash

buyer, ph 355-2045

ADD SOME

COLOUR

TO YOUR ADVERT!

BLOCKED

DRAINS?

• Video inspection

• Waterblasting

• liquid Waste

pH: 03 365 7960

24 hours // 7 days

info@h20jet.co.nz

www.h20jet.co.nz

HALSWELL

GLASS & GLAZING 2017 LTD

THE PET DOOR SPECIALIST

• PET DOORS

• NEW GLAZING

• FRAMELESS SHOWERS

• MIRRORS

• INSURANCE CLAIMS

• RETRO GLAZING

• BALUSTRADING

ALL SUBURBS COVERED FOR

ALL YOUR GLAZING NEEDS

PHONE GAIL ON

322 7999 OR 021 CAT DOOR

(228 3667)

BATHROOM

Renovations, complete

service from start to finish,

free quotes, ph Dave 027

334 4125

CARPET LAYING

Exp. Repairs, uplifting,

relaying, restretching.

Phone John on 0800

003181, 027 240 7416

jflattery@xtra.co.nz

PAINTER

Houses Interior/Exterior

27 years exp.

Tidy workmanship

On the spot written quotes

Phone: 0274 360 298

Trades & Services

BRICKLAYER

George Lockyer. Over

40 years bricklaying

experience. UK trained.

Insurance work, EQC

repairs. Heritage

brickwork & stonework

a speciality. No job too

small. Governers Bay.

Home 329 9344. Cell

027 684 4046. E mail

georgelockyer@xtra.co.nz

PAINTING

Indoor / Outdoor, over 30

yrs exp, same day quotes,

ph Steve 021 255 7968

PAINTER

New, older homes,

interior, exterior. We stand

by Canterbury. Ph Wayne

0272 743 541, 385-4348

Trades & Services

ROOFING REPAIRS

Fully qualified, over 40

yrs experience. Ph John

027 432-3822 or 351-

9147 email johnchmill@

outlook.com

STUMP GRINDING

Best price guarantee Tony

0275 588 895

TILING

Flooring - Splashbacks -

Wall incl tile removal, reg

master tiler, ph Dave 027

334 4125

VHS VIDEO TAPES

& all camera tapes

converted to DVD or

USB. Video taping

special occasions, www.

grahamsvideo.co.nz ph 03

338-1655

Trades & Services

ROOF

PAINTING 24/7

Rope & harness

a speciality,

no scaffolding

required,

30 years of

breathtaking

experience.

FREE QUOTES

20% OFF other

roof quotes

Exterior staining,

exterior painting,

water blasting.

Moss and mould

treatment $300.

Phone Kevin

027 561 4629

growing with you Three Time winner of NZCNA Best Magazine | July 2020 | 100%

Our shrub

Of the month

Why you need a

smoke bush

Gardening

in Glass

The art of

making

terrariums

Start your

StrawberrieS

Priming for sweet

success this summer

Are you ready

to grow?

Kiwi Gardener is your

practical guide to gardening

in New Zealand.

SubScriBe FrOM $20

$7.90 incl. GST

Pass the

Potato

A Canterbury family

keeping one special

variety growing

stars of the winter staGe

daphnes, camellias, hellebores & more

SubScriptionS

Freephone 0800 77 77 10

www.Gardener.kiwi
---
12 Thursday October 22 2020

Latest Canterbury news at starnews.co.nz

WESTERN NEWS

Brand new

apartments

available

now

Enjoy

the many

lifestyle

benefits of

Parkstone

Apartments

Discover the benefits of apartment living

Open homes this Friday & Saturday, 1pm - 2pm

Brand new Ilam Apartment — 1 bedroom for $403,000 & 2 bedroom from $498,000

Athol & Brodie Apartments — 1 bedroom for $377,000 & 2 bedroom from $421,000

All apartments have:

• Well-designed kitchen with modern appliances

• Open plan living

• Quality drapes, double glazed windows and heat pump

• 24 hour emergency alarm and on-site care home

Call Kathy on (03) 341 1273 or 027 404 4751

2 Athol Terrace, Ilam

bupa.co.nz/parktone