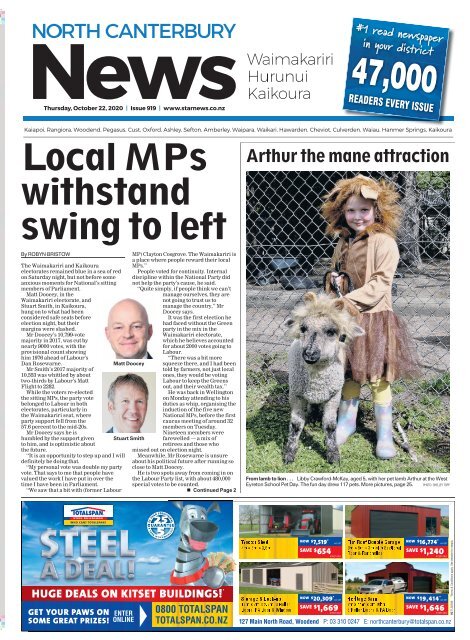 North Canterbury News: October 22, 2020
You also want an ePaper? Increase the reach of your titles
YUMPU automatically turns print PDFs into web optimized ePapers that Google loves.
#1 read newspaper

in your district

#1 read newspaper

in your district

47,000

Thursday,October 22,2020 | Issue919 | www.starnews.co.nz

READERS EVERY ISSUE

Local MPs

withstand

swing to left

Arthur the mane attraction

By ROBYN BRISTOW

TheWaimakaririand Kaikoura

electoratesremained blueinaseaofred

on Saturday night, but not beforesome

anxious moments for National'ssitting

members of Parliament.

Matt Doocey,inthe

Waimakariri electorate,and

StuartSmith,inKaikoura,

hung on to whathad been

consideredsafe seats before

electionnight, buttheir

margins wereslashed.

Mr Doocey's 10,799­vote

majorityin2017, was cut by

nearly 9000 votes, withthe

provisionalcount showing

him1976 ahead of Labour's

DanRosewarne.

Mr Smith's 2017 majority of

10,553 waswhittled by about

two­thirds by Labour's Matt

Flight to 2282.

Whilethe voters re­elected

thesittingMPs, thepartyvote

belonged to Labourinboth

electorates, particularlyin

theWaimakaririseat, where

party support fell fromthe

57.6 percent to themid­20s.

Mr Dooceysays he is

humbled by the support given

to him, and is optimistic about

thefuture.

''It is an opportunity to stepupand Iwill

definitelybedoing that.

''My personalvote wasdouble my party

vote. Thatsays to me thatpeople have

valuedthe work Ihave put in over the

time Ihavebeen in Parliament.

''We sawthat abit with (former Labour

Matt Doocey

Stuart Smith

MP) Clayton Cosgrove. The Waimakariri is

aplacewherepeople rewardtheir local

MPs.''

People voted forcontinuity.Internal

disciplinewithinthe National Party did

not help the party's cause,hesaid.

''Quitesimply, if people thinkwecan't

manageourselves,they are

not going to trust us to

managethe country,'' Mr

Doocey says.

It was the first electionhe

had facedwithout the Green

party in the mix in the

Waimakaririelectorate,

which he believesaccounted

for about 2000 votesgoing to

Labour.

''There wasabit more

squeezethere, and Ihad been

told by farmers, not justlocal

ones, theywouldbevoting

Labourtokeepthe Greens

out, andtheir wealth tax.''

He wasback in Wellington

on Mondayattending to his

duties as whip, organising the

induction of the fivenew

NationalMPs,beforethe first

caucus meeting of around 32

membersonTuesday.

Nineteenmembers were

farewelled—amix of

retirees andthose who

missedout on election night.

Meanwhile,MrRosewarne is unsure

about hispolitical futureafter runningso

close to MattDoocey.

He is twospotsawayfromcoming in on

the Labour Party list, withabout 480,000

specialvotestobecounted.

Continued Page 2

From lamb to lion ... Libby Crawford­McKay, aged 5, with her pet lamb Arthuratthe West

Eyreton School Pet Day. The fun daydrew117 pets. More pictures, page25. PHOTO:SHELLEY TOPP

HUGE DEALS ONKITSET BUILDINGS!

GET YOUR PAWS ON

SOME GREAT PRIZES!

ENTER

ONLINE

*

Tractor Shed

7m x 6m x 3.6m

Storage & Lock-up

16m x 7m x 2.7m, 3 Roller

Doors, PA Door & Window

$

7,519 *

$

654

$

20,309 *

incl GST

KITSET ONLY

incl GST

$

1,669

KITSET ONLY

Flat Roof Double Garage

9m x 6m x 3m with Sectional

Door & Ranchslider

Heritage Barn

7m x 11m x 3m with

3 Roller Doors & PA Door

$

16,774 *

$

19,414 *

incl GST

$

1,240

KITSET ONLY

incl GST

$

1,646

KITSET ONLY

127MainNorth Road,Woodend P: 03 3100247 E:northcanterbury@totalspan.co.nz

HC TLS2045 *Terms &Conditions apply. See website for details.
---
NEWS

2 The North Canterbury News, October 22, 2020

Grow

customers,

sales and

profits

with North

Canterbury's

best read

newspaper

Reunion not for the faint-hearted

By SHELLEY TOPP

Leithfield filmand television

producer Nadia Maxwell has a

new film scheduled to

premiere in New Zealand on

October30.

The new high­concept,

psychologicalthriller Reunion

was written and directedby

Jake Mahaffy, of Ohiointhe

United States, and produced

by Nadia with fellowKiwis

AinsleyGardinerand Georgina

Conder,and Mike Ryan from

the US.

Reunion tells the storyof

Ellie, who returns to her

childhood home lateinher

pregnancy and is unexpectedly

reunited with her estranged

mother,Ivy, playedbyEnglish

actressJulia Ormond.

Ellie, playedbyNew

Zealandactress, Emma

Draper,becomes consumed by

the dark memories of her dead

sister that haunt the house and

ends up unearthingthe

hidden,horrifyingreality of

her family.

''It is emotionally charged

and quietly audacious,'' Nadia

says. ''JakeMahaffy's

examinationofhow family

trauma can become its own

kind of haunting is afirst­rate

psychologicalthriller.''

The filmwas made in

Wellington and set in ahistoric

Emotionally charged story ... Leithfield film and television producer Nadia Maxwell, right, with

English actress Julia Ormond on the Wellington set of Reunion,anew psychological thriller. Reunion

will have its New Zealand premiere in Wellington on October 30 and begin showing in other cinemas

around New Zealand, including Rangiora, on November 5.

PHOTO: SUPPLIED

old houseinLower Hutt.

''Thegrand damewas built

in 1900 by former Wellington

MayorJohn Duthie,'' Nadia

says.''Itisvery mucha

character in the film.''

Jake says Reunion is

unsettling to watch.

''Itisdefinitelyalittle more

nuanced and moreofaslowburnpsychological

thriller

withhorror elements.

''Itisfor people who have

eclectictastes in horror films

and can tolerate boundaries in

the genre.''

Reunion will haveits New

Zealand generalrelease on

November 5, which will

include screening in the

Rangiora Town Hall Cinemas.

Readership: 47,000 weekly

Circulation: 30,150 copies delivered

to EVERY farm, RD, lifestyle block

and homes in Waimakariri, Hurunui

& Kaikoura every Thursday

news

Robyn Bristow

Managing Editor

027 312 1581

robyn.bristow

@ncnews.co.nz

Reporters

Neil Clarkson, David Hill,

Shelley Topp.

advertising

DaynaBurton

Sales Co-ordinator

027 312 0089

dayna.burton

@ncnews.co.nz

Amanda Keys

Advertising

027 536 6224

amanda.keys

@ncnews.co.nz

Kerryn Clark

Advertising

021 586 138

kerryn.clark

@ncnews.co.nz

getintouch

Editorial

info@ncnews.co.nz

Advertising

sales@ncnews.co.nz

Graphic Design

heather.hood@ncnews.co.nz

Distribution/Deliveries

03 314 8335

Amberley: 03 314 8335

119 Carters Road, Amberley

Rangiora: 03 313 2840

77-83 High Street, Rangiora

Christchurch: 03 364 7460

www.starnews.co.nz

Local National MPs re-elected

From Page 1

He is counting on many of

thosefavouringLabour.

Hisfortune may alsohang

on the outcomeinthe

Waiarikielectorate,where

Maori Party candidate

RawiriWaititi has a421­vote

lead overLabour's Tamati

Coffey.

SILVERSTREAM

MEDICAL CENTRE

Dr George John Dehn

Special interest and experience in:

•Muscle and Joint Problems

•Sports Injuries

•Minor Surgical Procedures

•Steroid Injections

Minutes from Kaiapoi, Rangiora and Northwood

Meanwhile, it wasback to

hisday job on Monday, after

taking time offsince March.

He is an armyofficer working

forthe DefenceForce and is

currently looking afterthose

in Covid­19 isolation.

Further north, Mr Smith

said thepersonalsupport he

received was gratifyingin

what was at first atensetime

9/42 Silverstream Boulevard, Kaiapoi Ph: 03 595 1489

www.silverstreammedicalcentre.co.nz

on electionnight, as his

fortunes fluctuated in the

vote.

''It is disappointingit

wasn't abit more,'' he saidof

hissupport,''but thatis

democracy.

''You havetoaccept what

voters giveyou.''

Matt Doocey'scolumn,page

6

2095268

Dan Rosewarne

Raffled quilt raises $1134 for breast cancer charity

Apatchwork quilt has raised $1134 for

the Breast Cancer Foundation New

Zealand.

The labour of love, hand­made by

members of apatchwork group based at

the Quilters Quarters store in Rangiora,

was raffled, with alocal Rangiora

woman winning it.

The group made it as achallenge over

the last 12 months, store owner Pauline

Forrest said.

Each member contributed patches,

month by month, until there were

enough for one of the members to sew

them all together.

Pauline says everybody knows

somebody who has been affected by

breast cancer, and the quilters wanted

to do something to help support

research.

She has been making quilts for about

30 years, and says it is ahobby which

she absolutely loves.

''It's ahealthy addiction.''

Kaiapoi Lodge

Residential Care

Nursing Home, Hospital and

Respite

Person Centred Care,

Care that's built

around you

6Cass Street, Kaiapoi

Ph 03 327 7235
---
NEWS

North Canterbury News, October 22, 2020

3

Caring for North Canterbury

Dr John Dehn

Full Mole Checks

using Dermoscopy

Surgical Management

and Aftercare

Comprehensive, Affordable, Convenient

Ph 03 9204060

52 Pegasus Main Street,Pegasus 7612

www.pegasusmedicalcentre.co.nz

Hotel rumours swirl

Southern Cross

Affiliated Provider

For selected services

1890742

By ROBYN BRISTOW

Rumours are rife in Hanmer

Springs that the Heritage

Hotel has found anew

owner.

The complex was

mothballed in May in the

aftermath of the Covid­19

lockdown.

It now appears CPG

Hotels could be about to

breath new life into the

historic hotel.

CPG Hotels, the recent

buyer of Terrace Downs, a

resort­style property near

the Rakaia Gorge that

boasts agolf course, is

advertising for staff for its

$6.6 million acquisition.

Within the same

advertisement for Terrace

Downs staff, it is also asking

for expressions of interest

for senior staff roles at a

''historic hotel property''.

The advertisement says

the Spanish­style building

has been adrawcard to the

area for decades, and will

continue to showcase the

''abundance of local

produce and thermal

activities in the area''.

CPG has 10 properties in

its portfolio, and the

advertisement on the

website Seek says both

operations are scheduled to

open in the near future,

under the new brand, Fable

Hotels and Resorts.

''CPG Hotels is ayoung

and fast­growing New

Zealand­owned company,''

the advertisement said.

CPG is looking for a

general manager, duty

manager, front office

manager, food and beverage

manager, housekeeping

manager, conference coordinator,

activities

manager, and business

development manager for

both properties.

The mothballing of the

Heritage Hotel was seen as a

huge loss for the Hanmer

Springs community.

It was not only used for

conferences and business

meetings, but was apopular

wedding venue.

The 66 privately owned

units, some in the hotel and

some on the grounds, were

run as abody corporate and

leased back to the hotel.

Hurunui Mayor Marie

Black said at the time of the

mothballing that the job

losses were gut­wrenching.

''It is abig shock because

of the personal impact its

closure will have on many

families in the Hanmer

basin and further afield,''

she said.

HOUSE

WASHING

Experts!

AFTER

BEFORE

Quarry opponents reject plan

John Mather ... The quarry proposal is

''utterly rejected'',hetold the meeting.

By SHELLEY TOPP

Aproposed quarry at the Rangiora

Racecoursewas described as crazy at a

Stop the Quarrypublic meetingonMonday

night.

Facilitator John Mathersaid thatwhile

respecting Taggart, which is proposing the

quarry, and the racecourse owners, ''we

utterly rejecttheir crazy quarryproposal at

the racecourse''.

He said the meetingaimed to give people

attending achance to sharetheir concerns,

learnabout theprogress madebythe group

opposing the quarry,and provide achance

for more peopletobeinvolved.

Mr Mathersaid therecould be people at

the meeting who supported the proposal.

''That is OK. Our group has approached

our response to thequarry proposal from

the perspective that we are not against

Taggart.

''Wecertainly acknowledgethat we have

❛We certainly acknowledge

that we havetoco­exist in the

same community together.❜

—John Mather

to co­exist in the same community together.

''We know theyprovide employment and

contribute to thiscommunity.

''Similarly,weare not against the

racecourse owners.

''In fact many of us support horse racing

andlike living near the facility,''hesaid.

Around 200 peopleattended the meeting

at the RangioraBaptist Church Hall to

discussplans by Taggart to develop a

quarry at the racecourse, which is near

homes, rest homes,pre­schools, parks, a

shopping centre and restaurants.

Apetition opposing the quarry proposal

attracted morethan4000 signatures.

2310682

Services Include:

• House washing

• Roof Washing

• Moss and Mould Removal

• Driveway &Concrete

Cleaning

• Deck &Fence Cleaning

• Gutter Cleaning

• Spider proofing

FreeQuotes

0800101216

washrite.co.nz

Thank youfor your continuedsupport, it's a

privilege to be re-electedasthe Member of

Parliament forWaimakariri.

I'm committedtoworking hardfor you.

MattDoocey

MP forWaimakariri

03 3107468•waimakariri@parliament.govt.nz

Authorised by Matt Doocey, Parliament Buildings, Wellington.
---
NEWS

4 The North Canterbury News, October 22, 2020

Election-day market awinner

By SHELLEY TOPP

ART

EXHIBITION

31 OCT &1NOV

THE MILL, WAIKUKU,

NORTH CANTERBURY

OPENING NIGHT

FRIDAY 30 OCTOBER

7.30–10.30pm

ADVANCE TICKETS $25

DOOR SALES $30

TICKETS AVAILABLE FROM:

ID GALLERY THE MILL, WAIKUKU

WAIKUKU BEACH STORE AND

CAFE

OPEN SAT31OCT &SUN 1NOV

10AM-4PM

GOLD COIN DONATION

GUEST ARTIST

ELISHA CLARKE JORDAN

MAJOR SPONSOR

Loburn School's election­day

market, inviting localstocast

their vote and lingerfor coffee,

brunch and live music, was a

hit withthe community.

PrincipalStuartPriddy said

thatwith avoting booth at the

school on election day, he

thought it would be agood

opportunity to have a

community day in the grounds.

He contactedthe Electoral

Commission first to ensure a

market day could be held at the

school on polling day. ''They

werefine withit,'' he said.

''There hasn't been many

opportunitiesfor community

get­togethers this year. It has

worked out as areally neat day

and Iamreally happytohave

organised it.''

The marketday also gave

those students at the school

taking part in the William Pike

Challenge, ayear­long youth

development programme,to

complete someoftheir

community service

requirements.

There was amix of stalls,

withsomeraising fundsfor the

school and other stallholders

paying $20 to book aspot.

School pupil Lucy

McKenzie, aged 9, of Rangiora,

had aclearout of books and

clothingather stall.She was

raising money for Christmas

presentsand morebooks.

Audrey Woolford, 13, and

Mila­Maree McLaughlin, 13,

bothofLoburn, sold panacotta

desserts.

Feel the beat ... Young drummer Shae Jackson, aLoburn School pupil, performs during the market

day.

PHOTOS: SHELLEY TOPP

Book lover ... LucyMcKenziewas

selling some of her books at her stall.

Fun day ... Loburn School principal Stuart Priddy with Year 8

pupils, from left, Jake Brown, Connor Scott and Brook Fortune at

the school's election­day market.

RAVENSWOOD SHOW HOME

VILLAGE NOW OPEN

Visit the Ravenswood Show Home Village in

North Canterbury and view the range of stylish

and affordable house designs available –there's

something tosuit all styles and budgets.

11 show homes now open with 2more coming soon.

YOU'LL LOVE THE DIFFERENCE

CHRISTCHURCH

®

Location: Bob Robertson Drive,

Ravenswood, North Canterbury.

www.ravenswood.co.nz/show-homes

CALL US TODAY

Jenny Lake 03 375 0010

live@ravenswood.co.nz
---
Worker shortage starts to bite

By ROBYN BRISTOW

NEWS

The North Canterbury News, October 22, 2020

5

HanmerSprings faces a

worker crisis, as business

booms.

Finding stafftohelpcope

with demand, andthenfinding

somewherefor them to live, is

provingdifficult, says

Christine Hall, of CH

Solutions.

Christine,who provides

business support throughout

NorthCanterbury, saysthe

villageisrocking, defying the

effects of Covid­19,asvisitors

flocktothe townfor rest and

recreation.

Butwith theincrease in

visitors to the alpine village,

staffinghas becomea

problem.

''Hanmerhas acrisis.

Workershavenowheretostay.

Thevillage is booming, butitis

very hardtoget staff and even

harder to findaccommodation

forthe incomingworkers.

''If you are looking to rent

outaroom over the summer,

letmeknow,'' she says.

Christine says vacancies

have oftenbeenfilled in the

past by international

travellers,suchasbackpackers.

However, Covid­19

endedthat.

With no unemploymentin

HanmerSprings, accordingto

theMinistryofSocial

Development,workers are

short.

Filipinos whose partners

aredairyworkersare in a

tenuous position,Christine

says, unless the government

Buoyant trading ... Hanmer Springs has rebounded well since the lockdown, but worker shortages

are creating problems.

PHOTO:FILE

extends work visas.

Shenotesthat job vacancies

areramping up on Trade Me

andSeek, but businesses are

struggling to fill vacancies.

Hurunui DistrictCouncil

chiefexecutive Hamish

Dobbie says accommodation

optionstighten as thesummer

season approaches.

''It is difficult forany tourist

town.''

He saysthere could be a

collaborativesolutionif

commercial organisationsgot

together.

HanmerSprings Thermal

Pools andSpa general

manager GraemeAbbot agrees

business is growing in the

town. He said it washard to

imagineinMarch,during

lockdown, thatbusinesses

would bounce back so well.

''Wehad avery goodschool

holidays (atthe pools). It was

up 19 percent on lastyear.''

But he believes thepinchto

find staffand accommodation,

is alittledifferent from

previous years.

''It is always hard,'' he says.

Some businesses arranged

accommodation forstaffand

rentedafew houses.

''We (the pools)are looking

at that option ourselves.The

main differenceisthat midweek

business hasincreased.

''It is stillnot likea

weekend, butithas bounced

back.''

Literary tea party in Amberley proves ahit

By ROBYN BRISTOW

Poetry and oratory were to the fore at

the Hurunui Library in Amberley on

Sunday during the 13th annual Writers'

Tea Party.

Canterbury authors Laura

Borrowdale, Philip Norman and Doc

Drumheller entertained the audience.

Drumheller warmed up the crowd

with quirky poems from his art journal

Catalyst and asing­along to Oma Rapeti.

Drumheller inspired some good

chuckles with his poem about the time

he thought he had re­discovered an

extinct bird.

He also shared asad, thoughtful, yet

still playful poem that explored his

need to tend the vegetables in his

father's hothouse after his death.

Norman, known for composing the

Footrot Flats musical along with many

other achievements in his 40­year

career, shared some excerpts from his

biography, Douglas Lilburn: His Life and

Music.

He amused the crowd with some

thoughts about the value of art and had

everyone laughing when he shared his

original lyrics for apop song about

publicity.

Local poet Bernadette Hall, who

hosted the event with support from the

Hurunui Arts Council, primed the

audience for Laura Borrowdale's Sex,

with Animals collection of short stories.

She read Guilt,arather raunchy

poem by Borrowdale that had been

published in the literary arts journal

Catalyst.

Borrowdale herself wasn't so

confident about the reception that Sex,

with Animals would receive and opted

instead to read anew piece titled Guilt

Trip.

Guilt Trip is arelatable and

captivating short story that begins with

the ghost of the author's mother

scrutinising her as she scrubbed the

dishes —but her mother isn't dead. She

lives in Temuka.

Audience member Mari Scott said she

had alovely time. ''I am an avid reader,

and yet Ididn't know of these people in

our own community, so it is wonderful

to come and hear about them and see

how clever they are.''

2319055

Cosmetic Clinic

"Aging isafact afactoflife,

looking your age doesn't

havetobe"

•Botulinum (Botox)

•Dermal Fillers

•SkinPen microneedling for fine lines,

scarring andskin rejuvenation

•Radiofrequency Surgery

•Prescription Cosmetic Creams

Dr Peter Aspell

Specialising in Cosmetic Medicine

15 Durham Street Rangiora |Phone: 03 313 4659

www.durhamhealth.co.nz

www.skinbetter.com |www.skinpen.com

up to

30 %

off

Resene Premium Paints,

Wood Stains, Primers,

Sealers and Wallpaper

plus 25% off DecoratingAccessories

and Cleaning Products

Come in and see us today!

Rangiora Resene ColorShop

83 Victoria St, (03) 313 7326

or shop online at shop.resene.co.nz

Discounts off thenormalretail price until 2November 2020 at Resene owned ColorShops

and participating resellers. Paint offers also available at participating Mitre 10 MEGA/

Mitre 10 stores. Valid only with cash/credit card/EFTPOS purchases. Not available in

conjunction with account sales,promotional vouchers/coupons or other offers.Excludes

trade, ECS,WallPrint, wall decals,Crown products and PaintWise levy.

Victaride-on mowers

from $4299

BURKE'S

Stockists of Victa and ECHO

Victapush mowers

from$546

chainsaws from $499 to$1499

97

And agreat range of Victapetroland battery poweredchainsaws,hedge trimmers,

line trimmers and mowers

Come in and see Lindsay, Ann and Julie today or phone 03 314 0130

Markham Street, Amberley |www.arthurburke.co.nz

ARTHURBURKELTD

Established 1935

2320901
---
NEWS AND OPINION

6 The North Canterbury News, October 22, 2020

In the Electoratewith

MattDoocey

MP forWaimakariri

Authorised by MattDoocey,Level1ConwayLane,188 High Street,Rangiora.

Support appreciated

Thank you Waimakaririfor continuingto

supportmeasyourlocal MP.Itisa

privilege to represent you in the53rd

Parliament.

Lookingback, it hasbeen abusytime

in Waimakariri.

Together,wehave tackled Covid­19

and lockdown, getting behind ourlocal

businesses to support them.

As local MP, it wasmyprivilegeto

supportour community during this time.

My teamand Iwere set up remotely from

day oneofthe lockdown, responding and

connecting with ourresidents,

community groups andbusinesses.

At my WaimakaririJob Summit, local

business­owners met withmetosee how

we could boost business confidence in

Waimakariri to keep peopleinjobsand

grownew jobs.

Workingtogether, we've locked in

somesignificantgains forour

community overthe pastterm.

These haveincluded securing afterhours

health care, saving our Waikuku

bus service, bringing forward the thirdlaning

over theWaimakaririBridge to

makejourneys easier for our morning

commuters,fightingfor asignalised

crossingfor Woodend at theschool,and

standing up for Belfast residents against

aproposal to store 40,000balesofwaste

nearhomes. Iwillcontinue workinghard

to build on thesegains.

Likeothers,Iamconcerned aboutthe

lossofleadershipwithinthe Canterbury

DistrictHealth Board and Iwant to

ensure thisdoesn'timpact on

timeframes forour after­hours

healthcarefacility.

Iammeeting withthe interimchief

executiveofthe health board to ensure

the building of our new facility continues

to be prioritised.

Iamalso meeting with theNew

Zealand TransportAgency overarange

of transport concerns,includingthe

continuationofour fight for aWoodend

Bypass andtoholdthe agency to its

commitment to provide Woodend

familieswithasignalisedcrossing

before the newschoolyear. Ialso want

them to meet timeframes in delivering

solutionstothe problem of poorvisibility

at the Tram Road off­ramp.

In Parliament, as National'smental

health spokesman—and after

campaigning for across­party approach

to mental health in NewZealand—Iam

looking forward to launchingthe Zero

Suicide Aotearoa cross­party reportin

Parliament and debatingitinthe

chamber.

It is seldomareport gets to be debated

in Parliament and this signifieshow

strongly Ibelieve that across­party

approachisthe only way forwardfor

New Zealanders. This will deliver longterm

solutionsand breakdown the

barriers to progress in responding to the

growingdemand formental­health

services.

Speed reductions planned

Temporaryspeed reductionsonall

approachestothe intersection of

Flaxton Road and Fernside Road will

be in placesoon.

The reductions from80kmh to 60kmh,

are temporary until aroundaboutis

built, with work expected to startin

January 2021.

Funding for the roundaboutwas

approved by Waka Kotahi New Zealand

Transport Agencyinmid­2020and

design work has started.

It is hoped the roundabout willbe

finished by the end of June next year.

Council roading and transport

manager JoanneMcBride says an

increase in trafficvolumesand several

crashes at the intersection in the last

two years, two of which havebeen

serious, have prompted the temporary

speedreductions.

The 60kmh limit will apply on

Fernside Road west on the stretch near

Flaxton Road, and Flaxton Road north

and southofFernside Road.

The full length of Fernside Road east,

between Flaxton Roadand Lineside

Road,will be cut from 100kmh to 80kmh.

Consultation on permanent speedlimitchanges

will occur soon.

SpeedlimitsonsectionsofFlaxton

Road and west alongFernside Road

were reduced from 100kmhto80kmhin

late December2016.

Waimakariri

Focus from Dan Gordon, Mayor

An eye to the future

We all have ideas and visions of the kind

of community, district and region we

want future generations to inherit.

There are tangible decisions which

can be made in the coming years around

infrastructure, transport, jobs, wellbeing

and climate change, as well as

input on development trends that will

influence how our communities grow.

The Greater Christchurch Partnership

is acombination of the Waimakariri,

Selwyn and Christchurch City councils,

Ngai Tahu, Environment Canterbury,

the Canterbury District Health Board

and representatives of central

government.

The partnership has been around

since 2007 and provided astrong

foundation for the rapid and coordinated

local response after the

2010/11 earthquakes.

It is now turning its eyes firmly to the

future.

We want to make sure we are planning

now to ensure that we are ready for the

challenges and opportunities ahead.

To do this, we are commencing a

project –Greater Christchurch 2050 –

which, at its core, is about ensuring we

have an aspirational vision and clear

plan to build astrong future for our

children and grandchildren.

The starting point in this project is

community engagement. We want to

understand what our community values

are as we look to the future to inform the

development of the Greater

Christchurch 2050 vision and plan.

The partnership would like to hear

what your vision is on how the Greater

Christchurch area should grow and

ultimately look in 2050.

People can share their vision by

visiting greaterchristchurch.org.nz and

undertaking ashort survey before

November 8.

Your input will help influence each

organisation's future plans so that we

are all working together to achieve a

collective vision for Greater

Christchurch.

It's easy to have your say. Your views

are important.

Iwelcome contact from anyone who

needs assistance or has an issue that

they may want to discuss. Email me at

mayor@wmk.govt.nz or phone (021)

906 437. I'm here to help.

Speed feedback sought

By ROBYN BRISTOW

The Waimakariri District Council is

asking for feedback on reducing speed

limits south of Kaiapoi to improve

safety.

If approved, the speed limit on Main

North Road, Tram Road, Doubledays

Road and several side streets would be

dropped to 60kmh.

"The safety of road users is one of

council's top priorities", says council

roading and transport manager Joanne

McBride.

"Making sure speed limits are

appropriate for local conditions is one

way we can reduce the risk for

everyone."

The review follows several upcoming

major changes to roads in the

surrounding area, which include new

traffic lights at Tram Road, ashared

path along Main North Road, and

upgrades to State Highway 1.

Feedback is open until Friday,

November 6, with council staff

available at the Ohoka Market on

Friday, October 23, to talk through the

proposals and answer questions.

"We want to hear what the

community think of the speed limit

proposals, and if there are any other

factors we should consider," Ms

McBride says.

After collecting feedback, staff will

report to the community boards and the

council to make afinal decision.

Changes proposed:

Main North Road between the Old

Waimakariri River Bridge and the

Neeves Road intersection: 80kmh to

60kmh.

Main North Road, between the

Neeves Road intersection and Kaiapoi,

at the existing 50kmh limit change,

80kmh to 60kmh.

Tram Road between Main North

Road and apoint 180 metres past the

eastern intersection of Greigs Road,

including 50m to 100m of the motorway

on and off­ramps, 100kmh to 60kmh.

Doubledays Road, 100kmh to 60kmh.

McALPINES MITRE 10 MEGA RANGIORA -OCEAN WATCH

This

Week

Sun

Fishing

Guide

Moon

Wind

Ok

Thursday Friday Saturday Sunday Monday Tuesday Wednesday

Oct 22 Oct 23 Oct 24 Oct 25 Oct 26 Oct 27 Oct 28

Rise 6:26am

Set 8:00pm

Best

Times

5:52am

6:21pm

Set 1:19am

Rise10:21am

Gentle SE becoming

moderate E

Good

Rise 6:25am

Set 8:02pm

Best

Times

6:50am

7:17pm

Set 2:18am

Rise 11:21am

Gentle SE becoming

moderate E

Good

Rise 6:23am

Set 8:03pm

Best

Times

7:44am

8:11pm

Set 3:08am

Rise 12:25pm

Gentle E

strengthening

Fair

Rise 6:21am

Set 8:04pm

Best

Times

8:36am

9:00pm

Set 3:48am

Rise 1:30pm

Gentle SW becoming

moderate S

Fair

Rise 6:20am

Set 8:06pm

Best

Times

9:23am

9:46pm

Set 4:20am

Rise 2:34pm

Moderate SW

Rise 6:18am

Set 8:07pm

Best 10:08am

Fair

Times 10:29pm

Set 4:47am

Rise 3:37pm

Gentle Ebecoming

moderate SE

Fair

Rise 6:17am

Set 8:08pm

Best 10:50am

Times 11:10pm

Set 5:10am

Rise 4:38pm

Gentle SE

strengthening

Swell

Pegasus Bay

Tide Chart

3

2

E0.7 m SE 0.6 m SE 0.4 m E0.7 m SE 0.7 m SE 0.7 m SE 0.6 m

3 6 9 NOON 3 6 9 3 6 9 NOON 3 6 9 3 6 9 NOON 3 6 9 3 6 9 NOON 3 6 9 3 6 9 NOON 3 6 9 3 6 9 NOON 3 6 9 3 6 9 NOON 3 6 9

1

0

Highs Lows Highs Lows Highs Lows Highs Lows Highs Lows Highs Lows Highs Lows

Waimakariri 10:05am 2.6 3:44am 0.3 11:02am 2.5 4:41am 0.4 11:59am 2.4 5:39am 0.5 12:27am 2.3 6:37am 0.6 1:23am 2.2 7:33am 0.6 2:16am 2.2 8:26am 0.6 3:06am 2.2 9:16am 0.7

Mouth

10:33pm 2.4 4:20pm 0.4 11:31pm 2.3 5:20pm 0.5

6:20pm 0.5 12:56pm 2.4 7:16pm 0.6 1:51pm 2.3 8:09pm 0.6 2:43pm 2.3 8:57pm 0.6 3:30pm 2.3 9:42pm 0.6

Amberley 10:05am 2.6 3:44am 0.3 11:02am 2.5 4:41am 0.4 11:59am 2.4 5:39am 0.5 12:27am 2.3 6:37am 0.6 1:23am 2.2 7:33am 0.6 2:16am 2.2 8:26am 0.6 3:06am 2.2 9:16am 0.7

Beach

10:33pm 2.4 4:20pm 0.4 11:31pm 2.3 5:20pm 0.5

6:20pm 0.5 12:56pm 2.4 7:16pm 0.6 1:51pm 2.3 8:09pm 0.6 2:43pm 2.3 8:57pm 0.6 3:30pm 2.3 9:42pm 0.6

10:14am 2.6 3:53am 0.3 11:11am 2.5 4:50am 0.4

5:48am 0.5 12:36am 2.3 6:46am 0.6 1:32am 2.2 7:42am 0.6 2:25am 2.2 8:35am 0.6 3:15am 2.2 9:25am 0.7

Motunau 10:42pm 2.4 4:29pm 0.4 11:40pm 2.3 5:29pm 0.5 12:08pm 2.4 6:29pm 0.5 1:05pm 2.4 7:25pm 0.6 2:00pm 2.3 8:18pm 0.6 2:52pm 2.3 9:06pm 0.6 3:39pm 2.3 9:51pm 0.6

10:16am 2.6 3:55am 0.3 11:13am 2.5 4:52am 0.4

5:50am 0.5 12:38am 2.3 6:48am 0.6 1:34am 2.2 7:44am 0.6 2:27am 2.2 8:37am 0.6 3:17am 2.2 9:27am 0.7

Gore Bay 10:44pm 2.4 4:31pm 0.4 11:42pm 2.3 5:31pm 0.5 12:10pm 2.4 6:31pm 0.5 1:07pm 2.4 7:27pm 0.6 2:02pm 2.3 8:20pm 0.6 2:54pm 2.3 9:08pm 0.6 3:41pm 2.3 9:53pm 0.6

10:10am 2.0 3:51am 0.3 11:09am 1.9 4:48am 0.3

5:45am 0.4 12:34am 1.7 6:41am 0.4 1:28am 1.7 7:35am 0.5 2:19am 1.7 8:28am 0.5 3:08am 1.7 9:19am 0.5

Kaikoura 10:41pm 1.8 4:31pm 0.3 11:39pm 1.8 5:31pm 0.3 12:07pm 1.9 6:28pm 0.4 1:03pm 1.8 7:23pm 0.4 1:57pm 1.8 8:14pm 0.5 2:48pm 1.8 9:02pm 0.5 3:36pm 1.7 9:48pm 0.5

*Not for navigational purposes. Wind and swell are based on apoint off Gore Bay. Maori Fishing Guide by Bill Hohepa. www.ofu.co.nz www.tidespy.com Graphic supplied by OceanFun Publishing Ltd.

2118223
---
HOT

PRICES

MAKITIA CHAINSAWSKIN DUC353Z 36V C/LESS

SKU 5311744

FREE 2x 5.0AH Li -ion BL1850B Battery

FREE Dual 18v Charger

INC

$599.00 GST

POWERBUILT¼½DR 81PC METRIC

TOOL SET KTB4180

SKU 4811619

INC

$237.00 GST

GO IN THEDRAW

TO WIN AN

ELECTRIC

POWERBUILTDRIFTER

PRO COATPAINT

EBONY 10L

SKU 3984444

IRON SAND 10L

SKU 3984441

KARAKA 10L

SKU 3984443

RUSTIC BROWN 10L

SKU 3984442

INC

$39.99 GST

BUILDING KING SCREWS

BK DECKINGSCREW SS T316 TORX 500PK

SKU 3521841

INC

$113.85 GST

BK DECKINGSCREW BRONZE T316 TORX 500PK

SKU 3521842

INC

$149.00 GST

HOURS

Monday -Friday 7am -5pm

Saturday 8am -2pm Riccarton &Cranford St

Saturday 8am -12pm Kaiapoi &Hornby

Sunday CLOSED

Available at Placemakers Kaiapoi, Riccarton, Hornby,Cranford. Valid while stocks lasts

www.placemakers.co.nz

2321316v1-S
---
LAWNMASTERESTATE ESTATE SPECIAL

Was $849

Now $749

Check

Out These

Features:

• NZ Made

• Ball Bearing Wheels

ESTATEECO READYSTART

• Ready Start Engines (no priming)

• Quality Alloy Chassis with LIFETIME Warranty

• 4Year Engine Warranty

• Oiled &Fully Assembled

*Excludes the Estate 400

Save $100 on the

Lawnmaster

Estate range *

360 FlaxtonRoad,Rangiora

Ph 03 313 5563

www.kingsmowersheating.co.nz

WEKA PASS

RAILWAY

Running on every 1st &3rd Sunday

of the Month

2307841

2187722

NEWS

8 North Canterbury News, October 22, 2020

School facelift continues apace

By DAVID HILL

Kaiapoi's St Patrick's Catholic

School is undergoing afacelift as it

looks to the future.

The school has refurbished its

junior block for new entrant to year

4pupils, opening up the three

classrooms and adding breakout

rooms and akitchen area.

The completed work means the

school library is able to be used

again as alibrary, after being used

as an extra classroom in recent

months.

There are plans to refurbish

senior classrooms, for years 5to8,

as the school gears up to expand its

roll.

The school had 105 pupils when it

went into lockdown and has since

grown to 119, but has capacity for

208.

Anew dodge ball pit, completed

for the start of term four, has been

keeping the pupils entertained

during breaks.

Dodge ball ... Pupils at St

Patrick's Catholic School in

Kaiapoi have been doing

plenty of dodging in their new

dodge ball pit. PHOTOS: DAVID HILL

Due to the demand

bookings are recommended.

For info and booking your ticket go to

www.wekapassrailway.co.nz

0800 935 272

2299527

PRIVATE SALE

12 year old home in

Darfield

Refurbished ... Junior pupils

at the school are enjoying their

newly refurbished classrooms.

The Widest Music Variety

4 2 2 2

Fantastic family home with open

plan living, established gardens,

private rear section.

Built for the family with four

bedrooms, master with ensuite,

internal access double garage

and asunny deck.

Offers over $560,000

Viewing by appointment only

Ph 027 448 8227

Tune in nowtolistenon104.9 North Canterbury

and103.7 Hanmer Springs andKaikoura

Want to reach 47,000 readers

every week? Talk to us today to

find out how we can help you.

Phone 03 314 8335

or email info@ncnews.co.nz

Source 2018 Nielsen Readership research all people 10+ NCN Circulation area
---
CONTENT MARKETING

MuseumUnveilsConcept Designs

for Proposed Redevelopment

Canterbury Museum has released concept designs for its $195 million

proposed redevelopment, which celebrate and reveal more of the

Museum's heritage buildings, provide twenty-first century visitor facilities

and meet the exhibition and storage needs of amodern museum.

CanterburyMuseum DirectorAnthony

Wright says that theMuseum has

listened very carefully to thefeedback

it has receivedtodateonthe proposed

redevelopment.

"Peoplehavetoldusthatprotecting

theheritagebuildings andplacinga

greateremphasisonMāori,Pasifika and

multiculturalexhibitswereall important

considerationsfor anyredevelopment of

theMuseum.

"They wanted to seethe blue whale

skeleton back on display, improved

visitorfacilities andnew prehistoric

animal exhibits. People also want us

to retain favourites such as Discovery,

theChristchurchStreetand Fred and

Myrtle's Pāua ShellHouse."

He says that Athfield Architects

have capturedall of thefeedback in

theproposedconceptdesigns,while

maintainingthe much-lovedintimate

feel of theMuseum. "Thedesign

increases thesense of discovery,surprise

andthe feelingofnever beingquite sure

of what's around thecorner. Howeverthe

waypeoplemovethrough theMuseum

will definitely be improved.

"Wewill be bringing back theblue

whaleskeleton whichhas notbeenon

public displayfor 26 years. The 26.5

metreskeletonwillbeafocal pointin

theMuseum, suspendedinanew central

full-height glassroofedatrium,"saysMr

Wright."We arealsolooking forwardto

developing anew,expandedAntarctic

exhibition."

CanterburyMuseum ChairDavid

Ayerssays, "Thebrief we provided

AthfieldArchitectswas quite

challenging."

"Wewantthe proposed redevelopment

to enhance andcelebrate ourhistory by

unveilingheritagefabricthathas been

hidden formanyyears.Theconcepts

have more than metour expectations

andwe're lookingforward to hearing

what theCanterburycommunity thinks."

The Museum is workingcloselywith

Ngāi Tūāhuririonthe conceptdesigns.

Puamiria Parata-Goodall,Kaiurungi

(Chair) of theMuseum's Ōhākī oNgā

Tīpuna says, "Atthe heartofthe new

Museum is anew space called Araiteuru,

housed in thecentral full-height atrium.

Araiteurucelebratesthe importance of

howwewelcome people to theMuseum

andthisiswhere we will tell thestory

of manawhenuaand tangatawhenua

throughamix of contemporary and

traditional methods."

Araiteuruwill be home to anew

contemporary whare–aceremonialand

educationalspace.TheWhare Whakairo

(carvedmeeting house) HauTeAnanui

OTangaroa,ataongathathasn'tbeenon

displayfor 64 years, willalsoholdpride

of place in Araiteuru.

The conceptdesigns propose that

thewallsonthe northernsides of the

original Benjamin Mountfort-designed

buildings willberevealed andoriginal

exteriorelements, includingthe flèche

(slender roof-top spire)ontheRolleston

Avenue façade,will be reinstated.

Anew three-storeybuilding, within

theheight limits of theRolleston Avenue

roof line, wouldwraparoundthe north

side of theheritagebuildings, exposing

their heritage wallstopublic view.The

buildingwould include mezzaninefloors,

multifunctionalspaces such as anew

Artist's impression of redeveloped Museum from Rolleston Avenue.

Proposed atrium would feature the blue whale skeleton

lecturetheatre andincreased space for

permanentand temporaryexhibitions.

Base isolationwould be addedacross

thesitetoprotect theheritagebuildings

andthe collections, andtobring the

site up to 100% of BuildingCode. New

collection storage wouldbecreated as

part of this.

Akey elementofthe conceptdesign

is asecondRollestonAvenueentrance.

The currententry to theMuseum is too

small to be theonlyentrance, andwith

more than 750,000 visitors ayearand

rising, an additional entrance will reduce

congestionand improve theflow of

visitors into thebuilding. Thisentry will

also houseacafewithsidewalk seating.

Heritage architectureexpertJim

Gard'ner says theconceptdesign forthe

RollestonAvenuefacade respectsand

celebrates theGothic Revivallanguage

of Benjamin Mountfort. "Theadditions

to theMuseum andplanned central

circulation patterns areinformedby

Mountfort'soriginalunrealised plansand

ideas forthe extensionofthe Museum.

"Theproposedadditional entrance

on RollestonAvenuewill have three

openings into acovered portico.This

draws on thetypicaltripartiteform

commonly foundinGothic Revival

architecture,including the1878 porchof

theexistingentrancetothe Museum, key

entrances within theArtsCentre, and

theporch of Christ Church Cathedral,"

says Mr Gard'ner.

Floor to ceilingglass will be addedto

part of twofloors of theRoger DuffWing

whichwill houseasplit-level family

cafe alongsideDiscovery,the Museum's

naturalhistory centrefor children.

Youcan seethe concept designs

on displayand give feedback at

theMuseum oronline at

www.canterburymuseum.com

until23October.
---
NEWS

10 The North Canterbury News, October 22, 2020

Sense of anticipation ... Kaiapoi North School's youngest pupils are excited at the prospect of moving into anew classroom at the end

of the month.

PHOTO: DAVID HILL

Young pupils eye new classroom

By DAVID HILL

Kaiapoi North School's twoyear

wait for anew classroom

block is nearly over.

The school's new entrant/

year 1pupils are looking

forward to moving into their

new classrooms, which

replace ablock of two

classrooms destroyed by arson

in November 2018.

Principal Jason Miles says

the classrooms will be

officially opened with aMaori

blessing tomorrow, with the

children due to move in on

Friday, October 30.

''The children are very

excited to see that new space

finally completed. It's been a

long time watching that being

constructed, so it will be good

to finally enjoy it.''

Brosnan Construction has

been working on the project

and Mr Miles says the firm has

done an amazing job.

''They've had afew

challenges along the away, but

they've done agreat job to get

it ready this term.''

The new classrooms are

''beautifully set up'', with two

separate class spaces, shared

areas, akitchen area, art

space, and averanda for

outdoor learning and

activities, Mr Miles says.

The 36 new entrant/year 1

pupils and two teachers have

been operating from a

temporary classroom block,

which will be removed from

the school during summer.

The ground underneath will

be regrassed and turned back

into aplay area.

Cash to

monitor

campers

The Hurunui District Council

has secured more fundingto

continue acampaign to ensure

campers act responsibly in the

district.

TheMinistry of Business,

Innovation and Employment

has approved $185,705 of

funding fromthe Responsible

Camping Fundtoassist council

efforts.The council trialled the

initiative last season after

getting ministryfunding.

Compliance teamleader

AndrewBrown says themoney

willallow the council to

continue itsmonitoring and

ambassadorwork in the

Cheviot and Gore Bay area for

asecond season.

It willalso helpextend

monitoringand enforcement

worktoHanmer Springs,

Waipara, Scargill and

Amberley Beach.

"Wefoundimproved

behaviouramong freedom

campers in theareas wherewe

haveused responsiblecamping

funding. We havealsonoticed a

reduction in complaints where

ambassadors havebeen

working,'' Mr Brown says.

Thefunding, whichwill be

usedduring the peak summer

camping season, will also be

usedfor extrasolidwaste

collection and waste disposal

at camping sites, as well as

additional toilet servicing.

Building aFutureatHōhepa

Donate Now

John

Hōhepa Canterbury is on ajourney tobuild two new fit-for-purpose homes to

welcome more individuals waiting to join our community.

People develop best when they feel grounded and safe in their surroundings. At

Hōhepa, we provide ahome for people with an intellectual disability tolive their

lives in away that brings them joy.

Everyone needs and deserves ahome they cherish and from where they can

dream, be and do.

Your donation will assist with the many essential fit out items and specialised equipment in the

homes that will make life easy, functional, comfortable and enjoyable, such as:

$

20

1x Set of coffee mugs

for cuppa tea time

$

150

1x Cozy duvet (inner

and cover)

$

750

1x Queen bed, fitfor

aqueen or king!

$

3000

1x Special Sara Stedy

standing and raising

mobility aid

Learn more atdonations.hohepacanterbury.com

Or contact Sarah on 027 544 9977 or email newhomes@hohepacanterbury.com
---
Group busy helping those in need

By DAVID HILL

Help is at hand in Kaiapoi for

families in need.

Kaiapoi Community

Support (KCS), abranch of

the Community Wellbeing

North Canterbury Trust, has

been experiencing an

increase in demand for its

services since the Covid­19

lockdown, co­ordinator

Louise Griffiths says.

''We have been seeing

people with reduced incomes

and job losses.

''It seems to be mainly

reduced hours and that's

someone's food money.''

The Kaiapoi Community

Pantry has been busy and

there is agrowing demand for

counselling services.

KCS has afamily

counsellor, aPegasus Health

brief intervention counsellor

and acouple of private

counsellors who use its

rooms.

''Give us acall or come in

and have achat if you're

needing support and, if we

don't have the support

available, we can refer you,''

Louise says.

Louise expects demand to

increase as Christmas

approaches.

KCS will soon be launching

its Christmas Giving

programme and is busy

planning for Toot for Tucker.

New and unwrapped

Christmas gifts will be

Kaiapoi Island ... Walkers take abreak along the river during last year's Kaiapoi River Wellbeing Walk.

This year's walk aims to raise funds for Kaiapoi Community Support.

PHOTOS: FILE

gratefully accepted for

families in need, with the

drop­off points to be

confirmed.

''We always find it difficult

to get enough gifts for

teenagers, but toiletry packs

are always good, or diaries,

journals and stationery, so

we're not just looking for gifts

for the kids,'' Louise says.

KCS offers avolunteer

driver service for adonation

to help people get to medical

appointments, go grocery

shopping, or get to the

hairdressers —both around

town or into Christchurch.

People are encouraged to

give the group two days'

Taking abreak ... Walkers stop for abreak during last year's Kaiapoi River Wellbeing Walk.

notice if they can.

KCS has been supporting

the community for more than

30 years and relies on local

support to keep going.

The Kaiapoi River

Wellbeing Walk, being held

this Saturday, hopes to raise

funds to support KCS.

The walk will leave from

the Kaiapoi Food Forest at

around 10am, after ashort

talk on food security given by

Brent Cairns.

Waimakariri Mayor Dan

Gordon will join the walk,

which will do aloop around

the Kaiapoi River, before

finishing back at the food

forest about 1pm.

It is being organised by

Walk for the Planet, a

Methodist Church initiative.

For more information, visit

the Walk for the Planet page

on Facebook.

Food security is ahot topic

in the district as it faces

uncertainty because of Covid­

19.

Satisfy Food Rescue is

working with the

Waimakariri District Council

community team on afood

security initiative and has

received funding from the

Ministry of Social

Development.

OUR TOWN KAIAPOI

The North Canterbury News, October 22, 2020

Dynamic

Co

Coworking

11

COME AND TRY OUT

OUR HOT DESKS &SHARED OFFICE.

SPECIAL OFFER* > FREE TRIAL DAY PASS

*Hot Desks *Dedicated Offices *Meeting Rooms

*Flexible Membership Plans

*Daily/Weekly /Monthly /Long term

*CollaborativeBusiness Community

CALL OR TEXT

FOR MORE INFO OR TO VIEW!

2/77 Hilton Street, Kaiapoi

Geoff 027 523 9953

info@dynamiccoworking.co.nz

dynamiccoworking.co.nz

*Conditions apply,offer ends 31 December 2020

Sat, 31 Oct

4.30 - 7.30pm | Wylie Park

Cnr Smith & Ranfurly Streets

KAIAPOI

2318737

KAIAPOI COLLISION CENTRE

2146303

Your Vehicle

Your Choice

of Repairer

• Free Courtesy Cars

•Bake Oven

•Any Insurance or

Private Work

•Helpful, Friendly,

Professional Staff

•Fast Turnaround,

with High Quality

Service

•Off Street Parking

We can do any insurance

or private work.

Like usonFacebook

191E Ohoka Road, Kaiapoi.

Ph/Fax (03) 327-7143 •Open 8.00am -

5.30pm Mon -Fri &Sat byappointment

2323120

PAINTERS

RegTradesman • Interior,exterior.

North Canterbury Painters

specialising in decorating for

over 65.

Discounts

for Seniors

Free quotes.

Covering North Canty,Oxford,

Kaiapoi, Rangiora, Amberley.

Ph Rob 03327 7899

or 027 432 3520

2289726

1946236

Catering foryour

Christmas Parties

and special occasions.

See us for Gift Hampers and

treatyour staff and clients

We are happy to provide quotesfor the

bulkpurchaseofliquor requirements.

Proudly 100%locally owned &operated

Phone: 03 375 5180

Kaiapoi@newworld-si.co.nz

2212914
---
OUR TOWN KAIAPOI

12 The North Canterbury News, October 22, 2020

Party anon-scary alternative to Halloween

By DAVID HILL

Forget ''trick or treating''. The

Waimakariri Light Party is

returning to light up Kaiapoi's

Wylie Park.

The light part is offered as a

''non­scary'' alternative to

Halloween.

The party, organised by the

Reflections Community Trust,

will be held on Saturday,

October 31, from 4.30pm to

7.30pm.

After an extraordinary first

half of the year with the Covid­

19 lockdown, the light party

offers achance for the

community to gather together

and have some fun, organisers

say.

''The light party is anationwide

non­scary alternative to

Halloween and is agreat option

for parents who may not like

the creepy side of the

Halloween tradition, but at the

same time, do not want their

children to feel like they are

missing out.''

The event is aimed at

families with youngsters aged 4

to 14, providing familyorientated

entertainment in a

safe and positive environment.

''The light party effectively

keeps children off the streets

from trick or treating —an

activity which can turn sour

quite easily,'' organisers say.

''Children and youth who

attend receive lollies handed

out by our team of volunteers.

''Local householders,

particularly the elderly, have

expressed their relief that

Lighting up ... The Waimakariri Light Party is expected to light up Kaiapoi.

there have been fewer children

coming to their homes trick or

treating on the evening of

October 31.''

Now in its 16th year, the

Waimakariri Light Party

started from humble

beginnings, with about 350

people at the first event.

Since then, it has grown to

draw more than 5000

preschoolers, children, youth

and families each year.

Waimakariri Mayor Dan

Gordon will officially open the

event at 4.30pm, followed by the

Kaiapoi High School kapa haka

group performing awaiata.

Entertainment will include

bungees, bouncy castles, water

walkers, horse and cart rides,

climbing walls, mini jeeps and

the Pedalmania crazy bikes.

There will be anon­scary

fancy dress contest, followed by

afancy­dress parade.

Other entertainment

includes displays by the

Waimakariri Dog Training

Club, Empire Athletics, and

stage performances by the

Hartley School of Performing

Arts, Kaiapoi North School and

Funkdafied Dance Club.

Relay Rail Dog, Silly Billy

Clown, Sweet Millie,

Lieutenant Lou Lou and

magician Josh Grimaldi will be

interacting with families.

PHOTO: SUPPLIED

Stalls will be selling food to

raise funds for local groups,

schools and churches, while

there will be community

information stands for Fire and

Emergency New Zealand, the

police and Eco Educate.

While the party has been

made possible thanks to the

support of local community

organisations, churches and

businesses, there is a$2

donation entry fee to attend.
---
OUR TOWN KAIAPOI

North Canterbury News, October 22, 2020

13

PLASTERER

Matt Smith

PAINT FINISH • CORNICE

• GIB COVE

New Homes, Renovations

and Extensions

FREE QUOTES

Ph 027 436 1112

www.mattsmithplastering.co.nz

2324007

Making asplash ... Swimmers dive into the pool during last year's Kane Shield swim meet at the Kaiapoi Aquatic Centre.

Swimmers to take the plunge

By DAVID HILL

Kaiapoi'sKane Shield is

returning.

The popular annual swim

meet will now be held on

Monday, November9,afterit

was postponed in August

because of Covid­19.

Prospective participants

are encouraged to get an entry

form from the Kaiapoi

Aquatic Centre,orthe All

Together Kaiapoi (ATK)

website or Facebook page,

and get their entriesinnow.

Spot prizes and asausage

sizzle will be available on the

night.

The popular KaneShield

swim meet began in 1948,

when the Kaiapoi Swimming

Club was low on funds.

Then president Bill Kane

issued arace challenge to

committee members as a

fundraiser.

The Kane Shieldwas

resurrected in 2014 by the

You Me We Us Kaiapoi

Project(now ATK)aftera

four­year break. It was run as

afun night for localfamilies

after the earthquakes.

Teams can be family

groups,orclub, schooland

business teams.

To be eligible for the Kane

Shield,atleast three

membersofateam must live,

work or attendaschoolinthe

Kaiapoiarea, or belongtoa

Kaiapoi sports club.

The competition involves

teamsoffour swimming a

handicapped relay race.

Teamsare eliminated until

two teams remain to race off

for the shield.

Othertrophies presented

on the nightinclude the

Industries Shieldfor business

teams, the Bell Family Trophy

for family teams, the Harry

BatesCup for the fastest team

time,the BurgessFamily

Trophy for sportsteams, the

You Me We Us Trophy for

school teams, and the

Westpac Cup for runners­up.

Last year, 22 teams were

entered in what provedtobea

keenly contested competition,

PHOTO: FILE

with the Kane Shield going to

ateam known as ''I Don't

Know How To PronounceIt'',

while the You Me We Us

School Trophywent to ''St

Paddy'sPaddlers'', from St

Patrick's School.

Doors open at 5.30pm,with

the first race at 6.30pm. Entry

is by gold coin donation.

For moreinformationorto

register, email

alltogetherkaiapoi@gmail.

com, followthe All Together

Kaiapoipage on Facebook, or

phone Linda Dunbaron(027)

781 3048.

The event is sponsored by

Harcourts Four Seasons

Realty and the Kaiapoi

AquaticCentre.

Repairs,

Tarpaulins

alterations &

Sidecurtains

manufacturing Awnings •Sunblinds

Marquees &Canopies

REPAIR CALL

Boat Covers •Umbrellas

OUT SERVICE

-FREE QUOTES - Outdoor Furniture recovers

Now is the time to get your awnings made

Paul Berg •57WesleySt, Kaiapoi

Phone (03)338-1112 •0274 381-871

canvasco@xtra.co.nz

UPHOLSTERY

SPECIALISTS

•All furniture Recoveries &Repairs

•Squabs, Cushions &Fabric Sales

•Antique and Loose Covers

•Cars, Boats, Caravans, Motor Homes

•Custom-made Bed Heads &Ottomans

2321966

FREE QUOTES, PICK UP AND

DELIVERY

32 years experience

03 327-0266

0274 840 159

72 Otaki St, Kaiapoi

recoveries@xtra.co.nz

2323117

Kaiapoi'sParty in the Park set for Sunday

Kaiapoi's ''Party in the Park'' is back

on Sunday.

The grand finale to the Kaiapoi

Spring Festival was postponed last

month because of awind storm.

It will now be held this Sunday from

11.30am to 2.30pm at Trousselot Park.

The free entertainment includes a

live band, The Mule,aphoto booth, Flip

Out Air Tracks, bouncy castles, pony

rides, face painting, the Pedalmania

crazy bikes, bumper boats and water

walkers.

An interactive farmyard featuring

alpacas, calves, goats, lambs, rabbits

and guinea pigs is sure to entertain all

ages.

There will also be araffle, food stalls

and market stalls.

Entries open next month for the

Kaiapoi Garden Competition, with

judging to take place in January. An

awards evening will be held in

February.

Categories include: ''walk around'',

with the judges considering the entire

garden; ''view from the street'', ''town

house'', ''garden under three­years'',

''structured landscape'', with built

features combined with plants;

''community pride'', where individual

gardeners or groups present agarden

outside their boundary for others to

enjoy; commercial/business premises,

house and garden, with an indoor/

outdoor flow; sustainability, which

considers such things as composting or

no sprays; and the best street.

All Together Kaiapoi (ATK) hopes to

finalise adate soon for The Amazing

Race,apopular annual event

scheduled to be held next month.

The race involves families

completing challenges around the

town.

Petrol Vehicles

Lube

Combo

from $130* from $160*

Save $10.00

Diesel Vehicles

Lube

Combo

from $160* from $190*

Save $10.00

*Dependant on oil capacity.All 4wd extra $20.00.

WOFs $40.00

63 Hilton Street, Kaiapoi

Ph: 327 0700

2210820

Matthews Roofing Limited

Specialists in Longrun Coloursteel

Roofing and Guttering Systems

We supply and install long run metal roofing,

fascia and spouting.

2305223

PO Box54, Kaiapoi

Mobile: 027 245 8140

Email: J_amatthews@xtra.co.nz

TURN YOUR DREAM INTO AREALITY

At Misco Joinery we will work with you totake your joinery project from concept to completion

EST. 1988

62 Williams Street,

Kaiapoi 7630

www.misco.co.nz

P: 03 383 4384

E: quotes@misco.co.nz
---
NEWS

14 North Canterbury News, October 22, 2020

FRESH

FOODS WEEK

PamsFresh Lettuce

or Carrots B

Product of New Zealand

$

3 49 ea

Pams Fresh 250g Bunch or

CherryTomatoes

Asparagus$

3

250g Prepack

Famous Four

Square Pizzas

or PamsFresh

CookedChicken

Large Avaliable at

selectedstores

SEE INSTORE

FORMORE INFO

2 ea

Bunched $

2 99 ea

WIN

aHellersBBQ tools

prize pack!

$

12 99 ea

Fresh NZ Skinless

ChickenBreast

Fillets

$

12 99 kg

Fresh NZ Quality

Mark Beef Mince 500g $ 7 99

ea

Fresh Strawberries

250g Prepack

Product of NewZealand$

4

Share a

with Four Square

WIN

BE TO

AWEBER SMOKEY JOE BBQ

VALUED AT $139

www.foursquare.co.nz

$

4 9

99 pk

facebook.com/FourSquareNZ

Specialsavailable South Island only from Monday 19th October until Sunday 1st

November 2020 or whilestocks last.Wine andbeeravailable at storeswithanoff

licence.Wineand beerpurchasesrestricted to personsaged 18 years old andover.

#shareacoke

SEE INSTORE

FOR MORE INFO

Rebecca Pugh ...

people.''

''I am excited to get into the schools and connect with our young

Rebecca inspired

by district'syouth

By ROBYN BRISTOW

Ideas to benefit youngpeople are in

abundancearoundthe Hurunui district.

Under thewatch of anew youth

workeratthe Hurunui District Council,

these ideas are becomingareality.

Rebecca Pugh says working with

youngpeopleis atwo­waystreet.

''The youth areareallyimportant part

of ourcommunity.This role is about

providingour youngpeople with

opportunities for development and

personalgrowth, ensuring their voice is

heard,and that we are recognisingthe

incrediblestrengthsand abilitiesour

youthhaveinour district, andbuilding

on this.''

Theformerprimaryschool teacher

will soon to be circulating an online

youthsurvey,askingthem to sharetheir

ideas about how theysee theirown

district now, and theirvisionfor the

future.

Carryingonthe work of Hurunui

Youth ProgrammeofficerWard

Shearman,Rebecca willberegularly

visiting thethreeareaschools for the

restofthe year.

''I am excited to get into the schools

andconnect with our young people. My

visits in the schools helps metobuild

relationships with our youthto

understandtheirneeds and howIcan

best support them.

''I am always amazed at their ideas

andthey directly inspirethe eventsand

programmes that we hold, basedonwhat

they identify as beingthe need.

''This canbeanentertainment event, a

connector event,or amore educational

eventbasedaroundan issue that

impactsyoung people.''

As exam timekicksin, Rebeccawillbe

looking at waystocheck in with the

students duringthis busy, andoften

stressful time,tosee howeveryoneis

❛The youth are areally

important part of our

community.❜

Your Favourite Country

Christmas Shop is

Now Open!

PATAKA

PHOTO'' SUPPLIED

—Rebecca Pugh

gettingon. Afterexamsthere willbe

somefuntobehad.

"We'll haveagoodpost­exam blowout.It'll

be timetorelax, havesome fun

and celebrate all their hard work and

effort.''

Recruitment will begin soon for next

year'sHurunui Youth Programme and

Hurunui YouthCouncilmembers.

Rebeccasays both are aboutcreating

greatopportunities, leadershipand

gainingnew experiences.

"Wewillbeholding three events in

Novemberwhere our youngpeople can

comealong, have lotsoffun, talk to our

current youth crew anddiscover what

the Hurunui YouthProgrammeand

Hurunui YouthCouncilisall about.''

Detailsfor theseeventswill be

released shortly on theHurunui Youth

Facebook and Instagrampages.

Interest and excitement is also

buildingfor the Neon NuionOctober 24

at Omihi Hall.

Rebeccawas born and raisedonthe

KapitiCoast. Shemovedtothe Hurunui

District four years ago, taking up a

teaching positionatWaiau School.

She is also amember of the

CommunityResponse Committee, which

has hadabusy butrewarding year

supportingthe Amuricommunity during

the hardships brought on by Covid­19.

She andher husband have a20monthold

daughter, Grace.

"Wereally enjoy thesense of

community,and we lovehow scenic our

surroundings are."

Laybys welcome -Open every day 10am to 4.30pm

768 Marshland Rd (North End) Ph 03 323 8915

2319047
---
Labour Weekend

STOREWIDE SALE

MILFORDLOUNGE

NOW

$2099

OUTDOOR

Available

NOW

$1449

MILFORD DINING

PALM BEACH EGG CHAIR

ALSO

AVAILABLE

IN

$649 NOW

NOW

$549

RAGLAN EGG CHAIR

SEE ALL OUR GREAT DEALS IN-STORE

MELODY

NOW

$629

•CONTINUOUS SPRING

•PILLOW TOP

•COMFORT AND WAVE FOAM

QUEEN MATTRESS

&BASE MATTRESSNOW $359

NOW $689

NOW $295

POP UP TRUNDLER

SUMATRA QUEEN

HEADBOARDD

ALSO

AVAILABLE

IN GREY

ALSO AVAILABLE IN

NOW

$

89

LODI BARSTOOL

NOW

$549

IRIS 2SEATER

ALSO AVAILABLEIN1SEATER $369 OR 3SEATER $649

NOW

$2499

TYLER RECLINER SUITE 3+2+1

KEEP SHOPPING

AND

SUPPORT LOCAL

$149 NOW

12MONTHS

INTEREST FREE

BARI CHAIR

TERMS &CONDITIONS APPLY. SEE IN-STORE FOR DETAILS.

FIND US AT THE CORNER OF BLENHEIM

& CURLETTS ROAD, SOCKBURN

BOTANICAFURNITURE.CO.NZ 0800 268 264
---
KAIKOURA RACES

16 The North Canterbury News, October 22, 2020

Light meals

• Lunch

• Hot sandwiches

• All daybreakfast

• Sushi

Variety of fresh,

tasty,homemade

cabinetfood.

Gluten free

options

Garden dining

option

66 West End From 6.30amDaily

Phone 03 319-6486

whynotcafe58@gmail.com

Great bakery

Fresh baked goods

All goods baked on premises.

Open 7 days a week

69a Beach Road, Kaikoura

03 319 5200

Got Rust?

Crash Damage?

Failed aWOF? a Just Feeling Tatty?

All insurance or private work

taken care of - guaranteed!

Cars, Trucks, Trailers,

Agricultural Machinery

Onsite quotes -Panel Repairs

-Mig Welding -Painting

KEV'S PANEL &PAINT

196A Beach Road,

Kaikoura

Ph 027 288 8213

2249141

83 Beach Road,

Kaikoura

2228754

2250124

Meeting

pulls the

punters

By DAVID HILL

The Kaikoura Trotting Club has abusy

two days of racing planned next month.

The Kaikoura Cup race meetingis

back at the picturesqueSouth Bay

RacecourseonSunday and Monday,

November 1and 2, with 16 racesover the

two days.

New president Ben Smith expects the

meeting to attract plentyofattention

around New Zealand and in Australia.

''It's classedasaniconic meeting and

Kaikourahas the largestprofit turnover

in New Zealandper race, basedonlast

year's results.

''It's so well supported by the

community and all our existing sponsors

have all returned, and we'vegot more

potential race sponsors thanraces, so it's

amazing to see that support given the

economic climate.''

The feature Group 2Alabar Kaikoura

Cup, whichwas won last yearbyClassie

Brigade,trainedbythe Dunn family of

Woodend Beach and driven by John

Dunn,isworth $47,500.

The meeting's mostlucrative race is

the listed$50,000 PGG Wrightson Sales

Series Aged Handicap Pace,while the

Group3Majestic Son South Bay Trotters

Cup is worth$28,500.

Mr Smith says he has been in contact

with the Dunn family and understands

they will be back to resume their rivalry

against fellow Canterbury­based trainers

Mark Purdon and Natalie Rasmussen,

who won the Kaikoura Cup in 2018with

theirhorse Spankem.

The race meeting willbethe chanceto

show off anew horse ambulance, which

will be on course for the first time.

''Thesafety and welfare of the horses

are our first priorities in case of any

accidents,'' Mr Smith says.

Race­day patrons on Monday are

encouraged to come dressed up for the

''most appropriaterace­dayattire''

competition.

The week is alwaysabusy one for

Kaikoura, with the racecourse opening

up to campervans from next Thursday,

and is sure to givelocal businessesa

welcome boost.

EntrytoSunday's six races is agold

coin donation, with the proceeds goingto

the Kaikoura Cricket Club.

Monday, which is Marlborough

Anniversary Day, is the main day of

racing, with 10 races on the card.There

will be a$10 entryfee.

For more information, visit the

''Kaikoura Races —Kaikoura Trotting

Club'' page on Facebook.

WOF | Servicing | Repairs

Tyres | Punctures

State-of-the-art

WheelAlignment

Suspension | Exhausts

Wipers | InsuranceRepairs

All Makesand Models

Ph 03 319-6009

office@kaikouraautocentre.co.nz

Winning combination ... Peter Smith, left, and his son Ben along with driver Ricky May,

enjoyed success with Wainui Creek at the 2018 Kaikoura Cup race meeting. PHOTO: SUPPLIED

Unbridled passion for

racing shines through

By DAVID HILL

The Kaikoura Trotting Club's new

president has the pedigree and the

horses to match.

Ben Smith was elected president last

month, following in the footsteps of his

grandfather, Vic Smith, who was

instrumental in building anew

racetrack at South Bay in 1953.

''I'm athird­generation president. My

grandfather closed his sawmill for a

week and took his staff and machinery

over to South Bay to build the

racecourse just before the 1953 race

meeting.

''I understand there was an old grass

track before that where they held

gymkhana races.''

Mr Smith's uncle, Mark Smith, is a

past­president and life member, while

his father Peter Smith was avicepresident

and is the club's patron and

also alife member.

His sister, Kaikoura Deputy Mayor

Julie Howden, is also on the committee,

''so there's abit of passion there in the

family for the races''.

The Smith family has also made its

mark on the racetrack, breeding and

owning several past winners at the

annual race meeting.

Matua Tana, bred and co­owned by

Ben Smith, has been enjoying success at

Addington Raceway in Christchurch

this season, with the trainers targeting

the Dominion Trot on Show Day.

Wainui Creek, co­owned by Ben and

Peter Smith, won arace in Kaikoura in

2018 before venturing over to Australia.

Peter Smith also bred Lyell Creek,

THE

JOINER

SHOP

At the Joiner Shop we create high-quality

joinery and provide arange ofproducts and

commercial needs.

Let ushelp youwith your next project in

Kaikoura, Canterbury or Marlborough.

❛I'm athird­generation

president. My grandfather

closed hissawmillfor aweek

and took his staff and

machinery over to South Bay

to build the racecourse just

before the 1953race

meeting.❜

—Ben Smith

who was trained by Mark Smith and

then sold after his first race win.

''He (Lyell Creek) went on to win 53

races and $3 million all round the

world.''

Busy race schedules in Christchurch

and Australia means there will be no

Smith horses competing at this year's

Kaikoura Cup race meeting.

''Wainui Creek would have been our

pick for the Kaikoura Cup, but she's in

Australia and Matua Tana has apretty

busy schedule, and Ibelieve in the

trainers to make these decisions.''

Mr Smith lives in Christchurch, but

has been spending three days aweek in

Kaikoura in the lead­up to the race

meeting, as the workload increases.

''The committee of 13 includes five

past presidents and they've been

exceptional in the amount of work

they've done.

''It's been fantastic.''

2249138

South Island Wide Recovery

Dean Counsell

M:027 577 8555

E:dcarecovery@gmail.com

Phone: 03 319 5562 | Mobile: 021 244 8005 | 19 Beach Rd, Kaikoura

Email: info@thejoinershop.co.nz | thejoinershop.co.nz
---
STOREWIDE SALE

NOW ON

3Seater/

Sunlounger

NOW

$

1599

1Seater

NOW

$

495

Coffee

Table

NOW

$

459

ALL OUTDOOR ONSALE!

ON SALE!

VENUS

Outdoor Range

5 Piece Outdoor

Dining Set

NOW

$

2049

CASCADE

Outdoor Range

MONTARO

Outdoor Range

Outdoor Lounge/

Low Dining Suite

NOW

$

2599

ON SALE!

ON SALE!

Price includes Dining Table – W180, Dining

Bench – W180 x 2 & Dining Chair x 2

Price includes Low Dining Table,

3 Seater, 1 Seater x 2 & Ottoman x 2

ON SALE!

ALL MATTRESSES

ON SALE!

Bahamas

Trundler Bed Set

WAS $ 897

Dallas Queen Bed

WAS $ 399

NOW

$

299

NOW

$

698

&MatTresSBaseStoO!

SUPER DEAL!

SUPER DEAL!

ALL LOUNGE

ON SALE!

Allessa Chaise Sofa NOW $ 1699

ALL BEDROOM

ON SALE!

Memphis Dark

7 Piece Dining Set

NOW $

1299

Riley Queen Bed NOW $ 799

ALL DINING

ON SALE!

Shop

Online

Nationwide

Delivery

Finance

Options

DOZENS OFSUPER DEALS INSTORE &ONLINE. STOREWIDE SALE ENDS 02.11.20.

Come&checkout

ournewSTORE!

targetfurniture.co.nz

250 Moorhouse Ave, Christchurch

Ph: 0800TARGET (0800 827438)

Offers and product prices advertised here expire 02/11/20.

Sale excludes Manchester and Accessories.
---
NEWS

18 The North Canterbury News, October 22, 2020

LOST AND FOUND

The following property is reported to

policeasbeing lostinNorth Canterbury:

Agarage door opener with four keys

and aToyotacar ring,ablackfolding

wallet, aleather wallet withamotorbike

on the front, aToyotacar key with a

garageremoteand ateal key, achunky

gold ring made of gold flowers,agreen

iPhone11, aremotetransmitterfor dog

training, aSamsungXcover3,ablack

Oppo mobile phone in ablack leather

flip case, agold wedding ring, and a

man's Nautica watch.

The following property is waiting to be

claimed: Amen's silver engraved ring

(foundinRangiora–pick up in Kaiapoi).

St Hilda's

Collegiate School

125 th Anniversary

March 19-21, 2021

St Hilda's Collegiate

School invites all Old Girls,

past and current Staff,

Board Members,

Tolcarne Staff,

Parents and Friends of St

Hilda's to register for the

125 th Anniversary

Celebrations.

Youcan register on the

Eventbrite website -

St Hilda's 125 th Anniversary

-orbyphoning the school

(03) 4770989

or by emailing

aburke@shcs.school.nz

2324995-S

Ball planned after festival setback

By ROBYN BRISTOW

The FiveKingdoms trilogy,

filmed in North Canterbury,

has had afew setbacks in

recent times, including the

cancellation of its Cannes Film

Festival premiere because of

Covid­19.

But the actorsand actresses

involved in the epic films set in

the 1900s, producedbySamuel

Miller of Woodglen Studios in

Woodend, are not letting it get

them down.

Instead, agrandcostume

ball to benefit the Arts Centre

in Christchurch is being held,

as they try to make the bestof

abad thing.

Sam saysitissad not to be

able to take his amazingcast to

France.

But the delay meant they had

been abletoshoot extra

scenes.Apreviewofsomeof

the new scenes will be shown

during supper at the ball.

The castincludes Rusty

Fitzgerald, of Rangiora, as the

lead, and such notable

personalitiesasThe Wizard of

Canterburyasthe Bard Thun,

Davey Round,ofPort Levy,as

Mayor Simplistus,Herbie

Berger,from East Germany, as

Blackie, John Molik,of

California,asRathburn Marr,

plus Paul Sanderson, of

Waikuku, as aHoratiousstone

carver.

Actressesdebutinginthe

film include Elysha De Rybel

Upbeat ... The cast at the Jacksons Hotel on the West Coast where some of the scenes of Five

Kingdoms were filmed.

PHOTO: SUPPLIED

as the mystical Wood Fairy,

plus Jessica Nearyas

CarthanceMarr, who returned

from London recently, and

Laurence Varlet as the Mayor's

wife,Lessne Simplistus, who

returned from New Caledonia

for filming.

Josyln Brandt, who plays

Madame Mazadam, has helped

organisethe ball and can't wait

to danceawaltz to alive

orchestra.She took part in

waltzingscenesatJacksons

Hotel on the WestCoast during

filming, but not to afull

orchestra becauseoflocation

constraints.

There willbeaVictorian

photo booth and also afree

Punch and Judy show for the

youngsters from 6.30pm. It will

be put on by Mary &Kerry

McCammon.

The castand crew are

inviting friends, family and

those interested in supporting

the screen industry, and Arts

Centre, to dance the night away

on November 7, in the Great

Hall, to RobertTait's Apollo

Strings.Tolearn more, visit,

fivekingdomsthemovie.com.

Awardwinning winesfor

your occasion andbudget.

now!

IN-STORE

Champion Chardonnay

Champion PinotGris

UNDER

$ 15

Church Road

Hawke'sBay

Chardonnay 2019

Champion Chardonnay

brimming withflavour

&elegance

Club Deal $14.99

RapauraSpringsClassic

SauvignonBlanc 2020

Riper style classic Sauv

&great forgifts

Club Deal $11.99

VidalReserve

Hawke'sBay

PinotGris 2019

Champion Pinot Gris–juicy– pear

flavours, ripefor anyoccasion

Club Deal $14.99

Banrock Station

Pink Moscato 2019

Fresh, frothy, frivolous

&alittle sparkly

Club Deal $9.99

AlphaDomus Collection

SauvignonBlanc 2019

Creamier style with a

touch of Semillon

Club Deal $16.99

GrahamNorton's

Own Prosecco

Fresh, edgy and crisp,

star quality Prosecco

Club Deal $16.99

Running With Bulls

Tempranillo 2019

Tempranillo –aclassy

Pinot Noir lookalike

Club Deal $19.99

The CraterRim

WaiparaViognier 2019

Peachy&spicy,like

Chardonnayonsteroids

Club Deal $18.99

UNDER

$ 20

Champion PinotNoir

UNDER

$ 25

Framingham Nobody's

Hero Pinot Noir 2019

Champion Pinot–exquisite

flavoursofcherries &spice.

Club Deal $21.99

Lawson's Dry Hills

ReserveChardonnay 2019

Cooler Marlboroughstyle

withcitrusycharacter

Club Deal $23.99

LatenteReserva

Malbec 2017

Malbec –likeconcentrated

Syrahwith attitude

Club Deal $23.99

The HuntingLodge

SeasonalCollection

Albariño 2020

AstepupfromSauv, like

Pinot Griswith an edge

Club Deal $22.99

FIND OUTMORE… Explorethe TopDrops at newworld.co.nz/wineawards

Visit newworld.co.nz/winesampling to find complimentarysamplingatyourlocalNew World

Specials available South Island only,price valid until Sunday8November 2020 or

while stocks last.Due to current Licensing Trust laws, liquor not availableat

Elles Road, Windsor &Gore. Club Deals areonly available to ClubcardMembersat

New World South Island stores when theyscan their Clubcardatthe time of purchase.
---
AMBERLEY A&P SHOW

North Canterbury News, October 22, 2020

19

Amberley leads from the front in

staging its annual A&P show

By DAVID HILL

Noel McGirr says ''all is looking good''

for the 119th Amberley A&P Show being

held at the Amberley Domain on

Saturday, October 31.

This year's show president says his

hardworking committee has remained

positive in ayear of uncertainty.

''Covid 19 has certainly made planning

abit more challenging this year,'' he

says.

''However, the A&P committee

remained positive throughout and set a

deadline that we would need to be at

level 1byOctober 1toproceed.

''Thankfully this was realised and

preparations are continuing with

confidence.''

Having the show will bring asense of

normality after the Covid­19 restrictions

the region has endured this year.

''The show is acelebration of the New

Zealand way of life and atime for people

from all walks of life to get together and

enjoy aday out in the country,'' Noel

says.

''The show represents areal

community effort.

''It is ashowcase for achievement

beholding both to the past and forward

to the future.''

Covid­19 has highlighted New

Zealand's reliance on agriculture and

the show presents an opportunity for

agribusinesses to showcase their ''welldeserved

superstar status'' as the region

looks to recover.

Noel and his wife, Lois, are long­time

residents in the Amberley area, with

Noel serving as avet for more than 40

years until his retirement nearly three

years ago.

He regularly attended the Amberley

A&P shows as the show­day vet.

In 1974, Noel began working as avet

for Cartridge and Wood (now North

Canterbury Veterinary Clinics Ltd) in

Waikari, while Lois was ateacher at

Waikari School.

''I was equipped with abrand new

Datsun 180B, which was amazing, a

radio telephone and amixture of old

and new equipment.''

In those days, there was agood group

of young people in Hawarden and

Waikari, the train still delivered freight,

the flour mill at Waikari was

operational, and the town boasted a

butcher and two grocery stores.

Hawarden was also well serviced.

Noel became apartner in Cartridge

and Wood, and later established the first

vet clinic in Amberley, in Pound Street,

in 1982.

Show president ... Noel and Lois McGirr, with their horse Hogan, are looking forward to

this year's Amberley A&P Show.

PHOTO: SUPPLIED

Changes to farming practice from the

traditional sheep and beef saw the vets

working with Angora goats, ostriches,

emus and deer and, later, dairy cows.

Since his retirement, Noel has been

doing casual work with AsureQuality,

centred around the export of cattle and

horses.

He is also active with the Amberley

Lions and is vice­chairman of the North

Canterbury Rural Support Trust.

Noel would like to give thanks to his

dedicated committee, ''without which

the show would not happen''.

He also thanked entrants and

exhibitors, sponsors and supporters,

and family and friends ''for much hard

work behind the scenes''.

BURKE'S

Now stocking

NZ Maternal Worthwith Meat (MW+M)

2320902

Come in and see Lindsay,

Ann and Julie today or

phone 03 314 0130

ARTHUR BURKELTD

Established1935

| @longdowns.nz

Markham Street, Amberley

www.arthurburke.co.nz
---
AMBERLEY A&P SHOW

20 The North Canterbury News, October 22, 2020

Show promises to cater for all interests

By DAVID HILL

The show must go on.

The Amberley A&P Show is

refusing to be acasualty of Covid­

19, with the 119th annual show on

coursetogoahead at the

Amberley Domain on Saturday,

October 31.

Sheep and woolwill take

centre­stage, withawool expo

showcasingthe versatility of the

fibre.Itwill be complemented by

ahand­shearing display, and the

Corriedale will be the feature

breed.

The Taste Hurunui hoof to

hotplate competition is ashow

highlight, withbragging rights at

stake.

Local lambs and beef calves

are judged on­farm and at the

processorsbeforethe show, with

cooking and taste

demonstrations held at the show

in abid to findthis year's winner.

The Alpine Pacific Wine

Challengeisamajor show

feature, withlocally produced

wine judged by the experts, along

with the people's choice award

and wine tasting.

The equestrian eventsare a

major partofthe show, with

Horse of the Year qualification

on the line.

There are showingclassesfor

horsesand ponies, showjumping

and hunterjumping competitions,

side saddle events,and

classes for Gypsy Vanner,pinto,

Shetland and miniature horses.

The magnificentClydesdale

Looking sharp ... Jaime Winter, left, holding Glen Lie Emily, with her sister­in­law Maggie Winter, holding Glen Lie Lisa, during last year's

Amberley A&P Show. They represented Glen Lie Clydesdale Stud at Sefton.

PHOTO: SHELLEY TOPP

horses willbeback, while the

stockand station horse

competition will testbothrider

and mount in aseries of farmingrelated

challenges.

Competition is alwaysstrong

amongsheepbreeders for the

ASB champion ram hogget and

the Ravensdown champion ewe

hogget competitions.

Localsheepbreeders willbe

lining up in the commercial

export lambsire, flock sheep and

primelamb classes,where the

competition is always keen.

Classes are alsooffered for

goats, pet dogs, home crafts,

cookery, art, photography,

flowers and vegetables, grain and

seed and dog trials.

For the children, there are pet

lamb,hand­reareddairy and beef

calf,pet dog (including fancy

dress), and juniorpavilion

competitions.

Othershow features will

include afire service display,

highland dancing, the pipe band,

arts and crafts, fair ground

amusements, stalls and food.

Vintage machinery will feature

with farmimplementsand

tractorsfrom days gone by, along

with a1924 Model Ttruck,

The Canterbury Axemen's

Association will be back with its

popular wood­chopping

competition, which always

providesplenty of entertainment

for spectators.

Expert Rural & Agri Lawyers

David Haigh

Partner

M: +64 27 573 7775

Susan Anderson

Partner

M: +64 27 482 2171

Phoebe Davies

Partner

M: +64 27 414 9825

Call us: 03 379 7622

www.wynnwilliams.co.nz/farmlands

FARMLANDS' SHAREHOLDER

OFFER:

15-MINUTES FREE

PHONE HELPDESK

SAVE UP TO 7.5%

ON LEGAL FEES

Amberley 03 314 9055 | Ashburton 03 307 8027 | Leeston 03 3243791 |Timaru 03 6882179

Afamily ownedand operated agricultural

machinerybusiness, Cochraneshave

been providingexcellent customerservice

and supporttoSouthIsland farmersand

contractorsfor over 65 years.

24/7 Support

We're looking forward to seeing

you at theAmberleyA&PShow

Find us on

2324787
---
BE IN TO WIN 1OF5POWERBUILT

EVERY$20 SPENT ON POWERBUILTTOOLSATTHE TOOLS OLS THE TOOLSHED

FROM 1OCT -30NOV2020 2020GIVES YOUANAUTOMATIC

ENTRYINTHE DRAW TO WIN!

AMBERLEY A&P SHOW

North Canterbury News, October 22, 2020

Telephone: (03) 314 3579

Mobile: 022 675 0773

21

Celebrating wool'sversatility

By DAVID HILL

The environmental benefits of

wool willbeshowcased at the

Amberley A&P Show.

Afeaturedisplay of wool is

being planned to highlightthe

multiple usesand versatility

of wool, saysorganiserLynda

Dickson.

''One of the mainreasons

for doingthis is to get people

thinking about the adverse

effectsynthetic products are

havingonour environment

and how wool and other

natural fibres, thatare

biodegradable and

renewable, can replace

syntheticsand plastics or oilbased

products.

''It'ssomething we've been

doing at Cheviot for the last

few yearswith North

Canterbury Vets,because

Cheviot doesn't really have

sheep coming to the show any

more, so it'sagood way to

keep the sheepfocus.''

The wool showcasewas

going to be taken to this year's

Hawarden A&P Show, which

was cancelled because of

Covid­19.

''It's been areallycool

project to do because when

you approachpeople theyare

really enthusiastic,'' she says.

Mrs Dicksonsays people

will be amazed at the diversity

of woolproducts such as in

the home,clothing and a

number of otherpractical

uses.

''There's awide rangeof

uses so we encourage people

to come alongand have alook

at what you can do with wool.

''Wool is really starting to

make acomeback and it's

biodegradable,soitbreaks

Versatile resource ... Wool will be showcased at the Amberley A&P Show. It has multiple uses,

including furnishings in the home.

PHOTOS:SUPPLIED

down quite quickly, unlike

other products,making it a

good alternativetoplastics,

and we willhave adisplayof

that.''

While dairy cows have

taken over in many partsof

Canterbury, Mrs Dicksonsays

thereare still plenty of sheep

farmers passionate about

producingwool.

''There will be some

passionate people there like

my father, Winton Dalley,who

will be aroundtotell people

why they should be usingwool

instead of synthetics and

plastics.''

Adedicated team operating from arural base in Greta Valley

Providing accounting services for farmers,

rural businesses and local community

organisations.

Proud to sponsor classes in the Stock &

Station section at the Amberley A&PShow

We are here to assist you with all accounting services so pleasecontact us

1483570

admin@arawata.co.nz

www.arawata.co.nz

FOR ALL YOUR AUTOGLASS

REPAIRS &REPLACEMENTS

DAN THE WINDSCREEN MAN.

Accountancy and

Business Services

Helping you to get it right and get ahead

Amberley Office Christchurch Office

2a Pound Street Ph: 03 352 1076

Ph: 03 314-8717 Cell: 021 122 4720

Amberley Hours: Wednesday 9am -noon

and 1pm-3pm

Email janet@liddellcrook.nz

2173613

Gracebrook Hostas,

Hydrangeas &Honey

Wide variety of Hostas and Hydrangeas

to choose from.

Phone: 03 314 7076

Allan Pethig

For all your

electrical needs.

Residential &Commercial

Proud to support Amberley A&PShow

Phone 03 313 7144

027 432 1534

Fax 03313 2144

rgrantelectrical@gmail.com

PO Box 69, Rangiora

www.rgrantelectrical.co.nz

2324403

2321899

1960596

RetreatChalet

Rt tChlt

ALL FARM FENCING

HIGH COUNTRY

LIFESTYLE BLOCKS

EARTHWORKS

call Scott Heasley 0275 350 302

heasleyfencing@xtra.co.nz

YOUR LOCAL CONTRACTOR

1930772

rest

home

respite

care

day

care Ph +643314 9250

www.amberleyresthome.co.nz

2324030

•Relaxing Country Retreatclose to Amberley,

40 mins to Christchurch

•Private,self-contained &affordable

•Ideal forcouples wanting some special time

together,second honeymoon?

info@gracebrook.co.nz

Ph. (03) 314-7076

1626257
---
AMBERLEY A&P SHOW

22 The North Canterbury News, October 22, 2020

ADRIEL HOUSE AND REST HOME

SALE

18V x2 (36V)LXT ® Brushless Cordless 350mm

(14")Chainsaw Kit DUC353PT2

INCLUDES:

• DUC353Z18V x2 (36V)LXT ® Brushless Chainsaw 350mm

• BL1850B 2xLXT ® 5.0Ah batteries

• DC18RD 18V LXT ® DualRapid Charger

$

685 EXCL

GST

BONUS

2x BL4850B

5.0Ah batteries

VIA REDEMPTION**

Jim Harre ...

Evidence points

to astunning

2020 vintage for

the Waipara

wine region.

PHOTO: FILE

Fine wines on offer

Adrop of someofthe bestlocalwines can

be sampledatthe Amberley A&P show on

October 31.

The AlpinePacificWine Challengedrew

its largest fieldfor several years earlier

this month, and produced astrong set of

results.

The results will be on display at the

show,and there will be tastingsofthe

winners.

Aselectionofwell­placedentrants will

be for sale by­the­glass

Entryinthe competition was open to the

entire Canterburydistrict and,despite a

toughbusinessyear, there was great

competition.

Majorwinnersand all goldmedallists

will also be available for customertasting

at Christchurch's Vino Fino on Saturday,

November 7, from 1pm to 4pm.

Judging chairmanJim Harre says 2020

has been toutedasafantastic vintage for

Marlborough, and judging by the quality of

wines presented for judging at the

Amberley A&P winecompetition, Waipara

has also had astunning 2020 vintage.

''The 2020rieslings were crisp and

balanced and the earlier vintages of pinot

noir demonstrated the consistent strength

of thisvariety in the Waipara region.

''Wellsupported by localwineries, and

managed by Steve and Lyndal Barkle,

there were some verygood wines that

provided asolidcollection of gold

medals.''

This year's People's Choice panel,

headedbyAmberley A&P Show president

Noel McGirr, focused on rating winesfor

their drinkability, ratherthan precise

winemaking.

Lillian Moimoi and W­Rapt Labels were

once again the major sponsor, donating

medal starter­packs for all winners, and

gold and silvermedallists.

Halloween ...

Adriel's owner,

Mischeal

McCormick,

centre, flanked

by two

residents, and

supported by

ZahraPengally,

far left,

alongside the

old cackling

cook, atright.

PHOTO: SUPPLIED

Show aday of fun and

memories for residents

By ROBYN BRISTOW

AdrielHouse and RestHome residents

are busy baking, making jam and

crafting entries for the Amberley A&P

Show on October31.

Many are going to the showtoenjoy

the exhibits and will join staff at

Adriel's tent, helping to raise

community awareness about

Alzheimer'sand dementia.

AdrielownerMischeal McCormick

says residents are looking forward to

their day out,whichisanimportant date

on their calendar, particularly for those

who attended the show in the past.

''It is areally neat day out and it

stimulates residents to talkabout the

show in the lead­uptoit.

''Thatiswhat it is all about;

stimulating conversation and memory,''

she says.

Familymembersand visitors to the

show are welcome to drop in to Adriel's

tent for acuppa and to have achat about

Adrieland the Spark of Life programme

it offers.

Meanwhile, Adriel has taken on a

ghostly appearance as it gets organised

to celebrateHalloween.

Mischeal says witches, goblins,

spiders and astatue of acook are

providingplenty to talk about.

''Itisamazing how residents have

respondedtothe decorations, and they

are enjoyingthe old cook who cackles

away.

''Weare also going to have some

interesting food to celebrate

Halloween,'' she says.

''Thereisawhole lot of colour and lots

and lots of laughter.''

Meanwhile, Adrielisgearing up for its

re­certification as a Spark of Life Centre

of Excellence.

Adriel House and Rest Homeisthe

only homeinthe world thatholds the

honour of being a Spark of Life Centre of

Excellence.

The programmefocuses on the quality

of the connection between carers,

residents, and theirfamilies, and

fostering kindness,compassion,

empathy and respect.

Mischealsays re­certification is

expectedinNovember, and will ensure

Adriel House and Rest Homehas plenty

to celebrate.

18V LXT ® 520mm Cordless Hedge

TrimmerKit DUH523CT

INCLUDES:

• 18V LXT ® 520mmCordless HedgeTrimmer

• BL1850B1xLXT ® 5.0Ah battery

• DC18SHStandardDualCharger

$

315 EXCL

GST

ImpactX 50PcImpactBit Set B-695C9

$

35 EXCL

GST

Large range of Makitaproducts available.

Come in storetocheck out thedeals!

82 Carters Road, Amberley

T: 03 314 8311 |E:sales@bashersitm.co.nz

Hours: Monday -Friday 7am -5pm

Saturday 8am -12pm

Thinkabout those whohavememory

lossand associated problems ...

•Country Home Valueswith Community Spirit

•DayCare •Men'sClub •RespiteCare

•Relaxed,Homely CottageGardens

(and even afew animals)

RESTHOME

Please callustoday tofind out howwecan care for yourlovedones.

Phone: Clinical NurseManagerElaine Mulholland,(03)314 8326

36 Osborne Rd,Amberley

2275368-s
---
Where Quality doesn't cost it pays

OPENING HOURS

AMBERLEY A&P SHOW

The North Canterbury News, October 22, 2020

FOR ENQUIRIES

Phone

Mobile

143 Neeves Rd, Clarkville, Kaiapoi RD1

2302768

23

Farm Smarter

with

Prosser Quirke

Accountants

We take thetime to understandeach client's

situation &apply ouragriculture accounting

expertise tobest meet each clients rural tax

&rural industryaccounting needs.

Proudtosupport Amberley A&PShow

CharteredAccountants&Business Advisors

6Blake Street,Rangiora

Ph 313 7824

team@prosser-quirke.co.nz

2321898

Championewe ... Waipara farmer JamesHoban enjoyedasuccessful run at last year'sNew

Zealand Agricultural Show withhis Corriedale sheep, includingwinning the championCorriedale

ewe title. Corriedales will be shown in big numbers at this year's Amberley show.

PHOTO: FILE

Strong Corriedale

presence assured

By DAVID HILL

Record sheep entries are set to flock into

the Amberley Domain.

With the New Zealand Agricultural

Show cancelled, the New Zealand

Corriedale Council has turned its

attention to the Amberley A&P Show on

Saturday, October 31.

''This is going to be our Christchurch

show for the Corriedale,'' New Zealand

Corriedale Council president Mark

Sidey says.

''It will be our biggest show of the year,

without the Christchurch show being on,

and the breeders have really got on

board.''

More than 80 Corriedale sheep are

expected to line up at Amberley,

including the ewe hogget and ram hogget

production classes, which are normally

decided at the New Zealand

Agricultural Show.

The ewe hogget production class has

been running for more than 30 years.

''The sheep are grazed on one person's

property from January until now and

they are judged on production, scanning

and wool value, and there are three or

four different judges doing the different

categories,'' Mark says.

While the ewe hogget judging included

eye muscle scans, CT scans were taken

for the ram hoggets.

Judging will be completed for the two

classes beforehand, with the winning

entries and fleeces on display at the

show.

Wool returns for the mid­micron

Corriedale wool have been

''unprecedented'' in recent years, with

EARTHMOVING SPECIALISTS

•Rock &shingle supply

•Landscaping and building sites

•Trucks and trailers, transporters,

wheeled and tracked excavators,

8tonne to 23 tonne, roller,

grader, water cart.

most farmers targeting 25 to 29 microns

from the dual­purpose sheep breed,

Mark says.

''It's taken ahit this year with Covid,

but 12 months ago we were getting prices

we've never had before,'' he said.

''We were getting $12 clean or higher

for some of our wool.''

Afourth­generation Corriedale

breeder, Mark farms 270 hectares just up

the road from Amberley in Waipara,

running 2000 Corriedale ewes, including

370 stud ewes.

''We target the early lamb market and

we use Southdown rams over more than

half of the ewes. Around 95 percent of

our lambs will have left by early

December.''

The remainder of the ewes were

mated with Sidey Corriedale rams, with

lambing in late July or early August.

''It's adryland, low input and low cost

operation and we get good returns. The

Corriedales love the dry weather, which

is why we farm them in North

Canterbury. It's what everyone should

be doing.''

While he was helping judge the ewe

hogget production class, he has entered

two ram hoggets in the production class

and was entering another six rams in the

show.

The New Zealand Corriedale Society

will be sponsoring abarbecue at the

show, once sheep judging has finished.

''There will be breeders there and the

barbecue is for everyone to enjoy

themselves,'' Mark says.

''I wish (show president) Noel (McGirr)

all the best on behalf of the New Zealand

Corriedale Council.''

2324567

'Your one stop shop

for that special gift'

Open 7Days 10am –5pm

35 Hall Street,

beside Cheviot Tearooms

PH Tracy: 027 7409 855

www.giftsandfinds.co.nz

Your local authorised Husqvarna Servicing Dealer:

TPW WOOLPRESS

HIRE

No Tramp Woolpress!

•Fully Hydraulic

-Heavy Bales up to

200kg

•Save Time and

Money at

Shearing Time!

•8ofthe latest

models available

for hire

Enquiries and Bookings:

Scott McFadden

Ph 03 314 3739 or 021 899 698

Email acheron@amuri.net

ACHERON PLUS LIMITED

2249834

GARDEN TRACTORS

FROM $4,299*

*HusqvarnaTS138

1996979

Phone: 0274 517 175

JOHN SHEPHERD CONTRACTING LTD

275 Flaxton Road,

Southbrook

Ph: 3136640

sales@brandmowers.co.nz

2324490
---
AMBERLEY A&P SHOW

24 The North Canterbury News, October 22, 2020

HAY&BALEAGE

• Triple and Double Mower Conditioners

• 4x3 Large Square Baling

• Round McHale Fusion Individual Wrapped Bales

• Hay Tedder

• 9 Metre Rotary Rake

• Grass Sales and Purchases

Also available •Horsch Terrano: Primary cultivator,chisel plough /ripper, discs &roller•Catros: secondary

cultivator,5.5 metre discs androller •Cayena Seed Drill: 6metre Tyne Air Seeder Drill •6furrow reversible

plough •6metre maxi-till &rollerwith levelling boards combination •All tractors using GPS and Auto Steering

•Operating aLexion 760 tracked combine •5.2 metreHeavy Rolling Road Transportable

Please give Sam Bethell acall

2324847

HURUNUI PH 0274 360 342

Tasty offerings ... Sarah Turpin delivers lamb rumps for the taste test in an earlier hoof

to hotplate competition at the Amberley show.

PHOTOS: FILE

2324848

Saturday 31 st October 2020

Amberley Domain

–Gates open 7am

All the traditional A&P Show attractions

and amazing food and trades sites

•Alpine Pacific wine challenge

•Taste Hurunui •Canterbury Axemen

•Highland dancing •Pet dog classes

•Corriedale Breed feature •Diverse uses of wool

•Fire service demonstration

•Show jumping and show hunter classes

Adults $10 •Children free •Car parking free at Amberley School

Tasty meat cuts to

be showcased

By DAVID HILL

The Amberley A&P Show is putting

together ataste of Hurunui for show

visitors.

Taste Hurunui is back with the hoof to

hotplate event, with local farmers vying

to enter the tastiest lamb or calf.

More than 20 lambs and about 20

calves lined up at Robert and Jean

Forrester's Omihi farm on Sunday,

before being transported to Harris

Meats at Cheviot to be killed and

processed into meat cuts.

Organiser Peter Greenwood says the

animals will be judged on the hoof and

then on the hook, which will make up

half of the available points.

Meat yield is an important

consideration when the carcass is

judged on the hook.

Cuts of the meat will then be cooked by

former Pegasus Bay Winery chef

Jackson Smith on show day for the allimportant

taste test.

''We have 50 percent of the points for

the taste test on the day, so taste is

important,'' he says.

''You've got to produce something that

hits the spot in the market as afarmer

and something that tastes good,

otherwise people won't buy it.''

The meat is prepared and cooked in

front of the public, who get to taste the

meat for themselves after judging, Mr

Greenwood says.

''We try to use the cuts people wouldn't

normally buy.

''When you get those cuts and throw

them at achef they can come up with

something quite nice and it shows you

what is possible.''

There will also be cooking

demonstrations on the day in the Taste

Hurunui marquee and an auction of

fresh cuts of lamb and sirloin steak.

''It's all put on for the public to raise

awareness of what we have to offer in the

Hurunui, so the more public who turn up

the better and they get to taste the meat,''

Mr Greenwood says.

The event is being sponsored by

Harris Meats, Silver Fern Farms and

Beef and Lamb New Zealand.

Best cuts ... Lambs on the hook during an

earlier hoof to hotplate competition at the

Amberley A& PShow.

20COC003

BARMOWERS

FROM2.4MTO3.5M

GMD 240 GMD 310 GMD 355

GMD 280 GMD 315

• PROTECTADRIVE cutter bar

safety system

• Fast-Fit blades as standard

• Hydraulic headland lift

Contact

us today

Leeston 03 324 3791 Amberley 03 314 9055 Ashburton 03 307 8027 Timaru 03 688 2179

www.cochranes.net.nz
---
NEWS

North Canterbury News, October 22, 2020

25

Afun day with four-legged friends

By SHELLEY TOPP

School work took aback

seat for amorning during

West Eyreton School's

popular annual pet day

last week.

The event transformed

the school into something

resembling asmall A&P

show.

There were 117 pets,

including 37 dogs, 25

lambs, 13 horses and

ponies, four goats, six

calves, 16 ducks or

chickens, seven cats, plus

nine rabbits or guinea

pigs.

Their young owners took

part in various

competitions.

The school hall was also

packed with ahuge

selection of arts, crafts

and baking goods on

display.

It was abusy morning for

the school principal,

Hayden van Lent, who was

master of ceremonies, and

the organisers, school

secretary Val O'Loughlin,

who joined in the fun by

dressing as alion for the

day, and deputy principal,

Lisa Duff.

Lisa said she was

thrilled with the turnout

on the day, particularly

the large number of pets

involved.

The work the children

had created for the arts,

crafts and baking goods

sections, and also the

imaginative way in which

they had made costumes

for their pets, was

inspiring, she said.

Fancy ... Georgia Brown, aged 11, rode her horse Dandy during the Fancy Head Dress

competition at the West Eyreton School annual Pet Day.

PHOTOS: SHELLEY TOPP

Colourful characters ... Sienna Harden, aged 8, of West

Eyreton, and her dog Poppy, during the fancy dress

jungle­themed competition.

Camouflaged ... Hannah Henderson, aged 6, with her pet

duckling hidden in acage disguised as amaimai, taking part

in the fancy dress jungle theme competition.

Gorilla games ... Emma Schouten, aged 7, of West Eyreton,

with her dog Bowie during the fancy dress jungle theme

division.

Fun day ... West Eyreton School annual pet day

organisers Val O'Loughlin, left, the school secretary, and

deputy principal Lisa Duff.
---
ADVERTISEMENT

How Marvel Health

Supports Gut Health

The whole-bodyscandone

at Marvel Health performs

adetailedexaminationof

all theorgans in thebody,

includingthe gutand

digestive systemfor signs of

diseases.

Diseasesand problems

of thegut arevariedand

canbeverydebilitating.

Stomachpainand

discomfort,Bloating,

Excessive Gas, Acid

Reflux, Diarrhoea and

Constipationare some of

theproblemsmanypeople

sufferfromregularly.

The gutisparticularly

vulnerablebecause it is continuallyin

contactwithforeigncompoundsfrom

foods, some of whichcan be harmful.

Luckilyour gutisdesigned to handle

andprotectusfromsomeofthe toxic

chemicals andharmful microbes

that we inadvertentlyconsume from

food. Foodallergies, most commonly

gluten allergy,will causedigestive

problems, includingdiarrhoea,

bloating,abdominal pain andevenskin

problems. Processedfoods andfood

additivesare also acause of diseases of

thegut.

Microbes such as bacteria and

parasitescan contaminatefoodand

causeinflammation anddamagetothe

intestines andliver.

Theycan causediseases, nutrient

deficiencies andother health

complications.

The ScanatMarvelHealth

thoroughlyexamines thebodyfor some

of thecommoncausesofdigestive

issues, including: Microbes- Viruses,

Bacteria,Fungi,Food Allergies -

Wheat, Milk,Peas, Food Additives

Sensitivities, ProcessedFoodAllergies,

Presumptive diseases.

With theMarvelHealth reportsfrom

thescan, youcan takecontrol of your

health andget helpfromthe Marvel

Health Preventive andregenerative

doctors.

NEWS

26 North Canterbury News, October 22, 2020

Playtime ... Kaiapoi Borough School pupils enjoy their new playground.

PHOTOS: DAVID HILL

Pupils return to find

playground set to go

By DAVID HILL

KaiapoiBoroughSchoolpupils were in

for abig surprisewhentheyreturned to

school lastweek.

Contractors Smart PlayLtd finished

workonthe school'snew playground

ahead of schedule,meaningthe

childrenbegan thenew schoolterm

withsome new playequipment.

''The kids were reallyexcitedtocome

backtoschool on Monday andhavea

whole newplayground waiting for

them,''principal Murray Overton said.

''Itwas alovely surprise.Theyknew it

was coming, buttheydidn't expect it to

be finished.''

Workisalso underway on the

school's newtechnologyblock, with

workexpected to be completed at the

start of term two next year.

Morethan 600pupils from10primary

schools from Ouruhia School,southof

the WaimakaririRiver,toSefton

School,inthe north, usethe technology

facilitiesthroughout the week.

''The old building is stillfunctioning,

but thenew building is going to be

fantastic,withplenty of space forall the

schools that cometouse it fromacross

North Canterbury.''

The newtechnology block will have

fourclass spaces and replacean

earthquake­damaged building.

''The old building has tilted on its

slab.

''It'sstill safetouse, but it'stoo

expensivetorepair.''

Mr Overton is no stranger to

redevelopment,astherehave been 12

classrooms replacedorrefurbished

since he arrived at theschool in 2014.

Technology ... Work is progressing on Kaiapoi Borough School's new technology

block.

Business survey under way

Enterprise North Canterbury's (ENC)sixmonthly

business opinion surveyisunder

way again.

''Thesurveyisheld every sixmonths to

gain agreater understanding of how our

localeconomy is currently performing,''

ENC businesssupport manager Miles

Dalton says.

''Thebusiness opinion survey does not

directly assist businesses, but it does give

ENC, counciland the widerbusiness

community agood view of whatisactually

happening in the district.

''It helpsustounderstandhow businesses

are beingimpacted, where any stress points

mightbe, and howweare performing

comparedtoNew Zealand as awhole.''

This helps with planning what services

ENC can offer businesses, he says.

''The lastsurveyinMay was useful in that

it showed us thatwewereperforming much

betterthan we had expected. It helped us to

realisethat the impact of Covid­19 on the

district was unlikely to be as severe as we

had anticipated and we wereable to put that

message out to the businesscommunity.

''Thisinturn assisted business owners

with their own decision­making.''

Business ownersormanagers in the

Waimakariri and Hurunui arebeingasked

to takefive minutes to completethe online

survey. Confidentiality is assured.

''The dataprovided in the surveywill be

consolidatedinto an overall report on issues

and trends,'' Mr Dalton said. The report will

be provided to survey participants.
---
RURAL LIFE

28 The North Canterbury News, October 22, 2020

HIGH COUNTRY FENCING

HILL COUNTRY SPECIALIST -

Dozer and Digger

RURAL

STOCK YARDS

EARTHWORKS

2309605

HOMEKILL

&Wild Game

Meat Processing

2191656

313 0022

MEAT2U.NZ

FENCING

• Post Driving

• Stock Fencing

• Stockyards

• Post and Rails

• Lifestyle etc

Ph Andy Horn

021 214 1201 or

(03) 314 9460

There's just no

substitute for

Experience &Local

Knowledge!

Barns &Stockyards Built

Fencing -All Types

Security Fencing

Noel 0274 330 980 or (03) 312-8666

preencontractors@gmail.com

ALL FARM FENCING

HIGH COUNTRY

LIFESTYLE BLOCKS

EARTHWORKS

call Scott Heasley 0275 350 302

heasleyfencing@xtra.co.nz

YOUR LOCAL CONTRACTOR

WE STAND

BY OUR

WORK

GEOFF ROGERS

021 640 748

www.highcountryfencing.co.nz

2209036

1738815

1930772

Enjoying life with animals

By DAVID HILL

Penni Loffhagen and Rocci Scott have

beenaround animalstheir whole lives.

Afourth generation sheepbreeder,

Penni was born andbred at Culverden

and movedtoHawarden whenshe was 21,

while Rocci has worked as azookeeper

for 15 years on both sides of the Tasman.

Today,they have three sheep studs,

with560 Suffolk, 90 Romney and 180

Gotland Peltsheep. They also run beef

cattle on a260haproperty at Hawarden in

North Canterbury.

''Wehad them(Gotland Pelt) as abit of

ahobbyand thenthrough someexport

workwith the Suffolk Iended up taking

on someembryofromsome quality sheep

in Sweden,''Pennisays.

The GotlandPeltsheep produce agood

qualitywool,agoodcarcass and the pelt

is used formaking sheepskins,making

themacommercially viable sheep.

Thewool fromthe GotlandPeltsheep is

soldtospinners,weavers andfelters, she

says.

''With Covid, it has been abit tricky.

Hopefully, in time, we willbeable to send

the wool overseas.

''Our pelt order (to the UnitedStates)

fellover because they didn'tknow if they

Kate to compete in mounted games

Ayoung Rangiorarider will

be in action among New

Zealand'stop mounted games

riders at the Leeston

Showgrounds this weekend.

The New Zealand Mounted

GamesChampionships was to

have been held in Waikato in

April, but was cancelled

because of Covid­19.

Kate Gutry, of Rangiora, is

one of the top contenders in

the under­17age group,after

beingdenied international

competition this year because

of the pandemic.

She was selectedinthe

New Zealand team to ride at

the world championships in

Scotlandand was to joinLuke

Zydenbos, of West Melton,in

the national team at the

Nations Cup in Kentucky, in

the United States.

The decisiontomove the

eventtoLeestonwill give the

town aboost after the

weregoingtobeabletomarket it, but we

found it'squitepopularinNew Zealand.''

Beefwas added to themix after the

three­year NorthCanterbury droughtas

another income sourceonthe dryland

property.

After growingupatTakaka and Picton,

Rocci movedtoChristchurch in the 1990s,

where shebeganworkingatOranaPark

and laterventured overtoAustralia,

where sheworked at theWerribeeOpen

Range Zoo,just out of Melbourne.

''Itwas so big;itwas openrange like a

farm.

''The public caughtabus to see the

animalsand we drove roundinToyota

Hiluxes to feedout.''

Overthe years,Roccihas worked with

giraffes,rhinos,antelopes, primates and

big cats, whileworkingwith snakes''was

an eyeopener''.

Moving fromworking with little New

Zealandgeckos to bigAustralian lizards

was another change.

In Australia,Roccispecialisedin

managing thefood storesand designing

exhibits.

''I camebackfor family reasons, but I

found Iwas alittleover­qualified fora

zookeeper in New Zealand so Igot into

pestcontrolwork,'' Rocci says.

cancellation of the Ellesmere

A&P Show, which hosted the

2019 mounted games Nations

Cup, won by New Zealand.

More than 60 ridersfrom

around the country willvie

for national titlesacross five

divisions–under­12s, under­

14s, under­17s, open and

veterans(over 35).

"The friendly rivalry

between the North and South

Islands is great fun and really

adds to the exciting

atmosphere of anational

competition,'' Canterbury

Mounted Games Association

presidentSue Shankssays.

''Thesocial aspectof

mounted gamesisahugepart

of our sport and we have

evening entertainment

planned for visitorsstaying

over for the long weekend."

Mounted games test the

fitness, staminaand skillsof

riders and ponies, she says.

Vaulting on ... Kate Gutry, of Rangiora, vaults on to her pony

Amber.

PHOTO: CANTERBURYMOUNTED GAMES ASSOCIATION

Successfulriders needto

have excellent hand­eyecoordinationand

keepacool

headunder pressure.

Different races involve

riders vaulting on and off

ponies at speed, leaningoff

Winning

combination

... Rocci

Scott, left, and

Penni

Loffhagen,

right,

celebrated

after winning a

champion

ribbon with a

Romney ram

hogget at last

year's New

Zealand

Agricultural

Show.

PHOTO: SUPPLIED

''Idomisshaving giraffesand rhinos in

thefrontpaddock, but Idolove whatwe

have in New Zealand with ournative bird

species.

''At theend of theday, it's allanimal

husbandry.

''Themaindifference now is we don't

have to tranquilise the animalstotreat

them.''

They were co­vice­presidents of the

Hawarden A&PAssociation thisyear,

with theannual show in March cancelled

five days before theeventbecauseof

Covid­19.

''It means we willhavetowait another

year —2022willbeourshowascopresidents,''

Penni says.

Whiletheywill notbesendingsheep to

A&Pshowsthis spring,theyare busy

getting theirram hoggetsready for the

ramfairs,with the Suffolk Breeders'Club

duetohold an expo in Ashburton on

Thursday,November 12.

''We willmissthe networking,catching

up with peopleand seeinghow people are

going, but we willbebacknextyear,''

Penni says.

Whilethe Suffolkand Romneystud

males weresoldasram hoggets,the

GotlandPeltmales were soldasram

lambs.

ponies to pick up equipment,

bursting balloons with a

spear, and hittingtargets with

ajousting pole.

Heats will takeplace on

Saturday and Sunday, with

the finalsheldonMonday.
---
DRIVE A NEW

NISSAN FROM

$99PER WEEK*

48 MONTH | 10% DEPOSIT | 60,000KM | NFV

RESIDUAL PAYMENTS VARY BETWEEN MODELS

QASHQAI

NISSAN 150,000 KM'S

FACTORY

WARRANTY

5YR

WITH NISSAN

FUTURE

VALUE

requirements and agreed km allowance and less remediation costs) which will be applied to your nal balloon payment. Terms and conditions apply. Excludes all lease and some eet purchasers. Ooer available

on eligible vehicles ordered and delivered by 31 December 2020 or while stock lasts. Nissan reserves the right to vary, extend or withdraw this ooer. Not available in conjunction with any other ooer.

RANGIORA NISSAN, 321 High Street, Rangiora

Ph: 03 941 3175

www.rangioranissan.co.nz

rangioranissan.co.nz

Rental Fleet

RENTAL COMPANYCLEAR ANCE

SAVE THOUSANDSONTHESE LATE MODEL LOW MILEAGE VEHICLES

MITSUBISHI MIRAGE XLS

5-StarANCAP Safety |Integrated

Audio and Air Conditioning

15" AlloyWheels

$12,990

MITSUBISHI ECLIPSE CROSS XLS

5-StarANCAP Safety |Forward

Collision Mitigation |Lane Departure

Warning |Smartphone Link Display

Audio System

$24,990

MITSUBISHI OUTLANDER 4WD VRX

5starsafety rating with 7airbags |Rear

view camera Touchscreen infotainment

with Bluetooth connectivity Electronic

traction control |Central locking

$34,990

*Vehicle supply is limited and colourchoice cannot be guaranteed. Vehicle images are fordisplay purposes only.. Finance criteria, terms and conditions apply.

RANGIORA MITSUBISHI

321 High Street, Rangiora | 03941 3175 | rangioramitsubishi.co.nz

SALES |SERVICE |FINANCE
---
NEWS

30 The North Canterbury News, October 22, 2020

Exhibition opening ... Ed Donaldson, of Pegasus Bay Winery, speaks to guests at the launch of Sculpture. North

Canterbury in the gardens of the Waipara property.

PHOTO: SUPPLIED

Sculptures grace gardens

By ROBYN BRISTOW

Sculptures were the centrepiece

of the Pegasus Bay Winery's

gardens last Friday, during the

launch of Sculpture. North

Canterbury.

The pieces by contemporary

artists are found throughout the

extensive grounds of the winery,

providing an opportunity for art

lovers and collectors to view a

diverse range of installations

outside the walls of atraditional

gallery.

The launch was celebrated by

130 art lovers.

The six­week outdoor

exhibition, which is now in its

third year, is organised by Art In

aGarden curator Laura Forbes.

Sculpture. North Canterbury

gives visitors the opportunity to

mix art with wine in a

picturesque garden setting.

The free exhibition will run

until November 27.

Doors are open, to enjoy the

gardens seven days aweek, from

10am to 5pm.

All art work is for sale and can

be taken home at the time of

payment.

Contact Laura Forbes on (021)

414 162 or at email

info@artinagarden.co.nz.

The Final Choice: End of Life

Suffering:IsAssisted Dyingthe

Answer?, by Caralise Trayes

AKiwi journalistset out on ahunt for

the truthaboutassisted dyingand the

End of Life ChoiceAct. Join her on a

journey of discovery as she tells the

stories of those withaterminal illness.

She interviews lawyers,doctors,

ethicistsand clerics around New

Zealand and the world. It is written in a

personable way while plunging into

some of life'smost challenging topics.

Believer:Conversations with MikeMoore, by Peter

Pasrussini

The untoldstory of apoor boyfrom ruralNorthland whose

earlyambition was to run the localpetrolstation, but who

went on to play acrucialrole in the

fourth Labour Government. He

became primeminister and then the

highest­ranked Kiwi on the global

stageasdirectorgeneral of the World

TradeOrganization, and later was an

ambassador to Washington, DC.

The ExtraordinaryHope of Dawn

Brightside,byJessica Ryn

When 42­year­old Dawn Brightside is

offered abed in St Jude's Hostel for

the Homeless, it means so much more

than justaroofover herhead. Dawn

has been running fromher pastfor 22

years, but has finally found people who need her. She is

determined not to let them down. So

when she discovers that St Jude's is in

danger of having its funding cut, Dawn

knowsshe must help.But when her

past catches up with her, willher new

friends trusther version of the story?

These titlesare available in both

Waimakariri and Hurunui libraries.

Find out more aboutrecentadditions

by goingtothe library catalogue at

waimakariri.kotui.org.nz or hurunui.

kotui.org.nz or contact yourlocal

library.

Do youwantyour

business to be the

name theyremember?

And reach

47,000 readers?

Full diagnostic hearing

assessment.

Half price.

Source 2018 Nielsen Readership research all people 10+ NCN Circulation area

50%OFF

full diagnostic hearing assessment

for adults over 50yrs.

Spend anhour with one of our highly-qualified clinicians who will take

you through five separate tests tofully understand your hearing.

The assessment is half price for adults over 50yrs until 24 December -

just $60 (usually $120). It's your first step to hearing well again.

Phone 03 314 8335 or

email info@ncnews.co.nz

to find out howwecan help you.

New Zealand's Audiology Experts since 1960

CALL NOW 0800 001 042

dilworth.co.nz
---
Sefton loses nail-biter

against Weedons

Weedons chaseddown earlycountrycricket

frontrunners Sefton in anail­biting contest on

Saturday.

Wins for Weedons, Leeston­Southbridge,

Darfieldand Ohoka at the weekendhave

shownthat the CRV Ambreed Country

Premier One Day 2020/21 cricket competition

will be hotlycontested this season.

At Sefton,the home XI was in early trouble,

losing stalwart opener Tim Harrison (7 runs)

and returningstarsMatt Laffey (5) and Lance

Taylor (1) early.

Weedons'opening bowlersArnav Deb and

Charlie Robson reduced Sealsto15/3 after

nine overs.

Acomposed 29 runsoff 71 balls from Brent

Fleming righted the ship before some

aggressivelowerorder playfrom Nigel

Granger (30 off 28)and Jed Roberts (36 off 32)

saw Sefton post149/8 in its allotted 45 overs.

Aclassy75off 88 ballsfrom wicketkeeper

and opening Weedonsbatsman Todd Inness

set up the run chase well.

But with littlehelp, and whenhewas

removed by Robertsinthe 27th over with the

scoreat114/4, Weedons appearedtobe

blowingasolid away win.

Again, it was Robson who came to the party,

and his composed unbeaten32guided hisside

to anervy two­wicket win in the 37th over.

Boyle shines

One of Canterbury's bestwhite­ballbatsmen

last season,Jack Boyle, hashad ahorror run

into the new season.

At Southbrook Park on Saturday, he looked

like his form had finally returned, getting the

home sideoff to ahot start against Darfield.

Boylecruisedtoarun­a­ball30beforehis

renewed luck disappeared and he was run out

by Tom Dempster.

Afterbeing 38/0, Southbrookcapitulated to

be all out for just105 in the 28thover.

JesseFrew's mediumpace bowling was

excellent at the top of the innings, but Jackson

Pauling claimed the best figures,with 4/20 off

6.1 overs.

Darfieldknockedoff the tiny targetinjust

14.3 overs, withup­and­comingstar Liam

Foulkesmaking 28 and Frew toppingoff afine

day with awhirlwind33not out.

Cheviot falters

Cheviot's shaky starttothe newseason

continuedonSaturday withacrushing ninewicketlosstoOhoka.

At Mandeville,the visiting Magpies were

rolledfor ameagre131 inside 343 overs.

Left­arm paceman HamishWilliams was

chief destroyer,grabbing afour­wickethaul,

while beingwell­supported by Austin

Hamilton, Jordan Beltonand Paul Miller.

Comingoff acentury last week against

Lincoln, Daniel Lyons continuedhis fineform

with arun­a­ball unbeaten 75, with Ohoka

romping to its win in the 24thover.

Chamberlain shines

Half­centuriesfrom Calvin Scott (52 runs off

119 balls) and David Fulton (56 off 63) lifted

Oxford­Rangiora to 177/7inits firstinnings

against Leeston­Southbridge at LeestonPark.

In reply, it was alldown to one man. Harry

Chamberlainshowed why he has just been

selected for the Canterbury men's Ateam by

guiding his team to an eight­wicketwin.

Chamberlainsmashedanincredible 114 not

out off just 82 balls, including eight sixes,

while no other Leeston­Southbridge batsman

got past 13. Leeston­Southbridgegot over the

line, eightwickets down,with 14 oversleft.

Lincoln hadthe bye.

Short scorecards

Sefton149/8(JRoberts36, NGranger 30,B

Fleming 29; CRobson 3/8, ADeb 2/33)lost to

Weedons 150/8 (T Inness 75, CRobson31no; J

Roberts 4/41, MCampbell2/27).

Southbrook105 (J Boyle30; JPauling 4/20)

lost to Darfield 107/2 (J Frew33no, LFoulkes

28).

Cheviot 131(WSmith33, TWhelan 27; H

Williams 4/17, JBelton 2/24, PMiller 2/26)lost

to Ohoka 133/1 (D Lyons 75no, RMariu27no).

Oxford­Rangiora 177/7 (C Scott52, DFulton

56; CBeatson 4/41)lost to Leeston­

Southbridge 181/8 (H Chamberlain 114no; L

Stove 4/40,MPower2/31,2/49 FFairbairn).

SPORT

The North Canterbury News, October 22, 2020

31

Rally contender ... Josh Marston will be acontender in the 2020 Canterbury

Rally.

PHOTO: EUAN CAMERONPHOTOGRAPHY

Busy rallying weekend

By ROBYN BRISTOW

The fourthand finalroundofthe

MainlandRally Championship will

be heldinNorthCanterbury during

Labour Weekend,with thestaging of

the Lone Star RallyCanterbury.

Covid­19 hascut the Mainland

series short,but Rally Canterbury

promises greatcompetition from the

49 entrants, with the eventbeing

opened to North Island drivers

because so many events were

cancelled.

The rally properstartsfromJoe's

Garage in Rangiora at 7.30am,on

Sunday,October25, with the first car

set to go at 8.30am. Aceremonial

startwill be heldatEaton Place,

outside the LoneStar Cafe and Bar

in ManchesterStreet,Christchurch,

on Saturday, October 24, at 5pm, with

cars on display from3pm.

The rally comprises of about

124kmofspecial stages and 240kmof

touring over roads in the Ashley

Forest and public roads in North

Canterbury. Parking areas for

servicingwill be in Amberley,

Cheviot and Waikari. StadiumCars

StageOne is apowerstage,with a

20km blastthrough AshleyForest,

with aprize for the top 1300cc and

1600cc cars. Crews then tour to

Amberley for aservice in the

Countdown car park at 9.20am

before heading north.The first car is

expected to finishat6pm at the Lone

Star in Christchurch.

Local drivers Josh Marston

(HoldenBarina) and Matt

Summerfield (Mitsubishi Mirage)

will be favourites. Bothare in the top

five in New Zealand at present. The

1300cc class looks exhilarating, with

Harri Judd entering afterwinning

the classatCatlinsand South

Canterbury, while Chris Herdman is

also atop seed in the class, along

with Jono Taylor. Peter Murch and

Graham Wilson are the senior

entrants. Leading drivers in the

1600cc class include TimSmith, Nick

Marstonand Dylan Thomson.

There will be professional livestreaming

of the event by "MoMac".

Rally spectator maps are available

now at autosport.org.nz/rally/

Canterbury­rally­2020/#/. Vehicles

will be divided into: Class A2WD

0–1300cc;Class B2WD 1301–1600cc;

Class C2WD 1601ccand over; Class

D4WD; Class EPre­1996 Classic

4WD.

SPORT RESULTS

RangioraBridge Club

Grey Pairs: N/S:Helen Dunn/Janelle

Crawley 1, Judy Bruerton/Sue Solomons2,

DeniseLang/Sue McIlroy3.E/W: Fern

McRae/David McRae1, DawnSimpson/

JoyceGray 2, JanicePickering/Heather

Waldron3.

Rata Pairs:N/S: JeanetteChatterton/Gaynor

Hurford1,Joan Lloyd/Adrienne Paine2,

PaulineMiller/BuntyMarshall3.E/W:

Carole Bach/Ashley Bach 1, JennyShore/

Rewi Thompson2,Noeline Goodgame/

PhillipaWatkins 3.

Monday Evening: N/S:BrianWarnes/Trish

Warnes 1, Mark Apperley/Janet Apperley 2,

Kate Whitehead/AnneBagrie3.E/W:Kerryn

Lange/KarenManson 1,Lorraine Barnett/

Val Atkinson 2,MarilynElliot/Alison Howie

3.

Plate Pairs: N/S: Dave Tocker/Sue McIlroy 1,

Kareen McKay/Maree Felstead 2, Veronica

Hall/Derek Wilson 3. E/W: JennyHassall/

JulieBrown1,Gaynor Hurford/Maggie

Johnston 2, Shirley Symns/Dawn Simpson

and Jill Amer/Andrew Findlay equal 3.

Amberley Golf Club

Kotlowski Combined Stableford:Barbara

Pettigrew &Lindsay Marsh 82 points, 1;

Jannene Cumming &Gordon McGeddie 72,

2; Barbara Scott &Scott Manson 70, 3.

Saturday Stableford:Robin Denby 41, 1;

Grant Dunlop, Bill Balderstone 40, equal2;

Tony Fleete 39, 4.

9HoleCompetition Stableford: Barbara

Bonnett 20 pts, 1; Val Crooks17. Men:Rein

Bakker22, 1; MikeCarpenter 19.

Men'sMidweek Stableford:Brian

Fitzgerald,DaveFlewellen, Jim

Stringleman, KymRayner 38 pts,equal1.

Women'sMidweek: Adele Wilshire 33 pts 1.

Need help

fundraising?

Want to

promote

your club

or team?

Talk to us about

howwecan help

youreach your

goals faster!

For more

information email

info@ncnews.co.nz

Best Brands -Best Prices

FREE Pressure

check on Cars, Utes,

4WD &Trailers

5Star Service

346a Flaxton Road |Phone 03 310 6666

0800 226 324 for 24/7 Service

WHEEL

ALIGNMENTS

FROM $59

Bookings recommended, terms &conditions apply

2314312
---
North CanterburyNews

PROPERTY

Character, Class and Comfort

11 Torlesse Street, Rangiora

Tastefully renovated for absolute comfort and functionality, this stunning villa combines all the charm of yesteryear with all the

convenience of today! Beautifully presented by house-proud owners, this lovely home boasts three bedrooms, anew bathroom plus

separate toilet, light and bright open-plan living areas and astunning new kitchen complete with large walk in scullery and quality

fixtures and fittings at every turn.

Alog burner with wetback, new insulation, heat transfer system and aheatpump contribute to the warm and inviting ambience; ornate

fireplaces, leadlight windows and high ceilings add areal sense of elegance to the home. New flooring throughout, and neutral decor

ensuring any style or era of furnishing will look right at home. The private, fully-fenced section -complete with mature trees and

established gardens -boasts something for everyone, with plenty of room for the kids to run around, as well as apaved entertaining

area where the adults can relax and unwind.

Adouble garage and garden shed complete the appeal, while new cladding on the home provides peace of mind. With Southbrook

primary school and Rangiora New Life school both within walking distance and ahost of convenient amenities all within easy reach

the location is superb, providing all the reassurances one could wish for as to the strength of your investment. There are plenty of

distinctive features which contribute to this charming home's timeless appeal, and interest is sure to come from awide range of

prospective purchasers as aconsequence.

With their thoughts already turning to the next chapter in their lives our vendors are highly motivated, and are determined to achieve

aresult by deadline sale. Urgent action is recommended -contact me now to learn more.

Deadline Sale

11 November 2020 at 2.00pm

(unless sold prior)

For more information contact:

Leigh Miller

021 308 202

Leighm@pb.co.nz

Property Brokers Ltd

Website ID #RU78747

Arealchange in

real estate.

The Property Brokers and Farmlands partnership means

great things forprovincial real estate*

Together our combinedstrengths complement

eachother to createbiggernetworks, more

buyers andbetterresults.

For more informationcall0800367 5263

orvisit pb.co.nz/together

Proudtobetogether

2319019

*Farmlands will continue to administer its property management portfolioand its West Coast real estatesites, pendingCommerce Commission clearance.

Property BrokersLtd Licensed REAA 2008
---
North Canterbury

West Eyreton 281 Moderates Road

Sefton 107 Harleston Road

We're out, you're in

Our vendors are retiring andleaving their magnificenthome that they lovingly built. Now is

your opportunity.This versatile rammed earth home has seven bedrooms, with awest wing

of 180m2 comprising large open plan living with two bedroomsplus an office, cool store

room and bathroomdownstairs, as well as three bedrooms upstairs, with another bathroom

and kitchenette/living area. The eastwing has two living areas, two bedrooms and ashared

bathroom. There is a100m2 shared garage and off the garages, separate toiletsand

separate laundries. Energy efficiency is afeature of thishome.

8 3 3 4

For Sale By Negotiation

View By appointment

Web pb.co.nz/RR72756

Hamish Anderson

M 027 6788888

Maurice Newell

M 027 2401718

Hawarden 368 Horsley Down Road

Retirement Dictates Sale

Our vendors have decided to selltheir home of nearly40years. The

approximately220m2four bedroom, two bathroomhome,sits

surroundedbybeautifully landscapedgardens.The dwelling haslarge

bedrooms withgenerous storage,excellentheatingfrom alog burner

in the lounge and apot belly stove with wetback in the kitchen.The

expansive deckissheltered from the windand there is acovered

barbeque area.There are alarge numberofsupport buildings

including atwo car separategarage, threebay shed, two bay shed,

nine bay shed,which would be ideal forhorses.

4 2 2 2

Deadline Sale closes Thursday 5th

November, 2020 at 4.00pm, (unless

sold prior)

View Sun 25 Oct 1.00 -2.00pm

Web pb.co.nz/RL78431

Maurice Newell

M 027 240 1718

Hamish Anderson

M 027 678 8888

Lifestyle and contractors yard

Attractive 24 acre block with productive soils and awell maintained three bedroom, two

living area villa. There is aWellstood multi fuel burner,with wet-back, as well as alarge Metro

wood burner. The detached car garageis75m² and includes asleep-out and woodshed and

there is aseparate studio. The sheds are largewith one being 345m² with ahigh stud. The

woolshed is 196m² with a63m² shed attached. The property is very appealing with thetree

lined drive, anumber of largetrees andtwo woodlots, apond, fruit treesand agood garden,

hen house and greenhouse.

3 1 2 1

Deadline Sale closes Wednesday 18th

November, 2020 at 4.00pm, (unless

sold prior)

View By appointment

Web pb.co.nz/RL78888

Maurice Newell

M 027 2401718

Hamish Anderson

M 027 6788888

How does a FREE marketing

package plus $500toward

anot-for-profit of your

choice sound?

Good?More likegreat!

Call today 03 313 8022

pb.co.nz/sellingforgood

*Terms and Conditions apply |Property Brokers Ltd Licensed REAA 2008

Property Brokers Ltd Licensed REAA 2008 |pb.co.nz

Proudtobehere
---
Four Seasons Realty

Zealanders

New by

¥Voted

¥Voted

2018-2020

2018-2020

★

★

¥2018-2020

Real Estate Sales

AUCTION

AUCTION

"Seriously on

the hunt for

aproperty?"

New app out now

harcourtsfourseasons.co.nz

Your home forlocal property.
---
NEWS

The North Canterbury News, October 22, 2020

35

Flotilla of plastic ducks goes with the flow

By SHELLEY TOPP

Silverstream's resident ducks had to

make way for abunch of colourful

visitors racing along their river last

Sunday.

The small, yellow, smartlydressed

rubber ducks were part of

the popular annual Silverstream

Duck Race held along the Kaiapoi

River between Butchers Bridge and

the Hayson Drive Bridge.

The event was organised by

Charlotte Hickling, from the

Silverstream sales office, and the

Silverstream Social Club, to

encourage community spirit.

''It is all about building old­school

values of community and

connection. That is why we do it,''

Charlotte said.

There were three races, and four

best­dressed categories at the event,

which was also afundraiser for the

Community Wellbeing North

Canterbury Trust.

The ducks were available for $2

each, or adonation of nonperishable

food, from Urban Revival

cafe in Silverstream or the

Silverstream sales office.

''We raised more than $200, plus a

huge amount of food was donated,''

Charlotte said.

Two long­time friends of

Charlotte's who were visiting from

Wellington, Brigit Kerr and Amy

Maddock, were pleased to be asked

to judge the best­dressed section of

the event and ensure impartiality on

the decision­making.

Great care was also taken to

retrieve all the ducks at the end of

each race so each one could be

returned to its owner or reused in

next year's event.

Riveraction... The finishofthe first raceofthe Annual Silverstream Duck Race on the Kaiapoi River.

Fashion sense ... One of the

entrantsinthe best­dressed section.

Worth ago... Scrooge McDuck

in the best­dressed section.

PHOTOS:SHELLEYTOPP

Eye for ducky style ... The Wellington judges at the Annual

Silverstream Duck Race, Brigit Kerr, left, and Amy Maddock, select

the winners of the best­dressed sections before the racing began.

Do youwant your businesstobe

the name theyremember?

And reach

47,000 readers?

Source 2018 Nielsen Readership research all people 10+ NCN Circulation area

Phone 03 314 8335 or

email info@ncnews.co.nz

to find outhow we canhelp you.
---
What's happening in your

community…

SpeedLimitsUnder Review South of Kaiapoi

Councilare asking forfeedback on reducing speed

limits southofKaiapoi to improve safety in the area.

If approved, the speed limit on Main North Road,

Tram Road, Doubledays Road and several side

streets would be dropped to 60km/h.

The review comes ahead of several upcoming

major changes to roads in the surrounding area,

which include new traffic lights at Tram Road, a

shared path along Main North Road and upgrades

to State Highway 1.

Feedback isopen until Friday 6November, with

Council staff available at the Ohoka Market on

Friday 23 October to talk through the proposals

and answer questions.

We want to hear what the community think of the

speed limit proposals, and if there are any other

factors we should consider.

Aer collecting feedback, staff will report to the

Community Boards and the Council, who will make

afinal decision.

Splash Into Summer

Summer is not complete without avisit to Waikuku

Beach's iconic paddling pool. With warmer weather

just around the corner, Wally the Whale is ready

to welcome back visitors when the pool opens this

Saturday.

Pool users are encouraged to bring their hats and

sunscreen asthe shade sail won'tbeinstalled

until aer Guy Fawkes. Last year, two new water

features were installed, making the space even

more interactive and entertaining for children.

Preparing pools for summer isalso underway

elsewhere in the District, with the Oxford

Community Aquatic Centre due to open later in

November. The popular facility includes afour lane

25m lap pool and asmaller learner's pool suitable

for smaller children.

Speed Limit Lowered at Busy Rangiora

Intersection

Atemporary speed reduction will soon be in place

on both Flaxton Road and Fernside Road, on all

approaches to the intersection.

Council's Roading and Transport Manager Joanne

McBride says an increase intraffic volumes and

several crashes atthe intersection in the last

two years, two ofwhich have been serious, have

prompted the temporary reduction.

The speed limit on Fernside Road west, on the

approach to Flaxton Road, and Flaxton Road north

and south of Fernside Road west will bereduced

from 80km/h to 60km/h.

The length of Fernside Road east, between

Flaxton Road and Lineside Road, will be reduced

from 100km/h to 80km/h.

The reductions will be in place until anew

roundabout is constructed, with work expected

to begin in January 2021. Funding for this was

approved byWaka Kotahi NZ Transport Agency in

mid-2020 and design work iscurrently underway.

It is anticipated the roundabout will be constructed

by the end of June 2021.

We will be back in touch to talk about permanent

speed limit changes in this area over the

coming months.

Free Computer Classes

at Waimakariri Libraries

Email

Kaiapoi Library Thursday29October

RangioraLibrary Friday30October

Tablets

Kaiapoi Library Monday2November

RangioraLibrary Wednesday4November

Each class runs for two hours

from 10am to 12pm.

Book on 03 311 8901 or steppingup.nz

Classes available at Oxford Library

on request.

libraries.waimakariri.govt.nz

SPEED LIMITS

SOUTH OF KAIAPOI

Have you signed up for

the Waimakariri District

Council Newsletter?

To join visit:

waimakariri.govt.nz/subscribe

Time to Splash!

Waikuku Paddling Pool is open

from this Saturday.

Come visit Wally the Whale and celebrate the

long weekend with apaddle and play.

Remember to bring your hat and sunscreen,

as the shade sail won'tbeinstalled until aer

Guy Fawkes.

We're reviewing speed limits south

of Kaiapoi.

With changes happening on Main North Road,

including new traffic signals at Tram Road, ashared

path and changes to the motorway,it'sagood time

to makesure speed limits in the area are safe.

We're proposing to reduce the speed limitto

60km/h in areas on MainNorth Road, Tram Road

and Doubledays Road.

Let us know what you think before

Friday 6November 2020.

waimakariri.govt.nz/aquatics

Find out more at waimakariri.govt.nz/letstalk
---
SPORT

North Canterbury News, October 22, 2020

37

Give usyour

feedback

Labour Day Hours -

Council Services

We wish everyone an enjoyable long

weekend. The following changes to

Council services and facilities apply for

Labour Day, Monday 26 October.

Council Service Centres and Libraries

Council Service Centres will be closed on

Labour Day and reopen on Tuesday

27 October.

Libraries will be closed on Labour Day and

reopen on Tuesday 27 October.

Rubbish and Recycling Collection

Kerbside rubbish, organics and recycling will

be collected as normal on Labour Day.

Southbrook Resource Recovery Park and

Oxford Transfer Station

Southbrook Resource Recovery Park open as

normal from 8.30am -4.30pm.

Oxford Transfer Station closed as

per normal.

Aquatic Facilities

On Labour Day, Waimakariri Aquatic

Facilities will be open between 10am -7pm.

Normal hours resume on Tuesday 27 October.

Waikuku Beach Paddling Pool will be open

from Saturday 24 October.

Urgent Enquiries

For urgent enquiries such as noise control

or animal management, please call our Aer

Hours service on 0800 965 468.

Star performers ... The Rangiora Rabbits Mini Sticks girls' team withcoach Janelle McKellow after their lastgame of

the 2020 winter season.The sidewas unbeatenthroughout the seasonand scored more than100 goals.

PHOTOS: SUPPLIED

Club members reflect on

aCovid-affected season

Rangiora Hockey Club recognised

its standout performers during its

annual post­season awards event

at the Rangiora RSA last Sunday

night.

Club president PaulRobertson

congratulated all teams and

players onanother successful year,

despite Covid­19and its disruption

to pre­season trainingand trials.

The club remains in astrong

position, with adedicated

committee and greatdepth of

coaching, playing and umpiring

talent. This will ensurethe club

keeps improvingand fielding

higher grade teams.

In 2020,the Rangiora Hockey

Club fielded 25 teams, five of which

won their respective divisions.

The club also supplied umpires

to more than 200 games across

almost all competition grades.

Individual awards for each team

were:

Rangiora CBK Division 1men's

team. The Hannah &McBride

Family Award for Most Valuable

Player: Adam Hird.Most Improved

Player: Logan Benson.

Rangiora CBKDivision 1

women's team. Most valuable

player: Macy Neale. Most

improved player: Georgia

Gainsford.

Fine young umpire ... Rangiora

Hockey umpire manager Tony Kean

with Sam Firth, recipient of the

Junior Umpire of the Year award.

HOCKEY

Rangiora Division 2women's

team. Most valuable player: Sarah

Hinchley (GK). Most improved

Player: Alyssa Campbell.

RangioraDivision 3men's team

(Division 3Champions for 2020).R

&MArcher Trophy for Most

Valuable Player: Justin Meyers.

Most improved player: Josh

Clauson.

RangioraDivision 3women's

team. Most valuable player:

Amelia Plimmer. Most improved

players: Courney Comley and Kala

Ryan.

RangioraAllsorts Mid Week

men's team. Most valuable player:

Brandon McGreevy.

Rangiora­HurunuiMid Week

women's team (Division 2

champions for 2020). Most

improved player: Lucy Murray.

RangioraMasters men's team.

Gainsford Family Trophy for Most

Valuable Player: Colin Fowler.

RangioraAPlatinum U18 men's

team (Division 2champions for

2020). Batchelor Trophy for Most

ValuablePlayer: Theo van Dorp.

John WhithamMemorial Cup for

Most Improved Player: Ethan

Plimmer.

RangioraBPlatinum U18 men's

team. Most valuable player:

Michael Planner. Most improved

player: Mica Wilson.

RangioraAPlatinum U18

women's team. Most valuable

player: Abi Hannah. Whatarau

Trophy for Most Improved Player:

Anna Nalder.

RangioraBPlatinum U18

women's team. Hurley Family

Trophy for Most Valuable Player:

Janayah Johnstone. Hurley Family

Trophy for Most Improved Player:

Ella Kellman.

RangioraRampage Kwik Sticks

boys' team. Most valuable player:

Matt Corey. Oliver Trophy for Most

Improved Primary Player: Aaron

Eyles.

RangioraRenegades Kwik

Sticks boys' team.Green Family

Trophy for Most Valuable Player:

Harrison Forbes. Most Improved

Player: Finn Smith.

RangioraRascalsKwik Sticks

girls' team. Most valuable player:

Emily Leech. Most improved

player:Claudia Grigg.

RangioraRhinos Kwik Sticks

girls' team. Most valuable player:

Isabelle Galbraith. Hazel Cottam

Trophy for Most Improved Player:

Maia McKeever.

Rangiora Rubies Kwik Sticks

girls' team. Most valuable player:

Mikayla Molloy. Most improved

player: Lara Marty.

Rangiora Rangers Kiwi Sticks

boys' team. Most valuable players:

Josh Pascoeand Oliver Lacombe.

Most improved player: Bram

Vermeulen.

Rangora RoguesKiwi Sticks

boys' team. Most valuable player:

Joel Pulley. Most improved player:

Gregory McKay.

Rangiora RoadRunners Kiwi

Sticks girls' team. Most valuable

player: PJ Mackintosh. Most

improved player: Petra Lamont.

Rangiora Rebels Kiwi Sticks

girls' team. Most valuable player:

Rose West. Mostimprovedplayer:

Neve Fantham.

Rangiora Raiders Kiwi Sticks

girls' team. Most valuable players:

Amelia Hutchinson and Emma

Schaffer. Most improved players:

Hazel Jones and Lucy McLean.

Rangiora Rainbows Kiwi Sticks

girls' team (Division 2champions

for 2020). Most valuable player:

Leilani Pokoina.Most improved

player: BrooklinGlass.

RangioraRoadsters Mini Sticks

boys' team. Most valuable player:

JaksJoslen. Most improved player:

Fletcher George.

Rangiora Rabbits Mini Sticks

girls'team (Division1champions

for 2020). Pulley­McKellowFamily

Trophy for Most Valuable Player:

Emma McKellow. Most improved

player: Adele Ferguson.

Rangiora Rockets Mini Sticks

girls' team. Most valuable player:

Shaylee Eastmond.Most improved

player: Ila Bavis.

Special Awards:

Junior umpire:Sam Firth.

Junior goalkeeper, the Andrew

Hinchley Memorial Trophy:

Cameron Kuch.

Senior goalkeeper, the Wilson

Family Trophy for Meritorious

Goal Keeping: Eira Beverley­

Stone.

Secondary Schools Girls'

FairplayAward, (the Joan

RobertsonAward): Amelia

Plimmer.

Club Person of the Year (the

Sharon Batchelor Trophy):

Damian Allerby.
---
CLASSIFIEDS

38 The North Canterbury News, October 22, 2020

Situations Vacant

School Bus DriversRequired

Would youliketoearn extraincome whilestill

having mostofyour dayfreeand at the same time

do your community aservice by helpingtoprovide

asafe, high standardofschool transportfor our

region'schildren.

Torlesse Travel has positionsavailable forpart

timeschool busdriversinDarfield, Oxford and

Rangiora.

If youhaveaClass 2license, aPassenger

Endorsement andare interestedindriving on a

part time basis then this couldbefor you.

Alternatively,ifyou areinterestedinbecoming a

bus driver,wecan provide assistance to help you

achieve the correct licencing.

If youare interestedinthisrole or wish formore

information, please email.

customerservices@torlessetravel.co.nz

Phone: 021 198 7358

HOMESITTERS REQUIRED

Ad# 36214

Wanted:

Homesitters required

over Christmas!

We are looking for mature,

responsible, pet loving

people to homesit some

beautiful homes and pets.

Sits vary from 1-3 weeks

in Christchurch and surrounds.

Singles/couples only please.

Search postanote.co.nz

for more details.

Garage Sales

RANGIORA 233 King

Street, Sunday 25th October,

9am - 3pm. Child's

Mud Kitchen, child's bike,

trailer bike, wooden toys &

others, retro clothing, modern

child, women's &

men's clothing in great

condition, fabric, general

household goods.

Lost and Found

LOST IN RANGIORA.

Car keys with locking

sensor, between Noel

Leemings, Kippenberger

Ave and McPhail Ave on

Tuesday 8th September,

early afternoon. $40 reward

if found, ph 027 447 4740.

Wanted To Buy

BUYING estate type old

china, crystal, collectables,

vases. Ph 027 350 3963, or

313 1878.

$$$

Amalgamated Scrap Metal

Ltd. Specialists in farm

machineryand farm clean

ups, old vehicles etc.

100% locally owned.

Ph 0800 030 712 or

027 695 0480.

2312759

For Sale

ASPARAGUS, freshly

picked $10 for 1kilo, 304

Racecourse Road, Broomfield.

Open Sunday to

Friday.

TWO saws, 600mm, and

800mm, spindle and

bearings, 4 inch pulley.

Drive Belt any length, can

make insert to fit spindle.

Offers. Phone 313 8374.

HONEY 4kg bucket

cooking honey, $30 special.

Available at Gracebrook,

Amberley. Telephone 03

314 7076.

Cars Wanted

CASH 4CARS

and 4WD'S

Phone

Automotive

Parts

03 313 7216

CARS, vans, 4WD's

wanted for dismantling or

repair. Phone 027 258

8366.

CASH/CASH

for anyunwanted

vehicles,phone

3479354 or

027 476 2404

WANTED to buy Ford,

Holden, Chrysler, or

Chev's, classic cars. Any

condition. Please phone

Tony 027 313 5000.

Gardening

A+ GARDEN hedges cut

to perfection. Tree &arbor

work. Also spraying. Free

quotes. Ph 03 312 0668 or

021 111 4322.

PEASTRAW. Excellent

quality peastraw for sale. BICHON

Ideal for garden. $8.00 /

small bale ex - farm

Bennetts -Oxford. Ph 027

312 4009 or 03 312 4460.

Property Wanted

HOME

WANTED

Are you interested in

selling your home?

We are private cash

buyers looking for a3-4

bedroom home in the

Northern Waimakariri /

Southern Hurunui

districts.

We will be visiting the

area Nov 9-14 so if you

are interested we would

love to hear from you.

Ph Pete 0272238053 or

email glenecho@xtra.

co.nz

To Let

HOMESITTERS req'd

from 20 Dec. Beautiful

homes / pets. Phone Lisa

021 547 262 or visit

townandcountryhomesit.co.nz.

Wanted To Rent

FARM COTTAGE, 1/2

bed with garage / shed

within 50km of ChCh.

Anything considered.

Mature, self employed non

smokers. Ph 022 608 8738

any time.

Pets

HOMESTAY

for smaller dogs. We look

after your dog in our home.

"No kennels". Phone today

03 314 6110.

AMPLIFY

YOUR

BUSINESS

AND BE THE

NAME THEY

REMEMBER

FIRST

Advertise with

us and get

noticed

today!

Phone us today on 03 314 8335

or email sales@ncnews.co.nz

to find out how we can help!

Public Notices

Refuse and Recycling Changes Due to Labour Day

Due to Labour Day, onOctober 26th, some collection days are changing (see

below). As pick-up times may vary to normal, please place securely tied Hurunui

Council bags at the kerbsideby8am.

It is more important than ever, that recycling is clean and notcontaminated; please

help by remembering:

•Onlyrigid plastics numbered 1, 2and5canberecycled in Hurunui.

•Always wash anddry recycling thoroughly.

•Through the recycling bags, it is possible to recycle paper,cardboard,rigid

plastics 1, 2and 5(no lids), food and drink cansonly.

•Softplastics (those you can scrunch in yourhand) and shopping bags are not

recyclable; place these in the refuse.

•Food, clothing, garden waste, plastic strapping andpolystyrene are not

recyclable. Bags will be stickered and left if they contain these.

•Ifindoubt –place it in the refuse.

Bundles of cardboard will not becollected, but can be recycled via the transfer

stations.

Monday26October

Tuesday 27 October

Wednesday 28 October

Thursday 29 October

No Collections

Hanmer Springs and Gore Bay

Amberley,Amberley Beach, Leithfield and

Leithfield Beach, Cheviot, Waipara, Scargill, Omihi,

Greta Valley and Motunau Beach

Waiau, Rotherham, Culverden, Waikari and

Hawarden

All Hurunui transfer stations are closed on Monday 26 October.

2323110

Proposed Temporary Road Closure

Markham Street, Amberley

The Hurunui District Council has received an application

from AmberleyNZ to run the 2021 Markham Street

Summer Festival.

This application asks for the temporaryclosure of

Markham Street, Amberley,

Saturday 13 February2021,

from 10.30am to 8.30pm.

Any objections to the proposed closure will need to be

lodged with council by 12 noon, Thursday 29 October

2020

email:

post:

info@hurunui.govt.nz

Hurunui District Council,

PO Box 13

Amberley 7441

Council will consider this application on Thursday 5

November 2020.

This closure is proposed under paragraph 11(e) of the Tenth Schedule of the

Local Government Act 1974. The proposed closure will apply toall vehicular

trafficwith the exception of emergency services vehicles.

2325130

KAIAPOI CHRISTADELPHIANS

"The Key of Knowledge .."(Luke 11:52)

"GOOD NEWS"

What the Bible says about FAITH:

"Faith is the confidence that what we hope for,

will actually happen; it gives us assurance about

things we cannot see." Hebrews 11:1 NLT.

AGM Ahu Whenua Trust

Tawera MR897 Section 2.

To be held on Sunday 29th

November 2020, 11am at

Tuahiwi Marae.

ART THERAPY classes.

Friendly bunch of cancer

survivors and carers having

fun involved in art. Come

along and learn from tutors,

and discover your inner art

talent. Starting Monday

2nd November, every

Monday, 11am, Gospel

Hall, 22 High St, Rangiora.

Parking available. Please

contact Sandy Gottermeyer

BA 027 252 0455. No

experience necessary.

Health &Beauty

TRADITIONAL Indian

Ayurvedic herbal massage

& treatment clinic. Phone

022 135 0177.

2324372

ENJOY The Port

Hillbillies at Balcairn Hall.

Bluegrass, American folk,

toe tapping, catchy tunes -

8pm, Saturday 7th November

2020. Free supper, alcohol

free event, raffles, CD

sales. Tickets $25 from

Sally Macs, Amberley,

Stan's 7 Day Pharmacy

Rangiora, Sefton Garage

and www.balcairnhall.com.

Livestock

HOMEKILL

&Wild Game

Meat Processing

313 0022

2309602MEAT2U.NZ

Educational

TUITION available. Primary

and secondary to

NCEA level 3. Math, Literacy

and Science (NCEA).

Each student on an individually,

tailoured programme.

Kip McGrath

Rangiora has been serving

the local community for 30

years. Give us a call or

book your free assessment

online 03 313 3638 https:/

/www.kipmcgrath.co.nz/rangiora.

Trade&Services

ABEL &Prestige Chimney

Cleaning. Nth Cant owned

& operated. Covering all

areas from Waimak to Hanmer.

Professional, guaranteed,

service. Firebox

repairs, carry most parts. Ph

0800 661 244.

AFFORDABLE concrete

cutting with quality and

removal work. Free quotes.

No job too small. Ph 027

442 2219, Fax 03 359 6052

or A/H 03 359 4605.

ALL TREE SERVICES,

chopping, pruning, firewood

cut. Affordable &

friendly service. Telephone

021 111 4322.

ARBORIST qualified.

Copper Beech Tree

Services. Tree removal,

pruning, height reduction,

hedge trimming, shaping,

tree planting, firewood.

Free quote. Contact Angus

Edwards 027 259 6741

copperbeechtreeservices@gmail.com

BRIAN'S Tree Services.

Tree felling, topping,

shaping, firewood cut, rubbish

removed, stump grinding,

branch chipping.

Affordable rates. Phone 03

327 5505 or 021 124 4894.

BRICK &blocklaying. All

types of work undertaken,

repairs. Phone Hamish

0272 386 003 or 313 5678.

CARPENTER available,

licenced, alterations, and

property maintenance,

renovations, repairs and all

building work. Please

phone 027 294 1423.

CHIMNEY SWEEP...

Time to service your fire.

From $80 + gst single

storey. 0800 SWEEP ME

or 021 0277 1927.

DRESSMAKING Bev's

Sew Good Services. For all

your alterations, repairs,

dressmaking, curtains.

Phone 327 5535.
---
Trade&Services

DECORATORS

Lilybrook Decorators. Now

semi-retired looking for

those odd jobs. Phone

Gordon 027 430 2938.

DIRTY TILES &Grout?

Professional tile cleaning,

tiled shower restorations

mouldy silcone, shower

glass & we can even

recolour your old grout!

For all your tile and grout

issues call Grout Pro for a

free, no obligation quote.

Ph Darryl 0800 882 772.

METAL WORX. Flashing,

Sheetmetal Fabrication,

Wrought Iron,

Welding, Custom Trailers,

General Metalwork. No job

too big or too small. Ph 021

265 5428 or 03 314 6908.

Find us on facebook/

Glenmark Metal Worx.

glenmarkmetalworx.ltd@gmail.com.

PAINT & wallpaper

services. Wayne Bryant,

exterior, interior. Qualified

tradesman. Free quotes. Ph

313 5337 or 027 654 4568.

Trade&Services

PAINTER, qualified, local

professional. Int / Ext,

roofs, wallpaper. Call or

text Corban 027 846 5035.

CLASSIFIEDS, TRUSTED TRADES &PROFESSIONAL SERVICES

The North Canterbury News, October 22, 2020

Trade&Services

SCREEN PRINTING.

For all your printing

requirements. T-shirts,

Hoodies, Hi-Vis vests and

polos, Overalls, Caps etc.

Please phone Heather 03

313 0261 or email heather.

norstar@gmail.com.

PLASTIC WELDING

North Canterbury Specialist.

All plastic &fibreglass

repairs. Telephone James

021 180 5103.

POWER TOOLS repairs, SHEARER. Hap's Farm &

parts &sales for over 40 Lifestyle Services. Shearing,

crutching, drenching,

years. All main brands serviced.

Grossman Trade tailing, feet trimming &

Tools, 23 Watts Road, health check. Trailer, generator

&mobile handpiece

Christchurch. Ph 389 9230.

RANGIORA Rubbish available. Experienced,

Removal and RRR skips. reliable and honest. Ph 03

Wheelie bins any frequency 4233713 or 021 267 4025.

and skips from 1.5 cube to

9cube. Skips and wheelie

bins for any use, rubbish, SHEEP SHEARING,

greenwaste, building sites drenching, feet trimming.

or just cleanups. Give us a For Lifestyle blocks. Call

phone call 313 6957 or for Stu 027 315 6916.

skips 021 313 255.

ROOFER. All roof repairs,

roof painting, water blasting,

SHEEP SHEARING -

moss treatment, mobile. Fast, friendly, pro-

repointing, gutter cleans & fessional service. 25 years

snow straps. And more. exp. Shearing, drenching,

Free quotes. Phone Nathan hoof trimming etc. Call

027 516 6609.

Shaun 021 204 1274.

Trade&Services

STONEMASON, Brick

and Blocklayer. Earthquake

repairs, grind out and

repoint, River/Oamaru

stone, Schist, Volcanic

rock, paving, all alterations

- new and old. Quality

workmanship. Visit www.

featureworks.co.nz or ph

027 601 3145.

VALUATION -

Specialising in North Canterbury.

Contact Geoff at

Maxwell Valuation. Phone

03 310 8541 or email

geoff@maxval.co.nz.

PAINTERS

Reg Tradesman

Interior,exterior.

North Canterbury Painters

specialising in decorating for

over 65 at adiscountrate.

Free quotes.

Covering Nth Canty,Oxford,

Kaiapoi, Rangiora, Amberley.

Rob 03 327 7899

or 027 432 3520 2227597

Trade &Services

WINDOW TINTING

tintawindow

advanced film solutions

99% uv block

fade protection

heat control

reduce glare

25 Years Experience

privacy films

frosting designs

non-darkening films

Workmanship Guaranteed

Lifetime Warranties on Most Films

UV

block

Free Quotes Canterbury and Districts

03 365 3653 0800 368 468

Trade&Services

ANTHONY SYMONDS

Forall your painting &

plastering requirements

Local with 30 years

experience

All workmanship

Guaranteed.

Phone 021 344 023

2220615

SEPTIC TANK

CLEANING

Bill's Liquid

Waste

You dump it...

Blair pumps it...

Blair Tavendale

Ph 03 314 9371

0275 379-694

2225862

39

Trade&Services

Pride &Quality Painting

&Decorating Services

20 yrs exp, fast and friendly

service. For all your painting

needs, phone: Martin 310

6187 or 021 128 9867

REMOVALISTS

Movemen Ltd

2Men &agood sized

truck. From $157 per hour

(incl gst). Kaiapoi based.

Call Gerard

027 668 3636

2316549

SUMMERFIELD

FENCING

IN YOUR AREA NOW.

Lifestyle or farm, sheep, cattle,

horse, all types of animals.

Fences, yards, sheds, arenas,

shelters, runs.

30+ years contract fencing.

Steve is available to help with

your design &planning.

Ph office03312 4747

2091848

2070788

Automotive &Recovery

• WOF Cars &Trailers

• Vehicle Servicing &

Repairs

• Tyres &Punctures

• Jump Starts

•

Towing &Salvage

• Courtesy Car Available

Ph Aaron Rowlands

0272 588 366

13 Stone Eyre Place,

Swannanoa

Eftpos available Mon –Fri 8am –5pm, Sat 9am –1pm

Builder

Butchery

OxfordButchery

Shane and Leanne Frahm

We cankill&process yourstock

FourGenerations of Frahms

since 1957

Ph 312 4205

Oxford

1680439

Number one

old-fashioned bacon

&ham curing.

A/H 312 4709

Computer Repairs

Construction &Concrete

DENTURE CLINIC

Bruce Evans

131 Ohoka Road

Kaiapoi

03 327 3111

021 293 6331

compucare@xtra.co.nz

www.compucare.co.nz

Computer Repairs &upgrades

Prompt professional services

2276525v2

Virus &malware removal

New &UsedPC's4Sale

All Construction & Concrete Work

•Driveways, patios &paths

•Bridges and Culverts

•Floors, foundations

•Sheds and buildings

•Dairy Sheds, Herd homes

•Silage pits, effluent ponds

•Excavation and cartage

•Precast concrete

•Insulated panels

Daryl Power

027 230 9401

concretepower@scorch.co.nz

www.concretepower.co.nz

2273277

RANGIORA

DENTURE CLINIC

Garry WMechen

Registered Clinical DentalTechncian

Phone (03) 313-9192

2089195v2-4/4-S

Ear Health

Electrician

38a Ashley Street, Rangiora

Electrician

• Ear Health checks.

• Wax removal using Microsuction

• Removal of foreign bodies

• Basic hearing aid care

• ACC provider

• WarVeteran provider

• No medical referral

required

Clinics in Rangiora, Amberley and Kaiapoi

Rest homes/retirement villages, booking by prior arrangement.

Bookings: Online www.earcare.nz |Phone 020 4124 25 25

Email alison@earcare.nz | Ear Care Canterbury

2324849

Allan Pethig

For all your electrical needs. Residential &Commercial

Phone 03 313 7144

027 432 1534

Fax 03 313 2144

rgrantelectrical@gmail.com

PO Box 69, Rangiora

NEW N W DENTURES D ES

*RELINE * *REPAIRS

* I S

HOURS

8.30am -12noon

- Monday to Friday

FREE E CONSULTATION O

AND ADVICE

A V C

For a/h repairs

phone (03) 310-3044

AARON HARRIS

ELECTRICAL LTD

NEW HOUSES • ALTERATIONS

ELECTRICAL INSPECTIONS • SMART WIRING

SYSTEMS AND MORE...

M: 0275 543 958 E: aaron@ahel.co.nz

2020478

Plumbing

For all

general

aspects of

plumbing

Discounts for over

65 years old

Fast friendly service

All work guaranteed

Aaron McCartney

Certifying Plumber

Cell 027 366 9091

A/H 03 310 2137

Free Call:

0508 44EVER

EMAIL:

plumber_27@yahoo.com

2172994

Scaffolding

•Edge protection

•Working platform

Phone

0274 366 901

Plans for pricing

jas.rangiorascaffolding@xtra.co.nz

North Canterbury wide

1783878

Motorcycle Service &Repair

South Pacific Motorcycle Services

"we're your LOCAL motorcycle guys"

• Service • Repairs • Tyres

• Motorcycle Rental

•Fully Equipped Workshop •Quality Work •Affordable Rates!

Ph: 03 312 0066 |office@motorbiketours.co.nz

www.motorbiketours.co.nz

2313195

SERVICES

Water Blasting

ENVIROTEC

Waterblasting Ltd

Servicing Canterbury

Commercial &Residential

SPRINGTIME

Get cleanedupfor

the summer

months, getrid of

the winter grime.

W

FREE QUOTES

0800 SITECLEAN

(0800 748 325)

Mobile 0274 369 187

2197694

Scrap Metal

CASH PAID FOR SCRAP

•Car Bodies •Scrap Steel•Specialists in Farm

Machinery•All non Ferrous

MAINLAND

METALS LTD

Ph (03)338 7000

Mike0274 818544 •Robbie0274818 027

Locally owned and operated

Windows & Doors

WINDOW MARKET PLACE

• New & Used

• Timber & Aluminium

• Windows & Doors

8am-5pm Weekdays

8am-2pm Saturday

215 Waltham Rd, Sydenham

Ph (03) 379 6159 info@windowmarket.co.nz

Fax (03) 962 1012 www.windowmarket.co.nz

1902273

ncn1242200aa
---
RangioraToyota

2018 Yaris GX

•1.3LPetrolAuto, ReverseCamera

•Bluetooth

•Only 37,600kms

$

15,995

2008 DaihatsuSirion

•1.3LPetrol5-Speed Manual

•Aircon, AM/FM &Radio

•Done128,890km

$

5,995

2010 Toyota Wish

•1.8L Petrol, 7-seater

•Alloys

•Climate air

$

11,995

2010 Toyota Prius S

•1.8L Hybrid Petrol Auto

•Keyless,ClimateControl

•Only 78,100km

WAS$17,995

NOW $

14,995

Signature

CLASS

S

Ex-Demo 2019 CorollaSXSedan 2013Toyota Prius S

•1.8L Hybrid Petrol,

•1.8L Hybrid Petrol Auto

•Satnav,TSS

$ •Keyless

33,995

•Only 150km

•5-door Hatch

$

17,995

2016 Corolla GX Sedan

•1.8L PetrolAuto, Bluetooth

•ReverseCamera

•Done 63,500kms

$

17,995

2007 Toyota IST

•1.5LPetrolAuto, ClimateAir

•FM/AM Radio &CDPlayer

•Done 124,400km

$

6,995

2013Toyota Aqua

•1.5LHybrid PetrolAuto

•ParkingSensors

•Bluetooth

WAS$15,995

NOW $

14,995

2006 Toyota Vitz

•1.3LPetrolAuto

•NZRadio, 5-Door

•Done94,750km

$

8,995

2010 Toyota Prius Silver

•1.8L Hybrid Petrol Auto

•Keyless,Bluetooth

•Done 180,650km

$

8,995

2012Toyota Yaris YR

•1.3LPetrolAuto, NZ-new

•Bluetooth/USB Connect

•Done106,400km

$

9,995

2018 Corolla GX

•2.0L PetrolAuto

•Satnav,Bluetooth

•Alloys, only 44,350kms

$

21,995

2018 Corolla Wagon GX

•1.5LPetrolAuto, Bluetooth

•ReverseCamera

•Only 13,450kms

$

19,995

2012Corolla WagonGX

•1.5LPetrolAuto

•Bluetooth/MP3,CD/USB

•Only 26,150kms

$

14,995

2018 Suzuki Swift GL

•1.2LPetrol5-SpeedManual

•NZNew,Bluetooth

•Cruise Control

$

9,995

2018 Corolla GX

•2.0L PetrolAuto

•Satnav,Bluetooth

•Alloys, only 49,000kms

$

21,995

2020 CamryV6

•3.5LPetrol8-speed Auto, Leather

•Satnav,Sensors/Camera

•Only 200kms

$

44,995

2017 CamryAtara SL

•2.5LHybrid Petrol, Alloys

•Leather,ReverseCamera

•Only 21,200kms

$

31,995

2005 Aurion Sportivo SX6

•3.5LV6Auto, Alloys

•Spoiler,Sports Seats

•91,300kms

$

10,995

2018 Toyota C-HR AWD

•1.2LTurboPetrolAuto

•Toyota Safety Sense,Satnav

•Only 29,700km

$

31,995

2019 RAV4 GXL

•2.5LPetrolAutoAWD,Satnav,ReverseCamera

•Latest Shape

•Only22,200kms

$

37,995

2019 LandCruiserPrado VX

•2.8L Turbo Diesel, Leather

•Toyota Safety Sense

•Only 31,100km

$

66,995

2017 HiluxSR5 Limited 4WD

•2.8L Turbo Diesel Auto

•Leather,18" Alloys

•Only 40,850km

$

44,995

2009 LandCruiser 200 Seri

es

•4.5LTurbo-Diesel, V8

•8-seater, Satnav

•Climate Air ,

WAS$51,995

NOW $

45,995

2018 HiluxSR5 Prerunner

•2.8L Turbo Diesel Auto

•Canopy, Liner,Satnav

•Only 38,000km

$

38,995

2019 HiluxSR5 4WD

•2.8L Turbo Diesel, Satnav

•ReverseCamera

•Done33,750km

$

47,995

2017 HiluxSRPrerunner

•2.8L Turbo Diesel Manual

•ReverseCamera, Bluetooth

•Tonneau

2019 FortunerGXL

•2.8L Turbo Diesel Auto4WD

•Satnav,ReverseCamera

•Only 23,600

2019 Hiace ZR

2015Hilux4x4 Single Cab

2017 LandCruiserPrado VX

•2.8L Turbo Diesel

•Satnav,Leather

•Done 57,100km $

58,995

•2.8L Turbo Diesel 6-SpeedManual

•3.0L TurboDiesel Manual

$

29,995

$ •5-Door,Satnav

•Roof Racking

48,995

$ $

•ReverseCamera,only 250kms 41,995 •Only 58,650km 30,995

Percival Street,Rangiora • Ph (03) 313-8186any time • www.rangiora.toyota.co.nz

Signature

CLASS

2319050-h

FINANCE &INSURANCE AVAILABLE