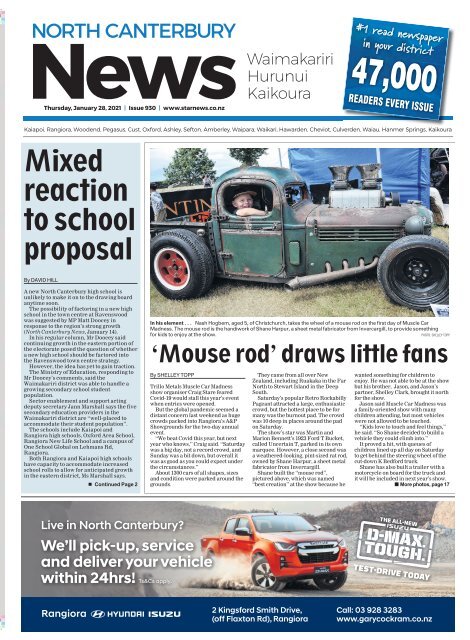 North Canterbury News: January 28, 2021
Create successful ePaper yourself
Turn your PDF publications into a flip-book with our unique Google optimized e-Paper software.
#1 read newspaper

in your district

#1 read newspaper

in your district

47,000

Thursday,January 28, 2021 | Issue930 | www.starnews.co.nz

READERS EVERY ISSUE

Mixed

reaction

to school

proposal

By DAVID HILL

Anew North Canterbury high school is

unlikely to make it on to the drawing board

anytime soon.

The possibility of factoring in anew high

school in the town centre at Ravenswood

was suggested by MP Matt Doocey in

response to the region's strong growth

(North Canterbury News,January 14).

In his regular column, Mr Doocey said

continuing growth in the eastern portion of

the electorate posed the question of whether

anew high school should be factored into

the Ravenswood town centre strategy.

However, the idea has yet to gain traction.

The Ministry of Education, responding to

Mr Doocey's comments, said the

Waimakariri district was able to handle a

growing secondary school student

population.

Sector enablement and support acting

deputy secretary Jann Marshall says the five

secondary education providers in the

Waimakariri district are ''well­placed to

accommodate their student population''.

The schools include Kaiapoi and

Rangiora high schools, Oxford Area School,

Rangiora New Life School and acampus of

One School Global on Lehmans Rd,

Rangiora.

Both Rangiora and Kaiapoi high schools

have capacity to accommodate increased

school rolls to allow for anticipated growth

in the eastern district, Ms Marshall says.

Continued Page 2

In his element ... Nash Hogbem, aged 5, of Christchurch, takes the wheel of amouse rod on the first day of Muscle Car

Madness. The mouse rod is the handiwork of Shane Harpur, asheet metal fabricator from Invercargill, to provide something

for kids to enjoy at the show.

PHOTO: SHELLEY TOPP

'Mouse rod' draws little fans

By SHELLEY TOPP

Trillo Metals Muscle Car Madness

show organiser Craig Stare feared

Covid­19 would stall thisyear's event

when entries were opened.

But the global pandemic seemed a

distant concern last weekend as huge

crowds packedinto Rangiora's A&P

Showgrounds for the two­day annual

event.

''We beatCovidthis year, but next

year who knows,''Craigsaid.''Saturday

was abig day, not arecord crowd,and

Sunday was abit down, but overall it

was as goodasyou could expectunder

the circumstances.''

About1300 cars of all shapes, sizes

and condition were parked around the

grounds.

They camefrom all over New

Zealand, including Ruakaka in the Far

North to Stewart Islandinthe Deep

South.

Saturday'spopularRetro Rockabilly

Pageant attractedalarge, enthusiastic

crowd, but the hottest placetobefor

many was the burnout pad. The crowd

was10deep in placesaround the pad

on Saturday.

Theshow's star was Martin and

Marion Bennett's 1923Ford TBucket,

called Uncertain T, parkedinits own

marquee. However, aclose secondwas

aweathered­looking, pint­sizedrat rod,

owned by Shane Harpur, asheet metal

fabricator fromInvercargill.

Shane builtthe ''mouserod'',

pictured above,which was named

''best creation'' at the showbecausehe

wanted somethingfor children to

enjoy. He was not able to be at the show

but his brother, Jason, and Jason's

partner, Shelley Clark, brought it north

for the show.

Jasonsaid Muscle Car Madness was

afamily­oriented showwith many

childrenattending, but most vehicles

were not allowed to be touched.

''Kids love to touchand feel things,''

he said. ''SoShane decided to builda

vehicle theycould climbinto.''

It provedahit,with queuesof

childrenlinedupall day on Saturday

to getbehind the steering wheel of the

cut­downKBedford truck.

Shanehas also built atrailerwith a

motorcycle on board for the truck and

it willbeincluded in next year'sshow.

More photos, page 17

LiveinNorth Canterbury?

We'll pick-up, service

and deliver your vehicle

within 24hrs! Ts&Cs apply.

TEST-DRIVE TODAY

2Kingsford Smith Drive,

(off Flaxton Rd), Rangiora

Call: 03 928 3283

www.garycockram.co.nz
---
NEWS

2 The North Canterbury News, January 28, 2021

Grow

customers,

sales and

profits

with North

Canterbury's

best read

newspaper

Rates rise of 3.9pc proposed

By DAVID HILL

Jim Palmer's lastWaimakaririDistrict

Council Long TermPlan hasproven to be

the mostchallenging.

The outgoing chiefexecutive, speaking

at Tuesday's openingdeliberationsonthe

planatthe Rangiora Town Hall, said

there wereuncertaintiesfacing all

communities in New Zealand,

particularlyurban areas.

''It'ssomething we willhavetoconsider

in our plan.

''Theremay evenbeanimpact when

the nextproperty values aredone.

''There's already somesoftening in the

value of farmproperties, butit'stoo early

to predict how this is going to play out.''

The council'sfinance andbusiness

supportmanager, JeffMillward,saidthe

draft 2021/31Long TermPlan(LTP) had

beendifficulttowrite,amidthe

uncertaintyfacing the region.

''This is probablythe mostuncertain

Long TermPlanwe'vedone,''hesaid.

''There's climate change,uncertainty

aroundwater policy, Covid, andifwego

into anotherlockdown it will change

things again.''

Thepair proposedanaverage rates rise

acrossthe district of 3.9percent ayearfor

thenexttwo years,upfrom the1.5%rise

of 2020/21,but down on previousyears.

Therise reflects inflation, anda1%rise

to cover earthquake loan repayments.

''Looking at othercouncils, I'm not

seeinganything as low as this,''Mr

Millward said.

''Theyearof1.5%from Covid is having

an impact,and this (3.9%)doesn't include

theopt­in option for kerbside waste

collection.''

Based on data fromStatisticsNew

Zealand, the Waimakariridistrict

population, as at June30, 2020,was 64,700.

It is expected to riseto78,400 in 2031

and hit100,000 by 2051.

Growth of 13,700 representsaround

4800new houses overthe nextdecade, Mr

Millward said.

To allowfor thisgrowth, the council

willbeconsulting on buildingcommunity

facilitiesfor Pegasus andWoodend,

upgradingthe Rangioralibraryand civic

precinct, and anew car­park building for

the RangioraTown Hall.

Feedback will alsobeinvited on the

Covid­19 response,climatechange and

sustainability, the threewaters review

and proposed upgrades,the District Plan

review, andwestRangiora road

improvements.

The upgrade of Skew Bridge,on

Skewbridge Road, hasalsobeen included

for later in theLTP.

Deliberationsweredue to be

completed today (Thursday),with the

draft 2021/31 LTPdue to go out for

consultation on March 6.

Vandals target commemorative tree

Readership: 47,000 weekly

Circulation: 30,150 copies delivered

to EVERY farm, RD, lifestyle block

and home inWaimakariri, Hurunui

&Kaikoura every Thursday.

By SHELLEY TOPP

Vandals have destroyed a

small commemorative tree

planted by Cust/West

Eyreton Garden Club

members.

The flowering dogwood

tree, donated by Cust's

Querky Style and Roses, was

planted in the Jack Graham

Reserve in the Cust

Community Centre grounds

last October to mark the

club's 70th anniversary.

Club committee member

Anna White, of Oxford, said

the tree had been snapped

off and the top half

discarded.

''It is very disappointing

for this to happen. We had

such alovely day during the

planting ceremony.''

The tree was vandalised

early in the New Year and

was reported to the

council's Greenspace team.

It will replace the tree later

this year.

The council's parks and

community assets officer,

Greg Barnard, said it was

disappointing to lose the

tree. ''It was in aperfect spot

and areally nice tree.''

Snapped off ... The planting of

the tree last October.

news

Robyn Bristow

Managing Editor

027 312 1581

robyn.bristow

@ncnews.co.nz

Reporters

Neil Clarkson, David Hill,

Shelley Topp.

advertising

DaynaBurton

Sales Co-ordinator

027 312 0089

dayna.burton

@ncnews.co.nz

AmandaKeys

Advertising

027 536 6224

amanda.keys

@ncnews.co.nz

Kerryn Clark

Advertising

021 586 138

kerryn.clark

@ncnews.co.nz

RichardMcCombie

Advertising

022 024 3092

richard.mccombie

@ncnews.co.nz

getintouch

Editorial

info@ncnews.co.nz

Advertising

sales@ncnews.co.nz

Graphic Design

heather.hood@ncnews.co.nz

Distribution/Deliveries

03 314 8335

Rangiora: 03 313 2840 /03314 8335

14 Ashley St, Rangiora

Christchurch: 03 364 7460

www.starnews.co.nz

Waimakariri has capacity for roll growth

From Page 1

''We continuetomonitor

actual andprojectedschoolaged

population growth in

order toplan for additional

schooling provisionas

required,"MsMarshallsays.

Under present zoning,

Woodend,Ravenswood and

Pegasus sit in theKaiapoi

HighSchool zone. Kaiapoi

HighSchool's presentrollis

around 900 pupils.

PrincipalBruce Kearney

would havepreferred Mr

Doocey had spokenwithlocal

principalsbefore making a

public statement, as it hasthe

dangerofcreating

''unrealisticexpectations''.

''This is not asimple thing

anditactuallyrequires quite

alot of research intocapacity

Free Concert

BAND

The

AIR FORCE

ON TOUR

With guest vocalist Matt Mulholland

andpopulation growth.''

A50­yearplan was

prepared as part ofthe

school's earthquakerebuild,

with planning in placeto

expandtoaroll of 1800 if

required.

''Wecertainly have roomfor

growth,aswehavecapacity

for1100, and when we

approachthatwecan putina

newblock which wouldallow

foranother450.

''Fromthe ministry's

perspective,itismorecosteffectivetoadd

more

buildings to an existing

school, rather thanstarting

from scratch andbuild anew

school, where you need an

administration block,

gymnasium andsupport

services.''

RangioraHighSchool is

Sunday21February, 2.00pm

Air Force Museum of New Zealand,

Christchurch

Bookings are essential through Eventbrite.com

beginningthe newschool year

with 1694pupils andhas room

formore, principal Karen

Stewart says.

Last year theschool

consultedwith itscommunity

to prepare aconsultation

document forthe Ministryof

Education,tostartwork on a

newplanfor the

redevelopment of Rangiora

High School.

Theministrywillbe

considering theschool's

existing needs,building

repairsand development,as

well as potentialrollgrowth

andwhere newbuildings can

be built, shesays.

JaredKelly,the principal of

Pegasus BaySchool in

Pegasus Township, saidwhile

it would benicetohave anew

high school ''on our

2095268

doorstep'',the demographics

do notstack up.

''Whenyou look around,

thereappears to be astrong

roll catchment with the

population growth, butthe

demographic coming into

Pegasus is olderand,

typically,the families coming

through arerenters, so they're

transient.

''Butit's trickyfor usto

gauge, because anumberof

parentsmoveout,but still

work in thecity,sotheyoften

taketheir kidsintoschools in

thecity.''

Pegasus Bay School'sroll

jumpedfrom280 to 380 in its

firstyearin2014,but has

sinceplateaued at around450

pupilsover thelastfew years,

''sowe'renot really seeingthe

growth'',MrKellysays.

Kaiapoi Lodge

Residential Care

Nursing Home, Hospital and

Respite

Person Centred Care,

Care that's built

around you

6Cass Street, Kaiapoi

Ph 03 327 7235
---
NEWS

The North Canterbury News, January 28, 2021

3

Close call ... Monday's blaze at Pines

Beach burned through 20 hectares of

vegetation. It forced the evacuation of

several homes. Local resident Nikki

Kohalmi watched flames leap over aroad

and into apaddock.

PHOTO:DAYNA BURTON

Blaze quickly took hold

By ROBYN BRISTOW

NikkiKohalmisays this

week's fire at Pines

Beachshows just how

brutal Mother Nature

can be.

Nikki, who lives

across the road from

wherethe fire started,

watchedflamesleap

over aroad and intoa

paddock.

''They just jumpedthe

road.Itwas scary. Once

the fire was in the

paddock,itwas 'woof'

and it was off —all the

way to the beach.''

Nikkiwas alerted to

the fire by afriend who

saw smokeatPines

Beach, and called her as

he travelled along the

motorway.

''I was watching a

movieand could smell

smoke. WhenIwent

outside and looked

aroundour big hedge,

there it (the fire) was,

right there.''

''It was huge, and

there werepeople

everywhere. Then the

fire enginesarrived,''

says Nikki,who initially

thoughtahouse overthe

road was on fire.She

later realiseditwas a

shed.

''Icould see the

flamesand ahelicopter

flyingover. Iamso

grateful no houseswere

in the path of the fire.''

Nikki was evacuated

''pretty quickly'', and

wasnot allowed home

until 10pmonMonday.

Shewas ''dumbfounded''

over what to

pack, and nervous about

what she mightfind

when she returned to

her Kain Street house.

''I got the dog and dog

food,mywedding

photos, and afew cans

of L&P. Ididn't know

what to take or what to

do.

''Mother Nature is

harsh. Iwas toldIhad to

leave, so in the end Ijust

took the dog, Roxy.''

She warned her

sister, Veronica, who

liveswith her, not to

come home, but when

she got to the park down

the roadshe was there.

The pair lookedonas

helicopters and Fire

and Emergency New

Zealand crews tackled

the blazethat spread

through 20 hectaresof

vegetation.

''Heads up to the

police, the fireservice

andthe Pines Beach

community. Theywere

brilliant, and calm,''

Nikki says.

By Tuesday morning

thefire had been

contained but not

controlled.

Principal Rural Fire

Officer Bruce Janes said

firefightersdid an

outstandingjob. ''Our

crewsfought very

bravelytosuccessfully

protect houses

threatened by the fire.''

Crewsremained

overnight, and 30 staff

continued to workto

extinguish the fire and

deal withhotspots on

Tuesday.

A25­tonneexcavator

was on site.Two

helicopters and afixed

wing waterbomber

were on standby in case

soaring temperatures

and forecast high winds

eventuated. Crews have

remained on site for the

past few days.

Caring for North Canterbury

Dr John Dehn

Full Mole Checks

using Dermoscopy

Surgical Management

and Aftercare

Comprehensive, Affordable, Convenient

Ph 03 9204060

52 Pegasus Main Street,Pegasus 7612

www.pegasusmedicalcentre.co.nz

Southern Cross

Affiliated Provider

For selected services

The Best Little

IndependentShoeStore

in NorthCanterbury

1890742

ProudStockists of

◆ Bresley ◆ BelleScarpe

◆ Minx ◆ TopEnd

◆ Django &Juliette ◆ Cassini

◆ Diesel ◆ Rieker ◆ Woden

◆ JosefSeibel ◆ Ecco ◆ Oli ◆ EOS

◆ Ziera ◆ Alfie &Evie

◆ Merrell ◆ Wild Rhino ◆ CAT

◆ Skechers ◆ Briarwood

TheHomeofGood OleFashioned Service

2325946v1

At risk ... The blaze got perilously close to houses.

PHOTO:NIKKI KOHALMI

Big effort... Eighteen firecrews and four helicopters

were deployed.

PHOTO:DAYNABURTON

Open 7days&Online 24/7

162 High Street,Rangiora|03313 8444

rangiorashoelines.co.nz

Find us /Likeuson ff

Thinking of selling

your ruralproperty?

Iwelcome your call.

PeterCrean

Ruraland Lifestyle Sales

NZ No 1RuralSalesperson

NZ No 1Unit Sales

PGG WRIGHTSON REALESTATEAWARDS2020

M 027 4344002

pcrean@pggwrightson.co.nz

www.pggwre.co.nz

PGG WrightsonReal EstateLimited, licensed under the REAA2008

Helping grow the country
---
NEWS

4 The North Canterbury News, January 28, 2021

NorthCanterbury

AcademyofMusic Inc

32 years of Music Education

in North Canterbury

Instrumental &singing tuition forall ages

Strings,Woodwind,Drums,

Piano,Guitar,Saxophone

Professionalmusicians as tutors

Orchestra|Choir |Celtic

Theory|Ensembles|Concerts

AFFORDABLE & L OCAL

Come&try an instrumentatour

OPEN DAY

Friday5February4-6pm

at theRangiora Town Hall Studios

Entry from carpark

Enrolonline or at the open day.

Closing datefor applications is 8February.

Lessons start week beginning 22 February

www.ncam.ac.nz |enquiry@ncam.ac.nz

RonHazlehurst. Self Portait. 1971

Life ofRon

Photographs from the 60's&70'sbyRon Hazlehurst

Personal encounters with Christchurch townscape, environs and it's denizens.

28 January –14March 2021 Opening 3pm Sat 30January

Artist Talk 2pm Sun 31January

ARTS IN OXFORD GALLERY

Church restoration begins

By ROBYN BRISTOW

Cracked and battered,StPaul's Anglican

Church at Glenmark has sat emptyand

forlorn for adecade.

The church,which has served the

communitysince 1905, was red­stickered

afterthe 2010 Canterbury earthquakes.

Burglars, vandals, weather,rats and

pigeonshave taken theirtoll, with the

church left vulnerablewith cracks to a

wall,damagetothe bell tower and an

entranceway fallingaway fromthe

building.Now, its restoration hasbegun.

Threeworking bees paved the wayfor

RPC Construction to moveinand take over

the site. The first saw vegetation cleared

around the building. At the second, all

screws were removed from pews,while a

thirdgot the furniture intostorage.

The windowswere removed 18 months

ago and are now with an expertrestorer.

The 1906 Normanand Beardorgan,

from England, is alsoonthe move. It rose

skyward on the south wall whichwas badly

damaged in the quakes. It is the firsttime

it has had to leave the south transept.

It is headedfor Timarutobeoverhauled

by the South IslandOrgan Co. Asound can

stillbecoaxed from the organ, whichfor

many years was consideredthe best in the

southern hemisphere, and one of the

largest in acountry church.

All hands on deck ... The heavy reredos, an ornamental screen covering the wall at the

back of the altar, is finally extracted.

PHOTOS: SUPPLIED

It remainedingreat order thanksto

frequent visits from atunerfrom Timaru.

The chairman of the Friendsofthe

Glenmark Church, Andy Munro, said there

wasafair bit of heavy lifting involved in

stripping the interior, with acouple of the

longer pews having to be cut in two.

Attentionisnow beingturned to finding

theremainder of the funds to completethe

church restoration. While there is no

definitive figure stillneedingtoberaised,

he hopes it canbekept to around $200,000

to $300,000.

Thekitty currentlystands at $1.65

million,asubstantialportion of which

came from the New Zealand Lottery

Grants Board.

''It is ahuge relieftoget the project

started,'' Mr Munro says.''There are not

too many brick buildingsleft after the

earthquakes. Alot were demolished.''

St Paul's was consecrated in 1907 with

thebuilding, organ,churchfurniture and

bells costing about £8000. Theywere agift

to the parish by MrsTownendinmemory

of her father, Mr George Henry Moore,

whoestablishedGlenmark Estate.

Tune­up ... The 1906 Norman and Beard

organ is off for restoration.

Open: Thurs -Sun 10am -4pm Closed Mon -Wed &public holidays www.artsinoxford.com

Conundrum... Volunteers discuss how to get an extra large pew out of the church in

preparation for its restoration.

MONDAY FEB 1st

9.30am-2.30pm &5.00pm-6.30pm

LAST CHANCE

TO ENROL

FOR 2021

2021 Year 12 &13Programmes •Pre-professional Programmes
---
Town eyes visitor opportunities

By DAVID HILL

Kaiapoi businesses

anticipate abusy year, after

an uncertain 2020.

The Kaiapoi Promotions

Association (KPA) hopes to

cash in this year on the river

town's growing popularity as

adestination for

Christchurch and Selwyn

residents.

With the recent opening of

the Christchurch Northern

Corridor cycleway and the

freedoms being enjoyed

under alert level 1, KPA

business manager Martyn

Cook is keen to press on with

projects delayed by Covid­19.

The Destination Kaiapoi

Collective, ajoint initiative

between KPA and local

businesses to promote the

town, was ''stalled through

Covid'' but will have a

renewed energy this year, Mr

Cook says.

''It's still an important

initiative because, despite

the local economy surviving

well through the Covid crisis,

there's alot of data

suggesting it won't continue.

''It's an initiative to put

something in place to help

our businesses to be seen,

particularly in

Christchurch.''

KPA plans to continue

working alongside

Enterprise North Canterbury

to implement the new

Waimakariri Visitor Strategy

and to push for funding for

the proposed Wheels to

Day trippers ... Kaiapoi's popularity as adestination is likely to grow this year, with more visitors from

Christchurch and Selwyn.

PHOTO: DESTINATION KAIAPOI

Waipara cycleway project.

Conversations have also

begun with Environment

Canterbury to reinstate

mountainbike tracks around

Kaiapoi, which could bring a

new group of visitors to town,

alongside the new northern

corridor cycleway.

''We see cyclists all over the

place now, so there are plenty

of opportunities for this to

grow to support our

businesses,'' Mr Cook says.

KPA will be watching the

Waimakariri District

Council's Long Term Plan

process with interest,

particularly conversations

around the future of the

Hilton Street site used for the

Kaiapoi Christmas Carnival.

''The council is looking at

proposals for that site and it

has stipulated that it wants a

village green or market space

as part of that proposal.

''Once we know what space

we've got, we can fill it the

best way we can.''

The KPA is also looking at

adding an event for Kaiapoi,

with the prospect of a

buskers' festival in April.

''We're looking at acutdown

version of the old

Christchurch Buskers'

Festival, featuring local

Canterbury street

performers, which people

will be familiar with from the

Santa parades and other

community events.

''All Together Kaiapoi does

an awesome job at running

events, so we are looking at

how we can augment those

events and, in particular, the

big ones.''

Mr Cook sees the Kaiapoi

River Carnival, abuskers

festival and the Kaiapoi

Christmas Carnival as

potentially being three iconic

events for the river town, with

many smaller events in

between.

NEWS

The North Canterbury News, January 28, 2021

5

LAWNMASTERESTATE ESTATE SPECIAL

Was $849

Now $749

Check

Out These

Features:

• NZ Made

• Ball Bearing Wheels

ESTATEECO READYSTART

• Ready Start Engines (no priming)

• Quality Alloy Chassis with LIFETIME Warranty

• 4Year Engine Warranty

• Oiled &Fully Assembled

*Excludes the Estate 400

Save $100 on the

Lawnmaster

Estate range *

360 FlaxtonRoad,Rangiora

Ph 03 313 5563

www.kingsmowersheating.co.nz

The Widest

Music Variety

2187722

Tune in nowtolisten on

104.9 for North Canterbury

103.7 for Hanmer Springs

andKaikoura

2307841

Specsavers

launchesnew

hearinghealth

servicein

Rangiora

ADVERTORIAL

Hearinglossaffects approximately

125,000people in the Canterbury

region and, accordingtoresearch,

it takesNew Zealanders on average

7-10 years to acknowledgetheyhave

hearingloss before takingaction.

At Specsavers, we don't want the

community of Canterburyregionto

wait that long, and that's whyweare

delighted to announce the introduction

of anew audiology servicein-store.

SpecsaversAudiologyRangioraregion

is nowopentohelp with any hearing

concerns, with aqualifiedaudiologist

ClaireStacey onsite to test andcare

for locals'hearing health.

"Once you reach40years old, hearing

checks should beasregularaseye

checks. When youvisitSpecsavers

Rangiora, youwill be providedwith

qualitycareand asolutionbased on

yourlifestyle and budget.Wewill never

recommend hearingaidsifyou don't

need themorsuggestspending more

moneythanyou have to.Prices for our

full rangeoflatesttechnologyhearing

devicesare availableonlineorinstore

so you knowexactlyhow much you

will pay. Ourcomprehensivehearing

assessments arethe startofyour

hearingjourney that we cansupport

along the wayfor years to come,"

Clairesays.

SIGNS YOUORSOMEONE YOU

LOVEMAY BENEFIT FROM A

HEARING CHECK

"Hearinglosscan be incredibly

isolating, and ourability to formand

maintain good social relationships is

important to life satisfactionand good

mental health.Weare innately social

creaturesafter all,"Claire says.

Ourresearchfound that twointhree

NewZealandersaged 40 years and

older knowsomeone whothey think

suffersfromhearing loss.Italsofound

that 83% saytheyhavefeltconcerned

abouttheir ownhearing at some

point in time and of these, the

equivalentto300,000New Zealanders

have feltconcernedabout their

hearingfrequently. That's alot of

conversations missed!

Clairesaysifyou or anyone you know

experiences anyofthe below tell-tale

signs, youmay benefitfromsome

expertqualified advicethat begins

with afree15-minute* hearingcheck

at Specsavers Rangiora.

•Doyou have the TV or radio turned

up louder?

•Doyou find telephone conversations

hard work or find yourselfalways

usingthe speaker option?

•Doyou ask people to repeat things?

•Doyou have difficulty following

conversations in groups of people

or find yourself lipreading?

•Has someone suggestedyou might

not be hearingaswell as you used to?

HOW TO ENSURE YOU PROTECT

YOURHEARING HEALTH

Clairerecommends afew simple

things to help prolongyourhearing.

"Test the noisearound youwith

the 'one metrerule'. If you need to

raiseyourvoice to talk to someone

one metreaway, the sound level is

likely to be hazardous to hearing.

Insist on wearingpersonalhearing

protection such as earplugs,earmuffs

or both remembering that everyday

equipment, such as lawn mowers

andpower tools maybeloudenough

to negativelyimpactyourhearing.

And of course, create aroutine of

getting regular hearingchecks."

Formoreinformation or

to book ahearingcheck,

visit www.specsavers.

co.nz/hearing

Alternatively contact

Specsavers Rangioraon

313 1590.

*This is a15-minute appointment,iffurther testingisrequired afee will be incurred.

NZ_AD1_RANGIORA
---
OPINION

6 The North Canterbury News, January 28, 2021

KAIKŌURA VIEWS

MAYOR CRAIG MACKLE

Nervousness over

the year ahead

Welcome to 2021 everyone. Ihope you

had ahappy holiday season and enjoyed

time with friends and family over

Christmas.

It was great to see the influx of tourists

over the Christmas period.

While there is asense of nervousness

on how the rest of the year will play out,

the Mayors Taskforce for Jobs coordinator,

Sean Madden, has been

working with local businesses,

identifying potential apprenticeships

and employment opportunities for

community members whose jobs have

been affected by Covid­19.

Sean is currently working with 90

clients. Forty casual jobs and 16 fulltime

jobs have been filled since the funding

was announced in August 2020.

This is agreat result and Iurge anyone

looking for work to get in touch with

Sean through Te Hao Matauranga.

The Kaikoura District Council,

runanga, Department of Conservation,

Environment Canterbury, and

neighbouring councils have been

working together to investigate

possibilities for the next stage of the

Jobs for Nature funding.

This joint approach considers the

issues and opportunities facing the

greater region, from the Hurunui to

Marlborough.

There is an awful lot of work going on

behind the scenes at the council.

The team is busy working on the Long­

Term Plan, District Plan and Waste

Management and Minimisation Plan.

This is ahuge amount of work, even for

alarge council, but especially for one as

small as ours.

While there are several unknowns for

our district, including the proposed

water reforms and Covid­19, one of the

advantages of our small team is the

ability to adapt and respond to changing

circumstances, as shown by our reaction

and successful rebuild after the

earthquakes.

Chief executive Angela Oosthuizen

will have her last day on Friday and I

would like to extend my sincere thanks

for all that she and her team have done

to get the district where it is today, after

some huge hurdles.

These are uncertain times and while it

is not easy for many businesses out

there, Ihope you find some time to relax

and connect with friends while the

weather is good.

The need for the `magic fertiliser'

DearEditor,

Hurunui MayorMarie Blackraises

the subject of wasting water by making

the pertinentpoint that 98 percent of

our alpine­fed flow goes straight outto

sea.

Fromababe in arms it seemsmylife

has revolved around water —the lack of

it.

My father came to Waipara in 1935

and his dream of harnessing thatwater

thatcould so easily be stored in Lake

Sumner cameasalegacy. So I'm hoping

thatwhen I'm gone the fire won't go out.

Iknow fromon­the­ground

experience that it is what Iterm the

magic fertiliser —all else is adream

without it.

My experimentalcroppinginthe

1970s proved it. Who can imagine 33

tonnes of tomatoes offtwo acres? And

LETTER TO THE EDITOR

broad beansfor Watties plus manyother

very successfultrial crops?The local

wine production thatpays Treasury

around$20 million ayear?

I've been toldbywitnesses that the

late Sir Max Smith had abig file on

harnessingLake Sumner.Ifear he

added it to abonfire (which Ifilmed) out

of sheer frustration withbureaucracy.

The wholesouthern Hurunui area has

available the very bestwater sourcethat

naturecan supply for towns, electricity

and irrigation—all by gravity.

It is way past time that MainPower got

on board instead of tilting at windmills.

Yours,

John McCaskey,

Waipara

ECan considers options to

open up land for housing

By ROBYN BRISTOW

More land for housing in Rangiora and

Kaiapoi is under the spotlight.

Environment Canterbury is

considering rezoning more land for

housing in the two North Canterbury

towns, and also Rolleston, to help

meet future demand.

Growth scenarios for the region

show there is unlikely to be enough

land for housing in the Waimakariri

and Selwyn districts in the medium

and long term —10to30years.

ECan proposes achange to Chapter

6ofthe Canterbury Regional Policy

Statement that will enable councils to

develop plans and consult with

communities on additional land for

housing, through district planning

processes.

The targeted change will identify

future development areas for urban

housing in Rangiora, Kaiapoi and

Rolleston, and provide guidance for

councils when re­zoning land.

It was notified on January 16 as part

of astreamlined planning process,

with the public able to have asay up

until 5pm on Monday, February 15.

ECan's director strategy and

planning, Katherine Trought, says the

month­long submission process gives

everyone an opportunity to look at the

proposed change and have asay about

the future of housing development in

greater Christchurch.

"Once the submission period is over,

we will carefully consider all the

comments we receive and deliver a

report to the Minister for the

Growth pains ... There is unlikelytobe

enough land for housing in the Waimakariri

and Selwyn districts in the mediumtolong

term.

Environment that will show how the

submissions have been considered

and any recommended changes."

To make awritten submission, view

the proposed change, and find further

information about the planning

process, go to ECan's Have Your Say

page on its website.

New JP clinic in Kaiapoi

Kaiapoi is set to offer anew weekend

justice of the peace service.

The Kaiapoi Library will host a

weekly JP clinic from this Saturday,

January 30, from 10am to 12pm,

alongside its weekly Tuesday clinic.

Kaiapoi justice of the peace Neill

Price says the clinic will be open to

anybody from North Canterbury and

will take the pressure off local JPs.

''It's surprising how many enquiries

we get at night and at weekends, so we

are going to make it available with the

very good co­operation of the staff at

the library.''

Kaiapoi has at least 15 justices of the

peace who are qualified to perform a

variety of tasks, including witnessing

signatures on documents, certifying

copies of original documents,

confirming identities and taking oaths,

declarations, affidavits and

affirmations, Mr Price says.

Other duties include filling out

dissolution of marriage documents and

assisting with foreign documents.

Being ajustice of the peace is

voluntary, with prospective JPs filling

out anomination form from their local

MP's office, then going through an

interview process before training is

provided.

If successful, JPs are then sworn in by

adistrict court judge and issued with a

ministerial manual, stamps and abible,

Mr Price says.

McALPINES MITRE 10 MEGA RANGIORA -OCEAN WATCH

This

Week

Sun

Fishing

Guide

Moon

Wind

Swell

Pegasus Bay

Tide Chart

3

2

1

Good

Thursday Friday Saturday Sunday Monday Tuesday Wednesday

Jan 28 Jan 29 Jan 30 Jan 31 Feb 1 Feb 2 Feb 3

Rise 6:24am

Set 8:58pm

Best

Times

12:36am

1:04pm

Set 5:05am

Rise 8:56pm

Good

Rise 6:26am

Set 8:57pm

Best

Times

1:31am

1:58pm

Set 6:11am

Rise 9:35pm

Ok

Rise 6:27am

Set 8:56pm

Best

Times

2:25am

2:52pm

Set 7:22am

Rise 10:09pm

Ok

Rise 6:28am

Set 8:55pm

Best

Times

Rise 6:30am

Set 8:54pm

Rise 6:31am

Set 8:52pm

Rise 6:32am

Set 8:51pm

Moderate SE turning

Gentle E Moderate Sturning Moderate Ebecoming

Gentle SE becoming

Gentle SE

E

strengthening

SE

fresh NE

Moderate E

moderate E

strengthening

E0.8 mturning

SE SE 1.1 m SE 1.2 m SE 1.0 m E1.1 m E0.9 m NE 1.3 m

3 6 9 NOON 3 6 9 3 6 9 NOON 3 6 9 3 6 9 NOON 3 6 9 3 6 9 NOON 3 6 9 3 6 9 NOON 3 6 9 3 6 9 NOON 3 6 9 3 6 9 NOON 3 6 9

3:18am

3:43pm

Set 8:35am

Rise 10:39pm

Ok

Best

Times

4:08am

4:33pm

Set 9:48am

Rise 11:05pm

Ok

Best

Times

4:58am

5:22pm

Set 11:02am

Rise 11:31pm

Ok

Best

Times

5:47am

6:11pm

Set 12:15pm

Rise 11:57pm

0

Highs Lows Highs Lows Highs Lows Highs Lows Highs Lows Highs Lows Highs Lows

Waimakariri 5:11am 2.3 11:28am 0.7 5:55am 2.3

6:40am 2.4 12:29am 0.5 7:28am 2.4 1:16am 0.5 8:17am 2.4 2:04am 0.4 9:08am 2.4 2:53am 0.4 10:01am 2.4 3:45am 0.4

Mouth

5:28pm 2.2 11:42pm 0.6 6:14pm 2.2 12:13pm 0.6 7:03pm 2.3 12:58pm 0.5 7:53pm 2.3 1:45pm 0.5 8:44pm 2.3 2:33pm 0.5 9:37pm 2.4 3:23pm 0.5 10:30pm 2.4 4:15pm 0.5

Amberley 5:11am 2.3 11:28am 0.7 5:55am 2.3

6:40am 2.4 12:29am 0.5 7:28am 2.4 1:16am 0.5 8:17am 2.4 2:04am 0.4 9:08am 2.4 2:53am 0.4 10:01am 2.4 3:45am 0.4

Beach

5:28pm 2.2 11:42pm 0.6 6:14pm 2.2 12:13pm 0.6 7:03pm 2.3 12:58pm 0.5 7:53pm 2.3 1:45pm 0.5 8:44pm 2.3 2:33pm 0.5 9:37pm 2.4 3:23pm 0.5 10:30pm 2.4 4:15pm 0.5

5:20am 2.3 11:37am 0.7 6:04am 2.3

6:49am 2.4 12:38am 0.5 7:37am 2.4 1:25am 0.5 8:26am 2.4 2:13am 0.4 9:17am 2.4 3:02am 0.4 10:10am 2.4 3:54am 0.4

Motunau 5:37pm 2.2 11:51pm 0.6 6:23pm 2.2 12:22pm 0.6 7:12pm 2.3 1:07pm 0.5 8:02pm 2.3 1:54pm 0.5 8:53pm 2.3 2:42pm 0.5 9:46pm 2.4 3:32pm 0.5 10:39pm 2.4 4:24pm 0.5

5:22am 2.3 11:39am 0.7 6:06am 2.3

6:51am 2.4 12:40am 0.5 7:39am 2.4 1:27am 0.5 8:28am 2.4 2:15am 0.4 9:19am 2.4 3:04am 0.4 10:12am 2.4 3:56am 0.4

Gore Bay 5:39pm 2.2 11:53pm 0.6 6:25pm 2.2 12:24pm 0.6 7:14pm 2.3 1:09pm 0.5 8:04pm 2.3 1:56pm 0.5 8:55pm 2.3 2:44pm 0.5 9:48pm 2.4 3:34pm 0.5 10:41pm 2.4 4:26pm 0.5

5:13am 1.8 11:29am 0.5 5:58am 1.8

6:44am 1.8 12:28am 0.4 7:32am 1.9 1:16am 0.4 8:21am 1.9 2:05am 0.4 9:13am 1.9 2:57am 0.4 10:07am 1.9 3:50am 0.3

Kaikoura 5:34pm 1.6 11:41pm 0.5 6:21pm 1.7 12:14pm 0.5 7:08pm 1.7 1:01pm 0.4 7:58pm 1.7 1:49pm 0.4 8:48pm 1.8 2:39pm 0.4 9:40pm 1.8 3:30pm 0.4 10:33pm 1.8 4:23pm 0.4

*Not for navigational purposes. Wind and swell are based on apoint off Gore Bay. Maori Fishing Guide by Bill Hohepa. www.ofu.co.nz www.tidespy.com Graphic supplied by OceanFun Publishing Ltd.

2118223
---
NEWS

North Canterbury News, January 28, 2021

Ewe sale exceeds all expectations

By SANDRA TAYLOR

7

Top rams sold for$4000while

full­shedding two­tooth ewes

made up to $375 at the

inaugural Mt Cass Station

Wiltshireram and ewe salelast

week.

Buyers fromaround the

countrycompeted strongly for

the 3444 Wiltshires on offer,

reflectingthe growing interest

in the low­input, shedding

sheep.

Alongside the Mt Cassrams,

lambs, two­tooth and annual

draft ewes on offer were twotooth

ewes fromHartsCreek

farm at Leeston and two­tooth

ewes and lambsfrom Waitui

Holdings in the Marlborough

Sounds.

All lines soldstrongly, with

the average pricefor fullshedding

Mt Cass two­tooth

ewes being$347.

The station's ewe lambs

averaged $210, with the top

lines making$270. Annual

draft ewes averaged $230.

Mt Cass's 48 rams all sold

with an average price of $1670.

The Mt Cass shareholders

said they could not be happier

with their firstsaleofMtCass

Wiltshire genetics.

"Stock are being trucked to

new homes from Kerikeri in

Northland to North Otago, and

we are delighted with three

significant volume sales into

the NorthIsland.''

They saidthe sale wasa

culmination of more than 12

years' workdeveloping asheep

suitable for the needs of the Mt

Cass organic programme.

Great prices ... Mt Cass two­tooth Wiltshire ewes sold for $375 each. PHOTO: SUPPLIED

''Ourteam is buzzingwith

the support and interestshown

in our firstsale."

Mt Cass covers 1800 hectares

of hill countrynear Waipara.

The Wiltshires, with their

inherent internal parasite

resistance and resilience,

come into theirown in the

farm's low­input, organic

system.

The sheep do not need

shearing, dagging or crutching,

and they do not get flystrike.

Thisresults in significant

savings in shearing,labour and

agrichemical costs.

Mt Cass started its Wiltshire

studtomeet agrowing demand

for the genetics, and the shareholders

saythere has been

growing interestinWiltshires

fromfarmers frustrated by

ongoing depressed wool prices

and the work associated with

woolproduction.

The progressiontoanoshearflock

is quiterapid and,

withinacouple of generations,

crutching, dippingand

flystrike is eliminated. Within

three to four generations, so

too is shearing.

While theydonot produce

wool, the Wiltshireare good

meat producers, and Mt Cass

weans 135­145percent off the

hill country.

About 40% of the Mt Cass

lamb crop is sold prime pre­

Christmas at a16.5kg to 17.5kg

carcass weight.

•Stop, Rest and Revive

•Exceptional Service

•Licensed

•Open 7Days

Monday -Thursday 8am –4pm

Friday -Sunday 8am –5pm

Main Rd, Culverden

Ph 03 315 8492

2350412

Quality Collision Repairs in the

Heart ofAmberley

• Competitive Rates • Insurance repairs

• Free Quotes • Courtesy Vehicles

• Free Pick up and Delivery

105 Carters Rd, Amberley

Ph:314 8434

E: office@amberleycollision.co.nz

2333673v1
---
Love the

Freedom

Readytorelax in aworry freehome?

Summersethomes arewarm, modern anddesigned with

everything youcouldneed forthe perfectretirementlifestyle.

There'snoneed to worryabout maintenanceand upkeep.

Youhavethe freedom to choose if youwanttomakeyour

garden your own, or if you'dpreferustotakecareofit.

Like to holiday? Lock up andleave your home, knowing

everything is safe while youenjoy your next adventure.

It's allabout loving thelifeyou choose.

ThinkSummersetlivingsoundslikeyou?Visit Summerset

at Avonhead duringour Open Day, Sunday 31 January,

between10amand 4pm.

Open Day

Sunday31January

10am-4pm

SummersetatAvonhead

120Hawthornden Road,

Avonhead

To find outmorecallAnneor

Graceon03357 3202

*Licence to occupy.

We'd love to take youonatourofour beautiful village and

showhomes.Wehaveplans andpricing availabletoview

andwe're sure you'llmeetsomeofour wonderfulresidents

along theway!

To orderyour free informationpack

visit summerset.co.nz

SUM2721_37X8
---
Woodend enjoys post-lockdown buzz

By DAVID HILL

Woodend retailers have enjoyed abusy

summer afteranuncertain 2020.

Businesses spoken to by North

Canterbury News say they feel well

supported by theircommunity and are

optimisticabout the future.

Canterbury Hondaowner Ted Marris

says his business, basedonMainNorth

Rd, has been busyinrecentmonths.

''Farmers areour mainbusiness and

they just keep on farming.''

Mr Marris says trafficvolumeshave

increasedsignificantly on Main North Rd

sincethe earthquakes,soheis in favour of

the proposed Woodend bypass.

''It won't impact on our business too

much because our customers are coming

here anyway.But it can be quite

dangerous tryingtoget across the roadand

it can be areal pain for farmers trying to

get in and outwith trailers.''

Woodend Automotive owner Dave Ollis

says business has beenstrongsincehe

reopened afterthe lockdown, with

customers''coming from farand wide''to

get their carsserviced.

''There's been alot of growtharoundthe

neighbourhoodand Ithinkpeople

appreciategood service.''

Mr Ollis recentlytook on another person

Traffic flows... High traffic volumes have

kept Woodend businesses busy this summer.

10th Anniversary Open Day

TūhaitaraCoastal Park

WHERE: WOODEND BEACHDOMAIN

WHEN: SUNDAY 31 st January10am-2pm

ThisisaFREE event!

to help keep up with the demand.

With the populationgrowth in the area,

both Mr Marris and Mr Ollis say they

would be in favour of building new

infrastructure to support the growth in the

Woodend, Pegasusand Ravenswoodarea,

such as anew community centre, libraryor

high school.

WoodendBakery owner Serey Chum

says his bakeryhas been busy since

lockdown. ''With Covid we shut the door

and struggled for business, but after we

opened the peoplecame backbecause

they'restill hungry.''

Mr Chum ownsbakeries in Sockburn

and Aorangi in Christchurch,but enjoys

the drivetoWoodend each day. ''Woodend

is nice and quiet and everyone is happy.

The people are very friendly.''

He has had goodsupport from local

people,while there have beenplentyof

visitors fromChristchurch and the North

Island who ''stop for coffee and food and

go on their way''.

Grub Hub Cafe owners MichaelYan and

Zora Gu say they have agrowing

reputationand claim Waimakariri Mayor

DanGordonand MP MattDooceyamong

their regular customers. ''Businessisgoing

Join us foraveryspecial daycelebrating

conservation andcommunity with activities

forthe wholefamilyincluding

Local stop ...

The Grub Hub

Cafe owners

Zora Gu and

Michael Yan

enjoy

supporting the

local

community.

PHOTOS:DAVID HILL

well and it's picking up,'' Mr Yansays.

''We're been getting goodsupport from

localpeople.It's anicetime to be in

business in North Canterbury. It's getting

bigger all the time.''

2349455

Woodend

Firewood

6m Blue Gum $660

6m Pine $480

6m Old Man Pine $540

Mix load 4ofPine,

4ofBlue Gum $760

Minimum load of 4m, max of 8

Delivered Woodend, Rangiora,

Kaiapoi

Phone 027 312 7179

Losing interest

in your bank..?

WOODEND

North Canterbury News, January 28, 2021

9

• WOF • Service

• Wheel Alignment

• Tyres

• Automotive Repairs

56 Main North Road, Woodend

03-312 7703

www.woodendautomotive.co.nz

PAINTERS

RegTradesman • Interior,exterior.

North Canterbury Painters

specialising in decorating for

over 65.

Discounts

for Seniors

Free quotes.

Covering North Canty,Oxford,

Kaiapoi, Rangiora, Amberley.

Ph Rob 03327 7899

or 027 432 3520

2289726

BloomfieldCourt

Homelysettingproviding

personalised care,delicious

home cooked meals &rooms

with alovelygarden outlook.

Privatelyowned and

operatedwithin the heartof

NorthCanterbury.

134 Rangiora-Woodend Road,Woodend

Forfurther information phone Lyn-Nurse Manager 03 312 7088

Email: nmbloomfield17@gmail.com www.eldernet.co.nz/bloomfieldcourt/

2269513

2349302

• Live music, community muralpainting, weaving

wananga, native bird treasure hunt,guidedwalks,

photostudio, stallholders...and more!

FRIENDSOFTUHAITARACOASTAL PARK

2350141

2350142

…relax

We can help

David Petre

Authorised

Financial Adviser

T0800565 321

M027 230 2856

david@nuviewwealth.co.nz
---
AMBERLEY LIONS SURFCASTING COMPETITION

10 The North Canterbury News, January 28, 2021

Big fish prove elusive in fishing contest

By ROBYN BRISTOW

Fishytales and camaraderie were in

abundance at the Amberley Lions

Surfcasting Competition on Sunday.

Atotal of 250 fishers registered, 41 of

them children. It was the second largest

number of registrations in the event's

28­year history. Unfortunately not many

fish came to the party during the contest at

Amberley Beach, organised by the

Amberley and District Lions Club.

Fishing was poor compared to last year,

but it didn't deter fishers wholined the

beachfor 3.2km to lure the longest fish,

and snare the $1000 top senior prize.

In the end, that honour went to Ben

McGill with a980mm stingray. Felix

Anderson won the junior title with a

653mmdogfish.

Alan Rhodes, of Rangiora, who usually

goes net fishing in the estuary, decided to

enterfor fun. ''But,Ithink Iamjust

feeding the crabs,'' he said. ''I havecaught

areal collection of them.''

Dean Lamport of Christchurch last

enteredback in the 90s.Heboughtnew

gear,but it did notseem to help.

The Walkerfamily, 17 in in total,had a

greatday at the beach, with two of them

fishing while the kids enjoyed the surf.

Winning catch ... Ben McGill, left, won the senior section of the surfcasting

competition at Amberley Beach on Sunday, catching a980mm stingray. He is with

contest organiser Simon Mather.

PHOTO: SHANE JONES PHOTOGRAPHY

Chasing the bigone ... Alan Rhodes, of Rangiora,

with his bucketofbait, and acrab he caught whichhe

was about to return to the sea.

PHOTO:ROBYN BRISTOW

Waiting patiently ...

Fishers make themselves

comfortable on the water's

edge as they wait for a

bite.

PHOTO: ROBYN BRISTOW

Time out ... Hinearangi Walker, aged 3, of Christchurch, enjoys an

iceblock after taking an untimely dip when arogue wave wet her.

PHOTO: ROBYN BRISTOW

Watching the waves ... Five of the 17­strong contingent from the Walker family,

from Christchurch, enjoy the surf.

PHOTO: ROBYN BRISTOW

Competition time ...

Fishers lined Amberley Beach for 3.2km.

PHOTO: NICK +KIRSTY PHOTOGRAPHY

On the hook ... Felix Anderson was the junior

winner, with a653mm dogfish.

PHOTO: SHANE JONES PHOTOGRAPHY

Keen fishers ... Atotal of 250 tried their luck.

PHOTO: NICK +KIRSTY PHOTOGRAPHY
---
RANGIORA

TIDY UP THE

SECTION

RANGIORA

100% LOCALLY

OWNED &OPERATED.

If youfind alower priceonanidentical stocked productlocally,wewill beatitby15%

If youfind the same productfromanother Mitre10store or Mitre10website, we'll match thatprice. Excludes trade and special

quotes,stock liquidations and commercial quantities.The in-storepricemay be lowerthan thatadvertised.
---
RANGIORA

TACKLE

THELAWNS

12

MONTHS

INTEREST FREE

onpurchases $299 -$798

FINANCE OPTIONS

AVAILABLE

20% deposit

Paycash priceonly

No booking or insurancecharge

or 24 MONTHS INTEREST FREE on purchases $799 &over

Terms,Conditions &Credit Criteria apply
---
When youshop at McAlpinesMitre 10 MEGA Rangiora, youcan spend your AirpointsDollars

by paying in partorinfull when youspend $75 or moreinasingle transaction.

NEWSEASON

OUTDOORFURNITURE

RANGIORA

100% LOCALLY

OWNED &OPERATED.

If youfind alower priceonanidentical stocked productlocally,wewill beatitby15%

If youfind the same productfromanother Mitre10store or Mitre10website, we'll match thatprice. Excludes trade and special

quotes,stock liquidations and commercial quantities.The in-storepricemay be lowerthan thatadvertised.
---
High quality top priority for

Abel Garage Doors

Providing high quality New Zealandmade

garage doors is atop priority

for Hamish Gearry,the owneroperator

of Abel Garage Doors.

The stylish garage doors he

supplies add to the look, security and

value of his clients' properties and

come with atwo-year warranty,on

the doors and motors.

Hamish has more than thirty years

experience installing garage doors,

doing residential and commercial

work, including installations, repairs,

maintenance and preventative

service work.

He services awide area, covering

Christchurch and North Canterbury,

including Kaikoura. He gives free

quotes and consultations and

specialises in delivering tailor-made

solutions for his clients.

"Wetake the time to ensure that we

discuss all your options and find the

most suitable door for your home or

business," he says.

"Our friendly team can help you

make an informed decision. We will

inspect your garage and fittings,

answer your questions, and find a

solution tailored to your particular

needs," he says.

"Weoffer afast, friendly and

efficient service."

Abel Garage Doors can provide

sectional, roller and tilt doors all

made with top quality New Zealand

steel and Italian-made motors,

plus Cedar garage doors, supplied

by Christchurchrch company

Magnum Doors, are

also available.

Hamish can

also supply

and install

automatic

door

openers for

sectional,

tilt and

roller doors.

This includes

replacing

motors and

new automatic

door opener

installs.

Outdoor

Living

Hamish Gearry, owner-operator of Abel Garage Doors.

"We

professionally

service nearly

everybrand of

residential and

commercial garage

door opener," Hamish

says.

He is available 24/7 for

emergency work and can do

quotes for insurance work.

Abel Garage Doors is based in

Belfast. Hamish can be contacted

for garage door requirements by

phoning him on: 027 207 6128, or

03 310 6577, or emailing him at

hamish@abelgaragedoors.co.nz.

Landscaping

Free Quotes

Phone 027 537 2733

or 03 327 6850

www.easylawn.co.nz

2325172v1

Residential and Commercial

Installation, Repairs, Maintenance &Alterations

Services we offer for all door types:

New Garage doors: Sectional, Roller,Tilt &

Cedar

Partsand Maintenance

Door Upgrades

Supply and install automatic door openers for

sectional tilt &roller doors

Phone 027 207 6128 |03310 6577

hamish@abelgaragedoors.co.nz

www.abelgaragedoors.co.nz

2257749v1

Don't know where to start orhow to do it?

Gardens &Lawns doing their own thing –

not your thing?

Property maintenance falling behind?

No time for life on alifestyle block?

CALL IN THE EXPERT

LET AL-MOW AND MORE FOR YOU!

Regular maintenance or one off work

No job too big or small

Call Al Today!

P: 021 249 9495 |E:al@almows.co.nz

www.almows.co.nz

2325634v1

Day Bros Painters and Plasterers are able to

handle your whole job -Nomore dealing with two

different trades!

We offer free quotes and service Canterburywide.

Residential and commercial properties.

We specialise in:

painting

plastering

roof spraying

specialised coating systems

airlessspraying

water blasting

Local, family owned business who has been in

business for over 30 years.

Members of master painters.

Please contact Brett for afree quote

on 0275 340 878

Email: office@daybrospainters.co.nz

www.daybrospainters.co.nz

2324391

Need aQuality Builder in Kaikoura, Hanmer

&Hurunui? Full Builds, Extensions and Repairs

We have offices based in Rotherham and Kaikoura.

Jobs Large and Small

We are happy to help!

Contact us today for a

quote or to discuss

your next project

AUTOMOWER ®

Your local authorised Husqvarna Dealer:

7models to choose from

including the below models

2325750v2

BGBeaven Builders

03 315 6346

www.hurunuibuilders.co.nz

wbeaven@amuri.net

275Flaxton Road,Southbrook

Ph: 3136640|sales@brandmowers.co.nz

2314491v4
---
AMBERLEY TROTTING CLUB

RANGIORA RACECOURSE

Mon 8Feb

AMBERLEY

TROTTING CLUB

Agreat day of racing and family fun promised

Head to the Rangiora racecourse

on Monday, February 8, for afunfilledfamily

day.

The Amberley Trotting Club is

hosting its annual race day at the

course, along with goodoldfashioned

fun, games and

competitions for young and old.

The Amberley committee is

determined that 2021 will get off

to an entertaining and fun start,

as peopleput 2020 behindthem.

Entry is free,allowing people

to see some greatracingand

enjoy local hospitality.

The Amberley Club will once

again host some of the bestgrass

track horsesand drivers in

Canterbury. There will be

competitivefieldsand exciting

racing, withthe feature once

again being the 2021 Rangiora

EquineServices Amberley Cup.

There will alsobetwo heats of

the ever­popular Kids Carts

races for up­and­coming young

drivers in Canterbury.

There is plenty happening off

courseaswell.

In the Amberley JuniorDrivers

Kids area, children's entertainer

Neville Barrywill put on his

popular show. There will be a

bouncycastle,pony rides, alolly

scramble, sack races, atug­of­war

and running races—all free.

The Lucky Horseshoe draw

returns, where 15 lucky children

will be drawn during the day to

win great prizes, includinga$500

Interislander Travelvoucher.

John McCabe will onceagain

be the on­course entertainer.

There will alsobe''Telfers

MysteryEnvelope'', with five

Close finish ... Blair Orange, driving Cast No Shadow (outer), winning the Rangiora Equine Services Amberley Cup at the Amberley Trotting Club's

annual meeting at the Rangiora Raceway last year. Homebush Lad, inner, driven by Ben Hope, was second with Just Holla, third.

PHOTOS: SHELLEY TOPP

peoplebeingdrawn and given

the chance to pick fromfive

envelopes,all withaprize.

The mainprizeisa49­inch

Panasonic4KLED TV, wall

bracket and soundbar with a

subwoofer, worth$1350.

Entering the drawisaseasy as

buyingaracebook, filling out the

entry inside, and popping it in

the entry barrel.

There are wireless headsets,

and Oakley sunglasses also up for

grabs.

Race­day packages are also

available which consist of

catered and/or uncatered

10­person marquees and

reserved car parks,near the

racingaction.

Contact Warwick Duke on (027)

323 6849 for further details or

visit amberleytrottingclub.co.nz.

Having fun ... Harley Marsh, of Belfast,

took part in the InterIslander Tug of War in

the birdcage at last year's meeting.

Busy day ... Robbie Close, winning driver of Claus, in race

seven last year, with his sponsor Adam White. Both men are

also on the Amberley Trotting Club committee. Claus was

trained by Regan Todd at Woodend Beach.

RANGIORA

RACECOURSE

Monday 8February 2021

AMBERLEY

TROTTING CLUB

2346876
---
NEWS

16 The North Canterbury News, January 28, 2021

End of an era ... Workers dismantle signage from Waimakariri MP Matt Doocey's

electorate office at 156B Williams Street to make way for the opening of anew office

close to the Kaiapoi Marina.

PHOTOS:SUPPLIED

Old MPs' office has

many stories to tell

By ROBYN BRISTOW

Amove to anew Kaiapoi premises

has Waimakariri MP Matt Doocey

taking awalk back in time.

Kaiapoi residents have been

coming through the shop front of

156B Williams Street for help from

their local MP since Mike Moore

first set up the office in 1996.

But Mr Doocey is breaking with

tradition and moving to anew office

closer to the river.

He says the move to the heart of

Kaiapoi is part of achange to reflect

the river town's exciting and vibrant

new spaces.

Over the years, 156B has housed

four members of Parliament, who

settled into the space with very little

change, except for achange in party

affiliation.

''The baton has been passed from

Mike Moore to Clayton Cosgrove to

Kate Wilkinson, and Imoved in after

being elected in 2014.''

Mr Doocey said, when packing

began, the team became aware of an

old sticker on the shared power

board that is still labelled for Mike

Moore.

''An old press cutting dated

October 16, 1996, announces the

start of the very first three­year MP

lease, to cover the parliamentary

term.''

Mr Doocey says he is looking

forward to welcoming residents to

his new office.

''While we wait for the fitout to be

completed, residents can continue

calling (03) 327 0514 for assistance,"

he says.

Ghost from past... Asticker on the power

board still refers to formerMPMikeMoore.

Freight Free for purchases over $100.00

AUTHORISED NZ STOCKISTS OF LEADING POWER TOOL BRANDS

Amberley

59 Carters Road

Ph 03 314 7007

amberley@thetoolshed.co.nz

www.thetoolshed.co.nz

2241178
---
TRILLO METALS MUSCLE CAR MADNESS

The North Canterbury News, January 28, 2021

17

Smoking ... The burnout pad was a

drawcard during Muscle Car

Madness at the Rangiora A&P

Showgrounds over the weekend.

PHOTOS: SHELLEY TOPP

The victor ... Miss Rockabilly winner Francesca

Pasco, of Christchurch, during the Retro Rockabilly

Pageant last Saturday.

Eye­catching ... Uncertain T, a1923 Ford TBucket owned by Martin and Marion Bennett,

of Cambridge, was the star of the show.

Burning rubber ... Action during the

burnout competition on the first day of

Muscle Car Madness.

Stylish look ... Retro Rockabilly Pageant contestant Molly

Pomeroy, aged 13, of Christchurch.

Fun­filled weekend ... Muscle Car Madness organiser Craig Stare, left,

with the winner of the men's section of the Retro Rockabilly Pageant, ''Mr

Fox'', Frank Newton, of Christchurch.

Touring in style ... A1928 Model A

Roadster pick­up truck made ahandy house

truck, well kitted out for holiday road trips.

Sea of cars ... The event drew enthusiasts from all over the

country.

Black beauty ... A1930 Ford Roadster on display.

Plenty of power ... Acustomised Mini

with aV8under the bonnet.
---
NEWS

18 The North Canterbury News, January 28, 2021

Big plans for sports hub

An updated clubhouse,

recreational tracks and

extensive landscaping are part of

an ambitious 20­year strategic

plan for the Mandeville Sports

Club's 80­hectare home.

Club chairwoman Anne

Prattley says the reserve is an

integral part of the growing

community and provides quality

sport and recreation facilities for

the Waimakariri District.

It caters for 13 sports and

leisure clubs, and hosts some of

North Canterbury's biggest

annual community events.

Despite this, many people still

didn't know it existed.

''We need to let people know

we are here, what clubs we have,

and that we provide awelcoming

space for the community to

enjoy,'' she says.

The strategic plan has been

compiled by NTM Consulting

with the support of Sport

Canterbury, the Rata

Foundation, the Waimakariri

District Council and the clubs

based at the grounds.

The club hopes it will help the

reserve, which is owned by the

council, become self­funding.

It lays out ablueprint for

current and future Mandeville

Sports Club's boards of

management, while promoting

recreation and leisure areas for a

Eye to the

future ...

Mandeville

Sports Club

chairwoman

Anne Prattley,

with the

club's

groundsman,

Richard

Belcher,

outside the

clubrooms in

Mandeville.

PHOTO: SHELLEY TOPP

variety of groups and people.

Improved facilities for women,

and providing fitness and indoor

facilities for recreation and

leisure are promoted in the plan.

Awi­fi upgrade, aclubroom

revamp plan and costings,

signage in te reo, apartnership

with local iwi, and the

establishment of amonthly quiz

evening are some of the

outcomes the club is aiming for

by 2023.

Meanwhile, anew toilet block

near the equestrian area of the

reserve is due to open early next

month.

Richard Belcher is the fulltime

manager and groundsman.

This is Going to Hurt, by Adam Kay

Afrank account of the author's time on

the front line of Britain's National

Health Service. Hilarious, horrifying

and heartbreaking.

7Ways, by Jamie Oliver

Jamie shares seven achievable,

exciting and tasty ways to cook 19

ingredients. Each recipe will have no

more than eight ingredients within it.

At least five recipes will be everyday

options from both an easy and nutritional point of view,

meaning you're covered for every day of the week.

Tooth and Veil, by Noel O'Hare

In 1921, when the School Dental Service was established,

New Zealand embarked on aunique

social experiment: improving the

terrible state of the nation's teeth. The

service was run like amilitary

operation and the all­female dental

nurses were treated like foot­soldiers:

underpaid, overworked and poorly

resourced. Eventually, they rebelled.

Friends Indeed: Assist Dogs and their

People, by Sue Allison

This book tells the stories of dogs

working in assistance roles, helping

their human friends when they are most in need. The dogs

in these pages have saved lives and

allowed lives to be fully lived.

The Great Escape from Woodlands

Nursing Home by Joanna Nell

At nearly 90, retired nature writer

Hattie Bloom prefers the company of

birds to people, but when afall lands her

in anursing home she struggles to cope

with the loss of independence and

privacy. From the confines of her 'room

with aview of the carpark, she dreams of

escape.

These titles are available in both Waimakariri and

Hurunui libraries. Find out more about recent additions

to the library collection by going to the library catalogue

at waimakariri.kotui.org.nz or hurunui.kotui.org.nz or

contact your local library.

Do youwantyour

business to be the

name theyremember?

JOIN US NOW!

See website for details

And reach

47,000 readers?

Source 2018 Nielsen Readership research all people 10+ NCN Circulation area

Phone 03 314 8335 or

email info@ncnews.co.nz

to find out howwecan help you.

Sign uptoSmart Deals &beinthe monthly draw for a$100 Dress-Smart gift card!

Open 10am-5pm, 7Days 03 349 5750

CHRISTCHURCH 409 Main South Road, Hornby

www.dress-smart.co.nz
---
Toys libraries offer

affordable option

Toy libraries are alow­cost way for

families to access the latest toys.

There are active toy libraries all

over North Canterbury that are run by

volunteers. They allow families to

borrow toys without the big expense.

The Kaiapoi Toy Library is open on

Saturdays from 10.30am to 12.30pm

and offers two levels of membership,

depending on whether parents have

time to help with library duties.

Toy hire is free once families have

paid their annual subscription,

committee member Erin Harvie says.

''We're alittle bit unusual because

we don't charge an additional fee for

toy hire, which makes it abit easier for

families.

''And we are open during the school

holidays, except over the Christmas

period.''

The Kaiapoi Toy Library also has a

bouncy castle, and party packs are

available for hire to help with

children's birthday parties.

To find out more, visit the group's

Facebook page, send an email to

kaiapoi.toy.library@gmail.com, or go

to kaiapoitoylibrary.mibase.co.nz.

There are other North Canterbury

toy libraries at Amberley, Amuri,

Cheviot, Cust, Hanmer Springs,

Hawarden/Waikari and Rangiora.

Most can be found on Facebook.

Playtime ... Children enjoy playing with

the toys at the Kaiapoi Toy Library.

PHOTO: SUPPLIED

Woodend Toy Library is now closed,

with its toys relocated to the Rangiora

Toy Library.

EARLY CHILDHOOD EDUCATION

The North Canterbury News, January 28, 2021

Afun, safe

environment

With school abouttostart back,families

will be looking for things to do with the

littlies.

The Amberley Playcentre offersasafe

environmentwhere childrenaged 0to6

yearscan grow in confidence by exploring

theirimaginationthrough play and

interactionwith otherlittle ones.

Amberley Playcentre, one of the oldest

in the country,turned 75 in 2019.

Activities for childrenrange from

building sandcastles, baking biscuits,

painting,singing, and workingwith wood,

to cuttingshapes in playdough.

"I like making play dough,then playing

with the play dough and Ilove the sandpit

and trucks,"says Leo, aged 4.

"The swings and also working in the

sandpit. Thoseare my two favourite parts,"

says Jack, aged 4.

Each Friday the Amberley Playcentre

runs ''babies and me sessions'', aimed at

under­2s, witholder siblings welcome to

join in thegeneral session.

The centre, at Chamberlain Park,is

open on Tuesdays, Wednesdays and

19

At play ... Children learn through play at

the Amberley Playcentre.

PHOTO: SUPPLIED

Fridays from 9.15amto12.15pm.

For more information, visit the

Amberley Playcentre page on Facebookor

emailamberleypc@gmail.com.

Thereare other playcentres at Ashley,

Clarkville, Culverden, Cust/West Eyreton,

Hanmer Springs,Leithfield, Kaikoura,

Oxford, Rangiora,Waiauand Woodend.

Each can be found on Facebook.

Food safety rules enacted

Sausages, cherrios, whole nuts and

popcorn,are out, as the Ministry of

Education moves to minimise the risk of

children choking while eatingatearly

learning centres.

New food rules for early childcare

centres which aim to prevent choking

came into force this week.

They mean centres whichprovidefood

are no longer allowed to give children

nuts, large seeds, hard or chewy lollies,

crisps, hard rice crackers, driedfruit,

sausagesorsaveloys, popcorn and

marshmallows.

Small hard foods such as raw apple or

carrot has to be grated if raw or cooked

until soft and cut into strips.

Stonesand large seeds must be

removedfrom fruit, including

watermelon, while grapes, berries and

cherry tomatoes must be quartered or

finely chopped. Peas must be cooked and

squashedwith afork for under­3s.Whole

cooked peas are acceptablefor older

children.

Skin mustberemoved from chicken,

while stone fruit, apples,pears and

tomatoes and raw salad leaves must be

finely chopped.

Meat must be cooked until very tender

and minced,shredded or finely chopped.

Services that do not provide food are

required to promote the guidance to all

parents.

Ministry of Education spokeswoman

KatrinaCasey says the rules are designed

to keep young children safe.

Before the change, early learning

serviceswere encouragedtofollow the

Ministry of Healthguidanceonfood

provision. Now it will be compulsory.

Children are requiredto be seated and

supervised while eating, and early

learning services thatprovide food must

ensure it is prepared in accordance with

the ministry's guidance.

Beautifully designed and

well resourced with the latest

equipment and plenty ofoutdoor

space, Active Explorers Kaiapoi is

the childcare centre ofchoice for many

local families.

Our passionate and committed teachers

deliver the very best care and

educational opportunities -soyou

can rest easy in the knowledge that

you've made the right choice.

KAIAPOI

PRIVATE

TUTOR

North Canterbury

2320037

20 HOURS FREE ECE

Pre-school and nursery 0-6 years

Excellent child/staff ratios

Exciting and caring environment

Hours 7.15am-6.00pm

Welcome Special for new enrolments,

where the first 4weeks are FREE

48 Church Street, Rangiora

Phone (03) 313 5675

www.firstlearners.co.nz

Aqualified highly experienced and skilled educator who

offers…

•creative, specialised lessons designed to accelerate

reading, writing and/or numeracy success.

•responsive and personalised to your child's specific

learning and emotional needs.

•evidence based strategies that empower confident,

capable learners.

•mobile and flexible meeting options within most

North Canterburyareas.

•affordable pricing options to suit.

• FREE first session to meet, share and set goals!

Action Stations Learning is adifferent hands on

approach to exploring literacy and numeracy that works

with the brain through movement, choice, and focusing

on connections. Created for primaryschool children

but also to ignite learning minds in older children.

Very limited spaces, so book early

Phone or text 027 89 666 76

www.actionstationslearning.com

2349452

Book acentre tour today!

03 662 9067 |306 Beach Road, Kaiapoi
---
STOREWIDE SALE

NOW ON. ENDS 8.2.21. EXCLUSIONS APPLY.

Malone Modular Sofa

ALL LOUNGE ALL DINING ALL OUTDOOR ALL BEDROOM

ON SALE! ON SALE! ON SALE! ON SALE!

Nero Electric Recliner

WAS $

799

Valletta 6Piece Outdoor

Lounge/Low Dining Set

WAS $

2499

NOW

$

1999

Rivo 3Seater Electric

Recliner

WAS $

2699

SUPER DEAL!

NOW $

599

NOW

$

1999

SUPER DEAL!

Rivo 2Seater

Electric Recliner

WAS $

2399

NOW

$

1799

SUPER DEAL!

Serene Trundler

Bed Set

WAS $ 897

NOW $

698

SUPER DEAL!

Dallas Queen Bed – Jet

WAS $ 449

NOW

$

349

Sono Boxed Mattress –Queen

Medium Feel

WAS $

599

NOW

$

399

Shop

Online

Nationwide

Delivery

Finance

Options

SUPER DEAL!

moresuperdealsonline&instore!

SUPER DEAL!

STOREWIDE SALE ENDS 08.02.21.

Come&checkout

ournewSTORE!

targetfurniture.co.nz

250 Moorhouse Ave, Christchurch

Ph: 0800 TARGET (0800 827438)

Offers and product prices advertised here expire 08/02/21.

Sale excludes Manchester and Accessories.
---
NEWS

North Canterbury News, January 28, 2021

21

Major development ... An artist's impression of The Sterling village at Silverstream,

Kaiapoi. Construction is expected to start this year.

IMAGE: SUPPLIED

Kaiapoi village to be

built in seven stages

Land­use consent has been granted to

Lime Living Ltd to establish and operate

aretirement village in Silverstream,

Kaiapoi.

The Sterling Village will be built in

seven stages, starting this year, with the

first residents expected in the second

half of the year.

The first stage will incorporate 18

villas and atemporary community

centre, along with the main reserve and

green spaces.

When complete, The Sterling will

spread over seven hectares, and offer 76

independent living villas, 267

apartments, 48 residential care beds,

and 36 memory care beds.

The existing Silverstream amenities

such as the cafe, hairdresser and

medical centre are all just ashort walk

away.

Lime Living Ltd is the parent company

responsible for managing its delivery.

It was established by Alan Edwards,

Fred Rahme and Jack Lin, who have

backgrounds in aged care, urban

planning and residential development.

Mr Rahme, aLime Living director,

says they are not just creating a

retirement village.

''Through our architectural detailing

and bespoke design, we will create a

five­star village that raises the bar on

aged care in New Zealand.''

Mr Lin, also acompany director, says

their first principle is to create avillage

connected to awider community, that is

safe and secure, and where residents

always have avoice —''a village where

we would be happy for our mums to

live".

Collaborating with internationally

renowned architecture firm Marchese

Partners means The Sterling will push

the boundaries in terms of quality and

design.

Marchese Partners has more than 15

years of experience creating awardwinning,

landmark aged­care facilities

throughout Australia, Asia and Britain.

The Sterling will promote community,

connection and choice. This emphasis

will ensure every resident lives as

independently as they choose, to select

services and care when needed, but

always being independent in making

those decisions for themselves.

Mr Edwards, who is Sterling chairman

and executive director, says they will

ensure every resident is central to the

decision­making about what care is

required and when it is required, so

people can live with the level of

independence they desire.

TOWIN

BE

IN

$1,000 Prezzy

Card

WHEN YOU PURCHASE ANY OF THE

SELECTED PARTICIPATING PRODUCTS

1TOBE

WON IN EVERY

PARTICIPATING

STORE

South Island stores only, campaign dates 18th January –31st January.

Terms &Conditions available at www.foursquare.co.nz

Sunkist Lemons

6Pack

Product of USA

$

4 99 ea

CottageLane

Bread Range

$ 4 49

ea

Nestle Reduced Cream

250g

$

2 99 ea

MaggiSoup Mix

22-45g

$

1 29 ea

Guineapig show

The North Canterbury GuineaPig

Club'sSummer Showwill be held on

February 21 at 38 Rangiora Woodend

Road. Look out for the blueand green

flag. Doors open 10amto2pm. Entry is

by gold coin. Publicpet entries will be

taken at 11am. It is $5 per animal. The

fancy dress theme is ''useyour

imagination''. Enquiries: Contact

Jenny on (021) 145 7245.

Book fair

Abook fairwill be held on Friday,

February 12 and Saturday, February,

13, at St Bartholomew's Church Hall,

23 Cass Street,Kaiapoi.The hours are

9am to 6pm on Friday and 9am to 2pm

on Saturday. Books are $2 eachorsix

for $10. Tea and coffee will be

available. Donationsofgood quality

books,CDs, DVDs and jigsaws are

welcome. No tapes please. Donated

goods can be left at the churchhall.

Contact NormanClark on 327 5552 or

Ray Maw on 327 6404.This is an

Anglican Parish of KaiapoiFundraiser

towards the maintenance of St

Bartholomew'sChurch and hall.

Grey Power North Canterbury

New members are welcome at the Grey

Power meetingonTuesday,February

2, at 1.30pm in the RSA lounge, Victoria

Street, Rangiora. There will be asales

table,raffle, and speakers from''Live

stronger for longer''and Mobile

Services. Enquires: Jan Pentecost on

(03) 312 9331.

Car boot sale

Acar boot sale will be held on March 13

at St Bartholomew'sChurch,23Cass

Street, Kaiapoi, from 10am to 12.30pm.

Registrations close on February 27.

Registration forms and details are

availablebyemailingelaine.m.

clark@icloud.comorphoning (03)

327 5552.

North Canterbury classic gathering.

Anew event for car enthusiasts is

planned for the last Sunday of every

month,with the firstthis Sunday,

January31, at 10am,atthe Better Half

Kitchen and Bar,StateHighway 1,

Leithfield. It is hopedtogrow the

group,but it will be confined by the

space available at the venue.Itisopen

to all veterans, vintage, classic, and

customised cars, as well as hotrods,

motorcycles, caravans, and boats.The

obscure, exotic and unusual are also

welcome. If you wanttobuy or sellany

of the above, this may be the place to do

so. No modern vehicles. Foodand

drink availableinthe cafe. Free entry.

Organised by Trevor Stanley.

Arnott'sShapes

175-190g

ANY 2

FOR

$ Ingham Red Box

Chicken 350-400g

$

8

$

4 99 $

8 99

www.foursquare.co.nz

facebook.com/FourSquareNZ

Specialsavailable SouthIsland only from Monday18thJanuary untilSunday 31st

January2021orwhilestockslast. Wine andbeeravailable at stores with an off

licence.Wineand beerpurchases restrictedtopersonsaged 18 years oldand over.
---
RURAL LIFE

22 The North Canterbury News, January 28, 2021

2309605

HOMEKILL

&Wild Game

Meat Processing

313 0022

MEAT2U.NZ

Built to your budget!

-All types of fencing including:

-deer, sheep and cattle yards

-Retaining walls –Timber gates

-Full range of specialised equipment for farm fencing and

lifestyle blocks, offers you the complete land package.

Ashley: 0274 364 776 ah: 314 8541

e: A.Duckworth@xtra.co.nz

www.duckworthfencing.co.nz

Post &Rail Fencing -Looks great &

makes life easy for the Rural Lifestyler!

Completewith:

• 60hp quiet engine

• 50PTOhp

• Synchroshuttle transmission

• 540 &540 EconomyPTO

with independentelectric

switch forengagement&

speed change

• Hyd. pump capacity

45LPM (+20 litrepower

steer pump)

ShibauraS

ST460

$39,000

+GST

• Draft control

• Hydrostatic steering

• Ag. tyres14.9 x289.5

x16

• 1D/A remotevalve

• Durabletractors

fullybuilt in Japan

Optional extras

• Stoll self level loader

• Turftyres

71 Swannanoa Road,Rangiora

Ph: Simon0274 313 404

E: simon@northerntractorservices.co.nz

2350187

2258760

Oxford pair claim top sheep prize

By DAVID HILL

North Canterbury sheep

genetics came out on top at

Little River on Saturday.

Johnand StaceyBurrows, of

Burrows Genetics at Oxford,

won supreme champion sheep

at the Banks Peninsula A&P

Showwith asix­tooth

Southdown ram.

''Wewon it in 2017 at Little

River with aDorset Downram.

We like coming over here. It'sa

goodlittle show and very well

run,''MrBurrowssaid.

The champion ram was

bought from Lincoln farmer

Brent Macaulay,while the

ram's daughter, atwo­tooth

Southdown ewe, claimed allbreeds

championewe.

One of Mr Burrow'sDorset

Downs alsowon all­breeds

champion ram lambtocap off a

goodstarttothe year.

''Itmakes the earlystart

worth it,'' Mrs Burrows said.

The Burrows familyentered

21 sheep in all, to helpboost

sheep entry numbers to 190.

''The entries closed before

Christmas and theywere slow

comingin, so (show junior vicepresident)

Ben Butterick put

out amessage saying'we've got

no entries', so we made sure we

had agood team,''MrBurrows

said.

The Burrows have100

Southdown, 100 DorsetDown

and 30 Suffolk studewes.

''I've had agood run with the

Dorset Downsand when Igot

together with Stacey, she

decidedweneeded some

Southdowns as well, so they're

Young Farmers gear up for busy year

By DAVID HILL

Waimakariri's Young Farmers are hoping

for abusy year after an uncertain 12

months.

With so many events cancelled in 2020

because of Covid­19, Waimakariri Young

Farmers Club chairman ChrisWattssays

he is lookingforward to catching up with

members.

''(Covid­19)did stun our clubabit as

people weren't turning up to meetings.

Too manypeoplewere stayingathome

thinking about the wrong things.

''In away it's luckyfor us in farming,as

it didn't reallyaffect us as much. But for

youngpeople, we couldn't see our

friends.''

Mr Watts, abusy ruralcontractor, says

her thing,really,'' Mr Burrows

said.

''I'm astickler for the Dorset

Downs really,but they've all

got their attributes.

''The Southdowns, we sella

lot of them for hogget mating

and they're going really well.

''We'vegot asheep conveyor

business and alot of placeswe

go to use Suffolks.''

The Suffolk stud has been

establishedfor 13­month­old

daughter Holly.

Stud sheep are in Mr

Burrow's blood, as his father

Tom Burrows, the New

Zealand Sheepbreeders'

Association president, has

been breeding sheep since the

1970sand his great­uncle Tug

Burrows wasawell­known

Corriedale breeder.

Mr Burrows said he was

pleased to be back to showing

sheepand catching up with

farmers, afterseveral shows

were cancelledlast year

because of Covid­19.

''We've got ayear to catch up

on now and have alook at

everyone else'ssheep.

''We wereathome lookingat

our sheepthe wholetime,''he

said.

SheepconvenorDave

he looksforward to attending club events.

''I'm seven daysoncall, all day every

day, so YoungFarmersissomething I

make an efforttoget along to.

''There's people Iwant to see and the

job isn't that importantthatIcan't have

time to myself.''

The clubhad its first meetingfor the

year earlierthis month and hopes to get

back to hosting ayoung farmers' ball,

havingsome trips away and supporting

local community events.

Members were keen to get backto

hosting monthly''funtivities'',beginning

with anight at the races last week.

''Hopefully we will do aWest Coast trip

and aNorthIslandtrip for the National

Fieldays, if it doesn't get cancelled,'' Mr

Watts says.

Family affair ...

Oxford farmers

John and Stacey

Burrows and

their daughter

Holly, aged 13

months,

celebrate after

winning supreme

champion sheep

of the show with

aSouthdown

ram at the Banks

Peninsula A&P

Show at Little

River on

Saturday.

PHOTO: DAVID HILL

Butterick said he was pleased

withthe response, after an

uncertainyear.

While entries were down

compared to lastJanuary,

there was no feature breed this

time, which tended to boost

entries.

''Last year was one to forget,

so it's just good to get back to

having some shows.''

Southdown sheep entries

werestrong, whilethe black

and colouredsheepclasses

werewell­supported.

There werealso good

numbers of Poll Dorsets and

Suffolks, Mr Buttericksaid.

Anew social activity the club will trial

this year is trying out different businesses

forameal and acatch­up.

Ayoung farmers' ball was hosted by the

club two years ago,but had to be

cancelled lastyear becauseofCovid­19,

Mr Watts said.

''We'rehoping to run aball in April and

we want to get at least 100people. It's a

fun night outand young farmers' balls

used to happenall the time.''

The PendarvesYFC in Mid­Canterbury

hosts an annual''after harvestball'', while

theDunsandel club has held one in

recentyears, ''so hopefully we can havea

bitofaball season''.

Theclub also plans to support community

eventssuch as the SwannanoaFair

and the Oxfordand Rangiora A&P Shows.

Thinking of 4.0ha subdivision?

Seize theopportunity while you can.

+Subdivision rules are likely to change soon

+Secure your options for 5years now

+Don't miss this opportunity

__________________________________________________________________________________

hello@survus.co.nz

www.survus.co.nz

0508 787 887

Request your site-specific

fee proposal today.
---
RUNOUT

OUTLANDER LS 2.4L 2WD

$31,990+ORC *

The 7 seater Mitsubishi Outlander brings

everything you would need in a family

SUV: safety, technology, comfort, unrivaled

economy and that all important space, plus

a 10 Year Powertrain Warrant ty † .

Call 03 941 3175 or visit

rangioramitsubishi.co. .nz

RRP WAS $41,99

90 +ORC

*Price listed is for Outlander LS 2.4L 2wd and excludes on road costs of $650 which includes registration, WoF and a full tank of fuel. Available while stocks last.

†

Visit mmnz.co.nz for full Diamond Advantage warranty conditions.

RANGIORA MITSUBISHI

321 High Street, Rangiora | 03941 3175 | rangioramitsubishi.co.nz

NAVARA

RUNOUT

PER

FROM $91WEEK*

48 MONTH | 10% DEPOSIT | 60,000KM | NFV

FUTURE VALUES VARY BETWEEN MODELS

+ HUGE RUNOUT BONUSES!

NISSAN

5YR

150,000 KM'S

FACTORY

WARRANTY

WITH NISSAN

FUTURE

VALUE

Nissan will pay you the NFV (subject to meeting vehicle condition and servicing requirements and agreed km allowance and less remediation costs) which will be applied to your nal balloon payment.

Terms and conditions apply. Excludes all lease and some eet purchasers. Ooer available on eligible vehicles ordered and delivered by 28 February 2021 or while stock lasts. Nissan reserves the right to vary,

extend or withdraw this ooer. Not available in conjunction with any other ooer.

RANGIORA NISSAN, 321 High Street, Rangiora

Ph: 03 941 3175

www.rangioranissan.co.nz

rangioranissan.co.nz
---
SPORT

24 The North Canterbury News, January 28, 2021

Sefton consolidates lead

at top of country cricket

Weedons squeaked athrillingonewicket

win over rivals Lincoln in the

latest roundofcountry cricket on

Saturday.

Therewere also hard­earned

victories for Darfieldand Ohoka,

whileSefton thumped adepleted

Leeston­Southbridge to consolidate

its lead at the top of theCRV

Ambreed CountryPremier One Day

2020/21 competition.

Lincoln won the tossand elected to

bat on its home domain,but was soon

rueing the decision when Arnav Deb

struck withhis secondball.

They were theninall sorts of

trouble at 34/6, when Deb, the

competition'stop wicket­takerwith

28, claimed his second five­wicket

bag of the season.

Abattling unbeaten 36 from 86

ballsfrom Hugh Patersonhelped

Lincoln to post108 before the side

was bowled out in the 42ndover.

The tiny total proved areal

challengefor Weedons, losing

wickets throughout its chase.

Akshan and Akshay Gulati bowled

tightly to combine for fourwickets,

whileEdgar Patersonchipped out

threemore, and when Weedons'

ninthwicketfell, it still needed11

runs for victory.

The cool head of Charlie Robson

steered Weedons home, with an

unbeaten knockof22off 43 ballsto

claimthe win in the 33rd over.

Difficultchase

Ohokaalso made hard workofits

run chase againstOxford­Rangiora

at Pearson Parkoval on Saturday.

The homeXIbatted firsttopost a

competitive 183/7,led by Dave

Fulton's composed 76.

Left­arm paceman Hamish

Williams continuedhis finerun of

form with three wickets.

Ohoka'srun chase got off to a

steady start beforeJake Waghorn

removedboth openers.

Wily off­spinner Mark Murphy

then bowledastunned Harry

Fitzpatrick through thegate,

sparking morewickets to falland

Ohoka was reeling at 97/6.

But KyleBrown, returning to topflight

club cricket after time away

from thegame, played amatchwinningknock,

cominginat No. 8.

Brown smashed an unbeaten 47

from just 43 balls to lift Ohoka over

the line withthree overstospare.

Fine century

Asavage century by Seftonopener

McKenzie Smith set up aspectacular

160­runwin over top­of­the­table

rivals Leeston­Southbridge at

LeestonPark.

Leeston­Southbridge,with many

key playersaway on Canterbury

Countryrepresentativeduties,was

put to the sword by Smith, who

scored 107 off just 58 balls. The

remarkable84­minute innings

included ninefours and eight sixes.

The other Sefton batsmen keptthe

foot on the gas too, helping the side

notch 301 in 44.5 overs.

The combined side never

challenged theimposing totaland

capitulatedtobeall out for 141 in the

29th over, with Callum Simpson

pickingupafive­wicket haul.

Five­wicketbag

Five wicketsfor WillGreenslade

helped Darfield defend 178 against

Cheviot.

Cullen Moody's 46 was Darfield's

top­scorer after it elected to bat at

the neutralMandevilleground.

Cheviot's run chasewas looking

comfortable at 99/3after 19 overs, but

when Archie Redfern(31 off 50) and

Jack Harris(31 off 35)fell in quick

succession, the Magpies crumbled to

be all outfor 135 in the 33rdover,

falling to a43­runloss.

Southbrook had the bye.

Shortscorecards:

Lincoln 108 (H Paterson36no, R

Sporke 20; ADeb 5/30,HD'Arcy 2/20)

losttoWeedons 109/9 (C Robson 22no;

EPaterson3/24).

Oxford­Rangiora183/7 (D Fulton 76,

LStove 38, JFleming 23no; HWilliams

3/24, KBrown 3/55) lost to Ohoka 184/7

(K Brown 47no,RKelly 23, H

Fitzpatrick 22;JWaghorn 3/39,M

Murphy2/30).

Sefton 301 (M Smith 107,THarrison

54no, NGranger 42, CWarner 25, M

Laffey25; TBurt 4/56,TKlingender

2/24, BChamberlain 2/46)beat Leeston­

Southbridge141/9 (C Beatson 35, T

Field 23no, JMcSweeney21; C

Simpson 5/35, JRoberts 3/32).

Darfield178 (C Moody 46,TBoyle 31,

JFrew 27, MHogan 25; ARedfern2/15,

SBurnett 2/23) beat Cheviot 135(A

Redfern31, JHarris31; WGreenslade

5/33, CMoody 2/5, LFoulkes 2/30).

Success ...

Alister Newey

in action

during an

earlier

competition.

PHOTO: FILE

Strong inter-club showing

The Rangiora Croquet

Club completed a

successfulCanterbury

inter­club programme

recently.

The division 1pairs

team of Alister Newey

and John Fostertook

second place.

Lesley Smith,Neville

Turner, Ivan Hayward,

HildaNewey and Jenny

Galbraith were third in

the division 2fours

competition, while the

foursteam of Liz

Partridge, Will

Henderson, Terry Green

and Jenny Galbraith won

theirdivision 3

competition.

In AssociationCroquet,

the pairs team of Carol

Kidd andAlister Newey

were second.

RangioraBridge Club

Holiday match: N/S: Pat

Green/Jeanette

Chatterton 1, Judith

Calder/Sarah Waldron 2,

Colleen Adam/Joan Lloyd

3. E/W:Sam Gurney/Tony

Quinlan 1, FernMcRae/

SPORT RESULTS

Jenny Shore2,Ken Johns/

JackLyons 3.

Presidents: N/S:Helen

Phillips/Judith Driver 1,

AdrienneLamb/Joyce

Gray2,Lesley Shipley/

Ann Blackie 3. E/W:Jenny

Roper/Linley Thomas 1,

Pauline Miller/Denis

Milne 2, Fern McRae/

NormShipley 3.

Monday evening: N/S:

Denis Milne/DD 1, Anne

Bagrie/Kate Whitehead 2,

Annette Walker/Jonathan

Sturzaker3.E/W: Kerryn

Lange/Karen Manson 1,

Desley Simpson/Judith

Robinson 2, Murray

Davis/Sharyn Davis3.

Summer pairs: N/S:

HeatherWaldron/Sarah

Waldron 1, David McRae/

FernMcRae 2, Richard

Luisetti/Sue McLlroy 3.

E/W:Gaynor Hurford/

JackLyon 1, Lynda

Cameron/BarrySmart 2,

Bernice Lloyd/Mike

Cornwall 3.

FROM

$18 99

Schooltex Plain

Short Sleeve Polo

#2018597202002

$

10EA

Living &Co Lunch Bag

&Drink Bottle Set

Cat orGaming

#9401063480005

Your

one-stop

SUPER

school

shop

Soft cover

exercise books

aremade from

recycled paper

&card

NOWFROM

6 ¢

3B1

#9421031062378

6¢ EA

Exercise

Books

1B5

#9421031061852

28¢ EA

1E5

#9421031061890

29¢ EA

$

89EA

Living &Co

Indiana Desk

#9401056375912

$

6EA

Smart365

Sunscreen Roll

On SPF50+ 75ml

#9401063519521

$1 99

EA

Amos

Glue Stick

#8802946000357

Faster pick-up. Easy as.

*Ts&Cs apply.

66 ¢ EA

Paper Mate Inkjoy

100RTLoose Red,

Black or Blue

#71641128378

HOTPRICE

$

366EA

Finance from

$

3.50pw†

HP Chromebook 11.6" G8

Intel® Celeron® N4020 processor. 4GBRAM,

LPDDR4-2400 SDRAM (onboard). 32GB eMMC storage.

#194850679827

Young Original Kids' Two Strap

Shoes or Scholar Shoes

#9400070192918

*

Same Day Click &Collect

$

17PR

TWLWK25L. Valid until Sunday31/01/21 unless otherwise statedorwhile stockslast. Some deals mayextend. All offers notinconjunctionwithany otheroffers. Trade quantities notsupplied. Accessories notincluded. Assembly required. Range, colour

and designs mayvarybetween stores. Clothing does notinclude RedRack, Sleepwear,Underwear,Socks, Hosiery or Accessories. Toydeals do notinclude: Clothing,Sporting,Trampolines, Entertainmenttitles, Craftand Stationery items. Clothing offers exclude

Schooltex.Outdoor Furniture, Stationery,Craft, Computing and Whiteware notavailable in all stores, see online fordetails. See online forfull finance terms and conditions. Seeonline forfull finance terms and conditions which apply.†Finance Now: 12 months

Interest Free available on purchases over$249. Onesingle item purchased must be valued at $150 or greater. Additional fees, approvalcriteria, interest ratesand weekly paymentamounts –see online or ask ateammember forfull details. Schooltex is notavailable

in all stores. Seethewarehouse.co.nz/schooltex forfull list of stores to purchase. No holds, rainchecksorlay-bys.
---
North CanterburyNews

PROPERTY

Sure to impress with your new address

1Chestnut Place, Rangiora

Just eight years old and immaculately maintained, this attractive family home is superbly positionedonacorner

to aquiet cul-de-sac, surrounded byother quality properties and within close proximity to Acacia Reserve and

anew primary school.

This lovely homeplays hosttofour good-sized bedrooms, two well-appointed bathrooms (including an ensuite

off the master) and kitchen with stainless appliances. The open plan living space enjoys excellent indoor/

outdoor flow, while two heatpumps help to keep things feeling 'just right' all-year-round.

The established garden and outdoor entertaining area provide the perfect place to enjoy the tranquil environs

with family and friends, while double garaging and off-street parking is amuch sought-after practicality.

The great neighbourhood is the icing on the cake, while the cherry on top is the proximity to ahost of handy

amenities throughout Rangiora.

Deadline sale

ends 4pm10 th February

2021, unless sold prior

For more information

contact:

Aaron Clark

aaronc@pb.co.nz

027 873 5121

Property Brokers Ltd

Website ID # RU81407

This lovely home, in this incredibly convenient location, is sure to attract alot of interest. Prospective buyers

are urged to act quickly.

Arealchange in

real estate.

The Property Brokers and Farmlands partnership means

great things forprovincial real estate*

Together our combinedstrengths complement

eachother to createbigger networks,more

buyers and better results.

For more informationcall0800367 5263

orvisit pb.co.nz/together

Proudtobetogether

2349457

*Farmlands will continue to administer its property management portfolioand its West Coast real estatesites, pendingCommerce Commission clearance.

Property Brokers Ltd Licensed REAA 2008
---
North Canterbury

Rangiora 20B Boyd Street

Oxford 22 Powells Road

Immediate possession investment

Convenientlylocatedclose to awealthofamenities, this propertywill

attract considerable interest from both astute investors seekingtoadd

to their portfolios,and first home buyerslooking to establish

themselvesonthe real estateladder. This robustly constructed home

boasts asense of restfulness and seclusion that belies its proximity to

the heart of Rangioraand the host of amenities on offer. This

compact, easy-care home boasts two bedrooms, agood-sized

bathroom (with laundry facilities) andawell-appointed kitchen. A

heatpump warmsthe generous living area, with easy access outside.

Outside, the private, north-facingyard plays hosttoashelteredpatio.

2 1 1

For Sale Buyers $330,000+

View By appointment

Web pb.co.nz/RU80253

Aaron Clark

M 027 873 5121

Elmwood Homestead

Withinwalkingdistance of the thriving North CanterburyTownship of

Oxford is this superb 4hectare lifestyle property.

•Immaculately presented and substantially renovated 280m2family

home consisting fourbedroomswith master ensuite and walk in robe

plus office.

•Open plan kitchen/dining/livingincludingpolishedfloors, new wiring,

plumbing and insulationthroughout.

•Entertainersdelight set on sweepinglawns in ashelteredand private

settingwith qualitytree specimens.

•Substantial shedding including arecentlycompletedcommercial

workshop, woolshed, hay shedand implement shedplus more.

•Set on 4Ha of highly productiveland consisting of twopaddocks.

4 3 3

Deadline Sale closes Monday 1st

February, 2021 at 4.00pm

View By appointment

Web pb.co.nz/DFR81237

Matt Collier

M 027 205 6626

Malcolm Garvan

M 027 231 4425

Kick 2021 off with our refreshingly

superior marketing deals!

Our mintmarketing deals will get youthe best result

in today's market! Don't undersell your property -

talk to us to book in your FREEappraisal today &

get the premiumyour propertydeserves, call today

0800 367 5263 or visit pb.co.nz/startfresh

Ask aboutour summer auction events! *Terms and Conditions apply | Licensed REAA 2008

Property Brokers Ltd Licensed REAA 2008 |pb.co.nz

Proudtobehere
---
Nearly

STAGES

TWO

NEARLYSOLD!

N

"Explore what makes Townsend Fields the

natural choice for living."

FUTURE STAGES

COMING SOON

Please talk to me regarding optionsinfuturestages.

FOR MORE INFORMATION

ChristineTallott

0274906 042 |03313 6158

sales@townsendfields.co.nz

Four Seasons Realty

Four Seasons Realty 2017 Ltd|Licensed Agent REAA 2008

townsendfields.co.nz | 027 4906042 |sales@townsendfields.co.nz
---
What's happening in your

community…

New Chief Council Executive Appointed

Mayor Dan Gordon has announced the

appointment of Waimakariri District Council's new

Chief Executive, Jim Harland.

Most recently Mr Harland was the director

of regional relationships for Waka Kotahi NZ

Transport Agency.

Before joining the transportagencyJim was Chief

Executive of Dunedin CityCouncil for11years.

Priortothat roleheheld the positionofDirector

of Strategy andPolicy, then Policyand Planningat

NorthShore CityCouncil utilising Jim's background in

planning whereheholds aMasters in Town Planning.

"I am exceptionally pleased to announce the

appointment of Jim as Chief Executive ofthe

Council. The Council and Iare excited about

working with Jim and welcoming him to this new

role," says Mayor Gordon.

"As anexperienced Chief Executive Jim comes with

significant and strong stakeholder relationships

with iwi, other territorial authorities, central

government, Ministers, the private sector, and

knows the operating landscape of Councils

exceptionally well.

In Jim's current role he is amember of Greater

Christchurch Partnership and works well with all

of Council's strategic partners. He brings a

wealth of knowledge and understanding of the

Waimakariri District.

Current Chief Executive Jim Palmer finishes with

the Council in early March aer 17 years with the

organisation. Mr Harland will join the Council in

late March.

Free Travel Period Extended for New

Direct Buses

Environment Canterbury is offering another week

of free travel on the new direct bus services from

Waimakariri to central Christchurch.

"We've had excellent feedback from the community,

with people particularly enjoying the extra 'me

time' gained on their journey to and from the city.

People returning from their holidays can now also

enjoy this great opportunity to try the new services

for free," says Cr Clearwater.

Fast and Direct Services, Supported by

Park &Ride Facilities

The 91 Rangiora –City direct and 92 Kaiapoi

–City direct pick up from the Park &Ride

locations, and drop off at key hubs within central

Christchurch, with no stopping along the way. The

aernoon return service is the same.

Each service runs Monday toFriday, with four

trips in the morning to the central city, and five

aernoon trips back to the Park &Rides.

The Park &Ride facilities provide between 40–100

carparks with lighting, security cameras and

facilities for secure bike storage. Parking is free.

Learn more about the Park &Ride facilities.

More Information

The free travel is on the 91 and 92 services only,

until Friday 29 January inclusive. Normal Metro

fares apply on all other services, including the

other routes in the Waimakariri District: 1Rangiora

to Cashmere, 95 Pegasus/Waikuku to City and 97

Pegasus to Rangiora.

Have you signed up for

the Waimakariri District

Council Newsletter?

To join visit:

waimakariri.govt.nz/subscribe

Neighbourhood

Barbeques

Come and join your neighbours for aBBQ.

Baker Park, Kaiapoi

Karen Eastwood Park, Pegasus

Pink Elephant Park, Rangiora

Gladstone Park, Woodend

Arlington Park, Rangiora

28January 5-7pm

11 February 5-7pm

18 February 5-7pm

25 February 5-7pm

4March 5-7pm

All ages welcome, for these free nights of fun.

Check the events website link belowfor anycancellation details.

Find out more information here:

waimakariri.govt.nz/community/community-initiatives/

neighbourhood-events

Free Computer Classes

at Waimakariri Libraries

Term 12021

Introduction to Smart Phones

Kaiapoi-Monday 1February 10am-12pm

Oxford -Tuesday2February10am-12pm

Rangiora-Wednesday3February 10am-12pm

Introduction to Digital Banking

Kaiapoi-Tuesday9February 1.30pm-3.30pm

Rangiora-Wednesday10February 10am-12pm

Oxford-Thursday 11 February 10am-12pm

Introduction to Tablets

Kaiapoi-Monday15February 10am-12pm

Rangiora -Monday15 February10am-12pm

Formore information or to book,

phone 03 3118901 or ask at any

Waimakariri Library

libraries.waimakariri.govt.nz

We've developed adra Cemetery

Policy to guide how Council cemeteries

are managed day-to-day and want to

hear what you think.

It covers things like:

ABOUT CEMETERIES

• Installation and maintenance of memorial

headstones

• Gravedecoration

• Gravesiteand cemetery maintenance

• Reservationofashes or burial plots

Shareyour thoughts.Feedback is openFriday

15 JanuarytoMonday15February 2021.

Find out more at waimakariri.govt.nz/letstalk
---
Chisholm

to speak

NEWS

The North Canterbury News, January 28, 2021

29

Developing

mindfulness

By ROBYN BRISTOW

Matt Chisholm will discuss

the challenges of depression

at the Waiau Town Hall on

April 10.

The former television

personality, whose two­part

documentary Man Enough

aired last year, will share why

he set out on anationwide

campaign to smash the stigma

around mental health and

break the silence around

suicide.

Matt is sharing his insights

to help men become better

connected and to speak out

about their mental health.

He visited rugby clubs,

construction sites,

boardrooms, men's

barbershops and boxing

gyms, and presents a

thoughtful investigation into

the health of modern Kiwi

men.

The event is being hosted

by the Community Response

Committee, which was

formed after the Covid­19

lockdown last year.

The committee, which

operates under the umbrella

of the Amuri Community

Trust, has been fortunate to

receive further funding from

the Ministry of Social

Development to continue its

work connecting people in

communities in the Amuri

district, and to help with their

health awellbeing.

Boost for students ... Year 8students Mila Stanley­Pihera and Blake Painter with some of the

stationery, which is being distributed free to students.

PHOTO: SUPPLIED

Calendars selling fast

By ROBYN BRISTOW

Amberley School studentswill

be starting the school year

with free stationery.

It will be the secondyear

students have started theyear

with theirsupplies fully paid,

thanks to the continued

support of local businesses

and the initiative of the school

fund­raising team.

''Teachersand parents love

that every child has all their

booksonday one, ready to

startlearning together,''

Principal Simon Green says.

An Amberley Businesses

Voucher bookhelpedfund the

stationery previously.This

year, alocal historical

calendar returnstohelp drive

fundraising efforts.

Parentand graphic designer

Laura Cropper has again

workedwith the Kowai

Archives to produce a

calendar showcasing gorgeous

old photos fromthe wider

Amberley region.

Advertising for the calendar

was supplied by local firmsto

support printing costs.

Thisyearthe project was

supportedbyRangiora

Museum, which held some

glass­plate negatives which

theyscanned for theschool.

The firstrun of calendars in

2019was asellout, and the

2021edition is headingthe

sameway, with only asmall

number left.

Theycan be boughtfrom a

range of Amberley businesses

including Arthur Burke,the

Amberley Post Shopand Sally

Macs.

Free mindfulness and wellbeing

courses are coming to North

Canterbury.

The Community Mindfulness

Project is acollaboration between

Community Wellbeing North

Canterbury Trust, Mindfulness North

Canterbury and Logan Smythe and

Associates.

The project will offer wellbeing

courses, workshops and podcasts. It is

possible thanks to an AIA Vitality

grant.

The Community Mindfulness

Project went through acompetitive

application process and was one of

only 10 winners across New Zealand to

receive up to $50,000 towards

programmes that make apositive

difference to the health and wellbeing

of local communities.

North Canterbury resident Dean

Logan, afinancial adviser at Logan

Smythe and Associates, says the grant

is an opportunity to make adifference

locally.

''As acurrent board member of

Community Wellbeing North

Canterbury Trust, Irecognise the

importance of health and wellbeing to

athriving community.

''The Community Mindfulness

Project will raise awareness of how to

take care of your mental health and

give people tools and resources to help

them feel good and function well,'' he

says.

Those who live in the Hurunui or

Waimakariri can apply to attend the

courses and workshops for free.

Anyone keen to attend can register

at mindfulnessnorthcanterbury.

wordpress.com.

Do youwant your businesstobe

the name theyremember?

And reach

47,000 readers?

Source 2018 Nielsen Readership research all people 10+ NCN Circulation area

Phone 03 314 8335 or

email info@ncnews.co.nz

to find outhow we canhelp you.
---
NEWS AND CLASSIFIEDS

30 The North Canterbury News, January 28, 2021

New role in

community

By ROBYN BRISTOW

Acommunity activatorhas been

appointed for the Amuri district to

help support, connect andstrengthen

communities.

CourtsMcSkimming has been

appointed to the new positionona

part­time basis by the community

response committee.

She will focus on supporting Amuri

communities and work alongside the

community response committee,

formed in

response to

the Covid­19

lockdown, to

ensure anyone

in need in

Amuri communities

were

looked after

with food,

supplies, and Courts McSkimming

chats on the

phone.

The position was made possible

throughthe Lottery Covid­19

Community Wellbeing Fund, with the

supportofthe Amuri Community

Trust.

Courts has beenanintegral part of

the community, through which she has

demonstrated her passionand love of

the district.

She will work alongside the

committee,engaging with people in

the community, creating opportunities

and spacesfor themtoconnect.

Courts can be contacted at crc.

amuri@gmail.com,oron021 176 3744.

Entertainment

Public Notices

KAIAPOI CHRISTADELPHIANS

"The Key of Knowledge .."(Luke 11:52)

"GOOD NEWS"

The Apostle Paul believed in the Hope of Israel

so strongly,that he was prepared to go to prison

and he continued to speak to people about it

saying "I am bound with this chain because I

believe in the Hope of Israel". Acts 28:20 NLT.

Glenmark Lions Club

Charity Golf Tournament

Proceeds to Camp Quality

At the Scargill Golf Course

Saturday 6 th February 2021

Draw at 10.30am.

American Greensome (pairs) $30pp

Afternoon Tea Provided.

Entries to Jack 03 314 6763

or post entries on the day.

BALCAIRN HALL welcomes

the return of Fiona

Pears with Connor Hartley-

Hall performing as the

Gypsy Jazz Duo, an Arts on

Tour NZ event, 8pm Saturday

30th January 2021.

Free supper, alcohol free

event, raffles, CD sales.

Tickets $25 from Sally

Macs Amberley, Stan's 7

Day Pharmacy Rangiora,

Sefton Garage and via

www.balcairnhall.com.

RANGIORA Country

Music Club night starts

again 3rd February at 7pm.

Venue is the RSA Rangiora.

All welcome.

Enquiries 027 928 1730.

TAI CHI AND

QIGONG

CLASSES

2349305

2348914

Exercise to improve balance,

posture, breathing,

immunity and relax the

body and mind. A great

combination of benefits

New term starting in February.

Check out the website

taichiwell.co.nz or

phone Rose 0274388364

Public Notices

Oxford A&P

Association

Easter Saturday 3April 2021

Entries Close: 28th February

No late entries accepted.

Schedulesavailableonline:

showday.online

SomeTrade and Art/Craft

sites stillavailable

Contact Christine Roberts

E: secretary@oxfordapshow.co.nz

oxfordapshow.co.nz

Kaiapoi Christadelphians

"The Key of Knowledge .."(Luke 11:52)

WHY CHRISTADELPHIANS

BELIEVE IN THE HOPE

OF ISRAEL

Jesus Christ of the New Testament was aJew

borninIsrael. The historical kingdom of God

was reigned over by King David, in Israel, but

through unfaithful descendants was overturned

until he (Jesus Christ) would come whose right

it is to reign as King. Arighteous King ruling

over the Earth guiding all in his Father'sways.

DVD presentation -Sunday 31 st January, 7.00pm

Kaiapoi Community Centre

Sewell Street

All Welcome

for information -phone03352 5453

Website -bibletruthandprophecy

KATE VALLEY LANDFILL

COMMUNITY TRUST

APPLICATIONS FOR FUNDING

ASSISTANCE

The Trust invites applications from eligible

groups/individuals for grants from the

16th funding round. Application period is

from 1February 2021 to 5March 2021.

Only applications on the 2021 form will

be accepted. Forms are available from

the Hurunui District Library or by emailing

secretaryKVLCT@gmail.com.

An Information evening will be held at the

Waipara Hall on Thursday 11th February

2021, 7:30 - 8:30 pm at which Trustees

will explain the eligibility requirements and

assist with any application questions.

Enquiries should be directed toJulian Ball

on 021 671 721.

2350658

&ASHBURTON 4WD CLUB

4WDSafari

From Lake Heron to southAshburtonthrough

Mt ArrowsmithStation.

SUNDAY,14FEBRUARY

Meet at Mt Somers Domain (oppositeTavern)

between 8-9am forregistration.

Cost $80 per vehicle.

Must be 4X4 vehicleswith lowratio,

current registration and wof.

Pleasebring ownlunch,drinksand sunscreen.

Toilets available.

ContactAlan Wakelin 0274 967136

Proceedstoupgrade the Sharplin FallsTrack

2346688

2350433

2350099

Trade&Services

REMOVALISTS

Movemen Ltd

2Men &agood sized

truck. From $157 per hour

(incl gst). Kaiapoi based.

Call Gerard

027 668 3636

2316549

Situations Vacant

School Bus DriversRequired

Would youliketoearn extraincome whilestill

having mostofyour dayfreeand at the same time

do your community aservice by helpingtoprovide

asafe, high standardofschool transportfor our

region'schildren.

Torlesse Travel has positionsavailable forpart time

schoolbus drivers in Rolleston, Darfield, Oxford

and Rangiora.

If youhaveaClass 2license, aPassenger

Endorsement andare interestedindriving on a

part time basis then this couldbefor you.

Alternatively,ifyou areinterestedinbecoming a

bus driver,wecan provide assistance to help you

achieve the correctlicencing.

If youare interestedinthisrole or wish formore

information, please email.

customerservices@torlessetravel.co.nz

Phone: 021 198 7358

SCHOOL BUS DRIVERS

required for Ohoka School and

Pegasus Bay School.

Casual / Part-Time positions available. Full

training & financial assistance provided for

suitable applicants. Class 2&Pendorsement an

advantage –Newcomers are encouraged to apply.

All enquiries to Karen

(03) 348 0897 /karen@citylinechch.co.nz

2350779

Livestock

Educational

GUITAR &Uke lessons.

Private and group sessions,

beginner to intermediate.

Experienced Rangiora

based tutor. Ph Tim Davis

on 027 489 5957.

Personal

Hi, my name is Tranz

and Iseek a65+ lady

with acar licence and

internet capabilities

who is able to cook.

Iamaretired engineer

so will pay for all fuel

and warrants.

Ph 027 397 8614

for more info.

TEXEL ROMNEY

CROSS Ram lambs. Suitable

for breeding & lifestyle

blocks. Please phone

021 626 449 or 03 385

4966.

TUITION available. Primary

and secondary up to

NCEA level 3. In centre

(Rangiora) or interactive

online from your home.

Each student on an individually

tailored programme.

Kip McGrath Rangiora has

been serving the local community

for 30 +years. Give

us acall (03 313 3638) or

book your free assessment

online https://www.

kipmcgrath.co.nz/rangiora.

ABEL &Prestige Chimney

Cleaning. Nth Cant owned

& operated. Covering all

areas from Waimak to Hanmer.

Professional, guaranteed,

service. Firebox

repairs, carry most parts. Ph

0800 661 244.

For Lease

FOR LEASE

2Industrial Work Shops

with yard areas in

Newnham st Rangiora

Unit 1shed 162 m2 yard

480 m2. Unit 2shed 108

m2 yard 590 m2. Single

& 3 Phase power &

water . Lease terms

negotiable.

Phone 0274342831

2349128

Livestock

HOMEKILL

&Wild Game

Meat Processing

313 0022

2309602MEAT2U.NZ

TEXEL ROMNEY

CROSS ewe lambs, suitable

for breeding stock &

lifestyle blocks. Please

phone 021 626 449 or 03

385 4966.

Trade&Services

SEPTIC TANK

CLEANING

Bill's Liquid

Waste

You dump it...

Blair pumps it...

Blair Tavendale

Ph 03 314 9371

0275 379-694

2225862

Trade&Services

AFFORDABLE concrete

cutting with quality and

removal work. Free quotes.

No job too small. Ph 027

442 2219, Fax 03 359 6052

or A/H 03 359 4605.

ALL TREE SERVICES,

chopping, pruning, firewood

cut. Affordable &

friendly service. Telephone

021 111 4322.

ARBORIST qualified.

Copper Beech Tree

Services. Tree removal,

pruning, height reduction,

hedge trimming, shaping,

tree planting, firewood.

Free quotes. Contact Angus

Edwards 027 259 6741

copperbeechtreeservices@gmail.com.

BRIAN'S Tree Services.

Tree felling, topping,

shaping, firewood cut, rubbish

removed, stump grinding,

branch chipping.

Affordable rates. Phone 03

327 5505 or 021 124 4894.

BRICK &blocklaying. All

types of work undertaken,

repairs. Phone Hamish

0272 386 003 or 313 5678.

PAINTERS

Reg Tradesman

Interior,exterior.

North Canterbury Painters

specialising in decorating for

over 65 at adiscount rate.

Free quotes.

Covering Nth Canty,Oxford,

Kaiapoi, Rangiora, Amberley.

Rob 03 327 7899

or 027 432 3520 2227597

DIRTY TILES &Grout?

Professional tile cleaning,

tiled shower restorations,

mouldy silcone, shower

glass & we can even

recolour your old grout!

For all your tile and grout

issues call Grout Pro for a

free, no obligation quote.

Ph Darryl 0800 882 772.

FIRE GUARDS Custom

made with safety latch.

Phone 021 169 9066. E:

pjfabricators123@gmail.com.

KITCHEN, bathroom,

renovations, decking,

pergolas, fencing. Honest

reliable licenced builders.

Ph Don 027 727 9162.

METAL WORX. Flashing,

Sheetmetal Fabrication,

Wrought Iron,

Welding, Custom Trailers,

General Metalwork. No job

too big or too small. Ph 021

265 5428 or 03 314 6908.

Find us on facebook/

Glenmark Metal Worx.

glenmarkmetalworx.ltd@gmail.com.

PAINT & wallpaper

services. Wayne Bryant,

exterior, interior. Qualified

tradesman. Free quotes. Ph

313 5337 or 027 654 4568.

PAINTER. Qualified local

professional, Int / Ext,

roofs, wallpaper. Call or

text Corban 027 846 5035.

PLASTIC WELDING

North Canterbury Specialist.

All plastic &fibreglass

repairs. Telephone James

021 180 5103.

Trade&Services

POWER TOOLS repairs,

parts &sales for over 40

years. All main brands serviced.

Grossman Trade

Tools, 23 Watts Road,

Christchurch. Ph389 9230.

RANGIORA Rubbish

Removal and RRR skips.

Wheelie bins any frequency

and skips from 1.5 cube to

9cube. Skips and wheelie

bins for any use, rubbish,

greenwaste, building sites

or just cleanups. Give us a

phone call 313 6957 or for

skips 021 313 255.

ROOFER All roof repairs,

roof painting, water blasting,

moss treatment,

repointing, gutter cleans &

snow straps. And more.

Free quotes. Phone Nathan

027 516 6609.

SCREEN PRINTING.

For all your printing

requirements. T-shirts,

Hoodies, Hi-Vis vests and

polos, Overalls, Caps etc.

Please phone Heather 03

313 0261 or email heather.

norstar@gmail.com.

SHEARER. Hap's Farm &

Lifestyle Services. Shearing,

crutching, drenching,

tailing, feet trimming &

health check. Trailer, generator

&mobile handpiece

available. Experienced,

reliable and honest. Ph 03

4233713 or 021 267 4025.

SHEEP SHEARING,

drenching, feet trimming.

For Lifestyle blocks. Call

Stu 027 315 6916.

STONEMASON, Brick

and Blocklayer. Earthquake

repairs, grind out and

repoint, River/Oamaru

stone, Schist, Volcanic

rock, paving, all alterations

- new and old. Quality

workmanship. Visit www.

featureworks.co.nz or ph

027 601 3145.

SUMMERFIELD

FENCING

IN YOUR AREA NOW.

Lifestyle or farm, sheep, cattle,

horse, all types of animals.

Fences, yards, sheds, arenas,

shelters, runs.

30+ years contract fencing.

Steve is available to help with

your design &planning.

Ph office03312 4747

2091848

ANTHONY SYMONDS

Forall your painting &

plastering requirements

Local with 30 years

experience

All workmanship

Guaranteed.

Phone 021 344 023

2220615

Pride &Quality Painting

&Decorating Services

20 yrs exp, fast and friendly

service. For all your painting

needs, phone: Martin 310

6187 or 021 128 9867

VALUATION -

Specialising in North Canterbury.

Contact Geoff at

Maxwell Valuation. Phone

03 310 8541 or email

geoff@maxval.co.nz.

WINDOW TINTING

tintawindow

advanced film solutions

99% uv block

fade protection

heat control

reduce glare

25 Years Experience

privacy films

frosting designs

non-darkening films

Workmanship Guaranteed

Lifetime Warranties on Most Films

UV

block

Free Quotes Canterbury and Districts

03 365 3653 0800 368 468
---
Cars Wanted

CASH 4CARS

and 4WD'S

Phone

Automotive

Parts

03 313 7216

Cars Wanted

CARS, vans, 4WD's

wanted for dismantling or

repair. Phone 027 258

8366.

Gardening

A+ GARDEN hedges cut

to perfection. Tree &arbor

work. Also spraying. Free

quotes. Ph 03 312 0668 or

021 111 4322.

Pets

BICHON HOMESTAY

for smaller dogs. We look

after your dog in our home.

"No kennels". Phone today

03 314 6110.

Poultry

BROWN SHAVER POL

pullets, order now, ready

Feb, pickup Clarkville,

$30, ph /txt 027 433 7720.

Poultry

BROWN

Pullets, handreared, quiet,

point of lay, $30. Phone

021 062 3835 (Cust ).

Wanted To Buy

PRE 1990's vehicles suitable

for resurrection and

restoration, not wrecking.

Anything considered, dead

reg ok. Ph 021 227 6878.

Wanted To Buy

SHAVER A FLAT WANTED to

buy, by local cash buyer.

Anything considered.

Please phone Yvonne 021

055 3751.

BUYING estate type old

china, crystal, collectables,

vases. Ph 027 350 3963, or

313 1878.

Wanted To Buy

$$$

Amalgamated Scrap Metal

Ltd. Specialists in farm

machineryand farm clean

ups, old vehicles etc.

100% locally owned.

Ph 0800 030 712 or

027 695 0480.

2312759

CLASSIFIEDS

The North Canterbury News, January 28, 2021

For Sale

HONEY 4kg bucket

cooking honey, $30 special.

Available at Gracebrook,

Amberley. Telephone 03

314 7076.

ROAD Chief boat trailer,

suitable dinghy, jetski,

motorcycle. Almost new,

very little use $700. Phone

03 261 2181.

Trusted Trades &

Professional Services

31

Garage Sales

DOWNSIZING Saturday

30th January. 20 West Belt,

Rangiora, 8am to when it's

all gone. Furniture, clothing,

lawnmower,

overlocker, Red Hats clothing

and accessories and

most of everything else you

want or need.

Guide

To book your spaceinthis guide,phoneAmanda Keys 313 2840 or email amanda.keys@ncnews.co.nz

Automotive &Recovery

Builder

DENTURE CLINIC

Butchery

2070788

• WOF Cars &Trailers

• Vehicle Servicing &

Repairs

• Tyres &Punctures

• Jump Starts

•

Towing &Salvage

• Courtesy Car Available

Ph Aaron Rowlands

0272 588 366

13 Stone Eyre Place,

Swannanoa

Eftpos available Mon –Fri 8am –5pm, Sat 9am –1pm

Construction &Concrete

RANGIORA

DENTURE CLINIC

Garry WMechen

Registered Clinical DentalTechncian

Phone (03) 313-9192

38a Ashley Street, Rangiora

OxfordButchery

Shane and Leanne Frahm

We cankill&process yourstock

FourGenerations of Frahms

since 1957

Ph 312 4205

Oxford

Ear Health

1680439

Number one

old-fashioned bacon

&ham curing.

A/H 312 4709

All Construction & Concrete Work

•Driveways, patios &paths

•Bridges and Culverts

•Floors, foundations

•Sheds and buildings

•Dairy Sheds, Herd homes

•Silage pits, effluent ponds

•Excavation and cartage

•Precast concrete

•Insulated panels

Daryl Power

027 230 9401

concretepower@scorch.co.nz

www.concretepower.co.nz

2273277

2089195v2-4/4-S

NEW N W DENTURES D N ES

*RELINE * *REPAIRS

* I S

HOURS

8.30am -12noon

- Monday to Friday

FREE E CONSULTATION O

AND ADVICE

A V C

For a/h repairs

phone (03) 310-3044

• Ear Health checks.

• Wax removal using Microsuction

• Removal of foreign bodies

• Basic hearing aid care

• ACC provider

• WarVeteran provider

• No medical referral

required

Clinics in Rangiora, Amberley and Kaiapoi

Rest homes/retirement villages, booking by prior arrangement.

Bookings: Online www.earcare.nz |Phone 020 4124 25 25

Email alison@earcare.nz | Ear Care Canterbury

2324849

Electrician

Electrician

Mechanical &Pipe Systems

Motorcycle Service &Repair

Allan Pethig

For all your electrical needs. Residential &Commercial

Phone 03 313 7144

027 432 1534

Fax 03 313 2144

rgrantelectrical@gmail.com

PO Box 69, Rangiora

Plumbing

For all

general

aspects of

plumbing

Discounts for over

65 years old

Fast friendly service

All work guaranteed

Aaron McCartney

Certifying Plumber

Cell 027 366 9091

A/H 03 310 2137

Free Call:

0508 44EVER

EMAIL:

plumber_27@yahoo.com

2172994

Scaffolding

•Edge protection

•Working platform

Phone

0274 366 901

Plans for pricing

jas.rangiorascaffolding@xtra.co.nz

North Canterbury wide

1783878

AARON HARRIS

ELECTRICAL LTD

NEW HOUSES • ALTERATIONS

ELECTRICAL INSPECTIONS • SMART WIRING

SYSTEMS AND MORE...

M: 0275 543 958 E: aaron@ahel.co.nz

YOU

COULD

BE

HERE

Advertise

your business

in our Trades

and Services

Phone

Amanda Keys

on

03 313 2840

2020478

•Upto2"pipethreading &fitting

•Oil lubricationpumprepairs&systems installation

•BulkDieselTank polishing (filtering)

•Industrialservicing andmaintenance

•Based inWaimakaririregion

Tony 027 243 5337

Email:Mpipesystems@gmail.com

Scrap Metal

CASH PAID FOR SCRAP

•Car Bodies •Scrap Steel•Specialists in Farm

Machinery•All non Ferrous

MAINLAND

METALS LTD

Ph (03)338 7000

Mike0274 818544 •Robbie0274818 027

Locally owned and operated

Windows & Doors

WINDOW MARKET PLACE

• New & Used

• Timber & Aluminium

• Windows & Doors

8am-5pm Weekdays

8am-2pm Saturday

215 Waltham Rd, Sydenham

Ph (03) 379 6159 info@windowmarket.co.nz

Fax (03) 962 1012 www.windowmarket.co.nz

1902273

2346458

ncn1242200aa

• Service • Repairs • Tyres

• Motorcycle Rental

•Fully Equipped Workshop •Quality Work •Affordable Rates

Ph: 03 312 0066 |office@motorbiketours.co.nz

www.motorbiketours.co.nz

2313195v2

SERVICES

Thursday,August 2, 2018 | Issue 808 | www.ncnews.co.nz

South Pacific Motorcycle Services

"we're your LOCAL motorcycle guys"

(based in Mandeville)

HAVE YOU BEEN TO

OUR WEBSITE LATELY?

www.ncnews.co.nz

Visit now toview the paper online &more!

To book your spaceinthis guide,phone Amanda Keys 313 2840 or email amanda.keys@ncnews.co.nz
---
RangioraToyota

WANTED

Quality used late

modelToyotas.

Contactustoday

if you'relooking

to sell!

2015Nissan Leaf

•30Kw, 86%SOH

•ReverseCamera, Bluetooth

•28,100kms

2008 DaihatsuSirion

•1.3LPetrol5-Speed Manual

•Aircon, AM/FM &Radio

•Done128,890km

$

20,995

$

5,995

2013Toyota Aqua

•1.5LHybrid PetrolAuto

•ParkingSensors NOW

•Bluetooth

2006 Toyota Vitz

•1.3LPetrolAuto

•NZRadio, 5-Door

•Done94,750km

Signature

CLASS

S

WAS$15,995

$

8,995

2013Toyota Prius S

•1.8L Hybrid Petrol Auto

WAS$17,995

$ • Keyless

NOW

14,995 $

12,995

•5-doorHatch

2018 Toyota Yari ris GX

• 1.3L Petrol Auto

•ReverseCamera, Bluetooth

•Done40,400kms

$

18,995

2018 Corolla Sedan GX

•1.8L PetrolAuto, Alloys

•Bluetooth, ReverseCamera

•45,800kms

$

21,995

2009 MazdaDemio

•1.5LPetrolAuto

•Alloys, ReverseCamera

•91,350km

$

8,995

2017 Corolla LevinSX

•1.8L PetrolAuto

•Alloys, Camera

•8,250km

$

24,995

2010 Toyota Prius Silver

•1.8L Hybrid Petrol Auto

•Keyless,Bluetooth

•Done 180,650km

$

8,995

2018 Corolla GX

•1.8L PetrolAuto

•Bluetooth, Camera

•20,850km

$

22,995

2015Toyota Aurion AT-X

•3.5LPetrolV6Auto, Alloys

•Camera, Bluetooth

•100,250km

$

13,995

2019 CamryHybrid GX

•2.5LPetrolHybrid, Alloys

•SafetySense,Camera

•16,250km

$

36,995

2005 Aurion Sport rtivo SX6

•3.5LV6Auto, Alloys

•Spoiler,Sports Seats

•91,300kms

$

10,995

2019 Toyota Yaris

•1.3Lpetrolauto

•Bluetooth, Reversecamera

•24,200km

$

19,995

2018 Corolla GX

•2.0L PetrolAuto

•Satnav,Bluetooth

•Alloys, only 49,000kms

$

23,995

2016 Toyota Aqua

•1.5LpetrolHybridauto

•Climate air

•38,000km

$

14,995

2014 Honda CR-V SportLtd

•2.4LPetrolAuto, AWD

•Leather,Sat/Nav

•68,700km

$

29,995

2019 CamryGXHybrid

•2.5LPetrolHybrid, Alloys

•Bluetooth, Safety Sense

•15,250kms

$ 36,995

2018 Toyota C-HR AWD

•1.2LTurboPetrolAuto

•Toyota Safety Sense,Satnav

•Only 29,700km

$

31,995

2017 Rav4 Limited

•2.5LPetrolAutoAWD

•Leather,Sunroof

•Only 26,400km

$

35,995

2018 Highlander GX

•3.5LPetrol, 8-speed auto

•7-seater, Bluetooth

•Camera, 56,100km

$

42,995

2018 Highlander GXL

•3.5LPetrolAWD,Alloys

•7-Seater,Satnav, Leather

•29,700kms

$

47,995

2018 Highlander GX

•3.5LPetrol6-speedauto

•Bluetooth, camera

•Cruise control, 55,800km

$

42,995

2017Highlander GXL

• 3.5L PetrolAuto, Leather

• 7-Seater, Satnav, Keyless

•Done 29,000kms

$

47,995

2018 Highlander GXL

•3.5LPetrol8-Speed Auto

•Leather,Satnav

•59,500km

$

44,995

2010 LandRoverDiscovery SE

•3.0L TurboDieselV6

WAS$31,995

•Leather,7Seater

•Climate Air

2016 HiluxSR5 Prerunner

•2.8L Turbo Diesel Auto2WD

2017 Ford Ranger XLT

•3.2Lturbo diesel auto, 2WD

2020 HiluxSRExtra Cab

1997Nissan Caravan

•3.0L dieselmanual

•11-seater,daytimelights $

•132,800km 9,995

NOW •2.8L Turbo Diesel Manual4WD

$

29,995

•Satnav,ReverseCamera $ •Wildtrak lid

•Bluetooth

$

•66,950 38,995

$

•Facelift model 34,995 •Only250kms 48,495

Percival Street,Rangiora • Ph (03) 313-8186any time • www.rangiora.toyota.co.nz

Signature

CLASS

2346875-28/1

FINANCE &INSURANCE AVAILABLE
---
THE

SALE

TEN DAYS OFSAVINGS

STARTS FRIDAY 29 JANUARY 9:30AM

29 JANUARY –7FEBRUARY

WOMENSWEAR |LINGERIE |WOMENS SHOES

ATRIUM |CONTEMPORARY LOUNGE |ACCESSORIES

COSMETICS |CHILDRENSWEAR |MENSWEAR

MENS SHOES |MENS GIFTING |BED &BATH

LUGGAGE |PANTRY |HOME &LIVING |COOK &DINE

POTTERY BARN |POTTERY BARN KIDS |WEST ELM

OFFERS INSTORE ONLY
---
UP TO 50% OFF

SELECTED MENSWEAR

UP TO 50% OFF

SELECTED WOMENSWEAR

SHOP THE SALE FOR

10 DAYS OF SAVINGS

29 JANUARY –7FEBRUARY

EXTENDED STORE HOURS

FRIDAY 29JANUARY /9.30AM-7PM

SATURDAY 30 JANUARY /9AM-6PM

UP TO 50% OFF

SELECTED CHILDRENSWEAR

UP TO 50% OFF

SELECTED ACCESSORIES

NORMAL STORE HOURS THEN RESUME

OPEN ON WAITANGI DAY 6FEBRUARY 10AM-5PM

WWW.BALLANTYNES.CO.NZ/OPENING-HOURS

The Sale TIP

HIGH ST

UP TO 50% OFF

SELECTED HOMEWARES

UP TO 50% OFF

SELECTED FOOTWEAR

If you're shopping inChristchurch, we recommend

parking inthe Lichfield Street Carpark as it's the

closest to the store and isfully undercover. You can

even take the yellow lift (as opposed to the red or

purple lifts) to bring you straight to the store -ideal

for aquick entry!

P

CASHEL ST

BALLANTYNES

LICHFIELD ST

COLOMBO ST

P
---
THE

SALE

TEN DAYS OF SAVINGS

STARTS

FRIDAY 29 JANUARY

9:30AM

NOW ACCEPTING:

Instore Only, City Mall, Christchurch. PHONE (03) 379 7400