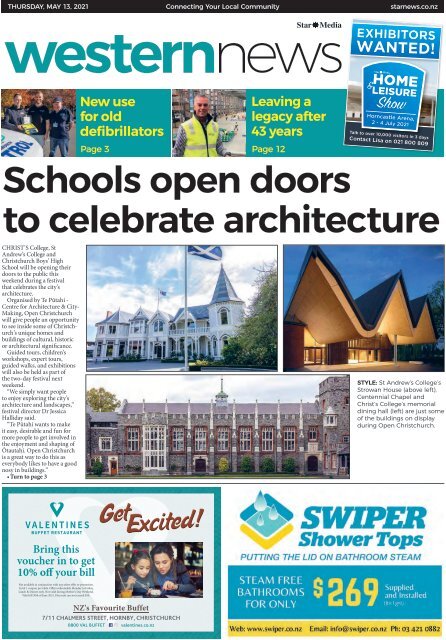 Western News: May 13, 2021
Do you know the secret to free website traffic?
Use this trick to increase the number of new potential customers.
THURSDAY, MAY 13, 2021

Connecting Your Local Community

starnews.co.nz

New use

for old

defibrillators

Page 3 Page 12

Leaving a

legacy after

43 years

Talk to over 10,000 visitors in 3 days

Contact Lisa on 021 800 809

Schools open doors

to celebrate architecture

CHRIST'S College, St

Andrew's College and

Christchurch Boys' High

School will be opening their

doors to the public this

weekend during a festival

that celebrates the city's

architecture.

Organised by Te Pūtahi -

Centre for Architecture & City-

Making, Open Christchurch

will give people an opportunity

to see inside some of Christchurch's

unique homes and

buildings of cultural, historic

or architectural significance.

Guided tours, children's

workshops, expert tours,

guided walks, and exhibitions

will also be held as part of

the two-day festival next

weekend.

"We simply want people

to enjoy exploring the city's

architecture and landscapes,''

festival director Dr Jessica

Halliday said.

"Te Pūtahi wants to make

it easy, desirable and fun for

more people to get involved in

the enjoyment and shaping of

Ōtautahi. Open Christchurch

is a great way to do this as

everybody likes to have a good

nosy in buildings.''

• Turn to page 3

STYLE: St Andrew's College's

Strowan House (above left),

Centennial Chapel and

Christ's College's memorial

dining hall (left) are just some

of the buildings on display

during Open Christchurch.

Bring this

voucher in to get

10% off your bill

Not available in conjunction with any other offer or promotion.

Limit 1 coupon per table. Offers redeemable Monday to Friday,

Lunch & Dinner only. Not valid during Mother's Day Weekend.

Valid till 30th of June 2021. Discount can not exceed $50.
---
2 Thursday May 13 2021

Latest Canterbury news at starnews.co.nz

GENERAL INQUIRIES Ph 379 7100

CLASSIFIED ADVERTISING Ph 379 1100

Star Media, a division of Allied Press Ltd

PO Box 1467, Christchurch

starmedia.kiwi

NEWS

Bea Gooding

Ph: 021 911 576

bea.gooding@starmedia.kiwi

ADVERTISING

Alana Powell

Ph: 962 8753

alana.powell@starmedia.kiwi

Your local community news

delivered to 24,894 homes

within The Star each week.

Templeton • Islington • Hei Hei • Broomfield

Halswell • Oaklands • Westlake • Hornby • Ilam

Wigram • Sockburn • Church Corner • Avonhead

Hyde Park • Russley • Riccarton Park • Riccarton

what's on

this week

JP Clinic

Thursday, 9.30am-12.30pm, at

Hornby, Saturday, 10am-noon, at

Fendalton, Tuesday, 10am-1pm, at

Halswell and Upper Riccarton

Fendalton, Hornby, Halswell and

Upper Riccarton libraries

A justice of the peace will

be available to members of the

community to witness signatures

and documents, certify document

copies, hear oaths, declarations,

affidavits or affirmations as well as

sign citizenship, sponsorship or rates

rebates applications. Free service.

Knit 'n' Yarn

Thursday, 10.30am-2.30pm,

Tuesday, 1-3pm, at Upper

Riccarton, Thursday, 2-3.30pm,

at Fendalton, Saturday, 1-3pm, at

Halswell, Tuesday, 10am-noon, at

Hornby

Fendalton, Halswell, Hornby and

Upper Riccarton libraries

Take your knitting, crochet,

stitching or any other handcraft and

enjoy the company of others. Share

skills and be inspired.

Citizens Advice Bureau

Thursday, Friday, Monday,

Tuesday, Wednesday, 9am-5pm

Hornby Library

Citizen's Advice Bureau provides

free, confidential advice to everyone.

They take the time to listen and equip

you with information, options and

support that fit your needs. Free,

phone 349 5236 for more information.

GenConnect

Thursday, 1-1.45pm

Upper Riccarton Library

If you have questions about

your smartphone or tablet, ask an

expert for advice. Free, no bookings

required.

Free Legal Advice

Thursday, 6.15-8.15pm

Hornby Library

A lawyer will be available to answer

your legal questions. Take relevant

documents. Free. No bookings

required.

Afternoon Euchre

Friday, 1.15-3.30pm

Halswell Bowling Club, Halswell

Domain

Join in for an afternoon of playing

Euchre with other like-minded

people. Hot beverages on offer. $3

entry, $2 raffle. Phone Noel on 322

8636 for more information.

WESTERN NEWS

Comics, Cartoons and Zines, Friday, 3-4.30pm, Upper Riccarton

Library. Express yourself, try something new or simply practice your

creative flair by making your own comic, cartoon or zine this Youth Week.

Materials provided. ​

Wā Kōrero-Storytimes

Monday, 10-10.30am, at Upper

Riccarton, Tuesday, 10.30-11am,

at Fendalton, Wednesday, 10.15-

10.45am, at Hornby

Fendalton, Hornby and Upper

Riccarton libraries

Storytimes is an interactive

programme including books, songs,

rhymes and play. Recommended for

children 2-years-old and up.

Family History

Wednesday, 11am-1pm

Upper Riccarton Library

A volunteer from the Riccarton

branch of the New Zealand Society of

Genealogists will be available to help

you find family history online.

Mah-Jong Group

Wednesday, 1-3 pm

Upper Riccarton Library

Go along whether you are a

beginner or an advanced player.

Sign up to a contract today for

Special fixed LPG gas prices,

12 months free rental

and Flybuys!

Call us today to find out more!

0800 4 ELGAS 0800 435 427

New Zealand
---
WESTERN NEWS Latest Canterbury news at starnews.co.nz

Thursday May 13 2021 3

New use for old defibrillators

• By Bea Gooding

THE HORNBY Community

Patrol has been gifted life-saving

equipment to assist them in

their efforts to keep residents

safe.

The city council aquatics team

has partnered with the New

Zealand Red Cross to provide

automated external defibrillators

in the community.

Formally available in city

council facilities, they are

already back in use. The donation

was also extended to the

Christchurch North Community

Patrol.

"While the defibrillators have

saved several lives in council

facilities, including poolside and

in work areas, they are suitable

for community use for another

few years," city council head of

recreation, sports and events

Nigel Cox said.

"We update our defibrillators

to best meet the needs of our

busy spaces and some of the

older models can be reused in

the wider community.

"These are handed to Red

Cross for a full check and new

batteries and pads before a

suitable community home is

found."

New Zealand Red Cross

LIFE-SAVING: NZ Red Cross national products manager Marcus Bird (left) and city

council training adviser Ben Warwick donates a defibrillator to Hornby Community Patrol

member Norm Williams.

PHOTO: NEWSLINE ​

national products manager

Marcus Bird said that the

city council AEDs – initially

provided through Red Cross –

still have "plenty of life left and

are ideal for community groups

that may not normally have

access to the devices."

"Nearly half of those people

treated for cardiac arrest

survive thanks to a defibrillator

provided by a community

responder," he said.

"They are such an important

piece of the health and safety

kit, with the council AEDs at a

range of facilities and out in the

hills environments.

"With the council upgrading

AEDs to the latest technology at

high-use facilities such as pools,

we can find a use for the older

models. In this case, several

community patrols had already

approached us about keeping

AEDs in their patrol cars."

The defibrillators are in good

working order and can be repurposed,

cleaned and checked out

- with new batteries if needed

- and used for a further five to

seven years.

"The more AEDs out there in

the wider community, the better

the chance of survival following

a cardiac arrest," Bird said.

Many buildings

free to access

• From page 1

The colleges will join 44 other

buildings, including the Old Government

building, Muse Art Hotel,

Lane Neave, Rāpaki Church, Fo

Guang Shan Buddhist temple, Te

Hononga Civic Offices, Millstream

apartment and the Lyttelton studio

monastery.

Eighty-five per cent of the buildings

will be free to access.

Said Halliday: "Architecture

is a complex, rich art form and

cultural product – it connects us

with different histories, design,

big and small ideas, materials and

technologies, politics, art, identity,

social and cultural values. There's a

lot to engage with and learn about

when you focus on a building's

architecture.

"Longer term we want Open

Christchurch to be a gateway for

more people to get involved in city

making – in the processes and cultures

that shape where we all live.

"Open Christchurch is a celebration

of the city's architecture.

We've packed the programme

with access to a diverse range of

buildings in the hope that's there

something for everyone."

•To see the full list,

visit https://openchch.

nz/?mc_cid=9b92e35b57&mc_

eid=UNIQID

JOIN US NOW!

See website for details

Andrew Hawkey

(BHS Podiatry)

Feet holding you up,

but holding you back?

• Foot/Leg Pain

• Ingrown Nails

• Corns/Calluses

• Orthotics

Burnside • St Albans • Amberley

Home visits by arrangement

Ph: 027 220 9395 • andrew@pacepodiatry.co.nz

Sign up to Smart Deals & be in the monthly draw for a $100 Dress-Smart gift card!

Open 10am-5pm, 7 Days 03 349 5750

CHRISTCHURCH 409 Main South Road, Hornby

www.dress-smart.co.nz
---
4 Thursday May 13 2021

Latest Canterbury news at starnews.co.nz

WESTERN NEWS

St Michael's School

Your school at the heart of the city

SCHOLARSHIPS

St Michael's is pleased to

offer academic, music and

choral scholarships

for 2022 for pupils in

Years 5, 6 & 7

Contact the Registrar for

application and audition

details.

registrar@saintmichaels.co.nz

SCHOLARSHIP DAY

Tuesday 25 May

OPEN DAY

✓ Co-educational, Years 1-8

✓ Small classes

✓ Specialist teachers

✓ Musical excellence

✓ Christian values

✓ Traditional classrooms;

academic rigour

✓ Before & after school care:

7.30am - 5.30pm

✓ Central city location

Taking enrolments for 2022.

Some places available for 2021.

OPEN DAY

Wednesday 26 May

www.saintmichaels.co.nz 249 Durham Street

Phone (03) 379 9790
---
WESTERN NEWS Latest Canterbury news at starnews.co.nz

Thursday May 13 2021 5

200km confidence-inspiring

expedition tests students

A GROUP of Hornby High

School students have a whole lot

more confidence in themselves

now that they have completed a

200km expedition through the

Southern Alps.

The 12 tired, year 10 students

were greeted with a moving kapa

haka performance by their peers

when they cycled back onto

school grounds after spending

four days in the wilderness.

As part of the Graeme

Dingle Foundation's Project K

programme, the students made

their way back to school from

the Lewis Pass by mountain biking

and hiking, carrying enough

gear and food supply for the

journey.

Losing their cellphones and

contact with everyone and

having to trust and rely on

their 12 fellow participants for

survival, was only the start of

a journey for a group who had

never experienced wilderness

activities or living in the

outdoors.

While the weather was generally

fine over the expedition, the

group experienced morning

frosts, mist and rain as their

journey threw challenges such

as the summitting of Mt Oxford,

100km of mountain biking, caving

and abseiling down a cliff.

Jaleel Aratuara-Collins, a 2020

Project K participant graduate

shared her journey.

"Last year I was an idiot,

doing things that I shouldn't be

doing. I had little or no respect

for anyone, making stupid

decisions, physically hurting

myself because I was trying

to deal with things that I was

struggling with,'' she said.

"Through my Project K journey,

I learnt how to make friends

with people outside my circle, to

give people a chance, to grow as

an individual and how to hone

in on my team-building skills.

"I learnt to become mentally

stronger and I can now comfortably

ask for help if I need it,''

Jaleel said.

RUGGED: A

group of year

10 Hornby High

School students

have returned

home after

spending four

days trekking

through the

Southern Alps. ​

Project K was started by Sir

Graeme Dingle in 1996 and has

three components including

the wilderness expedition, a

community challenge and a oneon-one

mentoring programme,

all designed to build confidence,

teach life skills and help find

purpose and direction.

The programme was

introduced in Christchurch in

2002.

Series of guided

walks to

improve fitness

PEOPLE ARE being encouraged

to step up their fitness through a

new series of guided walks that

gradually move from a wetland

wander to a more challenging hill

climb.

The Sport Canterbury-based

Green Prescription team –

together with the Adventure

Specialties Trust – has designed

four winter walks for "beginner

explorers."

The first walk on May 20

traverses Travis Wetland, with the

series culminating with a walk to

the top of the Port Hills on July 1.

The other walks include a coastal

walk from Spencer Park on June

3 and along Mt Vernon Track on

June 17.

"There are four bush walks

in the series and they start flat

and progress, so that by the

fourth walk, participants may be

prepared for a gentle gradient,"

Green Prescription team lead

Abby Wilson said.

"For some people, it may be

their first time heading into the

Port Hills."

The Green Prescription

programme provides support and

motivation for people wanting

to increase or maintain their

physical activity.

bespoke, upscale & personalised care

The reassurance of quality is built in to everything we do at The Russley Village. However, nowhere

is the requirement for reassurance more important than within our new Ashley Suites Care Facility

– setting new standards in care, comfort and security. Our highly appointed care suites offer private

ensuite and a kitchenette with refrigerator, microwave and refreshment making facilities –

providing a sense of residence. This boutique facility is truly unique, and offers personalised rest home

and hospital care within an elegant residential setting.

rest home & hospital level care
---
6 Thursday May 13 2021

Latest Canterbury news at starnews.co.nz

WESTERN NEWS

'Council attack on public facilities in Riccarton'

Central Riccarton

Residents'

Association secretary

Garth Wilson talks

about city council

decisions

In December 2020, staff

sent a report to councillors

drawing attention to the fact

that Riccarton Rd is a key public

transport corridor with over 800

bus movements a day.

As well as linking people to

Riccarton as a destination, the

bus lounges on Riccarton Rd

are a key connecting hub on

Environment Canterbury's network

linking passengers to other

services.

Only a matter of weeks later,

city council staff recommended

closing these lounges. Consultation

was invited from interested

residents to this proposal. But

even before the proposal was

opened to the public, staff had

for months been trying to find

businesses willing to sublease the

lounges. The so-called consultation

was nothing of the sort but

just another nonsultation which

this council has become notorious

for.

Nowhere in the bus lounges

were notices placed advising users

how they could make views

felt on the proposed closures.

The very mention of savings

of $600,000pa was misleading

because it was only ever

$300,000pa that ratepayers were

contributing to the lounge operating

costs.

Where are people waiting for

a bus going to stand? There is no

seating available and there will

be considerable congestion with

walkers, prams and e-scooters.

This is yet another attack on

public facilities in the central

Riccarton area, the most densely

populated in Christchurch with

a density far exceeding the limit

city council placed on medium

density zones.

Population has increased

exponentially since the earthquakes

so what does the council

propose? Strip the area of its

facilities, even though it suffers

from high levels of deprivation.

The city council wants to close

the marvellous and brilliantly

managed Wharenui Pool, shut

down the Mobile Library Service

(to all of Christchurch), close

the bus lounges, and, of course,

Riccarton has lost its authentic

community centre to a building

which is more like a branch of

Hereford St.

City council staff have still not

SERVICES: Central Riccarton Residents' Association secretary

Garth Wilson says the Riccarton Rd bus lounges are a key

connecting hub in Christchurch's bus network.

admitted their incompetence

was to blame for the two months'

hold-up on the Elizabeth St

cycleway because they did not

obtain archaeological consent

from themselves.

Because staff steadfastly (and

arrogantly) refused to take account

of overwhelming public

sentiment in 2019 there are now

many empty shops on Riccarton

Rd.

City council staff are desperately

looking for ways they can

cut expenditure. They will find

the solution close to home. There

is a bloated bureaucracy in council

with many hundreds of staff

on $100,000pa plus, the chief

executive is paid more than the

•HAVE YOUR SAY on

Wilson's views. Email bea.

gooding@starmedia.kiwi

prime minister and some senior

managers more than a cabinet

minister.

There is such an excess of

"managers" that city council

administration is unhealthily

obese. It should employ local Kiwis

instead of constantly importing

staff from overseas because

local Kiwis will listen to local

communities who know what is

best for their area and respect the

traditions and way of life of local

communities which have built

up over very many decades.

Fall in love

before

with your favourite

furniture all over again!

• Recover your chairs and couches

and save money!

• Excellent range of fabrics

• Quality workmanship guaranteed

• Free quotes available

• Over 30 years experience

Somerfield Upholstery welcome you to email a

photo for a quote online: somerfielduph@gmail.com

after

Read local

Somerfield Upholstery Ltd

FURNITURE RECOVERY SPECIALIST

6/47 Sonter Road, Wigram | Ph 021 251 6200 | 349 0456
---
WESTERN NEWS Latest Canterbury news at starnews.co.nz

Thursday May 13 2021 7

A communal garden

that's big enough to

feed a community.

Parkstone. The space to be yourself.

Come and see a retirement village where the communal garden is

big enough to feed the community, where a lap of the pool isn't the

same as a width, and where the cinema is not just a big telly.

Come to Bupa Parkstone where you have the space to be yourself.

Situated in Ilam this new development is ready to move in now.

Visit our Open Home this Friday at 10am to 12pm, and see if Bupa

Parkstone is right for you.

Call Debbs on (03) 344 1422 or 027 247 4250 to book a tour.

2 Athol Terrace, Ilam

bupa.co.nz/parkstone
---
8 Thursday May 13 2021

Latest Canterbury news at starnews.co.nz

HEALTH & AWARENESS

WESTERN NEWS

Joint pain: Do I have arthritis or

could it be mainly my muscles?

The team at Physical Sense in Sydenham

sees clients with a range of symptoms but

many of their middle-aged and senior clients

visit complaining of pain in one of their joints.

Physiotherapist Ietje van Stolk suggests

that a major part of the pain could be due

to muscle pain rather than simply arthritis.

"Even if an x-ray shows arthritis, the reason

for the pain may be the muscles around

the joint," she explains. The images show

how a muscle knot (the crosses) in a back

muscle can give hip pain (aches and pain

are the red areas in the drawings), a knot

in a muscle on the back of the shoulder

blade can give a deep pain in the front of

the shoulder and a muscle knot all the way

near the groin can give an ache in the knee

(especially at night in bed).

Ietje recalls one case where an 89 year

old client with severe arthritis who walked

with a stick, told her, "I will end up in

a wheelchair, I cannot put any weight

through my right leg due to pain in my hip

and buttock". "Within 4 treatments, she

was walking with her stick but without the

severe pain," says Ietje. "The arthritis was

one of the factors that made her muscles

spasm but the other was that older people

move less and the flexed position the hip

is in when we sit is particularly bad for

the hip." Ietje is happy with the fact that

although the client was 89 and could have

been "given up on" or told to live with the

pain, she made a difference to her health

and wellbeing.

The same lack of movement can be the

reason for your knee pain or your shoulder

pain and the same few treatments could

make a huge difference for you.

At Physical Sense, hands-on techniques

(massage and triggerpoint deactivation

techniques) are used to release the muscles.

The client also gets a home exercise

program designed to mobilize and stretch

the joint, strengthen the important core

muscles and increase general strength and

SHOULDER

PAIN

KNEE PAIN

(the crosses are the areas of the muscle spasms, the red areas is where the pain is felt)

balance. They teach a movement sequence

that stretches the joint in all directions

whilst the client is able to lie safely on their

bed, perfect for older or less mobile clients.

In many cases having the muscles

released and being taught how to maintain

it, is enough to stay on top of the problem.

HIP PAIN

If severe arthritis is the underlying cause,

some maintenance therapy may be

necessary, but that is often more affordable

and, for older patients, better tolerated

than surgery. After only one treatment you

should know that it will work for you. Call

and only pay $50 on that treament.

Physical Sense Gym and Physio is located at 300 Colombo Street, Sydenham. The Blue Line Bus stops in front of the

door and there is ample parking. To enquire about joint pain treatment, phone 377-2577 or visit www.triggerpoints.co.nz

FLY IN-STORE TO

HUNT FOR OUR DEALS

$12.99

EACH

Jim Beam / CC

4.8% 440ml 4pk (inc zero) cans

Effen 330ml 4pk bottles

$21.99

EACH

Cody's (incl zero) 7% 250ml 12pk cans

Woodstock 5% 12pk bottles

$21.99

EACH

Cruiser

7% 12pk can range

$22.99

EACH

Woodstock

250ml 7% cans (incl zero) 12pk

NEW

FLAVOUR

Tui Hard Soda

330ml 10pk cans

$22.99

EACH

$23.99

EACH

Jim Beam Gold/ CC

Premium 7% 250ml 12pk

$23.99

EACH

Smirnoff Ice Double Black

7% 12pk can range (ex guarana)

Gordons G&T, Gin & Soda

(pink/sicilian) 12pk 250ml cans

Long White

10pk bottle range

$25.99

EACH

$25.99

EACH

Part Time Rangers /

JD 4.8% (incl no sugar) 10pk cans

$29.99

EACH

$9.99

EACH

$9.99

EACH

$11.99

EACH

$13.99

EACH

$15.99

EACH

$18.99

EACH

$25.99

EACH

$34.99

EACH

$34.99

EACH

$35.99

EACH

$39.99

EACH

Tui Bourbon

Tui Vodka Soda

7% 18pk range

Wolf Blass

Yellow Label range

(ex PN)

Jacobs Creek (ex Sparkling

range) Five Flax range

Mudhouse

range (ex PN)

Brown Brothers

Moscato range

The Ned Range

(ex PN)

Pasqua

1500ml range

Malibu / Kahlua

700ml (incl flavours)

Ivanov/Seagers

(incl lime) 1L

Larios 1L

JB Honey / Midori 700ml

Jameson

Jameson Cold Brew

Absolut / Beefeater

(flvrd ranges only) all 700ml

Larios Rose/

Citrus / Larios 12 1L

$41.99

EACH

$42.99

EACH

$49.99

EACH

$54.99

EACH

$62.99

EACH

$99.99

EACH

3 FOR

$10.00

$13.99

EACH

$18.99

EACH

$19.99

EACH

Jim Beam 1L

Canadian Club

(incl spiced) 1L

Coruba (incl Gold)

JW Red Label 1L

Bombay Sapphire

1L

Jack Daniels 1L

Woodford Reserve 700ml

Chivas Regal 12yr 1L

The Glenlivet 12yr 700ml

Bruichladdich Classic

Laddie 700ml

Kingfisher Strong

7.2% 500ml cans

Monteiths

6pk bottle range

NEW

FLAVOUR

Fortune Favours

6pk range

Somersby

10pk cans

NEW

FLAVOUR

$21.99

EACH

$29.99

EACH

$36.99

EACH

$39.99

EACH

$39.99

EACH

$21.99

EACH

$23.99

EACH

$24.99

EACH

$26.99

EACH

Orchard Thieves

12pk range

Haagen

15pk bottles

Asahi

12pk bottles

Lion Red, Speights,

Waikato or Summit

15pk bottles

Steinlager

15pk bottles

Heineken

15pk bottles

Tui/Export Gold/Extra

Low Carb/ DB Draught

24pk bottles

Export 33

24pk bottles

Carlsberg

24pk bottles

Promotion period between 1/05/2021 to 31/05/2021. While stocks last. Promotion only available at participating stores – please contact your local store to confirm

whether they are participating in the promotion and check the pricing in-store prior to purchase. Online pricing will vary.

DENNYS THIRSTY LIQUOR

670 MAIN SOUTH RD, ISLINGTON

03 349 7337

BLACK BULL LIQUOR WIGRAM

3/187 WIGRAM RD, HALSWELL

03 322 4000

ASK ABOUT

LOYALTY CARD

BENEFITS &

GIFT VOUCHERS
---
WESTERN NEWS Latest Canterbury news at starnews.co.nz

Thursday May 13 2021 9

Cinema owner is looking for successor

• By Samantha Mythen

LANG MASTERS, long-time

owner of the iconic Hollywood

3 Cinema in Sumner, has turned

90 and he's still working seven

days a week.

If you stop by for a movie, you

can see Lang with a big smile

waiting behind the counter, usually

during matinées.

On April 30, friends, family,

and work colleagues, old and

new, gathered at Masters' home

to celebrate his birthday.

He said he is still eating the

leftovers from the three-tier film

reel cake made especially for him.

Lang has owned the cinema for

more than 60 years. Hollywood

Cinema was only open on Saturdays

when Lang and his wife

Maureen first took over in 1962.

They painted and redecorated

the 1938 building.

Only now at 90, is he considering

stepping down and is looking

for someone to take over his

share of the business.

"It would be great if that person

was interested in movies,"

said Lang.

"I would hate to see the theatre

pulled down."

Even if it is sold. Lang said he

would still pop in if they needed

him.

"I enjoy working here – it

keeps you alive," he said.

Although Covid has resulted

in a movie shortage, Lang said

people have continued to support

the theatre.

"It would be great to see more

visitors though."

Lang has been running

theatres around the country

since he was a teen. He attended

Christchurch Boys' High School

and hosted movies on 16mm

film for friends in his parent's

garage.

In 1981, at the height of Lang

and Maureen's cinematic empire,

they ran seven cinemas in

Christchurch.

• Turn to page 10

MOVIE BUFF: At 90-years-old, Lang Masters is still working

full-time at Hollywood 3 Cinema in Sumner.

PHOTO: SAMANTHA MYTHEN

LEGACY:

Lang Masters

has owned

Hollywood 3

Cinema since

1962.

PHOTO: GEOFF

SLOAN

For everything

AUTO ELECTRIC

CARS • BOATS • TRUCKS

CARAVANS • TRAILERS • 4WDS

ELECTRIC & HYBRID VEHICLES

• Starter Motors

• Alternators

• Central

Locking

• electric

Windows

• ABS & Airbags

• Stereos/

Alarms

• Batteries

• tuneups

• engine

Management

Amazing

Auto USUALLy

AAE Electric SAMe DAy

ServiCe

65 Coleridge St, Sydenham

Phone 03 379 4250

www.amazingautoelectric.co.nz

WOF

only $50

• Courtesy cars • Transmission flush

service

• Oil changes

• Tyres & batteries

• Full mechanical repairs

• Petrol & diesel

• Brake & clutch repairs servicing

Wednesday 19 May 2021, 9am - 3pm

Villa Maria College is a

state integrated

Catholic secondary

school for girls in years

7 - 13.

We extend a warm

invitation to

prospective parents

and students to join

us throughout the day

and see our College in

action.

Meet our staff and students and find out

what makes Villa Maria College such a special place.

Principal Deborah Brosnahan and our student leaders will address

visitors in the Auditorium at the following times: 9am and 1pm for

Year 9 intake, and 11am for Year 7 intake. Visitors are then invited to

take a guided tour of the College. We look forward to seeing you.

2021 Student Leaders

fitzgerald motors

Phone: 03 349 7813

Unit 8, 193 Waterloo Road, Hornby

03 322 4548 | Easy Parking

17 Lillian Street, Halswell

Open Mon-Fri 9.30am - 5.00pm

Saturday 10.00am - 1.00pm

LAYBY WELCOME

T E W H A R E O M E R I

21 Peer St, Christchurch

Ph: 348 4165

www.villa.school.nz
---
10

Thursday May 13 2021

Latest Canterbury news at starnews.co.nz

WESTERN NEWS

'A very enjoyable life'

• From page 9

"The hard part is making sure

you pick the right films," he said.

"Here, we do better with arty films

not blood-thirsty action films."

In 2013, Lang won a New

Zealand Motion Picture Industry

Council award for service to the

industry.

The Hollywood Cinema first

opened in 1938 and has been

screening movies since then. A

second screen was added in 1976

and a third in 1999.

In 2014, the cinema won the

people's choice award for the

best independent cinema at the

New Zealand Motion Picture

Awards.

In his home on Scarborough

Hill, Lang has his own theatre,

where friends and family visit.

Lang's personal favourite genre

is musicals – South Pacific, the

Sound of Music, Oklahoma –

movies accompanied by a chocolate

dipped ice cream.

Lang said running theatres

with his wife Maureen has made

it a very enjoyable life.

CELEBRATIONS:

Lang Masters

still works

full-time at

Hollywood

3 Cinema in

Sumner. He has

just celebrated

his 90th

birthday with a

special movie

reel cake.

EMPIRE: Lang and Maureen Masters once ran seven movie theatres in Christchurch.

BECAUSE YOUR

FEET MATTER

40 years

combined

experience

• General Foot Care

• Biomechanical

• Orthotics

• Ingrown Toenails

• ACC Registered

• Diabetic Foot Care

Read local

45 Merrin Street, Avonhead

Ph: 03 357 0155

E: info@footmatterspodiatry.co.nz

Book Online! No referral required.

Year 9 2022 OPen evening:

Thursday 20 May from 5:00pm - 8:00pm

PrinciPal's address

5:00pm and 6:30pm, in the school hall

RICCARTON HIGH SCHOOL

Te Kura Tuarua o Pūtaringamotu

www.riccarton.school.nz
---
WESTERN NEWS Latest Canterbury news at starnews.co.nz

Thursday May 13 2021 11

For everything

AUTO ELECTRIC

CARS • BOATS • TRUCKS

CARAVANS • TRAILERS • 4WDS

ELECTRIC & HYBRID VEHICLES

• Starter Motors

• Alternators

• Central

Locking

• electric

Windows

• ABS & Airbags

enjoy your journey

with caltex hornby

gas up with us today!

dog wash

atM | coFFee | lpg swappa bottle

Mini superMarKet | Firewood

trailer hire | Forecourt serVice

touch Free carwash

locally owned & operated

427 Main south rd

ph 349 2407

www.caltexhornby.co.nz

• Stereos/

Alarms

• Batteries

• tuneups

• engine

Management

Amazing

Auto USUALLy

AAE Electric SAMe DAy

ServiCe

65 Coleridge St, Sydenham

Phone 03 379 4250

www.amazingautoelectric.co.nz

Hilux, Hiace and

everytHing in

between

68 Falsgrave Street, Woolston

W: nzvanspares.co.nz

E: nzvanspares@hotmail.com

Ph: 03 379 3932 / 0508 698 267

100% Canterbury Owned

NZ's favourite home for

Recycled Hilux & Hiace Parts

SUPER RUGBy

tRanS-taSman 2021

Highlanders v Reds

7.05pm Friday 14 May

Forsysth Barr Stadium, Dunedin

Result:

Waratahs v Hurricanes

9.45pm Friday 14 May

Venue TBC

Result:

Hurricanes v Rebels

7.05pm Friday 21 May

Sky Stadium, Wellington

Result:

Force v Highlanders

9.45pm Friday 21 May

HBF Park, Perth

Result:

Hurricanes v Force

7.05pm Friday 28 May

McLean Park, Napier

Result:

Waratahs v Crusaders

5.05pm Saturday 29 May

WIN Stadium, Wollongong

Result:

Crusaders v Force

7.05pm Friday 4 June

Orangetheory Stadium, Chch

Result:

Reds v Blues

9.45pm Friday 4 June

Suncorp Stadium, Brisbane

Result:

Hurricanes v Reds

7.05pm Friday 11 June

Sky Stadium, Wellington

Result:

Brumbies v Highlanders

9.45pm Friday 11 June

GIO Stadium, Canberra

Result:

ROUnD 1

Crusaders v Brumbies

7.05pm Saturday 15 May

OrangeTheory Stadium, Chch

Result:

Rebels v Blues

9.45pm Saturday 15 May

AAMI Park, Melbourne

Result:

ROUnD 2

Blues v Waratahs

4.35pm Saturday 22 May

Eden Park, Auckland

Result:

Chiefs v Brumbies

7.05pm Saturday 22 May

FMG Stadium Waikato, Hamilton

Result:

ROUnD 3

Blues v Brumbies

7.15pm Saturday 29 May

Eden Park, Auckland

Result:

Reds v Chiefs

9.45pm Saturday 29 May

Country Bank Stadium, Townsville

Result:

ROUnD 4

Chiefs v Rebels

4.35pm Saturday 5 June

FMG Stadium Waikato, Hamilton

Result:

Highlanders v Waratahs

7.05pm Saturday 5 June

Forsyth Barr Stadium, Dunedin

Result:

ROUnD 5

Rebels v Crusaders

4.35pm Saturday 12 June

AAMI Park, Melbourne

Result:

Blues v Force

7.05pm Saturday 12 June

Eden Park, Auckland

Result:

Final - Saturday 19 June

Force v Chiefs

11.55pm Saturday 15 May

HBF Park, Perth

Result:

Reds v Crusaders

9.45pm Saturday 22 May

Suncorp Stadium, Brisbane

Result:

Highlanders v Rebels

2.35pm Sunday 30 May

Venue TBC

Result:

Brumbies v Hurricanes

9.45pm Saturday 5 June

GIO Stadium, Canberra

Result:

Waratahs v Chiefs

9.45pm Saturday 12 June

Venue TBC

Result:

Jewellery & Giftware

WATCH REPAIRS

• Replacement

batteries

fitted from $10

• Strap replacement

HOURS:

Monday-Friday 9am-5pm

Saturday 9am-1pm

79 Wrights Road, Middleton.

Ph: (03) 338 0171

Email: sales@warrenagencies.co.nz

Like us on Facebook

need a new roof?

We can replace your old concrete

tile, deco tile or old corrugate roof.

We can also complete

asbestos removal.

163 ShandS road, hornby

Ph: 03 349 8439 | www.roofline.co.nz

NUMBER ONE SUPPLIER

TO THE NZ JET BOATING

COMMUNITY FOR OVER

50 YEARS

• Part Boats & Hulls

• Turn Key Packages

• New Jet Units

• Custom Fabrication

• Expert Advice

SERVICING

Peter Tonkin

03 962 0505

peter.tonkin@hamiltonjet.nz

Free measure

and quote.

For a quality

job contact us.

• Spare Parts Retailer

• Jet Unit Refurbishment

• Engine Tune-Ups

• Insurance Repairs

• Impellor Reconditioning

Hook up witH

tHe snow cHain

specialist

FREE FittinG

& aDViCE

keeping your family safe

wE sEll & Fit

snow CHains

to anY

VEHiClE

bUYinG

snow CHains

FRoM Us

is as CHEaP

as HiRinG

tHe cHain Man ltD

100% nZ owneD anD opeRateD

Unit 1 - 1 Cass st. sYDEnHaM. CHCH

PH: 03 366 1528

E: sales@chainman.co.nz • www.chainman.co.nz

MUSGROVES

"less waste,

more purpose!"

Buyers and Sellers of

Recycled and New Building Materials

3 Musgrove Close, Christchurch

(off Wigram Road)

Phone 03 322 7922 or 0508 468 747

www.musgroves.co.nz

Sizzling

Saturday

$22

WOF

Bookings essential. Conditions apply.

WE'RE BACK!

Cnr Fitzgerald Ave & Hereford St.

Phone: 365-5220

workshop@a1auto.co.nz

Premium

Tyres & AuTo

• New & secondhand tyres

New tyres from $70,

Secondhand tyres from $40

FREE fitting & balancing on all

tyres sold by us

• Vehicle servicing from $85

• Punctures only $25 for most vehicles

• Brake pads from only $130 fitted

• WOFs • Oil Changes • Alignments

CALL NOW!

Hours:

MON - FRi 8am - 5pm,

SAt 9am - 2pm (Linwood)

2 LOCATIONS

245 DYERS RD

(Corner Wickham St)

Phone: (03) 384 2080

222 LINWOOD AVE

(Beside Burger King)

Phone: (03) 380 5020
---
See page 4 for more info!

h tp: /kaywa.me/8aVDQ

my Kaywa Qr-Code

w.valuecarswarehouse.co.nz

h tp: /kaywa.me/8aVDQ

Ce l 021 855 884

My Kaywa QR-Code

w.valuecarswarehouse.co.nz

12

Thursday May 13 2021

Latest Canterbury news at starnews.co.nz

WESTERN NEWS

Leaving a legacy after 43 years at Foodstuffs

JOHN MULLINS will leave

behind a legacy of innovation

and change when he retires from

Foodstuffs South Island after 43

years.

As general manager of supply

chain, he oversaw the operation

projects that provide customers

with the experience they have

with the Foodstuffs brands of

today.

Starting his Foodstuffs career

as a management cadet back in

1978 in Christchurch, Mullins

worked in a range of roles training

in areas of sales desk, warehouse

operations, Cash'N'Carry,

and general clerical duties.

"Looking back on my time

at Foodstuffs South Island, I

was fortunate enough to be able

to work in a variety of roles,

upskilling and working my way

around the business," Mullins, of

Fendalton, said.

"In the 80s, I was given the

opportunity to move into a shipping

and purchasing role, later

taking up the role of wholesale

operations manager in 1985.

"It was the number of different

roles I took on in the 80s that has

helped to shape my knowledge

and understanding of how the

business continues to operate so

successfully today."

The end of the 1980s saw a

merger between Foodstuffs

Christchurch and Foodstuffs

Otago, forming Foodstuffs South

Island.

For Mullins, this meant further

opportunities as he moved

into a new corporate executive

role.

"During my time at Foodstuffs

Christchurch and later Foodstuffs

South Island I've enjoyed

watching the business transform,

helping to integrate new systems,

operations and technology

throughout our supply chain,"

he said.

"It has been incredible seeing

the business grow over the years

with new retail stores, technology

advancements, and larger

premises for more capacity to

store food for extended periods

of time."

The year 2003 saw Mullins move

into his role of general manager

wholesale operations and procurement,

and in 2010 he was given the

role of general manager of supply

chain and was appointed an adviser

to the board.

Said Foodstuffs South Island

chief executive Steve Anderson:

VARIETY: After

43 years, supply

chain general

manager

John Mullins

is retiring from

his crucial role

at Foodstuffs

South Island. ​

"I've had the privilege of working

with John over the past 20

years and seen first-hand the

instrumental role he played in

developing and growing our supply

chain.

"Some highlights for me include

John setting up our procurement

and inventory systems, developing

and launching our warehouse

management system and its ongoing

enhancements, not forgetting

the many other projects he's tackled

over the years."

Over the last couple of decades,

highlights for Mullins include

the opening of the Hornby

chilled and frozen distribution

centre in 2000, the opening of

the Hornby ambient DC in 2007

and further expansion in 2014,

and the launch of Foodstuffs

South Island's transport company,

to name a few.

Last year he oversaw the

opening of the new Hornby

temperature-controlled DC to

name a few.

The opening was a highlight

for Mullins as it upscaled Foodstuffs'

operations with their new

world-class chilled and frozen

distribution centre.

This meant they were able to

increase the volume, range of

product and services required

for them to continue feeding the

South Island.

The building and opening of

the new DC was a massive project

which created over 100 additional

jobs and meant upscaling

operations to provide deliveries

to our retail stores seven days a

week.

Although the everyday sounds

of forklifts whirling and trucks

reversing will become but a thing

of the past, upon retirement,

Mullins looks forward to

continuing his outdoor pursuits,

giving back to the community

with local governance roles and

spending time with his family.

The South Island's

leading motoring resource

Filled with news, reviews and dealer listings

Incorporating

ISSUE 667 | FrIday 20 novEmbEr 2020

See inside for this week's

4WD feature!

free

best motorbuys

www.drivesouth.co.nz

One Owner!

2015 IsuZu D-mAX

4WD Ls D/CAb

From family cars to work trucks,

and supercars to SUVs.

No matter what you're

looking for, you can find it all

with Drivesouth.

sherborne st, edgeware

iggest range of vehicles

location!

2011 Jaguar

XF Premium

$18,999

Incorporating

ISSUE 668 | FrIday 27 NovEmbEr 2020

NZ new, 3.0 intercooled turbo/dsl,

auto, rare flatdeck with ladder/pipe

racks, reverse cam, service history.

For more see their advert on page 31

40 Years Finance

Experience

Cannot be Beaten!

$34,995 $192pw

free

best motorbuys

www.drivesouth.co.nz

See inside for this week's

marine feature!

Magazine available for

FREE every Friday at a

convenient pick up point

near you!

e Ave | P: (03) 366 7768 | www.valuecarswarehouse.co.nz

• Talk to us about finance for your next

motor vehicle purchase

Download the Kaywa Qr Code reader (A p Store &Android market) and scan your code!

free

• Specialising in Finance for Private Purchases

Incorporating

• Very quick approvals, sensational interest rates

• From no deposit (terms & conditions may apply)

ISSUE 669 | FrIday 4 dEcEmbEr 2020

Hiace spares

PH 03 web

Cnr Main South Rd and Epsom Rd, Christchurch

Ph: 03 348 4129 | avoncityford.com

Classic Car feature!

For more see their advert on pages 6 & 7

best motorbuys

See inside for this week's

275 Colombo street, Christchurch

The biggest range of vehicles

in one location!

2013 Volkswagen

Tiguan TSi

$20,999

CAR AUDIO

AUDIO VISUAL

CAR SECURITY

CELLULAR

Moorhouse Ave | P: (03) 366 7768 | www.valuecarswarehouse.co.nz

t Asaph Str

Now Available @ NZ Van Spares

MOBILE INSTALLATION SERVICE See our ad on page 2

See page 5 for more info!

2013 LexuS

LS460 F Sport

Download the Kaywa QR Code Reader (a p Store &android Market) and scan your code!

493 blenheim road, Christchurch

dable new parts available for BMW / MERCEDES BE

The biggest range o

in one locati

Only 79,000kms, black leather

interior, 10x airbags, sunroof,

very smart & very rare.

$39,999 incL

orc

REVERSE CAMERAS

RADAR DETECTORS

Now

PARKING SENSORS

AERIALS

0800 212 777

Ce l 021 855 884

Hiace

PH 03 web

2.4 auto, alloys, ABS, twin airbags.

40 Years Finance

Experience

Cannot be Beaten!

DASH CAMERAS

GPS/TRACKING

• Talk to us about finance for your next

motor vehicle purchase

• Specialising in Finance for Private Purchases

• Very quick approvals, sensational interest rates

• From no deposit (terms & conditions may apply)

Cnr Main South Rd and Epsom Rd, Christchurch

Ph: 03 348 4129 | avoncityford.com

www.drivesouth.co.nz

2005 toyota rav

$9,990

2.0lt Petrol, 5 Dr Station wagon,

Climate Control, ABS Braking,

Automatic. $34.63pw.

2008 bmW 320i

$10,974 NoW $7,974 + orC

has motoring covered.

drivesouth.co.nz
---
WESTERN NEWS Latest Canterbury news at starnews.co.nz

Thursday May 13 2021 13

AUTOMOTIVE PROFESSIONALS

Specialised machines used to

identify auto electrical problems

Auto electricAl specialists, roses

Auto electrical, are experts in repairing

and maintaining all aspects of the

electrical and electronic componentry

found in today's highly sophisticated

commercial and passenger vehicles.

Their cranford Street workshop

boasts a suite of highly specialised

diagnostic machines, which enable the

team to quickly identify any electrical or

electronic problems in most makes and

models of vehicle and repair them, saving

time for the technicians and cost for the

customer.

roses Auto electrical offer a full range

of electrical services including batteries,

(they are a Battery town agent), which

are fitted free of charge. They also provide

free battery, alternator and starter checks

and install and repair car stereo systems,

alarms, air conditioning, ASB brake

systems and traction control systems.

A recent acquisition for roses Auto

electrical was the Autologic european

Diagnostics machine

This specialised and highly

sophisticated equipment is used to

diagnose most (if not all) electrical and

electronic faults in european vehicles.

The machine's digital interface interacts

with the vehicle's active components,

programming and coding. Depending

on the model of the vehicle, it reads

and clears all Diagnostic trouble codes

(Dtcs) to identify the faults. it also

reads live vehicle data such as engine

temperature, engine speed, vehicle

speed and suspension height data. Plus,

roses Auto electrical have the back-up a

worldwide european support base.

The Autologic european Diagnostics

machine covers vehicles from 1995

onwards, so for owners of out-of-warranty

european vehicles, it ensures all their

auto-electrical repair and replacement

needs can be ascertained and catered for.

The customer comes first for the

friendly, professional team at roses

Auto electrical, and by having their

vehicle serviced there motorists can have

confidence in its performance.

Roses Auto Electrical are located

at 518 Cranford Street, Papanui.

Phone 352 5090 to book in for service

for repairs, or visit their website

www.roseselectrical.co.nz

for more information.

A vonhead

utomotive

free

6 months roadside assist

with any vehicle servicing

• automatic transmission

flushing service

• Wof • tune-ups • suspension

• batteries • neW tyres • oil &

lube service • courtesy cars

• full mechanical repairs

oPen 6 days (sat until 1pm)

126 racecourse road

Ph 342 7123 or 027 495 6600

s

m

a

r

t

mall

edium

• Panel beating

• Spray painting

Fast

turnaround

utomotive

epair

echniques

Smart repairS (NZ) Limited

automotive refinishers

272 Lichfield St (Fitzgerald Ave end)

Ph 377-0409

Your LoCAL

TYrE SPECIALIST

New & Quality Used Second-hand Tyres

Alloy Wheels

Replacement Rims

Puncture Repairs

8c Birmingham Drive,

Middleton

www.jcmdirect.co.nz

343 0099 or 027 22 63 805

Proud to support Hornby Hockey Club

European

Car Owners

NEW DIAGNOSTIC EQUIPMENT!

We can identify ANY electrical

fault & reduce repair work

with our NEW European Car

Specific Diagnostic Equipment

ROSES

AUTO ELECTRICAL

Enquiries welcome

CH 352 5090

PARKER

AUTOMOTIVE

All Automotive Repairs and

Servicing including 4WD

Suspension Brakes & Cambelts

WOF, Tyres, Batteries

23B Birmingham Drive,

Middleton

Ph 03 982 4268

Mobile: 027 331 0382

Email: parkerauto89@outlook.com

For everything AUTO ELECTRIC

CARS • BOATS • TRUCKS • CARAVANS • TRAILERS

4WDS • ELECTRIC & HYBRID VEHICLES

• Starter Motors

• Alternators

• Central Locking

• Electric Windows

• ABS & Airbags

Amazing

Auto

AAE Electric

• Stereos/Alarms

• Batteries

• Tuneups

• Engine

Management

USUALLY

SAME DAY

SERVICE

65 Coleridge Street, Sydenham

Phone 03 379 4250

www.amazingautoelectric.co.nz
---
14 Thursday May 13 2021

Latest Canterbury news at starnews.co.nz

WESTERN NEWS

eXhIbItoRs Wanted!

Christchurch Arena, 2-4 July 2021

IN ASSOCIATION WITH

Reach over 10,000 potential customers across three days!

The perfect opportunity for you to personally engage with

and grow new customers!

Showcase your business in one of our general areas or feature in a specialized zone below! Limited stands available, don't miss out!

a new

addition to

the show!

We have stands avaILabLe to suIt aLL budgets!

If you want to grow your business, contact Lisa now on 021 800 809 or email lisa.lynch@starmedia.kiwi

for a no obligation quote. Payment options available. Terms & Conditions apply.
---
WESTERN NEWS Latest Canterbury news at starnews.co.nz

Thursday May 13 2021 15

Classifieds Contact us today Phone our local team 03 379 1100

Public Notice

Notice for consultation on a proposed Enrolment

Scheme amendment – Halswell School

The Ministry of Education has identified that Halswell School is likely to be

overcrowded and has given the school board notice of this.

After consultation with the board, we have developed a proposed enrolment

scheme amendment for Halswell School under section 72 of the Education and

Training Act 2020.

As part of this process, we are consulting with the school's community and with

people living in the area for which the school is a reasonably convenient school.

Under this scheme, students will be enrolled if they live within the proposed

home zone. The enrolment of out-of-zone students is governed by the

provisions of the Education and Training Act 2020.

A copy of the proposed enrolment scheme amendment is available at

https://consultation.education.govt.nz/education/halswell-school-enrolmentscheme-amendment

If you have any feedback about the proposed enrolment scheme amendment,

please visit the website, read the information and complete the survey before

07 June 2021.

Contact email; Canterbury.EnrolmentSchemes@education.govt.nz

Gardening

& Supplies

Gardener available for

maintenance, weeding

pruning, spraying,

planting, advice. Qual &

exp. Pensioner discount

25%. Ph Richard 0274 918

234, 03 349 4022

Wanted To Buy

AAA Buying goods

quality furniture, beds,

stoves, washing machines,

fridge freezers. Same day

service. Selwyn Dealers.

Phone 980 5812 or 027

313 8156

TOOLS Garden,

garage, woodworking,

mechanical, engineering,

sawbenches, lathes, cash

buyer, ph 355-2045

Trades & Services

ROOF

PAINTING 24/7

Rope & harness

a speciality,

no scaffolding

required,

30 years of

breathtaking

experience.

FREE QUOTES

20% OFF other

roof quotes

Exterior staining,

exterior painting,

water blasting.

Moss and mould

treatment $300.

Phone Kevin

027 561 4629

Trades & Services

Accountant

Debra Jowsey & Karla Kilner

Ph 03 382 3470

We help with all Tax returns for the

salary & wage earner, self employed, rental,

business, farm, GST, pay day filing, rental returns

BATHROOM

Renovations, complete

service from start to finish,

free quotes, ph Dave 027

334 4125

BATHROOM

Renovations, complete

service from start to finish,

free quotes, ph Dave 027

334 4125

BRICKLAYER

George Lockyer. Over

40 years bricklaying

experience. UK trained.

Insurance work, EQC

repairs. Heritage

brickwork & stonework

a speciality. No job too

small. Governers Bay. ROOFING

Home 329 9344. Cell

027 684 4046. E mail

georgelockyer@xtra.co.nz

CARPET LAYING

Exp. Repairs, uplifting,

relaying, restretching. STUMP

Phone John on 0800

003181, 027 240 7416

jflattery@xtra.co.nz

PAINTING

Indoor / Outdoor, over 30

yrs exp, same day quotes,

ph Steve 021 255 7968

Selwyn

Accounting

For all your

Accounting &

Tax Needs

03 741 1783

027 332 8086

brian@

selwynaccounting.co.nz

REPAIRS

Fully qualified, over 40

yrs experience. Ph John

027 432-3822 or 351-

9147 email johnchmill@

outlook.com

GRINDING

Best price guarantee Tony

0275 588 895

TILING

Flooring - Splashbacks -

Wall incl tile removal, reg

master tiler, ph Dave 027

334 4125

Trades & Services

STUMP GRINDING

Best price guarantee Tony

0275 588 895

TILING

Flooring - Splashbacks -

Wall incl tile removal, reg

master tiler, ph Dave 027

334 4125

VHS VIDEO TAPES

& all camera tapes

converted to DVD or

USB. Video taping

special occasions, www.

grahamsvideo.co.nz ph 03

338-1655

Professional

Garden Services

• Regular garden

maintenance

• Pruning, spraying,

weeding, mowing

• Planting solutions

• Garden makeovers

Qualified with 40 years

experience

Phone Richard

027 4918 234

03 349 4022

DRIVEWAYS

paths, patios, decking,

exposed aggregate,

coloured / plain concrete

Fence staining

FREE QUOTE

LBP BuILDERS

PHONE jOHN:

027 224 2831

Loved by

generations

Published more frequently and

giving you better value for money

than any other rugby read

sUbsCribe

FroM as

LittLe as

$20

rugbynews.co.nz | 0800 77 77 10

aLso avaiLabLe at aLL good bookstores and sUPerMarkets
---
16 Thursday May 13 2021

Latest Canterbury news at starnews.co.nz

WESTERN NEWS

Thank You

for your support!

Harcourts Holmwood are thrilled to have

been honoured with multiple accolades at

the recent Harcourts Canterbury Annual

Awards. We have immense gratitude to

our team for their great work and to our

clients for their continued faith in us.

Awards on their own don't really mean much,

but put them into context and they mean a

great deal. They remind us of the thousands

of incredible sellers, buyers, investors and

tenants we have had the opportunity to assist

this year – we thank you for your support and

for choosing our team as your team. They also

remind us that in doing great business, we've

had the incredible opportunity to support

others in their endeavours to make our

community great; through our charitable giving

such as Nurse Maude, Cholmondeley House,

Good Bitches Baking, Inspire Foundation... to

name a few. We are grateful every day for the

opportunity to help people in our community,

not only in their real estate goals, but also in

building a fantastic city together.

INDIVIDUAL ACHIEVEMENTS

#1

MIKE

DRUMMOND

TOP NAI

SALES CONSULTANT

#2

PENELOPE

SHRIMPTON

TOP NAI

SALES CONSULTANT

#1

LYNNE

CAWTHORN

TOP BUSINESS

DEVELOPMENT MANAGER

#2

MANDY

SHAW

TOP

PROPERTY MANAGER

#1

KEVIN

BURROWES

TOP MORTGAGE ADVISOR

CLIENT EXPERIENCE

OFFICE ACHIEVEMENTS

AUCTION

LISTINGS PER

SALES CONSULTANT

#1

FENDALTON

#12

PAUL

NICHOLS

#19

KATHRYN

PICTON-WARLOW

#24

CINDY-LEE

SINCLAIR

#31

NERINA

HIGGINS

#38

TIM

HARRIS

#40

MICKY

LIMMER

TOP PROPERTY

MANAGEMENT OFFICE

#1

EXCELLENCE

TOP OFFICE

CANTERBURY

#4

FENDALTON

#16

CORINA

GREY

#21

JENNI

ROLTON

#25

RICHARD

DAWSON

#33

ZANI

POLSON

#39

STEVEN

MARSHALL

#41

EMMA

LUXTON

TOP PROPERTY

MANAGEMENT OFFICE

#1

REVENUE

CLIENT EXPERIENCE

OFFICE AWARD

#2

FENDALTON

holmwood.co.nz

Licensed Agent REAA 2008