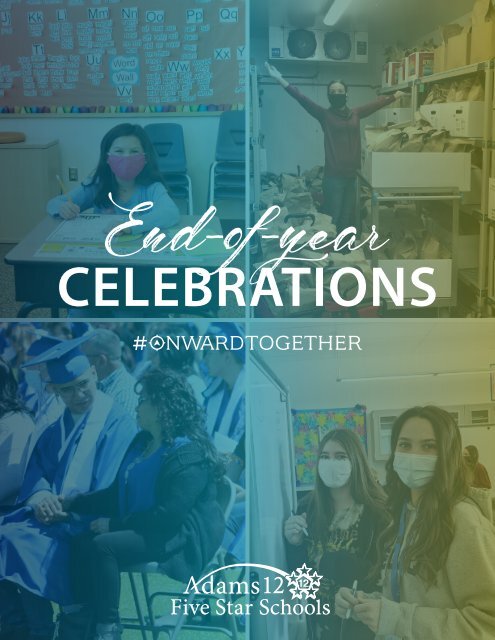 Create successful ePaper yourself
Turn your PDF publications into a flip-book with our unique Google optimized e-Paper software.
End-of-year

CELEBRATIONS
---
I wanted to take this opportunity to thank our

staff, students and parents for demonstrating

resilience, perseverance and a commitment to

supporting one another during this extraordinary

school year. We faced numerous challenges,

and many twists and turns. But these circumstances

also opened the door for growth and opportunity.

CHRIS GDOWSKI

Superintendent
---
A message from the

Superintendent

CHRIS GDOWSKI

Welcome to a well-deserved summer break!

While the 2020-2021 school year is now in the rearview mirror, I wanted to take this

opportunity to thank our staff, students and parents for demonstrating resilience,

perseverance and a commitment to supporting one another during this extraordinary

school year. We faced numerous challenges, and many twists and turns. But these circumstances

also opened the door for growth and opportunity.

As we celebrated the graduation of more than 2,300 seniors at North Stadium in May, I

was reminded of how "hopeful" I am for this young generation. They have demonstrated

tenacity, nimbleness and strength. There's no textbook that can teach these life skills.

Thank you to the staff and parents who supported them along the way.

Here are just a few stories from this past school year that exemplify the hope I have as we

head into summer.

• Amora, a STEM Launch student, saved her own money to create birthday cake kits

for families in need so every student can enjoy their special day.

• Shadow Ridge and Rocky Top students Aleaha, Abby and Samantha embody what

it means to be positive community members and youth leaders in our district. They

are Girl Scouts and recently completed building an ADA compliant archery range

in Thornton. Their Girl Scout Troop earned the Silver Award, which is the highest

honor for Girl Scouts in middle school.

• In the first year of the district's firefighting program, five seniors have been

accepted into the highly competitive Thornton Fire Youth Outreach program

where they'll have the opportunity to work alongside Thornton firefighters as they

continue to pursue a career in fire service. Congratulations Jesus Carreon,

Jesse Davis, Dalton Banks, Ashlynn Akard and Antonio Gomez.

Our strengths - Care, Collaborate, Empower, Engage, Focus on Students - remain alive in

the Five Star District. In this publication, you will see more stories of our strengths in action.

Thank you for your continued partnership and best wishes for a great summer break!

3
---
My favorite thing about this year is

seeing the teachers learning and growing

and trying new things and stepping out

of their comfort zones. They were asking

questions and watching videos, and

working all summer to get ready for this

year...It's really been a year of just

coming together and making the best

out of a challenging situation.

TRICIA LARUE

Mountain Range High School Teacher

4
---
Celebrating the

End of the Year

Through all the challenges, and twists and turns this year

presented, our community continued to show up each day to

learn, grow, connect and have fun throughout the school year.

Watch the end-of-the-year video

5
---
1

5

A collection of photos from across th

hardwork and fun we've had

2

3

6

4

7

1. Silver Creek Elementary's first day of in-person learning in Fall 2020. 2. Students at Arapahoe Ridge Elementary show off their

dioramas about the Oregon Trail. 3. Westgate Community School day of community service. 4. Cherry Drive Elementary's One

Book One Cherry Drive Literacy Night. 5. First day of in-person learning in Fall 2020 at Rocky Top Middle. 6. Students wish social

worker at Century Middle good luck as he rode his mountain bike for 12 hours straight in a 16 mile loop. 7. Students at Coronado

Hills Elementary cheer on their Nutrition Services staff during School Lunch Hero Day.

6
---
11

8

e district showing the perseverance,

during a challenging year.

12

13

9

10 14

8. Amazing art by Hulstrom K-8 students. 9. Prospect Ridge Academy third-graders welcomed summer weather with these

beautiful tissue paper flowers. 10. Third-grader Santiago and fourth-grader Hailey represent Stellar Elementary in the 2021

Virtual District Art Show. 11. STEM Launch students showing appreciation to their amazing SRO Officer Mansfield.

12. Thunder Vista P-8 students and mascot celebrate spirit night. 13. Seventh-grade science frog dissection lab at Rocky Top Middle.

14. Admin staff at Silver Hills Middle, with the help of their SRO, show appreciation for their staff by washing their cars.

7
---
Allan has been parenting his five little

siblings since last March (2020) because

his parents are at work every day. He

called me to figure out how to get them

meals, how to get them computers,

and how to help them log in. You couldn't

ask for a better big brother.

ELLEN RAFFEL

Silver Hills Middle
---
Five Star Stories

A collection of good news stories from across the district.

After wondering why

more women don't play

football, third-grader

at Leroy Elementary

started an all-girls team

FutureForward at

Washington Square

celebrates students for

landing industry jobs

Meridian Elementary

students honor World

Health Week with

message for nurses

and doctors

9News honored

Westview Elementary's

office manager as a

local Wonder Woman

Student from Thunder

Vista P-8 earns trip to

Johnson Space Center

in Houston

Food for Hope helps

provide students and

families districtwide

with nutritious food

Read these and other Five Star Stories at goodnews.adams12.org

9
---
These students from Mountain Range joined

our virtual Wednesday tutoring sessions to

help Silver Hills Middle students with their

academics in math, language arts, science,

social studies and Spanish. They tutored over

60 students between March 3-May 5 and showed

tremendous kindness, understanding, organization

and maturity during each and every session.

SARAH MYERS

Silver Hills Middle
---
Five Star Engage

Engagement is defined as building strong relationships between

students, teachers, families and the school. By highlighting successes

and the creative ways that individuals are demonstrating school

engagement, Student Engagement Initiatives hoped to encourage

and develop strong connections between schools and the broader

community. Student engagement is a key element of a positive

school climate, with a large body of research linking it to academic

achievement.

Find more recognitions at www.adams12.org/FiveStarEngage

11
---
I had an amazing para who helped me

through the school year. I went from having

passing grades to then becoming

the December 2020 Science Student of the

Semester, I earned three Hawk Pride Awards

and I was mentioned on Five Star Stories.

Tenth-grade might have started off on the

wrong step, but then it made a comeback and

became one of my best years in school.

AYDEN MARTINEZ

Horizon High School Student
---
494

GRADUATING

SENIORS
---
It's just like when adults are working at

home, they create their own area. That's

what Greg Waller (Industrial Arts Teacher)

has done. By giving them this desk! When he

first embarked on this project, he thought he

would make four desks. By the time winter

break rolled around, he had built 20.

JAMI MILLER

Westlake Middle Principal
---
*Full scholarship to ROTC program of choice

498

GRADUATING

SENIORS
---
Seeing that we were in a tough situation,

Olivia saw a need and offered to help fill it.

To have a high school senior step up to help

us out was more than any principal could

ask for. Olivia asked if she could rearrange

her schedule so that she could give up

her free hour to come in and act as a

teaching assistant for the class, helping out

with some of the lessons that are easier

done in person than on a remote setting.

TIFFANY HANSEN

Mountain Range High School Principal
---
392

GRADUATING

SENIORS
---
Delanie Davey, who graduated magna

cum laude from Front Range Community

College, is among the first graduating class

of P>TECH students at Northglenn High

School. Three graduated this spring, and

two more finish up with summer and will

move on to work for Lumen.
---
380

GRADUATING

SENIORS
---
My goal was to purchase two books per

student, starting with back to school night.

After posting on my Facebook and

Instagram, I raised over $1,100 and have

bought over 200 books. I still have money

left over so students will get to buy a

summer book, too! I was blown away

because I truly thought I was only going

to get two books per student!

TAYLOR LEDERMAN

Cherry Drive Elementary Learning Specialist
---
280

GRADUATING

SENIORS
---
Scholarship

Honors

Getting to graduation is a true testament

of not only the student's hard work,

but that of the families, teachers and

community members who helped them

gain the knowledge and skills necessary

to pursue a future of their choosing.

This educational teamwork, yet again,

proved a success with select graduates

from district high schools earning

scholarships. Here are only a few of

the honors from the Class of 2021 –

congratulations to each and every

graduate for their accomplishments

during their time at Five Star Schools.
---
Daniels Fund Scholarship Recipients

The Power of One Charity

Scholarship Recipients

FAWAD AHMADZAI

Stargate School

GRACE KATHERINE POLLOCK

Horizon High School

HORIZON HIGH SCHOOL

Michael Cruz

Sarah Le

Grace Pollock

Kevin Ramirez

Savanna Tiddark

NORTHGLENN HIGH SCHOOL

Briana Cordova

Hmayal Shaw

THORNTON HIGH SCHOOL

Amna Khamosh

Carlos Ortega

VANTAGE POINT HIGH SCHOOL

Madison Hoffman

MARCO ANTONIO RENTERIA

Northglenn High School

Boettcher Scholarship

Recipient

MARGOT SWETICH

Northglenn High School

RACHEL ANN CHAGNON

Northglenn High School

Air Force Academy

Appointment

GIOVANNI QUINTANILLA

Northglenn High School

Aim for the Stars

Scholarship Recipients

HORIZON HIGH SCHOOL

Cristal De La Torre

Gabriella Liberati

Grace Marquez

Maxson Boyer

Sarah Le

LEGACY HIGH SCHOOL

Jason Allen

Jennifer Juarez Hernandez

MOUNTAIN RANGE HIGH SCHOOL

Faith Jones

Hannah Chavez

Quyen Bui

NORTHGLENN HIGH SCHOOL

Alyssa Baca

Denisse Andrea Larrasolo Lo

Briana Cordova

Eila Cansler

Spencer Case

Yahir Coronado Herrera

THORNTON HIGH SCHOOL

Linh Yen Giang

Amna Khamosh

Cinthia Lara

Jennifer X. Lara

Nicole Martinez

Congratulations!

23
---
Shannon [Five Star Education Foundation

Director] made it a point to come to both

our coffee and tea with the principal.

In addition, she invited several community

stakeholders who will help us grow our

school-based pantry which provides many

needed items to our McElwain community

such as food, clothing and hygiene needs.

SARA OLSON

McElwain Elementary

The Five Star District is here for you if you're in need. There are 27 schools throughout

the district that have resource closets filled with food, clothes, household items,

baby essentials, hygiene products and other necessities. Families can "go shopping"

for items (free of charge) they might need due to hardships they are facing as a

result of the pandemic. The resource closets were made possible by the support of the

Five Star Education Foundation and are coordinated by the district's Office of Whole

Child Initiatives.
---
25

206

GRADUATING

SENIORS
---
Since March of last year, our Nutrition

Services staff have served over 4 million

meals! This has been a tough year with

many changes, and the staff have gone

above and beyond to ensure our students

have a warm meal, whether they are

learning in person, learning remotely,

or community families visiting one of

our high school distribution locations...

We couldn't be more thankful for the hard

work they have put into this school year!

ASHLEY BURKE

Nutrition Services Supervisor

26
---
*Full scholarship to ROTC program 27 of choice

56

GRADUATING

SENIORS
---
"Driveway Dreams"

Madison Nicks

Senior

Stargate School

...the talent of our students and the

support of our educators remains up

to the same standards as always.

It's clear that our educators have been

working closely with our students to help

them be really thoughtful about ways

they can express themselves and you're

going to see some art that will inspire you,

excite you and that you're really going

to enjoy tremendously.

CHRIS GDOWSKI

Superintendent

View District

Art Show

28
---
29

*Not all students pictured
---
Employees of the Year

This school year we have seen our colleagues

tackle new responsibilities, rise to new heights

to meet the needs of our students and exhibit

strength, resilience and innovation while facing

unprecedented challenges. From teachers to

custodians, principals to counselors, the many

different roles and responsibilities of Five Star

employees ELEVATE student success in every

classroom, every day.

Adams 12 Five Star Schools, in partnership

with the District Twelve Educators' Association

(DTEA) and the Classified School Employees'

Association (CSEA), announce the 2021

employees of the year for the Five Star District!

30
---
W

I

N

N

E

R

S

Strength in Action Award:

CARE

MARA THOMAS

Riverdale Elementary

School Social Worker

Strength in Action Award:

COLLABORATION

CARRIE LACHERMEIER

BASE Programs Operations

Manager

Strength in Action Award:

EMPOWER

STEVE BOGUCKI

Rocky Top Middle

6th Grade Science Teacher

Strength in Action Award:

ENGAGE

AMY STICE-NEVINS

Arapahoe Ridge Elementary

Social Emotional Learning

Specialist

Strength in Action Award:

FOCUS ON STUDENTS

KATE VOGEL

Rocky Mountain Elementary

Principal

Diversity and Equity

Award

ANDRES MARTINEZ

Thornton High School

Social Studies Teacher

Volunteers of the Year

STACY LAMBRIGHT, NATIVITY

MILLER, BRAEDI TAGART

Horizon High School

Substitute of the Year

LOULOU NAJJAR

Vantage Point High School

Classified Employee

of the Year

RAELENE CRUMP

Stukey Elementary

Office Manager

Certified Employee

of the Year

GLENN ASHLEY

FutureForward at Washington

Square, Welding Teacher

Administrative Employee

of the Year

TIM GRIFFIN

Glacier Peak Elementary

Principal

View all nominees and watch celebration videos online at

www.adams12.org/2020-21EOTY

31
---
Promises Kept

Bond work will complete in Summer

2022 with a final round of school roof

replacement projects and any remaining

bond-funded facility maintenance work.

All projects outlined as part of the

original bond plan will be completed as

originally promised.
---
2020 Highlights What's Still Ahead: Summer 2021

Completion and opening of FutureForward at Washington

Square, the district's second career and technical education

campus.

Turf replacement project at North Stadium and new artificial

surfaces at Horizon and Mountain Range high schools and

Pathways Futures Center.

Start of roof replacement/restoration projects including

BEST Grant-funded roof replacement at Thornton Middle

School.

Kitchen renovation and modernization at Vantage Point

High School.

Final round of school interior renovation projects and

safety upgrades (Coronado Hills, Meridian, Prairie Hills,

Silver Creek and Stellar elementary schools, Silver Hills and

Rocky Top middle schools, Mountain Range High School

and Pathways Futures Center).

Completion of $20 million, 100-mile district fiber network.

Project will connect district schools and facilities on a district-managed

network and meet the internet connectivity

needs of the district for years to come.

Phase 1 of the $6 million renovation of Five Star Stadium

including new bleachers, upgrades to stadium facilities and

new front entry.

Critical plumbing repair projects at six of the district's older

schools (Malley Drive, Leroy, Hillcrest, McElwain and Rocky

Mountain elementary schools, The Studio School and

Hulstrom K-8).

Completion of two-year renovation of district's original

career and technical education campus, FutureForward at

Bollman.

Playground improvement projects (Eagleview and Coyote

Ridge elementary schools).

Roof replacement/restoration projects at 10 district

schools and facilities including a full roof replacement at

Northglenn High School funded with a matching $1.7M

state BEST Grant.

New Master Planning Process

Even as the 2016 Bond Program begins to reach its final

phases, work has started on a plan to address the next

generation of district programming and facility needs.

A completed master plan is tentatively scheduled to be

finished in early 2022. The finished plan could be used as

a foundation for the Five Star Schools Board of Education

to consider presenting future bond funding proposals to

district voters.

Want to be part of the

Master Plan creation process?

Five Star Schools is looking for district parents

and community members interested in joining its

Long Range Planning and Advisory Committee. Get more

information at www.adams12.org/committees.

Investing in every student, every school, every community

www.adams12.org/bond

33
---
Continuing to

ELEVATE

Thanks to the support of the Five Star

community, Ballot Issue 5C was passed

on November 6, 2018. The Ballot Issue

represents a funding measure to jump-start

priorities identified through our

strategic plan ELEVATE. We continue

to make strides in fulfilling our plan

to elevate student success in every

classroom, every day.

www.adams12.org/ELEVATE

34
---
Prioritized Investments

for the district's strategic plan — ELEVATE.

SPRING 2021 UPDATE

Reduce class sizes and increase high school course options

Elementary: Add 16.5 teachers districtwide to address class sizes above targeted levels

Middle: Add 2 teachers per building

High: Add 3 teachers per building

$ 4,594,671

Additional teachers to reduce class size were hired and

assigned to schools in the fall of 2019.

Update learning materials, resources and textbooks $ 1,528,500

Expand Career and Technical Education (CTE) programming $ 2,241,800

Add academic interventionists at elementary and K-8 schools $ 1,472,455

Increase early career educator salary and compensation across all

experience levels to remain competitive in the market

Increase experience credit to 10 years to better recruit

veteran teachers

$

$

3,259,781

$509,500

Develop and implement a new program for teacher leadership $ 1,528,500

Implement 1% Cost-of-Living Adjustment (COLA) for all staff $ 3,433,292

These funds were used to replace outdated textbooks

and learning materials to align with current content

standards and 21st century learning.

These funds include support for a director, a coordinator,

curriculum and other materials for CTE expansion.

Expansion allows an additional 350 students to

participate in CTE offerings.

There is a .5 Academic Interventionist allocated to each

of our elementary and K-8 schools, which provides

support to nearly 800 elementary students.

Starting salary was increased, putting us third in our

metro-area comparison group and 2.1% above the

average starting salary.

In the past two years, since resuming the acceptance of

10 years service credit, we hired 193 certified employees

with 7 or more years of experience. This is a 31% increase

over the prior two years when we only accepted 6 years.

The IBS Negotiations Team continues to work on the

development of this job description.

Complete. Effective January 2019.

Implement salary adjustments for identified administrative and

classified (support staff) roles to remain competitive in the market

$ 152,850

Complete. Effective January 2019.

Add counselors and social workers to schools at all levels $ 3,512,493

Develop and implement social-emotional learning curriculum $ 407,600

Expand preschool to new locations $ 713,300

Add a member to the district crisis response team $ 101,900

Install facility access cards at high schools $ 305,700

Add additional campus supervisors at high school

(2 per comprehensive high school

$ 407,600

Reduce district-level student fees $ 1,120,900

Update technology devices and systems $ 152,850

Allocate resources to district charter schools based on enrollment $ 2,812,159

We added 54 FTE to our campuses to support social/

emotional wellbeing, a combination of Social Emotional

Learning Specialists, School Counselors, and SSS Mental

Health Providers.

In January of 2020 the BOE approved seven social/

emotional learning programs for our K-8 schools. These

include,Second Step, PATHS, Random Acts of Kindness,

Top Twenty, School Connect, Zones of Regulation and

Owning Up (Cultures of Dignity).

The expansion at these identified sites has resulted

in an increase of 21 staff members and an additional

390 students served in our preschool program

New staff member hired effective July 2019

Electronic access control was added at high school

exterior doors to support secured campuses starting in

the 2019-20 school year.

Funding for new campus supervisors added to high

school budgets for 2019-20.

Complete. Families are no longer charged

district-level fees. Those who already paid a fee

this year were reimbursed.

Funding was used to update and replace student

Chromebooks across the district.

Charter began to see their funding in June 2019.

TOTAL: $28,255,851

Revised May 2021

21 ST CENTURY

LEARNERS

DIVERSE

LEARNING

OUTSIDE-

THE-CLASSROOM

LEARNING

SAFE

SCHOOLS

SOCIAL-

EMOTIONAL

LEARNING

WORLD-CLASS

STAFF

35

*Original estimated cost was $27,000,000 but the mill allows for inflation
---
1500 E. 128th Ave., Thornton, CO 80241 | (720) 972-4000

www.adams12.org

@Adams12

FiveStarSchools