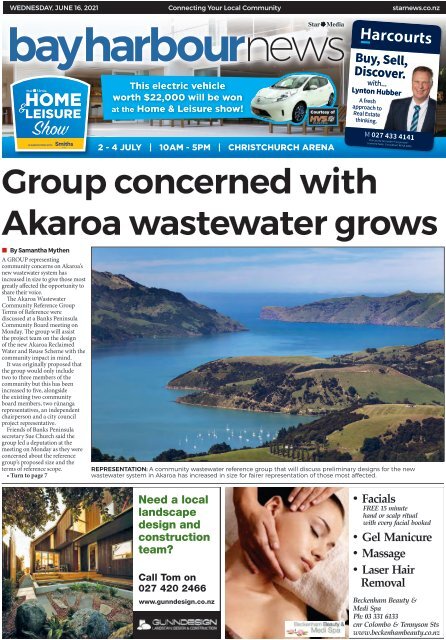 Bay Harbour: June 16, 2021
You also want an ePaper? Increase the reach of your titles
YUMPU automatically turns print PDFs into web optimized ePapers that Google loves.
WEDNESDAY, JUNE 16, 2021

Connecting Your Local Community

starnews.co.nz

this electric vehicle

worth $22,000 will be won

at the home & leisure show!

Courtesy of

Buy, Sell,

Discover.

with...

Lynton Hubber

A fresh

approach to

Real Estate

thinking.

Fo

IN ASSOCIATION WITH

2 - 4 July | 10am - 5pm | ChristChurCh arena

M 027 433 4141

Harcourts Grenadier Ferrymead -

Licensed Sales Consultant REAA 2008

Group concerned with

Akaroa wastewater grows

• By Samantha Mythen

A GROUP representing

community concerns on Akaroa's

new wastewater system has

increased in size to give those most

greatly affected the opportunity to

share their voice.

The Akaroa Wastewater

Community Reference Group

Terms of Reference were

discussed at a Banks Peninsula

Community Board meeting on

Monday. The group will assist

the project team on the design

of the new Akaroa Reclaimed

Water and Reuse Scheme with the

community impact in mind.

It was originally proposed that

the group would only include

two to three members of the

community but this has been

increased to five, alongside

the existing two community

board members, two rūnanga

representatives, an independent

chairperson and a city council

project representative.

Friends of Banks Peninsula

secretary Sue Church said the

group led a deputation at the

meeting on Monday as they were

concerned about the reference

group's proposed size and the

terms of reference scope.

• Turn to page 7

REPRESENTATION: A community wastewater reference group that will discuss preliminary designs for the new

wastewater system in Akaroa has increased in size for fairer representation of those most affected.

• Facials

FREE 15 minute

hand or scalp ritual

with every facial booked

• Gel Manicure

• Massage

• Laser Hair

Removal

Beckenham Beauty &

Medi Spa

Ph: 03 331 6133

cnr Colombo & Tennyson Sts

www.beckenhambeauty.co.nz
---
2 Bay Harbour News Wednesday June 16 2021 Latest Canterbury news at starnews.co.nz

from the editor's desk

GENERAL INQUIRIES Ph 379 7100

CLASSIFIED ADVERTISING Ph 379 1100

Star Media, a division of Allied Press Ltd

PO Box 1467, Christchurch

starmedia.kiwi

THERE IS a great story on

pages 4 and 5 today which

underpins the timeless

friendship between man and

dog.

Michael Franklin calls himself

'the Wheelchair Guy.' and

he has a great mate in Arni,

the french bulldog.

He has put out a children's

book. Arni features prominently.

No prizes for the title – Arni

and The Wheelchair Guy.

The pair met on the Coastal

Pathway, which has a smooth

surface, ideal for wheelchair

users. The view across the

estuary is also great.

The book is available in

bookstores (see page 5).

And on books, Lyttelton

children's author and

illustrator Helen Taylor is a

finalist in The Wright Family

Foundation Te Kura Pounamu

Award (see page 8).

– Barry Clarke

barry@starmedia.kiwi

NEWS

Samantha Mythen

Ph: 021 919 917

samantha.mythen@starmedia.kiwi

news

ADVERTISING

Jo-Anne Fuller

Ph: 364 7425

jo.fuller@starmedia.kiwi

Pottery classes proving popular

Pottery is seeing a resurgence with sell-out classes at the

Sumner Hub.

Rob Davison

Ph: 021 225 8584

rob.davison@starmedia.kiwi

The best-read local newspaper,

delivered to 10,514 homes every week.

Brookhaven • Heathcote • Ferrymead

Redcliffs • Mt Pleasant • Sumner • Lyttelton

Diamond Harbour • Governors Bay • Akaroa

Pages 10-11

food

Jazz up your beef roast

Sunday roasts are a Kiwi favourite. Add flavours to please the

whole family.

Page 22

There's a

new face at

our place.

Turn everyday

essentials into

SuperGold

Ray White Ferrymead welcomes

Rebecca Taylor to the team.

Specialising in Redcliffs and the Bays,

Rebecca is a longstanding Redcliffs

resident with a natural affinity to

people and property. Following a

degree in Psychology and Marketing

as well as running her own consulting

business, Rebecca is also qualified and

experienced as an interior designer

and is not only the right person to

guide you through the process of

selling your property but is happy to

advise you on how to best prepare

your home for sale.

Rebecca Taylor

Call Rebecca today on 027 760 3777

or rebecca.taylor@raywhite.com

Find all the ways you could

stretch your money further.

Visit www.supergold.govt.nz or download

and check the SuperGoldNZ app.

SG_180x130_grocery
---
Wednesday June 16 2021 Bay Harbour News

• By Samantha Mythen

A COMMUNITY initiative is

replanting native trees to protect

their homes from future fires on

the Port Hills.

A large vegetation fire in

January decimated Drayton

Reserve, a gully between Mt

Pleasant and Redcliffs. The fire

threatened houses and about

500 sq m of

trees and

shrubs were

destroyed.

Six

firefighting

crews and two

helicopters

were

involved in

extinguishing the blaze, which

was contained after about three

hours.

Now, after just five weeks

of planting, members of the

Drayton Reserve Volunteers

group have almost reached

halfway in their project to create

a green fire break in the reserve.

"This is a major local biodiversity

project, but also, with the

climate changing, very dry summers

will be more common, and

the risk of fires will be higher,"

group co-ordinator Dave Bryce

said.

The project involves planting

800 low flammable native

species for the first 10m below

residential properties to create

the fire break.

"Creating a fire break along

the reserve's boundary has been

a priority to establish and give

protection to neighbouring

properties," said Bryce.

He said the residents of the

houses closest to the reserve are

helping out themselves.

"This is a community biodiversity

area.

"We want to get the

Latest Canterbury news at starnews.co.nz

Green fire break takes shape

Dave Bryce

surrounding community

engaged with the reserve and

looking after it."

There are about 200 current

members of Drayton Reserve

volunteers.

The group started in April

2016. Their aim is to work with

the city council to return the reserve

to its original forest cover

for conservation, recreation and

educational purposes.

Bryce said the original forest

in the valley was wiped out for

HARD WORK:

Volunteers

replant trees

in Drayton

Reserve after a

fire in January

decimated

the area and

threatened

homes. ​

farming and grazing.

They now hope to restore the

nine different ecosystems that

exist there, including an aquatic

ecosystem in the stream that

runs through the reserve.

Some of their other work

includes improving streambed

and water quality, pest control,

improving walking tacks, and

managing litter.

The group is hoping to have

completed the fire break by

August.

NEWS 3

In Brief

BOAT HOUSE BUILDING

The Bays Boat House Group, set up

to save the 1923 Canterbury Yachting

and Motor Boat clubhouse in

Lyttelton, has been working with

engineers to develop a concept

plan to move the building to a

new home in Governors Bay. The

project costs will be proposed this

week.

RESERVE NAME

Progress to rename Reserve

4673 to Hilda Frame Reserve,

as requested by Governors Bay

School pupils in April, will stall

until the city council has adopted

a new policy on renaming reserves

and roads. The city council is

roughly proposing to consult on

the new policy in October.

VEGETATION CLEARING

In spite of recent weather

setbacks, work to clear vegetation

along footpaths in Diamond

Harbour has been prioritised by

the city council. So far, staff have

done about 90 per cent of the

vegetation clearing and around

half of the silt/debris clearing.

ANOTHER MARKET LIKELY

The Lyttelton Craft and Treasure

Market has applied to the city

council to operate a market in

Albion Square every Saturday, to

complement the Lyttelton Farmers

Market, London St. A licence could

be approved in August.

Care &

Compassion

We pride ourselves on the

very highest level of service

If you are thinking about the future, we can help

you explore pre-payment and pre-planning options.

Contact us for a Free Information Pack.

We offer funeral information talks to groups.

Please call us for a speaker to come to you.

(03) 379 0196 | www.simplicity.co.nz

Mark Glanville

Manager &

Funeral Director
---
Bay Harbour News Wednesday June 16 2021

4

NEWS

Latest Canterbury news at starnews.co.nz

A paw-fect friendship: 'The Wheelchair

• By Samantha Mythen

ARNI IS a cheeky French

bulldog who lives in Redcliffs.

Michael Franklin calls himself

'the Wheelchair Guy.'

He also visits Redcliffs to

exercise along the smooth

Coastal Pathway.

In 2019 Arni sprung into

Franklin's life, leading to a

special friendship that inspired

Franklin to write a children's

book, Arni and the Wheelchair

Guy.

The story captures the two

friends' adventures and is Franklin's

way of teaching children

about people with disabilities.

Intensive radiation to rid

Franklin of a brain tumour in

2001 meant in August, 2019 he

had to use a wheelchair.

He wanted to find a good place

to practice and found the Coastal

Pathway by Redcliffs School

best suited his needs.

"When you're practising and

getting used to using your wheelchair,

you need something that

is really smooth, otherwise if

you are going on the rough stuff,

you can't handle it, you tire your

arms out," said Franklin.

"It's lovely down there. I can

do up to 3km on the pathway by

going there and back. It's good to

build up my strength."

Wheeling along one day, he

MATES: Michael Franklin and his friend Arni, the inspiration for his children's book.

PHOTO: GEOFF SLOAN

saw Arni and his owners, Duncan

Currie and Natalia Orlova,

coming up behind him.

A van of disabled children

pulled up to the path and as

the children got out, someone

produced a big bag of bread and

started throwing bread to the

seagulls.

"The seagulls came, and so did

Arni," said Franklin.

"Arni roared over and started

gobbling up the crusts and

Duncan was yelling at him,

'Arni, come back!' But then Arni

started chasing the seagulls and

it was chaos."

They managed to haul Arni

back by calling out his formal

name, Arnold. Arni knows he is

in trouble when his family bring

out the full name.

This was Franklin's first

introduction to the black French

bulldog.

From there, Franklin and Arni's

friendship only grew, as did their

adventures.

Franklin goes down to the

Coastal Pathway at least twice

a week when the sun is shining

and meets up with Arni, Currie,

Orlova and their son.

Just prior to the nationwide

lockdown last year, Franklin approached

Currie and said: "How

would you feel if I wrote a book

about Arni's adventures?"

Franklin, an avid reader, could

already see the story in his head

and at night, he would lie awake

thinking about it.

In the morning, he would write

down his thoughts, and then run

it past Arni's and his own family

at The Spur Cafe in Redcliffs.

"They'd say: 'Oh, that's no good,

chuck that' or 'that's good, work

on that'," said Franklin.

A little more than a year later,

the book was published.

Franklin said it was a team

effort.

Orlova's best friend, Albina

Koldasova, a Sumner artist,

illustrated the book.

Check out our latest

deals

Fill the fridge with everyone's faveS!

HOT DEAL!

$

39 99

each

STEINLAGER

PURE,

STEINLAGER

CLASSIC or

CARLSBERG

PILSNER

24 x 330ml Bottles

HOT DEAL!

$

24 99

each

GORDON'S G&T

12 x 250ml Cans, 7%

GORDON'S Sicilian Lemon

Gin & Soda, GORDON'S

Premium Pink Gin & Soda

12 x 250ml Cans, 4%

HOT DEAL!

$

34 99

HOT DEAL!

$

39 99

each

HOT DEAL!

$

42 99

HOT DEAL!

$

44 99

HOT DEAL!

$

49 99

Mix and match

these vinoS

2 for

$ 25

Single bottle

$14.99

1.125 LITRE

BELL'S

1 Litre

ABSOLUT, BACARDÍ Range

1 Litre

Includes Barcardi Gold, Spiced, Carta Blanca

JIM BEAM

White Label

1.125 Litre

TANQUERAY

1 Litre

JAMESON

1 Litre

THE NED Range

750ml

Includes Rosé, Sauvignon Blanc,

Chardonnay, Pinot Gris

19 CRIMES Range

750ml

Includes Cabernet Sauvignon, Shiraz,

Hard Chard, Red Blend, The Uprising

Rum Aged Red Wine

Shop local with

AMBERLEY, ASHBURTON, BARRINGTON, BELFAST, BRIGHTON, BURNSIDE,

COLOMBO ST, EDGEWARE, ELMWOOD, FERRYMEAD, HALSWELL, HANMER

SPRINGS, HORNBY, ILAM, KAIAPOI, LEESTON, LINCOLN, METHVEN, OXFORD,

SHOP LATEST DEALS at WWW.SUPERLIQUOR.CO.NZ

NATIONWIDE PICKUP & DELIVERY NOW AVAILABLE

PAPANUI, PEGASUS, RANGIORA, SEASIDE, WOOLSTON

Exclusions may apply on some brands advertised. Offers end close of trade 20th June 2021, while stocks last. Available at participating stores only. Multi Deal only available in store. Varietals may

vary by store. Limits may apply. Wholesale (other liquor retail banners) not supplied. Terms and conditions may apply. Available 7th - 20th June 2021 inclusive. Please see www.superliquor.co.nz for details.

SUP2280_C6
---
Latest Canterbury news at starnews.co.nz

NEWS 5

Guy' and the naughty French bulldog

"Albina's artwork makes the

book. If she hadn't done such

great artwork, it wouldn't be half

the book it is. All kudos to her,"

said Franklin.

Koldasova said when she heard

the "lovely story" she had to say

yes.

She had never done illustrations

before, her usual practice

being oil on canvas.

"I loved the process, it was

different," she said.

Franklin's wife, Sarah Dawson,

also contributed to the book,

editing and helping with the

technical side of putting a book

together and self-publishing it.

"She's been wonderful, I

couldn't have made it without

her," he said.

Franklin's friend Wendy

Wethey, who helped with the

initial editing, read the book to

her four-year-old grandson, the

"tester of the book." He loved it.

Currie said the book is fantastic.

"I'm really pleased Michael

could pull together such an

uplifting and positive story about

Covid-19 and friendships," he

said.

"It shows new connections

can be made even during a lockdown."

Some of Arni's adventures include

meeting with the construction

workers during the rebuild

of Redcliffs School, making a new

friend with a man on a hand-bike

who also visits the pathway, and

living through a lockdown.

As Arni dreamed of making

Zoom calls with his dog friends,

Franklin spent lockdown

wheeling backwards and

forwards across the deck at his

home. He wheeled 50km.

Franklin's favourite Arni

adventure was when the French

bulldog stole a fish caught by a

fisherman along the pathway and

gobbled it down, in spite of his

owner's desperate calls to him to

drop the fish.

"He is such a naughty dog

and this is one of the naughtiest

things he has ever done," said

Franklin.

Arni's friendship with

Franklin brought Franklin out of

himself, providing him with joy

and something to look forward

to as he adjusted to life in a

wheelchair.

His brain tumour could not

be removed surgically, so to

stop it from spreading he had

to undergo large quantities of

radiation.

Franklin has recovered from

cancer, yet the doctors warned he

would have trouble in the future

from the effects of the radiation.

The doctors were right and in

2016, Franklin began to limp.

It became extremely hard to

walk; Franklin was tripping and

falling, his legs becoming covered

in scars.

A wheelchair became the only

option.

"It was not so much a shock but

took quite a lot of adjusting. Not

so much physically but mentally,"

he said.

"I'm just lucky to be here

really."

Franklin had been a keen

mountaineer, runner and cyclist,

and giving up his legs for wheels

was a "frustrating change" and "a

steep learning curve."

In 1973, Franklin and his

friends climbed Aoraki / Mt

Cook. He also spent many

years completing first ascents

and technical ice climbing in

the Arrowsmith Range. In

1975, Franklin went on an

expedition with the Canterbury

Mountaineering Club to

Patagonia in Chile and Argentina

to celebrate the club's 50th

jubilee.

"I've always loved climbing,"

he said. "When you're young and

bold, you just seem to ignore the

risks."

Franklin has had a colourful

life, working in soil conservation

as a science and biology teacher,

as a stay-at-home dad to his two

children, and as an instructor

with Cycle Safe.

As Franklin's need for a

wheelchair was caused by a

medical event rather than as

an accident, it is not covered by

ACC.

He only received wheelchair

Wednesday June 16 2021 Bay Harbour News

training in December last year,

in spite of three years of selfteaching.

Arni himself, unfortunately,

had an accident three weeks ago

and was temporarily paralysed.

He had to undergo surgery and is

recovering well now.

"They can really understand

each other that much better, they

have an even stronger bond now,"

said Currie.

Seeing Arni barrelling down

the pathway towards him in 2019

changed Franklin's life.

He hopes when children read

his book, they will understand

people in wheelchairs are just

normal people living out their

lives.

"It's difficult when you are in

a wheelchair because you say

hello to people and sometimes

they just look right through you.

Sometimes they act as if you are

invisible," said Franklin.

"I want children to understand

that people in wheelchairs are

just a perfectly normal part of life

and that we are normal people

too."

•Arni and the Wheelchair Guy

is available at Scorpio Books,

Piccadilly Bookshop, Paper

Tree, Athena Books, Take Note

Ferrymead, The Colombo and

through Wheelers Books. All

proceeds will be donated to

various animal charities.

POWER VINYASA YOGA

Many people find Apollo's Power Vinyasa practice to be effective in

relieving and preventing back pain and tension-related types of pain

yoga pose

of the month

Pigeon

Pose

Pigeon pose is a deep but restful stretch for the muscles of your thighs, hips and

back. Pigeon pose is highly restorative for anyone required to sit a lot or people

who walk, run or bicycle a lot. There are many variations of this pose. Here, we

offer two simple options.

• Begin in downward facing dog. Step your right

foot forward towards your left hand and lower

your right knee to the floor close to your right

hand.

• Lower your left knee to the floor. Extend your left

leg straight back behind you.

• Align your right thigh straight forward parallel to

the right edge of your mat. Align your lower right

leg at an angle that avoids any strain in your right

knee. The most mobile practitioners may be able

to have their lower right leg parallel with the front

edge of their yoga mat. Others may need to have

their right foot much further back closer to their

left hip.

• Do not roll your weight into your right hip and

buttock. Instead, rotate your left hip forward

and downwards. You may use a yoga block or a

cushion under your right hip and thigh for support.

• For a more energised experience in pigeon, flex

your right foot towards your right shin.

• You may lift your torso up away from the floor

and support yourself with your hands alongside

or just forward of your hips. This will create a

stronger stretch for the front of your left thigh

and hip.

• You may lower your torso forward over your right

lower leg and support yourself on your forearms

or even stretch your arms out in front of you.

• Breathe calmly and slowly through your nose for

3 to 5 minutes. Then repeat the pose with your

left leg forward.

In pigeon pose relax away the physical tension in

your legs, hips and back. At the same time, relax

your nervous system and restore a calm, present

state to your whole being.

Apollo Power Yoga

Ferrymead Studio - 23 Humphreys Drive

Central City Studio - 46 Salisbury Street

Phone 021 055 1884 or 027 227 2026

For more info visit www.apollopoweryoga.com
---
6 Bay Harbour News Wednesday June 16 2021 Latest Canterbury news at starnews.co.nz

Bring your garden indoors!

Big Range, Low Price, Local Advice

Indiaka

Indiaka Cyclamen 13cm

337811

Sansvieria 15cm Varigated

122317

Living Interiors

Monstera

Deliciosa 1.5

litre

346210

Living Interiors

Tiny Pots House Plants 80mm

133557

$9 97

Was $34.97

now

$ 27 97

$6 97

each

Castle Rock

Assorted Cacti 8cm

305840

Red Fox

Indoor Kalanchoe

Pot 10.5cm

Red/White

296879

Living Interiors

Blechnum Silver

Lady 1.5 Litre

151498

$27 98 $12 98

Flowering Patio Planter 25cm

188609

$8 97

each

Enrich With nature Ceramics

Hollis Indoor Ceramic Pot 12cm Silver

369482

$11 98 $7 97

Living interiors

Peperomia

Moonlight 12cm

Drought and shade

tolerant. Perfect for

hanging planters.

380517

Enrich with Nature

Macrame Hanger 12cm Cream

367986

Was $34.97

now

$ 17 97

Botanicals Collection

Glass

$21

Geometric Terrarium 12cm 352985

99

each

Botanicals Collection

$14

Glass Ball Terrarium 15cm 352982

99

each

Botanicals Collection

Coco Fibre Indoor House

Plant Pole 0.9m

376802

*Terrarium only,

Contents not included

Botanicals Collection

Terrarium Sand 500g

362882

Yates

Thrive Indoor

Liquid Plant Food

Drippers pack of 5

351316

$6 99

$25 98 $12 97 $7 98

Was $18.99

now

$ 14 99

each each each

pack

Spend $50 or more on houseplants

and receive a

FREE regular

coffee voucher!

*Coffee redeemable only at the store mentioned on

the voucher. Limit 1 per transaction of $50 or more.

Not to be used with any other offer.

Keep up to date on

whats new instore

by following us on

instagram at:

@MEGACanterbury!

Prices valid until June 20th or while stocks last.

Mitre 10 MEGA Ferrymead

1005 Ferry Road. Christchurch

Phone: 366 6306

Find us at: /MEGAFerrymead

Opening Hours:

Monday – Friday:

7am – 7pm

Saturday, Sunday & Public Holidays:

8am – 6pm

www.mitre10.co.nz/local/MegaFerrymead

FERRymEAd
---
Latest Canterbury news at starnews.co.nz

Redcliffs School mural

helps guide pupils

• From page 1

• By Samantha Mythen

TE RAEKURA Redcliffs

School is embracing its cultural

narrative with a new school

mural and an upcoming hangi to

celebrate Matariki.

On Monday, a mural

created by the pupils was placed

in the school cafeteria. The

mural, completed in week one of

term two, recreates the school's

story.

The mural reflects the school's

early environment and also acts

as a guide for the pupils to get

to know the names of spaces in

their school.

For example, Tamahika 1 an

2 pays homage to the nearby

mudflats, and Te Ana 9 and 10

reflects the nearby cave Te Ana o

Hineraki/Moa Bone Point Cave.

During the process to create

the mural, the pupils learned

about the space names, which

were gifted by Te Hapū o Ngāti

Wheke and Te Ngāi Tūāhuriri.

They then sketched out the

place names and created the

mural design, which they painted

onto a large canvas.

On June 24, at 5pm, the

school will be having a hangi to

celebrate Matariki.

The pupils will be involved in

PROUD ARTISTS: Redcliffs School pupils (left to right) Kawa,

Kiki, Martley, Luke, Evie, Billie, Ellen and Emily created a

mural to reflect their school's cultural narrative.

preparing the hangi pit, cutting

the vegetables, getting the food

the food, making Matariki

decorations, performing,

serving food and entertaining

the guests.

Wednesday June 16 2021 Bay Harbour News

NEWS 7

New members for

wastewater group

They asked for increased fair

representation from the most

affected communities.

"This scheme will have a huge

footprint over the three bays,"

said Church.

Two large storage ponds as

part of the new wastewater system

plan are only 100m

away from residents'

homes.

"We want to see

the risks mitigated

as much as possible

with community input

listened to," Church said.

"We still wanted to

keep the group small in

size to allow for logistics," said

community board chairwoman

Tori Peden.

"The aim is for the group to

have members with the necessary

skill set needed to help the

discussion."

Jamie Stewart and Nigel

Harrison, who both represent

the Akaroa subdivision, were

chosen as the community board

representatives.

"We are in tune with public

sentiment," said Harrison.

Church hopes the group will

be up and running soon.

"This has all been taking quite

a long time, the city council

Tori Peden

passed the resolution six months

ago and planning for the system

is under way, despite the group

still not being set up."

"The community reference

group must give the community

a fair say," said Church.

In December last year, the

city council approved plans to

upgrade the system based

on recommendations

from a hearings panel.

The Akaroa Treated

Wastewater Options

Hearings Panel considered

343 written and 65

oral submissions in October.

A recommendation

included establishing the

community reference group. The

wastewater treatment plant serving

Akaroa and the surrounding

bays was built in the early 1960s

at Takapūneke, a historical and

culturally sensitive area, with

the treated wastewater being

discharged to Akaroa Harbour.

The proposed plan involves

planting 40 hectares of native

trees in Robinsons Bay and

Takamatua and using the treated

wastewater stored in two new

storage ponds to irrigate them.

Calls for interest for community

members to join the

reference group will open at the

end of the month.

Redcliffs PHARMACY

LOOKING AFTER THE COMMUNITY

Spend $39 or

more on Ethique

products and

receive a

FREE GIFT!

Purchase ANY TWO

Trilogy products

and receive

a full size Vit C

moisturizing lotion

Join the revolution and

#giveupthebottle and now

the plastic tube with Ethique's

new range of zero-waste

lip balms! @zerowastebeautiful

Redcliffs PHARMACY

87 Main Road, Redcliffs. Phone 03 384 1037

www.redcliffspharmacy.co.nz

WE DELIVER! (Small fee may apply)
---
Bay Harbour News Wednesday June 16 2021

8

NEWS

Working bee

to replace

poisoned

cabbage trees

A WORKING bee will be held

on Sunday to replace the cabbage

trees along the Coastal Pathway

on Main Rd that were deliberately

poisoned in 2018.

Several hundred other natives

will also be planted in Beachville

Rd during the working bee at

10am.

Cabbage tree fan Oliver Lewis

said he was "stoked" at the level

of community support after a

Givealittle page he set up to buy

replacement trees exceeded the

fundraising goal of $633.60 in just

four hours. The page raised $778

in total. Mayor Lianne Dalziel and

Heathcote Ward city councillor

Sara Templeton contributed to the

page. Lewis said he was "delighted"

they'd thrown their weight

behind the campaign.

"It was a petty and disgraceful

thing to kill trees in the public

domain," he said.

Said Templeton: "I personally

think that they're beautiful

trees and I'm really hopeful

the community buy-in and

involvement in funding and

planting them will stop anyone

trying something like that again."

The 24 replacement trees means

the original planting design along

the causeway will be restored.

Latest Canterbury news at starnews.co.nz

Author in running for award

• By Ella Somers

A CHILDHOOD dream to be

like "both Beatrix Potter and

Dr Seuss" has turned into a

career for children's author and

illustrator Helen Taylor.

The Lyttelton resident has

been named as a finalist in The

Wright Family Foundation Te

Kura Pounamu Award for her

children's book Pīpī Kiwi. She is

now in the running for a $7500

prize.

Taylor said it was "really

lovely" to be a finalist and it was

validation for her work "as it's

really needed in this industry."

The Wright Family

Foundation Te Kura Pounamu

Award is for children's literature

available in te reo Māori.

It is one of six main award

categories at this year's New

Zealand Book Awards for

Children and Young Adults.

Pīpī Kiwi was translated into te

reo Māori by Hēni Jacob and

published in April last year.

It tells the story of a young

kiwi who is impatiently waiting

for the birth of his new kiwi

sibling and asking his father

constant questions about what it

will be able to do when it's born.

The book was inspired by

Taylor's own experience of

"dealing with one kid with a

baby on the way."

While she was pregnant

with her daughter, she had to

respond to her three-year-old

son's questions and expectations

about the new baby.

Taylor has been a children's

book illustrator for 30 years and

started writing and illustrating

her own books for children in

2009.

STORIES: Helen Taylor,

with her children's

book, Pīpī Kiwi, is a

finalist in the Wright

Family Foundation

Te Kura Pounamu Award.

Pīpī Kiwi is her fourth book.

Taylor said she wore "two

different hats" when creating the

book, but she loves every aspect

of writing and illustrating stories

for children.

Her advice to aspiring writers

– "just do it and believe in

yourself."

"Get the work done and give

it to friends, family, get it seen.

Because things shouldn't hide in

cupboards."

The 2021 New Zealand Book

Awards for Children and Young

Adults has 166 entries with 28

authors making the shortlist.

The winners will be

announced on the August 11.

One winner from each of the six

main categories will receive a

$7500 prize.

The six winners will then go in

the running to have their book

named the Margaret Mahy Book

of the Year and a further $7500

in prize money.

HEAT PUMP

SALE NOW ON!

Amazin' Winter Specials!!

80%

SubSidy

Warmer KiWi HomeS

Programme

*Eligibility criteria apply

• We will offer you the best quality brands and

option of heat pump for your home/business

• Providing Heat Pump solutions for over 19 years to Cantabrians

• We personally guarantee all our products & installs for 5 years

(providing annual maintenance has been completed)

Phone us today for your free consultation & quote

41A SHAKESPEARE RD, WALTHAM

PHONE 03 366 0525

www.enviromaster.co.nz

"A local team for local people"

Fresh FIsh TWO WAYs

Snooze you lose – don't miss out

Fresh Bluff Oysters - Fresh in daily.

Season finishes 1st August.

Winter warmer

Traditional laksa - Handcrafted laksa paste

with lemongrass, chilli, galangal spice - your

choice of fresh fish, fresh mussels, prawn

or chicken served with jasmine rice.

A very flavoursome dish.

39 Norwich Quay, Lyttelton

Wednesday - Sunday 12pm – 8pm

Phone: 03 328 7530

fishermanswharf.nz

New Owners at

Ray White Ferrymead!

Craig Prier welcomes local Bay Harbour residents James Shepherd along with

Simon and Paula Standeven onto the ownership team at Prier Manson Limited.

Bringing a wealth of experience, energy and enthusiasm to the forefront of business

ownership, Simon, Paula and James are here to help our salespeople help you!

Buying, selling or considering a career in real estate call any one of us today!

Ray White Ferrymead

Ready When You Are!

Phone (03) 3844 179 | Email prier.manson@raywhite.com | rwferrymead.co.nz | /RayWhiteFerrymead Prier Manson Ltd. (Licensed REAA 2008)
---
Latest Canterbury news at starnews.co.nz

Wednesday June 16 2021 Bay Harbour News 9

CARPET HOUSE LOT

DEALS

USING

25 METRES

OF CARPET

Prices are based on an average 3 bedroom home, using 25 broadloom metres of carpet on new underlay, three finishing bars and fully installed.

26oz Nylon

• Detroit/Riveria

• Solution Dyed Nylon

• Extra Heavy Duty

• Great colours to

choose from

Only $80 per metre

FULLy INSTALLEd

ON LUxURy

UNdERLAy

36oz Nylon

• Windsor

• Solution Dyed Nylon

• Extra Heavy Duty

• Great colours to

choose from

Only $109 per metre

FULLy INSTALLEd

ON LUxURy

UNdERLAy

HOUSE LOT: $3,900

HOUSE LOT: $4,600

50oz Nylon

• Grange Fell

• Solution Dyed Nylon

• Extra Heavy Duty

• Great colours to

choose from

Only $129 per metre

FULLy INSTALLEd

ON LUxURy

UNdERLAy

Polyester

• Vermont

• Heavy duty

• Great colours

Only $69.90 per metre

FULLy INSTALLEd

ON LUxURy

UNdERLAy

HOUSE LOT: $5,100

HOUSE LOT: $3,600

Luxury

Engineered

Timber Flooring

nOw

1/2 pricE

Vega Vinyl

Planks

• Four stock colours

nOw

1/2 pricE

FROM

$

60 00 $

30 00

PER M2

PER M2

CALL FOR A FREE MEASURE + QUOTE

312 Wilsons Road North, Waltham Phone 366 0070

Q Card Finance

Available

Mon to Fri 8am-5pm and Sat 10am-1pm

Check out our website! www.carpetkingdom.co.nz
---
Bay Harbour News Wednesday June 16 2021

10

NEWS

Latest Canterbury news at starnews.co.nz

Passion for pottery as much about

Pottery is seeing

a resurgence in

popularity, with sell-out

classes at the Sumner

Hub. Samantha

Mythen reports on the

hobby and the hub,

and why it's become

an epicentre of the

community

POLLY Hutchinson's current

pottery project is a mosaic-like,

colourful square platter.

Working with her hands, the

Sumner resident creates long

rope shapes out of clay, draping,

folding and layering them on

top of one another to capture

texture, movement and rhythm

on the plate's surface.

Hutchinson is a part of a

growing resurgence of pottery

in Christchurch. Demand for

classes and workshops has grown

exponentially in recent years.

Hutchinson, an "absolute

beginner" at pottery, took her

first class at the Sumner Hub in

February.

"I never felt like I succeeded in

art during school but I wanted to

do something creative," she said.

"Painting and drawing were

never going to be a hit, but I

thought I would have a go at

pottery. I saw this opportunity

and liked the idea of the small

class and the local community

base."

In spite of having "hands full

of thumbs," eight pottery classes

later Hutchinson ended up with

a collection of coffee mugs,

plates, platters, pinch pots and a

planter, all of her own creation.

At the end of the introductory

class, Hutchinson decided she

loved making pottery so much

she would sign up for the next

course.

She especially loves the social

aspect of the group.

"I've met people whose

paths I wouldn't have crossed

otherwise."

With their heads down and

their hands busy, the intimate

class of eight share funny

anecdotes from their week as

well as advice on household

dilemmas.

Pottery also helps Hutchinson

express her creativity and

gratitude, form connections and

learn new things – a holistic pot

of gold for her well-being.

"I like to do things with my

hands, like gardening," she said.

"This is a natural segue from

working with my hands in the

soil to working in clay to create

something usable."

Teacher and talented

ceramicist Nikki Wallace-Bell

guides people of all ages in the

classes at the hub.

The first thing Wallace-

Bell teaches beginners is how to

create a pinch-pot. This is made

by pushing your thumb into a

ball of clay, making the round

ball hollow. The end result is a

quaint dipping bowl, good for

holding hummus in a platter.

"It is great as Nikki gets you

making things right away," said

Hutchinson.

Wallace-Bell teaches her

students techniques and then

encourages them to experiment

and explore what their creative

juices can fuel.

Hutchinson said everyone

always ends up with something

quite different, even if the base

POTTY FOR POTTERY: Polly Hutchinson (left) has taken

up pottery classes in Sumner, taught by Nikki Wallace-Bell

(below centre). Raewyn Smith with two of her children

Victoria and Carlos (above) took part in a recent pottery

workshop to celebrate Sea Week.

idea is the same. After Wallace-

Bell's intermediate school art

teacher inspired her to pursue

art, she studied 3D design at

university and then became an

art teacher herself.

Three years ago, she left

her full-time job teaching

art at Christchurch South

Intermediate, hoping to pursue

community work.

She did not know what

this would look like until she

joined the Sumner Community

Residents' Association and

thought several rooms in

the Sumner Hub were being

underutilized. They were still full

of furniture leftover from when

the hub was a police station.

In March last year,

Wallace-Bell proposed

turning one room into a

pottery studio and holding

community classes.

She paid community

members in handmade ceramic

pots to help build benches, then

paint and decorate the room.

It now has hanging plants and

student-made art adorning the

walls.

As the classes got busier,

Wallace-Bell took over the

second room in the hub, 12

months after decorating the

first. There are now four pottery

wheels in place.

SOIL AND

HARDFILL

DUMPING

WE NOW HIRE

LANDSCAPING AND

GARDEN EQUIPMENT

DIGGERS, TRUCKS, WOOD CHIPPERS, POLE SAWS,

BREAKERS, WATER BLASTERS, ETC.

PLUS WE SUPPLY THE BEST

LANDSCAPE & GARDEN SUPPLIES

•BARKS •COMPOSTS

•AGGREGATES - CHIP, ROUND & BASECOURSE

•SCHIST PRODUCTS •PUNGAS

•DECORATIVE STONE & LANDSCAPING ROCKS

•TRAILER HIRE - FIRST HOUR FREE WITH PURCHASE

•BAG & BULK - PICK UP OR DELIVERED

DYERS ROAD LANDSCAPE & HIRE

PHONE: 03 384 6540

183 DYERS RD, BROMLEY ● OPEN 7 DAYS

Weekdays 7.30am-5pm. Weekends 8.30am-3pm

www.dyersroadlandscape.co.nz

Keep your Toes

Cosy &

Warm

With

Fashionable • Functional • Footwear

our

selection

of stylish

slippers

Unit 3, 355 Riccarton Rd, Upper Riccarton

P. (03) 929 0927 E. info@theshoeroom.co.nz

www.theshoeroom.co.nz

FASHIONABLE FUNCTIONAL FOOTWEAR
---
Wednesday June 16 2021 Bay Harbour News

Latest Canterbury news at starnews.co.nz

NEWS 11

craft as it is about community

Wallace-Bell teaches four classes

a week, two for adults and two for

children, with one-off workshops

for the community held throughout

the year. Many are subsidised

to remove any barriers preventing

members of the community from

trying out pottery.

"Every pottery class I know is

fully booked with wait lists," said

Wallace-Bell.

"My classes are packed and oneoff

workshops sell out in just two

hours."

Due to the popularity, social

pottery nights will start today, running

every Wednesday evening for

those who have pottery skills but

want to keep practising, as well as

form new connections with fellow

potters.

"It's not just about developing

clay, it's about developing personalities

and relationships in my

classes," she said.

For Wallace-Bell, the essence of

her role is fostering connections

and improving people's well-being,

rather than seeing the marvellous

creations her students produce.

Creating something out of clay

is a lengthy process. Many things

can go wrong, but Wallace-Bell

believes people are craving this

kind of activity.

"Pottery is a process, you have

to follow steps to make something

out of clay. It's not just a

quick push of a button to make

something happen," she said.

"Pottery provides an opportunity

to get away from our life of

looking at screens."

The hardest things for potters

is the time and patience needed

to complete a project. But Wallace-Bell

said this is also the best

thing.

"People really enjoy making

something with their hands. They

especially want to make things

they can use," she said.

The most popular objects

to make are cups, mugs and

planters. However, everyone's

desires are catered for, whether

their preference is for sculpture or

homewares.

Wallace-Bell hopes that in the

future she can work with Women's

Refuge and the Red Cross to offer

classes, to spread her passion

further into the community.

CONNECTIONS:

Sumner Hub

co-ordinator

Charlie

Hudson (left)

and Sumner

Community

Residents'

Association

co-chairperson

Liza Sparrow.

PHOTO: GEOFF

SLOAN ​

'An incubator for local

projects to happen'

• By Samantha Mythen

DEMAND FOR community

skill-sharing is at a high, as seen

by the sell-out workshops and

classes at Sumner Hub.

The hub was originally established

in 2011 in the old police

station by the Sumner Community

Residents' Association, as

a community response to the

February 22, 2011, earthquake.

The hub started out in one

room and has since taken over

the entire building, including

the driveway where the hub

van sits on standby, waiting to

transport residents to their next

community activity.

Advocacy and providing community

assistance is also a large

part of what the hub provides.

The rest of the hub is packed

full of workshops and community

projects.

These include the Bikery, for

bike maintenance, the Goat

Shed, which makes surfboards

and the Refillery, where people

bring reusable containers

to refill pantry items. It also

includes the plant-powered

workshop, where people learn to

make eco-friendly skincare and

household cleaning products,

the pottery workshop, and other

art workshops.

When activities are on your

doorstep, it is easy to engage

and take part.

Sumner Community Residents'

Association co-chairperson

Liza Sparrow said: "The

Hub allows people to connect

in a physical place, and it offers

a one-stop-shop for everything

you need to know about the

community."

The space is available for

everyone to use.

"It is not exclusive to those already

in there. Anyone is always

welcome to come in and chat

about their idea," said Sparrow.

Sumner Hub co-ordinator

Charlie Hudson said: "Having a

space like the Hub provides the

opportunity for people to share

their skills without the normal

set-up cost of setting up a longterm

lease."

The hub not only provides a

skill-sharing place with all the

necessary facilities, but it also

helps with setting up and promoting

the event.

"This breaks down many of

the barriers that daunt individuals

to share their skills," said

Hudson.

Nikki Wallace-Bell, who holds

the pottery workshops, believes

the hub is so important for the

community.

"It is an incubator for local

projects to happen," she said.

If you are interested in

sharing your skills at the hub, or

joining the Sumner Community

Residents' Association, email

hub@sumnercommunity.nz

huge demand and low in stock.

properties needed!

To find out what your property might be worth in

today's market, call Shaun or Prue for an appraisal.

Living local and working local.

Shaun Davey 027 953 8860 & Prue Dacombe 021 752 348

Harcourts Grenadier Sumner - 43 Nayland Street, Sumner

Grenadier Real Estate Ltd MREINZ. Licensed Agent REAA 2008
---
12 Bay Harbour News Wednesday June 16 2021 Latest Canterbury news at starnews.co.nz

28

weeks

to go!

20% off

20% off

Stacking

Train

Usually $39.99

$

34 99 ea

Creative

Sketchbook

Usually $29.99

$

23 99 ea

National

Geographic

Kits

Usually $24.99

$

19 99 ea

Pound a Peg

Usually $29.99

$

24 99 ea

Tool Kit

Usually $34.99

$

29 99 ea

Save

$60

Ivar or Eldor

Dragon

20cm

Usually $29.99

$

24 99 ea

30cm

Usually $39.99

$

34 99 ea

Sophies

House

Usually $299.99

$

239 99 ea

54 Inch

Plush Snake

$

19 99 ea

Jumbo

Plush Sloth

$

59 99 ea

45cm

Usually $59.99

$

49 99 ea

HALF

PRICE

Smart Phone for Kids

*Requires SIM Card

Assorted

Rubber

Duck

$

8 99 ea

Mega Light

Up Dino

Surprise

$

49 99 ea

Video Call

Instant Messaging

GPS Tracking

SOS Alerts

Usually $249.99

$

229 99 ea

Unicorn

32cm Plush

Usually $59.99

$

29 99 ea

Fairycorn

Surprise

$

39 99 ea

Save

$30 20%

off

RC Rock

Crawler

3XL

Usually $159.99

$

129 99 ea

RC Cyklone

Buggy

Usually $99.99

$

79 99 ea

25cm Plush

Animals

Usually $34.99

100% Recycled

100% Huggable

$

29 99 ea

New Zealand's BEST

TOY LAYAWAY

NO DEPOSIT – NO INTEREST

• Layaway held up to 17th December, 2021

• Payments instore or by Internet Banking

• At least fortnightly payments required

• Cancellation Fees apply

• 48hour notice for pickup (as some layaways stored offsite)

• Photo ID required for creating Layaway
---
Hero 2 Missile Remote

Control Robot

Usua ly up to $99.99

Latest Canterbury news at starnews.co.nz

Wednesday June 16 2021 Bay Harbour News 13

28

WEEKS

TO GO!

SAVE

$

20

New mailer out now

$ 79 99

ea

SAVE

$

10

$ 79 99

ea

Ages

8+

Ages

17+

New Zealand's BEST

TOY LAYAWAY!

Do l Savannah

ONLY

$

59 99

ea

NO DEPOSIT, NO INTEREST!

HELD UP TO 17 TH DEC 2021. See in-store for T&Cs

Family House

Playset

Usua ly up to

$89.99

LOCALLY

OWNED AND

OPERATED

$

19 99 ea

Ages

10+

Save $10

Ages

8+

Save $5

15% off JADA

Save $5

Ages

13+

$

34 99 ea

$

29 99 ea

Ages

7+

$

49 99 ea

1:24 Die

Cast Models

Ages

6+

Ages

7+

Ages

17+

Over 150 models to

choose from

$

49 99 ea

$

49 99 ea

$

44 99 ea

Skateboard

Fly Bar

Usually $69.99

$

59 99 ea

Push and

Glow

Formula

Fun

Usually $27.99

$

24 99 ea

Save

$20

RC 360

Cross

Usually $69.99

$

59 99 ea

1:16 Mini

Excavator

Usually $89.99

1:16 Wagon

with Horse

Float

Usually $169.99

$

79 99 ea

$

149 99 ea

Trick Board

Flybar

Usually $59.99

Flybar

Pogo

Stick

Usually $79.99

$

69 99 ea

$

49 99 ea

Robot

Kombat

Balloon

Punchers

Usually $79.99

$

69 99 ea

Splash

and Play

Rescue

Raft or

Fire Boat

Usually $27.99

$

24 99 ea

50cm

Side Load

Garbage

Truck

Usually $189.99

$

169 99 ea

My First

Flybar

Usually $39.99

$

34 99 ea

TOWER JUNCTION

NZ's Biggest TOYWORLD

Clarence St, Riccarton, Ph 03 343 0330

MARSHLAND

199 Marshland Rd,

Ph 03 982 8697

HORNBY

Chalmers St,

Ph 03 281 8127

Valid until 4th July 2021
---
14 Bay Harbour News Wednesday June 16 2021 Latest Canterbury news at starnews.co.nz

GREAT

WINTER

READS

INSTORE NOW!

NEW RELEASES

How Stella Learned to Talk

by Christina Hunge

An incredible, revolutionary true story and surprisingly simple guide to teaching your dog to talk from

speech-language pathologist Christina Hunger, who taught her dog, Stella, to communicate using simple

paw-sized buttons associated with different words. When speech-language pathologist Christina Hunger first

came home with her puppy, Stella, it didn't take long for her to start drawing connections between her job

and her new pet. During the day, she worked with toddlers with significant delays in language development

and used Augmentative and Alternative Communication (AAC) devices to help them communicate. At night,

she wondered: If dogs can understand words we say to them, shouldn't they be able to say words to us?

Can dogs use AAC to communicate with humans? Christina decided to put this to the test with Stella and

started using a paw-sized button, programmed with her voice to say the word 'outside' when clicked,

whenever she took Stella out of the house.

Stella now has a bank of more than thirty word buttons, and uses them either individually or together

to create near-complete sentences. How Stella Learned to Talk is part memoir and part how-to guide. It

chronicles the journey Christina and Stella have taken together from the day they met to the day Stella

'spoke' her first word, and the other breakthroughs they've had since. It also reveals the techniques Christina

used to teach Stella, broken down into simple stages and actionable steps any dog owner can use to

start communicating with their pets.

My Amy

by Tyler James

Written with a searing honesty and published for the tenth anniversary of Amy Winehouse's death, My

Amy is an evocative portrait of unbreakable lifelong friendship – and a devastating study into fame,

addiction and self-sabotage.

Only one person knows what really happened to Amy, other than Amy herself. He is Tyler James, Amy's

best friend from the age of thirteen. They met at stage school as two insecure outsiders, formed an

instant connection and lived together from their late teenage years right up until the day she died, aged

just twenty-seven.

Tyler was there by her side through it all. From their carefree early years touring together to the creation

of the multiple Grammy-winning Back To Black, which she wrote on their kitchen floor. From her volatile

marriage to Blake Fielder-Civil through her escalating addictions, self-harm and eating disorders as the

toxic nature of fame warped Amy's reality. For the last three years of her life, Tyler was with her every day

when she'd beaten drugs and was close to beating alcoholism too. He also knew better than anyone the

real Amy Winehouse who the tabloid-reading public rarely saw – the hilarious, uncompromising forceof-nature

busy taking care of everyone else.

We all think we know what happened to Amy Winehouse, but we don't. This definitive insider's story

tells us all, finally, the truth.

The Forager's Treasury

by Johanna Knox

A New Zealand guide to the art of foraging - a comprehensive guide to finding sustainable,

free and fascinating plants.

In the urban and rural wildernesses, there is an abundance of food just waiting to be

discovered, if only you know what to look for. Foraged food is healthy, economical and

sustainable, but the best part is the fun you will have finding it.

This book is guaranteed to make you look at the plants around you in a different light.

The Forager's Treasury features profiles of many edible plants commonly found in New

Zealand; advice on where to find them, how to harvest them and how best to use them;

and over 60 delicious food recipes as well as more than 30 recipes for medicine, natural

dyes, perfumes and skin care.

This fully revised and updated edition of a classic bestseller is an exhaustive treasure

trove of information about our wild plants.

Bob Dylan - No Direction Home

by robert Shelton, foreword & afterword by elizabeth Thomson

Robert Shelton met Bob Dylan when the young singer arrived in New York in 1961. He became

Dylan's friend, champion, and critic. His book, first published in 1986, was hailed as the definitive

unauthorized biography of this moody, passionate genius. Shelton tells the intimate and first-hand story

of Bob Dylan's formative years in Greenwich Village NYC, and it is the only biography that has been

written with his active cooperation.

Dylan gave Shelton access to his parents, Abe and Beatty Zimmerman – whom no other journalist has ever

interviewed; to his brother, David; to childhood friends from Hibbing; to fellow students and friends from

Minneapolis; and to Suze Rotolo, the muse immortalized on the cover of Freewheelin' , among others.

Concluding Dylan's story backstage during his triumphant 1978 world tour, No Direction Home took

20 years to complete and when it was finally published the book received widespread critical acclaim.

Following his Nobel Prize for Literature Award in 2016, Dylan's standing is higher than at any time

since the 1960s and Shelton's book is now seen as a classic. This new illustrated edition, published

in the year of Dylan's 80th birthday, includes key images of Dylan throughout his incredible, enduring

career, making it a must for all Dylan fans.

You Are a Champion: How to Be the Best You Can Be

by Marcus rashford, with Carl Anka

Marcus Rashford is famous worldwide for his skills both on-and-off the pitch – but before he was

a Manchester United and England footballer, and long before he started his inspiring campaign to

end child food poverty, he was just an average kid from Wythenshawe, South Manchester. Now,

Marcus Rashford MBE wants to show YOU how to achieve your dreams, in this positive and inspiring

guide-for-life.

No matter who you are and no matter where you come from, every single person in the world has

the potential to be a champion. In You Are a Champion, the world's favourite footballer gives you the

tools you need to reach your full potential, showing you how to be the very BEST version of yourself

you can be. Written with journalist Carl Anka, this empowering guide is packed full of stories from

Marcus's own life, brilliant advice and top-tips from performance psychologist Katie Warriner. Perfect

for readers who need to hear that they already are champions – they just might not know it yet.

This book shows kids how to: Be comfortable with who you are – you can't be a champion until

you're happy being you! Dream big Practise like a champion – good things take hard work and

time. Get out of your comfort zone and learn from your mistakes. Navigate adversity in a positive

way. Find your team. Use your voice and stand.

1005 Ferry rd

Ph 384 2063

while stocks last (see instore for terms and conditions)

Barry & kerry
---
Wednesday June 16 2021 Bay Harbour News

NEWS 15

Buy a Dole Tropical Gold pineapple

for a chance to WIN a $50

Four Square gift card.

PLANTING: The memorial grove will be planted at the Christchurch Gondola

site in memory of Prince Philip.

Memorial to remember

Duke of Edinburgh

• By Matt Slaughter

A MEMORIAL GROVE of 100 native

trees will be planted to commemorate

what would have been Prince Philip's

100th year.

The Duke of Edinburgh's Hillary

Award is partnering with Canterbury's

Te Tapuwae o Rakau Trust (The Tree Footprint

Trust), Ngati Wheke, Rapaki and

Christchurch Attractions/Christchurch

Gondola to plant the trees in Heathcote

Valley in September.

The memorial grove at the Christchurch

Gondola site will be a nature-based memorial

for Prince Philip.

Hillary Award participants will help

with the upkeep as part of their voluntary

service.

The grove will be a part of the trust's

initiative to carry out cultural and ecological

reforestation of the Port Hills and

support the return of native birds, insects

and reptiles.

Said Christchurch Attractions chief

executive Sue Sullivan: "The Christchurch

Gondola is thrilled to be an integral part

of this commemoration project.

"The planting of 100 native trees at the

base of the Gondola will bring life to the

site and further enhance our relationships

with our community."

National director of the Hillary Award

Karen Ross said it is honoured to be part

of this initiative and help create a memorial

in the Heathcote Valley's natural

landscape.

"As well as the memorial to the duke,

this initiative more than ever reflects the

attributes the award equips rangatahi

with, including engagement with our

native landscape and in their communities

and the service provided through the

award," said Ross.

Te Tapuwae o Rakau Trust chairman

Phillip Duval said its goal is to eventually

plant 10 million trees on the Port Hills.

Duval said tree planting appears to have

grown in popularity across Christchurch

in the last few years and it is an activity all

age groups have been taking part in. He

said it is a great thing to do for the future

of the environment.

"Where there's an opportunity for

people to plant something that is native

their own country and that will grow,

potentially, for decades, if not 100 years,

that's a very uplifting, almost a spiritual

thing for a lot of people, because it gives

them hope."

SEE INSTORE FOR MORE INFORMATION

SEEDLESS

& EASY

PEEL

Satsuma Mandarins

Loose Product of

New Zealand

$

4 99 kg

Wattie's Baked

Beans or Spaghetti

420g (excludes Meat

and Flavours)

ANY

2 FOR

$

3 49 ea

A-FOUR-DABLE

EVERY DAY

Pams Fresh

Cooked Chicken

Large (Available at

Selected Stores)

Pams Butter 500g

ONE

PRIZE PER

STORE

$

12 99 ea

$

5 79 ea

YOUR LOCAL

ACCOUNTANT

I COME

TO YOU

NUMBER ONE SUPPLIER

TO THE NZ JET BOATING

COMMUNITY FOR OVER

50 YEARS

Tip Top Bakery

Supersoft Bread

700g

$

3 59 ea

The Peoples

750ml (excludes

Pinot Noir)

$

12 99 ea

Financial Statement Preparation

Tax Preparation & Compliance

Xero & MYOB Specialist

Steven Clarke Ltd. 7 Margot Lane

Mount Pleasant, Christchurch

Phone 03 384 4633 Cell 021 677 670

steven@sclarke.co.nz

• Part Boats & Hulls

• Turn Key Packages

• New Jet Units

• Custom Fabrication

• Expert Advice

SERVICING

Peter Tonkin

03 962 0505

peter.tonkin@hamiltonjet.nz

• Spare Parts Retailer

• Jet Unit Refurbishment

• Engine Tune-Ups

• Insurance Repairs

• Impellor Reconditioning

www.foursquare.co.nz

facebook.com/FourSquareNZ

Specials available South Island only from Monday 14th June until Sunday 27th

June 2021 or while stocks last. Wine and beer available at stores with an off

licence. Wine and beer purchases restricted to persons aged 18 years old and over.
---
Bay Harbour News Wednesday June 16 2021

16

Latest Canterbury news at starnews.co.nz

CONTENT MARKETING

EXPERIENCE: Outward Bound students setting sail in an iconic cutter and coaststeering along the rocks. ​

Chance to take part in Outward Bound course

DARE TO be challenged?

In life our ability to handle

difficult situations under

pressure varies greatly for us

all.

How we deal with life's

curved balls varies for each of

us. The Sumner Ferrymead

Foundation is offering to fund

one 18 to 26-year-old, on a

21-day Outward Bound Classic

in the stunningly beautiful

Marlborough Sounds.

However, entries close on

Saturday.

You'll meet new people,

discover hidden talents and

strengths you never knew existed

and prove to yourself that you

can do stuff.

Here's a wonderful

opportunity to prove to yourself

that you're better than you

believe you really are.

Highly trained instructors

will guide you throughout the

course to help with the art of

problem-solving, the skill of

bushcraft, the wonders of sailing,

getting muddy, and have an epic

time to confidently prepare to

meet life's future challenges –

head-on.

Time to reflect will allow you

to consider the importance of

260 x 180

Course Experience at Anakiwa

your actions in these situations,

and relate the lessons learnt back

to your everyday life.

The proven success of this

outstanding course will equip

you to better understand

yourself and your relationships

with others and the wider

world. You'll build a clearer

focus and perspective to decide

about your future direction.

What a great opportunity to

take part in a course that will

impact positively on your life

and the lives of those around

you.

Applications are welcome

and eligibility criteria

can be found at www.

sumnerferrymeadfoundation.

co.nz/awards.php

Have you got it in you to

download the form and apply?

Go to it now.

Need Heat Fast?

The Fastest, Warmest Indoor/Outdoor Heater You Will Ever Own!

Buy One Get One Free! *

+Plus

Free

Floor

Stand!*

worth

$199.99

• Heats Up Instantly

• Suitable for Indoors or Outdoors

– In Rain, Fog, Wind or Snow

• Carbon-Fibre Bulb Technology

*Call for Terms

& Conditions

• Multi-Directional Stand

• Includes Remote Control &

Built-In Timer

• Motion Detection Function

1.8m High

• Commercial Grade

• Multi-Directional

• Easy Install

• Portable

• Indoors & Outdoors

CALL NOW! 0800 665 665
---
Latest Canterbury news at starnews.co.nz

Wednesday June 16 2021 Bay Harbour News 17

Winter

High Tea

Image is indicative only.

Join us for a Winter High Tea at one

of our three Christchurch villages

Winter certainly is starting to settle in. These cooler months

can make it just that little bit harder to get out and about.

So here at Summerset we're planning a month of warm

winter High Teas and you're invited.

Just pop along to one of our three Christchurch villages any

time between 10am and 2pm, on any Friday in June, and

enjoy a range of delicious winter treats and hot drinks on us.

Whilst you're here, why not also get a taste of the Summerset

life that our residents love so much.

10am - 2pm

Every Friday in June

Summerset at Avonhead

120 Hawthornden Road,

Avonhead

Summerset on Cavendish

147 Cavendish Road,

Casebrook

Summerset at Wigram

135 Awatea Road, Wigram

Our teams would love to show you around our stunning

villages and show homes.

We're looking forward to seeing you!

0800 SUMMER | summerset.co.nz

SUM3118_37X8
---
18 Bay Harbour News Wednesday June 16 2021

$

48,990 +ORC

The King of Beasts is here, with a meaner jet black, factory-fitted body kit, including front grille and 18 inch alloys.

It's also packed with super select 4WD, 2.4L turbo diesel engine, plus more mean features like smartphone

connectivity, multi around view monitor, advanced safety. Then there's our beast of a 10 Year Powertrain Warranty.

CHRISTCHURCH MITSUBISHI

386 Moorhouse Avenue, Christchurch | Ph: 03 379 0588 | christchurchmitsubishi.co.nz

*Price listed is for Triton 4WD GLS Black Edition automatic and excludes on road costs, which includes registration, WoF, 1,000km road user charges and a full tank of fuel.

Available while stocks last. Visit www.mmnz.co.nz for full Diamond Advantage conditions.

DRIVE A NEW

NISSAN

STOCK AVAILABLE TODAY

OFFER

3 YEARS FREE SERVICE

WITH THE NEW NISSAN NAVARA*

THE ALL-NEW

AGILITY MEETS SMARTS

AVAILABLE FROM

$33,990 *

STOCK AVAILABLE NOW

*Price shown is for the Nissan Qashqai ST excludes on road costs of $1,250 which includes registration,

WoF and a full tank of fuel.

CHRISTCHURCH NISSAN, 380 Moorhouse Avenue, Christchurch

Ph: 03 595 6820

www.christchurchnissan.co.nz

From

$39,990 *

*Price shown is for the Nissan Navara SL 2WD Manual excludes on road costs, which includes registration,

WoF and a full tank of fuel. Not available in conjunction with any other offer or promotion. Stock only.

Complimentary 3 years/60,000km (whichever occurs first) no cost service applies to Navara models first

registered between May 1 and June 30, 2021. The complimentary service offer to be carried out by an

Authorised Nissan dealer includes all items listed in the service schedule including parts, lubricants and labour.

Terms and conditions apply. Excludes all lease and some fleet purchasers. For full information regarding the

schedule and inclusions visit nissan.co.nz/owners/priceguides

christchurchnissan.co.nz
---
Wednesday June 16 2021 Bay Harbour News 19

keep it local

and support businesses in your community

Coriander's Sumner is your winter

haven for Indian comfort food

Coriander's Sumner is one of the great

winter warmers in Christchurch's seaside

suburbs.

It's a cosy establishment serving up

absolutely top Indian food, with a team

dedicated to making every experience a

winner.

Coriander's is committed to superior fresh

ingredients, excellent service, and a fun

atmosphere.

The location has been serving delicious

Indian food to the Sumner community for

18 years, and in October last year it changed

hands to become the newest Coriander's

restaurant.

After a renovation, the building is looking

stunning, with carefully restored doors and

other interior elements including some of the

original post boxes from its first life as a post

office as well as a brand new mural featuring

a beautiful tiger in the Indian jungle.

Managing director Gaurav Soni said

Coriander's group of restaurants was

dedicated to the communities it served.

"It's been a great year so far, getting to know

the very welcoming Sumner community and

getting involved in local events," he said.

"Check out the Sumner mid-winter swim

next month – Coriander's will be

donating a prize for one of the

brave swimmers."

The restaurant is organising

a winter series of live music,

Gaurav said.

"We've got some exciting

announcements to make soon,

with some very cool local artists

coming to serenade our guests on

Friday evenings."

He said the restaurant had also

gotten involved with supporting

local sport.

"We're sponsoring a player

from Ferrymead Bays Football

Club, and offering some exclusive

deals to members," Gaurav said.

"It's a great club, and their teams represent

the area proudly.

"I really recommend getting down to

Ferrymead Park when they've got a game on

and getting behind them," he said.

Coriander's Sumner is the fourth premier

dining establishment in the 14-year-old

Coriander's family, alongside Coriander's St

Asaph Street, Coriander's Bush Inn, and the

original Coriander's restaurant in Rolleston.

The restaurant specialises in authentic,

delicious North Indian dishes including

favourites like butter chicken and lamb

vindaloo as well as less-known dishes and

Coriander's specials.

Coriander's has a special vegan menu,

featuring a range of plant-based dishes made

with delicious textured soy pieces, all cooked

without ghee.

The Vegan Lovers' Menu features vegan

versions of classics such as do pyaza, jalfrezee

and saag, as well as traditionally plant-based

dishes such as daal and aloo jerra.

There's even a vegan butter 'chicken' – a

new addition to the menu.

The restaurant is fully licensed and offers

BYO, with an extensive menu of beer –

including Lyttelton's Eruption Brewing – as

well as wine, cocktails and non-alcoholic

beverages including the ever-popular mango

lassi.

It's a family friendly restaurant, with a

kids' menu featuring child-friendly curries

and desserts, and regularly runs special

promotions for families – kids aged 10 and

under can eat free when accompanied by

paying adults all June.

Coriander's Sumner is open for dine in,

take away and delivery in the Sumner area

and offering two free chicken drumsticks

with any two dine-in meals.

The restaurant is also running a June

promotion for free delivery of any order over

$50 within 4km of Coriander's Sumner.

To claim the offer, use the code SUMNER

when checking out on the Coriander's app or

Coriander's website.

You can find Coriander's Sumner in

Wakefield Avenue, across the road from the

Sumner Community Centre.

HIKING BOOTS

& SHOES

For men, women

and children

From

$79.95

to $250

Lyttelton

Framing

Four good reasons to use us

to frame your artwork:

1. Know how - UK qualified

conservation framer

2. Experience - We have been

established now for eighteen years

3. Guarantee - All work guaranteed

4. Price - Very competitive prices

47c Garlands Road, Woolston

Phone 389 3431

www.thefootwearfactory.co.nz

Contact Malcolm Ph 328-7350

32 London St, Lyttelton

Mon-Fri 9am-5pm, Sat 9am-1pm

$50 OFF

(Offer expires 31st August 2021)

FDA approved amiea med EXCEED

MICRONEEDLING

(Collagen Building Therapy. Normally $300)

"Tina is amazing! I have seen her for

the last 8 years and had all sort of

treatment from her - love the space

and her calm professional approach -

seeing her is pure healing for my

soul and skin!" - Signe

EXCEED by amiea med is a medical microneedling

device clinically proven to increase natural Collagen

formation, promote rejuvenation and improvement

of skin texture, visibly reduce fine lines & wrinkles,

treat acne scarring, and normalise the skin structure.

Delivering tranquil and relaxed

treatments, beauty and

massage therapy in a warm and

inviting atmosphere

89b Main Road, Redcliffs

Phone 03 384 4729

www.redcliffsbodycare.co.nz

Open Monday to Saturday

Late nights Wednesday

& Thursday.

Phone 03 384 1743 to

book your appointment.

we now have

Shop Now. Enjoy Now. Pay Later.

Phone (03) 384 1743 | 4/2 Soleares Ave, Mt Pleasant

Advertising enquiries Jo Fuller | Ph: 027 458 8590 | jo.fuller@starmedia.kiwi
---
20 Bay Harbour News Wednesday June 16 2021 Latest Canterbury news at starnews.co.nz

STYLE & QUALITY

FOR LESS

WWW.AFFORDABLEFURNITURE.NZ

SUPER

SPECIAL

CHRISTCHURCH'S MOST AFFORDABLE

NZ MADE LOUNGE SUITES

CUSTOMISE TO YOUR REQUIREMENTS

WAS $3319

$

3069

Naples Modular Corner

2 Seater $1129 $1049

3 Seater $1649 $1529

SUPER

SPECIAL SUPER

SPECIAL SUPER

SPECIAL

Willow

Barstool

Maui

Recliner

3 Colour options

available

Orbit

Barstool

WAS $89

$

79

WAS $999

$

899

WAS $139

$

129

Elm Dinning

Collection

SUPER

SPECIAL

Sylvie Bedroom

Collection

Buffet $1,109

Dining Table $909

Tallboy 5 Drawers $689 $639

Tallboy 6 Drawers $799 $739

Lowboy 6 Drawers $729 $679

Bedside $219 $199

Headboard From $379

3 Year Warranty

3 Year Warranty

5 Year Warranty

5 Year Warranty

Comet

Mattress

FROM

Single $229 $219

King Single $249 $229

Double $279 $259

Queen $319 $299

Melody

Mattress

FROM

Single $299 $279

King Single $349 $329

Double $399 $369

Riviera

Mattress

$

219 $ FROM

279

$

349

$

459

Queen $439 $399

King $469 $439

FROM

Single $369 $349

King Single $419 $389

Double $499 $469

Queen $549 $509

King $599 $549

California King $709 $659

Chateau

Mattress

Single $499 $459

King Single $589 $549

Double $709 $649

Queen $759 $709

King $839 $779

California King $1009 $939

5 Year Warranty

Continuous Wire

Spring Unit, Firm

Mattress & Quilt Fibre

5 Year Warranty

Pocket Spring,

Euro Top, Quilt Fibre,

Wave Foam & Comfort Foam

5 Year Warranty

Zone Pocket Spring,

Mini Pocket Topper,

Plush Fabric, Quilt

Fibre & Wave Foam

FROM

$

489

Chiro Mattress

Queen $519 $489

King $579 $539

FROM

$

499

King Single $539 $499

Double $679 $629

Queen $759 $709

Cloud Rest Mattress

King $839 $779

FROM

$

519

Super King $899 $839 King Single $559 $519

Queen $809 $749

Indulgence Mattress

King $869 $809

Super King $879 $819

FREE

CARPARKING

SOUTH CITY

BATH ST

WE ARE

HERE

255 MOORHOUSE AVE

REBEL SPORT

COLOMBO ST

MON-FRI 9:30AM – 5:30PM

SAT-SUN 10AM – 5:30PM

0800 268 264

www.affordablefurniture.nz
---
Creative Wednesdays

Wednesday, 11.30am-2.30pm

All welcome and you can come

and go as you please. This group

is focused on bringing people

together and getting creative,

no matter what level your art

practice is, beginner or expert.

Go along to this event to make

connections and express yourself

freely. Every Wednesday.

The Rock, 10 Wakefield Ave,

Sumner

Harbour Singers

Wednesday, 7pm

Practices with Rachel Bayliss.

World music taught in a supportive

and friendly atmosphere.

Phone Margie Dickinson 329

3331 or Joy McLeod 329 4119.

Green Room, Diamond

Harbour Community Centre

New Parents Coffee Group

Wednesday, 11am

Meet with new parents in

your community and make new

friends and connections with

people who are going through

many of the same things as you.

Every Wednesday.

The Front Room Cafe, Mt

Pleasant Community Centre

Garden

Create 'n' Connect Art and

Craft Group

Thursday, 10am-noon

Company and creativity. Take

your project to work on, or if you

are stuck from inspiration, the

group can help you find some. $3

per session. Phone Beth for more

info 022 678 1252.

St Andrews, 148 Main Rd,

Redcliffs

Sumner Silver Band

Thursday, 7-8.30pm

All welcome to attend the

band's regular rehearsals to

either just listen or to become

part of the band. They can

provide instruments and

encourage returning players of

all ages. Phone Peter Croft for

more information 384 9534.

Redcliffs School, Beachville Rd

Learn Tai Chi

Friday, 10.15am

Tai Chi is sometimes referred

to as meditation in motion. It

is a slow, gentle, safe form of

exercise, which is known for

its many health benefits. It is

suitable for people regardless

of age, fitness level, or prior

experience. The healing art of

Qigong is included as part of our

programme of genuine Tai Chi.

In this free class, you can expect

to have fun, while learning

to move in a more integrated

way, under the guidance of an

experienced Tai Chi instructor.

Mt Pleasant Community

Centre Hall

JP Clinic

Saturday, 10am-noon

A justice of the peace will

be available to members of

the community, to witness

signatures and documents,

Latest Canterbury news at starnews.co.nz

Email samantha.mythen@starmedia.

kiwi by 5pm each Wednesday

certify document copies, hear

oaths, declarations, affidavits

or affirmations as well as sign

citizenship, sponsorship or rates

rebates applications. There is no

charge for this service.

Matuku Takotako: Sumner

Centre

A Midwinter Cuppa

Saturday, 9am-3pm

This is a pop-up tearoom event.

Head along and try cheese rolls,

potted salmon and toast, scones

with jam and cream, chocolate

tarts, eccles cakes, scotch

eggs, mint thins, sausage rolls,

preserves for your winter larder,

welsh rarebit, Grandma's fruit

cake, apple and feijoa tart, gin and

lemon cake, Victoria sponge.

The Loons, 16 Canterbury St,

Lyttelton

Free Matariki Whānau Craft

Workshop

Saturday, 1-3pm

Matariki is about whānau

and it's lovely to create together.

This will be a fun workshop

focused on learning some

tikanga (cultural practices), te

reo (language), weaving skills

and getting together to be crafty.

Go along and create some

whetū/stars for Matariki. You

will learn how to gather and

prepare harakeke in order to

make beautiful whetū. Turn your

whetū into a bracelet or necklace

or use your new skills and create

a Matariki decoration at home.

This workshop will be calm, fun

and supportive. It is suitable for

children aged eight to 13-yearsold.

An adult participant (over

16) is required to supervise and

weave alongside the children

they bring. Book your place,

email artatsumnerhub@gmail.

com

Matuku Takotako: Sumner

Centre

Lyttelton Harbour TimeBank

Drop-in Session

Tuesday, 10am-noon

The Lyttelton Harbour

TimeBank exists to help build

a stronger, more connected

harbour community. Go along

for a chat – get help with joining

or managing your account,

posting an offer or request, or

Wednesday June 16 2021 Bay Harbour News 21

Weather Talk, today, 6.45-

8.45pm. Hosted by Outdoor

Education New Zealand,

this talk focuses on

understanding the weather

and how this impacts on

planning and going outside

for adventures. Go along

and learn about weather

forecasting sites, how to

interpret forecasts, how

to apply this information

to the field and how to

identify deteriorating

weather changes. Door fee

$5 that will be donated to

the Restore the Jetty Trust.

Governors Bay Community

Centre.

anything else.

Lyttelton Library

9 for 9 Group Art Exhibition

Tuesday-Friday, 11am-5pm,

Saturday, 1-4pm, Sunday, 11am-

4pm

Nine artists feature for the 9th

annual container art exhibition.

The exhibition includes Philip

Trusttum, who was recently

awarded an ONZM for his

services to art. The exhibition

runs until the end of July.

LEstrange Gallery, 17 Marriner

St, Sumner

Mt Pleasant Tennis

Tuesdays, 10-11.30am and

Thursdays, 3pm

Casual adult tennis is played

throughout the winter. Head

along and play a game. Visit

www.mtpleasant.co.nz for more

information.

Quarry Rd

NEW LAND ROVER DISCOVERY

THE NEW DISCOVERY SPORT

NEVER STOP DISCOVERING CONFIDENT IN

ALL CONDITIONS

The new Land Rover Discovery is the ultimate family-friendly SUV for the road, delivering unrivalled, exceptional long-haul

comfort for seven people and a confidence-inspiring environment for the driver.

A series of enhancements deliver increased functionality, improved comfort and 21st century connectivity, while the

innovative interior continues to deliver comfort without compromise. New Discovery. The spirit of family adventure.

Archibalds

38 Tuam St, Christchurch

021 540 064 - Corey Gray

archibalds.co.nz/newdiscovery

*Terms and conditions apply. The standard scheduled 5 Year servicing is included (different terms and conditions apply to different models). Contact Archibalds for more details or visit www.landrover.co.nz.

THE MOST VERSATILE AND COMPACT SUV
---
Bay Harbour News Wednesday June 16 2021

22

FOOD

Latest Canterbury news at starnews.co.nz

Use garlic and onions to jazz up roast

Sunday roasts are

a traditional Kiwi

favourite. Try adding

some powerful flavours

for a change that

should please the

whole family

Roast beef with garlic and

onions

Ingredients

1.5kg rolled roast beef

2 medium onions

2 carrots

2 sticks celery

1 bulb of garlic

1 bunch of mixed fresh herbs ,

such as thyme, rosemary, bay,

sage

olive oil

Directions

Remove the beef from the

fridge 30min before you want to

cook it, to let it come up to room

temperature.

Preheat the oven to 240 deg C.

Wash and roughly chop the

vegetables – there's no need

to peel them. Break the garlic

bulb into cloves, leaving them

unpeeled.

Pile all the veges, garlic and

herbs into the middle of a large

roasting tray and drizzle with oil.

Drizzle the beef with oil and

season well with sea salt and

black pepper, then rub all over

the meat. Place the beef on top of

the vegetables.

Place the tray in the oven,

then turn the heat down

immediately to 200 deg C

and cook for 1 hour for

medium beef. If you prefer it

medium-rare, take it out five to

10min earlier. For well done,

leave it in for another 10

to 15min.

If you're doing roast potatoes

and veges, this is the time to

crack on with them – get them

into the oven for the last 45min

of cooking.

Baste the beef halfway through

cooking and if the veges look dry,

add a splash of water to the tray

to stop them from burning.

When the beef is cooked

to your liking, take the tray out of

the oven and transfer the beef to

a board to rest for 15min. Cover

it with a layer of tin foil and a tea

towel and leave

aside while you make your

gravy, horseradish sauce and

yorkshire puddings.

Baked chicken breasts

Ingredients

4 tablespoons olive oil

3 tablespoons honey

2 tablespoons whole grain

mustard

1 tablespoon smooth and mild

Dijon mustard

4 cloves garlic, peeled and

minced

1-2 tablespoons fresh lemon

juice

1/2 teaspoon paprika

2 pounds (1 kg) boneless skinless

chicken breasts, (4 large

chicken breasts)

Salt and cracked black pepper,

to season

2 tablespoons fresh chopped

parsley, to garnish (optional)

Lemon wedges, to serve

(optional)

Directions

Onions roast

up well in

the oven

with beef,

don't forget

to garnish

with herbs

before

serving.

Preheat oven to 200 deg C.

Lightly grease a baking tray/

sheet with oil and line with foil or

parchment paper.

Combine the oil, honey,

mustards, garlic, lemon juice

and paprika in a small bowl to

combine well.

Place the chicken onto the

prepared baking sheet (tray).

Season generously with salt and

pepper. Spoon three-quarters

of the honey mustard mixture

evenly over the chicken and

spread evenly all over each

breast. Pour a quarter of a cup of

water onto the baking sheet to

prevent burning, creating a sauce

while baking.

Bake until cooked through

(about 20-30min, depending

on the thickness of the breasts).

Spoon the remaining sauce over

each breast and broil (or grill) for

a further three-to-four minutes

on medium-high heat to brown

the chicken and caramelise the

edges.

Cover with foil and allow to

rest for 10min to let the juices

settle before serving.

Garnish with parsley and serve

immediately with lemon wedges.

Notes

To include roasted asparagus,

arrange them onto the same

baking sheet around the chicken

in the last 10 minutes of cooking

time. Rotate them in the pan

juices or pan sauce and season

with salt and pepper.

Most elder abuse is

hidden in plain sight

Abusers are often someone close – A family member, a caregiver,

someone trusted. If you're concerned about how someone is being treated,

it's OK to help.

CALL OUR FREE HELPLINE
---
Wednesday June 16 2021 Bay Harbour News 23

Be inspired with thousands of ideas under one roof!

2 – 4 July 2021

IN ASSOCIATION WITH

Free informative seminars

thanks to

Complimentary

goodie bags! show-only specials

and giveaways!

Live AUCTION!

Courtesy of

This MEGA tiny home

could be yOUrs!

A 2016 Nissan Leaf

worth $ 22,000!!

2 - 4 July 2021 • 10am - 5pm • Christchurch Arena • www.starhomeshow.kiwi

CUT THIS AD OUT FOR

1x FREE DOUBLE PASS

Join us at the Home & Leisure show, stand number 176.

Appliances, beds, furniture & tech.

Everything you need for your home.
---
Bay Harbour News Wednesday June 16 2021

24

PUZZLES

CRYPTIC CROSSWORD

1 2 3 4 5 6 7

8 9

10 11

12 13 14 15 16

17

18 19 20

21 22 23

24

18/6

Latest Canterbury news at starnews.co.nz

Across

1. Involved ale in number of changes

that can't be counted (11)

8. A giant bird with an additional part (5)

9. Although almost unnecessary, they

have their point (7)

10. It is a setback that's concerned with

poetic writing (7)

11. With no starter to main meal, it's still

on-target (5)

12. Girl I'm returning service book to (6)

14. They are extortioners and voracious,

in the main (6)

18. Billy, about fifty, will look wickedly

exultant (5)

19. Man with a dog could land in her

embrace (7)

21. Bob errs about them being criminals

(7)

23. Don't take a service vacation (5)

24. Minds recent development with

which one discriminates (11)

Down

1. There's an intervening period of merit

in adapting to it (7)

2. Going around in a vest, as those born

to the place (7)

3. One not old enough for a musical sort

of key (5)

4. Sort of bean for an athlete (6)

5. Limb he's broken shows a flaw (7)

6. A fish starts eyeing every lure (3)

7. He hoards a well-boring instrument

(5)

13. Can there be no painting without

guile? (7)

15. Let go of the film for public viewing

(7)

16. Something that crawls could be

present (7)

17. How pure cheats are turned out (6)

18. Rig up the uncompleted belly-band

(5)

20. Yarn only the North can produce (5)

22. A rudimentary shoot is indubitably

held up (3)

SUDOKU

Fill the grid so that every column, every row and 3x3

box contains the digits 1 to 9.

QUICK CROSSWORD

1 2 3 4 5 6

7

8 9

10 11

12 13 14 15

16

17 18 19 20

21 22

23 24

Across

1. Foul-smelling (5)

4. Voucher, docket (6)

8. Lacking depth (7)

9. Curse (5)

10. Siren (5)

11. Result (7)

12. Belittle (6)

14. Breakfast food (6)

17. Obsessive collector

(7)

19. Gold bar (5)

21. Connect to water

pipes (5)

22. Saying (7)

23. Warming appliance

(6)

24. Unit of

measurement (5)

Down

1. Popular takeaway

(4,3,5)

2. Head adornment (5)

3. Difficult choice (7)

4. Unqualified

tradesman (colloq) (6)

5. Distressed (5)

6. Demanding (7)

7. Overwhelmingly

tempting (12)

13. Size up (7)

15. Military garb (7)

16. Fitting (6)

18. First appearance

(5)

20. Invited visitor (5)

CODECRACKER

QUICK CROSSWORD

Across: 1. Fetid, 4. Coupon, 8. Shallow, 9. Swear, 10. Alarm, 11.

Outcome, 12. Demean, 14. Muesli, 17. Hoarder, 19. Ingot, 21.

Plumb, 22. Proverb, 23. Heater, 24. Metre.

Down: 1. Fish and chips, 2. Tiara, 3. Dilemma, 4. Cowboy, 5.

Upset, 6. Onerous, 7. Irresistible, 13. Measure, 15. Uniform, 16.

Proper, 18. Debut, 20. Guest.

CRYPTIC CROSSWORD

Across: 1. Innumerable 8. Titan 9. Needles 10. Reverse

11. Inner 12. Missal 14. Sharks 18. Gloat 19. Handler 21.

Robbers 23. Leave 24. Discernment.

Down: 1. Interim 2. Natives 3. Minor 4. Runner 5. Blemish 6.

Eel 7. Miser 13. Artless 15. Release 16. Serpent 17. Chaste

18. Girth 20. Nylon 22. Bud.

TARGET

bling bluing brig brim

bring bruin bugling bulging

burgling burin burling

girl glib gluing grim grin

GRUMBLING limb limn ling

lungi luring rimu ring ruin

ruing ruling rumbling urging

MEDIUM HARD

EASY

TARGET

G B U

G I M

N L R

Good 14

Very Good 19

Excellent 24+

ALL PUZZLES © THE PUZZLE COMPANY

How many words of four letters or more can you

make? There is at least one nine-letter word.

Each letter may be used only once and all

words must contain the centre letter.

No words starting with a capital, no plurals

ending in s unless the word is also a verb, e.g.

he fires the gun.

Mon-Thurs: 7am - 4pm

Fri-Sun: 7am - 5pm
---
REAL ESTATE

50 Shades of Grey

50 McCormacks Bay Road,

Mount Pleasant

Auction 1 July (Unless Sold Prior)

4 bedrooms 2 bathrooms 2 living rooms

2 car garage Listing No. SM0487

Wednesday June 16 2021 Bay Harbour News 25

ADVERTISING FEATURE

Showcasing eye-catching qualities from a

front-row position in McCormacks Bay, this

architectural abode affords effortless

comfort and accommodates modern living

with considerable ease.

Skilfully composed by the late architect,

Bruce Banbury, and constructed by the

experienced team at Chris Beer Construction

in 2014, the home's cleverly configured

design is in-tune with family living and

responds to the requirements of every

generation.

Striking a bold silhouette and spanning two

levels, the home's primary open-plan

entertaining space occupies the top floor and

steps out to the balcony, where you can

admire the elevated outlook over the park.

An alternative living space and large decks

are found on the ground floor, which assures

flexibility for growing families.

The two-level layout also comprises four

double bedrooms that are evenly distributed

across both levels, with the master enjoying

a first-floor position and the luxury of a

walk-in wardrobe and ensuite.

The décor is desirable and features an array

of contemporary neutrals as well as freshly

laid carpet, while the presence of two heat

pumps will keep you cosy winter-long.

Easy-care grounds are contained within the

fully fenced section, and they could easily be

enhanced with professional landscaping

should you choose.

The internal access garage provides secure

storage, plus a rear roller door for a boat,

which is a bonus given the convenience of

the location, with the Saturday Farmers'

Market only a stroll away while the coastal

walkway and wealth of amenities in

Ferrymead are also close to home.

Making its market debut since its construction,

this property will be a captivating prospect

to many, and with the vendors having

downsized and purchased elsewhere, it's

recommended that interested buyers act

quickly.

Open Homes: Wed, Sat and Sun 1pm-1:45 pm

Alison Carter

Mob. 0274 318 960

Harcourts Grenadier Sumner

Ph.03 384 7950

(Licensed Agent REAA 2008)

EntEr

now!

be in to WIN

WIth our 7 th AnNual bIrd

photo competition

Your favourite bird photo competition

sINce 2015!

our 2020 Winner:

Karen Moffatt-Mcleod

over $1000

in prizes

Including a Canon EOS M200

inter-changeable lens

camera, a Topflite Native Bird

Nurturer Pack & more!

Entries can be sent electronically (high resolution files) to giveaways@gardener.kiwi, with the subject line 'Photo Competition 2021', or posted to Photo

Competition 2021, Kiwi Gardener, PO Box 1467, Christchurch 8140. All entries must be received by 5pm, Thursday, July 1 2021. You can enter more than

once. The winning photos will be published in the August issue (out July 26).
---
See page 4 for more info!

h tp: /kaywa.me/8aVDQ

my Kaywa Qr-Code

w.valuecarswarehouse.co.nz

h tp: /kaywa.me/8aVDQ

Ce l 021 855 884

My Kaywa QR-Code

w.valuecarswarehouse.co.nz

26 Bay Harbour News Wednesday June 16 2021 Latest Canterbury news at starnews.co.nz

Plenty of appeal in base model Yaris Cross

I'D NEVER BE put off by entrylevel

cars if a range has several

variants.

Sure, there's a lot of exciting

technology in the high-spec, top

grade models, but in this modern

age all new vehicles have bling -

features and enough gadgetry to

satisfy.

Take, for example, Toyota's

Yaris Cross, it's a range that starts

at $29,990 for a petrol-only GX

model. For my money that's good

buying for a vehicle that looks like

an SUV, but given its compact size

is probably best described as a

crossover model, a large hatchback

which caters well for the

small family.

The Yaris Cross is also available

in a higher grade – Limited - but

that is a $38,990 hybrid model,

although there is also a GX

hybrid that lists at $33,990. As I've

alluded to, GX grade is perfect for

someone who doesn't need overly

flashy.

It's important to note, though,

the GX grade still includes a raft

of technology included in the

Toyota Safety Sense suite of kit.

I evaluated the Yaris Cross

hybrid in these columns in March

and liked its trendy style and

involving driving dynamics – the

hybrid system is coupled to a willing

three-cylinder 1.5-litre engine

that charms with its response and

characteristics.

That same engine powers the

petrol-only model. It's fair to

say that in the Yaris Cross' case

I'm torn between hybrid and

non-hybrid, each variant has its

own merits, and it's fair to say the

hybrid would probably win out in

my situation. However, the petrol-only

model will save you a bit

of cash it you can't come up with

the $4k to buy into the hybrid.

As an aside, the entire Yaris

range is powered by the new

driveline, and I'm yet to be disappointed

with the new configuration

from Toyota.

Developing 88kW and 145Nm,

the outputs are reached a little

tall in the rev band (6600 and

4800rpm respectively), but

three-cylinder units develop a lot

of natural torque and you end up

with solid acceleration and easy

motion at highway speed.

The Yaris Cross won't set any

speed records, but it will reach

100km/h from a standstill in

TOYOTA YARIS CROSS GX: Well-equipped for a budget price.

under 12sec and plough through

a highway overtake (80-120km/h)

in 7.5sec. If you are brave enough

to risk your licence, the petrol-only

Yaris Cross is also listed with a

180km/h top speed.

Drive is channelled to the front

wheels through a continuously

variable transmission. There are

no surprises there, Toyota has

developed CVT well so it works

almost like a traditional automatic.

The benefit is little drain on the

engine, power that isn't wasted

through a torque converter. As

a consequence, Toyota claims

some quite startling fuel usage

figures for the Yaris Cross, that's

no surprise, when I evaluated the

standard Yaris, the wee three-potter

was an absolute fuel miser.

The Yaris Cross is listed with

a 5.4-litre per 100km combined

cycle average. That fits well with

the readout on the evaluation

car – 7l/100km. That figure was

helped by a long highway drive,

the engine turning over freely

at 2100rpm at 100km/h, returning

an instantaneous figure of

4l/100km.

I had an item to pick up in the

McKenzie Country, so the Yaris

Cross was presented with the

fabulous State Highway 72 scenic

route for the round trip. It cruises

well with little noise intrusion and

an amazingly comfortable ride.

The suspension is all class, even

given there's a tube beam rear axle

tying the two rear wheels together.

That aside, the spring and damper

rates are a perfect compromise

between ride comfort, absorbing

road ripples and containing body

balance in a corner.

• Price – Toyota Yaris Cross

GX, $29,990

• Dimensions – Length,

4180mm; width, 1765mm;

height, 1590mm

• Configuration – Threecylinder,

front-wheeldrive,

1490cc, 88kW,

145Nm, continuously

variable automatic

• Performance –

0-100km/h, 11.8sec

• Fuel usage – 5.4l/100km

It's not often you get a clean run

through the twisty, hilly section

leading in and out of Fairlie, but I

scored that section free of traffic on

my return journey and punted the

Yaris Cross through there with a

bit of motion. I can report it steers

beautifully through its Bridgestone

tyres (205/65 x 16in), directional

change is accurate and the entire

car is composed under pressure.

The GX Yaris Cross is aimed at

the budget buyer but those people

will still feel as if they have scored

a bargain. Major features include

full electrics, radar cruise control

and multi-function steering wheel.

It's been a heady year or so

for Toyota New Zealand, new

models have landed constantly

and the choice for the Toyota

buyer has never been better. The

Yaris Cross is just one model

in a comprehensive range. I

particularly like the concept and I

particularly like the entry-level

model.

The South Island's

leading motoring resource

Filled with news, reviews and dealer listings

Incorporating

ISSUE 667 | FrIday 20 novEmbEr 2020

See inside for this week's

4WD feature!

free

best motorbuys

www.drivesouth.co.nz

One Owner!

2015 IsuZu D-mAX

4WD Ls D/CAb

From family cars to work trucks,

and supercars to SUVs.

No matter what you're

looking for, you can find it all

with Drivesouth.

sherborne st, edgeware

iggest range of vehicles

location!

2011 Jaguar

XF Premium

$18,999

Incorporating

ISSUE 668 | FrIday 27 NovEmbEr 2020

NZ new, 3.0 intercooled turbo/dsl,

auto, rare flatdeck with ladder/pipe

racks, reverse cam, service history.

For more see their advert on page 31

40 Years Finance

Experience

Cannot be Beaten!

$34,995 $192pw

free

best motorbuys

www.drivesouth.co.nz

See inside for this week's

marine feature!

Magazine available for

FREE every Friday at a

convenient pick up point

near you!

e Ave | P: (03) 366 7768 | www.valuecarswarehouse.co.nz

• Talk to us about finance for your next

motor vehicle purchase

Download the Kaywa Qr Code reader (A p Store &Android market) and scan your code!

free

• Specialising in Finance for Private Purchases

Incorporating

• Very quick approvals, sensational interest rates

• From no deposit (terms & conditions may apply)

ISSUE 669 | FrIday 4 dEcEmbEr 2020

Hiace spares

PH 03 web

Cnr Main South Rd and Epsom Rd, Christchurch

Ph: 03 348 4129 | avoncityford.com

Classic Car feature!

For more see their advert on pages 6 & 7

best motorbuys

See inside for this week's

275 Colombo street, Christchurch

The biggest range of vehicles

in one location!

2013 Volkswagen

Tiguan TSi

$20,999

CAR AUDIO

AUDIO VISUAL

CAR SECURITY

CELLULAR

Moorhouse Ave | P: (03) 366 7768 | www.valuecarswarehouse.co.nz

dable new parts available for BMW / MERCEDES BE

t Asaph Str

Now Available @ NZ Van Spares

MOBILE INSTALLATION SERVICE See our ad on page 2

See page 5 for more info!

2013 LexuS

LS460 F Sport

Only 79,000kms, black leather

interior, 10x airbags, sunroof,

very smart & very rare.

$39,999 incL

orc

Download the Kaywa QR Code Reader (a p Store &android Market) and scan your code!

493 blenheim road, Christchurch

The biggest range o

in one locat

REVERSE CAMERAS

RADAR DETECTORS

Now

PARKING SENSORS

AERIALS

0800 212 777

Ce l 021 855 884

Hiace

PH 03 web

2.4 auto, alloys, ABS, twin airbags.

40 Years Finance

Experience

Cannot be Beaten!

DASH CAMERAS

GPS/TRACKING

• Talk to us about finance for your next

motor vehicle purchase

• Specialising in Finance for Private Purchases

• Very quick approvals, sensational interest rates

• From no deposit (terms & conditions may apply)

Cnr Main South Rd and Epsom Rd, Christchurch

Ph: 03 348 4129 | avoncityford.com

www.drivesouth.co.nz

2005 toyota rav

$9,990

2.0lt Petrol, 5 Dr Station wagon,

Climate Control, ABS Braking,

Automatic. $34.63pw.

2008 bmW 320i

$10,974 NoW $7,974 + orC

has motoring covered.

drivesouth.co.nz
---
Latest Canterbury news at starnews.co.nz

Wednesday June 16 2021 Bay Harbour News 27

Classifieds Contact us today Phone our local team 03 379 1100

Cars Wanted

Cars Wanted

Tuition

Trades & Services

Situations Vacant

$$ CASH PAID $$

Buying cars & trucks for

wrecking. Ph / txt Zac 021

1056 797.

Finance

RW Finance

Small Loans

From $1,000 - $5,000

SPECIAL

INTEREST RATE

FOR NEW

CUSTOMERS

(limited time offer)

Beneficiaries Welcome

Friendly & Personal

Customer Service

0800 325 345

www.rwfinance.co.nz

RESPONSIBLE LENDING & CREDIT CRITERIA APPLY

KATANG

Health & Beauty

Fitness

Tues 9.15am-10.15am

Gardening

& Supplies

Gardener available for

maintenance, weeding

pruning, spraying,

planting, advice. Qual &

exp.Pensioner discount

25%. Ph Richard 0274 918

234, 03 349 4022

To Let

RENT ME!

Ideal as an extra

bedroom or office.

no bond required

$$ CASH PAID $$

Buying cars & trucks for

wrecking. Ph / txt Zac 021

1056 797.

Sumner Community

Centre (above library)

$5 per class.

Concession cards available.

For more info

contact Katrina

381 1704 or

027 4966 845

ADD SOME

COLOUR

TO YOUR ADVERT!

Fully insulated and double glazed for warmth.

Three convenient sizes from $80 a week:

Standard 3.6m x 2.4m

Large 4.2m x 2.4m | Xtra-large 4.8m x 2.4m

Visit our website

www.justcabins.co.nz

for display cabin locations

www.justcabins.co.nz

PIANO LESSONS

Catherine Bracegirdle

DipABRSM ATCL AIRMT

12 Ridgeway Pl, Richmond Hill, Sumner

PH. 021 044 5102

www.pianoandtheory.co.nz

catherine.bracegirdle@gmail.com

Trades & Services

Atkinson Construction Ltd

• Local qualified licensed builder

• Over 30 years experience

• Building alterations

• Maintenance

• No job too big or small

Dean: 021 480 093

atkinsonconstruction@xtra.co.nz

PLUMBING & DRAINAGE

Gas FittinG & GuttER CLEaninG

High reach gutter cleaning machine.

No job too big or small.

Local family run Christchurch/

Redcliffs business for all plumbing,

drainage & gas work.

Free Quotes

Call Morgan 0223 758 506

Visit our website - www.mtpd.co.nz

Email - morgan@mtpd.co.nz

Your local professional

FOR ALL YOUR

PLUMBING,

GAS &

DRAINAGE

• Bathroom repairs

• Renovations

• Leaks

• Blocked drains

• Gas and drainage

Carol and Chris

Phone 376 5322 or email

chcheast@laserplumbing.co.nz

CARPET LAYING

Exp. Repairs, uplifting,

relaying, restretching.

Phone John on 0800

003181, 027 240 7416

jflattery@xtra.co.nz

DECKS

Fences, retaining, 2nd

hand kitchen installs

incl stone bench rework,

sleepouts, alterations,

paths and more. Greg 022

475 8227

ELECTRICIAN

JMP Electrical.

Experienced & registered..

Expert in all home

electrical repairs &

maintenance.Call James

027 4401715

ELECTRICIAN

Andrew Martin Electrical.

25 years experience.

Specialize in home

renovations, repairs and

maintenance. Call Andrew

0274 331 183

GUTTER CLEANING

HOUSE WASH

Total gutter / spouting

clear out & clean. House

wash & windows. For a

professioanl & reliable

service call Greg Brown

A1 Spouting Cleaning 027

616 0331 or 384 2661

PAINTING SERVICES

Mature, reliable,

conscientious &

experienced, reasonable

rates, no job too small!,

call Ron 027 434-1400

STONEMASON, BRICK

& BLOCKLAYER,

Earthquake Repairs, Grind

Out & Repoint, River/

Oamaru stone, Schist,

Volcanic Rock, Paving,

all Alterations new & old,

Quality Workmanship,

visit www.featureworks.

co.nz or ph 027 601-3145

Wanted To Buy

AAA Buying goods

quality furniture, beds,

stoves, washing machines,

fridge freezers. Same day

service. Selwyn Dealers.

Phone 980 5812 or 027

313 8156

Reporter - Christchurch

• Great media opportunity

• Be part of an award winning team

• A media company which is growing its reach

Who we are

Allied Press Limited employs over 450 people on a permanent basis

across our 15 sites in the South Island. We operate across multiple

media platforms (print, on-line, digital) delivering news, information and

entertainment through our various regional and city publications, including

Christchurch-based Star Media.

The role

We are seeking someone who is looking to take the next step in their

journalism career.

Reporting to the editor, the main purpose of the position is to file

community-based news, sport and people articles for both print

publications and online platforms.

Your skills and experience

We are looking for a journalist who has already displayed the qualities

and drive to become a topline journalist. In addition to your interest in

equity and diversity you will demonstrate:

• A great work ethic

• A competitive nature

• An eye for detail

• Accuracy

Further details

This is a full time, permanent position.

We can offer you a great team environment, professional development

opportunities and an opportunity to grow.

If you think this role is for you, please apply by way of CV and a

covering letter to barry@starmedia.kiwi. Informal inquiries about the

role are welcome and should be directed to Editor in Chief Barry

Clarke 021 359-426.

All applications will be treated in the strictest confidence.

Please note you must have the right to work in New Zealand to

apply for this role.

Disclaimer: Allied Press does not accept unsolicited agency resumes.

Allied Press is not responsible for any fees related to unsolicited resumes.

Public Notices

Sorry, we are

no longer accepting

cheques

Star Media wish to advise

we no longer accept cheques as

payment for advertising, events

or accounts due to changes in

bank processes.

We do offer a range of other

payment options including cash,

EFTPOS, Visa, Mastercard, debit

card and online.

Trades & Services

DIRTY TILES

& GROUT?

Our unique restoration

processes will make your

tiled areas look NEW again!

We specialise in professional

cost effective solutions for

all your tile & grout issues.

• Tiled shower makeovers

• Re-colouring old grout

• Mouldy silicone replacement

• Professional tile/grout

cleaning, sealing & repairs

Call today for a FREE quote on 0800 882 772

www.theprogroup.co.nz/dpc9385

WINDOW TINTING

tintawindow

advanced film solutions

99% uv block

fade protection

heat control

reduce glare

25 Years Experience

privacy films

frosting designs

non-darkening films

Workmanship Guaranteed

Lifetime Warranties on Most Films

UV

block

Free Quotes Canterbury and Districts

03 365 3653 0800 368 468

Entertainment

www.starnews.co.nz

ADVERTISE YOUR

BUSINESS HERE

Phone for further details

(03) 379 1100
---
28 Bay Harbour News Wednesday June 16 2021 Latest Canterbury news at starnews.co.nz

EXTENDED!

FOR 1 FINAL WEEK!

Queen's Birthday

STOREWIDE SALE

IN STORE & ONLINE + SUPER DEALS. NOW ENDS 21.6.21.

ALL LOUNGE ON SALE

CHARLIE

ON SALE

3 Seater – Midnight

NOW $

1099

2 Seater – Midnight

NOW $

899

Sydney

2.5 Seater

WAS $

799

NOW

$

699

Armchair – Midnight

NOW $

699

ALL LIVING & DINING ON SALE

VIVA WHITE

ON SALE

Buffet

NOW $

799

Entertainment Unit

NOW $

699

Coffee Table

NOW $

299

ALL DINING CHAIRS

ON SALE

Carson

NOW

$

115

Veno

NOW $

95

Peyton

NOW $

125

Duke

NOW

$

125

Watson

Barstool

NOW $

165

ALL BEDROOM & MATTRESSES ON SALE

Jamie Single/Single

Bunk Bed WAS $ 699

NOW

$

399

Dallas Queen Bed

WAS $

449

NOW

$

299

Serene Trundler Bed Set

WAS $

897

NOW

$

699

Includes Trundler Base,

Bahamas King Single Mattress,

Bahamas Single Mattress

Shop

Online

Nationwide

Delivery

Finance

Options

PLUS HEaps more super deals in store & online!

QUEEN'S BIRTHDAY SALE NOW ENDS 21.06.21.

250 Moorhouse Ave, Christchurch

Ph: 0800 TARGET (0800 827438)

targetfurniture.co.nz

Offers and product prices advertised here expire 21/06/21.

Sale Excludes Accessories.