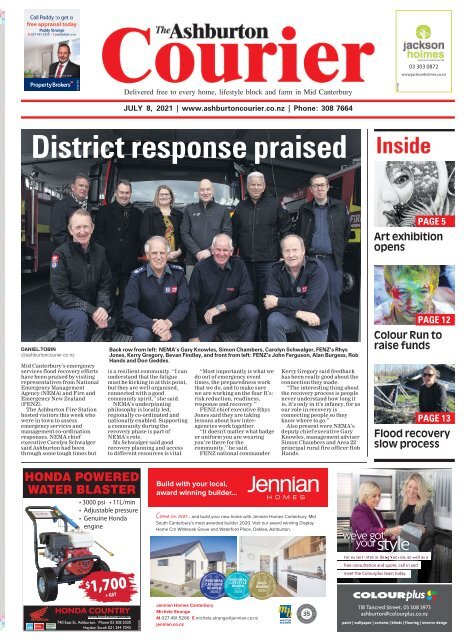 Ashburton Courier: July 08, 2021
You also want an ePaper? Increase the reach of your titles
YUMPU automatically turns print PDFs into web optimized ePapers that Google loves.
free appraisal today

03 303 0872

www.jacksonholmes.co.nz

2398138

Delivered free to every home, lifestyle block and farm in Mid Canterbury

JULY 8, 2021 |www.ashburtoncourier.co.nz |Phone: 308 7664

2379686

District response praised

PAGE 5

Art exhibition

opens

DANIEL.TOBIN

@ashburtoncourier.co.nz

Mid Canterbury's emergency

services floodrecovery efforts

have been praised by visiting

representatives from National

Emergency Management

Agency(NEMA)and Fire and

Emergency New Zealand

(FENZ).

The AshburtonFire Station

hostedvisitorsthis week who

were in town to assess

emergency services and

management co­ordination

responses. NEMA chief

executive CarolynSchwalger

said Ashburton had been

through some tough times but

Back row fromleft: NEMA's Gary Knowles, Simon Chambers, Carolyn Schwalger,FENZ's Rhys

Jones, Kerry Gregory, BevanFindlay, and front from left: FENZ'sJohnFerguson, Alan Burgess,Rob

Hands andDon Geddes.

is aresilientcommunity. ''I can

understand that the fatigue

must be kicking in at this point,

but they are well organised,

connectedwith agood

community spirit,'' she said.

NEMA's underpinning

philosophyislocally led,

regionallyco­ordinatedand

nationallyenabled. Supporting

acommunity during the

recovery phase is part of

NEMA's role.

Ms Schwalger said good

recovery planning and access

to differentresources is vital.

''Most importantly is whatwe

do out of emergency event

times,the preparedness work

that we do, and to make sure

we are workingonthe four R's:

risk reduction,readiness,

response and recovery.''

FENZ chiefexecutiveRhys

Jones said they are taking

lessonsabout how interagencies

work together.

''It doesn't matter what badge

or uniform you are wearing

you're therefor the

community,'' he said.

FENZnationalcommander

Kerry Gregory said feedback

has been really goodabout the

connection they made.

''Theinteresting thing about

the recovery process is people

never understand how longit

is, it's only in it's infancy,for us

our role in recovery is

connecting people so they

know where to go.''

Also present were NEMA's

deputy chief executive Gary

Knowles, managementadviser

Simon Chambers and Area 22

principal ruralfire officerRob

Hands.

PAGE 12

Colour Run to

raise funds

PAGE 13

Flood recovery

slow process

HONDA POWERED

WATER BLASTER

•3000 psi •11L/min

•Adjustable pressure

•Genuine Honda

engine

Build with your local,

award winning builder...

Come on over...andbuild your new home with Jennian Homes Canterbury.Mid

South Canterbury'smost awarded builder 2020.Visit our award winning Display

Home Crn Whiteoak Grove and Waterford Place,Oaklea, Ashburton.

$1,700

+GST

For expert interior design advice, as well as a

free consultation and quote, call in and

meet the Colourplus team today.

*

HONDA COUNTRY

www.hondacountry.co.nz

740 East St, Ashburton. Phone 03 308 2030

Haydon South 021 244 7043

2396620

Jennian Homes Canterbury

Michele Strange

M 027 491 5266 E michele.strange@jennian.co.nz

jennian.co.nz

118 Tancred Street, 03 308 3973

ashburton@colourplus.co.nz

paint |wallpaper |curtains |blinds |flooring |interior design
---
NEWS

2 Ashburton Courier, July 8, 2021

BUSINESS OWNERS

Build customers,

sales and profits

with us ...

16,079 copies,

delivered tohomes,

lifestyle blocks,farms

and businesses in

MidCanterburyand

Geraldine

news

Daniel Tobin

Editor

308 7664

027 628 7679

daniel.tobin@ashburtoncourier.co.nz

Reporters

Mick Jensen

mick.jensen@ashburtoncourier.co.nz

Toni Williams

toni.williams@alliedpress.co.nz

advertising

Jann Thompson

Sales Manager

308 7664

027 587 6351

jann.thompson@ashburtoncourier.co.nz

Karen Gane

Sales Account Manager

308 7664

021 510 804

karen.gane@ashburtoncourier.co.nz

getintouch

Editorial

daniel.tobin@ashburtoncourier.co.nz

Advertising

info@ashburtoncourier.co.nz

CreativeManager

murray.thompson@ashburtoncourier.co.nz

Accounts

accounts@alliedpress.co.nz

Distribution/Deliveries

mary.summerfield@ashburtoncourier.co.nz

Office

office@ashburtoncourier.co.nz

03 308 7664

199 Burnett Street,Ashburton

www.ashburtoncourier.co.nz

2388023

Orson 2.5seater leather couch

Burnett Street,Ashburton l Phone (03) 308 5269 l www.redmonds.co.nz

www.ashburtoncourier.co.nz

Council to take reins of art gallery

Ashburton Art Gallery manager

Shirin Khosraviani has been

appointed the new director of the

gallery and museum.

Orson 3seater leather couch

MICK.JENSEN

@ashburtoncourier.co.nz

Ashburton ArtGallery is set to

become acouncil­controlled

organisationand its manager has

been appointedtomanage

operationsatboththe gallery andat

Ashburton Museum.

At apublicexcluded meeting last

week Ashburtondistrict councillors

agreedthat acombined model was

the best wayforward and would

createacloser andmore connected

operating environmentfor both

facilities.

Currentart gallery managerShirin

Khosraviani has beenconfirmed as

the newdirector.

The museum hasbeen acouncilmanaged

operation since 2014,

whereas the art galleryhas been

managed as an independent

charitable entity, butisfunded by

Ashburton council.

The council chose not replace

formerAshburtonMuseum director

$

5399 Harrison 3seaterleather couch $

5799

$

6499

NOW

IN-

STORE

Dr TanyaRobinson when sheleft 16

months ago and an acting manager

has been in therole since then.

Council consultedwithboth theart

gallery committee andAshburton

Historical Society over the merger

andisnow working on transitioning

the gallery into council and setting

up thenew combined structure.

AshburtonArt Gallerycommittee

presidentFleur Mulligansaid the

decision to amalgamate withcouncil

was an important milestone for the

gallery.

The committee felt the time was

right andsaw it as an opportunity to

help grow and shape art in the Mid

Canterbury community.

Council chief executiveHamish

Riach said anew deputy director

position wouldbecreated that had a

museum focus.

Therewas now also an opportunity

for the gallery andmuseum to open

at the same timeand to synchronise

operations,including programmes

andofferings,hesaid.

Major works needed post-flood

TONI.WILLIAMS

@ashburtoncourier.co.nz

There hasbeenalotofvolunteer

help given to farmers and

landowners with flood damage, but

there is still much to be done,

Environment Canterburycouncillor

Ian Mackenzie says.

Mr Mackenzie, who hasbeen out

inspecting flood damaged properties

Canterbury­wide, saidone month on

since theflooding of May 30 there

was still major infrastructure to be

repaired includingbridges,

irrigation ponds and fences.

Many who had land inundated with

shinglefrom redirected waters were

in need of diggers and dozers to

removeitand someofthe damage in

the hill country could take yearsto

fix or heal.

Although rivers had been made

safe for now,itwas atemporary

measure and aplan was being

developed"with someurgency" to

improve the damaged flood

protection infrastructure, he said.

"Landownershave been encouraged

to report anyconcerns about

weaknesses in theriverbanks to the

(ECan) engineeringteam," he said.

An initial review of the

performanceofthe flood protections

infrastructure suggested it didwhat

it wasdesignedto do, Mr Mackenzie

said.

"Though this may be cold comfort

to those immediately below a

breach."

Repairing abreach on the south branch of the Ashburton River.

The stopbanks protecting

Ashburtonand Tinwald were

designed for a1­in­200 year flood ­

which it was ­and theyheld, he said.

Most of the riverflooding followed

existing flood channels but, in a

couple of places, the riverbreached

stopbanks in unpredictable ways.

The breachnorth of theAshburton

River north bank ­towards the

Methven highway­was an exampleof

that, he said.

ECan has come under increasing

criticism over river management but

Mr Mackenzie said funding was a

factor. Shinglebuild­up in thenorth

branch had beenongoing for more

than 100years. Butfor many years

commercial interests removed

shingle from therivertomaintain

flood protectioncapacity.

In the past 10 to 15 years

alternative sourcesfor shingle, and

PHOTO SUPPLIED

easiertoaccess, had beenfound, and

there was less commercial interest to

remove sufficient shingle to keep the

river in apreferred state.

The river rating district would

need to fund another$1m peryeardouble

the existingbudget ­to

provide sufficient funds to remove

shingle build up."The river rating

district, with some justification,

argued they couldn't afford that," he

said.

Aplanned workshop, meant to take

place in June, was set to review

funding options for theAshburton

River to findsolutions.

Historically the MinistryofWorks

funded asignificant amountofflood

protection infrastructure but this

stopped in 1989. Since then thevalue

of assetsprotected by floodbanks had

increased exponentially, Mr

Mackenzie said.

2398006
---
www.ashburtoncourier.co.nz

NEWS

Ashburton Courier, July 8, 2021

3

Talley's plant set for WorkSafe review

WorkSafe will conduct areview

into the health and safety

practise at facilities run by

Talley's, including its

Ashburton plant at Fairton,

where specific allegations and

concerns have recently been

raised by formerstaff.

WorkSafe chiefexecutive

Phil Parkes says theTalley's

group has ahistory of poor

health andsafety performance

–the mostrecent an incidenta

Talley's plant in Ashburton

where aworker'shand was

injured in amachine.

"WorkSafehas taken a

number of enforcementactions

over individual incidentsovera

number of years.

"We are concerned that

where health andsafety issues

continuetoariseinacompany

or agroupofcompanies, this

may indicatethereare systemic

issues that need to be

addressed in the boardroom,"

Mr Parkes said.

He saidthe approach with

Talley's was notan

investigation, nor wasitlinked

to an individualincident.

"While obligations exist

throughoutabusiness, leaders

have the obligation and the

influence to create healthy and

safe workplacesand focusing

on the dutiesofofficers under

HSWAisapriority approach

for WorkSafe,'' Mr Parkes said.

Talley's chief executiveTony

Hazlett said the company would

offerits full co­operationto

WorkSafe and auditors given

full accessto any sites andstaff

(former and present) to

investigaterecent allegations

and any other specific concerns

or in relation to systemic

issues.

In regardstoAshburton, he

said aseparate, independent

investigation would be

undertaken to look into the

allegationsthat have surfaced

recently.

"Wehave astrong level of

confidence in our health and

safety programmes andthe

peoplethat drive that, but if it's

found thatwecan do better,we

will embrace and enact those

changes immediately," he said.

He saidthe company wasin

the process of appointing an

appropriate reviewer and part

of thereview wouldinclude

settingupachannelwhere

current and formeremployees

can putany safety concerns

candidly and anonymously if

they would like.

The entrance to the Talley's

plant on Fairfield Road at

Fairton.

Irrigation

co-op keen

to take over

race assets

MICK.JENSEN

@ashburtoncourier.co.nz

Acton Farmers IrrigationCo­operative

(AFIC) wants totakeover the water race

assets it currentlymanagesfor Ashburton

District Council and will submit aformal

proposal forthe possible transfer.

AFIC looks after waterraces in thenorth

east corner of thedistrict that run through

areas such as Dorie, Pendarvesand

Seafield.

AFIC chairman Steve Bookerspokeata

recent council meeting andsaidthe

farming co­operativehad lookedafterthe

racessince its inception11years ago.

It now wanted the transferofwaterrace

assets and liabilitiesfor the Acton

footprint,whichincluded the consents and

headworks.

Mr Bookersaid the corebusinessofAFIC

was to convey waterand to do that it needed

reasonable flows.

Thetransfer would provide the same

service, butcould meanthe potentialfor

spare water for AFIC.

Council was looking at divesting itself of

water race liabilitiesandAFIC washappy

to takeitout of council's hands.

''Weconvey water, that's whatwedo,''he

told councillors.

TheActonScheme supplies irrigation

water to58shareholders andcovers an

areaofabout 5000 hectares.

Thescheme wasbuilt in 2010by

extendingthe existing stock water network

that has supplied thearea since 1896.

Alarge fish screenwas constructednear

the Rakaia Riveraspartofthe intake.

Mr Bookersaid around 36km of the

scheme wasnowpiped, which allowed

severalshareholders to be able to use

pressurised water from the schemeand cut

downonleaks.

TheActonscheme holds the consentto

take three cubicmetresofwaterfrom the

Rakaia River, under alicense fromthe

BarrhillChertsey Irrigation (BCI)scheme,

he said.

Thestockwaterconsent is for680 litres

per second, of which BCItakes50and the

rest goes intothe Actonnetwork.

Councillor Angus McKay said council

should be proactivewiththis matter and

moveforward with it at speed.

AFIC is being encouragedtosubmit an

initial draftproposaland thencouncil will

workthrough the processtodeterminea

decision.

FREE

WARM, DRY and COSY

HEAT PUMP

SALE

Prompt Installation!

IN-HOME

CONSULTATION

EXPERIENCE

AND ADVICE

WE STOCK THE

BIG

BRANDS

PROMPT

INSTALLATION

INTEREST FREE

TERMS AVAILABLE

BY YOUR TRUSTED LOCALPROFESSIONALS

Heat Pump from only $1297

* WEEKLYPAYMENTS

Dishwasher

14 PLACE SETTINGS

43''SmartTV

BONUS

WITH THIS OFFER

c

3 5 OFF

Was $1129

$977

Was$999

FREE QUOTES

$6.70

WEEKLY

$749 $5.21

WEEKLY

FROM $8.79

• 14placesettings

• 6wash programmes,clean avariety

of dishes

• Time remaining display, check

when wash will be finished

• H850mm

W597mm

D600mm

*Unit only

(excludes installation)

IMMEDIATE

DELIVERY

• Full High-Definition Screen

Resolution forgreat picturequality

• Smart TV allows youtowatch Netflix,

YouTube and Apple TV from atouch

of the button

• UHF and SatelliteFreeview TV

IMMEDIATE

DELIVERY

Smith &Church will

come to your home,

measureand advise

youonthe best size

heat pump forthe

area youwish to

heat.

We'llalso provide an

obligation-free

quotefor the

supply and

installation of

your heatpump.

Talk to your localheatpump experts

JackyorDean today.

Phone308 9019

"Wejust makeiteasy foryou"

Frontloader

10 YEAR MOTOR WARRANTY

75'' 4KSmartTV

PROMPT INSTALLATION

PROMPT INSTALLATION

BONUS

WITH THIS OFFER

c

3 5 OFF

*T&C'S APPLY. 12 MONTHS INTEREST FREE AVAILABLE.

Was $1499

$1047

Was $4499

$3252

$7.15

WEEKLY

• 7.5kg,mid sizewasher

• 1100max. spin speed,less drying

time needed

• Pauseand reload option,

convenientfor thatextra item

• H848mm

W598mm

D600mm

IMMEDIATE

DELIVERY

$21.56

WEEKLY

• 4Kresolution offers amazing vibrant

colours foramazing viewing quality

• Ambientmode allows youto

protectyour favouritephotos on to

the TV screen, the TV itself blends

into our décor elegantly

• UHF and Satellitetuner allows you

to watch Freeview

straightfrom

the TV

IMMEDIATE

DELIVERY

2395657
---
NEWS

4 Ashburton Courier, July 8, 2021

www.ashburtoncourier.co.nz

ABATTOIR PROCESSORS

LICENSED

Book your processing now!

•Beef •Venison •Sheep

•Pigs -scalded •Alpaca

•Wild game

Forall your processing needs

PHONE 308 3464

73 WinslowRoad

2395994

David gets heart transplant

David Dirks,ofMethven, has

received his much needed heart

transplant.

The happyannouncementwas

made byhis motherBecky Dirks on

Facebook latelast week and shared

among the community.

''Good morningworld! Andwhata

morning it is!'' she said.

''The last few years have beenalot

but the love and support from family,

friends and at times complete

strangers has beenwhat has made a

bumpy (road) smoother!

''From the bottomofour brand new

heart, we thank youall!''she said.

The Methven­school pupil had a

rare cardiac condition and was in

need of afull heart transplant.

He wasonthe NewZealand

transplantwaiting listwaitingfor the

phone call to be flown to Starship

Children's Hospital in Auckland.

The Methven community rallied

this year to support Becky and

husband Sean by notonly settingup

aGivealittle pagewhich has raised

nearly $48,000 to helpwith finances

while David recovered fromheart

transplantsurgery, but as part of that

page members performed acoordinated

danceroutine to promote

their cause.

Emergency services, businesses

and schoolswereamong those in

Methventotakepartinthe event

organisedbyKaren Manning andput

together by choreographersLayla

Manning and Sienna McGinity,

filmed by Stacey from Markham

Media and withaspecialappearance

by Dame Lynda Topp.

It canbeviewed on the Dance For

David Facebookpage and donations

can still be made at Givealittle with

surplus funds donated to Heart

Kids Canterbury.

David Dirks, of Methven, has received his much needed heart transplant.

PHOTO SUPPLIED

Escape Room 2

Escape Room :Tournament ofChampions, isan

American psychological horror, asequel to2019's

Escape Room.

Thinking back to the last movie,itwas terrifying and

Idid wonder how they could make this any more

exciting.BUT they surely did!

Six people found themselves in arunaway train

that crashed into an abandoned station. So scary!

It was actually the first of several awesome escape

rooms they had to find their way out of. Asthe

kids progressed through the rooms Roger and I

felt strangely uncomfortable. Somuch sothat we

both kept looking back at the theatredoor thinking

it would be locked ...... we couldn't wait to get out,

so pleased to see David and be back out of the

nightmare.

Escape rooms aregetting moreand morepopular in

NZ. Recently in Queenstown the kids wanted to go

to one of theEscape rooms there, but they were all

booked out fordays.

Go and get spooked at this new movie ...you won't

be disappointed!

bookings ph 307 1230

www.regentcinema.co.nz

2380035

2395727

$420 million spending plan ticked

A10­yearbudget that

invests $419.7 million in

the district's three waters

network and roading and

transport systems was

adopted last week by

Ashburton District

Council.

Ashburton mayor Neil

Brown said council heeded

residents' calls to focus on

core services but still plan

for growth during

challenging times.

''The 2021­31 Long Term

Plan that we adopted is all

about spending within our

means but also looking to

the future and creating a

district where the

community feels included,

has asustainable

environment, and a

prosperous economy.''

The budget includes

investment in three waters

infrastructure to meet

more of central

government compliance

requirements, building

resilience for our future.

Mr Brown said

councillors and council

officers worked to realise

savings and adjusted other

spending after hearing

from 431 people through

submissions and at public

meetings during

consultation on the plan.

''This is abalance

between keeping costs

down for ratepayers and

meeting the needs of our

growing community.

''We look after about

$935 million worth of

infrastructure, assets and

facilities –that includes

roads, pipes, buildings and

land, right down to the bins

at the domains.

''We estimate it will cost

us around $574 million

over the next 10 years to

look after what we have

and provide all of our

services (operating costs).

''It will cost another $349

million to upgrade our

assets and build new ones

(capital costs),'' he said.

The Ashburton district

rates were similar to

neighbouring councils of

similar size while also

maintaining one of the

biggest roading networks

in the country, he said.

''This was abig piece of

work spanning nearly two

years and I'm pleased that

council have been able to

achieve this result.

''It has not been easy but

Ithink we have struck a

good balance'' he said.

Included in the 10­year

plan is: $234 million for

transport infrastructure,

including roads and

footpaths.

$185.3 million for

upgrading and protecting

the Three Waters ($92.7m

drinking water, $66m for

wastewater and $26.6m for

the stormwater network.

$7.5 million for Council's

contribution to the

planned second urban

bridge. $49.8 million for

the new Library and Civic

Centre. An average rate

rise of 6.3 per cent in the

2021­22 financial year.

Gathering offers time to reflect

The community is invited to take

timeout andtoreflectontheir lives

at an informal gathering in

AshburtononJuly 10.

To be held at St David's Church,

Allenton,the opportunity offersa

safe space for anyone to come to

grieve, to expressand to engage with

events in theirlives.

Those attending can takepart in

quietreflection, light acandle, pray,

sing or do craftactivities ,said

organisinggroup memberRev

HeatherKennedy.

Shesaidthere was no church label

on the invitation.

''It's about lettingoff steam if

that's whatpeople wanttodo.

''There won't be counselling, or

advice on mental health,but if

people needhelp we can putthemin

touchwith others who canhelp

them.''

RevKennedy, who is theMinister

at the Baring Square Methodist

Church, said the gathering was about

pastoral care.

In the light of recentevents, like

the flooding and the covid pandemic,

therewere people out theredoingit

toughand the gathering may beof

benefit to them.

Shesaidthe idea for the

community gatheringcamefrom a

recent church retreat where there

had been afocusonthe practice of

'lamenting',which could be seenasa

healthy expressionofour grief anda

wide range of other emotions.

TheStDavid's gathering runsfrom

9.30amuntil11.30am and morning

tea willbeavailable.

Thereisnocharge and more

information is available by calling

Johanna on 307 0200.
---
www.ashburtoncourier.co.nz

Art exhibition

opens to public

Apen drawing called

Four Sense by

Christchurch artist David

Choi has beenchosenas

the premier award winner

at this year's Ashburton

Society of Arts(ASA)

annual exhibition.

South Korean­born

Choi is profoundly deaf

and has very low vision

but has been

communicating through

his drawings sincehis

early childhood.

He is also partly colour

blindand usesblackpens

to draw his works.

Ashburtonartist Karen

Boyce wasthe winner of

the water and nature

award for her oil art piece

called Keas.

Other winnersincluded

well­known Geraldine

watercolourist Richard

Bolton forhis work

Sunshades, and Foothills

painterSusie Millichamp

for her watercolour work

called Mesopotamia.

Atotal of 15 prizes were

givenout at Monday's

sold­out awards evening

to launch the 57thannual

exhibition.

Works werejudged by

artist and gallery owner

Min Kim,who was last

year's premier award

winner.

ASA president KayBegg

said this year's exhibition

was another wonderful

art showcase at Ashburton

Art Gallery.

Art entries were

displayedalongside

works from seven guest

artists.

Anumberofart

mediums were catching

the eyeand all work are

for sale, she said.

The exhibition runs

until July 30. Thegallery

is open daily from 10am

until 4pm and Wednesday

nights until 7pm.

Four Sense by artist David

Choi is the Ashburton

Society of Arts premier

award winner.

NEWS

Ashburton Courier, July 8, 2021

ART WINNERS

5

RMFSilva premieraward $3,000–

DavidChoi, Four Seasons

Ashburton LicensingTrust water &

natureaward$1,500 –KarenBoyce,

Keas

RothburyInsuranceBrokers merit

award $500 –Richard Bolton,

Sunshades

Rosebank Village local award$1000 –

Susie Millichamp,Mesopotamia

NBS local merit award $500–Clare

Naden,The Home Stretch

Forest &Bird NZ flora &fauna art

award $300 –BeverleyFrost, Harakeke

Porthole

Scott Automotive watercolour award

$200–Svetlana Orinko, Sally Holmes

Roses

Gordon Harris miniatureaward$250

voucher–Sue Currie, DayOff

Frame­co highly commended award

$200–ChristineLang, In Solitude

Neumanns Tyreshighly commended

award $200 –Polina Collins,Rakaia

River Crossing

The Drawing Room highly

commended award $300 –JoLoughnan,

Engrossed

RobinCorbett award$500 –Stephen

Millichamp, LargeFrameBasket

Ashburton ContractingLimited

award$300–Vanja Venrooy, Fabric

Vision

Unique Jewellery local award $250

voucher–Mark Rant, Burr Gum Vessel

LatitudeMagazine sculpture award

$250–DavidLloyd, NotAll WhoWander

areLost

Manager's

DEALS!

Super

HOTDEAL!

$

10 99

each

Super

HOTDEAL!

$

16 99

each

MONTANA

WINEMAKER

Merlot 750ml

BROOKFIELDS

BURNFOOT

Merlot 750ml

Amelia Brockhurst, 9, wears the 1865s wedding gown of her great,

great, great grandmother Sarah Hiley.

PHOTO SUPPLIED

Wedding gownparade

Nine­year­old Amelia

Brockhurst willwear the blue

linen wedding gown of her great,

great, great grandmother this

month at the Mid Canterbury

Federation of Women's

Institutes (WI) annual federation

cup day. The gown, which has a

separate bodice and skirt, was

worn by 20­year­old SarahAnn

Winifred Clark when she wed

William Hiley, at the Tredegar

parish church in Bedwellty,

Wales on August, 28, 1871.

TheWI's annual cup day will

see members vying for the Rugby

Cup, acup donatedbythe Mid

Canterbury Rugby Union for

their catering efforts during the

tour game at theAshburton

ShowgroundsonJune 6, 1950.

The competitive nature of

membersshine in their cup day

entries in sections of cooking,

flowers, craft,knitting/crochet

and photographs.

This year they will also hold a

wedding gown parade, forfun,

which is open to anyone

interested in coming along to

watch.

Amelia is one of around30

models to take to the catwalk at

the Ashburton Senior Centre on

July 23, from 10.30am, wearing

wedding dresses and

bridesmaids gowns of

yesteryear; many of them worn at

the weddings of WI members, but

some from past generations.

There will be other dresses

registered from the 1930s, 50s

and 60s.

Amelia's heirloom gown is of

1865s­style andwhile some of the

detail has worn, thequality of the

dress belies its truly vintage age.

Thehigh­round necked bodice

has afringe feature running

across it and bold buttons down

the centre front. It is boned,

lined, as an originalchemise

underneath and hasbell­shaped

sleeves and apleatedskirt.

Super

HOTDEAL!

$ each

14 00

PROVIDORE

FIRST EDITION

Pinot Noir

750ml

ASHBURTON

MSA

www.superliquor.co.nz

Super

HOTDEAL!

$

19 60

each

YEALANDS

Reserve Pinot Noir

750ml

266 Havelock Street,Ashburton.

Ph.308 7149

HOURS

Monday

Tuesday-Thursday

Friday&Saturday

Sunday

Super

HOTDEAL!

$

15 99

DELEGAT

CROWNTHORPE

Merlot 750ml

10:00am -7:00pm

10:00am -8:00pm

10:00am -9:00pm

10:00am -6:00pm

Super

FOUR HAWK DAY

Pinot Noir 750ml

each

HOTDEAL!

$

17 50

each

Offer ends

22 July 2021

*Terms and conditions apply

2373030
---
NEWS

6 Ashburton Courier, July 8, 2021

www.ashburtoncourier.co.nz

Long serving JP Noel bows out

MICK.JENSEN

@ashburtoncourier.co.nz

Retiring Justiceofthe Peace

(JP) Noel Lowe hasbeen

lauded andthanked for 41

years of sterlingservice.

Mr Lowe, 81, recently signed

off from hisJPdutiestofocus

on his health.

Theformer AshburtonForks

farmer wassworn in as aJPon

April 29, 1980 and hasservedas

theAshburton association's

president andvice­president,

andwas registrarfor 12 years.

He ranthe association's

newsletter for16years andwas

arepresentative at JP

conferences aroundthe

country, whereheput his hand

up tobethe photographer for

Justice Quarterly.

Mr Lowesaid he had

thoroughly enjoyed his JP

involvement.

"It's been one of theloves of

my life andI'vebeeninvolved

with it halfmylife.''

He putalot in andhad fond

memoriesofconferences,

where he hadmet alot of good

people.

"I remember agreeing to sign

papers for peopleinthe

Ashburton Justices of the Peace president Ian Moore (left) hands

over acertificate to Noel Lowe recognising his retirement from the

Royal Federation of New Zealand Justices' Association.

middleofthe nightafewyears

ago andacouple of hourslater

theywere at theairport and

flyingout.''

Ashburton Justices of the

Peacepresident IanMoore

said Noel Lowehad served the

JPassociationadmirablyover

theyears andhis inputwould

bemissed.

He had computerised the

registrar's work,improved

communicationand helped

promote andpublicise the

local association.

"He's given theassociation

outstandingservice over along

period of time andmade an

impactatregionaland

national conferences,'' Mr

Mooresaid.

Mr Lowehas led abusy life

and given histimefreely in the

community.

He is aformer Tinwald

YoungFarmer'spresident and

has been on committeesat

Greenstreet Hall andBorough

School,isaformer president of

the Ashburton A&P

Association,and master of

Erewhon Masonic Lodge.

He is theformer electorate

chairmanofthe National Party

in Ashburton and was

campaign chairmanfor Jenny

Shipleyattwo elections.

Mr Lowehas beenamember

of Pakeke Lions since 1993, its

presidenttwice,and was

district governor in 2004/5.

He has longheld an interest

in photography and family

genealogyand owned anumber

of trotting horses.

Mr Lowewillremain the

patron of the Ashburton

Justices of the Peace

Association.

Mt Somers track open, hut closed

TheMtSomersWalkway trackisback open

after numerousslips and windfalls were

cleared by DepartmentofConservation

(DOC) staff and members of the Mt Somers

Walkway Society, but Woolshed Creek hut

remains closed for now.

Jig Road, the access road to the

WoolshedCreekcar park and an entry

pointtothe popular tramping tracks was

cleared last week after recentflooding

washed it out.

Asection of swingbridgeoverBowyers

Stream has been replaced due to damage

from atree that waswasheddown the

flooded stream.

There are still somesmall slips and

washoutsremaining and walkersshould

take extra care and be prepared for the

tracktobemore difficult than they

remember in some places.

Mt Somers Walkway Society president

Charles Ross said the tracks wereinpretty

good shape considering the volumeofrain

that had fallen.

Pinnacles Hutwas nowopenand had not

been affectedbytherain eventbut was

temporarily closedwhile thetrack was

repaired

Alarge slip came down the slope behind

Mt Somers Walkway Society members

talking to Darin Deuart from HEB

Construction who was responsible for

clearing slips recently along Jig Road.

PHOTO SUPPLIED

Woolshed Creek and it was closedwhile

the full scope of the damage assessed by

DOCand any repairsmade, Mr Ross said.

The Mt Somers Walkway Societyis

progressingsteadilywith its plan to build

an alternativewalking track to Sharplin

Falls at the northern end of the walkway

near Staveley.

Theoriginal, popular family walking

track has been closed since 2015 because of

the danger of falling rocks after

earthquakes.

Mr Ross said an environmental affects

studyreport commissioned by the society

wascurrently withtheDepartmentof

Conservation (DOC).

Thenew proposed route would also

requireaneasement.

Mr Ross said the design of twonew

bridges had been completedand would

requirebuilding consents.

He saidpreferred contractors werelined

up and he hoped the project would getthe

tick from DOC in the next two or three

months.

Thesocietywould apply for grants from

fundingorganisations tobuild thenew

track, oncethe environmental report was

accepted.

Substantial funds wouldtoneededto

make it areality.

Mr Rosssaid the society believed that

opening the new track would return a

valuable recreational opportunity to the

district.

IN BRIEF

NEW TOILETS

Replacement public toilets are

goinginatWakanuiBeach and

BowyersStream.

Theupgrade to the toilets has

beendelayedbyrecent flooding

and are expectedtobe

completedsoon.

LAURISTONLINES

Lauriston township is having

fibre optic cabling and electrical

supply linesinstalled understock

water races.

Theworkrequires the lowering

of flow rates in the racesand

diversion, so somestock water

users will noticelowerthanusual

flows.

DOGSALE

Around50working dogs will go

up for sale at the annual PGG

Wrightson sheep andcattle dog

sale at the Mayfield

Showgrounds, ArundelRakaia

Gorge Road, inMayfield,onJuly

15.

Theevent, in its 65thyear, has

somequality dogsregisteredfor

sale from around the South

Island.The sale gets under way

from 10am.

NEW HOLIDAY

New Zealanders will have their

first Matarikiholiday on June24

nextyear.

The calendar date for the

holidaywill shift eachyearto

alignwiththe Maori lunar

calendar, butwillalwaysbeona

Friday.

TheGovernment said the

Matarikiadvisory groupwanted

theholidaytied to along

weekendtoemphasise its

importanceasatimewhen

family spendtime together.

BITE NITE

The fifthannualBite Nite event is

linedupfor September 25.

To be heldatEA Networks

centre,the evening is being

dubbeda''culture fest'' and will

feature the KadodoAfrican

Drummers, headline act Rei and

Gio Talents, talentedFilipino

performers from aroundthe

Canterburyregion.

It is beingorganised by

Ashburton YouthCouncil.

Bite Night runs from 5pm until

8pmand entry is $5 or $10for

families.

Tickets areavailablefromthe

bitenite.nz website.

GREAT

RATES

NewPCs

and Laptops

forsale

PC Repairs, Set-up and Tutoring

Icome to youday or evening!

•PCRepairs/Sales •Networks/Servers

•Firewalls/Security •Spyware Clean-up •Training

20 YearsExperience Microso Cerfied Professional

NETWORKS FIREWALLS AND PCS LTD

Robin Johnstone 67 Aitken Street, Ashburton

P: 03 308 1440 C: 027 768 4058

robinbj@xtra.co.nz

2380047

100 Plus

95 Premium 91 unleaded Diesel

www.npd.co.nz
---
NEWS

8 Ashburton Courier, July 8, 2021

www.ashburtoncourier.co.nz

Taste of Peru on menu

Tony Todd (right) gets his Paul Harris Fellowship certificate and

badge from Rotary Club of Ashburton president Rodger Letham.

Rotary honour for

long server Tony

Former Ashburtonretailer

Tony Todd is the latest

recipient of the PaulHarris

Fellowship,anhonour that

recognisesbothhis serviceto

Rotary and the wider

community.

He has been amemberofthe

Rotary Club of Ashburtonfor 32

years and has held anumberof

positions in theservice club

overthat time.

He was community service

director in 1991/92andclub

presidentin1993/94.

Mr Todd said he had been

veryhappyand pleasantly

surprised to receivethe Paul

Harris Fellowship.

He had enjoyed his

involvement with the service

club, mademany friends and

been involved withmany

worthwhile projects.

Mr Todd was the wellknown

face at clothing store Todds of

Ashburton, whereheworked

for more thanfive decades,

before it was sold five years

ago.

The73­year­old enjoyed a

30­year stintonthe Ashburton

LicensingTrust boardand was

its president for 12 years.

He hadaastrong

involvement with the

Ashburton Retailers

Associationand with many

Boulevard Dayevents and was

also amember of the Ashburton

Jaycees.

In retirement his focus has

been on supporting and

promoting thework of Hospice

MidCanterbury andalso Trott's

Garden.Lastyear Mr Todd

raised$13,000 for thehospice

through asponsoredbike ride.

Radiator Repairs

We areexpertatrepairing all types of

automotiveradiators – FAST

ARTHUR

CATES

LIMITED

26 McNALLYSTREET,

RIVERSIDE INDUSTRIAL

PARK,ASHBURTON

TEL 308 5397

www.arthurcates.co.nz

2379947

DANIEL.TOBIN

@ashburtoncourier.co.nz

International fusionand

flavourhas cometo downtown

Ashburton with the openingof

the Ashburton Club and MSA's

new restaurantNoble600.

MSA general manager Stuart

Geddesoriginallyfrom

Zimbabwe and Peruvian

executive chef José Santander

aim to bringadash of

international flair to the town.

The restaurantopened on

June 25 after three years in the

making.

Mr Geddes said the

revitalisationofthe town gives

confidencethat Ashburton is on

ajourney and the

modernisation is positive.

''Therestaurant is a

reflection of where Ashburton

is going,'' he said.

Feedback from the public

after the first week of trading

has been encouraging.

Restaurant manager Sade

Hopkins said everyoneseems

stoked that there is anew place

in town.

Withtwo recent diners

commentingitfelt like they

were not dining in Ashburton,

but somewhere alittle more

exotic.

José Santander's Peruvian

roots has abig impact on the

menu.

''Peruvian food is amix of

cultures, the Incas mixedwith

Spanish and European

influence,'' he said.

José'sfavorite dishisa

Peruvian lamb ragu fusedwith

Italiangnocchi, which has ''a

little bit of Peru, alittle bit of

Italy and my own twist''.

Ashburton Cluband MSA's restaurant Noble 600 executive chef

José Santander plates up adish.

Two dead in Methven crash

Two people have died after avehicle crashed

into the Rangitata Diversion Race near

Methven last weekend. The names had not

been formerly release at the time of print.

Fire and Emergency crews were called to

the crash on Pudding Hill Rd, Methven on

Saturday at 1am.

The body of the passenger was located in

the vehicle and the Police National Dive

Squad deployed to search for the driver's

body on Sunday morning.

It was located about 500 metres

downstream of the crash site.

Inquiries are under way to identify next of

kin of the deceased and the circumstances of

the crash.

Don't let winter

achesand pains

getyou down

Book aphysio and get back to

the things youlovethis winter.

Locations near you

Habit Health Ashburton

252 Moore St

Ashburton

03 3774356

Habit Health Methven

Garage Gym

27 Forest Dr, Methven

03 3774356

formerly

www.habit.health
---
Howtorecognise

misinformation about

theCOVID-19vaccine

Getting vaccinated is thebest waytoprotect yourself,your whānau

andyour communityfromCOVID-19. There is some misleading

informationout there aboutthe vaccine–here's what youcan do

to make sure youhavethe rightinformation.

Get the facts

Youcan find themostaccurate andreliableinformationabout theCOVID-19vaccine andthe rollout

from anumberoftrusted sourcesincluding:

• Uniteagainst COVID-19 — Covid19.govt.nz

• MinistryofHealth—Health.govt.nz

• TePuniKōkiri–Karawhiua.nz

• Ministryfor PacificPeoples – mpp.govt.nz

Youcan also keep up to date with currentinformation andfrequentlyasked questions by following

theabove organisations'socialmedia channels, or youcan speakwithyour healthprovider.

Check the source

Notall informationyou read or hear is factualoraccurate.

Always cross-checkand review COVID-19 vaccineinformationby using thereliablesourcesabove.

Reportscams

The COVID-19 vaccineisfree. Youwill neverbeasked to payfor thevaccine or paytosecureyourplace

in thequeue.Wewillnever askfor your financial details, your bankcarddetails,PIN or banking password.

If someonerequests them from you, please reportitimmediately to CERT NZ at covid@ops.cert.govt.nz

or call 0800237 869.

Anyfalse or misleading informationsuchasleaflets,publications or websites canalso be reported

to CERT NZ.You canreport anything youbelieve to be false or misleadinginformationonsocialmedia

to therespectiveplatform eg. FacebookorTwitter.

Stay informed

Learnmoreabout identifyingand avoiding misleading informationatCovid19.govt.nz

Findout more at Covid19.govt.nz
---
Family Notices

Deaths Deaths Deaths Deaths

CHAMBERLAIN, Howard

Blackwell, Regt. 447069,Pte,

2nd NZEF,21stBtn, WWII.

Peacefully surrounded by his

treasured family at Timaru

Public Hospital on Friday, 2nd

July 2021, in his 100th Year.

Dearly loved husband of the

late Una.

Adored dad and father-in-law

of Michael (Dec) and Shirley,

Colin and Carmel, Bruce and

Maree, and Ken and Katrina.

Dearly loved Poppa of all his

grandchildren and greatgrandchildren.

The Service celebrating

Howard's life will be held

at Aoraki Funeral Services

Chapel Waimate, 11 John

Street,Waimate,onFriday the

9th of July 2021 at 1:00pm

followed by the interment

at The Waimate Public

Cemetery.

Messages to: The

Chamberlain Family, 135

Waimate-Hunter Road, 8RD,

Waimate 7978

COLDICOTT, Helen Amos

04/05/1927 – 01/07/2021:

On 01 July 2021, peacefully

at Radius Millstream. Dearly

lovedwifeofthe late Gordon.

Much loved and respected

mother and mother-in-law of

Sheena and John, Peter and

Amanda, and Janice. Greatly

loved and enjoyed Grandma,

Granny and Grandma Helen

of Grant, Nicola, Hamish

and Kate.

Wehave grateful

memories and hugely value

all that she has given to

each of our lives. Our most

sincere appreciation goes to

the staff at Radius Millstream

Dementia Ward, for their

genuine care, understanding

and love ofHelen. Messages

to the Coldicott family c/- P

OBox 472, Ashburton 7740

Acelebration of Helen's long

and full life, will be held at

our chapel, cnr East & Cox

Streets, Ashburton on Friday

July 9, commencing at

3.30pm. Followed byprivate

cremation at the Ashburton

Crematorium.

Paterson's

Ashburton

FDANZ

03 3077433

EAST, Graham, on July 3rd,

2021. Passed away peacefully

at Ashburton, aged 82 years.

Lovedhusband of the late Val.

Much lovedfather and fatherin-lawofSue

and Gary Gluyas,

and Alan and Rona.

FLAY, Elizabeth (Betty), on

July 3rd, 2021, peacefully at

Ashburton Hospital, aged 93

years. Much loved Mum of

Amanda and the late Roger

Baxter. Cherished Nana

Betty ofNicky, Tony, Mitchell

and their partners. Loved

sister and sister-in-law ofthe

late Ian, and Valmai Wilson,

the late Colin and Margaret

Wilson , and the late Joyce

Wilson. Aspecial thank you

to the staff at Rosebank

and Ward 1, Ashburton

Hospital for their loving care

of Betty.

Supporting thecommunity

96 Tancred Street, Ashburton.

Phone 307 8317

Loved

Grandad of Matthew, and

Scott; Alesha, and Mitchell,

and great Grandad of Kayla,

Braxton, and Kawana.

Messages to the East family

c/- POBox 6006, Ashburton

7740. At Graham's request a

private cremation has been

held.

Paterson's

Ashburton

FDANZ

03 307 7433

Messages to Betty

Flay's family c/- POBox 472,

Ashburton 7740. Aservice to

remember Betty will be held

at St David's Union Church,

Allens Road, Ashburton on

ThursdayJuly 8, commencing

at 1.00pm. Followed by

interment at the Seafield

Lawn Cemetery, Seafield

Road,Ashburton.

Paterson's

Ashburton

FDANZ

03 3077433

Birth notices listed by

parents will continue

to be free in the Family

Notices column. The

initial death notice

lodged by a funeral

director will be listed

without charge. There

will be asmall charge

of $15 for subsequent

notices related to the

same death, up to a

maximum of 35 words

and on aper-line basis

after that. The same

low charges apply to

other family notices,

such as engagements,

acknowledgements, in

memoriam notices and

anniversaries.

HEFFERNAN, Catherine

Therese (nee Dunne): On

June 24, 2021 peacefully

at home, aged 84 years.

Cherished and deeply missed.

Wife of the late Patrick David

(PD)Heffernan.

Mother of Michael, Nichola,

Therese, Felicity, David,

Stephen and mother-in-law

of Stephen's wife Patricia.

Loved Grandma of Hannah

and Daniel.

Sister of Frances Gray,the late

Judith Macdonald and sisterin-lawofJim

Macdonald .

On June 30th 2021, a

Gathering and Service in

honour of Catherine's life

was held at the Ashburton

Holy Name Catholic Church

followed by a Service at

her final resting place in

The Ashburton New Lawn

Cemetery. A Rosary Recital

was held atMemory Funerals

on June 29th 2021. Special

thanks to Reverend Father

Huyhn Tran, Reverend Father

Denis Nolan, Maree O'Neill,

and Jo Metcalf of Memory

Funerals.

'Your magic, your smile, your

love andyour kindness shall be

forever in our hearts'.

Correspondence to the

Heffernan family, 126 Alford

Forest Road, Allenton,

Ashburton7700.

0800 2MEMORY

027 637 1229

HOOD, Elaine Edith, on July

4, 2021. Peacefully at Radius

Millstream, Ashburton. In

her 86th year. Dearly loved

mother and mother-in-law

of Wayne and Sandy, David

Patterson and the late Maree

Hood, Grant and Carolyn,

Nigel and Amber, and Aaron.

Loving Gran of Jessica; Oliver,

and Laura; Leighton, Olivia,

and Joshua; Levi; and Tayla.

Great Gran of Edward, and

Violet. Messages to the

Hood family c/- POBox 472,

Ashburton 7740.

Aservice

to celebrate Elaine's life

will be held at our chapel,

cnr East & Cox Streets,

Ashburton onSaturday July

10, commencing at 11.00am.

Followed by private

cremation at the Ashburton

Crematorium.

Paterson's

Ashburton

FDANZ

03 3077433

LOACH, Russell Arnold,

on July 6, 2021. Passed

away peacefully after along

courageous battle with

cancer at AshburtonHospital,

surrounded by his loving

family.Aged 64 years. Dearly

loved husband of Mary.

Father and father-in-law of

Nicola Loach, and Regan and

Katrina. Treasured Grandad of

Monty, and GusLoach. Loved

son of the late Margaret and

Ian Loach, and beloved sonin-law

of the late Maureen

and Pat Connell.

MOORE, John Lyndon (JL),

on July 3, 2021. Suddenly at

Ashburton Hospital, aged 84

years. Dearly loved husband

of Diana. Much loved father

and father in lawofChristine,

David and Karmen, Richard

and Mirjam, Andrew and

Tracy, and Michael and

Mary. Treasured Grandad of

Melissa, Daniel, and Emma;

Jayden, and Kayla; Lachlan,

and Lucy and loved great-

Grandad of Keanu, and

Brooklyn. Messages to the

Moorefamily c/- POBox 472,

Ashburton 7740.

Aservice

for John will be held in our

chapel,cnr East &Cox Streets,

Ashburton onThursday July

8, commencing at 11.00am.

Followed by interment at

the Seafield Lawn Cemetery,

Seafield Road,Ashburton.

Paterson's

Ashburton

FDANZ

03 3077433

Family

Notices

Enquiries phone

Mary,Jann or Karen

on

308 7664

or call into

199 Burnett Street.

Real Estate MidCanterburyProperty Limited Licensed (REAA 2008)

A special

thank youtoRussell's medical

support teams for their

amazing care and support.

Messages to the Loach family

c/- POBox 472, Ashburton

7740. Aservice tocelebrate

Russell's life will be held at

Trott's Gardens, Racecourse

Road, Ashburton onMonday

July 12, commencing at

2.00pm. Followed byprivate

cremation at the Ashburton

Crematorium.

Paterson's

Ashburton

FDANZ

03 3077433

NEWS

10 Ashburton Courier, July 8, 2021

Tips for senior chefs

Senior Chef's healthy menu tips

for one or two diners is proving

apopular social setting for

those in the 60s­plus age group.

The free, eight week course

offers not only some quick

healthy recipes and shopping

advice for those in that agegroup

but it comes with ahearty

dose of food to sample and

some friendly conversation

over lunch.

Ashburton Senior Chef tutor,

and dietitian, Megan Copland,

said during the course there

was quite alot of social

networking.

The classes, run twice ayear

for up to 12 chefs, were often

full of people who had faced a

change in circumstance in their

homes; they may have recently

been widowed, had loved ones

go into care or adult children

no longer living at home.

Others like married couple

Anna and Tuvaine Glassie were

keen to learn how to cook

healthy but quick meals.

The course had helped them

focus on daily meal plans,

which were not too onerous to

prepare.

The recipe book supplied as

part of the course was

excellent, Tuvaine said.

He did the cooking in their

home and was keen for healthy

ideas that tasted good too.

The recipe book had meal

ideas for one or two people and

included the Glassies'

Family owned,

locally owned

22 MooreStreet,

Ashburton

0800 263 6679

Margaret Lambie, Anna Glassie

and Karine Crum on the

Ashburton Senior Chef course.

PHOTO TONI WILLIAMS

favourites from the course;

Anna liked the lentil dahl and

Tuvaine the vegetable­filled

quiche,.

Other recipes covered on the

course include fish pie, curry

kumara soup and apple

crumble.

The last session includes a

visit to the supermarket for

shopping advice and atrip to a

cafe for acelebration.

To register for the next

Senior Chef class in October

call 0800 333 405.

Utes, tractors at protest

DowntownAshburton is setto

stage partofanationwide

protest with the soundof

chugging tractors,utes and

howling dogs all gathering at

the Ashburton Domain to rally

against government

regulations.

The nationwideprotest,

instigated by Groundswell NZ,

hasplenty of interestinMid

Canterburysays Ashburton coorganiser

Joseph Gillies,

including from farmers,

tradesmen andute owners.

Protesters are gathering on

theoutskirtsofAshburton ­at

Ryal Bush Transporton

Maronan Road,and Rural

Transport on NorthparkRoad,

on Friday, July 16 at 11am.

They willthendrive in

respective procession towards

the AshburtonDomain, to

gather along Walnut Avenue,

nearthe children's playground.

Nationwide thesame

statement was due to beread at

12.15pm andthedogswould

howl at 12.30pm.

As part of the protest

everyoneisinvited to taketheir

tractors, utes, and dogsto towns

across NewZealand to protest a

range of new andproposed

regulations.

Theregulations included

freshwater andwinter grazing,

significantnatural areas,

indigenous biodiversity andthe

unpopular ''ute tax''­anew

rebatescheme, whichwould

place afee on higher­emission

vehicles..

2379731

EveryHome

EveryWeek-that's

Phone 308 7664

199 Burnett Street

Ashburton

Complete

Local Care

Since 1982
---
We Dig We Prep We Pour

We also do

Siteworks

Post hole boring

Land clearing

Drivewaysand paths

Foundations

Entrances and carports

Allyour excavation requirements

027 897 2842 l 1McNallyStreet,Ashburton

2396305
---
NEWS

12 Ashburton Courier, July 8, 2021

www.ashburtoncourier.co.nz

Covered in colour for agood cause

Rakaia school pupilstook part

in aColourRun on last week

andraisednearly $8000 forthe

school.

The pupils wore white and

ran acourse around the

playground on Friday where

parents andteacherssprayed

them with paint as they ran

past.

There wasplenty of laughter

andsmiles after therun with

the children beingrewarded

with an iceblock before rolling

around on thegrass to help

remove the paint.

From left Unasisi Senibulu, Siosana Taufa, Lou­Ann Kinikini strike

abright pose.

PHOTOS DANIEL TOBIN

Hesandu Vidana Gamage, 11, is sprayed as he jumps the hurdles.

Pupils were all smiles after the run.

Cady Stevens, 5, enjoyed the

splash of colour.

Baxter Florence, 11, managed get ataste every colour going.
---
www.ashburtoncourier.co.nz

NEWS

Ashburton Courier, July 8, 2021

13

Flood recovery slow, ongoing process

TONI.WILLIAMS

@ashburtoncourier.co.nz

Winchmore dairy farmer Henry

Rooney cansee aglimmer of

light at theend of the tunnel.

But it's still along wayoff and

willtaketime, money and

manpower to get to it.

However it's afar cry from

where he was amonth ago when

the majority of his Jersey

Willows farm was under water.

He thought he had lost

everythingwhen heavy rain and

risingwaters saw abreach of the

north branchofthe Ashburton

River cross aneighbouring

property, and flow through his.

Hisfarm sits on AikensRoad,

and is bordered by Ashburton

River and State Highway 77.

The neighbouring farm to the

west, is that of older brother

Laurence.

After water flooded

Laurence's farm, it raged

through Henry's and brought

debris from far afield ­

including 20 concrete culverts ­

and destroyed more than 20

years of development.

Amongwhich were farm

workers quarters, aspecial

family holiday spot at the back

of the farm used by the wider­

Rooney clan andalandscaped

garden space set to host the

forthcoming wedding of Henry

and fiancee Sheree in February.

Childrens' toys, playground

equipment, damaged fencing

and downed trees remain along

apath forged by deep flowing

waters. Such was theforce of

the water, one farm workers'

cottage was moved around

15­metres from itsfoundation

and anew hole carved into a

pond area.

Thefarmhas afreshwater

stream running throughitwhich

is usually just atrickle ­

as well as thetail­end of the

redevelopedMtHarding

Stream. It'sbanks and plantings

were wiped out.

Thebreached Ashburton

River water merged with an

already at capacity Mt Harding

Streamand spilled across the

farm

Logically water should have

flowed pastthe cowshed ­built

on the highest ground for just

suchanoccasion ­but itsaccess

back to theriver was hindered

by overgrown and unkempt

river vegetation andwith

nowhere to go it flooded the

farm causing more damage.

Of the 75­hectare farm, just

13­hectares nearest the State

Highway 77 was unaffected.

The herd of 250, is made up of

high breeding worth cows, but

had been reduced to 215 since

the floods, and moved to alease

block along the road. There are

regular visits forbreak fencing

and welfarechecks.

Volunteers, including many

from outside thedistrict, have

come in to helpwithclearing

debris and restoring fences.

Henry's sister Veronica has also

been on hand.She hasbeen

making adaily commute from

Geraldine to help out where she

can. Thereare still cows to care

forahead of calving andayoung

family on farm to consider.

Amongthe volunteerslast

week was Phil Hoskin, of Te

Anau, who is aseasonal

Department of Conservation

ranger on the Kepler Track.

Phil worksfrom October to

late­April, had time and wanted

to help affected farmers in the

district.

His accommodation in Mid

Canterbury was covered by

money giventoHinds and

District Lions forflood recovery

­from the Edgecombe Lions in

Christchurch ­asathank you for

all thehelpthey received

during the earthquakes in the

city.

"It's really good how

everyone's got together to help,"

Henry said, of the work being

done in the district.

Although the water has since

receded, acover of thick river

silthas been left in its wake. It

coats where ever water flowed

and reminded agroup of cleanup

volunteersfrom

Christchurch of liquefaction in

the city after the earthquakes. It

is inches thick across paddocks

andthere are pilesofit

scatteredaround

indiscriminately. As thetop

Photo top left: Thick river silt covers the land; above: Henry Rooney in front of farmland covered in

water during the floods amonth ago; below: Veronica Pulham with piles of rubbish collected in the

clean up; bottom: manpower needed to clear debris and re­establish fences.

layer of the silt driesout, the

dust gets everywhere, Veronica

said.

TheRooneys are chipping

away at their clean up,sorting

what they can into piles and

waiting on insurance assessors.

It's aslow process.

They arestockpiling shingle,

rebuilding stream banksand

putting culverts back in place.

Cowlanes hadbeencleared of

debris but exposed rocks would

need to be relaidfor herd use,

andsiltonpaddocks would

need to be removed, cultivated,

then resown.

Henry predicts it would take

twoyears to regrass; astaggered

process dealing with one

paddock at atime.

There are still fences to clear,

andfences to restore ­aswell as

thelaneways.

As quickly as the water came

in, Henry was surprised by how

fast the water drained despite it

being "black water for over a

week".

Ten days after theflooding,

they had removed the worst of

thetrees and branches strewn

about paddocksand tracks,

which helpedliftsomemental

anguish. And one month on

plannedtochip away at the

remainder, mindful calving was

duetostart in late­July.

If youcan't stand

the cold, getinto

the kitchen.

Shop our range of kitchen appliances.

smithscity.co.nz
---
Ashburton College

Individual Excellence in aSupportive Learning Environment

News

Issue 21

8June 2021

DeputyPrincipal Message

Minimising Stress and Strain –Academic Studies

The shortest day has already gone and it won't

be long before winter turns to spring. Hopefully

excessive rains will be over andonly agentle topping

up of rain supplies willcontinue.

Gently topping upisagreat way to make some

things happen with aminimum of stress and strain,

and can oftenbethe best way to get through.

Academic studies are underway for all, but no more

so than for our senior students. Wehave already

startedthe tracking programme in the Senior School to tryand minimise

last-minute surprises and this, coupled with senior reports, hopefully

givesarealitycheck around progress.

Now isagood time to focus on studies, with dark nights and shorter

days,sothatwhen spring hits,the mind and body areingood shape to

push on to the end.

Plenty to Celebrate at AshColl

As always thereisplenty to celebrate at AshColl,with engaging activities

in abundance and, atthe time of writing, the Ball was looming large –

whatshall Iwear?

As usual we have completed another Year 12 Road Safety Day through

RYDA,and whatagreat dayitwas.Onceagain the Year 12 students were

acredittousall and this wasconveyedback to us by the organisers.

The students were presented with some pretty hard-hitting facts and

figures that Iknow would make the majority stop and think. Isay the

majoritybecause,asthe eventcame to aclose,Iwitnessed anumber of

studentcars leaving the hotel with afull load on board, and the cynic in

me suspected that the only thing missing was afull licence –knowing

forafactthatno-oneinthe car wasold enough to have one!

Keeping to RestrictedDriver's LicenceRequirements

Thewhole psyche around restrictedlicences baffles me.The lawisquite

clear around the rules and the 'why?'; yet itseems that aninordinate

number of young drivers paynoheed to howmanyshould be in acar.

Even after aday of exploring the dangers of distractions and the

potential for disaster, the premise of 'it will never happen to me'seems

to be rife.Overthe years Ihavespoken to aserious number of students

and parents/caregivers about this and feel that little regard isgiven to

the potential danger of not sticking to the rules of the current licence.

Many fail to understand that car insurance can be compromised if the

law isbroken. Of course, that leads me to my next irritation, which is

insurance. Themisconception thatinsuranceissolely theretocover the

cost of fixing your car, isalive and well. Many seem unaware of the fact

thatitistocover the cost of damage caused by youtoanother person's

property or another person or people. The damage to the high-price

vehicle you just damaged will rest with you. Shudder to think how you

would manage your conscienceifaperson were harmed –Isuspectthat

would take some coming to termswith.

The police are stretched thinly, asweknow, but Iwould welcome a

positive campaign tohelp educate our young drivers in these matters,

with proactivepolicing and consequences.

Seven-dayJourneyProgramme:RDR ManagementFunding

Last year we were fortunate to be offered an amazing opportunity for

tenofour senior students to have the experienceofalifetime.

Because of funding provided to the Peel Forest Outdoor Centre, from

the Board of RDR Management Limited,

they were able to set up aseven-day Journey

Programme.

The programme aims to significantly benefit

students in the areas of team building,working

in groups and decision-making. Through

the outdoor activities they will experience life skills, enjoy apositive

social environment, gain a better understanding of inter-personal

relationships,and sharenew experiences.

We were delighted to be offered this once again for another ten

of our senior students for the start of2022, and immediately and

enthusiastically accepted the very generous offer.Morenewslater.

JourneyPathways

The theme of journey is always foremost in our minds as we guide

our young people through the pathways ofeducation and life. Good

decisions, hard work, planning, and sound AshColl Way Values are the

foundation of whatwedoonthatjourney.

Ican't recall who made the quote, but it is one which resonateswith me –

'no-one made it to the topofMtEverest by accident'.

Ngā mihi nui, Ron Cresswell

DeputyPrincipal •TumuakiTuarua

Staff Farewell

Renae List

Renae has been awelcome addition tothe English Department, since

starting at AshburtonCollege in January2020.

Her calm manner has been ofreassurance to our ākonga, and the way she

has quietly gone aboutengaging our learners has meantthatthe ākonga all

feel asense of belonging and achievement.

Renae has readily identified the learning needs of the students and

her initiative inplanning work that was appropriate to them has been

appreciated by them and her colleagues. Her consistent approach to

teaching and learning, and her strengths in literacy, has been ofbenefit

to everyone in the classroom, and ākonga have appreciated the effort she

Information

ASHBURTON COLLEGE

PRESENTS

LIPSYNC

2021

ASHBURTON COLLEGE

AUDITORIUM

THURSDAY JULY 8TH AT 7PM

ENTRY IS BY GOLD COIN

DONATION AT THE DOOR

Individual ExcellenceinaSupportiveLearning Environment

Open Evening

Thursday 29 July2021, 5:30pm–7:30pm

TheAshColl Way

Quality Pride Respect

Futurestudents,parents/caregivers,whānau

and communitymembers are

warmly invited to attend our OpenEvening.

Aparticular welcome,and encouragementtoattend,

is extended to students who will be in Year 9in2022,

and family members.

During the evening youwill havethe opportunityto–

• Meet andtalkwith the Principal,staff and students.

• Hear and see whatthe College can offer your child and family.

• Viewour facilities,and Innovation and Subjectdisplays.

• Meet with BYOD Retailers -College is aBYODschool

[Bring Your OwnDevice]

• Enjoyasausage sizzle,coffee,tea, juiceinthe staffroom.

There will be information available on:

• Innovation and Single SubjectClasses.

• Option Subjects for2022 (Year9students).

Option subjects: nine subjectstobetaken from twelve available:

– Choose at least one from TheArts: Art, Drama, Music.

– Choose at least one from Languages: German, Japanese,Māori.

– Choose at least three from Technology: Agriculture,

Design and Visual Communication, Digital Information

Technology, Fabric Technology, Food and Nutrition,

HardMaterials Technology.

• Note: all Year 9students take English, Mathematics, Physical

Education and Health, Science, Social Studies.

• Additionally available: English as an additional language for

students forwhom English is asecondlanguage.

If youhavenot yetchosen option subjects or requireassistancein

choosing them through SchoolPoint, therewill be staff available in

the College Office to assist you.

Presentations startinthe College Auditorium

at 5:30pm and6:15pm.

These arefollowedbyguidedtours of the College,

or youmay choose to self-tour by following the signs.

EVERYONE MOSTWELCOME

puts in. This, plus her general enthusiasm, have been of great value tothe

Reading Programme in additiontothe literacyand numeracy supportRenae

offered.Renaeisatease working one-to-one as much as she is working with

awholeclass.

Renae will be missed when she finishes at College tomorrow, not in the

least(the English Facultyadvises)becauseofher keen senseofhumour! We

wishher very well as shetakes up her new teaching position at St Joseph's

School,and thank herfor hervaluable contributions to AshburtonCollege.

An inter-active discussion on:

What depression is -symptoms -clinicalorother;

whatmay cause it; whatmay help; whatcan we do?

Apresentation by and discussion with BryonCope

Bryonhas alived experience; has featured on

Nigel Latta's TheHardStuff Suicide S2; has spoken at two

WorldSuicide PreventionSymposiums (Christchurch); and the

Mental Health Foundation National Conference2020(Christchurch).

When and Where:

Wednesday14July,5:30pm-7:00pm or Thursday15July,1:00pm-2:30pm

AshburtonCommunityHouse,44Cass Street

Events

Please call Bryonon027 298 6445

or email bryon@dsn.org.nz

to reserve your seat–there is no charge.

RYDA Day

As referred to in Ron Cresswell's editorial, this day was held for all Year 12

students,atthe Hotel AshburtononWednesday23June.

This programme challenges students tochange the way they think about

road safety and lay the foundation forsaferoad use throughouttheir lives.

TheRYDAworkshops featured practical demonstrations,real-lifenarratives,

videos,quizzesand interactiverole-plays focused on road safety.

As statistics show, young people continue tobeover-represented inroad

deaths and serious injuries. Male drivers in the 15–19 year age group are

approximately eight times more likely to crash than male drivers in the

lowest risk age group of 55–59 years; and female drivers aged 15–19 are

about six times more likely tocrash than female drivers in the lowest risk

group of 45–49 year olds.

For every fatality there are approximately another ten people who are

seriouslyinjured. Itiscrucial to equip ouryoung people with the righttools

andstrategies to navigatethrough this.

(Picturedright): Groupin

the CrashInvestigators'

Workshop, with (far left,

lefttoright, facing):

Jed Amos,Jack Brown,

Chris Angus.

(Pictured below): Students

being showntyresafety

tips.

(Pictured above): Students ready for the graphic stopping distance

demonstration and the tough injury and damage outcomes which can

occur,evenat30km/h.

Ronsaid the dayheld greatsupport from the RYDA organisers,with Rotary

Ashburton personnel there assisting for the whole day, and very grateful

appreciation isgiven to them and to the Ashburton District Council for

bringing thisvaluable programmetoAshburton students.

The day was acompulsory 'school' day for Year 12 students, and positive

feedback came from manyastothe value of the day.
---
Ashburton College

Individual Excellence in aSupportive Learning Environment

News

Issue 21

8July 2021

Events

Phoenix Chorus Perform at

RotaryChangeoverMeeting

Ashburton College's Phoenix Chorus (pictured below) was honoured to be

askedtoperform at the RotaryChangeoverMeeting held at theAshburton

Golf ClubonTuesday29June.

Rotarymembersare

generous supporters of

our choirs,and theCollege

as awhole, so it waslovely

to have theopportunity

to give back andshowour

appreciation.

Angela Cresswell is the

MusicalDirectorand

Stephen Diedricks

accompanied thechoir.

Choral Manager Carolyn Clough said the choir performed a diverse

programme, including songs from musical theatre and film,toclassical and

acapella. Aspecialrequest from theRotarians who hadattended the recent

'Concert ofChoirs' was 'Girls JustWant to Have Fun' made famous byCyndi

Lauper in 1983. Another crowdfavouritewas 'Releaseour Love' by AliHarper.

(Pictured above): Jordis Double leading the choir in Ali Harper's 'Release our

Love'.

Appreciation

At the end ofthe performance, the choir was presented with a$500

donation to put towards our 2022 proposed tour to Northland. This was

gratefully received with thanks by our choir members.

Dual Enrolment: Hair and Beauty, at Ara

HeadofSenior School Abbey Bruceadvisesthatfour of our seniorstudents

travel to the Ara Institute of Canterbury, Timaru Campus, once aweek as

they work to completetheir Level3Hair and BeautyCourse.

On 11 June they hadagroup of womenfromthe community come in, in the

afternoon, forcomplimentary beautytreatments.

Thegirls were superband the classhad thefeel of aprofessionalclinic,with

theirtutor being very proud of them. The processwas so successful, thatit

is to be repeated.

(Pictured above, left and right): Machal Snow and Rachel McArthur at work

with their community members.

Coming Events

July

09 Hockey 1st XI Boys –Christchurch

Basketball –SCSS Competition, STEC Timaru

10 NZSS Shooting Championships (Triple S) Round 2, Home Range

Crusaders Region 1st XV MCCvSTAC(away)

10-11 SISS Road Cycling Race,Christchurch

10 Term StudentHolidaybreak begins

10-25 Term 2Holiday

12-13 Cycling Track Nationals,Cambridge

12-14 SISS Junior Netball Tournament, Christchurch

14 Hockey 1st XI Girls,Christchurch

College AGirls'Netball,SuperNet,Christchurch

16 Hockey 1st XI Boys –Christchurch

Basketball –SCSS Competition, STEC Timaru

20 Basketball –TT/WTcompetition, Christchurch

21 Hockey 1st XI Girls,Christchurch

College AGirls'Netball,SuperNet,Christchurch

22-25 NZSS Swimming Championships,Auckland

Congratulations

Winners at CanterburyTarget Shooting

School Team Championships

As partofthe CanterburyChampionships,Manager Nina McKenzie,advised

thereisalso aschools'team championship.

TheAshColl team, despitehaving lost topshooters from College at the end

of last year, continued the

strong tradition of success to

win this competition.

(Pictured right):

Team members

CharlotteMcKenzie,

Madi Tourle,and Jack Jones.

Team reserve was

Phoebe McKenzie.

Showing up well also arethe

team's new self-designed

jerseys!

Their winning team total was868.33, which is arecognisably greatscore.

In second place was Darfield High School with 831.25, and Rangiora High

School in thirdplace on 798.09.

Further to the team's credit, there was achance ofCharlotte not shooting

due to not being well, but the remaining shooters all shot so well that

they would still have wonasateam by counting Phoebe's score. This is an

impressiveoutcome.

Additional Successes were -

In addition to the above results,inthe Open Championships –

• Madi Tourle placed 3rdoverall in the CGrade Championship

• Phoebe McKenzie was3rd in the DGrade Championship

• Both Charlotte McKenzie (A Grade Championship) and Jack Jones

(B Grade Championship)had good mid-pack finishes within very strong

fields.

As in all Open Championships,the graded fields areopen age and gender.

Nina said that these results show the exciting potential of this very young

team and, with many more students at Ashburton College involved in the

sport, the futurelooksverybright.

Future Hosting of South Island Teams' Championship

Target Shooting Mid Canterbury isbuilding up to host this Championship,

at the endofJuly. This is an enormous eventfor the sportinMid Canterbury,

and will involve over 230 competitors. Some AshColl Junior Shooters will

also be involved,sowelook forwardtoinformation from thatevent.

Rhythmic Gymnastics Championships

Two Rhythmic Gymnastics events have been held inrecent weeks, and

competed in by Year 9studentAnna McFall.

The first event was the New Zealand Secondary Schools' Championships

held inAuckland on Saturday 29 May, followed bycompeting in the

Canterbury Secondary Schools' Championships held in Christchurch on

Tuesday15June.

Anna is coached byRosie Yeatman from Olympia Gymnastic Sports in

Christchurch.

Results

In the AucklandcompetitionAnnacompeted in the Ball,Hoop and Ribbon

categories,finishing in 7th Overall place,following placingsof 5th (Ball),and

6th (Hoop andRibbon).

In Christchurch she competed in the Ball and Hoop, placing 1st and 2nd

respectively, to place 2nd Overall.

(Pictured right): Anna competing in the Ball

category.

ThreeCollege Students Competed in

Christchurch

(Pictured above,lefttoright): Jamie Glanville,

Anna McFall and Marlese Schoonderbeek.

NicciGlanville wasthe Team Manager.

Trampoline Results

Marlese Schoonderbeek –3rd in the 17+ Women's Category.

Jamie Glanville –4th in the 13-14 years Women's Category.

(Pictured

right, left

and right):

Marlese

and Jamie

in high

flight.

AshColl at Ngā Manu Kōrero

Ashburton College ākonga (students) competed and tautoko

(supported and encouraged each other) at Ngā Manu Kōrero, held at

Hornby HighSchoolonFriday18June.

Teacher Sarah Lassen said that Ngā Manu Kōrero isanimportant event in

Māori education for growing oratory skills and providing astage for our

ākongatogivetheir views and to laydowntheir challengestoanaudience

of peers, parents,whānauand judges.

The speech contests are intended to encourage the development ofskills

and confidence of Māori students in spoken English and te reo Māori. All

secondaryschools areinvited to participate in this wonderful event, noting

thatthe Māorisection is opentoall students as partofastrategytosupport

everyone to learnand to speak in te reoMāori.

Presentations

Ashburton College ākonga Kaleb Thompson and Keanu Smith

competed inthe junior section in te reo Māori and English respectively.

Ngahuia Maeva took to the stage inthe senior English competition. They

were supported by their

peers who sang awaiata and

performed ahaka after their

oratory skills were put on

display.

(Pictured right, leftand

right): Manu KōreroJunior

Competitors

Kaleb Thompsonand

Keanu Smith,with

Matua Tiipene (centre).

Beloware thefeelings of ākongaonthe day, as well as those of aproud

parent.

Keanu: 'It was an amazing day. There were lots of supportive people and

interestingspeeches'.

Kaleb:'Iwas really nervous at first but,when leaving, Ifelt like I'dexperienced

somethingnew and listened to alot of interestingpeople'.

Bill'e: 'The Manu Kōrerowasagreat experience'.

Honey: 'ManuKōrerowas avery greatexperience. It wasadifferentfeeling

beingaround alot of Māoribut it is such agreat event'.

Ngahuia: 'The experiencewas really fun. It wasgreat beingable to chat with

the younger onesand listen to Kaleb and Keanugivetheir speeches,aswell

as giving my own. It wasafun time and Ican't wait to do it again'.

Parent: 'Well, what can Isay? Iabsolutely enjoyed joining the students

from Ashburton College at the Manu Kōrero speeches. They were such

an awesome bunch of teens, having alaugh and banter before and after

speeches.

Iwas overwhelmed with emotion at just how much support each student

showed towards their peers and how they represented themselves as

AshColl students and individuals. My thoughts were to be there as a

parent, mother and wahine toaformyson who wassonervous he needed

reassurance that Iwas standing with him in physical sight, showing him

strengthand courage.

Theexperience wasone of pride andprestige thatour upcoming generation

stand out with positivewairua, showing who they are, whatthey stand for,

and whatvaluesthey share.

Appreciation

Each school had some brilliant talent and this showed in their speech as

well as their stance. Iwouldlike to acknowledge Matua Tiipene forhis open

commitment tothese students and his ongoing support and kindness. A

true and valued warrioratits finest, and definitely apositiverole-modelfor

Māoristudents.

One of the things that stood out forme, wasseeingthe warrior presenting

itself within both Kaleb and Keanu and wahine toa in Ngahuia. These are

very significant gifts abeing can show on aspiritual level; something I

strongly see andfeel.

Iwas proud to stand with these students and be apart oftheir school

whānau.

Thank you for such awonderful and blessed day atthis event and thank

youtoall tīpuna whohavepassed,for standing alongsideour tamarikiand

bringing out and showing the world what strong and humble people we

areraising.

Iamsoveryproud rightnow and willhold this memoryclosetomyheartfor

many years tocome. Bring on the next Manu Kōrero! From aProud Mama,

SuzieLee'.

(Pictured above): Manu Kōrerocompetitors and supporters.

(Back row, left to right): Freedom-Lee Gleave, Kaleb Thompson,

KaiwhaikiPeetitumango,Ngahuia Maeva, Jared Munn, Keanu Smith, Matua

Tiipene,Bill'eO'Brien. (Front row,lefttoright): Shanel Davis,Honey Reuben.
---
NEWS

16 Ashburton Courier, July 8, 2021

Vote for more strike action

Nurses, midwives and

healthcare assistants in the

New Zealand Nurses'

Organisation have voted in

favour of three more strikes.

It follows on from their

recent strike action in early

June.

Strikes are planned for July

29, August 19 and September

9.

Members are seeking better

pay and safer staffing levels,

which had seen many in the

profession at breaking point.

The Canterbury and West

Coast District Health Boards

have nearly 5000 staff who

could strike, so significant

disruption to non­urgent

services will be likely during

the action.

NZNO lead advocate David

Wait said the vote was very

high and members clearly

remained resolute about

ongoing strike action to

ensure nursing remained a

viable profession. Discussion

with the DHBs was ongoing.

www.ashburtoncourier.co.nz

CBD plantings

Jade Middleditch of Outerspace Landscapes planting on Burnett

Street, in Ashburton.

PHOTO DANIEL TOBIN

Downtown Ashburton is set to

bloom come Springwith the

AshburtonDistrict Council

planting over 16,000 garden

plants and 103 trees in the

centralbusiness district (CBD).

The CBD revitalisation

project includes 88 varieties of

garden plants and 12 varieties

of new trees.

Council infrastructure

servicesgroup manager Neil

McCannsaid thetrees were

sourced from Invercargill and

the garden plant varieties a

mostly fromtheCanterbury

regionwithaselection from the

wider area.

Theproject is expected to be

completedbyNovember 2021.

An artist impression showing how Burnett and Tancred streets will

look when the revitalisation in the town centre is complete.
---
www.ashburtoncourier.co.nz

Jake Jarman in action during the FMG Young Farmer of the Year grand final practical day in Christchurch.

Young farmers takespoils

First time competitor JakeJarman,

24, has been named FMG Young

Farmer of the Year 2021. Jake, who is

arelationship associate at Ashburton

ANZ, was representing Taranaki

Manawatu region for the contest's

53rdseason.

He beat six othergrand finalists at

in Christchurch, including Aorangi

finalist Dale McAlwee, of Pendarves

YoungFarmers. Joseph Watts,of

Tikokino Young Farmers, was named

runnerupFMG YoungFarmer of the

Year and Calvin Ball, of Whangarei

YoungFarmers, was third.

Jake was overwhelmed and excited

''andrelievedthat it's over!''

''I'm just also so incredibly thankful

to so many people,far toomanyto

namebut it'sahugeteam of people to

pull together this event and abig

team behindmetoget me here too."

He was determined to give the

grand final his best shot despite being

hindered by abrokenarm duringa

rugby gamein the lead up to the

grand final event. "I washappy that I

gaveeverything agotothe best of my

abilityand (was) competitive. Iloved

the practical day, the challenge of

havingtomultitask under time

pressure and be abit strategic,"he

said.

Jake won aprize packageworth

over $75,000,which included a

$15,000 cash prize from FMG, a

Honda ATV, anda$30,000 package

from New Holland.

The FMG Junior YoungFarmer of

Sophie Adkins and Eddie Millichamp with FMG chief executive Chris Black.

the Year title was wonbyMount Hutt

Collegestudents Sophie Adkins and

Eddie Millichamp.

They were one of 14 nationwide

teams to compete in theprestigious

grand final.Second place went to

Jono Harris and Alex Wyeth,from

Rathkeale College, andthirdplaceto

Tayla Hansen, of St Paul's Collegiate

and Tim Lumsden,ofHamilton Boys'

High School.

Both Sophie andEddie are in their

final year of high school and are

headingtoLincoln Universitynext

year.

They worked well together and

were stokedwith their win which saw

them each win $300 fromFMG,a

PHOTOS SUPPLIED

prize pack to the value of $500from

Massey University, $500 Huntingand

Fishingvoucher fromLincoln

Universityand aBunnings pack.

Sophie said the speech was both a

challenge andahighlight. Theduo's

topic was on land use andsoil types.

The top five teams from the practical

day went into "the face­off" ­afamous

FMG Young Farmer of the Year

buzzer styled quiz ­which saw

students asked anything from the

colourofaflightrecorder in aplane

to the correct depthfor soil testing.

The AgriKidsNZ competitionwas

won by Blue Mountain College pupils,

second Hereworth School andthird

South Makirikiri School.

RURAL

Ashburton Courier, July 8, 2021

Funds to

help with

flood

clean-up

17

Flood­affected farmersinCanterbury have

threeweekstoapplyfor ashare of $4mflood

recoveryfundingsupport allocatedby

Ministry for Primary Industries(MPI).

MPI is encouragingall farmersand

growers affectedbythe one­in­200­year

floodingtoapply for fundstohelpclean­up

flooddebris and returnpaddocks to

productive conditions.

Applications openonJuly9and closeon

July 30.

MPIdeputy director­generalofagriculture

and investment services KarenAdair said

the fundingwas to help flood­affected

farmersand growers across Canterbury to

get back on their feetasquickly as possible.

"Theclean­up task ahead of primary

producers ismassiveand someare facing

significantcosts not coveredbyinsurance,"

he said.

Nearly 100 of the worst­affected farmers in

the region had already been offeredgrants

from the initial$350,000 fund established

shortlyafterthe floodlast monthbut, if they

needed extra support, theywereencouraged

to submit new applications for the larger

fund.

"Wehave beenworkingwith Federated

Farmers, DairyNZ,Beef +Lamb New

Zealand, Deer IndustryNew Zealandand

councils, to determinehow this financial

supportcan have the greatest impact," she

said.

Grantswill assistfarmers to clearflood

debris, enable pasture and fodder crops to be

resown.

"Ourhighestpriority is the clean­up of

debris such as shingle, boulders, trees and

silt, to returnpaddocks toaproductive

state," Ms Adair said.

"Applicationscan be maderetrospectively

for clean­up work already undertaken. The

size and allocation of grants willbe

determined onceall the applications have

beenreceived.''

Grant applications will be assessed by an

independentpanel, made up of people

selected by sector groups and will involve

people withastrong understandingof

farming businesses and ruralcommunities

in Canterbury. "They willconfirm thatgrants

meetthe eligibility criteria and that the

allocation process is fair,consistent, and

transparent.

MPI will contributeupto half of the cleanup

cost foruninsurable works," Ms Adair

said.

Afull list of criteria, an application form

and details of howto apply is available on

MPI's website.

60%off.And it's

not evenBoxing Day.

SleepyheadSupportapedic Limited Edition Queen Bed

$1979

was

$4959

Limited stock

Valid23June-20July2021.
---
SPORT

18 Ashburton Courier, July 8, 2021

www.ashburtoncourier.co.nz

Pack the Park event makes its mark

Mid Canterbury schoolboy

rugby was on show at the

inaugural Pack the Park rugby

event last week when the Mid

Canterbury Combined (MCC)

first XV took on the Selwyn

Schools Combined first XV at

Ashburton College.

MCC lost 19­26 but it was a

cracker of agame, marred only

by after­match reports of

sideline abuse from aspectator

being sought for caution by

officials.

MCC got first points on the

table and put on adeserving

showcase event with tit­for­tat

scoring.

The game itself was well

controlled by referee Kalifa

Faalogo, and highlighted some

top performances by two evenly

matched teams; SSC and MCC

sit 11th and 12th, respectively,

on the Miles Toyota

Championship table.

Both teams performed

rousing haka prior to the game

and stirred players to action for

afull­on 80­minutes of play.

In the curtain raiser match

Ashburton College Under 15

convincingly beat Mount Hutt

College Under 15 by 50­15.

Mid Canterbury Combined

(MCC) first XV, watched by

family and friends, playing the

Selwyn Schools Combined first

XV in the inaugural Pack the

Park game at Ashburton

College.

PHOTOS TONI WILLIAMS

DOORS OPEN SATURDAY 9AM

Theone show NZ explorers

do notwant to miss!

New Zealand Motor Caravan Association

ENTRY

ONLY

$12

CHRISTCHURCH ARENA

Sat 10July 9am-5pm Sun 11 July 9am-4pm

Girls game action

More than 70 girls turned out

for the first Girls Got Game

introductory basketball

programme this week.

It's asix week session to give

girls ataste of the popular

game. US­based basketballer

Ashlee Strawbridge (pictured)

was among those leading the

sessions.

Basketball Mid Canterbury

president Mark Douglas was

keen to get more girls playing in

the junior and intermediate

grades.

''This is the first step of trying

to get more girls involved in the

sport, with 70 kids turning up to

apilot programme there is

obviously acall for it. It's pretty

exciting to get it off the

ground,'' he said.
---
www.ashburtoncourier.co.nz

NEWS

Ashburton Courier, July 8, 2021

19

CLUB NEWS

Mid Canterbury Provincial

RWNZ

Much will be said aboutthe

May flood of 2021 and the raw

emptyfeelingofhelplessness

as the flooding subsidedand

the damagerevealed. The

enormityofthe recovery phase

on farms is daunting, to say the

least. Andwithmajorevents on

the farming calendar fast

approaching, alot of

discussions, decisions and

planning is neededtomeet

these deadlines and get the best

outcomes.

At times like these it is

heartening, so many caring

people offering help to

neighbours and friends. Also

the wider community and many

from afar offering goods and

services to help ease the

burden of recovery.Iknow

those farmerswho have

received such help arejustso

grateful andarehumbled by the

offerings and help.

Ahuge thank youtoall those

who have generously given food

and goods that Rural Women

have co­ordinated,with Rural

Support andthe Rural

Recovery Team, to deliver to

many of these affected farms.

Having talked to farmers who

have been badly affected with

flood damage and still tryingto

comprehend the enormity of it

all andhow it will affect their

farmingoperations, Ithink it

would be great if an offerwas

made to fundthe removalof

shingle from pastureland.

Some sort of assurancelike this

would be amajor step forward

for these farmers.

As in all walks of life, when

the going is tough,like with the

present flood damaged farms, it

is good to take timefor yourself.

One day away will not change

what has happened but it may

give you the energyand fore

sight to engagewith alighter

mood andclearer mind.

Lastweek Iattended aHealth

ForumonOvarianCancer, run

by RuralWomen NZ, in Timaru.

GuestspeakerEle Ludemann,

relayed the journey of their

daughter on her ovarian cancer

journey.Listening to Ele gave a

realperspective on life. She

sharedhow their familyhad

dealt withother family

tragediesand now this one. Dr

Kristen Jensen, a

gynaecologist, gaveamedical

perspective on ovariancancer.

Did you know, 1000 women in

NZ arediagnosed with oneof

the five gynaecologicalcancers

every year? Andapproximately

400womeninNZwill die from

oneofthem! With one woman

dying every 48 hoursfrom

ovarian cancer,alone. Just

think, thisisevery year!

There are no screening tests

for4ofthe 5genealogical

cancers –ovarian, uterine,

cervical,vaginal, andvulva.

Cervical smears can detect

cervical cancer but not the

others. These cancers can

occur in women of all ages, so

don't just think it is for the

elderly. If you experience any

of the following possible

symptoms for morethantwo

weeks, pleasesee adoctor

immediately—bloating,

abdominal/pelvic/back pain,

feeling full quickly, indigestion,

frequent and urgenturination,

change in bowel habits,

unexpected weightlossorgain,

painful intercourse, fatigue or

menstrual irregularities. And

keep going back to thedoctor, if

the issues are not resolved.

Manythingshave happened

to us, to shapewho we are

today, how we cope in adversity

and show truetogetherness in

caring forthose about us in

need. Take care andkeepin

touch with neighbours and

friends.

Next meeting for Mid

CanterburyProvincial RWNZ is

tomorrow (July 9), at the

Sinclair Centre, starting witha

cuppa at 9.30am and meeting at

9.45am. For more info contact

MargVerrall 027267 7600 or

3024 717.

Ashburton U3A

Economicshas always been

about Wellbeing.

This month's speaker was

Professor PaulDalziel,

Professor of Economics, from

theAgricultural and Economic

Research UnitatLincoln

University.His topic was

'Wellbeing Economics in post­

Covid NewZealand'.

Historically Alfred Marshall

(1842­1927) andhis

NeoclassicalEconomics

modernisedthe economic

theoriesofAdamSmith of the

18th century.The new

emphasiswas now equal

opportunity for people to

realise their potential, rather

than the ''use of material

content requisitesof

wellbeing''.

Economics has always been

about wellbeing: the

discussions have beenabout

how this is achieved.

There are two major issues

aroundeconomic growth.

Guest speaker Professor Paul Dalziel spoke about 'Wellbeing

Economics in post­Covid New Zealand' at the recent Ashburton

U3A meeting.

Firstly,welive on afinite

planet. We cannot support

infinite growth of consumption

of naturalresources.Weare all

aware of clear human

influences on globalissues of

widespreadgreenhouse

impacts.

Secondly, recent economic

growth has come with greater

wealthinequality leaving many

indicators of wellbeing

unchanged. It is not just

quantity,but how we organise

resources.The globallyimportantStiglitz­Sen­Fitoussi

Commission2019onMeasures

of Economic Performanceand

Social Progress stated that the

key message is to shift

emphasisfrom economic

production to measuring

peoples wellbeing.

NZs MarilynWaring

launched thefield of feminist

economics, withwomens voices

to be heard and measured in

our GDP, and recognising the

environmental damagefrom

humaneconomic activity.

Our Covid­19 response has

seenarapidmove through the

crisis.Two threats to our

wellbeinghavebeendealt

with bythe public health

policy, andthe economic

policy, ensuringpeople had

income.

This allowed the circular

flow of economic activity,

from households through to

firms, allowingwork and

income, andspending and

production, to continue:

savings, the finance sector

andinvestment are still

involved.

NewZealand has avery

good fiscal system, able to

increase debt without crisis.

We are part of the

InternationalWellbeing

Economy

Alliance(wellbeingeconomy.

org).

We have doneamazing

worktopromote wellbeing

butchallenges towellbeing

asacountryare struggling to

make progress. The speaker

for our July 27th meeting is

NatalieBaird, Associate

Professor at the University

of Canterbury, speaking on

'Refugees and New Zealand

Law'.

OUT AND ABOUT

JULY10

AshburtonAstronomy Group

viewing of Matarikistarcluster for

membersofthe public, weather

dependant,set up in theeastern

edgecar parkofArgyle Park, on

Middle RoadinAshburton,from

5.45am to 6.45am.

JULY17

BacktoBasics -Natural Savvy

livingexporuns from 11am-3pm at

58 Melcombe St, Tinwald -New Life

Church building.

Learn tips,skills and information

from locals about creating healthy

cost effectivelifestyle.Gold coin

donation.

JULY17

The Hakatere Presbyterian Parish

is hosting acrafts and hobbies

display.

It includeswoodwork,pottery,

weavingand lots more.

The display in the Oxford Street

parish church hall runsbetween

10amand 3pm. Entry is free.

JULY 23

Mid CanterburyFederationof

Women's Institutesisholding a

weddingdressfashion parade as

part of the annualfederation cup

day.Itison at the SeniorCentre in

Ashburton from 10.30am and is

opentoanyone to attend.

JULY 31

The GeraldineFloral Art Group is

hostingthe South Canterbury Area

Floral Art Society (FASNZ) annual

Floral Designer of the year

competition at St Andrews Church

hall in Geraldine. Viewing is from

1.30pm to 4.30pm.

Admissionis$10 and includes

refreshmentsand demonstrations.

AUGUST 7

The NewZealand Mountain Film

FestivalatAshburtonTrust Event

Centre. Featuringselectionoffilms

either made inNZormadebyNew

Zealanders. Includes traversing the

Southern Alps on skis, climbing the

Airport Wall in Fiordland anda

young up-and-comingsurfer. Adults

$25 /Youth 14 years and under $15

(feesincluded)

Tickets are available from the

bitenite.nzwebsite.

Got aspecialeventplanned, let

us know. Email details to

office@ashburtoncourier.co.nz

With adualpower pack,itwon'tt

giveupbeforeyou do.

LG CordZeroA9Kompressor ProHandstick Vacuum

$1199

was

$1299

Valid7th -13thJuly2021.
---
COUNCILBRIEF

5Baring SquareWest,Ashburton |POBox 94, Ashburton, NewZealand 7740 | Telephone (03) 307 7700 | Website ashburtondc.govt.nz

Thursday,8July 2021 | ISSUE 36

AFFECTEDBYTHE FLOODS?

Apply forhelp from theMayoral ReliefFund

Property owners hit by the May

floods are being encouraged to

apply for money from the Mayoral

ReliefFund.

Some $13,000 was allocated last week

and another$60,000 remains so Council is

encouragingpeople to apply if theyneed

help.

Ashburton District Mayor Neil Brown

saidthe fund wasavailable to those who

needed arange ofrelief following the

floods.

"Thecriteriaisverybroad and so farwe've

helped people repair driveways, buy

feed, fix fences and fundedmentalhealth

breaks off-farm.

"Some people areholdingback askingfor

help becausetheythink that others are in

aworse position, but there is money there

for those who meet the criteria," he said.

A special flood recovery page has

been created on the Council's website

(ashburtondc.govt.nz) with flood-specific

advice. The page also includes regular

updatesonrecoveryprogress.Criteria for

the emergency Mayoral Relief Fund and

application forms canbefoundthere.

Council officers can also take Mayoral

Relief Fund requests over the phone by

calling033077700.

People granted money from the relieffund

do not have to pay itback. Itismoney

given to help them return to business as

usual.

RECOVERY

UPDATE

Council is hostingthree community meetings on Tuesday July 13 at

Greenstreet, Winchmoreand Mt Somers to provide an overviewofthe

flood recoveryprogress. Speakers from organisations including Council,

Environment Canterburyand Mid CanterburyRural SupportTrust will

outline responses so far, and work identified forthe future.

COUNCILCOMMUNITY MEETINGS -Tuesday13July 2021

Times and venues:

• GreenstreetHallat11am

• WinchmoreHall at 2pm

• Mt SomersMemorial at 5.30pm

Art gallery merges with

museumasCouncil activity

Hakatere: Home&Heritage

to be celebrated at museum

Sixteen local families, connected

through in alegacy book about the

heritage ofthe Ashburton district,

will have pride of place in the

Ashburton Museum for the next

three months.

From Saturday, the museum's Murney

Room will be home to the Hakatere

Home and Heritage exhibition, which is

based on aphotobookbythe samename

and published recently tocelebrate the

district'sdiverse community.

The Ashburton Art Gallerywill merge

with the Ashburton Museum with

one director now overseeing the

combined in-house activity ofthe

Ashburton DistrictCouncil.

Councillors decided last week that the

combined model was the best way

forwardand willcreateacloser andmore

connected operating environment for

boththe museumand artgallery.

ThemuseumhasbeenaCouncil-managed

operation since 2014, since the Heritage

Centreopened,whereastheartgalleryhas

beenmanaged separately from Council by

Ashburton Art GalleryIncorporated.

The proposed new staffing structure

will see the gallery's current curator and

manager Shirin Khosraviani become the

centre's new director overseeing both

operations.

Ashburton District Council ChiefExecutive

Hamish Riach said that anew deputy

director position is alsobeing createdwith

amuseologyfocus.

"Appointing anew deputy director with

museology training, qualifications,

and experience tocomplement the art

gallery background of the centre's new

director will ensure the museum has the

professional expertise to continue to

thrive,"hesaid.

"There will now also bethe opportunity

for the art gallery and museum to be

open atthe same time and synchronise

operations, including programmes and

offerings wherepossible."

Council consulted with both the Art

Gallery Committee and Ashburton

Historical Society over the merger and

is now working ontransitioning the art

galleryintoCouncil and settingupthenew

combined structure.

The exhibition will open on Friday night,

at an invitation-only event to be attended

by local dignitaries and those who are

featuredintheexhibitionandonthepages

of the visualtime capsule.

The photos in the book were taken by

Ashburton-based photographer Emmily

Harmer and they form part of the

exhibition, alongside the personal stories

of those who call Ashburton home. Some

were born and bred here, others came

from across the world.

Those residents have also provided their

cultural dress as part of the exhibition,

which will run until lateSeptember.

Community Services Group Manager

Steve Fabish said the exhibition area

would also include comfortable seating,

where people could take time to read the

book.

"Their stories are told with pride and we

areexpecting alot of family groups to visit

this exhibition,"hesaid.

Ashburton'sRefugee Resettlement

Cultural Navigator Navid Bashir provides

aHazaraAfghangarmentthat men wear

forspecialoccasions.

Another area of the museum will be

devoted to crafts associated with

the different cultural groups that call

Ashburton home.

Formoreinformation,visitthe

Ashburton Museum'swebsite

ashburtonmuseum.co.nz

1 ashburtondc.govt.nz

Thursday,8July 2021 |ISSUE 36
---
Council plans forfuture growth, invests

PUBLIC NOTICE

PUBLIC NOTIFICATION OF

$420m in Three Waters and Roads BROTHEL LOCATION BYLAW

A10-year budget thatinvests $419.7

million in the District'sthree waters

network and roading and transport

systems has been adopted bythe

Ashburton DistrictCouncil.

Mayor Neil Brown said Council heeded

residents' calls to focus on core services

while still planning for growth during

challenging times.

"The 2021-31 Long Term Plan that we

adopted last week is all about spending

within our means but also looking

to the future and creating a district

where the community feels included,

has a sustainable environment, and a

prosperous economy."

The budget includes investment in Three

Waters infrastructure to meet more

of Central Government compliance

requirements, building resilience for our

future.

Mayor Brown said Councillors andCouncil

officers worked to realise savings and

adjusted other spending after hearing

from 431 people throughsubmissionsand

at public meetings during consultationon

the plan.

"This is abalance between keeping costs

down for ratepayers and meeting the

needs of our growing community.

"We lookafterabout $935 million worth of

infrastructure, assets and facilities –that

includes roads,pipes, buildings and land,

rightdown to the bins at the domains.

"We estimate itwill cost us around $574

million over the next 10 years tolook

after what we have andprovide all of our

services (operating costs).

"It will cost another $349 million to

upgrade our assets and build new ones

(capitalcosts),"Mayor Brown said.

Included in the 10-year plan is:

• $234 millionfor transport infrastructure,

including roads and footpaths.

• $185.3 million for upgrading and

protecting the Three Waters ($92.7m

drinking water, $66m for wastewater

and$26.6m forthe stormwater).

• $7.5million forCouncil'scontribution to

the planned secondurban bridge.

• $49.8 million for the new Library and

Civic Centre.

• Anaverageraterise of 6.3 per cent in the

2021-22 financial year.

Mayor Brown said the Ashburton District

ratesweresimilartoneighbouringcouncils

of similar size while alsomaintaining one

of the biggest roading networks in the

country.

"This was abig piece of work spanning

nearly two years and I'm pleased that

Council have been able toachieve this

result.

"It has notbeen easy butIthink we have

struck agoodbalance,"hesaid.

Council has rolled over its BrothelLocation

Bylaw,which wasdue forreviewin

September.

The Prostitution ReformAct 2003 gives

councils the right to regulatebrothel

locations and signage, and the current bylaw

aims to ensurethatbrothelsare not located

within 100m of sensitive sites likeschools,

churches and maraes.

Officersreviewed the bylaw and determined

no changeswererequired, with the exception

of an updatetothe team responsible for

implementing the bylaw.

This is areflection of recent organisational

change.

Sincethe last reviewofthis bylaw, Council

hasreceived no complaints nor queries

about wherebrothels canbelocated.

Jane Donaldson

Group Manager-Strategy&Compliance

PLAN CHANGE 4TOTHE

ASHBURTONDISTRICTPLAN

Noticeisherebygiven that the Ashburton

District Council has made its decision on

submissions to Proposed Plan Change4to

theAshburtonDistrict Plan (2014). From the

dateofthis notice,the Planisamended in

accordancewiththose decisions.

The Planasamended by decisions, as well

as the decisions themselves areavailable on

the Council website at www.ashburtondc.

govt.nz.Copies may also be inspected during

officehours at the following places:

• CouncilOffices -5Baring SquareWest,

Ashburton

• AshburtonLibrary-180 HavelockStreet,

Ashburton

Jane Donaldson

Group Manager-Strategy&Compliance

Dogs abig focus forCouncil this July

Dogs are abig focus for Council in

July, with registration of around

6600 dogs beginning onJuly 1and

consultation on adraft Dog Control

Bylaw andPolicyopen untilJuly11.

The law requires all dogs over three

months of age toberegistered. Ifyour

dog is registered, you will be sent areregistration

form; any new dog will need

to be registered with Council. Owners who

do not register their dogs may be issued

withaninfringement and fined.

Strategyand ComplianceGroup Manager

JaneDonaldson said registration wasjust

one of the obligations andresponsibilities

ofowningadog,andmostownerscomply.

"We estimate that about 93 per cent of

ownersinthe district registertheir dogs."

Council is also nearing the end of its

consulting period on its draft Dog Control

Bylaw andPolicyand has receivedabout

20 submissions already. The deadline for

feedback is Sunday,11July.

The bylaw and policy includes two new

clauses:

• owners must make sure their dogs are

wearing current registration tags while

away from home,and

• owners must carry plastic bags or

something else to remove their dog's

poofrompublic land.

If youfind the registration tags hardtofit

onto your dog's collar, then try softening

the taginhot waterfor 10 seconds or so.

Youwill find youcan easily bend it.

Simon, arescuedog, is training to be part of the Council's DogSmart educationprogramme.

Council is alsoproposing in the bylaw and

policy that thedog exerciseareaatArgyle

Park be extended and anew dog exercise

area createdinnorth-east Ashburton next

to the Ashburton Business Estate. The

new north-east exercise area would run

between Company Road and Taits Road.

Council recognises the importance of

exercisefor dogs and provides dog parks

and exercise areas across the district for

them to runand socialise. Your dogmust

be on aleash unless it is in adesignated

exercisearea, and even then, ownersmust

have their dog under control.

AnotheraspectofCouncil'sworkwithdogs

is its DogSmart education programme.

This is afreeone-hour dog safetyand bite

prevention programme aimed atschool

children, taught by an Animal Control

Officer. Children are taught to avoid

being bitten bydogs, the correct way to

approach adog theydon't know, and the

golden rule "if adog's on itsown,leave it

alone".

The programme is also available to

workplaces where staff might encounter

adog regularly; people likemeter readers,

midwivesand Council'sown staff.

Dog attacks can be costly for employers

as injured staff may need time off work

to recover. Last year, 1144 dog-related

injuries were recorded by ACC just for

Canterbury. Every day in New Zealand,

an average oftwo people will be bitten

by adog. Many of those incidents canbe

prevented.

We arereviewing

ourdocuments andare

proposing some changes.

ashburtondc.govt.nz/

haveyoursay

Draft DogControl

Bylaw&Policy

The bylaw and policy work

together to regulatedog control

mattersinour community.

Draft Open

Spaces Bylaw

This bylaw addresses potential

problems that may arise from

the misuse of Council owned or

managed parks and open spaces.

We areaccepting feedback until

5pm Sunday 11 July 2021.

COUNCIL OFFICE

5Baring SquareWest

Mon, Tue, Wed &Fri 8.30am -5pm

Thursday 9am -5pm

ASHBURTONPUBLIC LIBRARY

180 Havelock Street, Ashburton 7700

Mon -Fri 9.00am -8.00pm

Sat 10am-1pm | Sun 1pm -4pm

EA NETWORKSCENTRE

20 River Terrace

Mon -Fri 6.00am -9.00pm

Sat &Sun 7.00am -7.00pm

ASHBURTONMUSEUM

327 West Street

10am -4pm daily.

Closed Public Holidays.

ashburtondc.govt.nz Thursday,8July 2021 |ISSUE 36

2
---
22 Ashburton Courier, July 8, 2021

SPORTS DRAWS

www.ashburtoncourier.co.nz

Rugby

Saturday July 10

Seniors –Watters Cup Week 4

Hampstead vCeltic, Hamp1,

2:45pm Kalifa Faalogo –AR1

Nathan Forbes –AR2 Paul

Arnold

*Methven vSouthern, Methv1,

2:45pm Glenn Peddie –AR1

Hamish Grant –AR2 Simon

Bennett

Rakaia –BYE

*DaveWhite Memorial Cup ­

Senior B–2nd Grade Cup

Semi­Finals

Methven vMtSomersMethv1

1pm SimonBennett –AR1 Geoff

Barr –AR2 MikeSouthby

Celtic vAllenton Celtic1,

2:30pm Joc O'Connor ­AR1Ant

McGirr –AR2 Tololima

Senetenari

COLTS Combined

8th July2021

BDI Seniors vCeltic, Celtic1,

7:00pm

10th July 2021

Ashley vMethven Combined,

Ashley LOB1, 1:00pm

Lincoln vHampstead/

Southern –DEFAULT

1st XV MilesToyota

Championship

St Andrews vMid Canterbury

Combined, St Andrews, 12:00pm

Under 18 Combined

MCRUAlps vMackenzie,

Collegiate1, 1:30pm Jeremey

Robinson

Under 16 Combined

Waihora vMCRU Plains, Tai

Tapu2, 12:00pm

Lincoln vMCRUAlps,

Lincoln2, 1:00pm

Under 14.5 Combined

Darfield vMCRUPlains,

Darfield2, 12:00pm

Leeston vMCRU Alps,

Leeston1, 12:15pm

Rolleston vMethven,

ASelwyn Schools Combined first XV player scrambles to protect the ball on his own line during the

game against Mid Canterbury Combined at Ashburton College. The visitors eventually won 26­19.

PHOTO TONI WILLIAMS

FosterPark3, 12:00pm

Under 13

Celtic White vRakaia, Celtic1,

1:15pm Moon Tuilaepa

Methven vSouthern,

Methven2, 1:15pm Liz Bell

Collegiate BYE

Under 11.5

Allenton vMethven,

Methven2, 12:00pm

Celtic Green vTinwald, Celtic

3A, 1:15pm

Collegiate/Rakaia Combined

vMethven White,Coll2,1:00pm

Hampstead vCeltic, Hamp1A,

1:30pm

MethvenRed vSouthern,

Methven3A,1:15pm

Under 10

Hampstead vCeltic,

Hamps1B, 1:30m

MethvenvSouthern,

Methv3B, 1:15pm

Rakaia vCollegiate, Rakaia4,

1:00pm

Tinwald vAllenton,

Allenton3, 1:15pm

Under 9

Celtic Green vTinwald,

Celtic4, 1:15pm

Hampstead vCeltic White,

Hamp1A, 12:30pm

Methven Black vAllenton,

Methven4, 12:15pm

Methven/MtSomersv

Southern –Played

Rakaia BYE

Under 8

Allenton Maroon vCeltic,

Allenton2, 12:15pm

Collegiate vAllenton Gold,

Coll1A, 12:30pm

Methven vSouthern Blue,

Methven4, 1:15pm

Methven/MtSomers v

Tinwald, Methv5, 12:15pm

Rakaia vSouthern White,

Rakaia1A. 1:00pm

Under 7

Celtic Green vCollegiate,

Celtic2A, 1:15pm

Celtic White vSouthern

White, Celtic2B, 1:15pm

Hampstead vTinwald Black,

Hampstead1B, 12:45pm

Methven vSouthern Blue,

Methv5, 1:15pm

Mt Somers vTinwald Orange,

Mtsomers2, 1:00pm

Rakaia vSouthern Red,

Rakaia1B,1:00pm

Allenton BYE

Under 6

Allenton Gold vTinwald

Orange, Allenton4A, 1:15pm

Allenton Maroon vTinwald

Black, Allenton 4B, 1:15pm

Collegiate vCeltic White,

Collegiate3, 1:00pm

Hampstead vCeltic Green,

Hamp1B, 12:00pm

Methven Black vSouthern S,

Methven3A, 12:30pm

Methven White vSouthern

White, Methven3, 12:30pm

Mt Somers vTinwald Blue,

Mtsomers3, 1:00pm

Rakaia Black vSouthern Red,

Rakaia2A, 1:00pm

Rakaia White vSouthern

Blue, Rakaia2B, 1:00pm

Town vCountry

Sunday 11July

Under 13,Allenton1, 12:45pm

Under 11.5, Allenton2,

12:30pm

Under 10,Allenton3, 12:15pm

Under 9, Allenton 2, 11:30am

Under 8, Allenton 3, 11:15am

TheLions Club of Ashburtonwish to sincerely thank the manyfollowing organisations and

individuals who so generously supportedthe recent

2021 Big SmokevRural Folk Team Challenge and Auction.

Main Sponsors: PowerFarming Ashburton, Lemacon, Sim's Bakery and Hokonui

Adams Sawmilling Co Ltd

Greg Donaldson Contracting

McLeod Real Estate

RMF Silva

AtoBAuto'sLtd

Alps Continuous Spouting

AoteaElectricalAshburton

AshburtonEngravers

AshburtonImplementServices (AIS)

AshburtonPowdercoating Ltd

BL Plumbing

Cairns Ground Spreading

Collision Plus

ColourPlus Ashburton

CommunityHouse MidCanterbury

D&EOutdoors

DesKruger Tree Services

DPI Design&Print

Engineering Repairs Ltd

Evans Animal Feeds

Farm Source

First National Real Estate

Forsyth Barr

Fowler Homes Ashburton

Gary McCormick Ltd

Gluyas MotorGroup

Goldmark

Greg LysaghtLtd

Heartland Design&Print

Hokonui Radio (Ashburton)

Holmeslee Enterprises

Hotel Ashburton

Ian Parkin

Jac Sparks

Jackson Holmes Contracting

JarrodRoss

JuiceSigns

KarenMcRae,Property Brokers

KFC Ashburton

KellysCafé

Kilworth Holdings

Knicks Hair Studio

Latitude Media Ltd

Lemacon

Lifestyle Motorhomes

Lovett Automotive

Lushingtons Garden Centre

Mark Scammell Painting

MayfieldTransport

McKay&Donaldson

MethvenSeed Cleaning

Mitre10MEGA

Mike Preston(BayleysReal Estate)

Mobil Rakaia

Morrison Group

MoyraWhiting

Mt Hutt SkiCompany

Netherby Meats

Neumans Tyres

Newlands Auto Electrical

NZ Sock Company

Partners in Pork

PeterMay Ltd

PupChamberlain

Rakaia Seed Cleaning

Ravensdown

Ray&Jenni Swan

RayWhite(Chrissy Milne)

RayWhite(KimMillar)

Real Estate NZ

Redmonds

Robillards Jewellers

R&RPrecisionFertiliser

Rural Transport

Side Kick Accounting

Sir John Kirwan

100% Smith &Church

Smith &Sons

Sparrows Mens &LadiesFashions

SpeightsAle House

SprayMarks

Stronechrubie Country

Restaurant&Café

Tinwald Supervalue

TheBlue Pub

TheBrown Pub

TheMower Shop

Topp CountryCafé

Total Oil Products

TricroftProperties

Value Plus Processing

VictoryLime

WelshyContracting

Wilsons Windscreens

Young Electrical Ltd

2398786
---
www.ashburtoncourier.co.nz

NEWS

Ashburton Courier, July 8, 2021

23

Kapahakagroups combine forMatariki

Kapa haka groups from

Ashburton College,

Intermediate andBorough

School came together last

week to celebrate Matariki

and to fosterconnections.

Held at BoroughSchool, the

visitors were welcomed onto

the site by the hosts and with a

formal speech fromTeHuaki

Puanaki, whoworks with the

college and Borough kapa

haka groups.

Thegroups went inside and

shared information and

karakia on Matariki, the Maori

name of thestar cluster

Pleiades, and the symbolism

and significance of its nine

brightest stars.

Thearrival of Matariki is

seen by Maori as asign for

people to gather, to honour the

dead, celebrate the present

and plan forthe future.

Thethree kapa haka groups

performed acombinedhaka

and groups then each

performed their own songs.

It was great for the students

to see what each other could

do, Borough School Maori

language teacher Kate White

said.

This was the first time kapa

haka groups from the schools

hadjoined together to

celebrate Matariki and

performed for each other, but

it would not be thelast.

Ashburton College had

offered to host agathering

again next year, she said.

The BoroughSchool kapa

haka group has over 50

students andthere aresimilar

numbers at the other two

schools.

Schools willnow turn their

attention to FLAVA, akapa

haka competition to be held in

Timaru in September.

Borough School kapa haka group performs awelcome at the Matariki celebration last week.

Maia chair campaign

MaiaHealth Foundation haslaunched

anew campaigntoraise $44,000for 20

new lie­flat chairs at Christchurch

Women's Hospital.

Thechairs will provide a

comfortableplacefor asupport

person to stay alongside anew mother

and baby.

During the day theywill be usedas

asofa chair for visitors or

breastfeeding and in the evening they

convert into alie­flat bed.

Whileimportant for all women, it

willmake adifference for those who

live moreremotely andneedtostayat

or be transferred to Christchurch

Women's.

Statistics showthat 37%ofall

women at AshburtonHospital transfer

to Christchurch Women's during or

afterbirthing. Donations canbemade

via the maiahealth.org.nzwebsite.

Sallies food support

Ashburtonhas been included as a

location for the SalvationArmy's online

Foodbank Project.

Thesallies have seenanincrease in

demand for food andisexpectingtogive

out 20,000food parcels nationwideover

winter to people struggling with the

essentials.

The Foodbank Project, led by The

Salvation Armywith major supportfrom

Countdown, provides an easily

accessibleway for people to help

foodbanks and allowsfor fresh foodtobe

donated.

NewZealanders can donate nonperishable

foodatany Countdown

supermarket or head online to foodbank.

org.nzto purchasebundles or selectfrom

the most­neededitems which are

updated regularly for each local

foodbank hub. They can alsodonate

instore at Countdown until August2.

washpen falls

It's right here in Selwyn!

Only an hour's drive from Christchurch,the Washpen Falls track

takes you through an ancient volcanic canyon covered

in nativebush that's filled with birdsong.

Agreat twohour walk for moderate fitness levels, with stairs

and boardwalks. Privately owned, the trackiswell-maintained

year-round. $10per adult and $5 per child (under 15).

Packsome warm clothes, grab abite to eat at acafé along the

wayand head to the spectacular views of Washpen Falls.

Share your Kura Tāwhiti photos

and tag us selwyn.nz

Visit selwyn.nz
---
BEAUTIFUL.

CLEVER.

WEIRD.*

YOUR LOCALART GALLERY

OPEN DAILY, FREE ENTRY

*THERES NO CORRECT WAY TO LOOK AT ART, AND SOMETIMES YOU

WON'T LIKE WHAT YOU SEE. THATS OK.

COME BACK NEXT MONTH AND SEE SOMETHING ELSE.

FIRST FLOOR, 327 WEST STREET,ASHBURTON
---
www.ashburtoncourier.co.nz

NEWS

Ashburton Courier, July 8, 2021

CHRISTIAN COMMENT ­JOAN CLARK, ASHBURTON ANGLICAN

25

Have youeverbeen asked to do

or go somewhere that you

didn't reallywanttogo?

Jesusinthe Scriptures

speaksabout sendingout

disciplesintwos(Mark 6:6a)

Ourparish this lastfortnight,

with the helpofAnglicanCare,

sent peopleout to knockon

doors to check if people would

like energy efficient lightbulbs

andtohelp withpower

assessment of their homes.

At firstour peoplewere quite

hesitant to doorknock not

knowing what maybeawaiting

themonthe othersideofthe

doorbut ourfriendsfrom

Anglican Care were

encouragingand went withus

as we movedalongthe streets.

Jesusreminds us though,

thatwehave alifetoliveand a

missiontofulfil. He nudges us

whenwehaveoutgrown our

circumstances, ourcurrent

condition, our past.And gives

us the courage nottofearthe

futureandthe unknown. But

Jesusdoesn'tstop there.He

stayswithus, behindus, ahead

of us,around us, andHe

encourages us to take that leap

of faith.The knockerswere

wellreceived, many

conversations were hadand

hundreds of light bulb were

givenout,and thedoor

knocking people cameback

encouraged andupbeat.Let us

alllightupand be encouraging

to thepeople we meet.

The ageing Methven House.

MethvenHouse

rebuild supported

Methven Care Trust has been

encouraged by public interest

to progressplans to rebuild an

aged carefacility Methven

House.

The trust opened up its June

28 meeting to thecommunity

andnearly 50 people attended

to expresssupportfor the

rebuild.

Trustees answeredquestions,

revealed how fundraising had

been carried outtodate and

outlined what needed to be

done to complete theproject.

Visitors spoke about ways to

increase awareness of the

project,alternative funding

options, Methven's growing

population and care needs, and

the suitability of thenew site at

the Camrose subdivision

compared with the existing

Methven House on Morgan

Street.

Methven Care Trust interim

chairperson Janine Holland

said results from acommunity

surveywere reported, with

nearly 100% of responses

received to date agreeing a

community­ownedrest­home

was still agoodidea.

Thesurvey remained open

until theend of July and copies

can be picked up at Methven's

twosupermarkets,atMethven

House oronline via the

Methven Care Trust website.

The public is invited to

another trustmeetingthis

month, so those who had

missed the Junemeeting were

encouraged to come along, Ms

Holland said.

Adatewas stilltobeset, but

it would likely be in the last

week of this month.

Therebuild costfor Methven

House was estimated several

years agoat$5.5millionand

nearly$1.9m in net assets has

been accumulated to dateby

Methven Care Trust.

There are currently 12

people waiting for spaces in

Methven House andfour on the

waiting list for seniorsflat.

Newtrustees are currently

being sought with an

applicationform availableby

emailing

admin@methvencaretrust.co.

nz

Business awards open

Rural WomenNew Zealand's

annualwomenin business

awardsare open until July 30.

"The awards areagreat

opportunity to showcase the

creativity andinnovation of

rural women entrepreneurs

and how they support rural

communitieswith their

businesses," saysRural

Women's national president

GillNaylor.

"If youarearural woman in

business,enter; if youknow a

rural woman in business,

encourage her to enter, Mrs

Naylor said.

Visit the ruralwomennz.nz

website for more information

on the businessawards.

Rothbury Insurance Brokers

are Ashburton's local business

insurance specialists

The team at Rothbury understandthe uniqueness and diversity of businesses in our region.

Weare passionate advocates for our clientsand wanttoget to know your business.

So,for quality advice from unparalleled experience, get in touch today.

Peter McAuliffe

Commercial Broker

P: 021 288 8303

E: peter.mcauliffe@rothbury.co.nz

rothbury.co.nz
---
26 Ashburton Courier, July 8, 2021

SPORTS RESULTS

www.ashburtoncourier.co.nz

Cycling

Mid­Canterbury Social

Wheelers

23 Riders. 3rd July 21. 1st.

Jelle Hendricksen 32m 13s.

2nd. Alan Johns32m 48s.3rd.

PaulHands 32m48s.4th. Kerry

Clough 31m 13s. 5th.Janette

Hooper31m 13s. 6th. Andy

Skinner 31m 13s. 7th. LizWylie

31m14s. 8th. DanielGould 30m

18s. 9th. Pam Harcourt 29m 18s.

10th. BrentKircher 29m 19s.

11th. Lucy Kirwan29m 19s.

12th. Kenny Johnston30m 19s.

13th. DebbieSkinner30m 20s.

14th. Larry Neal 23m27s.F/T.

15th. Tony Ward 23m 27s. 2f/t.

16th. RobHooper 23m 59s.3f/t.

17th. Mike Hansen24m 00s. 4f/t.

18th. Ross Templeton 24m 11s

5f/t. 19th.John Uden27m 08s.

20th. Nick Grijns 27m 24s. 21st.

Roger Wilson 27m 25s. 22nd.

Doug Coley 25m29s. 23rd.

Richardkirwan 29m 33s.

Tinwald U17 Development

Sunday 4th.July 21. Open

Handicap8km. 1st. Eliza

McKenzie CT.19m 36s.

HT.3.30m. RT.16m 06s F/T.2nd.

Logan McKnightCT.19m 45s.

HT. 1.40m.RT. 18m05s. Open

Handicap4km. 1st. Braxton

Bown CT.9m 49s. HT.Go. RT.

9m 49s. Graded Results.A.

ElizaMcKenzie .C.Logan

McKnight. D. Braxton Bown .

Open 1.4km TimeTrial. 1st.

ElizaMcKenzie 2m 17s. 2nd.

Logan McKnight. 2m 36s. 3rd.

Braxton Bown2m51s. Graded

Results, A. Eliza McKenzie.C.

Logan McKnight. D. Braxton

Bown .NextWeek 11th July 21.

North End Ind Estate.

Mid Canterbury Combined (MCC) first XV perform arousing haka before the inaugural Pack the Park

game against the Selwyn Schools Combined first XV.

Bowls

Allenton Bowling Club

Results week ending 3rd July.

Monday 28th June was the

Ladies Mid­Winter

Tournament.

14 Teams competed from

Lincoln, Rakaia,Geraldine,

Timaru, Kia Toa, Methven and

Allenton.

Ahailshower sent them in for

ahot soup and mulledwine

early but all three games were

managedtoinacool but sunny

afternoon and the top three

teams wereasfollows:

First: Rakaia Michelle

Foster, Lorrell Chaney, Diane

Vanderweg.

Second: SharonLeonards

Kia Toa Team.

Third: Allenton Wendy

Watson, WendyBlackwell,

Rose Johnson.

Wednesday 30th June was the

next round of the Kiddey Cup

formatAussie Pairs.

The top three teams wereas

follows:

First: Denys McEvedy 3wins

15 ends 30 points

Second: Janet Kingsbury,

Jenny Mitchell 2wins1draw16

ends 35 points.

Third: Wendy Blackwell,

LindaOsborne 2wins 15 ends

28 points.

Saturday 3rd July was the

next round of theBishop Plate 2

Bowls triples. Thetop three

teamsasfollows:

First: Sandra Keith, Richard

Kane, Paul Burrow3wins 20

ends 31 points Second: Graeme

Bishop,Jen Mitchell, Rose

Johnson 3wins 19 ends

25points.

Third: Rosemary Bennett,

Mike Quinn, Janet Kingsbury 2

wins20ends27points

Ashburton Golf Club ­nine

holers

On Thursday 1st July, the

winner of Flowers@the Gate

puttingwas MurrayLister(11

putts).Runner­up was Peter

Stechman (13 putts), followed

by 3people who scored 14: Don

McLeod, Chris Anderson and

André van Rooyen.

Rugby

Saturday 3rd July 2021

Seniors–Watters Cup Week 3

Rakaia 20 vHampstead 16

Southern 34 vCeltic32

Senior B

Allenton 17 vMtSomers 26

Methven 36 vCollegiate/

Hampstead Combined 19

Southern 24 vCeltic 57

COLTSCombined

Hampstead vLincoln

DEFAULT

Hornby12vCeltic48

Methven 24 vGlenmark 43

Under18Combined

MCRU Alps36vHornby 12

Under16Combined

MCRU Plains 25 vLincoln 19

MCRU Alps31vWaihora 33

Under14.5Combined

MCRU Alps12vWest Melton

59

MCRU Plains 44 vRolleston

Jaguars 13

Methven 50 vRolleston

Leopards 22

Ashburton VeteransGolf

Results from Monday 5th July

played at Rakaia Golf Course

1st George Brown +7

2nd =Earle Jackson and

BrianWinchester +5

3rd Mike Gray

4th =David Robertson, Doug

Osborn, Graeme Hortin, Dave

Tilson+3

twos GBrown, TSa, J

Fechney and GSparrow

Next game changeofvenue to

Denfield 19th July
---
www.ashburtoncourier.co.nz

Departing OSCAR programme co­ordinator Janice McGregor.

PHOTO MICK JENSEN

Janicestepping

back fromOSCAR

Afamiliar face at an OSCAR

after school and school holiday

programme isstepping back

from duties.

Janice McGregor has

managed AshburtonBorough

School's OSCARprogramme for

the last eight yearsand is a

popular figure amongthe

children andparents who have

usedthe service.

She endsher involvement

with theprogramme tomorrow.

OSCARstands forout of

schoolcareand recreationand

is unique in the district

because it is operatedand

managed by the school andheld

on theschool site.

It has beenrunning

successfully for 17 yearsand is

for pupils aged five to 13­yearsold.

Mrs McGregor said she had

loved her involvementwith the

OSCARprogramme kids and

wouldmissthe interaction.

''I've got to know so many

children very well because a

good numbercome to both the

after school and school holiday

programmes.''

Both programmes provided a

valuable service for theschool

and wider community.

Numbersafterschool were

25­30 children eachday,but

they had been even higher five

years ago.

Mrs McGregor saidthere a

greaterneed today for child

care and holiday programmes

like OSCAR becauseoftenboth

parents workedfull time.

''AtBorough we aresolucky

that we canuse the modern,

warm and spacious

performance centre for

activitieslikeart, craft and

homework supervision.

''Wehave experienced and

caring staffand there'splenty

of roomtorun around outside

as well.''

College studentsand

university studentson breaks

have helped out on the OSCAR

programmeover theyears and

had been able to share their

enthusiasm andbuild useful

skills, she said.

Mrs McGregorisnot retiring

and will continue atthe school

as ateacher aide.

Borough has restructured

staff in­house and it willbe

businessasusual for the

OSCAR programme.

NEWS

Ashburton Courier, July 8, 2021

Cow sleep researched

AgResearch scientists are gettinginnovative

with new technologies to better understand the

quality of sleep needed by dairy cows.

Research into the sleepofcows is seenby

researchers as one way of assessingtheir

welfare, which is important to farmers and to

respond to the growing expectationsofglobal

dairy consumers.

Althoughlittle is known aboutthe sleep

needs of cows, scientists do knowsleep is an

essential physiological function for all animals

and plays an important part in physical and

mental health.

The challenge has been that measuring and

distinguishing between the important stagesof

sleepindairy cows is impractical with the

animals housed in the usual farm

27

environments, says AgResearch animal

behaviourand welfare science team leader Dr

Cheryl O'Connor.

"Between AgResearch and Scotland's Rural

College in Edinburgh,includingjoint PhD

student Laura Hunter, we used sensor devices

placedon the cowstotake measurements

duringtheir sleep suchas theirneckmuscle

activity andheart rates, to compare with the

gold standard EEG(electroencephalogram) for

brain activity," Dr O'Connor said.

Machinelearning models wereable to

accuratelypredictsleepstages and the

accuracy was in asimilar range to that for

human computer models, he said.

Insightsfrom the research could potentially

tell us more about overall animal welfare.

DO YOUNEED

WARDROBE DOORS

ANDORGANISERS?

DavidwillbecomingtoAshburton

on Friday 16 th July. Please contact

theoffice to book afreemeasure

and quote forthese or forany other

products in theHomePlusrange.

AWNINGS&BLINDS BALUSTRADES FENCING &GATES LOUVRE ROOFS SHOWERS INSECT& SECURITYSCREENS

88 Gasson St,Sydenham |03379 3740 |www.homeplus.co.nz

Kea study revealing

Research on kea in the eastern

South Island is revealing new

insights into the impact of

stoats and feral cats on the

endangered endemic parrot.

Kea are found throughout

South Island mountains and

forests and are in decline

where threats from predators

are not managed.

ADepartment of

Conservation (DOC) five­year

study aims to shed light on why

kea populations are declining

faster on the eastern side of the

Southern Alps than on the west,

in order to improve predator

management.

Researchers have monitored

asample of 45 kea between

Arthur's Pass and Lewis Pass

east of the main divide since

2019.

The birds are tracked by

radio transmitters and any that

die are retrieved to determine

the cause.

DOC science adviser Josh

Kemp says results from the first

two years show asharp

increase in monitored kea

being preyed upon in the years

following the massive beech

mast (seeding) in 2019.

"Just 6% of the monitored kea

were killed by predators in 2019

but this jumped to 40% in 2020,

most of which were eaten by

stoats and feral cats.

"This is the first time we've

recorded such alarge

proportion of radio tagged

adult kea, both males and

females, being killed.

"Kea are strong flyers but

spend most of their time on the

ground, foraging for food and

roosting, which is why they are

so vulnerable to predators."

The research is providing

valuable evidence about

threats to kea east of the main

divide, which will inform future

predator control strategies,

says Josh Kemp.

The eastern kea study will

continue until 2023 and help

inform future kea conservation

management.

It is part of awider research

programme aimed at improving

the management of predators,

reducing negative human

interactions with kea, and

better understanding kea

population trends.

SCANHERE TO

LEARN MORE

welovetimaru.nz

TIMARU|GERALDINE |TEMUKA |PLEASANTPOINT |PEELFOREST
---
NEWS

28 Ashburton Courier, July 8, 2021

www.ashburtoncourier.co.nz

Government commits to support region

Valuable and constructive

meetings were held in

Ashburton recently, as Prime

Minister Jacinda Ardern

returned to our region to hear

from local agencies and mayors

firsthand in the aftermath of

the May floods.

While here, the Prime

Minister announced that the

Government is injecting a

further $4 million into relief

funding to support our floodaffected

farmers who are

recovering from the damage of

ahistoric one in 200 year flood.

An additional $100,000 will

also be provided to the Mayoral

Relief Fund to support

Canterbury communities.

We know that our farmers are

dealing with amassive recovery

effort following the recent

floods and facing significant

costs that aren't covered by

insurance. The flooding has

caused widespread and

significant damage across a

number of districts and

recovery efforts are ongoing

and considerable.

The Ministry for Primary

Industries will be working

alongside our local Federated

Farmers to establish the

criteria for the fund. It is

important that farmers have a

strong voice in the parameters

of the fund –they know where

the biggest need is as they are

seeing and experiencing it

daily.

Iwas pleased to be able to

host Jacinda Ardern back in the

region again. Ihave been

keeping in regular contact with

her, and let her know how

important it was for our local

agencies, councils and farmers,

that she returns to see more of

the damage and to get first hand

accounts of the clean up and

help needed. Iwas pleased

when she accepted my

invitation to come back down

south!

Ashburton mayor Neil Brown

facilitated an informative

meeting, where we were

briefed by Civil Defence,

Environment Canterbury, and

all of the Canterbury District

Mayors on the current situation

and issues that each region is

facing.

The issue of the second

Ashburton Bridge was raised –

this is obviously atopic that is

top of our priority list right now

and Iamgetting alot of queries

around this. We have heard that

the business case, that was

expected to be completed by

the end of June, has now been

extended out by three months

due to the flooding.

Iunderstand that this is

frustrating, but it also means

that our business case can be

strengthened by adding in all of

the detail around the impact on

our communities, and on the

entire South Island, when the

bridge was closed. Research

has shown that our economy

loses $1 million aday when the

bridge is closed –this is

information that can now be

added to the business case and

we can put our best foot

forward.

Please don't hesitate to email

me at

rangitatamp@parliament.govt.

nz or to call my Ashburton

office on 03­339­1030. I'm

committed supporting our

community through this

flooding event –and my doors

are always open. Iamyour

direct link to Wellington, to the

Prime Minister, to the Minister

for Primary Industries. If you

need support, aquestion

answered –please, reach out.

Health

&

Wellbeing

Spinal health

People decide to visit achiropractor for alot of different

reasons. Most often it is because they have injured

themselves, inparticular their spine, low back or neck.

Others visit chiropractors as they wish to improve their

general health and wellbeing.

Chiropractic is about helping people feel greatwithin their

body,get the most out of their lifeand help them optimize

their potential.

Theroleofthe body is to protectthe spine and the body's

vital organs. The role of the spine is to protect the spinal

cord which is part ofthe messaging system found within

the central nervous system.

The spine itself is made up of many segments, each

segmentconsistingoftwo vertebrae and joints to connect

them, adisc between acting as the shock absorber. Each

part ofthe spine has arole toplay inthe body's ability

to bend and move naturally and meeting the everyday

demands we placeonour bodies.

The spinal cord isresponsible for the sending and the

receiving of messages. All the messages travel around the

body via the spinal cord and are important for our body

to know whereweare in time and space. These messages

between the body and brain respond most often without

our conscious awareness.

Every day wear and tear on the body and the spine could

have an impact onthe information interruption between

the brain the body. When there isamiscommunication

due to abnormal movementofthe spine,called avertebral

subluxation by chiropractors.Itchanges howwell the body

responds to the messages passing along the spinal cord

between the brain and the body.

Chiropractors see the central nervous system is abit like

the'engine'ofthe body;achiropractoractslike amechanic

–tuning the spine and central nervous system so that the

body can run to the best of its ability.

The objective ofchiropractic is to help you maintain a

healthy spine so information between the body and the

brain allows youtoworkefficiently and youcan functional

at your optimal spinal health.

For those who are interested to learn more about

chiropractic, book a'free spinal health check'ormake an

appointment online at www.ashburtonchiropractic.co.nz

or by phoning 03-308 9516.

Injury Prevention

HolisticHealth

• Relief from

back/spinalpain

• Improvedhealth and

injury prevention

• Move, heal,rest,

digestbetter

• ACC registered

03 308 9516

www.ashburtonchiropractic.co.nz

First Floor Smith &Church Building

Moore Street, Ashburton

2396601

2398306

Professional Dental

SERVICES

Personal Dental Care

Dr Osvaldo Gonzalez

BSc Hnrs (Tas),

BDS, (Adel), MBA (Syd),

PGDipl (Otago),

MDS (Otago).

Opening hours:

Monday to Friday 9-5pm

Saturday and after hours

by appointment

57 Oak Grove, Ashburton

03 550 7561

57oakgrovedental@gmail.com

ACC and

WINZ

quotes

ARE YOUSTRESSED?

DO YOUNEED SUPPORT?

Ourteam of communityadvocatesare available to

assist youwith awide range of issues including:

• Workand income

• Employmentissues

• Tenancy

• Family disputes

• ACC

• Health practicesand organisations

• Any meeting/appointment whereyou needa

supportperson

Ourvolunteer advocatesare available free

of charge.

Call AdvocacyCoordinator, Warren James

Phone 0272200 400

Email: Advocacyashburton@anglicancare.org.nz

2398011

Dr Christopher McGrath

PhD(Otago), MSc, DO(UK)

Expertmusculoskeletal care

foryour pain

Consulting Osteopath

Ashburton

Appointments/contact through web site

0210222 6378

www.countrypractice.nz

2386383
---
www.ashburtoncourier.co.nz

NEWS

Ashburton Courier, July 8, 2021

Boost for foodbank

29

With the new leather recliner at the Plunket rooms are (from left)

Sue Green and Marie McAnulty, both Ashburton County Lions,

Ashburton La­Z­Boy Furniture Gallery owner Chris Redmond and

(seated) Sue­ann Carr from Plunket.

Plunket chair support

There's asmart, new

breastfeeding­friendly chair at

the AshburtonPlunket rooms

thankstothe support of the

community.

The leatherreclining chair

has beenfunded througha

donation of $500 from

AshburtonCounty Lions, a

generous discount from

AshburtonLa­Z­Boy Furniture

Gallery ownerChris Redmond

and atop­up from Plunket.

Mid CanterburyPlunket

communitysupport coordinatorSue­annCarrsaid

the

chair donation wasvery much

appreciated.

It wasextremelycomfortable

and easytoclean.

It wouldbewell used by a

Monday breastfeeding group

and others visiting the Plunket

rooms.

MembersofAshburton Inner

Wheel have helpedboost the

coffersofthe St Vincent de

Paulfoodbank withaloadof

non­perishable items.

Members were asked to

bring in non­perishable goods

for theVinnies foodbank, and

those goods were handed over

this week to shopmanager

DonnaCollins.

It was achange­overrequest

of AshburtonInner Wheel

immediate­past president

Clare Chapman and oneof her

final initiatives before

handing over therole to new

presidentCarolyn Nelson.

Mrs Chapman saidasimilar

donationhad beenmadelast

yearbymemberswho

recognisedtherewas an

ongoing needfor those still

struggling inthe community.

The organisation had a

strong focus formaking

positive differences in

people's lives and did various

service projects asaresult.

''We workasateam to

achievemoreinmaking a

positivedifference for

women,children,the family

and the elderly in our

communities, in NewZealand

and around the world.

''Andwehavefun alongthe

way,'' shesaid.

Inner Wheel is an

internationalorganisation

withmorethan 108,000

membersinover 100

countries.They offer

friendship, and encourage

St Vinnies shop manager Donna Collins and Ashburton Inner

Wheel's Clare Chapman with donated items for the foodbank.

PHOTO TONI WILLIAMS

personalservice to their

community andfoster an

international understanding.

Ashburton Inner Wheelhas

members whoare on the

national, as well as

international governing body.

''Thereare lots of

opportunities to growour

skills through leadership,

meetings,speakers anda

great variety of of social

activities,'' she said.

Demand for support from

the foodbank hadbeen

constant althoughhad not

increaseddue to therecent

flooding, Mrs Collinssaid.

However there was stilla

need in the community,

especially since covid last

year and she wasgrateful for

the support of grocery

donations.

St Vinnies had an ear to the

ground for families struggling

but tooshy to come forward.

It can be quite hard for some

peopletoask for help but they

canbereferred by other

familymembers.Anyonein

need, or lookingtorefer other

familiesorindividualscan

text or phone 027 6070107.

Say hello

to an actual

human.

Our local insurance brokers are here

to help. Talk to areal human about

your insurance in Ashburton.

LIGHT SPEED

EMPATHY

REAL-TIME

INTUITION

REAL

VOICE

WAVE2630AC

Call 03 307 6790

or visit aon.co.nz

Proudly local. Proudly human.
---
NEWS

30 Ashburton Courier, July 8, 2021

Bakingforfloodfamilies

Food supplies sent with love

have been given by members

of Mid CanterburyFederation

of Women's Institutes (WI) to

Rural Support Trust for

distribution among the

district's flood­affected

families.

The ladies have baked fruit

cakes, pies, biscuits and

slices, as well as cookedmeals

and sourced other sweet

goodies to givetothose

dealing with the effects of the

May 30 floods.

They handed over their

bounty to Rural Support Trust

(RST) MidCanterbury coordinator

Frances Beeston,

who is working alongside

Rural Women New Zealand

members, and Federated

Farmers flood recovery coordinator

Angela Cushnie to

get the supplies ­and a

friendly face or two­onfarm.

WI president Mavis Wilkins

said the baking was one way

members could help those

affected.

She had also been given $500

worth of supermarket gift

vouchers from members of the

Waimangaroa WI while at the

recent NewZealand Federation

of Women's Institutes annual

general meeting in Wellington,

Rural Support Trust Mid Canterbury co­ordinator Frances Beeston

(second from left) with Mid Canterbury Federation of Women's

Institutes members Dianne Carter, Yvonne Lister, Joan Henderson,

Jocelyn Cochrane, Sue Kent and Mavis Wilkins.

PHOTO TONI WILLIAMS

on June 14 and 15.

The West Coast­based WI

members gavethe vouchers so

they could be given to RSTto

help flood­affected people in the

district.

Mrs Wilkins also presented

them to Ms Beeston who was

grateful for thewide­ranging

support.

Adrop­off point on Tancred

Street (next to Cleavers Corner

restaurant) had been setupon

weekdays over thepast few

weeks butwas duetobescaled

down. Anyone with food, baking

or non perishable goodscan drop

them off now on Mondays,

Wednesdays or Fridays, between

the hours of 1pm and 3pm.

www.ashburtoncourier.co.nz

Check avalanche

advisory forecast

Winter backcountry users

are being advised to keep upto­date

on snowpack

conditions and avalanche

danger by looking at their

regional avalanche advisory

before heading out.

Thebackcountry

avalanche forecasting

season has startedand 12

New Zealand Avalanche

Advisory (NZAA) regions are

involved.

NZAA is run by theNZ

MountainSafetyCouncil

(MSC) andits forecasting

supports backcountry

participants in avalanche

prone areasacross the

country.

Backcountry users are

typically skiers,climbers,

hunters, or tramperswho

want to explore beyondski

areaboundaries to

experiencemore remote and

challenging alpineareas,

and areastypically where

the avalanchedanger is

heightened as the snowpack

is notcontrolled.

MSCchief executive Mike

Daisleyurges these users to

keep aregular watchonthe

NZAAwebsite.

"Users can checkthe

avalanche advisorywritten

byprofessional forecasters

who have the bestknowledge

on local conditions,while

also looking backatpast

public observations from the

samearea".

"Conditionsare quite

variablearound the country

at present. Parts of

Canterburyhave agood

amount of snow cover, but in

many areas there is asliding

hazarddue to ice," he says.

"Snow cover is thin in

many other regions,sobeing

mindfulofrocks and creeks

will be keytoavoid

damaging gear or yourself."

"Also, be suretoshare

whatyou see outthere this

season by submitting public

observations on thewebsite.

It's the best way to share

infoonconditionsor

avalanches with your

community, anditputs you

inthe running for some

awesome prizesthis

winter."

PEOPLE

WHO MEAN

BUSINESS

Don't delay call AJ today

A.J Kerr

•Spider Proofing •Fly Control

•Grain Fumigation •Moss/Lichen Treatment

ent

•Rodents •Wasp nests

BEST PRODUCT,THE BEST TRAINED

BEST SERVICE, THE BEST RESULTS!

LocallyOwned&Operated

Fully qualified &registered Pest Control Technician

Call A.J 308 8147

or 0274 325 447

2396593

For your complete

Build, Alteration or

Renovation

QUALIFIED TRADESMEN

(Licensed Building Practitioners)

Cawte Whiting 027-418-7955

Gary Whiting 027-207-1478

(03) 308-4798

kiwibm@outlook.com

2396588

Spruce

Gardens

Forfreequotes contactAndrew

027 765 2899 or03307 307 1693

sprucegardens@xtra.co.nz

2396592

Is yourgarden

screamingfor

attention?

Forall your gardeningneeds

needs

We offerthe personal touch

•Mowing•Pruning •Flowerbed Preparation

•Fertilisation •Service&Advice& •Professionalattentionntion

Forqualified,experienced &reliable

serviceand advice

LOCALLY

OWNED AND

INDEPENDENTLY

OPERATED

Andrew Williams-Freeman
---
www.ashburtoncourier.co.nz

PUZZLE PAGE

Ashburton Courier, July 8, 2021

31

CRYPTIC CROSSWORD

1 2 3 4

5 6

7 8 9

10

11 12

13

14 15

16 17

18 19 20

21

22 23

24

9/7

Across

1. Ready foraction, thoughpoor in a

lateturnout(11)

7. Father,having solar trouble,needsits

protection (7)

9. Pretendtobeanattitudeone might

adopt (4)

11. Be the reasonbehind aprinciple

that'sfought for (5)

12. Ridge might formround topofleg,

this being worn (6)

14. Competitivesortofbody-work? (11)

18. To feel discontent will get peer in

trouble(6)

20. Bible reference onewould expect to

rhyme(5)

22. It maybethe informerthatwill

annoy one(4)

23. Throwingagamethat originated in

Ireland (7)

24. Afraidmerry-go-round will be given

to milkproducer(5,6)

Down

2. Might it putusright, one in the

chase?(7)

3. How jouster wouldcompete for tip

(4)

4. Spoken in dual form -nothing in it!

(5)

5. Firstsparrow will jabbillatbit of dust

(5)

6. Havegreat enjoymentturning thebar

over (5)

8. Bombardment as meansofgetting

peas from pods(8)

10. Find outthat the record is finished

(8)

13. Tale has no alternative but to show

place is filthy(3)

15. Such slavishuse oneperhaps

reviles (7)

16. Allowstudentthe necessaryto

pursuehis studies(5)

17. It will nearlybeastrip at the

roadside(5)

19. Apramusedfor going to town for

ham (5)

21. Oneleftthe boss so that he could

work at therange (4)

SUDOKU

Fill the grid so that every column, everyrow and 3x3

box containsthe digits 1to 9.

QUICK CROSSWORD

1 2 3 4 5 6

7

8 9

10 11 12

13 14 15

16 17 18

19 20 21

22

23 24

Across

1. Trousers (5)

4. Thrifty(6)

7. Gardentool (3)

8. Surveyleisurely (6)

9. Quit(6)

10. Demean(8)

12. Crypt (4)

13. Idiotic (6)

15. Naturalskill (6)

16. Unit of time(4)

17. Protector (8)

19. Face (6)

20. Spreadrumours

(6)

22. Perceive (3)

23. Position(6)

24. Expire (5)

Down

1. Person whosets

high standards(13)

2. At this time (3)

3. Bedlinen (5)

4. Intenselypassionate

(7)

5. Troubled(9)

6. Quarrelsome (13)

11. Significant(9)

14. Stray off the

subject (7)

18. Heavenly creature

(5)

21. Take small

mouthfuls(3)

CODECRACKER

QUICK CROSSWORD

Across: 1. Pants, 4. Frugal, 7. Hoe, 8. Browse, 9. Resign, 10.

Belittle, 12. Tomb, 13. Stupid, 15. Talent, 16. Hour,17. Guardian,

19. Visage, 20. Gossip, 22. See, 23. Status, 24. Lapse.

Down: 1. Perfectionist, 2. Now,3.Sheet, 4. Fervent, 5.

Unsettled, 6. Argumentative, 11. Important, 14. Digress, 18.

Angel, 21. Sip.

CRYPTIC CROSSWORD

Across: 1. Operational 7. Parasol 9. Pose 11.Cause 12.Girdle

14. Athleticism 18. Repine 20.Verse 22.Nark 23. Hurling 24.

Dairy farmer.

Down: 2. Pursuit 3. Tilt 4. Aloud5.Speck6.Revel8.Shelling

10. Discover 13. Sty15. Servile16. Grant17. Verge 19. Parma

21. Chef.

TARGET: bemuse bemused

BEMUSEDLYbleeds blues

bluesy buds bused busy buys

deems dubs duels dulse dyes

else eludes embeds eyes melds

muse mused sebum sedum

seed seedy seem seemly sled

slub slue slued slum sued

suede umbles used

MEDIUM HARD

EASY

TARGET

D Y M

U S E

B E L

Good 19

Very Good 27

Excellent 33+

ALL PUZZLES ©THE PUZZLE COMPANY

How many words of four letters or more can you

make? There is at least one nine-letter word.

Each letter may be used only once and all

words must contain the centre letter.

No words starting with acapital, no plurals

ending in sunless the word is also averb, e.g.

he fires the gun.

AlwaysHome-made

Home is where your family feels safe, connected. Memories are made

there. The property maychange, but home always remains.

Ray White Mid Canterbury Ashburton •Tinwald•Methven• rwashburton.co.nz

Real Estate MidCanterbury Property Limited Licensed (REAA 2008)
---
SATURDAY 10TH JULY

14 Walshs Road, Ashburton 10:00am -10:30am 3 1 0 AHB23155

27 Brucefield Avenue, Ashburton 10:30am -11:00am 3 1 2 AHB23088

3Allens Road, Ashburton 10:30am -11:00am 3 1 1 AHB23147

176 South Street,Ashburton 11:00am -11:30am 3 1 1 AHB23151

39 McMurdo Street, Tinwald 11:00am -11:30am 3 1 2 AHB23152

Ashbury Grove,Tinwald 11:00am -1:00pm Sections AHB23099

8Bird Street, Ashburton 11:15am -11:45am 3 1 1 AHB23059

102 Eton Street,Ashburton 12:00pm -12:30pm 3 1 0 AHB23146

SUNDAY 11TH JULY

NO OPEN HOMESTODAY

14 Walshs Road, Ashburton

Private and Sunny.

*3 bedroom home on 574m2 back section in Allenton

*Modern style kitchen with open plan living

*Separate laundryand bathroom, Separate toilet

*Private back yard with off street parking

*Large storage shed

*Heat pump in lounge and heat transferkit

*Insulated underfloor and ceiling (unsighted)

SetDate of Sale

closing 14 July 2021, at

4:00pm (unless sold prior)

View

Saturday10:00 -10:30am

3 1 0

Denise Russell

0274 329 717

rwashburton.co.nz/AHB23155

Real Estate Mid Canterbury Property Limited Licensed (REAA 2008)

What's your home worth?

Contact RayWhite fora

free market appraisal on your home

03 307 8317

39 McMurdo Street, Tinwald

*3 Sizable Bedrooms all with built in storage

*Open plan, warm &sunnyspacious dining/living area

*Separate bathroom, toilet &laundry

*Separate extra length garage

*Easycare sectionwith additonal garden shed storage

rwashburton.co.nz/AHB23152

Real Estate Mid Canterbury Property Limited Licensed (REAA 2008)

ForSale

Offers over$350,000

View

Saturday11:00am -11:30am

3 1 2

Kim Miller

027 236 8627

REMINDER: Tender Closing

Thursday 8July 2021, at 4:00pm

19 Peters Street, Hinds

Many options on offer with this 9104m2 property

*4 bedroom house with open plan living (tenanted)

*2 bedroom unit upstairs with adouble garage below

(tenanted)

*Commercial style building containing acafe (tenanted)

Tender

closing 8th July 2021, 4:00pm

View

By appointment only

BruceMcPherson

027 438 4250

Denise McPherson

027 242 7677

176 South Street, Ashburton

*Turn KeyInvestment Property

*HealthyHomes compliant

*1940's 3Bedroom stucco home

*Open plan kitchen/dining/living area

*Tidy fullyfenced 706m2 section with single garage

SetDate of Sale

closing 20 July 2021, at

4:00pm (unless sold prior)

View

Saturday11:00 -11:30am

3 1 1

Mark Totty

021 664 113

rwashburton.co.nz/AHB23155

Real Estate Mid Canterbury PropertyLimited Licensed (REAA 2008)

rwashburton.co.nz/AHB23151

Real Estate Mid Canterbury Property Limited Licensed (REAA 2008)

Kim Miller

Sales Consultant

027 236 8627

Denise Russell

Sales Consultant

027 432 9717

ChrissyMilne

Sales Consultant

027 290 6606

Cheryl Fowler

Sales Consultant

027 461 2614

Margaret Feiss

Sales Consultant

021 751 009

ShirleyFitzgerald

Sales Consultant

027 220 1528

Denise McPherson

Sales Consultant

027 242 7677

Janene McDowell

Property Manager

027 287 3388

Armandvan der Eik

Sales Consultant

021 597 527

Lynne Bridge

Sales Consultant

027 410 6216

Mike Grant ncre

Sales Consultant

021 272 0202

Mark Totty

Sales Consultant

021 664 113

BruceMcPherson

Sales Consultant

027 438 4250

JustinWaddell

Sales Consultant

027 437 1111

Carey VonLubke

Property Manager

027 697 6948

96 TancredStreet, Ashburton 03 307 8317 Main Road,Tinwald 03 307 8317

rwashburton.co.nz

36 McMillan Street,Methven 03 303 3032
---
RT 306411

RT 306412

ROAD TO VEST IN

ASHBURTON DISTRICT COUNCIL

RT 306412

RT 7

RT 3

Lot 1

Lot 6

DP 38803

Lot 7

DP 38803

Lot 10

DP 38803

Lot 11

DP 38803

Grove Street

Lot 12 Lot 13

DP 38803 DP 38803

Lot 2

DP 42954

Lot 3

DP 42954

87

87

520m²

Lot 4

DP 42954

Lot 5

DP 42954

Lot 1

DP 376214

Grove Street

Pedestriansiteaccess

from GroveStreet

Lot 2 Lot 1 Lot 2 Lot 3 Lot 4 Lot 5

DP 20737 DP 21231 DP 21231

DP 21231

DP 21231

DP 21231

Lot 2

DP 381992

Lot 1

DP 381992

Lot 2

DP 21572

Lot 1

DP 22147

Lot 2

DP 22147

Lot 3

DP 22147

Lot 4

DP 22147

Lot 5

DP 22147

Lot 6

DP 22147

Grove Street

Lot 8

DP 22147

Lot 7

DP 22147

Lot 1

DP 3788

Lot 8

DP 38803

50

50

1130m²

1135m²

945m² net 950m² net

51

765m²

52

765m²

53

53

835m²

H

G

Lot 9

DP 38803

49

49

48

770m²

47

770m²

46

600m²

45

610m²

Lot 14

DP 38803

41

41

895m²

42

42

780m²

43

43

780m²

Marked A

DP 342954

Marked D

DP 376214 810m²

44

610m²

Marked E DP 376214

Lot 1

DP 42954

RT CB 21A/957

RT 306412

40

655m² 650m²

39

39

655m²

38

645m²

88

35

35

36

36

655m²

37

655m²

101

1065m²

660m²

660m²

660m²

45 37 31

100

5915m²

31

33

32

34

33

32

89

615m²

30

30

650m² 650m²

ROAD TO VEST IN

ASHBURTON DISTRICT

COUNCIL

Lot 2

DP 376214

0m²

²net

27

645m²

28

F

E

735m²

645m² 735m²

690m²

29

22

24

23

990m 109

750m²

865m

UNDER CONTRACT

SOLD

18

690m²

19

20

D

C

14

15

860m²

13

²

Lot 3

DP 381992

mne

12

830m²

B

A

73

525m²

685m²

78

655m²

5m² 725m² 720

m

81 82

65m²

730m²

73 m

N

N

m

Area ADP512062

Lot 9

DP 22147

Grahams Road

300

4750m²

LOCAL PURPOSE (UTILITY)

RESERVE TO VEST IN

ASHBURTON DISTRICT

COUNCIL

Stage One

200

2960m²

RECREATION RESERVE

TO VEST IN ASHBURTON

DISTRICT COUNCIL

55 56 57

680m²

54

855m²

760m² net

56 57

690m²

54 58

685m²

60

58 59

I J K L M N O P

855m² 855m²

740m² net

740m² net

60 61 62

685m² 690m² 680m²

685m²

63 64

65 66

855m² 855m²

740m² net

740m² net

695m²

67

795m²

70

630m²

68 69

525m²

665m²

885m² 750m² 810m² 950m²

740m² net

600m² net

580m² net

720m² net

74

75 76

77

DP 512062

Secure

Your Dreams

in Ashburton's Newest Neighbourhood

Real Estate Mid Canterbury Property Limited Licensed (REAA 2008)

Now youcan stampyour name on your family's

future with anew home in Ashbury Grove,

Ashburton's latest residentialsubdivision.

The launch of this development, situated at

the gatewaytoLakeHood, offers aunique

opportunity to become part of athriving

communityinfamily-friendlyTinwald.

Ashbury Grove is perfectly positioned to

enjoythe region's favourite aquatic playground

at Lake Hood.

The Stage 1plan for Ashbury Grove includes

arecreational area complete with achildren's

playground to keep the kids off screens and

out inthe sunshine.

Education is taken care of with arange

of excellent schooling and earlylearning

opportunities available in Tinwald.

To support this growing area,Ashbury Grove

has chosentoinvest in the futureofeducation

with $200 going to Tinwald PrimarySchool for

every new section sold.

To secure your place in this exciting new

community, prices start from $170k per section,

and construction of your home can begininthe

new year,with titles due in2022.

ProudlymarketedbyRay White Ashburton

BruceMcPherson

Licensee Salesperson

027 4384250

bruce.mcpherson@raywhite.com

Kim Miller

Licensee Salesperson

027 236 8627

kim.miller@raywhite.com

Forfulldetails

visitrwashburton.co.nz

or phone 03 3078317
---
Now'sthe

time to

sell!

Armand

has been achieving

record prices for his

vendors!

Don't missout on this

opportunity to securea

premium price

foryour

property!

Here's what

someofArmand's

client's are saying...

10/10 "Armand went over and above

to ensure Iwas happyand the

process was easy and exceptional."

Purchaser -39ManchesterStreet

"Easy to communicate with,

knowledgeable, and most importantly

achievedagreat result."

Vendor-116 Belt Road

10/10

"I can't fault Armand's sales strategies

and attention to customer

service."

Vendor -9HakatereDrive

"Armand's communication was

fantastic right from the start to the end.

Really enjoyedworking with him."

Vendor-3Reighton Drive

10/10

"Armand explained everything in full

and the experience was friendly."

Purchaser-2/272 WillsStreet

"Armand has beenextremely

helpful and supportivethroughout

the whole process."

Vendor -24Charles Street

Armand vander Eik Serious about Real Estate

The ASHBURTON real estate marketkeepsproducingrecord months for our vendors. NOW is definitely the time

to be considering SELLING if youwanttorealise the full capacity of your properties value.

What's your home worth? Find out for FREE. Contact me today!

Armand vander Eik 021 597 527 armand.vandereik@raywhite.com

RayWhiteAshburton 03 3078317 96TancredSt, PO Box443,Ashburton 7700,New Zealand rwashburton.co.nz

Real EstateMid Canterbury Property LimitedLicensed (REAA2008)
---
Connecting

COMMUNITIES

Local

people

Local

news

Local

team

Local

opinion

Free every week

PLUS ...more news and digital editions at

www.ashburtoncourier.co.nz

The Ashburton Courier.

Your community newspaper,

part of the independent community newspaper network.

www.cna.org.nz

2330953
---
CLASSIFIEDS

36 Ashburton Courier, July 8, 2021

www.ashburtoncourier.co.nz

ENTERTAINMENT

ENTERTAINMENT

THIS SATURDAY

6FEBRUARY

SWEETAZZ

Playing popular covers

Starts 7:30pm

AshburtonClub &MSA

266 Havelock St, Ashburton.

Phone 308 7149

www.ashburtonclub.co.nz

2352916

2

ENTERTAINMENT ENTERTAINMENT ENTERTAINMENT ENTERTAINMENT

TheBoss –Bruce Springsteen TributeShow

Thursday, 15th July 7-30pm

Adult $65* /Group 6+ $55* /Senior orStudent $55*

Afull complement of 9passionate musicians

bring alive the timeless music of Bruce

Springsteen and the EStreet Band. The

BOSS is turned into perfection in a3hour

world-class show featuring the entire Born In

The USA album plus more.

After aheart­wrenching start to life newborn Brylee Fletcher was

greeted by her mother's arms and awarm beanie, one of hundreds

donated to Christchurch Women's Hospital by generous knitters.

PHOTO GEOFF SLOAN

Woollenbeanies

fornewborns

BY SUSAN SANDYS

Newborn Brylee Fletcher's

start to lifesaw her in need of

resuscitation at Christchurch

Women'sHospital late last

month. But after the firstfew

harrowing moments, shewas

able to be warmly welcomed,

including by maternity team

members whopoppeda

woollen beanie on her head.

All babiesbornatthe

hospital are given awoollen

beanie, andthe hospital has

closedoff donations after a

recent call­out saw it inundated

with contributions from kind

andhardworking knitters.

As Brylee's story shows,

childbirth is not always

straightforward.

Her mother and father,

CourtneyMenzies and Paul

Fletcher from Ashburton, said

their daughter was not

breathingafter she was placed

on Courtney's chest soon after

her birth on June 29, at 4.30am.

"She made abit of aquick

entrance and justwent into

shock,"MsMenzies explained.

Brylee was thentakenaway

for medical stafftoworkonher

nearby, giving her chest

compressions and oxygen.

At the time, she was thinking:

"Just savemybaby. ''For me, it

felt like hours. It wasprobably

only minutes," shesaid,before

Brylee wasreturned.

Brylee is now in perfect

health, abeautiful eight­pound

four­ounce girl, who passedall

of her hospitaltests prior to

mother and daughterbeing

abletogohome.

Ms Menziessaid it was nice to

get the woollenbeanie,which

Brylee waswearing when she

was returned to her after being

resuscitated.

It wouldbesomething she

would always treasure,

alongside theone she had

received for Brylee's bigsister

Greer after she was born almost

four yearsago.

"It's oneofthose things that's

quite aspecial weepresent,"

she said.

Thehatsare chosenbythe

hospital, and Ms Menzie said

the white andpastel

combination Brylee had

received suited her daughter

perfectly.

ChristchurchWomen's

Hospitalmaternity team had

been inundatedwith more than

200 woollen beaniesafter

putting the call outfor arestock

of supplies last week.

Charge midwife Amanda

Daniell said supplies had run

lowafteraninfluxofbabies.

"They areflyingout the door,

the babiesand the beanies,"

she said.

Jesus Christ Superstar

Monday 30th August –Saturday 4th September 7-30pm

Sunday 5th September 2pm; Adult $65* /Senior $55*/

Student up to 18 $49* /Group 6+ $49pp* /

Saturday 4th "Last Supper" tickets $95*

The Ashburton Trust Event Centre in

collaboration with Variety Theatre Ashburton

and in Partnership More FM and The

Breeze are proud to bring you Jesus Christ

Superstar with acast of 60 including an

orchestra.

BOOK

NOW

03 3072010 211A Wills Street, Ashburton 7700 admin@ateventcentre.co.nz

SITUATIONS VACANT

For more information

www.ateventcentre.co.nz

Kultura–AGlimpse Into Filipino Culture

Saturday 17th July 6pm

All tickets $10* 5and under free but need aticket

To experience Philippines is to become

engulfed by akaleidoscope of culture

and tradition unlike any other. Philippine

folk dances are colourful, beautiful and

vibrant so join us as we relive our past,

appreciate our wonderful heritage and

celebrate our love of life.

WorldOfMusicals

KOPY KATS

Saturday, July 10 @8pm

TheJackson's BistroopenThur &Sat evenings

Courtesy van

runs every

Thursday, Friday

and Saturday

from 4pm

Join the RSA (the friendly club)

12-14 Cox Street, Ashburton. Phone 308 7175

Members, guests and affiliates all welcome

ASHBURTON

Moved to the 13th October 7-30pm

The Musical Gala with an international cast brings London's West End

and New York's Broadway to New Zealand

for the first time. World of Musicals brings

the very best of Musical theatre to life

with classics such as Fiddler on the roof,

Mamma Mia, Cats, Evita and many more.

SITUATIONS VACANT

SALES POSITION

Hunting and Fishing stores throughout the country

have been market leaders in their field for many

years now. Ashburton Hunting and Fishing is no

exception.

We have afull-time retail sales position available for

the rightcandidate in our busy sporting goods store.

Ideally, the successful applicant will have abroad

base knowledge of fishing and hunting product,

camping, tramping and clothing or at least a

willingness to learn. This position would be ideally

suited to someone interested in outdoor pursuits.

The applicant would ideally have excellent people

skills and be able to communicate with a wide

varietyofage groups,aretail background would be

an advantage,however not essential,asfull training

will be given.

We are alocally owned store, with agreat team

working environment, if you have aninterest inthe

outdoors and wish to development your passion

into asales career, then we invite you to forward

your current CV and acover letter outlining past

experienceto;

TheManager

AshburtonHunting and Fishing

PO Box181, Ashburton7740

ashburton@huntfish.co.nz

Applications close 27th July 2021

2380980

2398875

*Service fees apply

SITUATIONS VACANT

2395843

AshburtonHealth First

PracticeNurse Full Time

Position available

NZMC Registered

Send CV's to

admin@healthfirst.kiwi

2394539

CARER

Carerrequired to assist

woman in awheelchair

with morning

and evening routine.

Contact

Susan 027 308 5565

2396746

SITUATIONS VACANT

SIGNWRITER

REQUIRED

Are you an artistic person

with graphic skills who is

keen to expand your knowledge

with vinyl application?

Do you have good

people skills and can grow

your own client base,

fostering a good working

relationship with your

repeat customers? Are you a

problem solver with practical

know-how and apositive

attitude?

Ashburton Signs and

Graphics is looking for an

individual to join the team as

adesigner and signwriter.

We are looking for a

motivated individual with

computer design skills and

an interest in graphics _

from logo design to vehicles,

building and bespoke signage

design. We do everything

from café menu

boards, letterbox names,

full vehicle graphics and

retail signage to labels,

bumper stickers and

splashbacks.

What we need from the successful

applicant:

•

Computer and numerical literacy

•

Excellent verbal and written

communication skills

•

Manual driver's licence

•

An old-school "Measure

twice, cut once" attitude

•

The ability to work independently

and be selfmotivated

•

The ability to complete ajob

to ahigh standard

•

A healthy attitude toward

workplace safety

•

Be fit, healthy and punctual

•

Must be aNZresident

Please send us your CV to:

ashsigns.accounts@gmail.

com.

Applications close Friday

16 July 2021

CENTRE MANAGER REQUIRED

Fully Qualified ECE Teacher

Peel Forest Preschool is an independent, not-forprofit,communityled

early childhood education

centre based in Peel Forest Village.Our recently

refurbished indoor andoutdoor facilities celebrate

our rural settingand encourage play-based

learning as guided by the principals of Te Whariki.

TheCentreisopen 4daysaweek, 8:30am to

3:00pm andclosesfor all school holidays during

the year.Weare licencedfor 18 children

agedovertwo years.

We requireaCentreManager/ECE Qualified

HeadTeacher.The successfulcandidate willbe

committed to providing high qualityeducation

andcare, an open communicator,adaptable

andprepared to go the extramiletoensure

the effectiveoperation of theCentre. In doing

this they will be supportedbyanenthusiastic

Governing Committee,asupportivecommunity

andcommitted staff.

Applicants must be honest,cheerful and

enthusiastic with strong leadershipabilities.This

role willbeanideal opportunityfor someoneto

step up into amanagementroleand showcase

their signatureteaching stye, skills and ideas.

Tocomplete your application please send your

Curriculum Vitae,the nameand contactdetails

of at leasttwo referees and acovering letter to

pfpcommittee@outlook.com

Applicationsclose 19th Julyunless

position filled prior.

Remuneration willbebasedon

skillsand experience.

2398168
---
www.ashburtoncourier.co.nz

SITUATIONS VACANT

SITUATIONS VACANT

Sales /

Administration /

Special Projects

SITUATIONS VACANT

The Ashburton Courier is thebest-readand largest circulating communitynewspaper

in Mid Canterbury.Weare owned by Allied Press,aNew Zealand owned and operated

companyproducing qualitynewspapers,magazines and on-linemedia.

We arelooking for anew teammember to join us, who is an excellentcommunicator,to

helpgrow our business, throughsalesand administrationsupport.

Thispositionis30hoursaweek basedinour Ashburtonoffice withthe opportunityfor it

to grow to afull-timeposition if the applicant required this.

In order to be successful in this role,itisessential that you have:

• Excellent computerskillsand havethe abilitytoconfidently learn newprogrammes

and systems.

•Asolid workethic and enjoythe excitementofadeadline driven position.

•Sales hunting skillsand adesire to succeed.

•The abilitytolistentoclient needs and provide effective solutions(with

support from us).

•Previous mediaexperience would be an advantage

Keypersonality attributes:

•Passionate, positiveand proactive.

•Flexibleand able to work as partofateam.

•Creative and enjoydiscussing new ideas withcustomers.

•Enjoy beingpart of ourwork familyteam.

Youwillbejoining abusiness that is passionate aboutlocalnews, cares about our

customersand our team.

To apply forthisrole,aNZ drivers licence is essential and youmust havethe righttolive

and work in NZ.

Apply in confidencewith yourCV

and covering letterto:

JannThompson

jann.thompson@ashburtoncourier.co.nz

rural reporter

CentralRural Life

Canterbury(flexiblelocation)

Do youknowyour Herefords from yourHolsteins? Are

youajournalist with apassion for rural news?

Central Rural Lifehas an exciting opportunity fora

professional and enthusiastic reporter to join its team

in Canterbury. The ideal applicant will havesoundrural

knowledgeand journalismskills.

Central Rural LifeisanAllied Press Ltd community

newspaperdelivered fortnightly to morethan17,500 rural

addressesbetween North Otago, North Canterbury and the

West Coast.

The role willrequireyou to cover localrural issues, events

and human interest stories.Someadvertisingfeaturework

may also be required.

The successfulcandidatewill be aself-starter, abletojuggle

tasks and meetdeadlines, andhave apassion for therural

sector.

Strong photography skillsare requiredand video andwebsite

skillsare desirable.Afull driver'slicence is required.

If youthink this is for you,please sendyourCVwith a

coveringletter to recruitment@alliedpress.co.nz or apply

via Seek. Informal inquiries about the role arewelcome and

should be directedtoSally Rae, Allied Press RuralEditor

(sally.rae@alliedpress.co.nz, or phone027 5296040).

Applicationsfor therole close on Friday16July 2021.

Please noteyou must havethe right to work in New

Zealand to apply for thisrole.

Disclaimer:AlliedPress doesnot acceptunsolicited agency

resumes. AlliedPress is notresponsible for anyfees related

to unsolicited resumes.

2398978

2398058

SITUATIONS VACANT

SITUATIONS VACANT

SPRAY PAINTER/PREPPER

Afull time position has become available in our

Panel and Paintshop foraQualified Spray Painter.

Theposition requires

• Good work ethics

• Have ahigh standardindetail and finish

• Tobereliable

• The abilitytoworkunsupervised

• Toworkinateam and meet production deadlines

• NZresidencyorvalid NZ work visa

Please send resume and coverletter to

TheGeneral Manager

Bus and Truck Body Work Ltd

PO Box51, Ashburton7740

Phone Keith on 0274 274 007 or 307 0378

Email busandtruckbodywork@xtra.co.nz

AUTOMOTIVE SERVICES

QualityEuropean

Vehicle Servicing

•Advanced

Diagnostics

•Experienced

Technicians

TRADE &SERVICES

ALTERATIONS. Sewing,

mending and trouser hemming,

curtain alterations

and curtain making. Call

Michelle on 027 352 7248.

BUILD work to do? Contact

Kiwi Building and Maintenance

Ltd. Alterations,

Renovations, New builds.

Qualified Tradesmen.

Phone Cawte 027 418

7955.

CARPET cleaning. Powerful

equipment and fast drying.

Upholstery, mats and rugs.

Experienced owner/operator.

Phone John Cameron

at Supersucker. 027 435

1042 or 308 1677.

CARR'S Chimney Cleaning,

servicing Ashburton and

surrounding districts, $60

per chimney. Phone

Rodney on 03 324 2999

and leave amessage.

CHARLIES Blind Cleaning

Service -same day service

and repairs. Charlie can

supply new blinds and

tracks and will hang

drapes. Ph 03 307 1936 or

020 4169 0342

CHIMNEY Sweep - for a

professional service call

Dan McKerrow Chimney

Sweep and Repairs on 021

118 7580

ALPS

AUTOMOTIVE SERVICES

Bruce McIlroy Limited

309MethvenHighway, Ashburton 7776

Tel: 03 3087282 •E:bruce.mcilroy@xtra.co.nz

BOATS &ACCESSORIES

HAMILTON Jet 132a

wanted. Hull or complete

boat. Cash buyer. Phone or

text 0274 858 595.

MTAAPPROVED

Call us for a

FREE

QUOTE

•Collection/Delivery

'Free of Charge'

in Ashburton

HOME SERVICES

TRADE &SERVICES

COMPUTER repairs, sales,

training, setup wirelessnetworks,

spyware

cleanup. On-site day or

evening. Low fees. Call

Robin Johnstone, Networks

Firewalls and PC's Ltd, 308

1440 or 027 768 4058

DENTURES; Dr Peter

Rumping repairs existing

dentures and also provides

new dentures. Phone 027

220 9997.

DRIVEWAYS, Patios and

Paths, Plain Concrete, Coloured

Concrete or Exposed

Agregate Concrete.

Paveco, 13 Robinson

Street. 100% local. Phone

307 6466 for aquote.

CONTINUOUS SPOUTING

2395842

2396670

ROOF COATINGS: All roof

types, specializing in

Decramastic and Long Run

Iron, Coloursteel etc, steep

roofs not a problem. —

Spraymaster 027-433-7780.

CHIMNEY

Includes full firebox inspection

and internal flue

camera inspection. An

inspection report can be

issued on completion. Call

Allan on 027 209 5026

COMPUTER Problems? For

prompt reliable computer

servicing and laser engraving,

contact Kelvin, KJB

Systems Ltd, 4 Ascot

Place, Ashburton. Phone

308 8989. SuperGold discount

card accepted.

CLASSIFIEDS

Ashburton Courier, July 8, 2021

SITUATIONS VACANT

37

SITUATIONS VACANT

Checkout Operator

PermanentPart-time

Mitre 10MEGA has avacancy for aCheckout

operator ataSupervisory level. This position

is permanent Part-time, 22.5 hours per week,

Monday, Tuesday, Thursdayand Sunday.

The successful applicant will require the

following skills:

• Great customer serviceskills

• Previous Checkout experience

• Able to work in ateam environment

• Good numerical accuracy

Please send your C.V.and covering letter to:

HR.Ashburton@mitre10.co.nz

Applications close on Tuesday 13th July 2021

TRADE &SERVICES

EC ENGINEERING manufacturing,

welding and

repairs to farm equipment,

irrigators and hose trailers.

Mobile workshop. Phone

Ewan 0274 354 031

ENGINEERING repairs, fabrication,

farm equipment

service and maintenance,

WOF repairs, machining

and welding. Odd jobs a

speciality. Mobile workshop.

Can collect. Phone

Malcolm 0274 754 241.

FLY control and spider

proofing. For all your

domestic and industrial

pest control needs phone

AJ Kerr at Ashburton Pest

Control on 03 308 8147 or

027 432 5447

FURNITURE Removals. For

all your household removal

needs - urban, rural lifestyle,

office relocations -

call Nudges Furniture

Removals, phone 027 224

0609.

Sweeping.

GARDENING, mowing,

pruning, fertilising, projects

or general spruce ups? Call

Andrew at Spruce Gardens

to get the job done right.

027 765 2899 or 03 307

1693.

sprucegardens@xtra.co.nz

INSURANCE - Feel like you

are paying too much? You

probably are! For Medical,

Health, Life and Trauma

Cover, phone Robert

Thomas Insurance Broker

027 281 4303, for a no

obligation free quote. Local

Broker with 20 years

experience.

TRADE &SERVICES

PLASTERING

&COATINGS

ashburtoncranes2015@gmail.com

Having problems with your internal gutter systems?

Do your drains keep blocking,causing leakage into the soffits and even your house?

Areyour soffits falling out due to water rot?

We canconvert your internal gutters to standard external gutters.

Allworkmanship guaranteed

Ben Kruger 021 808 739 or 308 4380

232 BoundaryRoad,Ashburton

www.alpscontinuousspouting.co.nz

E; benkruger@xtra.co.nz

2398880

LOCKSMITH/Door repairs.

Keys/locks, sliding and bifold

door roller repairs.

Mobile service. Call Nigel at

Doors and More. Ph 027

516 7104

PAINTER for all your painting

needs. No job too small,

inside or outside. Professional

friendly service.

Phone Pete 03 308 1672 or

027 200 1619

Rockcote. Waterproofing.

Texture/Specialist

Coatings.

The Finishing Company

03 307 8870 2390672

POTATOES; Nadine and

Agria $1.25kg, or preordered

10kg bags $10.

Standard peastraw bales,

$5 pick up or $6 delivered.

Phone 03 308 3195 or 027

531 9103. 81 Elizabeth

Street, Ashburton.

SUN Control Window Tinting:

Privacy, UV, glare, heat

control for homes, offices

and cars. Phone Craig

Rogers 307 6347, member

Master Tinters NZ. www.

windowtinter.co.nz

TINT-A-WINDOW, fade, UV

block, glare, heat control,

safety, security, privacy,

frosting films, solar protective

window films. Free

quotes, 20 years local service.

Phone 0800 368 468

now, Bill Breukelaar, www.

tintawindow.co.nz

2379961

2398701
---
CLASSIFIEDS

38 Ashburton Courier, July 8, 2021

www.ashburtoncourier.co.nz

HEALTH &BEAUTY

HEALTH &BEAUTY

URGENT CARE CLINIC

WEEKEND DUTYDOCTORS

IN THE EVENT OF AN EMERGENCYPHONE 111

Forall othermedicalassistance outside of normal

hoursplease phone your generalpracticeteam,24/7,

to speak withahealth professional whowill giveyou

free health advice on what to do or where to go if you

need urgentcare.

If youdon't have aregular generalpractice, call any

GP team 24/7 forfreetelephone health advice.

All non-residents and visa holders please bring your

passporttoyour surgeryappointment.

New Zealanders'tobringsome form of ID.

TheAshburtonDutyPractice for ...

Saturday10th July is

Eastfield Health, 135 Tancred Street,Ashburton

Consultations will be by appointmentonly.

To make an appointmentcall your regular GP 24/7.

Sunday11th July is

AshburtonHealth First,308 Havelock Street,Ashburton.

Consultations will be by appointmentonly.

To make an appointmentcall your regular GP 24/7.

Methven and Rakaia: Formedical attention on the

weekend and public holidays please telephone

MethvenMedical Centre on 03 302 8105

or Rakaia Medical Centre on 03 303 5002.

Details foraccessing the afterhours services will be

on the answer phone.

PHARMACIES

Wises Pharmacy,CountdownComplex,

East Street will be open on ...

Saturday from 9.00am until 1.00pm

Sunday from 10.00am until 1.00pm

At Geraldine: TheGeraldine Pharmacywill be open

normal trading hours during the week,and on

Saturdaymorning from 9.30am to 12.30pm.

Closed Sundays and Public Holidays

Forfree24hour Telephone Health Advice

Phone the healthline on 0800 611 116

Brought

toyouby

CountdownComplex, East Street, Ashburton

Phone: 03 308 6733 Fax: 03 308 6755

BUSINESS FOR SALE

BUSINESS FOR SALE

DRIVING MISSDAISY

FRANCHISE FOR SALE IN

ASHBURTON

We are looking for amotivated,

energetic franchise owner

for the Ashburton region.

If you are looking for anew challenge

and the chance to make adifference in

yourcommunity, become afranchise

owner in this growth sector.

$40,000plus GST, cars additional.

Apply online

www.drivingmissdaisy.co.nz/buy/e/np/

PUBLIC NOTICE PUBLIC NOTICE PUBLIC NOTICE PUBLIC NOTICE

Peter Blacklow

Call in atalk to the people who know . . .

PETE'S

PICK

Full range of engineering supplies and accessories forall your repairs

&maintenance. Kerrick hot &cold waterblasters &industrial vacuumcleaners.

Esseti welders &accessories. Stockists and distributors of Trailer Equipment.

Locally owned &operated family business for 68 years

ASHBURTON

South Street, Ashburton PHONE (03) 308-3147

Email office@blacklows.co.nz FREEPHONE 0800 452 522

MEETINGS

AMERICAR ROD&

CUSTOM CLUB

AGM

Clubrooms

MaronanRd

Sunday, 11 July

at 10am

All welcome

Anyqueries,contactGreenie

021 267 4209

ROKEBY Hall Society AGM.

Monday 26th July at

7.30pm in the hall. All residents

welcome. Apologies

to Jeremy Simpson 027

229 6900

FOR LEASE

HORSE Paddock for lease,

approximately 1 ⁄2 hectare.

Loose box by arrangement.

Phone 027 449 1871

STORAGE available, Ashburton.

Self storage, variety

of sizes. Phone Rainbow

Storage 03 307 0401

STORAGE:Secure self storage

units available, long or

short term. Ashburton Storage

Facilities. Contact us

on 0274 362 636 or www.

ashburtonstoragefacilities.

co.nz

WANTED TO RENT

LONGTERM Rental required

by mature professional

couple with own business.

Modern 3/4 bedroom, 2

bathroom, double garage

and heat pump. Prefer

Lake Hood, but all areas

considered. No children,

pets or smokers. Ph 0274

399 396 or email

oldskiers55@gmail.com

WANTED TO BUY

ASHBURTON Scrap Metal

Recyclers buy heavy metal

etc. Free light-grade metal

in-yard dumping 9am-5pm

weekdays &9.30-11.30am

Saturdays. 117 Alford Forest

Rd, (behind

PlaceMakers). Phone 03

308 8033 or 027 249 6625.

Advertising that works!

Talk to Jann or Karen todayaboutwaysyou can

reach potential customers or advertising with thatspecial

difference-professional servicewith asmile.

Phone: 308 7664

199 BurnettSt, Ashburton

2395295

2375494

SELL

LPG

REFILLS

Small LPG cylinders

Off Street Parking

Available

Arthur Cates Ltd

26 McNally Street

Ph 308 5397

Riverside Industrial Estate

LPG REFILLS

9kg cylinders

$27.50

Askaboutour

deliveryservice

Anysizecylinder filled

17 Grey St,Ashburton

Phone 307 2707

FIREWOOD

2379296

2379300

DRY Bluegum, Old Man

Pine, 50/50mix. 6m 3

$695.00. WINZ accredited.

Free delivery to most of

Mid-Canterbury. Phone

027 297 7563

DRY clean, good quality pine

for sale - Old Man Pine

3.6m 3 $285. sorry no delivery.

Phone 021 102 0017,

Mayfield area.

FIREWOOD

SPECIAL

OFFCUTS

$140 PER CORD

FIREWOOD

SLABWOOD

3cordgreen

$330

1cordgreen

$110

C.O.D. in town

Adams Sawmill

Malcolm McDowell Rd

Phone

308-3595

TURN THE PAGE

TO VIEWMORE

CLASSIFIEDS

2395886

2375519

EXCLUSIVE

GEARWRENCH

111 PIECE 1/4" &1/2"

90T METRIC &SAE

SOCKETSET

Check out all this qualityand

exclusiveset has to offer!

$299+GST 83069

E- info@talbotsecurity.co.nz 62c Dobson Street,Ashburton

P-(03) 307 2409 Anytime 24/7

-Alarm Response and Patrols

-Alarm Monitoring

-Alarm and CCTV Installation

-Alarm and CCTV Servicing

-Data and Networking

- Fire Extinguishers

- Key Cutting

- Locksmithing

Ashburton'sonly100%locally owned and operatedsecuritycompany

2376083

Asafe space for

reflection and Lament

Saturday10th July,

at St.David's Church,

48 Allen's Rd,Allenton,

from 9:30 to 11:30am.

Morning teawill be available.Thereisno charge.

This opportunitymay be of interest to you, in lightof

recent local events and events youhaveexperienced

in the past that have significantly impacted onyour

life. The invitation istocome to asafe reflective

space and practice the art ofLament. The practice

of lamenting is ahealthyexpression of our grief with

awide range of emotions, such as anger, frustration

and pain.

The safe space for reflection we are providing will

give you anopportunity tocome, togrieve, express

and engage with events in our lives using avariety

of options, such as: writing, drawing, crafts, light a

candle, pray, sing, cry, yell, sit quietly, orhave tea or

coffee.

ContactJohanna on 03 307 0200

forfurther information.

RENT ME!

Ideal as an extra

bedroomoroffice.

Fully insulatedand

double glazed forwarmth.

Threeconvenientsizes:

Standard3.6m x2.4m,

Large 4.2m x2.4m

Xtra-large 4.8m x2.4m.

Visit our displaycabin

418WestStreet or callfor a

freebrochure.

www.justcabins.co.nz

2379729

FOR LEASE

AWESOME OFFICE space

for lease, rent or hire. Park

like setting. Indoor and outdoor

areas. North West

town boundary. Must view.

Phone 0274 754 241

0800 58 78 22

POULTRY

EDUCATIONAL

2398779

HENS; Hyline layers, available

egg machines! Phone

Lucy 021 116 0252

GARDEN SUPPLIES

GARDENERS Specials.

Medium-squares; pea

straw $60., linseed straw

$50. Phone Alan 027 496

7136, Ian 027 286 3697. A

Hinds Lions Project.

Thurs 8th

10.00 Spacejam 2

10.00 Dream Horse

12.00 Black Widow

12.00 Moonbound

1.40

2.20

4.10

4.20

6.00

6.15

8.00

8.10 Black Widow

Fri9th

3.30

3.45

6.00

6.15

8.00

8.10

Sat10th

10.00

10.00

11.35

12.05

1.35

2.05

3.45

4.00

5.50

6.30

8.00

8.10

Sun 11th

10.00

10.00

11.35

12.05

1.35

2.05

3.45

4.00

5.50

6.30

8.00

8.10

10.00

10.00

11.40

12.10

1.15

1.50

3.40

4.00

6.00

6.00

8.10

8.30

In TheHeights

Dream Horse

Spacejam 2

Cranston Academy

TheHitmansWifes Bodyguard

Escape Room 2

Fast &Furious 9

Black Widow

Cruella

TheHitmans WifesBodyguard

Escape Room 2

Fast &Furious 9

Black Widow

Spacejam 2

Cranston Academy

In TheHeights

Moonbound

Black Widow

Spirit Untamed

TheConjuring 3

Spacejam 2

TheHitmans WifesBodyguard

Escape Room 2

Fast &Furious 9

Black Widow

Spacejam 2

Cranston Academy

Cruella

Moonbound

Black Widow

Spirit Untamed

TheConjuring 3

Spacejam 2

TheHitmans WifesBodyguard

Escape Room 2

Fast &Furious 9

Black Widow

Mon12th, Tues 13th

&Wed 14th

Spacejam 2

Moonbound

Cranston Academy

Spirit Untamed

Cruella

Spacejam 2

Black Widow

Dream Horse

TheHitmans WifesBodyguard

Fast &Furious 9

Black Widow

Escape Room 2

PG

PG

M

PG

PG

PG

PG

PG

R16

M

M

M

M

PG

R16

M

M

M

PG

PG

PG

PG

M

PG

R16

PG

R16

M

M

M

PG

PG

M

PG

M

PG

R16

PG

R16

M

M

M

PG

PG

PG

PG

PG

PG

M

PG

R16

M

M

M

NO COMPS

Black Widow, Escape Room 2,

Cranston Academy,

Moonbound,Spacejam 2

Ashburton

MusicalClub

Sunday 11 July

Duetounforeseen

circumstances the

'Midwinter Blues'

Concert

has hadtobecancelled

2398803

PUBLIC NOTICE

Margaret Bean -

Secretary

HOSPICE Mid-Canterbury -

Here when you need us. If

you or someone you care

about has a life limiting

illness, phone 307 8387 or

027 227 8387

EDUCATIONAL

L2D Driver Training

Teaching driving skills

and road craft

Allstages –beginner to full

Block booking discounts

Dave Campion

027 543 7632

2388125
---
The place where farmers get their quality agricultural

replacement parts and equipment

Arable

Plough Parts

Shares to suit

Vogel &Noot

Partstosuit

Overum

Dale Shares

Wings to suit Simba

Cultivation

Parts

Points to suit

Sunflower &

Salford

Points to suit

Vibroflex

Cast Points

Points to suit

Overum

Points to suit

Kverneland

Reversable Points

to suit Lemken

Knife Coulter to

suit Lemken

Shares to suit

Dowdeswell

Points to suit

Clough

Slipdown Points

Pan Buster Points

Legs to suit

Vibroflex

Legs to suit

Vibroflex

STines

Coil Tines

Rexius Point to suit

Vaderstad

Shares to suit

Lemken

Trashboard to suit

Kverneland

Shares to suit

Kuhn

Points to suit

Gregoire Besson

Landside wear plates

to suit Kverneland

Points to suit

Goliath

Yeoman Clamp

Coil Tine Clamp

50 mm

Topdown Points

Points to suit

Vogel &Noot

Points to suit

Kuhn

Shares to suit

Kverneland

Plough Share

Rebuilds

Plough discs

Springs to suit

Goliath

Points to suit

Maxitill

Springs to suit

Vibroflex

Point to suit

Berends

Bossweld ST-181X MIG/Stick/

TIG Inverter

Bossweld X-Series MST188X

MIG/Stick/TIG Inverter Welder

Bossweld X-Series MST248X

MIG/Stick/TIG Inverter Welder

Weldco 40 AMPPlasma Cutter

$365 $899 $1195

$469

34 Robinson Street,Riverside Industrial Park,Ashburton. Phone 308 6509

34 Robinson Street,Riverside Industrial Park,Ashburton. Phone 308 6509

2397827
---
QUALITY USED VEHICLES

KEITH'S

PICK

1300ccpetrol,auto,

cam chain, ABS, rear

spoiler,96,573kms

2013 MAZDA

DEMIO

$9,995

5½ stars

2006 SUZUKI

SWIFT

2014 NISSAN

TIIDALATIO B

2010 MAZDA

PREMACY20S

2013 TOYOTA

AQUA S

• 1300ccpetrol

• Manual

• 5door

• Hatchback

• 54,116kms

$4,995

TOYOTA

2012 TOYOTA AQUA,1500cc, hybrid,auto, cam chain, ABS,

76,000 kms........................................................................................................................... $11,995

2013 TOYOTA SPADE, 1500cc, ABS, air con, cam chain,

53,100 kms........................................................................................................................... $10,995

2013 TOYOTA AQUA S,1500cc, auto, 2wheel drive, ABS, reverse camera,

106,173kms............................................................................................................................$8,995

2001 TOYOTA ALLEX, 1500cc, auto, 5door, 102,000kms.................................................SOLD

2008 TOYOTA MARK X, 2400cc, 7seater, ABS, air con, S/W,89,000kms....................$9,995

2012 TOYOTA RACTIS X,1300cc,auto, cam chain, ABS, 22,000kms.............................SOLD

NISSAN

• 1200cc, petrol

• ABS

• Cam chain

• Air Con

• 31,168kms

2010 NISSAN DUALIS, 2000cc, auto, 5seats,6air bags,auto, SUV,

71,000kms................................................................................................................................ SOLD

2013 NISSAN SYLPHY, 1800cc,petrol sedan, cam chain, ABS, 18,984kms ...........$11,995

2014 NISSAN TIIDA LATIO, auto, idling stop,twinair bags, ABS,

4door,petrol,air con, 31,100kms................................................................................ $9,995

2012 NISSAN NOTE, 1200cc, auto, skyblue,ABS,

60,000kms............................................................................................................................. $9,995

2015 NISSAN NOTE X, 1200cc, ABS,air con, cam chain,

56,300kms...........................................................................................................................$10,995

SUZUKI

SUBARU

5 stars

• 2000cc, petrol

• Auto

• Cam chain

• Body kit

• 126,579kms

$9,995 $9,995 $8,995

DUE TO ARRIVE

• 1500cc, alternative

• Auto

• Cam Chain

• Keyless entry

• 106,173kms

WARRANTIESAA APPRAISEDFINANCEBIGGEST YARDBEST SELECTIONTRADE-INS

2014 SUZUKI SWIFTXG, 1200cc, cam chain, rear spoiler,air con, 76,556kms .. $10,995

2006 SUZUKI SWIFT, 1300cc, 5speed,power steering,54,000kms..........................$4,995

2012 SUBARUIMPREZASPORT, 2.0I, 2000cc, 2WD, 5door,ABS, 87,310kms $11,995

5½ stars

MITSUBISHI

2001 MITSUBISHIDION, 1500cc, hatchback,auto, ABS, air con..............................$4,995

2008 MITSUBISHIDELICAD5, 2400cc, auto, 8seater, ABS, 105,000kms........... $10,995

MAZDA

2010 MAZDAPREMACY, 2000cc, 7seats,auto, timing chain, 126,000kms ..........$9,995

2010 MAZDACX-7, 2300 cc,ABS,air con, cruise control, body kit,

59,000 kms..............................................................................................................................SOLD

2013 MAZDADEMIO 13-SKYACTIVE,1300cc, air con, ABS,

cam chain, 96,600 kms.....................................................................................................$9,995

2013 MAZDADEMIO13-A, 1300cc, auto, 5door,ABS, cam chain, 23,000kms... $10,995

2010 MAZDA3SP 25 A, 2300cc,ABS, Aircon, auto, rear spoiler,verysporty .........SOLD

2009 MAZDAAXELASPORT 20S,2000cc,auto, ABS, body kit, 81,000kms........ $12,995

HOLDEN

2014 HOLDEN CRUZE, ZSeries –1800cc,auto, all the bells &whistles,

78, 560 kms..............................................................................................................................SOLD

2008 HONDACRV, 105,000kms

2008 HONDAFIT RS, 53,000kms

2012 SUBARU LEGACY, 96,000kms

2013 SUBARU IMPREZASPORT, 58,000kms

6 stars

AUTOSLTD

&RENTALS

ENQUIRE NOW

-about our range of rental vehicles

3081396

Family,Sports, School or Social Trips

We have 8, 10 &12seaterminivans available.Cars and 3trucks forsmall or big

loads also available.

470 West Street, Ashburton

A/H Keith Drummond 0274 367 646

www.atob.co.nz

2396466