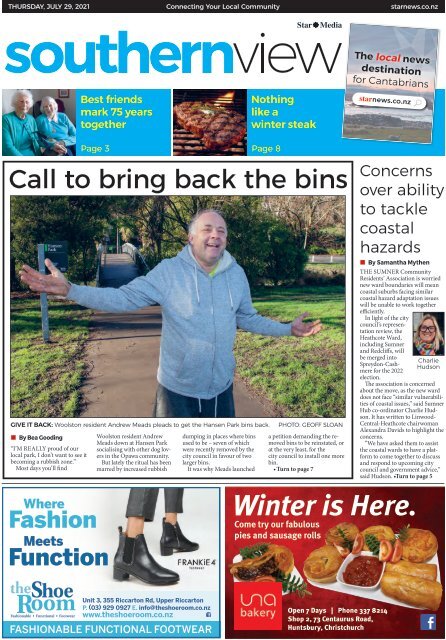 Southern View: July 29, 2021
Create successful ePaper yourself
Turn your PDF publications into a flip-book with our unique Google optimized e-Paper software.
THURSDAY, JULY 29, 2021

Connecting Your Local Community

starnews.co.nz

The local news

destination

for Cantabrians

Best friends

mark 75 years

together

Nothing

like a

winter steak

• By Bea Gooding

"I'M REALLY proud of our

local park, I don't want to see it

becoming a rubbish zone."

Most days you'll find

Page 3

Woolston resident Andrew

Meads down at Hansen Park

socialising with other dog lovers

in the Opawa community.

But lately the ritual has been

marred by increased rubbish

dumping in places where bins

used to be – seven of which

were recently removed by the

city council in favour of two

larger bins.

It was why Meads launched

Page 8

Call to bring back the bins

GIVE IT BACK: Woolston resident Andrew Meads pleads to get the Hansen Park bins back.

PHOTO: GEOFF SLOAN ​

a petition demanding the removed

bins to be reinstated, or

at the very least, for the

city council to install one more

bin.

• Turn to page 7

Concerns

over ability

to tackle

coastal

hazards

• By Samantha Mythen

THE SUMNER Community

Residents' Association is worried

new ward boundaries will mean

coastal suburbs facing similar

coastal hazard adaptation issues

will be unable to work together

efficiently.

In light of the city

council's representation

review, the

Heathcote Ward,

including Sumner

and Redcliffs, will

be merged into

Charlie

Spreydon-Cashmere

for the 2022

Hudson

election.

The association is concerned

about the move, as the new ward

does not face "similar vulnerabilities

of coastal issues," said Sumner

Hub co-ordinator Charlie Hudson.

It has written to Linwood-

Central-Heathcote chairwoman

Alexandra Davids to highlight the

concerns.

"We have asked them to assist

the coastal wards to have a platform

to come together to discuss

and respond to upcoming city

council and government advice,"

said Hudson. •Turn to page 5

Where

Fashion

Meets

Function

Winter is Here.

Come try our fabulous

pies and sausage rolls

Fashionable • Functional • Footwear

Unit 3, 355 Riccarton Rd, Upper Riccarton

P. (03) 929 0927 E. info@theshoeroom.co.nz

www.theshoeroom.co.nz

FASHIONABLE FUNCTIONAL FOOTWEAR

Open 7 Days | Phone 337 8214

Shop 2, 73 Centaurus Road,

Huntsbury, Christchurch
---
2

Thursday July 29 2021

GENERAL INQUIRIES Ph 379 7100

CLASSIFIED ADVERTISING Ph 379 1100

Star Media, a division of Allied Press Ltd

PO Box 1467, Christchurch

starmedia.kiwi

NEWS

Bea Gooding

Ph: 021 911 576

bea.gooding@starmedia.kiwi

ADVERTISING

Mark Sinclair

Ph: 364 7461

mark.sinclair@starmedia.kiwi

Your local community news

delivered to 21,586 homes

within The Star each week.

Spreydon • Hoon Hay • Hillmorton • Cracroft

Cashmere • St Martins • Somerfield

Sydenham • Addington • Waltham • Opawa

Beckenham • Huntsbury • Woolston

Latest Canterbury news at starnews.co.nz

what's on

this week

Clothes Swap

Thursday to Sunday, 10am-4pm

South Library

If your wardrobes and drawers

are overflowing, the clothing swap

is for you. Go along and donate

old clothing for 13 to 24-year-olds.

Must be clean. Items can include

accessories and shoes.

JP Clinics

Thursday, 10.30am-1.30pm, at

Spreydon, Tuesday, 10am-1pm, at

Halswell, Linwood and South

Halswell, Linwood, South and

Spreydon libraries

A justice of the peace will

be available to members of the

community to witness signatures

and documents, certify document

copies, hear oaths, declarations,

affidavits or affirmations as well as

sign citizenship, sponsorship or rates

rebates applications. This service is

free.

Technology Help Drop-In

Sessions

Thursday, 2-3pm at South,

Tuesday, 10.30-11.30am, at

Spreydon, 2-3pm, at Halswell

Halswell, South and Spreydon libraries

Need help using your computer,

smartphone, or tablet? Take your

device to the drop-in sessions for

help with general computer and

internet queries. Free, no bookings

required.

Japanese Calligraphy, Wednesday, 11am-noon, South Library. Go

along and join in the fun workshop exploring traditional Japanese inks and

brushwork. Free, suitable for ages 6 and up. ​

Mah-Jong

Thursday, 1-3.30pm, at Opawa,

Wednesday, 12.30-2.30pm, at

Halswell

Halswell Hub and 60 Vincent Pl,

Opawa

If you are interested in playing

Mah-Jong, go along whether you are

a beginner or an advanced player.

Phone Noel at 322 8636 for more

information.

Rotary Market

Sunday, 8.30am-12.30pm

Woolston Club, 43 Hargood St

A variety of stalls will be available,

including fresh produce, jams and

preserves, and recycled clothing,

books and tools. Every Sunday, with

all proceeds supporting the local

community. For site inquiries, phone

Vance at 022 382 0086.

Creative Writing on Sundays

Sunday, 1.30-3.30pm

Linwood Library

Writing group leader Jennifer will

work with group members to craft,

create and develop their own stories.

Take some pens or pencils, paper, or

a laptop. This class is free.

SOUTHERN VIEW

Scrabble

Monday, 2-4pm

Old Stone House, Shalamar Drive,

Cracroft

Go along for a game with a friendly

and social group. If you do not

know how to play, they will teach

you. $2. Phone Anne at 338 7366 for

inquiries.

Risingholme Singers Choir

Monday, 7.30-9.30pm

Risingholme Theatre, 99 Hawford Rd,

Opawa

If you love singing, go along and

join the friendly choir. All welcome,

especially tenors and basses. Phone

Jill at 388 3235 for more information.

Tai Chi: Meditation in Motion

Tuesday and Friday, 7-8.30pm

St Anne's School hall, 739 Ferry Rd

Tai Chi is a low impact mind and

body exercise known for its many

physical and mental health benefits.

First class is free. Phone Frances on

027 698 0057 for more information.

Not-for-profit organisations can

send their What's On listings to

southern@starmedia.kiwi

Introducing

Mark

Sinclair

Mark lives and works locally, he

is passionate about working with

South Christchurch and Canterbury

businesses offering print and digital

media solutions to help promote their

companies products and services in

the local Southern View and Star Media

publications. He has a longstanding

association with the media industry and

has been with Star Media, a division of

Allied Press, for the last 12 years.

The Southern View is delivered FREE

each Thursday, covering the latest local

news and information, and is delivered

into residential households across South

Christchurch. Digital editions are also

available to view online at

www.starnews.co.nz.

CALL Mark TODAY to discuss how he

can help PROMOTE YOUR BUSINESS

to local readers, or to the entire

Canterbury district.

SALE SALE SALE

WINTER CLEARANCE

WINTER

CLEARANCE

25% OFF

All Winter

Nightwear & Robes

Bras

Selected styles & colours

HALF

PRICE

Summer oddment of

Nites, Robes & PJs

only $30

Purchase a

shower and

receive FREE

Enduroshield

coating

Contact Mark

DDI: 03 3647461

Mobile: 021 913566

Email: Mark.Sinclair@starmedia.kiwi

Shop 48 Barrington, Barrington St

Phone 03 337 6609

www.lingerieonbarrington.co.nz
---
SOUTHERN VIEW Latest Canterbury news at starnews.co.nz

Thursday July 29 2021 3

Friendship spanning 75 years

MUCH HAS changed since

Betty Small and Marjorie

Ainsworth first met on a softball

field in 1946.

There has been weddings,

births and countless other

milestones along the way.

However, what has not

changed is the close bond

between Betty, 90, and Marjorie,

91. This year the Christchurch

residents are celebrating 75 years

of being best friends since they

met as teenagers.

Their milestone coincides with

the 10th International Day of

Friendship on Friday – a United

Nations initiative promoting

friendship between people,

countries, cultures, and

individuals.

It is a way of inspiring peace

efforts and building bridges

between communities.

Betty, of Lyttelton, visits

Marjorie at her Addington

residential care home whenever

she can.

Regardless of how long it has

been since they've seen each

other, Betty said the conversation

flows as though it never stopped.

They love reminiscing about

their early days – and there have

certainly been some memorable

moments.

There were softball games with

celebrations or commiserations

held at the pub afterward, they

talk about their jobs at Well Cut,

and all the fun they used to have

in town on a Friday night.

Over time they have both

become parents, with Betty now

a proud great-grandmother. Now

they are both widows.

Throughout everything, Betty

and Marjorie have always been

there for each other. It was

the key to their long-lasting

friendship. Betty said it is

important to make time for

each other, otherwise life will

inevitably get in the way.

"It wasn't easy once we were

married and had children and

we didn't have phones at home

the way they do now. We didn't

drive at the time either, but

occasionally I would get the train

into town from Lyttelton with

MILESTONE:

Betty Smith

(left) and

Marjorie

Ainsworth

celebrate

75 years of

friendship, just

in time for the

International

Day of

Friendship

this week. ​

the pram and the nappies and

travel in the guard's van to see

Marge.

"It would have been nice to see

each other more regularly, but

when we did, it was like we'd

never been apart."

For Marjorie, what it means to

be a good friend comes down to

one thing.

"Someone who is always there

for you," she said.

In Brief

HAVE YOUR SAY

A proposal to lower the speed

limit on two roads in Ferrymead

is now open for feedback. The city

council plans to reduce the speed

limit from 70km/h to 60km/h

on Humphreys Drive, between

Dyers Rd and Ferry Rd, and from

50km/h to 30km/h on Tidal View.

The changes are in response to the

new Rapanui major cycle route,

due to finish construction next

year, in order to make the road

safer for cyclists and motorists.

SWAP STOP

The old stone bus shelter on

Vernon Tce near Centaurus Rd

has been set up by a group of

Hillsborough residents as a swap

stop. A blue fridge has been set

up for books, used toys in good

condition, and surplus produce.

It is under a shelter that is not

waterproof, so larger items such as

clothing are not to be dropped off

to avoid the risk of mould.

WASTEWATER RENEWAL

A 30km/h speed limit will be in

place on Walsall St in Addington

from next Monday to make

way for wastewater renewals.

Contractors will be on site

between 19 Clarence St and 20

Walsall St to renew the sewer

mains as they are reaching the

end of their life. Work is expected

to be completed by late August.

NUMBER ONE SUPPLIER

TO THE NZ JET BOATING

COMMUNITY FOR OVER

50 YEARS

• Part Boats & Hulls

• Turn Key Packages

• New Jet Units

• Custom Fabrication

• Expert Advice

SERVICING

Peter Tonkin

03 962 0505

peter.tonkin@hamiltonjet.nz

• Spare Parts Retailer

• Jet Unit Refurbishment

• Engine Tune-Ups

• Insurance Repairs

• Impellor Reconditioning

SOIL AND

HARDFILL

DUMPING

WE NOW HIRE

LANDSCAPING AND

GARDEN EQUIPMENT

DIGGERS, TRUCKS, WOOD CHIPPERS, POLE SAWS,

BREAKERS, WATER BLASTERS, ETC.

PLUS WE SUPPLY THE BEST

LANDSCAPE & GARDEN SUPPLIES

•BARKS •COMPOSTS

•AGGREGATES - CHIP, ROUND & BASECOURSE

•SCHIST PRODUCTS •PUNGAS

•DECORATIVE STONE & LANDSCAPING ROCKS

•TRAILER HIRE - FIRST HOUR FREE WITH PURCHASE

•BAG & BULK - PICK UP OR DELIVERED

DYERS ROAD LANDSCAPE & HIRE

PHONE: 03 384 6540

183 DYERS RD, BROMLEY ● OPEN 7 DAYS

Weekdays 7.30am-5pm. Weekends 8.30am-3pm

www.dyersroadlandscape.co.nz

Cameron and his team were fabulous to deal with from initial enquiry through

to settlement. Their seamless service was beyond world-class. I had been

recommended Cameron and his team by a number of people and I didn't really

know what to expect, but what I experienced was phenomenal service, credible

advice, a realistic approach with practical solutions right throughout the campaign

and on auction day. We were thrilled with the result, and regardless of any outcome,

even prior to the auction we genuinely felt that the market had been well captured

by the level of interest and the feedback.

- Amy Moore -

Phone or text 027 555 7079

REINZ Salesperson of the Year across all brands in NZ

cameron.bailey@harcourts.co.nz

No.1 Harcourts Canterbury 2012-2021

No.1 Harcourts New Zealand 2017-2021

www.cameronbailey.harcourts.co.nz No.1 Harcourts International 2017-2020

Licensed Sales Consultant REAA 2008
---
ISSUE 94

growing with you 100%

MARCH-APRIL 2021

$10.50

rrp $10.99

$8.00 incl. GST

9 416770 121318

4

Thursday July 29 2021

Latest Canterbury news at starnews.co.nz

SOUTHERN VIEW

Two of the New Zealand Defence Force's

front-line operational helicopters visited

the former RNZAF base at Wigram

last week, as part of a helicopter fun

day run by the Air Force Museum of

New Zealand. The event was part of

Kidsfest, and attracted more than 3600

people. Helicopter-themed activities

in the museum included camouflage

face painting, craft activities and a

helicopter hunt. Members of the public

got the opportunity to get up close to

the NH90 and A109 helicopters from

No 3 Squadron Royal New Zealand Air

Force, and chat to the air and ground

crews.

The

RNZAF's

NH90

helicopter

from

Ohakea

proved

to be a

crowd

favourite.

Andrew

Gillespie,

7, of

Beckenham

explores the

inside of

the visiting

RNZAF

NH90

helicopter.

17 Squadron

Air Training

Corps Cadet,

Corporal

Lorenzo

Zamperini, 16

of Cashmere,

applies

camouflage

paint to the

face of Harper

Sealey, 7, of

Rolleston.

PHOTOS: AIR FORCE MUSEUM OF NEW ZEALAND

Vashti Johnstone

Little River Gallery 31 July – 24 August

Vashti Johnstone is a contemporary New Zealand painter,

new to Little River Gallery, but not new to exhibiting. Living

and working on the South Island's West Coast she has been

a student of visual language forever, formalising her innate

need to express and articulate with a Diploma in Painting,

Aoraki Polytechnic (2001)

Johnstones's oeuvre applauds the vitality and importance

of making art. Respectful of and roused by the lineage of

creators who have gone before her and create alongside her,

she pushes her practice in energizing and innovative ways,

layering her charcoal and her paints into a colourful language

that transcends beyond words.

Echoing men and women known to Vashti, people who are

present and others who have gone before her, Authentic

Whisperings explores the tranquillity of people as they expose

their flaws and vulnerabilities to the light, attaining wisdom,

legitimacy and peace within the authenticity of their own skin.

Authentic Whisperings

31 July – 24 August 2021

littlerivergallery.com

Main Rd, Little River | 03 325 1944

art@littlerivergallery.com

Vashti Johnstone

Authentic Whisperings

Something for

everyone

Save up to 55% when you subscribe to

your favourite magazines!

For the

motoring

enthusiasts

For the seasonal

gardeners

CLASSIC ALPINE TOUR | PELLAND COUPÉ | JIM RICHARD'S WILLMENT ESCORT | TERRY MARSHALL | VAUXHALL FIRENZA | RICHARD BROCKLEHURST MAR-APR 2021

$9.25 incl. GST

GENTLEMAN JIM RICHARDS & THE WILLMENT ESCORT

THE MOTORSPORT

PHOTOGRAPHY OF

TERRY MARSHALL

RARA AVIS:

PELLAND COUPÉ

A SHORT TIME IN FRONT: RICHARD BROCKLEHURST

50TH ANNIVERSARY OF THE VAUXHALL FIRENZA

SOUTHERN MEN AND TALES OF THE SOUTH

meet 20 of our Kiwi garden favourites

SOUTHERN

SOJOURN

THE CLASSIC ALPINE TOUR

COME ON, FEEL THE

NOISE: CLASSIC

RACING ENGINES

9 416770 121332

AuTumN 2021

The Shrub Hub

FREE FIRST XV SEASON PREVIEW MAGAZINE INSIDE

MAY 2021

TONY JOHNSON

ON THE COMING OF

MOANA PASIFIKA

AARON SMITH

'WHY I RATE

DUPONT'

SEAN FITZPATRICK

'WE NEED MONEY TO

SUSTAIN THE GAME'

9 416770 121325

growing with you Issue 504 | May 2021 | 100%

A tropicAl

flock

Grow your own

bird of paradise

Capitalising

on CaCti

Faran Gillbanks

on a succulent

movement

DAN

CARTER

REFLECTING ON A

GREAT CAREER

JEROME

KAINO

SORTED FOR

LIFE AFTER

RUGBY

• PHIL GIFFORD: THE BEST

SCHOOLBOY STARS HE SAW

• DARYL GIBSON: HIS VISION

FOR THE BOP STEAMERS

Space iSSueS?

Try gardening

like the French

The lowdown on

cover crops

Why, when & how

For the

rugby fans

For the green

thumbs

ISSN 2423-0626

From abelia to

viburnum

& all the varieties

in between

Why we

like them

& where they

like to grow

How to keep your

shrub in shape

& propagate more

of those you love

Roses on the wishlist

Hot new releases for 2021

31 July – 24 August 2021

Available in all good bookstores and supermarkets, or subscribe from as little as $20.

littlerivergallery.com

Main Rd, Little River | 03 325 1944

art@littlerivergallery.com

alliedpressmagazines.co.nz

Rugby News & Kiwi Gardener: 0800 77 77 10 Classic Driver & General: 0800 624 295
---
SOUTHERN VIEW Latest Canterbury news at starnews.co.nz

Thursday July 29 2021 5

Native planting transforms ponds

THE PADDOCKS between

Cuthberts Rd and the oxidation

ponds in Bromley are gradually

being transformed by the

addition of thousands of native

trees and plants.

"In a few years' time this strip

of land will be thick with native

vegetation that will improve

the biodiversity of the area and

provide an important habitat for

native birds,'' said city council

wastewater operations manager

Adam Twose.

"The mass

planting of these

paddocks will

help Christchurch

reduce its carbon

emissions and it

will also ease the

midge problem

in the area by

Adam

Twose

providing a

natural barrier

between the

oxidation ponds and nearby

homes.''

About 40,000 plants have been

planted so far, with thousands

more planned to be added over

the coming years.

"We're currently preparing the

paddocks for further planting

by spreading a 300mm deep

layer of compost from the

nearby council-owned organics

BIODIVERSITY: Thousands of native plants are transforming the paddocks near the Bromley

oxidation ponds.

PHOTO: NEWSLINE ​

processing plant over the

ground," Twose said.

"The compost will improve

the soil conditions for the plants,

giving them the best opportunity

to thrive."

About 6500 tonnes of compost

from the organics processing

plant has been placed on

the paddocks in the last

few weeks.

Removing this large amount of

compost from the plant should

help to reduce the potential for

odour issues at the plant while

the city council undertakes a

$21.5 million upgrade of

the facility.

Platform

plan to help

coastal suburbs

•From page 1

It is hoped the community

board will request a collaborative

platform where coastal wards can

"come together to share ideas,

concerns and resources."

The residents' association

would like this platform to be

set up prior to the city council's

working group recommendations

on coastal hazards and advice

being released later this year.

It would mean representatives

could better interpret the issues

and relay them clearly to their

communities, said Hudson.

Hudson said it is important

and necessary coastal communities

have a united voice.

"Hopefully, this will balance

our move into the Cashmere-

Spreydon Ward, which will not

be as affected," she said.

Davids said she had yet to

discuss the idea with the community

board but thought it was

fantastic.

"Obviously different communities

in coastal areas are dealing

with the same issues and having

a platform for them to come together

and discuss would be very

meaningful," she said.

The idea will be discussed

at the next community board

meeting in August.

Discovering Te Aratai College

During August, the Principal of Linwood College,

Mr Richard Edmundson, is holding a series of

meetings in the community for whānau who are

wanting to learn more about Te Aratai College

(ex-Linwood College) as a choice of secondary

school for their child in 2022 and beyond.

Members of the community who are interested

in the school's redevelopment are welcome to

attend these meetings.

2 August 7pm – 9pm Ōpāwa School

9 August 7pm – 9pm Redcliffs School

11 August 7pm – 9pm Lyttelton School

Enquiries to Richard Edmundson

027 622 1090
---
6 Thursday July 29 2021

Latest Canterbury news at starnews.co.nz

SOUTHERN VIEW

Willowbank's animals a constantly

Nick Ackroyd has been

looking after keas and

other native species

at Willowbank for the

past 12 years. He talks

to reporter Fiona Ellis

Loki, Blofeld, Moriarty

– these are just some of the

names of Willowbank Wildlife

Reserve's 15 keas.

While the birds may not have

the villainous personalities of

their namesakes, their mischievousness

makes them popular

animals with native species

keeper Nick Ackroyd.

"Probably my favourite, that I

look after every day, is the group

of kea that we have here at Willowbank,"

the St Albans resident

said.

"They . . . are a bit crazy, so

that's great fun."

In spite of working in the role

for 12 years, the birds had never

managed to snatch any items

from him, but had been known

to pilfer pompoms, cash and

even credit cards from unwary

visitors.

Kea were as intelligent as great

apes and could solve puzzles that

stumped chimpanzees, he said.

His aim was not to domesticate

animals, but rather to keep

them as wild as possible.

"I think people assume there's

a lot of cuddling of animals and

patting of things and playing

with stuff. When you're a zookeeper,

you're kind of doing the

opposite thing.

"I don't want them to be playing

with me, I want them to be

going and socialising with the

FEATHERED FRIENDS:

Willowbank Wildlife

Reserve native species

keeper Nick Ackroyd is

careful not to have any

potentially pinchable items

on him as he drops in on

his favourite charges, the

keas.

Photo: Geoff Sloan

other animals."

Not interacting with other

animals could also make them

direct their aggression towards

humans, he said.

This was the case with a

paradise shelduck who had been

hand raised.

"He doesn't like us and tries to

chase us away whenever we go

into his enclosure."

Other animals were also in

his charge, from birds such

as takahe, kaka, and whio, to

tuatara and more threatening

species.

"We also have a ferret and a

pig and a possum so that people

can see those animals that are

present in New Zealand as well,

and they're the ones that are

causing issues for our native

animals."

Conservation efforts were an

important part of Willowbank's

role, and it was rewarding for

him to play his part in working

towards the Department of Conservation's

Predator Free 2050

plan, he said.

Although he was concerned

about the future of New Zealand's

wildlife, there were also

bright points to focus on.

Takahe were doing well and

their numbers increasing, he

said.

Willowbank received two new

takehe from Te Anau earlier

this month as part of a recovery

programme by DOC and Fulton

Hogan.

"With over 75 years of combined business

experience, we personalise home and

business loans for Cantabrians."

Simon Ward

021 322 109

Sue McKenzie

021 650 758

"Local business supporting local people."

Craig Keenan

0276 085 526

Visit us at 10 Athelstan street, next to the Barrington Medical Centre.

Move over dots.

Here come the

yellow squares.

Queen. King. Super King.

Same price.

Sleepyhead

Limited Edition Bed

$2499

Up to

68% off

Love every detail.

Especially the price.

In-store and online now.

LG 48" 4K Smart OLED TV

48OLEDA1 9070152

$2199

100 ONLY

Offers valid from Wednesday 28 July 2021, end dates may vary, while stocks last or unless otherwise stated. Some products on display in selected stores only
---
SOUTHERN VIEW Thursday July 29 2021 7

moving feast

•

"Those birds are really

important, they're genetically

quite unique and we're hoping

to breed some young from them

this year."

Signs they would hit it off

come breeding season were

promising, as the pair were

"hanging out" rather than fighting,

he said.

The programme aimed to

breed and release takahe, as

Willowbank had done with

other birds, such as the kaka in

Abel Tasman National Park.

It was always exciting to work

with DOC to do releases, Ackroyd

said.

People's interest in Willowbank

and learning about native

wildlife was also encouraging,

from strangers to his own children.

"I've got two kids who have

both come through here heaps

of times and they love it too."

However, his favourite aspect

of the job was working with likeminded

people.

"We all love working with animals

and want to really make a

difference in that conservation/

native animal area."

This made up for the less appealing

aspects of the job, such

as working through wicked early

morning frosts, chopping up

chicken to feed the ferret.

People would be surprised at

how much of his role involved

preparing food for the animals

and cleaning their dishes, he

said.

"There are lots more cleaning

and tidying jobs than you might

expect."

As a child, he would not have

expected to find himself in this

job, in spite of his interest in

animals, he said.

"My zoo keeping career

started a little bit sideways. I

trained to be a teacher and I

Big Fat BeautiFul pieS

SKILFUL:

Moriarty

looking for

something

to get his

beak into.

did a zooology degree, but I

didn't really want to work as a

teacher."

Instead, he took on a job tour

guiding at Kelly Tarlton's Sea

Life Aquarium, which proved

to be a foot in the door of an

animal keeping career.

He was pleased to work mostly

with birds now.

"Mammals are a bit smelly

and difficult, whereas birds are

lovely.

"It's like a constantly moving

feast, Willowbank. There's

always something new here."

Petition started for more bins

From page 1

The more than 40-signature petition

follows growing complaints

from residents across the city

watching bins at their local parks

disappear to accommodate the

new "smart bins."

"I just felt so strongly about it,"

said Meads.

"We're all very concerned about

[council] taking the rubbish bins

away, it's just ridiculous. My concern

is that people are still putting

piles of doggy poo bags where the

original bins were.

The city-wide project involves

the removal of more than 800 bins

at neighbourhood parks, but only

81 of them are being replaced with

BigBelly bins.

It is meant to be a solution to

overflowing rubbish bins as they

can hold up to six times more

rubbish than a standard bin, and

reduces scattered litter as they

have lids.

The changes, discussed during

Long Term Plan talks, is also

anticipated to save the city council

about $300,000 a year, reducing

the number of times contractors

emptied them.

City council head of Parks

Andrew Rutledge said since installing

the smart bins at Hansen

Park, contractors have emptied

them once every nine days, compared

to once every 2.3 days with

the old bins.

•HAVE YOUR SAY: Has the

removal of rubbish bins at

your local park in favour

of bigger ones impacted

your neighbourhood?

Email your views to bea.

gooding@starmedia.kiwi

The two new bins are 600-litres

each increasing overall provision

for litter capacity at the park by 62

per cent.

However, he said the city council

has received four complaints of

rubbish dumping in spots where

bins once stood.

Contractors have also revisited

the park on six different occasions

to pick up the dumped trash,

"including dog poo."

Rutledge said residents' views

were welcome as they had valuable

information to make bin placement

more effective.

Said Rutledge: "This has been

the case for other areas in the city

where the community have assisted

us in the placement of additional

smart bins where required.''

The move is expected to encourage

more people to take their

rubbish home instead.

Meads was not convinced this

would happen. He was not against

the new bins, he just opposed the

$830,000 installation cost and that

not enough of them have been

replaced.

Time to Say Goodbye

54 Studholme Street, Somerfield - Auction 12 August

3 bedrooms | 1 bathroom | 1 living room | 1 dining room | 1 office | 2 car garaging | 2 off street | Listing: BE193757

Small batch made from scratch, Coffee to go!

I Spy Food 78 Barrington Street, Somerfield | Phone: 03 337 0422

Your agent, Your home, Your future

LICENSED SALES CONSULTANT REAA 2008

after sixty five happy years in this loved home, it is time

to let another family enjoy living here.

Located in the heart of Somerfield this home offers you

two living rooms, three good sized bedrooms along with

a modern kitchen and bathroom. room here to add

your own touches to the house and enhance.

Well sited on the section, the house allows you to

maximise the area. Space here for the children to play,

plant some vegetables and grow flowers for your vase.

an opportunity for you to secure a holding in this highly

sought after area. Literally a minute from Somerfield

School and a few minutes walk from Cashmere high you

wouldn't need to move again. Perhaps you may even

stay for sixty five years too.

P 027 777 0411

Like finding money down

the back of the sofa.

Show your dishes

who's Bosch.

yellow

square

deals

Emory 2 Seater Sofa

& 3 Seater Sofa

9065545 / 9065547

Over

40% off

Limited stock at this price

Bosch Series 4

14 Place Setting

Dishwasher

SMS46GI01A 9040211

$999

130 ONLY

— please call 0800 764 847 to check availability. Personal shoppers only. Trade not supplied. Limits and other exclusions may apply, ask in-store for details. Discount is off our full retail price. Not available in conjunction with any other offer.
---
1

Winter salads sit well

with cooked meat

There's nothing

like a thick

porterhouse on

the grill, instead

of sharing it with

vegetables try

our salads as

sides

Grilled beef

porterhouse steak

with mustard,

mayonnaise and

broccoli salad

Serves 4

Ingredients

800gm porterhouse or

rib eye steaks, 4 x 200gm

pieces

1 to drizzle vegetable oil

1 to taste salt and freshly

ground black pepper

3 tsp dijon mustard

4 tbsp mayonnaise

Broccoli, almond and

tomato salad

2 broccoli heads

2 tomatoes

1 clove garlic

2 tbsp tarragon

2 tbsp chives

3 tbsp extra virgin olive

oil

3 tbsp lemon juice

50gm slivered almonds

1 to taste salt and freshly

ground black pepper

Directions

Thursday [Edition datE] July 29 2021

8

Latest Canterbury news at starnews.co.nz

Flame grill or use a frying pan to cook your steak. Short, hard cooking

should produce tender meat.

Heat a grill, ridged grillpan

or frying pan. Use a

sharp knife to make several

cuts through the fat and

slightly into the meat as

this will stop it curling as it

cooks.

Lightly oil the steaks

before putting them onto

the heat. For juicy and

medium rare steaks, cook

them for about seven minutes

per side, turning once

and seasoning with salt

and pepper once you have

done so.

Remove from the heat,

wrap loosely in foil and

leave them to rest for five

minutes.

Mix the mustard and

mayonnaise, then spread

across the upper side of the

meat.

Salad: Cook the broccoli

in boiling salted water for

about four minutes, then

drain and set aside in a

warm bowl.

Chop and seed the

tomatoes, then add to the

broccoli. Chop the garlic

and tarragon finely, then

chop the chives into 2cm

lengths.

Mix the herbs with

the oil, lemon juice and

almonds, then gently toss

through the broccoli and

season with salt and pepper.

Serve warm.

Roasted tomato,

butter bean and

watercress salad

Serves 4

Ingredients

2 tsp salt

8 tomatoes

2 cloves garlic

1 tbsp Olive oil

1 tsp brown sugar

2 sprigs fresh rosemary

1 freshly ground black

pepper, to season

1½ cups butter beans

4 handfuls watercress,

100gm almonds, roasted

and salted

2 tsp lemons, juice

1 tbsp fresh herbs, such

as parsley, oregano, marjoram,

finely chopped

1 cup creme fraiche

Directions

Preheat the oven to 220

deg C. Arrange the tomatoes

in a dish.

Drizzle over the oil,

sprinkle the salt, pepper

and brown sugar.

Finely slice the garlic

and add with the rosemary.

Bake for 20min then let

cool.

Combine the butter

beans with the watercress.

Arrange on a platter or

individual dishes then

add the tomatoes and the

almonds.

Mix together the creme

fraiche, lemon juice and

herbs. Spoon over the

salad before serving.

Roast chicken legs

with stuffed green

olives and lemons

Serves 4

Ingredients

1 tbsp olive oil

4 chicken legs

½ tsp cinnamon

½ tsp Turmeric

1 tbsp liquid honey

1½ cups chicken stock

2 lemons, thinly sliced

3 bay leaves

1 cup stuffed green

olives

Directions

Heat oven to 190 deg C.

Separate the chicken legs

into drumsticks and

thighs.

Rub the pieces all over

with olive oil, then with

cinnamon and turmeric

and season well with salt

and pepper.

Place the chicken in an

oven pan and drizzle with

liquid honey.

Arrange the lemon slices

over the chicken pieces.

Surround the chicken

pieces with the chicken

stock, bay leaves and olives.

Cover with foil and bake

for 40min. Remove covering

and bake for a further

40min until the chicken is

golden brown and cooked

through.

Test by putting a sharp

knife into the thickest part

of the thigh to the bone – if

the juices run clear, then

the chicken is cooked.

SCHOOL OPTIONS

Golden Key at Merrin

Golden Key Canterbury offers talented

primary school pupils the opportunity

to work on a project with a university

student who has a shared interest.

Here's what Merrin Students have

to say about their experience on the

Golden Key Mentoring Programme...

"I enjoyed Golden Key because I learnt

lots of new things. I enjoyed making the

slideshow and I had fun collaborating

with some great mentors." Nina, Yr 6.

"I enjoyed working with my friends

and working with Marijke, we learnt

about the evolution of food.

I learnt what the people of the past ate;

Papanui Primary is a small school

where families and teachers work

together for the benefit of children's

learning and development.

We believe that children need to feel

safe and happy before they can learn, so

our terrific staff work collaboratively to

create an inclusive and welcoming place

for children to learn and grow.

We have a strong focus on our school

values of - Personal best - Eke Panuku,

Resilience - Aumangea, Learner -

Ākonga, Kindness - Atawhai.

Prospective students and whānau

SOUTHERN VIEW

fish, vegetables and meat.

My favourite part was getting to eat

afterwards and making a slideshow

about the evolution of food."

Malia, Yr 6.

"Golden Key was a lot of fun, the

activities were constructive. I enjoyed

meeting the mentors and seeing what

other people had done." Aston, Yr 6.

"The reason I enjoyed Golden Key

was because I liked working with other

students from Merrin, I learnt lots of fun

facts about the evolution of food! I also

enjoyed getting to eat some of the food

afterwards." Loretta, Yr 6.

Papanui Primary

Merrin School is a full primary school in

Avonhead, situated in the north west of

Christchurch. We have a roll of approximately

490 children from New Entrants to Year 8.

Merrin School is a warm and vibrant school

with a supportive community at its heart. Our

vision is for all children to shine, by purposefully

providing a learning environment that nurtures

and grows every child.

Merrin School has an enrolment scheme

to manage our roll numbers and avoid

overcrowding. If you live within the zone your

child is welcome to enrol at Merrin anytime.

To discuss enrolling your child please

phone the school office 03 358 8369, or

alternatively you can email the office at

office@merrin.school.nz and we will contact

you with regards to enrolment.

www.merrin.school.nz

are invited to view our website www.

papanuiprimary.school.nz and visit the

school.

Papanui

Primary School

The Papanui Pathway

Kimihia te ara tōtika – seek the right path

Papanui Primary School caters for new entrants to

Year 6 children in the Redwood and Papanui areas.

The school has an enrolment scheme and zone but

will have places available for out of zone children

starting school in 2021/2022.

We view education as an active partnership

between home and school with parents / caregivers

and teachers working together for the benefit of

children's learning.

We have an enthusiastic and dedicated team who

provide a supportive learning environment where

the children are engaged, challenged and supported.

If you wish to find out more about the school or

make an appointment to visit, please phone

(03) 352 8271 or email: principal@pps.school.nz
---
SOUTHERN VIEW Latest Canterbury news at starnews.co.nz

Thursday [Edition July 29 datE] 2021 92

SCHOOL OPTIONS - early & middle years 2022

Welcome to

Casebrook

Intermediate

Year 7 & 8 students are a unique age

group that we specialise in educating.

Our staff and school resources are

all geared for this stage of personal

development and focus on providing a

diverse range of learning opportunities to

create a rounded and engaged individual.

Our learning environment is supported

by a strong focus on our school values

of Respect (Whakaute), Excellence

(Panekiretanga) and Perseverance

(Hiringa). Through these 'REP' values

we develop within each student a sense

of self worth to realise their importance

as a member of our Casebrook

community.

Our school environment is one where

students are safe and have the confidence

to take risks with their learning. In

this way the students at Casebrook are

supported and encouraged to become

self-motived, independent learners.

We value the partnership between

home and school. Together we can

create an environment where we foster

feelings of pride and belonging. We are

sure you will enjoy being a part of our

Ngutuawa School

10 Gould Cres, Woolston, Chch

Ngutuawa School is a beautiful,

newly built year 0-8 school

which is situated in Gould Cres,

Woolston. We have small classes

and amazing staff.

We provide opportunities and

experiences so our students:

• are enthusiastic and see

themselves as learners

• are confident, independent and motivated

• form positive relationships with diverse groups of people

• are literate and numerate

• embrace leadership roles

• are proud of themselves and others

• can connect with their cultural identity, their land and the

environment

• regularly attend and participate in school

• value learning experiences and connect this to their future

• learn about their own well-being and the well-being of others

Phone: 03 982 0206

Email: office@ngutuawa.school.nz

community and would welcome the

opportunity to meet with you to discuss

your child's future at Casebrook.

ResPeCt exCelleNCe PeRseveRaNCe

CASEBROOK

CASEBROOK

INTERMEDIATE

INTERMEDIATE

CASEBROOK

INTERMEDIATE

SCHOOL

SCHOOL

OPEN SCHOOL DAYS

OPEN DAYS

Book a tour

Book a tour:

4 August - 1.30 - 2.45pm

Book

6 August 4 August: a tour:

9.00 - 1.30pm 10.30am – 2.45pm

4 6 August August:

- 1.30 - 1.30 9.00am

2.45pm

2.45pm – 10.30am

6 August - 9.00 - 10.30am

6 August: 1.30pm – 2.45pm

6 August - 1.30 - 2.45pm

CALL OR EMAIL THE OFFICE TO BOOK

Call/email the offiCe to book

CALL OR EMAIL THE OFFICE TO BOOK

ENROLLING Enrolling NOW now

Veitches Veitches Road, Christchurch Road, - Ph. Christchurch

03 359 7428

ENROLLING NOW

Phone: 03 359 7428

Email: office@casebrook.school.nz

www.casebrook.school.nz

Email: office@casebrook.school.nz

www.casebrook.school.nz

Veitches Road, Christchurch - Ph. 03 359 7428

Email: office@casebrook.school.nz

www.casebrook.school.nz

WhakaUte PaNekiRetaNGa hiRiNGa

Celebrating 170

years at St Michael's

This year is an exciting one for St

Michael's. As the country's oldest

independent preparatory school, we are

celebrating our 170th year nurturing and

educating the children of Christchurch,

at the heart of our city.

And as the heart of our city has

bounced back, so too St Michael's, with

a 69% roll increase since the post-quake

low in 2017. Such is the interest in the

school, that the Board has recently

announced two new classes: a new

entrant Year 0 for Term 3; and a second

Year 7 for January.

A legacy of 170 years is not built on

fresh air. It's built on hard work and solid

expectations.

As once again NZ's Maths standards

come under fire – and this time from

our own Education Review Office who

report 'slippage in expectations' and

several years of 'relative deterioration' in

pupil performance* – today's St Michael's

families enjoy the reassurance of our

legacy of traditional foundations and

academic rigour.

We teach reading and handwriting,

spelling and grammar, and good oldfashioned

Maths. This academic rigour

then underpins our wider curriculums

in Science, History, Geography and

languages.

Our small classes offer your child

outstanding specialist and individual

attention, and a sense of identity and

✓ Co-educational, Years 1-8

✓ Small classes

✓ Specialist teachers

✓ Traditional classrooms

✓ Academic rigour

✓ Musical excellence

✓ Christian values

✓ Before & after school care:

7.30am - 5.30pm

✓ Central city location

Taking enrolments for 2023.

Some places available for 2022.

place at St Michael's.

As a church school, our musical legacy

is guaranteed: everyone plays and sings.

And talking of playing, have you seen

extended campus?

You and your child are warmly

welcome to discover our purposeful,

wholehearted and inclusive prep school.

Do drop in on Open Day: Wednesday

4 August, or contact registrar, Bec

Hitchcock, to book a tour.

* https://www.stuff.co.nz/national/

politics/300344123/education-reviewoffice-warns-of-slippage-of-expectationsin-maths-teaching

St Michael's

Your school at the heart

of the city since 1851

OPEN DAY: WED 4 AUGUST

www.saintmichaels.school.nz 249 Durham Street 379 9790
---
10

Thursday July 29 2021

Latest Canterbury news at starnews.co.nz

SOUTHERN VIEW

BE IN TO WIN

A SONY x90h ANdROId Tv WORTh $2,500!

FREE FIRST XV SEASON PREVIEW MAGAZINE INSIDE

MAY 2021

TONY JOHNSON

ON THE COMING OF

MOANA PASIFIKA

AARON SMITH

'WHY I RATE

DUPONT'

SEAN FITZPATRICK

'WE NEED MONEY TO

SUSTAIN THE GAME'

rrp $10.99

SEILALA MAPUSUA INTERVIEW: HIS VISION FOR MANU SAMOA

DAN

CARTER

CRUSADERS

FIVE OF THE BEST

REFLECTING ON A

GREAT CAREER

TONY

JOHNSON

CAN THE

SABBATICAL

JEROME

KAINO

SORTED FOR

LIFE AFTER

RUGBY

BEEGEE'S

DREAM

WHY MOANA

PASIFIKA WILL BE A

GAME-CHANGER

• PHIL GIFFORD: THE BEST

SCHOOLBOY STARS HE SAW

• DARYL GIBSON: HIS VISION

FOR THE BOP STEAMERS

JUNE 2021

SAM CANE

THE LONG

ROAD BACK

WAYNE PIVAC

FROM THE OUTHOUSE

TO THE PENTHOUSE

Subscribe to New Zealand's

premier rugby read for six

issues or more to go in the

draw. Ten lucky subscribers

will also win one of five All

Blacks jerseys, Lone Star

and Joe's Garage vouchers.

9 416770 121325

rrp $10.99

• WHERE ARE THEY NOW:

MATTHEW COOPER

• SARAH HIRINI:

BRINGING THE MANA

9 416770 121325

SIx ISSUES

$39

SAvE 41%

+ ChANCE

TO WIN A Tv

& mORE!

*Competition runs till July 31st 2021. Offer only applies to NZ residents

and subscription periods of six issues or more.

SUBSCRIBE AT RUGBYNEWS.CO.NZ OR 0800 77 77 10

AvAIlABlE AT All GOOd BOOkSTORES ANd SUpERmARkETS
---
SOUTHERN VIEW Latest Canterbury news at starnews.co.nz

Thursday July 29 2021 11

Classifieds Contact us today Phone our local team 03 379 1100

Food

Trades & Services

Trades & Services

Trades & Services

saitouchofspice.co.nz

82 Barrington Street the

best Curry Takeaway,

Open 11.30am to 2.30pm,

4.00pm to 9.30pm. $10

Butter Chicken Lunch

Combo. Ph Orders

3327885, or text order to

0212324544

Gardening

& Supplies

Gardener available for

maintenance, weeding

pruning, spraying,

planting, advice. Qual &

exp. Ph Richard 0274 918

234, 03 349 4022

Real Estate

HOME WANTED 3-4

bedrooms. Looking in Nor

West areas, Beckenham

or Somerfield. Prefer

permanent material brick

and post 1990 build. Don't

mind if it needs some TLC

- anything considered.

Cashed up buyer. Phone

021 372 479

Wanted To Buy

AAA Buying goods

quality furniture, beds,

stoves, washing machines,

fridge freezers. Same day

service. Selwyn Dealers.

Phone 980 5812 or 027

313 8156

TOOLS Garden,

garage, woodworking,

mechanical, engineering,

sawbenches, lathes, cash

buyer, ph 355-2045

FOR ALL YOUR

★Garden Clean-ups

★Pruning

★Lawn Mowing

★Garden Maintenance

Call us today for a FREE quote

PH 0800 4 546 546

(0800 4 JIMJIM)

BANJO ELECTRICAL

LTD. Registered

Electrician. Ph Andrew

022 654 3859.

BANJO ELECTRICAL

LTD. Registered

Electrician. Ph Andrew

022 654 3859.

BRICKLAYER

George Lockyer. Over

40 years bricklaying

experience. UK trained.

Insurance work, EQC

repairs. Heritage

brickwork & stonework

a speciality. No job too

small. Governers Bay.

Home 329 9344. Cell

027 684 4046. E mail

georgelockyer@xtra.co.nz

CARPET LAYING

Exp. Repairs, uplifting,

relaying, restretching.

Phone John on 0800

003181, 027 240 7416

jflattery@xtra.co.nz

ELECTRICIAN

Contact for a free quote

phone 027 331 0400

dave@davesimpsonelectrical.co.nz

davesimpsonelectrical.co.nz

Experienced Domestic Electrician

Quality Workmanship

• New Build

• Renovations

• Fault finding

Trades & Services

ELECTRICIAN

Prompt & reliable

registered electrician

with 24 years experience

for all residential and

commercial work, new

housing and switch board

replacements. Phone Chris

027 516 0669

GUTTER CLEANING

Gutter cleaning special

from $99 plus gst for a

whole house clean"".

Free Quotes, call Morgan

Thomas today 022 375

8506

PAINTING

Indoor / Outdoor, over 30

yrs exp, same day quotes,

ph Steve 021 255 7968

• Power

• Lighting

• Switchboards

Trades & Services

PAINTING

Indoor / Outdoor, over 30

yrs exp, same day quotes,

ph Steve 021 255 7968

PAINTING

High quality professional

service. Residential int/ext.

Large & small jobs. Ring

Brent 021 363 432. www.

baileypaintingcontractors.

com

STUMP GRINDING

Best price guarantee Tony

0275 588 895

VHS VIDEO TAPES

& all camera tapes

converted to DVD or

USB. Video taping

special occasions, www.

grahamsvideo.co.nz ph 03

338-1655

Specializing in:

• Roof Painting

• Interior/exterior

residential

• Small commercial

painting

Noel 027-411-3596

kemp.painters@gmail.com

kemp painters and decorators

WINDOW TINTING

tintawindow

advanced film solutions

99% uv block

fade protection

heat control

reduce glare

25 Years Experience

PAINTERS

Painters and Decorators Ltd

Canterbury Owned and Operated

A husband and wife team

privacy films

frosting designs

non-darkening films

Workmanship Guaranteed

Lifetime Warranties on Most Films

UV

block

We offer

free quotes

Quality not

Quantity

Free Quotes Canterbury and Districts

03 365 3653 0800 368 468

ADVERTISE YOUR BUSINESS HERE

Phone for further details

(03) 379 1100

Need To Get Fit Fast?

Tone Up or Body Build, Get A Total Body Workout

One Machine...

That Does it All

Easy Storage

Easily Folds Away

Effective Workout

Fun, low impact workouts.

For All Ages

Personalised Settings For

Beginners and Advanced

Includes

Pilates Kit

& DVDs

Up to

50 % Off

*Call for Terms

& Conditions

Off

*

Call Now! 0800 665 665
---
Advert: FCSV2907 Newspaper: Southern View

12 Thursday July 29 2021

Latest Canterbury news at starnews.co.nz

SOUTHERN VIEW

Shop online at

FreshChoiceYourWay.co.nz

or download the

FreshChoice app

$

5 00

bag

$

7 90

kg

$

1 00

kg

Country Fresh

Washed White

Potatoes 4kg

Fresh NZ Pork

Leg Roast

(Excludes Free Range)

Loose Green

Kiwifruit

Nestlé Chocolate

Block 140-200g

$

2 50

ea

Fresh'n Fruity

Yoghurt 6 Pack

$

3 50

pk

Fresh NZ Chicken

Tenderloins

(Excludes Free Range)

$

12 90

kg

Barrington

City Market

Open 7am – 10pm, 7 days a week.

barrington.store.freshchoice.co.nz

Open 7am – 9pm, 7 days a week.

citymarket.store.freshchoice.co.nz

Prices apply from Monday 26th July to Sunday 1st August 2021, or while stocks last at FreshChoice Barrington & City Market only. Limits may apply.

FreshChoiceNZ

OWNED &

OPERATED BY

LOCALS

FCSV2907
---
SOUTHERN VIEW Latest Canterbury news at starnews.co.nz

Thursday July 29 2021 13

a new chapter

Te Aratai

College

Linwood High School 1954 – Te Aratai College 2022
---
14 Thursday July 29 2021

Latest Canterbury news at starnews.co.nz

SOUTHERN VIEW

Dreams into

Reality

Te Aratai College

From Linwood High School

1954 to Te Aratai College 2022,

our school continues its proud

history.

Next year we return to Aldwins Rd and

our completely rebuilt and stunning new

school. We thank our architects, Architectus;

our construction company, Southbase;

our project managers RDT Pacific and

the Ministry of Education. Architectus and

Southbase are the designers and builders

of a number of prominent Christchurch

buildings including the Central Bus

Exchange and Tūranga, the central library.

We are fortunate to have such a team.

Te Aratai College is inspiring from the

650 seat theatre-standard auditorium

to the sunny student centre and the

student-friendly courtyards. Our design is

for community-whanaungatanga, kōreroconversation

and personalised student

success. It reflects the new name gifted

to us by Ngāi Tūāhuriri, Te Aratai College,

Pathway to the Sea.

In 2016 there was extensive community

consultation about what the community

wanted for their new school. The key

summary point from this community voice

was:

The school should nurture individual

excellence by providing varied opportunities

to meet individual needs. It should foster a

'love to learn' culture that returns high levels

of achievement and success at a cost that is

accessible for all.

Reflecting this, our classroom design is

based on responsiveness to the needs

of the students at that moment. Our

classrooms are the standard, time-honoured

size but with the flexibility to open up.

This is because there are occasions when

learning can be more open but equally there

are times for some students when this is a

learning disaster. Te Aratai College also has

smaller rooms for students who learn best

in reduced, very quiet environments, and

bigger spaces for larger student gatherings.

The building design has flexibility for staff

and students to respond to the many factors

that personalise success.

Of course, new buildings alone do not

necessarily improve education. The

relationship with the teacher - he tāngata, he

tāngata, he tāngata - and the personalisation

of learning are the key for this. However,

there is also no doubt that new, purposebuilt

buildings and spaces that arise from

these community values of relationships and

personalisation contribute hugely to student

success. This is Te Aratai College.

Southbase Construction is a leading construction management

company, recognised for building state-of-the-art educational

facilities where our tamariki can learn and grow.

We are proud partners delivering Te Aratai College.

www.southbase.co.nz
---
SOUTHERN VIEW Latest Canterbury news at starnews.co.nz

Thursday July 29 2021 15

Linwood College

through the years

Science Lab

1965

Samoan

Culture Club

1989

Production

1991

New uniform

1954

Bookbinders in the library

1963

School Fire 1975

Emily Hough,

Year 10

"I'm excited to see how

the new kura is going

to look. The plans

look great and we

are looking forward to

returning to Aldwins Rd

and Te Aratai College."

Alexsandra Laufiso,

Year 11

"Moving to Te Aratai and seeing the

new school is going to be amazing.

Te Aratai means a lot to me

because there are going to be new

students attending and the new

design is exciting. And no more

sitting on the floor for assembly!"
---
16 Thursday July 29 2021

Latest Canterbury news at starnews.co.nz

SOUTHERN VIEW

Te Aratai College - A New School for our Community

When Linwood College reopens its doors in

term two, 2022 it will be known as Te Aratai

College.

Te Aratai College is the name gifted to us by Ngāi

Tūāhuriri and means Pathway to the Sea. This name

builds on Linwood College's history of being the local

secondary school for communities from Linwood-

Woolston, the eastern hill suburbs, and out to the coast.

The 780 students and 120 staff are excited about this

wonderful opportunity.

The school's initial fitout budget however will not stretch to

all the equipment and services identified as needed.

To help make our new school a centre of excellence

we now call upon our community, past pupils and local

businesses to support this amazing new educational

opportunity by donating to the Linwood College

Foundation. Please join with us in making the vision of a

well-resourced school for our community a reality.

Together let us create a school which will provide every

educational opportunity for all students. Let us help each

one to succeed to their potential.

It is only through education and by

supporting where there is need, that we

can transform our communities and create

exciting futures for all our students.

Items requiring funding:

• Technology and creative courses -

specialised equipment

• The new Performance Centre fit out

including retractable seating, lighting

boards, stage curtains and sound system

• Commercial kitchen specialist equipment

• Playgrounds for Year 7 and 8 students

• Furniture and equipment for the Kimihia

Parental College, the teen parent unit

• Music recording equipment

• Bouldering – a rock climbing wall

• Whakairo (carvings) for the whare

(meeting house)

• Pastoral care resourcing

• Trees, shrubs and general planting

Dick Edmundson has been Principal at Linwood College since 2016. He taught

English at Linwood in the 1990s. He was previously Principal at Hornby HS and

has taught in a variety of schools in New Zealand and overseas.

"As a current Linwood College parent, I

know how great this school is and would

love your help to make the new Te Aratai

College amazing. Let us support our young

people to become the best they can be."

Sara Templeton,

Christchurch City Councillor –

Heathcote Ward

"I know that people are clear on how

important a strong, local school is for strong,

local communities. Donating to the new

school will be a way for many people to help

make this a reality."

Dick Edmundson

Principal

Linwood College

Donate: Please make your gift today by going to www.givealittle.co.nz/cause/linwood-college-rebuild-fund or

direct to the Linwood College Foundation Charitable Trust bank details: SBS 031369 0312180 00 All donations

tax deductible. The Linwood College Foundation Charitable Trust www.linwoodcollegefoundation.org.nz was

established in 2018 to enable the community to support the development of the new school and its students.

Foundation enquiries: 021 2398946