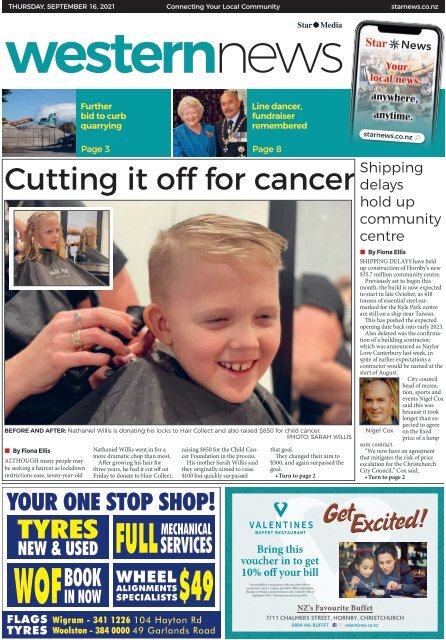 Western News: September 16, 2021
Create successful ePaper yourself
Turn your PDF publications into a flip-book with our unique Google optimized e-Paper software.
THURSDAY, SEPTEMBER 16, 2021

Connecting Your Local Community

starnews.co.nz

Further

bid to curb

quarrying

Line dancer,

fundraiser

remembered

Your

local news.

anywhere,

anytime.

Page 3 Page 8

Cutting it off for cancer

BEFORE AND AFTER: Nathaniel Willis is donating his locks to Hair Collect and also raised $850 for child cancer.

PHOTO: SARAH WILLIS ​

• By Fiona Ellis

ALTHOUGH many people may

be seeking a haircut as lockdown

restrictions ease, seven-year-old

Nathaniel Willis went in for a

more dramatic chop than most.

After growing his hair for

three years, he had it cut off on

Friday to donate to Hair Collect,

raising $850 for the Child Cancer

Foundation in the process.

His mother Sarah Willis said

they originally aimed to raise

$100 but quickly surpassed

that goal.

They changed their aim to

$500, and again surpassed the

goal.

• Turn to page 2

Shipping

delays

hold up

community

centre

• By Fiona Ellis

Nigel Cox

SHIPPING DELAYS have held

up construction of Hornby's new

$35.7 million community centre.

Previously set to begin this

month, the build is now expected

to start in late October, as 418

tonnes of essential steel earmarked

for the Kyle Park centre

are still on a ship near Taiwan.

This has pushed the expected

opening date back into early 2023.

Also delayed was the confirmation

of a building contractor,

which was announced as Naylor

Love Canterbury last week, in

spite of earlier expectations a

contractor would be named at the

start of August.

City council

head of recreation,

sports and

events Nigel Cox

said this was

because it took

longer than expected

to agree

on the fixed

price of a lump

sum contract.

"We now have an agreement

that mitigates the risk of price

escalation for the Christchurch

City Council," Cox said.

• Turn to page 2

YOUR ONE STOP SHOP!

TYRES

NEW & USEd

WoF

FLAGS

TYRES

bOOk

IN NOW

FULL MECHANICAL

SERVICES

WHEEL

ALIGNMENTS

SPECIALISTS$49

Wigram - 341 1226 104 Hayton Rd

Woolston - 384 0000 49 Garlands Road

Bring this

voucher in to get

10% off your bill

Not available in conjunction with any other offer or

promotion. Limit 1 coupon per table. Offers redeemable

Monday to Friday, Lunch & Dinner only. Valid till 30th of

September 2021. Discount can not exceed $50.
---
2 Thursday September 16 2021

Latest Canterbury news at starnews.co.nz

WESTERN NEWS

Delays with new Hornby

community centre build

• From page 1

The budget for the build

had not changed, the council

confirmed.

Cox said the start of the build

was dependent on the arrival of

the 147 steel piles, which were

18 metres long and weighed 158

kilograms per metre.

The city council ordered them

in early May, but they were held

up by Covid-19 pandemic-related

shipping changes.

"This delay is typical of the

current global supply and

shipping challenges facing the

construction sector," Cox said.

He understood the piles were

loaded into a ship in Taiwan last

week.

Earthworks were completed

at the site over winter, so Naylor

Love Canterbury would be able

to "hit the ground running," Cox

said.

Examples of the construction

company's handiwork included

the EA Networks Centre in

Ashburton and the Selwyn

Aquatic Centre in Rolleston, the

Ballantynes redevelopment and

the Spark Square building.

"I am sure many in the

community will watch progress

on the building with great

interest."

A range of community and

recreational spaces would be

accommodated within the

3600sqm centre, including a

library, a creative activities room,

a lane pool, a learn-to-swim

pool, a toddlers' wet play area, a

spa pool and a customer services

zone.

The new Hornby centre would

be a "fantastic asset" for the

community, Mr Cox said.

The city council is currently

seeking

feedback

on what

facilities and

programmes

people would

like the centre

to offer.

Submissions

Marc Duff are open until

COMING SOON:

The Hornby

Centre, with a

pool and library,

is set to open in

2022. ​

October 1.

Greater Hornby Residents

Association chairman Marc Duff

said the pandemic was a time

when people needed to be patient

about delays.

"It just means we're going to

enjoy it more," Duff said of the

upcoming facility.

"I'm appreciative negotiations

take time, if it gets a better

deal [and] leads to savings,

that's awesome."

Double

donation

• From page 1

"Every time a donation

or message came through

[Nathaniel's] face lit up," she said.

"My brother had cancer when

he was a child, so anything we

can do to help." Fortunately, her

brother had recovered and the

family remained close.

Two years ago, when

Nathaniel's hair started getting

long, Sarah and her husband

asked him if he wanted to grow

his hair to 25 centimetres, the

minimum length for a donation

accepted by Hair Collect.

Nathaniel's hair was about

30cm long when it was cut for free

by Anna Reed of Halswell salon

BYond The Fringe on Friday.

The chop was planned to

take place last week, in time for

the Child Cancer Foundation

fundraiser Wig Wednesday.

Often a school event, Wig

Wednesday encourages

participants to "wear a wig,

shave your head or style a funky

hairdo." It was not widely held

last week due to the Covid-19

pandemic restrictions.

Nathaniel wanted to make

someone happy with his donation

and was excited to get his hair cut,

he said. He was also pleased to

have short hair again.

Do you want to know the

secret to saving money

on your power bill?..

It's having a healthy heat pump

Airify Christchurch is

committed to ensuring

your home has a healthy

and effective heat pump,

and we're proud to offer

our PREMIUM service for

just $75!

Our Premium Heat Pump

Clean & Service includes

the latest injection system

technique to ensure your

heat pump is properly

sanitised and maintained. Our unique system cleans your

heat pump's coils of blockages, dust, bacteria and mould with

industry approved disinfectant and anti-bacterial solutions.

Photo credit to Fazakerley Patterson Photography

We offer a discount on additional units when you have them

serviced during the same visit.

Book your clean today by

calling our friendly team

on 0800 24 74 39 or going

to www.airify.co.nz

People and Place

– our stories revealed

Saturday 9 October – Monday 25 October 2021

Celebrate and explore our rich and diverse heritage,

with over two weeks of walks, open days,

exhibitions, performances and more!

ccc.govt.nz/heritagefestival
---
WESTERN NEWS Latest Canterbury news at starnews.co.nz

Thursday September 16 2021 3

Lockdown sees rise in graffiti in the west

• By Fiona Ellis

THE COVID-19 lockdown

contributed to a rise in graffiti

reports in parts of western

Christchurch, rather than the

decrease seen in other parts of

the city.

Council data also showed a

drop in graffiti reports in the

Halswell ward between July and

August, from 45 to 15.

However, both Riccarton and

Hornby experienced a rise, from

64 to 100 and 21 to 28 respectively.

Hornby Community Patrol

secretary Anne Smith said it did

not seem that graffiti lessened

during the lockdown.

The patrol began operating in

level two but had yet to run its

dedicated graffiti patrol, she said.

However, she said she had

personally observed "a slight

increase" while out and about.

Wycola Park stood out to her

as a place where she had seen

graffiti recently.

"You'd always hope that people

would behave and not do it, but

you are allowed to go out walking,"

she said of the opportunity

for graffiti under lockdown.

In north-west Christchurch,

Harewood also experienced a

rise in graffiti reports last month,

but most areas had a decrease

between July and August.

RISE: Reports of graffiti were up during lockdown in the west, in contrast to other parts of the city.

A graffiti report for the

month of August in Tuesday's

Fendalton-Waimairi-Harewood

Community Board meeting

agenda showed just 55 incidents

were reported to the city council,

down from 102 in July.

Of these, 24 were reported in

the Fendalton ward, where the

July total was 71, and five were

reported in Waimairi, where the

July tally was 13.

However, Harewood saw a rise

in reported incidents, increasing

from 18 in July to 26 in August.

City council manager of

community partnerships and

planning Gary Watson said the

Covid-19 Alert Level 4 lockdown

was a likely factor behind this,

following last year's pattern in

the board area.

"We had 32 reports of graffiti

in the March-May 2020 lockdown

compared to 70 reports

over the same period in 2019,"

Watson said.

Considering Harewood's rise,

he emphasised that "five people

could report the same graffiti at

one site and it would create five

incident reports."

"We had reports of graffiti that

required removal at the skate

park and along the fence line

at Bishopdale Park. This is a

frequented area, even during

lockdown when people were doing

their regular exercise close to

their homes."

Although not included in the

report, the city council confirmed

that reports of graffiti in

the Papanui ward also dropped,

albeit slightly, from 57 in July to

55 in August.

In the Innes ward, the drop

was more significant, falling

from 50 in July to 29 in August.

Christchurch North

Community Patrol chairman

Sam Hall said the downturn

was "absolutely" related to the

lockdown.

PHOTO: GEOFF SLOAN ​

However, the community

patrol was back in action in Alert

Level Two, and it seemed that the

taggers were also back.

Across the wider patrol area,

which encompassed both the

Fendalton-Waimari-Harewood

and Papanui-Innes areas, last

week's three-hour graffiti patrol

found 15 tags.

This was was almost average,

he said,

In July, 47 tags were found in

12 patrol hours.

"We've yet to actually nab

someone [doing graffiti]. It

doesn't take long, they can have

one done in 30 seconds."

BECAUSE YOUR

FEET MATTER

40 years

combined

experience

• General Foot Care

• Biomechanical

• Orthotics

• Ingrown Toenails

• ACC Registered

• Diabetic Foot Care

45 Merrin Street, Avonhead Ph: 03 357 0155

E: info@footmatterspodiatry.co.nz

Book Online! No referral required.
---
4 Thursday September 16 2021

Latest Canterbury news at starnews.co.nz

WESTERN NEWS

FREE

Love Your Style

Workshops!

with Joanna Giles

DATES: Wednesday 22

September & Saturday

2 October

TIME: 1pm – 1.45pm

WHERE: Tenancy next

to Life Pharmacy

Bookings essential, limited to 20

guests per workshop. Book through

the Centre Management office on

03 332 4221.

Each guest will receive

a free goodie bag!
---
WESTERN NEWS Latest Canterbury news at starnews.co.nz

Thursday September 16 2021 5

Water contamination sites highlighted

• By Fiona Ellis

THREE AREAS have been

highlighted as potential

stormwater contamination sites

in a Haswell-Hornby-Riccarton

Community Board submission

to the city council.

The board was among 29

submitters on the draft stormwater

management plans for the

Halswell and Heathcote Rivers.

Adjacent to the Owaka Pit on

Wilmers Rd, a

former stormwater

retention

basin was one

of the three

sites the board

recommended

for early

Mike Mora

investigation

in the board's

Halswell River submission.

"It has been filled in now but

will likely still be contaminated,"

the submission stated.

Catering to the nearby industrial

area, the stormwater

retention basin by the intersection

of Halswell Junction Rd and

Springs Rd was also listed.

The site of a former timber

treatment plant by the same

intersection was the final area of

concern.

Chairman Mike Mora said

the plans were important to the

board because the headwaters of

both rivers were in its area.

The impact of high levels of

residential development also

made it an important issue.

"We've just got to keep the water

quality as high as possible,"

Mora said.

The draft plans are the first of

seven being prepared between

2020 and 2023 for the district's

different stormwater catchments.

They set out the ways in which

the city council will meet the

requirements of its 25-year Comprehensive

Stormwater Network

Discharge Consent which was

granted by Environment Canterbury

in 2019.

The board's submissions

supported the goals outlined in

the plans and recognised the

potential for transport changes

and cycleways to result in fewer

vehicles on roads.

This would mean would less

contamination, particularly

FEEDBACK: The city

council asked for

public submissions

on stormwater

management, such

as the Sparks Rd

stormwater flood

collection basin.

PHOTO: NEWSLINE ​

of copper and zinc, which

stormwater picked up from

roads.

Although no dates had been

set to progress the plan, the city

council said it was likely to go to

its three waters infrastructure

and environment committee in

October for endorsement.

For everything

AUTO ELECTRIC

CARS • BOATS • TRUCKS

CARAVANS • TRAILERS • 4WDS

ELECTRIC & HYBRID VEHICLES

• Starter Motors

• Alternators

• Central

Locking

• electric

Windows

• ABS & Airbags

• Stereos/

Alarms

• Batteries

• tuneups

• engine

Management

Amazing

Auto USUALLy

AAE Electric SAMe DAy

ServiCe

65 Coleridge St, Sydenham

Phone 03 379 4250

www.amazingautoelectric.co.nz

We need your

help now more

than ever.

Multiple Sclerosis and Parkinson's Canterbury

Annual Street Appeal is NOW ONLINE to

maintain the vital, fundraising lifeline which

supports our work.

Please support us by donating at:

ms-pd.org.nz

NUMBER ONE SUPPLIER

TO THE NZ JET BOATING

COMMUNITY FOR OVER

50 YEARS

• Part Boats & Hulls

• Turn Key Packages

• New Jet Units

• Custom Fabrication

• Expert Advice

SERVICING

Peter Tonkin

03 962 0505

peter.tonkin@hamiltonjet.nz

Proudly supported by

• Spare Parts Retailer

• Jet Unit Refurbishment

• Engine Tune-Ups

• Insurance Repairs

• Impellor Reconditioning

Kōrero mai | Have your say

Help create your

community's future

We want your feedback on the

Draft Ōtautahi Christchurch Community Strategy

The strategy is our commitment to how we will work with others

to build a healthy, happy and resilient Christchurch.

Come and talk to us at one of our drop-in sessions:

Tuesday 21 September, 3-5pm

Rārākau: Riccarton Centre

199 Clarence Street

Riccarton, Christchurch

Drop-ins only available in COVID-19

Alert Level 2 or lower. Please follow

Government guidelines on mask

wearing and contact tracing.

Consultation runs from

10 September—25 October

ccc.govt.nz/haveyoursay
---
6 Thursday September 16 2021

Latest Canterbury news at starnews.co.nz

WESTERN NEWS

"I can be

myself here.

Everyone is

so accepting,

and we have a

lot of fun."

Our viewings have strict COVID-19 protective measures in place

Parkstone. The space to be yourself.

Come and see a retirement village where the communal garden

is big enough to feed the community, where a lap of the pool isn't

the same as a width, and where the cinema isn't just a big telly.

Come to Bupa Parkstone where you have the space to be yourself.

Situated in Ilam this new development is ready to move in now.

Call Debbs to book a tour and see if Bupa Parkstone is

right for you.

Call Debbs on (03) 974 1952 to book a tour.

2 Athol Terrace, Ilam

bupa.co.nz/parkstone
---
WESTERN NEWS Latest Canterbury news at starnews.co.nz

Thursday September 16 2021 7

Knitters give babies a warm welcome

FOUR WOMEN from

Ferrymead Rotary have knitted

almost 100 garments for babies

born at the Christchurch

Women's Hospital this year.

Pat Edward, Debbie Woolf,

Kathryn Tovgaard and Barbara

Crooks began the project about

four months ago, although the

Ferrymead Rotary group has

been providing knitted clothing

to the hospital for some time.

Kathryn has personally been

knitting for the hospital for five

years.

Barbara said they intensified

their efforts this year after

receiving a call for help from the

hospital.

All babies born at the hospital

are given a woollen hat at birth,

while woollen singlets, matinee

jackets and booties are available

for mothers to take home.

So far, the group has knitted

more than 60 woolly hats, with

Pat heading the count.

The hats produced are a variety

of different sizes and colours.

Barbara said Ferrymead

Rotary has funded some of the

wool, but all of the knitters' time

is given voluntarily.

They estimate up to seven

hours goes into making each hat.

Most of the knitting has been

done individually, although the

four have got together from time

to time to share wool and

swap notes.

Acknowledging Rotary clubs

used to be men only, Kathryn

said: "People don't necessarily

connect Rotarians with knitting

but anything is possible."

She said being a part of

a Rotary club was a family

tradition.

"One thing I said a long time

ago was that I always wanted

to help out in the community

throughout my life," she said.

"A group of people can do

so much more than just an

individual."

CHAMPION KNITTERS:

Ferrymead Rotary's Kathryn

Tovgaard, Debbie Woolf, Pat

Edward and Barbara Crooks

have knitted almost 100

garments for new babies,

while Pat tries on a hat for

size (above).

Ferrymead Rotary community

director Debbie Woolf said the

club is also working on making

singlets and booties for Plunket

and supplying the Methodist

Mission with bedding, jerseys,

hats, scarves, gloves and shoes.

The Mission gives these items,

donated or sourced by Rotary

members, to homeless people.

For more information about

Ferrymead Rotary and its

community projects, phone

secretary Kathryn Tovgaard

on 384 9485.

Kōrero mai | Have your say

Te Ara O-Rakipaoa

Nor'west Arc Cycleway

University–Jellie Park–Papanui

We want to hear your feedback on the options.

Help us make it way safer for everyone.

Come and talk to the team at a drop in session

New Generation Church, 309 Clyde Road (corner Aorangi Road)

Monday 20 September, 4.30pm – 6pm

Cobham Intermediate School, 294 Ilam Road

Thursday 23 September, 3pm – 5.30pm

Call or email any time to speak about this project

Senior Engagement Advisor, Tessa Zant

03 941 8935 or cycleways@ccc.govt.nz

ccc.govt.nz/haveyoursay

Consultation closes

Tuesday 12 October 2021
---
8 Thursday September 16 2021

Latest Canterbury news at starnews.co.nz

WESTERN NEWS

Line dancer, fundraiser remembered

• By Fiona Ellis

WHETHER OR not former

Governor-General Jerry

Mateparae can line dance

remains unclear, but he can not

say he was never asked.

Bromley resident Mary

Stanley-Shepherd, who passed

away last month, offered to show

him the ropes in 2016 while

receiving her Queen's Service

Medal for services to dance and

the community.

Daughter Karen Mather said

he was one of many who had

the chance, as the founder of the

Cathedral City Line Dancers was

a brilliant teacher, who led young

and old alike.

She would teach classes to

children with cancer at the

annual Camp Quality camp

each summer, and constantly

fundraiser for the cause for over

20 years.

Denise Wood, to whom Mary

passed leadership of the line

dancing club, estimated Mary,

who she remembered as caring

and encouraging, had raised

about $50,000.

This had been done from

methods ranging from raffles

and craft sales, to donating the

payments the club received to

dance at the yearly Spencer Park

gala.

However, no one was too old

to dance, and Mather recalls

her mother visiting old peoples'

homes to teach them some

moves.

"She'd go and see the older

people, even though she was

AWARD: Mary Stanley-Shepherd receives her Queen's

Service Medal from former Governor-General Jerry

Mateparae in 2016.

probably older than them,"

she said.

"She just loved people, she was

a true extrovert."

Even as her health started

to fail last year, she would still

attend line dancing classes,

giving instructions and advice.

This was typical of the tenacity

and positivity her mother

embodied, her daughter said.

"She would always find the

good thing, the joy, the positive

aspects."

She also enjoyed the fact that

line dancing brought joy to

those who might be lonely, and

as it did not require a partner,

it was suitable for single people,

widows, and widowers.

Mary's life was not always easy.

Born in England in 1933, she

lived through the Blitz.

"I remember her saying the

war years in London were

terrible, bombs night after

night."

She left England aged 17 to

stay in Kenya with relatives,

and although the country was

unstable, she stayed upbeat,

enjoying the weekend dances.

Shortly after moving to New

Zealand, her first husband left

her and moved back to Kenya.

"She brought me up on

her own. She was a pretty

independent, feisty woman. This

is before feminism was really

defined."

"She had to argue a few times."

Mather remembers choosing

a bike for 10th birthday in the

early 1970s.

Her mother was not allowed

to buy it because she needed

her husband's name for the hire

purchase agreement.

"We had to leave that shop

and leave the bike because they

wouldn't sign it off. The next day,

mum was on the phone to the

big boss."

In the end, the bike made it

home.

"She had perseverance . . .

those were the women who really

trail-blazed for us, I think."

Aged in her 60s, Mary married

"the love of her life", the late Art

Stanley-Shepherd.

Always a keen dancer, she took

to it quickly after being introduced

to line dancing in the 1970s.

"I always thought she'd die on

the dance floor."

Even when unwell, Mary

took care to look stylish, and

her beautiful nails even drew

comments from the nurses at

Nazareth House, where she

passed away.

Because it was lockdown

at the time, the family was

unable to hold a funeral, but

memorial festivities were in the

works.

"We will be having a birthday

bash in November."

"We'll be having a line dance

and entertaining afternoon,

combined with pictures and

stories and things."

"That's really the send-off

mum would have wanted."

JOY: Mary and her

husband Art Stanley-

Shepherd shared a

love of line dancing.

LEADER: Mary

Stanley-Shepherd

calls the count

during a line

dancing session

at Spencer Park in

2020.

End of season

SALE 20-70%

OFF

selected

stock

Fashionable • Functional • Footwear

SALE NOW ON

Unit 3, 355 Riccarton Rd, Upper Riccarton

P. (03) 929 0927 E. info@theshoeroom.co.nz

www.theshoeroom.co.nz

FASHIONABLE FUNCTIONAL FOOTWEAR
---
WESTERN NEWS Latest Canterbury news at starnews.co.nz

Thursday September 16 2021 9

Village Centre

Now Open!

OPEN WEEKEND, 25 & 26 SEPTEMBER

BETWEEN 10AM AND 3PM

Summerset Avonheads' brand-new village centre is open!

The village centre is the heart of our village and offers a wonderful range of

resort-style facilities, like the pool, spa, bowling green, library, bar, exercise

room, and the café.

It also means our full range of living options are now available too. From

serviced apartments, offering independent living with support on hand.

Care in our brand-new care centre and dementia care in our industry-leading

memory care centre.*

We'd love to show you around. Come along to our Open Weekend,

Saturday 25 and Sunday 26 September, between 10am and 3pm,

and see for yourself why our residents love the Summerset life.

Summerset at Avonhead

120 Hawthornden Road, Avonhead | 03 357 3202

*Licence to occupy.

Please note that the format of this event may change if we are not in COVID-19 Level One. For the latest criteria

and information on visiting our villages, please call the sales manager or visit www.summerset.co.nz

SUM3330_FP
---
10

Thursday September 16 2021

Latest Canterbury news at starnews.co.nz

WESTERN NEWS

Dinghy races start yachting season

OPEN DAY: The new Pleasant Point Yacht Club facilities will host a dinghy race meeting this weekend. Senior boats compete in one of the many races

the club holds each sailing season out on the estuary.

New Brighton Park as they host

an open race for dinghy sailors.

"Despite Covid we'll be out

there, but because of the delay

in opening by many other clubs

in the district we are expecting

a slightly lower turnout than in

63

previous

x

years."

180

The race starts at 2.40pm and

Humphreys said spectators and

those interested in sailing are

welcome to come along.

interest in sailing.

• By John Cosgrove

TACKING through Covid-19

regulations ensures a fair wind

for the Pleasant Point Yacht Club

as it starts sailing this weekend.

On Saturday, the club will

launch its 101 st season on the

estuary.

Club committee member Nigel

Humphreys said they will be out

on the estuary from the South

"Our 101 st season is going to

be a good one as we have new

boats and facilities on hand,

they are great and make a vast

improvement from five years in

containers."

He credits the new facilities

and the heightened interest

in sailing due to the recent

America's Cup and Olympics

as the reason for the growing

"Some come for the social

side and some come to race, to

help them all we will be starting

junior and adult Learn to Sail

programmes in October."

The junior course will run

during the school holidays from

October 11 through to October

15, while the adult learn to sail

course will run from October 17

through to November 13.

The courses follow the

Yachting NZ coaching

programme and will be run

by the club's learn to sail coordinators

Dan O'Sullivan

and Brett Hawkes, with

assistance of experienced club

members.

No experience is needed to

take part and the club will

supply yachts and life jackets

… but recommend suitable

footwear and warm clothing.

Up to

50 % Off

*Call for Terms

& Conditions

Off

*
---
WESTERN NEWS Latest Canterbury news at starnews.co.nz

Thursday September 16 2021 11

ENJOY THE JOURNEY, LOVE YOUR RIDE

2021 FORD EVEREST 'Titanium' 4WD

2.0 Bi-Turbo Diesel, 10 speed, Leather, Panoramic Sunroof,

$74,990

FordPass, Sync3 GPS, 3,150km. "Very Latest Facelift Model" $42,990

2020 FORD ESCAPE 'Titanium' AWD

2.0 T.Diesel, Sync 3 GPS/Sat Nav, Leather,

Panoramic Roof, Self Parking, Keyless Start,

12,500km. "Gorgeous Ruby Red"

2007 MITSUBISHI OUTLANDER 30G

3.0 V6, AWD, 7 Seater, Multiple Airbags, Alloys,

Climate Air Con, Partial Leather, ABS Brakes,

Full Electrics. "Top Spec Model"

TRADE IN SPECIAL $11,990

2017 HOLDEN COLORADO Z71 D/C

2.8 T.Diesel, 4x4, 6 speed Manual, 20" Alloys,

Nudge Bar, Tints, Bonnet Deflector, Sportsbar,

Leather, Tonneau. "Real Looker"

$41,990

2017 FORD RANGER PX2 XL 'Super Cab'

3.2 Turbo Diesel, 4x2, 6 speed Manual,

XLT Alloy Wheels, Bonnet Deflector,

Heavy Duty Springs. "Rarely Available"

LOOK $33,990

2021 FORD EVEREST 'Titanium' 4WD

2.0 Bi-Turbo Diesel, 10 speed, Panoramic Sunroof,

Leather, Sync3 GPS/Sat Nav, Very Low km.

"Stunning in Black"

$74,990

2019 FORD RANGER PX3 'Wildtrak' D/C

3.2 T.Diesel,6 spd Auto, 4x4, Multiple Airbags,

Sync 3 GPS/Sat Nav, Factory Roller Lid, Low km.

"Classy in Aluminium Silver"

$61,990

2019 FORD ESCAPE 'Titanium' AWD

2.0 EcoBoost, Sync 3 GPS/Sat Nav, Leather,

Panoramic Roof, Self Park, Keyless Start, Low km.

"Top of the Range Model"

$38,990 $68,990

2021 FORD RANGER PX3 'Wildtrak' D/C

2.0 Bi-Turbo, 4x4, 10 spd Auto, Multiple Airbags,

Sync 3 GPS/Sat Nav, Power Roller Lid,

only 4,890 km. "Beat the Waiting List"

2014 NISSAN NAVARA ST-X 'R-Spec'

2.5 T.Diesel, 5 spd Auto, Multiple Airbags,

Coloured Hardlid, Custom Red/Black Leather,

1 owner. "Great looking Navara"

LOOK $32,990

2020 FORD RANGER PX3 'Wildtrak' D/C

2.0 Bi Turbo, 4x4, 10 spd Auto, Multiple Airbags,

Sync 3 GPS/Sat Nav, Electric Roller Lid,

only 20,400km. "Beat the Waiting List"

$66,990

2020 FORD PUMA 'ST- Line'

1.0 EcoBoost, 7 spd Auto, Sync 3 GPS/Sat Nav,

Multiple Airbags, ABS Brakes, FordPass,

only 8,240km. "Latest Model Puma"

2017 NISSAN QASHQAI 'Ti'

2.0 Litre, Multiple Airbags, Panoramic Sunroof,

Full Leather, Climate Air Con, GPS/Sat Nav,

Bluetooth. "Top Spec Model"

2015 HOLDEN COLORADO LTZ D/C

2.8 T.Diesel, 4x4, 6 spd Manual, Multiple Airbags,

Air Con, Alloys, CD Player, ABS Brakes.

"Always Popular 4WD Manual"

2013 FORD KUGA 'Trend' AWD

2.0 T.Diesel, Multiple Airbags, Climate Air,

Partial Leather.

"Ford Dealer Service History - Cambelt just Replaced"

LOOK $32,990

$29,990

$32,990

LOOK $16,990

Sean O'Farrell

Used Vehicle

Sales Manager

James Harford

0272 229 5733

Adam Glubb

0272 713 095

Jason Nuttall

027 418 7204

Mitchell Price

027 717 9364

Sam Baker

021 272 6236

Jed Coughlan

022 122 3931

GUARANTEED

QUALITY CUSTOMER

SERVICE FROM AN

AWARD-WINNING

DEALERSHIP

Corner Main South Road and Epsom Road, Sockburn, Christchurch

Ph: 03 348 4129 or 0800 655 551

Rangiora Service Centre, 78 Ivory St, Ph: 03 313 7059

www.avoncityford.com
---
12 Thursday September 16 2021

Latest Canterbury news at starnews.co.nz

WESTERN NEWS
---
WESTERN NEWS Latest Canterbury news at starnews.co.nz

Thursday September 16 2021 13

Add cheese to your accompaniments

Chewy, stringy

mozzarella lends

itself to a multitude

of dishes, try these

easy recipes to

complement your

main meal

Mozzarella-stuffed

portobello mushrooms

Serves 4

Ingredients

28gm butter, place in frypan

and melt, then add:

4 cloves garlic, crushed

4 large portobello mushrooms

8 grape tomatoes, halved

Mozzarella cheese, sliced

¼ cup balsamic vinegar, place

in smallest saucepan with:

1 tablespoon sugar

Directions

Brush butter/garlic mixture

over both sides of the mushrooms

and place them on a

baking tray lined with non-stick

tinfoil.

Place Tomato halves inside the

mushrooms along with slices of

mozzarella.

Bake in oven at 180 deg C for

30min, during which time boil

the vinegar/sugar until liquid is

reduced by half and it thickens.

When mushrooms come out of

oven, drizzle vinegar/sugar over

them.

Grilled mini peppers with

mozzarella

Serves 4 – 6

Ingredients

2 x 2 tablespoons olive oil, place

two tablespoons of it in frypan

1 small onion, chopped

Pinch cayenne pepper

Salt (to taste)

Peppercorns

1 x 390gm can chickpeas,

rinsed and drained

¼ cup parsley, finely chopped

125gm mozzarella, grated

350gm mini peppers

Directions

Saute onion until softened, a

dd cayenne, salt, peppercorns

and chickpeas, heat for a few

seconds then roughly mash, then

stir in the parsley and mozzarella.

Thick, juicy

portobello

mushrooms

are a handy

vegetable to

serve with

dinner, or

as a meal

on their

own. Add

mozzarella

to boost the

experience.

Cut tops off mini peppers and

scrape all the seeds out from the

inside.

Fill the mini peppers with the

mixture and push the lids back

on.

Spear two mini peppers per

skewer, threading from the cap

ends through to the points.

Brush with the second measure

of olive oil.

Grill on medium-high for

about 10min, turning often.

Or cook in conventional oven

at 220 deg C for 30min, turning

over halfway through cooking

time.

Slow cooked beef

casserole

Serves 3-4

Ingredients

750gm–1kg blade steak (can

use any steak – cubed)

1 x 400gm can tomatoes (can

use any flavour)

½ cup beef stock (can use red

or white wine, or even chicken

stock)

1 tablespoon tomato paste

1 tablespoon brown sugar

½ teaspoon salt

Peppercorns (or can use ½ teaspoon

ground pepper)

2 bay leaves (optional)

2 heaped teaspoons cornflour

Directions

Grease the crockpot with

melted butter (or can spray with

non-stick spray).

Put steak/tomatoes/stock/

tomato paste/brown sugar/salt/

pepper/bay leaves in, stir gently

to mix, spoon out about six

tablespoons of the liquid into the

cup containing the cornflour and

mix to a paste.

Stir the cornflour mixture back

into the other ingredients and

mix through thoroughly.

Set crockpot onto low for six

hours.

Up to

50 % Off

*Call for Terms

& Conditions

Off

*
---
14

Thursday September 16 2021

Latest Canterbury news at starnews.co.nz

WESTERN NEWS

152,504 reasons

to advertise with us!

2021 ABC average issue circulation — Star Max vs Press

200,000

The Star

Max *

152,504

circulation

100,000

The Press *

The latest NZ Audit Bureau of

Circulations report is out and

it shows that The Star Max

provides you more circulation

than any other newspaper in

New Zealand.

0

30,256

circulation

Grow more customers, sales and profits for your business,

Call us now for a free advertising consultancy.

Here's what our customers have to say:

We advertise Affordable Furniture specials

in The Star every week and are extremely

pleased with the results.

We find that the large circulation and

readership, really works for reaching our

target market and growing our customers.

We get people coming in with our ad and

asking about the specials we advertise.

We have been benefiting from the

Christchurch Star and Community papers

for 20 years and see no end to it.

Andrew Idour – Managing Director,

Affordable Furniture

After 4 years advertising in the Bay

Harbour News, I decided to widen

my audience by using the Star.

I am very happy with new ad

placement.

My husband Tim was in the shop

today and 2 ladies had come in

to check us out because they had

seen the ad!!! Oh yes they did buy

some goodies!!

Rose Lindley – Mumma Bear

We have advertised with The Star

over the years.

Advertising in The Star we feel we

get more response and feedback

than any other marketing.

We are lucky to have such a great

free paper in the community.

Thanks team Star.

Mark Glanville FDANZ CERT

– Manager and Funeral Director

Phone 03 379 7100

Email shane@starmedia.kiwi

Office Level 1/359 Lincoln Road, Addington

*Source: 2021 ABC Audit Report — Star Max vs Press ANP average total circulation each issue

*Star Max — The Star, Bay Harbour News, Selwyn Times, North Canterbury News
---
WESTERN NEWS Latest Canterbury news at starnews.co.nz

Thursday September 16 2021 15

Classifieds Contact us today Phone our local team 03 379 1100

Health & Beauty

Trades & Services

Trades & Services

KATANG

Fitness

Held at St Faiths Church Hall,

46 Hawke Street, New Brighton

For more info contact Katrina 3811704 or 0274966845

Real Estate

HOME WANTED 3-4

bedrooms. Looking in Nor

West areas, Beckenham

or Somerfield. Prefer

permanent material brick

and post 1990 build. Don't

mind if it needs some TLC

- anything considered.

Cashed up buyer. Phone

021 372 479

Wanted To Buy

AAA Buying goods

quality furniture, beds,

stoves, washing machines,

fridge freezers. Same day

service. Selwyn Dealers.

Phone 980 5812 or 027

313 8156

TOOLS Garden,

garage, woodworking,

mechanical, engineering,

sawbenches, lathes, cash

buyer, ph 355-2045

TOOLS

260 x 180

Garden,

garage, woodworking,

mechanical, engineering,

sawbenches, lathes, cash

buyer, ph 355-2045

Trades & Services

HALSWELL

GLASS & GLAZING 2017 LTD

THE PET DOOR SPECIALIST

• PET DOORS

• NEW GLAZING

• FRAMELESS SHOWERS

• MIRRORS

• INSURANCE CLAIMS

• RETRO GLAZING

• BALUSTRADING

ALL SUBURBS COVERED FOR

ALL YOUR GLAZING NEEDS

PHONE GAIL ON

322 7999 OR 021 CAT DOOR

(228 3667)

ADD SOME

COLOUR

TO YOUR ADVERT!

Sit & Be Fit

Monday 1 – 2pm

$4 per class

Movement to Music

Thursday

9.30 – 10.30am

$5 per class

Trades & Services

ROOF

PAINTING 24/7

Rope & harness

a speciality,

no scaffolding

required,

30 years of

breathtaking

experience.

FREE QUOTES

20% OFF other

roof quotes

Exterior staining,

exterior painting,

water blasting.

Moss and mould

treatment $300.

Phone Kevin

027 561 4629

BATHROOM

Renovations, complete

service from start to finish,

free quotes, ph Dave 027

334 4125

BATHROOM

Renovations, complete

service from start to finish,

free quotes, ph Dave 027

334 4125

BRICKLAYER

George Lockyer. Over

40 years bricklaying

experience. UK trained.

Insurance work, EQC

repairs. Heritage

brickwork & stonework

a speciality. No job too

small. Governers Bay.

Home 329 9344. Cell

027 684 4046. E mail

georgelockyer@xtra.co.nz

CARPET LAYING

Exp. Repairs, uplifting,

relaying, restretching.

Phone John on 0800

003181, 027 240 7416

jflattery@xtra.co.nz

PAINTING

Indoor / Outdoor, over 30

yrs exp, same day quotes,

ph Steve 021 255 7968

STUMP GRINDING

Best price guarantee Tony

0275 588 895

TILING

Flooring - Splashbacks -

Wall incl tile removal, reg

master tiler, ph Dave 027

334 4125

VHS VIDEO TAPES

& all camera tapes

converted to DVD or

USB. Video taping

special occasions, www.

grahamsvideo.co.nz ph 03

338-1655

DRIVEWAYS

Exposed Aggregate

Stamped Concrete Plain

Concrete Resurfacing

Things we offer...

Competitive/affordable pricing

Attention to detail

Professional service

free quotes/insurance scopes

Cell 0278 145 848

www.drivecrete.co.nz

PLUMBER

NEED A PLUMBER

Call us now for fast friendly service.

Get your problems sorted out

quick smart - on time!!

Phone for a

FREE

quote now.

Phone 03 377 1280 | Mobile 021 898 380

ADVERTISE YOUR BUSINESS HERE

Phone for further details

(03) 379 1100

Need Heat Fast?

The Fastest, Warmest Indoor/Outdoor Heater You Will Ever Own!

Buy One Get One Free! *

+Plus

Free

Floor

Stand!*

worth

$199.99

• Heats Up Instantly

• Suitable for Indoors or Outdoors

– In Rain, Fog, Wind or Snow

• Carbon-Fibre Bulb Technology

• Multi-Directional Stand

• Includes Remote Control &

Built-In Timer

• Motion Detection Function

1.8m High

• Commercial Grade

• Multi-Directional

• Easy Install

• Portable

• Indoors & Outdoors

*Call for Terms

& Conditions

CALL NOW! 0800 665 665
---
16 Thursday September 16 2021

Latest Canterbury news at starnews.co.nz

WESTERN NEWS

PROBLEMS WITH YOUR EARS?

Come and meet the highest rated hearing care provider in Christchurch

You can buy hearing aids in lots of places these days: on

TradeMe, through mail order, on the internet, even at the

Optometrist! But if you have a problem with your ears or your

hearing, it is very different to buying a pair of reading glasses.

In most cases hearing aids are only a small part of the solution.

Hear Again at the Hub in Hornby are the team who have been

trusted by thousands of local residents to care for all their

hearing needs. From a simple removal of earwax to the highly

specialized fitting of the very latest hearing instruments, the

100% NZ owned team never cease to delight their clients.

Their long list of 5 star Google reviews speak for themselves.

NZAS Audiometrist Neil Hardisty is frequently praised for his

patience and expertise. Neil has a vast knowledge of all makes

of hearing aids and is never satisfied until you are. He will

make sure your new hearing devices are accurately matched to

your needs and providing the very best improvement for you.

• EARWAX REMOVAL by Microsuction

• HEARING TESTS & Independent Advice

• HEARING AIDS fitted and personalized

• ACC & VETERANS' AFFAIRS approved

Now you can be at the forefront of a new era: Intelligent Hearing.

HEAR AGAIN are proud to bring a world first to New Zealand.

A leading Danish hearing aid manufacturer has recently

launched the only hearing aid that keeps learning from users

around the world, while improving your listening experiences

in real life and real time. The most natural hearing possible.

Machine learning makes these devices really smart. They

constantly work to perfect every hearing event by combining

your own realtime input with what has already been learned

both from you and from millions of other listening experiences

around the world. A global network of hearing help.

Simply use your smartphone to select the sound level that

best suits your environment: the devices remember this for

the next time you find yourself in a similar place; easy!

Call for your FREE DEMONSTRATION

• SMART PHONE CONNECTIVITY

• EASY VOLUME ADJUSTMENT

• HANDS FREE PHONE CALLS

• 6 WEEK RISK FREE HOME TRIAL

03 974 1658

SHOP 125, THE HUB, HORNBY WWW.HEARAGAIN.CO.NZ