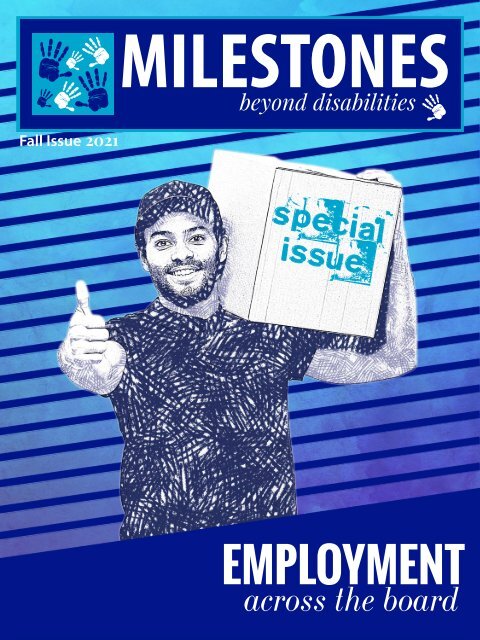 Special Issue! Employment Across the Board
Special Issue! Employment Across the Board - dedicated to employment for individuals with disabilities. We're committed to helping Individuals with Disabilities & their Families Achieve & Celebrate Events & Milestones in their Lives!
Special Issue! Employment Across the Board - dedicated to employment for individuals with disabilities. We're committed to helping Individuals with Disabilities & their Families Achieve & Celebrate Events & Milestones in their Lives!
SHOW MORE
SHOW LESS
Create successful ePaper yourself
Turn your PDF publications into a flip-book with our unique Google optimized e-Paper software.
eyond disabilities

Fall Issue 2021

special

issue

EMPLOYMENT

across the board
---
contents

EMPLOYMENT

Across the Board

03 Support Employment Family Style

05 Transitioning Disabilities into

the Workforce

07 Ticket to Work, IRWE and

PASS it on!

09 Entering the Workforce What to Say

(or not) about a Disability

11 Supported Employment

Organization Style

13 Customized Employment

15 Minding Your Own Business

17 Competitive Employment

19 Job Roundup Chicago

21 At Your Service

Publisher

Susie Redfern, is the parent of a special

needs child who recently "aged out"

of the public-school system.

She developed Milestones Magazine

to help individuals with disabilities

and their families achieve and celebrate

events and milestones in their lives.

info@milestonesmagazine.com

1

MilestonesMagazine.net
---
SUPPORT EMPLOYMENT

FAMILY STYLE

Many folks, including people with disabilities, get their first job in the family

business. Some of these individuals stay with, and eventually take over, the

business. For individuals with disabilities, the term "supported employment"

is often used in association with these family work settings.

A publication, "Building Bridges to the future" (created through a grant from

the Coleman Foundation, and distributed to Illinois families of teens, ages

14-21 enrolled in transition programs at their school), describes supported

employment this way.

"In this program, organizations seek employment opportunities in the local

community for the individuals they serve. A job match is conducted to pair the

right job for the right individual. Full and part tie employment opportunities

are developed and the individual is provided training and support by a job coach

hired by the organization."

In Illinois, supported employment is available for individuals with significant

disabilities who have an open case at the Division of Rehab. Services (DRS) and

referred to a (typically) non-profit organization (every state has its own procedures

on how this is done).

However, not all individuals with disabilities can, or wish to, receive this

assistance. For those folks, "natural supports" are the norm, usually supplied

by the employer (often a family member) and co-workers (as applicable). This

is especially true when a business has been created by/for the individual

(sometimes called a micro-enterprise) based on his/her interests and talents.

3
---
On that note, I am pleased to introduce Terri

Jordan, co-author of the article "Let's Get

Cooking", which appeared in the last issue of

Milestones Magazine. Terri's son assembles The

Color-Coded Chef kits for shipment. I invite her

to write about the supports she provides her son

while on the job.

I brought my friend's daughter into work to

move along the path from following directions

to giving directions. My son had to tell and

show her the steps needed to clean the room,

assemble the kits and restock merchandise

without help from an adult. We are now

adjusting the job from following instructions to

learning communication skills rounding out the

"A couple of years ago, when my son and I

started this process, the first task was determining

the best method of communication to do the

individual. While the tasks may be repetitious,

we are developing the thought processes in the

individual by expressing the work in a new way.

job. Verbal prompts work to a point, but they

also teach the employee to wait for a prompt

before moving to the next task. To help my

son be a bit more independent, I chose visual

communication. I created a task sheet with

simple pictures to provide the steps needed to

complete the assembly of the kit. However, in a

The next stage in developing job skills will

empower the individual to recognize obstacles

and encourage them to improve the job position.

One step at a time, taking the challenges

of work and making them opportunities in work

will be the cornerstone of success."

job setting, a person does not just come in and

do this one task and leave. Additional sheets

are used to provide the steps needed to

complete before and after the kit assembly,

Terri Jordan can be reached by phone at

636-422-1515, on Facebook, www.facebook.

com/thecolorcodedchef, or through her

like wiping down the tables and disposal of the

wipes into the proper receptacle, restocking

the merchandise on the shelves for the next day

of the assembly.

website, www.TheColorCodedChef.com

M

"

I created a task sheet

with simple pictures

to provide the steps needed

to complete the assembly

of the kit.

4
---
TRANSITIONINGTeens with

Disabilities into the Workforce

My one heartache as a special education teacher is when I find

Lead-In to Employment:

High School Transition

out that my students that have graduated are home; not working

or in a program. My goal for them is dignity and quality of life.

For most students in a public-school setting, even with severe

disabilities, there is something for them after graduation. In

Preparing for adult life is a process that, in some ways,

can start as young as infancy. But the largest portion of

this process usually occurs during a child's teens and

young adult years, when they often get their first job,

stretch their legs, so to speak, with extracurricular

activities, and prepare for college or other post-secondary

experiences. For students with disabilities, their high

the case of my students, it does take more planning than their

neurotypical peers.

I teach a self-contained special education class of students with

severe disabilities. They all have an Intellectual Disability and

most are comorbid with Autism, ADHD, Speech and Language

Impairments, and Orthopedic Impairments. Their IQs are all

60 and below.

school experience may include extra supports, which

can extend beyond the traditional graduation at age 18.

I am pleased to introduce Linda Gilmartin, a special

education teacher from New York, to give a glimpse

into her high school transition classroom.

Our classroom is a fun, family type setting where academics and

social skills are learned. These students are treated as I would

treat my own children. They have responsibilities and are

expected to act appropriately. My vision for them when I get

them in 9th grade, is how can I prepare this student for their

particular future? It is different for each student.

5
---
I ensure that they reach their individual potential academically

to give them quality of life. They are expected to do most things

themselves and learned helplessness is not an option. The only

way to fully achieve this is when the parents are totally on board.

When that happens, magic happens. Then the student knows

this is real life, not just school life, and it becomes second nature

for them.

I have a book on Amazon entitled, "Transitioning Special Needs

Teenagers", which goes more into detail about everything I have

outlined above, including some real-life stories. In addition, I

have a Facebook group, entitled, "Transitioning Teens/Adults

with Disabilities Life After High School". It currently has almost

3k members and I research valuable resources and post them,

other people do the same and it gives parents a chance to see

what is out there. I started that group when I realized it is not

We also have a school to work study program. When the

students turn 16, they can participate in this program. They go

out 2 days per week for 2 hours at different job sites throughout

the year. When they are seniors, they go out for 4 days. This is

every special education teacher's job to do the transitioning

preparation that I do. It is my vision that the Facebook group is

doing that. I archive those resources on my website,

www.transitioningspecialneedsteenagers.com.

to help the individuals experience the work force and their

options for post-graduation. For some students they can be

enrolled in the Employment Training Program and be paid by

It truly is an honor and a privilege to be a part of this process for

these wonderful teens.

the state for 2 years in the hopes that the student will prove

themselves worthy to be hired outright by the employer.

Linda Gilmartin

The other part of this is the application process for state

services. This begins in 9th grade we fill out the application

for OPWDD which is the state service for New York. I gather

TRANSITIONINGTeens with

Special Needs Teenagers

the necessary documents to attach and it gets sent to the state

for review. Then it is something that needs to be checked up on

constantly to be sure they are not lost in the system. It can take

a good 2 years before a student is qualified. Then they receive a

Care Manager. This Care Manager will have their finger on all

the state services that the student can utilize to be productive

after high school.

Editor's Note: In Illinois, transition programs for qualifying

students end at age 22 (or, with recent legislation, the end of the

school year in which a child turns 22). Vocational services are

available for those deemed eligible with the Division of

Rehab. Services (DRS), who contracts their case out to, typically,

a non-profit agency that serves adults with disabilities. Another

side of this coin is Home-Based Services, a Medicaid-waiver

program, which helps families find and pay for community

My job is all about collaboration with parents, Care Managers,

and Job Coaches. When we are all on the same page. I know that

students will be busy 5 days a week after high school. Even if it

is one or two-days part time, with the others in a program or

activities, vocational training/employment, housing options,

and so on, according to each family's circumstances and needs.

These supports sometimes come right when a teen has "aged

out" of the school system, making for a seamless transition,

volunteer work, they are productive members of a community.

but more often than not, there is a years-long gap.

M

6
---
Ticket to Work,

IRWE

and

PASS

it on!

Finding/keeping a job, especially the first

job, can be a struggle for anyone. That old

"Catch-22", "you can't get experience without

a job; you can't get a job without experience"

can be an obstacle for anyone. This can be

especially true for people with disabilities.

In addition to the usual obstacles to

employment, some folks with disabilities

are concerned about losing government

benefits, in particular with Medicaidwaiver

programs and/or Supplemental

Security Income (SSI) if their assets (income

not spent in any given month) goes over the

typical $2000 limit.

7
---
There are a number of strategies to deal with this

obstacle. I am outlining a couple here, courtesy of

Autism Speaks.

"Ticket to Work (TTW)

The TTW Program is an innovative program that

can connect you with free employment services to

help you decide if working is right for you, prepare

for work, find a job or maintain success while you

are working. It is a free and voluntary service. If you

choose to participate, you will receive services such

as career counseling, vocational rehabilitation, and

job placement and training from authorized Ticket

to Work service providers.

Impairment-Related Work Expenses (IRWE)

Social Security can deduct the cost of certain items,

such as transportation services, medical devices, etc.,

that are directly related to your disability and you must

have to work. This means that when Social Security

measures your income compared to the benefit limit,

they will subtract the cost of these expenses.

Plan to Achieve Self-Support (PASS)

A PASS allows you to set-aside expenses related

to achieving a work goal. These expenses may

include start-up funding for a business, a

vocational assessment, training, etc. Social Security

does not count the income you set aside when they

calculate your SSI payment amount or eligibility

for SSI. For example, a PASS Must be specific to

achieve a detailed work."

Thanks to Autism Speaks for this information. You can

access the complete article, and further information

at this link: www.autismspeaks.org/family-services/

adult-services/autism-and-employment/benefits. M

8
---
ENTERING THE WORKFORCE

What to say (or not) about a Disability

For teens or adults who have a condition or disability

that is not obvious to a potential employer, the issue of

whether to disclose it can be paramount. An employer is

not legally permitted to ask, but also is not obligated to

offer any accommodations for a condition he/she

doesn't know about.

To address this complicated question, I am pleased to

introduce Jim Hasse, ABC, GCDF, owner of Hasse

Communication Counseling, LLC, who, as a person

with cerebral palsy, served for 10 years as a vice

president in a Fortune 500 company during his

29-year career in corporate communication. He's an

Accredited Business Communicator, certified as a

Global Career Development Facilitator and author

of 14 Amazon books about disability awareness

and disability employment issues.

This is an abbreviated version of his article, which

appeared in an earlier issue of Milestones Magazine.

9
---
"When to disclose disability (on a job application, on a resume,

before a job interview etc.) is a key issue you need to discuss with

the job applicant.

Strategy 2: Disclosing your disability as soon as possible

Include a "Personal Statement," a few paragraphs in length on a

separate sheet or document, with your resume. In this statement,

briefly describe your condition and explain what adaptive

As a career development facilitator, I tell my clients this:

strategies you use to get your work done.

"When to tell prospective employers about your disability

depends on your disability, your job opportunity, your

personality and your prospective employer."

Strategy 3: Positioning your disability as a competitive edge

Instead of selecting an option for when to reveal your condition

to a prospective employer (as though your disability always has

In other words, this disability disclosure issue goes far beyond

the job application. And there are no easy answers. Yet, every job

seeker with a disability eventually needs to personally come up

to be a negative factor), turn the table 180 degrees. Position

your disability experience as your competitive edge and target

employers who claim to be disability friendly.

with a strategy for addressing this matter.

Those are the options I believe your high school student with

Remember, under the Americans with Disabilities Act (ADA),

your child is not required to disclose his or her condition to an

employer, even though it may just be a mom or pop candy store

down the street. And, if and when your child does disclose, he or

condition faces as he or she struggles with this sometimes-tough

disability disclosure issue that crops up as soon as his or her first

job application needs to be completed. Which to choose boils

down to personal preference and personal situation.

she is not required to tell everything about the personal aspects

of his/her condition. In other words, once your child discloses

But, here's another wrinkle to this issue.

the condition. a potential employer can only ask for limited

information about that disability.

On March 24, 2014, new rules for Section 503 of the

Rehabilitation Act took effect, covering employers who are

Upon request, information about disability can be confidential.

federal contractors or subcontractors.

Your child's co-workers do not need to know about his or her

condition or the need for accommodations.

The new rules require federal contractors and subcontractors

to aspire to, and track progress toward, employing individuals

With those guidelines in mind, consider these three potential

with disabilities.

disclosure strategies, which are largely mutually exclusive. Each

option largely stands on its own, has important advantages as

well as disadvantages and should be applied only after careful

examination of your particular situation and of the potential

employment situation.

Called an aspirational goal, covered employers must now

attain, or show progress toward attaining, a workforce that

consists of at least seven percent of people with disabilities.

That new ruling may affect which disclosure strategy your

child eventually chooses.

Strategy 1: Getting your foot in the door first

Don't reveal your condition on your job application, resume or

cover letter (even if you have gaps in your work experience due to

your condition) because it will potentially trigger preconceived,

inaccurate notions about disability among the people screening

So, choosing a course of action with personal capabilities, job,

employer and competitors in mind -- and following through with

that strategy -- is even more essential to getting hired in today's

part-time job market (and tomorrow's mainstream workplace).

resumes for the open position.

Editor's note: Although this article is addressed to parents of high school students,

the same principles apply to individuals with disabilities of any age. M

10
---
Planning

Licensed to practice in

California and Colorado

for a Child with

Special Needs?

Learn about the

Special Needs Trust

for Free

Email for your free

Family Asset Protection

Survival Guide or call for

your free consultation

with Diedre Braverman,

Special Needs

Planning Attorney.

melanie@braverman-law.com

303-800-1588

Supported

Employment,

Organization

Finding/keeping a job, especially the

first job, can be a struggle for anyone.

That old "Catch-22", "you can't get

experience without a job; you can't

get a job without experience" can

be an obstacle for anyone. This can

be especially true for people with

disabilities.

Style

There are several terms bandied

around in discussions of resources/

services available to help people with

challenges prepare for, find, and keep

a job or career. One of these terms is

supported employment.

11
---
I am pleased to reference the website of Clearbrook,

one of many agencies in the Chicago area (and across

the country), who provide supported employment

services, to explain what supported employment is,

Job Coach

and what supports and techniques they use to help

their clients prepare for, find, and keep a job that

meets supported employment standards.

The length of time for which individuals are

supported, and the number of hours for which

Clearbrook's Supported Employment Program helps

place individuals (age 18 or above) in a variety of

supervised work settings within the community.

Initially trained and supervised by a job coach, clients

receive the on-site training and support needed to

individuals are supported, depend on individual needs.

The goal is to phase out support so the individuals

can do their jobs independently and successfully.

Individuals receive at least minimum wage, and

transportation is provided by Clearbrook if needed.

be successful at their job.

For more info, please contact Ilene Rosenberg

The first step in the process is for individuals to meet

with a Job Developer, to find out about the clients'

by phone at 847-385-5395 or email at

irosenberg@clearbrook.org

interests and abilities. The Job Developer then works

closely with the individuals to identify and match them

with local openings, and helps clients through the

application and interview process. A Community

Employment Supervisor participates in, and oversees,

the proceedings. Job Coaches provide training and

Editor's note: In Illinois, agencies (such as Clearbrook)

that provide free employment services typically

contract with the Illinois Division of Rehab Services

(DRS) to serve people who have an open case

with DRS. M

coaching for individuals on the job.

12
---
Customized

EMPLOYMENT

Finding/keeping a job, especially the first job, is not

always easy. That old "Catch-22", "you can't get

experience without a job; you can't get a job without

experience" can stymie your efforts. For people with

disabilities, that can be

especially true. Some folks

in this situation (and their

families/supporters) may try

to get around this by creating

(or carving out) a job.

That's where "Customized

Employment" might

come in.

Customized Employment is

one strategy to help people

with challenges prepare for,

find, and keep a job or

career. In the world of

Customized Employment,

the first name that comes up

is Griffin-Hammis

Associates. I am pleased to

reference their website to explain what customized

employment is, and what supports and techniques they

use to help their clients prepare for, find, and keep a job

that meets customized employment standards.

Griffin-Hammis Associates is a consulting firm that

partners with government agencies, employment

providers, and business leaders. They offer Discovering

Personal Genius. training to organizations, who then

use the customized employment approach in their own

work with individuals and families. They also mentor

those agencies.

13
---
Once jobs are created, Griffin-Hammis also supports the

employment specialists in building company cultures

that are inclusive to employees with challenges.

In 2012, TotalLink was the recipient of a grant from

the Illinois Council on Developmental Disabilities in

partnership with the Northern Suburban Special

Education District (NSSED) and Griffin-Hammis

So, cutting to the chase, just what, exactly, is

Discovering Personal Genius.. Based on information

on the Griffin-Hammis website, it is a process that starts

with meeting people in their homes to understand what

they're all about: their skills, interests, and supportive

relationships. From there, opportunities are identified to

create or individualize jobs in ways that help both the

individual and employer. Once a job match is made,

Associates (GHA). The Everyone Works! Initiative

utilized best practice strategies of Customized

Employment to develop competitive and integrated

employment for students and young adults with

intellectual and developmental disabilities within

the NSSED catchment area. Since that first grant,

TotalLink has helped place over 150 job seekers in

jobs in the community.

GHA mentors the employment specialist to provide

training and coaching on the job site as well as

long-term career development tools.

TotalLink2 Community believes that community

workplaces can and should reflect the makeup of the

people who live in our communities. People with

GHA has additional resource materials (links below)

available on the topic of Customized Employment. They

can be contacted by phone at 470-223-3936 or by email

at info@griffinhammis.com. They are on Facebook:

www.facebook.com/griffinhammis

developmental disabilities need and want to work.

They want to be paid real wages and feel valued as

employees. The TotalLink2 Community vision of

inclusive employment means that every person with

a disability who wants to work is employed.

Here are some PDF links.

For more information about TotalLink2 Community and

its services, please visit their website at www.totallink2.

• Bringing Fidelity to Customized Employment Processes

org or contact them at info@totallink2.org.

• Customized Not Customized

• Developing Vocational Themes Workbook v2

• Rural Routes to Employment Manual

• What's Customized About it

Editor's Note: I am also pleased to share this

announcement and resource, from the website of

Connect to Community, another agency involved in

customized employment initiatives.

There have been folks, in the Chicago area, and across

the country, who have taken the customized employment

ball and run with it. One such organization is TotalLink2

Community. Here's their story:

"Thanks to community funding from Palatine Township

and support from the Hoffman Estates Commission for

People with Disabilities, CTC is happy to be able to share

video recordings of our Friday Forum and Transition

TotalLink2 Community is a Northbrook, Illinois-based

non-profit focused on ensuring young adults with

intellectual or developmental (I/DD) disabilities can

thrive by working, socializing, and contributing to their

Summit seminars in the hopes that those who are unable

to attend, can still access the information at their

convenience. For more information about CTC seminars

and events, visit https://ConnectToCommunityInc.org" M

communities – and making their workplaces and

communities better for it. TotalLink was founded in 2008

by six strong moms with a shared vision. They realized

that their children with disabilities would need the best

services and support in order to realize their hopes

and dreams.

14
---
MINDING

your own business

Some folks, with or without disabilities, look

to "hang out a shingle", so to speak, and create

a business of their own, using their own talents

and interests. These can be in "white collar"

professions (such as doctor, lawyer, accountant),

"blue collar" trades (electrician, plumber,

advice did not come with any practical suggestions

for starting a micro-enterprise and making it into a

profitable, enjoyable, and fulfilling venture for all

involved. So, like the Little Red Hen, I will do that

myself (but don't expect a loaf of bread at the end of

this article!).

carpenter), creative/performing arts (artist,

writer, photographer, musician), and a host

of other possibilities.

The conception and birth of a micro-enterprise

can start with four one-word questions: who, what,

where, and how (not necessarily in that order).

Whatever direction you go, for an aspiring

entrepreneur (with or without disabilities),

you need more than a wing and a prayer. The

following article, written several years ago by

Milestones Magazine publisher Susie Redfern,

provides some tips and resources.

WHAT?

What do I plan to do or make, produce, distribute,

and sell? Some people base a business on a talent or

skill for which they have an interest, maybe even a

passion, such as painting. Others design or invent a

product that solves a problem affecting them or

The Birth, Care, Feeding, and

Maintenance of a Micro-enterprise

Entrepreneurship (as in owning/operating a

business) is a milestone/goal to which some aspire,

and one to which some people with disabilities

regard as preferable. Its potential for income

coming from something you like to do and are

good at without having to be hired and fit into an

established workplace can be attractive.

a family member; such as an easy-fastening

mechanism for people who have arthritis. Still

others base a business on a service that businesses

and individuals need: lawns have to be cut, papers

shredded, attics cleaned, and so on. And some

people and businesses don't have the time, ability,

or desire to do these things themselves, so they're

willing to "outsource" them (which is where you

come in).

As the parent of a child with a disability, this option,

suggested for my son from school district transition

personnel, basically amounts to "go forth and

micro-enterprise". Though I know it's probably

grammatically (though perhaps not politically)

incorrect to use micro-enterprise as a verb, this may

not be such bad advice, especially for the more

WHO?

To whom do you plan to sell your product/service.

Some, by their very nature, are local, so potential

customers or clients are folks in your neck of the

woods. Lawns cannot be exported to China. Others,

with the help of computers and the internet, can be

regional, national, or even global in scope.

entrepreneurially minded among us. However, the

15
---
WHERE?

Where will the product be displayed or sold?

Artistic work typically shows up at art galleries,

"flea market" type events and websites such as

Etsy. Writers can blog. Clothing products can be

sold at retail stores (usually distributed through

a wholesaler).

Life's Plan Inc. Pooled Trust Services,

www.lifesplaninc.org

Life's Plan Inc. Pooled Trust Services periodically

offers Micro-industry grants of up to $2,000 for

adults with disabilities or mental illness who meet

Social Security's disability eligibility criteria under

Social Security's Supplemental Security Income

program. This is a one-time award for individuals

HOW?

How will the product be displayed or sold? This

question is similar to the where question, and can

often produce the same answer.

or partnerships (less than 4 people). Details about

proposal requirements can be found at Life's Plan's

website and questions/inquiries can be emailed to

Scott Nixon at lifesplangrants@raygraham.org.

As you may have realized by now, answers to these 4

questions often overlap, and collectively can provide

the underpinnings of a business plan. A business

plan, whether informal or professionally done, helps

you focus on the essentials of your business. It is

required if you will approach a traditional loan

source, such as a bank, for financing. And it may

be necessary for types of creative financing, such as

venture capital, whether from an established fund or

through crowd-funding.

Local (Chicago Area) Micro-Enterprise

The Perk Center Cafe is a not-for-profit business

enterprise created through Great Potentials, Inc.

and by four parents and one sibling of an individual

with intellectual/developmental disabilities. It is a

collaboration with the Glenview Park District, who

donates the space for the Cafe. The Perk Center

Cafe's goals are four-fold: to provide employment,

volunteer, and vocational training opportunities to

individuals with developmental disabilities; to offer

good quality food to customers; to build positive

The following resources are both based in the

Chicago area. Life's Plan Inc. Pooled Trust Services

can help with financing for individuals who meet

their criteria. Perk Center Café can serve as an

example or inspiration for folks looking to start

their own micro-enterprise.

relationships in the community; and to serve as

model to others who might wish to create businesses

for the purpose of employment of people with

disabilities. Feel free to visit the website:

perkcentercafe.org or contact Gail Metrick at

gmetrick@comcast.net. M

16
---
Competitive

Employment

training

Finding/keeping a job, especially the first

job, can be difficult, even in the current job

market, where many more jobs are there

just for the asking. That old "Catch-22",

support

"you can't get experience without a job;

you can't get a job without experience"

can still hold true, especially for some

people with disabilities.

advice

There are several terms bandied around

in discussions of resources/services

available to help people with challenges

coaching

prepare for, find, and keep a job or career.

One of these terms is competitive

employment. I am pleased to reference

the website of Aspire for information about

motivation

their Harry and Jeanette Weinberg Career

Academy, which helps clients prepare for

and launch a career focused on jobs that

meet competitive employment standards.

direction

Harry and Jeanette Weinberg Career

Academy is set up for adults with

disabilities to discover and pursue

goals

rewarding jobs. Curriculum includes

exploring career interests and strengths;

learning the specific skills needed for jobs

they're interested in; and finding a good

success

employment fit that allows their careers to

take off. Training and coaching are at each

individual's pace.

17
---
The Academy is an innovative solution that helps enhance job

readiness for persons with disabilities as well as provide training

and consultation with companies to bolster their diversity, equity

and inclusion initiatives. By working with job-seekers and

forward and pursue meaningful employment

safely during the current pandemic

and completely eliminates physical access

as a barrier.

employers, Aspire works to create sustainable employment

opportunities in communities across Chicagoland.

For more information about Aspire's

Competitive Employment programs and

Industries in the scope of the Harry and Jeanette Weinberg Career

Academy include (but are not limited to) Food Service, Hotel and

Hospitality, Healthcare, Health Clubs, Information Technology,

Office Management, and Retail Warehouse.

services, please contact Herbert Washington,

Chief Innovation Officer at Aspire, by

email at hwashington@aspirechicago.com.

Herb is in charge of Aspire CoffeeWorks,

Community Employment, Inclusion

Aspire has a Virtual Training Academy that can serve clients age

Consulting, Life on My Own, and

16 and older through Zoom. Individuals with learning disabilities,

autism, Down syndrome, cerebral palsy, or other disabilities are

eligible. This virtual option allows individuals to push their skills

MarketPointe Enterprises.

M

18
---
Job

Roundup Chicago

Milestones Magazine is pleased

to provide a sample of companies

in the Chicago area whose

workforce consists, in whole or

part, of people with disabilities.

Please contact each company

directly with any specific,

individual questions you have

about hiring practices, work

accommodations, or any

other concerns.

Aspiritech

Trains and employs adults with autism to do QA,

software and hardware testing (90% of workforce is

neurodivergent and on the autism spectrum). Statistics

from the "Autism in the Workplace" article, courtesy of

Aspiritch employee Matt Hemauer, which was published

in an earlier issue of Milestones Magazine.

The Bazaar, Inc.

The Bazaar, Inc. specializes in branded wholesale closeouts.

Long-term goals involve hiring 50% of the workforce with people

with diverse backgrounds, including those with disabilities. Currently

30% of the company's workforce comes from diverse backgrounds.

(Information for this synopsis comes from the company website and

a collaborative article published in the Spring 2021 issue of

Milestones Magazine).

About Aspiritech

Locations:

Aspiritech, Chicago, 550 W Van Buren, Ste 330,

Chicago IL 60607, 312-546-0750;

About The Bazaar Inc.

Location:

1900 5th Ave, River Grove IL 60171, 267-265-8172

Aspiritech, NFP: 1893 Sheridan Rd, Ste 103,

Highland Park IL 60035, 312-945-8378.

Leadership:

Bradley Nardick, CEO;

Garret Rosiek, Director of Employee Experience and Engagement,

Leadership:

grosiek@thebazaarinc.com

Brenda & Moshe Weitzberg, Co-Founders;

Reanin Stone, Employment Support Specialist

Team Manager.

www.thebazaarinc.com

www.facebook.com/pages/BazaarInc/154102514640179

www.aspiritech.org

www.facebook.com/aspiritech

19
---
job Roundup Chicago

Aspire Chicago: Social Enterprises -

Aspire CoffeeWorks

Coffee is roasted by Metropolis Coffee Company and then

labeled, scooped and packaged by a team of adults of all

Dave Friedman, father of a then-student at LADSE (a special

education coop) in 2012, AutonomyWorks was created to

use the unique skills and talents of people with autism in

the workplace.

disabilities. All net proceeds support Aspire's services.

Visit their website for details or to make a purchase.

AutonomyWorks

from the website of AutonomyWorks (paraphrase)

Aspire Art360

A professional studio, providing possibilities for people with

AutonomyWorks takes over the process of design, staffing, and

management of repetitive operational tasks for client companies.

disabilities to become professional artists. The studio offers its

artists the chance to build a career in the arts by selling their

artwork, while serving as a platform for disability awareness

and inclusion in communities.

Contact info:

contactus@emailautonomy.com

www.facebook.com/AutonomyWorks

www.linkedin.com/company/2804771

The Douglas Center

The Douglas Center provides machine sewing training and

employment opportunities for individuals with disabilities.

Many tasks related to sewing are learned, such as cutting,

ironing, measuring as well as sewing. The Douglas Center,

in partnership with the AbilityOne program, has held sewing

contracts with the U.S. Department of Defense (DOD), in

addition to an increasing number of sewing contracts from

the private sector.

The Perk Center Cafe

from the Milestones Magazine article "The Birth, Care,

and Feeding of a Micro-Enterprise"

"The Perk Center Cafe is a not-for-profit business enterprise

created through Great Potentials, Inc. and by four parents and

one sibling of an individual with intellectual/developmental

disabilities. It is a collaboration with the Glenview Park District,

who donates the space for the Cafe. The Perk Center Cafe's

goals are four-fold: to provide employment, volunteer, and

Patch

from a Feb. 2020 article posted in Patch

"The North Suburban YMCA has announced it will open Café

Voca, a new coffee bar that will provide vocational training and

employment for individuals with intellectual and developmental

challenges. Scheduled to open in September, Café Voca will

vocational training opportunities to individuals with

developmental disabilities; to offer good quality food to

customers; to build positive relationships in the community;

and to serve as model to others who might wish to create

businesses for the purpose of employment of people

with disabilities.

be located in the Y's lobby and serve coffee, other hot beverages,

and packaged snacks. Café Voca's trainees will be recruited

from the Wheat Mission, Y membership, and the community at

Feel free to visit the website: www.perkcentercafe.org

Contact Gail Metrick at gmetrick@comcast.net"

large; hands-on training will be provided by Autism Workforce,

the employment training arm of the Exercise Connection".

Clearbrook

Clearbrook has a document destruction (shredding)

Contact info:

Ellen Mirochnick,

North Suburban YMCA Special Services Coordinator,

business enterprise, which serves the community and offers

job opportunities for adults with developmental disabilities.

Community clients include doctor and lawyer offices.

847-272-7250 Ext. 1239,

emirochnick@nsymca.org

Location is 746 S. Vermont St in Palatine. Drop-off is

accepted. This enterprise currently has eight clients who

AutonomyWorks

from the Sept 2018 blog by Karrie Pece, of AutonomyWorks

AutonomyWorks is a for-profit social enterprise located in

Downers Grove, in the Greater Chicago area. Along with

work in document destruction.

M
---
21
---
At Your Service

Finding/keeping a job, especially the first job, can be a struggle for

anyone. That old "Catch-22", "you can't get experience without a

job; you can't get a job without experience" can be an obstacle for

anyone. This can be especially true for people with disabilities.

Milestones Magazine has "thrown its hat in the ring" towards the

goal of decreasing unemployment among people with disabilities

with this employment-themed issue of the magazine; and with a

section of the website called the Work-Around Registry.

The registry is intended, first and foremost, as a vehicle for

families who have one or more members with a disability (any

type, any degree). They can use the registry for a variety of

reasons, including

1. They would like to hire a person with a disability to do a

needed household chore or errand, such as grocery shopping

or yard work.

2. Their child with a disability is looking for work with flexible,

seasonal, or temporary status.

Some folks (including those with disabilities) are not necessarily

looking to make a lot of money or work a ton of hours in any

given day, week, month, or year. They may feel they risk losing

government benefits (such as with Medicaid waiver programs),

they may have limited hours to devote due to other activities/

priorities in their lives, or they may simply want to try out a

few of what used to be (and may still be) called "odd jobs".

Whatever their reasons, this registry is (or may be) for them.

Milestones Magazine is planning an online event/presentation

where we can answer your questions (about the registry), and

sign-ups can be accomplished (one-time $25 cost).

Questions, contact Susie Redfern: info@MilestonesMagazine.net.

Please visit the Work-Around Registry online!

22
---
MILESTONES

Helping Individuals with Disabilities & their Families

Achieve & Celebrate Events & Milestones in their Lives

Connections child care

Child Care Connections links families to child

care suited to children with challenges.

Child Care Connections also provides informational

articles (referencing North Carolina University

Extension Service) about adapting child care

Features a registry that both parents and providers

can Sign-Up for when they are looking for, or offering,

care for children with various challenges, such as

programs to children with special needs. Once you

sign-up you'll receive the article Adapting the Child

Care Environment for Children with Special Needs.

developmental disability, autism, hearing impairment,

vision impairment, and more!

Check out our website: milestonesmagazine.net

21