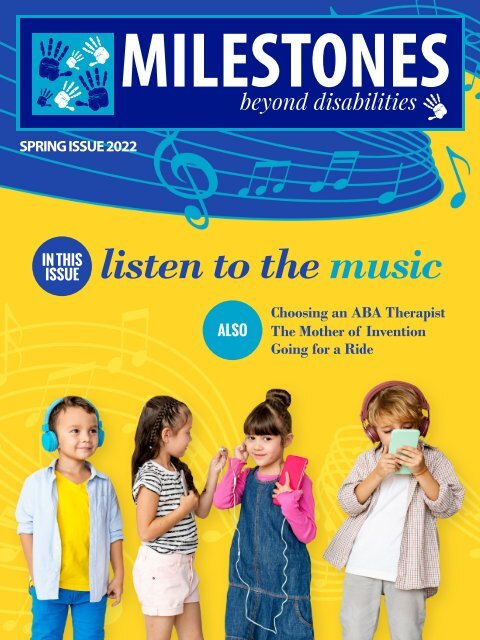 Milestones Spring Issue 2022
Helping Individuals with Disabilities & their Families Achieve & Celebrate Events & Milestones in their Lives
Helping Individuals with Disabilities & their Families Achieve & Celebrate Events & Milestones in their Lives
SHOW MORE
SHOW LESS
Do you know the secret to free website traffic?
Use this trick to increase the number of new potential customers.
eyond disabilities

SPRING ISSUE 2022

IN THIS

ISSUE

listen to the music

Choosing an ABA Therapist

ALSO

The Mother of Invention

Going for a Ride
---
Publisher

Susie Redfern, is the parent of a

special needs child who recently

"aged out" of the public-school

system.

05

She developed Milestones

Magazine to help individuals with

disabilities and their families

achieve and celebrate events and

milestones in their lives.

ON THE COVER

Listen to the Music

info@milestonesmagazine.com

MilestonesMagazine.net

FEATURES

03

Born Too Soon

09

Choosing an ABA Therapist

13

8

The Mother of Invention

15

Acting Up or Acting Out: What's the solution?

19

Going for a Ride

21

IEP Advocate, anyone?

23

There's an Association for That

1
---
Born Too Soon

Most everybody who is expecting

a baby hopes for a child that is

born healthy and full-term.

Things don't always go according to plan, however, and perhaps the most common

complication is that of a child born prematurely. The most well-known, life-threatening

complications, are the difficulties such children have with regulating their body

temperature to stay warm enough, and undeveloped lungs where they often cannot

breathe on their own.

Beyond these life-threatening complications (and others not listed), however, are a host

of other issues that can lead to short-term developmental delays in some cases, and lifelong

difficulties in others. One such circumstance, which I was introduced to, is a brain

bleed. This complication can put children at risk for conditions such as Cerebral Palsy. To

explain more about this, I am pleased to introduce Physical Therapist Teresa Alliston.

3
---
Most infants born prematurely (those infants born before 37

weeks of pregnancy are completed) also have a low birth weight.

Infants are placed in the low-birth weight category at 5 pounds 5

ounces (2500 grams). Premature, low birth weight infants, can be are at risk

of brain bleeds, or otherwise referred to by medical staff as Intraventricular

hemorrhage IVH. Infants born at term may also experience an IVH, but

have a much lower risk of this happening. Intraventricular hemorrhages, for

the most part occur sometime within the first few weeks after birth.

An Intraventricular hemorrhage for an infant is similar to

a stroke for an adult. Just like a stroke there are varying

degrees of the amount of the bleed within the brain's

area. These levels of degree for the infant are referred

the NICU/hospital. But, in that moment of dealing with,

and surviving that time in the hospital with your young

infant, it is hard to take in and process all the information

that is given to you.

to as "Grades", and range from a low grade, rated as a

Grade I, IVH; to the most severe known as a Grade IV,

IVH. Similar to a stroke as well, is the effect the blood

in the area of the brain tissue may have on the patient's

various areas of abilities to move, see, speak, the process

thinking/problem solving. The lesser the Grade of bleed

the lesser the level of impact on the patient's various

abilities, the greater the Grade of bleed the greater the

As a Physical Therapist that has a passion for preterm/

low birth weight infants, I would be happy to have a

conversation with you about any questions you may have.

You are welcome to contact me at Pediatric Therapy of

Washington State, PLLC through the "book a consult"

tab on the home page of www.ptows.com. Just put your

question in the comment/message box, and I will know

level of impairment on the patient's various ability to

move, see, speak, or think/problem solve. Based on the

area(s) of the brain tissue which the blood has affected,

determines the area(s) of the infant's abilities that may be

impaired. For example, if the motor area of the brain has

blood affecting that area, then the possible result will be

an impact to the physical movements of the infant.

you have a question, and are not looking for a consult.

M

Grades I and II, IVH's, may temporarily show some mild

impacts on the infant's abilities for movement, sight, etc.;

but usually resolve on their own without the need for

interventions. For those that do not resolve on their own,

there are treatments available to address the various needs

of the infant. The latest research is showing the sooner the

treatment is started the better the outcomes for the infant.

For Grades III and IV, IVH's, there is a greater possibility

that the more severe impacts on the infant's abilities for

movement, sight, etc.: may not resolve on their own,

making these infants more likely candidates for early

treatment options.

Most likely all of this information has been shared with the

family/caregiver of the preterm infant while they were in

Editor's Note: Teresa is a future magazine

contributor for articles related to various

assessments and treatments for pre-term and

full-term babies, and young children.

4
---
COVER

FEATURE

listen to the music

The old saying is

"Music hath charms to soothe

the savage beast."

There are, probably, just a handful of people throughout

history who qualify as savage beasts (and music probably

wouldn't soothe them), but music can be inspiring,

enjoyable, and therapeutic for the rest of us.

5
---
Music therapy, as a service, is available to a variety

of people, including those with disabilities. I am

honored to introduce Fatima, a Senior Music

Therapist/Researcher with Integrative Music

Therapy, LLC to tell us about what they do, and

how neurologic music therapy helps individuals with

disabilities enhance their quality of life.

Introduction

The sound of music ebbs and flows throughout each day

inside the red brick building, where Integrative Music

Therapy, LLC (IMT) operates our clinic. Clients of

all ages with various disabilities enter this "CAN-Do"

environment to receive therapy with goals to enhance

their quality of life. Many people may notice the singing

and playing musical instruments common to our

environment, but many may not know the power that

music has to support change and learning. Did you know

that rhythmic cueing can improve speech articulation

for someone who has experienced a stroke-related

communication challenge? Did you know that the steady

beat of a drum or simple metronome clicks have the power

to improve coordination and efficient movement for

someone with a movement disorder? These are just part of

our innovative and unique approach to therapy, utilizing

our Neurologic Music Therapy (NMT) model.

Rhythm is Key

Internal rhythm exists within each human body like a

personal identity. This unique rhythm flows through

our body to promote regulation and support volitional

movements, which allow most of us to be functional

and purposeful in our lives. Recent neuroscience

evidence suggests that there is a growing number of

neurodivergent individuals whose brains are differently

connected. This leads to exciting gifts and abilities,

but for some, difficulties with emotional and sensory

regulation, and motor planning. This

is recently being described as

"apraxia" or "dyspraxia" and

it may impact speech/

communication,

social interactions,

body awareness,

self-confidence,

community

Why do we provide Neurologic

Music Therapy?

Neurologic Music Therapy (NMT) is an evidence-based

music therapy approach that uses music and rhythm to

improve the way the brain functions during functional,

everyday tasks. This approach utilizes a Transformational

Design Model (TDM) to assess the functional needs of

a client and then design music-based interventions or

exercises to strengthen the neural pathways of the brain

to support a positive change in the individual's abilities to

carry out the targeted goals. The skills that are developed

during music therapy can then be easily transferred to

other settings outside the music therapy session. Our

therapists believe that a research-based approach is the

most responsible and effective way to support individuals

to obtain therapeutic outcomes.

access, etc.

These unique

brains may

become

overstimulated

by stimuli in

their environment.

Their environment

may consist of a wide

variety of sights, sounds,

smells, tastes, and textures

all at the same time, and that can

greatly impact their ability to regulate their bodies and

move in the way they intended to. Unfortunately, these

support needs are often mis-evaluated or assumed to be

intentional behaviors, leading to therapeutic strategies

meant to "control" the person or "teach compliance".

6
---
Fortunately, neurologic music therapy has a very different

focus - one focused on strengths and abilities, along with

a commitment to provide supports and accommodations

the individual needs to best access their life. Sometimes

the support that is needed is simply a rhythm that matches

with the individual's internal rhythm to help them entrain

and develop new sensory and motor brain connections,

therefore improving body awareness and motor planning.

only provide visual cues and/or written instructions for

the individual to read and respond to. This technique

is an under-utilized support to bodies when needing

to calm, slow down, or regulate, and can really support

co-regulation between a therapist and an individual

receiving music therapy (or a parent/child or a teacher/

student). This approach is especially effective when the

individual's responses are dominated by the autonomic

nervous system, often referred to as our "fight-flightfreeze"

mode, which commonly occurs when an individual

Never forget about Silence…

That's part of the music too!

Our fast-paced world often forces us to move and respond

without a break. However, silence is equally important,

just like there are rests within the music. Silence provides

room for our brain to focus, think and process. This leads

us to the common mantra at our clinic: "Think, Look,

Move", which is also associated with a traffic visual that we

have available in every office. We teach our clients to first

STOP and THINK about what they want to do; second,

YIELD and LOOK by utilizing their central vision to

locate their target; and third, GO to MOVE to complete

the desired task. By using this strategy, we have seen many

successful moments when our clients have been able to

becomes overwhelmed or perceives stress or fear.

In order to truly understand the needs of a person

identified to have a disability and to provide an effective

music therapy treatment, it's important to address the

needs at the brain level. By utilizing a neuroscienceinformed

approach to music therapy (NMT) to guide our

treatment strategies and supports, we can deepen the

way the brain connects and positively enhance outcomes

in sensory processing, meaningful communication, and

purposeful motor skills for individuals who are working

to overcome the limitations of their disability. When

these needs are met, our clients are able to enjoy a truly

meaningful life and improved autonomy. Isn't that what

we all hope for?

M

participate in activities that they never had found success

to do before.

Contact Information:

Through our neurologic approach, we have found that

"Silent Support" can be crucial to help neurodiverse

individuals regulate their emotions and increase their

body awareness. Silent support requires the support

person to inhibit their own speaking voice to instead

Integrative Music Therapy, LLC

1003 SR 662 W

Newburgh, IN 47630

(812)490-9400

www.inmusictherapy.com

7
---
YOUR LOVE FOR THEM

IS ENDLESS. LET'S HELP IT

GO EVEN FURTHER.

At Prudential, we understand the challenges of caring for a loved one with special needs.

From daily routines and expenses to preparing for a lifetime of care, we'll work together to help

meet those challenges for you – and your family.

Contact me today for a no-obligation meeting and complimentary copy of A Caregiver's Toolkit. With

this toolkit, we'll discuss key planning considerations and resources to help you build a strong

financial foundation and future full of possibilities.

A CAREGIVER'S

TOOLKIT

Don't miss out on this valuable experience! Topics include:

• getting organized and staying connected

• avoiding caregiver fatigue

• understanding your legal and estate planning needs

• developing an accessible care plan

• and more!

Planning for the future of your loved

one with special needs so you can both

Live in the moment

The Prudential Insurance Company of America.

1029855-00003-00

1

Nancy Roach-Wilder, CFP ® , ChSNC

Financial Planner, Prudential Advisors

CA Insurance License 0G27220

The Prudential Insurance Company of America

1901 Butterfield Drive, Suite 250

Downers Grove, IL 60515

Office: 630-442-6806

Cell: 224-305-2257

Nancy.roach@prudential.com

www.prudential.com/advisor/nancy-roach

INVEST

• INSURE

• RETIRE

• PLAN

Offering financial planning and investment advisory services through Pruco Securities, LLC (Pruco), under the marketing name Prudential

Financial Planning Services (PFPS), pursuant to separate client agreement. Offering insurance and securities products and services as a registered

representative of Pruco, and an agent of issuing insurance companies. 1-800-778-2255.

Prudential Advisors is a brand name of The Prudential Insurance Company of America and its subsidiaries. Life insurance is issued by The

Prudential Insurance Company of America, Newark, NJ and its affiliates. [Securities products and services are offered through Pruco Securities, LLC

(Pruco)(Member SIPC).] Prudential, the Prudential logo and the Rock symbol are service marks of Prudential Financial, Inc., and its related entities,

registered in many jurisdictions worldwide.

1038386-00001-00 EXP: 05/14/2022
---
Choosing an

ABA Therapist

Children with challenges

of various kinds often have the need for therapists, tutors, and other

professionals to address the issues they are experiencing. For parents,

the challenge is to select the professional that best fits with their child's

personality and mindset (along with, of course, meeting training and

licensure requirements). The saying making the rounds summarizes

this nicely: "When you know one person with autism, that means you

know one person with autism."

One size does not fit all.

9
---
Milestones Magazine is honored to introduce IABA Consultants,

which has posted the following article about ABA

Therapy Red Flags, on their blog. ABA Therapy is,

perhaps, the most well-known therapy used for/

with individuals on the Autism Spectrum.

ABA Therapy Red Flags (Part 1)

ABA therapy is the only evidence-based ASD

therapy, but the treatment only works if it is

done with care. Not all ABA service providers

are the same. How can you tell if your child's

treatment is being conducted correctly?

No Observation or Information

One of the most important aspects of ABA

therapy is continuing a program at home.

If an ABA service provider refuses to share

information or allow observation you may

want to take a closer look at the program.

There are some red flags you can look for

if you feel your child is not progressing or

benefitting from ABA therapy. The points we

are going to talk about won't cover everything,

but they will cover some of the most easily

observable ABA therapy red flags.

Information should always be available on

how your child is progressing. Daily records

should be available to parents if they want

to know what is going on in treatment. If

an ABA service provider is unable to share

information, it may be time to take a closer

look. Quick note: information and records may

take a few days to be logged, each clinic is

We have split this article into two parts, as we

different.

want to mention why these red flags can be

harmful and what you can do to notice them.

Too Many Hours of Therapy

If you are not allowed to visit your child's ABA

clinic to observe treatment and progress you

may have a problem on your hands. Dropping

ABA therapy is a billable medical expense. Like

most medically billable services, some ABA

therapy providers will look to bill for as many

hours as possible. Most people don't require

40+ hours a week of ABA treatment.

Be sure to look at your child's program and

what exactly is being done from a therapy

standpoint. Does the program cover

everything your child needs? Are the

hours reasonable for the needs of your

child?

A note that some people do need a

lot of therapy, just not everyone. ABA

therapy is not supposed to last forever.

Your child will eventually be able to live

an independent life with honed social

skills. Too many hours of therapy is not

something that will necessarily help with

ABA therapy.

10
---
y without notice is not recommended, the

situations we are talking about are never

being able to observe your child's clinic &

program.

ABA Therapy Red Flags (Part 2)

ABA therapy is the only evidence-based ASD

therapy, but the treatment only works if it is

done with care. Not all ABA service providers

are the same. How can you tell if your child's

Another red flag related to this is a provider

treatment is being conducted correctly?

only using telehealth methods (phone calls,

video chats etc.) for BCBA supervision. A

BCBA should be directly involved in each

child's program. The only exception to this is

ABA providers located in rural areas, as they

may be spread very thin and have a limited

number of BCBAs.

There are some red flags you can look for if you

feel your child is not progressing or benefitting

from ABA therapy. The points we are going to

talk about won't cover everything, but they will

cover some of the most easily observable ABA

therapy red flags.

Extremely Strict Behavior

Requirements

ABA therapy works to help people

We have split this article into two parts, as we

want to mention why these red flags can be

harmful and what you can do to notice

them. Click here for part 1.

with ASD adapt to neurotypical

social norms. Having strict

requirements to not allow

normal ASD behaviors may

lead to issues with many

people.

Not Listening

Every parent has concerns

about their children.

ASD parents usually

have more things to be

If a therapy program doesn't

allow things like stimming,

forces social interaction, or has

eye contact requirements, you may

want to take a closer look. Forcing

behavior changes through programs or

(worse) aggressive interactions is a huge

issue for any ABA therapy program.

Some behaviors and issues will need to

change over time, but forcing the issue

through strict programs or adherence to

certain behaviors is not the way to go. Be sure

to routinely check your child's program and

progress if you think any requirements of the

program are too strict.

concerned about. If you have

voiced specific major concerns

to your child's ABA provider

without an acceptable response, you

may need to rethink things.

By voicing major concerns, we are talking

about lack of progress, not sharing enough

information, billing too many hours etc. These

are things that should be addressed as soon

as possible. Smaller concerns may slip through

the cracks so you may need to repeat them in

order to ensure they are taken seriously.

If all of your concerns go unaddressed by an

ABA therapy provider, it may be time to look for

a new one.

ABA Therapy from IABA Consultants

If you have questions regarding autism

treatment, education, or plans using ABA

therapy, we are here for you! Our goal is to

make sure no family is turned away due to

financial constraints. Our therapy team would

love to talk to you. Find the location closest to

you and give us a call. We're here for you.

Only Using a Few ABA Therapy

Techniques

Relying on a small pool of ABA therapy

treatments and techniques can lead to a

poorly developed program. If you notice your

child is being treated with the same methods

all the time, you may need to look at their

overall program.

11
---
Some programs may focus on a small number

is being offered.

of treatments for a set period of time, so be

sure to ask when or if the program will change

or progress. Your child's ABA therapist should

have a good answer why certain treatment

methods are or aren't being used.

In order to get the most out of ABA therapy,

each child needs a custom-built program.

ABA programs built on general needs will not

help each child enough to address specific

behaviors and needs.

All children with ASD are different, so be sure

not to question a treatment program after a

short amount of time. Have a discussion with

your ABA provider to learn about the program

that was designed for your child.

Templated ABA Therapy Programs

Similar to only using a few aba therapy

ABA Therapy from IABA Consultants

If you have questions regarding autism

treatment, education, or plans using ABA

therapy, we are here for you! Our goal is to

make sure no family is turned away due to

financial constraints. Our therapy team would

love to talk to you. Find the location closest to

methods, templated programs can be a major

red flag for ABA programs. Every child with ASD

is different and requires a different approach

tailored to their strengths and needs.

you and give us a call. We're here for you.

Contact

website: www.iabaconsultants.com

M

contact page: www.iabaconsultants.com/

This red flag can be seen relatively early

in selecting an ASD treatment program or

clinic. If you are presented with a brochure of

programs or therapy 'packages' mentioned in

contact-us

email: services@instructional-aba.com

blogs: www.iabaconsultants.com/autismblog;

www.iabaconsultants.com/blog

a consultation, you need to really look at what

M
---
The Mother of Invention

Necessity is

The Mother

of Invention.

his may be a cliché, but it's also

true. Many of the contributors to

Milestones Magazine are parents

who created a product or service to benefit

or employ their own child and others with

a similar challenge. Others are adults

who create a product or technology to

overcome a challenge they have. Clothing

is an obstacle to many with one challenge

or another. Some can't zip/unzip or fasten

traditional clothing; others have sensory

issues, and so on.

I'm pleased to introduce some folks who are

meeting this challenge head on.

13
---
Heidi McKenzie founded Alter UR Ego after

being left a paraplegic from her injuries in a

traumatic car accident in 2007 (at the age of

21). In her own words:

"In 2007 I was in a traumatic car accident that left me a

T4 paraplegic (meaning I can't feel from the chest down)

at the age of 21. I have always kept a positive attitude in

regards to my injury, and I live every day to the fullest with

a smile on my face. I designed jeans for other people in

wheelchairs that are both functional, and fashionable. I

want to make it possible for those with disabilities to be

able to express their "alter-ego" through fashion while

breaking down social barriers.

Another way I decided to expand my brand identity was

Keisha Greaves, after her diagnosis of

Muscular Dystrophy (apparently not just a

disease in children), started a T-shirt clothing

line called Girls Chronically Rock.

to team up with Wheelers Depot, an inclusive business

providing products for an adaptive lifestyle, and designing

t-shirts that allowed me to express my sense of humor and

showing that life doesn't have to end after a spinal cord

injury.

"For someone who sits on a wheelchair all day or

someone who wears braces, slipping buttons in place and

maneuvering zippers can be a hassle. Finding the right

size of pants or jeans that accommodate their peculiarities

can also be impossible. Adaptive clothing is not accessible

to everyone. Not all stores carry this kind of clothing and

many of the ones who do operate wholly online making

the process of shopping for clothes tedious."

The Girls Chronically Rock Adaptive Project provides

"unique designs that make members of the disability

The company designs jeans that are "both functional,

and fashionable for people in wheelchairs," to "make it

possible for those with disabilities to be able to express

their 'alter-ego' through fashion while breaking down

social barriers."

"Adaptable clothing is hard to find, especially if you want to

look fashionable. The adaptable jeans are just the beginning

of clothing that has all the fashion and all the function for

someone in a wheelchair. People with disabilities should

have just as many clothing options."

M

community feel that they rock". The fashion line is

intended for the physical and the online stores. The

clothing is accessible and easy to use so people can slip

into them on a moment's notice. Customers will have a

range of choices to select from within the collection.

"The Girls Chronically Rock Adaptive Project currently

has 12 designs that feature the work of Fashion Design

students and is a mixture of swimwear, dresses, swimwear

cover ups, evening wear, shirts, and so on. The fashion

line uses magnetic snaps, hooks, and easy to take on and

off closures. Students involved in the project are creating

pants, tops, evening dresses, and more, that all look

amazing."

14
---
Acting Up or

Acting Out:

What's the

solution?

15
---
Behavioral therapy is often used by, for, and with people of all ages who are having challenges

of one kind or another. Some of them are "neuro-divergent." Applied Behavior Analysis

(ABA) is a therapy commonly used with people on the Autism Spectrum, but it is not the

only strategy out there for this group.

I am pleased to introduce Dr. Robert Jason Grant, creator of AutPlay Therapy, author

of the article "AutPlay Therapy: Integrating Play, Parents, and Children into the

Therapeutic Process"

AutPlay Therapy: Integrating Play, Parents, and Children into the Therapeutic Process

AutPlay Therapy has been defined as an integrative family

play therapy approach designed to address the mental

health needs of neurodivergent children (autistic, ADHD,

mental health needs with which they may be struggling.

Play therapy is uniquely designed for and responsive to

the individual and developmental needs of each child.

learning differences, sensory differences, Tourette

Syndrome, giftedness/twice exceptional, intellectual

developmental disability, developmental disabilities,

etc.). The AutPlay Therapy process can be utilized to

address a variety of concerns and the need areas that

neurodivergent children may present which include but

are not limited to trauma issues, parent/child relationship

struggles, emotional regulation, social navigation, sensory

processing, anxiety reduction, and life adjustment issues.

AutPlay Therapy incorporates a parent partnering

(training) component where parents are trained by the

therapist in using various play therapy approaches and

techniques at home with their child. Parents are viewed

as partners with the therapist and are empowered to

become co-change agents with the therapist in helping

their child address and advance in therapy goals. AutPlay

Therapy's parent training component teaches parents

how to facilitate the AutPlay Follow Me Approach (FMA)

AutPlay is a neurodiversity informed approach which

strives to value neurodivergence and support non-ableist

processes – respecting, valuing, and appreciating the

identity and voice of the child client. AutPlay framework

highlights affirming evidence based and research

informed practices to address identified needs and

play times and specific play therapy technique play times

at home with their child between therapy sessions. Parents

learn about play, procedures, and techniques, and are

shown how to implement play times at home to improve

the parent/child relationship and work toward addressing

therapy goals.

therapy goals. It is a guide for establishing therapeutic

relationship, assessing for individualized therapy needs,

and implementation of play therapy approaches and

interventions.

Play therapy is a theoretical modality that uses a

wide variety of methodologies to communicate

with clients, including adventure therapy,

storytelling and therapeutic metaphors,

movement/dance/music experiences,

sandtray activities, art techniques,

and structured play experiences in

addition to free, unstructured play.

Play therapy approaches can hold

many benefits for autistic and

neurodivergent children and their

families, especially in addressing

16
---
Children are also viewed as partners in the process with

the therapist and the parent. As much as possible, the

child's thoughts, feelings, and voice are included into the

therapy process, goals, and plan. Children should have a

say in what they want to achieve and the process to achieve

it. Children should be clearly informed that they can freely

share what they think, like, and don't like. In AutPlay,

children are often asked if they liked a play intervention

■ What is your experience working with

autistic/neurodivergent children and their

families?

■ Can you describe the types of issues you

have worked on with neurodivergent

children?

and if they felt the intervention was helpful to them.

■ How might the play therapy you offer

AutPlay Therapy functions ideally as a family play therapy

benefit my autistic/neurodivergent child?

approach involving both the child and the parent in the

therapeutic process. Using a play therapy base that is

a natural language for the child enables the parent to

be involved with their child in a way that builds healthy

relationship and addresses therapy goals within a fun and

connecting process. When parents are seeking out a play

therapist for their autistic or neurodivergent child or a

therapist is looking for a play therapist to make a referral,

there are a few questions they might ask:

■ What would a typical play therapy session

look like and how would you involve the

parent and/or family members?

■ What are some possible mental health

needs and typical therapy goals when

working with neurodivergent children?

■ What type of play therapy do you offer and

what are your credentials/training for

providing play therapy?

■ How would you conceptualize

neurodiversity and describe a

neurodiversity affirming approach?

17
---
Ultimately, Play is the natural language of all children

and holds many benefits including therapeutic

components. Play is also the agent of change that

propels children forward in healing and growth. Within

the therapeutic powers of play, neurodivergent

children have a validating and naturalistic process to

address needs and work on mental health growth

and goals. AutPlay Therapy protocol is mindfully

infused with play core agents of change that

specifically align with the neurodivergence

of autistic children and children with

other neurotype needs.

M

Dr. Robert Jason Grant

www.autplaytherapy.com

Planning

Licensed to practice in

California and Colorado

for a Child with

Special Needs?

Learn about the

Special Needs Trust

for Free

Email for your free

Family Asset Protection

Survival Guide or call for

your free consultation

with Diedre Braverman,

Special Needs

Planning Attorney.

melanie@braverman-law.com

303-800-1588
---
19

GOING FOR A RIDE
---
Many children, with a variety of conditions,

such as Cerebral Palsy, have physical

and coordination difficulties that require

occupational therapy. The therapy often

involves working with toys, feeding utensils, and other

devices to improve a child's skills in various areas.

However, there are some therapy practices that

take a bit more unusual, albeit evidence-based,

approach. One such organization is Riding with

HEART (Hunterdon Equine Assisted Recreation and

Therapy), located in Pittstown NJ.

Riding with HEART offers people with disabilities the

following programs and services:

■ Adaptive Therapeutic Horseback Riding: This

recreational activity helps participants develop

and improve their core strength, gross and

fine motor skills, balance, problem solving and

social skills, sensory integration, and eye/hand

coordination. Riders have a variety of conditions,

including Autism, Traumatic Brain Injury, and

Spina Bifida.

■ Hippotherapy: The American Hippotherapy

Association defines the term as a reference to

"how occupational therapy, physical therapy

or speech and language professionals use

evidence-based practice and clinical reasoning

in the purposeful manipulation of equine

movement to engage sensory, neuromotor,

and cognitive systems to achieve functional

outcomes. In conjunction with the affordances

of the equine environment and other treatment

strategies, hippotherapy is part of a patient's

integrated plan of care."

■ Social Skills Group: "A specialized program for

children with Autism Spectrum Disorders, related

developmental disorders, ADD, ADHD, and

barn as well as working and riding horses is

planned to teach, reinforce and generalize

social skills. Participants are introduced to

a weekly-targeted social skill through the

use of picture stories, didactic instruction,

modeling or role-playing. Working in the barn,

reciprocal interactions (sharing, personal space,

cooperation, and communication) are taught

using a Naturalistic teaching method while

students work cooperatively. Students are also

taught basic riding skills as part of the program."

■ Peer Lessons: "An inclusive riding program that

offers riding lessons to parents, siblings, and

volunteers in our Peer Lesson program. While

Riding with HEART's focus is on Equine Assisted

Activities and Therapies, Peer Lessons enhance

the equine experience for all. What better way to

improve the quality of life than to afford everyone

the chance to share their love of horseback

riding?"

learning disabilities. The unique setting of the

"Riding with HEART offers a wide range of Equine-

Assisted Activities to individuals and their families.

We provide a comprehensive, inclusive and

therapeutic environment to participants with a

wide range of disabilities including, but not limited

to ADD/ADHD, Autism, PDD NOS, Down Syndrome,

Cerebral Palsy, Spina Bifida, Visual Impairments

or Traumatic Brain Injury. All of the Therapeutic

Riding Instructors at RWH are PATH certified and our

professional therapists hold proper credentials and /

or licenses."

M

Publisher's Note: Riding with Heart is located at 639

County Road 513, Pittstown, NJ 08867. They can be

reached at 908-735-5912 and/or seen online at

www.ridingwithheart.org

Happy Trails to you!

20
---
IEP Advocate,

anyone?

Bob Dylan once wrote a song, "The

Times they are a changing", and those

words are perhaps more relevant now than

they have ever been. Parents have been turned

into educators; home-schooling their children on top of

other working from home duties. Children have become

little squares on Zoom during their remote learning

sessions. Families are stressed, and all children are

having difficulties with the new reality. Children with

disabilities are getting the worst of this in many cases.

IEP (Individualized Education Plan) Advocates are

more important than ever. Many parents are unsure

of what an IEP is, let alone how to go about hiring

an IEP advocate who will help them successfully

navigate and overcome whatever issues they are having

with a school district.

Therefore, I am honored to introduce Fiona Sifontes,

Owner/CEO of NYAdvocates4Kids. I came upon their

service while developing IEP Advocate Resource

Lists for metro areas across the United States. I am

honored to have Fiona provide an overview of

■ What an IEP (Educational) Advocate is/does

■ Difference between Section 504 and IDEA

■ Tips/Advice for parents when choosing an

IEP or Parent Advocate

21
---
Educational Advocate

An Educational Advocate makes sure and oversees

that school districts are required to identify and evaluate

every child that may need special education services,

accommodations, modifications, and the appropriate class

setting under a legal requirement called "the child to find."

Every student with an Individualized Education Program

(IEP) must be re-evaluated every three years, unless the

parent agrees in writing that testing is not necessary, this

process is called a triennial evaluation. The parent can

have the Department of Education conduct the psycheducational

evaluation or may have one done privately.

Under the FAPE Law, Section 504 regulation requires

a school district to provide a "free appropriate public

education" (FAPE) to each qualified person with a disability

who is in the school district's jurisdiction, regardless of

the nature or severity of the person's disability. IDEA Law

enforces that all school-aged children who fall within one

or more specific categories of qualifying conditions (i.e.,

autism, specific learning disabilities, speech or language

However, a parent doesn't need to wait for the threeyear

evaluation, if the parent sees their child is regressing

in areas of academics or any other areas or the current

program isn't sufficient, new evaluations should be

requested in wiring to your school district. The Department

of Education will NOT evaluate a child on mental health

needs or diagnose a child with a specific condition, such as

ADHD, ADD, or dyslexia.

impairments, emotional disturbance, traumatic brain

injury, visual impairment, hearing impairment,

and other health impairments).

An independent or private evaluation is usually

necessary for a specific diagnosis and may

be paid for through a child's Medicaid,

IDEA requires that a child's

disability adversely affects her

educational performance, while

504 enforces that individuals

who meet the definition of

qualified "handicapped"

person, for example, a child

who has or has had a physical

private medical insurance, or out of

pocket expenses, in which some

cases can be reimbursed by the

(DOE) Department of Education

if the parent disagrees with

the DOE's evaluations or

feels they are not sufficiently

comprehensive.

or mental impairment that

substantially limits a major

life activity or is regarded as

handicapped by others. (Major

life activities include: walking,

seeing, hearing, speaking, breathing,

learning, working, caring for oneself, and

performing manual tasks.)

Most Educational Advocates

accompany the parent to IEP

meetings, school, or expulsion

meetings. Some advocates may charge

for their services hourly or a one-time

fee which includes everything the advocate

provides for services. Federal law states that schools

"must ensure that the IEP Team includes the parents of the

It does not require that a child need special education to

child."

qualify. Students who are ineligible for services or are no

longer entitled to services under IDEA (e.g., kids with

LD who no longer meet IDEA eligibility criteria) may be

entitled to accommodations under Section 504.

If you want a specific teacher or administrator to be part

of the team, you'll need to advocate for that. The same is

true if you don't want a certain staff member to take part.

The key is to persuade the school that the staffing you want

As an Educational Advocate, Parent Advocate, or even

an attorney who specializes in Education Law, one

must initiate the parent in seeking the appropriate set

of evaluations that include at least the child's school

file, psycho-educational evaluation, social history, and

classroom observation, and may include other evaluations

to determine whether that child may benefit from additional

services to accommodate their educational needs. Also, it

is critical to your child's success. The most vital person

of the IEP Team is The Local Educational Agency (LEA)

representative, who is an important and required team

member of each student's IEP Team and the Parent(s).

General education teacher, Special education teacher,

School-system representative, Evaluator, and/or additional

team members would be Specialists/experts or the student

(if 15 years old or older) are critical in determining the

must include a recent physical evaluation, usually done by

the child's pediatrician and provided by the parent.

appropriate services and class setting for the student.

M

22
---
There's an

ASSOCIATION

for That

As the parent of a now-27-year-old on

the Autism Spectrum, I have spent years

interacting with teachers and school-based

therapists, social workers, and counselors. I also have

started a home business, Milestones Magazine, dedicated

ABA Therapists (Behavior Analysts)

"The Board-Certified Behavior Analyst® (BCBA®)

is a graduate-level certification in behavior analysis.

Professionals certified at the BCBA level are independent

practitioners who provide behavior-analytic services.

to showcasing programs, products, and services that help

empower and support people with divergent abilities.

BCBAs may supervise the work of Board-Certified

Assistant Behavior Analysts® (BCaBAs®),

My first step to showcasing these programs and services is

to find them and enter them into resource lists I compile

nationwide, on a state-by-state basis. I then reach out to

them, to verify the accuracy of the information I've found

Registered Behavior Technicians® (RBTs®), and

other professionals who implement behavior-analytic

interventions." From the website of the Behavior Analyst

Certification Board

online at first party websites and social media pages.

The Behavior Analyst Certification Board website has

One assist I have in compiling the lists are the websites

of national associations that exist. While most are

professional organizations for prospective and current

practitioners; the Association for Play Therapy website

also has a search function for people looking for a Play

information on credential requirements for the Registered

Behavior Technician (RBT), Board Certified Associate

Behavior Analyst (BCaBA), Board Certified Behavior

Analyst (BCBA), and Board-Certified Behavior Analyst-

Doctorate (BCBA-D).

Therapist.

The Behavior Analyst Certification Board is focused

Here's a rundown of the national organizations I've come

across while compiling the resource lists.

exclusively on practitioners. It does not serve as a

resource & referral to families looking for a therapist.

■ Occupational Therapists

■ Physical Therapists

■ Speech Therapists (Pathologists)

Autism Speaks offers resource guides, including one for

ABA therapists, on its website.

Psychology Today also offers online information and

resource/referral for/about a number of therapies,

■ Music Therapists

■ Art Therapists

■ ABA Therapists (Behavior Analysts)

■ Recreational Therapists

including Applied Behavior Analysis (ABA). It has a

search function on its website where you can enter a city

or zip code.

The Association for Play Therapy (APT) maintains a

website that provides a directory of Play Therapists that

23
---
have the academic credentials and training for the

designations as Registered Play Therapists (RPT),

School Based-Registered Play Therapists (SB-RPT),

and Registered Play Therapist-Supervisors (RPT-S)

with the Association for Play Therapy.

Individual information pages feature contact and other

information, sometimes including a website address

and/or email address. Searches can be done for a

specific individual or for a geographic location, such as

a state or city.

The website of the National Council for Therapeutic

Recreation Certification provides assistance to

prospective Recreation Therapists in achieving and

renewing the CTRS credential. For the public, it

offers a database through which individuals can verify a

practitioner's credentials.

Jeanne Hastings also maintains a website, My

Recreation Therapist, through which therapists

and families can connect. This is a log-in site for

which registration is free for families, and available to

professionals with a monthly or annual membership.

The American Occupational Therapy Association is

a professional organization for prospective and current

Occupational Therapists. It does not provide resource

& referral for the public.

The American Physical Therapy Association is a

professional organization for prospective and current

Physical Therapists. It does not provide resource &

referral for the public.

The American Speech-Language-Hearing

Association is a professional organization for

prospective and current Speech-Language

Pathologists. It does not provide resource & referral

for the public.

The American Music Therapy Association is a

professional organization for prospective and current

Music Therapists. It does not provide resource &

referral for the public.

The American Art Therapy Association is a

professional organization for prospective and current

Music Therapists. It does not provide resource &

referral for the public. M
---
MILESTONES

Helping Individuals with Disabilities & their Families

Achieve & Celebrate Events & Milestones in their Lives

MILESTONES Magazine - Sponsorship for an Event Guide

The Event Guide will include information about the event and highlight all the speakers.

Sponsors will be highlighted on the Event Platform website and in the Event Guide. A sponsor

can sign up for a full, half, or quarter page; outlined below. Each sponsor will also be included

in the program schedule and receive (as per resource list order form) one or more resource lists,

with a license to freely distribute (sales prohibited) to clients, colleagues, friends, and family.

Our Next Event:

All Things Therapeutic

Therapeutic Virtual Event:

June 2, 1:00-2:30 PM Eastern Standard Time (EST)

The Event Includes:

Speech-Language Pathology, Occupational, Physical, Art, Music,

Recreational, and Play Therapies.

Currently, we have 1,000+ invitees on our list for this Event!

Speakers

Teresa Alliston, MPT:

Lisa Morris MS:

Lillian Chen-Byerley:

Fatima Chan:

Jeanne Hastings, CTR:

Physical Therapist, Pediatric Therapy of Washington State

CCC-SLP/L, Clinical Director, Pediatric Interactions Inc.

Owner and Occupational Therapist

Senior Music Therapist/Researcher, Integrative Music Therapy

CEO of My Recreation Therapist

Sponsorship Opportunities

Please email Susie Redfern at info@milestonesmagazine.net

if you are interested in Sponsoring an Event Guide.

COVER PAGE

Event and Speakers will be Highlighted

FULL PAGE

Your Bio, Picture, Logo and Contact Information

Check out our website:

milestonesmagazine.net

HALF PAGE

Your Bio, Picture, and Contact Information

QUARTER PAGE

Your Bio, Picture, and Contact Information