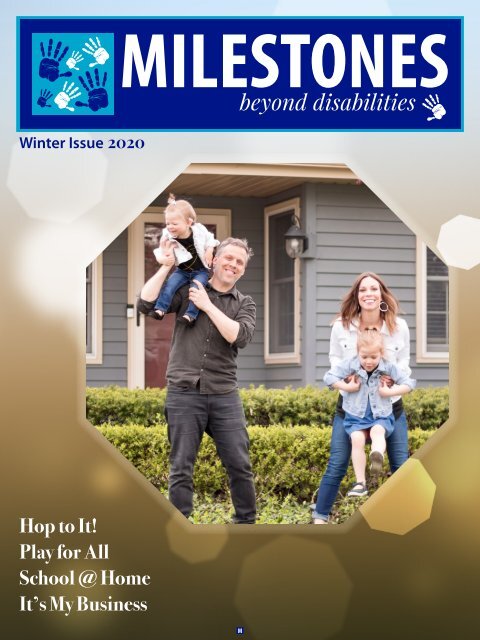 Winter 2020
Susie Redfern developed Milestones Magazine to help individuals with disabilities and their families achieve and celebrate events and milestones in their lives.
Susie Redfern developed Milestones Magazine to help individuals with disabilities and their families achieve and celebrate events and milestones in their lives.
SHOW MORE
SHOW LESS
Create successful ePaper yourself
Turn your PDF publications into a flip-book with our unique Google optimized e-Paper software.
eyond disabilities

Winter Issue 2020

Hop to It!

Play for All

School @ Home

It's My Business

M
---
contents

03 Hop to It!

07 School @ Home

08 I.E.P. & Section 504

Accommodations - two sides of

the same coin?

09 What's for Breakfast Lunch

& Dinner?

11 Play for All

13 National Handwriting Day

15 It's My Business

18 Right at Home

winter

2020

Publisher

Susie Redfern, is the parent of a special

needs child who recently "aged out"

of the public-school system.

She developed Milestones Magazine

to help individuals with disabilities

and their families achieve and celebrate

events and milestones in their lives.

info@milestonesmagazine.com

1

MilestonesMagazine.net
---
YOUR LOVE FOR THEM

IS ENDLESS. LET'S HELP IT

GO EVEN FURTHER.

At Prudential, we understand the challenges of caring for a loved one with special needs.

From daily routines and expenses to preparing for a lifetime of care, we'll work together to help

meet those challenges for you – and your family.

Contact me today for a no-obligation meeting and complimentary copy of A Caregiver's Toolkit. With

this toolkit, we'll discuss key planning considerations and resources to help you build a strong

financial foundation and future full of possibilities.

A CAREGIVER'S

TOOLKIT

Don't miss out on this valuable experience! Topics include:

• getting organized and staying connected

• avoiding caregiver fatigue

• understanding your legal and estate planning needs

• developing an accessible care plan

• and more!

Planning for the future of your loved

one with special needs so you can both

Live in the moment

The Prudential Insurance Company of America.

1029855-00003-00

1

Nancy Roach-Wilder, CFP ® , ChSNC

Financial Planner, Prudential Advisors

CA Insurance License 0G27220

The Prudential Insurance Company of America

1901 Butterfield Drive, Suite 250

Downers Grove, IL 60515

Office: 630-442-6806

Cell: 224-305-2257

Nancy.roach@prudential.com

www.prudential.com/advisor/nancy-roach

INVEST

• INSURE

• RETIRE

• PLAN

Offering financial planning and investment advisory services through Pruco Securities, LLC (Pruco), under the marketing name Prudential

Financial Planning Services (PFPS), pursuant to separate client agreement. Offering insurance and securities products and services as a registered

representative of Pruco, and an agent of issuing insurance companies. 1-800-778-2255.

Prudential Advisors is a brand name of The Prudential Insurance Company of America and its subsidiaries. Life insurance is issued by The

Prudential Insurance Company of America, Newark, NJ and its affiliates. [Securities products and services are offered through Pruco Securities, LLC

(Pruco)(Member SIPC).] Prudential, the Prudential logo and the Rock symbol are service marks of Prudential Financial, Inc., and its related entities,

registered in many jurisdictions worldwide.

1038386-00001-00 EXP: 05/14/2022
---
3

hop to it!
---
A number of businesses have been created by parents of children with

challenges. Often, they are started to meet their own child's needs, then

expanded to help families with similar issues. One such new business is

Hop Along Yogi. I am honored to introduce its founder, Laura, the parent

of a child with a hearing impairment, to tell her story.

"On September 18, 2018, we welcomed our second baby girl, "Ellie" into

the world. From day one, we were smitten. She was an angel -- 7lbs 12 oz,

the most beautiful blue eyes, tiny pink fingers. She slept soundly, and she

barely cried. She was perfect. And then, on her second day of life, we learned

that she failed her newborn hearing screen. The nurse informed us that

often the tests were inaccurate and that it was common for babies born via

cesarean to have a buildup of fluid in their ears. She was tested again before

we left the hospital. One ear passed, one failed, so we had to come back

in another week. My husband and I didn't think much of it as we were

completely enamored and enjoying life with our two daughters.

A week later, we went back for another test. She failed. Again, we chalked it

up to fluid and poor testing circumstances. A month later, we returned for a

more detailed test, an auditory brainstem response or ABR. I'll never forget

4
---
sitting in the audiologist's office

and her giving us the diagnosis. Our

daughter had severe to profound

hearing loss. The severity and

magnitude of those words didn't

quite register with me.

"Are you saying she's deaf?" I had to ask

her. The audiologist responded, "You

could say that, yes."

I was devastated. I felt as though life, as

I knew it, was over. What would raising

a child with additional needs look like?

Would she be okay? What would happen

to my career? What would people think

of her? Of me? Did I do something to

cause her hearing loss? How would my

older daughter cope with all of this?

I was spiraling, but I knew that somehow,

I had to bounce back and be strong

for Ellie and my family. I had to push

the negativity aside and get through

the fear and uncertainty. The following

principles helped me find my bearings

and get back on track. I'm sharing them

for anyone who's in a difficult place and

needs a little help finding their way.

Helplessness Gives Way to Courage.

After Ellie's diagnosis, every

insecurity I had about myself seemed

to fall away. I didn't have time to

over-analyze my weaknesses

anymore. At once, I was completely

vulnerable, but as I became her

advocate, my strength, fortitude,

and resilience grew.

When the shelter-in-place order

began, I started teaching kids yoga

classes online because I wanted to

provide a way for parents and kids to

connect and stay active. Ellie also had a

positive response to yoga acting

out different animal sounds and

combining language with movement.

This inspired me to use it as a tool to

teach her and other kids with similar

diagnoses. What started out as a

fulfilling passion blossomed into my own

business, Hop Along Yogi Kids Yoga,

something I never dreamed

of or even considered doing, but

overcoming my fears associated

with Ellie's diagnosis gave me the

confidence and courage to tackle

any challenge thrown my way. I kept

reminding myself that it's not about

where I've been but where I'm

about to go.

Tiny Victories

Create Big Momentum.

When your child has a health issue,

you become hyper aware and hyper

consumed by their progress. Along the

journey, you value mini-milestones,

even more than the great, big milestones.

With Ellie, her first word was

so amazing but the initial babbles, the

learning-to-listen sounds (moo, shhh,

ahhahh) created an even greater sense

of pride because I knew we were on the

right path. We celebrated (and will

continue to celebrate) every tiny victory

because each mini-milestone is the

catalyst to an even greater achievement.

5
---
inging mindfulness,

strength and joy to all kids

Community is Everything.

It was overwhelming and isolating when I found out about

Ellie's hearing loss. I shut down and shut people out. But

when I opened up to my tribe, they pulled me through the

outlet I needed to better balance the needs of my children

with my needs and share the benefits of yoga with more

people. Through this experience, I found more fulfillment

and pride than I ever anticipated making me feel whole again.

hard times. I surrounded myself with positive people, a team

of supporters — friends, therapists, Facebook groups who

understood what I was experiencing, and I shared my story

with them, and asked a lot of questions. The more I relied

on people, the closer I felt to them which got me through

the valleys.

Over the last two years, I've experienced my share of

detours, but through them I've met new people, formed

deeper personal connections, challenged myself in new

ways and spent more time with the people I love. Now, my

life doesn't feel so much like a detour, it just feels like I

travelled off the beaten path and discovered something

Me-Time Makes Better We-Time.

truly wonderful."

I found myself thrust into a life-changing situation, one that

I didn't plan for and never saw coming. I was completely

consumed by Ellie's diagnosis and believed that the more

I gave, the more I could ensure her success. But slowly the

stress of constant care took its toll on my personal health,

emotional state, and relationships. For me, starting Hop

Laura Kowalski is owner and founder of Hop Along Yogi

Kids Yoga. She teaches weekly, "live-online" classes,

utilizing a flexible pay model to make classes more

accessible to all. Visit www.hopalongyogi.com

for more information. M

Along Yogi enabled me to re-ground myself. It provided the

6
---
School

@ Home

The pandemic has upended virtually

every aspect of life; including work,

recreation, and school. For many of us,

everything (or at least most things) are

now done at, or from, home. And for our

children, that includes school, so many

be, of course). There are people,

organizations and resources that can

help them set up and operate their

home-school and join with other

home-schooling families. One such

person is Jean Kulczyk, M.Ed

parents are, for the time-being, in effect,

home-schooling.

Jean has expertise and resources to

help families who home-school children

However, parents whose children are

enrolled in their district's public schools

and are doing remote learning because

that's the only option their district

currently offers are not home-schooling

per se. Home-schooling families are

those who have made a voluntary choice

to home-school their children and f

ollow the guidelines from the state

related to home-schools (which are

with special needs, or are considering

home-schooling. She wrote a Q & A

article about home-schooling a child

who has special needs, which is featured

on a home-schooling website,

www.illinoishouse.org/special-needs.

Other pages on the website address laws

& regulations, historic cases, and how to

locate home-schooling support groups

and resources.

considered private schools).

Jean Kulczyk can be reached by phone

Home-schooling families are not just

left on their own (unless they want to

at 847-662- 5432 or by email at

advocate4kids@gmail.com. M

7
---
I.E.P. &

Section 504

Accommodations

two sides of the same coin?

I.E.P. (which stands for stands for

Individualized Education Program)

is likely the most used acronym for

parents of the school-aged special

needs population, as it is the

gatekeeper to special education

services in the public-school

system; nobody can enter without

one. However, it is not the only

avenue to accommodations for

children who need them. Section

504 also can come into play for

students who don't qualify for

an IEP.

The following is excerpted from a

podcast by Catherine Whitcher:

www.catherinewhitcher.com/

blog/podcast504vsIEP

• With an IEP, the basis is IDEA law.

• An IEP has eligibility categories;

a 504 plan looks at additional

supports, accommodations and

modifications to meet a child's

needs rather than eligibility

categories.

• An IEP stops at age 22; 504 plan

has no age limit and can follow

into college and the workplace.

• An IEP addresses a child's

deficit with specific goals and

specialized instruction; a

504 plan addresses only

accommodations, modifications

and supports needed for equal

access in the workplace or

school setting.

• Both IEP and Section 504 need

a thorough annual review and

can be changed as often

For a 504 plan, you're dealing

with the section 504 of the

rehabilitation act of 1973.

• Both IEP and Section 504 have

as needed.

M

accountability systems set up

and are enforceable.

www.catherinewhitcher.com/

blog/podcast504vsIEP

Catherine Whitcher offers a

Master IEP Coach program; please

visit www.masterIEPcoach.com

for more information.

8
---
What's for

Breakfast, Lunch, & Dinner?

For most kids,

asking what's for breakfast, lunch,

or dinner is just a casual question;

sometimes asked just to see if they

can turn up their nose at the answer.

Furthermore, the act of eating itself

is just as casual; the ability to eat

whatever you want is usually taken

for granted.

9
---
It's not that simple,

however, for people who have dental or medical conditions

that make it difficult, if not impossible, to chew, swallow,

or digest food like the rest of us. This presents various

complications for these individuals. At the top of the list is

malnourishment and its effects. Feeding tubes, for example,

can clog up and not easily deliver the sustenance a growing

child (or an adult) requires.

So, what's a parent to do? Julie and Tony Bombacino found

themselves in this predicament. Like many parents, when they

weren't satisfied with the solutions for their son, they came up

with their own, which they named Real Food Blends.

Real Food Blends,

as the name says, is blended with real foods, without corn

syrup, preservatives, fillers, or a need for refrigeration.

The company provides 6 meal varieties for children and

adults. Five of the 6 meal choices include a form of meat or

dairy (namely beef, turkey, chicken, fish, eggs), as well as a

vegetable and/or fruit (peaches, carrots, squash, apples,

zucchini, green beans), and a starch (potatoes, oats, brown

rice). One meal choice is vegetarian (quinona, kale, hemp).

The product is covered by many insurance plans, and is

available without a prescription.

Reference: Real Food Blends website, realfoodblends.com M

10
---
Play

for All

Inclusive

11

playground projects
---
"Children Learn Through Play" is a long-expressed

truism. Children go through stages of play, from solo

(playing alone) to parallel (playing alongside other

children) to cooperative (playing with other children).

Through play, children gain physical and social skills,

among other benefits.

In order to play, kids need somewhere to play.

For most children, one of those places is a

playground. However, for children with challenges,

going (or being taken to) a typical neighborhood

or community playground can be, at best, a

disappointing experience. The equipment might be

out of their reach, the playground surface may not

easily accommodate a wheelchair or other mobility

equipment, and so on.

Various organizations, including public and private

schools, and park districts, have met that need with

"inclusive playgrounds". Typically, these projects have

been funded with both public funds and donations. In

the Chicago area, inclusive playgrounds can be found

in many towns, including Aurora, Bartlett, Lisle,

Naperville, New Lenox, Oak Brook, Downers Grove,

Barrington, Wheaton and South Elgin.

Some inclusive playground projects have been

spearheaded by parents advocating for their children.

One such project came about through the efforts

of parent Peg Chaidez, in response to her son's

experience getting stuck and left alone in his

wheelchair on his elementary school's playground

when the bell rang.

Peg founded Dream Build Play Experience

(dbpexperience.com), and teamed up with Sharon

Duncan of Abide in Me (abideinme.org), an

organization dedicated to helping people with

disabilities live active and engaged lives. The first

playground funded was built at her son's school in

Downers Grove.

References: Chicago Special Parent issuu.com/

chicagoparent/docs/chicagospecialparent_0819 and

issuu.com/chicagoparent/docs/special_parent_

summer_2015 M
---
National Handwriting Day

My friend Stacey Montgomery just sent me

an email letting me know Jan. 23 is National

Handwriting Day. She operates a business,

Stacey M design, that, among other products

and services, offers opportunities for children

to do journal writing, thank you notes, and other

activities to promote their social & emotional

wellbeing. She emphasizes the importance of

handwriting as "an effective and highly impactful

way to connect with others".

Aa Bb Cc Dd Ee Ff Gg Hh

13
---
1 2 3 4 5 6 7 8 9 10 11 12

For some children, however, handwriting

is not just an overlooked method of

communication in the age of computers,

cellphones, and email; but a difficult, if not

impossible, chore complicated by physical

or coordination challenges.

My older son, for example, had fine motor

skills deficits that made handwriting an

extraordinarily time-consuming task. And

legible handwriting? Pretty much impossible for

him. His first IEP mentioned "control deficit".

The school district at the time sent nobody to his

first IEP meeting to explain what that meant. A

reading teacher friend of my mother later told

me that it probably meant my son had trouble

holding a pencil (rather than the temper tantrums

I had envisioned).

This program is used by therapists in a variety of

settings, such as public schools and private therapy

programs. Chicago area Timber Ridge Pediatric

Therapy, LLC, for example, lists Handwriting

Without Tears® as one of its services on

their website.

There are a variety of strategies and programs

to help children and adults (with or without

disabilities) develop and improve their handwriting

skills. Handwriting Without Tears®, for example,

For more information about Handwriting Without

Tears®, please visit ashleyjaynahwt.weebly.com

and/or lwtears.com/hwt

is widely used by schools, home-schooling

programs, and therapists. Handwriting Without

Tears® was developed by occupational therapist

Jan Olsen and takes into account developmental

needs for individuals of all ages when they are

learning how to write.

To reach Stacey Montgomery, you can visit her

website, staceymdesign.com. She maintains a blog;

several articles on the blog address challenges

related to the COVID-19 virus for children, teens,

and adults. M

Ii Jj Kk Ll Mm Nn Oo Pp

14
---
it's my BUSINESS

be creative

Adults with disabilities have many

challenges. At the top of the list, for

many of them, is finding or creating

meaningful, productive work. For some

people, the solution is to create a

micro-enterprise based on their

interests and skills. Income from this

business can supplement government

benefits for those individuals with

disabilities who qualify and are receiving

financial supports such as Supplemental

Security Income (SSI).

15
---
proposal for aGRANT

However, starting any business, including a micro-enterprise,

needs a business plan, start-up funds, and other

supports to become successful and profitable. That's

illness that meets Social Security's disability criteria under

SSI. The application can come from an individual or a team

of up to 4 members.

where organizations that can help support and finance

micro-enterprises come into play.

The next round of grants will not become available

until the Fall of 2021 and may be further delayed because

One such organization is Life's Plan, located in the

Chicago area. Life's Plan offers annual micro-grants to

of COVID-19 restrictions. Be sure and check our website

for updates in the fall of 2021: www.lifesplaninc.org.

qualified individuals to help them start a Micro-Enterprise.

I am pleased to introduce Consuelo Puente, a Life's

Plan board member and Parent Advocate on the Grants

Committee, to tell us more about the micro-grant program.

To submit a proposal for a grant to start your own business

we have certain simple requirements. First of all, keep your

proposal brief, no more than 4 pages. We ask that you tell

us a little about yourself and who is going to support you

Hi I am Consuelo Puente.

in doing the business. We know that individuals with

disabilities may need the support from a family member or

I want to thank you for this opportunity to spread the word

about the micro-grants available from Life's Plan.

paid staff of an agency and we take that into account in your

proposal. We ask that you give us an idea of what

your business is about and tell us how you

'As a parent of two adult sons with

disabilities I faced the difficult question

of what kind of lives will my sons have?

What kind of work will be in their lives?

The answers do not come easily, I am

proud to be part of an organization

will use the money. A budget plan and a

timeline should be submitted as part of

your proposal. More details on the

requirements of the proposals will

be released next year before the

proposals are due.

that provides some families with some

great options. The micro-grants program

provides entrepreneurs with disabilities a

launching pad from which to get into the real

world of business and work. The grants can

be an award of up to $2000, depending on the

business plan submitted to Life's Plan.

I find that the biggest problem

in submitting a proposal for our

micro-grants is coming up with an idea

for a business that an individual with a

disability can do. Of course, it is easy to say

"be creative" or "think outside of the box".

Not so easy to put that advice into action. What

Only adult Illinois residents are able to apply and

must be considered to have a disability or mental

I find more helpful is to think closer to home.

My sons and I started a business based on our

think outside the box

16
---
micro-enterprises

life long habit of running errands together. We offered

to run errands for a local woman's shelter and ended up

buying their toilet paper and other essentials from Sam's

The opportunity to try and start a business of your own is in

your hands. We at Life's Plan look forward to reading about

your business ideas.

Club. My sons loved the free samples at Sam's Club and

were able to carry in the supplies to the shelter. Of course,

my sons had prepared from earliest experience to run

For questions on how to prepare a Grant application please

contact me, Consuelo Puente, at ctpuente@hotmail.com

errands so it was a business they were comfortable doing.

Questions on how to plan a Micro-business model or

The business idea can come from something you are

manage a successful Micro-business: contact Matthew

already doing or did in the past. Or the idea can come

from something you like to do. Keep in mind it's your

business, so it has to be something you want to do more

than just once.

Koupal at mkoupal@aol.com

M
---
ight

at home

For some people with physical, intellectual, and/or sensory

issues, living as independently as possible is a challenge.

Whether they live in a congregate setting such as a group home

in their community or an apartment (with or without roommates),

a number of these people need support of one kind or

another. And with the current restrictions and precautions due to

COVID-19, in-person support can be problematic. To a degree,

technology has stepped in to fill some of the gaps.

The companies listed here are among those that provide

technology support, including SimplyHome, AbleLink Smart

Living Technologies, Sengistix, LLC, and Night Owl Support

Systems, LLC. Here are a few highlights about them.

18
---
SimplyHome:

"SimplyHome's sensor-based systems can

adapt over time to support independent

living skills while alleviating concerns

about cooking safety, medication adherence,

and the risk of wandering or falls.

Caregivers are notified only when they are

needed, promoting the highest level of

independence possible for the individual.

SimplyHome works directly with selfadvocates,

families, caregivers, provider

organizations, and state and national

agencies with the mission to empower

independence through innovation.

To learn more www.simply-home.com"

Thanks to Emily Danciu-Grosso of Simply-

Home for that description. SimplyHome

can also be reached at its toll-free number,

877-684-3581.

Night Owl Support Systems, LLC:

This company provides portable safety

devices, including smoke and carbon

monoxide detectors, sensors to detect

flood/moisture, temperature, motion/

pressure, movement, fridge/freezer

opening, and door/window security.

Personal pagers are provided. Christopher

Patterson is the Owner/Founder of Night

Owl Support Systems, LLC.

Sengistix, LLC:

"Sengistix, LLC is a full-service remote

support technology company. SENS

(Secure Environmental Network Support)

and SENS Vision products provide a

hardware and software-based solution,

with 24×7 system monitoring, caregiver

monitoring backup, installation, training,

and customer support. Sengistix provides

a range of high-quality products and services

to meet the unique needs of

individuals of all abilities."

AbleLink Smart Living Technologies:

This company provides technology

Thanks to John Kehr, Operations Director,

for that summary. Sengistix, LLC is

located at 1444 Northland Dr, Ste 150

Mendota Heights, MN 55120. Phone

support to help people accomplish various

life skills, including (but not limited to)

cooking, navigating public transportation,

and scheduling their day.

number is 651-695-5817.

19

I'd like to thank/acknowledge Susan Hudkins for providing website links to the companies who

provide technology support to help people become and remain more independent in their homes

despite physical, intellectual, and/or sensory challenges.

M
---
Check out our other Magazines!

Summer Issue 2020

beyond disabilities

Summer Issue 2019

Fall Issue 2019

Summer Issue 2019

Articles

Sink or Swim

Run Down of Swim

Lesson Businesses

My First Job

Even with a Disability

Working and Earning

Money is Better

Than Not Working

Just to Collect

Government Benefits

The Family Vacation

Traveling with a

Special Needs Child

Can be Challenging

20
---
Helping Individuals

with Disabilities

& their Families

Achieve & Celebrate

Events & Milestones

in their Lives

Connections child care

Child Care Connections links families to child

care suited to children with challenges.

Child Care Connections also provides informational

articles (referencing North Carolina University

Extension Service) about adapting child care

Features a registry that both parents and providers

can Sign-Up for when they are looking for, or offering,

care for children with various challenges, such as

programs to children with special needs. Once you

sign-up you'll receive the article Adapting the Child

Care Environment for Children with Special Needs.

developmental disability, autism, hearing impairment,

vision impairment, and more!

Check out our website: milestonesmagazine.net

21