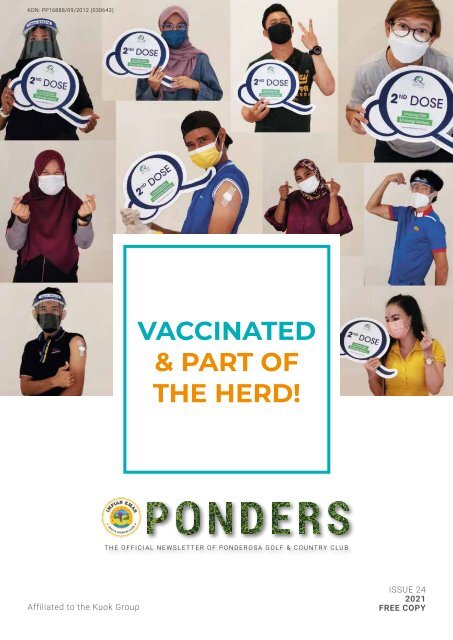 Ponders by Ponderosa Golf Issue 24
You also want an ePaper? Increase the reach of your titles
YUMPU automatically turns print PDFs into web optimized ePapers that Google loves.
KDN: PP16888/09/2012 (030643)

VACCINATED

& PART OF

THE HERD!

THE OFFICIAL NEWSLETTER OF PONDEROSA GOLF & COUNTRY CLUB

Affiliated to the Kuok Group

ISSUE 24

2021

FREE COPY
---
PONDEROSA GOLF & COUNTRY CLUB NEWSLETTER

FREEBIES

MY SHARING …

"STAY HOME, STAY SAFE" - This has been the toughest

task for all of us for the past 18 months.

Nevertheless, we thank everyone for doing their part in

safeguarding the community.

SCAN ME

Have a meal at

Cafe and

GET 1 person's portion

of our signature

GINGER FRIED CHICKEN

FREE*

* Subject to prior reservations

** Valid: 1st October – 31st

December 2021 Only

We are also thrilled to reopen the club on 21st August. By

adhering strictly to the SOP guidelines provided by the

government, it will give an assurance to everyone coming

into our premises, be it golfers, room guests or visitors a

sense of security and well-being. For golfers to be able

to play again is an activity to be rejoiced. Being in the

outdoors among the greens and especially being socially

connected again, is a Happiness that is a definite booster

to enhancing the immunity.

We are glad to announce that more than 95% of 180

persons working at Ponderosa Golf & Country Club, has

completed their 2 doses of vaccination and this number

is growing steadily towards herd immunity. Vaccination is

a crucial exercise that we all must commit to so as to keep

everyone safe.

Safety is unquestioningly the main priority for our fellow

employees and staff of our partners such as caddies,

security personnel, tenants and trainers.

We would like to continue to encourage all our members,

partners and guests to get fully vaccinated so that they

can visit us soon. After such a long stretch of inactivity, we

need to re-charge and rejuvenate at Ponderosa Golf Club –

all for the betterment of body, mind and soul.

Let our Commitment and your Trust Forge the Immunity

of our Future Together.

TAN KAI YANG

General Manager

PONDERS newsletter is published by Ponderosa Golf & Country Club (No. 3, Jalan Ponderosa 1, Taman Ponderosa, 81100 Johor Bahru, Johor)

& Printed by Sin Hua Printing [No 7 & 9, Jalan Anggerik 3/2, Taman Anggerik, 81200 Johor Bahru, Johor]. Copyright of articles, contributions and

photos which are published are the property of Ponderosa Golf & Country Club.
---
PONDEROSA GOLF & COUNTRY CLUB NEWSLETTER

PERSONA...

Dominic's golf career is quite similar to a ride on the

buggy path that undulates from high to lows, then

to rise up again eventually to become an instructor

to help others to achieve their dreams. His objective

to teach golf is both noble and a passion. As he

struggled, he did not want others to struggle as he

did and hence, took up teaching golf so they would

have an easier route to excel in the sport.

Golf was his chosen path because it was one of the

few sports that he felt could be played till he became

old and justifiably, he was very good at it.

"I was very good at golf even at a young age of 16 years.

I beat everyone that I played with, regardless of age.

They included champions, longest hitters in South

East Asia and I was even matched with a professional

that had just won a tournament in Singapore and I

beat him hole for hole."

One would think that there is no stopping for a young

lad riding high on the golf circuit with so much

potential ahead of him.

But Dominic stopped playing for 2 years after

something his father said to him, which shook his

resolve and confidence. Even after he came back to

the game later, he was never the same again.

"I teach Golf because I struggled and I

don't want anyone to go through what

I went through…"

Dominic Chong, Golf Professional

He decided to travel the world to meet golf

professionals "but none of them could give me an

answer."

Finally, after 33 years it came. Dominic met Stuart

Leong, who was named the 2015 Australian PGA's

Teacher of the Year, touted as one of the leading

golf teachers in Australia.

"My confidence in golf was reinstated. I now

teach the sport knowing WHAT, HOW, WHY and

the WHEN of the golf swing. It was an awfully

long journey of struggle to find myself in golf

but it is all worth it in the end. I now impart that

knowledge to my students and feel a sense of

pride when they grow into the sport. I prefer my

pupils to question what I teach. If a professional

cannot answer his pupil's questions, then they

don't know how to teach."

Dominic Chong is one of

several Golf Pros tutoring Golf

in Ponderosa's BE A GOLFER

PROGRAMME (B.A.G)

AT RM1999 ONLY

• You are guided on golf

learning by a certified Golf

Pro

• Get a Golf Starter Kit to

set you off on the basics of

equipment and attire

• Practice from Driving Range

to the Golf Course

• Get a Golf Handicap

certification

• Finally, experience your first

play-on-course challenge

with other students

FOR MORE

INFORMATION, CALL US

AT 019-779 9841
---
PONDEROSA GOLF & COUNTRY CLUB NEWSLETTER

GOING BEYOND THE WHITE FLAG

The pandemic is challenging

every mettle of strength – from

companies to employees, from

community to families, from

authorities to frontliners.

Resort provided 22,600 packed

lunch (300 packs a day) to reach

out to 7500 people who were

displaced due to loss of job,

income and homes during MCO.

SO WHAT CAN WE DO? … LET'S

DO WHAT WE CAN, THE BEST

WE CAN!

Since the announcement of the

first round of MCO on 18 March

2020, and despite the Government's

actions to introduce numerous

stimulus packages to ease the

financial burden of Malaysians for

over a year, the rising cost of living

and loss of jobs have caused more

than 600,000 households who

were initially in the middle 40%

(M40) income group to slip into the

bottom 40% (B40) category. Due

to the prolonged lockdown, social

issues have emerged where more

Malaysians have turned to crimes

to survive or to commit suicide to

end their problems.

So desperate were the situation

that in July, the "White Flag"

Movement became a nationwide

initiative to encourage individuals

and households who were

struggling financially to reach out

for help without fear or shame by

displaying a white flag in front of

their homes as a sign that they

need immediate assistance. It

was a time when Malaysians came

together from every walk of life to

share whatever little they have, to

stock up make shift food banks

set up outside mini-markets, hair

salons, provision shops, petrol

stations and even laundrettes

where the needy would stop by to

take whatever they need from the

shelves.

Ponderosa had reached out in

other ways and beyond the white

flag.

• MCO 1 : From April to June

9, Ponderosa Golf & Country

This project was in collaboration

with YAYASAN KEBAJIKAN SURIA

JOHOR BAHRU

• MCO 2 : From 23 January –

22 February 2021, the resort

supplied 6,800 packed lunch

to COVID patients and their

families, estimated at 36 families

of about 250 members, who

were under home quarantine

in Taman Cendana flats, Pasir

Gudang. It also went to those

with loss of income due to MCO

and to elderly without financial

support.

This project was in collaboration

with NGO FREEMARKET JOHOR

• MCO 3 : From 1 June – 30

September 2021, as more COVID

positive patients emerged

with more families confined to

quarantine, 19,520 more packs

of food were picked up by

volunteers of Freemarket Johor.

The contributions are ongoing.

Sending 150 lunch packs to medical

volunteers and hospital staff who

tirelessly serve the public at one of

the city's vaccination centres.

Providing approximately 4,000

lunch and dinner packs for the

BOMBA frontliners who are on

COVID duty for the months of

August and September.

• Food parcels to underprivileged

staff. The Human

Resources Department sent

out food parcels to its own staff

who are single mothers, the

elderly, the mentally-disabled

as well as contract caddies who

lost income due to golf being

disallowed to play.

• Financial assistance was given

to employees with the ranks of

Executives and below, and to

long-serving contract caddies.

• Offering jobs to the jobless (due

to MCO) in general positions,

where some have remained

gainfully employed and happy.

YAYASAN KEBAJIKAN SURIA JOHOR BAHRU was a recipient of the Iskandar Malaysia Social Hero Award (IMSHA)

Winner for Year 2015. Contact: James Ho – 019-772 4172

FREEMARKET JOHOR was a recipient of the Iskandar Malaysia Social Hero Award (IMSHA) Winner for Year 2019.

Contact: Rye Yassin – 012-707 2722
---
PONDEROSA GOLF & COUNTRY CLUB NEWSLETTER

"NO MAN IS AN ISLAND ENTIRE OF

ITSELF; EVERY MAN IS A PIECE OF THE

CONTINENT, A PART OF THE MAIN…" –

JOHN DONNE

IT'S NOT JUST ABOUT MEMBERSHIP … IT'S

ABOUT FELLOWSHIP

Belonging to a membership is much more than

paying, putting your name and gaining a number

in a long line of people who are associated

together for a certain activity. Rather than being

superficial, if you delve deeper, there are in fact

more emotional and deep-seated motivations

in wanting to belong to a membership.

It's more about creating a fellowship of likeminded

people; fulfilling an innate need for

belonging in a community that would do the

same things with you and like the same things

you do. No man exists in an island. Being

in a membership enables you to make new

friends, while strengthening relationships

with people who are already friends. Forming

little groups of people you can clique with and

meeting once in a while to get away from the

rough and tumble of reality and routine. Whether

it is playing golf, hitting a tennis ball, working

out at the gym or stretching out at yoga, you

know you are in seclusion from public eye and

ensconced in a comfort zone of your own

A Fellowship of the Seniors

Being in your club also means you are at a

familiar place. A place where you can enjoy

perks, recognition and always placed as a

priority; a place where you know and are known.

A membership can be like your second home – a

social version of home.

Nowadays, belonging to a club is no longer about

an investment, expecting a higher monetary

value when your membership is sold. It is about

owning an experience and having a private space

of your own time sometimes spent with people

you like to be with.
---
PONDEROSA GOLF & COUNTRY CLUB NEWSLETTER

At Ponderosa, the members are closely-knit due

to a smaller membership base as compared

to other clubs. It's not about volume but a

preference to maintain a smaller community of

members which is easier to cater to, at the same

time keeping its facilities well-utilised without

being overwhelmed.

Here, be it the seniors, the ladies, the young or

the juniors, there's always a place and publics

for them to embrace fellowship. For the early,

fortunate ones, they belong here for life!

Night Time Sport Respite for the Adventurous

A Competitive Ground for the Juniors

A Brotherhood of the "Young & Dangerous"

Group

A Sanctuary for the Ladies

Let Ponderosa be your ISLAND

and the fellowship your ROCK

Join our various types of

membership.

Ask us at 019-790 8857
---
PONDEROSA GOLF & COUNTRY CLUB NEWSLETTER

RECIPE FROM CAFE...

Many regulars at Café would tell you that the

Mee Mamak Goreng is highly-recommended.

Chef Azaar shares the recipe.

Ingredients

150 gms-Yellow Noodle

1 pc-Fried Beancurd

30 gms-Choy Sum (Sawi)

20 gms-Beansprouts

20 gms-Fish Cakes (sliced)

60 gms-Prawns

30 gms-Chicken meat

1 no-Egg

5 gms-Blended chili

5 gms-Oyster Sauce

10 gms-Sweet Soya Sauce

10 gms-Ketchup

5 gms-Sugar

3 gms-Chicken Stock

1 no-Kalamansi Lime

2 tbsp-Cooking Oil

2 cloves-Shallots (sliced)

fried mee mamak

Method:

Heat wok and pour in the cooking

oil. Once the oil is hot, add in the

sliced shallots and fry till fragrant.

Add in the prawns, chicken and fish

cakes and fry till cooked. You can

now add in the sauces, followed by

the egg and lastly toss in the yellow

noodle.

After the noodle and sauces

are well blended, drop in the

vegetables until cooked, and your

Mee Mamak is ready to serve.

Try it out and give us your feedback

as to how your Mee Mamak turned

out!

Remember, the first try may not be

what you expect. Practice makes

perfect.

SIMPLY 'HONEST-TO-

GOODNESS' AT CAFE

When dining gets back to normal, you are

invited to come to the Cafe@Ponderosa to

savour the kitchen team's self-made fare.

Chef Azaar's Assam

Laksa created to suit

Johorean taste

The Ponderosa Burger

with 100 grams of pure

minced chicken patty

This Satay is definitely

made by our kitchen

team. Not sourced from

suppliers. Must try!

To order WhatsApp: +60 19 758 8093
---
PONDEROSA GOLF & COUNTRY CLUB NEWSLETTER

OUR KIDS MATTER

Developing Life Skills through Sports

emotional, and interpersonal benefits for growing

up children.

• Better vision. Children who spend time

outdoor playing sports, are less likely to

develop vision problems.

• Healthy weight. Obesity is increasing in

Malaysian children, but data shows that kids

who are more active, especially after school,

are more likely to be of normal weight.

• Motor skills development. Sports

participation helps with coordination and

learning new skills.

• Social skills development. Playing as a team

means learning to work with others and to be

inter-supportive of one another.

Ready Steady Go Kids (RSGK), a popular Australian

children multi-sports programme is the ideal

activity if your children are aged between 2½ to

6 years old.

Rather than letting them be confined at home

with electronic gadgets, going to the outdoors

and playing sports has a range of physical,

• Self-confidence. Success as a team member

and an athlete builds confidence.

• Sportsmanship. Learning fundamental rules

of the game, respect for coaches and referees,

and how to stay positive even when losing are

all valuable life lessons.

• Fun and enjoyment. Fun sports nurture

lifelong love for sports in children.

• Friendship. Playing sports allow children to

meet new friends and to be sociable.
---
PONDEROSA GOLF & COUNTRY CLUB NEWSLETTER

It is important to find a sports program

that matches your child's abilities.

At RSGK, children are divided into

different age groups based on their

ability. Parents' participation are always

welcome during the programme as you

are the most crucial role model for your

child.

Sports Safari JB is the first licensee of

the famous Australian children multisports

programme in Johor Bahru.

WhatsApp Coach Jason at

+60129876250 to join the

program today!

SPORTS & RECREATION ACTIVITIES

OCTOBER – DECEMBER 2021

Sunday

10/10/2021

TRAIN SMART WITH TERRENCE

Saturday

23/10/2021

TENNIS FRIENDLY MATCH

Sunday

31/10/2021

ZUMBA BLAST

Saturday

- Sunday

13/11/2021-21/11/2021

BEST-LAP-FORWARD SWIMMING COMPETITION

Saturday

11/12/2021

TABLE TENNIS FRIENDLY MATCH

FOR MORE INFORMATION, CALL OR WHATSAPP THE SPORTS TEAM AT 016-702 7852.
---
PONDEROSA GOLF & COUNTRY CLUB NEWSLETTER

COVID POSITIVE VS MIND POSITIVE

We all agree that for the past two years, or almost, have been extremely difficult for every facet of

society – not only in Malaysia, but the world over. We have been reminded over and over on how

dangerous and volatile the Novel Coronavirus 2019 has been, not only in its initial form of spread, but

the subsequent mutations that have become speed-lighting contagious and highly deadly.

Putting all these cheerlessness aside and the daily media reports that can dampen even the happiest

of larks, perhaps we should look at the good side of what Covid-19 has brought us!

Better family relations

Many of us have found ourselves spending far

more time than pre-pandemic times with our

loved ones at home. What was once caught in a

rat race of datelines and schedules, now there is

more time being spent on meals eaten together,

in the evenings or between WFH (work from

home) hours.

With much of our freedom curtailed due to

several phases of the MCO, we all have come to

appreciate our previous freedom of travelling,

shopping, attending concerts, functions, parties,

and dine outings.

More compassion in society

People have become kinder and those who can

afford it, become more generous towards others

in society who are badly affected financially.

There's been a lot of caring, sharing and giving

during these times. There's definitely more love

in the world!

Not taking common things for granted

A friendly smile not hidden behind a mask,

freedom to hug and shake hands, friends sitting

elbow to elbow for a meal around the table,

dressing up for occasions, watching movies on a

big screen are just some of the simple, everyday

things that we took for granted.

Older people have become techno-savvy

To become more connected to friends and

families, older people have become much more

adept at using technological apps, such as Zoom,

WhatsApp, Facetime and even TikTok. Covid-19

has opened a vast tech world to these people.

Learning to appreciate freedom

Closer to Almighty

The pandemic has brought about greater spiritual

self-reflections. Perhaps it is the fear brought

on by the times, or maybe the solitude due to

lockdowns, people have turned to strengthening

their faith in their respective religions.

Working ladies turned 'Home Chefs'

Just swipe through your FB page and you will see

the number of new 'Home Chefs' among working

ladies – even those who previously could not

cook - share dishes, breads, cakes and beverages

(Dalgona Coffee went viral!) they made at home.

With YouTube for reference or sharing by friends

and plenty of time on their hands, it has become

relatively easy to become a good cook.
---
PONDEROSA GOLF & COUNTRY CLUB NEWSLETTER

PLASTICS

A GLOBAL TRAGEDY AWAITS OUR OCEANS AND SEA LIFE

内 部 堵 塞 , 而 导 致 饥 饿 , 溺 水 甚 至 死 亡 。

每 年 多 达 100 万 只 海 鸟 也 无 一 幸 免 。 与 海 龟 一 样 , 被

诱 导 的 海 鸟 误 以 为 塑 料 是 食 物 而 将 其 吞 食 , 因 无 法 被 分

解 而 形 成 体 内 垃 圾 , 最 终 死 亡 。

We're surrounded by plastic. It's in the singleuse

packaging we discard, the consumer

goods that fill our stores, and in our clothing,

which sheds microplastic fibers in the wash.

Discarded plastic wastes inevitably get into

our drains, waterways and eventually out into

the ocean.

我 们 即 弃 的 一 次 性 用 品 、 商 店 贩 卖 的 各 种 塑 料 包 装 消 费

品 , 甚 至 是 衣 物 洗 涤 后 脱 落 的 微 塑 料 纤 维 , 都 包 围 了

我 们 的 日 常 生 活 。 人 们 消 耗 的 塑 料 废 物 , 不 可 避 免 地 通

过 排 水 沟 、 水 道 , 最 终 流 入 海 洋 。

Plastics pollution has a direct and deadly

effect on wildlife. Thousands of seabirds and

sea turtles, seals and other marine mammals

are killed each year after ingesting plastic or

getting entangled in it, causing suffocation,

starvation, and drowning. Plastic waste kills

up to a million seabirds a year. As with sea

turtles, when seabirds ingest plastic, it takes

up room in their stomachs, sometimes causing

starvation.

塑 料 污 染 对 野 生 动 物 构 成 致 命 影 响 及 伤 害 。 每 年 , 数

以 千 计 的 海 鸟 、 海 龟 、 海 豹 及 其 他 海 洋 哺 乳 类 动 物 被 塑

料 制 品 缠 住 或 把 塑 料 误 认 为 食 物 吞 食 后 , 因 无 法 活 动 及

Can you bear to see these disappear from the

face of our Earth?

你 是 否 舍 得 让 它 们 从 地 球 上 消 失 呢 ?

The above pictures are courtesy of Ryan Chua, Scuba

Diving Coach of Seanergyscuba, who are conducting

Scuba Diving classes at Ponderosa. They were

captured during one of his Scuba Diving trips.

照 片 版 权 声 明 : 以 上 图 片 提 供 者 为 @Ryan Chua, 本 俱 乐 部

Ponderosa Golf & Country Resort 潜 水 教 练 (Seanergy

Scuba) 之 一 。 此 图 片 于 他 们 一 次 潜 水 之 旅 中 所 捕 捉 到 的 画 面 。
---
PONDEROSA GOLF & COUNTRY CLUB NEWSLETTER

SEE A WATERY WORLD OF WONDERS

BEFORE POLLUTION EXTERMINATES THEM ALL

It's sad but true. Perhaps it is time to pick up SCUBA

diving so that you can dive into our vast seas, now

still rich in marine life, to see them first-hand.

This certification illustrates the first or entry level

scuba certification level. A highly-trained PADI

Instructor will teach you how to scuba dive in a

relaxed, supportive learning environment.

The course which is conducted at Ponderosa will

include:

POOL SESSION: 2 sessions of dive in 1 day. The

student will start to learn the diving skills, from the

easiest to advance, step by step starting from the

shallowest end at only 1 metre in depth.

THEORY: Textbook or e-learning material are given in

advance for students who are required to complete

the exercises. 1 day is set aside for discussions and

explanation.

A certified SCUBA diving coach will tell you that you

do not need to swim like a pro in order to learn how

to dive. All you need is to be able to snorkel using

a snorkel, mask, and fin for 300 metres OR swim

without aid for 200 metres, you will be fine.

About SCUBA

SCUBA is an abbreviation for Self-Contained

Underwater Breathing Apparatus, allowing humans

to breathe underwater using special equipment.

Often referred to as Recreation Diving, it is in fact a

leisure diving activity not more than 40 metres in

depth, and depending on certification.

OPEN WATER SESSION: With the skills learnt in

the swimming pool, students will be taken to the

practical open water dive on an island for 3 days,

together with the instructor. There will be a total of

4 dives on the island to enjoy the underwater world.

CERTIFICATION: After completing all the dives and

a theory exam, students will be awarded the world's

most recognized diving certification, PADI Open

Water Diver, which allows divers to go as deep as 18

metres (or 12 metres for juniors) in the ocean.

There are plenty of diving associations in the world

providing such certifications, namely PADI, SSI, NAUI,

SDI, etc. which in general, provides certification of

similar standards.

PADI Open Water Diver Course

ALL INCLUSIVE & NO HIDDEN COSTS!

SCUBA LESSONS @ RM1500

*Price may vary only based on sharing of rooms

Includes :

• All course material • Equipment rental

• Instructor fees • 2-way boat transfer

• License fees

• Swimming pool entrance fee

• Room, meals and drinks on the island

FOR MORE INFORMATION, CALL
---
PONDEROSA GOLF & COUNTRY CLUB NEWSLETTER

WILL YOUR DISCARDED MASKS

CONTRIBUTE TO OCEAN POLLUTION?

(SOURCES of text and pictures: sciencedaily.com; news.cgtn.com; the guardian.com)

已 成 为 大 部 分 国 家 的 " 强 制 口 罩 令 "

。 世 界 卫 生 组 织 (WHO) 估 计 , 每

个 月 需 要 1290 亿 个 口 罩 以 保 护 全 世

界 的 人 们 。 然 而 , 严 峻 的 现 实 仍 存

在 。 口 罩 提 防 了 我 们 免 受 病 毒 侵 害 ,

却 加 重 了 生 物 及 自 然 生 态 系 统 的 压

力 。

You do know that the single-use face masks you discard will eventually make

their way to our waterways and potentially harm marine life?

你 是 否 知 道 被 丢 弃 的 一 次 性 口 罩 , 将 可 能 排 入 我 们 的 水 道 并 危 害 海 洋 生 物 吗 ?

According to the latest report

released by the marine

conservation organization,

OceansAsia in December 2020,

there were 1.56 billion masks

estimated to have entered our

oceans in 2020 which amounted

to between 4,680 and 6,240

metric tons of plastic pollution.

This would take as long as 450

years to break down endangering

marine wildlife and ecosystems.

worldwide. The stark reality

remains, however, that while

it protects us from the virus,

it will not protect our natural

ecosystems and those lives that

are dependent on it.

不 幸 的 是 , 在 COVID-19 爆 发 的 这 段

时 间 , 口 罩 已 成 为 保 护 人 们 免 受 病 毒

传 播 的 必 需 用 品 。 在 公 共 场 合 戴 口 罩

There is yet to be known

guidelines for mask recycling

and disposable masks are

plastic products that are nonbiodegradable.

A key factor that

frustrates the recycling process

of masks is that most masks are

manufactured using multiple

materials. Experts are calling for

masks to be made from polymer

alone, which would make

recycling much easier. Until then

it is advised to dispose them

separately in designated bins.

目 前 , 正 确 处 置 废 弃 口 罩 的 指 令 与 规

程 尚 未 发 布 。 其 的 一 个 关 键 因 素 是 ,

大 多 数 口 罩 是 使 用 多 种 材 料 合 成 制 造

的 , 一 次 性 口 罩 也 被 归 类 为 不 可 生 物

降 解 的 塑 料 产 品 , 因 此 大 大 阻 碍 口 罩

回 收 过 程 。 因 此 专 家 呼 吁 只 用 聚 合 物

制 成 口 罩 , 这 将 使 回 收 利 用 过 程 变 得

更 加 方 便 容 易 。 在 此 之 前 , 建 议 将 用

过 的 口 罩 弃 于 指 定 的 垃 圾 箱 中 。

根 据 海 洋 保 护 组 织 OceansAsia 于

2020 年 12 月 发 布 的 最 新 报 告 , 估

计 15.6 亿 个 口 罩 已 流 入 海 洋 , 塑 料 废

物 污 染 高 达 到 4,680 至 6,240 公 吨 。

这 需 要 长 达 450 年 的 时 间 才 可 挽 回

自 然 生 态 系 统 。

Unfortunately during these

times fraught by the COVID-19

pandemic, masks have become

a standard accessory to protect

ourselves from the spread of the

virus. It has become a mandate

in many countries to wear

masks in public, and the World

Health Organization (WHO) had

estimated that 129 billion face

masks would be needed on a

monthly basis to protect people

You do know that the single-use face masks you discard will eventually make their

way to our waterways and potentially harm marine life?

你 是 否 知 道 被 丢 弃 的 一 次 性 口 罩 , 将 可 能 排 入 我 们 的 水 道 并 危 害 海 洋 生 物 吗 ?
---
PONDEROSA GOLF & COUNTRY CLUB NEWSLETTER

DISPOSE OF MASKS RESPONSIBLY

WHILE AT PONDEROSA

在 PONDEROSA 齐 为 保 护 环 境 尽 一 份 力

Indeed masks have been found littered all over the grass verges,

pavements and especially at the carpark, where they were

conveniently dropped onto the ground by visitors before getting

into cars.

Covered trash bins have been arranged at strategic areas around

the resort and all those associated with it are requested to use

these to dispose of their used masks responsibly.

不 可 否 认 , 在 草 地 边 缘 、 人 行 道 上 , 尤 其 是 停 车 场 里 , 不 难 发 现 口 罩 踪

迹 。 人 们 总 爱 在 上 车 前 往 下 个 目 的 地 之 前 , 把 用 过 的 口 罩 随 手 往 地 上 扔 。

为 此 ,Ponderosa Golf & Country Resort 于 俱 乐 部 各 角 落 设 置 了 有 盖 垃

圾 桶 , 方 便 人 们 处 理 用 过 的 口 罩 。

Work with us to save the environment.

Drop old habits, adopt new ones for Earth's

sustainability.

与 我 们 一 起 保 护 环 境 !

为 了 实 现 可 持 续 的 未 来 , 摒 弃 坏 习 惯 , 坚 持 好 习 惯

FOOD WASTE SEPARATION @ CAFÉ

Moving our Green Leap Forward campaign forward,

our Kitchen & F&B team have looked into separation

of food waste. Once MCO opens, the plan is to dispose

of discarded food responsibly by

arranging the food to be recycled into organic

fertilisers. Meanwhile, it is to get the staff trained in

separating tissue, tooth picks, cigarette box wraps

that people conveniently discard into uneaten food

as soon as they are cleared from the table and to have

them segregated directly into the FOOD WASTE BIN.

THE

FIRST

STEP

TODAY,

TO

GREEN

LEAP

TOMORROW.
---
GOLF FIXTURES 2022

DATE EVENT TIME PARTICIPANT

Saturday

8 th Jan 2022

Tuesday

7 th February 2022

Saturday

26 th Feb 2022

Saturday

26 th March 2022

Sunday

27 th March 2022

Saturday

28 th May 2022

Saturday

25 th June 2022

Thursday

21 st July 2022

Saturday

27 th Aug 2022

Tue – Wed

13 th – 14 th Sept 2022

Saturday

1 st Oct 2022

Saturday

22 nd Oct 2022

Saturday

12 th Nov 2022

Saturday

26 th Nov 2022

Sunday

11 th Dec 2022

1 st Ponderosa Quarterly Medal 2022 1:30 p.m. Members / Guests

Tuesday 9-Hole

Grand Final 2021

1:30 p.m. Members only

1 st Leg Ponderosa Golf 7:30 a.m. Juniors only

Junior Open 2022

Club Championship 2022 7:30 a.m. Members only

(Day 1)

Club Championship 2022 7:30 a.m. Members only

(Day 2)

2 nd Leg Ponderosa Golf 7:30 a.m. Juniors only

Junior Open 2022

2 nd Ponderosa Quarterly Medal 2022 1:30 p.m. Members / Guests

Night Golf Open 2022 4:30 p.m. Members / Guests

Ponderosa Ladies Open 2022 7:30 a.m. Ladies only

Junior SportExcel 2022

(Day 1 & Day 2)

7:30 a.m. Juniors only

3 rd Leg Ponderosa Golf 7:30 a.m. Juniors only

Junior Open 2022

Carlsberg Golf Classic 2022 1:30 p.m. Members / Guests

Inter-club 2022 1:30 p.m. Members only

3 rd Ponderosa Quarterly Medal 2022 1:30 p.m. Members / Guests

Par 3 Challenge 2022 1:30 p.m. Members / Guests

Enquiry??

Please call at +607 354 9999 or +6019 790 0501 (Golf Reception) / +6019 758 8784 (Zara)

Email: enquiry@ponderosagolf.com