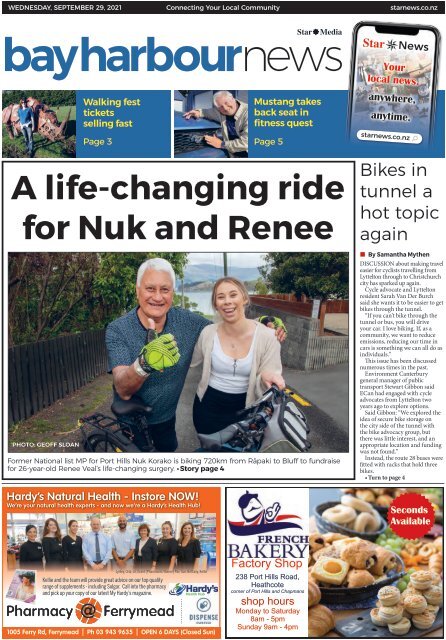 Bay Harbour: September 29, 2021
Create successful ePaper yourself
Turn your PDF publications into a flip-book with our unique Google optimized e-Paper software.
WEDNESDAY, SEPTEMBER 29, 2021

Connecting Your Local Community

starnews.co.nz

Your

local news.

Walking fest

tickets

selling fast

Page 3

Mustang takes

back seat in

fitness quest

Page 5

anywhere,

anytime.

A life-changing ride

for Nuk and Renee

PHOTO: GEOFF SLOAN ​

Former National list MP for Port Hills Nuk Korako is biking 720km from Rāpaki to Bluff to fundraise

for 26-year-old Renee Veal's life-changing surgery. • Story page 4

Hardy's Natural Health - Instore NOW!

We're your natural health experts - and now we're a Hardy's Health Hub!

Bikes in

tunnel a

hot topic

again

• By Samantha Mythen

DISCUSSION about making travel

easier for cyclists travelling from

Lyttelton through to Christchurch

city has sparked up again.

Cycle advocate and Lyttelton

resident Sarah Van Der Burch

said she wants it to be easier to get

bikes through the tunnel.

"If you can't bike through the

tunnel or bus, you will drive

your car. I love biking. If, as a

community, we want to reduce

emissions, reducing our time in

cars is something we can all do as

individuals."

This issue has been discussed

numerous times in the past.

Environment Canterbury

general manager of public

transport Stewart Gibbon said

ECan had engaged with cycle

advocates from Lyttelton two

years ago to explore options.

Said Gibbon: "We explored the

idea of secure bike storage on

the city side of the tunnel with

the bike advocacy group, but

there was little interest, and an

appropriate location and funding

was not found."

Instead, the route 28 buses were

fitted with racks that hold three

bikes.

• Turn to page 4

Seconds

Available

Lynley, Orla, Lil, Grant (Pharmacist/Owner) Pav, Sue, Brittany, Kellie

Kellie and the team will provide great advice on our top quality

range of supplements - including Solgar. Call into the pharmacy

and pick up your copy of our latest My Hardy's magazine.

Health Hub

1005 Ferry Rd, Ferrymead | Ph 03 943 9635 | OPEN 6 DAYS (Closed Sun)

Factory Shop

238 Port Hills Road,

Heathcote

corner of Port Hills and Chapmans

shop hours

Monday to Saturday

8am - 5pm

Sunday 9am - 4pm
---
2 Bay Harbour News Wednesday September 29 2021 Latest Canterbury news at starnews.co.nz

from the editor's desk

GENERAL INQUIRIES Ph 379 7100

CLASSIFIED ADVERTISING Ph 379 1100

Star Media, a division of Allied Press Ltd

PO Box 1467, Christchurch

starmedia.kiwi

NEWS

Samantha Mythen

Ph: 021 919 917

samantha.mythen@starmedia.kiwi

ADVERTISING

Jo-Anne Fuller

Ph: 364 7425

jo.fuller@starmedia.kiwi

GOOD ON former MP Nuk

Korako in his bid to help out

Renee Veal (page 1).

Nuk is about to undertake

a 700km-plus journey on

a bike to fundraise for

Renee, who needs a total jaw

reconstruction and jaw joint

replacement operation. It will

be life-changing surgery.

The surgery will cost about

$90,000.

Nuk's journey will take him

from Rāpaki to Bluff. He sets

off on October 9, covering

about 80km a day. His

wife Christine will be

supporting him.

our people

"It's not a race, rather it's an

opportunity to support a local

woman who has a great future

ahead of her, get life-changing

surgery," he says.

He will be riding an electric

bike. I think I would be too.

– Barry Clarke

barry@starmedia.kiwi

Hiking the hard way

Rob Frost has recently started a Mount Journeys guided hiking

company. He talks about his love of the outdoors.

Rob Davison

Ph: 021 225 8584

rob.davison@starmedia.kiwi

The best-read local newspaper,

delivered to 10,514 homes every week.

Brookhaven • Heathcote • Ferrymead

Redcliffs • Mt Pleasant • Sumner • Lyttelton

Diamond Harbour • Governors Bay • Akaroa

Pages 6 & 7

news

Do you have historic photos to share?

Take them to your local library and have them scanned for the city

library Discovery Wall. The library's Photo Hunt for 2021 has started.

Page 14

Fall in love

with your favourite

furniture all over again!

• Recover your chairs and couches

and save money!

• Excellent range of fabrics

• Quality workmanship guaranteed

• Free quotes available

• Over 30 years experience

before

Somerfield Upholstery welcome you to email a

photo for a quote online: somerfielduph@gmail.com

after

199,000

readers

every week

That's almost as many

people as campervans doing

60km/h on the motorway

last Queen's Birthday.

Somerfield Upholstery Ltd

FURNITURE RECOVERY SPECIALIST

6/47 Sonter Road, Wigram | Ph 021 251 6200 | 349 0456

Source: Nielsen National readership survey, Q3 2020 - Q2 2021 (Star Max, one ad)

Open Level 2

next level yum

2 WATERMAN PLACE, FERRYMEAD (OFF FERRY ROAD) PHONE 03 376 4900 WWW.PIZZAREPUBLIC.CO.NZ
---
Wednesday September 29 2021 Bay Harbour News

Get to know peninsula on foot

• By Samantha Mythen

TWO-THIRDS OF tickets

available have sold for an annual

walking festival exploring Banks

Peninsula.

The Banks Peninsula Walking

Festival is run over four

weekends in November, offering

guided walks in a variety of

locations all around the Peninsula.

More than 50 per cent of spaces

for the festival sold within the

first four days of sales when the

tickets were released earlier this

year.

Festival

co-ordinator

Sue Church

said the aim

is to promote

"a greater

understanding"

of the area and

"to encourage

Sue Church

good health and well-being."

"All walks are guided by local

volunteers with a good knowledge

of the walk they intend

to lead and who are passionate

about the area," she said.

Many of the walks are across

private land and covenanted

areas in remote parts of the peninsula,

otherwise inaccessible.

"These are always popular

with festival-goers, with the

longer, harder tramps usually

the first ones to sell out,"

Church said.

"It's a novelty for them to be

able to access somewhere they

usually can't go."

Walks include exploring

the Kaitorete Spit, Brice Falls,

Camp Bay, Hinewai Reserve, the

Hikuraki covenant and many

more, with hikes varying in

difficulty, length and duration.

The festival began as the

Lyttelton Walking Festival but

expanded in 2013 to include the

whole peninsula.

It is run by representatives

from the Rod Donald Banks

Peninsula Trust and Little

Latest Canterbury news at starnews.co.nz

River/Wairewa Community

Trust, with partners from

Akaroa District Promotions,

Diamond Harbour Community

Association, Governors Bay

Community Association and

Project Lyttelton assisting with

promoting the event.

Church said they are

"extremely grateful" to the

volunteer guides who plan and

lead the walks, as well as "the

generous private landowners"

who allow the festival access to

their land.

The event will go ahead fully if

Canterbury is at alert level 1.

If the region remains in alert

WALKING

FESTIVAL:

Banks

Peninsula

Walking

Festival

co-ordinator

Sue Church

checking

out Akaroa's

famous Rhino

Walk that is

a part of the

new Childrens

Bay Farm

Walkway. ​

level 2, several events will be

cancelled and masks will be

required for car pooling.

Church, of Robinsons Bay, has

been co-ordinating the event

since 2017.

"For me, one of the most

rewarding parts of this job is

all of the amazing people I have

got to meet along the way. It is

a great chance to showcase our

beautiful area."

•There are still spaces

available on several great

walks. Tickets are available

through eventfinda.co.nz

– search Banks Peninsula

Walking Festival 2021.

NEWS 3

In Brief

WATER MAIN WORK

Work has begun to replace and

upgrade ageing water supply

mains in Lyttelton. Maintenance

is taking place along Park Tce/

Governors Bay Rd, Cressy Tce,

Pages Rd and Buxtons Rd. It will

be completed by early July next

year.

STATION FOUNDATIONS

Builders have begun to lay

foundations for the new Sumner

Volunteer Fire Brigade station.

The original building was

demolished in May and the

group has been operating out of

temporary premises.

ARTWORK FUNDRAISER

Diamond Harbour organisation

Artists Against Slavery is hosting

a fundraising exhibition called

Kintsugi: Embracing the Scars

of Healing, at Stoddart Cottage.

The official opening is from

4-6pm this Saturday and the

exhibition will run throughout

October. Kintsugi is the Japanese

art of ceramic repair with gold,

making the vessel more valuable

after breakage and repair. The 13

artists in the exhibition explore

the kintsugi in their work as

a symbol of rehabilitation for

trafficked women and children.

Money raised from sales will go

towards Hagar International.

oN sAle Now!

KeeP New ZealaNders

worKiNg!

BUY NZ MADE SHOES

Care &

Compassion

We pride ourselves on the

very highest level of service

Now only

$35.80

Plus $5 P&H per copy

AvAilAble from stAr mediA:

Level One, 359 Lincoln Road

Addington, Christchurch

Phone 379 7100

Kids from $115 • Adults from $195

47c Garlands Road, Woolston

Phone 389 3431

www.thefootwearfactory.co.nz

If you are thinking about the future,

we can help you explore pre-payment

and pre-planning options. Contact us

for a Free Information Pack.

We offer funeral information talks to

groups. Please call us for a speaker to

come to you.

Mark Glanville

Manager &

Funeral Director

(03) 379 0196 | www.simplicity.co.nz

Mike Chandler

Funeral Director

Nick Allwright

Funeral Director

HARMONY

STONEWASHED

FRENCH LINEN

SOCIETY Of

wanderers

FRENCH FLAX LINEN

..

emma sjodin

SWEDISH

LINEN RANGE

The POTAGERS

GIFTS - HOMEWARES

CLOTHING

ENJOY SHOPPING

LO CALLY AT

THE RED HOUSE

REDCLIFFS VILLAGE

Facebook/Instagram:

thepotagersredhouse
---
Bay Harbour News Wednesday September 29 2021

4 NEWS

Bus capacity

stretched

for cycles

• From page 1

However, Van Der Burch had

heard about times when there was

not enough room for all the bikes

on the rack, with cyclists having

to wait until the next bus.

She has already discussed her

ideas with Deputy Mayor and

Lyttelton resident Andrew Turner.

Said Turner: "This is an important

idea to talk about. We need

to think about whether increasing

capacity to carry bikes on buses

could work or maybe incentivise

cycling where travelling from

Lyttelton to the gondola and back

could be free if you have a bike."

Turner said these decisions will

be up to ECan.

Cycling through the tunnel

or in any of the side tunnels has

been researched and dismissed as

unfeasible and unsafe.

Gibbon said there will be a

service review of route 28 in the

coming year ahead.

Van Der Burch said she hopes

to talk at ECan's transportation

sub-committee in late October.

• HAVE YOUR SAY: Do you

think it needs to be easier

for cyclists to travel from

Lyttelton to Christchurch

city? Do you have any

solutions? Email samantha.

mythen@starmedia.kiwi

Latest Canterbury news at starnews.co.nz

Nuk getting on his bike to help

• By Samantha Mythen

FORMER National list MP for

Port Hills Nuk Korako is biking

720km from Rāpaki to Bluff to

fundraise for Renee Veal's lifechanging

surgery.

"It's not a race, rather it's an

opportunity to support a local

woman who has a great future

ahead of her, get life-changing

surgery," said Korako.

Veal, who grew up in Rāpaki,

needs a total jaw reconstruction

and jaw joint replacement operation.

For the past 10 years, she

has struggled to sleep and eat

properly. She often experiences

migraines.

Veal has significant widespread

musculoskeletal pain due to

an underlying hypermobility

syndrome. This makes her joints

hyperflexible, causing soft tissue

injuries, bone wear, joint tear

and early arthritis.

The most disabling area of pain

is her jaw, which often dislocates.

This is known as hypermobile

Ehlers-Danlos Syndrome.

"Imagine having a bad toothache

that you can't get rid of,"

Korako said.

The specialised jaw surgery

costs approximately $90,000.

Replacing Veal's jaw will ease her

chronic daily pain and greatly

PEDAL POWER:

Nuk Korako and

the electric bike

he'll be riding

all the way from

Rāpaki to Bluff.

PHOTO: GEOFF

SLOAN

improve her life.

The public health system is not

able to fund Veal's procedure.

Veal said Korako's fundraising

efforts mean "everything" to her.

"It's literally life-changing for

me," she said.

Korako said Rāpaki is a Ngāi

Tahu ancestral community,

which Veal was brought up in.

"Every child is looked after, not

just by their parents but by the

community as a whole. Rāpaki is

their safe haven," he said.

After hearing about Veal's

need for the specialised and

high-cost surgery, Korako began

to brainstorm how he could help,

settling on the bike ride.

Korako will start his ride

on October 9, aiming to travel

approximately 80km each day

for nine days, passing through

several Ngāi Tahu rūnanga.

He will be riding an electric

bike, sticking to level two out

of five for electrical assistance,

which Korako said is "not bad for

a Gold Card holder".

"I hope there will be a strong

north-westerly to blow me down."

His wife Christine will be supporting

him along the way.

Korako has been training for

four months, using his Port Hills

backyard, biking from Rāpaki to

Gebbies Pass, Halswell, into the

city, through to Sumner and then

over Evans Pass back home.

He has already raised more

than $6000 of his $50,000 goal.

Veal was originally sceptical

about starting a Givealittle

page, believing her pain was

something she could live with,

compared to people needing

money to save their lives.

"I am extremely grateful for

everyone who has donated and

offered words of encouragement,"

she said.

"I've been blown away by the

support of friends, family and

strangers. This all means so

much to me."

• People can donate to

Veal's surgery at givealittle.

co.nz/fundraiser/nukkorako-is-riding-for-renee

People and Place

– our stories revealed

Saturday 9 October – Monday 25 October 2021

Purchase a

shower and

receive FREE

Enduroshield

coating

Celebrate and explore our rich and diverse heritage,

with over two weeks of walks, open days,

exhibitions, performances and more!

ccc.govt.nz/heritagefestival
---
Wednesday September 29 2021 Bay Harbour News

Latest Canterbury news at starnews.co.nz

NEWS 5

CYCLING FOR HEALTH: Ronnie Kelly from Lyttelton has picked up cycling to improve his fitness, as well as balance out his guilt over driving his

beloved Ford Mustang GT.

PHOTOS: GEOFF SLOAN

Mustang takes back seat to cycle saddle

• By Samantha Mythen

LYTTELTON resident Ronnie

Kelly, 72, has recently taken up

biking to improve his health

but he says it will never replace

his love of his treasured Ford

Mustang GT.

Ronnie started biking last

month, 15 or so years since he

had last rode on two wheels.

"It doesn't balance it out, but

I do feel a little bit less guilty

about taking the Mustang out

for a drive now that I'm doing

some cycling," he said.

While he is renovating his

house, his Mustang, imported

from the United States, is stored

in a garage meaning he has only

been taking it out once a month.

Meanwhile, his bike is being

used almost every weekend.

"Unfortunately," he laughed.

Ronnie said he is still regaining

his confidence on a bike.

"The reason I wear gloves isn't

because of the cold – it's to protect

my hands from gravel rash if

I fall off," he said.

"I'm a bit wobbly when I first

get going, but I get better. I'm

okay once I'm on it and travelling

along at a reasonable speed,

but going really slowly or getting

the bike started is still a little bit

of a problem.''

He is diabetic and recently

bought a bike in order to improve

his fitness and lose some

weight, which he gained while

recovering from a broken leg.

The Coastal Pathway is his

trail of choice.

"I love it as it's nice and quiet

and offers great views."

Ronnie said he is currently

enjoying short, gentle bike rides,

but as his fitness improves he is

hoping to explore more terrain.

"I've always enjoyed biking,

but I got out of the habit of it,''

said Ronnie.

"I like the pace of it and being

able to look around. It's quite a

leisurely thing. I'm not out to go

really quickly or anything like

that. I just like the feeling of it."

Ronnie confessed he had

thought about biking down to

the Lyttelton shops recently but

then changed his mind as biking

back up seemed "a bit too much."

"Lyttelton's a bit too hilly for me.

Maybe if I had an electric bike."

The Otago Rail Trail is a potential

future goal of his.

"I'll just have to persuade my

wife though, hopefully an e-bike

would help," he said.

deals

every day!

vinoS

for a sweet

as night in

EVERYDAY

PRICE!

$

17 99

WITHER HILLS

Reds Range

750ml

Includes Syrah,

Merlot, Pinot Noir

2 for

$ 40

Single bottle

$21.99

MADAM SASS

CENTRAL OTAGO

Pinot Noir or

Pinot Noir Rosé

750ml

CheerS

to the

weekend!

HOT DEAL!

$

29 99

HEINEKEN

15 x 330ml Bottles

HOT DEAL!

$

37 99

each

HOT DEAL!

$

39 99

HOT DEAL!

$

42 99

HOT DEAL!

$

49 99

EVERYDAY

PRICE!

$

54 99

HOT DEAL!

$

59 99

each

HOT DEAL!

$

59 99

HOT DEAL!

$

39 99

Perfect

f or c e l e brat ing

BOURBON

MONTH

SEPTEMBER 2021

NEW

PRODUCT

STEINLAGER CLASSIC

24 x 330ml Bottles

HOT DEAL!

$

29 99

BILLY MAVERICK

& COLA

18 x 250ml Cans, 7%

1 LITRE 1 LITRE 1 LITRE 1 LITRE

JOHNNIE WALKER Red Label 1 Litre

JACK DANIEL'S 700ml

Includes Jack Daniel's Fire, Honey, Apple

BACARDÍ Range

1 Litre

Includes Carta

Blanca, Oakheart

Spiced, Gold, Spiced

JIM BEAM

White Label

1 Litre

TANQUERAY

London Dry Gin

1 Litre

MALFY Range

700ml

Includes Arancia, Rosa

Sicilian Pink Grapefruit,

Limone, Originale

THE GLENLIVET

Caribbean Reserve

or Founder's Reserve

700ml

MONKEY SHOULDER

700ml

HOT DEAL!

$

39 99

LONG WHITE VODKA Range

15 x 320ml Bottles, 4.8%

Shop local with

AMBERLEY, ASHBURTON, BARRINGTON, BELFAST, BRIGHTON, BURNSIDE,

COLOMBO ST, EDGEWARE, ELMWOOD, FERRYMEAD, HALSWELL, HANMER

SPRINGS, HORNBY, ILAM, KAIAPOI, LEESTON, LINCOLN, METHVEN, OXFORD,

PAPANUI, PEGASUS, RANGIORA, SEASIDE, WOOLSTON

SHOP LATEST DEALS at WWW.SUPERLIQUOR.CO.NZ

NATIONWIDE DELIVERY NOW AVAILABLE

Exclusions may apply on some brands advertised. Offers end close of trade 3rd October 2021, while stocks last. Available at participating stores only. Multi Deal only available in store.

Varietals may vary by store. Limits may apply. Wholesale (other liquor retail banners) not supplied. Terms and conditions may apply. Available 20th September - 3rd October 2021 inclusive.

Please see www.superliquor.co.nz for details.

SUP2393_C13
---
Bay Harbour News Wednesday September 29 2021

6 OUR PEOPLE – ROB FROST

Making a life of trekking the hard way

Rob Frost may live

in a Lyttelton villa

but his true home is

touring the Southern

Alp's main divide.

This is something he

has made his day

job, recently starting

Mountain Journeys,

a guided hiking

company. Reporter

Samantha Mythen

talks to Frost about his

love of the outdoors

How would you introduce

yourself to someone new?

I am a transalpine tramper,

that's the main thing I like to do.

I like going into really remote,

off-track places in New Zealand.

I've recently set up my business,

Mountain Journeys, so I can

both take people there on guided

trips and give people skills to

be able to do those sorts of trips

on their own. I used to be an

engineer. I do photography. I'm

a celebrant. I've done writing.

I grew up in a combination of

New Zealand and the United

States. Most of my high school

and university days were in

Auckland. I came to the South

Island 15 years ago to be closer

to the Southern Alps.

When did you first discover a

love for tramping?

It first began when my family

went on day hikes when we were

young. We did a lot of walks

in the hills but there was never

anything overnight. As soon as I

heard there was a tramping club

at high school, I joined. I also

joined the Auckland Tramping

Club when I was 16. I was the

youngest member, about half the

age of the next youngest. I joined

the uni clubs already with a huge

love of tramping and getting

into remote places. The clubs

were a pathway to find more

keen people to go on trips with

and essentially fulfil my own

ambitions with the sort of trips I

wanted to do.

When you were younger had

you ever dreamed of starting a

tour guiding company?

No, not at all actually. The

guiding that has existed for a

long time in New Zealand has

either been more about giving

people a nice comfortable time

on defined trails, staying in

huts. Or, it's been very skilled

mountain guiding taking people

up summits, like Aoraki and

Aspiring. About three years

ago, it occurred to me there was

this huge gap between the nice

comfy trail-based stuff and the

extreme mountaineering. The

gap in what was being provided

DISCOVERY:

Rob Frost

loves getting

off the

beaten track

and he is

now sharing

this passion

with others.

was exactly the sort of trips I

like doing, the remote, off-track

tramping, that needs a few

mountaineering skills. As soon

as I thought of starting up that

kind of business, I couldn't think

of anything else I'd rather be

doing. So I thought, whatever

it takes to get established, I'm

going to do it.

What makes going off the

beaten track so appealing?

When I started really getting

into tramping, I discovered this

guidebook called Moir's Guide.

It highlighted all these routes

through the Southern Alps that

don't have marked tracks or huts

but people have been there and

there are recommended ways

to go through. That opened my

eyes. When you start looking

at maps of the back country to

where there are no tracks, you

link up all these potential places.

It ends up becoming a problemsolving

exercise, taking you to

places where hardly anybody

has been, so you have a feeling

of discovery and it makes it feel

very special and unique when

you know it's not a commonly

visited place. It's really satisfying

when it takes experience and

skill to be able to execute the trip

successfully.

When did you start dreaming

up Mountain Journeys?

About 10-12 years ago I

had already spent some time

working as a glacier guide on

the West Coast at Franz Josef

and Fox. I knew for this venture

I needed more work experience

and a qualification through the

New Zealand Mountain Guides

Association. It was about

mid-2018 it occurred to me I

could start this. I then started

looking at what qualifications I

needed and enrolling in them;

multi-day first aid courses,

week-long snow and ice guiding

courses, week-long avalanche

assessments. That was early

2019. It's been coming up three

years the time I've spent getting

work experience and getting

qualified.

NEW LAND ROVER DEFENDER 110

CAPABLE OF GREAT THINGS

AVAILABLE NOW

New Land Rover Defender relishes challenges and doesn't care much for impossibilities. With permanent all-wheel-drive and

world-first configurable Terrain Response tech, it has the capability to push boundaries even further.

Tested in every condition, in every environment, and on every surface you might encounter, it always comes out the

other side, ready for the next challenge. The new Defender crowned 2021 World Car Design of the Year as unstoppable

all-terrain model beats shortlisted rivals to win coveted award. Defender. An icon in a category of one.

To book a test drive, please contact Corey Gray at Archibalds.

38 Tuam St, Christchurch | 03 377 5200 | cgray@archibalds.co.nz | archibalds.co.nz

Own a pre-2015 Land Rover Defender? Book a service now from just $425. Call our team on 03 977 8146.

*Terms and conditions apply. The standard scheduled 5 Year servicing is included (different terms and conditions apply to different models). Contact Archibalds for more details or visit www.landrover.co.nz.
---
Latest Canterbury news at starnews.co.nz

OUR PEOPLE 7

but not taking it to the extreme

Wednesday September 29 2021 Bay Harbour News

I submitted my concession

application to run Mountain

Journeys on 60 places of

conservation land to DOC in

October last year and because of

Covid they've been pretty busy

but it is on the home straight

of being assessed now. In the

meantime, I applied for a one-off

concession for Canterbury and

the West Coast, with my first few

trips running next month.

What would a typical journey

with you entail?

We carry everything we need

with us on our backs. There

are no pre-placed equipment

or food or camps set up. We go

everywhere on foot. Occasionally,

we would use a four-wheel-drive

to access further up a valley but

it's a point of difference I like

to make that we don't use any

helicopters for access. It feels

more satisfying knowing you've

got there under your own steam

and it also ensures you don't

end up somewhere really remote

with people who aren't capable of

moving through that terrain. We

don't have to stick to a set

itinerary, we don't have to get to a

certain destination to camp.

What are your favourite hikes

in New Zealand?

I really like getting into the

Landsborough. It's a stunning

setting, along the edge of a

designated wilderness area.

The biggest soft spot for me in

my heart is South Westland,

MAIN DIVIDE: With his new company Mountain Journeys,

Frost takes people on exploratory trips throughout the

South Island.

although it's a very difficult place

for trips. Essentially Hokitika to

Haast and all those valleys and

ranges in there.

When I got asked to write

the Aoraki Guidebook for

Mountaineers, the first thing I

asked the New Zealand Alpine

Club, who were publishing it,

was do you mind if I expand the

guidebook area to cover all of

(Westland) Tai Poutini National

Park as well and they said go for

it. There are some amazing valleys

and ranges there people just don't

know about. So that was a lot of

fun researching those, through

both journals and books but

also through doing a few trips

of my own in these places. I do

also appreciate having the Port

Hills right here. There are some

amazing pockets of bush with

nice trails going through them

and being able to walk out the

front door is pretty cool.

Have you ever hiked overseas?

I've done a couple of trips to

the Himalayas in Nepal. Once

for trekking and once to try

and climb an unclimbed peak

there. It's called Anidesh Chuli

or White Wave, it's almost

7000m in the far east of Nepal.

You can't even see it from the

nearby trekking route, it's pretty

obscure. Beautiful peak, not too

dissimilar to Mt Tasman in how

it looks but it's a lot bigger and

has never been climbed. It still

hasn't been climbed. The far east

appealed as it wasn't popular

like the Everest region. I still

felt though, because there were

villages scattered throughout

these valleys, I actually get

more of a feeling of true remote

wilderness in New Zealand than

I did in the Himalayas. You

can just go for so long in New

Zealand with no civilisation.

Tell me about your hike up

White Wave?

The trip was inspired by

this book by mountaineer

Graeme Dingle. He did a trip

in 1975 to try and climb up a

mountain called Jannu and they

did remarkably well given the

horrific weather they had. But

they didn't quite make it to the

top. In this book, there are some

photos of White Wave. "White

Wave soars skyward on the other

side of the valley" and then "To

date this beautiful mountain

reminds unclimbed" the photos

were captioned. But this book

came out in 1975 and I thought,

well, it must be climbed by now.

So I went online to try and find

more information on what it was

like but there was no record of it

at all. After a bit more research, I

found the Nepalese Ministry of

Tourism has a list of unclimbed

peaks you can apply for

permission to attempt and White

Wave is on it.

I thought, holy moly, it's still

unclimbed and it's a beautiful

looking peak in the part of Nepal

I already had a fascination with,

the far east. There was a cool

New Zealand connection, the

far east of Nepal was interesting

and this beautiful mountain was

unclimbed, I thought well, that's

all pretty appealing.

Three friends and I gave it ago

in April-May 2013. Two of the

others had an accident. Scott

Scheele fell, probably from an

avalanche that wiped him off

the slope. He had a huge fall of

90m, the rope caught him but he

got a pretty major concussion.

Ben Dare, the guy he was with,

spent a day and a half getting

him down. A totally heroic

effort and Ben ending up getting

an award from the governorgeneral.

Would you ever go back for

another try?

I probably wouldn't now. I

wanted to for a long time after

that because it felt like unfinished

business but it would just be

going back to the same place

I've already been and it's a lot of

resources, money and time to

put into a goal that is very much

defined by success or failure if

you get to the summit or not.

With a lot of journeys, you

don't have to get to the summit

for it to be regarded as a success,

rather all that matters is you've

been on a cool journey to

somewhere new. That's where I'm

putting my efforts now.

Print & Frame

FREE PRINTING

WHEN YOU DO THE

FRAMING WITH US

We print your family photos,

Jade

Ara graduate

holiday shots or pet pictures

for free when you do

the framing with us!

We supply professional

photo editing & colour

management service.

We use archival faderesistant

inks, giclée quality

& a choice of photo paper.

Like the idea of helping create a thriving economy?

Then check out our business study options in

project management, accountancy, human

resources, innovation, marketing, operations

management and more. You'll discover a

range of qualifications that can equip you

with the skills and knowledge you need for

a career you'll love.

3 Garlands Rd · Phone 03 384 3483 · magmagallery.co.nz

Explore the options at

ara.ac.nz | 0800 24 24 76
---
Bay Harbour News Wednesday September 29 2021

8

NEWS

Latest Canterbury news at starnews.co.nz

Weekly bike rides paramount for Hunter

• By Samantha Mythen

SMILES: Hunter, his mother Angela Abel and assistance

dog Cooper, visit Sumner every week to make the most of

the esplanade and beach, a perfect spot for Hunter to ride

his trike.

HUNTER ABEL, 16, known as

a 2m three-year-old with SATB2

syndrome, has always loved

riding bikes at Sumner.

Hunter and his mother Angela

Abel travel there from their

home in Cashmere every Sunday,

where Hunter rides his adultsized

trike along the esplanade

and along the beach.

After speedy e-bike riders

were causing some trouble for

Hunter along the esplanade, Abel

decided to use social media to

introduce Hunter to the Sumner

community, posting on the local

community group page.

"When you put yourself out

there, being vulnerable and kind,

it's scary, but people reacted so

much better than I could have

hoped."

"People have started to say

hello to Hunter, and I feel bad

for not knowing their name. It's

amazing the difference a wave

and smile can make."

Abel said the interactions are

great for Hunter as he can use his

iPad to say hello back, or let the

passer-by know the name of his

assistance dog, Cooper.

The fresh air, sensory inputs,

and endorphins from the exercise

have a positive impact on

Hunter.

Abel and Hunter look

forward to a coffee and scone at

Scarborough Fare Cafe.

During the recent lockdown,

they visited Sumner every day,

with a special note from police

allowing them to continue Hunter's

routine.

With the cafe shut, Abel

brought along homemade baking

and a milkshake for Hunter,

"who didn't even realise anything

was different."

Hunter was only diagnosed

with SATB2 at the beginning of

this year.

SATB2 is a rare gene deletion

disorder, which only 450 individuals

have been diagnosed with

globally.

As a result, Hunter is non-verbal,

has low muscle mass paired

with a tall height, and has cognitive

difficulties.

"Genetics are like the Great

Wall of China with millions of

bricks making up our composition.

Hunter has a few bricks

missing," said Abel.

Although it was a seemingly

perfect birth, at four weeks old,

Abel suspected something was

wrong.

"He was always looking

straight through me or was

staring at the ceiling," she said.

The family took Hunter to

hospital where he underwent a

multitude of different tests but

the medical staff returned with

empty answers.

"It was so scary," said Abel.

Abel said she does not want

to sugarcoat how hard raising

Hunter has been.

"I had terrible depression

for years and I still throw

wobblies all the time," said

Abel.

"But I wouldn't change it for

the world. Having a disabled

child is like having a superpower.

You have so much empathy for

the world around you."

Abel worked as a project manager

and had this idea of "fixing

Hunter," always known at work

as the "problem-solver."

"I Googled and read and practised

everything that could help

Hunter," she said.

Throughout this journey, Abel

recognised the importance of

nurturing her own well-being.

"If I'm in a good space,

everything else is better," she

said.

"I wish someone could have

told me about the importance

of self-care earlier, it's the best

advice, especially for new

mothers."

As a result, Abel dived into

cold water swimming last year at

Sumner beach.

"My mornings can include

wiping poo off walls and cleaning

Weet-bix off myself. I walk

out of the door with all these

negative thoughts on the messy

whiteboard of my mind," said

Abel.

"Then, although, it can be

excruciatingly cold, dunking my

head under cold water triggers

me into different thought processes.

The whiteboard is cleared

and I can write back on it in a

much calmer way."
---
Holy moly look at our

power bill this month

A spike in the cost of your power bill can

be more than just a wee shock. It's one

tell tale sign that your heat pump may

not be working at peak efficiency. And

while heat pumps are a cost effective

form of heating and it may seem to be

running normally, one of the biggest

signs it isn't will be in your power bill.

And this is why:

If your heat pump is overworking, its

diminished heating capacity will raise Photo credit to Fazakerley Patterson Photography

energy use as your pump struggles

to maintain the desired room temperature. The reason could be a number

of things; blocked filters and / or coils, a compromised compressor or a

refrigerant leak. Like any appliance, regular maintenance of your heat pump

will mean it will run more efficiently and save you money. All of these things

will be assessed in a regular service by our trained technicians.

The power is all yours and the best thing you can do to extend the life and

efficiency of your heat pump is to have it professionally serviced at least

once a year. Our technicians do a comprehensive examination of your whole

system, carry out a routine maintenance service and advise you if anything

might need further repair.

Book your Premium Heat Pump Clean & Service for just $75 by contacting

our friendly local team, or heading online to select a day and time that suits.

Latest Canterbury news at starnews.co.nz

'Diabolical' bathroom makeover

• By Samantha Mythen

A SINGLE mother of five

children is "unbelievably

grateful" after her "diabolical"

bathroom was renovated as part

of a community initiative.

Helping Hands, a nationwide

co-operative run by Mitre 10,

saw staff at Mitre 10 Mega

Ferrymead join alliances with

Southbuild for the renovation

after hearing about the family.

The bathroom needed

significant work. There were

holes in the walls, a broken

window, a rotting bath, and

a leaky tap. Rain often came

through the window.

Unfortunately, the family

could not afford to fix it up.

"It was so awful and

overwhelming and not fair for

my kids," said the mother, who

wanted to remain anonymous.

"Every day I walked past

the bathroom and I just didn't

know where to even begin

with starting to fix it. It was an

impossible task to do on my

own."

Southbuild offered labour

from them and their sub-trades

– Southplumb Ltd, McClure

Electrical and TV Services,

Floorpride, DC Flooring,

Absolute Painting, All Suburbs

Glass, and Daveron Scaffolding –

at no cost.

The bathroom was completely

renovated.

"My kids are always brushing

their teeth now, they always want

to be in there and they keep the

space so tidy," said the mother.

"I am unbelievably grateful for

Helping Hands and Southbuild.

Ferrymead

Yates Garden Guide 79th Edition

(NZ Edition) by Yates

One of the oldest New Zealand books in continuous publication remains

the most comprehensive, reliable and practical source of advice for all New

Zealand gardeners. Detailing hundreds of plant species, this

new and fully revised edition of the Yates Gardening Guide

contains everything you need to know about growing trees,

shrubs, vines, flowers, vegetables, herbs and fruit.

The new 79th edition includes:

• New recommendations for pest and disease control

and updated problem-solving charts

• Recommendations on keeping chickens

• How to establish a community garden

• Encouraging bees in the garden

• Growing microgreens

• Transplanting

• A new herb planting and growing chart

• New and revised hints from some of New Zealand's top gardeners.

Daughters of War

by Dinah Jefferies

The first book in a brand new sweeping historical series from the No.1

Sunday Times bestselling author.

ENTER TO

WIN

France, 1944. Deep in the river valley of the Dordogne, in an old stone

cottage on the edge of a beautiful village, three sisters long for the end

of the war. Hélène, the eldest, is trying her hardest to steer her family to

safety, even as the Nazi occupation becomes more threatening. Elise,

the rebel, is determined to help the Resistance, whatever the cost. And

Florence, the dreamer, just yearns for a world where France is free. Then,

one dark night, the Allies come knocking for help. And Hélène knows that

she cannot sit on the sidelines any longer. But secrets from their own

mysterious past threaten to unravel everything they hold most dear…

The first in an epic new series from the No.1 Sunday Times bestseller,

Daughters of War is a stunning tale of sisters, secrets and bravery in the

darkness of war-torn France…

Wednesday September 29 2021 Bay Harbour News

NEW

BATHROOM:

A community

collaboration

between

Mitre 10 Mega

Ferrymead and

Southbuild

helped renovate

a family's

'diabolical'

bathroom.

They may not remember us one

day, but we think of them and

their support every single day."

THIS BOOK

NEWS 9

Governors

Bay jetty

closer to

rebuild

• By Samantha Mythen

FUNDRAISING efforts to rebuild

the Governors Bay jetty will soon

be amped up as the tender process

nears completion.

The Governors Bay Jetty

Restoration Trust is currently

evaluating the tenders submitted.

It will then select a contractor for

the jetty's rebuild.

Said Trust secretary Louisa

Eades: "The announcement

of a start date will then be the

beginning of our publicity

campaign, that will take

fundraising to the next level."

For the past few weeks, trust

volunteers, including Eades, have

been inspecting timber to be used

for the jetty's decking.

At the trust's annual general

meeting on Sunday, several

new trustees joined the group,

expanding the group's "skillset."

The trust has already received

more than $900,000 from the

city council for the project, and

conducted its own fundraising.

To get involved with the project

visit www.savethejetty.org

book

release

Learn more about Airify, and how

we can help you save money on

your power bill by going to

www.airify.co.nz. Or get in touch

today on 0800 24 74 39

WIN THIS BOOK

We have one copy of Yates Garden Guide to give away, courtesy of Take Note Ferrymead. To be in the

draw, email giveaways@starmedia.kiwi with Yates Garden Guide in the subject line or write to Take Note Book

Giveaway, Yates Garden Guide , Star Media, PO Box 1467, Christchurch 8140. To be eligible for the draw, all

entries must include your name, address and contact number. Entries close Tues October 12. The book winner for

Freckles is Georgina Messervy of Heathcote Valley.
---
10 Bay Harbour News Wednesday September 29 2021 Latest Canterbury news at starnews.co.nz

Spring has sprung! This when

everything in the garden starts to

pick up. Prepare your soil beds with

sheep pellets and compost. Make

sure you keep turning your compost

so it breaks down quickly ready for

when you need it

It's time to prepare your

lawns for Summer. Use

lawn force and coated or

uncoated seed.

It's not too late for

strawberries. Single punnets

and 4 packs make a great

addition to the garden and

will be ready in time for your

Summer pav.

It's time to repair your

lawns from Winter damage.

Seed your lawns, top up

the hollows and resow the

bare patches.

big range, low price, local advice

SeedS to plant CellS to plant herbS to plant flowerS to plant

Gardening in Spring!

McGregor's

Growfresh

Growfresh Pot

Marigold Mix

Touchon Carrot

Lettuce Drunken

Chives Common

Super 12

Vegetable Seed

Woman Pack of 6

10cm Green

Harvest in approx.

100 days.

135217

$3 18

$3.98 each

3 for $ 11 3 for $ 12

$11 98

12 pack

McGregor's

Growfresh

Growfresh Pot

Growflora

Cocktail Tomato

Leek Cardiff

Sage Purple

Lobelia Cascade

Vegetable Seed

Pack of 6

10cm

Pack of 6 Mix

Contains approximately

50 seeds. Firm, great

tasting grape-shaped

fruits. Harvest in

approx. 85 days.

139229

$3 18

$3.98 each

3 for $ 11 3 for $ 12 3 for $ 11

Yates

Growfresh

Growfresh Pot

Growflora

Capsicum

Cabbage Little

Thyme Lemon

Petunia Ascending

'Corno di Toro'

Cutie Pack of 6

10cm

Pack of 6 Blue Vein

An Italian heirloom.

Sweet flavour, rich

colour, great yields.

348257

$3 98

$3.98 each

3 for $ 11 3 for $ 12 3 for $ 11

Yates

Growfresh

Growfresh Pot

Growflora

Vegetable

Silverbeet Bright

Parsley Italian

Alyssum Pack

Seed Beetroot

Lights Pack of 6

10cm Green

of 6 Lavender

Derwant Glode

Tender and sweet flesh.

Grows all year round in

most climatic conditions.

191979

$3 98 $3.98 each

$4.79 each

$3.98 each

3 for $ 11 3 for $ 12 3 for $ 11

Ideals for salads,

sandwiches, and wraps.

188487

Use in a variety

of hot dishes

including pies

and soups.

188473

$3.98 each

Cutie is a fast-maturing

cabbage producing

a small, round, head

with a delicious, sweet

flavour.

188453

$3.98 each

Silverbeet makes a

wonderful iron-rich side

dish but is also a fantastic

ingredient for pies,

casseroles, and soups.

188498

Perfect for adding an

onion flavour to many

dishes and great as a

garnish on salads.

181824

$4.79 each

The leaves have a

rich sage flavour and

can be used in many

different dishes.

181855

$4.79 each

The fruity lemon

leaves of lemon

thyme are ideal

to use with fish or

poultry.

181862

$4.79 each

The leaves and stems

are popular with many

styles of cooking

whilst also being used

as a garnish.

181847

Perfect for patio

pots, hanging

baskets and garden

beds. Easy to grow.

Produces months

of continuous

flowering.

381378

Compact Lobelia

which is covered in

masses of colourful

flowers over a long

period.

188239

Petunias are a hardy and heat

tolerant, Summer flowering

annual. They provide the

garden with a marathon of

colour for months on end.

188316

A compact, spreading

asylum with a free

flowering display of

pure lavender, honeyscented

flowers.

188126

Prices valid until Oct 6th or while stocks last.

Mitre 10 MEGA Ferrymead

1005 Ferry Road. Christchurch

Phone: 366 6306

Find us at: /MEGAFerrymead

Opening Hours:

Monday – Friday:

7am – 7pm

Saturday, Sunday & Public Holidays:

8am – 6pm

www.mitre10.co.nz/local/MegaFerrymead

ferrymead
---
BACK IN 2015, the then Prime

Minister announced a goal

of eradicating all non-native

predators – primarily rats,

possums and stoats as they

inflict the worst damage – by

2050 in order to protect the

country's indigenous wildlife.

To achieve such a goal it was

essential to connect the efforts

of a range of interested parties;

from government and scientists

through to private businesses

and philanthropists, and to communities

and iwi.

There has long been an interest

in making the Port Hills a

predator-free zone. With the formation

of the Predator Free Port

Hills, a grass roots conservation

charity, the work began. Over

time, Predator Free Sumner Bays

was formed to focus on a discrete

area of the Port Hills, which was

further niched with the formation

of Predator Free Redcliffs.

Like any voluntary organisation,

funding is always a problem

so when the Sumner Ferrymead

Foundation launched their Environment

Award earlier this year

"it just made sense to apply" said

John Cook, one of the Volunteers

with Predator Free Redcliffs.

"We needed to invest in more

traps and later-model traps too.

To be the inaugural winner, to

see our hard work being recognised,

was extremely gratifying."

John Christensen, a trustee of

the Sumner Ferrymead Foundation,

said the Foundation was

impressed with their structured

approach, starting with the baseline

survey to understand types

and numbers of predators in the

bush surrounding Barnett Park,

and the initial deployment of

traps in the bush areas along the

west side of the sports ground.

"They needed funds to buy

more possum traps to establish

the trapping lines into the upper

valley in order to catch even

more predators. With their

proven track record it was not a

difficult decision."

The six-week baseline survey

undertaken by Predator Free

Redcliffs identified the hot spots

in the area through the use of

ink pads inserted in tracking

tunnels to identify the different

paw marks, and chew cards

attached to the base of trees to

Latest Canterbury news at starnews.co.nz

identify the various teeth marks

of different animals. Rats were

concentrated near homes while

possums were found in the bush

further up the valley.

The next step was to introduce

the traps.

"Up in the valley the results

were alarming; 10 possums were

caught in a six-week period by a

single trap" said Martin Ward,

another volunteer.

"Additional possums were

caught by residents living on

the section of Moncks Spur Rd

that backs onto Barnett Park

with their own traps. One of

the residents is known to have

caught at least 15. This gives

us the confidence to put more

traps in, and the grant from the

foundation enables this, so we

are very grateful.

"With the scale of our trapping

increasing we are hoping to liaise

Wednesday September 29 2021 Bay Harbour News

Predator Free Redcliffs – making it a reality

MISSION:

Predator

Free Redcliffs

volunteers (from

left) Matthew

Hellicar, John

Cook and

Martin Ward

with Sumner

Ferrymead

Foundation

trustee John

Christensen

more closely with residents so

to create a better co-ordinated

approach to rid this area of

possums."

Partnerships are essential if

communities want eradicate

predators, and not just with

residents who already have their

own traps.

Predator Free Port Hills has a

goal of one-in-five households

having a 'backyard' trap by 2024.

"To support their goal we are

looking to work with both Redcliffs

Community Shed and Redcliffs

School children to make

the wooden rat boxes that house

the rat traps. The completed trap

can then be taken home by the

kids," said volunteer Matthew

Hellicar.

"We also need to partner with

interested groups and persons

within the community for the

eradication of weeds within

CONTENT MARKETING

11

We all want to

enjoy the sound of

the birdsong so what

can you do to help

to increase our native

wildlife?

Place a rat trap and/

or a possum trap in your

garden. Give your time

to help clear the trap

lines. Provide materials,

or funds to purchase

materials, to make the

rat traps.

Email Predator

Free Redcliffs

(predatorfreeredcliffs@

gmail.com) if you can

help in any way.

Barnett Park beyond the dog

walking paddock, especially the

banana passionfruit plant. This

is a popular food source for both

birds and possums, but of course

they then disperse the seeds

wide and far, compounding the

problem."

While no quantitative

research has been undertaken

there is a general consensus

that the number of fantails

and bellbirds have increased in

the area as a result of the work

of Predator Free Redcliffs; a

rewarding outcome for not just

the volunteers who have made

this happen, but for the residents

too.

We're welcoming

residents

into our care

If you're looking for quality Care in

a homely environment during these

uncertain times, give us a call today.

We'd love to show you around and

talk you through your options.

Let's catch up for a cuppa, call us today.

Edith Cavell Lifecare & Village (03) 326 6608 40 Head Street, Sumner, Christchurch 8081

George Manning Lifecare & Paulger Courts Village (03) 338 9164 1 Hennessy Place, Spreydon, Christchurch 8024

heritagelifecare.co.nz
---
12 Bay Harbour News Wednesday September 29 2021 Latest Canterbury news at starnews.co.nz

Issue 21 September 2021

Lyttelton Port Company Community Newsletter

OUR PEOPLE

COVID-19:

lockdowns,

bubbles and

vaccines

As August brought New

Zealand back into lockdown,

LPC remained committed to

keeping Canterbury's supply

chain moving 24/7.

With the support of our COVID-19 response

team, we were able to quickly snap back

into lockdown protocols to keep our people,

customers and community safe. This included

increased PPE and hygiene measures, social

distancing, creating work bubbles and all

non-essential staff working from home.

We have also been working closely with

Canterbury District Health Board and

our unions to vaccinate our team against

COVID-19.

As at the end of August, we are now

sitting at over 95% of our border-facing staff

vaccinated, with remaining staff and their

household contacts being vaccinated over the

next couple of months with a range of on-site

and community clinics.

We know that the vaccine provides an

added layer of protection for our people,

and we are committed to protecting our

workmates, our whānau and the community.

PORT NEWS

Coal dust

resource

consent

application

lodged

GM Engagement and Sustainability Phil de

Joux says he's appreciative of the community's

support throughout the process.

"We are very conscious of the impact

we can have on the community, so the

consultation and research processes were

important to us, and it's great to now have

this monitoring data we can share with the

community."

Although this research supports LPC's

current methods of coal delivery and export,

it also highlights areas of potential upgrades

to reflect new technology and products that

have been developed.

"This includes real-time air quality

monitoring that will trigger the yard

operators and dust suppression systems to

respond accordingly."

LPC has volunteered to have the resource

consent application publicly notified,

and processing is now under way by

Environment Canterbury, which will notify

the application in due course.

For more information, please visit our

dedicated web page www.lpc.co.nz/

community/coal-dust-resource-consentrenewal,

or if you wish to discuss this

application with LPC, please contact

lpccommunications@lpc.co.nz.

" Monitoring

and mitigation

techniques have

evolved over

the years, and

we are looking

forward to

modernising

our facilities

to strengthen

our response to

high-risk dust

situations."

After months of planning,

extensive monitoring, research

and consultation, LPC has

lodged an application for a coal

air discharge resource consent,

which enables us to store and

handle coal for export.

LPC Update

emailed

Want to stay up to date

with the latest port news?

Sign up to our monthly

Harbourwatch emails

www.lpc.co.nz.

For more information

about LPC, visit lpc.co.nz

or follow us on:
---
OUR PEOPLE

LPC leads

the way

with new

employee

award

Latest Canterbury news at starnews.co.nz

Paki Tamehana

receiving award from

CEO Roger Gray.

Hédy van Zyl

receiving award from

CEO Roger Gray.

Wednesday September 29 2021 Bay Harbour News 13

PORT NEWS

Reaching

record

heights for

container

volume

In July, LPC started the

Leading the Way values award

– an opportunity to highlight

those who are living the LPC

values every day.

In a time of global shipping

congestion, it's great to see our

passionate and skilled team

working together to set

new records.

With almost 50 nominations and four winners

already, it's off to a great start.

LPC values are pride, communication,

integrity and one LPC team and were chosen

through a collaborative effort from people

across the business.

It was essential that the values came

from our staff as they need to reflect what's

important to them.

The Leading the Way award was developed

to recognise those who demonstrate the

values in their work, with anyone across LPC

able to nominate their workmates.

Once a month, our executive leadership

team comes together to choose a winner or

two. LPC CEO Roger Gray says celebrating

success is such an important thing to do, and

for the nominees, it's often the small things

they do every day that get them recognised.

"It's been fantastic to see the team

acknowledge each other's hard work,

commitment and excellent performance."

Some of our first winners included

CityDepot Site Foreman Paki Tamehana and

Container Controller Hédy van Zyl. Paki was

nominated because he constantly goes above

and beyond his role – all with a smile on

his face.

"Paki takes a lot of pride in his work and

strives to get the depot running to its full

potential. He will happily help out wherever

needed to keep things going – be that driving,

washing, coming in early or helping with

training," says Paki's nominator.

For Hédy, it was a great act of teamwork

that got her nominated.

"While doing normal routine checks for

cargo coming into the Port that would head

for MidlandPort, Hédy spotted that several

containers were showing the wrong line

operator. While this would have had no

impact on MidlandPort, it would have caused

issues for multiple teams down the track.

Thanks to Hédy, this issue was raised and

fixed before the vessel berthed," says Hédy's

nominator.

The creation of LPC's values is part of our

wider cultural change and helps us define

how everyone should go about their work.

"These values reflect the proud and

dedicated workforce we have at LPC and give

us the tools to take LPC forward," says Roger.

44,847

TEU in July

1/60

One container moved

per minute

July saw a new record for TEU volume in

a single month with 44,847 TEU moving

through the terminal, breaking a record set in

December 2019.

TEU is the term used to measure

containers, with a 20ft container being one

TEU and a 40ft container two TEU.

GM Container Operations Simon Munt

says this success comes down to great

teamwork across the business.

"These numbers are only possible with

support from a range of teams. From everyone

in the container terminal who move the

containers to our teams at our depots in

Woolston and Rolleston who help manage

capacity and the maintenance team to make

sure we have the equipment needed to keep

us moving."

As July is considered a quieter time, we

expect to see volumes continue to increase as

we head towards the peak important season

leading up to Christmas.

"Moving 44,847 TEU in July is almost one

a minute for the entire month – I'm looking

forward to seeing if we can break that record

later this year," says Simon.

ENVIRONMENT

Gold standard

commitment

to our

environment

Part of ensuring that

we protect the beautiful

environment around us

is having plans in place to

prevent and reduce our

operational impacts.

That's why we joined Toitū Envirocare's

enviromark programme to help us develop

and implement an annually audited

environment management system (EMS).

LPC is proud to announce that it is now

enviromark gold certified.

To reach this, LPC worked with Toitū

through an audit that looks at a range of

factors like our environment and health and

safety compliance, policies and procedures,

support from leaders and project management.

Environmental Business Partner Crystal

Lenky says that a key part of LPC's success

is having support from leaders and the

workforce.

The audit also looks at key improvements

that were needed – a target for LPC's EMS

was to improve the way we store, track and

use hazardous substances.

"We now have better systems in place to

help us understand how we use different

substances in places like our mechanical

workshop," says Crystal.

" Protecting the

environment

and biodiversity

of the harbour

really takes a

team effort, so

it's fantastic to

see the wider

workforce get

involved."

Our next goal is to reach the final level of

certification (diamond) in 2022 and have this

across all three of our sites.

"Our hope is that this gives further

confidence to the communities in which

we operate that we take our environmental

responsibilities seriously," says Crystal.
---
Bay Harbour News Wednesday September 29 2021

14

CONTENT MARKETING

Latest Canterbury news at starnews.co.nz

One picture is worth a thousand words

DO YOU HAVE a box of photos

at the top of the wardrobe or

under the bed?

Do you think no-one would be

interested in your old photos?

Think again.

Christchurch City Libraries is

running the annual Christchurch

photo hunt this October.

The popular event is part of the

Christchurch Heritage Festival

from October 9 to 25.

Take your

photos into

your local library

and they

will scan and

return them

or you can

upload photos

Carolyn

Robertson

to discoverywall.nz

The winning

photograph from last year's

photo hunt (shown above) was

taken by Barbara Newcombe's

father Peter Basire in October,

1953.

It shows a British European

Airways Vickers Viscount 701

near the hanger at Christchurch

Airport – surrounded by admirers.

"We really liked how this

particular photograph combines

being artistic with telling a great

story about the crowds inspecting

the planes following the

London-Christchurch Air Race,"

says city council head of libraries

Carolyn Robertson.

"The image captures an event

very much of its time and the

great excitement of Christchurch

being the final destination of the

race.

"The air race is a well-known

event but it wasn't well represented

in the digital heritage collection

so this image, along with the

12 others contributed as part of

this collection, provide the public

with an insight into this historic

event."

Another notable find last

year came from Ron Cone, who

brought in a box of old photos

he had taken of everyday life and

work around Christchurch.

Some of Mr Cone's photos

show crowds gathered outside

the State Theatre, an aerial shot

of Papanui High School in the

1960s and the intersection of

High and Cashel Sts in 1967.

They've now become an

important part of the libraries'

digital collection.

"Thanks to Mr Cone we now

have precious photos of how

Christchurch was, and some

really interesting colour photos

from the 1950s and 60s," Ms

Robertson says.

Mr Cone's collection of over

80 images are available to view

online at Canterbury Stories.

Photo Hunt 2021 is open to

enter online from October 1 to

31.

Crowds gather at Christchurch

Airport to view the Vickers

Viscount that flew here in the

London-Christchurch Air Race.

Right – Movie-goers queue for a

ticket outside the State Cinema in

Colombo St. If you have historic

photos of Christchurch take them

to your local library and have them

scanned for the Discovery Wall.

HELLO SPRING!

Elyse 3 Seater – Forest

WAS $

1299

NOW

$

999

Elyse Armchair

– Forest

WAS $

549

NOW

$

399

Jamie

Single/Single

Bunk Bed – Black

WAS $

699

WELCOME WARMER WEATHER WITH OUR

STOREWIDE

SPRING

SALE

Recliner

NOW $

599

ON SALE

Xander

Recliner Range

3 Seater Recliner

NOW $

1299

Charlie 3 Seater

WAS $

1599

NOW

$

1299

NOW

$

499

ON SALE

Larvik

Bedroom Range

Recliner Lincoln Queen Bed 4 Seater

WAS NOW $

2699 599 799

Brix Light

7 Piece

Dining Set

WAS $

1689

NOW

$

1199

Bedside

NOW $

275

Tallboy

NOW $

799

Scan to find store

250 Moorhouse Ave, Christchurch

0800 TARGET (0800 827438)

targetfurniture.co.nz

Offers and product prices advertised here expire

18/10/21. Sale Excludes Accessories.
---
Heathcote Community Morning

Tea

Wednesday, 10am-12pm

Everyone is invited to pop in

for a cuppa, some fresh baking

and to get to know some of the

locals. Every Wednesday.

Heathcote Community

Centre

Pest Free Banks Peninsula

Thursday, 11am-4pm

Tim is there to answer

any questions you may have

about this "collaborative

programme designed to protect

and enhance biodiversity on

the Peninsula through the

widespread eradication of animal

pests." Every Thursday at the

same time.

Akaroa Library

Spring Quilting Collection

Exhibition

Friday, Saturday and

Sunday, 10am-4pm and public

holidays

The spring quilting collection

embraces a seasonal theme in

showcasing fresh new work from

members of the Bays Harbour

Quilting Group for sale or display.

Quilts and wall hangings

make up the majority of works

featured, including cot quilts. The

exhibition also encompasses general

sewing items, which range

from fabric-covered notebooks,

Email samantha.mythen@starmedia.

kiwi by 5pm each Wednesday

bags, cushions and tea cosies, to

soft toys.

Stoddart Cottage, Diamond

Harbour

Sumner Bridge Club

Monday 7.15pm, Wednesday

1pm

For fun, friendly and competitive

bridge. If you have any

questions, send an email to sumnerbridgeclub@gmail.com

57 Dryden St, Sumner

Coffee and Conversations

Monday, 10.30am

Sumner Bays Union Trust host

tea and talk. Join in for a social

morning with free hot drinks and

snacks. Make yourself comfortable

and spend some time talking

to other members of the community

and your local librarians.

Everyone welcome.

Matuku Takotako: Sumner

Centre

Lyttelton Harbour TimeBank

Drop-in Session

Tuesday, 10am-12pm

The Lyttelton Harbour

TimeBank exists to help build

a stronger, more connected

harbour community. Come in for

a chat – get help with joining or

managing your account, posting

an offer or request, or anything

else.

Lyttelton Library

Latest Canterbury news at starnews.co.nz

The Narova in Lyttelton

Port

The Narova, photographed

here in Lyttelton Port, was built

sometime in the 1910-20s and so

would be around a century old

today.

Shown on board are the then

owner, Jack 'Lucky' Luxton with

his son Pete, possibly preparing

for another crayfishing

expedition six hours north to

Nape Nape.

Word has it, oftentimes they

were so successful they would

return with the wheelhouse

knee-deep in crays.

However, The Narova's

crayfishing career was nearly

cut short in the 1950s when it hit

the harbour breakwater in

a storm and the hull was

breached.

With a full load of crays

on board, it is said half had

to be thrown back before the

stricken craft could be lifted off

the breakwater by a pile driver

barge – as possibly shown in the

second photograph of the pile

driver lifting the Narova.

Sent to Melbourne and

patched up, she resumed her

fishing career and could be seen

around the harbour for many

more years to come.

Scrapped sometime in the

last decade, the hull remained

in storage until the Narova was

resurrected for the next stage of

her century-long journey – as

Wednesday September 29 2021 Bay Harbour News 15

Treasures from the past

the beautiful Arbour Bar on

Lyttelton's Oxford St. If you

happen to visit at some point,

maybe have a toast to Lucky and

his fine old boat.

Many thanks to Russell

Luxton and Dick Brown for

their recollections.

https://www.facebook.

com/arbourpizza

https://www.arbourbar.

co.nz
---
16 Bay Harbour News Wednesday September 29 2021 Latest Canterbury news at starnews.co.nz
---
Latest Canterbury news at starnews.co.nz

Wednesday September 29 2021 Bay Harbour News 17
---
18 Bay Harbour News Wednesday September 29 2021 Latest Canterbury news at starnews.co.nz

ADVERTISEMENT

How we aspire to meet our students

A "culturally responsive pedagogy" is a term that

many outside of the education sector may have heard

from time to time but have little grasp of. Such is the

way of many government departments with their

reliance on such jargon and assertions to stay the

course. What this means for us at Linwood College

at Ōtākaro is an endeavour to deliver an accessible

practice of our teaching and learning that values an

individual's culture. It is a genuine attempt of our

educators to recognise, celebrate and utilise every

ākonga for their unique and meaningful identity and

background. We recognise as educators our tried

and true purpose is to advance academic progress

but we also aspire to ensure all our students feel their

cultural identity is strong, secure and fundamentally

valued along the way. Using this practice ensures

we are bicultural and upholding the principles of the

Treaty of Waitangi for both parties, and when we

succeed it benefits every student. For all ākonga, we

must work to ensure they all feel they belong within

the learning environment we provide and a sound,

clear kaupapa is shared with the community that

is focused on the potential of 'all' learners to thrive

without compromising who they are.

Students attending Tausala Night

So what does this look, sound and feel like in

our learning community? In the classroom, it is

expressed through wānanga – decision-making and

learning practices that are responsive to a range of

relevant contexts. It maintains, advances, and shares

knowledge and develops intellectual independence,

while assisting the use of knowledge regarding

ahuatanga Māori (Māori tradition) according to

tikanga Māori (Māori custom). This can be found in

our science classes where Y10 students learn about

genetics and how a cancer threat helped singer

Stan Walker identify how the mutated CDH1 gene

was expressed in his whakapapa. It can be seen

and heard in the karakia recited at the beginning

of Tāhuhu classes. It can be found in the cultural

narrative names gifted to us by Ngāi Tūāhuriri for the

rebuild: Te Aratai college.

Siva Somoa performed at our Festival of Nations

Our commitment to cultural responsiveness is also

addressed in our practice of ako and mahi ngātahi,

a philosophy of not only sharing the content, context

and responsibility of teaching and learning between

student and teacher but also in the wider community

with ongoing kōrero and consultation with whānau.

Perhaps the best example of this is our Wā Whakanui

conferencing we hold twice every year. These

conferences replace the traditional parent-teacher

interviews where whānau are given 10 minutes

intervals to digest a student's progress by individual

teachers. Instead, Wā Whakanui is a presentation

delivered by our students to their whānau, sharing

and speaking to 3 pieces of their best work. These

are empowering, inspiring presentations where the

self-determination and success of our ākonga is

evident for their loved ones.

Our commitment to strong community bonds is

also ever-present in our Tausala Night where our

Pasifika Students and Polyfest group perform for

their family, friends and kaiārahi, and Te Roopu

Kapa Haka o Kimihia, the school's kapa haka group.

This group is a combination of 5 kura from around

a new chapter

Students taking part in the He Puna Putaiao

programme

Christchurch including: Christchurch Girls High

School, Christchurch Boys High School, Cashmere

High School and Haeata Community Campus.

The success from these competitions is more than

placing on the day, it includes creating a sense of

whanaungatanga, personal success and a sense

of belonging and identity within the kaihaka for all

ākonga to be proud of who they are and their cultural

identities.

A school is not an isolated silo where we prepare

our students for the 'real world' outside. A school is

part of that real world, where the experiences and

expressions are as real and lived as anything that

flows in, through and beyond it. This is why we believe

that a successful kura, a school that delivers success

for its taonga, is engaged with the communities,

histories and identities of all that come to tread life

and experience into its hallowed halls.

Te Rōpū Kapa Haka o Kimihia

performers

Linwood High School 1954 - Te Aratai College 2022

linwoodcollege

www.linwoodcollege.school.nz | 180 Avonside Drive | Tel: 9820100
---
Wednesday September 29 2021 Bay Harbour News

CRYPTIC CROSSWORD

1 2 3 4 5 6 7

8 9

10 11

12 13 14 15 16

17

18 19 20

21 22 23

24

1/10

Latest Canterbury news at starnews.co.nz

Across

1. Sudden calamity turns to pathos,

trace of which may be found (11)

8. Put up with bachelor who gets wrong

idea about it (5)

9. How to get one to pray for fantastic

hedge-shaping (7)

10. The money that earns interest is

excellent (7)

11. Left a run to be made from the

moon (5)

12. In particular, derivation of a food

store (6)

14. Is deeply dirtied, having put me in

the crossword pattern (6)

18. Be accommodated at school, with

the directors (5)

19. Make atonement to former spouse

with a pet one took out (7)

21. Candle looks like going out in the

blank spaces between pages (7)

23. Where contest is held it takes an age

to show up (5)

24. Set recurred thus being restored to

life (11)

Down

1. Risk putting first Leonardo in eastern

part of church (7)

2. One on excursion may not be able to

keep his feet (7)

3. An old soldier won't remain dry (5)

4. The part of American pit-viper that

will shake one (6)

5. Pulp – or a version of it that's well

liked (7)

6. Time when King Edward came to a

conclusion (3)

7. It may be his market when he's out

for purchases (5)

13. Sort of gearing, with skew teeth, that

never stops (7)

15. The poorest seat men can afford (7)

16. Had dire outcome for one difficult to

persuade otherwise (3-4)

17. He may cut out what one wrote and

turn it to one's credit (6)

18. It isn't true it will make bus go a

different way (5)

20. Situation one finds if one leaves the

fish (5)

22. Set the dogs onto a sailor (3)

PUZZLES 19

SUDOKU

Fill the grid so that every column, every row and 3x3

box contains the digits 1 to 9.

QUICK CROSSWORD

1 2 3 4 5 6

7

8 9

10 11 12

13 14 15

16 17 18

19 20 21

22

23 24

Across

1. Weekly pay (5)

4. Eerie (6)

7. In favour (3)

8. Roading stone (6)

9. Verse (6)

10. Irregular (8)

12. Gawp (4)

13. Breathe in (6)

15. Canned (6)

16. Wound mark (4)

17. Irritating (8)

19. Small container (6)

20. Feasible (6)

22. Whopper (3)

23. Impertinent (6)

24. Young insect (5)

Down

1. Childhood illness

(8,5)

2. Mouth (inf) (3)

3. Buy something with

money (5)

4. Imitator (7)

5. Sudden crisis (9)

6. Assorted items (13)

11. Change order (9)

14. Precisely (7)

18. Fictional story (5)

21. Atmosphere (3)

QUICK CROSSWORD

Across: 1. Wages, 4. Creepy, 7. Pro, 8. Cobble, 9. Poetry,

10. Sporadic, 12. Gape, 13. Inhale, 15. Tinned, 16. Scar, 17.

Annoying, 19. Punnet, 20. Viable, 22. Lie, 23. Cheeky, 24. Larva.

Down: 1. Whooping cough, 2. Gob, 3. Spend, 4. Copycat, 5.

Emergency, 6. Paraphernalia, 11. Rearrange, 14. Exactly, 18.

Novel, 21. Air.

CODECRACKER

CRYPTIC CROSSWORD

Across: 1. Catastrophe 8. Abide 9. Topiary 10. Capital 11. Lunar

12. Larder 14. Grimed 18. Board 19. Expiate 21. Gutters 23.

Arena 24. Resurrected.

Down: 1. Chancel 2. Tripper 3. Sweat 4. Rattle 5. Popular 6. Era

7. Buyer 13. Endless 15. Meanest 16. Die-hard 17. Censor 18.

Bogus 20. Place 22. Tar.

TARGET: elision elusion emulsion

eosin insole ionise lemon lesion

limo LIMOUSINE lino lion lionise

loin lone lose louse melon meson

milo miso moil moils mole moue

moulin mouse muon noil noise

nose nous oilmen oils omen onus

ousel silo sloe soil sole solemn

soli some soul sumo

MEDIUM HARD

EASY

TARGET

I L E

U O N

I S M

Good 23

Very Good 32

Excellent 40+

ALL PUZZLES © THE PUZZLE COMPANY

How many words of four letters or more can you

make? There is at least one nine-letter word.

Each letter may be used only once and all

words must contain the centre letter.

No words starting with a capital, no plurals

ending in s unless the word is also a verb, e.g.

he fires the gun.

Mon-Thurs: 7am - 4pm

Fri-Sun: 7am - 5pm
---
20 Bay Harbour News Wednesday September 29 2021 Latest Canterbury news at starnews.co.nz

CHRISTCHURCH MITSUBISHI

386 Moorhouse Avenue, Christchurch

03 379 0588 | christchurchmitsubishi.co.nz

*Price listed is for an XLS. VRX model pictured and available for $57,990 plus on road coats. Price excludes on road costs of $500

[which includes WoF, Registration and a full tank of fuel] and preparation fees. Red and White Diamond colours are available for

an additional $500. Visit www.mmnz.co.nz for full Diamond Advantage Warranty conditions.

• BLACK 18" ALLOY WHEELS & EXTERIOR HIGHLIGHTS

DRIVE

•

A

CLASS

NEW

LEADING FUEL ECONOMY

• APPLE CARPLAY® & ANDROID AUTO

• 5 STAR SAFETY RATING

NISSAN

STOCK AVAILABLE TODAY

AGILITY MEETS SMARTS

AVAILABLE FROM

$33,990 *

STOCK AVAILABLE NOW

*Price shown is for the Nissan Qashqai ST excludes on road costs of $1,495 which includes registration,

WoF and a full tank of fuel.

CHRISTCHURCH NISSAN, 380 Moorhouse Avenue, Christchurch

Ph: 03 595 6820

www.christchurchnissan.co.nz

NAVARA SL-450

LIMITED EDITION

• BLACK 18" ALLOY WHEELS & EXTERIOR HIGHLIGHTS

• CLASS LEADING FUEL ECONOMY

• APPLE CARPLAY® & ANDROID AUTO

• 5 STAR SAFETY RATING

christchurchnissan.co.nz
---
2013 Volkswagen

Tiguan TSi

h tp: /kaywa.me/8aVDQ

Download the Kaywa Qr Code reader (A p Store &Android market) and scan your code!

my Kaywa Qr-Code

w.valuecarswarehouse.co.nz

CELLULAR

See page 5 for more info!

2

h tp: /kaywa.me/8aVDQ

Download the Kaywa QR Code Reader (a p Store &android Market) and scan your code!

REVERSE CAMERAS

My Kaywa QR-Code

w.valuecarswarehouse.co.nz

PARKING SENSORS

0800 212 777

Ce l 021 855 884

GPS/TRACKING

motor vehicle purchase

See our ad on page 2

Latest Canterbury news at starnews.co.nz

Wednesday September 29 2021 Bay Harbour News 21

Eclipse Cross gets hybrid driveline

YOU COULD say Mitsubishi

helped pioneer the plug-in hybrid

market. It was in 2013 when the

company first introduced its Outlander

PHEV, it arrived at a time

when plug-in electric cars were

just becoming established.

The Outlander sport utility

vehicle with its 2.4-litre petrol

engine has traditional hybrid

power along with plug-in charging

through domestic supply or

charging station.

The Outlander PHEV is still

with us, better than ever before,

it's a car I particularly like, and

judging by the number I've seen

on our roads it has been a worthwhile

investment for Mitsubishi.

Well, it was only a matter of

time before Mitsubishi put that

technology to further use, it's now

available in the new-generation

Eclipse Cross, a smaller SUV, but

one that has already carved out a

solid reputation in terms of sales

since it was released here in 2018.

Of course, the Eclipse Cross is

still available with its 1.5-litre turbocharged

four-cylinder power

that lists from $35,990, an extra

$15k will buy you into the PHEV,

and for my money it would be the

Eclipse Cross that I would buy.

The PHEV's driveline is biased

well towards electric power, it

wants to use that 55km electric-only

range at first priority,

the petrol engine reluctant to

come in until there's no charge

left. Sure, it works in traditional

hybrid fashion, petrol to charge

batteries and also supplement

drive, but if electric vehicle transport

is your first priority then the

Eclipse Cross would be perfect

for your daily commute.

Push-button modes can also

alter the way the combination

works, there are applications to

save battery power or drive in

electric mode-only at will.

The evaluation car came with

two cable types, one for domestic

supply and one for charging

stations. If I was a purchaser I'd

insist on both, just so that battery

top ups can be made from almost

anywhere there is electrical

supply. For the record, a 25min

charging station plug-in will take

the batteries up to 80 per cent.

On the subject of figures,

Mitsubishi also lists a total travel

distance of 660km using both

hybrid systems. A petrol consumption

combined cycle average

of 1.9-litres per 100km is claimed

at best possible usage.

The Eclipse Cross in this form

is also pretty handy under acceleration,

it will reach 100km/h

from a standstill in 9sec and will

make 120km/h from 80km/h in

6.8sec, a result of solid mid-range

urge thanks to the strength of

electric drive.

In petrol-only mode the driver

has access to 94kW and 199Nm,

add in 60kW and 70kW for the

motors front and rear and you

will find the Eclipse Cross gets

about its business without strain

or stress. Drive is channelled

GRAPHICS: A central dash display alerts the driver to the

Eclipse Cross' drive modes.

MITSUBISHI ECLIPSE CROSS PHEV: Hybrid power biased toward electric.

through a continuously variable

automatic transmission, it

is a quiet, seamless operating

system and one that Mitsubishi

has developed well in terms of

refinement.

Before you think the Eclipse

Cross can't be a true SUV without

four-wheel-drive – take stock,

as I've just alluded to there is

an electric motor over the rear

axle which in turns makes it

all-wheel-drive. There are also

complicated electronic and

mechanical functions that you

can treat as normal four-wheeldrive

functions.

This is something Mitsubishi

does well, it builds on the 4WD

systems that have made Pajero,

Outlander, Triton and Lancer

Evo models the benchmark in

four-wheel-drive technology. The

Eclipse Cross PHEV is very much

a worthy cross-country and allroad

conqueror, easily fitting into

the soft-roader category with its

188mm of ground clearance.

I never took the evaluation

car off-road as such, it was

pristine when I picked it up

and I didn't want to take it back

overly grubby. But I did tackle a

short shingle road loop near the

Hororata River and can report it

has wonderful suspension control

over corrugations, affording a

controlled in-cabin ride.

On the seal the Eclipse Cross

cruises capably and quietly,

just as you would expect from

any of today's SUVs, it is the

quintessential compact wagon

• Price – Mitsubishi Eclipse

Cross PHEV, $57,990

• Dimensions – Length,

4545mm; width, 1805mm;

height, 1685mm

• Configuration – Fourcylinder,

four-wheeldrive,

2360cc, 94kW

(+60kW), 199Nm (+137Nm),

continuously variable

automatic

• Performance – 0-100km/h,

8.8sec

• Fuel usage – 1.9l/100km

that will easily fulfil the needs of a

young family.

In terms of handling it steers

directly on its 18in Bridgestone

tyres and has controlled body balance

– even at 1.7m tall it doesn't

generate gravitational force over

the fully independent four-strut

suspension.

The Eclipse Cross hybrid comes

in two specification levels, the

evaluation car was the top spec

VRX that has full leather trim,

heated seats front and rear, heated

steering wheel, electric sunroof,

head-up display and paddle

gearing shifters. Without those I

would be satisfied with the XLS

variant to save $8000.

However, if you do like a full

suite of gadgets the VRX is complete

inside with a raft of display

systems letting you know the

modes in which it is being driven

and energy saving benefits along

the way.

If safety is also a big priority for

you, take into account the Eclipse

Cross PHEV has been issued with

a five-star Australasian New Car

Assessment Program rating.

As time has served to prove

and this world of ours is keenly

focussed in reducing carbon

emissions to address climate

change, I've been told every

little bit to reduce the use of

fossil fuel will be beneficial.

That's where Mitsubishi's hybrid

system comes in, it is engineered

to draw heavily on electrical

current.

For me, it was easy to get into

the rhythm of charging every

night; taking the car back to the

dealership with over half a tank

of fuel is something that I rarely

achieve, especially so after driving

well over 500km. You see, the day

I was scheduled to take it back to

the dealership was day one of August's

snap Covid-19 lockdown.

I ended up driving the PHEV for

almost four weeks.

If you enter now into discussions

about electric vehicles,

there are two topics that are at

the forefront of almost everyone's

minds – longevity of the battery

pack and what models qualify for

the Government's electric vehicle

subsidy.

Well, the Eclipse Cross PHEV

has a 10-year driveline warranty

and an eight-year/160,000

lithium-ion battery warranty,

these are peace of mind offerings,

and, yes, a buyer today can expect

a $5750 discount. That makes for

a very tempting purchase.

has motoring covered!

Incorporating

ISSUE 667 | FrIday 20 novEmbEr 2020

sherborne st, edgeware

iggest range of vehicles

location!

2011 Jaguar

XF Premium

$18,999

See inside for this week's

4WD feature!

se Ave | P: (03) 366 7768 | www.valuecarswarehouse.co.nz

See page 4 for more info!

free

best motorbuys

Incorporating

ISSUE 668 | FrIday 27 NovEmbEr 2020

275 Colombo street, Christchurch

For more see their advert on pages 6 & 7

Ce l 021 855 884

Incorporating

ISSUE 669 | FrIday 4 dEcEmbEr 2020

See inside for this week's

Classic Car feature!

PH 03 web

www.drivesouth.co.nz

One Owner!

40 Years Finance

Experience

Cannot be Beaten!

• Talk to us about finance for your next

motor vehicle purchase

Specialising in Finance for Private Purchases

Very quick approvals, sensational interest rates

• From no deposit (terms & conditions may apply)

Hiace spares

Cnr Main South Rd and Epsom Rd, Christchurch

Ph: 03 348 4129 | avoncityford.com

2015 IsuZu D-mAX

4WD Ls D/CAb

NZ new, 3.0 intercooled turbo/dsl,

auto, rare flatdeck with ladder/pipe

racks, reverse cam, service history.

$34,995 $192pw

For more see their advert on page 31

free

best motorbuys

www.drivesouth.co.nz

See inside for this week's

marine feature!

free

best motorbuys

The South Island's leading motoring resource,

filled with news, reviews and dealer listings.

From family cars to work trucks, and supercars

to SUVs. No matter what you're looking for,

you can find it all with Drivesouth.

Magazine available for FREE every Friday

at a convenient pick up point near you!

The biggest range of vehicles

in one location!

Now Available @ NZ Van Spares

www.drivesouth.co.nz

2.4 auto, alloys, ABS, twin airbags.

2005 toyota rav

$20,999

$9,990

40 Years Finance

2008 bmW 320i

2.0lt Petrol, 5 Dr Station wagon,

Climate Control, ABS Braking,

.nz

CAR AUDIO

AUDIO VISUAL

CAR SECURITY

32 Moorhouse Ave | P: (03) 366 7768 | www.valuecarswarehouse.co.nz

MOBILE INSTALLATION SERVICE

RADAR DETECTORS

DASH CAMERAS

Cannot be Beaten!

$10,974 NoW $7,974 + orC

Experience

Automatic. $34.63pw.

AERIALS

• Talk to us about finance for your next

Specialising in Finance for Private Purchas

• Very quick approvals, sensation

• From no deposit (term
---
22 Bay Harbour News Wednesday September 29 2021 Latest Canterbury news at starnews.co.nz

REAL ESTATE

Elevated Elegance

174 Soleares Ave, Mt Pleasant

Auction Sat 16 Oct at 12.30pm,

on site (unless sold prior)

4 bedrooms, 2 living, 2 bathrooms,

3 toilets, 2 car garaging

www.rwferrymead.co.nz/OPA30102

Open Homes: Saturday 3.00pm-3.30pm

and Sunday 2.30pm-3.00pm

Desirably located on the upper slopes of

Mount Pleasant, this striking abode

maximises its superb vantage point to take in

panoramic views over the city and beyond

Pegasus Bay, to the Southern Alps and the

Kaikoura Ranges.

Impeccably presented and brilliantly configured

to facilitate harmonious family living, the

approx. 231m² floor plan features three bedrooms

and a family bathroom on the ground floor

accompanied by a secondary living room

that's well-suited as a children's escape.

The upper level hosts the expansive openplan

living zone along with a luxuriously

appointed master bedroom with ensuite and

double walk-in robes.

Complete with a walk-in pantry, the designer

kitchen offers an abundance of bench space,

premium appliances and an exceptional

coastal outlook. The open-plan living spaces

are ideally arranged for hosting social

gatherings and connect seamlessly with the

hardwood entertaining deck via sliders.

Warm and comfortable, this sunny home also

benefits from double glazing and central heating

throughout, while well-considered lighting

and smart wiring add further convenience.

Positioned on an approx. 971m² flat section

with drive-on access and plenty of off-street

parking as well as an internal access double

garage. The grounds feature lush lawns, a

treehouse and sandpit, plus ample room to

add a trampoline or swimming pool.

Established plantings, including thriving fruit

trees, ensures outdoor maintenance is kept to

a minimum.

Located near parks, beaches, the Ferrymead

retail hub, and Mt Pleasant Primary School,

this property promises an enviable coastal

lifestyle within easy reach of every possible

amenity.

This endlessly appealing home in a superior

location will undoubtedly prove popular.

Contact Paula or Simon for more information.

ADVERTISING FEATURE

No.1 Sales Consultants 2017-2021

Ray White Ferrymead

RW Elite NZ Sales Performers

Simon and Paula Standeven

0274 304 691

thestandevens@raywhite.com

Claim Southern Response

compensation now

Deadline to opt out of the Ross Class Action: 20 December 2021

If you are one of 3,000 Southern Response earthquake claimants who settled

before 1 October 2014, you are likely to be entitled to compensation.

The average compensation is approximately $100,000.

Anthony Harper has set up a dedicated website to provide access to independent legal advice on your compensation,

and importantly, how to opt out of the Ross Class Action before the court-appointed deadline of 20 December 2021.

Fixed fee of $2500 + GST for legal advice, of which Southern Response reimburses $2000.

Apply online at www.SouthernResponsePayment.co.nz

The website is provided by Anthony Harper. Anthony Harper is not part of the Ross Class Action. Further information about Anthony Harper can be found at www.anthonyharper.co.nz
---
h tp: /kaywa.me/8aVDQ

my Kaywa Qr-Code

w.valuecarswarehouse.co.nz

h tp: /kaywa.me/8aVDQ

h tp: /kaywa.me/8aVDQ

my Kaywa Qr-Code

w.valuecarswarehouse.co.nz

my Kaywa Qr-Code

w.valuecarswarehouse.co.nz

Latest Canterbury news at starnews.co.nz

Wednesday September 29 2021 Bay Harbour News 23

Classifieds Contact us today Phone our local team 03 379 1100

To Let

RENT ME!

Ideal as an extra

bedroom or office.

no bond required

Fully insulated and double glazed for warmth.

Three convenient sizes from $80 a week:

Standard 3.6m x 2.4m

Large 4.2m x 2.4m | Xtra-large 4.8m x 2.4m

Cars Wanted

AAA CASH - CASH -

CASH . Any unwanted

cars. Phone 347 9354 or

027 476 2404

Gardening

& Supplies

Gardener available for

maintenance, weeding

pruning, spraying,

planting, advice. Qual &

exp. Ph Richard 0274 918

234, 03 349 4022

Gardener available for

maintenance, weeding

pruning, spraying,

planting, advice. Qual &

exp. Ph Richard 0274 918

234, 03 349 4022

Visit our website

www.justcabins.co.nz

for display cabin locations

www.justcabins.co.nz

Real Estate

HOME WANTED 3-4

bedrooms. Looking in Nor

West areas, Beckenham

or Somerfield. Prefer

permanent material brick

and post 1990 build. Don't

mind if it needs some TLC

- anything considered.

Cashed up buyer. Phone

021 372 479

Wanted To Buy

AAA Buying goods

quality furniture, beds,

stoves, washing machines,

fridge freezers. Same day

service. Selwyn Dealers.

Phone 980 5812 or 027

313 8156

Trades & Services

CARPET LAYING

Exp. Repairs, uplifting,

relaying, restretching.

Phone John on 0800

003181, 027 240 7416

jflattery@xtra.co.nz

CHIM

CHIM

CHIMNEY SWEEPS

We'll sweep your

logburner's flue, check

firebricks, baffles, airtubes

& controls. We're experts

on coal-rangers, and can

sweep any sized open fire.

We quote & undertake

repairs, flue extensions &

install bird netting. 0800

22 44 64 www.chimchim.

nz

ELECTRICIAN

JMP Electrical.

Experienced & registered..

Expert in all home

electrical repairs &

maintenance. Call James

027 4401715

ELECTRICIAN

Andrew Martin Electrical.

25 years experience.

Specialize in home

renovations, repairs and

maintenance. Call Andrew

0274 331 183

GUTTER CLEANING

/ HOUSE WASH

Total gutter / spouting

clear out & clean. House

wash & windows. For a

professional & reliable

service call Greg Brown

A1 Spouting Cleaning 027

616 0331 or 384 2661

Trades & Services

Atkinson Construction Ltd

• Local qualified builder

• Over 30 years experience

• Building alterations

• Maintenance

• No job too big or small

Dean: 021 480 093

atkinsonconstruction@xtra.co.nz

GUTTER CLEANING

/ HOUSE WASH

Total gutter / spouting

clear out & clean. House

wash & windows. For a

professional & reliable

service call Greg Brown

A1 Spouting Cleaning 027

616 0331 or 384 2661

HOME

IMPROVEMENTS

Decks, fencing, retaining

walls, kitchens, sleepouts,

kitsets, renovations and

more. Greg 022 475 8227

HOME

IMPROVEMENTS

Decks, fencing, retaining

walls, kitchens, sleepouts,

kitsets, renovations and

more. Greg 022 475 8227

LAWNMOWING

You Grow I Mow. Free

quotes. Phone Chris 0800

701 501

WINDOW TINTING

tintawindow

advanced film solutions

99% uv block

fade protection

heat control

reduce glare

25 Years Experience

privacy films

frosting designs

non-darkening films

Workmanship Guaranteed

Lifetime Warranties on Most Films

UV

block

Free Quotes Canterbury and Districts

03 365 3653 0800 368 468

ADVERTISE YOUR BUSINESS HERE

Phone for further details

(03) 379 1100

Incorporating

ISSUE 667 | FrIday 20 novEmbEr 2020

See inside for this week's

4WD feature!

free

best motorbuys

www.drivesouth.co.nz

We've got your

Motoring

Incorporating

One Owner!

2015 IsuZu D-mAX

4WD Ls D/CAb

NZ new, 3.0 intercooled turbo/dsl,

auto, rare flatdeck with ladder/pipe

racks, reverse cam, service history.

$34,995 $192pw

free

Covered!

ISSUE 668 | FrIday 27 novEmbEr 2020

13 sherborne st, edgeware

e biggest range of vehicles

ne location!

house Ave | P: (03) 366 7768 | www.valuecarswarehouse.co.nz

co.nz

2011 Jaguar

XF Premium

$18,999

www.eurofinance.co.nz

See page 4 for more info!

CAR AUDIO

AUDIO VISUAL

Download the Kaywa Qr Code reader (A p Store &Android market) and scan your code!

275 Colombo street, Christchurch

For more see their advert on pages 6 & 7

The biggest range of vehicles

in one location!

2013 Volkswagen

TiguAn TSi

$20,999

CAR SECURITY

CELLULAR

32 Moorhouse Ave | P: (03) 366 7768 | www.valuecarswarehouse.co.nz

454 St asaph Street, 03 378 1818 or 021 480 201

MOBILE INSTALLATION SERVICE

Affordable new parts available for BMW / MERCEDES BENZ

Finance with an edge

See page 5 for more info!

2013 LexuS

LS460 F Sport

Only 79,000kms, black leather

interior, 10x airbags, sunroof,

very smart & very rare.

$39,999 incL

orc

Cell 021 855 884

Incorporating

ISSUE 669 | FrIday 4 dEcEmbEr 2020

See inside for this week's

Classic Car feature!

PH 03 web

REVERSE CAMERAS

RADAR DETECTORS

best motorbuys

For more see their advert on page 31

40 Years Finance

Experience

Cannot be Beaten!

• Talk to us about finance for your next

motor vehicle purchase

• Specialising in Finance for Private Purchases

• Very quick approvals, sensational interest rates

• From no deposit (terms & conditions may apply)

Hiace spares

Cnr Main South Rd and Epsom Rd, Christchurch

Ph: 03 348 4129 | avoncityford.com

Now Available @ NZ Van Spares

Download the Kaywa Qr Code reader (A p Store &Android market) and scan your code!

PARKING SENSORS

AERIALS

0800 212 777

Cell 021 855 884

PH 03 web

DASH CAMERAS

GPS/TRACKING

See our ad on page 2

www.drivesouth.co.nz

40 Years Finance

Experience

Cannot be Beaten!

• Talk to us about finance for your next

motor vehicle purchase

• Specialising in Finance for Private Purchases

• Very quick approvals, sensational interest rates

• From no deposit (terms & conditions may apply)

Hiace spares

Cnr Main South Rd and Epsom Rd, Christchurch

Ph: 03 348 4129 | avoncityford.com

Now Available @ NZ Van Spares

• Cars • Campervans • Caravans • Motorbikes • 4WD's

• You name it, we finance it!

• Phone 0800-888 188 - Stu, David or Mark

See inside for this week's

marine feature!

free

best motorbuys

Cell 021 855 884

PH 03 web

www.drivesouth.co.nz

2.4 auto, alloys, ABS, twin airbags.

2005 toyota rav

$9,990

493 blenheim road, Christchurch For more see their adverts on pages 10 & 11

The biggest range of vehicles

in one location!

2011 Peugeot

3008 Premium

$10,999

32 Moorhouse Ave | P: (03) 366 7768 | www.valuecarswarehouse.co.nz

See page 5 for more info!

Download the Kaywa Qr Code reader (A p Store &Android market) and scan your code!

Hilux spa

Now Available

40 Years Finance

Experience

Cannot be Beaten!

• Talk to us about finance for your next

motor vehicle purchase

• Specialising in Finance for Private Purchases

• Very quick approvals, sensational interest rates

• From no deposit (terms & conditions may apply)

Cnr Main South Rd and Epsom Rd, Christchurch

Ph: 03 348 4129 | avoncityford.com

2.0lt Petrol, 5 Dr Station wagon,

Climate Control, ABS Braking,

Automatic. $34.63pw.

2008 bmW 320i

$10,974 NoW $7,974 + orC

FREE

magazine

out every Friday

at pick up

points near

you!

The South Island's leading motoring

resource, filled with news, reviews

and dealer listings.

Up to

50 % Off

From family cars

to work trucks, and

supercars to SUvs.

no matter what

you're looking for,

you can find it all

with drivesouth.

drivesouth.co.nz

*Call for Terms

& Conditions

Off

*
---
24 Bay Harbour News Wednesday September 29 2021 Latest Canterbury news at starnews.co.nz

STYLE & QUALITY

FOR LESS

Manatee Corner

Recliner Suite

STORE OPEN AT LEVEL2

SUPER

SPECIAL

WAS $2299

$ WAS $2869

2099 $

2579

Extra Section Available $299

Valley Corner

Storm

Raisin

SUPER

SPECIAL

Linea Coffee Table

Nordik Med Ext. Table

W160-210 x D90x H76 cm

WAS $1299

$

1169

WAS $789

$

699

Zurich Chair

WAS $199

$

179

5 Year Warranty

5 Year Warranty

Fox Bedroom

Manatee Collection Corner

Recliner Suite

Riviera Mattress

Single $489 $449

King Single $509 $469

Double $609 $559

Queen $729 $669

King $799 $739

California King $879 $809

FROM

$

449

Chateau Mattress

Single $609 $559

King Single $719 $669

Double $859 $799

Queen $929 $859

King $1019 $939

California King $229 $1139

FROM

$

559

NZ Made

Bedside from $279

Bedframe from $708

Chest from $589

Lowboy from $681

Underbed Storage from $221

WAS $1899

$

1749

Marley

Outdoor Dining Chair

Piha Extension

Outdoor Table

WAS $179

$

149

QUALITY

FURNITURE

Your style, your way.

Affordable

Our Fox range makes an impact with its striking lines, and clever ability to

adapt to its environment - customise the hardware your way!

Sleek in its style, the Fox collection matches a modern, uncomplicated look

in dark tones, with the ability to adapt the handles to your preference. Slimline

metal hardware in whatever colour you choose - gold, nickel, gunmetal and

copper - to add a personal touch to your new look and a striking contrast to the

bold black Fox finish. The Fox range comes ready built, set to go, so you can

style your space in no time. Time to make a statement of your own with the Fox

range!

PRICE TAG

WAS $2199

$

1999

Tekapo

Simplistic feet.

Willis Chaise

Outdoor Set

WAS $2199

$

1999

Slimline metal handles.

3 + 1 + 1 + Table + Bench Outdoor Set

FREE

CARPARKING

SOUTH CITY

BATH ST

WE ARE

HERE

255 MOORHOUSE AVE

REBEL SPORT

COLOMBO ST

MANUFACTURED BY: COMPAC FURNITURE

MON-FRI 9:30AM – 5:30PM

SAT-SUN 10AM – 5:30PM

0800 268 264

www.affordablefurniture.nz