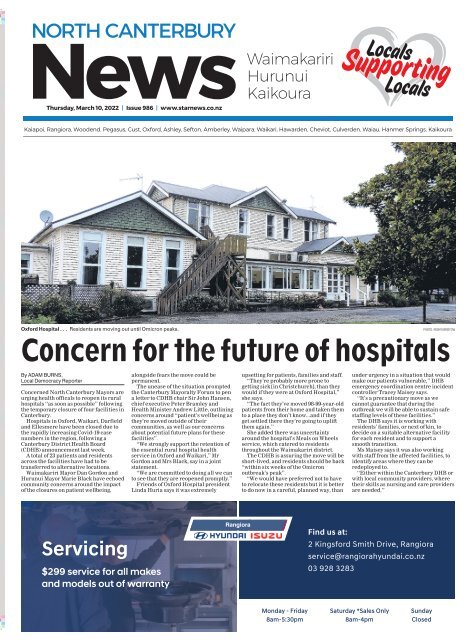 North Canterbury News: March 10, 2022
Create successful ePaper yourself
Turn your PDF publications into a flip-book with our unique Google optimized e-Paper software.
Locals

Supporting

Locals

Thursday,March 10,2022 | Issue986 | www.starnews.co.nz

Oxford Hospital ... Residents are moving out until Omicron peaks.

PHOTO: ROBYN BRISTOW

Concern for the future of hospitals

By ADAM BURNS,

Local Democracy Reporter

ConcernedNorth Canterbury Mayors are

urginghealthofficalstoreopenits rural

hospitals''as soon as possible''following

the temporaryclosure of four facilities in

Canterbury.

Hospitals in Oxford,Waikari, Darfield

and Ellesmere havebeen closeddue to

the rapidly increasingCovid­19case

numbers in the region,following a

Canterbury District Health Board

(CDHB)announcement lastweek.

Atotal of 23 patientsand residents

acrossthe facilities have had to be

transferred to alternative locations.

WaimakaririMayorDan Gordon and

Hurunui Mayor Marie Black have echoed

community concerns around the impact

of the closures on patient wellbeing,

alongside fearsthe move could be

permanent.

The unease of the situationprompted

the Canterbury MayoraltyForum to pen

aletter to CDHBchair Sir John Hansen,

chief executive PeterBramley and

Health Minister Andrew Little, outlining

concernsaround ''patient'swellbeing as

they're movedoutsideoftheir

communities, as well as our concerns

about potential future plans for these

facilities''.

''Westronglysupport the retention of

the essential rural hospital health

service in Oxford and Waikari,'' Mr

Gordon and Mrs Black, say in ajoint

statement.

''Weare committed to doing all we can

to see that they are reopened promptly."

Friends of Oxford Hospital president

Linda Huria says it was extremely

upsetting for patients, families and staff.

''They'reprobably more proneto

getting sick[in Christchurch], than they

would if they were at Oxford Hospital,''

she says.

''The fact they've moved 98­99­year­old

patients from their homeand taken them

to aplacethey don't know...and if they

get settled there they're going to uplift

them again.''

She addedtherewas uncertainty

aroundthe hospital's Meals on Wheels

service, which cateredtoresidents

throughout the Waimakariridistrict.

The CDHB is assuring the move willbe

short­lived,and residents should be back

''within six weeksofthe Omicron

outbreak'speak''.

''We would have preferred not to have

to relocate these residentsbut it is better

to do now in acareful,planned way,than

under urgencyinasituation thatwould

makeour patients vulnerable,'' DHB

emergency coordination centre incident

controller Tracey Maisey says.

''It's aprecautionary move as we

cannot guarantee that duringthe

outbreakwewill be able to sustainsafe

staffinglevels of these facilities.''

The DHB says it is working with

residents' families, or next of kin, to

decide on asuitablealternativefacility

for each resident and to supporta

smooth transition.

Ms Maisey saysitwas also working

withstaff from the affected facilities,to

identify areas wherethey can be

redeployed to.

''Eitherwithin the Canterbury DHB or

withlocalcommunity providers, where

their skills as nursing and care providers

are needed.''

Servicing

$299 servicefor all makes

and models outofwarranty

Rangiora

Find us at:

2Kingsford Smith Drive, Rangiora

service@rangiorahyundai.co.nz

03 928 3283

Monday-Friday

8am-5:30pm

Saturday*Sales Only

8am-4pm

Sunday

Closed
---
NEWS

2 The North Canterbury News, March 10, 2022

Grow

customers,

salesand

profits

with North

Canterbury's

bestread

newspaper

Readership: 51,000 weekly

Circulation: 30,150copiesdelivered

to EVERY farm, RD, lifestyle block

and home inWaimakariri, Hurunui

&Kaikoura every Thursday.

news

Robyn Bristow

Managing Editor

027 312 1581

robyn.bristow

@ncnews.co.nz

Reporters

David Hill, Shelley Topp.

advertising

DaynaBurton

Sales Manager

027 312 0089

dayna.burton

@ncnews.co.nz

AmandaKeys

Advertising

027 536 6224

amanda.keys

@ncnews.co.nz

JillianDickie

Advertising

022 024 3092

jillian.dickie

@ncnews.co.nz

getintouch

Editorial

info@ncnews.co.nz

Advertising

sales@ncnews.co.nz

Graphic Design

heather.hood@ncnews.co.nz

Distribution/Deliveries

03 314 8335

Rangiora: 03 313 2840 /03314 8335

14 Ashley St, Rangiora

Christchurch: 03 364 7460

www.starnews.co.nz

Covid hits Anzac Day services

By ROBYN BRISTOW

Anzac Day services in Rangiora and

Fernside have again fallen victim to

Covid­19.

More NorthCanterbury servicesare

expected follow.

The RangioraRSA's traditional

service at the town's CenotaphonApril

25, and the Fernside Hall's Anzac

committeeservicehave both been

cancelled to keep people safe,

particularly those most vulnerable to

catching the rampant Omicron.

The Red Light Covid­19 settingalso

restricts numbers to 100, putting

volunteers chargedwith keeping

numbers to 100 at the Rangiora

Cenotaph, and in the Fernside Hall, in

invidious positions.

However, individualsand families

are expectedtohold theirown

Remembrance tributes as they did in

2020 when Covid­19 also dealt ablow to

Anzac Day.

Many stood at their gates, or the end

of driveways for several minutes at 6am

to commemorate the sacrifice of those

who did not return fromwar.

Othersraised flags on polesintheir

backyards, or joined in neighbourly

gatherings, with suitable spacing,

remembering through fellowship, over

acuppa, or astrongertipple.

Remembering ... Bugler, Bill Peck, will

play the Last Post and Reveille at the

Rangiora Cenotaph, accompanied by RSA

president Ian Thompson, who will lay a

wreath in the absence of atraditional

service.

PHOTO: FILE

Rangiora RSA president,Ian

Thompson, and secretary­treasurer Bill

Peck, will again visitthe Rangiora

Cenotaph, and as many outlying

INTRODUCING THE NEW WOODSMAN KANAKU

The NEW Kanaku is

Woodsman's latest edition

to their ULEB (ultra low

emission burner) range.

Suitable for smalltomedium areas

Suitable for small to medium areas

Only $1799 (Fire only)

See us nowto arrange you FREE,

NO OBLIGATION quote to have your log fire

fully installed. We manage the whole job,

including the council consent.

360Flaxton Road, Rangiora

Ph 03 313 5563

www.kingsmowersheating.co.nz

2455057

cenotaphs as possible, and lay wreaths.

Mr Peck, who is also abugler, will play

the Last Postand Reveille.

The pair will alsovisit the Charles

Upham retirement complex and holda

brief ceremony on the lawn, and visit

other resthomes, wherethey know RSA

members reside,for brief services.

''The first visit will be at 6am and the

lastprobably about 7pm,'' says Mr

Thompson.

White pigeons willalso be released at

the Rangiora Cenotaph as asymbol of

peace, and in recognition of the

important rolepigeons played in WWI

whenthey were used to carrymessages.

Graham Morrisfrom the Fernside

HallAnzac committee says it is with

sadness the decision was made to

cancel the service,but the safety of

everyone, including older veterans

through to Fernside School pupils, who

always took an active part in the

service,was foremostincommittee

members minds.

Poppy Day will also, once again, be

cancelled and is likely to become a

virtual event on line.

The annualPoppy Day Appeal –

usuallyheld on the Friday beforeAnzac

Day –has become the NZRSA's primary

means of raisingfunds for the welfare

of returned servicepersonnel and their

dependants.

Wastewater upgrade costs rise

By ADAM BURNS,

Local Democracy Reporter

Upgrades at the Loburn Lea wastewater

system have blown out by more than a

half­a­million dollars from what was

first estimated, another result of supply

chain and labour shortage issues.

But Waimakariri District Council staff

say there was sufficient residual

budgets from within its shovel ready

programme to cover most of the

increased costs on the project.

The multimillion upgrades, which

remain in construction, are part of the

council's $11 million Governmentfunded

three waters stimulus

programme.

The budget blowout on the Loburn

project forced afinal reshuffle of

programme costs, which were reviewed

and approved at last week's council

meeting, with savings identified in other

areas.

Council's inability to recruit for a

drainage and waterways manager

position meant it was able to reallocate

costs across the programme.

The labour market was responding to

''increased economic activity, inflation

and supply chain issues'' which were

being reflected in increased tender

prices across arange of projects, a

council report says.

Part of the Three Water reforms'

rollout, the stimulus programme for the

Waimakariri comprised of 10

construction projects and funded by an

$8 million government grant, $2 million

from council development contributions

and $1 million from scheme

contributions.

The funding package was said to

provide ''immediate post­Covid­19

stimulus to local authorities to maintain

and improve three waters

infrastructure''.

The Loburn Lea upgrades will include

improved sewer infrastructure on Cones

Road, Dixons Road, Adian Way and

Millton Ave, anew pumping station and

pipework extending across the Ashley

Bridge.

Stimulus and Shovel Ready delivery

manager Rob Kerr says there had been a

''number of challenges'' on the project.

''It's avery long pipeline and the

estimates certainly weren't up to where

we would hope in terms of levels of

accuracy,'' he says.

''Part of the (latest) increases has been

caused by increased scope but Ithink it

also reflects the market conditions that

we're seeing at the moment.

Loburn Lea .. Work continuing on the

Loburn Lea wastewater system at the

Ashley River Bridge.

PHOTO: FILE

''To receive only one tender for a

relatively normal pipeline job like this

is unusual.'' The Loburn Lea wastewater

project had been estimated to generate

$1.47 million worth of growth across a10

year period.

MattDoocey

MP for Waimakariri

Kaiapoi Office

03 3270514•kaiapoi@parliament.govt.nz

137 Williams Street

RangioraOffice

03 3107468•waimakariri@parliament.govt.nz

Level1Conway Lane,188 High Street

Ienjoy holding constituent

clinicsinOxfordand in

Belfasttobeaccessible;

pleasering my officeifyou

would liketomeetwith me.

Authorised by Matt

Doocey, Parliament

Buildings, Wgtn.
---
NEWS

North Canterbury News, March 10, 2022

Covid dampens return at pools

By ADAM BURNS,

LOCAL DEMOCRACY REPORTER

Hurunui District Council chief

executive Hamish Dobbie has ruled out

any impact on next year's rates should

further financial hurt ensue at Hanmer

Springs Thermal Pools and Spa.

But there are question marks as to

whether the pool's struggles will spill

over into subsequent budgets amid the

ongoing Omicron outbreak.

The tourist hotspot is ''well behind''

budget for the financial year as the

brunt of Covid­19 restrictions eats into

financial projections.

Questions were raised by councillors

at arecent council meeting around how

the fiscal fallout would be managed at

the council­owned pools during areview

of January's financial report, including

apossible impact on rates.

Council usually receives adividend of

$2 million per year from the pools with

any further surplus allocated to repay

debt attributed to the site.

Mr Dobbie says pools' operations have

been considerably impacted by Covid­19

restrictions, including the lockdown in

August 2020.

''The financial impacts of these

operational restrictions are significant,

and financial results are tracking well

behind budget for the year to date.''

He says the important factor in

council's next annual plan is the

budgeted Hanmer Springs Pools

operating surplus for the corresponding

year.

''The previous year results do not

impact the setting of rates for the next

year.''

3

Tourism spend in the district for the

year ending November 2021 was

recently noted to be up on pre­Covid

levels, however local sector

representatives suggested the impact

was yet to hit.

The Hanmer Springs pools

outperformed during this period,

recording an operating surplus of $4.9

million for the 2020­21 financial year.

At the February 24 council meeting,

council chief financial officer Jason

Beck said the success of 2021 had meant

it was able to reduce debt by about $3

million as it was ''simply looking to

break even''.

He says the facility would be

struggling to make a''cash profit'' based

on the current numbers.

''We're still well behind the eight

ball,'' he says.

Caring for North Canterbury

Dr John Dehn

Full Mole Checks

using Dermoscopy

Surgical Management

and Aftercare

Comprehensive, Affordable, Convenient

Ph 03 9204060

52 Pegasus Main Street,Pegasus 7612

www.pegasusmedicalcentre.co.nz

Southern Cross

Affiliated Provider

For selected services

1890742

Latest styles for

Autumn havearrived

arrived

Anthea

Silver Grey, Black

Leather

L 37-41

$219

Nursery on edge ... Derrick Parry, the owner of Rangiora Nursery.

PHOTO: SUPPLIED

Pinetreenursery nervous about staffing

By ROBYN BRISTOW

The vagaries of the employment marketin

NorthCanterbury has apine treenursery

on edge.

Rangiora Nursery needs40people by

April4to deliverits cuttings programme,

and 30 to harvest,gradeand pack trees

from May through to September.

The nursery, based in the Eyrewell,

Clarkville, and Swannanoa areas,has

relied on agood supplyofbackpackersin

past years.

But this sourcehas dried up thanks to

Covid­19 andborder controls.

Humanresources manager Chelsie

Boltar says backpackers were keen on the

work because it was short term,and paid

good money on contract rates.

''Some then movedon,'' she says.

''If we are luckywecan bringpeople

across from the five week cutting

programme.''

Chelsie says there has been alittle bit of

interestinthe work, but theyare now

looking to the localmarkettohelp boost

numbers.

''Thereare stillafew backpackers

floating around who havehad theirvisas

extended.''

Chelsiesays peopleare often surprised

at the scale of the operation.

It willproduce around8million pine

tree seedlings and cuttings this year.

The operation, which has nurseries in

Eyreton, Clarkville and Swannanoa, with

the business hub at Chiltons Road,

Eyreton, has also beenimpacted by the

One Billion Tree programme with more

treesbeingrequired.

''We havetodeliver,''she says.

The nurserywas established over60

yearsago, and was the former homeof

Timberlands nursery.But the commercial

forestrynursery, which specialises in

open ground production of pinus radiata

seedlings, and rooted cuttingsfor

establishing forests, is now owned by the

Parryfamily.For informationabout jobs

go to rangioranursery.co.nz and their

employment tab.

2459207

Duck

Black/ k/Spot

Black/ k/Croc

Leather

L 37-41

$229

Kaiapoi Mill, Ranfurly Street, Kaiapoi

Monday –Friday 9am –5pm

Saturday 10am –1pm

Closed on Public Holidays

&Long Weekends

Ph 03 327 0576

The Black Diamond Series

It's our best air conditioner …ever!

Stay cool this summer

Call us now for your free quote

03 310 6087

18 Albert Street, Rangiora

Design |Installation|Servicing
---
NEWS

4 The North Canterbury News, March 10, 2022

Rural plunket rooms retained

By ROBYN BRISTOW

ADavid andGoliath battleover the

assets of Waiau and CulverdenPlunket

is over.

The local plunket groups are thrilled

withthe outcome to futureproof their

buildings, whichhas been bubbling

awaysince2016.

The groups hadchallengedPlunket

New Zealand over retainingtheir

community assets, saying they werenot

for sale.

Plunket NewZealand,late lastyear,

agreedtoallow the Waiau and

CulverdenPlunketbuildingstobe

retainedinthe community,for

community use, through theAmuri

CommunityTrust.

The buildings were built by thelocal

communities,onland giftedbyfamilies

livinginthe district,and maintained

by thelocalcommunities so plunket

servicescouldbedelivered in each

area.

HurunuiMayor, Marie Black, says

the decision emphasises thatretaining

delivery of service to parents in rural

areas,suchasPlunket, is integral to

providing support to communities and

new families.

Mrs Black, whowas employedby

Plunket when the plunketgroups were

put on notice theirbuildings couldbe

sold, says the outcome of theWaiau

and Culverdencommunitiestoretain

their rooms is is great news for those

communities.

The Waikari rooms,whichsuffered

earthquake damage in 2016,however,

willbesold. After negotiation with

Plunket NZ,aportionofthe salewill

be returned to theHawardenand

Waikaricommunities.

The funds will be heldbythe Waikari

CommunityTrusttosupportthe future

delivery of Plunket servicesinthe

Local amenity ... The Culverden Plunket rooms.

Waikari andHawarden areas.Plunket

Services will be delivered fromthe

Waikari Medical Centre

BronaYoungman, whohas beenone

of thedriving forces behind

negotiationswith thenational body,

andinitiatedgettinglegal support,

says theoutcomeisfantastic newsfor

thetwo communities.

''It has taken afew years,and has

been quite stressful, butwenow have a

really positive result,''she says.

''It now means we can keepthese

buildings for the community,inthe

community.''

PHOTO: FILE

Former HurunuiDistrict councillor,

DickDavison,who chairedameeting

in 2018 wherelegal actionagainst

Plunket NZ was supported,saidatthe

timeachallengewas requiredover the

ownership.

''They(PlunketNZ) are undermining

the veryethos thatsupportsa

voluntaryorganisation.

''Win,lose or draw, this is areal

exampleofaruralcommunity ready to

right awrongand face down a

bureaucraticorganisation that has lost

touch with itsoriginalpurpose,and the

verypeople it is setuptoserve.''

Protest and

balloons

cause upset

Returnedservices personnel are

angry theCenotaph in Rangiorawas

usedasaplatform by asmallgroupof

protestors last week.

Rangiora RSApresident Ian

Thompsonsayshefielded manycalls

frommembers angry their''sacred''

place wasbeing used by the

protestors.

''This hasupsetRSA members, and

manyinRangiora whohave linksto

those remembered on thismemorial,''

he says.

The protestlasted aboutanhour

and half. It was unclearwhatitwas

about. The group stood on the

Cenotaph,and tiedballoonsonthe

site.

Theyleftafter aboutanhour and

half, leaving the balloonsbehind.

Theywere removed by an RSA

member.

''Werespect andacknowledge the

right of New Zealanderstoprotest

and have their voice heard,''Mr

Thompsonsays.

''Afterall thatisone of thereasons

our peopleleft ourshores to serve in

avariety of conflicts.

Our cenotaphs record thatservice

and thenames of those who gave their

lives in those conflicts.

Theyshould notbeusedbyprotest

groups to further theiragendas,'' he

says.

''Weare disappointed balloons

wereattachedtoour cenotaph,and

requestthose responsibledesist using

our cenotaph to highlighttheir

cause.''

THE GORGE NURSERY

AMBERLEYPOOL

opening day

19 march 2022

Due to the effects of COVID-19 on our sub-contractors and

supply chains, we are having to postpone the opening of the

Amberley Pool, anew date is to be advised.

We are sorry for the inconvenience, and we hope to see you

all having fun at the new facility as soon as possible.

MARCH SALE

MARCH SALE

UPTO50% OFF

EXOTICS — Canadian Maples, Oaks, Broad

Leaved Limes, Ginkgo, Liquidamber, Hornbeam,

Dogwoods and more . . .

NATIVES — Grasses, flax, Ake Ake, Hebes,

Lacebark, Ribbonwood, Broadleaf, Beech Trees,

Manuka, Pittosporum, Lancewood and more . . .

+ 10% OFF SELECTED NEW SEASON TREES

MONDAY MARCH 7TO

SUNDAY MARCH 20

Monday-Friday 9am-4pm

Saturday & Sunday 10am-4pm

479 Ashley gorge Road, Oxford

Sorry no eftpos. Please wear sturdy shoes

479 AshleyGorge Road, Oxford

Phone 0272837279 www.thegorgenursery.co.nz

2429870v3
---
Jacinda pops in for atasty lunch

By DAVID HILL

NEWS

The North Canterbury News, March 10, 2022

5

Providing ahealthy lunch is making a

difference in more ways than one at

Tuahiwi School.

When Tuahiwi School was invited to

join the Ka Ora, Ka Ako /Healthy School

Lunches programme last year, principal

Mel Taite­Pitama jumped at the

opportunity and decided to support a

local business.

Prime Minister Jacinda Ardern and Te

Tai Tonga MP Rino Tirikatene recently

joined the tamariki(children) for lunch

to celebrate the success of the

programme.

Ms Taite­Pitama says Covid­19 has

presented challenges for whanau and

making lunches for tamariki places

extra pressure, especially for those who

don't have the same resources to

provide ''a quality, healthy lunch''.

''It's ahard time for families and

sometimes tamariki don't like what's in

their lunches, so they come home from

school and it hasn't been eaten.''

Often older children are left to make

their own lunches, so they may come to

school with no lunch, she says.

Tuahiwi School also had the

opportunity to look at supporting alocal

business, in terms of the supplier.

After looking at various options, Ms

Taite­Pitama decided to support local

mum Ataahua Maia Tirikatene and her

business Lazy Lunches, which now

provides employment for three people.

The programme is funded by the

Ministry of Education, which supplies a

list of ingredients of foods with no sugar

or minimal sugar.

Different diets are catered for such as

dairy free, vegan, vegetarian and gluten

free.

It now means each day tamariki and

staff are essentially eating the same

lunch, while allowing for different

Healthy lunch ... Prime Minister Jacinda Ardern joined Tuahiwi School children for lunch

recently.

PHOTO: TUAHIWI SCHOOL

dietary requirements.

For the Prime Minister's visit, the

tamariki ate teriyaki chicken, nacho

chips and cut up oranges.

Each day the lunches are dropped off

to the classrooms at 12pm and come on

biodegradable plates, which are

collected the next day.

Any left over kai is redistributed and

uneaten food is fed to the pigs owned by

aschool whanau.

''When we first started doing it, we had

whanau who thought their tamariki

wouldn't eat lettuce or mayonnaise,'' Ms

Taite­Pitama says.

''But every kid is eating the same

thing, so there's no swapping and no kid

is going without kai, so there's now an

equity in our kura.

''And it's an encouraging thing. If a

5­year­old sees another kid eating

lettuce or trying new things they eat it

too, so they're trying things they

probably wouldn't try at home.''

The best thing is, no child is going

hungry and tamariki return to class after

lunch with afull belly and ready to

learn, Ms Taite­Pitama says.

20 % off

Resene Premium Paints,

Wood Stains,Primers,

Sealers, Wallpaper,

Decorating Accessories

and Cleaning Products

Come inand see us today at

your local Resene ColorShop!

Rangiora: 83 Victoria St,

(03) 313 7326

or shop online at shop.resene.co.nz

Discounts off the normal retail price of Resene premium paints,

wood stains, primers, sealers, wallpaper, decorating accessories

and cleaning products until 13 April 2021. Available only at

Resene owned ColorShops and participating resellers. Paint

offer also available at participating Mitre 10 MEGA and

selectedMitre 10 stores.Validonlywithcash/creditcard/EFTPOS

purchases. Not available in conjunction with account sales,

promotional vouchers/coupons or other offers. Excludes trade,

ECS,WallPrint, wall decals, Crown products and PaintWise levy.

Let'sTalk

aboutthe draft

Annual Plan

2022/23

We'reseeking your feedback on severaltopicsinthisyear'sdraft

Annual Plan.These focusoncontinuing todeliver highlevelsof

infrastructure, community facilities as well as protectingour natural

environment.

Specificallythe Council areasking forfeedback on:

• Funding required to complete the Kaiapoi Community Hub

• Kaiapoi Stormwater and Flooding Improvements

• Service Level Changes toour Road Network.

Have your say before Monday 4April 2022

waimakariri.govt.nz/letstalk
---
OPINION

6 The North Canterbury News, March 10, 2022

In the Electoratewith

MattDoocey

MP forWaimakariri

Authorised by Matt Doocey MP, Parliament Buildings, Wellington.

Covid in classrooms

Like many other parents across the

district Ihave noticed an addedlevelof

concern at the schoolgate as Covid

starts to appearinthe classroom.

This is an anxioustime for parents

and children alike,and for those with

childrenwho test positive it can be a

real struggle to balancework

commitments with a10­dayisolation

period forthe family.

Itake my hat off to all those parents

who are doing it tough juggling isolating

childrenand work, and encourage them

to take care and not be too hard on

themselves if they drop aball or two

alongthe way.

Ienjoyed hosting National's

agriculturespokesperson, andhopefully

New Zealand's first female Ministerof

Agriculture,Barbara Kuriger in the

Waimakariri last week.

It was great to be able to showcase the

amazing things being done in our rural

sector, and hear fromgroups like

Waimakariri Landcare Trustand

Federated Farmers about the fantastic

work they are undertaking to ensure our

primary industries remainworld­class.

Barbara also visited LuisettiSeeds

and heard abouttheirincredible efforts

in establishing aplant in Ashburton

despite borderclosures severely

impacting the flow of skilled engineers

into the country.

The team at Luisetti is ahugeasset to

our community and we should be proud

to have had them operating on our

doorstep for the past threegenerations.

The opening of aCovid testing centre

in Rangiora last week was agreat win

for the community and one Ihad called

on the CDHB to establishafter residents

told me they were frustrated with alack

of service northofthe Waimakariri

River.

Not onlywere some rural residents

strugglingtoget into Christchurch to

access atesting centre, business owners

were hamstrungwith alack of RATs

locally.

The feedback I've received since the

centre opened on ColdstreamRoad has

been very positive and I'm pleasedthe

CDHB acted so promptly to get local

businessesupand running and avoid

the costly exercise for peopletravelling

into the city.

Lastly it was great to visitthe team at

Tie­Upp Aviation to officially award

them with their TOITU carbon zero

certification recently.

Basedatthe Rangiora airfield, Tie­

Upp is now the first flight training

organisationinthe wold to achieve this

certification.

This is agreat resultfor ahardworkinglocal

team and Ihope others

follow suit.

Waimakariri

Focus from Dan Gordon, Mayor

Covid numbers climb

After years of pandemic uncertainty and

now the unprovoked and senseless

attack on Ukraine by Russia we can all

be forgiven for thinking much doesn't

make sense in the world at the moment.

There's asense of powerlessness as

the rest of the world sits by and watches

not wanting to provoke abroader

conflict.

Our thoughts go out to the people of

the Ukraine.

Their bravery is inspiring.

At home the effects of Covid continue

and with increasing cases of Omicron in

our community it is important that we

follow the guidelines in order to keep

safe and protected.

Iampart of the Regional Leadership

Group that meets weekly with

government officials including

Canterbury District Health Board

(CDHB), Ministry of Health and the

Department of Prime Minister and

Cabinet.

Because of this Iamable to keep our

communities voice connected at this

level and make sure the issues facing

Waimakariri are known and acted on.

Iwas very pleased to see last week the

new Covie­19 Community Testing Centre

opened in Rangiora.

We have been working for some time

to see this achieved.

Ihave personally been advocating

strongly as Iknow our community would

prefer alocal site.

We offered council facilities to

support the efforts of CDHB.

The location is council's Waimakariri

Hockey Turf, at 291 Coldstream Road

Rangiora, and is open each day 9am to

3pm.

At this point the site is offering Rapid

Antigen Test (RAT) collection only.

Ireally appreciate the efforts of

council staff who have worked hard to

turn this project around so quickly.

As we have cases in our community, we

should spare athought for all the

essential services, our Police,

Ambulance, doctors, nurses, pharmacy

staff, Fire Service, schools and all

frontline staff including our

supermarkets.

Thank you to you all for what you are

doing to keep our community supported

and safe through this time.

Just as we have before, we will get

through this with the same community

spirit we have always had.

Keep an eye out for those in need and

might require alittle support through

this time.

Afriendly hello or call to aneighbour

or friend on their own may make that

difference to them.

As always, Iwelcome contact from

anyone who needs assistance or has an

issue that you may want to discuss.

Email me at dan.gordon@wmk.govt.nz

or phone 021906437.

I'm here to help.

Lower speed limits overdue

Dear Editor,

Driving a1928 Essex Super Six at the

age of 15, Iobtained my driver's license

in November of 1955.

In spite of enjoying some tracktime in

recent years,Iwas neveraspeedster on

the public roads.Iamproud to say that I

had neverhad aspeeding ticket in 66 years

behind the wheel. You willnotice thatI

am using past tense. Istarted the new year

on adownwardtrend.

On the first day of January this year I

was clocked while travelling through

Waikuku at 78 km/h when Ishould have

been travelling at 60 km/ h.

Iwas 18 km/ over the speed limit. This

resulted in a$120 fine. Fairenough. Iwas

travelling too fast, apparently on astretch

of road that has wide open space either

side and carrying very little traffic in the

earlyhours of the morning daylight.

Yet here we are just half amile away, or

less,and we are permitted to cross the

narrow Ashley river bridgeat100 km/h.

McALPINES MITRE 10 MEGA RANGIORA -OCEAN WATCH

This

Week

Sun

Fishing

Guide

Moon

Wind

Swell

Pegasus Bay

Tide Chart

3

2

Fair

Thursday Friday Saturday Sunday Monday Tuesday Wednesday

Mar 10 Mar 11 Mar 12 Mar 13 Mar 14 Mar 15 Mar 16

Rise 7:18am

Set 7:59pm

Best

Times

6:58am

7:22pm

Ok

Rise 7:19am

Set 7:57pm

Best

Times

7:47am

8:12pm

This is with head on traffictravellingat

thesame speedeach way,with only

meterstospareoneither side. Now how

ridiculousisthat, lask you?

Crossing the SH 1Ashley River bridge at

60 km/h is more thanfast enough.This

small section of road should have been

reduced in speed many decadesago. I

shuddertothink of the resultofahead on

at current permittedspeed.

Yours, Trevor Stanley,

Amberley.

Society

Dear Editor,

What asociety we live in now days. Some

things are for better, but some thingsfor

theworse.When Iwent to school, many

moons ago, it was ''Johnny and Iwent to

thepictures''.Now that has changed to

''Me and Johnny went to the pictures''. As

youcan see the emphasis is now on ME.

Ok

Rise 7:21am

Set 7:55pm

Best

Times

8:38am

9:03pm

Ok

Rise 7:22am

Set 7:53pm

Best

Times

Rise 7:23am

Set 7:52pm

Best 10:19am

Times 10:44pm

Rise 7:24am

Set 7:50pm

Best 11:09am

Times 11:34pm

Rise 7:25am

Set 7:48pm

Rise 2:55pm

Rise 3:54pm Set 12:29am

Set 1:19am

Set 2:18am

Set 3:21am

Set 4:28am

Set 11:46pm

Rise 4:47pm

Rise 5:34pm

Rise 6:13pm

Rise 6:46pm

Rise 7:14pm

Gentle SW becoming Gentle SW becoming Gentle Sbecoming Gentle SE becoming

Gentle Sbecoming Gentle SE becoming

moderate SE

moderate SE

moderate SE

moderate E

Gentle SE

moderate SE

moderate E

E1.0 mincreasing

to 1.6 m E1.8 m E1.5 m E1.3 m E1.0 m E0.9 m E0.9 m

3 6 9 NOON 3 6 9 3 6 9 NOON 3 6 9 3 6 9 NOON 3 6 9 3 6 9 NOON 3 6 9 3 6 9 NOON 3 6 9 3 6 9 NOON 3 6 9 3 6 9 NOON 3 6 9

9:29am

9:54pm

Ok

It's aMEfirst, ME second and what is left

over is mine too. Perhaps thiswhy we have

riotsatParliament. Give ME, Give ME etc.

Yours, Corran Vincent.

Reply

Dear Editor,

In response to MWatson(NC News, March

3). Iamglad that MWatson and Iboth

agreethatthingsare getting more difficult

for Kiwis with the rising costsofliving.

Inflationisatathree decade high. With

prices rising twice as fastaswages, Kiwi

families are worse off than they were 12

months ago. Food pricerisesare the

highest in adecade, petrolhas hitalmost

$3 alitre, and rents are through the roof.

However where Idisagree is MWatson's

defence of the current government's

performance on costofliving, by framing

rising inflationasaresult of international

drivers.

Ok

Fair

Best 11:58am

Times

What is becoming increasingly clearin

NewZealand is this is beingdriven by

domesticinflation.For the last quarter of

2021domestic inflationwas higherthan

international inflation. Economists have

warned domestic inflationmay remain

elevatedeven when current overseas

disruptions ease.

The reason for our domestic inflation

hasbeen driven largely from excessive

government spending.

Almost abilliondollars has been

allocated for the ThreeWaters asset grab,

$500milliontorestructurethe entire

health caresystem in the middle of a

pandemic,and at least $15 billion for apet

public transport project in Auckland.

Iagree withindependenteconomist,

Cameron Bagrie, who saidrecently''now

is not the timefor abig spending 2022

Budget.Itwillonly add to the excess

demand and inflation''.

Yours,

Matt Doocey,

Waimakariri MP

1

0

Highs Lows Highs Lows Highs Lows Highs Lows Highs Lows Highs Lows Highs Lows

Waimakariri 11:44am 2.1 5:31am 0.8 12:06am 2.1 6:25am 0.8 12:56am 2.1 7:18am 0.8 1:47am 2.1 8:07am 0.8 2:36am 2.2 8:53am 0.8 3:22am 2.2 9:37am 0.7 4:05am 2.2 10:19am 0.7

Mouth

5:53pm 0.8 12:34pm 2.1 6:43pm 0.8 1:23pm 2.0 7:32pm 0.8 2:12pm 2.0 8:19pm 0.8 2:58pm 2.1 9:06pm 0.8 3:42pm 2.1 9:51pm 0.7 4:25pm 2.2 10:36pm 0.7

Amberley 11:44am 2.1 5:31am 0.8 12:06am 2.1 6:25am 0.8 12:56am 2.1 7:18am 0.8 1:47am 2.1 8:07am 0.8 2:36am 2.2 8:53am 0.8 3:22am 2.2 9:37am 0.7 4:05am 2.2 10:19am 0.7

Beach

5:53pm 0.8 12:34pm 2.1 6:43pm 0.8 1:23pm 2.0 7:32pm 0.8 2:12pm 2.0 8:19pm 0.8 2:58pm 2.1 9:06pm 0.8 3:42pm 2.1 9:51pm 0.7 4:25pm 2.2 10:36pm 0.7

11:53am 2.1 5:40am 0.8 12:15am 2.1 6:34am 0.8 1:05am 2.1 7:27am 0.8 1:56am 2.1 8:16am 0.8 2:45am 2.2 9:02am 0.8 3:31am 2.2 9:46am 0.7 4:14am 2.2 10:28am 0.7

Motunau

6:02pm 0.8 12:43pm 2.1 6:52pm 0.8 1:32pm 2.0 7:41pm 0.8 2:21pm 2.0 8:28pm 0.8 3:07pm 2.1 9:15pm 0.8 3:51pm 2.1 10:00pm 0.7 4:34pm 2.2 10:45pm 0.7

11:55am 2.1 5:42am 0.8 12:17am 2.1 6:36am 0.8 1:07am 2.1 7:29am 0.8 1:58am 2.1 8:18am 0.8 2:47am 2.2 9:04am 0.8 3:33am 2.2 9:48am 0.7 4:16am 2.2 10:30am 0.7

Gore Bay

6:04pm 0.8 12:45pm 2.1 6:54pm 0.8 1:34pm 2.0 7:43pm 0.8 2:23pm 2.0 8:30pm 0.8 3:09pm 2.1 9:17pm 0.8 3:53pm 2.1 10:02pm 0.7 4:36pm 2.2 10:47pm 0.7

11:59am 1.6 5:48am 0.6 12:17am 1.7 6:38am 0.6 1:06am 1.7 7:27am 0.6 1:53am 1.7 8:13am 0.6 2:39am 1.7 8:57am 0.6 3:24am 1.7 9:40am 0.6 4:07am 1.7 10:21am 0.5

Kaikoura

6:03pm 0.6 12:47pm 1.6 6:50pm 0.6 1:33pm 1.6 7:36pm 0.6 2:18pm 1.6 8:22pm 0.6 3:02pm 1.6 9:07pm 0.6 3:45pm 1.6 9:51pm 0.6 4:27pm 1.6 10:35pm 0.5

*Not for navigational purposes. Wind and swell are based on apoint off Gore Bay. Maori Fishing Guide by Bill Hohepa. www.ofu.co.nz www.tidespy.com Graphic supplied by OceanFun Publishing Ltd.

2118223
---
NEWS

North Canterbury News, March 10, 2022

7

Blessing ... Kaumatua Tahu Stirling (centre) joined with Community Wellbeing North Canterbury Trust manager Deirdre Ryan (fourth from

left), board chairperson Brian Davey (third from left) and staff to bless the new Community Wellbeing North Canterbury office in Rangiora

last week.

PHOTO:SUPPLIED

NC social agency is growing

By DAVID HILL

NorthCanterbury's social service agency

is growing.

The CommunityWellbeing North

Canterbury Trustmoved to anew

Rangiora officeat200 King Streetlast

week to meet the needs of the growing

organisation.

''It's amuch bigger premises and we had

outgrown our High Street office,'' manager

Deirdre Ryan says.

''It's areflection of our growth as we

have respondedtoour community's needs.

''We are seeing an increaseindemand

for ourservices, but that's reflected

around the country.There's lots of

differentreasons for that, but Covidis

definitely one of them.''

She saysthe trusthas grown

considerably sinceshe becamethe

manager the day before theFebruary 2011

earthquake.

In thosedays the trust met in asmall

house,but has since grown with the

equivalent of 34 full time staffand more

than 60 volunteersnow engagedbythe

agency.

Ms Ryan says Wellbeing is expanding its

reach into the Hurunuidistrict with a

dedicated familysupport worker for the

districtand two social workers working

acrossthe Hurunui and Waimakariri

districts, instead of one.

''It certainly means we can be more

flexible and havefeet on the ground in the

Hurunui.''

The agency is continuing withits

established services in both primary and

secondary schools, including the Mana

Ake kaimahi (workers)and aspecialised

youth drugand alcohol service.

Advanced driver skills

Data showsthat young drivers are more at

risk of havingaseriouscrash in the firstsix

to 12 monthsofdriving solo on their

restricted licence than at any other time in

theirlives.

This increased riskispartly due to

driving inexperience.

The risk of crashing diminisheswith

experienceand the development of

decision­makingskills to recogniserisky

situations and make safe choices.

Improvingknowledge and skills, and

increasing the abilitytomake the right

decisions when driving are some of the

benefitsgained from extratraining.

The Waimakariri District Council is

providingsubsidisedplacesona

classroom based ''Advance Your Skills–

DrivingTraining'' course for young drivers

on theirrestrictedlicence to be heldin

Rangiora in March. It is aWaka KotahiNZ

Transport Agencyapproved training

course.

There is four, two hour classroom based

group sessionsplus aone hour one­on­one

driving session for each participant to help

prepare them to sit theirfull licencetest.

Courses are offered at the Rangiora

Town HallonMarch 10, 15, 17 and 22. They

cost $95 each, instead of the usual $195 fee.

The subsidy is available to Waimakariri

district residents andthose who pay rates

in the Waimakariri district.Participates

require avaccine pass.

For more information, safedriving tips

and to register go to drive.govt.nz or nzta.

govt.nz/safety/what­waka­kotahi­is­doing/

nz­road­safety­strategy.

The Widest Music Variety

It alsooperates theKaranga Mai Early

Learning Centre in Kaiapoi, Kaiapoi

CommunitySupport and the food bank,

the volunteer drivers scheme in Kaiapoi,

restorative justice and counselling

services.

The agency alsocollaborates withother

local organisations,such as Food Secure

North Canterbury, and nationalagencies

to meet the needsofthe North Canterbury

community, Ms Ryan says.

''It's been abusy time preparing for

Omicron and moving to anew office.

Moving in apandemic probably isn't the

best time, but it seems to be whatour

world is like at the moment.

''It's areasonably sized agencynow and

we are growing and flexing as the

community's needs expand, and we are

reallyproud to do our littlebit.

''We are here and we are here to stay.''

Renew Your

Membership

by 31 st March

2022

$30 per

person,

per year

and go in

the Draw

to win one of

two 58" TV's

ADVERTISING

YOUR

BUSINESS?

1914343

Thursday,August2,2018 | Issue 808 | www.ncnews.co.nz

Delivered to more homes

in North Canterbury and

Kaikoura regions than any

other publication.

The best read paper in

North Canterbury!

For contact details see page 2

JOIN NOW TO WIN!

Drawn Friday 1 st April

Between 6and 7pm

Youmust be at the Club towin

Friday 6pm & replayed at 12pm Sunday

Tune in nowtolistenon104.9 North Canterbury

and103.7 Hanmer Springs andKaikoura

Wow! This Food is Amazing!

Delicious Snack Menu, Starters, Kids Meals, Light Meals,

Mains, Extras, Desserts

Come along and enjoy playing Housie and Quiz

113 Raven Quay, Kaiapoi | Ph: 03 327 7884

www.kaiapoiclub.co.nz | info@kaiapoiclub.co.nz

The Entertainment Hub of The North!

Bistro open Wednesday to Sunday

Lunch from 12noon | Dinner from 5pm

2457579v2
---
RangioraToyota

PASSENGER

Signature

CLASS

2007 Toyota BladeHatch

•2.4LPetrolAuto, 7-Airbags

•Camera, Alloys, Half Leather

•80,300kms

$

12,995

2017 Toyota Corolla GX

Hatch

•1.8L PetrolAuto, Camera

•Bluetooth, 7-Airbags

•Only 39,800kms

$

22,995

Signature

CLASS

2019 CorollaGXHatch

•2.0L Petrol, Auto,Camera, Bluetooth

•5-Star Safety

•Only 25,300km

$

26,995

2013Daihatsu Sirion

•1.3LPetrolAuto

•5-door,NZNew

•Only 42,936km

WAS$10,995

$ NOW 9,995

2011 Toyota Avensis

Wagon

•2.0L PetrolAuto, Alloys,

•Camera, Bluetooth

•Keyless

SUV

NOW

WAS$14,995

$

11,995

Signature

CLASS

2014 CamryGLSedan

•2.5LPetrolAuto

•Cruise Control, Bluetooth

•7Airbags

$

12,995

Signature

CLASS

2017 CorollaGLXHatch

•1.8L PetrolAuto, Alloys,

•Camera, FogLights

•Only 47,700km

$

23,995

2015Toyota Ractis

•1.3LPetrolAuto, 45,550km

•CD/AUX/USB

Connectivity

WAS$14,995

$ NOW 13,995

2010 Mitsubishi Lancer

VRX

•2.4LPetrolAuto, Alloys

•Leather

•80,750kms

WAS$11,995

$ NOW 10,995

2018 Toyota HighlanderGXL

•3.5LPetrol

•Leather 7-seater,SAT/NAV

•Camera, only29,300km

$

53,995

2018 Rav4 GXL

•2.5LPetrolAWD

•Alloys, Camera, Satnav

•Keyless,DualZone Climate

$

29,995

2018 Toyota HighlanderGX

•3.5LPetrol, 8-Speed Auto

•7-Seater,Camera, Bluetooth

•84,700km

$

43,995

2020 Toyota RaizeZ2WD

•1.0L TurboPetrol, 5-door

•Keyless,Parking Sensors

•Only 44,400km

$

36,995 33,995

2019 Toyota Rav4 GX

•2.0L PetrolAuto2WD

•Alloys, Satnav, Camera

•Only 18,250kms

COMMERCIAL

$

39,995

2014 Toyota Highlander

GXL

•3.5LV6Petrol, 7-Seater Leather

•Camera, Towbar

•Bluetooth

$

27,995

2016 Rav4 GXL

•2.5LPetrolAWD,Camera

•Keyless,Towbar,Bluetooh

•88,900km

$

31,995

2009 Toyota Wish Z

•2.0L PetrolAuto, 6-seater

•Alloys, Keyless

•88,500km

WAS$13,995

$ NOW 12,995

2019 Toyota Highlander

GXL

•3.5LPetrolAuto, Leather

•7-Seater, Satnav

•Only18,500kms

$

55,995

2021 Daihatsu Hi Jet

•Petrol, 5-Speed Manual, 4WD

•AutoTipping Deck,Due Mid-March

•Only 150kms

$

31,995

2017 LandCruiserPrado TX

•2.8L Turbo Diesel, 7-Seater, Keyless

•Camera, Leather

•Only 37,150kms

$

63,995

2016 HoldenTrailblazer

Colorado 7

•2.8L Turbo Diesel 4WD

•Leather,7-seater

•63,800km

WAS$44,995

NOW $ 41,995

2015Ford RangerXLT

•3.2LTurbo Diesel Auto, 2WD

•Alloys, Bluetooth, Tonneau

•Rear Sensors

$

29,995

2013Toyota AlphardSC

•2.4LPetrol, 7-Seater

•TwinAuto-Sliding Doors,

•,Keyless, Camera,

•Only25,250kms

WAS$32,995

NOW $ 29,995

2016 HiluxSR5 Limited

2WD

•2.8L Turbo Diesel, Leather,18"Alloys

•SportsBar

•Tonneau.

$

42,995

2018 Hilux SR5 Cruiser 2WD

•2.8L Turbo Diesel Auto

•Leather,Satnav, Alloys, Hard-Lid

•64,118km

$

49,995

2014 HiluxExtraCab 4WD

•3.0L TurboDiesel Manual

•Alloys, Nudge Bar

•Bluetooth

$

31,995

2011 HiluxSR5 4WD

•3.0L TurboDiesel Auto,

•Bluetooth, USBConnect

•Flatdeck, Cruise Control

Percival Street,Rangiora • Ph (03) 313-8186 any time • www.rangiora.toyota.co.nz

Signature

CLASS

$

29,995

2455197

FINANCE &INSURANCE AVAILABLE
---
Wine region prepares for harvest

By SHELLEY TOPP

NorthCanterbury winemakers have

celebrated the start of the grape harvest

in whatthey say is the ''toughest season

ever''.

The region is now preparing for a

challenging harvest with Omicrononits

doorstep.

"Our grapes won'twait for Covid, so we

are doingeverything we can to protect

ourselves and ensure we can remain

operational," North Canterbury

Winegrowers Association chairman and

GreystoneWines viticulturist,Mike

Saunders says.

However, while it has beenone of the

toughest seasons Mike has worked in,

''thefruit is looking superb'', he says,

despite amixedbag of rain and lack of

sunlight.

This has meant working smarterinthe

vineyard by ''doingall we can to protect

the vines throughout the season'',

including opening up the leafcanopyto

allowthe air to get in to dry out the vines.

The startofharvestwas celebrated on

February 25, under strict Covid­19

protection protocols, with Hurunui

MayorMarie Black pickingthe first

grapes at Greystone's vineyard.

Mrs Black said the combination of

challenging weather and working in a

Covidenvironment this seasonplaced

additional pressureonlocal vineyards.

''TheNorthCanterbury WineRegion is

acrucialpart of our district's fabric, and

Ican onlyimagine all the hours and hard

work that has gone in to getting to this

point.''

Mr Saunders said winegrowers were

lucky to have critical worker status.

''Wehave to be exemplary,and thatis

whatweintend to be.''

Teams are beingsplit into two distinct

bubbles''so we can carry on as best we

can in case ateam member has to

Harvest time ... Greystone Wines viticulturist Mike Saunders, and Hurunui Mayor Marie

Black discuss the wine harvest season.

PHOTO: SUPPLIED

isolate''.

''It is nothing new to us though, as we

had to operate like this duringthe first

lockdown at the start of the pandemic.''

Some new safetymeasures have also

been adopted this season including

having two teamsofpickers which willbe

distanced acrossrows.

''For the vineyard team,individuals

will be assigned atractor, with nobody

workinginanything but the tractor

assigned to them.''

''Thenets are now on the vines, and I

can'twait to dive into abusy harvest,''

Mike said.

''This is what we work towards each

year,sobring it on.''

NorthCanterbury is New Zealand's

fourth largest wine region, with nearly

1400 hectares plantedinvines.

Around 600 people are employed in the

region's 71 wineries.

NEWS

The North Canterbury News, March 10, 2022

9

Dog owners

flaut bylaw

Waimakariri dog owners are

continuing to exercise their dogs

alongside moving vehicles,indefiance

of acouncil bylaw.

The practice is prevalent in the

Ashley­Rakahuri Regional Park where

threedog owners wereseen exercising

five dogs off­leadalongside moving

vehicles in the park one afternoon late

last month.

Although all three dog ownerswere

told by other park visitors that

exercising dogs this way contravened

Waimakariri District Council bylaw,

they were all adamant that was not

correct, withone adding: ''Sowhat if it

does. Iamnot hurtinganyone'''

However, section 7.12 of the

Waimakariri District CouncilDog

Control Bylaw2019 says: ''No person

shallexercise theirdog(s),inapublic

place, from amoving vehicle.''

Anyone caughtdoing so faces a$300

fine under the Dog ControlAct.

The council passedthe bylawin

2019 after reviewing customer services

requests followingaserious incident

whichoccurred earlier that yearwhen

aLoburn woman and her young dog

wereattacked by apack of

uncontrolled dogs beingexercised

alongside their owner's moving

vehicle.

Council's planning and regulation

manager TracyTierney, says it must

havebeen ''quite concerning'' for the

parkvisitors to have encountered five

dogsbeing exercisedthis way.

''However, we do find that overall

mostdog owners in the district are

veryresponsible and if something

happens (they)work withus

proactively to address (the issue).''

Soon Ican

shop wi h

my pj'son

Onineshopping

coming soon to

Ravenswood
---
NEWS

10 The North Canterbury News, March 10, 2022

Pandemic begins to stifle economy -ENC

ADAM BURNS,

LOCAL DEMOCRACY REPORTER

Latesteconomic figures for the

Waimakariridistrict are in stark

contrast to the realities of the Omicron

outbreak for local businesses.

This is the assessmentbyregional

economic agency Enterprise North

Canterbury who believes businesses

were feeling the stingover the first

three monthsofthe year, and the

numbers wereset to confirm this.

The Waimakariri's December 2021

economic quarterly report,released a

fortnight ago, highlights''abnormally''

high growthinthe district last year

compared to national trends.

A9.7 per cent riseinthe district's

GDP was up on nationwide figures

which sat at 5.5 percent.

Employment of Waimakariri

residents was also up by 2.7 percent

over the year to December 2021,

compared to 1.1 percentrecorded in

Christchurch,

''There are ample signsofconfidence

in the Waimakaririeconomy,'' the

reportsays.

''Waimakariri's growing population

and employment has kept localtills

ringing.''

Enterprise North Canterbury

business support manager Miles Dalton

says alot has changed since then, as the

effects of the pandemic begin to stifle

the local economy.

''On the surface, this report paints a

very rosypictureofour districtwith all

indicators pointing in the right

direction,'' he says.

''However, whatweare hearing and

seeing on the groundover the first two

months of 2022 is very different.

Less foottraffic for retail and

hospitality businesses, supply issues for

trades and services,and staff shortages

across the board are someofthe

challengesfacing North Canterbury

businessesasOmicron makes its

presence felt.''

On February 21, the Government

announced furthertargeted support for

businessesstruggling in the red light

setting, alongside an interest­free

extension to small business loans, and

flexibility on tax paymentdates. Mr

Dalton hopes the latest subsidy

announcement will alleviatechallenges

enough to get local traders through the

next few months.

''It's hard to predict whatthe next few

months will hold, locally and nationally,

but the next[quarterlyreport] will

likely tell avery differentstorytothis

latest one.''

The Canterbury Employers' Chamber

of Commerce, in responsetothe

targeted financial support

announcement, pointedout financial

supportwould help mitigate financial

pressure, but not workforce supply.

Chief executive LeeAnn Watson says

the most ''meaningful impact'' would be

areductioninself­isolation periodsand

widespread availability of rapid

antigentesting (RATs). Free RATswere

made available online last week to test

Covid­19 household contacts or

symptomatic people.

CONTENT MARKETING

Helping the kids buy their first home

THE AVERAGEaskingprice in

all regionsacrossthe countryhas

reachedrecordheights, making it a

toughand competitivelandscape for

first home buyers,who will nowneed

adepositof$187,000for thenational

average asking price andawhopping

$250,00for theAucklandaverage

askingprice.

So,whatcan youdoto

helpyourkidsfinancetheir future?

Howitusually works

The most common case of parents

steppinginiswhere thekidshave10

percentor15percentofadeposit

savedand Mumand Dadare topping

that up to getthemto20per cent.

There areseveralwaysyou cango

aboutleveraging theequityinyour

ownassetstoprovide theshortfall the

kids need.

Agood number of young

savers have been adding more

to their KiwiSaverfundthis

year,soit'saccruedverywelland is a

greatstartingpoint foradeposit.

Knowwhat you're letting

yourselfinfor

If youare well resourced, youas

parentscan provideaguaranteeon

thewhole loan,but this is abig step,

andunusual,asmostofyou will want

your children to be responsiblefor the

mortgage.

Be clearabout theresponsibilityyou

arepreparedtoshoulder,and bear in

mindthe children stillhavetoprove

they canservice theloan, andwith

increasinglystringentlending criteria,

without agood deposit,securing

finance couldbetricky.

Remember,itcan just be atemporary

solution to help them getahead

startwithafootonthe propertyladder,whichisbecomingincreasingly

difficult withoutparentalhelp.

Thiscan be atemporary

arrangement, with them repaying

themoney when they sell thehouse,

ensuring they leaveyou with adecent

retirement nest

egg.

Put everything in writing

Document everything youagree on

to avoidgetting in atangle,including

what happenstothe moneyifyour

childand their partnerbreak up.

If it is goingtobeagift

of moneywithnostrings

attached,viewedasanearly inheritance,thenmakethisclear

to the

childand therestofthe family.

Do youexpect themoney to be

repaid?Ifso, consider having thelegal

document stateitdoesnot have to be

repaid until thepropertyissold–it

doesn't bear interest,itcomes behind

themortgage.

•Visit Trade Me Property,

NZ's #1 Property site with

anotherhomeaddedevery

threeminutes.
---
ONLINE

VETSTORE

WO DEND

CATTERY

Enhancing Lives Together

RANGIORA • KAIAPOI • WOODEND

Animal

Dermatology

Canterbury

EMERGENCY

VET HOSPITAL

Enhancing Lives Together

www.rangioravetcentre.co.nz

Locally owned and operated for more than 50years

WINNER 2021 MAINPOWER SUPREME BUSINESS AWARD &Professional Services Award
---
Let us help you

manage the cost

of preventative health care

Ask one of our friendly team if an

ANNUAL CARE PLAN

is right for you and your pet

JUNIOR

From $8.65/week

Save up to $124

ADULT

From $8.65/week

Save up to $171

SENIOR

From $11.44/week

Save up to $182

Costs advertised as at 3 March 2022

Enhancing Lives Together

www.rangioravetcentre.co.nz

Locally owned and operated for more than 50years

WINNER 2021 MAINPOWER SUPREME BUSINESS AWARD &Professional Services Award
---
RANGIORA

100% LOCALLY

OWNED &OPERATED.

RANGIORA
---
RANGIORA

STYLISH

OUTDOOR

FURNITURE?

SORTED.

24

MONTHS

INTEREST FREE

on purchases$799 &over

FINANCE OPTIONS

AVAILABLE

20% deposit

Paycash price only

No booking or insurancecharge

or 12 MONTHS INTEREST FREE on purchases $299 -$798

Terms,Conditions &Credit Criteria apply
---
UNIQUE

WATER

FEATURES?

SORTED.

100% LOCALLY

OWNED &OPERATED.

RANGIORA
---
BUILDING &RENOVATING

14 The North Canterbury News, March 10, 2022

PAINTERS

RegTradesman • Interior,exterior.

North Canterbury Painters

specialising in decorating for

over 65.

Discounts

for Seniors

Free quotes.

Covering North Canty,Oxford,

Kaiapoi, Rangiora, Amberley.

Ph Rob 03327 7899

or 027 432 3520

2423683

Allan Pethig

For all your

electrical needs.

Residential &Commercial

Phone 03 313 7144

027 432 1534

Fax 03313 2144

rgrantelectrical@gmail.com

PO Box 69, Rangiora

www.rgrantelectrical.co.nz

2456360

New homes options in Kaikoura

By DAVID HILL

Kaikoura has plenty of options for those

seeking to build anew home.

Anew Vicarage Views residential

development is in the pipeline for the

seven hectare former North Canterbury

Transport Infrastructure Recovery

alliance yard to the north of the town.

The new development will

complement the existing Seaview

Kaikoura and OceanRidge

developments.

Vicarage Viewsdirector Garry

Robertson says he aims to create a

vibrant communitywith up to 90 sites

available for amixture of affordable

housing, holiday homes and housing for

the elderly.

He hopes the firstsections will be

available in 18 months.

''We've been working closelywith the

Kaikoura DistrictCouncilsowecan get

areally good, balanced sub­divisionand

outcome that willgoalong way to help

the town.''

Kaikoura lacks the populationto

support aretirement home, but Mr

Robertson hopes this development will

help fill that gap.

Mr Robertson is also soledirector of

Cargill StationLtd, the owner of Ocean

Ridge,a130 hectare development

located to south of Kaikouraand just

five minutesdrivefrom the towncentre.

When he first purchased the

established Ocean Ridge development,

Mr Robertson took the unusual stepof

purposely removing it fromthe market

for threeyears whilehegot afeel for the

market, and the council's and the

community's needs.

Over the last six months, he has begun

to makesites available ''to the right

people''.

Ocean Ridgehas the potential for up

Queenstown by the sea ... The Ocean Ridge sub­division is set amidst the stunning

Kaikoura landscape.

PHOTO: SUPPLIED

AARON HARRIS

ELECTRICAL LTD

ARE YOUTHINKING ABOUT SOLARPOWER?

We are installing Solar PV from prices as lowas$6000 +GST

Reduceyour carbon footprint

Save moneyonyour powerbill

Invest in your property

Lifestyle choices ... Ocean Ridge caters to different lifestyles.

to 500 sites, with 120 developed to date,

with amix of commercial sites, tourism

owned and residentialsites for families

and ''active retirees''.

''We provide agood lifestyle and

environment. It'sopen, it's clean and

very sustainable,wehave beautiful

views and are linked to 40kmoftracks

throughoutthe district including our

own substantial network of tracks.''

Mr Robertson says his first preference

is to support locals, whether

tradespeople or thoselooking to buy a

section.

He also actively assistsand supports

youngpeople and readily encourages

new peopletothe town who want to

buildahome,asdoes the local council.

''We really encourage people who are

passionate about building and growing

the town.

''There'splenty of room for anyone

who wantstoget aheadand particularly

professional youngpeople and Iwill

help them on the road to owningtheir

own home in either development,

tailored to suit their needs and

aspirations.''

Matthews Roofing Limited

Specialists inLongrun

Coloursteel Roofing and

Guttering Systems

We supply and install long run metal roofing,

fascia and spouting.

Quality, affordable

houseplants &everything

needed to help them thrive

ContactAaron forano obligation

chat about your needs

&the suitabilityofyour home

M: 027 554 3958

E: aaron@ahel.co.nz

2463294

Indoor plants, pots

and accessories.

3/137 Williams Street,

Kaiapoi

Mon -Wed &Fri 10am –5pm,

Thurs10amto7pm

Sat 10am to 4pm, Sun 10am to 3pm

brooke@bloomscape.co.nz

www.bloomscape.co.nz

2429862v1

PO Box 54, Kaiapoi

Mobile:027 2458140

Email: J_amatthews@xtra.co.nz
---
BUILDING &RENOVATING

North Canterbury News, March 10, 2022

15

New Builds |Renovations |Maintenance

Back flowprevention &testing

Phone 021 261 8678

josh@cottleplumbing.co.nz |facebook.com/cottleplumbing

www.cottleplumbing.co.nz

2430005v1

New home ... The Seaview Kaikoura sub­division is walking distance from the town centre.

PHOTOS: ANDREW SPENCER PHOTOGRAPHY

Town'sexpansion continues

HOUSE

WASHING

Experts!

BEFORE

By DAVID HILL

Kaikoura's slow expansion is continuing,

despite the challenges of Covid­19.

The town'stwo mainresidentialsubdivisionshave

survived avariable property

market and the 2016 earthquakeand areset

to expand,despitethe challenges of Covid­

19.

Seaview Kaikoura was established in

2007,withplansfor 153sections overthree

stages,whilethe much larger Ocean Ridge

development was established soonafter.

Seaview Kaikoura director Richard

Cretney saysstages oneand two havesold

out and construction of stage three is set to

get under way later this year.

''We had hoped to get away in March,but

we had to go for variation in the consent,

whichwe'venow got, so we will get back

into it in the spring.''

Seaview Kaikoura plans to engage local

tradespeople in theconstruction of 53 new

sections, whichare between 800 and 900

square metres, while the local Kaikoura

Harcourtsoffice is the agent for property

sales.

''There's been quite abit of interest,so

let'shope that continues. We've pre­sold

two sectionsalready,'' Mr Cretney says.

''A few people havebeen waiting for

more sections to come on the market, so

hopefully we will pick up afew local people

in stagethree.''

The bulk of the buyersinthe first two

stages were locals,including amix of

retiredfarmers movinginto town, other

Ocean views ... The Seaview Kaikoura sub­division has stunning coastal views.

localretirees and localfamilies working in

the town.

Therewas also asmall percentageof''out

of towners'',including those buyingholiday

homes.

Seaview Kaikoura is located in Hastings

Street, opposite the Kaikourahospital,

whichis10minutes walk from the town

centre and the sections haveviewsofSouth

Bay and the racecourse, Mr Cretneysays.

2310682

AFTER

Services Include:

• House washing

• Roof Washing

• Moss and Mould Removal

• Driveway &Concrete

Cleaning

• Deck &Fence Cleaning

• Gutter Cleaning

• Spider proofing

FreeQuotes

0800101216

washrite.co.nz

A-GR8-SPARKYLTD

"Too Blessed to be

Stressed"

2464654

• All electrical work

• Commercial buildings

• Residential

• Fault finding and Test &tag

• Heat pump installations

• TV comms /Data

Daniel Parkin

P 03 314 3706 |022 642 7078

Dirk Potgieter

P 03 960 3798 |022 658 3344

E quicksill@gmail.com

W agr8sparky.co.nz

2130 Omihi Road, Greta Valley, 7483
---
BUILDING &RENOVATING

16 The North Canterbury News, March 10, 2022

STOP LEAVES

birds, snow, hail &vermin

from blocking up your spouting

Quality materials: BHP Colorbond steel mesh with unique patented

louvre which will even keep out pine needles. Will not rust or sag with

age or load. 10 year warranty,range of colours.

Proven in Australia &New Zealand over the last 15 years

FOR SAFE, PURE DRINKING WATER

FROM YOUR ROOF.

NOW AVAILABLE: STAINLESS STEEL MICRO MESH

Call Rohan anytime Mon-Sat for

ano-obligation assessment &quote

0800 486532 03 982 8850 www.gumleaf.co.nz

NEW SHOWROOM

OPENING SOON

Contact us

for afree

consultation

for Curtains,

Romans,

Rollers

and more.

Phone Maureen 03 327 4919

Mauds Soft Furnishings

"Exclusive"

88 Williams Street,

Kaiapoi

(up long driveway)

www.mauds.co.nz

Pellet and Wood Fire Specialists

2426573v4

Design your dream bathroom

Set your sightshigh with astylish bathroom

that feels fabulous.

Your bathroom is an essential partofthe

home,but you don't need to sacrifice

fashion for function.

No matterifyou are renovating or

startingfrom scratch, your bathroomcan

become much more than autilitarian

space.

Beginbytaking accurate measurements

of your space, then transfer those to graph

paper­a1:50 scale is useful, so 2cm

represents100cm.

Make several copies of your basicfloor

plan so you can starttosketchdifferent

layouts.

Another way is to cut out basic shapesto

represent items such as the shower, bath

and vanity.

Move them aroundtosee how different

layouts change the lookofthe room.

Don'tforget to notewherewindowsand

doorsare on your plan.

The key for bathroomsisstorage, so take

alook at yourexistingbathroom and think

abouthow muchstorageyou really need

and whether it is being utilised.

If your cupboardunder the sink is half

empty, but awall cabinet is bursting,that

suggests storageatamore accessible height

will be more useful to you.

Cabinets attached to the wall instead of

the floor can give asense of space, and

make cleaning floorseasier.

Thinkabout surfaces. Do you likemore

natural looks such as earthytiles and wood,

or are you moreinterested in sleek white

marble and reflective enamel?

Ravelli ULEB Wood Pellet Fires

472 Blenheim Road

Sockburn

Phone: 03 343 1651

Open 8:30am -5pm

Sat 10am -3pm

www.heatstore.co.nz

Stamp your mark ... Create your dream bathroom.

Think carefully about fittings and follow

auniversal style.

If your tap is angular, maintainthis look

for handlesand rails.

Be practical. Abeautiful­looking tap that

you cannoteasily grasp will become

frustrating after some time.

Whenvisitingyour local bathroom

supplier,take yourfloor plan anda

measuring tapewith you.

Ask lotsofquestions of your localinterior

PHOTO: FILE

design consultant, and do not be afraidto

press for moredetails.

Abeautiful­lookingvanity in alarge

showroomcan look magnificent,but in your

own bathroomitcould look oversizedand

out of proportion.

For older homes consider refurbished

elements,such as aclaw­footbath or

wooden wall shelving.

But remember to considerhow waterwill

affect materialsover time.

Tips for moving your house

When you are moving ahouse, whether

it is anew or older one, there are many

considerations. If you'rethinkingof

relocating ahouse, here'swhat you

needtoknowabout the process.

The costofbuying an oldhouse for

removal canrange from afew thousand

dollars for atwo room bach to more

than$100,000 for alarge home.

The housemoving company will

generally be responsible forthe

moving permits, that is, the costsof

moving the house over public roads.

The homeowner is often responsible

for buildingand resourceconsents,

Talkitover with your mover.

The costofplacing the house on the

new site, thefoundations,connections

to services, repairs, alterations and

renovations will be alargepartofyour

total budget.

Talk withthe removal company and

consider thefollowing:

What is needed to getthe house off

the existingsection­trees andother

structures may have to be removed.

If you haven't alreadydoneso, have

the building structurallyassessed

before it is moved to ensureitcan be

safely transported.

An over­dimension permit will be

neededtomovethe house by road.

These are issued by theWaka Kotahi

NZ TransportAgency (NZTA).

The permit will normally be taken

careofbythe building removal

company,but make sure this hasbeen

done. Formore information,contact

theNZTA or visit its website.

Some of theissues associated with

older houses that will come up when

they are to be transported include:

The bearers are often undersized

andinconsistent forfloor layout,

usually because older homes have had

many alterations done over theyears

without any attention giventothe

bearers.

Brick claddingswill have to be

removed for relocationand new

claddings installed. Thisisan

opportunity to install insulation.

Foundations don't always match up

with what'sonthe plan.

Plumbing and wiringwill often

require replacement.

When you relocate ahouse, thereare

building consents to apply for

including uplifting and re­establishing

it elsewhere.

It's important to talk to the council

before you start, and askfor details of

its applicationrequirements.

It is besttoapply for the building and

resourceconsentsatthe same timeso

that building and environmental

factors can be consideredtogether.

If the place of origin and the new site

areindifferent council areas, you may

need to apply to more than one

building consentauthority.

Acodecompliance certificate must

be issued for each building consent

afterthe council does the final

inspection andissatisfied withthe

work.

FLOOD PROTECTION BARRIERS

FLOOD RESPONSE SERVICE

CIVIL WORKS WATER CONTROL

Kaiapoi Mill, 35 Ranfurly St, Kaiapoi

0800 FLOODING | hydroresponse.com

2464313

Freight Free for purchases over $100.00

AUTHORISED NZ STOCKISTS OF LEADING POWER TOOL BRANDS

Amberley

59 Carters Road

Ph 03 314 7007

amberley@thetoolshed.co.nz

www.thetoolshed.co.nz

2241178
---
LOUNGE

Sale Blitz

WWW.AFFORDABLEFURNITURE.NZ

Sale Blitz

CHRISTCHURCH'SMOSTAFFORDABLE

NZ MADE LOUNGE SUITES

Sale Blitz

Luna Corner Suite

READYTOGO!

WAS $1749

$

1499

Austin

3+2Lounge Suite

WAS $1899

$

1649

Sale Blitz

Sale Blitz

WAS $1899

$ WAS $3899

1699

$

3249

Havana 3+2

Brixton Electric Corner

Sale Blitz

Valley Corner Lounge Suite

Sale Blitz

Sale Blitz

Alani Recliner Suite -Three Seater

Recliner +Recliner +Recliner -Hay

WAS $2869

$

2499 $

WAS $3079

1499

$

2699

Available in Raisin and blue

WAS $1799

Madison ThreeSeater

Also available in 3seater

FREE

CARPARKING

SOUTHCITY

BATH ST

WE ARE

HERE

255MOORHOUSE AVE

REBEL SPORT

COLOMBOST

MON-FRI 9:30AM–5:30PM

SAT-SUN10AM–5:30PM

0800 268 264
---
Your localprofessionals

Experience and creativity at Create Design

Finding acreative agency can be alittle

daunting.

But Rangiora's Create Design Studio

can help.

It has been helping local businesses

for over 20 years, offering aone stop

shop of creativity.

If you need ahand with your branding,

printing, promotion, website creation,

or the whole shebang, Create Design

Studio is there to help ...but it is not

just design the Agency cares about.

It also cares about you and your

business goals, be it large or small, they

are keen to be part of your team.

Developing abrand that stands the

test of time is not something that you

should contemplate lightly, and when

done right it can take your business to

places you have only dreamed about, the

team at Create Design Studio says.

Create Design Studio is afull­service

Creative Agency that works with you to

curate your brand strategy, build your

website, take care of your printing needs

and always be there to give any help

required along your business journey.

The team has your business

promotion covered by combining your

passion and the winning combo of

brand, web and print services.

We can be your perfect partner.

Our background of knowledge and

expertise is varied, and we have made

sure of this this creates an atmosphere

of true creativity, diversity of thought

and superb creative combos. Create

Design Studio gets akick out of seeing

local kiwi businesses doing well.

Whether you are anew business startup

or alegacy business that has stood

the test of time, here at Create Design

Studio we will always take the time to

understand you, your goals and your

customers.

If you are looking to rebrand, the team

at Create Design Studio are up for the

challenge.

Our process consists of more than logo

alterations. Arebrand calls for an

evaluation of the organisation from a

strategic perspective.

It requires looking at the business

goals, aspirations and the people who

use the brand in detail.

The findings from this research define

the adjustments that need to be made to

the existing brand and achieve the

desired goal.

If you feel it's time to review and

assess your branding, to make sure you

achieve your business goals the team at

Create Design Studio are at the ready!

Brain storming ... Create Design Studio

employees Jennifer Stone (left) and

Ashleigh Connelly, brainstorm aclient

project.

PHOTO: SUPPLIED

r

e

.

p

e

.

a

Looking for some

creative friends to help

with your branding?

We know finding aCreative Agency can bea

little daunting...but dont worry, wehave been

helping people just like you for over 20 years.

We would love to work with you.

29 High St, Rangiora

studio.rangiora@printing.com | 03313 7774

createdesignstudio.co.nz

DESIGN WEB PRINT

03 314 7640 info@sasl.co.nz

5Beach Rd, Amberley

"

Shore

Accounting have given us excellent

accounting service over the years. Both

Ben and Tsarina are veryapproachable and provide

us with useful financial information in atimely

manner.Iamhappy to supportanaccounting firm

that is not only verygood at what they do, but also

employs local people.

Ross Carter,

Hanmer Adventure Centre

Contact Ben Shore or Tsarina Dellow

for afree consultation on your tax

and accounting needs.

Love Your Hearing, North Canterbury

Vera Setz:

(03) 423 3158

Clinics in Rangiora,

Amberley, Cheviot,

Hanmer Springs

2454089v2

Providing helicopter services

to the North Canterburyand

Marlborough region.

• Spraying

• Lifting

• Fertiliser-liquid &solid • Frost control

• GPS proof of placement • Pest control

• Fire

• Mustering

25 years experience

Call for afree farmvisit, advice and

non obligation quote.

Brent Harkerss - 027 435 1243

JamesPinfold - 021 656 770

info@glencree.co.nz

2220 State Highway1

Kaikoura

2456056

2302329

WELCOMING

NEW PATIENTS

The caring and professional

health care team for you

and your family

237 High Street

Rangiora

Ph: 313 7877

Charlotte Watson

Audiologust

MNZAS

Vera Setz

Audiologist

MNZAS

Alison Highman

Ear Nurse

RN

We're your

local hearing and

ear health experts!

Ear Care:

020 4124 2525

Clinics in Rangiora,

Amberley, Kaiapoi

NORTH CANTERBURY

03 311 8008

email@helmores-law.co.nz

www.helmores-law.co.nz

2373179v2

2453203
---
Your local professionals

Call Prosser Quirke Accountants

Chartered Accountants &Business Advisors

2299722v3

Uncertainty is the new way in business

It would seem afterliving with the

reality of what is Covid 19, uncertainty is

abouttheonly consistent messagewe

can get.

Eventhough NewZealand has been

somewhat sheltered fromits full impact

as far as adeath rateisconcerned,

locking ourselvesdownand shutting

ourselvesoff fromthe rest of the world

has certainly putusinaprecarious

position.

It is and always hasbeenunrealisticto

thinkthat we could keepCovidorsome

variant fromenteringour borderat

somestage.

By being one of the last to acceptthat,

we putourselves and our economy

under immense pressure.

As aresult, we areseeing someentire

industries brought to theirknees, with

manybusinessesinthe hospitality and

tourism industries closing or limping

along, in many caseswith little chance

of full recoveryinthe foreseeable

future.

We in North Canterburyare verylucky

we are notheavily reliant on these

industries.

In somecases,quitethe opposite,

havingpeople nottravelling has been

greatfor someofour local businesses.

That, andthe connectionour

community has withthe rural sector,

means thatIbelievewecan have alittle

morepositiveviewofthe nearfuture

thancan be afforded by many other

WORK SMARTER

NOT HARDER

6Blake Street, Rangiora, New Zealand

ph. 03 313 7824

email. team@prosser-quirke.co.nz

Smart Plans

Architectural Design

www.smartplans.co.nz

www.smartplans.co.nz

021738853

03 314 9227

Facebook.com/smart.plans

LBP & ADNZ

admin@smartplans.co.nz

2441004

❛It is and always has been

unrealistic to think that we

could keep Covid or some

variant from entering our

border at some stage. ❜

—Geoff White

parts of thecountry.

Onlytimewill tell whateffect the

current outbreak and spread of the

Omicron variantofCovid­19willreally

have on ourcommunities and

economiesand thatuncertaintyjust

must be livedwith.

But there is one uncertainty thatcan

be controlled,that is thatmanypeople

andbusinessesinour communityare

going to need more support than ever.

Soanywhereyou can,please support

local businesses,you never know you

could be thedifference theyneed in the

longrun.

Taxing time ... Geoff White is busy getting

those annual returns completed ahead of

the March 31 deadline.

PHOTO: SUPPLIED

ENROLLING NOW

20 HOURS FREE ECE

Pre-school and nursery 0-6 years

Excellent child/staff ratios

Exciting and caring environment

Hours 7.00am-6.00pm

Welcome Special for new enrolments,

where the first 4weeks are FREE

48 Church Street, Rangiora

Phone (03) 313 5675

www.firstlearners.co.nz

Experienced

Podiatrist;

It's our birthday

AND we're going

to shout you!

We have asuper special deal tocelebrate

2years ofbusiness inour community

ContactUStofindout howmuchyou cANsave

0508 call lime | limerealestate.co.nz Lime Real Estate Ltd Licensed REA 2008 |T's &C's apply

2458397

Now with more availability

022 1726 049

www.northcanterburypodiatry.co.nz

I'd love to

help you with

your home

buying

journey.

Get in touch

to start the

conversation.

Graeme Soper

your local lending specialist

PH: 0800 888 485

email: graeme@mariathackwell.co.nz

for the

feeling

Physicaland Mental Health

•Customised

Programmes

•Experienced

Trainers

•Rehab

Expertise

•Physio Onsite

•BodyScans

Available

101 WilliamsSt

Ph 327 7250

8High St

Ph 313 0909

2456952v2

2457245v1
---
STOREWIDE

STOCKTAKE

SALE

HEAPSof HOTDEALS!

Every single piece of furniture is on sale! Ends 21.03.22

ALL LOUNGE, DINING, BEDROOM, OUTDOOR ONSALE!

SCANQRTOSHOP

Riva 3Seater Electronic Recliner

WAS $

2699

NOW

$

1999

Montaro 6 Piece Outdoor

Lounge/Low Dining Set

WAS $ 3749

NOW

$

2498

Riva Electronic Recliner

WAS $

1299 NOW

$

899

ATLANTIC BEDROOM

ON SALE

Queen Bed

NOW $

749

Antoni 7 Piece Outdoor Dining

Set –W160

WAS $

1599

NOW

$

1069

Capri Outdoor

3 Seater

WAS $ 1999

NOW

$

1499

Bedside

NOW $

300

Kombi Single/Single

Bunk Bed

WAS $

1399

NOW

$

1099

Keter Go Bar

NOW $

97

Sono Queen

Boxed Mattress

WAS $

599

NOW

$

499

Eames

Barstool

WAS $ 129

NOW

$

99

Scantofindstore

250 Moorhouse Ave, Christchurch

0800 TARGET (0800 827438)

targetfurniture.co.nz

Offers and product prices advertised here expire

21/03/22. Sale Excludes Accessories.
---
Celebrations as new learning space opens

By DAVID HILL

HurunuiCollege's junior pupils were

''bouncing offthe walls'' last week as they

moved intotheirnew classrooms.

PrincipalStephenBeck says theschool's

Year 1to3staff andpupils wereexcited to

move intoabrand new classroom block,

''WhareTuhura'',after ablessing from

Ngai Tuahuriri representativeson

Tuesday morninglast week.

''It's been alongtime coming.They're

(the children) over themoon.Theywere as

excitingasanything andbouncing offthe

walls.

''It's great to seethemgettinginand

getting on withtheir learning. They've

settled reallyquickly.''

The$2millionWhare Tuhuracontains

threeteaching spaces, asmall technology

teachingspace, someofficespace and

break­out rooms.

It replaces four prefabricated buildings

whichare thought to date backtothe

1970s.

''Theprefabs have been in the schoolfor

toolong anddidn'tmeet therequirements

of modernteaching,''MrBecksays.

Thebuild wasmadepossiblewhenthe

MinistryofEducationagreed to chipin

some extrafundstoextend theschool's

10­yearpropertybudget,after aperiod of

negotiation.

WhareTuhura ''means house of

discovery''and'' is reflective of the

HurunuiCollege junior primarylearning

community andwhatwehopeour students

experienceduringtheir early journey

through thestartoftheireducationatour

Kura'', Mr Becksays.

''Thenamesofthe classroomshave been

drawn fromthe stars of Matariki and

brings theknowledge around the

constellation andits significance to

Jubilation ... Hurunui College Year 1to3

pupils are excited to be in their new

classroom.

PHOTO:SUPPLIED

Maoridom central to who we are as a

school.''

Mr Beck saysthere is still some

landscapingtodooutsideand he is hoping

to have amorepublicopeningfor Whare

Tuhura in term two, depending on Covid­

19 restrictions.

Theoutside space includesthe

preservation of the school'stotara tree,

whichthat now sitscentral to thenew

building.The outside learning space

capturesthe cultural narrative of the

school, linking the Lake Sumner /

Hokakura areawiththe Hurunui River

and''our prominent maungaTeKoa'',Mr

Beck says.

He says the schoolhas settledinto the

newschoolyearwell, with no issues

aroundmask wearing.

NEWS

The North Canterbury News, March 10, 2022

The Widest

Music

Variety

21

Friday 6pm &

replayed at 12pm

Sunday

Tune in nowtolisten on

104.9 for North Canterbury

103.7 for Hanmer Springs

andKaikoura

Head students ... Hurunui College's head students for 2022 are Ebony Varnam (left,

wellbeing leader), Katie Gunn (cultural leader) and Tahlia Beck (sports leader).

PHOTO: SUPPLIED

SUBSCRIBE WITH THIS SUPER DEAL

+BEINTOWIN ONE OF15SUPER RUGBY JERSEYS THANKS TO ADIDAS

GET SIX

ISSUES FOR

$39

SAVE 41% +

CHANCE TO

WIN FOR NEW

AND RENEWING

SUBSCRIBERS!*

Subscribe for six

issues or more for

your chance to WIN

one of 15 Super

Rugby Pacific jerseys

thanks toAdidas.

rugbynews.co.nz | 0800 777710

*Chance to win valid for NZ addresses only and runs between February 14 – April 6, 2022 for subscription periods sixissues or higher,

for both new and renewing subscribers. s + Percentage discount is based off of total number of issues received at retail price of $10.99.
---
2462738

Farm Accounting

Business Advisory

Taxation

T: 03 313 6534

E: enquiries@abacusca.co.nz

220 King St, Rangiora

www.abacusca.co.nz

• Annual Accounts

• Bookkeeping

• GST/PAYE /PAYE/FBT/FBT

Returns

• TaxReturns/Tax

Planning

• Xero Setup and

Training

Registered Taxation Specialists

PH 022 327 5046

www.nctbk.co.nz

info@nctbk.co.nz

2264923

TAXATION

22 North Canterbury News, March 10, 2022

ACCOUNTANCY

T ASK FORCE

The Approachable Professionals

Levelling up your financialliteracytohelp youreach your business goals

2463514

Another year of change in the

world of business and Covid

By RAELENE REES

CharteredAccountant

With March 31 looming, we see the end

of the second year of Covid times.

The Government has been

forthcoming with wage subsidies,

resurgence payments, business loans

and income tax relief, including –GST

and income tax write offs, reprieve for

interest/penalties on late payments to

IRD if aresult of CV, write­off now

$1,000 for plant, loss carry back scheme.

The latest round of wage subsidies

available, from February 28, will be met

L I M I T E D

Providing Accountancy

Services to Oxford

since 2001

End of Year Accounts?

Use an Accountant to SAVE

on your Tax!

• Rentals / Lifestyle Properties Specialists

• Advice on Cloud Accounting Systems

To save your time.

• Business Start Ups Advice

Dave Trayner, 9ABay Road, OXFORD

Phn 03-312-4878

Email :atfoxford@outlook.com

with welcome arms for many businesses.

In recent times we have seen a

significant increase in the value of

property with overall low interest rates,

although these are now on the rise.

Changes to the lending rules at the

banks mean it is getting harder to obtain

finance.

Amortgage broker can assist as they

know which institution will suit your

individual situation. Their service is

also free.

For those with rental properties, the

mortgage interest claim phase­out

commenced on October 1, 2021 where

only 75 percent interest can now be

claimed.

It phases out completely by April 1,

2025.

New builds however continue at 100%

interest write­off, with afive year

brightline test.

Older rentals have a10year brightline

test with no interest expense claimable.

Changes in the Trust reporting

requirements also means alot of people

are rethinking the use of their trust, and

is it still appropriate.

Everyone's circumstances are

different, so check with your Lawyer/

Accountant before making any changes.

Staff shortages appear to be the norm

and cashflow is always on every

business owner's radar.

With the lengthy delays experienced,

long lead times for many materials,

more money is tied up in stockholding.

Job delays also mean the money is not

flowing at previous levels.

The key to keeping the cash flowing is

regular communication with creditors/

debtors and your bank.

Owing to our current economic

climate price rises are being

experienced across the board.

Be sure to budget accordingly, and

have clauses in your contracts to allow

for this.

Although there is adefinite move to

Lending rules ... Changes make it harder

to obtain finance.

PHOTO: FILE

''shop local'' there is the over­riding,

ever increasing trend to buy online.

Online spending increased 21% in

2021, versus 1% for instore (based on

card transaction data). If possible,

harness this into your business model.

Owning abusiness is never easy.

It is when things become more

difficult that the opportunities arise.

Look for the opportunities in your

business, as if it were easy, everyone

would be doing it.

Raelene@reesaccounting.co.nz

Sprout Accountants are proud to be

business support partners for our clients.

2463297

We offer a complete service, GST returns, monthly tax

planning, management reports and annual tax compliance.

Rental properties, farms, trades are our areas of expertise.

Xero gold partner.

Ring to book afreeconsultation

BronwynCandish

021 517 001

77-83 High Street, PO Box97

Rangiora 7440

Phone (03) 313 6001

bronwyn@sheppard-ormsby.co.nz

Situated at Rata Street

Business Hub, Rata St, Oxford

Ph 03 312 1264,

www.sproutaccountants.co.nz

2464682

Business owner for more than 34 years

What we do:

Income Tax/GST |Tax and Succession planning |Cashflow/budgeting |Company formations...

But what we Love doing:

Is working alongside you, collaborating our experience and network with you and your business,

and seeing your business grow

And what we won't do:

We don't want you to be afraid ofcontacting us, so if you have aquick

question, or need toconfirm something, keep it on topic and the meter

probably won't start running

www.reesaccounting.co.nz

raelene@reesaccounting.co.nz

2locations Rangiora and Riccarton

21 Leslie Hills Drive

Riccarton

Christchurch 8011

Phone: 03 341 6913

Conway Lane,

188 High Street

Rangiora

Phone: 03 313 6909

Proud Supporters of The Speed Freaks, Venus Women's Business Networking, and Rangiora Promotions

2464030
---
ACC levy changes will target

those with poor safety records

By THOMASCOUGHLAN

WELLINGTON:Employers withbad

safety records will pay significantly

more in ACC leviesthankstoarule

change by the Government, and

businessesthat have ahistory of

accidentalworkplacefatalities will be

hit the hardest.

The changes will increase the

maximum additional levy paidby

businesseswith ahistory of ACC

claims, and add anew calculation to

add levy costs for businesses where an

employee died.

The rule changes werefirstmulled

in 2018, but the Cabinet could not

agreeonthem.

Changes were subsequently agreed

at the end of lastyear, following

consultation.

Employers pay leviestoACC which

part fund cover for injuries their staff

mighthave on the job.

Each business pays adifferent levy

basedontheir industry and, since

2011,mediumand large businesses

have had theirlevies adjusted to

reflect their claims history.

This adjustmentiscalledan

experience rating, and it appliestoall

businessesthat pay $10,000 or more a

year in ACC levies.

Businesses in accident­intensive

industries pay higher levies,

reflecting the fact theiremployees are

morelikely to claim. Businesses with a

history of accidentspay more again.

Partofthe thinking behind the

experience ratingsystem is to create

an incentivefor employerstoreduce

workplaceaccidents. Workplaces with

ahigh experience rating would face

additional ACC levy costs of up to 75%,

while thosewhich had no accidents

could have their ACC levies

discounted by as much as 50%.

But aregulatory impactstatement

fromthe Ministry of Business,

Innovation and Employment argued,

using an analysisfrom 2014, that

experience ratingsdid not ''appear to

be delivering amaterial reduction in

claims,and in someinstanceswas not

equitablyreflecting the costs of

employers' poorperformance, to the

detrimentofbetter performers''.

ACC Minister Carmel Sepuloni has

agreed to two changes.

The first increasesthe ''loading'' on

the experience rating—effectively

the penalty for poor safety

performance —from 75% to 100%.

Thisincreases the maximum

amount businesses which perform

worse than the average in their

Toprate in spotlight

By THOMAS COUGHLAN

The Government's new 39% top tax rate is

hitting more than 50% more people than

Labour expecteditto.

During the 2020election Labour

promised to create anew top tax bracket

for veryhigh earners, meaning instead of

paying amaximum of 33 cents in thedollar

on someincome,highearners would be

taxedat39%.

To ensurethat few people fell intothe

new tax bracket, Labour said it wouldonly

startatincome earned over$180,000,

meaning just2%ofearners would be hit by

the tax.

The InlandRevenueDepartment

estimated that workedout at 75,000 New

Zealanders. However, since the tax came

into effectonApril 1last year,IRD hadrun

the numbers again.

Those numbers, releasedunder the

Official InformationAct, showed the ''highincomepopulation''

was actually about

119,000 people —44,000people morethan

expected.

Revenue Minister David Parker

cautioned the paper was ''based on only

part of the 2021 tax yearand may be

affectedbythe impacts of Covid so it is too

early to be certain''.

But National Partyfinancespokesman

Simon Bridges said the tax takeshowed

''rankincompetence''. IRD cautioned the

estimates couldchange,aspeople who had

earned more than $180,000inprevious

years—who IRD included in its figures—

mightearn lessthis yearand drop out of

the rankings. The higher numbers might

also be because of lump sums of money

paid out in redundancies as aresultof

Covid­19. —The New Zealand Herald

industry willhave to pay.

Thesecondchangeistointroduce a

''fatality modifier'' which will

increase the levy paid by employers

which havehad afatal accident occur

at work.

Those businesses will now face an

additional 20% loading on theirlevies

in the year the fatalityis''assessed'',

this will drop to 10% the yearafter. —

TheNew ZealandHerald

TAXATION

The North Canterbury News, March 10, 2022

23

TAXRETURNS

Debra Jowsey

Karla Kilner

Tax &Accounting

Consultants

since 1984

Overwhelmed? Confused? With the recent IRD

changes to tax returns, GST returns, rental returns

and pay day filing A-Plus Accounting is here to help.

Give us acall. Friendly,knowledgable staff.

A-Plus Accounting

☎ 03 314 9480

LIDDELL AND CROOK LTD

CHARTERED ACCOUNTANTS

HELPING YOU TO GET ITRIGHT

AND GET AHEAD

Accounting Services Business Support Xero Training and Conversion

AMBERLEY OFFICE

2A Pound Street, Amberley

Phone 03 314 8717

Amberley hours: Wednesdays only

9.00am –12.00pm and 1.00pm-2.30pm

Email rachel@liddellcrook.nz

2293718

CHRISTCHURCH OFFICE

62 Langdons Road, Papanui, Christchurch

Phone 03 352 1076

www.liddellcrook.nz

ATCAccounting Services

ExperiencedAccountant availableto

visit youfor astress-free service.

Competitive rates.

Troy Cameron

–Accountant

Ph:021 122 1960

Email: troy@atcaccounting.nz

forafreenoobligationconsultation.

ABit Differentthanthe Average Accountant –Ready forAnything!

Visitwww.atcaccounting.nz

2462480

2464368

Kirsten Nicol

Chartered Accountant

M: 027 635 5427

E: kirsten@knaccounting.co.nz

W: www.knaccounting.co.nz

A: Office 4/61 Main North Road

Woodend

Offering arange of accounting and consulting services.

With experience in both small and large business:

• Year-end Accounts

• Income Tax

• Forecasting

• Budgeting

• Company Administration

• GST

• FBT

• Business Advice

2464384

2464346
---
Our readership has grown,

nowthere's 51,000

reasonstoadvertise withus!

2021 Nielsen Readership Survey —North CanterburyNewsvsNorthern Outlook

North Canterbury

News 2021

50,000

51,000

Readers

every

issue

25,000

0

Northern

Outlook

2021

Did not survey

Thelatest 2021 Nielsen report

is out and it shows that The

North CanterburyNewsisthe

best read newspaper in North

Canterburyfor all people 15+.

Thegraph attached shows

average issue readership 15+

on atypical week

With our proven51,000 readers every issue —grow

more customers, sales and profits for your business,

call us now for afree advertising consult.

Here's whatour customers have to say:

Advertising couldn't be easier with the North

Canterbury News, with awell laid out plan in

place atthe start of the year along with flexibility

of being able to be change ads at short notice.

TheNorth Canterbury News has well prepared ads

and great coverage around North Canterbury.

Craig Schroder,

General Manager, Arthur BurkeLtd

TheNorth Canterbury Sport &Recreation Trust

relies on NC News to get our message out across the

whole region. NC News has the best in local grass

roots content that captures the readers we want to

keep inform about our Fitness Centres and the many

programmes and events werun to support the health

and wellbeing of everyone in our community.

Tony Kean,

North CanterburySport &Recreation Trust

Phone - 03 314 8335

Email - dayna.burton@ncnews.co.nz

Office-14 Ashley Street,Rangiora

www.ncnews.co.nz

www.starnews.co.nz

*Source: 2021 Nielsen Readership Survey—North CanterburyNewsvsNorthern Outlook averagereadership each issue

*Source: Nielsen readership survey Q3 2020 –Q22021 all people 15+
---
Migrant survey to assess needs

By DAVID HILL

The WaimakaririDistrictCouncilis

keen to hear from migrants still living in

the district.

Covid­19 has changedthe landscape,

with many migrant workers returning to

their home country, while others face

uncertainty around their residency or

employment status,community

development facilitator Carolyn Boswell

says.

The council's community team is

conductingtwo surveys, one of migrants

living in the Waimakariri district and

the other of employers of migrant

workersand of the agencies who support

them.

The 2018 Census found that there were

3606 peopleliving in the Waimakariri

district who were from another country.

But this number has most likely

changed''andprobably gone down'' in

the last two years, Ms Boswell says.

''Thesesurveys are timely as we look

towardsopeningthe border and

potentially getting more workers into

the district.

''I've heard that some migrantsare

laying low due to their Visa statusand

Covid. It's atough timefor alot of people

and there is alot of uncertainty.

''Thereisasense that alot left in 2020

to return to their home country, while

others decided to stay and stick it out

and somehave got stuck here as there

aren't many flightsfor them to get

home.''

Last year's changestoResidency Visa

regulations will have given migrants

some relief and Ms Boswell understands

ImmigrationNew Zealand has issued

more than 11,000residency Visas

throughout the countryunderthe new

rules.

Ms Boswell wants to hear from all

migrants living in the district,

Community facilitator ...

regardless of how longthey have lived

here, to learn about their experiences,

what workedfor them and what didn't.

''We want to get asense of where the

gaps are and what support they need,

and how the council, agencies and

employers can bettersupportand help

people to settleinto the district.''

She says there are anumber of

potential challengesfor migrants

settling in anew country, as language

and cultural differences ''can be

confusing''.

''New Zealand structure is veryfluent

Carolyn Boswell is encouraging migrants to have their say.

PHOTO: FILE

compared to other countries, which may

be more hierarchical,sofor people

trying to navigatethe culturallandscape

it can be difficult.

''If we can help themnavigate that

easier,that will make abig difference.''

To helpengagemigrants, some local

migrants are sharing their stories

throughaseriesofvideosbeing shared

on the Global Locals of Waimakariri ­

Glow pageonFacebook.

To complete the surveys, go to

waimakariri.govt.nz/letstalk.

The surveys run until April4.

25

Optimism

despite loss

of A&P show

NEWS

The North Canterbury News, March 10, 2022

There is plentyofoptimisminthe

Hawarden/Waikari community, despite

the uncertainty of Covid­19.

The cancellation of the Hawarden A&P

Show was amajor blow,but the Hawarden

Ewe Fair provedtobeasuccesswith

higher than expected ewe numbers

resulting in atwo day sale.

Local businessessay it is business as

usual across the two towns, as residents

grapple with the red traffic light setting.

Alocal Hawardenbusiness owner says

the moodofthe town is generally positive,

but some residents are understandably

worried aboutwhat might happenwhen

Covid strikes.

''There'safew campers at the camping

ground, but it has been very quiet and we

haven't had much of summer,'' she says.

''Every now and then we get afew visitors

when peopleare going through to Hanmer

and we've had afew Aucklanders,but

there's not many because we're not on the

main route.''

In Waikari, alocal business owner says

there are still visitors passing through, but

not as many as normal, which is having an

impact on local cafes.

But she says the mood in the town is ''not

too bad''.

''We have crackerjack bowls each week

and we're still doing it under Covid,'' she

says.

''We maskupand go along and play our

bowls. We just stick to the two teams

playing and don't mix with the other teams.

Local resident Brona Youngman says the

community is being innovative to tryto

keep activities happening in the area.

''There's quite alot of projects in play, so

we just have to wait and see, but there's

definitelysome great ideas out there.''

RANGE ROVER SPORT OBSIDIAN EDITION

DESIGNED FOR IMPACT

OUR MOST DYNAMIC RANGE ROVER

Muscular and perfectly proportioned, Range Rover Sport is designed to command attention wherever you take it.

Now with additional specifications worth$15,550, including Black Exterior Pack, black 22inch alloys, privacy glass, and asliding panoramic

roof, itwill make even more ofanimpact. Luxurious, supremely comfortable and exceptionally functional, Range Rover Sport isadriver's vehicle

through and through.

Yours from $167,900 plus on-road costs.

Archibalds

38 Tuam Street, Christchurch |Corey Gray |03377 5200 |cgray@archibalds.co.nz |archibalds.co.nz

*Pictured wheels differ from wheels on offer. The standard scheduled 5Year servicing is included (different terms and conditions apply to different models).
---
NEWS

26 The North Canterbury News, March 10, 2022

Joy and skill at Ohoka touch rugby finals

The Ohoka Touch finals last week saw many young players enjoying the

experience, and showing some excellent ball handling, and running

skills. Karina Templeton Photography was on hand to capture some of

the action.

Touch down ... Jack Read scoring for the West Eryeton Wizzards.

Evading the tacklers ... Henry Don, West

Eryeton Wizzards.

In for the touch ... Jamie Jenkins

(Mandeville Marvels) reaching out to for

the touch on Hugo Nutbrown (Swannanoa

Magic).

Slipping the touch

... Isabel Haley

(Swannanoa Magic)

dodges Mason

Matthews

(Mandeville Marvels).

Side step ... Harry Robson in action for the Ohoka Magpies against Swannanoa Stars.

ADVERTISEMENT

Over 60s total body WOF and

health monitoring scan atMarvel

Howdoyou know your bodyhas healed itself after

an illness?Mostpeoplewill rely on their symptoms

improving to indicatehow well they arehealing,

andrightfully so.Symptomswill improve andeven

disappearwhenthe bodystartstoheal itself.However,

this doesn't mean that thecause of theproblem is

no longer present, in whichcasethe symptoms may

recur.

Forexample,Candidacan causeabdominal problems

such as bloating,diarrhoea andabdominal pain. It

is averyresilientmicrobe, andevenaftertreatment,

it mayremaininthe gutinaninactivestate without

causingsymptoms, andovertime, symptoms

graduallyreturn.

The Marvel Health Scan examines theentirebodyin

minutedetailand canmonitor thehealingrateinthe

body'sorgans.Thescan cantell, forinstance,ifarteries

areshowing signs of plaque formationand narrowing,

whichinturncan causehighblood pressure and

heartdiseases.

The scan canalsoreveal therateofimprovement or

deterioration of aregionorsysteminthe body.

The Marvel Health scan is unique becauseit

recognisesand searches for harmfulenvironmental

factors that promotediseases. It checks thebody

fornutrientlevels, environmental toxins,harmful

electromagneticinfluences, food sensitivities and

predisposition to geneticdisorders.

Marvel Health only recommendsscience-based

naturalremediessupported by publishedmedical

journals andtrialled clinical studies.

After thescan, internationaldoctors andhealthcare

specialistsatMarvelHealth will studythe report and

recommendtargetedscience-based naturaltreatments

andlifestyle changestosupportthe body'shealing.

Total Health MOT

Whole Body Diagnostic Scan,

Report, Consultation and Therapy

All included: • Detailed Examination of All Organs & Systems • Diseases Present and Complications

• Detection of Viruses, Bacteria & Fungi • Food Allergies & Sensitivities • Non-invasive Blood Test

• Detection of Lead, Mercury & other Environmental Toxins • Body Composition Analysis

Unit 13/6 Cone Street, Rangiora | 293 Durham Street, Awly Building, Christchurch

CALL TODAY 03 669 5410 www.marvel.health

Disclaimer: The inspection from the scan is not asubstitute for medical inspections. It is not designed to state the final diagnosis
---
RANGIORA MOTOR GROUP

29 Southbrook Road, Rangiora. With full workshop

facilities, SERVICING&WoFforanymakeormodel.

FROM

GLXR

$39,990 +ORC

• Side Steps

• 7" Touch Screen Smartphone

Link Display

•18inchAlloyWheels

2WD VRX

$44,990 +ORC

• Factory-fitted black body kit

• Black 18 inch Alloy Wheels

• Leather-Appointed Interior

RUN OUT

$33,990 SPECIAL

DRIVE AWAY PRICE

• 2.4L Petrol

• 18 inch Alloy Wheels

• 7 Seats

$48,990 +ORC

• Factory-fitted black body kit

• Black 18 inch Alloy Wheels

• Front and rear parking sensors

*Prices listed are for Triton 2WD GLXR double cab, Triton 4wd GLSB double caband Triton 2WD VRX double cab.

Prices exclude on road costs which includes WoF,registration, 1,000km road user charges and a full tank of fuel.

RANGIORA MITSUBISHI

29 Southbrook Road, Rangiora | 03941 3175 | rangioramitsubishi.co.nz

10 year /160,000km Powertrain Warranty(whichevercomes

first) (non transferable). 5year /130,000kmNew Vehicle

Warranty(whichevercomes first) (non transferable).

BEAT

THE TAX

From 1 st April the Clean Car Scheme comes into effect,

Rangiora Nissan has these vehicles in stock ready to deliver.

2

ONLY

1

ONLY

5

ONLY

1

ONLY

SAVE $1,610 in Tax*

ST-L 4WD [rrp $49,390]

SPECIAL PRICE $45,990

NISSAN

SAVE $1,310 in Tax*

Ti 2.0L -$46,590

150,000 KM'S

FACTORY

5YR WARRANTY

RANGIORA NISSAN, 29 Southbrook Road,Rangiora

Ph: 03 941 3175

www.rangioranissan.co.nz

SAVE $3,050 in Tax*

SL 4WD Auto [rrp $58,490]

SPECIAL PRICE $49,990

ST 4WD Auto -$62,990

ST-X 4WD Auto -$67,490

SAVE $5,175 in Tax*

Ti-L 4WD -$107,650

*Indicative Clean Car Scheme charges shown as supplied by Nissan New Zealand, payable at the time of vehicle registration.

Prices shown excluding On Road Costs. Numbers and models listedavailable correct at time of print,subject to change ifsold.

rangioranissan.co.nz
---
RURAL LIFE ­SPRAYING &PASTURE MANAGEMENT

28 The North Canterbury News, March 10, 2022

FERTILISER &AGRICULTURALLIMESPREADING& LIMESPREADING

1483547

Studies improving hill country futures

Taking part in trials forthe HillCountry

Futurespartnership programme has

alreadybeen valuablefor Willesden Farm

on Banks Peninsula, general manager Matt

Iremonger says.

''We have had some earlyresults from the

experimentsonthe development we have

done on our hills and total dry matterand

it was very interesting.

''We took that data to our bank whenwe

appliedfor additional funding to undertake

furthercapital improvements, which are

now under way.''

The five­year programme is co­funded by

Beef +Lamb New Zealand, the Ministryof

Business, Innovation and Employment,

PGG WrightsonSeeds and Seed Force New

Zealand.

The $8.1millionprogramme is focused

on future­proofing the profitability,

sustainability and wellbeing of New

Zealand's hillcountry farmers, their farm

systems, the environment and rural

communities.

It considers the whole­farm system and

the widercommunitieswithin which these

systemsexist.

It incorporates traditionalscience

research,farmer knowledge, social

research and citizen science and has a

strong emphasis on foragesand providing

decision­makingtools to help farmers

select the best forage option for different

land management units.

Willesden Farm is a5500hasheepand

beef property.

About 1200ha is flat and cultivatable,

while the remainder is mostly moderateto

steep hillcountry.

Rainfall and altitude canvary

significantly within ashortdistance on this

property.

Annual rainfall ranges from 550mm to

1100mm,while altitude goes from sea level

to more than850m above sea level.

Two projects within the programme are

in progress on the farm.

One, led by Lincoln University'sProf

DerrickMoot, is measuring pasturegrowth

at two locations, one an improved area with

lucerneand the other an unimproved

pastureofmainly weed grasses with alittle

With over 30 years

behind us, we're the little

company that's big on

experience

Phone Keith on 027 496 9150

AH 03 313 3937 Fax 03 3133938

Email plaskettfert@xtra.co.nz

ryegrass and whiteclover.

The other, led by Dr Nathan Odgersof

ManaakiWhenua Landcare Research, is

mappingmicro­indicators, such as soil

temperature and moisture, in the hill

countrylandscapes.

The goalistohelp farmers quantify key

soil and terrain features to enable robust

decision­making on the mostsuitable

locations and potential benefits of

introducing forage legumes.

The pasturemeasurements at Willesden

Farm are being taken at two altitudes ­20m

and 175mabove sea level.

At each altitude, there are paired

enclosure cages on improved and

unimproved pasture.

Harvests were taken in May, September

and December 2019and January 2020.

During this period,the improved lucerne

pasturehad accumulated 14 tonnes of dry

matter per hectare, more than twicethe

5.4t DM/ha for the unimproved pasture.

''Data from thetrial was critical in

enabling us to make our case to the bank,''

Matt said.

Hill Country Futures ... Matt Iremonger

and his wife Katy.

PHOTO: SUPPLIED

He was extremelypositive about the

future of hill countryfarming, he said.

''As technology increases, there will be

more resources available to use to improve

our performanceand the outcomesofthis

work willbeamongthem.''

Chemical price concerns

Canterbury farmers are startingtoget

uneasy about rising agri­chemical

and fertiliser prices.

TheFoundation forArable

Researchrecentlytold growers there

were increasing concerns about the

agri­chemical supply chain.

Farmers are being advised to do a

stocktake in theirsheds andtalkto

suppliers.

Federated Farmers arable

chairmanColin Hurst saysagrichemicalsupplies

aretight andthe

main concerniswith fodder crops.

''A lot of the foddercrops ­kale,

swedes and fodder beet ­are

established and havehad most of the

chemicals applied, but there willstill

be follow­up spraying as wellas

fertiliser at the moment and going

forward.''

Most arable farmers have sprayed

their herbicides, fungicides and

insecticidesfor theseasonand seed

and grain crops areatthe point of

harvest.

Mr Hurstsays glyphosateisused

year round and prices have

increased.

''Atthe startofthe yearitwas $5.50

for onelitre of glyphosate,but now

they are talkingabout$13 and

percentage­wiseit's absolutely huge.

''What we arefindingwithin the

chemicalmarket is the mainstream

companies are prettywell sorted.

''That's because theyare large on

an international scale, but between

themare the smallergeneric

companiesthat are manufacturing in

China and if there is onehiccup that

puts pressure on theothers.''

Farmers stockpiling supplies will

only make the situationworse,he

says.

''I don'tknow if there has been

some stockpiling of glyphosate.

''Isuspect the glyphosateprice will

go down sharply whenthe supply

situationissorted out as glyphosate is

acommodity.''

Congested freighting routesare

causing delays globally.

Container ships arewaitingfor

unloadingoutside cloggedports

during Covid­19and sometimesare

notarriving from Singapore or

Australia, he said.

It isn'tjust agri­chemicalsunder

pressure as fertilisersupplies such as

urea and machineryparts are also

tight, Mr Hurst says.

Farmers are fortunate their

fertiliser suppliers are co­operatives,

he says.

''TheNew Zealand price for ureais

just under $1200 atonne, but the

world price is$1500—so doesthat

meanweare going to get higher

prices or are the co­opshelping to

keep the price at afair price?

''Any hintofaprice rise would go

up if we werecorporatised.''

Growers aregettinghigher returns,

but that could turnaround, he says.

The curbing of fertiliserexports by

Chinese authoritieshas contributed

to thesupply pinch.

Providing helicopter services to the North Canterbury

and Marlborough region.

• Spraying

• Lifting

• Fertiliser-liquid &solid • Frost control

• GPS proof of placement • Pest control

• Fire

• Mustering

25 years experience

Call for afree farm visit, adviceand non obligation quote.

Brent Harkerss - 027 435 1243 | James Pinfold - 021 656 770

info@glencree.co.nz

2220 State Highway 1, Kaikoura

2462736
---
RURAL LIFE ­SPRAYING &PASTURE MANAGEMENT

The North Canterbury News, March 10, 2022

Technology reduces nitrogen use

By DAVID HILL

29

Groundspreading Specialists

Roscoe Taggart is embracing new

technology as he looks to reduce his

environmental footprint.

The Cust farmer has been trying out a

new method for applying fertiliser,

which has resulted in significant savings.

''I ordered 160 tonnes of fertiliser,

based on what Ihad used in previous

years, and we didn't use it all. We've cut

out fertiliser use by 28 tonnes,'' Mr

Taggart says.

''I under­established how good it would

be and the yields are on apar or

potentially better.''

Mr Taggart farms 730 hectares of

mostly cropping with his father Murray at

Cust.

He has been using GPS autosteer on his

tractors, with ayield meter on the header

to implement variable rate spreading of

nitrogen fertiliser.

By sensing choroful levels in the

plants, Mr Taggart and his staff can

pinpoint exactly where the nitrogen

needs to applied and how much.

''We used to use satellite technology

and download satellite maps, but the

cloud cover in Canterbury meant it

wasn't always reliable.''

The new system uses the latest

technology and imaging to adjust the

spread as it goes.

''It hasn't had any negative impacts. In

some areas we actually put more

fertiliser on.

''It takes out the guess work. It was an

educated guess, of course, but now we're

not missing out any areas or applying

more than we need.''

Five years ago the Taggarts grew

mostly wheat, barley, ryegrass and rape

seed, as well as fattening lambs.

Now they grow about 20 different

crops, with the variety of income sources

allowing them to spread their risk.

Mr Taggart plans to adopt variable rate

technologies right across the farm.

He is already using variable rate

irrigation on one of his pivots and plans

to convert the rest of his pivots, as it

adjusts water applications to where it's

needed.

Variable rate phosphate and

potassium will also be added to improve

efficiencies.

''There's going to be alot more variable

rates going round the farm and alot more

core soil sampling to just ascertain

exactly where our nutrient levels are in

our soil and to tailor the nutrients to

exactly what's required.

''We are trying to get it as precise as we

possibly can.''

Mr Taggart is participating in a

Ministry of Primary Industries funded

trial, as part of work being carried out by

the Waimakariri Landcare Trust.

''I like to be one of the first ones to try

Key focus ... Cust farmer Roscoe Taggart checks up on acrop of wheat with his dogs Pip,

Sass and Rose.

PHOTOS: FILE

New technology ... Roscoe Taggart has been exploring ways to reduce his environmental

footprint.

something new and if it works Ican take

it and run with it.

''And if it doesn't, all I've lost is an acre

for the season.''

• Variable Rate Application • On/Off Farm Alerts

• Weekly Nitrogen Application

• Specialised Mixes • Lime

• Proof of Placement

2462610

Tracmap GPS Guidance

56 Harewood Road, Oxford

Ph 312 3593 • 021 312 080

stubbsgroundspreading@gmail.com

www.stubbsgroundspreading.co.nz

For all your

Spraying &Fertiliser& Requirements

Proof ofplacement mapping

p Hide Spraying Ltd

Registered Chemical Applicators

Established 1947

Ph Andrew 027 437 2006

or 03 313 5278

or Graham 027 433 3786

or 03 313 7723

www.hidespraying.co.nz

24 Metre Self Propelled Spray Unit

Auto Steer &Auto Section Control

GPS proof of placement available

Reg approved handler

Liquid Nitrogen available now

2202683

Call Nick Raymond

027 283 8571

nick@waimakspraying.co.nz

Getthe most out of your pasture

Letour experienced advertisers do the hard yards

so you getthe best results forthe best price

2462608
---
RURAL LIFE

30 The North Canterbury News, March 10, 2022

Summer poses irrigation challenges

By SHELLEY TOPP

Last summer'sunusualweather has

prompted EnvironmentCanterbury (ECan)

to issue irrigation advice to help farmers.

All farmers who irrigate must follow good

management practice (GMP), whichisaset

of industry­agreed on­farm actions to

improve waterquality.

''GMP alsohelpsfarmers irrigate in a

more sustainableand efficient way,

identifies areastoimprove theirsystems/

practices, and can help in developing farm

environmentplans,'' ECan's Waimakariri

and Hurunui­Waiau waterzone delivery

lead, MarcoCatalonisays.

GMP in irrigationincludes checking soil

temperatures and not irrigating whereitis

lower than 10 degrees celsius.

Collectingreliableinformation including

soil moisture monitoring, pastand forecast

rainfall, and potential evapotranspiration

forecasts ensurespasture /crop water

needs are met.

Farmers are advised to starting irrigating

beforecropsget to stress points and never

put on so much thatitexceeds field

capacity.

Its recommended to aim for 90 percentof

field capacity.

Checking for any waterrestrictions helps

to ensure you avoidcompliance issues.

Make sure the rate of application does

not causepondingorrun­off, especially

where effluentisapplied.

If it does, too muchisbeing applied.

Grazing in advanceofthe irrigator helps

to reduce soil compaction, as stock hooves

compact wetsoils.

It is agood idea to keep aspadehandy

duringthe seasontocheckonsoil

compaction.

Recording irrigation dataand decisions

helps to ensure you are ready for whenthe

auditor arrives, while adjusting the

application rateorturning off the irrigator

Good management ... Environment Canterbury is offering some irrigation tips.

when rain is forecast is alsorecommended.

Water metering is anotherimportant

element in efficientirrigation.

Last year, changes were made to the New

Zealand Water Meter Code of Practice,

which sets the requirements and good

industry practicefor watermetering/

measurement devices.

''The key changes were to ensure these

requirements aligned with the

Government's resourcemanagement

regulations, to requireall water takesof

five litresper second or more to record

water use at 15­minute intervals,and

provide thisdata to regional councils

daily,'' Marco says.

''Thiswill be phasedinbetween now and

September 3, 2026, dependingonthe rate of

water taken.''

More information about whatthis means

for Canterbury farmers can be found at

www.ecan.govt.nz/water­metering.

Keeping up withthe latesttechnology is

PHOTO: FILE

another key element in maintaining

efficient irrigation, Marcosays.

Some questions to askyourself to ensure

the irrigationsystem is runningoptimally

include ''how uniform is your water

application?''

Using abucket test to checkthe rate of

application and distributionuniformityis

recommended.

Other thingstoconsider include does

your watermeter, pivotcontrol and bucket

test all agree on the application rate?How

effectiveisthe rate of application–isit

infiltrating into the soil,ponding, or

running off?Are you abletocontrolthe

systemsothat it is not applying morewater

than the soilcan hold?

This is more challenging for K­linesand

guns.

''It is alsoimportant to remember that

help is available,'' Marco says.

Contact EnvironmentCanterbury on 0800

324 636 or IrrigationNZ.

Milk price

rise boost

amid Covid

Afurtherrise in the Farmgate Milk Price

will give another boost to farmers in an

uncertain time.

Fonterra Co­operative Limitedliftedits

2021/22 forecast Farmgate Milk Price

rangeto NZ$9.30 to $9.90 perkilogram of

milk solids, up fromNZ$8.90to$9.50per

kgMS.

This increasesthe midpoint of the

range, which farmers are paidoff, by 40

centstoNZ$9.60per kgMS.

Fonterra chiefexecutive MilesHurrell

says the lift in theforecast reflects the

increase in globaldairy prices sincethe

co­op'slastmilkprice update in January,

and goodlevels of ongoingglobal demand

for dairy.

''Since we last revised our forecast,

average Whole MilkPowderprices on

GDT haveincreased 10.3%, while Skim

Milk Powder hasincreased 8.4%. Both

products are key drivers of our milk price.

''Global demand for dairy remainsfirm,

whileglobal milksupply growth

continues to trackbelowaverage levels.

Thesedemand and supplydynamics are

supporting the increase in prices.

Mr Hurrell says theforecastmidpoint of

NZ$9.60 per kgMSrepresents acash

injection of over$14 billion into theNew

Zealand economy through milk price

paymentsalone,and will be welcome

news for farmers who are facing rising

costsonfarm,including from inflation

and rising interest rates.

''Analysis by Statistics New Zealand

showsanumber of key farm inputs have

experiencedsignificant inflation

pressure over the past two years, for

exampleelectricity costsare up 21%,

whilestock grazing costsare up 36.9%.''

ADJUSTABLE MASSAGE BED

by
---
SPORT HORSES,

RACING STABLES

&PET HORSES

Equine Centre, orinyour paddock or

stables, to ensure optimal performance

in your sport horses and racing horses.

MEDICINE &

SURGERY

Along with our Specialist Equine Surgeon

operating from our purpose built equine

surgical facility and hospital, we have the

diagnostic tools and on-site lab, giving

clients timely results and diagnostics.

ACUPUNCTURE

principles, prioritizing safety and tailoring

treatment for conditions.

STUD SERVICES

Our experienced vets provide breeders

with acomprehensive package to

ensure your mare has every chance

of asuccessful, stress-free pregnancy

and ahealthy new born foal.

Enhancing Lives Together

www.rangioravetcentre.co.nz

Locally owned and operated for more than 50 years

WINNER 2021 MAINPOWER SUPREME BUSINESS AWARD &Professional Services Award
---
Enhancing Lives Together

and proudly supporting our community

Gold Sponsor

Enhancing Lives Together

www.rangioravetcentre.co.nz

Locally owned and operated for more than 50 years

WINNER 2021 MAINPOWER SUPREME BUSINESS AWARD &Professional Services Award
---
Dairy awards set to defy Covid

Dairy farmers acrossthe centralSouth

Island are getting ready to celebrate

their sector.

The annual New Zealand Dairy

Industry Awards are backand judging is

taking place across the 11 regions, with

the finalists in each regionset to gather

at localdinners, despite Covid.

The Canterbury­NorthOtago region is

holdingits awards dinner on March 22.

Preliminaryjudginghas already been

held across the threeaward categories:

dairy traineeofthe year, dairy manager

of the year and share farmer of the year.

The next stage of judging was due to

take placethis week.

The sharefarmer winner will host a

field day, at whichthe other two

category winners will alsobeinvited to

speak.

This is plannedfor April 12 in the

Canterbury­North Otago region.

The threewinnersfrom each regiongo

on to the national final which will be

held at Te Pae,Christchurch, on May 14.

The 2022 competitions havebeen

refreshed and revamped acrossall three

categories,after months of consultation,

feedback and discussion.

The age rangefor the dairytrainee is

now 18 to 30.

Conditions for visa entrants havebeen

removedand there is no minimum

length of timeinNew Zealandrequired.

Askills day replacedthe preliminary

judgingroundand the finalsjudgingis

by interview onlyfor the dairytrainee

award.

Less Stress for you and your Livestock!

- Competent stock handling by professional

drivers.

- Modern fleet of code compliant trucks and crates

-Competitive pricing, planning and logistics.

Visa conditions and time in New

Zealandhave also been removed in the

dairy managercategory.

The on­farm judging format has been

changedtoamix of presentation and

interview.

The finals judging is an extension of

the preliminary round, wherefurther

informationisgiven, and aquestionand­answer

segment has been added.

Increased guidance has alsobeen

provided for each judging round.

Share farmer entrants willhave an

extra Q&A in theirfinals judging.

Awards dinners willhave amaximum

attendance of 100 people, with vaccine

passes required at the venue.

''We realise cappingnumbers means

some will missout, and for those who

can't attend, the events willbelivestreamed

on the relevantregional dairy

industry award Facebook page,'' awards

generalmanager Robin Congdon says.

The New ZealandDairyIndustry

Awards are supported by national

sponsors DeLaval, Ecolab, Federated

Farmers, Fonterra, Honda, LIC,

Meridian Energy,MediaWorksand

Ravensdown,along with industry

partnerDairyNZ.

Visit www.dairyindustryawards.co.nz

for more informationorfollow the

awards on Facebook.

Trainee ... Mattes Groenendijk, of

Rangiora, was last year's Canterbury /North

Otago dairy trainee of the year. PHOTO: SUPPLIED

Good employer awards open

The searchhas begun to findAotearoa New

Zealand'smost exceptionalprimary sector

employers.

Entries are open for the 2022 Primary

IndustriesGood Employer Awards, which

are run by the Ministry for Primary

Industries(MPI)and the Agricultural and

Marketing Research and Development

Trust(AGMARDT).

''Theawards provide the opportunity to

recognise and celebrate outstanding

employers across the primarysector that

may otherwise fly under the radar,'' MPI

investment, skills and performance

directorCheyne Gillooly says.

''Thesector hasbeen resilient

throughoutthe pandemic and thehard

mahi of farmers, growersand processors is

leading our export­ledrecovery from

COVID­19.

''Revenue fromfood and fibres exports is

predictedtohit arecord $50.8billioninthe

year to June30.''

The primarysector employs around

367,000 people, representing almost 14

percent of the total workforce.

Mr Gillooly says nineemployers,ranging

from transport companies,to

environmental guardians and agritech

innovators,have received accolades since

the awards were established in 2018.

''We're on the lookout for employers, both

largeand small, who go above and beyond

by creating productive,safe,supportive,

and healthy work environments for their

people.

''OurFit for aBetter World economic

roadmap setsagoal of employing 10

percent more New Zealandersinthe

primary sectorby2030.''

Entries closeMarch 25, with the winners

announced in June. Go to mpi.govt.nz/gea.

RURAL LIFE

The North Canterbury News, March 10, 2022

Generation

Next

Our Futures Sheep

and BeefFarmers

Generation Next is aprogramme designed tonurture, assist

and encourage the current and future farmers within our sector.

The technical programme for practical people involves the delivery

of three workshops with the following objectives:

• Understand the farm business –financial basics and management

• Develop better decision making skills

• Understand technology and genetics within the industry

• Understand the importance ofmanaging mental

health and personal wellbeing

• Understand the overall industry goals and aims

The programme will be held

throughout the South Island and

60 spaces are available. For more

info, course dates and to request

an application form please visit:

beeflambnz.com or send an email:

generation.next@beeflambnz.com

Applications are open until

Friday 1April 2022, 12pm

2410273

2191656

31

ONLINE MEAT SALES

MEAT2U.NZ

HOME KILL

&WILD GAME

MEAT PROCESSING

313 0022

FENCING

• Post Driving

• Stock Fencing

• Stockyards

• Post and Rails

• Lifestyle etc

Ph Andy Horn

021 214 1201 or

(03) 314 9460

Livestock -stock@amuritransport.co.nz

56 St Leonards Rd, Culverden

Fertiliser -fert@amuritransport.co.nz

Ph 03 315 3033 -Fax 03 315 8413

Freight -freight@amuritransport.co.nz

Bulk Grain –Shingle –Coal –Golden Bay Cement -Daily Freight Services

2164342

2400852

Roger Hunter

Parts Manager

0275 071 022

DIRECT DRILL SPECIALS

12.5" (318mm) x 3mm

Plain Disc Blade

Designed to suit both the 4bolt &6bolt hub.

Suitable for:

DUNCAN RENOVATOR

drills MI-11353-L

$

35 95

+GST

1George Holmes Road, Rolleston

03 349 5975

0800 BEEFLAMB (0800 233 352) BY FARMERS. FOR FARMERS

12.5" (318mm) x 3mm

Fluted Turbo Disc Blade

Suitable for:

DUNCAN RENOVATOR

drills

MI-22035-L

Canterbury

$

35 95

+GST

2460411
---
Four Seasons Realty

Four Seasons Realty

AUCTION

Jayne Martin

local

YOUR

KAIAPOI AGENT

Working with aknowledgeable agent,likeme,

canpositively impact your bottom line. Youneed

someone familiar with not just the market but our

community as well.

Letmehelp yousell quickly and forthe best price

in this fast moving market. Cameforafreeno

obligation appraisal!

Four Seasons Realty

Jayne

MARTIN

027517 7937|03 327 5379

jayne.martin@harcourts.co.nz

harcourtsfourseasons.co.nz

Four Seasons Realty 2017 Ltd|LicensedAgent REAA 2008
---
WHICH DIRECTION WILL THE

MARKET GO IN2022?

If you are thinking ofselling this year or want to understand what your property is

worth now, get in touch with your local agents today to find out how wecan help.

Fernside 50 Brackenfield Downs Road

Sold for 95% above RV

Oxford 939 Thongcaster Road

Swannanoa 49 Moffatts Road

Sold for 104% above RV

Brook Yates

027 807 8093

brook.yates@bayleys.co.nz

facebook.com/brookyatesbayleys

Dean Pugh

027 335 6303

dean.pugh@bayleys.co.nz

facebook.com/teampugh.bayleys

WHALAN AND PARTNERS LTD, BAYLEYS, LICENSED UNDER THE REA ACT 2008

Residential /Commercial / Rural /Property Services
---
North Canterbury

Rangiora 3/199 High Street

3/199 High Street, Rangiora to Lease

•166sqmfloorarea

•Highfoot traffic retail areainRangioraCBD

•Modernkitchen and bathrooms

•Rear loadingbay foreasyaccess

Comeand experience the vibrancy of Rangiora's main street in this prime location sited among boutique clothes shops,

Farmers, cafes and the local council building. One of four tenants in the fully renovated historic postoffice, excellent street

frontage on thesunny north facing side attracts families, officeworkersand destination shoppers from Christchurch who

enjoyRangiora's verandah town atmosphere. Be partof the huge growthinNorthCanterbury and secure this rare

opportunity tolease aproperty with plenty of spacesuitable for awidevariety of businesses.

Oxford 82 Burnt Hill Road

For Lease By Negotiation

View By appointment

Web pb.co.nz/RC14474

Kirstyn Barnett

M 021 312 230

E kirstyn.barnett@pb.co.nz

Great Value

*** UNDER OFFER *** Where else could youget twenty one hectaresofland to produce an income and atwo bedroom cottage

for $310,000. This is an ECAN Lease in Perpetuity, not afreehold title, so thevendor is lookingfor acash buyer. Youbuy the

buildings fences andcattle-yardsand therighttolease the landin perpetuity. There is a70m2 two bedroom cottage,with a

log-burner andacoal range,acar garage woodshed, storageshedand haybarn as well as agood setofcattle-yards. Thelease

is under $70 perweek and our vendorhas received $250 perweekfor the cottage. The cottage needs somework to be

broughtupto rentalstandard. Located just1.2kmfrom thecentreofthe vibrant town of Oxford and with the Eyre River on

one boundary, it is an attractiveblock on free drainingsoil.Itisfenced into seven paddocks with shelter in some. There is town

watertothe dwelling and ruralwatertothe paddocks. Our vendor hasbeenrunningcattle therefor some time butitis equally

suitedtohorses, sheeporalpacas.With fourhectare block prices, locally,between $450,000 and $525,000 for bare land,this

is worth consideration.

Property Brokers Ltd Licensed REAA 2008 |pb.co.nz

2 1 1 1

For Sale From $310,000 +GST (if any)

View By appointment

Web pb.co.nz/RL13420

Maurice Newell

M 027 240 1718

Hamish Anderson

M 027 678 8888

E mauricen@pb.co.nz

E hamisha@pb.co.nz

Proudtobehere
---
Rga sewer works continue

Sewer upgrade works are continuing in

Rangiora.

Work is continuing in the King Street

area to upgradesewer capacity.

The works will connect from Queen

StreettoChurchStreet, up Church

Streetpast the hockey field, and across

Dudley Park to White Street.

Anew watermain will also be

installed up Church Street to High

Street.

Traffic management has beeninplace,

with aone way lane in placeonKing

SPORT'S RESULTS

Rangiora Golf Club

9Hole Competition: Stableford:

Women: Coleen White 23,Ruth

Crawford 21, Pat Roberts 18, Pam

Holland 17c/b, Carol Van Hout 17.

Men: StephenBell 23, Ross

Gillespie 21, Ross McQueen 20,

Clifford Boddy19c/b, Hudson Deane

19 c/b.

Alpaca Social Club

The Alpaca Social Club with Special

Guest Cousin Alice, will perform at the

Balcairn Hall on Saturday, March 26,

at 7.30pm.

The Arts on Tour NZ event is

described by fans as a''pyrotechnic

Street headingnorth.Queen Street to

the east will be closed.

This will change to the opposite side of

the road from Monday, March 14, with

one way of King Street heading south

and Queen Street closed to the western

side of the roundabout.

To minimise disruption during the

school term,afull closureofthe

intersectionatthe roundabouthas been

delayeduntil the school holidays.

There will be signage and detours in

place.

Twos:Pam Holland.

Waimakariri Gorge Women's Golf

BingoBango Bongo andStableford :

18 Holes:JCollins 60,TCraig 55, S

Farrar 55, RPilbrow55, LPatton 54, J

Deans 54, MRobertson 53, NWeavers

51, BThompson49, JPottinger48.

Nine holes: JJenkins30, JSmith 28.

Twos:RPilbrow.

display of dazzling virtuosity" and "a

quantum leaping musical curiosity".

Tickets $25 from Sally Macs, Amberley,

Stan's 7Day Pharmacy, Rangiora,

Sefton Garage and via www.

balcairnhall.com. Covid Guidelines

will apply.

Commercial Properties

COMMERCIAL INVESTMENT

PROPERTY

Long term tenant (14years).

$60k per annumrent.FutureEQ

upgrade is factoredintosale price

of $480K ono.Would consider

exchangefor propertyorland.

Phone Chris 021 978 348

Wanted To Rent

RANGIORA AREA

wanted to rent by 2Adults,

prefer 3 bedrooms, very

tidy, excellent gardens.

Phone 021 048 5923.

Thursday,August 2, 2018 | Issue808 | www.ncnews.co.nz

Entertainment

BALCAIRN HALL welcomes

the Alpaca Social

Club with special guest

Cousin Alice an Arts On

Tour NZ event, 7.30pm,

Saturday 26th March 2022,

free supper, alcohol free

event, raffles, CD sales.

Tickets $25 from Sally

Macs, Amberley, Stan's 7

Day Pharmacy Rangiora,

Sefton Garage and

via www.balcairnhall.com -

Covid guidelines will apply

HAVE YOU BEEN TO

OUR WEBSITE LATELY?

www.ncnews.co.nz

Visit now toview the paper online &more!

NEWS &CLASSIFIED

The North Canterbury News, March 10, 2022

Terrible

Debt

a free and

Call Amanda today to

advertise in our classifieds

Ph 03 313 2840

Public Notices

Kiwisaver

teach

manage

the Waimakariri

or Hurunui

District

www.bsnc.org.nz

35

other agencies

Sharon Grant

Find us on Facebook: (Budgeting Services North Canterbury)

Supported by:

Registered Charity Number: CC10710

Call Aaronfor

genuine, friendly

service from amultiple

award winning agent.

Aaron Clark

Residential, Lifestyle &Commercial SalesConsultant

M 027873 5121 P 03 3138022 E aaronc@pb.co.nz

Proudtobehere

pb.co.nz

Property Brokers Ltd Licensed REAA 2008

Your local paper,

keeping you in touch with

your community and

its people

Locals

Supporting

Locals

www.ncnews.co.nz

info@ncnews.co.nz

03 314 8335
---
What's happening in your

community…

All Redinfo traffic onchanges light restrictions to Council are services in placeand -visit facilities waimakariri.govt.nz can be found atfor waimakariri.govt.nz/covid19

further info.

Dra Annual Plan Open for Feedback

Waimakariri District Council's Dra Annual Plan

2022/23 is now open for feedback and we would

love to know what you think.

Key issues requiring further funding include:

• Funding required to complete the Kaiapoi

Community Hub

• Kaiapoi Stormwater and Flooding Improvements

• Service Level Changes to our Road Network.

The Dra Plan includes aproposed 4.3% rates

rise –only 0.1% higher than predicted –and

allows the Council to continue todeliver services

at ahigh level despite lower than expected

central funding contributions.

People are able to provide feedback until 4April by

visiting waimakariri.govt.nz/letstalk

Update onWoodend and Kaiapoi

Water Supplies

Over the last couple of weeks the Council have

taken the precautionary measure to chlorinate

both these water supplies as testing indicated

there may have been organic material present.

The level of chlorine is monitored and is consistent

with New Zealand Drinking Water Standards.

We understand the community's preference for

unchlorinated water and are doing everything we

can to resolve the issue as soon as possible.

Woodend/Tuahiwi Supply

Sterilisation of the reservoir is being carried out this

week as well as flushing the whole supply. Flushing

with chlorine in the system will help breakdown any

remaining organic material in the supply.

If this all goes toplan we should be able to switch

from the Pegasus supply back to the Woodend/

Tuahiwi supply early next week.

Kaiapoi Supply

The team are investigating anumber of possible

causes with the supply and monitoring the

pressure to check for any changes or unexpected

results. We've accelerated backflow preventer

installation on some properties to ensure the

supply is as secure as possible.

We will be flushing the network this Thursday and

Friday, the chlorine helps clean out any remaining

organic material in the pipework.

We will then carry out more testing early next

week to make sure the water quality is stable.

Once we are fully confident, will we look to start to

remove chlorine zone by zone.

We hope to start this from around 17 March and

we will continue tokeep the community updated.

Traffic Management for Testing Centre

Canterbury District Health Board's Covid-19 Centre

opened last week on Coldstream Road, Rangiora.

It's adrive-through facility and will only be

providing RAT (Rapid Antigen Test) collection.

Due to the high demand for tests, the Council have

put traffic management plans in place to try to

minimise disruptions and delays.

Please access the centre via Golflinks Road and

then Coldstream Road turning le into the carpark.

When leaving the centre exit le only from the car

park towards Cones Road. There will be no right

turn into or out of the centre carpark.

Unless you are visiting the centre please consider

using an alternative route to Coldstream Road.

Please follow directions and take care in the area.

Please remember that you only need to get tested

if you are experiencing Covid-19 symptoms, are a

household contact of aknown case or have been

advised toget tested by ahealth professional.

Haveyou signed upfor the Waimakariri

District CouncilNewsletter?

To join visit:

waimakariri.govt.nz/subscribe

Public Health Notice

Please Flush Your Taps

Some plumbing fittings may allow

tiny traces of metals to build up in

water that has been standing in the

fittings for several hours.

Although the health risk is small, the Ministry

of Health recommends you flush acouple of

cups of water from your drinking-water tap

each morning before drinking, or aer long

absences from your property.

This simple precaution is recommended for

all public and private water supplies for all

households in New Zealand.

Formore informationcontact the Waimakariri

District Councilon0800 965 468.

The Waimakariri

Event Funds

Enterprise North Canterbury isinviting

organisers of Waimakariri events to

apply for one of two event funds.

The funds offer between $500 and $10,000

towards events held in the Waimakariri District.

The current funding round is open from

1March until 31 March 2022.

Check out the criteria for the Waimakariri

Regional Events Fund and apply online at

www.northcanterbury.co.nz/regional-events-fund

Check out the criteria for the Waimakariri

Event Fund and apply online at

www.visitwaimakariri.co.nz/events/organisers/

Or contact events@visitwaimakariri.co.nz for

more information.

The Waimakariri Regional Events Fund is Ministry of

Business, Innovation and Employment funding and the

Waimakariri Event Fund is Waimakariri District Council

funding. Both are administered by ENC.
---
CLASSIFIED

North Canterbury News, March 10, 2022

37

Give usyour

feedback

Atip to

makesure

your rubbish

bag is

collected...

Rubbish bags need

to be on the berm,

footpath or verge

–not on top ofbins or

in the gutter.

Help the driver spot

your bag by putting it in

front ofbins.

—

Find out more

collection tips at

rethinkrubbish.co.nz

rethinkrubbish.co.nz

NEEDFUNDING

FORA

COMMUNITY

PROJECT?

Your Community Board can support

your project with grant funding.

Application forms and grant criteria are available

online or from any Council Service Centre. For more

information about funding visit the Council website.

Find out more at

waimakariri.govt.nz/communitygrants

AGM

(Annual General

Meeting) at Tuahiwi

Community Preschool

7.30pm on 12 th April

2022, to be held at

204 Tuahiwi Road,

Tuahiwi.

All welcome to

attend.

Please note that whilst

we are under the red

setting, anyone wishing

to attend MUST RSVP

by emailing

tuahiwipreschool@

gmail.com

and be prepared to

show their vaccine

pass. Thank you.

2461412

Notice of Annual

General Meeting

(AGM)

Forthe Rangiora RSA

to all Members

Date: Saturday 19 th

March 2022

Time: 1000hrs

Venue: Lounge area of

Mess, Rangiora RSA

building, 82 Victoria

Street, Rangiora

Agenda

1. Apologies for

absence

2. Minutes of previous

AGM

3. Presidents report

4. Financial report

5. Confirmation of

Executive Committee

Members

6. General business

Kindest regards

Bill Peck

Secretary/Treasurer

Rangiora RSA

2459762

Cars Wanted

ANY old cars, anything pre

1990, unfinished Hot Rods,

Classic Cars. Please call

027 258 8366.

CASH 4CARS

and 4WD'S

Phone

Automotive

Parts

03 313 7216

CARS, vans, 4WD's

wanted for dismantling or

repair. Phone 027 258

8366.

FALCONS &

COMMODORES

WANTED

Suitable for

dismantling or repairs

Ph 313 7216

2412522

Automotive Services

CARAVANS &

MOTORHOMES.

Interior &exterior repairs,

maintenance & upgrades,

based in North Canterbury.

Solar, satellite, awning

installations. Sheetmetal,

light engineering &welding

services. Professional

coach builder specializing

in the RV industry 25 years.

Call Darryl @ Advanced

Auto Homes 027 220 6566.

Public Notices

Proposed Amendments to the Tūhaitara

Coastal Reserve and Waikuku Beach

Reserves Management Plan

Reserves Act 1977

Public noticedate:Saturday5th March 2022

Closingand time: Friday 6th May 2022,5PM

Pursuant to section 41(9) of the Reserves Act 1977,

Te Kōhaka oTūhaitara Trust herby notifies its intention

to amend the Tūhaitara Coastal Reserve and Waikuku

Beach Reserves ManagementPlan.

The purpose of theamendments are to:

(1) remove the Waikuku Beach Reserves from the

Management Plan. These reserves will be subject to

anew management plan prepared by the Waimakariri

DistrictCouncil which is the responsible entity.

(2) Include Te Kōhanga Wetlandsand Kaitiritiri Ridge

within the Management Plan. These are ecologically

andculturallysignificant reserves established through

the development ofPegasus town and transferred

into the ownership of Te Kōhaka oTūhaitara Trust in

2017. The future use and management ofthese two

areas has been prescribed in aDeed of Governance;

the outcomes and activities of which are consistent

with Tūhaitara Coastal ReserveManagement Plan.

(3) Include Pines Beach and Kairaki Regeneration

Areas. These land parcels were identified in the

Waimakariri Residential Red Zone Recovery Plan

for divestment from the Crown to the Te Kōhaka

oTūhaitara Trust for management as part of the

Tūhaitara CoastalReserve.

Including these areas into the Tūhaitara Coastal

ReserveManagementPlan will provide for aconsistent

approach to management and better achievement of

outcomeswhich are ecologically integrated.

The proposed amendments may be viewed here

https://www.tuhaitarapark.org.nz/reserve-managementplan

Any person wishing to make a submission on the

proposed changes tothe Tūhaitara Coastal Reserve

and Waikuku Beach Reserves Management Plan may

do so in writing andaddressedto:

Te Kōhaka oTūhaitara Trust

C/- Waimakariri District Council,

Bag 1005 RANGIORA 7440

Alternatively,you can emailyour submission to:

tkot@farmside.co.nz

The submission should be received no later than 5pm

on 6May 2022.

Greg Byrnes

General Manager

Te KōhakaoTūhaitara Trust

Temporaryclosure to ordinary

vehicular traffic

2464037

The Council has approved an application from RATEC

Motorsport Inc. organisers of the, Limeworks Rd 2022

timetrials Event for the temporaryclosure of:

•Limeworks Road

•Sunday 3April 2022

•From9am to 6pmeachday.

This closure is made under paragraph 11(e) ofthe Tenth

Scheduleofthe Local Government Act 1974. This applies to

all vehiculartrafficwith the exception of emergency services

vehicles. It will be an offence under the above regulationsfor

any person, other than those underauthority of an authorised

permit, to use the road for ordinary vehicular traffic during

the period of closure.

Motorcycles

WOF your motorcycle or

light trailer at South Pacific

Motorcycle Services, Mandeville.

Ph 03 312 0066

office@motorbiketours.co.nz.

2464651

ASHGROVE SCHOOL

PTA AGM to be held at

7pm on 15th March 2022,

via zoom. Email

ashgroveschoolpta@gmail.com

for the zoom link.

All welcome.

Conical Hill Reserve–Lease for a

gravity-based recreationalride

The operation ofagravity-based recreational ride ona

section of Conical Hill Reserve is on the cards, pending

on Hurunui District Council granting alease toHanmer

Springs Thermal Pool &Spa (HSTP&S).

In this case, formal public notification isnot required by

the ReservesAct 1977 (Section 54 (2A)), as aresource

consent has been granted for the activity (pending the

appeal period) under the Resource Management Act

1991.

Do you haveany suggestions and/orfeedbackregarding

what you think we should consider for the lease that is

not already covered in theresourceconsent conditions?

For more information and to view the resource consent

decision, pop onto our website www.hurunui.govt.nz

under consultations.

We'd like to hear your suggestions and/or feedback; you

can get in touch with us via:

Email submissions@hurunui.govt.nz-

Subject Line: 'Conical Hill Reserve–Lease

for agravity-based recreational ride'

Phone 03 3148816 (Amberley office.)or03 315

8400(Amuri &Hanmer Springs Freephone.)

Post Hurunui District Council,POBox 13,

Amberley 7441, NorthCanterbury-

Subject Line: 'Conical Hill Reserve –Lease

for agravity-based recreational ride'

Drop in 66 Carters Road, Amberley -Hours: Monday to

Friday (exceptpublic holidays)from 8.30am to 5.00pm.

Please have any suggestions and/or feedback to us by

5pm, Monday28th March 2022.

2464814

For Sale

Situations Vacant

Wanted To Buy

THREE BEDROOM CLOTHING WANTED.

house lot of wool carpet in

good condition. Please ph

021 154 5809.

Retro Clothing wanted for a

dress up 70's party. Would

love asafari suit but anything

considered. Phone or

txt 021 861 732.

Peppertree Preschool

133 Kippenberger Ave Rangiora

We are looking for casual relievers to join our

team working in our beautiful well appointed

Preschool.

Applicants will have a calm and nurturing

personality, have experience with children,

be hard working, have initiative, good

references, be fully vaccinated and be

available preferably between 7.30 am and

5.30 pm.

For more information about us please see

our website www.peppertreeprechool.co.nz.

Please apply to Leah our office Manager at

info@peppertreepreschool.co.nz

CustomerSupportOfficerFixed Term

(1 year)Parental Leave Cover.

40 hours per week.

MondaytoFriday8.30am 5.00pm

2464034

The front of house Customer Support Team at Hurunui

District Council have awonderful opportunity awaiting

the right person, someone to help contribute toward

achieving their serviceexcellencegoal.

If this sounds like you, thenwewould lovetohearfrom

you! Please go to our careers website hdcjobs.co.nz/

Vacancies and apply online. Applications close Sunday,

20 March 2022 .

If you require furtherinformation, pleasecontact

Cynthia Otto,Customer SupportTeam Leader,

cynthia.otto@hurunui.govt.nz, call 027 808 9528

or Michael Prisk HumanResources Team Leader,

Michael.prisk@hurunui.govt.nz, call027 528 6967

2464653
---
CLASSIFIED

38 The North Canterbury News, March 10, 2022

We need you !

We are seeking applications from outgoing, friendly and enthusiastic people to join our team and have the following

Fixed Term positions available:

Inwards Goods /StorePerson

• Mon –Fri up to 40 hours

• Mustbephysicallyfitand strong

• Will be required to lift and carry heavy products

all day

• Work as part of ateam

• Beable to think proactively

• Work hard and smart

• Mustbecustomer focused

• Forklift licencewould help

• Musthavea"Can Do" attitude

Retail Assistants

• Weekend work required, up to 40 hours

• Working inside and outside

• Mustbephysicallyfitand strong

• Required to climb ladders and use lifting equipment

• Required to pick, carry,assemble products

• Work as part of ateam

• Beable to think proactively

• Work hard and smart

• Customer focused

• Familiarity ineither Power tools, Power garden or

Bathroom products preferred

Inwards Goods Forklift Driver

• Monday–Friday

• Forklift licenceand OSH cert

• Experience in abusyenvironment

• Musthavea"Can Do" attitude

• Ability to get the job done

• Reliable, flexible and disciplined

• Able to think and act on the go

• Beagoodteamplayer

• Show an eye for detail and proactive planning

• Have great communication skills

Garden Products Team Member

• Garden plant and product knowledge critical

• Weekend work required

• Upto40hours

• Mustbecustomer focused

• Working inside and outside

• Mustbephysically fit and strong

• Will be required to climb ladders and use lifting

equipment

• Work as part of ateam

• Beable to think proactively

• Work hard and smart

• Must be customer focused

McAlpines have an active drug &alcoholpolicy in place, apre-employment drug test and medical will be required.

If any of these positions sound like you, send your application and CV to:

Fixed Term Roles

McAlpines Mitre 10 Mega

PO Box 1003

Rangiora 7440

Or email applications@mcalpines.co.nz

PLEASE SPECIFY WHICH POSITION YOU ARE APPLYINGFOR

Reporter–AshburtonCourier

We arecurrently looking foraversatile reportertojoin our team at the

AshburtonCourier.Allied Press Limited employs over 450 people on

apermanentbasis across our 15 sites in the South Island. Weoperate

across multiple media platforms (print, online,digital) delivering news,

information and entertainmentthrough our various regional and city

publications including the AshburtonCourier,The Star (Christchurch) and

the Otago Daily Times.

Thesuccessful candidate will have:

• Excellentwriting ability

• Ahigh degreeofinitiative

• The abilitytoworkautonomously,juggle multiple tasks and meet regular

deadlines

• Afull NZ driver's licence

• Photography, video and websiteskills aredesirable.

• Relevantjournalism qualification (or equivalentexperience) would be a

distinctadvantage

What we offer

• Agreatteam environmentand an opportunitytogrowyour

journalism skills

• Enjoybeing partofasmall,dedicatedteam.

• Employeewellbeing benefits including medical insuranceand EAP

Acopyofthe full position description can be found at

alliedpress.co.nz/employment.

If youthink this role is foryou,please apply to:

Daniel Tobin (Editor) daniel.tobin@ashburtoncourier.co.nz

with your covering letter and CV by Friday4March 2022,

or post to 199 Burnett Street,Ashburton,7700.

Gardening

LAWN MOWING, Waimakariri

area. Please ph

027 933 6523.

Personal

A SEXY BLONDE, talk

live or listen. Ph 0900 44

666. $3.99 +GST pm. R18.

Livestock

HOMEKILL & Wild

Game meat processing. Ph

313 0022. www.meat2u.nz.

Pets

BICHON HOMESTAY

for smaller dogs. We look

after your dog in our home.

"No kennels". Phone today

03 314 6110.

Pets

STOCK WANTED

Old /Injured or Unwanted

(Cattle &Horses)

MEAT2U.NZ

313 0022

2457344

Situations Vacant

2464774

Wanted To Buy

$$$

Amalgamated Scrap Metal

Ltd. Specialists in farm

machineryand farm clean

ups, old vehicles etc.

100% locally owned.

Ph 0800 030 712 or

027 695 0480.

2312759

FARMER/TRACTOR/

MAINTENANCE

Farming job available. Stock

experience required along

with full range of tractor

and general maintenance

experience. This is a job

full of variety 10-20 min

commute from Rangiora/

Oxford. Accommodation

required if needed.

Call 027 236 7577 for

further details. Excellent

references essential.

2465017

COMMUNICATIONS

OFFICER

Kaikoura District

Council

Permanent

Part­time

Due to an internal

transfer, this role needs

to be filled. Reporting to

the Senior Manager

Corporate Services this

role provides a wide

range of communications,

development, co-ordination

and support.

Compile information

and news, design collateral

and public consultation

documents,

pulling together information

and views from

Council, partner agencies

and community

sources. You then

deliver it to our varied

community via anumber

of channels; community

meetings and

supporting materials,

newsletters, emails,

website, flyers and

social media. You'll

write content, look after

our social media and

website, assist with

community events, capture

photos and videos,

and respond to unexpected

events affecting

our community.

You will also be responsible

to lead the current

implementation of a

new Council website,

replacing our out-dated

software.

You will find it easy to

multi-task and work

with contrasting views

and opinions. You can

think on your feet and

adapt swiftly and easily

to change, and you are

willing to help with a

variety of other tasks,

as part of our small

team.

What you'll need:

• Experience in a

similar role or an

administration-based

role where high

standards of writing,

initiative and creativity

were required

• High standard of

written and verbal

communication

skills

• Document design

skills (Canva and/or

Adobe InDesign,

Photoshop)

• Well-developed skills

with Microsoft Office,

particularly Word,

Excel and Power-

Point

• Good digital skills

both with social

media (Facebook,

Twitter, LinkedIn),

websites and content

management systems

• Proven ability in

performing a range

of tasks under competing

demands, and

producing a quality

result, consistently

on time

• Ability to take

onboard differing

views both at astrategic

and micro level

Hours of work will be 32

hours per week.

Afull job description is

available on our website

www.kaikoura.govt.nz

Applications should be

emailed to:

hr@kaikoura.govt.nz

Applications close

March 21, 2022.

FACTORY, Poultry, Traffic

Control, Sawmill. Short

and long term roles available,

immediate starts.

Contact Daphne or PJ at

Superior Personnel. 03 313

6180. For other roles see

our website

www.superiorpersonnel.co.nz

Firewood

SPILT old man pine, 3.7

$260. Ph 021 993 497.

Educational

TUITION available. Primary

and secondary up to

NCEA level 3. In centre

(Rangiora) or interactive

online from your home.

Each student on an individually

tailored programme.

Kip McGrath Rangiora has

been serving the local community

for 30 +years. Give

us acall (03 313 3638) or

book your free assessment

online https://www.kipmcgrath.

co.nz/rangiora

Trade&Services

A PAINTER WITH

PASSION! Local painter

with 30 years of quality and

integrity in all aspects of

painting. Phone Mike on

021 0903 8546.

ABEL &Prestige Chimney

Cleaning. Nth Cant owned

& operated. Covering all

areas from Waimak to Hanmer.

Professional, guaranteed,

service. Firebox

repairs, carry most parts. Ph

0800 661 244.

ARBORIST qualified.

Copper Beech Tree

Services. Tree removal,

pruning, height reduction,

hedge trimming, shaping,

tree planting, firewood.

Free quotes. Contact Angus

Edwards 027 259 6741

copperbeechtreeservices@gmail.com

BRIAN'S Tree Services.

Tree felling, topping,

shaping, firewood cut, rubbish

removed, stump grinding,

branch chipping.

Affordable rates. Phone 03

327 5505 or 021 124 4894.

CHIMNEY SWEEPS.

Time to service your fire.

Accumulation of soot seriously

affects performance.

Latest rotary brush technology.

Free moisture check

on wood. Safety inspection.

All work insured and guaranteed.

From $80 single

story. 0800 SWEEPME or

www.sweepnz.co.nz.

DIRTY TILES &Grout?

Professional tile cleaning,

tiled shower restoration,

mouldy silcone, shower

glass & we can even

recolour your old grout!

For all your tile and grout

issues call Grout Pro for a

free, no obligation quote.

Ph Darryl 0800 882 772.

Log Fires

Pellet Fires

Heat Pumps

Sales

Service

Installations

Free Quotes

03 343 1651

472 Blenheim Rd

www.heatstore.co.nz

FIRE GUARDS Custom

made with safety latch.

Phone 021 169 9066. E:

pjfabricators123@gmail.com.

GENERATORS Honda /

Rato /Diesel, plus parts &

accessories 027 262 2266

www.BLAX.nz.

KITCHEN, bathroom,

renovations, decking,

pergolas, fencing. Honest

reliable licenced builders.

Ph Don 027 727 9162.

LOGSPLITTERS Honda

or Rato powered, plus parts

& accessories. Telephone

027 262 2266 www.BLAX.nz.

METAL WORX. Flashing,

Sheetmetal Fabrication,

Wrought Iron,

Welding, Custom Trailers,

General Metalwork. No job

too big or too small. Ph 021

265 5428 or 03 314 6908.

Find us on facebook/

Glenmark Metal Worx.

glenmarkmetalworx.ltd@gmail.com.

PAINT & wallpaper

services. Wayne Bryant,

exterior, interior. Qualified

tradesman. Free quotes. Ph

313 5337 or 027 654 4568.

PAINTER & Decorator.

25 + years experience.

Interior /exterior, roofs &

waterblasting. For a free

quote, please ph Steve 03

314 4620 or 027 477 1930.

PAINTER. Qualified local

professional, Int / Ext,

roofs, wallpaper. Call or

text Corban 027 846 5035.

PAINTERS

Reg Tradesman

Interior,exterior.

North Canterbury Painters

specialising in decorating for

over 65 at adiscount rate.

Free quotes.

Covering Nth Canty,Oxford,

Kaiapoi, Rangiora, Amberley.

Rob 03 327 7899

or 027 432 3520 2227597

Pride &Quality Painting

&Decorating Services

20 yrs exp, fast and friendly

service. For all your painting

needs, phone: Martin 310

6187 or 021 128 9867

ANTHONY SYMONDS

Forall your painting &

plastering requirements

Local with 30 years

experience

All workmanship

Guaranteed.

Phone 021 344 023

2220615

Trade &Services

POWER TOOLS repairs,

parts &sales for over 40

years. All main brands serviced.

Grossman Trade

Tools, 23 Watts Road,

Christchurch. Ph 389 9230.

RANGIORA Rubbish

Removal and RRR skips.

Wheelie bins any frequency

and skips from 1.5 cube to

9cube. Skips and wheelie

bins for any use, rubbish,

greenwaste, building sites

or just cleanups. Give us a

phone call 313 6957 or for

skips 021 313 255.

REMOVALISTS

Movemen Ltd

2Men &agood sized truck.

From $150 plus GST per hour.

Kaiapoi based.

Call Gerard

027 668 3636

movemen.co.nz

2401953

ROOFER. All roof repairs,

roof painting, water blasting,

moss treatment,

repointing, gutter cleans &

snow straps, and more. Free

quotes. Please ph Nathan

027 516 6609.

SCREEN PRINTING.

For all your printing

requirements. T-shirts,

Hoodies, Hi-Vis vests and

polos, Overalls, Caps etc.

Please phone Heather 03

313 0261 or email heather.

norstar@gmail.com.

SEPTIC TANK

CLEANING

Bill's Liquid

Waste

Blair Tavendale

Ph 03 314 9371

0275 379-694

SHEARER. Hap's Farm &

Lifestyle Services. Shearing,

crutching, drenching,

tailing, feet trimming &

health check. — Ph. 03-

423-3713 or 021-267-4025.

SHEEP SHEARING,

drenching, feet trimming.

For Lifestyle blocks. Call

Stu 027 315 6916.

2362002

You dump it...

Blair pumps it...

027 216 0000

STUMP GRINDING:

Stumpclear is here for

stump grinding at your

home or lifestyle block in the

Waimakariri District. —Ph.

027-242-3522.

2225862

CRAIGS Trees

(03) 327-4190

TREE REMOVALS

THINNING &PRUNING

STUMPGRINDING

FELLING &TOPPING

FULLYINSURED

QUALIFIED ARBORIST

Free Quotes

027 2299 454

craigstrees@xtra.co.nz

2434390

TRUCK WASH. Mobile

touchless on-farm foam

wash solutions. Telephone

027 262 2266

www.CLEANFLEET.nz.

VALUATION -

Specialising in North Canterbury.

Contact Geoff at

Maxwell Valuation. Phone

03 310 8541 or email

geoff@maxval.co.nz.

WINDOW TINTING

tintawindow

advanced film solutions

99% uv block

fade protection

heat control

reduce glare

25 Years Experience

privacy films

frosting designs

non-darkening films

Workmanship Guaranteed

Lifetime Warranties on Most Films

UV

block

Free Quotes Canterbury and Districts

03 365 3653 0800 368 468
---
Trusted Trades &

Professional Services

Guide

To book your spaceinthis guide,phoneAmanda Keys 313 2840 or email amanda.keys@ncnews.co.nz

Arborist

Automotive &Recovery

Builder

Butchery

2435705

North Canterbury Tree Services

Tree felling, cutting and

clearing service, including

stump grinding

Insured qualified and

certified arborists

0274 537 834

northcantytrees378@gmail.com

2070788

• WOF Cars &Trailers

• Vehicle Servicing &

Repairs

• Tyres &Punctures

• Jump Starts

•

Towing &Salvage

• Courtesy Car Available

Ph Aaron Rowlands

0272 588 366

13 Stone Eyre Place,

Swannanoa

Eftpos available Mon –Fri 8am –5pm, Sat 9am –1pm

• New Builds &Renovations

• Light Commercial /Re-strengthening

• Project Management

• Bathrooms

• Farm Buildings

• House Lifting Re-piling

• Shop Fit Outs

2408831

40+ years experience

027 222 5078

markw.hills@xtra.co.nz

OxfordButchery

Shane and Leanne Frahm

We cankill&process yourstock

FourGenerations of Frahms

since 1957

Ph 312 4205

Oxford

Number one

old-fashioned bacon

&ham curing.

A/H 312 4709

WE ARE OPEN, WEARE AESSENTIAL SERVICE

2227889v2

Cattle Problems

• Live Humane Capture

• Trucking

• Tagging

• Testing

• Sale of unruly, difficult, pesky

cattle

Profit share 50-50

Craig Flintoft 03312 9432

craigflintoft@gmail.com

2459888

2269236

Engineering

For your Engineering needs

187d Ohoka Road, Kaiapoi

Phone 03 327 5246 |027 495 2821

toppeng@xtra.co.nz

For all your landscaping needs

All Landscaping, Retaining Walls (Engineered and

Non-Engineered), Timber Fences, Landscape Structures

and more...Lifestyle Block, Rural and Residential.

Phone Jeremy 021 169 9394

www.blackhill.co.nz

www.facebook.com/blackhillltd

2372616v2

Plumbing

For all

general

aspects of

plumbing

Discounts for over

65 years old

Fast friendly service

All work guaranteed

Aaron McCartney

Certifying Plumber

Cell 027 366 9091

A/H 03 310 2137

Free Call:

0508 44EVER

EMAIL:

plumber_27@yahoo.com

Landscaping

2172994

Construction &Concrete

All Construction & Concrete Work

•Driveways, patios &paths

•Bridges and Culverts

•Floors, foundations

•Sheds and buildings

•Dairy Sheds, Herd homes

•Silage pits, effluent ponds

•Excavation and cartage

•Precast concrete

•Insulated panels

2420841

Daryl Power

027 230 9401

concretepower@scorch.co.nz

www.concretepower.co.nz

▪ Painting ▪ Gardening

▪ Fencing ▪ Lawn mowing

▪ All General Maintenance

Performed to the highest

standard by a straight up,

honest, Handy Guy

No job too small!

Flat hourly rate, no hidden surprises!

THE

HANDY

GUY!

Handyman

Call Guy "The Handy Guy" Now

0275 040 658

Painter /Plasterer

HURUNUI Painting

• Qualified tradesmen, quick,neat and friendly.

• Reasonable rates. • Interior /exterior painting.

• Interior plastering &wallpapering.

• Spray painting &water blasting.

P: Rod Hermes 027 414 0830 or 03 314 2391

E: r.hermes@xtra.co.nz

2394026v2

AMPLIFY YOUR

BUSINESS

AND BE THE

NAME THEY

REMEMBER

FIRST

Advertise with

us and get

noticed

today!

Phone us today on 03 314 8335 or email

sales@ncnews.co.nz to find out how we can help!

2273277

DENTURE CLINIC

RANGIORA

DENTURE CLINIC

Garry WMechen

Registered Clinical DentalTechncian

Phone (03) 313-9192

38a Ashley Street, Rangiora

NEW N W DENTURES D N ES

*RELINE * *REPAIRS

* I S

HOURS

8.30am -12noon

- Monday to Friday

FREE E CONSULTATION O

AND ADVICE

A V C

For a/h repairs

phone (03) 310-3044

Scrap Metal

CASH PAID FOR SCRAP

•Car Bodies •Scrap Steel•Specialists in Farm

Machinery•All non Ferrous

MAINLAND

METALS LTD

Ph (03)338 7000

Mike0274 818544 •Robbie0274818 027

Locally owned and operated

Seamless Spouting

Seamless Spouting

1902273

Supply and Install

of Seamless Gutters

10 year no leaks

guarantee

• Continuous spouting made on site,

large colour range available

• High grade and thicker material used

• Repair or replace any type of gutter

• Undertake all insurance work

• Independently owned and operated

• Competitive pricing

Servicing North CanterburyDistricts

Call Danie 021 875 462

2359362

Ear Health

• Ear Health checks.

• Wax removal using Microsuction

• Removal of foreign bodies

• Basic hearing aid care

• ACC provider

• WarVeteran provider

• No medical referral

required

Clinics in Rangiora, Amberley and Kaiapoi

Rest homes/retirement villages, booking by prior arrangement.

Bookings: Online www.earcare.nz |Phone 020 4124 25 25

Email alison@earcare.nz | Ear Care Canterbury

2324849

HAVE YOU HAD

THE SNIP YET?

❖ Tree Topping ❖ Hedge/Shelter belt cutting

❖ Gorse Hedge &Under Pivot cutting

❖ Vegetation mulching

TAKING BOOKINGS NOW

Call Craig

027 222 1632

or 0800 SNIP IT

Email

craig@treesnip.co.nz

2MACHINES OPERATING CANTERBURY WIDE

2452097

Hedge Cutting /Tree Topping

www.treesnip.co.nz

Tools &Equipment

SALES

PARTS

SERVICE

ACCESSORIES

ON-FARM VISITS

Water Blasters, Log Splitters, Generators,

Air Compressors, Water Pumps, Air Tools, Spray

Equipment, Replacement Ag Seats, Small Motors.

Free local machinerydelivery.

Richard Black www.BLAX.nz

North Canterburyowned &operated

2435547v2

To book your spaceinthis guide,phone Amanda Keys 313 2840 or email amanda.keys@ncnews.co.nz
---
COME IN

AND SEE OUR

WINNING TEAM

Jamie &Ellen Petersen and their team are proud toannounce

they are the 2021 winners ofFranchise of the Year. When it

comes togarages, sheds, barns and commercial buildings,

there'sprettymuchnothingTotalspanNorth Canterbury can't do.

COMMUNITY

BUILDING

OF THE YEAR

2021

FRANCHISEE

OF THE YEAR

2021

LOCAL

MARKETING

EXCELLENCE

2021

Totalspan North Canterbury

127 Main North Road, Woodend

Phone: (03) 310 0247

Email: northcanterbury@totalspan.co.nz

0800 TOTALSPAN TOTALSPAN.CO.NZ

HC TLS2163
---
MASSIVE

PLANTSALE

MONDAY 14 TH MARCH TOFRIDAY 25 TH MARCH

MONDAY TO FRIDAY 8AM-5PM

75 Boys Road,Rangiora

2 4 5 9 5 0 1
---
TUSSOCKS/GRASSES

$

2- $ 3

HEDGING

PINOAK TREES

LARGESIZES

45L TO 160L

$

95- $ 150

75 Boys Road, Rangiora
---
NATIVE SHRUBS

CabbageTree, Ribbon Woods, Flaxes,Griselinia,

Corokias, Manuka, Nandina, Kowhai

$

2- $ 8

75 Boys Road, Rangiora

2459503
---
BARGAINBIN

Hebes,Bay Laurel, Flaxes, andheaps more!

$

2

NORTHBROOK RD

BOYS RD

BOYS RD

RIVERSIDE

HORTICULTURE

75 Boys Road

COME&SEEUS!

14 TH -25 TH MARCH

MONDAY TO FRIDAY

(CLOSEDONWEEKENDS)

CAMSIDE RD

75 Boys Road,Rangiora

2459504