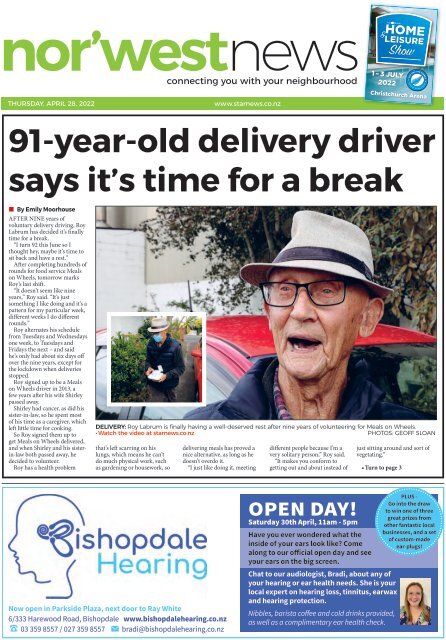 Nor'West News: April 28, 2022
Create successful ePaper yourself
Turn your PDF publications into a flip-book with our unique Google optimized e-Paper software.
connecting you with your neighbourhood

1 – 3 July

2022

Christchurch Arena

THURSDAY, APRIL 28, 2022

www.starnews.co.nz

91-year-old delivery driver

says it's time for a break

• By Emily Moorhouse

AFTER NINE years of

voluntary delivery driving, Roy

Labrum has decided it's finally

time for a break.

"I turn 92 this June so I

thought hey, maybe it's time to

sit back and have a rest."

After completing hundreds of

rounds for food service Meals

on Wheels, tomorrow marks

Roy's last shift.

"It doesn't seem like nine

years," Roy said. "It's just

something I like doing and it's a

pattern for my particular week,

different weeks I do different

rounds."

Roy alternates his schedule

from Tuesdays and Wednesdays

one week, to Tuesdays and

Fridays the next – and said

he's only had about six days off

over the nine years, except for

the lockdown when deliveries

stopped.

Roy signed up to be a Meals

on Wheels driver in 2013, a

few years after his wife Shirley

passed away.

Shirley had cancer, as did his

sister-in-law, so he spent most

of his time as a caregiver, which

left little time for cooking.

So Roy signed them up to

get Meals on Wheels delivered,

and when Shirley and his sisterin-law

both passed away, he

decided to volunteer.

Roy has a health problem

DELIVERY: Roy Labrum is finally having a well-deserved rest after nine years of volunteering for Meals on Wheels.

• Watch the video at starnews.co.nz

PHOTOS: GEOFF SLOAN

that's left scarring on his

lungs, which means he can't

do much physical work, such

as gardening or housework, so

delivering meals has proved a

nice alternative, as long as he

doesn't overdo it.

"I just like doing it, meeting

different people because I'm a

very solitary person," Roy said.

"It makes you conform to

getting out and about instead of

just sitting around and sort of

vegetating."

• Turn to page 3

OPEN DAY!

Saturday 30th April, 11am - 5pm

Have you ever wondered what the

inside of your ears look like? Come

along to our official open day and see

your ears on the big screen.

PLUS -

Go into the draw

to win one of three

great prizes from

other fantastic local

businesses, and a set

of custom-made

ear-plugs!

Now open in Parkside Plaza, next door to Ray White

6/333 Harewood Road, Bishopdale www.bishopdalehearing.co.nz

03 359 8557 / 027 359 8557 bradi@bishopdalehearing.co.nz

Chat to our audiologist, Bradi, about any of

your hearing or ear health needs. She is your

local expert on hearing loss, tinnitus, earwax

and hearing protection.

Nibbles, barista coffee and cold drinks provided,

as well as a complimentary ear health check.
---
2

Advertise locally and

target customers most

likely to shop with you!

what's on

this week

Thursday April 28 2022

Effective Ad packages start from just $99

(inclusive full colour ad, creative setting,

photography and proofing).

No contracts required.

Your local community newspaper connects

neighbours in the following suburbs

Harewood • Burnside • Bishopdale • Bryndwr

Fendalton • Merivale • St Albans • Mairehau

Papanui • Casebrook • Redwood • Styx Mill

Regents Park • Northwood • Belfast • Strowan

29,389 homes every week.

ADVERTISING

Monique Maynard

Ph: 021 372 481

monique.maynard@starmedia.kiwi

GENERAL INQUIRIES Ph 379 7100

CLASSIFIED ADVERTISING Ph 379 1100

www.starmedia.kiwi

Finger Puppet Friends

Thursday, all day

Fendalton Library

Head down to Fendalton Library to

make your own finger puppet with

craft supplies. Free, no bookings

required.

Te Ao Hou: Travelling

Exhibition

Thursday, all day

Redwood Library

Celebrate the tenacity and elegance

of the Māori spirit through this display

that centres on the magazine Te

Ao Hou: The New World, published

1952–75. It also showcases the pōwhiri

process (welcoming visitors onto the

marae).

Bolivia Card Game

Thursday, 1-3pm

Ōrauwhata: Bishopdale Library and

Community Centre

Go along to Ōrauwhata Bishopdale

Library for a fun and friendly card

game of Bolivia. All are welcome.

Redwood School Exhibition –

Poppies

Friday, all day

Redwood Library

Redwood School pupils' artwork

features in this month's community

display at Redwood Library. A

tribute to Anzac Day, the artwork

displays a vibrant use of crayons and

water colours.

Mobile Discovery Wall, Friday, all day, Fendalton Library. The discovery

wall at Tūranga has a smaller, mobile 'sibling'. Local heritage comes to life

with this unique interactive touchscreen technology that lets you explore the

history of Christchurch. Go along to try it out as it visits community libraries

around the city.

Bishopdale Book Club

Thursday, 1-2.30pm

Ōrauwhata: Bishopdale Library and

Community Centre

Go along and join the friendly group

of readers and chat about your current

reading and old favourites. With no

set book to read, this is a relaxed and

social group who meet monthly in the

library. Held on the last Thursday of

each month.

Rummikub Club

Thursday, 1-3pm

Fendalton Library

Go along to Fendalton Library

to play a game of Rummikub – an

exciting and interactive strategy

game.

Knit 'n' Yarn

Friday, 10am-noon

Papanui Library

Head down to Papanui Library with

your knitting, crochet or another craft

and have fun with a social group.

Scrabble Club

Friday, 11am-noon

Redwood Library

Have a way with words? Go along to

the scrabble club and test your skills

while having fun. All materials are

supplied. Free, no bookings required

Not-for-profit organisations

can send their What's On listings

to norwest@starmedia.kiwi

NUMBER ONE SUPPLIER

TO THE NZ JET BOATING

COMMUNITY FOR OVER

50 YEARS

With Love on Mothers Day

Ph: 03 359 8207 E: bishopdalepostshop@gmail.com

Bishopdale Village Mall Plenty of free parking!

• Part Boats & Hulls

• Turn Key Packages

• New Jet Units

• Custom Fabrication

• Expert Advice

SERVICING

Peter Tonkin

03 962 0505

peter.tonkin@hamiltonjet.nz

• Spare Parts Retailer

• Jet Unit Refurbishment

• Engine Tune-Ups

• Insurance Repairs

• Impellor Reconditioning

Restoring your confidence through your smile

Full service Denture Clinic

and Laboratory

Caldent Denture Cleaner

Free Consultation

No Obligation

Ph: 385 5517 + 396 Innes Road, St Albans

admin@denturesplus.co.nz

+ denturesplus.co.nz
---
Thursday April 28 2022 3

Familiar faces a welcome part

of the job for volunteer driver

• From page 1

A Meals on Wheels volunteer

who has known Roy for three

years said she would often get

chatting to him while they were

waiting for the meals to arrive at

the start of their round.

"He's a very special person who

worked very hard all his life and

cared for others all his life," she

said.

She said Meals on Wheels was

always looking for drivers and

volunteers as good as Roy, with

his friendly and helpful nature.

What made him such a great

delivery driver was "just being

Roy" and giving the time each

week.

Roy said while he can't stop to

chat for long, he enjoys seeing

the people he delivers to, and

soon becomes familiar with

certain faces.

"Sometimes you'll be delivering

to a person for a couple of

months," he said. "There's some

now I've been delivering to for

the last five or six years."

Roy said the secret to a good

delivery service is having a reliable

car, something he can boast

about with his red Toyota Fitz.

"People look out the window

and see the little red car and

know it's me sometimes," he

said. "It does the job, I call it my

WHEELS: Roy Labrum uses his own car to deliver Meals on Wheels, calling it his "little

shopping basket."

PHOTO: GEOFF SLOAN

little shopping basket."

Each delivery varies depending

on the needs of the person

receiving the meal. Sometimes

Roy will drop it at the door;

sometimes he takes it inside to

the kitchen.

"Each time you go you don't

know who's on your list really,

you know who your regulars

are but then again you can't

guarantee because your regular

might be in hospital or might be

away on holiday."

Before Roy became a volunteer

deliverer, he and Shirley were

caretakers for Cobham Intermediate

School in Burnside for 10

years. Before that, they owned

two dairies in Marshland for six

years.

Roy does three separate rounds

of deliveries, mostly in the

eastern suburbs, and said he'll

definitely miss going around

the town.

"I'm delivering meals to places

that I normally don't go as part

of my other life," he said. "I've

been doing it for so long, it's become

a sort of pattern of my life

if you know what I mean."

Roy still hasn't decided what

he'll do in place of his delivery

rounds, but said he's looking

forward to some rest and

relaxation – and will even order

the meals for himself during

the winter.

Vandalism

prompts

patrols to be

reinstated

• By Emily Moorhouse

AN INCREASE in vandalism

and theft around the Ōtākaro

Avon River Corridor has finally

prompted patrols to be reinstated.

Avon River network manager

Hayley Guglietta brought the issue

to the Coastal-Burwood Community

Board at its latest meeting

and said she has been raising

concerns over vandalism in the

area for 10 months.

Board member for the

Burwood Ward Bebe Frayle said

the concern about vandalism

in the area was also raised at a

Dallington Residents Association

meeting.

"This prompted me to request

that staff follow up the possibility

of reinstating the patrols,

which the RRZ [residential red

zone] team actioned almost

immediately," she said. "They will

be reinstating in early May."

Frayle said the patrollers will be

organised and funded by the city

council.

When Land Information New

Zealand managed the OARC area

of the red zone it contracted a

group to patrol the area, but when

the city council took over from

LINZ in mid 2020, patrolling

stopped.

We care about your hair

Donate an hour of your time

to help save a life.

Christine Vanessa Kieron

NEXT BLOOD DRIVE

Today, 83 Kiwis will need

lifesaving blood or plasma.

Unseen emergencies happen every day.

DON'T WAIT TO SAVE A LIFE.

Federation Barber / Hair /

Beauty/ Medi-Clinic

Phone 352 7684

98 Main North Rd, Papanui

Bishopdale Reformed

Church

90 Highsted Road

Wednesday 14 April

3:00pm – 6:30pm

Bishopdale Blood Drive

NEXT BLOOD Wednesday DRIVE

11th May

Bishopdale Reformed Church

GIVE 90 Highsted THE GIFT Road

OF BLOOD - COSTS NOTHING! 2:30pm PAY IF - FORWARD. 6:30pm

Hornby Blood Drive

Denton Park

A word from Ilam MP

Sarah

Pallett

The school holidays are nearly over

and I do hope everyone was able to

find some time to relax over Easter

and Anzac weekends.

Ilam is such a diverse electorate

and I really enjoy engaging with

businesses, schools, and community

organisations that service our

community.

Papanui Youth Development Trust is

one such organisation. It was really

interesting to hear about the amazing

work they do to support young

people and their families in north

west Christchurch.

Another recent highlight was my visit

to the Christchurch Engine Centre.

This is such a great facility to have

here in Ilam, employing a large local

workforce to service aircraft engines

from all over the world.

At my constituent clinics a range of

issues have been raised, from traffic

concerns to immigration issues. One

issue raised was concern over the lack

of Spark coverage in the McLeans

Island area and the possible impact

on emergency calls. I met with

Spark regarding this as it is essential

that calls are able to be made in an

emergency.

Spark confirmed that the Vodafone

site with 2degrees co-locating on it

provides coverage in the McLeans

Island area. This is good news as it

ensures that calls to 111 can be made

by anyone with a mobile phone,

including Spark customers. Spark

is aware of their coverage issues in

the McLeans Island area and have

advised me that this area is being

considered as part of the evaluation

for their national build programme.

If you have an issue that you'd like to

discuss with me, please get in touch

with my office on 0800 727 244 or

sarah.ilamMP@parliament.govt.nz.

Funded by Parliamentary Service. Authorised by Sarah Pallett MP, Parliament Buildings, Wellington.
---
4

Thursday April 28 2022

YOUNG SPORTS STARS SET THE PACE ON NATIONAL STAGE

Papanui HS riders

shine on the road

SHAYLAH SAYERS' stunning

introduction to cycling has

continued with the Papanui

High School student completing

another clean sweep in her first

competitive outings on the road.

Fresh, remarkably, from her five

gold medal haul at the national

track cycling championships

in Cambridge last month, the

13-year-old claimed the age group

road race national championships

under-15 time trial and road race

double over Anzac weekend. FAMILIAR TERRITORY:

Fellow Papanui High School Shaylah Sayers dominance

student Kirsty Watts also had of under-15 grade cycling in GOLDEN DOUBLE: Kirsty

plenty to celebrate in Hokitika New Zealand has continued Watts won the under-17

with golds in the under-17 time with road success in Hokitika time trial and road race at

trial and road race.

following a dominant

the age group road race

Sayers, who only joined Canterbury

Track Cycling's develop-

cycling championships.

display at the national track

nationals in Hokitika.

ment programme last November "I actually quite like those was longer than I thought it was,

now has an unprecedented eight conditions, it didn't freak me out I just had to keep going."

national titles in her age group, too much," she said.

Watts recorded two comfortable

triumphs in her events,

an indication she has a promising

career ahead of her.

tussle in the road race, with she won the time trial in 26min

However, the duo had a tighter

The keen mountain biker Sayers, McIvor and Canterbury's 28.62sec, almost a minute clear

cruised to victory in Friday's Jesse Thomson separated by of Counties Manukau's Ava

15km time trial, clocking 29min a photo finish after they each Maddison (27min 28.40sec).

36.95sec, well clear of Southland's

Poppy McIvor (30min "That was really close. It was to the line in the road race

timed 1hr 3min 25sec.

She had the luxury of coasting

17.92sec).

263

really good,

x

there were quite

180

a after powering clear to win by

Sayers made light of the blustery

conditions that impacted on on form," Sayers said.

Wellington's Millie Donald was

few attacks. Everyone was really 47sec in a time of 1hr 57.01sec;

the race against the clock.

"The sprint from the corner her closest challenger.

Oceania Championships

beckon after national title

• By Mick Jensen

KIERA HALL has made

big strides since she started

competitive running just two

years ago.

The 17-year-old Rangi Ruru

student is the newly-crowned

national U18 800m champion

and has been selected for the

Athletics New Zealand team that

will travel to the Oceania Championships

in Mackay in June.

Kiera is also one of 12 athletes

selected to travel to Colombia for

the World U20 Championships

in August.

She trains under former New

Zealand middle distance rep

runner Angie Petty and races for

the Port Hills Athletics Club.

Kiera said she was excited to be

travelling overseas to compete.

She was very happy with her

progress on the athletics track

over the last two seasons and

wanted to continue to improve.

''The 800m race for me is a tactical

race where you have to get

yourself in the position to win,

whereas 400m is just too quick a

race.''

She said the Oceanias will act

as her warm-up ahead of the U20

Worlds, which were a big deal.

Her goal was to beat her personal

best time of 2min 8.46sec

and to gain more valuable competition

experience.

MIDDLE DISTANCE: Kiera

Hall has been selected

for the world U20

championships.

PHOTO: ATHLETICS NEW

ZEALAND

Kiera juggles her NCEA studies

with a busy athletics training

programme.

Six days a week of training

and fitness include swimming,

track work, jogging and races on

Saturdays.

With two big overseas trips

locked in, the Hall family

is looking at fundraising

opportunities to support Kiera's

running ambitions.

Need A Massage?

Stop suffering from stress, tension, headaches, anxiety, stiff muscles and fatigue.

The State-of-the-art Robotic Massage Chair.

· Enjoy a luxurious, professional full body massage in the comfort of your

own home

· Advanced optical sensors combined with intelligent bio-mapping for a

customised massage

· Hi-tech intelligent robotic hands deliver a 3D massage to melt away stress

& tension

· Multiple massage types including Shiatsu, Swedish & Thai Foot Massage

Free

TEBO Neck

Massager *

Worth $249.00

*Call for Terms & Conditions

Call Now! 0800 665 665
---
Thursday April 28 2022 5

Rangi Ruru student set for world champs

• By Morgan Tait

GABY SMITH will swim against

the world's best para athletes in

Portugal after winning bronze at

the para world swimming series

in the United States earlier this

month.

The 15-year-old Rangi Ruru

student took bronze in the

women's 100m breaststroke

event at the competition, held

in Indianapolis. The impressive

feat means she will be heading

to the world champs in Maderia,

Portugal, in June.

Gaby, a long-time member of

the Wharenui Swim Club and a

ParaFed Canterbury athlete, said

she was not expecting to take

home a medal from her first-ever

international competition.

"It was quite surprising for

everyone," said Gaby, who was

born with no fingers and a partial

palm on her left arm.

"I started doing my warm

down and my manager came

over and told me to get out of the

pool and get dressed. I thought

something must have happened

or someone was hurt, but it was

for the medal ceremony.

"Standing next to the women

who got first and second, I was

just in awe, they have Paralympic

medals. It was pretty cool."

While humble about her

success, the Fendalton teen

holds four New Zealand records,

was ParaFed Canterbury's

junior sportsperson and club

swimmer of the year for 2021,

and emerging talent of the year

in 2020.

She swims eight times and has

two gym sessions as part of her

weekly training regime and said

swimming has always been a big

part of her life.

"My mum took me to swimming

lessons when I was threemonths-old

and I just never

stopped. I love the atmosphere

and the people involved – all the

managers, coaches and swimmers

– I just love it."

As well as the 100m

breaststroke, Gaby also

competed in the 100m freestyle,

100m backstroke, 400m

freestyle, 200m individual

medley and 50m freestyle.

BRONZE: Gaby Smith came third in the women's 100m breaststroke at the para world

swimming series and is set to compete at the world championships.

I'm accessible

it's important for me to

the Papanui RSA, so if you've got
---
6

Thursday April 28 2022

Richness of rural childhood revisited

Le Bons Bay resident

John Stuart has

published a book about

his childhood in Little

River in the 1950s and

1960s. Gary Brittenden

casts his eye over it

IF YOU grew up in 1950s and

1960s rural New Zealand, you

don't have to be told what a

different world it was back then.

John Stuart, one of Banks

Peninsula's most well-known

and respected characters, grew

up in Little River and now lives

in Le Bons Bay. Having recently

retired at 75, John has put

together a collection of stories

that begin with his 1950s Little

River childhood and wind their

way through a rich and varied

life.

Stuart is not just a great

storyteller – he is also a very

good writer. The appeal of this

book does not just lie in the

wonderful adventures he had

as a young lad, but also in his

writing, which has a touch of

magic about it. There is a softness

and simplicity of style and

a pervading gentle humour that

echoes Roald Dahl's Boy and Bill

Bryson's stories of his youth in

The Thunderbolt Kid.

The first section of the book

takes us to the long-lost world of

a rural, post-war childhood. For

Stuart and his 'cobbers' (such a

went to university, was conscripted

into the army, and

played rugby at a high level for

his beloved Banks Peninsula

club, of which he is now patron.

"During the 1972 season I

reached the pinnacle of my rugby

career. I was selected for trials for

the Canterbury country rugby

1950s word) it was a time of innocence

and freedom. They lived

in a place where the imagination

ruled supreme. The adventures

they got up to will bring misty

eyes to those who shared this

63

time,

x

and incredulity

180

to those

who didn't. Health and safety

officers, read at your peril!

After his school days Stuart team.

John Stuart's

book My

life and

other stories

recounts

growing

up in Little

River with

'softness,

simplicity

and gentle

humour'.

"At the first lineout, I found

myself marking the fearsome All

Black Grizz Wyllie. This is great,

I thought. But as I attempted

to impose myself on him, he

stepped back and fetched me a

solid clout to the head.

"My enthusiasm waned for

quite some time."

Stuart was also a very able

rower, gaining a couple of thirds

at the nationals and beating a few

Olympic rowers along the way.

His interests were not just

confined to the blood, sweat and

tears of the sports field. He also

trod the boards with the local

drama club, which led to being

offered a part in a movie that was

to be filmed in Akaroa.

"I was offered a speaking

part – that of a drunken sailor.

Perhaps it was considered a role I

had some experience with.

"Unfortunately, Actors Equity

objected to having a non-union

member playing the part and

I was replaced by pop star Ray

Wolf. That was the beginning

and end of my movie career."

Stuart was a teacher in

Akaroa for many years and was

renowned for his storytelling

ability.

This was followed by a stint

with the Banks Peninsula Conservation

Trust, running predator

trap lines in the isolated 'wild

side' of the peninsula.

The book, simply titled,

My life and other stories is

full of wonderful tales of

all these times, originally

handwritten in a notebook for

his grandchildren. A couple of

friends and neighbours had a

read and persuaded Stuart –

after some lively discussion – to

publish. This is a wonderful book

and deserves to be widely read.

• My life and other stories

is available in Akaroa at

Pot Pourri and the Akaroa

Museum, and the Little

River Gallery. Smith's

bookshop in The Tannery

will also have copies.

Up to

50 % Off

*Call for Terms

& Conditions

Off

*
---
Thursday April 28 2022 7

RAY WHITE BISHOPDALE & STROWAN

Recently SOLD

SOLD AT AUCTION

$961,000

SOLD AT AUCTION

$1,201,000

SOLD AT AUCTION

$981,000

29 Galway Avenue,

Bryndwr

92 Bowenvale Avenue,

Cashmere

15A Dunsford Close,

Halswell

The Rushworths

021 451 177

Kirsty Llewellyn

021 198 9056

Rachelle Morice

021 270 4897

Kirsty Llewellyn

021 198 9056

Rachelle Morice

021 270 4897

SOLD

SOLD

SOLD

15 Henrietta Street,

Marshland

2A Rossiter Avenue,

Redwood

2/20 Winters Road,

Redwood

Karen Ellis

021 519 275

Brodie Fransen

027 556 3736

Karen Ellis

021 519 275

Curious to know what your home is worth?

Get in touch with us today to see how we can get you SOLD

0800 YELLOW

The Rushworths

021 451 177

Ray White BS Ray White BS

Bishopdale & Bishopdale Strowan & Strowan

0800 YELLOW (0800 935 569)

0800 YELLOW (0800 935 569)

5/333 Harewood Road, Bishopdale | 55 Blighs Road, Strowan

5/333 Harewood Road, Bishopdale | 55 Blighs Road, Strowan

rwbishopdale.co.nz | rwstrowan.co.nz

rwbishopdale.co.nz | rwstrowan.co.nz

Inline Realty Limited (Licensed REAA 2008)

Inline Realty Limited (Licensed REAA 2008)

Proudly owned by

Karen Ellis

021 519 275

Barry Ellis

021 519 274
---
8

Thursday April 28 2022

RUNOUT

OUTLANDER LS 2.4L 2WD

$33,990+ORC *

The 7 seater Mitsubishi Outlander

brings everything you would need in a

family SUV: safety, technology, comfort,

unrivaled economy and that all important

space, plus a 10 Year Powertrain Warranty † .

Call 03 379 0588 or visit

christchurchmitsubishi.co.nz

RRP WAS $41,990 +ORC

*Price listed is for Outlander LS 2.4L 2wd and excludes on road costs which includes registration, WoF and a full tank of fuel. Available while stocks last.

†

Visit mmnz.co.nz for full Diamond Advantage warranty conditions.

CHRISTCHURCH MITSUBISHI

386 Moorhouse Avenue, Christchurch

Ph 03 379 0588 | christchurchmitsubishi.co.nz

NAVARA SL-450 4WD

Limited Edition.

$54,990 +ORC*

In stock and available for immediate delivery

• Black 20" Alloy Wheels

• Exterior Highlights inc Flares

• Class Leading Fuel Economy

• Apple Carplay® & Android Auto

• 5 Star Safety Rating

• 6 Speed Manual

*Available while stocks last. Automatic available for $57,990. Price excludes On Road Costs.

CHRISTCHURCH NISSAN, 380 Moorhouse Avenue, Christchurch

Ph: 03 595 6820

www.christchurchnissan.co.nz

christchurchnissan.co.nz
---
Thursday April 28 2022 9

Sweet, simple and delicious pear treats

Alison Lambert makes

the most of in-season

pears and creates a

moreish slice

Pear slice

I like slices like this as the base

also doubles for the topping.

2 cinnamon sticks

1/4 tsp ground nutmeg

2 cups firmly packed brown

sugar

4 Packham pears or similar,

peeled (see tip)

Double cream or ice-cream, to

serve

Directions

Allow pears to cool in syrup,

turning occasionally.

Using a slotted spoon, transfer

pears to a plate.

Return syrup to medium-high

heat. Bring to the boil. Boil for

10 minutes or until liquid is

reduced by one-third.

Serve pears with sugar syrup

and cream or ice-cream.

I used pears this time; I

have used apples, or even a

combination works a treat. This

slice is delicious any time of the

day or night and it can be served

warm for a special dessert.

Makes 12 slices

Ingredients

Filling

6 (750g) pears, peeled and thinly

sliced

50g butter

30g white sugar

30g brown sugar

1 Tbsp lemon juice

1 tsp ground cinnamon

1 tsp ground ginger

Dough

600g flour

300g sugar

400g butter

2 medium eggs

Directions

Preheat the oven to 170degC.

PHOTO: SIMON

LAMBERT/ODT

For the filling: place the

prepared pears, butter, sugar

and spices into a medium size

saucepan. Add 2 tablespoons of

water and heat over a gentle heat

until the pears are tender and the

sugar has dissolved and the glossy

sauce has formed. Set aside.

Place all the ingredients (except

the eggs) for the dough into a

bowl and rub together with your

fingertips until coarse bread

crumb texture.

Add the eggs and mix together,

it will form a dough.

Line a 20cm by 20cm (approx)

tin with baking paper.

Spread 2/3 of the dough into

the base of the pan, spread evenly

with the back of a spoon.

Pour over the pear mixture and

1/4 cup of the buttery, sugary

syrup to coat the pears.

Sprinkle over the remaining

dough (don't press down).

Bake for 45 minutes

Cool in tin before cutting.

Poached pears make a

simple but sensational

end to a dinner party

Poached pears

Makes 4

Ingredients

1 vanilla bean, halved

Place 4 cups cold water, vanilla,

cinnamon, nutmeg and sugar in a

saucepan over medium-high heat.

Bring to the boil. Reduce heat to

medium-low.

Add pears. Cook, partially

covered, turning occasionally, for

18 to 20 minutes or until pears are

just tender. Remove from heat.

Tip: Sprinkle each pear with a

little lemon juice while peeling

remaining pears to prevent

the fruit from browning and

discolouring.

Cover and refrigerate any

leftover sugar syrup for up to

two weeks. Serve drizzled over

ice-cream.

Need Heat Fast?

The Fastest, Warmest Indoor/Outdoor Heater You Will Ever Own!

Buy One Get Second Half Price! *

• Heats Up Instantly

• Suitable for Indoors or Outdoors

- In Rain, Fog, Wind or Snow

• Carbon-Fibre Bulb Technology

*Call for Terms

& Conditions

• Multi-Directional Stand

• Includes Remote Control

& Built-In Timer

• Motion Detection Function

+Plus

Free

Floor

Stand!*

worth

$199.99

1.8m High

• Commercial Grade

• Multi-Directional

• Easy Install

• Portable

• Indoors & Outdoors

CALL NOW! 0800 665 665

Read local
---
10

Thursday April 28 2022

CHRISTCHURCH

CREMATORIUM

FUNERALS

CROSSWORD

1 2 3 4 5 6 7

8 9

10 11

241

SUDOKU

Every row, column and box should

contain the digits 1 to 9.

WordBuilder

WORDBUILDER

141

6

R Y F

A L I

12 13 14 15

16

17 18

19

many words of three or more letters,

How

including

many

plurals,

words

can you

of

make

three

from

or

the

more

six

letters, using each letter only once? No foreign

words or words beginning with a capital are

allowed. There's at least one six-letter word.

once?

TODAY

Good 15 Very Good 19 Excellent 23

Solution 140: eight, eth, get, git, hew, hie, hit, teg,

the, thew, tie, tig, twig, weigh, WEIGHT, wet, whet,

whit, white, wig, wight, wit, with, withe.

letters, including plurals, can you make

from the six letters, using each only

No words beginning with a capital are

allowed. There's at least one six-letter

word.

20 21 22 23 24

Good 15 Very Good 19 Excellent 23

25 26

27 28

29 30

31 32

33 34

Across

1. Standing (6)

5. Contusion (6)

10. Momentum (7)

11. Exist (7)

12. Herdsman (6)

15. Heat (6)

16. Recuperate (7)

17. Lots (4)

18. Ferment (4)

19. Wordlessly (7)

20. Block (4)

22. Chooses (4)

25. Joy (7)

27. Spoiled (6)

28. Annual (6)

31. Feeling (7)

32. Bad guy (7)

33. Items of value (6)

34. Coercion (6)

Decoder

Down

2. Tropical storm (7)

3. Giggle (6)

4. Waistband (4)

5. Most excellent (4)

6. Commotion (6)

7. Glisten (7)

8. Jewelled headdress (6)

9. Male relative (6)

13. Unstressed (7)

14. Request (7)

15. Affluent (7)

20. Damned (6)

21. Threatening (7)

23. Maybe (7)

24. Adage (6)

25. Long for (6)

26. Bank clerk (6)

29. Responsibility (4)

30. Fervent (4)

Tel: 020 7622 1467 Fax: 020 7622 1522

Email: info@knightfeatures.co.uk

20 Crescent Grove, London SW4 7AH

Supplied by KNIGHT FEATURES

J U N C M B K E H Z O Q V

14 15 16 17 18 19 20 21 22 23 24 25 26

X W D R T P S I A L G Y F

1 2 3 4 5 6 7 8 9 10 11 12 13

T

A

B

A F Shuker

SOLUTION

No.141

A B C D E F G H I J K L M N O P Q R S T U V W X Y Z

1 2 3 4 5 6 7 8 9 10 11 12 13

B T

14 15 16 17 18 19 20 21 22 23 24 25 26

A

All puzzles copyright

T H E P U Z Z L E C O M P A N Y

www.thepuzzlecompany.co.nz

9 14 13 9 13 24

8 3 6 6 14 18 15 24 9 14 16 2

22 26 12 14 26 21 10

16 26 1 14 16 9 6 3 13 14 21 6

Crossword

Across: 1. Status, 5. Bruise, 10.

Impetus, 11. Survive, 12. Drover,

15. Warmth, 16. Recover, 17.

Many, 18. Brew, 19. Tacitly, 20.

Clog, 22. Opts, 25. Delight, 27.

Ruined, 28. Yearly, 31. Emotion,

32. Villain, 33. Assets, 34.

Duress.

Down: 2. Typhoon, 3. Titter,

4. Sash, 5. Best, 6. Uproar,

7. Shimmer, 8. Diadem, 9.

Nephew, 13. Relaxed, 14.

Solicit, 15. Wealthy, 20. Cursed,

21. Ominous, 23. Perhaps, 24.

Saying, 25. Desire, 26. Teller, 29.

Onus, 30. Avid.

WordBuilder

ail, air, airy, aril, aryl, fail, fair,

FAIRLY, fairy, far, fay, fir, flair, flay,

fly, frail, fray, fry, lair, lay, liar, lira,

rail, ray, rial, riyal.

Sudoku

Each number in our DECODER grid represents a different

letter - there is a number for all 26 letters of the alphabet.

DECODER

Enter the given letters into all squares with matching numbers.

The challenge now is to work out which letters are represented

Each by the number other represents numbers. a As different you get letter the of letters, the alphabet. enter them Write into the

given the main letters grid, into all and squares the reference with matching grid. numbers. To keep Now track work of out the

which letters letters you are have represented found, cross by them other off numbers. the alphabet provided.

19 9 8 10 8 13 13 7 2 9 18 6

9 11 15 22 18 4

2 8 16 20 13 10 15 24 4 8 3 21

3 24 9 13 6 3 3

12 9 4 3 7 5 8 17 20 7 8

9 6 10 21 3 17

3 8 16 11 22 12 4 21 14 21 17 5

21 5 12 15 6 26

13 21 1 9 11 11 21 4 9 5 21

8 13 8 10 4 10 25

17 10 21 18 9 5 8 7 23 15 10 15

E

8 21 5 21 21 9

E

5 15 10 10 21 4 21 13 15 7 9 10

L

A B C D E F G H I J K L M N O P Q R S T U V W X Y Z

1 2 3 4 5 6 7 8 9 10 11 12 13

L

14 15 16 17 18 19 20 21 22 23 24 25 26

E

SOLUTION

No.140

141

1 2 3 4 5 6 7 8 9 10 11 12 13

V L O U C I Z D A Y K M R

N W F H E S G X Q J T P B

14 15 16 17 18 19 20 21 22 23 24 25 26

A F Shuker

Supplied by KNIGHT CREMATORIUM

FEATURES

20 Crescent Grove, London FUNERALS SW4 7AH

Tel: 020 7622 1467 Fax: 020 7622 1522

Email: info@knightfeatures.co.uk

3 21 2 22 16 13 14 15 1 16 14 15

9 5 22 11 24 11 10 21 14

4 26 14 10 20 25 18

21 2 14 22 26 22 7

10 21 14 19 26 4 6 9 6 26 6 14

7 18 21 5 9 17 16

14 12 14 18 21 14 12 14 18

18 13 9 18 13 11 4

CHRISTCHURCH
---
Thursday April 28 2022 11

Classifieds Contact us today Phone our local team 03 379 1100

Trades & Services

ROOF

PAINTING 24/7

Rope & harness

a speciality,

no scaffolding

required,

30 years of

breathtaking

experience.

FREE QUOTES

20% OFF other

roof quotes

Exterior staining,

exterior painting,

water blasting.

Moss and mould

treatment $300.

Phone Kevin

027 561 4629

BETTER

LAWNMOWING

Better job. Better

Price. Better ring Grant

0277402508

BRICKLAYER

George Lockyer. Over

40 years bricklaying

experience. UK trained.

Insurance work, EQC

repairs. Heritage

brickwork & stonework

a speciality. No job too

small. Governers Bay.

Home 329 9344. Cell

027 684 4046. E mail

georgelockyer@xtra.co.nz

BUILDER

New builds, alterations,

decks, fencing. 30 yrs in

the trade has given me

ability to build to a high

standard. Free quotes. Ph

Brent 027 241 7471

Trades & Services

CARPET LAYING

Exp. Repairs, uplifting,

relaying, restretching.

Phone John on 0800

003181, 027 240 7416

jflattery@xtra.co.nz

CHIM CHIM CHIMNEY

SWEEPS

We'll sweep your

logburner's flue, check

firebricks, baffles, airtubes

& controls. We're experts

on coal-rangers, and can

sweep any sized open fire.

We quote & undertake

repairs, flue extensions &

install bird netting. 0800

22 44 64 www.chimchim.

nz

ELECTRICIAN (CERT)

Prompt, quality. Call Jack

027 206 0080

PAINTER,QUALIfIED

local professional, int/

Ext,roofs,wallpaper, call

or text Corban 027 846

5035

PAINTER

Free quotes & advice.

Trade cert,36 yrs exp. Int/

Ext. John 0211 975 597

STUMP GRINDING

Best price guarantee

Tony 0275 588 895

STUMP GRINDING

Best price guarantee Tony

0275 588 895

TILING

Flooring - Splashbacks -

Wall incl tile removal, Ph

Dave 027 334 4125

VHS VIDEO TAPES

& all camera tapes

converted to DVD or

USB. Video taping

special occasions, www.

grahamsvideo.co.nz ph 03

338-1655

Trades & Services

DRIVEWAYS

Exposed Aggregate

Stamped Concrete Plain

Concrete Resurfacing

Things we offer...

Competitive/affordable pricing

Attention to detail

Professional service

free quotes/insurance scopes

Cell 0278 145 848

www.drivecrete.co.nz

PLUMBER

NEED A PLUMBER?

• Father & son Plumbing Business with over

40 years experience.

• Bathroom alterations a specialty.

• Cylinder replacements.

• We do all small jobs.

Call us now for fast friendly service.

Get your problems sorted out

quick smart - on time!!

THOMSON PLUMBING

263 x 180

Phone 03 377 1280 | Mobile 021 898 380

Phone Eugene now

Specializing in:

• Roof Painting

• Interior/exterior

residential

• Small commercial

painting

Trades & Services

PAINTERS

Painters and Decorators Ltd

Canterbury Owned and Operated

A husband and wife team

Noel 027-411-3596

kemp.painters@gmail.com

kemp painters and decorators

We offer

free quotes

Quality not

Quantity

WINDOW TINTING

tintawindow

advanced film solutions

99% uv block

fade protection

heat control

reduce glare

25 Years Experience

privacy films

frosting designs

non-darkening films

Workmanship Guaranteed

Lifetime Warranties on Most Films

UV

block

Free Quotes Canterbury and Districts

03 365 3653 0800 368 468

Wanted To Buy

AAA Buying goods

quality furniture, beds,

stoves, washing machines,

fridge freezers. Same day

service. Selwyn Dealers.

Phone 980 5812 or 027

313 8156

TOOLS, Garden garage,

saw benches, Lathes. Cash

buyer Phone 355-2045

ADVERTISE YOUR BUSINESS HERE

Phone for further details

Wanted To Buy

stoves, washing machines,

fridge freezers. Same day

service. Selwyn Dealers.

Phone 980 5812 or 027

TOOLS, Garden garage,

saw benches, Lathes. Cash

AAA Buying goods

quality furniture, beds,

313 8156

buyer Phone 355-2045

(03) 379 1100

Need A Ladder?

The Amazing, Portable, Easy to Use Ladder System

Margann. | "Best Ladder on the Market"

Simply the best ladder I've ever used, it's everything it's cracked up to

be and the little extras such as the work platforms, leg adjusters and

wall standoff make it incredible value.

• Certified Safety Rating up

to 180kg

• Use it on Stairs Safely

• Create your own

Scaffolding System

• Versatile, Compact and

Telescopic

Free

Free Free

Free

Gifts *

Worth

$660.00

*Ts & Cs Apply

*1 x Wall Standoff + 2 x Work Platforms + 2 x Leg Levellers

Limited Time Offer! Call Now! 0800 665 665
---
12

Thursday April 28 2022

Vanessa Golightly

Can We Still Sell our House for the Best Price in Winter?

I often get asked by clients if they should hold off and wait until Spring rather than sell over Winter. I don't disagree that

there is nothing like marketing a property in the beautiful months of Spring and Summer, the gardens are blooming, the

weather is warm and the daylight saving hours are kind for inspection times. On the flip side, there are certainly some

advantages to a winter sale that could work out to your competitive advantage.

Advantage 1. There is less competition in Winter

I hear time after time 'we will wait until Spring to go to the market'. This is also the time of the year most other sellers wait

for which results in an influx of properties for sale and therefore more homes competing for your buyer's attention.

Advantage 2. Buyers still want to buy in Winter.

Just because it's winter doesn't mean buyers aren't looking! Regardless of the time of year, there is still a strong buyer pool

motivated to purchase. People look to purchase for a multitude of reasons, job transfers, new babies, kids leaving home,

separations, health requirements, promotions/income increases, retirement, inheritance, school zoning requirements and

many other motivating events including what lies ahead this year with the number of returning kiwis to Christchurch and

those moving here from other regions. Buyers don't want to wait for Spring, this is a seller's mindset.

Vanessa Golightly

Ray White Papanui

Ray White Morris & Co Limited Licenced (REAA 2008)

M 027 664 9292 | B 03 352 0567

vanessa.golightly@raywhite.com