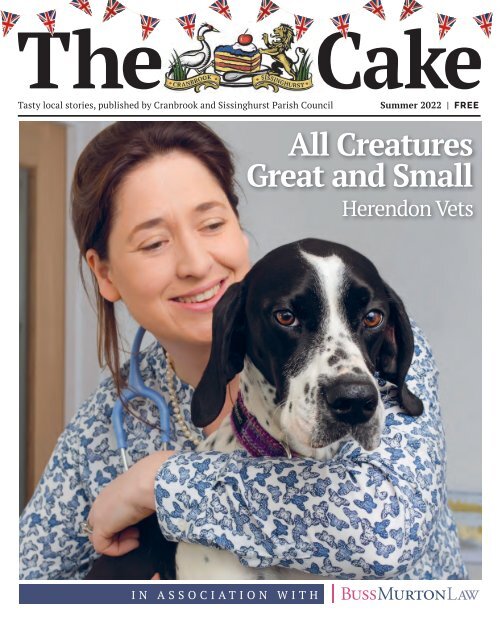 The Cake - Summer 2022
A slice of Cranbrook and Sissinghurst life
A slice of Cranbrook and Sissinghurst life
SHOW MORE
SHOW LESS
You also want an ePaper? Increase the reach of your titles
YUMPU automatically turns print PDFs into web optimized ePapers that Google loves.
Tasty local stories, published by Cranbrook and Sissinghurst Parish Council

Summer 2022 | FREE

All Creatures

Great and Small

Herendon Vets

IN ASSOCIATION WITH
---
Care Workers

FULL TIME & PART TIME CARE WORKERS

REQUIRED IN TENTERDEN, CRANBROOK, STAPLEHURST

AND MOST OF THE SURROUNDING VILLAGES

Could be your main income, or just a few hours to supplement your Furlough Pay

(subject to your contract with employer)

We have Mornings, Lunchtimes, Teatimes, Evenings and Weekend

calls available. Also some Domestic Calls & Sleep-Ins to cover.

NVQ Trained Worker

Travel Time - Now paid at £8.91 per hour

Mileage - 15p per mile

Hourly Rate - £10.00 p.h Mon - Fri and £11.00 p.h at W/E

Holiday Pay - 5.6 weeks paid seperately

Non NVQ

£8.91 per hour

15p per mile

£9.50 & £10.50

Same

Any experience is beneficial such as raising children, looking after elderly

parents/grand children. But, FULL TRAINING will be provided to all applicants

Why not contact us to discuss more about the

work and what hours you are looking for?

Call Natalie or Chloe 01580 762244

These positions are exempt from the rehabilitation of offenders act
---
Published by Cranbrook and

Sissinghurst Parish Council

EDITOR

Trisha Fermor

ADVERTISING SALES

David Hobden - 01892 677741

davidh@spacemarketing.co.uk

ADMIN SUPPORT

Graham Holmes - gpholmes@hotmail.co.uk

PRODUCED BY

Tally Rix - Coffee Shop Media Ltd - 01580 848555

tally@coffeeshopmedia.com

PUBLISHED BY

Cranbrook and Sissinghurst Parish Council

01580 713112

www.cranbrookandsissinghurstpc.co.uk

Whilst every effort is made to ensure accuracy, the

Cranbrook and Sissinghurst Parish Council, editor and

authors cannot be held responsible for published errors.

The views or opinions expressed do not

necessarily reflect views of the Cranbrook

and Sissinghurst Parish Council. Inclusion

of any advertising material does not

constitute a guarantee or endorsement of

any products or services or claims made.

SOMETHING FOR THE CAKE?

We love to hear from you. Please send all ideas for

contributions to The Cake to

clerk@cranbrookandsissinghurstpc.co.uk by

1st August 2022

welcome

It is with sadness that I write my last

contribution to The Cake.

After a career in journalism spanning

more than 30 years, recognised in 2003 with

the Kent Journalist of the Year award, I was

delighted when the founder of this magazine,

the late Brian Clifford, asked me to join him

to launch the magazine. Little did I know I

would pick up the reins when he sadly died.

I have felt very privileged to write for the

people of Cranbrook and Sissinghurst, not

only about the parish council, but other

stories of interest, reminding me so much of

my time with the Courier newspaper. It has

also been a privilege to be a parish councillor

and its tree warden.

Before I sign off for the last time, I must say a huge thank you to the

wonderful team of voluntary contributors who help make The Cake such a

wonderful publication. I will miss them and the magazine.

Do enjoy the latest edition and long may it continue to drop through your

letter boxes!

Trisha Fermor, editor

FRONT COVER

Heronden Vets is an

independent veterinary

practice, owned and

run by a local family.

We already offer orthopaedic and soft-tissue surgery,

ultrasonography, radiology, full laboratory analysis,

even acupuncture. And now we're expanding our

Nurse Clinics. These can be booked free of charge for

any little worries you might have, as well as weight

and dental checks or advice on diet and nutrition.

Heronden takes in-patient care extremely seriously

and the practice has excellent facilities and staff for

overnight monitoring and critical care on site. Please

do come and say hi and introduce yourselves and

extended family members... there is always a treat

to hand!

01580 763303 / info@herondenvets.co.uk

www.herondenvets.co.uk

Inside this issue

REGULARS

5 Directory

7 Chairman's Comment

8 Letters

11 Development News

12 Local News

14 Club News

16 Event News

19 Local Comment – Cllr. Sean

Holden, Hon. Mayor Linda

Page, Guy Pullen

30 Kids' Corner

32 Kitchen & Garden

35 Badger's Plot

41 Parish Council Update

FEATURES

22 Bloody Baker – a

Sissinghurst horror story

25 Joy of Sex – discover the

Cranbrook grave of its

authors

27 Airfield – researching the

Sissinghurst village airstrip

29 Museum Matters – when

cleaning out the store

cupboard…

37 Arts – South East Open

Studios celebrates 25 years

39 Legal – welcome news for

leasehold homeowners!

42 The Cake Chats with…

Gaynor Hatch, Hospice in

the Weald Charity Shop

The Cake • Summer 2022 3
---
In Pictures

Cranbrook's Union Mill showing

support for Ukraine

ALAN FORD

4 The Cake • Summer 2022
---
directory

A list of useful contacts in

Cranbrook and Sissinghurst

Cranbrook and Sissinghurst

Parish Council

The Old Fire Station, Stone Street,

Cranbrook, KENT TN17 3HF

Clerk – Mrs. L. Ham

Deputy Clerk – Mrs. L. Thirkell

Deputy Clerk - Mrs. C. Bezuidenhout

01580 713112 / clerk@

cranbrookandsissinghurstpc.co.uk

BOROUGH & COUNTY

COUNCILS

Tunbridge Wells Borough Council

01892 526121

www.tunbridgewells.gov.uk

Kent County Council

03000 41 41 41 / www.kent.gov.uk

USEFUL NUMBERS

UTILITIES

Electricity: 0800 727282 (24 hrs)

Gas: 0800 111 999

Water: South East Water (drinking

water) 0800 0283399, Southern

Water (waste water) 0800 820999 (24

hrs), Emergency leak 0800 0283399,

Floodline 0845 9881188 (24 hrs)

CRIME

Non-Emergency Police: 101

Crime Stoppers: 0800 555111

KCC Community Warden: Adam

Osborn - 07813 695741

PCSO: Simon Humphreys -

simon.humphreys@kent.police.uk

Neighbourhood Watch Area

Co-ordinator: 01622 604395

In an emergency i.e. if life is in danger

or a crime is in progress call 999. To

request non urgent police assistance,

to report crime or to make enquiry

call 101. Non urgent correspondence

and crime can be reported via the Live

Chat icon at www.kent.police.uk

ROOMS & HALLS TO HIRE

St George's Institute, Sissinghurst:

Ursula O'Connor 01580 713938

The Parish Room, Sissinghurst: Sue

Crowe 01580 712567

ts.crowe74@gmail.com

The Vestry Hall, Council Chamber and

Addison VC Room, Cranbrook:

01580 713112 (10am-12pm weekdays).

A full list of over 30 venues for hire in the

parish is available from the parish office

USEFUL CONTACTS

CHURCHES

Congregational Church,

Cranbrook: 01580 388070

St. Dunstan's, Cranbrook:

01580 715861

St. Theodore's RC, Cranbrook:

01580 713364

Strict Baptist Church, Cranbrook:

01580 713212

Trinity Church, Sissinghurst:

01580 852275

Vine Church, Cranbrook: 01580 712620

SCHOOLS AND PRE SCHOOLS

Colliers Green CE Primary:

01580 211335

Cranbrook CE Primary: 01580 713249

Cranbrook Children's Centre:

03000 41 10 35

Cranbrook School: 01580 711800

Dulwich Preparatory School:

01580 712179

High Weald Academy: 01580 712754

Rainbow Pre School, Cranbrook:

01580 715570

Sissinghurst CE Primary: 01580 713895

Woodpeckers Pre School, Cranbrook:

01580 720195

DOCTORS

Old School Surgery, Cranbrook:

01580 712476

Orchard End Surgery, Cranbrook:

01580 713622

The Crane Surgery, Cranbrook

01580 712260

DEFIBRILLATORS

Cramp Club, Cranbrook

Cranbrook Fire Station

Cranbrook Medical Centre, Cranbrook

Cricket Club, Sissinghurst

Parish Council office

Sissinghurst Castle Garden

St. George's Institute, Sissinghurst

Tennis Club, Sissinghurst

The George Hotel, Cranbrook

The Milkhouse, Sissinghurst

POET'S CORNER

We welcome again Jacob, a pupil at Belle

Vue School, with a huge talent for poetry

which he is delighted to share with our

readers.

The Wonders of Spring

The sun wins the battle, its

rays shine and shimmer past

the clouds

Seas glimmer like gilded gold,

while beaches regain their

heat.

The trees, previously

surreptitious, now stand tall

and proud

As new life flourishes in their

wizened branches.

The wildlife awakens from its

collective slumber

Creatures, both the

magnificent and the miniscule,

start to make their moves.

The great beasts of the prairie

and savannah begin their

prowl

While the smaller animals

start to scavenge for

sustenance.

DIRECTORY

Flowers break out their shells

and begin to bloom, marking

this new season

Their colours inaugurate the

spring with their splendour.

Limitless, labyrinthine

kingdoms of industrious insects

rise to prominence

Bringing the beauty of spring

to even the most distant lands.

And as we revel in the glory of

the season, we must stop and

remember

Each animal has a purpose,

a place in the magnificence of

nature.

Every being has a task in life's

wrapping web

So we must use this season

to figure out the place of our

thread.

The Cake • Summer 2022 5
---
COMMENT

CLLR KIM FLETCHER

Chairman's

Message

The outlook for the coming

couple of years is looking bleak,

particularly for people with few

savings to fall back on. The eyewatering

increases in food and

energy bills mean life is changing and we

need to look ahead to bring the community

together and increase resilience.

Looking forward to next autumn, the

parish council wants to support organisations

supporting families deciding to 'heat or

eat'. We are exploring a community kitchen

in the Vestry Hall to run once a week from

September until April 2023.

Already Wellbeing in the Weald, Age

Concern, Messy Church and the primary

school are exploring ways to run a coffee

morning, then soup and a roll for adults at

lunchtime, and then a warm meal for children

after school. An add-on may run cooking

lessons to show how to feed a family very

cheaply.

This will require many volunteers with

various skills to spread the considerable

workload. People with catering expertise

(chefs and management) as well as washersup,

helpers and organisers will be needed. We

may need access to a professional kitchen

once a week.

The Vestry Hall will be a warm place for

people to meet and share a warm meal in a

cold climate. We hope to raise a budget of

£10,000, through charitable grants or some

local philanthropists.

This is a brave initiative and if you think

you can help please contact the organisations

mentioned, or me, chairman@cspc.org.uk

We have been leading and supporting other

initiatives to create community cohesion and

show that all sections of the community can

live together.

The reopening of the public toilets in

May improves our offer to tourists, as well

as supporting our elderly. Two cubicles are

labelled for men and two for women and

we ask that all ages respect the sensitivities

The new shelter in the Crane Valley sponsored by our Kent county councillor Cllr Sean Holden and

erected by Messrs Dunn of Prestige Fencing.

around unisex toilets.

Notices will be put in the public WCs asking

people to meet in the field shelter in the

Crane Valley instead of the public toilets.

The shelter, sponsored by our Kent county

councillor Cllr Sean Holden, has been erected

by Messrs Dunn of Prestige Fencing, and has

been well received by all the passers-by. We

are also indebted to Travis Perkins for its

support. It needs some seating if anyone has a

bench or two to spare.

At the top of the Ball Field, by the new

spinney, the wild flower meadow has been

seeded successfully by Cranbrook in Bloom,

following a lot of hard work shifting turf to

prepare the land. Special thanks go to Fred

Page for his unstinting work on the project.

I hope the summer treats you well.

Cllr Kim Fletcher, chairman of Cranbrook

and Sissinghurst Parish Council

Since writing my column I have been

informed of Trisha Fermor's resignation

as editor of 'Cake'.

As a founder member of Cake, she

has been instrumental in its success,

carrying on her award winning

journalistic career with interviews and

articles of local interest. I would like to

publicly thank her for her dedication to

the task

She will be a very hard act to follow,

but I am now appealing for anyone who

would like to help write, research or edit

the next edition, to contact me or the

Parish Office.

If you have a local story (not fiction),

please write it down and send it to us for

inclusion.

Kim Fletcher, chairman@CSPC.org.uk

The Cake • Summer 2022 7
---
letters

www.bussmurton.co.uk | T: 01580 712 215

Among the Strawberries

I just have to share with fellow readers these pictures of a

clever little robin who chose to make her nest among the

strawberry plants at Bumbles Plant Centre, Cranbrook. She

is wheeled in and out of the main building on her plant

rack each morning and evening and has laid five eggs, all of

which have hatched. The team tell me that the baby birds

are growing well and they have even put up a 'mind the

robin' sign to warn unsuspecting strawberry shoppers!

Tally Rix

No Time to Mow

What a lovely way to celebrate the Jubilee – tree and wildflower planting in

the Ball Field. It beggars belief that while this nature-first activity undertaken

by the parish council is going on, KCC is massacring habitats by mowing

verges that would otherwise be abundant with the wild grasses and flowers we

have been told are so important to our pollinators. And even in places where

visibility isn't an issue. Seriously, who makes these decisions?!

By email

Please send

your letters to:

clerk@cranbrookandsissinghurst

pc.co.uk or by post to The Cake,

Cranbrook and Sissinghurst

Parish Council, The Old Fire Station,

Stone Street, Cranbrook, TN17 3HF.

Please note, letters may be published

in a shortened form at the

discretion of the editor.

In Defence of the Play Equipment

I know there has been some controversy over the introduction of up to the minute play equipment at the park by the Ball Field but I

have to say I am impressed. My grandchildren are regular users and enjoy the puzzles the structure in question offers and have not

yet tired of finding ways to navigate it. The novelty of the slide element and the sheer height of the thing make for some adrenaline

fuelled play, and I can personally vouch for the thrill of the zip slide (and its sturdiness!).

Colin Greenaway

8 The Cake • Summer 2022
---
We have been providing expert and

trusted legal advice to individuals and

businesses for generations.

STAR SHOP

Congratulations to The Glasshouse on Stone

Street, Cranbrook – this issue's Star Shop. We

love your quirky sophistication and fun, seasonal

window designs. The Cake Star Shop trophy will be

winging its way to you shortly!

Working WITH YOU, not just FOR YOU

Tax planning

Profit improvement strategies

Business development advice

Inheritance tax advice

Succession planning

Payroll

Tel: 01233 630000

www.mageegammon.com

The Cake • Summer 2022 9
---
SUMMER ADVENTURES

FULL STEAM AHEAD FOR

A REAL FAMILY TREAT THIS SUMMER

FREE on-board nature activities for the family. For dates, train times and fares

BOOK ONLINE AND SAVE.

www.kesr.org.uk

1072 KESR SUMMER THE CAKE HALF PAGE AD_FAW 186x113.indd 1 29/04/2022 17:11

LOOK & FEEL YOUR BEST

Beauty and well-being is our passion, and our passion shows on every client

that walks out of our doors. Through ongoing education and continued

training, our beauticians and aestheticians stay up to date on the latest

treatments and techniques to bring you the very best.

Permanent make up

*Including 6 week top up

Hairstroke, powder &

combination brows - £300

Eyeliner - £250

Injectables

Dermal filler 1ml - £160 for treating

the nasolabial, marionette lines or lips

Anti-wrinkle injections - £165 for 1

area £50 for each additional area

Aqualyx fat dissolving - £125-£200

Profhilo skin boosters - £250

Meso skin needling facial - £55

Brows & lashes

Lash lift - £35

Lash tint - £13

Lash extensions - £50-£80

Brow lamination, wax & tint - £33

Accredited lash training courses -

from £399

Nails

Acrylic nail extensions - £40

Acrylic nail extension infill - £25

Gel manicure - £25

Luxury pedicure - £35

Nail art - £5

Holistic wellness

Holistic massage, reiki, hot stone &

Indian head massage - from £55

B

ISABELLE SZUMNIAK

Carriers Road, Cranbrook, TN17 3JX | 01580 438003

V Isabelleszumniak@hotmail.co.uk | www.issyszumniak.co.uk

10 The Cake • Summer 2022
---
DEVELOPMENT NEWS

No to Homes on

Controversial Site

Plans to build

42 houses

on land off

Mill Lane,

Sissinghurst,

have been refused

following a public

inquiry.

The application

had originally been

turned down by TWBC

on highways grounds.

Dandara, the developers,

had argued that the

number of homes in a

"reasonably accessible

location" would make a

significant contribution

to the council's housing

land supply.

However, the inspector

concluded that the

adverse impacts would

significantly outweigh

the benefits. The

proposed access to the

site from the narrow Mill

Lane would give rise to

"considerable harm" to

highway safety, a view

supported at the inquiry

by Kent County Council.

TF

TWBC PLANNING PORTAL / DANDARA

TWBC PLANNING PORTAL / DANDARA

The Latest on

your Community

and Medical

Centre

As you are aware,

we have suffered

delay due to

the pandemic

and now the

economic

situation is

proving difficult to

predict accurate cost

outcomes for our proposals.

However, we have pressed on

and currently have consultant

surveyors undertaking a full

topographical survey of our land

where the proposed buildings will be

constructed. Boreholes have been dug

and soil samples taken for analysis.

Once we have the report on the

outcome of this survey we will be

in a position to know, with some

certainty, the type of foundations

that will be necessary for the

buildings. This in turn will enable

us to predict the cost of these

foundations which has been up to

now a large unknown.

We will keep you posted as to

our progress on the update of our

business plan.

So, just a reminder there is still

time for more ideas and suggestions

from you as to what you would like to

see in your community centre. Please

let us know. Cllr Colin Gilbert

The Cake • Summer 2022 11
---
NEWS

News

Everyone's Toilets

Townspeople have praised the work

of the parish council and school

children who joined together to reopen

the public loos in Crane Lane.

After thousands of pounds

were spent over the years repairing repeated

vandalism, Tunbridge Wells Borough Council said

there was no more money available for further

work and closed the toilets, responsibility being

handed to the parish council. This move led

townspeople, including shopkeepers, to complain

that there were no facilities for shoppers and

tourists who could be put off visiting the town.

About £8,000 has been spent by the council

on refurbishing the unisex loos which re-opened

last month. Children from Belle Vue School have

brightened up the outside with colourful murals.

Their head teacher Mary McKeeman told The

Cake they would not be put off by the possibility

of more vandalism and would remorselessly and

happily replace their colourful artwork until the

vandals gave up. A notice has also been put on

the front wall appealing for people to respect the

building.

Chairman Kim Fletcher painting over a small

section of old graffiti which was left from

previous vandalism

Cllr Colin Gilbert, who has led the council's

plan to get the conveniences re-opened, said he

would like to see a message on the building to

saying "everyone's toilets". TF

Special Thanks

for Conservation

Work

The hard work and commitment

given by Peter Allen to Cranbrook

Conservation Area Advisory

Committee has been recognised

with its community award from the

Kent Association of Local Councils.

A former teacher, who had a long

association with Cranbrook School,

Mr Allen was secretary of the

committee for many years until he

retired in 2021. He was instrumental

in writing three conservation area

appraisals, Cranbrook, Wilsley and

Sissinghurst. He worked tirelessly

representing CCAAC on other

organisations and has written many

booklets about Cranbrook. TF

Don't Let The Vandals Win

The mindless vandalism which led to the removal of the mobile breast clinic in Cranbrook could

result in avoidable deaths of women. Parish council clerk Lori Ham fears that many, who cannot

drive or find it difficult to travel to Maidstone or Tunbridge Wells hospitals, could be harbouring a

potentially life-threatening medical condition.

Lori has every reason to be concerned for others. Following a routine mammogram, she was found

to be suffering from atypical ductal hyperplasia, which can lead to cancer if untreated. There are none

of the usual symptoms, such as lumps or pain which lead women to consult their doctors. In her case,

it was picked up when she had her routine mammogram and she has since undergone treatment.

Lori was full of praise for the staff at the Peggy Wood Breast Centre at Maidstone, who were,

"without exception amazing". She said: "I want to encourage women to continue to have their

mammograms. The damage to the breast clinic has meant it has been withdrawn and we don't know

if it is permanent.

"It has left people having to travel to Maidstone or Tunbridge Wells which is not always easy for

some if they don't drive. I am lucky that I can work flexibly but what worries me is that there are

a lot of women in this area who were served by the clinic who perhaps cannot find ways of going

elsewhere.

"I feel so lucky that it was picked up. If I hadn't gone for the mammogram I would never have

known I had the condition which I had never even heard of. Don't let the vandals win." TF

12 The Cake • Summer 2022
---
NEWS

Thank You Roni!

In March, Cranbrook said a big Thank

You to Roni Summers for nearly 40 years'

tireless service to its town's elderly

residents.

Since the 1980s, Mrs Summers has

been the lynchpin of Cranbrook and

District Age Concern and volunteers,

guests and friends joined her at the

charity's weekly coffee morning in the

Vestry Hall to chat and listen to speeches

and tributes from the honorary mayor

Linda Page, the parish council and her

husband, David.

There was a celebration cake and Mrs

Summers was decorated with camellias,

her favourite flower. Everyone had a

story to tell of her kindness and how she

made it her mission to provide services,

support, friendship and unlimited

kindness to countless elderly people and,

in doing so, improve the quality of so

many lives.

In 2008, her selfless service to the

elderly was recognised when she was presented with an MBE by Prince Charles. She

has now retired from the charity and has recruited new trustees to take it forward.

Everyone is welcome to join in the charity's coffee mornings each Tuesday at the

Vestry Hall between 10.15 and 11.45am. Anyone wishing to volunteer can call in for

a chat or email info@cranbrookdistrictageconcern.org

Juliet Mellor

Members of the Stag Owners Club visited the Cranbrook Union windmill in May as part

of a rally around Kent which included a visit to a local vineyard. The Cake photographer

Alan Ford captured the cars in front of the Grade 1 building which is the tallest smock mill

in the UK. TF

CUP CAKES

• With Covid-19 forcing the

postponement of Fairport Convention's

concert at St Dunstan's Church more

than a year ago, fans are delighted to hear

the legendary group will be back there

on Friday 3 June. Tickets are available

at wmwcranbrook.co.uk or in person at

Larkins' Alehouse in the High Street.

• Cranbrook is again looking to add to

its collection of gold medals when the

South and South East in Bloom judges

visit the town on June 28. For two hours,

they will be looking at environmental,

horticultural and community issues.

Cranbrook in Bloom chair Linda Page said

litter and graffiti are a bit "no-no" and

urges everyone to keep the town clean.

• Become a "Pillar of the Community"

and buy a brick or donate time to help

the Hands of Hope charity restore the

historic ornate wall which surrounds its

organic grounds in Hawkhurst. It needs

12,000 bricks and volunteers to help.

Anyone interested? Email james.doran@

hohcharity.co.uk

• The spring

plant sale

organised

by Cranbrook

in Bloom in

April raised

an amazing

£700. Held

outside

the garden

of keen

supporter

Marian

Cumberland,

the plants on

offer included

Linda Page and Alison

Bunyan at the Cranbrook in

Bloom plant fair

trees for sale to mark the Queen's Platinum

Jubilee.

• Sissinghurst Open Gardens kicked off

on 7 May and will run weekly on Saturdays

until 30 July. Money raised with go to the

Friends of Sissinghurst Church. For a list of

gardens and other information contact sue.

mcauley@rocketmail.com

The Cake • Summer 2022 13
---
CLUB NEWS

Wildcats Landed

In Cranbrook!

Cranbrook Juniors FC is super excited to bring the

Wildcats programme to our town and we already

have upwards of 15 girls coming every week!

So, what exactly is Wildcats? Well, it's non-

competitive football for girls who want to give it a go

for the very first time or want to play with other girls their own

age. All girls aged five to 11, of any ability, are invited to come

along and join us to have fun, make friends and play football!

Led by FA qualified and DBS checked coaches, there's no

pressure for girls to play in matches or do anything they feel

uncomfortable with. Activities vary weekly but could include

assault courses, no-contact bulldog, drills with and without a

ball, pretending to be animals, hula hoop challenges and much

more.

Sessions are held at the Weald Sports Centre on Fridays

(term-time only) 17.30-18.30 and cost £3 per session. For more

information email wildcats@cranbrookjuniorsfc.co.uk

Ant Tomlinson

Never too Late

to Celebrate!

Due to the pandemic, part of the

centenary celebrations to mark the

reformation of Cranbrook Bowls Club

following the Great War of 1914-18, had

to be cancelled.

One was a game against the royal household at Windsor Castle and

the other a visit to the Chelsea pensioners to play against them.

Despite the cancellations, stalwart player Tony Platts said the

members had their own celebration at the club a year later. The guests

of honour were our honorary mayor, Linda Page, and dress shop owner

Gemma Humphries.

The club is looking for new playing members, whether they are

new to bowls, coming back to the sport after a time away or perhaps

thinking of changing clubs. Cranbrook has its own teams in the Weald

League and Maidstone Men's Friday evening league if potential

members want to play competitive bowls.

To find out more about the club go to Facebook or www.cranbrookbowls.

co.uk. You can also contact Tony on 07866 250765. TF

14 The Cake • Summer 2022
---
Caring for heads, shoulders…

Knees

Toes

PODIATRY

Biomechanics

Gait analysis

Orthotics

Insoles

CHIROPODY

Corns

Callus

Blisters

Verucaes

SHOE FITTINGS

Running

Walking

Trail

Back to school

MASSAGE THERAPY

Tight muscles

Stress relief

Improve mobility

Promote healing

PHYSIOTHERAPY

Manage pain

Rehab

Injury diagnosis

Posture assessment

Julie Rose Stadium, Ashford, TN24 9QX CALL 01233 660851 31 High Street, Cranbrook, TN17 3EE CALL 01580 715904

The Cake • Summer 2022 15
---
EVENT NEWS

Queen Elizabeth's

Platinum Jubilee

Parties

Festivities to celebrate the Queen's record

70 years on the British throne are expected

to draw big crowds to Cranbrook and

Sissinghurst.

On Saturday 4 June, from 1-4pm, the

aptly named Jubilee Field in Sissinghurst

will be the venue for fun and games at the

Big Village Picnic Celebration.

People are being urged to take along

their tables and chairs and picnics to be

entertained with live music, traditional

games and "some ale" for the adults. There

will also be a crown and tiara competition

with prizes.

In Cranbrook, the High Street will be

closed to traffic from 11am to 4pm on

Sunday 5 June when "lots of entertainment

for the kids" will be on offer as well as the

group Box of Frogs playing in the White

Horse. It is expected the street will be lined

with tables and chairs as people enjoy their

picnics or buy from the food and drink

stalls. TF

Cranbrook Music Festival is Back!

Following the huge success of CRANFEST 2021, the musical

extravaganza will return to the town on Friday 9 and Saturday

10 September, writes Keith Stockman

CRANFEST 2022 events will

be hosted in several venues,

ranging from small, intimate

places, such as The Hive and

Larkins' Alehouse, to a large

open-air stage in The George Hotel. We aim

to make use of St Dunstan's Church again,

as well as the Vestry Hall, and this year we

hope to utilise the excellent Queen's Hall

Theatre as an extra venue.

As with last year, we aim to showcase

a wide variety of music genres across the

various venues so that there is something

for everyone to enjoy. With an extended

programme on Friday evening, we will have

nearly 40 different artists playing during

the two days. Returning favourites include

Southern rockers Melonheadman, soul-funk

outfit Unit 48 and the delightful folk duo

Red, Green & Blue.

New artists this year include folk-punkrockers

The Outcast Band, fine Americana

from Naomi Bedford and her band, jazz

giant Paul Malsom and trio, and Kent

reggae stars The Liberators. Other genres

featured are blues, from Jinda Biant, the

Ben Hemmings Band and Dave Ferra, fine

folk-rock from Wildwood Jack, Watergrain

and Touchstone, plus some good old

rock'n'roll from The Varlies, Dirty Lexi and

Common Buzzards. With many more fine

artists playing as well, you can be sure there

will be something for everyone!

In addition to all the contemporary

music, there will be a programme of

classical music in St Dunstan's Church,

music workshops and other surprises in the

Vestry Hall and, we hope, a Battle of the

Bands in the Queen's Hall Theatre.

With food and craft stalls, plus a Buskers'

Corner and street entertainment, it is going

to be a very busy couple of days!

A Must Date

for your

Diaries!

Cranbrook on the Green will be held on

the Ball Field, Cranbrook, on 31 July.

Among the attractions will be a classic car

show, charity fun dog show, bands, food

and drink stalls plus lots of entertainment.

It will run from 11am to 6pm. TF

16 The Cake • Summer 2022
---
EVENT NEWS

Sissinghurst Flower

Show – For Real!

It was back to normal for the village on Saturday 26 March when people were able to meet

face to face for the spring show which saw plenty of entries.

For some, it was the first time they had entered and were delighted to find themselves

among the winners. All the classes were well supported and as usual there were tasty treats

on offer. Among the winners was youngster Juniper, the first recipient of the Denis Hemsted

Youth Cup, presented in his memory by his family. TF

Jan Seymour won the David Martin trophy

for her double narcissi (pictured below)

Juniper, the first recipient of the Denis Hemsted

Youth Cup

Welcome Back CODS

Cranbrook

Operatic and

Dramatic Society

is back in the

theatre – hurrah!

This Easter we produced our

first play since the pandemic

with roaring success.

Our modern take on The

Vicar of Dibley pleased

actors and audiences alike

and it was wonderful to

see so many people back to

support live, local theatre.

Never have hula hoops been

so amusing.

Our next exciting

production is now cast and

we begin rehearsals shortly.

Is Cranbrook ready for the

flamboyant and fabulous

'Priscilla, Queen of the

Desert – The Musical'?

We shall see. This

colourful and entertaining

musical is crammed full of

nostalgic pop songs which

will have you up on your feet

and dancing in the aisles.

If you enjoyed The Vicar

of Dibley or if you think

Priscilla sounds like fun,

why not join us? Whether

you crave the limelight,

want to help backstage,

or are a budding techie,

we are here in the heart of

Cranbrook. It is not too late

to get involved with the

show, on or off stage, and we

are always looking for new

members, so try something

new or revisit a past love.

Contact annie.hatch33@

gmail.com

Why not join us for a

journey to the heart of

fabulous! Annie Hatcher

Sponsors: Cranbrook Farmshop and Nursery and Peter Jones (Opticians) Ltd

CRANBROOK OPERATIC AND DRAMATIC SOCIETY

26 – 29 OCTOBER 2022

QUEEN'S HALL THEATRE

CRANBROOK

Presented through special arrangement with and all authorised performance materials are supplied by TRW

Theatrical Rights Worldwide, 122-124 Regent Street, 5 th floor, London W1B 5SA. www.theatricalrights.co.uk

The Cake • Summer 2022 17
---
Do you need help with technology?

Professional, experienced

and patient; I offer 1-1

support, helping seniors

gain the skills necessary

to connect with the

outside world.

Set up

training

support

advice

01580

438011

colin@seniorsurf.co.uk

www.seniorsurf.co.uk

seniorsurfintheuk

Covering Kent & East Sussex

We are currently looking for

the following staff to

support our existing team:

NIGHT CARE ASSISTANTS

Full or part-time - £11.50 per hour

HEAD OF HOUSEKEEPING

HOUSE KEEPING

ASSISTANT

Hours and rates to be discussed for

Housekeeping positions.

Please contact Nikki (Manager)

on 01580 852335 OR email

admin@larchmere.co.uk

LARCHMERE HOUSE NURSING

HOME, FRITTENDEN,

KENT, TN17 2EN

18 The Cake • Summer 2022
---
LOCAL COMMENT

SEAN'S COLUMN

Parallel Problems

For PMs a Century

Apart

Imagine a Prime Minister who

magically appeals to voters, an orator,

partial to a bit of fun, especially with

women, who faced a giant European

problem and got it done; whose chief

opponent said, after his election victory,

he could be Prime Minister for life if he

wanted.

No, not Boris Johnson in better days,

but David Lloyd George, the great Liberal

leader of World War One, "the man who won

the war" but whose downfall exactly 100

years ago, resonates with the trials of Boris

Johnson.

Four years after his 1918 blazing 'Khaki'

election victory (albeit in coalition with

the Conservatives), the "Welsh Wizard"

- the only Welshman to be PM - left

Downing Street, in 1922, amid scandal

and disillusionment. The scandal was not

wallpapering his flat, or illicit parties but

selling peerages, even to a notorious tax

evader. His lively, adulterous, sex life (he

was known as The Goat) shocked post-war

propriety. A sometimes uneasy relationship

with truth was challenged, even during the

war, by a General Maurice who publicly

accused him of misleading Parliament over

army numbers. But everyone knew that was

DLG and hey! he got the Great War done.

The gloss dimmed as the war's colossal

cost became a growing economic shadow,

darker even than the vast price of victory

over Covid. Lloyd George's version of Boris'

levelling up, the election slogan "homes fit

for heroes" for returning servicemen, went

largely unfulfilled. Instead 'heroes' felt the

bite not of inflation but of deflation, as

prices fell, economic growth slowed and

unemployment rose.

The coalition's Conservative majority

stuck with DLG because, like Boris, he was a

David Lloyd George

"A sometimes uneasy relationship with truth was

challenged, even during the war, by a General Maurice

who publicly accused him of misleading Parliament over

army numbers. But everyone knew that was DLG and

hey! he got the Great War done"

vote winner but as crises grew around him

his appeal and their faith, faded. By 1922

Lloyd George had overseen the fracture

of the Union when Ireland, except for the

North, rose up and, in 1921, broke away

from the United Kingdom, as Scotland now

threatens. It left a troublesome settlement,

which continues as Boris wrestles with the

post-Brexit fallout of the Northern Ireland

protocol.

Risky foreign policy finally did for Lloyd

George. A still writhing, dismembered

Boris Johnson

empire, not the Russian but the Turkish,

sought to annex Greek enclaves in what is

now Turkey. Lloyd George nearly dragged

Britain into a war for them which finally

cost him his parliamentary support, both

his Liberal rump and the Conservatives. I'm

not superstitious about these parallels of

history or history repeating itself but it's

fascinating to note the more it changes the

more it stays the same – certainly we, as

humans, do.

Cllr Sean Holden

The Cake • Summer 2022 19
---
LOCAL COMMENT

Hon. Mayor

Linda Page's

June message

It's great to see the public

toilets in Crane Lane open

again. Many thanks to the

parish council. Hopefully,

the tired mosaic seat will

be moved soon to a temporary

place for repair and TLC, with it

then being found a place to be

displayed in the long term. It is a

lovely piece of art that needs to

be saved.

Please get involved again this

year by helping the bees and

supporting my two important

and well deserving charities, the

Sam West Foundation and Motor

Neurone Disease Association.

Donations can be made at

Cranbrook Farm Shop, Larkins

Ale House, Anderson's Butchers,

Cranbrook DIY, TN17 Food &

Wine, Cranbrook Service Station

and Pages Newsagents. You

can pick up sunflower seeds,

wildflower seeds and bee bombs.

It's not too late to sow your

sunflower or wildflower seeds,

or you may prefer to keep your

wildflower seeds for autumn

sowing and an early spring

display.

I'm sure most gardeners can

already identify a pollinator

plant in their borders, tubs,

planters or maybe your lawn,

so please go online and register

your postcode. Be included

on the bee corridor map of

Cranbrook & Sissinghurst. The

local maps will be updated

throughout the summer

showing where the butterflies

and bees will travel through

our parish. Please visit www.

bringonthebees.uk to find out

more.

We are very fortunate to have

so many events organised in the

town over the next few months.

Please support them and enjoy

everything that's thrown at us.

Have a great summer!

Guy's Column

Hands of Hope sets the standard for healthy soil

There can be few more idyllic

settings for a vegetable garden

than the new growing field at

Hope Farm Community Garden in

Hawkhurst. Right now we garden

to the bleat of lambs and the cry of buzzards

above, while the orchard next door sends

flurries of blossom onto the newly-made beds.

We garden our acre of vegetables by hand,

using no-dig methods which don't disturb

the soil so all the life within stays intact and

functioning. Our soil is heavy clay, but it is

also full of bacteria, protozoa, fungi, viruses

and millions of other life forms, most of which

are too small to see, but all of which play a

vital role in the functioning of good soil.

All the minerals and nutrients that a plant

needs to grow can be found in our heavy

mineral clay, but to become available to the

plant, the web of life needs to eat and excrete,

to live and die. Only when that life flourishes

will plants thrive and over time our soil will

get more nutrient-rich as these symbiotic

relationships get stronger.

We feed our soil with green waste compost

made from council garden waste collections.

It is not great quality for putting in pots, but

it has all the organic matter that the soil web

needs to thrive. We also aim to have plants in

the soil at all times as plants and their roots

are a vital part of the soil's web of life.

During the past 70 years or so, we have

ploughed and dug land on an industrial scale

which has destroyed its life force. Naturallyoccurring

nutrient levels are decreasing in

industrially farmed fields, so farmers need

to add more and more chemical fertilizers

to keep the plants growing. This isn't just

the fault of farmers. As a society, we have

benefited from cheap food without wondering

at the cost to the earth, our health or to the

long-term viability of production.

At Hands of Hope, we believe that healthy

soil = healthy plants = healthy humans. With

the help of our army of volunteers, we grow

vegetables for food banks, lunch clubs and

community projects as well as for our own

veg box scheme. Our organic vegetables come

powered by the soil and are full of nutrients.

They're also delicious!

Guy Pullen, HoH head of horticulture

20 The Cake • Summer 2022
---
CRANBROOK

In Bloom

See our PLATINUM list

of 12 gardens

For our 16 th Glorious

GARDEN SAFARI

Sunday 19 th June 10.30am – 5pm

Tickets £5 available from13th June at Pages Newsagent,

or on the day from any garden

Open gardens are marked with balloons & signs

NO Dogs Preferred

Homemade cakes and plants for sale

Email marian.cumberland@hotmail.com

Trees available for the Queen's Green Canopy

£10 each, contact Linda in Pages

Supported by

The Cake • Summer 2022 21
---
LOCAL HISTORY

Model displayed at Sissinghurst depicting Sir

Richard Baker's house circa 1560

Bloody Baker of

Sissinghurst

Ann Historian tells the tale of a wicked lord whose name is linked to Baker's Cross

Many locals, like me, were told

as children the tale of the

Bloody Baker of Sissinghurst

as a bedtime story; the fable

of our very own wicked

lord in the local castle bearing down on our

ancestors.

And, like all good stories, it needs to be

taken with a big pinch of salt. So, apologies to

the present incumbents at Sissinghurst Castle

and those who heard a different version,

which there are, I am sure, quite a few. So,

here is the one I was first told:

In the 1800s a woman known only as F.L,

visiting Cranbrook, reported she was being

shown around St Dunstan's Church by an

old lady when her attention was caught by

a monument in the chancel to Sir Richard

Baker. His gauntlet, gloves, spurs and helmet

were suspended over the tomb.

F.L. remarked how vividly red the gloves

were. "Aye, miss", her guide replied: "Those

are Bloody Baker's gloves; their red colour

comes from all the blood he shed".

The young Richard was known to have a

"Jekyll and Hyde" character; prone to extreme

outbursts of love and emotion, showing

a terribly violent character, bordering on

sadistic! The guide then told her the tale of

the Lord of Sissinghurst.

A local beauty, Jane Chester, the widow

of a recently diseased soldier, caught his

lordship's eye one summer. He became charm

personified and wooed her into Angley Woods

for an evening stroll.

Her boyfriend, one Henry Dartmouth from

Goddards Green, followed them, worried for

his lover's safety. Sir Richard charmed, sang

and recited poetry to Jane to the point where

she very nearly succumbed to his advances.

Suddenly he went mad, turning into a wild

uncontrollable fiend! Henry ran to protect her,

his sword drawn, but Sir Richard made short

work of him, nearly to the death, ran back to

the castle then fled to France.

Some years later, Jane's daughter Mary and

a companion decided to taunt Sir Richard by

popping in unannounced at the castle, the

lord having returned and, up to his old tricks,

had taken a shine to the younger Miss Chester

along with many other young local girls, some

of whom had gone missing!

As the main door was open, they entered,

shouting for him. They stumbled into a

22 The Cake • Summer 2022
---
LOCAL HISTORY

darkened room with a foul odour, just as

they heard Sir Richard and his groundsman

returning, carrying the body of a beautiful,

dead woman.

The men tried to get the corpse up some

steps but her hand caught in the turret

window frame. Sir Richard, frustrated that he

couldn't free it, took out his knife and cut it

off! It landed in the lap of Mary's dress, as she

hid below stairs.

When the men had gone, the girls realising

the room had more bodies than the one they

had just witnessed, fled back to Cranbrook.

(Rumour has it that the actual window

bleeds on the anniversary of this woman's

death, and there is a secret tunnel from the

castle to Cranbrook that took Bloody Baker's

carriage underground into town!)

Back in the safety of her fine house in the

High Street, Mary decided to lay a trap. She

would throw a dinner party for the great and

good in the town; Sir Richard was at the top of

the guest list.

Days later, they arrived and much beer,

wine, food and merriment was made all

evening until Sir Richard asked her why he

hadn't seen her for so long?

She replied that she had actually visited

him just days earlier, only to find a room

full of corpses of local missing girls! Sir

Richard laughed and demanded proof of

her outrageous accusation. Only then was

the hand brought out, still wearing the

engagement ring that had been given to the

deceased girl by one of the other guests!

Sir Richard, realising his peril, jumped

for his sword, but not quickly enough. The

servants and gentlemen drew their knives

and swords and forced "Bloody Baker" to

the cell above the entrance to St Dunstan's

Church (still there), thereby stopping

his reign of terror: "So perish the deeds

of Bloody Baker! So perish the Lord of

Sissinghurst!"

SIDE NOTE

The other Sir Richard Baker of Sissinghurst

Castle (born 1488) was a very important

man. He became Chancellor of the

Exchequer, not only to King Henry VIII, but

also to King Edward VI then briefly Lady Jane Grey and

finally Queen Mary. It was he who rounded up protestants for execution by "Bloody Mary" right up

until her death. It was while on his way to Cranbrook that a messenger rode up to inform him of

the Queen's death. At that very spot, he turned his soldiers round to return to Sissinghurst Castle

without their intended prisoners. That place is still caller Baker's Cross, after that very event.

FRAME

FRAME

PLACE

PLACE

FRAME PLACE

FRAME PLACE

Bespoke picture framing services

Bespoke picture framing services

Bespoke picture framing services

Bespoke picture framing services

Bespoke

Bespoke

framing

framing

of

of

original

original

artwork,

artwork,

prints,

prints,

Bespoke photography framing of and original memorabilia. artwork, prints,

photography and memorabilia.

Bespoke photography framing of and original memorabilia. artwork, prints,

Accredited photography by the Fine and Art memorabilia.

Accredited by the Fine Art

Trade

Trade

Guild

Guild

as

as a

Certified Accredited Framer, by the you Fine may Art be Trade assured Guild of as our

Certified Framer, you may be assured of our

service Certified Accredited and Framer, workmanship, by the you Fine may Art whatever be Trade assured Guild you of bring as our a

service and workmanship, whatever you bring to

to

service Certified and Framer, workmanship, be you framed. may whatever be assured you of bring our to

be framed.

service and workmanship, be framed. whatever you bring to

be framed.

Bottlers, The Old Brewery, Dorothy Avenue, Cranbrook. TN17 3AL.

Bottlers, The Old Brewery, Dorothy Avenue, Cranbrook. TN17 3AL.

Bottlers, The Old Brewery, (t) (01580) 714220

(e) info@frameplace.co.uk;

(t) (01580) Dorothy

(s)

714220 Avenue, Cranbrook. TN17 3AL.

@FramePlaceCranbrook

Bottlers, (e) info@frameplace.co.uk; (t) (01580) 714220

The Old Brewery, www.frameplace.co.uk

Dorothy (s) Avenue, @FramePlaceCranbrook

Cranbrook. TN17 3AL.

(e) info@frameplace.co.uk; www.frameplace.co.uk

(s) @FramePlaceCranbrook

www.frameplace.co.uk

(t) (01580) 714220

(e) info@frameplace.co.uk; (s) @FramePlaceCranbrook

www.frameplace.co.uk

The Cake • Summer 2022 23
---
MARLBOROUGH HOUSE

S C H O O L

ENJOYING TODAY

EDUCATING FOR TOMORROW

NURSERY, PRE-PREP & PREP | BOYS & GIRLS 2.5-13 YEARS | DAY & FLEXI BOARDING

The school goes far beyond academic results

and prides itself on the development

of the whole child.

THE GOOD SCHOOLS GUIDE 2021

Book a private tour

Email registrar@marlboroughhouseschool.co.uk

Discover more at marlboroughhouseschool.co.uk

Marlborough House School, Hawkhurst, Kent, TN18 4PY

ELBA

ELBA PRIVATE HIRE - PERSONAL CARRIAGE

NEW 7 SEATER DISABLED ACCESS

VEHICLE IN THE ELBA FLEET.

Town and Country

Travel in Style

Business and Social Pleasure

"ALWAYS RECRUITING!"

"We care for all in the Community!"

Allows you to Drink like a Lord

Leave Like a Lady!

To Book Text: 07785 11 20 21 or Call: 01580 441 302

Email: book@elbaprivatehire.com

www.elbaprivatehire.com

CLAIR'S

FOOT CARE

GIVE YOURSELF A TREAT

CLAIR SIMPSON Dip CFHP, MPSPract

•Toe Nail Trimming • Diabetic Foot Care

• Fungal Nail Treatment • Corn Removal

• Callus Reduction • Verruca Treatment

• Ingrowing Toe Nail • Foot Care Advice

• Reflexology

Appointments on request

Tel: 07443871266

Email: clairsfootcare@gmail.com

Private Parking

28A Quaker Drive, Cranbrook, Kent, TN17 2HL

24 The Cake • Summer 2022
---
FEATURE

Joy of Sex

Authors'

Gravestone

The Joy of Sex was an

international bestseller

when it was first published

in 1972, written by Dr Alex

Comfort and his wife, Jane

Few people know that

Cranbrook has a strong

link to the couple, as

there is a wood off the

Swattenden Road, called

Comfort Wood, owned and run by

the Woodland Trust.

Near the centre, is the double

gravestone of Jane and Alex

Comfort, who were buried there

in 1991 and 2000, having enabled

the trust to purchase it. There

are several footpaths through

the wood, as the Woodland Trust

has extended its woodland up

to Freight Lane. The map shows

where the gravestone lies, down

an unmarked small cul de sac

path.

The wood was planted in 1991

but unfortunately the ashes are

being ravaged by die back. This

leaves woodland spaces that are

ideal for the Bluebells, Wood

Anenomes and Stitchwort that

have been wonderful this year.

Throughout the summer it is a

great place to see butterflies such

as Orange Tips, Meadow Browns,

Commas, Ringlets and Speckled

Woods.

Last year, Barn Owls could be

seen hunting the hedges, and

often Buzzards are mobbed by

Crows and Kestrels can be seen

hunting the fields adjacent.

The entrance for footpaths is

from Swattenden Lane or from

Freight Lane.

Cllr Kim Fletcher, chairman

The Cake • Summer 2022 25
---
Sandwiches Made with Love.

Proudly making the most delicious, fresh sandwiches,

toasties & paninis right in the heart of Cranbrook High Street

Coffee & Cake

Proudly using locally roasted Bean Smitten coffee

& serving speciality teas & hot chocolate, locally baked

brownies, cookies and traybakes.

Catering for private events also available

7 Stone Street, Cranbrook, Kent TN17 3HF

07812 787307 aldoscranbrook@gmail.com

www.aldossandwiches.com

Great

eyebrows

are not

just for

the

young

Are you are suffering from sparse or over-plucked

eyebrows? Why not consider a subtle, realistic-looking

permanent solution? I will work closely with you to achieve

natural looking brows, using subtle enhancements to

make the very best of your unique features.

For details and a free, no obligation consultation

please call Lorraine on 07721 880114 or email

me at lorrainesinclairpmu@gmail.com

Helen Grant

MP for Maidstone

and the Weald

I am here to help you in

any way that I can. If there

is an issue of concern to

you, where you believe

I can assist, or if you

would like to arrange a

meeting with me, please

email me at helen.grant.

mp@parliament.uk or

telephone 020 7219 7107.

helengrant.org

@HelenGrantMPntMP

helen-grantMP

Produced by

Helen Grant MP,

House of Commons,

London SW1A 0AA

26 The Cake • Summer 2022
---
FEATURE

Researching

the Village

Airstrip

Graham Holmes and Peter Mellor investigate

Visitors to the

wider estate at

Sissinghurst

Castle Garden

would be unaware

that the footpath leading to the

Bird Hide and Dig Dog Lane,

passes quite close to what was

once a World War II airfield. It

hardly seems possible, given

the restricted nature of the

field, enclosed as it is by native

hedgerows.

For a brief spell in 1943 it

was indeed a grass airstrip, in

use by No.653 Squadron, Royal

Air Force. However, its aircraft

were not the iconic fighters of

the period but the Taylorcraft

Austers of an Air Observation

Post squadron. These aircraft

were small, rather flimsy

looking machines that carried a

pilot and two observers whose

responsibility it was to note

and correct the accuracy of

fire from the artillery on the

ground. The Army provided

the pilots and observers and

the RAF, the ground crews.

The Auster was the ideal

aircraft for the job, having the

ability to take off and land in

confined areas like the airstrip

at Sissinghurst.

No.653 had formed at

RAF Old Sarum, Wiltshire

on the 20 June 1942 and its

first deployment was to RAF

Penshurst on the 7 September

of that year. On the 17 August

1943 the squadron moved

to the temporary base at

Sissinghurst, coming under

the orders of the British Army

12 Corps and participating in

Exercise Peacock. It is believed

that this exercise aimed at

further improving the role of

the Air Observation Posts and

would ultimately culminate

in their use following the

Normandy landings in June

1944. The exercise complete,

the Squadron returned to

Penshurst on the 17 September

1943.

The Sissinghurst airstrip was

located in a field called "The

Large Field" that contained

low hedges and a SW to NE

orientation – ideal for take

offs and landings – the only

hazard being an oak tree on

the western hedge boundary!

Due to its temporary nature,

no buildings were erected

and personnel would have

worked and slept under canvas.

Officers may well have been

billeted in the area. Today,

there is no trace whatsoever

to remind us of what had been

taking place in 1943.

I am indebted to Peter

Mellor for his valuable help

in producing this article,

condensed from his detailed

research in 2017 – now in the

Castle Archives.

The Cake • Summer 2022 27
---
Caring for you at home

Well established, family run business,

providing care for people living in the Weald

of Kent. Our tailored service allows you to live

at home with independence and dignity.

Call Karen Irving at our Tenterden office to

arrange a no obligation visit.

01580 762202

www.carecompany.care

SPONJEM UK Limited

Capital Allowances Consultants

MR NOAH'S

NURSERY SCHOOL CIC

https://mrnoahs.org

Helping people in the area save money upon

their commercial buildings such as offices,

shops, restaurants, hotels and holiday let cottages

For Information contact Paul Jempson on

Tel: 0800 954 5081 Mob: 07957 822110

Email: mail@sponjem.co.uk

Your Country Lifestyle

Department Store!

Formerly known as Hartley Dyke Farm Shop

Our departments are:

Equine • Small Holder • Pets & Wild Birds

Garden • Gifts and Cards • Fuel

Clothing including:

Joules, Seasalt, White Stuff, Toggi, Jack Wolfskin, Hoggs,

Thought, Jack Murphy, Hunter Outdoor and more...

We have plenty of free parking, and we offer a free local

delivery for orders over £50 (£2.50 charge for under £50)

Fresh Fruit & Vegetables • Flowers • Plants

•Shrubs • Hot & Cold Foods • Drinks

• Groceries & Delicatessen

Charity Farm, Swattenden Lane, Cranbrook, TN173PS

Tel: 01580 712546

www.cranbrookfarmshop.co.uk

Open 8.30-5.30 weekdays, 9-5 Satudays and 10-4 Sundays

Swattenden Lane Cranbrook, TN17 3PS

01580 713189 | info@charityfarmcountrystore.co.uk

www.charityfarmcountrystore.co.uk

28 The Cake • Summer 2022
---
LOCAL HISTORY

MUSEUM MATTERS

Thousands of horses…

During the closure of the

museum due to Covid,

we were able to catch up

on many tasks and it was

while we were checking

the contents of a store cupboard that

we came across a box of photographs -

800 in total.

They are official images passed

by the War Office for transmission

abroad, depicting every aspect of

the horrors between 1914-1918 and

include many of the Western Front in

France, Mesopotamia, Belgium, naval

activities, nursing and much, much

more. I was staggered at the number of

horses in the pictures – thousands and

thousands.

The photographs needed some

conservation work and we were able

to secure a grant from the Museums

Association. This has allowed us to

store them in acid free sleeves and

storage boxes. A group of volunteers

packaged each photograph individually

recording all the information known

about it. Enquiries at the Imperial War

Museum suggest our collection is not

ABOVE: Cavalry in training on the British

Western Front in France.

unique but well worth conserving as a

collection of Official WWI images.

I will just mention that while talking

to the museum, someone dropped into

the conversation that their collection

consists of 11 million photographs!

When we get to November this year

and the Remembrance Day Parade to

the War Memorial, the photographs

will be on display for the public to

view in the Vestry Hall from 10am –

3pm. Please do make a note to come

and have a look at this extraordinary

collection which we have been able to

rescue and conserve.

Mike Huxley

The Cake • Summer 2022 29
---
Kids' Corner

Colour

me in

30 The Cake • Summer 2022
---
Spot 10

Puzzle

time

WORD

SEARCH

Hello Summer

differences

Dulwich Spirit

Encouraging innovation and independence,

building confidence and resilience

dulwichprepcranbrook.org

The Cake • Summer 2022 31
---
HOME & GARDEN

IN THE

GARDEN

"Nature never was nor should be tidy"

says writes Penny Royal

It was great to see that last

month was celebrated by

some as No Mow May in

an effort to bring some

relief to our beleaguered

flora and fauna.

But obviously the message

to leave the mowers in the

shed to allow the flora to grow

had not got through to our

councils. Why are they so hell

bent on ridding the roadsides,

roundabouts and any other

public areas of flowers or

grasses that had the nerve

to put their heads above the

earth's parapet?

Perhaps the most horrendous

sight was the mowing of an

entire verge of bluebells, in

full bloom, on a Goudhurst

Road, ironically not far from

Bedgebury Pinetum.

Local social media was full of

condemnation and rightly so.

The sloping verge had been a

glorious site until the arrival of

the (council?) contractor and

his machine.

With wildlife and wild plants

under threat as never before,

we are constantly being urged

to make life better for birds,

bees, hedgehogs all the other

creatures, despite their habitats

disappearing at an alarming

rate.

Councils across Kent are

wasting hundreds of thousands

of pounds on ridding our verges

of wildlife habitat, money

which could be better spent

helping nature to claim back

land for so many threatened

species. The same could also be

said for those responsible for

maintaining churchyards.

Obviously, for safety reasons,

"Why are they so hell bent on ridding the

roadsides, roundabouts and any other public

areas of flowers or grasses that had the

nerve to put their heads above the earth's

parapet?"

plants can't be allowed to block

sightlines at road junctions

but the verge outside my own

home has been scythed to bare

earth more than four times this

year and we don't even have a

driveway and live on a straight

road!

We should take a leaf out

of the book used in France.

All along their motorways are

unfettered wild plants and trees.

The central reservations are

filled with Amelanchier lamarkii

trees, full of white blossom in

the spring; the verges a sight

to behold with mile upon mile

of millions of cowslips. These

give way to summer flowers

and there is not a strimmer or

a grass cutter to be seen. Every

village seems to covet plants,

whether growing wild or in

delightful hanging baskets,

tubs and even old rowing boats.

We are being asked to help

our wildlife while agricultural

land is being built on, habitat

for wildlife is shrinking and

what little is left is being

scythed for no other reason

than to make our countryside

look tidy. Nature never was nor

should be "tidy". Penny Royal

32 The Cake • Summer 2022
---
HOME & GARDEN

Let's Cook

Special Chicken

Pithivier

I have often pondered why the

names for some French foods

always sound more inviting,

particularly the wonderful word

Pithivier – so much nicer than

pie! But whatever you call my

latest offering, delicious is the

word I would use. I ate this at a

dinner party and just had to add

it to my recipe collection. I hope

you like it as much as I do.

4tbsp pink peppercorns, crushed

300g chicken thighs skin removed

cubed

200g Brie cheese

100g dried cranberries

2 egg yolks beaten

WHAT TO DO

1. Roll out two circles of puff pastry,

one 25cm and the other 30cm.

Leave to chill on two trays.

2. Add oil to frying pan and fry the

onion and garlic, taking care not

to brown them. Add the salt and

peppercorns and mix.

3. Add the chicken and cranberries

and cook for about seven minutes

then cool.

4. Slice off the top and base of

the brie and place in the centre of

the smaller pastry round. Add the

chicken mix all round the cheese

making sure to keep the edges of

the pastry clear before brushing

with the egg yolk. Take the second

circle and put on top, smoothing

it down as you go and then seal it

INGREDIENTS

Serves 2-3

2 x packs puff pasty

2tbps olive oil

1 onion finely chopped

4 cloves garlic grated or finely

chopped

1tsp salt

firmly, crimping the edge. Brush the

top with egg mix and chill for 30

minutes.

5. With a knife, score the top and

make a small hole in the centre to

allow steam to escape. Heat the

oven to 200C/ fan 180C/ Gas 6 and

put in the tray to heat up. When

at temperature, place the pithivier

on the tray and cook for about 25

minutes or until golden brown.

Bon appetite!

Emma Fraser

Buy delicious grass fed meat. Reared to the highest welfare and nutritional standards.

From our Farm to your Plate, Truly Natural Living. Free local deliveries.

Shop online or in-store at the farm. Paley Farm, Cranbrook TN17 2LX | www.paleyfarm.co.uk | 01580 891046

The Cake • Summer 2022 33
---
LETTINGS AND SALES PROPERTY EXPERTS

Local specialists with a network of London & Regional Offices

FOR YOUR FREE MARKET APPRAISAL CALL US TODAY

Lettings 01580 720400 ∙ Sales 01580 720000

cranbrook@jackson-stops.co.uk stops.co.uk

www.jackson-stops.co.uk

Treat your oven to a

professional deep clean

Ask about my 7 day

fast track service.

Fee hob clean for

new customers.

Call Ed on 07921 867 166

**£5 off for senior citizens**

Specialist oven cleaning, at an affordable price Web: ed.ovenrescue.co.uk

34 The Cake • Summer 2022
---
BADGER'S PLOT

Summer Harvests

Summer time on the plot or in the

kitchen garden is a culmination of

all the hard work and preparation

undertaken earlier in the year. It

is, hopefully, going to be a time to

harvest and enjoy the fruits of your labours.

Once again, the forthcoming period has

been split into early, mid and late summer.

EARLY SUMMER

Sow outside: French and runner beans,

beetroot, carrots, courgettes, cucumber, kohl

rabi, lettuce, marrow, spring onions, pak

choi, peas, pumpkins, radish, salad rocket,

swede, sweetcorn and turnips – quite a list!

Planting outside from seed trays or pots:

Brussels sprouts, leek and beans.

Harvesting: First harvest of early beetroot,

carrots, potatoes, lettuce, broad bean, garlic

and peas. If you are fortunate enough to

have an asparagus bed, harvesting the

delicious spears can continue until the end

of June

Preparing ground: Clear away any

overwintered cabbage. Weed all beds where

sowing or planting is yet to take place.

MID SUMMER

Sow outside: Lettuce (for harvesting in the

autumn) and winter salads such as endive

and chicory.

Planting outside: Kale, swede, savoy

cabbage, cauliflower, purple sprouting

broccoli.

Harvesting: July can be a time of

abundance. Potatoes, peas, broad beans,

courgettes and early salad plants should all

be ready. At the same time lift and store your

onions, garlic and shallots to enable them to

dry out.

Preparing ground: Some of the early

harvests are now coming to an end and the

opportunity should be taken to clear the

site of any debris and weeds. As explained

in previous issues, the beds can be used

for second cropping, especially if you are a

no-dig gardener. A gentle hoe to loosen the

soil and you are ready to plant – provided

you have had the foresight to sow some

lettuce or brassica seed back in April! The

alternative is to direct-sow things like beans,

carrots and swede making sure that you thin

out the plants as they appear.

LATE SUMMER

Sowing outside or in the greenhouse:

Spinach and chard for overwintering. Late

sowings of salad crops

such as spring onions

and radish.

Harvesting: This

is the time when

everyone offers

you their surplus

runner beans!

Tomatoes, peppers

and cucumbers

should also now be in

plentiful supply. It's

a good time to check

those potatoes and

onions that have been

in storage.

JOBS ON THE PLOT

HEN HOUSE

POULTRY

Quality Point of Lay Chickens

Excellent choice available, fully

vaccinated, laying lovely fresh

eggs in a variety of shell colours

Hopefully, you will not have neglected

the all-important task of weeding. This

period will see many weeds setting

seed and if you ignore the signs you are

storing up trouble for later. Whenever

you are on the plot, why not set aside a

"10 minute weed" session? If you rent

an allotment, remember unwanted

weed seeds will drift on to your

neighbour's plot.

A word here about watering. Your

soil type will determine how to manage

watering you plants. Much of the soil in

the parish is made up of Wealden Clay

which, despite its appearance, actually

retains moisture exceedingly well

reducing the frequency of watering. In

other areas you will find the sandstone

of the Hastings Beds. This can be very

porous and not at all water retentive, so

regular watering is needed. Whatever

your soil, regularly incorporating wellrotted

organic matter will increase its

moisture retaining capacity.

There are critical periods when

watering is necessary; water helps

seeds to germinate, it is also beneficial

when seedlings have been transplanted

into the soil and later, it will help the

swelling of peas beans and tomatoes. As

a rough guide, when watering it is best

to water thoroughly rather than merely

wetting the surface. If you have a

greenhouse or shed, get yourself water

butts to capture rainwater – it contains

nitrates, one of the key elements that

plants need. Badger

Country living at its best!

www.henhousepoultry.co.uk

01622 843649 (Sutton Valence)

The Cake • Summer 2022 35
---
High Street, Cranbrook,

Kent, TN173RB

Telephone: 01580 715008

reception@hammondoptical.co.uk

hammondoptical.co.uk

Holly's Funerals

Modern, Beautiful and Bespoke

Funeral Choices

We provide a highly flexible & personal

service to help you create exactly the right

funeral for you and your family

Please call for a friendly, informal chat or

to make an appointment

01580 389184

www.hollysfunerals.co.uk

Hartley Dyke, Cranbrook

36 The Cake • Summer 2022
---
South East Open Studios

Celebrates 25 Years

South East Open Studios (SEOS) is a not-for-profit, artist-led organisation that depends on

the participation and engagement of both artists and makers – experienced and new!

ART

This year SEOS celebrates its 25th year

of helping artists celebrate and exhibit

art and craft. A true milestone. With

refreshed branding and recognising the

need to connect with artists from all types

of backgrounds and all genres support, it's all set to

celebrate another 25 years.

Artists and makers of all genres sign up and people are

invited to visit the artists in their studios from 3-19 June.

Some artists team up with each other and small groups

get together, others choose to exhibit alone.

Visitors can see the artists demonstrating their

art, maybe some are just working, others will actively

promote individual demonstrations. Whichever, it's a joy

to see the artist in their environs

and to visit so many lovely studios

and venues. Some large, some

tiny, but all loved, and all visitors

are welcome! Artists will talk to

you about their processes, their

passion, their philosophy. Learn

how they create, and most work is

for sale.

This is a wonderful opportunity

to see so much different art, meet

the people behind the art and to

see so much of our beautiful Kent

countryside.

Cranbrook and environs are

well served with exhibiting artists

and Grierson Galleries, based

in Cranbrook, is delighted to be working

with SEOS this year to help celebrate

its anniversary. Visit the gallery to pick

up your free SEOS brochure and see the

works of 23 local artists, from ceramics to

oils, watercolours, award winning garden

sculptures, photography, abstracts, works

inspired by the local countryside, mixed

media. You name it it'll be in the gallery for

everyone to admire!

Each artist will be exhibiting one piece

and the visitor can then chose which

studios to visit. Please do visit. It's a great

opportunity to see and appreciate so many

talented local artists in one place!

Annie Watsham

Flow Lines 4 by Karen

Birchwood

Nicola Colbran

Urbane Jungle by

Christine Hopwood

Urchin Bowl by Dizzy

Pragnell

EXHIBITING

ARTISTS

Caroline Anderson,

Louise Pettifer, Jane

Gray, Jemimah Patterson,

Jeremy Westgate, Nicky

Colbran, Clive Dand,

Dizzy Pragnell, Liz Betts,

David West, Susie Vittay,

Claire Dominic, Christine

Hopwood, Kate Schuricht,

Jade Taylor, Lenka Kalafut,

Kristin Watt-Bonar, Clare

Winchester, Rosemary

Houghton, Liz Bewley,

Karen Birchwood, Phil

Auden and Rowena

McWilliams.

Daisy by

Claire Dominic

Mother Love by

Caroline Anderson

Watching by

Jade Taylor

The Cake • Summer 2022 37
---
From

£895

for a fully

fitted electric

garage door.

WAS £1,354 INCLUDING VAT.

Gotta get a Garolla.

WHAT'S INCLUDED WITH EVERY DOOR:

• EXPERT MEASURING & FITTING

• 2 REMOTE CONTROLS

• ACOUSTIC & THERMAL INSULATION

• FREE DISPOSAL OF YOUR OLD DOOR

• AVAILABLE IN 21 COLOURS

Garolla garage doors are expertly

made to measure in our own UK

factories, they're strong and solidly

built. The electric Garolla door rolls up

vertically, taking up only 8 inches inside

your garage, maximising valuable space.

Our expert local installers will fit your

new door and they'll take away the

old one too, so there's no mess.

Give us a call today and

we'll come and measure up

completely FREE of charge.

CALL US TODAY ON:

01892 640 176

MOBILE:

07537 149 128

*Off er valid for openings up to 2.4m wide & including 2 remote controls, 55mm white slats, internal manual override.

38 The Cake • Summer 2022
---
LEGAL ADVICE

Residential Leasehold

Ground Rent

Welcoming news for

leasehold homeowners

We welcome the

major changes

to residential

lease ground

rents

following the Leasehold

Reform (Ground Rent) Act 2022

which was passed through the

commons without opposition.

For far too long, leaseholders

have encountered difficulties and

high fees regarding the issues

with unreasonably high annual

ground rents and in some cases,

rents escalating greatly over a

short period of time. This has

caused problems for re-sale of

property due to mortgage lenders

not accepting the position of

the terms of the rent charged

by the landlord/freeholder for

the property. The Competition

Authority (CMA) secured

commitments with major

homebuilders to cease the terms

of leases which included the

doubling of ground rent charges

to homeowners.

Historically, the terms of

residential leases included

clauses for the increase of

ground rent, which had to align

with the Council for Mortgage

Lenders (now UK Finance

Lenders). Landlords/freeholders

continued to create new

residential leases with escalating

rent clauses. Increasing annual

rent was not only a financial

burden for the leaseholder but

became unacceptable to the

mortgage lenders. Leaseholders

have therefore been left with

no choice than to agree costly

variations to the terms of

the registered lease when

progressing a sale transaction.

The government's ban on

landlords charging ground

rent on residential leases in

England and Wales comes into

force on the 30 June 2022 and

anyone buying a new home with

a long lease will be free of the

ground rent annul charge. The

act will mean that ground rents

on new residential homes and

flats granted for a term of over

21 years will be charged at a

'peppercorn' per year. Effectively,

this means, nothing to pay in

respect of rent!

The changes in legislation

have been proposed for some

time to consider the ground rent

terms, which were unfair for

leaseholders. The provisions of

the 2002 act will not take place

immediately but generally will

commence within six months

of the Royal Assent. The act

will bring homeownership of

residential leasehold property a

fairer and financially beneficial

position.

For existing leaseholders with

problematic leases, who choose

to extend the term of their

lease, through the non-statutory

(voluntary) action, they will also

benefit from the changes of the

legislation under the new act.

The extension of the lease (Deed

of Variation of the original lease)

will restrict ground rent to 'a

peppercorn rent'. Many existing

MAURICE PULLIN

landlords are already taking steps

to procure the position of the

new changes.

There are special provisions

and some exceptions included

within the provisions of the

new Act which need to be

considered, to include shared

ownership leases and retirement

accommodation leases. Such

provisions will not come into

effect until April 2023.

This is an important milestone

in the system for homeownership

and affordability of residential

leases for the next generation.

If you are in the process of

purchase a new build leasehold

property, please ensure that

the developer has taken into

consideration the changes of

legislation contained in the

new Leasehold Reform (Ground

Rent) Act 2022.

PAULA SAVAGE

Buss Murton can provide professional advice and

assistance to new and existing homebuyers of

leasehold property. Please do not hesitate to call

Paula Savage on 01892 502358 / 01892 510222 or

email psavage@bussmurton.co.uk quoting

Cake Magazine.

Clermont House, High Street,

Cranbrook, TN17 3DN

01580 712 215 or info@

bussmurton.co.uk

www.bussmurton.co.uk

The Cake • Summer 2022 39
---
Whatever you want

to store...

...for whatever reason – business, house sale and

purchase not coinciding, travelling, house building

work, paperwork overload or just "de-cluttering" to

sell your house more quickly –

we offer a friendly and

flexible service in

Cranbrook.

With competitive

rates, secure storage

all on one level and

hassle free 24/7 access,

contact us now!

01580 713231

www.barn-store.co.uk

PROUD TO BE SERVING THE

COMMUNITY SINCE 1852

Your fully independent, family owned, Funeral

Directors serving the local community with

compassion and the highest standards of

service and professionalism.

With our 24-hour emergency service, we are only

a telephone call away.

At the earliest stage possible, you will speak directly

with one of our experienced Funeral Directors, who

will be there to help, support and guide you through

the whole of the funeral process.

Bank Street, Cranbrook,

Kent TN17 3EF.

01580 713636

enquiries@jperigoeandson.com

Dixter Road, Northiam,

East Sussex TN31 6LB.

01797 260316

www.jperigoeandson.com

J. Perigoe & Son is a Trading Division of West & Coe Limited,

602 Rainham Road South, Dagenham, Essex RM10 8YP.

40 The Cake • Summer 2022
---
Update

Two New

Members

for Parish

Council

With two

councillors

having

resigned

from the

parish council but no call for

an election, Ant Tomlinson and

Julie Simpson were co-opted to

fill the vacancies.

Mr Tomlinson is well known

for being a co-founder of the

popular Cranbrook Junior

Football Club. In a professional

capacity, he helps local people,

charities and small businesses

develop their websites.

An active member of the

community, he is a volunteer

at the windmill, involved in

Wellbeing in the Weald and has

become the development officer

at Cranbrook School.

A father himself, he believes

he is as a good representative

for a younger generation. He is

keen to be involved in ensuring

that children have the best

possible future while retaining

classic, community values.

The other newcomer is Julie

Simpson who offered "energy,

enthusiasm, time and 39 years

of local knowledge" having lived

all that time in Sissinghurst

with her publisher husband

Peter and four children.

She is particularly known

as the founder of the Wealden

Times, and the Surrey Homes

magazines. She trained as a

drama teacher but worked in

recruitment and went on to

sell books to schools before

founding the WT magazine.

She is a trustee of the

Cranbrook and District

Age Concern and her other

- interests include the

environment, conservation,

child welfare and schooling.

Five of her eight

grandchildren – seven boys and

one girl – are at school which

has turned her attention to

education.

She and her husband have

recently made half their home

a safe haven for a Ukrainian

family. A grandmother, two

daughters and a two-year-old

grandson fled Kyiv, leaving a

father and brother to face the

fighting. TF

Ant Tomlinson

Julie Simpson

The Cake • Summer 2022 41
---
THE CAKE CHATS WITH…

Gaynor Hatch

Trisha Fermor talks to Gaynor Hatch who has overseen the sale of thousands

of pounds worth of goodies in a charity shop

For Gaynor Hatch every day was

"like Christmas" when she and her

"fantastic team" sorted through

donated bags at the Hospice in the

Weald shop in Cranbrook.

For more than 10 years, she was responsible

for everything that arrived at the Stone Street

outlet, from amazing costume jewellery to

handbags and clothes and china to books and

CDs.

But on 20 May, she celebrated her

retirement with her volunteer staff, just a

week after putting her last price tag on a

donated item.

Gaynor, 57, who lives in Northiam with her

husband, Tony, a retired plumber, has spent

nearly all her working life helping others,

including time with Cancer Research and

Barnardo's. She was also head house keeper at

the Spa Hotel in Tunbridge Wells where she

met her then husband-to-be who was head of

maintenance.

After a "full on" spell with a Crowborough

cleaning company, which offered a 24-hour

service, she decided it was time to move on.

She was looking for a job in the charity sector

A Hermes scarf raised £400 in May's

silent auction

and soon found herself working for Hospice in

the Weald.

Speaking just days before her retirement

party, Gaynor said: "Every day is like

Christmas. You don't know what's in that

bag. We get a lot of brand new clothes coming

in still with their tags and the standard of

clothes we sell is very high. I only put the best

of what we get on sale and people like us for

the quality."

The silent auctions held occasionally at

the shop are hugely successful, the May one

raising a record £2,105. Top of the bidding

was £400 for a Hermes scarf while a cheese

dish went for £75. A group called the Welly

Walkers, who each donate £1 for each walk,

recently handed over £70 to the charity.

Gaynor said: "The auctions are really

successful and people are very generous with

their bidding."

While much of her life has involved helping

others, she has been the recipient of muchneeded

care when she had part of a kidney

removed due to cancer.

She said: "Six years ago, I had packed up

smoking then began to get pains. If I hadn't

packed up the cancer would not have been

found. Smoking saved my life. I had keyhole

surgery and three months off. Hospice were

brilliant."

Gaynor was full of praise for her team

of volunteers, from Audrey, 92, to younger

members of the team, including the Three

Degrees (Marian, Benice and Pam) who are

responsible for the "time consuming" window

dressing. In all, there are about 27 people who

give up their time to man the shop.

Gaynor was keen to point out that dogs are

allowed in too and are given a treat. On the

day The Cake visited, everyone was delighted

that a robin had taken up residence and

would eat out of Gaynor's hand.

42 The Cake • Summer 2022
---
An extra pair of hands

when you need them!

• Bookkeeping

• Credit control

• Data entry

• Back office support

• Training course

organisation

• Newsletters

...and more

Can you relate to one or

more of these statements?

"I want to spend time building my business - not doing paperwork"

"I want to take control of my accounts rather than have them

controlling me"

"I need help in the office but don't have the equipment

or space for someone else"

"I could do with an extra pair of hands but can't justify the cost

or commitment of employing staff"

"I need to improve my brand, online presence and market

my services, but I don't have the time "

If the answer is Yes, we think it's time you

called Pink Giraffes Limited!

if the service you are looking for isn't here please call us

T. 01580 848190 E. enquiries@pinkgiraffes.co.uk

www.pinkgiraffes.co.uk
---
Local firm of solicitors for all your

personal and business needs

Property Conveyancing

Family, Children & Divorce

Employment law

Wills, Trusts and Probate

Litigation & Dispute Resolution

Company & Commercial law

Our Cranbrook Office:

Clermont House

High Street

Cranbrook

Kent TN17 3DN

T: 01580 712 215

E: info@bussmurton.co.uk

www.bussmurton.co.uk

CRANBROOK | TUNBRIDGE WELLS | EAST GRINSTEAD

Buss Murton Law LLP is a Limited Liability Partnership No. OC345994 and is authorised and regulated by the Solicitors Regulation Authority