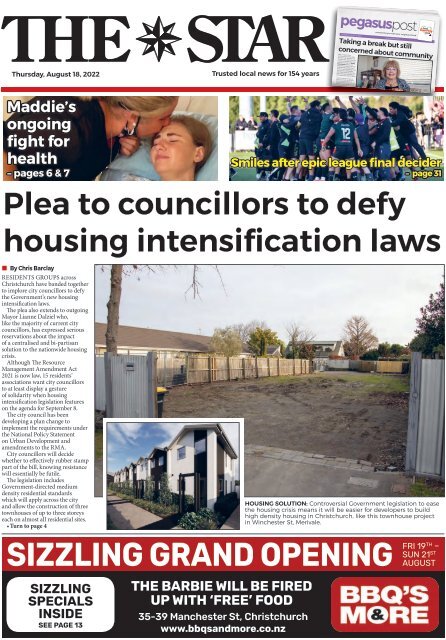 The Star: August 18, 2022
Create successful ePaper yourself
Turn your PDF publications into a flip-book with our unique Google optimized e-Paper software.
THURSDAY, AUGUST 18, 2022

community board Linda

Stewart has decided not

to stand this term but isn't

ruling out standing in the

future. She talks to Emily

Moorhouse about her

Coastal-Burwood Community

Board since 2007 when she was first

Stewart (right) revealed she had

plans to stand as councillor for the

Burwood Ward for this upcoming

www.starnews.co.nz

connecting you with your neighbourhood

Locals

Locals

Supporting

Taking a break but still

concerned about community

After 15 years on a

Thursday, August 18, 2022 Trusted local news for 154 years

experience being a diving

and abseiling instructor,

what it was like being chair

during the earthquakes

and how at times she has

felt as though residents in

her ward were her children

LINDA STEWART has chaired

and been a member on the Waitai

elected but now she is taking a step

back.

Maddie's

ongoing

fight for

health

term but has since changed her

mind.

Instead, she wants to focus on

her jewellery art business, something

that she has "picked up and

dropped" a few times and has plans

to go overseas for a hip replacement

operation due to pressure on New

Zealand's health system.

However, she said she will still be

involved in the community, pushing

for issues that are importan to her

such as a community facility for

the Burwood Ward, reduction or

abolishment of water rates for sandbased

suburbs and a better spa at

Queen Elizabeth II Park.

• Turn to page 5

We're looking for leaders

who know their community

We're now hiring Electorate Managers in regions across New Zealand to start

work in February 2023 to help deliver the 2023 General Election.

If you're someone who can establish and lead a team, are interested in your community

and have experience in event management, then this is a great opportunity for you.

The roles are full-time for a minimum of 38 weeks (between 13 February and

3 November 2023). Travel will be required – mostly within your electorate.

Find out more at elections.nz/jobs

Applications close 5pm Monday 29 August 2022.

Smiles after epic league final decider

– pages 6 & 7 – page 31

Plea to councillors to defy

housing intensification laws

• By Chris Barclay

RESIDENTS GROUPS across

Christchurch have banded together

to implore city councillors to defy

the Government's new housing

intensification laws.

The plea also extends to outgoing

Mayor Lianne Dalziel who,

like the majority of current city

councillors, has expressed serious

reservations about the impact

of a centralised and bi-partisan

solution to the nationwide housing

crisis.

Although The Resource

Management Amendment Act

2021 is now law, 15 residents'

associations want city councillors

to at least display a gesture

of solidarity when housing

intensification legislation features

on the agenda for September 8.

The city council has been

developing a plan change to

implement the requirements under

the National Policy Statement

on Urban Development and

amendments to the RMA.

City councillors will decide

whether to effectively rubber stamp

part of the bill, knowing resistance

will essentially be futile.

The legislation includes

Government-directed medium

density residential standards

which will apply across the city

and allow the construction of three

townhouses of up to three storeys

each on almost all residential sites.

• Turn to page 4

HOUSING SOLUTION: Controversial Government legislation to ease

the housing crisis means it will be easier for developers to build

high density housing in Christchurch, like this townhouse project

in Winchester St, Merivale.

SIZZLING GRAND OPENING Fri 19th –

sun 21 st

august

SIZZLING

SPECIALS

INSIDE

SEE PAGE 13

thE bARbIE wILL bE fIRED

uP wIth 'fREE' fOOD

35-39 Manchester St, Christchurch

www.bbqsandmore.co.nz
---
2 The Star Thursday August 18 2022

inside

Disney a dream come true.............................3

Housing intensification plea .........................5

Maddie's quest for a kidney.......................6-7

House sells for super-cheap $235k... 8-9

Copycat campaign leaflets?...............10 & 12

Selwyn Sounds line-up announced.......14

Nuclear stories 'need to be told'...17 & 19

Disney a dream come true..........................22

Readers' letters........................................................24

Mayor's column.......................................................26

The Air Force Museum's success............29

Sport............................................................................30-31

DriveSouth.................................................................. 33

Classified.............................................................. 34-39

Gig guide.......................................................................39

newsroom

letters

We want to hear

your views on the

issues affecting life in

Canterbury.

Send emails to:

barry@starmedia.kiwi

Letters may be edited

or rejected at The Star's

discretion. Letters should

be about 150 words.

A name, postal address

and phone number

should be provided.

Please use your real

name, not a nickname,

alias, pen name or

abbreviation.

Chris Barclay Reporter

021 914 169

chris.barclay@starmedia.kiwi

Tina Grumball Reporter

022 014 5622

tina.grumball@starmedia.kiwi

Mike Hansen Online editor

mike.hansen@starmedia.kiwi

Barry Clarke Editor in Chief

021 359 426

barry@starmedia.kiwi

advertising

Shane Victor Advertising Manager

021 381 765

shane@starmedia.kiwi

Classified advertising: 379 1100

General inquiries: 379 7100

readership up 9%

207,000 *

readers every week!

*Source: Nielsen CMI Q2 20 - Q1 21 vs CMI Q2 21- Q1 22

DELIVERERS WANTED!

Are you honest, reliable and over the age of

11? Why not earn money and get fit doing

it. Get in touch with your interest today:

deliveries@alliedpress.co.nz | 029 983 2293

A division of Allied Press

Regional Manager: Steve McCaughan

PO Box 1467, Christchurch

359 Lincoln Rd, Addington

www.starmedia.kiwi

Black Ferns vs Australia

Saturday, 7.05-9pm

See the Black Ferns take on Australia's Wallaroos

in the first of two test matches in the O'Reilly Cup.

It's a huge year for the Black Ferns and this is your chance

to catch them live in action at this highly anticipated

rugby match-up. Tickets $0-50, book at allblacks.com

Orangetheory Stadium

Gutsy Girls Adventure

Film Tour

Saturday, 2.30-5.15pm and

6-8.45pm

Born out of a desire to showcase the adventurous women

of the outdoor world, the tour presents a selection of short

films that will entertain, enthral and inspire. Go surfing in

Senegal, on a 1700km ride across Tasmania, running the

length of New Zealand, and more. Tickets $16-25.

Hollywood Cinema, Sumner

Illuminate Ferrymead

Heritage Park

Friday to Sunday, 5.45-9pm

Watch Ferrymead Heritage Park come to life at

night with a beautiful, all-new lighting installment. Brought

to you by Illuminate. Tickets $10 at Eventfinda, free entry for

under 2s.

Ferrymead Heritage Park

I Live For The

Applause

Friday & Saturday,

8-10pm

Matuku Community Theatre returns to

the stage with a fun and frivolous variety

show, with guest appearances from Firefly

Bellydancers, Moll's Dolls and Sumner

Ballroom Dance School. Support Zonta, Ferrymead Harriers

and Ferrymead Bays Football by buying tickets. From $25-35,

book at www.matukutheatre.nz

Matuku Takotako Sumner Centre

Northern Community Market

Saturday, 9am-2pm

Go along to this community market, offering

household items, arts and crafts, food and more.

Held the first and third Saturday of the month.

Redwood Hotel grounds, 340 Main North Rd

Stay comfortable all year round with

Fujitsu's sleek, stylish Lifestyle Range.

HEAT PUMPS FROM $1999 inc GST INSTALLED!

2020

Heat Pumps

03 381 6950

info@powersmart.co.nz

powersmart.co.nz

Fujitsu's Catechin Filters are approved by

the Asthma and Respiratory Foundation

NZ's Sensitive Choice ® programme.

FREE

consultation from

your local Accredited

Heat Pump Expert

ST CHRISTOPHER'S

CHURCH bOOk FAIR

FRI 26 TH & SAT 27 TH AUGUST

Two halls full of fantastic books!

WARREN HALL - Great fiction $2 or 6 for $10 plus kids books etc.

ROBERTON HALL - Specially priced non fiction - ART,

TRANSPORT, MILITARY, HISTORY, TECHNICAL, COOKING,

CRAFT, NZ, SPECIAL ITEMS ETC

THE BEST BOUTIQUE BOOKFAIR IN TOWN!

Cash or Eftpos.

ST CHRISTOPHER'S 244 AVONHEAD ROAD

Friday 9am - 5pm, Saturday 9am - 4pm | Ph. 3588-780
---
Thursday August 18 2022 The Star

Latest Canterbury news at starnews.co.nz

Humans inside: First entry

into Cathedral since 2011

NEWS 3

Hit-andrun

driver

charged

• By Tina Grumball

POLICE HAVE located and

charged a 64-year-old man in

relation to the alleged hit-and-run

on Marshland Rd last Friday.

Just after 8.20pm, a woman

in her 50s was crossing the road

at the intersection with Voss St

when she was struck by a white

van.

The driver did not stop to check

on the woman and drove away.

She was knocked to the ground

and began to bleed from the

head.

She was taken to Christchurch

Hospital with serious injuries, but

was discharged on Tuesday and is

recovering at home.

The man was charged with failing

to stop and ascertain injury

after a crash.

He will appear in the district

court on September 20.

MILESTONE: Achieving human entry into the Cathedral has been a key focus of the

project this year.

PHOTOS: TOM CUTHBERT/BELMONT

THE FIRST human entry into

the Christ Church Cathedral

since rescuers searched it

after the February 22, 2011

earthquake has been completed.

Christ Church Cathedral Reinstatement

site manager Gary

Davidson from Naylor Love

and engineer Pete Carney from

Holmes Consulting went into

the severely damaged cathedral

on Tuesday.

The highly controlled entry

was made through the northern

side of the building.

This first inspection was to

check for any engineering or

safety concerns that need to be

addressed before contractors can

begin work safely inside the nave

to stabilise the existing columns.

CCCR project director Keith

Paterson said: "We felt confident

Bras and

shape Wear

SHOPPING AT ITS BEST

• No under wires

• Straps do not fall down

• Full support from beneath the bust

• Front-opening modifications

• Breast Prostheses fitted & supplied

• Esther is a registered

health provider

• Unique shape wear

in taking this next crucial step

forward in the reinstatement

journey. This entry allows us to

plan and create a scope of work

for the final stage of the stabilisation.

"The installation of the external

steel supports has adequately

mitigated any risk of collapse.

This is a significant and exciting

moment for the project and

stabilisation phase, which is now

about 90 per cent complete."

Meticulous planning preceded

this highly choreographed event.

Workers were inside for only

10 minutes, just enough time

to properly assess the risks and

carry out the investigation into

further stabilisation.

"We were very happy with

what we saw inside the Cathedral.

There were no surprises,

CASH PAID

FOR DAMAGED

CARS & TRUCKS

and in fact, some of the columns

we inspected were in better

condition than assumed. We can

now confidently move forward

and prepare the work plan for

the next step in the project,"

Paterson said.

The nave column stabilisation

is one of the last major pieces of

work in the stabilisation phase.

Its completion is planned to

coincide with the crossing roof

stabilisation and, ultimately,

the 34 per cent New Building

Standard, the standard required

for the building to be no longer

categorised as earthquake-prone

and safe enough to commence

reinstatement.

Prior to human entry, 'Spot'

the remote-controlled robot

dog, drones and the remotecontrolled

digger were the only

QUIZ

NIGHT

technologies to have entered the

Cathedral as part of the reinstatement

project.

Human access marks a

massive goal for the project since

reinstatement commenced in

May 2020, and was a key focus

for the project this year. The

early completion of the remotecontrolled

digger's internal

clean-up has been a tentative

step towards allowing controlled

human access.

• To watch the video go

to starnews.co.nz

BRIDIE'S BAR

THE

MEANIEZ

Covid death

LAST WEEK, The Star published

an article about the Covid-19-

related death of 88-year-old John

Butcher.

In the article it was reported

John had been put into Burwood

Hospital for respite care at the

behest of his wife, and quoted

another family member as saying

"it was the beginning of the end".

John's wife, Allison Butcher,

says her husband was put into

Burwood on the advice of medical

specialists, and was not at her

behest.

Allison said the respite care at

Burwood came after a serious

mishap John had while living at

home.

It was at Burwood that his

condition was assessed and determined

rest home care was needed

for him, Allison said.

She said her husband had

wanted a private cremation.

The Star apologises to Allison

Butcher for any distress the article

caused.

HOUSIE

BINGO

7PM THU 3PM SAT 3PM SUN

Formerly

Jeunique Bra

FREE

CONSULTATIONS

& FITTINGS

Esther Rökk UnderFashions

For appointments please phone 0211674537

82 Milns Rd, Halswell • www.eru.co.nz

Phone or text

details to

021 1056 797 - 24/7

BRIDIE'S BAR & BISTRO | 401 WORCESTER ST

PH (03) 260 0325 | WWW.BRIDIESBAR.CO.NZ
---
The Star Thursday August 18 2022

4

NEWS

Latest Canterbury news at starnews.co.nz

Housing intensification: 'We're saying

• From page 1

Other parts of the city can be

subject to even higher density

intensification.

The residents' associations

were also concerned the legislation

allows six-storey residential

buildings in precincts designated

on city council maps as Merivale,

Sydenham North, Bush Inn,

Belfast North, Linwood Eastgate,

North Halswell, Riccarton,

Hornby, Northlands, Bishopdale,

Prestons and Barrington.

Tony Simons,

chair of the

Riccarton Bush-

Kilmarnock

Residents'

Association,

challenged city

Tony

Simons

councillors to at

least delay the

process by not

voting to "give

the law effect" next month.

"Other councils around the

country have basically rubber

stamped this and said: 'There's

nothing we can do about it, the

Government has passed a law, we

just need to do what we're told'.

Sorry guys.

"What we're saying to councillors

is you can vote No," Simons

said, acknowledging the Government

can still override that

decision.

"It's possible the Government

might bring in a statutory manager

to manage the process on

the council's behalf.

"Politically that wouldn't necessarily

be a bad thing. If councillors

vote according to their

conscience and the upshot is the

Government intervenes then so

be it," Simons said.

City councillors and Dalziel

were emailed a message from the

residents' associations late last

night, and Simons was hopeful

they would comply with the bid

to disrupt the process.

"It's a point of principle. You

can argue it's symbolic, you can

argue it's toothless and it's not

going to stop the inevitable," he

said.

"My argument is that's not the

point. You stand up to people who

try to bully you into submission.

"If you're all against it, why

would you vote to be complicit

in enabling it? September 8 is the

last chance for the council to at

least delay the process."

Dalziel was unavailable for

comment yesterday but has

previously described the bill as "a

blunt one-size-fits-all approach".

City councillors will also

consider a plan change which

outlines what the council proposes

regarding intensification in

and around commercial centres,

as well as areas where development

will be restricted because

UNDER WAY: 'Coastal Sands'

development (above), Williams

Corporation's development

(right) and Seaview

Townhouses (opposite), all in

New Brighton.

PHOTOS: STAR MEDIA

of "qualifying matters" such as

heritage and character considerations.

"We might be able to tinker

around the edges," said Waimairi

Ward representative Sam

MacDonald, before the residents'

association delivered their

appeal.

Smile with confidence

Showcase your brand or product to

thousands of women at our two day expo!

29 & 30 OCT | CHRISTCHURCH ARENA

This is the perfect opportunity for you to:

• build awareness of your brand

• grow your customer database

• demonstrate or sample your product

• generate strong sales

BEFORE

Full or Partial Dentures

Immediate Dentures

Winz Approved

aFtER

Insurance Claims

Urgent Denture Repair & Reline

Payment Options Available

CONTACT US: (06) 354 0498 | enquire@events.nzme.co.nz

womenslifestyleexpo.co.nz

914 Colombo St | Ph: 03 365 2859 | www.cosmeticdentureclinic.co.nz

CHRISTCHURCH

Book your capsule hire

now and get 20 % off.

100% New Zealand

owned and operated.

Expecting a baby in Spring?

0800 222 966 / www.babyonthemove.co.nz

CHRISTCHURCH NORTH

03 960 9752

515 Wairakei Road, Burnside.

north.christchurch@babyonthemove.co.nz

CHRISTCHURCH CENTRAL

03 421 3243

87a Gasson Street, Sydenham.

central.christchurch@babyonthemove.co.nz

Subject to availability. Valid for hire bookings commencing in Sept/Oct. Not available on hire of new capsules.
---
Thursday August 18 2022 The Star 5

Latest Canterbury news at starnews.co.nz

NEWS 5

to councillors you can vote no'

He agreed with Dalziel that the

legislation was inflexible.

"It's literally one-size-fits-all,

which is not helpful when you

have a district plan already.

"I could live with two-storey.

Three stories is huge in the suburbs

and you have no ability to

really challenge it.

"We're not

getting a say on

whether we accept

housing density

or not, we're

getting a say on

what kind of stuff

Megan

Woods

we can include to

mitigate some of

the fallout from

what the government

has imposed.

"We can kick and scream all

we like, we've got to hope at some

stage either the government or

opposition go 'this isn't good'

and back away from it."

"What would have been better

is for the rules to apply, for example,

within the Four Avenues,

which would help lift our population

in the CBD.

"All you'll see is more intensification

in areas where it's not

warranted. There's nothing to

stop monstrosities going up right

next door where you've got no

say. I genuinely think it's going to

wreck suburbs.

"I've been supportive of the National

Party and even they agreed

to this. This cross-party thing

between Labour and National to

fix the housing crisis . . . if you

go back to Economics 101 the

interest rates are correcting a lot

of that as we speak."

Housing minister Megan

Woods, the MP for Wigram,

defended the Government's

remedy to the housing crisis, one

endorsed by the National Party.

"We know historically that as a

country we had not been building

enough homes in the right

places to meet the needs of New

Zealanders," she said.

"This makes our housing

unaffordable. This Government

has come up with a plan that

includes taking aim at overly

restrictive council planning rules

which are sometimes confusing

and arbitrary, and limit the

numbers and types of houses we

can build.

"These measures support increased

urban density which will

enable more houses to be built in

high demand, highly accessible

areas.

"The joint approach of this

initiative, and why we brought

the National Party into our plan

on this was to provide greater

certainty for developers that the

rules would not be removed or

reduced at a later stage."

•The association of

concerned residents

– Central Riccarton

Residents' Association,

Charleston Neighbourhood

Association, Christchurch

Civic Trust, Dallington

Residents' Association,

Englefield Residents'

Association, Halswell

Residents' Association,

Greater Hornby Residents'

Association, Ilam and

Upper Riccarton Residents'

Association, Inner City

West Neighbourhood

Association (ICON), Lower

Cashmere Residents'

Association, Riccarton

Bush-Kilmarnock Residents'

Association, Riccarton

Bush Trust, Somerfield

Residents' Association,

Spreydon Neighbourhood

Network and Westmorland

Residents' Association.

EDEN LIVING RANGE

ON SALE

Dallas Queen Bed –

Oatmeal

WAS $

449

NOW

$

349

Malone Modular

Sofa Range

ON SALE

Corner – Duck Egg NOW $ 950

1.5 Seater – Duck Egg NOW $ 900

Ottoman – Duck Egg NOW $ 599

Buffet NOW $ 899

Dining Table NOW $ 799

JUST LANDED – TREND SETTERS!

on trend...

ON SALE

Selected items in store & online. Ends 29.8.22.

Dawson

Chaise Sofa

NOW $

1899

NZ MADE

Tosca

Queen Bed

NOW $

799

Demi

Electric Recliner

NOW $

899

48

MONTHS INTEREST FREE*

with q Mastercard

*Available on Long Term Finance (LTF) purchases until 11/04/22. Minimum spend

$499. Exclusions may apply. Lending Criteria, $50 annual account fee, fees, T&C's

apply. An Establishment fee of $55 (first LTF transaction) or a $35 Advance Fee

(subsequent LTF transactions) applies. Standard Interest Rate, currently 25.99%

p.a. applies to any outstanding balance at end of interest free period. Rate and

fees correct as at date of publication, subject to change. Mastercard is a registered

trademark and the circles design is a trademark of Mastercard International

Incorporated.

Scan to find store

250 Moorhouse Ave, Christchurch

0800 TARGET (0800 827438)

targetfurniture.co.nz

Offers and product prices advertised here expire

29/08/22. Sale Excludes Accessories.
---
The Star Thursday August 18 2022

6

NEWS

Latest Canterbury news at starnews.co.nz

Medical mishaps and Maddie's long,

Maddie Collins has

faced life threatening

kidney problems for 14

years, often hitting the

headlines in the quest

for the right donor. Now

18, Maddie is facing

a new battle. Tina

Grumball reports

TWELVE MONTHS ago,

Maddie Collins was in

Christchurch Hospital to have a

peritoneal dialysis catheter tube

removed so she could continue

dialysis at home.

It was another step to keep her

alive on her long journey to find

the right kidney.

But, like the years of disappointment

over finding it, the

straight-forward procedure left

Maddie ravaged by infection.

During the procedure, plastic

tubing was left inside of her, an

oversight that stalled her transplant

process.

Since then, Maddie has been

rushed to hospital twice to remove

the pieces.

This week, The Star caught up

with Maddie and her mother,

Sarah Manson, at their West

Melton home.

"In hindsight, none of this

should have happened if they'd

removed the piece of plastic at

the very beginning," Manson

ONGOING: Maddie Collins has undergone countless

surgeries in her 18 years, including in December when a

hole in her stomach was repaired.

said of the affliction Maddie

suffered for months.

In September last year, after

about five weeks of antibiotics

that did not work, Maddie was

ready for surgery to remove the

infected PD cuff.

"So they booked her in, she'd

MISTAKE: Pictured here is the PD catheter tube cuff left

inside Maddie, which was removed in September last year,

and the piece of plastic (right) removed in April this year.

had her sedation, she was about

to be wheeled into theatre and a

young vascular-registrar came

in and said 'nope, she can't go to

theatre'."

Maddie was sent home with

more antibiotics, but returned

weeks later and was rushed into

surgery to remove it.

Fast-forward to April this

year and Maddie was once

again rushed to hospital with

a bulge sticking out of her

stomach.

After a CT scan, it was

discovered they had left another

piece of plastic which was

"sitting in a ball of pus".

Once removed, they were

not able to sew her up, leaving

a "gaping open wound" in her

abdomen because there was so

much pus and infection.

After surgery in April, Manson

said they left the hospital

so Maddie could be more

comfortable at home, but had to

drive back to hospital every two

days for "weeks on end."

Both infections left Maddie

feeling anaemic and "really

unwell," her mother said.

In April, "she ended

up needing to have blood

transfusions which was

frustrating because when you

have a blood transfusion, it

introduces new antibodies into

your system, and antibodies

when you want a transplant

are a big deal," Manson recalled.

Maddie was diagnosed with

nephrotic syndrome, kidney

disease, in 2008, but, after she

did not respond to the typical

treatment, her kidneys had to

be removed so she could get

new ones.

Styles may differ to images shown.

Open 10am–5pm, 7 days

409 Main South Rd, Hornby

dress-smart.co.nz
---
Thursday August 18 2022 The Star

Latest Canterbury news at starnews.co.nz

NEWS 7

ongoing search for a suitable kidney

In 2012, she had her first

transplant from her father Adam,

but her body rejected it.

It also rejected the "miracle"

kidney she was given in 2018,

which left her with no kidneys

after it was removed in 2020.

Manson has been Maddie's

full-time carer, as her other

daughter, Georgia, has started

nursing training.

"The hospital did file a medical

misadventure," Manson said.

However, she said she had

to chase up the hospital to file

the claim, then ACC had to

work through their process of

accepting it "which took weeks

and plenty of emails from us".

When it was accepted in May,

ACC cited the treatment injury

– replacing the classification of

medical misadventure – as an

"infected retained foreign body

of a peritoneal dialysis catheter

cuff".

A Te Whatu Ora Waitaha

Canterbury spokesperson said "a

treatment injury claim is a claim

to ACC to cover an injury caused

[to] a patient by treatment from a

Registered Health Professional.

"In the event of a suspected

treatment-related injury, our

approach is to assist the patient

to access the support they are

entitled to."

Manson said she was left on

her own to manage the open

wound, Maddie's sickness and

her hemodialysis, until the

claim enabled some payment for

rehabilitation, help hours and

travel costs.

"Her quality of life has been

really quite limited, and . . .

looking back, all of that lethargia

and tiredness was just all this

infection building up which

they'd missed," Manson said.

For Manson, keeping Maddie's

mental and physical well-being

high was "top priority," as well

as making sure she could

access as much normalcy as

possible.

"It's hard right now because

all of her mates are going off to

university, working, travelling

overseas and she's stuck to this

machine every 48 hours to stay

alive."

They are currently in the

process of getting Maddie ready

to be presented to the transplant

committee again.

"From there, we'll know

whether or not they're going to

offer her another transplant or

if that's a life on hemodialysis."

GOOD DAYS: Maddie hopes to compete in dressage

competitions nationally, when the family finishes building

a portable hemodialysis unit in the back of an old truck.

Right – in 2018.

Maddie's continued search for a

kidney comes as a game-changing

discovery in kidney transplant

research was announced by

Cambridge University.

Since people with different

blood types cannot donate to

each other, researchers there

were successful in changing three

donor kidney's blood types to the

universal O.

Their accomplishment could

have a significant impact on the

amount of kidneys available for

those in need.

On her good days, you can

find Maddie outdoors, with her

friends, or riding her ponies.

She has just been selected to

attend the Dressage NZ young

dressage rider camp and hopes to

compete nationally.

"It's really good for her to have

something that is not medical,

something that when she puts

on her dressage jacket, nobody

knows that she's got no kidneys . .

. she's just Madeline riding."

ACC did not reply in time for

deadline.

win trips to...

HOLIDAYS

FREE to ENTER!

learn more:

R20.
---
The Star Thursday August 18 2022

8

NEWS

Latest Canterbury news at starnews.co.nz

'Not for the faint-hearted' house sells

• By Nikki Preston

A BUNGALOW in need

of serious renovation or

demolishing has sold under

the hammer for $235,000 after

competitive bidding as house

prices in the Canterbury region

continue to hold their own.

The number of Canterbury

sales in July fell 29 per cent and

took seven days longer to sell

compared to the same time last

year as people took advantage of

the school holidays and flocked

to the sun or the snow.

But in spite of fewer sales, the

region's house prices remained

steady with a median sales price

of $678,000 – up 13.6 per cent

year-on-year, according to the

latest Real Estate Institute of

New Zealand figures released

this week.

Christchurch's median sales

price in July was $660,000, up 10

per cent year-on-year but down

5.7% compared with the month

prior. There were 432 sales in the

Garden City, a 35 per cent drop

on the same time last year.

The original 1920s house on

Sinclair St, New Brighton, attracted

14 bids from five bidders

last week as properties with

realistic owners continued to sell

well.

The home was marketed as not

being for the "faint-hearted" and

needed "a little imagination, a lot

DO UP OR DEMO: The two-bedroom bungalow on Sinclair St, in New Brighton, was sold

'as is, where is'.

PHOTO: NZ HERALD

of paint and a fair bit of work"

or, according to the ad, the new

buyer could demolish the twobedroom

house

with a study and

build their dream

home on the

693sqm section.

Bayleys

Christchurch

Barbara

Johnston

salesperson Barbara

Johnston,

who marketed

the property, said the neglected

house hadn't had any EQC

repairs carried out on it, but had

attracted interest from investors

in Auckland and Wellington as

well as renovators because it was

affordable.

The new owner was a local

builder who rented on the same

street and planned to do it up to

live in.

One of the reasons Christchurch

hadn't seen a big drop

in prices like other areas was

because it was more affordable,

Johnston said.

"Some people are starting

to see Christchurch as a little

gem, some people have said. It's

a secret. We've got a lovely city

centre and things are developing

really beautiful now and I think

people are seeing that and it's

becoming more attractive."

She was also marketing a 1950s

four-bedroom, two-bathroom

house at 15 Milnebank Rd in Upper

Riccarton, which had been in

the same family for 50 years and

expected it to be snapped up as

a student rental due to its close

proximity to the university.

"As is, where is" properties

with earthquake damage were

continuing to be popular with

two more also selling under the

hammer at Harcourts Grenadier's

auctions.

A house on Silvester St in

Woolston sold for $568,000 to

a developer and another on Mt

Pleasant Rd with sweeping views

sold for $487,000.

Harcourts Grenadier managing

director Andy Freeman said

there was usually a lot of interest

in these properties because they

were usually a whole lot cheaper

and some of the damaged

properties still got similar rental

income to those that weren't.

The damage to the property

could vary from needing to be

written-off, while others could be

easily repaired, he said.

"There's still a lot of them out

there. To be fair, a lot of them

haven't been repaired."

Last month a two-bedroom

earthquake-damaged house on

Celia St in Redcliffs exceeded

both vendor and agent

expectations after selling in an

intense auction for $562,000 –

more than $70,000 above RV.

SUFFERING

FROM BADNET?

YOU DESERVE BETTER BROADBAND.
---
Thursday August 18 2022 The Star

Latest Canterbury news at starnews.co.nz

NEWS 9

for 235k after competitive bidding

A total of 13 of the 15 properties

sold at Harcourts Grenadier's

auction this week, and all were

under $900,000. The cheapest

property was a unit on Burdale

St in Riccarton that went for

$380,000 and the most expensive

was on Gammack Drive in

Halswell, fetching $832,000.

Bayleys

Christchurch

general manager

of sales Rachel

Dovey said

houses were still

selling well at

Rachel

Dovey

auction and the

agency had a 60

per cent auction

success rate in

July, which was only 20 per cent

less than when the market was at

its peak.

Dovey said the auction process

was "helping line-up buyers" and

even if they didn't sell on the day

the majority of properties were

attracting multiple offers and

selling within two weeks of being

called.

A four-bedroom, one-bathroom

house on Ashbourne St in

Burnside had no bidders at auction

and sold within two weeks

after being listed for $749,000

and receiving three offers.

A three-bedroom, twobathroom

home on Balgay St in

Upper Riccarton also passed in

at auction sold within two weeks

GOING, GOING: A two-bedroom unit on Burdale St, in Riccarton, fetched $380,000 under the hammer, while a fourbedroom

home (right) at Milnebank St, in Upper Riccarton, goes to auction on September 1. PHOTOS: NZ HERALD

after getting four offers.

"I think the vendors are motivated,

I think the people coming

to market are listening and are

ending up getting a reasonable

result. I don't think there's too

much stock where people are

holding out for dream prices,

I think people are realistic and

those deals are coming together."

House prices were holding

their own, Dovey said, and they

had not seen the "extreme drops"

like other regions. The only major

shift had been the length of days

it took to sell a property moving

from 35 days, which was seven

days longer than last July. The

number of properties selling was

also significantly down.

"July was terrible. If people

weren't in Fiji they were in

Queenstown. No one was

around, it was the school

holidays, it was miserable and the

borders were open so quite a shift

in mentality there. But days to

sell were down seven days – that's

a real stretch out – but look on

Facebook if people aren't in the

snow they are in the snow."

Properties were also still selling

well at Harcourts Gold's at

auctions this week with six of

the nine properties getting new

owners.

A four-bedroom, two-bathroom

home on a 1464sqm section

on Wairakei Rd in Bryndwr sold

for $1.591m after 40 bids from

two buyers.

There were also three buyers

competing for a property on

Derby St in St Albans and on

Chilcombe St in Fendalton.

The Fendalton

house sold under

the hammer for

$1.442m.

Najib Real

Estate managing

director Nathan

Najib said while

Nathan

Najib

the market has

slowed down

across the board,

they were still seeing strong

demand for luxury homes, especially

from out-of-towners.

"We still have some national

buyers who were cashed up

last year or the start of this

year and are moving down to

Christchurch."

He said in the last two years

both ex-pats and people from

mainly Auckland, Wellington

and Nelson had been moving

down and taking advantage of

the cheaper market.

Najib recently sold a property

to a Wellington couple who had

sold their Wellington house for

more than $3m and bought a

380sqm house on a 3000sqm section

in West Melton for $2.175m.

"For $2.175m you can get one

of the nicest houses in Christchurch."

Not only had they bought a

better house, but they had also

got a better lifestyle and still had

$1.5m in the bank, he said.

– NZ Herald

DUCTED SYSTEM. Get into your comfort zone.

SALE

NOW ON

We offer FREE In-home

& Virtual Assessment

The largest team in Canterbury

Fast and affordable installation & service

Existing House & New Builds

Licensed, insured & warranty approved

THE FLOOR TO CEILING CLIMATE CONTROL SPECIALISTS

PHONE US TODAY ON 03-348-3057

355 Blenheim Road | info@hpac.net.nz | hpac.co.nz
---
The Star Thursday August 18 2022

10

NEWS

Latest Canterbury news at starnews.co.nz

Candidate's campaign leaflet a copy?

• By Chris Barclay

IMITATION IS not necessarily

the sincerest form of flattery.

Burwood Ward candidate Kelly

Barber has been criticised for

orchestrating a copycat advertising

campaign, replicating the

message used successfully

by a rival in last year's

Coastal Ward by-election.

Barber's campaign leaflet

is undeniably similar

in tone and presentation

to literature distributed

by Celeste Donovan, a

clear winner of October's

poll to succeed James

Daniels, who stood down

part way through his

term.

Barber finished a distant fifth

behind Donovan when he stood

under the Labour banner. He is

now focused on his home ward

as an independent aligned to

mayoral candidate and outgoing

Burwood representative Phil

Mauger.

A Burwood resident emailed

The Star pointing out the common

threads between the leaflet

Donovan used for the by-election

and Barber's version for the local

government election.

"It looks like Kelly has just copied

it for his own letterbox drop,

it is a pretty lazy way of creativity,"

the resident wrote.

Donovan was initially relaxed

when realising Barber's messaging

struck a chord.

"I did notice it was so similar,

it was almost a carbon copy,"

said Donovan, who is yet to do

a leaflet drop for her re-election

campaign.

"He had been quite complimentary

of my campaign

last year and he seemed

particularly enamoured

with my leaflet.

"I had a feeling he might

use it for inspiration, but

I didn't realise it would be

Kelly quite so similar."

Barber Side by side the leaflets

display the same core values,

from the opening paragraph.

Donovan: Kia Ora, I'm Celeste

Donovan and I'm running to be

your councillor.

Barber: Kia Ora, I'm Kelly Barber

and I'm running to be your

Independent City Councillor for

Burwood.

The parallels continue, with

Donovan declaring: It's time for

a fresh start; Barber agrees: "It's

time for change in our city!

Barber also shares Donovan's

attributes. Where she highlights:

'Engaged' 'Committed' and 'Take

Action' Barber has bolded: 'I'm

Engaged' 'I'm Committed' and 'I

Take Action'.

• Turn to page 12

We're looking for leaders

who know their community

We're now hiring Electorate Managers in regions across New Zealand to start

work in February 2023 to help deliver the 2023 General Election.

If you're someone who can establish and lead a team, are interested in your community

and have experience in event management, then this is a great opportunity for you.

The roles are full-time for a minimum of 38 weeks (between 13 February and

3 November 2023). Travel will be required – mostly within your electorate.

Find out more at elections.nz/jobs

Applications close 5pm Monday 29 August 2022.
---
Thursday August 18 2022 The Star 11

save Carpet

house

lot deals

26oz NyloN

Solution Dyed Nylon

Extra Heavy Duty

Great colours

FULLy

INSTALLED

ON LUXURy

UNDERLAy

Only $89.90 per

metre

31oz NyloN

50/50 Wool Blend

Heavy Duty

2 Great Colours

FULLy

INSTALLED

ON LUXURy

UNDERLAy

Only $69.90 per

metre

36oz NyloN

Solution Dyed Nylon

Extra Heavy Duty

FULLy

INSTALLED

ON LUXURy

UNDERLAy

Great colours

Only $120 per metre

HOUSE

LOT $

4,475

HOUSE

LOT $

4,000 HOUSE

LOT $

5,200

Why buy

from us?

• All our carpet carries a genuine

New Zealand warranty with after

sales service you can rely on

• you can trust us as we've been

selling carpet to Cantabrians

for 30 years

• A knowledgeable team that

provides you the best solutions for

your needs

• 1000's of satisfied customers

• Quality brands assured

50oz NyloN

Solution Dyed Nylon

Extra Heavy Duty

FULLy

INSTALLED

ON LUXURy

UNDERLAy

Great colours

Only $150 per metre

HOUSE

LOT $

5,975

40oz NyloN

Solution dyed nylon

Extra heavy duty

Cut pile

FULLy

INSTALLED

ON LUXURy

UNDERLAy

3 great colours

available

HOUSE

LOT $

5,400

312 Wilsons Road North, Waltham Phone 366 0070

Mon to Fri 8am-5pm and Sat 10am-1pm

Check out our website! www.carpetkingdom.co.nz
---
The Star Thursday August 18 2022

12

NEWS

Latest Canterbury news at starnews.co.nz

Author Bishop takes fifth

young adult book award

'I was initially

flattered'

THE AUTHOR of a book

described as a taonga for this

generation and the next has

taken out the Margaret Mahy

Book of the Year award for the

fifth time.

Gavin Bishop's book Atua:

Māori Gods and Heroes

was praised for its sense of

magic and the way it validates

mātauranga and te ao Māori

truths at the New Zealand Book

Awards for Children and Young

Adults.

Christchurch-based Bishop

has now been awarded the

supreme prize more times than

any other children's author or

illustrator - even the award's

namesake Margaret Mahy, who

won it twice.

Atua also won the Elsie Locke

Award for Non-Fiction and

the Russell Clark Award for Illustration.

Judge convener Pauline

(Vaeluaga) Smith said Atua is

an instant classic and a "must

have" for every New Zealand

household and library.

"The book is much more than

a list of gods and legendary

heroes – it's a family tree, presented

with power and simplicity,"

she said.

SUCCESS: Gavin Bishop and his new book Atua: Māori

Gods and Heroes.

PHOTO: RNZ

"The text is never overstated,

with the glory of the illustrations

as the primary mode of

storytelling, rewarding the

reader who closely examines

them."

Bishop was born in Invercargill,

but moved to Christchurch

to study at the Canterbury

University School of Fine Arts

and graduated with an honours

degree in painting in 1976.

He then became an art

teacher at Te Aratai College,

formerly Linwood College,

before moving to Christ's College,

when another art teacher

suggested he write a book for

children.

This year's awards, governed

by the New Zealand Book

Awards Trust Te Ohu Tiaki i Te

Rau Hiringa, attracted a recordbreaking

199 entries with 28

titles announced as finalists.

– RNZ

• From page 10

While Donovan originally had

no issue with Barber's tactic, her

stance changed yesterday when

noticing his flyer was shared on

social media platforms.

"I was initially flattered but the

flip side is there is a cost for the

design and preparation of these

leaflets and quite a bit of work

goes into writing content and

developing a unique style/design

for my campaign," she said.

"So it's disappointing as I put

a lot of time, energy and money

into providing a clear view on

what I stand for.

"Now that Kelly is widely promoting

his leaflet as representing

his own views and effort, maybe

Kelly could publicly acknowledge

he did base his design material

on mine so at least people know it

wasn't the other way around.

"Perhaps he might want to look

at what he stands for rather than

relying on where other people

are coming from. Being his own

man, I guess," said Donovan,

who added she would not seek a

contribution towards her costs.

"I'm not looking for financial

reimbursement, more recognition

for his 'inspiration'," she said.

Barber, meanwhile, was

Celeste Donovan

unrepentant.

"I'm certainly capable of

my own thoughts and no one

has a mortgage on the English

language," he said.

"I don't see what difference it

makes. At the end of the day the

statements are true and I'm sure

those words have been used in

many different flyers. I don't see

what the issue is.

"That's one of the things we do,

we look at material and look for

good ways to express our ideas,"

he said.

"It's petty, to put it mildly. I'm

not running against her so I don't

know why she'd be concerned. I

think she's playing politics and I

don't want to play."

The fibre

of our

community

100% owned by the

people of Christchurch.

Our city of possibilities

Find out more at

enable.net.nz
---
Thursday August 18 2022 The Star 13

SIZZLING GRAND OPENING

FRiday 19 th – SUn 21 St AUGUSt

THE bARbIE wILL bE FIRED uP wITH 'FREE' FOOD

Prime Smoke XL

RRP $1699 NOW $1299

Massive capacity heavy duty 4mm gauge

offset smoker, with extra top shelves and

tuning plates

Mustang Smoker

RRP $599 NOW $399

Amazing 3 levels of cooking racks, water

bath, fuel basket and hanging rack.

Unbeatable value drum smoker.

S/S Charcoal BBQ

Trolley RRP $1599 NOW $999

Head unit RRP $1199 NOW $799

All 304 construction, pull out charcoal

tray, low and slow divider.

Prime Grill 411 S/S Gas BBQ

RRP $1899 NOW $1399

4 Burner 304 S/S Gas BBQ c/w side

burner and rear burner.Amazing family

BBQ designed to last for years and years.

10% OFF

OK Joe

Bronco

OK Joe

Rambler

Pit Barrels

Ziegler & Brown Twin Ga

BBQ Package

RRP $1299 NOW $999

Incl BBQ, trolley, cover, abzorber, scraper

and cookbook.

Caldo Pizza Oven

RRP $499 NOW $399

Fabulous table top Pizza Oven that's

totally portable. Pizzas coming off every 2

mins !! So much fun.

20% OFF

ALL AWARD

WINNING

RUBS AND

SAUCES

nearly 400 to

choose from!

Prime LPG GLO area heater

RRP $499 NOW $299

Smashes out the heat and even better its

portable and comes with a cover !! What a

bargain.

Dual Fuel 304 S/S Pig Spit

RRP $2495 NOW $2195

A solid built to last 304 S/S spit that can

run on either charcoal or gas or both!! Mains

powered motor that will take a 35kg beast.

Pizza Stones and

Accessories

20% OFF

the entire quality range

QUE Thermometer

Range

20% OFF

the entire quality range.

Welles Street

35-39 Manchester St, Christchurch

www.bbqsandmore.co.nz

(03) 222 2881 christchurch@bbqsandmore.co.nz

Hours: Fri and Sat 9am to 5pm, Sun 10am to 4pm

South City

Shopping

Centre

Bath Street

Colombo Street

We Are

here!

Dundas Street

Pak N Save

Manchester Street

Moorhouse Avenue

Southwark Street

Allen Street

eaton Place

Countdown

Madras Street

Pilgrim Place
---
The Star Thursday August 18 2022

14

NEWS

LEGENDARY Australian

rockers Hoodoo Gurus will

return to Kiwi shores for the

first time in 20 years to headline

Selwyn Sounds next March.

Fans can look forward to

hearing Hoodoo Gurus hits

like What's my Scene, Like Wow

– Wipe Out, Bittersweet and

1000 Miles Away – as well as

performances from top downunder

talent like Mi-Sex, Sir

Dave Dobbyn, Gin Wigmore,

Stellar*, Greg Johnson, and Blam

Blam Blam.

Effervescent Hoodoo Gurus

frontman Dave Faulkner said:

"New Zealand! It has been

too long, we can't wait to play

Selwyn Sounds. See you there!"

Promoter David Parlane

launched the hugely successful

Selwyn Sounds in 2017 and said:

"The team has been working

hard to put together one of our

strongest line-ups for next year's

Selwyn Sounds. It's been a difficult

few years, but we are finally

able to plan this line-up for next

year."

Parlane said it's been a dream

to bring The Hoodoo Gurus

and Sir Dave Dobbyn to Selwyn

Sounds and "each year we are

asked when Mi Sex are coming

back".

"Not only do we have a great

line-up on stage, but we also have

over 30 food outlets to cater for

all tastes. Selwyn Sounds is now

well and truly on the calendar

for concert-goers and this

summer will be one not to be

missed. It will be great value and

a great day out for music lovers."

Selwyn Sounds will be held

on Saturday, March 4, 2023

from 11am-8.30pm at Lincoln

Domain, Meijer Drive, Lincoln.

• Fans can pre-register for

24-hour pre-sale at www.

selwynsounds.co.nz and

win VIP prizes. Pre-sale

starts on August 24 at

7am. General sale starts on

August 25 at 7am.

Latest Canterbury news at starnews.co.nz

Hoodoo Gurus to headline Selwyn Sounds

LINE-UP: Next year's Selwyn

Sounds will feature the

Hoodoo Gurus and Gin

Wigmore (above).

PHOTOS: CHRISTOPHER

FERGUSON, JOE PERRI

TALENT: Stellar* (above) are

confirmed, and Mi Sex will

be coming back.

PHOTO: TIM BRADSHAW

Ruby Bay Whenua Tundra Plains

This ultra-high-quality solution

dyed nylon carpet will give a

sophisticated feel to every room

and supreme comfort under-foot.

This carpet is incredibly hardwearing

and resistant to fading

and staining.

$90 PER SqM

$328 per BLM

Crafted from our chunkiest yarn,

this luxurious wool carpet features

a multi-level textured loop, creating

a pebbled effect that add character

to contemporary living spaces.

An affordable wool carpet with

low and tight loops in eight

nature inspired hues. This range

features flocks which hide soiling

making it truly versatile, hard

wearing and practical.

$90 PER SqM

$328 per BLM $39 PER SqM

$140 per BLM

PLUS

MUCH

MORE

INSTORE

47 Gasson Street • Ph 353 8899 • Hours: 8.30am-5pm Mon-Fri

www.theflooringwarehouse.co.nz

SV6310v2
---
Thursday August 18 2022 The Star 15

Advertorial

Nurse Maude building a new Hospice

for the people of Canterbury

Every day of every year Nurse Maude provides specialist

palliative care and support free of charge to patients and

their families.

"And now we need to build a new Hospice," says Sue Sutherland

of Nurse Maude, who is managing the fundraising to make

it possible.

"For the past 14 years the Nurse Maude Hospice has operated

out of the ground floor of the old Nurse Maude Hospital, and,

while the quality of care remains exceptional, it was never

designed, or intended, for end-of-life care," says Sutherland.

The new hospice, with dedicated areas for children and ensuite

rooms with garden views will also include family areas to eat and

have a break and a place where family pets are welcome to visit.

"The cost of building a new hospice is around $10 million," says

Sutherland, "and thanks to some incredibly generous donors

we are already halfway there."

With $5 million already raised Sutherland is asking the wider

community for its support.

"Nurse Maude has always been about people, not profit,"

says Sutherland, "with every dollar donated going directly

into providing end of life care and support to our patients and

their families."

"Nurse Maude has been committed to providing care to the

people of Canterbury for more than 125 years and now we

need help to get the new hospice built," says Sutherland.

Donations to make the new Nurse Maude Hospice a reality

can be made online at nursemaude.org.nz or by emailing

newhospice@nursemaude.org.nz for its bank account details

or more information.

"Your support can make this happen," says Sutherland, "and

in doing so, you are the person who has made a direct and

significant contribution to our patients and their families at

the time they most need it."

New Hospice

for Canterbury

It's a big job, but we

know you're up to it.

Please donate to our Hospice Appeal at nursemaude.org.nz

or email newhospice@nursemaude.org.nz

Thanks for giving it all you've got

so we can keep doing the same.
---
16 The Star Thursday August 18 2022

Keeping up to date

with your vaccinations

is really important,

even if you've already

had COVID-19.

You can catch COVID-19 more than once. Boosters are

your best protection from severe illness, ending up in

hospital, and even death.

Keeping up to date with your vaccinations is one of the most

important things you can do to help protect yourself, your whānau

and your community.

A booster will provide extra protection from a previous vaccination

and help your immunity be stronger and last longer. And, by staying

as healthy as you can, you help reduce pressure on our communities,

businesses and the health sector.

If you've had COVID-19, you can get your booster three months

after you tested positive. Make sure you are up to date with your

COVID-19 vaccinations.

Check your eligibility at Covid19.govt.nz or call 0800 28 29 26.
---
Latest Canterbury news at starnews.co.nz

Thursday August 18 2022 The Star

NEWS 17

Nuclear research becomes personal

• By Tina Grumball

FOR OLIVIA Shimasaki, her

research into those affected by

nuclear weapons and testing

uncovered a personal twist.

Her grandmother was nineyears-old

in 1945 when atomic

bombs were dropped on Japan,

first on Hiroshima on August

6 and then Nagasaki three days

later.

Living in a village about

three hours north of Tokyo,

Shimasaki said her grandmother

remembered the bombings

and the "shock to the nation"

they caused.

Between 60,000 and

80,000 people were killed

immediately in Hiroshima,

and more than 70,000 were

killed in the subsequent

bombing of Nagasaki.

"I think it would have

been something people all

over Japan felt a connection

to as it happened to their

citizens and country,"

Shimasaki said.

"I've been studying specifically

oral histories associated with

experiences of nuclear weapons

and testing and exposure to

radiation for the past seven years

now."

To further her research,

she has been picked for an

internship opportunity with the

International Atomic Energy

Agency.

There were seven women

globally picked for the

programme that focuses on

getting women into the nuclear

field.

Shimasaki is the first from

New Zealand.

Shimasaki lives and works in

Christchurch as a part-time

youth programmes coordinator

for The Peace

Foundation, and a youth

and young adults officer

for the Society of St

STUDY: Olivia Shimasaki is pictured here with her Master's thesis:

Seventy-Five years on: an ethnographic exploration of oral histories of the

atomic bombing of Hiroshima. It is open on the photo of the green shirt.

PHOTO: TINA GRUMBALL

Vincent De Paul.

Her interest in the area began

during a university lecture.

"This individual came in and

showed a video on the effects of

nuclear weapons in the Pacific,"

she recalled.

"It was really heavily oral

history-based, looking at

individuals who are impacted."

That lecture made her question

why she had never heard about it

and what she could do for those

affected.

"So I went off and I did a lot

more research."

Shimasaki was granted a

scholarship by the Peace and

Disarmament Education

fund to travel to Japan and

interview Hibakusha, who are

"people affected by nuclear

bombs, atomic bombs and

radiation."

"I got to talk with

these people, around my

grandparents' age, and hear

their oral histories and share

those with the world," she said.

What drove her was trying

to get their stories out there

and show others the lasting

effects, and what others

can do to support those

already exposed.

She also

interviewed two

nuclear test

veterans in New

Zealand, including

Roy Sefton and the

wife of an atomic

bomb tester.

"All of the oral histories in

my thesis I feel are so impactful

which is why I'm going to do

this internship and going to

learn more, and hopefully

speak out for peace because they

all have something to contribute

to the nuclear discussion," she

said.

The internship itself is between

three months to a year at the

IAEA, and Shimasaki has been

placed in the Department of

Safeguards.

The department focused on

education and making sure

nuclear materials are being used

in the right way.

A few years ago, she was one

of 100 women globally to receive

the IAEA Marie Sklodowska-

Curie fellowship and through

that she was contacted and

offered the internship to

continue the research she had

done.

"I just hope that we can

continue to speak out for peace

and we take the time to listen

to these people's stories so that

we can learn from the past,"

Shimasaki said.

"I guess the threat of nuclear

warfare isn't new, but the ways

that we can address it have

changed."

While every story stuck with

her, Shimasaki said one that

stuck out was about a green

shirt; "it seems like the most

simple thing if you saw it."

• Turn to page 19

Have you claimed your

Southern Response

compensation?

Homeowners who cash-settled their claims with AMI or Southern Response before 1 October 2014

were underpaid by about 20 per cent. Over 1,300 homeowners are yet to claim their compensation.

Anthony Harper has recovered over $30 million for Southern Response claimants, with cash settlements averaging $175,000. We will

file your claim, and give independent legal advice on your full entitlements for a nominal fixed fee, subsidised by Southern Response.

Visit our dedicated website to learn more and start your claim.

Apply online at www.SouthernResponsePayment.co.nz

Anthony Harper is a leading New Zealand law firm with offices in Christchurch and Auckland. Further information about Anthony Harper can be found at www.anthonyharper.co.nz
---
18 The Star Thursday August 18 2022

Summerset Prebbleton

pre-selling now! *

Artist Impression

Our fourth Christchurch village, Summerset Prebbleton is conveniently

located 450m from the local shopping area with direct access to the

main transport links to the city and Christchurch surrounds. For those

not wanting to drive there is a bus stop right outside.

With a range of stunning two and three bedroom villas pre-selling now,

available to move into later this year these homes are not to be missed.

Our single-storey homes are warm, modern and designed with

everything you could need for the perfect retirement lifestyle. Featuring

bright and spacious open plan living with a contemporary kitchen, ideal

for entertaining friends and family.

View plans and

pricing today

Call the Sales Manager,

Grace on 03 353 6312

Summerset Prebbleton

578 Springs Road

Prebbleton, Christchurch

Once complete, the village will offer resort-style facilities and help on

hand if you need it. Our care centre will provide rest home and hospitallevel

care, and our memory care centre will offer safe, apartment-style

living for people with dementia.

"

Many Summerset residents I speak with enjoy that

their housing is secured, finances sorted with no

surprises, and care is on hand at any level should

you need it in the future. There's a certain freedom

in knowing the big (and not so big) things are taken

care of, so you can just get on with living life.

Jude Dobson,

Summerset Brand Ambassador

"

Talk to our friendly sales team on 03 353 6312 to book your private

appointment to view plans and pricing before all of the Stage One homes

are sold out. Don't forget to ask about our limited time early bird offer!

*Licence to occupy.

By following our Covid guidelines it's safe to visit our villages.

For the latest information visit summerset.co.nz/covid-19

SUM4103_FP
---
Latest Canterbury news at starnews.co.nz

Thursday August 18 2022 The Star

NEWS 19

'Powerful, sad stories need to be heard'

• From page 17

"I'd seen [the green shirt] in

the War Memorial Museum

when I'd visited . . . I thought it

was such a sad, touching story

that it was the only item left that

this family had in remembrance

of their daughter; they had

nothing else.

"The following day, I spoke

with one of my interviewees

and it actually turned out that

that was one of his sisters' shirt

and they only found it decades

later in their mother's drawer,

wrapped up really preciously,

and they had no idea that she'd

kept that from their sister, and

that she'd held onto that trauma

and that loss, up into her old

age."

"There's really so many

powerful, sad stories that I

think just need to be heard," she

said.

Shimasaki noted that all of

the people she spoke to "have

made a conscious decision to

speak out for peace."

She recalled a man she

spoke to that had only attended

the Hiroshima Memorial

Museum decades after he was

exposed to radiation in the

atomic bombing.

Now retired, it was after

reading that hundreds of people

in the same year at school as

him had died that he felt an

"obligation, in a way, to speak

out for those people that had

died because they couldn't do it

themselves."

"[What's] really inspirational

is these people, after all these

years, are still choosing to

[speak for peace] and wanting

to spread peace so that they

know no one ever has to go

through that again," she said.

Shimasaki leaves for the

internship, in Austria, in

September and is excited to

go.

"I think it's going to be a

very exciting challenge and

a big change for me, but it's

something I'm really looking

forward to going and doing."

DEVASTATION: Part of

Hiroshima after the August

6, 1945, nuclear bombing.

YOU'LL LOVE THE SOUND

SALE IN-STORE & ONLINE

Enjoy all the sounds you love with

your Better Hearing Bundle.

SAVE up to $2,720

With your purchase of a new pair of devices.*

YOUR BETTER HEARING BUNDLE!

Save up to $2,500 on a pair of Paradise, Life or Fit devices,

plus $200 on accessories & $20 on hearing care.*

*Enjoy a total saving of up to $2,720 when you purchase a new pair of Phonak Paradise, Life or Fit devices. Save up to $2,500 off a pair of devices,

plus $200 off accessories and $20 off batteries, hearing protection or care products when combined with your hearing aid purchase. Offer available

for a strictly limited time and exclusions apply. Ask instore or visit tritonhearing.co.nz/consumer-policies for full promotional t&cs.

CALL 0800 45 45 49 / tritonhearing.co.nz
---
20 The Star Thursday August 18 2022

Your last chance to

save moolah at the

doodah.

Earn a huge 3x

Airpoints Dollars TM *1

FREE

DELIVERY ON

TVS* 2

LIMITED

STOCK

The latest in

chilling out technology.

Sorrento Fabric 3 Seater Electric Recliner Sofa

Something to do

when the doodah is over.

LG 65" 4K OLED EVO

C2 Smart TV

Ooh la la. A great price on

this French door fridge.

Samsung Matte Black

488L French Door Fridge

Available in Nusuede Graphite (Pictured) & Nusuede Beige

9066097 9072855 9071339 / SRF5500B

was

$

5699

less than

$20

per week for

52 months on

interest free*

less than

$42

per week for

24 months on

interest free*

less than

$18

per week for

24 months on

interest free*

Sanctuary Model

Runout Beds #

selected Lounge

Suites & Recliners #

inc.

selected Bedroom

& Dining Furniture #

HD and HDX Beds

plus free delivery #

Excludes Limited Edition

50 months INTEREST FREE on furniture & beds $999 & over #

24 months INTEREST FREE on purchases $499 & over #

This ad is valid 16 - 23 August. Some offer valid dates vary. See individual product pages online for detail.

#Terms, conditions, exclusions and credit criteria apply. Visit smithscity.co.nz/interest-free for more details.

*Discount is off our full retail price. Not available in conjunction with any other offer.

*1 3x Airpoints offer valid 27 Jul - 23 Aug 2022. Airpoints TM terms and conditions apply. Visit smithscity.co.nz/airpoints for details.

*2 Free delivery on selected LG TVs valid Wednesday 27 July – Tuesday 23 August 2022. See individual products on smithscity.

co.nz for details.

Due to ongoing global supply issues outside of our control, some products may be delayed at time of printing.

Check in-store for more information on availability and timeframes.
---
Thursday August 18 2022 The Star 21

All good thingies must come to an end.If you want

triple Airpoints Dollars, get down here at the double.

Oslo 5 Piece Dining Suite

Available in Dark Grey (Pictured), Green Tea and Sky Blue

was

$

1429

less than

$9

per week for

24 months on

interest free*

Spend like a pauper. Sleep like a King. 60% off

Sleepyhead Sanctuary Model Runout Beds

Sleepyhead Sanctuary Avignon Queen Bed

9024649

$

10499

per week for

50 months on

$21 interest free*

9062305

Samsung 65'' S95B

Quantum HDR OLED TV

per week for

24 months on

per week for

$33 interest free*

24 months on $51 interest free*

9073750

65"

BONUS $400

SMITHS CITY GIFT CARD* 4

selected NZ Made

Bedroom & Dining

Furniture # Appliances #

LG 506L Slim French Door Fridge Freezer

9058433 / GFL570MBL

less than

less than

less than

was

new

release

Kettles & Toasters #

Phil & Teds Discovery Car Seat

9024956

was

$

309

less than

$6

per week for

52 weeks on

EasyCard**

selected Nursery #

FREE

DELIVERY ON

BEDS* 3

The Doodah ends soon.

But our price promise doesn't.* 5

Offers valid dates vary. Please check individual product pages online for details. Available while stock lasts, or unless otherwise stated. Some products on display in selected stores only - please call 0800 764 847 to check availability. #Apple, selected computers, game consoles, gift

cards and some promotional items are not available in conjunction with interest free offers. Flooring available on a maximum of 18 months interest free. Exclusions, fees, terms, conditions and credit criteria apply. Equal instalment amounts include one-off booking fee of $45.00,

and a maintenance fee of $3.75 per month. The current interest rate of 23.95% applies to any unpaid minimum payments during the interest free period, and any balance after the expiry of (any) interest free period. In circumstances of default, a $19 notification fee may apply. See

in-store or visit smithscity.co.nz/interest-free for details. *Discount is off our full retail price. Not available in conjunction with any other offer. *1 3x Airpoints offer valid 27 Jul - 23 Aug 2022. Terms and conditions apply. Visit smithscity.co.nz/airpoints for more detail.*2 Free delivery on

selected LG TVs valid Wednesday 27 July – Tuesday 23 August 2022. See individual products on smithscity.co.nz for details. *3 Sleepyhead beds free delivery offer valid 27 July – 23 August 2022 only. Free delivery terms, conditions, and exclusions apply. Applies to delivery addresses

within 30km of a Smiths City store. Also applies to local Auckland delivery addresses (from Auckland CBD extending to Albany, Henderson, Howick, and Papakura). See individual products on smithscity.co.nz for details. *4 Gift card offer valid dates vary, while stocks last, see

product pages online for dates. One gift card per qualifying transaction. Availability may vary between stores. Not available in conjunction with any other offer. Limits and other exclusions may apply, ask in-store for details. In the event of an order cancellation or refund, the bonus

product must also be returned. Personal shoppers only. Trade not supplied. *5 Price promise terms, conditions and exclusions apply. Visit smithscity.co.nz/price-promise for details.
---
The Star Thursday August 18 2022

22

NEWS

Latest Canterbury news at starnews.co.nz

Disney internship a dream come true

• By Natalie Pham

INTERNING AT Disney World

is a dream for many young

people.

It's no exception for 18-yearold

Madison Haswell, of

Burwood, who has landed her

six-month coveted internship at

Disney World in Florida.

She was among the top 15

students selected from a pool of

more than 100 applicants in New

Zealand.

"I have always wanted to get a

role in Disney, ever since I was a

little girl," Haswell said.

The competitive internship

programme required filling

out an online application and

submitting a resume. Only 30

students were selected for a

face-to-face interview with the

Disney recruitment team.

Having worked part-time in

customer service roles for more

than two years, Haswell sailed

through the interview.

"I didn't find the interview

difficult," she said. "I was being

myself the whole interview."

All Haswell knows so far is

that she will start with a position

in the attractions department,

which fits right in with her love

of customer service.

"I like interacting with people

and getting to know them," she

said.

"By going to Disney, I would

get a chance to learn different

cultures. On top of that, I

hope people could learn

more about New

Zealand too!"

Her bubbly

and outgoing

personality also

landed her an

internship

with The Edge

radio station

in year 11.

Unfortunately, it was cancelled

due to Covid-19.

But it was during that

time Haswell realised

high school was not

for her.

"I entered high

school like any

normal [person],"

she recalled, "but

then I knew that I

wanted to pursue

other things that I

am passionate for."

Haswell left school

a year later.

"Looking back

I don't have any

regret," she

said.

THRILLED: Maddison Haswell described the Disney

internship as 'a once-in-a-lifetime opportunity'.

THRIVING: Haswell (third from right) with her NZST

classmates. She will spend six months at Disney World,

Florida (below). PHOTO: BARBARA ANN SPENGLER

"I think at the time, I was

stuck at what I wanted to do

until I heard about tourism

school."

She then enrolled in the New

Zealand School of Tourism,

where she quickly found herself

leaning towards travel and

tourism roles.

"Without the school's support,

I don't think I would have ever

got this internship," she said.

Haswell is scheduled to leave

for the US next month.

Bin Good with recycling

By putting the right clean items in the yellow bin,

you're helping to reduce waste going to landfill.

These are the only items that can go in the yellow bin:

Remember:

Give your bottles

and containers a rinse

and make sure they

are loose.

Plastic bottles & containers numbered 1, 2 and 5

(3 litres and under and put lids in the red bin)

Glass bottles and jars

(put lids in the red bin)

Thanks for

bin good

If you need more info

download our handy

Christchurch Bins app

ccc.govt.nz/bin-app

Flattened cardboard and paper

(no smaller than a standard envelope)

Aluminium cans and metal tins

(please don't squash)
---
Thursday August 18 2022 The Star 23

SHOP ONLINE tradedepot.co.nz

Christchurch

16 Watts Rd, Sockburn.

French Door

Fridge Freezer

TOTAL FROST FREE

Stainless Steel

$

1099

LOW PRICE

353404

24 Month Warranty

404 l

Canopy Rangehood

350m3/h

Ceramic Cooktop

4 Hob

Frameless

Touch Control

$

399

LOW PRICE

908244

24 Month Warranty

60cm

W I D E

60cm

W I D E

Mains Pressure

Hot Water Cylinder

2.5kW

W 500mm x H 1585mm

MEP's Standards

IPX4

$

699

WAS $ 999

786170

7 Year Warranty

170 l

Aurora Plus Smart

Heat Pump

DC Inverter

WIFI Ready

R32 Gas

Energy Efficient

Room Size: 15 ~ 25m²

$

899

EXPO

370726

5 Year Warranty

2.5KW

Edge Bathroom Wall

Side Cabinet

Edge Wall Vanity

2 Drawers

Soft Close

$

499

LOW PRICE

211198

5 Year Warranty

800mm

W I D E

$

449

LOW PRICE

261556

Fremont Wall Vanity, Mirror

& Floor Side Cabinet

Black Woodgrain

2 Drawers & Shelf

Soft Close

3 Door Mirror

with 3 Shelves

$

1299

EXPO

908267

5 Year Warranty

900mm

W I D E

Fremont Wall Vanity

& Edge Side Cabinet

1 Drawer & 1 Open Shelf

Stone Resin Sigma Top

Soft Close

$

999

EXPO

908269

5 Year Warranty

Edge Side Cabinet

300mm X 1600mm

Edge Wall Vanity

2 Drawers

Soft Close

$

499

LOW PRICE

211199

5 Year Warranty

800mm

W I D E

$

449

LOW PRICE

261557

Front Load

Washing Machine

Front Load

Washing Machine

Front Load

Washing Machine

Condenser Dryer

Heat Pump Dryer

Washing Machine &

Vented Dryer Combo

ALL-IN-ONE

Washer-Dryer

5kg

7kg

14kg

7kg

8kg

7kg

6kg

10kg

$

389

EXPO

360451

24 Month Warranty

$

699

LOW PRICE

360471

24 Month Warranty

$

1799

LOW PRICE

360215

24 Month Warranty

$

699

EXPO

361271

24 Month Warranty

$

899

WAS $ 999

361308

24 Month Warranty

$

699

LOW PRICE

908166

24 Month Warranty

$

949

LOW PRICE

360173

24 Month Warranty

9 SMART RECIPE

Contact Grill

Air Fryer

Bread Maker

P12 Flex Cordless

Vacuum Cleaner

Robot Vacuum Cleaner

WiFi

Cyclonic

Vacuum

Wet & Dry Vacuum

Cleaner

2.5 l

2

LOAF

450W

90Mins

Runtime

2000w

21 l

CAPACITY

$

199

WAS $ 299

350145

24 Month Warranty

$

85

LOW PRICE

350101

24 Month Warranty

$

149

LOW PRICE

350155

24 Month Warranty

$

279

LOW PRICE

385619

24 Month Warranty

$

299

WAS $ 399

386600

24 Month Warranty

$

149

LOW PRICE

385613

24 Month Warranty

$

149

LOW PRICE

385616

24 Month Warranty

Prices Guaranteed as of 20/8/22. Subject to change.

CAN-C22

KITCHENS | BATHROOMS | APPLIANCES
---
The Star Thursday August 18 2022

24

LETTERS

Latest Canterbury news at starnews.co.nz

Three Waters not the best way forward

I FULLY agree with Gerry

Brownlee where Three Waters is

concerned (The Star, August 11).

The "ownership" councils will

supposedly still have under

it conforms to no legal definition

of ownership, and Three Waters

is pure theft. It's all part of the

New World Order, to which

Jacinda has committed New

Zealand. This Government needs

to be voted out, but National is

likely to be just as bad. I fear for

the future of New Zealand with

our current batch of politicians.

-Michael J. Brathwaite,

Spreydon

It is not often that National

list MP Gerry Brownlee and I

are on the same page. As far as I

am concerned, he is right on the

nail concerning Christchurch

flooding woes and the new water

authority.

Thank you Mr Brownlee.

-Libby Durey,

Bishopdale

Housing

intensification

The article (July 28) about

the expansion of the so-called

affordable housing in the

suburbs, and the kick-back by

Tony Simons from the Riccarton

Bush - Kilmarnock Residents'

Association is long overdue.

The developments are being

pushed by Labour, National

RESPONSE: National List MP Gerry Brownlee's take on Three Waters last week resonated,

as did a tribute to the late John Butcher, who recently died of Covid-19.

and the Greens. Residents need

to wake and smell the coffee

made by the globalist United

Nations Agenda 2030 with its

euphemistic 17 "sustainable

development goals and the 169

targets".

National's Jim Bolger signed

us all up to it in 1992 at Rio de

Janeiro, yet it is non-binding.

Central government acts as

though it is binding and the

Christchurch [City] Council

then claim that their hands are

tied and they have to implement

this hideous "smart city" plan.

-Peter F Coleman,

Barrington

John Butcher

Your excellent article on the

late John Butcher highlighted the

wonderful talents and achievements

of this quiet achiever.

One of the areas not mentioned

in the article was the role

that John had played in the role

of darts. He was heavily involved

in the local and national scene

for Clubs NZ Darts.

On the local scene, John played

for the Christchurch Working

Men's Club in the Christchurch

inter-club competition and had

a great influence in the administration

of the Christchurch

Working Men's Club Darts Association

(now called Canterbury

Combined Chartered Clubs

Darts Association).

He was a major influence in

the establishment of the first

inter-club South Island tournament

and the first New Zealand

tournament and formation of

what is currently known as the

Clubs NZ Darts Association

(initially the NZ Working Men's

Clubs Darts Association).

He held the role of secretary

to this organisation from its

formation in 1968 until retiring

around 1980. Additionally he

organised the first overseas tour

for the representative team to

Australia in 1975, arranging all

the travel and accommodation.

Upon his retirement from

CNZDA he was awarded a

life membership, which at the

time was carried by standing

acclamation. This self-effusing

man was completely overcome

by this award even though it was

thoroughly deserved and never

in doubt.

John was deeply respected

and admired by all of these

associations and his passing

is the passing of a legend. For

me personally, I admired and

respected him and his work for

us.

-Stephen Long,

President

Clubs NZ Darts Association

Bishopdale

We want to hear your views

on the issues affecting life

in Canterbury

Send emails to:

barry@

starmedia.kiwi

Letters may be edited or rejected

at Star Media's discretion. Letters

should be about 200 words.

A name, postal address and phone

number should be provided.

Please use your real name, not

a nickname, alias, pen name or

abbreviation.

Give yourself time to do more of what you love

Imagine a new home with less housework, no garden maintenance and more time to enjoy your hobbies or relax.

It can be yours with a two-bedroom Living Well apartment at Park Lane. If you're over-65 and can see yourself

enjoying a vibrant community with a cafe, cinema, shared gardens and workshop, contact Tara today.

Two-bedroom apartments from $525,000 or two-bedroom

plus study from $650,000. Contact Tara on 021 489 784

35 Whiteleigh Ave, Christchurch. Visit parklaneretirement.co.nz An Arvida Living Well Community
---
Thursday August 18 2022 The Star 25

Back

for 2022!

25 PRIVATE GARDENS,

HISTORIC HOMESTEADS,

ART & COLLECTIONS!

9am-5pm daily

Find out more at

hurunuigardenfestival.com

The Hurunui Garden Festival returns in October

for the fifth celebration of inspirational

gardens, coupled with the hospitality of

their owners, and the people of the Hurunui

district. There is a bounty of gardens on offer

to admire and inspire, with some properties

also hosting events.

The festival runs from Thursday, October 27

to Sunday, October 30, and will showcase 25

private gardens, each of which will open from

9am to 5pm each day.

Some favourites return, and new ones have

come on board, to host visitors keen to enjoy

gardens from Amberley, Hawarden, Waikari

and Hanmer Springs to Gore Bay, Greta Valley,

Scargill, Culverden and Rotherham.

They are arranged in six geographically-based

clusters making it easy to plan visits to multiple

gardens. Each cluster has its own detailed map

in the guide which can be printed from the

website hurunuigardenfestival.com.

This shows the exact locations of the gardens,

along with other useful information, such as

the location of public toilets, fuel stations and

food outlets.

Owners have been hard at work maintaining

their gardens, despite Mother Nature sending

rain, hail, snow, gales and frosts to thwart

their preparation.

Gardening guru, Lynda Hallinan, who is also

an author, broadcaster, journalist, parttime

farmer, parent and plantaholic, will be

attending the festival. The former editor of

the New Zealand Gardener magazine will join

the festival for a speaking and dinner event

designed to educate, entertain and inspire.

To book tickets to the Italian dinner at the

Hanmer Springs Hotel on Friday, October 28 at

7pm, go to hurunuigardenfestival.com.

Julie Atkinson-Dunn, from the home and

garden website Studiohome.co.nz and author

of Petal Power and Flowers for Friends, will

host a series of free talks at the owners of

three inspiring gardens in this year's festival.

Also on offer is a showcase of local artists

works, sculpture, a photography exhibition,

garden furniture, gardening/outdoor

products, plants indoor and outdoor, gift ware,

prints, easy listening jazz and even a Christmas

Grotto.

A Fossils and Concretions tour, where visitors

can discover the history and uniqueness of the

Waipara River, is a guided tour with geologist

Dr Kate Pedley.

It runs from 12.30pm, Saturday, October

29, and Sunday October 30. For bookings

and more information refer to facebook.

com/Karetudowns, or contact karen@

karetudowns.co.nz. There is also tours of

some homesteads.

The event has become popular, with many

visitors making it a long weekend so they can

enjoy as many gardens as possible, along with

the many attractions the district has on offer.

♦ It costs $10 to visit each property, payable

on the day as you enter. School aged children,

accompanied by an adult, are free. Please

have cash available.

The website shop - hurunuigardenfestival.com

- is open for on line ticket sales until August

31. Some gardens may have an extra charge

for events which can be accessed in the guide.
---
The Star Thursday August 18 2022

FOCUS ON HEALTH

New solution for a

better nights sleep and

improved health!

Deep regenerative sleep is so important

to feeling and performing our best. A

lack of or poor quality sleep is associated

with increased risk for many chronic

diseases, including obesity, type 2 diabetes,

heart disease, depression, and many

more. Unfortunately many adults report

occasional bouts of insomnia with one in

three saying they suffer from sleeplessness

or disturbed sleep on a more chronic

basis, to the point that it regularly impairs

daytime functioning.

The good news is an inexpensive,

naturally occurring amino acid known as

glycine has been clinically researched in

Japan and shown to be highly beneficial

in supporting healthy sleep. Subjects who

were given three grams of glycine one hour

before bedtime fell asleep much sooner,

as well as exhibited brainwave patterns

associated with deep sleep compared to

control subjects who did not supplement.

On waking the subjects who took the

glycine woke reporting being refreshed

with no indication that glycine produced a

"morning hangover" or any foggy feeling

common with those who use prescription

sleeping medication.

Glycine is known to accumulate in the

pineal gland and is believed to play and

important role in "disconnecting" the

brain from the body during REM (rapid

eye movement) sleep cycles. Glycine

also supports healthy growth hormone

(GH) secretion that is associated with

strength, good health and vitality whereas

low secretion of GH is associated with

advanced ageing and increased disease.

Other clinical research has shown glycine

supplementation to improve memory and

attention in young to older adults.

Spanish researchers have studied the

effect of glycine supplementation in 600

subjects between the ages of 4 and 85 years

suffering from osteoarthritis, osteoporosis

or physical injuries. Participants were

given 5 grams of glycine in the morning

and 5 grams in the evening. In all cases

symptoms significantly improved.

Glycine is a very safe amino acid that

appears to be highly beneficial for a quality

sleep as well as general good health.

NOW supplements only use a natural

pharmaceutical grade, free form glycine

that is also suitable for vegetarians

and vegans. NOW operate one of the

most advanced private laboratories and

production facilities in the natural products

industry. They promise they take every

possible step to ensure the safety and

efficacy of every product they produce. At

Marshall's we know you are buying the best

products available anywhere when you buy

the NOW brand.

Glycine and further information

is available from the natural health

specialists at Marshall's Health &

Natural Therapy, 101 Seaview Road, New

Brighton, Ph: 388-5757. We are always

happy to help!

NEED A BETTER

NIGHTS SLEEP?

Sleep is so important to feeling and performing our best. Long

term poor quality sleep is associated with many chronic diseases

and may even reduce our life span. New clinical research has

found a naturally occurring amino acid known as glycine may

restore a good night's sleep. Japanese researchers found

patients taking glycine fell asleep much sooner and exhibited

brainwave patterns associated with deep sleep. On waking

the patients woke refreshed, clear minded and energetic.

Glycine supports:

• Restful deep sleep

• Going to sleep quickly

• Staying asleep

• Waking refreshed and clear

minded

• Nervous system support, has

a calming effect reducing

anxiety and panic attacks

• Improved memory, attention

and mental function

SUPER PRICES

NOW 100% natural pharmaceutical grade, free form Glycine

100 Veg capsules

(1000mg)

only $26.90

• Reduced fatigue and

increased energy

• Improved recovery

from injury

• Muscle function

and strength

• Immune function

• Strong bones and

healthy cartilage

• Improved health

200 Veg capsules

(1000mg)

only $49.90

NOW OPERATE ONE OF THE MOST ADVANCED LABORATORIES AND PRODUCTION FACILITIES

IN THE NATURAL PRODUCTS INDUSTRY. YOU CAN BE ASSURED YOU ARE BUYING THE BEST

AVAILABLE WHEN YOU BUY THE NOW BRAND!

Bringing You the Best in Natural Health

MAIL ORDER

AVAILABLE

MARSHALLS HEALTH & NATURAL THERAPY

CONSULTING - PRESCRIBING - DISPENSING - MANUFACTURING - MEDICAL HERBALISTS

101 SEAVIEW RD, NEW BRIGHTON • PH 03 388 5757 • Email: enquiry@marshallshealthshop.co.nz

SHOP ONLINE AT: www.marshallshealthshop.co.nz

- WE ARE ALWAYS HAPPY TO HELP! -

26

OPINION

MODEL: The competitive public transport tendering system that forced

the selling of Red Bus is coming to an end.

New framework for

transportation great

news for the city

I DON'T know how many

times I have written an

opinion piece about the

need for us to have a fully

integrated public and

active transport system,

but finally this week the

Minister of Transport

announced the operating

model that has been the

barrier to achieving this is

to go.

The Star readers may

recall that I have worked

hard to get successive

governments to address

this issue over several

years. It takes so long!

Even getting a simple

law change to allow the

regional council to transfer

its role in public transport

to councils took until

2019.

However, there was

no point transferring a

broken model; it needed

to be fixed first, and that's

what this announcement

signals.

The Public Transport

Operating Model is

coming to an end, and

with it the competitive

tendering system. This

was why we were forced

to sell Red Bus when

we lost all the routes we

tendered for, leaving only

the route that had been

directly negotiated with

Environment Canterbury.

If only we knew at the

time the Government

would announce a

Sustainable Public

Transport Framework

three years later.

However, it means we

should be able to trial new

models of public transport

– electric shuttles that can

be waved down around

Mayor

Lianne Dalziel

the CBD; and Mobilityas-a-Service,

with an

app or a dial-up service

connecting people to rapid

transit routes, with smart

technology to prioritise

the movement of public

transport.

These will help make

getting around the city

and commuting easy for

everyone.

This is great news for

our city and even though

it won't be progressed in

my time as Mayor, I will

always remember this

announcement as a real

turning point in making

Greater Christchurch,

the city of the future

– for people and the

environment.

RecoveR youR loved fuRnituRe

Quality furniture

specialists

100s of fabrics to

choose from

www.qualityfurniture.co.nz

Hours: Mon - Thurs, 7am - 4.30pm, Fri 8am - Midday,

or by appointment with Keith 027 566 3909

424 ST ASAPH STREET PH 371 7500

RE-UPHOLSTERY SPECIALISTS KEITH HARTSHORNE 0275 663 909
---
Thursday August 18 2022 The Star 27

Best Furniture's

winter edition

It's the perfect time of the year to stay cozy inside,

curled up next to the fire in your favourite chair enjoying

a warm cuppa or a cheeky red. Or... you can be

snuggled down in a lovely warm bed with a good book.

Here's some of our favourite chairs..

$2,319

$999

$1,579

Reid Armchair

4 leather colours available

Theo Velvet Wingback Chair

4 colours available

Winston Armchair

2 colours available

Hayes Woven Leather

Low Chair

$759 $1,099

$1,839

$1,029

Finn Armchair

2 leather colours available

Molly Armchair

Tyler French Chair

Plush Boucle Armchair

2 colours

$979 $1,019

$2,800 $1,479

Greer Armchair

4 colours

Brunswick Armchair

4 Leather colours

Ankara Armchair

3 colours

Here's some of our favourite mattresses..

Siesta

From $149

Brooklyn

From $189

Boston

From $249

Regent

From $399

Knightsbridge

From $599

Mayfair

From $699

Windsor

From $999

140 Brighton Mall Tel: 388 9128

OPEN 7 DAYS

bestfurniture.co.nz
---
28 The Star Thursday August 18 2022

ABOUT PEGASUS HEALTH

Who we are

Pegasus Health is a charitable organisation committed to

'all people living in Canterbury leading healthy lives'

We support general practices and community-based health providers within Canterbury

to deliver quality health care to more than 445,000 enrolled patients. We have primary

care teams that are responsive to the wellbeing needs of our patients and communities.

Prioritising Māori, Pasifika and people with mental health needs is important to our work.

CANCER RISK PROMPTS DIFFICULT DECISIONS

Testing positive for a high-risk cancer gene forced

some tough decisions on Nicola Coom, but also

ignited a passion for improving the lives of those

impacted by cancer.

Nicola was in her early 30s when her mother was

diagnosed with ovarian cancer. Two other

close female relatives had already died

of the disease. Nicola got tested for

the BRCA (breast cancer) genetic

mutation, which is passed down

through families and associated

with a greatly increased risk of

developing breast and ovarian

cancer.

Nicola says having the

mutant gene threw her many

difficult decisions, such as

whether to have her health

closely monitored or undergo

preventative measures such

having her breasts or ovaries

removed.

At the time, Nicola's mother was

having treatment for late-stage ovarian

cancer.

"I made the decision pretty quickly to have a double

mastectomy and breast reconstruction using tissue from

my abdomen. Mum was right there in front of me going

through chemo so if I could take steps to avoid that, why

not?" she says.

Very soon after getting the news she had a BRCA

mutation, Nicola began researching the subject and

travelled overseas to hear from international experts.

She discovered a lack of easily digestible information

in New Zealand for those impacted by a genetic predisposition

to cancer, so started a peer-support group

and foundation called Gift of Knowledge.

Just months before her scheduled

mastectomy, Nicola met her now

husband. The possibility she might in

future choose to have her ovaries

removed fast-tracked the fledgling

couple's family plans. The pair now

have three sons, born within a year

of each other. In 2015, following

the birth of her third son Nicola

had her ovaries removed.

"Your body is forced into

menopause before it is ready and

it is not pleasant, but for me the

positives outweighed the negatives.

I wanted to be around for my family,"

says Nicola. Since then, she has

fostered the growth of Gift of Knowledge

Foundation and worked as the Executive

Director of a national mental health trust.

In July, she took on her 'dream job' as Chief Executive of

the Cancer Society Canterbury – West Coast.

"When I got the job it was a 'pinch me' moment. It was

an opportunity to use all my professional skills and my

passion for working towards better outcomes for cancer

patients," she says.

Within weeks of starting the Cancer Society role, Nicola's

father was diagnosed with Prostate Cancer and she was

diagnosed with a basal cell carcinoma on her face which

she has just had removed.

"It is not ideal, but I know that we are just one of many

families receiving this kind of news. It is also a good

reminder that people can live well with cancer. That

is why I am so passionate about the work the Cancer

Society does in supporting people impacted by cancer,"

Nicola says.

The BRCA gene

• All cancer is caused by changes in our genes,

but many occur by chance or with age. Some people,

however, develop cancer or are at a high risk of

developing it because of a genetic susceptibility they

have inherited.

• The BRCA gene is an inherited mutation that

significantly increases the chance of developing

breast or ovarian cancer.

• 1 out of every 400-800 people carry a BRCA gene

mutation.

• If you have a strong history of breast or ovarian

cancer, it may be appropriate for your general

practitioner to refer you to the Genetic Service.

• A strong family history may include two or more

close blood relatives on the same side of the family

with breast or ovarian cancer.

· If you are referred to genetic services, they will

discuss and calculate the risk of developing cancer

and may arrange testing for you and your family.

PARTNERSHIP AIMS TO IMPROVE CERVICAL

SCREENING RATES

Pegasus Health and ScreenSouth recently cemented

their commitment to supporting general practice

with their cervical screening work. A Memorandum

of Understanding was signed by Keiran Horne, the

ScreenSouth Board Chairperson, and Mark Liddle,

CEO of Pegasus Health.

"This partnership just makes so much sense.

ScreenSouth is founded on partnership and the

relationship between Pegasus Health and Pacific

Radiology Group," says Keiran.

Over the past couple of years, cervical screening rates

have fallen as the COVID-19 pandemic saw a shift in

priorities for both GPs and patients.

In the last eight months, cervical screening rates in

Canterbury have dropped from 68% to 66%, far below

Ministry of Health targets of 80%.

ScreenSouth General Manager, Louise McCarthy, notes

that it is a steady downward trend.

"With the impact of COVID, we have seen the equity gap

is widening but we have also seen numbers come down

for women in the total population as well. And that is

not just Waitaha, Canterbury, but across the country,"

she says.

A pilot group of seven Pegasus Health practices has

been selected to receive targeted help from a kaimahi

and support worker to help improve their screening

rates. They were chosen based on the number of priority

group women, cervical screening rates and the rates

for claiming funded screens. These practices were seen

as those that could benefit the most from a targeted

approach.

"It is about our teams working collectively and using

the resources we have, to achieve the best outcomes.

Pegasus are providing the kaimahi, ScreenSouth will

provide the support worker and then we have got data

and health promotion teams that can reach in and

provide support," says Louise.

Director of Hauora Maori and Equity, Irihapeti Mahuika

shared a whakatauki at the signing that reflects the

importance of this partnership.

Ehara tāku toa i te toa takitahi,

engari he toa takitini

My strength is not as an individual,

but as a collective.

NEW CANTERBURY

CANCER FACILITY

OPENING IN 2023

A new building to house the Cancer Society's

Christchurch-based patient accommodation and

support services is due to be completed in early 2023.

Chief Executive of the Cancer Society Canterbury – West

Coast, Nicola Coom, says the facility is planned to cater

for those with all cancers. It will have 50 accommodation

rooms and be available for people with cancer

from around the South Island who need to come to

Christchurch Hospital for treatment.

"It's very exciting to be involved in this project as it is our

aim for it to become a centre of innovation for cancer

support for the people of Canterbury and the South

Island," she says.

Nicola and the team aim to expand the services offered

from the new centre to include therapeutic cancer

services such as lymphatic drainage massage, counselling

and more.

The facility in Langdons Rd, Papanui will replace its

facilities destroyed by the Christchurch

earthquakes.

Hear more about what is happening

in your community at pegasus.health.nz
---
Biggest ever recorded

jump in weekly earnings

as median NZ wages rise

A KEY MEASURE of Kiwi wages

and salaries has shot up by its

largest margin since records

started 24 years ago.

Stats NZ data released yesterday

showed median weekly

earnings from wages and salaries

rose 8.8 per cent in the year to

June 30.

In spite of the big increase, a

trade union confederation said

women were still suffering from a

major pay gap.

According to the income survey,

median earnings were now

$1189.

Women's median weekly earnings

increased by $95 to $1055.

As with the overall jump, that increase

was the highest for women

since the data series started in

1998.

The big rise in median weekly

earnings for women coincided

with more women working fulltime

and fewer part-time, labour

market manager Malak Shafik

said.

Self-employed people had

stagnant incomes, according to

today's Stats NZ release.

In the year to the June 30,

median weekly income from all

sources increased by $78, or 10.1

per cent.

Median income from wages

and salaries increased by $96, or

8.8 per cent.

Income from government

transfers increased by $31 million,

or 8.3 per cent.

But income for the

self-employed was flat at $767 a

week.

The new wage and income data

comes at a time of high inflation

and low unemployment.

The median wage increase is

even greater than a major recent

inflation indicator.

The Stats NZ quarterly Consumer

Price Index for the three

months to June 30 rose 7.3 per

cent.

That was the highest CPI increase

since 1990.

The Council of Trade Unions

said nowhere near enough progress

had been made closing the

gender pay gap.

Last year the CTU said women

started working effectively for

free on November 22, 2021,

if their lower incomes were

compared to what men earned

annually.

The CTU said this year the data

showed that day only moved to

November 23.

"The overall gender pay gap

has stubbornly persisted across

the past decade," the CTU said

yesterday. – NZ Herald

Latest Canterbury news at starnews.co.nz

Flexibility the key to business

at the Air Force Museum

THERE'S A saying in the air

force that flexibility is the key to

air power; this is certainly the

philosophy driving business at

the Air Force Museum of New

Zealand.

Museums are by nature not-forprofit

entities, morally bound to

make their collection and spaces

as freely accessible as possible. In

order to achieve this, however, a

certain flexibility is essential.

Located at the former Wigram

air base, the Air Force Museum

is the national museum for the

Royal New Zealand Air Force. It

is a registered charity, operated

in partnership between the New

Zealand Defence Force and a

board of trustees.

While the defence force covers

operational costs, the board is responsible

for generating sufficient

revenue to ensure our air force's

history is preserved and shared in

the context of an accessible, world

class visitor attraction.

It's a model that works. The museum

has been hosting corporate

events in its spaces for most of its

35-year history. This income has

enabled both free admission and

free education programmes, as

well as helping fund collections

care, exhibitions, and other visitor

experiences.

While it is the large events

managed by Venues Ōtautahi –

more than 1100 since 2013 – that

many may associate with the Air

Force Museum, recently they have

begun managing their own small

venue hire business, with spaces

including meeting rooms, a members'

club-style lounge and even a

tiered theatrette.

Again, flexibility is the word,

as any of these spaces can be

adapted to fit a client's requirements,

whether it be a strategic

planning day, training workshop,

product launch or social gathering.

Catering is available through

the onsite café, and plenty of free

Thursday August 18 2022 The Star

SPONSORED CONTENT

29

FLEXIBLE: The Air Force Museum of New Zealand

provides a memorable setting for both small and large

events. PHOTO: NZDF OFFICIAL, COURTESY OF AIR

FORCE MUSEUM OF NEW ZEALAND

parking makes off-site meetings a

breeze.

Located an easy 15min drive

from either Christchurch CBD

or airport, one of the things that

makes this venue so memorable

is its unique atmosphere. Wander

amongst the aircraft during

lunch breaks or ask about options

to add-on a guided tour or even

a simulator challenge for your

team.

If you're after a small venue

with a difference, while also

supporting community-focused

outputs, get in touch with the Air

Force Museum today.

Off-site networking sessions

Presentations and meetings

Training events

Social gatherings

HOST YOUR

NEXT EVENT

at the national museum of the Royal NZ Air Force.

◦ Convenient location 15 minutes' from the city and airport

◦ Affordable room hire rates

◦ Multiple room options with flexible layouts

◦ Plenty of free parking

◦ Onsite Café and catering

The Air Force Museum is a registered charity, by hiring our spaces you are helping to

support the work we do to preserve New Zealand's military aviation heritage.

Call us on 03 343 9532 to discuss how we can meet your small event needs.

45 Harvard Ave, Wigram, Christchurch

www.airforcemuseum.co.nz/venue-hire
---
The Star Thursday August 18 2022

30

SPORT

Latest Canterbury news at starnews.co.nz

Coach sympathetic after semi-final win

• By Chris Barclay

AS JUBILANT St Bede's College

1st XV players were enveloped

by fellow students, family and

friends, head coach Daniel

Winchester distanced himself,

and felt for the vanquished.

In stark contrast to the winners

of Christchurch's Miles Toyota

Championship semi-final, St

Thomas of Canterbury College's

squad were forlorn in the middle

of their No 1 field.

Having qualified for the competition's

trophy semi-finals for

the first time, the top seeds were

a win away from hosting defending

champion Nelson College,

who pipped Christchurch Boys'

High School 27-24 earlier last

Saturday.

Instead, they suffered a 20-15

defeat to the team which ended

their play-off aspirations in the

last minute of their final regular

season round clash in 2021.

St Bede's duly qualified top 12

months ago, but were knocked

out by Christ's College, who

snuck in fourth.

"We finished

top of the table

last year and

lost our semi.

We were in

their position,

went in hot favourites

and we

Daniel

Winchester

didn't perform,

didn't manage

the game.

Rugby's about learning lessons,"

Winchester said.

"I've coached this team for

four years and we've lost at this

stage in the last three, so it's nice

to finally get over the line and

make the final. It's pretty sweet."

St Bede's were well beaten on

their previous visit to St Thomas,

the hosts winning their seasonopener

31-19 in early May, an

experience that fortified the underdogs

for the knockout rounds.

"The key for us was around

game management and nullifying

their big threats," said

Winchester, who was promoted

to head coach last year.

Threat-wise St Thomas No 8

Richie Tuipelehake Tupua'ilei

loomed large but St Bede's defence

kept him in check.

"Every team tries to stop him

DOWNWARD PRESSURE: St Bede's College prop Suilasi Faiva reaches out to score in the second half of the Miles Toyota

Championship 1st XV semi-final with St Thomas of Canterbury College. After winning 20-15 St Bede's now head to the

final at Nelson College.

PHOTOS: CHRIS BARCLAY ​

and he generally scores a try a

game, if not two," Winchester

said. "Our whole game was to try

and stop him. He didn't get any

points, which was good for us."

Although St Bede's trailed 10-8

at the break, goal-kicking wing

Ben Trillo's second try broke a

15-all deadlock before tactical

kicking by first five-eighth Flynn

Bainbridge and fullback Cam

Rawlings helped keep St Thomas

at bay.

Winchester sensed his side was

confident at half-time.

"Our boys ran to the huddle

and theirs didn't. We knew we

were in a really good spot and

once we got some ball and played

some rugby we looked really

sharp," he said.

"We knew if we let them into

our 22 we'd suffer so it was about

limiting those chances."

Nelson College beat St Bede's

22-16 in Christchurch on July 30

but they head north for Saturday's

final in a confident frame

of mind.

"That was probably one of our

poorest performances, but it was

a really good learning experience,"

Winchester said.

"I don't think we'd be where

we are now if we didn't have that

loss. It gives us great insight into

what we're going to get up there.

It was a good test run for us."

Like each of the 13 teams chasing

the title St Bede's will experience

a significant loss of personnel

this year; St Thomas farewell

at least a dozen members of their

squad, hence the devastation at

full-time.

"We're losing a lot of forwards

… two props, both locks, two

loose forwards plus both halfbacks,

a centre and fullback,"

said Winchester, so motivation

will not be an issue.

"Every year you have those

last-chance Year 13 players. Every

game's their last game once

they get to knockout football."

The second-tier plate final will

be contested between Shirley

Boys' High School and Marlborough

Boys' College after they

beat St Andrew's College (38-36)

and Timaru Boys' High School

(20-10) respectively.

Football

Christchurch United will wrap

up the Southern League with a

round to spare if they can continue

their unbeaten campaign

against closest challengers Cashmere

Technical on Saturday.

United, who lead Cashmere

Technical by three points, have

already outplayed the other

National League-bound outfit,

winning their first outing 4-1 in

late May. The clear front-runners

have already nailed down the

two berths designated for the domestic

competition so Saturday's

highlight of the round has only

the silverware at stake.

United and Cashmere Technical

both recorded eight-goal

margins last weekend as they

swept Dunedin-based opposition

aside as they warmed up for this

local derby.

The league's leading goal scorer,

Garbhan Coughlan, netted

five times for Cashmere Technical

as they trounced Mosgiel

AFC 8-0 while Eddie Wilkinson

scored a quartet as United recovered

from a one-goal deficit to

hammer Green Island 9-1.

Cashmere Technical will likely

have to bridge the gap on United

at Garrick Memorial Park given

they both face out of contention

southern opposition - Dunedin

City Royals and Mosgiel AFC

respectively - in the final slate

of fixtures. At the other end of

the table, relegation candidate

Selwyn United lost 3-2 at Dunedin

City Royals, to stay one

point adrift of Mosgiel.

The Rolleston-based club will

be hoping for a result, or at least

a point, from their encounter

with third-ranked Ferrymead

Bays and hope Coastal Spirit can

work in their favour when they

travel to Mosgiel.

Coastal Spirit SAS underscored

their dominance of the

women's game locally when they

retained the Reta Fitzpatrick Cup

with a 6-0 defeat of Universities

in last Saturday's final at English

Park.

The reigning Mainland Football

Premier League and inaugural

Southern League champions

retained the women's equivalent

of the English Cup for a third

successive year..Whitney Hepburn

spearheading this triumph

with a hat-trick.

It was also their 10th Reta

Fitzpatrick Cup final victory

since the trophy replaced the

Knockout Cup in 2005.

Hockey

Carlton Redcliffs and Marist

advanced to their respective

finals of Canterbury Hockey's

premier league after tight victories

in the open phase of the

postseason.

Top qualifiers Marist were

close to forcing a shootout in the

men's preliminary final at Nga

Puna Wai but a penalty stroke

after the hooter flashed wide of

the goal, giving Carlton Redcliffs

a 2-1 victory.

Marist now have a second life

to make Saturday's final when

they take on HSOB/Burnside –

who eliminated Harewood with

a 2-1 victory – in tonight's major

semi-final at Nga Puna Wai.

In the women's competition,

Marist edged a shootout after a

goalless clash with Carlton Redcliffs,

who could only convert

one of their five opportunities.

Marist were marginally more

effective against the Carlton

Redcliffs goalkeeper, converting

their first two chances before

also experiencing some anxious

moments.

Carlton Redcliffs, the regular

season Rosebowl winners, must

beat Harewood, 2-1 winners

over HSOB/Burnside to earn

a rematch with Marist, in a

clash which plays out after this

edition's deadline.

TOP

OF THE

TABLES

Brought

to you by

Curtains | Blinds | Shutters

Unit 2 / 99 Sawyers Arms Rd

03 365 4666 or 0800 836 587

www.venluree.co.nz

Top of the tables

Southern League Football

P W D L GD Pts

Christchurch Utd 16 15 1 0 53 46

Cashmere Technical 16 14 1 1 57 43

Ferrymead Bays 16 8 3 5 8 27

Nelson Suburbs 15 8 3 4 3 27

Dunedin City Royals 15 8 1 6 10 25

Coastal Spirit 16 2 7 7 -12 13

Green Island 16 4 1 11 -32 13

Nomads Utd 16 3 3 10 -29 12

Mosgiel AFC 16 2 3 11 -36 9

Selwyn United 16 1 5 10 -22 8

Weekend match-ups

Canterbury Hockey finals series:

Men's major semi-final: Marist

v HSOB/Burnside, Nga Puna Wai,

Thursday 7.30pm; 3rd v 4th playoff:

TBC v TBC, Nga Puna Wai, Saturday

1.30pm; Grand Final: Carlton

Redcliffs v TBC, Nga Puna Wai,

Saturday 3pm.

Women's major semi-final:

Harewood v Carlton Redcliffs, Nga

Puna Wai, Wednesday 7.30pm;

third v fourth play-off: TBC v TBC,

venue and time TBC Saturday; fifth

v sixth play-off: Hornby v Avon, Nga

Puna Wai, Saturday 3pm; Grand

Final: Marist v TBC, Nga Puna Wai,

Saturday 4.30pm.

Southern League football round 17

fixtures (all Saturday):

Nomads United v Nelson

Suburbs, Tulett Park noon;

Mosgiel AFC v Coastal Spirit,

Memorial 1, Saturday 12.30pm;

Green Island v Dunedin City Royals,

Sunnyvale 2.45pm; Selwyn United v

Ferrymead Bays, Foster Park 2.45pm;

Cashmere Technical v Christchurch

United, Garrick Memorial Park

2.45pm.
---
Thursday August 18 2022 The Star

Latest Canterbury news at starnews.co.nz

SPORT 31

MATCH-WINNER: Linwood wing Penitito Ilalio entered

Canterbury Rugby League premiership grand final folklore with

his championship-winning try in the dying seconds against

Hornby.

CHAMPIONS: The Linwood Keas celebrate their sixth grand final victory in seven

years by avenging last season's loss to Hornby in the decider.

Smiles after epic league final decider

• By Chris Barclay

PENITITO ILALIO had time to

turn and grin, Linwood's smiling

assassin delivered the killer blow

to Hornby's hopes of securing

back-to-back Canterbury Rugby

League premierships in the

dying seconds of an epic grand

final.

The Panthers were tracking

to complete their late season

resurgence in style at Nga Puna

Wai on Sunday when the Keas

wing scythed through Hornby's

defensive line on halfway before

wrong-footing fullback Muipu

Nati and surging to score under

the crossbar.

Linwood's sixth premiership

in seven seasons was being

celebrated before potentially

retirement-bound reserve prop

Matthew Molioo had the honour

of slotting the inconsequential

extras to ice a 34-30 triumph.

"In the last five minutes I was

looking at the game, looking

at the clock and it came down

to that last set," said Linwood's

third-year head coach Iuma

Mulitalo.

"It was unbelievable. Peni

pulled a rabbit out of the hat."

Mulitalo said the cliffhanger

brought back memories of the

2018 decider, when prop Alex

Todd scored to pip Hornby in

the last two minutes.

"We went the whole season

undefeated then too and almost

choked in the last game but we

found a way to win. This year's

is probably the best one, to score

in the final play of the game," he

said.

Linwood were never beaten in

2022, a regular season draw with

Halswell the only blemish on an

outstanding record.

Hornby led 18-6 at halftime

but Linwood rallied with three

tries in 11 minutes to build a

six-point advantage before the

Panthers struck back through Eti

Collins and Nati.

The Panthers had one hand on

the Pat Smith Trophy until they

could not grab Ilalio, whose try

enabled Linwood to avenge last

season's grand final defeat to

their long-term rivals.

PROPPING UP: Linwood front rower George Faaiva gets the

Keas on the board with a powerful surge.

Multialo's counterpart Jed

Lawrie said a tight playing group

had eventually come to terms

with the devastation.

"It's just a moment we missed,

that's footy I guess. It's definitely

tough, but we've had a couple of

days together which made it a bit

easier," he said.

Hornby had needed a massive

win over struggling Papanui

in the final round plus the Linwood/Northern

Bulldogs result

to fall their way to claim the final

play-off berth.

"After the game we had a big

huddle in the shed. We were

at the bottom of the mountain

most of the year and we nearly

climbed to the top," Lawrie said.

Although Hornby had a handy

lead at the break, they lost influential

veteran Corey Lawrie,

Jed's brother, to a nasty leg injury

shortly before halftime which

disrupted the bench rotation.

His thigh was sliced open

by a boot sprig was rushed to

Christchurch Hospital, where

the wound required 22 stitches.

"He went to stand up and

collapsed, it was a fair old gash.

Corey was a big loss. He's a

hooker, loose forward and sort of

the heart and soul of the team,"

Lawrie said.

Corey Lawrie watched the

livestream of the remainder of

the game at hospital and reunited

with the team about 8pm.

Linwood second rower Uriah

CAGED PANTHER: Hornby's Finley-j Esera is corralled by

four Linwood players.

WINGS CLIPPED: Linwood

Keas wing Fabricius Su'a

has his progress halted by

Hornby defenders,

Tuli was awarded the Mel Cooke

Trophy as player of the match.

Multialo also coached Linwood's

women's team to their

first premiership since 2018, with

another dramatic finish denying

Sydenham a third straight title.

"We won with two minutes

to go. I almost had two heart

attacks in one day," he said,

reflecting on the women's 22-20

triumph.

Angela Petero scored the

clincher to complete a remarkable

comeback after they scored

three tries in the final 14 minutes

to overcome a 10-point deficit.

Linwood also won the Canterbury

Cup premier reserve grade

title, beating Hornby 28-18 while

Riccarton snared the premier

PANTHER POUNCES: Hornby wing

Vaione Siaki scores the opening try.

FORWARD MOMENTUM: Linwood prop George Faaiva

tries to breakthrough a Hornby tackle as he makes a

strong carry.

PHOTOS: KAREN CASEY

grade's second-tier Gore Cup

through a 18-16 defeat of the

Northern Bulldogs.
---
32 The Star Thursday August 18 2022

CHRISTCHURCH MITSUBISHI

386 Moorhouse Avenue, Christchurch

Ph 03 379 0588 | christchurchmitsubishi.co.nz

10 year / 160,000km Powertrain Warranty (whichever comes

first) (non transferable). 5 year / 130,000km New Vehicle

Warranty (whichever comes first) (non transferable).

%APR FIXED

ZERO DEPOSIT

2.936 MONTH TERM*

NISSAN

150,000 KM'S

5YRFACTORY

WARRANTY

X-TRAIL RUNOUT

ON NOW

*Finance offer available on new Nissan Navara (D23) and X-TRAIL (T32) models registered between 01/08/2022 and 31/08/2022. Approved applicants of Nissan Financial Services New

Zealand Pty Ltd (Nissan) only. Fixed interest rate of 2.9% p.a. only available on loan terms up to 36 months (3.9% p.a. applies for 37-48 months and 4.9% p.a. applies for 49-60 months loan

terms). No deposit required. This offer includes an establishment fee of $375, PPSR fee of $8.05 and $10 per month account keeping fee. All lease and some fleet purchasers excluded.

Nissan reserves the right to vary, extend or withdraw this offer. Not available in conjunction with any other offer. Additional terms and conditions apply and can be viewed at

www.nissan.co.nz.

CHRISTCHURCH NISSAN, 380 Moorhouse Avenue, Christchurch

Ph: 03 595 6820

www.christchurchnissan.co.nz

christchurchnissan.co.nz
---
Thursday August 18 2022 The Star 33

One more sale for Mazda's CX-30

AS A motoring journalist for

more than 30 years, I've long

wanted to write – 'I loved the car

so much I went out and bought

one.'

That has happened, and my

wife and I are now the proud

owners of a Mazda CX-30 GTX

sport utility vehicle, only the second

time we have bought a brand

new car, the first being way back

in 1982.

Weighing up the CX-30

against other SUVs of a similar

ilk was a lengthy process for us,

we needed to be 100 per cent certain

the Mazda was the right fit.

I wasn't in much doubt though,

after having driven several since

its introduction here just on two

years ago, the CX-30 had already

made an impression on me with

its quality of build and, in this day

and age of soaring fuel costs, relative

economy.

This evaluation doesn't focus on

the GTX, but on a newcomer to

the CX-30 range, simply badged

SP20 Blackout. It, as you would

guess, has black wheels, black

grille, black mirror caps, black

cabin theme with red stitching

and other discreet highlights. The

special edition model certainly

adds depth to the line-up and it is

priced rather well at just $44,390.

There are now five CX-30 models,

front-wheel-drive and all-wheeldrive,

and sharing between the

2.5-litre engine and the 2-litre

mild hybrid driveline that is fitted

to the Blackout model.

Let's get one thing straight,

Mazda's mild hybrid system

isn't like the hybrid operation

we know so well in, say, Toyota's

Prius; Mazda's battery system

works solely on the energy gained

from braking and deceleration,

that is called regenerative energy

and it is stored to power the

electrical systems and assist the

engine under acceleration.

In terms of the mechanicals to

make this happen, the traditional

alternator and starter motor have

been replaced with an integrated

starter/generator, the benefit of

all of this is taking the load off the

petrol engine, thereby saving fuel

in the process.

It's not a new system, some

premium brands have been using

regenerative energy for many

years but not so many mainstream

models come with it, and

it is just another way Mazda has

developed its drivelines so that

fuel economy has been a major

manufacturing priority.

During my time with the

Blackout model the combined

cycle fuel usage gauge never went

higher than 8l/100km, and at

100km/h the engine merely sips

fuel at the instantaneous rate

of 5l/100km, the engine turning

over at just 1900rpm at that

speed. Those figures sit well with

Mazda's figures of 7l/100km on a

STRONG LINES: The Mazda CX-30 has a flowing shape

that also combines with practicality.

MAZDA CX-30 SP20: Black wheels, grille and mirrors are features of the Blackout edition.

combined cycle average.

the car filthy as it was beautifully

If you think this economy • Price – Mazda CX-30 SP20 presented when I picked it up.

comes at the expense of power, Blackout, $44,390

It's fair to say, though, at all

then that is not the case. Mazda • Dimensions – Length, speeds the CX-30 is a dream to

rates the 1998cc unit with 114kW 4395mm; width, 1795mm; drive and it just feels so nice and

and 200Nm, which are healthy height, 1540mm

involving from behind the wheel,

outputs and energy that is useful • Configuration – Fourcylinder,

four-wheel-drive, pants. I asked my wife to drive for

and that is the case for all occu-

right through the rev band, peak

power developed at 6000rpm and

maximum torque at 4000rpm.

If there was one other thing

that steered me towards the CX-

1998cc, 114kW, 200Nm,

six-speed automatic

• Performance –

0-100km/h, 9sec

a feel of the Blackout model and

during my time as passenger I got

a good account for the quality of

build and the level of fitment.

30 GTX, it is that drive is directed • Fuel usage – 7l/100km While the Blackout edition

through a traditional six-speed

doesn't get all the trimmings

automatic gearbox and it is similar

to that of the Blackout model, and it loads up pleasantly when Takami grade models, it satisfies

gentle firming on the steering that come with the Limited and

with drive thereafter sent to all turned into a corner. Sport utility with what it does have. Of course,

four wheels in an on-demand vehicles have become so well nothing has been compromised

basis. I like transmission simplicity,

and Mazda's driveline is well-

there is quite a bit of height in Mazda range gets a five-star Aus-

balanced it's hard to keep in mind in the way of safety, the entire

proven and reliable.

the CX-30 (1.5m), but there is tralasian New Car Assessment

Power is eased gently through little transition of weight over the Program rating.

the gearing, shifts are smooth suspension.

I've looked at the CX-30 Blackout

as I would any potential buyer

and clean while the ratios work On that subject, the fully independent

front-strut/rear mul-

heading into a dealership to buy

fluidly with the power and torque

characteristics of the engine. The tiple link set-up has spring and a new car, and I came out very

boost you get when the load is damper rates with definite firming.

However, that doesn't come ence. That is something quite new

impressed with the entire experi-

taken off the engine through the

hybrid system is quite noticeable at the cost of occupant comfort, to me, I'm generally looking at

under acceleration, there is about there is just enough compliance

to soak up bumps and ruts evaluation, but there's also a very

more of a mechanical aspect in an

an extra 6kW on tap. For the

record, the CX-30 Blackout will without jolting the in-cabin. The human element as buyers and

make 100km/h in 9sec and will benefit of that is also the right sales staff discuss options.

complete a highway overtake (80- amount of firming to promote It must also be mentioned the

120km/h) in 6.5sec. If you like a controlled behaviour in a corner MazdaCare after sale package of

constant feel of engine urgency and, of course, that four-wheeldrive

system is there to glean grip warranty and five-year roadside

five-year free servicing, five-year

there is also a sport mode button

that will constantly liven throttle on all surfaces when required. assistance played an important

pedal response.

I didn't take the evaluation car part in our purchasing decision.

On the open road the CX-30 off sealed roads, winter in Canterbury

means roads never dry lot of the worry as I head towards

That, going forward, takes away a

cruises quietly and feels fabulous

from behind the wheel, there is out fully and I didn't want to get retirement.

STAFFY

IAN SMITH

DOWNLOAD THE SENZ APP TODAY
---
34 The Star Thursday August 18 2022

Amazing but true!

Yes at ONLY $579,500,

this exquisite townhouse is

unbelievably affordable.

In exclusive Northwood,

lovely setting & outlook.

Inspection welcomed

WINTON ROYDS (REA 2008)

Ph: 027 228 7002

"I WILL TURN UP

WHEN I SAY I WILL"

Need a certified and reliable plumber for filtration

systems or hot water cylinder replacement?

Bathroom upgrades or refurbishments?

FREE CALL

TEXT

EMAIL

0508 H2O BOY

426 269

027 245 5100

NICK@NICKJONESPLUMBING.CO.NZ

The Star Classifieds

Business Opportunity

SECURE

YOUR

FUTURE

Due to demand of work and retirements we are

urgently seeking keen, motivated franchisee's.

Low as possible start up costs.

Capital gains as you go. Full office support.

For more information:

chchadmin@jimsmowing.net.nz

Phone 021 643 675

Cars Wanted

Your family's health is

important during winter,

in particular, as damp cold

houses can have a huge

effect particularly for the

very young, elderly and

those who are ill.

Make sure your home is

warm, ideally between 18

and 21 degrees. Reducing

the draughts in your home

will help as they are a

major way that buildings

can lose heat by up to 25

per cent. Close the curtains

when the sun goes down

and trim any trees that

prevent the sun getting into your home.

Keeping your home dry is also very

important. The average family home can

produce around 12 litres of water a day.

A portable dehumidifier can remove

moisture and ideally should be placed in

the coldest part of your home. Reducing

the amount of moisture helps with people

who are allergic and prevents mould,

moisture and condensation on the

windows.

In-home ventilation systems replace

the damp air inside your homes with

dry, filtered air controlling condensation

and excess moisture. There is plenty of

information online about the different

brands and sizes.

throughout

Try not to dry Christchurch

clothes indoors as this

creates moisture in the air. Drying them

outside is not only free from the cost

of electricity but sunlight kills bacteria,

Home & Property appears every Thursday, delivered FREE

throughout Christchurch

For more information and bookings, contact Mike Fulham

M: 021 300 567 E: mike@starmedia.kiwi

Keep warm and

healthy this winter

making your clothes healthier for you

and your family. If it is raining use a shed

or garage as an alternative.

If you use a clothes dryer, make sure

your clothes are properly spun first and

either vent it outside or leave windows

open.

To reduce moisture caused by steam,

always open a window when you are

showering and when you are cooking on

the stove top. Use pot lids to reduce the

amount of steam escaping. Keep doors to

bedrooms closed at these times as steam

can make beds damp.

Finally insulation can make a huge

difference to keeping your house

warm and save on heating costs. The

Government has subsidies available,

including the EnergyWise Home Grants,

to help with ceiling and floor insulation,

draught stopping and hot water cylinder

wraps. Visit www.energywise.govt.nz.

Home & Property appears every Thursday, delivered FREE

For more information and bookings, contact Mike Fulham

M: 021 300 567 E: mike@starmedia.kiwi

Bicycles

Vintage push bike wanted.

I'm looking for an old

chopper or dragster bike.,

had one when I was a

kid. Want to put it on the

mancave wall. can be

in any condition ph/txt

021861732

Caravans, Motorhomes

& Traliers

CARAVAN Wanted to

buy. Up to $5000 cash

today 027 488-5284.

CARAVAN Wanted to

buy. Up to $5000 cash

today 027 488-5284.

OLD VEHICLES

WANTED

Sell your old and unwanted vehicles for cash!

CAR - VAN - TRUCK - 4X4 - UTE - CAMPERVAN

Dead or alive, no WOF, no REGO, accident damaged, water

damaged, fire damaged, insurance write off, deregistered.

All makes and models - petrol and diesel

0800 245 246

info@kingcashforcars.co.nz

Your

Earthquake

damaged

home!

Talk to us if you are serious about

selling your "As is Where is" home.

We have sold over

150 "As is Where is"

homes and we have

a huge database of

qualified buyers.

Phil & Holly Jones

Ph 03-382-2230

Phil 027 435 7711

Holly 027 222 0220

holly.jones@raywhite.com

Licensed (REAA 2008) Results Realty Ltd

We have achieved

record breaking

prices recently!

PLUMBING DRAINAGE GAs FITTING

EXCAVATION BLOCKED DRAINs

Have you had your drains

checked post earthquake?

Free CCTV Drain

Camera Inspection.

Call now for a FREE quote!

Call: 022 375 8506

Email: morgan@mtpd.co.nz

Website: www.mtpd.co.nz

• Phone our local team 03 379 1100 • Email star.class@starmedia.kiwi

Cars Wanted

WANTED

Peugeot 206

convertible

Must be auto, low km's

and extremely tidy.

Private cash buyer

384 0431

Cars Wanted

AAA CASH - CASH -

CASH . Any unwanted

cars. Phone 347 9354 or

027 476 2404

Cars Wanted

CARS WANTED We buy

small Japanese vehicles,

must be tidy, cash paid

Ph Doug Drake Motors,

ChCh 03 389-1121 or 027

432 9947

CLASSIC Car wanted

1950s, 60s, 70s, 80s, or a

modern classic.

American, Japanese,

English or what have

you., Mazda RX2, 3, or

4. Keeping options open.

Text me with what you

have, I can call / txt you

back, Ph 021 861 732.

Car Parts

TYRES Secondhand,

most szs from $30 - $70

fitted, Also batteries, 217

Waltham Road, 027 476

2404

Church Notices

PAPANUI

SPIRITUAL

CENTRE

150 Harewood Rd

(formally Edgeware

Spiritualist Centre)

Closed till

further

notice due to

flooding

Church Notices

SYDENHAM CHRISTIAN

SPIRITUAL CHURCH

Sydenham Community

Centre

23/25 Hutcheson St

Address

Angela

Clairvoyance

Angela

Sunday 7pm

All Welcome

Church Notices

NEW AGE CHRISTIAN

SPIRITUAL CENTRE

61 Grafton Street

Sunday 7pm

Address:

Gaynor

Clairvoyance:

Gaynor

Tuesday

Healing 1-1.45pm

Clairvoyance 2pm

All Welcome

Clothing &

Accessories

RETRO Clothing wanted

for a dress up 70's party.

Would love to get a

safari suit but anything

considered.Ph or txt

021861732

Curtains

A1 CURTAINS &

DRAPES.

Roman blinds, tie backs,

cushions, nets, voiles, &

squabs, plus alterations.

Free quotes. Ph Kay 980

1501 or 021 257 1823. kay.

tainui88@gmail.com

For Sale

SOLITAIRE & CRIB

BOARD GAMES.

Handmade & a great gift

idea, brand new & just

$10 each. All monies paid

donated to St Vincent de

Paul. Ph Alan on 981 9340

STEEL for sale all

sections, off cuts cut

lengths. siteweld@ xtra.

co.nz Ph 0274 508 785

Funeral Directors

Funeral Directors

direct

cremation

$2,000 GSt inclusive

(includes committal)

0800 27 28 29

www.mainland

crematorium.co.nz

Gardening

& Supplies

GARDENING &

Tidyup's avail. . Ph 383

8486 or 027 816 6140

GARDENING &

Tidyup's avail. . Ph 383

8486 or 027 816 6140

Gardener available for

maintenance, weeding

pruning, spraying,

planting, advice. Qual &

exp. Ph Richard 0274 918

234, 03 349 4022

No Service

Cremation

$2,300

Family Funeral with Cremation $4,100

Chapel - 35 people, casket, hearse, cremation fees

Phone 0800 804 663 - 24 Hour Availability

Email: info@justfunerals.co.nz

christchurch.justfunerals.co.nz
---
Gardening Trades & Services

& Supplies

ARBORIST.

PETE'S GARDENING

Qualified. COPPER

SERVICE Gardening,

BEECH TREE

rubbish removal, cleanups,

SERVICES.Tree

expert pruning, hedge

removal, pruning,

trimming, tree cutting,

height reduction, hedge

good rates, no job too big

trimming. shaping, tree

or too small, half the price

planting, firewood, .Free

of a franchise. Ph 027 551

Quotes. Contact Angus

4118

Edwards 027 259 6741.

copperbeechtreeservices@

Health & Beauty gmail.com

MOBILE

HAIRDRESSER

AVAILABLE

24 Yrs Experience

Reasonable Rates

Ph Anne

021 298 3957

or 03 313 9391

MOBILE Toe Nail

Cutting Service with foot

and lower leg massage by

regd nurse. $50. Phone

022 281 6647

Massage

NEW THAI MASSAGE

SHOP IS OPEN HERE,

Sydenham. Aurora

Health and Massage. Our

experienced team can help

ease your pain. Call now

020 4052 6665

Personals

MALE looking for male

for ..... No txt. Give me a

call 027 316 3107

Pets & Supplies

CATS UNLOVED

can help with the cost

of desexing your cat.

catsunloved@xtra.co.nz

Ph 355 5022

Remote Controlled

Wanted to buy old R/C

cars 1980-2000's, 1/8

onroad cars, engines, parts

etc. Kyosho, Tamiya, PB

any cond PH 027 434 1014

To Lease

Office space to lease,

CBD area. 60 - 100 sqm.

Comp priced. Flexible

lease period. Call Shane

for more details on 021

381 765

To Let

HOMESITTERS

reqd. Lovely homes and

pets. Town & country,

month sits avail. Ph

Lisa 021 547 262 www.

townandcountryhomesit.

co.nz

Tours

EXPERIENCED

GARDENER

(Kevin Garnett)

30 Years

Christchurch Botanic

Gardens.

ALL landscape

work done.

Maintenance, pruning,

tidy up, lawn work,

landscape planning

and planting etc.

Free Quotes

Phone 348 3482

PAINTING

older painter

for older houses

50 years in trade

"All the skills"

GST FREE

Contact Jimmy Bell

0211221487

30 years + experience

Older house

restorations:

no problem!

Quotes: FREE!

Rates: Reasonable

Paint supplied at

trade price!

NO JOB TOO SMALL

Light industrial also

Roger Brott

Painter & Decorator

021-1966-311

COMPUTERS

Wayne Middleton

Registered Electronics Service Technician

• Internet & Email Setup

• Wi-Fi Solutions

• Technical Support

• Virus & Scam Infections Removed

• Scan to Improve Speed & Usability

Phone: 03 352 7182

Wayne: 0274 326 102

Website: onsiteelectronic.co.nz

Onsite Professional Service Guaranteed

Established 1982

ELECTRICIAN

Contact for a free quote

phone 027 331 0400

dave@davesimpsonelectrical.co.nz

davesimpsonelectrical.co.nz

Experienced Domestic Electrician

Quality Workmanship

• New Build

• Renovations

• Fault finding

PAINTING & PlAsTerING

• PAINTING • TILING

• PLASTERING

• WALLPAPERING

Phone Kevin Steel

• Power

• Lighting

• Switchboards

• Interior/Exterior

• New Homes & Repaints

• Quality workmanship assured

• Correct preparation always undertaken

• 20+ years experience

• Earthquake repairs

(Painting/Plastering/Wallpapering/Tiling)

Ph 027 216 8946

www.facebook.com/kevinsteelpainters&decorators

Email: kpsteel@xtra.co.nz

Thursday August 18 2022 The Star 35

Your guide to our LOCAL & TRUSTED

Trades & Professional Services

To advertise: Phone 379 1100 or email star.class@starmedia.kiwi

DECORATORS

Selwyn based but

service the whole of

the South Island

• New Paint • Floor & Roof

• Repaints Painting

• Wallpapering • Spray Painting

• Fences • Commercial

• Repairs • Timber Finishing

• Feature Walls • Plastering

027 724 6846 027 PAINTIN

email: andertondecorators@gmail.com

Excavations

• Driveways

• Car Parks

• Site Cleaning

• Demolition

• Farm Tracks

• Drain Cleaning

• Stump & Hedge

Removal

• Asphalt Concrete

Wide range

oF TruckS

For a Free Quote

on your next project

Phone Steve on

021 338 247

• Tennis Courts &

Swimming Pools

• Chip Seal Driveways

• Diggers – 2 Ton

up to 20 Ton

• Excavators

• Bobcat & Drilling

• For Posthole &

Fence hole

PLUMBER

Free

QuoTe

NEED A PLUMBER?

• Father & son Plumbing Business with over

40 years experience.

• Bathroom alterations a specialty.

• Cylinder replacements.

• We do all small jobs.

Call us now for fast friendly service.

Get your problems sorted out

quick smart - on time!!

THOMSON PLUMBING

Phone Eugene now

Phone 03 377 1280 | Mobile 021 898 380

DRIVEWAYS

Exposed Aggregate

Stamped Concrete Plain

Concrete Resurfacing

Things we offer...

Competitive/affordable pricing

Attention to detail

Professional service

free quotes/insurance scopes

Cell 0278 145 848

www.drivecrete.co.nz

landscaping

Landscape

Construction and

Garden Maintenance

You can have your gardens, trees,

shrubs, plants and lawns maintained to look their best

all year round, for a great price.

Residential & Commercial Landscaping

• Maintenance • Pruning • Reconstruction & Rejuvenation

• Rental Property and Commercial Maintenance

• Pre-Sale Tidy-Ups

New Home Landscaping

Lawns • Gardens • Decks • Paving • Water Features

• Quality • Value for money • Experienced • Punctual

• Professional • Flexible • Knowledgeable • Reliable

Call Ross Legg - 027 222 0388

Email ross@revivelandscaping.co.nz

www.revivelandscaping.co.nz

SCRAP METAL

Dominion Trading Co Ltd

• Scrap metal buyers

• Canterbury owned & operated

• Top prices paid $$$

• Open Saturday morning

Open Mon-Fri 8am – 4.30pm Sat. 8.30am-12.30pm

www.happyscrappy.co.nz

03 343 9993 333 Blenheim Rd

TRADES

TREE SERVICES

WINDOW TINTING

Kaikoura Day Trip

Wednesday 21st Sept

$25pp return

Tours

10 Day Napier Coromandel East Coast

Coach Tour 2023: Departs 17th May

Taupo Wellington Wairarapa Napier 9 Days

Departs 22nd September $2,545pp twin share

Xmas Tour 6 Days Oamaru Mt Cook

Departs 24th December

Chatham Islands April 2023

Day trips

Longbeach 3 garden Tour

Sunday 30th October

$65pp

We can provide shuttle and coach hire

Call Reid Tours 0800 446 886

Email: reidtours@xtra.co.nz www.reidtours.com

Email to join our mailing list

Advertise your

business & services

in Christchurch's

best read &

largest circulation

newspaper

Delivered into over 93,000

Christchurch homes every week.

Ask us about our fantastic

cost affordable packages.

Phone: 03 379 1100 | www.star.kiwi

CRAIGS

TREES

Our services include:

Tree felling

Branch chipping

Trimming and pruning

Crown reduction

Stump grinding

P: 027 2299 454

E: craigstrees@xtra.co.nz

www.craigstrees.co.nz

Fully insured

tintawindow

advanced film solutions

99% uv block

fade protection

heat control

reduce glare

25 Years Experience

privacy films

frosting designs

non-darkening films

Workmanship Guaranteed

Lifetime Warranties on Most Films

UV

block

Free Quotes Canterbury and Districts

03 365 3653 0800 368 468
---
36 The Star Thursday August 18 2022

The Star Classifieds

Trades & Services

DIRTY TILES

& GROUT?

Our unique restoration

processes will make your

tiled areas look NEW again!

We specialise in professional

cost effective solutions for

all your tile & grout issues.

• Tiled shower makeovers

• Re-colouring old grout

• Mouldy silicone replacement

• Professional tile/grout

cleaning, sealing & repairs

Call today for a FREE quote on 0800 882 772

www.theprogroup.co.nz/dpc9385

Trades & Services

Contact Kerrie Ling:

027 683 0033

iss.clean@xtra.co.nz

Trades & Services

Trades & Services

CARPENTER/

BUILDER

Licensed Building

Practitioner no. 100981.

All carpentry & building

repairs & maintenance.

Alterations & property

upgrades.Laundries /

bathroom / kitchens

replaced. Specialising in

replacement of all rotten

timber, fascia boards,

window, windowsills etc.

John Sandford, ph 329

4616, mob 027 5189 598

johnsandford2@gmail.

com

ELECTRICIAN

All types of domestic

& commercial work

undertaken, new housing,

alterations, extensions,

ranges, security lights,

quick response, efficient

service, free quotes,

city -wide. No call out

fee. M/S, 8-5. Call Pat

Barrett 03 359 2087/ 027

7331384.

ELECTRICIAN

A Prompt & reliable

AAA HANDYMAN

licensed carpenter

Water LBP, all property and

building maintenance,

Blasting

repairs, bathroom/shower

installations, with free registered electrician

quotes 03 387 0770 or 027 with 24 years experience

245 5226 ciey@xtra.co.nz for all residential and

BRICK & BLOCK commercial work, new

LAYING

housing and switch board

Industrial all restoration work replacements. Phone Chris

and new work plus 027 516 0669

Commercial foundations, ph 342 9340

ELECTRICIAN

or 021 853 033

Domestic

Available, repairs and

BUILDER QUALIfIED

small jobs. Phone Brian

50 yrs exp. Bathrooms, 027 433 9548

Kitchens, Renovations, ELECTRICIAN (CERT)

Repairs & Extensions

Prompt, quality. Call Jack

Free quotes. Discount for

027 206 0080

pensioners. Ph Mike 03

ENGINEERING

980 9771 or 027 2266 930

rooF

General engineering.

BUILDER

Maintenance engineering.

New builds, alterations,

Breakdowns 24/7.

decks, fencing. 30 yrs in

Machining, welding /

the trade has given me

fabrication. Thread repair,

ability to build to a high

painting

jobs big or small. Pick up/

standard. Free quotes. Ph

by Certified Tradesman

delivery availabe for large/

Brent 027 241 7471

heavy jobs. 027 2399 489

BUILDER

Book now

fENCING

Exp in all aspects of

All types of fencing . Free

and receive building works, new

quotes. Ph Jim 022 137

builds, home renovations

20% discount.

1920

& extensions, property

GARDENING

repairs. Free quote. Ph

Rope and harness

Stuart 0274 661058

Lawns, weeding, pruning,

a speciality.

garden clean ups. Call Phil

CARPET LAYING

021 661 246 for your free

No scaffolding

Exp. Repairs, uplifting,

quote

relaying, restretching.

required.

Phone John on 0800

GLAZIER

003181, 027 240 7416

Glass repairs - pet doors

30 years

jflattery@xtra.co.nz

- conservatory roofs. Exp

experience. CARPET LAYING Tradesman. Call Bill on

Exp. Repairs, uplifting,

022 413 3504 or 981-1903

Free quotes,

relaying, restretching. HANDYMAN

call Craig Phone John on 0800 For gardening, mowing

021 060 2392 003181, 027 240 7416 lawns, fence repairs and

jflattery@xtra.co.nz just about anything else

phone Len 0274 335 956

Trades & Services

LANDSCAPING

Paving, Lawns, Irrigation,

Decking, Fencing.

Kanga & small digger

services. Check out Squire

Landscaping on facebook.

FREE QUOTES. Ph

Arthur 347-8796, 027

220-7014 Edwin 027 220-

7154

BT LANDSCAPING

"I WILL TURN UP

WHEN I SAY I WILL"

Need a certified and reliable plumber for filtration

systems or hot water cylinder replacement?

Bathroom upgrades or refurbishments?

FREE CALL

TEXT

EMAIL

0508 H2O BOY

426 269

027 245 5100

NICK@NICKJONESPLUMBING.CO.NZ

General landscaping

services Free quotes. Ph

Ben 027 350 1963

PAINTING

Indoor / Outdoor, over 30

yrs exp, same day quotes,

ph Steve 021 255 7968

PAINTING

PLASTERING

Free quotes. Int/ext &

roof painting Family run

business, work guaranteed.

Pensioner discounts. Ph

Kerin or Paul 022 191

7877 or 379-1281. Website

www.swedekiwipainting.

co.nz

• Phone our local team 03 379 1100 • Email star.class@starmedia.kiwi

Trades & Services

Re Roofing

Roof Repairs

Spouting

Approved Age Concern provider

Over 30 years experience

Licensed Building Practitioner

N A BARRELL

ROOFING LTD

Ph: 0275 389 415

Email: nabroofing@xtra.co.nz

Trades & Services

PAINTER,QUALIfIED

local professional, Int /

Ext,roofs,wallpaper, call

or text Corban 027 846

5035

PAINTING

Int, Ext, Roofs and

Fencing . Phone John 027

224 2831

PAINTER QUALIfIED

Int/ Ext. Quotes ph 021

197 5597

PLASTERING

Gary 4 Fixing, stopping,

solid plastering, brick

repairs & painting. 021

529 022 / 342 8950

PLASTERER

Phone Finn for all your

interior plastering needs.

No job too small -

renovations, alterations,

holes & cracks. Free

quotes. I'll beat any quote

by 10% .25 yrs exp. Canty

born. Ph 022 087 4351

PLASTERING

30 yrs exp. Small patches

to renovations. Small

painting jobs considered.

Ph Tim 022 538 0959

PLUMBER

Do you need a reliable

plumber? Quality and

timely services. No job

too big or small. Phone

V Plumbing Ltd. 022 351

4125

PLUMBER.

Highly experienced

Plumber.Exceptional

service.Ready to help with

all your plumbing needs.

Call today! MJ Plumbing

Ltd 021 109 2397

PREPARED TO

LOSE...

all your computer stuff?

Get an effective backup

from us. Computer Help

ChCh 0800 349 669

Trades & Services

REMOVALS

Small furniture removals,

have own van, can fit

various types of whiteware

appliances, some furn,

bedding, boxes etc, honest

& reliable, any area

considered, also rubbish

removals, scrap & old

cars in going order &

motorbikes. ph Chch 022

434 6047 or 027 380 4934

ROOfING

All Roof repairs, Roof

painting, moss treatments,

Gutter cleaning 10 + yrs

exp, free quotes 24 / 7, Ph

027 516 6609

RUBBISH REMOVAL

Van, Trailer Rubbish

Removal. Ph Gary 342-

8950, 021 529 022

SPOUTING CLEANING

SPECIALIST

Entire spouting system

cleared. Single or 2 storey.

Jo 021 164 0365

SPOUTING CLEANING

Spouting Unblocked,

Cleaned Out and Flushed

Out, Call Trevor 332 8949

or 021 043 2034

SPOUTING

Select Spouting

The PVC specialist.

Repairs & replacement. Ph

022 197 2351

STUMP GRINDING

Best price guarantee

Tony 0275 588 895

STUMP GRINDING

Best price guarantee Tony

0275 588 895

TREE SERVICES

Free quotes 20+ yrs exp.

Tree, hedge or shrub

- reduction, shaped or

removed. Ph/text Paul

The Branch Manager

0274314720

PLUMBING DRAINAGE GAs FITTING

EXCAVATION BLOCKED DRAINs

Have you had your drains

checked post earthquake?

Free CCTV Drain

Camera Inspection.

Call now for a FREE quote!

Call: 022 375 8506

Email: morgan@mtpd.co.nz

Website: www.mtpd.co.nz

Trades & Services

TREE SERVICES.

Specialist tree pruning &

shaping, hedges & tidyups.Book

now for winter

pruning Eg Roses & fruit

trees. Ph Hugh The Little

Green Groomer 021 275

5445

TREE SERVICES

Hedges, shrubs, tree

trimming & rubbish

removal. Phone for free

quotes 022 540 4900

Tuition

COMPUTER LESSONS

avail for computer, IPad,

or Mobile. Please contact

Jobee 027 290 9246 www.

computertutor.nz

Wanted To Rent

Looking for 1 or 2 bdrm

flat. 40 yr old lady, very

tidy. Last tenancy was for

10 yrs. Phone Dianne 027

828 5405

Public Notices

STAMP AND

POSTCARD FAIR

The Philatelic Centre

67 Mandeville Street,

Riccarton

Saturday 20th August

9am-12pm

Sellers tables available

Phone 027 6354 957

Everyone welcome to

"Advancing on Two Feet"

A Retreat by JOY COWLEY

on Saturday 3 September 2022

9.30am to 4.30pm

@ The McFaddens Centre,

64 McFaddens Rd, Christchurch

(Entry & parking on Redwood Place)

$55 incl. yummy food

Phone Helen 021 133 5132,

Catholic Women's Movement

Public Notices

Public Notices

Resource Management Act 1991

Christchurch District Plan

Proposed Private Plan Change 11 –

Enable residential development at

254 Fitzgerald Ave, part of

256 Fitzgerald Ave, and 5 Harvey Tce

Private Plan Change 11

This Private Plan Change seeks to enable residential development on

privately owned sites located on the outer edge of the Specific Purpose

(Ōtākaro Avon River Corridor) Zone, at 254 Fitzgerald Ave, part of 256

Fitzgerald Ave, and 5 Harvey Tce. The scope of the plan change is:

• To add 5 Harvey Tce to a list of private properties in Appendix 13.14.6.2

that can continue to be used for pre-earthquake activities according to

the Residential Medium Density Zone rules; and

• To include 254 and a small part of 256 Fitzgerald Ave in the Edge

Housing Area overlay to allow redevelopment according to the

Residential Suburban Density Transition Zone rules; and

• To add a new Edge Housing Area for 254 and part 256 Fitzgerald Ave to

Appendix 13.14.6.1 Ōtākaro Avon River Corridor Development Plan; and

• To restrict vehicle access to the sites to Harvey Tce only, and make any

other consequential amendments.

More information

You can view the proposed Plan Change and other associated information

on the Council website at https://www.ccc.govt.nz/plan-change-11 , in

hard copy at the Civic Offices on Hereford Street or at any of the Council's

service centres and libraries during normal opening hours.

Submissions

Anyone can make a submission on this Plan Change either in writing or

electronically. Online submissions can be made at

https://ccc.govt.nz/the-council/haveyoursay/show/540 or you can

download a form, or collect a hard copy form from Civic Offices, Hereford

Street or from Council service centres and libraries. For details of your

nearest Service centre or library please visit ccc.govt.nz/contact-us or

phone 03 941 8999.

Submissions must be received before 5pm on

Wednesday, 14 September 2022.

Process for public participation

Once all submissions have been received, they will be made publicly

available. Further submissions will then be invited, allowing certain

persons and organisations to support or oppose any of the initial

submissions.

A hearing will then be held to consider all submissions, and a decision will

be made following this hearing. Anyone who has made a submission has

the right to appeal the decision to the Environment Court.

This Plan Change will have no legal effect until the Council gives

public notice of its decision on the plan change and matters raised in

submissions (under Section 9 and Clause 10(5) of the First Schedule of the

Resource Management Act).

If you'd like more information, please contact the City Planning Team at

941-8999 and ask to speak to Anita Hansbury, Policy Planner, about

Private Plan Change 11 or email us at PlanChange@ccc.govt.nz.

Mark Stevenson

Manager Planning

Infrastructure, Planning and Regulatory Services

Public Notices

STAMP AND

POSTCARD FAIR

The Philatelic Centre

67 Mandeville Street,

Riccarton

Saturday 20th August

9am-12pm

Sellers tables available

Phone 027 6354 957
---
The Star Classifieds

Public Notices

CHRISTCHURCH CITY COUNCIL

SEPTEMBER 2022 MEETINGS

The next meetings of the Christchurch City Council, Committees,

Subcommittees, Council Hearings Panels, and Community Boards will be held

as below: Where stated, the Civic Offices are located at 53 Hereford Street.

COUNCIL

Date Time Venue

8 9.30am Council Chamber, Level 2, Civic Offices

15

29

COMMITTEES

Date Time Committee and Venue

1 10am Audit and Risk Management Committee, Civic Offices

23 2pm

1 2.30pm Chief Executive Performance and Employment

Committee, Civic Offices

5 12.30am Canterbury Waste Joint Committee, Civic Offices

9 9am Greater Christchurch Partnership, Civic Offices

9 9.30am Multicultural Committee, Civic Offices

12 4pm Selwyn-Waihora Zone Committee, Te Waihora Lounge,

Tai Tapu Community Centre

20 4pm Banks Peninsula Water Management Zone Committee

Meeting, Little River Library & Service Centre, SH75,

Little River

SUBCOMMITTEES

Date Time Committee and Venue

19 3pm Insurance Subcommittee, Civic Offices

19 11am Road Closure Subcommittee, Committee Room 1,

Civic Offices

COMMUNITY BOARDS

Date Time Board

2 9am Papanui-Innes Community Board, Board Room,

Papanui Service Centre, Cnr Langdons Road and

Restell Street, Papanui

6 5pm Halswell-Hornby-Riccarton Community Board,

20 Horoeka Room, Rārākau: Riccarton Centre,

199 Clarence Street, Riccarton

12 10am Banks Peninsula Community Board,

Akaroa Service Centre, 78 Rue Lavaud, Akaroa

12 4.30pm Coastal-Burwood Community Board, Board Room,

Cnr Beresford and Union Streets, New Brighton

12 4.30pm Fendalton-Waimairi-Harewood Community Board,

Board Room, Fendalton Service Centre, Cnr Jeffreys and

Clyde Roads, Fendalton

14 8am Spreydon-Cashmere Community Board, Board Room,

Beckenham Service Centre, 66 Colombo Street,

Beckenham

14 4.30pm Linwood-Central-Heathcote Community Board,

Linwood Board Room, 180 Smith Street, Woolston

HEARINGS PANEL

Date Time Committee and Venue

1 9am RMA Hearing, Committee Room 2, Civic Offices

COMMUNITY BOARD COMMITTEES

Date Time Committee and Venue

1 9am Stanley Park Reserve Management Committee,

Akaroa Yacht Club, Akaroa

17 1pm Pigeon Bay Reserve Management Committee Pigeon

Bay Hall, Wharf Road, Pigeon Bay

19 5.30pm Duvauchelle Reserves Management Committee,

Duvauchelle Community Centre, 6039 Christchurch

Akaroa Road, Duvauchelle

Copies of the agendas will be available online and to the public at the

meetings. Members of the public are welcome to attend any of these

meetings.

To make a deputation or presentation to a Council, Committee or

Community Board meeting ring the call centre on 03 941 8999 or email

info@ccc.govt.nz.

Information about Alcohol Licensing can be found online at ccc.

govt.nz/alcohol

Megan Pearce

Manager Hearings and Council Support

Thursday August 18 2022 The Star 37

• Phone our local team 03 379 1100 • Email star.class@starmedia.kiwi

SCHOOLS. SPORTS CLUBS OR CULTURAL EVENTS

OUTSTANDING

Fundraising opportunity

The Star has a fantastic opportunity that is an ideal way

to fundraise while at the same time helps to profile and

promote your team and their goals and ambitions.

Call now to find out more about how you can fundraise

those hard to get dollars, while at the same time

promoting some of the great positive work being done

in the community. It also offers exceptional value for

your supporters and sponsors.

Contact:

Mike Fulham

379 7100

mike@starmedia.kiwi

Wanted To Buy

STEVE PURCELL

ANTIQUES

BUYING

NOW

Gold jewellery,

watches, coins,

medals, scrap

gold, sterling

silver, pewter,

original paintings,

modern art.

351 9139

stevepurcellantiques.com

Public Notices

Wanted To Buy

AAA Buying goods

quality furniture, beds,

stoves, washing machines,

fridge freezers. Same

day service. Selwyn

Dealers. Phone 980

5812 or 027 313 8156

A+ ALL whiteware

wanted. Same day

service, cash paid for

freezes, fridges, washing

machines, ovens. Also

buying furniture & h/

hold effects.Anything

considered. Ph Dave 960-

8440, 027 66 22 116

Wanted To Buy

A1 Albums, old photo's,

postcards, coins, gold,

bank notes, badges,

medals, jewellery,

watches, china, crystal,

books, furs, vintage

clothing, paintings,

furniture, estates &

downsizing. Etcetera

Antiques, 194 Edgeware

Rd 385 5117

ACADEMY ANTIQUES

Buying estates, antiques,

old china, crystal, art,

Royal Doulton , Royal

Albert etc. Best prices, free

appraisal. Call Rob 349-

4229 academyantiques.

co.nz

Vehicles Wanted

Situations Vacant

Handyperson Required

Linwood Area | 4 hours per week

Lawnmowing, hedge trimming etc

Everything supplied

Phone: 0274 351 863

CLASS 5 DRIVER

WANTED

Required for part-time position

driving a bulk truck & trailer.

Could possibly suit a semi

retired person.

For further information

Phone Malcolm on 027 4356 253

Malcolm Love Transport Ltd

Casual On Call

Educator

Ferrymead Education is looking

for a casual staff member to join

our team, delivering our education

programmes to visiting schools.

We are looking for someone with

experience working with children.

Hours would be between

9.30am-2.00pm.

Please send your CV

to Cindy Hey at

education@ferrymead.org.nz

by Thursday 1st September.

Wanted To Buy

MILITARIA Any

country, firearms,

uniforms, badges, medals,

memoribilia, WW2 or

earlier ph 338-9931

TOOLS, Garden garage,

saw benches, Lathes. Cash

buyer Phone 355-2045

Vintage push bike wanted.

I'm looking for an old

chopper or dragster bike.,

had one when I was a

kid. Want to put it on the

mancave wall. can be

in any condition ph/txt

021861732

ADD SOME

COLOUR

TO YOUR ADVERT!

CAR REMOVALS

$$CASH PAID$$

CARS, VANS, UTES & 4X4 WANTED

NZ OWNED AND OPERATED FOR 24 YEARS

We use world class vehicle depollution systems

0800 77 80 80

www.pickapart.co.nz

So

GOOD!

Still

FREE

It's

FANTASTIC!

Thanks to the

support of our

advertisers

PH 379 7100

www.star.kiwi
---
38 The Star Thursday August 18 2022

CLUB OPEN DAILY

FROM 8AM

MAIN RECEPTION

OPEN 9AM-8PM DAILY

To add a listing, contact

Jo Fuller 03 379 7100 or

027 458 8590

jo.fuller@starmedia.kiwi

www.star.kiwi/whatson

Live Music

SATURDAY 7PM

SWEETAZZ

SUNDAY 3PM

ROBBIE

DREW

WINTER

Bingo

10AM EVERY TUESDAY

(Until 30th August)

RESILIENT: Marty and Naomi Fuller

with their hospitality awards of

excellence.

Heart of Country

SUN. 28th AUG

Senior Gold Card *Discounts

*Excludes Friday to Sunday Dinner

9AM - 4PM 7 DAYS

Enjoy a Pre-Show

Carvery IN CHALMERS

THE

SAT. 3rd SEPT

SAT. 1st OCT

$30pp from 4.30pm

MADSEN PROMOTIONS PRESENTS

Tributes to

BEATLES & ELVIS

SAT. 3rd SEPT

TICKETS $25. DOORS OPEN AT 7PM. SHOW STARTS AT 7.30PM

Come on down!

17 CARMEN RD. PH. 03 349 9026

WWW.HORNBYWMC.CO.NZ

Bookings Essential

PH 386 0088

@GardenRestaurantBuffet

ORANGE = WE ARE OPEN FOR BUSINESS.

$16

PH 385 8880

THE GARDEN HOTEL COMPLEX, 110 MARSHLAND RD

www.gardenhotel.co.nz

LUNCH Specials

TUES: NIBBLES (8) & CHIPS

WED: ROAST MEAL

THURS: FISH & CHIPS

FRI: FISH & CHIPS

SAT: NIBBLES (8) & CHIPS

SUN: ROAST MEAL

LUNCH SPECIAL

@GBCCHCH
---
Thursday August 18 2022 The Star 39

christchurch

GIG GUIDE

Thursday 18 to Wednesday 24 August 2022

12 BAR, 342 St Asaph St: Thursday

7.30pm - The Fox & Raccoon. Friday 7.30pm

- The Convincers & Lowdown, tickets at

undertheradar.co.nz. Saturday 8pm -

Winterfest MMXXII feat. Men An Tol;

Jormungandor; Abyss Crawler Altar of Achlys;

Bloody Hell; Abhor, tickets at

cosmicticketing.co.nz. Wednesday 7.30pm -

Sentimental Shade, free.

A ROLLING STONE, 579 Colombo St:

Thursday 7pm - Irish round-table songs from

Chulainn's Dogs feat Adam McGrath and

friends, free. Friday 6pm - Smoking hot blues

& New Orleans with Boogie House feat Steve

Driver, Harry Harrison, Justine Snelgrove,

Allan Cattermole, & Rob Carpenter, free; 9pm

- All kinds of everything from funky 8-piece,

3Kg, free. Saturday 1.30pm - Burnside High

School Music Performance Showcase, all

welcome, free; 8pm - Stonking fem-fronted

rock originals & covers from Moonflower, and

The Deadlights, free. Sunday 1pm - Open Mic

Sundays hosted by Myllo and Hannah-Grace,

instruments provided incl drums, guitar,

piano, all welcome, free; 8pm - Revolucion

Latin Dance Nights with DJ Zee, all welcome,

free. Monday 7pm - Believe It or Not Quiz,

free.

BOO'S, 98 Victoria St: Thursday 8pm -

Wonderland Duo. Friday 8pm - Amber Carly

Williams; 10.30pm - Mac & TJ. Saturday 8pm

- Lauren Marsh; 10.30pm - Mr Speaker Duo.

BRIDIE'S BAR, 401 Worcester St:

Thursday 7pm - Believe It or Not Quiz.

Saturday 3pm - The Meaniez. Sunday 3pm -

Housie-Bingo.

CARLTON, 1 Papanui Rd: Friday 8pm -

Flat City Brotherhood.

CHRISTCHURCH CASINO, 30 Victoria

St: Thursday 7pm - Sirenz. Friday 7pm -

FHMS; 10.15pm - Rockabella. Saturday 7pm -

The Porter Duo; 10.15pm - Acoustic Solution.

CHRISTCHURCH FOLK MUSIC CLUB,

Irish Society Hall, 29 Domain Tce:

Sunday 7.30pm - Two's Company.

FAT EDDIES, 76 Hereford St: Thursday

6pm - Ed's Jazz Club presents Ambush Brass;

10pm - House of Groove. Friday 5pm - The

Chemist & the Queen; 8pm - Mirrors;

11.30pm - Mr Speaker. Saturday 5pm - Nick &

Dan; 8pm - Sound Sensation; 11.30pm - Black

& Gold.

HORNBY CLUB, 17 Carmen Rd: Saturday

7pm - SweetAzz. Sunday 3pm - Robbie Drew.

INTO SPRING FAMILY VARIETY

CONCERT, Isaac Theatre Royal,

Gloucester St: Sunday 2pm - Featuring

Yulia - NZs own Edith Piaf, Fiona

Pears and her Gypsy violin and the magical

Southern Cross Irish Dance troupe. There will

be some surprises! The show is being

moulded together by radio personality James

Daniels. 50s Up Brass are 35 mostly retired

musicians, some originally from the NZ

army Band and the NZ National Band.. Get

your tickets from the Theatre or from

Ticketek. Children $15, Seniors $25, Adults

$30 plus a small booking fee.

KAIAPOI CLUB, 113 Raven's Quay:

Sunday 4th Sept, 3pm - SweetAzz. Friday 9th

Sept, 7pm - Retro Party with DnD Trio. Friday

16th Sept 7.30pm - Beatles/ELVIS Tribute.

LITTLE BROWN JUG, 290 Wairakei Rd:

Saturday 7pm - Sign of the Firebird.

MICKY FINN'S, 85a Hereford St: Friday

10.30pm - Keenan's Revenge. Saturday

10.30pm - Shadow Puppet.

NEW BRIGHTON CLUB, 202 Marine

Pde: Saturday 7pm - Speedboat.

RICHMOND CLUB, 'The Borough', 75

London St: Friday 6pm - DangerBaby.

Saturday 7pm - MockingBird. Sunday 3pm -

Marcel.

SHARKEY'S BAR, 96 Hoon Hay Rd:

Saturday 6pm - Karaoke. Sunday 4pm - Open

Mic. Tuesday 7pm - Karaoke.

SULLIVANS IRISH PUB, 291 Lincoln Rd:

Friday 7.30pm - Live music. Saturday - Live

music. Wednesday 7pm - Willie's Open Mic.

TEMPS BAR, 21 Goulding Ave: Saturday

8.30pm - Titanic.

THE BOG, 50 Victoria St: Thursday 7pm -

Quiz. Friday 6pm - Elly Rydge; 10pm -

Diamond Blue. Saturday 7pm - Stephen

McDaid; 11pm - HeadRush. Sunday 4pm -

Elly & Friends.

THE EMBANKMENT, 181 Ferry Rd: Friday

7.30pm - Open Mic. Saturday 7.30pm - R&H

Entertainment presents your fix of metal feat.

Scizerac; Swarf; Locked In Stasis; Bandemic.

Doors open at 7:30pm. $10 Entry Fee.

THE MILLER BAR, 308 Lincoln Rd:

Friday 9.30pm - Bite the Bullet. Saturday

9.30pm - Reckless. Sunday 6pm - Lance Kiwi

Karaoke. Tuesday 7pm - Quiz. Wednesday

7.30pm - Lance Kiwi Karaoke.

b runc

h

all

$20

Default.rdp

BRIDIE'S BAR & BISTRO

Monday

2 Pizzas for $20

eggs florentine

Two poached Eggs on

Smoked Salmon &

Baby Spinach with

toasted muffin & lemon

pancakes

with Berry Coulis & Cream

french toast

with Banana, Bacon &

Maple Syrup

b.l.t. on focaccia

with Hash Browns

SATURDAY & SUNDAY

10am - 2pm

This week's

specials &

events

Tuesday

Parmy Mania

any Parmy for $18

Wednesday

Steak Night

all steaks 25% off

401 Worcester St, Linwood. Phone 03 260 0325

THE ENTERTAINMENT HUB OF THE NORTH!

RESTAURANT & CAFÉ

all day

english breakfast

Hash Browns, Sausages,

Bacon, Eggs, Grilled Tomato,

toast & spreads

mince on toast

Savoury mince served on

toast topped with

Poached Eggs.

bacon &

mushroom

served on garlic toasted roll

with salad or coleslaw & fries

Kid's brunch menu also available

The

RACECOURSE HOTEL

& Motorlodge

118 Racecourse Rd, Sockburn

Ph 03 342 7150

www.racecoursehotel.co.nz

Thursday

Burgers for $15

Quiz 7pm

Friday

Blue Cod Fish &

Chips for $20

Saturday

Live music 3pm

THE MEANIEZ

Sunday

Sunday Roast $15

& Kids meals $5

Housie-Bingo 3pm

OPEN

FROM

11AM

LIVE MUSIC

SATURDAY 7PM

SPEEDBOAT

playing

SHUTTLE OPERATING

BISTRO IS OPEN TUES TO SAT

12pm-2pm and from 5pm

& SUNDAY with limited menu

Members, guests & affiliates welcome

202 Marine Parade Ph 03 388 9416 www.newbrightonclub.co.nz

POOL TABLES OPEN

HOUSIE

12.30PM THURSDAY

FRI 9 SEP 7PM

FRI 16 SEP 7.30PM

Tickets $30

OPEN

WED, THUR, SUN

12pm-2pm &

4.30pm-7.30pm

FRI & SAT

12pm-2pm &

4pm-8pm

CLOSED

Monday & Tuesday

NEXT QUIZ

7PM THURSDAY

11th August

BISTRO

113 RAVEN QUAY | P 03 327 7884 | WWW.KAIAPOICLUB.CO.NZ

WHAT'S ON AT THE RICHMOND CLUB

FRIDAY 7PM

SATURDAY 7PM

SUNDAY 3PM

75 London St, Richmond

Christchurch 8013

P: 03 389 5778

DANGERBABY

MOCKINGBIRD

MARCEL

theborough.nz

richmondclub.nz
---
40 The Star Thursday August 18 2022

STYLE & QUALITY

FOR LESS

48 MONTHS

REBEL SPORT

*48 months interest free is available on in-store Long Term Finance (LTF) Q Card and Q Mastercard purchases $999 and over until 05/09/2022. Exclusions applies, see offer for details. Lending

criteria, $50 annual Account Fee, fees, Ts&Cs apply. $55 Establishment Fee applies to your first Long Term Finance (LTF) transaction, $35 Advance Fee applies to subsequent LTF transactions. At

end of interest free period, Q Mastercard Expired Promotional Rate or Q Card Standard Interest Rate of 27.99% p.a. applies. Standard Interest Rate applies to Standard Purchases after 3 months

interest free period ends (Q Mastercard 26.69% and Q Card 27.99% p.a.). Rates and fees subject to change. Columbus Financial Services Limited and Consumer Finance Limited reserve the

right to amend, suspend or terminate the offer and these Ts&Cs at any time without notice. Mastercard and the circles design are registered trademarks of Mastercard International Incorporated.

Manatee Corner

Recliner Suite

$

2199

QUALITY

FURNITURE

Affordable

PRICE TAG

FROM

$

599

Iris Sofa

Available in

3 Seater $1059

2 Seater $889

1 Seater $599

Green

Blue

Grey

Bari

Chair

Elm

Chair

Liva Barstool

Cove Barstool

Lennox

Dining Table

$

479

$

179

$

149

$

179 $

189

$

159

Lennox Dining Chair

Riviera Mattress

FROM

$

519

5 Year Warranty

Single $519

King Single $559

Double $649

Queen $719

King $769

California King $929

CHAIRS BEDS

SOFAS TABLES

RECLINERS

BAR STOOLS

CUSHIONS THROWS

FLOOR RUGS

AFFORDABLEFURNITURE.NZ

Astra

Collection

1 Draw Bedside $199

4 Drawer Dresser with Mirror $599

4 Drawer Lowboy $479

6 Draw Tallboy $699

King single Headboard $269

Queen Headboard $319

Available in Black, White and Medium Oak

FREE

CARPARKING

SOUTH CITY

BATH ST

WE ARE

HERE

255 MOORHOUSE AVE

REBEL SPORT

COLOMBO ST

WWW.AFFORDABLEFURNITURE.NZ

MON-FRI 9:30AM – 5:00PM

SAT-SUN 10AM – 5:00PM

0800 268 264