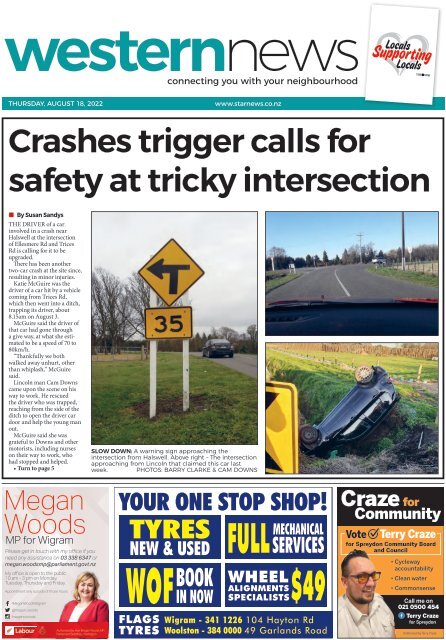 Western News: August 18, 2022
You also want an ePaper? Increase the reach of your titles
YUMPU automatically turns print PDFs into web optimized ePapers that Google loves.
connecting you with your neighbourhood

Locals

Supporting

Locals

THURSDAY, AUGUST 18, 2022

www.starnews.co.nz

Crashes trigger calls for

safety at tricky intersection

• By Susan Sandys

THE DRIVER of a car

involved in a crash near

Halswell at the intersection

of Ellesmere Rd and Trices

Rd is calling for it to be

upgraded.

There has been another

two-car crash at the site since,

resulting in minor injuries.

Katie McGuire was the

driver of a car hit by a vehicle

coming from Trices Rd,

which then went into a ditch,

trapping its driver, about

8.15am on August 3.

McGuire said the driver of

that car had gone through

a give way, at what she estimated

to be a speed of 70 to

80km/h.

"Thankfully we both

walked away unhurt, other

than whiplash," McGuire

said.

Lincoln man Cam Downs

came upon the scene on his

way to work. He rescued

the driver who was trapped,

reaching from the side of the

ditch to open the driver car

door and help the young man

out.

McGuire said she was

grateful to Downs and other

motorists, including nurses

on their way to work, who

had stopped and helped.

• Turn to page 5

SLOW DOWN: A warning sign approaching the

intersection from Halswell. Above right – The intersection

approaching from Lincoln that claimed this car last

week. PHOTOS: BARRY CLARKE & CAM DOWNS

Megan

Woods

MP for Wigram

Please get in touch with my office if you

need any assistance on 03 338 6347 or

megan.woodsmp@parliament.govt.nz

My office is open to the public

10 am - 3 pm on Monday,

Tuesday, Thursday and Friday.

Appointment only outside of those hours.

/MeganWoodsWigram

@megan_woods

/megancwoods

Authorised by Hon Megan Woods MP,

Parliament Buildings, Wellington

YOUR ONE STOP SHOP!

TYRES

NEW & USEd

WoF

FLAGS

TYRES

bOOk

IN NOW

FULL MECHANICAL

SERVICES

WHEEL

ALIGNMENTS

SPECIALISTS$49

Wigram - 341 1226 104 Hayton Rd

Woolston - 384 0000 49 Garlands Road

Craze for

Community

Vote Terry Craze

for Spreydon Community Board

and Council

• Cycleway

accountability

• Clean water

• Commonsense

Call me on

021 0500 454

Terry Craze

for Spreydon

Authorised by Terry Craze
---
WaRmER KiWi HomES

PRogRammE

*Eligibility criteri a ply

2

DELIVERERS WANTED!

Are you honest, reliable and over

the age of 11? Why not earn money

and get fit doing it. Get in touch

with your interest today:

deliveries@alliedpress.co.nz

029 983 2293

Your local community newspaper connects

neighbours in the following suburbs

Templeton • Islington • Hei Hei • Broomfield

Halswell • Oaklands • Westlake • Hornby • Ilam

Wigram • Sockburn • Church Corner • Avonhead

Hyde Park • Russley • Riccarton Park • Riccarton

28,400 readers every week.

ADVERTISING

Alana Powell

Ph: 027 535 6583

alana.powell@starmedia.kiwi

GENERAL INQUIRIES Ph 379 7100

CLASSIFIED ADVERTISING Ph 379 1100

www.starmedia.kiwi

Nielsen Media NRS

what's on

this week

Coffee and Games

Every Thursday, 12.30-2.30pm

Halswell Community Hub, 381 Halswell

Rd

Go along for a friendlycoffee and

chat and a game of your choice. There

will be Rummikub, Scrabble, cards,

and more. All welcome.Free, no

bookings required.

JP Clinic at Hornby

Every Thursday, 9.30am-12.30pm

Hornby Library

A Justice of the Peace is on site to

take oaths, declarations, affidavits and

affirmations; to witness signatures

on documents and to certify document

copies. The JP can also witness

citizenship applications, sponsorship

applications and rates rebate applications.

There is no charge for this

service. JP sessions are held in the

community centre next to the library.

Vaccine pass required.

Knit 'n' Yarn

Thursday, 10.30am-1.45pm

Upper Riccarton Library

Go along and enjoy a chat with others

as you knit. For anyone who loves

to knit or wants to learn. Free, no

bookings required.

English Conversation Club

Thursday, 11am-noon

Upper Riccarton Library

The Conversation Club is a relaxed

drop-in group where anyone is welcome

to come and practice conversations

in English. This is not a class,

but an opportunity to talk with others

in English and meet new people.

Great for ESOL learners. Formerly

known as the Culture Exchange.

Beats Lab

Friday, 3-4.30pm

Te Hāpua: Halswell Centre

Drop in and have a go with the music

gear or work on your own project.

Have a go at finger drumming or performing

your tracks on the SP-404,

and flip some samples on Logic Pro

X or Koala Sampler. Try scratching

with the vinyl turntable and scratch

records or DJ controller, have a bash

on the electronic and hip-hop music

gear, or jam on the more traditional

digital piano or electronic drum kit.

Beginner friendly. Free, drop-in. Most

gear is suitable for ages 12+, some

activities can be provided for those

that are younger on request.

Wā Kōrero-Storytimes

Monday, 10-10.30am

Upper Riccarton Library

Meet others in the community

Thursday August 18 2022

Coffee Morning,

every Tuesday,

10am-noon. Halswell

Community Hub,

381 Halswell Rd. All

welcome. Great way to

meet people and have

a chat over a coffee

and home baking.

when you and your preschooler go

along for a fun variety of stories,

songs and rhymes which foster

children's literacy. All whānau and

caregivers welcome. Guardians and

children 12 and over will need to

wear a face mask.

Afterschool Activity Zone

Tuesday, 3.30-4.30pm

Te Hāpua: Halswell Centre

Every Tuesday afternoon during

term time there will be a new activity

for everyone to enjoy. If you like

to use your imagination and create

fun and interesting projects, then go

along to the activity zone. Suitable for

ages five and over. Free,no bookings

required. Under 12-year-olds must be

accompanied by an adult. Guardians

and children over 12 will need to

wear a face mask.

Not-for-profit organisations can

send their What's On listings to

western@starmedia.kiwi

Local Body

Elections 2022

PARKER

AUTOMOTIVE

NUMBER ONE SUPPLIER

TO THE NZ JET BOATING

COMMUNITY FOR OVER

50 YEARS

Are you planning on

running for council in the

Halswell, Riccarton, Hornby

or Waimairi ward?

I can help you with your

newspaper advertising.

Contact Alana Powell

Phone: 027 535 6583

Email: alana@starmedia.kiwi

THURSDAY, JANUARY 20, 2022

Commonwealth Games

logo back on grandstand

• By Fiona E lis

THE NAVY and red logo was a staple of Christchurch's 1974

Commonwealth Games.

Forty-eight years later, it can once again be seen at

Hornby's Denton Park, where the games' cycling events took

place at the velodrome. • Turn to page 4

Summer fun

that won't

hurt your

feet, Archies

Jandals

Fashionable • Functional • Footwear

THURSDAY, JANUARY 27, 2022

Garden,

pantry

on the

move

• By Fiona E lis

CURRENTLY thriving in

peak season, this summer will

be the last in Peverel St for the

Riccarton Community Garden

and Pātaka.

However, Nick Te Paa (right)

is staying positive abou the

move that wi l be required

when the lease on the 151

Peverel St site expires in September.

Te Paa and his wife Loretta

helped set up the community

garden in 2013, later expanding

the projec to include a community

pantry, or pātaka.

At not quite 4 sq m, the

pātaka was too sma l for the

weekly average of about 40

people it helped to feed, Te Paa

said.

"We don't have the capacity

to store here, so a lot of the stuff

is stored at my place, in the

garage."

He hoped to rebuild it at

twice the current size when a

new location was settled on.

"A l that extra wi l be just

storage space, and that' l

free up my garage. One side's

completely taken up with food."

The end of the Kāinga Ora

lease was likely to mean the

separation of the garden and

the pantry.

• Turn to page 7

Unit 3, 355 Riccarton Rd, Upper Riccarton

P. (03) 929 0927 E. info@theshoeroom.co.nz

www.theshoeroom.co.nz

FASHIONABLE FUNCTIONAL FOOTWEAR

connecting you with your neighbourhood

www.starnews.co.nz

Jayne and I would like to thank you for the work you've done to get us where

we are today. Bit of a blu rea ly. Every step in the process has gone into

achieving the resul today that exceeded our expectations. The detail and

professionalism has been on point. Staging, photography, the video along

with the marketing campaign a leading to a great property to presen to

the market. These aspects a l se the scene perfectly for the open homes and

visits leading to today's outstanding auction result. Quiet nigh tonight but

sure there wi l be a few celebratory drinks later in the week.

- Jason Sco t & Jayne Lesley Rhodes -

'It's bloody brilliant because I think

it's given a wee sense of pride'

– Ross Houliston

HEAT PUMP

80%

SUbSidy

20 March 2022

connecting you with your neighbourhood

www.starnews.co.nz

EntriEs now opEn!

PHOTO: FIONA ELLIS

SALE NOW ON!

Amazin' sUMMER Specials!!

• We wi l o fer you the best quality brands and

option of heat pump for your home/business

• Providing Heat Pump solutions for over 19 years to Cantabrians

• We persona ly guarantee a l our products & insta ls for 5 years

(providing a nual maintenance has b en completed)

Phone us today for your free consultation & quote

41A SHAKESPEARE RD, WALTHAM

PHONE 03 366 0525

www.enviromaster.co.nz

"A local team for local people"

20 March 2022

EntriEs now opEn!

Community

patrol

tasked with

monitoring

dangerous

intersections

• By Fiona E lis

A VOLUNTEER community

patrol has been tasked with

policing dangerous intersections

in a bid to improve driver

behaviour.

The Hornby Community

Patrol has been monitoring three

intersections, including one where

a cyclist died after co liding with a

truck.

Patrol

secretary Ann

Smith said

the patrol had

been tasked

by police with

focusing on the

three locations,

including the

intersection of

Shands and Halswell

Junction Rds, where cyclist

Russell Ramsden was ki led last

May.

The Buchanans and Carmen

Rds intersection was also being

monitored, along with the

Main South and Springs Rds

intersection.

This is part of a steady but

quiet summer for the 45-member

volunteer team, who patrol

between five and six times per

week.

Simply being seen made a

difference, Smith said.

• Turn to page 4

Phone or text 027 555 7079

cameron.bailey@harcourts.co.nz

www.cameronbailey.harcourts.co.nz Licensed Sales Consultant REAA 2 08

REINZ Residential Salesperson of the Year across a l brands in NZ

No.1 Harcourts Canterbury 2012-2021

No.1 Harcourts New Zealand 2017-2021

No.1 Harcourts International 2017-2021

Ann Smith

All Automotive Repairs and

Servicing including 4WD

Suspension Brakes & Cambelts

WOF, Tyres, Batteries

23B Birmingham Drive,

Middleton

Ph 03 982 4268

Mobile: 027 331 0382

Email: parkerauto89@outlook.com

• Part Boats & Hulls

• Turn Key Packages

• New Jet Units

• Custom Fabrication

• Expert Advice

SERVICING

03 962 0505

Lunns Road, Middleton

• Spare Parts Retailer

• Jet Unit Refurbishment

• Engine Tune-Ups

• Insurance Repairs

• Impellor Reconditioning

We're looking for leaders

who know their community

We're now hiring Electorate Managers in regions across New Zealand to start

work in February 2023 to help deliver the 2023 General Election.

If you're someone who can establish and lead a team, are interested in your community

and have experience in event management, then this is a great opportunity for you.

The roles are full-time for a minimum of 38 weeks (between 13 February and

3 November 2023). Travel will be required – mostly within your electorate.

Find out more at elections.nz/jobs

Applications close 5pm Monday 29 August 2022.
---
Thursday August 18 2022

New Hornby Centre gifted special name

NGĀI TŪĀHURIRI has gifted a

special name – Matatiki – for the

$39.9 million community facility

that the city council is building

in Hornby.

Lynne Te Aika from Matapopore

said the gifted name was

chosen because it reflects the

unique natural features of the

city's south-west – the area the

new facility will serve.

"Much of Christchurch gets

its fresh drinking water from

the underground aquifers that

discharge through the Ōpāwaho-

Heathcote and Ōtākaro-Avon

Rivers in the Hornby area.

Matatiki means spring of water

and represents the importance

of water as a source of life and

well-being.

"Traditionally, the river waters

A YOUNG trio has won a

prestigious award at the recent

NZCT Chamber Music Finale in

the Auckland.

The Berlin Trio – featuring talented

Christ's College musicians

Joshua Hooker and Ryan Gu

– won praise for "phenomenal

playing of a very virtuosi work"

in "a committed and bravura

performance," the judges said.

Along with Joshua's sister,

Jasmine, a cellist, the trio won

the Helen Young national second

place award. The professional

were central to the way of life

for mana whenua and an area of

mahinga kai – an interconnected

system which produces food and

sustains life," Te Aika said.

Matapopore developed the cultural

narrative and facilitated the

gifting of the name from Ngāi

Tūāhuriri to the city council.

The Waipuna Halswell-Hornby-Riccarton

Community Board

will be formally asked to accept

the name on behalf of the city

council, and the 4000 square

metre community facility will

be officially known as Matatiki:

Hornby Centre.

This follows the naming

convention of other city council

facilities like Te Pou Toetoe:

Linwood Pool and Te Hāpua:

Halswell Centre.

performance has also been recorded

by Radio New Zealand.

There were 380 ensembles vying

for a spot in the finale, but only

eight groups were selected.

At just 14, pianist Ryan, of Riccarton,

is already highly skilled

while Joshua, 16, of Burnside, is

a violinist of equally rare talent.

In spite of their youth, both boys

hold a Licentiate of Music from

Trinity College, London, with

distinction. Joshua also has attained

LTCL in piano.

The boys said it had not been an

City council head of recreation,

sports and events Nigel Cox

said the name is fitting for the

new facility as it will be a source

of well-being for people.

"We are building this new facility

to serve the growing population

in the city's south-west. It

is going to be a place for people

to come together to exercise, to

learn and to play and to connect

with others,'' Cox said.

Construction of the new centre

began in November 2021 and

is expected to be completed in

late 2023. It will incorporate a

library, customer service area

and aquatic facilities including a

multi-purpose lane pool, family

spa pool, hydrotherapy pool, and

toddlers' wet play area.

It will also have an espresso

easy journey to the finale: "When

we first picked up the piece, it

looked easy. It seemed like it

could be put together in a month.

However, we came to realise very

quickly that would not be the

case. Preparing any type of music

to a high level requires hours and

hours of work and you only play it

well if you put in the work."

As the competition drew

closer, their hours or preparation

rapidly climbed – up to about

14 hours a week. But once they

walked onto the stage, they felt

bar, a creative activities room,

and multi-purpose rooms for

meeting and quiet study.

The design of the new facility

relaxed and ready.

"I thoroughly enjoyed myself,"

Joshua said. "We took on board

and the landscaping will

incorporate ideas encapsulated

in the cultural narrative

developed by Matapopore.

Talented musicians place second in nationals

Sarah

Pallett

MP for Ilam

My team and I are here to

help. Please get in touch with

my office if you need any

assistance.

3

From left,

musicians

Joshua and

Jasmine

Hooker and

Ryan Gu,

with Robert

Aburn,

director

of music

at Christ's

College.

the judges' suggestions regarding

techniques to deal with nerves

and played our hearts out."

0800 sarah 4 ilam (0800 727 244)

sarah.ilamMP@parliament.govt.nz

Shop 5, 376 Ilam Road, Bryndwr

sarah4ilam

Authorised by Sarah Pallett MP,

Parliament Buildings, Wellington

European

Car Owners

NEW DIAGNOSTIC EQUIPMENT!

chunky

winter jersey

now only $55.00

We can identify ANY electrical

fault & reduce repair work

with our NEW European Car

Specific Diagnostic Equipment

AUTO ELECTRICAL

ROSES

Enquiries welcome

CH 352 5090

03 322 4548 | Easy Parking

17 Lillian Street, Halswell

www.maxwellfashion.co.nz

Winter Hours

Open Mon-Fri 9.30am - 4.30pm

Saturday 10.00am - 1.00pm

Check out our facebook page

LAYBY WELCOME

ADJUSTABLE MASSAGE BED

by
---
4

Thursday August 18 2022

Summerset Prebbleton

pre-selling now! *

Artist Impression

Our fourth Christchurch village, Summerset Prebbleton is conveniently

located 450m from the local shopping area with direct access to the

main transport links to the city and Christchurch surrounds. For those

not wanting to drive there is a bus stop right outside.

With a range of stunning two and three bedroom villas pre-selling now,

available to move into later this year these homes are not to be missed.

Our single-storey homes are warm, modern and designed with

everything you could need for the perfect retirement lifestyle. Featuring

bright and spacious open plan living with a contemporary kitchen, ideal

for entertaining friends and family.

View plans and

pricing today

Call the Sales Manager,

Grace on 03 353 6312

Summerset Prebbleton

578 Springs Road

Prebbleton, Christchurch

Once complete, the village will offer resort-style facilities and help on

hand if you need it. Our care centre will provide rest home and hospitallevel

care, and our memory care centre will offer safe, apartment-style

living for people with dementia.

"

Many Summerset residents I speak with enjoy that

their housing is secured, finances sorted with no

surprises, and care is on hand at any level should

you need it in the future. There's a certain freedom

in knowing the big (and not so big) things are taken

care of, so you can just get on with living life.

Jude Dobson,

Summerset Brand Ambassador

"

Talk to our friendly sales team on 03 353 6312 to book your private

appointment to view plans and pricing before all of the Stage One homes

are sold out. Don't forget to ask about our limited time early bird offer!

*Licence to occupy.

By following our Covid guidelines it's safe to visit our villages.

For the latest information visit summerset.co.nz/covid-19

SUM4103_FP
---
Thursday August 18 2022 5

Rotary raises $75,000 for

NZ Flying Doctor Service

THE ROTARY Club of

Christchurch has donated

$25,000 to the New Zealand

Flying Doctor Trust this month,

bringing its total commitment

over the last three years to

$75,000.

Trust chair Dr David Bowie,

who recently met with the Rotary

clubs to accept the cheque

on behalf of the service, says this

commitment from organisations

like Rotary is vital for the ongoing

service.

"Each year the trust needs to

raise at least $3 million and the

need for this life-saving service

increases year on year. The crew

have been inspired by the community

who have continued to

offer sponsorships and support

during these challenging times,"

he said.

The New Zealand Flying Doctor

Service was tasked to 1070

missions across the country last

year, and is on track to surpass

that number, with 580 missions

in the first six months of 2022.

With four planes and bases in

Christchurch and Nelson, the

air ambulance upped its criticalcare

patient transfer services between

hospitals across the South

Island, including the Chatham

Islands, and also further afield to

Starship in Auckland, Taranaki

and Wellington.

"We started the year with over

New Zealand Flying Doctor Service Christchurch base

crew (from left to right) – Warrick, Abby, Kim, Sarah, Arthur,

Shane, and David with the latest cheque from Christchurch

Rotary Club.

100 missions in January, and this

number was surpassed in May

with 110 missions," he said.

As a flying intensive care unit

with highly trained medical staff

and specialist equipment, patients

receive a seamless level of

care from bed to bed. The service

operates day and night transferring

critical care burn victims,

spinal injury patients, neonatal

transfers, trauma victims, surgery

transfers, organ delivery,

blood or equipment supplies.

The NZFD Trust helps support

the operational costs of the

service, including the purchase

of specialised equipment and

training.

Club president Charlie Rattray

said the Rotary Club of Christchurch

was delighted to have been

able to support the New Zealand

Flying Doctor Service for three

years in a row.

"We have a strong link and

proud association with this

wonderful service," he said.

Driver error the

cause of crashes

• From page 1

She was aware of another

crash at the site, on August 7.

Police confirmed the crash.

It happened about 7.10pm,

involving two cars and resulting

in minor injuries.

"It's only a matter of time

before someone is killed there,

so many accidents from people

failing to realise it is a give way.

Hopefully the council changes

the road lay out," McGuire said.

Selwyn District Council

road safety education adviser

Mike Patterson said crash data

showed there had been eight

crashes at the intersection in the

last 10 years. Driver error was

the main cause of all of them.

Contributing factors were

failing to give way, alcohol,

speed, or poor handling/

judgment.

"This data reinforces that

the key factor to reducing

the chance of crashing at

intersections is driving to the

conditions – plan ahead, stay

alert, slow down, drop back,"

Patterson said.

•HAVE YOUR SAY: Do you

think the Ellesmere Rd

Trices Rd intersection is

dangerous? Email barry@

starmedia.kiwi

Keep responses to 200

words or less

VIP

TICKETS

$

10

See Customer Services

+ Proud to be..

AWARDS | 2022
---
6

Thursday August 18 2022

Village perfect for horse racing enthusiasts

Above –

Ali

Robinson

and wife

Julie.

KEVIN HICKMAN Retirement RACING SCENE: Catharine

Village has many links into and Peter Craig at their

the glamorous and sometimes Kevin Hickman Retirement

headline-grabbing horse racing Village townhouse.

industry.

Handily, for horse-loving Below – Peter with the book

residents like Peter Craig, the A Salute to Trotting, which

village is located next to the shows a photo of legendary

chute and track of Riccarton pacer Cardigan Bay.

Park racecourse.

Peter who lives with wife Catharine

in a village townhouse,

likes to chat with fellow residents

and friends about the horses and

writes in detail about them for

websites and journals.

The village is the perfect base

for a couple who want to continue

to travel, but also enjoy the

good life while at home.

Peter is originally from Auckland

and says he is 'dual coded'.

He has been going to harness

racing and the gallops since the

days of Alexandra Park and Ellerslie

racecourse events in the

1960s.

Catharine, who toured around

the world with Peter following

horse racing, is a keen gardener,

and was brought up in the Isle

of Thanet, Kent, a county also

known as 'the garden of England'.

She enjoys maintaining her

townhouse garden.

The couple keep in touch with

other residents, some of whom

are veterans of the racing scene. of well-respected horse trainer honorary life member at both

Just

263

down Steadman Rd, in another

townhouse at the village, is Greg Rhodes and Pierre Alex-

raceways.

Bob Heasley.

x

Other residents,

180

Riccarton Park and Addington

former jockey Ali Robinson. Ali andre, have connections, with All the residents keep an eye

is married to Julie, the daughter Pierre an owner and Greg an on the progress of village amenities,

given the main village centre

building is well under way.

The centre will provide a viewing

deck and pond area looking

onto the raceway, with a further

spectator platform onto the main

track, where the action is.

Peter writes for the magazine

Breeding Matters, helps keeps

records on standardbred horse

bloodlines, and contributes

to www.classicfamilies.net,

an information website that

includes a chronicle of races

over a 150-year history, not only

in Australasia, but also North

America, United Kingdom and

Europe.

He says his father's cousin

Thayne Green was part-owner of

champion mare Sunline, a New

Zealand-bred thoroughbred active

in the 1990s and early 2000s

that went on to earn nearly $14

million in a race career that

included two Cox Plates.

Peter's interest in horses,

however, goes way back to his

family's involvement when

he was a youngster and could

hang out at Alexandra Park on

Saturday afternoons. Often, he'd

been playing boys cricket in the

morning.

One recollection is from the

mid-1960s, and a meet amongst

four days of Christmas/New

Year Auckland Cup Carnivals.

"My key and painful memory

of this day's racing was putting

my grandmother – Mum's

mother – off a two-year-old filly

that paid £23 for the place in a

23-horse field," he says.

"It was a lesson well learnt."

Peter's regular writing and

research takes place within the

warmth of his townhouse at the

village.

Need A Massage?

Stop suffering from stress, tension, headaches, anxiety, stiff muscles and fatigue.

The State-of-the-art Robotic Massage Chair.

· Enjoy a luxurious, professional full body massage in the comfort of your

own home

· Advanced optical sensors combined with intelligent bio-mapping for a

customised massage

· Hi-tech intelligent robotic hands deliver a 3D massage to melt away stress

& tension

· Multiple massage types including Shiatsu, Swedish & Thai Foot Massage

Free

TEBO Neck

Massager *

Worth $249.00

*Call for Terms & Conditions

Call Now! 0800 665 665
---
Thursday August 18 2022 7

St Michael's School

Your school at the heart of the city

LIMITED PLACES IN NEW

YEAR 7 CLASS FOR 2023

Contact the Registrar for application details.

registrar@saintmichaels.co.nz

✓ Co-educational

✓ Traditional classrooms

✓ Academic rigour

✓ Small classes

✓ Specialist teachers

✓ Extension English & Maths

programmes

✓ Musical excellence

✓ Parare Programme:

preparation for secondary school

✓ Christian values

✓ Before & after school care:

7.30am - 5.30pm

✓ Central city location

EVERY DAY IS OPEN DAY

www.saintmichaels.co.nz 249 Durham Street

Phone (03) 379 9790
---
8

Thursday August 18 2022

Daffodil Day

To make a donation, please visit

www.daffodilday.org.nz

Proudly supported by

and the below businesses

Trees for

CanTerbury

COMPENSATIONADVISORYSERVICES Ltd

LIFELINKS

NEW BRIGHTON

TRUE GRIT

87 Manchester St

03 377 7889

www.truegrit.co.nz

THE RACECOURSE HOTEL

& MOTORLODGE

118 Racecourse Rd, Sockburn

03 342 7150

www.racecoursehotel.co.nz

SNAP FITNESS

NEW BRIGHTON

185 Bower Avenue

021 612 556

www.snapfitness.com/NZ

TREES FOR CANTERBURY

42 Charlesworth St, Chch

03 982 1028

www.treesforcanterbury.org.nz

LIFELINKS

PO Box 2379, Chch

0800 866 877

www.lifelinks.co.nz

SUPA KARTS

91 Buchan St, Sydenham

03 374 9425

www.supakarts.co.nz

PAPER PLUS

NEW BRIGHTON

72 Brighton Mall

03 388 1809

www.paperplus.co.nz

THE GARDEN HOTEL

& RESTAURANT

110 Marshland Road

03 386 0088

www.gardenhotel.co.nz

THE ELMWOOD TRADING CO

1 Normans Rd, Chch

03 355 5345

www.theelmwood.co.nz

CAS'n'OVA

PRODUCTIONS

021 462 744

www.casnova.co.nz

SUPERVALUE

www.supervalue.co.nz

FRESHCHOICE

www.freshchoice.co.nz

NEW BRIGHTON CLUB

202 Marine Parade

03 388 8210

www.newbrightonclub.co.nz

PIERSONS REFRIGERATION

& AIR CONDITIONING

8 Marylands Place, Chch

03 338 6200

www.piersons.co.nz

ASPIRING KITCHENS

+ MORE

0800 202 171

www.aspiringkitchens.co.nz

Ilam

Watchmakers

MUSGROVES

Jewellery & Giftware

ILAM WATCHMAKERS

207 Waimairi Road, Ilam

03 357 1002

www.ilam-watchmakers.co.nz

MUSGROVES

3 Musgrove Close, Wigram

03 322 7922

www.musgroves.co.nz

AFFORDABLE

CONCRETE & PAVING LTD

0508 873 7483

www.affordableconcrete.co.nz

WARREN AGENCIES

79 Wrights Road

03 338 0171

www.warrenagencies.co.nz

HAGLEY COLLEGE

510 Hagley Avenue, Chch

03 379 3090

www.hagley.school.nz

I HEAR I CARE

Carl Bromley

FOR MAYOR

Authorised By Carl Bromley, 39 Briarmont Street, Avondale, Christchurch 8061

PETER RAY HOMES 03 348 1994 www.peterrayhomes.co.nz

VICTORIA FLORISTS

Cnr Wairakei & Iris Roads

03 351 7444

www.victoriaflorists.co.nz

VOTE CARL BROMLEY

FOR MAYOR

AND FOR INNES WARD

'I Hear, I Care'

carlbromley@gmail.com

VENLUREE

99 Sawyers Arms Rd, Papanui

03 365 4666

www.venluree.co.nz

THANK YOU FOR YOUR CONTINUED SUPPORT
---
Thursday August 18 2022 9

August 2022

Commitment,

Achievement,

Resilience,

Respect

Creativity

another path

to success

Kia ora koutou. Talofa. Kia Orana. Malo e lelei. Bula

Vinaka. Fakaalofa atu. Namaste. Kumusta. Haere

mai haere mai ki Te Kura Huruhuru Ao o Horomaka.

Warm greetings to the Hornby High School

community.

In this feature you will notice a focus on the creative

activities of our students. That's no coincidence,

but rather evidence of the tremendous mahi

that lies behind our vision as 'he puna auaha, a

centre of creative excellence'. The evidence for

the benefits of nurturing creativity in our students

(in fact, in all of us) has been succinctly captured

by Professor Peter O'Connor and his co-authors

from the University of Auckland Centre for the Arts

and Social Transformation in their October 2020

paper 'Replanting Creativity during post-normal

times'. Creativity is a great vehicle for improving

engagement, and approaching learning with a

creativity lens improves learning outcomes and

wellbeing.

Good learning also requires good teaching, of course.

The research of Professor John Hattie shows (without

any surprise at all) that the teacher makes the biggest

difference, and our good outcomes are derived from

skilled teachers who nurture relationships with, and

who demand the best from, all of our young people.

We are also getting to the business end of the reform

of our curriculum and timetable to allow greater

student 'voice and choice', greater variety, for 2023.

Our aim is to strengthen student engagement and

achievement still further. All of that is built on our

vision of creative excellence, and our Manaiakalani

kaupapa 'learn create share' which continues to see

our students accelerate progress in writing at twice

national averages. As a kura, and as a kāhui ako, we

are currently focused on developing and improving

reading practice for all of our learners across our

eight schools. The evidence says we are making

a difference, and that's what we get up for in the

morning.

These are exciting times to be in education.

Robin Sutton

Tumuaki

Prepping for performance

Actor exultant about London trip

The trip I took to London recently as part of

the Shakespeare Globe Centre New Zealand

Young Shakespeare Company is undoubtedly

one of the best experiences I have ever had

in my entire life so far.

The Globe Theatre, London, where Nadia

performed.

Mrs Clark and Mrs Beer had the absolute

pleasure of going to Little Andromeda

theatre to see Reminisce!, a one act play

written and directed by our very own

Haydon Dickie!

It was a wonderful show. Haydon wrote

it early last year and presented it to Little

Andromeda who put it in their 2022

programme! He then cast it and a year later

had its two-night review!

Amazing and what a display of creative

excellence! These are the types of life

I never thought there would be a time in my

life when Shakespeare brought me to a place

of such inner peace and true happiness.

The few weeks I spent working with my

company and director are something that

I will treasure forever. I had the chance to

put together a 55 minute performance of

King Lear and perform it on the famous

Globe Theatre Stage! I have learned so many

unique skills and life lessons from all of my

tutors and I could not be happier with the

outcome of my performance.

I want to extend my thanks to all those who

assisted me in getting to the Globe Theatre, I

am very grateful!

Massive thank you to the Inspire

Foundation, Dove Trust, Robert Twigg Fund,

Greater Hornby Residents Association,

Edward Noven, Helen Parris-Girdlestone,

Whitebait Media, my parents and family, all

those that donated via my GiveaLittle page,

and anyone who anonymously donated

towards my cause. I would not have been

able to make it to London without you.

I cannot thank the staff and whānau from

Hornby High School enough! Our kura has

been nothing but supportive of me and my

goals since I started in Year 7. Hornby will

always have a special place in my heart as

the family who nurtured my passions and

pushed me towards creative excellence.

outcomes that can result from our work

with Manaiakalani and our "Learn Create

Share" approach to learning, an approach

that values creativity as an important way

to support learning, passion, and interest.

He puna auaha, a centre of creative

excellence.

Congratulations Haydon.

Nadia enjoyed her time in London.

Thank you.

Nadia

Ex-deputy head student debuts his play

Pictured: Former Deputy Head Student

Haydon Dickie, centre, with Mrs Beer,

left, and Mrs Clark, right.

Getting to work with a different set of

educational tools

Members of our Tama Mai Saute group spent some time at Christchurch

South Library 'makerspace' creating their own unique T-shirts in

preparation for their performance at the Aurora Centre at Burnside High

School which was held on Saturday, July 9. Their performance was as

captivating as their T-shirts!

This is just another way in which our Manaiakalani 'Learn, Create, Share'

pedagogy can be seen within our curriculum. We are very proud of all

that they do. Ka mau te wehi!!!

We love showcasing the creative work of our students; after

all our vision, our aspiration, is to be 'a centre of creative

excellence. he puna auaha'.

Take a look at the amazing work of these rangatahi who have

been selected from Years 7 to 9 to work with professional

carver Shaun. The students are working on 'relief' carvings

representing the birds of our kāhui – mōhua, riroriro, and

tīeke.

This is another example of the 'Learn Create Share' pedagogy

that is the core of our work with the Manaiakalani kaupapa.

While 'Learn, Create,

Share' is often

thought of as work

with digital devices,

this project again

shows that it can

take many forms,

often not digital in

nature. As a kura

we are very mindful

that we must use

'the right tool for the

job' with students'

learning, and in

this case the right

tools are hammers,

chisels, and rasps.

The sculptures will

be treasured for

years to come and

will be displayed

around our kura for

all to see.
---
10

Thursday August 18 2022

CHRISTCHURCH

CREMATORIUM

FUNERALS

CROSSWORD

1 2 3 4 5 6 7 8

9

10 11

257

SUDOKU

Every row, column and box should

contain the digits 1 to 9.

WordBuilder

WORDBUILDER

157

6

E M E

A N L

12 13

14 15 16 17 18

words of three or more letters,

How

including

many

plurals,

words

can you

of

make

three

from

or

the

more

six

letters, using each letter only once? No foreign

words or words beginning with a capital are

from the six letters, using each only

allowed. There's at least one six-letter word.

once?

TODAY

Good 14 Very Good 18 Excellent 22

Solution 156: enter, ENTIRE, ere, erne, inert, inter,

ire, net, nit, nitre, rein, rent, ret, rete, retie, rite, tee,

word. teen, ten, tern, tie, tier, tin, tine, tire, tree, trine.

letters, including plurals, can you make

No words beginning with a capital are

allowed. There's at least one six-letter

Good 14 Very Good 18 Excellent 22

19 20 21

22 23 24 25 26

27 28

29

Across

1. Steal (14)

10. Lariat (5)

11. Dispersed (6,3)

12. Dried grape (7)

13. Defraud (7)

14. Economise (5)

16. Fit to live in (9)

19. Talented and inventive (9)

20. Attendant (5)

22. Extols (7)

25. Debts (7)

27. Petrified (9)

28. Online abuser (5)

29. Abattoir (14)

Decoder

Down

2. Abusive (9)

3. Bouquet (5)

4. Nut (9)

5. Cave-dwelling giants (5)

6. Pragmatic (9)

7. Audibly (5)

8. Radical (7)

9. Shuts (6)

15. Gruelling (9)

17. Onlooker (9)

18. Savage (9)

19. Momentum (7)

21. Impetuously (6)

23. Artery (5)

24. Allotted period (5)

26. Proportion (5)

Tel: 020 7622 1467 Fax: 020 7622 1522

Email: info@knightfeatures.co.uk

Supplied by KNIGHT FEATURES

20 Crescent Grove, London SW4 7AH

D Q G B E F S H K A P O C

14 15 16 17 18 19 20 21 22 23 24 25 26

N U V M J T Y R Z I X L W

1 2 3 4 5 6 7 8 9 10 11 12 13

Each number in our DECODER grid represents a different

letter - there is a number for all 26 letters of the alphabet.

DECODER

Enter the given letters into all squares with matching numbers.

The challenge now is to work out which letters are represented

Each by the number other represents numbers. a As different you get letter the of letters, the alphabet. enter them Write the into

given the main letters grid, into all and squares the reference with matching grid. numbers. To keep Now track work of out the

which letters letters you are have represented found, cross by them other off numbers. the alphabet provided.

26 25 16 18 1 6 26 18 1 20 2 20

8 24 23 1 13 2

2 16 12 10 18 8 20 6 8 18 18 6

R

23 20 23 18 12 2

A

16 1 23 6 1 23 8 8 23 6 25 8

N

9 12 6 18 18 18

16 23 6 18 23 2 19 5 25 8 14 20

8 8 12 12 2 23

23 14 18 15 2 23 6 18 6 10 14 18

24 4 1 11 12 23

21 7 17 8 10 14 10 8 25 1 10 26

10 12 6 3 25 20

26 12 18 3 18 8 18 20 22 10 4 25

A B C D E F G H I J K L M N O P Q R S T U V W X Y Z

1 2 3 4 5 6 7 8 9 10 11 12 13

N

R

14 15 16 17 18 19 20 21 22 23 24 25 26

A

SOLUTION

No.156

157

1 2 3 4 5 6 7 8 9 10 11 12 13

X A G P L O D Q C K Z W R

T U M E V B N S I Y F J H

14 15 16 17 18 19 20 21 22 23 24 25 26

D

E

N

A F Shuker

Supplied by KNIGHT FEATURES

20 Crescent Grove, London SW4 7AH

Tel: 020 7622 1467 Fax: 020 7622 1522

Email: info@knightfeatures.co.uk

20 26 7 4 1 12

14 20 26 1 3 19 12 26 8 20 13 15

20 20 14 12 12

17 12 16 22 12 6 6 12 8 4 26

1 21 12 10 17 20 24

9 26 1 15 1 25 24 20 6 13 24 18

A F Shuker

10 11 5 20 20 22

A B C D E F G H I J K L M N O P Q R S T U V W X Y Z

1 2 3 4 5 6 7 8 9 10 11 12 13

D N

14 15 16 17 18 19 20 21 22 23 24 25 26

E

All puzzles copyright

T H E P U Z Z L E C O M P A N Y

www.thepuzzlecompany.co.nz

SOLUTION

No.157

20 23 1 10 20 8 24 4 8 12 19

Crossword

Across: 1. Misappropriate,

10. Lasso, 11. Spread out,

12. Sultana, 13. Swindle,

14. Skimp, 16. Habitable,

19. Ingenious, 20. Carer,

22. Praises, 25. Arrears,

27. Terrified, 28. Troll, 29.

Slaughterhouse.

Down: 2. Insulting, 3.

Aroma, 4. Pistachio, 5.

Ogres, 6. Realistic, 7. Aloud,

8. Extreme, 9. Closes, 15.

Punishing, 17. Bystander,

18. Barbarous, 19. Impetus,

21. Rashly, 23. Aorta, 24.

Stint, 26. Ratio.

WordBuilder

ale, alee, amen, anele, eel,

elan, elm, ENAMEL, enema,

lam, lame, lane, lea, lean,

lee, leman, male, man,

mane, meal, mean, men,

name, neem.

Sudoku

12 18 20 6 10 4 10 10 1 7 4 7

13 12 22 24 1 6 7

6 24 6 7 20 13 6 1 4 13 4

24 20 20 8 26

CHRISTCHURCH

CREMATORIUM

FUNERALS
---
Thursday August 18 2022 11

Shopping is easy at...

great new reads instore now

Tools For The Top

Paddock

by Kane Brisco

Farmer Kane Brisco's tools

for the physical and mental

strains of life on the land.

Tough Outback

by Mike Bellamy

A Kiwi's stories of

misadventure, mining and

mayhem.

No Excuses

by Dave Letele

My Story - From Crime to

Community and Fat to Fit.

Shop 1, Avonhead Mall

Corner of Merrin Street & Withells Road, Avonhead

Ph: 358 4835 | www.piccadillybooks.co.nz

The Summertime of

Our Dreams

by Michael Pascoe

A story of mateship, morality

and the road home.

Available instore at...

Avonhead Mall, Withells Rd/Merrin St, Christchurch, Phone (03) 358-5449

Time for a

new look

for your

nails?

We have a

great range of

OPI colours

instore now!

Beautiful things are all around us.

When you wish to create a sewing

masterpiece...let us help you find

beautiful things. From our heart to yours.

● Gorgeous Quilting Fabric and supplies

● Needlework and Embroidery

● Knitting and Wool and Yarn...plus patterns

A Heart Full of Sewing

Avonhead Shopping Centre Western News Aug 19

Rob Hilary 14x8

RD17249-V107

CROCHET

AND QUILTING

CLASSES

being held in September

to sign up contact Sarah

022 627 4173

NEW ARTS &

CRAFTS SHOP

NOW OPEN IN

AVONHEAD

SHOPPING

CENTRE

Avonhead

Shopping Centre

Phone 022 627 4173

Mon - Fri: 9am - 5pm

Saturday: 10am - 4pm

facebook.com/HeartfulSewing

O U R B I G

5O% OFF

sale

AND CLEARANCE ITEMS FROM $29

W I N T E R

Avonhead Shopping Centre Ph.358 8598 Mon-Sat 9am - 5pm Sun 10am-4pm

facebook.com/missbondclothing

facebook.com/bondstreetfashions

Cnr Withells Road and

Merrin Street, Avonhead

Phone. 03 358 7775

AvonheadShoppingCentre

www.avonhead.co.nz
---
12

Thursday August 18 2022

HOME & HEATING

Keep cosy with

RD Petroleum

this winter

Fashion and lifestyle

workshops focusing on

menopause at The Hub

THE HUB Hornby is

broaching a subject not

generally promoted within

the fashion industry –

menopause.

On August 25, The

Hub will host fashion

and lifestyle workshops

focusing on menopause.

Fashion advice will be

presented to help women

feel more confident and

comfortable during a

time of change in their

lives.

While the average age

for the onset of menopause

is 51, it can start in women

in their 40s or younger.

While this is a natural process,

it invariably entails

physical and psychological

changes.

Said The Hub's

stylist, Vicki McMillan

(above): "Menopause is a

challenging time for many

of my clients who can feel

overwhelmed

and at a loss with how

these hormonal changes

make them feel. From

changes in their body

image, their hair, skin

texture, and hot flashes,

the list can go on.

"There are life adjustments

you can make, I

know all about it.

"People can feel like they

all of a sudden don't know

their bodies. They can

feel like a square peg in a

round hole. I want to help

share some simple fashion

tips and tricks that can

help women in our community

"These workshops are

designed to start the

conversation around how

to feel better in your own

body and embrace the new

you."

RD Petroleum (RDP) is a familiar sight

for farm and rural residents around the

Canterbury region, however now days urban

residents also enjoy the same excellent

customer service for which RDP is known for

in rural communities, through their home

heating diesel.

RDP began its home heating diesel delivery

service to the lower South Island's main urban

centres of Christchurch, Timaru, Dunedin

and Invercargill a number of years ago.

Customer demand has continued to increase

year upon year, and RDP has responded

with specialised improvements to its delivery

equipment.

The trucks that deliver RDP's home heating

diesel in each urban centre are drawn from

the company's extensive vehicle fleet. This

means they have the latest communication

and GPS tracking technology on board, so

the operations team always know where they

are and how far away they are from their next

delivery stop.

RDP's home heating diesel trucks come

equipped with a specially-designed hose,

through which the diesel is pumped from

the truck into house tanks. The length of

the hose allows the trucks to access tanks

without having to enter the property, avoiding

damaging the driveway. RDP is the place to

go if you require diesel conveniently delivered

to your home and as a loyal RDP customer

you're offered discounted pricing and can

become eligible for value-added benefits.

For all enquiries please phone

0800 44 00 14, or visit the RDP website at

https://www.rdp.co.nz/home-heating or

signup at apply.rdp.co.nz/home-heating

Need Heat Fast?

The Fastest, Warmest Indoor/Outdoor Heater You Will Ever Own!

*Call for Terms

& Conditions

Buy One Get One Free! *

• Heats Up Instantly

• Suitable for Indoors or Outdoors

- In Rain, Fog, Wind or Snow

• Carbon-Fibre Bulb Technology

• Multi-Directional Stand

• Includes Remote Control

& Built-In Timer

• Motion Detection Function

+Plus

Free

Floor

Stand!*

worth

$199.99

1.8m High

• Commercial Grade

• Multi-Directional

• Easy Install

• Portable

• Indoors & Outdoors

CALL NOW! 0800 665 665
---
Thursday August 18 2022 13

HOME & HEATING

Get the balance

right this winter

Enviro Master has been helping Cantabrians Deprivation Index.

get the balance right when it comes to The applicant's home must also have been

choosing the perfect heat pump or air built before 2008, have insulation up to code

conditioning system for their home or office (insulation subsidies also available) and have

since 2002.

no fixed heating in a living area, such as an

Their team of expert sales people, qualified existing operational heat pump or fireplace.

electricians, heating and refrigeration

With new regulations now in place for

engineers, help to supply and install Landlords to provide heating in rentals,

Christchurch's widest range of heat pumps, it's time to ensure you are meeting the new

and because they have no affiliation with any standards.

one brand, you can be assured their advice Inadequate heating and ventilation can

on the benefits and differences between each lead to mould growth and dampness in your

product is unbiased.

property, leading to costlier maintenance

They will recommend the most energyefficient

and cost-effective system for your Providing a fixed heater with a higher heat

and an unhealthy living environment.

individual situation, and will have you output and lower running costs, like a heat

regulating the heat in your home or office in pump, will enable your tenants to heat the

no time.

area effectively. Enviro Master are well

Nowadays, customers are often wanting experienced with the Tenancy Services

whole home solutions to be able to maintain software to ensure that you are meeting your

even temperatures throughout the home requirements.

both in Winter and Summer. This can be To ensure you choose the right system

achieved by using ducted systems or multi for your home or business, one of Enviro

systems and Enviro Master are experts in Master's experts will visit to assess your

designing, installing and commissioning individual situation, offer advice and

these systems.

answer any questions you may have. This

Help is currently available with a

consultation is at no cost to the customer

government subsidy covering 80 per cent of and is always provided before a heat pump is

the cost of a new heat pump up to $3000. installed.

The subsidy is part of the Warmer Kiwi Anyone wondering about their eligibility

Homes initiative and is available to Home for a subsidised heat pump are welcome to

owner/occupiers with a Community get in touch for details and help with the

Services Card, a SuperGold combo card or application process. To find out more, call

who live in a low-income area as determined Enviro Master on (03) 366 0525 or visit

by deciles 8-10 on the New Zealand

their website www.enviromaster.co.nz

The importance

of air quality

The quality of the air we breathe affects

our health and ability to perform. We

breathe in and out approximately 20,000

litres of air every day. It is therefore very

important to ensure good air quality

indoors through adequate ventilation.

Ventilation is the process of air exchange

to provide the necessary air quality that

meets the needs of the occupants for clean,

fresh air. Low oxygen with high carbon

dioxide causes stuffiness in the room

and occupants can feel drowsy. Invisible

harmful substances like a high content

of dust and tobacco smoke are harmful

and can cause various diseases. Even bad

smells can cause discomfort or irritate

the nervous system. In summer, it's easy

to open windows for cross ventilation,

however as winter approaches, we start to

shut up out houses to trap in the heat and

as a result, air quality can decline.

Ventilation includes both

the exchange of air to the

outside as well as circulation

of air within the building. It

is one of the most important

factors for maintaining

acceptable indoor air quality

in buildings. Filtered air

supply for summer and

filtered and warmed air in

winter creates a healthy

environment in which to

live and work. In cases

with poor or insufficient air

intake from outside, the oxygen content

decreases, humidity and dustiness levels

increase. If exhaust ventilation is not

provided or it is not effective, polluted air,

smells, humidity and harmful substances

are not removed.

To ensure the quality of your air, contact

the experts. Smooth-Air Products can

calculate the required air exchange for your

building requirement. Smooth-Air offers

a wide range of ventilation equipment,

from air vents to ducting for fans, for both

the commercial and domestic markets.

They have an extensive range of fans and

ventilation components in-store but they

can also provide innovative solutions

tailored to differing requirements.

Contact Smooth-Air on

0800 SMOOTH (0800 766 684) to

ask how they can help you with any

ventilation requirements.

HEAT PUMP

SALE NOW ON!

Amazin' WINTER Deals!!

80%

SubSidy

Warmer KiWi HomeS

Programme

*Eligibility criteria apply

• We will offer you the best quality brands and

option of heat pump for your home/business

• Providing Heat Pump solutions for over 20 years to Cantabrians

• We personally guarantee all our products & installs for 5 years

(providing annual maintenance has been completed)

Phone us today for your free consultation & quote

41A SHAKESPEARE RD, WALTHAM

PHONE 03 366 0525

www.enviromaster.co.nz

"A local team for local people"

Smooth-Air

Ventilation Equipment Suppliers

to

Domestic

Commercial

Industrial

trade

&

retail

ATTACK RISING DAMP

Centrifugal

inline fans

Axial fans Axial fans Bathroom fans

Window fans

Axial inline fans

the

right

for the

product

job

T. 03 376 4608 E info@foamconcrete.nz

W. www.foamconcrete.nz

0800 SMOOTH

(0800 766 684)

sales@smooth-air.co.nz

264 Annex Rd

Riccarton

Christchurch

03 343 6184

Monday - Friday

7.30am - 5pm

www.smooth-air.co.nz
---
14

Thursday August 18 2022

If you want more information about an item or to contact a

seller, visit www.postanote.co.nz and search the ID#

Quadski Gibbs

Sports Aphimbian

2007 Mazda Demio

Audi Quattro Wagon

Goldair Heater

Christchurch

Kid Car Seat (Booster Seat)

Christchurch

Selected Belted

Galloway Stock

$5,000

ID 38285

$4,000

ID 40283

$32,000

ID 39309

$45

ID 40002

$35

ID 40211

$500

ID 37270

Coffee Table –

Recycled Jarrah & Ironbark

2017 Honda Jazz RS1.5

CVT Auto

Group

Italian

Language

Courses

Subaru – Parts

Old-fashioned Telephone

Nissan Tiida Hatchback

Christchurch

$2,650

ID 40339

$20,000

ID 40032

See Seller

ID 33263

See Seller

ID 40377

$100

ID 40022

$7,400

ID 39975

Apple of his Eye –

Embroidery

Boat Trailer & Fibreglass

over Ply Hull

Ford Model A Carburetor

Toyota 1800cc

Ssangyong Wagon

Roller Team T590

$80

ID 40378

$1,000

ID 39333

$65

ID 40192

$2,400

ID 39461

$7,500

ID 40185

$138,000

ID 39941

2006 Honda Civic S

WANTED:

80 Series Landcruiser

Datsun 240C-P230

Dexter Cross Cattle For Sale

Mitz Triton 2WD Diesel

5-speed Manual

Pioneer DDJ-FLX6 4-Channel

DJ Controlle

$6,400

ID 40124

See Buyer

ID 40352

$20,000

ID 37893

$600+GST

ID 39527

$19,000

ID 39507

$500

ID 39126

Build Your Own Clinker Dinghy

Need a Unique Spareroom?

9 x 5 Tandem Trailer

Near-new Haier 7.5kg Frontloading

Washing Machine

Gelato Ice Cream Machine

2-in-1 Vertical Cylinders

Hyundai Accent

$150

ID 5230

$4,000

ID 39655

$5,000

ID 40079

$600

ID 39621

$17,000

ID 40127

$10,000

ID 40103

Briggs & Stratton Sprayer

Near-new Westinghouse

340 Fridge Freezer

Accommodation, Office,

Cool Storage

2001-2005 Honda CRV

Headlights

Military Tyres

Various Trekking Gear

Christchurch

$200

ID 39807

$1,300

ID 39620

$34,500

ID 39761

$170

ID 39161

$150

ID 39808

$550

ID 38673

Ashford Spinning Wheel

& Ashford Chair

Debrah Glass Pendant Lamps

Japanese Traditional

Handwork Plate

2006 Mazda MPV

AG200 Yamaha Motorbike

Race Car Transport Trailer/

Field Workshop

$300

ID 39417

$120

ID 40188

$10

ID 40237

$4,500

ID 40351

$1,500

ID 40035

$18,000

ID 37403

0822h04
---
Thursday August 18 2022 15

Classifieds Contact us today Phone our local team 03 379 1100

Trades & Services

Trades & Services

Public Notices

DECORATORS

Selwyn based but

service the whole of

the South Island

• New Paint • Floor & Roof

• Repaints Painting

• Wallpapering • Spray Painting

• Fences • Commercial

• Repairs • Timber Finishing

• Feature Walls • Plastering

027 724 6846 027 PAINTIN

email: andertondecorators@gmail.com

Trades & Services

BRICKLAYER.

George Lockyer. Over

40 years bricklaying

experience. UK trained.

Insurance work, EQC

repairs. Heritage

brickwork & stonework

a speciality. No job too

small. Governers Bay.

Home 329 9344. Cell

027 684 4046. E mail

georgelockyer@xtra.co.nz

CARPET LAYING

Exp. Repairs, uplifting,

relaying, restretching.

Phone John on 0800

003181, 027 240 7416

jflattery@xtra.co.nz

ELECTRICIAN (CERT)

Prompt, quality. Call Jack

027 206 0080

ENGINEERING

General engineering.

Maintenance engineering.

Breakdowns 24/7.

Machining, welding /

fabrication. Thread repair,

jobs big or small. Pick up/

delivery availabe for large/

heavy jobs. 027 2399 489

Trades & Services

FREE CCTV DRAIN

CAMERA CHECK

Have you checked

your drains since the

earthquake? Call now: 022

375 8506

LOCAL PLUMBER

No job too big or too

small! Plumbing,

Drainage, Gas, Blocked

Drains, Excavation, Gutter

Cleaning. Call Now: 022

375 8506

PAINTING

Indoor / Outdoor, over 30

yrs exp, same day quotes,

ph Steve 021 255 7968

PAINTER QUALIFIED

Int/ Ext. Quotes ph 021

197 5597

STUMP GRINDING

Best price guarantee Tony

0275 588 895

TILING

Flooring - Splashbacks -

Wall incl tile removal, Ph

Dave 027 334 4125

VHS VIDEO TAPES

& all camera tapes

converted to DVD or

USB. Video taping

special occasions, www.

grahamsvideo.co.nz ph 03

338-1655

Situations Vacant

SCRAP METAL

Dominion Trading Co Ltd

• Scrap metal buyers

• Canterbury owned & operated

• Top prices paid $$$

• Open Saturday morning

Open Mon-Fri 8am – 4.30pm Sat. 8.30am-12.30pm

www.happyscrappy.co.nz

03 343 9993 333 Blenheim Rd

Wanted To Buy

AAA Buying goods

quality furniture, beds,

stoves, washing machines,

fridge freezers. Same

day service. Selwyn

Dealers. Phone 980

5812 or 027 313 8156

AAA Buying goods

quality furniture, beds,

stoves, washing machines,

fridge freezers. Same day

service. Selwyn Dealers.

Phone 980 5812 or 027

313 8156

TOOLS, Garden garage,

saw benches, Lathes. Cash

buyer Phone 355-2045

ADD SOME

COLOUR

TO YOUR ADVERT!

SH73/75 Christchurch to Akaroa

SH74 Lyttelton and Banks Peninsula local roads

New safer speed limits

from 2 September 2022

Halswell Hall

Halswell Hall is looking to build a strong Committee

and skill-based set of connections to ensure the future

viability of one of the few remaining Community-owned

facilities in Christchurch.

The Hall is owned entirely by the Halswell Community

and we are looking for people who may have an interest

in the Hall as well as local residents.

Networking and sharing of information are important

to ensuring the Hall is able to follow the Governance

procedures in place and to manage this facility. A broad

base of local knowledge, local people and local 'go to'

people will give the Community the qualities it needs to

retain this valuable facility.

The Committee oversees hire of the facility only; it does

not run events or functions. However, maintenance of the

property and facility is a large component of our Strategic

Plan which we base our budget and Annual Plan on. Hire

of the facility is adequate to meet our regular outgoings;

all other "Projects" are paid for through external funding.

Many hands make light work as we all know and your

Community Hall is in need of more hands.

To find out how you may be able to contribute, please

email halswellhallchch@gmail.com.

Public Notice

Waka Kotahi NZ Transport Agency and Christchurch City Council advise the

new permanent speed limits announced earlier this year will apply from Friday

2 September 2022, on State Highways 73/75 Christchurch to Akaroa and State

Highway 74, Lyttelton, and some Banks Peninsula local roads.

To help remind drivers of the new speeds there will be temporary electronic signs on the roadside

and local police will be in the area.

The changes include more consistent speeds through Halswell, 60km/h over the Hilltop and

50km/h through Little River to just past Wairewa Marae.

High-risk 100km/h sections of SH75 will reduce to 80km/h.

When speeds are safe for the road, simple mistakes are less likely to end in tragedy.

The setting of the permanent speed limits follows public consultation.

We thank everyone who provided feedback.

You can check the new speed limits and locations online.

Visit www.ccc.govt.nz/speed-limits for local roads

and www.nzta.govt.nz/chchtoakaroa for highways.
---
16

Thursday August 18 2022

Duchess

with

Mirror

RICHMOND

DISCOuNT FURNITuRE

5 Dr Chest

THE BEST LITTlE FuRNITURE SHOP IN TOWN

Queen

Headboard

ONLY $999

ONLY $799 ONLY $349

Foundry

Entertainment

Unit

(1900 x 450 x 600H)

ONLY $799

2 Dr

Bedside

Cabinets

ONLY $299

5 Dr

Tallboy

ONLY

$599

Foundry Coffee

Table

(1200 x 600 x 400H)

ONLY $499

Lowboy 6 Drawer

1130 x 410 x 820.

Tallboy 4 Drawer

600 x 400 x 900.

7 Drawer

TV/DVD

Chest

760 x 1140 x 410.

(Gap 150)

Towerboy

6 Drawer

1260 x 460 x 410.

With metal

runners.

Also available

in Black.

Duchess

with

Mirror

1090 x 410 x 820

NZ made.

Bedside Cabinet

With metal runners.

ONLY $539 each

Midi 7 Drawer Scotch Chest

975 x 760 x 410. With metal runners.

ONLY

$259

ONLY

$359

Jumbo 4 Drawer Chest

1140 x 800 x 400. NZ made. Metal runners.

ONLY

$275

7 Drawer Scotch Chest

1140 x 800 x 410.

Also available in black.

ONLY

$699

Padded

Headboards

1500H - Zinc, Lead,

Pearl & Black colours

avail, while stocks last

Small

510H x 460W x 410 D

$150each

Large

690H x 460W x 410 D

$199each

ONLY

$329

each

ONLY

$329

each

ONLY

$359

Bedside Cabinet

(620H x 400W x 350)

ONLY $140 each

Queen only

$399

King/Super King only

$499

Pine Display

Cabinet

with 4 Glass

Shelves

(1800 x 400 x 900)

ONLY

$899

Ther-a-pedic Mattress & Base

Reversible pillowtop innersprung.

Single

$599

King Single/

Double/3/4

$699

Queen

$799

Legacy

Single

Frame

Bed

Mattress not

included.

ONLY

$300

Single

Foam

Mattress

100mm,

1900x900

ONLY

$59

Foundry Hall

Table

1500 x 420 x 810

ONLY $599

Premium

Canvas

Beanbag

200L

Includes beans

ONLY

$99

Coffee

Table

1060w x 550x 420

ONLY

$149

Coffee

Table

1200 x 550 x 430H

ONLY

$149

Pine Coffee Table

with drawers

(1200 x 650 x 480)

ONLY

$459

Tri-Pillow special

ONLY $10 EACH

White

Shelving

Unit

1980H x 800w

x 300

Student Desk

Available in black or white.

1000w x 690h x 500d

Entertainment Unit

1100 x 400 x 480.

White 2 Drawer

Entertainment Unit

1115 x 480H x 400D

ONLY

$249

ONLY

$349

Glass Ent/Unit

1000w x 410 x 510H

ONLY

$249

3 Dr Ent Unit

Available in

Black or White

ONLY

$449

ONLY

$349

ONLY

$349

233 STANMORE ROAD • PHONE 03 389 0536 • OPEN MON-FRI 10AM–4.30PM SAT 10–1PM

WE ACCEPT EFTPOS, VISA AND MASTERCARD... PARKING AT REAR