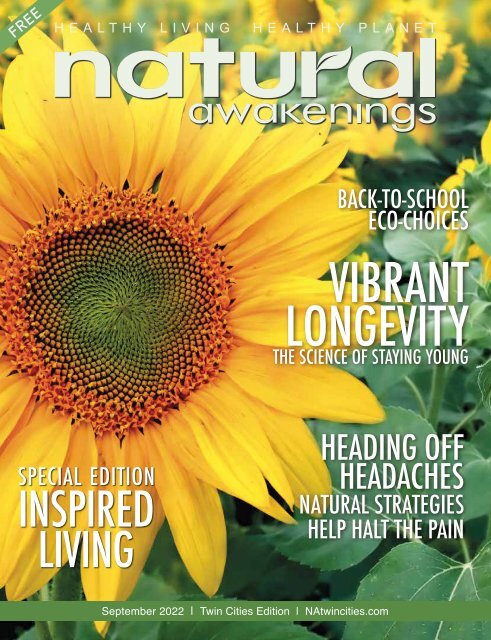 Natural Awakenings Twin Cities September 2022
Read the September 2022 edition of Natural Awakenings Twin Cities magazine. This is our annual Inspired Living Issue which features articles on living younger, living life of full color, learning to grieve, conscious consumerism, back-to-school eco-echoes, heading off headaches, mysteries of healing, health an happiness connection, food dehydration made easy, and so much more! Be sure to check out our local content, including News Briefs announcements, Community Resource Guide with providers throughout the metro who can meet your individual wellness needs, and all the happenings in the Calendar of Events. There is additional online-only content that can be found at NATwinCities.com.
Read the September 2022 edition of Natural Awakenings Twin Cities magazine. This is our annual Inspired Living Issue which features articles on living younger, living life of full color, learning to grieve, conscious consumerism, back-to-school eco-echoes, heading off headaches, mysteries of healing, health an happiness connection, food dehydration made easy, and so much more!

Be sure to check out our local content, including News Briefs announcements, Community Resource Guide with providers throughout the metro who can meet your individual wellness needs, and all the happenings in the Calendar of Events. There is additional online-only content that can be found at NATwinCities.com.
SHOW MORE
SHOW LESS
Create successful ePaper yourself
Turn your PDF publications into a flip-book with our unique Google optimized e-Paper software.
FREE

HEALTHY LIVING

HEALTHY PLANET

BACK-TO-SCHOOL

ECO-CHOICES

VIBRANT

LONGEVITY

THE SCIENCE OF STAYING YOUNG

special edition

INSPIRED

LIVING

HEADING OFF

HEADACHES

NATURAL STRATEGIES

HELP HALT THE PAIN

September 2022 | Twin Cities Edition | NAtwincities.com
---
2 Twin Cities Edition NAtwincities.com
---
The Online Self-Paced

"Armor" Meditation

Course

Empower yourself

— with an —

Armor

of Clear, Calm

Energy ...

in just 10-20 minutes.

OJAYA is the first and only

method that I can actually feel

the effects when I meditate.

— Zoe Gordon,

Hoover, Alabama

★★★★★

OJAYA Deep Meditation — the Ancient Anti-Stress,

Anti-Anxiety Meditation . . . for Healthy, Youthful Aging

PROFOUNDLY easier and far more potent than

guided meditations, mindful practices, or any

tedious efforts to "watch your breath," the ancient

OJAYA Deep Meditation "Armor" technique

quickly settles you down into a calm state of deep,

blissful, rejuvenating rest. It's totally effortless, and

so powerful that you do not need to meditate long

hours. Just 10-20 minutes attacks and dissolves the

deep roots of anxiety, lethargy and stress. Brain fog

evaporates and your vital energies get recharged in

mere minutes — the perfect antidote to the fatigue

and frenzy of life in the real world , , , and a rare

ancient beauty secret for healthy youthful aging.

OJAYA makes you strong from the inside — so

you can get out there to do something even greater.

Closely guarded for generations, these classic

secrets of the OJAYA "Armor" technique are now

revealed to you on our exquisitely beautiful videos

— produced with love in the Earthborn Rainforest.

Learn OJAYA on our site — start now free.

Empower your core inner strength at:

— OJAYA.COM —

The not-for-profit School of OJAYA Deep Meditation in the Earthborn Rainforest / US Tel. 641-472-3300

September 2022

3
---
Broeffle, CPC

Candi

ComposureCoaching.com

HEALTHY LIVING HEALTHY PLANET

TWIN CITIES EDITION

Publisher Candi Broeffle

Editors Cheryl Hynes

Randy Kambic

Ad Sales Candi Broeffle

Design & Production Sara Shrode

CONTACT US

P.O. Box 27617

Golden Valley, MN 55427

Ph: 763-270-8604

NAtwincities.com

Brrraaavveeee Endeeeeaaavvorrr?

Are you ready for your

Coaching for those ready for

their next chapter of life:

Follow your dreams

Start a business

Become the person you

were destined to be

Call (763) 270-8604 today

I t ' s T i m e t o L i v e feeeeaaarrrlleeeesssslly

for a free Discovery Session

SUBSCRIPTIONS

Subscriptions are available by sending $25

(for 12 issues) to the above address.

NATIONAL TEAM

CEO/Founder Sharon Bruckman

COO/Franchise Sales Joe Dunne

Layout & Design Gabrielle W-Perillo

Financial Manager Yolanda Shebert

Asst. Director of Ops Heather Gibbs

Digital Content Director Rachael Oppy

National Advertising Lisa Doyle-Mitchell

Administrative Assistant Anne-Marie Ryan

Natural Awakenings Publishing Corporation

4851 Tamiami Trail N., Ste. 200

Naples, FL 34103

NaturalAwakeningsMag.com

© 2022 by Natural Awakenings. All rights reserved.

Although some parts of this publication may be

reproduced and reprinted, we require that prior

permission be obtained in writing.

Natural Awakenings is a free publication distributed

locally and is supported by our advertisers. Please

call to find a location near you or if you would like

copies placed at your business.

We do not necessarily endorse the views expressed in

the articles and advertisements, nor are we

responsible for the products and services advertised.

Check with a healthcare professional regarding the

appropriate use of any treatment.

NEED BALANCE?

Start With Your Hormones!

Our Customized Programs Will Help:

Balance Hormones

Find The Root Cause

Increase Energy

"I was having a hard time falling asleep AND WAKING

up with hot flashes every night! I was also having hot

flashes during the day. After 2 weeks on the nutrition

program, I am able to sleep through the night, I am not

experiencing hot flashes day or night!" -I.B.

Kari Seaverson DDS

John Seaverson DDS

Sleep Better

Improve Digestion

Clearer Skin

Tooth by the Lake

HOLISTIC GENERAL DENTISTRY

1401 Mainstreet

Hopkins, MN 55343

952-475-1101

ToothByTheLake.net

Natural Awakenings

Magazine is ranked

5th Nationally in

CISION'S ® 2016

Top 10 Health &

Fitness Magazines

Natural Awakenings is printed on

recycled newsprint with soy-based ink.

Experience healthier dentistry

4 Twin Cities Edition NAtwincities.com
---
Natural Awakenings is a family of 50+ healthy living

magazines celebrating 27 years of providing the

communities we serve with the tools and resources

we all need to lead healthier lives on a healthy planet.

16

15 BREASTS ARE

HEALTHIER WITHOUT A BRA

16 GROWING YOUNGER

Longevity Strategies that Help

Reverse the Aging Process

Contents

15

20 HEADING OFF

HEADACHES

Natural Strategies Help Halt the Pain

20

22 LISSA RANKIN

on the Mysteries of Healing

ADVERTISING & SUBMISSIONS

23 THE HEALTH AND

HAPPINESS CONNECTION

24

HOW TO ADVERTISE

To advertise with Natural Awakenings or request a

media kit, please contact us at 763-270-8604 or email

Publisher@NAtwincities.com. Deadline for ads: the 15th

of the month.

EDITORIAL SUBMISSIONS

Email articles, news items and ideas to:

Publisher@NAtwincities.com.

Deadline for editorial: the 5th of the month.

CALENDAR SUBMISSIONS

Email Calendar Events to: Publisher@NAtwincities.com.

Deadline for calendar: the 10th of the month.

REGIONAL MARKETS

Advertise your products or services in multiple markets!

Natural Awakenings Publishing Corp. is a growing franchised

family of locally owned magazines serving communities since

1994. To place your ad in other markets call 239-449-8309.

For franchising opportunities call 239-530-1377 or visit

NaturalAwakeningsMag.com.

24 FOOD DEHYDRATION

MADE EASY

Best Ways to Preserve the Harvest

DEPARTMENTS

6 news briefs

10 health briefs

12 global briefs

14 eco tip

20 healing ways

22 wise words

24 conscious

eating

25 crossword puzzle

26 calendar

28 resource guide

September 2022

5
---
coming in the

october issue

HEALTHY

PLANET

news briefs

Contrast Therapy

Comes to Eden Prairie

Dr. Amanda Haeg, of Cadence Chiropractic,

in Eden Prairie, is excited to

announce the opening of their new Contrast

Suite, at 6409 City West Parkway, Suite

105, which includes both an infrared sauna and PLUNGE ice bath. Contrast therapy is an

opportunity to expose the body to controlled "stress" in order to train it to become more

resilient. This additional wellness benefit provides two unique therapies that can be used

on their own or as a part of a total wellness program. Appointments will be available

beginning September 6.

The infrared sauna provides a lower temperature alternative to traditional high-heat,

high-humidity saunas. Instead of steam or flame-stoked heat, infrared saunas use infrared

lamps and electromagnetic waves to create warmth. The process allows infrared saunas to

operate at a lower temperature while still providing therapeutic benefits. This is especially

beneficial for patients who struggle in traditional saunas where the overall temperature is

between 150 and 195 degrees. The infrared sauna is typically between 110 to 135 degrees,

making it more accessible for people with health concerns.

Benefits are plentiful. Shortly after entering the sauna, the heart rate increases similar to walking

at a moderate pace, which helps to reduce blood pressure. Additional benefits include soothing

sore muscles, pain relief, relaxation and better sleep. Infrared saunas also reduce oxidative stress

which is associated with cardiovascular disease, cancer and degenerative diseases like dementia.

Finally, the PLUNGE ice bath provides the opportunity for patients to immerse themselves

in 59-degree water, immediately stimulating blood flow and triggering the production

of the neurotransmitter norepinephrine, a critical chemical in the body that helps regulate

attention, focus, and energy. Additional benefits include reduced chronic pain, boosting the

metabolism, better sleep, elevated mood, increased resilience, lower inflammation and more.

Courtesy of Cadence Chiropractic

For more information and appointments, visit CadenceChiroMN.com. See ad, page 8.

Linda Conroy, Midwest

Women's Herbal

Conference Core Team

and Founder

Mycelium Mysteries 2022

Midwest Women's Herbal presents the sixth annual Mycelium

Mysteries Conference, celebrating flora, fauna and

funga, from September 23 through 25, at Camp Helen Brachman.

There will be several pre-conference events, including

forays and all-day workshops.

The only women-focused mushroom conference in the world,

Mycelium Mysteries focuses on mushrooms as the grandmothers

of our ecosystem and celebrates women's voices from the world of

mycology, personal growth and the healing arts.

The keynote speaker is New York Times bestselling author

Suzanne Simard, author of Finding the Mother Tree. She will share

the relevance of her work to those that love mushrooms, trees and

community building, with advice for women interested in pursuing

science as a career.

Others will speak on the significance of lichens in the environment, mushroom identification,

mushroom foraging, growing and cooking with mushrooms, making art and medicine

with mushrooms, using mushrooms for health and healing, personal growth, mycelium

as a metaphor and more.

Gathering in community, sharing knowledge, singing together, and eating delicious food

prepared from scratch by Dani Lind and her crew from Rooted Spoon Catering, this weekend

nourishes and connects women deeply to the Earth through mycelium and to each other.

Courtesy of Midwest Women's Herbal Conference

6 Twin Cities Edition NAtwincities.com

Location: Almond, WI. Register at MidwestWomensHerbal.com/myceliummysteries2022.

See ad, page 2.
---
©ldeca Productions

Dental Implants: A Better

Option for Teeth Replacement

A

dental implant surgically placed into the bone is a highly effective option to replace

a missing tooth. Dr. Holly Thompson, at Natural Smiles Dental Care, in Shoreview,

is now providing this procedure to new and existing patients.

Thompson uses zirconia (ceramic) implants which are more biocompatible than

the traditional titanium materials, with a much more favorable cosmetic result. After the

zirconia implant is inserted, a healing cap is placed over the implant; a few months later,

this cap is replaced by an abutment and fitted with a ceramic crown.

Natural Smiles Dental Care is committed to providing the highest quality of implant

services possible, which includes supporting each patient with all the "tools" their

jawbone needs in order to successfully integrate with the implants. Ozone therapy in the

form of water and gas is utilized in the implant placement procedure. In some situations,

Thompson can place an implant at the same appointment as the tooth extraction.

"We require that anyone undergoing implant services have their vitamin D levels

checked, which is a simple, finger-prick blood test done in our office," explains Thompson.

"Based on those results, it may be recommended to purchase our Dental Recovery

Support Program Kit which is a six-week comprehensive dental recovery support program

that promotes the body's healing process prior to and after surgery."

These vitamin and mineral dietary supplements offer key nutritional formulations

designed to enhance antioxidant and vitamin levels. Patients who have had the implants

placed report a relative lack of discomfort both during the placement and throughout

their healing.

Thompson focuses on the removal of toxic root canal teeth. She believes that "If it's

metal or dead, it doesn't belong in your head." She is highly skilled in conservative tooth

removal and proper cleaning of the tooth socket by thoroughly cleaning the infection,

removing the periodontal ligaments, ozonating the socket, red light therapy, and placing

the patient's own platelet-rich fibrin (PRF) into the site to promote proper healing and

bone growth in the most natural way possible.

Thompson, DDS, trains through the Swiss Biohealth Center, in Switzerland, and is

an active traveler and participant in the monthly study clubs held throughout the country.

She places the Swiss Dental Solutions zirconia implant which she believes is the best

zirconia implant available.

Thompson is also training to be a certified Naturopathic Physician through the

American College of Integrative Medicine and Dentistry (ACIMD) as she believes the

knowledge of tying together the whole mind, body and nutrition is imperative to being

the best biological dentist she can be for her patients.

Location: 3434 Lexington Ave. N., Ste. 700, Shoreview. For more information and appointments,

visit NaturalSmilesDental.com. See ad, page 7.

Silver Fillings:

Just ugly?

Or harmful too?

This is a picture

of a "Silver"

or "Amalgam"

filling. It is 50 -

52% MERCURY!

If the mercury in

this filling were spilled in a school,

it would be evacuated....

This is a picture

of a "light cured"

composite filling.

They can last as

long or longer

than mercury

fillings with no danger of releasing

harmful heavy metals.

As noted on Dr. Mercola,

Dr. Oz, and 60 Minutes...

Mercury fillings may have a

significant negative impact on your

overall health.

Make 2022 2017 YOUR year

for healthy choices!

Dr. Madelyn Pearson is the

current president of the

Holistic Dental Association and

has advanced training in safe

mercury removal.

Call or visit our website for

more info: (651) 483-9800

www.NaturalSmilesDental.com

September 2022

7
---
"My passion is to

be able to bring

that healing

modality to

people who

haven't

previously

had access."

Improve lives with a

massage therapy education.

nwhealth.edu/na-mt

BETTER

MOVE

FREE

LIVE

NEW PRACTICE MEMBER SPECIAL

$49

CadenceChiroMN.com

news brief

Autumn Equinox Spiritual Retreat

in Minneapolis

When people think of

places for a spiritual

retreat, they usually think

of places such as Sedona,

Mt. Shasta, Stonehenge or

Machu Picchu. Though it is

wonderful to travel to the

famous power centers of the

world, sometimes it is fun to

explore that which is available

in one's own backyard,

which is why Annette Rugolo

is offering a three-and-ahalf-day

Autumn Equinox

Spiritual Retreat, in Minneapolis, September 19 to 22.

Not many would consider Minneapolis a place to gather

for a powerful spiritual experience. However, there are places in

and around Minneapolis that are considered power spots. These

places come to mind for many when thinking of visiting places

in nature, and include the Minnesota Landscape Arboretum,

Lake Minnetonka and Minnehaha Falls. Those who have spent

time in these places have connected to some of the energetic

power centers in the Twin Cities.

There are reasons that make these locations, as well as others

around the area, power centers. Just like humans, the Earth has

an etheric body, and we live in the first layer of its seven layers.

This etheric body is connected to the physical body of the planet,

just like ours is connected to our physical body.

Our etheric body can become damaged or sick through injuries,

surgeries or too much alcohol or drugs. The etheric body

of the Earth also becomes damaged in the same way through

impact, pollution and negativity created by humans.

"These high vibration areas have remained relatively untouched

and undamaged and therefore hold their original high

vibration," explains Rugolo. "When we connect with one of these

power centers, we immediately feel it as we walk into the area."

There is also something called the Environmental Law of

Attraction. When a place is vibrating at a high vibration, it attracts

souls to live in this area. Those who have been residents

in Minneapolis for a long time may have heard or know people

who have done amazing spiritual work in this city. Teachers,

healers, coaches and anyone who works in the transformation

field have assisted in keeping the vibration of these power spots

at a high level.

"Another important aspect of Minneapolis is that it is at the

heart of the North American continent," explains Rugolo. "Many

have tapped into this energy to help expand its energetic heart

over the years."

Rugolo is an environmental healer, soul coach and teacher

and specializes in clearing the energy from homes, offices and

land. She has led over 15 spiritual retreats since 2008 and is excited

to be bringing her first spiritual retreat to Minneapolis.

To learn more, visit AnnetteRugolo.com. See ad, page 11.

© Yajnesh

8 Twin Cities Edition NAtwincities.com
---
A Cooperative

of Private Practices

7550 France Ave S. Suite #200 | Edina, MN 55435

612-859-7709 | Bhakticlinic.com

Healthy Gums and Teeth

Neurofeedback

ADHD, Anxiety, TBI

Harness the power of

Red Light for a bright

healthy smile

Buy ONLINE BhaktiLabs.com

or CALL 612-859-7709

MicroCurrent Facial

everyone will notice...no one will know

Jessie Odishaw

MicroCurrent Technician

Non-surgical Facelift Facial

softens, smooths, volumizes, tones'

612-859-7709 Book online now at bhakticlinic.com

Guy Odishaw, NFP, CST

612-859-7709

GOdishaw@BhaktiClinic.com

of Edina

Kirsten Nelson DC

Chiropractor

General Wellness, Pre/Post Natal, Pediatric,

Auto Accident, Work Accident, DOT Physicals

612.200.9993 Dr.Nelson@PremierHealthMN.com

Energy Therapy

bhakticlinic.com

Healing

Balance

Release

CHRISTINA GREGORY

Reiki Master & Healing Touch Practitioner

innerkimcg@gmail.com

612.839.5255

HOLISTIC PSYCHOTHERAPY

for Individuals & Couples

Neurodegenerative Diseases

Shockwave Therapy For Every

Call Now for our FREE OFFER

www.amwave.org

Body

Fast Results. No Surgery. Drug Free.

Infrared light therapy, Neurotherapy,

Functional Medicine

Optimize Brain Health As You Age

- Muscle Pain

- Tendinopathy

- Back Pain

- Body Sculpting

- Sports Medicine

Your brain isn't just for thinking,

it runs every system in your body!

Treat it well and it will treat you well.

507-400-WAVE

Schedule your brain health consult NOW!

Myofascial Release Bodywork

MESSAGES@BHAKTICLINIC.COM

612-859-7709 | BHAKTICLINIC.COM

"Years of pain now diminished..."

September 2022

~R.S.

9
---
health briefs

Fermented Dairy Helps

Sidestep Depression

Sales of fermented dairy

products like yogurt and

kefir have been steadily

rising in the U.S., and a

new study from Australia's

Deakin University might

accelerate that trend.

Researchers examined 24

years of nutritional and

health data from 2,603

Finnish men between 42

and 60 years old. They

found that men that ranked in the top third of consumption

of non-fermented dairy products such as milk and

cream had double the risk of depression, while those in

the top third of consumption of fermented dairy products

like kefir, yogurt, cottage cheese, sour cream and buttermilk

enjoyed a 45 percent reduced risk of depression.

Vitamin E Enhances

Cancer Immunotherapy

10 Twin Cities Edition NAtwincities.com

Nuruddin Bharmal/Pexels.com

In a study published in

Cancer Discovery, researchers

at The University

of Texas MD Anderson

Cancer Center reported

that vitamin E can enhance

immunotherapy responses

in cancer patients by

stimulating the activity of

dendritic cells in tumors.

Combing the records of

patients with melanoma,

breast, colon and kidney cancers that were being treated

with immunotherapy, they found that taking vitamin E

improved survival times and boosted treatment responses.

In laboratory work, the researchers demonstrated that

vitamin E directly binds and blocks the activity of the SHP1

checkpoint protein in dendritic cells, which primes T cells

for an anti-tumor immune response. "This study broadens

our understanding of factors that can influence responses

to immunotherapies," says author Dihua Yu, M.D., Ph.D.

Unlike chemotherapy, which acts directly on cancerous

tumors, immunotherapy treats patients by revitalizing

their immune system and "teaching" it how to identify and

destroy cancer cells.

ready made/AdobeStock.com

Nettle Root Improves

Prostate Symptoms

An enlarged prostate,

known as benign prostate

hyperplasia (BPH), afflicts

half of men by age 60 and

90 percent of men by age

85. Although it isn't cancerous,

treatment can involve

medications and surgery.

European doctors often

prescribe the herb nettle

root, and Iranian researchers

tested its effectiveness

in a study that divided 80

BPH patients into two groups. One was given 300 milligrams

of nettle root extract twice a day for eight weeks;

the other group received a placebo. The researchers found

the nettle root significantly improved urinary frequency,

urinary urgency and night urination compared with the

placebo group. It was not effective in modifying prostate

volume, the feeling of incomplete emptying, intermittency,

urine stream and straining.

svehlik/AdobeStock.com

Revised Supplement Formula

Slows Macular Degeneration

Age-related macular

degeneration (AMD), the

most common cause of

blindness in older Americans,

became less of a

threat in 1996 when the

national Age-Related Eye

Disease Study (AREDS)

verified that certain nutrients—beta-carotene,

vitamin C, vitamin E, copper

and zinc—slowed its progression.

But after other

studies showed a link between beta-carotene and lung

cancer, it was removed from the formula. Two carotenoids

found in the retina—lutein and zeaxanthin—were added,

and the formula was rebranded as AREDS2. In a new, 10-

year, follow-up study by the National Eye Institute (NEI),

AREDS2 was found to reduce late AMD symptoms an additional

20 percent compared to the original formula. "This

10-year data confirms that not only is the new formula safer,

it's actually better at slowing AMD progression," says

Emily Chew, M.D., lead author of the study and director of

the NEI Division of Epidemiology and Clinical Application.

Camille Richert/Pexels.com
---
Orion/Unsplash.com

Childhood Adventures

and Team Sports

Boost Well-Being

Adrià Crehuet Cano/Unsplash.com

The pandemic has challenged

both children's

learning environments and

their emotional well-being,

but new research shows

that playing adventurously

outdoors and participating

in team sports can help

lower their mental health

risks. Researchers from

the UK University of Exeter

surveyed nearly 2,500

parents of 5-to-11-year-olds in the UK and Northern

Ireland. The study found that kids that climbed trees, rode

bikes, jumped from high surfaces and had other outdoor

adventures without adult supervision experienced a lower

incidence of anxiety and depression, and were more

upbeat during the COVID-19 lockdown. In another study,

researchers from California State University, Fullerton,

found that kids in team sports like volleyball and soccer,

but not others in individual sports like gymnastics and

wrestling, did better emotionally and mentally. Analyzing

data from 11,235 kids between 9 and 13 years old, they

found that compared to kids that did not participate in

sports, those that were on teams had a lower incidence of

attention issues, social problems, anxiety, depression and

withdrawal. Kids that participated in individual sports had

higher levels of those mental health challenges.

global event

Peace Day Addresses

Global Racism

Established in 1981, the

United Nations-sanctioned

International Day of Peace,

or World Peace Day, is a

holiday observed around

the world on September 21

each year. The 2022 theme

is "End racism. Build peace." To

that end, the General Assembly has dedicated this day to

observing 24 hours of non-violence and cease-fire.

Secretary-General António Guterres says, "But achieving

true peace entails much more than laying down arms.

It requires the building of societies where all members feel

that they can flourish. It involves creating a world in which

people are treated equally, regardless of their race."

Self- Care for the Soul

Nurture Yourself from Within

AnnetteRugolo.com

612-394-3736

https://AnnetteRugolo.com/sessions/

Joyce Sobotta

Natural Breast Health Consultant

Published Author:

"Breast Health Is in Your Hands"

Contact Me!

JoyceSobotta.com | 715-828-0117

AromatherapyNaturesWay.com

Joyce@AromatherapyNaturesWay.com

Locally owned and independent since 1968!

Mastel's

HEALTH FOODS

EST. 1968

vitamins, minerals, supplements, herbs, grocery,

personal care, homeopathy, tcm

1526 ST. CLAIR AVENUE, ST. PAUL, MN 55105

T. 651-690-1692 • WWW.MASTELS.COM

OPEN WEEKDAYS 9-8 • SATURDAY 9-6 • SUNDAY 12-5

Delivered right to your

mailbox for just

$25/year?

Yes, please!

Subscribe Today

Email

Publisher@NATwinCities.com

September 2022

11
---
global briefs

Marcio Isensee e Sá/AdobeStock.com

Seattle Providing Electric

Vehicle Chargers on

Utility Poles

As people switch to electric vehicles

(EV) to reduce their emissions,

some homeowners and apartment

dwellers without charging infrastructure

are at a disadvantage.

The city of Seattle set a goal to

reduce transportation emissions

83 percent below 2008 levels by

2030, and to make things easier,

they will install chargers on local

utility poles on demand. Seattle

City Light will conduct the project

as part of a more extensive portfolio

of transportation electrification

investments and services to help

the utility service area transition

to zero-emission electric transportation

options. Residents can accomplish some emission reductions

with public transit, biking, walking and other options, but many still rely on

personal vehicles for some trips.

The Curbside Level 2 EV charging program is available to anyone on a

first-come, first-serve basis. The person making the request must own or

plan to own an EV within the next 12 months, and their existing address must

not offer off-street parking (where they could buy their own). Once a request

is made, the utility will evaluate the area and ask for input from neighbors

before installing a new EV charger. If more than 50 percent of neighboring

property owners oppose the chargers, they will not be installed.

Let's Talk Natural Wellness

In-depth interviews with natural health

professionals who share the latest

information for you to lead a

healthier, happier life.

Sundays from 10-11 am

Podcasts available at AM950Radio.com

Carbon Labels

Cut Environmental

Impact of Dining

Making changes while shopping

at supermarkets, restaurants and

with delivery apps can change

minds about sustainable options

and garner public support. Psychologist

Ann-Katrin Betz and her

colleagues at Germany's University

of Würzburg studied the design

of restaurant menus and tested

how adding carbon labels indicating

the greenhouse gas emissions

per dish and changing the most

prominent menu items to foods

with a lower impact on the climate

affected the choices people might

make when dining out.

When people were given menus

with the low-emission option as the

default, the share of high-emission

choices decreased by an average

of 31.7 percent. When given menus

with carbon labels, the emissions

associated with their dish choices

averaged 13.5 percent lower per

dish. Combining carbon labels with

prominent placing for low-emission

options appears to have the

greatest effect.

Other strategies might include

increasing the availability of plantbased

options; making them more

prominent elsewhere (the meat

aisle); and renaming veggie options

to make them sound more

appealing (slow-roasted, butternut

squash and seasonal vegetable lasagna

versus vegetarian lasagna).

Multiple practices are needed to

persuade people to adopt sustainable

diets, so all of these methods

are just the beginning of a shift

away from high-emission food by

overcoming unconscious barriers.

12 Twin Cities Edition NAtwincities.com
---
phaelshoots/AdobeStock.com

Hurricane-Resilient Wind Turbines

Modeled After Palm Trees

Atlantic hurricanes pose risks to renewable energy wind turbines, and researchers at

the University of Colorado-Boulder are developing more resilient models. Lucy Pao, the

Palmer endowed chair in the Department of Electrical, Computer and Energy Engineering,

says, "We are very much bio-inspired by palm trees, which can survive these hurricane

conditions." Traditional upwind turbine blades face into the wind, so the blades must

be stiff, which requires more material and increases cost. Blades on downwind rotors

face away from the wind, with less chance of hitting the tower when the winds pick up,

so they can be lighter and more flexible, requiring less material. Downwind blades can

also bend, instead of break, like palm trees do.

Over the last six years, Pao's team, in conjunction with collaborators at the University

of Virginia, the University of Texas at Dallas, the Colorado School of Mines and the

National Renewable Energy Laboratory, have collaborated to develop the Segmented

Ultralight Morphing Rotor turbine, a two-bladed, downwind rotor, to test the concept in action. The researchers

found that their turbine performed consistently and efficiently during periods of peak wind gusts. Mandar Phadnis,

lead author of a study in Proceedings of the 2022 American Control Conference, says, "The blades are manufactured to

be lightweight and very flexible, so they can align with the wind loads."

Common California

Bumble Bees Go Missing

The Western bumble bee,

once easily spotted in California,

could not be found

in a recent survey led by the

University of California-

Riverside (UCR). The first

statewide census of California

bumble bees in 40

years found several other

species absent, as well.

UCR entomologist Hollis

Woodard's research group collected bees from 17 sites

representing six different ecosystems previously known

to host a large variety of bumble bees, as documented in

the journal Ecology and Evolution. One of the missing species,

the Western bumble bee, is an important pollinator of

wild plants and crops. "We didn't find it, even once," says

Woodard.

This study was an effort to document changes in bumble

bee populations across large geographic areas in California

since the last one in the 1980s. Smaller-scale studies

have documented significant declines in bumble bee populations

around the world due to climate change, development

of wild habitat and the use of bee-killing pesticides,

so it is important to have data that documents bee health.

Bumble bees can fly in cooler temperatures and lower light

levels than many other bees, helping to pollinate crops

worth $3 billion annually in the U.S., including tomatoes,

peppers and cranberries.

Ernie Cooper/AdobeStock.com

C A L L N O W !

( 7 0 1 ) 2 1 2 - 2 8 0 0

ask for Karen

Health Coaching with Leah

Let's explore your vision for the future,

while fostering joy and satisfaction

along the way.

Schedule your free

consultation today!

Visionairium.com

Leah@Visionairium.com

BEEF FOR

SALE!

RODEWALD

FARMS

Black Angus/Holstein cross

either grass fed, grass

finished; grass fed, grain

finished; or strictly corn fed.

$2.45 per pound

(hanging weight) - processing paid separately.

$5.85 or less/lb.

Estimated take home price

I cannot endure to waste anything so

precious as autumnal sunshine

by staying in the house.

~ Nathaniel Hawthorne

September 2022

13
---
eco tip

Back to School

with the Planet in Mind

cheap "fast fashion" that too quickly

ends up in landfills and pollutes the

environment by using toxic dyes,

fossil-fuel-derived textiles and other

bad chemicals. Donate old clothes

instead of throwing them away.

Buy Eco-Friendly

School Supplies

Opt for durable items that are made

with recycled or sustainable materials

and use minimal packaging. Avoid

items made of plastic. Buy used textbooks

whenever possible.

This school season, families have an

opportunity to make Earth-friendly

decisions as they prepare their children

for a successful educational experience.

These tips balance sustainability

against kids' desires for the coolest,

newest gadgets and garments.

Reduce, Reuse

and Recycle

Before going to the store to buy new

school supplies, search the house for

items that can be reused or repurposed,

such as half-spent notebooks

14 Twin Cities Edition NAtwincities.com

or last year's pens and pencils. A little

elbow grease and TLC can refurbish old

lunchboxes and backpacks—also affording

an opportunity to teach kids how

to repair and extend the life of items.

Buy Secondhand Clothes

Kids that have outgrown last year's

threads and are clamoring for a whole

new wardrobe can be cheerfully

introduced to the burgeoning used

clothing market, which is both ecoresponsible

and budget-friendly.

Resist the temptation to purchase

Monkey Business/AdobeStock.com

Walk or Bike to School

If the family lives reasonably close

to school, encourage kids to walk or

bike. For young children that require

supervision, enlist one or more adults

to lead a convoy of walking or biking

kids. School buses and carpooling are

the next best eco-friendly choices.

When transporting kids by car, make

sure to turn the engine off while waiting

in the pick-up or drop-off line. Engine

idling is a significant air polluter.

Pack a Waste-Free,

Non-Toxic Lunch

Avoid anything plastic, including

single-use water bottles and Ziploc

bags. Reusable, stainless steel, food

and drink containers, as well as lightweight,

reusable bamboo utensils,

are ideal. Homemade, whole and bulk

foods are healthier and much more

Earth-friendly compared to prepackaged

snacks that are usually wrapped

in plastic and jam-packed with sugar

and other unhealthy ingredients.

Model Environmental

Stewardship

Show kids that the family embraces

an eco-friendly lifestyle. Kids will

watch and learn as their parents

regularly bring reusable shopping

bags to the store, frequent local small

businesses, participate in community

cleanup efforts and continually

search for innovative ways to safeguard

the planet.
---
©leszekglasner

Breasts are Healthier

without a Bra

by Joyce Sobotta

Wearing a bra restricts blood and lymph flow. In comparing breasts and testicles,

according to Dr. Elizabeth Vaughan, owner of Integrative Medicine, in Greensboro,

North Carolina, a man's testicles are warmer when held close to the body,

which reduces testosterone and sperm production. Fertility clinics will tell a male partner

to get out of tightfitting underwear to allow the testicles to be cooler and move freely. This

increases sperm production and fertility.

Breasts, like testicles, are meant to be cooler, as seen in thermography. Adequate

blood flow in the breasts brings in nutrients and distributes hormones that are made in

the breasts. Wearing a tight bra, especially with underwire, compresses the tissues and

reduces blood and lymph flow. This allows the buildup of toxins and estrogen in breast

tissue that can lead to fibrocystic breast and breast cancer.

Studies from around the world have shown that women who wear bras have a higher

rate of breast abnormalities. A study from Scotland in 2014 reported breast cancer may

be caused by "cleavage-enhancing bras due to the constricting effect of built-in-wiring

on breast tissue and the lymphatic system." A study from Brazil in 2016 showed the more

hours a woman wears a bra and the tighter the bra, the greater the incidence of breast

cancer in both pre- and post-menopausal women.

This is not new information. The first

study to recognize the association between

bra usage and the risk of cancer was published

in 1991 by Harvard researchers. Sydney

Ross Singer and his wife published the book,

Dressed to Kill, after finding women in Fiji, and

later in America, who wore a bra longer were

at a greater risk of developing breast cancer.

Once going bra-free, most women

notice improvement in breast lumps and

breast tenderness. Some women notice a

transient period of increased breast tenderness

or achiness as toxins are moving out of

breast cells and into the lymphatic system.

This generally does not last more than three

weeks even in large breasted women. When

there is discomfort, a simple breast self-massage

to move the toxins out is very helpful.

When we reduce our exposure to environmental

toxins, including electromagnetic

frequencies, as in improper cell phone use, and

allow our breasts to move freely, we will notice

a difference with healthier breasts.

Joyce Sobotta is the

published author of Breast

Health is in Your Hands,

Tips for Breast Vitality

and Sensuality and

founder of the international

business, Healthy

Girls Breast Oil, a unique, effective

essential oil blend for breast health. She

offers consultations for natural breast

health. To learn more, visit AromatherapyNaturesWay.com.

See ad, page 11.

Dentistry: Are You Missing Vital Information?

Avoid Putting Toxic Materials In Your Mouth / Body!

Doctors have said, "99% of Disease Starts In The Mouth," How Is Your Oral Health?

Holistic Dentistry is an

important component in ANY

health & wellness program

An approach to dentistry that

promotes health and wellness instead

of only treating "dis"ease.

Call or visit our website for more info: (715) 426-7777

Dr. Laughlin has spent thousands of hours

in continuing education over his 45+ years

in practice. His knowledge, combined with

advanced technologies, provide the best

chance to improve your oral health and

positively impact your overall wellbeing.

www.Health Centered Dentistry.com

September 2022

15
---
GROWING YOUNGER

LONGEVITY STRATEGIES THAT HELP

REVERSE THE AGING PROCESS

by Marlaina Donato

Longevity, a human quest through the ages, is now a hot topic

among scientific researchers that assert there has never been a

better time to maximize our potential for metabolic renewal.

Biological age—the state of our health at the cellular level—is in the

spotlight, as are the anti-aging benefits of science-supported phytonutrients,

cell-rejuvenating foods and safe, non-surgical, stem cell

procedures. Functional medicine, with its focus on the biologybased

root causes of disease, is also a rising star in the arena of

age reversal.

No matter which path we follow to aging vibrantly, the

most inspiring takeaway is that lifestyle, not genes, determines

destiny. "On average in the United States, the last 16

years of life are spent with multiple diagnoses and on multiple

medications. We are giving our hard-earned money to pharmacies,

hospitals and nursing facilities," says Kara Fitzgerald, a

naturopathic doctor in Newtown, Connecticut, and the author of

Younger You: Reduce Your Bio Age and Live Longer, Better. She and

other researchers contrast "lifespan", the years from birth to death,

to "healthspan", the years spent in good health free of age-related

disease and disability. "Lifespan is not necessarily healthspan, and

we can change that," she says.

Age Is Not Just a Number

Until recently, age was determined by the year

on our birth certificate, but "bio age" is the new

number to pay attention to. It might not only

predict health outcomes down the road, but

also add years to our lives. In groundbreaking

work in 2017, anti-aging researcher

Steven Horvath at the University of

California, Los Angeles, used algorithms

to calculate biological age on the basis of

how extensively our genome is modified

by a process called DNA methylation.

Researchers are now understanding

what factors can turn on positive gene

expressions and turn off those that

may activate life-threatening diseases.

"Bio age is how fast our bodies

are aging, and aging is the main risk

factor for all diseases, including Type

2 diabetes, cardiovascular disease, de-

contrastwerkstatt/AdobeStock.com

16 Twin Cities Edition NAtwincities.com
---
mentia and neurodegenerative disorders," says Fitzgerald, noting

that only 10 to 20 percent of longevity outcomes are genetic.

Fitzgerald and her team drove this point home with the first

randomized, controlled study on the power of lifestyle and diet

to turn back the biological age clock. Based upon functional

medicine, the program enrolled 18 healthy men between ages 50

and 72 in a target group and 20 in a control group. Those in the

target group ate a nutrient-rich diet, slept seven hours a night,

practiced relaxation techniques and took supplemental probiotics

and phytonutrients. They ate only between 7 a.m. and 7 p.m.,

exercised for at least 30 minutes five days a week, avoided sweets

and consumed two cups of dark, leafy, greens and three cups each

of cruciferous vegetables and colorful vegetables daily, as well as

six ounces of animal protein.

The results, published last year in the journal Aging, showed

that three years of bio age were reduced in the target group in just

eight weeks compared to the control group. "What we eat, our

stress load and our response to it, the quality of the air we breathe

and if we exercise are all drivers or reducers of our bio age. Knowing

this, we absolutely need to take responsibility for our lives,"

says Fitzgerald.

This bio age reversal is good news when we look at the grim

statistics. According to the U.S. Centers for Disease Control and

Prevention and the American Cancer Society, approximately

610,000 people die of heart disease in this country each year

and more than 600,000 Americans are predicted to succumb

to cancer this year alone.

last year in the European Journal of Pharmacology cites fisetin's numerous

potential benefits for neurodegenerative conditions such

as Parkinson's disease, amyotrophic lateral sclerosis, Alzheimer's

disease, stroke and vascular dementia.

The Trifecta of Acid,

Inflammation and Stress

Chronic systemic inflammation is now understood to be the physiological

springboard for most diseases ranging from cancer to depression,

but its connection to uric acid is critical in producing free

radicals that accelerate aging. "Unfortunately, most doctors look

michaeljung/AdobeStock.com

Molecular Magic

Harvard genetics professor David Sinclair, author of the seminal

Lifespan: Why We Age—And Why We Don't Have To, discovered

antioxidant-rich resveratrol in grapes in 2003. Since then, he and

other researchers have found additional compounds with the

ability to activate longevity pathways. Nicotinamide adenine dinucleotide

(NAD, or B 3

), a coenzyme involved in many metabolic

processes essential to life, has been shown to rejuvenate aging

mice, increasing energy-producing mitochondria in the cells and

fortifying muscle mass. The body makes less NAD as we age, but

research suggests that intermittent fasting, exercise and heat saunas

can stimulate this youth-preserving molecule. NAD-boosting

supplements are also on the market, but consuming foods like

naturally fermented sauerkraut, raw milk, nutritional yeast and

pumpkin seeds is also a good strategy.

SIRT6, an enzyme in close relationship with NAD and responsible

for many molecular anti-aging processes, including DNA

repair, is abundant in seaweeds, especially the strain Fucus vesiculosus,

commonly known as bladder wrack. Research published

in the journal Marine Drugs in 2017 indicates bladder wrack's

anti-inflammatory and anti-tumoral properties, as well as its

potential to protect the liver and normalize high blood sugar and

blood pressure.

Fisetin, a powerful flavonoid found in certain foods like

strawberries, peaches, apples, persimmons, tomatoes, onions and

cucumbers, rivals ever-beneficial quercetin. Research published

upon uric acid solely as a risk marker for gout. We now recognize

that uric acid serves as a powerful signal in the body to prepare for

food and water scarcity," says neurologist David Perlmutter, author

of The New York Times bestseller Grain Brain and the recent Drop

Acid, a guide to lowering uric acid in the body. "Uric acid levels

above 5.5 milligrams per decilitre trigger the body to raise the

blood pressure, increase the blood sugar, become insulin-resistant

and increase the formation and storage of body fat," he says. "Central

to regaining metabolic health and reducing risk for metabolic

conditions like Alzheimer's disease, coronary artery disease and

Type 2 diabetes is reining in uric acid."

Chronic, unmanaged stress is a major factor in physical and mental

decline due to elevated levels of cortisol. "Stress threatens the health

September 2022

17
---
and diversity of our gut bacteria, leading to increased gut permeability,

a central mechanism underlying widespread inflammation, which is

the cornerstone of all chronic degenerative conditions," says Perlmutter.

"Those conditions as a category are ranked by the World Health Organization

as the number one cause of death on our planet today."

Fitzgerald concurs, "Excessive inflammation—an imbalanced

immune response—accelerates the aging process, and it increases

with stress. Stress is the gasoline on the fire of aging."

Eating to reduce inflammation is key, and there is power on

our plates when we add some of Fitzgerald's longevity boosters

like turmeric, green tea, shitake mushrooms, wild-caught salmon,

eggs, liver and sunflower seeds. A study last year in Experimental

Gerontology reported that the amino acid L-theanine, found particularly

in green tea, reduced oxidative stress, liver degeneration

and inflammatory responses in aging rats.

No matter which path we follow to aging

vibrantly, the most inspiring takeaway is that

lifestyle, not genes, determines destiny.

Radical Renewal Without Surgery

In the daily survival game, the body's stem cells generate specialized

cells to replace those throughout the body that are damaged and dying.

This ongoing repair process slows down as we advance in years,

but cutting-edge procedures offer new hope for conditions ranging

from arthritis to age-related brain fog.

"Stem cells improve DNA methylation and telomere length, and

result in a reduced physiologic age compared to your chronologic

age," says Chadwick Prodromos, a Chicago-based, board-certified

orthopedic surgeon and the founder of the Prodromos Stem Cell

Institute, in Antigua. "Joint replacements are offered quite liberally

nowadays, but most of our patients with severe arthritis who were

offered joint replacements do well in our care without them for

virtually any joint in the body." Prodromos and his team combine

umbilical cord-derived stem cell treatment (non-embryonic/fetal)

with specially selected nutritional supplements and in some patients,

platelet-rich plasma and hyaluronic acid injections.

Even with exciting advances in the promotion of long life, experts are

unanimous in stressing that going into our golden years disease-free

begins and ends with individual lifestyle choices, starting with what we

put in our mouths. "Diet is the most critical variable in terms of our

metabolic destiny. It's been said that a person can't exercise away a poor

diet, and there's great wisdom in this statement," says Perlmutter.

"While stem cell treatment has been quite effective, it is important

to remember that avoiding chemicals in the environment, exercising

vigorously and maintaining a low BMI [body mass index] are clearly

the most important factors in good health," advises Prodromos.

Marlaina Donato is an author, composer and painter. Connect at

WildflowerLady.com.

Grow Your Business with Our

Team of Virtual Assistants

Let us help you with:

Administrative tasks

Email marketing

Social media management

Video editing

Podcast production

Facebook ad management

Website development, including

WordPress, Squarespace, Woo Commerce

and more!

PartneringUpVA.com

18 Twin Cities Edition NAtwincities.com
---
Defend What Matters Most

with SP Children's Immune

Help the immune system stand up for itself with SP Children's Immune — the first children's

product from Standard Process ® . It delivers key nutrients for proper immune system functioning and

development. * It can help protect their wellness to keep them on the path to optimal health.

NEW!

Is an excellent source

of vitamin D, zinc, and

antioxidant vitamin C

Everyday support

with elderberry and

prebiotic 2'-FL

Includes organic,

whole food-based

ingredients: beet root,

elderberry, and strawberry

Chewable supplement

Find a health care professional who offers Standard Process

products at standardprocess.com/Find

*These statements have not been evaluated by the Food and Drug Administration.

These products are not intended to diagnose, treat, cure, or prevent any disease.

©2022 Standard Process Inc. All rights reserved. LN02776 07/22

standardprocess.com
---
healing ways

Heading Off Headaches

NATURAL STRATEGIES HELP HALT THE PAIN

by Carrie Jackson

Pixel-Shot/AdobeStock.com

Headaches are one of the most common pain conditions in the world. According

to the Cleveland Clinic, up to 75 percent of adults have had a headache in the

past year. While symptoms vary in scope and intensity, understanding the underlying

cause of a headache can lead to better treatment outcomes. Most headaches can

be treated holistically, and lifestyle modifications can be key to lasting relief.

There are more than 150 types of headaches, with the most common being tension,

YESologist Intuitive

Transformational Coach

Teacher Visionary

www.neaclare.com

IT'S TIME

TO LIVE YOUR

LIFE

Book your FREE

Discovery Session

today.

migraine and cluster. Migraine attacks,

which according to the Migraine Research

Foundation affect 12 percent of people in

the U.S., are about three times more common

in women than in men. Classic symptoms,

which can be mild to severe, include

throbbing or pounding pain located in the

sinuses, forehead, back of the head or one

of the temples.

Triggers

Migraine can be triggered by changes in

the weather, fatigue, stress, anxiety, insufficient

sleep, dehydration and hormonal

changes, according to the American Migraine

Foundation. Headaches can also be

provoked by certain allergens, such as cigarette

smoke, exposure to harsh chemicals

in cleaning or beauty products, mold, dust,

20 Twin Cities Edition NAtwincities.com
---
caffeine, alcohol and fermented foods.

According to Alexander Feoktistov,

M.D., Ph.D., founder of the Synergy Integrative

Headache Center, in Chicago, many

headaches are caused by some form of

stress. "Both physical and emotional stress

can manifest with headaches. These are

often triggered by changes in a routine or

schedule, which throws the body's regulatory

rhythm off. Skipping meals, varying

your sleep patterns and exercising inconsistently

can all confuse the body and lead

to a headache, varying in intensity from

dull and distracting to severe and debilitating,"

he explains.

The Mind-Body Connection

While not completely understood, mental

stress and anxiety can also be a trigger.

"The mind-body connection is fierce," says

Christina P. Kantzavelos, a licensed clinical

social worker who specializes in chronic

illness and

pain at Begin

Within

Today, in

San Diego.

"It's important

to keep

in mind that pain literally originates in the

brain. I use a Constructed Awareness approach

with clients and bring curiosity to

the pain they are experiencing, including

headaches. What thoughts and emotions

are coming up when they focus on the

pain?" she says. "Physical symptoms are

often the manifestation or tangible evidence

of what is going on in your unconscious

mind. Our bodies become stronger

or weaker, depending on our emotional

state. Fear, self-criticism and invalidating

the self can be the root of a headache."

Try Acupuncture

or Acupressure

Evidence suggests that acupuncture is effective

in relieving the pain of headaches

by changing the flow of energy, increasing

blood circulation, releasing endorphins

and relaxing muscles. Acupressure and

other techniques can be done anywhere,

says chiropractor and acupuncturist Michele

Renee, director of integrative care at

Northwestern Health Sciences University,

in Bloomington, Minnesota. "The best acupressure

point for headaches is the soft skin

in-between the thumb and pointer finger.

Massage it for 20 to 30 seconds at a time

to relieve pain or hold it for 10 seconds,"

she says. "Migraines are caused by vascular

dilation in the head, so I recommend

putting your hands and feet in hot water or

taking a bath

Most headaches can be treated

holistically, and lifestyle modifications

can be key to lasting relief.

to stimulate

blood flow

away from

the head to

the rest of

the body."

Don't Forget Exercise

Renee also suggests maintaining a regular

exercise routine to ward off headaches.

"The less active someone is, the tighter

their muscles are and the more likely they

will experience headaches. Make sure to

get out for a walk every day, or try running

to keep the body and mind moving. Yoga

is another great activity as a mindfulness

practice that decreases stress and also keeps

the body moving to eliminate tension."

Supplements Help

Nutritional supplements can also be helpful,

Renee says. "Increasing nutrients such as

magnesium, coenzyme Q-10 and riboflavin

can help minimize pain. Before stocking

up on supplements, be sure to consult with

a holistic practitioner to make sure you are

making the wisest and safest selections for

you. Many nutrients can be found in common

foods like dark chocolate, leafy greens,

seeds and nuts, meat, fatty fish and legumes."

Good Practices

Feoktistov recommends that patients experiencing

headaches start with lifestyle modifications

and over-the-counter meds such as

ibuprofen. "Practice good sleep hygiene, stay

hydrated by drinking water and minimizing

caffeine, and introduce meditation as

a way of focusing on what's physically and

emotionally going on in your body," he says.

"If headaches disrupt your daily routine, are

severe or frequent and/or poorly controlled

with over-the-counter medications, it's time

to seek help from a headache specialist or

other medical professional who can work

with you on a path to healing."

Carrie Jackson is a Chicago-based writer

and frequent contributor to Natural

Awakenings magazine. Connect at

CarrieJacksonWrites.com.

Happily we bask in this warm

September sun, which

illuminates all creatures.

~Henry David Thoreau

September 2022

21
---
wise words

Lissa Rankin on the

Mysteries of Healing

Mind-body physician Lissa Rankin,

a New York Times bestselling

author and founder of the Whole

Health Medicine Institute in the San Francisco

Bay Area, takes readers on her decade-long

journey in her latest book, Sacred Medicine:

A Doctor's Quest to Unravel the Mysteries of

Healing. She provides a discerning guide to

the sometimes perilous paths available to

patients when wellness fads, lifestyle changes

and doctors have failed them.

What motivated you to write

Sacred Medicine?

After 14 years of studying and practicing conventional

medicine, I left it at age 37 because

I became disillusioned and "morally injured"

by the limitations of conventional medicine

and the U.S. health care system, which give lip

service to a patient's well-being and ultimately

are about the financial bottom line.

I never lost respect for the life-saving

aspects of conventional medicine. I simply

believed it shouldn't be the only medicine

in my medicine bag. It only took me nine

months to realize that I could quit my job as

an Ob-Gyn, but I couldn't quit my calling.

That which drew me to medicine from age 7

was still alive in me. I began spiritually seek-

by Linda Sechrist

22 Twin Cities Edition NAtwincities.com

ing to find out what else heals. During my

years of studying and practicing everything

along the health, wellness, psychology,

yoga and spirituality gamut, I tried many

things, cherry-picking from various spiritual

traditions, Eastern religions and New Age

spirituality. None of these quite fit either. I

found as much shadow in this camp as I did

in the conventional medicine camp.

Why use a carefully

balanced brew of several

healing interventions?

Limiting how you approach your health

care to one camp or the other could prevent

you from having the best possible health

outcome. There's light and shadow in both

camps. My book helps educate readers so

they can practice discernment and make

wise choices about which tools from the

world's medicine bag serves them best. It's

meant to help them become more miracleprone

and hopefully to embrace the paradoxes

of healing, one of which is: You can

heal yourself and you can't do it alone.

A lot of the practices I write about are

intended to facilitate the restoration of

wholeness. That doesn't mean that people

shouldn't also seek out potentially curative

treatments with their conventional medical

doctor. But those treatments often don't cure

either, so I really see it that individuals don't

have to choose one or the other. Rather,

they can choose conventional medicine and

sacred medicine.

What's the difference between

curing and healing?

Generally, curing is about the elimination of

all evidence of disease. Healing is a restoration

of wholeness, which is what the word

"heal" is based upon. When I've been present

with people during end-of-life care, I've

witnessed the restoration of wholeness in

the tying up of the loose ends of a well-lived

life or a life not so well-lived, even in the

presence of physical decline. Repair, healing

and forgiveness in both internal and external

relationships in our lives can come from doing

deep shadow work.

What are our whole health

intelligences?

Because healing is a return to wholeness,

connecting with your whole health intelligences—mental,

intuitive, emotional and

somatic—must be the foundational part of

your healing journey to create conditions

which make the body miracle-prone. I think

of the work of integrating them as I do a

symphony that requires a conductor to arrange

and harmonize the intelligences. I call

the conductor the "inner pilot light".

For example, if we're making medical decisions

or any significant decision, it's important

to consult all the intelligences. Consider not

only what the mind is telling you about what's

wise and smart and what the science shows,

but what intuition is telling you about what

might be in your best interests. Or consider

what your gut or other aspects of your body

are feeling. It's not only the gut that can give

us somatic intelligence. We can tune into

various intelligences all over our body. Some

healers I've met are finely tuned into this kind

of intelligence to the point that they can ask

a "yes" or "no" question and feel the answer

somatically. They use this as one of the ways

to guide themselves and their clients.

What part does trauma

play in sacred medicine?

Although trauma as a cause of physical disease

might be disputed by skeptics who resist

information that contradicts their worldview,

the body of scientific data linking psychological

trauma and both pediatric and adult-onset

disease is airtight. According to so many

sources in the mainstream medical literature,

anywhere from 60 to 80 percent of illnesses

have stress-related emotional underpinnings.

What causes stress? Trauma does.

Linda Sechrist is Natural Awakenings

senior staff writer. Connect at

lysechrist@gmail.com.
---
©fizkes

The Health and

Happiness Connection

by Chelsea Kazmierczak-Goethel

Health and happiness are deeply interconnected. Years of

research into the dynamic interplay between happiness and

health have continuously verified the cyclical relationship

between these concepts. It has been said that to be truly healthy, one

must also be happy, and that there is no genuine happiness without

health. If someone is aiming to live an inspiring and fulfilling life,

one must prioritize their health.

Happy people tend to be healthier. Those with higher life satisfaction

are shown to have higher immune system function and fewer

chronic pain conditions such as arthritis, fibromyalgia and headaches.

Studies demonstrate that they also have a lower risk of preventable

diseases. Positive well-being is also linked to a longer life expectancy

and an improved quality of life.

There are many reasons for this. People that consider themselves

happy have healthier lifestyles. Research shows that those with

positive well-being consume healthier diets, are 50 percent more

likely to eat fruits and vegetables, and are significantly more likely to

be physically active. The health benefits of these habits are plentiful,

including lower body fat percentage, improved energy levels and a

reduced risk of cardiovascular disease and diabetes.

Though happiness may sometimes feel elusive, there are many

strategies that one can utilize to increase feelings of well-being.

Given the incredible benefits of happiness for mental and physical

health, putting time and intention into these tools is well worth it.

Nearly half of a person's capacity to experience happiness and fulfillment

is set by intentional activity. Useful tools include practicing

daily gratitude, setting meaningful and attainable goals that bring a

sense of accomplishment and mindfully caring for those we love.

People who describe themselves as healthy are happier than

their peers. Those who are more satisfied with their health report

experiencing a higher sense of well-being across all areas of life. Re-

search continuously demonstrates the link between physical health

and overall sense of life satisfaction and happiness. The habits and

activities that improve one's state of physical and biochemical health

improve the hormones and neurotransmitters that create a greater

sense of happiness.

Prioritizing habits that support the health of the gut improves

mental health and leads to a happier and more fulfilled life. Reducing

the consumption of packaged, processed foods eliminates many

food additives that disrupt the balance of the microbiome. This allows

for a healthier immune system in addition to improved mental

health. Eliminating sugar sweetened beverages leads to greater blood

sugar regulation, allowing many metabolic functions to improve.

Focus on consuming ample protein, healthy fats, vegetables,

fruits, nuts and complex carbohydrates. Five to six cups of a variety

of produce will provide the nutrients that all cells—especially in the

brain and nervous system—need to thrive. Omega-3 fatty acids in

fatty fish, olive oil, nuts and seeds support every cell in the body.

Thirty minutes of movement on most days

of the week is beneficial for the cardiovascular

system and beyond.

The link between health and happiness

goes far beyond simply feeling well.

In the world of holistic health care, when a

patient regains their health, the celebration

is not just about someone feeling better. It

includes what a healthy person can do and

the inspiration they can follow in their life.

An 18-year-old with a healthier immune system no longer suffers

from multiple respiratory illnesses every winter, which means

they can go off to their top choice university without worrying about

getting sick. The kiddo who no longer has daily stomach aches

can reach a new belt level in karate. The newlywed with improved

hormonal balance and gut health can transition into married life

with the exciting dreams of building a family. And a mother who has

eliminated migraines and fibromyalgia pain can show up for herself

and her loved ones in the way she desires.

Health and happiness build upon each other. Anyone seeking

a life full of joy and fulfillment must nurture both areas.

Implement daily, intentional habits to create physical, mental and

biochemical well-being.

MetroEast Natural Healing Center, in Oakdale, uses a targeted approach

to assess states of malnutrition, toxicity and other causes of ill

health. Their highly trained and experienced nutrition practitioners

specialize in creating customized dietary and supplemental plans to

improve the health of their patients. From minor symptoms to serious

health concerns, the expertise of their holistic practitioners can

make a major difference in reaching one's health goals.

Chelsea Kazmierczak-Goethel, MSACN, is a holistic

practitioner at MetroEast Natural Healing Center. She

is advanced clinically trained in Nutrition Response

Testing, holds a bachelor's degree in Human Physiology

and a master of science in Applied Clinical Nutrition.

Her own health issues brought her into the natural

health care world six years ago, but the return of joy

and optimum health to her patients happily fuels her every day. She is

grateful to participate in the healing journey of so many patients. For

more information, visit NutritionChiropractic.com. See ad, page 11.

September 2022

23
---
conscious eating

Food Dehydration

Made Easy

BEST WAYS TO PRESERVE THE HARVEST

by Sheila Julson

Drying food is the oldest known method of food preservation. Middle and Far

Eastern cultures have used the sun and wind to dry foods since 12,000 B.C., according

to the National Center for Home Food Preservation (NCHFP). Today, the

easy availability of food dehydrators offers a convenient way to preserve the fall harvest.

When done correctly, dehydrating food is a safe method for maintaining

its original state, says Tracey Brigman, NCHFP

associate director and University of Georgia

clinical assistant professor. "Dehydrators

remove the water content in foods,

resulting in a low risk of bacteria

and spoilage."

Unlike other food preservation

methods such as canning or

fermenting, dehydrating food does not

require lots of special equipment,

tools or skill. "Dehydrating food

is super easy to do," says Carole

Cancler, the Hawaii-based

author of the Complete Dehydrator

Cookbook. "Drying

food is more forgiving.

You can't make a

lot of mistakes.

Canning, if you

do it wrong, can

make everyone in your family sick." The

only caveat, Cancler says, is that food not

thoroughly dried will get moldy. In humid

environments, dehydrated foods must be

kept tightly sealed to keep out moisture

and prevent mold from forming.

Julia Skinner, founder and director

of Root-Kitchens.com, an online

fermentation and food history

company, adds that when

foods are dehydrated, they

shrink and therefore take up

less storage space. "They're

great to pack for traveling

or for small

kitchens.

Dehydrating

can

also concentrate

some

flavors, such

as with dried

tomatoes."

yuriygolub/AdobeStock.com

24 Twin Cities Edition NAtwincities.com
---
Almost Anything

Can be Dehydrated

Many types of food can be dehydrated, including fruit, veggies,

meat, fish, herbs and nuts. "It's easier to say what can't be

dehydrated," Cancler says. "The general rule is you don't want to

dehydrate food that has a high fat content, such as fatty meats or

avocados." They go rancid quickly during storage. While there are

dehydrated, high-fat foods sold commercially such as cheese, peanut

butter and eggs, these are processed using special equipment

and techniques that can't be copied in a home kitchen.

Sliced strawberries, chopped onions or celery are good foods

for beginners. "People tend to throw those foods away a lot. They

buy them and don't use it all up before they spoil. Dehydrate

leftover strawberries for snacks and dehydrate vegetables to use

in soups or stews," Cancler suggests.

Getting Started

Starter model home food dehydrators, often found at resale stores

or rummage sales, can be purchased for about $50. Some have

adjustable temperature settings for different kinds of foods. When

purchased new, most food dehydrators include recipe booklets.

When using a dehydrator, Skinner advises, turn it on to the

appropriate setting and lay the food in a single layer on the trays

provided, then let the dehydrator run for a few hours. She usually

turns food halfway through to prevent sticking.

Cancler says that in some cases an oven can be used to dehydrate

food, but it isn't the most cost-effective method. "I don't

recommend continued use of the oven, because depending on

where you live and the type or size of food being dried, drying can

take anywhere from eight to 36 hours. Running an electric or gas

range for that long uses a lot of energy."

She says that ideal temperatures are 125 to 135 degrees, but most

standard ovens only go as low as 170 degrees, which is too warm

to dehydrate fruits or vegetables. "Then you must do wacky things

like prop the door open to cool down the oven." The exception, she

says, is jerky: "It must be dried at a higher temperature, and lowerend

food dehydrator models don't get hot enough."

Sun-drying foods outdoors is risky, Brigman cautions, due to

varied weather conditions. In addition, insects and air pollution

have to be considered. "For safety reasons, consumers should

really purchase a food dehydrator. While it may be a high cost

when you begin dehydrating, if you are a serious food preserver,

it will save you money in the long term," she says.

Sheila Julson is a freelance writer and regular contributor to Natural

Awakenings magazines throughout the country.

Today I know I walk with faith and grace beside me.

I feel the light as it grows within and

shine it out onto the world.

~Jodi Livon

crossword puzzle

Across

1 Way to avoid the costs of

excess consumerism

4 Shocked breaths

7 Restrain

8 Bladderwrack, for example

9 Salon concern

10 Signal in the body to

prepare for food and water

scarcity, 2 words

13 Tint of color

14 Possessive pronoun

16 Sea plant

17 Temperature controls,

briefly

19 Snack

21 That's it!

22 Depart

25 Method of sharing equipment

needed for occasional

repairs and odd jobs, 2 words

29 Satisfied

30 Extremely small

31 Equipment used to dry

foods as a preserving technique

with low risk of

bacteria and spoilage

Answers and a full-page crossword puzzle can be

found at NATwinCities.com.

Down

1 Like goods in thrift stores

2 The A in NAD (coenzyme

involved in many metabolic

processes essential to life)

3 Pen's fluid

4 Take a quick look

5 Treatment that replaces

damaged and dying cells, 2

words

6 Depressed

8 "The gasoline on the fire

of aging" per the naturopathic

doctor Kara Fitzgerald

11 nap-_____ flower

12 Indian dish made with

stewed legumes

15 It's used to reduce swellings

18 Heat related prefix

20 Stock

23 Type of bread

24 Rainbow shapes

25 Golf equipment

26 Was in front

27 Breathable gas mixture

28 Time period, for short

29 Doctor's title letters

September 2022

25
---
calendar of events SUNDAY, SEPTEMBER 4

Women of Color Affinity Group – 3-4pm. Looking

for a space where women of color can come together

featured event

Discover Your Highest

Purpose

Sri Harold Klemp, the spiritual leader

of Eckankar, shares wisdom through

stories and spiritual insights that bring

meaning, connection and humor to the

workings of Spirit in everyday life.

Fridays at 7pm

Watch on Channel 6 or via MCN6.org

For more information, visit Eckankar.org,

TempleOfECK.org or Facebook.com/

Eckankar. See ad, page 2.

THURSDAY & TUESDAY,

SEPTEMBER 1 & 6

Virtual Citizenship Workshop –1-2:30pm. Drop-in

to our online study sessions to practice for your citizenship

interview. Work in small groups or individually

with a volunteer from Literacy Minnesota. Study

English vocabulary, reading, writing, and civics. Free.

Online. Hclib.BiblioCommons.com/events.

THURSDAYS, SEPTEMBER 1 & 15

Career Counseling and Job Search Assistance –

1:30-4pm. Drop in and meet with an employment

counselor from CareerForce Bloomington for career

counseling and job search assistance. They offer

résumé advice, job interview coaching, and effective

job search strategies. Free. 8801 Portland Ave. S.,

Bloomington. Hclib.BiblioCommons.com/events.

THURSDAY, SEPTEMBER 1

Nokomis Library Writing Group – 3:30-5:30pm.

Join fellow writers for encouragement, feedback,

and to help each other take writing to the next

level. Bring works in progress, paper and a pen.

You will explore different ways to think about

writing. Free. 5100 34th Ave. S., Minneapolis.

Hclib.Bibliocommons.com/events.

SATURDAYS, SEPTEMBER

3, 10, 17, & 24

Computer Tutor Available – 9-11am. Drop in

to receive one-on-one assistance with computers,

everything from using Microsoft Office and Google

Docs, filling out job applications, signing up for

email, searching the internet, printing, scanning,

and more. Free. 300 Nicollet Mall, Minneapolis.

Hclib.Bibliocommons.com/events.

SATURDAYS, SEPTEMBER

3, 10, 17, & 24

Pregnancy, Childbirth, Postpartum and Baby

Classes – 6-7pm. Classes are held virtually online

throughout the month and are led by our top AID

instructors. AID utilizes state-of-the-art 3D visual

aids and activities to keep it fun and engaging while

presenting the latest evidence-based material on each

topic. $35.Online. Childbirth-Classes.com.

and share their experiences? Then join the Women of

Color Affinity Group! WOC Affinity group seeks to

foster a sense of belonging and encourage meaningful

conversations. Free. Hosmer Library, 347 E. 36th

St., Minneapolis. Hclib.Bibliocommons.com/events.

WEDNESDAYS, SEPTEMBER

7, 14, 21, & 28

Fearless and Friendly Knitting Group – 10am-

12pm. Learn how to knit or practice new techniques.

For people at all skill levels. Make new friends while

creating your own handmade masterpieces. Free.

Nokomis Library, 5100 34th Ave. S., Minneapolis.

Hclib.Bibliocommons.com/events.

THURSDAY, SEPTEMBER 8

Halcyon Days Book Club: Malibu Rising –

7-8:30pm. Halcyon Days is a book club that doesn't

take itself too seriously; like hanging out with old

friends you didn't know you had. Hosted by Kyle

from Arvonne Fraser Library. Free. Online. Hclib.

Bibliocommons.com/events.

Don't Get Left in the Dark! Solar Power with

Battery Backup – 7-8pm. Solar power with battery

backups can help you feel safer in strong weather. From

thunder and lightning that knock out power or ice storms

that drag powerlines to the ground, solar with battery

can help you feel secure knowing that your lights will

stay on when you need it most. Free. Online. Blog.AllEnergySolar.com/summer-solar-energy-webinars-2022.

SATURDAY, SEPTEMBER 10

Nutrition Response Testing – 9am-5pm. Nutrition

Response Testing is a non-invasive system of analyzing

the body in order to determine the underlying causes of

ill health. When these causes are corrected through safe,

natural, nutritional means, the body can repair itself in

order to attain and maintain more optimum health. $99.

MetroEast Natural Healing Center, 6993 35th St N, #2,

Oakdale. RSVP at 651-771-1703. Unsinc.info/events/

september-10-st-paul-mn-oakdale/.

Twin Cities Pagan Pride Fall Festival – 10am-6pm.

FREE public gathering where Pagans can network

with each other and celebrate Pagan Pride! The Twin

Cities Pagan Pride Fall Festival is a free fall event, open

to the public, that offers education about Paganism

to the larger community. Free. Minnehaha Regional

Park, 4801 S Minnehaha Drive, Minneapolis. TCPaganPride.org/pagan-pride-fall-festival/.

Fix-It Clinic – 12-4pm. Bring your broken household

items to a free Fix-It Clinic and work together with

friendly, skilled volunteers to diagnose, troubleshoot

and fix your stuff. We can help you with small appliances,

clothing that is clean, electronics, mobile

devices and more. No registration is required, and

events are family friendly. Free. Gramercy Park Cooperative,

6711 Lake Shore Drive South, Richfield.

Hclib.Bibliocommons.com/events.

Community Woodshop: Spooncarving – 12-4pm.

Adult Art Program. Learn how to carve a spoon

from a fresh cut tree using traditional Nordic carving

techniques. We cover tree anatomy, axing out a blank

(roughed out spoon shape), knife holds for the Hook

& Sloyd knife, drying, and finishing. This class is great

for the beginner or the person wanting to learn Sloyd

style carving. Free. East Lake Library, 2727 E. Lake

St., Minneapolis. Hclib.Bibliocommons.com/events.

MONDAY, SEPTEMBER 12

Golden Valley Book Club: Where the Crawdads

Sing – 1:30-3pm. Join our discussion of new and

interesting titles. Hosted by Golden Valley Library.

Free. Golden Valley Library, 830 Winnetka Ave. N.,

Golden Valley. Hclib.Bibliocommons.com/events.

MONDAY, SEPTEMBER 12

Bees to Mead: Drinking Honey – 5-7pm. Join

Dodge Nature Center and White Bear Meadery

for a sweet adventure. Together, we'll explore the

science of honey and how it's made into mead, the

world's oldest alcoholic beverage. You'll put on a

bee suit and get up close to a honeybee hive. Then

we'll learn about, and sample meads crafted by

White Bear Meadery. $25. Shepard Farm in Cottage

Grove, 8946 70th Street S, Cottage Grove.

DodgeNatureCenter.org/event.

MONDAY, SEPTEMBER 12

Keystone Foodmobile Distribution – 9:45am-

11:15am. The Keystone Community Services

Foodmobile will be distributing free groceries

in the parking lot at the Ramsey County Library

in Roseville on the second Monday of every

month. This service is available to anyone in

need. Participants will receive shelf stable items,

produce, milk, meat, and other staples. Free.

2180 North Hamline Ave., Roseville. RCLReads.

Bibliocommons.com/events

TUESDAY, SEPTEMBER 13

Virtual Class – Intro to Handmade Gnocchi -

5:30-6:30pm. If you have ever had real, handmade

gnocchi, you know that the pillowy, bite-sized

dumplings made by hand are the stuff of dreams.

Join Chef Robin Asbell for a virtual, hands-on

gnocchi and sauce-making class, where you'll

learn how to make the dough, form the dumplings,

and cook them properly, then sauce them

for a comforting, satisfying meal. Free. Online.

MSMarket.coop/event.

featured event

Autumn Equinox

Spiritual Retreat

Throughout this class, you will be

deepening and expanding your dowsing

knowledge and will be introduced

to various ways to use your dowsing

skills. You will learn to: expand your

dowsing technique, use your dowsing

rods for healing, cure karma lines, learn

advanced space clearing, distant dowse

your childhood home.

Monday-Thursday

September 19-22

8am-7pm.

Cost: $698 until Sept. 1,

$848 after.

Strike Theatre, 824 18th Ave NE.,

Minneapolis. YesWardCoaching.com/lightup.

26 Twin Cities Edition NAtwincities.com
---
WEDNESDAY, SEPTEMBER 21

Budget Shopping: Meal Planning – 4:30-6pm.

Kick off the fall season and, for many, the return to

home cooking and meal planning by learning how

to shop for delicious local, healthful foods without

breaking the bank. Join us for a mini-tour of the

co-op, learn tips to minimize waste, maximize savings

in your meal planning and shopping, and gain

insight into saving with coupons, deals and membership.

$5 for members, $7 for non-members. 740

East 7th Street, Saint Paul. MSMarket.coop/event.

THURSDAY, SEPTEMBER 22

Night for Nature 2022 – 6-8:30pm. You're invited

to Night for Nature, the annual benefit for Dodge

Nature Center and Preschool. Experience the magic

of nature outdoors. Adults only. $125 - $250. Main

Property, Farm Entrance 3, 1701 Charlton Street,

West St. Paul. DodgeNatureCenter.org/event.

Conscious Parenting Virtual Class – 7-8:30pm.

Throughout this class, you will be deepening and

expanding your dowsing knowledge and will be

introduced to various ways to use your dowsing skills.

You will learn to: expand your dowsing technique,

use your dowsing rods for healing, cure karma lines,

learn advanced space clearing, distant dowse your

childhood home. $148. Online. AnnetteRugolo.com/

product/conscious-parenting-virtual-class/.

FRIDAY, SEPTEMBER 23

6th Annual Mycelium Mysteries Conference –

Sept 23-25. Hosted by Midwest Women's Herbal

focusing on all things in the mushroom world.

Workshops offered at the beginner through advanced

levels on topics such as wild mushroom skills, fungal

ecology, fungi and human health, and ethnomycology.

Featuring Keynote Speaker Barbara Ching,

former president of the North American Mycological

Association. Dodgeville, WI. Tickets & to register:

MidwestWomensHerbal.com.

featured event

The Light Up

with Nea Clare

This Live Channeling Event with

Nea Clare is an opportunity for you

to connect with a community of

like-SOULed beings for inspiration,

connection, and alignment.

Sunday, September 25

from 5-8pm

Cost: $20

Strike Theatre, 824 18th Ave NE., Minneapolis.

YesWardCoaching.com/lightup.

MONDAYS, SEPTEMBER 26–

OCTOBER 17

Diamond Dowsing Advanced Virtual Class

– 7-8:30pm. Throughout this class, you will be

deepening and expanding your dowsing knowledge

and will be introduced to various ways to

use your dowsing skills. You will learn to: expand

your dowsing technique, use your dowsing rods

for healing, cure karma lines, learn advanced

space clearing, distant dowse your childhood

home. $348. Online. AnnetteRugolo.com/product/diamond-dowsing-advanced-virtual-class/

WEDNESDAY, SEPTEMBER 28

Ugandan Cooking: Cassava and Greens –

EVENTS FOR KIDS

THURSDAY, SEPTEMBER 1

Crafting for Kids - North Regional – 12:30-

1:30pm. Entering grades 3-12. Younger children

may attend with a caregiver. Each week create a

new craft or art project. Materials provided. Led

by library staff. Free. 1315 Lowry Ave., N. Minneapolis.

Hclib.BiblioCommons.com/events.

MONDAYS, SEPTEMBER 1, 8, 15

Family Storytime/Rimas y cuentos –10-10:30am.

For children of all ages and their caregivers. Talk,

sing, read, write and play together. Share books,

stories, rhymes, music and movement in English

and Spanish. Free. 347 E. 36th St., Minneapolis.

Hclib.BiblioCommons.com/events.

FRIDAYS, SEPTEMBER 2 - 30

Baby Storytime –9:30-10am. For children birth

to 24 months and their caregivers. Share books,

bounces, rhymes, music, and movement. Free.

2880 Hennepin Ave. Minneapolis. RCLReads.

Bibliocommons.com/events.

SATURDAY, SEPTEMBER 3

Kids Chess Club – 10-11:30am. Welcome all kids

who want to play chess with other kids. Play for

fun and to learn chess basics. Open to all children

in grades K-6. All levels are encouraged to attend,

and new players will be offered help to learn

the rules and get started. Free. Walker Library,

2880 Hennepin Ave., Minneapolis. Hclib.Biblio

Commons.com/events.

WEDNESDAY, SEPTEMBER 7

MakerKids Take-and-Make Kit: Coffee Filter

Experiments – All Day. Drop by RCL-Mounds View

for a take-home Maker Kids activity while supplies

last. No registration required. Best for ages 5 and up.

Free. 2576 Mounds View Boulevard, Mounds View.

RCLReads.Bibliocommons.com/events.

FRIDAY, SEPTEMBER 9

Junior Zoo Art – 10:30-11:30am. This workshop

gives little artists the chance to draw all the different

animals and things we see at the zoo. Llamas,

lions, monkeys and more. For ages 4 and up. Free.

2180 North Hamline Ave., Roseville. RCLReads.

Bibliocommons.com/events.

SATURDAY, SEPTEMBER 10

Read With an Animal –10-11:30am. Grades 1-3.

Cuddle up with a certified therapy animal and

practice reading aloud. Most libraries host dogs,

6:30-8pm. Learn to cook cassava and greens, a

traditional meal in Uganda. Cassava is a starchy

root vegetable packed with vitamins and is a major

staple for many people in Africa. The instructor

pairs the cassava with cooked collard greens for a

flavorful and nutritious combo. $20 for members,

$25 for non-members. 1500 West 7th Street, Saint

Paul. MSMarket.coop/event.

and you can call ahead to see if other animals

will be visiting. Sign up when you arrive for a

15-minute slot. Free. Westonka, 2079 Commerce

Blvd., Mound. Hclib.BiblioCommons.com/events.

MONDAYS, SEPTEMBER

12, 19, 26

Baby & Me Storytime – 9:45-11:15am. Share

stories, songs, rhymes, and engage in play with

your baby at this storytime designed for the

youngest learner. For ages 6-23 months and

their caregivers, no registration necessary. Free.

2150 2nd Street, White Bear Lake. RCLReads.

Bibliocommons.com/events.

TUESDAY, SEPTEMBER 13

Family Storytime – 6-6:30pm. Join us inperson

for stories, songs, and rhymes designed

to enhance your child's early literacy skills. Appropriate

for ages 2-5. No registration is required.

Free. 4560 Victoria St N., Shoreview, RCLReads.

Bibliocommons.com/events

FRIDAY, SEPTEMBER 16

Yoga Storytime at the Augsburg Adventure

Park –10-10:30am. Join Augsburg Park Library's

children's librarian for stories and yoga at the

Augsburg Adventure Park. Free. Augsburg Park

Library, 7100 Nicollet Ave., Richfield. Hclib.

BiblioCommons.com/events.

WEDNESDAY, SEPTEMBER 21

Paws to Read with Maslow –6:30-7:30pm.

Come work on your reading skills in a lowstress

environment. Our licensed therapy

dogs welcome all school-age readers to participate

in this special program. Free. 3025

Southlawn Drive, Maplewood. RCLReads.

Bibliocommons.com/events.

SATURDAY, SEPTEMBER 24

Paws to Read with Duke or Trevor –10-

11:30am. Work on your reading skills in a lowstress

environment with Duke or Trevor! They are

licensed therapy dogs who welcome school-aged

readers who need that extra practice to participate

in this special program. Free. 3025 Southlawn

Drive, Maplewood. RCLReads.Bibliocommons.

com/events.

SATURDAY, SEPTEMBER 24

Pop-Up Library at Community Resource Fair

and Family Fun Day –10am-1pm. Curious to see

what the Mounds View community has to offer

you and your family? Check out the Community

Resource Fair and Family Fun Day. Free. 5394

Edgewood Drive, Mounds View. RCLReads.

Bibliocommons.com/events.

September 2022

27
---
community resource guide

Connecting you to the leaders in natural health care and green

living in our community. To find out how you can be included in the Community

Resource Guide, email Publisher@NAtwincities.com to request our media kit.

BODY WORK

MYOFASCIAL RELEASE &

CRANIOSACRAL THERAPY

Barb Ryan, LMT • 612-922-2389

Bhakti Wellness Center

7550 France Avenue S, #220, Edina

Specializing in persistent and

chronic pain and mysteries of the

body. Also providing care to

clients seeking the experience of

deep relaxation and more selfconnection.

Skilled and compassionate

care. See ad, page 9.

BREAST HEALTH

CONSULTANT:

NATURAL BREAST HEALTH

Joyce Sobotta, Published Author

AromatherapyNaturesWay.com

Joyce@AromatherapyNaturesWay.com

JoyceSobotta.com • 715-828-0117

Joyce Sobotta, published author

of Breast Health Is in Your

Hands, is a natural breast health

educator whose work is endorsed

by doctors and thermographers

nationwide. She is passionate

about teaching women to love

their breasts and take responsibility

for their health. She has

facilitated breast health programs for leading health

organizations and is available for private consultations

and speaking engagements. See ad, page 11.

CHIROPRACTOR

CADENCE CHIROPRACTIC

Dr. Amanda Haeg

6409 City W Pkwy #105, Eden Prairie

CadenceChiroMN.com • 952-855-7656

Dr. Amanda Haeg is the

only chiropractor in Minnesota

offering the Pierce

Results System. With a

specific system of analysis

and correction, your care

will be tailored to your exact needs, providing you

with precisely what will help you get your health

back. See ad, page 8.

COACHING

ANNETTE RUGOLO

Soul Coach, Author and Teacher

AnnetteRugolo.com

We are in a time of fast evolution

and we have the opportunity to release

deeply held emotional and

mental patterns along with karmic

lifetimes that are keeping us stuck.

The tools I have acquired and honed

for more than 20 years will help you

move beyond the stuck places in

your life and help you align with the light of your soul.

You will receive tools of empowerment that will help

you continue on your life's path and soul's journey.

See ad, page 11.

COMPOSURE COACHING

Candi Broeffle, MBA, CPC

Candi@ComposureCoaching.com

763-270-8604

ComposureCoaching.com

Master your business so you can

practice your passion. Business

coaching for purpose-driven entrepreneurs

to clarify your vision,

build your confidence and create

a soul-centered strategy. Call today

for a free Discovery Session

and get on your path to business

success. See ad, page 4.

SOUL PURPOSE COACH

& HOLISTIC HEALER

Barbara Brodsho, MA

612-444-9751 • BarbaraBrodsho.com

Providing spiritual guidance to

help live your purpose and thrive

utilizing your soul's Akashic

Record. Discover your soul's

innate gifts, create a vocation that

aligns with your soul's passion,

and gain new perspective, clarity

and insight about your life's

challenges by understanding the

lessons your soul chose to experience. Schedule a free

discovery session to learn how to create a purposefilled

life.

COACHING

TRANSFORMATIONAL COACH AND

LIFE MASTERY TEACHER

Nea Clare

NeaClare.com • Nea@NeaClare.com

Would you like to say "YES" and

make your dreams come true? If

so, I can help! Book a strategy

call with me today. I work exclusively

for extraordinary women

who are tired of waiting on the

right time or circumstances before

pursuing their dream career

path – we'll explore how life

coaching has tremendous transformative power in

strengthening self-confidence while also giving one

unshakeable faith in your capability to achieve your

goals. What you want is on the other side of your

hesitation. If it is time to breakthrough, schedule a

call today at 612-227-3854 or email Nea@NeaClare.

com. See ad, page 20.

VISIONAIRIUM

Leah Martinson, Health Coach

23 4th St SE Suite 201, Minneapolis

Visionairium.com • 651-315-1347

Leah's superpower is intuition and

insight, and she uses it to teach

people how to use their bodies as

a guide to wellness. Instead of

kicking tired, overwhelmed people

in the butt, her mind-body,

medicine-based health coaching

process touches on all areas of

well-being in your life. Schedule

your free discovery session today. See ad, page 13.

DENTIST

HEALTH CENTERED DENTISTRY

N7915-902 St

River Falls, WI • 715-426-7777

HealthCenteredDentistry.com

Whole Person Dentistry observes

and deals with the mind,

body and spirit, not just your

teeth. This approach to dentistry

encompasses both modern

science and knowledge

drawn from the world's great

traditions in natural healing. See ad, page 15.

NATURAL SMILES DENTAL CARE

3434 Lexington Ave. N., Suite 700

Shoreview • 651-483-9800

NaturalSmilesDental.com

We're an integrative

practice committed to

promoting dental wellness

and overall assistance to

the whole person. We

desire to participate in the

creation of healthier lives,

while being sensitive to physical, philosophical,

emotional and financial concerns. See ad, page 7.

28 Twin Cities Edition NAtwincities.com
---
DENTIST

PURE DENTAL

Dr. Amy Ha Truong

6230 10th St. N., Ste 520, Oakdale

651-731-3064 • PureDentalMN.com

Pure Dental offers integrative,

holistic, alternative and biological

dentistry for your dental health.

We take pride in providing

quality, holistic dental care and

service for our patients. See ad,

page 21.

SEDATION AND IMPLANT DENTISTRY

1815 Suburban Ave, St. Paul

ToothBuilder.com

651-735-4661

We are a holistic dental practice

devoted to restoring and enhancing

the natural beauty of your smile

using conservative, state-of-the-art

dental procedures that result in

beautiful, long lasting smiles! We

specialize in safe removal of

infected teeth as well as placing

ceramic implants and restorations. See ad, page 24.

TOOTH BY THE LAKE

1401 Main St, Hopkins

952-475-1101 • ToothByTheLake.net

We build a foundation of trust

by treating our patients as

individuals. Understanding

how uneasy some patients

may feel about their dental

visits, we make a difference

by providing a relaxing and

positive experience. See ad, page 4.

EDUCATION

NORTHWESTERN HEALTH

SCIENCES UNIVERSITY

2501 W. 84th St., Bloomington

NWHealth.edu • 952-888-4777

Learn about the leading health

science programs including

Acupuncture and Chinese

Medicine, Massage Therapy

and more. Prepare for success

at a leading natural integrative

medicine university. See ad, page 8.

ENERGY HEALING

EMOTION CODE HEALING

Master Hong

Certified Emotion Code Practitioner

11012 Cedar Lake Rd., Minnetonka

952-513-7285 or 914-708-9463

Chronic pain? Suffering from

emotions? Relationship problems?

Life not going as planned? The

Emotion Code is a tool I use to

help you break through any

emotional and spiritual blocks so

you can live your best life. Trial

session only $35.

ENERGY HEALING

VISIONAIRIUM

Leah Martinson, Reiki Master

23 4th St SE Suite 201, Minneapolis

Visionairium.com • 651-315-1347

Our bodies store all our memories

and experiences just as much, if

not more than our minds. Sometimes

we need support to release

the emotions and stressors that

get stuck in our bodies. Leah

offers both massage and energy

healing to help facilitate this

release, calm the nervous system

and relieve tension. See ad, page 13.

ENVIRONMENTAL HEALING

ANNETTE RUGOLO

Master Dowser

AnnetteRugolo.com

Is the energy of your home depleting

you or supporting you?

If you feel like you are hitting

your head against a brick wall, it

may be the wall of dense energy

in your home. To more easily

expand into our light and our

soul purpose, it is important that

the spaces we live energetically

support us. Contact me for more

information on dowsing, environmental healing and

space clearing. See ad, page 11.

GRAPHIC DESIGN

CAMPFIRE STUDIO

Sara Shrode, Graphic Designer

612-554-6304 • CampfireStudio.net

Sara@CampfireStudio.net

Ignite the possibilities of

your next project by

having Campfire Studio

design it! Innovative, fullservice

graphic design studio that takes the essence

of a campfire—warmth, stories, community—and

infuses it into every design project we do.

HEALTH FOOD STORES

MASTEL'S HEALTH FOODS

1526 St Clair Ave, St Paul

Mastels.com • 651-690-1692

Mastel's Health Foods is Minnesota's

oldest health and wellness

store. We carry a full line of

vitamins, minerals, supplements,

herbs and more. We emphasize

organic, biodynamic, biodegradable,

holistic and hypoallergenic

products and pride ourselves on

stocking hard-to-find items. See

ad, page 11.

HOUSING - SUPPORTIVE

BROEFFLE LATIMORE

ADULT FOSTER CARE

License #1102359 • 763-600-6967

8600 Northwood Parkway, New Hope

Providing a caring and supportive

home for adults, no

matter their abilities. With

28-plus years of experience,

we offer a nurturing and family-like

environment for up to

four residents who are elderly and/or have developmental

disabilities. Residents receive assistance

with personal cares, meal prep and feeding assistance,

medication administration, transfers and

mobility, transportation and advocacy. We treat your

loved one like family

INTEGRATED HEALTH

BHAKTI WELLNESS CENTER

7550 France Ave. S., #220, Edina

612-859-7709 • BhaktiClinic.com

Bhakti provides a holistic

environment where independent

practitioners come

together to offer an integrative

path to wellness; mind,

body and spirit. Our providers offer chiropractic,

energy therapy, massage, microcurrent therapy,

acupuncture, psychotherapy and much more so that

you can feel your best, remain healthy & thrive. See

ad, page 9.

METROEAST NATURAL

HEALING CENTER

6993 35th St N, #2, Oakdale

651-771-1703 • NutritionChiropractic.com

Nutrition Response Testing

(NRT) is a noninvasive

system of analyzing the

body to determine the underlying

causes of illness and non-optimum health.

Our clinically proven system may be quite different

from any other healing practice you have experienced.

The actual procedure is simple and direct,

with the body providing all of the information and

feedback needed. See ad, page 4.

NUTRITIONAL SUPPLEMENTS

STANDARD PROCESS

Kathy Kiss

Sr. Account Manager

KKiss@StandardProcess.com

Standard Process is a

Wisconsin-based, familyowned,

whole food-based

nutritional supplement

company that partners with

health care practitioners to address issues related to

health conditions. See ad, page 19.

September 2022

29
---
GROW

Your Business

Contact us for

special ad rates.

763-270-8604

PHYSICIANS

DR. ISAAC M. ENGHOLM

Deploy Health Family Practice/

Bhakti Wellness Center

7550 France Ave. S, Ste. 220, Edina

DeployHealthFP.com • 612-712-4423

Dr. Engholm's practice offers

unlimited office visits,

with most lasting over an

hour. He offers telehealth

and home visits at no additional

charge and his patients

can call 24/7, which reduces the need to utilize

after-hours urgent care or emergency room visits.

Memberships are $75/mo for adults, and $25/mo for

children (added to adult member). See ad, page 9.

PSYCHOTHERAPY

FRAN BIEGANEK, MS, LP

Bhakti Wellness Center

7550 France Ave. S., Suite 220, Edina

612-564-9947 • FranBieganekTherapy.com

As a Licensed Psychologist,

Fran provides holistic, traumainformed

therapy to help clients

identify areas of potential

growth, obstacles to growth,

and processes that facilitate

healing and transcendence. She

also provides QEEG (brain

mapping) and neurofeedback

services that facilitate increased brain efficiency.

See ad, page 9.

RADIO/PODCASTS

AM950 THE PROGRESSIVE VOICE

OF MINNESOTA

AM950Radio.com

The only Progressive Talk Radio

station in Minnesota. We strive to

provide the best progressive

programming available and

feature national talkers Thom

Hartmann, Stephanie Miller, Mike

Crute and Brad Friedman. We are

also dedicated to local programming that creates a

community forum for important Minnesota Progressive

issues. See ad, page 32.

SPIRITUAL TEACHING

ECKANKAR TEMPLE OF ECK

7450 Powers Blvd., Chanhassen

952-380-2200 • Eckankar.org

Are you looking for the

personal experience of God?

Eckankar can help you fulfill

your dream. We offer ways to

explore your own unique and

natural relationship with the

Divine through personalized

study to apply in your everyday life. See ad, page 2.

30 Twin Cities Edition NAtwincities.com
---
Nature's Virus Killer

Copper can stop a virus

before it starts

Scientists have discovered a

natural way to kill germs fast.

Now thousands of people

are using it against viruses and bacteria

that cause illness.

Colds and

many other

illnesses start

when viruses

get in your

nose and

multiply. If

you don't stop

them early,

they spread

and cause

misery.

Hundreds of studies confirm copper

kills viruses and bacteria almost

instantly just by touch.

That's why ancient Greeks and

Egyptians used copper to purify water

and heal wounds. They didn't know

about viruses and bacteria, but now we

do.

"The antimicrobial activity of copper

is well established." National Institutes

of Health.

Scientists say copper's high

conductance disrupts the electrical

balance in a microbe cell and destroys it

in seconds.

The EPA recommended hospitals use

copper for touch surfaces like faucets

and doorknobs. This cut the spread of

MRSA and other illnesses by over half,

and saved lives.

The strong scientific evidence

gave inventor Doug Cornell an idea.

He made a smooth copper probe

By Doug Cornell

with a tip to fit in the bottom of the

nostril, where viruses collect.

When he felt a tickle in his nose

like a cold about to start, he rubbed

the copper gently in his nose for 60

seconds.

"It

worked!" he

exclaimed.

"The cold

never

happened.

I used to

get 2-3 bad

colds every

year. Now

I use my

device whenever I feel a sign I am about

to get sick."

He hasn't had a cold in 10 years.

New research: Copper kills viruses in seconds.

Users say:

"It works! I love it!"

"I can't believe how good my nose

feels."

"Is it supposed to work that fast?"

"One of the best presents ever."

"Sixteen flights, not a sniffle!"

"Cold sores gone!"

"It saved me last holidays. The kids

all got sick, but not me."

"I am shocked! My sinus cleared,

no more headache, no more

congestion."

"Best sleep I've had in years!"

After his first success with it, he

asked relatives and friends to try it.

They all said it worked, so he patented

CopperZap® and put it on the market.

ADVERTORIAL

Soon hundreds of people had tried it.

99% said copper worked if they used it

right away at the first sign of germs, like

a tickle in the nose or a scratchy throat.

Longtime users say they haven't

been sick in years. They have less

stress, less medical costs, and more time

to enjoy life.

Customers report using copper

against:

Colds

Flu

Virus variants

Sinus trouble

Cold sores

Fever blisters

Canker sores

Strep throat

Night stuffiness

Morning congestion

Nasal drip

Infected sores

Infected wounds

Styes

Ringworm

Other microbial threats

The handle is curved and textured to

increase contact. Copper can kill germs

picked up on fingers and hands after you

touch things other people have touched.

The EPA says copper works just as

well when tarnished.

Dr. Bill Keevil led one of the science

teams. He placed millions of viruses on

a copper surface. "They started to die

literally as soon as they touched it."

CopperZap® is made in the USA of

pure copper. It has a 90-day full money

back guarantee. Price $79.95. Get $10

off each CopperZap with code NATA30.

Go to www.CopperZap.com or call

toll-free 1-888-411-6114.

Buy once, use forever.

Statements are not intended as

product health claims and have not been

evaluated by the FDA. Not claimed to

diagnose, treat, cure, or prevent any

disease.

September 2022

31
---
32 Twin Cities Edition NAtwincities.com