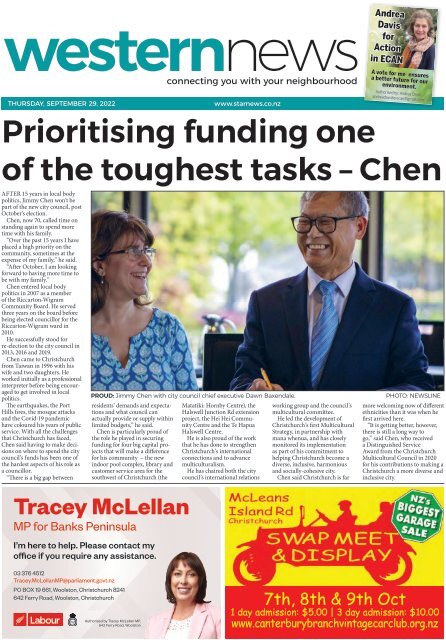 Western News: September 29, 2022
Create successful ePaper yourself
Turn your PDF publications into a flip-book with our unique Google optimized e-Paper software.
Andrea

Davis

for

Action

in ECAN

connecting you with your neighbourhood

A vote for me ensures

a better future for our

environment.

THURSDAY, SEPTEMBER 29, 2022

www.starnews.co.nz

Authorised by: Andrea Davis,

andreadavisforecan@gmail.com

Prioritising funding one

of the toughest tasks – Chen

AFTER 15 years in local body

politics, Jimmy Chen won't be

part of the new city council, post

October's election.

Chen, now 70, called time on

standing again to spend more

time with his family.

"Over the past 15 years I have

placed a high priority on the

community, sometimes at the

expense of my family,'' he said.

"After October, I am looking

forward to having more time to

be with my family.''

Chen entered local body

politics in 2007 as a member

of the Riccarton-Wigram

Community Board. He served

three years on the board before

being elected councillor for the

Riccarton-Wigram ward in

2010.

He successfully stood for

re-election to the city council in

2013, 2016 and 2019.

Chen came to Christchurch

from Taiwan in 1996 with his

wife and two daughters. He

worked initially as a professional

interpreter before being encouraged

to get involved in local

politics.

The earthquakes, the Port

Hills fires, the mosque attacks

and the Covid-19 pandemic

have coloured his years of public

service. With all the challenges

that Christchurch has faced,

Chen said having to make decisions

on where to spend the city

council's funds has been one of

the hardest aspects of his role as

a councillor.

"There is a big gap between

PROUD: Jimmy Chen with city council chief executive Dawn Baxendale.

residents' demands and expectations

and what council can

actually provide or supply within

limited budgets," he said.

Chen is particularly proud of

the role he played in securing

funding for four big capital projects

that will make a difference

for his community – the new

indoor pool complex, library and

customer service area for the

southwest of Christchurch (the

Matatiki: Hornby Centre), the

Halswell Junction Rd extension

project, the Hei Hei Community

Centre and the Te Hapua

Halswell Centre.

He is also proud of the work

that he has done to strengthen

Christchurch's international

connections and to advance

multiculturalism.

He has chaired both the city

council's international relations

working group and the council's

multicultural committee.

He led the development of

Christchurch's first Multicultural

Strategy, in partnership with

mana whenua, and has closely

monitored its implementation

as part of his commitment to

helping Christchurch become a

diverse, inclusive, harmonious

and socially-cohesive city.

Chen said Christchurch is far

PHOTO: NEWSLINE

more welcoming now of different

ethnicities than it was when he

first arrived here.

"It is getting better, however,

there is still a long way to

go,'' said Chen, who received

a Distinguished Service

Award from the Christchurch

Multicultural Council in 2020

for his contributions to making a

Christchurch a more diverse and

inclusive city.

Tracey McLellan

MP for Banks Peninsula

I'm here to help. Please contact my

office if you require any assistance.

03 376 4512

Tracey.McLellanMP@parliament.govt.nz

PO BOX 19 661, Woolston, Christchurch 8241

642 Ferry Road, Woolston, Christchurch

Authorised by Tracey McLellan MP,

642 Ferry Road, Woolston

7th, 8th & 9th Oct

1 day admission: $5.00 | 3 day admission: $10.00

www.canterburybranchvintagecarclub.org.nz
---
2

Thursday September 29 2022

DELIVERERS WANTED!

Are you honest, reliable and over

the age of 11? Why not earn money

and get fit doing it. Get in touch

with your interest today:

deliveries@alliedpress.co.nz

029 983 2293

Your local community newspaper connects

neighbours in the following suburbs

Templeton • Islington • Hei Hei • Broomfield

Halswell • Oaklands • Westlake • Hornby • Ilam

Wigram • Sockburn • Church Corner • Avonhead

Hyde Park • Russley • Riccarton Park • Riccarton

28,400 readers every week.

ADVERTISING

Alana Powell

Ph: 027 535 6583

alana.powell@starmedia.kiwi

GENERAL INQUIRIES Ph 379 7100

CLASSIFIED ADVERTISING Ph 379 1100

www.starmedia.kiwi

Nielsen Media NRS

Bin Good with

recycling

By putting the right clean items in the yellow bin,

you're helping to reduce waste going to landfill.

These are the only items that can go in the

yellow bin:

Remember:

Give your bottles

and containers a rinse

and make sure they

are loose.

Plastic bottles & containers

numbered 1, 2 and 5

(3 litres and under and put lids

in the red bin)

Glass bottles and jars

(put lids in the red bin)

what's on

this week

English Conversation Club

Every Wednesday, 2pm-3pm

Hornby Library

THe conversation group is a drop in

group where anyone is welcome to

come and practice conversations in

English, in a friendly and relaxed

environment. This is not a class, but

an opportunity to talk with others in

English and to meet new people in

the community. Especially good for

ESOL learners. Free and no bookings

are needed.

Journal Creation

Thursday, 3.30-5.30pm

Upper Riccarton Library

Love to journal or wanting to

start? Go along and create your own

handmade journal from scratch during

Mental Health Awareness week.

You will then get a chance to get

creative and start using it as you like.

Whether you use it to write down

ideas and thoughts, to draw in, or as

a way to help you get organised. It

will be a great way to express yourself

and practice some mindfulness in

your day. Materials will be provided,

though feel free to take your own

embellishments along to use. Free,

bookings required. Ages 12+

Knit 'n' Yarn

Friday, 10am-noon

Upper Riccarton Library

Go along with your knitting,

crochet or other craft project. Share

skills and be inspired in the library's

friendly, relaxing environment. All

Thanks for

bin good

If you need more

info download our

handy Christchurch

Bins app

ccc.govt.nz/bin-app

Charlotte's Web and the Magic of Spiders, Wednesday, 10.30-

11.30am, Te Hāpua: Halswell Centre. Celebrate the 70th anniversary

of Charlotte's Web this Arachtober with Dr Spider and Christchurch City

Libraries. Are you scared of spiders? You don't have to be. Meet Doctor

Spider (aka Dr Fiona Cross from Canterbury University) and learn

how magical these eight-legged creatures truly are. We'll have stories, a

treasure hunt, crafts and more. Free, no bookings required. ​

skills and skill levels are welcome in

this social group.

JP Clinic

Tuesday, 10am-1pm

Upper Riccarton Library

A justice of the peace is on site to

take oaths, declarations, affidavits

and affirmations; to witness signatures

on documents and to certify

document copies. The JP can also

witness citizenship applications,

sponsorship applications and rates

rebate applications. There is no charge

for this service.

Spring Blossoms

Monday-Sunday, all day

Te Hāpua: Halswell Centre

Go along for a bloomin' good time.

Free, no bookings required. This is an

unsupervised activity.

Spring Boxes

Tuesday, 2-4pm

Upper Riccarton Library

Think outside the square. Free, no

bookings required.

Craze for

Community

Vote Terry Craze

for Spreydon Community Board

and Council

• Cycleway

accountability

• Clean water

• Commonsense

Call me on

021 0500 454

Terry Craze

for Spreydon

Authorised by Terry Craze

Technology Help Drop In

Sessions

Monday, 2-3pm

Hornby Library

Do you need help using your

smart phone, iPad or tablet? Go along

to our free drop-in sessions for help

with email, searching the internet,

library catalogue, ebook and general

computer queries. No bookings required.

Wā Pēpi-Babytimes

Friday, 10.15-10.45am

Hornby Library

Meet others in the community and

join the relaxed, fun group for interactive

songs, rhymes, and books that

will delight and develop your baby or

toddler. All whānau and caregivers

welcome.

Not-for-profit organisations

can send their What's On

listings to western@starmedia.

kiwi

For everything

AUTO ELECTRIC

CARS • BOATS • TRUCKS

CARAVANS • TRAILERS • 4WDS

ELECTRIC & HYBRID VEHICLES

• Starter Motors

• Alternators

• Central

Locking

• electric

Windows

• ABS & Airbags

• Stereos/

Alarms

• Batteries

• tuneups

• engine

Management

Amazing

Auto USUALLy

AAE Electric SAMe DAy

ServiCe

65 Coleridge St, Sydenham

Phone 03 379 4250

www.amazingautoelectric.co.nz

Want To Burn Fat Fast?

Burn Up To 2.5 x More Calories In Just 14 Minutes a Day!

Bobbi | Bowflex Max Trainer User

I lost 15kg in 10 weeks. That is ridiculous. The fat just

melts right off. I mean, it absolutely changed my life!

Why Bowflex Works For You

Plus

Flattened cardboard

and paper

(no smaller than a standard envelope)

Aluminium cans

and metal tins

(please don't squash)

Save Time - Don't let "lack of time"

slow you down.

Lose Weight - Burns Up To 2.5x More

Calories.

Get Motivated - Fun, low impact

workouts combined with a personalised

fitness program.

Get Healthy with the HIIT technology

Free

$950.00 Gift *

*Call for Terms

& Conditions CALL NOW! 0800 665 665
---
Thursday September 29 2022 3

Signs unlock fishing spots for season

MORE THAN 100 new angler

access signs have gone up around

the North Canterbury Fish and

Game region in preparation for

the opening of the fishing season

next month.

The angler access signs unlock

a vast area of fishing spots for

people with a fishing licence.

The signs will largely replace

the worn out, dilapidated signs

– but several are for new access

points.

North Canterbury Fish

and Game has worked with

landowners to secure access

to these spots for anglers. The

access points will also be open

to other river users. There are

more than 400 angler access and

information signs in the region,

all the way from the Southern

Alps to the river mouths on the

coast.

Replacing these signs has

enabled Fish and Game staff to

also see how good the rivers are

looking for the opening of the

new season.

The lowland Selwyn River

is looking in great shape.

Continual strong river flows,

combined with Te Waihora/

Lake Ellesmere having several

periods where it has met the sea,

has made it possible for sea run

trout to enter the system in good

numbers.

The waterways up in the

Hurunui high country were also

in excellent condition and all

OPENING: North Canterbury Fish and Game officer Harry Graham-Samson installs a new angler access sign at the Lower

Selwyn Huts, with Te Waihora/Lake Ellesmere in the background.

had good flows when staff visited

during the recent cold snap to

place new signs in the area.

The wet winter has also meant

plenty of water to help sea run

salmon return to the spawning

streams.

The new signs will help salmon

anglers access fishing spots when

they go fishing with the

new $5 sea-run salmon

harvest card required for

sea run salmon fishing.

Said North Canterbury

Fish and Game chief

executive Rasmus

Gabrielsson (right):

"Canterbury anglers have access

to some world-class

fisheries in the region.

We want to help anglers

of all ages and skill levels

access these fantastic

fisheries hence why we

have put in this work

over the winter months

to improve access for anglers.

"Anglers' licence fees pay

for these signs, and many

anglers don't realise where their

licence fees go. But whenever

they see an angler access sign

and access a river or lake, they

can see some tangible results

from purchasing a fishing

licence."

Conceived and Originally

Directed by JOHN‐MICHAEL TEBELAK

MUSIC AND NEW LYRICS BY STEPHEN SCHWARTZ

Originally Produced on the New York Stage by

EDGAR LANSBURY / STUART DUNCAN / JOSEPH BERUH

Licensed exclusively by Music Theatre International (Australasia).

All performance materials supplied by Hal Leonard Australia.

6 – 15 OCTOBER 2022

VENUE: THE DRAMA THEATRE, RANGI RURU SCHOOL, CHRISTCHURCH

TO BOOK PHONE: (03) 338 4699 OR VISIT:

WWW.RICCARTONPLAYERS.CO.NZ

Dr. LALY SAMUEL

INDEPENDENT

CitY CoUnCiLLor, CoMMUnitY

boArD - WAiMAiri WArD

Council

Community board

• No more rate increase

• Save our environment

• Community's voice

matters

• Long term local

resident

• Multi-cultural

background

Email: lalysamuel22@gmail.com

Mob: 021 0234 4325

Authorised by Dr Laly Samuel,

275A Avonhead Road, Christchurch 8042

Fresh in

for spring

03 322 4548 | Easy Parking

17 Lillian Street, Halswell

www.maxwellfashion.co.nz

Winter Hours

Open Mon-Fri 9.30am - 4.30pm

Saturday 10.00am - 1.00pm

Check out our facebook page

LAYBY WELCOME

A word from Ilam MP

Sarah

Pallett

These past few weeks have been a time

of sadness for many following the death

of Queen Elizabeth II. Her Majesty's

funeral, the New Zealand State Memorial

service, and local memorial services have

been beautiful tributes to a life of devoted

service and dedication to her people.

The New Zealand House of

Representatives adjourned out of respect

and resumed sitting following the

Queen's funeral.

At the time of writing this article,

we are expecting that the Accident

Compensation (Maternal Birth Injury

and Other Matters) Amendment Bill

will soon come before the House for

consideration at its third and final

reading.

At the moment, many women who

experience birthing injuries are not

eligible for ACC funded treatment and

support. This Bill addresses this historical

inequity.

I want to thank the Minister for ACC,

Hon Carmel Sepuloni, for bringing this

Bill to the House. She has, from the very

beginning, been absolutely determined

that this legislation will ensure that all

maternal birth injuries that can be caused

by childbirth are covered.

I have spent many hours working with

the Labour team on this legislation

and I am immensely proud of it. Using

my past experience as a midwife and

midwifery lecturer I have assisted the

Education Workforce Select Committee

as a subject matter expert to help shape

this legislation.

One of the reasons I became an MP was

to help make people's lives better, and this

Bill does exactly that. Once enacted into

law it will enable an estimated 28,000

birthing people a year receive prompt

and effective care.

As always, I'm here to help. Please get

in touch on 0800 727 244 or pop into

my office if you need any assistance.

Funded by Parliamentary Service. Authorised by Sarah Pallett MP, Parliament Buildings, Wellington.
---
4

Thursday September 29 2022

Inaugural festival celebrates all

• By Geoff Sloan

A DREAM became reality as

dancers jived and jitterbugged

their way around the dance floor

at the inaugural Vintage Fest NZ,

held at the Lincoln Event Centre

over the long weekend.

The brand new event was the

brainchild of Sharvelle Mackay,

a long-time fan of all things

vintage.

"This was an opportunity to put

the love of vintage into one place

and make a really prestigious

event for all of our vintage lovers,"

she said.

The festival showcased

everything vintage, with the

theme of wartime and the victory

era. Classic car and military

vehicles were on display, along

with vintage stall-holders and a

best dressed pageant.

Mackay said she worked with

her fellow committee members

for a year-and-a-half to create the

community event, but admits to a

few sleepless nights.

"It costs a lot of money to put on

an event like this, and to have the

money up front, to be able to pay

for certain things has been quite

difficult. So that has definitely

been our biggest challenge".

Any proceeds will be reinvested

back into next year's event, which

she hints might have an 'old

Hollywood' theme.

- Public Interest Journalism

funded through NZ On Air

DEDICATION:

Vintage Fest

NZ event

manager

Sharvelle

Mackay from

Rolleston.

Left – The

Starlets.

PHOTOS:

GEOFF

SLOAN

• Watch the video on

starnews.co.nz

STYLE: Jasmine Aitken

'Jazzylicious' (above) from

Ruapuna was runner up in

the Miss Vintage Australasia

pageant.

the reassurance of quality

The Russley Village is known for premium design, layout and extensive facilities that deliver an

uncompromised lifestyle during retirement. The reassurance of quality is built into everything we

do. At the Russley, you will live in a safe and supportive community, with freedom and independence,

while knowing that the Ashley Suites care facility is on-site to provide care up to hospital level.

Offering a blend of crafted independent villas, terraced houses, apartments and care, The Russley

is a complete and comprehensive community.

you simply have to see to fully appreciate
---
Thursday September 29 2022 5

things vintage in rollicking style

ON SHOW: Judges at the Miss Vintage Australasia pageant, while outside there were plenty of classic cars and military memorabilia on display.
---
6

Thursday September 29 2022

SENIOR BOYS BASKETBALL 2022

Secondary Schools Tournament

Palmerston North October 3rd - 7th, 2022

Hornby High School is proud to be sending our

senior boys' Basketball Team to compete at the

New Zealand A Premiership Secondary School

Tournament to be held in Palmerston North. Covid

restrictions have meant that we have not been able

to attend the Secondary Schools' Tournaments for

the last two years.

It is a massive achievement for the team and for

the sport of basketball at Hornby High School.

From small beginnings 15 years ago, basketball

has grown to become a popular sport at the

school. The national tournament will provide an

opportunity for these players to develop their own

play and compete at the highest level.

The development which has occurred in this

team has been evidenced by the achievements

the team has demonstrated throughout the year.

We are fortunate to be in the capable hands

of experienced head coach Jimmy Williamson

and ex Hornby High School student Brandon

Gray. They both bring a wealth of knowledge

and experience to the team and are able to support

players and set high expectations that encourage

them to play at their best ability.

In this year's Thomson Trophy competition the

team played against eight teams throughout the

season. The team played impressively through

each game and managed to get to the semi-finals.

Unfortunately, they were not able to contain the

win, going down in the semi-finals.

This year's Secondary Schools' tournament was

held in Dunedin. This was a 'first time' experience

for the majority of our team members. Although it

was the first time playing in a basketball tournament

for the majority of the players, they were eager

to learn and hungry for the win. The players'

determination to win the tournament fueled their

amazing 6-0 run which allowed them to qualify

in the finals, losing to Aparima College by just the

narrowest of margins. Although the team lost the

finals, it was still an incredible achievement to have

come that far into the tournament.

As a result of our achievement at this Tournament,

we have qualified for the National Secondary Schools'

Tournament to be held in Palmerston North from Monday

the 3rd to Friday the 7th of October. Preparation for

the tournament has been intense and our players are

developing into a strong unit.

We would like to take this opportunity to thank

everyone who has supported us throughout this

journey.

Carl Pontino

Sponsored by

Ryan Amarillo

Sponsored by

Xij Bayson

Sponsored by

Zion

Buenaventura

Sponsored by

Craig & Janice

McNab

Jordan Cook

Sponsored by

Tobey

Geldard

Sponsored by

Rykin

Lauper-Edminstin

Sponsored by

leeston

Matthew

Matagi

Sponsored by

Aron Perez

Sponsored by

Proud to support

the local community

Brandon Gray

(Coach)

Sponsored by

78 High Street, Leeston.

Phone 324 3788.

Open 7am - 8pm, 7 days.

Owned and

operated

by locals

Gerald

Sanchez

Sponsored by

Nikora

Strickland

Sponsored by

Jimmy

Williamson

(Head Coach)

Sponsored by

SOCKS
---
Thursday September 29 2022 7

GOAL: Harry Priestley marked his second participation in a dressage event at Christchurch Riding for the Disabled on Tuesday.

Young Harry happy to be back

in horse riding programme

• By Natalie Pham

SIX YEARS ago, Harry Priestley

got frustrated and walked away

from his horse riding programme.

The 11-year-old marked his

second participation in a dressage

event at the Christchurch equestrian

centre on Tuesday.

Harry was among 10 riders of

varying ages and disabilities taking

part in the event last week organised

by Christchurch Riding for the

Disabled.

Because the event focused on the

rider achieving the goal of completing

the test and getting marked

on the completion, each participant

received a certificate and a score

sheet.

Said CHCHRDA president

Philippa Parker: "We make it as

fun and relaxed as possible."

All participants have been

attending weekly sessions prior

to the event, with each session

tailoring to their specific needs and

personal goals.

The Christchurch South

Karamata Intermediate pupil was

diagnosed with autism when he

was three.

Said his mother Rachel: "For

Harry and the way that his brain

works, it's about what Harry wants

and what Harry needs. But as

humans, we need to learn how to

work with other people."

Harry is enrolled in two programmes

– education and sport

and recreation, where he gets

to learn about horse riding and

challenges himself with exercises

require teamwork.

"Everyone has helped me in all

different ways," he said.

"I used to get really, really angry

but now I don't get angry at all.

Well, I'm better at managing my

anger than I used to."

The organisation also offers a

therapy programme for riders who

have higher support needs, ranging

from building muscle strength to

improving walking ability.

Harry began the riding sessions

with New Zealand Riding for the

Disabled at five-years-old. However,

his sessions have been on and

off due to high demands.

Like many riders, he started with

a small pony and worked his way

up. After many years, he is finally

paired with Zeus - a 'big and tall'

horse.

When Harry first walked in

with his new horse, Parker said he

looked proud of himself.

"Zeus challenges Harry to

work with it. That horse can be

independent if it wants to, so Harry

has to make sure that the horse is

listening to the instruction."

SUCCESS: Harry was proud when he finally got paired up with his new horse Zeus.

Prawindra Mukhia Independent candidate for Councillor – Halswell Ward

Sustainable city for us and for our children

I am a new face to politics, but not new to

community works. I am of Nepali Tibetan

descent, originally from India and now proudly

a NZ citizen and have resided in Halswell for

over 6 years.

I am a mechanical engineer, have an MBA

degree and am a certified program and project

manager. I worked in the Council for 16 years

on many water supply projects and was

involved in the earthquake rebuild at SCIRT

(Stronger Christchurch Infrastructure Rebuild

Team).

Three things I want to achieve if elected:

• Provide constructive input into the recent

draft version of the 30 year Christchurch

Transport Plan by the council. Support

sustainable plan for fast growing, traffic

constrained Halswell. The design should focus

on people's mobility options rather than cars

only.

• Establish a requirement for sustainability

reporting for all projects, that will include

information on cost-benefits, carbon footprint,

reusage, wastage, and impacts on biodiversity,

air, water, land and well-being.

• Create SPICY (Sustainable Program for

Innovation and Collaboration with Youth)

by engaging schools with professional

associations.

This we can achieve by all working together:

councillors, council staff, Community Boards

to connect all sectors of the community.

As I am semi-retired, I am able to devote all

my time to this role.

Volunteering:

Lead – PMINZ Climate Change and

Sustainable Development Action Group

Member – NZ Water Climate Change Special

Interest Group

Rotary Club member

Prawindra Mukhia for Halswell Ward councillor

| Facebook

Prawindra Mukhia PgMP, MBA, M. Eng

| LinkedIn

Authorised by Prawindra Mukhia, pmukhia56@gmail.com
---
8

Thursday September 29 2022

Christchurch

16 Watts Rd, Sockburn.

tradedepot.co.nz

BIRTHDAY

ON NOW

T-Canopy Rangehood

600 m³/h

$

349

LOW PRICE

330360

Super Fast

Induction Cooktop

$

649

LOW PRICE

320262

24 Month Warranty

60cm

W I D E

60cm

W I D E

Gas Cooktop

$

389

LOW PRICE

320358

Wall Oven

9 Function

Convection Fan

$

799

LOW PRICE

310749

24 Month Warranty

60cm

W I D E

60cm

W I D E

Platinum

Induction Hob

$

1299

WAS $ 1499

320220

Platinum

Catalytic Wall Oven

$

1499

WAS $ 2499

310720

36 Month Warranty

65cm

W I D E

60cm

W I D E

Platinum

T-Canopy Rangehood

$

1499

WAS $ 2099

330396

5 Year Warranty

Platinum

Induction Hob

$

1799

WAS $ 3499

320223

36 Month Warranty

90cm

W I D E

65cm

W I D E

900mm

W I D E

Round Shower

$

475

LOW PRICE

902203

10 Year Warranty

Multi Function

Slide Set

$

35

LOW PRICE

245100

24 Month Warranty

Thea Basin Mixer

$

105

LOW PRICE

241705

10 Year Warranty

Novo Floor Vanity

$

399

LOW PRICE

902165

5 Year Warranty

*TAPWARE NOT INCLUDED

900mm

W I D E

Locke Square Shower

$

499

WAS $ 599

902204

10 Year Warranty

Slide Shower

$

115

LOW PRICE

245145

3 Year Warranty

Polaris Basin Mixer

$

115

LOW PRICE

241722

10 Year Warranty

Zara Floor Vanity

$

549

WAS $ 599

903954

5 Year Warranty

*TAPWARE NOT INCLUDED

Side-by-side

Fridge Freezer

Canopy

Rangehood

Freestanding

Oven

Freestanding

Dishwasher

Cleo Freestanding

Bath

S20 Toilet Suite

Cora Basin &

Shower Mixer Set

790 mm

W I D E

404 l

60cm

W I D E

56 l

60cm

W I D E

60cm

W I D E

$

899

WAS $ 1099

353404

24 Month Warranty

$

159

WAS $ 179

330175

24 Month Warranty

$

399

WAS $ 565

310110

24 Month Warranty

$

579

LOW PRICE

340543

24 Month Warranty

$

949

LOW PRICE

271710

5 Year Warranty

$

399

WAS $ 699

233160

5 Year Warranty

$ 189

LOW PRICE

244200

10 Year Warranty

Hampton

Cutlery Set

Serene Dinner Set

Keep Warm Kettle

Air Fryer

Wine Fridge

High-Speed Blender

Kitchen Stand

Mixer

70

PIECE

16pcs

5.5L

46L

5L

$

129

LOW PRICE

760410

$

49

LOW PRICE

760210

$

99

LOW PRICE

350125

12 Month Warranty

$

165

LOW PRICE

350102

12 Month Warranty

$

279

LOW PRICE

356046

24 Month Warranty

$

149

LOW PRICE

350141

12 Month Warranty

$

249

LOW PRICE

350142

12 Month Warranty

Prices Guaranteed as of 1/10/22. Subject to change.

CAN-C 28

KITCHENS | BATHROOMS | APPLIANCES
---
Thursday September 29 2022 9

Residents sick of shipping container site

• By Tina Grumball

A HIGH-PROFILE property

developer is the owner of an

industrial site at the centre of a

prolonged conflict with nearby

residents.

Across the Ōpāwaho

Heathcote River, home-owners

have suffered dust, constant

noise, and the obstruction of

their Port Hills views from the

Woolston site.

"You're talking

about people's lives

being disrupted

for a considerable

period of time,"

said Linwood Ward

Yani

Johanson

councillor Yani

Johanson.

"It's not fair

on the local

community that this kind of

activity is allowed to occur,

unfettered and unabated, in my

view."

Christchurch property

developer Richard Peebles,

and Peebles Group Ltd, own

the site. Peebles also co-owns

Riverside Market and Little

High Eatery.

The area being developed

is the last 12ha of the overall

industrial area to be completed,

Peebles said.

"Peebles Group Ltd take our

responsibilities very seriously

and have planned mitigation

measures to reduce the impact

on surrounding neighbours."

BARRIER: Across the Ōpāwaho Heathcote River, the six-high container stacks are

obstructing residents' views of the Port Hills. Right – before and after views from one

resident's backyard.

PHOTO: JOHN COSGROVE

While the construction

on-site has been occurring

for nearly two years, concerns

of shipping container storage

were first raised at the Waikura

Linwood-Central-Heathcote

Community Board meeting on

March 16.

In spite of concerns, the

containers were placed on the

site in early July.

"We could hear them

compacting the area down,

which was shaking out houses

and rattling windows and all

sorts of things," Gould Cres

resident Susan Jones said.

• Turn to page 10
---
10

Thursday September 29 2022

'People are tired of being woken up'

• From page 9

"Then one morning I woke up

. . . pulled the curtains across

and here's these containers in

front of me," Jones said.

No notification was given by

the city council. A spokesperson

said the company was "permitted

to establish on the site without

a resource consent subject

to compliance with certain

standards".

While residents knew it was

an industrial zone, Jones said no

one had any idea it would become

a shipping container yard.

Another Gould Cres resident,

who preferred not to be named,

said containers were stacked five

or six high at 2.9m each. They

said, at 14.5-17.4m, the stacks

were in breach of the 11m height

restriction on the northern end

of the site, closest to the residential

areas.

A city council memo from

August 30, obtained by Western

News, suggested a stack of

containers could be defined as

a building, but that could be

legally challenged.

Peebles confirmed the restriction

on part of the site, however

he said "a container temporary

storage facility is not a building

and there is no height restriction

for storage".

The city council spokesperson

said they were investigating the

issue.

Noise monitoring performed

by the city council on August 23

NOISY: Numerous residents said the workers on the site are operating outside the 7am-

5pm approved hours and causing sleepless nights.

PHOTO: JOHN COSGROVE

found noise limits to be breached

on two Long St properties, giving

the company working 14

days to comply.

Long St resident Melissa Mc-

Cutchan said they operate at all

hours of the day and night. Noise

complaints frequently come

from herself, her husband and

neighbours.

Johanson said: "It's just been

really concerning to residents

and frustrating because concerns

are being raised, but the development

is progressing."

McCutchan said it was "actually

mentally taking a toll now

because I dread going on maternity

leave for the fact that they're

going to be working all-day and

all night . . . because in the home

it's a constant drone".

Any time a container was

dropped onto another, the noise

and vibrations caused her to

question if it was an earthquake.

Jones said: "People are sick and

tired of being woken up with the

banging and carrying on around

five in the morning. There is no

end in sight."

Peebles confirmed there

had been one incident where a

worker had started half an hour

early, but could not give any

more details.

A resident on Long St himself,

Johanson noted there had been

repeated times where they had

been working well before 7am,

waking up the neighbourhood.

"They don't have any respect

for the impact that they're having

and it's not fair."

The city council spokesperson

said they would be performing

further testing, and had done so

last week but there was no work

going on.

If the Christchurch District

Plan noise rules were not being

complied with, the city council

would consider an escalated

enforcement approach.

In a positive step, a notice of

motion was passed at the most

recent city council meeting,

which noted concerns and

called for a report and advice

into how the district plan could

be changed by introducing

additional controls and public

notification requirements.

Construction on the part of

the site adjacent to residential

properties was due for completion

in October, Peebles said.

However, the facility was

a container yard and the

containers would come and go

and the space would be used for

logistics and container use in the

long-term.

Johanson received an update

from the city council last week

stating they had asked the owner

to comply under the Outline

Development Plan, with the 30m

setback requirements and to

reduce container stack heights

to 11m. Compliance was asked

by September 30, and if it is not

met, further enforcement action

was likely.

VISIT OUR NEW TRADE STORE & HIRE DEPOT

40 Hammersmith Drive, Wigram • Ph 0508 447 348
---
Thursday September 29 2022 11

Meat meals for a large serving

If you are

preparing for a

large family meal

try a lamb roast

with a difference

Moroccan roast leg

of lamb

Serves 8

Ingredients

1 leg of lamb

10 fillets anchovies, cut into thin

strips (reserve anchovy oil)

1 lemon, peeled and cut into

thin strips

10 mint leaves

¼ cup liquid honey, warmed in

the microwave

2 tbsp Sumac powder

1 tbsp Moroccan seasoning

1 to taste sea salt flakes

Directions

Preheat oven to 195 deg C.

Line a roasting dish with foil

and spray heavily with oil.

Lightly cut the lamb skin in a

criss-cross pattern, turn over and

make approximately 10 incisions

in and around the bone area.

Insert two anchovies, two

lemon strips and one mint leaf in

each incision.

Turn the lamb back over, rub

in the anchovy oil and pour over

the honey.

Season with the sumac, Moroccan

spice and sea salt.

Place in the oven and roast for

15min, then drop the heat to 155

deg C and continue for about one

hour.

Remove the lamb on to a cooling

rack and rest for 20min.

Beef and Guinness stew

Prepare in advance and cook in

slow cooker

Serves 8

Ingredients

1¼ kg blade steak, diced

½ cup flour

1 to taste salt and freshly ground

pepper

2 tbsp olive oil

3 onions, roughly chopped

2 cups button mushrooms,

halved

1 tbsp fresh rosemary, chopped

440ml Guinness beer

4 cloves garlic, sliced

2 cups beef stock

3 tbsp flour

Directions

Toss beef in flour seasoned with

salt and pepper. Heat olive oil in

a large frying pan and brown beef

in batches.

Place onions in the slow cooker

and top with the beef, adding the

mushrooms and rosemary.

Pour over Guinness, garlic and

stock.

Cook for 4½ hours on high.

Mix flour to a paste with 3

tablespoons of cooled liquid from

the slow cooker.

Add this to the pan and cook

for a further 10 minutes before

serving.

Rosemary roasted beef

Serves 6

Ingredients

Moroccan

roast leg of

lamb and beef

and Guinness

stew

1.3kg roast beef, lean, eg topside

3 tbsp olive oil

8 rashers streaky bacon

2 carrots

2 parsnips

300gm pumpkin, peeled and

seeded

6 yams

6 cloves garlic

2 tsp dried rosemary

3 sprigs fresh rosemary

Directions

Preheat the oven to 200 deg C.

Lightly oil a roasting pan.

Ensure the beef is at room temperature.

Wrap the bacon rashers

around the meat to almost cover.

Peel and chop the carrots,

parsnips and pumpkin into thick

chunks. Place in the roasting pan

with the yams and garlic and

toss with a little olive oil. Season.

Sprinkle with the dried rosemary.

Place the meat on top. Top with

some fresh rosemary.

Roast for 1 hour for medium

or 1¼ hours for medium to well

done. Remove the meat and

vegetables to a serving platter.

Tent with foil. Cover with a towel.

Stand for 15min before carving.

Deglaze the roasting pan

with red wine. Use the juices to

prepare a sauce or gravy.

• More food, page 12

The Harcourts Geraldine Festival,

featuring the Alpine Energy Art

Exhibition and Awards, is delighted

to be returning after a hiatus during

COVID, with plenty in store for

everyone to enjoy at this year's event.

The Festival opens on the evening of

Thursday 10th November with the

Alpine Energy Art Awards, marking

the 25th year that Alpine Energy

has supported and sponsored the

exhibition. We will be celebrating this

important silver anniversary in style

that evening with refreshments and

nibbles, and awards announcements,

plus the first chance to view and

purchase art. Everyone is welcome.

Friday gives way to the busy and vibrant

street market in the centre of Geraldine,

with local favourites OJ and the Drama

Queens entertaining the crowds.

Saturday is the main event, when the

peaceful Geraldine Domain becomes

a bustling hub for a day as stalls, food

trucks, kids' entertainment, and live music

blend to create a great family day out.

Our open gardens are a hugely popular

part of the festival, and most are open

Friday through to Sunday, giving

everyone a chance enjoy them at

their leisure. There are also a range of

complementary events taking place in

and around Geraldine that weekend,

including vintage car displays and rides,

book-a-rama, Soul Food Concert and

much more.

FOR YOUR FUTURE

Vote now. Voting closes noon, 8 October

Make the most of spring 2022 and join us for a

fabulous Harcourts Geraldine Festival 2022.

For more info go to www.geraldine.nz/geraldine-festival/.

ccc.govt.nz/elections
---
12

Thursday September 29 2022

Kick into spring with

a plant-based diet

Alison Lambert has been balancing her weekly food budget

by digging into her pantry and experimenting with pulses

and grains, with warming results

Panelle – Sicilian chickpea fritters

Ingredients

230g chickpea flour

3 cups water, room temperature

2 Tbsp fresh parsley, finely chopped

1 litre vegetable oil

1 lemon

Sea salt flakes

Freshly cracked black pepper

PHOTOS: SIMON LAMBERT

Directions

Pour the water into a large bowl.

Gradually add the flour, stirring constantly

to remove all lumps.

Pour the mixture into a saucepan, and

cook over medium heat until thick like

polenta or porridge.

Remove from the heat and add salt and

pepper to taste. Add the parsley and stir to

combine.

Have a clean chopping board or something

similar ready.

Pour the mixture immediately on to

the board and spread evenly. Cover with

baking paper and gently roll to a thickness

of 4mm.

Cool the dough for at least 2 hours to

firm up.

Cut the dough into rectangles sized 5cm

x 3cm.

Pour the oil into a deep-sided, heavybased

pan. Heat to 170degC.

Cook two to four panelle at a time – it

is important not to overcrowd the pan.

Fry until golden for 3 minutes then turn

and cook for a further 3 minutes or until

golden and puffy. Remove with a slotted

spoon and drain on kitchen paper.

Continue until all the panelle are all

cooked.

Squeeze over a little lemon juice and

sprinkle sea salt and pepper.

Enjoy them as a tasty snack.

continuing education

Adult and Community

Education Courses at

Papanui High School

As the weather gets warmer and the

evenings get longer it is the ideal time to

get out of the house and learn something

new. Papanui High School's Term 4

Nightclasses begin from Tuesday 25

October. Enrolling in a class will help you

gain new skills, meet new people, you can

begin a new hobby and also keep mentally

active or follow a particular passion.

Education can be life changing and we are

providing over 40 opportunities in Term 4

for you to begin your journey.

From Art to Yoga and everything in

between we are sure regardless of your

age or interest you will find something

to tempt you. Classes at Papanui High

School are held in a warm, friendly relaxed

environment and our tutors are supportive

and well qualified in their chosen fields.

We have expanded our range of craft

courses for this term to include: Soap

Making, Printmaking, Creating Christmas

Fragranced Candles, Patchwork, Paverpol

Sculpture, Jewellery Making using Resin,

Stone Carving, Basket Weaving, Christmas

Wreath Making and Making Paper

Flowers. Come along and try something

new and create some Christmas gifts at the

same time.

In addition to these craft courses we

are also offering our traditional Cooking

classes, Cake Decorating, Photography,

Pilates, Yoga, Dressmaking, Woodwork,

Special Effects Makeup, Ukulele and

Guitar, Beekeeping, Barista, Meditation

and many more.

For further information and

enrolment in this or any of our Term

4 courses please visit our website on

https://www.papanui.school.nz/com-ed/

all-courses or email ace@papanui.school.

nz or telephone our office on 3520701.

Quinoa crepes

Makes 10

Ingredients

1½ cup quinoa

1½ cups filtered water

1 cup tightly packed greens such as

spinach, silverbeet or kale

2 tsp coconut oil or olive oil

2 spring onions, roughly chopped

½ tsp salt

½ chilli

Coconut oil for cooking

Suggested toppings:

Grated carrot and beets

Tofu or tempeh

Cashew or chickpea hummus

Salad leaves

Sprouts, seeds and nuts

Directions

Begin by generously covering the quinoa

in cold water. Let sit for 12 hours at room

temperature.

Drain the quinoa and rinse.

Place the quinoa, filtered water, greens,

coconut oil, spring onions, salt and chilli

in a blender.

Blend until smooth.

Pour the batter into a non reactive bowl

and let sit at room temperature for at least

6-12 hours. You will notice little bubbles

appearing on the surface. This is perfectly

fine, in fact this is part of the fermentation

process. This stage will help be kind on

your gut.

When ready to cook, place a medium

sized fry pan over moderate heat.

Add a little coconut oil and ladle or

measure about ¼ cup, gently smooth out

the crepe so it is a circle 12-15cm diameter.

Cook for 3 minutes or until you see the

crepe change colour, flip and cook the

other side for 2 minutes more. Remove and

repeat until the crepes are all cooked.

You can eat these with a filling and roll

up and enjoy, you can use as you would

bread and scoop up dips etc. I like to have

many tasty bowls of ingredients laden over

the table and place the crepes around so

you can assemble your own.
---
Thursday September 29 2022 13

continuing education

[Edition datE] 3

Risingholme Community Centre

sticking to their roots with new

brand "Risingholme Learning"

We are pleased to announce that Risingholme

Community Centre is now trading as

Risingholme Learning. The rebrand includes a

rollout of a new logo and a new website.

Our new brand pays homage to the last 75+

years, the present and is a `nod to the future'.

The rebrand highlights Risingholme's focus on

the importance of lifelong learning.

For over 75 years Risingholme Learning has

operated under the same roof, with the same

goals and values: to promote community spirit

through face-to-face adult education.

Although the centre has officially rebranded

from `Risingholme Community Centre'

to 'Risingholme Learning' Director Lynda

Megson, wants to ensure the message is still the

same.

"We've been running for over 75 years and

plan to run for another 75+ years" Megson says.

"We are continuing to provide the

community opportunities to gain new skills,

knowledge and experiences by providing a wide

range of exciting courses at different locations

across the city. Every term, we have over 800

enrolments, so the demand for learning new

things is a priority for many" Megson says.

"The Risingholme homestead and park in

Opawa is still our base and so acknowledges

our history. We have kept our green colour

and the 'R' of our name to reflect the park and

previous branding and are using one of our

park's trees to better reflect our mission. Our

own 'tree of life' represents the relationships

we nurture with our communities: growth,

learning, connections, enjoyment, and strength,

all held within the maturity of our 75+ years

of operation. We believe our rebrand is a fresh

way of communicating this" Megson says.

With term 4 fast approaching, it's the perfect

time to check out our new website and see the

amazing variety of courses.

Most of Risingholme Learning courses

start the week of Monday 17 October 2022.

Check individual course starting dates on the

website.

Come learn with us!

Full details are available on: www.risingholme.org.nz

Risingholme office: 22 Cholmondeley Ave, Opawa | Phone 03 332 7359

Email: info@risingholme.org.nz

COURSES

Risinghome offers a wide range of short courses, each term, around Christchurch

3 0 0 +

C O U R S E

O P T I O N S

www.risingholme.org.nz

info@risingholme.org.nz

(03) 332 7359

Face-To-Face

Affordable

Experienced Tutors

Small Classes
---
14

Thursday September 29 2022

CHRISTCHURCH

CREMATORIUM

FUNERALS

CROSSWORD

1 2 3 4 5 6 7 8

9 10

263

SUDOKU

Every row, column and box should

contain the digits 1 to 9.

WordBuilder

WORDBUILDER

163

6

K S R

S A P

11 12

13 14 15 16 17

18 19 20

How many words of three or more letters,

How including many plurals, words can you of make three from or the more six

letters, using each letter only once? No foreign

words or words beginning with a capital are

from allowed. the There's six letters, at least one using six-letter each word. only

once?

TODAY

Good 17 Very Good 21 Excellent 25

Solution 162: ace, act, ape, apt, ate, cake, cap, cape,

cat, cep, eat, kea, kept, pace, pack, PACKET, pact,

pat, pate, pea, peak, peat, peck, pet, tack, take, tap,

word.

tape, tea, teak, tec.

letters, including plurals, can you make

No words beginning with a capital are

allowed. There's at least one six-letter

Good 17 Very Good 21 Excellent 25

21 22 23 24

25 26

27 28

Across

1. Outdo (7)

5. Express an opinion (5,2)

9. Drives out (5)

10. Eggplant (9)

11. Porous (9)

12. Cut in two (5)

13. Perch (5)

15. Attacker (9)

18. Capitulate (9)

19. Social blunder (5)

21. Rent (5)

23. Building (9)

25. Similar (9)

26. Black and white mammal (5)

27. Interpreter (7)

28. Excess (7)

Decoder

Down

1. Bung (7)

2. Cistern (9)

3. Passageway (5)

4. Right (nautical) (9)

5. Sword (5)

6. Inhabitant of Earth (9)

7. Major source of food for baleen

whales (5)

8. Excuse (7)

14. Consequently (9)

16. Startles (9)

17. Wealth (9)

18. Rescue (7)

20. Stylish (7)

22. Saying (5)

23. Cooker (5)

24. Cavort (5)

Tel: 020 7622 1467 Fax: 020 7622 1522

Email: info@knightfeatures.co.uk

20 Crescent Grove, London SW4 7AH

Supplied by KNIGHT FEATURES

X V A I J M W B K Z G H F

14 15 16 17 18 19 20 21 22 23 24 25 26

Each number in our DECODER grid represents a different

letter - there is a number for all 26 letters of the alphabet.

DECODER

Enter the given letters into all squares with matching numbers.

The challenge now is to work out which letters are represented

Each by the number other represents numbers. a As different you get letter the of letters, the alphabet. enter them Write into the

given the main letters grid, into all and squares the reference with matching grid. numbers. To keep Now track work of out the

which letters letters you are have represented found, cross by them other off numbers. the alphabet provided.

1 10 2 17 19 6 16 1 13 25 19 16

8 3 3 16 16 3

19 12 1 11 4 7 6 8 16 1 19 16

1 4 4 15 1 8

18 4 13 7 19 12 3 12 13 12 3 9

N O T

2 1 12 17 10 1

21 7 16 13 7 3 24 16 1 22 7 13

16 19 17 25 7 4

1 13 16 8 20 16 2 13 19 16 3 9

25 23 25 19 17 4

26 2 17 24 17 5 16 3 13 17 10 1

4 3 1 2 17 25

8 17 24 25 13 1 7 14 10 4 1 7

A B C D E F G H I J K L M N O P Q R S T U V W X Y Z

1 2 3 4 5 6 7 8 9 10 11 12 13

N O T

14 15 16 17 18 19 20 21 22 23 24 25 26

SOLUTION

No.162

163

1 2 3 4 5 6 7 8 9 10 11 12 13

E L I N O P V T S A F D R

J Y M X H B U Z K W Q G C

14 15 16 17 18 19 20 21 22 23 24 25 26

R

U

N

A F Shuker

Supplied by KNIGHT FEATURES

20 Crescent Grove, London SW4 7AH

Tel: 020 7622 1467 Fax: 020 7622 1522

Email: info@knightfeatures.co.uk

23 3 1 22 24 20 22 24 5 11 12 4

24 2 8 1 25

11 21 3 5 24 11 13 26 4 20

10 17 6 23 12 10

4 10 11 9 24 18 11 12 21 4 24 19

24 12 9 23 12 24 17

9 14 26 1 1 23 24 9 20 24 4 24

S R N U D P E L Y C Q O T

1 2 3 4 5 6 7 8 9 10 11 12 13

A B C D E F G H I J K L M N O P Q R S T U V W X Y Z

1 2 3 4 5 6 7 8 9 10 11 12 13

N U R

14 15 16 17 18 19 20 21 22 23 24 25 26

All puzzles copyright

T H E P U Z Z L E C O M P A N Y

www.thepuzzlecompany.co.nz

4 8 7 24 11 23

A F Shuker

SOLUTION

No.163

Crossword

Across: 1. Surpass, 5.

Speak up, 9. Ousts, 10.

Aubergine, 11. Permeable,

12. Halve, 13. Roost, 15.

Assailant, 18. Surrender,

19. Gaffe, 21. Lease, 23.

Structure, 25. Analogous,

26. Panda, 27. Exegete, 28.

Surfeit.

Down: 1. Stopper, 2.

Reservoir, 3. Aisle, 4.

Starboard, 5. Sabre, 6.

Earthling, 7. Krill, 8. Pretext,

14. Therefore, 16. Surprises,

17. Affluence, 18. Salvage,

20. Elegant, 22. Adage, 23.

Stove, 24. Caper.

WordBuilder

ark, arks, ask, asks, asp,

asps, ass, par, park, parks,

pars, pas, pass, rap, raps,

rasp, rasps, sap, saps,

sark, ska, spa, spar, spark,

SPARKS, spars, spas.

Sudoku

19 26 9 22 19 24 4 9 24 24

26 26 19 24 23 17

CHRISTCHURCH

20 12 2 2 24 4 19 10 4 21 24 19

CREMATORIUM

FUNERALS

3 24 7 24 16 3 10
---
Thursday September 29 2022 15

Classifieds Contact us today Phone our local team 03 379 1100

Trades & Services

Trades & Services

Trades & Services

Trades & Services

Specializing in:

• Roof Painting

• Interior/exterior

residential

• Small commercial

painting

PAINTERS

Painters and Decorators Ltd

Canterbury Owned and Operated

A husband and wife team

Noel 027-411-3596

kemp.painters@gmail.com

kemp painters and decorators

SCRAP METAL

Dominion Trading Co Ltd

• Scrap metal buyers

• Canterbury owned & operated

• Top prices paid $$$

• Open Saturday morning

263 x 180

www.happyscrappy.co.nz

Open Mon-Fri 8am – 4.30pm Sat. 8.30am-12.30pm

03 343 9993 333 Blenheim Rd

We offer

free quotes

Quality not

Quantity

WINDOW TINTING

tintawindow

advanced film solutions

99% uv block

fade protection

heat control

reduce glare

25 Years Experience

PLUMBER

NEED A PLUMBER?

• Father & son Plumbing Business with over

40 years experience.

• Bathroom alterations a specialty.

• Cylinder replacements.

• We do all small jobs.

Call us now for fast friendly service.

Get your problems sorted out

quick smart - on time!!

THOMSON PLUMBING

Phone Eugene now

Phone 03 377 1280 | Mobile 021 898 380

privacy films

frosting designs

non-darkening films

Workmanship Guaranteed

Lifetime Warranties on Most Films

UV

block

Free Quotes Canterbury and Districts

03 365 3653 0800 368 468

HALSWELL

GLASS & GLAZING 2017 LTD

THE PET DOOR SPECIALIST

• PET DOORS

• NEW GLAZING

• FRAMELESS SHOWERS

• MIRRORS

• INSURANCE CLAIMS

• RETRO GLAZING

• BALUSTRADING

ALL SUBURBS COVERED FOR

ALL YOUR GLAZING NEEDS

PHONE GAIL ON

322 7999 OR 021 CAT DOOR

(228 3667)

ROOF

PAINTING 24/7

Rope & harness

a speciality,

no scaffolding

required,

30 years of

breathtaking

experience.

FREE QUOTES

20% OFF other

roof quotes

Exterior staining,

exterior painting,

water blasting.

Moss and mould

treatment $300.

Phone Kevin

027 561 4629

CARPET LAYING

Exp. Repairs, uplifting,

relaying, restretching.

Phone John on 0800

003181, 027 240 7416

jflattery@xtra.co.nz

ELECTRICIAN (CERT)

Prompt, quality. Call Jack

027 206 0080

FREE CCTV DRAIN

CAMERA CHECK

Have you checked

your drains since the

earthquake? Call now: 022

375 8506

LOCAL PLUMBER

No job too big or too

small! Plumbing,

Drainage, Gas, Blocked

Drains, Excavation, Gutter

Cleaning. Call Now: 022

375 8506

PAINTING

Indoor / Outdoor, over 30

yrs exp, same day quotes,

ph Steve 021 255 7968

PAINTER QUALIFIED

Int/ Ext. Quotes ph 021

197 5597

STUMP GRINDING

Best price guarantee Tony

0275 588 895

Wanted To Buy

AAA Buying goods

quality furniture, beds,

stoves, washing machines,

fridge freezers. Same day

service. Selwyn Dealers.

Phone 980 5812 or 027

313 8156

TOOLS, Garden garage,

saw benches, Lathes. Cash

buyer Phone 355-2045

ADD SOME

COLOUR

TO YOUR ADVERT!

ADVERTISE YOUR BUSINESS HERE

Phone for further details

(03) 379 1100

Need A Ladder?

The Amazing, Portable, Easy to Use Ladder System

Margann. | "Best Ladder on the Market"

Simply the best ladder I've ever used, it's everything it's cracked up to

be and the little extras such as the work platforms, leg adjusters and

wall standoff make it incredible value.

• Certified Safety Rating up

to 180kg

• Use it on Stairs Safely

• Create your own

Scaffolding System

• Versatile, Compact and

Telescopic

Free

Free Free

Free

Gifts *

Worth

$660.00

*Ts & Cs Apply

*1 x Wall Standoff + 2 x Work Platforms + 2 x Leg Levellers

Limited Time Offer! Call Now! 0800 665 665
---
16

Thursday September 29 2022

nEED FinancE?

wE can hElP! Easy finance for a Work Visa,

bad credit history & Learner Licence holders

BaD crEDiT? no ProBlEm!

ONLY

$26,999

P.O.A

T&C'S AppLy

ONLY

$25,500

1988 Toyota Blizzard

2Ltr turbo, manual, rust free,

one owner all life,

genuine 136,000kms

Rare to find in

such condition.

Check

out this

GrEaT

VEhiclE!

P.O.A

ONLY

$39,800 +ORC

1993 Toyota LandCruiser

3.0TD, 265,000kms, one family since

import 28 years ago.

ONLY

$9,750

2002 Toyota Landcruiser

100 Series

Auto, 4.2 turbo diesel, fresh import, ready

for first NZ owner, 298,000kms.

ONLY

$7,100

1997 Nissan Safari

Type 2 Spirit, 2.8 Turbo Diesel, Fresh Import,

112,000kms.

ONLY

$7,250

1994 Toyota LandCruiser

3.0 turbo diesel, Fresh Import, 204,000kms,

ready for its first owner.

ONLY

$11,500

2010 Honda CR-V

178,610kms, sunroof, leather interior.

2006 Mitsubishi Outlander

190,600kms, Tidy Interior/Exterior.

2007 Honda Cr-V

AWD, sunroof

2013 Mazda Atenza

6 speed manual, Diesel sedan, leather interior,

135,000kms.

ONLY

$5,650

ONLY

$10,950 $8,990

ONLY

$6,199

ONLY

$10,950

2009 Honda Jazz

1.3L, manual, Cheap on gas, camchain

driven, 7 Speed Mode, 191,710kms.

2011 Honda Jazz

1500 iVTEC, 121,710kms, 1500cc,

Cheap to run.

2006 Honda Jazz

125,800 km's,710kms, 1300cc,

2012 Toyota Corolla

Low 76,300kms, immaculate condition,

cheap to run.

ONLY

$19,500

ONLY

$8,200

ONLY

$4,800

ONLY

$4,350

2015 Toyota Camry Hybrid

140,000kms, reverse camera, lane assist,

Hybrid.

2011 Suzuki SX4

146,100kms, new WOF.

2005 Honda Accord

210,000kms, cam chain, new WOF &

service.

2008 Ford Focus

211,110kms, 2.0L,

new WOF & service

Two locaTions

www.careacar.co.nz

Experience the Care A Car difference

55 LINCOLN ROAD, SpREYDON (NExT TO LINCOLN NpD)

301 MAIN SOUTH RD, HORNBY (CORNER GARVINS ROAD)

Phone 0223 445 778
---
Thursday September 29 2022 17

How the Government is

DELIVERING

for Wigram

Thank you to everyone who has taken the time to meet with me to

discuss local community initiatives and projects. It's conversations

like these that allow me to advocate for you in Wellington.

I'm proud of what the Government has done and continues to do

for our wonderful part of Christchurch.

Hon Megan Woods MP for Wigram
---
18

Thursday September 29 2022

COST OF LIVING

With nine participating schools in Wigram, over 3200 kids have access

to healthy school lunches.

That's over $19,000 * per day in supporting local families and ensuring kids can

focus on their learning.

Introduced half-price public transport fares until the end of

January 2023.

Over $1.5 million for school donations has been funded

across 17 schools in Wigram, since the scheme was introduced in 2020,

alleviating pressure on parents.

Reduced fuel tax by 25c and reduced road user charges to

provide relief for families through the global energy crisis.

BACKING BUSINESSES

An investment of $550,000 to reduce carbon emissions at industry

leading businesses, Meadow Mushrooms and HamiltonJet. There has also

been significant investment in local businesses to assist in switching to electric

vehicles.

Over 6,000 apprentices ** supported through the Apprenticeship

Boost, created in 2020 to ensure the future of new and existing apprentices.

HOUSING

Kāinga Ora has built over 300 new social housing homes

in Wigram providing warm, dry, healthy homes for people on low incomes.

*

Based on an average

**

In Canterbury
---
Thursday September 29 2022 19

EDUCATION

Over $3 million across seventeen schools in the Wigram electorate

has been invested through the School Investment Package for projects

such as upgrading playgrounds, infrastructure improvements, landscaping,

and more.

Each school received up to $400,000 for their projects and local children

are already benefiting from the package.

Participating schools*

• Addington Te Kura Taumatua

• Christchurch South Karamata Intermediate

School

• Gilberthorpe School

• Halswell Residential College

• Hillmorton High School

• Hoon Hay School

• Hornby High School

• Hornby Primary School

• Riccarton High School

• South Hornby School

• Southern Health School

• Spreydon School

• Te Ara Koropiko West Spreydon School

• Te Kāpehu Riccarton School

• Te Kōmanawa Rowley School

• Wharenui School

• Wigram Primary School - Te Piki Kāhu

HEALTH & WELLBEING

We have ensured people can access healthcare when

they need it with the Very Low Cost Access scheme, with a maximum of

$19.50 charged per visit.

A significant investment in Mana Ake across schools in Wigram.

Allowing children to focus on wellbeing and positive mental health.

Over 9,000 grants approved + to support homeowners

installing better heatpumps, burners and insulation through the Warmer Kiwi

Homes scheme.

Over $2 million of investment to upgrade Hillmorton Hospital to a Green

Star rating.

*

As at February 2022

+

In Canterbury
---
20

Thursday September 29 2022

INFRASTRUCTURE

Where to find me

(03) 338 6347

E | Imēra: megan.woodsmp@parliament.govt.nz

W | Pae Tukutuku: www.labour.org.nz/meganwoods

Brougham Street and Halswell Road are being

upgraded through the New Zealand Upgrade Programme. These two major

roads will change to improve pedestrian and cyclist safety, support more

transport choices, and provide more reliable travel times.

Halswell Road improvements include:

• Peak hour bus lanes in each direction along Lincoln Road from Whiteleigh Avenue to Curletts Road.

• Relocated and new bus stops, shelters and seats.

• Wide 4.2 metre bus lanes on Lincoln Road between Wrights Road and Curletts Road, providing

more room for cyclists.

• The raised centre median will also improve the safety for cyclists using the Nor'West Arc Cycleway.

• Three extra pedestrian crossing points in the centre median to make it safer and easier to cross the road.

• Widening the footpath along Lincoln Road between Curletts and Wrights roads to 2.3 metres. It currently varies

from 1.3 metres to 1.7 metres wide.

• Domain Terrace – remove the right turn in and out. Torrens Road – remove the right turn out on to Lincoln Road,

but retain the right turn in.

• Removal of on-street parking when the bus lanes are operational between Curletts Road and Wrights Road.

On-street parking can be utilised outside of bus peak hour times.

• Existing parking bays on Lincoln Road between Lindores Street to Twigger Street will be retained on both sides.

Brougham Street improvements include:

• An overbridge at Collins Street and Simeon Street for greater cyclist and pedestrian safety.

• New T2 lanes that will operate in the morning and afternoon/evening when roads are busiest.

• A shared cycle and pedestrian path.

• More protected right turn arrows on all right turns off Brougham Street.

• New traffic lights at the Brougham Street/Montreal Street intersection.

• More plants along the south side of Brougham Street.

• And more!

Megan Woods MP for Wigram

Wigram Electorate Office

McCarthy Street Shops, 12 McCarthy Street, Hoon Hay, Christchurch 8025

PO Box 33164, Barrington, Christchurch 8244

/MeganWoodsWigram |

@megan_woods

Authorised by Hon Megan Woods MP, Parliament Buildings, Wellington