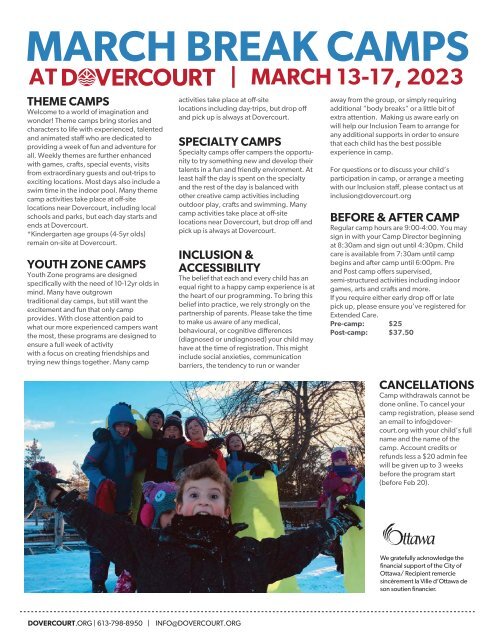 Dovercourt March Break 2023 flyer
You also want an ePaper? Increase the reach of your titles
YUMPU automatically turns print PDFs into web optimized ePapers that Google loves.
MARCH BREAK CAMPS

AT | MARCH 13-17, 2023

THEME CAMPS

Welcome to a world of imagination and

wonder! Theme camps bring stories and

characters to life with experienced, talented

and animated staff who are dedicated to

providing a week of fun and adventure for

all. Weekly themes are further enhanced

with games, crafts, special events, visits

from extraordinary guests and out-trips to

exciting locations. Most days also include a

swim time in the indoor pool. Many theme

camp activities take place at off-site

locations near Dovercourt, including local

schools and parks, but each day starts and

ends at Dovercourt.

*Kindergarten age groups (4-5yr olds)

remain on-site at Dovercourt.

YOUTH ZONE CAMPS

Youth Zone programs are designed

specifically with the need of 10-12yr olds in

mind. Many have outgrown

traditional day camps, but still want the

excitement and fun that only camp

provides. With close attention paid to

what our more experienced campers want

the most, these programs are designed to

ensure a full week of activity

with a focus on creating friendships and

trying new things together. Many camp

activities take place at off-site

locations including day-trips, but drop off

and pick up is always at Dovercourt.

SPECIALTY CAMPS

Specialty camps offer campers the opportunity

to try something new and develop their

talents in a fun and friendly environment. At

least half the day is spent on the specialty

and the rest of the day is balanced with

other creative camp activities including

outdoor play, crafts and swimming. Many

camp activities take place at off-site

locations near Dovercourt, but drop off and

pick up is always at Dovercourt.

INCLUSION &

ACCESSIBILITY

The belief that each and every child has an

equal right to a happy camp experience is at

the heart of our programming. To bring this

belief into practice, we rely strongly on the

partnership of parents. Please take the time

to make us aware of any medical,

behavioural, or cognitive differences

(diagnosed or undiagnosed) your child may

have at the time of registration. This might

include social anxieties, communication

barriers, the tendency to run or wander

away from the group, or simply requiring

additional "body breaks" or a little bit of

extra attention. Making us aware early on

will help our Inclusion Team to arrange for

any additional supports in order to ensure

that each child has the best possible

experience in camp.

For questions or to discuss your child's

participation in camp, or arrange a meeting

with our Inclusion staff, please contact us at

inclusion@dovercourt.org

BEFORE & AFTER CAMP

Regular camp hours are 9:00-4:00. You may

sign in with your Camp Director beginning

at 8:30am and sign out until 4:30pm. Child

care is available from 7:30am until camp

begins and after camp until 6:00pm. Pre

and Post camp offers supervised,

semi-structured activities including indoor

games, arts and crafts and more.

If you require either early drop off or late

pick up, please ensure you've registered for

Extended Care.

Pre-camp: $25

Post-camp: $37.50

CANCELLATIONS

Camp withdrawals cannot be

done online. To cancel your

camp registration, please send

an email to info@dovercourt.org

with your child's full

name and the name of the

camp. Account credits or

refunds less a $20 admin fee

will be given up to 3 weeks

before the program start

(before Feb 20).

We gratefully acknowledge the

financial support of the City of

Ottawa/ Recipient remercie

sincèrement la Ville d'Ottawa de

son soutien financier.

DOVERCOURT.ORG | 613-798-8950 | INFO@DOVERCOURT.ORG
---
THEME CAMPS

KINDER KANUCKS

JK-SK MB201 $329

Spend the week celebrating all things that

make us proud to be Canucks! Learn a

variety of games, crafts, and languages that

make us a uniquely diverse group of people,

and celebrate the great outdoors with

nature hikes and scavenger hunts. We'll try

a taste of a Canadian favourite each day this

week, from maple taffy to poutine and

everything in between.

FANDEMONIUM

Grade 1-2 MB202 $332

Grade 3-5 MB203 $332

Break out the jerseys, and funny hats, we're

all becoming #1 fans this week! We'll be

making t-shirts, signs, and noise-makers and

celebrating anything and everything we can

this week. Wednesday we're heading to TD

Place to skate on the ice then sticking

around for an Ottawa 67s day game where

we're sure to be the loudest section in the

stands! After that, we'll get crazy with a

counselor-vs-camper cheer contest, a talent

show, and finish it off with a big St. Patrick's

Day party on Friday.

YOUTH ZONE

CAMPS

TOUGH MUDDER

10-12yrs MB207 $352

For campers with grit, this program offers a

full week of individual and team challenges

like obstacle courses, fitness challenges, a

polar bear dip, and a mud run!

CHILL ZONE

10-12yrs MB207 $352

Spend your school break relaxing and

hanging out with friends in this 'chill' camp.

We'll have board game challenges, some

group/team video games, some time in the

indoor pool, lots of crafts and group

activities and take in a matinee at the

theatre. Sign up with a friend, or make some

new ones, it's sure to be a relaxing, and

memorable week.

SPECIALTY CAMPS

SPORTS STARS

4-6yrs MB205 $356

This program will include an intro to as many

different sports as we can think of! We'll

play a bit of basketball and soccer, have lots

of swim time, and try some different sports

like gymnastics, pickleball, tchoukball, and

rock climbing. It's the perfect camp for kids

on the move!

POTTERY

6-9yrs MB204 $376

Roll up your sleeves and come play with

clay. You'll learn techniques in hand

building and create a project on the wheel

with an experienced pottery instructor. Half

the day is spent in the pottery studio and the

other half is balanced with outdoor play and

swim time. Finished projects will be glazed

and fired in the kiln, ready for pick up a

couple of weeks after camp.

ROBOTICS

7-10yrs MB210 $389

In partnership with Ottawa Robotics

Academy, this program introduces campers

to various simple and intermediate robotics

platforms. Using the engineering design

cycle, participants will build machines and

creations featuring working motors and

sensors then program their models,

bringing them to life. Focused half-day

sessions will explore a series of

theme-based activities while developing

their skills in STEM, language, arts and

literacy. The rest of the day is balanced with

outdoor play and swim time.

CAKE & BAKE

9-12yrs MB208 $376

In the tastiest camp of the week, participants

will spend time in the kitchen with an

experienced baker and instructor, mastering

the basics of baking. Participants will

learn various techniques with cookies,

cakes, pie crust, brownies, tarts, and much

more. All ingredients will be nut-free but

may contain dairy/egg products. At least

half the day is spent in the kitchen and the

rest of the week is balanced with outdoor

play and swimming.

STAGE PERFORMERS

8-11yrs MB209 $356

Step into the spotlight this week and

showcase your talents! Participants will

receive instruction in improv, acting,

signing, magic, and dance. Featuring

talented instructors, at least half the day is

spent learning and practicing routines and

the other half is balanced with swimming

and outdoor activities. Family and friends

are invited on Friday for the big show!

INFO@DOVERCOURT.ORG | 613-798-8950 | DOVERCOURT.ORG